New Age Islam News Bureau
20 Jan 2017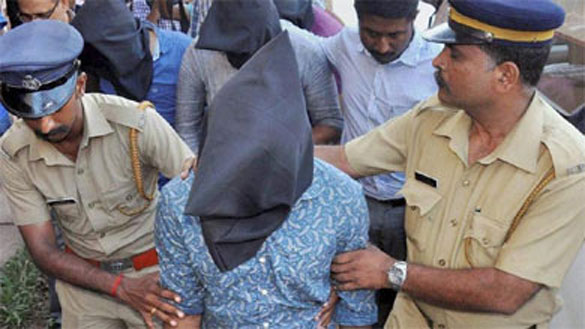 The NIA data said 20 of the arrested Islamic State supporters were graduates and some even had degrees in technology or engineering. (PTI File Photo)
----
• Islamic State Targets In India: Middle Class Educated Youth
• NIA: Only 20% Of Islamic State Accused Went To Madrasas
• Muslim Clerics Attack Rally For Missing Pakistani Activists
• Bin Laden Documents: Worry Over ISIS Tactics, 'Aging' Al-Qaeda
• Controversy As Islamic Call To Prayer Held Inside Historic British Cathedral
India
• Islamic State Targets In India: Middle Class Educated Youth
• NIA: Only 20% Of Islamic State Accused Went To Madrasas
• Indian Youth Has Successfully Resisted Radicalization: Narendra Modi To Muslim Leaders
• Major success for forces in Kashmir, top LeT militant killed
• Hindus, Christians reverted to Islam among 52 ISIS militants arrested by NIA
• Terror funding: NIA scrutinising 5 bank accounts linked to Hurriyat's Geelani
• 26/11 mastermind Lakhvi's nephew killed in North Kashmir encounter
• ISI may have engineered train accidents to avenge surgical strikes
--------
Pakistan
• Muslim Clerics Attack Rally For Missing Pakistani Activists
• Pakistan Highlights Plight Of Rohingya Muslims At OIC
• Unlocking Islamic finance potential in CPEC, beyond
• Foreign agencies funding groups to destabilise country, Senate told
--------
North America
• Bin Laden Documents: Worry Over ISIS Tactics, 'Aging' Al-Qaeda
• Muslim Helplines Have Been Flooded With Calls Ahead Of Inauguration
• A high school dropout from California is now the preeminent American master of Islamic calligraphy
• Texas representative sends letter to Islamic leaders polling their beliefs
• American Federation of Indian Muslims celebrates Silver Jubilee by giving student scholarships worth Rs 4 crore
--------
Europe
• Controversy As Islamic Call To Prayer Held Inside Historic British Cathedral
• ISIS Using Online 'Headhunters' To Recruit Young Germans
• France to get Jaish chief Azhar banned by UN
• Pope Francis Strengthens Palestinian Refusal to End Hostilities with Israel
• Europe beware! Islamic State to switch tactics in Europe in 2017
--------
Arab World
• From IS To Government Control, Syrians Left With Few Choices
• 33 Daeshis Killed In Clashes With Army Forces In Central Syria
• IS kills 12 teachers, soldiers in Palmyra
• Saudi security forces track down six terrorists from one family
• Guantanamo detainee arrives back in Saudi Arabia: state media
• US air strike killed al Qaeda leader in Syria
• Iraq: Most ISIS commanders in Mosul killed
• Terrorists Preparing for Large-Scale Offensive in Lattakia
• Syria: Final Stages of Reconciliation Underway in Damascus Countryside
• Terrorist Groups Violate Truce again in Western Aleppo
• Syrian Army Intensifies Attacks on Terrorists' Defense Lines in Homs Province
--------
Mideast
• Trump To Be Surprised If Ditches Iran Nuclear Deal: Zarif
• Fighting Erupts In Turkish Parliament Over Erdogan Powers Bill
• Iran FM slams global indifference toward Rohingya sufferings
• The bill that can keep Erdogan in power until 2029
• Amnesty: Iran must stop systematic repression of young people
• Palestinians rally against possible US embassy relocation to al-Quds
• About 400,000 Syrian child refugees in Turkey out of school: UNICEF
--------
Africa
• Most Of Al-Shabab's Force In Somalia Are Kids: UN
• U.S. Strikes In Libya Kill More Than 80 ISIS Fighters
• Nigerian Air Force 'dropped two bombs' on town
• Emir of Kano advocates Islamic financing for Nigeria
• Nigeria's fight against Boko Haram is going to be long and messy
--------
Southeast Asia
• Help Transgenders 'Return To Right Path', Jais Says In Friday Sermon
• Indonesia all out to woo Xinjiang's Muslims
• Azalina, you set yourself up by taking photo in Vegas casino
• Ayob Khan: IS militants shifting focus to southern Philippines
--------
South Asia
• 4 ISIS Militants Hailing From Pakistani And Tajikistan Killed In Nangarhar
• Afghan police suffer casualties in Taliban attack in Kandahar
• Muslim nations to heap pressure on Myanmar over Rohingya
• Ghani, Sami discuss ways to restore peace in Afghanistan
• Taliban seek to reassure UAE over Kandahar attack
• Bring back normalcy in Rakhine, Bangladesh to Myanmar
Compiled by New Age Islam News Bureau
URL: https://www.newageislam.com/islamic-world-news/new-age-islam-news-bureau/islamic-state-targets-in-india--middle-class-educated-youth/d/109792
--------
Islamic State Targets In India: Middle Class Educated Youth
Jan 19, 2017
Global terror network Islamic State mostly recruited educated Indian Muslims belonging to middle income groups, according to a confidential National Investigation Agency (NIA) data that breaks a common myth that radicalised youth are mostly impoverished illiterates.
As per analysis of the data accessed by IANS, 28 of the 52 arrested Islamic State suspects were in the age group of 18-25. Twenty were between the age of 25 and 40 years and four were above 40.
NIA officials said they were "shocked" to learn that all the arrested persons were educated and were radicalised by the recruiters of the network that has established an Islamic caliphate in its governed parts of Syria and Iraq.
The NIA data said 20 of the arrested Islamic State supporters were graduates and some even had degrees in technology or engineering.
Twelve had diplomas, four had attended school up to Class 12 and 13 were matriculates. Three even held post graduate degrees.
"Eighty per cent arrested IS accused had formal schooling while 20% went to madrasa," according to the data analysis.
Nine of the arrested suspects belonged to the upper income group, 30 were from middle income group and 13 from the lower income group.
The counter-terror agency said it had filed charges and supplementary charges in six of the 12 Islamic State cases referred to it by the central government last year. It said the agency was still searching for 35 identified absconding suspects.
The agency officials said investigation was on in eight cases.
According to the data, 12 of the arrested were from Maharashtra, 10 from Hyderabad, 11 from Kerala, five from Karnataka and West Bengal each, four from Uttar Pradesh, two from Rajasthan, three from Tamil Nadu and one each from Madhya Pradesh and Jammu and Kashmir.
It further said 50% of the arrested IS sympathisers followed Ahle Hadith -- a puritannic Islamic school of thought, 30% Tablighi Jamat -- a worldwide movement to preach fundamentals of Islam, and 20% Deobandi -- the puritanical, revivalist Sunni Muslim movement that began in north India in 1867 and now carries a huge influence in Bangladesh, Pakistan and also parts of the United Kingdom.
The data pointed out that none of the arrested "are the followers of Barelvi" -- again a north Indian Sunni Islamic movement that believes in the synthesis of Sharia and Sufi thoughts. It also carries a lot of clout in South Asia.
The data said 15% recruits were converts from Christianity or Hinduism.
On January 22 and 23 last year, the NIA conducted over two dozen raids in coordination with state police forces and other agencies across the country and till the end of the year 52 Islamic State supporters, including a foreigner, were arrested.
The agency in its chargesheets had alleged that terror sympathisers were seeking to establish an Islamist caliphate in India -- Junoodul-Khilafa-Fil-Hind -- and recruited Muslim youth to terrorism at the behest of Syria-based Shafi Armar alias Yusuf-Al-Hindi.
According to the NIA, Armar, a resident of Karnataka's Bhatkal district and a senior Islamic State leader managing India recruitment, was in touch with the accused through social media networks.
He trained them how to prepare IEDs, identify training venues and provide logistics support for terror strikes.
http://www.hindustantimes.com/india-news/islamic-state-targets-in-india-middle-class-educated-youth/story-93BvKXBCpqd2VwJ1CG4y7I.html
--------
NIA: Only 20% of Islamic State accused went to madrasas
by Deeptiman Tiwary
January 20, 2017
As much as 80 per cent of all suspected Islamic State (IS) operatives arrested in the past one year have had formal schooling and only 20 per cent have gone to a madrasa, the NIA said Thursday.
During a media interaction on the occasion of its Raising Day, the agency shared details of the profiling it had done of IS accused. The NIA said that in 2016, it had arrested 52 people in connection with various conspiracies associated with IS. As many as 35 IS suspects are absconding, according to the agency.
The study attempts to break the myth that madrasas are a breeding ground for fundamentalism. The Sachar Committee report on socio-economic status of Muslims had also found that only 4 per cent schoolgoing Muslim children go to madrasas.
NIA officers said of the 52 arrested, 50 per cent had said during interrogation that they subscribed to Ahle Hadith school of thought, 30 per cent were followers of Tablighi Jamaat while the rest subscribed to Deobandi school of thought. Among the 80 per cent who received formal education, the largest chunk was of graduates and engineers. Of the 52 accused, 20 were either engineers or graduates while three were postgraduates or had MCA degrees. As many as 13 had studied till class 10 while 12 were diploma holders. Only four had studied till class 12.
http://indianexpress.com/article/india/nia-only-20-of-islamic-state-accused-went-to-madrasas-4482717/
--------
Muslim Clerics Attack Rally For Missing Pakistani Activists
January 19, 2017
KARACHI, Pakistan (AP) — Pakistani police say Muslim clerics attacked a rally calling for the release of five anti-Taliban activists and bloggers who went missing earlier this month.
Police official Niaz Kundi says the clerics hurled bricks at the rally in the southern city of Karachi on Thursday without wounding anyone, and were later dispersed by police.
The clerics accuse the activists of posting blasphemous content online.
The five include university professor Salman Haider, known for criticizing the Taliban and the government, and Shiite activist Samar Abbas, who heads the Civil Progressive Alliance Pakistan.
No militant group has claimed to have abducted the activists and no government department or intelligence agency has said it detained them. Pakistan's Interior Ministry said Thursday it is making every effort to locate and retrieve the activists.
http://www.seattletimes.com/news/muslim-clerics-attack-rally-for-missing-pakistani-activists/
--------
Bin Laden documents: worry over ISIS tactics, 'aging' Al-Qaeda
Jan 20, 2017
Months before his death, Osama bin Laden fretted about the Islamic State group's impatient, violent tactics and the fading of Al-Qaeda, documents released by the CIA showed.
The latest release from the trove of documents found when Navy Seals stormed the Al-Qaeda chief's secret Pakistan compound and killed him in 2011 show bin Laden trying to keep his jihadist followers around the world aligned in his war against the United States.
They also reveal a worried father warning his sons that they could be injected with electronic chips to track them, and advising Al-Qaeda soldiers in Northern Africa that it was okay to masturbate.
He also spent significant time trying to manage the handling of foreigners kidnapped by far-flung affiliates of his radical Islamic group.
And he showed a strong focus on affairs in his family's original homeland, Yemen, where a powerful new branch -- Al-Qaeda on the Arabian Peninsula (AQAP) -- was having a strong impact.
One letter to AQAP founder Nasir al-Wuhayshi warns not to move too fast against the government because conditions were not yet right anywhere to form an Islamic state that could govern effectively and resist attacks from outside.
"Blood should not be shed unless we have evidence to show that the elements of success to establish the Islamic State and maintaining it are available or if achieving such goals is worthy of shedding such blood," he wrote.
"There might be a huge reaction that could drag us into a real war."
Worried about Qaeda unity, focus
The documents -- which appear to date mostly from around 2010 -- some written by bin Laden and others on his behalf, show the Al-Qaeda chief determined to keep his group's focus on the United States as its enemy.
"The Ummah's enemies today are like a wicked tree," he wrote, using the term for the world community of Muslims. "The trunk of this tree is the United States."
The letters also reveal that Anwar al-Awlaki, a US-born Al-Qaeda cleric in Yemen, was a candidate to be named emir or chief of AQAP, with bin Laden asking for more biographical detail about him.
Bin Laden registered his doubts at the same time, noting that "here we trust the people after we send them to the front line and test them."
Awlaki, whose writings inspired numerous converts to the jihadist cause, was killed by a US drone strike in September 2011.
A letter written by one of his aides suggests bin Laden's rising frustration over his organization nearly a decade after the shock 9/11 attacks on the United States.
Bin Laden "talked about the fear of our organization ageing, and reaching decrepitude like other organizations," the letter said.
But the jihadist leader also had time for personal advice for Al-Qaeda fighters in Northern Africa bound by "unfortunate celibacy" because of a lack of available wives.
"God is not ashamed of the truth," he wrote. "As we see it, we have no objection to clarifying to the brothers that they may, in such conditions, masturbate, since this is an extreme case."
http://nation.com.pk/international/20-Jan-2017/bin-laden-documents-worry-over-isis-tactics-aging-al-qaeda
--------
Controversy as Islamic CALL TO PRAYER held inside historic British CATHEDRAL
Jan 20, 2017
The traditional Muslim invocation to worship was performed in front of 1,000 people at the launch of a multi-cultural Faith Exhibition at Gloucester Cathedral.
Imam Hassan of the local Masjid-e-Noor mosque was invited by church leaders to carry it out in the cathedral's 11th century Chapter House.
Many worshippers welcomed the "inclusive" act but some traditionalists questioned why a "different God" should be worshipped in such an iconic Christian house.
A clip of the call to prayer was initially shared on the cathedral's Facebook page but then taken down as "inappropriate" as tensions rose.
One post on the removed thread by Isabel Farmer said: "It's wonderful to be multicultural, but faith is set apart.
"We are never to worship other Gods in a house built for our saviour.
"My ancestors built this cathedral and to allow a practising Muslim pray to another God is insanely naive. What did you think it would do? Encourage them to convert?
"This is why England is on the downslide. Culture and Race have nothing to do with the first commandment as God made all races and he cares about souls only.
"Stand firm Christians. Bring people to the faith by telling them the truth.
"God is the same yesterday, today, forever, so stop with the multicultural appeal and open a history book and a Bible for yourself."
The row spread as far as the USA and Twitter user 'Sir Anglo' tweeted: "Very disappointed that we are desecrating our gems. Gloucester Cathedral is magnificent."
Another Twitter user with the name '& drew' added: "Blasphemy at Gloucester Cathedral as Muslims abuse another 'interfaith' attempt'
Church leaders defended the call to prayer and said it was designed to promote religious tolerance and understanding.
The Very Revered Stephen Lake, Dean of Gloucester, said: "The community event on Saturday was to launch an art exhibition, 'Faith'.
"The exhibition portrays a number of individuals' stories and gives a glimpse of who they are as people of faith.
"The exhibition promotes religious tolerance and understanding.
"Over 1,000 people from different Gloucester communities attended to share and learn about each other's spiritual practices and traditions."
He added: "It is important to stress that neither the art exhibition nor the gathering on Saturday afternoon took place in a sacred space but were held in the Cathedral Cloisters and Chapter House.
"Furthermore, the launch was not in the context of worship.
"Whilst the Cathedral's primary purpose is as a place of Christian witness and worship, it is also a place for all people - everyone is welcome, whatever their faith or background.
"We are proud to be holding the exhibition and would encourage everyone to visit to learn more about people of different faiths."
According to the 2011 Census in Gloucester 63.5 per cent of the population were Christian and 1.0 per cent were Muslim.
The 'Faith' exhibition by artist Russell Haine runs until February 26 and features 37 portraits of individuals from different belief systems.
Organiser Reverend Ruth Fitter said: "We live in a world that is becoming more and more polarised by people who claim to have the truth.
"No one has any proof of God - that's what faith is about.
"I happen to believe in Jesus Christ as the Son of God who came to dwell with me and save me from my sins.
"That doesn't mean I expect others to change their faith or believe wholeheartedly.
"It does mean, however, that I hope they will offer me the same respect as I seek to offer them.
"My parish is made up of such an eclectic diverse population and is, therefore, a beautiful image of God's creation in my view."
The incident is the second Muslim prayer row involving a British cathedral in as many weeks.
Last week a verse from the Koran denying the divinity of Christ was read during a multi-faith event at Glasgow Cathedral.
The Queen's chaplain spoke out against the event and said cathedral should apologise to Christians "suffering dreadful persecution at the hands of Muslims".
http://www.express.co.uk/news/uk/756360/islamic-call-to-prayer-historic-british-gloucester-cathedral-outrage
--------
India
Indian youth has successfully resisted radicalization: Narendra Modi to Muslim leaders
January 19, 2017
New Delhi [India], Jan. 19: Prime Minister Narendra Modi on Thursday met a delegation of Muslim leaders and conveyed to them that youth in India has successfully resisted radicalization, asserting that the credit for this must go to India's long and shared heritage. The delegation comprising of Muslim Ulemas, intellectuals, academicians and other eminent people called on the Prime Minister today and congratulated him on the steps taken by the Union Government for inclusive growth, socio-economic and educational empowerment of all sections of the society including minorities.
Union Minister of State for Minority Affairs (Independent Charge) and Parliamentary Affairs Mukhtar Abbas Naqvi and Union Minister of State for External Affairs M.J. Akbar were also present on the occasion. The delegation was also appreciative of the Saudi Government's decision to increase the number of Haj pilgrims from India, and thanked the Prime Minister for having successfully pursued the same. Extending their full supported to the campaign launched by the Prime Minister against corruption and black money, the delegation agreed that the fight against corruption will benefit the poor people including the minorities the most.
Praising the Indian youth in resisting radicalisation, Prime Minister Modi conveyed to the leaders that the culture, traditions and social fabric of India will never allow the nefarious designs of the terrorists, or their sponsors, to succeed. The Prime Minister stressed on the importance of education and skill development, which is the key to gainful employment, and upliftment from poverty. Appreciating the Government of Saudi Arabia for its decision to increase the number of Haj pilgrims for India, the Prime Minister asserted that there is a positive image of Indian Muslims abroad.
http://www.india.com/news/india/indian-youth-has-successfully-resisted-radicalization-pm-modi-to-muslim-leaders-1769973/
--------
Major success for forces in Kashmir, top LeT militant killed
January 19, 2017
Security forces on Wednesday achieved a major success in Kashmir as they gunned down a top Lashkar-e-Taiba militant Abu Musaib, a Pakistani national believed to be the nephew of 2008 Mumbai attack mastermind Zakiur Rehman Lakhvi. Musaib, a self-styled divisional commander of LeT, was active in Bandipora and Ganderbal districts since August 2015 and was involved in many militancy-related activities including an attack on a CRPF camp on Independence Day in downtown Srinagar last year, police said. He was killed in an encounter in a village, about 32 kms from here in north Kashmir's Bandipora district, police said. A police spokesman said the force, aided by Rashtriya Rifles and CRPF personnel, cordoned off Para Mohalla locality of Hajin following specific information about the presence of militants there in the morning.
Full report at:
http://indianexpress.com/article/india/major-success-for-forces-in-kashmir-top-let-militant-killed-4482511/
--------
Hindus, Christians reverted to Islam among 52 ISIS militants arrested by NIA
January 19, 2017
NEW DELHI: Hindus and Christians converted to Islam besides Muslims were among 52 people arrested for allegedly being ISIS militants, the National Investigation Agency (NIA) said on Thursday, adding they included engineers and post-graduates.
Almost 80 per cent of the accused had formal schooling and rest went to Madrassas, it said.
The agency registered a highest of 12 Islamic State (ISIS) terrorism-related cases and arrested these accused last year. It is the highest number of cases and arrests made by the NIA in a year since its inception in 2009.
In 2015, only two such cases were registered, the NIA said.
Those arrested for allegedly being ISIS operatives were of different age group. A total of 28 were in 18-25 year group, 20 between 25 to 40 years and four were above 40 years, it said.
A highest of 20 accused were graduates or engineers, 13 were matric passed, 12 were diploma holders, four were senior secondary passed while three were post-graduates with Master of Arts or Master of Computer Application degrees, the NIA said whe releasing data on the arrests.
Giving details of the religious affiliations of the accused, the agency said 50 per cent belong to 'Ahle Hadith', 30 per cent to 'Tabligi/Jammat' and 20 per cent followed Deobandi.
Of these 52 Islamic State-influenced persons held by NIA, 85 per cent of them are Sunni Muslims and rest are converted from Hinduism and Christianity, a senior NIA official said.
These persons hailed from various states across the country. A highest of 12 belonged to Maharashtra, 11 from Kerala, 10 from Telangana, five from West Bengal, four from Uttar Pradesh, three from Tamil Nadu, two from Rajasthan and one each from Jammu and Kashmir, Madhya Pradesh and Rajasthan.
Those arrested by the probe agency were of different income groups. As many as nine were from upper-middle income group, 30 from middle-income group and 13 from low-income group, the official said.
Full report at:
http://www.siasat.com/news/hindus-christians-reverted-islam-among-52-isis-militants-arrested-nia-1113365/
--------
Terror funding: NIA scrutinising 5 bank accounts linked to Hurriyat's Geelani
January 19, 2017
New Delhi: Five bank accounts allegedly linked to hardline separatist leader Syed Ali Shah Geelani are being scrutinised by the National Investigation Agency (NIA) as part of its probe into suspected terror funding.
The probe agency has roped in financial experts to scan these accounts — two of Geelani and the rest owned by other persons linked to him, official sources said today.
Preliminary investigation has found suspicious financial transactions through these accounts during 2014 and 2015.
There are many layers of transactions to avoid detection of end use of the money, they alleged, adding that in many of the deposits, the details of the depositors were not known.
The NIA sources claimed that the patterns of transactions — both deposits and disbursals — were suspicious.
A preliminary enquiry has been registered by the NIA to probe flow of funds into various bank accounts from overseas which in turn was allegedly being used for anti-national activities in parts of Kashmir.
Full report at:
http://www.siasat.com/news/terror-funding-nia-scrutinising-5-bank-accounts-linked-hurriyats-geelani-1113292/
--------
26/11 mastermind Lakhvi's nephew killed in North Kashmir encounter
Jan 20, 2017
NEW DELHI: Security forces on Thursday gunned down Abu Musaib alias Tahir, nephew of 26/11 mastermind and operational commander of all India operations of the Lashkar-e-Taiba, Zaki-ur-Rehman Lakhvi, in an encounter in North Kashmir. Officials say that Musaib had planned the attack on the CRPF post in Nowhatta Chowk on August 15 last year in which Commandant Pramod Kumar was killed.
Officials say that Musaib had revived LeT's activities in the region for the past few years and he was acting on the direct command of Lakhvi and other top leaders of the terror outfit based in Pakistan. "He arranged the funds, arms and ammunitions and orchestrated violent protests, snatching of arms of security forces and carrying out attacks on the troops. We were on the look out for him for a long time," said an officer.
Musaib, a resident of Pakistan, was divisional commander of LeT in Bandipora and Ganderbal areas since August 2015 and was involved in many terrorism-related activities which included weapon snatching of an army jawan of 14-Rashtriya Rifles in Bandipora In October 2015.
When contacted, IG operations CRPF Zulfikar Hassan said, "During a joint operation with all the forces, Musaib, a dreaded terrorist was killed early morning on Thursday. He was the mastermind of terror attack on CRPF men during Independence Day 2016 in which our Commandant was martyred."
Other than the August 15 attack, which happened during the protests in the valley post Hizbul Mujahideen terrorist Burhan Wani's killing, Musaib was also involved in killing and weapon snatching of one Army jawan of 14 RR in October 2015, attack on a civilian last year and another attack on Army personnel.
"An information was received about the presence of militants in Parray Mohallah, Hajin locality of Bandipora district. SOG Sumbal along with 13 Rashtriya Rifles and 45 battalion of CRPF cordoned off area and launched the search operation. The information was received at 12.30 am on Thursday while operation was launched at 4 am. Cordon was laid out in three houses of Khosa Mohalla, Hajin. Three sides were covered by RR while approach side was covered by CRPF and SOG of J&K police," said an official.
"On first light, around 6:30 am, an announcement was made for residents to vacate their houses. Meanwhile the presence of the terrorist was confirmed in an house to the extreme west. A warning was given for surrender, but he didn't do so and at 7:05 am, Musaib came out from the house and started firing indiscriminately. He tried to break the cordon on eastern side and fired at SOG. In retaliation CRPF and SOG fired back and neutralised the militant. In exchange of fire one JKP constable Vikash Sharma got a bullet injury in his leg and hand and was immediately evacuated to 92 Base Hospital, Army Srinagar via chopper," said the officer.
Full report at:
http://timesofindia.indiatimes.com/india/26/11-mastermind-lakhvis-nephew-killed-in-north-kashmir-encounter/articleshow/56676050.cms
--------
ISI may have engineered train accidents to avenge surgical strikes
Debashish Karmakar
Jan 20, 2017
PATNA: Security agencies are investigating the claims of the three Bihar criminals arrested in connection with two train accidents last year that the same were engineered by Pakistan's spy agency ISI to avenge the Indian Army's surgical strikes in Pak-Occupied Kashmir on September 29. Over 150 passengers were killed after Indore-Patna Express and Sealdah-Ajmer Express trains had derailed near Kanpur.
Umashankar Patel, Motilal Paswan and Mukesh Yadav were arrested from Motihari on Tuesday for allegedly placing a cooker bomb on the railway track near Ghorasahan station in Bihar on October 1. However, upon interrogation, they confessed that they had also planted explosives which led to the derailment of the two trains near Kanpur. The trio was picked up after the arrest of their ISI handler, Brijkishore Giri, and two others, Shambhu Giri and Mujahir Ansari, in Nepal.
Giri was funded by ISI operative Shamsul Huda, a fellow Nepalese who had gone to Dubai two years ago, to carry out subversive activities in India through local agents. Nepal has already initiated the process for Huda's extradition from Dubai.
An intelligence officer who was among those who interrogated the Bihar criminals told TOI: "Umashankar told us that soon after the surgical strike, Giri asked his team to do something immediately to avenge it."
Full report at:
http://timesofindia.indiatimes.com/india/isi-may-have-engineered-train-accidents-to-avenge-surgical-strikes/articleshow/56675827.cms
--------
Pakistan
Pakistan highlights plight of Rohingya Muslims at OIC
20-Jan-17
KUALA LUMPUR: Adviser on Foreign Affairs Sartaj Aziz on Thursday said that the extraordinary meeting of the OIC Council of Foreign Ministers should convey a message of hope for the Rohingya Muslim community and collectively, Muslims must play an active role to help the Rohingya victims in these difficult times.
"We hope that the democratically elected government of Myanmar will address this issue in a sympathetic manner," he said this while addressing the extraordinary meeting of the OIC Council of Foreign Ministers on the plight of Rohingya Muslims minority here. At the same time, he said that the OIC member states can supplement the efforts being carried out by the government of Myanmar to amicably and judiciously resolve this issue without any further loss of life or property and at the same time provide all possible support to the Rohingya Muslims.
As already emphasised, Sartaj said that the plight of Rohingya Muslims continues to pose a major challenge to the conscience of the international community. With renewed violence, the situation in Rakhine State has become dire primarily because the root causes of the problem have not been addressed since 2012 and 2014 when similar human rights violations took place in the region. "Pakistan has always supported oppressed Muslim population and consistently raised our voice against human rights violations committed in Kashmir, Palestine or any other part of the world," he said.
In the case of Rohingya Muslims, Pakistan has repeatedly raised the issue at various international forums, the adviser said. Besides urging the government of Myanmar to take necessary measures to protect the basic human rights of the Rohingya Muslims and to allow access of humanitarian assistance to the affected areas, Pakistan has also raised the issue in the UN Human Rights Council in March and July 2015.
In June 2015, Prime Minister Nawaz Sharif, addressed a letter to the UN secretary general, and called for intensification of diplomatic and moral pressure on the Myanmar government to grant the requisite rights to Rohingya Muslims and to provide them relief. "In my letters addressed to the OIC secretary general in 2015, I had urged the secretary general to take necessary steps to alleviate the sufferings of Rohingya Muslims and find ways and means to channel the humanitarian aid to them."
In addition, the prime minister has announced humanitarian assistance in the form of rice worth five million dollars, he informed the gathering. "We now hope that the government of Myanmar will respond positively to the recommendation contained in paragraph 10 of the draft resolution of this OIC extraordinary session, which I hope will be adopted later, so that regional and international organisations can deliver the much-needed humanitarian assistance to all the affected," Sartaj said.
Myanmar has recently completed the transition towards a democratic setup. "We support the efforts being made by the government of Myanmar to strengthen democracy in the country. We appreciate the setting up of the Advisory Commission on Rakhine State by the government of Myanmar in collaboration with the Kofi Annan Foundation to improve the welfare of all people in Rakhine state," he said.
In his report presented at the 43rd CFM last year in Tashkent, the adviser said that OIC's Special Envoy for Myanmar Tan Sri Syed Hamid Albar indicated that oppression of Rohingya was still going on and that the issue transcends international boundaries. He also urged upon the OIC to adopt a constructive and balanced approach. "In the spirit of transparency related to Rohingya Muslims, we urge the government of Myanmar to allow media access and distribution of humanitarian aid in areas affected by the recent spate of violence," Sartaj said.
"I would like to urge the Contact Group of the OIC to monitor the situation and coordinate closely with the government of Myanmar for humanitarian assistance to affected areas," he maintained. He also expressed his gratitude towards the government of Malaysia for hosting this OIC Foreign Ministers meeting and for excellent arrangements. He also complimented Prime Minister of Malaysia Najib Bin Tun Razak for his inspiring statement in the meeting. "I record my appreciation for the OIC for sustained attention to this important humanitarian issue," he remarked.
http://dailytimes.com.pk/pakistan/20-Jan-17/pakistan-highlights-plight-of-rohingya-muslims-at-oic
--------
Unlocking Islamic finance potential in CPEC, beyond
January 20, 2017
The Centre for Excellence in Islamic Finance (CEIF), IBA held an International Forum on 'Unlocking Islamic Finance Potential in CPEC and Beyond' at IBA City Campus. The China-Pakistan Economic Corridor (CPEC), often called a 'game-changer' in this region, primarily consists of $45 billion worth of domestic infrastructure projects planned by the government of Pakistan. IBA-CEIF, initiated in 2015 has done remarkable work; among all 3 centers in Pakistan, it is the most active.
In this Forum, the effects and impact of CPEC on the Islamic Finance industry in Pakistan were analyzed, since it provides a great opportunity for the industry to channelize excess liquidity into innovative financing instruments. High profile panelists representing the governments of Pakistan and China, Islamic Finance Experts, Academicians and Regulators discussed how this sector can capitalize on growth opportunities stemming from CPEC and related projects.
The conference commenced with recitation from the Holy Quran followed by opening remarks by Mr. Ahmed Ali Siddiqui, Director, CEIF. Welcoming the audience, Mr. Ahmed said that, 'Today's event is a continuation of CEIF's efforts to provide its strategic input and gather all stakeholders at a common platform. Moreover, this forum is a continuation of a round table conference held in December 2016. Since CPEC passes through 27 Muslim countries, it is not right to ignore its potential impact on the field of Islamic finance. We should ty to get the maximum benefit from this. Keeping in mind the Pakistani culture and Muslim majority population, the onus is on us that the financing for CPEC is structured in a Sharia compliant manner. All major stakeholders have to act fast to ensure a seamless flow. Thus, it is a critical topic to be discussed.' Mr. Siddiqui also hoped that this forum will provide food for thought on how to further make CPEC a strategic asset for Pakistan.
Dr. Farrukh Iqbal, Dean and Director, IBA, was then called on stage. With more than 30 years of management and research experience in the World Bank – across a range of countries; Dr. Iqbal has considerable experience in the field of development. He commenced his address by welcoming the audience, consisting of various distinguished persons from the SBP, Islamic banks and guests from China. He said that the work of the World Bank has essentially been related to long term financing – funds are lent for thirty plus years for development purposes. Since CPEC is a development project, Islamic finance is very critical for long term development of finance. The potential is enormous. However, it has not been properly exploited in Pakistan and neither in any other country. An exception is the Islamic Development Bank in Saudi Arabia. He further elaborated that Islamic Finance is a good instrument to use for long term development finance projects. He also congratulated the organizers for taking the initiative to hold this conference since this is an aspect, which has not been talked about.
This was followed by a keynote address by Mr. Irfan Siddiqui, President & CEO Meezan Bank. Fifteen years ago, when the idea of Islamic banking was introduced, Meezan Bank was a small bank. With the initiative of Mr. Irfan Siddiqui, Meezan Bank is now the eight largest bank in Pakistan. The first question which Mr. Siddiqui raised was whether 'CPEC would be a game-changer? In order to answer this, it is significant to understand what the CPEC is exactly. It is a project, which covers 60 countries – more than half of these are Islamic. It will also reduce the distance of Western China to Europe by 5000 km, a distance taking around 45 shipping days. Consequently, working capital requirements also reduce by one quarter. Mr. Irfan further said that China is the largest spender on tourism and if 1% of the tourism money – which the Chinese spend worldwide is invested in Pakistan than that amount will be greater than all the income earned by the tourism industry in Pakistan. It is important to understand that CPEC is not just a need of China but also Pakistan – creating a win-win situation. It is also significant for the young generation to learn Chinese since China is one of our friendliest neighbors, considering Pakistan's hostile relations with India and Afghanistan, and sanctions on Iran, which have adversely affected its economy.
Mr. Saeed Ahmed, Deputy Governor, State Bank of Pakistan, then addressed the audience. He mentioned how policymakers all over the world are taking a keen interest in Islamic banking especially after the recession of 2007. The size of the global Islamic finance industry is also approximately Rs. 2 trillion now. The right way to finance projects under the CPEC– ports, roads, motorways – is not from commercial banks, but from specifically designed products by Islamic banks such as Ijarat. He also discussed the role of the SBP in encouraging Islamic banking, by allowing them to have a liquidity ratio of 14%. He also emphasized that it is also essential to sign a Memorandum of Understanding between Islamic Banks and Chinese representatives. This will bring forward new ideas and strategies, thereby stimulating the growth of the Islamic finance industry.
The last speaker of the first session was Dr. Nadeem Javaid, Chief Economist, Government of Pakistan, Ministry for Planning, Development and Reform. He stated that there are four main components of CPEC: Energy, Infrastructure Development, Economic Incentives and Industrial Cooperation. He said that CPEC will greatly lower the per unit cost of energy, incentives such as exemption from local duties and materials, whereas suspension of trade union activities, will give opportunities to investors. Therefore, designing cost-effective, Shariah compliant finance options is the need of the hour. He predicted that the economic dividends of CPEC will be so high that even India might join this project eventually.
The second session was based on the theme 'CPEC Opportunities for Islamic Finance Industry', with some of the key topics being infrastructure development, trade finance and spillover opportunities in the cement, steel and energy sectors. The panelists were Maj. Gen. (Retd.) Dr. Zahir Shah, Mr. Irfan Siddiqui, Dr. Nasir Afghan, IBA Faculty, and Mr. Li Xiaoxin (David), Deputy CEO of Industrial & Commercial Bank of China Limited. The session was chaired by Dr. Nadeem Javaid. In this session, the historical changes in China under Deng Xiao Ping were discussed along with the contribution of Hong Kong and Taiwan to the Chinese economy. Another perspective was also given which stated that Pakistan is not ready for CPEC since our banks have failed to target the population living in rural areas – only 16% of the population uses banks. However, the fact that CPEC will lead to 2-3% growth in Pakistan's GDP cannot be overlooked. Dr. Afghan voiced his apprehensions over CPEC and said the initiative focuses more on economy than benefitting the people of Pakistan and hence it should be more about the people and not only about the economy. Mr. Li on the other hand opined that CPEC's emphasis on developing infrastructure will ultimately benefit the Pakistani nation and help Pakistan progress. After this, the house was opened for questions.
Full report at:
http://pakobserver.net/unlocking-islamic-finance-potential-in-cpec-beyond/
--------
Foreign agencies funding groups to destabilise country, Senate told
IFTIKHAR A. KHAN
Jan 20, 2017
ISLAMABAD: The Senate was told on Thursday that certain foreign intelligence agencies funded [militant] groups in Pakistan to destabilise it.
Answering a question about major sources of funding being used in acts of terrorism in the country, Minister of State for Interior Baleeghur Rahman said it was difficult to pinpoint with 100 per cent accuracy the sources of terrorism funding. But some of the generally perceived sources include extortion and funding by foreign intelligence agencies.
He said that militants were known to extort money from drug dealers and producers operating in the areas straddling the Pakistan-Afghan border.
Giving details of the investigations being conducted to collect information about terrorism funding, he said 844 such cases were under investigation, including 498 registered under the Foreign Exchange Regulation Act, 230 under anti-money laundering law and 116 cases of suspicious transactions reported by the financial monitoring unit of the State Bank of Pakistan (SBP).
Briefing the house about the steps being taken by the government to eliminate sources of terror funding, he said that in order to strengthen the anti-terrorist regime, with a focus on choking terrorism funding sources, amendments to the Anti-Terrorism Act 1997 had been introduced in March 2013 and June 2014, to make the law more effective and harmonised with international best practices. Rules under the law for freezing assets of terrorists have been framed and are with the law and justice division for final vetting.
According to the minister, the SBP issued regulations to all banks, for strict compliance, regarding money laundering and terrorism financing in Sept 2012. The regulations are regularly updated by the SBP.
The Prevention of Electronic Crime Act (PECA) 2016 has been promulgated which makes collection of funds for terrorist organisations through any information technology system or electronic devices an offence. The Anti-Money Laundering Act 2010 has been enacted.
The government has chalked out the National Action Plan whose point No 6 relates to "choking financing for terrorists and terrorist organisations". NAP is being implemented in letter and spirit.
The minister said collection of funds, through donation boxes, for different organisations had been banned. In case of violation, donation boxes are seized and action is taken by the police.
Reporting organisations were legally bound to send financial intelligence about money laundering to the SBP in cases where there was a suspicion that funds related to terrorist activities or organisations, Mr Rahman said.
The government has recently shared a list of persons placed on the Fourth Schedule of the ATA 1997, along with their national identity card numbers for the freezing of their bank accounts. Accordingly the SBP has frozen 4,461 bank accounts all over the country.
The minister said the central bank had also issued prudential regulations under which bankers were duty bound to exercise customer due diligence and know their customer obligations without fail and report suspicious transactions to the financial monitoring unit of the SBP.
Designated / proscribed entities and individuals are prohibited from opening bank accounts and availing of any facility from any financial institution.
The house was informed that 4,613 people had been killed and 12,188 injured in 5,321 incidents of terrorism in different parts of the country since 2013.
As per details, 1,794 people were killed and 5,352 injured in 1,571 such incidents in 2013. Though the number of the incidents rose to 1,816 in 2014, the number of lives lost came down to 1,172 and those injured to 3,185. In 2015, the number of the incidents was 1,139 and the number of the slain slipped in three digits for the first time in recent years to reach 838. The number of injured in terrorist incidents during the year was 1,706.
In 2016, the number of incidents of terrorism substantially declined to 785. The incidents claimed 804 lives and left 1,914 people injured.
Full report at:
http://www.dawn.com/news/1309508/foreign-agencies-funding-groups-to-destabilise-country-senate-told
--------
North America
Muslim Helplines Have Been Flooded With Calls Ahead Of Inauguration
20/01/2017
Two telephone helplines that offer counseling and support to Muslims in North America were flooded with calls during and after the U.S. presidential election, according to NBC News.
The Canada-based organizations, Naseeha Muslim Youth Helpline and NISA Helpline, say there's been an uptick in calls from American Muslims, some of whom are worried about their future under the administration of President-elect Donald Trump. Leaders at both Naseeha and NISA expect this upward trend to continue after his inauguration on Friday.
Islamophobic rhetoric was a core part of Trump's campaign. In the past, he's floated the idea of banning Muslims from entering the country and even been open to the idea of registering American Muslims on a national database. He's now surrounded himself with advisors who harbor prejudiced views of Islam.
All of that has resulted in anxious calls to her organization, according to NISA helpline director Tanweer Ebrahim. NISA specifically provides free, confidential telephone counseling for Muslim women. In 2015, it reportedly received 3,579 calls. That number increased to about 4,500 in 2016. In particular, Ebrahim says she saw a 3 to 4 percent bump in calls after the election.
"We have mothers fearing for the treatment of their children in school. And overall, they're worried for the future of their children with a Trump presidency," Ebrahim told NBC.
Naseeha's founder, Yaseen Poonah, said that calls to the youth hotline increased from 4,000 in 2015 to 16,000 in 2016. Many of those calls reportedly went unanswered because the organization is short-staffed ― a problem Poonah is attempting to fix by recruiting and training new volunteers.
oonah told The Star that the boost in call numbers could be a result of better word of mouth, advertising and success on Google search. But he also tied the uptick in calls to the U.S. election. Along with calling about issues that affect young people of all religions ― like depression and bullying ― it's also becoming more common for Naseeha to receive calls about discrimination.
"Youth are struggling with the sentiment that they don't belong and that is manifesting itself in unhealthy behaviors," he told The Star. "Admittedly, we are a little concerned about what will happen after Inauguration Day."
STEPHANIE KEITH/REUTERS
A woman walks past people holding U.S. Republican presidential nominee Donald Trump signs before the annual Muslim Day Parade in the Manhattan borough of New York City, September 25, 2016.
Ibrahim Hooper, National Communications Director for the Council on American-Islamic Relations, or CAIR, told The Huffington Post that he wasn't surprised that many of the calls were coming from American Muslims, whom he said have been feeling "stress and strain and apprehension" in the weeks leading up to the inauguration.
"This just says we need to do more here in the U.S. to deal with these issues," Hooper said. "Very often, we get so caught up in protecting civil rights and dealing with social justice issues, that people can fall through the cracks with their personal concerns."
Dr. Ben Herzig, a Massachusetts-based clinical psychologist, has often worked with Muslim clients. In an article for The Islamic Monthly, he described how some of his clients have reacted to the election results with "sadness, fear, disappointment, anger and nervousness."
While Islamophobia has never been a patient's primary complaint, Herzig believes anti-Muslim political rhetoric has had a negative impact on his patients' mental health.
"American Muslims are fearful of policies that might target them under the incoming administration. The outcome of the election has generally exacerbated issues like depression and anxiety for American Muslims who had been suffering from them prior to the election," Herzig told HuffPost in an email.
But despite these fears about life under a Trump administration, Herzig said that another narrative is also emerging within the community ―a story of increasing civic engagement and resilience.
"For Muslims with depression, anxiety and other challenges, the presidential election does not need to reinforce a personal narrative of victimhood or aloneness, but it also undeniably reflects the fact that, for nearly half of their fellow voting citizens, Trump's anti-Muslim rhetoric was not disqualifying," Herzig wrote. "My response as a psychologist involves validating that pain and being realistic about the obstacles ahead, but also emphasizing the idea that fear and despair can be the exception and not the rule."
http://www.huffingtonpost.in/entry/muslim-helplines-inauguration_us_587fc767e4b02c1837e94679
--------
A high school dropout from California is now the preeminent American master of Islamic calligraphy
Jan 20, 2017
Art is usually valued for its distinctiveness: The celebrated artist is one who conveys meaning in a way that no one has ever done before.
Islamic calligraphy has its own metrics of value. The tradition prizes expertise over innovation. It takes years to perfect the handful of principal calligraphic styles belonging to the category, even though they have the same rules regarding strokes and spacing. Few reach the level of mastery. Mohamed Zakariya is one of them.
Zakariya converted to Islam at the age of 19. After years of self-study, he traveled to Turkey to continue honing his craft as an apprentice to calligraphic experts. It took him four years to master his first two scripts and receive a diploma, or icazet, certifying his achievement. He is now the preeminent specialist of Islamic calligraphy in America.
Zakariya upholds the traditional style in all of his work, but he claims his style is also western. "I don't like the contrast between western and Islamic art. To me, I'm a western person and my take on calligraphy probably is a very western take."
Full report at:
https://qz.com/882411/this-californian-brought-the-art-of-islamic-calligraphy-to-america/
--------
Texas representative sends letter to Islamic leaders polling their beliefs
January 19, 2017
AUSTIN, TEXAS - A letter in an envelope marked 'Urgent Reply ASAP' is sparking controversy across Texas.
"I woke up at 6:45 on Monday morning and the very first text was a text from somebody saying 'hey have you seen this thing? What should we do,'" said Bee Moorhead, Executive Director for Texas Interfaith Center for Public Policy and Texas Impact.
The Texas Interfaith Center for Public Policy lobbies for religious concerns shared among all Texas religious and faith groups.
"There's nothing official about it except that an official sent it," Moorhead said.
The letter is signed by Freshman Texas Representative Kyle Biedermann (R-New Braunfels), the president of the American Islamic Forum for Democracy and the Director of the Former Muslims United, Incorporated.
The first line reads, "In connection with Texas Muslim Capitol Day 2017..." and it goes on to say Biedermann and the organizations are conducting a poll, the results of which they will share with Texas elected officials.
Moorhead said that's problem number one.
"Well they don't actually have any connection to Muslim Capitol Day, which is an event organized by CAIR, the Council on American Islamic Relations," she explained.
The letter then talks about Sharia law and whether Muslims Americans think it should be the law of the land or the U.S. Constitution.
"Sharia law is sort of this all-encompassing, confusing word that's thrown out a lot," explained Imaad Kahm, Policy Analyst for Texas Impact. "What it is is a belief system that all law is based on. And so you have a lot of different rulings based on how Muslims interpret God's will."
"If you actually look at Sharia law, for Muslims living in other countries, according to that law they should actually obey the laws of that country," he added.
Then there's the poll that asks if they agree with or support doctrine that, according to Kahm, is not widely known among the Muslim community and causes separation.
A piece of that doctrine is the Declaration of Muslim Reform Movement was written in May 2016 by one the the men who signed the letter, M. Zuhdi Jasser, M.D. President of the American Islamic Forum for Democracy and co-founder of the Muslim reform Movement.
Jasser lives in Arizona but spoke to KVUE's Ashley Goudeau over the phone.
"After our Muslim Reform Movement got together, had its first summit in December 2015, we wrote the declaration and basically in that declaration laid out what we believe to be the defining elements that radicalize Muslims," Jasser said.
"We sent that declaration in May of last year to every mosque, we have done this before. It was signed by 15 Muslim leaders of organizations not only in the U.S. but in Canada and Europe," he added.
Jasser said he did not receive many responses to the letter or the declaration and including it in the poll sent out would allow them to collect data.
"So when I was contacted by the representative's office that wanted, they had a Muslim day happening and what should be the response I gave the same response that I've given to the Senate and to the House in my testimony last year I testified to Senator Cruz's sub-committee on counter-terrorism and oversight and in that subcommittee I testified about how our declaration should be used as a foundation to separate Muslims that are part of the solution of radicalization versus those Muslims that are really part of the problem," Jasser said.
The poll also asks if they agree the Muslim Brotherhood should have looked into the doctrine to determine if it meets the criteria of a foreign terrorist organization.
"Asking the Muslim community whether they support these sort of fear mongering ideas is very divisive," said Kahm. "It actually discourages Muslims who are coming to the Capitol. Muslims in Texas who are trying to exercise their right of democracy and free speech."
Moorhead says it's not only discouraging, but intimidating.
"There's no official quality to the survey, there's no reason that anybody needs to respond to it. There's no responsibility anybody has to tell anybody that information, but receiving it that way creates a very intimidating situation for people who aren't sure, who maybe are already a little bit concerned about their position in the community because we're already had so much anti-Islamic sentiment nationally and in Texas," Moorhead said. "So it's intimidating. it's misleading in the sense that it makes seem like it's somehow connected to their event when they didn't think that it was. And it's kind of calculated to make people feel nervous about government which is unbelievably inhospitable for any legislator in the state."
But Jasser argues Texas Muslim Capitol Day is intimidating.
"They're trying to deceive you and ignoring what the letter is about. The letter asks them do you agree with the Muslim Reform Movement Declaration that was signed by 15 Muslim organizations and checking a box is not intimidation. It's whether you support it or you don't So if they're doing the Muslim Day where they're trying to, in many ways, they're intimidating representatives saying they are a community that need to be represented and are ignored, et cetera," Jasser said.
Full report at:
http://www.kvue.com/news/politics/texas-representative-sends-letter-to-islamic-leaders-polling-their-beliefs/388547109
--------
American Federation of Indian Muslims celebrates Silver Jubilee by giving student scholarships worth Rs 4 crore
January 18, 2017
By TCN News
The arrival of the New Year may have been celebrated in myriad ways by people across the globe; but for 120 students, December 31 and January 1 will remain cherished for slightly different memories. Over these two days, thanks to the American Federation of Muslims of Indian Origin, they were bestowed with scholarships worth Rs 4 crore for attaining distinction in board exams.
The event was organised as part of the organisation's silver Jubilee convention held at the Kedar Nath Sahani Auditorium in New Delhi to celebrate the accomplishments and mark a milestone in the organization's history. The convention was held in coordination with the Delhi Youth Welfare Association.
The 120 students, selected from across the India, were awarded gold, silver, and bronze for attaining meritorious distinction in the board exams. In addition, the prestigious Sir Syed Ahmed Khan Award conferred to leading Mumbai philanthropist Dr. Abdul Kader Fazlani Sopariwala.
The Mir Taqi Mir Award was given to Sanjiv Saraf, founder of the popular web portal Rekhta, for his contributions in promoting the Urdu language. The website now features more than 22,000 titles of Urdu books.
Excellence Awards were given to former Chief Electoral Commissioner S.Y.Quraishi and the historic Anglo Arabic Senior Secondary School.
The awards to top students were given at the hands of Delhi Deputy Chief Minister Manish Sisodia. He praised the work of AFMI and that more such efforts need to be undertaken to uplift the society. He mentioned that education remains the top priority of the Delhi government with as much as 25% of the state government's budget dedicated to it.
AFMI's flagship awards program has been instrumental in spreading awareness about educational excellence and empowerment across the country. Dr.A.R. Nakadar, AFMI's founding trustee, said that the fruits sown by AFMI at its inception are now bearing fruit. He said that due to such efforts there has been a remarkable improvement in the educational scenario of Indian Muslims.
Citing the latest census reports, published in Indian Express, he stated that there has been a 98.8% increase in the number of Muslim graduates between 2001 and 2011. During the same period, the Indian Muslim literacy rate increased from 59.1% to 68.5%. He said that the day is not too far when, through the collective efforts of all, AFMI's dream of 100% literacy will be realised.
Full report at:
http://twocircles.net/2017jan18/403061.html?utm_source=feedburner&utm_medium=email&utm_campaign=Feed%3A+Twocirclesnet-IndianMuslim+%28TwoCircles.net+-+Indian+Muslim+News%29
--------
Europe
ISIS using online 'headhunters' to recruit young Germans
Jan 20, 2017
Islamic State is using "headhunters" on social media and instant messaging sites to recruit disaffected young people in Germany, some as young as 13 or 14, the head of the country's domestic intelligence agency said on Thursday.
Hans-Georg Maassen also drew parallels between the militant Islamist group and past radical movements such as communism and Adolf Hitler's Nationalist Socialists that also tried to lure young people keen to rebel against their parents and society.
"On social media networks there are practically headhunters who approach young people and get them interested in this (Islamist) ideology," Maassen told foreign reporters in Berlin.
He cited the cases of a German-Moroccan girl, Safia S, 16, who is accused of stabbing a policeman at a train station in Hanover in February last year, and a 12-year-old German-Iraqi boy who tried to detonate two explosive devices in the western town of Ludwigshafen in December.
In closing arguments at Safia's trial on Thursday, prosecutors asked the judge to convict her of attempted murder, grave physical injury and support of a foreign terrorist organisation, with a sentence of six years in prison. A verdict is expected on Jan 26.
Prosecutors are also seeking a three-year sentence for Mohamad Hasan K, a 20-year-old German-Syrian accused of having known of Safia's planned attack but not informing the police.
About 20 percent of an estimated 900 people from Germany who have been recruited by Islamic State to join the fight in Iraq and Syria are women, some as young as 13 or 14, Maassen said.
German authorities are monitoring 548 Islamists deemed to be a security risk, but German law does not allow for their arrest until they have committed a crime, Maassen said.
He said he was satisfied that police and security officials had communicated well over the case of the failed Tunisian asylum seeker Anis Amri, who killed 12 people on Dec 19 by ramming a truck through a Berlin Christmas market.
The case sparked criticism because German authorities had identified Amri, who was imprisoned in Italy for four years, as a security risk and had investigated him for various reasons, but never took him into custody.
German Interior Minister Thomas de Maiziere said on Wednesday the cases of all those deemed a security risk in the aftermath of the Berlin attack would be reviewed.
Maassen said European intelligence agencies were also seeing the radicalisation of other segments of society through social media, with growing numbers of people who were not previously politically active attracted to far-right groups.
Such people had their views reinforced in so-called "echo chambers" on the Internet, Maassen said.
"We've seen this with Islamic State, but now we're seeing this with so-called 'good citizens' who are being radicalised, and we worry that this radicalisation could be transformed into a willingness to commit violent acts."
Support for far-right groups has grown in Germany following the arrival of more than a million migrants and asylum seekers over the past two years, many of them young Muslim men fleeing conflicts in Syria, Iraq and elsewhere.
http://nation.com.pk/international/19-Jan-2017/isis-using-online-headhunters-to-recruit-young-germans
--------
France to get Jaish chief Azhar banned by UN
Jan 20, 2017
France on Thursday said it will ensure that the proposal to designate Jaish chief Masood Azhar a global terrorist is "reintroduced" at the Sanctions Committee of the UN Security Council.
The assertion was made by Jacques Audibert, diplomatic adviser to French President Francois Hollande, weeks after China blocked India's move to get Masood Azhar banned by the UN.
"We will make sure that demand is reintroduced. We are still hopeful that the UN will designate him (Azhar) as a terrorist soon," Audibert told reporters on the sidelines of the Raisina Dialogue when asked about the Azhar issue.
He also exuded confidence on India becoming member of the Nuclear Suppliers Group (NSG), notwithstanding stiff opposition by China on admitting India into the 48-nation grouping.
India has already initiated preliminary discussions with several member countries of the 1267 Sanctions Committee of the UN Security Council on once again bringing back the proposal to ban Azhar. France is a member of the Sanctions Committee and has been strongly supporting India on the issue.
On India's NSG bid, Audibert said France supports New Delhi's membership as its entry into the grouping will improve non-proliferation regime.
"We have been supporting India's NSG bid because India is providing necessary guarantee. India's membership of NSG will improve the non-proliferation regime," he said.
Full report at:
http://nation.com.pk/international/19-Jan-2017/france-to-reintroduce-proposal-to-designate-masood-azhar-as-global-terrorist
--------
Pope Francis Strengthens Palestinian Refusal to End Hostilities with Israel
by Giulio Meotti
January 19, 2017
Mahmoud Abbas's activities in Rome began on January 14, with the formal opening of the Palestinian Embassy to the Vatican.
The "Palestinian president," now in the twelfth year of his four-year term, then met with Pope Francis for the third time since the start of his papacy four years ago. The high-profile get-together took place in the middle of the Palestinian attempt to bypass peace talks with Israel and to internationalize the Israeli-Palestinian conflict.
A few weeks ago, the UN Security Council, in Res. 2334, condemned Israel for its "settlements"; failed to mention any wrongdoing, such countless Palestinian stabbings and car-rammings of Israeli civilians, and the Obama Administration, which had planned and orchestrated the UN ambush, refused, for the first time in forty years, to veto the anti-Israel resolution, thereby ensuring it would pass.
This week, on January 15, 2017, the "Palestinian question" dominated the French "peace conference" in Paris. By opening the Palestinian embassy during this critical time of intensified anti-Israel animosity, was the Pope justifying the Palestinian-Arab attempt to isolate the Jewish State and to impose on it unacceptable conditions of surrender through international pressure?
Unfortunately, Pope Francis's papacy has been marked by a long list of anti-Israel gestures that did not advance the cause of peace that the Pope claims to champion.
When the Pope visited Israel in 2014, he was photographed praying at Israel's security barrier, which had been created simply to stop the wave of Palestinian suicide bombing attacks against Israeli civilians. The Pope stood before graffiti that compared Palestinians with Jews under the Nazis. "Bethlehem looks like the Warsaw Ghetto", the graffiti read. If it does, it only looks that way because, since the once Christian-majority city Bethlehem was transferred to total Palestinian Authority control in 1995, most of its beleaguered Christians have fled, due to Muslim persecution.
Pope Francis approaches the security barrier near Bethlehem, May 25, 2014, on which was painted graffiti that comparing Palestinians with Jews under the Nazis: "Bethlehem looks like the Warsaw Ghetto." If it does, it only looks that way because, since the once Christian-majority city Bethlehem was transferred to total Palestinian Authority control in 1995, most of its beleaguered Christians have fled due to Muslim persecution. (Image source: Al Jazeera video screenshot)
Sadly, Francis's homily, delivered in Bethlehem, did not contain the language of peace; just admonition of Israel: "Are we like Mary and Joseph, who welcomed Jesus and cared for him with the love of a father and mother? Or are we like Herod, who wanted to eliminate him?" Was Pope Francis, as Caroline Glick wrote, likening the Israelis to Herod, when historically is the Palestinians who, like Herod, have wanted to eliminate the Jews?
The Pope also met with Palestinian "refugees", as if the 1948 war were the source of conflict between the two peoples, instead of centuries of Muslims having displaced Christians and other non-Muslims from Persia, the Christian Byzantine Empire, North Africa, Southern Spain, and most of Eastern Europe.
Pope Francis then accepted an invitation to visit -- along with Muhammad Ahmad Hussein, the Grand Mufti of Jerusalem -- the Temple Mount, Judaism's most sacred site also the third holiest site in Islam, after Mecca and Medina. But this is the same Palestinian Mufti who justifies terrorism against the Israelis by saying, among other inflammatory declarations, that "the Hour of Resurrection will not come until you fight the Jews."
A year before his visit in the region, Pope Francis, greeting the Catholic faithful at the General Audience in Rome, said:
"I ask you to pray for the peace in the Middle East: in Syria, in Iraq, in Egypt, in Lebanon and in the Holy Land, where the Prince of Peace is born".
Was it so difficult for the head of the Catholic Church to say the word "Israel," instead of the sanitized "Holy Land"?
Previously, when he visited the shrine of St. Francis in Assisi, the Pope said:
"Let us listen to the cry of all those who are weeping, who are suffering and who are dying because of violence, terrorism or war, in the Holy Land, so dear to Saint Francis, in Syria, throughout the Middle East and everywhere in the world."
Full report at:
https://www.gatestoneinstitute.org/9798/pope-francis-palestinians-israel
--------
Europe beware! Islamic State to switch tactics in Europe in 2017
Jan 20, 2017
As the Islamic State loses territory in Syria and Iraq, the radical Islamist group is likely to increase its focus on foreign operations leading to a heightened terrorist threat in Europe for 2017.
Throughout 2016, Europe has suffered several high-profile and high-impact terrorist attacks conducted by radical Islamist militants. France and Belgium have been the worst hit, but Germany has also increasingly become a target for extremists with direct or indirect links to the Islamic State. Terrorist activity is expected to remain a major factor of insecurity in Western Europe in 2017. However, as the strategic situation shifts in Syria and Iraq, the threat posed by Sunni extremists in Europe is likely to evolve and generate new concerns for local security forces.
Shifting strategic realities for the Islamic State
The evolution of the terrorist threat in Europe is closely linked to strategic changes that are affecting the Islamic State's position in the Middle East and North Africa. The Sunni extremist group lost control of Sirte in Libya as well as of several key locations in northern Syria and is struggling to delay the offensive in Mosul. As such, its strategy for the first months of 2017 is likely to focus on tactical offensives in Syria and attempts to expand its global operations, especially in Europe.
Throughout 2016, the Islamic State has not only lost key regions, it has also witnessed the deaths of various members of its senior leadership . In August, an airstrike killed Abu Mohammad al-Adnani, spokesperson of the Islamic State, and a key figure in planning of external operations. The killing of al-Adnani as well as other senior leaders weakened the Islamic State's planning and coordination for global attacks and pushes the group to rely on less complex plots as well as in-country recruiting in Europe for future operations.
Due to territorial and manpower losses, the Islamic State is trying expand its global operations and develop stronger recruitment and support networks in Western Europe and Turkey. The senior militants that have replaced those killed frequently call for attacks against economic, civilian, military and institutional targets in a bid to boost the radicalisation of specific segments of European societies. The objective of expanding global operations is also an attempt to score key propaganda victories aimed at facilitating the group's expansion in regions where it so far has a relatively weak penetration, such as Germany.
Growing risk of single-assailant attacks
As the Islamic State tries to expand its offensive operations in Europe, the group is likely to implement a shift in strategy. While in January and November 2015, radical Islamists conducted complex and coordinated attacks in Paris, it is almost certain that extremists will pivot toward operationally simpler assaults. The usage of single-assailants attacks provides the Islamic State with a less demanding planning phase and a higher likelihood of success.
Recent messages issued by Islamic State officials increasingly point toward the group's willingness to boost its sympathisers in order to conduct carry out a high number of attacks. By launching a high volume of low-to medium-scale attacks the Islamic State aims at creating an overall feeling of insecurity and instability in Europe. These attacks may cause limited damage, especially if conducted by single-assailants armed with knives, but the overall psychological and political impact is likely to remain high. The Islamic State has also developed a strategy of claiming responsibility for attacks in which the connection between the perpetrator and senior Middle East-based militants is weak in a bid to create the illusion of possessing far-reaching capabilities.
Single-assailant operations in which the perpetrators use firearms, explosives, vehicles or other readily available means are more difficult to detect by European intelligence agencies due to the limited level of planning necessary. In addition, the gap between the risk mitigation measures put in place by authorities and the investment needed by militants to plan attacks grows, leading to higher counter-terrorist costs. To successfully respond to the heightened risk of single-assailant attacks, European countries are increasingly required to reform their intelligence and security structures leading to a situation that increases the risk of internal political rivalries.
Enhanced concerns over social and economic implications
As the Islamic State continues to try to conduct a high volume of attacks in Europe, terrorist incidents are likely to have an increasing impact on the national economies of affected countries. The feeling of insecurity and the relative weakness of the public response to the threat negatively affects key sectors of Western European economies. France and Belgium suffered major declines in tourism in the last months of 2015 and throughout 2016. The latest attack in Berlin further solidifies concerns over the security of crowded public places. Hotel occupancy rates as well as restaurant reservation rates are the first indicators of the economic downturn caused by terrorism activity. However, any upcoming attack in Europe is likely to further solidify the 'new normal' in which citizens feel less safe in public environments thus leading to a generalised drop in expenditures in public places such as train stations.
Full report at:
http://globalriskinsights.com/2017/01/europe-faces-evolving-terrorist-threat/
--------
Arab World
From IS to government control, Syrians left with few choices
Jan 20, 2017
SAFIRA: Carrying her four-year-old son, Elham Saleh walked all night behind a smuggler, navigating land mines through Islamic State group- and rebel-held territory in northern Syria.
Finally, they reached relative safety in Safira, a government-controlled village on the southern edge of the city of Aleppo, where they have been staying for the past two weeks.
Saleh's husband, once a rebel fighting to topple Syrian President Bashar Assad, had joined IS but she couldn't bear living under the group's brutal rule any longer.
"Once he joined Daesh, I fled with my son, and Daesh began searching for me," said Saleh, using the Arabic acronym for IS and sitting on a couch on the floor of a house that she and her relatives are using in this village southeast of Aleppo.
She, like thousands of others who escaped, paid 60,000 Syrian pounds ($120) per person for smugglers to help them flee IS territory.
As Islamic State-controlled areas in northern Syria come increasingly under attack by an assortment of groups attacking from the air and on the ground, thousands of civilians have been risking their lives to make the perilous journey out, paying smugglers to escape both the shelling and the extremist group.
Many of them, initially opponents of Assad, are now opting to go to government-controlled territory — the most stable option in a war that has turned opposition-held territory into ruins and IS-held areas into large prisons where militants enforce their radical interpretation of Islamic laws.
"Daesh is taking residents as hostages and not allowing anyone to leave," said Youssef Younes, a volunteer who has been helping families displaced from the northern, IS-controlled Deir Hafer region. Younes said he has registered 1,600 families who fled Deir Hafer alone over the past few months.
Younes said most of those displaced are women and children, adding that no one can leave without using smugglers who have good tribal connections and know what tracks to take through mined desert areas.
The extremist group has lost large areas it once controlled in Syria, as U.S.-backed Kurdish-led Syria Democratic Forces and Turkey-backed Syrian rebels push ahead in separate offensives that have left hundreds of people dead on both sides. Turkish-backed rebels are now trying to capture the town of al-Bab, the largest IS-held town in Aleppo province.
Assad has long portrayed the Syrian war as a choice between his rule and that of the extremists, and has maintained a veneer of normalcy in areas under his control throughout the war, now in its sixth year. While the country has been torn into several areas of control and opposition-held territory is pounded by airstrikes, areas controlled by the government have been largely spared the massive destruction and bombings.
Saleh, who fled with her son Abdullah, decided to run away last year after her husband joined IS, a group that she says she hated because they mistreat women and are notorious for their public killings. She currently makes a living by making loofahs, which she and her relatives sell for 20 pounds (4 cents) a piece.
Saleh first fled to her sister's house, shortly before the two began the journey along with other relatives that took weeks, staying for a few days at a time in one village after another so that IS fighters would not notice they were fleeing. Once they reached a front line between IS and other rebel groups, they paid the smugglers who took them to the rebel-held town of Azaz. From there, they drove to government-controlled territory.
Saleh does not know where her husband is. When her son asks about his father, she tells him: "He is in heaven."
Wearing a face veil that revealed only her eyes, she spoke about IS brutality — recalling one day when they shot seven men in the head and crucified them in the square of Deir Hafer for three days in order to scare the town's residents. The victims had been found guilty of raising Syrian flags on some buildings, Saleh said.
"I was shaken and ran away when I saw the swollen bodies," Saleh said.
Samia al-Moussa wasn't so lucky. She fled IS-held territories last year but lost her husband to the extremists. On July 19, 2014, IS fighters knocked on her door in the town of Sheikh Ahmad and asked her husband, Abdul-Fattah, to go with them for some questioning. She never saw him again.
Three months after taking him, IS fighters took Abdul-Fattah to the nearby village of Tel Maksour where they read the verdict accusing him of being a spy for the government. Al-Moussa, holding back tears, quoted witnesses as saying that her husband was beheaded in public.
Two years after the death of her husband, al-Moussa made it to Safira where she and her six children are staying with her brother-in-law, Nafeh.
Mother Agnes Mariam, a nun who assists the displaced, said that some 3,500 families have fled IS-held areas of Maskaneh, Deir Hafer and al-Bab in northern Syria over the past two months alone.
For Ziada Idlibi, 35, fleeing the northern town of al-Bab, currently under attack from Turkish, Russian and U.S. warplanes, was a journey filled with horror. Idlibi and her parents fled with the help of smugglers, but came under intense shelling as they tried to walk through mine-laced territory.
The shelling killed a girl and a boy and "we almost got killed," she said.
She said she will only return to her hometown once it is liberated from the extremists who "kill for nothing."
"Those people have no mercy in their hearts," said Idlibi as she carried her identity card, hoping to get assistance.
http://nation.com.pk/international/19-Jan-2017/from-is-to-government-control-syrians-left-with-few-choices
--------
33 Daeshis killed in clashes with army forces in central Syria
Jan 20, 2017
More than 30 members of the Takfiri Daesh terrorist group have been killed when they engaged in fierce exchanges of gunfire with Syrian army soldiers and pro-government fighters from popular defense groups in the country's central province of Homs.
The so-called Syrian Observatory for Human Rights said that at least 18 Daesh extremists had been killed as they sought to advance near the Tiyas Military Airbase, also known as the T-4 Airbase, west of the ancient Semitic city of Palmyra.
The UK-based monitoring group's head, Rami Abdel Rahman, said 12 pro-government fighters had also been killed, including seven in a bomb attack.
Daesh has tried for weeks to cut off the Syrian army's access route to the airbase, but to no avail in the face of strong resistance shown by government forces.
Additionally, Syrian soldiers killed more than 15 Daesh terrorists, and destroyed an armored vehicle and seven pickup trucks equipped with heavy machineguns south of Sharifa village, situated about 60 kilometers west of Palmyra.
A Syrian military source, speaking on condition of anonymity, also told Syria's official news agency SANA that the army had established control over a number of strategic hills and checkpoints along al-Phosphate road in Homs province.
Syrian government forces inflicted heavy losses on Daesh ranks and military equipment during the operations.
Furthermore, Syrian army units, backed by the Air Force, targeted militant hideouts in al-Maqaber area of the eastern city of Dayr al-Zawr as well as the nearby al-Tharda Mountain.
Daesh executes dozen people in Palmyra
Meanwhile, Daesh terrorists have reportedly beheaded and shot 12 captives in Palmyra in front of crowds of men and children.
Full report at:
http://www.presstv.ir/Detail/2017/01/20/506933/Syria-army-forces-clashes-Takfiri-Daesh-militants-Homs-Palmyra
--------
IS kills 12 teachers, soldiers in Palmyra
Jan 20, 2017
BEIRUT - Islamic State militants put at least 12 people to death in execution-style killings in the ancient city of Palmyra, which they re-captured from the government for a second time in December, the Syrian Observatory for Human Rights reported on Thursday.
The militant group beheaded four of the people - state employees and teachers - outside a museum, the group said. The eight others - four of them government soldiers and four of them rebel fighters captured elsewhere in Syria - were shot.
Meanwhile, Syrian President Bashar al-Assad has said peace talks next week in the Kazakh capital will focus on enforcing a cessation of hostilities to allow aid access across his war-torn country.
The talks sponsored by regime allies Russia and Iran and rebel backer Turkey will begin Monday in Astana and are expected to last less than a week.
Details on the format of the talks remain murky, but Assad told Japanese television channel TBS that a stop to fighting would be the priority.
"I believe that they will focus, in the beginning, and will prioritise, as we see it, reaching a ceasefire," Assad said, according to excerpts released by his office.
"This will be to protect people's lives and allow humanitarian aid to reach various areas in Syria," he said.
Moscow and Ankara brokered a truce between Assad's forces and rebel fighters last month, but clashes have escalated across the country in recent weeks.
And the UN's envoy on Syria, Staffan de Mistura, last week lamented that the truce had not brought any additional access of humanitarian aid deliveries.
Repeated attempts by world powers to end Syria's war, which erupted nearly six years ago with widespread anti-Assad demonstrations, have failed to bear fruit.
Last year, the United States and Russia worked together to put a temporary truce in place and sponsored several rounds of talks in Geneva, but they did not secure a political solution.
In late 2016, a new partnership between Moscow and Ankara emerged, despite their backing for opposite sides in the conflict, and the Astana talks will be the first test of their joint efforts.
The two powers have said US President-elect Donald Trump's administration should attend the talks, but Iranian officials have voiced strong objections to Washington's presence.
Assad said an agreement at Astana would "allow these (rebel) groups to join the reconciliation deals in Syria".
Damascus has reached a series of local deals under which rebels evacuate areas in exchange for an end to bombardment or sieges.
Assad said if a similar deal was struck in Astana, opposition fighters would "lay down their arms and receive an amnesty from the government. This is the only thing we can expect at this time."
Such deals have been fiercely criticised by rebel groups as a deliberate strategy of displacement.
Several major rebel groups announced on Monday that they would attend the Astana talks to discuss the fragile truce and improved humanitarian access.
They announced a delegation of eight representatives, led by Mohammad Alloush of the Jaish al-Islam (Army of Islam) rebel faction.
But the powerful Ahrar al-Sham faction, which counts thousands of fighters in central and northern Syria, said Wednesday it would sit out the talks.
It blamed "the lack of implementation of the ceasefire" and a fierce regime offensive on Wadi Barada, an area 15 kilometres (10 miles) northwest of Damascus.
The area is the capital's main source of water, and the fighting has left some 5.5 million people in Damascus and its suburbs facing water shortages since late December.
Syrian government forces and allied militia groups surrounded Wadi Barada on Thursday, where around 20,000 people live, a monitor said.
The Syrian Observatory for Human Rights said regime loyalists cut the route between Wadi Barada and adjacent rebel-held territory in Qalamun.
The regime is seeking to gain full control over the area - including the key Ain al-Fijeh spring - to restore running water to the capital.
Full report at:
http://nation.com.pk/international/20-Jan-2017/is-kills-12-teachers-soldiers-in-palmyra
--------
Saudi security forces track down six terrorists from one family
19 January 2017
After the arrest of Mohammed Hussain al-Faraj on Tuesday, Saudi security forces will have tracked down and eliminated a terrorist group that consists of six people from the Faraj family. The six men were tracked down in al-Awamiyah in Qatif, east of Saudi Arabia.
The list includes Hussain Mohammed Ali al-Faraj, who is wanted for shooting innocent people in public facilities and for involvement in other violent crimes in Qatif.
Mohammed Ali Abdulraheem al-Faraj who is on the list of the 23 most-wanted men Saudi Arabia's Interior Ministry had published. He is the father of Hussain al-Faraj who was arrested on Tuesday.
Abdulraheem Abdulraheem al-Faraj was killed after exchanging gunfire while security forces searched his house in Awamiyah. He's involved in a number of terrorist crimes.
Majed Ali Abdulraheem al-Faraj is still wanted by security forces as he did not hand himself over. Security forces are still pursuing him for his involvement in terrorist crimes with his brother Abdulraheem. His crimes include shooting a number of policemen and killing one and armed robbery.
Salman Ali Salman al-Faraj who is also among the list 0f the 23 most wanted men which the Interior Ministry had published. Security forces are still tracking him down for involvement with his brother Abdulraheem in a number of terrorist crimes.
Ali bin Ahmad al-Faraj was killed, alongside his cousin Hussein Modon al-Faraj, in a security operation. Al-Faraj family lives in al-Masura neighborhood in Awamiyah. Authorities in the eastern province have announced dismantling of the neighborhood.
Full report at:
https://english.alarabiya.net/en/News/middle-east/2017/01/19/Saudi-security-forces-track-down-six-terrorists-from-one-family.html
--------
Guantanamo detainee arrives back in Saudi Arabia: state media
Jan 20, 2017
A Saudi citizen who had been held in the U.S. military prison at Guantanamo Bay arrived back in the kingdom on Thursday, state news agency SPA reported.
"As part of efforts to return Saudis detained outside the kingdom, by the grace of God almighty, the citizen Jubran bin Saad bin Waza al-Qahtani was returned from Guantanamo Bay and arrived in the kingdom on Thursday evening," a statement quoting an interior ministry spokesman said.
Full report at:
http://nation.com.pk/international/20-Jan-2017/guantanamo-detainee-arrives-back-in-saudi-arabia-state-media
--------
US air strike killed al Qaeda leader in Syria
20 January 2017
A US air strike killed an al Qaeda leader in Syria on Tuesday, the Pentagon said in a statement on Thursday.
Full report at:
https://english.alarabiya.net/en/News/middle-east/2017/01/20/US-air-strike-killed-al-Qaeda-leader-in-Syria.html
--------
Iraq: Most ISIS commanders in Mosul killed
19 January 2017
Most ISIS commanders in Mosul have been killed in battles with Iraqi government forces that raged over the past three months in the eastern side of the city, an Iraqi general said on Thursday.
The fight to take the western side of Mosul, which remains under the extremists' control, should not be more difficult than the one on the eastern side, Lieutenant-General Abdul Ghani al-Assadi told Reuters before embarking on a tour of areas newly retaken.
Assadi climbed during his visit to the upper floor of a huge unfinished mosque and gazed out at the western side of the northern Iraqi city, which is divided into two halves by the Tigris river.
His elite Counter-Terrorism Service announced on Wednesday that almost all of the city's eastern half has been brought under government control.
"God willing, there will be a meeting in the next few days attended by all the commanders concerned with liberation operations," he said, replying to a question on when he expects a planned thrust into the western side of Mosul to begin.
"It will not be harder than what we have seen. The majority of ISIS commanders have been killed in the eastern side." He did not give further details.
Since late 2015, government forces backed by US-led coalition air power have wrested back large amounts of northern and western territory overrun by ISIS in a shock 2014 offensive.
On Thursday, regular Iraqi army troops captured the Nineveh Oberoy hotel, the so-called "palaces" area on the eastern bank of the Tigris, and Tel Kef, a small town just to the north according to military statements in Baghdad.
The army is still battling militants in al-Arabi, the last district which remains under their control east of the river, said one of the statements.
"God willing, there will be an announcement in the next few days that all the eastern bank is under control," Assadi said.
A Reuters correspondent saw army troops deploying in an area by the river as mortar and gun fire rang out further north.
On one of the streets newly recaptured from ISIS, men were reassembling breeze blocks into a wall that was blown up by a suicide car bomb several days ago.
Prime Minister Haider al-Abadi said late on Tuesday that ISIS had been severely weakened in the Mosul campaign, and the military had begun "moving" against it in the western half of Iraq's second largest city. He did not elaborate.
If the US-backed campaign is successful it will likely spell the end of the Iraqi side of the self-styled caliphate declared by the ultra-hardline ISIS in 2014, which also extends well into neighboring Syria.
Full report at:
https://english.alarabiya.net/en/News/middle-east/2017/01/19/Iraq-Most-ISIS-commanders-in-Mosul-already-killed.html
--------
Terrorists Preparing for Large-Scale Offensive in Lattakia
Jan 19, 2017
Websites affiliated to opposition groups disclosed that the provincial Security Council of Lattakia in a secret circular has warned all the state security branches and military commands of the Syrian army that the city of Lattakia and its countryside should stay on alert to defend their territories against an imminent terrorist attacks.
The sources said that Fatah al-Sham terrorists are getting ready to launch massive attacks in the mountainous regions of Lattakia to take control over the Kurds mountain and Turkmen mountain.
The source added that Fatah al-Sham has been preparing its forces since months ago for these massive offensives to capture the army strongholds with the help of Turkey's logistical back up.
In December, the army's artillery units pounded the military positions of al-Nusra Front near the village of al-Yamama in the Northern part of Lattakia province, informed military sources disclosed.
Full report at:
http://en.farsnews.com/newstext.aspx?nn=13951030000748
--------
Syria: Final Stages of Reconciliation Underway in Damascus Countryside
Jan 19, 2017
Mas'ab al-Halabi said that the peace committees in Beit Jin farm and the town of Jabata al-Khashab have made breakthroughs and the militants that have requested amnesty will be pardoned soon.
He further added that the number of the militants that have applied for government amnesty has exceeded 1,000, while 140 militants have rejected peace in demand for relocation to Idlib.
Al-Halabi went on to say that reconciliation in the villages of Kafr Hour, Beit Saber and Beit Tima has played a crucial role in the course of the peace process in Damascus countryside.
The Russian Defense Ministry announced earlier today that over 2,200 militants in Wadi al-Bardi region in Western Ghouta have laid down arms and joined the nationwide peace agreement with the Syrian government.
Chief of the Main Operational Directorate of the General Staff of the Russian Armed Forces Lt.Gen. Sergei Rudskoy announced that 2,274 militants have handed over their weapons to the Syrian army and joined peace with the government.
Full report at:
http://en.farsnews.com/newstext.aspx?nn=13951030000705
--------
Terrorist Groups Violate Truce again in Western Aleppo
Jan 19, 2017
The terrorist groups of Fatah al-Sham Front (previously known as the al-Nusra Front), Ahrar al-Sham and Nouralddeen al-Zinki that are deployed in the Western countryside of Aleppo city carried out mortar attacks on army positions in Aleppo al-Jadideh (new Aleppo) district, breaching the recently-brokered ceasefire.
The army soldiers also managed to repel several cases of terrorist attacks on their positions in the same region.
In the meantime, the army units that had been monitoring terrorists' movements targeted their positions in al-Rashedeen South-West of the city.
Also, heavy fighting erupted between the army soldiers and terrorists in the neighborhoods of al-Rashedeen 4 and 5 and Scientific Research Center in the Southwestern outskirts of Aleppo city after the latter opened fire on government troops in full disrespect for the ceasefire.
The army units destroyed several military vehicles of the terrorists in the small towns of Khan al-Asal and al-Mansoureh also in the Western countryside of Aleppo city.
Terrorist groups suffered tens of casualties in the clashes with the army men and pulled back forces. The terrorists' military hardware also sustained major damage in the clashes.
Reports said earlier today that the army troops repelled ISIL's attack in an area near the strategic Kuweires airbase East of Aleppo province, inflicting major losses on the terrorists.
Full report at:
http://en.farsnews.com/newstext.aspx?nn=13951030000648
--------
Syrian Army Intensifies Attacks on Terrorists' Defense Lines in Homs Province
Jan 19, 2017
The army units targeted the gatherings and movements of ISIL East of the Fourth Station, Southeast of al-Tayas, Ba'ar al-Fawa'erah in Eastern Homs, killing several terrorists and destroying their military vehicles.
The army soldiers targeted a bomb-laden vehicle of ISIL on the way to Taloul al-Tayas before reaching the army's positions.
In the meantime, the army men engaged in heavy fighting with ISIL terrorists in the Eastern direction of the Fourth Station, killing a number of them and destroying their vehicles.
The warplanes and army's artillery units targeted the positions of Fatah al-Sham in the town of al-Rastan and its surroundings, in the villages of Deir Foul, al-Zafaraneh, al-Qantou and Hart al-Badu in Um Sharshouh in Northern Homs, killing a number of militants, including several commanders, and destroying several of their vehicles.
Also, the Air Force and Army's artillery and missile units targeted the concentration centers of Fatah al-Sham Front and ISIL in Northern and Eastern Homs on Wednesday, killing a number of militants and destroying their equipment.
The Syrian Army units hit ISIL's movements in areas North of the Fourth Station in the Western direction of the ancient city of Palmyra (Tadmur), killing 12 terrorists and destroying a bomb-laden vehicle.
The warplanes targeted heavily ISIL's centers near the Fourth Station, Tadmur and gas and oil fields, leaving a number of militants dead and their vehicles and bases destroyed.
Full report at:
http://en.farsnews.com/newstext.aspx?nn=13951030000473
--------
Mideast
Trump to be surprised if ditches Iran nuclear deal: Zarif
Jan 19, 2017
Foreign Minister Mohammad Javad Zarif says Iran will have its "own options" in response to any violations of the 2015 nuclear deal, adding that the Islamic Republic will "surprise" US President-elect Donald Trump if he scraps the accord.
Zarif made the remarks in the Malaysian capital, Kuala Lumpur, on Thursday while speaking with reporters on the sidelines of a special meeting of foreign ministers of the Organization of Islamic Cooperation (OIC).
Asked about Trump's campaign pledge to quash the nuclear deal, Zarif said, "Whatever he does to the nuclear deal, we're not worried about it, because we have our own options."
The deal, called the Joint Comprehensive Plan of Action (JCPOA), was negotiated by Iran and the P5+1 group of countries – the US, Russia, China, Britain and France plus Germany – in July 2015.
The JCPOA, which was later enshrined in a legally-binding UN Security Council resolution, places certain limits on the Iranian nuclear activities in exchange for lifting nuclear-related sanctions.
However, the incoming US president vowed during his election campaign that he would "tear up" the JCPOA or try to renegotiate its terms. He also referred to the nuclear agreement as "the worst deal ever negotiated."
Trump will be inaugurated as US president on January 20, a year after the JCPOA took effect.
Zarif further said Washington cannot unilaterally decide to abrogate the JCPOA as it is an "international agreement," and not a bilateral one between Iran and the US.
"As I've said before, President-elect Trump likes surprises and we will make him surprised," said the Iranian foreign minister.
The top Iranian diplomat, however, said it is in the interest of all sides to honor their obligations under the accord.
On Tuesday, Iranian President Hassan Rouhani said fresh negotiations on the JCPOA would have no meaning and there would be no new talks in this regard.
"The JCPOA is not a mutual agreement [but] is a multilateral agreement. Therefore, it will be meaningless if we wanted to negotiate on the JCPOA anew. There will be no new negotiations," he said.
January 16 marked the first anniversary of the JCPOA's implementation.
Earlier this week, EU foreign policy chief Federica Mogherini, who chaired the P5+1 during the negotiations in the lead-up to the deal, said that the 28-nation bloc will "protect and preserve" Iran's historic nuclear deal.
China also urged all signatories to the agreement with Iran to remain committed to their obligations.
China's Foreign Ministry Spokeswoman Hua Chunying expressed her country's readiness to maintain close cooperation with all parties to ensure the "sustained, comprehensive and effective implementation" of the JCPOA.
In a similar stance, British Foreign Secretary Boris Johnson called for the accord to be maintained as it "has great merit."
Russia has also said it would be unforgivable if the agreement was lost.
http://www.presstv.ir/Detail/2017/01/19/506894/Iran-US-Mohammad-Javad-Zarif
--------
Fighting erupts in Turkish parliament over Erdogan powers bill
Jan 20, 2017
Turkish MPs have once again engaged in physical violence after a female lawmaker handcuffed herself to the parliament's podium in protest at a constitutional reform package under debates.
Independent legislator Aylin Nazliaka attached herself to the microphone on Thursday, forcing the deputy parliament speaker to call recess twice.
The row erupted among female lawmakers during the recess as efforts failed to convince Nazliaka to end her protest.
The lawmakers started shoving and slapping each other after one legislator proceeded to unscrew the microphone.
Two legislators, including Pervin Buldan, a deputy speaker from the pro-Kurdish Peoples' Democratic Party (HDP), and Gokcen Enc, with the ruling Jutice and Development Party (HDP), were hospitalized following the brawl.
It was the third such fight during parliamentary debates over the controversial bill proposed by the AKP.
If adopted both in the parliament and a national referendum, the new constitution would cancel the parliamentary system of government in favor of a presidential one.
Turkish President Recep Tayyip Erdogan, the AKP's founder, has long pushed for the constitutional amendments, arguing that a strong presidency will make Turkey stronger.
On January 11, Turkish lawmakers got engaged in physical violence, pushing each other and exchanging blows during a round of voting.
The opposition lawmakers accused the ruling party of breaching the law on secrecy of ballot by displaying their votes.
So far, the parliament has approved seven out of the 18 articles of the draft constitution.
Turkish lawmakers scuffle after Turkish deputy Aylin Nazliaka (C) handcuffed herself to the podium in a protest against a constitutional reform bill aimed at boosting presidential powers on January 19, 2017. (Photo by AFP)
Under the new mechanism, Erdogan would be allowed to serve two five-year tenures. With the exception of his current mandate, he could thus be leading the country until 2029, with the next elections being scheduled for 2019.
Full report at:
http://www.presstv.ir/Detail/2017/01/20/506951/Turkey-parliament-fight
--------
Iran FM slams global indifference toward Rohingya sufferings
Jan 19, 2017
Iran has criticized the international community for turning a blind eye to the plight of Myanmar's Rohingya Muslims, urging the Muslim world to unite in support of the persecuted minority.
Iranian Foreign Minister Mohammad Javad Zarif made the comments at a special meeting of foreign ministers of the Organization of Islamic Cooperation (OIC) in the Malaysian capital, Kuala Lumpur, on Thursday.
Zarif further condemned the global media blackout on the sufferings of Rohingya Muslims, saying "Unfortunately, horrific images of drowned Muslim children on seashores have made no headlines in media worldwide."
The top Iranian diplomat also censured the international community's indifference to the plight of the Rohingya and called on the United Nations to focus on the crisis gripping the Muslim community.
Bangladeshi activists march towards Myanmar's embassy in Dhaka, Bangladesh, December 6, 2016, to protest against the persecution of Rohingya Muslims in Myanmar. (Photo by AFP)
Rohingya Muslims have been deprived of their inalienable right to citizenship while facing systematic discrimination, violence and hatred, Zarif added.
He further urged the OIC member states to pressure Myanmar's government to respect the Rohingya rights, calling for the urgent dispatch of humanitarian aid to the Muslims inside Myanmar and those forced to take refuge in neighboring states.
Rohingya Muslims 'dying appalling deaths'
Speaking at the opening of the event, Malaysian Prime Minister Najib Razak urged Myanmar to end its crackdown on Rohingya Muslims.
"Many have suffered appalling deaths, and those that have lived through the atrocities have witnessed or endured unspeakable cruelty," he said.
Myanmar's treatment of the Rohingya was a "stain" on the 10-member the Association of Southeast Asia Nations (ASEAN), he added.
Full report at:
http://www.presstv.ir/Detail/2017/01/19/506874/Myanmar-Iran-Rohingya
--------
The bill that can keep Erdogan in power until 2029
20 January 2017
Turkey edged closer to adopting a constitutional bill extending President Tayyip Erdogan's powers overnight, with parliament approving four more articles of a reform which opponents see as a step towards an authoritarian state.
Erdogan, who could rule the country until 2029 if the legislation is passed, says it will provide stability at a time of turmoil and prevent a return to the fragile coalitions of the past.
During the evening debate an independent lawmaker, Aylin Nazliaka, handcuffed herself to the podium in protest against the stronger presidency, triggering a scuffle between MPs of the ruling AK Party and opposition parties.
The reform would enable the president to issue decrees, declare emergency rule, appoint ministers and top state officials and dissolve parliament – powers that the two main opposition parties say strip away balances to Erdogan's power.
Also read: Turkish parliament moves country toward presidential system
With the adoption of the latest four articles overnight, the assembly has now approved 11 articles in the second round of voting. It is on track to pass the remaining seven articles and vote on the package as a whole on Friday night. Providing it garners the support of at least 330 deputies in the 550-member assembly in the remaining votes, the legislation will go to a referendum, expected in the spring.
Full report at:
https://english.alarabiya.net/en/News/middle-east/2017/01/20/Turkish-parliament-nears-approval-of-presidential-system.html
--------
Amnesty: Iran must stop systematic repression of young people
19 January 2017
Amnesty International declared that young people in Iran are exposed by the ruling regime in their country to a "systematic violence," referring to the incident of flagellation of young people on charges of participating in mixed celebrations. Amnesty International condemned in a statement the physical violence sentences issued by Iranian courts against citizens, citing the example of the Iranian journalist who was whipped after an error in his report on the confiscation of motorcycles by the police.
Randa Habib, Regional Director for Middle East and North Africa in Amnesty, said that these horrific abuses practised by the Iranian regime against its citizens, violates human dignity and international law for use of torture and ill-treatment, physical and psychological abuse. Amnesty based its report on new testimonies of Iranian women who have been subjected to physical torture and flogging in various incidents.
They shared their hardship on the Facebook page 'Disguised Freedoms', run by famous Iranian activist Masih Alinejad.
Cops flog wedding guests
One of the girls recounted how the police broke into her wedding ceremony in the Robat Karim County near the capital Tehran, without court permission, stating that the police confiscated bottles of alcohol and convicted all the guests at the ceremony to 74 lashes.
The Iranian regime prohibits most entertainment activities for young people, such as sitting in coffee shops. In last December, the police abducted 120 people who were sitting in a coffee shop in the center of the capital, under the pretext that they were not in a normal state of mind!
Full report at:
https://english.alarabiya.net/en/News/middle-east/2017/01/19/Amnesty-Iran-must-stop-systematic-repression-of-young-people.html
--------
Palestinians rally against possible US embassy relocation to al-Quds
Jan 20, 2017
Thousands of Palestinians have staged demonstrations across the occupied West Bank in condemnation of US President-elect Donald Trump's plan to fulfill an election campaign promise to move the US embassy from Tel Aviv to Jerusalem al-Quds.
Hundreds of demonstrators waved Palestinian flags during a protest in the northern West Bank city of Nablus, situated approximately 49 kilometers north of Jerusalem al-Quds, on Thursday.
They also held signs reading, "Al-Quds is the Key to Peace and War," and, "Moving the American Embassy is a New Balfour Declaration for Palestinians."
Nasser Abu Jaish, a member of the Palestinian People's Party, said the US embassy relocation would be equal to declaration of war on Palestinians as well as Arab and Muslim nations.
"Especially at this time, moving the embassy would confirm that the US administration has decided to end the peace process in the region," he said.
Palestinians protest US President-elect Donald Trump's plan to move the American embassy to Jerusalem al-Quds, during a demonstration in the central occupied West Bank city of Ramallah on January 19, 2017. (Photo by Ma'an news agency)
Protesters in the central West Bank city of Ramallah also voiced their strong opposition to Trump's plan, stressing that Jerusalem al-Quds must be recognized as the capital of the independent Palestinian state.
Full report at:
http://www.presstv.ir/Detail/2017/01/20/506938/Palestinians-protest-US-embassy-alQuds-Trump
--------
About 400,000 Syrian child refugees in Turkey out of school: UNICEF
Jan 19, 2017
The United Nations children's agency, UNICEF, says nearly 400,000 Syrian child refugees living in Turkey are currently out of school and at risk of becoming a "lost generation."
UNICEF said on Thursday that more than 40 percent of Syrian child refugees of school-going age were missing out on education in Turkey.
In a statement published on Thursday, Justin Forsyth, the agency's deputy executive director, called for action to tackle the issue.
"Unless more resources are provided, there is still a very real risk of a 'lost generation' of Syrian children, deprived of the skills they will one day need to rebuild their country," Forsyth said.
The UN official made the remarks after a visit to southern Turkey where thousands of Syrians live in cities and inside camps.
The Ankara government says there are 2.7 million Syrian refugees in Turkey. According to UNICEF, children make up 1.2 million of the Syrian refugees in Turkey.
Syrian refugee children play at a refugee camp in Suruc, Turkey, on February 2, 2015. (photo by AFP)
In September 2016, the United Nations refugee agency said in a report that only 39 percent of Syrian school-age refugee children and adolescents in Turkey were enrolled in primary and secondary schools while the number was 40 and 70 percent in Lebanon and Jordan respectively.
Full report at:
http://www.presstv.ir/Detail/2017/01/19/506909/Turkey-Syria-UN-education-UNICEF-Justin-Forsyth
--------
Africa
Most of al-Shabab's force in Somalia are kids: UN
January 20, 2017
UN Secretary-General Antonio Guterres says he is alarmed at reports that children may constitute a large part of the force recruited and used by al-Shabab Islamic extremists in Somalia.
Guterres said it's estimated over half its force are children, noting that at least 60 per cent of al-Shabab "elements" captured in Somalia's semi-autonomous Puntland region in March 2016 were youngsters.
In a report to the UN Security Council circulated this week, he said children were used in combat, with 9-year-olds reportedly taught to use weapons and sent to front lines.
Children were also used in operations with explosive devices, as spies, and for carrying ammunition or performing domestic chores, he said.
While al-Shabab was the main perpetrator, the report said the Somali army and other groups also recruited and used children.
http://www.business-standard.com/article/international/most-of-al-shabab-s-force-in-somalia-are-kids-un-117012000190_1.html
--------
U.S. strikes in Libya kill more than 80 ISIS fighters
Jan 20, 2017
More than 80 Islamic State militants, some of whom were believed to be plotting attacks in Europe, died in U.S. air strikes on camps outside the group's former North African stronghold of Sirte in Libya, the United States said on Thursday.
"These strikes were directed against some of ISIL's external plotters," U.S Defense Secretary Ash Carter told a Pentagon briefing, using an acronym for Islamic State, the Syria- and Iraq-based militant group.
"They certainly are people who ... were actively plotting operations in Europe, and may also have been connected with some attacks that have already occurred in Europe," Carter said.
The U.S. attack on Wednesday night was led by two B-2 bombers, which took off from Whiteman Air Force Base in Missouri to carry out a 30-hour round-trip bombing run. They dropped about 100 precision-guided munitions on the camps.
The attack took place 28 miles (45 km) southwest of Sirte, targeting fighters fleeing Libyan forces clearing them from Sirte with support from U.S. air strikes.
Libyan forces finished retaking the city in early December after a nearly seven-month battle in a major blow to Islamic State that left the group without any territory in Libya.
Still, Libyan officials say hundreds of militants may have escaped before the battle or in its early stages, and local Islamic State leaders have spoken of trying to regroup outside the city.
A statement from Libya's U.N.-backed Government of National Accord (GNA) in Tripoli said the strikes were "preemptive steps to foil attempts" by Islamic State to stage new attacks on Sirte as well as other areas of the country.
The strikes appeared to be intended to shore up the GNA and protect recent gains in oil production from possible militant attacks, said Geoff Porter, head of North Africa Risk Consulting.
Full report at:
http://nation.com.pk/international/20-Jan-2017/u-s-strikes-in-libya-kill-more-than-80-isis-fighters
--------
Nigerian Air Force 'dropped two bombs' on town
Jan 20, 2017
The Nigerian Air Force dropped two bombs on the centre of a town where tens of thousands of people were seeking refuge from Boko Haram, according to an aid worker who witnessed the attack.
At least 70 people were killed on Tuesday when the jet bombed the town of Rann, sparking widespread condemnation from organisations working to address a growing food crisis in the war-torn region.
Alfred Davies, a field coordinator with the medical charity Doctors Without Borders (MSF), described the attack as "incomprehensible".
"The first bomb fell at 12:30 pm (1130 GMT) and landed just a few metres away from the Red Cross office," he wrote in an account sent by MSF on Thursday.
"The plane circled back and it dropped a second bomb five minutes later," he said, adding they were "dropped on houses."
He added: "There are no words to describe the chaos. Some people had broken bones and torn flesh; their intestines hanging down to the floor. I saw the bodies of children that had been cut in two."
MSF arrived in Rann last weekend to vaccinate children and screen for malnutrition, which has gripped the region and left hundreds of thousands of people in dire need of help.
Between 20,000 and 40,000 people who had fled the Islamist militants were living in makeshift shelters in the town, which was previously inaccessible because of insecurity.
People were dying of hunger and were in urgent need of food, according to Davies.
"The army that was meant to protect them bombed them instead," he said.
Six Nigerian Red Cross workers were among the dead.
The International Committee of the Red Cross (ICRC) told AFP on Thursday that 61 injured were airlifted to its specialist trauma unit in the Borno state capital, Maiduguri.
Of those, 28 were children, seven were women and 26 were men, it added.
Nigeria's military has called the bombing a mistake and blamed "the fog of war". It said its intended target were jihadists reportedly spotted in the Kala-Balge area, of which Rann is part.
Full report at:
http://nation.com.pk/international/19-Jan-2017/nigerian-air-force-dropped-two-bombs-on-town
--------
Emir of Kano advocates Islamic financing for Nigeria
JANUARY 19, 2017
The Emir of Kano, Alhaji Muhammad Sanusi, said on Thursday that the introduction of Islamic finance into the nation's economic system would positively impact the rate of its financial inclusion in Africa. He made the remarks at the Third International Conference on Islamic Banking and Finance in Kano. "Financial Inclusion is one key component on inclusive development, which is necessarily for sustainable growth. "In this area, Nigeria and Sub-Saharan Africa are lagging behind several regions and continents with less than one adult in four having access to an account in a formal financial institutions in Africa. "Based on the survey conducted by the Enhancing Financial Innovation and Access (EFInA), 39. 5 per cent of adult Nigerians are financially excluded," he said. According to him, the number is the highest in Africa, with the North East and North West having the highest rates in Nigeria, representing 68.4 per cent and 56.0 per cent respectively. Sanusi Lamido Sanusi, the Emir of Kano He, however, noted that many Muslims rejected the formal financial services because of non-compatibility of the services to the tenets of Islam. "This contributes to the overall rate of financial exclusion in the continent. "OIC countries with Islamic Banking services have higher level of financial inclusion than those that do not have those services," he said.
Full report at:
http://www.vanguardngr.com/2017/01/emir-kano-advocates-islamic-financing-nigeria/
--------
Nigeria's fight against Boko Haram is going to be long and messy
January 19, 2017
The admission by Nigeria that its air force accidentally targeted a camp for people who have been internally displaced represents a significant change in attitude by the forces fighting the terrorist insurgency known as Boko Haram.
In what the Nigerian officials have described as a "regrettable operational mistake," fighter jets on Tuesday bombed the camp as part of an operation against Boko Haram in Rann in the northeastern Borno state.
Mistakenly believing that a gathering of Boko Haram terrorists was in Borno, Nigerian Maj. Gen. Lucky Irabor says his forces "got the coordinates and I directed that the air (force) should go and address the problem."
As we now know, the jets hit innocent civilians who had been fleeing Boko Haram attacks, killing at least 70 -- including some members of Red Cross staff -- and injuring many more.
The airstrike has once again raised questions about Nigeria's ability to defeat the terrorists. The conflict to date has claimed thousands of lives and displaced more than 2 million people in the northeast of the country, according to the Internal Displacement Monitoring Centre.
This admission of error from Nigerian officials feels a world away from four years ago when the very same military was being accused of abusing the people it was meant to protect -- and was being accused of corruptly looting billions of dollars meant to aid the fight against terrorism.
For three years, the United States refused to sell arms to Nigeria over these abuse and corruption allegations. The lack of faith in Nigeria's ability to fight Boko Haram is likely to continue into the next US administration: Trump's transition team recently asked the State Department why the United States was bothering to fight Boko Haram, and why the Chibok girls had not yet been found, according to a report in The New York Times.
The skepticism is in some respects understandable. As Boko Haram wreaked carnage in northeast Nigeria, there was a palpable sense of defeatism among the local population. As village after village was attacked, the armed forces that were supposed to defend civilians instead reportedly dropped their weapons and fled.
Announcements have been made about the death or capture of Boko Haram leaders, only for those same leaders to pop up in angry videos, trashing the government claims.
Much of the criticism and pessimism is fair -- there certainly have been a number of catastrophic military decisions if Nigeria's seven-year fight with Boko Haram is taken as a whole. But President Muhammadu Buhari was elected in May 2015 on the promise of taking the fight to Boko Haram. As odd it may seem, the tragic error in Rann suggests that this may be happening.
Since Buhari's election, Nigerian forces have been able to clear Boko Haram out of areas such as Rann.
This action has allowed aid groups such as the Red Cross -- which tragically lost some of its staff in this week's attack -- to access these places for the first time.
They were once off-limits to all but military personnel -- and these deaths are a grim reminder that the fight is far from over: As these areas open up to aid organizations, the sheer scale and scope of the humanitarian disaster is becoming apparent for the first time.
But the notion that the Nigerian military does not know what it is doing does not stand up to impartial scrutiny, and those quick to blame it ignore the massive changes that this fight has recently seen.
Full report at:
http://edition.cnn.com/2017/01/19/africa/nigeria-fight-boko-haram-analysis-sevenzo/index.html
--------
Southeast Asia
Help transgenders 'return to right path', Jais says in Friday sermon
January 20, 2017
KUALA LUMPUR, Jan 20 — The Selangor Islamic Religious Department (Jais) urged Muslim parents and the community today to help provide guidance and support to transgenders or those it described as being "trapped in the wrong body" to return them to the "right path".
In its Friday sermon, Jais said that the act of imitating the opposite gender was inappropriate and prohibited in Islam.
"The reality is that the existing phenomenon of transgender within our society cannot be allowed to become widespread.
"Today, I am hoping for cooperation from the family members, community, and NGOs to collectively provide continuous support and guidance so that they will initiate the change towards better, and also to develop a treatment and recovery programme in calling them to return to the right path," it said.
Jais added that the Fatwa Committee of the National Council for Islamic Affairs of Malaysia had decided back in 1989 that transgenders were classified as those who had altered their physical form, gaiting and body movement, speech and voice, putting up make-up and wearing clothing of the opposite sex.
Jais said parents must advise their children to not imitate the opposite gender and provide suitable clothing for them.
"What is even alarming is that this minority group is becoming more active in establishing associations and demanding their rights according to the law so as to justify their actions.
"Furthermore, they are fighting for equality without hindrances in carrying out their lives just like normal people, especially the rights for freedom and marriage," it said.
Muslim-majority Malaysia vehemently objects to the perceived rise in lesbian, gay, bisexual and transgender (LGBT) activities, which it deems to be an assault against Islam together with growing calls for greater civil liberties.
The local LGBT community remains in the shadows, particularly Muslims, fearing persecution from religious authorities in the predominantly Muslim country that has religious laws prohibiting same-sex relationships and cross-dressing.
Only a handful have stood up against the discrimination and marginalisation, most notably transgender rights activist Nisha Ayub who was also awarded for her efforts by the United States government recently.
Last July, the High Court ruled in favour of a trans man the right to change his name, sex and identity card number issued according to gender, noting he had undergone a gender-reassignment operation.
However, an appellate court reversed the ruling earlier this month following an appeal from the National Registration Department, saying the trans man was born biologically a woman.
Malaysia also has colonial-era laws that criminalise homosexual sex, among others, as carnal intercourse against the order of nature, which is punishable by up to 20 years in prison. The law is, however, rarely used.
In the US, the New England police department formed the New England Gay Officers Action League in 1991 to support their officers who are from the LGBT community.
In 2014, the Forth Worth Police Department in Texas started rolling out videos to welcome a diverse working community into its force, targeting the LGBT community, single mothers, African-Americans as well as Hispanics and Latinos.
http://www.themalaymailonline.com/malaysia/article/help-transgenders-return-to-right-path-jais-says-in-friday-sermon
--------
Indonesia all out to woo Xinjiang's Muslims
January 20, 2017
Eager to court the Muslim segment from the burgeoning Chinese outbound market, Indonesia is stepping up its promotion as a halal destination to China's Xinjiang, which is home to the Muslim Uigher minority.
Speaking to TTG Show Daily, Rizki Handayani, director of promotion for South-east Asia at the Indonesia Ministry of Tourism, said: "Halal food is very important to the Muslim travellers. We have the advantage of having well-equipped facilities and people to manage this expectation."
For Xinjiang's large Muslim Uighur population, the "recommended halal destinations" for them in Indonesia will be Lombok, West Sumatra and Aceh, Rizki pointed out.
As part of the NTO's promotion efforts, Rizki shared that there will be an upcoming familiarisation trip for Xinjiang-based travel agents to these three provinces to educate them about the halal products in these destinations.
Said Rizki: "We want to show that apart from Bali, there are good offerings for (Muslim travellers) in our other destinations as well."
The Chinese market accounted for the most foreign tourists arrivals in Indonesia between January and November last year, with 1.3 million Chinese tourists, up from 1.1 million over the same period in the previous year.
"There is still a lot of room for us to grow (in China)," she said, adding that most of the NTO's marketing budget in the new financial year will be going towards the Chinese market.
Full report at:
http://ttgasia.com/article.php?article_id=28643
--------
Azalina, you set yourself up by taking photo in Vegas casino
Jan 20, 2017
Slumdog: Let me get this straight, Minister in the PM's Department Azalina Othman Said. You went to Las Vegas, got very excited when you saw all those poker machines and decided to take a photo of yourself in front of the poker machines. So basically you set up yourself for ridicule.
Now you are trying to deflect the brickbats coming your way by scaring the daylights out of the civil servants that they will be charged under the law if they don't use social media responsibly.
But they had nothing to do with the posting of your picture from Instagram.
Your comment that, "I went to Las Vegas, and you know, there are many gambling machines in Las Vegas" is like saying I went to China and you know there are many Chinese there.
Anonymous #44199885: I don't see the rationale for the de facto law minister to lecture civil servants when the whole episode that has arisen is due to her act of taking a picture of herself in the casino.
Don't preach to the civil servants as though they are the ones who should be careful with their conduct and their private lives.
FairMind: Azalina, would you step into Genting casino, take a photo and post it to Instagram? You wouldn't do it here in Malaysia where supermarket trolleys must be separated into halal and non-halal because of 'confusion', but I see that once you step out of Malaysia you are no longer 'confused'.
You went to a gambling city out of your own volition, took a photo and posted it on Instagram, why blame and threaten the public servants for your own actions? Ask our religious departments or mufti who are keeping a golden silence so far whether it is wrong to take a photo in a casino in a gambling sin city?
As usual, they, who are quick to segregate supermarket trolleys, seemingly apply different versions of Islam depending on whether you are a man on the street or from BN. You wouldn't put your goods in a non-halal supermarket trolley in Malaysia, would you put your whole self in a non-halal gambling premises in another kafir country?
Thickskin: So, if a Malaysian Muslim would like to see what a casino looks like, he/she has to go to Las Vegas in order to do so, as Muslims are not allowed to enter Genting casino. This means the poor kampong folk have no chance, while people like Azalina can do so easily.
Mushiro: Azalina is wrong to say that the people expect more professionalism from civil servants. The people expect more professionalism, sincerity and truth from government ministers.
Malaysians and civil servants are an intelligent lot and they know exactly how to decide.
The more Azalina tries to hide, the more will be exposed. Someone like Azalina posing in front of a gambling machine in Vegas cannot expect people to believe it is a pilgrimage.
Anonymous #28648954: So Azalina, tell us what exactly were you doing in a Las Vegas casino? Lawatan sambil belajar (study trip), is it? And who paid for your trip? The Malaysian taxpayers, is it?
Oscar Kilo: If you want to go to a gambling den, no need to go all the way to Las Vegas.
Just go to one of the many thousands of gambling dens in shop lots all over the country. Surely the police are aware of these gambling dens, but the dens continue to be in business anyway.
SusahKes: So, let me get this right. There's a better chance for Azalina to enter the decadent Sin City, which is certainly one of the most non-halal cities on this planet, than there is for me to enter McDonald's with a non halal-certified cake.
Way to go, Madam. After all, we ought to know better; how dare we question the sense of piety of someone who moved up Abdul Hadi Awang's Private Member's Bill in Parliament?
Tony Soprano: Everyone's rushing to judgment without knowing anything about Las Vegas. Tourists wander the two miles or so of the strip and get their photos taken inside casinos all the time.
I've stayed in casino hotels, but I don't gamble. It so happens that their prices are quite low, often under US$45, obviously with the hope that guests will at least play the slot machines.
There's more to Vegas than gambling. I just came from there and had a good time without gambling. I prefer non-casino standard hotels, but the casino hotels are there if you like a four- or five-star room for a low price. Maybe readers should "listen" more and talk less when they're clueless about some foreign location.
Worldly Wise: Gambling is for most people a pastime. But a few go to extremes. Just like drinking alcohol is for most people just a drink to keep company with friends. But a few drink too much.
It is the excesses that we should frown upon. In Azalina's case she did not gamble. She was simply a tourist in Las Vegas. Poor girl.
P Dev Anand Pillai: The problem is many here live a pretentious life, on the outside they want to be known as being religious, God-fearing and pious but on the inside, their other side comes to life.
It is not only Azalina, the inner side of them only comes out when they are overseas, far away from the prying eye of their peers and the religious police of Malaysia.
Then just like normal folks, they too love to take photos and now with the social media at your fingertips, they post it. So the question is, why pretend?
Rupert16: What Azalina is trying to explain her way out, is akin to telling us that "she smoked but did not inhale". The rakyat are not easily fooled.
Anonymous 2436471476414726: This sound like one federal cabinet minister who was photographed having dinner in Sabah where turtle eggs were served on the table.
He admitted the turtle eggs were on the menu, only that he did not eat the eggs.
TimesAchanging: Funny, the subject matter is about her and Las Vegas and she talks so much about other people. She said, "Would I take my own picture if I were to gamble?"
This is similar to someone saying, "Would I put stolen money in my own bank account?"
I think someone did exactly that.
Full report at:
http://www.malaysiakini.com/news/369895
--------
Ayob Khan: IS militants shifting focus to southern Philippines
January 20, 2017
RAUB, Jan 20 — IS militant group has shifted the recruitment of new members to southern Philippines following strict control on travel to Syria by various countries.
Counter Terrorism Division principal assistant director Datuk Ayob Khan Mydin Pitchay said the new group of recruits were under the command of Abu Sayyaf senior leader, Isnilon Totoni Hapilon or Abu Abdullah al-Filipini.
"The threat has become more serious because formerly, it was focused on Iraq and Syria, and now it has shifted to southern Philippines.
"So there will be movement here, and we expect Sabah will be made a transit point by members of the militant group from the peninsula, South-east Asian or and South Asian countries."
He was speaking to reporters after delivering a talk at the 'Seminar on Understanding Extremism: The Reality and Solutions' held at the Universiti Teknologi Mara (UiTM) Raub branch.
Full report at:
http://www.themalaymailonline.com/malaysia/article/ayob-khan-is-militants-shifting-focus-to-southern-philippines
--------
South Asia
4 ISIS militants hailing from Pakistani and Tajikistan killed in Nangarhar
Jan 20 2017
Four foreign loyalists of the Islamic State of Iraq and Syria (ISIS) terrorist group were killed in an airstrike in eastern Nangarhar province of Afghanistan.
According to the local security officials, the militants were killed in a drone strike conducted by the foreign forces.
The officials further added that the airstrike was carried out in Achin district, leaving 2 Pakistani and 2 Tajik loyalists of the terror group dead.
The officials said the two Pakistani militants are hailing from the Orakzai Agency and the airstrike did not incur any casualties to the local residents or security forces.
The anti-government armed militant groups including the loyalists of the terror group have not commented regarding the report so far.
This comes as the local officials earlier said that the loyalists of the ISIS terrorist group are mostly comprised of the Orakzai Agency residents.
Provincial governor's spokesman Ataullah Khogyani said last year that documents obtained from the dead bodies and those arrested during the operations in Achin, Kot, Haska Mina and other parts of Nangarhar, reveal that they are originally residents of Orakzai Agency.
Khogyani further added that the intelligence information gathered by the government also reveal that the ISIS loyalists are mostly comprised of Pakistani nationals.
According to Khogyani, the residents of Tajikistan are also fighting alongside the Pakistani nationals for ISIS terrorist group who are mainly deployed after completing training in Pakistan.
http://www.khaama.com/4-isis-militants-hailing-from-pakistani-and-tajikistan-killed-in-nangarhar-02708
--------
Afghan police suffer casualties in Taliban attack in Kandahar
Jan 19 2017
The Afghan National Police (ANP) forces have suffered casualties in an attack by Taliban insurgents in southern Kandahar province.
According to the local officials, the attack was carried by a group of Taliban insurgents late on Wednesday night in Maiwand district.
Provincial governor's spokesman Samim Khpolwak confirmed the incident and said at least two policemen lost their lives in the attack and three others were wounded.
However, another official, speaking on the condition of anonymity, said six policemen lost their lives and two others were wounded.
The attack was carried out in Shalghami area of the district.
Kandahar, the birthplace of the Taliban insurgents, has been relatively stable during the recent months although the anti-government armed militants attempt to destabilize the province.
At least 12 people including the deputy provincial governor and five UAE diplomats lost their lives in an attack in this province nearly ten days ago and several others including the UAE ambassador and Kandahar governor were wounded.
Full report at:
http://www.khaama.com/afghan-police-suffer-casualties-in-taliban-attack-in-kandahar-02705
--------
Muslim nations to heap pressure on Myanmar over Rohingya
January 19, 2017
Kuala Lumpur: The world's main pan-Islamic body is expected to pile pressure on Myanmar over a bloody crackdown on Rohingya Muslims when it meets for a special session in Kuala Lumpur on Thursday.
Nearly 70,000 Rohingya have fled the northern part of Rakhine state since October when the Myanmar army launched "clearance operations" to root out insurgents accused of deadly raids on police border posts.
Arriving in neighbouring Bangladesh, the displaced Rohingya have recounted allegations of widespread military abuse including rape, extrajudicial killings and the burning of villages.
The treatment of the Rohingya, a stateless group denied citizenship in Myanmar and reviled as illegal immigrants by the majority Buddhist population, has become a lightning rod for anger across the Muslim world.
Diplomats from the 56-member Organisation of Islamic Cooperation (OIC) will join Thursday's special session to debate the issue.
Malaysian Prime Minister Najib Razak has taken a lead role in condemning the Myanmar crackdown.
Analysts say that is at least in part down to a desire to burnish his international image after a damaging graft scandal at home.
On Wednesday Malaysia's Foreign Minister Anifa Aman upped the ante ahead of the meeting, calling for "unimpeded access" for humanitarian aid to reach the Rohingya.
He is expected to spearhead an effort within the OIC to raise cash and open aid routes into areas in western Rakhine state which remain locked-down.
"The OIC meeting is expected to call on the Myanmar government to help end the violence against the Rohingya Muslims," a Southeast Asian diplomat familiar told AFP.
"The OIC foreign ministers are also expected to provide assistance in cash or kind for the Rohingya."
Buddhist-majority Myanmar refuses to recognise the Rohingya as one of the country's ethnic minorities.
Instead it describes them pejoratively as Bengalis — or illegal immigrants from neighbouring Bangladesh — even though many have lived in Myanmar for generations.
– Suu Kyi criticised –
The latest chapter of a crisis that has festered since riots broke out in Rakhine in 2012 has once more drawn in regional neighbours.
Bangladesh is struggling to cope with the fresh arrivals, while Malaysia has for years housed thousands of Rohingya refugees — many arrived during a 2015 exodus that saw boatloads of Rohingya stranded at sea.
Full report at:
http://www.siasat.com/news/muslim-nations-heap-pressure-myanmar-rohingya-1112661/
--------
Ghani, Sami discuss ways to restore peace in Afghanistan
Jan 20, 2017
NOWSHERA: Afghan President Ashraf Ghani on Thursday talked to chief of his own faction of the Jamiat Ulema-i-Islam (JUI-S) Maulana Samiul Haq by phone and discussed with him ways of restoring peace in Afghanistan.
The telephonic conversation took place in the presence of Afghan Ambassador to Pakistan Umar Zakhilwal who was at the Darul Uloom Haqqania, Akora Khattak, at the time.
This was the Afghan diplomat's second visit to the maulana's madressah in two months.
The conversation between President Ghani and Maulana Haq lasted about 30 minutes during which they discussed options for restoring peace to the war-torn country, sources in the madressah said.
According to them, the Afghan leader described the JUI-S chief not just as a mentor to the Taliban but a respectable figure for the entire Afghan nation, which looked up to the latter for restoration of peace in their country. For his part, Maulana Haq stressed the need for peace both in Afghanistan and Pakistan, but said the Afghan government needed to play an active role in achieving the objective.
He said the Afghan government as well as the Afghan people should get rid of foreign forces so that the numerous sacrifices rendered by Afghanistan's people did not go to waste. He was of the opinion that the foreign forces wanted to see stability neither in Afghanistan nor in Pakistan.
Full report at:
http://www.dawn.com/news/1309542/ghani-sami-discuss-ways-to-restore-peace-in-afghanistan
--------
Taliban seek to reassure UAE over Kandahar attack
Jan 20, 2017
PESHAWAR - The Afghan Taliban have sought to reassure the United Arab Emirates that it was not behind an attack in the southern city of Kandahar that killed five UAE diplomats and injured the ambassador, senior Taliban officials said on Thursday.
More than a dozen Afghan and foreign officials were killed last week by a bomb hidden under a couch in the Kandahar governor's residence in an attack Afghan authorities have blamed on the Taliban and Pakistani intelligence services.
However the Taliban have denied responsibility, instead accusing "covert intelligence circles" close to the government of carrying out the attack to damage relations between the insurgents and a friendly Arab government. No claim of responsibility has been made.
Although the insurgents have frequently targeted Afghan government officials, the attack on diplomats from a Muslim country with which the Taliban has previously had good relations came as a major shock, prompting the insurgent movement to seek to reassure UAE authorities.
The UAE was one of the few countries to recognise the former Taliban government in the 1990s although it broke relations in the wake of the Sept 11 attacks on US targets in 2001. The United States had demanded the extradition of al Qaeda leader Osama bin Laden from Afghanistan for involvement in the attacks but the Taliban refused.
A number of senior Taliban members live in Qatar, where the movement opened a political office in 2013. Other members are also believed to be living as private citizens in the UAE.
A senior Taliban member based in Qatar said the movement was planning to send a delegation to mourn the slain diplomats and explain that it was not involved.
"We have very cordial relations with some of the Islamic world including the UAE and we would never want to target them," he said.
"We have targeted a number of diplomats and foreign missions in Afghanistan and there were several occasions we could have attacked diplomats from Islamic countries but we didn't as they are our friends," he said.
There was no immediate word from UAE officials.
Full report at:
http://nation.com.pk/international/20-Jan-2017/taliban-seek-to-reassure-uae-over-kandahar-attack
--------
Bring back normalcy in Rakhine, Bangladesh to Myanmar
January 19, 2017
Bangladesh today urged Myanmar to bring back normalcy into the Rakhine state immediately and called for an urgent step for repatriation and rehabilitation of Rohingyas sheltered in Bangladesh.
The country also urged Organisation of Islamic Cooperation (OIC) to take steps for a durable solution to the Rohingya crisis.
State Minister for Foreign Affairs Md Shahriar Alam made the call at Extraordinary Session of the OIC Council of Foreign Ministers in Kuala Lumpur today. Shahriar is leading a delegation to the session on the 'Situation of the Rohingya Muslim Minority in Myanmar'.
The delegation also called for ensuring the basic rights of Rakhine Muslims and sustainable return of refugees and displaced Rohingyas to their homeland as well as restoring their citizenship through necessary review of the existing exclusionary citizenship law.
Full report at:
http://www.thedailystar.net/country/bring-back-normalcy-rakhine-bangladesh-to-myanmar-1347769
--------
URL: https://www.newageislam.com/islamic-world-news/new-age-islam-news-bureau/islamic-state-targets-in-india--middle-class-educated-youth/d/109792
New Age Islam, Islam Online, Islamic Website, African Muslim News, Arab World News, South Asia News, Indian Muslim News, World Muslim News, Womens in Islam, Islamic Feminism, Arab Women, Womens In Arab, Islamphobia in America, Muslim Women in West, Islam Women and Feminism, Moderate Islam, Moderate Muslims, Progressive Islam, Progressive Muslims, Liberal Islam