New Age Islam News Bureau
20 Nov 2014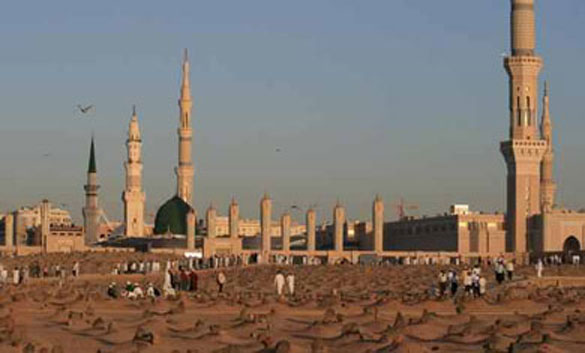 The Baqie graveyard in Madinah is seen in the forefront with the Prophet's Mosque in the background. (AN file photo)
------------
Africa
• Islamic State Takes Libyan City; 100K under Terror Group's Control as Chaos Spreads
• Boko Haram steps up attacks in Cameroon
• U.N. Security Council adds Libya's Ansar al-Sharia to terror list
Arab World
• Al-Baqie Graveyard in Madinah to Undergo Expansion
• Muslim, Christian, Jewish Leaders Unite To Condemn Jihadi Violence
• Suicide car bombing kills four in Iraq Kurdish capital
• Over 300 Takfiri Terrorists Killed in 50 Failed ISIL Attacks on Baiji Refinery
• Riyadh has never funded extremists: Saudi journalist
• Pirate TV: 47 'illegal' Arab stations taken off air
• Islamic educational system guidelines highlighted in forum
• Saudi court hands death sentences to two more terrorists
• Egypt militant arrested on return from Syria
• Saudi beheads killer who donned women's clothes
Europe
• French-speaking ISIS fighters ask Muslims to terrorise France
• Jihad Lures Teens from Unsuspected Corners of France
• Cyprus on lookout for Syria-bound militants
• 'Close to 50' French jihadists killed in Syria
• Muslim 'apostates' come out of hiding in Europe
• Islamic Society of Finland: "We have no idea why we're on the list"
• Government's Inability to Resolve Dagestan's Problems Gives Rise to Muslim Capitalist Class
• Church school fails inspection on Islamic society
• UN chief urges action to tackle violent extremism
Southeast Asia
• 300 Indonesians Now With ISIS, Counterterrorism Official Says
• Jakarta Forces Aceh to Shelve Flag In Exchange for Concession Rights
• Umno to hold meeting on racial, religious dos and don'ts ahead of assembly
• Special unit to be formed to deal with insults against Islam
South Asia
• Taliban Supreme leader Mullah Omar has possibly died
• Pakistan wants Afghanistan to halt ties with India: Karzai
• PM: Bangladesh's Democracy Enjoys Confidence of International Community
India
• Indian Jamaat-e-Islami Hind Emir Favours Dialogue On Kashmir
• 'Hindi and Urdu Are Two Eyes of India'
• Islam will prosper if we rule Kashmir: BJP
Pakistan
• Pakistan to talk to Kashmiri leaders before dialogue with India: Nawaz
• K-P Assembly condemns life and death sentences to Bangladesh JI leaders
• Govt urged to stop Jirgas from deciding child abuse cases
• IS phenomenon will not be allowed in Pakistan, Afghanistan: General Raheel
• No differences with Imran Khan, says Qadri
• Aziz criticised for 'good, bad Taliban' distinction
• Fauji Foundation hospital on Taliban's hit list
North America
• Canadian jets bomb Islamic State weapon facility, Ottawa says
• My mission is ISIL, not al-Assad, says US army chief
• Islamic State Needs Mechanics and Technicians to Manage Gear
• CAIR Asks American Mosques to Offer Friday Prayer for U.S. Aid Worker Killed by ISIS
• US slams Israeli construction in E. Jerusalem, renewed home demolitions
• US Shifts Blame to Afghan Government for Exploding Central Asian Opium Trade
• No date for ISIS war vote as Congress waits on Obama
Mideast
• Ankara watches as al-Assad leaves exit path in Aleppo siege
• Israeli president: We are not at war with Islam
• Turkey pushes for no-fly zone in Syria, US still reluctant
• Former President Gül testifies in 'lost trillion case'
• Netanyahu on discrimination of Israeli-Arabs: An entire community should not be stigmatized
• Yemen's domestic crisis worsened by recent UN sanctions
• Palestinian FM hails Spain's symbolic recognition of Palestine State
• Islam does not accept capitalism
Compiled by New Age Islam News Bureau
URL: https://www.newageislam.com/islamic-world-news/new-age-islam-news-bureau/islamic-state-takes-libyan-city;-100k-under-terror-group's-control-as-chaos-spreads/d/100106
---------
Africa
Islamic State Takes Libyan City; 100K under Terror Group's Control as Chaos Spreads
Nov 20, 2014
The Libyan city of Derna has a population of 100,000, and it's now under the Islamic State group's control.
Expanding political chaos coupled with returning fighters from Syria and Iraq have allowed the radical Sunni terror group to take control of numerous government buildings, security vehicles, and local landmarks. A soccer stadium is now used for public executions.
"Derna today looks identical to Raqqa, the ISIS headquarters town in Syria," Noman Benotman, a former Libyan jihadi now working in counterterrorism for the Quilliam Foundation, told CNN on Tuesday.
Libyan sources told the network that the terror group is quickly gobbling up territory along the Mediterranean coastline, and it is doing so with roughly 800 fighters who control camps along the outskirts of the city. The organization says it has chapters in al Bayda, Benghazi, Sirte, al-Khums and Tripoli.
"ISIS pose a serious threat in Libya. They are well on the way to creating an Islamic emirate in eastern Libya. […] Most of the local population in Derna are opposed to the takeover by the Islamic State, but, with the complete absence of any central government presence, they are not in a position to do much for now," Mr. Benotman told CNN.
The Islamic State chapter in Derna is known as "Barqa," which was the name of the eastern region of Libya when the Roman Empire was replaced with Islamic rule, CNN reported.
http://www.washingtontimes.com/news/2014/nov/18/islamic-state-takes-libyan-city-100k-under-terror-/#ixzz3JY0tPD7p
---------
Boko Haram steps up attacks in Cameroon
Nov 20, 2014
YAOUNDE: Nigerian Islamist extremists Boko Haram are intensifying attacks in neighbouring Cameroon, targeting new villages with increasingly sophisticated weapons, as the army fears more violence in the approaching dry season.
"We're convinced that the establishment of a 'caliphate' (by Boko Haram) is aimed not only at Nigeria but also at Cameroon," Leopold Nlate Ebale, commander for an elite battalion in the border zone, told AFP.
Boko Haram's leader, Abubakar Shekau, has said he wants to set up a Nigerian caliphate — recalling the actions of the Islamic State militant group which has taken over parts of Iraq and Syria.
Until recently, Boko Haram had focused its attacks on several Cameroonian border posts across from towns it controls in the Nigerian state of Borno.
It has also been using Cameroon as a place to rest and stock up with arms and food.
But its attacks are now spreading further south into the country.
Members of the group have slit the throats of market-goers in broad daylight near the northern city of Mokolo, according to Cameroon's army.
Meanwhile, rivers between the west African nations are evaporating as the dry season approaches.
Dry weather "will increase Boko Haram's capacity for harm," said colonel Jacob Kodji, a regional army chief in northern Cameroon.
"They will no longer have to cross over bridges. They will be able to cross anywhere over the border, at any time, by any means."
Troops trained by Israelis
The Islamists have taken some 20 towns in Nigeria and amassed a weapons stockpile seized from Nigerian army bases.
They now use armoured vehicles and landmines as well as kalashnikovs and rocket launchers.
Cameroon's military is increasingly concerned as Boko Haram fighters approach major cities like Maroua, the capital of the Far North region, which the group is suspected of infiltrating.
Cameroon has deployed around 2,000 soldiers in the northern region and registered 32 deaths since the start of the operation.
Despite the losses, the government says its soldiers are beating back the Islamists.
The authorities regularly announce the killing of hundreds of Islamists during skirmishes, though it is impossible to verify the figures.
Cameroon has some 4,000 elite soldiers, trained by Israeli soldiers, but observers are sceptical about the capabilities of the regular army, particularly in the face of bigger attacks.
"Until now, the military presence has endured major skirmishes. But if Boko Haram decided to launch a major offensive, they could break through Cameroon's lines without too much difficulty," said a source close to the country's intelligence services, requesting anonymity.
The army's successes up to now were partly due to the fact that the insurgents were sending young, inexperienced recruits to Cameroon, rather than hardened fighters from Nigeria, he said.
"The Boko Haram fighters we're dealing with are trained in three weeks: the first week they're given money and drugs, the second week they learn to put together and strip down a kalashnikov, and the third, they're sent to the frontline," said a Cameroonian officer, declining to be named.
The army, initially criticised for its inaction, also feels increasingly isolated in its fight against the Islamist group.
Hundreds of Nigerian soldiers have fled to Cameroon on several occasions in response to Boko Haram attacks, yet the two countries "share information but nothing more", according to Cameroon's defence ministry.
A regional force — with 700 soldiers each from Chad, Cameroon, Niger and Nigeria — is due to be deployed by the end of November, but will mainly concentrate on the area around Lake Chad, in the far north of both countries.
http://www.dawn.com/news/1145751/boko-haram-steps-up-attacks-in-cameroon
---------
U.N. Security Council adds Libya's Ansar al-Sharia to terror list
20 November 2014
The U.N. Security Council on Wednesday added to its terror list a Libyan Islamist group accused of involvement in the September 2012 attack on the US mission in Benghazi that killed the US ambassador and three other Americans.
The Security Council slapped sanctions on Ansar al-Sharia for its ties to Al-Qaeda, diplomats said, with an arms embargo, assets freeze and global travel ban targeting the extremists going into force at the request of Britain, France and the United States.
The measure targets Ansar al-Sharia Benghazi and its sister group Ansar al-Sharia Derna, which both have links to Al-Qaeda in the Islamic Maghreb (AQIM) and other violent extremist outfits.
In October, Ansar al-Sharia Derna pledged allegiance to the Islamic State (IS), the Islamist group that has seized control of territory in Iraq and Syria.
Since 2012, the Benghazi wing has operated several training camps mainly to help armed groups in Iraq and Syria and to a lesser extent in Mali, according to the request filed by the three countries.
Twelve of the 24 jihadists who attacked the Algerian In Amenas gas complex in 2013 trained in the camps of Ansar al-Sharia in Benghazi, Libya's second city, documents said.
More recently, the group has conducted several attacks on Libyan security forces, it added.
Ansar al-Sharia Derna also took part in the 2012 attack on the US mission and is operating camps in the northeastern Derna and Jebel Akhdar regions to train fighters for Iraq and Syria.
French Foreign Minister Laurent Fabius in September told a meeting on the sidelines of the UN General Assembly that the group should face sanctions as part of efforts to prevent Libya from sliding further into violence.
Diplomats said the blacklisting of Ansar al-Sharia would help sideline hardliners at a time when the United Nations is engaged in dialogue with various Islamist militias and the government on restoring order in Libya.
Libyan authorities have struggled to assert control across a country awash with weapons and powerful militias after the ouster of longtime dictator Moamer Kadhafi in a 2011 revolt.
Libya's internationally recognized government has been forced to take refuge in the country's far east to escape a mainly Islamist coalition which seized control of Tripoli at the end of August.
http://english.alarabiya.net/en/News/middle-east/2014/11/20/U-N-Security-Council-adds-Libya-s-Ansar-al-Sharia-to-terror-list.html
---------
Arab World
Al-Baqie Graveyard in Madinah to Undergo Expansion
Nov 20, 2014
A huge expansion project for the historic Baqie Al-Gharqad cemetery in Madinah is ready for launch shortly, an official at the Presidency of the Holy Mosques said.
"The largest expansion in the history of the graveyard which will double its area to 300,000 square meters comes as part of the current expansion project of the Prophet's Mosque to the northern side, with the number of grave spaces increasing to 42, 000," said the source.
The project of the cemetery which is designed to run parallel to King Faisal Road will require appropriation of the properties including farms and buildings on its eastern side. The office building of the Commission for the Promotion of Virtue and Prevention of Vice in Madinah will also have to be demolished to make way for the project, he said.
The entire facility, where relatives and companions of the Prophet (peace be upon him), and a number of Muslim leaders apart from Madinah residents are buried, is currently divided into 42 squares where the largest square houses 2,500 graves and the smallest accommodates 60. Some graves are allocated for infants while others are reserved for the elderly. He added that fresh remains are put in the graves every five years.
The cemetery has nine washing units for cadavers including four for men and four for women while one unit is kept in reserve. Bodies for burial are carried to the graves in golf carts. In addition, there are eight ambulances to transport the bodies to the cemetery.
The expansion work around the mosque has also taken into consideration the future requirements of the population growth in Madinah and the increasing number of pilgrims visiting the historical site.
The project is expected to have arrangements for the smooth entry and exit of pilgrims to the area besides better facilities for the washing and shrouding rituals, taking the bodies for prayers in the mosque and finally moving them to the burial site.
The regulations governing the burial include keeping records of the personal details of the deceased and the exact location of the burial.
The size of a single pit is 2 meters by 1 meter with a depth of 2 meters.
A network for the drainage of rainwater has also been put in place recently.
http://www.arabnews.com/saudi-arabia/news/662666
---------
Muslim, Christian, Jewish Leaders Unite To Condemn Jihadi Violence
Nov 20, 2014
VIENNA (Reuters) - Senior Muslim, Christian and Jewish leaders condemned violence by jihadi militants such as Islamic State (IS) at a Saudi-backed conference on Wednesday in a rare display of inter-faith unity aimed at promoting tolerance and diversity.
Islamic State has caused international alarm by capturing large expanses of Iraq and Syria, declaring a Sunni "caliphate" straddling their borders and massacring those they deem apostates and infidel, like Shi'ite Muslims and Christians.
"Some organizations that are affiliated with Islam are perpetrating some actions in the name of jihad. This is not Islam at all," said Abdullah bin Abdulmuhsen Al Turki, secretary-general of the Muslim World League.
"This is why we wish to deplore and strongly condemn this behaviour, which we see as against Islam," he told an audience including the Muslim grand muftis of Egypt, Lebanon and Jordan; top representatives of several churches, Rabbi David Rosen of the American Jewish Committee, and diplomats.
Full report at:
http://news.yahoo.com/muslim-christian-jewish-leaders-unite-condemn-jihadi-violence-132249770.html
---------
Suicide car bombing kills four in Iraq Kurdish capital
Nov 20, 2014
A suicide bomber detonated an explosives-rigged vehicle in the usually secure Iraqi Kurdish regional capital Arbil Wednesday, killing four people in an attack blamed on the Islamic State (IS) group.
The bomber hit the main checkpoint on the way to the provincial government headquarters in the northern city just before noon (0900 GMT), provincial council spokesman Hamza Hamed said.
In addition to the four dead, two of them police, 29 were wounded, said Saman Barzanchi, the director general of the Arbil health department.
Arbil provincial Governor Nozad Hadi confirmed the death toll and blamed IS jihadists, which Iraqi Kurdish forces are battling in both Iraq and neighbouring Syria.
Full report at:
http://english.ahram.org.eg/NewsContent/2/8/115940/World/Region/Suicide-car-bombing-kills-four-in-Iraq-Kurdish-cap.aspx
---------
Over 300 Takfiri Terrorists Killed in 50 Failed ISIL Attacks on Baiji Refinery
Nov 20, 2014
Commander of the Security Guards Unit of Iraq's Baiji Refinery Ali Al-Qureishi announced that his forces have repelled tens of ISIL attacks on the refinery, and killed hundreds of militants since army and popular forces regained control over the country's largest refinery.
"The refinery's security guards have pushed back over 50 counterattacks by the ISIL forces and killed more than 300 of them since gaining control over the facility," Qureishi told FNA on Wednesday.
He said ISIL militants have targeted the Baiji refinery with suicide attacks or with bomb-laden cars, "but they have failed in all of their attempts".
On Friday, Iraqi forces retook full control over Baiji after more than two weeks of fighting with the ISIL terrorist group.
Full report at:
http://english.farsnews.com/newstext.aspx?nn=13930828001444
---------
Riyadh has never funded extremists: Saudi journalist
Nov 20, 2014
Saudi Arabia has never knowingly or unknowingly funded extremists, a veteran Saudi journalist said Wednesday.
Saudi Gazette newspaper's chief editor Khaled Al Maeena said the radical Islamic State -- earlier ISIS -- was not a creation of Saudi Arabia and that it sprang up suddenly out of nowhere.
Maeena was speaking here on "Gulf States and West Asia relations to India".
"The Saudi government has never knowingly or unknowingly funded extremists," he said.
He stressed the need for more cooperation between Saudi Arabia and Kerala.
He also called for tough laws to prevent pollution in tourist resorts like Kumarakom in Kerala.
https://in.news.yahoo.com/riyadh-never-funded-extremists-saudi-journalist-144607422.html
---------
Pirate TV: 47 'illegal' Arab stations taken off air
Nov 20, 2014
Almost half the Arab world's 'pirate' TV stations have been taken off air, as legitimate media companies battle a problem they say costs them $100 million a year.
A total of 96 channels that allegedly broadcast pirated material were active in August – accounting for almost 10 per cent of the total number of channels available in the Middle East.
But 47 of these are no longer broadcasting following efforts by an industry coalition dedicated to fighting piracy, said Sam Barnett, chief executive of MBC Group.
"Nobody wants to deal with organized crime, which is what it is," the executive told Al Arabiya News. "We're fighting a long battle, but we have had progress."
The 'pirate' channels in question typically broadcast films or other entertainment to which they do not own the rights. Some sell advertising on the back of the content, further depriving legitimate broadcasters of revenue.
Full report at:
http://english.alarabiya.net/en/media/television-and-radio/2014/11/19/Pirate-TV-47-illegal-Arab-stations-taken-off-air-.html
---------
Islamic educational system guidelines highlighted in forum
Nov 20, 2014
JEDDAH — Twin-Cities Youth Welfare association and Global Islamic Circle of Peace and Unity jointly organized an Islamic convention at a local restaurant here to discuss ways and means to revive traditional Islamic education system among the youths who are often exploited by unlawful Islamic teachings.
The conventional meeting also featured a felicitation function in honor of renowned Indian journalist Dr. Syed Fazil Hussain Parvez, who was here to perform Umrah.
The chief-guest of the convention, Parvez, in his extempore speech, applauded the community members for the wonderful function to honor him and expressed gratitude to the Almighty for bestowing him with His mercies and showering him what he pleaded and what he did not.
Full report at:
http://www.saudigazette.com.sa/index.cfm?method=home.regcon&contentid=20141120224995
---------
Saudi court hands death sentences to two more terrorists
Nov 20, 2014
RIYADH — The Special Criminal Court in Riyadh on Wednesday awarded the death penalty to two more suspects who belonged to an 86-member terrorist cell.
The court also sentenced 16 members of the cell to jail terms ranging from six to 30 years and slapped a travel ban on them after their release from prison, the Saudi Press Agency reported.
On Monday, the court had sentenced three members of the cell to death. They included the gunman who shot dead a BBC cameraman — Irish national Simon Cumbers — 10 years ago. BBC's security correspondent Frank Gardner was paralyzed in the June 2004 attack.
The court has so far given jail terms to 36 members of the cell, which was accused of several terrorist operations, including attacks on Riyadh's Al-Mohya Complex and residential compounds in Al-Khobar.
The charges against them also included joining an Al-Qaeda outfit, plotting to assassinate prominent Saudi figures, and killing several security officers and foreign residents of the country.
http://www.saudigazette.com.sa/index.cfm?method=home.regcon&contentid=20141120225044
---------
Egypt militant arrested on return from Syria
20 November 2014
Egyptian authorities announced the arrest of a jihadist who returned home from the Syrian conflict to train Islamist militants in the use of explosives.
Hani Shahine had fought in the ranks of the Al-Nusra Front, Al-Qaeda's franchise in Syria, the interior ministry said.
He was arrested in Al-Gharbiya province, 100 kilometres (60 miles) north of Cairo, the ministry said on its Facebook page.
It said Shahine's assignment was to "train Islamist elements in the production and use of explosives", and that his arrest had led to five terrorist cells being dismantled.
Since the army toppled Egypt's Islamist president Mohamed Morsi in July 2013, security forces have repeatedly been the target of deadly attacks by militants who say their aim is to avenge a crackdown by authorities that has left more than 1,400 dead, mostly pro-Morsi demonstrators.
http://english.alarabiya.net/en/News/middle-east/2014/11/20/Egypt-militant-arrested-on-return-from-Syria-.html
---------
Saudi beheads killer who donned women's clothes
Nov 20, 2014
Riyadh (AFP) - Saudi Arabia executed a man who donned women's clothing in a bid to escape after shooting dead a soldier and police officer, state media said.
Salih bin Yateem bin Salih al-Qarni was beheaded in the southwestern city of Abha, the official Saudi Press Agency said.
Qarni was intially arrested on other charges and was transported in an official vehicle by the soldier and a member of the Muttawa religious police.
"He shot them with a gun that he was carrying," the SPA said, without explaining how he obtained the weapon.
After stealing the keys from the security officer driving the vehicle, Qarni chewed some narcotic qat "and disguised himself in women's clothing" in an attempt to flee, but was recaptured, it said.
Saudi women are required to cover from head to toe, often with only their eyes exposed.
The report did not say when the escape bid occurred.
Qarni is the latest of 69 Saudis and foreigners executed in the kingdom this year, despite international concern.
Rape, murder, apostasy, drug trafficking and armed robbery are all punishable by death under the kingdom's strict version of Islamic sharia law.
http://news.yahoo.com/saudi-beheads-killer-donned-womens-clothes-164957170.html
---------
Europe
French-speaking ISIS fighters ask Muslims to terrorise France
Nov 20, 2014
A group of French-speaking bearded fighters of the dreaded Islamic State militant group has asked Muslims in the country to "operate within France" and bring terror to the streets of the European nation.
In a video, released by one of ISIS' main media outlets Al Hayat, four unmasked fighters were seen purport to be from France, around a fire in a wooded area, burning what appear to be the French passports, the Guardian reported.
"We disbelieve in you and your passports, and if you come here we will fight you," one of the fighters said in fluent French.
The video shows a group of ISIS militants throwing their passports into the fire. Only four of them don't have their faces covered with a scarf.
Sitting with a rifle at his shoulder among a crowd of armed militants wearing balaclavas, a man identified as Abu Osama al-Faranci goes on to castigate French Muslims for not emigrating to the Islamic state, the paper said.
Full report at:
http://www.thehindu.com/news/international/world/frenchspeaking-isis-fighters-ask-muslims-to-terrorise-france/article6617797.ece
---------
Jihad Lures Teens from Unsuspected Corners of France
Nov 20, 2014
For the French public, the idea is deeply jarring: youngsters from everyday backgrounds with names like Maxime, Helene and David joining the jihad or turning up in brutal Islamic State execution videos.
The news that two young Frenchmen were among the executioners in the latest IS video this weekend was a reminder that violent extremism can attract people from all sorts of environments.
One was identified as Maxime Hauchard, 22, from a village in Normandy in northern France, seen with a knife to the neck of one of the 18 Syrian prisoners decapitated in the video.
"He was a nice boy who never caused problems," was the response of one neighbour in Bosc-Roger-en-Roumois, Jeannine, who watched Hauchard grow up and play with her grandchildren.
Full report at:
http://www.digitaljournal.com/news/world/jihad-lures-teens-from-unsuspected-corners-of-france/article/416042
---------
Cyprus on lookout for Syria-bound militants
Nov 20, 2014
Cyprus has intensified screening procedures at its ports, airports and checkpoints to prevent Europeans from passing through the country en route to Syria to join the Islamic State of Iraq and Syria (ISIS), a security official said.
The security official said that since Turkey has tightened security measures to stem the flow of potential jihadis to Syria, it is possible that Europeans could travel to the island of Cyprus, cross into the breakaway Turkish Cypriot north, then head into Syria that way.
The official spoke on condition of anonymity Wednesday because he didn't want to publicly discuss sensitive security issues.
The official said the new security measures include tougher police scrutiny at seven crossing points along the 180 kilometer (110 mile), U.N.-controlled buffer zone that regulate people and vehicles traveling across Cyprus' north-south divide.
http://english.alarabiya.net/en/News/middle-east/2014/11/19/Cyprus-on-lookout-for-Syria-bound-jihadis-157.html
---------
'Close to 50' French jihadists killed in Syria
Nov 20, 2014
French Prime Minister Manuel Valls said Wednesday that "close to 50" French citizens have been killed fighting alongside jihadists in Syria.
A government source told AFP the precise number, as of Monday, was estimated at 49.
"We know the number of French nationals, more than a thousand, who are involved in this phenomenon," Valls said after a security meeting in Beauvais, north of Paris.
"We know the number of French who have died in Syria, close to 50, so we know the dangers and, sadly, we are not surprised to learn that French citizens or residents of France are found at the heart of these cells and taking part in this barbarity," he added.
"This strengthens our determination to fight against terrorism," said Valls.
Two French citizens -- Maxime Hauchard and Mickael Dos Santos, both 22 -- have been identified as appearing in this weekend's execution video from the Islamic State group.
http://english.ahram.org.eg/NewsContent/2/8/115928/World/Region/Close-to--French-jihadists-killed-in-Syria.aspx
--------
Muslim 'apostates' come out of hiding in Europe
AFP | Nov 20, 2014
BRUSSELS: A number of Muslims in Europe are publicly abandoning their religion to become Christians or agnostics despite their former community's taboo against such acts.
In France, the film "The Apostle" by filmmaker Cheyenne Carron has meanwhile lifted the veil on "apostasy" by telling the story of a young Muslim who converted to Catholicism and how he had trouble getting family and friends to accept his choice.
"It is time for us to stop hiding," said Pastor Said Oujibou, 46, who left radical Islam for evangelical protestantism and who is among the few converts to have publicized his decision in France.
He said he is "tolerated" by his former co-religionists, even if he admits to having sparked "sarcasm and annoyance" from them.
But he warned against the "double talk" that certain branches of Islam in France close to the Muslim Brotherhood and Salafists use toward apostate Muslims.
"Apostasy is a taboo in Muslim culture and if the text of the Quran does not provide for any punishment, prophetic tradition calls for killing apostates," said Radouane Attiya, a former preacher trained in Saudi Arabia who is now a specialist on Islam at Liege University in Belgium.
Full report at:
http://timesofindia.indiatimes.com/world/europe/Muslim-apostates-come-out-of-hiding-in-Europe/articleshow/45215746.cms
---------
Islamic Society of Finland: "We have no idea why we're on the list"
Nov 20, 2014
The Ministry for Foreign Affairs has revealed that the association suspected of ties to terrorism by the United Arab Emirates is not the Finnish Islamic Congregation but rather the Islamic Society of Finland.
The Finnish Islamic Congregation initially ended up on the country's terror watch-list due to a translation error.
The identity of the association was disclosed to Ilkka-Pekka Similä, the Finnish Ambassador in Abu Dhabi, on Monday as he sat down with local officials, the ministry says. "According to the United Arab Emirates, every organisation on the list has supported terrorism by for example training or funding terrorists," says Petra Sarias, a spokesperson at the Ministry for Foreign Affairs.
Full report at:
http://www.helsinkitimes.fi/finland/finland-news/domestic/12755-islamic-society-of-finland-we-have-no-idea-why-we-re-on-the-list.html
---------
Government's Inability to Resolve Dagestan's Problems Gives Rise to Muslim Capitalist Class
Nov 20, 2014
As Russia's economic stagnation reverberates in the North Caucasus, the regional elites have begun to scramble for local resources. An uncharacteristically open discussion erupted in Dagestan's republican parliament in Makhachkala on October 30, when a well-known politician in the republic, Eduard Khidirov, stated that between 50 to 60 percent of the Dagestani economy was in the shadows. Such estimates concerning Dagestan's "grey economy" are not new, but Khidirov was unusually blunt about it during the parliamentary session. "Every official has a house that costs no less than a million [US] dollars, has bodyguards, multiple cars and does not pay tax [on all this]," he said. "We calculated and found out that for this money we could build four new kindergartens every year. We should establish a commission of deputies to review the income of all officials." The republic's governor, Ramazan Abdulatipov, also lashed out at corrupt officials. "The republic still has a lot of tax revenue potential," he said. "In Makhachkala, even 30 percent of the land plots have not been codified and entered into the tax revenue databases. One close associate of the city's former leadership owns 90 land plots, another one has 120 land plots, and the third has 256 hectares" (ndelo.ru, November 4).
Full report at:
http://www.jamestown.org/single/?tx_ttnews%5Btt_news%5D=43099&tx_ttnews%5BbackPid%5D=7&cHash=930dbeaf49b453dc210828fd6464229a#.VGz_7zTF84U
---------
Church school fails inspection on Islamic society
Nov 20, 2014
A Church of England school previously graded outstanding is expected to be put into special measures over concerns about a sixth-form Islamic society.
Sir John Cass Foundation and Redcoat school, in Stepney, east London, is believed to have failed for not safeguarding and monitoring pupils.
It is believed the society's Facebook page had links to a radical preacher.
Ofsted has carried out a series of unannounced inspections in Tower Hamlets.
The education watchdog will publish reports on seven schools in the borough on Friday, which is expected to include a number of independent Islamic schools.
Full report at:
http://www.bbc.com/news/education-30113315
---------
UN chief urges action to tackle violent extremism
Nov 20, 2014
UN chief Ban Ki-moon cautioned against tackling violent Islamic extremism through military means alone and urged governments to avoid counter-terrorism responses that could lead to rights abuses.
Ban told a special Security Council meeting on counter-terrorism that the United Nations was looking at ways to address violent extremism by working with communities "at the grassroots level."
"We must continue to think more deeply into the fundamental conditions that allow extremism to thrive. Looking at these challenges solely through a military lens has shown its limits," the secretary-general told the 15-member council.
He warned against targeting Muslim communities in the name of counter-terrorism and said "such abuses are not only immoral, they are counter-productive."
The council was meeting to follow up on a resolution adopted in August aimed at choking off the flow of foreign fighters and financing to Islamist groups who now control vast swathes of territory in Iraq and Syria.
Full report at:
http://english.ahram.org.eg/NewsContent/2/8/115946/World/Region/UN-chief-urges-action-to-tackle-violent-extremism.aspx
---------
Southeast Asia
300 Indonesians Now With ISIS, Counterterrorism Official Says
Nov 20, 2014
Malang, East Java. An estimated 300 Indonesians have joined the Islamic State militant group fighting in Syria and Iraq, an intelligence official revealed on Wednesday.
The National Counterterrorism Agency (BNPT) said local sympathizers of the group known as ISIS or ISIL were recruiting Indonesian men between the ages of 17 and 25 years, indoctrinating them and paying for them to fly to Syria via Kuala Lumpur and Singapore.
"We've recorded some 300 Indonesians who have joined ISIS, the last batch of whom left from Lamongan district [in East Java]," Wawan Purwanto, a member of the BNPT's board of advisers, said at a seminar at Maulana Malik Ibrahim Islamic State University in Malang, East Java.
He said the organizers of the recruitment drive were gathering funds of up to $1,500 to send each recruit to Syria, where they would get "special training" by the militant group. Before leaving Indonesia, though, the recruits were "brainwashed" by local clerics sympathetic to the Islamic State's cause.
Full report at:
http://thejakartaglobe.beritasatu.com/news/300-indonesians-now-isis-counterterrorism-official-says/
---------
Jakarta Forces Aceh to Shelve Flag In Exchange for Concession Rights
Nov 20, 2014
Jakarta. Jakarta is set to relinquish some of its authority over the autonomous province of Aceh, a top Jakarta official said, on condition that the local government there back down from adopting a flag, which greatly resembles that of the now-disbanded separatist Free Aceh Movement.
Coordinating Minister for Political, Legal and Security Affairs Tedjo Edhy Purdijatno said Aceh's demand to adopt the flag was out of the question.
"There are several powers currently in the hands of the central government, which will soon be given to the province [of Aceh]. In exchange, they will have to change their flag, both the design and color," the minister said.
Tedjo said Jakarta was planning to provide Aceh mining concession rights to iron sand located along the coastlines of several islands in the province.
Full report at:
http://thejakartaglobe.beritasatu.com/news/jakarta-forces-aceh-shelve-flag-exchange-concession-rights/
---------
Umno to hold meeting on racial, religious dos and don'ts ahead of assembly
Nov 20, 2014
A special briefing will be held with speakers at Umno's general assembly next week as the party's leadership attempts to tone down possible racial and religious rhetoric that could crop up.
Umno secretary-general Datuk Seri Tengku Adnan Tengku Mansor said the briefing would be held between party deputy president Tan Sri Muhyiddin Yassin and about a score of delegates who were expected to give speeches at the party's 68th assembly.
Tengku Adnan, however, stressed that this was not to restrict the party's members from speaking their minds but to ensure they did not touch on racial and religious sensitivities and refrain from making personal attacks.
It is learnt that this is the first time such a briefing is being held between speakers and the party's number two, who is also the deputy prime minister.
It hints at worries among the party's senior leadership that this year's assembly could be especially heated as grassroots leaders have said that they wanted to raise the issues of the Full report at:
http://www.themalaysianinsider.com/malaysia/article/umno-to-hold-meeting-on-racial-religious-dos-and-donts-ahead-of-assembly#sthash.0Q6IhtSb.dpuf
---------
Special unit to be formed to deal with insults against Islam
Nov 20, 2014
The Malaysian Islamic Development Department (Jakim) will work with the State Islamic Religious Departments (Jain) and the Communications and Multimedia Commission (MCMC) to form a special unit to monitor insults against Islam.
Minister in the Prime Minister's Department Datuk Seri Jamil Khir Baharom said the unit would focus on the new media.
"Jakim and Jain would convey any information concerning insults to Islam to the MCMC to stop it from being spread further.
"In 2013, a total of 38 websites which insulted Islam were blocked by MCMC," he said in reply to an oral question from Mohd Fasiah Mohd Fakeh (BN-Sabak Bernam).
Fasiah wanted to know what steps had been taken by Putrajaya to block seditious actions, and insults to Islam and Prophet Muhammad among non-Muslims, leading to tensions in society.
http://www.themalaysianinsider.com/malaysia/article/special-unit-to-be-formed-to-deal-with-insults-against-islam-bernama#sthash.od4rBDYl.dpuf
---------
South Asia
Taliban Supreme leader Mullah Omar has possibly died
Nov 20, 2014
The Taliban supreme leader Mullah Mohammad Omar has possibly passed away amid reports that the group has divided into three different parts.
The Afghan Intelligence – National Directorate of Security (NDS) said Wednesday that Mullah Akhtar Mohammad Mansoor has initiated appointment of his friends as group's top figures.
Hasib Sediqi, spokesman for the National Directorate of Security (NDS) told reporters on Wednesday that senior Taliban figures have divided into three groups are having major differences among them.
Sediqi further added that the first group is led by Mullah Qayum Zakir and Tayeb Agha is also a member along with Hafiz Majeed, Amir Khan Haqqani, Mullah Mohammad Esa, Khadim Abdul RAuf, Zia Agha and Torak Agha.
He said the second group is led by Mullah Agha and Mullah Samad Sani, Mawlavi Nani, Sadar Ibrahim, Sheikh Mawlavi Abdul Hakimand Mawlavi Mohibulalh are members.
Sediqi also added that the third group is comprised of neutral Taliban leaders.
http://www.khaama.com/taliban-supreme-leader-mullah-omar-has-possibly-died-8778
---------
Pakistan wants Afghanistan to halt ties with India:Karzai
Nov 20, 2014
Former President Hamid Karzai has said that Islamabad has two main demands from Afghanistan, to halt ties with India and formally recognized Durand Line as border between Pakistan and Afghanistan.
In an exclusive interview with 1TV, Karzai said the Pakistani officials have reiterated to their demands in meetings with the Afghan officials.
Karzai had almost 20 official visits to Pakistan during his leadership as the Afghan President to convince Islamabad to bring peace and stability in Afghanistan.
However, Karzai has said that Afghanistan and the Afghan people are suffering from growing violence since Kabul has continuously rejected the demands of Islamabad.
The Durand Line refers to the 2,640 kilometers long porous border between Pakistan and Afghanistan. It was established after a 1893 agreement between Mortimer Durand of British India and Afghan Amir Abdur Rahman Khan for fixing the limit of their respective spheres of influence.
Full report at:
http://www.khaama.com/pakistan-wants-afghanistan-to-halt-ties-with-india-karzai-8775
---------
PM: Bangladesh's Democracy Enjoys Confidence of International Community
Nov 20, 2014
Prime Minister Sheikh Hasina said Bangladesh's victory in two global parliamentary forums like the CPA and the IPU was a rare achievement and manifestation of Bangladesh's growing relations with the international community as well.
She said this in reply to a question from independent member M Rustam Ali Farazi during PM's question-answer session in the House with Speaker Shirin Sharmin Chaudhury in the chair.
Hasina said Bangladesh's victory in the Commonwealth Parliamentary Association (CPA) and Inter-parliamentary Association (IPU) is an example of complete trust of the international community in our continued progress in the areas of democracy, development and good governance.
Full report at:
http://www.dhakatribune.com/bangladesh/2014/nov/20/pm-bangladesh%E2%80%99s-democracy-enjoys-confidence-international-community#sthash.E4CIbGDZ.dpuf
---------
India
Indian Jamaat-e-Islami Hind emir favours dialogue on Kashmir
Nov 20, 2014
LAHORE: Jamaat-e-Islami Hind (India) emir Maulana Jalalud Din Umri says his party favours dialogue between India and Pakistan on all issues, including Kashmir.
He was talking to the media at the airport after arriving here on Wednesday to participate in the JI Pakistan's annual Ijtema (congregation) beginning from Friday at Minar-i-Pakistan.
"All issues, including Kashmir, can be resolved through bilateral talks between India and Pakistan," he said.
Maulana Umri said the JI-Hind had strongly condemned the prosecution of the JI leaders in Bangladesh and also presented a memorandum to the BD envoy in New Delhi, stating that their convictions were a gross violation of human rights.
He hoped the issues facing the Muslim world would be discussed at the JI congregation.
Earlier, JI-Pakistan Naib emir Hafiz Muhammad Idrees, secretary general Liaqat Baloch and foreign wing in-charge Abdul Ghaffar Aziz received Maulana Umri, who was accompanied by Dr Raziul Islam Nadvi, at the airport.
http://www.dawn.com/news/1145695/indian-ji-emir-favours-dialogue-on-kashmir
---------
'Hindi and Urdu Are Two Eyes of India'
Nov 20, 2014
Hindi and Urdu are like the two eyes of India, and no one should play politics over them, leading writers in the two languages said here Wednesday.
Shambhu Nath Tiwari of the department of Hindi at the Aligarh Muslim University said Hindi and Urdu were both born in India and were equally popular among the masses.
He said both were incomplete without each other. Hindi films cannot be imagined without Urdu.
Hindi and Urdu are so mixed up that their separation would kill them, warned Abdul Bismillah, a senior writer, critic and former chairman of the Hindi department of Jamia Milia Islamia in New Delhi.
All of them were addressing a seminar on "Hindi-Urdu ka Aapsi Rishta - Kitne Door, Kitne Paas" (Inter Relationship of Hindi and Urdu - Distances and Closeness) organised by the Jamia Urdu Aligarh.
Full report at:
http://www.firstpost.com/fwire/hindi-and-urdu-are-two-eyes-of-india-1811781.html
---------
Islam will prosper if we rule Kashmir: BJP
Nov 20, 2014
The BJP said Wednesday it was confident Islam will prosper in Jammu and Kashmir if it got to rule the state.
The Bharatiya Janata Party (BJP) also said that it won't press for the abrogation of article 370 of the constitution, which gives special status to Jammu and Kashmir, if people of the state want it to stay.
BJP state vice president Ramesh Arora, who is also in charge of the party's Kashmir affairs, said Kashmiris would feel more secure if the BJP was voted to power in the country's only Muslim-majority state.
"Kashmiris need to vote en masse for the BJP. This contention is wrong that the BJP is a communal party. Kashmir is a land of Sufi saints. Islam will grow better during our regime," he said.
Full report at:
http://www.deccanherald.com/content/442531/islam-prosper-we-rule-kashmir.html
---------
Pakistan
Pakistan to talk to Kashmiri leaders before dialogue with India: Nawaz
Nov 20, 2014
MUZZAFARABAD: Pakistan will speak with Kashmiri leaders before it enters into dialogue with India, Prime Minister Nawaz Sharif said Thursday.
Nawaz was speaking at a session of the Kashmir Council in Muzzafarabad, where he earlier arrived for a one-day visit.
"Blaming Pakistan's agencies for involvement in extremism is an utter lie," the prime minister said, adding that Pakistan itself was "the biggest victim of terrorism".
He expressed satisfaction with the international community's acknowledgement of India's "biased attitude" towards its neighbour. "The United Nations should play its role in this regard."
"It is our fundamental belief that the Kashmir issue should be resolved through dialogue. My government initiated dialogue with India but India cancelled the scheduled foreign secretary talks," he added.
Full report at:
http://www.dawn.com/news/1145749/pakistan-to-talk-to-kashmiri-leaders-before-dialogue-with-india-nawaz
---------
K-P Assembly condemns life and death sentences to Bangladesh JI leaders
Nov 20, 2014
PESHAWAR: The Khyber-Pakhtunkhwa (K-P) Assembly passed a unanimous resolution on Wednesday condemning the sentences and execution of Jamaat-e-Islami (JI) Bangladesh leaders on charge of war crimes.
Various international organisations and governments differ on the number of people killed in the nine-month war of secession in 1971.
The Bangladesh Supreme Court upheld the death sentence for Mohammad Kamaruzzaman, the assistant secretary general of the JI, earlier in November. Kamaruzzaman has been found guilty of mass murder, torture and abductions, some cantered around Sohagpur town known as the 'Village of Widows'. It is said 120 unarmed farmers were lined up and slaughtered in paddy fields.
Full report at:
http://tribune.com.pk/story/793851/bangladesh-justice-k-p-assembly-condemns-life-and-death-sentences-handed-to-ji-leaders/
---------
Govt urged to stop jirgas from deciding child abuse cases
Nov 20, 2014
MANSEHRA: Panelists at a workshop here on Wednesday asked the government to amend laws to stop settlement of child abuse cases by jirgas to ensure dispensation of justice to victims.
They also urged the police to make circumstantial evidence part of the probe into such cases to ensure punishment of culprits.
Sahil, a nongovernmental organisation working for children's protection, had organised the workshop on 'referral mechanism for child protection' at a local hotel.
Experts say police should make circumstantial evidence part of probe
People from different parts of society, including lawyers, journalists, teachers, policemen, government employees and representatives of NGOs, attended the event in large numbers.
Sahil national programme manager Rizwana Akhtar told participants that it was the collective responsibility of society and law-enforcement agencies to act sincerely to check child abuse but unfortunately the jirga system and flawed police investigation had been causing increase in such cases.
Full report at:
http://www.dawn.com/news/1145673/govt-urged-to-stop-jirgas-from-deciding-child-abuse-cases
---------
IS phenomenon will not be allowed in Pakistan, Afghanistan: General Raheel
Nov 20, 2014
Chief of Army Staff (COAS) General Raheel Sharif said the the phenomenon of militant organisation Islamic State (IS) will not be allowed in Pakistan and Afghanistan.
General Raheel was speaking at a reception hosted by Pakistan's Ambassador to the United States Jalil Abbas Jilani in honour of the visiting military delegation, and was attended by senior American officials from the State and Defence departments including US Special Representative for Pakistan and Afghanistan Dan Feldman.
He also categorically stated that the ongoing Zarb-i-Azb operation targets all militants without any discrimination and that it is aimed at defeating the menace of terrorism squarely.
"I would like to openly say that this (operation) is against all hues and colors, and it is without any discrimination, whether it is Haqqani network or TTP or anything", he said.
The army chief said the Zarb-i-Azb operation has been launched with great commitment and sincerity after consultations with the political government and backing of the entire nation, which is proud of the army's achievements in the fight against terror.
Full report at:
http://www.dawn.com/news/1145750/is-phenomenon-will-not-be-allowed-in-pakistan-afghanistan-general-raheel
-------
No differences with Imran Khan, says Qadri
November 20, 2014
LAHORE: Dismissing rumours of a rift between Pakistan Tehreek-e-Insaf (PTI) and Pakistan Awami Tehreek (PAT), PAT chief Tahirul Qadri on Thursday said he has no differences with PTI chief Imran Khan.
Speaking to Express News on his arrival in Lahore, Qadri said PTI and PAT leaders had been in contact even when he was away from Pakistan.
"PAT President Raheeq Abbasi, who is in my car right now, received a call from PTI leader Shah Mehmood Qureshi, welcoming me to Pakistan," he said.
'Sit-in movement'
Giving details of his new strategy to frustrate the government, Qadri said he has decided to take his sit-ins to other parts of the country.
"Our struggle is no more confined to a single sit-in but will be transformed into a nationwide 'movement of sit-ins'," he said, revealing his plans to hold rallies in Bhakkar, Sargodha, Sialkot, Mansehra and Karachi on November 23, December 5, 14, 21 and 25 respectively.
Model Town
Full report at:
http://tribune.com.pk/story/794193/pat-chief-qadri-arrives-in-lahore/
---------
Aziz criticised for 'good, bad Taliban' distinction
Nov 20, 2014
ISLAMABAD: Short of demanding Sartaj Aziz's resignation, opposition parties on Wednesday asked the octogenarian technocrat, currently serving as adviser to the prime minister on national security and foreign affairs, to further explain what they called his "controversial" interview with BBC Urdu.
Responding to a question during his Nov 17 interview, Mr Aziz had said, "Why should we antagonise all groups (of militants)? Why should America's enemies unnecessarily become our enemies?"
This is a far cry from what the government and, most notably, the military leadership has been saying since Operation Zarb-i-Azb was launched in June: that force was being used against all armed groups nestled in the tribal areas who had refused to surrender and accept the writ of the state.
Full report at:
http://www.dawn.com/news/1145708/aziz-criticised-for-good-bad-taliban-distinction
---------
Fauji Foundation hospital on Taliban's hit list
Nov 20, 2014
RAWALPINDI: The National Counterterrorism Authority (Nacta) has informed the Punjab home department and Regional Police Officer, Rawalpindi that Tehreek-i-Taliban Pakistan (TTP) might target Fauji Foundation Hospital on Jhelum Road.
It has received intelligence that some miscreants in the garb of female patients would shift arms, ammunition and explosive to the hospital, police said.
In the meantime, the hospital administration has also received an anonymous letter in which it was threatened that the Taliban would hit the hospital.
The one page letter written in Urdu was received by the hospital management through ordinary mail some two weeks ago.
Full report at:
http://www.dawn.com/news/1145660/fauji-foundation-hospital-on-talibans-hit-list
---------
North America
Canadian jets bomb Islamic State weapon facility, Ottawa says
Nov 20, 2014
Canadian fighter jets bombed a warehouse that was being used by Islamic State militants in northern Iraq to manufacture weapons, Canada's Defence Minister says.
The militants were using the warehouse to train IS fighters and build improvised explosive devices, Rob Nicholson said in a statement. The attack, which took place near Mosul on Monday, involved four CF-18s and was part of a larger coalition operation.
t was Canada's third air strike since joining the U.S.-led coalition about three weeks ago.
A separate statement from U.S. Central Command said three coalition air strikes took place in the area around Mosul during the days leading up to the warehouse attack. One bomb destroyed a bulldozer and tactical unit southwest of Mosul Dam and two more targeted tactical units, an IS vehicle and a fighting position west of Mosul.
The recent air strikes in the Mosul area were among 20 coalition attacks against Islamic State targets in Iraq during the past few days, according to U.S. Central Command.
Coalition forces have been bombing Islamic State targets in Iraq since August and extended the campaign to Syria in September, although Canada's participation is currently limited to Iraq. Prime Minister Stephen Harper has suggested he would consider expanding the combat mission to Syria, but only if the strikes are not interpreted as a war against the Syrian government.
Full report at:
http://www.theglobeandmail.com/news/politics/canadian-jets-bomb-warehouse-used-by-islamic-state-in-iraq/article21636940/
---------
My mission is ISIL, not al-Assad, says US army chief
Nov 20, 2014
The top-ranking U.S. army officer says his duty is defeating the Islamist militants reigning in Iraq and Syria, not toppling Syrian President Bashar al-Assad or leading the transformation in the country.
"The mission I've been given is ISIL [Islamic State of Iraq and the Levant]. It's not nation building, it's not overthrowing the Syrian regime," General Martin Dempsey, joint chiefs of staff chairman, said speaking at the Defense One summit in Washington on Nov. 19.
"The counter-ISIL strategy has to exist in both Iraq and Syria," but as for the military strategy specifically, he said "the strategy is Iraq first, but not Iraq only."
Supporting role in Iraq
The general also praised the Iraqi government and military, emphasizing the U.S. is playing a more supporting role to local forces compared to the country's previous involvements in the country.
Full report at:
http://www.hurriyetdailynews.com/my-mission-is-isil-not-al-assad-says-us-army-chief.aspx?pageID=238&nID=74575&NewsCatID=359
---------
CAIR Asks American Mosques to Offer Friday Prayer for U.S. Aid Worker Killed by ISIS
Nov 20, 2014
(WASHINGTON, D.C., 11/19/14) -- The Council on American-Islamic Relations (CAIR), the nation's largest Muslim civil rights and advocacy organization, is urging American mosques to offer a special prayer for slain U.S. aid worker Peter Kassig following regular Friday congregational prayers (Jummah) on November 21.
The prayer, called "salat al-ghaib" (sa-lat all-guy-ib), is performed for Muslims who have died in a distant place and have no one else to pray for them at that location. Kassig had converted to Islam and taken the name "Abdul-Rahman."
CAIR previously condemned Kassig's "barbaric murder" by ISIS.
Prayer leaders are also being urged to offer a special prayer (dua) for victims of violence and oppression of all faiths worldwide.
The Prophet Muhammad (peace be upon him) once told a newly-appointed official: "Fear the cry of the oppressed, for there is no barrier between it and God." (Fiqh-us-Sunnah)
CAIR is America's largest Muslim civil liberties and advocacy organization. Its mission is to enhance the understanding of Islam, encourage dialogue, protect civil liberties, empower American Muslims, and build coalitions that promote justice and mutual understanding.
---------
US slams Israeli construction in E. Jerusalem, renewed home demolitions
Nov 20, 2014
The US criticized Israel Wednesday following a Wednesday announcement that the Jerusalem Local Planning and Building Committee approved the construction of 78 new homes in two East Jerusalem Jewish neighborhoods.
"We would reiterate our clear and consistent opposition to construction activity in East Jerusalem. During this sensitive time in Jerusalem, we would see such activity as inconsistent with the goal of lowering tensions and seeking a path towards peace," said State Department spokesman Jeff Rathke at a press briefing Wednesday.
He added that the US administration remains in close touch with the Israeli government on these and other issues, including the deadly attack at a Jerusalem synagogue Tuesday morning.
Full report at:
http://www.timesofisrael.com/us-consistently-opposed-to-israeli-construction-activity-in-e-jerusalem/#ixzz3JY1QEyJ3
---------
Islamic State needs mechanics and technicians to manage gear
Nov 20, 2014
The Islamic State terrorist army, in its rapid arms buildup, is now searching for foreign technicians who can come to Syria and Iraq and show its fighters how to use and maintain their weapons.
A U.S. military officer familiar with the Islamic State said that the Sunni extremist group is sending word through the arms trade's secretive black market that it needs outside advisers — and is willing to pay.
"They've captured our weapons, and now they're trying to use them against us, but some of them are too sophisticated for them, and so they need special instructions," the officer said.
Rogue weapons technicians — the military officer mentioned Russia and Bulgaria as possible providers — are willing to help nefarious groups if the money is right. But the officer said it remains to be seen whether any high-caliber technicians would get in bed with a group as violent and murderous as the Islamic State, also known by the acronyms ISIS and ISIL.
Full report at:
http://www.washingtontimes.com/news/2014/nov/19/islamic-state-seeks-weapons-consultants-to-manage-/?page=2#ixzz3JY2bWfDZ
---------
US Shifts Blame to Afghan Government for Exploding Central Asian Opium Trade
Nov 20, 2014
The Special Inspector General for Afghanistan Reconstruction (SIGAR), an office created by Congress in 2008 to oversee waste and fraud in US government expenditures in Afghanistan, released a report in October communicating that Afghanistan poppy production reached an unprecedented high point in 2013, even while being preceded by more than a decade of prodigious production.
This is despite the fact that the US government has devoted $7.6 billion to squashing the booming opium trade since its revival at the start of the US invasion.
The report was published along with an invitation to written responses from various departments of the US government, responses that unanimously blamed the situation on the US puppet government in Afghanistan, stating that it had not assisted aggressively enough with counter-narcotics efforts. The idea of the US government denying responsibility for the misdeeds of a state it installed through a rigged election to promote the objectives of the occupation, is absurd on its face. A review of the history of US involvement in the Central Asian opium trade up through the 2001 intervention, however, reveals even deeper responsibility.
Full report at:
http://www.truth-out.org/news/item/27512-us-shifts-blame-to-afghan-government-for-exploding-central-asian-opium-trade
---------
No date for ISIS war vote as Congress waits on Obama
19 November 2014
Congressional authorization of the U.S. war against Islamic State extremists has gone nowhere in the two weeks since President Barack Obama vowed to coordinate with lawmakers on a stronger legal basis for military action, prompting growing frustration with the White House.
Republicans and Democrats say the administration isn't prioritizing the effort, having yet to outline what it wants from Congress or to dispatch top officials to testify. As a result, congressional aides say, a new authorization to fight the Islamic State won't happen this year and it's unclear when it may be taken up in 2015.
"The president is now operating outside the Constitution," said Rep. Adam Schiff, one of several lawmakers challenging the administration's legal justification for intervention based on a 2001 authorization to fight al-Qaida and another a year later to invade Iraq.
ISIS didn't exist at the time of either vote, emerging only recently from the al-Qaida movement. They've primarily fought each other since.
After his party's drubbing in this month's midterm elections, Obama said he'd work with Congress on a new authorization for the U.S. intervention in Iraq and Syria. The announcement was a nod to widespread dissatisfaction among lawmakers with the status quo even if few, like Schiff, have expressly deemed the military campaign extralegal. Even fewer want the operations halted.
Full report at:
http://english.alarabiya.net/en/News/2014/11/19/No-date-for-ISIS-war-vote-as-Congress-waits-on-Obama.html
---------
Mideast
Ankara watches as al-Assad leaves exit path in Aleppo siege
Nov 20, 2014
In a second attempt after one year to retake Syria's second largest city from rebels, the forces loyal to President Bashar al-Assad are tightening the vice on Aleppo, but leaving a path to the exit, a ranking Turkish military source told the Hürriyet Daily News on Nov. 19.
"We are observing the situation in Aleppo closely," said the military source who asked not to be named. "It is clear that the regime forces have left an exit path of nearly 5 kilometers in width in the northwestern part of the city."
The main road in and out of Aleppo toward the Turkish border city of Kilis, only 60 kilometers away, passes through this northwestern part of the city. "It seems like al-Assad is trying to push those left in the town toward Turkey, which increases our worries about another wave of migration from Syria," the source said.
Full report at:
http://www.hurriyetdailynews.com/ankara-watches-as-al-assad-leaves-exit-path-in-aleppo-siege.aspx?pageID=238&nID=74561&NewsCatID=409
---------
Israeli president: We are not at war with Islam
Nov 20, 2014
Seeking to calm tensions in Jerusalem the day after a murderous Palestinian terror attack on a synagogue, President Reuven Rivlin said on Wednesday that Israel is not at war with Islam and that the conflict should not be allowed to become about religion
"These are difficult days for Jerusalem for the simple reason that the political struggle over Jerusalem, the nationalist struggle, the Israeli-Arab conflict, has turned into a Jewish-Muslim conflict, and to my sorrow both sides understand this — understand this but are not doing anything about it," Rivlin said an interview with Channel 2 television.
"We have no dispute with Islam, we did not have, we will not have, and today, too, we don't have," he declared. "We need to make it clear to everyone."
The president, unlike other leaders and security officials, did not hesitate to label the current surge of violence an intifada.
Full report at:
http://www.timesofisrael.com/israeli-president-we-are-not-at-war-with-islam/#ixzz3JY1eF3UA
---------
Turkey pushes for no-fly zone in Syria, US still reluctant
Nov 20, 2014
Turkey has pushed the U.S. to declare a no-fly zone and safe haven in northern Syria, as part of a coalition strategy against the Islamic State of Iraq and the Levant (ISIL), but Washington is still reluctant for such a move.
Turkey and the U.S. have a "general mutual understanding," but the two parties have not reached a deal on a train-and-equip program for the "moderate opposition" in Syria, a Foreign Ministry official, speaking on condition of anonymity, told the Hürriyet Daily News.
Turkey and the U.S. have not reached a final agreement on the number of Syrian opposition soldiers to be trained, or which opposition groups would be part of the train-and-equip program, according to the diplomat, who also noted that there is no exact date to launch the program. The political leadership will soon decide on the issue, the diplomat added.
Full report at:
http://www.hurriyetdailynews.com/turkey-pushes-for-no-fly-zone-in-syria-us-still-reluctant.aspx?pageID=238&nID=74558&NewsCatID=359
---------
Former President Gül testifies in 'lost trillion case'
Nov 20, 2014
Turkey's 11th president, Abdullah Gül, has testified in a corruption case from the 1990s, known as the "lost trillion case," with the motive of "having justice operate flawlessly and seamlessly" and "in order to not leave any doubt on any issue."
Gül appealed to the Ankara Chief Public Prosecutor's Office upon the ending of his presidential term to initiate the required procedure to finalize the case. Due to his legal immunity from being a member of Parliament and later president, the case was halted during his tenure in office.
"Upon being summoned by the Chief Prosecutor's Office within legal procedures to complete the related file, 11th President Abdullah Gül testified by going to the prosecutor's office yesterday [Nov. 18]," the announcement posted on Gül's official website said on Nov. 19.
Full report at:
http://www.hurriyetdailynews.com/former-president-gul-testifies-in-lost-trillion-case.aspx?pageID=238&nID=74540&NewsCatID=338
---------
Netanyahu on discrimination of Israeli-Arabs: An entire community should not be stigmatized
Nov 20, 2014
Prime Minister Benjamin Netanyahu spoke out on Thursday morning against discrimination of Israeli-Arabs, saying there was no place for the phenomenon in Israeli society.
"We should not discriminate against an entire public because of a small minority that is violent and noisy," he said.
"The vast majority of Israeli-Arab citizens are law-abiding and we are acting resolutely against those who break the law," he added.
The prime minister's comments come two days after a deadly terror attack in Jerusalem that killed five and in the aftermath of which tensions seemed to be rising between Jews and Arabs in the country.
Full report at:
http://www.jpost.com/Arab-Israeli-Conflict/Netanyahu-on-discrimination-of-Israeli-Arabs-An-entire-community-should-not-be-generalized-382348
---------
Yemen's domestic crisis worsened by recent UN sanctions
Nov 20, 2014
Two main groups have rejected the 36-member government formed earlier this week in Yemen after the UN Security Council sanctioned three leaders of these groups as spoilers.
The two groups have plans to overthrow the government regardless of the sanctions, after they were excluded from the government.
President Abdu Rabu Mansour Hadi formed the government after all groups authorised him to do so, including the Houthi group and the General People's Congress, the Party of ex-president Ali Abdullah Saleh, that now reject the government.
Saleh Party has refused to participate in the government and announced an official alliance with the Houthi group, which is now controlling almost all the provinces of the north by force of arms.
The Houthi group threatened to overthrow the government by revolutionary escalation if President Hadi ignores their demands.
Full report at:
http://english.ahram.org.eg/NewsContent/2/8/115964/World/Region/Yemens-domestic-crisis-worsened-by-recent-UN-sanct.aspx
---------
Palestinian FM hails Spain's symbolic recognition of Palestine State
Nov 20, 2014
Palestine's foreign ministry on Wednesday welcomed the Spanish parliament's symbolic recognition of a Palestinian state on Tuesday night, Egypt's state-run news agency MENA reported.
Spain's parliament overwhelmingly approved a largely symbolic resolution that recognises a Palestinian state, as 319 voted in favour, with two against and one abstention, AFP reported.
Palestinian Minister of Foreign Affairs Riyad Al-Malki said in the statement that the Palestinian Authority hails the Spanish decision and lauds its political parties that helped in approving the "important and historical resolution."
"This recognition is considered as an advanced historical position of Spain in the Spanish-Palestinian bilateral relation," the statement read, adding that it also coincides with Spain's principles and its commitment to international human rights law.
Full report at:
http://english.ahram.org.eg/NewsContent/2/8/115905/World/Region/Palestinian-FM-hails-Spains-symbolic-recognition-o.aspx
---------
Islam does not accept capitalism
Nov 20, 2014
Grand Ayatollah Hoseyn Nouri-Hamadani has met with a group of employees of the Iranian Revolutionary Guards. In an explanation of the economic structure of Islam, His Eminence said that Islam does not accept the capitalist economy as Islam wants all people to have access to welfare.
In his criticism of government performance in the area of economics, Ayatollah Nouri-Hamadani said in a society based on Islamic economics, there should not be any disadvantaged or poor people. Poverty and unemployment should be eliminated and the blessings of God [should be able to] reach people easily. "Unfortunately, the situation which should exist, does not," he stated.
Full report at:
http://www.abna.ir/english/service/iran/archive/2014/11/19/652300/story.html
-------
URL: https://www.newageislam.com/islamic-world-news/new-age-islam-news-bureau/islamic-state-takes-libyan-city;-100k-under-terror-group's-control-as-chaos-spreads/d/100106