New Age Islam News Bureau
22 Apr 2016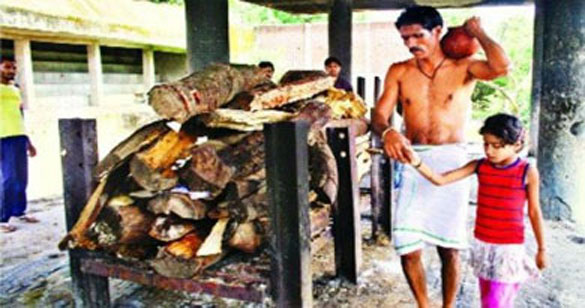 Catch News: Muslim Man, Razzaq, Breaks Religious Barriers
---------
India
• Islamic State Snubs Sri Sri Ravi Shankar Sends Him Beheaded Man's Picture
• Muslim Man Breaks Religious Barriers, Performs Hindu Friend's Last Rites
• Islamic Judges in Telangana, India, Oppose One-Sided Divorce
• 12 Maldivians left via Bengaluru to join IS
• India Issues Visa to Uyghur 'Terrorist' Dolkun Isa; China Angry
• India to push China on sanctioning JeM chief Masood Azhar
• Who Are The Muslims Of Assam?
• 'NIA not opposing discharge of Muslims'
----
Arab World
• Retreating ISIS Fighters Drug 7,000 GAZELLES and Steal Them from a Nature Reserve in Iraq
• Now the Pentagon Sends B52s In To Fight ISIS for the First Time
• Islamic State Explosives Kill 13 in Eastern Libyan City
• 9 killed, 25 injured in Iraq Shia mosque bomb blast
• Relentless Campaign against Al-Qaeda Gets Crown Prince Time Honour
• The World Needs to See Muslims in A Better, Truer Light, Says Emirati Director
• West Anxious about Deterrent Power of Iran's Missile Program: IRGC Commander
• UN-sponsored Yemen peace talks begin in Kuwait
• Iran denounces U.S. ruling awarding Iran money to bomb victims
• Syria: Al-Nusra Terrorists Fail to Prevail over Gov't Forces in Dara'a
• Syrian Army Smashes Terrorists in Dara'a Neighbourhoods
• Terrorists' Offensives Repulsed by Syrian Soldiers North of Hama
• Russia Redeploys Artillery Units to North of Syria
• Syrian Air Force Continues to Smash ISIL Terrorists in Central Homs Province
----
Mideast
• Uzbek Al Qaeda Battalion Trains 'Commandos' In Aleppo
• Islamic Bodies in Jerusalem Back Jordan's Move to Cancel Aqsa Cameras Project
• Three Killed in PKK Attack in Turkey's East
• Turkish Academics Go On Trial for 'Terrorist Propaganda'
• NATO chief warns about complacency on migrants
• Belgium wants deal with Turkey to stop foreign fighters
----
Africa
• Islamic State Fighters Retreat from Bases outside Derna, Libya
• Islamic State Explosives Kill 13 in Eastern Libyan City
• Amnesty accuses Nigerian army of mass killings of Shias
• 13th Organization of Islamic Cooperation throws support behind Caribbean and African countries in push for reparations
----
South Asia
• Afghan Air Force Kills 25 Militants in Separate Raids Including ISIS Loyalists
• Rise in Afghan Army Casualties, MoD Reports 10 Martyred in Past 24 Hours
• Ghani orders flags at half-staff to honour victims of deadly Kabul attack
• Deadly suicide and rocket attack plot on Lashkargah city foiled by NDS
• Afghanistan's security leaders train for the future in force management course
• Deadly Kabul attacker likely released from Bagram prison during Karzai era
• Top Chinese General briefs Atmar on planned delivery of equipment to Afghan army
----
Southeast Asia
• Bangladesh Deports Hundreds of Rohingya Muslims to Myanmar
• Southeast Asia Faces Rising Terrorism Threats
----
Europe
• 'EU Must Militarize Chaotic Immigration; Identify States behind Middle East Crisis'
• The Muslim Mayoral Candidate Canvassing for Jewish Votes in London
• German man charged with Islamic State group membership
• Inter-religious dialogue to defeat radicalisation
• German police: 2 Islamic extremists behind Sikh temple blast
• Germany: Ex-pres. states "Muslims belong in Germany"
-----
North America
• True Islam and the Extremists: A Seminar Sponsored by Al-Islam Students Association
• Young, Well-Educated, But With Only 'Basic' Knowledge of Islamic Law? You're A Perfect Isis Terrorist
• Obama Urges 'Blood Brother' Britain Not To Leave EU
----
Pakistan
• Undeterred by Policemen's Killing, Polio Campaign Continues In City
• Parliament watch: Panama Papers — from opportunities to opportunism
• Bank Alfalah Launches Book on Islamic Finance
• Edhi, Pakistan's 'Mother Teresa', Is an Obstinately Humble Hero to the Masses
• ATC terms Musharraf's medical report 'fake'
• PTI's Mazari questions ISPR silence on army sackings
---
Compiled by New Age Islam News Bureau
URL: https://www.newageislam.com/islamic-world-news/new-age-islam-news-bureau/islamic-state-snubs-sri-sri-ravi-shankar-sends-him-beheaded-man's-picture/d/107072
-----
Islamic State Snubs Sri Sri Ravi Shankar Sends Him Beheaded Man's Picture
Apr 21, 2016
Islamic state rebuffed Sri Sri Ravi Shankar's attempt to open a dialogue with the terror group by sending a photograph of a beheaded man, the spiritual leader told the media on Thursday.
"I tried to initiate peace talks with the ISIS (Islamic State of Iraq and Syria) recently but they sent me a photograph of a beheaded body of a man. Thus, my effort for a peace dialogue with the ISIS ended," he said.
"I think the ISIS does not want any peace talks," he told the media in Agartala. "Hence, they should be dealt by military."
Ravi Shankar left Agartala on Thursday for Kolkata after a three-day visit to Tripura.
Holding a series of meetings across the state, he stressed on the need to bring peace to India's north-eastern region.
Ravi Shankar urged the militant outfits of the region to hold peace talks with the government.
The 59-year-old said his aim was to unite all cultures, religions, faith and ideologies.
He said the National Greet Tribunal's decision to fine the Art of Living Foundation Rs 5 Crore for allegedly causing environmental damage to the Yamuna flood plains in Delhi "was politically motivated".
http://www.hindustantimes.com/india/is-ends-ravi-shankar-s-peace-push-by-sending-beheaded-man-s-photo/story-qTGWJtSDRyBLafqVTLSTNL.html
----
Retreating ISIS Fighters Drug 7,000 GAZELLES and Steal Them from a Nature Reserve in Iraq
22 Apr 2016
ISIS appears to have it in for the animal kingdom as well as mankind following its latest stunt - drugging and stealing 7,000 gazelles from a nature reserve in Iraq.
Under pressure from Iraqi government forces the terror group last month withdrew from Rutba, a city in western Iraq 90 miles from the Jordanian border.
Although they returned 24 hours later, most of their foreign fighters skipped over the border to Syria and ISIS leaders apparently believe Iraqi forces will take the town soon.
The city is close to a wildlife preserve, which is home to thousands of goitered gazelles, sometimes known as black-tailed gazelles.
The deputy governor of Syria's al-Raqqa province, Imad al-Daylami, has accused ISIS of stealing thousands of gazelles from the wildlife preserve.
He said waterholes were laced with sedatives and the drugged animals were loaded into lorries and taken across the border into Syria.
It is not clear why the animals were taken but it may be that ISIS fighters, in desperation, plan to slaughter and eat them if their regular meat supplies dry up.
Iraqi sources have confirmed around 7,000 gazelles have been stolen from the preserve, a large area which stretches as far as the border with Saudi Arabia.
Rutba occupies a strategically important spot on the road from Baghdad to Amman and also straddles a key oil pipeline fro Mosul to Haifa.
Last year ISIS tied dozens of local tribal leaders to lamp-posts as punishment after a local ISIS commander was killed by Munir al-Kobeisi. The killing was linked to a long-running blood feud between two local clans.
http://www.dailymail.co.uk/news/article-3553302/Retreating-ISIS-fighters-drug-7-000-gazelles.html
-----
Uzbek Al Qaeda Battalion Trains 'Commandos' In Aleppo
April 20th, 2016
The Tawhid wal Jihad battalion (KTJ), a predominately Uzbek and Central Asian group within the Al Nusrah Front, has released a video showing its forces training what it calls 'commandos' in Aleppo.
A small number of fighters, only 15 in total, are shown undergoing weapons training on variants of the Kalashnikov assault rifle, machine guns, and rocket-propelled grenades (RPG's). The training is meant to provide experience for urban combat within the city of Aleppo, where the group maintains a heavy presence. Other groups in Syria include Al Nusrah's Liwa al Muhajireen wal Ansar, which is a mainly Russian-speaking brigade, and the Islamic State have trained fighters for urban combat. (See LWJ report, Jihadists in Syria train for urban warfare.)
It also maintained a presence in Idlib Province. During the Jisr al Shughur offensive in Idlib earlier last year, KTJ operated closely alongside Junud al Sham, led by the Chechen Muslim Shishani, and the Syrian-wing of the Turkistan Islamic Party. Muslim Shishani is a US-designated global terrorist and has an extensive history with the al Qaeda-affiliated Islamic Caucasus Emirate (ICE). KTJ was also known to have operated at least two training camps in Syria.
KTJ pledged allegiance to the Al Nusrah Front, al Qaeda's official branch in Syria, in September of last year shortly after the mainly-foreign group Jaish al Muhajireen wal Ansar (JMA) also pledged its allegiance to Nusrah. JMA was historically a Chechen and North Caucasian group before being led by a Tajik and then a Saudi. A small group of mainly Crimean Tartars and other Russian-speaking militants, called the Crimean Jamaat, pledged allegiance just a few days later, swelling Nusrah's ranks with Russian-speaking fighters and other militants from Central Asia.
http://www.longwarjournal.org/archives/2016/04/uzbek-al-qaeda-battalion-trains-commandos-in-aleppo.php?utm_source=feedburner&utm_medium=email&utm_campaign=Feed%3A+LongWarJournalSiteWide+%28The+Long+War+Journal+%28Site-Wide%29%29
----
India
Muslim Man Breaks Religious Barriers, Performs Hindu Friend's Last Rites
By Mugdha Kapoor: September 28, 2015
Religion has at times come in the way of love, happiness and friendship. But this time it wasn't to win.
Rising above his religious beliefs and the faith he practiced, Razzaq Khan Tikari, a resident of Chhattisgarh, did what only a few of us have the heart to do. Breaking all religious barriers Razzak, despite being a follower of Islam, performed Hindu rites for his deceased friend, Santosh Singh.
Singh who belonged to Harda area and was living with his family in Baitul, was suffering from critical health condition to which he succumbed on 20 September. He is survived by his wife Chhaya and their eight-year-old daughter.
Unable to arrange money to perform proper religious rites for her deceased husband, Santosh's wife was helpless. At this time, Santosh's friend for years Razzaq came forward and took the responsibility of carrying out all the religious rites and to cremate the body of his deceased friend. Razzaq, despite being a Muslim, never let religion come in the way of his friendship. He performed all the rites as per Hindu tradition and cremated Santosh's body.
"Religion should not become a barrier in friendship," Razzaq was quoted telling Catch News.
This certainly leaves us with one thought - is it really so difficult to keep religion aside and believe in the power of love and friendship. Well, with Razzak's live example it doesn't seem like it.
http://www.indiatimes.com/news/india/muslim-man-breaks-religious-barriers-performs-hindu-friends-last-rites-245650.html
----
Islamic Judges in Telangana, India, Oppose One-Sided Divorce
April 22, 2016
Qazis (Islamic judges of civil and religious matters for the Muslim community) in Telangana are reportedly opposing one-sided divorce wherein men seek divorce without informing their wives. The effort by the religious leaders comes at a time when the All India Muslim Personal Law Board (AIMPLB) is set to oppose the Supreme Court's move to do away with the triple Talaq (divorce) system.
In multiple cases, husbands have been depositing the Meher (dower) with the Islamic judges and asking them to send divorce notices to their unwitting wives. Qazis of various districts in the state have spoken out against the practice calling it a misuse and wrongful interpretation of Islamic law.
"Talaq is very much a legal provision. But not informing the wife about Talaq, depositing the dower with Qazis and scooting is not right," Qazi Mir Mohammed Khader Ali, chief of the Anjuman-e-Qazat or the council of Qazis in Telangana, told the Times of India.
"The only way to put an end to this is to not entertain the affidavit for divorce unless both parties are present or till Talaq has been pronounced. Once the man returns with his wife, counselling can be done and perhaps the marriage can be saved," Chief qazi of Secunderabad and Secunderabad Cantonment jurisdiction Syed Shah Noorul Asfia Soofi told the TOI.
The Qazis have also advocated using the police while others believe that at least a fraction of the marriages on the rocks can be salvaged if this process of divorce can be discouraged. Meetings were held between the Islamic judges and the Minorities Welfare Department in Telangana, sources told the newspaper; however, the two bodies have not been able to come to an understanding.
In another incident, the Supreme Court earlier on Friday gave the AIMPLB six weeks to make a decision in the case of Shayara Bano — a woman who challenged the triple talaq system in the Supreme Court — and filed a case against her husband, who she alleged was physically abusive, forced her to go through an abortion, and divorced her after several years of marriage. The AIMPLB had earlier said that it would challenge the Supreme Court's bid to ban the triple Talaq system.
"I have appealed in Supreme Court that triple talaq be declared unconstitutional so that coming generations of Muslim women aren't exploited," Bano told ANI on Friday.
http://www.ibtimes.co.in/islamic-judges-telangana-oppose-one-sided-divorce-675800
--
12 Maldivians left via Bengaluru to join IS
Apr 22, 2016
A failed Indo-US operation to stop a radicalised Maldivian family of 12 from flying out from Bengaluru in December last year to join the Islamic State in Syria has brought into focus once again the worrying trend of jihadists using India as a transit point and the neighbouring nation of islands turning into a hotbed of extremism.
The operation that lasted nearly 100 hours and had a team of Mumbai police hot on the family's tail was called off after the 12 managed to get on Qatar Airways flight QR 673 to Istanbul via Doha on December 13. They were last tracked in Istanbul of January 13, when they are suspected to have dumped their phones before leaving either for Iraq or Syria.
While the family was of special interest to the US because one of them, Abdulla Mubarak, is a certified pilot from Miami Federal Aviation Administration Department and could be used for a 9/11-type operation by IS, or Daesh as the group is referred to, for India the threat is long-term - the risk of a neighbouring country turning into Jihadi outpost.
The family's arrival in Bengaluru on December 7 on a health visa and their eventual exit would have gone un-noticed, had the US intelligence agencies had not alerted their Indian counterparts, sparking off a chase that was monitored in two countries, involved multiple agencies, and had some of India's seniormost police and intelligence officials on their toes.
Mumbai Police Commissioner Datta Padsalgikar, who was at the centre of the operation, on Thursday confirmed that the Maldivian family was tracked by his men for several days. "We had received information about the Maldivian family transiting via Bengaluru and possibly crossing over to Iraq through Turkey," he said, but refused to elaborate citing on-going investigations and privileged information.
Though the family -- four sisters, three brothers, their children, two of their cousins, and another man whose relation with the family intelligence agencies have not been able to establish -- entered India on medical visas, the investigating teams have found that none of them visited any hospital or medical facility during the time they spent here.
Indian and US intelligence officials together now have a fat dossier on the family. Five members of the family from the Gaaf Alif Atoll, Kondey Island, Male were radicalised by a Male-based organisation called Jamiatul Salafi. The five have been identified as Abdulla Mubarak (the trained pilot) 30; Muizz Hasan, 28; Ahmed Azmeer, 32; Zoona Zareer, 27; and Zahida Zareer, 30.
Indian officers have information that the family's head Mohammad Isa had tried to raise a red flag by lodging a complaint with the local Male authorities. However, nobody paid heed to his complaint. The family, before leaving Male, sold off its assets to contribute financially to the IS.
The 12 arrived in India on Air India flight AI 266 on December 3 and spent 10 days in the country before leaving for Istanbul. It is possible that some members of the family may have visited other parts of the country before the Indian agencies were alerted about their presence in Bengaluru.
According to Inspector Sachin Waze, who worked in close collaboration with American agencies on the operation, said the information about the family came to Mumbai police through an intermediary. "We were asked to rush to Bengaluru to intercept the family. But by the time we reached the airport, they had already left for Turkey on a Qatar Airways flight," he said.
Maldives, which lies to the southwest of India and Sri Lanka, has a small population of 3, 94,000 and tourism is the country's mainstay. While for decades the country looked at India as a compassionate neighbour, the sentiment has changed dramatically over the past few years. "The radical Maldivians now look at us as kafir harbi (the warring infidel nation). Indian intelligence agencies feel that the radicals trained by ISIS will only return to harm us and inflict violence," said a senior officer, who works closely with US agencies.
According to an estimate, over 150 Maldivians have already joined the Daesh forces in Syria and Iraq and they are all regarded as part of the extremist organisation's Al Hind Brigade.
Religious extremism in the Maldives flourished during former president Mamoon Abdul Gayoom's 30-year rule. It was he who introduced Salafi Islam to this tiny Island nation. Educated in Egypt at the Al-Azhar University of Cairo, his politics and faith were defined by what he learnt during his student days. He changed the face of the easy-going Maldivian nation by making its people more conservative and vulnerable to religious radicalism.
Gayoom introduced a more conservative versions of Islamic textbooks in schools and many students were sent to Saudi Arabia and Pakistan for higher studies. Though Gayoom is no longer in power, Abdulla Yameen, his half-brother has continued in his foot-steps.
According to agencies, a huge amount of inflammatory and radical literature is printed and circulated in the masjids and other institutions in the country, exhorting youth to join Daesh. The preachers who manage to recruit for IS are rewarded with incentives.
When contacted, Male police chief Ahmed Arif refused to talk about the support for IS in his country. Questions texted to him about the family that flew out from Bengaluru to join IS also remained unanswered.
http://timesofindia.indiatimes.com/city/bengaluru/12-Maldivians-left-via-Bengaluru-to-join-IS/articleshow/51936081.cms
--
India Issues Visa to Uyghur 'Terrorist' Dolkun Isa; China Angry
Friday, April 22, 2016
ia's move to grant visa to World Uyghur Congress (WUC) leader Dolkun Isa for a visit to the country has irked China.
China, which considers WUC leaders as supporters of terrorism in its volatile Muslim-dominated Xinjiang province, has stated that Dolkun is a "terrorist" on Interpol's Red Corner.
It is the obligation of all countries to bring him to justice, Chinese Foreign Ministry spokesperson Hua Chunying told India's PTI news agency.
"I am not aware of the situation," the spokesperson said in a written response when asked about reports that WUC leaders including Dolkun, who is based in Germany, were given permission to meet the Dalai Lama in Himachal Pradesh later this month.
WUC leaders will also attend a conference on democracy and China in Dharamsala during their visit.
"What I want to point out is that Dolkun is a terrorist in red notice of the Interpol and Chinese police. Bringing him to justice is due obligation of relevant countries," Hua added.
New Delhi's decision to allow WUC leaders to visit India is being seen as a response to China's move to block a ban on Jaish-e-Muhammad (JeM) chief Maulana Masood Azhar at the United Nations.
Xinjiang, which has over 10 million Uyghur population of Turkik-origin Muslims, has been on the boil for several years over Uyghur protests against the large-scale settlements of Han Chinese from different parts of the country.
China blames East Turkistan Islamic Movement (ETIM), a militant Islamist group, for terrorist attacks in Xinjiang and other parts of the country.
http://zeenews.india.com/news/india/india-issues-visa-to-uyghur-terrorist-dolkun-isa-china-angry_1878674.html
---
India to push China on sanctioning JeM chief Masood Azhar
Apr 22, 2016
India has lined up half a dozen or more applications for the UN Security Council committee which sanctions terrorists that will test China's resolve to stand in the way as it has in the case of Jaish-e-Mohammed chief Masood Azhar.
India plans to begin moving the applications one by one if efforts currently under way to ascertain Chinese objections to the Azhar designation, in order to deal with them, fail.
"They can't keep putting a hold on every application that we move," said a source. "It will make them look terrible on terrorism, and may even portray them as supporting it."
No details are available about these applications – which are about other individuals and groups and which India would have moved at some stage any way – and when they will be taken up.
Late last month, China put a technical hold on India's application to sanction Azhar before the UN Security Council committee pursuant to resolutions 1267 (1999), 1989 (2011), and 2253 (2015) concerning the Islamic State, al Qaeda and associated individuals, groups, undertakings and entities.
The panel designates terrorists with links to al Qaeda and the IS.
India had expected this to be uncomplicated and easy given the recent attack by JeM, which is headed by Azhar, on Pathankot airbase that killed seven security personnel.
The designation would have enjoined UN members to freeze all assets owned by Azhar, refuse him entry or exit and not supply to him any arms and weapons.
JeM itself was designated in 2001 and several operatives and organisations associated with the group have been on the UN's blacklist, leaving no one in doubt about its activities.
China put a hold at the last minute. It has by way of explanation, in the words of its ambassador in Delhi. "We felt that the information provided by India to the UN was inadequate, that is why we placed a 'technical hold'– a temporary measure," the envoy said.
Beijing has not specified what more it wants to know. Another official of the Chinese embassy in Delhi told a reporter recently India should take it up with Pakistan. JeM is based in Pakistan and enjoys support and patronage from the security establishment.
A source said it was "ridiculous" to suggest India should discuss this with Pakistan. "We have made our case, and successfully, to the 14 members of the 15-member committee and now we go to a 16th country outside the committee?"
But India is not giving up. External affairs minister Sushma Swaraj and defence minister Manohar Parrikar raised Azhar with their Chinese counterparts during recent meetings, as did National Security Adviser Ajit Doval.
http://www.hindustantimes.com/india/india-to-push-china-on-sanctioning-jem-chief-masood-azhar/story-KWCBkZ4uqyEenAZbj6xaeM.html
--
Who Are The Muslims Of Assam?
22 APRIL 2016
The Muslims of Assam is not a historical but political category of "immigrants", so Prannoy Roy of NDTV pronounced on April 8, 2016. How could such a reputed journalist be so terribly misinformed about the history of Assam?
Assam's Muslim population is 1/3 of the 30 million people, which is the second-largest Muslim population in term of percentage, following Kashmir. The Muslims of Assam are a composite community constituted by at least four different groups — Muslim-Axamia (also called Goriya, Tholua or Khilonjia), Bengali speaking or Bhotia, up-country or Juluha (from UP and Bihar), and immigrant Muslims, referred to as Miya. The history of these diverse communities is important to know because they are a window to understanding Assam's composite culture created by Hindu, Muslim, Ahom, and many other groups that call themselves Axamia.
The literatus Imran Shah attributes the Axamia as xanmiholi — blended and fused community. The geography of Assam, as a place straddling South and Southeast Asia, enabled the process, and the culture of emotions — morom (love) and sneh (fellow feeling) facilitate and sustain the Axamia. The current politics of excising the Muslims from the Axamia community transforms them into the Other — for gains of exclusive Hindutva politics.
Although, Assam produced its own history called buranjis, which records the process of xanmiholi, the colonial administrator-historian, Edward Gait who wrote the well-known History of Assam (1906) omitted the cultural phenomenon, instead he privileged the Mughal-Ahom war during the reign of Emperor Aurangzeb as the pivotal moment of Muslim beginning in Assam. War is not history, it is the shattering of continuity, and thus the Muslim settlement in Assam was cast in a negative light. Noted Assamese historian, S.K. Bhuyan, adopted Gait's narrative identifying the Muslims as the defeated and abandoned soldiers of the Mughal army. In the twentieth century, the Indian National Congress transformed the Muslim as a "minority" in need of protection.
Historically speaking, a different story is available. Muslim settlement in Assam followed multiple pathways over eight centuries. Ibn-Batuta mentions the Muslims of Kamarupa in his twelfth century Rehla. From the early thirteenth century, following the invasion of Bhaktiyaruddin Khalji's (a renegade general of Sultan Iltutmish), which is corroborated in the Kanai Barashil Bowa Sil inscription found in North Guwahati, Muslims settlement appeared in Assam and the community is referred to as Turuksha. The conversion of a tribal man named Ali Mech during Khalji's invasion commences the local roots of the Muslim community.
Further, the conversion of the Kamata ruler, Chakradhvaj (1455-1485) to Islam provided new fillip. Trading groups arrived and Sufis settled in the outlying areas as, the American historian, Richard Eaton has argued (1992). By the sixteenth century, Muslim communities were established and is recoded in the Vaishnava literature of Assam. In the Assamese buranjis, Muslim are called Bongals or Goriya and they lived in the midst of other groups in the Ahom kingdom.
My father's family history is a case in point. The progenitor of the Saikia clan, Sheikh Azimuddin came from Delhi and was inducted into the service of the Ahom king through a land grant, title, and all its benefits in perpetuity. He became a Saikia and an Ahom noble in 1595. The Saikias, like other Muslim families who served the Ahom kings, are recorded, but several other unrecorded narratives of assimilation and integration also survive to this day.
The "othering" of Muslims happened in the colonial period and the first recorded event is a religious riot in 1930. It involved the sale of a cow for sacrifice, which led to violence between up-country Hindus and immigrant Chittagonian Muslims in the Assam Oil Company town of Digboi. This incident is important because it became indicative of the slow transformation of Assam from outside.
The colonial government's greed for revenue collection encouraged migration from Bengal for increasing agricultural productivity, which, in turn, changed the demographic composition of Assam. The impact of this change became evident after 1919 and the implementation of new electoral rules for provincial assembly elections under the system of Dyarchy. People became population groups and their importance was tabulated in terms of voting power during elections. The story persists even today.
But can politics change history? In this question emerges for me a memory that the xanmiholi Axamia have survived for centuries, and thus it will continue even though its death may be desired by the current Hindutva rulers of Delhi.
http://www.outlookindia.com/website/story/who-are-the-muslims-of-assam/296831
--
'NIA not opposing discharge of Muslims'
Apr 22, 2016
Amid a controversy over the alleged dilution of 'Hindu' terror cases filed under UPA — the Malegaon blasts of 2006 and 2008, and the blasts in 2007 on the Samjhauta Express, at Hyderabad's Mecca Masjid and at Ajmer Dargah — Neeraj Chauhan spoke to NIA director general Sharad Kumar. Excerpts:
How true are the allegations that NIA's stand in Hindu terror cases has changed or it is going slow?
NIA is following legal procedure in all the cases. All these cases, except Malegaon 2008, are already on trial and are in advanced stages. In the Malegaon 2008 case as well, the investigations are complete and the investigating officer is finalising his report. There is a thorough process in the NIA before deciding a case. The SP, DIG, IG, ADG and legal adviser among others will give their individual comments on the outcome of the investigations before the file reaches me. The evidence chart will be studied properly before taking a decision. We should be able to file a final report in the case in approximately six weeks' time.
But in cases like the Samjhauta train blast and Ajmer, the witnesses are turning hostile?
In Samjhauta, there are 299 witnesses including 13 Pakistani nationals out of which 214 have already finished recording their statements in court while 19 witnesses have turned hostile. In Ajmer, there were 180 witnesses, out of which 168 have already deposed while the other 12 have also been summoned in the court after which prosecution's case would be closed. About 21 witnesses have turned hostile in this case. In Mecca Masjid blast too, 70 witnesses have deposed out of 301 and there is not a single hostile witness. In Malegaon 2006 case, a decision is expected on May 25. So, these are all legal proceedings which our prosecutors and investigators are following in the court.
If according to your probe in 'Hindu terror', Abhinav Bharat members were involved, why is the NIA against discharge of nine Muslim accused persons in Malegaon blast case?
There are different set of accused by ATS and us in the case. The judge has to decide who is to be discharged and who is to be framed. If we didn't oppose their bail, why would we oppose discharge? We just want the legal process to be followed.
There are reports that statements of witnesses — recorded under section 164 CrPC (in front of magistrate) have gone missing in 'Hindu terror' cases?
We haven't heard anything like that. No court has approached us saying that statements have gone missing.
What about Lt Colonel Prasad Shrikant Purohit? You have been quoted saying that there is no evidence against him in the Samjhauta blast case?
Lt Colonel Purohit, in our case files and investigations, has never been accused in the Samjhauta blast case, so there is no question of having evidence against him. A lot of inferences are being drawn in different cases.
What about AG Mukul Rohatgi's opinion taken by NIA on whether or not to invoke MCOCA against Sadhvi Pragya Singh, Lt Colonel Shrikant Purohit and others in the Malegaon 2008 blast?
The AG has left the decision on us (NIA). Our investigating office has already started writing his report in this particular case and there would be a final report soon.
Lt Colonel Purohit, in our case files and investigations, has never been accused in the Samjhauta blast case, so there is no question of having evidence against him. A lot of inferences are being drawn in different cases.
http://timesofindia.indiatimes.com/india/NIA-not-opposing-discharge-of-Muslims/articleshow/51935032.cms
--
Arab World
Now the Pentagon Sends B52s In To Fight ISIS for the First Time
Friday 22 April 2016
The Pentagon released video footage Thursday of what it says is the first strike carried out by a B-52 bomber in Iraq, as a U.S.-led coalition continued to ramp up its efforts in the fight against ISIS with pledges of additional American ground troops and helicopters.
The airstrike was carried out Monday and destroyed an ISIS weapons storage facility near the town Qayyarah, U.S. military officials said.
The footage shows two sequences of airstrikes against a cluster of buildings.
A group of B-52H Strato fortress aircraft arrived at Al Udeid Air Base in Qatar earlier this month.
The aircraft replaced B-1B Lancers as the primary heavy bombers used by the U.S. in Iraq and Syria.
The iconic aircraft, whose hulking build has earned it the nickname Big Ugly Fat F****r, has been in the U.S. Air Force's service since 1955. Estimates by Air Force engineers predict the aircraft will remain in service beyond the year 2040.
The bomber was widely used during the Vietnam and first Gulf wars. In the latter conflict, it was used to drop 40 percent of coalition bombs.
The B-52 is capable of flying at high subsonic speeds at altitudes up to 50,000 feet, and can carry both nuclear and conventional bombs, according to the Air Force.
Speaking to reporters in Washington D.C. on Wednesday, the spokesperson for the U.S. military operation against ISIS, Army Col. Steve Warren, said the B-52s were deployed to conduct the 'same type of precision strikes that we've seen for the last 20 months here in this theatre.'
On Monday, defence officials pledged to deploy more than 200 additional troops to Iraq and to send eight Apache helicopters for the first time into the fight against ISIS in Iraq.
It would be the first major increase in U.S. forces in nearly a year.
The uptick in American fighting forces — and the decision to put them closer to the front lines — is designed to help Iraqi forces as they move to retake the key northern city of Mosul.
Speaking to reporters Monday in Baghdad, Defense Secretary Ash Carter said the decision to move U.S. advisers to the Iraqi brigade and battalion level will put them 'closer to the action,' but he said they will have security forces with them and the U.S. will do what's needed to reduce the risks.
A senior U.S. official said there will be eight Apache helicopters authorized to help the Iraqi forces when Iraq leaders determine they need them. The official was not authorized to discuss the numbers publicly so spoke on condition of anonymity
Last June the Obama administration announced that hundreds of troops would be deployed to help the Iraqis retake Ramadi — a goal they accomplished at the end of the year.
President Barack Obama on Monday emphasized the additional troops won't be doing the fighting, but the extra training and intelligence support they provide can 'continually tighten the noose.'
'As we see the Iraqis willing to fight and gaining ground, let's make sure we're providing them more support,' Obama said in an interview with CBS that aired Monday evening.
Obama also predicted success in Mosul: 'My expectation is that by the end of the year we will have created the conditions whereby Mosul will eventually fall.'
The decisions reflect weeks of discussions with commanders and Iraqi leaders, and a decision by Obama to increase the authorized troop level in Iraq by 217 forces — or from 3,870 to 4,087.
The advise-and-assist teams — made up of about a dozen troops each — would embed with Iraqi brigades and battalions, likely putting them closer to the front lines and at greater risk from mortars and rocket fire.
U.S. military and defence officials have made it clear that winning back Mosul is critical, but will be challenging, because the insurgents are dug in and have likely peppered the landscape with roadside bombs and other traps for any advancing military.
A senior defence official told reporters traveling with Carter that while Iraqi leaders have been reluctant to have a large number of U.S. troops in Iraq, they also need certain capabilities that only more American or coalition forces can provide. The official was not authorized to discuss the issue publicly so spoke on condition of anonymity.
http://www.dailymail.co.uk/news/article-3553210/Now-Pentagon-sends-B52s-fight-ISIS-time-Heavy-bombers-obliterate-terrorist-weapon-stash-new-phase-war-terror-movement.html
---
9 killed, 25 injured in Iraq Shia mosque bomb blast
Fri Apr 22, 2016
At least nine people have been killed and 25 more injured after a bomb explosion inside a Shia mosque in the Radwaniyah area, southwest of the Iraqi capital Baghdad.
Security and medical sources said a bomber detonated his explosive vest at the mosque after Friday Prayers.
No group has so far claimed responsibility for the explosion but Daesh terrorists have been often blamed for such attacks.
The news comes a day after a series of bomb explosions and a shooting attack at residential neighborhoods in and around Baghdad claimed the lives of at least eight people and injured more than two dozen others.
The United Nations Assistance Mission for Iraq says a total of 1,119 Iraqis were killed and another 1,561 wounded in acts of terrorism, violence and armed conflict in March.
According to the UN mission, the number of civilian fatalities stood at 575. Violence also claimed the lives of 544 members of the Iraqi security forces.
A great portion of the fatalities was recorded in Baghdad, where 259 civilians were killed.
Gruesome violence has plagued the northern and western parts of Iraq ever since Daesh terrorists launched an offensive in June 2014, and took control of portions of the Iraqi territory.
The militants have been committing heinous crimes against all ethnic and religious communities in Iraq, including Shias, Sunnis, Kurds, and Christians. Iraqi army soldiers and fighters from allied Popular Mobilization Units are seeking to win back militant-held regions in joint operations.
http://www.presstv.ir/Detail/2016/04/22/462008/Iraq-Radwaniyah-/
--
Relentless campaign against Al-Qaeda gets crown prince Time honor
Friday 22 April 2016
JEDDAH: Crown Prince Mohammed bin Naif has been named as one of the "100 Most Influential People" by Time magazine.
Writing about the crown prince in the magazine's special edition, former US Secretary of Defense Leon Panetta said: "He plays an indispensable role protecting the Kingdom founded by his grandfather. He decimated Al-Qaeda in Saudi Arabia, penetrating plots, cracking down on funding and promoting deradicalization.
"In 2009 he came to my office at Langley and described his encounter with a young extremist who had offered to renounce radicalism and turn himself in. Instead, the terrorist detonated a suicide bomb. Seated just inches from him, the crown prince walked away with only a few small cuts.
"Today he shoulders one of the heaviest burdens in the Middle East: Defending his country amid a rising tide of threats from Daesh, Al-Qaeda and a resurgent Iran."
---
The World Needs to See Muslims In A Better, Truer Light, Says Emirati Director
Friday, April 22, 2016
The Donald Trumps and Ted Cruzes of the world — who want to ban all Muslims in the United States or monitor their neighbourhoods — have stolen the world's attention, spreading hatred and allowing almost no leeway to correct the perception about Muslims that they are creating.
Bad news always seems to sell much better than good, and rather than diverting attention to the right path of opportunities and hope, we get dragged into sticky dead ends.
I am an Arab-Muslim, born and raised in Abu Dhabi (the capital of the United Arab Emirates), where it was and still is a melting pot of cultures and religions. I and many others like me are not fond of terrorists or so-called Jihadis.
We live in the 21st century and people still associate Islam and Muslims with killers and murderers.
I can only speak of the UAE, my home, as that is where I lived most of my life. The UAE is a beacon of hope and prosperity amidst all these extremist and violent acts happening around the globe, not to mention that the UAE is in a very hostile neighborhood, too.
But no one puts focus and attention on a country that is trying to save its people (nationals and residents) by engraving hope and opportunities into their lives and future, and by ensuring our boat stays afloat rather than sinks with the other shipwrecks.
We can blame and point at many players behind the chaos that exists today in the Middle East, but this will never end; we need to take a progressive act starting with baby steps, nothing more.
Very few know that the UAE just recently appointed its first female speaker in parliament; the first in the region and in many other parts in the world.
It also has eight female ministers incorporated in the recent cabinet reshuffle. I don't blame the ignorance spread today, because the media only wants us to focus on the bad and evil, and not the good and the hopeful.
We all live in one big neighborhood, and we all have a say and responsibility in the change that we all hope for. Education and opportunities are key pillars of developments that can engage people away from the blinded hostility. Don't we all want peace on Earth?
The Muslims and the Arabs have a responsibility in educating the youth and combating these extremist ideologies and individuals, but one hand cannot clap on its own.
The West has a major part in ensuring that the Trump kind of rhetoric does not get attention and that the media takes a more serious and larger role in correcting the misconceptions of Islam and Arabs.
What many of you don't know is that those so-called DAESHIs or ISIS/IL (I would call it NON-Islamic State) do not represent Islam. Islam is a religion of peace, love and harmony.
Why is it that during the era of the Prophet Mohamed (Peace be Upon Him) Muslims and Jews lived peacefully together? Muslims coexisted with others in peace, harmony and respect for more than 1,400 years as the embodiment of an ethos that forbids compulsion in religion and commands charity in dealing with everyone.
http://www.nydailynews.com/life-style/world-muslims-better-light-emirati-director-article-1.2610517
--
West Anxious about Deterrent Power of Iran's Missile Program: IRGC Commander
April, 22, 2016 - 14:05
TEHRAN (Tasnim) – Commander of the Islamic Revolution Guards Corps (IRGC) Major General Mohammad Ali Jafari said the reason behind certain Western states' concern over Iran's missile capability is its deterrent power which prevents them from pressuring Tehran.
Speaking to the Islamic Republic of Iran Broadcasting (IRIB) on Thursday on the anniversary of the establishment of the IRGC, Major General Jafari denounced the US-led propaganda campaign against Iran over its legitimate missile program.
"They (the Western states, especially the US) possess many more missiles (than Iran)," the commander noted, stressing that they even have missiles with nuclear warheads, but it is not mentioned while there is hue and cry over Iran's missiles.
The reason behind their concerns over Iran's missile capability is that they know its deterrent power and do not want it to increase so that they can put pressure on the Islamic Republic whenever they want, he went on to say.
Iranian officials have repeatedly underscored that the country will not hesitate to strengthen its military capabilities, including its missile power, which are entirely meant for defence, and that Iran's defence capabilities will be never subject to negotiations.
In late March, Leader of the Islamic Revolution Ayatollah Seyed Ali Khamenei underscored the need for boosting Iran's defence capabilities, warning that enemies are making use of every tool available to undermine the Islamic Republic.
Ayatollah Khamenei said at the time that if the Islamic establishment seeks technology and negotiations but lacks defence might, it will have to buckle in the face of any weak country posing threats.
In March, the IRGC test-fired two types of Qadr ballistic missiles during the large-scale drills, codenamed "Might of Velayat".
The two ballistic missiles, Qadr-H and Qadr-F, were launched from the heights of East Alborz Mountains, north of Iran, and hit targets on the Makran coasts, southeast of the country.
http://www.tasnimnews.com/en/news/2016/04/22/1054934/west-anxious-about-deterrent-power-of-iran-s-missile-program-irgc-commander
--
UN-sponsored Yemen peace talks begin in Kuwait
22.04.2016
Talks aimed at ending Yemen's war opened in Kuwait on April 21, with Kuwait's top diplomat appealing to both sides to "turn war into peace" after more than a year of conflict which has killed more than 6,200 people and caused a humanitarian crisis.
Yemen's foreign minister warned against high expectations from the U.N.-sponsored talks, which brought together the Houthi group and its General People's Congress party allies with the Saudi-backed government of President Abd-Rabbu Mansour Hadi.
The talks, originally scheduled to start on Monday, were delayed over accusations by the Houthi group of truce violations and disagreements over the agenda for the negotiations.
Kuwait's foreign minister Sheikh Sabah al-Khalid al-Sabah, in an opening speech at Bayan Palace, urged Yemenis to "turn war into peace and backwardness into development".
The talks are based on U.N. Security Council resolution 2216 which calls for the Houthis to withdraw from areas they seized since 2014 and hand heavy weapons back to the government, U.N. special envoy to Yemen Ismail Ould Cheikh Ahmed said.
"The choice today is one of two options: a safe homeland that ensures security for all of its citizens... or remnants of a land whose sons die every day," Ould Cheikh Ahmed said in an opening speech.
The talks are expected to focus on creating a more inclusive government and restoring state authority over the country, which is now divided between the Houthis and Hadi's administration.
The war has caused a major humanitarian crisis in Yemen, the poorest country in the Arabian Peninsula.
Apart from the more than 6,200 killed, the United Nations says some 35,000 people have been wounded and more than 2.5 million people displaced.
The fighting has also allowed the militant Al Qaeda in the Arabian Peninsula and Islamic State of Iraq and the Levant (ISIL) to consolidate their presence in the country next door to the world's top oil exporter.
The United States and the Saudi-led coalition welcomed the start of the talks.
"We urge the parties to fully engage in good faith in order to end the military conflict immediately and to return to a peaceful political process," State Department spokesman John Kirby said in Washington.
The Saudi-led coalition spokesman, Brigadier-General Ahmed Asseri, speaking to Dubai-based al-Arabia Television, said: "Everybody knows that the way out in the end is political, and the issue will not end through military means, and the coalition has no desire to ... prolong the situation."
Ould Cheikh Ahmed outlined five points which he said were derived from U.N. Security Council resolution 2216 as the basis for the talks, officially dubbed as "consultations".
These included withdrawal from cities seized by the Houthis since the crisis began in 2014, forming a more inclusive government and handing over heavy weapons to the new government.
The chief Houthi negotiator, Mohammed Abdul-Salam, registered his delegation's objections to what he said were continuing air strikes by the Saudi-led coalition and to the five-point agenda outlined by Ould Cheikh Ahmed, saying they were not clear enough.
The crisis began in September 2014 when the Iran-allied Houthis seized the capital Sanaa. A Saudi-led Arab alliance intervened last year, launching a campaign of mostly air strikes against the Houthis in support of Hadi's forces.
The Houthi group and the GPC had accused the Saudi-led coalition and Hadi supporters of failing to honour a truce that began on April 10, and refused to send their negotiators to Kuwait until the truce was consolidated.
They agreed to join the talks following intervention by the U.N. Security Council permanent members and U.N. Secretary-General Ban Ki-moon.
Yemeni Foreign Minister Abdel-Malek al-Mekhlafi, speaking before the talks, said the government delegation would do all it could to make the talks a success.
"The Houthis and Saleh's party, by refusing to arrive on the agreed time, and by putting a series of conditions and by saying they reserve the right to boycott sessions if their conditions are met -- all of these have lowered the ceiling of expectations," Mekhlafi told Reuters.
The meeting adjourned until Friday afternoon.
http://www.hurriyetdailynews.com/un-sponsored-yemen-peace-talks-begin-in-kuwait.aspx?pageID=238&nID=98184&NewsCatID=352
--
Iran denounces U.S. ruling awarding Iran money to bomb victims
Thu Apr 21, 2016
Iran has denounced as "theft" a U.S. Supreme Court ruling that almost $2 billion in frozen Iranian assets must be paid to American families of those killed in attacks blamed on the Islamic Republic, state television reported.
The ruling was handed down on Wednesday as U.S. President Barack Obama visited Iran's regional rival Saudi Arabia, hoping to reduce Gulf states' fears over Iranian influence in the region.
"This is totally rejected. It is theft ... it is like stealing Iran's money and we condemn it," Foreign Ministry spokesman Hossein Jaber Ansari was quoted as saying.
"The decision is incompatible with international laws."
The court found that the U.S. Congress had not usurped the authority of the courts by passing a law in 2012 stating that the frozen funds should go toward satisfying a $2.65 billion judgment against Iran won by the families in a U.S. federal court in 2007.
The ruling would affect, among others, the families of 241 U.S. soldiers killed in truck bomb attacks on a U.S. Marine Corps barracks in Beirut in October 1983.
A conservative Sunni Muslim monarchy, Saudi Arabia sees revolutionary Iran as the paramount threat to the Middle East's stability; because of its support for Shi'ite militias that Riyadh says have inflamed sectarian violence.
Riyadh fears a nuclear deal reached with the United States and five other major powers in 2015 might embolden Tehran to tighten its grip in the Middle East and step up its efforts to dominate Arab countries such as Lebanon, Syria and Iraq.
However, Iran's top authority Supreme Leader Ayatollah Ali Khamenei has repeatedly ruled out any detente with the United States even after the lifting of economic sanctions in January under the nuclear deal in exchange for curbing Iran's nuclear work.
Relations with Washington were severed after Iran's 1979 Islamic revolution and enmity to the United States has always been a rallying point for hardliners in Iran.
"The (U.S. court) ruling again displayed America's hostility towards Iran ... and proved that America cannot be trusted," Jaber Ansari said.
http://www.reuters.com/article/us-usa-court-iran-reaction-idUSKCN0XI214
--
Syria: Al-Nusra Terrorists Fail to Prevail over Gov't Forces in Dara'a
Fri Apr 22, 2016
TEHRAN (FNA)- The Syrian Army fended off al-Nusra Front's assaults to prevail over the government forces' military posts in the Northern part of Dara'a province, battlefield sources said, adding the terrorists suffered heavy casualties in their unsuccessful attacks.
"The Syrian soldiers and popular forces opened heavy fire at the al-Qaeda-affiliated al-Nusra Front members, repelled their attacks and forced them to retreat forces from the surrounding of Gherbet Ghazaleh," the sources said.
"Al-Nusra terrorists, surprised by the very heavy fire of the government forces, pulled the remaining pockets of forces back to evade more casualties," they further added.
Earlier this week, al-Nusra Front suffered a heavy death toll and its military hardware sustained major damage in the Syrian soldiers' hour-long attacks on their strongholds in the key neighbourhood of Dara'a al-Balad in the Southern part of Dara'a city.
The Syrian army men stormed strongholds of the al-Qaeda-affiliated al-Nusra Front in the Western side of the old customs building in al-Manshiyeh and Beir al-Shiah road to the Southern side of Dara'a al-Balad, which claimed the lives of at least 14 terrorists and destroyed their military vehicles and a large catch of their ammunition and weapons.
http://en.farsnews.com/newstext.aspx?nn=13950203000497
--
Syrian Army Smashes Terrorists in Dara'a Neighbourhoods
Fri Apr 22, 2016
TEHRAN (FNA)- The Syrian military forces engaged in fierce clashes with a group of al-Nusra Front in the Southern side of Dara'a city and forced them to retreat from the battlefield under their heavy fire.
The Syrian army men thwarted the attempts of the al-Qaeda-affiliated al-Nusra Front to prevail over the government force's positions in Dara'a al-Balad neighborhood, which ended in the killing or injuring of several militants.
Al-Nusra front fled the battlefield after leaving behind their military equipment and the dead of wounded members.
In relevant developments of Thursday, the terrorists of al-Nusra Front suffered a heavy death toll in a failed attack on the government forces' positions in Dara'a al-Balad.
Syrian soldiers repelled an attack by al-Nusra Takfiri terrorists on a military post on the Southern outskirts of al-Manshiyeh in Dara'a al-Balad.
The army unit clashed with the Takfiri terrorists who had infiltrated into the nearby areas of the military post, killing and injuring at least 14 of them.
During the ambush, several weapons and ammunition belonging to the terrorists were also destroyed before the militants fled the scene.
http://en.farsnews.com/newstext.aspx?nn=13950203000418
--
Terrorists' Offensives Repulsed by Syrian Soldiers North of Hama
Fri Apr 22, 2016
TEHRAN (FNA)- The Syrian Army, backed up by the country's fighter jets, repelled the terrorist group's attacks to break through the government forces' strongholds in the Northern part of
Hama province, killing at least 28 militants.
The terrorists of al-Nusra Front and Jund al-Aqsa stormed the government force's lines of defence near Ma'an, but the strong defence of the Syrian soldiers foiled their attempts.
The terrorist groups left behind at least 28 members dead and many more wounded and pulled back the remaining pockets of their forces from the battlefront.
Reports said on Tuesday that the Syrian army sent more fresh forces to backup its units against the terrorists in the Northwestern part of Hama province.
The Syrian Army dispatched more troops to the battlefields near al-Ghaab plains to confront the terrorist groups' recent movements there.
The army's Special Forces, who were deployed near Palmyra (Tadmur) in Homs province, were sent to the neighbouring province of Hama to join the pro-government forces' anti-terrorism front there.
http://en.farsnews.com/newstext.aspx?nn=13950203000452
--
Russia Redeploys Artillery Units to North of Syria
Fri Apr 22, 2016
TEHRAN (FNA)- Informed battlefield sources said that the Russian Army troops have started repositioning of their artillery units to the Northern part of Aleppo province to reinvigorate the
anti-terrorism front near border with Turkey.
"Russia has been repositioning artillery units to Northern Syria, including near the city of Aleppo," the sources said.
On Thursday, Syrian Foreign Minister Walid al-Muallem said Turkey and other countries continue to supply terrorists in Syria with advanced weapons.
Muallem said the Syrian government would press on with its fight against terrorists.
Some foreign-backed militant groups have declared a new war on Syrian government forces as opposition negotiators suspended their participation in peace talks.
In the meantime, Syrian Prime Minister Wael Nader al-Halqi said that the ceasefire agreement reached between Russia and the United States of the is being violated by certain parties.
"In the end we see that Saudi Arabia, Turkey, and Qatar, as well as Western countries such as Great Britain and France have no real desire to move the process of the political settlement in Syria forward," al-Halqi said in the interview.
The Syrian prime minister stressed that it's "just the opposite, they are aiding in the escalation of terrorist activity and arming terrorists. Over the last week, more than 5,000 troops crossed the border with Turkey into the provinces of Aleppo and Idlib."
"Many countries in the Middle East and the West, including Saudi Arabia, Qatar, Turkey, France and Great Britain, are attempting to destroy Syria's infrastructure and its economy, and are
arming terrorists in the country because they have no desire to see the political settlement move forward, and instead of helping in the settlement of the crisis, these countries are
arming terrorists and sending in troops."
"At the same time these countries are attempting to shatter even more the infrastructure, destroy the economic capabilities of the Syrian people, and bring Syria down to the status of a 'failed state,'" al-Halqi said.
The prime minister said that thanks to Russia and the Syrian Army, Western and Middle East countries were foiled in their attempts to make Syria a failed state.
"Thanks to the Syrian Army, the people, its leadership headed by Syrian President Bashar Assad, as well as friends, first and foremost the Russian Federation and personally Russian
President Vladimir Putin, they were not able to succeed. Our organized repulsions did not allow them to make Syria the defeated party," he said.
Al-Halqi said that the fight against terrorism would continue wherever it may be in Syria, and especially against the Nusra Front and the ISIL, which are prohibited in numerous countries including the United States and Russia.
"We are fighting against international terrorism wherever it is in Syria, first and foremost against the Nusra Front and the ISIL," al-Halqi said.
http://en.farsnews.com/newstext.aspx?nn=13950203000341
--
Syrian Air Force Continues to Smash ISIL Terrorists in Central Homs Province
Fri Apr 22, 2016
TEHRAN (FNA)- The Syrian Army's aircraft targeted the ISIL positions and military vehicles in the Eastern part of Homs province, inflicting major losses on the terrorist group's military equipment.
The Syrian fighter jets tracked and targeted a long convoy of the ISIL carrying ammunition and fresh forces to the Northern and Eastern territories of the recently-liberated city of
Palmyra (Tadmur), which ended in destruction of most of the vehicles and the killing or wounding of several guards of the military column.
Reports said also on Thursday that an ISIL convoy moving near Palmyra was targeted by the Syrian army and its allies, losing several members.
The Syrian army opened heavy fire at a column of ISIL military vehicles near Palmyra in Homs province, destroying most of them and inflicting a major damage on the convoy.
The attack also killed and injured tens of Takfiri terrorists.
The Syrian army troops and the National Defense Forces continued to push the ISIL terrorists back from more positions in the Eastern part of Homs province, and restored security to more regions near Palmyra.
The Syrian government forces launched a fresh round of offensives in the Northern side of Palmyra on Wednesday and forced the ISIL terrorists to retreat from the Antar chain mountains located in the Northern side of al-Tar mountain.
The ISIL left behind scores of the dead and wounded members and fled the battlefield to evade more casualties.
The ISIL military hardware also sustained major losses in the army's advances.
http://en.farsnews.com/newstext.aspx?nn=13950203000358
--
Mideast
Islamic Bodies in Jerusalem Back Jordan's Move To Cancel Aqsa Cameras Project
Apr 20, 2016
AMMAN — Islamic councils in Jerusalem on Wednesday commended Jordan's decision to shelve a project to install surveillance cameras at Al Aqsa Mosque/Al Haram Al Sharif.
In a joint statement they issued Wednesday, the Waqf Administration, Awqaf Council, Islamic Higher Committee and Iftaa Department in Jerusalem said Jordan's decision re-emphasised the unity and solidarity between the Hashemite Custodian of Jerusalem and the Old City's residents, the Jordan News Agency, Petra, reported.
In their statement, Jerusalem's Islamic councils and administrations said that Jordan's aim behind installing surveillance cameras at Al Aqsa Mosque/Al Haram Al Sharif was to document the Israeli settlers' frequent assaults, adding that the Kingdom's decision to suspend the project later came in the service of the public good, Petra said.
The four Jerusalemite Islamic bodies also commended Jordan's role as a custodian, saying that the Kingdom has been at the forefront in defending the Old City's holy sites, according to Petra.
Prime Minister Abdullah Ensour has announced that Jordan would shelve a project to install surveillance cameras at Al Aqsa Mosque/Al Haram Al Sharif, citing opposition to the move among Palestinians.
Ensour said Tuesday that some Palestinians, including Jerusalem residents, had doubts over the project's aims, although the cameras were planned to be installed in the courts of the sanctuary and not inside the mosques, with the aim of monitoring and documenting Israeli violations in the Muslim shrine and share them with the world.
The documentation was meant to gain legal, political and media benefits in countering recurrent attacks on the holy sites, Ensour said, adding that the biggest benefit was connecting Muslims around the world to the sanctuaries to increase their support for them.
Minister of Awqaf and Islamic Affairs Hayel Dawood last month rejected as baseless remarks by Raed Salah, head of the Islamist movement in Israel, that the Jordanian surveillance cameras project in Al Aqsa Mosque would serve Israel and help it detect Palestinians defending the shrine.
Dawood stressed the cameras were a Jordanian initiative aimed at monitoring Al Aqsa Mosque/Al Haram Al Sharif to document any Israeli violations against Islamic sites and Jerusalemites.
http://www.jordantimes.com/news/local/islamic-bodies-jerusalem-back-jordan%E2%80%99s-move-cancel-aqsa-cameras-project
---
Three Killed in PKK Attack in Turkey's East
April/22/2016
Three killed in PKK attack in Turkey's east
Three soldiers were killed in a bomb attack by the outlawed Kurdistan Workers' Party (PKK) in Turkey's eastern province of Tunceli on April 22, when militants detonated a bomb while a military vehicle was passing by.
The incident happened at the 25th kilometer of Tunceli-Elazığ road around 10 a.m., after which ambulances were sent to the scene, Doğan News Agency reported.
Reinforcements from the ground and air were sent to the scene, as helicopters opened fire on militants attempting to escape, reported Anadolu Agency.
A security operation in the area is continuing.
April/22/2016
http://www.hurriyetdailynews.com/three-killed-in-pkk-attack-in-turkeys-east.aspx?pageID=238&nID=98173&NewsCatID=509
---
Turkish Academics Go On Trial for 'Terrorist Propaganda'
April/22/2016
ISTANBUL: Four Turkish academics go on trial Friday for "terrorist propaganda" in the latest of a series of court cases that have highlighted growing restrictions on free speech under President Recep Tayyip Erdogan.
Across town, journalists accused of divulging state secrets also return to court for the third hearing of their Istanbul espionage trial.
The university scholars are being prosecuted for signing a petition along with over 1,000 colleagues and supporters denouncing the government's military operations against Kurdish rebels in the country's southeast.
Demonstrators were expected to protest in Istanbul ahead of the trial, set to begin at 2pm (1100 GMT).
The petition urged Ankara to halt "its deliberate massacres and deportation of Kurdish and other peoples in the region", infuriating President Recep Tayyip Erdogan, who said the dons had fallen into a "pit of treachery".
The four are accused of engaging in "terrorist propaganda" and "inciting hatred and enmity" for not only signing the plea but making a statement on the same lines on March 10, a day before the petition was published.
If convicted, Esra Mungan Gursoy, Meral Camci, Kivanc Ersoy and Muzaffer Kaya face up to seven and a half years behind bars, according to Academics for Peace (BAK), the organisation behind the contested statement.
Turkey is waging an all-out offensive against the separatist Kurdistan Workers' Party (PKK), with military operations backed by curfews aimed at flushing out rebels from several southeastern urban centres. But Kurdish activists say dozens of civilians have died as a result of excessive force.
The decision to haul scholars and journalists into court has deepened unease over freedom of expression under the increasingly autocratic Erdogan.
The US and European Union have already expressed concern over the trial of two journalists of the Cumhuriyet newspaper for publishing articles alleging the government delivered weapons to militants in Syria.
Their closed-door trial enters a third day Friday, with the hearing expected to begin at 10am (0700 GMT).
Can Dundar, editor-in-chief of leading opposition daily Cumhuriyet, and Erdem Gul, his Ankara bureau chief face life in prison over a story accusing the government of seeking to illicitly deliver arms to rebels in Syria.
http://www.dawn.com/news/1253710/turkish-academics-go-on-trial-for-terrorist-propoganda
--
NATO Chief Warns About Complacency on Migrants
April/22/2016
There has been a dramatic reduction in the number of migrants and refugees illegally crossing the Aegean Sea from Turkey into Europe, but authorities must not let down their guard as people smugglers can rapidly change routes, the head of NATO has cautioned.
The migrant crisis has shown the urgent need for a peaceful solution in Syria and the country's fragile cease-fire remains the best way forward, NATO Secretary-General Jens Stoltenberg said April 21 in Ankara on the last day of a two-day visit to the Turkish capital for talks with President Recep Tayyip Erdoğan, Prime Minister Ahmet Davutoğlu, Foreign Minister Mevlüt Çavuşoğlu and Defense Minister İsmet Yılmaz.
"Based on information NATO has provided, Turkey is taking action to break the business model of human traffickers. And figures from different international organizations confirm that the numbers of migrants and refugees crossing the Aegean Sea are now going significantly down," Stoltenberg said at a joint press conference with Turkey's foreign minister while wrapping up his visit.
"It confirms that our collective efforts are making a difference. We need to remain flexible because the people smugglers can shift their routes very rapidly," he said, sounding a note of warning.
Greece has been returning migrants from Lesbos to Turkey under a landmark European Union deal signed March 18 to stop the uncontrollable influx of refugees into Europe.
NATO ships have been patrolling the Aegean Sea, conducting reconnaissance, monitoring and surveillance activities as directed, while the alliance has been sharing information with Turkish and Greek authorities and the European Union's border agency, FRONTEX, to assist in the international efforts to counter human trafficking and criminal networks in the region.
'NATO not prejudicing national positions in the Aegean'
"We recognize the progress that has been made, the significant reduction in the number of illegal crossings. Of course, that is not only caused by the NATO presence; it is part of a broader collective effort. We are aware of the sensitivities in these waters for both Turkey and Greece. But we have made very clear that the NATO presence in the Aegean Sea shall in no way prejudice any national positions on the issues in the Aegean Sea.
So we are able to be there without prejudicing any of the sensitive issues which we are all aware of in relations between Turkey and Greece in this area," Stoltenberg said in an exclusive interview with Hürriyet, referring to the lack of bilateral conformity between Athens and Ankara regarding the boundaries of their territorial waters and airspace in the Aegean due to the peculiar geography of the Aegean Sea, where some Greek islands abut Turkey's western coasts.
"NATO ships have been concentrating their presence in the area where we have seen the highest number of crossings, especially around Lesbos where, without comparison, most of the illegal crossings have taken place, and Chios. And we have seen, as I said, a dramatic reduction. … We monitor, we conduct surveillance on the area, and then we share that information in real time with the Turkish coastguard, the Greek coastguard, the EU border agency, and we have seen that, for instance, the Turkish coastguard and the Turkish navy have taken action upon the information they receive from NATO. So in that way, we contribute to managing the situation in the Aegean Sea. The aim is to cut the lines of illegal migration of the criminal networks and then to be able to take refugees in a legal and orderly and in a safe way from Turkey to Europe.
This is part of the agreement with the European Union. So our aim is to be part of the efforts to stop the dangerous, illegal and disorderly flow of people from Turkey to Europe and then facilitate … a legal and safe movement of people," Stoltenberg said.
Applause for Saudi Arabian initiative
"I welcome all efforts by the Muslim world and Muslim countries to do even more, to step up their efforts to fight ISIL [the Islamic State of Iraq and the Levant] because the fight against radical, violent Islamic groups or ISIL is not a fight between the West and the Muslim world. It is a fight which is about fighting criminals, terrorists and actually in the frontline of this fight, you find Muslims and most of the victims are Muslims. So we have to make it very clear that it is not a fight between the Western world and the Muslim world. It is a fight against extremists, violent people who are responsible for horrendous attacks, and I welcome that Muslim countries are committed to do more in that fight," the head of the alliance said, when asked to comment on Saudi Arabia's recently established 34-state Islamic military alliance to fight terrorism in Syria.
"Exactly how these increased efforts are organized, I will leave to the countries concerned. But we are ready to cooperate for instance with the Gulf Cooperation Council [GCC] which is a council organizing the countries in the Gulf region. We are working with other Muslim countries in North Africa, in the Middle East and NATO is ready to help and support efforts to fight ISIL, but exactly how this is going to be organized, I leave that to Saudi Arabia and the other countries concerned," he said.
http://www.hurriyetdailynews.com/Default.aspx?pageID=238&nID=98151&NewsCatID=510
--
Belgium Wants Deal With Turkey to Stop Foreign Fighters
Fri Apr 22 2016
Belgium has requested an agreement between Turkey and European Union to monitor the movement of foreign fighters, the Belgian interior minister said on April 20.
Belgian Interior Minister Jan Jambon made a statement on April 20 following a meeting of the European Council of ministers of justice and interior affairs.
Jambon said those deported should be sent back to their countries, referring to Ibrahim el-Bakraoui, one of the bombers of the Brussels attacks last month, who had been deported from Turkey in June 2015 after he was caught near the Turkey-Syria border. An EU citizen, Bakraoui had been then sent to Netherlands instead of Belgium.
On March 23, a day after the Brussels bombings, Turkish President Recep Tayyip Erdoğan said Turkey had deported one of the attackers involved in the attacks in June 2015.
"Belgium ignored our warning that this person is a foreign fighter," Turkish President Recep Tayyip Erdoğan said March 23.
At least 35 people were killed and more than 100 others were injured in multiple explosions at the Zaventem airport and the Maalbeek metro station in Brussels.
A news agency linked to the Islamic State of Iraq and the Levant (ISIL) claimed responsibility for the Brussels attack.
Following the attacks in March, Jambon and Justice Minister Koen Geens had offered to resign. However, Prime Minister Charles Michel refused their resignation requests.
The attacks showed how exposed Europe has become to threats from jihadists, four months after 130 people were killed in a night of violent attacks in the French capital.
http://www.hurriyetdailynews.com/belgium-wants-deal-with-turkey-to-stop-foreign-fighters.aspx?pageID=238&nID=98182&NewsCatID=351
--
Africa
Islamic State Fighters Retreat from Bases outside Derna, Libya
04-20 2016
Fighters belonging to the Islamic State's arm in Libya have reportedly withdrawn from their positions on the outskirts of the city of Derna. Abu Bakr al Baghdadi's loyalists were opposed by rival jihadists inside the city. Airstrikes by the Libyan Army, the US and Egypt have also repeatedly hit the so-called "caliphate's" fighting positions in the area over the past year and a half.
The Mujahideen Shura Council (MSC) in Derna, a jihadist alliance that stymied the Islamic State's expansion plans, issued a statement earlier today (seen on the right) saying that Baghdadi's men had fled their bases. The MSC announced the complete "liberation" of Derna.
Libyans on social media have posted videos and pictures of locals celebrating their departure. In addition, a spokesman for Libya's military told Reuters that the jihadists are attempting to make their way to Sirte, which has become the Islamic State's main operational hub in the North African nation.
Last year, the Islamic State's Libyan branch openly clashed with its rivals in the MSC, which was established in late 2014 by the Abu Salim Martyrs Brigade (ASMB) and other groups in Derna. Fighters from the Islamic State assassinated key figures in the MSC in June 2015. But Baghdadi's followers picked a fight they couldn't win.
The MSC quickly ejected the Islamic State from its strongholds inside the heart of Derna, forcing the "caliphate's" fighters to operate in Al Fatayih, on the eastern outskirts of the city, and in other outlying areas. The two sides continued to battle in the months that followed.
Both the MSC and the Islamic State have regularly produced propaganda trumpeting their fight against one another. In March, for instance, the Islamic State's Al Naba newsletter included an infographic tallying the operations carried out against both the MSC and the Libyan military. For its part, the MSC has captured and killed key Islamic State figures in Derna. The MSC has also released videos of adolescents and other young men who were detained after allegedly being recruited by the "caliphate" to carry out suicide attacks in Derna.
Last year, the Islamic State's spokesman, Abu Muhammad al Adnani, chastised the MSC for daring to resist his organization's advances and called on MSC fighters to "repent." The Islamic State's supporters also created "Wanted Dead" banners for dozens of jihadists in the MSC and allied groups. The banners identified Hisham Ali Ashmawi, a former Egyptian special forces officer turned al Qaeda loyalist, as a key leader in the MSC's battles against the "caliphate" in Derna. [See LWJ report, The Islamic State's 'wanted dead' list in Libya.]
Abul Mughirah al Qahtani, who led the Islamic State's efforts in Libya until he was killed in a US airstrike, also blasted the MSC in an issue of Dabiq magazine last year. Qahtani claimed that the ASMB had deviated from the true jihadist path by, among other things, providing security for Mustafa Abdul Jalil, then the chairman of Libya's National Transitional Council, "when he visited [Derna] and called to democracy." Indeed, the ASMB referred the controversy over Jalil's visit to Abu Muhammad al Maqdisi, a jihadist ideologue closely allied with al Qaeda who is also a staunch critic of the Islamic State. Maqdisi ruled that it was permissible for the ASMB to ensure Jalil's safety given the circumstances.
The MSC has multiple other links to al Qaeda's global network. A declassified analysis written by the Defense Intelligence Agency (DIA) in 2012 claimed that the ASMB took orders from Ayman al Zawahiri's liaison to Libya, Abdulbasit Azzouz, who was subsequently captured in Turkey. The ASMB is the strongest contingent within the MSC alliance. The MSC's leaders assassinated by the Islamic State in June 2015 had their own ties to al Qaeda-affiliated groups and personalities. [See LWJ report, Veteran jihadists killed by Islamic State's 'province' in Derna, Libya.]
Therefore, even though the Islamic State has been ejected from Derna, other pro-al Qaeda groups continue to operate in the extremist safe haven. In addition to the MSC, the al Qaeda-affiliated Ansar al Sharia also continues to operate training camps in Derna and target the Libyan military near there.
http://www.longwarjournal.org/archives/2016/04/islamic-state-fighters-retreat-from-bases-outside-derna-libya.php?utm_source=feedburner&utm_medium=email&utm_campaign=Feed%3A+LongWarJournalSiteWide+%28The+Long+War+Journal+%28Site-Wide%29%29
--
Islamic State Explosives Kill 13 in Eastern Libyan City
22.04.2016
Cairo (dpa)- At least 13 people have been killed by explosives left behind by the Islamic State extremist militia before its withdrawal from the eastern Libyan city of Derna this week, the Libyan news website al-Wasat reported Friday.
The 13 were killed Thursday as they were trying to remove explosive devices and mines planted by Islamic State in its one-time stronghold, the report said, citing an unnamed official at a local hospital.
Islamic State militants retreated from Derna on Wednesday under pressure from attacks by rival Islamists and airstrikes by forces loyal to a government based in the far-eastern city of Tobruk, according to residents and local media.
Libya has been in turmoil since the 2011 revolt against long-time dictator Moamer Gaddafi.
Since mid-2014, the oil-rich country has been split up between two administrations - one based in Tobruk and the other in the capital Tripoli- with each backed by competing militias.
Islamic State has taken advantage of the chaos to establish a foothold in Libya.
The al-Qaeda splinter group still controls Libya's Mediterranean city of Sirte.
A national unity government, formed under a UN-sponsored peace deal, arrived in Tripoli by sea last month amid international hopes it will be able to re-establish stability and stop Islamic State's expansion in the country.
However, the government led by lawmaker Fayez Sarraj has yet to win a vote of confidence by the elected parliament based in Tobruk before it can take power.
http://en.europeonline-magazine.eu/report-islamic-state-explosives-kill-13-in-eastern-libyan-city_451557.html
---
Amnesty accuses Nigerian army of mass killings of Shias
Apr 22, 2016
Amnesty International said on Friday that Nigeria's army killed hundreds of men, women and children from a minority Shia Muslim sect last December, but the military dismissed the rights group's report as hasty, one-sided and biased.
Amnesty's report relates to events in the northern city of Zaria where the army has said the Islamic Movement in Nigeria tried to assassinate its chief of staff, Lieutenant General Tukur Buratai, when members of the sect blocked his convoy.
The following day the army said it had raided several buildings connected to the sect.
Amnesty said more than 350 people were believed to have been unlawfully killed by the military between December 12 and 14. Its report contains satellite images that it said appeared to show the location of a mass grave.
One witness, Yusuf, said soldiers set fire to a makeshift medical facility in the sect's compound.
"Those who were badly injured and could not escape were burned alive," he said, adding that he believed tens of people died in this way.
Amnesty said it carried out research in February 2016 during which 92 people were interviewed, including alleged victims and their relatives, eyewitnesses, lawyers and medical staff.
"It is clear that the military not only used unlawful and excessive force against men, women and children, unlawfully killing hundreds, but then made considerable efforts to try to cover-up these crimes," said Netsanet Belay, an Amnesty director.
"Our research, based on witness testimonies and analysis of satellite images, has located one possible mass grave," he said.
Last week Amnesty called for an investigation after a Kaduna state official told an inquiry into the clashes that the military secretly buried 347 people in mass graves.
The inquiry has the power to impose fines and payment of compensation. In January, the army chief of staff told the inquiry that his soldiers had acted appropriately in the raid.
Nigerian army spokesman Sani Usman said the Amnesty report lacked credibility. "It is a hasty, one-sided and biased report aimed at arriving at a predetermined objective, he said.
"They must allow the inquiry and all other relevant agencies to complete and submit their reports before jumping to conclusions," he added.
Most of the tens of millions of Muslims in Nigeria are Sunni.
Africa's most populous nation has around 180 million people, including several thousand Shia Muslims whose movement was inspired by the 1979 Islamic Revolution in Iran.
http://www.dawn.com/news/1253708/amnesty-accuses-nigerian-army-of-mass-killings-of-shias
--
13th Organization of Islamic Cooperation throws support behind Caribbean and African countries in push for reparations
April 21, 2016
The 13th Organisation of Islamic Cooperation (OIC) summit, which ended on Friday in Istanbul, Turkey, in its communiqué, threw its full support behind the Caribbean community and the African Diaspora in their quest to convene an international conference to address the issue of the slave trade, slavery, colonialism, restitution and reparations.
Guyana and Suriname are both members of the OIC and they have each pushed to have this commitment inserted in the final communiqué of the OIC summit.
Suriname's foreign minister, Niermala Badrising attended the preparatory meeting of OIC foreign ministers and the summit as head of delegation representing President Desi Bouterse. She was instrumental in seeing the statement inserted in the communiqué.
Guyana, for the first time, did not participate in an OIC heads of government summit. Guyana decided to skip the summit and gave no public explanation of this unexpected change. President David Granger remained home and the foreign minister of Guyana, Carl Greenidge was meeting a delegation from Georgia on April 14.
The OIC committed itself and its relevant organs and its groups in New York and Geneva to support the convening an international conference to comprehensively discuss measures and strategies to address the lasting negative impact of these historic wrongs.
The Islamic bloc urged all stakeholders including other member states of the United Nations, the Caribbean Community, the African Diaspora and relevant civil society organisations (CSOs) "to advance this agenda from where it was left at the Durban Conference of 2001 and its follow-up review meetings".
http://www.ieyenews.com/wordpress/13th-organization-of-islamic-cooperation-throws-support-behind-caribbean-and-african-countries-in-push-for-reparations/
--
South Asia
Afghan Air Force Kills 25 Militants in Separate Raids Including ISIS Loyalists
Fri Apr 22 2016, 4:29 pm
The Afghan Air Force (AAF) pounded the militants in eastern Nangarhar and south-eastern Paktia provinces in the past 24 hours, leaving at least 25 dead.
The Ministry of Defense (MoD) said at least 6 militants loyal to the Islamic State of Iraq and Syria (ISIS) terrorist group were among those killed.
A statement by MoD said the airstrikes were carried out in Achin, Mamand Dara and Ghani Khel districts of Nangarhar province and Zurmat district of Paktia province.
The anti-government armed militant groups have not commented regarding the report so far.
The Afghan National Security Forces (ANSF) have stepped up counter-terrorism operations with improved close-air support to suppress the insurgency activities of the anti-government armed militant groups.
The Afghan Air Force (AAF) has so far received 8 A-29 Super Tucano Light Attack Aircraft along with some MD-530 warrior helicopters that have significantly increased the airpower of the Afghan forces.
A-29 is a multi-role, fixed-wing aircraft that will provide the Afghan air force with an indigenous air-to-ground capability and aerial reconnaissance capabilities to support the country's counterinsurgency operations.
Afghanistan also received 3 Mi-25 gunship helicopters from India late last year and officially started service with the Afghan Air Force (AAF) earlier this year.
http://www.khaama.com/afghan-air-force-kill-25-militants-in-separate-raids-including-isis-loyalists-0733
--
Rise In Afghan Army Casualties, Mod Reports 10 Martyred In Past 24 Hours
Thu Apr 21 2016
There has been a significant rise in Afghan army casualties amid rampant crackdown by the Afghan armed forces to suppress the insurgency activities of the militant groups.
At least 10 Afghan soldiers lost their lives during the counter-terrorism operations being conducted across the country amid surging violence.
The Ministry of Defense (MoD) said the soldiers were martyred in the past 24 hours as they were suppressing the anti-government armed militants.
"The Afghan National Army (ANA) forces are prepared for all kinds of devotion and with all force to maintain security and comfort for the people of Afghanistan," a statement by MoD said, adding that 10 Afghan soldiers were martyred during counter-terrorism operations against the internal and foreign terrorists.
According to a statement by MoD at least 141 militants were killed and 23 others were wounded as a result of the clearance operations in the past 24 hours.
The statement further added that the operations were conducted in Ghazni in the southeast, Heart in the west and Nangarhar in the east.
There has been a sharp rise in the casualties of the Afghan national security forces since they took full control of the security responsibilities from the coalition forces at the start of last year.
According to the earlier estimates by security officials, the Afghan army deaths stood at 4 service members daily on average which is mainly caused due to improvised explosive device (IED) attacks.
The Afghan forces have increased counter-terrorism operations to suppress the anti-government armed militant groups who are preparing to step up attacks as they announced their spring offensive earlier last week.
http://www.khaama.com/rise-in-afghan-army-casualties-mod-reports-10-martyred-in-past-24-hours-0729
---
Ghani orders flags at half-staff to honour victims of deadly Kabul attack
Fri Apr 22 2016
President Mohammad Ashraf Ghani has ordered to lower flags to half-staff to honor the victims of a deadly attack in capital Kabul which left over 400 people dead or wounded.
The Presidential Palace said nationwide funerals would be organized on Friday and Saturday in mosques, religious places, security institutions compounds and all units of the Afghan security forces.
A statement by the Palace said the Afghan flag will be lowered at half-staff in the country and all diplomatic institutions outside the country during these two days.
At least 64 people were killed and 347 others were wounded in the attack which was carried out on Tuesday in Kabul city.
The Taliban group claimed responsibility behind the attack which followed shortly after the group announced its spring offensive.
The militants initially detonated a vehicle packed with explosives near the security institution providing security to the prominent government figures.
A group of armed militants then started gun battle with the Afghan security forces which continued for several hours, with security officials saying majority of the victims were ordinary civilians.
http://www.khaama.com/ghani-orders-flags-at-half-staff-to-honor-victims-of-deadly-kabul-attack-0732
--
Deadly Suicide And Rocket Attack Plot On Lashkargah City Foiled By NDS
Fri Apr 22 2016
A deadly suicide attack plot by the anti-government armed militant groups was foiled by the Afghan intelligence operatives in southern Helmand province.
The Afghan Intelligence, National Directorate of Security (NDS), said a suicide bomber was arrested before he manage to carry out a coordinated attack in Lashkargah city, the provincial capital of Helmand.
A statement by NDS said the suicide bomber was looking to initially detonate a vehicle packed with explosives and then carry out more attack using a suicide attack vest.
The detained would-be bomber has been identified as Qudratullah but the target of the attack has not been ascertained.
In a separate operation, the Afgahn intelligence operatives seized 10 rockets before the militants manage to fire them on Lashkargah city.
The anti-government armed militant groups including the Taliban insurgents have not commented regarding the report so far.
Helmand is among the volatile provinces in southern Afghanistan where anti-government armed militant groups are actively operating and frequently carry out insurgency activities.
http://www.khaama.com/deadly-suicide-and-rocket-attack-plot-on-lashkargah-city-foiled-by-nds-0731
---
Afghanistan's security leaders train for the future in force management course
Fri Apr 22 2016
Personnel from the Ministries of Defense and the Interior assembled for the second training in a series on force management within the Afghan National Defense and Security Forces.
The eight-week training hosted by Combined Security Transition Command-Afghanistan's Capabilities Development Directorate was designed to expose the Afghan National Defense and Security Forces to the force management concepts and processes required to lead a growing organization.
"The train-the-trainer course was created in order to improve force management systems and practices while empowering Afghan Security Institution personnel to take the lead in charting their organization's future," said Don Vandergriff, the lead instructor for the course.
Vandergriff said that guiding the students to think critically, solve problems, ask questions and share experiences empowers them to take ownership of the learning. Rather than lecture the students, Vandergriff said he lets the students take charge of the classroom and shape their own learning environment.
"There are no wrong answers here," said Vandergriff, who hails from Woodbridge, Virginia. "It's best when the students learn from each other."
U.S. Army Col. Garrett D. Heath, director of capabilities development, said the second course was a success, and his team looked forward to continuing the series.
"These force management classes are timely and essential for our Afghan partners as we work together to enhance their capabilities," said Heath. "This summer, both the Ministries of Defense and the Interior force managers will apply what they learned as they conduct their 1397 command plan review and prepare the 1397 Tashkils [Afghan organization, manning and equipment requirements]. The Afghan National Defense and Security Forces will reap the benefits of this training in the coming years as these leaders take ownership of these important processes."
Each class builds from the subject matter covered during the previous session. Topics include force management doctrine leading a command process review, conducting effective capability analysis and achieving a desired outcome.
"By the end of the course, the Ministries of Defense and the Interior will have a cadre of experienced officers that has thought critically about how to propose, implement, manage and lead change in Afghan institutions," added Heath, of Washington, Georgia.
Afghan National Army Brig. Gen. Akbar, the newly appointed head of the Ministry of Interior Force Management Directorate, expressed his enthusiasm for the course series, thanking his subordinates for their efforts in learning. He also thanked his partners in CSTC-A for their support of the event.
"The hard work of our Afghan Security Personnel and the support of CSTC-A will help improve our organizations as we grow as leaders and managers," said Akbar.
http://www.khaama.com/afghanistans-security-leaders-train-for-the-future-in-force-management-course-0730
--
Deadly Kabul attacker likely released from Bagram prison during Karzai era
Thu Apr 21 2016
New reports have emerged new the deadly Kabul attack which left at least 64 people dead and 347 others wounded as the attack has sent shockwaves across the country and globally.
According to the new reports, the main attacker involved in the deadly attack was likely released from the prison when Karzai administration was in power.
The Presidential Palace officials have said they are aware regarding the report, promising that the government will thoroughly investigate regarding the release of the attacker and circumstances surrounding his release.
The release of prisoners had turned into a controversial issue as Afghanistan was preparing for the Presidential Elections early in 2014.
The government released almost 88 prisoners from Bagram prison despite growing concerns by the United States and coalition forces in Afghanistan.
The US Forces in Afghanistan in a statement said earlier in 2014 that "The release of these dangerous individuals poses a threat to U.S., coalition and Afghan National Security Forces, as well as the Afghan population. Insurgents in the group released today have killed coalition and Afghan forces."
The released detainees were also accused of killing Afghan men, women and children. "More than two dozen of the individuals released were linked to the production or emplacement of improvised explosive devices, the number one killer of Afghan civilians," the statement added.
Earlier, a panel was formed to review the cases of the prisoners which reported that no evidences or documents were found to prove that the inmates were posing threats to the country or international community.
http://www.khaama.com/deadly-kabul-attacker-likely-released-from-bagram-prison-during-karzai-era-0728
--
Top Chinese General briefs Atmar on planned delivery of equipment to Afghan army
Thu Apr 21 2016
A top General in the army of China briefed the Afghan National Security Adviser regarding the planned delivery of military equipment to the Afghan army.
The Office of the National Security Adviser said Atmar met with the Chief of China's People's Liberation Army Mr. Fang Fenghui during his visit to China to discuss Beijing's support to the Afghan armed forces.
According to an official statement, Atmar urged Gen. Fenghui to further expand Beijing's support to equip the Afghan armed forces.
Gen. Fenghui said the request by the Afghan government will be discussed and will update regarding the outcome, the statement said, adding that Gen. Fenghui briefed Atmar regarding the planned delivery of military equipment to the Afghan army.
China pledged more than $70 million to support the military sector of Afghanistan, a commitment Gen. Fenghui during his visit to Afghanistan earlier last month.
He said China will provide more than $70 million in fresh military aid to Afghanistan, saying the latest aid will follow besides Beijing's ongoing cooperation in development and economic sector.
Gen. Fenghui further added that China remains committed to support Afghanistan with the available resources and facilities, hailing the Afghan forces who are currently busy in suppressing the international terrorism.
http://www.khaama.com/top-chinese-general-briefs-atmar-on-planned-delivery-of-equipment-to-afghan-army-0727
--
Southeast Asia
Bangladesh deports hundreds of Rohingya Muslims to Myanmar
22-4- 2016
Bangladesh's border guard this month deported at least 340 Muslim Myanmar nationals – more commonly known as Rohingyas – without any resistance from Myanmar border police, the head of the Bangladeshi force said Thursday.
"Over the last 20 days, we caught illegal Myanmar nationals, photographed them and sent 340 of them back to their homeland," Lt Col Imran Ullah Sarker, chief executive of the Border Guard Bangladesh (BGB), told RFA.
The latest batch of 20 Rohingyas was turned back Wednesday with no obstruction from the BGB's counterpart on the Myanmar side of the border, after these members of the neighboring county's Muslim minority were caught trying to cross into Bangladesh without proper papers, Sarker said.
The process of catching and sending Rohingyas back to Myanmar has, in fact, been occurring over the past several months, leading to a slight reduction in the number entering Bangladesh, he added.
"This is very unusual that the Myanmar border police have allowed the Rohingyas in," former Bangladeshi ambassador Ashfaqur Rahman told RFA.
"The Myanmar border guard allows the Rohingya Muslims to go out of the Buddhist- majority Myanmar, but they had been very tough on repatriation as they [label] the Muslim minority as 'illegal Bangladeshis' or 'illegal Chittagonians,'" he said.
Rahman, a former ambassador to Germany, China and Singapore, served in the 1970s as chief administrative officer in Cox's Bazar, a district in southeastern Bangladesh where hundreds of thousands of Rohingya refugees are now concentrated.
The influx of Rohingyas from neighboring Rakhine started in the '70s but swelled in 1992 and 2012, when thousands of Rohingyas spilled across the border to escape from religious violence.
"Though the number of returnees is very small compared with the huge number of illegal Rohingyas living in Bangladesh, this repatriation is significant. But we have to wait to see whether this happened due to the change of government in Myanmar or for other factors," Rahman added.
Rohingyas, who are mostly concentrated in Rakhine, a state in western Myanmar that borders Bangladesh, for many years fled abroad by land and sea to escape from persecution at the hands of Myanmar's Buddhist majority.
Last year, more than 3,000 Rohingya Muslims and Bangladeshi migrants came ashore in Indonesia, Malaysia and Thailand after the Thai government imposed a maritime blockade on human-trafficking boats sailing in from the Bay of Bengal. Many were fleeing from Myanmar, where Rohingyas are not recognized as citizens.
On Wednesday, the death toll from a boat that capsized off Myanmar's coast while carrying Rohingyas rose to more than 20. The accident occurred on Tuesday as the overloaded vessel approached Sittwe, the capital of Rakhine, in rough waters.
A softening in Myanmar?
Delwar Hossain, a professor of international relations at Dhaka University, told RFA that the recent change of government in Myanmar may have softened the attitude of that nation's border police.
"The exit of a military-backed government brings in some hopes among the people. So, the ascendency Aung San Suu Kyi's democratically elected government may have brought some hope among the Rohingyas, though we do not see any significant change in the government policy on them," Hossain said.
According to a report in the Myanmar Times that cited information from the U.N.'s refugee agency, as many as 500,000 Rohingyas are living in Bangladesh, but their repatriation has been stalled since 2005.
Of the total, 30,000 Rohingyas have refugee status and live in two camps in Cox's Bazar.
Meanwhile, a survey done by a parliamentary committee in 2013 estimated that more than 300,000 Rohingyas were living illegally in Cox's Bazar, where they live in shantytowns.
'The Nasaka threatened to kill me'
Mohammad Hashem, a Rohingya Muslim in his seventies who fled to Cox's Bazar to escape Buddhist attacks on Muslims in 1992, told RFA that he would like to return home to Sittwe to see his wife, daughter and grandsons.
"I tried at least 100 times over the years to see them [in Sittwe]. But the Nasaka threatened to kill me. Instead they sought money from me to push my wife and daughter into Bangladesh," said Hashem, who works as a vendor in Cox's Bazar.
Nasaka, Myanmar's notorious border patrol force, was replaced in 2013 by the new border police.
"I would go back if the Moghs (Buddhists) do not torture us," he said.
http://www.dhakatribune.com/bangladesh/2016/apr/22/bangladesh-deports-hundreds-rohingya-muslims-myanmar
----
Southeast Asia faces rising terrorism threats
04-21-2016
Since terrorist attacks had struck Europe and the Middle East from the end of last year, many Southeast Asian countries with large Muslim populations are facing greater threats of terrorists attacks.
Ringing alarm over terrorism
On April 18, an article in Malaysia's "New Straits Times" said that the country has become one of the "Tawaghit nations" for the Islamic State group (IS). Leaders from anti-terrorist branch offices in Malaysia have called for strengthening prevention measures to combat terrorism.
In the 14th issue of Dabiq, a magazine published by The IS, Indonesia, Malaysia, the Philippines and other countries with large Muslim populations are mentioned in its ever-expanding target list.
Katibah Nusantara is a branch of IS with about 500-600 members. The organization has produced propaganda videos in Malaysian to recruit people from Southeast Asian countries.
Indonesian terrorists in the Middle East have already arranged attacks in Indonesia.
On January 14, a car exploded on the streets of Jakarta, the Indonesian capital, which caused 7 deaths (including 5 suspects) and 17 people were injured. It was the most serious terrorist attack in Indonesia in recent years. The Islamic State (IS) claimed responsibility.
It was planned by Indonesian-Syrian extremists from Syria, aiming to respond to the IS'global terrorist activities, and to create new organizations of the Islamic State in Southeast Asia.
Abu Sayyaf Group from the Southern Philippine island of Mindanao also has links with IS. On April 15, a video taken by the group passed a deadline for ransom payment at 3 p.m., April 25, which meant they would execute hostages, including two Canadians, a Norwegian and Filipino.
IS' s global expansion
Since the Arab Spring erupted in the Middle East, the IS had grown rapidly, expanding to occupy large tracts of land of Iraq and Syria, nearly the size of the United Kingdom. Since 2015, IS' terrorist activities have expanded globally.
The IS uses the Internet to spread extremist ideas, recruit, and arrange terrorist activities. The IS had set up a website in Chinese last December. According to experts'estimates, IS members have increased from 15,000 at the beginning of last year to 100-150 thousand now.
Native Muslim extremists have gone to the Middle East for "jihad"training. Afterwards, they return to Southeast Asia to engage in terrorism.
In the second half of 2015, the impact of the IS in Southeast Asia has quickly turned into a major security challenge. The IS has reportedly strengthened funds and equipment for terrorist attacks in the region. Many failed attempts at terrorist attacks in Indonesia, Malaysia and other countries were confirmed to have links with IS.
Dilemma terrorism
It is necessary to remain vigilant over terrorism threats in Southeast Asia. With stronger domestic counter-terrorism capacities, Southeast Asian countries can cooperate in and out of the region, to safeguard national and regional economic development and social stability.
Regional counter-terrorism operations should be conducted in domestic and international layers. After the terrorist attack in Jakarta last January, the Indonesian government has integrated existing domestic counter-terrorism agencies, and increased budgets for anti-terrorism.
Measures include strengthening surveillance on extremists, who were released from prison, and curbing IS online publicity and recruitment. Indonesia announced it would strengthen counter-terrorism intelligence and information sharing.
The ASEAN (Association of Southeast Asian Nations) announced a plan to set up a community to help regional countries strengthen counter-terrorism cooperation, and endorse multilateral dialogues with countries outside the region.
China-Southeast Asia builds a platform for cooperation
China and Southeast Asian nations are connected by land and sea and have similar cultures. In recent years, both sides have developed friendly relations to become a community of common destiny with interdependence and converging interests.
Some Southeast Asian countries have become China's domestic religious extremists' channels to the Middle East. Therefore, counter-terrorism in Southeast Asia is related to Beijing's national security interests. Beijing's counter-terrorism campaign needs regional support.In early April, at the dialogue meeting between national anti-terrorism departments of China and Southeast Asian countries, which was held in Beijing, Meng Jianzhu, a member of the Political Bureau of the Central Committee of the Communist Party of China (CPC) and head of the Commission for Political and Legal Affairs of the CPC Central Committee, delivered an opening speech and had met with heads of delegations at the conference.
Meng said the spread of international terrorism brings real threats to China and Southeast Asian countries. We must deepen bilateral and multilateral cooperation to combat terrorism.
Beijing can work together with the Southeast Asian countries to implement common, comprehensive, cooperative and sustainable security concepts for Asia.
Chinese President Xi Jinping has put forward at the Fourth CICA Summit, principles to improve a cooperation mechanism, strengthen exchanges of information to build a regional platform that protects people's lives and properties.
Officials from Southeast Asian countries have pledged to work with Beijing to safeguard regional security and stability.
http://english.cctv.com/2016/04/21/ARTIHBRtdUPaXedDu0VDXGCE160421.shtml
--
Europe
'EU Must Militarize Chaotic Immigration; Identify States Behind Middle East Crisis'
22 Apr, 2016
Europe's refugee policy is disastrous and chaotic, prominent philosopher Slavoj Žižek told RT, adding that the EU must control migrant flows and get to the root of the Middle East crisis by recognizing its key "components": Turkey, Saudi Arabia, and Israel.
Žižek, who is known for frankly expressing his views on acute social subjects, is an author, a professor at the European Graduate School, a senior researcher at the University of Ljubljana's Institute of Sociology, and the International Director of the Birkbeck Institute for the Humanities at the University of London's Birkbeck College.
In an exclusive interview with RT, Žižek argued that one of the biggest problems with Europe's immigration policy is that it is pursued from a neo-colonial perspective that focuses on so-called "white man's burden" and "guilt."
However, he added that it would be wrong to blame Europe for all of the problems in the Middle East and to assume that refugees are blind victims who bear no responsibility in the crisis.
I think this reduction of the other to an impotent, blind victim, who doesn't have any responsibility, is another version of what in colonialist times was called white man's burden," Žižek explained. "Those who pretend to be the most open to migrants or refugees really treat them in an openly racist, patronizing way."
According to Žižek, Europe should "fundamentally" change its outlook and avoid the "trap of self-pitying."
"Isn't the very fact that millions want to go to Europe prove that people still see something in Europe," he noted, stressing that he supports the idea of a united Europe, but not the "anonymous Brussels European democracy."
"The problem with Europe is not democratic deficit, but a deficit of a political force that knows what it wants."
Europeans need to "raise questions" and realize that Muslims are dealing with many internal problems, including radicalization by groups like Islamic State (IS, formerly ISIS/ISIL), as well as the sectarian Sunni-Shia divide.
'New axis of evil'?
Moreover, Žižek argued that external forces in the ongoing Middle Eastern conflicts must be taken into account. He pointed to what he branded as "a new axis of evil" in the region, claiming that its main "components" are Turkey, Israel, and Saudi Arabia.
We now know that Israel and Saudi Arabia openly collaborate on security issues, secret policy, and military and so on. This new front is against mostly their Shia opponents. This is a crucial fact and is the source of the problems."
Žižek blamed Europe for readily opening its borders to refugees at a time when rich Gulf Arab states are accepting "practically none."
"What about the very rich Arab countries, very much richer than Europe, which are closer to the crisis area, such as Saudi Arabia, Qatar, United Arab Emirates? These are Sunni countries. Most of the refugees are Sunni Muslims."
Meanwhile, Turkey, which has been receiving refugees, is at the same time "ruthlessly" following its own agenda in the crisis, he said.
Migrant swap deal with Turkey 'shameful, unethical'
Žižek believes that the recent controversial deal struck between the EU and Turkey, which will see Turkey take back all of the migrants who arrive in Greece in return for $6.8 billion worth of aid over the next three years, is a "most shameful agreement" for Europe.
Another condition that could be attached to the agreement would see Turkish citizens travelling to the EU visa-free starting at the end June.
https://www.rt.com/news/340562-eu-refugee-policy-chaos-militarization/
--
The Muslim Mayoral Candidate Canvassing for Jewish Votes in London
Apr 21, 2016
"The only thing I haven't done yet is have my bar mitzvah," jokes Sadiq Khan, Labor Party Member of Parliament and front-runner in the race to be the next mayor of London. "I did a practice Pesach seder last week – I've even eaten matza," he adds. The week of Passover is also the last full week of campaigning before London's mayoral elections on May 5. And Khan, a 45-year-old lawyer, prematurely gray-haired but with boyish energy, is on a charm offensive of the capital's Jewish community.
It seems as if barely a day passes without photographs of Khan, wearing a snug kippa, appearing at some synagogue, or in a Jewish community center, or meeting with the chief rabbi. "We have to go from synagogue to temple to church to mosque," he exhorts a group of Labor Party activists who have shown up on a blustery Sunday morning to knock on the doors of voters in the northeast London borough of Enfield.
Khan, like any politician, doesn't want to admit that there's a tactical reason for focusing on any one specific community in his constituency. "That's London, that's what London's about, man," he says with feeling. "The great thing about London is that we don't just tolerate each other, we respect each other. We're friends, we break bread together, we work for each other."
It's easy to make the mistake that Khan, who has become Britain's most famous Muslim politician, is anxious to reassure Jews who may be attracted to his main rival, Conservative MP Zac Goldsmith, who has Jewish roots. But there is also clear political reasoning behind Labour's candidate focusing on the Jewish vote.
At some 250,000, London's Jews make up, at most, 3 percent of the city's population of over eight million, though due to factors of age and voter turnout, their electoral weight is slightly higher. A significant portion of these Jewish voters are historically, ideologically and instinctively Labor supporters, just like the majority of Londoners. However, in the last two mayoral elections, many of them either stayed home or even crossed party lines and voted for the Conservative candidate.
London was the only major area in the United Kingdom where Labor held on to its traditional strongholds and even slightly increased its vote, in last year's general election. However, for the last eight years it has had a Conservative mayor. This is largely due to the personalities of the two main candidates in the previous elections: Mayor Boris Johnson, a colorful, talented and noisy character, Britain's most popular politician and quite possibly the next prime minister, is a true-blue Conservative who could win in a Labor city like London. He twice beat previous mayor Ken Livingstone, a character in his own right and veteran left-wing firebrand. Khan readily acknowledges that Labor has lost part of its Jewish support in recent years.
"You know what breaks my heart? That there are Londoners who think the Labor Party isn't for them because they're Jewish – that can't be right, man, that can't be right," he says. "In 2012, in the last mayoral election, I had friends who [had] always voted Labor and couldn't vote Labor because they're Jewish and because of Ken."
Livingstone, who was mayor between 2000 and 2008, had a troubled relationship with the Jewish community for a number of reasons, including his welcoming to London of radical Islamic preachers and hypercritical statements on Israel. Unlike Khan, who seems genuinely comfortable in Jewish settings, Livingstone was often prickly. Four years ago, during the last of his four mayoral campaigns, on his way to what turned out to be a rather tempestuous meeting with Jewish voters, the elevator shuddered. "Perhaps we'll stay stuck inside," joked Livingstone to his aides. A few weeks earlier, he had shocked those present at another meeting with Jewish Labor Party members when he said he wasn't expecting Jews to vote for him as they were too wealthy to vote for Labor anyway.
The anti-Corbyn
Khan's eagerness to win back the Jewish voters for Labor is, of course, heartening. But it also reveals something worrying about contemporary British politics – because he's not only after the Jewish votes, he's sending a broader message. Spending valuable campaign time in Jewish areas, says one Labor Party insider, "make the point to all Londoners that Sadiq's a different kind of candidate." Different from whom? In Labor circles, the answer is clear: different from the party's new and controversial leader, Jeremy Corbyn.
Much of Khan's mayoral campaign has been an attempt to create clear distance between himself and his party leader, who, while being hugely popular among Labor's rank and file – particularly the hundreds of thousands of new members who have joined up since last year's crushing election defeat to the Conservatives – is deeply mistrusted by the wider British public due to his hard-left views.
Khan has criticized Corbyn in a series of interviews, and promised Londoners that should he be elected mayor, "I will be my own man." And if the relationship between the Jewish community and Livingstone was difficult, that with Corbyn is verging on the disastrous.
Labor's leader is not only a veteran campaigner against Israel, but has in the past shared platforms with notorious anti-Semites and Holocaust deniers, and described Hamas and Hezbollah as his friends. Matters have not been improved in recent months by Corbyn's apparent reluctance to forcefully speak out against what appears to many Jews, including Labor Party members, as an outbreak of anti-Semitic feeling within its ranks, both among student groups and local activists. Though no one in Labor will say so outright, openly embracing London's Jews is one way for Khan to show that he's no Corbyn.
Khan, of course, prefers to be more diplomatic. He still needs the logistical support of his party and the votes of its more left-wing members. "What the city wants is a candidate and a mayor who will be a champion for that city," he says. "So on the ballot paper on May 5, Jeremy Corbyn's name won't be there and neither will [Prime Minister] David Cameron's. With the greatest respect to all the other candidates, it will be me and Zac Goldsmith. What I'm saying to London is, look to my experience, my values and my vision."
Should he win next month, as the polls are predicting, it won't be a victory for Corbyn, he says. Instead, he references what has become one of his main campaigning issues, saying it will be "a victory for all London, a victory for those who are optimistic. Those who are hopeful, those who realize that we are at a crossroads, where Londoners have been priced out of London because of a housing crisis."
But the Conservative Party, facing defeat with their man Goldsmith trailing in most polls by around 10 percent, don't want the campaign to be about issues such as the shortage of affordable housing in London and lack of resources for the city's public transport system, which is the most expensive in Europe. This would only focus attention on their failings in eight years under Johnson's administration and six years of Cameron's government.
In a last-ditch attempt to close the gap, they are trying to portray Khan as tainted by association with a series of radical Islamic figures with whom he previously appeared and shared platforms at public events. These accusations have appeared nearly daily in right-leaning newspapers in recent weeks, and increasingly over the past few days in speeches and interviews with Goldsmith and other prominent Conservative politicians, including Cameron.
Unsavory characters
Nearly all these cases occurred over a decade ago, before Khan was first elected to parliament in 2005, while he was working as a human-rights lawyer. As a politician, he has steered away from radicalism, positioning himself as a centrist within Labor, swiftly becoming a minister – first for communities and then for transport. He shakes off the Tory attempts to link him to extremists, some of whom even went on to be involved in terror activity. "When election campaigns get desperate they become negative, but we've got to be unrelentingly positive. The temptation would be to spend the next two weeks on their agenda and get involved in the weeds and issues that they want us to raise. If there are questions that people want me to answer, I'll answer them. But the key issue is how does this fix housing prices? How does this build us a modern, affordable transport system?"
So how does he respond to what his colleagues are calling "a Tory smear campaign"?
"I've been clear from the start: I've never run away from the fact that I used to be a human-rights lawyer," he says, explaining what he was doing hanging out with those unsavory characters. Instead, he is eager to portray himself as the Muslim politician fighting extremism from within. "I've never run away from my faith. Most British Muslims, I'm afraid, come across people [other Muslims] with views that are abhorrent, and British Muslims have to address that. When I first stood for parliament, there were people standing outside the mosque saying that I shouldn't be taking part in democracy, that I'm an apostate. But I voted for things like same-sex marriage, even though I've had a fatwa against me. I don't mind dealing with that, but tell me how that helps someone with housing problems."
What seems to irritate Khan most about the Conservative attacks is that they force him to abandon his own personal narrative – what he calls "the London story" – about the son of Pakistani immigrants, a bus driver and seamstress, who became a successful lawyer and politician. Married to a Londoner himself and with two teenage daughters, he doesn't avoid acknowledging his Muslim identity, but doesn't want to flourish it, either. "I never call myself a Muslim politician," he explains. "I'm a British politician of Muslim faith," he adds, claiming that he wasn't aware, before being first elected as MP for the working-class constituency of Tooting in southwest London, that he was the city's first Muslim MP.
Whatever part Khan's religion and ethnic identity play in his political beliefs, one thing is clear with him on the campaign trail: He is both an instinctive and extremely professional politician. Khan is the kind of representative capable of pounding the streets of London for long hours, a candidate who always turns up in a district knowing the names of the local MP and council leaders, canvassing for them along with himself. The kind of politician who is ready to speak with every voter who answers the door, breaking off the interview in mid-sentence, and half a minute later resuming on exactly the same message he was trying to push before. He seems unfazed by the campaign's demands, even by the fact that the man who is hoping to run London's local affairs has to repeatedly express views on the Israel-Palestine conflict, including staunchly repudiating the boycott, divestment and sanctions movement.
"The mayor of London doesn't have a foreign secretary and I won't provide a running commentary of foreign affairs while I'm mayor," he insists. "But I understand that Londoners of Jewish faith want reassurance, and it's not unreasonable to ask where the mayor stands on concerns that are authentic to you."
He also recognizes the link between the situation in Israel and the challenges facing the Jewish community in London. "I've had Jewish friends all my life, but I didn't discover until I was minister for communities that if you do a graph of tension in the Middle East, there is a similar graph of the rise of anti-Semitism. I find it unacceptable – and I speak as someone who is a member of a minority – that there are fellow Londoners, who by virtue of their place of worship being a synagogue, need 24-hour protection around their synagogues and schools."
Campaigning to be mayor of a multinational city like London, with its hundreds of diverse communities and 40 percent of residents who were born outside Britain, means Khan has to reassure minority voters that as a member of a minority and the son of immigrants himself, he understands their concerns, while also reassuring the majority that he is not a parochial or special-interests candidate.
"This campaign has the support of Londoners who are Muslim, Jewish, Hindu, Buddhist, Christian, rich, poor, young, old, black or white, gay or lesbian," he insists. "That's the sort of mayor I want to be, [one] who unites people rather than divides them."
If he wins on May 5, he will become not only the most prominent Muslim figure in Britain, but also have the largest direct mandate of any Muslim politician in the West. That will be a huge achievement both for him and also for London's openness. Right now, though, it seems like a political burden he would prefer not to have to bear.
http://www.haaretz.com/world-news/europe/.premium-1.715738
--
German man charged with Islamic State group membership
21-04-2016
BERLIN (AP) — Federal prosecutors say they've charged a 32-year-old German man with membership in a terrorist organization over allegations he joined the Islamic State group in Syria.
Prosecutors say that Ali R., whose last name wasn't disclosed in line with privacy laws, traveled to Syria in December 2014 to try to get his three children back from an Islamic State group-controlled area, a month after his wife took them there without his knowledge.
Once there, they said the suspect joined the group himself, serving in an administrative capacity dealing with new recruits and helping produce booby traps.
He was returning home with his children when he was arrested at Munich Airport in November 2015.
No date has yet been set for trial.
http://www.yakimaherald.com/news/world_news/german-man-charged-with-islamic-state-group-membership/article_2fc114a8-2e1b-55cd-80c4-18d18265ffad.html
--
Inter-religious dialogue to defeat radicalisation
21-04-2016
How European Muslims deal with radicalisation and the role that women can play in countering it and promoting de-radicalisation will be debated in a conference to be held by EP President Martin Schulz and Vice-President Antonio Tajani on Tuesday 26 April. Projects on the ground and what to do to confront the phenomenon at national and EU levels will also be assessed with leading-edge experts.
"Terrorism and radicalisation must be fought through prevention, monitoring, intelligence-gathering and updated rules and sanctions. But there is one tool which beats radicalisation before it even takes place: dialogue. We are increasingly witnessing the phenomenon not just of segregated societies, but of more and more segregated and alienated lives. Dialogue helps cure this sad reality. Next week's event will be the European Parliament's own contribution to tackling this issue", said EP President Martin Schulz.
"Many victims of extremist violence and Islamic extremist terrorism are Muslims themselves: we must unite our forces and denounce all forms of violence claiming a religious justification. I am convinced that Muslim communities in Europe and the world share this view. The goal of this conference is to give them a chance to show their opposition to radicalism and hatred. Who shoots in the name of God, shoots God Himself", said Vice-President Antonio Tajani.
Head of the Belgian Federal police department against radicalisation and terrorism Luc Van der Taelen, European Muslim Network Director General Malika Hamidi, Imad Ibn Ziaten Youth Association for Peace Founder Latifa ibn Ziaten and Unity of Faiths Co-Founder Dr. Shamender Talwar will be among the speakers.
The event is being organised under the patronage of Vice-President Tajani (responsible for Inter-Religious Dialogue) and will be opened by President Schulz and Mr Tajani himself. Commission Vice-President Frans Timmermans, ECR President Syed Kamall, Women's Rights Committee Chair Garcia Perez and EP Delegation to Maghreb Vice-Chair Tokia Saifi will also contribute to the debate.
The programme with the list of speakers is available in English and French. Here's some biographical info on the speakers.
http://www.europarl.europa.eu/news/en/news-room/20160421IPR24317/Inter-religious-dialogue-to-defeat-radicalisation
--
German police: 2 Islamic extremists behind Sikh temple blast
April 21, 2016
BERLIN — Two teenage Islamic extremists were allegedly behind an explosion in a Sikh temple in the German city of Essen that wounded three people, the city's police president said Thursday, calling the blast an "act of terror."
Essen police president Frank Richter told reporters the two 16-year-old boys from Essen and nearby Gelsenkirchen, whose identities weren't given in accordance with German privacy laws, were under arrest. One had come forward while the second was arrested at his parents' home, the German news agency dpa reported.
"We must assume that this is an act of terror," Richter said.
Police said both had clear links to Islamic extremism, and they were investigating if the two self-radicalized or were part of a bigger group.
"We assume there will be more arrests," Richter said, adding that 120 officers were investigating the bomb that exploded Saturday in the western city. Both boys had "partially admitted" the attack, but had not talked about their motives, he said.
The victims were among 200 people who had attended a wedding earlier at the temple. The cleric who had officiated, a 60-year-old man, suffered serious wounds and remains hospitalized. Two other men, aged 47 and 56, suffered slight injuries.
Police in Essen said they're still clueless as to why the Sikh community was targeted by the attackers. There are between 8,000 to 15,000 Sikhs in Germany, dpa reported.
The interior minister of the western state of North Rhine-Westphalia, Ralf Jaeger, said the two teenagers had attracted the attention of police before the attack. Dpa reported they had links to Salafist groups.
"I find it shocking that people who grew up among us are in a position and willing to build bombs and risk the lives of others," Jaeger said.
Residents of Essen are trying to organize a rally Saturday to express their solidarity with the Sikh community, dpa reported.
http://www.stripes.com/news/europe/german-police-2-islamic-extremists-behind-sikh-temple-blast-1.405612
--
Germany: Ex-pres. states "Muslims belong in Germany"
April 22, 2016
Former German President Christian Wulff spoke against growing anti-Islam sentiment in the country and stressed that Islam belonged to Germany, contrary to what far-right parties claim.
"When 3 million Muslims live in our country, they belong together with their religion Islam to our country, "Wulff said Thursday in Berlin at the Foreign Correspondents' Association in Germany (VAP).
He sharply criticized the draft party program of the right-wing populist Alternative for Germany, AfD, Party, which warned against the "Islamization of Germany" and called for the banning of Muslim symbols, including minarets.
The Christian Democrat politician opposed such calls and said Germany's constitution guaranteed religious freedoms for all, including the right of Muslims to freely practice and teaches their religion, and build their mosques.
"Whoever says I do not want Islam in Germany, I do not want Islam in Europe, he or she stands against our constitution," he stressed.
"Whoever says I do not want any Muslim in Europe, he or she also cannot campaign for the rights of Christians in other parts of the world, and should not be surprised if others there say we don't want Christians (…) or Jews here," he added.
The right-wing populist Alternative for Germany, which has seen growing public support in recent months, has adopted a stronger anti-Islam stance, making it one of its central issues.
One of the party's deputy leaders, Beatrix von Storch, told local media Sunday that Islam was a "political ideology" that is not compatible with the constitution.
"Muslims belong to Germany but Islam does not belong to Germany. We are for a ban on minarets, on muezzins and on full body veils," she told the Frankfurter Allgemeine Sonntagszeitung.
Wulff, who served as president from 2010 to 2012, was the first leading German politician, who publicly acknowledged that Islam belonged to Germany, as much as Christianity and Judaism.
His speech in 2010 had sparked a massive debate, but was later supported by Chancellor Angela Merkel.
"Our democracy, our Europe is endangered. It is endangered by Islamic State [Daesh], but [it is] also endangered by those within Germany who try to create new divisions among us," he said on Thursday.
Wulff underlined that contrary to the claims of right-populists and extremists, immigrants and Muslims have had significant economic and cultural contributions to the German society.
"We have many migrants, also many Muslims among our intellectuals, in the fields of media and culture, who are representing our country," he said.
Germany took in 1.1 million refugees last year, most of them Syrians, Iraqis and Afghans who fled wars and conflicts. The numbers have put a strain on local authorities and triggered anti-refugee sentiments.
Germany has the second-largest Muslim population in Western Europe after France. Among the nearly 4 million Muslims in the country, 3 million are of Turkish origin. Many of them migrated to Germany in the 1960s.
http://www.worldbulletin.net/todays-news/171855/germany-ex-pres-states-muslims-belong-in-germany
--
North America
True Islam and the Extremists: A Seminar Sponsored by Al-Islam Students Association
April 22, 2016
Al-Islam Student Association invites students to a seminar on "True Islam and the Extremists" from 3-5 p.m. Friday, April 29, in Giffels Auditorium in Old Main on the University of Arkansas campus. Qasim Rashid will be the guest speaker.
Islam is the fastest growing religion in the world with over 1.6 billion adherents worldwide as of 2010. Although the Middle East is home to majority-Muslim countries, only about 20 percent of Muslims live there. Indonesia in Southeast Asia is the largest Muslim country in the world with over 220 million Muslims. The U.S. has about 3.3 million Muslims making up about 1 percent of the population.
Despite being a great monotheistic religion most akin to Christianity and Judaism, Islam is widely misunderstood throughout the West and especially in the U.S. According to a 2014 Pew Research Center study, over 50 percent of Americans associate Islam with violence and extremism. Recent comments by some presidential candidates reflect how the sentiments of the lay people are being exploited for political expediency. Studies have shown that Muslim-majority countries are as concerned as the US about extremist organizations such as ISIS, and overwhelming majority of Muslims there have unfavorable view of ISIS.
Muslim communities throughout the US have made efforts to educate general public over the years, and especially in the aftermath of the Sept. 11 terrorist attacks in 2001, showing that Islam is a religion of peace and universal human rights. But as the Middle East has been thrust into the quagmire of ever-worsening civil wars since the so-called Arab Spring in 2011, the world is watching with horror the criminal and inhumane conduct of many an organization in the name of Islam. Recently, President Obama, while visiting a mosque as a gesture of reaching out to law abiding Muslim citizens of this country, expressed clearly that Islam and Muslims are clearly not to be blamed for the heinous acts of terrorists, but the Muslim community must come forward to confront the extremist ideology that is being propagated within their midst.
True Islam and the Extremists is a seminar sponsored by Al-Islam Students Association, a registered student organization supported by funds from the Associated Student Government to clearly identify what are the teachings of True Islam and how these are deliberately contorted by the extremists to prey on the vulnerable Muslim youth. This seminar is being conducted in concert with the national campaign of the Ahmadiyya Muslim Community. Qasim Rashid, a prolific writer and a spokesman for the AMC, will be the chief guest. A question and answer session will follow. The seminar ends with catered food from Khana restaurant. The seminar is free to all University of Arkansas students.
https://news.uark.edu/articles/34004/true-islam-and-the-extremists-a-seminar-sponsored-by-al-islam-students-association
--
YOUNG, WELL-EDUCATED, BUT WITH ONLY 'BASIC' KNOWLEDGE OF ISLAMIC LAW? YOU'RE A PERFECT ISIS TERRORIST
Apr 22, 2016
Male, 26, single, quite well-educated but not an expert on the Quran - this is the profile of an average fighter joining Isis.
Analysis of thousands of entry documents leaked from the terrorist group has provided vital new insight into the background and expertise of its international jihadists.
The US military's Combating Terrorism Center (CTC) said all evidence pointed to the cache being genuine, exposing personal details of 4,188 militants who joined Isis in 2013 and 2014.
"The importance of this data for understanding the Islamic State and, in particular, the foreign fighter flow, cannot be overstated," analysts said, hailing an important step in fathoming the group's motivations and techniques.
A unique personnel form exists for each individual, containing their real and "war" names, ages, education level, "jihad experience", nationalities and numerous other details.
Each recruit was also asked whether they wanted to be a fighter, istishhadi (suicide bomber), or inghimasi (suicide fighter), with the overwhelming majority choosing the former Analysis by the CTC, an academic institution at the United States Military Academy, revealed citizens of 77 countries in Isis ranks, with the highest number identifying themselves as Saudi Arabian.
There were 26 British fighters on the list, far below the numbers from Germany and France in the files, which included names of known UK militants and three of the Paris attackers.
But the figure doubled to 57 for those saying they had been resident in the UK before travelling to Isis territories in Syria, suggesting that many of the men may have had foreign or dual nationalities.
The average year of birth was 1987, making the typical recruit between 26 and 27 years old at the time of signing up.
Ages varied hugely by country, with the younger fighters tending to be from Western nations including the UK, Denmark, Germany, Belgium, Canada and Australia, compared to older militants from the Middle East, North Africa, Russia and China with experience fighting in other conflicts.
"The average age of Western fighters is lower than that of non-Westerners," the CTC noted.
"This suggests the need for tailored and nuanced prevention, intervention, and reintegration programmes."
Another startling finding was the level of education listed, with most of the recruits saying they had completed secondary school and many listing higher education and university degrees.
The report described the group as "generally well educated" and said that although some of the fighters recorded no formal education, a roughly equal number held advanced degrees.
PhDs in economics, computer science, English, physiology and teaching were among those listed, with Western fighters being more highly educated on average.
The one area of education that was noticeably lacking, however, was that in Islamic law, or Sharia.
Of those who answered a question on the level of their religious knowledge, 70 per cent described it as "basic", while those citing greater expertise were mainly Saudis, Egyptians, Tunisians and Indonesians.
The finding supports analysts' assertions that Isis has twisted the Quran to serve its purposes, introducing brutal and "un-Islamic" punishments in its territories.
An open letter signed by more than 100 Muslim scholars accused Isis of deliberately misinterpreting the holy book in 2014.
"It is forbidden in Islam to oversimplify Sharia matters and ignore established Islamic sciences," said the missive directed at the group's leader, Abu Bakr al-Baghdadi.
"One cannot 'cherry-pick' Quranic verses for legal arguments without considering the entire Quran and Hadith."
When asked about their previous occupation, the most-cited role was unskilled labourers, then trade and "student" in third place.
More than 200 listed themselves as unemployed, while double that number left the field blank, suggesting they were also without work.
"The average recruit either was a student or had a job, just not a particularly high-paying one," the report said.
The CTC said some of the positions in the cache "might prompt concerns about future threats", including petrol technicians, former soldiers, IT experts, pilots, plane mechanics and a former aircraft security officer who was previously affiliated with the Saudi interior ministry.
"There are clear indicators in the data that the Islamic State was using these forms to 'talent scout' and identify individuals with specific educational, professional, or military backgrounds that might prove useful to the group in the future," it added.
Not all occupations would be seen as desirable by the so-called Islamic State's fanatics.
A 24-year-old from Gaziantep, Turkey was listed as having been a "drug and hashish dealer". His form contained a note from an Islamic State official stating: "May God forgive him and us!"
When the employment field was narrowed down to those with post-secondary education, the vast majority of extremists said they were students, self-employed or in trade.
The CTC said the discrepancy may support theories about the radicalisation process in Europe, where many of the Isis fighters identified so far have had few prospects at home.
"Some in this dataset may have been motivated by frustration over failure to achieve expected success in the job market following their education," the report noted.
"Relative deprivation is a well-covered theory of political violence."
Analysis also showed that almost two thirds of the fighters were unmarried, while 90 per cent had no previous "jihadist experience".
Some of the personnel records were initially published by Syrian opposition news site, Zaman al Wasl, followed by German media outlets, Sky News and NBC, which passed their documents on to CTC analysts.
The American broadcaster said it acquired the files from a former Isis fighter who became disillusioned and stole the records before defecting from the organisation.
Afzal Ashraf, a visiting fellow at Nottingham University's centre of conflict, security and terrorism, previously told The Independent the leak was "devastating" for the terrorist group.
"It will be a great blow for their recruitment process because these documents show not just the people joining but the networks involved in radicalising them and facilitating their travel," he said.
"Any recruit will know they are very likely to be discovered and there will be serious consequences for them - it doesn't inspire a great deal of confidence.
http://www.bangaloremirror.com/news/world/Young-well-educated-but-with-only-basic-knowledge-of-Islamic-law-Youre-a-perfect-ISIS-terrorist/articleshow/51941540.cms
--
Obama Urges 'Blood Brother' Britain Not To Leave EU
April 21, 2016
U.S. President Barack Obama made an impassioned appeal on Friday for Britain to remain in the European Union, saying membership had magnified Britain's place in the world and made the bloc stronger and more outward looking.
Fearful that a British exit could weaken the West, Obama arrived in London to tell Britons that issues such as terrorism, migration and economic slowdowns could be tackled more successfully with the UK in the EU.
In approaching such a divisive issue, he invoked the interlinked history of the two countries and the tens of thousands of Americans lying in European war graves as his reason for speaking as "a friend" on the June 23 referendum.
"The European Union doesn't moderate British influence - it magnifies it," he wrote in the Daily Telegraph newspaper.
"The United States sees how your powerful voice in Europe ensures that Europe takes a strong stance in the world, and keeps the EU open, outward looking, and closely linked to its allies on the other side of the Atlantic".
Obama is scheduled to have lunch on Friday at Windsor Castle with Queen Elizabeth, who celebrated her 90th birthday on Thursday, and her husband Prince Philip. He is scheduled to hold talks after lunch with Prime Minister David Cameron.
Obama's visit is a welcome one for Cameron, who is leading the "In" campaign, but it has drawn scorn from those arguing that Britain should leave the bloc.
Opinion polls indicated that British voters are leaning towards the "In" camp, but many remain undecided.
The U.S. government, and many U.S. banks and other companies, fear a Brexit would cause market turmoil, diminish the clout of its strongest European ally, undermine London's global financial hub status, cripple the EU and weaken Western security.
"Now is a time for friends and allies to stick together," he said, adding that ultimately the referendum was a matter for British voters to decide.
The comments will be welcomed by Cameron who has said that this is no time for Britain to drop out of the club it joined in 1973, especially in the face of what he terms Russian President Vladimir Putin's aggression.
Asked about Obama's views, Cameron had previously told the parliament, "Personally I believe we should listen to advice from friends and other countries and I struggle to find the leader of any friendly country who thinks we should leave."
Ahead of a 2014 Scottish vote on independence, Obama said he hoped Britain "remains strong, robust and united", a comment that was welcomed by unionist politicians in London.
"BUTT OUT"
For Britain's closest ally, EU membership amplifies British influence, facilitates trade for U.S. companies and strengthens the 28-member bloc that Washington views as a pillar of stability in the post-World War Two era.
Opponents of the EU, many of whom laud the U.S. alliance, have said that membership has shackled Britain to the corpse of a failed German-dominated experiment in European integration, and that Britain, if freed, could prosper as a sole trader.
"Out" campaigners have said the United States would never agree to dilute its own national sovereignty in the way the EU requires of its member states.
New York-born Boris Johnson, the London mayor who heads the "Out" campaign, said he did not want to be lectured by Americans about EU membership and called the President's stance "downright hypocritical".
"For the United States to tell us in the UK that we must surrender control of so much of our democracy – it is a breathtaking example of the principle of do-as-I-say-but-not-as-I-do," he wrote in the Sun newspaper.
Nigel Farage, another prominent opponent of EU membership, told Reuters that President Obama should "butt out".
"This is an unwelcome interference from the most anti-British American president there has ever been. Mercifully, he won't be in office for much longer."
http://www.ibtimes.com/obama-urges-blood-brother-britain-not-leave-eu-2357802?utm
-----
Pakistan
Undeterred by policemen's killing, polio campaign continues in city
Apr 22, 2016
KARACHI: Seemingly resolved but blighted with susceptibility in the wake of the bloodshed on Wednesday, thousands of volunteers and policemen resumed their campaign against polio across the city on Thursday as officials said nothing would deter them from their 'national duty'.
"Some 7,000 teams of volunteers marched in all neighbourhoods of the six districts of Karachi to resume the campaign on its third day," said a spokesman for the Sindh government emergency operations centre (EOC) for polio.
An official in the provincial health ministry admitted that Wednesday's shooting in Orangi Town in which seven policemen guarding polio teams were killed by gunmen on motorcycles had certainly created uncertainty among volunteers in many neighbourhoods, but none of them had refused to go in their assigned areas.
"Since it is national duty to eradicate polio from Pakistan, none of our teams in any of the neighbourhood refused to go; however some of them were anxious and reluctant," he said.
A volunteer whose sister was injured in an earlier incident in Gadap Town said she started as a polio volunteer to earn additional money for her family, but now it became a challenge.
"It is not just a job like any other job," said the volunteer. "I have been involved in it so much that leaving it will be tantamount to leaving my own children unguarded against a dangerous disease," she said.
"My sister was among several wounded and traumatised volunteers three years ago when they had been attacked in Gadap, but she is still part of the campaign despite all sorts of dangers."
Similarly, officials said some 4,500 policemen guarded the volunteers. To bolster their morale in wake of anxiety created by the Wednesday's incident, they had been supplemented by more than 300 paramilitary Rangers.
"That attack was certainly a part of the plan to demoralise our force, but such dangers come and go, it is a duty that has to be performed," said a senior official.
He, however, said the attack had certainly pushed the senior hierarchy of the police to do soul-searching to improve on the existing plans.
"We have to go for much better training in addition to better backup arrangements to safeguard the officials," said the official.
City commissioner Asif Hyder Shah on Thursday went to the EOC Sindh office and reviewed the campaign's arrangements.
Officials insisted that the actual target of the Wednesday's attack was police, but they admitted that the ultimate target was polio vaccination campaign as those killed were guarding the vaccinators.
"We are making arrangements to make the campaign more efficient and safe," said an official.
Demand to call in armed forces
Senior paediatrician and member of the World Health Organisation's National Immunisation Technical Advisory Group Dr Ghaffar Billoo has said that the killing of seven police officers should compel authorities to take assistance from the armed forces "on an emergency basis".
He added the armed forces were "a better option under ongoing circumstances as the police do not have the power to stop such attacks whether it is against the polio workers or on their own personnel".
He said that there were three high risk zones in Pakistan, including Karachi, Quetta and Qila Saifullah in Balochistan and Peshawar and Southern districts such as Tank and Bannu in Khyber Pakhtunkhwa. When asked whether calling in the armed forces was a better option considering their involvement in operations in South and North Waziristan, he added that "calling in the armed forces is the demand of the time as lives are at stake".
However, chief of National Emergency Operation Centre for Polio Eradication Rana Safdar said authorities had already put in place a three-tiered security apparatus to counter such attacks. "We don't need to specifically call in the armed forces. Because there is an existing system in which the Police, Rangers, and a focal person from the armed forces in every district coalesce depending on the areas our teams are working in," he added.
Reiterating the point raised by the authorities in Sindh, Mr Safdar said the attack was not specifically targeting the polio teams rather the police officers.
Quoting a report by the Sindh home department, he said the attack on policemen was a result of "ongoing operations being carried out in district west".
An officer associated with providing security to the polio teams in high risk zones withholding his name, as he is not authorised to speak to the media, added that they usually received an "advanced intelligence before the beginning of vaccination drive anywhere in Pakistan".
Speaking further, the officer added that "there was no threat in sight in Karachi but the interior ministry is anticipating such attacks as there is still a lot of risk involved with the polio campaigning."
In light of the attack on the policemen, Mr Safdar added that they had issued an advisory to the polio teams as well as the security personnel accompanying them to not congregate in one place.
http://www.dawn.com/news/1253572/undeterred-by-policemens-killing-polio-campaign-continues-in-city
----
Parliament watch: Panama Papers — from opportunities to opportunism
Apr 22, 2016
The past week saw an unprecedented consensus being forged across the civil-military and political divides over the need for "across-the-board accountability". Interestingly, it was the military that took the lead in bringing about this consensus, and political forces, including the PML-N, apparently fell in line.
But the questions that are now doing the rounds in the socio-political circles of the capital city are: Why has this consensus been forged now – after the army chief's statement – and why not earlier; does this have anything to do with the Panama Papers leaks; are politicians serious in supporting the army chief call for accountability for all, or are they just playing to the galleries?
Speaking to officers and soldiers recently in Kohat, the army chief pointed out that corruption was the real issue that was "failing the country", and said that the army would lend its full support to efforts made in this direction.
The reaction from political circles was immediate. PTI Chairman Imran Khan immediately came out and said that the army chief's statement resonated with the people of Pakistan.
But then, this was to be expected. Indeed, Mr Khan had built his party and election campaign on the premise that there was a dire need for accountability of those who had been plundering the exchequer and stashing their wealth abroad. So when the army chief picked up on his pet issue, it was only logical that the PTI chief would feel a certain sense of vindication.
But the uncanny support that General Raheel Sharif's call for accountability has received from the main opposition PPP, as well as the ruling PML-N, has certainly raised many eye brows.
PPP information secretary Qamar Zaman Kaira also appreciated the sentiment, saying there was a dire need to adopt a national approach to fighting corruption.
But it was only last July when PPP co-chairperson Asif Ali Zardari, mincing no words, hit out at the military establishment for maligning his party leadership by accusing them of corruption.
"You are only here for three years, but we are here to stay forever, so be careful," Mr Zardari had said, in an obvious reference to the three-year stint of the army chief.
Defence minister Khawaja Asif also welcomed the army chief's and saying that the government fully supported him, gave an interesting analogy. "Nobody has reservations when the chief justice speaks. Similarly, nobody should have objections when army chief speaks, since he too is the head of an institution."
This is the same PML-N government, which, angrily reacted last November when General Headquarters (GHQ) expressed concerns over the civilian implementation of the National Action Plan. In fact, the PM's Office had pointed out at the time that NAP implementation was the responsibility of all institutions, a hint that the military also shared the burden and the blame for tardiness on NAP.
When asked what led to the change of heart on the part of the PPP leadership, a senior office-bearer told Dawn, "It is the need of the hour in the wake of the Panama Papers leak. The ruling party is on the defensive, hence, as an opposition, our response to the army chief's remarks was natural."
The PPP office-bearer admitted that the majority of party leaders from Sindh believed the party shouldn't have embarked on an all-out anti-PML-N movement, unlike the Punjab chapter, which has been advocating the need for aggressive politics. "The PPP will highlight the Panama Papers issue to the point where it only hurts the PML-N, not the existing set up, which is what the PTI seems to be interested in doing," the PPP leader said.
The government, on its part, feels that this isn't the right time to get into a confrontation, which is what the PML-N is usually best known for.
"At the moment, we are only focused on getting the proposed judicial commission in place and getting past this controversy. With only two years left, even the slightest misstep can damage the party in the next general elections. This is why the party leadership does not want to get into any unnecessary conflicts, either with the establishment or the opposition parties," a key member of the federal cabinet told Dawn.
As long as there is no threat to the government, as there appeared to be during the PTI-PAT sit-in, "we shouldn't read too much into such statements and take them in our stride", the cabinet member said.
A senior PTI leader also admitted that the Panama Papers were a godsend for Imran Khan and vindicated his oft-repeated claims that the Sharifs had funneled their wealth abroad. In addition, the leader conceded, this controversy had come as a blessing in disguise for the PTI, which had been plagued by intra-party rifts, allowing it to close ranks in an anti-government campaign.
http://www.dawn.com/news/1253692/parliament-watch-panama-papers-from-opportunities-to-opportunism
--
Bank Alfalah Launches Book on Islamic Finance
Apr 22, 2016
Karachi—Aimed at raising awareness of and promoting Islamic finance in the country, Bank Alfalah has organised the launch of a book titled 'Shariah Minds in Islamic Finance' by world renowned scholar Dr Mohammadd Daud Bakar in Karachi. The book presents unique insights into the life of an international scholar, discusses stakeholders' expectations and defines the ultimate role scholars should play in shaping the industry's future.
Dr Bakar is Malaysia's leading scholar who currently serves as Chairman of the Shariah Advisory Council at the Central Bank of Malaysia, the Securities Commission of Malaysia, Labuan Financial Services Authority and the International Islamic Liquidity Management Corporation (IILM). He is also a Shariah board member of various financial institutions including the National Bank of Oman (Oman), Noor Islamic Bank (Dubai), Amundi Asset Management (France), Morgan Stanley (Dubai), Bank of London and Middle East (London), BNP Paribas (Bahrain), Bank Al Khair (Bahrain), Islamic Bank of Asia (Singapore), Dow Jones Islamic Market Index (New York) and Financial Guidance (USA) among many others.
Addressing an audience of Bank Alfalah's senior management, heads of Bank Alfalah's corporate clients, other prominent banking figures from Pakistan, and various media representatives, Dr Bakar said, "Shariah scholars have been the primary catalysts in the Islamic Finance industry's exponential growth since the 1970s.
'Shariah Minds in Islamic Finance' is a story about my personal journey and development as an international Shariah scholar, which mirrors the evolution of the industry." He said being a key player in Pakistan's Islamic Banking industry, the Bank Alfalah management is proud to be the host of this event. "We are privileged to have a scholar of Dr. Bakar's stature sharing his thoughts with us today," said Bank Alfalah President and CEO Atif Bajwa.
"The launch of 'Shariah Minds In Islamic Finance' is of much relevance to Pakistan as Islamic Banking continues to grow here and the country pursues a long-term strategy to promote it." Islamic banking recently regained momentum in Pakistan with the central bank's five-year plan to promote Islamic finance with legislative changes and product incentives.
http://pakobserver.net/2016/04/22/bank-alfalah-launches-book-on-islamic-finance/
--
Edhi, Pakistan's 'Mother Teresa', is an obstinately humble hero to the masses
Apr 22, 2016
Karachi: He created a charitable empire out of nothing, masterminding Pakistan's largest welfare organisation. Today, Abdul Sattar Edhi is revered by many as a national hero.
Content with just two sets of clothes, he sleeps in a windowless room of white tiles adjoining the office of his charitable foundation. Sparsely equipped: it has just one bed, a sink and a hotplate.
"He never established a home for his own children," says his wife, Bilquis, who manages the foundation's homes for women and children.
What he has established is something of a safety net for Pakistan's poor and destitute, mobilising the nation to donate and help take action — filling a gap left by a lack of welfare state.
"Mr Edhi sits here, waiting for your donations," sputters the speaker of an Edhi ambulance parked in an affluent neighbourhood of Karachi, the port megalopolis of glaring inequalities.
Passers-by deposit alms or pay their respects to the frail old man, whose white beard and worn karakul — a triangular cap — are known throughout the country and beyond.
Edhi has been nominated several times for the Nobel Peace Prize, and appears on the list again this year — put there by Malala Yousafzai, Pakistan's teenage Nobel laureate.
Edhi, born to a family of Muslim traders in Gujarat in British India, arrived in Pakistan after its creation in 1947.
"He thought that this new Muslim nation would be a social welfare state," says his son Faisal.
But, when they got to Pakistan, he found "it was the exact opposite".
The state's failure to help his struggling family care for his mother — paralysed and suffering from mental health issues — was his painful and decisive turning point towards philanthropy.
In the sticky streets in the heart of Karachi, Edhi, full of idealism and hope, opened his first clinic in 1951.
Vocation
"Social welfare was my vocation, I had to free it," he says in his autobiography, A Mirror To The Blind.
Motivated by a spiritual quest for justice, over the years Edhi and his team have created maternity wards, morgues, orphanages, shelters and homes for the elderly — all aimed at helping those in society who cannot help themselves.
The most prominent symbols of the foundation — its 1,500 ambulances — are deployed with unusual efficiency to the scene of terrorist attacks that tear through Pakistan with devastating regularity.
But its ethos of humanitarianism transcending religious and ethnic lines while empowering the masses has made it the target of many ferocious smear campaigns. Hardliners have branded him an infidel and his work un-Islamic.
Edhi's response has been hard work and an obstinate asceticism, a bid to leave his enemies with no ammunition.
Spared by armed groups, bandits
His work so conquered the esteem of Pakistan's masses that armed groups and bandits were known to spare his ambulances.
The annual budget of 1.5 billion rupees ($15 million, Dh52 million), mainly from donations by middle- and working-class Pakistanis, continues to grow, according to Faisal, despite criticism from fundamentalist groups eager to snatch such support for themselves.
Abandoned children and the elderly, battered women, the disabled, drug addicts; Edhi's foundation now houses some 5,700 people in 17 shelters across the country.
It employs around 3,000 people, many of whom were former residents.
The project Bilquis Edhi is most proud of is the baby cradles adoption service.
In the early days of his work, as Edhi cruised the streets in his ambulance, he was made desperate by the number of infant corpses he came across, many believed abandoned.
Now the foundation has before each centre a large cradle bearing the inscription: "Do not kill innocent babies, leave them in our cradle".
The initiative has earned Edhi further attacks by militants who accuse him of promoting extramarital sex in the conservative Muslim country.
But Bilquis proudly displays photos of now-grown women who are now graduates of prestigious universities.
Several thousand children — the vast majority of them girls — left in the cradles over the last four decades have been housed by Edhi centres and adopted, she says.
Without Edhi, "I would have had no life," says Seher, 16, who grew up in the foundation's decrepit headquarters.
"Bilquis and Edhi are there for us round the clock," she says.
She cares for younger children — including the small daughter of a thief jailed for the burglary of the foundation in 2014, a crime which caused uproar in Pakistan.
Satisfied
Now frail and weak, Edhi says he is unable to manage his kingdom. He appointed his son Faisal as managing trustee in early 2016.
"I have done a lot of work. I am satisfied with my life," the patriarch sighs.
"He is my hero," says Faisal, adding that stepping into his father's humble, but mighty shoes is a "great responsibility".
"We still have so much to do."
http://gulfnews.com/news/asia/pakistan/edhi-pakistan-s-mother-teresa-is-an-obstinately-humble-hero-to-the-masses-1.1719570
--
ATC terms Musharraf's medical report 'fake'
Apr 22, 2016
ISLAMABAD: An antiterrorism court on Friday rejected the request of General retired Pervez Musharraf for temporary exemption from court appearances and termed his April 6 medical report 'fake'.
The ruling regarding the former military ruler's certificate came during the hearing of the judges' detention case
Gen Musharraf's lawyer Akhtar Shah submitted the former army chief's medical report along with a request to grant his client temporary exemption from appearing in court in the judges' detention case, but the judge rejected both and upheld his non-bailable arrest warrants, DawnNews reported.
ATC judge Sohail Ikram maintained that the former military ruler left the country in March but the report presented in the court is of April.
Gen Musharraf's counsel argued that his client can appear before the court provided his doctors allow him and the government provides him security. Upon this, the judge responded that Musharraf has failed to appear in his court for the last one and a half year period.
Islamabad police, in its report regarding the former army chief's non-bailable arrest warrants stated that the warrants could not be executed as Gen Musharraf is in Dubai since March, upon which the Judge ordered Inspector General Islamabad to find Gen Musharraf's whereabouts and produce him in the court on May 20, the next hearing of the case.
It is pertinent to note here that Pervez Musharraf, who is facing a number of cases including Abdul Rasheed Ghazi murder case, Benazir Bhutto murder case and high treason case, left for Dubai on March 18, hours after the interior ministry issued a notification to remove his name from the exit control list (ECL).
In the formal hearing of the case, the judge had said that the former president left country without taking permission from court.
Judges detention case
The Secretariat police on August 11, 2009, registered the case against Gen Musharraf on the complaint of Advocate Mohammad Aslam Ghumman.
The complainant stated that soon after the imposition of an emergency in the country on November 3, 2007, the then president detained 60 judges of the superior courts in their residences for over five months.
Since the start of the trial in the ATC in 2013, the former military ruler has been given exemptions from personal appearance 42 times.
On September 11, 2015, the ATC dismissed an application seeking a permanent exemption to Gen Musharraf and issued his arrest warrants.
http://www.dawn.com/news/1253712/atc-terms-musharrafs-medical-report-fake
--
PTI's Mazari questions ISPR silence on army sackings
Apr 22, 2016
Pakistan Tehreek-i-Insaf (PTI) chief whip in the National Assembly Shireen Mazari on Friday raised the question of why an official statement regarding the dismissal of at least six army officers – dubbed an unprecedented move in the country's history – was not issued by the military's media wing.
"I thought I had missed the Inter-Services Public Relations (ISPR) statement on dismissal of army officers on corruption but seems there was no statement," Mazari said, posing the question to Director General ISPR Asim Bajwa on social media website Twitter. "Why?"
Following one of the biggest corruption purges in the military, the army's public affairs division and its director general, a prolific tweeter, were uncharacteristically mum.
There was no formal announcement from the army on the sackings and all information reached media through leaks from intelligence sources. Military officials in their private conversations confirmed the action against corruption.
Mazari's sentiments are echoed by politicians and analysts who have been asking why the ISPR was silent over the 'unprecedented' dismissals of officers on the basis of allegations related to abuse of authority and illegally collecting wealth.
The sacking of two generals, three brigadiers and a colonel were later confirmed to Dawn.com by an 'authoritative source'.
The lid on corruption in the Frontier Corps was blown in late 2014 following an accident in which two serving army engineers Lt Col Shakeel and Major Yasir lost their lives while testing a non-custom paid sports car for the son of the then IG FC Maj Gen Ejaz Shahid, according to multiple sources in the army.
Lt Col Shakeel had been tasked to fix the car that had been confiscated from Chaman.
Following the death of the two officers, an inquiry conducted by the FC headquarters ironically held them at fault and recommended that their posthumous compensation not be paid to their heirs.
This action was resented by the families of the two officers, who complained to the army chief's secretariat and an inquiry was initiated by the Military Intelligence.
The probe then led to unearthing of corruption in the FC, the sources said, adding that Maj Gen Shahid Ejaz was posted out after the start of the inquiry.
There had been allegations against the FC in 2006/07 that its officials connived with smugglers of oil, cars, luxury goods and other items earning a huge amount of money.
But the allegations were never investigated (till the tragic accident occurred) due to insurgency in the province and the FC continued to enjoy a free hand in the Balochistan.
Political parties generally welcomed the move, with many saying the army chief had set an example for others to follow.
Describing the sackings as a 'bold action', the Pakistan Ex-Servicemen Association (PESA) hailed the punishment announced for the officers and said there was an urgent need to examine the weaknesses and loopholes in the system that let the sacked officers indulge in criminal acts.
http://www.dawn.com/news/1253707/ptis-mazari-questions-ispr-silence-on-army-sackings
--
URL: https://www.newageislam.com/islamic-world-news/new-age-islam-news-bureau/islamic-state-snubs-sri-sri-ravi-shankar-sends-him-beheaded-man's-picture/d/107072