New Age Islam News Bureau
8 Dec 2014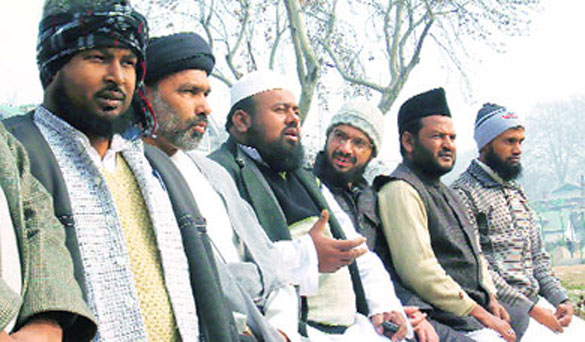 Working In J&K to Show Where RSS Meets Islam
---------------
Arab World
• Some Anbar Tribes Threaten To Halt Fight against ISIS If Not Armed
• Islamic State Executes Shi'ite Militia Fighters North Of Baghdad
• Islamic State Reaps Profits from Organ Trafficking
• Iraqi Air Strikes Kill over 25 ISIL Militants near Samarra
• Iraqi Forces Kill 5 Terrorists in Anbar
• Egypt restricts travel to Turkey to 'limit terrorism recruitment'
• The covert war against Hezbollah's arms program
• Hezbollah drones, anti-aircraft missiles destroyed in alleged IAF attack
• 26 foreigners among 135 arrested for 'terrorism' in Saudi Arabia
• Back from jihad, Jordanians pick up their lives
• Al-Qaida-inspired rebels gain in Syria, making life even worse for US-allied forces
• UAE leads Islamic economy index
• UAE: Stabbing of US teacher a 'lone terrorist act'
India
• Babri not Hindu-Muslim Fight but Secularism-Communalism Confrontation
• Jamaat Ulema-e-Hind Working In J&K to Show Where RSS Meets Islam
• Pakistan's ISI Ordered Lashkar-e-Taiba Attack on Kashmir
• Mumbai's ISIS Recruit a Trained Suicide Bomber
• India-Pak trade bodies seek authorization to recommend visas for businessmen
• Punjabi University Withdraws Invite to Pak Envoy, Qawwals
• Clear Pakistan link to Uri attack, militants highly trained: Army
• VHP Workers Detained By Police for Burning Effigy of Hafiz Saeed
• Your problem is my problem, Modi tells Kashmiris
South Asia
• Eight Sentenced To Death for Attacks in China's Xinjiang
• Afghan Students Find Inspiration in Islamic State's Success
• 19 rebels killed in past 24 hours
• Ghani wants slower withdrawal of foreign forces from Afghanistan
• China lauds successes achieved in Zarb-i-Azb operation
Pakistan
• Twitter Suspends 26/11 Mastermind Hafiz Saeed's Account
• Three Troops, 5 Militants Killed In Tirah Clash
• Maulana Fazl faces hostile PTI workers in London
• Truçe Albayrak awarded title of Bint-e-Ummah
• Key commanders of Gul Bahadur group killed in Datakhel strikes: reports
• Agencies warn Punjab IS recruiting in Pakistan
• Jamaat-i-Islami sees solution of Karachi issues in free and fair elections
• Imran wants to create chaos in country: govt
• Under attack: Militants know how to make the police 'immobile'
• 1 killed, another injured in clashes between PTI, PML-N
Mideast
• Houthis Plan to 'Raise Money in Saudi Arabia through Beggars'
• Breaking Bad In Tehran? Meth Use Soars As Lifestyles Speed Up
• At least 13 killed in failed US bid to rescue hostages in Yemen
• Gaza writers receive death threats from IS
• Israeli minister affirms policy of 'stopping arms transfers to terrorists'
• Turkey warns three banks in fight against crime, terrorism
Africa
• Nigeria: 10 Soldiers Die in Battle As Army Repels Boko Haram from Ashaka Town
• Five years after ceasefire, Niger Delta's retired militants warn of new violence
• Kenya Takes Step towards Recognising Intersex People in Landmark Ruling
North America
• Chomsky: Us-Led Anti-Isis Coalition Meaningless, Illegal
• Kerry: Israeli-Palestinian Peace Is Not a Pipe Dream
• ISIS fighter from Ottawa appears in video threatening Canada with attacks
• US, NATO ceremonially end Afghan combat mission
• US military's job 'not over' in Afghanistan: Pentagon chief
• US 'did not know' about imminent Yemen hostage release
• PYD 'promised' US to not give arms to PKK
Europe
• Religious Tolerance Is People's Lifestyle in Azerbaijan
• Islamic State Training Kids for Jihad, UN Says
• EU to press Turkey for help in anti-ISIL fight
• French Islamic State fighters: I want to come home!
• UN wants countries to take in 180,000 Syrian refugees
Southeast Asia
• Minister Says Constitution Doesn't Limit Shariah Laws
• Police, Soldiers Accused of Opening Fire on Papua Demonstrators: Six Killed
• After Meeting SBY, Jokowi Says Democrats May Join His Coalition
• Might Malaysia One Day Have 'Halal' And 'Haram' Shows?
Compiled by New Age Islam News Bureau
URL: https://www.newageislam.com/islamic-world-news/new-age-islam-news-bureau/islamic-state-reaps-profits-from-organ-trafficking/d/100382
----------
Arab World
Islamic State reaps profits from organ trafficking
8 December 2014
The success of the Islamic State (IS) in sustaining its battles on more than one front in both Syria and Iraq, while fighting in several other countries, highlights that the group has multiple and significant sources of funding.
According to data, there are two funding sources: internal and external. The latter includes a wide variety of funding schemes, including through medical facilities, oil and human trafficking mafias. According to sources in Mosul, the money supplied internally is allocated to local and foreign fighters, to encourage them to join up and continue fighting. IS took control of Mosul in June and then expanded in August to control large swaths of the country.
Residents of Mosul say that the sale of oil extracted from wells controlled by the organization in both Iraq and Syria has provided a sustained source of funding. The organization also opened trade canals through Kurdish [territories in] Iraq and Turkey, with the help of Kurdish, Turkish and Iranian traders.
In addition to oil sales, a secondary source of funding stems from the imposition of royalties on residents in IS territories. Members of the organization collect 50,000 dinars [$41.60] from each family as service and protection fees. The amount doubles for families whose sons did not join IS. One of the prominent tribal figures in Nineveh province, Sheikh Mohammad Abu Thayyab, said, "The IS gangs imposed 50,000 dinars worth of royalties on every family if one of their sons did not join these terrorists."
Sources in the city say that oil prices have skyrocketed. The price of gas tanks used for cooking has reached 75,000 dinars, [about $62] while coal oil is sold at 5,000 dinars a liter [$4.16]. Meanwhile, the price of food has quadrupled.
The third funding source was exposed by otolaryngologist Siruwan al-Mosuli. He said that lately he noticed unusual movement within medical facilities in Mosul. Arab and foreign surgeons were hired, but prohibited from mixing with local doctors. Information then leaked about organ selling. Surgeries take place within a hospital and organs are quickly transported through networks specialized in trafficking human organs. Mosuli said that the organs come from fallen fighters who were quickly transported to the hospital, injured people who were abandoned or individuals who were kidnapped.
He said that organ sales yield large profits. A specialized mafia is engaged in these operations, in addition to medical institutions working in other countries. Without coordination among these parties, such a trade cannot be sustained, he said. According to the Office of the High Commissioner for Human Rights (OHCHR), the organization sells bodies and organs of injured people they arrest.
The fourth source of funding is transforming the city of Nineveh, adjacent to Turkish borders, into a new centre for drug trafficking. The Russian Federal Drug Control Service said IS was gaining significant revenues by smuggling and marketing Afghan heroin, which is sent from Iraq to Europe.
"The large-scale movement of Afghan heroin acts as an ongoing financial base, aiding the functioning of the Islamic State, which secures huge profits by providing half of the total heroin supplied to Europe via destabilized Iraq and some African countries," the Russian body said in a statement.
For its part, the Times of London exposed a human trafficking network established by IS in Mosul, where women and children were sold for money. This also constitutes a funding source for the fighters. According to the newspaper, women and children of Yazidi, Christian and other minority backgrounds are also sold through a networking hub in Syria's Raqqa.
A report by OHCHR confirmed that more than 25,000 women and children have been imprisoned, sexually violated and sold by IS.
The sixth funding source is human smuggling rings, especially for families who wish to emigrate to other countries. One family reached Turkey after reportedly paying $8,000 for each individual that escaped.
Livestock seized by IS during the occupation of Yazidi, Turkmen and Shiite villages has also been smuggled. According to Ali Abdel Razzak, the majority of the residents in these villages worked in large-scale livestock ranching. So far it has not been established how much IS members seized as spoils of war when the villagers fled.
When it comes to foreign funding, the organization has developed schemes that are difficult to uncover, despite intensive local and international monitoring. One such method, however, uses established trading routes. The organization has networks tasked with collecting donations from wealthy individuals under the pretext of supporting jihad. According to some sources in the trading industry, products are sold in the markets in IS at lower prices than within the countries of origin, a discrepancy that points toward money laundering.
http://www.al-monitor.com/pulse/security/2014/12/islamic-state-financing-funding-human-trafficking-extortion.html#ixzz3LLdN8wUv
----------
Some Anbar tribes threaten to halt fight against ISIS if not armed
8 December 2014
Some tribes in the western province of Anbar threatened on Sunday to halt their fight against the Islamic State of Iraq and Syria (ISIS) unless the government in Baghdad gives them more arms, Al Arabiya News Channel reported.
Tribal leader Shalaan al-Namrawi said: "Meetings between sheikhs from Anbar and Iraqi security leaders in Ain al-Assad and Ramadi military bases were futile when it came to our demand to for arms."
He added: "We are facing a big dilemma, and will be massacred if the government continued to be like this."
He said tribal fighters who had joined security forces also considering to suspend their fight against ISIS or even seek support from another party, he said.
Namrawi said Anbar tribes were left out as the Kurds were being supplied with arms from Europe and the United States and while Shiite volunteers were receiving weapons from the central government in Baghdad as well as training from Iran.
Hameed al-Hayis, one of the prominent figures in Anbar and former al-Sahwa Awakening, a force formed to fight al-Qaeda in 2005 but nonexistent now, said tribal envoys will visit Iran with the government's support to discuss the issue.
Politicians in Anbar have always criticized the Shiite-dominated government of being influenced by Iran.
Also, an advisor for the Iraqi parliament for national reconciliation, Wahda al-Jumaili urged the formation of Sunni forces capable to rebel jihadists with international guarantees.
http://english.alarabiya.net/en/News/middle-east/2014/12/08/Some-Anbar-tribes-threaten-to-halt-fight-against-ISIS-if-not-armed.html
----------
Islamic State executes Shi'ite militia fighters north of Baghdad
Reuters | December 08, 2014
Baghdad: Islamic State fighters executed 12 Shi'ite militiamen north of Baghdad after heavy fighting for control of a rural village, security sources said on Sunday.
Army and police officials said Iraqi security forces and the Shi'ite militia fighters launched an attack on Friday against Islamic State militants on Tal al-Thahab, near the town of Balad, 80km (50 miles) north of the Iraqi capital.
They managed to drive the militants from their base in Tal al-Thahab police station on Friday, but hours later the Islamic State fighters returned and surrounded it, trapping dozens of security forces and militiamen inside.
"Supporting troops with cover from army helicopter reached the area and managed to break the siege. We have confirmation from our sources that 12 volunteer fighters were executed on Saturday by terrorists," said an army intelligence officer on condition of anonymity.
Balad's mayor, Amir Abdul Hadi, confirmed that some of the Shi'ite militiamen were executed by Islamic State near Balad and others were missing after Friday's battle, but said he did not have details. Officials said 10 militiamen were missing.
Sources at Balad hospital said they had received at least six bodies of militia fighters believed to have been killed in the first wave of fighting on Friday.
Balad, which houses a shrine to a revered Shi'ite imam, is one of several towns north of Baghdad which has seen heavy fighting between Islamic State fighters, who control large parts of north and west Iraq, and Iraqi security forces and pro-government Shi'ite militia.
Security and local officials said more Shi'ite militia fighters were gathering in Balad to try to drive out Islamic State militants from areas surrounding the town.
"We have asked the residents to stock food and basic material to prepare for an imminent military operation against the terrorists around Balad," one official said.
In the town of Tarmiya, between Balad and Baghdad, militants detonated a car bomb overnight at a security checkpoint before attacking with guns. Five police and three civilians were killed, security and medical sources said.
http://www.deccanchronicle.com/141208/world-middle-east/article/islamic-state-executes-shiite-militia-fighters-north-baghdad
----------
Iraqi Air Strikes Kill over 25 ISIL Militants near Samarra
8 December 2014
At least 25 ISIL militants were killed in air strikes near the city of Samarra in Northern Iraq, as the Iraqi Army intensified its offensive on the Takfiri group, a security source said.
A senior army official said that the Iraqi air strikes bombed the positions of the ISIL Takfiri group in Albu Agel area in Yathrib, leaving dozens of the militants dead and a number of their vehicles destroyed.
The ISIL Takfiri terrorists currently control parts of Syria and Iraq. They have threatened all communities, including Shiites, Sunnis, Kurds, Christians, Ezadi Kurds and others, as they continue their atrocities in Iraq.
Senior Iraqi officials have blamed Saudi Arabia, Qatar, and some Persian Gulf Arab states for the growing terrorism in their country.
The ISIL has links with Saudi intelligence and is believed to be indirectly supported by the Israeli regime.
http://english.farsnews.com/newstext.aspx?nn=13930917000310
----------
Iraqi Forces Kill 5 Terrorists in Anbar
8 December 2014
The Iraqi security forces killed 5 terrorists and seized 3 bombs in Anbar province.
"A security force killed 5 terrorists and destroyed their shelter in Thira Dijla and al-Nimiya areas of Anbar province," the Ministry of Defense said in a statement on Sunday.
http://english.farsnews.com/newstext.aspx?nn=13930917000605
----------
Egypt restricts travel to Turkey to 'limit terrorism recruitment'
8 December 2014
A new policy banning Egyptian citizens from traveling to Turkey without approval from state security has been introduced Sunday in Egypt, according to Agence France-Presse
The new measure is aimed at preventing Egyptians from joining militant groups in Syria and Iraq by travelling through Turkey, the Ministry of Interior's spokesman Hany Abdel-Latif said.
The move will see Egyptians aged 18-40 obliged to apply for security clearance in central Cairo ahead of departure to Turkey.
More than 200 people travelling to Turkey have been prevented from doing so over the past 24 hours as a result of not obtaining the relevant security clearance, according to the Associated Press.
The same restrictions apply to Egyptians travelling to both Syria and Iraq.
Ties between Turkey and Egypt have deteriorated following the ouster of Islamist President Mohammad Mursi in July 2013.
http://english.alarabiya.net/en/News/middle-east/2014/12/08/Egypt-restricts-travel-to-Turkey-to-limit-terrorism-recruitment-.html
----------
The covert war against Hezbollah's arms program
8 December 2014
Every once in a while, the covert war against the Hezbollah- Syrian-Iranian arms smuggling network seems to break out into the public sphere.
It is safe to assume this can occur when Israel's defense establishment detects an imminent attempt by that network to transfer advanced weapons to the terrorist organization in Lebanon, thereby violating Israel's red line against such smuggling.
Hardly a week passes without Israel blocking – in one way or another – an Iranian arms smuggling attempt, though most such actions remain covert, far from the public eye. These efforts possibly involve close cooperation between Military Intelligence, the Mossad and the Shin Bet (Israel Security Agency).
The Assad regime, despite its dwindling control of Syria, remains Hezbollah's main weapons depot, from where both Syrian-made and Iranian-produced arms often pass through en route to Hezbollah storage facilities in Lebanon. When this happens, Israel's choice is to either intervene, or watch closely and map out the location of the arms once they are stored in Lebanese apartment buildings and bunkers.
Full report at:
http://www.jpost.com/Arab-Israeli-Conflict/Analysis-The-covert-war-against-Hezbollahs-arms-program-383945
----------
Hezbollah drones, anti-aircraft missiles destroyed in alleged IAF attack
8 December 2014
Syrian opposition sources told Arab media on Monday that the airstrikes near Damascus that were alleged to have been carried out by Israeli warplanes destroyed a storage facility housing anti-aircraft missiles as well as drones belonging to Hezbollah.
While the Lebanese Shi'ite group has yet to officially comment on the attack, Channel 2 is citing a report in the Hezbollah-affiliated newspaper Al-Akhbar which said that "the Israeli action was intended to preserve the rules of the game."
The newspaper claimed that the IAF struck weapons caches "that belonged to Hezbollah." These arms are considered to be "capable of tilting the strategic balance," namely threaten Israel's ability to act freely in the skies above Lebanon.
The IAF has struck Syria several times since the start of the three-year conflict, mostly destroying weaponry such as missiles that Israeli officials said were destined for their longtime foe Hezbollah in neighboring Lebanon.
Full report at:
http://www.jpost.com/Arab-Israeli-Conflict/Hezbollah-drones-anti-aircraft-missiles-destroyed-in-Syria-attack-opposition-claims-383962
----------
26 foreigners among 135 arrested for 'terrorism' in Saudi Arabia
AFP | December 08, 2014
Riyadh: Saudi Arabia said Sunday it has arrested 135 suspects for "terrorism" offences, after the kingdom's participation in air strikes against Islamic State group extremists raised concerns about possible retaliation.
The suspects include 26 foreign nationals, mostly from Syria, interior ministry spokesman General Mansour al-Turki said, cited by the official Saudi Press Agency.
The arrests followed "repeated attempts to harm the security and stability of the homeland", Turki said without specifying when they were detained.
Forty of the suspects had gone to "zones of conflict, joined extremist groups and trained in the handling of weapons... before returning to the kingdom to destabilise the country," Turki said.
Full report at:
http://www.deccanchronicle.com/141208/world-asia/article/26-foreigners-among-135-arrested-terrorism-saudi-arabia
----------
Back from jihad, Jordanians pick up their lives
Associated Press
8 December 2014
MAAN, Jordan -- The three young Jordanians didn't start out as extremists. They grew up in mainstream Muslim families. But they grew increasingly angry at what they felt were Western injustices against Muslims -- and decided to join the jihad in Syria and Yemen.
Now they are home from war, trying to live ordinary lives, knowing they are under heavy surveillance by Jordanian security agencies. Two brothers, Omar and Abdullah Mansour, are back in their father's house. A third returnee found a part-time teaching job and plans to marry.
But they abide by their hard line vision of Islam and are confident it is gaining popularity.
The Islamic State group could one day rule the region, said the teacher, who spoke on condition of anonymity for fear of trouble with Jordanian authorities. Its radical fighters are the defenders of Sunni Muslims against rival Shiites and the West, he said.
Full report at:
But, he said, growing economic pressure "might lead the country to an explosion."
http://www.dailyherald.com/article/20141206/news/141208836/
----------
Al-Qaida-inspired rebels gain in Syria, making life even worse for US-allied forces
8 December 2014
ANTAKYA, Turkey — The main al-Qaida affiliate in Syria is extending its control over a swath of territory that was until recently held by the collapsing moderate opposition, jeopardizing U.S. plans to form a new rebel force to fight extremists.
Since routing two of the biggest Western-backed rebel movements last month from the province of Idlib, Jabhat al-Nusra has been steadily consolidating its position as the single most powerful military force in northwestern Syria.
The group has overrun towns and villages throughout the province, secured supply routes into neighboring Turkey and potentially paved the way for the establishment of an Islamic "emirate" - a competing entity to the "caliphate" declared last summer by the Islamic State in northeastern Syria and western Iraq.
Full report at:
http://www.stripes.com/news/middle-east/al-qaida-inspired-rebels-gain-in-syria-making-life-even-worse-for-us-allied-forces-1.317791
----------
UAE leads Islamic economy index
Abdul Basit – Chief Reporter / 8 December 2014
The State of the Global Islamic Economy Report on Sunday iterated Dubai's leading role as an incubator of knowledge for the Islamic economy industry.
Dubai Islamic Economy Development Centre (DIEDC), in partnership with Thomson Reuters and in collaboration with the Dinar Standard launched the 2014-2015 report for the second consecutive year, and introduced the 'Global Islamic Economy Indicator (GIEI).
The GIEI presents the current development health of Islamic economy sectors across 70 core countries. The UAE, Malaysia and Bahrain lead this inaugural composite Index.
The report, which indicates the continuing build-up of the Islamic economy momentum, estimates that global expenditure of Muslim consumers on food and lifestyle sectors grew 9.5 per cent from previous years' estimates to $2 trillion in 2013 and is expected to reach $3.7 trillion by 2019 at a compound annual growth rate of 10.8 per cent. This forms the potential core market for halal food and lifestyle sectors.
Full report at:
http://www.khaleejtimes.com/kt-article-display-1.asp?xfile=data/uaebusiness/2014/December/uaebusiness_December98.xml&section=uaebusiness
--------
UAE: Stabbing of US teacher a 'lone terrorist act'
Associated Press
8 December 2014
DUBAI, UNITED ARAB EMIRATES — The woman accused of stabbing to death an American teacher in a public restroom at an Abu Dhabi mall last week was carrying out a "lone terrorist act," a security official in the United Arab Emirates said Sunday.
"Nothing so far suggests that the accused has links with terrorist organizations," said the unnamed official, who was quoted by the official UAE news agency.
The official said initial investigations and evidence show that the Emirati woman, who also planted a bomb outside an American doctor's home, learned how to manufacture explosives from websites affiliated with terrorist organizations.
The homemade bomb was located and defused by police shortly after the stabbing.
The suspect's foreign targets appear to have been selected randomly, the official said.
Police released video last week of CCTV footage showing the alleged attacker shrouded in the full black veil commonly worn by women throughout the Gulf Arab region as she left the mall where 47-year-old Ibolya Ryan, who had previously lived in Colorado, was killed.
Full report at:
http://www.sunherald.com/2014/12/07/5957098_uae-stabbing-of-us-teacher-a-lone.html?rh=1#storylink=cpy
----------
India
Babri not Hindu-Muslim Fight but Secularism-Communalism Confrontation
8 December 2014
ALIGARH: Eminent historian Irfan Habib on Sunday called upon "all secular forces irrespective of political affiliations" to join hands and unitedly face the onslaught of the "communal forces".
"The events of the past few months and the growing threat to the very concept of India have prompted me to issue this appeal to all secular parties. Certain policies of the present government, especially saffronisation of education and history, have convinced me that there is an urgent need now to speak out," he said, while delivering a lecture at Aligarh Muslim University.
Habib said there were already ominous signs that BJP is planning to rake up contentious issues including the Ayodhya dispute. "Fears on such matters are not without justification because once this government is unable to fulfil its promise of 'achche din' for the common man, they will be prompted to take resort to such divisive and polarising issues."
Referring to the Babri Masjid-Ram Mandir issue, the noted historian said, "This should never have been viewed as an issue between Hindus and Muslims. It was in fact a confrontation between the forces of secularism and humanism on one side and the forces of communalism on the other."
"The legal battle for defending the Babri Mosque was fought almost entirely by those historians who were Hindu by faith. They defended the Babri Mosque because they were convinced by the historical evidence which they had unearthed," he said.
http://timesofindia.indiatimes.com/india/Babri-not-Hindu-Muslim-fight-Irfan-Habib/articleshow/45403692.cms
----------
Jamaat Ulema-e-Hind Working In J&K to Show Where RSS Meets Islam
8 December 2014
Unlike in Jammu where it is running an exclusively Hindutva campaign, the BJP has set about tapping the Muslim vote-bank in Kashmir. The RSS's Muslim Rashtriya Manch and the Islamic organisation Jamaat Ulema-e-Hind have been silently working with the local clergy and among people to spread the message that "Narendra Modi is the only saviour of the interests of Kashmiri Muslims and he will ensure they have the same rights as citizens in Delhi and Mumbai do."
A group of around 150 clerics of the Daryaganj-based Jamaat, which is close to the RSS and the BJP, has been working for two months to "build bridges with the local clergy" and market Modi's development plan for Kashmir.
"There is a lot of fear here," said Maulana Suhuib Qasmi, Jamaat national president. "We are talking to madrasa boards and mosque associations, and plan to talk even to Jamaat-e-Islami people, to remove the fear of the BJP and the RSS. The RSS is not anti-Muslim."
Qasmi is a product of Darul Uloom, Deoband. He said it is "just a coincidence" that his organisation has a name similar to that of one of the country's biggest Islamic organisations, Jamiat Ulema-e-Hind (which itself has two factions).
Full report at:
http://indianexpress.com/article/india/politics/for-bjp-working-to-show-where-rss-meets-islam/#sthash.jq5SXn79.dpuf
----------
Pakistan's ISI ordered Lashkar-e-Taiba attack on Kashmir
DC CORRESPONDENT | December 08, 2014
New Delhi: Specific intercepts by intelligence agencies between top Lashkar-e-Tayyaba co-mmanders on both sides of the border have revealed that the attack at an Army camp in Mohura, in the Uri sector, was carried out on the direct orders and supervision of senior officers of Pakistan's Inter-Services Intelligence.
Top intelligence sources said that after these attacks there was a sharp rise in exchange of messages across the border that were intercepted by the security agencies.
In fact, in one specific intercept, the Lashkar operatives mention the role of an ISI major who trained the six Lashkar "fidayeen" terrorists who attacked the Army camp.
"We are working on these leads and for operational reasons are not disclosing the details of these intercepts. But there is no doubt that Pakistani agencies were involved in the incident and we will soon submit a formal report to the government. We are even doing a forensic examination of a cellphone recovered from one of the killed terrorists. The GPS set recovered from the terrorists is also being analysed." a senior intelligence official said.
Full report at:
http://www.deccanchronicle.com/141208/nation-current-affairs/article/pakistans-isi-ordered-lashkar-e-tayyaba-attack-kashmir
----------
Mumbai's ISIS recruit a trained suicide bomber
Deeptiman Tiwary,TNN | Dec 8, 2014
NEW DELHI/MUMBAI: ISIS recruit from Kalyan, Areeb Majeed, is a trained suicide bomber who made as many as three attempts on security forces at different vital installations in Syria without any success, it has now emerged. His bullet injuries too were sustained in one of the many battles, including the August offensive on Mosul dam in Iraq, he participated in as an ISIS man against Iraqi and US forces.
These are some of the revelations Majeed made during interrogation, confirming the worst fears of security agencies that the engineering student from Mumbai's suburb is more than a boy gone astray. Until now, Majeed had maintained that he had not participated in any ISIS battle. He had also said that the two bullet injuries he sustained were during practice firing and that ISIS made him work as a mason.
Full report at:
http://timesofindia.indiatimes.com/india/Mumbais-ISIS-recruit-a-trained-suicide-bomber/articleshow/45407766.cms
----------
India-Pak trade bodies seek authorization to recommend visas for businessmen
TNN | Dec 8, 2014
AMRITSAR: Commerce chambers of India and Pakistan admitted their failure in clearing the stumbling blocks for smooth flow of trade among the two nations and have demanded from both the governments to empower them with 'visa recommendation' authority. Members of business chambers of India and Pakistan are participating in the trade expo PITEX being held in Amritsar.
In a press release issued here on Sunday, deputy director PHD chamber of commerce and industry, Surjit Kaur said, "In the 9th edition of PITEX at Amritsar, it was observed that despite a lot of efforts of chambers from both countries, nothing concrete could come out and trade is facing lot of problems."
She also informed that PHDheld a meeting with trade chambers of Pakistan from Lahore, Sargodha, Jhelum and Gujranwala and resolved to pursue with their respective governments for the issuance of business visas on the recommendations of recognized trade bodies.
In another resolution, they recommended for a business park at the Attari border where industrialists of India and Pakistan could showcase their products, have short meetings and strike deals without visa restrictions.
http://timesofindia.indiatimes.com/india/India-Pak-trade-bodies-seek-authorization-to-recommend-visas-for-businessmen/articleshow/45407305.cms
----------
Punjabi University Withdraws Invite to Pak Envoy, Qawwals
Amaninder Sharma,TNN | Dec 8, 2014
PATIALA: Following the serial terror attacks in Jammu and Kashmir on December 5, which left eight Indian soldiers dead, five of whom were from the region, Punjabi University, Patiala, on Sunday, withdrew its invitation to Pakistan high commissioner and a group of Pakistani Qawwals scheduled to participate in the international conference on "Sufism and Sikhism".
This comes days after popular Pakistan band Sachal Jazz Ensemble was on December 1 denied permission to hold a music concert in Mumbai due to security reasons.
Sources said that while Baba Farid Centre for Sufi Studies of the University, which is organizing the conference, had invited Pakistani high commissioner Dr Abdul Basit to attend the inaugural session, the Pakistan high commission had assigned a senior diplomat to attend the conference.
The Qawwals, Farid Ayyaz and Abbu Mohammad, were to perform at the Sufi night on December 9, said officials.
Full report at:
http://timesofindia.indiatimes.com/india/Post-JK-terror-attacks-Punjabi-varsity-withdraws-invite-to-Pak-envoy-qawwals/articleshow/45407340.cms
----------
Clear Pakistan link to Uri attack, militants highly trained: Army
8 December 2014
The Army Sunday said there was an "unambiguous and clear" Pakistan link to the militant attack in Uri in which 11 security personnel, including eight soldiers, were killed, and that those who carried it out were trained like "Special Forces".
"The Pakistan link to the Uri terror attack was unambiguous and clear," said GoC 15 Corps Lt Gen Subrata Saha.
"The pictures of food, weapons, even antiseptic creams found on the slain terrorists were enough evidence to see the involvement of Pakistan in these attacks."
The Army officer also said the militants involved in the Friday attack were looking for "civilian targets".
"These terrorists were highly-trained like Special Forces. The kind of ammunition they were carrying shows they were in for a big haul," he said. "The aim of militants must have been to come and strike at civilian targets to cause fear and disrupt the peaceful conditions during ongoing Assembly polls."
Full report at:
http://indianexpress.com/article/india/india-others/clear-pak-link-to-uri-attack-militants-highly-trained-army/#sthash.knl9Szvf.dpuf
----------
VHP Workers Detained By Police for Burning Effigy of Hafiz Saeed
8 December 2014
Police on Sunday detained four Vishwa Hindu Parishad (VHP) workers for burning an effigy of Pakistan-based terror outfit Jamat-ud-Dawa (JuD) chief Hafiz Saeed in Nizampura area of the city.
"Four Vishwa Hindu Parishad (VHP) workers were detained on Sunday for burning the effigy of Hafiz Saeed in Nizampura area of the city," a police station officer (PSO) in Fatehgunj area, Akshay Kumar Govind said.
The VHP workers were detained for burning the effigy in public without taking any prior permission from the city police as well as disrupting law and order situation here, Govind said.
The saffron outfit's workers protested against Saeed for allegedly saying that Pakistanis and Kashmiris are "blood brothers" who cannot be separated.
Bhagwan Bharwad, who led the protest against Saeed, said, "We want war with Pakistan. India should not hold any dialogue with Pakistan. Hafiz Saeed is the mastermind of the 26/11 attack and so he must be punished."
Full report at:
http://indianexpress.com/article/india/india-others/gujarat-vishwa-hindu-parishad-workers-detained-by-police-for-burning-effigy-of-hafiz-saeed/#sthash.gmGYtm13.dpuf
----------
Your problem is my problem, Modi tells Kashmiris
8 December 2014
Prime Minister Narendra Modi on Monday invoked Atal Bihari Vajpayee's concepts of communal harmony, humanity and democracy to share the pain of Kashmiris and promised to take the state to new heights of development.
"People of Kashmir have given me a lot of trust and love.
I will repay this love and trust with interest in the form of development. I can die for this love and trust showered on me," he said in his first election meeting in the Valley, that avoided any mention of controversial issues like abrogation of Article 370.
Full report at:
http://www.thehindu.com/news/national/your-problem-is-my-problem-modi-tells-kashmiris/article6672753.ece
----------
South Asia
Eight sentenced to death for attacks in China's Xinjiang
8 December 2014
BEIJING: A court in China condemned eight people to death Monday for two deadly attacks in the violence-torn region of Xinjiang region, home to the mostly Muslim Uighur minority, state media said.
Five others were given suspended death sentences, according to state broadcaster CCTV -- a penalty normally commuted to life in prison -- with another four jailed.
In one incident, assailants armed with knives and explosives attacked a train station in the regional capital Urumqi in April, killing one person and wounding 79 on the final day of a visit by Chinese President Xi Jinping. Two assailants also died.
The following month 39 people were killed, along with four attackers, and more than 90 wounded when assailants threw explosives and ploughed two vehicles through a market in Urumqi, state media said.
The sentences, handed down by the Intermediate People´s Court in Urumqi, are the latest as Beijing imposes a harsh crackdown on violence in the vast resource-rich region in China´s far west.
Full report at:
http://www.thenews.com.pk/article-168082-Eight-sentenced-to-death-for-attacks-in-Chinas-Xinjiang
----------
Afghan students find inspiration in Islamic State's success
8 December 2014
KABUL: A quiet student at Kabul University, 25-year-old Abdul Rahim has a dream: to join Islamic State in Syria and fight for the establishment of a global caliphate — a new, alarming form of radicalism in war-weary Afghanistan.
"When hundreds of foreigners, both men and women, leave their comfortable lives and embrace Daish, then why not us?" he asked, using a word for Islamic State common in the region.
Although IS is not believed to have operations in Afghanistan, its influence is growing in a country already mired in daily bombings and attacks by Taliban insurgents.
With most foreign combat troops leaving the country by the end of the year, there is growing uncertainty over what direction Afghanistan will take, with the emergence of IS ideology adding a new risk.
A few dozen students have set up an underground group a few months after IS started making inroads into Central and South Asia this year.
Full report at:
http://www.dawn.com/news/1149566/afghan-students-find-inspiration-in-islamic-states-success
-------------
19 rebels killed in past 24 hours
8 December 2014
The interior ministry of Afghanistan reports that the operations were conducted in in Nangarhar, Parwan, Baghlan, Kandahar, Zabul, Uruzgan, Maidan Wardak, Logar, Ghazni, Khost and Paktika provinces jointly by Afghan National Police and National Directorate of Security personnel.
A statement issued by the ministry states that two insurgents were also wounded during the operations and another arrested.
The statement adds that 4 IDS were defused and admonitions were seized from the position of the terrorists.
http://www.khaama.com/19-rebels-killed-in-past-24-hours
----------
Ghani wants slower withdrawal of foreign forces from Afghanistan
8 December 2014
In a meeting with the American defense minister Chuck Hagel, Afghan president Mohammad Ashraf Ghani sought a slower pace of the withdrawal of foreign forces from Afghanistan.
American president Barack Obama recently signed a decree allowing 9800 additional soldier in Afghanistan which will put the number of the US soldier in this country to 10800, but Afghan president says America needs to review its strategy.
Reports states in the meeting with Chuck Hagel, Afghan president was keen to have a larger number of foreign soldiers till the end of 2016.
A large number of foreign soldiers are scheduled to be leaving Afghanistan till the end of this year and only a specific number of them will remain in Afghanistan.
http://www.khaama.com/ghani-wants-slower-withdrawal-of-foreign-forces-from-afghanistan
----------
China lauds successes achieved in Zarb-i-Azb operation
8 December 2014
RAWALPINDI: The State Councillor and Minister for Public Security, People's Republic of China, Guo Shengekun, called on Chief of Army Staff General Raheel Sharif in his office on Sunday.
According to a press release of the Inter Services Public Relations, issues of mutual interest, regional security and measures to enhance bilateral defence and security collaboration were discussed during the meeting.
Mr Guo and other members of the Chinese delegation were briefed about the situation prevailing in the region.
The Chinese dignitaries acknowledged Pakistan's efforts in fight against terrorism and towards regional stability.
They appreciated the successes achieved in Operation Zarb-i-Azb being carried out by the military against militants in North Waziristan.
http://www.dawn.com/news/1149470/china-lauds-successes-achieved-in-zarb-i-azb-operation
------------
Pakistan
Twitter suspends 26/11 mastermind Hafiz Saeed's account
TOI Tech | Dec 8, 2014
NEW DELHI: Social networking service Twitter has suspended the account of Jamaat-ud-Dawah (JuD) chief Hafiz Saeed (@HafizSaeedJUD), the prime accused in the 26/11 2008 Mumbai terror attack case.
The suspension follows Saeed's recent tweets against India after his vituperative rally in Lahore. He had tweeted on December 5, "Ghazwae Hind inevitable, Kashmir will be freed, 1971 avenged and Ahmedabad Gujrat victims will get justice".
#Pakistan RT @HafizSaeedJUD Ghazwae Hind inevitable, Kashmir will be freed, 1971 avenged and Ahmedabad Gujrat victims will get justice
— Myra MacDonald (@myraemacdonald) December 5, 2014
The terror mastermind and chief of Lashkar-e-Taiba's front Jamaat-ud-Dawah Hafiz Saeed had also blamed India for the flood in Jammu & Kashmir in September, which had also affected Pakistan-occupied Kashmir and some parts of Pakistan.
Saeed had said on Twitter: "Occupied Kashmir cannot be looked after by the Modi-led government, what can it do for those in Azad Kashmir? Give them Freedom if you may." Saeed had claimed that India was responsible for the flood and had "released waters in rivers without notifying Pakistan".
http://timesofindia.indiatimes.com/tech/social/Twitter-suspends-26/11-mastermind-Hafiz-Saeeds-account/articleshow/45412106.cms
----------
Three troops, 5 militants killed in Tirah clash
8 December 2014
LANDI KOTAL: Three soldiers and five militants were killed in a clash after an attack on a checkpost in Tirah valley of Khyber Agency on Sunday.
According to security officials, armed men belonging to the banned Tehreek-i-Taliban Pakistan attacked the checkpost in Sher Khel area of Zakhakhel, near Maidan, early in the morning. The area is close to the Afghan border.
The fighting between security personnel and attackers lasted several hours, leaving five Taliban dead and eight injured. Three soldiers also lost their lives and four others suffered injuries, they said.
The checkpost was set up by the army after evicting the Taliban from Tirah during an operation in June last year.
The attack was repulsed, the officials said.
Pazir Gul adds from Peshawar: A security official was killed and another injured when an improvised explosive device went off in Dattakhel area of North Waziristan.
Security personnel were carrying out a search operation in the area when the explosion occurred. The area was cordoned off after the incident.
http://www.dawn.com/news/1149464/three-troops-5-militants-killed-in-tirah-clash
----------
Maulana Fazl faces hostile PTI workers in London
8 December 2014
LONDON: The Pakistan Tehreek-e-Insaf workers surrounded Maulana Fazlur Rehman and chanted slogans against him as the Jamiat Ulema-i-Islam chief came out of a mosque.
According to reports, the PTI workers tried to manhandle the maulana but a spokesman for the Imran Khan led party denied the charges saying demonstrators wanted to lodge protest.
Our correspondent says PTI and JUI-F workers also engaged in a brawl as Maulana came out of a mosque in London's South Hall area after attending a ceremony in memory of Khalid Soomro, who was assassinated in Sindh on November 29.
The PTI spokesman said that one of their workers were injured by JUI-F workers. He threatened that the PTI might file a case over the torture.
http://www.thenews.com.pk/article-168038-Maulana-Fazl-faces-hostile-PTI-workers-in-London-
-----------
Tu?çe Albayrak awarded title of Bint-e-Ummah
8 December 2014
The Pakistan Ulema Council [PUC] and Inter-faith Harmony Council International [IFHCI] have announced the title of "Bint-e-Ummah" [daughter of the nation] for a German Turk woman. Hafiz Muhammad Tahir Mahmood Ashrafi [central chairman of PUC and IFHCI], on behalf of IFHCI Europe Chairman Syed Khurram Shah and other members of the executive committee, announced the award of "Bint-e-Ummah" for Tu?çe Albayrak, the Muslim woman who was killed while protecting two non-Muslim girls from being harassed by a group of goons. On this occasion, Hafiz Muhammad Tahir Mahmood Ashrafi said that Tu?çe Albayrak has made Muslims and non-Muslims throughout the world proud. She conveyed the message that Islam preaches peaceful co-existence, harmony, welfare and prosperity for all mankind regardless of race, color, ethnicity or religion. He announced that a delegation of IFHCI will meet Tu?çe Albayrak's family in Germany and present them with an honorary award for the title of "Bint-e-Ummah" from PUC and IFHCI. Muhammad Tahir Mahmood Ashrafi said that as well as Muslims, the entire world should pay tribute to this brave woman who sacrificed her life while protecting two non-Muslim women.
http://www.dailytimes.com.pk/national/08-Dec-2014/tu-e-albayrak-awarded-title-of-bint-e-ummah
----------
Key commanders of Gul Bahadur group killed in Datakhel strikes: reports
8 December 2014
PESHAWAR: Conflicting reports suggest that air strikes conducted in Datakhel tehsil of North Waziristan Agency have killed key commanders of the Hafiz Gul Bahadur group.
The dead are reported to include Gul Bahadur, Sadiq Noor and Akhtar Muhammad along with 30 other militants of the group.
Some sources are saying that at least seven key commanders of the Hafiz Gul Bahadur group have died in the strikes.
Pakistani F16 jet fighters targeted the militants compound and a vehicle in Seen Tanga area of Datakhel tehsil of the agency.
Full report at:
http://www.dawn.com/news/1149403/key-commanders-of-gul-bahadur-group-killed-in-datakhel-strikes-reports
----------
Agencies warn Punjab IS recruiting in Pakistan
8 December 2014
RAWALPINDI: Intelligence agencies have warned the Punjab government that a group of activists from the Islamic State (IS) militant group, also known commonly by its Arabic acronym 'Daish', are currently in Pakistan.
According to a document, marked 'secret' and bearing the subject, 'threat alert', which was submitted to the Punjab government, certain Daish leaders from the Middle East are said to be travelling between Lahore, Multan and Rahimyar Khan. According to the document, intelligence agencies believe that they are being supported by members of Jundullah, a terrorist outfit that has already pledged allegiance to IS leader, Abu Bakar Al Baghdadi.
The document, which was sent to Regional Police Officer Rawalpindi Akhtar Umar Hayat Laleka and other senior police officers across the province, names Zubair Al-Kuwaiti – who is believed to be from the Middle East – and warns local law enforcement to beef up vigilance at entry/exit points to try and capture the men before they have a chance to activate their network inside Pakistan.
Full report at:
xttp://www.dawn.com/news/1149514/agencies-warn-punjab-is-recruiting-in-pakistan
----------
Jamaat-i-Islami sees solution of Karachi issues in free and fair elections
8 December 2014
KARACHI: Jamaat-i-Islami (JI) secretary general Liaquat Baloch has said the people of Karachi want to have their political, democratic and economic rights and if the establishment and the state become neutral, the Karachiites would be able to elect their real representatives in a free and fair elections.
Addressing a press conference here at Idara Noor-i-Haq on Sunday, he said that then people would be able to solve their problems through civilized leadership.
Referring to the confrence held at the Minar-i-Pakistan last month, he said the system of government could be changed and replaced only by a durable and just dispensation through an organised team.
Full report at:
http://www.dawn.com/news/1149432/ji-sees-solution-of-karachi-issues-in-free-and-fair-elections
----------
Imran wants to create chaos in country: govt
8 December 2014
ISLAMABAD: Minister for Information and Broadcasting Pervaiz Rashid said on Sunday that Imran Khan wants to create chaos in the country as he has lost both his memory and temper because he remained failed in achieving his objectives.
Addressing a press conference here in the premises of Press Information Department (PID), Pervaiz Rashid said that Imran Khan himself was the main hurdle in formation of judicial commission. "Imran Khan has lost both his memory and temper because he remained failed in achieving his objectives," Pervaiz Rashid said. He said Imran Khan kept on changing his stance on rigging on daily basis. He said Imran Khan was telling lie regarding four NA constituencies as elections tribunals were already hearing the cases. The minister said international community has declared last general election as most transparent in Pakistan's history.
Minister for Information and Broadcasting said that Imran Khan's nefarious designs are exposed before the nation. The Information Minister said Imran Khan wants to create chaos in the country by holding unconstitutional protests and sit-ins. He said PTI chief is doing politics of violence and agitation. Information Minister said Imran Khan's unconstitutional sit-ins and all his plans have failed but he is not ready to accept it. He urged Imran Khan to fight his case by living in constitutional limits and orbits.
http://www.dailytimes.com.pk/national/08-Dec-2014/imran-wants-to-create-chaos-in-country-govt
----------
Under attack: Militants know how to make the police 'immobile'
December 8, 2014
KARACHI: Militants have found the Achilles' heel of the Karachi police. They have figured out that if they attack police vans, law enforcers won't be able to carry out their routine or snap checks, thus giving them enough elbow room to carry out bigger attacks.
Last month, two police vehicles were damaged in separate militant attacks – for days after, the respective police stations could not send men out for routine duties as there was a shortage of vehicles.
"It looks like they plan to keep the police inside the police stations," said a high-ranking police officer. "Militancy is not something the police should be dealing with but we are fighting it every day." He added that unless the government provided them with proper equipment, support and reforms, the police will have to think about taking a step back.
Since the beginning of the year, more than 135 policemen were killed while on duty. In several assaults, militants attacked the police vehicle by opening fire at them. However, in recent attacks, the militants have shown a preference for using chemicals with bombs – a Full report at:
http://tribune.com.pk/story/803349/under-attack-militants-know-how-to-make-the-police-immobile/
----------
1 killed, another injured in clashes between PTI, PML-N
8 December 2014
FAISALABAD: A 22 year old was killed after a firing incident during the Pakistan Tehreek-e-Insaf (PTI) protest at the Novelty Brigde in Faisalabad while another was seriously injured.
PTI and Pakistan Muslim League-Nawaz (PML-N) supports clashed and police used water cannon to disperse the crowds.
Despite an appeal to shut down Faisalabad by PTI, the day started off with all shops and business operational as usual.
The PTI workers and supporters staged a protest in Faisalabad and while protesting, they set tyres on fire and blocked the roads for traffic.
The agitated workers burnt the tyres at Milat Chowk and Kaleem Shaheed Chowk that blocked the traffic on the adjoining roads.
Full report at:
http://www.thenews.com.pk/article-168066-1-killed,-another-injured-in-clashes-between-PTI,-PML-N
----------
Mideast
Houthis plan to 'raise money in Saudi Arabia through beggars'
8 December 2014
The Houthi rebel movement in Yemen is planning to send a large number of beggars over to the Kingdom in order to raise money for them, sources told Al-Hayat newspaper.
Houthi followers are planning to enter the Kingdom illegally through the southern borders, close to their stronghold, the sources said.
They intend to spread throughout the country's regions and cities and begin begging for money on streets.
The sources said the beggars will be carrying fake medical reports and letters claiming they suffer from different disabilities and will squat near mosques and other public places.
Sources noted the movement would make sure that the money collected by beggars will be transferred to Yemen in ways that are difficult to trace.
The Interior Ministry started a few months ago a crackdown campaign on beggars all over the Kingdom.
Full report at:
http://english.alarabiya.net/en/perspective/features/2014/12/08/Report-Houthis-plan-to-raise-money-in-Saudi-Arabia-through-beggars-.html
----------
Breaking bad in Tehran? Meth use soars as lifestyles speed up
8 December 2014
Women in headscarves and men in tatty clothes puff on a glass pipe as smoke swirls around their faces. The pictures published by Iranian media and blogs in recent months are a sign of a new drug epidemic: shishe, or methamphetamine.
Shishe means "glass" in Farsi, a reference to the appearance of the drug in some of its purest forms.
In less than a decade, methamphetamine use has skyrocketed in Iran to the point where now about 345,000 Iranians are considered addicts, according to official statistics.
Seizures of methamphetamine soared 128 percent between 2008 and 2012, topping all other countries in the region, according to figures compiled by the United Nations Office on Drugs and Crime (UNODC). Last year alone, the government of Iran confiscated 3.6 tonnes of shishe.
A top official from the Iran Drug Control Headquarters said last year that shishe could be found in Tehran in "less than five minutes," according to the Iranian Students' News Agency.
Shishe addicts in Iran are mostly urban, middle class and young, experts say. Notably, there are a large number of women who abuse shishe, too.
One of the main reasons why shishe use has spread quickly in Iran is a lack of information about the drug, which has led casual users to believe, erroneously, that it is not addictive, experts say.
Full report at:
http://english.alarabiya.net/en/perspective/features/2014/12/08/Breaking-bad-in-Tehran-Meth-use-soars-as-lifestyles-speed-up.html
----------
At least 13 killed in failed US bid to rescue hostages in Yemen
8 December 2014
A woman, a 10-year-old boy and a local al Qaeda leader were among at least 11 people killed alongside two Western hostages when U.S.-led forces battled militants in a failed rescue mission in Yemen, residents said on Sunday.
U.S. special forces raided the village of Dafaar in Shabwa province, a militant stronghold in southern Yemen, shortly after midnight on Saturday, killing several members of al Qaeda in the Arabian Peninsula (AQAP).
American journalist Luke Somers, 33, and South African teacher Pierre Korkie, 56, were shot and killed by their captors during the raid intended to free the hostages, U.S. officials said.
AQAP, formed in 2006 by the merger of the Yemeni and Saudi branches of the network, has for years been seen by Washington as one of the movement's most dangerous branches.
Full report at:
http://english.ahram.org.eg/NewsContent/2/8/117394/World/Region/At-least--killed-in-failed-US-bid-to-rescue-hostag.aspx
----------
Gaza writers receive death threats from IS
8 December 2014
GAZA CITY, Gaza Strip — Mystery still surrounds the presence of the Islamic State (IS) in Gaza. Statements in the name of the radical group threatening or claiming responsibility for previous bombings in Gaza are not enough to prove the existence of active members in the besieged Gaza Strip, though IS' extremist ideology is easily spread.
Many Gazans underestimated the importance of the statement issued in the name of IS Nov. 30 in Gaza City demanding that women show "chastity" and abide by Sharia rules of dress. They have excluded the possibility of a real IS presence in the Gaza Strip, which is governed by the same Interior Ministry-affiliated security personnel that ruled under Hamas' Islamist government.
Full report at:
http://www.al-monitor.com/pulse/originals/2014/12/gaza-islamic-state-presence-threats-writers.html#ixzz3LLd93Klf
----------
Israeli minister affirms policy of 'stopping arms transfers to terrorists'
8 December 2014
Israel stressed on Monday that it has a policy of preventing arms transfers to militant groups, a day after Syria accused Israel of bombing Damascus airport.
Israel has launched a series of strikes inside Syria since the armed uprising erupted there in 2011, including raids reportedly targeting weapons bound for Damascus ally Hezbollah in Lebanon.
Intelligence Minister Yuval Steinitz refused to comment directly on Sunday's incident, as was also the case with Israeli officials questioned in the aftermath of previous strikes.
"We have a firm policy of preventing all possible transfers of sophisticated weapons to terrorist organizations," Steinitz told public radio in response to a question about the strikes, and apparently referring to Hezbollah.
Full report at:
http://english.alarabiya.net/en/News/middle-east/2014/12/08/Israeli-minister-affirms-policy-of-stopping-arms-transfers-to-terrorists-.html
----------
Turkey warns three banks in fight against crime, terrorism
8 December 2014
Turkey has warned three banks and urged them to cooperate more effectively with the government to share transaction data "in the fight against terrorism," Finance Minister Mehmet Şimşek said on Dec. 7.
"There are three banks that do not cooperate with the Financial Crime Investigation Board [MASAK] efficiently in the detection of dirty money and in the fight against terrorism. We have warned them," Şimşek said, without naming the banks.
He stressed that it is of great importance in investigating and detecting crimes for MASAK to be informed by banks about suspicious banking transactions, adding that the fight against criminal financial transactions is crucial for Turkey to increase its international credibility and maintain its formal economy.
Full report at:
http://www.hurriyetdailynews.com/turkey-warns-three-banks-in-fight-against-crime-terrorism-.aspx?pageID=238&nID=75310&NewsCatID=344
---------
Africa
Nigeria: 10 Soldiers Die in Battle As Army Repels Boko Haram From Ashaka Town
8 December 2014
THE Nigerian Military, yesterday, put up a brave fight against hundreds of Boko Haram terrorists who attacked the dynamite-manufacturing town of Ashaka in Gombe State.
Their plan was to overrun the town. After several hours of fighting, the Nigerian Army lost 10 soldiers while over 70 Boko Haram terrorists were killed with scores of them sustaining serious gunshot injuries - most of the terrorists fled the town. While running away from the town, the terrorists carried most of their dead members in three trucks.
Confirming the development in the Defence Headquarters twitter handle, Director of Defence Information, Major General Chris Olukolade, noted that the terrorists invaded the town in a convoy of 30 vehicles and many motorcycles.
His words: "Terrorists fleeing Ashaka on Thursday managed to retrieve three truckloads full of their dead members following the defeat and heavy casualty they suffered after a fierce battle with troops in the area.
Full report at:
http://allafrica.com/stories/201412070002.html
-----------
Five years after ceasefire, Niger Delta's retired militants warn of new violence
8 December 2014
PORT HARCOURT, Niger Delta, Nigeria — It's been five years since 32-year-old Livinus Damka turned in his two AK-47s. Those guns used to be his livelihood. They helped bring him decent money.
When Damka was 23 years old, he was one of the thousands of youth in the Niger Delta who took up arms against the Nigerian government, demanding a share of the country's vast oil wealth channeled through pipelines in their local communities. Frustrated by a lack of opportunities, Damka became a militant in the Niger Delta's armed insurgency — a violent struggle marked by kidnapping of foreigners for ransom, vandalizing oil pipelines, setting up illegal oil refineries and fighting Nigerian soldiers.
"It was freedom fighting," Damka says. "We were fighting for our rights."
He and his wife, Rita, live in a small one-bedroom house along a winding, narrow dirt road in Ikwerre, a farming and fishing community in the Niger Delta. They barely make enough money to meet their monthly expenses. As the popular Nigerian saying goes, they are "just managing."
Full report at:
http://www.globalpost.com/dispatch/news/regions/africa/nigeria/141204/niger-delta-retired-militants-ceasefire
----------
Kenya Takes Step Towards Recognising Intersex People in Landmark Ruling
8 December 2014
Nairobi — A Kenyan court has ordered the government to issue a birth certificate to a five-year-old child born with ambiguous genitalia, in a landmark ruling that the child's lawyer said was a first step towards recognising intersex people.
Hospital staff put a question mark next to the box designating gender on a form to record the 2009 birth of the baby whose sex organs were not clearly female or male.
This meant the child never received a birth certificate, necessary to enjoy basic legal rights, such as attending school, getting a national identity document and voting.
"Now they are going to be able to get a birth certificate," the child's lawyer, John Chigiti, told the Thomson Reuters Foundation on Friday. "That's a win."
Full report at:
http://allafrica.com/stories/201412081134.html
-----------
North America
Chomsky: US-Led Anti-ISIS Coalition Meaningless, Illegal
8 December 2014
Renowned intellectual Noam Chomsky said US actions in the Middle East region, including the invasion in Iraq, have created the circumstances, under which ISIS emerged.
"What happened is the US basically hit Iraq with a kind of sledgehammer," instituting a governmental structure, which was sectarian in nature, Chomsky told RT.
"All of this came together to create sectarian conflicts, which had not existed before… That has since expanded, and now it's tearing the whole region apart. Syria is one element of it."
And to solve the mess, the US again decided to act against the international law, building an anti-ISIS coalition that is "meaningless, apart from being illegal."
"A law-abiding state would go to the Security Council, ask for a declaration by the Security Council of a threat to peace, and request the Security Council to organize direct response to it. And that could be done. The US could then participate in it, but so could Iran," which is a major military force and would probably wipe out ISIS in no time, if it was allowed to join the fight on the ground, Chomsky stressed.
http://english.farsnews.com/newstext.aspx?nn=13930917000064
----------
Kerry: Israeli-Palestinian peace is not a pipe dream
8 December 2014
The two-state solution is the only path to peace, US Secretary of State John Kerry said Sunday in Washington, less than 24 hours after Economy Minister Naftali Bennett dismissed that as unrealistic.
Kerry, who spoke at the Brookings Institution's Saban Forum immediately after Prime Minister Benjamin Netanyahu's taped message, said the two-state solution is the only path to peace "for the simple reason that there is no one-state alternative that is viable or can preserve Israel's status as a Jewish state and as a democracy."
At the conference, Bennett – possibly a major player in the next government – defended his plan for Israel to annex 60 percent of the West Bank and grant the Palestinians in the other 40% enhanced autonomy, economic opportunities and infrastructure, adding that the idea of a solution to the Israeli-Palestinian conflict was an illusion.
Without referring directly to Bennett, Kerry said that he was well aware that for many people in Israel, the West Bank and Gaza, "the idea of real peace sounds dubious at best, and impossible to many."
Full report at:
http://www.jpost.com/Israel-News/WATCH-LIVE-Kerry-addresses-pro-Israel-think-tank-in-Washington-383881
----------
ISIS fighter from Ottawa appears in video threatening Canada with attacks
8 December 2014
John Maguire's ISIS video urges attacks on Canadian soil
ISIS attempted to incite further attacks against Canadians on Sunday, issuing a propaganda video in which an Ottawa extremist scolded the government for joining the international military coalition fighting the terrorist group.
The six-minute video said Canadians would be indiscriminately targeted and that Muslims were obliged to either join ISIS or "follow the example" of the attackers who struck in Ottawa and Saint-Jean-sur-Richelieu, Que.
"You either pack your bags, or prepare your explosive devices. You either purchase your airline ticket, or you sharpen your knife," said the video, produced by a propaganda group linked to the Islamic State of Iraq and Al-Sham.
Full report at:
http://news.nationalpost.com/2014/12/07/john-maguire-an-isis-fighter-from-ottawa-appears-on-video-warning-canada-of-attacks-where-it-hurts-you-the-most/
----------
US, NATO ceremonially end Afghan combat mission
8 December 2014
The U.S. and NATO ceremonially ended their combat mission in Afghanistan on Dec. 8, 13 years after the Sept. 11 terror attacks sparked their invasion of the country to topple the Taliban-led government.
NATO's International Security Assistance Force Joint Command, which was in charge of combat operations, lowered its flag, formally ending its deployment.
U.S. Gen. John F. Campbell, commander of NATO and U.S. forces, said that the mission now would transition to a training and support role for Afghanistan's own security forces, which have led the fight against the Taliban insurgents since mid-2013.
"The Afghan security forces are capable," Campbell said. "They have to make some changes in the leadership which they're doing, and they have to hold people accountable."
From Jan. 1, the coalition will maintain a force of 13,000 troops in Afghanistan, down from a peak around 140,000 in 2011. There are around 15,000 troops now in the country.
The mission ends as the Taliban is increasing its attacks. U.S. President Barack Obama recently allowed U.S. forces to launch operations against both Taliban and al-Qaida militants, broadening the mission of the U.S. forces that will remain in the country after the end of the year.
Full report at:
http://www.hurriyetdailynews.com/us-nato-ceremonially-end-afghan-combat-mission.aspx?pageID=238&nID=75322&NewsCatID=359
----------
US military's job 'not over' in Afghanistan: Pentagon chief
8 December 2014
Pentagon chief Chuck Hagel on Sunday told US troops in Afghanistan their mission was not over as they shift to a scaled-back role training their Afghan counterparts.
At a base near the eastern city of Jalalabad, Hagel said it was crucial the United States and its partners ensure hard-fought progress did not unravel as the US-led force draws down to about 12,500 troops.
"There are challenges ahead. The job's not over. This is still a dangerous country in many ways," he told a gathering of US and Polish soldiers.
"We don't want to see that tremendous progress that's been accomplished... we don't want to see that roll back downhill," he said.
In his last visit to Afghanistan as defence secretary after resigning last month, Hagel flew to Gamberi base to get a first hand look at preparations for a new, much smaller NATO mission that will begin in the new year.
Full report at:
http://english.ahram.org.eg/NewsContent/2/9/117403/World/International/US-militarys-job-not-over-in-Afghanistan-Hagel.aspx
----------
US 'did not know' about imminent Yemen hostage release
8 December 2014
The US government was not aware of talks to release a South African hostage in Yemen who was killed during a botched special forces raid, the US ambassador to South Africa claimed Monday.
Pierre Korkie, a 57-year-old South African teacher who was taken hostage by Al-Qaeda militants in Yemen more than a year ago, was killed on Saturday, hours before he was due to be released.
South African relief organisation Gift of the Givers said they had negotiated for Korkie to be freed and had notified his widow Yolande that he would be home soon.
But ambassador Patrick Gaspard told a radio station the US was "completely unaware" of Korkie's imminent release.
Full report at:
http://english.ahram.org.eg/NewsContent/2/8/117434/World/Region/US-did-not-know-about-imminent-Yemen-hostage-relea.aspx
----------
US hands over senior militant to Pakistan
8 December 2014
ISLAMABAD: US troops in Afghanistan said Sunday they had handed over three Pakistani detainees to Islamabad, while a security source said one of them was a senior Pakistani Taliban commander.
"Acting on behalf of the United States government, we transferred custody of three Pakistanis held in US custody in Afghanistan, to Pakistan," US Forces-Afghanistan said in a statement in Kabul.
"This followed consultations between the US and Pakistan and after receiving appropriate assurances", it added.
The statement did not identify the detainees. But a Pakistani security official said one of them was Latif Mehsud, a close aide to the former chief of the Tehreek-e-Taliban Pakistan (TTP), Hakimullah Mehsud.
Full report at:
http://www.thenews.com.pk/article-168072-US-hands-over-senior-militant-to-Pakistan
----------
PYD 'promised' US to not give arms to PKK
8 December 2014
The Democratic Union Party (PYD) has promised that arms sent by the United States to fight against the Islamic State of Iraq and the Levant (ISIL) will definitely not be transferred to the outlawed Kurdish Workers' Party (PKK), PYD co-leader Salih Muslim has told the Hürriyet Daily News.
"We have given a guarantee to the U.S. about not sending the arms to the PKK or using them against Turkey," Muslim said, adding that the U.S. could give arms to the PYD again if required.
Turkish President Recep Tayyip Erdoğan had said on Oct. 25 that the PYD had initially opposed the plan for Iraqi Kurdish Peshmerga forces to join the fight against ISIL in Kobane for "fear of their scheme being disrupted." However, Muslim strongly refuted such claims.
"We have never been against cooperation between the Peshmerga and Kurds. Although some sensitive issues had arisen between these groups earlier, ISIL now pushes Kurds to come together, which is very good," he said.
Full report at:
http://www.hurriyetdailynews.com/pyd-promised-us-to-not-give-arms-to-pkk.aspx?pageID=238&nID=75307&NewsCatID=359
---------
Europe
Religious tolerance is people's lifestyle in Azerbaijan
8 December 2014
Chairman of the Caucasian Muslims Office Sheikh ul-Islam Allahshukur Pashazade met with Mr. Derek Hogan, the chargé d'affaires of the US Embassy in Azerbaijan.
Sheikh ul-Islam spoke of the religious atmosphere and friendly relations among different religious communities in the country, AzerTag reports.
Allahshukur Pashazade noted that the religious tolerance is the everyday lifestyle of the peoples living in Azerbaijan and the sincere relations and close cooperation of the religious leaders is bright example to that.
Sheikh ul-Islam said he has been heading the Supreme Religious Council of the Caucasus Peoples since 1992 and the Caucasian Muslims Office unites representatives of different religions, including Moslems, Christians and Jewish communities. The tradition of tolerance in the Azerbaijan society has been promoted by national leader Heydar Aliyev and this tradition successfully continues, the Head of the Caucasian Muslims Office said.
Tolerance is a universal value with universal character and has no limits, he stressed.
Derek Hogan praised activity of the Head of the Caucasian Muslims Office, noting he had visited Azerbaijani regions to meet with people representing separate religions. "The people trust in the role of Sheikh ul-Islam in strengthening of tolerance", he underlined.
http://www.news.az/articles/society/94113
----------
Islamic State training kids for jihad, UN says
8 December 2014
The Islamic State terror group published photos Saturday of children firing loaded AK-47 assault rifles, assembling weapons and standing in formation, at the "Cubs of the Caliphate" training camp near Damascus, Syria
A total of seven images were distributed across social media platforms, including Twitter and jihadi forums, showing a group of adolescents wearing face masks and military fatigues, crouching in shooting positions, and struggling to cock large weapons.
The Islamic State's exploitation of children for warfare and other purposes was documented in a November report by the UN entitled "Rule of Terror: Living under ISIS in Syria." ISIS, as well as ISIL and IS, is an acronym for Islamic State.
According to the dispatch, the jihadi group has "instrumentalized and abused children on a systematic scale," using them in combat roles, as spies, guards, cooks, medics and even suicide bombers.
Full report at:
http://www.timesofisrael.com/is-kids-train-for-jihad/#ixzz3LLcHIyJ8
----------
French Islamic State fighters: I want to come home!
8 December 2014
French Islamic State members want to come home, according to a report by France's Le Figaro. The report discussed a number of letters sent by French Islamic State, who have been in contact with a group of lawyers in their home country in an attempt to bring them home.
They communicate in a variety of ways — but mainly via Whatsapp, Viber, and email — immediately deleting every message in order not to get caught by IS officials.
One French national was reportedly beheaded after telling his commander that he wanted to leave Islamic State.
The reasons they want to get out are varied, but in general, they present feelings of disappointment and fear, with many saying they were misled into joining.
One regretful jihadi wrote about the lack of modern comforts. "I'm sick and tired. My iPod doesn't even work here. I want to come home!"
Some have complained about the mundane jobs that come along with setting up a global Islamic caliphate.
Full report at:
http://www.jpost.com/Middle-East/French-Islamic-State-fighters-I-want-to-come-home-383885
----------
EU to press Turkey for help in anti-ISIL fight
8 December 2014
New European Union foreign policy chief Federica Mogherini was to meet Turkish leaders Dec. 8 for talks expected to focus partly on the war against the Islamic State in Iraq and the Levant (ISIL) in neighboring Syria.
"The Syrian crisis is going to be one of the key issues on her agenda," an EU official told AFP on Dec. 8. Turkey's EU membership ambitions were also up for discussion.
EU capitals are concerned about spillover from Syria and the possibility of terrorist attacks by the growing number of European nationals returning home after fighting alongside jihadists in Iraq and Syria.
Full report at:
http://www.hurriyetdailynews.com/eu-to-press-turkey-for-help-in-anti-isil-fight.aspx?pageID=238&nID=75326&NewsCatID=351
-----------
UN wants countries to take in 180,000 Syrian refugees
8 December 2014
More than 30 humanitarian organisations launched an appeal on Dec. 8 for countries to take in around 180,000 refugees from the Syrian conflict.
That figure would represent five percent of the projected refugee population by the end of 2015, according to the Office of the U.N. High Commissioner for Refugees (UNHCR).
The issue will be discussed at a conference in Geneva on Dec. 9.
After three years of fighting in Syria, more than 3.2 million refugees are registered in neighbouring countries and with little sign of the conflict coming to an end, the UNHCR believes the number could rise to nearly 3.6 million by the end of 2015.
If countries would take in 180,000 refugees, and an accompanying aid package and economic support was provided to the nations that open their doors, "it would also encourage those countries to keep their borders open to ensure those in Syria can flee the conflict, and could contribute to their stability," the UNHCR said.
Full report at:
http://www.hurriyetdailynews.com/un-wants-countries-to-take-in-180000-syrian-refugees.aspx?pageID=238&nID=75319&NewsCatID=359
----------
Southeast Asia
Minister Says Constitution Doesn't Limit Shariah Laws
8 December 2014
KUALA LUMPUR, Dec 8 — The Federal Constitution empowers Shariah laws and does not limit the Islamic code, minister Datuk Seri Jamil Khir Baharom argued today in response to an open letter from 25 former senior civil servants calling for open debate on religious issues.
The minister in charge of religious affairs also warned that the public will resort to vigilantism if there are constant judicial reviews and challenges between civil and Shariah courts.
"From the beginning, the Constitution allows the existence of Shariah courts. Shariah courts were birthed from the Constitution," Jamil told reporters during the International Seminar on Aqwah 2014 here.
"Why do we want to flip this over by saying Shariah courts are subjected to the Constitution? … We should not entangle the issue."
"We do not agree if cases involving Islam want to be decided in civil courts … It is against an early understanding we had since Independence," added the Minister in the Prime Minister's Department.
Full report at:
http://www.themalaymailonline.com/malaysia/article/under-fire-minister-says-constitution-doesnt-limit-shariah-laws#sthash.XtwTHhoe.dpuf
----------
Police, Soldiers Accused of Opening Fire on Papua Demonstrators: Six Killed
8 December 2014
Jakarta. Six people were reportedly killed while several others remained in a critical condition after a group of police officers and soldiers allegedly opened fire on demonstrators in restive Papua province on Monday morning.
John N.R. Gobai, a local community leader, said the security forces in the capital of Paniai district, Enarotali, opened fire at 10 a.m. on Monday to disperse a group of people angered by the alleged abuse of a child.
"There are four people who died, four others are in critical condition and 22 more suffered [other] injuries after being shot by the police and soldiers," John said. "Those who were injured are currently being treated at Madi hospital in Enarotali, while those who died are still at the field with people surrounding them."
The death toll was later reported to have risen to six.
Full report at:
http://thejakartaglobe.beritasatu.com/news/police-soldiers-accused-opening-fire-papua-demonstrators-four-killed/
----------
After Meeting SBY, Jokowi Says Democrats May Join His Coalition
8 December 2014
Jakarta. President Joko Widodo on Monday hinted that the Democratic Party might officially join the ruling coalition next month.
"We will see in January 2015, Susilo Bambang Yudhoyono has made it very clear so I don't need to keep repeating it," Joko said on Monday after meeting with the Democratic Party chairman and former president.
Joko met with Yudhoyono to discuss the government regulation in lieu of the regional election law (Perppu) that was issued just before Yudhoyono ended his second presidential term.
The current president said Yudhoyono and his party were committed to support his policy to uphold the direct election of regional-level leaders like mayors and governors.
But Joko said the agreement on regional elections could also be seen as the beginning of a union between the Democratic Party and the Awesome Indonesia Coalition (KIH), which is led by the Indonesian Democratic Party of Struggle (PDI-P).
"Let's discuss the Perppu first, it can at least serve as a gate or an entry point [for joining the coalition]," Joko said.
Full report at:
http://thejakartaglobe.beritasatu.com/news/meeting-sby-jokowi-says-democrats-may-join-coalition/
----------
Might Malaysia one day have 'halal' and 'haram' shows?
8 December 2014
KUALA LUMPUR, Dec 8 — A broadcast network executive has floated the idea of "halal" certification for films and TV shows as a way to allay concerns among a segment of Muslims for their daily entertainment dosage to be Shariah-compliant.
Syed Shahridzan Syed Mohamed told a two-day seminar on the entertainment industry and Islam that ended yesterday that he had once mooted the idea to the Malaysian Islamic Religious Development Department (Jakim), but was shot down with the federal religious authority saying the idea was not feasible due to possible overlaps between the country's civil and Shariah legal system.
"I had discussed this with Jakim's preaching division," Syed Shahrizan said.
"We can establish the halal logo, have standards for Islamic banking. Why can't we work to put guidelines, halal and haram logos for the productions in Malaysia?" said the man who heads the Shariah unit in a state-owned free-to-air Islamic television network.
In Malaysia, federal and state religious authorities certify food products with a "halal" logo to indicate that the food is permissible to be consumed in accordance with Islamic teachings and practices.
Full report at:
http://www.themalaymailonline.com/malaysia/article/might-malaysia-one-day-have-halal-and-haram-shows#sthash.mVtyPRCy.dpuf
----------
URL: https://www.newageislam.com/islamic-world-news/new-age-islam-news-bureau/islamic-state-reaps-profits-from-organ-trafficking/d/100382