New Age Islam News Bureau
12 Dec 2014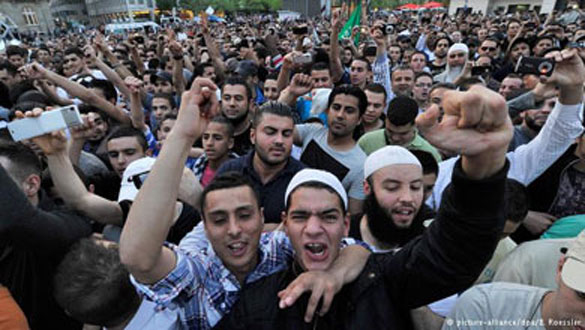 Photo: How Germany Plans To Stop Youngsters from Becoming Radical Islamists
------------
Arab World
• Islamic State Orders Wi-Fi Cut during Prayers
• Iraq's Sadr Tells His Militia to Ready for Anti-ISIS 'Jihad'
• Egypt's Army Kills A Dozen 'Militants' Amid Ongoing Sinai Raids
• Tribal chief: ISIS seizes 15 villages in Iraq's Anbar
• ISIL suicide bomber detonates tank in eastern Syria
• GCC considers accepting KSA, UAE terror lists
• Assad: Syria Regards Russia's Peace Efforts as Positive
• Iraq seeks delay of $4.6bn Kuwait war reparation
• Iraq's Karbala registers record number of pilgrims
• Three IS men held in Riyadh
Africa
• Two Bomb Blasts Kill At Least 40 in Nigerian City of Jos
• French-Mali Sweep Kills Islamic Radical Commander
• Tunisia ex-PM quits own Islamist party
• Sudan security warns Muslim clerics not to incite hatred against Turabi
• Moroccan Hamza Ouarch, World's Best Reciter of the Quran
India
• Darul Uloom Deoband Vows To Revive Anti-Conversion Wing
• Ram Temple Should Be Built At Site of Babri Masjid: UP Governor
• 'Love Jihad' Is Conversion Ploy: VHP
• Bengaluru Man Who Operates ISIS Twitter Handle May Have Fled the City, Cops Say
• Beheading at LoC: Poll over, NDA backs what UPA did
South Asia
• Afghan School Hit By 16-Year-Old Suicide Bomber
• 17 Militants Killed, 16 Injured In Nangarhar Operations
• Attorney General: Claims of Quader Molla's family contemptuous
• Failure to prosecute serious crimes tantamount to "state-sponsored terrorism," says Nasheed
Pakistan
• Taliban Slams Malala Over Nobel Prize, Calls Her 'Soldier against Islam'
• Centre, a Political Party behind Anarchy-Like Situation: LHC
• PA Passes Quranic Education-O-Seerat Institute Bill
• Call for Spreading Message of Warrior Saint Shah Inayat
• Houses of Indian Actors to Be Declared Heritage
• Jirga offers conditional support for Swat cantonment
• PTI wants to make 'big news story' in Karachi: police chief
• CID arrest local al-Qaeda leader, 4 activists from Karachi
• Mysterious circumstances: Indian fisherman dies in Malir jail
Europe
• How Germany Plans To Stop Youngsters from Becoming Radical Islamists
• Jihadist Cases Stretch German Justice to the Limit: Prosecutor
• Fake Jihadi John dupes ISIS followers into believing he'd posed for Twitter pic
• Tajik Court Sentences Four Convicted As Members Of Banned Faith
• UK charity to resume operations in Palestine
• NATO hails Gulf role in fighting radicals
• UN voices 'serious concern' after Taliban attacks hit Kabul
North America
• CIA Letter Shows Pre-War Concern about Iraq 9/11 Link
• Senate Committee Votes To Authorize War against Islamic State
• CIA chief admits agency used 'abhorrent' methods on detainees
• Three students in Pittsburgh launch first Saudi-run radio station in US
• Alaskan Muslims raising the roof of state's first mosque
Southeast Asia
• Jakarta Post Rejects Blasphemy Claim Over IS Cartoon
• 'Allah' restriction not enforceable on non-Muslims in Penang, says Guan Eng
• Hilali-Khan translation does not promote hostility towards non-Muslims, says scholar
Mideast
• Envoy: Leader's Fatwa Leaving No Place for Concern about Iran's N. Program
• Twitter whistleblower's claims on police raids against Gülenists cause stir
• Kurdish insurgency cost 40,000 lives: President's aide
• Abbas backs Egypt crackdown on Gaza tunnels
Compiled by New Age Islam News Bureau
For Details and More Headlines from All Regions, Please click, 'More'
URL:
https://newageislam.com/islamic-world-news/islamic-state-orders-wi-fi/d/100454
------------
Arab World
Islamic State Orders Wi-Fi Cut during Prayers
December 12, 2014
Islamic State militants have ordered shopkeepers to shut down their wireless Internet during prayer times in the eastern Syrian city of Deir al-Zor, a group monitoring the Syrian conflict said on Thursday.
It was a further example of Islamic State imposing controls on public life as it seeks to build what it describes as a caliphate in the heart of the Middle East. The ultra-radical insurgents hold large tracts of territory in Syria and Iraq and are the target of a US-led bombing campaign in both countries.
The Britain-based Syrian Observatory for Human Rights cited an Islamic State document obtained by activists which said: "All shopkeepers must stop broadcasting wireless Internet during prayer times." Muslim prayers are performed five times a day.
The document was issued by the self-declared authorities of Islamic State in the city that control public behavior, according to the Observatory, which tracks the war using a network of sources on the ground.
Islamic State controls most of Deir al-Zor province as well as Raqqa province to the northwest. In Raqqa it has outlawed music and images of people being posted in public and runs nearly everything from bakeries to schools, courts and mosques.
The Observatory reported on Sunday that Islamic State in Deir al-Zor had already ordered cafe owners to shut down their internet overnight to prevent details of its military movements being communicated. Internet coverage is already patchy in contested parts of Syria, now in its fourth year of civil war.
http://www.dhakatribune.com/world/2014/dec/12/islamic-state-orders-wifi-cut-during-prayers#sthash.895sCYzK.dpuf
------------
Iraq's Sadr tells his militia to ready for anti-ISIS 'jihad'
December 12, 2014
Iraq's powerful Shiite cleric Moqtada al-Sadr has put his militia on alert to battle militants belonging to the Islamic State of Iraq and Syria (ISIS) for the city of Samarra, home to a Shiite mosque whose destruction eight years ago plunged the country into sectarian war.
Sadr's office said the announcement was a response to the "exceptional conditions and imminent danger to the sacred city of Samarra from the legions of terrorists," a reference to the Sunni Muslim ISIS fighters who surround Samarra.
It said Sadr had ordered fighters of his Shiite 'Peace Brigades' to be "fully prepared to answer the call of jihad within 48 hours" and to await further instructions. The statement was dated Dec. 10.
Central Samarra is in the hands of the Iraqi army and several Shiite militia who have spearheaded the Shiite-led government's battle against ISIS, which controls of much of north and west Iraq as well as swathes of Syria.
Sadr's Peace Brigades left the city two months ago, but his latest statement suggested they could mobilize to return if ISIS fighters stationed at the approaches to the Tigris River city start to encroach on the urban center itself.
Samarra holds potent symbolism for Iraqis. In February 2006 Sunni militants blew up a shrine to the ninth century Imam Askari, triggering revenge attacks by Shiites which tipped Iraq into years of sectarian violence.
ISIS controls the eastern and western desert approaches to the city, 125 km northwest of Baghdad.
The army holds the road from the south leading to Samarra, but the towns of Mu'tasim and Ishaqi flanking that road are largely controlled by the radical militants, while there have been heavy clashes in the village of Mukaishifa to the north.
Suicide bomber
A colonel in Samarra military operations command said it appeared that ISIS was planning either a direct attack on Samarra or a war of attrition to divert government forces away from battles further north for the city of Tikrit.
Samarra and Tikrit, along with the town of Baiji, lie in Salahuddin province north of Baghdad. Government forces have succeeded in lifting an ISIS siege of Baiji refinery, the country's largest, and secured parts of the north-south highway running along the Tigris River.
But their control is tenuous. A convoy carrying Defense Minister Khaled al-Obeidi came under fire when it drove through Baiji on Monday.
Elsewhere in Iraq, an ISIS suicide bomber blew up a Humvee west of the Anbar provincial capital Ramadi, destroying a bridge and killing two soldiers, an Anbar police source said.
The army, backed by Sunni tribal fighters and security forces attacked ISIS fighters in the Euphrates River town of Hit, also in Anbar, but witnesses said the militants repelled them, seizing vehicles and shooting down a drone.
Iraqi forces, backed by Kurdish and Shiite fighters as well as U.S.-led air strikes, have pushed back Islamic State around Baghdad and some other areas in Iraq, but the militant group still holds large parts of the country.
http://english.alarabiya.net/en/News/middle-east/2014/12/11/Iraq-s-Sadr-tells-his-militia-to-prepare-for-anti-ISIS-jihad-.html
------------
Egypt's army kills a dozen 'militants' amid ongoing Sinai raids
December 12, 2014
Egyptian troops killed 12 suspected militants in fresh assaults in the restive Sinai Peninsula, where the military continues to combat an Islamist insurgency, an army spokesperson said.
Seventy others suspected of carrying out "terrorist" attacks against army and police forces were arrested in raids that took place from 3 to 10 December in the in the border region, which adjoins Israel and the Palestinian Gaza Strip, army spokesperson Mohamed Samir said Thursday in a statement.
Late in October, 31 soldiers were killed in two militant attacks in North Sinai, the deadliest violence since the 2013 ouster of Islamist president Mohamed Morsi unleashed a spike in militant activities.
The attacks were claimed by the Sinai-based Ansar Beit al-Maqdis, a militant group that has sworn allegiance to the Islamic State.
The army has struggled to crush militant violence based in Sinai which has killed hundreds of police and troops and at times expanded to mainland cities including Cairo.
Last month, the army began demolishing houses and clearing residents in the border city of Rafah as part of its evacuation plan to set up a buffer zone aimed at deterring militant infiltration and arms smuggling.
The move came in the aftermath of the deadly October attacks.
http://english.ahram.org.eg/NewsContent/1/64/117702/Egypt/Politics-/Egypts-army-kills-a-dozen-militants-amid-ongoing-S.aspx
-----------
Tribal chief: ISIS seizes 15 villages in Iraq's Anbar
12 December 2014
Radical militant group ISIS is in control of 15 villages in the Iraqi province of Anbar, a tribal figure told Al Arabiya News.
Sheikh Naeem al-Ku'oud, one of Anbar's tribal notables, said ISIS recaptured these villages after they were previously liberated by the Western province's tribesmen.
Meanwhile, 35 members of Albu Nimr tribe were captured by ISIS after battles against the radical group in al-Mahboubiya near Heet, west of the province, Al Arabiya News Channel's correspondent reported.
The captives were reportedly taken to a public execution court in Heet.
However, in the eastern Salah al-Dina province, security forces declared that they were in control of the Beiji district north of Tikrit.
In a related story, NATO said on Thursday that it was reviewing an Iraqi request for help building up its military as the government struggles to defeat ISIS.
"Iraq has now requested NATO support in defense capacity building," alliance head Jens Stoltenberg told regional partners at the NATO and Gulf Security conference in Qatar on Thursday.
He added: ISIS "poses a grave threat to the Iraqi and the Syrian people, the wider region and all of our nations."
http://english.alarabiya.net/en/News/middle-east/2014/12/12/Tribal-head-ISIS-seizes-15-villages-in-Iraq-s-Anbar-.html
------------
ISIL suicide bomber detonates tank in eastern Syria
December 12, 2014
An Islamic State of Iraq and the Levant (ISIL) suicide bomber detonated a tank at a Syrian air base in the province of Deir al-Zor, one of the last remaining government strongholds in eastern Syria, jihadist social media and a monitoring group said on Dec. 12.
One ISIL Twitter account published two photos of a smiling man it named Abu al-Farouq al-Libi, who it said carried out the "suicide operation".
The al Qaeda offshoot ISIL has been gradually consolidating control of the oil-producing Deir al-Zor region this year. President Bashar al-Assad's forces have held on to the local military air base and parts of the provincial capital.
On Dec. 6, militants entered the base but were swiftly repelled. Deir al-Zor borders territories in Iraq are also controlled by Islamic State. The province's oilfields are a source of revenue for the group.
Full report at:
http://www.hurriyetdailynews.com/isil-suicide-bomber-detonates-tank-in-eastern-syria.aspx?pageID=238&nID=75535&NewsCatID=352
------------
GCC considers accepting KSA, UAE terror lists
December 12, 2014
Kuwaiti Minister of Interior Sheikh Mohammed Khalid Al-Sabah has said that the country is considering accepting the terrorist lists issued by Saudi Arabia and the UAE, and indicated that the Kuwaiti move may pave the way for similar steps by the rest of the Gulf states.
Al-Sabah warned against complacency in maintaining security in the Gulf, noting that the fight against terrorism does not concern one state alone. He said that despite some issues, the GCC countries have three things in common — security, stability and cohesion.
The United Arab Emirates came out in mid-November with a list of 83 groups as terrorist organizations. The most controversial groups on the list are the Muslim Brotherhood, Lebanon's Fatah Al-Islam, Al-Qaeda, ISIL, the Somali Youth Mujahideen Movement and the Yemeni Shariah movement.
Full report at:
http://www.arabnews.com/featured/news/673311
------------
Assad: Syria Regards Russia's Peace Efforts as Positive
December 12, 2014
Syria regards as positive Russia's peace efforts aimed at settling the Syrian crisis, Syrian President Bashar Assad said.
"We are sure that any Russian diplomatic initiative will be based on the principles of respect for our national sovereignty," Assad said on Wednesday, Itar-Tass reported.
The Syrian president also met Russian Deputy Foreign Minister Mikhail Bogdanov, the Russian president's Special Representative for the Middle East and Africa, to discuss the resumption of a political settlement in the light of Russia's initiative to provide the "Moscow floor" for contacts between Syrian government representatives and the Syrian opposition.
"Serious steps aimed at fighting terrorism and deterring countries which have taken extremists under their wing are needed to ensure the success of any efforts to settle the (Syrian) crisis," Syrian news agency SANA reported, commenting on Assad's meeting with Bogdanov.
http://english.farsnews.com/newstext.aspx?nn=13930920000249
------------
Iraq seeks delay of $4.6bn Kuwait war reparation
12 December 2014
Iraq is seeking to postpone a final $4.6 billion installment of reparations for its 1990-91 occupation of Kuwait, Finance Minister Hoshiyar Zebari told Reuters, as it faces a cash crisis caused by falling oil prices and war with ISIS.
Since Iraq was first allowed to resume oil sales nearly two decades ago it has paid funds into a United Nations body overseeing compensation for looting and damage inflicted during Saddam Hussein's seven-month occupation of Kuwait.
More than a million claimants have been paid and nearly all the $52.4 billion reparations bill has been met through Iraq's annual allocation of 5 percent of crude oil exports to the U.N. Compensation Commission (UNCC).
But with its economy now set to shrink for the first time since the 2003 U.S.-led invasion toppled Saddam and ended more than a decade of sanctions, Iraq can ill afford to divert a large chunk of the 2015 budget to make that last payment due next year.
"We have been really committed to paying this on time up until now," Zebari said in a telephone interview conducted on Thursday. "We are in discussions with the Kuwaitis, trying to defer the payment for two years or at least a year, to allow some space... to present a realistic budget."
Full report at:
http://english.alarabiya.net/en/News/middle-east/2014/12/12/Iraq-seeks-delay-of-4-6b-Kuwait-war-reparation.html
------------
Iraq's Karbala registers record number of pilgrims
12 December 2014
Iraqi Defence Minister Khaled al-Obeidi said Thursday that the number of pilgrims in the city of Karbala for the annual Arbaeen commemoration had reached a record 17.5 million this year.
Arbaeen, which marks the end of the 40-day period of mourning after the anniversary of Imam Hussein's death, is considered one of the largest religious gatherings in the world.
"The number of Arab and foreign pilgrims has reached 4.5 million, of 60 different nationalities, the biggest contingent being Iranians," he told reporters.
"And until today, we had 13 million Iraqis," he said.
The Arbaeen commemoration is on Saturday December 13, but millions of Shiite faithful have been walking to Karbala from all over Iraq, and large numbers from across the Iranian border, for days.
Full report at:
http://english.alarabiya.net/en/News/middle-east/2014/12/12/Iraq-s-Karbala-registers-record-number-of-pilgrims-.html
------------
Three IS men held in Riyadh
December 12, 2014
RIYADH — Three supporters of the Islamic State group have been arrested for shooting and wounding a Danish citizen last month, one of three recent attacks on foreigners, the Interior Ministry said Thursday.
"The perpetrators of this vile attack, three Saudis, have been arrested," ministry spokesman Maj. General Mansour Al-Turki said in a statement carried by the official Saudi Press Agency.
He said the suspects "perpetrated their crime in support of the terrorist group Daesh", using the Arabic acronym for IS. The victim "was injured in the shoulder and chest," Turki said.
"Security was able to find the weapon used, which was a pistol (Glock) and the car used in the attack, as forensic evidence." Denmark has confirmed that a citizen was shot and wounded in Riyadh on Nov. 22.
Full report at:
http://www.saudigazette.com.sa/index.cfm?method=home.regcon&contentid=20141212227301
----------
Africa
Two Bomb Blasts Kill At Least 40 in Nigerian City of Jos
Reuters
Jos, Nigeria, December 12, 2014
Two bombs exploded near a bus station in the central Nigerian city of Jos on Thursday evening, witnesses said, the second one killing at least 40 people.
Casualties from the first blast could not immediately be ascertained and Nigerian security sources could not immediately be reached for comment.
Bomb blasts that bore the hallmarks of Islamist Boko Haram militants killed 118 people in the same area of Jos in May. "I saw a flash of light and heard a loud boom. Afterwards there was debris everywhere and mutilated bodies," witness Tanko Mohammed said of the blast in Jos's commercial Terminus district.
A Reuters reporter counted 11 bodies at one bomb site and 29 at the other. Boko Haram is a Sunni jihadist movement that has been waging a five-year insurgency to establish an Islamist state in the northeast of the country.
President Goodluck Jonathan declared a state of emergency in three northeastern states last year. The number of attacks has risen sharply since then, in the run-up to elections in February 2015.
The latest blasts came as both Jonathan's ruling party and the main opposition coalition agreed on candidates to contest the elections, in which security is likely to be a major campaign issue.
Former military ruler Muhammadu Buhari will be challenging Jonathan at the polls for the second time.
http://www.hindustantimes.com/world-news/nigeria-blasts-kill-at-least-40-in-jos/article1-1295739.aspx#sthash.i2yIsCeQ.dpuf
----------
French-Mali Sweep Kills Islamic Radical Commander
12 December 2014
A militant Islamic commander who was the subject of a multimillion-dollar bounty issued by the United States has been killed in a French and Malian military operation in north-eastern Mali, French defence officials said Thursday.
Ahmed el Tilemsi, a leader of the Mourabitoune militant group, was killed in an overnight operation Wednesday near the town of Gao, the officials said.
The French Defence Ministry's Web site says about 10 militants in total were "neutralized" during the sweep - meaning they were killed or taken prisoner. It said the operation dealt "a heavy blow" to Mourabitoune and other terrorists in Africa's Sahel-Sahara region.
Col. Gilles Jaron, a military spokesman, said French forces who were working on intelligence information came into contact with an armed group outside Gao and a firefight quickly ensued. No French troops were injured, he said, declining to specify the number of French forces or type of military assets involved.
Full report at:
http://english.alarabiya.net/en/News/middle-east/2014/12/12/French-Mali-sweep-kills-Islamic-radical-commander.html
----------
Tunisia ex-PM quits own Islamist party
December 12, 2014
Tunisia's former prime minister and Ennahda Secretary-General Hamadi Jebali said on his Facebook page Thursday that he was stepping down from the Islamist party, citing disagreement with the party's policies.
Jebali said that he had joined the movement in the early 1970s in the name of "freedom and justice" against "tyranny and corruption."
He spent many years in prison under the regime of Zine El Abidine Ben Ali, who was ousted in the 2011 revolution that launched the Arab Spring.
Jebali said Tunisia now faced "huge challenges," in particular the threat of a return to "tyranny and corruption."
"I chose to be among those activists eager to ensure the peaceful revolution triumphed ... I have great difficulty in remaining faithful to this position given the state of Ennahda today. I find myself no longer agreeing with its choices," he said.
In general elections in October, Ennahda was beaten by the Nidaa Tounes party and has decided not to field a candidate in the presidential election, whose second round is set for Dec. 21.
Full report at:
http://english.alarabiya.net/en/News/middle-east/2014/12/11/Tunisia-ex-PM-quits-own-Islamist-party-.html
----------
Sudan security warns Muslim clerics not to incite hatred against Turabi
December 12, 2014
(KHARTOUM) – The government sponsored Sudanese Media Centre (SMC) website said that the National Intelligence and Security Services (NISS) summoned on Thursday several imams of mosques who questioned the Islamic faith of the head of the Popular Congress Party (PCP) Hassan al-Turabi.
Those clerics blasted remarks by Turabi in which he said that a woman's testimony in court is equal to that of a man unlike the mainstream Islamic belief that it is half of a man's testimony.
Turabi has long expressed controversial views on a number of Issues such as endorsing marriage between a Muslim woman and a non-Muslim man as well as allowing women to lead men in prayers.
Full report at:
http://www.sudantribune.com/spip.php?article53305
----------
Moroccan Hamza Ouarch, World's Best Reciter of the Quran
December 12, 2014
Moroccan Hamza Ouarach won first prize in the Bahrain International Competition for the Recitation of the Holy Quran online (Universal Reader), organized on Tuesday in Manama, Bahrain's capital.
The Moroccan Quran reader was the best of 5000 participants.
This year's Universal Reader competition, which selects the best voices reciting the Holy Quran from various countries of the world, was considered the most successful ever, and is unprecedented all over the world.
The contest aims at encouraging young Muslims to memorize and give importance to the Holy Quran.
Hamza Ouarch, 18, follows in the footsteps of many young Moroccans who have previously won a number of awards in Quran recitation.
Last July, Mouad Daouik won the "Most Beautiful Recitation" contest in the 18th session of the Dubai International Holy Quran Award (DIHQA).
http://www.moroccoworldnews.com/2014/12/146582/moroccan-hamza-ouarch-worlds-best-reciter-of-the-quran/
----------
India
Darul Uloom Deoband Vows To Revive Anti-Conversion Wing
Zia Haq
New Delhi, December 12, 2014
Islamic seminary Darul Uloom Deoband, an influential seat of Sunni Islam in the subcontinent, Thursday asked the government to stop "illegal conversion" of Muslims to Hinduism and vowed to "take steps" to "protect the faith".
The steps could include resurrection of its dormant 'conversion prevention' wing, called Fitna-e-Irtehad, and pressing its countrywide network of affiliated clerics to bolster Islam, seminary rector Abul Qasim Nomani told HT. However, he said Darul Uloom would never do anything to "create confrontation".
The conversion of 300 Muslims in Agra and plans for more such 'Ghar Wapsi' (homecoming) ceremonies by Hindu groups affiliated to the RSS, the BJP's ideological fountainhead, threatens to become a sectarian flashpoint, as prominent Muslim religious figures said they would fend off such attempts through "lawful steps".
"I don't want to discuss in the media what steps we should take, as these are religious matters. You know Islamic institutions have services such as Fitna-e-Irtehad to deal with this problem. We are examining all this," Nomani said.
Delhi's Jama Masjid imam Ahmed Bukhari is set to make a major speech at Friday payers, which are attended by over 10,000 Muslims, in which he will spell out his stand.
"If the government does not intervene, then Muslims will be free to act to defend their faith. Wait for my sermon tomorrow," he said.
Full report at:
http://www.hindustantimes.com/india-news/muslims-vow-fightback-darul-to-revive-anti-conversion-wing/article1-1295710.aspx#sthash.cZmSijRe.dpuf
-----------
Ram Temple Should Be Built At Site of Babri Masjid: UP Governor
PTI | Dec 12, 2014
AYODHYA: Even as a controversy rages over alleged reconversions, Uttar Pradesh governor Ram Naik on Thursday sparked a fresh row when he said that a Ram temple should be built here at the site of Babri Masjid as per the "wishes of Indian citizens".
"Ram Mandir should be built as soon as possible. That is the wish of the Indian citizens and the wish should be fulfilled," he said here at the convocation programme of Awadh University at Faizabad, where he was the chief guest.
Last month, on a visit to Ayodhya to take part in an event organised by a VHP leader, Naik had said that the vexed issue would be resolved within five years as Prime Minister Narendra Modi is working out a plan to sort it out peacefully.
"(The) Prime Minister is preparing a plan to work out a peaceful solution to the Ayodhya dispute and it would be solved once and for all within the next five years," Naik had said.
A former BJP MP, Naik was named the UP governor in July this year after the NDA government came to power at the Centre.
Full report at:
http://timesofindia.indiatimes.com/india/Ram-temple-should-be-built-at-site-of-Babri-Masjid-Ram-Naik/articleshow/45488984.cms
------------
'Love jihad' is conversion ploy: VHP
December 12, 2014
The Vishwa Hindu Parishad (VHP) opposes religious conversions and "love jihad" is only meant to convert people to Islam, its international working president Praveen Togadia said on Thursday.
Addressing a 'Virat Hindu Sammelan' here on the occasion of the VHP completing 50 years of its existence, Dr. Togadia expressed the fear that Hindus could become 'minorities' in the next 100 years if they did not stop religious conversions. He called upon people to eradicate the caste system and urged them to dine with SCs and STs so that the latter would not feel alienated.
He accused Telangana CM K. Chandrasekhar Rao of following in the footsteps of the erstwhile Hyderabad ruler, the Nizam, and found fault with him for promising quota for minorities.
http://www.thehindu.com/news/national/love-jihad-is-conversion-ploy-vhp/article6684249.ece
----------
Bengaluru man who operates ISIS Twitter handle may have fled the city, cops say
TNN | Dec 12, 2014
BENGALURU: Senior Bengaluru police officials said that a search is on for the man who is suspected to have operated ISIS's most successful Twitter account, @ShamiWitnes.
The officials, speaking to TOI on condition of anonymity, said that the man may have fled the city. They added that the cyber cell, however, is still trying to get leads on him.
Bengaluru city commissioner MN Reddi on Friday said that the task of investigation has been given to the central crime branch.
The man, who was identified as Mehdi, works with a multinational advertisement firm in the city and lives with his family here.
This particular Twitter handle went on air last year and since has been posting photos and videos of ISIS aggression. He even posted ISIS updates from the front lines, according to a British news channel.
"If I had a chance, I would have left everything and joined them. But my family needs me here," Mehdi told UK's Channel 4. He also said he is in contact with British jihadis and announced that he believed in beheading.
The account, which had nearly 18,000 followers, has been shut down following reports.
On Twitter, the account was reportedly followed by jihadist fighters and Middle East analysts.
The man had been encouraging ISIS fighters through his tweets, and had several times posted the video of US aid worker Peter Kassig's beheading.
Channel 4 reported that his Facebook account was markedly different and had routine updates about dinners and work parties.
Full report at:
http://timesofindia.indiatimes.com/india/Bengaluru-man-who-operates-ISIS-Twitter-handle-may-have-fled-the-city-cops-say/articleshow/45491770.cms
------------
Beheading at LoC: Poll over, NDA backs what UPA did
December 12, 2014
"When Pakistan beheaded our soldiers, we fed their PM chicken Biryani… The Centre lacks courage." These words were used by Narendra Modi at an election rally in the run-up to the Lok Sabha elections to slam the UPA government's response to the killing of two soldiers — Hemraj Singh and Sudhakar Singh — along the LoC in January, 2013. Sushma Swaraj, the then Leader of Opposition in Lok Sabha, had said, "We should take revenge… If we don't get his (Hemraj's) head, we should get 10 of theirs."
Now, in an affidavit filed in the Supreme Court, the Modi-led NDA government has significantly toned down that rhetoric. In fact, it lists what it calls UPA government's "stern" warning and the steps taken by the Manmohan Singh government in the wake of the incident. Full report at:
http://indianexpress.com/article/india/india-others/beheading-at-loc-poll-over-nda-backs-what-upa-did/#sthash.UtbaMCO9.dpuf
------------
South Asia
Afghan School Hit By 16-year-old Suicide Bomber
December 12, 2014
One person has died and around 20 others have been injured after a teenage suicide bomber attacked a play condemning such violence at a French-run school in Afghanistan.
According to witnesses the boy walked into the amphitheatre of the French Cultural Centre, inside the grounds of Estiqlal High School in the capital Kabul, before detonating the device.
The audience had been watching a drama condemning suicide attacks.
General Ayoub Salangi, acting head of the Interior Ministry, said the suspected theatre bomber appeared to have been about 17 years old and detonated his explosives during an early evening performance.
The incident came just hours after a suicide bomber targeted a bus carrying Afghan army personnel, killing six soldiers and wounding 11.
'I heard a deafening explosion...There were Afghans, foreigners, young girls and young boys watching the show,' Sher Ahmad, an Afghan rights activist who was at the performance, told Reuters.
Full report at:
http://www.dailymail.co.uk/news/article-2870267/Afghan-SCHOOL-hit-16-year-old-girl-suicide-bomber-leaving-one-dead-20-wounded.html#ixzz3LiHfXjwJ
----------
17 militants killed, 16 injured in Nangarhar operations
December 12, 2014
At least 17 militants were killed following military operations in eastern Nangarhar province of Afghanistan, local security officials said Friday.
The operations were launched in Pechigram district earlier on Thursday and continued until late night of the same day.
Provincial police spokesman Hazrat Hussain Mashriqwal said the operations covered various parts of Pechigram district where anti-government armed militants were opearting.
Mashriqwal further added at least 16 anti-government armed militants were also injured during the operations.
The anti-government armed militant groups have not commented regarding the report so far.
Nangarhar is among the relatively volatile provinces in eastern Afghanistan where anti-government armed militants are actively operating in a number of its remote districts and often carry out insurgency activities.
http://www.khaama.com/17-militants-killed-16-injured-in-nangarhar-operations-8847
----------
Attorney General: Claims of Quader Molla's family contemptuous
December 12, 2014
Attorney General Mahbubey Alam thinks contempt of court proceedings should be initiated against the family of executed war criminal Abdul
Quader Molla.
He expressed the opinion while talking to reporters at his office yesterday just after the press conference of Quader Molla's son Hasan Jamil, who claimed that the government had "brutally killed" his father in the name of execution.
Jamil, speaking at the Supreme Court Bar Association auditorium, said Quader Molla, a senior Jamaat-e-Islami leader, could not know on what grounds the Appellate Division had dismissed his review petition against the death penalty. The full judgement on the review petition was released on November 25.
The International Crimes Tribunal on February 5 last year awarded Molla life imprisonment for committing crimes against humanity. He was later sentenced to death by the Appellate Division.
Full report at:
http://www.dhakatribune.com/bangladesh/2014/dec/12/ag-claims-quader-molla%E2%80%99s-family-contemptuous#sthash.TZ9hlvtI.dpuf
----------
Failure to prosecute serious crimes tantamount to "state-sponsored terrorism," says Nasheed
December 12, 2014
The government's failure to investigate and prosecute serious crimes is tantamount to "deliberate state-sponsored terrorism," contends former President Mohamed Nasheed.
In a statement issued yesterday on the occasion of International Human Rights Day (December 10), the opposition leader accused senior government officials and elements of the police of complicity in abductions, murder, arson attacks, and gang violence.
"I note that the government has not investigated such incidents that have occurred throughout the year and serious criminals are on the loose. The state has not pressed charges against them," the statement read.
Nasheed argued that the government's inaction has caused harm and undermined fundamental rights, calling on the public to "find courage from each other for justice and stand up against inhumane torture."
The opposition Maldivian Democratic Party (MDP) was formed to change the old system of governance and bring an end to ill-treatment and torture inflicted on citizens by the state, the statement observed.
Full report at:
http://minivannews.com/politics/failure-to-prosecute-serious-crimes-tantamount-to-state-sponsored-terrorism-says-nasheed-91571
----------
Pakistan
Taliban slams Malala over Nobel prize, calls her 'soldier against Islam'
AFP
Islamabad, December 12, 2014
The Pakistani Taliban hit out at teenage education activist Malala Yousafzai over her Nobel peace prize on Friday, slamming her as a "soldier against Islamic society".
Malala became a global icon after she was shot and nearly killed by the Taliban in October 2012 for insisting that girls had a right to education.
The 17-year-old vowed to continue her struggle for every child's right to go to school when she collected her Nobel at a ceremony in Oslo on Wednesday.
She is the youngest ever Nobel peace laureate, and the first Pakistani to claim the prize, but some in her home country condemn her as a Western agent -- including the militants who shot her.
Muhammad Umar Khorasani, spokesperson for the main faction of the Tehreek-e-Taliban Pakistan (TTP) headed by Mullah Fazlullah, told AFP that Malala had won the Nobel prize for "promoting Western culture, not education".
Pakistan's patriarchal society often relegates women to subservient domestic roles, but Malala has praised her father Ziauddin, a schoolteacher, for encouraging her to pursue her dreams.
The militant spokesperson singled him out for criticism.
"Malala's father Ziauddin has made an agreement with the Western powers to destroy Pashtun culture and Pakistan," Khorasani said, referring to the dominate ethnic group in the country's northwest, where Malala is from.
Full report at:
http://www.hindustantimes.com/world-news/pakistan-taliban-slams-malala-yousafzai-over-nobel-prize/article1-1295860.aspx#sthash.iKr0q7eL.dpuf
------------
Centre, a political party behind anarchy-like situation: LHC
December 12, 2014
LAHORE: The Lahore High Court remarked that people had been facing anarchy-like situation due to inefficiency of the federal government and shrewdness of a political party.
A full bench, hearing a petition seeking protection for traders during Dec 15 shutdown call of the Pakistan Tehreek-i-Insaf (PTI) in Lahore, observed the government had been blocking roads by placing containers which the protesters had been removing with cranes.
Justice Khalid Mahmood Khan was heading the bench along with Justice Shahid Hameed Dar and Justice Muhammad Anwarul Haq.
A local trader, Naeem Mir, filed the petition expressing apprehensions about the possible violence on the shutdown day in the city.
Capital City Police Officer Amin Wains told the bench that a comprehensive plan had been chalked out in view of the shutdown call of the PTI. He said the police would come up with a new strategy to maintain law and order in the city during the protest.
Justice Dar observed that the people in Lahore were in a great sense of fear after violent protests in Faisalabad and they had been advising each other to stay at home on Dec 15. He said the protests had become a permanent mental agony for the masses.
The petitioner's counsel stated the city administration and police had not engaged the traders before devising the security plan.
The bench directed the CCPO to engage the traders regarding the security plan and take their suggestions.
The bench will resume hearing on Friday (today).
http://www.dawn.com/news/1150387/centre-a-political-party-behind-anarchy-like-situation-lhc
------------
PA passes Quranic Education-o-Seerat Institute Bill
December 12, 2014
The Punjab Assembly Thursday, in the absence of opposition members, unanimously passed Quranic Education-o-Seerat Institute Bill 2014 presented by Provincial Minister for Law, Finance and Excise and Taxation Mujtaba Shujaur Rehman.
Earlier, the institute was being run as Quran Board under the Auqaf Department.
The session was chaired by Acting Speaker Sardar Sher Ali. During question hour, Provincial Minister for Labour and Human Resources Raja Ashfaq Sarwar and Parliamentary Secretary for Youth Affairs, Sports and Archaeology Chaudhry Sarfraz Afzal answered questions.
Sarwar said the Punjab government was paying full attention to the working class' problems, adding that maximum health facilities were being extended to labourers.
Over the past four years, 59,865,000 places were inspected to detect child labourers while 6,339 cases were registered against owners of factories, kilns, motor workshops etc for child labour and their challan were submitted to the courts, he said.
He said the Labour Department was responsible for checking measurements at petrol pumps and in case of short measuring, petrol pumps could be sealed, adding that their challans were referred to courts concerned.
Full report at:
http://www.pakistantoday.com.pk/2014/12/12/city/lahore/pa-passes-quranic-education-o-seerat-institute-bill/
-------------
Call for Spreading Message of Warrior Saint Shah Inayat
December 12, 2014
THATTA: Speakers at a literary conference called for spreading the revolutionary message of Sindh's great warrior mystic, Sufi Shah Inayat Shaheed, and urged the government to establish an international university in lower Sindh to teach the warrior saint's ideology and help restore peace and tranquility in the region.
The literary conference was organised at Thatta Press Club on Thursday on the eve of annual Urs of Shah Inayat. Nationalist leader, writer and intellectual Abdul Wahid Arisar said that understanding and preaching the philosophy of Shah Inayat was the need of the hour. "It has in it a remedy for starvation, poverty, unemployment and peace," he said.
Dr Mohammad Ali Manjhi shed light on the life of the warrior saint and said that Shah Inayat transcended all human barriers and reached the height of spirituality and fana (annihilation) in his life.
He said that it was in recognition of his lofty place in the mystic world that thousands still thronged his shrine, be they Muslims or non-Muslims, rich or poor. He was the first social reformer of Sindh and the 17th revolutionary from Jhoke Sharif near Thatta who was executed by the army of Moghul emperor in the early 18th century, he said.
Head of Shah Inayat Adabi Forum, Sufi Hazoor Bux; chairman of Sindh Cultural Forum, Sadiq Lakho, and Obhayo Khushk, said that Shah Inayat was martyred for leading a small army of peasants of his area who challenged the domination of the Moghul kings, local feudal lord and orthodox Mulllas.
Full report at:
http://www.dawn.com/news/1150271/call-for-spreading-message-of-warrior-saint-shah-inayat
------------
Houses of Indian Actors to Be Declared Heritage
December 12, 2014
PESHAWAR: The Khyber Pakhtunkhwa government on Thursday announced the houses of legendry Indian film actors, including Dilip Kumar, would be given the status of cultural heritage to change the places into living museums for the historical pictures of noted artists.
The announcement was made by adviser to the provincial chief minister on tourism and archaeology Ajmad Afridi during a Peshawar Press Club function organised to mark the 92nd birthday anniversary of celebrated Indian film star Dilip Kumar.
The event was organised by the Khyber Pakhtunkhwa Culture Heritage Council (CHC) in collaboration with the Tourism Corporation Khyber Pakhtunkhwa (TCKP).
Dilip Kumar's fans, including writers, actors, journalists, lawyers and people from different walks of life, attended it in large numbers.
Full report at:
http://www.dawn.com/news/1150424/houses-of-indian-actors-to-be-declared-heritage
------------
Jirga offers conditional support for Swat cantonment
December 12, 2014
MINGORA: The Swat Qaumi Jirga on Thursday announced conditional support for the proposed establishment of a cantonment in Swat district.
While making the announcement, it said the government should ensure that after its establishment, the army is restricted to the cantonment and checkposts are manned by the police and not the army personnel.
The jirga met at Wadudia Hall in Saidu Sharif here, where officials of the civil administration of Malakand division and Swat district, the people's elected representatives, elders and leaders of political parties were in attendance.
The participants discussed the law and order situation in the area.
It later passed a joint declaration favouring the establishment of Swat cantonment and demanding payment to landowners at market rate.
Full report at:
http://www.dawn.com/news/1150427/jirga-offers-conditional-support-for-swat-cantonment
------------
PTI wants to make 'big news story' in Karachi: police chief
December 12, 2014
KARACHI: Karachi police chief, Abdul Qadir Thebo has said that Pakistan Tehreek-e-Insaf (PTI) wanted to make a 'big news story' in Karachi, however, police are vigilant and would not let it do so, Geo News reported.
Speaking to Daily Jang, Abdul Qadir Thebo said PTI's leadership made efforts to shut emergency relief units besides police and Rangers to perform their duties.
He said police had not resorted to any baton-charge, adding that neither any one was booked nor arrested and that the situation was under control.
On the directives of higher officials, police were not taking any action to a limit, Thebo said and added that PTI had been given free hand for democracy.
http://www.thenews.com.pk/article-168485-PTI-wants-to-make-big-news-story-in-Karachi:-police-chief#sthash.HsSiPWz8.dpuf
------------
CID arrest local al-Qaeda leader, 4 activists from Karachi
December 12, 2014
KARACHI: Crime Investigation Department (CID) Thursday claimed to have arrested five al-Qaeda activists including a local leader from Karachi.
According to Incharge (CID) Ali Raza, a local leader of proscribed al-Qaeda, identified as Asad Ali along with his 4 companions were arrested from Lakri Gali area of Old Haji Camp.
Ali Raza said 10 kilograms of explosives, two rifles and ammunition were recovered from the possession of the accused.
"Asad Ali was leading al-Qaeda network and has been involved in grave crimes", Incharge CID added.
http://www.thenews.com.pk/article-168439-CID-arrest-local-al-Qaeda-leader,-4-activists-from-Karachi#sthash.bFHfJTEd.dpuf
------------
Mysterious circumstances: Indian fisherman dies in Malir jail
December 12, 2014
KARACHI: An Indian fisherman died under mysterious circumstances in Karachi's District Jail, Malir on Thursday.
According to details, 30-year-old Dev, son of Basu, was arrested by the Pakistan Maritime Security Agency in March and since then he was imprisoned in Malir Jail.
His body has been taken to Jinnah Postgraduate Medical Centre where a post-mortem will be conducted on Friday in the presence of a magistrate to ascertain the nature of his death.
Earlier in the day at least 58 Indian fishermen were arrested for violating Pakistan's maritime boundary, Express News reported.
Security forces also confiscated about 10 boats from them.
Both Indian and Pakistani fishermen are frequently arrested and detained for fishing in the neighbouring waters.
As recent as November 29, authorities had released 36 Indian fishermen from Karachi's Malir district jail after they had served their sentence.
http://tribune.com.pk/story/805653/mysterious-circumstances-indian-fisherman-dies-in-malir-jail/
----------
Europe
How Germany plans to stop youngsters from becoming radical Islamists
December 12, 2014
Some 600 young Germans have traveled to Syria to join the alleged holy war, according to German authorities. Around 60 are believed to have died.
Ahmad Mansour believes the number of German recruits is significantly higher. Based on his experience working in an information center for relatives of people slipping into radicalization, the psychologist and expert on Islam says 1,500 to 2,000 German jihadists are involved in Syria's civil war.
"One must focus on prevention," urges Peter Neumann of the International Centre for the Study of Radicalization and Political Violence at Kings College in London - especially in view of the growing threat of radicalized returnees.
It's important to make it clear to Germans who lean towards Islamism that reality in the so-called Islamic State (IS) has nothing in common with the propaganda on the Internet. The IS insurgents tend to battle fellow Muslims more often than Iraqi government troops, Neumann told DW. Many aren't aware of this fact, he says, adding that many Syrians also object to the presence of the foreigners.
Personal experience
Video messages from returnees thoroughly disenchanted with the jihadist cause would be an effective tool, suggests Susanne Schröter of the Frankfurt Research Center Global Islam (FFGI). Men could say "it wasn't what I expected at all, I didn't go there to kill other Moslems," Schröter told DW. Young women could recount how they were married to someone they had never met before, and "all they wanted was to get away, but didn't know how."
Germany has in fact launched a number of initiatives to help prevent fates like that of the pizza delivery man from the German city of Dinslaken who went to Syria and blew himself up in a suicide attack. But the initiatives differ from one federal state to the next, and there is no joint national strategy on how to prevent the radicalization of young Germans.
Earlier this month, the Greens Party introduced a draft law in the German Bundestag to finally get a united national approach on track.
Full report at:
http://www.dw.de/how-germany-plans-to-stop-youngsters-from-becoming-radical-islamists/a-18123959
----------
Jihadist cases stretch German justice to the limit: Prosecutor
December 12, 2014
Germany's justice system is struggling to cope with waves of suspected jihadists returning from Syria and the speed at which young Muslims are being radicalised, the top public prosecutor said on Dec. 11.
Federal Prosecutor General Harald Range said his office was investigating 46 of the most serious cases, involving 83 people suspected of offences like belonging to Islamic State in Iraq and the Levant (ISIL) or al-Qaeda. Regional prosecutors were investigating 100 more.
That is a huge increase on the five investigations of eight suspects that prosecutors had to deal with in 2013.
"We are at the limits of our capacity," Range said, adding that waves of new cases were pending and Germany was "in the crosshairs of jihadist terror."
"What worries me is the speed with which people are radicalising, or being radicalised. We are facing a phenomenon which needs a broad strategy of prevention," he said.
Like their counterparts in Britain, France and other Western countries, German security officials are concerned at the numbers of people travelling abroad to join militant Islamist groups, then potentially returning to plot attacks at home.
Full report at:
http://www.hurriyetdailynews.com/jihadist-cases-stretch-german-justice-to-the-limit-prosecutor.aspx?pageID=238&nID=75508&NewsCatID=359
----------
Fake Jihadi John dupes ISIS followers into believing he'd posed for Twitter pic
December 12, 2014
ISIS sympathisers took to Twitter today to share a photograph of a balaclava-clad, left-handed militant they claimed to be a new image of the terror group's executioner in chief, Jihadi John.
Brandishing the same style of combat knife used by the British militant during the sickening filmed murders of three American nationals, two British aid workers and 22 Syrian soldiers, the alleged terrorist bears a striking resemblance to Jihadi John.
This is despite the fact his face is largely covered by a similar style of black balaclava worn by the famously left-handed killer in the five chilling ISIS murder videos in which has appeared.
The image was widely shared by Islamic State sympathisers today after apparently being uploaded to picture messaging app SnapChat by a French militant, who captioned it with the words 'Do you recognise him?' and suggested he had spent 'a day with Jihadi John'.
But despite capturing the attention of the world's media, it can now be revealed that the image was first uploaded to Twitter on November 29 by a man claiming to be a Dutch fighter who has since come forward to say the masked militant in the photograph is in fact him.
The image that apparently showed Jihadi John was shared on Twitter by a radical calling himself Abu Anas Mujahid, who appeared to suggest he had spent time with the ISIS executioner.
Full report at:
http://www.dailymail.co.uk/news/article-2870180/Has-Jihadi-John-ventured-Twitter-Flurry-excitement-ISIS-followers-picture-claiming-British-jihadist-posted-online-seems.html#ixzz3LiHHtEcI
----------
Tajik Court Sentences Four Convicted As Members Of Banned Faith
12 December 2014
A court in Tajikistan has sentenced four men to prison after convicting them of being adherents of a banned branch of Islam.
The Supreme Court said on December 11 that a court in the southern city of Qurghon-Teppa had sentenced three followers of Salafi Islam to five years in prison and a fourth defendant to six years and two months in prison.
Relatives of the convicts said the charges were trumped up and that the defendants are not Salafists.
They told RFE/RL that the verdicts, handed down on December 10, will be appealed.
The Salafi branch of Islam was branded as extremist and banned in Tajikistan in 2008.
Salafists follow a strict form of Sunni Islam and do not recognize other branches of Islam, such as Shi'a and Sufism. It is frequently referred to as Wahhabism, although Salafis reject this as derogatory.
The overwhelming majority of Tajiks are followers of Hanafia, a more liberal branch of Sunni Islam.
http://www.rferl.org/content/tajik-court-sentences-four-convicted-as-members-of-banned-faith/26737689.html
-------------
UK charity to resume operations in Palestine
12 December 2014
Britain's largest Islamic charity is expected to resume operations in the Palestinian territories despite a ban from Israel which had described the aid group as a "terrorist organization," UK's daily The Guardian reported Thursday.
Islamic Relief, which operates in 44 countries around the world, will return to its "humanitarian work," the group's chief executive, Mohamed Ashmawey, told the daily.
Ashmawey said the Birmingham-based charity has checked all of its 2,500 employees for "terror links" and only one had a "problem" due to his previous job at the Islamic University of Gaza, which is recognized as a terrorist organization only by Israel.
The charity said it had started its own investigation and hired external consultants to look into its operations.
A spokesman for the Israeli embassy said it agrees with the country's original designation of the Islamic Relief.
"The decision to designate the charity as an 'unlawful association' is part of Israel's action to curb Hamas terror activity," he said.
Following Israel's ban, the group's offices in the West Bank were raided leaving computers smashed, files taken and the office safe blown apart.
The charity, which spent £172m last year on aid, had been criticized several times by the Israeli press.
http://english.alarabiya.net/en/News/middle-east/2014/12/12/UK-s-charity-defies-ban-continues-operation-in-Palestine-.html
----------
NATO hails Gulf role in fighting radicals
December 12, 2014
DOHA: NATO's secretary-general has praised the role of Gulf nations in helping to fight extremists in Syria and Iraq, and says tackling the threat will require long-term multinational efforts.
Secretary-General Jens Stoltenberg made the comments Thursday during a visit to Qatar to mark the 10-year anniversary of the Istanbul Cooperation Initiative, a partnership between the alliance and several Gulf states.
He said it is important Qatar and other countries are involved in fighting extremists because of the military capabilities they can offer and to show "this is not about the West imposing its will on others."
A number of Arab nations, including Saudi Arabia and the UAE, have taken part in air strikes against the Islamic State group. Others such as Qatar are playing a supporting role.
http://www.arabnews.com/middle-east/news/673216
---------
UN voices 'serious concern' after Taliban attacks hit Kabul
December 12, 2014
KABUL: The United Nations (UN) voiced "serious concern" about the Taliban's persistent threat, after the group killed seven people in two suicide attacks in Kabul on Thursday, including one targeting a play at a French-financed high school.
The warning comes with the Afghan capital having been hit by a series of deadly attacks in recent weeks, highlighting the fragility of security as foreign combat troops leave after more than a decade of war.
The late afternoon bombing at the Istiqlal High School, attached to the city's long-established French cultural centre, killed a foreign national and came just hours after another suicide attack on a bus carrying Afghan troops in the capital's suburbs killed six soldiers.
The bomber killed a foreign national and wounded at least seven people, according to Kabul police official General Farid Afzail, who added that the perpetrator is thought to have been a teenager.
Full report at:
http://www.dawn.com/news/1150436/un-voices-serious-concern-after-taliban-attacks-hit-kabul
----------
North America
CIA letter shows pre-war concern about Iraq 9/11 link
December 12, 2014
The CIA declassified a letter Dec. 11 that suggests US intelligence had grave doubts about part of the case made by former president George W. Bush's White House to justify the war in Iraq.
In the run-up to the March 2003 invasion, US officials including then vice president Dick Cheney alleged that 9/11 hijacker Mohammed Atta had met an Iraqi spy in Prague before the attacks.
The alleged meeting was cited as evidence of a possible link between Iraqi dictator Saddam Hussein and the September 11, 2001 attacks on New York and Washington.
But, in a letter sent to US Senator Carl Levin in March this year and just now declassified, CIA Director John Brennan said field agents had "expressed significant concern" over the report.
The letter said US agents had not established Atta was in Prague -- evidence suggest that he was not -- at the time he is supposed to have met Iraqi agent Ahmad Khalil Ibrahim Samir al-Ani.
Full report at:
http://www.hurriyetdailynews.com/cia-letter-shows-pre-war-concern-about-iraq-911-link.aspx?pageID=238&nID=75534&NewsCatID=358
----------
Senate Committee Votes To Authorize War Against Islamic State
December 12, 2014
WASHINGTON -- The Senate Foreign Relations Committee voted to pass new war authorization legislation for the fight against Islamic State militants.
The Authorization for Use of Military Force, or AUMF, passed the committee on a 10-to-8 vote. No Republicans voted for it.
Sen. Bob Menendez (D-N.J.), the chairman, laid out the authorization's details: It limits military force against the Islamic State in Iraq and Syria, also known as ISIL, to three years; it requires the administration to report to Congress every 60 days; and it prohibits the deployment of U.S. combat troops, except in specific cases such as those involving the rescue or protection of U.S. soldiers or for intelligence operations.
The AUMF also addresses the group's abuse of women and girls, requires Congress to fully offset the costs of the war, and sunsets a sweeping AUMF from 2001 -- the one that President Barack Obama says currently gives him the authority to carry out military strikes against the Islamic State without new congressional authorization -- after three years. Some lawmakers strongly disagree Obama has that authority.
Full report at:
http://www.huffingtonpost.com/2014/12/11/war-authorization-islamic-state-isil_n_6308114.html
----------
CIA chief admits agency used 'abhorrent' methods on detainees
December 12, 2014
LANGLEY, VIRGINIA: CIA Director John Brennansaid on Thursday some agency officers used "abhorrent" methods on detainees captured following the Sept. 11 attacks and said it was "unknowable" whether harsh interrogation techniques yielded useful intelligence.
With his agency under fire in the aftermath of a US Senate report detailing the CIA's use of torture on detainees after the 2001 attacks, Brennan rejected the report's conclusion that the= agency had deceived the White House, Congress and the public about its interrogation program.
"Our reviews indicate that the detention and interrogation program produced useful intelligence that helped the United States thwart attack plans, capture terrorists and save lives," Brennan told a news conference at the agency's Virginia headquarters.
"But let me be clear. We have not concluded that it was the use of EITs (enhanced interrogation techniques) within that program that allowed us to obtain useful information from detainees subjected to them," Brennan said.
"The cause-and-effect relationship between the use of EITs and useful information subsequently provided by the detainee is, in my view, unknowable," he added.
The program was run under President George W Bush.
Full report at:
http://tribune.com.pk/story/805782/cia-chief-admits-agency-used-abhorrent-methods-on-detainees/
---------
Three students in Pittsburg launch first Saudi-run radio station in US
December 12, 2014
THERE are estimated to be over 15,000 radio stations in the United States, but there's only one that's got people in Saudi Arabia listening – Gahwa Al Sareea – also known as "Evening Coffee."
The radio show is being broadcast by students from the Kingdom who are currently studying at Robert Morris University in Pennsylvania. It was the idea of Fahad Al-Fifi, who said, "I came up with this idea for a radio show about two months ago. I saw there were so many Arabic people in the Pittsburg area but nobody really understood how things worked here. So I went to our media department and asked if we could broadcast a show in English and in Arabic, so both communities could benefit. We really wanted to build a friendly bridge for both of us, and the university loved the idea."
As of this semester there are over 7,000 students enrolled at Robert Morris University, nearly 400 of them are from Saudi Arabia. Located just outside of Pittsburgh, the university is named after Robert Morris, a signatory to the Declaration of Independence.
Upon getting the green light from the faculty to launch a radio show, Fahad, who's pursuing a doctoral degree in Information System Management, quickly reached out to two other Saudi students for help – Yasser Kattoah who's a communication student, and Wafi Al-Ghanim, a media and art student.
Full report at:
http://www.saudigazette.com.sa/index.cfm?method=home.regcon&contentid=20141212227238
----------
Alaskan Muslims raising the roof of state's first mosque
December 12, 2014
ANCHORAGE, Alaska — Alaska's first mosque has risen quietly over the last few years in a gravel lot in a South Anchorage commercial district, a neighbor to a Korean Presbyterian Church, a couple of auto repair garages, a drive-through Chinese restaurant and a Sons of Norway hall.
A few weeks ago, Sam Obeidi, vice president of the Islamic Community Center Anchorage Alaska, turned a key and pushed open the mosque's door, flipping on a light in a hallway that smelled of drywall plaster and new carpet.
Palestinian by birth, Obeidi came to Alaska as a teenager to join his father, a refugee, who settled in Anchorage in the 1960s. In those days, Muslims met and prayed in his father's home. Obeidi's family now owns a frame shop and gallery. He has been involved with the mosque-building project for the last five years of an effort that began 15 years ago. Anchorage Muslims have so far raised $2 million to build the 15,000-square-foot facility, and must raise $1 million more before the prayer hall is completed and two minarets are placed on the mosque's roof.
Full report at:
http://www.saudigazette.com.sa/index.cfm?method=home.regcon&contentid=20141212227249
----------
Southeast Asia
Jakarta Post Rejects Blasphemy Claim Over IS Cartoon
December 12, 2014
The Jakarta Post has defended the publication of a cartoon criticising Islamic State (IS) militants, after its editor was named in a defamation case.
The cartoon shows a flag similar to ones used by IS with the words "there is no God but Allah", and a skull and crossbones.
The phrase is considered sacred by Muslims and the cartoon was seen by some as offensive.
The newspaper called the cartoon a "journalistic piece".
IS, also known as Isis, is a militant Islamist group fighting a brutal campaign in Syria and Iraq.
'Not blasphemous'
Published on 3 July, the cartoon replaces the oval shape on the original flag with a skull and crossbones but leaves the Arabic religious phrase "Laa ilaaha illallaah", meaning "there is no god but Allah".
It also shows the words Allah and Muhammad, which are sacred to Muslims and found on IS flags, inside the skull shape.
Full report at:
http://www.bbc.com/news/world-asia-30444002
------------
'Allah' restriction not enforceable on non-Muslims in Penang, says Guan Eng
December 12, 2014
Chief Minister Lim Guan Eng has assured that there is no prohibition on non-Muslims using the word "Allah" in Penang.
He said the Penang State Islamic Religious Administration Enactment 2004, which had a fatwa appended on the matter in 2010, does not apply to non-Muslims.
"Non-Muslims are not subjected to Islamic law," Lim said at a press conference in his office today.
"The enactment only applies to Muslims, and not to non-Muslims. So the issue does not arise," he said in response to a call by MCA Religious Harmony Bureau chairman Datuk Seri Ti Lian Ker for Penang to rescind the prohibition.
"We have not passed any law that allows this to apply to non-Muslims," Lim, who is DAP secretary-general, added.
"Why are they asking us to amend the law when there are no laws (that need) to be amended?"
He added that the state legal advisor had confirmed with him that the enactment does not apply to non-Muslims.
In a fatwa under Section 48 of the enactment dated 7 January 2010, the then Penang mufti Datuk Hassan Ahmad declared that 40 words, including "Allah", were specially for Islam and Muslims only.
Full report at:
http://www.themalaysianinsider.com/malaysia/article/restriction-on-allah-not-enforceable-on-non-muslims-in-penang-says-guan-eng#sthash.Mox84zIh.dpuf
----------
Hilali-Khan translation does not promote hostility towards non-Muslims, says scholar
December 12, 2014
A well-known local Muslim scholar has defended the Hilali-Khan translation of the Quran, claiming it does not promote hostility towards other religions.
Independent preacher Dr Fathul Bari Mat Jahaya claimed that interpretations of Quranic verses in the Hilali-Khan translation are not meant to sanction the oppression of non-Muslims by Muslims.
This is since the translation preserves Quranic verses that tells Muslims to make peace with other religions and to forbid them from denigrating the beliefs of others, he said.
Fathul Bari also said references towards Jews and Christians in the translation were meant to distinguish between the beliefs of Muslims and the other two communities.
"Muslims are supposed to believe that theirs is the one true faith and that the others are not.
"But this does not give Muslims the right to oppress other faiths," said Fathul Bari who holds a Masters degree and doctorate in studies of the Quran and Hadith (sayings of the Prophet).
He also said that interpretations in the Hilali-Khan are written based on the teachings of scholars such as Al Tabari, Al Qurtubi and ibn Kathir, who are classical authorities in the Muslim intellectual tradition.
Full report at:
http://www.themalaysianinsider.com/malaysia/article/hilali-khan-translation-does-not-promote-hostility-towards-non-muslims-says#sthash.oXFwVS6F.dpuf
----------
Mideast
Envoy: Leader's Fatwa Leaving No Place for Concern about Iran's N. Program
December 12, 2014
Iranian Ambassador to Spain Mohammad Hassan Fadayeefard underlined the peaceful nature of Tehran's nuclear program, and said the Supreme Leader's fatwa that has placed a strong religious ban on the acquisition, possession and use of atomic bombs leaves no room for western concerns over Iran's nuclear activities.
Manufacturing, stockpiling and proliferating of those weapons is religiously forbidden, in accordance with a religious decree issued by the Supreme Leader of the Islamic Revolution, Fadayeefard said, addressing the commanders, professors and students of the Spanish Armed Forces University on Wednesday.
The Iranian ambassador added that Iran, meanwhile, respects and remains committed to all international, bilateral and multilateral treaties, including the Non-Proliferation Treaty (NPT).
"That is why the nuclear, chemical, microbe-based, and biological weapons, due to their inhumane nature, have no place in the defense and security strategy of Iran and the Iranian arsenal," he said.
Full report at:
http://english.farsnews.com/newstext.aspx?nn=13930920000584
----------
Twitter whistleblower's claims on police raids against Gülenists cause stir
December 12, 2014
Turkish Deputy Prime Minister Bülent Arınç has said rumors voiced by a mysterious Twitter user named "Fuat Avni," over the potential detention of dozens of journalists known to have been close to the U.S.-based preacher Fethullah Gülen, should be taken "seriously."
"I find the Twitter posts to be serious. I hope they will not come to pass, or not come true to this extent, for anything to happen out of jurisdiction," Arınç said during budget discussions at Parliament late on Dec. 11.
In his most recent tweets posted on Dec. 10, Fuat Avni, whose identity remains unknown, suggested that several journalists close to Gülen movement, including Ekrem Dumanlı, the editor-in-chief of daily Zaman, would be detained in a raid on Dec. 12. He also gave many details about the dates, names and cities of alleged police operations, but later on Dec. 11 he posted more tweets suggesting that the police operations had been cancelled after the raid was revealed.
Full report at:
http://www.hurriyetdailynews.com/twitter-whistleblowers-claims-on-police-raids-against-gulenists-cause-stir.aspx?pageID=238&nID=75537&NewsCatID=338
----------
Kurdish insurgency cost 40,000 lives: President's aide
December 12, 2014
Three decades of Kurdish insurgency has cost the lives of 40,000 people, as well as some $400 billion, President Recep Tayyip Erdoğan's senior aide and former minister Binali Yıldırım has said.
Speaking in a televised interview on Dec. 11, Yıldırım said Erdoğan had taken a risk that had never before been taken in the Turkish Republic's history in order to resolve the Kurdish issue.
Stressing that the peace process is "not easy," he referred to the similar experiences of the U.K. and Spain in dealing with terrorist groups, saying their processes took more than 10 years.
The peace process should be considered "above politics," Yıldırım also said, adding that if the process becomes a part of daily politics, efforts toward its successful completion could be harmed.
Yıldırım specifically referred to the Kobane protests of Oct. 6-7 as an example of "daily politics" that badly damaged the peace process.
http://www.hurriyetdailynews.com/kurdish-insurgency-cost-40000-lives-presidents-aide.aspx?pageID=238&nID=75520&NewsCatID=338
----------
Abbas backs Egypt crackdown on Gaza tunnels
12 December 2014
Palestinian President Mahmud Abbas said he supported Egypt's crackdown on tunnels linking the Hamas-controlled Gaza Strip to the Sinai Peninsula and any other action the country took to protect itself from militants, according to a media report Thursday.
"We have supported all the precautionary measures taken by the Egyptian authorities to close the tunnels and stop the trafficking of arms and the passage of people between Gaza and the Sinai," Abbas said in an interview with Egyptian magazine Al-Ahram Al-Arabi due to be published on Saturday, extracts of which were published by MENA news agency.
"We will continue to support any measure protecting Egypt from danger," Abbas was quoted as saying.
Full report at:
http://english.alarabiya.net/en/News/middle-east/2014/12/12/Abbas-backs-Egypt-crackdown-on-Gaza-tunnels-.html
---------
URL: https://newageislam.com/islamic-world-news/islamic-state-orders-wi-fi/d/100454