New Age Islam News Bureau
9 Jun 2015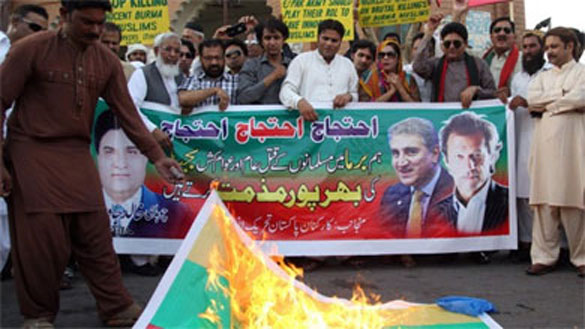 An activist of Pakistan Tehreek e Insaaf party torches a Myanmar flag during a protest in support of Rohingya Muslims in Multan on Monday. Photo: SS MIRZA
-----------
Arab World
• Islamic State Militants Selling Ancient Artefacts They Aren't Destroying
• Syrian Air Raids Kill over 50 Terrorists in Idlib
• Racial Discrimination, Ethnic Cleansing In Myanmar Flayed by Saudi Arabia
• Source: 10 Key Areas Recaptured from ISIL in Anbar
• Syrian rebels say they capture major base from army in south
• Egypt court sentences 11 to death in Port Said stadium case
• IS in Egypt's Sinai kills man accused of being police 'spy'
• Lebanese Hezbollah Advances in Arsal Farms, Pushes Back Nusra Fighters form Al-Qalamoun
• 'More than 230,000 killed' in Syria conflict
Pakistan
• Pakistani Taliban Attempts to Recruit Rohingyas to Kill Myanmar's Rulers
• Airstrikes in Khyber Kill 12 Suspected Militants
• WILL campaign to empower women politicians
• Pakistani Citizens Take to Streets to Condemn Violence against Shiites
South Asia
• Razakar Commander Syed Md Hasan Ali to Die For War Crimes
• Three Soldiers Martyred, 31 Militants Killed In Newest Military Operations In Afghanistan
• Five people killed after bomb exploded at a police officer's home in Faryab
• DB: Huji militants planned bank heists to raise funds
• Maldives: Two judges in ex-president's terrorism trial appointed to high court
India
• Neither Law nor Islam Permit A Muslim Man to Perform another Marriage by Defeating the Rights of First Wife," Judge
• Hurriyat's Geelani Invites Separatist Leaders, Sikh Groups for Seminar
• Modi government planning to build hi-tech Ram museum in Ayodhya to promote Ramayana
North America
• With Islamic State Using Instant Messaging Apps, FBI Seeks Access to Data
• Video Shows Black Muslim Shot By Boston Police, FBI
• US Senators call for Maldives ex-president's release
• Supreme Court Backs White House on Jerusalem Passport Dispute
• Obama: US lacks 'complete strategy' for training Iraqis
• American Author: Democracy in Yemen Sets "Bad Example" for Authoritarian Arab Regimes
• US Army Website Offline after Hack by Syrian Electronic Army
Europe
• G-7 Leaders Grapple with Stronger Action against Russia, Islamic State
• 16 ISIL-Linked Chechen Terrorists Arrested in Belgium
• Tajikistan ends Facebook block prompted by IS defector
• Israel not on U.N. list of child killers, abusers
• UN finds Eritrea may have committed crimes against humanity
• UK Teachers: We're Scared To Tackle Extremism In Case We're Called 'Islamophobes'
Mideast
• Iran: 7 Prisoners Executed, 45 Face Imminent Execution
• FM: Palestinians Set To File Complaints against Israel at ICC
• Hadi: No talks with rebels in Geneva
• IRGC Commander: ISIL Posing Zero Threat to Iran
• Yemeni Forces Warn off Saudi Soldiers in Jizan
Africa
• Somali Leader Predicts Defeat of Extremists by End of 2015
• ISIS seizes power plant near Libyan city of Sirte
• Libya's warring rivals mull U.N. peace proposal
• Cape Town Expo Celebrates Islamic Culture
Southeast Asia
• Mosques and Temples, Yes, But Not RTD, Group Says Of New Dress Code
• Important bilateral ties with Saudis kept me from Sabah, says Najib
• Pakatan dead with Hudud push anyway, says Kit Siang
Compiled by New Age Islam News Bureau
URL: https://www.newageislam.com/islamic-world-news/new-age-islam-news-bureau/islamic-state-militants-selling-ancient-artefacts-they-aren-t-destroying/d/103409
--------
Arab World
Islamic State Militants Selling Ancient Artefacts They Aren't Destroying
09 June, 2015
Islamic State militants have provoked a global outcry by attacking ancient monuments with jackhammers and bulldozers. But they also have been quietly selling off smaller antiquities from Iraq and Syria, earning millions of dollars in an increasingly organized pillaging of national treasures, according to officials and experts.
The Islamic State has defended its destruction of cultural artifacts by saying they are idolatrous and represent pre-Islamic cultures. Behind the scenes, though, the group's looting has become so systematic that Islamic State has incorporated the practice into the structure of its self-declared caliphate, granting licenses for digging in historic sites through a department of "precious resources."
The growing trade reflects how the Islamic State fighters have entrenched themselves since seizing the Iraqi city of Mosul a year ago Wednesday, in a dramatic expansion of the territory they control in this country and neighbouring Syria.
The extremist group's recent capture of Syria's majestic 2,000-year-old ruins at Palmyra. threw a spotlight on the risk that Islamic State poses to the region's rich cultural heritage. It is however, just one of 4,500 sites under the group's control, according to the Paris-based Financial Action Task Force.
"They steal everything that they can sell, and what they can't sell, they destroy," said Qais Hussein Rasheed, Iraq's deputy minister for antiquities and heritage.
"We have noticed that the smuggling of antiquities has greatly increased since last June," he added, referring to the month in which Islamic State militants took control of Mosul and large parts of northern Iraq.
At that time, militants also seized the ancient Assyrian capital of Nineveh. In a video released earlier this year, Islamic State showed its fighters drilling off the faces of the mighty stone-winged bulls on the gates of the city. The militants also filmed themselves destroying statues at Mosul's museum. But many of those items were actually replicas of antiquities kept in Baghdad, Iraqi officials said. Anything genuine and small enough to move was likely sold off or stockpiled by the militants, they said.
Iraq has suffered from years of despoilment of its historic sites, as thieves have taken advantage of instability in the country. The sacking of the poorly guarded national museum in Baghdad after the U.S. invasion in 2003 was decried around the world.
Islamic State's plundering began in a haphazard fashion when the extremists first gained a foothold in Syria. But the trade has become more organized as the group has conquered territory.
Islamic State grants licenses for the excavation of ancient sites through its "Diwan al-Rikaz" — a governing body for overseeing resources in the "caliphate." The body has a department for oil and gas, as well as antiquities, documentation from the group shows.
"Islamic State has incorporated the activity of excavation into its bureaucracy," said Aymenn al-Tamimi, a researcher on jihadist groups at the Britain-based Middle East Forum who has compiled an archive of Islamic State administrative documents.
How much Islamic State earns from the trade is difficult to estimate. Iraqi officials say it is the group's second-most-important commercial activity after oil sales, earning the militants tens of millions of dollars.
With the extremist group struggling to maintain its oil revenue in the wake of U.S. airstrikes that damaged infrastructure, experts and officials worry that Islamic State — also known as ISIS or ISIL — might focus even more on illegal excavations.
"It's a dependable source of revenue, which makes it very attractive, and it's surprisingly untapped," said Michael Danti, a professor of archaeology at Boston University. "Over time, we've seen ISIL and organizations like it increase their ability to draw revenue from these crimes."
Danti, who advises the State Department on the trade in plundered antiquities from Iraq and Syria, said some looted items have made their way to U.S. and other Western markets — especially antiquities in the lower- and medium-price ranges, such as stone seals with cuneiform inscriptions.
Larger, more conspicuous items will probably go through a laundering process that takes years and involves the forging of documents to suggest a legal provenance. To be traded legally, the items must have been excavated or exported before 1970, when a UNESCO convention came into force prohibiting trade in such cultural property. But the market is poorly regulated and the Archaeological Institute of America estimates that as much as 90 percent of classical artifacts in collections may be stolen antiquities.
Smaller items from Iraq and Syria are now "flooding the market" and are widely sold online, said Deborah Lehr, the co-founder of the Antiquities Coalition, which aims to end "cultural racketeering." She said her organization has been emailed by brokers selling smuggled antiquities who mistakenly took her group for collectors.
"There needs to be better education and better regulation," she said. "The public needs to know that by purchasing these items, people are potentially funding terrorism."
In Baghdad, officials say they are doing what they can to stem the flow, but Islamic State is utilizing decades-old smuggling networks that sprung up as the robbery of artifacts increased.
During the first Gulf War in 1991, and uprisings that followed it, thousands of items were lost as thieves took advantage of Saddam Hussein's loosened grip on the country's heritage sites.
The U.S.-led invasion in 2003 brought more looting, with sites left completely unprotected. Thieves stole thousands of ancient objects from the national museum in Baghdad.
From Iraq, antiquities are smuggled to Kuwait, Israel and Turkey, all regional transit hubs, said Col. Firas Hussein Abed, an Iraqi army commander who oversaw an investigation into a smuggling ring in April.
A bust by his officers led to the arrest of four people and the recovery of 25 items, which experts are examining to ascertain whether they came from Islamic State-controlled sites.
Around Mosul, there are reports of widespread digging for ancient objects to sell. Amr al-Julaimi, a lecturer in Mosul University's antiquities department until it was closed by Islamic State, said residents have informed him that the group is excavating areas around the tomb of Jonah, the prophet famed in Islam and Christianity for being swallowed by a whale. The tomb was destroyed last July by the group, which deemed it idolatrous.
"The longer until Mosul is liberated, the more the danger that our human legacy will be wiped out," he said.
One indicator of how rapidly the illegal trade may be growing is the number of declared imports into the United States of antiquities said to be excavated long enough ago to be legal to trade.
The value of antiques and ancient artifacts from Iraq imported into the United States jumped fourfold between 2010 and 2014, reaching more than $3.5 million, according to U.S. International Trade Commission figures. Imports from Syria and Egypt have also rocketed.
"It's highly suspicious," said Danti, the Boston University professor. "These spikes in supposed legal imports perfectly correlate with the breakdown in law and order in these countries. I'd be shocked if all of it was legal."
In Iraq, Rasheed advocates a blanket ban on the trade in antiquities from the country. In the same compound as his office is the national museum, recently reopened to the public for the first time since 2003 in what officials described as an act of defiance against Islamic State destruction.
"The Iraqi people need to be able to witness their history, their diversity," Rasheed said. "What's happening is a tragedy."
http://www.chicagotribune.com/news/nationworld/ct-islamic-state-selling-ancient-artifacts-20150608-story.html#page=2
--------
Syrian Air Raids Kill over 50 Terrorists in Idlib
09 June, 2015
More than 50 terrorists, including 7 high-profile commanders, were killed after Syrian warplanes targeted al-Nusra Front positions in Idlib.
According to reports by FNA dispatches, the Syrian fighter jets launched their heaviest air raids yet on al-Nusra targets in the Northwestern province of Idlib on Monday, leaving more than 50 militants dead and 115 others seriously injured.
The reports also said that at least seven senior commanders of the terrorist group were also killed in the strikes, adding that Osame Ben Torki and Seyfeddin Torkestani were among the dead ringleaders.
On June 7, the army troops took back three villages almost two kilometers (one mile) South of Hasakah after driving out the al-Nusra terrorists.
Syrian forces, backed by volunteer forces, also stymied an attempt by the terrorist to infiltrate a village in Northeastern Hasakah.
Earlier in the day, the Syrian soldiers stormed the ISIL hideouts in the Northern and Eastern countryside of Aleppo and Homs, forestalling the terror group for launching further attacks against the Arab country.
Elsewhere in Syria, the Takfiri groups suffered major losses in the areas of al-Salamiyah, Umm Taweenah, Zanouba, and Rasm Al-Qadisiyah, after the army troops made gains in their battle against the ISIL terrorists in Eastern Hama.
Also, more than 200 ISIL terrorists participated in a major operation in an attempt to take over Deir Ezzur's military airport on Sunday, but the Syrian troops managed to drive them out, forcing them to flee the battlefield.
The ISIL Takfiri terrorists currently control shrinking swathes of Syria and Iraq. They have threatened all communities, including Shiites, Sunnis, Kurds, Christians, Ezadi Kurds and others, as they continue their atrocities in Iraq.
Senior Iraqi officials have blamed Saudi Arabia, Qatar, and some Persian Gulf Arab states for the growing terrorism in their country.
The ISIL has links with Saudi intelligence and is believed to be indirectly supported by the Israeli regime.
http://english.farsnews.com/newstext.aspx?nn=13940319000521
--------
Racial Discrimination, Ethnic Cleansing In Myanmar Flayed by Saudi Arabia
09 June, 2015
JEDDAH: Saudi Arabia has called on the international community to act against the Buddhists who are persecuting Rohingya Muslims in Myanmar.
Citing resolutions adopted by the United Nations and the Organization of Islamic Cooperation, the Council of Ministers, chaired by Custodian of the Two Holy Mosques King Salman, said a policy of racial discrimination and ethnic cleansing was under way in that country.
Culture and Information Minister Adel Al-Toraifi said the Cabinet also slammed recent attempts to destabilize Bahrain. It commended that country's security agencies for thwarting a terrorist plot associated with foreign groups.
The Cabinet praised King Salman for his speech, during a recent meeting with anti-graft officials and activists, which outlined the government's zero tolerance for corruption.
It also lauded the king for deciding to award medals of bravery to the citizens who lost their lives trying to prevent the suicide attack at Al-Hussein Mosque in Dammam.
The ministers praised citizens for standing together after the bombings, and commended the country's military for repelling attacks by Houthis on the Kingdom's borders, said Al-Toraifi.
He said the Cabinet reviewed the operational plans of all government and private agencies for the upcoming holy month of Ramadan, when millions of pilgrims arrive for Umrah. King Salman urged the agencies to ensure that pilgrims can complete their rituals peacefully, he said.
The Cabinet meeting passed a new law to prevent trafficking in wild animals that face extinction, and their parts. It authorized the president of King Abdulaziz City for Science and Technology to discuss with France a draft agreement on scientific and technical cooperation.
It authorized the acting minister of housing to discuss with Russia a draft agreement on housing.
Another agreement with Russia would be signed for cooperation in agriculture.
The Cabinet endorsed several resolutions taken by the last Gulf Cooperation Council (GCC) summit in Doha, Qatar, including the updated Gulf plan for non-communicable disease prevention and control; the unified rules and principles for the integration of GCC financial markets; the declaration on human rights; the unified food system guidelines for two years; and the GCC Customs Union Commission.
The meeting authorized the president of the General Authority of Civil Aviation to sign an agreement with Cameroon for air transport services. It appointed Musaed bin Ibrahim Al-Hudaithi administrative adviser at the Ministry of Islamic Affairs.
Other appointments include Abdullatif bin Abdulaziz Al-Harthi undersecretary for reconstruction and projects at Jeddah Municipality; Abdullah bin Mudlej Al-Mudlej secretary general of King Fahd Qur'an Printing Complex; and Abdul Rahman bin Abdullah Al-Tuwaijri director general of the Islamic Affairs Ministry office in Riyadh.
http://www.arabnews.com/featured/news/759196
--------
Source: 10 Key Areas Recaptured from ISIL in Anbar
09 June, 2015
The Iraqi army continued to make gains in its fight against the ISIL in the Western Anbar province, retaking ten key areas from the Takfiri group, a military source said.
Iraq's Ministry of Defense issued a statement on Tuesday, saying the army troops backed by volunteer forces inflicted major losses on the ISIL in the town of al-Karma, West of Baghdad, and recaptured ten strategic areas from the terrorist group.
The statement added the areas of al-Hamrah, Ma'sekar, Aboudlaf, Albu Aabbas, al-Malali and Jazirah were among the districts cleared of the terrorists in the operations.
The retaking of the districts has effectively cut off ISIL's supply lines into Ramadi, the capital of Anbar, which is currently under the control of the militants, it further added.
The latest development came after the Iraqi army liberated the strategic town of Nazim Tharthar North of Anbar province.
According to the latest reports, the Iraqi army is now heading towards Nazim Taqsim town, 20 kilometers from Ramadi.
Hadi al-Ameri, the secretary general of Iraq's Badr Organization, said, "Iraqi fighters are currently 500 meters from the town and they will keep closing in as soon as a bridge damaged by the terrorist is repaired."
The ISIL Takfiri terrorists currently control shrinking swathes of Syria and Iraq. They have threatened all communities, including Shiites, Sunnis, Kurds, Christians, Ezadi Kurds and others, as they continue their atrocities in Iraq.
Senior Iraqi officials have blamed Saudi Arabia, Qatar, and some Persian Gulf Arab states for the growing terrorism in their country.
ISIL has links with Saudi intelligence and is believed to be indirectly supported by the Israeli regime.
http://english.farsnews.com/newstext.aspx?nn=13940319000358
-------
Syrian rebels say they capture major base from army in south
9 June 2015
Syrian rebels said they had captured a major Syrian army base in the south of the country on Tuesday, a defeat that would add to the pressure on President Bashar al-Assad after other recent setbacks.
"We announce the liberation of Liwa 52," said Issam al-Rayyes, spokesman for the "Southern Front" alliance of rebel groups. The base "Liwa 52", or the 52nd Brigade, is near the city of Deraa near the border with Jordan.
Bashar al-Zoubi, leader of one of the Southern Front groups, also said the attack launched on Tuesday morning had resulted in the capture of the base.
Syrian officials could not immediately be reached for comment.
https://english.alarabiya.net/en/News/middle-east/2015/06/09/Syrian-rebels-say-they-capture-major-base-from-army-in-south.html
--------
Egypt court sentences 11 to death in Port Said stadium case
9 June 2015
An Egyptian court on Tuesday sentenced 11 men to death for involvement in deadly soccer stadium violence in 2012, a televised court session showed.
One of the 11 men was sentenced in absentia.
In April, the judge had referred the sentencing of the 11 to Egypt's Grand Mufti, the country's most senior religious authority, a step towards the death penalty.
https://english.alarabiya.net/en/News/middle-east/2015/06/09/Egypt-court-sentences-11-to-death-in-Port-Said-stadium-case-.html
--------
IS in Egypt's Sinai kills man accused of being police 'spy'
9 June 2015
The Egyptian branch of the Islamic State group released a video Monday showing the jihadists killing a man in North Sinai after accusing him of being a police "spy".
Ansar Beit al-Maqdis -- which has pledged allegiance to IS and renamed itself "Sinai Province" -- has carried out a spate of deadly attacks on the peninsula since last year.
In the video distributed on Twitter and YouTube on Monday, the Egyptian man accused of being a "spy" for the security services was shot in the neck by the jihadists.
Before the killing, the man identified himself in front of the camera and said the security services had charged him with infiltrating the Sinai-based extremists and collecting information about them.
Jihadists have killed scores of police and soldiers in attacks on the Sinai peninsula since the ouster of Islamist president Mohamed Morsi in July 2013.
They are seeking to establish a province of the self-declared IS "caliphate" straddling parts of Syria and Iraq and say the attacks are retaliation for a deadly government crackdown on Morsi's supporters since his ouster.
*This article was edited by Ahram Online
http://english.ahram.org.eg/NewsContent/1/64/132293/Egypt/Politics-/IS-in-Egypts-Sinai-kills-man-accused-of-being-poli.aspx
--------
Lebanese Hezbollah Advances in Arsal Farms, Pushes Back Nusra Fighters form Al-Qalamoun
09 June, 2015
The Lebanon's Hezbollah Resistance Movement alongside the Syrian Army stormed the positions of al-Nusra terrorists in the nearby areas of Jreijeer and took control over this strategic spot, military sources said.
The sources said that the terrorists' concentration center in Jreijeer was their last stronghold in al-Qalamoun.
The Hezbollah fighters also advanced in other parts of Arsal farms, and took control over a number of posts of al-Nusra Front.
Hezbollah Deputy Leader Sheikh Naeem Qassem underlined that the Lebanese resistance movement will continue fighting against the Takfiri terrorists in Arsal border region.
"We will continue our battle in Arsal hilltops until uprooting the last terrorist in that region, but (protecting) the security of the city of Arsal is the duty of the Lebanese government that needs to be fulfilled," the Lebanese Elnashra news website quoted Sheikh Qassem as saying on Monday.
The Lebanese deputy chief, meantime, pointed to the regional crises created by the West, and said, "The western countries are good at creating crises, but they are unsuccessful when it comes to ending them."
http://english.farsnews.com/newstext.aspx?nn=13940319000485
--------
'More than 230,000 killed' in Syria conflict
9 June 2015
Syria's brutal conflict has left more than 230,000 people dead including almost 11,500 children since it broke out in 2011, a monitoring group said Tuesday.
The Britain-based Syrian Observatory for Human Rights said it had documented the deaths of 230,618 people.
The toll includes 69,494 civilians, among them 11,493 children and 7,371 women.
Combatants account for a majority of those killed, with 49,106 regime forces and 36,464 government loyalists among the dead.
The loyalist fighters killed were mostly members of local militias, but also included 838 from Lebanon's powerful Shiite movement Hezbollah and 3,093 Shiite fighters from other countries.
The Observatory documented the deaths of 41,116 rebels, Syrian jihadists and Kurdish fighters.
Full report at:
https://english.alarabiya.net/en/News/middle-east/2015/06/09/More-than-230-000-killed-in-Syria-conflict.html
--------
Pakistan
Pakistani Taliban Attempts to Recruit Rohingyas to Kill Myanmar's Rulers
09 June, 2015
Islamabad: The Pakistani Taliban urged Muslims in Myanmar to rise up and fight the country's rulers, saying the Taliban's resources and training facilities were available to help them "take up the sword".
Ehsanullah Ehsan, spokesman for the hard-line Jamaat-ul-Ahrar faction of the Tehreek-e-Taliban Pakistan (TTP) movement, said they "shared the grief" of Myanmar's beleaguered Rohingya Muslim minority.
Myanmar refuses to recognise most of its 1.3 million Rohingya as citizens and places a series of restrictions on them, such as family size, movements and access to jobs.
The country's impoverished western state of Rakhine has become a tinderbox of tension between the Buddhist majority and the Rohingya, many of whom live in displacement camps after deadly unrest erupted in 2012.
Full report at:
http://www.smh.com.au/world/pakistani-taliban-attempts-to-recruit-rohingyas-to-kill-myanmars-rulers-20150609-ghjjhf.html
--------
Airstrikes in Khyber kill 12 suspected militants
9 June 2015
ISLAMABAD: At least twelve suspected militants were killed during airstrikes in Khyber Agency on Tuesday, said a statement issued by Inter-Services Public Relations (ISPR).
Fighter jets carried out airstrikes in the early hours of Tuesday near the Pak-Afghan border, which is part of Khyber Tribal Agency. The 12 terrorists that were killed include some important militant commanders as well, ISPR said.
Security forces are already involved in Operation Khyber-Two military operation against Taliban and other terrorist groups hiding in different parts of the Tirah valley. The operation aims to reclaim all areas under the control of several outlawed militant groups in Khyber Agency and Fata.
Full report at:
http://www.dawn.com/news/1187133/airstrikes-in-khyber-kill-12-suspected-militants
--------
WILL campaign to empower women politicians
09 June, 2015
Women politicians from Khyber-Pakhtunkhwa shared progress on their strategies to address the needs of the people living in the province at the concluding event of Women's Initiative for Learning and Leadership (WILL).
Initiated by the NGO Search for Common Grounds (SFCG), the WILL campaign aims at helping women participate more in Pakistan's political landscape by understanding their constituents' needs and concerns.
"The WILL campaign is aimed at empowering women politicians to proactively seek opportunities to improve government services through legislation for their local communities," said SFCG Programme Manager Sarah Kakakhel. "Once they are well-equipped they can help locals by providing them with basic needs such as those of health and education – services that remain unmet."
Full report at:
http://tribune.com.pk/story/900556/will-campaign-empower-women-politicians/
---------
Pakistani Citizens Take to Streets to Condemn Violence against Shiites
09 June, 2015
Pakistan's Southwestern city of Quetta was the scene of massive popular demonstration and strike to condemn new waves of violence against the civilians, particularly the Shiites.
On Monday, almost all businesses and institutions, including government offices and schools, remained closed, and traffic stayed off the streets across Quetta, the provincial capital of Baluchistan Province, the Islam Times reported.
The strike was called by the civil and human rights groups to protest the unabated killings of Shiite Muslim in the region.
The strike comes a day after heavily-armed militants shot dead at least five members of Shiite Hazara community in the volatile city.
Also on late Sunday, hundreds of Shiite Hazara people and activists poured onto the streets of Quetta to denounce the killings by pro-Taliban militant groups.
Full report at:
http://english.farsnews.com/newstext.aspx?nn=13940319001055
--------
South Asia
Razakar Commander Syed Md Hasan Ali to Die For War Crimes
Ashif Islam Shaon
09 June, 2015
Razakar commander Syed Md Hasan Ali has been sentenced to death for committing crimes against humanity during the 1971 Liberation War.
Justice M Enaytur Rahim, chairman of the three-member panel of ICT 1, pronounced the verdict on Monday noon.
The war criminal has been found guilty in five charges out of six.
The 65-year-old convict, who remains on the run, was given death penalty in charge 3 and 4.
He was awarded imprisonment until death in charge 2, 5 and 6. He was found not guilty in charge 1.
The five proven charges against Hasan Ali are:
Charge 2: Killing one Tofazzal, abduction of two other people and burning of two houses in Konabhawal village of Kishoreganj.
Charge 3: Involvement in killing 12 persons and torching 10 houses in Shimulhati village.
Charge 4: Killing eight people and abducting 10 others in Borgaon village.
Charge 5: Abduction and murder of two and looting one of their houses in Araiura village.
Charge 6: Having links to the killing of Rashid Ali Bepari and torching 100 houses in Sachail village.
http://www.dhakatribune.com/bangladesh/2015/jun/09/hasan-ali-die-war-crimes#sthash.QhoGRGxB.dpuf
--------
Three soldiers martyred, 31 militants killed in newest military operations
09 June, 2015
Three soldiers have embraced martyrdom while 31 soldiers killed in newest military operations across the country, ministries of defense and interior said on Tuesday.
A statement issued by the Ministry of Defense states that the three soldiers embraced martyrdom in enemy fire and landmine explosion in past 24 hours. The statement does not specify the exact location of the incidents.
In the meantime, a statement issued by the Ministry of Interior states that military killed 31 militants in separate actions in 10 provinces in past 24 hours.
The operations were conducted in Khost, Paktiya, Ghazni, Nangarhar, Takhar, Kunduz, Badakhshan, Jawzjan, Oruzgan and Kandahar provinces where security forces also defused 18 different types of Improvised Explosive Devices (IEDs), planted by insurgents.
IEDs are considered the second biggest cause behind the raising number of civilian casualties in Afghan war.
A recent report by UN shows that the war left almost 1,000 civilians killed and nearly 2,000 others wounded in the first four months of this year in Afghanistan.
http://www.khaama.com/three-soldiers-martyred-31-militants-killed-in-newest-military-operations-3463
--------
Five people killed after bomb exploded at a police officer's home in Faryab
Jun 09 2015
Five people killed after bomb exploded at a police officer's home in Faryab
Five people have been killed in a bomb explosion in northern Faryab province.
Local officials said that the bomb exploded inside the house of a police officer in Grizwan District.
Abdul Razaq Kakar, governor of Grizwak District said those killed in the explosion are two men and three females all members of the same family.
Kakar said those killed in the blast comprise the police officer, his wife, son, daughter and a dauther-in-law.
Two sons of the police officer also sustained injuries in the explosion who have been admitted to the hospital for treatment.
Security agencies have set up an inquiry into the incident.
Local villagers say the police officer used to keep seized bombs in his home and one of them might have exploded taking his and the lives of his family members.
http://www.khaama.com/five-people-killed-after-bomb-exploded-at-a-police-officers-home-in-faryab-3464
--------
DB: Huji militants planned bank heists to raise funds
09 June, 2015
Detectives have found that a group of militants had been planning a bank heist to raise money for the so-called Bangladesh Jihadi Group, thought to be a common platform of the major outlawed outfits.
The decision to form such a platform came more than a year ago when the leaders of Jama'atul Mujahideen Bangladesh (JMB), Harkat-ul Jihad Al Islami Bangladesh (Huji-B) and the Ansarullah Bangla Team held a secret meeting inside a jail. But that decision could not be materiliased because of a shortage of fund.
Full report at:
http://www.dhakatribune.com/bangladesh/2015/jun/09/db-huji-militants-planned-bank-heists-raise-funds#sthash.vK8Oh6o6.dpuf
--------
Maldives: Two judges in ex-president's terrorism trial appointed to high court
09 June, 2015
Two criminal court judges who sentenced ex-president Mohamed Nasheed to 13 years in jail in a widely criticised trial have been appointed to the High Court today.
Judges Abdulla Didi and Sujau Usman took the oath of office at a surprise ceremony at the Supreme Court this morning.
Two seats on the nine-member bench have been vacant since the high court's chief judge was demoted to the juvenile court in August, and another judge retired in February this year.
The appointment of new judges was stalled when the high court in October last year said the evaluation criteria was flawed.
But the Supreme Court on May 28 overturned the ruling, paving the way for Didi and Usman's appointment.
Full report at:
http://minivannews.com/politics/two-judges-in-ex-presidents-terrorism-trial-appointed-to-high-court-99316#sthash.a2LbGFQ3.dpuf
-------
India
Neither Law nor Islam Permit A Muslim Man to Perform another Marriage by Defeating the Rights of First Wife," Judge
09 June, 2015
Hyderabad, June 07:A family court in Mumbai has restrained a Muslim US-returned paediatrician from marrying for the second time till he settles the rights and dues of his first wife."The religion and the law both do not permit a Muslim men to perform another marriage as of a right by thrashing and delaying the rights of his first wife," said Judge Swati Chauhan in her order.Dr Akbar Khan (name changed) a resident Worli is directed "not to perform another marriage" till he grant an alternate accommodation to his first wife 'Sakina' and, until her plea for maintenance is not "heard, decided and fully complied with", the court directed. Sakina (34) had moved the court after finding that Akbar (45) had posted a matrimonial ad that he is "desirous of marrying an unmarried young girl in the age group of 18-25 years". She apprehended that Akbar's remarriage would "frustrate and defeat her lawful rights". The couple married on May 27, 2001 and the next month moved to the US where four sons, between 12 and 4 years, were born. Frictions arose between them even before the family shifted back to Mumbai in September 2011 and into a leased flat in Versova.Judge Chauhan said that from a careful hearing of the case, it is understood that Muslim men are preached that they can marry for the second time only if they are able to be equitable to both the women. "In the same breathe she said the 'Surah nisa' further states that practically this is not possible and therefore second marriage should not be contracted because it will cause injustice". Chauhan said various authors and authoritative writings have discouraged polygamy and stringent conditions were imposed on men even during the lifetime of Prophet Mohammad. The judge said Akbar's "conduct is absolutely against the orders of the Holy Quran", as he has "shown least care towards the issue of food, clothing, maintenance and accommodation. Sakina had initially approached the family court in Bandra for custody of her three older children saying Akbar without her consent had snatched them from her. She pointed out that the Akbar had not complied with the court's earlier order to allow her access to her 3 sons and alternate accommodation. She urged that Akbar be directed not to marry another woman till her rights are adjudicated upon. nt from Yahoo! Mail on Android
----------
Hurriyat's Geelani invites separatist leaders, Sikh groups for seminar
PTI | Jun 9, 2015
SRINAGAR: Hardline Hurriyat Conference headed by Syed Ali Shah Geelani is holding a seminar to which several separatist leaders, including from Sikhs groups, and Christian community representatives have been invited.
"Hurriyat Conference has decided to organise a seminar in Srinagar on June 14 in which people from different walks of life will express their views on the topic 'How to Resist the Indian State Fascism'," a spokesman of the separatist amalgam said.
"The personalities who have been invited for the proposed seminar include Akali Dal leader Simranjit Singh Mann, Dal Khalsa leader Kanwarpal Singh, noted human rights activist Gautam Navlakha and representatives of the Christian community," the spokesman said.
He said it will be an important seminar in which prominent scholars, intellectuals, writers and "pro-freedom leaders" of Kashmir would also participate.
http://timesofindia.indiatimes.com/india/Hurriyats-Geelani-invites-separatist-leaders-Sikh-groups-for-seminar/articleshow/47598769.cms
---------
Modi government planning to build hi-tech Ram museum in Ayodhya to promote Ramayana
Anubhuti Vishnoi,ET Bureau | Jun 9, 2015
NEW DELHI: No temple, but here's a museum. The Narendra Modi government is planning to build a state of-the-art Ram museum in the politically charged town of Ayodhya. Tourism minister Mahesh Sharma told ET that the museum will be part of the proposed 'Ramayana circuit'.
The locus of past and possible political battles — the 'disputed site' — will not be part of the Ram museum. "This will be an exclusive museum which will be part of a larger holistic plan. The idea is to depict the mahima (grandeur) of Ram and Ramayana. The disputed site will not be touched by the project," Sharma said. "It is on high priority and the scale will depend on funds available. We will do this next year."
http://timesofindia.indiatimes.com/india/Modi-government-planning-to-build-hi-tech-Ram-museum-in-Ayodhya-to-promote-Ramayana/articleshow/47596857.cms
---------
North America
With Islamic State using instant messaging apps, FBI seeks access to data
09 June, 2015
WASHINGTON — Islamic State militants and their followers have discovered an unnerving new communications and recruiting tool that has stymied U.S. counter-terrorism agencies: instant messaging apps on smartphones that encrypt the texts or destroy them almost immediately.
In many cases, U.S. intelligence and law enforcement agencies can't read the messages in real time, or even later with a court order, because the phone companies and the app developers say they can't unlock the coded text and don't retain a record of the exchanges.
"We're past going dark in certain instances," said Michael B. Steinbach, the FBI's top counter-terrorism official. "We are dark."
The hole in U.S. surveillance capabilities was not mentioned during the recent congressional battle over the National Security Agency's bulk collection of U.S. landline and cellphone data. Lawmakers ultimately agreed to scale back that program because of concerns it violated Americans' privacy.
Full report at:
http://www.duluthnewstribune.com/news/3762118-islamic-state-using-instant-messaging-apps-fbi-seeks-access-data
--------
Video shows black Muslim shot by Boston police, FBI
9 June 2015
US authorities Monday released video of a black Muslim man shot dead by police and the FBI in Boston, and accused of planning to behead police officers.
The grainy video was filmed by a surveillance camera fixed to a Burger King about 50 yards from the confrontation with Usaamah Rahim, a 26-year-old security guard, in a parking lot.
Police say Rahim was killed after he refused multiple demands to drop a military-style knife. Those demands are not audible, nor is the weapon clearly visible on the video.
The footage shows Rahim walking towards a bus stop, officers approaching him, then retreating and then Rahim falling to the ground.
District Attorney Daniel Conley said he was releasing the video to clamp down on "rumors and bad information" as he investigates whether Rahim's killing was lawful. It was just one piece of evidence among many, he said.
Full report at:
http://english.ahram.org.eg/NewsContent/2/9/132279/World/International/Video-shows-black-Muslim-shot-by-Boston-police,-FB.aspx
--------
US Senators call for Maldives ex-president's release
09 June, 2015
The US Senators chairing the Senate Armed Services Committee have urged their government to press for the release of all political prisoners in the Maldives, including former President Mohamed Nasheed.
The letter by US Senators John McCain and Jack Reed adds to the growing calls for Nasheed's release, and warns that the Maldives' decisions are "having serious adverse consequences on its relationships abroad."
Mc Cain, a Republican, and Reed, a Democrat, have also filed today an amendment to the annual military policy bill, which expresses Congressional support for Nasheed and other political prisoners' release.
The bill, now on the floor of the Senate, tops US$600billion in costs. Important provisions include authorising and funding lethal arms for Ukrainians against Russian-backed separatist forces.
Full report at:
http://minivannews.com/politics/us-senators-call-for-ex-presidents-release-99330#sthash.NnLWOwgw.dpuf
--------
Supreme Court Backs White House on Jerusalem Passport Dispute
By ADAM LIPTAK
09 June, 2015
WASHINGTON — In an important separation-of-powers case, the Supreme Court on Monday struck down a law that would have allowed American parents of children born in Jerusalem to obtain passports saying the children were born in Israel. The president, rather than Congress, must determine national policy on the status of Jerusalem, the majority said.
The decision came against the backdrop of generations of conflict in the Middle East and longstanding tensions between Congress and presidents on the conduct of foreign policy there. The vote was 6 to 3, with Chief Justice John G. Roberts Jr. and Justices Antonin Scalia and Samuel A. Alito Jr. dissenting.
Full report at:
http://www.nytimes.com/2015/06/09/us/politics/supreme-court-backs-white-house-on-jerusalem-passport-dispute.html?emc=edit_na_20150608&nlid=28904237&_r=0
--------
Obama: US lacks 'complete strategy' for training Iraqis
09 June, 2015
ELMAU, Germany (AP) — Acknowledging military setbacks, President Barack Obama said Monday the United States still lacks a "complete strategy" for training Iraqi forces to fight the Islamic State. He urged Iraq's government to allow more of the nation's Sunnis to join the campaign against the violent militants.
Nearly one year after American troops started returning to Iraq to assist local forces, Obama said the Islamic State remains "nimble, aggressive and opportunistic." He touted "significant progress" in areas where the U.S. has trained Iraqis to fight but said forces without U.S. assistance are often ill-equipped and suffer from poor morale.
Full report at:
http://news.yahoo.com/obama-huddles-over-mideast-problems-summit-sidelines-070855664.html
--------
American Author: Democracy in Yemen Sets "Bad Example" for Authoritarian Arab Regimes
09 June, 2015
James H. Fetzer, an American philosopher and political analyst, said the Saudi interception of Iran's humanitarian aid cargo to Yemen is "extremely distressing and very disappointing".
"It is very disturbing that there should be interference with their (Iranians) attempts to support the people in humanitarian ways. It's extremely distressing and very disappointing and shows that the nations of the world are really not quite equal to the demands that are encountered in the situation like this," said Prof. James H. Fetzer in a phone interview with Fars News Agency.
Full report at:
http://english.farsnews.com/newstext.aspx?nn=13940318101028
--------
US Army Website Offline after Hack by Syrian Electronic Army
09 June, 2015
The US Army took its official website down as a precaution after it was compromised by the Syrian Electronic Army.
The Syrian Electronic Army claimed responsibility for a Monday hack of Army.mil, the US Army's main website for news and public information. Pop-ups posted to the page criticize US military moves in the Middle East, cnet reported.
"Your commanders admit they are training the people they have sent you to die fighting," the pop-up message on www.army.mil read, a screenshot of which the group posted to Twitter.
Attempts to reach the website Monday afternoon were met with a "network error" message. US Army officials confirmed they took the site down to prevent any sensitive data from being compromised.
Full report at:
http://english.farsnews.com/newstext.aspx?nn=13940319000442
--------
Europe
G-7 Leaders Grapple With Stronger Action Against Russia, Islamic State
09 June, 2015
KRÜN, Germany—President Barack Obama and other world leaders laid the groundwork for more strenuous action against Russian aggression and in the battle with Islamic State militants, raising the specter of fresh sanctions against Moscow and signaling plans to accelerate training for Iraqi forces.
After a summit in Germany with leaders of the world's largest industrialized democracies, Mr. Obama acknowledged challenges that the U.S. and its allies face in two of the world's most pressing foreign-policy crises.
While leaders of the Group of Seven nations claimed agreement on key global issues such as climate change, they found few easy answers in a two-day summit to conflicts in Ukraine and the Middle East.
Full report at:
http://www.wsj.com/articles/obama-says-g-7-supports-more-sanctions-on-russia-1433773541
--------
16 ISIL-Linked Chechen Terrorists Arrested in Belgium
09 June, 2015
Belgian security forces detained 16 terrorists in a national crackdown on groups of Chechens, whom were suspected of recruiting militants for the ISIL terrorist group and al-Nusra Front, media reports said.
The federal prosecutor's office said the arrests took place Monday, Fox News reported.
Those arrested were described as members of two separate Chechen extremist groups that had links between them.
The prosecutor's office said some of those arrested had participated in combat in Syria, where thousands of Europeans have gone to fight alongside the ISIL Takfiri group and other extremist organizations.
http://english.farsnews.com/newstext.aspx?nn=13940319000470
--------
Tajikistan ends Facebook block prompted by IS defector
9 June 2015
Ex-Soviet Tajikistan on Monday lifted blocks on popular websites including Facebook and YouTube it imposed after a police chief appeared in an online video announcing his defection to the Islamic State group.
Local Internet providers restored access to blocked websites that also included the Russian social networks Odnoklassniki and VKontakte, as well as popular independent news agency Asia Plus, following pressure from the United States.
A block on the Tajik service of Radio Free Europe, Radio Ozodi, was not lifted however.
Tajikistan had prevented access to the websites on May 28, a day after 40-year-old Colonel Gulmurod Halimov appeared in footage blasting the country's anti-Islamic policies and swearing loyalty to the radical group.
Full report at:
http://english.ahram.org.eg/NewsContent/2/9/132253/World/International/Tajikistan-ends-Facebook-block-prompted-by-IS-defe.aspx
--------
Israel not on U.N. list of child killers, abusers
9 June 2015
Secretary-General Ban Ki-moon's latest list of parties that kill or injure children in armed conflict does not include Israel - as some U.N. officials had recommended - but the U.N. chief strongly criticized Israel for the "unprecedented and unacceptable" scale of its violence against young people.
Ban said in a report circulated Monday that the thousands of Palestinian casualties raise "grave concerns" about Israel's compliance with international law, including requirements that any military actions must distinguish between combatants and civilians, be proportional, and avoid excessive use of force.
Full report at:
https://english.alarabiya.net/en/News/middle-east/2015/06/09/Israel-not-on-U-N-child-killers-abusers-list-.html
--------
UN finds Eritrea may have committed crimes against humanity
9 June 2015
Eritrea may have committed crimes against humanity, a year-long U.N. human rights inquiry said in a report published on Monday describing extrajudicial killings, widespread torture, sexual slavery and enforced labour.
"The commission finds that systematic, widespread and gross human rights violations have been and are being committed in Eritrea under the authority of the Government," the 484-page report of the U.N. Commission of Inquiry said.
Slavery-like practices are routine and torture is so widespread that the commission said it could only conclude that the government's policy was to encourage its use.
The commission said it asked Eritrea for access and information during its inquiry but "received no response."
Full report at:
http://english.ahram.org.eg/NewsContent/2/9/132295/World/International/UN-finds-Eritrea-may-have-committed-crimes-against.aspx
--------
Uk Teachers: We're Scared To Tackle Extremism In Case We're Called 'Islamophobes'
09 June, 2015
Teachers in Britain are scared of reporting suspected Islamist extremism among their students out of fear of being labelled 'Islamophobic', the head of an anti-radicalisation group has said.
From July this year, British teachers will have a legal requirement to report students they believe to be at risk of radicalisation. But Sara Khan of counter-extremist group Inspire told The Guardian that many teachers could be too scared to perform their new duty – a fact that the newspaper saved for paragraph 20 of its 26 paragraph report into the monitoring of students.
"Some teachers have told us 'we're scared of being accused of being Islamophobic' … and when some Muslim and Islamist organisations are saying this is Islamophobia, or other teachers say this is spying on Muslim kids, you can see why some feel like that.
"Safeguarding children from extremism is not Islamophobic, but you've got to make sure the way you do it is appropriate. If people don't understand the issue or don't seek expert help, they will tend to make mistakes."
Full report at:
http://www.breitbart.com/london/2015/06/09/uk-teachers-were-scared-to-tackle-extremism-in-case-were-called-islamophobes/
--------
Mideast
Iran: 7 prisoners executed, 45 face imminent execution
09 June, 2015
NCRI - In yet another antihuman atrocity, Iranian regime's henchmen hanged seven prisoners in Adel-Abad Prison of Shiraz on June 7. These prisoners had been transferred to solitary confinement two days earlier.
On Saturday and Sunday, 45 prisoners condemned to death, including three women, were transferred to solitary confinement in the cities of Karaj, Bandar Abbas and Urmia.
On Saturday, twenty-two prisoners sentenced to death in Ghezel-Hessar Prison were transferred to solitary cells. At the same time, five prisoners in Karaj's central prison were transferred to solitary confinement. A clash broke out In Ghezel-Hessar Prison between prison's special guards and the prisoners who were resisting their transfer to solitary cells. The guards severely beat and injured the prisoners and forcibly took them to solitary cells.
On Sunday, eleven prisoners, including three women, in Bandar Abbas and seven prisoners in Urmia were transferred to solitary confinement in preparation for the implementation of their death sentences.
Full report at:
http://www.ncr-iran.org/en/ncri-statements/human-rights/18471-iran-7-prisoners-executed-45-face-imminent-execution
--------
FM: Palestinians Set to File Complaints against Israel at ICC
09 June, 2015
Palestinian Foreign Minister Riyad al-Maliki said the Ramallah-based Palestinian Authority is planning to file two war crimes complaints against Israel at the International Criminal Court (ICC).
Al-Maliki said Tuesday that the two files, which are over Tel Aviv's illegal settlement activities in the occupied West Bank and its latest devastating war on the besieged Gaza Strip, will be submitted to the Hague-based court on June 25, press tv reported.
The Palestinian official said all preparations for submitting the two lawsuits have been made by Palestinian and international experts.
Israel started its latest war on the Gaza Strip in early July last year. The onslaught, which lasted for 50 days, claimed the lives of over 2,130 Palestinians and injured some 11,000 others.
Full report at:
http://english.farsnews.com/newstext.aspx?nn=13940319001046
---------
Hadi: No talks with rebels in Geneva
09 June, 2015
RIYADH: Yemen's president toughened his stance Monday ahead of weekend peace talks in Geneva, ruling out negotiations with Iran-backed Houthis and denouncing Tehran's "dangerous" meddling in his country.
President Abed Rabbo Mansour Hadi said the sole item for discussion would be the implementation of a resolution adopted by the UN Security Council in April demanding that the rebels withdraw from the large areas of the country they have seized. "There will be no negotiations," Hadi told Al-Arabiya television.
"It will be just a discussion about how to implement UN Security Council Resolution 2216. We will have consultation."
Full report at:
http://www.arabnews.com/featured/news/759186
--------
IRGC Commander: ISIL Posing Zero Threat to Iran
09 June, 2015
Commander of the Islamic Revolution Guards Corps (IRGC) Ground Force Brigadier General Mohammad Pakpour underlined security along the country's borders, and said that the Takfiri terrorists are unable to pose a threat to Iran.
"The ISIL is not seen as a threat to the Islamic Republic of Iran," Pakpour told FNA on Tuesday.
"The Islamic Republic of Iran's Armed Forces don't allow such threats to form and the IRGC makes its utmost efforts with full courage to defend the Islamic Republic of Iran and we are not at all concerned about an ISIL threat," he added.
Full report at:
http://english.farsnews.com/newstext.aspx?nn=13940319000532
--------
Yemeni Forces Warn off Saudi Soldiers in Jizan
09 June, 2015
Yemeni troops warned off Saudi soldiers as they approached to recapture Jizan's military base that has recently fell into the hands of Ansarullah popular fighters.
According to Yemeni media reports, the Ansarullah forces along with army units stymied an infiltration attempt by the Saudi troops in Jizan region across the border with the Yemeni city of Sa'ada on Tuesday.
Full report at:
http://english.farsnews.com/newstext.aspx?nn=13940319000983
--------
Africa
Somali Leader Predicts Defeat of Extremists by End of 2015
Jun 9, 2015
UNITED NATIONS — Somalia's prime minister predicted Monday that al-Shabab extremists will be defeated militarily by the end of the year but he said tackling the root causes that attract young people to the al-Qaida-linked group will take some time.
Omar Abdirashid Ali Sharmarke told reporters after a closed-door meeting of the U.N. Security Council that there may be increased attacks during June when the Muslim holy month of Ramadan begins, which al-Shabab has done in recent years.
But he said the military campaign by Somali and African Union forces has been successful and the Islamic militants now control only 20 percent of the country.
"We hope that in the coming few months the whole country will be liberated," Sharmake said. "We are really on the verge of defeating them in terms of conventional arms."
He said he looks forward by the end of the year to having all states liberated and stabilization programs under way in every district to revitalize the economy, establish rule of law, and start educating and providing jobs for young people who now see no other alternative than joining al-Shabab.
Full report at:
http://www.nytimes.com/aponline/2015/06/08/world/africa/ap-un-united-nations-somalia.html?_r=0
---------
ISIS seizes power plant near Libyan city of Sirte
9 June 2015
ISIS militants have seized a power plant west of the Libyan city of Sirte, the group and a military source said on Tuesday.
"The plant ... was taken," ISIS said in a message on social media. "Now the city of Sirte has been freed completely."
Forces loyal to the self-declared government that controls the Libyan capital Tripoli pulled out of Sirte after ISIS attacked the plant. Three soldiers were killed in the attack, the military source said.
https://english.alarabiya.net/en/News/middle-east/2015/06/09/ISIS-seizes-power-plant-near-Libyan-city-of-Sirte-.html
--------
Cape Town Expo Celebrates Islamic Culture
Jun 9, 2015
CAPE TOWN – Reflecting the diversity of the South African Muslim community, a Ramadan expo will be held this weekend to introduce the Islamic culture in the African country.
"The expo's aim is to inform, educate and uplift the entire Western Cape community, not only Muslims," organizer Salaama Davids told Anadolu Agency on Sunday, June 7.
Davids was talking about Ramadan expo that will be held in the capital, Cape Town, to display food, spices, clothes and art that represent the Islamic culture.
The country's 750,000 Muslims are mostly of Indian, Cape Malay, African, Western, and Middle Eastern heritage.
Participants of the event are from India, Somali, Palestine, Jordan, Egypt, Turkey, Spain and Ireland beside other nations.
Along with promoting the Islamic culture, the event aims to show the true-image of Islam.
"The expo introduces the beauty of being Muslim and of Islam to the larger multicultural community of Cape Town, against ongoing Islamaphobia and misrepresentation of Islam," organizer Davids said.
Full report at:
http://www.onislam.net/english/news/3337-Africa/487191-cape-town-expo-celebrates-islamic-culture.html
---------
Libya's warring rivals mull U.N. peace proposal
9 June 2015
The U.N. representative to Libya reconvened delegations from Libya's rival governments on Monday to present the latest draft proposal for a unity government that is increasingly being presented as the war-torn country's last chance for stability.
After warning last week that the country was running out of money and risked ceasing to be a functional state, Bernardino Leon urged the Libyans to approve the fourth version of the draft proposal in a ceremony in Morocco.
Full report at:
https://english.alarabiya.net/en/News/middle-east/2015/06/09/Libyan-rivals-mull-peace-proposal-for-unity.html
--------
Southeast Asia
Mosques and Temples, Yes, But Not RTD, Group Says Of New Dress Code
09 June, 2015
KUALA LUMPUR, June 9 — The Road Transport Department's (RTD) dress code is suitable for houses of worship but not a government agency serving the public, said a critical Joint Action Group for Gender Equality (JAG).
Expressing shock over the dress code that made headlines after a woman complained she was forced to wear a sarong in order to obtain service at the RTD, the coalition of citizens groups said it was not the department's place to dictate the attire of its customers.
"While it is acceptable to have a dress code for religious houses such as mosques or temples, the government on the other hand, has no place in adopting such stringent dress codes.
"What effect does the implementation of a rigid dress code have on the daily operations of an RTD office? How will it improve or disrupt the services of an RTD office?" the group said in a statement.
Full report at:
http://www.themalaymailonline.com/malaysia/article/mosques-and-temples-yes-but-not-rtd-group-says-of-new-dress-code#sthash.nCwcnZW5.dpuf
--------
Important bilateral ties with Saudis kept me from Sabah, says Najib
09 June, 2015
Prime Minister Datuk Seri Najib Razak said he had little choice but to keep to his scheduled visit to Saudi Arabia while Sabah dealt with the aftermath of an earthquake over the weekend because Malaysia's bilateral ties with the kingdom were important.
Najib told a crowd during his visit to Kundasang in Sabah today, near where Friday's quake struck, that he had really wanted to go to the state earlier.
"I had intended to come earlier after hearing news about the earthquake. But that day was the birthday of the Yang Di-Pertuan Agong and then I had to leave for an official visit to Saudi Arabia as the king and the crown prince were involved.
"Because our bilateral ties are very important, I could not come to Sabah, specifically to Ranau, earlier," he said in a speech at a ceremony today where aid was given to families of guides working on Mount Kinabalu.
Full report at:
http://www.themalaysianinsider.com/malaysia/article/important-bilateral-ties-with-saudis-kept-me-from-sabah-says-najib#sthash.J6aZK5mW.dpuf
--------
Pakatan dead with hudud push anyway, says Kit Siang
09 June, 2015
KUALA LUMPUR, June 9 — PAS's continued push for hudud despite violating Pakatan Rakyat's (PR) "Common Policy Framework" was the initial deathblow to the pact, DAP's Lim Kit Siang said today.
Despite views that the Islamist party's decision to sever ties with DAP has put an end to the federal opposition pact, the DAP parliamentary leader said PR was essentially already dead given PAS's refusal to commit to the PR's shared policies and consensus system.
"It is no exaggeration to say that there will be no PR if there is no PR Common Policy Framework and the PR consensus operational principle.
"The new PAS leadership killed Pakatan Rakyat at the PAS Muktamar and there are no signs of any effort to resuscitate PR by reaffirming the PR Common Policy Framework and PR consensus operational principle," Lim said in a statement today.
He said this breakdown in co-operation was allowing Umno and Barisan Nasional (BN), which he claimed was on their "last legs", to time to recover as Malaysians would not put their trust into the federal opposition pact for as long as the parties cannot come to an agreement on their commonality.
Full report at:
http://www.themalaymailonline.com/malaysia/article/pakatan-dead-with-hudud-push-anyway-says-kit-siang#sthash.g0zcpFzd.dpuf
--------
URL: https://www.newageislam.com/islamic-world-news/new-age-islam-news-bureau/islamic-state-militants-selling-ancient-artefacts-they-aren-t-destroying/d/103409