New Age Islam News Bureau
13 May 2015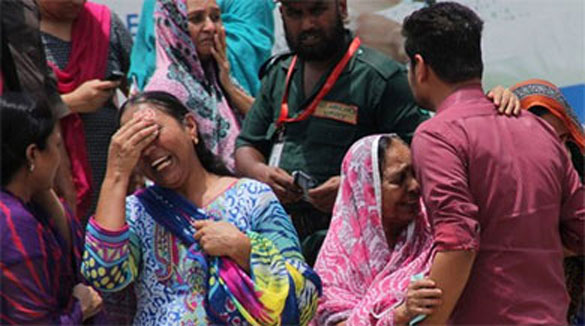 Gunmen killed dozens of people on Wednesday aboard a bus in southern Pakistan bound for a Shiite community center, in the latest attack targeting the religious minority, police said. (Source: AP Photo)
------
Pakistan
• Islamic State Militants Gun Down 47 Shia Ismaili Muslims in Bus
• A Clear Message to Taliban from PM Sharif to Shun Violence
• Gunmen kill four security personnel in Tank District
• Squalor, misery await Afghan returnees forced out of Pakistan
Arab World
• Dozens of Terrorists Killed in Al-Karmah, Iraq
• Several Int'l Terrorists Killed in Syrian Army's Operations in Aleppo
• ISIL Commander Killed in Baghdad before Launching Terrorist Operations
• Despite leading war in Yemen, Saudi Arabia mostly untouched
• Egyptian Youths Face Trial for 'Insulting Islam' By Making Fun of ISIS
• 1,100 Yemenis freed from Makkah detention centre
• Qatar poll today: Women seek quota
• 8 Morsi supporters sentenced to life in prison over unrest
South Asia
• Eight Soldiers Martyred, 57 Militants Killed In Fresh Military Operations
• Gunmen attacked Helmand Grand Mosque
• Protest in Bangladesh over blogger's 'evil' murder
• Threatened continually, blogger Bijoy tried to leave Bangladesh
Africa
• Rapes and Abductions as Battle Rages in South Sudan
• Algeria army kills two armed Islamists: Ministry
• Libya - Wave of Abductions, Torture and Gang Rape Is Driving Mediterranean Migrant Exodus
• ICC prosecutor wants probe of ISIS in Libya
North America
• In Exclusive Interview, Obama Says Iran Is a 'State Sponsor of Terror'
• NATO Says Will Look at What More It Can Do In Fight against ISIL
• Two Swedes, Somali plead guilty in NY over Shabab conspiracy
• Al-Qaeda could bring down a U.S. flight 'tomorrow,' ex-CIA official warns
• Report on Osama 'baseless': White House
• Obama sees 'difficult path' on Israel-Palestinian conflict
India
• Will Build Ram Temple in Ayodhya without Political Help: Shankaracharya
• Adilabad ISIS Fighter's 'Death' Still a Mystery
• 30,000 Indians living in Saudi Arabian city of Najran are safe, envoy says
Mideast
• ICC Prosecutor Urges Israel to Provide Information for Gaza Probe
• Iranian Warship's Missile System Locks on Invading Target in Gulf of Aden
• Yemen officials say some ground fighting after cease-fire
• Yemen quiet as humanitarian truce takes hold
• Turkey's religious body publishes Quran in Armenian
Europe
• Norway Ends Blasphemy Law after Hebdo Attack
• UK To Announce New Laws on Islamic Extremism
• UN nuclear watchdog says can push for access to Iran military sites
• Reverend Robert West banned over Muslims 'worship devil' remark
• U.N. seeks to bolster Yemen ceasefire
Southeast Asia
• After Nur Fitri Case, Putrajaya Drafting Changes To Existing Laws On Child Pornography
• SBY: Democratic Party Will Support Jokowi Administration
• EU Parliament to raise Anwar's sodomy conviction with Putrajaya
Compiled by New Age Islam News Bureau
URL: https://www.newageislam.com/islamic-world-news/new-age-islam-news-bureau/islamic-state-militants-gun-down-47-shia-ismaili-muslims-in-bus/d/102932
---------
Pakistan
Islamic State militants gun down 47 Shia Ismaili Muslims in bus
May 13, 2015
Heavily-armed militants donning police uniforms attacked a bus on Wednesday carrying Shia Ismaili Muslims and shot them in the head, killing at least 47 people and leaving behind a pamphlet of ISIS claiming responsibility for the grisly attack in Pakistan's port city of Karachi.
Police officials said it appeared that six to eight assailants on motorbikes first opened fire on the bus just near the Dow Medical College and then entered the bus when it stopped at Safoora Chorangi, Gulistan-e-Johar area of Karachi.
The attackers killed 47 people, including 16 women, and wounded more than 20 others before fleeing from the scene.
"It was a targeted attack," Sindh Police Inspector General Ghulam Haider Jamali told reporters.
The death toll could further rise as some persons are seriously injured. The injured and dead were shifted to various hospitals by rescue workers.
A senior police official said the attackers entered the bus and shot the passengers in the head.
A blood-stained pamphlet of terrorist group Islamic State was recovered from the scene, according to a police official. But the government has not so far named any group for the attack.
Balochistan-based militant group Jundullah also claimed responsibility for the attack.
A rescue official quoted a victim as saying that the attackers were dressed in police uniforms.
Jamali said initial investigations showed that the armed men used 9mm pistols in the massacre. Empty bullet shells of pistols and Kalashnikovs were found at the scene.
This was the worst attack targeting the members of the minority community after a suicide bomber in January blew himself up in a Shia mosque in Shikarpur in the Sindh province killing 61 worshippers and bystanders.
http://indianexpress.com/article/world/neighbours/isis-militants-kill-47-shia-ismaili-muslims-in-karachi/
----------
A Clear Message to Taliban from PM Sharif to Shun Violence
May 13, 2015
Prime Minister Nawaz Sharif's public condemnation of the Afghan Taliban's spring offensive is seen as a clear message to the orthodox militia to shun violence and embrace dialogue. "We strongly condemn increase in violence and Operation Azm offensive by the Afghan Taliban," he said at a joint news conference with Afghan President Ashraf Ghani. "Continuation of such offensive and attacks will be construed as terrorist acts," he added.
In the past, several Pakistani leaders – including former Prime Minister Yousaf Raza Gilani –had issued formal appeals to the Afghan Taliban and Gulbuddin Hekmatyar's Hizb-e-Islami to engage with the government in Kabul – to no avail, though. Premier Nawaz Sharif's remarks could be indicative of Pakistan's growing frustration with the Afghan Taliban, who have disregarded repeated calls for reconciliation.
The Taliban have ruled out talks with President Ghani's National Unity Government, saying that they would continue fighting till all foreign troops pulled out from the strife-torn country. However, many in Afghanistan say Taliban attacks were killing Afghan officials as foreign forces have already ended their combat missions and are now confined to their bases.
Worryingly, the Taliban have now taken the insurgency from their traditional strongholds of Pashtun-dominated south and east to the north, where other ethnic groups are in majority. Soon after the announcement of the 'spring offensive', hundreds of Taliban fighters had launched a major attack in northern Kunduz province.
The Taliban incursion into the north has also worried Central Asian states and even China, which also shares a border with northern Afghanistan. Afghan officials say Kabul expects Islamabad to use its influence on the Afghan Taliban to give up violence and join the peace process.
"We understand the Taliban's stubborn behaviour and we are not surprised at their refusal to join the peace process. But our request to Pakistan will be to take action against the Taliban on their soil, expel them and stop them from entering Afghanistan," an Afghan diplomat told The Express Tribune.
Premier Nawaz's condemnation of the Taliban violence is not only a clear message to the orthodox militia but is also an attempt to address the serious concerns about the deteriorating security situation in Afghanistan.
With Tuesday's visit, which came amid a sharp upsurge in violence, Pakistan has also sent a message to the world that the civilian and military leaders are on the same page vis-à-vis Afghanistan as army chief General Raheel Sharif and DG ISI Lt Gen Rizwan Akhtar were also part of the prime minister's delegation. Earlier there was an impression that Pakistan's civil and military leaders had different approaches towards Afghanistan.
There has been a substantial improvement in bilateral relations between Pakistan and Afghanistan since President Ghani assumed office in late September. As a result, Kabul has stopped the traditional blame game that reflects growing trust between the two neighbours. Afghanistan has also taken steps to address Pakistan's concerns on several issues, including on presence of Pakistani Taliban on the Afghan side of the Durand Line.
http://tribune.com.pk/story/885445/comment-a-clear-message-to-taliban-to-shun-violence/
---------
Gunmen kill four security personnel in Tank District
May 13, 2015
PESHAWAR: Four security personnel were killed on Tuesday near Tank District's Sheikh Otar area bordering South Waziristan.
According to a security source, the security personnel were on duty at the Gomal Zam Dam road — which is under construction — when unknown motorcyclists opened fire at them. The source added that two Frontier Corps (FC) personnel and two workers from Frontier Works Organisation (FWO) were killed in the firing.
Earlier this month, a security personnel was killed and four others injured in terrorist attacks in South Waziristan and Bannu, respectively.
The semi-autonomous tribal areas on the Afghan border have for years been a hideout for militants of all stripes, including Al Qaeda and the Pakistani Taliban as well as foreign fighters such as Uzbeks and Uighurs.
Pakistan began a long-awaited push to clear insurgent bases from North Waziristan last June after a bloody Taliban attack on Karachi airport finally sank faltering peace talks.
http://www.dawn.com/news/1181526/gunmen-kill-four-security-personnel-in-tank-district
---------
Squalor, misery await Afghan returnees forced out of Pakistan
May 13, 2015
AFGHANISTAN: Like thousands of Afghan returnees, Neik Mohammad became unwanted in Pakistan after a Taliban massacre at a Peshawar school, forcing him to return home to a life of misery and fear in a squalid refugee settlement.
More than 65,000 Afghans have returned since the start of the year after coming under intense scrutiny following the December massacre — billed as Pakistan's "mini 9/11″.
The figure, which eclipses the 25,000 Afghans who returned from Pakistan over the whole of last year, was a result of the breakdown in relationships between the migrants and their host communities following the carnage.
"We were happy there (Pakistan), we had our own houses and we owned our own businesses," Mohammad told AFP outside his tent in a fetid relief settlement near the eastern city of Jalalabad.
"There is no house, no business for us in Afghanistan, we live in tents," said Mohammad, who returned two months ago with 16 members of his family, including five children.
Hundreds of thousands of people fled Afghanistan during the last three decades of war, with a majority of them taking refuge in neighbouring Pakistan.
Said Ahmad, a 63-year-old Afghan with a wispy white beard, fled to Pakistan some 20 years ago to escape the civil war but was forced to return recently to a volatile country still battling a resilient Taliban insurgency.
"The local people of Pakistan were very nice to us, but the government was giving us a hard time. Government officials were constantly raiding our houses, bothering us, dishonouring us," he told AFP.
The number of Afghans who crossed the border in the first four months of the year, fleeing "pressure" exerted by Pakistani officials, was nine times higher than the same period last year, according to the International Organization for Migration (IOM).
Aside from 60,000 "spontaneous" returnees, who chose to return voluntarily, nearly 6,000 undocumented Afghans were expelled by Pakistan — including elderly people in need of medical assistance and unaccompanied minors, IOM said.
Around three-quarters of them settled near Jalalabad, the largest city in southeastern Afghanistan, while others returned to Kabul and other central provinces.
Many just set up encampments wherever they could in villages on the fringes of Jalalabad such as Behsud, pitching tents on dusty plots of land or building mud-brick shelters.
Most struggle to find jobs in Afghanistan, whose economy remains crippled by decades of war and as international aid fast evaporates.
"These returnees are in urgent need of shelter, flood, education and health facilities," Rahim Gul Amin, the emergency response coordinator for aid agency Norwegian Refugee Council, told AFP.
"We have never seen such a surge in returns like we have since January 2015," IOM's Kabul-based media officer Matthew Graydon told AFP.
"It's a humanitarian challenge at the border to assist people who come back, who have nothing and who have been outside the country for decades."
There are an estimated three million Afghan refugees living in Pakistan either officially or unofficially, most of whom left their country to escape conflict in the 1980s and 1990s.
They are viewed with deep suspicion inside Pakistan and routinely accused by authorities of harbouring militants.
The Peshawar attack — which killed 153 people, mostly children — mounted further pressure despite a lack of evidence linking the refugees to the Taliban-claimed attack.
"There is certainly a correlation between the terrible incident in Peshawar last December," Graydon said of the surge in returnees.
"After that there was a change in the climate in Pakistan which lead to a number of Afghans feeling that they would either decide to return or were deported."
But Imtiaz Qureshi, the law minister of Pakistan's Khyber Pakhtunkhwa province bordering Afghanistan, said "no Afghan refugee had been expelled by force" from his region.
"Only those Afghans were expelled who had been staying illegally in Pakistan and did not have any valid ID or any legal document on them," Qureshi told AFP.
Qureshi said there had been a "marked difference in security" in the province since the expulsion of illegal Afghan refugees gathered pace.
"There is a visible reduction in the crime rate and incidents of target killings, kidnappings and robberies," he said.
IOM, one of the major foreign aid agencies in Afghanistan, says it is able to help only a fraction of Afghan returnees crossing the border due to limited international funding.
The war-battered nation has seen an inexorable exodus of aid and investment as Nato's 13-year combat mission in Afghanistan winds down.
http://tribune.com.pk/story/885510/squalor-misery-await-afghan-returnees-forced-out-of-pakistan/
---------
Arab World
Dozens of Terrorists Killed in Al-Karmah, Iraq
May 13, 2015
The Iraqi army killed 32 terrorists in al-Karma city in Anbar province, the Defense Ministry said.
A security force killed 32 terrorists, and defused bombs in 3 booby-trapped houses and destroyed a shelter of the terrorists as part of the military operation of "Fajr al-Karmah" in al-Karmah city, the defense ministry said on Tuesday, adding that 44 improvised explosive devices (IEDs) were also dismantled.
Meanwhile, security forces of Samarra operations managed to remove 13 improvised explosive devices, and defused bombs in 5 booby-trapped houses in the district of Yathrib, the ministry added.
The ISIL Takfiri terrorists currently control shrinking swathes of Syria and Iraq. They have threatened all communities, including Shiites, Sunnis, Kurds, Christians, Ezadi Kurds and others, as they continue their atrocities in Iraq.
Senior Iraqi officials have blamed Saudi Arabia, Qatar, and some Persian Gulf Arab states for the growing terrorism in their country.
The ISIL has links with Saudi intelligence and is believed to be indirectly supported by the Israeli regime.
http://english.farsnews.com/newstext.aspx?nn=13940223000488
---------
Several Int'l Terrorists Killed in Syrian Army's Operations in Aleppo
May 13, 2015
Military sources in the Northern Province of Aleppo confirmed that there have been heavy clashes between the Syrian Army and the terrorist groups of Liwa al-Tawheed, Liwa al-Fateh, Ahrar al-Sham Movement and al-Ansar Front, which resulted in the killing of several terrorists, including foreign nationals.
The military sources in the province said that dozens of terrorists, including Abu Baker al-Almani, Samer al-Khaledi and Abu Shayya al-Ghamedi from Saudi Arabi, Saeed al-Samerrai from Iraq, Tammam al-Joheifi from Qatar, Ahmet al-Sayed Ali and Abu Fuad from Turkey and Ragheed Abu Salem from Kuwait, were killed by the army men in the battles in the nearby areas of Aleppo Eastern countryside.
Official sources confirmed on Tuesday that the Syrian Army's offensives against the rebels' hideouts in the countryside of Aleppo have resulted in the killing and wounding of tens of the fighters.
The sources said that the militants' concentration centers in the surrounding areas of Air Force Academy, Tal Refaat, Mare' and Anadan in the countryside of the Northern province of Aleppo were massively targeted by the army men.
The sources went on to say that the rebels' suffered heavy death toll as a result of the army's operations.
Syria has been grappling with a deadly crisis since March 2011. The violence fuelled by Takfiri groups has so far claimed the lives of over 210,000 people, according to reports. New figures show that over 76,000 people, including thousands of children, lost their lives in Syria last year.
http://english.farsnews.com/newstext.aspx?nn=13940223000490
---------
ISIL Commander Killed in Baghdad Before Launching Terrorist Operations
May 13, 2015
Iraq's military intelligence forces identified and kill a notorious ISIL commander on Tuesday before he could stage a series of terrorist attacks on the Shiite pilgrims in the capital city of Baghdad.
Abu Walid was killed in Kadhimiya as he and his men were trying to attack the Shiite holy sites near Baghdad.
The Baghad operations command center announced on March 9 that 75,000 security forces would take part in the special operations to maintain the security of Shiite pilgrims in Kadhimiya.
Full report at:
http://english.farsnews.com/newstext.aspx?nn=13940222001520
---------
Despite leading war in Yemen, Saudi Arabia mostly untouched
May 13, 2015
NAJRAN: Khatim Umm Salem's quiet, secure life betrays no signs of the war taking place just a few miles away. In the mornings, the elderly woman sits in front of a fan outside her tiny shop in the old market of Najran. In the evenings, she listens to the Quran on the radio. She sleeps with the door unlocked, since all her neighbours know her.
When asked about the war, she shrugs and says a prayer. As a widow, she receives free health care and the little she needs, 1,000 Saudi riyals or $267, from the government each month. "Sometimes I make a profit, sometimes I don't," says the Saudi villager, who does not know how old she is.
Saudi Arabia, an oil-rich nation with about 20 million citizens, is now leading an offensive against the Shia Houthi rebels in neighbouring Yemen, who are supported by its arch-rival Iran. Yet if not for the huge propaganda posters and the state media, you would never know this was a country at war, in much the same way that life in the United States sometimes seemed distant from the conflict in Iraq.
Full report at:
http://www.dawn.com/news/1181610/despite-leading-war-in-yemen-saudi-arabia-mostly-untouched
---------
1,100 Yemenis freed from Makkah detention center
13 May 2015
The Makkah Detention Center released 1,100 detained Yemenis after ensuring that they met all the requirements of status correction, said Maj. Gen. Khalafullah Al-Tuwairgi, director of Makkah Directorate of Passports (Jawazat).
"There are only 400 Yemenis left at the detention center. The Shumaisi Status Correction Center is working from 4:30 p.m. to 11:00 p.m. to help Yemenis correct their status," he said.
Full report at:
http://english.alarabiya.net/en/News/middle-east/2015/05/13/1-100-Yemenis-freed-from-Makkah-detention-center.html
---------
Egyptian Youths Face Trial for 'Insulting Islam' By Making Fun of ISIS
May 13 2015
Four Egyptian kids who dared make fun of ISIS in a harmless video are headed for trial along with their teacher on charges of "insulting Islam," after their Muslim neighbours got hold of the footage and went to police.
Aged between 15 and 16, the youths could face up to five years in a youth detention centre – while the teacher would serve any sentence he receives in prison – if the court finds them guilty of violating Egypt's blasphemy law, Egypt-focused activists say.
Egyptian Christian and civil rights groups are leading calls for their release, but the five – members of the Coptic community that descends from the non-Arab people whose Pharaohs ruled ancient Egypt – have already spent weeks in police holding cells.
"They are some kids who decided to have fun in a private place," Mina Thabet, a Coptic activist and researcher at the Egyptian Commission for Rights and Freedoms, told FoxNews.com from Cairo.
Full report at:
http://www.foxnews.com/world/2015/05/09/egyptian-youth-face-trial-for-insulting-islam-by-making-fun-isis/
---------
Qatar poll today: Women seek quota
May 13, 2015
DOHA: Qataris will have a rare chance to vote Wednesday as they choose candidates to sit on the country's only directly elected body, with calls growing to ensure more women are selected.
Only one woman was elected onto the 29-seat municipal council at the last vote and out of 118 candidates this time, only five are female, one fewer than the number who stood in the first such election 16 years ago.
Although the electorate of more than 23,000 people is split almost equally between men and women, the gender imbalance between the candidates is striking. "It would be very disappointing if again only one female candidate won this time," said one of the hopefuls, Amal Issa Al-Mohannadi.
Full report at:
http://www.arabnews.com/middle-east/news/746121
---------
8 Morsi supporters sentenced to life in prison over unrest
May 13, 2015
Eight Morsi supporters were sentenced to life imprisonment in absentia Tuesday over charges of illegal protesting and for acts of violence in the eastern Al-Marg district of Cairo.
Investigations allegedly revealed that the defendants protested in Al-Marg, chanted against the army and the police, blocked the road and damaged public locales in the district.
The prosecution accused them of joining a terrorist organisation, carrying weapons, illegally protesting, resisting authorities, trying to hinder public safety and of damaging public and private buildings.
The defendants were accused by the prosecution, after hearing the testimonies of eye witnesses, of taking part in illegal protests in June 2014.
The defendants allegedly took part in protests against the death sentences of 14 Brotherhood leaders in Al-Marg and Matariya. Clashes ensued with residents of the district, which left two killed and four injured.
A protest law was passed in November 2013 banning protests without prior notice.
Egypt designated the Muslim Brotherhood as a terrorist organisation in December 2013, criminalising the financing, activities and membership of the group.
http://english.ahram.org.eg/NewsContent/1/64/130054/Egypt/Politics-/-Morsi-supporters-sentenced-to-life-in-prison-over.aspx
---------
South Asia
Eight soldiers martyred, 57 militants killed in fresh military operations
May 13 2015
Eight soldiers embraced martyrdom and 57 militants were killed during separate military operations across the country in past 24 hours, a statement issued by the Ministry of Defense on Wednesday morning stated.
General Zahir Azimi, spokesman for the ministry writes in the statement that the soldiers embraced martyrdom in landmine explosion and terrorist fire. Specific location of the terrorist actions is not written in the statement.
The statement adds that 57 militants were killed and 33 wounded during separate military operations in past 24 hours.
21 Improvised Explosive Devices (IEDs) were also discovered and defused by the security forces.
IEDs are considered the second biggest cause of rise in civilian casualties in ongoing Afghan war.
Five people lost lives after their vehicle ran over a landmine in southern Kandahar province on Tuesday.
http://www.khaama.com/eight-soldiers-martyred-57-militants-killed-in-fresh-military-operations-3340
---------
Gunmen attacked Helmand Grand Mosque
May 13 2015
Gunmen have attacked the grand mosque in southern Helmand province. Reports suggest that gunmen are shooting bullets at the governor house.
A gathering among religious leaders was also ongoing during the attack in Lashkar Gah when gunmen stormed the mosque this morning.
Security officials have not yet released information about the attack.
No group has immediately claimed responsibility for the attack.
http://www.khaama.com/breaking-news-gunmen-attacked-helmand-grand-mosque-3344
---------
Protest in Bangladesh over blogger's 'evil' murder
May 13, 2015
Secular activists marched Wednesday through the Bangladeshi city of Sylhet to demand justice for a rationalist blogger hacked to death, the third such attack by suspected Islamists since February.
Scores of activists, mostly university students, peacefully protested through the northeastern city, accusing the government of failing to protect free thinkers and urging authorities to halt "this evil force".
Wielding machetes, a masked gang killed Ananta Bijoy Das, 33, a banker, editor and blogger, on Tuesday as he headed to work in Sylhet, an attack that fellow writers said highlighted a culture of impunity.
Full report at:
http://tribune.com.pk/story/885558/protest-in-bangladesh-over-bloggers-evil-murder/
---------
Threatened continually, blogger Bijoy tried to leave Bangladesh
May 13 2015
Threatened for quite a long time, Blogger Ananta Bijoy was trying to leave Bangladesh for the last two months, Bijoy's friend and colleague Asif Mohiuddin told German broadcaster Deutsche Welle. Ananta Bijoy, a banker by profession, was hacked dead in a machete attack this morning, the latest casualty in a series of barbaric assassinations of free thinkers, allegedly carried out by Islamist fundamentalists.
"I was helping Bijoy get out of the country for the last two months. I got his papers together and submitted them to some organisations in order to get him out.
"He was being threatened for a long time. He told me many times that he was on the [terrorists'] hit list and that he was still at home because of the threats. Some people attacked his house a few months ago. He was afraid and panicking. I told him not to leave his house, but he had to go to work," said Mohiuddin, a scholar now in Germany who survived both a similar attempt on his life in 2013, and being jailed here in Dhaka.
"He was a very good friend and I am very upset," he mourned.
Full report at:
http://www.dhakatribune.com/bangladesh/2015/may/12/threatened-continually-blogger-bijoy-tried-leave-bangladesh#sthash.nGVXcK5T.dpuf
-----------
Africa
Rapes and Abductions as Battle Rages in South Sudan
13 May 2015
Gunmen in South Sudan torched towns and looted aid groups during the latest government offensive toward the rebel stronghold of Leer, UN officials and diplomats have said. Aid agencies are pulling out of the region.
At least 28 towns and villages in South Sudan's oil-rich Unity State have been attacked in less then two weeks, UN said Tuesday, with over 100,000 people pushed out of their homes.
According to the UN peacekeeping mission, reports from the battleground state included "towns and villages being burned, killings, abductions of males as young as 10 years of age, rape and abduction of girls and women, and the forced displacement of civilians."
Rupert Colville, a spokesman for the UN High Commissioner for Human Rights, said it appeared the perpetrators of the attacks were soldiers with the South Sudan Army (SPLA) and mobilized youths "clad in civilian clothes, wielding AK-47s."
Full report at:
http://allafrica.com/stories/201505130130.html
----------
Algeria army kills two armed Islamists: Ministry
May 13, 2015
Soldiers killed two armed Islamists during an ambush Tuesday southwest of Algeria's capital, the government said, as media reported that four security personnel were slain in the east.
"An army detachment killed two terrorists today at 3:00 pm, following an ambush carried out near the locality of Amrouna, south of Ain Defla," said the defence ministry.
A Kalashnikov assault rifle was seized during the operation along with a Simonov semi-automatic rifle and ammunition, it said in a statement.
Meanwhile, the French-language El-Watan website reported that four communal guards were found dead in their burned-out vehicle at Batna, in the east of the North African country.
Islamist-linked violence rocked Algeria in the 1990s but has declined considerably in recent years.
The army has now killed 33 armed Islamists since the start of the year.
http://english.ahram.org.eg/NewsContent/2/8/130093/World/Region/Algeria-army-kills-two-armed-Islamists-Ministry.aspx
---------
Libya - Wave of Abductions, Torture and Gang Rape Is Driving Mediterranean Migrant Exodus
13 May 2015
Refugees and migrants in Libya face rape, torture and abduction by traffickers and smugglers, as well as systematic exploitation by their employers, religious persecution and other abuses by armed groups and criminal gangs, said Amnesty International in a new report today (11 May).
The 30-page report, 'Libya is full of cruelty': Stories of abduction, sexual violence and abuse from migrants and refugees, exposes the full horror of the plight of refugees and migrants in Libya, many of whom are driven to risk their lives in treacherous sea crossings in a desperate attempt to reach safety in Europe.
Migrants and refugees face abuses at all stages of the smuggling routes from west and east Africa towards the Libyan coast. Many, including women and unaccompanied children, have been abducted on their journeys and tortured to coerce them and their families to pay ransoms. Those unable to pay are often held effectively as slaves - forced to work without pay, physically assaulted and robbed. Smugglers also sometimes pass the migrants and refugees on to criminal groups once they cross the border in desert areas or in major transit cities along the migration route such as Sabha in the south-west or the coastal city of Ajdabya in eastern Libya.
Full report at:
http://allafrica.com/stories/201505110848.html
----------
ICC prosecutor wants probe of ISIS in Libya
13 May 2015
The prosecutor of the International Criminal Court said Tuesday her office wants to investigate alleged crimes by groups claiming allegiance to the Islamic State of Iraq and Syria (ISIS) and other extremist groups in Libya.
Fatou Bensouda said in a briefing to the U.N. Security Council and an interview with The Associated Press that her office is actively considering the investigation and prosecution of new cases but has been "greatly hampered" by the insecurity in Libya and a lack of funds. She said she requested $11 million for her office this year but the court's 123 member states authorized less than $7 million.
Full report at:
http://english.alarabiya.net/en/News/middle-east/2015/05/13/ICC-prosecutor-wants-probe-of-ISIS-group-in-Libya-.html
----------
North America
In exclusive interview, Obama says Iran is a 'state sponsor of terror'
13 May 2015
Gulf countries are right to be concerned about Iran as a "state sponsor of terrorism," U.S. President Barack Obama said on Wednesday, talking exclusively to Asharq al-Awsat, which marks his first ever interview with an Arab newspaper.
"Iran clearly engages in dangerous and destabilizing behavior in different countries across the region. Iran is a state sponsor of terrorism. It helps prop up the Assad regime in Syria. It supports Hezbollah in Lebanon and Hamas in the Gaza Strip. It aids the Houthi rebels in Yemen. So countries in the region are right to be deeply concerned about Iran's activities, especially its support for violent proxies inside the borders of other nations," Obama told the newspaper.
The president was speaking ahead of the Camp David on Thursday, in which he will host GCC leaders.
"The countries in the region are right to be deeply concerned about Iran's activities, especially its support for violent proxies inside the borders of other nations"
Obama said the main priorities for the Camp David summit is to "further strengthen our close partnerships, including our security cooperation, and to discuss how we can meet common challenges together. That includes working to resolve the conflicts across the Middle East that have taken so many innocent lives and caused so much suffering for the people of the region."
Full report at:
http://english.alarabiya.net/en/News/middle-east/2015/05/13/Obama-says-Iran-is-a-state-sponsor-of-terrorism-.html
---------
NATO says will look at what more it can do in fight against ISIL
May 13, 2015
NATO foreign ministers meeting in Turkey on May 13 will look at how the alliance can do more to fight Islamic State of Iraq and the Levant (ISIL), NATO chief Jens Stoltenberg said.
"One of the important issues at this meeting, in different formats, will be how NATO can do even more in fighting terrorism and in fighting ISIL," Stoltenberg told reporters at the start of the meeting.
He also called for the full implementation of the Minsk ceasefire agreement in Ukraine. "We call on Russia to stop supporting the separatists and to withdraw all its forces from eastern Ukraine," he told reporters.
http://www.hurriyetdailynews.com/nato-says-will-look-at-what-more-it-can-do-in-fight-against-isil.aspx?pageID=238&nID=82332&NewsCatID=359
---------
Two Swedes, Somali plead guilty in NY over Shabab conspiracy
May 13, 2015
Two Swedes and a Somali, handed to the FBI more than two years ago in Africa, pleaded guilty Tuesday to conspiring to aid the al-Qaeda-linked al-Shabab group in Somalia, U.S. prosecutors said.
The trio face up to 15 years in an American prison and deportation, prosecutors said in New York.
Prosecutors say Madhi Hashi, 25, from Somalia, and Swedes Ali Yasin Ahmed, 30, and Mohamed Yusuf, 32, were members of the Shabab militant group in Somalia from December 2008 to August 2012.
Shabab is blacklisted as a foreign terrorist organization in the United States and federal prosecutors have spearheaded efforts to try foreign terror cases in New York courts in recent years.
Full report at:
http://english.alarabiya.net/en/News/world/2015/05/12/Two-swedes-Somali-plead-guilty-in-NY-over-Shabab-conspiracy-.html
---------
Al-Qaeda could bring down a U.S. flight 'tomorrow,' ex-CIA official warns
May 13, 2015
It "wouldn't be surprising" if al-Qaeda were to carry out a terrorist attack on a flight between Britain and the United States "tomorrow," the former deputy chief of the CIA has said in a new book.
Michael Morell, the former deputy director of the intelligence agency, was instrumental in the U.S.'s response to the 9/11 attacks in 2001.
In his book 'The Great War of Our Time,' Morell said he believes the terrorist group has the capabilities to carry out such an attack that would leave hundreds of people dead.
"To put it bluntly, I would not be surprised if al-Qaeda in the Arabian Peninsula (AQAP) tomorrow brought down a U.S. airliner travelling from London to New York or from New York to Los Angeles or anywhere else in the United States," he wrote in his new book, The Great War of Our Time, according to The Telegraph.
Morell said he was concerned that U.S. "is going to get hit in the homeland again," adding his fears over a chance that an ISIS-inspired attack could happen at any moment.
"If we don't keep pressure on the terrorists, they are going to rebound until they're able to conduct another 9/11-style attack," Morell said in an interview with Politico, citing particular concerns over al-Qaeda in Yemen.
The author, who had 33-year career in the agency, said he wrote the book because "wanted American people to know" that al-Qaeda in Yemen "could bring down an airliner."
http://english.alarabiya.net/en/perspective/features/2015/05/12/Al-Qaeda-could-bring-down-a-U-S-flight-tomorrow-former-CIA-official-warns.html
---------
Report on Osama 'baseless': White House
May 13, 2015
A report last weekend suggesting the Obama administration lied about Pakistani involvement in the May 2011 U.S. commando raid to kill Osama bin Laden has come under fire from multiple quarters including the White House.
On Sunday, acclaimed investigative journalist Seymour Hersh had published in the London Review of Books an account of the death of the al-Qaeda boss where he said that it was a "blatant lie" that top brass of Pakistan's Inter-Services Intelligence were not involved in planning the operation with their U.S. counterparts, and that bin Laden was actually being held prisoner by the Pakistani military in exchange for funds from Saudi Arabia for his upkeep.
However, his narrative has been widely panned as being one that does hold up to scrutiny.
At the heart of the problems with the account of Mr. Hersh, who became famous for his major exposés on the My Lai massacre in 1969, the Abu Ghraib scandal in 2004 and the 2013 chemical weapons attack in Syria, are concerns regarding his sources.
For the most part Mr. Hersh's claims are supported by only two sources that neither had direct knowledge of the events, nor served actively in government at the time of the raid and one of those sources remains anonymous.
Full report at:
http://www.thehindu.com/news/international/osama-killing-seymour-hersh-report-on-pak-involvement-baseless-says-white-house/article7198498.ece
------
Obama sees 'difficult path' on Israel-Palestinian conflict
May 13, 2015
President Barack Obama said on Tuesday that he has not given up hope for a two-state solution to the Israel-Palestinian conflict but said tensions in the region and "serious questions about overall commitment" have made progress difficult.
"It's no secret that we now have a very difficult path forward. As a result, the United States is taking a hard look at our approach to the conflict," Obama said in an interview with Asharq al-Awsat, an Arabic international newspaper based in London.
"We look to the new Israeli government and the Palestinians to demonstrate - through policies and actions - a genuine commitment to a two-state solution," Obama said.
http://www.jpost.com/Breaking-News/Obama-sees-difficult-path-on-Israel-Palestinian-conflict-402909
------
India
Will build Ram temple in Ayodhya without political help: Shankaracharya
PTI | May 13, 2015
NEW DELHI: Taking a dig at the BJP government, Hindu religious leaders on Tuesday said they will construct Ram temple at the "Lord's birthplace" in Ayodhya without any political assistance if the Supreme Court gives order in their favour.
The statement came in the wake of Union Home Minister Rajnath Singh stating the NDA government can't bring law on Ram temple without majority in Rajya Sabha.
Addressing the Hindu Dharma Sansad at Ramlila Maidan here on Tuesday, Shankaracharya of Dwarkapeeth Swaroopananda Saraswati asked BJP leaders to stop talking about construction of Ram temple.
"We request you (Singh) with folded hands, don't talk about Ram Janmabhoomi. We will build Ram temple at the spot," Shankaracharya said.
Shankaracharya alleged that a section of political class brought in the name of Mughal emperor Babar to gain "political advantage" and said that the court has accepted the fact that Babar had never been to the place. There were remains that proved that it was a place of worship of Hindus, he claimed.
Full report at:
http://timesofindia.indiatimes.com/india/Will-build-Ram-temple-in-Ayodhya-without-political-help-Shankaracharya/articleshow/47255872.cms
---------
Adilabad ISIS Fighter's 'Death' Still a Mystery
Srinath Vudali,TNN | May 13, 2015
HYDERABAD: With the reported death of an Adilabad youth said to be fighting for the dreaded Islamic State of Iraq and Syria (ISIS) still shrouded in mystery, Telangana police and intelligence agencies are now ascertaining the credibility of this information.
An SMS in Arabic, purportedly originating from Syria, was sent to the family of Hyderabad-based engineering graduate Mohammed Ateef Waseem last month stating that he died while fighting for ISIS. The messenger in the SMS informed the family that Waseem had died in Baghdad.
When the family members received the SMS, they got it translated. Anxious family members in turn sent a message asking where and when he had died. The anonymous sender gave two replies, "In Iraq in Bagadaidi" and "Before 7 dete" (sic).
Full report at:
http://timesofindia.indiatimes.com/india/ISIS-fighters-death-still-a-mystery/articleshow/47255827.cms
---------
30,000 Indians living in Saudi Arabian city of Najran are safe, envoy says
Daniel George,TNN | May 13, 2015,
CHENNAI: Nearly 30,000 Indians living in the Saudi Arabian city of Najran, bordering strife-torn Yemen, are safe, said Indian consul general in Jeddah B S Mubarak on Wednesday.
Speaking to TOI over telephone, Mubarak said all Indians living close to the firing range had been asked to move to safer places.
A senior Indian diplomat and other staff had been posted in Najran to cater to the Indians living there, he said.
The envoy said there was an intensified fighting between Houthi rebels and Saudi Arabia-led coalition forces.
He said one Pakistani and a dozen Saudis had been killed in the ongoing shelling in the city.
"As of now, there is no cause for concern and we are geared to meet any eventuality to repatriate the Indians in case the situation worsens,'' said Mubarak.
Some of the Indian nationals have been shifted to universities to prevent them from being injured in the firing.
He said some Indian nationals wanted to return home but the employers were not giving them leave. "We have asked people wanting to return to India to contact us so that we can speak to their employers and get their passports back," the diplomat said.
Najran and its surroundings have more than half a dozen hospitals, many business establishments and military installations. Hundreds of citizens of countries such as India, Pakistan, the Philippines and Bangladesh work in the region.
He said Indian nationals employed in hospitals had been forced to stay back at their workplaces.
http://timesofindia.indiatimes.com/india/30000-Indians-living-in-Saudi-Arabian-city-of-Najran-are-safe-envoy-says/articleshow/47266598.cms
----------
Mideast
ICC Prosecutor urges Israel to provide information for Gaza probe
May 13, 2015
In one of her most dramatic interviews to date, International Criminal Court Prosecutor Fatou Bensouda told the Associated Press that Israel must provide her information on alleged 2014 Gaza War crimes or she may be forced to decide whether to launch a full criminal investigation based solely on information likely provided to her by human rights critics of Israel.
In the interview, which broke early Wednesday Israel-time but took place in New York on Tuesday leading up to a major speech by Bensouda to the UN Security Council, the ICC Prosecutor said that neither Israel nor the Palestinians had provided any official information to date.
She said she might be "forced to just go with just one side of the story," emphasizing she still hoped Israel would cooperate.
The Ministry of Justice told The Jerusalem Post on Wednesday that they were referring all questions on the matter to the Foreign Ministry.
It was unclear how much time Bensouda plans to give Israel.
In particular, it was unclear whether she would wait until after the UN Human Rights Council report on Gaza war crimes allegations related to the deaths of over 2,100 Palestinians (with disputes as to whether 50% or 80% were civilians), due for June 29, to make any major moves - as had been expected.
Full report at:
http://www.jpost.com/Arab-Israeli-Conflict/ICC-Prosecutor-urges-Israel-to-give-information-for-Gaza-probe-402933
-----------
Iranian Warship's Missile System Locks on Invading Target in Gulf of Aden
May 13, 2015
Iranian destroyer, Alborz, locked its missile systems on an invading vessel in the Gulf of Aden after a high-speed boat left Yemen's coasts and rushed to attack it.
The Iranian destroyer's missile systems locked on the target after an invading high-speed boat appeared on the monitor screens of the radar systems in Alborz operations room.
According to reports, the invading vessel changed course and returned to the coast after the Iranian destroyer warned it would target the vessel in seconds.
"If the terrorists ignored our warning, they would be killed with the first bullets of Alborz," Commodore Hassan Maqsoudlou, the captain of Alborz destroyer, said.
He underlined that the Iranian Naval forces are prepared at any moment to defend the Islamic Iran's interests.
Full report at:
http://english.farsnews.com/newstext.aspx?nn=13940223000576
---------
Yemen officials say some ground fighting after cease-fire
May 13, 2015
SANAA, Yemen (AP) — With cargo ships poised to launch a desperately needed aid operation in embattled Yemen, a five-day humanitarian cease-fire began Tuesday night, just hours after Saudi-led coalition warplanes struck against Shiite rebels and their allies.
There were reports of continued ground fighting in some areas, with security officials and witnesses saying fierce combat broke out about a half hour after the cease-fire began when rebels tried to storm the southern city of Dhale, firing tank shells, rockets and mortars. But no airstrikes by the Saudi-led coalition battling the rebels were reported.
The officials and tribal leaders also accused the rebels and their allies of reinforcing their positions.
Full report at:
http://news.yahoo.com/4-yemen-al-qaida-leaders-killed-suspected-us-090059780.html
---------
Yemen quiet as humanitarian truce takes hold
May 13, 2015
Yemen fell quiet on Wednesday for the first time since a Saudi-led coalition launched air strikes against Iran-backed rebels on March 26, as a humanitarian truce appeared to be holding.
Ground skirmishes carried on in some areas beyond the agreed 11:00 pm (2000 GMT) Tuesday start time for the ceasefire but by midnight the fighting had stopped, residents said.
"Sanaa had a quiet night as the noise of bombs and anti-aircraft fire that had terrified everyone came to a halt," said a resident of the rebel-held capital, Tawfiq Abdulwahab.
At dawn, the rebels fired some ground-to-air missiles when coalition reconnaissance planes flew over the capital, but the air defence fire lasted only briefly, witnesses said.
"We hope this truce becomes permanent. We finally managed to sleep peacefully last night," said 25-year-old Sanaa resident Mohammed al-Saadi.
Full report at:
http://english.ahram.org.eg/NewsContent/2/8/130105/World/Region/Yemen-quiet-as-humanitarian-truce-takes-hold.aspx
----------
Turkey's religious body publishes Quran in Armenian
May 13 2015
ANKARA: Overwhelmingly Muslim Turkey's top religious authority Diyanet said it has published thousands of copies of the Quran translated into Armenian for the first time, as it seeks to reach out to minority communities.
Yuksel Salman, director of Diyanet's religious publications office, denied the publication of the Muslim holy book in Armenian has any link to the 100th anniversary last month of mass killings of Armenians in the Ottoman Empire.
He told AFP there was a "serious demand" from the small remaining Armenian Christian community in Turkey and diaspora for the translation of the Quran into their own language.
"In addition to our Armenian citizens, we could not remain indifferent to interest from the Armenian diaspora in learning the Quran," he said in emailed comments.
"We have taken this step to introduce first-hand information about Islam, one of the biggest religions in the world."
Full report at:
https://www.dailystar.com.lb/News/Middle-East/2015/May-11/297553-turkeys-religious-body-publishes-Quran-in-armenian.ashx
---------
Europe
Norway ends blasphemy law after Hebdo attack
May 13 2015
Norway has scrapped its longstanding blasphemy law, meaning it is now legal to mock the beliefs of others, in a direct response to January's brutal attack on the French satirical magazine Charlie Hebdo.
The proposal to rush through the change was made in February by Conservative MP Anders B. Werp and Progress Party MP Jan Arild Ellingsen, who argued that the law "underpins a perception that religious expressions and symbols are entitled to a special protection".
"This is very unfortunate signal to send, and it is time that society clearly stands up for freedom of speech," the two wrote in their proposal.
Norway's parliament first voted to scrap the blasphemy law back in 2009, against strong opposition from the Christian Democrat party. But the move has yet to come into force because the country's new penal code remains delayed by problems updating the computer systems used by police and prosecutors.
Full report at:
http://www.thelocal.no/20150507/norway-scraps-blasphemy-law-after-hebdo-attacks
http://www.washingtonpost.com/news/volokh-conspiracy/wp/2015/05/08/norway-repeals-blasphemy-law-in-response-to-charlie-hebdo-murders/
---------
UK to announce new laws on Islamic extremism
13 May 2015
British Prime Minister David Cameron was to announce new laws to combat "poisonous Islamist ideology" Wednesday in his first major policy announcement since winning last week's general election.
His center-right Conservative government is to include a new law to "defeat extremism" in its legislative program which will be announced to parliament by Queen Elizabeth II on May 27.
Britain's strategy on Islamist extremism has been in the spotlight for months since ISIS executioner "Jihadi John" was identified as Mohammed Emwazi from London and a string of young people left Britain to fight for ISIS in Syria.
Cameron is to say Britain has been "passively tolerant" for too long and will vow to "turn the page on this failed approach," according to his office.
The new measures are expected to go further than under the last Cameron-led administration because their former coalition partners, the centrist Liberal Democrats, blocked some measures.
Full report at:
http://english.alarabiya.net/en/News/middle-east/2015/05/13/Britain-to-announce-new-laws-on-Islamic-extremism-.html
---------
UN nuclear watchdog says can push for access to Iran military sites
May 13, 2015
The UN nuclear watchdog can push for access to Iranian military sites under the terms of a preliminary deal with Tehran, the head of the body told the Associated Press in an interview.
Iran reached a deal with six world powers on April 2 to allow UN inspectors to carry out more intrusive, short-notice inspections under an "additional protocol" - though there have been sharply differing interpretations from both sides on the details of that access.
"In many other countries from time to time we request access to military sites when we have the reason to, so why not Iran?" Yukiya Amano, the director general of the UN International Atomic Energy Agency (IAEA) was quoted as saying by AP.
"If we have a reason to request access, we will do so, and in principle Iran has to accept it," he added.
Full report at:
http://english.ahram.org.eg/NewsContent/2/8/130111/World/Region/UN-nuclear-watchdog-says-can-push-for-access-to-Ir.aspx
---------
Reverend Robert West banned over Muslims 'worship devil' remark
May 13 2015
A teacher who told pupils that "Muslims worship the devil" has been banned from the profession indefinitely.
Reverend Robert West, who stood as a British National Party (BNP) candidate, made the comments during history lessons at a girls' school in Grantham.
The National College for Teaching and Leadership (NCTL) took action after pupils complained.
Mr West, 59, said he made the comments in the context of a lesson about the Crusades in November 2013.
The teacher has no connection to the Church of England. In 2006, he set up his own church, based in a house in Holbeach, to preach "traditional bible beliefs".
'History of religion'
The NCTL panel upheld claims he had made inappropriate comments to students while working as a supply teacher at Walton Girls High School, Grantham, on 8 November.
The panel said it was satisfied Mr West's conduct fell short of expected standards, and found him guilty of unacceptable professional conduct.
Full report at:
http://www.bbc.com/news/uk-england-lincolnshire-32702593
---------
U.N. seeks to bolster Yemen ceasefire
13 May 2015
The U.N. Security Council welcomed the five-day humanitarian pause for Yemen that began late Tuesday and urged all sides to respect it, Agence France Presse reported.
In a statement, the 15-member council expressed grave concern for the "severe humanitarian consequences" of the months-long violence in Yemen.
"All parties will need to transparently and reliably suspend military operations" for the humanitarian pause to hold, the council members stressed.
The Saudi-initiated truce is intended to allow for desperately-needed deliveries of humanitarian aid after seven weeks of bombing.
Saudi Arabia led a coalition in launching the air war on Yemen on March 26 to stop an advance by Iranian-backed Houthi militias and restore the authority of exiled President Abedrabbo Mansour Hadi.
The humanitarian pause went into effect as U.N. envoy Ismail Ould Cheikh Ahmed was in Sanaa for talks on holding a peace conference with all parties.
The council called on all Yemeni parties to attend the talks "without preconditions."
http://english.alarabiya.net/en/News/middle-east/2015/05/13/U-N-seeks-to-bolster-Yemen-truce-.html
----------
Southeast Asia
After Nur Fitri case, Putrajaya drafting changes to existing laws on child pornography
May 13 2015
KUALA LUMPUR, May 13 ― Putrajaya is currently drafting amendments to existing laws against pornography, specifically on obscene materials involving children following news on Nur Fitri Azmeer Nordin's conviction in the UK, de facto law minister Nancy Shukri has said.
She said various government agencies have already started reviewing relevant laws dealing with distribution and possession of pornographic materials, especially those on child pornography.
"The government is actually drafting amendment to the relevant law. With regard to pedophilia, it is time for us to look into the existing laws like the Penal Code and the Child Act to make the necessary amendments where needed.
"Various government agencies are seriously looking into other related laws involving obscene materials including pornography, especially those involving young persons and children," Nancy said in a text message to Malay Mail Online.
Full report at:
http://www.themalaymailonline.com/malaysia/article/after-nur-fitri-case-putrajaya-drafting-changes-to-existing-laws-on-child-p#sthash.yYv75bzG.dpuf
---------
SBY: Democratic Party Will Support Jokowi Administration
May 13 2015
Surabaya. The Democratic Party wants to play an active role to help the administration of President Joko Widodo and Vice President Jusuf Kalla succeed, chairman Susilo Bambang Yudhoyono said at the official opening of his party's congress on Tuesday.
As part of this effort, Yudhoyono, who was succeeded by Joko last year, said the party was dedicated to making sure all of its regional-level executives — governors, district heads and mayors — fully support the central government.
The Democratic Party itself will also back any government initiatives that it considers to be good for the Indonesian people and it will make itself heard in case the government presents plans that it deems unjust, he added.
Full report at:
http://thejakartaglobe.beritasatu.com/news/sby-democratic-party-will-support-jokowi-administration/
---------
EU Parliament to raise Anwar's sodomy conviction with Putrajaya
May 13 2015
Anwar's sodomy conviction and jailing has received the attention of the European Parliament who will raise their concerns with Putrajaya, says PKR.
PKR international bureau chief Gooi Hsiao Leung said the European Parliament has expressed its commitment to continue bringing up the European Union's concern over the Malaysian legal system in all high-level meetings with Putrajaya.
This followed a motion tabled by the Liberal International (LI) in the European parliament, which asked the European Parliament through the High Representative for Foreign Policy what steps the bloc will take to ensure Anwar's release.
Full report at:
http://www.themalaysianinsider.com/malaysia/article/eu-parliament-to-raise-anwars-sodomy-conviction-with-putrajaya#sthash.FBgcfPRk.dpuf
---------
URL: https://www.newageislam.com/islamic-world-news/new-age-islam-news-bureau/islamic-state-militants-gun-down-47-shia-ismaili-muslims-in-bus/d/102932