New Age Islam News Bureau
21 Apr 2016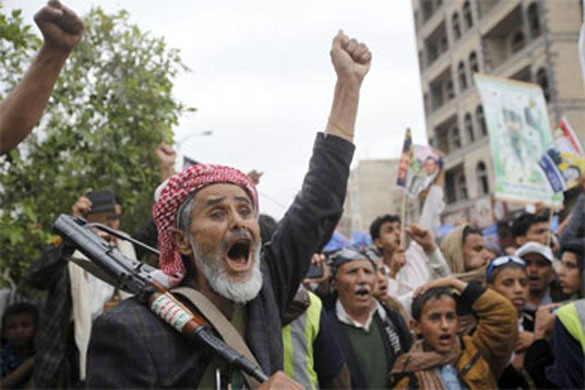 A Houthi militant shouts slogans during a rally against U.S. support to Saudi-led air strikes, in Yemen's capital Sanaa, April 15, 2016. Reuters/Mohamed Al-Sayaghi
--------
Arab World
• Islamic State Killing Injured Fighters to Sell Organs on Black Market
• Yemen Must Tackle Widening Sectarian Rift, Says Local Peacemaker
• East of Deir Ezzur Airbase Heavily Pounded by Syrian Fighters, Militants Killed
• Khamenei vows full support for Hezbollah
• Carter presses Gulf nations to do more in Iraq
• Khamenei warns of 'soft war' between Iran, US
• Russia, Iran Poised to Break Syrian Opposition Toehold in Aleppo
-----
India
• Wary Of NIA Crackdown, ISIS Big Fish Ask Indian Scouts To 'Lie Low'
• Shiv Sena Leader Sushil Kumar Jain Converts to Islam, Is Now Mohammad Abdul Samad
• Denied a Gun License, Muslim Youth Embraces Hinduism in Protest
-----
South Asia
• 10 Militants Blown Up While Making an IED inside A Mosque in Ghazni
• 41 Militants Killed In Latest Counter-Terrorism Operations of Afghan Forces
• 21 ISIS Militants Killed, Dozens Wounded In Afghan and Coalition Airstrikes
• Taliban suffer heavy casualties in operations led by Gen. Dostum in Jawzjan
• 3.3 million cc of blood collected for deadly Kabul attack victims
• UN Security Council issues statement following deadly Kabul attack
---
Pakistan
• Pak Court Issues Notice to JuD for Running 'Shariah Court'
• Army Backs Sindh Police in Fight against Terror
• Army chief dismisses 12 military officers from service over corruption
• SC seeks report on converting Islamic centre into cinema house
----
Mideast
• Number of Tanks Increased Across Syrian Border against ISIL
• Israel Says Gives Jordan, Egypt Intelligence Help against Islamic State
• Turkish teacher convicted of child abuse sentenced to 508 years in prison
• It's open season on the Muslim Brotherhood
• Operations in Yüksekova end: Turkish General Staff
• Israeli general warns of 'devastating war' with Hezbollah
• Seven suspected ISIL members caught in Turkey's Gaziantep
---
Europe
• Disguised As Vendors, ISIS Men May Attack Europe Beaches: Report
• EU and Pakistan hold Political Counter-Terrorism dialogue
• Swedish politician quits after refusing to shake women's hands
• Tories step up attempts to link Sadiq Khan to extremists
---
Southeast Asia
• 19th Malaysian Militant Linked To IS Killed In Battle
• First Non-Muslim Lashed For Breaking Sharia Law in Indonesian Province
• Claiming fraud, Anglican clerics seek action against Muslim preacher posing as ex-priest
---
Africa
• Valhalla Mosque Protests Pure Racism - Tshwane Islamic Trust
• Islamic State in retreat around east Libyan city
• US warns of links between Islamic State, Boko Haram
---
North America
• U.S. Imports 1.2% of Somalia's Muslims
Compiled by New Age Islam News Bureau
URL: https://www.newageislam.com/islamic-world-news/new-age-islam-news-bureau/islamic-state-killing-injured-fighters-to-sell-organs-on-black-market/d/107063
------
Islamic State Killing Injured Fighters to Sell Organs on Black Market
Apr 20, 2016,
Cash-strapped Islamic State terror group has been killing its injured fighters so that their organs can be extracted and sold on the black market abroad, according to media reports.
"Doctors were threatened to take out the body organs of a wounded ISIL militant," the Arabic-language al-Sabah newspaper reported citing an unnamed source in the Iraqi city of Mosul. The terrorists are suffering a budget shortage after their recent loss of territory in the Southern part of Mosul and for the same reason it is reportedly killing its own militants who have been injured in southern Mosul to take out their body organs such as hearts and kidneys to sell them in the black market, the Iranian FARS news agency reported.
It also cited Spanish daily El Mondo as saying that faced with an increased number of wounded members in the Syrian army and popular forces' attacks, the ISIS is using the body organs of its captives for transplantation.
According to the daily, the ISIS also forces the prisoners in Mosul jails to donate blood and postpones the execution of those sentenced to death to use their blood as much as possible.
Medical sources were quoted as saying that the personnel in one of hospitals in Mosul have seen corpses of at least 183 people whose organs had been taken out of their bodies. Iraqi Ambassador to the United Nations Mohamed Alhakim had made the similar accusations last year, saying that the ISIS is trafficking human organs and has executed a dozen doctors for failing to go along with the programme. Alhakim based his claim on the discovery of dozens of bodies left in shallow mass graves near the city of Mosul, currently an ISIS stronghold. The media reports come just days after it emerged that the Islamic State's income has plummeted by a whopping 30 per cent to USD 56 million since last year. Significant territory losses means the number of people living in the Jihadi caliphate slumped from nine million at the start of 2015 to fewer than six million, according to the tax report by the US-based consultancy firm IHS.
http://indianexpress.com/article/world/world-news/islamic-state-isis-organs-sale-blackmarket-syria-2762382/
---
Wary Of NIA Crackdown, ISIS Big Fish Ask Indian Scouts To 'Lie Low'
Apr 21, 2016
NEW DELHI: Top Islamic State (ISIS) handlers based in Syria have reportedly instructed their contacts in India to "lie low for some time" in the wake of the NIA's multi-state crackdown in January on an ISIS-inspired module led by Mumbai-based techie Mudabbir Mushtaq Shaikh.
Sources in the security establishment have told TOI that there are inputs that top ISIS recruiter Shafi Armar alias Yousuf al Hindi has told Indians in touch with him via internet/social media to restrict their online activity aimed at scouting for young Muslims who can be radicalised and motivated to either travel to Iraq/Syria to fight jihad or stage attacks within India.
"We have noticed that online exchanges between foreign-based ISIS elements and net-savvy Indian youth have dipped after top ISIS operatives asked Indian recruiters/motivators to lie low to avert further police crackdown," said an intelligence officer.
As part of the January crackdown, in which nearly two dozen people have been arrested, the NIA went after top members managing ISIS recruitment in India.
While there has been lower engagement with ISIS recruiters over the past couple of months, agencies warn that this does not mean the outfit's traction among the country's youth has gone down.
Sources say Indian agencies are tracking sympathisers following pro-ISIS websites/social media accounts and are fully prepared to intervene as and when they show signs of leaving the country to join the ISIS or actively planning a likely strike in India.
"Though we have pro-ISIS elements under surveillance, we avoid an intervention unless we are sure that they are putting together logistics for a strike," said a senior officer of the security establishment.
As many as three ISIS-inpired modules have been busted over the past one year. In May 2015, five members of an ISIS module were arrested in Ratlam, MP. The module, led by Imran Khan, among the five arrested, was in touch with Yousuf al Hindi, who was allegedly motivating it to target BJP/RSS members as well as police officers. Two firearms and some commonly available explosives were seized from them.
In January, a second ISIS-influenced module was busted in Uttarakhand and four members arrested following a tip-off that they were planning to attack the Ardh Kumbh Mela.
They were also found to be in touch with Yousuf al Hindi. The biggest — and pan-Indian — crackdown came on the eve of Republic Day. In multi-state raids on January 23, the NIA swooped down upon several members of an ISIS-inspired module calling themselves Janood ul Khilafa-e-Hind. Heading this module was Amir Muddabir Shaikh, who had also received Rs 6 lakh to allegedly fund training and other logistics for strikes on India.
http://timesofindia.indiatimes.com/india/Wary-of-NIA-crackdown-ISIS-big-fish-ask-Indian-scouts-to-lie-low/articleshow/51918986.cms
------
10 Militants Blown Up While Making an IED inside A Mosque in Ghazni
Thu Apr 21 2016
At least 10 militants were blown up by their own explosives as they were busy making an Improvised Explosive Device (IED) in south-eastern Ghazni province.
According to the security officials, the militants were busy making the IED inside a mosque in Andar district.
The officials further added that the explosives went off prematurely, leaving all 10 militants dead.
The anti-government armed militant groups have not commented regarding the report so far.
The Taliban insurgents and militants belonging to the other insurgent groups are frequently using Improvised Explosive Device (IED) as the weapon of their choice to target the security forces.
The IEDs are the main contributors to the casualties of the Afghan security forces but are also considered as a key factor in growing civilian casualties.
At least 600 civilians were killed and 1,343 others were wounded in the first quarter of 2016, the United Nations Assistance Mission in Afghanistan said in its latest report.
UNAMA further added that consistent with 2015 trends, ground engagements caused the highest number of total civilian casualties, followed by improvised explosive devices (IEDs), complex and suicide attacks, as well as targeted killings.
According to UNAMA, actions by Anti-Government Elements caused at least 60 per cent of casualties while Pro-Government Forces caused at least 19 per cent.
http://www.khaama.com/10-militants-blown-up-while-making-an-ied-inside-a-mosque-in-ghazni-0725
------
Pak Court Issues Notice to JuD for Running 'Shariah Court'
Apr 20, 2016
A Pakistani court has sought an explanation from the Jamaat-ud-Dawah and government officials after a businessman complained he had been summoned by a JuD "Shariah" court to settle a property dispute.
Property developer Khalid Saeed, a resident of Lahore, told the Lahore high court he had received a summons on the letterhead of the "Darul Qaza Al-Sharia' Jamaat-ud-Dawah, Masjid Al-Qadsia, Chauburji, Lahore" with a direction to appear before its "arbitration court of Shariah."
Saeed said he had approached the high court to seek action against the Qazi or judge of the JuD court for running a parallel judicial system.
In his petition, Saeed said the summons was issued after another person with whom he had a monetary and property dispute approached the JuD court. Saeed said the JuD warned him no excuse would be considered if he failed to appear and that action would be taken against in accordance with Shariah or Islamic law.
He alleged he had also received "threatening" telephone calls from the JuD court's "Qazi", asking him to appear.
Saeed named the interior secretary, federal law minister, Punjab chief secretary, Punjab police chief, Lahore city police chief and Qazi Hafiz Idrees of JuD as parties in his petition.
Saeed said he had received no response to applications he had earlier submitted to government functionaries and the Chief Justice of Pakistan against the illegal summons.
He asked the court to order the authorities to look into the matter and take action against the JuD for committing illegal acts and for "subverting the Constitution by establishing a parallel judicial system".
Justice Shahid Bilal Hassan asked the respondents to appear on April 26.
Reports have said the JuD, named by the US and UN as a front for the Lashkar-e-Taiba, has set up courts in several Pakistani cities. The court in Lahore has settled more than 5,000 cases. JuD chief Hafiz Saeed accused by India of masterminding the 2008 Mumbai attacks, chooses the judges for the Shariah courts.
http://www.hindustantimes.com/world/pak-court-issues-notice-to-jud-for-running-sharia-court/story-MDQNaCma9CAy7FVNcuRQDJ.html
------
Arab World
Yemen Must Tackle Widening Sectarian Rift, Says Local Peacemaker
Apr 20, 2016,
NEW YORK (Thomson Reuters Foundation) - As Yemen war foes re-assess the prospects for high-level peace talks planned in Kuwait this week, a different kind of peace plan is in the making among non-governmental peacemakers.
Peace efforts have so far ignored the growing sectarian face of the conflict, which has intensified the divisions and made it harder to reach peace, the Yemen head of Search for Common Ground, an international non-profit, said in a recent interview.
Long-awaited talks to end a civil war that has killed about 6,200 people in Yemen - half of them civilians - and created a humanitarian crisis failed to start on Monday as planned, but negotiators were under United Nations pressure to meet.
Meanwhile, aid agencies have focused their efforts on alleviating the suffering by distributing essential supplies in Yemen, the poorest country in the Arabian Peninsula.
Search for Common Ground's Shoqi A. Maktary said that while both approaches were essential, the need to tackle new drivers of violence was being ignored.
Sectarian divisions, mainly between followers of Shafi'i Sunni theology and the Zaydi branch of Shi'ite Islam, were increasingly visible in Yemen a year into the conflict, said Maktary, a Yemeni conflict resolution specialist.
Across much of the Middle East, regional rivalry between Sunni power Saudi Arabia and Shi'ite Iran has intensified mutual suspicion between followers of the two branches of Islam, he said.
The involvement of the arch-rivals in Yemen where they have been fighting a proxy war, "has intensified everything that is bad in Yemen," he said.
"It's intensified divides, created new ones, brought new players in," he told the Thomson Reuters Foundation while in New York to meet government and United Nations officials.
The degree to which sectarian tensions have flared up "was a new phenomenon," that was visible in daily life, Maktary said.
In the capital Sanaa, from which Houthi rebels forced out the government in 2014, Maktary said he had witnessed the looting of a house whose owner was politically aligned with the Houthis after a military defeat they had suffered.
In the same city, Muslim worshippers had begun avoiding mosques run by other branches of Islam, a precaution unheard of before the war, Maktary said.
In Taiz, Yemen's third largest city, extremists' control over the city is growing and they have carried out executions, he said.
Unless such sectarianism is rooted out, violence in Yemen may persist even if a peace treaty is reached, and could be "even worse than in Iraq," he added.
In Iraq, bloodshed instigated by religious intolerance and radicalism along sectarian lines tore the country apart after the U.S.-led invasion in 2003.
To fend off a similar situation in Yemen, Maktary and his staff have been bringing residents together through initiatives such as community projects and youth employment programs, he said.
But further funds dedicated to building national peace are urgently needed to scale up the efforts, he added.
"We cannot wait until the political agreement is there," Maktary said. "By the time you have this political agreement; people will not talk (to each other)."
"WE ARE HERE TO STAY"
Several humanitarian groups have suspended their operations in Yemen because of concern about security.
For Search for Common Ground staff, which is U.S.-based but currently employs only Yemeni staff in Yemen, maintaining its programs has brought its share of challenges, Maktary said.
"Everybody in our office has had their family impacted - destroyed houses, lost jobs. Everyone knows someone who has been killed," he said.
In one recent incident, a large tent the group set up to host local residents for an awareness-raising event was nearly blown to pieces after a bomb was dropped nearby, Maktary said. The group has now stopped using tents for gatherings, fearing they may be mistaken for military targets.
But the stakes are too high to give up, he added.
The United Nations says the Yemen war has displaced millions of people and nearly half of Yemen's 22 provinces are on the verge of famine.
Al Qaeda and Islamic State have exploited the war to spread their influence and gain more supporters.
"We don't have the privilege to stop fighting for peace. This is our country and we are here to stay. We need to hand it over to our children," Maktary said.
http://www.reuters.com/article/us-yemen-security-sectarian-idUSKCN0XH23C
--
East of Deir Ezzur Airbase Heavily Pounded by Syrian Fighters, Militants Killed
April 20, 2016
TEHRAN (FNA)- The Syrian air force targeted gatherings of the ISIL Takfiri terrorists in East of Deir Ezzur military airport, killing scores of militants.
During the heavy pounding, the ISIL vehicles loaded with arms and equipped with various machineguns were also destroyed in addition to the heavy toll inflicted on the terrorists.
The ISIL Takfiri terrorists also suffered heavy losses in Syrian army airstrikes launched against their dens and gatherings in al-Baqaliyeh village in the Western countryside of Deir Ezzur province.
The Syrian army troops also destroyed a position for ISIL Takfiri terrorists in al-Hweiqa neighborhood and vehicle equipped with a rocket-launching pad in al-Jubeiliyeh neighborhood.
In a relevant development on Wednesday, the Syrian Army and Air Force struck ISIL positions in three different battlefields across the Eastern province of Deir Ezzur and inflicted major losses on the militants.
The Syrian government forces hit the ISIL gatherings in al-Sina'ah district, which ended in the killing of over 10 militants and explosion of a mid-size depot of ammunition and weapons.
In the meantime, the ISIL sites in Haweija Saker and al-Baqaliyeh came under the heavy strikes of the Syrian fighter jets, which not only claimed the lives of several terrorists but destroyed their sites' infrastructures.
http://en.farsnews.com/newstext.aspx?nn=13950202000103
--
Khamenei vows full support for Hezbollah
Apr 21, 2016,
Iran's Supreme Leader Ayatollah Ali Khamenei reiterated the Shi'ite country's full support for its ally Hezbollah, as the Lebanese organization came under harsh attack by Saudi Arabia and other Gulf states for its involvement in Syria's civil war.
"Hezbollah and its faithful youth are shining like the sun and are a source of honor for the Muslim world," he told members of the Iranian Students' Islamic Association in Tehran on Wednesday, Fars News Agency reported.
Khamenei's comments came after Riyadh and its allies harshly criticized Iran and Hezbollah for their interference in the internal affairs of states in the region in the final statement at the 13th summit of the Organization of Islamic Cooperation last week.
Saudi Arabia and other Gulf states have cracked down on Hezbollah, and have deported residents suspected of supporting the group.
Iran's supreme leader also said that Iranian youth are being targeted in a "soft war" of the "imperialist front" led by the US and "Zionist regime" which includes the political, economic, and cultural fields, Iran's Mehr News Agency reported.
"A reason why they would confront us in our attempt to achieve peaceful nuclear technology is this feature of the imperialist front; should Iran concede some ground, they will advance any further deny us further progress in biotechnology, nanotechnology and other strategic technologies," he added.
President Hassan Rouhani warned world powers that Tehran would seriously respond if they lag in implementing the nuclear deal.
"We should monitor and verify the other side's performance," Rouhani at a cabinet meeting in Tehran on Wednesday, according to Mehr. "If we see any lagging and shortages from the other side, we should certainly show serious reaction," he added.
http://www.jpost.com/Arab-Israeli-Conflict/Khamenei-vows-full-support-for-Hezbollah-451904
--
Carter presses Gulf nations to do more in Iraq
April 20, 2016
RIYADH, Saudi Arabia — Defense Secretary Ash Carter pressed reluctant defense ministers from six Gulf nations Wednesday to provide more economic and political support to Iraq now to help the war-torn nation in its fight against the Islamic State Group.
In a series of sessions, Carter urged the Arab countries to specifically help with the reconstruction of cities of Ramadi and Hit as well as Anbar province, areas that have been won back from the militant group but left in near-shambles. He said helping the Iraqi people go home and rebuild their lives would lead to a more lasting victory and promote a more inclusive government.
The defense ministers' meeting was aimed at laying the groundwork for a summit Thursday among President Barack Obama and heads of state from the Arab countries.
A senior defense official said the defense chiefs had a robust discussion, but came to no solid agreements on the increased aid.
The official said it appears the Gulf nations will be willing to consider doing more. But the Sunni leaders want to wait until they see more political improvements in Baghdad and greater participation and aid for the Sunni population before they agree to do more.
The U.S. has been unhappy with what the Gulf nations have been willing to do in the fight, both with their military forces and financial contributions.
In recent comments to The Atlantic Magazine, Obama described Gulf countries, among others, as "free riders" that show "an unwillingness to put any skin in the game" when it comes to their own regional security. Those comments have chilled Obama's welcome at the summit.
And, while Saudi Arabia, the United Arab Emirates and other Gulf states are part of the U.S.-led coalition battling the Islamic State group in Iraq and Syria, they have done only limited airstrikes in Syria.
Carter told a news conference later that Sunni support for a multi-sectarian government in Iraq will insure that the Islamic State group "stays defeated."
"What we would like, and what we discussed today, is to do more," said Carter, who spoke at Diriyah Palace alongside Gulf Cooperation Council Secretary-General Abdullatif al-Zayani.
At the meeting were defense ministers from the six GCC nations — Saudi Arabia, Kuwait, Bahrain, United Arab Emirates, Oman and Qatar.
The ministers also reaffirmed ways that their militaries can work more together, including in training, exercises and missions with their special operations and naval forces.
One proposal would have each country designate a special operations unit to go through enhanced training so it could work more closely with all the other nations.
The ministers also talked about ways to counter threats from Iran — a high priority for the Gulf countries who have been dismayed with the U.S. move to reduce sanctions on Tehran in exchange for the nuclear agreement.
Al-Zayani said at the news conference that Carter expressed the U.S. commitment to stand with the Gulf nations against Iranian threats, including weapons smuggling into countries such as Yemen.
The U.S. official said that the U.S. wants to see a continued push to interdict the weapons shipments from Iran to insurgent groups in Yemen and other areas. The official was not authorized to discuss the issues publicly ahead of the meeting, so spoke on condition of anonymity.
U.S. officials also want Gulf nations to have a more formal diplomatic presence in Baghdad, arguing that involvement with the Shiite-dominated Iraqi government will decrease the deep sectarianism fracturing the country.
There have been significant investments in the region's air forces in recent years, but the widely dispersed fight against Islamic State militants in Iraq and Syria requires a greater emphasis on special operations missions and naval forces, said the official.
http://www.marinecorpstimes.com/story/military/2016/04/20/carter-presses-gulf-nations-do-more-iraq/83280118/
--
Khamenei warns of 'soft war' between Iran, US
April 20, 2016
During a speech to the Islamic Students Association April 19, Khamenei said, "See what they did against the devout youth in Palestine and Lebanon? How many real and propaganda threats have they made against Hezbollah of Lebanon? Yet Hezbollah of Lebanon is showing its brave [face] in the world of Islam."
Referring to the OIC statement, which Iranian officials accused of being heavily influenced by Iran's regional rival Saudi Arabia, Khamenei said, "The dependent, corrupt, hollow and empty government, in a statement with petrodollars, condemns Hezbollah. So what? What importance does it have? Hezbollah is shining like the sun. Hezbollah is a source of pride for Muslims."
The OIC statement, which also contained four paragraphs of condemnation for Iran, "condemned Hezbollah for conducting terrorist activities in Syria, Bahrain, Kuwait and Yemen and for supporting terrorist movements and groups undermining the security and stability of the OIC member states." While the final statement was not read publicly at the closing ceremony, it was released to the media.
Saudi's animosity toward Hezbollah became more overt when the group, backed by Iranian forces, entered the Syrian civil war to support Syrian President Bashar al-Assad. Saudi Arabia has supported and funded opposition fighters attempting to overthrow Assad.
While Khamenei did not address the Syrian civil war in his speech, he did address the 2006 Lebanon war between Hezbollah and Israel. "What [Hezbollah] did, three Arab armies could not do in two or three wars," Khamenei said, referring to Arab regional forces having lost wars and territory to Israel. "Hezbollah defeated the Zionist regime, which had become stronger by then, in 33 days," Khamenei said. Despite Israel having overwhelming military power and suffering fewer casualties in that war, many analysts deemed the war a failure for Israel.
Khamenei also warned his young audience about America's "soft war" against the country, saying, "Right now with the issue of the youth, there is a comprehensive soft war between the Islamic Republic of Iran on one side and America and Zionists and their followers on the other side." Khamenei said that young Iranian students should consider themselves the officers of this war and warned them, "Westerners, especially America, want the Iranian youth to be without faith, cowardly, unmotivated, inactive, hopeless, optimistic toward the enemy and pessimistic toward their own commanders."
Khamenei also told the officials at the Education Ministry to be conscious of this war and introduce courses to ensure "the young generation is brought up revolutionary." He added, "It is rumored that some schools oppose revolutionary work, and the education officials must confront this." By "revolutionary," Khamenei is referring to an education system that extols the virtues of what the government believes to be indigenous Iranian and Islamic values, and one that is committed to maintaining and continuing the revolutionary momentum that opposes US dominance in the region.
http://www.al-monitor.com/pulse/originals/2016/04/khamenei-hezbollah-condemn-oic-statement-saudi.html#
--
Russia, Iran Poised to Break Syrian Opposition Toehold in Aleppo
Apr 20, 2016
Russia and Iran are gearing up around the key northern Syrian city of Aleppo in what appears to be the beginning of a renewed push to shore up the regime of President Bashar al-Assad.
"We have seen regime forces, with some Russian support as well, begin to mass and concentrate combat power around Aleppo," Operation Inherent Resolve spokesman Colonel Steve Warren told Pentagon reporters during a telephone briefing Wednesday.
"This is something we're concerned about," he added.
U.S. defense and intelligence officials say Russia has been steadily bolstering its presence around Aleppo, shifting much of the artillery used in the offensive to retake Palmyra from Islamic State militants up north.
Russian aircraft, helicopters and troops have also been moving toward Aleppo over the past several weeks, they say.
At the same time, hundreds of Iranian-backed Shia militia fighters are converging on the area to bolster existing regime forces.
Endgame
"The Syrian regime seems to be driving towards the eventual isolation of opposition forces in and around Aleppo," a U.S. intelligence official said on condition of anonymity.
The official said at least in the area north of Aleppo, Russian actions appeared to be in support of the Syrian regime, aimed at cutting off the supply lines for moderate opposition forces.
"We also see indications of fighting southwest of Aleppo between Syrian forces with Russian backing and opposition elements," the official added.
Russian officials have long said their actions in Syria have been aimed at terror groups such as Islamic State and al-Qaida-linked Jabhat al-Nusra, and U.S. officials admit Russia has picked up the pace of airstrikes on terror targets.
But analysts caution the type of Russian equipment being sent to Aleppo suggests not just a different enemy in the short term but also a broader strategic endgame.
"Russia has begun to alter the shape of its own deployment," Institute for the Study of War analyst Genevieve Casagrande said during a panel discussion Wednesday.
"These types of military assets aren't necessarily used, you don't actually need them to fight ISIS," she said, using an acronym for Islamic State.
Iranian role
While Russian forces seem to be the primary driver behind the looming offensive in Aleppo, providing critical air support and heavy weapons, Iranian-backed Shia militias have also been playing a critical role.
"Many of the Shia militia forces continued to fight even during the cease-fire," said Phillip Smyth, a University of Maryland researcher who specializes in Shia militia activity. "They've seen a greater and more open deployment around the country, particularly in the areas around Aleppo."
Despite seeing heavier casualties across Syria earlier in the year, Iran has continued to recruit Shias from Iraq and elsewhere to join the fight, again increasing its online efforts, Smyth said.
He estimates there could be 14,000 or more Iranian-backed Shia fighters in Syria as well as another 3,500 Iranian troops.
For now, U.S. defense officials say developments around Aleppo are unlikely to affect the U.S.-led coalition effort to destroy the Islamic State terror group, though one official said it could influence operations peripherally.
http://www.voanews.com/content/syria-russia-iran-aleppo/3294607.html
--
India
Shiv Sena Leader Sushil Kumar Jain Converts to Islam, Is Now Mohammad Abdul Samad
Wednesday, April 20, 2016
Muzaffarnagar: A Shiv Sena leader created news on Tuesday for embracing Islam.
According to a report in Amar Ujala, Sushil Kumar Jain embraced Islam recently following disappointment with the Jain community, municipal corporation, and work culture of revenue department. He is now known as Mohammad Abdul Samad.
He said he converted his religion on February 15 by his own choice and not under any pressure.
The Shiv Sena leader, however, made the news public on the occasion of Mahavir Jayanti on Tuesday.
The news has created flutters in Khatauli town, Muzaffarnagar district.
http://zeenews.india.com/news/india/shiv-sena-leader-sushil-kumar-jain-embraces-islam-is-now-mohammad-abdul-samad_1878086.html
--
Denied a gun license, Muslim youth embraces Hinduism in protest
Thursday, April 21, 2016
Meerut: In yet another case of religious conversion, a Muslim youth from Baghpat converted to Hinduism in protest against denial of arms license to him by the authorities.
According to a report in Times of India, Furqan Ahmad had been wearing a 'choti' after shaving off his hair, pasting tilak on his forehead and calls himself 'Phool Singh', causing heartburn to fellow Muslim brethren.
Ahmad, who drives an e-rickshaw during the day to support his family of six members, needs a gun license to be a security guard which will also supplement his meagre income.
He had applied for a gun license in 2010. However, despite all efforts, his application for a gun license has not been approved yet by the district administration.
''For almost three years, I ran from one department to another to get all the clearances and certificates required for it. Much to my disappointment, even after repeated requests to the then DMs, the babus misplaced my file in 2014. I had to restart the entire process again. Even now, it has been months that my file got completed and yet I am not being granted an arms licence," Ahmad was quoted as saying.
Ahmad even filed an RTI query to discover that a total of 378 arms licences were issued in the district during this period, but his file kept gathering dust.
In utter frustration, Ahmad decided to change his religion as a mark of protest against the authorities.
When contacted, Baghpat District Magistrate Hardev Shankar Tiwari reportedly said, ''An arms licence is given only after thorough investigation and ascertaining level of security threat to an aspirant. Everyone cannot claim such a sensitive thing as arms licence by resorting to such measures as Ahmed has taken."
Ahmad, who is now planning to approach High Court in the matter, says he is not worried about pressure from the religious leaders of his community and maintains that it is his life and no one can dissuade him from converting.
http://zeenews.india.com/news/uttar-pradesh/denied-a-gun-license-muslim-youth-embraces-hinduism-in-protest_1878388.html
--
South Asia
41 Militants Killed In Latest Counter-Terrorism Operations of Afghan Forces
Thu Apr 21 2016
At least 41 militants were killed in the latest counter-terrorism operations conducted by the Afghan National Security Forces, the Ministry of Defense (MoD) said.
The operations were conducted in the past 24 hours in Ghazni, Herat, and Nangarhar provinces.
A statement by MoD said at least 19 of the militants were killed in Andar district of south-eastern Ghazni province where at least 9 militants were also wounded.
The statement further added that 1 militant was killed and 3 others were wounded during a separate operation in Chesht-e-Sharif district of Herat province.
At least 21 militants operating under the name of Islamic State of Iraq and Syria (ISIS) terrorist group were killed in separate operations in eastern Nangarhar province, MoD said, adding that 11 militants were also wounded in the same raids.
According to MoD, a commander of the terror group identified as Saadat Khan was also among those killed in the airstrikes conducted in Achin district.
The anti-government armed militant groups have not commented regarding the reports so far.
http://www.khaama.com/41-militants-killed-in-latest-counter-terrorism-operations-of-afghan-forces-0724
--
21 ISIS Militants Killed, Dozens Wounded In Afghan and Coalition Airstrikes
Thu Apr 21 2016
At least 21 militants operating under the name of the Islamic State of Iraq and Syria (ISIS) terrorist group were killed and dozens of others were wounded in airstrikes carried out by the Afghan Air Force and coalition forces, local officials said Wednesday. (Photo 438th Air Expeditionary Wing)
The airstrike was carried out in Achin district earlier on Wednesday targeting the loyalists of the terror group in Mamand Dara area.
The Ministry of Defense (MoD) said a commander of the terror group was also among those killed.
Provincial governor's spokesman, Ataullah Khogyani, earlier said 20 militants of the ISIS terrorist group were killed and dozens of others were wounded in the raid.
He said several weapons, ammunition and explosives belonging to the terror group were also destroyed in the airstrike.
The anti-government armed militant groups have not commented regarding the report so far.
Nangarhar is among the relatively volatile provinces in eastern Afghanistan where anti-government armed militant groups are actively operating and frequently carry out insurgency activities.
The loyalists of ISIS terrorist group and other insurgents are openly operating in a number of its remote districts with Achin district being the stronghold of ISIS terror group.
http://www.khaama.com/21-isis-militants-killed-dozens-wounded-in-afghan-and-coalition-airstrikes-0723
--
Taliban suffer heavy casualties in operations led by Gen. Dostum in Jawzjan
Wed Apr 20 2016
The Vice President General Abdul Rashid Dostum has returned to the battlefield in northern Jawzjan province as local officials report the Taliban insurgents have suffered heavy casualties.
Provincial governor's spokesman Mohammad Reza Ghafoori said at least 30 Taliban insurgents have been killed and nearly 40 others have sustained injuries during the operations.
He said the operations are being conducted in Aqcha district but the Office of the Vice President reported that 5 villages have been cleared of the militants so far.
The operations were launched around 5:00 am local time today and clearance operations are underway after the militants were forced to flee the area, the Office of the Vice President said.
In the meantime, Ghafoori said, a commander of the Taliban group, identified as Mullah Rasool was killed and the group's shadow district governor for Aqcha was injured.
He said operations are also underway in Qosh Tapa district where majority of the militants have suffered casualties.
The Taliban militants group has not commented regarding the report so far.
Jawzjan is among the relatively volatile provinces in northern Afghanistan where anti-government armed militants are actively operating in a number of its districts.
http://www.khaama.com/taliban-suffer-heavy-casualties-in-operations-led-by-gen-dostum-in-jawzjan-0721
--
3.3 million cc of blood collected for deadly Kabul attack victims
Wed Apr 20 2016
Around 3.3 million cc of blood was collected across the country in an initiative launched by the provincial governors to show solidarity and support to the victims of deadly Kabul attack.
An official in Independent Directorate of Local Governance (IDLG) said public mobilization launched in 20 provinces following the attack to collect blood for the victims of the attack.
Acting Minister – Deputy Minister for Policy And Technical at IDLG, Nader Yama, said the mobilization was launched involving 13,000 Ulemas, tribal elders, young leaders and civil society activists.
He said press conferences were also held in different provinces to condemn the attack and demonstrate support to the Afghan security forces.
The Taliban militants claimed responsibility behind the deadly attack which was launched on Directorate of Security for Prominent Figures in capital Kabul earlier yesterday.
The security officials disclosed the latest casualties toll today and said at least 64 people were killed and 347 others were wounded in the attack.
The attack was widely condemned across the country as well as the international community with President Mohammad Ashraf Ghani calling the attack against the principles of Islam.
President Ghani visited the victims of the incident in Sardar Mohammad Daud Khan hosptial on Tuesday night and vowed revenge for each drop of blood.
http://www.khaama.com/3-3-million-cc-of-blood-collected-for-deadly-kabul-attack-victims-0720
--
UN Security Council issues statement following deadly Kabul attack
Wed Apr 20 2016
The United Nations Security Council (UNSC) issued a statement following a deadly attack in capital Kabul on Tuesday that left at least 64 people dead and 347 others wounded.
Condemning the attack in strongest words, the members of the UN Security Council expressed their deep sympathy and condolences to the families of the victims and to the people and Government of Afghanistan and they wished the injured a speedy recovery.
"The members of the Security Council reiterated their serious concern at the threats posed by the Taliban, Al-Qaida, ISIL (Da'esh) affiliates, illegal and armed groups to the local population, national defense and security forces, and international presence in Afghanistan," the statement said.
The statement further added that the members of the Security Council underlined the need to bring perpetrators, organizers, financiers and sponsors of these reprehensible acts of terrorism to justice, and urged all States, in accordance with their obligations under international law and relevant Security Council resolutions, to cooperate actively with the Afghan authorities in this regard.
"The members of the Security Council reiterated that terrorism in all its forms and manifestations is criminal and unjustifiable, regardless of its motivation, and wherever, whenever and by whomsoever it is committed, and should not be associated with any religion, nationality, civilization or ethnic group," the statement added.
Reaffirming the need for all states to combat by all means the menace of terrorism, the Security Council members l reiterated that no violent or terrorist acts can reverse the Afghan-led process along the path towards peace, democracy and stability in Afghanistan, which is supported by the people and the Government of Afghanistan and by the international community.
The Taliban group claimed responsibility behind the deadly attack which was launched initially by detonating a vehicle packed with explosives near the Directorate of Security for Prominent Figures.
The security officials said the majority of the victims of the incident were ordinary civilians, which included 64 dead and 347 wounded.
http://www.khaama.com/un-security-council-issues-statement-following-deadly-kabul-attack-0719
--
Pakistan
Army Backs Sindh Police in Fight against Terror
Apr 21, 2016
RAWALPINDI: Chief of Army Staff (COAS) General Raheel Sharif on Thursday assured the Sindh police of the Army's support in their efforts towards eliminating terrorism in the province.
The COAS telephoned Inspector General Police (IGP) Sindh A.D. Khawaja to express his deep sorrow over the killing of policemen in Karachi's Orangi Town area a day earlier. He asked Khawaja to convey his condolences to the families of the policemen killed in the attack, a Sindh police statement said.
The army chief appreciated the sacrifices rendered by Sindh police during the fight against criminal elements in Karachi.
Seven police commandos guarding polio workers were gunned down in twin attacks carried out by armed motorcyclists. A police forensic report confirmed that the same weapons had been used in the targeted killing of at least 27 people in different areas of Orangi Town, Ittehad Town and Korangi in 2014 and 2015.
A Counter-Terrorism Department (CTD) officer who examined the crime scene believed the twin attacks were carried out by the same group.
Although Jamaat-ul-Ahrar, a breakaway faction of the Tehreek-i-Taliban Pakistan, claimed responsibility for deadly attacks on the police, the information needs to be confirmed, according to an officer of the Sindh police counter-terrorism department.
Before Wednesday's attack, official figures show that seven polio workers and three policemen had been killed in 13 incidents in Sindh while Karachi was predominantly the major affected destination for such attacks.
During his recent visit to Karachi, the COAS termed lasting peace in Karachi, the "ultimate aim" of the Rangers-led exercise, adding that the operation, launched over two years ago, is not going to end anytime soon.
Karachi operation
The 'operation' against criminal elements in Pakistan's commercial hub was initiated back in September 2013 after the federal cabinet empowered Rangers to lead a targeted advance with the support of police against criminals already identified by federal military and civilian agencies for their alleged involvement in targeted killings, kidnappings for ransom, extortion and terrorism in Karachi.
http://www.dawn.com/news/1253480/army-backs-sindh-police-in-fight-against-terror-coas
--
Army chief dismisses 12 military officers from service over corruption
Apr 21, 2016
RAWALPINDI: In an unprecedented move, Chief of Army Staff General Raheel Sharif dismissed 12 military officers over corruption on Thursday, military sources said.
Five brigadiers, three colonels and one major general are among those dismissed by the Army chief, DawnNews reported.
The development comes two days after the COAS said "across the board accountability is necessary for the solidarity, integrity and prosperity of Pakistan", adding that the war against terror cannot be won unless "the menace of corruption is uprooted".
Gen Raheel said "Pakistan's Armed Forces will fully support every meaningful effort in that direction which would ensure a better future for our next generations."
Security analyst Talat Masood said the Army chief has "set an example for politicians to follow".
An editorial in Dawn today says:
"Accountability per se is not a political issue, but then the national conversation at the moment is about the excesses of elected leaders. Perhaps a better way to interject itself into that conversation would have been for the military to start the so-called across-the-board accountability process itself.
Surely in offering the military to greater financial scrutiny, a positive example would be set that politicians would be under legitimate pressure to follow.
Yet, where the military errs, the political class inflicts damage on itself — and the wider cause of democracy."
http://www.dawn.com/news/1253497/army-chief-dismisses-12-military-officers-from-service-over-corruption
--
SC Seeks Report on Converting Islamic Centre into Cinema House
April 21, 2016
ISLAMABAD: The Supreme Court on Wednesday sought a comprehensive report from the Sindh government and Karachi Metropolitan Corporation on conversion of an Islamic centre into a cinema house.
A three-member bench of the apex court, headed by Chief Justice Anwar Zaheer Jamali, while hearing a suo moto case regarding the matter, directed the Sindh government and Karachi Metropolitan Corporation to explain as under what law the Islamic centre can be converted into a cinema house.
The apex court had taken suo moto notice on an application moved by Ameer of the Jamaat-e-Islami, Karachi, Hafiz Naeemur Rehman.During the course of proceeding, Chief Jusice Anwar Zaheer Jamali asked as to whether an Islamic centre has been converted into a cinema house.
A representative from Karachi Metropolitan Corporation told the court that the corporation has rented out the auditorium of Islamic center to a cinema house for Rs02lakhs per month.A law officer of the Sindh Government, however, told the court that they will file a written statement in this regard to which the court gave time for submitting the reply.
Counsel for Jamaat-e-Islami Taufeeq Asif informed the court that the auditorium of the Islamic center is being used for screening films for the last five years.It is pertinent to mention here that Ameer Jamaat-e-Islam, Karachi, had filed an application with the Supreme Court mentioning that the Islamic Culture Centre has been converted into a cinema house which is un-Islamic and immoral offence adding that this act is also against the ideology of Pakistan.
He had requested the chief justice of Pakistan to take suo moto notice of the matter at which the court, while hearing the matter on Wednesday, directed the Sindh government and Karachi Metropolitan Corporation to submit their replies within two weeks and adjourned the hearing.
http://www.thenews.com.pk/print/114252-SC-seeks-report-on-converting-Islamic-centre-into-cinema-house
--
Mideast
Number of Tanks Increased Across Syrian Border against ISIL
April/21/2016
The number of the tanks deployed along the Turkish-Syrian border has been increased as a precaution against recent Katyusha rockets fired by militants of the Islamic State of Iraq and the Levant (ISIL).
With the new tanks, sent from Gaziantep Fifth Armored Brigade, tanks are now situated more closely together along the border.
The Turkish Armed Forces (TSK) increased precautions along the border after the jihadist group's multiple attacks on the southern province of Kilis, which lies on the country's Syrian border.
Turkey mostly hits ISIL targets with 40 kilometer-ranged howitzers deployed on the border, as it can't launch airstrikes against ISIL targets in Syria due to tension with Russian.
Aside from the howitzers, a new unit of tanks was sent to Kilis' border in order to reinforce the tank units deployed, which use thermal cameras and cannons.
In addition to the howitzers and tanks, 120 millimeter grooved heavy shells have been fired, while mini drones are being used in order to locate the Katyusha rockets that ISIL places in pick-up trucks, security sources told daily Hürriyet.
Speaking about the new practices along the border, security sources added that ISIL suffered heavy losses due to the Turkish deployment of drones along with the strikes.
Furthermore, intelligence gathering has increased with an "intelligence cell" formed specifically for ISIL-related intel at İncirlik Air Base in the southeastern province of Adana, allowing local intelligence sources to be used more efficiently, according to reports.
The security sources said the most significant precaution against ISIL would be to conduct airstrikes on ISIL targets, but due to the tension between Turkey and Russia, Turkish warplanes can't enter Syrian airspace.
While it is "normal" for Ankara to expect the U.S.-led coalition against ISIL to conduct airstrikes on the jihadist group's targets close to Kilis, the sources said, Turkey does not make this request "every time."
"It is obvious that ISIL is a threat and coalition should evaluate accordingly," sources added.
Coalition warplanes did not strike ISIL positions that lie across from Kilis, but conduct airstrikes against the group in Raqqa and Tel Battal on April 19, according to reports.
http://www.hurriyetdailynews.com/number-of-tanks-increased-across-syrian-border-against-isil-.aspx?pageID=238&nID=98092&NewsCatID=341
--
Israel Says Gives Jordan, Egypt Intelligence Help against Islamic State
20-4-2016
JERUSALEM - Israel provides Jordan and Egypt with intelligence assistance in their fight against Islamic State, a senior Israeli military officer said on Wednesday, describing the US backed Arab neighbours as stable despite the insurgent threat.
Egypt made peace with Israel in 1979, followed by Jordan in 1994. They are the only Arab countries to have treaties with Israel, a matter unpopular with many Egyptians and Jordanians and which generally keeps Amman and Cairo quiet about the ties.
Major-General Yair Golan, deputy commander of the Israeli armed forces, said in a briefing that the countries were working with Israel as they try to beat back Islamic State.
http://www.ynetnews.com/articles/0,7340,L-4794299,00.html
---
Turkish Teacher Convicted Of Child Abuse Sentenced To 508 Years In Prison
20-4-2016
A local court sentenced a teacher to 508 years and three monts in prison on April 20 on charges of sexually assaulting 10 male school children in the Central Anatolian province of Karaman.
The 54-year-old teacher, identified only by the initials M.B., pleaded not guilty in the hearing, which took place amid tight security measures.
"I did not do it. Police pressured me saying 'If you say this [in testimony] you will not be punished.' So I told them. But I am innocent," M.B. reportedly said.
"They defamed me. No one filed any complaint against me over my two years at the Ensar Foundation and my three years at KAİMDER. Those children were alone for six months. They had sexual intercourse between themselves. I warned the families but they did not listen to me and filed a complaint," M.B. said, adding that he "lay alongside the children" during their exam period in order to console them.
He also said he approached the children "like a father."
"I was raised fatherless and one of the children was raised fatherless too. I simply approached them as a father. I protected this child from his step-father. I even tried to stop giving lessons to the children many times but their families did not allow me to," M.B. added, saying he typically educated children about nature and animals during lessons.
"I'm a good teacher. I made the children read books and play. My rights have been violated in this case," he said.
The Karaman Governor's Office has banned reporters from attending the trial, while also prohibiting all press briefings, gatherings or rallies in the province.
M.B. had been teaching private courses for students in apartments rented by the Karaman branch of the Ensar Foundation and the Karaman Religious Vocational High School (İmam Hatip) Alumni Association (KAİMDER) when reports surfaced of his sexual abuse of male students, sending shockwaves across the country.
The Karaman Court of Serious Crimes conducted pre-trial sessions with the victims and recorded their testimonies.
Meanwhile, the Karaman branch of the Ensar Foundation hung a massive Turkish flag over its sign in order to inhibit reporters from taking pictures.
The governor's office took extreme security measures ahead of trial early on April 20, stopping cars at the entry points to the province and performing identity checks on everyone. A three-kilometer-wide region around the courtroom was circled with police barriers to prevent people from entering. Police teams and water cannon, popularly known as TOMAs, were also dispatched.
All gatherings, press briefings, marches, sit-ins or similar protests inside the province were banned during the trial.
M.B. was arrested on March 13, with a public prosecutor in Karaman demanding 600 years in prison for "sexually abusing a child," "deprivation of freedom," "deliberately causing injury" and "encouraging a child to read and view obscene publications."
According to the indictment, the victims, whose ages range from 12 to 14, were abused in 2012, 2013, 2014 and 2015. While the suspect admitted sexually abusing four children, he denied forcing the children to watch pornography.
"The children might have seen these kinds of images accidentally on my open computer screen when they entered my room," said the teacher in the indictment. The children, however, claimed the opposite, with two of them saying the teacher forced them "to watch animal and people porn." Other victims said they were occasionally taken alone to watch the films, and sometimes with others. The children also stated that the suspect told them about his sexual intercourse with his wife.
The indictment also noted that the teacher told his victims not to relate the abuse to anyone. When the children were asked why they did not report the abuse, they said they were unable to say anything because they were "scared and embarrassed."
http://www.hurriyetdailynews.com/turkish-teacher-convicted-of-child-abuse-sentenced-to-508-years-in-prison.aspx?pageID=238&nID=98051&NewsCatID=509
--
It's open season on the Muslim Brotherhood
Wednesday 20 April 2016
Jordan – prompted by the UAE – along with Egypt, the Islamic State, as well as some EU states are all moving against the Muslim Brotherhood
Last week the Islamic State (IS) devoted 25 pages of its propaganda magazine Dabiq to a "feature" denouncing the Muslim Brotherhood as apostate. "Over the last few decades, a devastating cancer has emerged, mutated, and spread, attempting to drown the entire Ummah [Muslim community] in apostasy," IS said, describing the Brotherhood's religion as a combination of various tenets and rites of democracy, liberalism, pacifism and socialism "borrowed from the pagans of West and East".
IS's attack on the "Murtadd Brotherhood" rested on two counts: Meeting "tyrants" such as the Iranian supreme leader and maintaining a relationship with Shia nations through Hamas is one. The second one was more interesting. It was that the Brotherhood was guilty of the sin of democracy. This, it defines, as a "religion that gives supreme authority to people rather than Allah".
"In it, the right to legislate is distributed amongst mankind so that they thereby determine what laws are fit to be ruled by in the lands," declares Dabiq, alluding to democracy. "If the majority decide sodomy is legal, it is legalised even though it contradicts Allah's Sharīah."
On the same day as Dabiq appeared, Jordan announced it was closing down the Brotherhood headquarters in Amman and six other offices and banning it from holding internal elections.
Open season has been declared on the Brotherhood. Whether the hunters are Salafi jihadists, the King of Jordan or the president of Egypt, or indeed David Cameron, the British prime minister, the effect of their labours is the same. About one third of the Arab electorate would vote for political Islamist candidates in free elections so this is about disenfranchising the biggest political movement in the region.
The pretext for the crackdown in Jordan is the existence of a licensed offshoot called the Muslim Brotherhood Society, although the bulk of its members still lies with the old party.
Rather than do anything as messy as shoot 3,000 protesters dead in the streets of Cairo and Alexandria or fill up the country's jails with over 40,000 political prisoners, Jordan is squeezing the life out of the Brotherhood by fragmenting it.
This is a bold move as the Brotherhood is the largest political movement in Jordan. It is also as old as the modern state is. The government is nullifying a legal status dating back to a cabinet decision made in 1946.
The satellite TV station Al-Yarmouk, which is close to the Brotherhood, expects to stop transmitting from Amman and will move abroad. The extinction of the Brotherhood in Jordan is performed by seals of red wax poured into keyholes, rather than bullets, but the effect for now is still just as real.
Jordan's moves against the rump of the movement have divided observers. Some see splits within the Brotherhood as an internal issue and say that government moves have the sole purpose of persuading the Brotherhood to participate in legislative elections to be held early next year.
Others note the cumulative effect of Jordan's rigged elections on the Brotherhood. It won only six seats in 2007 parliamentary elections out of a total of 110, which at the time was seen at blatant political fraud. Candidates who knew they had won seats by observing the count woke up the next day to find they had not.
Muhammad Abu Rumman wrote before the November 2010 elections: "The push to boycott this year ironically came from those who are called the doves or moderate reformists, who had pushed for participation in 2007 (despite fraud in municipal elections the same year) and felt burned by the results. In addition, Brotherhood leaders were disappointed with the new electoral law passed earlier this year, which they saw as unbalanced and favouring tribal allegiances rather than political parties."
The same pattern is being repeated now. Each time the Brotherhood plays along with the elections game in Jordan it ends up as window dressing. This is not to say that the movement isn't being torn apart by rifts between hawks and doves about the boycott issue.
Hassan Abu Haniyeh, an authority on Islamists in Jordan wrote: "Engaging in political action within a semi authoritarian political environment immersed the Muslim Brotherhood group in a state of anxiety, internal tension, division and strife. The regime's policies demand more political participation from it and no boycott. However, it does not guarantee the observance of fair measures in attaining democratic results. Hence the dispute among the radicals and the moderates over the viability of the political process and the limits of moderation and radicalism."
There may be another motive. Jordan has often acted as His Master's Voice - only the master this time might have changed. Jordan's moves against its Brotherhood are closely tied to its security relationship with the United Arab Emirates. It jailed a senior Brotherhood official Zaki Bani Irsheid for a Facebook post in which he criticised the UAE classifying the Brotherhood as a terrorist organisation. The crime he had committed was to "disturb Jordan's relations with a foreign country". The moves against the Brotherhood follows a meeting in Abu Dhabi between King Abdullah and Mohammed bin Zayed al Nahyan the crown prince.
Admittedly, motives differ. Pressured by bin Zayed, who threatened to pull the plug on a $6bn contract for BAE Typhoon fighter jets and a BP oil contract if Britain did not proscribe the Muslim Brotherhood, David Cameron obediently launched an inquiry which caused him over two years of headache and legal challenge.
Unable to prove a connection between the Muslim Brotherhood in Britain and the actions of Islamic militants in Egypt - it was ruled out by MI6 early on - the inquiry ended with a written statement in the Commons, claiming that membership of, or association with, or influence by the Muslim Brotherhood should be considered as a " possible indicator of extremism". The prime minister's statement ended by claiming that '"aspects of Muslim Brotherhood ... are contrary to our values and have been contrary to our national interests and our national security".
Republican members of the US Congress, under pressure from much the same Gulf lobby, are treading the same well-worn path. The Republican-led House Judiciary Committee approved legislation last month calling on the State Department to label the Muslim Brotherhood a foreign terrorist organisation.
IS and the Arab dictators and their Western backers have created their own version of a complete nuclear fuel cycle. Alienation, unemployment, rule by corrupt royal families and self-serving military elites, are all factors driving recruits to the IS. The unfulfilled promise of the revolution and jobs is in Tunisia's case as much a driver as the old regime was. IS terrorism in turn feeds autocrats with a reason for their continued autocracy, which in turn levers aid and arms from their Western backers. Each year they declare the Middle East less fit for democracy than it was in the last.
Each of the hunters have something specific to fear from political Islam, which is not the only force, but is certainly the numerically strongest force, that could stop this merry dance of political repression and terrorism in its tracks. Faced with a new generation of political activist - Islamist and secular, emerging from the streets of Egypt - pragmatists in the Egyptian army ought to have realised that they cannot rule the country as a long-term option, and a way out of the nightmare could be found.
Victimhood does not bestow political wisdom and the Brotherhood, like all of the opposition in Egypt, is profoundly divided. If a change of ruler came, it too would be deeply unprepared. The issue here is not the fate of one Islamist movement, but the battle going on between ballots and bullets.
At the moment Egypt, the nerve centre of the Arab world, is being driven into the dust by one man, who tolerates no dissent. He implores each citizen to listen only to him. But they are not citizens in his eyes. They are subjects who are not yet ready for this thing called democracy.
At a press conference with the French president Francois Hollande, who had Amnesty International's words of condemnation ringing in his ears the Egyptian host decided to lecture his guest on the subject of democracy.
Sisi dismissed allegations of abuses under his presidency - the latest being the torture and murder of an Italian PHD student - as a plot by "an evil force". Sisi continued with his lecture on democracy: "The region we live in, President Hollande, is very turbulent," Sisi said. "European criteria" of human rights should not be applied to struggling countries - such as his own.
This is not a model that can endure. There is no politics in Egypt only the disjointed speeches and actions of one man, and one institution - the Egyptian Army. No other institutions appear to exist.
Each has different motives to crush representative democracy. IS fears it as an enemy, more lethal than any precision-guided bomb. And they are right to do so. The Arab autocrats fear the Brotherhood because it challenges their legitimacy. Western powers have little desire to deal with a movement which is intellectually and politically independent of it, and which challenges a Middle East order founded on the maintenance and protection of Israel at the cost of regional peace.
Each, too, has a reason and motive for expanding the field of battle. IS is as much an aggregator of regional conflict as it is a creator of it. It sucks in causes and fighters as different from each other as Dagestani militants from the North Caucasus and angry youths in search of a cause from a suburb of Brussels. The two could not be more different.
IS has shown remarkable resilience to both the air strikes and ground forces fighting it. Omar Ashour, senior lecturer in security studies at the University of Exeter, reports in his paper "Why Does the Islamic State Endure and Expand?" that IS prevails despite being heavily outgunned and outnumbered. The Iraqi Army enjoys a numerical eight to one advantage over IS, and that is without counting the Kurdish Peshmerga fighters, the Shia militias and a 60 nation coalition and over 44,000 air sorties since September 2014.
There are many reasons for its endurance. Some have nothing to do with force of arms, but with its supply of subsidised bread. The chief reason for IS's endurance, and its continuing ability to attract recruits from 120 countries, may indeed be political, rather than religious or social.
As Ashour put it: "IS can certainly endure and expand in a regional context where bullets keep proving that they are much more effective than ballots, where extreme forms of political violence are committed by state and non-state actors and then legitimated by religious institutions, and where the eradication of the 'other' is perceived as a more legitimate political strategy than compromise and reconciliation."
Well into the second decade of the war against Salafi jihadists, the West still lacks an elementary understanding of its enemy. Governments in Europe blur the target and increase the list of suspects under the assumption that all Islamists are terrorist. Why stop there? Manuel Valls, the French prime minister, challenged the wearing of hijab in French universities. France's state of emergency is becoming a moveable feast.
We feed the monster that we are fighting. It has been going on for 15 years now and, at this rate, it is set to continue for longer still.
http://www.middleeasteye.net/columns/its-open-season-muslim-brotherhood-1428032045
--
Operations in Yüksekova end: Turkish General Staff
April/21/2016
Turkish Armed Forces concluded its counter-terrorism operations in the Yüksekova district of southeastern Hakkari province, according to a statement made by the Turkish General Staff late April 20.
The statement said operations initiated after a curfew was declared on March 13 in Yüksekova have been completed, with 196 outlawed Kurdistan Workers' Party (PKK) militants killed, 214 barricades removed, 135 trenches filled in and 286 hand-made explosives removed. The statement also said officers seized 619 different types of weapons, 46,669 ammunitions, 35 two-way radios and 2,220 explosive substances used for hand-made explosives.
"Detailed searches along with the activities of removing barricades, filling in trenches and destroying hand-made explosives are [still] ongoing," the statement added.
http://www.hurriyetdailynews.com/operations-in-yuksekova-end-turkish-general-staff.aspx?pageID=238&nID=98120&NewsCatID=341
--
Israeli general warns of 'devastating war' with Hezbollah
Thursday,April 21 2016
A top Israeli military leader on April 20 issued a stern warning to the Lebanese militant group Hezbollah, saying any future war between the two enemies will unleash "devastating" damage on Lebanon.
Maj. Gen. Yair Golan, Israel's deputy chief of staff, told foreign journalists that Hezbollah has developed capabilities that present "unprecedented" threats to Israel. Israel estimates the group has over 100,000 rockets and missiles in its arsenal.
Golan said any future war will be "much harsher" than anything experienced in the past 20 years.
"In any future crisis, they are not going to see a small war in Lebanon. It's going to be decisive. It's going to be full-scale war," he said.
"That could create devastating damage to Lebanon," including in civilian areas, where he said Hezbollah hides and operates. "There is no other way to take out this threat without ... creating large damage to the Lebanese infrastructure, to Lebanese houses and other civilian facilities."
Israel and Hezbollah fought a monthlong war in the summer of 2006 that ended in a stalemate.
The fighting killed about 1,200 Lebanese, including hundreds of civilians, and about 160 Israelis. Israeli airstrikes caused heavy damage to Lebanon's infrastructure, while Lebanon fired several thousand rockets into Israel. Israeli officials say Hezbollah's improved missile arsenal is now capable of striking virtually anywhere in the country.
http://www.hurriyetdailynews.com/israeli-general-warns-of-devastating-war-with-hezbollah.aspx?pageID=238&nID=98119&NewsCatID=352
--
Seven suspected ISIL members caught in Turkey's Gaziantep
April/21/2016
Seven suspected members of the Islamic State of Iraq and the Levant (ISIL) were caught on April 21 in two different districts of the southeastern province of Gaziantep, the local governor's office has announced.
The office said in a statement that five Turkish suspects were caught while they were trying to enter the country illegally from Syria in the Karkamış district.
Legal proceedings have been taken against the suspects for being a member of terror organization and violating a military forbidden zone, according to the statement.
The statement also added that another two foreign members of ISIL were caught in the Oğuzeli district.
Gendarmerie forces detained the militants, identified by the initials W.W.H.H. and G.P.J.H., but the pair were later released by the court. The statement said the two militants would be deported.
http://www.hurriyetdailynews.com/seven-suspected-isil-members-caught-in-turkeys-gaziantep.aspx?pageID=238&nID=98127&NewsCatID=341
--
Europe
Disguised As Vendors, ISIS Men May Attack Europe Beaches: Report
April 20, 2016
London: Islamic State militants disguised as beach vendors selling ice creams or T-shirts may attack holiday resorts of Mediterranean coast in Europe this summer, according to a German media report.
German security sources said 'Bild' newspaper that they fear Islamic state terrorists disguised as beach vendors selling ice cream or T-shirts could bury bombs in the sand under sunloungers.
According to the 'Daily Mirror', Britain's Special Air Service (SAS) troops could be drafted in to protect British tourists at holiday hotspots abroad.
One intelligence source told the newspaper: "It could be a whole new dimension of terror. Holiday beaches cannot be protected. Targets are said to include resorts in southern France, Spain's Costa del Sol and both east and west coasts in Italy."
Security officials are also investigating links between terrorists in Britain and those in Belgium and France that go back more than 15 years.
These include some with ties to Molenbeek, the Brussels suburb which has been at the heart of the recent bombings and shootings in Europe.
Western European intelligence officers believe that the links set up a decade and half ago between extremists in the UK and those on the wider European continent have been maintained and have become more active since the start of the Syrian civil war in 2011.
http://www.news18.com/news/world/disguised-as-vendors-isis-men-may-attack-europe-beaches-report-1232451.html
--
EU and Pakistan hold Political Counter-Terrorism dialogue
20/04/2016
The fifth EU-Pakistan Political Counter-Terrorism Dialogue was held on 20 April 2016 in Brussels under the framework of the EU-Pakistan Five-Year Engagement Plan. Both sides strongly condemned the recent terrorist attacks in Brussels, Lahore and many parts of the world and reaffirmed their determination to jointly combat terrorism in all its forms and manifestations.
Recalling the 'EU-Pakistan Joint Conclusions on Combating Terrorism' of 2015, the two sides agreed on the urgent need for a comprehensive approach to terrorism and to step up cooperation to prevent and counter violent extremism, radicalisation and recruitment and to address the root causes of these problems. They resolved to work together to drive forward international efforts in forums such as the Financial Action Task Force (FATF) and the Global Counter Terrorism Forum (GCTF). They also underlined the importance of enhancing intercultural and inter-religious dialogue and understanding in order to promote tolerance and harmony.
The ongoing EU-Pakistan cooperation and collaboration on issues pertaining to counter-terrorism were discussed during the meeting. The EU and Pakistan agreed to explore ways of strengthening, through mutual consent, cooperation, initiatives and exchange of best practices in areas such as criminal justice and rule of law, law enforcement/security, countering financing of terrorism and countering violent extremism.
Separately, on 18 April 2016 the EU-Pakistan Dialogue on Non-proliferation and Disarmament was held in Brussels under the same framework.
The EU and Pakistan agreed to hold the next EU-Pakistan Political CT Dialogue as well as the EU-Pakistan NPD Dialogue in Islamabad in 2017 at a mutually agreed date.
http://eeas.europa.eu/statements-eeas/2016/160420_01_en.htm
--
Swedish politician quits after refusing to shake women's hands
Wednesday, 20 April 2016
A Swedish Green Party politician, who ignited a storm of controversy after refusing to shake hands with a female reporter on grounds that it violated his Muslim faith, announced on Wednesday that he was quitting politics.
Yasri Khan is the second Muslim Green Party politician to resign in acrimony this week.
During an interview with a female reporter from TV4 on Tuesday, Khan placed his hand over his heart instead of shaking her hand in greeting.
"People can greet each other in different ways. The most important thing is to show respect by seeing each other, to meet each other ... to respect each other," Khan said during an interview with state broadcaster Swedish Radio.
Khan, also the general secretary of the organisation Swedish Muslims for Peace and Justice, has faced strong criticism from within his party since the incident.
"It is unacceptable. You can't have a man in the party who can't greet women in the same way you greet a man. I'm upset," Stina Bergstrom, a Green Party parliamentarian, told Swedish tabloid Aftonbladet.
In an article published by the news website Nyheter24, Khan lashed out at his critics but did not specifically say why he was resigning.
"In today's political climate, I wonder if politics is right for me, and if I want to be a media circus clown," he said.
Earlier this week, former housing minister Mehmet Kaplan, a Muslim of Turkish origin, resigned from government after media published old footage of him making controversial remarks about Israel's politics towards Palestinians.
http://english.alarabiya.net/en/News/world/2016/04/20/Swedish-politician-quits-after-refusing-to-shake-women-s-hands.html
--
Tories step up attempts to link Sadiq Khan to extremists
Robert Booth
Wednesday 20 April 2016
Conservative election strategists appear increasingly sure that attempting to link Sadiq Khan to radical Muslims will win Zac Goldsmith votes in the London mayoral election on 5 May.
Minutes after David Cameron joined the attack on Wednesday by claiming Khan was close to a south London cleric, Suliman Gani, who "supports IS [Islamic State]", Team Zac circulated a dossier alleging Khan's links with convicted terrorists, homophobes, antisemites and hate preachers. Khan's side dismissed it as "desperate dog-whistling".
Gani grew up in South Africa and studied Islam in Pakistan and Egypt. Until 2013, he was imam of Tooting Islamic Centre in Khan's constituency. He opposes homosexuality and believes women should be subservient to men.
The Tories say Khan and Gani shared platforms at least nine times and that Gani appeared at an event in Bedford last November, on the night of the Paris terror attacks, where speakers called on British Muslims to struggle for an Islamic state.
Related: Cameron links Khan to Suliman Gani despite the cleric's Tory links
On Wednesday, Gani called Cameron's comments "defamation at the highest level" and Downing Street faced pressure to justify the prime minister's claim that Gani had said he supported the terror group Islamic State rather than the formation of Islamic states, such as Saudi Arabia. A Downing Street spokesman said: "There is evidence of this individual making this remark," but could not provide it.
Khan's side points out that Goldsmith himself invited Gani – who the Tory candidate now describes as "one of the most repellent men in the country" – to a campaign event at the Tooting Islamic Centre. Jane Ellison, the Conservative MP for Battersea, shared platforms with Gani five times, Khan says.
Khan first shared a platform with Gani in August 2004 at an event organised by Stop Political Terror, a now defunct extremist group that once had Anwar al-Awlaki – the US-Yemeni preacher considered by the US to be a senior al-Qaida figure – to speak at an event at the East London mosque in 2003. At that point, Khan was running to become an MP.
"Sadiq engaged with [Gani] as a local MP would engage with any religious figure," said Khan's campaign spokesman. "They had a big falling out over Gani's attitude to same-sex marriage. Sadiq was involved in having Gani removed from the local mosque because of his clearly radical views."
Goldsmith has claimed that Khan spoke in 2003 alongside Yasser al-Siri, who had been sentenced to death in Egypt over a political assassination, and Sajeel Abu Ibrahim, a member of the now proscribed extremist organisation al-Muhajiroun who trained the 7/7 bomber Mohammad Sidique Khan.
Siri was indicted in the US for assisting Omar Abdel Rahman, who was behind the 1993 World Trade Center bombing but was not extradited. In September 2002, he was at Abu Hamza's Finsbury Park mosque celebrating the first anniversary of 9/11.
Khan's spokesman said he had never shared a platform with Siri but spoke in a separate session during a two-day conference about Guantánamo Bay and that, at the time, he was a partner in the human rights law firm Christian Khan and chaired Liberty, the human rights campaign group.
Goldsmith pointed out that Khan's clients included the Nation of Islam's Louis Farrakhan. Khan represented him in attempts to have a ban on him entering the UK overturned. Khan believes it is ludicrous to cite this as evidence of him "providing cover" to extremists. In criminal courts, defence barristers are never accused of giving cover to their clients, his aides point out.
Goldsmith said Khan "chose to defend" Zacarias Moussaoui, one of the terrorists involved in the 9/11 attacks. Khan said he never represented him and his firm had consulted on his defence.
Related: London mayoral race: Zac Goldsmith accused of playing with fire
Goldsmith said last week that it was "just weird" that in 2004 Khan spoke up for Yusuf al-Qaradawi, an Egyptian Islamic scholar associated with the Muslim Brotherhood. Khan at the time was chairman of the legal affairs committee of the Muslim Council of Britain. David Winnick, a member of the home affairs select committee, asked him then why Britain would want someone like Qaradawi, who had said: "Oh God, deal with your enemies, the enemies of Islam. Oh God, deal with the usurpers and oppressors and tyrannical Jews. Oh God, deal with the plotters and rancorous crusaders."
Khan replied: "I cannot comment on the specific quote you have given but there is a consensus among Islamic scholars that Mr al-Qaradawi is not the extremist that he is painted as being by selective quotations from his remarks."
Qaradawi has said he believes in Qur'anic texts calling for the killing of Jews, and has endorsed suicide bombings, according to the US-based Investigative Project on Terrorism.
Khan's spokesman said in response: "He was not speaking as Sadiq Khan, he was acting as a lawyer for MCB reflecting his clients' views in a quasi-legal setting."
Finally, Goldsmith has accused Khan of attending a rally in 2006 in Trafalgar Square against the publication of cartoons of the prophet Mohammad, where Dr Azzam Tamimi, a radical cleric, threatened "fire throughout the world" if cartoonists did not stop. Khan said later: "Speakers can get carried away but they are just flowery words."
Goldsmith's team cite Tamimi as saying that after Israel is destroyed and replaced with an Islamic state, Jews should "sail on the sea in ships back to where they came or drown in it".
"That is obviously an extremist statement," Khan spokesman said. "Sadiq wouldn't have been aware of who Tamimi was at the time."
He said the rally was actually an anti-extremism protest to counter a demonstration being staged at the same time by Anjem Choudray, a spokesman for the banned organisation Islam4UK.
http://www.theguardian.com/politics/2016/apr/20/tory-claims-sadiq-khan-alleged-links-extremists
-----
Southeast Asia
19th Malaysian Militant Linked To IS Killed In Battle
April 20, 2016
Another Malaysian militant linked to the Islamic State (IS) has been killed in Syria, taking the total number of deaths to 19.
Abd Ghani Yaacob, who is from Kedah, is believed to have been killed after being shot in the chest during a battle near the Al Khair region on Apr 17, Utusan Malaysia reported.
Better known among his militant circles as Abu Bashir and Abu Kedah, the 31-year-old is said to have become attracted to IS' activities through Facebook three years ago.
He then travelled to Turkey in December last year with the help of another Malaysian, before entering Syria illegally.
Abd Ghani's death was confirmed by Special Branch Counter Terrorism Division's principal assistant director Senior Asst Comm Datuk Ayob Khan Mydin Pitchay.
Based on intelligence obtained by the police, Abd Ghani was not a high-ranking official in the terrorist organisation.
"In this case, Abd Ghani had gone to Syria first while several others were waiting their turn to join him
"However, we acted swiftly to detain them," he told the Malay daily, referring to the six individuals charged in court earlier yesterday for links to IS.
http://news.asiaone.com/news/malaysia/19th-malaysian-militant-linked-killed-battle
--
First Non-Muslim Lashed For Breaking Sharia Law in Indonesian Province
April 21, 2016
For her crime, violating the tenets of a faith she does not observe, the courts offered two punishments.
Option one: time in a grim jailhouse. Option two: nearly 30 lashes with a cane wielded by a anonymous man, hooded and clad in black robes, as her neighbors watched.
She chose the latter.
Such was the fate of Remita Sinaga, 60, a rare Christian living in Aceh, one of the most stridently Islamic corners of Asia. Her crime: selling bottles of booze on the sly, an illicit act under Aceh's increasingly hardline enforcement of Sharia, or Islamic law.
Much of Indonesia embraces a version of Islam far more forgiving than the severe strain practiced in hyper-orthodox Persian Gulf countries like Saudi Arabia. In much of the tropical archipelago, beer, rock music and dating is permitted.
But not Aceh, among the the first Southeast Asian regions to receive seafaring Islamic traders in the 13th century. Its people have held fast to the faith ever since. Today, it is the only province in the country that punishes gay sex, boozing and even out-of-wedlock make-out sessions with lashes dealt by a rattan cane.
Aceh is stunningly beautiful, blessed with beaches that are arguably more picturesque than those in Bali, the paradisiacal island that draws in most of Indonesia's tourists.
But foreign visitors have stayed away for good reason. In 2004, Aceh bore the brunt of the Indian Ocean tsunami that killed more than 230,000 people. Until 2005, it was also wracked for three decades by a grisly guerrilla war for independence.
And today, it is patrolled by religious police who hassle people for petty violations: men wearing shorts, women in tight jeans, unmarried couples holding hands by the sea.
Indonesia's harsh judicial sentences are well known. A tourist who smokes a joint in Bali can go to prison for years; in 2015, the nation executed eight foreign drug smugglers by firing squad.
But in Aceh, cops regulate vice and virtue. In 2002, the province was granted permission to enforce Sharia law by the national government, which hoped to satiate rebellious locals with the right to govern itself under the Quran.
Like U.S. politicians touting "family values," Aceh's leading politicians try to appease their base by promising to shore up morality.
As part of that, they've recently promised to target the not-so-pious with more severity and to begin punishing non-Muslims for failing to obey the Quran. They've explicitly stated that even foreign tourists delighting in Aceh's beaches may be lashed 100 times for homosexual acts.
Sinaga is the first non-Muslim to run afoul of this intensified campaign, and the first to be caned for it. She was given the choice to opt instead for a secular punishment: a stint in jail. But even officials admit that Indonesia's prisons are grisly.
As the head of Aceh's Sharia department told the Los Angeles Times, Sinaga "didn't want to spend time in prison because we're all aware that prison conditions are bad and there's little welfare there."
Sinaga's choice is understandable. Lashings in Aceh are not gruesome. They are designed to wound the pride more than the flesh. Aceh's former Sharia police chief previously explained to GlobalPost that canings "are not about pain. It's about humiliation."
Each blow is dealt by an official, robed in dark cloth from head to toe, who humiliates the accused on a public stage. Crowds are invited to jeer and film beatings with their mobile phones.
Under their neighbours' gaze, some sentenced to lashings preserve their dignity with acts of defiance. Men convicted of moral crimes — such as gambling — have even tried to snatch away the cane as it flogs their bellies.
Sinaga, however, simply bowed her head. Clad in a lavender-colored hood, she stared at her feet as the flogger landed 28 blows on her back.
http://www.usatoday.com/story/news/world/2016/04/21/first-non-muslim-lashed-breaking-sharia-law-indonesian-province/83325572/
---
Claiming fraud, Anglican clerics seek action against Muslim preacher posing as ex-priest
Thursday April 21, 2016
Three of Malaysia's most senior Anglican clergymen want the authorities to act against award-winning Islamic scholar Ayub Abdul Rahman whom they allege has been speaking in public under the fraudulent guise of a former Christian cleric with their church.
Datuk Ng Moon Hing, the Anglican Church's archbishop for Southeast Asia; Melter Tais, the bishop of the Sabah diocese and Datuk Bolly Lapok, bishop of the diocese of Kuching denounced those who have been repeatedly highlighting the preacher's alleged past Christian association without due checks.
"Such actions are mischievous and harmful in a multi-religious society," the trio said in a joint statement to Malay Mail Online last night.
The Christian clerics also said the misrepresentation of Ayub's credentials in promotional posters suggest a "sinister" motive on the preacher's part, those organising talks featuring the latter, or the media that sought to highlight the "false" credentials without verification.
"We call on the organisers immediately to correct the grave error to which they have contributed and the utterly false impression that has been given about the speaker.
"We also call on the relevant authorities to investigate this matter thoroughly in order to prevent the perpetration of such forms of fraud on unsuspecting members of the public," they said.
They both said the constitutional freedom of religion and speech had been abused in this incident and invited backlash against the preacher's own faith "in whose name he seeks to speak".
"We also seriously call into question the basis on which he was allegedly given the Maal Hijrah award for converts by the religious authorities in Sarawak in 2005," they added.
Controversy first arose when Facebook users spotted an April 12 poster on the Sabah Islamic Religious Affairs Department's (Jheains) page that described Ayub as a former priest at the Church of St Augustine of Canterbury at "Frankfurter" in Germany and the 2005 recipient of the Maal Hijrah Personality award for Sarawak in the category of new Muslim converts.
Users suggested that his credentials were made up, and this was later confirmed by the Episcopal Church in Wiesbaden, Germany, which told Malay Mail Online that Ayub had never served as a priest nor held any official functions there.
According to fresh promotional materials of the "Mahrajan Ilmu Al-Quran Sabah 2016" posted on Facebook yesterday afternoon, Ayub, who was initially slated to speak in at least two events, will no longer take the stage during the convention.
The promotional materials on the "Mahrajan Ilmu Al-Quran Sabah 2016" are believed to be supplied by Institut Pengajian al-Quran (IPaQ), a co-organiser of the event that kicked off yesterday.
The other co-organisers of the convention are the Federal Territories Islamic Religious Council, Jheains, the Sabah Islamic Religious Council and the Department of Islamic Development Malaysia's (Jakim) Sabah branch.
IPaQ's Facebook page describes itself as a non-governmental organisation and a foundation based at Petaling Jaya's Masjid Tun Abdul Aziz, also stating that it conducts programmes covering the appreciation and application of knowledge from the al-Quran.
A senior official from the Sarawak Islamic Council has declined Malay Mail Online's request yesterday for further information on Ayub and even general information on the Tokoh Maal Hijrah award, saying he had been "advised" not to disclose any detail to the media.
"I was advised by Special Branch. I can't divulge to you any information about the person you asked me," the official said when contacted over the phone this morning.
http://www.themalaymailonline.com/malaysia/article/claiming-fraud-anglican-clerics-seek-action-against-muslim-preacher-posing
--
Africa
Valhalla Mosque Protests Pure Racism - Tshwane Islamic Trust
21-4-2016
Pretoria – The protests and commentary against the construction of a mosque in Valhalla, near Centurion, is pure racism and Islamophobia, the chairperson of the Tshwane Islamic Trust says.
Yaseen Abdul was speaking to News24 after about 10 000 square metres of land came into the hands of the trust three weeks ago. The trust has plans to erect a mosque in the area.
However, some opposed to the mosque construction threatened to slaughter pigs on the land while others insinuated it could become a breeding ground for members of terrorist group, ISIS.
Some held posters read "Paris Brussels Valhalla??? NO!" while another one read "Geen ISIS in Valhalla (No ISIS in Valhalla)".
"Apartheid was bad... But 23 years into democracy and to have this type of sentiment is very disgusting," Abdul told News24 on Wednesday.
"It is really sore to think that those people are getting publicity with stupid, ignorant, vile, despicable sentiments. It's sad."
Creating social cohesion
In March 2013, the trust – on behalf of the Muslim community in the area – had submitted a proposal to the city to purchase the land.
About four months later, the trust was notified that the city council would not sell the land but would award it to them as a donation, as the city viewed the proposal as an opportunity to create social cohesion and promote diversity in the area, he said.
One of the concerns raised included the call to prayer over a loudspeaker five times a day, the amount of parking space in the vicinity as well as the fact that the area was predominantly Christian and "should stay that way", Abdul said.
According to Abdul, members of the trust had met with Ina Strijdom, who is a councillor in the area, to clarify that a loudhailer would not be used during the call to prayer and that there would be sufficient parking space on the property ensuring that traffic flow was not affected.
"We demonstrated to her the technology that would allow us to use call-to-prayer via our cellphones and transmitters in Muslim homes, so our Christian neighbours wouldn't hear.
"That is tolerance," Abdul said. "We are trying to be tolerant, we know we live in a predominantly white area."
There were a number of attempted public meetings since 2013 in which the atmosphere quickly turned tense, with racial slurs thrown around, he said. He understood their concerns, but said they were never awarded the opportunity to provide clarity, which may have gone a long way in calming some of the residents' worries.
Right to a place of worship
"Obviously the community is angered and frustrated that the land has been donated... We understand [their] concerns; they feel their peace and tranquillity will be affected."
However, it was also the Muslim community's right to have a place of worship in the area where they resided, Abdul said.
"We pray five times a day, we've got to pray in congregation. [Now] we have to drive to Laudium and drive back home," he said.
Their nearest places of worship were about 12 kilometres away in Laudium and Erasmia, he said.
Despite the city standing by its decision to donate the land to the trust, about 3 000 residents in the area have signed a petition protesting the construction.
The man spearheading the petition is Richard Botha, a resident and a former councillor in the area.
According to Botha, the threats against Muslims in the area had come from a small group of people and were not the general sentiment in the community.
"I think there is a minority that have obviously boiled over because of this. It doesn't represent the whole of the Valhalla society."
'Process not transparent'
However, the fact that 3 000 people had put their names down for the petition, in a period of two days, out of an area with a population of about 10 000 people "speaks volumes", Botha said.
The biggest problem that residents had with the donation of the land was that, in their opinion, the process was not transparent. This was why they planned on filing an application in court to have the council's decision to hand over the land overruled.
According to Botha, the city did not give residents 60 days' notice that the land would be changing hands. There was also an insufficient public participation process, he said.
"People are unhappy that a democratic process was not followed. Why did they have to railroad this through?"
Botha accused one of the members of the council of saying, "We don't care what Valhalla residents want, this [handover] is going through".
The City of Tshwane has maintained it did things by the book.
Spokesperson Blessing Manale said the public participation process was followed and that it was not solely defined by just having one meeting in a hall, and that the department had a series of events where the city had engaged with residents in other ways.
The right to donate land
One of the reasons the city had opted to donate the piece of land was also to ensure that it was used for its initial purpose and would not be sold at a later stage.
"The city has a right to donate land to anyone. The donation makes sure [the land] will stay as a place of worship and not change to another thing.
"The trust can disappear tomorrow and that is what we are avoiding," he said.
Earlier, Botha had claimed that there was a previous proposal for the land to be used for a school, but that the proposal was declined by the city.
Manale said the city had checked with all relevant departments before allocating the land and found none intended using the land.
After a decision was made in 2014 to dispose of the land through a donation, a notice was placed in local and national newspapers notifying the public, he added.
http://www.news24.com/SouthAfrica/News/valhalla-mosque-protests-pure-racism-tshwane-islamic-trust-20160421
--
Islamic State in retreat around east Libyan city
Apr 20, 2016,
Islamic State fighter retreated from long-held positions around the port city of Derna on Wednesday, military forces in eastern Libya said, as troops loyal to the government in the region pressed on with an offensive in Benghazi.
If the retreat around Derna is confirmed, it could mark a significant shift in the alignment of forces in the area.
Islamic State gained territory in Libya as two rival governments and a range of armed factions battled to control the country in the past two years. But it has also faced resistance from other local armed groups on the ground.
Derna has a history of Islamism and was an early bastion for Islamic State. The militant group lost control of the city last June to rival armed Islamists grouped under the Derna Mujahideen Shura Council, but retained positions around the outskirts.
Derna and its suburbs had been "completely liberated from the apostates," the council said in a statement.
Eastern security forces, which are allied to a government based in the east, have carried out occasional strikes against Islamist rivals around Derna in recent months.
Military spokesman Abdulkarim Sabra said Islamic State had retreated from Derna's 400 neighborhood and al-Fatayeh, 20 km (12 miles) south of the city, and its forces were trying to head towards the militant group's Libyan stronghold of Sirte when they were intercepted.
The military was providing air support for troops, he said. There were no immediate reports of casualties.
http://www.jpost.com/Breaking-News/Islamic-State-in-retreat-around-east-Libyan-city-451911
-----
US warns of links between Islamic State, Boko Haram
21, April, 16
N'DJAMENA, Chad (AP) — At "Ground Zero" in Africa's counterterrorism fight, senior U.S. officials warned of deepening links between the Islamic State and Boko Haram and prodded Chad's ruling strongman to introduce reforms for the sake of long-term stability.
But in a rare appearance before foreign journalists at his presidential palace, Chadian President Idriss Deby indicated he wouldn't help in the U.S.-backed effort to install a unity government in Libya, his country's northern neighbour, a former foe and an incubator for Muslim extremist groups.
The visit to Chad by America's U.N. envoy, Samantha Power, and top U.S. military officials such as Brig. Gen. Donald Bolduc, commander of special operations in Africa, highlights the country's precarious position dealing with a multitude of hostile militant groups and unstable neighboring governments. It also underscores the impoverished, land-locked country's growing geopolitical value.
Boko Haram has launched attacks on Chad's territory from its base in Nigeria to the southwest. The Islamic State and al-Qaida in the Islamic Maghreb lurk in chaotic and lawless Libya to the north. To the east is Sudan's Darfur region; to the south is the Central African Republic, still recovering from years of interethnic conflict
The Boko Haram-IS nexus may pose the greatest immediate threat. Although Boko Haram pledged its allegiance to the Islamic State last year, the operational connection has been unclear.
Bolduc said the groups clearly share "tactics, techniques and procedures," from the way they conduct complex ambushes and set improvised explosive devices like roadside bombs, to how they undertake high-profile attacks on hotels.
Suggesting the relationship is expanding, he said Chad on April 7 intercepted a "large cache of different types of weapons" sent from Libya and intended for the Lake Chad region. These included small arms, machine guns and rifles.
"You can, I think, draw a conclusion," Bolduc told reporters. The implication was that the weapons were sent by the Islamic State, which has established a foothold along Libya's Mediterranean coast, near the city of Sirte.
Given the range of threats here, he said the "Lake Chad Basin region is Ground Zero" in the fight against extremism in Africa.
Maj. Gen. L.O. Adeosun, head of the five-nation African force fighting Boko Haram, expressed a more muddied picture.
Adeosun cited "information," but not confirmation, of Islamic State members embedded within Boko Haram. But he said intelligence suggests Boko Haram still hasn't satisfied certain conditions set by the Islamic State for greater operational cooperation. He didn't elaborate.
At a briefing at the Multinational Joint Task Force's headquarters in Chad's capital, Adeosun showed reporters gruesome photos of the victims of Boko Haram attacks and the types of weapons employed.
One picture showed a bird with an explosive strapped on its back, demonstrating "a lot of ingenuity," Adeosun said.
Stressing the civilian aspect to defeating Boko Haram, a once indigenous Nigerian militant movement whose rebellion has morphed into a regional force, Power stressed the need to bolster economic development, job opportunities and political inclusiveness.
The message carried added weight, coming less than two weeks after Chad held elections that are widely expected to return Deby for a fifth term as president. Deby has led the country since 1990. Election results haven't yet been announced.
"We noted how far Chad has come from the dark days of dictatorship to today," Power said.
But she expressed displeasure with a "crackdown on freedom of protest" and a government decision to shut down the Internet and text messaging throughout Chad for several days around the time of the vote.
Deby rejected opposition claims that some 60 security forces who voted against him in the elections have since disappeared.
"There are no disappearances," he stated. "They will be presented on television, in front of the world."
As Power's delegation arrived in Chad, U.S. embassy staff warned accompanying journalists numerous times about rules prohibiting unauthorized photography in the country. They also told reporters not to ask Deby any questions.
But a somewhat reclusive Deby, who has survived at least a dozen coup plots and assassination attempts during his quarter-century in power, welcomed the opportunity to speak his mind.
The 63-year-old Deby, who seized power himself in a coup after helping Chad defeat Libya in the 1980s, said Washington and other powers were partly to blame for the Boko Haram-IS threat. He said they are destabilizing Libya through their effort to install a functioning government.
"The international community is imposing a unity government from outside Libya that will fail," Deby said.
http://qctimes.com/news/world/africa/us-warns-of-links-between-islamic-state-boko-haram/article_371142e0-5d06-59e1-b721-f62d614ca597.html
--
North America
U.S. Imports 1.2% of Somalia's Muslims
April 21, 2016
For all the talk about the security risks of Muslim "refugees" coming from Syria, little is said about another refugee program that has been delivering thousands of Muslims annually to U.S. cities for 33 years.
That country is Somalia, which, just like Syria, is a hotbed of Sunni jihad terrorism and warring factions of Shariah-compliant tribal clans.
Every president since Ronald Reagan has his fingerprints on the Somali refugee program, but it really found its footing under President Clinton and hasn't slowed down since.
President Obama has, during his more than seven years in office, approved the resettlement of 47,500 Somali "refugees" into U.S. communities – and he's edging toward breaking the record for Somali resettlements set by his predecessor, George W. Bush.
The Bush administration brought 49,613 Somalis to the U.S. over eight years, according to the U.S. State Department's refugee database. They were resettled by nonprofits such as Catholic Charities, Lutheran Social Services, Church World Services, the Hebrew Immigrant Aid Society and the National Association of Evangelicals' World Relief Corp.
Obama is on a pace to match Bush's record for Somali immigration sometime within the next three months, probably by late July.
The vast majority of Somalis brought to the U.S. under the last four presidential administrations have been resettled in the Twin Cities region of Minnesota; in Columbus, Ohio; Seattle, Washington; San Diego, California; and Atlanta, Georgia.
But smaller cities have received large numbers as well, including Fargo, North Dakota; Shelbyville, Tennessee; Bowling Green, Kentucky; El Paso, Texas; Boise, Idaho; and Lewiston, Maine.
Since 1983, the U.S. has taken in a total of 132,224 Somalis, 99 percent of whom are Sunni Muslims who observe some form of Shariah law.
Mathematically speaking, 1.2 percent of Somalia's 10.6 million population has now been resettled in America.
Somalia has the longest running U.S. refugee program of any country. Sunnis from Somalia have been entering the U.S. since the early 1980s, a trickle at first, which turned into a flood by the mid-1990s. It reached its peak under President Bush in 2004, when he allowed nearly 13,000 Somalis into American cities in that one year.
Obama's most robust year for Somali resettlement has been 9,000 in 2014, with just under that number coming in 2015 and likely again in 2016.
Globalism at work
Any Somali who flees to a United Nations refugee camp in neighboring Kenya, which is home to the world's largest refugee complex housing more than 350,000 Somalis, has a right to migrate to a more prosperous nation, according to U.N. protocol. The leading Western destinations for Somali refugees are the United Kingdom, Canada, the United States and Sweden, in that order, with significant numbers also taken in by the Netherlands, Norway, Denmark and Finland.
Goal 10 of the U.N. 2030 Agenda is to "reduce inequality within and among countries," and refugee resettlement is one of the ways the U.N. accomplishes this goal. And the U.N. has the full backing of corporate America with globalist power brokers such as George Soros, Warren Buffet, David Rockefeller, Michael Bloomberg and Disney's Bob Iger all pushing the same open-borders agenda.
James Simpson, a fellow at the Center for Security Policy in Washington and author of "The Red-Green Axis: Refugees, Immigration and the Agenda to Erase America," said the Refugee Act of 1980 was written in such a way that the federal government can secretly funnel refugees into communities without the permission of cities and states.
"Before that, our refugee laws were designed primarily to rescue people who were fleeing communism," he said. "When Kennedy got a hold of it, things started to change."
He said Somalia serves as a textbook case in how the refugee law can be abused under the guise of humanitarianism, with nongovernmental organizations and religious "charities" getting paid by the federal government to resettle Third Worlders with or without the permission of state and local elected leaders.
The East Africa program has ebbed and flowed over the years but never ended, as Somalia remains in a perpetual state of civil war and tribal conflict. After the 9/11 attacks, President Bush cut the program down to a trickle – just 242 Somali refugees were admitted to the U.S. in 2002 – but then it picked right up where it left off in 2003.
In 2008, a large number of Somali refugees were caught falsifying applications to bring "relatives" to join them in the United States. The program was trimmed back but then ramped right back up in 2009 after a few minor reforms.
Then there is the problem with terrorism coming out of Somalia, which is home to the notorious al-Qaida affiliate al-Shabab.
Al-Shabab launched deadly massacres against Christians in Kenya last year at a mall and at a university. Dozens of Somali-American refugees and children of refugees have been charged over the years with providing material support to al-Shabab, ISIS and other overseas terror groups. More than 40 have left the U.S. since 2007 to join either al-Shabab or the Islamic State in Syria.
"The Somalia program has long ago lost pretty much all legitimacy," Simpson said. "They're the most problematic."
Simpson said both Democrat and GOP-led administrations have generally followed the agenda put forth by the United Nations and the legions of non-governmental organizations that support that agenda.
"The refugee resettlement industry, open-border activists and all the leftists want us to do it for either their own profit-making or their agenda-driven purposes," he said. "There's no other reason, no other rationale."
Are Somalis really 'refugees'?
He said refugees from Somalia and many other countries don't even meet the definition of a refugee under the 1951 Geneva Convention.
"The only way Somalis can claim refugee status is because, without a legitimate ruling government, it's basically one clan against the next," Simpson said. "And so if you're the clan that's out of power, then you're going to be oppressed. And next month or next year, maybe you're in power and it's the other guy that's going to be oppressed. It's not truly a refugee situation; it's just the clan setup that's always been a part of Somalia."
In fact, one could argue the only time Somalia had any semblance of stability was under the Western-backed Siad Barre, who ruled the East African nation from 1969 to 1991, Simpson said.
"He knew how to coddle and manage all these different clans that would otherwise be at each other's throats and brought the only sense of stability that in Somalia I think has ever existed," he said.
So don't look for the Somali refugee program, now in its 33rd year, to end any time soon.
"Basically, what happened, the real truth is, it's a radical leftist agenda just like any other aspect of the open-borders agenda. And they continue to bank on the fact that nobody's paying attention," Simpson said. "And so they'll just keep doing it as long as they can, until someone says, 'Whoa, wait a minute! What in the hell are you doing here?'"
Backlash grows as more Americans get educated
But more Americans are waking up to notice the dirty underbelly of a program masked by years with fluffy feature stories of desperate families rescued by America and the Statue of Liberty.
The backlash against the influx of Third World refugees has taken the open-borders lobby by surprise, fueling the rise of GOP front-runner Donald Trump and putting the refugee program on the defensive for the first time in its long history. So-called "pockets of resistance" have sprung up in South Carolina, Michigan, Minnesota, North Dakota and Idaho.
Residents of those states are especially concerned, in the wake of the attacks on San Bernardino, Paris and Brussels, about refugees arriving from jihadist hotbeds in Somalia, Afghanistan, Iraq and Syria. Many have argued that the most persecuted "refugees" in the world right now are Christians in Syria, Iraq, Pakistan, Sudan and other Muslim-majority countries where they are relentlessly attacked, jailed, sold as sex slaves and killed. Yet, the Obama administration allows very few Christians into the U.S. from these countries. More than 98 percent of refugees from Syria have been Muslims, and 82 percent from Iraq this year have been Muslims.
Tennessee first state to challenge feds
The state of Tennessee is suing the federal government on the grounds that the refugee program is a violation of the 10th Amendment, which says all powers not specifically granted to the federal government lie with the states.
Tennessee is the first state to challenge the refugee program on the grounds of states' rights.
"Either we abide by the 10th Amendment, or we ignore it," State Rep. Terri Lynn Weaver told Breitbart. "It's time for states to say no more federal overreach."
Even in the Democrat stronghold of Minnesota, many citizens are growing weary of the financial toll of the steady deliveries of Somali refugees to their cities and towns. The county commission in one community, Stearns County in the St. Cloud area, voted unanimously Tuesday to adopt a resolution in support of a bill in the state legislature that would require a state audit of public spending on refugee resettlement. More counties are expected to follow suit.
Commissioner DeWayne Mareck told the St. Cloud Times that the bill is "all about transparency," and any use of taxpayer money should require an audit.
"The taxpayers have a right to have a good and fair audit," added Jeff Johnson, a member of the St. Cloud City Council.
The problem of jihadists recruiting in the fertile territory of Minneapolis-St. Paul has become so acute that the federal government issued a $300,000 grant recently to a nonprofit that will use soccer sports and other means as a method to steer young Somalis away from the jihadists.
#UniteCloud, a grassroots organization that works to resolve "cultural tension" in the St. Cloud area, has spoken against the bills introduced in the Minnesota legislature, calling them "anti-refugee."
Remembering 'Blackhawk Down"
The excuse often given by those in the resettlement industry for prolonged refugee programs funneling "new Americans" from Iraq and Afghanistan is that "we broke it so we must fix it," a reference to the U.S. wars that destabilize the region and send large numbers of refugees fleeing their homes. Since the U.S. "broke" Iraq, for instance, the U.S. has an obligation to "fix" Iraq by taking in the refugees, they argue.
That argument may sound convincing in Iraq and Afghanistan, but what about Somalia?
"We didn't break Somalia like we broke Iraq," says Ann Corcoran, who has been following the refugee issue closely since 2007 and authors a blog at Refugee Resettlement Watch. "We didn't do anything to Somalia, as far as I know."
But Somalia did do something to the U.S., and a brutal telling of that story lit up American cinemas in 2001 with "Blackhawk Down." American soldiers on a humanitarian mission to help feed the starving Somalis in 1993 were killed, mutilated and paraded through the streets of Mogadishu.
Corcoran further notes that the same argument used by FBI and Homeland Security officials against Syrian refugees – that the U.S. is not capable of vetting refugees from a "failed state" – also applies to Somalia. The country has been embroiled in civil war for decades and does not provide reliable data on its citizens' backgrounds.
The United Nations issued a release Tuesday noting "progress" toward free elections in Somalia in 2016 but cautioned that such progress was "reversible" and that the terror group al-Shabab is still a formidable threat.
That's U.N. "doublespeak" for "no progress" on the refugee front, Corcoran said.
And so the flow of refugees from Somalia will continue, indefinitely, unless the next president sees a reason to end it.
http://www.wnd.com/2016/04/u-s-imports-1-2-of-somalias-muslims/
--
URL: https://www.newageislam.com/islamic-world-news/new-age-islam-news-bureau/islamic-state-killing-injured-fighters-to-sell-organs-on-black-market/d/107063