New Age Islam News Bureau
28 Jun 2019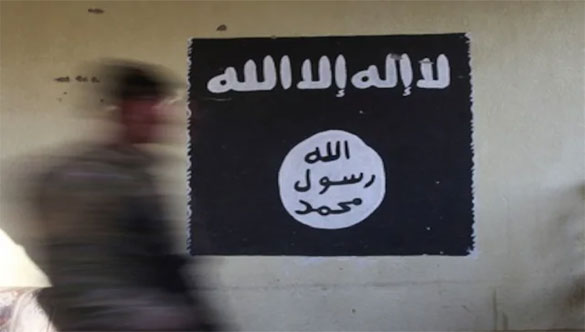 The Islamic State in the Land of al-Shams might be dead—but the in the land of Idli-Sambar, it is giving jihad a new, distinctively southern flavour, blending local grievances and conflicts into its global ideology.
----------
• Islamic State Ideology in Vulnerable Pockets of South India Feeds On Local Grievances to Further Jihadist Agenda
• Al Qaeda's Master Terrorists Are Still on Facebook and YouTube
• Iran's Zarif Says "Short War" With Iran Is an Illusion
• Senior Iranian Cleric: Trump Only Wants Negotiations For His Re-Election
• ISIS Leads Extremist Stampede To Small Social Media Platforms after Campaigns for Online Bans
• Anti-Islamic Extremist Permanently Excluded From Entering UKUnited Kingdom: Parents
• Iran Nuclear Deal Must Be Upheld Not Jeopardized: France, Germany Tell US
• US: Muslim Ban Continues To 'Devastate' Lives
• Pompeo Says Remains Hopeful Pakistan Will Crack Down On Islamist Militants
India
• Islamic State Ideology in Vulnerable Pockets of South India Feeds On Local Grievances to Further Jihadist Agenda
• Unemployment Rates Vary Among Religious Groups, Govt Lists Plans For Employability Of Minorities
• J-K: Annual Chamliyal mela falls prey to Indo-Pak hostility, celebrated without exchange of traditional ritual
• Delhi Waqf Board promises Rs 5 lakh, job to wife of youth lynched in Jharkhand
• Terror suspects were to send IEDs to Kerala: NIA
• PM Modi meets Saudi Prince Salman in Osaka, discusses counter-terrorism, trade
• Terrorism biggest threat to humanity: PM Modi at informal BRICS leaders' meeting in Osaka
• LeT & IS terrorists fight over AK-47 in J&K, one killed
--------
Arab World
• Al Qaeda's Master Terrorists Are Still on Facebook and YouTube
• ISIS Extremists at A Syrian Refugee Camp Threaten To Burn Australian Women And Children
• West Must Be In 'Driver's Seat' For Syria Reconstruction: Human Rights Group
• Airstrike on Syria's main rebel enclave kills 2 paramedics in their sleep as • revenge for the evacuation of eight orphans
• SDF arrest 5 ISIS sleeper cell members in Manbij, Raqqa
• Bomb targets Iraqi police in Kirkuk after arrest of ISIS 'leader' in area: reports
• Hundreds of Civilians Leave US-Surrounded Camp in Al-Tanf
• One dead, at least 24 wounded as bombs hit buses in Iraq's Kirkuk
• Protesters storm Bahraini embassy in Iraqi capital Baghdad
--------
Mideast
• Iran's Zarif Says "Short War" With Iran Is an Illusion
• Senior Iranian Cleric: Trump Only Wants Negotiations For His Re-Election
• More raids expected after ISIS leader's capture, Yemen security official says
• Gunmen blow up gas export pipeline in SE Yemen
• Palestinian attacker shot dead by police in east Jerusalem
• Turkey's Erdogan says Trump may visit in July
• Arab Coalition intercepts Houthi drone in Yemeni airspace targeting Saudi Arabia
• Hamas: US summit in Bahrain 'abortive', 'miserable gathering'
• US-led summit in Bahrain on Palestine treacherous event: Houthi
• Palestinian leaders call for anti-Manama unity to continue
• Palestinian PM expects no political plan from US Bahrain workshop
--------
Europe
• ISIS Leads Extremist Stampede To Small Social Media Platforms after Campaigns for Online Bans
• Anti-Islamic Extremist Permanently Excluded From Entering UKUnited Kingdom: Parents
• Should Be Stopped From Withdrawing Children from Religious Education over Islam Lessons, Headteachers Say
• British MP with Muslim Brotherhood ties readmitted into Labour Party
• Avowed Neo-Nazi Admits to Murder of German Politician
• Macron says he warned Iran's Rouhani about breaking nuclear commitments
• Gunman wounds 2, kills himself in attack near French mosque
--------
North America
• Iran Nuclear Deal Must Be Upheld Not Jeopardized: France, Germany Tell US
• US: Muslim Ban Continues To 'Devastate' Lives
• Europe grants Iran trade loophole as Tehran prepares to breach nuclear deal
• For Palestinians, Donald Trump's Bahrain workshop was the farce of the century
• US-led coalition admits killing over 1300 civilians in Syria, Iraq
• US seeks NATO help in anti-Iran coalition
• US envoy Brian Hook says Iran sanctions are working
• US sanctions do not give Iran right to breach nuclear commitments, Brian Hook says
--------
Pakistan
• Pompeo Says Remains Hopeful Pakistan Will Crack Down On Islamist Militants
• Qatar's pledge to fulfill its investment in Pakistan doubtful: Report
• Islamabad, Kabul agree to reboot ties
• Shehbaz, Bilawal meet Ghani, extend support for Afghan peace process
• China offers to play guarantor for Afghan peace deal
--------
Africa
• Pentagon Sees Islamic State Resurgence In Libya Amid Tripoli Fighting
• Boko Haram Kills 20 Farmers In Borno
• One dead, several wounded in suicide bomber attacks in Tunisian capital
• Libyan government forces retake key town from renegade general
• Two bomb attacks in Tunisian capital kill one person, wound several
• Hundreds protest in Sudan demanding civilian rule
• Turkey condemns twin suicide attacks in Tunis
--------
Southeast Asia
• PAS Delegate Claims Nightmare Malaysia for Muslims as 'Second Singapore' With DAP In Govt
• Amnesty joins criticism of Mujahid following visit to Xinjiang camps
• Widodo strikes back at extremists in his midst
• PKS may become last bulwark of government opposition
--------
South Asia
• NATO Secretary General Endorses Ambassador Khalilzad's Statement Regarding Afghan Peace Deal
• Japan's cold-blooded approach to the Rohingya crisis
• Bid to smuggle weapons to Kabul from Peshawar foiled, 2 suspects arrested
• 8 ISIS militants killed, wounded in Special Forces raid, airstrike in Nangarhar
• Opportunity for peace unique amid remaining challenges in Afghanistan: NATO SG
Compiled by New Age Islam News Bureau
URL: https://www.newageislam.com/islamic-world-news/islamic-state-ideology-vulnerable-pockets/d/119020
--------
Islamic State Ideology in Vulnerable Pockets of South India Feeds On Local Grievances to Further Jihadist Agenda
Praveen Swami
Jun 27, 2019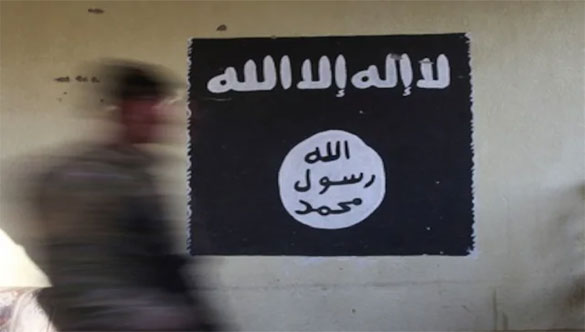 The Islamic State in the Land of al-Shams might be dead—but the in the land of Idli-Sambar, it is giving jihad a new, distinctively southern flavour, blending local grievances and conflicts into its global ideology.
----------
"Islamic State of India", read the luridly-coloured sticker covering the upper half of the headlight on Ismail Sulthan's Bajaj Platina motorbike, advertising his politics to anyone who was interested, as he made his rounds through the grimy streets of Tindivanam. The 20-something scrap dealer's Facebook page dispelled any doubts his friends might still have had about his leanings: each day, almost, Ismail posted Islamic State videos, calls for jihad, and ugly invective against Hinduism.
There are parts of the world where that kind of public posture would invite a midnight raid by armed police. Tindivanam—chosen by Rajaraja Chola I to build a magnificent temple around 1000 BC, and by no-one for anything of significance ever since—paid not the slightest attention.
Perhaps it should have: in the wake of April's carnage in Colombo, counter-terrorism investigators in India have been picking over Ismail's story, and those of multiple other Islamic State-related cases to have emerged from Tamil Nadu and Kerala.
Involving young people inspired by the same preachers and organisations as the Easter Sunday bombers, those cases are cause for satisfaction in the National Investigation Agency: evidence of a successful campaign of pre-emption.
But they are also reasons for concern. Education, the distinctive regional cultural milieu, and the absence of large-scale communal violence were thought by some to make southern India relatively resistant to jihadist mobilisation. That assumption, it's turning out, wasn't a sound one.
The Islamic State in the Land of al-Shams might be dead—but in South India, it is giving jihad a new, distinctively regional flavour, blending local grievances and conflicts into its global ideology.
§
Twenty-eight seconds after 19:59, local time, 25 September, 2015: from the digital fingerprints left behind on Mohamed Naser's spanking-new Lenovo cellphone, it's clear the very first thing he did when he arrived in Khartoum was text his anxious parents in Thiruppaladurai, in Tamil Nadu's Thanjavur district. It's unlikely, though, that the message did much to calm them. "I have reached the Islamic State," the message read. "I know it must sound kind of crazy for [sic., throughout] you, but your son really had to take this bold step".
"Pray for me", Naser went on, "for I will never forget you in my prayer and it is my hope and prayer that we meet again, if not in this world then in jannah [paradise]".
From a distance, Naser's life appeared to run to the kind of script middle-class Indians dream of for their dutiful sons. In 2014, he graduated from the MNM Jain Engineering College in Chennai, with a bachelor's degree in information technology. In early 2015, he moved to Dubai, and began a well-paid job with information services firm Takmeel Global, designing web-pages.
Even early on, though, Naser had shown an interest in political Islam. In 2008, just 16 years old, Naser had begun attending meetings of the Tamil Nadu Tauheed Jama'at—the organisation whose franchise in Sri Lanka was, for a time, led by Easter Sunday bomber Zahran Hashim. In TNTJ meetings, he encountered what would become foundational ideas: the rise of Hindutva in India was part of a global, existential threat to Islam.
Founded in 2004, the spectacular growth of the TNTJ—branches are now spread across the United Kingdom, United States, France, Australia, the United Arab Emirates and Qatar—spoke both of the growing affluence of the Tamil Muslim diaspora and the depth of its anxieties.
The TNTJ's neo-fundamentalist ideology preached an Islam excised of the syncretic practices which it had absorbed from the local cultural milieu—sharpening group boundaries and forging a deeper sense of communal solidarity.
Like many Tamil parents, two family members told Firstpost, Naser's father, Packeer Mohamed, saw his son's religious leanings as a good thing. Piety kept Naser away from pop culture, drugs and that great nightmare of Indian boys' parents—girls.
Like Easter Sunday suicide-bomber Hashim, though, Naser found himself outgrowing the TNTJ. He began listening, investigation records show, to the speeches of figures like United Kingdom-based Islamic State ideologue Anjem Chowdhury. Even as he pursued his undergraduate studies, Naser set up a website which posted news on violence against Muslims.
Fearing government action, Naser shut down the site just as he graduated—but in Dubai, soon joined a WhatsApp group serving pro-jihadist Indian Muslims in the diaspora. He also made contact with Karen Aisha Hamidon, a Philippines-based Islamic State recruiter who acquired a certain notoriety for drawing young South Asian men to the cause.
In Khartoum, Naser appears to have found the life he was looking for. "Life here is wonderful," he wrote in an e-mail to his parents on 5 October, 2015, after two weeks in his new home. "I want you all to come to Dawlah [the Islamic State]". His pseudonymous Twitter persona, Abu Khalid al-Hindi, had a similar message: "The way of life of Islam is back with big blow to the kuffars [unbelievers]. The Khilafah [caliphate] has been established. Make hijrah [the journey of exile], my brothers and sister".
Packeer Mohamed reached out to Indian authorities for help but also continued to engage his son. In one e-mail, he asked how much it would cost to rent a room in Khartoum. "I'm planning to go on vacation earlier," he explained, "so I can convince ur mum personally though I am not going to tell her the truth about u."
Less than three months into their son's jihadist journey, the Mohamed family's efforts paid off: their son was deported from paradise.
§
From across south Indian, though, other Islamists still headed into the dystopia. In 2015, TK Mohamed Shameer, a one-time leader of the Islamist-leaning Popular Front of India, headed to Syria along with his children Salman and Safwan. KP Abdul Razak, Midilaj, MV Rashid, PP Abdul Manaf, Mohamed Shajil and Abdul Khayoom followed into his wake, drawn by his descriptions of the earthly paradise he had found. Turkish authorities deported some, including Midilaj and MV Rashid; others have disappeared, perhaps forever into the bowels of Islamic State-held territories.
Even though the caliphate has fallen apart, the flow of those seeking utopia hasn't ended. Shameer's brother-in-law, Anwar Poothappara, left in 2018 for Islamic State-held territory in Afghanistan, along with wife Afsila, and their three children. K Sajjad, his wife Shahina, and their two children made the same journey.
The story of Shahjahan Velluva Kandy, the Chennai-born jewellery-bag manufacturer who eventually led Tamil Nadu investigators to Ismail Sulthan and other jihadists in the state, tells us that the lure of paradise is not a trivial one.
In the summer of 2016, drawn by his conversations with Shameer on Telegram, Kandy sold his Suzuki car for Rs 4 lakh, family jewellery worth another Rs 98,000 and withdrew Rs 1.5 lakh in savings: the price of passage to Syria for himself, his wife Mafseena, and their two small children.
Travelling through Kuala Lumpur and Teheran—and then helped across the Turkish border by a one-time Mumbai gangster they knew as 'Muthu'—the family ended up in Istanbul's Zeytinburnu district—the gateway, they hoped, to a new life.
But Turkey's armed forces ruined their plans: though the Shajil family made it to Syria, the Kandys were deported to India. Indian authorities, though, were never notified the family had been planning to enter Syria—so no arrests were made.
In spite of the experience, Kandy tried again. In early 2017, he acquired a fake passport, paying Rs 1,10,000 to a Chennai travel agent for forged identification papers, including a voter card, school graduation certificate and bank statement. This time, he flew through Bangkok to Istanbul—only to be arrested, yet again.
From Kandy's interrogation, the Intelligence Bureau learned for the first time of the fledgeling jihad cell in Coimbatore. Like the young man with the Islamic State sticker on his motorcycle headlights that had advertised to the world, this group wasn't planning to travel it. They were determined to build it over the bodies of their enemies, beginning on the back-streets of Coimbatore.
§
Like almost every young person, Mohammad Ashiq seemed to spend more time than is healthy staring at his mobile phone. The world on his screen, it might be assumed, was somewhat more interesting than the one he inhabited from morning to night, chopping cuts of meat for fly-ridden, grimy AS Noor Ahmmad Mutton Stall, nestled deep inside in Coimbatore's Marakadai neighbourhood. Facebook allowed him to transcend the limitations social class had imposed on him.
From his uncomfortable perch inside the shop, the butcher's boy would bring together an electrician, a car parts salesman, two street-food vendors, and scrap-dealer Ismail, to plot violent revolution that would establish an Islamic State in India.
In the summer of 2018, court records show, Ismail began battling hardline Hindutva groups active in the area on Facebook. In response to the anti-Muslim polemic from groups like the Hindu Makkal Kaatchhi, Ismail would post inflammatory images of Hindu gods and goddesses, or abuse targeting local Hindu nationalist leader Arjun Sampath.
Facebook shut down his page—but, undeterred, Ismail began sending posts through WhatsApp to Ashiq, who happily shared them from his page. Local police watched the polemics uneasily, but as long as no actual violence took place, there seemed to be a point for legal action against either side.
Though the members of the incipient jihad cell— S Samsudedeen, S Mohammed Salauddin, Jaffar Shadik Ali, Mohammed Husain, along with Ismail and Ashiq—all knew each other offline, the internet gave them the sense of participating in a wider movement. Facebook records show members of the group frequently shared everything from posts on Islamic State ideology to Al Qaeda bomb-making techniques.
Fugitive Islamist televangelist Zakir Naik, wanted in India on charges of inciting religious hatred and financial malpractice, was among the popular ideological sources for this new group, their social-media posts show. Tamil Nadu Police, who discreetly monitored the fledgeling group, also encountered the speeches of suicide-bomber Hashim for the first time—apocalyptic rants, calling of violence against all non-believers.
Tamil Nadu Police's discovery would lead on to a transnational operation against Hashim and his associates, revealed by Firstpost, ending with a prescient warning they were poised to stage suicide attacks against "popular Catholic churches and the Indian High Commission".
When members of the group met up at a goods shed near the Variety Hall Road junction on 31 August last year, the same surveillance showed exactly what they were up to.
For their first operation, the Coimbatore cell's members had decided to assassinate the Hindutva leader Sampath, and his associate Anbumani. In Sri Lanka, similar low-grade operations by Zahran's group had been ignored by police and intelligence services, allowing it to gather both sophistication and ambition.
In India, the story ended in a decrepit shed.
§
Except, the story almost certainly hasn't ended. Indeed, jihadism in south India has proved remarkably resilient. In 1998, Tamil Nadu's al-Ummah came close to assassinating former home minister LK Advani, in a bombing which killed 50 and injured over 200—an act of vengeance, its cadre said, for his role in the demolition of the Babri Masjid. Tandiyantavide Nazeer, an al-Ummah activist, recruited five Kerala men to train with the Lashkar-e-Taiba in Kashmir back in 2008—an effort to build a fighting core of jihadists.
In 2016, the Base Movement, an Al Qaeda inspired jihadist group led by Chennai-based information technology specialist Dawood Suleiman, staged multiple bombings across the state.
The Indian Mujahideen, India's most successful urban jihadist group, also had several figures drawn from Kerala and Karnataka. Indeed, the Indian Mujahideen held training camps in Kerala's Vagamon and Karnataka's Bhatkal.
For an understanding of why jihadism has proved so seductive to some, we need to understand jihadism is embedded in the region's culture—not a recent import. Following the arrival of Portuguese power in Malabar after 1498 AD, the work of the contemporary chronicler Zayn al-Din al-Ma'bari tells us, Muslims responded to their assaults by initiating "a jihad against the worshippers of the cross".
Even today, that jihad is venerated in popular culture: the Kotturpalli Malla celebrates the martyrdom of the seaman Kunju Marakkar and records the miracles that took place where his severed limbs washed up.
In other parts of south India, too, the pre-colonial warfare led to a hardening of religious identities—a process that is yet to be reversed. In 1325 AD, a copper-plate recording the fall of the Kakatiya dynast lamented killings of Brahmins by beef-eating, wine-drinking Turkic invaders. "Tortured in this way by the demon-like Yavana soldiers", the inscription reads, "the land of Tilinga [Andhra] suffered terribly without hope of relief, as if it were a forest engulfed by a rampaging fire".
The work of historian Cynthia Talbot notes that pre-colonial contestation saw new Hindu leaders "draw on earlier Brahmin images of the struggle against demons and the godless, while the Central Asian Turks could present their activities within the paradigm of the Islamic jihad".
Stephen Dale's scholarship work shows how ideas of jihad and martyrdom defined what he calls a cultural-ideological "Islamic frontier" along the Malabar coast. In their imagination, the Islamic State's southern recruits are inheritors of a glorious tradition of resistance.
Education and access to opportunity—particularly in the Persian Gulf—have engendered unprecedented affluence among south India's Muslims. This new Muslim middle-class, though, is yet to be integrated within its wider social milieu; discrimination in housing and access to opportunity remain widespread. Traditions mediating the relationships between religious communities have disintegrated—and in their place, a kind of uneasy apartheid emerged.
Fearing Hindu nationalism could threaten their fragile, recent gains, south Indian Muslims have responded by severing their relationship with the local, and seeking refuge in a wider, global religious identity. The adoption of the all-enveloping abaya; the borrowing of West Asian cultural practices and customs; the growing influence of neo-fundamentalist televangelism: these are all symptoms of a wider malaise.
This is an ideal enabling environment for political Islam—an ideology that, at its core, posits that the religion and a secular, democratic order are irreconcilable. India's politics and culture need to find a language with which to engage—and break—this cycle of hate.
https://www.firstpost.com/india/islamic-state-ideology-in-vulnerable-pockets-of-south-india-feeds-on-local-grievances-to-further-jihadist-agenda-6891401.html
--------
Al Qaeda's Master Terrorists Are Still on Facebook and YouTube
Michael Weiss
Moustafa Ayad
06.27.19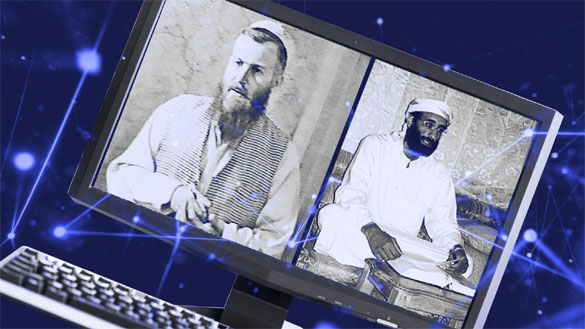 Photo Illustration by The Daily Beast/Getty/Facebook
---------
In 2006, Ibrahim Suleiman al-Rubaish was repatriated to Saudi Arabia from Guantanamo Bay after he'd served more than five years as an enemy combatant for training with al Qaeda, and fighting alongside the Taliban in Afghanistan against the United States. Released as part of the Obama administration's plans to shutter the offshore prison, Rubaish was admitted to Riyadh's rather lackluster "deradicalization" program.
Then, sometime in 2009, he escaped the program and Saudi Arabia with 11 other jihadists. They all turned up in Yemen and Rubaish soon emerged as the mufti, or Islamic jurist, for al Qaeda in the Arabian Peninsula (AQAP) where he spent the next six years appearing in propaganda videos for the group's media outlet Al-Malahem, as well as releasing a number of fatwas and articles for other al Qaeda outlets including the English-language Inspire magazine.
Rubaish was killed in a U.S. drone strike in Yemen in 2015. But his ideas and legacy live on through his sermons and speeches, still hosted on Facebook and YouTube.
Rubaish is joined in digital preservation by other leading lights in jihadist proselytization and virtual recruitment such as Abu Mus'ab al-Suri, the strategist behind the expansion of al Qaeda into Yemen, who helped invent what's now commonly known as the "lone-wolf" terror attack; Nasir al-Wuhayshi, the leader of AQAP and the second-in command to Ayman al-Zawahiri, al Qaeda's global head; and Anwar al-Awlaki, the main cleric for AQAP who is considered by counterterrorism experts to be, even from beyond the grave, one of the primary drivers of those lone-wolf attacks.
Taken together, Rubaish, Suri, Wuhayshi and Awlaki can still be found in 105 videos on both social media platforms, despite corporate avowals that this stuff was fast becoming a thing of the past. Yet we identified the videos through simple searches in Arabic using only the names of these prominent jihadists.
At a minimum, this demonstrates that Silicon Valley's much-touted counter-extremism policies—now being applied to fascist and neo-Nazi content—aren't using rigorous enough standards in classifying terrorist indoctrination materials; or they've simply reached the limits of what their algorithms or human monitors can handle in languages other than English. Or both.
The videos we uncovered are primarily speeches given by Rubaish, Suri, Wuhayshi and Awlaki over the last several years, all devoted to jihadist strategy and theology, spread through individual users as well as public pages and groups. All told, the 105 videos have garnered more than 190,000 views. Of the al Qaeda quartet only one still has a dedicated Facebook page with 46 videos uploaded for public viewing.
Contacted yesterday, Facebook said it was looking into the videos that we highlighted on its platform; YouTube did not respond to our queries in time for publication.
Suri's lessons in jihad, many of them recorded in the early 2000s, were focused on the key points from his playbook, Global Islamic Resistance Call. They total some five hours and 45 minutes of footage on the virtual shrine to him still visible on Mark Zuckerberg's software.
The most-watched video is his half-hour history on the invasions and subsequent injustices that the Muslim world has faced; it seems to have been recorded somewhere in Europe, as he refers to the "Christian world here in Europe." Suri has Spanish citizenship and between 1994 and 1996 he lived in the London suburb of Neasden. Following the London bombings of 2005, he released a statement praising the selection of mass transit as a major, legitimate soft target.
He is arguably al Qaeda's foremost dialectician; Suri sought to encourage anyone with the will and means to commits acts of terror to do so in order to precipitate a backlash against Muslims in Europe, pushing them into the arms of the jihadists. This strategy has indeed succeeded, perhaps more than Suri ever anticipated.
(After being captured by Pakistan authorities, Suri was supposedly the "ghost prisoner" in a secret U.S. detention facility before being rendered to Syria and was then rumored to have been released from prison by the Assad regime sometime in 2012. His whereabouts remain unknown.)
Facebook claimed last year to have removed 99 percent of "terror content" before it was reported by third parties. In the first three months of 2019, YouTube said it removed 89,968 videos that violated its violent extremism policy.
One of the most prevalent results of this cull is the scraping of Awlaki content in both Arabic and English. The name of the AQAP cleric used to yield 40,000 hits on YouTube. Today, both Facebook and YouTube have managed to eliminate most of them—but not all. We identified seven Awlaki speeches across both platforms, in Arabic. One, a gauzy depiction of the afterlife, which also glorifies Awlaki's time on earth and his demise by American drone strike in Yemen in 2011, has been viewed 4,400 times since January.
Born in the New Mexico and once platformed by U.S. authorities as an exponent of moderate Islam, Awlaki's message is essentially that true Islam is incapable of being practiced or espoused in the U.S. and thus this serves as a justification for holy war against the country and its interests. The video has been shared 23 times across the platform; the comments are wholly supportive. (Awlaki's also proved impossible to suppress in English. In the past two years, a number of YouTube accounts have been posting his lectures in his native tongue via two primary playlists, collectively composed of 174 videos. These playlists even highlight their banned status on YouTube to excite further interest, which seems to have worked: collectively they've been viewed 300,000 times.)
Multimedia has traditionally been a boom business for jihadists for an obvious reason: it's an incredibly easy way for non-state actors to cross state boundaries in milliseconds and radicalize and recruit new followers without even meeting them.
Awlaki's speeches were instrumental in coaxing Umar Farouk Abdulmutallab, who visited the cleric in Yemen while still an engineering student at University College London, to try to detonate a bomb sewn into his underwear while onboard a plane to Detroit in 2009. Suri was linked to the 2004 Madrid train bombers, and his work has inspired those in ISIS to call for "lone wolf" attacks in the West. Rubaish agitated for killing anyone who insults the Prophet. AQAP later took responsibility for operationalizing the Charlie Hebdo massacre in Paris.
And that's why Facebook and YouTube have submitted to government pressure to scrub their sites of radical content. Yet it's evidently easier to play Whac-A-Mole in English than in Arabic, the lingua franca of jihad. If social media companies are to make good on their counter-extremism policy, they'll need a more comprehensive—and polyglot—approach.
https://www.thedailybeast.com/al-qaedas-master-terrorists-are-still-on-facebook-and-youtube?ref=scroll
--------
Iran's Zarif Says "Short War" With Iran Is an Illusion
27 June 2019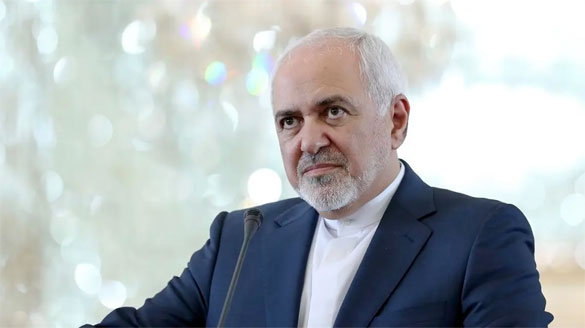 "'Obliteration'=genocide=war crime," Mohammad Javad Zarif said on Twitter "'Short war' with Iran is an illusion." (File photo: AP)
--------
Iran's foreign minister said on Twitter on Thursday that US President Donald Trump's view that a conflict with Iran would be a "short war" was an illusion and that his threat of "obliteration" amounted to threatening "genocide."
"'Obliteration'=genocide=war crime," Mohammad Javad Zarif said on Twitter "'Short war' with Iran is an illusion."
Javad Zarif
✔
@JZarif
Misconceptions endanger peace @realDonaldTrump:
- Sanctions aren't alternative to war; they ARE war
- "Obliteration"=genocide=war crime
- "Short war" with Iran is an illusion
- Whoever begins war will not be the one ending it
- Negotiations and threats are mutually exclusive
3,951
6:42 PM - Jun 27, 2019
Twitter Ads info and privacy
1,973 people are talking about this
Trump said on Wednesday he was "not talking boots on the ground" should he take military action against Iran, adding that "I'm just saying if something would happen, it wouldn't last very long." He threatened on Tuesday to obliterate parts of Iran if it attacked "anything American."
https://english.alarabiya.net/en/News/middle-east/2019/06/27/Iran-s-Zarif-says-short-war-with-Iran-is-an-illusion.html
--------
Senior Iranian Cleric: Trump Only Wants Negotiations For His Re-Election
27 June 2019
"To negotiate means to surrender," ultra-conservative senior Iranian cleric Ayatollah Ahmad Khatami said on Thursday, claiming that the US President is "desperate" to bring Iran to the negotiating table to win the next presidential elections, semi-official Fars news agency reported.
"Today, to negotiate with America means to surrender, and the people of Iran have proved they are not ones to surrender," said the senior member of the Assembly of Experts.
He claimed that US President Donald Trump is "after votes" and knows that he has to bring Iran to the negotiating table to get votes and show that he succeeded in making Iran surrender.
Khatami criticized calls in favor of negotiations with the US from within Iran and emphasized that "resistance" will result in "the defeat of the enemies," according to Fars.
He also criticized the recent US sanctions on Iran's Supreme Leader Ali Khamenei and said that sanctioning Khamenei means sanctioning "the entire nation," adding that these sanctions will only make Iranians "more determined to pursue resistance" and will cause more of them to chant "death to America".
Meanwhile, Iran's Judiciary Chief, Ebrahim Raisi also expressed his opposition to any Iran-US negotiations, saying that the Supreme Leader Ali Khamenei has repeatedly explained in his speeches that "negotiations [with the US] have no benefits for us."
"To negotiate means to let go of [our] values and strengths, which we have acquired through resistance," said Raisi.
He claimed that "the whole world today is saying that Iran has the upper hand."
Raisi added that Iran's position today "was not obtained through negotiations, but through resistance."
Also on the same day, spokesman of the republic's foreign ministry, Abbas Mousavi said that the ministry follows an "active resistance" approach to deal with "hostilities", according to the Iranian Labour News Agency (ILNA).
"America and its allies, by simultaneously waging war, economic terrorism, and psychological war against the people of Iran, intend to target the forty-year-long resistance of Iranians," said Mousavi, in a meeting with the representative of the Supreme Leader Ali Khamenei in the province of West Azerbaijan.
Mousavi added that "the foreign ministry, in line with the regime's policy, follows the approach of active resistance to confront the hostilities."
https://english.alarabiya.net/en/News/middle-east/2019/06/27/Senior-Iranian-cleric-Trump-only-wants-negotiations-for-his-re-election-.html
--------
ISIS Leads Extremist Stampede To Small Social Media Platforms after Campaigns for Online Bans
Taylor Heyman
June 27, 2019
As the larger social media platforms step up efforts to purge extremist activity on their sites, banned users targeted for hate speech and recruitment are regrouping on smaller, largely unregulated platforms, say experts.
Speakers at the Terrorism and Social Media Conference at Swansea University this week stressed that more research was needed into smaller platforms, but academics were constrained by lack of collaboration with computer scientists who are able to design software to effectively and quickly analyse thousands of posts and fear of reprisals from violent, tech-savvy members of extremist groups.
Dr Krisztina Huszti-Orban, professor of law and research fellow at the Human Rights Centre of the University of Minnesota, says larger platforms are struggling to keep up with changing legislation in the myriad national jurisdictions they operate in.
"It is frequently impossible for them to comply with all these different regulations in their operations," she said.
Policy makers and tech companies are asking: If larger platforms are having issues keeping on top of extremism on their platforms while respecting the right to free speech, just how are smaller ones supposed to cope?
As different generations are drawn to different apps, so are extremist groups. Far-right sympathisers and members pushed off mainstream platforms have lately been drawn to Gab, 8Chan and 4Chan.
Research from Tech Against Terrorism covering 45,000 URLs since 2014 found half of the top 50 platforms used by ISIS are small and micro platforms such as Telegram, kik and Ask.fm. These sites are popular because they allow anonymous sharing of content and many can host secret channels or groups which only those vetted can be included in.
Telegram, as well as being a place content is shared, can often act as a tool to share content or messaging to a wider audience outside of the platform, said Mohammed Al Darwish. "Fanboys" take direction from a Telegram group or channel, with links to share and big-ticket accounts to reply to on Twitter.
"They will be posting on these groups saying 'let's prepare for our Twitter ...offensive or invasion'," he said.
"These Fanboys need to get in touch with the administrator of this telegram channel. By this way, then they will be given access to a ready activated, ready to use Twitter account with passwords."
Amy-Louise Watkin, who analysed the migration of far-right group Britain First to Gab following being banned from Facebook, said that although the group's following online has dwindled severely since the move (from 1.8 million followers on Facebook to 11,000 on Gab), the general theme of moving to less censored platforms is a worrying one.
"We need to be mindful of the migration to platforms that are less willing to censor," she said, "resulting in the emergence of different harmful images or more extreme images or images targeting groups that they perhaps weren't doing so explicitly before."
"We need to find out why these [smaller] platforms are not removing this content. Is it because of their values or is it because they have a lack of expertise and resources? "
Gab, launched in 2016 as an alternative to Twitter, hit the headlines when the Tree of Life synagogue shooter posted on the site just before he stormed in, killing 11. He had been an active user of the platform before his final message.
However, some smaller sites are working against extremism on their platforms. Tech Against Terror cites an example of good practice in its work with JustPaste.it, a website which became a hub for ISIS users to share content like videos, images and the group's magazine anonymously.
JustPaste.it is a website run by one man, meaning keeping up with the influx of violent and extremist content being shared through it can seem a sisyphean task. However, help from the Global Internet Forum to Counter Terrorism, a coalition formed by Facebook, Google, Twitter and Microsoft, has helped Mr Zurawek to remove much of the most dangerous content using hash-sharing.
Bigger companies that are part of GIFCT collate and share a database of terrorist content, which smaller members of the group are welcome, but not obligated to use. The database currently has over 80,000 visually-distinct images and 8,000 images.
However, other forums like 8chan and Gab have resisted calls to remove content and ban users.
Shutting down these sites altogether could also prove problematic, Alex Krasodomski-Jones, director of the Centre for the Analysis of Social Media at Demos said.
"Trying to knock out fringe sites will also create a never-ending game of whack-a-mole," he wrote in Time Magazine in May. "8chan itself was set up as a "free-speech-friendly" alternative to 4chan, which itself grew after Reddit banned several controversial sections."
https://www.thenational.ae/world/europe/isis-leads-extremist-stampede-to-small-social-media-platforms-after-campaigns-for-online-bans-1.879981
--------
Anti-Islamic Extremist Permanently Excluded From Entering UKUnited Kingdom: Parents
Ben Quinn and Jason Wilson
26 Jun 2019
A prominent anti-Islamic extremist whose organisation is being investigated in Austria over links to the Christchurch shooting suspect has apparently been permanently excluded from entering the UK.
Martin Sellner, the Austrian leader of Generation Identity, was being excluded on security grounds and posed a serious threat to the UK's interests of preventing social harm and countering extremism, according to a Home Office letter which has been posted online.
It added that Sellner, who was stopped from entering Britain at Stansted airport last year, was the co-founder and de facto leader of Generation Identity, "an organisation which actively promotes anti-Islamic and anti-immigration narratives and directly targets Islamic communities through publicity stunts".
It had been assessed that he was likely to attempt to return to the UK, the letter stated, to provide support to Generation Identity's UK branch and undertake publicity stunts which directly targeted Islamic and immigrant communities.
The home secretary, Sajid Javid, had authorised the exclusion order, according to the letter, which was publicised via Generation Identity's Telegram channel.
Sellner has been subjected to further searches by Austrian police in connection with the Christchurch shooter, according to Austrian media reports and videos on Sellner's YouTube channel.
The investigation, which was not mentioned in the Home Office letter, has also reportedly widened to include Sellner's US-based partner, Brittany Pettibone, and her alleged connections with Blair Cottrell, an Australian far-right figure.
The Austrian newspaper Die Presse reported on 18 June that two apartments in Vienna had been searched by the prosecutor's office in Graz. It has been investigating Sellner's connections to the Australian Brenton Tarrant who is on trial for the murder in March of 51 people in Christchurch, New Zealand.
Sellner, in two German-language YouTube videos, offered his account of the investigation. In the first, which he said was before an interview with police, Sellner said officers had removed devices from his home, and that the reason was a "strong suspicion of forming a terrorist organisation with Brenton Tarrant".
He has previously been denied entry to the UK in the company of at least one other far-right extremist as they attempted to attend a conference organised by counterparts in Britain.
Sellner and the Hungarian Ábel Bódi were planning to attend the private Generation Identity conference in London in April last year but were detained at Stansted airport.
It was the second time in a month that Sellner had been prevented from entering the UK by border officials.
Sellner was also the ringleader of a "defend Europe" campaign last summer, responsible for targeting boats attempting to rescue migrants in the Mediterranean.
The 29-year-old was first connected with Tarrant after it emerged the accused had made a €1,500 (£1,300) donation to Sellner's organisation. Die Presse reported that prosecutors were looking for accounting records and evidence of further donations from Tarrant to Sellner.
Pettibone announced on her Twitter account last week that she had been notified she was under investigation. Pettibone, a prominent far-right YouTube activist, and Sellner were both refused entry to the UK when they landed at Luton airport in March last year.
The Home Office did not confirm or deny that Sellner had been excluded. A spokesperson said: "We do not routinely comment on individual cases."
It said the home secretary may exclude an EEA national on the grounds of public policy, public security or public health if they are considered to pose a genuine, present and sufficiently serious threat affecting one of the fundamental interests of society.
https://www.theguardian.com/world/2019/jun/26/anti-muslim-extremist-martin-sellner-permanently-excluded-from-entering-uk
--------
Iran Nuclear Deal Must Be Upheld Not Jeopardized: France, Germany Tell US
Jun 27, 2019
France and Germany have asserted to the United States that a 2015 nuclear deal with Iran, which Washington has quit, must be upheld and not jeopardized.
French Defense Minister Florence Parly and his German counterpart, Ursula von der Leyen, made the remarks to acting US Defense Secretary Mark Esper in Brussels on Thursday, Reuters reported, citing diplomats.
Esper has traveled to the European Union's capital in his debut foreign trip to rally support among Washington's allies in the Western military alliance for the US's approach towards the Islamic Republic.
The US's other allies also joined the European duo to demand preservation of the accord, which is officially known as the Joint Comprehensive Plan of Action (JCPOA), the diplomats noted.
The deal was made between Iran and the P5+1 group of states -- the US, the UK, France, Russia, and China plus Germany -- in Vienna in July 2015. It lifted nuclear-related sanctions against Iran, which, in turn, limited its nuclear energy program.
Washington, though, left the deal last May. It has returned the sanctions ever since and even begun enforcing new bans against Leader of the Islamic Revolution Ayatollah Seyyed Ali Khamenei and the Islamic Revolution Guards Corps (IRGC), Iran's elite defense force.
Before landing in Brussels, Esper has said that he wanted to persuade other NATO allies to force Iran to come back to the negotiating table over its nuclear program.
"[We need to] have our allies and partners work with us to get Iran to come back to the negotiating table," Esper said.
The Islamic Republic has underlined that it was never the side to leave the deal, noting that US President Donald Trump's withdrawal from the nuclear deal signals that he may renege again on any future talks.
France: Don't bedevil NATO in a Persian Gulf war
The French defense minister also cautioned the US not to involve the NATO alliance in any military mission in the Persian Gulf, after Esper said America wanted its allies to fall in line behind Washington.
"We need to internationalize this issue," Esper had said before reaching Brussels.
Turkey also told Esper that "dialogue was better than sanctions" in dealing with Iran.
Several other defense ministers, including Germany's, also said they would do everything possible to avoid an escalation.
Esper reportedly told the allies that although the US held Iran responsible for attacks earlier this month on two tankers in the Sea of Oman, Washington did not want tensions with Tehran to escalate.
"His first words were: We don't want to go to war with Iran," one diplomat said.
He, however, also said the US "could not tolerate any further incidents," another diplomat was cited as saying.
"This is about the limit [of what the United States will tolerate from Iran], that nothing more should happen now," the diplomat noted.
Earlier this month, the Japanese-owned Kokuka Courageous and Norwegian-owned Front Altair oil tankers were struck by explosions near the strategic Strait of Hormuz. Japan's government said both vessels were carrying "Japanese-related" cargo.
Tehran has roundly rejected any role in the attacks, which it called suspicious, asking how could have the country possibly benefited from such an attack while Japan's Prime Minister Shinzo Abe was in the Islamic Republic on a historic visit.
The incident was followed by another incident last Thursday, when IRGC downed a trespassing American spy drone.
The Iranian forces had warned the aircraft, an RQ-4 Global Hawk, several times before being forced to bring it down over the southern province of Hormozgan.
US officials have tried to spurn numerous instances of evidence Iran has presented showing that the aircraft was some seven kilometers (4 miles) inside the Iranian territory when it was brought down.
Washington claims that the drone shot down by Iran was flying over international waters and had not violated the Iranian airspace. However, the GPS coordinates released by Iran put the drone eight miles off the country's coast, inside the 12 nautical miles from the shore, which is Iran's territorial waters.
https://www.presstv.com/Detail/2019/06/27/599572/Iran-United-States-France-Germany-nuclear-war-Esper-NATO-Brussels
--------
US: Muslim Ban Continues To 'Devastate' Lives
Vakkas Dogantekin
27.06.2019
The Muslim ban in the U.S. continues to have a "devastating" impact on nationals from Iran, Libya, Somalia, Syria, and Yemen, and on their families -- many of whom are U.S. citizens and Green Card holders, a new report revealed.
Georgetown University's "Muslim Ban" report was released on Wednesday amid U.S. administration's efforts to lecture other countries on religious freedom in U.S. State Department's International Religious Freedom Report released on June 21.
Every year since the International Religious Freedom Act (IRFA) of 1998, American officials describe the status of religious freedom in every country in a politically motivated context, at a time when millions of its own citizens are oppressed due to their religious choices.
On Jan. 27, 2017, only one week after his inauguration, President Donald Trump issued an executive order titled "Protecting the Nation from Foreign Terrorist Entry into the United States", which was immediately labelled a Muslim ban and denounced by huge swathes of people in the U.S. and across the world.
The idea was uttered by Trump for the first time during an election campaign in December 2015, where he promised a ban on Muslim entry to the U.S., citing a poll commissioned by a notoriously anti-Muslim organization.
Georgetown University's Bridge Initiative report said the "poll was methodologically flawed and reported inflammatory and dubious findings about Muslims in the U.S."
"The United States cannot, and should not, admit those who do not support the Constitution, or those who would place violent ideologies over American law," said the executive order, disrespecting the faith of millions of Muslims in the U.S., and billions around the world.
More than 6 million Muslim-Americans, the second-largest faith group in the country, who pay their taxes, serve in the army, and contribute to the U.S. economy in different shapes and forms, were hugely disappointed by the U.S. administration, and Supreme Court decisions.
On June 26, 2018, the Supreme Court ruled 5-4 that the Muslim ban did not violate the First Amendment of the U.S. Constitution, the president's authority to "impose on the entry of" or "suspend the entry of" a "class" of people.
Later, the justices facing national pressure from religious groups and Democrats in the country, formalized a process whereby applicants who were denied visas -- or whose visas had been revoked -- could apply for a waiver to travel or immigrate to the U.S.
Report criticized the prolonged waiver process at the end of which very few of them, only 5.1% of the more than 60,000 legal Americans obtaining their waivers.
It said the "numbers indicate that the waiver process isn't much of a process at all."
In a sworn affidavit, former consular official Christopher Richardson said that "there really is no waiver [process]", while another consular official said the "waiver process is a fraud," according to the report.
Impact of Muslim ban
After analyzing 549 cases impacted by the Muslim ban, report said the process caused tremendous troubles for the Muslims.
"Due to their indefinite separation, some parents have never met their children. Some have postponed their weddings, some are prevented from starting a family, and some have died waiting," said the report.
The latest report by the U.S. State Department shows a stunning 91% decrease of all refugees resettled in the U.S between fiscal years 2016 and 2018.
In a press release, Maryland Senator Chris Van Hollen said the "data makes it abundantly clear that the waiver process is a sham and that the ban has nothing to do with national security."
According to the report, 38% or 1 in 3 were partners who were separated from each other, 26% or 1 in 4 were children who were separated from parents, and 33% or approximately 1 in 3 applicants experienced at least 2 years of wait time due to the Muslim ban.
Report also emphasized U.S.' role in creating instability and violence in countries it has banned travel freedom.
"It bears reminding that the U.S. has intervened, militarily or otherwise, in the Muslim-majority countries listed on Muslim Bans 1.0 to 3.0, whether currently and/or in the very recent past," said the report.
"This calls into question the role of the U.S. in directly creating, or facilitating the conditions that have led to violence and political instability in these countries," it added.
https://www.aa.com.tr/en/americas/us-muslim-ban-continues-to-devastate-lives-/1517403
--------
Pompeo Says Remains Hopeful Pakistan Will Crack Down On Islamist Militants
June 26, 2019
MUMBAI (Reuters) - U.S. Secretary of State Mike Pompeo said during a trip to India on Wednesday that he remained hopeful that neighboring Pakistan would chose the "right course" in cracking down on Islamist fundamentalists.
The United States and Britain have long urged Pakistan to deal with militant groups. India alleges that Pakistan, its arch-enemy, had a hand in a suicide bombing that nearly sparked a full-blown conflict earlier this month.
Pakistan has consistently denied playing any role.
In an interview with broadcaster India Today, Pompeo said he had discussed Pakistan in his meetings in New Delhi on Wednesday.
"I think this administration has been very clear to Pakistan our expectation. They cannot be supporting terror, whether that is cross-border terror between Afghanistan or Pakistan or whether it's terror that emanates from Pakistan and comes to this country," Pompeo said.
He said the Trump administration had taken the threat from Pakistan "far more seriously" than the administration of former president Barack Obama.
"We still have a lot of work to do. But as a diplomat I always remain hopeful that Pakistan will choose the right course. I think for the Pakistani people it is the best outcome," Pompeo added.
India claimed a diplomatic victory in May when a U.N. Security Council committee blacklisted the head of the Pakistan-based militant group Jaish-e-Mohammed (JeM), Masood Azhar.
His group claimed responsibility for a February suicide bombing that killed at least 40 Indian paramilitary police in the Indian-controlled part of the disputed Kashmir region, an attack that brought the nuclear-armed neighbors close to war.
Pakistan maintains that the insurgency in the disputed region is being fought by Muslim separatists from India's side of Kashmir.
Pompeo said Azhar's case had been discussed, but he declined to be drawn into specifics on other individuals.
"Suffice to say we know precisely who these bad actors are," Pompeo said.
https://news.yahoo.com/pompeo-says-remains-hopeful-pakistan-173328031.html
--------
India
Unemployment Rates Vary Among Religious Groups, Govt Lists Plans For Employability Of Minorities
June 28, 2019
Across the urban-rural and gender divides, unemployment rates vary among religious groups. This emerges out of data in the Periodic Labour Force Survey (PLFS) for 2017-18, presented in Lok Sabha on Thursday by the Ministry for Minority Affairs in reply to a question.
The ministry tabled religion-wise figures for four major religious groups — Hinduism, Islam, Christianity and Sikhism — for both genders and in rural and urban India. Earlier during the ongoing budget session, the Ministry for Labour and Employment had presented the all-India unemployment rates from the 2017-18 PLFS — 5.8% for rural male, 3.8% for rural female, 7.1% for urban male, and 10.8% for urban female.
In his question Thursday, MP Prasun Banerjee also asked whether the government has any plans for minority employment. Minority Affairs Minister Mukhtar Abbas Naqvi replied that most of the Centre's socio-economic and educational empowerment programmes are meant for the poor and downtrodden sections, and the minorities are getting equally benefited.
Naqvi added that his ministry has adopted a strategy to enhance the employability of notified minorities (Muslims, Sikhs, Christians, Buddhists, Parsis, Jains) through various schemes aimed at educational empowerment, employment-oriented skill development etc. His reply listed a number of these schemes.
https://indianexpress.com/article/explained/unemployment-rates-vary-among-religious-groups-govt-lists-plans-for-employability-of-minorities-5803726/
--------
J-K: Annual Chamliyal mela falls prey to Indo-Pak hostility, celebrated without exchange of traditional ritual
June 27, 2019
Falling victim to strained relations between India and Pakistan for second year in a row, the annual Chamliyal mela on the international border in Jammu and Kashmir's Ramgarh sector on Thursday too, was celebrated without the exchange of traditional Shakkar (soil) and Sharbat (water) from the shrine of Baba Dalip Singh with the neighbouring country.
"There hasn't been any formal communication between Pakistan Rangers and the BSF on this year's Chamliyal Mela," said a senior BSF official. As no delegation came from Pakistan, there was no exchange of Chhadar, Shakkar and Sharbat between the two sides, he added.
Last year, while Pakistani Rangers did not bring Chhadar for the shrine of Baba Dalip Singh, their Indian counterpart too did not send Shakkar and Sharbat to devotees across the border. However, a nearly 70-year-old practice since 1947 partition was suspended for the first time in 2018 in the wake of tension between the two countries following the snipping of four BSF soldiers including an Assistant Commandant by Pakistani Rangers in the area a week before the mela.
However, thousands of devotees on the Indian side paid obeisance at the shrine of Baba Chamliyal during the day. Revered by Hindus and Muslims on both sides of the international border, the legend is that Baba's real name was Dalip Singh Manhas and he lived over 300 years ago on the outskirts of a village Saidawali, now in Pakistan. As his popularity grew, his opponents beheaded him during the night and buried him.
During partition, the place where he was killed was handed to Pakistan along with the Saidawali village, while the place where his body was buried remained with India. His devotees believe that the soil and water from the area around his shrine have medicinal value and if applied can cure skin ailments.
Full report at:
https://indianexpress.com/article/india/j-k-annual-chamliyal-mela-falls-prey-to-indo-pak-hostility-celebrated-without-exchange-of-traditional-ritual-5803566/
--------
Delhi Waqf Board promises Rs 5 lakh, job to wife of youth lynched in Jharkhand
June 27, 2019
Delhi Waqf Board chairman and AAP MLA Amanatullah Khan Thursday said the panel will give Rs 5 lakh and a job to the wife of 24-year-old Tabrez Ansari who was lynched in Jharkhand.
Ansari was allegedly tied to a pole and thrashed with sticks by a mob in the state's Seraikela-Kharsawan district last Wednesday on the suspicion of theft and he succumbed to injuries on Saturday. He was seen in a video being forced to chant "Jai Shri Ram" and "Jai Hanuman". The waqf board chairman also said they will help Ansari's wife get legal aid.
"We are trying to send a cheque of Rs 5 lakh to Tabrez's wife. I may also go there to handover the cheque to her. We will also give her a job at the waqf board and provide her legal help," Khan told PTI.
Full report at:
https://indianexpress.com/article/india/delhi-waqf-board-promises-rs-5-lakh-job-to-wife-of-youth-lynched-in-jharkhand-5802638/
--------
Terror suspects were to send IEDs to Kerala: NIA
Jun 28, 2019
Bengaluru: The terror suspect arrested by the National Investigation Agency in Doddaballapura on Tuesday has told interrogators that he and an accomplice were asked by their masters to train themselves in making improvised explosive devices (IEDs) and hand over the bombs to some individuals in Kerala, said sources in the agency.
However, NIA is yet to unravel the duo's Kerala links or the 'masters' who were giving them instructions. Acting on the revelations of Habibur Rehman SK alias Habibur SK alias Sheikh alias Habibur Kabore Shaik, NIA sleuths, in coordination with Bengaluru police, on Wednesday recovered two IEDs in a drain at Ramanagara.
According to statements made by Habibur, he and co-accused Jahidul Islam were directed by their 'masters' to get trained in bomb-making. NIA sleuths had arrested Jahidul from his Ramanagara residence last August for his alleged involvement in the Bodh Gaya blast in January 2018, which left two monks injured.
Habibur was arrested in connection with an explosion at Khagragarh in Burdwan district, West Bengal, on October 2, 2014, that claimed lives of his two associates.
"Both Habibur and Jahidul tried their best to prepare bombs using local material, but failed. Their plans were thwarted when NIA arrested them from Ramanagara in August 2018," NIA sources said.
NIA suspects Habibur lived in Channapatna while Jahidul was in neighbouring Ramanagara, and the duo worked in co-ordination. After Jahidul's arrest, Habibur shifted his base. They believe Habibur or someone close to him may have dumped the IEDs in the drain before leaving the spot.
Full report at:
https://timesofindia.indiatimes.com/city/bengaluru/terror-suspects-were-to-send-ieds-to-kerala-nia/articleshow/69980773.cms
--------
PM Modi meets Saudi Prince Salman in Osaka, discusses counter-terrorism, trade
Jun 28, 2019
OSAKA: Prime Minister Narendra Modi on Friday held bilateral talks with Crown Prince of Saudi Arabia Mohammed bin Salman and discussed deepening cooperation in trade and investment, energy security and counter-terrorism with the "invaluable strategic partner" in Osaka.
Modi, who is in Japan for the G20 Summit, met with the Saudi Prince on the margins of the summit after the informal BRICS leaders' meeting.
Saudi Arabia is India's top supplier of crude oil but the two countries have expanded their relationship beyond energy, and their governments have agreed to build a strategic partnership.
"An invaluable strategic partner. PM @narendramodi met with Crown Prince of Saudi Arabia Mohammed bin Salman Al Saud on the margins of the #G20. Discussed deepening cooperation in trade & investment, energy security, counter terrorism, among other areas," External affairs ministry spokesperson Raveesh Kumar said in a tweet.
An invaluable strategic partner. PM @narendramodi met with Crown Prince of Saudi Arabia Mohammed bin Salman Al Sa… https://t.co/HRWvCy87J1
— Raveesh Kumar (@MEAIndia) 1561692195000
Saudi Prince Salman, who is also the Gulf nation's defence minister, visited India in February on his first official visit to the country.
During his visit, India strongly raised the issue of Pakistan-sponsored terrorism and discussed deepening cooperation in counter-terrorism.
Full report at:
https://timesofindia.indiatimes.com/india/pm-modi-meets-saudi-prince-salman-in-osaka-discusses-counter-terrorism-trade/articleshow/69984357.cms
--------
Terrorism biggest threat to humanity: PM Modi at informal BRICS leaders' meeting in Osaka
Jun 28, 2019
OSAKA: Prime Minister Narendra Modi on Friday said that terrorism is the biggest threat to humanity which not only kills innocents but also severely affects the economic development and social stability.
Speaking at the informal BRICS leaders' meeting in Osaka, Modi said that there is a need to stop all the mediums of support to terrorism and racism.
"Terrorism is the biggest threat to humanity. It not only kills innocents but also severely affects the economic development and social stability," he said.
Live: Complete coverage of G20 Summit
The Prime Minister, who is in Osaka for the G20 Summit, congratulated Jair Bolsonaro on being elected as the President of Brazil and welcomed him in the BRICS family.
He also congratulated Cyril Ramaphosa on his election as the President of South Africa as the BRICS (Brazil, Russia, India, China and South Africa) leaders met on the sidelines of the G20 Summit Osaka. In his remarks, Modi spoke about strengthening the WTO, fighting protectionism, ensuring energy security and the need to work together to fight terrorism.
"Today, I will focus on the three major challenges. First is the instability and downfall in the global economy. Unilateralism and competitiveness are overshadowing the rule-based mutilateral global trade systems.
"Deficiency of resources, there is a shortfall of almost $1.3 trillion investment in the infrastructure," he said.
The second one is to make development sustainable and all-inclusive. Fast changing technologies like digitalisation and climate change pose a challenge to the current as well as future generations, Modi said.
Full report at:
https://timesofindia.indiatimes.com/india/terrorism-biggest-threat-to-humanity-pm-modi-at-informal-brics-leaders-meeting-in-osaka/articleshow/69983304.cms
--------
LeT & IS terrorists fight over AK-47 in J&K, one killed
Jun 28, 2019
SRINAGAR: One terrorist was killed and another injured after members of Islamic State's J&K chapter and Lashkar-e-Taiba (LeT) clashed among themselves at two places following an altercation over an AK47 rifle in Anantnag on Wednesday.
The body of IS terrorist Adil Rehman Dar was found in Sirhama village of Bijbehara on Thursday while an injured colleague of his, Arif Bhat, was arrested from a village in Anantnag, police said.
Adil had joined LeT last year and he recently switched his allegiance to IS. The LeT terrorists claimed the AK47 rifle that he was using belonged to their group, police sources said.
Full report at:
https://timesofindia.indiatimes.com/india/let-is-terrorists-fight-over-ak-47-in-jk-one-killed/articleshow/69982046.cms
--------
Arab World
ISIS Extremists at A Syrian Refugee Camp Threaten To Burn Australian Women And Children
27 June 2019
ISIS extremists are threatening to burn Australian women and children alive after eight children were rescued from Syria.
The eight orphans were transported to Iraq on Sunday in a secret operation organised by the Australian government.
But around 50 Australians are still stranded at al-Hawl and are now being looked at as traitors by Islamic State loyalists, who remain active at the refugee camp.
Reports suggest the remaining Australians have been intimidated and threatened with horrific violence as a result of Sunday's evacuation, according to The Australian.
Save The Children international policy director Matt Tinkler told the publication: 'Since the extraction, the risks for the 50 or so children and women who remain in the camps may have heightened.
'Reports from the camp are that those remaining are being threatened and intimidated.'
He said the majority of those who remain are sick children and pregnant women who have 'no place in a war zone'.
Amnesty International is calling for more Australians to be returned because they are starving, without water and are constantly threatened with violence in camps.
'Around 60 Australian daughters, mothers, sisters, brothers and cousins remain trapped in this desperate part of Syria,' Amnesty's Australia refugee coordinator Graham Thom said in a statement.
'The Australian government must do all in its powers to return all Australians who remain trapped in these camps.'
Save the Children are also calling for the return of more families.
Among those recused on Sunday were three orphaned children of Sydney terrorist Khaled Sharrouf, two of his grandchildren and three orphaned children of Yasin Rizvi.
Sharrouf's eldest daughter Zaynab, 18, was one of those evacuated from the refugee camp, and gave birth to a daughter on Monday night, The Australian reported.
The birth comes after Zaynab and her two siblings were reunited with their grandmother, Karen Nettleton - who travelled from her home in Sydney to Syria earlier this year to find the children.
Zaynab was married when she was just 13, and gave birth to Ayesha three years ago, who she shares with Australian-born ISIS fighter ­Mohamed Elomar, her father Khaled's best friend.
Elomar was later killed, and Zaynab went on to marry another Islamic State militant - with whom she had a second child.
After the defeat of ISIS last year, the three surviving children were taken to the Kurdish-controlled camp in northern Syria.
The most recent birth means the Sharrouf children can come back to Australia earlier than expected, as authorities were waiting for Zaynab to have the baby before bringing them home.
The news of their return comes after their grandmother tracked down her three surviving grandchildren to the al-Hawl refugee camp in Syria in March.
Karen finally found her grandchildren at the squalid campground of more than 70,000 refugees after desperately trying to bring them home for five years.
Airlines won't let babies under one-week-old fly, so the family will stay in Iraq for the time being.
Zaynab's three children will be DNA tested to determine she is their mother, to make sure they're eligible Australian citizens.
Zaynab, her three siblings, her two daughters, and three children of Melbourne extremist Yasin Rizvic - who travelled to Syria in 2014 - were taken out of the camp.
Rizvic was a Bosnian-born ISIS fighter, who was killed along with his wife and their eldest son.
Authorities in NSW and Victoria will work with the children to get them back into society.
Prime Minister Scott Morrison on Monday said the children should not be punished for the crimes of their parents.
The Australian Federal Police will debrief the children upon their return home, before they're settled by the Department of Family and Community Service, The Australian reports.
https://www.dailymail.co.uk/news/article-7184053/ISIS-extremists-threaten-burn-alive-Australian-women-children-remaining-Syria.html
--------
West must be in 'driver's seat' for Syria reconstruction: human rights group
June 28, 2019
GENEVA: Western donors must ensure that humanitarian aid and any future reconstruction assistance in Syria do not fuel repression or benefit "cronies" of President Bashar Assad, Human Rights Watch (HRW) said on Friday.
The Syrian government has kept tight controls on the aid flow into the country throughout its eight-year civil war, often depriving civilians in opposition areas of supplies while favoring loyalists, according to New York-based HRW.
Syrian authorities have denied using starvation tactics as a weapon of war or diverting aid to government-held areas.
But Human Rights Watch, in a report based on interviews with aid workers and experts, said that UN and other aid agencies had been forced into complicity in selective distributions in order to access some areas.
Donors must be in the "driver's seat" now that Assad has all but won the war and millions of Syrian refugees consider returning to their homeland where one-third of the infrastructure has been destroyed, the report said.
The Syrian government has proven to be "a master of manipulation when it comes to aid," Kenneth Roth, executive director of Human Rights Watch, told Reuters.
"This is an important moment...because it is a moment when the Syria government is also begging the West for billions (of dollars) of new funds for reconstruction aid. So, the problems that we have seen are going to recur in spades if there is not a serious effort to address them."
The United States and European Union say they cannot provide aid for reconstruction in Syria without a political transition and end to a war that has killed hundreds of thousands.
The economies of Syria's main allies Russia and Iran are hurting, Roth said. "So, I don't see other big sources of funds. They are going to be Western funds which gives the Western donors some leverage which we hope that they will exercise."
Full report at:
http://www.arabnews.com/node/1517426/middle-east
--------
Airstrike on Syria's main rebel enclave kills 2 paramedics in their sleep as revenge for the evacuation of eight orphans
June 26, 2019
BEIRUT — An airstrike hit an ambulance in northwest Syria on Wednesday, killing two members of the opposition's Syrian Civil Defense and wounding four others in the last major rebel stronghold in the country, Civil Defense and opposition activists said.
The Civil Defense, also known as White Helmets, said the attack happened in the town of Khan Sheikhoun, which has been repeatedly attacked over the past weeks.
The group said the latest deaths raise to 262 the number of Civil Defense members who have been killed since Syria's civil war began eight years ago.
The incident comes a week after two ambulance workers were killed in the nearby village of Maaret al-Numan.
The Britain-based Syrian Observatory for Human Rights said that in addition to the two Civil Defense members, eight other civilians were killed in Idlib province.
Syrian state media reported that insurgents shelled the government-held village of Karnaz, killing one child.
State news agency SANA said government forces bombarded "positions and movements" of al-Qaida-linked militants who control large parts of Idlib.
Syrian government forces launched an offensive against the rebel-held territory in late April, leading to the collapse of a cease-fire negotiated by Turkey and Russia last year.
Full report at:
https://www.washingtonpost.com/world/middle_east/airstrikes-on-syrias-main-rebel-enclave-kill-2-paramedics/2019/06/26/b651b53e-981c-11e9-9a16-dc551ea5a43b_story.html?noredirect&utm_term=.91098046deb2
--------
SDF arrest 5 ISIS sleeper cell members in Manbij, Raqqa
June 26-2019
ERBIL (Kurdistan 24) – Counterterrorism units linked to the US-backed Syrian Democratic Forces (SDF) arrested five members of the so-called Islamic State among sleeper cells in Raqqa and Manbij, a senior official said on Wednesday.
Mustafa Bali, the head of the SDF press office in northeast Syria, wrote on Twitter that counterterrorism units had detained the five Islamic State members in "two separate successful raids in Raqqa and Manbij countryside."
Mustafa Bali
@mustefabali
Counterterrorism units (YAT) arrested 5 members of Daesh's sleeper cells in two separate successful raids in Raqqa and Manbij countrysides.
111
2:46 PM - Jun 26, 2019
Twitter Ads info and privacy
48 people are talking about this
Counterterrorism units had also recently arrested four Islamic State sleeper cells in the Hasakah province, including Abu Bashir, a senior Islamic State leader on June 21.
"The authorities thank the citizens of the town for their cooperation and for remaining indoors while the operation was carried out," Bali said at the time.
The SDF official called on citizens to report criminal activity in their areas to the local Kurdish-led forces.
A roadmap published by the US-led coalition for the defeat of the Islamic State following a meeting of senior coalition officials in Paris on Tuesday also underlined the threat of active sleeper cells.
The Islamic State "has used its active cells in the region to attack our partners and the civilian populations both in Iraq and in Syria where we have recently seen an increase of [ISIS] attacks in the Levant," the joint statement said.
"This is a major concern for the entire Coalition, as it puts at risk key military gains and the stability necessary for recovery."
Despite the SDF and the US-led coalition announcing the defeat of the terror group's self-proclaimed caliphate on March 23, Islamic State sleeper cell attacks continue in Arab-majority areas that were liberated from the militants.
The US-led coalition confirmed that although a territorial defeat had been achieved, "the job to ensure a lasting defeat of [ISIS] is still to be done."
The leadership in the Kurdistan Region has also warned of the Islamic State's continued threat in both Syria and Iraq.
In a meeting on June 18 with the Commanding General for Special Forces of the US-led coalition, Major General Patrick Roberson, Kurdistan Regional Government (KRG) Prime Minister-designate Masrour Barzani highlighted that threat.
The two underlined that although the Islamic State's physical presence has been reversed, it "still presents threats in Iraq and Syria and has the capacity to reorganize."
Nicholas A. Heras, a Fellow at the Center for a New American Security (CNAS), said the Islamic State's intelligence branch is following a deliberate policy of seeding its local Syrian operatives throughout northern and eastern Syria after the defeat of its caliphate.
"The ISIS strategy now is to make it very difficult for the Coalition and the SDF to provide security, govern, and provide administration after ISIS," Heras told Kurdistan 24.
He said that Islamic State agents continue to form sleeper cells that "were kept secret even from most of the ISIS leadership."
Full report at:
https://www.kurdistan24.net/en/news/1acdd934-624a-4ec0-964e-3b6918a63782
--------
Bomb targets Iraqi police in Kirkuk after arrest of ISIS 'leader' in area: reports
June 26-2019
ERBIL (Kurdistan 24) – An improvised explosive device (IED) targeted an Iraqi Federal Police patrol unit in western Kirkuk Province on Tuesday, killing one officer and injuring four others in the blast, local media reported.
The incident occurred in the al-Rashad subdistrict of Kirkuk Province, one security source reportedly said, adding that the police had surrounded the area and transported the wounded personnel to the nearest hospital for medical treatment, according to Alsumaria.
On Monday, the Iraqi security communications center, Security Media Cell (SMC), announced in a statement the arrest of an alleged leader of the Islamic State group in central Kirkuk city, in the al-Wahda neighborhood, located about 40 kilometers northeast of the location of the bombing.
The security situation in Kirkuk—a territory disputed between the Kurdistan Regional Government (KRG) and the Iraqi government—has remained precarious despite the territorial collapse of the Islamic State in Iraq over a year ago. The group continues to wage an insurgency in areas with weak security and little cooperation between security forces, threatenening the livelihoods of civilians.
Along with bombings and kidnappings in recent months, the region was also hit by brush fires that engulfed agricultural lands, a significant portion of which belong to Kurdish farmers, and for a number of which the Islamic State claimed responsibility.
Full report at:
https://www.kurdistan24.net/en/news/d35cc17a-8977-408d-8a71-e412e367b870
--------
Hundreds of Civilians Leave US-Surrounded Camp in Al-Tanf
Jun 27, 2019
The Arabic-language al-Watan newspaper quoted special sources as saying on Thursday that a new group of nearly 665 civilians who had been taken hostage by the US and its affiliated terrorists at al-Rukban were transferred to the Syrian army-controlled regions through Jaliqam passageway in Eastern Homs.
They warned of the critical conditions of the camp, saying that residents of al-Rukban have been suffering an acute shortage of flour and formula for infants for several weeks, adding that they can rarely find these two commodities by paying a large amount of money.
The US-backed terrorists stationed in al-Rukban prevent humanitarian convoys from entering the camp.
In a relevant development earlier this month, hundreds of civilians escaped from al-Rukban Refugee Camp in al-Tanf region of Homs province.
Over 500 refugees incarcerated by the US-backed militants in al-Rukban Camp in al-Tanf region in Eastern Homs opened their way to escape from the camp, al-Watan reported.
It said that tens of Syrian families most of them women and children managed to flee al-Rukban Camp controlled by the Syrian Democratic Forces (SDF) for areas under the Syrian Army control through Jaliqam crossing.
Sources said that the exit of the civilians came after terrorists sought to block their departure from the camp.
Full report at:
https://en.farsnews.com/newstext.aspx?nn=13980406000351
--------
One dead, at least 24 wounded as bombs hit buses in Iraq's Kirkuk
27 June 2019
One person was killed and at least 24 wounded when bombs hit two crowded passenger buses in Iraq's oil-rich city of Kirkuk on Thursday, officials said.
The two devices exploded as the buses drove through the city center around 7 p.m. (1600 GMT), police sources told Reuters.
There was no immediate claim of responsibility, but Iraq's military called the blasts an "act of terrorism."
ISIS has mounted a series of hit-and-run attacks aimed at undermining the government.
Iraq declared victory over the militants in December 2017, but they have regrouped in the Hemrin mountain range in the northeast, which extends from Diyala province on the border with Iran across northern Salahuddin province and into southern Kirkuk.
On Tuesday, four Iraqi federal policemen were killed after a bomb went off southwest of Kirkuk, two security sources told Reuters.
Full report at:
https://english.alarabiya.net/en/News/middle-east/2019/06/27/At-least-17-wounded-in-bomb-blast-in-Iraq-s-Kirkuk-.html
--------
Protesters storm Bahraini embassy in Iraqi capital Baghdad
28 June 2019
Protesters have stormed the Bahraini embassy compound in Baghdad in protest against a conference held in the Gulf nation.
An Iraqi security official, who spoke on condition of anonymity in line with regulations, said the protesters stayed in the garden on Thursday and did not storm the offices inside the compound.
He said security forces opened fire in the air to disperse the protesters and reinforcements are on the way to Bagdad's western neighborhood of Mansour.
The two-day workshop in Bahrain that ended Wendesday was to promote the Trump administration's $50 billion economic support plan for the Palestinians ahead of a Mideast peace plan to be announced later.
Iraq is home to Iran-backed militias and the embassy attack comes amid tensions between the United States and Iran in the Middle East.
Bahrain recalls Ambassador from Iraq
The Bahrain Ministry of Foreign Affairs condemned the attack on the embassy building. "The Ministry of Foreign Affairs of the Kingdom of Bahrain condemns the attack on the Embassy of the Kingdom of Bahrain to the Republic of Iraq by the demonstrators (which) led to sabotage in the embassy building," a statement on the ministry's website said.
The Foreign Ministry said it has decided to recall Salah Ali Al Malki, the Bahraini Ambassador to Iraq, for consultations and to hold the Iraqi government fully responsible for protecting the Bahraini Embassy and Consulate and all of its employees in accordance with the 1961 Vienna Convention on diplomatic relations.
The Iraqi government condemned the protesters, and expressed "its deep regret" over the security breach at the embassy.
Full report at:
https://english.alarabiya.net/en/News/gulf/2019/06/28/Protesters-storm-Bahrain-Embassy-in-Baghdad-over-US-sponsored-summit-.html
--------
Mideast
More raids expected after ISIS leader's capture, Yemen security official says
Ali Mahmood and Mina Aldroubi
June 26, 2019
The capture of the ISIS leader in Yemen resulted from the arrest of an Al Qaeda leader weeks earlier and will lead to many more similar operations, an adviser to Yemen's defence minister said on Wednesday.
Saudi and Yemeni special forces seized Abu Osama Al Muhajer as well as the ISIS financial controller and other local members of the terror group in a raid on June 3, the Arab military coalition fighting rebels in Yemen said on Tuesday.
Gen Yahya Abu Hatem told The National the success of the operation was largely due to the arrest of senior Al Qaeda member Bilal Muhammed Ali Al Wafi on May 18.
Al Wafi was captured by government forces in the mountainous area of Habashi in the southern province of Taez. The US designated Al Wafi as a terrorist in 2017.
"The capture Bilal Al Wafi led to the arrest of Abu Osama Al Muhajer, especially because he was linked to many terrorist attacks across the country," Gen Abu Hatem said.
The coalition did not reveal where the ISIS members were captured but Gen Abu Hatem suspected they were seized in Al Mahrah province in south-eastern Yemen.
"What is confirmed is that he is a bank of information through which the Yemeni government and the Arab coalition will be able to attack ISIS in Yemen," he said.
Al Muhajer will be able to "reveal the people who supported ISIS, whether local or external, the way they smuggled their weapons and the connection between the Houthis and ISIS", Gen Abu Hatem said. "All will be revealed in the next few days."
Al Qaeda in the Arabian Peninsula, the Yemeni branch of the terror group, has been operating in the country much longer than ISIS, which established a presence in 2014 as Yemen was descending into civil war. Both groups took advantage of the insurgency by the Houthi rebels to expand their influence.
The Arab coalition, which intervened in the war in 2015 to help the government fight the Houthis, has also been helping to counter both terror groups.
The coalition, together with Yemeni government and army, has fought terror cells in Hadramawt, Shabwa, Lahj, Abyan provinces and will continue until Al Qaeda and ISIS are defeated in the country, Gen Abu Hatem said.
"The fight against terror is not over, each of these militia groups are supporting each other; there are many other intelligence operations that are going to launch across the country," he said.
Coalition strikes against ISIS in Aden, Shabwa and Hadramawt over the past two years have led to the fracturing of the group, Yemeni political analyst AbdulKhaliq Al Hood told The National.
"This has resulted in the unprecedented arrests of many of their leaders such as Al Muhajer," Mr Al Hood said.
ISIS has launched several deadly attacks since it was formed, including the March 2015 suicide bombings at two Shiite mosques in the capital, Sanaa, that killed 137 people. The group also assassinated the governor of the southern port city of Aden in 2015.
https://www.thenational.ae/world/mena/more-raids-expected-after-isis-leader-s-capture-yemen-security-official-says-1.879444
--------
Gunmen blow up gas export pipeline in SE Yemen
2019-06-27
ADEN, Yemen, June 26 (Xinhua) -- Unknown gunmen blew up Yemen's major gas export pipeline on Wednesday evening, a government official told Xinhua, just two days following similar attacks on the oil pipeline in the war-torn Arab country.
The government source, who asked to remain anonymous, said that the explosion occurred in Radhum district of Shabwa province and sabotaged the pipeline linking between Yemen's gas-producing Marib province and the export terminal of Balhaf.
Residents confirmed that the explosion set up fire that could be seen from several miles away.
Wednesday's explosion came just two days after similar attacks on the oil pipeline in the government-controlled province of Shabwa.
Yemeni government forces are in charge of securing the country's main gas pipeline and other oil pipelines in Shabwa.
Late last year, oil production and export were resumed in Shabwa, following years of unrest that forced oil companies in the province to stop their operations.
No groups have so far claimed responsibility for blowing up the gas pipeline, but previous similar attacks in the region were claimed by al-Qaida militants or anti-government tribesmen.
Shabwa boasts five sectors of crude oil production, which produces about 15,000 barrels per day.
Full report at:
http://www.xinhuanet.com/english/2019-06/27/c_138176510.htm
--------
Palestinian attacker shot dead by police in east Jerusalem
27 June 2019
A Palestinian attacker was shot dead by police in east Jerusalem on Thursday, according to Palestinian ministry sources.
https://english.alarabiya.net/en/News/middle-east/2019/06/27/Palestinian-attacker-shot-dead-by-police-in-east-Jerusalem.html
--------
Turkey's Erdogan says Trump may visit in July
27 June 2019
US President Donald Trump may visit Turkey in July, Turkey's President Recep Tayip Erdogan said in an interview in Japan where he will attend the G20 summit and is expected to meet with his American counterpart.
Tensions have been rising between the United States and NATO ally Turkey over the latter's purchase of the S-400 air defense system from Russia.
Turkey could face sanctions under US law and risks losing its partnership and delivery of F-35 fighter jets.
Asked if he thinks he can persuade Trump not to impose sanctions on Turkey, Erdogan told Nikkei newspaper on Thursday: "I believe my meeting with US President Trump during the G-20 summit will be important for eliminating the deadlock in our bilateral relations and strengthening our cooperation."
He said: "Besides, a visit by Mr. Trump to Turkey in July is being talked about."
Erdogan reiterated that Ankara would not back down from its purchase of the Russian system and said he had not heard anything from Trump regarding sanctions.
"We have already paid them $1.25 billion for the F-35 project. If they do make such a wrong move, we will take it to the international arbitration court because we will want them to pay us back the money we have spent so far," he told the newspaper.
Full report at:
https://english.alarabiya.net/en/News/middle-east/2019/06/27/Turkey-s-Erdogan-says-Trump-may-visit-in-July-says-a-report.html
--------
Arab Coalition intercepts Houthi drone in Yemeni airspace targeting Saudi Arabia
27 June 2019
The spokesperson of the Arab Coalition said forces were able to intercept and down a drone in Yemeni airspace after it was launched by the Houthis north of Sanaa toward Saudi Arabia.
Arab Coalition spokesperson Col. Turki al-Maliki said that the interception of the drone took place at 10:20 pm local time.
"The Houthi terrorists continue to launch drones to carry out hostile and terrorist acts by targeting civilians and public facilities, and that none of their targets have been achieved. They have been destroyed and shot down," al-Maliki said in a statement carried out by Saudi Press Agency.
Full report at:
https://english.alarabiya.net/en/News/gulf/2019/06/27/Arab-Coalition-intercepts-Houthi-drone-in-Yemeni-airspace-targeting-Saudi-Arabia.html
--------
Hamas: US summit in Bahrain 'abortive', 'miserable gathering'
Jun 27, 2019
A senior Hamas official has strongly denounced President Donald Trump's Middle East plan, saying the US "deal of the century" conference in Bahrain was doomed to failure from the very beginning.
Salah Bardawil said Thursday the conference had been "an abortive" attempt and "a miserable gathering", which was being led by a bunch of novice US diplomats such as Jared Kushner, Trump's son-in-law and senior adviser.
The official said the plan, which aimed at eliminating the Palestinian cause, wouldn't be able to harm the unshaken "political will and determination of Palestinian people."
"How could such small politicians think they were able to settle the Palestinian cause using money?" the Hamas official questioned.
Bardawil also expressed anger and disappointment at some Arab rulers who were furthering hostile US-Israeli policies against Palestinians by hosting such a summit in Bahrain.
All the Palestinian people have already rejected the deal and boycotted the event. The participants in the two-day meeting, however, ignored a Palestinian call to shun the workshop.
Speaking at the opening of the workshop on Tuesday, Kushner argued that agreeing to an economic pathway forward was "a necessary precondition" for resolving the conflict.
Under Trump's economic plan, $50 billion would be injected into struggling economies in the Middle East over the next ten years. Critics say Washington is offering financial rewards for Palestinians to accept the Israeli occupation.
Neither the Israeli nor Palestinian officials attended the event at Manama's luxury Four Seasons hotel, where international bureaucrats enjoyed luxury drinks and delicate pastries, mingling with Arab businessmen sporting gold Rolex watches.
More than 1,500 km away in Gaza, where over half of the enclave's two million people live in poverty, Palestinians criticized the Arabs who attended the event and sided with the United States and Israel.
In the Israeli-occupied West Bank and the Gaza Strip, demonstrators on Wednesday held the second day of protest rallies.
Senior Palestinian officials say it was Trump who had inflicted further hardship on Palestinians, cutting hundreds of millions in aid to humanitarian organizations across the Gaza Strip and the occupied West Bank.
Chief Palestinian negotiator Saeb Erekat said on Tuesday said the US administration wants to close Palestinian schools and health units in the refugee camps in Palestine, Jordan and Lebanon.
Last year, Washington announced an end to all US funding for the UN agency that assists Palestinian refugees.
Full report at:
https://www.presstv.com/Detail/2019/06/27/599580/Palestine-Hamas-Bahrain-Salah-Bardawil-ared-Kushner
--------
US-led summit in Bahrain on Palestine treacherous event: Houthi
Jun 27, 2019
The leader of Yemen's Houthi Ansarullah movement has described the recent US-led conference in Bahrain in support of President Donald Trump's controversial proposal for "peace" between the Israeli regime and Palestinians as a treacherous event.
Addressing his supporters via a televised speech broadcast live from the Yemeni capital Sana'a on Thursday evening, Abdul-Malik al-Houthi said the two-day economic workshop was an act of high treason against the Palestinian cause, emphasizing that the Yemeni nation fervently supports Palestinians and their struggle for freedom and statehood.
The so-called "Peace to Prosperity" workshop opened in the Bahraini capital Manama on June 25 and ran through June 26.
The Palestinian leadership boycotted the meeting, leading critics to question the credibility of the event.
Houthi then called on Yemenis from all walks of life to preserve unity, censuring those who are serving the interests of the US administration and the Tel Aviv regime at the expense of harming and trampling on the rights of innocent people.
He also cautioned the Yemeni nation against the enemies' plots to wrest their control over the Arab country, urging them to prevent foes from implementing their schemes.
"Enemies are trying to open up rifts among the Yemeni people. They are seeking to cover up their treason against the nation. Enemies are making use of all available means in order to serve the interests of the Israeli regime. The Yemeni nation avidly seeks freedom. They should put up stiff resistance against enemies," the Ansarullah chief pointed out.
He concluded that the United States is milking certain Arab countries and exploiting tensions in the Middle East to bolster its regional clout.
Saudi Arabia and a number of its regional allies launched a devastating campaign against Yemen in March 2015, with the goal of bringing the government of former Yemeni president Abd Rabbuh Mansur Hadi back to power and crushing the Houthi Ansarullah movement.
The US-based Armed Conflict Location and Event Data Project (ACLED), a nonprofit conflict-research organization, estimates that the Saudi-led war has claimed the lives of over 60,000 Yemenis since January 2016.
Full report at:
https://www.presstv.com/Detail/2019/06/27/599596/Bahrain-Palestine-Houthi-US-Trump
--------
Palestinian leaders call for anti-Manama unity to continue
DAOUD KUTTAB
June 28, 2019
EAST JERUSALEM: Palestinian officials breathed a sigh of relief as the controversial Manama economic workshop — which they considered a failure — ended on Thursday, but warned against complacency in its aftermath.
"The Bahrain workshop was an exercise in futility," said Palestine Liberation Organization executive committee member Hanan Ashrawi.
She called for robust efforts to build on the united stand adopted by Palestinians in opposition to the US-led conference and the economic plan it promoted, and to seize the chance to reinvigorate the Palestinian national cause by working with allies around the world.
"We need to return to our people and build on the national unity that was accomplished, through giving the people a chance to cast their vote in general elections," she said.
Palestinian Deputy Premier Ziad Abu Amer echoed Ashrawi's comments by calling for serious engagement, in particular with countries that have stood by Palestine.
"We were not against the economic workshop, had it been done within the context of a political process that was focused on the two-state solution," said Amer.
He added that Palestinians must build on the unity that Gaza and the West Bank had witnessed, and engage with the world using a proactive strategy that can reinforce the consensus coming out of Bahrain.
"The workshop in Manama showed clearly that you can't place the cart before the horse," he said. "All of us have been involved in track-two diplomacy and we are convinced that it is futile unless it is a fulfilment of a political process, and not a precursor to it."
Amer said that the failure of the Bahrain workshop was due in large part to the steadfastness of Palestinian President Mahmoud Abbas.
"President Abbas had the courage to stand up and say 'no' and this inspired many people and countries to reject an American process that attempts to circumvent the two-state solution," he added.
Abbas met Sabastian Pinera, the president of Chile, in Ramallah on Thursday and presented him with the Medal of Bethlehem. During a joint press conference, Abbas said that national rights are not real estate property that can be bought and sold.
He added that the correct political process will require "freedom, dignity, independence and justice for the Palestinian people."
While he rejected the Bahrain workshop, Abbas said that Palestinians yearn for peace.
Full report at:
http://www.arabnews.com/node/1517236/middle-east
--------
Palestinian PM expects no political plan from US Bahrain workshop
June 27, 2019
RAMALLAH: A day after the Trump administration wrapped up an international conference meant to lay the economic foundations for Israeli-Palestinian peace, the Palestinian premier said it was "divorced from reality" and unlikely to evolve into a political plan.
Washington billed the two-day workshop in Bahrain as the first stage of its broader blueprint to resolve the Middle East conflict. US Gulf Arab allies said the economic initiative had promise if a political settlement is reached.
But Palestinian Prime Minister Mohammad Shtayyeh told Reuters on Thursday he felt the initiative "will not really materialize and it's not going to go anywhere."
"Bahrain was just simply a terrible exercise. I think it's an economic workshop that has been fully and totally divorced from reality," he said in his office in the West Bank city of Ramallah. "(It was) no more than an intellectual exercise."
The Bahrain "Peace to Prosperityt" workshop called for a $50 billion investment fund to stimulate the Palestinian and neighboring Arab state economies, more than half to be spent in the Palestinian territories over 10 years.
But Palestinian leaders boycotted the conference and are refusing to engage with the White House — accusing it of pro-Israel bias after US President Donald Trump recognized Jerusalem as Israel's capital in 2017. The Palestinians demand East Jerusalem as the capital of a future state.
The political details of the long-delayed plan, which is spearheaded by Trump's son-in-law Jared Kushner, remain a secret known only to a handful of people.
Kushner and Trump's Mideast envoy Jason Greenblatt say the political elements will be unveiled later, possibly after a second snap Israeli election set for September.
But Palestinians fear the Trump team may abandon the "two-state solution," which envisages the creation of an independent Palestinian state co-existing alongside Israel.
"We haven't seen in the paper any reference to (Israeli) occupation, to settlements, to Palestine, to two states, to 1967 borders, to Jerusalem and so on," Shtayyeh said. Of the Israelis, he said: "The debate in Israel today, it's very unfortunate that it is not between those who want to end occupation and those who want to maintain occupation. The debate in Israel today is between those who want to maintain the status quo and those who want to annex certain parts of the West Bank."
Israel captured the West Bank, East Jerusalem and the Gaza Strip in the 1967 Middle East war, territories where the Palestinians now seek statehood.
Days before an Israeli election in April, Prime Minister Benjamin Netanyahu pledged to annex Jewish settlements in the West Bank if he won.
Shtayyeh, a member of Palestinian President Mahmoud Abbas's Fatah faction, was named in March to replace Rami Al-Hamdallah, who had spearheaded reconciliation efforts with Fatah's principal internal rival, the Islamist Hamas, which rules Gaza.
Few doubt the economist Shtayyeh's grasp of financial issues facing the Palestinian Authority (PA), which exercises limited self-rule in the West Bank. He formerly headed PECDAR, the Palestinian Economic Council for Development and Reconstruction.
But he inherited a government squeezed by steep US aid cuts, the crisis exacerbated by a political dispute with Israel over the withholding of some 5 percent of the approximately $190 million monthly tax revenues that Israel transfers to the Palestinian Authority.
The mounting financial pressures on the PA have sent its debt soaring to $3 billion, and led to a severe contraction in its estimated $13 billion GDP economy, according to the PA's top central banker.
Shtayyeh said the fundamental economic problem was Israel's continuing occupation of the West Bank, which meant Palestinians "don't control our borders, we don't control our entry points, our exit points, and we have no control of our land."
The current financial crisis, he said, had been exacerbated by the tax dispute with Israel.
Israel said the sum it is withholding is to match stipends sent by the PA to families of Palestinian militants in Israeli jails, payments Israel says encourage attacks.
The PA has refused to accept any tax transfers until those funds are restored. The shortfall, Shtayyeh said, had contributed to the PA — the largest employer in the Palestinian Territories — having to cut its own civil servants salaries in half.
He warned that this situation could soon weaken the PA security forces that work closely with Israel's military in the West Bank.
Full report at:
http://www.arabnews.com/node/1517061/middle-east
--------
Europe
Should Be Stopped From Withdrawing Children from Religious Education over Islam Lessons, Headteachers Say
Jun 28, 2019
Parents should not be allowed to selectively remove their children from religious education (RE) lessons, headteachers say, as study reveals many withdrawal requests are over the teaching of Islam.
More than two in five school leaders and RE teachers have received requests for students to be withdrawn from teaching about one religion, research from Liverpool Hope University has revealed.
Islam is the dominant focus of these parental withdrawal requests, according to the study of 450 school leaders and heads of RE.
One participant, who received requests for children to be withdrawn from mosque visits said: "The students that have been removed are the ones that need to understand different cultures the most."
The majority (71 per cent) of teachers believe a law allowing parents to withdraw their children from RE is no longer required, according to the study in the British Journal of Religious Education.
It comes after a report from Thurrock council revealed that parents in Essex were withdrawing their children from religious education lessons on Islam and stopping them from visiting mosques.
Iman Atta, director of Tell Mama, an activist group which records and measures anti-Muslim incidents in Britain, told The Independent: "We have been hearing about cases where parents are pulling their children out of mosque visits as part of religious education since they do not want them to be near a mosque.
"This has been taking place over the last five years and shows that there are parents who have fears or dislike Islam. This is also concerning, since what kinds of views are their children being exposed to? It does not bode well for the future of people and communities living together".
The right of parents to withdraw their children from RE and from collective worship has been in enshrined in law by both the 1944 and 1988 education acts. Parents can withdraw their children from some or all of the RE curriculum without giving a reason.
Teachers warned in April last year that parents were increasingly abusing the right to withdraw their children from religious education lessons due to their prejudices.
Members of the Association of Teachers and Lecturers section of the National Education Union called on the government to take steps to prevent parents from selectively withdrawing youngsters from RE classes.
"Cases of parents withdrawing selectively from teaching of one religion, predominantly Islam, were often presented by participants as representing a hostility and intolerance to those of other faiths," the new research says.
But it concludes: "While it was true that Islam's prominence as a target for withdrawal implies prejudice, our findings suggest that teachers saw the reasons for this withdrawal as misunderstanding more than prejudice."
https://www.independent.co.uk/news/education/education-news/parents-religious-education-islam-headteachers-liverpool-hope-university-study-a8976366.html
--------
British MP with Muslim Brotherhood ties readmitted into Labour Party
June 27, 2019
A British MP, who gave a Muslim Brotherhood-linked organisation a platform to speak in parliament, has been readmitted to opposition party Labour, just four months after he was suspended over accusations of anti-Semitism.
Chris Williamson, the parliamentary representative for Derby North, said his party, which has been embroiled in a racism-scandal for the past two years, had been "too apologetic" over anti-Semitism back in February.
Mr Williamson was readmitted into the Labour Party with a formal warning after an investigation by a panel advised by an independent barrister, a party official said on Wednesday.
However, the decision to return to the party has caused outrage among some of his fellow MPs as well as Jewish groups in the UK.
Veteran Labour MP Dame Margaret Hodge said it was "appalling, outrageous and unacceptable" that the 62-year-old had been let back into the party.
She told the BBC: "It's a cynical move done on the day that we all got our forms to say 'did we want to become Labour MPs again', and having him suspended meant that he could not become a Labour MP."
Other groups have suggested the decision to readmit Mr Williamson was because his constituency was a marginal seat and the MP standing as an independent in a potential snap election could split the Labour vote. Derby North was previously held by the Conservative Party and won back by Labour in the 2017 general election.
"It seems the decision to let him off is because he represents a marginal seat and there might be a snap election. It's good to know that a party of anti-racists, led by an avowed anti-racist decides it's OK to ignore anti-Jewish racism if there's a vote to be won," Chairman of the Jewish Labour Movement Mike Katz said.
Mr Williamson is a long-time ally of Labour leader Jeremy Corbyn, who has previously described proscribed group Hezbollah as "friends". But Mr Williamson himself is no stranger to controversy.
Around the time of his own suspension, it was revealed that he had booked a room in parliament to screen a film titled Witch Hunt about former Labour member Jackie Walker, who was suspended from the party in 2016 amid anti-Semitic accusations. Ms Walker, who was officially expelled from Labour this year, has previously given extensive interviews to Doha-owned news station Al Jazeera about pro-Israel lobbying in the UK.
In 2018, Mr Williamson used his position as an MP to book a room on the parliamentary estate for a seminar run by the Arab Organisation for Human Rights (AOHR), a group with alleged ties to both Qatar and the Muslim Brotherhood.
The AOHR has been linked to the Cordoba Foundation, which was described by former prime minister David Cameron as a "front for the Muslim Brotherhood" in the UK and has been designated as a terrorist organisation by the UAE.
Mr Williamson has also courted criticism over comments made about the 2018 gas attack on Douma, Syria saying he was unsure whether Bashar Al Assad's regime was responsible. This came after he endorsed conspiracy theorist Vanessa Beeley, the British blogger and vociferous supporter of Mr Assad. Ms Beeley described former Labour MP Jo Cox, who was murdered by a member of the far-right in 2016, as a "warmongering Blairite and Al Qaeda advocate".
Chris Williamson MP #GTTO
✔
@DerbyChrisW
I'd like to express my heartfelt thanks for the avalanche of goodwill messages from grassroots members. I can now focus on representing local people in Derby Nth and working for a Corbyn-led Labour govt to positively transform the lives of millions.
Together anything is possible!
6,837
2:00 PM - Jun 27, 2019
Twitter Ads info and privacy
3,526 people are talking about this
Mr Williamson took to Twitter on Thursday to say he had received an "avalanche of goodwill messages from grassroots members", without mentioning outrage from his own colleagues at his readmission.
Full report at:
https://www.thenational.ae/world/europe/british-mp-with-muslim-brotherhood-ties-readmitted-into-labour-party-1.879789
--------
Avowed Neo-Nazi Admits to Murder of German Politician
By Christopher F. Schuetze
June 26, 2019
BERLIN — An avowed neo-Nazi has admitted to the murder this month of a member of Chancellor Angela Merkel's center-right party, Walter Lübcke, who had defended her decision to accept refugees into Germany.
The 45-year-old suspect, identified by officials only as Stephen E. because of German privacy laws, confessed on Tuesday, Peter Frank, the country's federal prosecutor, said on Wednesday.
"He claims to have planned and carried out the murder of Mr. Lübcke alone," Mr. Frank said. But he added that his office would continue to investigate the possibility that the suspect had had help.
"Likewise, our investigation will continue to focus on whether that act, or murder, is based on a terrorist organization or whether the accused is a member of a right-wing terrorist group," Mr. Frank said.
Mr. Lübcke, 65, who was the director of the regional authority in Kassel in the state of Hesse, in the western part of Germany, was shot in the head on the terrace of his house on June 2. His adult son alerted emergency workers, who took him to the hospital, where he was pronounced dead.
Two weeks after the killing, the authorities announced a political motive in the killing, and the suspect — who has a violent past and a police record, including a short stint as a member of the neo-Nazi N.P.D. party — was arrested. He was detained after DNA found on the victim's clothes was matched in a criminal database, the authorities said.
Investigators said the suspect had led a relatively quiet life with a wife and two children in recent years, and had been an active and vocal far-right commenter online. As a young man, he tried to detonate a homemade explosive at an asylum center, according to reports in the German news media.
Mr. Lübcke appeared to have attracted the ire of far-right groups for suggesting at a town-hall-style meeting in 2015 that those who did not share the values of Ms. Merkel when it came to accepting refugees were free to leave the country.
News reports suggested that the murder suspect, Stephen E., had attended the meeting, but Mr. Lübcke's speech was filmed and it was widely shared on right-wing forums. The video was recently recirculated online.
Since the killing of Mr. Lübcke, other regional politicians have said they have received an increasing number of death threats.
Full report at:
https://www.nytimes.com/2019/06/26/world/europe/germany-walter-lubcke-neo-nazi.html
--------
Macron says he warned Iran's Rouhani about breaking nuclear commitments
27 June 2019
French President Emmanuel Macron warned Iran on Thursday not to quit its 2015 nuclear deal or give signals that it intended to do so, and said he would discuss efforts to avoid military escalation with US President Donald Trump.
US allies in Europe have been alarmed by an escalation between the United States and Iran in recent weeks, which culminated last week when Trump ordered air strikes only to call them off minutes before impact.
Washington, which quit an agreement last year under which Iran accepted curbs on its nuclear program in return for access to world trade, has sharply tightened sanctions since May. Iran has responded by saying it could take steps that would violate the nuclear deal.
The crisis took on a military dimension in recent weeks, with Washington blaming Tehran for attacks on ships in the Gulf, and Iran shooting down a US drone. Iran denies blame for the attacks on ships and says the drone was in its air space when it was struck. Washington says it was in international skies.
European countries, which disagreed with the US decision to withdraw from the pact but share US concerns about Iranian behavior, have been caught in the middle, expressing increasing concern that a mistake on either side could trigger war. Macron said he had two priorities: keeping Iran inside the nuclear deal and avoiding military escalation.
"Tensions are growing and for me, the first element is that there is no exit from the framework. The second thing and I will discuss it with the president (Trump) tomorrow, is to do everything to avoid a military escalation," Macron said.
"I had a conversation with President (Hassan) Rouhani a couple of days ago and I indicated that any exit from the accord would be an error and any signals in that direction would be an error," Macron told reporters.
He said France believed the US drone was over international waters when it was shot down, "so that was aggression which was one more step in this escalation".
Tehran has said it intends to continue to abide by the nuclear agreement, but cannot do so indefinitely if it receives no economic benefits. It has set a number of deadlines in recent weeks for European countries to shield it from US sanctions or it will take steps that could ultimately violate it.
One of those deadlines expires on Thursday when Iran has said it could accumulate more than the maximum stockpile of low-enriched uranium allowable under the deal. Diplomats have told Reuters that Iran is still short of that threshold but on course to reach it in coming days.
Senior diplomats from the European powers are due to meet the US special envoy on Iran in Paris on Thursday. Macron said officials were working on ways to improve the nuclear deal.
Washington says the nuclear deal, agreed under Trump's predecessor Barack Obama, is too weak because it is not permanent and does not cover areas outside of nuclear activity such as Iran's missile program and regional behavior.
Full report at:
https://english.alarabiya.net/en/News/middle-east/2019/06/27/Macron-says-he-warned-Iran-s-Rouhani-about-breaking-nuclear-commitments.html
--------
Gunman wounds 2, kills himself in attack near French mosque
27 June 2019
An unidentified gunman shot and wounded an imam and one other person Thursday in front of a mosque in the western French city of Brest, then killed himself, police said.
The motive for the attack is unclear. France's interior minister ordered security tightened at places of worship around the country.
The shooter fired at two people then fled the scene in a car, according to a national police spokesman. The shooting took place in front of the Mosquée Sunna de Brest, on France's Atlantic Coast.
Police launched a manhunt, but soon found the attacker's Renault Clio car in a nearby neighborhood - and nearby lay the attacker, who had shot himself in the head, the spokesman said. The manhunt was called off, as police do not suspect the attacker had accomplices.
The two wounded people were hospitalized but "are doing OK," the police spokesman said. He was not authorized to be publicly named.
One of them was prominent imam Rachid Eljay, the police spokesman said. Authorities released no details about the identities of the suspect or the other victim.
France's anti-terrorism prosecutor's office said it is evaluating the situation and whether there is a reason to suspect terrorist motives.
Pharmacist Thierry Ropars, working near the site of the attack, said he heard six or seven shots.
Full report at:
https://english.alarabiya.net/en/News/world/2019/06/27/Two-wounded-in-shooting-outside-mosque-in-western-France.html
--------
North America
Europe grants Iran trade loophole as Tehran prepares to breach nuclear deal
Damien McElroy
June 27, 2019
European states are to announce their biggest commitment yet to keeping the 2015 Iranian nuclear deal alive through a cash injection into a new platform for trade with Iran even as Tehran is set to breach enrichment limits in the pact.
The last-gasp effort to provide credit to the Instex trade organisation is set to be greeted by dismay in Tehran, which has seen oil sales and other exports plunge under sanctions imposed by the United States after withdrawing from the nuclear deal last year.
The funding announcement at a meeting of the supervisory commission of the remaining members of the Joint Comprehensive Plan of Action (JCPOA) on Friday in Vienna is expected to be made by Federica Mogherini, the EU's foreign affairs commissioner.
Instex is a body established and sponsored by Britain, France and Germany. The Paris-based organisation has a mandate to barter essential goods with Iran under a legal shelter from the US sanctions.
The European countries maintain that the US sanctions are extra-territorial and have invoked a law that European compliance with the measures is illegal. That has not been enough to prevent dozens of European businesses from pulling out of Iran, prioritising access to the US market.
Mrs Mogherini trailed the announcement earlier this week when she said Instex had completed its set-up phase. "I believe that this is now ready for being operational and I hope this is something that can help keeping Iran compliance with the agreement as it has been so far," she said.
However, Iranian officials including the country's central bank chief and leading Iranian diplomats have said Instex may not keep the deal alive.
"Sadly, the balance between the Islamic Republic of Iran's obligations and rights under the JCPOA has been now upset, and considering the European side's unfulfilled pledges, there remains no reason for the implementation of Iran's one-way commitments," said Abbas Araqchi, a deputy foreign minister on Thursday. "However, Iran has kept the window of diplomacy open by gradually reducing its commitments."
The Vienna meeting has loomed as a key date on the calendar since Iran gave notice it was ready to raise uranium output beyond the set limits, in effect killing the deal following the US withdrawal.
Europeans have resisted US efforts, spearheaded by Secretary of State Mike Pompeo, to assemble an international coalition against Iran.
German Foreign Minister Heiko Maas said the bloc would stick to a diplomacy-first policy. "The strategy of maximum pressure can't be the right one, because one of the consequences is that we are all talking about how serious the situation is, and that there is a danger of war," he said.
"This is the time for diplomacy," he added. "We have to ensure that these tensions are reduced, because otherwise any event without it being clear who caused it – could lead to ... a spiral of violence that ends in a war."
While Jeremy Hunt, the UK foreign secretary, said Britain was listening to the US arguments, he added London was concerned about the situation, which has seen Iran implicated in a series destabilising attacks around the region.
His comments were echoed in Dubai by Liam Fox, the international trade secretary, who broke ground on the British pavilion for the 2020 World Expo.
"We want to de-escalate the situation but we are of course extremely worried," Mr Fox said. "One of my ministerial colleagues was in Iran this week. We want to find a way to de-escalate the tension before the matters worsen from where they are today."
"I think it is the best way forward for the regional security, and the economic stability."
Brian Hook, Washington's Iran envoy, was in Paris on Thursday to reiteriate his call for joint action.
The G20 Summit in Japan is also expected to see talks about how to cope with the Iranian threat to the region and how to safeguard the oil trade under pressure at the Straits of Hormuz and Gulf of Oman. Speaking from Japan, President Emmanuel Macron said he was trying to play the role of mediator to ease the tensions.
"There is no brief war," Mr Macron warned. "We know when it's starting, but not when it's finishing."
Iran has said it is prepared to break the 300kg limit for low-enriched uranium stockpiles. Officials said it had been adding to its stores at a rate of 1kg every 24 hours and was on course to breach its limits over the weekend. Iran has further signalled it will up the enrichment levels of its uranium output beyond the 3.67 per cent limit.
The Foundation for the Defence of Democracy, a hawkish Washington think tank, said this week that President Donald Trump was focused on cutting a new deal with Iran. The American criticism of the nuclear deal is that it focused on one issue and did not address wider Iranian concerns. The Foundation said the White House should keep raising the pressure on Iran until it was ready to sign a broader accord. "There are at least three domains that a comprehensive agreement should seek to address: nuclear, missile/military, and regional aggression/support for terrorism," its report concluded.
It remains to be seen if Instex can meet Iranian expectations. One European analyst commented that like nuclear fusion, Instex was a breakthrough that was always just around the corner.
https://www.thenational.ae/world/europe-grants-iran-trade-loophole-as-tehran-prepares-to-breach-nuclear-deal-1.879950
--------
For Palestinians, Donald Trump's Bahrain workshop was the farce of the century
Jack Moore
June 28, 2019
A gathering of the rich and the powerful worthy of Davos in the Bahraini capital this week was billed as helping the Palestinians amid all of their troubles. But there was one condition: do not mention the occupation.
The Four Seasons, a palatial 50-floor five-star hotel shaped like an 'H' on its very own island in Manama's Bahrain Bay, was a fitting venue for the vision of prosperity laid out by the Trump administration: a grand plan adrift from the rest of the world. That very letter could have stood for "hot air", as that is precisely what the Palestinians believed was filling the plush venue for the unveiling of US presidential adviser Jared Kushner's economic plan, which has been in the works for 30 months in a bid to strike the "ultimate deal" for his father-in-law, US President Donald Trump.
Much was said, but little that dealt with the core issues of the conflict – borders, land and rights – and the disconnect between what was being said and the reality on the ground in the Palestinian Territories was stark.
Mr Kushner said that President Donald Trump would create a better future for Palestinians, he told them "this workshop is for you". There was likely no jubilation in Hebron, Nablus or Beit Hanina after this announcement. The Trump administration said it held this "economic workshop" because it cared about the Palestinians. That is after recognising Jerusalem as Israel's capital, cutting aid to hospitals that serve sick Palestinians and slashing funding for the United Nations agency for Palestinian refugees.
It had said it was at pains to keep the discussion around its $50 billion economic plan, much of it re-hashed from previous initiatives, distinctly apolitical. Yet the workshop, essentially a glorified networking opportunity of dinners, canape hobnobbing, cocktail receptions and coffee breaks interspersed with panels, could never truly avoid the politics; no aspect of the conflict can.
In Washington's mind, keeping this event free of politics meant no mention of two states for two peoples – what a Palestinian might consider to be their own vision of prosperity – but dreams of a thriving West Bank economy, Gaza as a tourist hub and the free flow of goods and people. It was devoid of any context, for example, that Israel prevents Gaza from having a seaport or an airport. The small matters of more than five decades of occupation, Israel's deeply restrictive checkpoint system, its sprawling settlement enterprise or its 12-year blockade of Gaza, which has squeezed the coastal enclave to the point of collapse, were swept under the rug here.
Paid-for panel moderators reiterated time and again that the talks were to only focus on economic potential and the path to prosperity. Panellists, some who had never been to the occupied West Bank, did not dare broach the occupation or the settlement enterprise. They talked about property rights, not appearing to know how Palestinians are restricted on the matter. Another panellist talked of how film could help improve the image of Arabs. At times, the panels had almost nothing to do with the conflict.
US Treasury Secretary Steven Mnuchin thanked "Palestinian business leaders" for coming to the conference. The only Palestinian speaker was a Hebron businessman reviled by his own people for working with settlers and being supported by US ambassador to Israel, David Friedman.
Such avoidance of the realities on the ground, while waxing lyrical about investment in the territories subject to these policies, severely damaged the credibility of the event.
The reality is that very little took place at the workshop bar some discussions by investment bankers, CEOs and a few notable names, such as former UK prime minister Tony Blair and Fifa president Gianni Infantino, who are themselves deeply unpopular among Palestinians. The plan had already been released and both parties were not present. As one journalist put it, it was like going to a wedding without the bride or groom.
Neutrality went out of the window when the blame for all of the Palestinians' ills fell on their leadership, despite the valid basis for the criticism.
One mid-level Palestinian businessman, who declined to be named for fear of repercussions at home in the occupied West Bank, accused the Palestinian Authority of corruption and said the delegation was in attendance to seek peace for their people. But, even above that, he said the occupation was the biggest problem facing Palestinians, the very issue no one would broach here.
Jared Kushner talked of bad Palestinian governance, the Palestinian people being let down, and his hope of violence ending in the region, appearing to point to Palestinian attacks against Israelis in the occupied West Bank and Hamas rocket attacks from the Gaza Strip.
But, for all of the Palestinian leadership's problems, no finger was pointed at Israel for even part of the blame in more than five decades of occupation, declared illegal under international law, and the subsequent violence that followed.
The deeply loaded language and omission of any Israeli wrongdoing will reinforce the view in Ramallah that the Trump administration is biased in favour of Benjamin Netanyahu's hard-right government, and not truly serious about peace.
A member of the US delegation told The National, proudly, that even though scepticism was as high as a Kushner construction project, this was the biggest gathering on the conflict for decades. There seemed to be a satisfaction among the American contingent that they had at least put on a display of trying to give it a go, whatever the outcome, regardless of the widespread criticism, and without the parties even being there.
Those in attendance that did not have a knowledge of the conflict's history could have been fooled into thinking it was entirely the Palestinians' fault for not engaging with what increasingly appears to be a mirage of a plan before any offers of changes on the ground.
The US and Israeli message of Palestinian rejectionism blocking peace will likely continue from here, despite no concrete concessions from Washington on Israel's ever-tightening occupation, the true stymie of Palestinian development. The Palestinian boycott creates a convenient path for the Israeli hard-right to itself avoid any peace initiative without blame, continuing its journey towards the annexation of the occupied West Bank.
Any concessions on the part of Israel and the US would immediately gain more traction than any economic document that does not take into account the weaker party's political ambitions.
The lack of any of this in the plan ultimately left both Gulf and other Arab states in attendance without something to hang their hats on.
It took more than a decade for the pretence of the Oslo Peace Accords, signed in 1993, to wear off. This time around, it is easy to believe that the facade of the Kushner initiative will be shattered in record speed.
The Palestinians said the plan would be dead on arrival, rather it is in a state of coma, one that both Washington and Israel appear to hope it never wakes up from.
Full report at:
https://www.thenational.ae/world/comment/for-palestinians-donald-trump-s-bahrain-workshop-was-the-farce-of-the-century-1.880076
--------
US-led coalition admits killing over 1300 civilians in Syria, Iraq
Jun 27, 2019
The US-led military coalition purportedly fighting the Daesh terrorist group has admitted killing over 1300 civilians since it started its military campaign in Iraq and Syria nearly five years ago.
"The coalition conducted 34,514 strikes between August 2014 and the end of May 2019," the alliance said Thursday. During this period, it "assesses at least 1,319 civilians have been unintentionally killed by coalition strikes."
The military alliance said it was still assessing 159 additional reports of civilian casualties.
The figure is far lower than the death tolls given by groups that have monitored the aerial raids in the two countries.
Airwars, an NGO that monitors civilian casualties from air strikes worldwide, estimates more than 8,000 civilians have been killed in US-led raids.
In a report released in late April, the UK-based Amnesty International and Airwars found that air and artillery strikes by the US and its allies killed more than 1,600 civilians just in four months in the northern Syrian city of Raqqah.
Daesh has been almost purged from entire territories it used to control in Syria and neighboring Iraq. However, sporadic attacks by the group are still reported in the two countries.
The US and its allies have been bombarding what they call Daesh positions inside Syria since September 2014 without any authorization from the Damascus government or a UN mandate.
The strikes have on many occasions resulted in civilian casualties and failed to fulfill their declared aim of countering terrorism.
The Syrian government has condemned the airstrikes, stressing that they have not been authorized by the Syrian government or the UN Security Council.
Last November, Russia said US warplanes were using white phosphorous bombs in their airstrikes against civilian-populated areas east of the Euphrates River in Syria
Full report at:
https://www.presstv.com/Detail/2019/06/27/599589/US-Daesh-Iraq-Syria-Raqqa-Amnesty
--------
US seeks NATO help in anti-Iran coalition
27 June 2019
The US defense chief on Thursday pressed NATO allies to join Washington's efforts to squeeze Iran and ensure the safety of ships in the Gulf after a spate of attacks.
As US-Iranian tensions soar, Acting Secretary of Defense Mark Esper asked NATO countries to support Washington by publicly condemning Iran and to consider creating a maritime coalition to protect freedom of navigation through the strategic waterway.
After President Donald Trump said any conflict with Iran "wouldn't last very long", Esper stressed that the US wanted to avoid conflict and get back to the diplomatic track.
Washington has ratcheted up crippling economic sanctions on Tehran after the Islamic republic's forces shot down a US drone in the Gulf region, following a series of attacks on tankers that Washington blames on Iran.
NATO defence ministers discussed the crisis in Brussels, where Esper said he sought to "internationalise" the Iran issue, after Secretary of State Mike Pompeo last week called for a "global coalition" to deal with Tehran.
Esper said he urged allies to "consider public statements condemning Iran's bad behaviour and making the point that we need to have freedom of navigation in the Strait of Hormuz."
He also pressed them to consider creating a coalition, saying they should "look at everything from broader maritime surveillance -- and that should include air surveillance -- all the way up to a pickup line of ships to help protect the international waterways and to include maybe even escorts."
Many European countries have been alarmed at the Trump administration's hawkish approach to Iran, fearing the US policy of "maximum pressure" is counterproductive and could lead to war.
The EU has sought desperately to save the 2015 Iran nuclear deal, which Trump withdrew from last year, with its three European signatories Britain, France and Germany leading the efforts.
Any NATO involvement in the Gulf would need unanimous support from all 29 member states, and given European uneasiness this would be extremely difficult to achieve.
A NATO diplomat said: "The alliance has been careful from the start to try to stay away from the different issues" linked to Iran.
"We would like to see more calm from the two actors but we really don't want this to become a NATO issue."
Full report at:
https://english.alarabiya.net/en/News/world/2019/06/27/US-seeks-NATO-help-in-anti-Iran-coalition.html
--------
US envoy Brian Hook says Iran sanctions are working
27 June 2019
The United States special envoy to Iran said on Thursday his country's policy of maximum economic pressure on Tehran was working and warned that US Sanctions did not give it the right to breach its nuclear commitments.
"We are dedicated to this policy of maximum economic pressure because it is working, it is denying the regime historic levels of revenue," Brian Hook told Reuters ahead of a meeting with senior French, British and German diplomats in Paris.
https://english.alarabiya.net/en/News/world/2019/06/27/US-envoy-says-Iran-sanctions-are-working.html
--------
US sanctions do not give Iran right to breach nuclear commitments, Brian Hook says
June 27, 2019
The US policy of maximum economic pressure on Tehran is working, but its sanctions did not give Iran the right to breach its nuclear commitments, a senior US official said on Monday.
"We are dedicated to this policy of maximum economic pressure because it is working, it is denying the regime historic levels of revenue," US special representative on Iran Brian Hook told Reuters.
Mr Hook was speaking before a meeting with senior French, British and German diplomats in Paris to convince them that the US policy was the best way to get Iran back to the negotiating table.
"Our sanctions do not give Iran the right to accelerate its nuclear programme," he said. "It can never get near a nuclear bomb.
"We are looking very closely at that so it doesn't get below the one-year nuclear breakout time."
Meanwhile, acting US defence secretary Mark Esper was seeking Nato support in Brussels for a global effort to secure international waterways against Iran.
In a closed-door session on Thursday, Mr Esper told Nato defence ministers that the US held Iran responsible for attacks on two oil tankers in the Gulf of Oman but did not want the situation to escalate.
"His first words were, 'We don't want to go to war with Iran'," one diplomat said.
Another diplomat said Mr Esper made it clear that the attacks were "about the limit" of what the US would tolerate from Iran, and that nothing more should happen now."
"One important message is that the United States has so clearly stated that they don't want a war," Nato Secretary General Jens Stoltenberg said after the meeting.
"They actually said very clearly that they are ready to talk with Iran without a precondition."
A week after US President Donald Trump called off air strikes on Iran at the last minute, European defence ministers led by France sought to cool the confrontation between Washington and Tehran, diplomats said.
Five Nato countries spoke after Mr Esper in the meeting. French Defence Minister Florence Parly told him not to involve the Nato alliance in any military mission in the Gulf.
Together with Germany and other European allies, France also made a plea to uphold the 2015 nuclear accord with Iran.
Turkey told Mr Esper that "dialogue was better than sanctions" with Iran, and others including the Germany minister said they would do everything possible to avoid an escalation.
Mr Esper said he had no firm commitments from Nato allies but would provide more details to them next month on how the Iranian threat had escalated and how they could work together to deter further aggression.
Meanwhile, Iranian Foreign Minister Javad Zarif criticised US President Donald Trump on Twitter on Thursday, saying: "Sanctions aren't an alternative to war; they are war."
Mr Zarif said Mr Trump was mistaken in thinking that a war between their countries would not last long.
Full report at:
https://www.thenational.ae/world/the-americas/us-sanctions-do-not-give-iran-right-to-breach-nuclear-commitments-brian-hook-says-1.879989
--------
Pakistan
Qatar's pledge to fulfill its investment in Pakistan doubtful: Report
June 27, 2019
Qatar's announcement to invest in Pakistan is a part of a wider Turkey-led attempt to bring Pakistan into an Islamic alliance, according to a recent report by Cornerstone Global Associates, a London-based strategy and management consultancy.
The report has summarised the geopolitical implications of the proposed Qatari investments in Pakistan and assesses Qatar's ability to fulfil those pledges.
Emir of Qatar Sheikh Tamim bin Hamad Al Thani, who was on a recent visit to Pakistan earlier this month, agreed to invest billions of dollars to expand collaboration in the fields of agriculture and food, enhance in the energy sector including LNG and LPG fields and exploration and production of oil and gas.
It was reported that Qatar has promised to invest USD 22 billion in Pakistan.
The report indicated that Turkey was keen to strengthen its relations with Pakistan and bring the South Asian nation into what Turkey sees as a Turkish-led alliance of Muslim states, which also includes Qatar.
"Qatar is home to the Afghanistan Taliban leadership and such a proposed alliance will take this factor into account, giving the pro-Islamist government of Turkey a greater influence in the region. Turkey will use this as a bargaining tool in its deteriorating relationship with the United States," the report said.
"This risks a further deterioration in Pakistani US relations," it added.
Further revealing the Turkish connection behind Qatari investment in Pakistan, the report said, "Qatar has been trying to exert political influence on countries by pledging substantial investments. Qatar's foreign investment strategy in Muslim countries, in particular, has focused on creating a political alliance that would serve its own Islamic alliance, together with Turkey."
In August 2018, Qatar announced it would provide economic assistance to Turkey after the Turkish lira suffered significant falls, pledging to invest USD 15 billion in Turkey.
The Qatari pledge included providing the Turkish Central Bank with a USD 3 billion currency swap.
However, the remaining USD 12 billion investment pledge has not yet materialised. Turkish figures have shown that Qatari investors have pulled out USD 790 million from the Istanbul Stock Exchange, reducing Qatari holdings by 31 per cent.
"Given Qatar's inability to fulfil previous investment pledges, including to Turkey, it is unlikely that Qatar will be able to fulfil its pledge to Pakistan," said the report in its conclusion.
It further stated, "The price that Qatar would expect from Pakistan is for the latter to join the Turkish-Qatari axis, which Qatar and Turkey see as a counter to the Saudi-led alliance. This may dent Pakistan's relations with Saudi Arabia and ultimately affect the Saudi pledge.
https://www.business-standard.com/article/news-ani/qatar-s-pledge-to-fulfill-its-investment-in-pakistan-doubtful-report-119062700508_1.html
--------
Islamabad, Kabul agree to reboot ties
Baqir Sajjad Syed
June 28, 2019
ISLAMABAD: Pakistan and Afghanistan on Thurs­day agreed to reboot their bilateral relations, which have remained mired in mistrust for long, by developing a 'forward-looking vision' based on cooperation instead of political competition.
This consensus was ref­lec­ted in a statement issued by the Prime Minister Office (PMO) after Prime Minister Imran Khan's one-on-one meeting with Afghan President Ashraf Ghani and delegation-level talks between the two sides in which the state of relations was reviewed.
President Ghani is on a two-day visit to Pakistan. The visit is aimed at stre­ngthening bilateral cooperation in political, trade, economic and security fields and forging stronger and multifaceted ties. The visit is, moreover, taking place amid hopes of progress in US-Taliban talks leading to initiation of intra-Afghan dialogue, and ahead of Afghan presidential elections scheduled for September.
Prime Minister Khan, during the meeting, called for "a qualitative transformation" in ties, whereas President Ghani, in his speech at the Institute of Strategic Studies Islamabad (ISSI), emphasised the need for developing "political alignment" between the two neighbours and taking "bold steps".
The agreement on improving relations apparently flows from realisation in both capitals that the two neighbours, who were once likened by former Afghan president Hamid Karzai to conjoined twins, could not progress without positively engaging with each other.
President Ghani said Loya Jirga, the traditional Afghan consultative gathering, held last month had authorised him to normalise ties with Pakistan and seek a political settlement with the Afghan insurgents. Pre­si­dent Ghani had on May 5, a couple of days after the end of Loya Jirga, phoned Imran Khan. The telephonic call paved the way for his current visit to Pakistan, which is his third while in office, but after a break of almost four years.
The Voice of America, meanwhile, quoted a Pakistani official as having said: "While Afghanistan realises the importance of Pakistan in medium to long term, Pakistan also feels that it is important to remain engaged with the government of Afghanistan regardless of who heads it."
The PMO statement said the two leaders had agreed to open "a new chapter of friendship and cooperation" based on "mutual trust and harmony" for the benefit of their countries and advancing the cause of peace, stability and prosperity in the region.
Mr Khan underscored Pakistan's respect for sovereignty and territorial integrity of Afghanistan and said Pakistan remained committed to a peaceful, stable, democratic and prosperous Afghanistan. He expressed his government's desire to have stronger political, trade, economic, and people-to-people relations with Afghanistan.
Prime Minister Khan reaffirmed Pakistan's commitment to support the Afghan peace process and underlined that an Afghan-led and Afghan-owned peace process was the only viable option to restore pace. He said Pakistan supported a result-oriented intra-Afghan dialogue.
According to AP, the Afghan president praised Pakistan's efforts to advance the peace process in the region as he reached out to Islamabad for help in bringing the Taliban to the negotiating table with the Kabul government, Pakistani officials said.
President Ghani first had a meeting with Foreign Minister Shah Mahmood Qureshi before heading into talks with PM Khan.
Mr Ghani in his remarks at the ISSI made it clear that presidential elections would take place in Afghanistan later this year and there was little room for negotiations on the constitution as it was already Islamic in character.
Trade and connectivity
The Afghan president also said the agenda of connectivity was not a pipedream rather it was a pragmatic vision for future.
Pakistan and Afghanistan are part of major energy connectivity projects such as the Central Asia-South Asia (CASA 1000) electricity transmission line and the Turkmenistan-Afghanistan-Pakistan-India (TAPI) gas pipeline. However, work on the projects has been slow because of political, financial, security, disruption and environmental risks.
Mr Ghani said all these concerns would get addressed if a political alignment between Pakistan and Afghanistan materialised.
The Afghan president in his meeting with PM Khan proposed a regional task force of leaders for taking forward the projects of regional connectivity.
"The two leaders expressed their commitment to work together to broaden and deepen bilateral trade, streamline transit trade, and strengthen efforts for connectivity. It was recognised that early completion of major energy connectivity projects such as the CASA 1000 electricity transmission line and the TAPI gas pipeline will bring long-term economic benefits to the countries involved," the PMO statement said, adding that the two sides had deliberated on ways for strengthening trade, infrastructure and energy connectivity.
Agreement was reached at the talks to utilise the Afghanistan-Pakistan Transit Trade Coordination Authority, the Joint Economic Commission and other similar mechanisms to remove difficulties in transit and bilateral trade and explore new possibilities.
Meetings with opposition leaders
The Afghan president later met with key opposition figures Pakistan Muslim League-Nawaz president Shahbaz Sharif, Pakistan Peoples Party chairman Bilawal Bhutto-Zardari and Jamaat-i-Islami chief Sirajul Haq. The leaders, in their separate meetings with Mr Ghani, welcomed him to Pakistan and wished well for the Afghan peace process.
Full report at:
https://www.dawn.com/news/1490884/islamabad-kabul-agree-to-reboot-ties
--------
Shehbaz, Bilawal meet Ghani, extend support for Afghan peace process
Jun 28, 2019
ISLAMABAD: Pakistan Muslim League-Nawaz (PML-N) President Shehbaz Sharif and Pakistan People's Party (PPP) Chairman Bilawal Bhutto-Zardari separately called on Afghan President Ashraf Ghani and expressed their support for the peace process in the country. During the meetings, the two leaders of the opposition and their delegations welcomed President Ghani over his arrival in Pakistan. They also discussed matters of mutual interest during the meetings.
Ghani also condoled the death of ousted prime minister Nawaz Sharif's wife Begum Kulsoom Nawaz with Shehbaz Sharif.
Earlier, the Afghan president landed in Islamabad on a two-day official visit to Pakistan on Prime Minister's Imran Khan invitation.
Full report at:
https://www.pakistantoday.com.pk/2019/06/27/shehbaz-bilawal-meet-ghani-extend-support-for-afghan-peace-process/
--------
China offers to play guarantor for Afghan peace deal
BY MIAN ABRAR
Jun 28, 2019
ISLAMABAD: China has offered to serve as guarantor for a proposed peace agreement in Afghanistan, an official statement said late on Wednesday.
The offer comes on the heels of media reports suggesting that China is likely to host an international meeting regarding the Afghan peace process, to be attended by officials from Pakistan, US, Europe and other neighboring countries of Afghanistan.
The offer was conveyed to Afghanistan's National Security Adviser Hamdullah Mohib by China's Special Envoy for Afghanistan Deng Xijun during a meeting in Kabul.
"Ambassador Xijun briefed NSA Mohib about the Chinese efforts in the peace process, and assured China's readiness to offer as a guarantor role for any possible peace accord between the government and the Taliban group," Afghanistan's National Security Council said in a statement.
China is ready to facilitate an Afghan-owned and Afghan-led peace talks, Ambassador Xijun said, adding that without involvement of the Afghan government, any peace process will go nowhere.
NSA Mohib appreciated Chinese efforts in bringing peace and stability in Afghanistan, saying the Afghans had rendered huge sacrifices for peace, and those sacrifices should be honored.
The envoy briefed Mohib on China's recent efforts for peace talks, according to a statement from the national security adviser's office.
There have been multiple signs of cautious optimism from the US and NATO about a potential peace deal in Afghanistan this year. In the past two days, NATO chief Jens Stoltenberg as well as US Secretary of State Mike Pompeo have said a comprehensive peace agreement with the Taliban is within grasp.
Full report at:
https://www.pakistantoday.com.pk/2019/06/27/china-offers-to-play-guarantor-for-afghan-peace-deal/
--------
Africa
Pentagon sees Islamic State resurgence in Libya amid Tripoli fighting
Jack Detsch
June 26, 2019
The Donald Trump administration is seeing a "small" resurgence in the Islamic State's numbers in Libya since strongman Khalifa Hifter began a bloody march on the capital Tripoli more than two months ago, the Pentagon's second-ranking military official said.
Vice Chairman of the Joint Chiefs of Staff Paul Selva said he suspects that forces supporting the US-backed Government of National Accord in Tripoli may be able to hold out "for weeks or months" against Hifter. The United Nations says Hifter's Libyan National Army has received weapons from the United Arab Emirates and Egypt in violation of an arms embargo.
Both the LNA and the GNA "are keeping a lid on IS for their own individual interests for a fair period of time," Selva, who leaves his post at the end of October, told a gathering of reporters in Washington earlier this month. "Because they're now going after one another in the capital, it's actually taking their attention off of IS and we've seen a small resurgence of those [IS] camps in the central region."
It was not immediately clear how significant the resurgence of the Islamic State has been since the April offensive began. Selva said that the Pentagon picked up that IS camps in Libya's central region and Tuaregs were "helping out the IS militants and moving people back and forth across the border to the south."
US troops helping to fight IS in Libya left the country in April as security conditions deteriorated. Selva said he worried about IS becoming a "third party in the fight in Libya."
But Selva's comments come after a series of visits from top GNA officials to Washington to put pressure on the Trump administration to clarify its position in the conflict, after the president reportedly appeared to greenlight Hifter's offensive in an April call with the strongman. The US administration had previously insisted there was "no military solution" to the conflict.
Speaking with Al-Monitor in May, GNA-allied Ibrahim Sahad, who serves on Libya's Higher State Council that's led by a former Muslim Brotherhood member, said he pushed US officials to stop the flow of arms from the UAE and Egypt to Hifter.
GNA Deputy Prime Minister Ahmad Maiteeq said that forces in the city had succeeded in blunting the Eastern warlord's momentum earlier this month, hurting the LNA's morale and limiting its ability to replace troops, despite Hifter's use of drones at night to supplement air raids during the day. Maiteeq said he told US officials that Hifter's attacks will only strength IS, since they have forced the GNA to be "occupied with defending the capital."
"We have our troops organized much better and we can start attacking him and sending him back very soon," Maiteeq told Al-Monitor earlier this month. "The question is how far we will send him back."
But the GNA's counteroffensive, he said, had been stalled by concerns around civilian casualties, with the fighting concentrated around densely populated areas in Tripoli. A former senior administration official speaking not for attribution told Al-Monitor that Hifter has failed to recruit the tribes and militias in Tripoli necessary to take the capital, given his "stated intentions to eliminate all so-called 'terrorists.'"
Maiteeq, who visited Washington earlier this month, stirred controversy in May when he hired Prime Policy Group to arrange meetings with administration officials during his trip, initially prompting the office of Prime Minister Fayez al-Sarraj to issue a statement calling on the firm to end its registration for Maiteeq.
While both sides appeared to resolve the matter, experts worry that the powerful Misrata faction of the GNA's armed forces could stay in Tripoli if Hifter is expelled from the capital city and spark conflict. "The question is what will happen if Hifter peters out in northwest Libya," said Jalel Harchaoui, a research fellow at the Clingendael Institute in The Hague.
But former US officials aren't convinced that Misrata-aligned forces have designs on a takeover of the fledgling GNA army or holding the capital.
"My guess is that the GNA presidency council is probably not much more fractured than it ever was," a former senior administration official told Al-Monitor. "But that's also a function of how much the US is trying to hold things together. The US has greatly diminished the degree to which it is monitoring or actively trying to improve the situation in Libya."
https://www.al-monitor.com/pulse/originals/2019/06/pentagon-islamic-state-resurgence-libya-tripoli-hifter-1.html
--------
Boko Haram Kills 20 Farmers In Borno
JUN 26, 2019
Suspected Boko Haram terrorists on Monday have slaughtered at least 20 farmers on their farmlands in a border town close to Niger Republic, a security source said.
The incident happened at Ngamgam in Mobar local government area of northern part of Borno State.
According to the source, the incident resulted in the exodus of people from the settlement to Damasak town.
Full report at:
http://saharareporters.com/2019/06/26/boko-haram-kills-20-farmers-borno
--------
One dead, several wounded in suicide bomber attacks in Tunisian capital
27 June 2019
Two suicide bombers blew themselves up in separate attacks on police in the Tunisian capital on Thursday, killing one police officer and wounding several other people, the government said.
It was not immediately known who was behind the attacks, which took place months before an election and at the peak of a tourist season in which Tunisia is hoping for a record number of visitors.
The first targeted a police patrol in Charles de Gaulle Street in central Tunis. One police officer was killed and at least one other officer and three civilians were wounded, the Interior Ministry said.
Shortly afterwards, a second suicide bomber blew himself up near a police station in al-Qarjani district. Four people were wounded, the Interior Ministry said.
Heavily-armed police cordoned off the sites of the attacks.
Tunisia has been battling militant groups operating in remote areas near the border with Algeria since an uprising overthrew autocratic leader Zine Abidine Ben Ali in 2011. High unemployment has also stoked unrest in recent years.
Last October, a woman blew herself up in the center of Tunis capital, wounding 15 people including 10 police officers in an explosion that broke period of calm after dozens died in militant attacks in 2015.
Full report at:
https://english.alarabiya.net/en/News/north-africa/2019/06/27/Attack-targets-a-police-car-in-downtown-Tunis-explosion-heard.html
--------
Libyan government forces retake key town from renegade general
Jun 27, 2019
Forces allied to Libya's internationally-recognized government on Wednesday seized the town of Gharyan south of Tripoli, home to the main supply base of eastern forces attacking the capital, witnesses and Tripoli officials said.
The takeover of Gharyan by Tripoli forces is a major blow to the eastern-based Libya National Army (LNA), led by Khalifa Haftar, which on April 4 started an offensive to take Tripoli from the internationally-recognized administration.
The offensive has not advanced beyond Tripoli's southern suburbs, and the front-line had not changed significantly for weeks.
Gharyan was until Wednesday the main forward base for the LNA, where troops, weapons, and ammunition arrived from the East. The LNA began its Tripoli campaign here.
Forces allied to the Tripoli government, backed by airstrikes, stormed the town, some 90 km south of Tripoli, in the morning in a surprise attack, witnesses said.
They took the central operations room of the LNA, which by evening had left the town, they added. Gharyan is also home to field hospitals, and there is a helicopter base outside the town.
The Tripoli-based Presidential Council in charge of the government said in a statement Gharyan had been fully "liberated."
One of its members, Mohammed al-Ammari, warned in a separate statement against any revenge attacks.
The LNA still holds the town of Tarhouna southeast of Tripoli, its second main position in the campaign.
"This is a game changer," said Tarek Megerisi, a policy fellow with the North Africa and Middle East program at the European Council on Foreign Relations.
"If Haftar can't retake it quickly (which is doubtful) Tarhouna and the remaining LNA units will be more isolated, under-resourced, and with lower morale," he said.
There was no immediate comment from the LNA, whose spokesman Ahmed Mismari had hours earlier said that an attack by Tripoli forces had been repelled.
Haftar and his backers say they are trying to free the capital from militias, which they blame for destabilizing Libya since the fall of Muammar Gaddafi in a NATO-backed uprising in 2011.
Haftar's critics accuse him of trying to seize power through force and deepening a conflict between factions based in the east and west of the sprawling North African country.
Haftar's offensive has upended United Nations-led plans to stabilize Libya after years of conflict that have left the oil-rich nation divided and caused living standards to plummet.
Full report at:
https://www.presstv.com/Detail/2019/06/27/599556/Libya-government-forces-retake-town-Haftar
--------
Two bomb attacks in Tunisian capital kill one person, wound several
Jun 27, 2019
At least one person has been killed and several others wounded in two separate bomb attacks in the Tunisian capital Tunis, the government says.
According to a statement by the Interior Ministry on Thursday, the first attack occurred when a terrorist detonated his explosive vest near a police patrol in Charles de Gaulle Street in central Tunis, killing an officer.
At least another police officer and three civilians were also wounded in the attack, it added.
The second attack occurred shortly afterwards when a second bomber blew himself up near a police station in al-Qarjani district, wounding four people.
No individual or group has yet claimed responsibility for the deadly attack, but the Daesh terrorist group is usually considered as the prime suspect in similar incidents.
Interior Ministry spokesman Sofian Zaak was quoted by Reuters as saying that the attackers have not yet been identified, calling on the public to show strength and not panic.
Following the attacks, some 300 people gathered on the same street and held up pamphlets saying, "We do not fear terror, Tunisia is no place for terrorism." The demonstrators also chanted the national anthem and slogans praising the security forces.
Tunisia has been hit by a number of deadly attacks by Takfiri terrorists in the past years.
Last October, a female bomber blew up her explosives outside a hotel in the center of Tunis, leaving at least 15 people injured, including 10 police officers. The bomb attack broke a period of relative calm after dozens died in November 2015, when three separate attacks were carried out in Tunis and a beach in Sousse.
Daesh claimed responsibility for the three attacks.
Tunisia has been plagued by violence since the 2011 uprising that ousted the country's dictator, Zine El Abidine Ben Ali, who was in power for over two decades.
The relative calm in Tunisia has been punctured by growing instability in neighboring Libya, which has been in chaos since former dictator Muammar Gaddafi was toppled and later killed in 2011.
Law enforcement agencies fear further terror attacks in the country as an estimated 3,000 Tunisian terrorists believed to be within the ranks of Daesh in Iraq, Syria and elsewhere could pose troubles when they return home.
Full report at:
https://www.presstv.com/Detail/2019/06/27/599569/Tunisia-bomb-attacks-Tunis-Daesh
--------
Hundreds protest in Sudan demanding civilian rule
Jun 27, 2019
A few hundred protesters marched through the streets of Sudan's Omdurman on Thursday demanding civilian rule, just days ahead of a mass demonstration planned for June 30.
Earlier on Thursday security forces fired tear gas to disperse dozens of students demonstrating against the ruling military council at a financial academy in the heart of Sudan's capital Khartoum.
Dozens of lawyers had also gathered outside the main courthouse complex in Omdurman, Khartoum's twin city, calling for civilian rule and for people to join Sunday's planned demo.
Demonstrations in Khartoum have become rare since security forces broke up a sit-in outside the Defence Ministry on June 3, leaving more than 100 people dead, according to medical sources.
Protesters in Omdurman seemed upbeat as they marched on Thursday, playing music and waving Sudanese flags as one protester said that the violent end to the sit-in had "increased the people's fervour".
The sit-in had become the focal point of protests against former president Omar al-Bashir and the military council that ousted him on April 11.
Full report at:
https://www.presstv.com/Detail/2019/06/27/599605/Hundreds-protest-in-Sudans-Omdurman
--------
Turkey condemns twin suicide attacks in Tunis
Nilay Kar
27.06.2019
Turkey has strongly condemned Thursday's twin suicide bomb attacks in Tunisia.
At least one policeman was killed and eight others were injured in the suicide bombings that targeted the police in Tunis, the country's capital.
"We strongly condemn these terror attacks. We offer our condolences to the bereaved families of the victims, to the brotherly people and friendly Government of Tunisia and wish a speedy recovery to the wounded," Turkey's Foreign Ministry said in a written statement Thursday.
Full report at:
https://www.aa.com.tr/en/africa/turkey-condemns-twin-suicide-attacks-in-tunis/1517653
--------
Southeast Asia
PAS delegate claims nightmare Malaysia for Muslims as 'second Singapore' with DAP in govt
22 June 2019
BY JERRY CHOONG
KUANTAN, June 22 — Malaysia is in danger of becoming a "second Singapore" where the rights of Malays and other Bumiputera will be ignored, a PAS delegate from Selangor claimed at his party's 65th annual congress here today.
Holding the DAP as a bogey, Roslan Shahir Mohd Shahir urged his fellow Muslims to rise and defend their rights, claiming the party that is now a component of the ruling Pakatan Harapan (PH) coalition is in fact a local-based entity of Singapore's leading People's Action Party (PAP).
"Indeed many voted for Pakatan Harapan, unaware of DAP's insidious influence on the other parties, especially during the last general election.
"Yet many were seemingly unaware that it is essentially a reincarnation of late Singaporean Prime Minister Lee Kuan Yew's party PAP.
"If we falter in our vigilance and become complacent, the dignity of the Malays as well as the nation's will be jeopardised, thereby hastening the day when we become a second Singapore," he said while debating PAS president Datuk Seri Abdul Hadi Awang's policy speech at the party's 65th annual congress here.
Roslan urged Malaysia's Malays to unite against this threat, saying they have a duty to lead the rest of the country's citizens.
As Malaysia's two largest Malay-Muslim political parties, he said PAS and Umno must partner each other as the best solution to counter the PH coalition head-on.
"The Malay Muslim ummah have placed their hopes on our co-operation, awaiting to see what the next move will be. Let us not waste these hopes.
"As seen in the Semenyih by-election, Malay voters unhesitatingly gave their open support when they saw PAS and Umno alongside each other, for this is what they have been waiting for," Roslan said.
He reiterated his belief that PAS grassroots will not hesitate to cast off their decades of programmed hostility towards Umno if the leadership asked.
"We have to shoulder the duty of leading everyone, be it Malays, Chinese, Indians, Muruts, Ibans, Orang Asal and the others. We must combine our abilities and strengths for the future," he said.
https://www.malaymail.com/news/malaysia/2019/06/22/pas-delegate-claims-nightmare-malaysia-for-muslims-as-second-singapore-with/1764604
--------
Amnesty joins criticism of Mujahid following visit to Xinjiang camps
June 27, 2019
KUALA LUMPUR: Amnesty International Malaysia has expressed its deep disappointment with the statement made by Minister in the Prime Minister's Department Mujahid Yusof Rawa on his delegation's visit to a "vocational and training institution" for the Uighur community in the Xinjiang province of China.
"Amnesty International has first-hand knowledge that the Chinese authorities have detained Uighurs and other Turkic Muslims – outside any legal process – in 'political education' camps for their perceived disloyalty to the government and Chinese Communist Party.
"The authorities label these camps as centres for 'transformation-through-education' but most people refer to them simply as 're-education camps'.
"In those camps, they are subjected to forced political indoctrination, renunciation of their faith, mistreatment, and, in some cases, torture.
"They are hardly the 'vocational and training institution' that the minister seems to have visited," said executive director of Amnesty International Malaysia, Shamini Darshni Kaliemuthu, in a statement.
"Those sent to such camps are not put on trial, have no access to lawyers or the right to challenge the decision. Individuals could be left to languish in detention for months, as it is the authorities who decide when an individual has been 'transformed'."
According to Shamini, as of September 2018, the fate of an estimated one million people is unknown and most of the detainees' families have been kept in the dark.
Mujahid recently led a government delegation to Xinjiang, following which he shared pictures of his visit on his Facebook page.
This mornng, Dr Ahmad Farouk Musa, of the Islamic Renaissance Front, questioned Mujahid's use of the phrase "vocational and training institution" in his Facebook post about his recent visit to Xinjiang.
The activist took to task Mujahid over his apparent acceptance of the euphemism used by Beijing to describe its detention camp to house thousands of Muslim critics of China's policies in Xinjiang.
Full report at:
https://www.freemalaysiatoday.com/category/nation/2019/06/27/were-deeply-disappointed-with-mujahids-statement-says-amnesty/
--------
Widodo strikes back at extremists in his midst
JUNE 28, 2019
President Joko Widodo's government and Indonesia's two largest Muslim organizations finally appear to be mounting a united front against the danger of creeping Islamization and its threat to the nation's future as a secular state.
Faced with a deepening divide between moderate and conservative regions, and the growing penetration of the bureaucracy and institutions of higher learning by radical Islamists, Widodo is coming to the defense of the nation's inclusive Pancasila state ideology.
Regarded as a guarantee of pluralism and moderation in a multi-cultural society, Pancasila is composed of five inseparable and interrelated principles which include belief in the one and only God, a just and civilized humanity, a unified Indonesia, democracy and social justice for all.
Reuters revealed last week new government plans to tighten the vetting of senior civil servants in a bid to weed out dangerous hard-line elements from key positions and to ensure Widodo leaves behind a heathy democracy at the end of his second, five-year term in 2024.
That will entail initially stricter background checks to gauge a candidate's political leanings at some of the biggest ministries, including finance, religious affairs, education, health, defense and public works, as well as at state-owned mining, petroleum, banking, media and aviation companies.
Under the plan, a team of 12 officials, religious scholars and other experts will work with the newly formed National Agency to Promote Pancasila (BPIP) and civil society organizations to craft a new and still undefined psychological test for upper-echelon bureaucrats before year's end.
It won't end there. A senior government official told Asia Times that the Religious Affairs Ministry has been tasked with taking firmer control of the management and curriculum of the country's 37,300 Islamic boarding schools, or pesantren, many of which adopt their own rules and insist that students wear Arabic dress.
Only 10% of those religious schools are currently under state supervision, while the rest are private institutions often run by conservative Islamic clerics whose apparent sole aim is radical religious indoctrination.
"It is getting out of control," says the official, who requested anonymity. "A lot of five-year-old's are being taught things which will be very difficult to correct later on." Concerns center on the discriminatory way children in Islamic schools are imbued with an "us" versus "them" mentality which encourages them to look down on other religions.
Coming after a fraught presidential election, in which many conservative Muslims voted against him and lethal riots erupted in Jakarta on unproven charges the polls was rigged, Widodo is aware there will be a strong reaction to the move against radical elements.
"He is prepared," says the official. "He says he has nothing to lose in his second and final term and that he has to think about what is best for the country."
Defense Minister Ryamizard Ryacudu and Indonesia's ambassador to Norway, prominent human rights lawyer Todung Mulya Lubis, warned last week that if extremist ideas take deeper root among Indonesia's 260 million people, religious conflicts would erupt and lead to the sprawling archipelagic nation's ultimate destruction.
"Indonesia will be destroyed, just like Syria," Lubis warned at a seminar in Oslo to launch the nomination of Nahdlatul Ulama and Muhammadiyah for the 2019 Nobel Peace Prize, in recognition of their efforts to promote religious tolerance in the world's largest Muslim democracy.
"Never in our history have we witnessed extremist Islam with all its brutality and uncivility entering our political contest," the ambassador said, apparently referring to the unrest and violence that attended the 2017 Jakarta gubernatorial election and, more recently, riots after the April 17 presidential election.
"This time Islamic radicals and fundamentalists seem to be insisting that (it) must be translated into an Islamic state and sharia law," he said.
During the early stages of the country's now 20-year flirtation with democracy, religious and ethnic conflicts erupted in West and Central Kalimantan, Central Sulawesi and Muluku, where the blood-letting claimed an estimated 7,000 lives and displaced as many as 900,000 people.
Outside observers have long been puzzled by the way Indonesia's 88% Muslim majority has acted as a minority, though that can largely be explained by the disproportionate hold the ethnic Chinese-Christian minority in particular has over the economy.
That simmering resentment is never far below the surface, exacerbated by a widening disparity between rich and poor which opposition presidential candidate Prabowo Subianto and religious opponents unfairly blame solely on Widodo.
Established before Indonesia's independence from Dutch colonial rule, NU and Muhammadiyah are both credited with presenting a moderate face of Islam during the last 70 years of nation-building and are seen as crucial to stemming the growing tide of extremism.
Although experts like religious scholar Azyumardi Azra say the pillars of Pancasila are in basic conformity with fundamental Muslim teachings, he worries about the threat radical elements pose to the moderate leaderships of two organizations with a collective membership of 100 million adherents.
Hard-line Islamists argue that Prabowo's claims of widespread electoral fraud in the presidential election, which the Constitutional Court will rule rejected in a ruling announced on June 27, has undermined public faith in democracy and that an Islamic caliphate would better address the nation's long-term needs.
Widodo's attention was apparently grabbed by a recent survey conducted by the Jakarta-based Alvara Research Center which found that one in five of Indonesia's civil servants and 10% of state-owned enterprise (SOE) employees favor the creation of an Islamic state.
The survey's findings conform with a recent Defense Ministry study which found 19% of civil servants, 18% of private company employees, 9% of SOE workers and 3% of the Indonesian Armed Forces (TNI) disagree that Pancasila should serve as the country's guiding philosophy.
The same study also found that 23.3% of high school and university students share that sentiment in a country destined to undergo a significant generational change in 2024, when many old guard politicians are expected to leave the stage.
A just-released University of Nahdlatul Ulama study found that universities in Jogjakarta and Central Java have been exposed to transnational Islamist movements, including Tarbiyah, which is linked to the Muslim Brotherhood and seeks to establish an Islamic state through the insidious penetration of strategic social institutions.
Earlier this month, researcher Ade Armando revealed in a separate study that Tarbiyah has also established a solid base in the directorates of student affairs, education and human resources at the University of Indonesia, the country's most prestigious institution of higher learning, where the civil service does much of its recruiting.
Religion and irrational claims that Widodo is un-islamic and harbors communist sympathies explain why significant elements of the military, including members of the presidential guard, voted for Prabowo, who hardly qualifies as a devout Muslim.
"Pancasila is fading away," warned Ryacudu, a former army chief of staff and close ally of ruling Indonesian Democratic Party for Struggle (PDI-P) leader Megawati Sukarnoputri. "This might not be a big problem now, but it will be in 20-30 years if we do nothing. It will spell the end of this nation."
Widodo signed a decree in May 2018 giving former president Megawati 112.5 million rupiah (US$8,000) a month to fund the BPIP, whose steering committee also includes newly elected Vice President Ma'ruf Amin, former Suharto-era vice president Tri Sutrisno and ex-Constitutional Court chief justice Mahfud MD.
But the president's plan could face a backlash not only from Islamists, but also from the seniority-obsessed bureaucracy and human rights activists worried that force-feeding the populace with a diet of Pancasila harks back to Suharto's rule, when it was used as a test of loyalty to his military-backed New Order regime.
The suppression of Islam during Suharto's over three decades in power, during which several persecuted hard-core Islamists sought sanctuary abroad, has contributed to the religious revival that coincided with the birth of democracy in the late 1990s and has since gained a momentum of its own.
Critics blame ex-president Susilo Bambang Yudhoyono for bowing to pressure from conservatives and hardliners during his 2004-2014 two-tern presidency, which saw the passage of draconian laws and fatwas, and an explosion of discriminatory religious bylaws across Muslim-majority regions.
Ambassador Lubis says Islamic extremists remain a serious challenge, particularly with global networking and social media adding strength to their attempt to take over politics and eventually the state.
Full report at:
https://www.asiatimes.com/2019/06/article/widodo-strikes-back-at-extremists-in-his-midst/
--------
PKS may become last bulwark of government opposition
June 26, 2019
The Islam-based Prosperous Justice Party (PKS) has seen an increase in the votes it has attained in the legislative election, but critics have doubted that it is enough to keep its role as an opposition. The religious conservative party won 8.2 percent of the vote in April, according to the General Elections Commission (KPU), more than the 6.8 percent it obtained five years ago, indicating that it would secure more seats at the House of Representatives. Yet, unlike the 2014 election, the party may not control House leadership or lead any commissions due to the new law regulating the legislative body. According to the Legislative Institutions ( MD3 ) Law, the House speaker post and the other four House deputy speaker seats must be filled by the five political parties with the largest number of votes gathered in April. Among lawmakers, the House speakership...
Full report at:
https://www.thejakartapost.com/news/2019/06/26/pks-may-become-last-bulwark-of-government-opposition.html
--------
South Asia
NATO Secretary General endorses Ambassador Khalilzad's statement regarding Afghan peace deal
27 Jun 2019
The NATO Secretary General Jens Stoltenberg endorsed the U.S. envoy Ambassador Khalilzad's statement regarding ongoing peace efforts in Afghanistan.
Speaking to reporters following the conclusion of NATO defense ministerial in Brussels, Stoltenberg said he totally agrees with Ambassador Khalilzad's statement that nothing is agreed until everything is agreed regarding a peace deal in Afghanistan.
Stoltenberg further added "We are not aiming for a leave deal, we are aiming for a peace deal. So the elements have to be in place, including Afghan reconciliation."
He also added "We have been there to protect our own interests, our own security, but, of course, we also recognise the huge progress which has been made in Afghanistan when it comes to social, economic progress, not least human rights, freedom of press and the rights of women."
Furthermore, Stoltenberg said "And for us, it's important to try to preserve those gains. And that has to be one part of the peace deal."
https://www.khaama.com/nato-secretary-general-endorses-ambassador-khalilzads-statement-regarding-afghan-peace-deal-03754/
--------
Japan's cold-blooded approach to the Rohingya crisis
BY TEPPEI KASAI
JUN 27, 2019
In Omelas, a fictional town envisioned by the science fiction author Ursula K. Le Guin, everyone is happy, but they embrace a paradox; the prosperity of the town is sustained at the expense of the misery of a little girl who is locked underground.
The diplomatic approach to the Rohingya crisis by Japan, one of the world's most prosperous liberal democracies, closely resembles the devil's bargain of Omelas.
Beginning in August 2017, the Myanmar military drove more than 730,000 Rohingya out of Myanmar through a large-scale campaign of ethnic cleansing and crimes against humanity. The atrocities include mass killings, sexual violence and widespread arson.
In 2018, the United Nations Human Rights Council created an independent fact-finding mission to investigate. It found that the violence inflicted on the Rohingya, a Muslim group that has long lived in Rakhine state in Myanmar, by the Myanmar military "rise(s) to the level of both war crimes and crimes against humanity." In October, the head of the fact-finding mission said that the situation amounted to "an ongoing genocide."
However, the Japanese government has been largely indifferent to the plight of the Rohingya. Japan has abstained from all Myanmar-related resolutions at the United Nations in recent years, while refusing to use the term "Rohingya," claiming that calling them "Muslims in Rakhine state" is much more "neutral."
Japan's decision to side with the Myanmar government's political rhetoric is unsettling. But it is only a small part of Tokyo's eager embrace of the Myanmar government's attempt to divert attention from the Rohingya crisis, and instead to promote foreign business opportunities in war-torn Rakhine state.
Earlier this year, Japan and Myanmar co-organized the Rakhine State Investment Fair, seeking to draw in foreign and national investors while overlooking the deadly rights abuses and massive displacement of people there.
Ichiro Maruyama, the Japanese ambassador to Myanmar, justified hosting the investment fair by claiming that "if there is economic development … there will be no conflict." In late May, Maruyama also bucked global condemnation of the Myanmar military's atrocities in Rakhine state, saying that Japan "cannot agree to the international community applying pressure or taking action against Myanmar concerning the Rakhine issue. Things will become more complicated."
Myanmar's de facto leader, Aung San Suu Kyi, echoed Maruyama's sentiment at the investment fair, saying that "for too long the international community's attention has been focused narrowly on negative aspects related to problems in north Rakhine rather than on the panoramic picture that shows the immense potential of this state for peace and prosperity." Sadly, she continues to besmirch her Nobel Peace Prize by continuing to deny the findings of the U.N.'s fact-finding mission and prevent the U.N. special rapporteur on human rights in Myanmar from visiting the country.
The Japanese and Myanmar governments' prioritization of business development is happening as tens of thousands of refugees and displaced people suffer from deteriorating living conditions.
In Cox's Bazar, Bangladesh, where most of the Rohingya refugees have fled, they live in overcrowded camps, facing a heightened risk of domestic and sexual violence, communicable diseases, community tensions, fires and landslides. Human Rights Watch found the camps lack any sort of effective evacuation plan in case of a natural disaster in this typhoon-prone region. Access to basic education and medical services is severely limited, along with freedom of movement.
In Myanmar, another more than 128,000 Muslims — about 125,000 Rohingyas and 3,000 ethnic Kamans — have been held for the past seven years in de facto open-air detention camps, without access to livelihoods or adequate basic services.
If Japan is going to invest in Myanmar and reap economic benefits, especially in Rakhine state, it needs to do so while pursuing accountability for the atrocities committed against the Rohingya people by the Myanmar military. For starters, Japan can begin supporting Myanmar-related resolutions at the U.N., demand access for the U.N. special rapporteur and respect the right of the Rohingya to self-identification.
Full report at:
https://www.japantimes.co.jp/opinion/2019/06/27/commentary/japan-commentary/japans-cold-blooded-approach-rohingya-crisis/#.XRW3tz8zZ1s
--------
Bid to smuggle weapons to Kabul from Peshawar foiled, 2 suspects arrested
27 Jun 2019
The Afghan security forces thwarted militants bid to smuggle a large quantity of weapons and ammunition to Kabul from Peshawar.
The National Directorate of Security (NDS) in a statement said the security forces arrested two people in connection to the smuggling bid.
The statement further added the two individuals had loaded the weapons and ammunition in a trailer truck in a bid to smuggle to Kabul.
Furthermore, NDS said the security forces stopped the truck and confiscated the weapons and ammunition after crossing into Afghanistan.
The security forces seized 3 rockets launchers, 19 rifles, 2 silencers of the weapons, 2 grenade launchers, 55 radio sets, 40 remote control disks, thousands of rounds of ammunition and some other military equipment.
The security forces also arrested the two suspects, Mohibullah son of Mohammad Omar and Naseeb Shah son of Mohammad Omar.
Full report at:
https://www.khaama.com/bid-to-smuggle-weapons-to-kabul-from-peshawar-foiled-2-suspects-arrested-03752/
--------
8 ISIS militants killed, wounded in Special Forces raid, airstrike in Nangarhar
27 Jun 2019
The Afghan Special Forces killed 7 ISIS militants during an operation in Nangarhar province.
The informed military sources said Thursday that the operation was conducted in Chaparhar district of Nangarhar.
The sources further added that the Speical Forces also confiscated a small cache of weapons during the raid.
Meanwhile, an airstrike wounded another ISIS militant in Achin district of Nangarhar, the sources added.
Full report at:
https://www.khaama.com/8-isis-militants-killed-wounded-in-special-forces-raid-airstrike-in-nangarhar-03755/
--------
Opportunity for peace unique amid remaining challenges in Afghanistan: NATO SG
27 Jun 2019
The NATO Secretary General Jens Stoltenberg called the existing opportunity for peace in Afghanistan 'unique' amid remaining challenges in the country.
He made the remarks during a press conference after concluding a meeting with the NATO-led Resolute Support defense ministers in Brussels.
The Secretary General said "While many challenges remain in Afghanistan, we now have a unique opportunity for peace."
Stoltenberg further added "Allies fully support the efforts of the US Special Representative, Ambassador Khalilzad, to achieve a political settlement."
Furthermore, Stoltenberg said NATO is strongly committed to Afghanistan.
He also added "We have recently generated forces for the next rotation, throughout next year."
Stoltenberg said "we have confirmed our financial support for the Afghan security forces through 2024. We will stay in Afghanistan for as long as necessary, to ensure the country never again becomes a safe haven for international terrorists."
Full report at:
https://www.khaama.com/opportunity-for-peace-unique-amid-remaining-challenges-in-afghanistan-nato-sg-03753/
--------
URL: https://www.newageislam.com/islamic-world-news/islamic-state-ideology-vulnerable-pockets/d/119020
New Age Islam, Islam Online, Islamic Website, African Muslim News, Arab World News, South Asia News, Indian Muslim News, World Muslim News, Women in Islam, Islamic Feminism, Arab Women, Women In Arab, Islamophobia in America, Muslim Women in West, Islam Women and Feminism