New Age Islam News Bureau
22 Aug 2014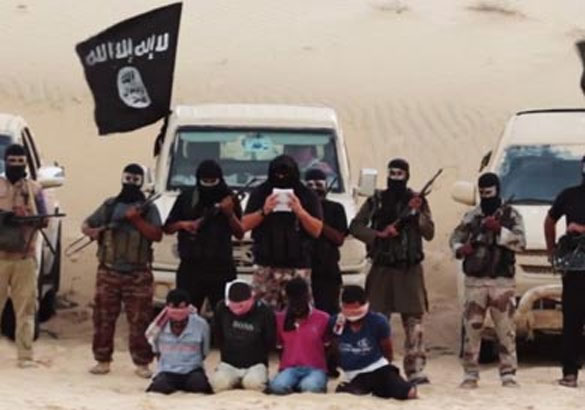 Kurdish men inspect an American M16 rifle in the Erbil gun market. Photo: AFP
------------
North America
• Islamic State 'Beyond Anything We've Seen': US
• Top Muslim Groups and Leaders Condemn ISIS, Extremist Outfit's Behaviour As "Un-Islamic"
• ISIS offered to swap Pakistan woman scientist for slain US journalist
• U.S. military officials say Syria key to defeat ISIS
• Canadian Kurds Rally against Islamic Extremists
• Pentagon warns: Islamic State threat greater than 9/11
• US slaps sanctions on Taliban figures, financing arm
• US 'not involved' in Pakistan crisis talks
• US 'concerned' by arrest of American in Israel
Arab World
• At Least 70 ISIS Militants Killed In Syria Clashes
• Private Buyers Snapping Up US Weapons in Kurdistan
• Egypt army bombs militant group's weapon storage facility
• Qatar: Foley beheading 'crime' against Islam's principles
• IS Killings Raise Fears of Yezidi Backlash against Arabs
• OIC urges steps to protect Al-Aqusa
• Iraq forces battle militants as US warns on jihadist threat
• In a Syrian Camp, Yezidis Deal with Aftermath of Violence
• Saudi Arabia sentences 18 to jail for militant offences
Europe
• Powerless to stop Islamic State, West may have to join forces with Iran, Hezbollah
• Cameron Urged To Confront France over Claims of Ransom Payments to ISIS
• Twenty more hostages from West held by group that beheaded journalist
• France, UK preparing Security Council resolution to end Gaza fighting
• Dutch grapple with jihadist threat
• Hollande: France armed Syrian rebels 'a few months ago'
• UN rights chief slams Syria 'paralysis' as death toll tops 191,000
Mideast
• Iran Cleric: Westernized Iranians No Different Than ISIS
• Hamas kills 11 suspected informers for Israel
• Israel, not Palestine, withdrew from Cairo talks: Islamic Jihad leader
• Targeted hits signal 'Israel won't tolerate a war of attrition': Netanyahu
• 469 children killed in Gaza: UNICEF
• Israel, Palestinians trade fire; 2 killed in Gaza
Pakistan
• Democracy, Constitution Have Become 'Dysfunctional': Tahirul Qadri
• My Resignation Will Damage Democratic System: Nawaz
• Imran says he wants to talk but government cannot ensure justice
• Lahore judge's order for FIR against Sharifs challenged
• Petition calls for ban on PAT, PTI
'• Unconstitutional demands' driving Imran to political suicide: Shahbaz
• Imran, Qadri to blame if democracy harmed: ANP
• 'Pakistan does not have preferred partners in Afghanistan'
Africa
• Libya: Islamic Youth Carries Out Public Execution In Derna
• "Satanic militias are criminals, government is weak" – Libya Justice Minister
• Somali child soldiers 'punished' in foreign-funded camps: UN
• American lessons for Nigeria on Chibok girls
• Federal Government tasked on plight of Boko Haram victims
• Darfur: UN Should End Silence on Rights Abuses
Southeast Asia
• Liberalism a Threat to Nation's Freedom, Says Isma
• Depok Ice Cream Seller Arrested After Flying ISIS Flag outside House
• Constitutional Court Upholds KPU Decision Declaring Jokowi Next President
• Mosques throughout the nation hold funeral prayers for MH17 victims
• Philippine Muslim rebels take crucial step on path to pact
India
• Faisalabad University of Agriculture honours agriculture scientist M.S. Swaminathan
• No Zamzam hassle for Indians
South Asia
• Taliban vows more attacks as US offers new bounty for Haqqani leaders
• Bangladesh PM's Advisor: BNP Is a Party of Terrorists
• Zia family behind attack: PM Sheikh Hasina
Compiled by New Age Islam News Bureau
URL: https://www.newageislam.com/islamic-world-news/new-age-islam-news-bureau/islamic-state--beyond-anything-we-ve-seen---us/d/98681
----------
North America
Islamic State 'Beyond Anything We've Seen': US
August 22, 2014
WASHINGTON: The Islamic State poses a greater danger than a conventional "terrorist group" and is pursuing a vision that could radically alter the face of the Middle East, US defence leaders.
The IS jihadists could be contained and eventually defeated by local forces backed by the United States, but the Sunni population in both Syria and Iraq would need to reject the group, Defence Secretary Chuck Hagel and General Martin Dempsey told reporters.
Hagel warned that the Islamic State is better armed, trained and funded than any recent militant threat.
"They marry ideology and a sophistication of strategic and tactical military prowess. They are tremendously well funded. This is beyond anything we have seen," Hagel told a news conference.
Dempsey, the chairman of the Joint Chiefs of Staff, said that the group adheres to a fanatical ideology and has "a long-term vision" to take over Lebanon, Israel and Kuwait.
"If they achieve that vision, it would fundamentally alter the face of the Middle East and create a security environment that would certainly threaten us in many ways," he said.
agel said dozens of US air strikes have helped thwart the momentum of the jihadists around the Mosul dam in northern Iraq, helping Kurdish forces counter the militants.
"American air strikes and American arms and assistance helped Iraqi and Kurdish forces blunt ISIL's advance around Arbil, where American diplomats and troops are working, and help the Iraqis retake and hold-Mosul dam," Hagel said.
The bombing runs and humanitarian aid to the local population have stalled the Islamic State's "momentum and enabled Iraqi and Kurdish forces to regain their footing and take the initiative".
Asked if the US would hit the militants in neighbouring Syria, Hagel did not rule out that option but did not indicate strikes there were imminent.
Dempsey said the extremists would ultimately have to be taken on in neighbouring Syria, possibly by other more moderate rebel elements.
"Can they be defeated without addressing that part of the organisation that resides in Syria? The answer is no," the general said.
http://www.dawn.com/news/1127018/islamic-state-beyond-anything-weve-seen-us
--------
Top Muslim Groups and Leaders Condemn ISIS, Extremist Outfit's Behaviour As "Un-Islamic"
Press Trust of India | Washington | August 22, 2014
Muslim groups and leaders from across the world, including those from the US, have strongly condemned the barbarism unleashed by the Islamic State, also known as Islamic State of Iraq and Syria or ISIS, describing the extremist outfit's behaviour as "un-Islamic".
"We strongly condemn this gruesome and barbaric killing as a violation of Islamic beliefs and of universally-accepted international norms mandating the protection of prisoners and journalists during conflicts," said the Council on American-Islamic Relations (CAIR), the nation's largest Muslim civil rights and advocacy organization.
CAIR's remarks came days after the ISIS released a video showing one of its members beheading American journalist James Foley, who was abducted in Syria in November 2012.
"The Geneva Conventions, the Quran – Islam's revealed text – and the traditions (hadith) of the Prophet Muhammad all require that prisoners not be harmed in any way. There can be no excuse or justification for such criminal and bloodthirsty actions," CAIR said.
Islamic Society of North America (ISNA) condemned the vicious execution of Foley at the hands of the terrorist group ISIS, terming it as "un-Islamic behaviour".
"ISIS actions have never been representative nor in accordance to the mainstream teachings of Islam. This act of murder cannot be justified according to the faith practiced by over 1.6 billion people," said ISNA President Mohamed Magid.
The Muslim Public Affairs Council (MPAC) condemned the "barbaric execution" of Foley and urged all people of conscience to take a stand against extremism.
"A major obstacle preventing the true message of Islam worldwide is extremism. In this, we are not alone. Sadly, extremists contaminate all religions," reads the Declaration Against Extremism.
"Thus, with this document, together we passionately reaffirm our opposition to extremists of all stripes, particularly all Muslim extremists who betray Islam's true message. Furthermore, we pledge to collectively condemn and act to prevent extremism in all forms," MPAC said.
Organisation of Islamic Cooperation Secretary General Iyad Ameen Madani condemned what ISIS is committing against innocent Christian Iraqis in Mosul and Nineveh including forced deportation under the threat of execution; thus further tearing apart the social fabric of the Iraqi people.
Recently, Saudi Arabia's Grand Mufti Sheik Abdulaziz Al al-Sheik has described ISIS as "enemy number one of Islam".
ISIS is an al-Qaeda splinter group and it has seized hundreds of square miles in Iraq and Syria.
Al-Qaeda has distanced itself from the group, chiding it for its lack of teamwork in its aggressive, brutal expansion.
http://indianexpress.com/article/world/americas/top-muslim-groups-and-leaders-condemn-isis/
--------
ISIS offered to swap Pakistan woman scientist for slain US journalist
PTI | Aug 22, 2014
WASHINGTON: In an email to the family members of slain American journalist James Foley, his captors from the Islamic State terror group demanded release of several prisoners, including a Pakistani woman scientist who has been convicted of terrorism charges in the US.
In their email dated August 12, to family members of Foley, the Islamic State or ISIS, claimed that the US has refused several offers for release of the journalist, which included not only money but also the exchange of prisoners.
"You were given many chances to negotiate the release of your people via cash transactions as other governments have accepted. We have also offered prisoner exchanges to free the Muslims currently in your detention like our sister Dr Afia Siddiqqi, however you proved very quickly to us that this is NOT what you are interested in," said the email, which was released by The Global Post on Thursday.
"You have no motivation to deal with the Muslims except with the language of force, a language you were given in 'Arabic translation' when you attempted to occupy the land of Iraq!" the email said, adding Foley would be "executed".
The Islamic State this week released a video showing one of its members beheading Foley, who was abducted in Syria in November 2012.
Dr Siddiqui, an MIT-trained neuroscientist, was arrested in Afghanistan in 2008 and found to have documents on chemical weapons, dirty bombs and viruses indicating she was planning attacks against American enemies, reports said.
Later, she was jailed by a US court for 86 years.
"Now you return to bomb the Muslims of Iraq once again, this time resorting to Aerial attacks and 'proxy armies', all the while cowardly shying away from a face-to-face confrontation! Today our swords are unsheathed towards you, government and citizens alike! and we will not stop until we quench our thirst for your blood," the email said.
US President Barack Obama has vowed to bring to justice those responsible for killing Foley.
According to Global Post, the email was published after the Foley family agreed to release it.
"Global Post has chosen to publish it in full in the interest of transparency and to fully tell Jim's story. We believe the text offers insight into the motivations and tactics of the Islamic State," the news website said.
The Global Post said in addition to the extreme views it espouses, the email contains factual inaccuracies.
For example, the Foley family was not "given many chances to negotiate" for his release.
http://timesofindia.indiatimes.com/world/us/ISIS-offered-to-swap-Pakistan-woman-scientist-for-slain-US-journalist/articleshow/40667427.cms
--------
U.S. military officials say Syria key to defeat ISIS
22 August 2014
Militants from the Islamic State of Iraq and Syria (ISIS) cannot be defeated through Iraq alone, but must be taken on in Syria by the U.S. or its allies, U.S. military officials said on Thursday.
"Can they [ISIS] be defeated without addressing that part of the organization that resides in Syria? The answer is no," Chairman of the Joint Chiefs of Staff General Martin Dempsey said at a joint news conference with Defense Secretary Chuck Hagel on Thursday.
"They are an imminent threat to every interest we have, whether it's in Iraq or anywhere else," Secretary of Defense Chuck Hagel said.
Hagel did not rule out the possibility of a military action on Syria, saying: "We're looking at all options.''
But none of the officials indicated whether Obama, who had been avoiding military intervention in war-torn Syria, would approve of the airstrikes.
Bigger than al-Qaeda
Hagel stated that the group was no less of a threat than al-Qaeda or any other terrorist organization which has directly threatened the U.S. national security. In fact, their threat can be bigger.
"They are beyond just a terrorist group. They marry ideology, a sophistication of ... military prowess. They are tremendously well-funded. This is beyond anything we've seen."
However, Dempsey said the fast-growing group, which gained control over several territories in Iraq and Syria, "can be contained, but not perpetuity."
"This is an organization that has an apocalyptic, end-of-days strategic vision which will eventually have to be defeated," Dempsey added.
U.S. Secretary of State John Kerry said ISIS "must be destroyed," in a reaction to a video posted earlier this week by the militant group, which shows the beheading of U.S. journalist James Foley.
U.S. President Barack Obama said that ISIS has "no place in the 21st century," referring to the organization as a "cancer."
Despite his affirmative remarks, Obama has been under increased pressure, given the quick pace at which ISIS is advancing, especially following Foley's gruesome.
Retired marine general John Allen called on Obama to destroy the group "quickly."
In an op-ed published on Defense One website, the influential former U.S. general stressed that "the abomination of [ISIS] is a clear and present danger to the U.S."
He declared that Obama was "right to order airstrikes on IS elements in northern Iraq."
U.S, Iraq Joint efforts
The U.S. air force carried out several raids against ISIS targets in Iraq, and has continued to do so despite a threat message in the beheading video released by ISIS.
Toward the end of the video, Foley's executioner appeared holding a second individual, identified as U.S. journalist Steven Sotloff, and warns Obama to cease targeting the militant group.
Despite the threat, the U.S. air force conducted 14 air strikes since Tuesday on ISIS militants near the Mosul Dam in Iraq, AFP reported Wednesday evening.
The drones and fighter jets damaged six ISIS Humvees, three sites for improvised explosive devices, one mortar tube and two armed trucks, the Central Command said in a statement released on Wednesday.
"These strikes were conducted under authority to support Iraqi security forces and Kurdish defense force operations, as well as to protect critical infrastructure, US personnel and facilities, and support humanitarian efforts," the command said, adding that the recent strikes served to "further expand" Iraqi and Kurdish control of the area.
The U.S. air strikes have been also acting as head cover to Iraqi armed forces, which have joined forces with Peshmerga, the Kurdish armed forces, in fighting ISIS on ground.
http://english.alarabiya.net/en/News/world/2014/08/22/West-may-face-ISIS-in-Syria-.html
------------
Canadian Kurds Rally against Islamic Extremists
August 22, 2014
MONTREAL, Canada – Montreal's Kurdish community rallied this week to condemn the persecution of Yezidis by Islamic extremists and call for more international support for Kurdish forces.
The rally, which drew about 150 people, praised Canadian Prime Minister Stephen Harper's decision to deliver weapons to the Peshmerga but pressed for broader Canadian military engagement in the demonstration on Tuesday.
Demonstrators called on the international community to stop massacres perpetuated by Islamic State (IS/formerly ISIS) extremists in Iraq against minorities including Yezidis, who practice an ancient religion and are ethnically Kurdish.
Shahin Tavakol, a student who's lived in Canada since his family left Iranian Kurdistan 22 years ago, said he wanted to raise awareness about the rising death tolls in Iraq and Syria.
"Everyone is protesting about 'Gaza this, Israel that,' but there is literally no voice given to the people of Kurdistan who are suffering by thousands. By us being here today we hope to giving a voice to those voiceless people," Tavakol said.
Tens of thousands of Yezidis have fled Iraq after being driven from their homes by Islamic extremists, who consider them apostates. Community leaders say hundreds of women and girls have been kidnapped and warn that Yezidis, who have lived in Iraq for 4,000 years, may never return home.
Jowana Waissi, a student originally from Kermanshah in Iranian Kurdistan, said, "We need the international community to help us against the terrorist ISIS. We also need the international women's community to raise their voice against ISIS."
She echoed calls for Canada to boost humanitarian aid and military support to the Peshmerga.
Prime Minister Stephen Harper announced on Friday that two of Canada's military cargo planes will be flying weapons from the allies to Kurdish forces to counter IS fighters. The Canadian government pledged to provide further assistance.
"What ISIS is doing is against humanity," protester Issa Salim told Rudaw. ''What is happening to the Kurds right now is unacceptable."
He appealed to aid agencies: "Please, we need your help."
Protesters who marched on Montreal's busiest street waved Kurdish and Kurdistan Workers' Party (PKK) flags, hoisting banners reading "Stop the Genocide of Yezidis" and "We Stand Against Terrorism."
Some protesters warned that IS will impact Canada and the United States, noting that some IS militants are from North America. Canadian media reported last week that one Canadian fighting with IS was killed in Iraq,
"We are against genocide," said one protester, Salim, a Kurd who emigrated to Canada 25 years ago. "Everybody on this planet has a right to live … it doesn't matter which color you are, which culture (or) what is your religion."
Kurds also staged rallies last week in front of the Canadian Parliament in Ottawa and at Calgary's city hall, calling for international support for the Peshmerga.
http://rudaw.net/english/world/210820141
--------
Pentagon warns: Islamic State threat greater than 9/11
August 22, 2014
WASHINGTON -- The Islamic State poses a greater threat to the United States than al Qaeda did leading up to September 11, 2001, top brass at the Pentagon acknowledged on Thursday, discussing the crisis fast unfolding in eastern Syria and northern Iraq.
"This is beyond anything that we've seen," Secretary of Defense Chuck Hagel said, speaking to journalists with Chairman of the Joint Chiefs of Staff Martin Dempsey. "We must prepare for everything."
Hagel said that the "military prowess" of the Islamic State, coupled with its deep sources of financing, poses an unprecedented threat to the United States. The secretary was asked whether the group has a comparable operation capacity as Al Qaeda had in 2001.
General Dempsey added that, should the Islamic State succeed in forming a pseudo-state in the regions of Iraq and the Levant, the world would then be faced with an historic security challenge.
Full report at:
http://www.jpost.com/Middle-East/Pentagon-warns-Islamic-State-threat-greater-than-911-371925
--------
US slaps sanctions on Taliban figures, financing arm
August 22, 2014
WASHINGTON: The United States imposed sanctions, on Thursday, on a Taliban financing company and two key Taliban men, labeling them global terrorists as it continued to crack down on the militant group.
The Treasury Department said the sanctions targeted the financial and leadership networks of the Taliban, the fierce insurgency fighting the government of Afghanistan.
The treasury placed sanctions on a Pakistan-based hawala, or money transfer business, Haji Basir and Zarjmil Company (Basir Zarjmil Hawala), and its owner, Haji Abdul Basir, for providing financial services or other support to the Taliban.
Also read: US offers new bounties for Haqqani network members
Basir's business, based in the Pakistani province of Baluchistan, distributes money to Taliban members in Afghanistan and also has used Pakistani banks as a conduit for Taliban financing, the treasury said.
Full report at:
http://www.dawn.com/news/1126939/us-slaps-sanctions-on-taliban-figures-financing-arm
--------
US 'not involved' in Pakistan crisis talks
August 22, 2014
Islamabad - The US Embassy Thursday said that United States strongly oppose any efforts to impose extra-constitutional change to the political system of Pakistan and believed that all parties should work together to resolve differences through peaceful dialogue to strengthen country's democratic institutions and rule of law.
"Violence and destruction of private property and government buildings are not acceptable means of resolving political differences", the US Embassy said in a statement. It said it has been carefully monitoring the demonstrations in Islamabad. "We continue to urge all sides to refrain from violence, exercise restraint, and respect the rule of law", the statement said.
It further said that peaceful protest and freedom of expression are important aspects of democracy. However, the United States is in no way involved in the process or discussions between parties and any suggestion to the contrary is false and unhelpful to the dialogue between parties.
Full report at:
http://www.nation.com.pk/national/22-Aug-2014/us-not-involved-in-pakistan-crisis-talks
--------
US 'concerned' by arrest of American in Israel
August 22, 2014
The US government has raised concerns about Israel's arrest of a Palestinian teenager with American citizenship whose cousin was burned to death by Israeli extremists earlier this summer.
The State Department says it was never notified by Israel after Mohammed Abu Khdeir was arrested at his home in east Jerusalem on July 28. It also says Israel appears to be targeting members of the Abu Khdeir family for arrest.
"The US Consulate General in Jerusalem is providing consular assistance ... The consulate is also in contact with Mr Khdeir's family and his lawyer," State Department spokeswoman Marie Harf said Wednesday in Washington, expressing concern "about the fact that members of the Khdeir family appear to be singled out for arrest."
Full report at:
http://www.dhakatribune.com/world/2014/aug/22/us-concerned-arrest-american-israel#sthash.9rWK6348.dpuf
---------
Arab World
At least 70 ISIS militants killed in Syria clashes
22 August 2014
At least 70 Islamic State of Iraq and Syria militants have been killed in 48 hours of clashes with Syrian army troops in the northern province of Raqa, Agence France-Presse reported a monitoring group as saying Friday.
The Syrian Observatory for Human Rights said ISIS had launched a major push late Tuesday on Tabqa military airport, the last remaining army stronghold in Raqa, which has been largely overrun by the jihadists.
The assailants had carried out car bomb attacks in their assault but failed to make any breakthrough, the Britain-based group said.
"At least 70 IS fighters have been lost since early Wednesday in regime air raids, Scud missile blasts and mine explosions," Observatory head Rami Abdel Rahman told AFP.
He said the military was also using barrel bombs to attack ISIS from the air, the same improvised and crude weaponry it has deployed against rebel-held areas of the northern city of Aleppo with deadly impact.
Full report at:
http://english.alarabiya.net/en/News/middle-east/2014/08/22/Syria-reinforces-air-base-under-Islamic-State-attack-monitor.html
----------
Private Buyers Snapping Up US Weapons in Kurdistan
August 22, 2014
SULAIMANI, Kurdistan Region — Arms dealers in the Kurdistan Region say demand for American arms is on the rise after US-made weapons from Mosul trickled into the Kurdish market and Washington decided to deliver weapons to Kurds.
The influx of US weapons to the Kurdistan Regional Government (KRG) has hurt the private market as demand for Russian weapons has fallen, arms traders say. Russian-made arms dominate the Kurdistan Region's arms trade.
Weapons markets saw a brief spike in business as Peshmerga soldiers, volunteer fighters and civilians bought their own weapons for personal safety and in preparation for battle against Islamic militants. Sales have sunk since the Americans began air strikes on Islamic militants and the US other nations promised to send weaponry, however.
Some American weapons — including those left behind by the Iraqi army when it fled Mosul in June — have found their way into the Kurdish market, arms dealers say. Islamic State (IS/formerly ISIS) and Sunni insurgents seized most of the armory.
Full report at:
http://rudaw.net/english/kurdistan/21082014
--------
Qatar: Foley beheading 'crime' against Islam's principles
22 August 2014
Qatar, accused by a German minister of financing fighters from the Islamic State of Iraq and Syria (ISIS), condemned on Thursday the group's beheading of U.S. journalist James Foley as a "crime against the principles of Islam".
The gas-rich nation's foreign ministry "expressed in strongest terms its condemnation of the killing of U.S. journalist James Foley at the hands of a criminal group," in a statement published by the official QNA news agency.
A video of Foley's beheading was posted online on Tuesday by the ISIS, a militant group operating in Iraq and Syria, prompting global condemnation.
In the nearly five-minute video, the group declares that Foley was condemned to die in retaliation for U.S. President Barack Obama's ordering of air strikes against ISIS positions in northern Iraq.
Full report at:
http://english.alarabiya.net/en/News/middle-east/2014/08/21/Qatar-Foley-beheading-crime-against-Islam-s-principles.html
----------
Egypt army bombs militant group's weapon storage facility
22 August 2014
The Egyptian army announced early Friday that it has bombed a weapon storage facility belonging to the Ansar Bait al-Maqdis militant group in Sinai, security sources and Al Arabiya News Channel reported.
The weapons were intended to be used against police and army officials, Egyptian ONA news agency reported, adding that an Apache helicopter was used to destroy the facility.
In May this year, the militant group's leader was killed along with three senior members in an overnight attack by security forces.
The authorities claim that groups like Ansar Bait al-Maqdis - which is considered to be the deadliest in the country - are linked to former Islamist President Mohammad Mursi's Muslim Brotherhood, which was blacklisted as "terrorist organization" in December after a deadly bombing north of Cairo.
Full report at:
http://english.alarabiya.net/en/News/middle-east/2014/08/22/Egypt-army-bombs-militant-group-s-weapons-storage-facility-.html
----------
IS Killings Raise Fears of Yezidi Backlash against Arabs
August 22, 2014
DOHUK, Kurdistan Region – When fighters of the Islamic State (IS/ISIS) entered Shingal they were joined by Arab neighbors in the looting and attacks on the majority Kurdish Yezidis, witnesses say.
That has raised fears of revenge against the Arabs once the Kurds push the militants out of the town, further fuelling the endless cycle of sectarian violence that has gripped Iraq for more than a decade.
"One of my neighbors, who was my friend, put a gun to my chest. 'Get out,' he said," recounted Qassim Said, still in shock over the incident.
"We never thought that they would kill us one day," said Said, a Yezidi who found refuge in the Kurdistan Region after 10 days on Mount Shingal with tens of thousands of fellow Yezidis fleeing the IS.
Full report at:
http://rudaw.net/english/middleeast/iraq/21082014
--------
Iraq forces battle militants as US warns on jihadist threat
22 August 2014
Iraqi forces battled militants northeast of Baghdad Friday, as Washington said a powerful jihadist group was "beyond anything" it has seen and that operations in Syria may also be needed.
Pentagon chiefs warned of the dangers of the Islamic State (IS), a slick, well-funded operation powered by an "apocalyptic end of days" ideology as the West reeled from the grisly execution of American journalist James Foley.
But despite the jihadists' threat to kill a second reporter if it does not halt air strikes, Washington confirmed it had again bombed the militants in northern Iraq.
Iraqi government troops and Kurdish forces launched an operation on Friday aimed at retaking the Jalawla area of Diyala province, northeast of the capital, from militants who seized it on August 11, officers said.
Full report at:
http://english.ahram.org.eg/NewsContent/2/8/108974/World/Region/Iraq-forces-battle-militants-as-US-warns-on-jihadi.aspx
----------
OIC urges steps to protect Al-Aqsa
22 August 2014
The 57-member Organization of Islamic Cooperation (OIC) has urged the international community to take effective steps to stop Israeli atrocities in the occupied Palestinian territories, including its recurrent attacks on Al-Aqsa, the third important mosque for Muslims in the world.
An OIC statement said the Israeli extremists were preventing Muslims and Christians from their places of worship in Al-Quds while Zionists were plotting to divide Al-Aqsa Mosque.
The OIC also informed the international community about the Zionist move to change the demography of Jerusalem, destroy its historical and religious sites and drive away its original Palestinian residents. "This is a clear violation of the international law and resolutions," it added.
Full report at:
http://www.arabnews.com/news/featured/619241
----------
In a Syrian Camp, Yezidis Deal with Aftermath of Violence
August 22, 2014
DERIKE, Syria — A desolate and unforgiving patch of land in northeastern Syria is now home to 12,000 Yezidi refugees so desperate for safety they sought refuge in a country torn apart by its own civil war.
Aid workers are desperately trying to assist the refugees, who are sick and injured after escaping persecution by Islamic militants in Iraq. Many became malnourished on Shingal Mountain, where they were hiding from Islamic State (IS/formerly ISIS) militants before being evacuated by Peshmerga and US forces.
Nowruz camp, on the outskirts of the city of Derike in Syrian Kurdistan, was built in November to provide shelter for 20 internally displaced Syrian families but swelled to 12,000 people after Yezidi refugees began pouring into the camp on August 10.
NGOs and local authorities have been scrambling to meet the basic needs of refugees in the camp by providing medicine, food, water and supplies.
Full report at:
http://rudaw.net/english/middleeast/syria/220820141
--------
Saudi Arabia sentences 18 to jail for militant offences
August 22, 2014
A Saudi Arabian court has sentenced 18 men to prison terms of 10 months to 25 years for their part in a series of militant attacks against government and foreign targets between 2003-06, state media reported late on Wednesday.
The men were part of a group of 50 on trial at the same time, of whom 30 have already been sentenced to jail and one to death.
Those sentenced on Wednesday were found guilty of crimes including giving information on foreign residential compounds to attackers, sheltering wanted militant suspects, financing militants and possessing illegal arms.
Riyadh's concerns about militants have grown more acute over the past two years as the conflicts in Syria and Iraq have attracted more of its own citizens to travel to those countries in order to join groups.
On Tuesday, the kingdom's Grand Mufti, Sheikh Abdulaziz Al al-Sheikh, described Al Qaeda and Islamic State and the ideology they represent as Islam's foremost enemy.
http://www.khaleejtimes.com/kt-article-display-1.asp?xfile=data/middleeast/2014/August/middleeast_August188.xml&section=middleeast
--------
Europe
Powerless To Stop Islamic State, West May Have To Join Forces with Iran, Hezbollah
August 22, 2014
Israel, Sunni world wary of any Western rapprochement with Iran; Israeli expert says West is helpless, doesn't know what to do against Islamic State.
US attacks on the Sunni Islamic State in Iraq and its cooperation and arming of the ruling Shi'ite government there, is the latest signal that the West is moving towards an arrangement with the Shi'ite Iranian axis, which includes Hezbollah, Iraq, and Syria.
Such an alignment has been feared by the Sunni world and Israel for some time.
For example, the Obama administration has allowed Iran to drag out negotiations over the country's nuclear program and reportedly indirectly shared intelligence with Hezbollah to counter Islamist jihadists in Lebanon.
Seeing the wind blowing its way in the region, Iran has jumped at the chance to use the current crisis with the Islamic State in order to gain Western concessions on nuclear talks.
"If we agree to do something in Iraq, the other side in the negotiations will need to do something in return," Foreign Minister Javad Zarif said in remarks late on Wednesday carried by state news agency IRNA. "All the sanctions imposed on Iran over its nuclear activities should be lifted in return for its help in Iraq."
Full report at:
http://www.jpost.com/Middle-East/Powerless-to-stop-ISIS-West-may-have-no-choice-but-to-join-forces-with-Iran-Hezbollah-371935
--------
Cameron Urged To Confront France over Claims of Ransom Payments to ISIS
August 22, 2014
David Cameron has been urged to confront French President Francois Hollande over claims the country is funding ISIS terrorists by paying ransoms to free hostages.
Britain and the United States refuse to negotiate with terrorists in an effort not to encourage further hostage taking. But this policy is being undermined by European countries negotiating secret deals to free their citizens.
Over the last five years Islamic State - also known as ISIS or ISIL - is thought to have earned £75million ransoming more than 50 captives. Kidnapping Europeans has become the main source of revenue for Al Qaeda and its spin off – the Islamic State.
French president Francois Hollande (second right) welcomes former hostages (left to right) Marc Feret, Pierre Legrand, Daniel Larribe and Thierry Dol home last year after they were kidnapped by Al-Qaeda in Niger
US airstrikes slowed the militants' march on Kurdish forces in the north of Iraq, and have helped government forces retake Mosul dam, but ISIS continues to win battles over the border in Syria.
Full report at:
http://www.dailymail.co.uk/news/article-2730733/ISIS-march-DESPITE-U-S-airstrikes-How-terror-group-expanding-thanks-lucrative-hostage-trade-capturing-swathes-territory-seizing-oil.html#ixzz3B7pvmC00
-------------
Twenty more hostages from West held by group that beheaded journalist
August 22, 2014
Up to 20 Western hostages are being held by the jihadi group that beheaded James Foley.
As well as the journalist Steven Sotloff, who was threatened with beheading by the same man who murdered Mr Foley, the Islamic State in Iraq and the Levant (ISIL) is holding a number of aid workers, thought to include Italians Vanessa Marzullo (21) and Greta Ramelli (20).
Three aid workers employed by the International Committee of the Red Cross are also being held hostage after they were abducted last October.
As fears grew that ISIL could make good on its threat to murder more hostages, families of those being held defended their loved ones' decisions to travel to Syria.
Ms Ramelli's mother Antonella said her daughter had been determined from an early age to look after others, starting by helping out in a retirement home when she was 12. Responding to claims that she should not have allowed her daughter to travel to Syria, Mrs Ramelli said, "When you hear your daughter say 'Mamma, in that country they are killing children, I must go and help,' what can you say?"
"Can you go back on all the teaching and the values you have tried to instil for a lifetime?" she told Italian newspaper Prealpina. "Can you change your daughter, who has these values and has strong ideals about solidarity and human empathy?"
The two women went missing near Aleppo in Syria at the beginning of this month, and yesterday the Italian foreign office declined to comment on whether they were now in the hands of ISIL.
Full report at:
http://www.independent.ie/world-news/twenty-more-hostages-from-west-held-by-group-that-beheaded-journalist-30527691.html#sthash.jLn8mxeI.dpuf
--------
France, UK preparing Security Council resolution to end Gaza fighting
August 22, 2014
France and Britain are reportedly working, with US backing, on draft resolutions intend to be submitted to the UN Security Council for a binding vote aimed at ending the fighting in the South.
The US has veto power at the United Nations Security Council and any resolution would need its active or tacit support.
Jordan, separately from the European states, has attempted to pass a resolution on the Gaza conflict since July, with little success.
The UN Security Council on Wednesday expressed "grave concern" at the resumption of hostilities in Gaza between Israel and Palestinians and called upon the parties to resume negotiations to urgently reach a "sustainable and lasting ceasefire."
The 15-member Security Council also "called upon the parties to prevent the situation from escalating and to reach an immediate humanitarian cease-fire," said British UN Ambassador Mark Lyall Grant, president of the council for August.
http://www.jpost.com/Arab-Israeli-Conflict/Report-EU-US-preparing-Security-Council-resolution-to-end-Gaza-fighting-371964
--------
Hollande: France armed Syrian rebels 'a few months ago'
22 August 2014
President Francois Hollande said on Thursday that France had delivered weapons to rebels battling the Syrian regime of Bashar al-Assad "a few months ago."
The deliveries took place "a few months ago, when the Syrian rebels had to face both the armies of the dictator Bashar al-Assad and this terrorist group Islamic State," Hollande told reporters on a tour of the French island of La Reunion.
"We cannot leave the only Syrians who are preparing a democracy ... without weapons," he added.
What is happening currently in Syria is "terrible," he said. "On one side, the state of Bashar al-Assad which continues to crush and massacre, (on the other) Islamic State, and, in the middle, those who were supposed to lay the ground for the future, caught in a pincer movement."
Full report at:
http://english.ahram.org.eg/NewsContent/2/8/108942/World/Region/Hollande-France-armed-Syrian-rebels-a-few-months-a.aspx
-----------
Dutch grapple with jihadist threat
August 22, 2014
Across Europe, governments are trying to prevent the radicalisation of young people attracted by the growing influence of Islamic State militants. More than 100 Dutch citizens are thought to be fighting for various groups in Syria and Iraq, and hundreds more have been identified as potential jihadists.
Dutch counter-terrorism officials are talking of a "rebirth of jihadism in the Netherlands".
In the Schilderswijk district of The Hague last month, a group of some 20 men were captured on video waving the black flag of jihadist groups and voicing support for the militant group Islamic State (IS) that has seized broad swathes of northern Syria and Iraq.
In the footage posted on the internet, the demonstrators can be heard chanting slogans such as "Down with America" and "Death to the Jews".
Turkish kebab shops and Moroccan coffee houses dominate the main street in Schilderswijk. Satellite dishes are scattered across the red-brick housing blocks of the predominantly Muslim district.
Full report at:
http://www.bbc.com/news/world-europe-28878778
--------
UN rights chief slams Syria 'paralysis' as death toll tops 191,000
August 22, 2014
More than 191,000 people have died in Syria, United Nations rights chief Navi Pillay said Friday, hitting out at "international paralysis" on the nearly three-and-a-half year conflict.
Pillay said the death toll of 191,369, recorded between March 2011 when the war broke out and April this year, was nearly double that given a year ago, and was likely an underestimate.
The South African wraps up her six-year stint as UN rights chief at the end of this month, and has criticised world leaders for their lethargy on a wide range of conflicts.
After on Thursday lashing out at the UN Security Council for what she called a lack of resolve in ending crises, Pillay said in a statement the dwindling global interest in Syria was "scandalous".
Full report at:
http://www.hurriyetdailynews.com/un-rights-chief-slams-syria-paralysis-as-death-toll-tops-191000.aspx?pageID=238&nID=70768&NewsCatID=352
-------
Mideast
Iran cleric: Westernized Iranians no different than ISIS
August 22, 2014
Alireza Panahian, a representative of Iran's Supreme Leader Ayatollah Ali Khamenei and one of the most conservative clerics in the country, compared Iranians who are "Westoxified" to the threat of the terrorist group Islamic State (IS), formerly known as the Islamic State of Iraq and al-Sham (ISIS).
"The Westoxified among us are no different from takfiris and ISIS," Hojjat al-Islam Panahian said at a ceremony for Iranian documentary filmmaker Hady Baghbani, who was killed in Syria one year ago.
Westoxified — gharbzadegi in Persian — which literally means "West-struck," is a term that became popular after the 1962 book by the same name by Iranian writer Jalal Al-e Ahmad. Essentially, it denotes an individual who sacrifices an Iranian identity for a Western one.
Panahian said that then-Supreme Leader Ayatollah Ruhollah Khomeini "taught us that these criminal extremists [such as IS] are no different for us than liberals, and both are the blades of scissors to cut the middle path of resistance."
Full report at:
http://www.al-monitor.com/pulse/originals/2014/08/iran-cleric-isis-westernized-khomeini-threat-conservative.html#ixzz3B778uUqM
--------
Hamas kills 11 suspected informers for Israel
Associated Press | Gaza City | August 22, 2014
Hamas said it shot dead 11 suspected informants for Israel on Friday, a day after an Israeli airstrike on a house in southern Gaza Strip killed three top Hamas military commanders.
The Hamas-run website Al Rai said the 11 were killed by firing squad and warned that "the same punishment will be imposed soon on others."
It suggested a link between the killing of the alleged informers and Israel's targeting of top Hamas leaders, saying that "the current circumstances forced us to take such decisions."
A Gaza security official said the suspected informants were killed in the Gaza City police headquarters. The official, who spoke on condition of anonymity because he was not authorized to speak to the media, said the 11 had previously been sentenced by Gaza courts.
Al Rai, however, said they were killed after the completion of "legal procedures," suggesting a hastily arranged hearing.
Full report at:
http://indianexpress.com/article/world/middle-east-africa/hamas-kills-11-suspected-informers-for-israel/99/
--------
Israel, not Palestine, withdrew from Cairo talks: Islamic Jihad leader
22 August 2014
Ziyad Nakhala, leading member of the Palestinian Islamic Jihad movement, told Ahram Online on Thursday that Israel's delegation – and not the Palestinian one – withdrew from the Cairo talks that sought to reach an end to the ongoing Israeli offensive on the Gaza Strip.
In a phone conversation, Nakhala – also a member of the Palestinian negotiating team – asserted the willingness of the Palestinian delegation to return to the "negotiating table" under Egyptian mediation.
"Cairo will push for a new round of talks whenever it thinks it's necessary, but we will positively respond if invited and are fully ready," said Nakhala, speaking from Beirut.
He asserted that all parties within the Palestinian delegation – including the Palestinian Liberation Organisation (PLO), Hamas and Islamic Jihad – have agreed on the Egyptian initiative and also praised Egypt's "great efforts" in mediating between the Palestinian factions and Israel.
The deputy secretary-general of the Islamic movement stated that the talks mainly involved issues of ending the eight-year Israeli blockade on Gaza, facilitating the reconstruction of the war-torn strip.
"Israel did not properly meet the Palestinian demands as it rejected discussing the subjects of constructing an airport and seaport in Gaza, despite them being previously agreed upon during the 1993 Oslo Accords," mentioned Nakhala.
Nakhala argued that Israel is "not serious and keeps maneuvering in an attempt to gain time."
"This is not a problem for us, we have enough time to resist as long as the Israeli aggression continues," he concluded.
Full report at:
http://english.ahram.org.eg/NewsContent/2/8/108919/World/Region/Israel,-not-Palestine,-withdrew-from-Cairo-talks-I.aspx
-----------
Targeted hits signal 'Israel won't tolerate a war of attrition': Netanyahu
August 22, 2014
Israel's targeted killings of three senior Hamas military leaders and the possible elimination of Muhammad Deif over the past two days signals Hamas that Jerusalem will not tolerate a low-intensity war of attrition, officials said on Thursday.
"When we said we won't agree to a war of attrition, and that if they lob a few mortar shells we will not just lob a few back, we meant it," one government official said. "This might be a difficult learning process, but at a certain point Hamas will understand one way or another that we will not tolerate rocket fire."
The targeted assassinations also sent a clear message to Hamas leaders that if they were involved in any way in attacking Israelis – "from the guy low down on the food chain taking a rocket out of a tunnel, to the guy at the top of the food chain giving the command" – they were all legitimate targets, the official said.
Full report at:
http://www.jpost.com/Arab-Israeli-Conflict/Targeted-hits-signal-Israel-wont-tolerate-a-war-of-attrition-371929
--------
469 children killed in Gaza: UNICEF
August 22, 2014
A senior official of the United Nations Children's Fund (UNICEF) said on Thursday that a total of 469 children were killed in the Gaza Strip, where the situation is "dire" because of its debilitating effect on the one million Gaza Strip inhabitants under the age of 18.
"This situation is very dire in terms of the impact and the toll (it) has on children," Pernille Ironside, chief of Gaza occupied Palestinian territory field office for the UNICEF, was quote as saying by Xinhua at a press conference, days after renewed fighting broke out between Hamas and Israel.
"In the last 48 hours, nine more children have been killed," she said. "Unfortunately, this brings our (death toll) to 469 children as of this morning."
Full report at:
http://www.thehindu.com/news/international/world/469-children-killed-in-gaza-unicef/article6340792.ece
--------
Israel, Palestinians trade fire; 2 killed in Gaza
August 22, 2014
GAZA CITY: An Israeli airstrike on a Gaza farm killed two Palestinians on Friday, a Gaza health official said, as fighting continued for a third day after the collapse of Egyptian-led cease-fire talks.
The renewed exchanges have dashed hopes for a lasting truce after a month-long war that has already killed over 2,000 people.
By mid-morning Friday, Israel had launched about 20 airstrikes at Gaza, while Gaza militants fired two rockets at Israel, the Israeli military said.
Earlier this week, Hamas rejected an Egyptian truce proposal under which Israel would gradually ease its blockade of Gaza, without giving specific commitments.
Hamas demands a lifting of the border closure, imposed by Israel and Egypt after the militant group's takeover of the coastal strip in 2007.
Full report at:
http://www.dawn.com/news/1127030/israel-palestinians-trade-fire-2-killed-in-gaza
--------
Pakistan
Democracy, constitution have become 'dysfunctional': Tahirul Qadri
August 22, 2014
ISLAMABAD: Pakistan Awami Tehreek chief Tahirul Qadri on Thursday termed the current rulers worse than Hitler and Mussolini and said the constitution has been ruined and there is no democracy in the country. Addressing his party's workers and supporters, Qadri said the government is using "cheap tactics" against them, and claimed that 25,000 of his party's workers are still missing. He said that "atrocities of the rulers have reached their peak" and warned them not to try the patience of the people anymore. Describing what he sees as evils of the system, the PAT chief said no audit takes place in parliament of any member, rulers acquire billions of rupees of loans from the banks and never pay them back. He said millions of rupees are allocated to "fake representatives" in the name of funds, all of which is usurped by corruption. "It's been 35 years since I have been living in a kanal's house, while the ones accusing me of money laundering could not prove it despite being in power," the cleric said. He said the rulers know "their looting will come to an end", once a revolution came in the country. He said that terrorists and burglars are ruling the state and added that those of his party's workers killed in Lahore's Model Town clash cannot be served justice in their presence, so they will have to return to their homes. Qadri vowed not to step back and alleged that the rulers plan to attack his residence. He said that those supporting Prime Minister Nawaz "are actually his partners in corruption" and they will be held accountable. Full report at:
http://www.dailytimes.com.pk/islamabad/22-Aug-2014/democracy-constitution-have-become-dysfunctional-qadri
--------
My resignation will damage democratic system: Nawaz
August 22, 2014
ISLAMABAD: Prime Minister Nawaz Sharif said on Thursday that under the present regional situation his resignation would cause great problems for democracy in the country.
"Pakistan can not afford (this). Dialogue is the only way the crisis could be resolved," Nawaz told senior journalists in a meeting. He reiterated that he had become prime minister through a democratic process. "We are showing great restraint because women and children are among the protesters," said Nawaz. He said that majority of political parties in parliament have extended their support to his party during the current political crisis. "Out of the 12 political parties in parliament, 11 have given their support to our party and the democratic process," the PM said.
Full report at:
http://www.dailytimes.com.pk/islamabad/22-Aug-2014/my-resignation-will-damage-democratic-system-nawaz
---------
Imran says he wants to talk but government cannot ensure justice
August 22, 2014
ISLAMABAD: Imran Khan says he was willing to talk the government but added that how could he and Pakistan Tehreek-i-Insaf (PTI) expect a government that has come to power after rigging the elections to ensure that justice is done.
In an interview to the BBC, Imran called for the formation of a caretaker government — composed of non-political people — which can implement electoral reforms and call fresh elections.
The PTI chairman said the Supreme Court could order the formation of the caretaker government in response to a question as to whether the army was going to implement these changes.
Full report at:
http://www.dawn.com/news/1127027/imran-says-he-wants-to-talk-but-government-cannot-ensure-justice
--------
Lahore judge's order for FIR against Sharifs challenged
August 22, 2014
LAHORE: Information Minister Pervaiz Rasheed has challenged the ruling of a Lahore court which ordered the registration of a murder case against Prime Minister Nawaz Sharif, Punjab Chief Minister Shahbaz Sharif, several other PML-N leaders and some police officials over the June 17 Model Town incident.
Rasheed challenged the ruling in the Lahore High Court in a personal capacity which the court has admitted for hearing.
The petition will be heard today by Justice Mehmood Maqbool Bajwa of the LHC.
The petition contends that the ruling of the sessions judge that ordered the registration of cases was not based on the reality of situation, adding that the order be suspended.
Eleven supporters of the Pakistan Awami Tehreek (PAT) were killed and scores were wounded in the June 17 Model Town incident.
http://www.dawn.com/news/1127043/lahore-judges-order-for-fir-against-sharifs-challenged
--------
Petition calls for ban on PAT, PTI
August 22, 2014
LAHORE: Advocate M.H. Mujahid on Friday filed a petition in the Supreme Court's Lahore registry seeking a ban on the Pakistan Tehreek-i-Insaf (PTI) and Pakistan Awami Tehreek (PAT).
In his plea, the petitioner contended that the protests being staged by the PAT and PTI were adversely affecting the movement of Islamabad's residents and sought a ban on both the political parties under Article 17 of the Constitution.
Article 17 of the Constitution relates to freedom of association and states that "every citizen shall have the right to form associations or unions, subject to any reasonable restrictions imposed by law in the interest of sovereignty or integrity of Pakistan, public order or morality".
Full report at:
http://www.dawn.com/news/1127026/petition-calls-for-ban-on-pat-pti
--------
'Unconstitutional demands' driving Imran to political suicide: Shahbaz
August 22, 2014
LAHORE: Punjab Chief Minister Shahbaz Sharif said on Friday that Pakistan Tehreek-i-Insaf (PTI) chairman Imran Khan's 'unconstitutional demands' were driving him towards political suicide, adding that he (Khan) was shredding the Constitution on Constitution Avenue.
Taking a leaf out of Imran Khan's book, the chief minister used cricketing terms to have a dig at the PTI chairman and said that "Khan was wishing to grab a wicket on a no-ball but that would never happen".
He added that "Imran had not only proved himself a bad politician but a bad sportsman as well".
Full report at:
http://www.dawn.com/news/1127037/unconstitutional-demands-driving-imran-to-political-suicide-shahbaz
--------
Imran, Qadri to blame if democracy harmed: ANP
August 22, 2014
SWABI: Awami National Party central president Asfandyar Wali Khan on Thursday said Pakistan Tehreek-i-Insaf chairman Imran Khan and Pakistan Awami Tehreek chief Dr Tahirul Qadri would be held responsible if any harm was caused to democracy by their prolonged sit-ins in front of Parliament House in Islamabad.
He was addressing the convention of the party workers here. The event was part of the ANP exercise to reorganise itself in the province.
Asfandyar opposed the PTI and PAT sit-ins outside parliament house in Islamabad's Red Zone and declared them illegal.
Also read: 'Contained': Imran, Qadri protest to the same tune
"Holding such demonstrations is illegal and unconstitutional as they could derail democracy in the country. We oppose the two sit-ins," he said.
Full report at:
http://www.dawn.com/news/1126987/imran-qadri-to-blame-if-democracy-harmed-anp
--------
'Pakistan does not have preferred partners in Afghanistan'
August 22, 2014
KARACHI: Predicting what is going to happen in Afghanistan is a hazardous and a perilous business, as the situation in Afghanistan is complicated due to regional dynamics, said Dr Rifaat Hussain, head of the department of government and public policy at the National University of Sciences and Technology, on Thursday.
Dr Hussain, who has written four books including Afghanistan and 9/11: The Anatomy of a Conflict, was speaking at a seminar held at the Area Study Centre for Europe, Karachi University.
He presented his paper on four competing powers and their overlapping interests pertaining to Nato's drawdown in Afghanistan at the seminar.
Full report at:
http://www.dawn.com/news/1126846/pakistan-does-not-have-preferred-partners-in-afghanistan
--------
Africa
Libya: Islamic Youth Carries Out Public Execution in Derna
By Libya Herald staff
August 22, 2014
The Shura Council of Islamic Youth in Derna has killed an Egyptian man it accused of murder in what is reportedly the second public execution carried out by the group in the town.
A local resident, speaking on condition of anonymity, told the Libya Herald that the executed man, identified as Egyptian national Mohamed Ahmed, had been accused of killing a Derna inhabitant, Khalid Al-Drisi. Drisi was killed in his house in Shail Al-Sharqi on Friday.
The resident said the execution took place at a football ground in western Derna. He added that the execution began at around 5 pm, just after Asr prayers.
Full report at:
http://www.libyaherald.com/2014/08/20/islamic-youth-carries-out-public-execution-in-derna/#ixzz3B7ED2tdq
--------
"Satanic militias are criminals, government is weak" – Libya Justice Minister
August 22, 2014
Justice Minister Salah Maraghny condemned the "aimless nightly destructive fighting that has no winners" that is taking place in western and eastern Libya.
Speaking during a rare, but lengthy, TV interview on Al-Assema TV's "The Parliament" programme last night, Maraghny condemned the "daily fighting, where tens if not hundreds die (in Tripoli and Benghazi) causing people to flee their homes".
The peaceful battle over power was expected after the overthrow of the Qaddafi regime, said Maraghny, but he felt there is no justification for the current fighting in Tripoli and Benghazi .
Full report at:
http://www.libyaherald.com/2014/08/21/satanic-militias-are-criminals-government-is-weak-justice-minister-maraghny/#ixzz3B7E6A8Pk
--------
Somali child soldiers 'punished' in foreign-funded camps: UN
22 August 2014
Former child soldiers in war-torn Somalia are being held in prison conditions in foreign-funded camps, "punishing" rather than rehabilitating them, the top UN children's envoy said Thursday.
Leila Zerrougui, UN envoy for children and armed conflict, said former child soldiers -- who foreign donors were funding to rehabilitate their return to society -- were effectively being locked up without trial and denied visits from their family.
"They are held in detention without due process," she told reporters in Kenya after a four-day visit to Somalia.
Full report at:
http://english.ahram.org.eg/NewsContent/2/9/108932/World/International/Somali-child-soldiers-punished-in-foreignfunded-ca.aspx
----------
American lessons for Nigeria on Chibok girls
August 22, 2014
The plight of over two hundred Chibok secondary school girls will end suddenly, just as the surprise with which the nation was taken in the first place by their kidnap. This is the reality Nigerians have to face. In short, the very idea of setting a deadline or giving an ultimatum can only raise false hope, such as had been the case since the poor girls were kidnapped over four months ago.
The first deadline of December 2014 by which the girls must be rescued (presumably without bloodshed) was set by the last National Council of State meeting. Unless facts unknown to Nigerians were at the disposal of National Council of States members, the deadline would pass without anything fruitful.
Full report at:
http://sunnewsonline.com/new/?p=78142
--------
Federal Government tasked on plight of Boko Haram victims
August 22, 2014
The Federal Government has been urged to quickly utilise the Terror Victims' Funds, in addressing the deplorable conditions of victims of insurgency in the North-East.
Mallam Abubakar Abdullahi, the Sardauna Michika in Adamawa, who made the call in an interview with Daily Sun in Yola, also urged the committee managing the fund to involve trusted and reputable indigenes of the affected areas in its strategy to ameliorate the plight of the victims.
Full report at:
http://sunnewsonline.com/new/?p=78223
--------
Darfur: UN Should End Silence on Rights Abuses
August 22, 2014
(New York) – The United Nations Security Council should direct the African Union/United Nations peacekeeping mission in Darfur (UNAMID) to improve human rights monitoring and public reporting when it renews the mission's mandate. The Security Council is expected to act on the mandate during the week of August 25, 2014.
The human rights situation in Darfur, Sudan has deteriorated sharply in 2014, Human Rights Watch said. Rapid Support Forces, a Sudanese government force consisting largely of former militias, attacked scores of villages in South, Central, and North Darfur between February and April. Dozens of civilians died, tens of thousands of people fled, and there was massive destruction and looting of civilian property.
Full report at:
http://www.hrw.org/news/2014/08/21/darfur-un-should-end-silence-rights-abuses
--------
Southeast Asia
Liberalism a threat to nation's freedom, says Isma
August 22, 2014
As Malaysia prepares to celebrate its 57th Merdeka Day later this month, Muslim group Ikatan Muslimin Malaysia (Isma) said the country will not remain free unless it banishes pluralism and liberalism from the minds of its citizens.
It said the "western ideologies" were slowly gaining traction among the youth, and could threaten the country's future as the government would not be able to control its people's faith.
"This country will not stay independent if we continue to allow our souls and thoughts to be colonised by foreign ideologies, especially western ones," Isma's central committee member Mohd Hazizi Abd Rahman (pic) said on the group's website yesterday.
"Liberalism is a western understanding that puts individual freedom above religious rules and government powers. The desires of an individual have no limits…ultimately, the individual cannot be controlled," he said.
Full report at:
http://www.themalaysianinsider.com/malaysia/article/liberalism-a-threat-to-nations-freedom-says-isma#sthash.Y5ttRpK9.dpuf
-------
Depok Ice Cream Seller Arrested After Flying ISIS Flag Outside House
August 22, 2014
Depok. A Depok resident was arrested on Friday after his neighbor reported him to the police for being in possession of an ISIS flag.
Firman Hidayat Silalahi, 36, an ice salesman who has lived in the city south of Jakarta with his wife, two children and parents since 2011, was arrested by police in the early hours of Friday morning.
"Someone saw the ISIS flag on the terrace of his house and reported it to Beji Police," Depok Police chief Sr. Comr. Achmad Subarkan told the Jakarta Globe on Friday.
Firman's father, Muhammad Firdaus, was also taken to the police office.
Police said they were questioning three residents as witnesses. They added that Firman had admitted to being a follower of the Islamic State of Iraq and Syria, a group so brutal it was deemed too extreme by Al-Qaeda senior management.
Full report at:
http://www.thejakartaglobe.com/news/depok-ice-cream-seller-arrested-flying-isis-flag-outside-house/
--------
Constitutional Court Upholds KPU Decision Declaring Jokowi Next President
August 22, 2014
Jakarta. The Constitutional Court on Thursday rejected in its entirety the lawsuit filed by presidential candidate Prabowo Subianto against the official election result, reaffirming Jakarta Governor Joko Widodo as Indonesia's next and seventh president. The losing camp, though, was quick to raise another allegation, this time of an "unjust" ruling by the court.
"[We] reject the plaintiff's lawsuit in its entirety," Chief Justice Hamdan Zoelva said as he read out the verdict.
There was no dissenting opinion from any of the nine justices in the nation's highest court. They also granted none of the Prabowo camp's demands in the lawsuit, including for the court to reject the official tally by the General Elections Commission (KPU), for revotes in seven provinces and for Prabowo and his running mate Hatta Rajasa to be declared winners of the July 9 election instead.
Full report at:
http://www.thejakartaglobe.com/news/constitutional-court-upholds-kpu-decision-name-jokowi-next-president/
--------
Mosques throughout the nation hold funeral prayers for MH17 victims
August 22, 2014
Most mosques throughout the country today held funeral prayers for the victims of the Malaysia Airlines (MAS) flight MH17 tragedy.
In Putrajaya, Yang Di-Pertuan Agong Tuanku Abdul Halim Mu'adzam Shah, accompanied by Prime Minister Datuk Seri Najib Tun Razak, joined about 5,000 Muslims in performing the funeral prayers after the Friday prayers.
After performing the funeral prayers, Tuanku Abdul Halim joined the others for the "tahlil" session led by Grand Imam of the National Mosque, Tan Sri Syaikh Ismail Muhammad.
In Johor, about 200 Muslims held the funeral prayers at Masjid At-Taqwa, Taman Pelangi, Johor Baru after the Friday prayers.
Full report at:
http://www.themalaysianinsider.com/malaysia/article/mosques-throughout-the-nation-hold-funeral-prayers-for-mh17-victims-bernama#sthash.7POwTQRu.dpuf
--------
Philippine Muslim rebels take crucial step on path to pact
August 22, 2014
MANILA: The Philippines' largest Muslim rebel group has taken a crucial step in ending decades of conflict, formally submitting to the president a final proposal for self-rule that both it and Manila have agreed on, a presidential adviser said.
The two sides signed a deal in March to end nearly five decades of conflict on the resource-rich island of Mindanao but hopes for peace were thrown into doubt this month when the rebels accused the government of reneging on the pact.
But 10 days of negotiations rescued the deal under which the main rebel group — the Moro Islamic Liberation Front (MILF) — has agreed to disband and rebuild communities in exchange for powers over the economy and society in the Bangsamoro region.
http://www.arabnews.com/news/world/619066
----------
India
Faisalabad University of Agriculture honours agriculture scientist M.S. Swaminathan
GARGI PARSAI
August 22, 2014
The University of Agriculture in Faisalabad (Pakistan) has conferred an honorary degree of the Doctor of Science on renowned agriculture scientist M.S. Swaminathan for his "contribution to farm research and allied areas of plant-breeding, genetics, biodiversity and ecological studies."
In his acceptance speech, Dr. Swaminathan said the Indian subcontinent should go in for an evergreen revolution (increase in productivity in perpetuity without ecological harm) on the one hand and a nutrition-sensitive agriculture on the other, through programmes rooted in the principles of ecology, economics, gender and social equity, employment and energy.
Emphasising the need for a farming system comprising crop-livelihood integration, Dr. Swaminathan urged universities to integrate their programmes to provide the needed support to farmers.
Full report at:
http://www.thehindu.com/news/national/pakistan-varsity-honours-swaminathan/article6339624.ece
--------
No Zamzam hassle for Indians
August 22, 2014
Indian pilgrims will no longer be troubled by having to pack cans of Zamzam water into their luggage when returning home after completing their Haj.
As part of the arrangement with the Haj Committee of India, Saudi Arabian Airlines will carry these cans on their return flights after disembarking pilgrims at Jeddah airport's Haj Terminal.
The specially packaged Zamzam water cans, provided by the government-run Zamzam Packaging Factory in Kudai, Makkah, will be stored at various points in India to be delivered to the pilgrims once they return from Saudi Arabia after the pilgrimage. Each pilgrim will get one 5-liter container.
The arrangement was made to ease the difficulties of returning pilgrims who already have a great deal of luggage. Also, this method will be easier for airlines to manage the load on the return journey.
Full report at:
http://www.arabnews.com/news/saudi-arabia/619191
-----------
South Asia
Taliban vows more attacks as US offers new bounty for Haqqani leaders
August 22, 2014
The Taliban militants group in Afghanistan has condemned the announcement of latest reward by US Department of State to find Haqqani Network leaders and has vowed to carry out more attacks on US forces.
The US Department of State said Wednesday that the department has authorized rewards of up to $5 million each for information leading to the location of Aziz Haqqani, Khalil al-Rahman Haqqani, Yahya Haqqani, and Abdul Rauf Zakir.
A statement released by US State Department, said the department also has increased its previous reward offer of up to $5 million for information on the group's leader, Sirajuddin Haqqani, to up to $10 million, the statement said.
Full report at:
http://www.khaama.com/taliban-vows-more-attacks-as-us-offers-new-bounty-for-haqqani-leaders-6586
--------
Bangladesh PM's Advisor: BNP Is a Party of Terrorists
August 22, 2014
Prime Minister's Advisor on ICT Sajeeb Wazed Joy has termed the BNP a party of terrorists.
Joy, who is also the son of the prime minister, posted a status on his Facebook page on Friday afternoon saying that the party should be brought to justice.
In the Facebook status, Joy said BNP had protected the killers of the August 15, 17 and 21 attacks.
"They [BNP] rewarded the killers of August 15th with indemnity and foreign postings. During their last term they protected the fundamentalist terrorists who conducted bomb attack after bomb attack, culminating in the August 17th attacks," he said.
Joy also said the planning meetings for the August 21st attack were conducted in the office of Khaleda Zia's son Tarique in presence of her political secretary.
http://www.dhakatribune.com/politics/2014/aug/22/joy-bnp-party-terrorists#sthash.aEX17i37.dpuf
--------
Zia family behind attack: PM Sheikh Hasina
August 22, 2014
BNP founder Ziaur Rahman was behind the Bangabandhu murder on August 15, 1975, and his family was involved in the August 21, 2004, grenade attack, said Prime Minister Sheikh Hasina.
At a public meeting on the 10th anniversary of the grenade attack on an Awami League rally on Bangabandhu Avenue, she accused the then prime minister Khaleda Zia, her son, her cabinet members and Jamaat leaders of the attack.
She blamed the law enforcement agencies for playing a dubious role. Instead of protecting the injured leaders and activists of her party, they charged truncheons and used teargas on the victims, she said.
Full report at:
http://www.thedailystar.net/zia-family-behind-attack-38164
--------
URL: https://www.newageislam.com/islamic-world-news/new-age-islam-news-bureau/islamic-state--beyond-anything-we-ve-seen---us/d/98681