New Age Islam News Bureau
30 Nov 2017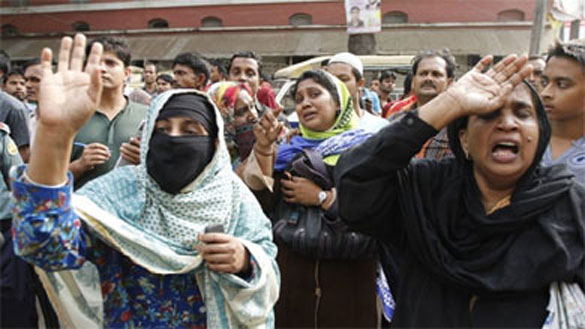 Relatives of many of the convicted paramilitary officials have raised questions on the impartiality of the trial [File: Mahmud Hossain Opu/Reuters]
----
• Islamic Scholars Call On Govts to Instutionalise Zakat
• Bangladesh Mutiny Case: 139 Soldiers to Face Gallows
• Violent Jihadists Go To Rehab at '5-Star' Saudi Centre
• Turkey Claims Over 80 'Terrorists' Killed In N-Iraq
• Trump's Anti-Muslim Retweets Prompt Backlash in Washington: 'The President Is Racist'
Africa
• Islamic Scholars Call On Govts to Instutionalise Zakat
• African Refugees Bought, Sold and Murdered In Libya
• Four killed, hostages taken in DR Congo attack
• UN considers sanctions to fight Libya slave trade
• HRW denounces extrajudicial killings in eastern Libya
--------
South Asia
• Bangladesh Mutiny Case: 139 Soldiers to Face Gallows
• Pope Preaches Forgiveness in Landmark Mass for Myanmar Catholics
• BD Priest Disappearance Casts Pall over Pope Visit
• 'We are in danger': French Army translators left behind to Taliban
• Attacks on Taliban's financial engine to continue: Gen. Nicholson
• 'Taliban Is Living In Comfort in Pakistan with Drug Money', Says International Forces' Commander in Afghanistan
--------
Arab World
• Violent Jihadists Go To Rehab at '5-Star' Saudi Centre
• Chinese Elite Forces to Arrive in Syria Soon to Join War on Terrorists
• Egypt's Sisi gives military order to secure the Sinai within three months
• Britain's May on surprise visit to Baghdad
• Iraqi Commander: US Plots to Assassinate Hashd al-Shaabi Leaders
• Syrian Army Inches Closer to Terrorist-Held Airbase in Southeastern Idlib
• Syria: Al-Nusra Withdraws from Positions in Golan Heights
• Syrian regime delegation joins peace talks in Geneva
• British PM reaffirms support for united Iraq, urges KRG to respect unity
• Senior Bahraini cleric dismisses charges of collusion with Qatar
--------
Mideast
• Turkey Claims Over 80 'Terrorists' Killed In N-Iraq
• Hamas 'Not Committed' To Unity Deal, Says Fatah
• Turkey Mulling over Intensifying Siege of Kurds in Syria
• Israel bars Swiss diplomats from Gaza after Hamas talks
• Turkey issues arrest warrant for 360 over links to failed coup
• World marks International Day of Solidarity with Palestinian People
--------
North America
• Trump's Anti-Muslim Retweets Prompt Backlash in Washington: 'The President Is Racist'
• You Don't Have To Be a Muslim to Be Horrified by Trump's Anti-Muslim Bigotry
• Progressives call on Jews to worry less about Israel and more about Trump
• US general sees no change in Pakistan behaviour despite Trump tough line
• Israel, Saudi, Egypt pushed US to bomb Iran prior to nuclear deal: Kerry
--------
India
• Kerala Government Backs NIA Probe into 'Love Jihad'
• Hizbul Mujahideen, Let Over-Ground Worker Surrenders In Kulgam
• Lashkar Man Held in Uttar Pradesh Was Associate of Abu Jundal: NIA
• Time for dialogue between India, Pakistan to find solution to Kashmir problem: Farooq Abdullah
• Panaji Municipality Bans Prayers on Loudspeaker at Muslim Graveyard
• ISIS Note Found At Mumbai Airport, Security Stepped Up
• 36,000 Rohingyas in India, Terror Links Cannot Be Ruled Out: BSF
--------
Pakistan
• COAS Acknowledges Ulema's Role for Peace
• Gunmen Kill One; Injure Four In Attack On Shia Mosque In Pakistan
• Hafiz Saeed Has To Wait For Appointment of UN Security Council Ombudsperson to Hear His Petition
• Pakistan hits back against US accusations: Abbasi reiterates no terror groups in Pakistan
• Decline in US aid for Pakistan to hurt Afghan border monitoring
• COAS briefed on infiltration routes used by militants at Pak-Afghan border
--------
Europe
• Europe's Muslim Population To Grow Strongly, Even If Migration Ends
• Stockholm protest raises voice for Rohingya Muslims
• EU official: Daesh remains threat despite loss of 'caliphate'
• Pope Francis heads to Bangladesh with Rohingya crisis looming large
--------
Southeast Asia
• Religious Teachers Need a Shift In Mindset, Says Academic
• Dr M suffering from 'post-power' syndrome, former Indonesian minister says
• Jan 19 date for Zamihan's bid to compel Canadian Muslim to place deposit
Compiled by New Age Islam News Bureau
URL: https://www.newageislam.com/islamic-world-news/islamic-scholars-call-govts-instutionalise/d/113409
--------
Islamic Scholars Call On Govts to Instutionalise Zakat
November 29, 2017
Some academic and religious scholars have advised states and the federal government to institutionalise payment of Zakat by wealthy Muslims as effective weapon in the fight against poverty.
They made the call at the 2017 Zakat Distribution ceremony organised by the Zakat and Sadaqat Foundation, ZSF, in Lagos.
The News Agency of Nigeria reports that the ZSF is a poverty alleviation arm of The Muslim Congress, TMC, a faith-based organisation.
Zakat is the payment made annually under Islamic laws on certain kinds of property and the proceeds are used for charitable purposes.
Zakat is one of the five pillars of Islam.
NAN also reports that the foundation distributed cash and materials totalling N108.28 million to 494 beneficiaries at the ceremony in Lagos State.
It had distributed Zakat to beneficiaries in Delta, Ondo, Ado-Ekiti, Osun, Ogun, Oyo, Adamawa, Borno and Yobe earlier in the year.
Speaking at the occasion in Lagos, a religious scholar, AbdulHakeem Abdul-Lateef, called on relevant organisations to sponsor bills in states' House of Assembly and National Assembly to institutionalise payment of Zakat.
Mr. Abdul-Lateef, who is the Lagos State Commissioner for Home Affairs, said that Zakat was meant to help the needy, regardless of religion.
He, therefore, expressed the belief that members of the public must understand the need to push private member bill to support the institution of zakat.
"As important as zakat is, the redistribution of wealth is what can save the economy; we are not poor, it is just that we have refused to redistribute wealth.
"So, members of the civil society organisations and leaders, as well as citizens generally, can call for the institution of zakat to help the poor.
"Zakat is meant to help the needy, regardless of the religious inclination.
"So, I believe that members of the public must understand what it means to push a private member bill.
"Even members of the House of Assembly can do it; the whole essence is to complement the efforts of government.
"Government, every day is talking about public-private partnership, the whole essence is that government cannot do it alone.
"There are so many well-meaning Nigerians whose wealth, if the zakat is paid, will assist in mitigating the hardship faced by so many people,'' the commissioner said.
Lai Olurode, a don and Chairman of the occasion, said there was nothing wrong if the federal government could institutionalise zakat and sadaqat as means of alleviating poverty among Nigerians.
"There is nothing wrong if you institutionalise zakat and sadaqat.
"It will then make it mandatory for wealthy Muslims to pay zakat just as we are talking about the partnership to complement government's efforts.
"But, because of religious illiteracy and religious prejudices, Nigerians don't think deeply that zakat is a strong economic tool that can be used to stem poverty.
"Even in Christian dominated countries, they are buying into Sukuk, they are buying into Islamic banking, but in Nigeria, they make it unnecessarily emotional and make it appear as if it is an attempt to Islamise the country,'' Mr. Olurode said.
The Professor of Sociology, who is also the Chairman, University of Lagos Muslim Community, said poverty does not draw boundary between people in terms of their religion.
"It does not draw a boundary in terms of their ethnicity; it does not draw a boundary in terms of their nationality, poverty is poverty, whether you are a Muslim or a Christian, you are going to be.
"So, whatever anybody can do to move people away from poverty should be done regardless of the institution.
So, it doesn't really matter where the money is coming from, whether it is from Muslims, from zakat or whatever source.
"What is important is that you want to touch humanity, you want to touch a life, you want to give hope to people.
"In Nigeria today, not less than 70 per cent of Nigerians are surviving on less than two dollars a day.
"So, whatever you can do to partner with government to move people out of poverty, it should be done regardless of the religious inclination or thinking,'' Mr. Olurode said.
Sulaiman Olagunju, the Executive Director of ZSF, said that as at October, the foundation had mobilised Zakat totalling N191 million in 2017.
According to Olagunju, the figure is an increase of N71, 907,592 over Zakat of N119, 196,760 last year.
O the Zakat distributed in 2017, the director said N45.2 million was given for economic empowerment purposes.
"Beneficiaries with health-related challenges were assisted with N31.06 million, education assistance to students gulped N11.17 million, while N11.49 million was spent on welfare support.
NAN reports that items distributed at the occasion included tricycles, motorcycles, photocopier machines, pepper-grinding machine, sewing machines, deep freezer, Braille machine and books for blind students, among others.
https://www.premiumtimesng.com/news/more-news/251003-islamic-scholars-call-govts-instutionalise-zakat.html
--------
Bangladesh mutiny case: 139 soldiers to face gallows
by Faisal Mahmud
Nov 30, 2017
Dhaka, Bangladesh - In what observers have dubbed Bangladesh's "biggest-ever criminal case", 139 mutineers of a defunct paramilitary force were sent to gallows by the country's High Court (HC) on Monday.
Life sentences for another 146 people were also upheld by the court in the capital Dhaka. The mass convictions have been criticised by rights groups and the families, who say the trial was rife with procedural flaws and torture allegations.
At least 57 army officers and 17 civilians were killed during a mutiny in 2009 that the three-judge HC bench called "the most heinous, brutal and barbaric carnage" in Bangladesh's history.
For the family members of those killed, the verdict seems to have brought closure.
Syed Md Ismail Parvez, brother of Major Idris Iqbal who was killed on that day, told Al Jazeera that they "are happy" and want "the immediate execution of the perpetrators who had killed his brother and others.
"This will not bring my brother back. But at least it will let us know that justice is there to hold them accountable for what they did."
But one of the main defence lawyers, Aminul Islam, called the verdict "too harsh" and based on "flimsy or no evidence". He said he would appeal against the HC judgement in the Supreme Court.
'Violation of human rights'
Relatives of many of the convicted paramilitary officials have raised questions on the impartiality of the trial, while rights groups have termed the whole trial process a "violation of human rights".
At least 47 suspects died while in police custody during the nine-year period of the trial.
Nargis Nasir, wife of one of the death row convicts - Nasir Uddin Khan, Deputy Assistant Director of the erstwhile BDR, said, "It's anything but a justice for us."
She said her husband was tortured and "forced to give confessional statement on the crime that he didn't commit".
"Since then, for the last nine years, our family is struggling to accept the fact that an innocent man was victimised for a crime of which he was no part."
Brad Adams, Asia director of HRW, said the convictions were obtained after "unfair trials".
"We interviewed many people who were badly tortured.… The courts and police should have investigated this but have failed to do so," he said.
"We have always called for the perpetrators to be held accountable, but in many cases there was no credible evidence against the specific individual charged.
"It is not acceptable to convict individuals for the crimes committed by others, or simply because they were in the wrong place at the wrong time."
A legal expert, who wished to remain anonymous, said that the trials probably were not of "international legal standards" and avoided considering "valid arguments" presented by the defence lawyers.
But Attorney General Mahbubey Alam told Al Jazeera that the HC bench delivered the verdict "after a thorough and careful investigation.
"Awarding death penalty even to an individual is not easy one. Here it was given to 139 people," the government lawyer said. "The High Court considered everything before giving that verdict."
Outside forces?
On February 25-26 in 2009, indignant members of the erstwhile Bangladesh Rifles (BDR), later renamed Border Guard Bangladesh (BGB), revolted against senior officers.
It initially appeared to be a few disgruntled Jawans (or soldiers) taking up arms against the deputed army officers in high positions of BDR, for better financial and working conditions, but later found to be a calculated massacre.
Among those killed was the then BDR chief Major General Shakil Ahmed and his wife. The remains of those massacred were dumped in sewers or buried in shallow graves.
Many theories have been doing the rounds about the nature of the mutiny and the real motives of the alleged perpetrators.
The most prominent of those theories suggested the involvement of "outside forces". The HC observations running in about thousand pages said: "There was a plot both from internal and external sides behind the BDR carnage, to uproot [Prime Minister] Sheikh Hasina-led government which came into power in 2008."
Lt General (retired) Mainul Islam, who took over as the first Director General (DG) of the BGB right after the mutiny, however, told Al Jazeera he "had not found any evidence" of outside involvement.
According to him, the underlying reason behind the mutiny was the "prevailing discrimination between the army officials deputed in BDR and the BDR Jawans".
The question that befuddled many during that time, as well as now, is why the intelligence unit failed to get a sense of what might happen on the morning of February 25, 2009, even though there were many suspicious activities that should have raised red flags.
The HC bench, in one of its recommendations, had called for investigating the failure of the intelligence unit in the purview of the carnage.
Critics and opposition leaders have called for an independent investigation into the incident.
Mirza Fakhrul Islam Alamgir, secretary general of the opposition Bangladesh Nationalist Party (BNP) said the killing of 57 top army officials in such a short span of time raises a lot of doubts.
"And it happened right after a new government came into power," he said. He said a probe needs to be conducted to find out whether it was "simply a ploy against a new government or against the whole nation.
"There is a need for digging deeper to unearth who was supposed to be the maximum beneficiary of such carnage."
http://www.aljazeera.com/indepth/features/2017/11/bangladesh-mutiny-case-139-soldiers-face-gallows-171129131418448.html
--------
Violent jihadists go to rehab at '5-star' Saudi centre
Nov 30, 2017
RIYADH: With its indoor swimming pool, sun-splashed patios and liveried staff, the Saudi complex has the trappings of a five-star resort, but it is actually a rehab centre — for violent jihadists+ .
Riyadh's Mohammed bin Nayef Counselling and Care Centre, a cushy halfway house between prison and freedom, spotlights a controversial Saudi strategy for tackling homegrown extremists+ .
While the global fight against terrorism is often associated with drone strikes and torture, the philosophy that underpins the centre's approach is that extremism requires not coercion but an ideological cure.
Overseen by clerics and psychologists, it works to prevent convicts who have served their sentences from returning to jihad, through what it calls religious counselling and ideological detoxification.
"Our focus is on correcting their thoughts, their misconceptions, their deviation from Islam," Yahya Abu Maghayed, a director at the centre, said while giving AFP a golf cart tour of the sprawling, palm tree-lined complex.
The convicts are housed in a series of low-slung buildings, outfitted with large-screen televisions and king-size beds, all framed by manicured lawns.
Many linked to groups such as Al-Qaeda and the Taliban walk around freely in flowing white robes, and have access to a spacious gym, a banquet hall and furnished apartments reserved for visits from spouses.
"We make the 'beneficiaries' feel they are normal people and still have a chance — a chance to return to society," Abu Maghayed said, insisting the centre refrained from calling them prisoners or inmates.
Saudi Arabia, long accused of exporting its ultraconservative Wahhabist Sunni doctrine around the world, is itself a victim of domestic terror attacks.
Crown Prince Mohammed bin Salman, who has sought to roll back the influence of the ultra-conservative religious establishment, this week jump-started a 41-nation military coalition to combat Islamist extremism, vowing to wipe terrorism from the face of the Earth+ .
But the rehab facility, founded in 2004, is one of the centrepieces of Saudi Arabia's strategy to expunge violent extremism at home.
It claims to have treated more than 3,300 men convicted of terrorism-related crimes, including repatriated Guantanamo Bay detainees.
The centre boasts of a "success rate of 86 percent", Abu Maghayed said, measured by those men who did not return to jihad for at least a decade after graduating from the centre.
Of the remainder, he said, most only showed signs of "deviant behaviour" and only a minuscule number relapsed into violent jihad.
An American terrorism expert who has closely studied the Saudi programme said the recidivism rate was higher, pointing out media reports of graduates from the centre who have showed up on battlefronts.
"Saudis are to be applauded for trying something different — they were one of the first to try a 'talking cure' for terrorists," John Horgan, another expert at Georgia State University, told AFP.
"(But) without greater transparency about its participants... it's impossible to know what value added, if any, this programme brings in reducing the threat of re-engagement in terrorism."
AFP was given a chance to interview "beneficiaries" if they agreed, but when two bearded, gym-buffed men were approached in their living quarters, they declined to talk.
Critics say there is a moral hazard of treating jihadists, many with blood on their hands, with lavish facilities and financial incentives.
But Saudi officials say the threat of sanction is always hanging over them.
Those who refuse to reform after a minimum stay of three months at the centre are returned to "the judicial process", Abu Maghayed said.
But more than coercion, the centre pushes for increasing familial bonds, encouraging marriage and children, a psychological tether meant to make it harder to return to violent ways.
"You cannot counter terrorism by force," said Ali al-Afnan, an educational psychology specialist at the centre.
"Only ideas can fight ideas."
The centre uses art therapy as one of its tools. Comparisons between portraits in the early days of incarceration and those at later stages are used as a metric to study inmates' frame of mind.
Abu Maghayed showed AFP one early painting, which he said depicted a gloomy "Guantanamo mentality" — with splashes of orange, the colour of jumpsuits at the infamous prison.
Another canvas painted weeks later showed bold brushstrokes and sparks of colour, depicting hope.
As Afnan spoke to AFP, he fielded an abrupt telephone call from a former "beneficiary" who once travelled to Afghanistan to fight alongside the Taliban.
Now married and with children, he was seeking advice from Afnan over returning to university for a graduate programme.
"This man is our role model," Afnan said after hanging up. "A shining example of how people deserve a second chance."
https://timesofindia.indiatimes.com/world/middle-east/violent-jihadists-go-to-rehab-at-5-star-saudi-centre/articleshow/61849413.cms
--------
Turkey claims over 80 'terrorists' killed in N-Iraq
November 30, 2017
ANKARA: The Turkish armed forces on Wednesday claimed to have killed over 80 "terrorists" after air strikes on Kurdish militant positions in northern Iraq . The military said there were also "several" injured members of the "separatist terrorist organisation" -- Turkey 's official term for the outlawed Kurdistan Workers' Party (PKK) -- after the strikes in the Asos region on Monday.
It was not possible to independently verify the toll. The strikes also damaged a PKK shelter, tunnel and hideout, the armed forces said, adding it destroyed a large ammunition store and two armoured vehicles. The PKK has waged an insurgency inside Turkey since 1984 and is blacklisted as a terrorist organisation by Turkey , the United States and the European Union.
Following the collapse of a two-year ceasefire in 2015, Turkish military operations against the PKK intensified in southeastern Turkey .
Turkey also regularly conducts air raids against PKK militants who have rear bases in the Qandil mountain area of Iraq , while Turkish ground troops sometimes stage incursions into the area. Last month four Turkish soldiers were killed in northern Iraq in two separate attacks blamed on the PKK.
http://nation.com.pk/30-Nov-2017/turkey-claims-over-80-terrorists-killed-in-n-iraq
--------
Trump's anti-Muslim retweets prompt backlash in Washington: 'The president is racist'
29 November 2017
A top Democrat condemned Donald Trump as a "racist" hours after the president retweeted a series of anti-Muslim videos on Wednesday that were posted by the deputy leader of a British far-right group.
"The president is racist. There's no doubt about that in my mind," Keith Ellison, the deputy chair of the Democratic National Committee and a Muslim member of Congress, told the Guardian.
"This is Trump. He is a politician who is cynically trying to divide people along racial and religious lines," he added. "Somehow people who call him out on his racism have to worry about defending themselves against [people saying], 'How dare you call the president a racist?'"
Trump has repeatedly denied being a racist in the past.
He prompted the latest controversy after he shared the incendiary videos – which drew a swift and rare rebuke from Britain's prime minister, Theresa May, through an official spokesperson – to his 43.6m Twitter followers despite serious questions about their authenticity. They marked the latest inflammatory action against Muslims from Trump, who as a candidate campaigned on banning all Muslims from entering the US and as president has sought to limit Muslim immigration through executive order.
The videos purported to show Muslims committing violent acts, such as pushing a boy off a roof and destroying a statue of the Virgin Mary. Another claimed to show a Muslim immigrant beating a Dutch boy on crutches, even though the Dutch police and media never suggested the attacker was Muslim.
They were originally posted to the Twitter feed of Jayda Fransen, the deputy leader of Britain First, who was charged last year with religiously aggravated harassment for verbally assaulting a Muslim woman wearing a hijab in January 2016.
Lindsey Graham, a Republican senator from South Carolina, said it was "particularly unhelpful" for Trump to have shared the videos. "One, it legitimizes these websites, this group in England," Graham told the Guardian, while adding of Fransen: "She's being prosecuted for religious harassment."
"You don't want to take a fringe group and elevate their content," he said. "I think it also is not the message we need to be sending right now when we need Muslim allies."
Arizona senator Jeff Flake, one of Trump's most vocal Republican critics, dubbed the president's tweets as "highly inappropriate".
Despite the backlash, White House press secretary Sarah Huckabee Sanders doubled down on Trump's tweets even as she appeared to acknowledge their authenticity could not be confirmed. "Whether it's a real video, the threat is real," she said. "The threat needs to be addressed and the threat has to be talked about and that's what the president is doing in bringing that up."
Raj Shah, the White House deputy press secretary, later framed the matter as one of national security while addressing reporters aboard Air Force One. "The president has been talking about these security issues for years, from the campaign trail to the White House," Shah said.
Asked if Trump felt Muslims posed a threat to the US, Shah held up the president's proposed travel ban on several Muslim-majority countries as reflecting his views on the subject. "No, look, the president has addressed these issues with the travel order [he] issued earlier this year," he said.
"There are plenty of Muslim-majority nations whose citizens can come to the United States without travel restrictions. Those that pose public safety or terrorism threats … is why there were certain travel restrictions put in place."
A spokesperson for May said it was "wrong" for Trump to have retweeted the videos. "Britain First seeks to divide communities by their use of hateful narratives that peddle lies and stoke tensions. They cause anxiety to law-abiding people," the spokesperson said.
"British people overwhelmingly reject the prejudiced rhetoric of the far right which is the antithesis of the values this country represents, decency, tolerance and respect."
Asked to respond to the statement from Downing Street, Shah simply said Trump "has the greatest respect for the British people and for Prime Minister May". Shah declined to comment on how Fransen's original tweets came to Trump's attention.
Reaction on Capitol Hill was nonetheless muted, with attention fixated on Republican efforts to pass an overhaul of the US tax code.
Jim Inhofe, a senator from Oklahoma, told PBS he hadn't seen the anti-Muslim tweets but was critical more broadly of Trump's social media habits. "I would like to see someone kind of look at the language before they go out," he said.
David Duke, the former Ku Klux Klan leader, celebrated Trump's tweets. "He's condemned for showing us what the fake news media WON'T." Duke wrote on his own Twitter account. "Thank God for Trump! That's why we love him!"
As a candidate, Trump routinely fanned the flames of Islamophobia by making a number of inflammatory statements about Muslims.
In March of 2016, he told CNN: "I think Islam hates us."
Since assuming office, Trump has shown no signs of shifting his tone — often seizing upon terrorist attacks as evidence that his travel ban is necessary.
Ellison, who in 2007 became the first Muslim member of Congress, said Trump's latest outburst was "in line with what he always does"
"Yesterday he was calling a US senator Pocahontas at an event designed to commemorate the contributions of Navajo war veterans," Ellison told the Guardian, referring to a racial taunt Trump directed at Democratic senator Elizabeth Warren on Tuesday.
"Today, he's pushing out hate propaganda against Muslims … He made an equivalency between the Klan and the neo-Nazis and the people who were protesting them this summer."
Ellison said there was "no question" Trump's actions could incite violence across the country.
"What was it but violence that resulted in the woman getting hit by the car this summer?" Ellison said of the August rally in Charlottesville, Virginia, when a white supremacist drove his car into a group of counter-protestors, leaving one dead and several injured.
Ellison also cited the bombing of a mosque in his home state of Minnesota in August as the consequence of hate speech.
"My point is simply this: We've got to stand for solidarity among all people of all colors and all backgrounds," he said.
"We believe an American is an American is an American… We believe we need all colors, all cultures and all faiths."
"He's the one who says we don't," Ellison added of Trump. "He's the one who says you've got to be the right religion, the right pigment … to be fully American. He does this time and time and time again."
"The point is not whether or not he's racist anymore – he clearly is. The question is what are Americans going to do about it."
https://www.theguardian.com/us-news/2017/nov/29/trumps-anti-muslim-retweets-prompt-backlash-in-washington-the-president-is-racist
--------
Africa
African refugees bought, sold and murdered in Libya
by Ali Younes
Nov 30, 2017
Hundreds of African refugees are being bought and sold in "slave markets" across Libya every week, a human trafficker has told Al Jazeera, with many of them held for ransom or forced into prostitution and sexual exploitation to pay their captors and smugglers.
Many of them ended up being murdered by their smugglers in the open desert or die from thirst or car accidents in the vast Libyan desert, said Salman*, the human trafficker.
A morgue in the southern city of Sabha - an entry point for many refugees coming from Africa - is overflowing with corpses, with faulty refrigerator making the situation worse, according to a Libyan health official.
The official in Sabha, 650km south of the capital Tripoli, described horrendous scenes of bodies dumped in threes, fives or more at the gates of the Sebha health facility by smugglers.
The refugees who died are never identified and many ended being buried without names or proper graves, he said.
The health official, who declined to give his name for security reasons, said Sabha's morgue has only one dysfunctional refrigerator that can hold bodies for up to three days but end up keeping them for months and on.
"Bodies end up being decomposed inside the refrigerator and often give off foul stench.
"We appealed to the World Health Organization to help us with a new refrigerator but we have yet to receive a positive response from them," he told Al Jazeera.
Gateway to reach Europe
The refugees and migrants - most of them from Ghana, Nigeria, Cameroon, Zambia, Senegal, Gambia and Sudan - are smuggled into Libya by a network of criminal gangs on the promise of reaching Europe's shores.
Libya is the main gateway for people attempting to reach Europe by sea, with more than 150,000 people making the deadly crossing in each of the past three years.
The International Organization for Migration (IOM) said on Tuesday that it had interviewed migrants from west African countries who recounted being traded in garages and car parks in Sabha.
The IOM said it had spoken to one Senegalese migrant, who was held in a private house in Sabha along with some 100 others. They were beaten up and forced to call their families to arrange money for their release. The unnamed migrant was then bought by another Libyan, who set a new price for his release.
Some of those who cannot pay their captors are reportedly killed or left to starve to death, the IOM said. When migrants die or are released, others are purchased to replace them.
Salman, the human trafficker, explained in detail his routes through Libya, telling Al Jazeera by phone that his "business" had increased several fold since the fall of long-time Libyan leader Muammar Gaddafi.
He said the refugees are first introduced to the traffickers by private labour offices in the cities of Agadez and Zinder in neighbouring Niger.
Forced into prostitution
Salman said once he receives a wire transfer for the refugees from a "commander" in Niger, he starts the transportation process.
He said he charges between 1,000 Libyan dinars ($735) and 1,500 Libyan dinars ($1,100) per person, and once he receives payment, the migrants are loaded up on battered 4x4 vehicles and driven through Libya's sweltering desert, where temperatures exceed 50C during the summer season.
"I pick up migrants from al-Qatron [in Libya] and transport them to Sabha," he told Al Jazeera.
"This is a deal agreed upon with other commanders in Niger and other African countries."
Al-Qatron, a small town about 300km south of Sabha and close to the Nigerien border, is the starting point for many of the thousands of migrants that enter Libya every year.
Once in Sabha, the refugees are taken under the control of a "commander" who provides them food, shelter and protection, before they are sold as slaves to other smuggling rings or other commanders in various Libyan cities.
The refugees are forced to live in either open courtyards, or in ramshackle rooms without proper sanitation.
Ahmad*, a resident of Sabha, told al Jazeera that forced prostitution was widespread in the town.
"The Abdel Kafi neighbourhood is one of the main squares where the prostitution rings exist," Ahmad told Al Jazeera by phone.
He added that people were being auctioned off in the town, with men and women fetching 1,000 Libyan dinars ($735). Others from Ghana and Cameroon might fetch several thousand Libyan dinars.
"Libyans don't have a problem with African migrants," Ahmad said, adding that in recent years Sabha had seen an influx from countries such as Ghana, Cameroon, Nigeria and Zambia, along with Chad and Niger.
Mohamad Hasan, a Libyan national and a resident of Sebha, told Al Jazeera by phone that he witnessed five women being sold by one commander to another who immediately forced them into prostitution.
"I have seen African women being ordered to work in private night clubs that cater to the migrant communities in Libya and are forced into prostitution," he said.
Hasan, who owns a restaurant frequented by migrants, said, the "women in particular are helpless and for the most part are stuck in Libya with nowhere to go".
http://www.aljazeera.com/news/2017/11/african-refugees-bought-sold-murdered-libya-171129103602048.html
--------
Four killed, hostages taken in DR Congo attack
November 29, 2017
BUKAVU - Four people were killed in a nighttime attack Tuesday in eastern Democratic Republic of Congo , in which several people were also abducted by suspected Hutu militia members, local officials said.
"A group of armed bandits attacked the village of Numbi," in restive South Kivu province, its chief, William Sebrikanda, told AFP, adding that one of the victims was a Congolese soldier.
"Five people were also wounded and several others were carried off into the forest," he added.
The attack was attributed to the Mai-Mai Nyatura, a "self-defence" militia of ethnic Hutus.
For more than a year, a cycle of attacks and reprisals between Hutu and Nande militias has stoked tensions in the Kivu regions, which like the rest of eastern Congo have been torn apart by over 20 years of conflict.
The area has large reserves of coltan, used in mobile phones and other electronic gear, as well as cobalt and other minerals.
The Numbi village is about 20 kilometres (12 miles) from a mining site known as Luziba, whose exploitation is being contested by two local mining cooperatives.
But a local mining official, Michel Liete, told AFP that "I don't think it is linked to the operations at the Luziba mine."
Full report at:
http://nation.com.pk/29-Nov-2017/four-killed-hostages-taken-in-dr-congo-attack
--------
UN considers sanctions to fight Libya slave trade
by Creede Newton
Nov 30, 2017
France's ambassador to the UN has urged the Security Council to impose sanctions on the people involved in Libya's slave trade of African refugees and migrants.
Francois Delattre's comments come as human trafficking in Libya has become a burning topic since a CNN investigation produced footage of West Africans being sold at slave markets in November.
"France will propose to assist the sanctions committee ... in identifying responsible individuals and entities for trafficking through Libyan territory," he told the council on Tuesday.
The UN Security Council held an emergency session to discuss the possibility of sanctions against individuals and entities, and of applying the full range of international law including the use of the international criminal court - but the session ended without resolution.
The head of the UNHCR has called for funds, in addition to words, to fight the modern-day slave trading.
"We count upon support of the members of the council to make headway to that end."
A sanctions programme set up in 2011, the year of the US-supported invasion of Libya which saw the overthrow of long-time leader Muammar Gaddafi, allows the Security Council to place sanctions on "individuals and entities involved in or complicit in ordering, controlling, or otherwise directing, the commission of serious human rights abuses against persons in Libya".
Slavery and human trafficking have been present in Libya for years.
"This has been going for quite some time," Omar Turbi, a Libyan human rights defender, told Al Jazeera.
Even under Gaddafi, Libya "struggled" with arms trafficking, drug trafficking and human trafficking, according to Turbi, who has worked with the US government to save lives in the North African country.
Libya descended into a civil war in 2014 and is widely considered a failed state.
There are competing governments - the National Transition Council recognised by the UN and the Khalifa Haftar government which controls more territory - and the presence of groups such as the Islamic State of Iraq and the Levant (ISIL) group and al-Qaeda that control large expanses of territory.
'Treated like cattle'
Other members of the Security Council have condemned modern-day slavery in Libya.
"To see the pictures of these men being treated like cattle, and to hear the auctioneer describe them as, quote, 'big strong boys for farm work,' should shock the conscience of us all," Nikki Haley, the US ambassador to the UN, told the Security Council last week.
"There are few greater violations of human rights and human dignity than this."
Asked if sanctions could help end the sale of human beings in Libya, Turbi, the rights defender, said he was not sure.
"It's going to be extremely hard to control the borders," he told Al Jazeera.
Full report at:
http://www.aljazeera.com/news/2017/11/considers-sanctions-fight-libya-slave-trade-171128183838460.html
--------
HRW denounces extrajudicial killings in eastern Libya
Nov 29, 2017
Human Rights Watch has denounced a series of summary executions in eastern Libya, which is under the control of the Libyan National Army (LNA), led by military strongman Field Marshal Khalifa Haftar.
The New York-based organization on Wednesday urged the LNA to keep promise to investigate the latest killings.
Police found the corpses of 36 men, all of them executed, near the town of al-Abyar, east of Libya's second city Benghazi, on October 26. Two days later, Haftar ordered an investigation but no findings have been declared and no suspects have been arrested.
"The LNA's pledges to conduct inquiries into repeated unlawful killings in areas under their control in eastern Libya have so far led nowhere," said Eric Goldstein, deputy Middle East and North Africa director at the HRW.
"The LNA will be condoning apparent war crimes if their pledge to investigate the gruesome discovery in al-Abyar proves to be another empty promise," he added.
Back then, a local security official said the bodies discovered in al-Abyar belonged to suspected Takfiri militants, including 19 foreigners.
The HRW said it had "reviewed multiple lists containing a total of 25 names of men found at al-Abyar, but could not verify which were civilians and which, if any, were fighters affiliated with forces opposing the LNA."
However, the rights group cited the relatives of six of the victims as saying that they were civilians who had been taken by armed men affiliated to LNA from their homes in presence of their family members.
The HRW also urged the LNA to hand over a senior military commander wanted by the International Criminal Court in connection with previous killings.
In August, the ICC issued a warrant for the arrest of Mahmoud Mustafa Busayf al-Werfalli, a commander of the Benghazi-based Al-Saiqa brigade, on suspicion of involvement in war crimes, including the execution of 33 people in Benghazi.
The ICC judges accuse Werfalli of personally shooting or ordering the execution of people who were either civilians or injured fighters in at least seven incidents in 2016 and 2017 that were filmed and posted to social media sites.
The LNA has said Werfalli is already in custody and will be tried by a military tribunal.
Libya has been experiencing a power vacuum since a NATO military intervention resulted in the downfall of its longtime dictator Muammar Gaddafi in 2011. Since then, the country has been grappling with chaos and the emergence of numerous militant groups, including the Takfiri Daesh terror group.
Full report at:
http://www.presstv.com/Detail/2017/11/29/543929/HRW-summary-executions-Libya
--------
South Asia
Pope preaches forgiveness in landmark mass for Myanmar Catholics
November 29, 2017
The pope is set to hold a meeting with Buddhist leaders later Wednesday, on a visit that has strong political as well as religious overtones
Pope Francis spread a message of forgiveness in a historic open-air mass before a sea of worshippers in Yangon on Wednesday, during a visit to conflict-torn Myanmar that has been framed so far by his public sidestepping of the Rohingya crisis.
Ranks of nuns sang in Latin, accompanied by organ music, as Francis — making the first papal visit to the mainly Buddhist nation — delivered a homily urging compassion, opening his speech with "minglabar", Burmese for "hello."
"I can see that the Church here is alive," he said of a Catholic community numbering around 700,000 — a tiny fraction of the country's 51 million people.
Earlier, Francis smiled and waved as he moved through the estimated 150,000 faithful in his "popemobile". Many worshippers held Myanmar flags and wore colourful costume from the country's myriad ethnic groups.
"I never dreamed I would see him in my lifetime," said Meo, an 81-year-old from the Akha minority in Shan state.
Like many others at the mass she hails from one of Myanmar's conflict-riddled borderlands, where minority groups have long been marginalised by the Buddhist-dominated state.
In his homily, the pontiff noted that many Myanmar people "bear the wounds of violence, wounds both visible and invisible."
But he urged his audience to forgo anger and respond with "forgiveness and compassion."
The pope is set to hold a meeting with Buddhist leaders later Wednesday, on a visit that has strong political as well as religious overtones.
The pontiff arrived on Monday in a country on the defensive after an outcry from the international community over the plight of its Rohingya Muslim minority, who have been driven to Bangladesh in huge numbers.
He held private talks with both civilian leader Aung San Suu Kyi and the powerful army chief Min Aung Hlaing, who are part of a delicate power-sharing arrangement as the country emerges from decades of junta rule.
Francis avoided mentioning the crisis — or the Rohingya — directly in a speech in the country's capital Naypyidaw on Tuesday, calling simply for "respect for rights and justice."
'From the heart'
His caution so far on a four-day trip will bring relief to Myanmar's Catholic leaders, who had urged the pontiff not to wade into the treacherous issue for fear of sparking a backlash from Buddhist hardliners.
Even the mention of the name Rohingya is incendiary to many among the majority-Buddhist population, who deny the group are a distinct minority and insist on calling them "Bengalis."
Reactions to the pope's handling of the issue have been mixed, with some Rohingya expressing disappointment that he did not draw direct attention to their suffering as he had done in several appeals from abroad.
But Kyaw Min, a former MP and prominent Rohingya activist, said he understood the pressures the pope was under and the pontiff had managed to speak about the group's plight indirectly.
"He said there were some people who have been bullied and need to get their rights … this was about the Rohingya," Kyaw Min told AFP.
A military crackdown has forced more than 620,000 Rohingya over the last three months to flee their homes in northern Rakhine state to one of the world's biggest refugee camps in neighbouring Bangladesh.
The army has justified the campaign as a proportionate retaliation for deadly attacks by hardline Rohingya militants in August.
But the UN and the US have labelled it ethnic cleansing and rights groups accuse the military of crimes against humanity, with refugees recounting consistent reports of murder, rape and arson.
On December 5 the UN's Human Rights Council will hold a special session to discuss the Rohingya crisis.
There have been Catholics in Myanmar for over 500 years and they generally enjoy good relations with the Buddhist majority.
In the last three years, the Vatican has canonised Myanmar's first saint and named its first cardinal before full diplomatic ties were established in May this year, paving the way for the pontiff's visit.
"When we heard the sound of his words, we could tell they came from the heart, and that gave us peace," 47-year-old Yangon resident Ko Ko Lay told AFP, after the mass had finished.
http://www.dhakatribune.com/world/south-asia/2017/11/29/pope-preaches-forgiveness-landmark-mass-myanmar-catholics/
--------
BD priest disappearance casts pall over pope visit
November 30, 2017
DHAKA - A Catholic priest has disappeared in Bangladesh, police said Wednesday, as the Muslim-majority country stepped up security ahead of a landmark visit by Pope Francis that follows a rise in Islamist attacks on religious minorities.
Walter William Rosario, a 40-year-old priest and headmaster of a Catholic school, went missing on Monday in a village in northern Bangladesh where suspected Islamist extremists last year hacked a Catholic grocer to death.
Gerves Rosario, bishop of the nearby city of Rajshahi, said he believed the priest had been kidnapped and that Catholics in the region were deeply worried. "He was organising for around 300 Catholics to travel to Dhaka to see the Pope and attend his holy mass. But his disappearance has marred their joy. They don't want to go to Dhaka any more," he said. News of his disappearance comes as Bangladesh tightens security in the capital Dhaka ahead of the arrival Thursday of the first pontiff to visit Bangladesh in more than three decades.
Police in Natore district said they had launched a major search for Rosario after his family reported him missing.
"He has been missing since late Monday. His mobile has been switched off," local police chief Biplob Bijoy Talukder told AFP.
The family received a phone call from someone using the missing man's number to demand a ransom, but Talukder said police believed this was a hoax.
They have not ruled out the possibility he was abducted by Islamist extremists, who have carried out attacks on religious minorities in the region in the past four years.
Since 2015 at least three Christians, including two converts from Islam, have been hacked to death in attacks blamed on the militant Jamayetul Mujahideen Bangladesh (JMB).
Bikash Hubert Rebeiro, the priest in Bonpara village where Rosario grew up, described him as a "good man" whose disappearance had cast a pall over the pope 's visit .
"Our joy is gone," he told AFP by phone. "Everyone in the village is shocked. His elderly mother has being crying non stop."
Rebeiro said Rosario's family was friendly with the relatives of Sunil Gomes, the Catholic grocer murdered outside his shop last year.
Christians make up less than 0.5 percent of Bangladesh's 160 million people and have for centuries lived in harmony alongside the Muslim majority. But community leaders say a rise in Islamist extremism has strained relations.
Bangladesh authorities have escalated security in Christian areas of Dhaka in recent days as tens of thousands descend on the capital for an open-air mass on Friday. On Tuesday police said they had killed three suspected Islamist militants in a raid on a house where they found hand grenades, pistols and bomb-making materials. "The pope 's visit is a matter of honour for us. We are organising the highest level of security for him," police spokeswoman Sahely Ferdous told AFP. The three-day visit will be dominated by the plight of more than 620,000 Rohingya Muslims who have fled ethnic unrest in Myanmar and taken refuge in Bangladesh.
Their arrival has added to the huge challenges already facing the poor, overpopulated country, which has seen a substantial rise in Islamist extremism in recent years. In July last year Islamist militants stormed a Dhaka cafe and massacred 22 hostages including 18 foreigners in an attack claimed by the Islamic State group.
Full report at:
http://nation.com.pk/30-Nov-2017/bd-priest-disappearance-casts-pall-over-pope-visit
--------
'We are in danger': French Army translators left behind to Taliban
November 30, 2017
The Taliban have tried to kill Zainullah, a former translator for the French Army , twice already, he says, warning that the insurgents have expanded their territory in Afghanistan to just five minutes from his door.
He and fellow translators who once aided international forces say they are increasingly fearful, with the Taliban now controlling or influencing some 40 percent of Afghanistan's 407 districts.
"We are in danger ," says another, Bashir, who served the French Army for four years. "Nobody knows when but it's going to happen one day, for the situation is getting worse. They will get us."
Last Wednesday, Zainullah was wounded in a suicide motorcycle attack in front of his home just north of Kabul, as he spoke to a NATO patrol.
One of the soldiers was killed, and several others wounded. Zainullah, 28, said he was sure the bomber had wanted to kill two birds with one stone: the Westerners, and him.
It was their second attempt, he said. In June he received a threatening phone call and, shortly after, was shot in his garden by two gunmen on motorbikes.
More telephone threats have followed, voices speaking to him in the accents of Kandahar, the Taliban 's birthplace in Afghanistan's south.
Previously he felt safe at home. "There were no Taliban here. Now they are in the (neighbouring) village," just a five minute drive away.
Zainullah spoke to the police. He displayed the official complaint he made, stored in a plastic bag with his translator contracts and pay stubs from the NATO-controlled International Security Assistance Force (ISAF).
He even has his access badges to the French bases in Kabul and in Surobi.
"The district police chief told me, 'We know you've been targeted but we can't protect you. We don't have enough guards. You are not high profile people.' He was sorry," Zainullah said.
Embattled police are themselves increasingly targeted in devastating attacks and short on time and resources.
"Of course, we don't have enough forces to protect every individual but we are doing our best," says Abdul Fatah, a senior police official in Kapisa, an unstable province north of the capital where French troops once had a heavy presence.
He spoke generally as he was not involved in Zainullah's case.
There are 152 Afghans, mainly former translators but also cooks, drivers, mechanics and others who worked for international forces, whose requests for relocation have been rejected by France, according to their lawyer Caroline Decroix, based in Paris.
One hundred others have seen theirs accepted. They live now in France with their families, 371 people in total. Among those denied, many have gone clandestinely to Turkey, Europe or neighboring countries, says Bashir.
- Infidels and spies -
"The insurgents, they call us infidels, or spies," Bashir explained.
He said he had become so paranoid that he was even suspicious of his own tribe, people he grew up with who, even unintentionally, could divulge information leading the Taliban to him.
"I've changed my address many times," he said, adding that virtually none of his fellow translators can live in their own villages any more.
Some even travel wearing burqas to disguise themselves, he said. "We feel we didn't make the right choice. We are left behind."
Hajji Mirdad Mijrabi, an MP for Kapisa, confirmed the climate of fear.
"Almost all the interpreters had to take their families out of the provinces to live in Kabul and in city centres, where they are jobless... They hardly survive in the cities," he said.
Zainullah says he does not have the means to keep moving. His older brother worked as a translator for British troops and now lives in the UK with his family.
Zainullah's relatives are panicked. "My father told me, 'We wish you had never worked with the coalition.' It hurts, it's disappointing."
In early October, the Council of State, France's highest court, found that there had been a "miscalculation" in the management of some of the translators ' applications for relocation packages. "Zainullah has been waiting for protection for two years and has not received an answer," says the lawyer Decroix, who claims to receive "alarming information almost daily" from Afghanistan. She hopes the Council of State's ruling will prompt the government to "finally realise the shortcomings and flaws of the relocation mechanism".\ The Ministry of Foreign Affairs in Paris told AFP it was "attentive to the individual situation" of its former employees.
Full report at:
http://nation.com.pk/30-Nov-2017/we-are-in-danger-french-army-translators-left-behind-to-taliban
--------
Attacks on Taliban's financial engine to continue: Gen. Nicholson
Nov 29 2017
The commander of the NATO-led Resolute Support Mission and the US forces in Afghanistan Gen. John Nicholson says the attacks on Taliban financial engine will continue as heavy losses have been inflicted on the group and its associated in recent raids.
Speaking to reporters in Pentagon via video teleconference, Gen. Nicholson said operations under the new permissions have already begun, as Afghan and coalition forces struck the source of the Taliban's finances: the narcotics trade.
"In just over three days' worth of operations, the Afghan 215th Corps, their special forces commandos, their air force, in close cooperation with U.S. forces, removed between $7 million and $10 million of revenue from the Taliban's pocketbook," Gen. Nicholson said.
He also added "And the overall cost to the drug trafficking organizations approached $48 million. So these strikes were just the first step in attacking the Taliban's financial engine, and they will continue."
According to Gen. Nicholson the Taliban have evolved into a criminal or narco-insurgency. "They are fighting to defend their revenue streams," he said.
Full report at:
http://www.khaama.com/attacks-on-talibans-financial-engine-to-continue-gen-nicholson-03945
--------
'Taliban is living in comfort in Pakistan with drug money', says international forces' commander in Afghanistan
Shailaja Neelakantan
Nov 29, 2017
NEW DELHI: The Taliban is "living in comfort...with plenty of drug money" in Pakistan said the commander of US and international forces in Afghanistan, reported CNN.
What's more, the commander said Pakistan has yet to take significant action against the Taliban, despite it having been over a 100 days since US President Donald Trump's demand that Islamabad needs to do more in the war on terror instead of providing "safe haven to agents of chaos, violence and terror".
The US, on its part, recently carried out a series of operations targeting Taliban-linked opium production facilities in Helmand province, operations he said cost the Taliban as much as $10 million in revenue, but Pakistan has yet to demonstrate any commitment, said US General John Nicholson, the commander of US and international forces in Afghanistan.
"We have not seen those changes implemented yet...They (Pakistan) identified certain steps that they were going to take. We've not yet seen those steps play out...in terms of changes thus far this year, again, (Trump's) policy was announced August 21, it's now a hundred days late," said Nicholson, reported CNN and Reuters news agency.
The US General was referring to Trump's fire and brimstone speech when he accused Pakistan of sheltering terror groups that try every day to kill Americans.
"We have been paying Pakistan billions and billions of dollars but at the same time they are housing the very terrorists that we are fighting. But that will have to change, and that will change immediately," said Trump in that August 21 address.
It was a speech that made even cynical policy wonks wonder if a change was indeed in the offing when it comes to Pakistan. They needn't have worried. It wasn't.
Blatant disregard of the US by Pakistan is nothing new. Nor is the failure of the US carrot-and-stick policy when it comes to Pakistan, its 'major non-NATO ally'. Because per usual, the US didn't really follow up with stringent punishment since those fighting words in August from Trump about cutting off aid to Pakistan.
Consider that Nicholson's comments come two weeks after news that the US Congress has kept action against the Afghan Taliban - especially the dreaded Haqqani Network - a key condition to reimburse Pakistan for its cooperation in the 'war on terror'.
In fact, so concerned is the US about the Haqqani Network that Congress removed another condition demanding action against India-oriented terror group Lashkar-e-Taiba (LeT) as well, to be eligible for reimbursements.
"As you've heard our president (Trump) say, as you've heard all of our senior leaders say, we have got to see movement on this reduction of sanctuary and support for those insurgents and terrorists operating from Pakistan who are attacking our forces and our coalition diplomats and forces, as well as the Afghans," said Nicholson, adding that the Afghan Taliban has found sanctuary inside Pakistan since 2001.
The General said Pakistan has been told about these sanctuaries many times before, to no avail.
"The offensive operations against sanctuaries would be in other areas that we've identified with the Pakistani leadership on a number of occasions," he said.
Not only does Pakistan seem to be paying scant heed to US threats, it in fact seems emboldened anew, as can be seen with the release last week of global terrorist and 26/11 Mumbai massacre mastermind Hafiz Saeed.
Sure, the White House slammed Pakistan for allowing Saeed to go free. But that's about it. It couldn't even retain a condition the US Senate was keen to impose on Pakistan in a bill -- action against both the LeT in addition to the Haqqani Network in return for 'war on terror' reimbursements.
"The new version (of the bill on reimbursements) has confined this requirement to the Haqqani network only, indicating a desire in Washington to focus entirely on Afghanistan as long as it takes to subdue the Taliban insurgency there,'' said Pakistan's Dawn newspaper two weeks ago.
Full report at:
https://timesofindia.indiatimes.com/india/taliban-is-living-in-comfort-in-pakistan-with-drug-money-says-international-forces-commander-in-afghanistan/articleshow/61847308.cms
--------
Arab World
Chinese Elite Forces to Arrive in Syria Soon to Join War on Terrorists
Nov 29, 2017
The Russian center said that the Chinese forces will soon arrive in Syria to intensify attacks on the Islamic al-Turkistani Party that have been detected by the Syrian Army troops.
The center quoted sources in the Chinese Defense Ministry as saying that the Chinese Army's Night Tigers and Siberian Tigers affiliated to counter-terrorism forces will soon arrive in Syria to attack Eastern-Islamic Turkistan Movement in Damascus province.
The Arabic-language al-Watan online reported on Monday that members of the Islamic al-Turkistan party clashed with the rival terrorists of Ansar Turkistan in the Abu al-Dhohour airbase in Southeastern Idlib for the first time.
The al-Watan quoted sources close to the warring sides as saying that differences over how to lead the war against the army caused the infighting between the Islamic al-Turkistan party and Ansar Turkistan.
It added that the army troops have deployed only 17 km away from the airbase from its Eastern direction.
Al-Watan went on to say that al-Turkistani party has recently joined the Al-Nusra Front (Tahrir al-Sham Hay'at or the Levant Liberation Board), participating in battle against the army men close to the village of al-Mastariheh.
http://en.farsnews.com/newstext.aspx?nn=13960908000584
--------
Egypt's Sisi gives military order to secure the Sinai within three months
29 November 2017
Egypt's President Abdel Fattah al-Sisi on Wednesday ordered his military command to use all force necessary to secure the Sinai peninsula within the next three months following a militant attack on a mosque that killed more than 300 people.
"It is your responsibility to secure and stabilize Sinai within the next three months," Sisi said addressing his new chief of staff in a speech, without giving details on any operations. "You can use all brute force necessary."
Full report at:
https://english.alarabiya.net/en/News/middle-east/2017/11/29/Egypt-s-Sisi-tells-military-to-use-all-force-to-secure-Sinai-in-three-months.html
--------
Britain's May on surprise visit to Baghdad
November 30, 2017
BAGHDAD - British Prime Minister Theresa May paid a surprise visit on Wednesday to Baghdad where she met her Iraqi counterpart Haider al-Abadi and praised the country's efforts to battle the Islamic State group. May's visit came after Iraqi forces backed by an international coalition including Britain ousted the Islamic State group from swathes of Iraq it had controlled since 2014. May praised "the bravery and sacrifice of the Iraqi security forces" and pledged British support "for as long as the Iraqis want and need it".
Britain , which took part in the US-led Iraq invasion of 2003 which toppled the regime of dictator Saddam Hussein, has played a key role in the coalition battling IS.
Experts have long argued that its participation in the 2003 invasion made Britain a target for jihadist groups.
May told a press conference in Baghdad that Britain would "work with partners across the region to develop the capabilities that will enable us to deal with the threat posed by foreign fighters."
She said she had visited British troops training Iraqi security forces at the Taji military base, north of Baghdad .
The British premier also reiterated Britain 's support for a unified Iraq, two months after Iraqi Kurds overwhelmingly voted for independence in a referendum bitterly contested by Baghdad and ruled unconstitutional by Iraq's top court.
She called for a "stronger, more inclusive, unified Iraqi state" and encouraged the Iraqi government "to respond positively" to calls by the Kurdish leadership for dialogue.
"We (also) encourage the Kurdish regional government to respect the Iraqi federal supreme court ruling on the unconstitutionality" of the vote, she said.
May also pledged funds to continue training Iraqi forces and to support "efforts to return (displaced people) and restore stability".
Abadi added that the leaders had discussed "encouraging British businessmen and businesses to invest... in Iraq, to take part in building Iraq and bringing stability" to the country.
May left London late Tuesday for a three-day visit to the Middle East, where she is also set to meet Saudi and Jordanian leaders in a bid to bolster regional ties.
She will hold talks on issues including Qatar and Yemen with Saudi Arabia's Crown Prince Mohammed bin Salman, before heading to Jordan for meetings with King Abdullah II and Prime Minister Hani Mulki.
Saudi Arabia is Britain 's largest trading partner in the Middle East, and London has signed off on more than £3.3 billion ($4.4 billion/3.7 billion euros) worth of arms sales to Riyadh since March 2015.
Full report at:
http://nation.com.pk/30-Nov-2017/britain-s-may-on-surprise-visit-to-baghdad
--------
Iraqi Commander: US Plots to Assassinate Hashd al-Shaabi Leaders
Nov 29, 2017
"Hashd al-Shaabi has changed all US plans and has changed all previous equations. Iraq will no more go under disintegration and this has angered Washington," Jabbar al-Amouri was quoted as saying by the Arabic-language al-Alam news channel on Wednesday.
"The US, supported by certain Persian Gulf littoral states financially and politically, is mulling plots to assassinate leaders of the Iraqi popular forces, though" he warned.
Amouri also warned that Iraq won't be able to restore calm and tranquility as long as the US stays in the country.
In relevant remarks in October, Spokesman of Hashd al-Shaabi Ahmad al-Assadi warned that the US enlistment of Hashd al-Shaabi deputy chief commander Abu Mahdi al-Muhandis as a terrorist is a direct threat to his life and Washington should account for it.
"We take Washington responsible for any possible aggression and attack against Abu Mahdi al-Muhandis," al-Assadi told the Arabic-language al-Mayadeen news channel.
He also called on the Iraqi foreign ministry to show reaction to the US threat against Hashd al-Shaabi's deputy chief commander.
His remarks came after US State Department Spokeswoman Heather Nauert called al-Muhandis as "a terrorist".
In response, Iraq's foreign ministry declared the Hashd al-Shaabi an "inseparable" part of the national forces, and rejected the United States' labeling its deputy commander a terrorist.
The Popular Mobilization Forces (PMF), under the deputy command of Abu Mahdi al-Muhandis, are a legal Iraqi force that has fought bravely against terrorism in Iraq, the spokesperson of the Ministry of Foreign Affairs said in a statement on Friday.
Full report at:
http://en.farsnews.com/newstext.aspx?nn=13960908001415
--------
Syrian Army Inches Closer to Terrorist-Held Airbase in Southeastern Idlib
Nov 29, 2017
The army men drove terrorists out of the village of Mazra'a Southwest of Khanasser after taking control over the villages of Azizeh and Abisan.
The army soldiers, also, managed to capture the villages of Rasm al-Kabara al-Reshadiyah and Rasm al-Khala.
A field source reported that the army troops advanced over 18 km deep into the terrorist-held territories towards Abu al-Dhohour airbase from Khanasser direction.
A field source confirmed on Monday that the army sent a large number of forces and a large volume of military equipment to Hama and Aleppo provinces to kick off an imminent operation against terrorists in Southeastern Idlib.
The source said that the army forwarded hundreds of fresh soldiers and more military hardware to Southern Aleppo and Northeastern Hama to storm terrorists' defense lines in Southeastern Idlib to capture the strategic Abu al-Dhohour airbase amid eruption of infighting between two rival terrorist groups at the airbase.
Full report at:
http://en.farsnews.com/newstext.aspx?nn=13960908001228
--------
Syria: Al-Nusra Withdraws from Positions in Golan Heights
Nov 29, 2017
The army men, backed up by the artillery and missile units, stormed Al-Nusra's strongholds in the Western direction of Tal Bardaya and managed to push the terrorists back from more positions.
According to a battlefield source, the Syrian Army is attempting to seize the hilltop to impose fire control over the large pocket of militants near the occupied Golan Heights.
Also, a field sources reported that the army has dispatched a number of forces and equipment to the Western slope of the hill to repel terrorists' possible attacks.
Relevant reports said on Tuesday that the Pro-government forces broke-through militants' front-lines at the strategic hilltop of Tal Bardaya in Southwestern Damascus, seizing many points after a short battle on Monday night.
Full report at:
http://en.farsnews.com/newstext.aspx?nn=13960908001078
--------
Syrian regime delegation joins peace talks in Geneva
29 November 2017
The Syrian delegation arrived in Geneva to participate in the eighth round of United Nation-sponsored peace talks. It delayed its departure for one day after the opposition repeated its demand that Syrian President Bashar al-Assad step down.
The Russian-proposed ceasefire in the Eastern Ghouta area of Syria has been widely observed, a war monitor and a witness said on Wednesday, as a delegation from Damascus arrived in Geneva to join peace talks there.
The Syrian Observatory for Human Rights said that the ceasefire in the besieged rebel-held enclave near Damascus is being "observed in general".
Al Arabiya sources reported that US Deputy Assistant Secretary of State David Satterfield urged the Syrian opposition to include Kurdish groups in Geneva negotiations.
The United Nations Special Envoy for Syria, Staffan de Mistura said on Tuesday that the Syrian government had accepted the Russian proposal to stop fighting in the area on Nov. 28-29.
The observatory, which monitors the war, reported that the ceasefire had seen insignificant breaches on Wednesday morning in the village of Ain Terma, where Syrian forces fired five shells.
On Tuesday, shelling killed three people and injured 15, but was less intense than in previous days, it added.
"We are in peace today," a witness from the Eastern Ghouta village of Douma told Reuters on a messaging site.
Nasr Hariri, head of the opposition delegation, told a Geneva news conference on Monday night that he is aiming for Assad's removal as a result of negotiations.
The government delegation will be headed by Syria's UN ambassador and chief negotiator Bashar al-Ja'afari, state-run news agency SANA said.
Full report at:
https://english.alarabiya.net/en/News/middle-east/2017/11/29/Delegation-of-the-Syrian-regime-joins-talks-in-Geneva.html
--------
British PM reaffirms support for united Iraq, urges KRG to respect unity
Nov 29, 2017
British Prime Minister Theresa May has reiterated her government's support for the territorial integrity and unity of Iraq, calling on officials from the semi-autonomous Kurdistan region to protect the Arab country's national unity.
May "affirmed her support for Iraq's unity" and called on the Kurdistan Regional Government (KRG) to "respect a united Iraq in all fields," Iraqi Prime Minister Haider al-Abadi quoted the 61-year-old British politician as saying in a news conference in Baghdad on Wednesday.
She said, through a translator, that she wanted to see "a united and inclusive Iraq."
The Iraqi Kurdistan region held a referendum on secession on September 25 despite strong opposition from the central government in Baghdad, the international community and Iraq's neighboring countries, especially Turkey and Iran.
Following the vote, Baghdad imposed a ban on direct international flights to the Kurdish region and called for a halt to its independent crude oil sales.
The UN Assistance Mission for Iraq (UNAMI) has called on KRG authorities to abide by a top court ruling that declared the recent secession referendum in northern Iraq unconstitutional.
The UN mission also demanded that Baghdad and Erbil engage in negotiations without delay within the framework of the constitution and discuss issues ranging from the control of borders and the reopening of airports to the federal budget, the payment of salaries and the management of oil exports.
Abadi and May also discussed British investments in Iraq on Wednesday. The British prime minister pledged to provide 20 million pounds ($26.8 million) in support of human rights, and another 30 million pounds ($40.32 million) for stabilization efforts and reforms.
Back in March, Britain agreed to arrange 10 billion pounds in loans to finance infrastructure projects in Iraq over a period of 10 year. The program would only benefit British companies.
"We will continue to support Iraq as a partner in order to enforce security, building, and stability, as well as in training Iraqi forces and efforts to return the displaced," May pointed out.
Abadi, for his part, praised further expansion of relations between Baghdad and London.
"Iraqi-British relations are witnessing a marked improvement. We thank the British government for its support of Iraq in all fields, chiefly cooperation against terrorism, air support, and intelligence," he stated.
The Iraqi prime minister noted that Britain had helped his country on the issue of internally displaced persons in the wake of the onslaught by Daesh Takfiri terrorists, and the subsequent campaign by Iraqi government forces to dislodge the extremists.
The British government announced in September that there were around 600 British soldiers on the ground in Iraq.
They are primarily involved in training Iraqi security forces in infantry, engineering and combat medical techniques, as well as defusing improvised explosive devices.
Full report at:
http://www.presstv.com/Detail/2017/11/29/543932/British-PM-reaffirms-support-for-united-Iraq-urges-KRG-to-respect-unity
--------
Senior Bahraini cleric dismisses charges of collusion with Qatar
Nov 29, 2017
Prominent Shia Bahraini cleric and opposition leader Sheikh Ali Salman has roundly dismissed charges of working with the energy-rich Persian Gulf kingdom of Qatar to overthrow Bahrain's ruling Al Khalifah regime.
"Sheikh Ali denied the charges leveled against him," a judicial source told AFP Wednesday on condition of anonymity.
During a Wednesday hearing, the 52-year-old secretary general of the dissolved al-Wefaq National Islamic Society pleaded not guilty to espionage charges. The court deferred the next hearing until December 28.
Sheikh Salman had refused to appear in court on Monday.
The opposition figure and two of his colleagues, Hassan Sultan and Ali al-Aswad, were charged on November 1 with "spying on behalf of a foreign country... with the aim of carrying out subversive acts against Bahrain and harming its national interests."
Sheikh Salman was also charged with "revealing defense secrets to a foreign country and disseminating information that would harm Bahrain's status and reputation."
He has been in jail on a nine-year prison sentence since late 2014 for what the Manama regime has called "insulting" government officials, "inciting" unrest through his speeches targeting the authorities during the 2011 uprising, attempting to overthrow the regime and collaborating with foreign powers.
Sheikh Salman denies all the charges, saying he has merely been seeking reforms in the country through peaceful means.
Amnesty International and other human rights groups have already censured his arrest and called for his release.
Thousands of anti-regime protesters have held demonstrations in Bahrain on an almost daily basis ever since a popular uprising began in the country in mid-February 2011.
They are demanding that the Al Khalifah dynasty relinquish power and allow a just system representing all Bahrainis to be established.
Manama has gone to great lengths to clamp down on any sign of dissent. On March 14, 2011, troops from Saudi Arabia and the United Arab Emirates were deployed to assist Bahrain in its crackdown.
Scores of people have lost their lives and hundreds of others sustained injuries or got arrested as a result of the Al Khalifah regime's crackdown.
On March 5, Bahrain's parliament approved the trial of civilians at military tribunals in a measure blasted by human rights campaigners as being tantamount to imposition of an undeclared martial law countrywide.
Full report at:
http://www.presstv.com/Detail/2017/11/29/543914/Bahraini-cleric-collusion-Qatar-Salman
--------
Mideast
Hamas 'not committed' to unity deal, says Fatah
30 November 2017
RAMALLAH: Fatah's top negotiator said Wednesday that rival movement Hamas was "not committed" to a landmark Palestinian reconciliation agreement, two days ahead of a key deadline to implement the accord.
"Hamas is not committed to the agreement it signed in Cairo to end the division," Azzam Al-Ahmad, chief negotiator for Palestinian President Mahmoud Abbas' Fatah, told AFP.
"Until this moment, the problems and obstacles from Hamas are still there and are increasing."
Palestinian Authority employees were prevented from returning to work at a number of ministries in the Gaza Strip on Wednesday, a union said, in another sign of tension.
The UN envoy for the Middle East peace process meanwhile held meetings in the Gaza Strip as part of efforts to urge Hamas and Fatah to follow through on their accord.
Hamas is scheduled to hand back control of Gaza, including all ministries, to the Palestinian Authority by Friday, a decade after seizing it in a 2007 near civil war.
The Hamas-run union for public employees said it had instructed its delegates to block former employees from returning to work at the ministries, saying their return came in a "random manner" and aimed at "creating great problems."
Witnesses said dozens of former employees were prevented from going back to work at the finance, health and education ministries among others.
In a separate development, an Israeli official said his country will refuse Swiss diplomats access to the Gaza Strip until further notice after recent meetings were held with Hamas leaders.
Defense Minister Avigdor Lieberman issued the order to prevent the diplomats from travelling to the Palestinian enclave from Israeli territory, the official said on condition of anonymity. The order will remain in place "until clarifications occur," said the official.
On Tuesday, Switzerland's envoy to the Palestinian Authority, Julien Thoni, met Hamas's chief in the Gaza Strip, Yahya Sinwar.
At least one other recent meeting was also held with Hamas leaders.
Hamas is considered a terrorist organization by the US and EU.
Switzerland however has contacts with Hamas in order to maintain dialogue with all parties to the Israeli-Palestinian conflict as part of its peace and human rights efforts.
http://www.arabnews.com/node/1201251/middle-east
--------
Turkey Mulling over Intensifying Siege of Kurds in Syria
Nov 29, 2017
The statement said that Ankara is about to expand it monitoring centers in regions close to the town of Afrin in Aleppo province that is under the control of the Syrian Democratic Forces (SDF).
"It's been considered that the observation mission of the Turkish armed forces in the Idlib de-escalation zone continues successfully, and such a mission being performed near Western Aleppo and Afrin would provide a real environment of peace and safety," the statement added.
Turkish President Recep Tayyip Erdogan had stressed that Ankara needed to clear the Afrin region of Northwest Syria of Kurds as the military operation in Idlib province is largely complete.
The Kurdish-language Hawar news reported earlier this month that the Turkish soldiers crossed Nahr (river) al-Aswad that streams between Bakur Kurdistan and Afrin and crossed the borders of Afrin near the village of Akbas in Raju region.
It said that the army built a bridge over the river to transfer its vehicles in case it comes under attack.
In the meantime, the Turkish forces dug trenches adjacent to the village of Heidarku in Hatay province in Southwestern Turkey.
Full report at:
http://en.farsnews.com/newstext.aspx?nn=13960908000485
--------
Israel bars Swiss diplomats from Gaza after Hamas talks
29 November 2017
Israel will refuse Swiss diplomats access to the Gaza Strip until further notice after recent meetings were held with Hamas leaders, an Israeli official said Wednesday.
Defense Minister Avigdor Lieberman issued the order to prevent the diplomats from travelling to the Palestinian enclave from Israeli territory, the official said on condition of anonymity. The order will remain in place "until clarifications occur," said the official, without providing further details.
Israel controls all access into Gaza apart from the strip's sole crossing with Egypt. On Tuesday, Switzerland's envoy to the Palestinian Authority, Julien Thoni, met Hamas's chief in the Gaza Strip, Yahya Sinwar.
At least one other recent meeting was also held with Hamas leaders. Hamas, which controlled the Gaza Strip for a decade, is considered a terrorist organization by the United States and European Union.
Maintain dialogue
Switzerland however has contacts with Hamas in order to maintain dialogue with all parties to the Israeli-Palestinian conflict as part of its peace and human rights efforts.
Israel's army radio reported that the decision to bar them from Gaza was taken due to the public nature of the meetings, with Hamas posting photos on its website.
Full report at:
https://english.alarabiya.net/en/News/middle-east/2017/11/29/Israel-bars-Swiss-diplomats-from-Gaza-after-Hamas-talks.html
--------
Turkey issues arrest warrant for 360 over links to failed coup
Nov 29, 2017
Turkish prosecutors have issued arrest warrant for 360 military personnel and civilians over their alleged links to last year's failed coup against President Recep Tayyip Erdogan.
The warrants were issued against 333 soldiers, most of whom still on active duty, as well as 27 civilian suspects of being so-called "secret imams" who allegedly directed supporters of US-based cleric Fethullah Gulen within Turkey's armed forces, state-run Anadolu news agency reported on Wednesday.
The operation to arrest the suspects is still underway, the report said.
Gulen runs an extensive network of international education and religious programs with branches in Turkey and several other countries. The cleric, a former ally of Erdogan, has denied any involvement in the coup that left more than 250 people dead.
He has said on several occasions that the post-coup crackdown, in which more than 50,000 people have been jailed and around 150,000 others dismissed from their jobs, was an attempt to consolidate Erdogan's grip on power.
Rights groups and European governments have repeatedly criticized Ankara for the continued crackdown, saying it has mainly targeted dissent. They also censure a simultaneous push by Turkey against the country's Kurdish population.
Erdogan's government maintains that Gulen's network has deeply infiltrated Turkey's judiciary, army, schools and other institutions, saying the purges are the only way to neutralize what he calls the threat posed by coup plotters.
Full report at:
http://www.presstv.com/Detail/2017/11/29/543879/turkey-coup-arrest
--------
World marks International Day of Solidarity with Palestinian People
Nov 29, 2017
The International Day of Solidarity with Palestinian People is commemorated worldwide, with officials expressing their support for the Palestinian cause and denouncing the Israeli conduct in the occupied lands.
Hanan Ashrawi, the Palestine Liberation Organization (PLO) executive committee member, urged the international community on Tuesday to help establish an independent state of Palestine along the pre-1967 boundaries with East Jerusalem al-Quds as its capital.
"On November 29, seventy years ago, the United Nations General Assembly adopted Resolution 181 (II). With the partition of historic Palestine, the victimization and suffering of the Palestinian people began," She said. "Israel was created at the expense of the indigenous people of the land who were violently uprooted."
In 1977, the UN General Assembly called for the annual observance of November 29 as the International Day of Solidarity with the Palestinian People,
The world body highlighted "the fact that the question of Palestine remains unresolved and that the Palestinian people have yet to attain their inalienable ... right to self-determination without external interference, the right to national independence and sovereignty, and the right to return to their homes and property, from which they have been displaced."
Ashrawi further said that the international community should hold the Israeli regime "accountable for its belligerent occupation and for the grave injustices committed against the Palestinian people."
"Israel's denial of Palestinian independence and freedom will further increase its isolation and delegitimization and cause irreparable damage to the security and stability of the region and beyond," she noted.
Russia, Bangladesh, Pakistan back Palestine
Separately, the Palestinian Wafa news agency reported that Russian President Vladimir Putin had sent a message to his Palestinian counterpart, Mahmoud Abbas, to mark the solidarity day.
"Russia, which is a permanent member of the United Nations Security Council and is among the Middle East Quartet, emphasizes the principal stance on its support for the Palestinians' right to seal their own fate," the message read.
Moreover, the Bangladeshi Foreign Ministry condemned the Israeli attacks and human rights violations against the Palestinian people as well as the regime's settlement construction activities in the occupied territories.
It further reaffirmed its commitment to Palestinians' right to self-determination, national independence and return to their homes.
Additionally, Pakistani media reported that different events have been organized across the Asian country to commemorate the Palestinian solidarity day.
UN urges conflict resolution
Meanwhile, UN Secretary General Antonio Guterres issued a message in support of bringing an end to the decades-long Israeli-Palestinian conflict.
He reiterated his readiness to engage in a process that "will realize a two‑state solution, end half a century of occupation and resolve all final status issues," adding, "Now is the time to end the conflict by establishing an independent Palestinian State, living side by side in peace and security with the State of Israel."
Israel occupied the West Bank and East Jerusalem al-Quds during the Six-Day War in 1967. It later annexed East Jerusalem al-Quds in a move not recognized by the international community.
Full report at:
http://www.presstv.com/Detail/2017/11/29/543873/Palestine-Israel-UN-Hanan-Ashrawi
--------
North America
You don't have to be a Muslim to be horrified by Trump's anti-Muslim bigotry
By Yair Rosenberg
November 29, 2017
Early Wednesday, President Trump retweeted three videos shared by a far-right British activist.
One purportedly depicted a "Muslim migrant" beating up a Dutch boy on crutches (in fact, reports suggest the assailant was neither Muslim nor a migrant). Another showed a Muslim man smashing a statue of the Virgin Mary. The third claimed to capture an "Islamist mob" shoving a boy off a roof. All religions have contemporary adherents who behave badly, but Trump has never singled out individual acts of extremism by people of other faiths, let alone through video clips of questionable provenance.
The user who shared the clips, Jayda Fransen, was convicted by a British court in January of religiously aggravated harassment for hurling unprovoked abuse at a Muslim mother in front of her four children. Fransen's organization, Britain First, is notorious for invading local mosques and confronting parishioners — conduct which led its own founder to resign, saying, "no matter how hard I tried, you cannot escape from the fact that the group is being overrun with racists and extremists."
By sharing Fransen's tweets with his 43 million followers, Trump yet again mainstreamed a bigot and their ideas into the public discourse, much as he did during the campaign when he retweeted anti-Semites and neo-Nazis.
Neither Trump's anti-Muslim animus nor his cavalier attitude toward publicizing its purveyors should come as a surprise. After all, during the 2016 campaign, he openly declared that "Islam hates us."
As a Jew and journalist who reports regularly on anti-Semitism and is frequently the target of it, I'm quite familiar with this sort of hateful generalization. To the bigot, there are not many different kinds of Jews with many different kinds of views, there is only "the Jews," who are singled out and reduced to their most reviled actions and exemplars, real or imagined. To Trump, there is only one kind of Muslim and one kind of Islam.
In the space of a tweet, a vibrant faith is recast as a mendacious monolith.
It is all too easy to fall into the Trump trap when it comes to stereotyping other religious communities. After all, most Americans have never met any Jews, who constitute just 2 percent of the U.S. population, or any Muslims, who constitute even less. Tellingly, these two groups experienced the most religiously motivated hate crimes in 2016, according to the FBI's newly released statistics, with Muslims seeing the greatest spike over the past year and Jews seeing the most overall incidents.
How can we break out of this destructive dynamic? It begins with getting off Twitter and forging real-world relationships between our own communities and the American Muslim community. One remarkable organization engaged in this work is the Muslim Leadership Initiative of the Shalom Hartman Institute, a Jewish nonprofit organization. Founded in 2013 under the direction of Duke University's Imam Abdullah Antepli and Hartman's Yossi Klein Halevi, the initiative brings a yearly group of American Muslim leaders to Jerusalem to learn with Jews and build bridges between the two communities.
As one might imagine, this is not always easy. But the goal of the program is not to deny differences or avoid deep disagreements between Muslims and Jews, but to engage them honestly — including when it comes to the Israeli-Palestinian conflict.
The initiative has connected American Muslims and Jews in ways previously unseen, helping forge the Muslim-Jewish Council of the American Jewish Committee and Islamic Society of North America, inspiring a day of interfaith learning in New York on Martin Luther King Jr. Day, and prompting articles by Muslim writers at my own Jewish publication, Tablet Magazine.
(Disclosure: I'll be the paid moderator of an MLI-sponsored conversation on Sunday between program graduate Rabia Chaudry, of "Serial" podcast fame, and Umair Khan of the New York City Public Advocate's office on building bridges between the American Jewish and Muslim communities.)
As with any outreach to the other, there will be resistance by those committed to their silos and stereotypes. As Chaudry, an attorney and author who is Muslim, has put it, "The walls have been built so high that breaching them to reach out to the other side is tantamount to treason."
Trump's Twitter tirade Wednesday amply demonstrates that our country could use a little more such "treason." If we want a society that looks less like the president's prejudices, it's probably time to follow in the footsteps of these brave Muslims and Jews.
https://www.washingtonpost.com/news/acts-of-faith/wp/2017/11/29/you-dont-have-to-be-a-muslim-to-be-horrified-by-trumps-anti-muslim-bigotry/?utm_term=.60369dd9ce89
--------
Progressives call on Jews to worry less about Israel and more about Trump
November 29, 2017
The left's rising hostility toward Israel has alienated many Jews, but progressives want the Jewish community to put aside its misgivings and present a united front against what they see as a greater threat: President Trump.
At a Tuesday night forum called "anti-Semitism and the Struggle for Justice," an unlikely panel of four Israel detractors, led by Palestinian-American activist Linda Sarsour, argued that Jews need to stop labeling foes of Zionism as anti-Semitic and join the left in fighting the Trump administration.
"We are now living under fascism. That's what I believe, and we need all hands on deck," Ms. Sarsour told the crowd of about 500 at the event, hosted by the New School in New York City.
Does that mean that progressives are ready to tone down their scathing denunciations of Israel? Not really.
Forum panelist Lina Morales, a coordinator of Jewish Voice for Peace and a self-described "passionate anti-Zionist," compared Israel to a Netflix series about a fictitious Nazi takeover of America.
"I honestly consider Zionism to be, like, of 'The Man in the High Castle'-like dystopia of Jewish history," said Ms. Morales. "Like, it's just so bad. It was a mistake. It has led us down a dangerous and horrible road. And it's difficult to sort of look at your own people and see a lot them supporting this idea that's very oppressive and very wrong."
The panelists, three of whom are Jewish, said they have fought discrimination against Jews but worry that "false" and "inflated" accusations of anti-Semitism have hobbled the progressive movement.
"The truth is, I'm angry. I'm angry at profound hypocrisy of the institutional Jewish community," said Rebecca Vilkomerson, executive director of Jewish Voice for Peace (JVP). "If the past year has taught us nothing else, it should have taught us that loving Israel does not mean you love Jews."
She pointed to what she called "an especially virulent, Trumpian form of Zionist anti-Semitism, when those who would defend Israel's policies regardless of their devastating impacts on Palestinians align with those that espouse and advance anti-Semitism." The forum, part of a book tour for JVP's recently released "On Antisemitism," drew a backlash primarily over the participation of Ms. Sarsour, a leader of the Women's March in January who has embraced convicted Palestinian terrorist Rasmea Odeh and recently suggested that Zionists cannot also be feminists.
Ms. Sarsour argued that Jewish progressives shouldn't leverage support for Israel as a prerequisite for joining the social-justice movement.
"If you're going to come to the movement with a condition, with the imposition that people need to know that you are a Zionist and a feminist and only under this idea that we have to accept you as a Zionist and a feminist because you want to impose that on everybody else in the movement, I'm just letting you know that's just not how it works in the movement," said Ms. Sarsour. "No one else does that. Just so you know."
She also called for Jews to stop trying to shut down the anti-Israel Boycott, Divest and Sanctions movement; to refuse to align themselves with pro-Israel conservatives like Milo Yiannopoulos, and to recognize that Jews aren't experiencing the same kind of "institutionalized" discrimination as are racial minorities and Muslims.
Leo Ferguson of the Jews for Racial & Economic Justice criticized "white Jews" for putting Israel ahead of issues such as "state violence, mass incarceration, deportation."
"For the past couple of years, we've watched so many corners of Jewish institutional world smear Palestine solidarity activists, attack the movement for black lives, spend so much effort and energy trying to pass illiberal anti-American, anti-BDS laws," said Mr. Ferguson.
The result? "While they were doing these things, the political right elected an actual white supremacist to the White House," he said. "That is just how confused many of us have become about who is a real threat, who we actually have to fear, and who in fact our friends and allies really are."
The forum went smoothly, with only a few interruptions by hecklers, but there was plenty of criticism afterward by Israel advocates.
Syracuse University associate professor Miriam Elman said the panelists created a sort of straw man by accusing their critics of conflating anti-Semitism and anti-Zionism.
"No one says that criticizing Israel — in the way state policy and the society of any other country can be subject to criticism — is anti-Semitic," Ms. Elman said in an email to The Washington Times. "But denying Israel's right to exist and denying self-determination to the Jewish people, while supporting such national aspirations for every other people on the planet, including Palestinians, is an anti-Jewish stance, as is the effort to redefine Judaism in such a way that Jewish peoplehood is excised."
She said the panel, made up of "a group of provocateurs and self-promoting activists," downplayed escalating anti-Jewish bigotry on U.S. college campuses, "where the problem is not coming from Trump or the alt-Right but from the progressive Left."
Jonathan Greenblatt, CEO of the Anti-Defamation League, argued that anti-Semitism can be cloaked in anti-Zionism, pointing to UN's "Zionism is racism" resolution of 1975.
"Those who claim to stand in opposition to all forms of bigotry but still demean and question the legitimacy of the Jewish homeland should own up to their own prejudices," Mr. Greenblatt said in an op-ed for the Forward website headlined, "When Criticism of Israel Becomes anti-Semitism."
Roz Rothstein, CEO of the pro-Israel group StandWithUs, called the event "a display of ignorance about Jewish communities, Zionism, and anti-Semitism.
"In this time of rising hate on both the far left and far right, JVP, Linda Sarsour, and those who exploit anti-Semitism to divide and score points against their political opponents are part of the problem," Ms. Rothstein said in a statement. "What we need instead is accountability, unity, and an uncompromising fight against hate on both sides of the political spectrum."
Full report at:
https://www.washingtontimes.com/news/2017/nov/29/liberals-jews-worry-less-about-israel-more-Trump/
--------
US general sees no change in Pakistan behaviour despite Trump tough line
29 November 2017
The top US general in Afghanistan said on Tuesday that he had not seen a change in Pakistan's support for militants so far, despite President Donald Trump taking a tougher line against Islamabad.
US officials have long been frustrated by what they see as Pakistan's reluctance to act against groups such as the Afghan Taliban and the Haqqani network that they believe exploit safe haven on Pakistani soil to launch attacks on neighboring Afghanistan.
In August, Trump outlined a new strategy for the war in Afghanistan, chastising Pakistan over its alleged support for Afghan militants.
He accused Pakistan of harboring "agents of chaos" and providing safe havens to militant groups waging an insurgency against a US-backed government in Kabul.
US official expressed hope that relations between the two countries could improve after a kidnapped US-Canadian couple and their three children were freed in Pakistan in October. The couple was abducted in neighboring Afghanistan.
"We have been very direct and very clear with the Pakistanis... we have not seen those changes implemented yet," General John Nicholson told reporters.
"We are hoping to see those changes, we are hoping to work together with the Pakistanis going forward to eliminate terrorists who are crossing" the border, Nicholson said.
He said that he believed that senior Taliban leaders were based in Pakistan, while the lower-level leadership was in Afghanistan.
Nicholson added that he agreed with other senior US officials that Pakistan's main spy agency, the Inter-Services Intelligence (ISI) directorate, had ties to the Haqqani network militant group.
The United States in 2012 designated the Pakistan-based Haqqani network as a terrorist organization.
Pakistan says it has done a great deal to help the United States in tracking down terrorists.
The four-star general said he had seen evidence of relations between Iran and the Taliban in western Afghanistan and was closely tracking it.
The United States has sent more than 3,000 additional US troops to Afghanistan as a part of Trump's South Asia strategy. Nicholson said over 1,000 troops would be advising Afghan troops at the battalion level, putting them closer to the fighting and at greater risk.
Nicholson gave an optimistic view of the situation, saying he believed "we are on our way to a win."
US officials have made similar statements during the course of the 16-year-old war, but the situation according to many US officials remains in a "stalemate."
According to a recent report by a US government watchdog, the Taliban had increased the amount of territory it has influence over or controls in Afghanistan in the past six months.
Full report at:
https://english.alarabiya.net/en/News/world/2017/11/29/US-general-sees-no-change-in-Pakistan-behavior-despite-Trump-tough-line.html
--------
Israel, Saudi, Egypt pushed US to bomb Iran prior to nuclear deal: Kerry
Nov 29, 2017
The former US secretary of state, John Kerry, says Israel, Saudi Arabia and Egypt urged Washington to "bomb Iran" before the conclusion of the 2015 nuclear deal between Tehran and world countries, with Tel Aviv pushing harder than the rest.
Speaking at a forum in Washington on Tuesday, Kerry, one of the architects of the multinational nuclear pact, defended the international document and criticized the new US administration for seeking to undermine it, Israeli media reported.
"Each of them said to me, you have to bomb Iran, it's the only thing they are going to understand," he said, referring to former Saudi monarch King Abdullah, ex-Egyptian president Hosni Mubarak, and Israeli Prime Minister Benjamin Netanyahu.
Netanyahu was "genuinely agitating toward action," he added.
But that was "a trap," he said, noting that the same Arab countries would have publicly criticized the United States if it had chosen to go for military action against the Islamic Republic.
Kerry said the proposals came to him when he was the chairman of the Senate Foreign Relations Committee, a post he filled from 2009 until early 2013.
Iran and the five permanent members of the United Nations Security Council – the United States, France, Britain, Russia and China – plus Germany signed the agreement on July 14, 2015 and started implementing it on January 16, 2016.
Under the Joint Comprehensive Plan of Action (JCPOA), Iran undertook to put limits on its nuclear program in exchange for the removal of nuclear-related sanctions imposed against Tehran.
However, US President Donald Trump, who took office a year after the deal took effect, has vociferously opposed the deal, calling it the worst contract Washington has ever entered into, and threatening to "tear up" the accord.
He refused to certify Iran's commitment to the deal last month and gave Congress 60 days to decide whether the country would re-impose sanctions against Tehran.
"It was the best deal the US could get," Kerry, however, said as quoted by Times of Israel. "Without exaggeration, the likelihood is very high that we would have been in a conflict," without the agreement, he added.
Kerry added that Trump had "polluted the water" of legitimate diplomacy by vocally criticizing the deal during his election campaign.
"That was a blatant over-simplistic political appeal to the American Jewish community … because most of those people hadn't read the agreement," he said.
Full report at:
http://www.presstv.com/Detail/2017/11/29/543858/US-Israel-Saudi-Arabia-Egypt-Iran
--------
India
Kerala government backs NIA probe into 'love jihad'
Amit Anand Choudhary
Nov 30, 2017
NEW DELHI: The CPM-led government in Kerala has backed NIA probe into instances of 'love jihad' and has told the Supreme Court that it was "grappling with the problem".
While the Marxist-led government had earlier opposed the probe by National Investigation Agency, it asked the Supreme Court on Monday to take into account the report prepared by the central agency before taking a view on the allegation Hindu women were being lured into marriages with Muslims as part of a larger plot to organise religious conversions.
"Court should first look into the document. We have to first look at the broader picture. The state grapples with this problem," Kerala government's counsel, senior advocate V Giri told the apex court during the hearing in the case about the conversion of Akhila to Islam.
NIA has in its report spoken about a " well-oiled" machinery active in Kerala to indoctrinate people to embrace Islam. The state government had earlier opposed NIA probe into the marriage of Shafin Jahan and Akhila Asokan+ to examine alleged indoctrination and conversion to Islam of the girl and had told the Supreme Court that state police had thoroughly probed the case and there was no need to hand over the investigation to the central agency.
In an affidavit filed in the Supreme Court, the state government maintained that state police was competent to hold investigation and it had conducted a thorough probe in the case covering all aspects including whether there was a plan to traffic Akhila outside the country.
It said that police did not find any evidence pointing to the commission of any of the scheduled offences which comes within the jurisdiction of NIA. Senior advocate V Giri, appearing for the state, supported NIA submission that the court should first go through the probe report before passing any order on Akhila.
https://timesofindia.indiatimes.com/india/kerala-government-backs-nia-probe-into-love-jihad/articleshow/61857043.cms
--------
Hizbul Mujahideen, LeT over-ground worker surrenders in Kulgam
Nov 29, 2017
SRINAGAR: An over-ground worker (OGW) of the Hizbul Mujahideen and Lashkar-e-Taiba (LeT) on Wednesday surrendered before security forces in Jammu and Kashmir's Kulgam district, an Army official said.
Altaf Sheikh, who was close to the Hizbul Mujahideen and the LeT, surrendered before the Army in Kulgam, the official said.
No further details were given.
https://timesofindia.indiatimes.com/india/hizbul-mujahideen-let-over-ground-worker-surrenders-in-kulgam/articleshow/61852582.cms
--------
Lashkar man held in Uttar Pradesh was associate of Abu Jundal: NIA
November 30, 2017
A suspected Lashkar-e-Toiba operative arrested by the NIA on Tuesday from Uttar Pradesh has turned out to be an associate of 26/11 accused Syed Zabiuddin Ansari, alias Abu Jundal, who taught Hindi to the 10 terrorists who attacked Mumbai.
Shaikh Abdul Nayeem, alias Nomi, the NIA has claimed, is an accused in the 2006 Aurangabad arms haul case which was masterminded by Jundal.
He had been arrested in the case in 2007 but escaped police custody in 2014 while being taken to court and is suspected to have sneaked into Bangladesh.
"The NIA, with the assistance of the UP ATS (anti-terror squad), arrested LeT terrorist Shaikh Abdul Nayeem @ Nomi, aged 37 yrs, resident of Aurangabad Maharashtra, in connection with the activities of LeT in various parts of India," an NIA statement said.
Also Read: 'Lashkar' operative arrested from Varanasi
"The subject was arrested from Charbagh Bus Stand Lucknow on 28-11-2017 morning. Some incriminating documents, mobile phone and bank account details were seized from him at the time of his arrest, " the statement added.
The agency also said that Nayeem has been associated with Lashkar commander Amzad alias Rehan, based in Pakistan, and received funds from Lashkar operatives based in the UAE for setting up bases in different parts of India.
He also did reconnaissance of several tourist destinations in Delhi, Uttar Pradesh and Himachal Pradesh for the purpose of carrying out terror attacks, the NIA statement said, adding that a special court had granted his custody to the agency for 10 days.
According to the NIA, Nayeem had been arrested by West Bengal police in 2007 while he was infiltrating into India from Bangladesh along with two Pakistanis and one Kashmiri.
"He had escaped from the judicial custody in Chhattisgarh area while he was being taken by train to Mumbai for production in the MCOCA court in the year 2014, " the NIA statement said.
Full report at:
http://indianexpress.com/article/india/lashkar-man-held-in-uttar-pradesh-was-associate-of-abu-jundal-nia-4961207/
--------
Time for dialogue between India, Pakistan to find solution to Kashmir problem: Farooq Abdullah
November 29, 2017
National Conference president Farooq Abdullah on Wednesday said time had come for India as the bigger country to find ways of talking with Pakistan and finding a solution to the Jammu and Kashmir problem. War has not and cannot provide a solution to the problems as confrontation only leads to increase in tragedies, the former Jammu and Kashmir chief minister said. "… if you have to fight terrorism, which Prime Minister (Narendra Modi) has said is a world over thing, then time has come for the government of India, which is the bigger country than Pakistan, to find ways and means of talking with Pakistan and finding a way forward," Abdullah told reporters at the National Conference headquarters in Srinagar.
The time had come, he added, for finding a final solution acceptable to the people of Pakistan, India and Jammu, Kashmir and Ladakh. The Lok Sabha member from Srinagar hit out at those who criticised him for his statements on Pakistan-occupied Kashmir (PoK).
Abdullah in recent comments has dared the centre to hoist the national flag at Lal Chowk in the heart of Srinagar city before talking about unfurling it in PoK. He has also claimed that PoK cannot become a part of India. "I am not saying anything which is irrational. For 70 years, PoK has been part of Pakistan and this (J&K) has been part of India. Four wars have been fought and in these four wars, nothing has happened. They hold that territory and we hold this territory," Abdullah said.
Abdullah said his statements were based on the "tragedy" the people of Jammu and Kashmir on either side of the Line of Control face due to hostilities along the border. "I see the tragedy my people have to face, not only in the Valley but in rest of the areas. Look at our borders. Shells come. Our women, our children, our people die… What are we trying to achieve?" he asked.
Discussing allegations that Kashmiri prisoners were thrashed inside Tihar Jail, Abdullah said Chief Minister Mehbooba Mufti should visit prisoners from the state lodged in jails outside the state as her government had sent them there.
"If she is concerned about their plight, she should go there. If she finds that they are facing harassment in those jails, she should bring these prisoners back to the state's jails," he said.
Abdullah expressed the hope that the visit of the Centre's special representative Dineshwar Sharma to the state would result in people telling him about their problems. He also expressed the hope that Sharma understands the need for finding a solution.
Full report at:
http://indianexpress.com/article/india/time-for-dialogue-between-india-pakistan-to-find-solution-to-kashmir-problem-farooq-abdullah-4960709/
--------
Panaji municipality bans prayers on loudspeaker at Muslim graveyard
29th November 2017
PANAJI: Recital of prayers over loudspeakers at one of the largest Muslim burial grounds here banned by the city municipal corporation, it was revealed on Wednesday. The order drew protests from the Muslim community have demanded that the measure be withdrawn.
Panaji Corporation Commissioner Ajit Roy, in an order issued here earlier this week, has said that the order was passed in order to prevent breach of peace and tranquility in nearby areas.
"It has been brought to the notice from surrounding area at St. Inez, Panaji, that the prayers are carried out through loudspeakers/public address system with very high decibels at the burial ground of Muslim(s) kabrasthan (graveyard) at St. Inez," said the order dated November 24, when city was playing host to the 48th International Film Festival of India, the country's biggest film event.
"The community should ensure that no prayers to be held on Muslim burial ground/kabrastan by loud speakers/public address systems so as to avoid disturbing the public peace and tranquility in the surrounding area," the order further reads.
In a statement issued here, the Jamat ul Muslamin Gausia Sunni trust condemned the order.
Full report at:
http://www.newindianexpress.com/nation/2017/nov/29/panaji-municipality-bans-prayers-on-loudspeaker-at-muslim-graveyard-1713936.html
--------
ISIS note found at Mumbai airport, security stepped up
November 29, 2017
Security at the Mumbai airport was heightened after a note about an "ISIS attack" on its cargo facility was found Wednesday, according to sources. They said a private security guard found the note in a toilet in the cargo section around 6 pm and it read "attack the cargo on 26.01.18 or anytime – ISIS".
Bomb disposal teams of the airport guarding force CISF and police are scanning the spot and contents of the note, the sources said.
The cargo terminal area has been evacuated and the Bomb Detection and Disposal Squad (BDDS) is at the spot, an airport spokesperson said. The note looks like a hoax, sources said, adding anti-sabotage checks were being conducted in the cargo area.
"While the cargo area is not secured by the CISF, passenger checks and vigil has been enhanced in the main airport terminal area," a senior CISF officer said.
http://indianexpress.com/article/india/isis-note-found-at-mumbai-airport-security-stepped-up/
--------
36,000 Rohingyas in India, terror links cannot be ruled out: BSF
November 29, 2017
Around 36,000 Rohingyas are at present there in various parts of the country and the Border Security Force (BSF) has upped its ante against illegal influx into India as their links with terror organisations cannot be ruled out, the force chief said on Wednesday.
K K Sharma, the director general (DG) of the 2.5-lakh personnel-strong force, said his troops have apprehended 87 Rohingya Muslims along the Indo-Bangla border since the beginning of this year till October 31, and 76 "have been sent back to Bangladesh".
"As far as my information goes, about 36,000 Rohingyas are there in this country at various places…This is one of those general observations and is based on inputs we received from our sister agencies (like the police and intelligence)," he told reporters during an interaction ahead of the BSF's 52nd Raising Day on December 1.
He said the border guarding force has not come across any specific case where a Rohingya they caught possessed arms, ammunition or had terror connection.
"But, the threat that they have some links with terror organisations is a very serious one and has been given by our sister agencies and I don't doubt them," Sharma said.
He said the force has bolstered its manpower and surveillance equipments at "vulnerable" posts along the Bangladesh border to check the illegal influx of Rohingyas from the neighbouring country into India.
The force sent back the Rohingyas and did not arrest them as they would have then become a "liability", the DG said.
"Rohingya is a very complicated issue. As per the latest estimate, 9-10 lakh of them have migrated to Bangladesh (from Myanmar) and the possibility of a spill over coming to India cannot be ruled out.
"Our mandate is very clear that we do not allow any illegal immigration into India, whether he is a Rohingya or a Bangladeshi," Sharma said.
In the border areas, the BSF chief said his troops were not equipped to make a distinction between a Bangladeshi and a Rohingya.
"So, whosoever tries to cross (the border) we sent them back. We don't arrest them as that becomes a liability. Our policy is not to allow anyone enter India illegally," he said.
An official note provided by the BSF during the conference said "agents allure Rohingyas with good job opportunities in India and motivate that they will work with their own Muslim community in some of the states such as Jammu and Kashmir, Tamil Nadu and West Bengal".
It said that most of the Rohingyas go to Jammu because some Rohingyas have already been staying there for the last few years.
"Apart from being a natural choice due to its Muslim majority, the Rohingyas say that they pick Jammu and Kashmir on economic consideration and most of them follow a similar pattern.
"Once a Rohingya reaches Jammu, he stays there for a few months and then invites other relatives, informing them of job opportunities and better pay," it said.
Full report at:
http://indianexpress.com/article/india/36000-rohingyas-in-india-terror-links-cannot-be-ruled-out-bsf/
--------
Pakistan
COAS acknowledges ulema's role for peace
NOVEMBER 30, 2017
ISLAMABAD: Chief of Army Staff (COAS) General Qamar Javed Bajwa on Wednesday acknowledged clerics' "contributions towards peace and harmony" in the country.
"[The] COAS met religious scholars of FATA and Khyber-Pakhtunkhwa in Peshawar. He lauded their support in fight against terrorism and acknowledged their contributions for peace and harmony," the Inter-Services Public Relations (ISPR) said.
Ulema, the ISPR statement claimed, unanimously condemned terrorism and pledged their continued support to efforts of security forces for bringing peace and stability.
"Pakistan belongs to all Pakistanis without any religious, provincial, tribal, linguistic, ethnic, sectarian or any other identity," the army chief was quoted as saying.
Separately, the army chief visited Pak-Afghan border in Bajaur Agency.
He was given a detailed briefing regarding the state's ongoing efforts to effectively check terrorist infiltration routes from across the border, progress on fencing, construction of new forts/posts along the border and development of new tracks to facilitate local public.
The COAS, while interacting with the troops, appreciated their high morale and effective border security, which resulted in averting attempts of cross-border attacks by terrorists.
Pakistani officials have repeatedly said that the Taliban, who fled a series of military operations in the tribal region, have found safe havens in northern, eastern and northeastern Afghanistan.
These Taliban terrorists use their sanctuaries as a springboard for launching cross-border attacks on Pakistani military's border posts and on civilian population.
Kabul is reluctant to dismantle these sanctuaries despite repeated requests from Islamabad. Instead, Afghanistan blames Pakistan for sheltering the Afghan Taliban.
Full report at:
https://dailytimes.com.pk/149673/coas-acknowledges-ulemas-role-peace/
--------
Gunmen Kill One; Injure Four In Attack On Shia Mosque In Pakistan
Nov 29, 2017
One person has been killed and at least four others injured when gunmen opened fire at worshipers leaving a Shia mosque in Pakistan's capital, Islamabad.
Police said on Wednesday that the shooting erupted outside the Bab-ul-Ilm mosque following evening prayers in Islamabad's I-8 sector.
"Two gunmen approached a water cooler installed outside the mosque's main gate and filled their glasses with water, then opened fire indiscriminately on people as they came out," local police official Qasim Ahmad said.
He said the assailants arrived on foot and then fled after the shooting, disappearing into a nearby greenbelt.
No group has so far claimed responsibility for the attack.
Shias make up about 20 percent of Pakistan's population of nearly 200 million.
Security has been a main issue for the Shias as thousands of them have been killed as a result of militancy and hate attacks over the past decade.
Critics blame the Pakistani government and some elements within intelligence services for unwillingness to protect Shia Muslims and moderate Sunnis across the violence-wracked country.
International organizations and rights groups have urged the Pakistani government to take decisive action against the forces involved in the targeted killings.
The attack comes few days after a Pakistani religious group, whose supporters have been holding sit-ins and clashing with police, ended the weeks-long protests after the Islamabad government agreed to its demand for the resignation of the law minister. Seven people were killed and hundreds wounded in clashes with police.
The Tehreek-i-Labaik Ya Rasool Allah Pakistan, blamed Federal Law Minister Zahid Hamid for changing the wording of an electoral oath, an amendment they say amounts to blasphemy. The government has, however, put the issue down to an error.
Full report at:
http://www.presstv.com/Detail/2017/11/29/543944/Gunmen-Shia-mosque-Pakistan
--------
Hafiz Saeed has to wait for appointment of UN Security Council ombudsperson to hear his petition
November 29, 2017
Mumbai attack mastermind Hafiz Saeed may have to wait for the appointment of a new Security Council ombudsperson to hear his petition to remove his name from the UN's list of designated terrorists.
Saeed was designated as a global terrorist by a Security Council's al-Qaida Sanctions Committee on December 10, 2008. The US too has designated him as a global terrorist and has announced a reward of $10 million for information leading to his arrest and conviction.
Saeed's Lahore-based attorney has said that the Jammat-ud-Dawa leader has filed a petition in the UN seeking removal of his name from the list of designated terrorists on the ground that none of the allegations against him has been proved in the Pakistani courts. Saeed's petition to delist him from the UN list of designated terrorists might be put on hold.
The request to delist a person from the UN list of designated terrorists are considered by an independent ombudsperson, which based on its investigations recommends to delisting of a designated terrorist by the Security Council. The post of ombudsperson has been lying vacant since August 7 this year when Catherine Marchi-Uhel left office.
The Office of the Ombudsperson remains operational and accepts new delisting requests during the transition period, says a statement on the UN website. A number of phone calls to the office of Ombudsman and emails sent by PTI were unanswered.
The Office of the Ombudsperson of the Security Council's 1267 Committee says that there is currently one case pending with the Committee, besides that of Saeed. LeT was designated as a terrorist organisation by the UN on May 2, 2005. India has repeatedly asked Pakistan to re-investigate the Mumbai terror attack case and also demanded trial of Saeed and Lakhvi in the light of evidence it had provided to Islamabad.
India had expressed outrage over the decision of the judicial board to release Saeed, calling it an attempt by Pakistan to mainstream proscribed terrorists and a reflection of its continuing support to non-state actors. The JuD is believed to be the front organisation for the banned LeT which is responsible for carrying out the Mumbai terror attack in 2008.
Full report at:
http://indianexpress.com/article/india/hafiz-saeed-has-to-wait-for-appointment-of-un-security-council-ombudsperson-to-hear-his-petition-4960321/
--------
Pakistan hits back against US accusations: Abbasi reiterates no terror groups in Pakistan
Nov 30, 2017
ISLAMABAD: Prime Minister Shahid Khaqan Abbasi rejected US accusations that the country provides sanctuary to militant groups and said attacks in the region were originating across the border in Afghanistan.
In an interview in Islamabad last Friday as a right-wing Islamist group choked the capital and officials marketed the country to international bond investors, Abbasi said Pakistan would act against terrorists found within its borders, including the Taliban-affiliated Haqqani network.
Yet his administration has been shaken by weeks of hardline religious protests and has come under harsh criticism over a court decision to release accused terrorist Hafiz Saeed, underscoring the difficulty Abbasi's government faces in dealing with extremist elements in Pakistan. On Monday, Zahid Hamid stepped down as law minister after the little-known Tehreek-e-Labaik party demanded his resignation for overseeing changes to a reference to the Prophet Muhammad in a lawmakers' oath, viewed as blasphemous.
The turmoil showed the government's struggle to restrain right-wing groups, including those suspected of having the backing of the military. Abbasi said there were "some extremist elements among the protesters."
CROSS-BORDER ATTACKS:
Islamabad and Washington are at loggerheads over Donald Trump's demands in August that Pakistan take tougher action against terrorists operating within its borders — part of a US attempt to bring resolution to the 16-year war in Afghanistan.
Both Pakistan's government and military protested that the US didn't recognise the thousands of Pakistani servicemen and civilians who had died in the war on terror. The army also started fencing its porous and disputed border with Afghanistan in an effort to contain attacks, a move that prompted a furious response from Kabul.
"We have asked them to share any intelligence about the Haqqani network, we will take action," Abbasi said. "The attacks however are being made from across the border, we have pinpointed even the sanctuaries of the attackers. Cross-border infiltration from Afghanistan is the order of the day."
US PRESSURE:
American officials have kept up the pressure. General Joseph Votel, commander of US Central Command, met with army chief Qamar Javed Bajwa two weeks ago following Secretary of State Rex Tillerson's trip to Islamabad last month. Both urged Pakistan to take action against militants.
Still Pakistan has failed to stop insurgents crossing into Afghanistan, even as it has made progress against those who attack its own soil, US General John Nicholson, the top commander in Afghanistan, told reporters on Tuesday.
"There is no room for them to take a tough stance here, because Pakistan is the country which is fighting the war on terror," Abbasi said. "Somebody gives us intelligence and we will act upon it. It is our war, not theirs."
Pakistan has long been accused of covertly supporting outfits that strike Afghanistan and India. Having fought multiple wars with India, Pakistan's security establishment fears domination by its arch-rival and having a stable pro-Indian administration in Afghanistan.
'AT ODDS':
"With the US and India claiming that Pakistan is an originator of terror, and Pakistan reluctant to meaningfully crack down on terror groups, the two sides will inevitably be at odds," said Shailesh Kumar, a senior South Asia analyst at Eurasia Group.
When asked if Pakistan would move against Taliban leaders who have allegedly lived for years in the southwestern Pakistani city of Quetta, Abbasi said "we will act against them if they really exist."
Abbasi reiterated that Trump's troop increase and support to Afghanistan will end in failure and urged the Afghan government and the Taliban to agree to peace talks.
"We have assured them of whatever assistance we would be able to offer, but things are quite fragmented on that side," he said. "Pakistan has tried twice, but the talks have been sabotaged."
MUMBAI ATTACKS:
The US also escalated its criticism of Pakistan last week after a high court in Lahore ordered the release of Saeed from house arrest. India and the US accuse Saeed of masterminding the 2008 Mumbai attacks and claim he is the leader of terror outfit Lashkar-e-Taiba, charges Saeed denies. The White House warned his release may damage bilateral relations.
"The court, a three-judge bench, has released him saying there are no charges against him, the country has a law you know," Abbasi said. "Prosecute him internationally if there is substance to these charges — these are accusations only. No evidence has been provided by India."
However, India says it has provided evidence to Pakistan. Indian Foreign Ministry Spokesman Raveesh Kumar didn't respond to requests for comment.
Full report at:
https://www.pakistantoday.com.pk/2017/11/30/pakistan-hits-back-against-us-accusations-abbasi-reiterates-no-terror-groups-in-pakistan/
--------
Decline in US aid for Pakistan to hurt Afghan border monitoring
November 30, 2017
WASHINGTON: A steep decline in US economic and military assistance to Pakis­tan, detailed in a Cong­ressional report released on Tuesday, could also hurt Washington's desire to prevent cross-border attacks into Afghanistan, statistics show.
The report by Congressional Research Service (CRS) shows that US economic and military assistance for Pakistan plummeted from more than $2.2 billion a year immediately after 9/11 to less than $350 million a year, sought for 2018.
The worst affected, however, is the Coalition Support Fund (CSF), which reimburses Pakistan for monitoring the 2,200-kilometre-long Afghan border. Pakistan has deployed tens of thousands of troops along this border to check cross-border movement of Taliban militants.
Washington says that Pakistan has been successful in eliminating those who threaten the Pakistani state but has not shown much interest in combating the Afghan Taliban, who carry out cross-border attacks on US and Afghan forces. Pakistan rejects the US charge as incorrect, insisting that it's targeting both Pakistani and Afghan Taliban.
Not satisfied by Pakistan's response, the United States started attaching conditions to CSF reimbursements. The conditions required Pakistan to act against the Haqqani network if it wants full reimbursements.
In 2015, the US Congress authorised up to $1 billion in additional CSF to Pakistan, $300 million of which was subject to Haqqani network-related certification requirements that cannot be waived by the administration.
In 2016, Congress authorised another $900m, with $350m ineligible for waiver. In 2017, Congress authorised a further $900m, with $400m ineligible for waiver.
For 2018, Congress has authorised another $700m, with $350m ineligible for waiver. The administration did not issue certification — that Pakistan has taken the required steps to eliminate the threat posed by the Haqqanis — for 2015 or 2016. A decision on 2017 certification is pending.
According to the CRS report, between 2002 and 2011 the US provided a total of $22.14bn — including economic support funds, foreign military financing, CSF reimbursements and antiterrorism funding.
Full report at:
https://www.dawn.com/news/1373771/decline-in-us-aid-for-pakistan-to-hurt-afghan-border-monitoring
--------
COAS briefed on infiltration routes used by militants at Pak-Afghan border
November 30, 2017
PESHAWAR: Chief of the Army Staff Gen Qamar Javed Bajwa visited the Pak-Afghan border in the Bajaur tribal region on Wednesday, according to an Inter-Services Public Rela­tions (ISPR) statement.
The COAS was briefed on the efforts being made to effectively check the infiltration routes used by militants on the other side of the border, progress on fencing, construction of forts and posts along the border and development of new tracks to facilitate the area residents.
The statement said that while interacting with the troops, Gen Bajwa appreciated their high morale and effective border security measures.
Later in Peshawar, the army chief met ulema from the Federally Administered Tribal Areas and Khyber Pakhtun­khwa. He lauded their support in the fight against terrorism and acknowledged their contribution to maintaining peace and harmony.
The ulema condemned terrorism and pledged their continued support to efforts made by the security forces for bringing stability.
Full report at:
https://www.dawn.com/news/1373780/coas-briefed-on-infiltration-routes-used-by-militants-at-pak-afghan-border
--------
Europe
Europe's Muslim population to grow strongly, even if migration ends
30 November 2017
Muslims could make up over 11 percent of Europe's population in the coming decades, compared with just under 5 percent currently, if legal migration levels are maintained, a report by a US-based think tank said Thursday.
The Pew Research Center, in a study entitled "Europe's Growing Muslim Population" issued three projections based on different migration scenarios – zero arrivals, "medium" flows and "high" migration.
It showed that even if all migration into Europe stopped immediately, the Muslim population of the 28-member European Union plus Norway and Switzerland would rise to 7.4 percent from 4.9 percent in 2016.
Europe received more than one million migrants and refugees in 2015, according to figures from the UN's refugee agency.
Most arrived from Muslim-majority nations and some rightwing political parties have upped their anti-Muslim rhetoric in their wake.
Fertility rates
Pew, which based its projections on government data and other studies, explained the rise by saying that fertility rates were higher among Muslims, who are on average 13 years younger than non-Muslims.
The "medium" scenario was based on a return to the levels of migration seen before the refugee influx of 2015/2016.
Under that scenario the proportion of people who self-identify as Muslim was projected to more than double to 11.2 percent of the population in 2050. The third model was based on refugees, most of them Muslim, continuing to arrive in the record numbers seen in 2015 and 2016.
Under that scenario Muslims would account for 14 percent of Europe's population in 2050, which Pew said was "still considerably smaller than the populations of both Christians and people with no religion".
The authors of the report also noted that refugee flows had already begun to decline in line with EU efforts to curb arrivals, suggesting the third outcome was unlikely.
Migration factor
Pew's projections showed Europe being unevenly affected by migration. If arrivals halted altogether, France – which was home to an estimated 5.7 million Muslims (8.8 percent) in 2016 according to the report – would continue to have Europe's largest Muslim community.
Under the "medium" scenario, Britain – the top destination for non-refugee Muslims migration -- would pass out France while under the "high" scenario the mantle would pass to Germany, which has received over 1.5 million refugees in the past two years.
The report also highlighted the role of migration in stemming population decline in Europe. In the absence of further migrants the population was projected to shrink from 521 million in 2016 to 482 million in 2050.
Under the "medium" scenario, it would rise to 517 million people, while in the "high" migration scenario would take it to 539 million.
https://english.alarabiya.net/en/perspective/features/2017/11/30/Europe-s-Muslim-population-to-grow-strongly-even-if-migration-ends.html
--------
Stockholm protest raises voice for Rohingya Muslims
29 November 2017
More than 100 people gathered in Stockholm on Tuesday to protest against the ongoing persecution of Rohingya Muslims in Myanmar's western Rakhine State.
The Rohingya Support Committee had organized the demonstration at Sergels Torg Square.
Protesters held pictures, placards and banners condemning atrocities against the Muslim minority by Myanmar's army and government.
"Stop the genocide in Myanmar", "Stop killing Muslims in Arakan" and "Stop Rohingya Genocide'' were some slogans chanted at the protest.
Demonstrators also requested the withdrawal of the Nobel Peace Prize given to the Myanmar's Aung San Suu Kyi in 1990.
Swedish Rohingya Association Chairman Abul Kalam thanked Turkey and Turkish President Recep Tayyip Erdogan for supporting the Rohingya cause.
Kalam also expressed satisfaction with the activities of the Turkish Cooperation and Coordination Agency (TIKA) in Myanmar.
"We are thankful to Turkey and Turkish president who showed us humanity and sympathy."
Swedish Foreign Minister Margot Wallström, who was in Bangladesh and Myanmar last week, said over 600,000 Rohingya Muslims have been subjected to violence and harassment since August.
The European Rohingya Council has described the situation as a "slow-burning genocide". However, it has gained pace after Aug. 25. There are almost no Muslims left in Rohingya Muslims' historic homeland of Rakhine.
A crackdown launched on Aug. 25 has seen more that 620,000 Rohingya cross from Rakhine into Bangladesh, according to the UN.
The refugees are fleeing a military operation that has seen security forces and Buddhist mobs kill men, women and children, loot homes and torch Rohingya villages.
Rohingya, described by the UN as the world's most persecuted people, have faced heightened fears of attack since dozens were killed in communal violence in 2012.
Full report at:
http://www.worldbulletin.net/europe/196382/stockholm-protest-raises-voice-for-rohingya-muslims
--------
EU official: Daesh remains threat despite loss of 'caliphate'
30 November 2017
ANKARA, Turkey: The European Union's counter-terrorism coordinator says the loss of its so-called "caliphate" will cripple the Daesh group but the threat from the extremists is not over yet.
Gilles de Kerchove also told The Associated Press in an interview that there has not been a massive flow of Daesh fighters returning to Europe as many had feared following the group's loss of territory in Syria and Iraq.
De Kerchove says intelligence services describe the fighters' return as "more a trickle than a flow."
Full report at:
De Kerchove was in Turkey for talks on enhancing cooperation against terrorism.
http://www.arabnews.com/node/1201456/world
--------
Pope Francis heads to Bangladesh with Rohingya crisis looming large
30 November 2017
YANGON: Pope Francis wrapped up his visit to Myanmar on Thursday with a Mass for young people before heading to neighboring Bangladesh where the Muslim Rohingya refugee crisis was expected to take center stage.
Francis has so far refrained from speaking out about Asia's worst humanitarian crisis in decades out of diplomatic deference to his hosts in Myanmar, who consider the Rohingya as having illegally migrated from Bangladesh and don't recognize them as their own ethnic group.
The Vatican has defended Francis' silence, saying the pope wants to "build bridges" with the predominantly Buddhist nation. But human rights groups and Rohingya themselves have expressed disappointment that Francis, an advocate for refugees and the world's most marginal, refrained from condemning what the UN has said is a textbook case of ethnic cleansing.
Vatican spokesman Greg Burke said Francis took seriously the advice given to him by the local Catholic Church, which urged him to toe a cautious line and not even refer to the "Rohingya" by name during his trip.
"You can criticize what's said, what's not said, but the pope is not going to lose moral authority on this question here," Burke told reporters on Wednesday.
Rohingya have faced persecution and discrimination in Myanmar for decades and are denied citizenship, even though many families have lived there for generations. The situation grew worse in August when the army began what it called clearance operations in northern Rakhine state following attacks on security positions by Rohingya militants.
More than 620,000 Rohingya have since poured into refugee camps in neighboring Bangladesh, where they have described indiscriminate attacks by Myanmar security forces and Buddhist mobs, including killings, rapes and the torching of entire villages.
Burke stressed that Francis' diplomatic stance in public in Myanmar didn't negate what he had said in the past, or what he might be saying in private.
In the past, Francis has strongly condemned the "persecution of our Rohingya brothers," denounced their suffering because of their faith and called for them to receive "full rights."
While he called in his first major speech on Tuesday for all of Myanmar's ethnic groups to have their human rights respected, his failure to specify the Rohingya crisis on Myanmar soil drew criticism from Amnesty International, Human Rights Watch and Rohingya themselves.
On Wednesday, Myanmar Bishop John Hsane Hgyi suggested that reports of atrocities being committed against the Rohingya were not "reliable" or "authoritative," and that those who criticized Myanmar's response to a complex situation should "go into the field to study the reality and history" to obtain "true news."
The government has barred independent groups from traveling to northern Rakhine state.
In his final event in Myanmar, Francis celebrated Mass in Yangon's St. Mary's Cathedral for young Catholics. The young worshippers, many dressed in the traditional clothing of their ethnic groups, leaned out to touch or kiss Francis' hand as he slowly walked by.
During the Mass, Francis told them to not be afraid to make their voices heard.
Full report at:
http://www.arabnews.com/node/1201426/world
--------
Southeast Asia
Religious teachers need a shift in mindset, says academic
Melissa Darlyne Chow
November 30, 2017
KUALA LUMPUR: Religious teachers in the country need to change their mindset from a "madrasah" construct to one of nation building, says UCSI lecturer Tajuddin Rasdi.
Referring to the views expressed by Centre for Global Affairs (ICON) president Abdul Razak Baginda on religion bringing a negative impact to the national education system, Tajuddin said the statement was problematic as the latter had singled out religion as the problem.
"The bigger issues were the teachers of the religion, the manner in which religion is taught in schools, and the idea on how to look at religion as a nation building construct," he told FMT.
Tajuddin added that the teachers themselves are not exposed to the larger framework of the religion.
"Back then, the religious teachers were educated in the madrasah context of a homogenous society, but today, it is different as we are now multi-racial and multi-religious.
"These religious teachers spend a lifetime in the madrasah, and they are not exposed to other cultures and religions.
"So the issue is with the religious teachers failing to understand the value and dignity of human beings within a democratic and nation-building construct," he said.
Tajuddin had previously suggested that the education ministry assign teachers to undergo a two-week training programme in religious and cultural sensitivities.
He lamented that a lack of exposure has led to issues like what is halal and haram, and has given rise to the likes of controversial Islamic preacher Zamihan Mat Zin and Shahul Hamid.
Zamihan had gained notoriety over his support for a Muslims-only laundrette in Johor, while Shahul was at the centre of apparently using the word "haram" in advising Muslims not to patronise non-Muslim hairdressers.
"This has spilled over into racial and religious conflict because of the narrow perspective of religion," he said.
Razak told a forum entitled "Malaysian Education: Where are we heading" on Tuesday night, that the growing prominence of religion in schools has had a negative impact on the education system.
"Religion has crept in, reared its ugly head in our schools and our educational institutions. It has a negative impact.
"Religion is now prominent in our schools. There is too much religion in the system, but no politician will dare say it. Someone will accuse them of being anti-Islam," he said.
http://www.freemalaysiatoday.com/category/nation/2017/11/30/religious-teachers-need-a-shift-in-mindset-says-academic/
--------
Dr M suffering from 'post-power' syndrome, former Indonesian minister says
BY HASBULLAH AWANG CHIK
November 30, 2017
KUALA LUMPUR, Nov 30 — Tun Dr Mahathir Mohamad is now suffering from a "post-power" syndrome after being prime minister for so long, former Indonesian Minister of Justice and Human Rights Hamid Awaludin said today.
Hamid said this is why Dr Mahathir has been attacking Prime Minister Datuk Seri Najib Razak and has in the past criticised Tun Abdullah Ahmad Badawi during the latter's tenure as PM.
"Dr Mahathir has suddenly become a leader with a 'post-power syndrome' affliction because he hates every single leader who has replaced him, Hamid said in a press conference today.
He was commenting on Dr Mahathir's recent allegation that Najib's ancestors might have been linked to 'Bugis pirates'.
"This means Dr Mahathir cannot accept the fact that he is no longer in power. It is fine to not see eye to eye with Najib but do not bring in issues of race and ethnicity," the Indonesian leader said.
On October 14 at the "Love Malaysia, End Kleptocracy" rally at Padang Timur, Dr Mahathir had in his speech alleged that PM Najib's ancestors might have been linked to 'Bugis pirates'.
His remark was met with displeasure from Indonesian Vice-President Jusuf Kalla, who had demanded for an apology from the former prime minister.
Several parties representing the Bugis community in Malaysia and Indonesia had also demanded Dr Mahathir to openly apologise over the issue.
The Sultan of Selangor, Sultan Sharafuddin Idris Shah had also recently expressed outrage over Dr Mahathir's statement.
Full report at:
http://www.themalaymailonline.com/malaysia/article/dr-m-suffering-from-post-power-syndrome-former-indonesian-minister-says#RWpyM0gwFBd0zzAH.97
--------
Jan 19 date for Zamihan's bid to compel Canadian Muslim to place deposit
November 30, 2017
KUALA LUMPUR: The High Court has fixed Jan 19 to hear Zamihan Mat Zin's application to compel a Canadian Muslim preacher to place some money with the court as security for costs in a defamation suit.
Lawyer Meor Amir Meor Omar Baki, who is appearing for Abu Ameenah Bilal Philips, said the tentative date was fixed as parties were still negotiating the amount of money to be deposited here before the trial starts.
"A hearing (on the security for costs) will not be held if the defendant (Zamihan) agrees to our proposal, " he told reporters after a case management today before justice Ahmad Zaidi Ibrahim.
Such a demand is made when the plaintiff is a foreigner and the defendant cannot obtain costs if the suit is dismissed.
In September, Philips filed a suit against Zamihan for labelling him an "international terrorism supporter" in his Facebook postings.
In his statement of claim, Philips said Zamihan had been making posts since November last year, which also displayed a photograph of him and a label saying he was a supporter of international terrorism.
Philips said the words used to describe him were false, defamatory and baseless, as he strove to promote peace and rejected terrorism carried out in the name of Islam.
Philips said Zamihan's allegation implied he was engaged in terrorism and violence, and that his lectures were designed to achieve that objective.
Philips said there were 119 Facebook shares of the post when the suit was filed, and that Zamihan had made further remarks on the original post on his page.
The renowned preacher, who converted to Islam in the 1970s and who was dubbed one of the 500 most influential Muslims in the world this year, is seeking RM1 million in general damages as well as aggravated and exemplary damages deemed fit by the court.
In his defence, Zamihan said the statement on Philip's involvement in terrorist-linked activities was sourced from news reports that appeared in the National Post and The Guardian, as well as from the police.
Full report at:
http://www.freemalaysiatoday.com/category/nation/2017/11/30/jan-19-date-for-zamihans-bid-to-compel-canadian-muslim-to-place-deposit/
--------
URL: https://www.newageislam.com/islamic-world-news/islamic-scholars-call-govts-instutionalise/d/113409
New Age Islam, Islam Online, Islamic Website, African Muslim News, Arab World News, South Asia News, Indian Muslim News, World Muslim News, Women in Islam, Islamic Feminism, Arab Women, Women In Arab, Islamophobia in America, Muslim Women in West, Islam Women and Feminism