New Age Islam News Bureau
25 Sept 2014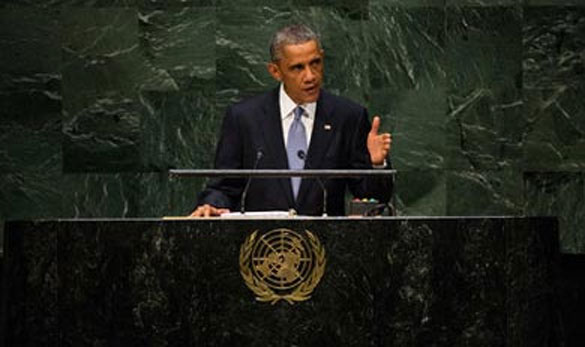 U.S President Obama at U.N
-----------
Pakistan
• Islamic Scholar Murdered In Pakistan Due To His Liberal Views
• Policeman Shoots Dead Blasphemy Accused In Rawalpindi Prison
• Two Taliban leaders among 13 killed in Tirah
• Drone strike in North Waziristan kills at least eight
• MQM stages sit-ins against hostility towards Mohajirs from today
• Pakistan condemns terrorism at UNSC summit
• Sindh Assembly passes resolution against division of Sindh
Mideast
• Turks Leave for 'Family-Friendly' Islamic State Group
• Israeli Forces Clash with Palestinians in Al-Aqsa Mosque
• Yemen president warns of civil war as factions collide
• Turkish leader claims world not doing enough on, Syria, Egypt
• Iran's Civil Defence Chief Voices Pessimism about N. Talks with West
Arab World
• KSA: Israeli Occupation Can't Be Open-Ended
• Iraqi Forces Kill 26 ISIL Terrorists in Babil
• 20 ISIL Terrorists Killed in North-eastern Baghdad
• At least 14 Islamic State fighters killed in US-led strikes in Syria
• Iraqi Airstrikes Kill ISIL Commander, 10 Terrorists in Kirkuk
• Refugees face slaughter in Syrian town unless help arrives, says Kurdish fighters
• U.S. Strikes Islamic State-Controlled Oil Refineries in Syria
• ISIS Destroys Arbaeen Wali Shrine In Iraq Amid U.S. Strikes
• Saudi releases pictures of pilots who took part in strikes against ISIS
• Saudi stocks lead Mideast drop on IS reprisal concern
• Egypt accuses Turkish leader Erdogan of supporting terrorists
Australia
• For Australian Muslims, Security Crackdown Is Code for Racial Profiling
• Mosque vandalised: Abuse spray-painted on Muslim community site in Brisbane
• Australia 'terror suspect' could be part of a group
• Australian police shoot suspected terrorist dead
India
• No Religious Profiling For Garba, (Dance in Honour of a Goddess): Gujarat Govt
• Obama May Ask India to Join Fight against IS
• Cleric Held For Garba Remark Assaulted Outside Court, Refuses To Apply For Bail
• Bring back Indian PoWs in Pakistan, says apex court
North America
• Obama Says US Not At War With Islam
• US tweets photos of four DEAD ISIS jihadis, launches social media war on terrorists and would-be foreign fighters
• Venezuela leader calls ISIS a Western 'Frankenstein'
• US Imposes Financial Sanctions on Islamist Fighters, Including One Indonesian Group
• 'Jihadist says hostages Foley, Cantlie converted to Islam in captivity'
• Edward Snowden wins 'alternative Nobel'
• US warns Americans of risk of attacks in Turkey after Syria air strikes
Europe
• Islamic Preacher Defends Brit Threatened By ISIS In David Haines Execution Video
• With their feet and a tweet, Europe's Muslims stand up to IS
• Britain arrests nine in operation against Islamist terrorism
• France says fresh round of air strikes carried out in Iraq
• Human rights under attack everywhere: Ban Ki-moon
• Anjem Choudary is arrested in terror raids hours after posting series of anti-Western tweets
• EU court strikes down sanctions against Qaddafi's cousin
• Cameron wants UK to join in airstrikes in Iraq
• ISIS will not dictate UK foreign policy: Hammond
Southeast Asia
• Police Urge Jakartans to Report Any Islamic State Activity to Authorities
• Philippine militants threaten to kill German captives
• PM: Malaysia stands on its own principles, no need to choose between US and China
Africa
• Boko Haram leader killed in clashes: Nigerian military
• Algeria militants behead French tourist
• Nigeria military confirms freeing some kidnapped Chibok girls
• Islamic State radicals recruiting Somali youth in Alberta
• Islamic extremists surrender in Nigeria, Cameroon
• Warplane attacks Libya's Benghazi port after threats by ex-general
• Libya asks chemical weapons watchdog to remove stockpile
South Asia
• Nasheed accuses Adhaalath leaders of radicalising youth
• 'War Crimes Accused Jabbar Converted 200 Hindus, Arranged Forced Marriage'
• 'Chinese investors want to initiate joint ventures with Pakistani counterparts'
• 1 killed, 29 injured in Faryab and Kandahar blasts
• Dhaka Court sends youth to seven years in jail for satirising Mujib, Hasina
• Uighur scholar in China to appeal life sentence
Compiled by New Age Islam News Bureau
URL: https://newageislam.com/islamic-world-news/islamic-scholar-murdered-pakistan-due/d/99255
----------
Pakistan
Islamic Scholar Murdered In Pakistan Due To His Liberal Views
Sep 25 2014
While he largely adhered to Muslim orthodoxy, Shakil Auj, a distinguished scholar of Islamic studies, was criticised by many in Pakistan for some relatively liberal views.
It appears as though he may have paid for those views with his life. Auj was on his way to a reception at the Iranian Cultural Centre in Karachi when assassins struck. Two as yet unidentified men pulled up on a motorcycle beside the vehicle that was carrying Auj and his friends. Two bullets struck the professor, killing him instantly, while a third wounded one of his former doctoral students.
The spindly 54-year-old Dean of Islamic Studies at Karachi University had little in common with the many who have been slain in the city in recent years. He had no political enthusiasms, was not a prominent member of any sect or ethnic group and had no business entanglements that might attract hostile attention. He was, by all accounts, a kind man with a famous sense of humour entirely devoted to his students and his lifelong study of Islam. "He was very witty, open and had his only focus on the Holy Quran for Islamic teachings and nothing else," one of his former students told me.
For much of his life Auj represented mainstream Islamic scholarship in Pakistan. His academic career was spent at Karachi University, where he gained five degrees, including a law degree, and a Masters in journalism. In 2000 he completed his PhD in Islamic Studies with was a comparative study of eight Urdu translations of the Quran. Last month the President of Pakistan, Mamnoon Hussain, gave him the Medal of Imtiaz, a state honour, in recognition of his services to education.
Auj was also the author of 77 research papers and 15 books. One of those books, on the rights of women in Islam, grated with his more hard-line and orthodox-minded colleagues. He argued, for example, that Muslim women could marry men of other faiths, and also suggested that Muslim women did not need to remove lipstick or other make-up before praying.
When Auj was made Dean of the Faculty of Islamic Studies, that resentment appears to have deepened. His colleagues began a covert campaign against him that began with bogus allegations of plagiarism and culminated in death threats. Last year he complained to the police and the vice-chancellor of the university that he was being accused of blasphemy.
In Pakistan, the mere suggestion Islam's prophet has been defamed can be deadly, and the vaguely worded blasphemy laws that find their origins in the Raj have been used to pursue vendettas and persecute religious minorities. Such is the sensitivity around the subject that once an allegation is made, there are no means of defending oneself. Mob pressure leads the police to take the accused into custody, from where they may never emerge, and few judges will acquit an accused blasphemer.
The biggest champions of the law are also those who feel the need to take the law into their own hands. In 2011 the governor of Punjab province, Salmaan Taseer, and the Minorities Minister, Shahbaz Bhatti, were assassinated for speaking out against the treatment of religious minorities who have been imprisoned under the blasphemy laws on little or no evidence.
Auj received menacing text messages last year; one said that his head would be severed from his neck. Four men were arrested, including his predecessor as Dean, but were later released on bail. The Karachi police said that there had been a fatwa issued against Auj.
While he had a reputation as a liberal, Auj maintained many orthodox religious views. In videos he can be seen advocating capital punishment for criminals, especially terrorists. He believed it would prove an effective deterrent, bemoaning the fact that scarcely any terrorists have been prosecuted in Pakistan. "Extremism leads to persecution," he said in a spirited recent speech, "and as it spreads, it envelops everything around it."
But he was also a staunch advocate of tolerance. "If you reply to a stone with a brick, then the matter will only escalate," he warned the audience in one his lectures. He deplored the decline of Pakistan's Islamic scholars, arguing that they had become too enamoured of power to offer any lessons to society. In his last lecture before his death, Auj lamented that modern Muslims too often refuse to debate and discuss matters. "Today people want to impose their own will at gunpoint," he said. It was a chillingly accurate presentiment.
Shockingly few Pakistani politicians have spoken up for Auj. It has long been the case that little resistance was offered when fanatics killed religious minorities, not just those of other faiths – principally Hindus, Sikhs and Christians – but also Muslim minority sects including Ahmedis and Shias. Outspoken liberal scholars of Islam, like Javed Ghamidi, left Pakistan long ago. Auj's death makes it clear that now even the most mainstream Sunni voices will not be tolerated.
Shakil Auj, Islamic scholar: born Karachi 1 January 1960; married (three sons); died Karachi 18 September 2014.
http://www.independent.co.uk/news/people/news/dr-muhammad-shakeel-auj-islamic-scholar-murdered-by-hardliners-in-pakistan-for-his-liberal-views-9754145.html
----------
Policeman Shoots Dead Blasphemy Accused In Rawalpindi Prison
25 Sep, 2014
ISLAMABAD: A policeman shot two men in jail on Thursday, killing one accused of blasphemy and wounding another condemned to death on the same charge, lawyers and an activist said.
Christian pastor Zafar Bhatti was killed and 70-year-old Briton Muhammad Asghar, who has a history of mental illness, was wounded in the attack in Rawalpindi.
Bhatti, who worked to protect the human rights of the country's beleaguered Christian minority, was on trial after he was accused in 2012 of sending blasphemous text messages.
His family say police investigations show the phone was registered to someone else.
In recent weeks, Bhatti had received death threats in prison from both inmates and guards, his family told Pakistan-based human rights group Life for All. He was being held in the same cell as Asghar.
"This is a barbaric act. There had been threats. The court should have instructed police to ensure Bhatti's safety," said Xavier Williams of Life for All.
"Killing of a person who was falsely accused is mockery of the judicial system. The protectors of the innocent have become the predators."
Asghar, from Edinburgh, was arrested in 2010 and sentenced to death in January after a disgruntled tenant presented letters he had written saying he was a prophet .
Asghar had previously been detained under the mental health act in Britain and diagnosed with paranoid schizophrenia, according to documents his lawyers supplied to Reuters.
His lawyers were barred from attending the last few months of his trial.
The law firm asked not to be identified for fear of being targeted by extremists.
Blasphemy is punishable by death in Pakistan.
Also read: Blasphemy law use on rise, led by Pakistan, says US group
This year has seen a record number of blasphemy accusations, according to an Islamabad-based think-tank, the Center for Research and Security Studies. Many analysts say the claims are increasingly used to settle scores or grab property.
Blasphemy charges are hard to fight because the law does not define what is blasphemous. Presenting the evidence can sometimes itself be considered a fresh infringement.
Those accused of blasphemy are often lynched and lawyers in defending those accused of blasphemy cases have frequently been attacked. Judges have been attacked for dismissing cases and many of the accused face years in jail as their trials drag on.
At least 48 people accused of blasphemy have been extrajudicially killed, including seven in prison or outside court, according to Life for All.
Earlier this year, a prominent human rights lawyer representing an English professor accused of making a blasphemous Facebook post was shot dead after prosecution lawyers had threatened to kill him in front of a judge.
Last week, gunmen shot dead a liberal professor of Islamic law in the southern city of Karachi. The killing followed years of threats from his colleagues and allegations of blasphemy.
Two prominent politicians who suggested reforming the law have been killed, one by his own bodyguard. Another politician who discussed reforming the law on television is now facing blasphemy charges.
http://www.dawn.com/news/1134272/policeman-shoots-dead-blasphemy-accused-in-rawalpindi-prison
----------
Two Taliban leaders among 13 killed in Tirah
25 Sep, 2014
LANDI KOTAL: Thirteen militants of outlawed Tehreek-i-Taliban Pakistan (Tariq Afridi group), among them two leaders, were killed and their five hideouts destroyed in bombing by military planes in the Tirah valley of Khyber Agency on Wednesday.
Military sources said that jets pounded militant sanctuaries in Surkas, Dwa Thoey and Ghaibee Kanday areas of Kukikhel in the Tirah valley, adding that 13 militants, including two leaders, were killed and five hideouts were destroyed.
Meanwhile, security forces in Landi Kotal claimed to have seized a large quantity of arms and explosives from the Ashkhel area.
Official sources said that security forces raided a British-era bunker in Ashkhel hills after receiving intelligence about the presence of large quantities of arms and ammunition there.
The seized ammunition was later shifted to an army camp.
http://www.dawn.com/news/1134219/two-taliban-leaders-among-13-killed-in-tirah
----------
Drone strike in North Waziristan kills at least eight
25 Sep, 2014
PESHAWAR/ISLAMABAD: At least eight people were killed and several others injured in a US drone strike in the Dattakhel tehsil of North Waziristan Agency, security sources said Wednesday.
Intelligence sources said that the US drone fired four missiles and completely destroyed a compound and a vehicle in the Alwara Mandi area of Dattakhel, about 60 kilometres from the main town of Miramshah.
There were varying reports as to the exact number of people killed in the drone strike.
"There are two Uzbeks among the dead militants identified so far," news agency AFP quoted a senior security official. He said the vehicle was near the compound when missiles hit it around 3:30 am.
AFP put the death toll at eight, while AP said as many as 10 suspected militants were killed in the drone strike.
The area is off-limits to journalists, making it impossible to verify the exact number and identity the dead independently.
A military operation Zarb-i-Azb is also in progress by the Pakistan Army in the area.
More than 1,000 militants and 86 soldiers have been killed in the assault so far, according to the military.
The operation was initiated on June 15 following a brazen militant attack on Karachi's international airport and failure of peace talks between the government and Tehreek-i-Taliban Pakistan (TTP) negotiators.
Pakistan condemns Dattakhel drone strike
While strongly condemning the US strike in Dattakhel, Pakistan's Foreign Office has said, "with the decisive action being taken against terrorist elements in North Waziristan, there is no need for such strikes."
"We, therefore, urge US for a cessation of such strikes," FO spokesperson said in a statement issued is Islamabad.
The spokesperson said Pakistan regards such strikes as a violation of its sovereignty and territorial integrity.
http://www.dawn.com/news/1134041/drone-strike-in-north-waziristan-kills-at-least-eight
----------
MQM stages sit-ins against hostility towards Mohajirs from today
25 Sep, 2014
KARACHI: Muttahida Qaumi Movement (MQM) Chief Altaf Hussain has announced to stage sit-ins in every nook and corner of Karachi against hostility towards Mohajirs, Geo News reported.
Altaf Hussain was addressing the participants of sit-in, staged outside Chief Minister House against Rangers' raid on MQM sector office in Scheme 33.
Altaf Hussain said no law prevails in the country today, adding that peaceful workers were arbitrary arrested.
He said MQM would stage sit-ins in Karachi against hostility towards Mohajirs. Sit-in would be held against injustice, he said and added Haq Parast people would participate in the protest.
If sit-ins could be staged in Islamabad, why these could not be held in Karachi, asked Altaf.
He said raids were being conducted at the houses of MQM activists, adding that they would not bow before the Rangers.
http://www.thenews.com.pk/article-160743-MQM-stages-sit-ins-against-hostility-towards-Mohajirs-from-today
----------
Pakistan condemns terrorism at UNSC summit
25 Sep, 2014
UNITED NATIONS - Pakistan on Wednesday urged the international community to strengthen cooperation in fighting terrorism, in particular the foreign terrorist fighters, after the UN Security Council adopted a resolution by consensus, agreeing on measures to curb such fighters and stem their growth.
The 15-member Council, which met at summit level, was chaired by Barack Obama. In remarks during a debate that followed the passage of the resolution, the Adviser on National Security and Foreign Affairs, Sartaj Aziz expressed continued resolve of the government in fighting terrorism.
On the emergent security threats posed by foreign terrorist fighters, the adviser called on the international community to fight the phenomenon in a comprehensive and effective manner, including resolution of conflicts and countering radicalization and violent extremism.
http://www.dailytimes.com.pk/national/25-Sep-2014/pakistan-condemns-terrorism-at-the-unsc-summit
----------
Sindh Assembly passes resolution against division of Sindh
25 Sep, 2014
KARACHI: In the absence of members of the opposition and the Muttahida Qaumi Movement (MQM), the Pakistan Peoples Party on Thursday managed to unanimously pass a resolution in the Sindh Assembly against the division of the province or formation of new admnistrative units.
The resolution was jointly moved by Sohail Akbar and other PPP members in the backdrop of a recent demand by the MQM to create more administrative units in Sindh.
Earlier, the opposition staged a walkout after Deputy Speaker Shehla Raza did not allow Shahyar Mehar to move a resolution.
The dispute began on allotment of seats in the new assembly hall as the opposition objected that its members were not allotted seats together.
The opposition member and treasury benches exchanged heated words and the hall then echoed with slogans "Marsoon Marsoon Sindh Na Desoon".
MQM members boycotted the session in protest against the arrest of its workers overnight.
http://www.dawn.com/news/1134279/sindh-assembly-passes-resolution-against-division-of-sindh
----------
Mideast
Turks Leave for 'Family-Friendly' Islamic State Group
Sep 25 2014
ISTANBUL — Asiya Ummi Abdullah doesn't share the view that the Islamic State group rules over a terrorist dystopia and she isn't scared by the American bombs falling on Raqqa, its power centre in Syria.
As far as she's concerned, it's the ideal place to raise a family.
In interviews with The Associated Press, the 24-year-old Muslim convert explained her decision to move with her toddler to the territory controlled by the militant group, saying it offers them protection from the sex, drugs and alcohol that she sees as rampant in largely secular Turkey.
"The children of that country see all this and become either murderers or delinquents or homosexuals or thieves," Umi Abdullah wrote in one of several Facebook messages. Living under Shariah, the Islamic legal code, means that her 3-year-old boy's spiritual life is secure, she said.
"He will know God and live under His rules," she said.
Ummi Abdullah's experience illustrates the pull of the Islamic State group, the self-styled caliphate straddling Iraq and Syria. It also shows how, even in modern Turkey entire families are dropping everything to find salvation.
Full report at:
http://www.indianagazette.com/news/reg-national-world/turks-leave-for-familyfriendly-islamic-state-group,20659180/
----------
Israeli Forces Clash with Palestinians in Al-Aqsa Mosque
25 Sep, 2014
Israeli forces once again attacked Palestinian worshippers at Al-Aqsa Mosque compound in East al-Quds (Jerusalem).
According to reports on Wednesday, clashes broke out between Palestinians and Israelis after Israeli forces stormed the holy site, press tv reported.
At least 20 Palestinians were reportedly injured in the clashes.
Israeli troops have escalated their raids on the Al-Aqsa Mosque in recent months. The Al-Aqsa Mosque is the third holiest site for world Muslims.
Almost on a daily basis, Israeli troops force their way into the ranks of Palestinian worshipers, triggering scuffles.
Recently, Israeli troops have been escorting Jewish extremists into the compound, where they engage in a flurry of provocative practices insulting to Muslims.
This comes as Israeli regime is also systematically acting to change the identity and character of several Palestinian cities.
Full report at:
http://english.farsnews.com/newstext.aspx?nn=13930702001500
----------
Yemen president warns of civil war as factions collide
25 Sep, 2014
SANAA: President Abd-Rabbu Mansour Hadi has warned Yemenis their country is heading toward civil war after the takeover of the capital by Shiite Muslim rebels, a move that has allowed the insurgents to dictate terms to a weakened, fractured government.
"(The combat in Sanaa) emphasises to us the painful bitterness of fighting among our people and the danger of entering into a civil war," Hadi said in a speech to political and security chiefs at his headquarters on Tuesday.
Any such war would likely pit the Houthi rebels, who claim to represent the Zaydi Shiite sect — 30 percent of Yemen's 25 million people — against an alliance of Sunni Islamist and tribal interests united by a few top families and generals.
The Houthis struck a deal that will make them a part of the government, but it's not clear if that will satisfy their demands, or if it will instead embolden them to seek further powers.
Against the backdrop of a fragmented political, tribal and sectarian scene, any renewed fighting could also allow an array of other groups, including southern separatists, former leader Ali Abdullah Saleh and even Al-Qaeda to take advantage.
Full report at:
http://www.arabnews.com/featured/news/634971
----------
Turkish leader claims world not doing enough on, Syria, Egypt
25 Sep, 2014
The president of Turkey accused the international community of doing too little to stem the flow of foreign fighters to Syria and slammed the U.N. Security Council's inaction on some of the world's most pressing issues.
In two separate speeches in New York, Recep Tayyip Erdogan said Turkey was playing a leading role in fighting terrorism but was not being aided by the rest of the world.
"We can stop this flow of foreign terrorist fighters only if our friends and partners awaiting our cooperation show, themselves, a sort of cooperation as well," Erdogan said.
"This is not a fight to be carried out solely by Turkey," he added.
But Turkey, a key backer of the a setion of the rebels seeking to oust Syrian President Bashar Assad, is under scrutiny for allowing thousands of fighters to cross into Syria across its borders.
Full report at:
http://english.ahram.org.eg/NewsContent/2/8/111638/World/Region/Turkish-leader-claims-world-not-doing-enough-on,-S.aspx
---------
Iran's Civil Defense Chief Voices Pessimism about N. Talks with West
25 Sep, 2014
Head of Iran's Civil Defense Organization Brigadier General Gholam Reza Jalali pointed to the western states' long record of animosity towards Tehran, and voiced pessimism about nuclear talks between Iran and the West.
"The Islamic Iran has grown into a regional power after the end of the (1980-1988 Iraqi imposed) war," Jalali said, addressing a gathering in the Central city of Qom on Wednesday, adding that's why the US-led West has been confronting Iran in the last several decades.
Yet, he said the US and its allies avoid a military confrontation with Tehran, "because the 8-year Iraqi-imposed war against Iran proved that the Iranian nation will resist with its entire power in case of a foreign invasion".
Full report at:
http://english.farsnews.com/newstext.aspx?nn=13930702001289
----------
Arab World
KSA: Israeli Occupation Can't Be Open-Ended
25 Sep, 2014
The Kingdom said that the United Nations must set a time frame for the ending of the Israeli occupation and the establishment of an independent Palestinian state, with Jerusalem as its capital.
In his speech about human rights violations in the Palestinian territories during the Human Rights Committee meeting in Geneva, Ambassador Faisal Trad said: "We meet today after more than one month since the convening of the Special Session XXI regarding the brutal Israeli attacks on the Gaza Strip, and gross violations of human rights and fundamental freedoms."
"These actions led the international political arena to convene a meeting with all contracting parties under the Fourth Geneva Convention to take steps to ensure the application of the convention to the occupied Palestinian territories, including east Jerusalem," he said.
"Calls were made to take the necessary procedures to form an international investigative committee to uncover the truth about the crimes that Israel continues to carry out on Palestinians, but what has happened so far?" he continued.
Full report at:
http://www.arabnews.com/news/635376
----------
Iraqi Forces Kill 26 ISIL Terrorists in Babil
25 Sep, 2014
Iraqi government forces on Wednesday bombed the positions of the Islamic State of Iraq and the Levant (ISIL) terrorists, and killed 26 of them in Babil province.
"The security forces bombed ISIL shelters, killing 26 of them in Jurf al-Sakhar district of Northern Babil," a security source said.
http://english.farsnews.com/newstext.aspx?nn=13930702001173
----------
20 ISIL Terrorists Killed in Northeastern Baghdad
25 Sep, 2014
Iraqi volunteers and tribesmen killed 20 terrorists of the Islamic State of Iraq and the Levant (ISIL) in Northeastern Baghdad on Wednesday.
"The volunteers and the tribes attacked the ISIL terrorists in Dhabitiya area of Northeastern Baghdad, killing 20 of them," a security source said, adding that some of the militants' weapons were seized and their vehicles were destroyed in the operation.
http://english.farsnews.com/newstext.aspx?nn=13930702000931
----------
At least 14 Islamic State fighters killed in US-led strikes in Syria
25 Sep, 2014
BEIRUT - At least 14 Islamic State fighters were killed in air strikes by US-led forces overnight in northeast Syria, a group monitoring the war said on Thursday.
The strikes also killed at least five civilians, said Rami Abdulrahman, who runs the Britain-based Syrian Observatory for Human Rights. US-led forces started air strikes on Syria on Tuesday.
http://www.jpost.com/Breaking-News/At-least-14-Islamic-State-fighters-killed-in-US-led-strikes-in-Syria-376316
----------
Iraqi Airstrikes Kill ISIL Commander, 10 Terrorists in Kirkuk
25 Sep, 2014
Iraqi air force fighter jets killed the so-called military commander of the Islamic state of Iraq and the Levant (ISIL) terrorist group and 10 other terrorists in Kirkuk on Wednesday.
The airstrikes targeted ISIL positions in Riyadh sub-district, Southwest of Kirkuk province.
http://english.farsnews.com/newstext.aspx?nn=13930702001402
----------
Refugees face slaughter in Syrian town unless help arrives, says Kurdish fighters
Sep 25, 2014
Kurdish fighters say refugees in a Syrian town are facing slaughter by advancing ISIS hordes unless help arrives soon.
The militants have been pictured attacking the town of Kobani, also known as Ayn al-Arab, where as many as 400,000 residents and refugees currently live.
'Tell the world what is happening' said Rooz Bahjat, a senior Kurdish military officer said. 'This could be a massacre if no help arrives.'
What happened on Mount Sinjar will seem like nothing compared to this if ISIS gets through,' Bahjat told Fox News, referring to the Iraqi mountain village where thousands of people belonging to a religious minority were trapped by Islamic State fighters until U.S. airstrikes cleared a path for them to escape.
Islamic State has tanks and artillery surrounding the town, Bahjat added.
Full report at:
http://www.dailymail.co.uk/news/article-2768298/Human-tide-refugees-fleeing-Turkey-form-Syria-finally-slows-fears-mount-squalor-disease-border.html#ixzz3ENhJOsfw
-------------
U.S. strikes Islamic State-controlled oil refineries in Syria
Sep 25, 2014
A third night of U.S.-led airstrikes pounded Islamic State-controlled oil refineries in eastern Syria, as the United States and its partners moved to choke off a crucial source of revenue for the militant group, U.S. officials said on Wednesday.
Saudi Arabia and the United Arab Emirates joined in the strikes by piloted and drone aircraft targeting facilities around al-Mayadin, al-Hasakah, and Abu Kamal, the U.S. military said.
The U.S. Central Command said there were a total of 13 strikes against 12 modular oil refineries controlled by Islamic State fighters as well as another strike that destroyed an Islamic State vehicle.
"We are still assessing the outcome of the attack on the refineries, but have initial indications that the strikes were successful," Central Command said in a statement.
Modular refineries are prefabricated and constructed off-site so they can be transported and made operational quickly. The U.S. military said the refineries were capable of producing millions in revenue and provided fuel for the group's operations.
Full report at:
http://www.thehindu.com/news/international/world/us-strikes-islamic-statecontrolled-oil-refineries-in-syria/article6444786.ece
-----------
ISIS Destroys Arbaeen Wali Shrine In Iraq Amid U.S. Strikes
25 September 2014
Security sources said Wednesday that ISIS extremists have destroyed the Arbaeen Wali shrine in the militant-held city of Tikrit.
According to Al Arabiya News Channel correspondent Jawad al-Hatab, ISIS bombed the Arabeen shrine, which houses the tombs of 40 "martyrs" who spear-headed the establishment of Tikrit as a major city during Islam's expansion in 637 CE.
The Arbaeen shrine is located on a road connecting Tikrit with Iraq's second largest city Mosul and the capital Baghdad.
Thousands of people visit the shrine annually.
An academic in Tikrit, who spoke on condition of anonymity, said the shrine was constructed when Islamic architecture was at its peak or creativity.
Full report at:
http://english.alarabiya.net/en/News/middle-east/2014/09/25/ISIS-destroys-shrine-in-Iraq-s-Tikrit.html
----------
Saudi releases pictures of pilots who took part in strikes against ISIS
25 September 2014
Saudi Arabia has released photographs of pilots it said conducted airstrikes against the Islamic State of Iraq and Syria (ISIS) in Syria as part of a U.S.-led campaign against the militant group.
In of the pictures, carried by the official Saudi Press Agency (SPA), some airmen were smiling, in green flight suits with arms around each other in front of one of their fighter jets.
One of the pilots involved in the raids is a son of Crown Prince Salman bin Abdul Aziz himself, according to Saudi newspapers.
Dozens of ISIS and Al-Qaeda militants were reported killed in the coalition air raids, sparking jihadist threats online where the Saudi pilots' photos reappeared.
"The Saudi pilots returned safe and sound Tuesday morning after having accomplished their duty in carrying out successful and effective strikes against the Islamic State extremist organisation in Syria," SPA said overnight.
Full report at:
http://english.alarabiya.net/en/News/middle-east/2014/09/25/Saudi-Arabia-releases-pictures-of-pilots-who-took-part-in-strikes-against-ISIS.html
----------
Saudi stocks lead Mideast drop on IS reprisal concern
25 Sep, 2014
JEDDAH – Saudi Arabian stocks led declines in the Middle East amid investor concern that Arab nations may be at risk of retaliatory attacks by the so-called Islamic State militants.
The Tadawul All Share Index (SASEIDX) retreated for a fourth day, sliding 1.3 percent at 1:16 p.m. local time to 10,731.57, the lowest since Aug. 21. It was the second-worst performer among more than 90 gauges tracked globally by Bloomberg. Dubai's DFM General Index slipped 1.2 percent at the close, while Qatar's QE Index fell 0.5 percent.
Saudi Arabia, the United Arab Emirates, Bahrain, Qatar and Jordan joined the first wave of US-led airstrikes against the Islamic State in Syria yesterday, the broadest Arab-US military coalition since the 1991 Gulf War. They're seeking to rein in militants who have rampaged through Syria and threatened to ignite a civil war in Iraq. Gauges in Oman and Kuwait, which weren't involved in the attacks, increased 0.1 percent and 0.2 percent respectively.
Full report at:
http://www.saudigazette.com.sa/index.cfm?method=home.regcon&contentid=20140925219311
-----------
Egypt accuses Turkish leader Erdogan of supporting terrorists
25 Sep, 2014
Egypt has accused Turkish leader Tayyip Erdogan of supporting terrorists and seeking to provoke mayhem in the Middle East after he questioned the legitimacy of Egyptian President Abdel Fattah al-Sisi in a speech at the .. General Assembly.
Ties between Ankara and Cairo have been strained since then army chief Sisi toppled elected President Mohamed Mursi of the Muslim Brotherhood last year after mass protests against his rule.
Egyptian security forces then mounted one of the fiercest crackdowns against the Islamist movement, killings hundreds of supporters at a Cairo protest camp, arresting thousands and putting Mursi and other leaders on trial trial.
Full report at:
http://www.themalaysianinsider.com/world/article/egypt-accuses-turkish-leader-erdogan-of-supporting-terrorists#sthash.m9m1qXHx.dpuf
----------
Australia
For Australian Muslims, security crackdown is code for racial profiling
Sep 25 2014
SYDNEY (Reuters) - Prominent Australian Muslims say their community is being unfairly targeted by law enforcement and threatened by right-wing groups, as the government's tough new policies aimed at combating radical Islamists threaten to create a backlash.
Authorities are on high alert since massive counter-terrorism raids last week thwarted what the government said was a plot by the Islamic State militant group to publicly behead a random member of the public.
Prime Minister Tony Abbott is seeking broad new security powers to combat the threat posed by radical groups, and policing has been tightened in public places such as Parliament House, sporting events and airports.
Abbott insists the measures are not meant to target Muslims, but Sydney-based criminal defence attorney Adam Houda says it is already clear that they have resulted in racial profiling.
Full report at:
http://www.thestar.com.my/News/World/2014/09/25/For-Australian-Muslims-security-crackdown-is-code-for-racial-profiling/
----------
Mosque vandalised: Abuse spray-painted on Muslim community site in Brisbane
Sep 25 2014
Vandals have spray-painted abusive messages across a mosque in southern Brisbane.
The words "die" and "Muslims are evil and have no respect for our ways" were spray-painted on the Indonesian community mosque at Rocklea.
Muslim community leaders and police were alerted to the vandalism on Wednesday evening.
A police forensic team has begun an investigation.
It is the second Muslim prayer site in Queensland to be defaced in less than a week.
A mosque at Mareeba in far north Queensland was vandalised last Friday.
Islamic Indonesian Community of Queensland president Hamid Mawardi praised police for their quick response to the attack on the Rocklea mosque.
He said he had no idea who had vandalised the mosque but that it was "probably just kids".
"I think this is a misperception about Islam – we are here, Australian," he said.
"I've been here for years and we live nice and peacefully and whoever did this – respect us as Australians."
Full report at:
http://www.abc.net.au/news/2014-09-24/vandals-spray-paint-abuse-on-brisbane-mosque-rocklea/5767382
----------
Australia 'terror suspect' could be part of a group
25 September 2014
A terror suspect shot dead by Australian police after stabbing two officers in a frenzied knife attack may not have been acting alone, Reuters reported officials as saying Thursday, escalating concerns about the threat posed by radicalized youth.
Abdul Numan Haider, 18, was killed on Tuesday evening on the outskirts of Melbourne, a day after ISIS called for Muslims to indiscriminately kill Australians.
The teenager, described by the government as a "known terror suspect" who had his passport cancelled for security reasons, launched an unprovoked attack on the policemen outside their station after arriving for a "routine" interview.
One of them fired a single shot that killed him.
Police on Wednesday said they believed he was acting alone but Victoria state police chief Ken Lay admitted they were now looking into reports that Haider was talking to other people in the lead-up to the attack.
Full report at:
http://english.alarabiya.net/en/News/world/2014/09/25/Australia-terror-suspect-may-not-have-been-acting-alone.html
----------
Australian police shoot suspected terrorist dead
25 Sep, 2014
CANBERRA, Australia — A terror suspect shot dead after he stabbed two Australian counterterrorism police officers had his passport canceled recently on national security grounds, top police officials said on Wednesday.
Some experts suspect Tuesday's attack was inspired by the Islamic State group's call to supporters to wage terror in their home countries.
An Australian Federal Police officer and a Victoria state police officer who were part of a Joint Counter Terrorism Team had asked the 18-year-old man to come to a police station in southeast Melbourne on Tuesday night to answer questions after first drawing their attention three months ago, Victoria Police Chief Commissioner Ken Lay said.
The trio exchanged handshakes before the man began stabbing the two officers, Australian Federal Police Commander Bruce Giles said. One of the officers then shot the man dead.
Police haven't release the dead man's name. But opposition leader Bill Shorten identified him during a speech in Parliament as Numan Haider.
"Full report at:
http://www.saudigazette.com.sa/index.cfm?method=home.regcon&contentid=20140925219373
----------
India
No Religious Profiling For Garba, (Dance in Honour of a Goddess): Gujarat Govt
Sarfaraz Shaikh, TNN | Sep 25
AHMEDABAD: The state home department has issued a directive that strict action will be taken against anyone found asking a Garba enthusiast his religion at a Navratri venue.
Following a series of meetings between home department and police officials on Wednesday, it was decided that asking someone his religious identity at a Garba venue will not be tolerated. Strict action will be taken against those making such enquiries, including cancellation of permission for organizing the Garba.
Additional chief secretary (home) S K Nanda said, "Navratri has always been a symbol of 'Sadbhavana'. Granting entry to a venue on the basis of religion goes against its spirit."
Nanda added that the state home department has issued directives to all police commissioners and district superintendents of police to deploy police personnel at Garba venues.
The government decision comes on the heels of provocative statements made in the run-up to Navratri celebrations by fundamentalist elements among Hindus as well as Muslims.
http://timesofindia.indiatimes.com/india/No-religious-profiling-for-garba-Gujarat-govt-says/articleshow/43371927.cms
----------
Obama may ask India to join fight against IS
SUHASINI HAIDAR
As Washington completes a round of airstrikes on the Islamic State (IS) of Iraq and Syria, U.S President Barack Obama on Wednesday garnered more support for the coalition at the United Nations.
On Monday, PTI quoted U.S. officials as saying that Mr. Obama will ask Prime Minister Narendra Modi to join the 40 countries that have offered support.
Delhi may share intelligence in fight against IS
In the event of Washington seeking closer cooperation with India in its campaign against the Islamic State (IS) in Iraq and Syria, during Prime Minister Narendra Modi's meeting with President Barack Obama, New Delhi has three possible options.
At present, officials say the cooperation extends to exchanging notes on IS propaganda and is limited to information-sharing. "It is an area of cooperation as of now," confirmed Ministry of External Affairs spokesperson Syed Akbaruddin, who called working with the U.S. on IS "a major issue of focus during the Obama-Modi meeting, we look forward to enhancing that cooperation."
Full report at:
http://www.thehindu.com/news/international/world/obama-may-ask-india-to-join-fight-against-is/article6441347.ece
------------
Cleric held for garba remark assaulted outside court, refuses to apply for bail
Sep 25 2014
A day after he was arrested, the Muslim cleric from Gujarat, who offered Narendra Modi a skull cap three years ago, was Wednesday sent to judicial custody till October 2. Sufi Imam Mehdi Hasan, who was arrested for his remarks on Navratri festival, was assaulted by a youth outside Thasra court in Kheda district, where he was produced by the local police.
Hasan was sent to judicial custody after he refused to apply for bail and told the court, "Khuda mera insaf karega (The Almighty will do justice to me)." The cleric was arrested Tuesday for allegedly describing garba as entertainment for the doers of "demonic deeds".
He came into the spotlight in September 2011 when he offered Narendra Modi, the then chief minister, a skull cap, while greeting him on the Sadbhavana fast. Modi had refused to wear the cap.
Full report at:
http://indianexpress.com/article/india/india-others/cleric-held-for-garba-remark-assaulted-outside-court-refuses-to-apply-for-bail/#sthash.AcjcAn5G.dpuf
----------
Bring back Indian PoWs in Pakistan, says apex court
25 Sep, 2014
Noting that the State should be concerned about its missing citizens, the Supreme Court asked the Centre to submit the current status of the 54 Indians prisoners of war (PoW) believed to be languishing in Pakistan jails as per a list prepared by the Indian government way back in 1985.
A three-judge Bench led by Chief Justice of India R.M. Lodha was hearing a batch of petitions raising the lack of information about prisoners of war believed to be held captive in the various jails of the neighbouring country.
The petitions include one by the father of Captain Saurabh Kalia, a Kargil hero, who was captured along with five other soldiers of his patrolling team in May 1999 and another by one Sarwa Mitter about the beheading and mutilation of bodies of two Indian soldiers in 2013.
The Bench wondered why the government had not approached the International Court of Justice all these years to know about the fate of the POWs citing the spoiling of bilateral relations with Pakistan. "When state subjects are missing, the state has to be concerned," Chief Justice Lodha said.
Full report at:
http://www.thehindu.com/news/national/bring-back-indian-pows-in-pakistan-says-apex-court/article6439815.ece
---------
North America
Obama says US not at war with Islam
25 Sep, 2014
UNITED NATIONS - In his speech to the UNGA, President Obama categorically presented two options before the world: the first one pertains to progress which is to be led forward by the restoration of what he called, 'international system' and the second one pertains to the path of instability which inevitably leads to violent extremism in a tone and tenor that might be reminiscent of Bush's famous rhetoric of, "either you are with us or against us."
Obama's first option revolves around reducing poverty, disease, cynicism and conflict in the world. He specially referred to a better future lying ahead for everyone to people living in downtown New York and to the people as far away in Africa. Apparently, this is a utopian world where there will be no conflict, poverty, hunger and war for which the world must join hands.
The second option is menacing, but only if it is prevented from being materialised. This revolves around terrorism, war and unrest, which he said was originating from Middle-East and even westernised countries such as Russia, which he said was intent upon spreading its influence in Europe. Obama was categorical in warning Russia from staying away from projecting its power, failing which he warned there would be consequences.
"We will impose a cost on Russia for aggression, and counter falsehoods with the truth. We call upon others to join us on the right side of history," he warned. More obvious was the warning to certain Middle-Eastern countries such as Syria and Iraq. The threat from the ISIS figured prominently in his speech. Obama made it obvious that the choice the US was going to make was that of creating an international system that will lead to a better world brimming with hope.
Full report at:
http://nation.com.pk/international/25-Sep-2014/obama-says-us-not-at-war-with-islam
----------
US tweets photos of four DEAD ISIS jihadis, launches social media war on terrorists and would-be foreign fighters
Sep 25, 2014
The U.S. State Department ratcheted up the online propaganda war on Wednesday, tweeting a photo composite showing four dead ISIS jihadis who it suggested were killed in overnight airstrikes in Syria.
The 'Think Again Turn Away' program's Twitter account blasted out the image to nearly 8,000 followers. The initiative's goal is to dissuade would-be jihadis, including so-called 'foreign fighters,' from joining up with ISIS.
The U.S. government used the same account in recent weeks to distribute a mock ISIS recruiting video that lambasted the terror group for mass executions and the destruction of Muslim historical sites.
Social media messaging has become a key element in the Obama administration's battle for hearts and minds in the Arab world, especially since ISIS - the self-proclaimed Islamic State of Iraq and al-Sham – began distributing graphic beheading videos that way.
State Department Deputy Spokeswoman Marie Harf told reporters on Sept 5 that the anti-jihad campaign had already 'been appearing in Arabic for quite some time. We are doing more in English as well.'
The messages are produced by the agency's Center for Strategic Counterterrorism Communications as a pushback against Islamist terror groups that use online spaces to recruit militants and spread propaganda to young followers.
Efforts from ISIS, in particular, have proven effective – and provide ample headaches to the agencies that comprise America's national security infrastructure.
The terror army 'operates the most significant propaganda machine of any extremist group,' according to National Counterterrorism Center director Center Matt Olsen.
Full report at:
http://www.dailymail.co.uk/news/article-2768554/State-Department-tweets-photos-four-dead-ISIS-jihadis-battle-hearts-minds-ratchets-UN-Security-Council-wins-pledge-prosecute-foreign-fighters.html#ixzz3ENhk6tpz
----------
Venezuela leader calls ISIS a Western 'Frankenstein'
25 September 2014
Venezuela's leftist President Nicolas Maduro on Wednesday accused Western powers of helping create the jihadist crisis in the Middle East and said that the only solution involved respecting regional governments.
In his first speech to the U.N. General Assembly since succeeding the firebrand Hugo Chavez last year at the helm of the South American nation, Maduro said that the Ebola virus was the world's biggest threat but that Western powers were busy "bombing the people of Iraq and Syria."
Maduro, like his predecessor a frequent critic of the West, said he agreed on the need to "fight terrorism" but criticized Western support for other rebels battling President Bashar al-Assad.
Full report at:
http://english.alarabiya.net/en/News/world/2014/09/25/Venezuela-leader-calls-ISIS-a-Western-Frankenstein-.html
---------
US Imposes Financial Sanctions on Islamist Fighters, Including One Indonesian Group
25 Sep, 2014
Washington. The United States designated two dozen individuals and groups as foreign terrorists or terrorist facilitators on Wednesday, enabling it to freeze assets and block financial transactions as it stepped up its offensive against Islamist militants in Syria.
The US State Department labeled as foreign terrorist fighters two groups and 10 people, including Amru al-Absi, the Islamic State provincial leader for Homs, Syria, who has been in charge of kidnappings, and Salim Benghalem, a French Islamic State member based in Syria.
The Treasury Department named 11 individuals and one entity as specially designated global terrorists, including Tarkhan Tayumurazovich Batirashvili, a Georgia national based in Syria who has held senior military positions in Islamic State.
"Today's … designations will disrupt efforts by ISIL, al Nusrah Front, Al-Qaeda and Jamaa Islamiya to raise, transport and access funds that facilitate foreign terrorist fighters," said David Cohen, Treasury undersecretary for terrorism and financial intelligence.
The sanctions enable the government to freeze any assets the individuals or groups have under US jurisdiction and to prevent US citizens and companies from engaging in any financial transactions with them.
Full report at:
http://www.thejakartaglobe.com/news/us-imposes-financial-sanctions-islamist-fighters-including-one-indonesian-group/
----------
Edward Snowden wins 'alternative Nobel'
Sep 25, 2014
Edward Snowden has been selected among the winners of the Right Livelihood Award, also known as the "alternative Nobel," for his disclosures of top secret surveillance programs.
The award foundation on Wednesday said the former National Security Agency contractor splits the honorary portion of the prize with Guardian editor Alan Rusbridger.
The 1.5 million kronor ($210,000) cash award is shared by Pakistani human rights activist Asma Jahangir, Basil Fernando of the Asian Human Rights Commission and U.S. environmentalist Bill McKibben.
Award foundation director Ole von Uexkull said all winners were invited to the December 1 award ceremony in Stockholm, though he added it's unclear whether Mr. Snowden, who remains exiled in Russia, can attend.
http://www.thehindu.com/news/international/world/edward-snowden-wins-alternative-nobel/article6442399.ece
----------
'Jihadist says hostages Foley, Cantlie converted to Islam in captivity'
Sep 25, 2014
Western journalists James Foley and John Cantlie converted to Islam while being held hostage in Syria, a Belgian newspaper quoted a jihadist suspect as saying on Wednesday, adding that the pair may have been forced to do so.
Foley, an American, was beheaded by the Islamic State (IS) group last month, while Cantlie, a Briton, is believed to be still in captivity.
IS has been accused of forcing Christians and other minorities to convert to Islam during their sweep across parts of Iraq.
The Flemish-language newspaper Het Laatste Nieuws cited testimony from Jejoen Bontinck, a 19-year-old Belgian Islamist convert who was detained in October 2013 upon his return from an eight-month visit to Syria and charged with belonging to a terrorist group.
Full report at:
http://indianexpress.com/article/world/europe/jihadist-says-hostgaes-foley-cantlie-converted-to-islam-in-captivity/#sthash.IUaIiqis.dpuf
----------
US warns Americans of risk of attacks in Turkey after Syria air strikes
25 Sep, 2014
ISTANBUL - The United States has warned its citizens in Turkey to be extra vigilant over the risk of attacks by foreign or domestic militants after it launched air strikes against Islamic State fighters in neighboring Syria.
The US Embassy in Ankara said Turkey's eastern and southeastern regions, parts of which border Syria and Iraq, were particularly vulnerable although it had no information on any specific threats.
"Following the commencement of military action against ISIL (Islamic State) targets in Syria, US citizens are reminded that there have been violent attacks in Turkey in the past," the embassy said in a statement issued late on Wednesday.
Full report at:
http://www.jpost.com/Breaking-News/US-warns-Americans-of-risk-of-attacks-in-Turkey-after-Syria-air-strikes-376323
----------
Europe
Islamic Preacher Defends Brit Threatened By ISIS In David Haines Execution Video
Sep 25 2014
Abdullah el-Faisal, an Islamic preacher who spent four years in jail for soliciting murder against Americans, released a video Wednesday calling on Islamic State militants to release British hostage Alan Henning. The British citizen's life was threatened in a video earlier this month that purported to show the beheading of fellow aid worker David Haines. In his emotional plea, Faisal said killing Henning would be against Islamic law.
The public statement represents an abrupt change for Faisal, who has defended the Islamic State's kidnapping and rape of Yazidi women in Iraq in the past, according to the Guardian. The video came hours after Henning's wife begged Tuesday for her husband to be released. Faisal is the former imam of a south London mosque and was found guilty on February 24, 2003 of three charges of soliciting murder relating to talks he gave which were recorded and put on sale inciting Muslims to kill non-believers, Americans, Hindus and Jews. He is also said to have inspired Times Square bomber Faisal Shahzad and failed airplane underwear bomber Farouk Abdulmutallab.
Full report at:
http://www.ibtimes.com/alan-henning-video-islamic-preacher-abdullah-el-faisal-defends-brit-threatened-isis-david-1694425
----------
With their feet and a tweet, Europe's Muslims stand up to IS
25 Sep, 2014
PARIS — As Islamic State extremists call for random murders throughout Europe in Allah's name, the continent's Muslims are hitting back with mass peace demonstrations and a Twitter campaign to say "not in my name."
From Norway in the far north to Germany and France, Muslims have taken to the streets to denounce the IS militants controlling large areas of Iraq and Syria who they say have hijacked their religion and terminology to spread hate and breed violence.
The IS group are "terrorists and murderers who drag Islam into the dirt and bring hatred and suffering to the people, including to their own fellow Muslims, in Syria, in Iraq and elsewhere," said Aiman Mazyek, chairman of Germany's central council of Muslims.
Along with other Muslim groups, Mazyek's council organized last week a day of prayers and rallies across Germany, which is home to around four million Muslims, mainly with Turkish roots.
Full report at:
http://www.saudigazette.com.sa/index.cfm?method=home.regcon&contentid=20140925219360
----------
Britain arrests nine in operation against Islamist terrorism
25 September 2014
British police said on Thursday they had arrested nine men on suspected terrorism offenses as part of what they described as an ongoing operation into Islamist-related terrorism.
The men were held on suspicion of belonging to and supporting an organization banned under terrorism laws and encouraging terrorism, police said.
The arrests were not in response to any immediate threat, Scotland Yard said in a statement.
Police said the men, aged between 22 and 51, were in custody at stations in central London while 19 properties across the capital and in Stoke-on-Trent in central England were being searched.
Britain last month raised its international threat level to the second-highest level of "severe", meaning an attack is considered highly likely, while Prime Minister David Cameron has said the Islamic State militant group in Syria and Iraq poses the country's greatest ever security risk.
http://english.alarabiya.net/en/News/world/2014/09/25/Britain-says-arrests-nine-in-operation-against-Islamist-terrorism.html
----------
France says fresh round of air strikes carried out in Iraq
25 Sep, 2014
PARIS — France carried out a second round of air strikes in Iraq on Thursday, government spokesman Stephane Le Foll said, as part of a US-led coalition helping the Iraqi army fight Islamic State (IS) extremists.
The announcement came as France mourned the beheading of hostage Herve Gourdel by Algerian jihadists linked to IS, and Le Foll said flags would be flown at half-mast across France for three days from Friday.
http://www.saudigazette.com.sa/index.cfm?method=home.regcon&contentid=20140925219389
----------
Human rights under attack everywhere: Ban Ki-moon
25 Sep, 2014
UNITED NATIONS: UN Secretary General Ban Ki-moon warned Wednesday that human rights were "under attack" throughout the world as he opened the General Assembly debate.
"From barrel bombs to beheadings, from the deliberate starvation of civilians to the assault on hospitals, UN shelters and aid convoys, human rights and the rule of law are under attack," the UN chief told the 193-nation Assembly.
Ban cited the "new depths of barbarity" carried out by militants in Syria and Iraq and drew up a long list of world crises: The war in Gaza, fighting in Ukraine, South Sudan and Central African Republic.
Full report at:
http://www.arabnews.com/world/news/635226
-----------
Anjem Choudary is arrested in terror raids hours after posting series of anti-Western tweets
Sep 25, 2014
Radical preacher Anjem Choudary was one of nine men arrested early this morning as part of an investigation into Islamist terrorism.
Choudary, 47, and eight other men aged 22, 31, 31, 32, 36, 38, 39 and 51 were arrested by Metropolitan Police officers in London this morning, and have all been taken to police stations - where they remain in custody.
His arrest came shortly after he posted a series of tweets at about 5am today with an anti-Western tone, referring to the ongoing crisis involving ISIS militants in Iraq and Syria.
Muslim activist Abu Izzadeen - born Trevor Brooks - is also among the nine men arrested.
Some 19 residential, business or community premises were being searched today as part of the investigation, Scotland Yard said.
Eleven of these were in east London, one was in west London, one was in north-west London and five were in south London - while a residential address was also being searched in Stoke on Trent, Staffordshire.
A police spokesman said: 'These arrests and searches are part of an ongoing investigation into Islamist-related terrorism and are not in response to any immediate public safety risk.'
Officers confirmed that the nine men were arrested on suspicion of being members of a proscribed organisation, supporting a proscribed organisation and encouraging terrorism.
Al-Muhajiroun is understood to be the banned organisation in question, sources said this morning.
Full report at:
http://www.dailymail.co.uk/news/article-2769098/BREAKING-NEWS-Nine-men-arrested-counter-terror-police-London-suspicion-encouraging-terrorism.html#ixzz3ENg3SqLr
-----------
EU court strikes down sanctions against Qaddafi's cousin
25 Sep, 2014
A top European court ruled Wednesday that EU sanctions imposed against a cousin of ousted Libyan dictator Muammar Qaddafi should be withdrawn.
The European Union imposed an asset freeze and travel ban on leading Libyan figures close to Qaddafi as he launched a bloody and doomed effort to hold onto power in the face of a popular uprising in 2011.
His cousin, Ahmed Mohmamed Qadhaf Al Dam, was put on the EU list on the grounds that since 1995 he had commanded "an elite army battalion in charge of Qaddafi's personal security," the General Court of the European Union said in a statement.
Additionally, he was accused of being "involved in planning operations against Libyan dissidents abroad and was directly involved in terrorist activity," it said.
The EU kept Qadhaf Al Dam on its Libya sanctions list in 2013 and 2014, citing the same reasons as given in 2011.
Full report at:
http://english.alarabiya.net/en/News/africa/2014/09/24/EU-court-strikes-down-sanctions-against-Qaddafi-cousin-.html
----------
Cameron wants UK to join in airstrikes in Iraq
25 September 2014
Prime Minister David Cameron said late Wednesday that he wanted the British Parliament to approve joining international airstrikes against the Islamic State of Iraq and Syria (ISIS) group in Iraq after Baghdad requested London's help.
Cameron announced the move in his address to the U.N. General Assembly.
In doing so, Cameron also recalled parliament to secure its approval for military action.
Parliament, which was in recess, will reconvene on Friday to vote on allowing Britain's Royal Air Force to hit ISIS targets in northern Iraq. The action has the backing of all three main parties and is expected to comfortably pass.
Cameron spoke after U.S. planes pounded ISIS positions in Syria for a second day. But the strikes did not halt the fighters' advance in a Kurdish area where fleeing refugees told of villages burnt and captives beheaded, Reuters reported.
Full report at:
http://english.alarabiya.net/en/News/middle-east/2014/09/25/Cameron-wants-UK-to-join-in-airstrikes-in-Iraq.html
----------
ISIS will not dictate UK foreign policy: Hammond
25 Sep, 2014
The United Kingdom's foreign policy will not be dictated by the Islamic State of Iraq and Syria (ISIS), the militant group that is currently holding two British nationals, British Foreign Minister Phillip Hammond told Al Arabiya News Channel's New York bureau chief Talal al-Haj during an interview Wednesday.
Hammond said Britain would not pay the ransom demands by ISIS, noting that the payment of ransoms would only lead to further kidnappings.
He also said that removing support for ISIS from moderate Sunnis was key to defeating the radical group, adding that the Iraqi army must undergo reforms to rid itself of all kinds of sectarianism.
Asked about the international community's previous hesitation in arming Syrian rebels, Hammond described the situation ascomplex, explaining that the Syrian opposition included many elements that turned out to be more moderate than others.
Some of those fighting with ISIS "were with groups that we would have been called part of the moderate opposition at some stage in the past," Hammond said.
Full report at:
http://english.alarabiya.net/en/News/middle-east/2014/09/24/ISIS-will-not-dictate-UK-foreign-policy-Hammond.html
--------
Southeast Asia
Police Urge Jakartans to Report Any Islamic State Activity to Authorities
25 Sep, 2014
Jakarta. The chief of the Jakarta Police, Insp. Gen. Unggung Cahyono, has called on residents and officials to pay close attention to any signs of Islamic State-linked activity in the capital and its immediate surroundings.
If somebody knows anything about activities of the terrorist group, they should not hesitate to immediately inform local police (Babinkamtibnas), military (Babinsa) or civil (urban ward chief) authorities, Unggung said on Thursday.
"We hope society will not be influenced by ISIS [Islamic State in Iraq and Syria]. Be vigilant about the presence of ISIS in your neighborhood. If there is any indication, report it immediately to the three pillars [of local authorities handling security affairs]," the police chief told a meeting of security officials in Kuningan, South Jakarta.
He added that people should pay attention not only to spoken words, for instance speeches, but also to texts being spread, and to people dressing in ways associated with understandings of Islam seen as radical. People can always contact the National Police's call center at phone number 110, Unggung added.
http://www.thejakartaglobe.com/news/jakarta/police-urge-jakartans-report-islamic-state-activity-authorities/
----------
Philippine militants threaten to kill German captives
25 Sep, 2014
MANILA — Al-Qaeda linked militants in the southern Philippines have threatened to kill two Germans hostages they have been holding since April unless Germany stops supporting US action against Islamic State militants, the SITE monitoring service said.
Philippine security officials said on Wednesday that they were checking intelligence reports of the threats from the small but violent Abu Sayyaf group, which is also demanding a ransom of 250 million pesos ($5.6 million) for the captives' release. "They are reportedly held here but, as far as such demands are concerned, we are verifying it," said Abraham Orbita, a police official.
Abu Sayyaf rose to prominence in the early 2000s by kidnapping foreigners. It has links with Al-Qaeda, although analysts and Philippine security sources say it has lately been focused on kidnap-for-ransom and other criminal activities.
Full report at:
http://www.saudigazette.com.sa/index.cfm?method=home.regcon&contentid=20140925219368
---------
PM: Malaysia stands on its own principles, no need to choose between US and China
25 Sep, 2014
NEW YORK, Sept 25 — Datuk Seri Najib Tun Razak said today Malaysia did not choose between the United States and China in developing its relationship with the two superpowers.
The Malaysian prime minister said Malaysia developed, and did not choose, relationships with other countries.
Malaysia had its own principles when speaking up in the international arena, he said at a dinner hosted by him for the Malaysian diaspora here at a hotel.
"We have our own principles. What is right, we will say is right. What is wrong, we will say is wrong," he said.
As the result of the good relationship Malaysian enjoyed with other countries, he said, 26 nations had extended a hand in the search for the missing Malaysia Airlines Flight MH370 without asking for compensation.
Flight MH370 dropped off radar on March 8 as it flew from Kuala Lumpur to Beijing with 227 passengers and 12 crew on board.
Full report at:
http://www.themalaymailonline.com/malaysia/article/pm-malaysia-stands-on-its-own-principles-no-need-to-choose-between-us-and-c#sthash.qwJ6QRNZ.dpuf
----------
Africa
Boko Haram leader killed in clashes: Nigerian military
Sep 25, 2014
Nigerian forces have killed a man claiming to be the leader of Islamist Boko Haram militants, Abubakar Shekau, the country's defence authority said on Wednesday. Mohammed Bashir, who has been acting or posing in videos as the deceased Abubakar Shekau, the eccentric character known as the leader of the group, died in an encounter with Nigerian troops in Konduga area of northern Borno state, Xinhua quoted defence spokesperson Chris Olukolade as saying in a statement.
The spokesperson said several terrorists including their commanders were killed in the clashes. Boko Haram, an Islamist sect, has proved to be a major security threat in Nigeria, Africa's most populous country, in the last five years. Boko Haram seeks to enshrine the Islamic law in the Nigerian constitution.
The troops captured some of the terrorists and their equipments, he added, noting that inhabitants of the community who were victims of terrorist activities corroborated information on the identity of Abubakar Shekau.
Full report at:
http://www.thehindu.com/news/international/world/boko-haram-leader-killed-in-clashes-nigerian-military/article6444834.ece
----------
Algeria militants behead French tourist
September 25, 2014
ALGIERS - Algerian militants have beheaded French tourist Herve Gourdel, who was kidnapped by gunmen on Sunday in what the group said was a response to France's action against Islamic State militants in Iraq.
In a video released by his captors, Gourdel, a 55-year-old from Nice, is seen kneeling with his arms tied behind his back before four masked militants who read out a statement in Arabic criticising France's intervention. They then pushed him on his side and held him down. The video does not show the beheading, but a militant later holds the head up to the camera.
"This is why the Caliphate Soldiers in Algeria have decided to punish France, by executing this man, and to defend our beloved Islamic State," one of the militants says in the statement he read out. France's President Francois Hollande confirmed the death of Gourdel, and vowed that French military operations against Islamic State would continue.
Full report at:
http://nation.com.pk/national/25-Sep-2014/algeria-militants-behead-french-tourist
----------
Nigeria military confirms freeing some kidnapped Chibok girls
Sep 25 2014
Some of the nearly 200 schoolgirls that were kidnapped in Nigeria in April by Boko Haram have been freed.
The Nigerian Army spokesman Brig.Gen.Chris Olukolade said the exercise is ongoing but did not specify the number of girls freed, who are reported to be currently held in a barracks.
Boko Haram, a radical group aiming to create an Islamic state in mainly Muslim northern Nigeria, abducted more than 200 Nigerian schoolgirls.
The name of the militant groups translates as "Western education is forbidden".
The militants of the group are believed to be the masterminds behind most terrorist attacks carried out in the country.
According to media reports, the Nigerian government has recently been in secret talks with Boko Haram to exchange the terrorists it has under arrest for the kidnapped girls.
In August, Chadian troops freed 85 of the kidnapped girls.
http://gbcghana.com/1.1849752
----------
Islamic State radicals recruiting Somali youth in Alberta
Sep 25 2014
EDMONTON — The leader of a Somali group has written to the prime minister warning that young people in Alberta are being recruited to become fighters for the radical group ISIL.
In his letter, Mahamad Accord says he has solid sources, including elders, who say youths from the Somali community as young as 16 have signed up to become terrorist soldiers.
"Parents of these young men and women are extremely worried about this terrorist group and the fact that their sympathizers are recruiting our youth to fight in this losing war," he wrote in his letter to Stephen Harper dated Sept. 15.
The extremely violent ISIL insurgency, also known as ISIS, broke out earlier this year, taking control of cities and land in parts of Iraq and Syria.
Full report at:
http://thechronicleherald.ca/canada/1238774-islamic-state-radicals-recruiting-somali-youth-in-alberta
----------
Islamic extremists surrender in Nigeria, Cameroon
Associated Press |
ABUJA, Nigeria (AP) — Hundreds of Islamic extremists have surrendered in Nigeria and neighboring Cameroon following the military's recent victories with air and ground attacks, military authorities said Wednesday.
The Nigerian Defense Ministry has said it has killed hundreds of insurgents recently in the country's northeast.
Several militant commanders were among the dead including Mohammed Bashir, whom the Nigerian military identified as a double who posed in videos as Boko Haram leader Abubakar Shekau, a military statement said Wednesday.
The military has claimed Shekau was killed in battle last year.
Nigeria's military said it was victorious around Konduga town just 35 kilometers (22 miles) from Maiduguri, birthplace of Boko Haram and the headquarters of the military offensive to contain the Islamic uprising.
Full report at:
http://www.pressofatlanticcity.com/news/ap/world/islamic-extremists-surrender-in-nigeria-cameroon/article_7387bca6-4431-11e4-8114-af5af6b81741.html
----------
Warplane attacks Libya's Benghazi port after threats by ex-general
25 September 2014
A war plane attacked a port in Benghazi on Wednesday in a strike claimed by forces loyal to former general Khalifa Haftar, bringing their battle against Islamists to the heart of the eastern Libyan city.
A Reuters reporter near the port, which is not an oil installation, saw a warplane open fire several times, although it was unclear whether any harbour facilities were hit.
The port is the main gateway for wheat and fuel imports into eastern Libya, a country struggling with anarchy three years after the ousting of Muammar Gaddafi.
Saqer al-Jouroushi, head of Haftar's air defence unit, has said an umbrella group of Islamist fighters, Majlis al-Shura, was using the port to bring in supplies and weapons.
"We warned the port manager that we will not allow ships to dock to supply Majlis al-Shura with weapons," said Jouroushi, whose unit controls several planes from Libya's air force.
He said the plane had deliberately missed the quay and had been issuing a final warning, but added that it would hit next time if another ship tried to offload weapons. Clashes in Benghazi have so far been mainly limited to the suburbs.
Full report at:
http://english.alarabiya.net/en/News/middle-east/2014/09/25/Warplane-attacks-Libya-s-Benghazi-port-after-threats-by-ex-general.html
----------
Libya asks chemical weapons watchdog to remove stockpile
25 Sep, 2014
Libya has asked the global chemical weapons watchdog to draw up plans to ship a stockpile of 850 tonnes of chemicals overseas due to deteriorating security, sources have told Reuters.
Diplomats and officials said that transporting the toxins abroad for destruction, as was recently done in Syria, is the most viable option to keep them out of the hands of battling militant groups.
Since the removal of Muammar Qaddafi three years ago, the country has descended into anarchy, with rival militias and hardline Islamic groups battling for political control and vast oil reserves.
Facilities to destroy the chemical weapons were set up and Libyans were trained to use the equipment, but fighting threatens stability and has made it impossible to safely conduct their work.
Experts at the Organization for the Prohibition of Chemical Weapons (OPCW), which won the Nobel Peace prize this year, are "working on something right now," one source told Reuters.
The technical details still need to be worked out and the OPCW on Tuesday declined to comment.
Full report at:
http://english.alarabiya.net/en/News/africa/2014/09/24/Sources-Libya-asks-chemical-weapons-watchdog-to-remove-stockpile.html
---------
South Asia
Nasheed accuses Adhaalath leaders of radicalising youth
25 Sep, 2014
Former President Mohamed Nasheed has accused leaders of the religious conservative Adhaalath Party of radicalising and indoctrinating youth to carry out vigilante action in the name of Islam.
"Don't do this to our youth. Don't make them do all these vile deeds after picking them out individually and leading them astray," the opposition leader appealed at a Maldivian Democratic Party (MDP) rally in Malé last night.
Minivan News journalist Ahmed Rilwan Abdulla is believed to have been abducted by a radicalised youth, Nasheed claimed.
"What he did was a crime, a very serious crime. But the person who convinced him to abduct Rilwan committed an even more serious crime," he added.
A young person would not have been motivated to abduct Rilwan without indoctrination, the MDP president suggested.
"What I have to say to Sheikh Imran [Abdulla] and Sheikh [Mohamed] Shaheem is don't play the role of satan in the guise of sheikhs," Nasheed said, referring to the Adhaalath party president and Islamic minister, respectively.
The Islamic minister was not responding to calls at the time of press.
A private investigation commissioned by human rights NGO Maldivian Democracy Network has implicated radicalised gangs in Rilwan's disappearance.
Full report at:
http://minivannews.com/politics/nasheed-accuses-adhaalath-leaders-of-radicalising-youth-90225
---------
'War Crimes Accused Jabbar Converted 200 Hindus, Arranged Forced Marriage'
25 Sep, 2014
A new prosecution witness yesterday blamed war crimes accused Abdul Jabbar for ordering to convert around 200 Hindus of a Pirojpur village to Islam and forcing Hindu women to marry Muslims during the 1971 Liberation War.
Ninth witness Ahmed Mia, a freedom fighter, also accused Jabbar for killing two freedom fighters.
He told the International Crimes Tribunal 1 that former army members Motaleb Sharif and Abdur Razzak Bishwas used to run a training centre at Phuljhuri village of Mothbaria in Pirojpur to prepare youths for the war.
Hearing this, Jabbar from a meeting at Tushkhali High School ground on May 16, 1971 ordered the collaborators to bring to him Motaleb and Razzak dead or alive. They were killed the same day.
Full report at:
http://www.dhakatribune.com/crime/2014/sep/25/%E2%80%98jabbar-converted-200-hindus-arranged-forced-marriage%E2%80%99#sthash.46ajvqac.dpuf
----------
'Chinese investors want to initiate joint ventures with Pakistani counterparts'
25 Sep, 2014
LAHORE: Chinese investors have shown keen interest in initiating joint ventures with Pakistani counterparts, said head of 19-member Chinese delegation and Deputy Director General of Bureau of Foreign Trade and Economic Cooperation of Guangzhou Municipality, Cao Zhicong on Wednesday.
During visit to Lahore Chamber of Commerce and Industry (LCCI) he said economic globalisation and regional integration has provided enormous opportunities for further cooperation between China and Pakistan. He said Pakistan was an ideal destination of foreign investment.
He said Pakistan had made attractive investment policies, which provided a lot of investment opportunities that are prompting Chinese entrepreneurs to come and invest in Pakistan.
He said Bureau of Foreign Trade and Economic Cooperation of Guangzhou Municipality would speed up its efforts to strengthen the trade and investment cooperation between the two countries.
Full report at:
http://www.dailytimes.com.pk/business/25-Sep-2014/chinese-investors-want-to-initiate-joint-ventures-with-pakistani-counterparts
----------
1 killed, 29 injured in Faryab and Kandahar blasts
Sep 25 2014
Separate blasts have been reported in northern Faryab and southern Kandahar province of Afghanistan on Thursday, leaving at least 1 person dead and 29 others injured.
The explosion in northern Faryab province of Afghanistan has taken place in Maimana city, Maisara square after a bicycle packed with explosives went off.
A security official in Faryab province said at least one civilian was killed and 23 others were injured following the explosion.
In the meantime, reports from southern Kandahar province suggest a number of civilians were injured following a blast in Spin Boldak district.
Provincial governor spokesman for Kandahar province, Samim Khpulwak said at least six civilians, including a child were injured after an explosive device planted in a cycle went off.
No group including the Taliban militants have so far claimed responsibility behind the incident.
http://www.khaama.com/explosion-reported-in-faryab-and-kandahar-provinces-8721
----------
Dhaka Court sends youth to seven years in jail for satirising Mujib, Hasina
25 Sep, 2014
A Dhaka court yesterday sentenced a youth to seven years of imprisonment for writing a satirical song on Bangabandhu Sheikh Mujibur Rahman and his daughter Prime Minister Sheikh
Hasina.
Judge KM Shamsul Alam of the Cyber Tribunal (Bangladesh) in Dhaka handed down the sentence to Tonmoy Mollick, 25, a computer operator at a shop in the Dakop upazila of Khulna.
The court also fined the convict Tk10,000, in default of which he will have to suffer six more months
in jail.
However, the court acquitted another accused – 24-year-old Rafiqul Islam – as the charges brought against him were not proved in the case.
According to the charge sheet, after composing the song, Tonmoy added music to it, as well as sold and distributed the song on October 26 last
year.
Full report at:
http://www.dhakatribune.com/law-rights/2014/sep/25/court-sends-youth-seven-years-jail-satirising-mujib-hasina#sthash.saPdupI4.dpuf
----------
Uighur scholar in China to appeal life sentence
25 Sep, 2014
BEIJING — A prominent scholar who championed China's Uighur minority plans to appeal his conviction and life sentence, citing what he calls his improper detention and the authorities' refusal to give his lawyers copies of evidence.
Scholar Ilham Tohti has denied prosecutors' charges that he encouraged separatism while speaking and writing about the discontent in his native region of Xinjiang. A court in the regional capital of Urumqi sentenced him to life in prison on Tuesday and ordered the confiscation of his possessions.
One of Ilham Tohti's lawyers, Li Fangping, said his legal team had not decided yet when to submit the appeal. He said Tohti himself could do that from the court in Urumqi.
Li showed The Associated Press the first page of the 15-page document on Wednesday. It cited several legal issues including what it said was the failure of police to tell Ilham Tohti why he was being detained and the extracting of testimony after he went without proper food in jail for weeks.
Full report at:
http://www.saudigazette.com.sa/index.cfm?method=home.regcon&contentid=20140925219345
----------
URL: https://newageislam.com/islamic-world-news/islamic-scholar-murdered-pakistan-due/d/99255