• Forced marriage: Muslim women treated like entertainment fodder

• Love and Sharia - people of Banda Aceh campaign for human face to Islamic law

• First Islamic University in Nigeria Female students not allowed without headties

• In eerie comeback, Taliban return to airwaves in Swat Valley

• France: Young Muslim Woman Attacked, Threatened and Beaten in Islamophobic Attack

• 'Instead of dividing France, you should unite it', Tariq Ramadan tells Sarkozy

• Islamists go on a charm offensive in Washington

• Islamic center launches initiative to foster moral values among youth: Alkhobar

• Registration of Hindu marriage a must: Bangladesh

• Manmohan Singh talks terror, Asif Ali Zardari harps on K-word

• Zardari's trip to Ajmer a message against extremism: US media

• Separate incidents claim seven lives in Balochistan

• 800 Nigerians in Togolese prisons

• Indian PM asked Zardari to pray for peace

• Women outraging modesty of women in Kashmir

• After slaying 77 people, Norway gunman finally goes on trial

• Gujarat Ode killings: Court convicts 23, acquits 23

• US lawmaker defends resolution for Baluchi self-determination

• Riyadh: Terror suspect accused of boycotting Friday prayers

• Libya will not hand Saif al-Islam to ICC: minister

• Bounty hunters send NIA on wild goose chases

• ISI should have no role in Pakistan's politics: Yousuf Raza Gilani

• Indian PM offers help to rescue avalanche hit Pakistan soldiers

• 13/7 blasts: Five more suspects under ATS scanner

• At least 24 dead in fresh Qaeda assault in Yemen

• Army kills 14 militants in NW Pakistan - officials

• Syrian forces bombard town, kill 30 activists

• Gunmen in Nigeria Attack, Kill 4 People

• Gunmen attack plane in Indonesia; journalist dead

• At Ajmer Dargah, Asif Ali Zardari finds 'spiritual happiness'

• Pakistani Hindus protest against kidnapping of girls

• 2 security personnel, 4 militants killed in check post raid in Peshawar

• China "happy" to see improved New Delhi-Islamabad relations

• Imran Khan trains guns on Zardari, Bilawal

• India, Pakistan home secretary-level talks in May

• Pakistan serious about Hafiz Saeed but needs evidence: Gilani

• Zardari got 'tame nudge' in India, told to work more: Pak media

• US offers Pak aid in exchange of re-opening NATO supply routes: report

• SC grants bail to Pak microbiologist Chishty serving life term for murder

• Indonesia's Aceh votes in test for fragile peace

• Syria peace plan in jeopardy as clashes rage

• Egyptian Islamist group names cleric for president

• Israel shuts doors on Gunter Grass over poem

• Five Iranian suspects in Thai blasts to be tried

• Israel: Iranian N-programme is challenge to whole world

• US adds riders for fresh nuclear talks with Iran

• Syria scuttles truce plan with new demands

• Former Afghan president Burhanuddin's son tipped as peace interlocutor

• Turkey Accuses Syria of Firing across Border

• New blast hits Egypt gas pipeline serving Jordan, Israel

• Turkish Prime Minister makes first trip to China in 27 years

• Kashmiri Pandits demand CBI probe into sale of temple land

• I'll take Hashimpura massacre to ICJ, Swamy tells Indian PM

• Curfew clamped in old city areas of Hyderabad after communal clashes

• Indian-American linguist wins US academic award

• Indian shepherd to return from Saudi Arabia after 18 years

Complied by New Age Islam News Bureau

Photo: Girl arrested by these Shari'a enforcers was gang raped while in custody

URL: https://newageislam.com/islamic-world-news/new-age-islam-news-bureau/islamic-groups-imposing-sharia-law--women-and-girls-face-rape-and-kidnapping/d/7019

-----------

Islamic Groups Imposing Sharia Law: Women and Girls Face Rape and Kidnapping

April 9, 2012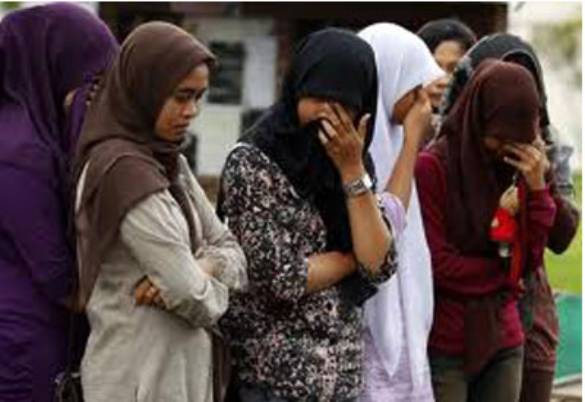 • Aid agencies must be allowed safe access to north
• Women and girls face risk of sexual attack and abduction
• Armed groups attempt to impose Sharia law
Northern Mali is on the brink of a major humanitarian disaster and aid agencies must be allowed immediate access to the country to avoid further civilian deaths, Amnesty International said today. The three northern towns of Gao, Kidal and Timbuktu have experienced days of looting, abductions and chaos since they were occupied by armed groups late last week.
Amnesty International's West Africa researcher Gaëtan Mootoo said:
"All the food and medicine stored by major aid agencies has been looted and most of the aid workers have fled. The population is at imminent risk of severe food and medical shortages that could lead to many casualties especially among women and children who are less able to fend for themselves."
In the towns of Gao and Menaka Amnesty International has learned that women and girls have been abducted from their homes and some reportedly raped.
A witness in Gao told Amnesty International:
"On 2 April, three young girls were abducted by armed men in the 8th neighbourhood called Boulgoundié and taken away in vehicles. They were returned the following morning. They were too traumatised to speak about what they had experienced."
Amnesty International has also learnt of an attempted abduction of a 13 year old girl at her home on 3 April by a man in Gao but neighbours raised the alarm causing the man to flee.
Gaëtan Mootoo added:
"Women and girls particularly are too terrified to leave their homes. People are describing an atmosphere of near total lawlessness"
Across the north of the country, the situation continues to deteriorate.
In Gao the electricity and water supplies have been cut and the hospital looted.
A resident of Gao told Amnesty International this morning:
"All the shops and the market are closed. People are living on meagre food supplies."
A doctor in Gao told Amnesty International:
"Medicine has been stolen and the records of the patients destroyed. In a few days, years of medical efforts and success have disappeared in the flames."
In Kidal, one of the armed groups, Ansar Dine which wants to impose Sharia law, has asked women to wear veils and destroyed a nightclub, the manager of which is now in hiding.
In Gao, all the bars have been destroyed. In Timbuktu, armed groups from Ansar Dine have arrested and detained people accused of robbery and looting. There are concerns that some of them may receive Sharia-based punishments.
http://www.amnesty.org.uk/news_details.asp?NewsID=20050
-----------
Forced marriage: Muslim women treated like entertainment fodder
April 9, 2012
Joumanah El Matrah, executive director of the Australian Muslim Women's Centre of Human Rights
When it comes to Muslim women, everybody in Australia is a feminist. Those not previously marked by their interest in the situation of minority women become indignant about what are essentially unforgivable acts of abuse and violence in any cultural context occurring in Australia.
http://www.crikey.com.au/2012/04/05/forced-marriage-muslim-women-treated-like-entertainment-fodder/?wpmp_switcher=mobile
-----------
Love and sharia - people of Banda Aceh campaign for human face to Islamic law
Michael Bachelard
April 9, 2012
BY WESTERN standards, the rooms are dingy, but even on a Wednesday night, this Aceh love hotel is doing a roaring trade.
''Fauzi'', 45, who regularly brings his 25-year-old girlfriend to this motel-style hideaway in the suburbs of Banda Aceh, says he's not interested in luxury anyway. ''All I need is a bed, airconditioning and a toilet.'' And it also has the benefit of being safe.
''The military owns it,'' Fauzi says, ''so the sharia police never disturb you here.''
Aceh is the only province of Indonesia where Islamic law, sharia, is imposed. It was put in place under a special deal with Jakarta in 2001 as the central government tried to placate a violent rebellion in its westernmost province.
In practice, the law focuses on criminalising three infractions: drinking, gambling and unmarried couples being in ''close proximity'' to one another. Each is punishable by caning, a big fine or even imprisonment, and the law is overseen by a special force of moral police in military-style uniforms.
But an attempt two years ago to extend it so adulterers could be stoned to death faltered because Governor Irwandi Yusuf refused to put his signature to the law.
Under these restrictive circumstances, discrete places to engage in sex outside marriage are in hot demand.
Fauzi says he will continue coming here until his divorce is finalised and he can marry his girlfriend and move in with her. ''Everyone comes here,'' he says. ''Married, not married, military, police, civilians,'' he says.
A prayer mat is folded in the cupboard to cater for the devout.
On the Herald's brief visit, a number of couples were coming in and out of rooms. The car park was full, its attendant busy.
''It's a human need, people's need, a biological need … it has to be channelled,'' Fauzi insists. ''A cat cannot ignore the fish.''
All around Aceh are the signs of the restrictions of Islamic law. Almost every woman wears a jilbab, an open-faced hair covering. The coffee shops that form the centre of public life are almost all-male domains, and women are discouraged. In public places where young people gather, signs warn them to behave.
''No dating,'' says a crudely painted one at a favourite fishing spot. ''Those who are not husband and wife are not permitted to sit together … Those who break this rule will face the risk,'' reads another.
But all around this city is evidence of people slyly subverting the rules. Young women grip their young men slightly too
fervently as they sit on the back of their motorcycles; watchful couples hold hands or cuddle in the half dark of the beachfront at Ulele.
Rahman, 23, and Juniar, 21, unlike many couples on Banda Aceh's waterfront, are happy to be photographed because they are engaged, and their parents approve of their liaison.
But even so they were moved on by a sharia policeman a few months ago. ''I said to him, 'What business do you have asking us to leave?','' Juniar recalls. ''He said, 'You are my business.'''
They, like all their friends, are keenly aware of where the boundaries lie and what they can get away with. Nobody wants to suffer the shame of a public caning. Some who have been punished are forced to move away from their village because of the humiliation.
Still, all the ''vices'' are available if you know where to look. Some places offer alcoholic drinks as long as a friend introduces you.
A sweet local herbal drink, tuak, is also known to ferment in the bottle if it is left out for a few days, and is sold in this state under the table. Gamblers can bet on cockfights and dominoes. Men seeking a prostitute can find the hairdressing salons offering that service.
Fauzi says that if you polled the public, only 10 per cent would say they wanted sharia, ''and they would all be over 50''.
But despite this, the subject has been low-key in the election campaigns for governor and mayor. The mainstream candidates strive not to mention it.
''Sharia is already sleeping: best not to wake it up,'' says Yusuf, who is running for a second term as governor in today's election.
Being Islamic in Aceh, the ''verandah of Mecca'' where the religion was said to have been introduced to south-east Asia, is a strong part of cultural identity. It's taken seriously and regarded proudly.
Criticising sharia, therefore, is complicated, and those who attempt to do so don't mention revoking the law.
Instead they suggest it should be implemented properly, not just as a punishment for the vices of the flesh.
''It narrows the real meaning of sharia by reducing it to dress code, gambling, drinking,'' says Chandra, sitting at one of Banda Aceh's smoky coffee shops. ''Mostly it's about clothes and attacking women. What about men? What about the men involved in corruption? They are not being punished.''
Evi Zain, the head of the human rights organisation HAM Aceh, says sharia here is ''like bubblegum, a big thing, but empty inside''. But even she has conceded that repeal is ''impossible''.
Instead she is campaigning for ''sharia with a human face'', a focus on education and health, and for punishments to take the form of community service rather than caning.
''Nobody would accept anti-sharia, so we have to find a way around it. Everyone has to find a way,'' she said.
http://www.smh.com.au/world/love-and-sharia--people-of-banda-aceh-campaign-for-human-face-to-islamic-law-20120408-1wjmi.html#ixzz1rXJwmfUc
-----------
First Islamic University in Nigeria Female students not allowed without headties
April 9, 2012
Crescent University,Abeokuta, is the first Islamic University in Southern Nigeria. Its establishment was the vision of Judge Bola Abdul Jabbar Ajibola, a former Minister of Justice and Attorney-General of the Federation, also one-time Judge at the World Court in Hague, Switzerland.
It all started on Sunday, January 5, 2003, at the weekly Adhkar sessions of the Islamic Mission for Africa (IMA) where he revealed to the congregation his vision of an Islamic university in a predominantly Christian Southern Nigeria. "Before then, universities belonging to Christian missions had begun to thrive and it was only logical for us as adherents of Islam to have our own too," Ajibola who is the Proprietor had said at the 3rd Convocation ceremony of the university held on Saturday, 8 October, 2011.
He added that it dawned on him rightly that achieving that objective was a herculean task, but knew and believed that it was achievable all the time.
"I have never believed that any individual should singly carry the burden of this type of task alone and it is on record that the intellectual summits held to fashion out ways of achieving our aim of an Islamic university in Southern Nigeria had more than 70 Muslim intellectuals and scholars drawn from tertiary institutions and Islamic organisations from all over the country."
The six year- old institution, established in December 2005, has a fourth Vice-Chancellor. The pioneer was Prof. Fola Lasisi, second Prof. Ola Adams, and the third was Prof. Sherifadeen Tella.
Saturday Vanguard was at Crescent University, Abeokuta, Ogun State and had an exclusive interview with the Vice-Chancellor, Professor Hassan Kehinde Adebayo Okeleye, an Agronomist – a crop scientist, a consummate scholar, seasoned academic, passionate and committed Muslim. Below is the question-and-answer interaction with the Vice-Chancellor.
How's the experience so far as Vice-Chancellor here?
I didn't come up to this position from being a staff. I was invited from the University of Agriculture, Abeokuta where I started my academic career, rising along the ranks – from Lecturer II to becoming a Professor. I spent 16 years from 1989 to 2010.
I'm an
Agronomist, a crop scientist. Agronomy is the Science of crop production. We've produced three sets of graduates as this university started with Direct Entry intakes and JAMB. The first set graduated in 2009 with over 50 students. There was an impressive progression with 98 graduates in the second set. The third convocation had 118 graduating students for the first degree. The student population is improving with progress in admission, less causalities except those having carry overs, which are minimal.
If there are no carry overs, all students graduate and leave, because of an inbuilt system which enables students who fail to come and attend summer schools. They will resit and have chance to correct any deficiency. If they go through, they eventually graduate and go away. This has reduced human casualties so that anyone who comes here is sure to graduate.
What's the current population of students in this university?
The population is now 1,100 students across all the programmes and all the levels. There are five levels – 500 level for those doing programmes of five years, 400 level for those running four years programme and like that. For the avoidance of doubt, this is a Muslim school owned by the Islamic Mission for Africa. But we don't discriminate in the admission of students and recruitment of teaching staff. There is a mix, with Christian students also here.
We have a good spread of students from across Nigeria – North, East, South-South, West. Also are the staff – administrative and teaching. By and large, though this is a Muslim institution, but it still accommodates all shades. We have a mosque on campus.
And a church or chapel for the Christians here?
No chapel, because it's a Muslim school. Christian students take exeat to go out to worship. They are given exeat three times and can use such to go outside to the church which is an opportunity for them.
What academic programmes are run in this university?
Our academic disciplines
are varied. There are four colleges: College of Natural and Applied Sciences, College of Social and management Sciences, College of Information and Communication Technology and College of Environmental Sciences. (Several departments like Banking/Finance, Business Administration, Economics, Actuarial Science, Political Science, Mass Communication, Microbiology, Botany, Zoology, Fisheries, Computer Science, Economics with Statistics, Information Technology, Aarchitecture, Estate Management, Urban and Regional Planning, Environmental Planning are all located in the four colleges). These are our approved courses.
Why don't you have a law programme bearing in mind that the Proprietor, Bola Ajibola is a renowned Lawyer and Jurist?
For now, no Law programme. But the National Universities Commission (NUC) has visited us for resource verification, which if successful and also the Council of Legal Education that runs the Law school will come. These are the two bodies which can approve a Law programme. Once we get the nod, we will start. We would have started this session if they came. But by next September, if they come, we will resume with a Law programme.
Is it not becoming too late?
The proprietor initially had tried to identify the major problems of Muslims – Science and Technology so he started with the Sciences and Technology. Then pressure was coming, for Law to be taught. But the original idea was to have Muslim youths trained in Science and Technology. So when so much pressure was coming from his primary constituency, it had to be considered.
In your own view, is there comparison between Western and Islamic education?
Education is education, whether Islamic or Christian (Western). All universities are guided by minimum academic benchmarks provided by the National Universities Commission (NUC). There are academic standards for any programme which must be satisfied. But we have Islamic touch. Like in General Studies, we have Philosophy of Islam, Islamic Thought, which are compulsory. There is Arabic for beginners.
If you walk around the campus, see the difference in dressing. Men in corporate dressing except on Friday.
What about female students?
Females are not allowed to move about without headties, or wear mini, can put on trousers, but dress decently well, not show your curves. They must cover themselves beyond knees.
Do you have something unique, different from other conventional universities?
We teach Elements of Islamic Banking, Islamic Cooperatives among the staff, and move to Islamic Micro-finance Bank, which is now operating very well. These have marked us out. It's unique. We say the five daily Islamic prayers. The 5.30 a.m. Morning prayer in the hostel, the other four said in the mosque. Technically, there is a break between 12 – 2 pm, to make for lunch and other things. Classes end at 6 p.m. Prayer period is left free on the time table. Enough time allowed in the time table to do all these things. There are two in-house Imams. One is from Egypt on rotational basis, the other Imam is a Nigerian.
We have a Guidance and Counselling Unit where students go for help. It is not religious. The unit can handle spiritual, handle emotional, and different forms of problems – male and female.
The Guidance and Counselling Unit also handles problems of Christian students because we are all human beings – psychological, academic, irrespective of faith.
The major one is funding. The institution is solely funded by the proprietor. But the Islamic Development Bank has approved $500,000 for ICT.
http://www.vanguardngr.com/2012/04/female-students-not-allowed-to-move-about-without-headties-prof-okeleye/
-----------
In eerie comeback, Taliban return to airwaves in Swat Valley
April 9, 2012
ISLAMABAD: After relative peace since 2009, the Taliban are back in Swat Valley – at least on the airwaves.
Almost three years after battle-hardened militants loyal to Maulvi Fazlullah or 'Mullah Radio' were flushed out of the region in a military operation, it appears they are now trying to gain a foothold once again by re-establishing FM broadcasts.
The broadcasts had earlier been used as a propaganda tool to galvanise public support through a mixture of terror and persuasion.
"The same voices we used to hear four years ago when the Taliban started their campaign are echoing in the valleys again … it's scary," said a local resident from the Matta subdivision of Swat, who runs a small business in Mingora.
Matta was one of the towns where militants first established their bases and remained in control till they were chased out of the region by the army in 2009.
The Taliban insurgency in the valley, like in the neighbouring Mohmand and Bajaur tribal regions, began with several FM broadcasts.
These were used so regularly and effectively that Fazlullah, who led the militants in Swat and is reportedly hiding in Afghanistan's Kunar province now, was given the title of Mullah Radio by the international media.
Several locals who spoke to The Express Tribune said the Taliban radio broadcasts were once again threatening people for siding with the military and claimed they would soon be making a comeback to the valley.
None of them was willing to give names in fear of their lives.
They added that the speeches of Taliban leaders could be heard in the upper parts of the valley including the former militant strongholds of Peochar, Matta and part of Charbagh. The FM broadcasts, however, did not last for more than an hour or, in most cases, less than that.
When contacted, a military spokesperson admitted 'some activity' was reported in parts of Swat in the recent past but said it wasn't a 'serious threat'.
"There are some elements, Taliban remnants who keep on giving an impression that they can still reemerge but they can't," said Brigadier Azmat Abbas, an Inter Services Public Relations (ISPR) official.
Others, however, said the mere presence of the Taliban and their attempts to communicate to the people of Swat that they were still around were worrying in a way that it could lower the morale of the locals.
"Just when the people of Swat started thinking their valley is free of those who made their lives hell; such things may not help. It will shatter their confidence even if there is no substance in it," said journalist Fida Khan, who has been travelling through the region as part of his reporting assignment for a Japanese publication.
"There is an administrative and political vacuum in Swat. Civilian authorities should step forward to fill in this void; everything shouldn't be left to the military," added Khan.
http://tribune.com.pk/story/361800/in-eerie-comeback-taliban-return-to-airwaves/
-----------
France: Young Muslim Woman Attacked, Threatened and Beaten in Islamophobic Attack
Apr 9, 2012
In France a young Muslim woman was threatened, beaten and had her hijab ripped from her head. (via. Al-Kanz)
The below is a rough google translation and video of the victim speaking about the violent experience. The original is in French:
The CCIF (suit against Islamophobia in France) met S., a young woman struck and insulted, her veil ripped off in Juvisy-sur-Orge, near Paris. Treated as a terrorist and threatened by an armed individual, S. relates in the video below the story of the Islamophobic aggression.
Feel free to contact the CCIF at the slightest Islamophobic aggression. The work done by the watch group since 2003 has, despite a strong desire to hide the reality, created awareness to many that Islamophobia is real.
http://www.loonwatch.com/2012/04/france-young-muslim-woman-attacked-threatened-and-beaten-in-islamophobic-attack/
-----------
'Instead of dividing France, you should unite it', Tariq Ramadan tells Sarkozy
Apr 9, 2012
Swiss Islamic intellectual Tariq Ramadan laid into French President Nicolas Sarkozy in a speech to the annual meeting of a major Muslim organisation Saturday. His call to "unite France" and not "divide it" came after government ministers criticised the Union of Islamic Organisations of France's (UOIF) invitation to him to speak.
Before the UOIF meeting at Le Bourget near Paris this weekend Interior Minister Claude Guéant said he regretted the fact that Ramadan was on the speakers' list.
He may regret it even more after Ramadan's speech, which did not name him or the president but clearly targeted their rhetoric during the presidential election campaign and their reaction to the killing spree of "lone-wolf" Islamist Mohamed Merah.
Full report at:
http://www.english.rfi.fr/france/20120408-unite-france-dont-divide-it-controversial-muslim-tells-sarkozy
-----------
Islamists go on a charm offensive in Washington
April 9, 2012
Washington: With a White House meeting, talks at a think-tank, and interviews with newspapers, Islamists unshackled by the Arab Spring are launching a new charm offensive to reassure a nervous Washington.
The rise to power of elected Islamists in Tunisia, Egypt and elsewhere has alarmed many who fear the emergence of Iran-style theocracies that would deny the rights of women and minorities and antagonise Israel.
The Islamist delegation in Washington this week hopes to dispel such fears, insisting that Islam and democracy are fully compatible and hoping for a new chapter in US relations with an Arab World in transition.
"We are here to discuss, and here to restore truth to the American opinion of Islam and Islamist parties," said Sahbi Atig, a parliamentarian from Al Nahda, Tunisia's governing Islamist party.
Full report at:
http://gulfnews.com/news/region/egypt/islamists-go-on-a-charm-offensive-in-washington-1.1005872
-----------
Islamic center launches initiative to foster moral values among youth: Alkhobar
April 9, 2012
The Islamic Cultural Center in cooperation with the Ministry of Education in the Eastern Province has organized a 10-day forum in Al-Raka district beginning Tuesday.
Talking to the media, Hatlan Al-Hatlan, director of the center's Al-Raka division, said this is the second year such an event is being held. It is known as Multaqa Al-Shibl Al-Muslim or Muslim Forum.
Al-Hatlan, who presides as a judge at the general court in Alkhobar, said the main theme and focus of the forum is to help Muslim youth understand the important moral values of Islam. More than 5,000 youngsters are expected to attend the activities of the forum each day.
"The idea is to develop a positive thinking among Muslim youth and to make them aware of the wrong notions propagated by certain television programs," he said. "We want to keep them away from deviant behavior and promote unity among Muslims and our nation and society."
Full report at:
http://arabnews.com/saudiarabia/article607651.ece
-----------
Registration of Hindu marriage a must: Bangladesh
April 9, 2012
DHAKA: Bangladesh is set to make mandatory the registration of Hindu marriages to ensure rights of the followers of the faith by bringing in a law on the lines of India, law minister Shafique Ahmed said here on Saturday.
"Registration of Hindu marriages is being made mandatory ," he told a seminar on the rights of Hindu community with regard to marriage registration.
He said stakeholders' opinions regarding the proposed law had already been elicited and the matter was also discussed in the parliamentary standing committee on the law, justice and parliamentary affairs ministry.
Ahmed assured that the government would not formulate any law that would hurt religious sentiment.
Citizens for Enactment of the Hindu Marriage Law organized the seminar to review a draft on the proposed registration law following the example of a related legislation in neighbouring India.
Organizers said 10 women and rights groups had prepared the draft on the basis of inputs provided by 40 other organizations at grassroots.
The minister said despite the in-principle decision in favour of enacting the Hindu registration law immediately following Indian example, the follow up legislations for separation and hereditary laws could take a longer period.
Bangladesh last year enacted the Vested Property Law 2001, to allow the return of property of the minority community , confiscated during the 1965 Indo-Pak war.
http://timesofindia.indiatimes.com/world/south-asia/Registration-of-Hindu-marriage-a-must-Bangladesh/articleshow/12576623.cms
-----------
Manmohan Singh talks terror, Asif Ali Zardari harps on K-word
Apr 9, 2012
NEW DELHI: While Prime Minister Manmohan Singh raised the issue of terrorism and the need to expedite the trial of Mumbai attacks accused with Pakistani President Asif Ali Zardari, government sources said Zardari focused on Kashmir, Sir Creek and Siachen issues saying it was high time these were resolved.
That Zardari managed to raise these issues focusing on their early settlement, even though he did not give any categorical assurance on either reining in India-specific terror groups or handing over LeT chief Hafiz Saeed to India, is likely to help him cater to his domestic constituency of which many had demanded until Saturday that he call off his visit. "Both felt that we need to move forward step-by-step," foreign secretary Ranjan Mathai said.
While Zardari was expected to mention Kashmir to allay fears in Pakistan that its government was ignoring this "core issue'' as it rebuilds ties with India, the president also took up Sir Creek and Siachen saying these issues could be solved in quick time with the two countries narrowing down the trust deficit.
Both leaders mourned the fact that more than 100 Pakistani soldiers had gone missing after an avalanche at Siachen.
Full report at:
http://timesofindia.indiatimes.com/india/Manmohan-Singh-talks-terror-Asif-Ali-Zardari-harps-on-K-word/articleshow/12588882.cms
-----------
Zardari's trip to Ajmer a message against extremism: US media
Apr 09 2012
Washington : Describing Pakistan President Asif Ali Zardari's India visit as a trip "heavy on symbolism if not on substance", the US media today said his pilgrimage to the shrine of Khwaja Moinuddin Chishti in Ajmer sent a message against Islamist extremism.
"No breakthroughs were announced, but both sides hailed the meeting as a sign of easing tensions along one of the world's most dangerous borders," The Los Angeles Times reported in a news dispatch from New Delhi.
"Sunday's one-day visit was heavy on symbolism if not on substance," the daily said.
The Los Angeles Times along with The Washington Post and The New York Times made specific mention of the Zardari's invitation to Singh to visit to Pakistan.
"The question now is how soon Mr Singh will be able to visit Pakistan, a trip that many analysts regard as instrumental to any major diplomatic breakthroughs."
"Since taking office nearly eight years ago, he has often voiced a desire to visit Pakistan, but he has yet to make the trip, either because of political considerations at home or because of fraught relations between the countries," The New York Times reported.
Full report at:
http://www.indianexpress.com/story-print/934414/
-----------
Separate incidents claim seven lives in Balochistan
April 9, 2012
QUETTA: Seven people lost their lives Monday in different acts of violence in Balochistan, while two others were injured, DawnNews reported.
Levies sources said two men were shot dead by unidentified assailants in the Mand Blo area of Turbat. According to eyewitnesses, the two men were standing by the roadside when they were shot by the assailants who were riding motorcycles.
In another incident, two bullet-riddled dead bodies were found from Sorab area. The bodies of the two men, who had suffered bullet wounds on their skulls, were shifted to the hospital for identification.
Meanwhile, a land dispute in Osta Mohammad led to an armed clash between two tribal groups, resulting in three men being killed and two others being injured.
http://dawn.com/2012/04/09/separate-incidents-claim-seven-lives-in-balochistan/
-----------
800 Nigerians in Togolese prisons
VICTORIA OJEME
APRIL 9, 2012
ABUJA—Chairman, House of Representatives Committee on Foreign Affairs, Nnena Ukeje, has disclosed that 800 Nigerians were serving various jail terms in Togo.
This is coming on the heels of revelations by Chairman, House Committee on Diaspora of hundreds of Nigerians in Brazilian prisons.
In a chat with Vanguard, weekend, Ukeje lamented lack of reliable data on Nigerians resident abroad.
Speaking on the large number of Nigerians serving jail terms in neighbouring Togo, she said: "This is the problem. As at two weeks ago, we got report of about 800 Nigerians in prisons in Togo, much more in China .
"The only one country that we have a clear-cut inventory is the United Kingdom , where we have a bill that will go to aid with prisoner-exchange.
"Of course, the National Assembly in the last session, discussed on how Nigerians in prisons in other countries can come back to Nigeria. Now, in the UK, we have a total figure of Nigerians who are in UK prisons.
"I know in Togo, it is about 800; in China, I read in the papers of the number being high. Those are the things that we are actually trying to look at and look at the status of these Nigerians who are currently resident in collection of institution around the world."
Full report at:
http://www.vanguardngr.com/2012/04/800-nigerians-in-togolese-prisons/
-----------
Indian PM asked Zardari to pray for peace
09 APRIL 2012
President Asif Ali Zardari was requested by Prime Minister Manmohan Singh to pray for peace in both the countries at the shrine of Khwaja Moinuddin Chisti in Ajmer, tweeted leader of the Opposition in Lok Sabha, Sushma Swaraj.
She, along with senior BJP leader LK Advani, was among the select guests invited for lunch with Zardari.
"Towards the end of lunch, the Prime Minister told President Zardari that since he was going to Ajmersharif, he should pray before Khwaja sahib for peace in both our countries," Sushma said on micro-blogging site Twitter.
"President Zardari promised to do that," she added.
"Attended lunch hosted by the Prime Minister for President Zardari and his team," read another tweet of hers. "Pakistan's Interior Minister Mr Rehman Malik and Mr Bilawal Bhutto were also present," she updated.
Full report at:
http://www.dailypioneer.com/nation/56290-pm-asked-zardari-to-pray-for-peace.html
-----------
Women outraging modesty of women in Kashmir
April 9, 2012
JAMMU and Kashmir chief minister Omar Abdullah recently created a stir in the legislative assembly when he revealed that 133 women had been arrested in the state over the past two years for "outraging the modesty of women". He was replying to a question by PDP MLA Muhammad Shafi Wani on the number of women prisoners in the state.
Of the 2,177 women arrested in the last two years, Omar said 544 were nabbed from Jammu and 633 — including four from Pakistan — were picked up from Kashmir. He went on to add that 1,044 women were arrested in 2010, 1,070 in 2011 and the rest in 2012.
The chief minister said three women, including two foreigners, were booked under the Public Safety Act; 122 for stabbing; 405 women were arrested for rioting; 84 for abetment to suicide; 55 for murder; 60 for attempt to murder; 44 for theft; 15 for obscene act in public places; 17 for assault on government servants and the rest under various crime- related issues.
Full report at: Mail Today
-----------
After slaying 77 people, Norway gunman finally goes on trial
Apr 09 2012
Oslo : Anders Behring Breivik will go on trial in Norway next Monday charged with committing "acts of terror" when he slaughtered 77 people in twin attacks in July that shook the tranquil Scandinavian country to its core.
While there is no doubt the 33-year-old right-wing extremist is the killer -- he has confessed but refused to plead guilty -- the main unresolved question is his mental state and whether he will be sent to prison or a closed psychiatric ward.
On July 22, Breivik first set off a car bomb outside government buildings in Oslo, killing eight people and injuring more than 200 others.
He then travelled to the small island of Utoeya northwest of the capital where the ruling Labour Party's youth organisation was hosting a summer camp.
Dressed as a police officer, he spent more than an hour methodically shooting and killing another 69 people, mainly terrified teenagers trapped in by the icy waters of the surrounding lake.
Full report at:
http://www.indianexpress.com/story-print/934404/
-----------
Gujarat Ode killings: Court convicts 23, acquits 23
Apr 9, 2012
AHMEDABAD: A special court in Anand has pronounced its verdict in the Ode massacre case of post-Godhra riots, wherein 23 persons belonging to minority community were burnt to death.
The court has convicted 23 people in the case and has acquitted 23 for want of evidence. The quantum of punishment for the convicted will be announced later.
An agitated mob of about 2,000 gathered near Pirawali Bhagol in the Ode town of Anand district on March 1, 2002 and set a house on fire in which a small group of Muslims had taken shelter. Altogether 23 persons, mostly women and children, were killed in the incident.
Since the victims were not content with the investigation carried out by Gujarat police, the case was taken up along with other major cases by the National Human Rights Commission (NHRC) before the Supreme Court which formed a special investigation team (SIT) to conduct further probe in the case.
After the investigation was over, special judge S Y Trivedi charged 47 persons with murder, conspiracy, rioting, unlawful assembly, attempt to murder and destruction of evidence. One undertrial passed away during the proceedings.
Full report at:
http://timesofindia.indiatimes.com/india/Gujarat-Ode-killings-Court-convicts-23-acquits-23/articleshow/12593207.cms
-----------
US lawmaker defends resolution for Baluchi self-determination
April 9, 2012
US Congressman Dana Rohrabacher has stoutly defended the resolution he has introduced in the House of Representatives in support of the right to self-determination for the people of Baluchistan.
The Republican lawmaker, whose resolution is pending with the House Foreign Affairs Committee but has already triggered angry protests in Pakistan, argued on Sunday that his move was justified by the "horrific violations of human rights by Pakistan security forces in Baluchistan".
"The US State Department, Amnesty International and other human rights groups have verified and denounced the extrajudicial killings, kidnappings, disappearances, illegal detention and torture being used by Pakistani authorities to suppress Baluch aspirations to control their own affairs," he said in an op-ed piece in The Washington Post.
Full report at:
http://www.dailypioneer.com/world/56327-us-lawmaker-defends-resolution-for-baluchi-self-determination.html
-----------
Riyadh: Terror suspect accused of boycotting Friday prayers
Apr 9, 2012
An alleged member of the Al-Faraj terror cell currently standing trial at a special court in Riyadh was accused of not attending Friday congregational prayers because he did not want to participate in an event in which a khatib (the scholar who delivers Friday sermons) would pray for the rulers.
It is a practice in Muslim countries to pray for rulers during the Friday sermon.
The special court completed the preliminary hearings of 10 defendants in the trial of 50 men belonging to the terror cell yesterday.
The trial of the cell started with hearings involving the first five defendants on Saturday.
It was Defendant No. 10 who allegedly used to boycott Friday prayers because of his hatred for the rulers. He was also accused of donating SR24,000 to rent and furnish an apartment for terror activities. He allegedly used to express admiration for Defendant No. 48, who was wanted for his terror activities apart from spreading takfir (declaring other Muslims as infidels) ideologies.
Full report at:
http://arabnews.com/saudiarabia/article608292.ece
-----------
Libya will not hand Saif al-Islam to ICC: minister
April 9, 2012
TRIPOLI: Libya will not send Saif al-Islam Gaddafi, the most prominent son of the country's former leader, to the International Criminal Court (ICC) in The Hague, but will put him on trial in his own country, Justice Minister Ali Ashour said on Sunday.
Saif al-Islam remains in a secret prison in the custody of the Zintan rebels who caught him last year and will be tried in Libya by Libyan judges on charges of financial corruption, murder and rape, Ashour told Reuters.
Despite the ICC's demands that he be sent to The Hague for trial, "there is no intention to hand him (Saif al-Islam) over to the ICC, and Libyan law is the right system to be used to try Saif Gaddafi," Ashour said. He denied allegations of mistreatment made by an ICC defence lawyer, who said this week that Saif al-Islam had been beaten and had been misled about the charges against him. "He eats with the people who guard him, and he is in good condition," he said.
Pressure is mounting on Libya to hand Gaddafi's son to the ICC as human rights organizations say the country is unable to give him a fair trial. An ICC delegation arrived in Tripoli on Sunday to discuss Saif al-Islam's case with the justice ministry, Libya's representative in the ICC, Ahmad al-Jahani said.
http://www.dailytimes.com.pk/default.asp?page=2012\04\09\story_9-4-2012_pg4_3
-----------
Bounty hunters send NIA on wild goose chases
Apr 9, 2012
NEW DELHI: The recent bounty announced by the US on LeT chief Hafiz Saeed may have got India excited but bounties do not seem to be really working for the country's premier anti-terror agency: the NIA. The agency has literally been on a wild goose chase ever since it announced a reward of Rs 10 lakh on Ramji Kalsangra, the man behind a series of Hindu terror attacks in the country, a year ago.
Bounty seekers have jammed NIA phone lines with all sorts of information on Kalsangra that range from him being dead to having been seen in Muzaffarabad. One call even claimed that he and his associate Sandeep Dange (who is also wanted for several blasts including those in Malegaon and has a bounty of Rs 10 lakh on him) are meditating on Kailash Parvat.
Full report at:
http://timesofindia.indiatimes.com/india/Bounty-hunters-send-NIA-on-wild-goose-chases/articleshow/12590248.cms
-----------
ISI should have no role in Pakistan's politics: Yousuf Raza Gilani
April 9, 2012
LAHORE: Pakistan Prime Minister Yousuf Raza Gilani on Sunday said the spy agency Inter-Services Intelligence should have no role in the country's politics.
"The ISI should have no role in the country's politics," he said while interacting with reporters at his residence here this evening.
He was responding to a question on whether the ISI's political wing had been closed.
"My principled stance is before you on this issue," he said.
Recent media reports had claimed that the ISI's political wing had recently been closed, while the military's media wing ISPR denied that the spy agency had such a wing.
Politicians of various parties, especially former premier Nawaz Sharif's PML-N, have suspected the claim.
"It has been closed verbally, not practically," said a politician who did not want to be named because of the sensitivity of the matter.
http://timesofindia.indiatimes.com/world/pakistan/ISI-should-have-no-role-in-Pakistans-politics-Yousuf-Raza-Gilani/articleshow/12585973.cms
-----------
Manmohan Singh offers help to rescue avalanche hit Pakistan soldiers
Apr 9, 2012
NEW DELHI: Meeting a day after an avalanche in Siachen glacier buried over 130 Pakistani soldiers, PM Manmohan Singh offered humanitarian assistance to Pakistan to extricate the soldiers from the snow.
Briefing journalists, foreign secretary Ranjan Mathai said Pakistani President Asif Zardari appreciated the offer and said they would seek assistance if needed.
Meanwhile, reports from Pakistan said rescuers resumed their desperate search after suspending the operation late on Saturday night because of darkness and poor weather, though there were no signs of survivors a day after the avalanche hit the camp. Military officials told the media that there was no information on survivors.
Army chief Gen Ashfaq Parvez Kayani flew to Skardu to review the rescue operation. Heavy machinery was airlifted from the garrison city of Rawalpindi for the rescue effort, officials said.
The avalanche hit a battalion headquarters at Gyari in the Siachen sector, burying 124 security personnel and 11 civilians under up to 80 feet of snow in an area a kilometre wide.
http://timesofindia.indiatimes.com/india/Manmohan-Singh-offers-help-to-rescue-avalanche-hit-Pakistan-soldiers/articleshow/12588795.cms
-----------
13/7 blasts: Five more suspects under ATS scanner
April 9, 2012
The Maharashtra Anti-Terrorism Squad, probing the 13/7 blasts case, is looking to nab five more alleged Indian Mujahideen operatives suspected to have played key role in the terror attacks, besides the group's top operative Yasin Bhatkal and the two planters, police said on Sunday.
The ATS has already arrested four IM operatives — Naquee Ahmed, Nadeem Sheikh, Kanwar Pathrija and Haroon Naik — for their alleged involvement in the blasts and are lodged in judicial custody.
The State's elite agency, which has invoked stringent MCOCA charges against the accused, is yet to file charge sheet in the case.
After claiming the breakthrough in January, the ATS had claimed it was looking for Bhatkal and two bomb planters Waqas and Tabrez.
"Besides, these three (Bhatkal, Waqas and Tarbez), we are also looking for five more suspects including Sarfaraz and Shaikh Tahseen who appear to have participated in the attacks.
Full report at:
http://www.thehindu.com/news/states/other-states/article3293753.ece
-----------
At least 24 dead in fresh Qaeda assault in Yemen
April 9, 2012
ADEN: At least 24 people were killed Monday as al Qaeda militants raided an army barracks, the latest in a spate of attacks by the terror network which has boosted its presence across Yemen's lawless south and east.
"Fifteen al Qaeda gunmen were killed in clashes with members of the 111th Brigade in Loder in Abyan province," a stronghold of the terror network, the defence ministry 26sep.net reported.
A local source in the town of Jaar, where dead and wounded extremists are taken, said 10 militants were killed in the battle.
Five soldiers and four tribesmen fighting alongside the army also died, military and tribal sources said.
"The army is backing us with weapons," a tribal chief said. "We will fight al Qaeda and will not let them into our city."
Full report at:
http://dawn.com/2012/04/09/at-least-11-die-in-qaeda-attack-on-yemen-barracks-sources-hasanali/
-----------
Army kills 14 militants in NW Pakistan - officials
April 9, 2012
ISLAMABAD: Pakistani helicopter gunships attacked hideouts on Sunday in a tribal area near the border with Afghanistan on Sunday, killing 14 suspected militants, military sources said.
Ten suspected militants were injured in the operations in two areas of the Orakzai tribal agency. The casualty figures provided by the Pakistani military could not be independently verified and militants often dispute official accounts.
Pakistan's army and air force have been conducting operations against militants in Orakzai and the neighboring Kurram tribal region since the beginning of the year.
The Pakistan Taleban, Al-Qaeda and other militant groups fighting Western forces in Afghanistan are entrenched in Pakistan's northwestern tribal areas. A series of military offensives have failed to clear the region.
http://arabnews.com/world/article608230.ece
-----------
Syrian forces bombard town, kill 30 activists
Apr 9, 2012
BEIRUT: Syrian military forces killed 30 people on Monday, mostly women and children, when they bombarded a town in the central province of Hama, local activists said.
They said 17 children and eight women were among those killed in al-Latmana, northwest of the city of Hama. Activists said 40 people were killed in an army attack on the same town two days earlier.
http://timesofindia.indiatimes.com/world/middle-east/Syrian-forces-bombard-town-kill-30-activists/articleshow/12597742.cms
--------------
Gunmen in Nigeria Attack, Kill 4 People
Apr 9, 2012
MAIDUGURI, Nigeria (AP) — Gunmen suspected of being members of a radical Islamist sect have killed at least four people — including a 6-year-old girl — in recent attacks in Nigeria's restive northeast, authorities said Monday.
In the northeastern city of Potiskum, gunmen opened fire on a policeman and his family, killing the policeman's 6-year-old daughter, Yobe State police spokesman Toyin Gbadegeshin said.
Early Monday, gunmen killed three people when they attacked a police station, a church and a bank in the border town of Dikwa in the northeast.
Joint Security Task Force spokesman Lt. Col. Sagir Musa said a local politician, a police officer and civilian and three gunmen were killed in early Monday's attack.
Musa blamed the attack on members of the Boko Haram sect.
Gbadegeshin, the Yobe state spokesman, also blamed Boko Haram, a group waging an increasingly bloody fight with security agencies and the public. More than 380 people have been killed in violence blamed on the sect this year alone, according to an Associated Press count.
The attacks follow a Sunday suicide bombing in the city of Kaduna. That attack killed at least 38 people in a massive blast that rattled a city long at the center of religious, ethnic and political violence in the nation.
While no one immediately claimed responsibility for the attack, suspicion immediately fell on Boko Haram. Some fear the attack could further inflame tensions around Kaduna, a region on the dividing line between Nigeria's largely Christian south and Muslim north.
http://www.nytimes.com/aponline/2012/04/09/world/africa/ap-af-nigeria-violence.html?ref=global-home&gwh=4349E9C9F463764B08EB78393E9F7F6E
------------
Gunmen attack plane in Indonesia; journalist dead
Apr 09 2012
Timika (Indonesia) : Indonesian police are searching for gunmen who sprayed a small commercial plane with bullets as it landed in the restive province of Papua. One passenger was killed.
Maj. Gen. Saud Usman Nasution says the attack occurred Sunday in the hilly district of Puncak Jaya, a stronghold of separatists who have battled Indonesian rule in the impoverished region for more than 30 years.
He said Monday that the twin otter Trigana Air plane was carrying eight people.
One of the passengers, 35-year-old local journalist Leiron Kogoya, was hit in the neck by a bullet and died.
Four others were wounded, including the pilot and the co-pilot.
Papua is on the western half of the island of New Guinea and was handed over to Indonesia by the Dutch in the 1960s.
http://www.indianexpress.com/story-print/934417/
-----------
At Ajmer dargah, Asif Ali Zardari finds 'spiritual happiness'
Apr 9, 2012
AJMER: President Asif Ali Zardari during his visit to the Ajmer dargah on Sunday wrote in the notebook of the anjuman, Dargah committee: "Is mukkadas mukaam par aakar mujhe jo roohani khushi mili hai, woh nakaabile bayaan hai. Allah taala se dua hai ke tamaam insaniyat ke liye asaaniya paida kare (I find spiritual happiness after coming to this holy place, which is beyond description. I pray to Allah to create favorable conditions for humanity)." He signed off: "Asif Ali Zardari, sadr-mumalkat, Islamic Jamhuria Pakistan."
Mehran and Zeeshan, the sons of Iqbal Kaptan who had prayed for Benazir Bhutto in 2005, performed ziyarat for Zardari and Bilawal. Benazir had come to Ajmer for thanksgiving after her husband Zardari was released from jail. He had accompanied her then. "The president was very calm during the prayers inside the sanctum sanctorum. He read out verses from the Quran aloud. His son Bilawal, too, felt solace at the dargah visited by his mother thrice," said Syed Iqbal Kaptan.
Wearing blue salwar kameez and a Sindhi topi, Zardari and his son drove to the Dargah in a black Mercedes Benz from the Ghooghra helipad where they landed in a chopper from Jaipur's Sanganer airport. Chief minister Ashok Gehlot had welcomed the president there.
Full report at:
http://timesofindia.indiatimes.com/india/At-Ajmer-dargah-Asif-Ali-Zardari-finds-spiritual-happiness/articleshow/12588983.cms
-----------
Pakistani Hindus protest against kidnapping of girls
April 09, 2012
Some political parties and Hindu groups in Pakistan are furious over the kidnapping and alleged conversion of Hindu girls in Sindh province.
The Human Rights Club, Young Hindu Forum, Minority Commission of Pakistan, Awami Jamhoori Party, Pakistan Tehreek-e-Insaf, Pakistan Hindu
Council and Aurat Foundation held a demonstration outside the Karachi Press Club Sunday, the Daily Times reported on Monday.
They alleged that a Hindu girl, Rinkal Kumari of Mirpur Mathelo town, was abducted and forcibly converted to Islam. Another girl, Asha Kumari, was kidnapped from Jacobabad about a month back.
Pakistan Hindu Council chief Ramesh Vankwani alleged that a Supreme Court directive for the recovery of Asha Kumari has not been followed by the police, the Dawn reported.
He said another Hindu, Gangaram Motiani, president of the Hinglaj Mata Shewa Mandli, was kidnapped by men in police uniform in Bela area of Balochistan April 6.
The incident took place ahead of one of the largest annual Hindu gatherings at the Hinglaj Mata temple, he said.
Holding placards and banners inscribed with slogans, the demonstrators said a conspiracy was being hatched to expel the Hindu community from Pakistan.
According to the Pakistan Hindu Council, Hindus constitute around 5.5% of Pakistan's 170 million people. Of them 94% live in Sindh while the rest are distributed in Punjab and Balochistan.
http://www.hindustantimes.com/world-news/Pakistan/Pakistani-Hindus-protest-against-kidnapping-of-girls/Article1-837859.aspx
-----------
2 security personnel, 4 militants killed in check post raid in Peshawar
April 9, 2012
PESHAWAR: Around 20 militants attacked a military checkpost in Lower Kurram, sparking a clash that left two soldiers and four militants dead, an official said Monday.
The attack in part of the tribal areas near the Afghan border was beaten off when troops responded with artillery and heavy weapons, a senior paramilitary Frontier Corps (FC) official told AFP.
The area is cut off to journalists and aid workers and it was not possible to confirm the death toll independently.
"More than 20 militants attacked a Frontier Corps checkpost in Khapiyanga area of Lower Kurram tribal region on Sunday night, which triggered a firefight, killing two soldiers and four rebels," the FC spokesman said.
"Four troops were also injured in the clash which continued for around 40 minutes."
"The militants came by foot from the nearby mountains," the official said on the condition of anonymity.
"When the troops responded, they ran away with four dead bodies of their colleagues. We don't know how many of the militants got injured."
Kurram is one of seven districts in Pakistan's semi-autonomous tribal belt, where Taliban and al Qaeda-linked militants have carved out strongholds used to plot attacks on Pakistani, Afghan and Western targets.
http://tribune.com.pk/story/361916/2-security-personnel-4-militants-killed-in-check-post-raid-officials/
-----------
China "happy" to see improved New Delhi-Islamabad relations
April 9, 2012
China welcomes the improvement in relations between India and Pakistan which was "vital" for regional prosperity and China's own development, the official Xinhua news agency said in a commentary on Sunday.
China welcomed Pakistan President Asif Ali Zardari's visit to India, Xinhua said, adding that Beijing was "happy to witness continuous improvement" of India-Pakistan ties.
"The two countries' efforts in warming up their ties certainly are welcomed and applauded by the international community including China, which neighbours both nations and maintains significant ties with them," said the commentary, which was authored by Yu Zhixiao, a commentator for the state-run news agency.
The article said China had good relations with both countries, sharing an "all-weather friend" equation with Pakistan but also increasingly cooperating with India, particularly under the umbrella of the BRICS "bloc of five major emerging economies" along with Brazil, Russia and South Africa.
"Peaceful coexistence is indispensable for regional stability," the commentary said, "which is vital for regional prosperity and China's modernisation drive."
The commentary echoed recent statements made by Chinese officials, saying that Beijing wanted "to further boost ties with both countries."
Projects in PoK
Full report at:
http://www.thehindu.com/news/international/article3293952.ece
-----------
Imran Khan trains guns on Zardari, Bilwal
Apr 9, 2012
ISLAMABAD: The sudden visit of President Asif Ali Zardari and his son Bilawal to India has invited ire from their political opponents in Pakistan with cricketer-turned- politician Imran Khan questioning the timing of the tour, when the country was faced with a tragedy of the 135 soldiers missing in avalanche in Siachen glacier.
Hoping to ride to political power in Pakistan on the gathering anti-establishment fervour, Imran Khan trained his guns particularly on ruling PPP's emerging leader Bilawal Bhutto, alleging that the 23-year-old leader had no pulse of the people of the country.
Taking a dig at Bilawal, who is considered a rising political star of the Bhutto family, Imran said, people "will not forgive leaders who have no respect for the nation and its institutions".
He charged that Zardari and his son did not know "how to stand by state".
"Bilawal has no knowledge of the difficulties faced by the people of Pakistan and cannot even speak proper Urdu."
Full report at:
http://timesofindia.indiatimes.com/world/pakistan/Imran-Khan-trains-guns-on-Zardari-Bilwal/articleshow/12594995.cms
-----------
India, Pakistan home secretary-level talks in May
Apr 9, 2012
NEW DELHI: Home secretary-level talks between India and Pakistan, which have been in pipeline since December last year, will take place in Islamabad in late May.
The government will raise the issue of Hafeez Saeed in detail during the talks as agreed between Pakistan President Asif Ali Zardari and Prime Minister Manmohan Singh in their meeting here on Sunday.
New Delhi has asked Islamabad to give fresh dates for talks - sometime after May 22 when budget session of Parliament concludes.
Pakistan had earlier offered to host the meeting in the later half of April and asked New Delhi to inform it whether the period suits India.
Sources here said the April dates did not suit India due to many reasons including forthcoming internal security conference of chief ministers on April 16 and the parliamentary budget session which would resume after the ongoing break on April 24.
Full report at:
http://timesofindia.indiatimes.com/india/India-Pakistan-home-secretary-level-talks-in-May/articleshow/12594599.cms
-----------
Pakistan serious about Hafiz Saeed but needs evidence: Gilani
April 9, 2012
LAHORE: Prime Minister Yousuf Raza Gilani on Sunday acknowledged that the case of Jamaat-ud-Dawa chief Hafiz Saeed was an "issue" between Pakistan and India but said Islamabad needs "substantial" evidence against him to try him in a court of law.
"We are serious on the issue of Saeed but the question is how to proceed against him without evidence. Courts here are independent and we need substantial evidence against him," Gilani said while interacting with a group of reporters at his residence Lahore on Sunday evening.
Gilani further said it had been agreed that the interior and home secretaries of the two countries would discuss the issue when they meet on April 16.
He said that former premier Nawaz Sharif too had asked him about the government's stance on the issue of Saeed.
Saeed, the founder of the Lashkar-e-Taiba, has been in focus after the US offered a USD 10 million bounty for him last week.
Full report at:
http://timesofindia.indiatimes.com/world/pakistan/Pakistan-serious-about-Hafiz-Saeed-but-needs-evidence-Gilani/articleshow/12585634.cms
-----------
Zardari got 'tame nudge' in India, told to work more: Pak media
Apr 09 2012
Islamabad : President Asif Ali Zardari's "private spiritual journey" to India ended with "a tame nudge" from the hosts who asked him to "work more to win their love," Pakistani media said today, noting that the visit should set the stage for the two sides to tackle contentious issues like the 26/11 probe.
Photographs of a smiling Zardari shaking hands with Prime Minister Manmohan Singh adorned the front pages of all Pakistani dailies.
Reports of the President's meeting with Singh during his day-long trip to India yesterday noted that the Indian leader had accepted his invitation to visit Pakistan as well as New Delhi's call for more action against terrorists based on the Pakistani soil.
"Under JuD's shadow, Singh accepts Pakistan invitation," read the headline in The Express Tribune, while the influential Dawn newspaper headlined its report: "Work to win love, Zardari told in Delhi."
The Dawn, in its report on Zardari's visit, said the President "enjoyed a sumptuous lunch... with Prime Minister Manmohan Singh before offering prayers at the shrine of Khwaja Moinuddin Chishti in Ajmer, but his day-long officially 'private' visit to India ended with a tame nudge from the hosts who effectively asked him...to work more to win their love."
Full report at:
http://www.indianexpress.com/story-print/934443/
-----------
US offers Pak aid in exchange of re-opening NATO supply routes: report
Apr 09 2012
Islamabad : The United States has offered a lucrative monetary offering to the Pakistan Peoples' Party (PPP) government for the budget 2012-13 in exchange for re-opening NATO supply routes that have been closed since the deadly November 26 airstrike.
Sources told the Daily Times that the offer was made to Pakistan Finance Minister Abdul Hafeez Shaikh for the upcoming budget, which the PPP-led government aims to make "people-friendly" to garner public support for the next general elections.
They added that the fresh US offer was an additional attraction for Pakistan, as Washington had already expressed its willingness to pay compensation for the November 26 airstrikes.
The US has also offered "other" taxes on NATO supplies passing through Pakistan, they added.
The offer depicts the US' keenness to have NATO supply routes re-opened as soon as possible and puts Pakistan's top leadership in dilemma over "what to do and what not to," the sources said.
They added Pakistan was ready to accept the lucrative US offer worth over three billion dollars.
The US offers comes at time when Pakistan's budget deficit is expected to rise to five percent of the GDP because key foreign inflows such as Coalition Support Fund are not likely to fully materialise by June 30, sources added.
http://www.indianexpress.com/story-print/934413/
-----------
SC grants bail to Pak microbiologist Chishty serving life term for murder
Apr 09 2012
New Delhi : The Supreme Court on Monday granted bail to 80-year-old Pakistani microbiologist Mohd Khaleel Chishty, who is undergoing life term in a murder case.
Agreeing to to hear Chishty's plea to go back to Karachi, the apex court asked him to file a separate application regarding this.
The court, however, directed Chishty to remain in Ajmer till further orders.
The issue of the ailing Pakistani microbiologist, lodged in Rajasthan jail, had figured at the luncheon meeting Prime Minister Manmohan Singh had with Pakistan President Asif Ali Zardari.
Chishty was handed a life term on January 31, 2011 by a trial court for a murder in Ajmer in 1992.
Born in Ajmer in a prosperous family of khadims, Chishty was studying in Pakistan at the time of Independence and chose to stay on and become a citizen.
During a visit to Ajmer in 1992 to meet his ailing mother, he got involved in a dispute and, in the melee, one of his neighbours was shot dead and Chishty's nephew was injured.
The sessions court granted him bail a few days after the incident, but ordered him not to leave Ajmer. Chishty lived on his brother's poultry farm till his conviction.
Chishty's case came to light when the then Supreme Court judge Markandeya Katju wrote to Prime Minister Manmohan Singh urging that the Pakistani national be pardoned on humanitarian grounds.
http://www.indianexpress.com/story-print/934442/
-----------
Indonesia's Aceh votes in test for fragile peace
By Arlina Arshad
April 9, 2012
BANDA ACEH, Indonesia — Indonesia's only province ruled by Islamic sharia laws was electing its powerful governor on Monday, in polls that will test a fragile peace following a 30-year separatist war.
The elections in Aceh are the second since the province suffered 170,000 fatalities in the Asian tsunami of 2004, and since the war against Indonesian rule ended in 2005, having claimed 15,000 lives.
Voters are electing the governor -- the top post in the province -- as well as 17 district heads and deputies. Irwandi Yusuf, the 51-year-old incumbent who was elected in December 2006, is seeking a second five-year term.
At the village of Ulee Lheue on the outskirts of the capital Banda Aceh, voters cast their ballots at the Baiturrahim Mosque, the only structure in the fishing community that survived the tsunami.
Full report at: Copyright © 2012 AFP. All rights reserved.
-----------
Syria peace plan in jeopardy as clashes rage
April 9, 2012
DAMASCUS: A peace plan for Syria was in jeopardy after the regime laid down conditions for a pullout of government troops from protest hubs and fresh clashes raged on Monday.
In latest fighting, 12 soldiers were killed in fierce fighting between the army and rebels in the Aleppo region of northern Syria and Deir Ezzor in the east, the Syrian Observatory for Human Rights said.
It also reported army operations in several other parts of the country.
Under a peace deal brokered by Kofi Annan, the former UN chief, the Syrian army was scheduled to withdraw from protest cities on Tuesday, with a complete end to fighting set for 48 hours later.
But the Damascus regime has since said it would only carry out its side of the bargain if rebels first handed over written guarantees to stop fighting.
Rebel army chief Colonel Riyadh al-Asaad countered: "We are committed to the Annan plan… We will present our guarantees and our commitments to the international community, but not to this (Syrian) regime."
The regime demand came as a weekend escalation in violence claimed almost 180 lives, most of them civilians, a surge in bloodshed that Annan described as "unacceptable."
Full report at:
http://dawn.com/2012/04/09/syria-peace-plan-in-jeopardy-as-clashes-rage/
-----------
Egyptian Islamist group names cleric for president
April 9, 2012
An ultraconservative Islamist group has put forward a fundamentalist cleric as its candidate in Egypt's upcoming presidential elections after reports surfaced that a leading Islamist candidate currently in the race may be disqualified.
The Gamaa Islamiya, or Islamic Group, said it has selected Safwat Hegazy, a prominent imam who preaches on television and who took part in last year's protests that toppled President Hosni Mubarak.
While Hegazy's views have won him many supporters in Egypt, they have proven too extreme for some in the West. Last month France barred him from entering the country for an Islamic conference along with a number of other high-profile Muslim clerics on the grounds that they "call for hatred and violence."
The Gamaa Islamiya was a militant organization that fought Mubarak's regime in a bloody insurgency in the 1990s, seeking to establish an Islamic state. It has since renounced violence. Their newly-formed Construction and Development Party has 18 seats total in both houses of parliament.
Full report at:
http://www.dailypioneer.com/world/56257-egyptian-islamist-group-names-cleric-for-president.html
-----------
Israel shuts doors on Gunter Grass over poem
Apr 9, 2012
JERUSALEM: Israel on Sunday barred German author Gunter Grass from entering the Jewish state, citing a poem in which he accuses Israel of plotting Iran's annihilation and threatening world peace.
"Interior minister Eli Yishai declared Gunter Grass persona non grata in Israel," a statement from Yishai's office said. "Gunter's poem is an attempt to fan the flames of hate against Israel and the Israeli people," it quoted Yishai as saying.
In his poem 'What must be said' the 84-year-old longtime leftist activist wrote of his concern that Israel "could wipe out the Iranian people" with a "first strike" due to the threat it sees in Tehran's disputed nuclear programme. It was published on Wednesday in the daily Sueddeutsche Zeitung.
The poem sparked outrage in Israel, with PM Benjamin Netanyahu calling Grass's poem "shameful". Iran's deputy culture minister Javad Shamaqdari praised the poem, saying "it warns beautifully."
http://timesofindia.indiatimes.com/world/rest-of-world/Israel-shuts-doors-on-Gunter-Grass-over-poem/articleshow/12589719.cms
-----------
Five Iranian suspects in Thai blasts to be tried
09 APRIL 2012
Five Iranians, accused of being involved in the botched bombings here in February, will be tried in a criminal court, a top police official said on Sunday.
Deputy police chief Gen Pansiri Prapawat said the case against the suspects was submitted to the court on April 2.
He said the Foreign Ministry, Office of the Attorney- General and Royal Thai Police Office had also sent additional documented evidence to Malaysia to extradite Masoud Sedaghatzadeh, one of the suspects.
Sedaghatzadeh was arrested by Malaysian authorities in Kuala Lumpur on February 15, a day after the Bangkok blasts. The Malaysian court will decide on April 16 whether to extradite Sedaghatzadeh to Thailand as requested, he said.
28-year-old Saerb Moradi, one of the suspects, set off three blasts in central Bangkok, blowing off his own legs while one of his compatriots Mohammad Khazaei, 42, was arrested when he attempted to flee to Malaysia. Four locals were also injured in the blasts.
The fourth suspect is a 32-year-old woman, Leila Rohani, who has fled to Iran, while the fifth accused is 52-year-old Iranian man named Nikkhahfard Javad, local media reported.
Israel claims that the Iranian suspects involved in the blasts were part of the same network of assailants who targeted the Israeli embassy staff in India and Georgia.
Thailand, however, has not determined if there were any links between the events in Bangkok, New Delhi and Tbilisi. Iran has denied any link with explosions here. An Israeli woman diplomat was injured in an attack in New Delhi but a similar attack in Tbilisi was averted when the explosive device was discovered.
http://www.dailypioneer.com/world/56294-five-iranian-suspects-in-thai-blasts-to-be-tried.html
-----------
Israel: Iranian N-programme is challenge to whole world
April 9, 2012
Warning that Iranian nuclear programme is a challenge to the whole world, not just to it, Israel today asked the six-power group negotiating with Tehran to set stringent limits on its atomic ambitions.
"We see the Iranian nuclear military programme as a challenge to the whole world, not just to Israel," Israeli Defence Minister Ehud Barak told CNN.
Barak said the current sanctions and pressure will not bring the Iranian leadership to the conclusion that they have to stop their nuclear programme.
The US and EU have imposed a series of sanctions against Iran, targeting its oil and banking sector.
"If the P5+1 will settle for a much lower threshold, like just stop enriching 20 per cent, it means that basically the Iranians, at a very cheap cost, bought their way into continuing their military programme, slightly slower, but without sanctions. That would be a total change of direction for the world," Barak said.
His remarks came just ahead of the talks between with the so-called P5+1, comprising the five permanent members of the UN Security Council plus Germany, and Iran in coming weeks.
The next round of comprehensive talks is set to take place on April 13-14, but the venue of the negotiations has not been decided yet.
The US officials believe that Iran has not yet taken a decision to develop a nuclear weapon. But Israel claims Iran is closer to make a bomb and it does not rule out staging a pre-emptive strike of its own on Iranian nuclear facilities.
Iran last held talks with the six powers — Britain, China, France, Germany, Russia and the United States — in January 2011 with no results.
http://www.dailypioneer.com/world/56251-israel-iranian-n-programme-is-challenge-to-whole-world.html
-----------
US adds riders for fresh nuclear talks with Iran
Apr 9, 2012
WASHINGTON: The Obama administration and its European allies plan to open new negotiations with Iran by demanding the immediate closing and ultimate dismantling of a recently completed nuclear facility, according to US and European diplomats.
They are also calling for a halt in the production of uranium fuel that is considered just a few steps from bomb grade, and the shipment of existing stockpiles of that fuel out of the country.
That negotiating position will be the opening move in what president Obama has called Iran's "last chance" to resolve its nuclear confrontation with the UN and the West diplomatically. The hard-line approach would require Iran's military leadership to give up the Fordo enrichment plant, and with it a huge investment in the one facility that is most hardened against airstrikes.
While it is unclear whether the allies would accept anything less than closing and Fordo, government and outside experts say the terms may be especially difficult for Iran's leaders to accept when they need to appear strong in the face of political infighting.
Istanbul to host first meeting
Talks on Tehran's nuclear standoff with the West is set to resume this week. Tehran had earlier voiced concerns about holding them in Turkey, whose opposition to Iranian ally president Bashar al-Assad in Syria has angered Iran. "After weeks of debates, Iran and the six world powers agreed to attend a first meeting in Istanbul," the Fars news agency reported. It also said the sides had agreed to a second round of talks in Baghdad if there was progress in Turkey.
http://timesofindia.indiatimes.com/world/us/US-adds-riders-for-fresh-nuclear-talks-with-Iran/articleshow/12589523.cms
-----------
Syria scuttles truce plan with new demands
Apr 09 2012
Beirut : A UN-brokered plan to stop the bloodshed in Syria has effectively collapsed after President Bashar Assad's government raised new, last-minute demands that the country's largest rebel group swiftly rejected.
The truce plan, devised by UN-Arab League envoy Kofi Annan, was supposed to go into effect on Tuesday, with a withdrawal of Syrian forces from population centers, followed within 48 hours by a cease-fire by both sides in the uprising against four decades of repressive rule by the Assad family.
But on Sunday, Syria's Foreign Ministry said that ahead of any troop pullback, the government needs written guarantees from opposition fighters that they will lay down their weapons.
The commander of the rebel Free Syrian Army, Riad al-Asaad, said that while his group is ready to abide by a truce, it does not recognize the regime "and for that reason we will not give guarantees.''
Annan's spokesman had no comment on the setback. The envoy has not said what would happen if his deadlines were ignored.
Even before the setback, expectations were low that the Assad regime would honor the agreement.
Full report at:
http://www.indianexpress.com/story-print/934424/
-----------
Former Afghan president Burhanuddin's son tipped as peace interlocutor
April 9, 2012
ISLAMABAD: Salahuddin Rabbani, the son of Afghan peace envoy and former president Burhanuddin Rabbani, is being tipped as the new Afghan peace envoy to revive the stalled reconciliation process, an Afghan diplomat told The Express Tribune in Islamabad.
Ties between Pakistan and Afghanistan have been strained and Afghan President Hamid Karzai has been in a fix over the appointment of the new chief of the High Peace Council since Burhanuddin's assassination last September.
"President Karzai had made up his mind to appoint Burhanuddin's son as the new chief but several senior former jihadi leaders had opposed his appointment," the diplomat told The Express Tribune.
The Afghan diplomat went on to add that former Afghan president Sibghatullah Mujaddadi had been expecting to be appointed as the new peace envoy, adding that his quest for the post had delayed Burhanuddin's replacement for nearly six months.
Full report at:
http://tribune.com.pk/story/361797/afghan-high-peace-council-burhanuddins-son-tipped-as-peace-interlocutor/
-----------
Turkey Accuses Syria of Firing Across Border
By SEBNEM ARSU and ALAN COWELL
April 09, 2012
ANKARA, Turkey — Turkish officials said on Monday that Syrian government forces had opened fire across the Turkish border late on Sunday and wounded three people close to one of the largest refugee camps housing Syrian nationals.
The firing deepened the gloom surrounding prospects for a cease-fire set to be initiated on Tuesday under a peace proposal by Kofi Annan, the special envoy on Syria for the Arab League and the United Nations. The proposal called for government forces to pull back from major population centers so that a truce can begin 48 hours later.
On Sunday, however, Syria demanded written guarantees from rebel forces that they would lay down their arms before government forces withdrew. In response, the Free Syrian Army insurgents said that President Bashar al-Assad would not implement the Annan plan and that it would fail.
Opposition activists said on Sunday dozens of people were killed and wounded when government troops shelled a rebel redoubt near the border with Turkey, adding to the 9,000 people already estimated to have died since the uprising against Mr. Assad began more than a year ago.
Full report at:
http://www.nytimes.com/2012/04/10/world/middleeast/turkey-accuses-syria-of-firing-across-border.html
-----------
New blast hits Egypt gas pipeline serving Jordan, Israel
Apr 9, 2012
CAIRO: An explosion hit the gas pipeline between Egypt, Israel and Jordan in Northern Sinai for fourteenth time on Monday, security sources said.
The blast took place in the Medan area at the entrance of Al-Arish city. Residents in the city told Reuters that they had heard the sound of the explosion.
http://timesofindia.indiatimes.com/world/middle-east/New-blast-hits-Egypt-gas-pipeline-serving-Jordan-Israel/articleshow/12590595.cms
-----------
Turkish Prime Minister makes first trip to China in 27 years
Apr 9, 2012
BEIJING: Turkish Prime Minister Recep Tayyip Erdogan was to arrive in Beijing on Monday on an official visit to boost business and political ties between the rising powers with booming economies, despite differences over Syria and China's ethnic Uighur region.
The visit is the first to China in 27 years by a Turkish premier and follows a February trip by Chinese Vice President Xi Jinping to Ankara and Istanbul, where the countries signed deals worth billions of dollars.
The official Xinhua News Agency said Erdogan brought a delegation of 300 businessmen, seeking more Chinese investment in Turkey and increase in Turkish exports.
Erdogan said before he left for China that the countries can cooperate in energy, construction, automotive, banking, information and telecommunications, according to Xinhua.
Full report at:
http://timesofindia.indiatimes.com/world/china/Turkish-Prime-Minister-makes-first-trip-to-China-in-27-years/articleshow/12592048.cms
-----------
Kashmiri Pandits demand CBI probe into sale of temple land
April 9, 2012
New Delhi : Opposing selling of temple land in the Valley, Kashmiri Pandits today staged a protest here demanding a CBI probe into the issue.
The protesters said they will submit a memorandum to the Prime Minister and the Home Minister in this regard.
Members of All Parties Migrant Co-ordination Committee (APMCC) also demanded the passing of the pending 'Temples and Shrines Bill' in the J-K Assembly and demanded a probe into the alleged temples and shrine land "encroachment" in the Valley.
"The government is hand in glove with the miscreants and this sale of temple land shows that the government is not serious about return of Kashmiri Pandits to their homeland," Ravinder Pandita, Incharge of Delhi Unit of APMCC, alleged.
"We demand a CBI probe into the matter and if the govt does not take action, our protest will turn stronger and bigger," Pandita said.
http://www.indianexpress.com/story-print/934094/
-----------
I'll take Hashimpura massacre to ICJ, Swamy tells Manmohan
April 9, 2012
Ahead of the 25th anniversary of the horrific, targeted extra-judicial killings by the U.P. Provincial Armed Constabulary of 42 Muslim youths in Meerut's Hashimpura area, Janata Party president Subramanian Swamy has written to Prime Minister Manmohan Singh, urging him to take action against the perpetrators. The Inquiry Report that was made available after several years indicted the U.P. PAC, naming the Commandant who led the brutal killings in cold blood on May 22, 1987. However, he says, no action was ever initiated by the Union or State government against those responsible.
In the letter dated April 2, Dr. Swamy has reminded the Prime Minister that the MoS for Home at the time was the present Home Minister, P Chidambaram.
Dr. Swamy has held out a threat in case the Prime Minister does not respond to his letter on the Hashimpura report by April 14.
"If you do not wish to take action due to compulsion of the situation the UPA is in, I hope you will have no objection to my approaching the International Court of Justice under Article 17 of the Rome Statute to take cognizance of this case and render justice. This should not be an embarrassment for you because of your Government's new stance in the UN Human Rights Commission, Geneva."
Dr. Swamy says he has been "encouraged" by the Prime Minister's "readiness to internationalize the alleged human rights violations committed by the Sri Lanka Government during its anti-terrorist armed action against the LTTE during … 2009."
http://www.thehindu.com/news/national/article3284739.ece
-----------
Curfew clamped in old city areas of Hyderabad after communal clashes
April 9, 2012
HYDERABAD: An indefinite curfew was on Sunday clamped in some parts of the walled city here following communal clashes over alleged desecration of a religious place.
At least five persons were injured in incidents of stabbing and stone-pelting involving members of two communities, police said.
Curfew was imposed in Madannapet and Saidabad in Old City and will continue till further orders, Andhra Pradesh Director General of Police V Dinesh Reddy said.
Tension erupted in the morning following reports of alleged desecration of a religious place in Kurmaguda, wherein some devotees complained that they found "meat" and green-coloured water near a place of worship.
Enraged members of the community took out rallies that culminated in stone-pelting. As the news spread, members of other community too assembled in large numbers and also indulged into heavy brickbatting against each other and at houses in Kurmaguda besides the communally sensitive areas of Madannapet and Saidabad, thus prompting police to cane charge and burst of teargas shells to disperse marauding mobs.
Full report at:
http://timesofindia.indiatimes.com/city/hyderabad/Curfew-clamped-in-old-city-areas-of-Hyderabad-after-communal-clashes/articleshow/12583158.cms
-----------
Indian-American linguist wins US academic award
April 9, 2012
WASHINGTON: An Indian American professor, Dr Mohammad Jahangeer Warsi, has been selected as a 2011-2012 recipient of the James E. McLeod Faculty Recognition Award by the students of Washington University in St. Louis, Missouri.
Previously called the Faculty Awards, this year the ArtSci Council decided to rename the event in honour of one of their biggest supporters James E. McLeod.
Viewed as a very prestigious honour in academics, the award is given to those who have positively and profoundly influenced the educational experiences to the students at Washington University.
Warsi, a gold medallist linguist from Aligarh Muslim University and a West Bengal Academy award holder, will receive the honour April 16 at a Recognition Ceremony hosted by the School Council, the undergraduate organization and executive governing body for the College of Arts & Sciences.
He is also the recipient of "unsung Hero" award from the University of California at Berkeley in 2005, and a recipient of UP Hindi-Urdu Literary Award 2011.
Congratulating Warsi, Robert E Hegel, Chair of the Department of East Asian Languages and Cultures said: "This is indeed exciting news--congratulations! This is a wonderful honour and strong testament to your efforts in the classroom".
Laura Olivier, a senior student at Washington University said: "I am ever so grateful to Warsi for all the work he has put into my development as a student of both linguistics and Indian culture".
http://timesofindia.indiatimes.com/nri/us-canada-news/Indian-American-linguist-wins-US-academic-award/articleshow/12560515.cms
-----------
Indian shepherd to return from Saudi Arabia after 18 years
Apr 9, 2012
DUBAI: An Indian man, who went to work in Saudi Arabia as a shepherd in 1994 but could never return as his sponsor withheld his salary and did not allow him a vacation, is finally set to return home following intervention of the local police.
P Periyaswamy from Mangalamedu Talukin Perambalur district of Tamil Nadu even tried to commit suicide during the 18 years he spent working as a shepherd in Saudi Arabia.
He had arrived in Hail region of Saudi Arabia to work as a shepherd in 1994, just a year after his marriage.
According to officials at the Indian Consulate in Jeddah, all these years he never fought for his right to go home but tried to commit suicide once.
The matter was brought to the attention of the local police and the governor by a good-hearted Saudi citizen who learnt of his plight.
Following complaint, the Saudi sponsor was arrested and ordered to pay the dues and air ticket to Periyasamy.
Full report at:
http://timesofindia.indiatimes.com/nri/middle-east-news/Indian-shepherd-to-return-from-Saudi-Arabia-after-18-years/articleshow/12591965.cms
-----------
URL: https://newageislam.com/islamic-world-news/new-age-islam-news-bureau/islamic-groups-imposing-sharia-law--women-and-girls-face-rape-and-kidnapping/d/7019