New Age Islam News Bureau
22 June 2022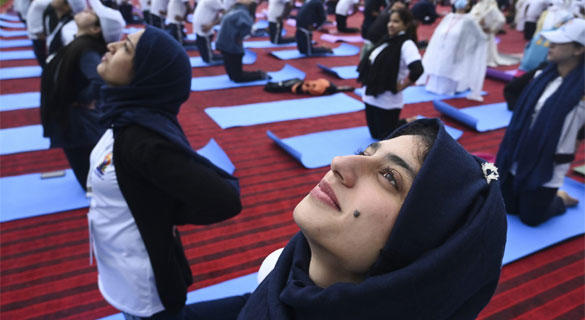 People participate in a mass yoga session near the Dal Lake to celebrate the International Day of Yoga in Srinagar on June 21, 2022. (Photo by Tauseef Mustafa / AFP)
----
• Pakistan's Punjab Imposes 'Emergency' Due To Rise in Rape Cases
• Indian-American Muslims in Texas and California Protest against Demolition of Muslim Houses in India
• Tunisia's President Saied Confirms No State Religion In New Charter
• Saudi Arabia's Music Commission Announces Start of Registration for Music Classes; Centre for Music Is the First of Its Kind in the Kingdom
India
• Two Factions of the Influential Deobandi Clerics-Led Jamiat Ulama-i-Hind May 'Merge Soon' To Have United Voice on Muslim Concerns
• Cop killer among four terrorists slain in twin J&K encounters
--------
Pakistan
• Pakistan-TTP 'Peace Deal' Doomed to Fail despite of Afghan-Taliban's Push
• Army wants to stay away from polling stations
• Shehbaz deserves at least one year, says Bilawal
• Opposition senators rap govt for 'legitimising corruption'
• Maryam Nawaz accuses Imran Khan of 'blackmailing' outgoing NAB chief
• Writer Mohammed Hanif announces withdrawal from German conference over dis-invitation of Palestinian writer
• Pak's top election body reserves verdict in prohibited funding case against Imran Khan's party
• Progress made in IMF-Pakistan talks on bailout program: IMF official
--------
North America
• Border Shelter Housing Muslim Migrants Opens Its Doors in Mexico
• U.S. Officials Shine Spotlight on China's Repression Of Uygur Muslims
• US arrests airman in connection with attack in Syria
• US vows continuing support as Israel heads to elections
• US remains committed to reopening consulate in Jerusalem
--------
Africa
• Nigeria Not Healing Christian-Muslim Divide, Says Bishop
• Burkina Faso announces military zones ahead of anti-militant operations
--------
Arab World
• Syria's Tal Rifat surrounded with tunnels by YPG/PKK terrorists
• Saudi crown prince pays first visit to Turkey since Khashoggi murder
• Saudi Arabia's investments in Jordan amount to $14 bln
• Arab-backed development fund to tackle global food insecurity with $10 bln package
• Saudi Arabia, Egypt sign 14 agreements worth $7.7 billion
• Saudi-Jordanian cooperation 'a role model' for the entire Middle East
• Saudi Cabinet gives green light to Bank of Jordan to open branches in the Kingdom
--------
Europe
• French Election Result May Lead To More Islamophobia: Experts
• UN: Executions, trial procedures in Iran of deep concern
• Britain launches free trade talks with Gulf countries
• Bosnia braces for peace march to honour genocide victims
--------
South Asia
• Taliban Govt Offering Support In Gurudwara Repair, Say Af Sikhs
• Taliban face growing armed resistance across Afghanistan
• 6.1-magnitude earthquake in Afghanistan kills at least 280
• Afghanistan and Iran Strike an Agreement Over Helmand River Water-Sharing
• Unmanned Aerial Vehicle Targets the Taliban's Border Guards in Eastern Afghanistan
• UN Extends Travel Exemptions for the Taliban Excluding the Two Education Officials
• Taliban calls on UNHCR to address Afghan refugee issues
--------
Southeast Asia
• Academic Laments Disconnect Between Islamic Teachings And Conduct
• Indonesia president to push for peace with Ukraine, Russia visits: Minister
• Concern rising over persecution of minorities in Malaysia
• Khairy withdraws 'main belakang' defamation appeal against Anwar
--------
Mideast
• Israel's Underground Diggings and Tunnels Threaten Aqsa Mosque
• Israeli troops train for combat in ghost town dubbed 'Mini Gaza'
• Biden's Mideast visit will have 'significant' impact: Israel's Lapid
• Tehran Foils Mossad's Assassination Plot against Iranian Nuclear Scientists
• Spokesman: Iran Determined to Materialize Technical N. Rights
• IRGC Commander Underlines Zionist Regime's Political Collapse
• Iran Downplays US B-52 Bombers' Flight over Persian Gulf
• Three 'Mossad-linked agents' will be tried soon in Iran: Report
Compiled by New Age Islam News Bureau
URL: https://newageislam.com/islamic-world-news/islamic-extremists-yoga-maldives/d/127298
--------
Islamic Extremists Stormed an India-Backed Public Yoga Event in the Maldives Organised By Sports Ministry and Indian Cultural Centre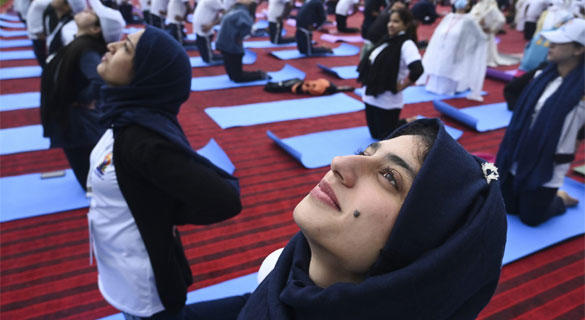 People participate in a mass yoga session near the Dal Lake to celebrate the International Day of Yoga in Srinagar on June 21, 2022. (Photo by Tauseef Mustafa / AFP)
----
Jun 21, 2022
Malé, Maldives: Islamic extremists stormed an India-backed public yoga session in the Maldives on Tuesday, with police in the South Asian tourist paradise firing tear gas to clear the mob.
Dozens of people waving white flags emblazoned with religious slogans chased out a crowd sitting on gym mats and preparing to mark International Yoga Day at a football stadium in the capital Male.
Police responded with tear gas and arrested six people after the mob smashed billboards advertising the event, which was organised by the sports ministry and the local Indian Cultural Centre.
Local media reports said the mob had claimed the meditative practice was against the teachings of Islam.
President Ibrahim Mohamed Solih said the attack was of "serious concern", adding that police were investigating.
"Those responsible will be swiftly brought before the law," he said on Twitter.
Radicalisation has been a major concern for security forces in the Maldives, a Sunni Muslim archipelago nation southwest of India better known for its boutique beachside resorts and celebrity tourists.
Authorities blamed "religious extremists" for an assassination attempt on parliamentary speaker Mohamed Nasheed last year.
The government has cracked down on extremism, with police arresting a suspected Islamic State recruiter in 2019, and foreign preachers are banned from entering the country.
Tuesday's yoga session in Male was one of many organised around the world to mark International Yoga Day, an annual event adopted by the United Nations in 2014.
Source: Times Of India
Please click the following URL to read the text of the original story:
https://timesofindia.indiatimes.com/world/south-asia/islamists-storm-india-backed-yoga-event-in-maldives/articleshow/92362476.cms
--------
Pakistan's Punjab Imposes 'Emergency' Due To Rise In Rape Cases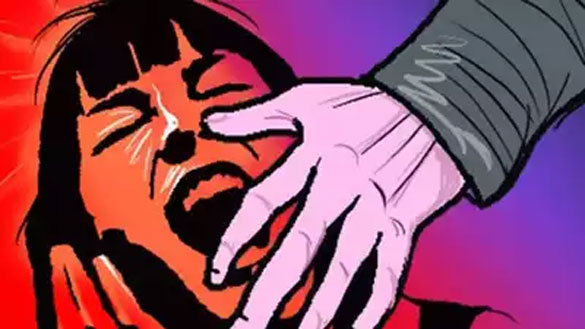 Representative Image
----
Jun 22, 2022
ISLAMABAD: Pakistan's Punjab province has decided to declare an "emergency" amid a rapid increase in reported cases of sexual abuse against women and children.
At a press conference on Monday, Punjab Home Minister Atta Tarar said that an increase in such incidents was a serious issue for society and government officials.
"Four to five cases of rape are being reported daily in Punjab due to which the government is considering special measures to deal with the cases of sexual harassment, abuse and coercion," he was quoted as saying by Geo News.
"To deal with rape cases, the administration has declared an emergency," he stated.
The minister said that civil society, women's rights organisations, teachers, and attorneys would be consulted in the matter. Besides this, he urged parents to teach their children the importance of safety.
Tarar stated that the government had also launched an anti-rape campaign, and that students would be warned about harassment in schools.
"The accused in a number of cases have been detained. A system will be implemented in two weeks to reducing the incidents," he added.
Violence against women cuts across classes in the country.
Women's harassment at workplace, domestic violence and other discriminatory activities have also been rampant.
"There were 5,048 cases of workplace harassment of women and violence against women reported in the country during 2018, followed by 4,751 cases in 2019, 4,276 cases in 2020 and 2,078 cases in 2021", a human rights ministry document said.
In Global Gender Gap Index 2021 rankings, Pakistan ranks 153 out of 156 countries, just above Iraq, Yemen and Afghanistan.
International Forum for Rights and Security (IFFRAS) said overlapping legal systems, punctured with loopholes and a deeply engrained patriarchy in the society combine to ensure women survivors of violence are improbable to get justice as per the opinion of human rights activists, lawyers and survivors.
"The whole process from the moment a crime is committed against a woman to registering it with the police -- and then the court procedure -- is structured in such a way that justice remains elusive," Nayab Gohar Jan, a prominent rights activist had stated.
Source: Times Of India
Please click the following URL to read the text of the original story:
https://timesofindia.indiatimes.com/world/pakistan/pakistans-punjab-imposes-emergency-due-to-rise-in-rape-cases/articleshow/92375315.cms
--------
Indian-American Muslims in Texas and California Protest against Demolition of Muslim Houses in India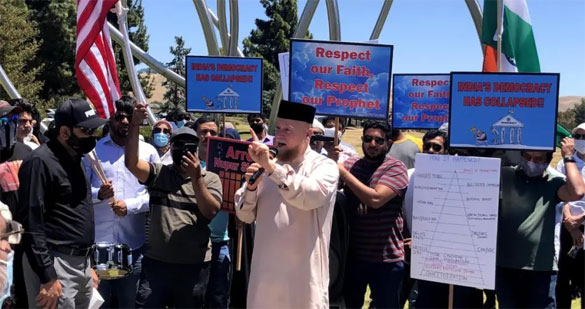 Photo: IAMC/ Protest in Texas, California against arrests of Muslims, demolition of Muslim homes in India
----
21st June 2022
Washington, DC (June 20, 2022) – Indian Americans in two of America's largest states, Texas and California, protested last weekend against the increasing persecution of Muslims in India under Prime Minister Narendra Modi's Hindu extremist government led by the Bharatiya Janata Party (BJP).
Globally renowned US-based Islamic scholar Shaikh Omar Suleiman led the protest in Dallas, which was jointly organized by The Indian American Muslim Council (IAMC), and North Texas Peace Advocates (NTPA). Shaykh Alaeddin El-Bakri of the Islamic Society of North America led the Bay Area protest organized by IAMC, which drew over 500 protesters.
"We will continue to tell Modi, who is a wannabe Hitler, that you are a coward and that you are not welcome in Texas," Suleiman told a cheering crowd. "We will hold elected officials accountable. We will hold corporations accountable when they deal with [India's] fascist regime. We will not stand for the genocide of our brothers and sisters."
Shaikh Suleiman spoke of the connections between the Hindu extremist ideology of the Rashtriya Swayamsevak Sangh (RSS), the ideological parent of Modi's BJP, and Adolf Hitler's Nazi Party, saying both promoted a hateful and shameless ideology.
"When we talk about the RSS we are talking about the child of Nazism [which] continues to rear its ugly head on this earth," he said. "We are talking about people that are proud of their fascism. "India says very openly it wants to follow the Israeli model. If India consider the Israeli model, expert a palestinian resistance."
Shaikh Suleiman also questioned why Modi, who was banned from entering the US during 2005-14, was now being embraced by politicians of both major political parties.
"What changed to where now a man who once could not even enter this country could address Congress? What changed to where Barack Obama wrote the introduction for Modi as "reformer in chief" among Time Magazine's 100 most influential people in the world? What changed for President Joe Biden to do the exact same thing? What has changed about this man? Nothing has changed."
At the Bay Area protests, Shaykh Alaeddin El-Bakri condemned India's persecution of Muslims, "I was talking to someone from Al-Aqsa Mosque in Palestine, and he told me to extend my support to the Indian Muslim brothers and sisters and tell them we are with them they are uniting us they are pushing us back," he said.
Protestors in Dallas' Dealey Plaza withstood hours of sweltering heat to amplify their voices marching together and chanting slogans of support for Indian Muslims. The slogans included, "We Stand With Afreen Fatima," and "Stop Indian Muslim Genocide." Fatima, a 22 year-old activist saw her house razed to the ground by bulldozers deployed by the Uttar Pradesh government, after her father was falsely arrested and accused of being the mastermind behind communal riots.
Protesters at both Dallas and the Bay Area called for a unified response from the American Muslim community to mobilize US Congress and the Biden Administration to pressure India to pull back from its severe persecution of its 200 million Muslims.
Many protesters waved the Indian flag, the tricolor that is made of saffron, the color of Hinduism, green, the color of Islam, and white, the color of peace, with a wheel in it.
Speaking at the Dallas protest, Sabiha Shariff, an Indian American, urged the community to speak up before it is too late. "Don't wait for the day when the Indian national flag is changed to saffron and the chakra [wheel] is changed to bulldozers."
IAMC President Syed Afzal Ali urged the protesters to use social media to reach out to elected representatives and the Biden Administration asking them to act quickly.
"Now is the time for the Biden administration to step in. No country, ally or otherwise, should be given a pass for genocidal policies against its minorities," Ali said.
"We call upon President Biden to immediately and publicly denounce the Indian government's use of bulldozers and police violence against Muslims and to recognize India as a Country of Particular Concern for its ongoing and egregious violations of religious freedoms and human rights."
IAMC Bay Area President Jaweed Khan said, "the world may not know yet what is going on in India, but if we continue to put together protests like these for people to see how many are truly impacted, we will be able to make a change."
Source: IAMC
Please click the following URL to read the text of the original story:
https://iamc.com/indian-americans-protest-in-texas-california-against-arrests-of-muslims-demolition-of-muslim-homes-in-india/
--------
Tunisia's President Saied Confirms No State Religion In New Charter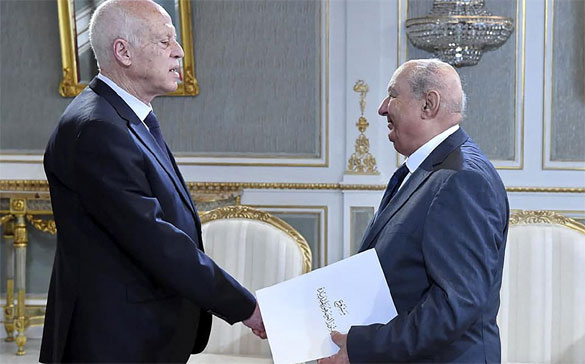 A handout picture provided by the Tunisian Presidency Press Service on June 20, 2022 shows Sadok Belaid, head of Tunisia's constitution committee, submitting a draft of the new constitution to President Kais Saied (R) at the Carthage Palace in Tunis. | Photo Credit: AFP
-----
21 June, 2022
Tunisian President Kais Saied confirmed Tuesday that a draft constitution to be put to a referendum on July 25 will not enshrine Islam as the "religion of the state."
"The next constitution of Tunisia won't mention a state with Islam as its religion, but of belonging to an umma (community) which has Islam as its religion," he told journalists at Tunis airport.
"The umma and the state are two different things."
Saied took delivery of the draft text on Monday, a key step in his drive to overhaul the Tunisian state after he sacked the government and seized far-reaching powers last July in moves opponents called a coup.
Sadeq Belaid, the legal expert who headed the drafting committee, had told AFP in an interview earlier this month that he would remove all reference to Islam from the new document in a challenge to Islamist parties.
His comments, partly referring to Saied's nemesis Ennahdha, an Islamist-inspired party which has dominated Tunisian politics since 2011, sparked a heated national debate.
The first article of Tunisia's 2014 constitution - and its 1959 predecessor - defined the North African country as "a free, independent and sovereign state. Islam is its religion and Arabic is its language."
The 2014 document was the product of a hard-won compromise between Ennahdha and its secular rivals three years after the revolt that overthrew former leader Zine El Abidine Ben Ali.
The new text, produced through a "national dialogue" excluding opposition forces and boycotted by the powerful UGTT trades union confederation, is meant to be approved by Saied by the end of June before being put to voters next month.
That is a year after the former constitutional law professor sacked the government, later consolidating his power grab by dissolving parliament and seizing control of the judiciary.
His moves have been welcomed by some Tunisians tired of the corrupt and often chaotic post-revolutionary system.
Saied has long called for a presidential system that avoids the frequent deadlock seen under the mixed parliamentary-presidential system.
Asked about that issue on Tuesday, he said: "Whether the system is presidential or parliamentary is not the question."
"What counts is that the people has sovereignty. There's the legislative function, the executive function and the judicial function, and separation between them."
Source: Al Arabiya
Please click the following URL to read the text of the original story:
https://english.alarabiya.net/News/north-africa/2022/06/21/Tunisia-s-President-Saied-confirms-no-state-religion-in-new-charter
--------
Saudi Arabia's Music Commission Announces Start of Registration for Music Classes; Centre for Music Is the First of Its Kind in the Kingdom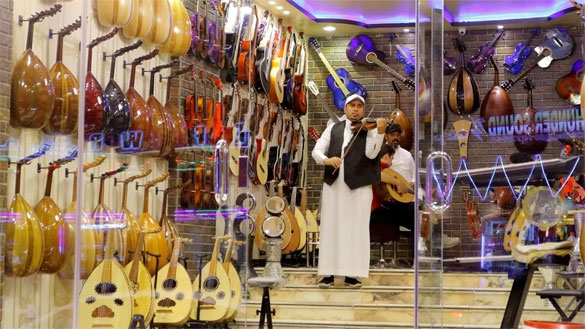 A Saudi violinist plays the violin at a musical instruments shop at the Hilla market, in Riyadh, Saudi Arabia, on January 20, 2020. (Reuters)
----
21 June, 2022
The Saudi Centre for Music began receiving applications to register for music classes on Tuesday, the official Saudi Press Agency (SPA) reported citing the Kingdom's Music Commission.
Supervised by certified music teachers, the Saudi Centre for Music is the first of its kind in the Kingdom.
It currently has two branches, one in the capital Riyadh and another in Jeddah. It will soon have a third branch in al-Khobar, with plans to expand across other areas of the Kingdom.
The center offers a range of classes such as singing and learning how to play oriental and western instruments including oud, cello, qanun and violin.
It will soon offer classes to teach playing the ney (flute), drum and riq (daf).
The center's programs are suitable for both amateurs as well as talented musicians who seek to enhance their skills to build a career in music.
In addition to music lessons, the center includes several facilities, such as rehearsal and recording studios, which individuals and institutions can rent.
The Kingdom issued the first license for two music institutes to operate in the Kingdom in December 2020.
Music, theater, and the arts were included in the curriculum of public and private schools in Saudi Arabia in 2019.
Source: Al Arabiya
Please click the following URL to read the text of the original story:
https://english.alarabiya.net/variety/2022/06/21/Saudi-Arabia-s-Music-Commission-announces-start-of-registration-for-music-classes
--------
India
Two Factions of the Influential Deobandi Clerics-Led Jamiat Ulama-i-Hind May 'Merge Soon' To Have United Voice on Muslim Concerns
Jun 22, 2022
NEW DELHI: Sending out a strong message of solidarity to the Muslim community, two factions of the influential Deobandi clerics-led Jamiat Ulama-i-Hind are working on the terms of a possible merger that is expected to materialise soon.
This message of "unity" comes at a critical time when the organisation has been very vocal about the threat of communalism, growing Islamophobia and the persecution of Muslims. From Babri Masjid to the Gyanvapi Masjid issue and the recent remarks by former BJP spokespersons against Prophet Mohammad, both factions of JUH have been at the forefront raising the concerns of Muslims and positioning Jamait as "a voice that matters" within the community.
Claiming to have the backing of over 1.2 crore members, the Maulana Mahmood Madani-led faction of JUH and its rival group by the same name, of which Maulana Arshad Madani is the president, are seen to be heading for truce.
The move to bury their differences and work out a strategy for a merger is seen to be a route to strengthen the organisation to give voice to the community's concerns as one, sources said. While a formal roadmap of this unification is yet to be finalised and both factions are non-committal on the division of roles, the move acquires significance with both sides seeing this to be a critical moment in the Jamiat's over 100-year existence.
The merger has long been in the works since the Delhi High Court in 2017 directed both factions to settle their differences through arbitration and arrive at a consensus. It is learnt that at the recent meeting at Deoband organised by the JUH faction led by Mahmood Madani, where nearly 2,000 members came together, the signal was clear with Arshad Madani joining the meeting on invitation and conceding that it was time to "be united". At the meeting in May, JUH had announced that they will be holding thousands of 'Sadbhawana Sansads' to unite the society against hatred and Islamophobia.
"Waqt Aur Halaat Key Chaltey Yeh Zaroori Hai. (The time and circumstances has made this merger necessary)," Arshad Madani told TOI on Tuesday. He cited the merger as a way to unite all voices under one banner and put forth the concerns of Muslims more vociferously in the prevailing situation. "Our working committee has approved the proposal to merge and left it to me to negotiate the terms. Now we have to wait for the other faction's working committee to decide and put forth their position at their meeting in July. Things will move from thereon," Madani said, putting the onus on the opposite camp to build on the message.
The division in JUH was triggered during the presidential tenure of Arshad Madani who took on the reins of the organisation in 2006 when the former president Asad Madani passed away. The latter's son and Arshad Madani's nephew Mahmood Madani was the general secretary of the organisation. It is learnt that soon trouble broke out over the division of powers and the working of the organisation between Arshad Madani, and Mahmood Madani and the members of the executive committee.
Arshad Madani's decisions related to the organisation were cited to be autocratic by his opponents. Consequently, Arshad Madani was dismissed as the president of the united Jamiat, leading him to form a new executive committee which he claimed to be the true Jamiat. The existing Jamiat was led by Mahmood Madani, and in April 2008 this faction appointed Usman Mansoorpuri as their first president. Mahmood Madani became President of this faction earlier this year.
Source: Times Of India
Please click the following URL to read the full text of the original story:
https://timesofindia.indiatimes.com/india/jamait-factions-may-merge-soon-to-have-united-voice-on-muslim-concerns/articleshow/92378695.cms
--------
Cop killer among four terrorists slain in twin J&K encounters
Jun 22, 2022
SRINAGAR: Four terrorists, including one involved in the murder of SI Farooq Ahmad Mir, were killed in two anti-terror operations in south Kashmir's Pulwama and north Kashmir's Baramulla districts on Tuesday. While two Jaish-e-Mohammad terrorists were shot dead in an overnight encounter in Pulwama's Tujjan area, two Lashkar-e-Taiba affiliates were slain in Tulibal area of Baramulla's Sopore.
The Jaish duo slain in Pulwama was identified as Majid Nazir Wani and Abid Ahmad Sheikh, both from Pulwama. Majid was involved in the killing of SI Farooq Ahmad Mir, who was shot dead while working in his paddy fields in Pulwama's Pampore on June 18, IGP (Kashmir Range) Vijay Kumar said. Both terrorists were part of several terror crimes including attacks on security forces and civilian atrocities.
The Lashkar terrorists killed in Baramulla were identified as Zahid Ahmad Chopan from Shopian and Mohammad Youns Gul from Pulwama, both of whom had joined terror ranks recently, the IGP added.
Source: Times Of India
Please click the following URL to read the full text of the original story:
https://timesofindia.indiatimes.com/india/cop-killer-among-four-terrorists-slain-in-twin-jk-encounters/articleshow/92370722.cms
--------
Pakistan
Pakistan-TTP 'peace deal' doomed to fail despite of Afghan-Taliban's push
21 June, 2022
Islamabad [Pakistan], June 20 (ANI): Pakistan's sheer desperation for peace with the Tehreek-e-Taliban Pakistan (TTP) comes as the country's economy continues to remain in shambles and the prevailing political instability has made the Pakistani state "weak and vulnerable."
The differences between the coalition partners – Pakistan People's Party (PPP) and Pakistan Muslim League-Nawaz (PML-N) on the transparency issue of the TTP talks led Bilawal Bhutto and Asif Zardari to reach out to other political parties in the parliament over Pakistan's talks with the TTP and constitute a three-member committee.
After much criticism over the absence of the government's response to the ongoing 'peace talks' between the Pakistan Army, Afghan Taliban, and TTP, political stakeholders have finally decided to take cognisance of the matter. Under Pakistan's constitution, the civilian government cannot negotiate — at least not directly with those waging an insurgency against it.
While PPP seems concerned about the concessions TTP is getting from the army establishment for the success of the dialogue, PML-N has largely ignored the matter.
In addition, the security establishment fears that the Afghan Taliban may support TTP in its quest to impose the 'Sharia Law', on the lines of Afghanistan, in Pakistan as well.
There is also a reported push from China to tame TTP to avoid any nefarious activities against China-Pakistan Economic Corridor (CPEC) projects and targeting of Chinese nationals in Pakistan. Lastly, the possibility of 'Pashtun' nationalism may prove a grave threat to the Punjabi-dominated army establishment in Pakistan. Therefore, Rawalpindi is opting for a peace agreement with TTP, like the US-Taliban Doha accord, instead of military operations as the Pakistan army does not want to lose its "strategic depth" in Afghanistan by angering its "trusted" Islamist proxy elements.
Even retired officers from the defence forces and law enforcement agencies have cast aspersions over the dialogue and advised to "only negotiate the terms of surrender [of TTP militants]."
Overall, the talks have not yielded much in the last month as differences remain despite the Afghan Taliban's push and participation of a suspicious 50-member delegation of tribal elders, dubbed as a Jirga, in Kabul. As a saving grace for the military establishment, the TTP has reportedly agreed to extend the ceasefire "indefinitely" to continue negotiations.
Nevertheless, the ceasefire may not hold for long unless TTP's demands are not met soon. Based on the past experiences of negotiations between the Pakistan army and TTP – over a dozen agreements – this time as well the deal will eventually fall apart, leading to more bloodshed in the country.
Sirajuddin Haqqani, Taliban's deputy Emir and minister of the interior, has played a critical role in facilitating the 'peace talks' between Pakistan and TTP, considering his historical closeness to both the TTP and Pakistan's security establishment.
Therefore, Haqqani's role in bringing peace between the two warring parties will be critical in deciding the future of the dialogue. Sirajuddin's appointment as the new interior minister of Afghanistan was not a coincidence but a planned move by Rawalpindi to put their "trusted men" at the helm in Kabul.
However, the historical ties between the Haqqani Network and TTP, both eastern Pashtuns, may prove a roadblock for Pakistan to pressure Sirajuddin on fulfilling their objectives with the TTP.
Pakistan's Khyber Pakhtunkhwa (KPK) province has seen an uptick in terrorism-related activities since the Taliban took over Afghanistan in August 2021.
In the ongoing negotiations with Pakistan, TTP has put forth the following key demands: the reversal of the merger of former Federally Administered Tribal Areas (FATA) with KPK as per the 25th Constitutional Amendment; substituting all military presence from the region with frontier corps; enforcement of Sharia law in the Malakand division; release of 102 commanders and fighters and presidential pardon to two key militant commanders; and complete freedom of movement for the TTP's members in the Malakand division.
It is noteworthy that some TTP factions have been operating with impunity in tribal areas of FATA, enforcing stricter versions of Islam, and levying taxes on the locals, especially in the Malakand division.
Source: The Print
Please click the following URL to read the full text of the original story:
https://theprint.in/world/pakistan-ttp-peace-deal-doomed-to-fail-despite-of-afghan-talibans-push/1005096/
--------
Army wants to stay away from polling stations
Imran Ayub
June 22, 2022
KARACHI: Unlike the 2018 general elections, the country's military wants to stay away from providing security for upcoming polling exercises. But while their personnel will not be deployed inside polling stations, the Election Commission of Pakistan (ECP) has been assured of their availability as a 'quick reaction force' (QRF) in case a need arises during electioneering.
This was revealed by ECP Secretary Omar Hamid Khan in an interaction with journalists after chairing a meeting regarding the upcoming by-election in Karachi's NA-245, which had recently fallen vacant after death of Pakistan Tehreek-i-Insaf (PTI) MNA Dr Aamir Liaquat Hussain.
"The ECP chief has recently sent a letter to the army chief seeking deployment of army troops for security [of the electoral process]," he said.
"However, it's now a policy of the armed forces that they want to stay away from the polling stations. We can't comment over that. But it's our utmost desire that there should be more than just flag marches and QRF. That's why the letter was sent to the army chief."
ECP official says military, paramilitary personnel will remain in third-tier of security ring, will be available for 'quick response'
While he didn't comment on how sustainable the policy would prove to be, Mr Khan was sure that the upcoming local government elections in Sindh and by-polls across the country were likely to be held under similar guidelines.
Regarding the upcoming local bodies elections in Sindh and the off-and-on by-elections in different parts of the country, the ECP secretary made it clear that troops would not be deployed at polling stations, though the paramilitary Rangers force would "stay close to the polling stations".
When contacted, an ECP official confirmed that the armed forces had, in recent months, opted for positioning as the third tier of security for protective arrangements during recent elections — both the by-polls and local government elections in Khyber Pakhtunkhwa. Police authorities, backed by the paramilitary forces — Pakistan Rangers and the Frontier Constabulary — performed duties as part of the first and second tier.
In the 2018 elections, the ECP had granted broad judicial powers to the armed forces at polling stations in a rare move that had attracted serious criticism by the majority of political parties and human rights groups. At the time, about 371,000 troops were deployed across the country to control security arrangements; about three times the number deputed for the 2013 polls.
The ECP secretary's thoughts came a day after the commission sought assistance from the armed forces to conduct by-polls in different national and provincial assembly constituencies of Punjab, Sindh and Khyber Pakhtunkhwa, as well as both phases of the local government polls in Sindh.
In a letter written to Chief of Army Staff Gen Qamar Javed Bajwa on Monday, Chief Election Commissioner Sikandar Sultan Raja stated that in view of the charged political atmosphere and the extreme political polarization in the country, deployment outside polling stations would be required for by-polls in four Punjab Assembly constituencies of Lahore (PP-158, PP-167, PP-168, PP-170), one KP assembly seat (PK-7), and one National Assembly constituency in Sindh (NA-245).
He also criticised comments from various political circles, including PTI chief Imran Khan, who had questioned the role and performance of the constitutional body. Claiming that all arrangements were in place for the first phase of local polls in Sindh, Mr Khan said that polling was scheduled to be held on June 26 in four divisions — Sukkur, Larkana, Shaheed Benazirabad and Mirpurkhas. The ECP mentioned that the Pakistan Rangers would have another task — in addition to providing security — on polling day. "The Pakistan Rangers, Sindh would also give security to election materials and supervise its due safe transportation," he said. "We don't see any hurdle on our part in Sindh local bodies elections. We have appealed to the people, parties and candidates to cooperate with us for peaceful elections, but if any individual or group creates a law and order situation, the law would take its course, which would lead to action in line with the set rules."
Source: Dawn
Please click the following URL to read the full text of the original story:
https://www.dawn.com/news/1696099/army-wants-to-stay-away-from-polling-stations
--------
Shehbaz deserves at least one year, says Bilawal
M.B. Kalhoro
June 22, 2022
LARKANA: Since the Imran Khan-led government got four years to rule the country, Shehbaz Sharif should get at least one year to "serve the nation", Foreign Minister Bilawal Bhutto-Zardari said on Tuesday while addressing a gathering at Larkana's Municipal Stadium to mark the 69th birth anniversary of Benazir Bhutto.
"Give this government some time to carry out economic and electoral reforms. We will then hopefully come out of the mess left behind by the selected government," he said.
The Peoples Party chairman expressed hopes that the Financial Action Task Force (FATF) would remove Pakistan from its grey list by October.
"We fought our case against two FIRs: money laundering and terrorist financing.
"We were able to persuade countries with which the former rulers [referring to the PTI-led government] were at odds, that Pakistan has taken all steps sought by FATF for removal from the grey list," Bilawal Bhutto said, calling it "just the beginning of our journey".
He blamed former prime minister Imran Khan for the economic crisis and the country's isolation. Bilawal Bhutto said further 'good news is to come" regarding the country's status in GSP Plus.
"Our slogan is 'trade not aid' and we are ready for economic engagement with other countries," he said.
It was necessary to send the 'selected government' packing because it was a threat to our economy and democracy, Bilawal Bhutto said. "Imran Khan had inked a wrong deal with the IMF," he alleged, adding that Prime Minister Shehbaz Sharif and his team had saved the country from default.
Source: Dawn
Please click the following URL to read the full text of the original story:
https://www.dawn.com/news/1696107/shehbaz-deserves-at-least-one-year-says-bilawal
--------
Opposition senators rap govt for 'legitimising corruption'
Iftikhar A. Khan
June 22, 2022
ISLAMABAD: The opposition in the Senate on Tuesday continued its protest against the controversial amendments to the accountability law, ac­­cusing the government of legitimising corruption.
After getting the chair's nod for a half-hour discussion on the National Accountability Bureau (NAB) amendment bill, the opposition members lambasted Planning and Development Minister Ahsan Iqbal for his purported remarks that corruption did not impede economic development.
Former minister Shibli Faraz alleged that the present government had come to power through a conspiracy to give "NRO-2" (relief in corruption cases) to itself. He said the NAB and the elections amendment bills had been passed in haste, alleging that both drafts had been amended with an intention to protect corruption and corrupt practices. "They have solved their cases by enacting an immoral law," he remarked.
The PTI senator lamented that the anti-graft watchdog had been made subservient to the Interior Ministry. Under Section 25-D of the NAB amendment law, he maintained, if one of the accomplices entered into a plea bargain, it would not be used against other witnesses and suspects. He said it was a classic example of becoming a judge in one's own case, and noted the amendments had a direct link with the recent money laundering case against Prime Minister Shehbaz Sharif.
Rabbani suggests parliamentary oversight of defence budget, intelligence apparatus
He said it was for the defendants to justify accumulation of assets beyond means, but the controversial amendment reversed the condition and placed the onus of proof on the prosecution. All of this was being done to quash the corruption cases worth Rs1,100 to 1,200 billion.
"The faces of those trying to legitimise corruption should be unmasked before the people. The leadership of those sitting on my left is corrupt to the core," Mr Faraz said, pointing towards the treasury benches.
Senator Ejaz Chaudhry, also from the PTI, said the premier and 60 per cent of his cabinet were involved in various cases, adding that an accused could not become the judge in a case against himself. Under Section 14 of the NAB amendment law, the definition of assets had been changed and now nobody would be answerable for the assets amassed in the names of family members.
He said the amendments would help the leadership of the PPP and PML-N get relief in corrupt­ion cases. He mentioned some 'tailor-made' ame­ndments, which according to him would specifically benefit PPP leader Asif Ali Zardari, PM Sharif, former PM Nawaz Sharif, National Asse­m­bly Speaker Raja Pervaiz Ashraf, former PM Sha­hid Khaqan Abbassi and PML-N leader Maryam Nawaz.
Leader of the House Azam Nazir Tarar said the accountability process should not be carried out at the cost of human rights and the economy.
PPP stalwart and former Senate chairman Raza Rabbani proposed parliamentary oversight of the defence budget and the intelligence apparatus.
Taking part in the budget discussion, he said parliamentary oversight of the defence budget should be assigned to the defence committees of both the houses that could scrutinize the revenue expenditure, including pay and allowances, transportation, light transport/vehicles, rations, petrol, oil and military businesses etc.
"Once this practice takes root, later the capital expenditure can also be taken into consideration," he suggested.
Mr Rabbani also proposed parliamentary oversight of the intelligence apparatus, and said a Standing Committees on Intelligence should be constituted for the purpose. "This is not a new experience, as such committees existed in international jurisdictions," he added.
Noting that Pakistan's financial and economic sovereignty had been "sold out" to international financial "imperialist institutions", he said the contours of the budget had been finalised by the International Monetary Fund (IMF). The IMF agreement should be renegotiated on new terms and conditions.
"A lot of water has flown under the bridge, with new realities emerging both in the national and world economies," he commented.
Source: Dawn
Please click the following URL to read the full text of the original story:
https://www.dawn.com/news/1696110/opposition-senators-rap-govt-for-legitimising-corruption
--------
Maryam Nawaz accuses Imran Khan of 'blackmailing' outgoing NAB chief
June 21, 2022
LAHORE: PML-N Vice President Maryam Nawaz has said that "strict action" should be taken against former prime minister Imran Khan for "blackmailing" former NAB chairman Justice (retd) Javed Iqbal through objectionable videos.
In response to PTI's criticism over amendments to NAB law, the ruling party leader said those who were raising hue and cry over the changes in the accountability laws targeted their political opponents by blackmailing the former NAB chief.
"He [Imran Khan] tricked Tayyaba and kept her at Prime Minister House for weeks. Took videos of chairman NAB from her then blackmailed him through these videos to get verdicts of their choice," she wrote on her official Twitter handle on Tuesday.
In May 2019, the audio and video clips relating to the alleged conduct of the then NAB chairman with regard to a woman identified as Tayyaba Khatun facing investigation by NAB authorities had taken politico-media by storm. The anti-graft watchdog had rebutted the allegations.
Information Minister joins the chorus
Meanwhile, Federal Minister for Information and Broadcasting Marriyum Aurangzeb on Tuesday said Imran Khan and the former National Accountability Bureau (NAB) chairman should be behind bars for trampling upon the law and justice of the country.
Responding to PTI chief's statement, Marriyum said, "Imran's corruption had been exposed for the entire country to see and he could no longer harp on false narratives and accusatory politics. The four years of incompetence and corruption were now known to people who had figured out Imran's false narrative of accountability to persecute his political opponents. He went to insane lengths to file false cases against the opposition, But even after abusing all resources and power, Imran could not prove a single penny of corruption on the opposition leaders. He embarrassed himself in front of UK'S National Crime Agency and Broadsheet where his false allegations were dismissed."
The minister said after crushing the masses under inflation for four years and misleading them over false conspiracy narrative, Imran now wanted to deceive the nation over NAB laws. This was because he wanted to use NAB for political victimisation so that he could imprison political opponents in death row cells once again, she added.
She pointed out that Imran should have been in jail but instead Prime Minister Shehbaz Sharif was appearing before courts over these political cases.
"The truth was that even after abusing NAB, FIA, and Prime Minister's Office, Imran could not prove anything but he continued violating the human rights of political opponents. Maryam Nawaz too was dragged to courts over these false allegations and made up cases," she said.
Imran's hoopla over NAB was nothing but an attempt to hide his own corruption, she added.
Source: Pakistan Today
Please click the following URL to read the full text of the original story:
https://www.pakistantoday.com.pk/2022/06/21/maryam-nawaz-accuses-imran-khan-for-blackmailing-outgoing-nab-chief/
--------
Writer Mohammed Hanif announces withdrawal from German conference over dis-invitation of Palestinian writer
June 21, 2022
British-Pakistani writer Mohammed Hanif has announced that he will no longer participate in a conference held by Goethe Institute in Hamburg, Germany after the conference disinvited Mohammed El-Kurd, a Palestinian writer and poet.
According to the writer, Kurd was invited and then disinvited from the "Beyond the Lone Offender – Dynamics of the Global Right" summit, scheduled to be held from June 23 to 26 in Hamburg, because he was not "respectful enough towards Israel."
In another tweet, Hanif wrote, "Mohammed El Kurd's house was taken over by settlers when he was eleven. Kurd and his sister Muna have been protesting since they were children. Haven't read much Goethe but I don't think he wanted the world to be respectful towards a ruthless apartheid regime."
Hanif said that he was supposed to speak about the dynamics of right wing structures and asked how one could have a conversation after silencing a key witness like Kurd. He also suggested that Goethe Institute should have a "good look" at themselves.
In a tweet he also attached a link to read Kurd's poetry collection and asked the public to decide who's being "disrespectful" in this case.
Source: Pakistan Today
Please click the following URL to read the full text of the original story:
https://www.pakistantoday.com.pk/2022/06/21/writer-mohammed-hanif-announces-withdrawal-from-german-conference-over-dis-invitation-of-palestinian-writer/
--------
Pak's top election body reserves verdict in prohibited funding case against Imran Khan's party
June 21, 2022
Pakistan's top election body on Tuesday reserved its judgement in the much-delayed prohibited funding case against Pakistan Tehreek-e-Insaf party of former prime minister Imran Khan.
A founding Pakistan Tehreek-e-Insaf (PTI) member, Akbar S Babar, had filed the case in 2014 with the Election Commission of Pakistan (ECP), alleging his party of financial irregularities in the funds received from different foreign donors.
The party, however, has denied any wrongdoing, and maintains the funding is not from prohibited sources.
After endless delays and squabbling, a bench headed by Chief Election Commissioner (CEC) Sikander Sultan Raja concluded the hearing, but instead of giving the verdict, he announced that the ECP would also like to conclude similar cases against other political parties.
He didn't give any deadline for issuing the verdict but told the respondents that they would be summoned if and when needed.
Earlier, Babar's financial expert, Arsalan Wardag, told the court that the PTI received funding from the US, the UK, Canada and Australia, arguing that the party had 11 accounts that it acknowledged it had not disclosed.
He further said that the PTI never disclosed the source of several donors from abroad. However, he was reminded by the CEC that PTI lawyer, Anwar Mansoor Khan, had given his arguments regarding the lack of details of donors because such details were not required by law at the time of funding.
When Babar tried to tell the ECP chief that political parties should be held accountable to set an example, the CEC said that democracy must be strengthened by restoring voters' confidence.
"We will make sure that justice is done to all. I am grateful to both sides, I have learned a lot," the commissioner added.
He went on to add that the case was a matter of national interest and soon cases of other parties would also be finalised. "We will ensure that no one is discriminated against."
The case has been a source of political wrangling as parties opposed to the PTI accused the ECP for failing to conclude the case, while the PTI insisted that accounts of all major parties should be checked by the ECP instead of singling it out.
According to the ECP, one of the reasons for the delay was a scrutiny committee, formed in March 2018 to examine the PTI's foreign funding in one month, finally submitted its report in January this year.
The report showed that the PTI leadership had committed gross violations of funding laws by allowing the collection of funds from foreigners.
Babar later told the media that his objective was to make the PTI as a role model. "I did not have any personal [grudge] or ego [issue]," he said.
PTI's Farrukh Habib called on the ECP to conclude the hearings of similar cases against Pakistan Muslim League Nawaz (PML-N) and Pakistan Peoples Party (PPP).
"For seven years, we have heard that this is a foreign funding case. Now the ECP also ultimately recognised the fact that it was a case of prohibited funding," he said, adding that the PTI funding was done through banking channels and it would come out clean.
Source: India Today
Please click the following URL to read the full text of the original story:
https://www.indiatoday.in/world/story/pak-verdict-prohibited-funding-case-imran-khan-1965207-2022-06-21
--------
Progress made in IMF-Pakistan talks on bailout program: IMF official
22 June, 2022
Important progress has been made in talks between the International Monetary Fund and Pakistan to revive the country's bailout program, the lender's resident representative in Islamabad told Reuters on Wednesday.
The statement comes as Pakistan's economy teeters on the brink of a financial crisis, with foreign exchange reserves drying up fast and the Pakistani rupee at record lows against the US dollar.
"Discussions between the IMF staff and the authorities on policies to strengthen macroeconomic stability in the coming year continue, and important progress has been made over the FY23 budget," the IMF's Esther Perez Ruiz said.
Pakistan unveiled a 9.5 trillion Pakistani rupee ($47 billion) budget for 2022-23 this month aimed at tight fiscal consolidation in a bid to convince the IMF to restart much-needed bailout payments.
However, the lender later said additional measures were needed to bring Pakistan's budget in line with the key objectives of the IMF program.
The two sides held talks on Tuesday night over macroeconomic and fiscal targets, a Pakistani official told Reuters on the condition of anonymity.
They said the talks had gone "well" and Pakistan now expected an initial memorandum on macroeconomic and financial targets and then a staff level agreement in a few days.
Pakistan entered the 39-month, $6 billion IMF program in 2019, but only half the funds have been disbursed to date as Islamabad has struggled to keep targets on track.
The last disbursement was in February and the next tranche was to follow a review in March, but the government of ousted prime minister Imran Khan introduced costly fuel price caps which threw fiscal targets and the program off track.
Source: Al Arabiya
Please click the following URL to read the full text of the original story:
https://english.alarabiya.net/News/world/2022/06/22/Progress-made-in-IMF-Pakistan-talks-on-bailout-programme-IMF-official
--------
North America
Border Shelter Housing Muslim Migrants Opens Its Doors In Mexico
June 21, 2022
A border shelter for Muslim migrants hoping to gain asylum in either the U.S. or Canada opened recently in Tijuana, Mexico, according to Border Report.
The Latina Muslim Foundation, a nonprofit organization based in San Diego, California, says its new 8,000 square-foot shelter can house up to 150 people at a time, offering medical, psychological, food, housing and legal aid, according to Border Report.
"Being on one of the largest borders in the world, this is a source of pride that we're here able to help people arriving at the border. We'll be able to provide shelter for Muslims who are seeking to get to the U.S. or Canada, "the organization's president, Sonia Tinico, said, according to Border Report.
"They can pray here and have halal meals that don't have pork since we don't eat pork," she said. "We'll have separate areas for women and men," Tinico added.
The organization said it had around 18 refugees from Afghanistan in an interview with CBS 8 San Diego. In total, the shelter was housing 30 migrants from Pakistan, Kenya and other countries upon opening.
There is a constant flow of Muslim migrants from African and Asian countries into South America that hope to reach the U.S., Arab News reported in January.
Source: Daily Caller
Please click the following URL to read the full text of the original story:
https://dailycaller.com/2022/06/21/mexico-migrants-border-asylum-muslim/
--------
U.S. Officials Shine Spotlight on China's Repression Of Uygur Muslims
By Guy Taylor
June 21, 2022
The United States is pushing to "strengthen international coordination" against the Chinese government's human rights abuses, with a specific focus on banning products made with forced labor in China's Xinjiang region, Secretary of State Antony Blinken said Tuesday.
The U.S. and some human rights groups accuse Beijing of genocide against ethnic Uyghurs in the predominantly Muslim region, and Mr. Blinken sought to highlight the issue as U.S. Customs and Border Protection officials began implementing a law prohibiting imports made by forced labor into the United States.
President Biden signed the "Uyghur Forced Labor Prevention Act" into law in December after it passed through Congress with overwhelming bipartisan support and Mr. Blinken stressed on Tuesday that the administration is now getting the word out to private companies that they will be held accountable if they are found importing products made in whole or in part with forced labor.
"Together with our interagency partners, we will continue to engage companies to remind them of U.S. legal obligations which prohibit importing goods to the United States that are made with forced labor," the secretary of state said in a statement.
"We are rallying our allies and partners to make global supply chains free from the use of forced labor, to speak out against atrocities in Xinjiang, and to join us in calling on the [Chinese government] to immediately end atrocities and human rights abuses, including forced labor," he said.
China's ruling Communist Party denies carrying out human rights abuses and has sharply rejected assertions by the United States and a range of other nations that genocide is occurring against Uyghurs and other ethnic and religious minorities in Xinjiang.
Mr. Biden's embrace and promotion of the new forced labor imports law "underscor[ed] our commitment to combating forced labor everywhere, including in Xinjiang, where genocide and crimes against humanity are ongoing," the secretary of state said.
Source: Washington Times
Please click the following URL to read the full text of the original story:
https://www.washingtontimes.com/news/2022/jun/21/us-officials-shine-spotlight-chinas-repression-uyg/
--------
US arrests airman in connection with attack in Syria
22 June, 2022
A member of the US air force has been taken into custody in connection with an April attack in Syria that wounded four fellow service members, the Air Force said on Tuesday.
The US military initially blamed the attack in Green Village in eastern Syria on indirect fire, possibly a rocket strike.
It later said further investigation showed the blasts were the result of "deliberate placement of explosive charges" at an ammunition holding area and shower facility, and officials said they were looking into the possibility of an insider attack.
The Air Force declined to identify the service member.
"As part of an ongoing investigation, on June 16, an Airman was taken into custody stateside in conjunction with the attack in Green Village, Syria," Air Force spokeswoman Ann Stefanek said in a statement.
"After reviewing the information in the investigation, the Airman's commander made the decision to place him in pretrial confinement."
CNN was first to report the arrest.
Source: Al Arabiya
Please click the following URL to read the full text of the original story:
https://english.alarabiya.net/News/middle-east/2022/06/22/US-arrests-airman-in-connection-with-attack-in-Syria
--------
US vows continuing support as Israel heads to elections
21 June, 2022
The United States on Tuesday promised to maintain its strong support for Israel as its ally heads to its fifth election in less than four years.
The snap election -- in which former prime minister Benjamin Netanyahu is likely to seek a comeback -- is taking shape weeks before Joe Biden is set to pay his first visit to Israel as president.
"I don't expect political developments in Israel will have implications for what we are seeking to accomplish together with our Israeli partners -- or with our Palestinian partners for that matter," State Department Spokesman Ned Price said.
"The strength of our relationship does not depend on who sits in the Oval Office. It doesn't depend on who sits in the prime minister's chair in Israel," Price told reporters.
"This is a strategic partnership between our two countries. It will continue to be a strategic partnership between our two countries in the coming weeks, in the coming months as the process plays out."
The unwieldy coalition government led by the right-wing Naftali Bennett and centrist Yair Lapid had sought to tone down and depoliticize Israel's relations with the United States, Israel's crucial ally.
Source: Al Arabiya
Please click the following URL to read the full text of the original story:
https://english.alarabiya.net/News/middle-east/2022/06/21/US-vows-continuing-support-as-Israel-heads-to-elections
--------
US remains committed to reopening consulate in Jerusalem
Servet Gunerigok
21.06.2022
WASHINGTON
The US reiterated Tuesday that it remains committed to reopening a consulate in Jerusalem, Palestine.
"In the meantime, we have really reenergized the relationship between United States and the Palestinian Authority, but also with Palestinian people," State Department spokesman Ned Price told reporters at a news conference.
He said US officials have been in talks with senior Palestinian leadership, citing Secretary of State Antony Blinken's talk with Palestinian President Mahmoud Abbas and US President Joe Biden's visit to Palestine next month.
"This does nothing to what remains our objective of reopening a consulate in Jerusalem," said Price.
When asked by Anadolu Agency why it took so long for the US to reopen the diplomatic mission, Price said: "Obviously these are complex issues that we need to coordinate with the Government of Israel as well. But it is an issue we are committed to and we are continuing to discuss that with our Israeli partners, and with our Palestinian partners."
As part of his election campaign, Biden vowed to reopen the consulate and began to re-establish diplomatic relations with Palestine, which is a move to reverse a policy of his predecessor, Donald Trump.
Source: Anadolu Agency
Please click the following URL to read the full text of the original story:
https://www.aa.com.tr/en/americas/us-remains-committed-to-reopening-consulate-in-jerusalem-/2619356
--------
Africa
Nigeria not healing Christian-Muslim divide, says bishop
By Junno Arocho Esteves
June 22, 2022
While the Catholic Church continues to play its part in helping people in Nigeria, the policies of the current government obstruct a clear path toward peace and reconciliation between Christians and Muslims, said Bishop Matthew Hassan Kukah of Sokoto.
Addressing a virtual conference on building peace, hosted by the Kroc Institute for International Peace Studies at the University of Notre Dame, Bishop Kukah said the rise of banditry and violence in Nigeria "has taken over and consumed a lot of the gains we have made."
"Just to tell you how little progress we have made, we still have a military general as our president. And, therefore, it is little wonder that this journey has proven to be a challenge and a source of great difficulty for our people," he said June 20.
Attacks against Christians, especially Catholics, have been on the rise in the country. On June 5, gunmen entered St. Francis Xavier Church in Owo, killing at least 50 people and leaving dozens wounded.
Most recently, gunmen attacked churchgoers on June 20 at St. Moses Catholic Church as well as a neighboring Baptist church in the northern state of Kaduna, killing three and kidnapping 40.
Bishop Kukah said Nigerian President Muhammadu Buhari's "military background and lack of disposition toward the principles of democracy and democratization" have eroded the gains in reconciliation between Christians and Muslims, and "the country is far more divided now than it has ever been."
"Because our Muslim president has never developed a sense of fairness — in terms of power sharing and developing an inclusive system — we are far worse off in terms of relationships than we were before the end of the military dictatorship," the bishop said.
Many Nigerians, he explained, believed that the end of military rule "was going to be synonymous with freedom. And that freedom was going to come with more food on the table."
Instead, "people have become quite desperate and despondent" while others have resorted to violence and kidnapping for ransom to make ends meet.
Buhari took power in a military coup in December 1983 and ruled until 1985. The retired general won election in 2015 and was re-elected in 2019.
"As I'm talking to you, two of my priests are being held in captivity," Bishop Kukah said. "They have been in the hands of bandits for the past three weeks, along with two laypeople. These are the realities that the Church is facing, so it is increasingly difficult to confront these problems."
Despite the challenges, Bishop Kukah said the Catholic Church plays a vital role in bringing hope to Nigerians and encourages them to continue to believe "that there is no alternative to democracy."
"It is a difficult journey, but our churches still have the moral authority to continue to lead our people to a land in which freedom, justice and fairness can take root," the bishop said.
Source: UCA News
Please click the following URL to read the full text of the original story:
https://www.ucanews.com/news/nigeria-not-healing-christian-muslim-divide-says-bishop/97740
--------
Burkina Faso announces military zones ahead of anti-militant operations
21 June 2022
Burkina Faso's army has ordered civilians to evacuate two large "military interest zones" ahead of a series of planned operations against militants and the armed combatants operating across the West African nation.
The decision was taken at a defense council convened late on Monday.
"All human activities that risk exposure to the effects of the military operations which will be conducted shortly are prohibited," said the commander of national operations, Lieutenant-colonel Yves-Didier Bamouni, on state TV.
"A period of time will be granted to the resident populations to reach more secure areas."
One of the military zones is a rural area of about 2,000 square kilometers bordering Mali in the northern province of Soum. The other zone covers about 11,000 square kilometers on the southern border with Benin and is mostly national park land.
Benoit Doamba, the head of Burkina Faso's parks service, said several militant attacks had been reported in the parks. "This decision is not taken for nothing. Substantive work has been expected for some time in order to fully take control of the situation in the reserves and periphery."
Burkina Faso has been battling the armed combatants over the past few years.
The latest announcement comes days after 86 civilians were massacred in a militant attack in the northern border village of Seytenga. It was the second worst attack since 2015, when violence attributed to militants linked to al-Qaeda and the Takfiri Daesh terrorist groups began.
Burkina Faso's army recently said they had killed at least 128 "terrorists" in several operations this month.
A group of military officers overthrew the democratic government in January with pledges to improve security, but militant attacks and raids have only multiplied.
Since 2015, violence has left thousands dead and around two million displaced. The attacks first started in the north near the Mali border but have since spread to other regions.
Source: Press TV
Please click the following URL to read the full text of the original story:
https://www.presstv.ir/Detail/2022/06/21/684302/Burkina-Faso-announces-military-zones-ahead-of-anti-militant-operations
--------
Arab World
Syria's Tal Rifat surrounded with tunnels by YPG/PKK terrorists
Omer Koparan and Ethem Emre Ozcan
21.06.2022
TAL RIFAT, Syria / ANKARA
The YPG/PKK terror group is using a sophisticated network of tunnels in the Tal Rifat district in northern Syria to hide and transfer weapons to the front lines.
PKK/YPG terrorists continue to hide in Tal Rifat, a mere 18 kilometers (11 miles) from the Turkish border with a front line to the Operation Euphrates Shield zone, where Turkish security forces have been providing security since 2016-2017.
Footage shot by Anadolu Agency shows at least 30 kilometers (18.6 miles) of tunnels.
The tunnels lead to several settlement areas and the front line.
Some tunnels are hidden underneath concrete barriers and sand. The tunnels are 1.5 meters wide and 2 to 2.2 meters high.
After spotting an Anadolu Agency drone taking footage, a terrorist tried to shoot it down.
An investigation by an Anadolu Agency team on the ground also showed that a tunnel opens to an old teachers' training institution, signifying civilian infrastructure is being used by the terrorists.
In Türkiye's previous cross-border operations, tunnels were discovered that led to houses, schools, hospitals, and places of worship that were built by terrorists to use civilians as human shields.
The YPG/PKK terror group often attacks Jarabulus, Afrin, and Azaz from the Manbij and Tal Rifat areas in Syria.
The YPG/PKK terrorists often target Turkish security forces who provide security in the areas of Operation Euphrates Shield, Olive Branch, and Peace Spring and try to infiltrate the positions of Syrian opposition fighters from regions that the terror group was supposed to withdraw from under the agreements with the US and Russia.
Since 2016, Ankara has launched a trio of successful anti-terror operations across its border in northern Syria to prevent the formation of a terror corridor and enable the peaceful settlement of residents: Euphrates Shield (2016), Olive Branch (2018), and Peace Spring (2019).
Source: Anadolu Agency
Please click the following URL to read the full text of the original story:
https://www.aa.com.tr/en/middle-east/syrias-tal-rifat-surrounded-with-tunnels-by-ypg-pkk-terrorists/2618799
--------
Saudi crown prince pays first visit to Turkey since Khashoggi murder
Jun 22, 2022
ANKARA: Saudi Arabia's de facto ruler will on Wednesday take another step towards breaking his international isolation by paying his first visit to Turkey since the murder in 2018 of journalist Jamal Khashoggi in the kingdom's Istanbul consulate.
The talks in Ankara between Crown Prince Mohammed bin Salman and Turkish President Recep Tayyip Erdogan come one month before a visit to Riyadh by US president Joe Biden, for a regional summit focused on the energy crunch caused by Russia's invasion of Ukraine.
Erdogan's decision to revive ties with one of his biggest rivals is also driven in large part by economics and trade.
Turks' living standards are imploding one year before a general election that poses one of the biggest challenges of Erdogan's mercurial two-decade rule.
After Khashoggi's death, Erdogan's Islamic-rooted government released drip-by-drip details of the gruesome murder that deeply embarrassed the Saudi crown prince.
But it is now drumming up investment and central bank assistance from the very countries it opposed on ideological grounds in the wake of the Arab Spring revolts.
"I think this is probably one of the most significant visits to Ankara by a foreign leader in almost a decade," said the Washington Institute's Turkey specialist Soner Cagaptay.
"Erdogan is all about Erdogan. He's all about winning elections and I think he has decided to kind of swallow his pride."
Cagaptay said Prince Mohammed is also trying to see whether he can win broader backing ahead of a possible new nuclear agreement between world powers and the Saudis' arch-nemesis Iran.
"I think the Saudis are hedging their bets," Cagaptay said.
- 'You should be ashamed' - Turkey's rapprochement with the Saudis began with an Istanbul court decision in April to break off the trial in absentia of 26 suspects accused of links to Khashoggi's killing and to transfer the case to Riyadh.
US intelligence officials have determined that Prince Mohammed approved the plot against Khashoggi -- something Riyadh denies.
The court's decision drew strong protests from Khashoggi's Turkish fiancee, Hatice Cengiz.
But it paved the way for a visit to Saudi by Erdogan three weeks later, when he hugged the crown prince.
"He gets off the plane and hugs the killers," fumed Turkey's main opposition leader, Kemal Kilicdaroglu -- Erdogan's likely chief rival in the presidential race.
"You should be ashamed."
Ankara expects the mending of fences between the two Sunni powers to help prop up the Turkish economy at a crucial stage of Erdogan's rule.
A Turkish official said the sides will discuss a range of issues that include cooperation between banks and support for small and medium-size businesses.
- Lack of trust - Erdogan's unconventional economic approach has set off an inflationary spiral that has seen consumer prices almost double in the past year.
Analysts believe the resulting drop in Erdogan's public approval and the depletion of state reserves means the Turkish leader can ill afford to maintain his hostile stance toward the petrodollar-filled Gulf states.
Turkey's problems with the Saudis began when Ankara refused to accept Egyptian President Abdel Fattah al-Sisi's ouster of the Muslim Brotherhood from power in Cairo in 2013.
The Saudis and other Arab kingdoms viewed the Brotherhood as an existential threat.
Those rivalries intensified after Turkey tried to break the nearly four-year blockade the Saudis and their allies imposed on Qatar in 2017.
Analysts believe that Washington is watching this gradual return of regional calm with an approving nod.
"Encouraged by the United States, this rapprochement is relaxing tensions and building diplomacy across the region," said Gonul Tol, Turkish studies director at the US-based Middle East Institute.
But Tol questioned whether Prince Mohammed was prepared to fully trust Erdogan.
The crown prince "will not easily forget the attitude adopted by Turkey after the Khashoggi affair", she said.
Source: Times Of India
Please click the following URL to read the full text of the original story:
https://timesofindia.indiatimes.com/world/middle-east/saudi-crown-prince-pays-first-visit-to-turkey-since-khashoggi-murder/articleshow/92376189.cms
--------
Saudi Arabia's investments in Jordan amount to $14 bln
22 June, 2022
The volume of investments made by Saudi Arabia in Jordan spans across 900 projects and amounts to $14 billion, the official Saudi Press Agency reported on Wednesday.
The Federation of Saudi Chambers of Commerce and Industry revealed in a new report that the volume of trade exchange between the two countries amounted to over $4 billion in 2021, a drastic increase from around $3.1 billion in 2020.
The volume of Saudi exports to Jordan accounts for $3 billion, while Jordanian imports to the Saudi market amount to around $1.3 billion.
Source: Al Arabiya
Please click the following URL to read the full text of the original story:
https://english.alarabiya.net/News/gulf/2022/06/22/Saudi-Arabia-s-investments-in-Jordan-amount-to-14-bln
--------
Arab-backed development fund to tackle global food insecurity with $10 bln package
21 June, 2022
The Arab Coordination Group, the second-largest development fund in the world, launched an initial $10 billion package to tackle global food insecurity, the Group announced in a statement on Tuesday.
The $10 billion will be provided as a first step for immediate relief from the global food security crisis which has worsened tremendously since the onset of the war in Ukraine, leading to a worsening hunger crisis in many countries.
The relief package was announced at a meeting of the ACG Heads of Institutions in Vienna, Austria on Tuesday.
Speaking at the meeting, OPEC Fund Director-General Dr. Abdulhamid al-Khalifa said the initiative was launched to initiate "quick, decisive, and forceful action," to mitigate the crisis.
"Millions of people are facing hunger today, and this is something we simply must address urgently. As a dedicated ACG member the OPEC Fund fully stands by this commitment," he added.
The amount of a minimum $10 billion represents the total of the ACG members' commitments. Among those, the OPEC Fund already announced a US$1 billion "Food Security Action Plan" to be deployed over the next three years as immediate assistance to cover the import costs of basic commodities such as seeds, grains and fertilizers, while supporting medium and long-term security of food supply in partner countries.
The ACG commended other international financial institutions as well as Saudi Arabia's role in leading the drive for immediate support to countries most affected by the global food crisis in the developing world.
Addressing the climate crisis, the Group also agreed to provide financing to mitigate the impact of climate change and strengthen climate resilience.
The Group will launch a detailed action plan at the next UN Climate Conference COP27 in November in Egypt. The initiative will include a collective financial commitment and a roadmap to accelerate energy transition, increase climate resilience and promote energy security.
The ACG comprises 10 national, regional and international institutions, including the Abu Dhabi Fund for Development, the Arab Bank for Economic Development in Africa, the Arab Fund for Economic and Social Development, the Arab Gulf Programme for Development, the Arab Monetary Fund, the Islamic Development Bank (IsDB), the Kuwait Fund for Arab Economic Development, the OPEC Fund for International Development, the Qatar Fund for Development and the Saudi Fund for Development.
Ukraine, often referred to as the world's breadbasket, was invaded by Russia on February 24 in what Moscow calls a "special military operation."
Since then, countries across the world have imposed tough sanctions on Russia as the conflict rages on, heavily disrupting the Ukrainian economy and restricting global trade.
Trade has been hit particularly hard since the war because Russia and Ukraine account for nearly a third of global wheat supplies. Russia is also a key fertilizer exporter and Ukraine a major supplier of corn and sunflower oil.
In 2021, conflict – in combination with economic shocks – affected around 139 million people worldwide and since the onset of the Ukraine war, this figure is likely to increase, a recent report released by the UN's Food and Agriculture Organization and the World Food Program revealed.
According to the report released last week, acute food insecurity is expected to worsen in several countries between June and September this year, indicating that the hunger crisis is affecting many countries and it is happening at such a rapid pace.
Source: Al Arabiya
Please click the following URL to read the full text of the original story:
https://english.alarabiya.net/News/world/2022/06/21/Arab-backed-development-fund-to-tackle-global-food-insecurity-with-10-bln-package
--------
Saudi Arabia, Egypt sign 14 agreements worth $7.7 billion
21 June, 2022
Saudi Arabia and Egypt have signed 14 agreements worth $7.7 billion, Egypt's General Authority for Investment and Free Zones said in a statement on Tuesday.
Saudi Arabia's Crown Prince Mohammed bin Salman arrived in Egypt on Monday as part of a tour that will include visiting Jordan and Turkey.
Deals signed included an agreement between Saudi Arabia's Acwapower and the Egyptian Electricity Holding Company to produce and transmit 1100 MW of windpower, the authority's statement said.
More renewable energy agreements were signed, as well as deals involving petroleum products, food and fintech.
Other deals involved the development of the multi-purpose terminal at Egypt's Damietta port, the authority's statement said, and the establishment of a $150 million "pharmaceutical city" by Egypt's Pharco Pharmaceuticals in Saudi Arabia, the company's chairman told al-Sharq TV.
There are currently more than 150 bilateral agreements between the two countries, according to the Federation of Saudi Chambers.
In 2021, the size of commercial trade between Egypt and Saudi Arabia reached 54 billion SAR ($14 billion), recording a growth of 87 percent compared with 2020.
Saudi investments in Egypt through more than 6,800 Saudi companies exceed $32 billion while Egyptian investments in Saudi Arabia through more than 800 Egyptian companies are worth $5 billion.
Source: Al Arabiya
Please click the following URL to read the full text of the original story:
https://english.alarabiya.net/News/gulf/2022/06/21/Saudi-Arabia-Egypt-sign-14-agreements-worth-7-7-billion
--------
Saudi-Jordanian cooperation 'a role model' for the entire Middle East
RAED OMARI
June 22, 2022
AMMAN: Saudi Arabia's longstanding relationship with Jordan is a tale of the two kingdoms becoming a "role model" for regional and pan-Arab cooperation, that is expected to be strengthened with several new initiatives on the political and economic fronts, according to experts.
Ahead of Crown Prince Mohammed bin Salman's upcoming visit to Jordan, observers point to the long, shared history, similar culture and values of both peoples, which have had an impact on diplomatic relations.
"Diplomacy is not the right word to describe the Amman-Riyadh relations. It's history, geography, politics, and common interests," said Samih Maaitah, former Jordan minister of media affairs.
In remarks to Arab News, Maaitah explained that the two nations have become a "role model" for regional cooperation and coordination, thanks to a "number of facts, including primarily the similar political and ruling system."
Maaitah, a prolific writer, explained that the two countries have long adopted a similar political approach to regional and international issues, including on Palestine, Iran, Iraq, Syria and Yemen. This includes tackling terrorism, and "nowadays, illicit drug trafficking (from Syria)."
"Since a stable Jordan is in the very interest of Saudi Arabia, a strong Saudi Arabia is at the heart of Jordan's interests. A constant Amman-Riyadh strategic partnership is a top priority and cannot be compromised or sacrificed. The leaders of both countries are fully aware of that, and they are acting accordingly."
Amer Sabaileh, a Jordanian strategic analyst and university professor, echoed Maaitah's remarks, hailing the progress of ties and calling for stronger political cooperation and coordination.
Sabaileh told Arab News that Jordan must take on a role in "Saudi Arabia's new vision (2030) and its leaders' ambitious plan for the entire region."
"Saudi Arabia has a progressive and ambitious strategic vision for the entire Middle East region, and Jordan is urgently required to capitalize on the Saudi crown prince's visit to Amman."
"Constant Jordanian-Saudi cooperation and coordination serves the interests of the entire region," he added.
Saudi Arabia is Jordan's largest economic partner, with investments of more than $13 billion. Trade between the two nations reached $5 billion in 2021.
According to the World Bank, Saudi Arabia is Jordan's largest donor, having given its neighbor direct financial assistance of $3 billion, or around 8 percent of Jordan's GDP.
In April this year, Saudi Arabia sent $50 million in direct funding to Jordan, the fourth installment out of five that Riyadh pledged to the country. According to the Saudi Press Agency, this assistance was part of a 2018 agreement between Saudi Arabia, Kuwait, and the UAE to provide a $2.5 billion economic aid package to Jordan.
The Saudi-Jordanian Investment Fund, backed by the Saudi Public Investment Fund, recently signed an agreement with Jordan to invest $400 million in a healthcare facility in the country.
The project has been described as the "culmination" of Saudi investment in Jordan.
During the signing ceremony, Jordan's Prime Minister Bisher Khasawneh emphasized that the leaders of the two nations had a deep-rooted relationship, and urged greater cooperation on all fronts.
Supporting this view, Saudi Ambassador to Jordan Naif bin Bandar Al-Sudairi said that the Kingdom was eager to enhance its relations with Jordan.
SJIF Chairman Hisham Attar explained that the fund's main objective is to contribute to economic growth in Jordan through long-term investments in key strategic sectors, reflecting the vision of the two countries' leaders.
He also highlighted the objectives of Saudi Vision 2030 and the strategy of the Public Investment Fund of Saudi Arabia to further promote economic integration. The SJIF was seeking to become the most impactful investor in Jordan.
The SJIF and the Jordanian government, represented by the Jordan Investment Fund, signed a memorandum of understanding on June 16 that would enable the SJIF to explore investments in the National Railway Network Project.
This project entails the construction of a 418-kilometer railway line connecting the Aqaba Container Terminal with the Madouna land port in southern Amman for the shipment of containers, phosphate, grain, and automobiles, according to an SJIF statement.
In June 2021, the SJIF announced a $15 million investment in leading Jordanian technology company OpenSooq, an e-commerce mobile app that enables consumer-to-consumer sales, as part of its capital growth investment strategy.
The fund said at the time that the investment sought to bolster the entrepreneurial environment in Jordan, that would support the development of local companies, and provide them an opportunity for regional expansion.
In March this year, a bilateral agreement that could be worth over $1 billion was signed by business leaders from Makkah and Amman.
Attending the signing ceremony between the Makkah Chamber of Commerce and Industry and its Amman counterpart, Jordan's Minister of Industry, Trade and Supply Yousef Mahmoud Al-Shamali said: "There is a need to strengthen these relations to rise above $1 billion, especially since Amman is proud of Saudi products, and Saudi investments are the most important in Jordan."
Jamal Shalabi, a political science professor at the Hashemite University of Jordan, explained that Saudi Arabia has shifted its economic cooperation with Jordan from "cash assistance to direct investment in services and infrastructure projects."
"This is very smart and more sustainable and it has a direct impact on creating jobs and accelerating economic growth," he said during a ceremony marking the centenary of the Jordanian state at the university in April.
According to official figures, around 430,000 Jordanians work in Saudi Arabia.
Remittances sent from Saudi Arabia to Jordan have increased by $16.4 million to $1.1 billion during the first four months of 2022, marking a 1.5 percent rise from the same period last year.
The Central Bank of Jordan's data showed that these remittances totaled $3.4 billion at the end of 2021. Most of the remittances from Jordanian expatriates come from Gulf countries, and from Saudi Arabia in particular.
An opinion poll conducted by the University of Jordan's Center for Strategic Studies in March revealed that Jordanians see an "institutionalized relationship with Saudi Arabia" as a top priority for their country.
Source: Arab News
Please click the following URL to read the full text of the original story:
https://www.arabnews.com/node/2108456/middle-east
--------
Saudi Cabinet gives green light to Bank of Jordan to open branches in the Kingdom
June 21, 2022
RIYADH: The Saudi government gave a green light to the Bank of Jordan to open branches in the Kingdom to practice banking activities, Saudi Press Agency reported.
King Salman chaired the Cabinet's session at Al-Salam Palace in Jeddah on Tuesday.
Listed on the Amman Stock Exchange, the Bank of Jordan was founded in 1960 and it operates over 100 branches in the country.
King Salman updated the Cabinet on messages he sent to Oman's ruler Sultan Haitham bin Tariq, Qatar's Emir Tamim bin Hamad Al-Thani and Kuwait's Emir Nawaf Al-Ahmad Al-Jaber Al-Sabah — along with the message he received from President of the Republic of Kyrgyzstan Sadyr Japarov.
Subsequently, the Cabinet went through the meetings and talks in recent days between the Kingdom's senior officials and their counterparts in a number of friendly countries, aiming at expanding bilateral and multilateral cooperation in a range of areas.
The Cabinet lauded the success of the 13th session of the Joint Moroccan-Saudi Commission which ministers agreed had served to further strengthen relations between the two countries.
In a statement to the Saudi Press Agency, Minister of State and Acting Minister of Media Dr. Ibrahim Al-Assaf reiterated the Kingdom's support for Sudan and its people, a statement recently expressed to the Human Rights Council. Saudi Arabia also called on the international community to work toward laying the foundations for security and peace in the North African country.
Source: Arab News
Please click the following URL to read the full text of the original story:
https://www.arabnews.com/node/2107926/business-economy
--------
Europe
French election result may lead to more Islamophobia: Experts
ALEX WHITEMAN
June 21, 2022
LONDON: Experts fear an intensification of anti-Muslim rhetoric in France after substantive right-wing breakthroughs cut the government's majority in the National Assembly at Sunday's elections.
Despite a comfortable win in April's presidential vote, Emmanuel Macron witnessed his governing centrist party Ensemble drop from 350 to 245 seats, well short of the 289 needed to form a majority, with major gains made by right- and left-wing parties.
Jean-Luc Melenchon's left-green alliance may have picked up 131 seats, but it was the jump from seven to 89 of Marine Le Pen's far-right National Rally that caught commentators off guard.
The right will be where Macron looks to forge a governing coalition, said Paul Smith, associate professor and section lead in French and Francophone studies, modern languages and cultures at the University of Nottingham.
"Macron needs 40-odd seats to get to that majority, and I think it's likely that he won't be looking for that support on the left," he told Arab News.
"He was meeting party leaders to discuss their priorities, and the parties he's closest to are UDI (Union of Democrats and Independents) and part of Les Republicains.
"Their election campaigns focused on the cost of living but were infused with identity politics — and a lack of concern in terms of allying with the far right."
Emmanuel Godin, principal lecturer at the University of Portsmouth's School of Area Studies, History, Politics and Literature, agreed with Smith, telling Arab News: "Macron is more likely to work with the right than the left."
In playing to the right, Smith believes there will be a perpetuation of a style of politics that has dominated France in recent years with a normalization of anti-Muslim sentiment.
"Islamophobia dressed as secularism won't be far from the surface," he said. "We saw this recently with the backlash to the decision in Grenoble to allow the use of the burkini in public swimming pools.
"People should be allowed to go swimming as they like, but this rhetoric of 'secularism' overtakes the actual legislative action being taken, and blows everything completely out of proportion rather than speaking to reality.
"And that reality is that if secularism plays out properly, it gets strong support from Muslims as it means they can go about their lives unmolested."
A poll conducted by the French Institute of Public Opinion supports Smith's analysis, with 44 percent of Muslims favoring secularism, compared to 43 percent of those polled without a religion and 42 percent of Catholics.
Citing the survey, Godin described the reality of French Muslim opinion as "a far cry from the often caricatural representation of the issue in some media."
In Sunday's legislative elections, Muslim turnout was key to the success of left-wing candidates.
"Sixty-nine percent of Muslims voted for Melenchon in the first round of the presidential elections, and their main reasons were socioeconomic," said Godin. "Socioeconomically speaking, a majority of French Muslims are working class."
Asked if this means Macron has lost France's Muslim community, Smith questioned whether the president had ever held its support.
Source: Arab News
Please click the following URL to read the full text of the original story:
https://www.arabnews.com/node/2108141/world
--------
UN: Executions, trial procedures in Iran of deep concern
21 June, 2022
Top UN officials voiced deep concern on Tuesday about human rights violations in Iran amid reports of rising numbers of executions, including of minors and Afghan migrants for drug-related offences.
They spoke as an annual report on human rights in Iran, authored by Secretary-General Antonio Guterres, was presented to the UN Human Rights Council, a political body consisting of 47 elected members that can authorise investigations.
"The Secretary-General is deeply concerned by the increase of executions, including for drug-related offences," said Nada Al-Nashif, UN deputy high commissioner for human rights.
Iran's envoy told the council that the report contained "unsubstantiated claims" and "false allegations".
The report cited data collected by non-governmental organisations showing that 310 individuals had been executed in 2021 compared with 260 in all of the previous year. In the first three months of 2022, at least a further 105 people were executed, it said.
Capital crimes in Iran include same-sex relations, armed rebellion and "spreading corruption". An increasing number of those recently executed were drug offenders, including several Afghan migrants, the report said.
UN figures show that hundreds of thousands of Afghans fled to Iran last year during a major upheaval in their homeland that led to Islamist Taliban seizing power in August.
The right of a fair trial in some of these cases had not been guaranteed, the UN report said.
One case involved a Kurdish prisoner, Heidar Ghorbani, who was accused of killing three men affiliated with Iran's Basij paramilitary forces that are under the command of the elite Revolutionary Guards, the report said. Ghorbani denied the charges and the execution was carried out while a request for re-trial was being weighed by the Supreme Court, it said.
It also mentioned the case of poet and human rights defender Baktash Abtin who died in January after contracting COVID-19 in prison. Abtin had been jailed on "national security charges".
Source: Al Arabiya
Please click the following URL to read the full text of the original story:
https://english.alarabiya.net/News/middle-east/2022/06/21/UN-Executions-trial-procedures-in-Iran-of-deep-concern
--------
Britain launches free trade talks with Gulf countries
22 June, 2022
Britain on Wednesday will launch talks over a new free trade deal with six Gulf states, the trade ministry said, in the latest set of negotiations aimed at increasing non-EU ties after Brexit.
Trade minister Anne-Marie Trevelyan will visit Riyadh to begin discussions with the Gulf Cooperation Council (GCC), which is made up of Bahrain, Kuwait, Oman, Qatar and the United Arab Emirates as well as Saudi Arabia.
"I'm excited to open up new markets for UK businesses large and small, and supporting the more than 10,000 SMEs (small and medium-sized enterprises) already exporting to the region," Trevelyan said in a statement.
It is the fourth set of Free Trade Agreement (FTA) talks that Britain has launched this year after India, Canada and Mexico, as London looks to replace continuity deals it struck before it left the European Union's trading orbit with fresh post-Brexit agreements.
Britain said a deal with the GCC could reduce or remove tariffs on UK food and drink exports to the region, worth 625 million pounds last year, and also benefit financial services.
While the Gulf's substantial oil and gas reserves will not be included in any deal, manufacturing and the supply chain for the sector would be up for negotiation.
Source: Al Arabiya
Please click the following URL to read the full text of the original story:
https://english.alarabiya.net/News/gulf/2022/06/22/Britain-launches-free-trade-talks-with-Gulf-countries
--------
Bosnia braces for peace march to honour genocide victims
Mustafa Talha Öztürk
21.06.2022
BELGRADE, Serbia
Bosnia and Herzegovina is expecting more than 5,000 people to participate in an annual peace march to honor the Srebrenica genocide victims.
Traditionally, thousands of people from all over the world come to the Bosnian town of Nezuk every year to participate in a three-day peace march.
This year the march will mark the 27th anniversary of the genocide where more than 8,000 Bosnian Muslim men and boys were killed after Bosnian Serb forces attacked Srebrenica in July 1995, despite the presence of Dutch troops meant to act as international peacekeepers.
Srebrenica Ceremonies Organization Board Chairman Hamdija Fejzic told Anadolu Agency that the 18th march will kick off on July 8 this year to honor 46 victims to be buried at the Potocari Memorial Cemetery during a collective funeral on July 11.
Fejzic said they are expecting Hollywood star Angelina Jolie and former Queen of Jordan Nur al-Hussein to attend this year's commemoration ceremonies.
The participants will march for three days, and spend the nights in designated areas. The march is expected to conclude at a cemetery in Potocari, a village in eastern Bosnia-Herzegovina, just northwest of the Srebrenica town, where a funeral prayer and burial ceremony will be held for genocide victims.
Since 2005, thousands of people have attended the Mars Mira – which means Peace March in Bosnian – following the same forest path used by the Bosniaks when they were fleeing the Srebrenica genocide.
In the early 1990s, Srebrenica was besieged by Serbian forces trying to wrest territory from Bosnian Muslims and Croats to form their own state.
In the spring of 1993, the UN Security Council declared Srebrenica a "safe area." However, Serbian troops led by Gen. Ratko Mladic – later found guilty of war crimes and genocide – overran the UN zone.
Source: Anadolu Agency
Please click the following URL to read the full text of the original story:
https://www.aa.com.tr/en/europe/bosnia-braces-for-peace-march-to-honor-genocide-victims/2618968
--------
South Asia
Taliban Govt Offering Support In Gurudwara Repair, Say Af Sikhs
Jun 21, 2022
Ambala: A day after terror attack claimed by Islamic State Khorasan Province (ISKP) at Gurdwara Dashmesh Pita Sahib, Karta-E-Parwan near Kabul, Taliban-led Afghanistan's ministry of interior affairs (MOI) officials met Afghan Sikhs at Gurdwara Karta-E-Parwan on Sunday afternoon and "offered to support for reconstruction of the damaged gurdwara".
Gurnam Singh, president of Gurdwara Karta-E-Parwan, while speaking to TOI over phone from Kabul said on Sunday night, "Maulavi Zain Ullah Aber, chief of security from Islamic Emirate of Afghanistan's ministry of interior affairs and other officials visited us at gurdwara and promised to support for reconstruction of damaged gurdwara."
Gurnam said the Afghanistan government has given financial assistance of 1 lakh Afghani each for two martyred persons, 50,000 Afghani each for three injured people and 1.50 lakh Afghani for immediate supplies for maintenance of Gurdwara Karta-E-Parwan. The government has also deputed sanitation workers to clean the damaged gurdwara, he added.
Gurnam added that the Afghanistan officials of Taliban assured that they would make efforts to ensure their (Sikhs & Hindus) safety.
MOI Afghanistan from Twitter handle @MOIAfghanistan tweeted in Pashto language, "The leadership of the Ministry of Interior in a sympathy meeting with Afghan Sikhs and Hindus: The Mujahideen are committed to protecting the lives and property of every citizen of this land. This cowardly attack by the enemies of peace and security of the Afghan people shows that they fear the unity of our people and we will spare no effort to support you."
Source: Times Of India
Please click the following URL to read the full text of the original story:
https://timesofindia.indiatimes.com/city/chandigarh/taliban-govt-offering-support-in-gurdwara-repair-say-af-sikhs/articleshow/92349712.cms
--------
Taliban face growing armed resistance across Afghanistan
22 Jun 2022
Amin Saikal
Ten months into their extremist theocratic rule in Afghanistan, the Taliban are facing growing resistance in different parts of the country. Leading the way is the National Resistance Front (NRF), headed by Ahmad Massoud—the son of the legendary Commander Ahmad Shah Massoud, who, from his native strategic Pajnshir Valley (north of Kabul), valiantly fought the Soviet occupation in the 1980s and later the Pakistan-backed Taliban–al-Qaeda alliance. He was assassinated in 2001 by the alliance's agents two days before 11 September terror attacks on the US.
Contrary to the Taliban's claim that an atmosphere of calm and security prevails in Afghanistan, there has been growing resistance to their rule. The NRF has mounted increasingly organised and coordinated operations in Panjshir and the adjacent provinces of Takhar, Baghlan, Badakhshan, Sar-e Pol, Faryab and Kunar in the north and northeast. Sporadic armed operations, led by various individuals and groups, have gained momentum in several other provinces, including Ghor, located at the centre of Afghanistan, and Samangan.
Some non-Pashtun figures who had initially been enticed by the ethnic Pashtun Taliban to join them have now turned against the group. One of them is Mawlawi Mehadi Mujahid, an influential leader from ethnic Hazara, whose Shia Islamic sect forms some 15–20% of the predominantly Sunni Afghanistan. Mehadi broke away from the Taliban after he was sacked as head of intelligence in Bamyan, the stronghold of Hazaras in central Afghanistan.
Concurrently, the Taliban leaders do not represent a cohesive group. They hail from rival eastern and southern provinces. Whereas the radical Haqqani network, which is intimately linked to Pakistan's powerful military Inter-Services Intelligence, claims ascendancy from the east, its more nuanced counterpart, led by Mullah Abdul Manan Omari's group, hails from the Taliban's original heartland of the southern province of Kandahar.
Initially, when the Taliban seized power in August 2021 in the wake of the chaotic US and allied withdrawal and the collapse of the dysfunctional government of Ashraf Ghani, the Taliban and their Pakistani backers could only rejoice over what they viewed as an easy victory. They appeared confident that the trophy was theirs for good.
However, they either failed to understand or underestimated the complexity of Afghanistan, as the Soviets and Americans had done before them. Afghanistan is composed of numerous ethno-tribal micro-societies, with none of them constituting a majority. This, plus the landlocked but crossroads location of the country in a traditional zone of regional and international rivalries, has historically rendered the task of nation-building in Afghanistan very arduous. The job becomes even more taxing when elements of one of those micro-societies seek to exclusively rule the others, whether with or without an outside backer's support.
The Taliban hail from the Ghilzai tribe of ethnic Pashtuns—the largest minority in Afghanistan. This is the first time that elements of the tribe have seized power, in contrast to their Durrani tribal counterparts, who led the country for most of its over two centuries' life. The Taliban leaders are largely trained in a version of Islam that approximates to a mix of Deobandi, Wahhabi and Salafist Sunni. Most of their commanders and foot soldiers are poorly educated, even in literary Islam, in Pakistani madrassas (religious schools) and have known little more than an austere rural existence. They are divided from within and insecure in relation to the rest of Afghanistan's population, especially in the urban centres, where many experienced liberalist political–social and economic changes during the two-decade-long US occupation.
While exuding a sense of religious, political and ethnic supremacy and triumphalism, the Taliban leaders have expediently targeted women and girls and, more specifically, two other groups. They essentially view the defiant Shia Hazaras as deviants and the Sunni Panjshiris and their Tajik kindred, who constitute the second largest ethnic category in Afghanistan, as traditionally recalcitrant. The Taliban have unleashed unspeakable discriminatory, horrific operations against the opposition, involving beating, arrest, torture, disappearance and killing, to suppress any form of opposition across the country.
Nowhere are their atrocities more pronounced than against the NRF and people of the rapidly dwindling 150,000 or so inhabitants of Panjshir. This is because the NRF, led by the 34-year-old, Sandhurst-educated Ahmad Massoud, along with most compatriots in the country, want a free, sovereign and prosperous Afghanistan. It has advocated a publicly mandated, inclusive pluralist and democratic system of governance, with Islam as the state religion.
Fearing Panjshir's resistance, the Taliban occupied the centre of the valley shortly after assuming power. As reported by social media and private sources, they have subjected the Panjshiri inhabitants to heinous punishments. There are reports of an instance where the Taliban killed a captured NRF fighter and beheaded his father in front of crowds. Arrest, torture and the disappearance of any suspected Panjshiri or, for that matter, their Tajik kindred have become the order of the day in Panjshir and beyond. The Taliban have engaged not only in massive human rights violations and curtailment of freedom of expression and press freedom, but also in operations that amount to ethnic cleansing. This is something that urgently requires a thorough investigation by the United Nations Human Rights Commission and the UN Assistance Mission in Afghanistan.
The Taliban, whose continued alliance with al-Qaeda has once again been confirmed by the UN, have recently raised more fighters wherever they can, given their own growing numbers killed and injured since March this year. They are hurriedly focused on building a 100,000-strong force, including a suicide regiment, fully equipped with billions of dollars' worth of modern arms left behind by the US, to battle the opposition, and also their rival terror group, Islamic State's Khorasan branch, which the Taliban haven't been able to control. In addition, while abhorring modern education, they have reportedly supported many new madrassas to train jihadis.
Source: Aspistrategist
Please click the following URL to read the full text of the original story:
https://www.aspistrategist.org.au/taliban-face-growing-armed-resistance-across-afghanistan/
--------
6.1-magnitude earthquake in Afghanistan kills at least 280
Sirajuddin | Naveed Siddiqui
June 22, 2022
An earthquake of magnitude 6.1 that rocked Afghanistan has killed at least 280 people in the country's east, officials of the interior ministry said on Wednesday, adding that hundreds of people were injured and the toll was likely to rise as information trickled in from remote mountain villages.
Most of the confirmed deaths were in the eastern Afghan province of Paktika, where 255 people had been killed and more than 200 injured, said interior ministry official Salahuddin Ayubi.
In Khost province, 25 people had been killed and 90 taken to hospital, he said. "The death toll is likely to rise as some of the villages are in remote areas in the mountains and it will take some time to collect details."
Authorities had launched a rescue operation and helicopters were being used to reach the injured and take in medical supplies and food, Ayubi added.
Meanwhile, photographs on Afghan media showed houses reduced to rubble and bodies covered in blankets on the ground.
According to US Geological Survey, the earthquake occurred at 1:54am (PST), about 44 km (27 miles) from the city of Khost, near the Pakistan-Afghanistan border, at a depth of 51 km. The shaking was felt over some 500km by about 119 million people in Pakistan, Afghanistan and India.
In Pakistan, tremors were felt in Peshawar, Islamabad, Lahore, Kohat, Mohmand, Swat, Buner and other parts of Punjab and KP.
People left their homes in panic for safer places. "It was strong," said a resident of Peshawar. There were, however, no immediate reports of damage or deaths.
The disaster comes as Afghanistan has been enduring a severe economic crisis since the Taliban took over August, as US-led international forces were withdrawing after two decades of war.
In response to the Taliban takeover, many governments have imposed sanctions on Afghanistan's banking sector and cut billions of dollars worth of development aid.
Humanitarian aid has continued and international agencies such as the United Nations operate in the country.
An Afghan foreign ministry spokesman said they would welcome help from any international organisation.
Large parts of south Asia are seismically active because a tectonic plate known as the Indian plate is pushing north into the Eurasian plate.
In 2015, an earthquake struck the remote Afghan northeast, killing several hundred people in Afghanistan and nearby northern Pakistan.
Pakistan extends condolences
Immediately after the earthquake was reported, the government of Pakistan extended condolences and sympathies over the loss of lives and damage to property in the neighbouring country.
According to a Radio Pakistan report, Prime Minister Shehbaz Sharif said that Pakistan was standing with Afghan brothers and sisters in this difficult time and promised to provide all possible assistance.
Source: Dawn
Please click the following URL to read the full text of the original story:
https://www.dawn.com/news/1696135/61-magnitude-earthquake-in-afghanistan-kills-at-least-280
--------
Afghanistan and Iran Strike an Agreement Over Helmand River Water-Sharing
By Saqalain Eqbal
21 Jun 2022
According to an official from the Ministry of Energy and Water, Afghanistan and Iran have resolved their water-sharing disagreement and struck an agreement on the Helmand water pact.
The Ministry of Energy and Water said that the water of the Helmand River will be shared with Iran this year, in accordance with the Helmand Water Treaty signed between the two countries in 1973.
The Helmand River has been the major focus of a developing dispute between Afghanistan and Iran regarding water rights and the construction of Kamal Khan dam.
The Iranian government claimed that damming the Helmand will harm the environment, particularly in Iran's water-stressed border region with Afghanistan.
The Afghan government, on the other hand, claimed that the dams are being built to maintain water security in accordance with the 1973 water treaty with Iran.
An official from the Ministry of Energy and Water said, "The two sides called for the implementation of the treaty as the problem was within the area covered by the treaty."
Kabul and Tehran agreed in 1973 to share water from the Helmand River at a rate of 26 cubic meters per second, or 850 million cubic meters per year.
The Ministry is also intending to resume construction of the Kamal Khan dam, in south-western Afghanistan, to regulate the Helmand River's water, according to the official.
Source: Khaama Press
Please click the following URL to read the full text of the original story:
https://www.khaama.com/afghanistan-and-iran-strike-an-agreement-over-helmand-river-water-sharing-55739/
--------
Unmanned Aerial Vehicle Targets the Taliban's Border Guards in Eastern Afghanistan
By Saqalain Eqbal
21 Jun 2022
The Taliban's border guards in eastern Afghanistan's Paktia province, have been targeted by an unmanned aerial vehicle, according to the local sources.
An unidentified unmanned aerial vehicle, yesterday, 20th June, targeted the 203rd Mansoori Taliban Corps in Paktia province, located at the east of Afghanistan.
According to the sources, the attack made the Taliban border guards to believe it was carried out by Pakistani Border forces, resulting in verbal confrontation between the group's border forces and Pakistani border police.
The details of the incident is not revealed to the media and no casualty is reported, however, sources confirm that the Taliban's forces opened aerial fires at the unidentified aerial vehicle.
However, the Taliban's official in the province, Khaliqyar Ahmadzai, the head of Taliban's Information and Culture has denied the allegations of the airstrike by the unmanned aerial vehicle.
This aerial attack on the soil of Afghanistan comes as a helicopter belonging to the Taliban forces was shot down by the National Resistance Front (NRF) last week.
Two Taliban militants were reported to have been killed in the operation by NRF whereas four other militants were captured by the NRF forces.
Source: Khaama Press
Please click the following URL to read the full text of the original story:
https://www.khaama.com/unmanned-aerial-vehicle-targets-the-talibans-border-guards-in-eastern-afghanistan-38729/
--------
UN Extends Travel Exemptions for the Taliban Excluding the Two Education Officials
By Saqalain Eqbal
21 Jun 2022
Two Taliban education officials were barred from traveling by the United Nations on Monday, according to Agence France Presse, in reaction to the Taliban's stringent restrictions on Afghan women.
Said Ahmad Shaidkhail, the acting deputy Minister of Education, and Abdul Baqi Basir Awal Shah, also known as Abdul Baqi Haqqani, the acting Minister of Higher Education, are among the officials now barred from traveling as the UN revoked travel privileges from them, according to a diplomat who wished to remain anonymous.
The travel exemptions that allowed 15 Taliban officials to travel abroad for talks were scheduled to expire on Monday, 20th June.
The travel privileges were renewed for at least two months for thirteen officials, but they were revoked for two education officials because the Taliban restricts girls' and women's access to education.
Heather Barr, the Co-director of the Women's Right Division at Human Rights, has written on her twitter handle, today, that the revocation of the travel exemptions for the Taliban officials is "better than nothing."
However, she also notes wrote that the measure is "nowhere near the display of solidarity Afghans deserve."
According to diplomats, some countries supported withdrawing all travel exemptions owing to the deteriorating situation of women's rights, while others objected.
Source: Khaama Press
Please click the following URL to read the full text of the original story:
https://www.khaama.com/un-extends-travel-exemptions-for-the-taliban-excluding-the-two-education-officials-44723/
--------
Taliban calls on UNHCR to address Afghan refugee issues
Jun 21 2022
Kabul, Jun 21 (IANS): The Taliban-led government in Afghanistan has called on the UN Refugee Agency (UNHCR) to address problems faced by Afghan refugees abroad.
Addressing a gathering here, acting Minister of Refugees and Repatriation Khalil Rahman Haqqani expressed concerns over the mistreatment of the refugees who have fled to other nations in the wake of the conflict, reports TOLO News.
"The rights of refugees, their problems must be raised to the whole world and to those who are responsible for them," he said.
The deputy spokesman for the Islamic Emirate, Bilal Karimi, said there were reports of Afghan refugees being mistreated in some countries.
"Unfortunately, we have heard some reports that our citizens are facing problems in some countries. We call on the officials of these countries to understand the situation of the Afghans based on their humanitarian and Islamic faith," he said at the same gathering.
According to the UNHCR, Afghan refugees are the third-largest displaced population in the world, following Syrian refugees and displaced Venezuelans.
There are 2.6 million registered Afghan refugees in the world, of whom 2.2 million are registered in Iran and Pakistan alone.
Source: Daiji World
Please click the following URL to read the full text of the original story:
https://www.daijiworld.com/news/newsDisplay?newsID=970923
--------
Southeast Asia
Academic laments disconnect between Islamic teachings and conduct
Danial Azhar
June 21, 2022
PETALING JAYA: An academic believes there is a disconnect between Islamic teachings and how Muslims conduct themselves in Malaysia.
Anis Yusal Yusoff of Universiti Kebangsaan Malaysia's Institute of Ethnic Studies said Muslims appeared to be "selective" over what is permissible and impermissible in Islam.
"For instance, both the consumption of pork and corruption are impermissible in Islam.
"While many Muslims strictly obey the former, it appears there is a disregard for the latter," he said during a forum on the topic of Islam in Malaysia.
Anis said this was a matter of integrity and questioned how Muslims could continue to be insistent on only eating in halal-certified outlets yet took or gave bribes.
He also said the country needed to rethink the form of Islam currently being practised, adding that there was a need for a more progressive and inclusive form of the religion.
Anis lamented the fact that Malaysia's public education system did not openly encourage the learning of other religions or inter-religious studies.
"Why don't we have educational trips to churches and other houses of worship, or invite non-Muslims into mosques?" he asked.
Source: Free Malaysia Today
Please click the following URL to read the full text of the original story:
https://www.freemalaysiatoday.com/category/nation/2022/06/21/academic-laments-disconnect-between-islamic-teachings-and-conduct/
--------
Indonesia president to push for peace with Ukraine, Russia visits: Minister
Jun 22, 2022
JAKARTA: Indonesian President Joko Widodo will visit both Ukraine and Russia next week to meet his counterparts and push for a peaceful resolution to the ongoing conflict, his foreign minister said on Wednesday.
Retno Marsudi confirmed during a news conference the intention of Jokowi, as the Indonesian president is known, to visit Kyiv in addition to Moscow, which had been reported in Indonesian and Russian state media. Retno did not elaborate on what Jokowi, as president of the G20 this year, would discuss with the two leaders.
Source: Times Of India
Please click the following URL to read the full text of the original story:
https://timesofindia.indiatimes.com/world/europe/indonesia-president-to-push-for-peace-with-ukraine-russia-visits-minister/articleshow/92377977.cms
--------
Concern rising over persecution of minorities in Malaysia
18 June, 2022
Kuala Lumpur [Malaysia], June 18 (ANI): Persecution and sectarianism against minorities in Malaysia including those of the Shia and Ahmadis depict the worsening human rights situation in the country, according to an analysis.
Mohd Faizal Musa, a human rights activist in Malaysia has expressed concern over the sectarianism against the minorities including Shia and Ahmadis in the country.
According to Al Jazeera, the escalation of tension between Iran and its American and Arab adversaries has stirred sectarian sensitivities not only in the region but also miles away in Southeast Asia, and caused Malaysia, a country with a predominantly Sunni population, to be once again get sucked into the foreign rivalries.
"There are so many lies spread against Shias that they have their different kind of Quran which is quite a bizarre thought, because, Malaysia is very famous for Musabka. The administration is promoting this kind of lies in school textbooks. There are a lot of fear in Shias Muslim and Ahmadi children" rights activist Faizal Musa said in a podcast.
Recalling an interview of a secretary-general belonging to an Ahmadi community in Malaysia, Faizal Musa said, the leader once told him that even teachers refuse to teach children of the minority community.
"Malaysia and Indonesia are two different countries, entities and climates (political climate). Indonesia is colonised by the Dutch and Malaysia by the British. During the British colonisation of Malaysia, the British introduced the so-called Islamic department which apparently regulates the certain activities of minorities," he said.
"This propaganda of sectarianism is being promoted by the authorities and the government agency," he said further in the podcast.
The Fatwa Committee for Religious Affairs in Malaysia in 1996, as per Al Jazeera, issued a religious opinion recognising Sunni Islam as "the permitted form of Islam" in the country and branding Shia Islam as "deviant".
When the new Malaysian government came to power in May 2018, it made several moves indicating that it would not pursue a policy of favouring one foreign power over another, especially in the Middle East.
Source: The Print
Please click the following URL to read the full text of the original story:
https://theprint.in/world/concern-rising-over-persecution-of-minorities-in-malaysia/1002082/
--------
Khairy withdraws 'main belakang' defamation appeal against Anwar
V Anbalagan
June 21, 2022
PUTRAJAYA: Khairy Jamaluddin has dropped his legal battle in the Federal Court to reverse a lower court's findings that he is liable for defaming Anwar Ibrahim over a "main belakang" statement made at a political rally 14 years ago.
A three-member bench chaired by Nallini Pathmanathan today struck out the former Umno Youth leader's two separate applications to obtain leave to set aside a Court of Appeal ruling delivered in February.
The other judges were Zabariah Mohd Yusof and Rhodzariah Bujang.
Khairy's solicitor, Messrs Shafee & Co, wrote to the Federal Court last month on the withdrawal and asked Anwar's lawyers to waive costs.
Lawyer Sarah Abishegam, who appeared for Khairy today, offered costs of RM2,000 for both applications.
However, Gopal Sri Ram, representing Anwar, asked for RM10,000 as they had filed an affidavit in reply in response to Khairy's leave applications.
"We also attended two case managements," he said in the proceeding conducted online.
The bench then ordered Khairy to pay RM10,000 in costs to Anwar, now the opposition leader.
The Court of Appeal had earlier affirmed the High Court ruling that Khairy was liable for defamation, and the RM150,000 in damages awarded to Anwar.
Justice Darryl Goon, who delivered the ruling, said the defence put up by Khairy to defeat Anwar's suit had failed.
He said the defence of justification and qualified privilege were not made out.
The bench, also consisting of Lee Swee Seng and Ghazali Cha, dismissed Khairy's appeal to include the defence of fair comment to challenge the suit.
Anwar was also awarded RM60,000 in costs.
Khairy, who is now the health minister, made the remarks during a ceramah at Lembah Pantai during the 2008 general election campaign.
Sri Ram had submitted that Khairy defamed Anwar in front of a Malay crowd by depicting him as a homosexual and a person of low morals.
"Khairy was addressing a crowd who understood the context in which the reference against Anwar was made," he had said.
In his statement of claim, Anwar said Khairy had uttered that the then opposition coalition comprising PAS, DAP and PKR "are in a mutaah marriage as practised by the Shia sect".
"They marry at night and divorce the following day to legitimise a vice. PAS plays DAP from the left and DAP plays PAS from the right. Anwar plays both from the back," he had quoted Khairy as saying.
He said Khairy was also addressing a Muslim crowd who belonged to the Shafi'i sect and reference was made to the Shia sect, which was regarded as a deviant group in the country.
Lawyer J Leela, who appeared with Sri Ram in the case, said Khairy has so far only paid RM10,000 in costs though ordered to pay RM60,000.
Source: Free Malaysia Today
Please click the following URL to read the full text of the original story:
https://www.freemalaysiatoday.com/category/nation/2022/06/21/khairy-withdraws-main-belakang-defamation-appeal-against-anwar/
--------
Mideast
Israel's Underground Diggings And Tunnels Threaten Aqsa Mosque
June 21, 2022 -
MP Ahmed Abu Halabiya, chairman of al-Quds and al-Aqsa Committee at the Palestinian Legislative Council, has warned that the Israeli underground diggings and tunnels under the Aqsa Mosque have become a real threat to its future.
In a statement on Monday, MP Abu Halabiya said that stones fell down recently from a wall inside the Aqsa Mosque compound as a result of cracks caused by ongoing Israeli diggings beneath the Umayyad Palaces area, which stretches over 800 meters of land between Ein Silwan and the Buraq Wall.
He stressed that the reoccurrence of fissures and cave-ins at the Aqsa Mosque endangers the entire holy site in light of the Israeli refusal to allow the Islamic Awqaf in al-Quds to carry out renovation works.
Source: ABNA24
Please click the following URL to read the full text of the original story:
https://en.abna24.com/news//israel%e2%80%99s-underground-diggings-threaten-aqsa-mosque_1268712.html
--------
Israeli troops train for combat in ghost town dubbed 'Mini Gaza'
22 June, 2022
The Muslim call to prayer echoes through a remote town in southern Israel that has known only war.
Its 500 buildings, the tallest eight stories high, are deserted. Its narrow alleys are adorned with militant murals and posters honoring slain Palestinian fighters. It cannot be found on any map.
Officially, it's known as the Urban Warfare Training Center. The Israeli soldiers who run military drills here call it "Mini Gaza."
The military began building the $45 million facility in the Zeelim army base in 2005, toward the end of the second Palestinian intifada, or uprising, against Israeli rule. Over the previous five years, Israeli troops had battled Palestinian militants in cities and towns across the occupied West Bank and Gaza.
Since then, Israel has fought four wars in Gaza against the militant group Hamas, with some battles erupting in densely populated cities and refugee camps.
Over 4,000 Palestinians have been killed, more than half of them civilians, according to the UN. Israeli officials say 106 people have died on their side, including civilians, soldiers and foreign residents.
In each war, Israel has been accused of using disproportionate force in crowded residential areas, contributing to the civilian death toll. The military says it makes every effort to spare civilians, while accusing Palestinian militants of using them as human shields.
"The nature of war has changed," said Col. Eli Abeles, the facility's commander. "Today our principal fighting ... is done around built-up areas and in built-up areas."
The tight alleyways, drab concrete buildings and open areas in the roughly 60-acre (quarter square kilometer) facility are meant to simulate the urban environments in which Israel's soldiers often operate.
These can include Gaza and the West Bank, as well as southern Lebanon, where Israel has warned potential future fighting with Hezbollah militants would likely take place.
The army's sole official graffiti artist decorates the streets with murals featuring Arabic slogans and portraits of Palestinian and Lebanese militants.
Between exercises, soldiers rest in the shade of the buildings, smoking cigarettes beneath the faded posters, some of which honor those killed in battle with Israel. Others don red-and-white checkered scarves to role-play militants in an upcoming drill.
The training center can accommodate exercises for an entire brigade of 2,000 soldiers at a single time, Abeles said.
Visiting American troops and forces from European allies - most recently Cypriot soldiers - have also trained in Mini Gaza.
Source: Al Arabiya
Please click the following URL to read the full text of the original story:
https://english.alarabiya.net/News/middle-east/2022/06/22/Israeli-troops-train-for-combat-in-ghost-town-dubbed-Mini-Gaza-
--------
Biden's Mideast visit will have 'significant' impact: Israel's Lapid
21 June, 2022
US President Joe Biden's upcoming visit to Saudi Arabia and Israel will have a powerful impact on the region, Israeli Foreign Minister Yair Lapid told US Secretary of State Anthony Blinken by phone on Tuesday.
"The visit will have significant implications for the region and the struggle against Iran and tremendous potential to significantly upgrade regional stability and security," Lapid told Blinken, according to a statement from the Israeli Foreign Ministry.
Source: Al Arabiya
Please click the following URL to read the full text of the original story:
https://english.alarabiya.net/News/middle-east/2022/06/21/Biden-s-Mideast-visit-will-have-significant-impact-Israel-s-Lapid
--------
Tehran Foils Mossad's Assassination Plot against Iranian Nuclear Scientists
2022-June-22
"The arrest of these Mossad operatives followed a complicated intelligence operation that lasted eight months," Prosecutor-General of Iran's Sistan and Balouchestan province Mehdi Shamsabadi told reporters on Tuesday.
"Ample evidence has been gathered against them in such a way that they did not even make any objection when a warrant for their arrest was issued," he added.
The official noted that some members of the cell have been arrested in the country's Southeastern province of Sistan and Balouchestan while other members and operatives have been detained outside the province by Iran's intelligence forces.
"The defendants have confessed that some of them had been in direct contact with Mossad agents," Shamsabadi emphasized.
He said the case is currently under preliminary investigation and that an indictment would be filed and sent to court soon.
The official did not specify the nationalities of the agents.
In a statement on April 20, Iran's Intelligence Ministry announced the arrest of the three Mossad agents in Sistan and Balouchestan.
It said at the time that the spies were involved in disseminating classified information and documents, and noted that the trio had been arrested upon a judicial order.
Iranian nuclear scientists have been the target of the western and Israeli spy agencies' assassination attempts in recent years.
Iranian nuclear scientist Mohsen Fakhrizadeh's car was targeted by an explosion and machinegun fire in Damavand's Absard 40 kilometers to the East of Tehran on November 27, 2020.
The nuclear scientist and one of his companions were immediately taken to a nearby hospital but he could not be saved.
In June 2012, Iran announced that its intelligence forces had identified and arrested all terrorist elements behind the assassination of the country's nuclear scientists.
"All the elements involved in the assassinations of the country's nuclear scientists have been identified and arrested," Iran's Intelligence Ministry announced in a statement.
"A number of countries, whose territories and facilities had been misused by the Mossad-backed terrorist teams, have provided the Iranian officials with relevant information," the statement added.
"Over the course of the investigations, all other elements behind the assassinations of the Iranian scientists Massoud Ali-Mohammadi, Majid Shahriari and Mostafa Ahmadi Roshan as well as Reza Qashqaei (Roshan's driver) have been apprehended," the statement read.
"Some of the perpetrators of the assassination of Dr. Fereidoun Abbasi, the current head of Iran's Atomic Energy Organization, are among those arrested," the ministry added.
According to the statement, Iran's Intelligence Ministry had detected some of Mossad's bases within the territories of one of Iran's Western neighbors, which provided training and logistical support to the terrorist networks.
In the fifth attack of its kind in two years, terrorists killed a 32-year-old Iranian scientist, Mostafa Ahmadi Roshan, and his driver on January 11, 2012.
The blast took place on the second anniversary of the martyrdom of Iranian university professor and nuclear scientist, Massoud Ali Mohammadi, who was also assassinated in a terrorist bomb attack in Tehran in January 2010.
Source: Fars News Agency
Please click the following URL to read the full text of the original story:
https://www.farsnews.ir/en/news/14010401000139/Tehran-Fils-Mssad%E2%80%99s-Assassinain-Pl-agains-Iranian-Nclear-Scieniss
--------
Spokesman: Iran Determined to Materialize Technical N. Rights
2022-June-22
Rapporteur of the Iranian Parliament's Energy Commission Malek Shariati quoted Kalmalvandi as saying in a meeting with the Commission members that Iran is determined to materialize the inalienable rights of the country in the technical and safeguards agreements fields.
The legislator told MNA that Kamalvandi had participated in a meeting of the Commission on Tuesday evening to review the recent decisions adopted by the AEOI against the International Atomic Energy Agency (IAEA)'s excessive demands.
After hearing a report by Kamalvandi, members of the parliament's Energy Commission unanimously condemned the recent anti-Iran draft resolution issued at the IAEA's Board of Governors, and stated that the IAEA issued anti-Iran resolution under the influence and political pressures of the world powers, Shariati said.
Although Iran's cooperation in the field of safeguards has been voluntary, members of the Parliament's Energy Commission emphasized complete reduction of Iran's cooperation with IAEA, he added.
The US, France, Britain, and Germany spearheaded a resolution at the IAEA's Board of Governors, which accused Iran of not cooperating with the UN nuclear watchdog.
Iran has denounced the resolution and blamed the US and its three European allies for the crisis created over its nuclear program, which was under an unprecedented level of inspections before Washington withdrew from the JCPOA.
In response to the resolution, Iran decreased its voluntary cooperation with the IAEA and removed a number of cameras at its nuclear installations.
The resolution was passed only few days after the IAEA's chief Rafael Grossi traveled to Israel and met the regime's hawkish Prime Minister Naftali Bennett.
Source: Fars News Agency
Please click the following URL to read the full text of the original story:
https://www.farsnews.ir/en/news/14010401000313/Spkesman-Iran-Deermined-Maerialize-Technical-N-Righs
--------
IRGC Commander Underlines Zionist Regime's Political Collapse
2022-June-21
"If you follow the news, you will see that the Zionist regime has collapsed politically and the US is seeking a reputable escape from the Islamic world," General Salami said, addressing a ceremony on Tuesday.
He also said that Iran's history is full of confrontations with different enemies, noting that the side who always had to retreat was the enemy.
General Salami described the enemies as dull, incapable and desperate to pursue their goals, saying, "The desperate arrogant powers seek to find a way out."
Meanwhile, the IRGC chief said the enemies could not believe that the Islamic Revolution is going to celebrate its 44th anniversary despite all their malicious attempts and plots.
"The enemy did not think the Iranian nation would come out victorious for 44 years in a continuous and global struggle," General Salami underlined.
He added that "the (Iranian) people who have given hundreds of thousands of martyrs to preserve the Establishment and their revolution will never give up the ideals and goals of the revolution and will not be separated from their Imam".
"The country is gaining more strength and in the near future Iran will be one of the world's top powers," General Salami stressed.
General Salami had also in 2020 said that the US had been isolated in the world and was withdrawing from the region.
"Today the US, which has been exerting pressures to isolate Iran, has itself been isolated. The US has gradually lost its political influence in the region and the world and has been marginalized in the political developments and failed to score any victory in the battlefield," General Salami said.
Source: Fars News Agency
Please click the following URL to read the full text of the original story:
https://www.farsnews.ir/en/news/14010331000793/IRGC-Cmmander-Underlines-Zinis-Regime's-Pliical-Cllapse
--------
Iran Downplays US B-52 Bombers' Flight over Persian Gulf
2022-June-21
General Shekarchi downplayed the flying of US B-52 bombers over the Persian Gulf, saying it was just a show.
"The US is well aware that in case of a strategic mistake, it will experience irreparable and more dangerous blows than ever before," he added.
The Israel military said in a February statement that Israeli F-15 fighter jets have escorted an American B-52 bomber as it made its way en route to the Persian Gulf.
The B-52H Stratofortress, which is capable of carrying a nuclear weapon, flew from its base in the United Kingdom, through the Straits of Gibraltar, over the Mediterranean, and out over the Red Sea, before traveling back on roughly the same route to the UK.
Earlier this month, Commander of the Iranian Army's Ground Force Brigadier General Kioumars Heidari warned that Iran will raze Tel Aviv and Haifa if Israel makes any mistake against Tehran.
"By the order of the Leader of the [Islamic] Revolution, we will raze Tel Aviv and Haifa to the ground for any mistake made by the enemy," he said.
Elsewhere, General Shekarchi said that the joint military moves made by Israel in cooperation with a number of regional Arab countries are due to the regime's desperation.
He made the remark on Monday after Israel's minister of military affairs, Benny Gantz, claimed that the regime is building a US-sponsored regional air defense alliance in cooperation with some regional Arab states to foil what he described as "Iran's attacks".
"The main reason behind this measure is merely desperation of the Zionist regime," General Shekarchi said.
Pointing to the reasons behind the regime's establishment of relations with some regional countries, the commander said, "The criminal Zionist officials have acknowledged the pace of the collapse of their bloodthirsty regime."
Israel has been making attempts to draw closer to US-aligned Arab countries in the Persian Gulf in recent years and has offered them defense cooperation.
In a briefing to Israeli lawmakers, Gantz unveiled what he dubbed the "Middle East Air Defense Alliance" and said the regime's cooperation with Arab states is already under way.
"Over the past year I have been leading an extensive program, together with my partners at the Pentagon and in the US administration, that will strengthen the cooperation between Israel and countries in the region," he said, according to an official transcript.
He claimed that the program has already enabled the successful interception of Iranian attempts to attack Israel and other countries.
Commander of the Islamic Revolution Guards Corps (IRGC) Navy Rear Admiral Alireza Tangsiri has already warned neighboring countries against allowing Israelis into the Persian Gulf, saying such a move would bring nothing but chaos and instability to the region.
Source: Fars News Agency
Please click the following URL to read the full text of the original story:
https://www.farsnews.ir/en/news/14010331000342/Iran-Dwnplays-US-B-52-Bmbers'-Fligh-ver-Persian-Glf
--------
Three 'Mossad-linked agents' will be tried soon in Iran: Report
21 June, 2022
Iran will soon put on trial what it said were three Mossad-linked agents arrested in April, state news agency IRNA quoted a judiciary official as saying on Tuesday, amid simmering tensions between the Islamic Republic and arch-foe Israel.
"The three were planning to assassinate our nuclear scientists according to intelligence assessments," Mehdi Shamsabadi said, without specifying the nationality of the detainees.
IRNA reported in April the arrest of three people it said were spies linked to the Israeli intelligence agency in Iran's southeastern province of Sistan-Baluchistan.
Iran and world powers have engaged in negotiations to revive a 2015 nuclear pact which would curb Tehran's nuclear program in exchange to the lifting of American sanctions, which were reimposed on Iran after former US President Donald Trump left the agreement in 2018.
Nuclear talks have stalled since March and Iran has escalated its enrichment program following a resolution by the UN nuclear watchdog that criticized it for failing to explain uranium traces found at undeclared sites.
Source: Al Arabiya
Please click the following URL to read the full text of the original story:
https://english.alarabiya.net/News/middle-east/2022/06/21/Three-Mossad-linked-agents-will-be-tried-soon-in-Iran-Report
--------
URL: https://newageislam.com/islamic-world-news/islamic-extremists-yoga-maldives/d/127298
New Age Islam Islam Online, Islamic Website, African Muslim News, Arab World News, South Asia News, Indian Muslim News, World Muslim News, Women in Islam, Islamic Feminism, Arab Women, Women In Arab, Islamophobia in America, Muslim Women in West, Islam Women and Feminism