New Age Islam News Bureau
30 Oct 2013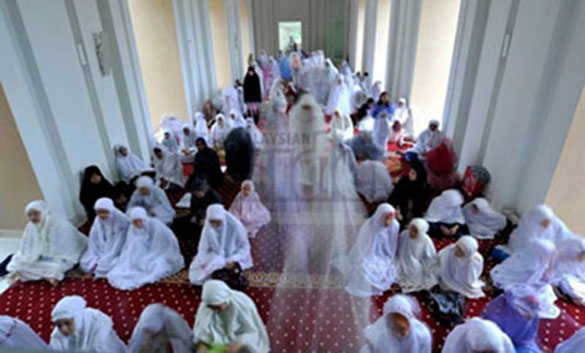 Malaysian Muslim women in a mosque in Shah Alam. Bishop Paul Tan says Muslims should hold a referendum on whether they want Shariah imposed on them. pic by Najjua Zulkefly, October 30, 2013
------------
Africa
• Islamic Extremist Attack on Nigerian Provincial Capital Leaves 128 Dead
• Suicide blast in Tunisian resort of Sousse
• Mali govt lifts arrest warrants against Tuareg chiefs
Europe
• Russian Orthodox Church opposes birth control in predominantly Muslim region
• Dagestan's Plan to Bring Home Muslims Studying Abroad Unlikely to Work
• Navi Pillay: Maldives Supreme Court Is Subverting the Democratic Process
• World Uyghur Congress urges calm and caution after Beijing incident on October 28, 2013
• Government Forces Ramp Up Activities in Dagestan after Volgograd Attack
• World Court should opine on Israel, says expert
Southeast Asia
• Put Hudud on referendum, let Muslims decide once and for all: Malaysian church cleric
• Ritual slaughter not to be questioned by non-Muslims, says Muslim NGO
• Sabah church group says can't stop them using Allah to instruct Christians
• Najib 'hides' as irate British investors demand justice at World Islamic forum
North America
• US expert doubts possibility that Russia to become Muslim country
• Drone strikes to end if Pakistan chooses: US Congressman
• Spying on allies is two-way street, says US intelligence chief
Arab World
• Suicide bombs target Iraq security as attacks kill 27
• Egypt's liberals are as intolerant as Islamists: Bassem Youssef
• Egypt's Nour Party agrees to omit article defining Sharia, with conditions
• Nasrallah blames Israel for 17,000 Lebanese missing persons
• Peace envoy Brahimi in talks with Syria's Assad
• Saudi Arabia grants legal status to 0.8m Pakistanis
Pakistan
• Bomb kills two soldiers in South Waziristan
• Afghan peace council to meet Mullah Baradar in Pakistan
• 70 suspects arrested during Rawalpindi operation
• Twin blasts rock Quetta; at least two killed
• Islamic nations can make great contributions to the world, says Nawaz
• No more late night chats for Sindh jail inmates, terrorists
• 2,160 militants, 67 civilians killed in US drone strikes so far: Pakistan
• Pakistan drone victims give evidence in US
India
• Geelani asks Taliban to stabilise Afghanistan
• Tharoor: civilian government not entirely in control in Pakistan
South Asia
• The Bangladesh poor selling organs to pay debts
• Afghans tried to court Pakistani militant seized by US
• China backs Pak on terror issue amid renewed focus
• Maldives Parliament accepts bill to criminalise tourism boycotts
• People should know what we talked about: Bangladesh PM
• Bangladesh Jamaat man arrested for looting shops of Hindus
Mideast
• Latest EU progress report 'more well-intentioned': PM Erdoğan
• Nationalist party head urges CHP to be 'understanding' over headscarved deputies
• Netanyahu appeals to Israeli-Arabs on economic integration: We'll do our part if you do yours
• Israel to build 1,500 new settler homes in East Jerusalem
Compiled by New Age Islam News Bureau
URL: https://www.newageislam.com/islamic-world-news/new-age-islam-news-bureau/islamic-extremist-attack-on-nigerian-provincial-capital-leaves-128-dead/d/14218
---------
Africa
Islamic Extremist Attack on Nigerian Provincial Capital Leaves 128 Dead
30 Oct 2013
DAMATURU, Nigeria — A 5-hour battle between Islamic extremists and army troops in the capital of Yobe state killed at least 127 people, all but two combatants, according to reports from army and police officers that raise doubts about military claims that they have the upper hand in Nigeria's fight to halt an Islamic uprising in the northeast.
The stench of rotting corpses from the morgue hung over Damaturu Specialist Hospital on Tuesday, where a reporter counted 31 bodies identified as those of extremists.
Details still are trickling in about the attack, which militants began at dusk Thursday on an army barracks 20 kilometers (12 miles) outside Damaturu, the capital, where they overpowered the soldiers, seized an armoured car, looted the armoury and set the barracks ablaze with improvised explosive devices.
The reports were given to Yobe state Gov. Ibrahim Gaidam by military officers as he toured the destroyed sites with a heavily armed escort on Monday. Journalists accompanying the tour heard the reports.
The attackers then moved down the main road into the city where they rammed the armoured car through the gates to the headquarters of the Police Anti-Terrorist Squad. There, they burned down three buildings.
While some of the extremists exchanged fire with the police, the armored car and others in all-terrain pickup trucks and on foot went on to shoot up and set fire to the police Criminal Investigation Department offices and four other police offices scattered across the city until they arrived at the Mobile Police Base, where the armoured car caught fire and was abandoned.
The militants went to the hospital where they looted drugs and bandages as the medical staff fled in terror, according to doctors at the hospital.
This account differs from the official version of events that extremists attacked an army checkpoint along the road from Damaturu to Benisheikh — where militants have killed hundreds of civilians in recent weeks — at around 3 a.m. on Friday. A "fire fight ensued and the insurgents were effectively neutralized," according to a statement Monday from the army spokesman in Damaturu, Ibrahim Attahiru.
He said 70 militants were killed there.
"Fleeing insurgents" then "regrouped to carry out attacks on Damaturu town," Attahiru said. Security forces killed another 25 insurgents in the city, he said.
Col. A. O. Abdullahi told the governor that 22 soldiers were killed in the attacks.
A police officer who spoke on condition of anonymity because he was not authorized to speak about the incident said eight police officers were killed in the shootout at the mobile base. A reporter who visited the hospital mortuary on Sunday saw 17 bodies in police uniform.
On Monday, the morgue held only the bodies of 31 suspected insurgents. Nigeria's military regularly inflates the numbers of militants killed and downplays its own toll.
The number of civilians caught up in the fighting also is uncertain, with local newspapers reporting that dozens of travellers were caught in crossfire. A civil servant was shot Saturday by soldiers who accused him of breaking the hastily announced curfew. He died in the hospital on Monday, according to witnesses. Another man whose car broke down at the side of the road was shot and killed, apparently by the insurgents, according to reporters who knew him.
The Damaturu attack — on a city that had been free from assault for months — overshadowed a military success in neighbouring Borno state.
Aerial bombardments and a ground assault on two "terrorist camps" killed 74 insurgents and wounded several others who fled, according to spokesman Lt. Col. Muhammed Dole. He said two soldiers were wounded in the attacks.
Copyright 2013 The Associated Press. All rights reserved. This material may not be published, broadcast, rewritten or redistributed.
http://www.washingtonpost.com/world/africa/128-dead-in-islamic-extremist-attack-on-nigeria-state-capital-in-state-of-emergency/2013/10/29/757f9788-40a7-11e3-b028-de922d7a3f47_story.html
---------
Suicide blast in Tunisian resort of Sousse
Oct 30, 2013
There has been a suicide bomb attack in the Tunisian Mediterranean resort town of Sousse on a beach in front of a hotel, officials say.
A hotel employee told the BBC that the blast occurred at 09:45 local time (08:45 GMT) and that no-one was hurt except for the bomber.
Meanwhile, security sources say police have foiled a separate plot to attack ex-President Habib Bourguiba's tomb.
Police captured the would-be suicide bomber before he blew himself up.
Mr Bourguiba led Tunisia after independence from France; he was deposed in 1987 and died 13 years ago.
Attack 'foiled'
The blast in Sousse happened close to the Riadh Palms hotel, a receptionist told the BBC's World Update programme.
The male attacker, wearing a belt of explosives, was killed, the Associated Press quoted Tunisia's Tap state news agency as saying.
Witnesses said the bomber was spotted and chased away from the hotel, blowing himself up on an empty beach, the AFP news agency reported.
Sousse is a tourist destination about 140km (87 miles) south of the capital, Tunis, on the Mediterranean coast.
The former president's tomb is in Monastir, a town about 20km further south along the coast from Sousse.
"An attempted attack targeting the compound of the Bourguiba mausoleum was foiled... and a young man carrying explosives was arrested," Interior Ministry spokesman Mohamed Ali Laroui told AFP.
Since the 2011 uprising, which unseated long-time President Zine al-Abidine Ben Ali, Tunisia has seen a rise in attacks by militants.
http://www.bbc.co.uk/news/world-africa-24740947
---------
Mali govt lifts arrest warrants against Tuareg chiefs
30 October 2013
BAMAKO — Mali's government has lifted arrest warrants against four leaders of the west African country's ethnic Tuareg rebellion in the name of "national reconciliation", the justice ministry announced Tuesday.
The warrants were issued several months ago against rebel leaders in the National Movement for the Liberation of Azawad (MNLA) and the High Council for the Unity of Azawad (HCUA).
"The arrest warrants against Ibrahim Ag Mohamed Assaleh (MNLA), Mohamed Ag Intalla, Ahmada Ag Bibi and Alghabass Ag Intalla (HCUA) are lifted to facilitate the pursuit of the process of national reconciliation," a justice ministry official said.
Along with about 30 other prominent Tuareg separatist rebels, the four men were wanted for taking up arms early in 2012 in the desert north of Mali, territory they know as Azawad and consider their natural homeland.
Armed extremists linked to Al-Qaeda took advantage of chaos caused by a coup in Bamako to ride on the back of the Tuareg uprising and seize key northern towns until they were ousted by a French-led military intervention this year.
Ahmada Ag Bibi confirmed to AFP that the warrants against him and his companions had been scrapped. "This shows good will for dialogue... We too, we share good will for dialogue."
Ag Bibi, Mohamed Ag Intalla and Alghabass Ag Intalla are candidates in parliamentary elections scheduled for November 24, standing in the far northeast region of Kidal, a Tuareg stronghold.
Mali's President Ibrahim Boubacar Keita said on Friday that the situation in the still unstable north of the sub-Saharan country, "particularly in Kidal", was "unacceptable, unsupportable, intolerable".
A few days earlier, when he opened a forum on decentralization in Bamako, Keita proposed that the time had come to "bring definitive answers to the frustrations that feed the irredentism of our Tuareg brothers". — AFP
http://www.saudigazette.com.sa/index.cfm?method=home.regcon&contentid=20131030185169
-------------
Europe
Russian Orthodox Church opposes birth control in predominantly Muslim region
30 Oct 2013
A senior Russian Orthodox cleric has strongly opposed a populist politician's suggestion to fight terrorism by imposing birth control in the predominantly Muslim regions. The idea has already caused a major scandal.
The head of the Holy Synod's department for relations between the Church and society, Vsevolod Chaplin, says all peoples must develop freely and have as many children as they consider necessary.
"Russia can have a future only as a community of all peoples that created it and that have formed it over many centuries. This is why the people of the Caucasus who play a serious role in modern Russia's life and its history, should develop freely, including the freedom to give birth to as many children as they deem necessary. The same applies to the Russian people," Chaplin said.
The cleric added that the issue of migration, both legal and illegal, was a very acute one, and that the authorities must hear and heed the popular opinion, but noted that "the outrage must not lead to the rooting of fruitless populist radicalism".
The statement was made a short time after the leader of the populist nationalist LDPR party; Vladimir Zhirinovsky said on a TV talk show that Russian authorities should introduce birth control among the residents of the Northern Caucasus region in order to successfully fight Islamic terrorism. In his trademark fiery style Zhirinovsky said the North Caucasus should be surrounded with barbed wire fences and people inside should be fined for an excessive birth rate.
The 2000-strong LDPR section in the Chechen Republic announced that they were suspending their work; several top level politicians urged a probe to determine if the speech could be considered an instigation of ethnic hatred, and the head of the liberal party Yabloko, Sergey Mitrokhin, suggested Zhirinovsky be put on trial for Nazism.
The LDPR leader later played down his comments, saying that he was only answering a provocative question and adding he really meant the necessity for parents to think about the future for their children, especially in regions with high unemployment. Zhirinovsky also said that his freedom of speech was protected by the Constitution and claimed that 90 percent of ethnic Russians share his point of view.
http://rt.com/politics/church-muslims-birth-control-905/
---------
Dagestan's Plan to Bring Home Muslims Studying Abroad Unlikely to Work
By: Paul Goble
Oct 30, 2013
Dagestani leader Ramazan Abdulatipov last week (October 14) directed the district and city anti-terrorist commissions in his North Caucasus republic to launch a campaign to recall all Dagestani young people now studying abroad, especially in "crisis countries" where "various kinds of "terrorist actions, revolutions and the like" are taking place. Parents who do not succeed in having their children return will face serious but, as yet, unspecified sanctions (interfax-religion.ru/?act=news&div=52975).
Abdulatipov's motives are both understandable and obvious: he clearly hopes that these Muslim students will return home before their training and experiences will, in the words of one Russian Christian Orthodox website, turn them into "Wahhabis" (rusk.ru/newsdata.php?idar=63205). But it is far from clear whether his policy will work as he intends. Many such students—their exact number is unknown, but clearly is in the hundreds—will simply ignore this order, and both they and their parents will be further radicalized by Makhachkala's actions. But others will return with their new views and thus constitute yet another threat to ethno-religious stability in what is now the most volatile republic in the North Caucasus.
Those conclusions are suggested by the well-documented experience of Tajikistan, which three years ago launched a program similar to the one Abdulatipov now has. When Dushanbe began, there were at least 2,500 Tajikistanis studying in Islamic universities and madrassas (Islamic seminaries) abroad. Abdurakhim Kholikov, chairman of Tajikistan's Committee on Religious Affairs, claimed last year that just over 2,000 of those "who had been studying in foreign madrassas illegally" have returned, a figure that means at least 400 remain abroad despite that country's appeals (avesta.tj/sociaty/10745-v-tadzhikistane-razrabotan-mehanizm-otpravki-studentov-v-zarubezhnye-medrese.html).
In fact, the number remaining abroad is almost certainly much higher than that. Some independent estimates have put the figure as high as 6,000. And in recognition of that reality, Dushanbe has announced a program that will allow some who are now abroad to legalize their status and others who wish to go abroad to do so with official permission—arrangements that, at least so far, Makhachkala has not copied.
Those who remain abroad may constitute a long-term problem both in Tajikistan and Dagestan, but those who return represent an immediate challenge because their numbers and their commitment to Islamist values are such that the authorities are not in a position to control them, however hard they try. Again, Tajikistan's experience is instructive in that regard.
Last year, a group of Tajikistan scholars commented on trends within Islam in that Central Asian country and suggested that the Islamization of Tajiks is increasingly occurring not only in rural areas but in the historically "more secular urban population," which, because of greater wealth, has been the source of more students going abroad (kamolkhon.com, January 9, 2012).
In particular, orientalist Ilkhom Nadziyev has said that "the level of trust of Tajikistan's population toward the power structures, as research shows, is low. Many of the residents of the country consider religious leaders to be less supported by corruption." As a result, the latter enjoy more trust. And Tokhir Sattorov, a political scientist from Tajikistan, noted that "the powers that be at first tried to respond to the religious feelings of the population, but then they stopped and turned back. The impression has been created that [Tajikistan's authorities] do not have the [necessary experience] or even that they are worried by their own unexpected moves earlier."
Repression does not work against the Talibanization that they fear is taking over their society. And blocking students from studying abroad, given how many thousands already have, appears to represent an effort to slam the barn door shut after the horse has fled. Indeed, the rapid expansion of mosques in Tajikistan means that almost anyone who has some knowledge of Arabic can become a mullah or at least gain an audience. Given the lack of trained Arabic speakers within Tajikistan, those who have studied abroad and who possibly had come under radical influence are thus among the most likely to be chosen to lead prayers.
The situation in Dagestan is the same. While some Dagestani Muslims have learned Arabic within their own republic in the two decades since the collapse of the Soviet Union, a large share of these Arabic speakers consists of those who have studied abroad over that period. Bringing more of them home, at least in the short term, is almost certain to increase the number of radicals in the pulpits of mosques there.
That Abdulatipov should adopt this strategy, which has failed in Tajikistan, shows how difficult the situation now is in Dagestan and how few alternatives Makhachkala—and its backer, Moscow—currently have.
http://www.jamestown.org/regions/thecaucasus/single/?tx_ttnews%5Btt_news%5D=41517&tx_ttnews%5BbackPid%5D=54&cHash=82db2e2637adc51ac4d6b0b619f82f66#.UnFX7HC-rXA
---------
Navi Pillay: Maldives Supreme Court Is Subverting the Democratic Process
Oct 30, 2013
GENEVA (30 October 2013) – United Nations High Commissioner for Human Rights Navi Pillay expressed her deep concern Wednesday about "the dangerous drift in the democratic process" in the Maldives largely as a result of the Supreme Court's repeated interventions in the presidential election process.
"I am alarmed that the Supreme Court of the Maldives is interfering excessively in the Presidential elections, and in so doing is subverting the democratic process and violating the right of Maldivians to freely elect their representatives," the High Commissioner said.
The Supreme Court nullified the first round of the Presidential Election of 7 September 2013 on the basis of irregularities in the process, despite the general conclusions by national and international observers that the election was free and fair.
Full report at:
http://www.ohchr.org/EN/NewsEvents/Pages/DisplayNews.aspx?NewsID=13917&LangID=E
---------
World Uyghur Congress urges calm and caution after Beijing incident on October 28, 2013
Press Release – For immediate release
29 October 2013
The World Uyghur Congress is concerned over a lack of state transparency regarding an incident on October 28, 2013 near Tiananmen Square in Beijing. The World Uyghur Congress believes that the Chinese government's online censorship of details about the incident, detention of overseas journalists covering the story and official silence is an indication the public will never hear a free and fair account of events in Beijing. The World Uyghur Congress expresses its profound sadness at the loss of life in Beijing on Monday and restates its categorical rejection of violence in all forms.
"Today, I fear for the future of East Turkestan and the Uyghur people more than I ever have," said World Uyghur Congress president and Uyghur democracy leader, Rebiya Kadeer in a statement from Washington, DC. "The Chinese government will not hesitate to concoct a version of the incident in Beijing, so as to further impose repressive measures on the Uyghur people. Chinese officials commandeered the war on terror for its own cynical purposes to justify harsh measures against the Uyghurs in East Turkestan. There is no sign we will see anything different this time, even though evidence of what really happened yesterday is thin on the ground."
The Chinese government, through official media, has so far stated police are seeking two "Xinjiang suspects" in relation to the incident. A police notice distributed to hotels in Beijing was widely circulated on the Internet yesterday and indicated authorities are looking for two individuals with Uyghur names. Police in Beijing have yet to confirm the ethnicity of the two "Xinjiang suspects," as well as any firm details and the motivation behind the incident. In addition, the ethnicity of the three individuals believed to have been in the car involved in the incident has not yet been disclosed.
However, police did detain BBC, AFP and Sky News journalists who attempted to report from the scene. According to a Washington Post article, state censors rapidly deleted social media posts on the incident, especially those displaying photographs. Internet searches regarding the events were reportedly blocked. Furthermore, when asked about the incident, Foreign Ministry spokesperson, Hua Chunying simply told reporters that investigations were ongoing. No footage of the incident was broadcast on state broadcaster, CCTV.
The lack of information is consistent with approaches taken by the Chinese authorities to previous incidents involving Uyghurs. Police only confirmed a number of incidents in East Turkestan over the summer of 2013 after a lapse of several days. In the case of an incident that occurred in Lukchun on June 26, 2013, the Chinese government at first imposed a domestic media embargo, deleted any online references to the events and detained overseas journalists attempting to conduct onsite reporting. The Chinese government subsequently declared the Lukchun incident as terror motivated although otherexplanations were available.
Doubts over Chinese claims of Uyghur terrorism have been consistently expressed in the overseas media, including by the New York Times' Ed Wong, the BBC and the New York Times' Andrew Jacobs.
In the era of the "war on terror," the Chinese government has endeavored to link Uyghur dissidents and groups to international terrorism. Chinese authorities continue to defend their crackdowns in East Turkestan in the name of fighting the "three evil forces of separatism, terrorism, and extremism;" however, scholars have cast considerable doubtupon China's assertion that it faces a concerted terrorist threat.
The World Uyghur Congress asks overseas media to treat Chinese authorities' allegations stemming from the October 28, 2013 incident with skepticism and to report on the absence of independently verifiable evidence available to the international community regarding Chinese government claims of Uyghur terrorism, instead of sensationalizing and speculating on a tragic incident.
Tiananmen Square is frequently the site of demonstrations in China. The most notable of these in recent memory is the 1989 democracy protest, which was bloodily suppressed on June 4 of that year. Individuals have also demonstrated their opposition to state policies on Tiananmen, including a 42-year-old man, who self-immolated on the square in 2011 over a legal dispute.
The World Uyghur Congress is also concerned that China's approach to this incident will lead to further demonization of the Uyghur people and incite a fierce state crackdown on East Turkestan. The World Uyghur Congress reminds the Chinese government that it has domestic and international legal obligations to protect the human rights of all its citizens, including Uyghurs, which encompass the right to due process.
China's attempt to link Uyghurs with terrorism has resulted in broader societal discrimination against the Uyghur people. The World Uyghur Congress urges the Chinese government and citizens to act responsibly towards the Uyghur people in the wake of the incident on October 28, 2013. Furthermore, the World Uyghur Congress asks the international community to regard information originating from Chinese state sources, which cannot be independently verified, with suspicion and to express deep concern if China uses the Beijing incident to exacerbate its crackdown on Uyghurs in East Turkestan.
---------
Government Forces Ramp Up Activities in Dagestan after Volgograd Attack
By: Valery Dzutsev
Oct 30, 2013
On October 22, government forces deployed in Dagestan's mountains were significantly reinforced when at least 500 servicemen arrived in the district of Untsukul. Government forces will reportedly also be sent to other districts in Dagestan's mountainous region to improve the deteriorating security situation in the area. While Dagestani interior ministry spokesperson Fatina Ubaidatova told the Kavkazsky Uzel (Caucasian Knot) website that the reinforcements would provide safety for the locals, the latter expressed concern about the influx of the government forces into the area, which has experienced continuing abuses by police.
Full report at:
http://www.jamestown.org/regions/thecaucasus/single/?tx_ttnews%5Btt_news%5D=41539&tx_ttnews%5BbackPid%5D=54&cHash=0d3f438af9f0a5fc28d0b6f78ef4b2be#.UnFX33C-rXA
---------
World Court should opine on Israel, says expert
30 October 2013
The U.N.'s expert on human rights in the Palestinian territories says that if renewed peace talks fail, the General Assembly should seek an opinion from the International Court of Justice on the legal consequences of Israel's occupation of land claimed by the Palestinians.
If the assembly ever approved such a resolution, Israel would be highly unlikely to accept any ruling by the Hague-based court.
Full report at:
http://english.alarabiya.net/en/News/middle-east/2013/10/30/World-Court-should-opine-on-Israel-says-expert-.html
--------
Southeast Asia
Put Hudud on referendum, let Muslims decide once and for all: Malaysian church cleric
Oct 30, 2013
A Catholic bishop has proposed that Malaysian Muslims take part in a referendum to decide once and for all whether they want the Islamic criminal law, or Hudud, imposed on them.
Dr Paul Tan Chee Ing, head of the Catholic Church in the Melaka-Johor diocese, said the referendum was needed following renewed calls to impose Hudud in the wake of rising crime rates.
Speaking to online portal Malaysiakini, Tan said the recent announcement by Brunei to enforce full Shariah law which includes Hudud punishments could drive local Islamic law proponents to push for its implementation in Malaysia.
He noted that Muslim scholars like PAS president Datuk Seri Abdul Hadi Awang had long spoken in favour of Hudud as an effective measure to curb crimes.
Tan said the question of implementing Shariah would not cease in Malaysia and as such it should be put to a vote among Muslims.
"It won't do for non-Muslims to say that they are against the Shariah's imposition in Malaysia if due cognisance is taken of it being an obligation among Muslims to support its imposition.
"Once you take due note of this fact and if you note also that the crime rate is the subject of manipulation by the corrupt and the dysfunctional among the police force and leaders, you will have to accept that the way out of this conundrum is to support a referendum among Muslims on the desirability or not of Shariah's imposition on them," Malaysiakini quoted him as saying.
Full report at:
http://www.themalaysianinsider.com/malaysia/article/put-hudud-on-referendum-let-muslims-decide-once-and-for-all-says-church-cle
---------
Ritual slaughter not to be questioned by non-Muslims, says Muslim NGO
BY MD IZWAN
OCTOBER 30, 2013
Non-Muslims should not question the ritual slaughter of cattle on school grounds for Aidiladha if they do not understand the teachings of Islam, a Muslim non-governmental organisation (NGO) said.
People of other faiths were "unqualified" to question the slaughter ritual ("korban"), said Pertubuhan Kebajikan dan Dakwah Islamiyah SeMalaysia (Pekida) president Jamaludin Yusof.
"They do not understand the teachings of Islam so (they) should not question (the ritual).
"The ritual is not carried out daily and is only for the Aidiladha celebrations. The ritual is a part of our beliefs," he told The Malaysian Insider today.
Full report at:
http://www.themalaysianinsider.com/malaysia/article/ritual-slaughter-not-to-be-questioned-by-non-muslims-says-muslim-ngo
---------
Sabah church group says can't stop them using Allah to instruct Christians
Oct 30, 2013
Law enforcement agencies must prosecute Christians who attempt to proselytize Muslims but the Sidang Injil Borneo (SIB) is totally against Putrajaya banning the word Allah from being used for religious instructions to Christians.
SIB Sabah president Reverend Datuk Jeffrey W. A. Dusing said there were many laws in the country which can be used to act against the minority who attempt to convert Muslims, but "the majority of Christians should not be punished".
"Putrajaya cannot tell us we cannot use the word as it violates religious freedom and constitutional rights," he told reporters after attending a case management on the Sabah church group's challenge against the Home Minister's seizure of religious books that contained the word Allah.
Full report at:
http://www.themalaysianinsider.com/malaysia/article/sabah-church-group-says-cant-stop-them-using-allah-to-instruct-christians
---------
Najib 'Hides' as irate British investors demand JUSTICE at World Islamic forum
Oct 30, 2013
LONDON/KUALA LUMPUR - It is ironical. While British Prime Minister David Cameron was busy lauding his Malaysian counterpart's 'fight' against extremism, thousands of miles away in the Southeast Asian nation, human rights activists were busy doing the opposite.
Indeed, rights groups such as Suaram and Amnesty International had their work cut out in Kuala Lumpur, debriefing Malaysian citizens on what had transpired at the United Nations review on human rights where Malaysia's worsening racial discrimination and eroding democratic space had raised grave concern among member states.
The startling, even surreal, political hypocrisy was also evident in London, where a group calling itself the British Victims of Investing in Malaysia had held a protest outside the Excel International Convention Centre, where Najib was attending the World Islamic Economic Forum or WIEF.
Full report at:
http://www.malaysia-chronicle.com/index.php?option=com_k2&view=item&id=181011:british-investors-embezzled-
----------
North America
US expert doubts possibility that Russia to become Muslim country
Oct 30, 2013
Russia is turning to a Muslim Russia, with a mosque on Red Square in Moscow and with the majority of Muslims as the main ethnic group of the country, believes Daniel Pipes, president of the Middle East Forum. He wrote an article on Russia in the Washington Post. Mark Adomanis, contributor with Forbes does not agree with Mr. Pipes and challenges his arguments.
Daniel Pipes believes that "ethnic Muslims account for 21 million to 23 million of Russia's total population of 144 million, or 15 percent, but their proportion is fast-growing." He explained his point of view in the Washington Post newspaper, saying that Russian women "have on average 1.4 children," while "Muslim women bear 2.3 children on average and have fewer abortions than their Russian counterparts. In Moscow, Tatar women have six children and Chechen and Ingush women have 10."
Full report at:
http://voiceofrussia.com/news/2013_10_28/US-expert-doubts-possibility-that-Russia-to-become-Muslim-country-with-mosque-on-Red-Sq-4287/
---------
Drone strikes to end if Pakistan chooses: US Congressman
2013-10-30
US House of Representatives Foreign Affairs Committee member Congressman Alan Grayson speaking with the BBC has said that drone strikes in Pakistan could end tomorrow if the country wanted and that no such attacks take place without the approval of Pakistan, the BBC Urdu reported.
The Democrat Congressman from Florida also said that he had received no evidence from the Obama administration to suggest that there would be a drop in drone strikes carried out in Pakistan by the end of this year.
Full report at:
http://www.dawn.com/news/1052872/drone-strikes-to-end-if-pakistan-chooses-us-congressman
-----------
Spying on allies is two-way street, says US intelligence chief
30 October 2013
Nations spying on each other's leaders is a two-way street and a long-time practice in the intelligence world, according to the U.S. intelligence chief. But a surveillance sweep on phone records overseas that has prompted an anti-American backlash was carried out by European governments, not the U.S., another intelligence official said.
National Intelligence Director James Clapper spoke to lawmakers in a Congress divided over how to revise National Security Agency surveillance programs that have fuelled bitter criticism at home and abroad. Though most of the programs were enacted as a result of the Sept. 11, 2001, terrorist attacks, U.S. officials are nearly unanimous in saying they're ready for a review to see if the scope of spying remains necessary.
Full report at:
http://www.thehindu.com/news/international/world/spying-on-allies-is-twoway-street-says-us-intelligence-chief/article5288177.ece
-----------
Arab World
Suicide bombs target Iraq security as attacks kill 27
Oct 30, 2013
Three suicide bombings killed 14 Iraqi security force members overnight, officials said Oct. 30, the worst of a series of attacks that left 27 people dead in two days.
The wave of assaults comes as Iraq witnesses its worst violence since 2008, a surge in unrest that has killed more than 5,400 people since the beginning of 2013.
On Wednesday, a roadside bomb exploded near a police captain's car in Tikrit, north of Baghdad, killing a civilian and wounding the officer, police and a doctor said.
The attack followed suicide bombings that killed 19 people, among them 14 security forces members, during the night, according to security and medical officials.
In Tarmiyah, north of Baghdad, two suicide bombers attacked a house where a security meeting was taking place at about 11:30 pm (2030 GMT) on Tuesday, killing 11 people and wounding at least 20.
Full report at:
http://www.hurriyetdailynews.com/suicide-bombs-target-iraq-security-as-attacks-kill-27.aspx?pageID=238&nID=57078&NewsCatID=352
---------
Egypt's liberals are as intolerant as Islamists: Bassem Youssef
30 October 2013
Political satirist Bassem Youssef said Egypt's liberals were as intolerant as their Islamist opponents, and as unwilling to accept criticism of themselves or the country's interim-authorities, in his weekly column in privately-owned daily Al-Shorouk on Tuesday.
"Those who defend liberalism and secularism say they are opposed to religious fanaticism and endorse freedom of opinion. However, when it suits them, they use Quranic verses and Hadiths [sayings of Prophet Mohamed] to justify attacks against their enemies, using the same accusations as religious movements," Youssef said.
Youssef's comments came as Cairo's Appeal Prosecution began looking into a complaint filed by the Muslim Youth Association's legal adviser, charging Youssef with libel, slander, insulting Egypt and its people, and committing obscene acts in public.
Full report at:
http://english.ahram.org.eg/NewsContent/1/64/85039/Egypt/Politics-/Egypts-liberals-are-as-intolerant-as-Islamists-Bas.aspx
----------
Egypt's Nour Party agrees to omit article defining Sharia, with conditions
30 October 2013
The Salafist Nour Party's representative on the constitution panel has laid out his conditions for accepting changes to the status of Sharia law in the amended charter.
Salah Abdel-Maaboud told the privately-owned Al-Hayat channel on Tuesday that his party would agree to the removal of Article 219 if the word 'principles' is removed from Article Two.
Article Two currently says Islam is the state religion, Arabic is its official language and the principles of Islamic Sharia law form the main source of legislation.
Full report at:
http://english.ahram.org.eg/NewsContent/1/64/85107/Egypt/Politics-/Egypts-Nour-Party-agrees-to-omit-article-defining-.aspx
----------
Nasrallah blames Israel for 17,000 Lebanese missing persons
Oct 30, 2013
Israel is responsible for "all Lebanese who have gone missing," Hezbollah leader Hassan Nasrallah declared in a speech in southern Beirut on Monday, according to the group's Al-Manar TV website.
Speaking on a large screen, he also said that Syrian events were affecting everything in Lebanon, the website reported.
"There are 17,000 missing people due to the Israeli occupation," he stated, calling for the appointment of a group to follow up on the matter.
Full report at:
http://www.jpost.com/Middle-East/-blames-Israel-for-17000-Lebanese-missing-persons-330082
--------
Peace envoy Brahimi in talks with Syria's Assad
Oct 30, 2013
UN-Arab League peace envoy Lakhdar Brahimi was meeting President Bashar al-Assad in Damascus Wednesday, the third day of a visit aimed at bringing Syria's warring parties to the negotiating table.
More than 115,000 people have been killed in the 31-month armed uprising against the Assad regime triggered by his forces' bloody crackdown on Arab Spring-inspired democracy protests.
Brahimi has been travelling throughout the Middle East to drum up support for Geneva peace talks, and the Syrian leg of the tour is the most sensitive as he needs to persuade a wary regime and an increasingly divided opposition to attend.
Full report at:
http://www.hurriyetdailynews.com/peace-envoy-brahimi-in-talks-with-syrias-assad.aspx?pageID=238&nID=57076&NewsCatID=352
---------
Saudi Arabia grants legal status to 0.8m Pakistanis
October 30, 2013
Saudi Arabia decided to grant legal status to 0.8 million Pakistanis living in the kingdom.
These Pakistanis were living in Saudi Arabia as illegal citizens and were due to be evicted on November 3. However, in an interview with Arab News, Pakistani ambassador to Saudi Arabia, Muhammad Naeem Khan said that they have been granted legal status, Radio Pakistan reported.
Full report at:
http://tribune.com.pk/story/624659/saudi-arabia-grants-legal-status-to-0-8m-pakistanis/
---------
Pakistan
Bomb kills two soldiers in South Waziristan
2013-10-30
ISLAMABAD: A bomb explosion on Wednesday killed two Pakistani soldiers and wounded four others in village situated in South Waziristan tribal region near the Afghan border, security officials said.
The explosion took place in a village in the South Waziristan tribal region.
A senior security official told AFP that two soldiers were killed and four others were injured when an improvised explosive device planted by terrorists exploded on roadside in a village.
Homemade bombs are a major weapon for militants who attack government forces in Pakistan's northwestern Khyber Pakhtunkhwa province and the tribal districts bordering Afghanistan.
Full report at:
http://www.dawn.com/news/1052901/bomb-kills-two-soldiers-in-south-waziristan
---------
Afghan peace council to meet Mullah Baradar in Pakistan
October 30, 2013
ISLAMABAD: After weeks of mystery surrounding Taliban senior leader Mullah Abdul Ghani Baradar, Afghan officials on Wednesday said Pakistan has agreed to allow representatives of the government-backed High Peace Council to meet him in Pakistan.
Prime Minister Nawaz Sharif agreed to a demand by Afghan President Hamid Karzai for direct access to the Taliban leader at the trilateral summit held in London, a statement issued by the presidential palace stated.
Full report at:
http://tribune.com.pk/story/624630/afghan-peace-council-to-meet-mullah-baradar-in-pakistan/
---------
70 suspects arrested during Rawalpindi operation
2013-10-30
RAWALPINDI: At least 70 suspects were arrested by police personnel during search operations in different areas of Rawalpindi on Wednesday, DawnNews reported.
Security men conducted raids in the areas of Mandi Mor, Chur Chowk, I.J. Principal Road situated in Pirwadhai as well as several other areas.
During the operations, police arrested 70 suspects. The arrested persons could not produce any documents pertaining to their identification or area of residence.
Full report at:
http://www.dawn.com/news/1052906/70-suspects-arrested-during-rawalpindi-operation
---------
Twin blasts rock Quetta; at least two killed
30 October 2013
QUETTA: At least two people were killed and several injured Wednesday when two powerful back-to-back explosions rocked Quetta, the capital of Balochistan province.
The blast struck the city's Double Road area, a busy commercial neighbourhood, breaking the glass windows of nearby buildings and setting several vehicles on fire.
Full report at:
http://www.dawn.com/news/1052935/twin-blasts-rock-quetta-at-least-two-killed/print
-----------
Islamic nations can make great contributions to the world, says Nawaz
2013-10-29
LONDON: Prime Minister Nawaz Sharif on Tuesday said that with more than 1.5 billion people, over 835 million youth and a combined GDP of $6.6 trillion, the Islamic nations have much to offer the world, both in economic contribution as well as socio-political philosophies.
"The Islamic world is spread over a landmass which is one-third of the world," the prime minister said while addressing the 9th World Islamic Economic Forum (WIEF) in London.
"These countries are inheritors of rich traditions of trade and cultural exchanges through the centuries, from highlands of north-eastern Eurasia to vast boundaries of Europe and Africa, both through the historical silk route and deep waters of Arabian and Mediterranean seas," he said.
Full report at:
http://www.dawn.com/news/1052696/islamic-nations-can-make-great-contributions-to-the-world-says-nawaz
-----------
No more late night chats for Sindh jail inmates, terrorists
October 30, 2013
KARACHI: The authorities in Sindh have decided to immediately install cellular service jammers in seven provincial jails after it was revealed that many inmates were in contact with terrorists, Express News reported on Wednesday.
The jammers will be installed in prisons located in Karachi, Larkana, Sukkur and Khairpur.
The use of mobile phones by inmates has been a serious security issue for the jail authorities.
Earlier in June, police and Rangers had raided the Karachi Central Jail and found a mobile phone that was allegedly used to plan an attack targeting a senior judge in the city.
Mobiles in jails
Full report at:
http://tribune.com.pk/story/624658/no-more-late-night-chats-for-sindh-jail-inmates-terrorists/
----------
2,160 militants, 67 civilians killed in US drone strikes so far: Pakistan
PTI | Oct 30, 2013
ISLAMABAD: Amid debates over legality of the controversial US drone strikes, Pakistan on Wednesday said over 2,100 militants and 67 civilians have been killed in the attacks by unmanned CIA spy planes in the country's restive tribal areas.
Interior minister Chaudhry Nisar Ali Khan told the Senate that 12,404 people have been killed in the incidents of terrorism.
"2,160 militants and 67 civilians have so far been killed in drone attacks," state-run Radio Pakistan quoted the interior minister as saying.
Full report at:
http://timesofindia.indiatimes.com/world/pakistan/2160-militants-67-civilians-killed-in-US-drone-strikes-so-far-Pakistan/articleshow/24932495.cms
---------
Pakistan drone victims give evidence in US
30 Oct 2013
Two young Pakistani victims of a US drone attack and their father have appeared in Washington to give evidence about their experiences - with only five members of Congress present to hear them.
Nabila Rehman, nine, and her 13-year-old brother Zubair travelled with their father Rafiq from their North Waziristan village to appear before members of Congress, and urge the US to end its drone attacks.
Full report at:
http://www.aljazeera.com/news/americas/2013/10/pakistan-drone-victims-give-evidence-us-2013103003356100301.html
---------
India
Geelani asks Taliban to stabilise Afghanistan
M Saleem Pandit, TNN | Oct 30, 2013
SRINAGAR: Separatist Syed Ali Geelani on Tuesday urged the Afghan Taliban to stabilize their country "before making any plans for Kashmir" after the US withdrawal from Afghanistan next year.
He said Kashmir will "need the diplomatic support" of the Taliban-led government in future. "We want them to support us diplomatically on the international level. They should raise their concerns for Kashmir after they become successful in making the government in Afghanistan," said Geelani in a statement.
Full report at:
http://timesofindia.indiatimes.com/india/Geelani-asks-Taliban-to-stabilize-Afghanistan/articleshow/24904811.cms
---------
Tharoor: civilian government not entirely in control in Pakistan
30 October 2013
Says 26/11, LoC incidents show gap between Islamabad's official statements and military action
Queering the pitch at an India Pak Young Entrepreneurs Bilateral meeting on Tuesday, Union Minister of State for Human Resources Development Shashi Tharoor in a recorded address has said that the Mumbai attacks five years ago and the recent Line of Control (LoC) incidents have shown a gap between Pakistan's official statements and military action, and the civilian government, even if sincere, is not entirely in control of the security apparatus.
Full report at:
http://www.thehindu.com/news/international/south-asia/tharoor-civilian-government-not-entirely-in-control-in-pakistan/article5285907.ece
-----------
South Asia
The Bangladesh poor selling organs to pay debts
Oct 30, 2013
Kalai, like many other villages in Bangladesh, appears a rural idyll at first sight. But several villagers here have resorted to selling organs to pay back microcredit loans that were meant to lift them out of poverty. Journalist Sophie Cousins reports on an alarming consequence of the microfinance revolution.
Green rice paddies surround the dusty, narrow road to the heart of Kalai, a village six hours north of Dhaka, in Bangladesh's Jotpurhat district. Children play naked, hanging off stringy bits of bamboo that hold up the makeshift hut they live in.
They, like millions of other rural Bangladeshis, grow up facing a life of hardship. In an attempt to alleviate poverty, countless numbers take on debt with microcredit lenders, only to find themselves in a difficult situation when they are unable to repay the loan.
Full report at:
http://www.bbc.co.uk/news/world-asia-24128096
---------
Afghans tried to court Pakistani militant seized by US
Reuters | Oct 30, 2013
WASHINGTON: The US apprehension of a Pakistani Taliban commander last month came during a failed attempt by Afghan officials to form an alliance with his militant group, a Western official said on Tuesday, confirming some details in a New York Times report.
The United States this month confirmed the arrest of Latif Mehsud, a trusted deputy to Pakistani Taliban leader Hakimullah Mehsud, during a military operation that heightened tensions with the Western-backed government of Afghan President Hamid Karzai.
Full report at:
http://timesofindia.indiatimes.com/world/us/Afghans-tried-to-court-Pakistani-militant-seized-by-US/articleshow/24900021.cms
---------
China backs Pak on terror issue amid renewed focus
30 October 2013
China on Tuesday strongly backed Pakistan on the issue of terrorism, even as Army Chief Ashfaq Parvez Kayani held talks with top Chinese internal security officials here.
The issue has come under renewed focus with Chinese officials saying they were searching for "suspects" from Xinjiang, hours after five people were killed in Tiananmen Square when a car drove into a crowd and burst into flames.
China has, in the recent past, pointed the finger at Pakistan-based terror groups for fomenting violent attacks in its far-western Xinjiang region, which borders Pakistan-occupied Kashmir.
Full report at:
http://www.thehindu.com/news/international/china-backs-pak-on-terror-issue-amid-renewed-focus/article5287892.ece
-----------
Maldives Parliament accepts bill to criminalise tourism boycotts
By Zaheena Rasheed | October 29th, 2013
The People's Majlis has today accepted a bill prohibiting tourism boycotts, with 30 members voting for, 30 members voting against, and Maldivian Democratic Party (MDP) MP Abdulla Shahid casting the deciding vote as speaker of the house.
The tourism boycott bill would criminalize calls for a boycott, as well as the supporting or endorsing of a boycott, participating in a tourism boycott, or any act that would incite fear amongst tourists.
Full report at:
http://minivannews.com/politics/majlis-accepts-bill-to-criminalise-tourism-boycotts-70222
---------
People should know what we talked about: Bangladesh PM
Oct 30, 2013
Prime Minister Sheikh Hasina today said the countrymen should know the full content of the conversation between her and the opposition leader Khaleda Zia.
The premier's comment came amid a countrywide debate whether it was right to making public the two political leaders' much-talked-about conversation on Saturday evening.
The two leaders talked for 36 minutes as the whole nation was expecting that they would initiate a dialogue to break the political standoff centring an election-time government.
Commenting on the conversation, Hasina said she had to hear many "humiliating" and "irrelevant" words from her arch rival.
Full report at:
http://www.thedailystar.net/beta2/news/people-should-know-what-we-talked-about-pm/
---------
Bangladesh Jamaat man arrested for looting shops of Hindus
Oct 30, 2013
Police arrested a Jamaat man yesterday on charge of vandalising and looting Hindu people's shops at Shafinagar Bazar village in Patgram Upazila.
The arrestee is Abdus Samad, 47, a member of Upazila unit Jamaat and resident of the village. He is an employee of Shafinagar Bazar sub-post office.
Police and locals said, a group of BNP and Jamaat-Shibir men vandalised and looted at least 18 shops of Hindus in the remote area on Sunday, the first day of the opposition called 60-hour Hartal.
Full report at:
http://www.thedailystar.net/beta2/news/jamaat-man-arrested-for-looting-shops-of-hindus/
---------
Mideast
Latest EU progress report 'more well-intentioned': PM Erdoğan
Oct 30, 2013
Prime Minister Recep Tayyip Erdoğan has softened his stance on the European Union's latest progress report on Turkey, saying that it contents showed that it was "more well-intentioned" compared to previous years.
"It is not that there aren't [criticisms] that we disagree with. But our latest democratization package and the administrative steps that we undertook afterward have caused serious positive repercussions in the European Union," Erdoğan said today during a joint press conference in Istanbul with visiting Romanian counterpart Victor Ponta, a few hours after the opening ceremony of the Marmaray Tunnel.
Full report at:
http://www.hurriyetdailynews.com/latest-eu-progress-report-more-well-intentioned-pm-erdogan.aspx?pageID=238&nID=57067&NewsCatID=338
---------
Nationalist party head urges CHP to be 'understanding' over headscarved deputies
Oct 30, 2013
Nationalist Movement Party (MHP) leader Devlet Bahçeli has urged the main opposition Republican People's Party (CHP) to be "understanding" if female ruling party lawmakers choose to wear headscarves at Parliament.
Bahçeli told reporters during the reception at the Presidential Palace in Ankara marking the Republic Day that the MHP would give a "respectful reception" to headscarved deputies at Parliament. "The CHP should also be understanding," he added.
Full report at:
http://www.hurriyetdailynews.com/nationalist-party-head-urges-chp-to-be-understanding-over-headscarved-deputies.aspx?pageID=238&nID=57068&NewsCatID=338
---------
Netanyahu appeals to Israeli-Arabs on economic integration: We'll do our part if you do yours
Oct 30, 2013
The government will do its part to provide infrastructure to help integrate Israel's Arab citizens into the workforce, Prime Minister Binyamin Netanyahu said on Tuesday, but specified that the community must do its fair share.
"We'll invest in the national infrastructure. I want you to invest in your personal infrastructure," he said at the third annual Prime Minister's Conference on economic issues at Tel Aviv University, this year focusing on Arab integration.
"When we say an equal society, it's both in terms of obligations and rights," he said.
While it is incumbent on the government to provide roads, education and safety, Netanyahu said, it is important to inspire a sense of entrepreneurship and possibility within the Arab community. To that end, he announced that at next year's conference, he would meet with promising female Arab entrepreneurs and business students.
Full report at:
http://www.jpost.com/Business/Business-News/Netanyahu-appeals-to-Israeli-Arabs-on-economic-integration-Well-do-our-part-if-you-do-yours-330126
---------
Israel to build 1,500 new settler homes in East Jerusalem
30 October 2013
Israel will build 1,500 settler homes in the East Jerusalem settlement of Ramat Shlomo, following Wednesday's decision by Israeli Prime Minister Benjamin Netanyahu and Interior Minister Gideon Saar.
Israeli army radio made the announcement on Wednesday, according to Agence France-Presse.
The decision to expand the settlement comes after Israel began freeing 26 long-serving Palestinian prisoners on Wednesday as part of an agreed deal to set free 104 before the resumption of peace talks with the Palestinian Authority.
Full report at:
http://english.alarabiya.net/en/News/middle-east/2013/10/30/Israel-to-build-1-500-new-settler-homes-in-East-Jerusalem.html
----------
URL: https://www.newageislam.com/islamic-world-news/new-age-islam-news-bureau/islamic-extremist-attack-on-nigerian-provincial-capital-leaves-128-dead/d/14218