New Age Islam News Bureau
29 May 2013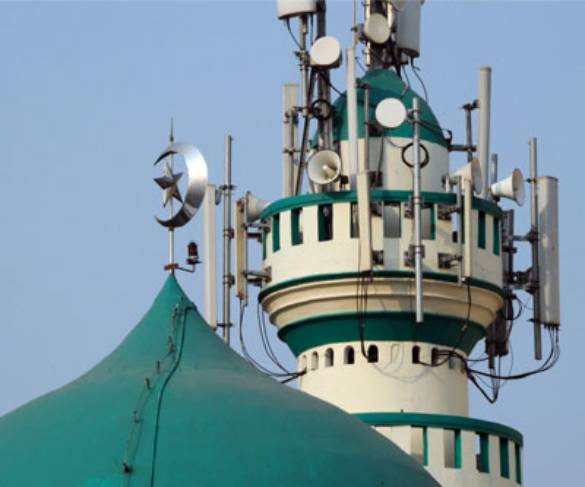 Loudspeakers and telecommunication antennas from various telecommunication companies are installed on the minaret of Jami Babus Salam mosque in Jakarta.(AFP Photo)
-------
Europe
• Three Islamic Extremist Inmates Attack UK Jail Warden
• Six Bosnian Croat ex-leaders convicted of war crimes
• French prosecutor: 'Radical Muslim' suspect admits to stabbing soldier
• Russia, China to hold anti-terror drills
• France urges 'joint action' on southern Libya Islamists
• Moscow firm on missile help for Damascus
• Parliamentarians investigating MI5 link with Woolwich killers
North America
• Islamic Missionaries Guild President: US Should Be Last To Talk on Muslims
• San Bernardino County approves Muslim prayer services despite opposition
• CAIR Asks FBI to Probe Georgia Mosque Vandalism Tied to London Attack
Pakistan
• Lashkar-i-Islam makes Prayers, beard, Burqa Obligatory on Bara people
• US drone strike kills TTP number two Waliur Rehman
• Three Years On, No Justice for 86 Dead Ahmadis
• Nawaz Sharif reaches out to 'Godfather of the Taliban' for help in negotiations with Islamists
• Drone strike in North Waziristan kills 7
• Blast outside Imambargah in Peshawar kills two, injures 17
• PHC orders two Facebook pages be blocked for 'blasphemy'
• Supreme Court asked to stop parleys with Taliban
• PPPP grabs 16 women, five minority seats in Sindh PA
India
• Foreign Minister backs interest-free banking system in India
• Reservation to Muslims after all legal hurdles removed: Maharashtra CM
• Hope Nawaz Sharif fulfils promises he made during campaign, says Salman Khurshid
• 26/11 terror attack case: India may get access to Headley, Tahawwur Rana for questioning
• Task force to survey Waqf land
• Embrace education for progress, vice president tells Muslims
• Kashmiri Pandits hold protest for quick passage of temple Bill
Arab World
• Iraq violence: New bombings and gun clashes kill 13
• 5 Years in Jail, 500 Lashes To A Saudi For Blackmailing Woman For Sex
• 'Two-riyal' dowry brings pride to Bani Thabit tribe in Saudi Arabia
• Hezbollah sends more fighters to Syria after rebels issue ultimatum
• Islamic Thought leader: Spread Arab culture of moderate Islam
• Syrian rebels urge European Union to send them weapons
• OIC and UN discuss ways to tackle incitement to terrorism
• Syria fighting rages, more chemical attacks reported
• Egypt's 'rebel' campaign to reveal final anti-Mursi signature count
South Asia
• Six suicide attackers killed in Afghanistan: officials
• Burma Muslim-Buddhist clashes erupt in Shan state
• Growing crystal meth use blurs drug-hungry Afghanistan's future
• Chinese schoolboy, 15, exposed as Egypt's ancient temple graffiti vandal
• Britain holding up to 90 suspects at Afghanistan base
Africa
• Kenyan Police Kill Muslim Cleric with Ties to Somali Militants
• Kenya Police Accused of Abusing Somali Refugees
• Boko Haram rebels say Nigerian military offensive is failing
• Tunisian Police Stop FEMEN Activists Disrobing
• A daring rescue in Mali saves pages of history
• Seize chance to protect women's rights, HRW tells Libya
• Somali Govt to Exploit Al-Shabaab's Widening Internal Rift
Mideast
• Gaza's 'Rocket' hopes to fulfill 'Palestinian dream'
• Israel, US Threatens War with Syria as Sectarian Fighting Spreads across Region
• Iran's presidential candidates clash over nuclear approach
• Israel Seals Deal Ending Military Exemptions for Ultra-Orthodox
• Netanyahu tells ministers stay silent on Syria
Australia
• Toowoomba's Muslim population plans suburban mosque
Southeast Asia
• Islamic Body Set to Ban Amplification of Mosque Sermons in Indonesia
• Sedition charges against five Malaysian opposition politicians
• Police Officer Publicly Caned in Aceh for Gambling
• Malaysia linked to world's largest money laundering scheme, NYT reports
Compiled by New Age Islam News Bureau
URL: https://newageislam.com/islamic-world-news/new-age-islam-news-bureau/islamic-body-set-to-ban-amplification-of-mosque-sermons-in-indonesia/d/11797
-------------
Islamic Body Set to Ban Amplification of Mosque Sermons in Indonesia
May 29, 2013
Indonesian cities may soon be a bit quieter, as an influential Islamic body has announced it will issue a ban on the amplification of mosque services.
"We're discussing the technical detail and the concept," said Jusuf Kalla, head of Indonesian Mosque Council (DMI), on Tuesday, as quoted by Kompas.com.
Jusuf, who's also a former vice president of Indonesia, said that it's alright for the mosque to use the loudspeaker for azan (call for prayer) but not for other purposes.
"If it is for azan, it's alright as everywhere in the world the mosques use speaker for azan. Azan is a call for people [to pray] and the duration is only three minutes," he said.
Many of Indonesia's 800,000 mosques use loudspeakers to blare Koranic recitals, lengthy sermons and Islamic songs throughout the day and night.
DMI deputy chairman Masdur Farid Masudi said that it's acceptable for mosques to use loudspeakers within their premises for sermons, but that amplification devices facing outward may disturb nearby residents.
"If people come to the mosque it means they need to hear the sermon, but it's not clear whether anonymous people outside the mosque need to hear it or not," Masdar said. "People outside might not agree with the fiery preaching."
Masdar said that in addition to disrupting the neighborhood, amplified sermons also could reveal the "secret of Islam."
"If it's being heard outside, it would strip us naked. People will know all the good and bad information about us," Masdar said.
In Banda Aceh, a 75-year old man named Sayed Hassan won a rare victory against the noisy speaker in one of the local mosques in February. Sayed filed a lawsuit against local religious officials alleging that the noise from a nearby mosque's six loudspeakers had negatively impacted his life.
He was forced to withdraw the legal action and an angry mob threatened to kill him. But after he dropped the case, the mosque volume was significantly turned down by about half.
With additional reporting from AFP
http://www.thejakartaglobe.com/news/islamic-body-set-to-ban-amplification-of-mosque-sermons/
-------------
Europe
Three Islamic Extremist Inmates Attack UK Jail Warden
Kounteya Sinha, TNN | May 29, 2013
LONDON: Ripples from last Wednesday's explosive Woolwich murder of soldier Lee Rigby have now been felt in one of Britain's maximum-security prisons.
Three jailed Islamic extremists in Full Sutton prison in East Yorkshire carried out a brutal attack on a warder after an imam reportedly called on them to pray for Rigby. The trio snatched the warder from the high-security prison and held him hostage for four hours, beating him to a pulp.
The victim, who is in his thirties, was locked in a cleaning room where he was beaten with mop handles. He was told by the three attackers that they he would die. By the time the attack ended around 8 pm on Sunday, when armed guards barged in to rescue the officer, he had serious injuries, a broken jaw and was covered in bruises and blood. He has been discharged from hospital.
A female colleague who was involved in rescuing the victim also suffered injuries.
The North East Counter Terrorism Unit, which is investigating the attack, said two of the suspects were aged 25 and the other 26. Officers said the vicious attack was sparked by a simple call from the prison imam to pray for drummer Lee. The ringleader of the attack was left outraged by the call. He felt the 25-year-old's murder was justified. Joined by two fellow Muslims, an African-born inmate and a British convert, they kidnapped the guard and set upon him.
"The ringleader wanted to start a riot," prison officers said. "After taking a hostage he was shouting for 'true Muslims' to join a holy war."
http://timesofindia.indiatimes.com/world/uk/Three-Muslim-inmates-attack-UK-jail-warden/articleshow/20322261.cms
-------------
Six Bosnian Croat ex-leaders convicted of war crimes
29 May 2013
A UN tribunal has found six former Bosnian Croat leaders guilty of war crimes and crimes against humanity during the 1990s Balkan wars.
They were convicted of persecuting and murdering Bosniaks (Bosnian Muslims) and other non-Croats in a plan to create an ethnic Croat state in Bosnia.
The court in The Hague jailed Jadranko Prlic, the leader of the self-proclaimed state, for 25 years.
The other five men received prison sentences ranging from 10 to 25 years.
They are:
Bruno Stojic - former defence minister of the breakaway Herceg-Bosna mini-state - 20 years in jail
Slobodan Praljak - former militia head - 20 years
Milivoj Petkovic - former militia head - 20 years
Valentin Coric - former commander of Bosnian Croat military police - 16 years
Berislav Pusic - ex-head of prisoner exchanges and detention facilities - 10 years
The six men are now expected to appeal.
'Greater Croatia' plan
A three-judge panel at the International Criminal Tribunal for the former Yugoslavia (ICTY) convicted the wartime leaders by a majority decision.
The judges ruled that murders, persecutions, rape and torture of Muslims "were not committed in a random manner by a few undisciplined soldiers" but were part of the plan to remove Muslims from the self-proclaimed Herceg-Bosna state in 1993-94.
They also said it was a religiously-motivated campaign, describing how mosques were blown up and Muslim prisoners were forced to recite Christian prayers.
Referring to the forcible expulsion of the Muslim population from the eastern part of the city of Mostar, the panel said: "Muslims were woken up in the middle of the night, beaten and forced to leave their apartments, often still in their pyjamas. Many women, including a girl of 16, were raped by HVO (Croatian Defence Council) soldiers".
The aim of the Bosnian Croat campaign was to carve out an ethnic Croat mini-state, annexing it later to become part of a greater Croatia.
The judges also concluded that late Croat President Franjo Tudjman was a key participant in the plan.
The six defendants - who voluntarily surrendered themselves to the tribunal's custody in 2004 - showed no emotion as the court's verdict was read out.
The trial - which began in 2006 - was the tribunal's longest running case, the BBC's Anna Holligan at The Hague reports.
http://www.bbc.co.uk/news/world-europe-22703379
----------
French prosecutor: 'Radical Muslim' suspect admits to stabbing soldier
29 May 2013
A suspect arrested Wednesday has admitted to the weekend stabbing of a French soldier in Paris and was probably acting based on his "religious ideology," Paris prosecutor Xavier Molins tells AFP news agency.
Molins said the man, named Alexandre and who turns 22 on Thursday, had converted to Islam and was known to police after undergoing an identity check in 2007 for praying on the street.
"The suspected perpetrator of the attack on a soldier Saturday evening in La Defense (business district) was arrested this morning," Interior Minister Manuel Valls said in a statement, reported AFP.
Sources close to the investigation said the 22-year-old man has been a follower of a "traditionalist even radical Islam for the last three or four years."
The French soldier had been patrolling a business neighborhood west of Paris on Saturday when he was stabbed in the neck by a man who quickly fled the scene, President Francois Hollande said.
The soldier was patrolling in uniform with two other men as part of France's Vigipirate anti-terrorist surveillance plan when he was approached from behind around 1800 p.m. and stabbed in the neck with a knife or a box-cutter.
Pierre-Andre Peyvel, police prefect for the Hauts-de-Seine area, said the soldier had lost a considerable amount of blood but would survive, and was being treated in a nearby military hospital.
"The wound appears to be quite serious, but it's not life-threatening," he told iTele news television, according to Reuters News Agency.
The attack came days after a British soldier was killed on a London street by two men who said they were acting out of revenge for violence against Muslims.
http://english.alarabiya.net/en/News/world/2013/05/29/Police-arrest-radical-Muslim-over-French-soldier-s-stabbing-.html
----------
Russia, China to hold anti-terror drills
IANS | May 28, 2013
MOSCOW: Russia and China will conduct joint anti-terrorism exercises in Russia's Urals region in the first two weeks of August, a spokesman for the Central Military District said.
"An international anti-terrorism exercise with the units of the People's Liberation Army (PLA) at the Chebarkul military training area in the Chelyabinsk region is scheduled for August 1-15," Col. Yaroslav Roshchupkin told RIA Novosti Monday.
Full report at:
http://timesofindia.indiatimes.com/world/europe/Russia-China-to-hold-anti-terror-drills/articleshow/20313185.cms
-------------
France urges 'joint action' on southern Libya Islamists
AFP | May 29, 2013
NIAMEY: France's foreign minister on Tuesday urged Libya and its neighbours to work together to tackle threats from "terrorist groups", as he visited Niger a week after the country was hit by deadly attacks blamed on Islamists from southern Libya.
"It seems we must make a special effort on southern Libya, which is also what Libya wants," Laurent Fabius said after meeting Niger President Mahamadou Issoufou in Niamey.
France's top diplomat said they had discussed "measures that could be taken by neighbouring countries" in liaison with Libya to deal with possible actions by "terrorist groups".
Full report at:
http://timesofindia.indiatimes.com/world/middle-east/France-urges-joint-action-on-southern-Libya-Islamists/articleshow/20321818.cms
-------------
Moscow firm on missile help for Damascus
AP | May 29, 2013
MOSCOW: Russia reserves the right to provide Syria with state-of-the art air defence missiles, seeing it as a key deterrent against foreign intervention in the country, a top Russian official said on Tuesday. Deputy foreign minister Sergei Ryabkov wouldn't say whether Russia has shipped any of the long-range S-300 air defence missile systems, but added that Moscow isn't going to abandon the deal despite strong western and Israeli criticism.
Full report at:
http://timesofindia.indiatimes.com/world/rest-of-world/Moscow-firm-on-missile-help-for-Damascus/articleshow/20321679.cms
-------------
Parliamentarians investigating MI5 link with Woolwich killers
Kounteya Sinha, TNN | May 28, 2013
LONDON: Britain's Parliamentary Intelligence and Security Committee (ISC) has launched an inquiry into the link its spy agency MI5 had with Woolwich killers Michael Adebolajo and Michael Adebowale.
Ever since the gruesome beheading of British soldier Lee Rigby, disturbing new information has been coming into light indicating that the duo were known to MI5.
Sir Malcolm Rifkind, the committee chairman said investigations were on to see whether the murder of Rigby could have been averted by MI5.
Sir Malcolm said on Tuesday there's been a very huge increase in the resources for MI5 and other intelligence agencies since the 7/7 bombings.
"Whether this is relevant to the Woolwich incident, frankly I'm not going to comment on it at the moment," he said.
Full report at:
http://timesofindia.indiatimes.com/world/uk/Parliamentarians-investigating-MI5-link-with-Woolwich-killers/articleshow/20316346.cms
-------------
North America
Islamic Missionaries Guild President: US Should Be Last To Talk On Muslims
May 29, 2013
Geisha Kowlessar
President of the Islamic Missionaries Guild Imtiaz Mohammed says the United States ought to be the "last to talk" about discrimination against Muslims when it is the US that discriminates against Muslims. He was commenting on the International Religious Freedom Report for 2012, which said several Caribbean countries, including T&T, Jamaica, Haiti and the Bahamas, were discriminating against Rastafarians, voodoo practitioners and Muslims.
The report said during the 2011 three-month state of emergency, 16 Muslim men were arrested for alleged involvement in a plot to assassinate the Prime Minister and three other Cabinet ministers. The report said none of the men was charged with any crime and they were released after a week.
Full report at:
http://www.guardian.co.tt/news/2013-05-29/islamic-missionaries-guild-president-us-should-be-last-talk-muslims
----------
San Bernardino County approves Muslim prayer services despite opposition
BY IMRAN GHORI
May 21, 2013
Despite opposition from neighbours, San Bernardino County supervisors voted Tuesday, May 21, to allow an Islamic centre to operate in an unincorporated area of the county near Chino.
The temporary use permit, approved on a 3-1 vote, allows the Al-Nur Islamic Centre to hold prayer services at an existing house on the 1.54-acre site between Chino and Montclair.
Last year, supervisors approved plans for a 7,000-square-foot mosque on the property but opponents sued to block it. A judge ruled in February that the county must conduct an analysis of whether the project has enough sewage capacity but dismissed claims related to traffic, noise and other issues. The sanitation issue is expected to be dealt with separately later.
Full report at:
http://www.pe.com/local-news/politics/imran-ghori-headlines/20130521-san-bernardino-county-supervisors-approve-muslim-prayer-services-despite-opposition.ece
-------------
CAIR Asks FBI to Probe Georgia Mosque Vandalism Tied to London Attack
Muslim civil rights group urges U.S. mosques to use new safety guidelines
5/28/13)
(WASHINGTON, D.C., 5/28/13) -- The Council on American-Islamic Relations (CAIR), the nation's largest Muslim civil rights and advocacy organization, today called on state and federal law enforcement authorities to investigate vandalism targeting a Georgia mosque as a hate crime.
Police in Alpharetta, Ga., are investigating graffiti spray-painted on the sign for the Islamic Center of North Fulton. The graffiti included the phrase "London Justice," an apparent reference to the recent attack on a British soldier in London.
Full report at:
-------------
Pakistan
Lashkar-i-Islam makes Prayers, beard, Burqa Obligatory on Bara people
Ibrahim Shinwari
May 29, 2013
LANDI KOTAL, May 28: The Bara-based banned militant group, Lashkar-i-Islam, has made obligatory the offering of five-time prayers, keeping a beard and wearing a cap for men and veil (Burqa) for women in the areas under its control.
Declaring the new fatwa (edict) on behalf of LI chief Mangal Bagh, the local commanders at Baaz Garha – a town of around 300 families located 15 kilometres west of Bara Bazaar – told an assembly of around 200 terrified residents that anyone violating any of these restrictions would be fined Rs1,000.
Sources said that the residents, mostly of Kamarkhel tribes, were assembled at the centre of the village after announcements through loudspeakers of local mosques. They were also 'ordered' to send at least one volunteer from each family into the LI ranks, sources said and added that they had been warned that a monthly fine of Rs1,000 would be collected from families who failed to send volunteers to the LI.
Full report at:
http://beta.dawn.com/news/1014653/prayers-beard-burqa-li-slaps-restrictions-on-bara-people
-------------
US drone strike kills TTP number two Waliur Rehman: security officials
May 29, 2013
PESHAWAR: A US drone strike killed Waliur Rehman, the number two of the Pakistani Taliban, in the northwestern tribal region of North Waziristan region on Wednesday, three security officials said.
Rehman had been poised to succeed Hakimullah Mehsud as leader of the Tehrik-i-Taliban Pakistan, a senior army official based in the South Waziristan tribal region, the group's stronghold, said in December.
The Pakistani Taliban are a separate entity allied to the Afghan Taliban. The banned group has launched devastating attacks against the Pakistani military and civilians.
Full report at:
http://beta.dawn.com/news/1014506/us-drone-strike-kills-four-in-north-waziristan
-------------
Three Years On, No Justice for 86 Dead Ahmadis
Sumaira Jajja
May 29, 2013
"It seems like time has stopped. I never thought I would bury my grandson, the same child who held my fingers as a toddler and learnt to walk," said Nizam*.
An elderly gentleman, Nizam survived one of the deadliest attacks on minorities in Pakistan three years ago.
The attack, carried out in Lahore's Model Town and Garhi Shahu localities simultaneously on May 28, 2010 against a group of unarmed Pakistanis, left 86 dead and over 150 men and children injured. The Punjabi Taliban took responsibility for the attacks.
And what exactly was the fault of the dead? They were Ahmadis.
Having been deemed 'wajib-ul-qatl' (deserving of death) by many in the country, Ahmadis are the only minority in Pakistan who have been hounded for their faith, with the laws of the land strengthening this discrimination.
Full report at:
http://beta.dawn.com/news/1014484/three-years-on-no-justice-for-86-dead-ahmadis
-------------
Nawaz Sharif reaches out to 'Godfather of the Taliban' for help in negotiations with Islamists
OMAR WARAICH, ANDREW BUNCOMBE
28 MAY 2013
Pakistan's prime minister-elect is pushing ahead with plans to try and negotiate a peace settlement with the country's militants and has asked a man known as the "Godfather of the Taliban" to act as an intermediary.
A week before he is due to be sworn in, Nawaz Sharif and his senior officials have approached a hard-line Islamist leader and politician, Sami ul Haq, and asked him to act as his envoy and make contact with the Taliban insurgents.
Mr Sharif is likely to receive backing for the proposed negotiations from Pakistan's Islamist political parties and his rival Imran Khan. The former cricket star's party is poised to form a coalition government in the northwest province of Khyber Pakhtunkhwa (KPK) and has also asked Mr Haq to approach the militants.
Full report at:
http://www.independent.co.uk/news/world/asia/pakistans-incoming-prime-minister-nawaz-sharif-reaches-out-to-godfather-of-the-taliban-sami-ul-haq-for-help-in-negotiations-with-islamists-8634971.html
-------------
Drone strike in North Waziristan kills 7
May 29, 2013
ISLAMABAD: A Foreign Ministry official condemned Wednesday's drone strike which killed seven people in North Waziristan as a breach of sovereignty.
"Any drone strike is against the territorial integrity and sovereignty of Pakistan and we condemn it," the official, who declined to be identified, told Reuters.
The strike, reported by security officials, was the first such attack since a May 11 general election in which the use of the unmanned aircraft was a major issue.
US President Barack Obama recently indicated he was scaling back the drone strike programme, winning cautious approval from Pakistan.
Full report at:
http://tribune.com.pk/story/555951/four-killed-in-a-drone-strike-in-north-waziristan/
-------------
Blast outside Imambargah in Peshawar kills two, injures 17
May 28, 2013
PESHAWAR: A bomb exploded outside an Imambargah in Imamia Colony on GT Road in Peshawar on Tuesday evening, killing at least two people and injuring 17 others.
Police and bomb disposal officials said that up to three kilogrammes of explosives had been planted in a motorcycle and detonated using a remote control. The vehicle was parked near the Imambargah Sakhi Munawar Shah. The explosion was powerful enough to destroy the windows of nearby buildings.
Full report at:
http://tribune.com.pk/story/555512/explosion-in-peshawar-4/
-------------
PHC orders two Facebook pages be blocked for 'blasphemy'
May 29, 2013
PESHAWAR: The Peshawar High Court (PHC) on Tuesday ordered authorities to block Facebook pages allegedly containing blasphemous content.
A division bench comprising PHC Chief Justice Dost Muhammad Khan and Justice Qaiser Rashid also sought a reply from the Ministry of Religious Affairs, Ministry of Information and Broadcast, secret agencies and the Pakistan Telecommunication Authority (PTA) on a petition filed by Advocate Arif Jan.
Full report at:
http://tribune.com.pk/story/555699/blasphemous-content-phc-orders-two-facebook-pages-be-blocked/
-------------
Supreme Court asked to stop parleys with Taliban
By Hasnaat Malik
May 29, 2013
ISLAMABAD: The Supreme Court was petitioned on Tuesday for issuance of a declaration that no person, civil or military, can engage in any contact or negotiation with any private army (the Taliban), an act that is forbidden by Article 256.
Freelance journalist Shahid Orakzai has filed the petition under Article 184(3) of the constitution, nominating as respondents the Joint Chiefs of Staff Committee through its chairman and Inter-Services Intelligence (ISI) director general. He requested the court to instruct the ISI DG to identify the persons who are in contact with the Taliban and their mode of communication. "Instruct respondent Chairman to preempt any contact/dialogue/negotiations on the territory of Pakistan between the enemy and any politico-religious person/party advocating peace with the enemy", the applicant pleaded. He further said that respondent JCSC chairman should be instructed to call a meeting of the committee to identify the areas in Pakistan wherein the rebels are threatening the security of the country and report the action to be taken against them. Orakzai contended that the court needed to prevent any move against the constitution that might undermine the security of the country and the discipline of the armed forces of Pakistan.
Full report at:
http://www.dailytimes.com.pk/default.asp?page=2013\05\29\story_29-5-2013_pg7_2
-------------
PPPP grabs 16 women, five minority seats in Sindh PA
May 29, 2013
ISLAMABAD: The Pakistan People's Party Parliamentarians (PPPP) has grabbed 21 reserved seats, 16 of women and five of minorities in the Sindh Assembly. Twenty-nine seats are reserved for women and nine for minorities in the provincial assembly. Nine women and two minority seats have been secured by the Muttahida Qaumi Movement (MQM). The Pakistan Muslim League-Functional (PML-F) has got four women seats while the Pakistan Muslim League-Nawaz (PML-N) and the Pakistan Tehreek-e-Insaf (PTI) one each. The PPP MPAs-elect include Shugufta Jumani, Syeda Shehla Raza, Sharmila Sahebah Farooqi, Iram Khalid, Nusrat Sultana, Kulsoom Akhtar Chandio, Shehnaz Begum, Rehana Leghari, Shamim Mumtaz, Dr Sajeela Leghari, Rukhsana Parveen, Shaheena, Ghazala Siyal, Rubina Saadat Qaimkhani, Saira Shahliani and Farhat Seemi. Some of MQM's elected members of the assembly are Sumeta Afzal Syed, Bilquees Mukhtar, Heer Soho and Aisha Khatoon.
http://www.dailytimes.com.pk/default.asp?page=2013\05\29\story_29-5-2013_pg1_4
-------------
India
Foreign Minister backs interest-free banking system in India
29 May 2013
Indian Foreign Minister Salman Khurshid during his recent visit to the Kingdom emphasized the need to introduce an interest-free banking system in the country, stating, "We need such a system in India and debates are underway to introduce it."
Khurshid made this comments while receiving a memorandum from representatives of the Jeddah Chapter of the Indian Forum for Interest-Free Banking (IFIB).
K.T.A. Muneer, an executive member of IFIB, who presented the memorandum along with another member Usman Irumpuzhi, said Khurshid had responded positively to the issue.
"In a democracy like India we have to take into consideration the opinion of others before introducing the system," Muneer quoted the minister as saying.
Full report at:
http://www.arabnews.com/news/453283
-------------
Reservation to Muslims after all legal hurdles removed: Maharashtra CM
May 28, 2013
Ather Shazan
Mumbai: Maharashtra Chief Minister Prithviraj Chavan on Monday said that the state government was committed to giving reservation to the Muslim community, but a decision in this regard would be taken only after all legal hurdles were removed.
"We don't want our decision to be challenged as was done in the case of Andhra Pradesh and other states. We are committed to giving reservation to the Muslims. But a decision will be taken only after all legal hurdles are removed", Chavan said during a meeting with the delegation of Muslim Reservation Federation (MRF) at Varsha – his official residence, late in the evening on Monday.
Full report at:
http://www.ummid.com/news/2013/May/27.05.2013/prithviraj_chavan_on_reservation.html
-------------
Hope Nawaz Sharif fulfills promises he made during campaign, says Salman Khurshid
May 29 2013
India is hoping Pakistan Prime Minister-elect Nawaz Sharif will "convert into reality" the "positive signals" he had given during his election campaign, says External Affairs Minister Salman Khurshid.
"There were many positive signals from Nawaz Sharif with relation to India during the election campaign. We hope that he will work towards converting these positive signals into reality upon assuming office," Salman Khurshid told reporters.
http://www.indianexpress.com/news/hope-nawaz-sharif-fulfills-promises-he-made-during-campaign-says-salman-khurshid/1122265/
----------
26/11 terror attack case: India may get access to Headley, Tahawwur Rana for questioning
PTI | May 29, 2013
NEW DELHI: India may get access for the second time to Mumbai attack terrorist David Headley and his accomplice Tahawwur Hussain Rana, currently in the custody of the United States, for questioning.
The positive indication was given by Washington to New Delhi during a recent bilateral meeting held in America.
Full report at:
http://timesofindia.indiatimes.com/india/26/11-terror-attack-case-India-may-get-access-to-Headley-Tahawwur-Rana-for-questioning/articleshow/20333768.cms
-----------
Task force to survey Waqf land
May 29, 2013
The State Government has constituted a 12-member task force headed by Additional Chief Secretary and Development Commissioner Kaushik Mukherji to conduct a comprehensive survey of lands belonging to the Waqf Board, thus literally nullifying the earlier report submitted by the former Chairman of the Karnataka State Minorities Commission (KSMC) Anwar Manippady.
Disclosing this to presspersons, Minister for Minority Welfare, Haj, Waqf and Urdu Academy Quamar-ul Islam said Chief Minister Siddaramaiah had authorised him to convene meetings of four Regional Commissioners in June to expedite the survey which has been going on ever since the time of M. Veerappa Moily.
Full report at:
http://www.thehindu.com/news/national/karnataka/task-force-to-survey-wakf-land/article4760090.ece
-------------
Embrace education for progress, vice president tells Muslims
May 29, 2013
Mumbai, May 29 (IANS): Vice President Mohammed Hamid Ansari Wednesday urged the Muslim community to embrace modern education to stay in tune with the changing times and overcome its social and economic backwardness.
"Education is the most important socio-economic challenge for the Muslim community. Its deficit is the biggest impediment to its (the Muslim community's) progress, prosperity and empowerment," Ansari said while inaugurating a two-day Muslim Education Conference organised by Maulana Azad Vichar Manch (MAVM) here.
Full report at:
http://www.daijiworld.com/news/news_disp.asp?n_id=175136
-------------
Kashmiri Pandits hold protest for quick passage of temple Bill
PTI | May 29, 2013
JAMMU: Demanding immediate passage of a bill that would enable setting up of a body to manage Hindu shrines in Kashmir valley, members of a Kashmiri Pandit group today held a protest march in the city.
The march in support of the Kashmiri Hindu temples and Shrines Bill, now pending before the state Assembly, was organised by the Prem Nath Bhat Memorial Trust, the nodal agency seeking its quick passage.
Full report at:
http://timesofindia.indiatimes.com/india/Kashmiri-Pandits-hold-protest-for-quick-passage-of-temple-Bill/articleshow/20331800.cms
-----------
Arab World
Iraq violence: New bombings and gun clashes kill 13
29 May 2013
At least 13 people have been killed in Iraq in fresh violence.
In the deadliest single incident on Tuesday, five people were killed and 25 wounded by a bomb on a bus in the Sadr City suburb of the capital Baghdad.
On Monday, 66 people were killed by car bombs in Baghdad targeting Shia-majority areas of the city, including on the edge of Sadr City.
The recent upsurge in violence comes amid rising sectarian and political tension.
On Tuesday at least three policemen were killed in the northern city of Mosul in clashes between gunmen and police. A bombing near the city killed another policeman.
In the town of Tarmiya, two people died in a suicide bombing, and two people were killed by gunmen near the city of Tikrit.
Full report at:
http://www.bbc.co.uk/news/world-middle-east-22692664
----------
5 Years In Jail, 500 Lashes To A Saudi For Blackmailing Woman For Sex
May 29, 2013
RIYADH — The Riyadh District Court has sentenced a Saudi to five years in prison and 500 lashes for attempting to blackmail a woman into sleeping with him.
He had obtained photos and recordings of the woman and threatened to upload the photos on the Internet if she did not have sex with him.
The woman notified authorities of the threat and police monitored the suspect before arresting him.
He confessed to the accusations and was referred to the Riyadh prisons directorate to serve his sentence.
http://www.saudigazette.com.sa/index.cfm?method=home.regcon&contentid=20130529167748
-----------
'Two-riyal' dowry brings pride to Bani Thabit tribe in Saudi Arabia
29 May 2013
A tribe hailing from the southern part of Saudi Arabia prides itself in offering the families of brides only two riyals (less than $1) as dowries, a tradition – the tribe says – dates back to more than 300 years.
The custom in the Bani Thabit tribe in Al-Numas province goes against the customary dowry system of the Arab world, especially the Gulf region, where some families ask for over-the-top presents, including gold jewellery, for their daughter's hands in marriage.
Full report at:
http://english.alarabiya.net/en/life-style/2013/05/28/-Two-riyal-dowry-brings-pride-to-a-tribe-in-Saudi-Arabia-.html
--------------
Hezbollah sends more fighters to Syria after rebels issue ultimatum
29 May 2013
Lebanese Shiite group Hezbollah appears to be shrugging off a 24-hour ultimatum set on Tuesday by a Free Syrian Army (FSA) official to end the group's involvement in the Syrian conflict.
Syrian elite forces and extra fighters from Hezbollah have been sent to reinforce government troops battling rebels in the strategic border town of Qusayr, the Syrian Observatory for Human Rights said on Wednesday.
Government fighter jets early Wednesday bombed rebel zones of the town as regime forces readied to launch a major assault, according to the watchdog.
Full report at:
http://english.alarabiya.net/en/News/middle-east/2013/05/29/Hezbollah-sends-more-fighters-to-Syria-after-rebels-issue-ultimatum.html
----------
Islamic Thought leader: Spread Arab culture of moderate Islam
(Wam) / 28 May 2013
"The Arab-Islamic culture of moderation is in a real crisis amid the flood of ideological militancy and extremism," Dr Jamal Sanad Al-Suwaidi, director-general of the Emirates Centre for Strategic Studies and Research (ECSSR), said.
"There is no way out or alternative but to support and enhance this culture of moderation, not only so that our Arab and Islamic nations can overcome these difficult historical circumstances, but also in order to protect future generations from the spread of militancy and extremist ideology, he told the opening session of a conference on 'The Future of Arab-Islamic Culture'.
Full report at:
http://www.khaleejtimes.com/kt-article-display-1.asp?xfile=data/nationgeneral/2013/May/nationgeneral_May533.xml&section=nationgeneral
-------------
Syrian rebels urge European Union to send them weapons
29 MAY 2013
Syria's main opposition bloc has urged the European Union to quickly supply rebels fighting president Bashar Assad's forces with sophisticated weapons and help them overthrow his regime.
Today's call follows the EU's decision this week to let the Syrian arms embargo expire, paving the way for individual countries in the 27-member union to send weapons to Assad's outgunned opponents.
Full report at:
http://www.independent.co.uk/news/world/middle-east/syrian-rebels-urge-european-union-to-send-them-weapons-8635509.htm
-------------
OIC and UN discuss ways to tackle incitement to terrorism
May 29, 2013
JEDDAH — The Organization of Islamic Cooperation (OIC) Tuesday began a three-day workshop at its headquarters here on the implementation on a United Nations resolution that aims to counter incitement to terrorism.
The workshop, which ends Thursday, is organized by the UN Counter-Terrorism Executive Directorate and the OIC along with international, regional and sub-regional organizations.
Abdullah Alam, assistant secretary general of the OIC, said: "As terrorism is an abhorrent malady that seeks to destroy the fundamental ethos of human society, we are faced with a growing challenge in which the few proponents of incitement to terrorism who pursue an agenda of hate and destruction follow no faith and live by a dogma of violence, targeting the few who are willing to implement their agenda."
Full report at:
http://www.saudigazette.com.sa/index.cfm?method=home.regcon&contentid=20130529167761
-------------
Syria fighting rages, more chemical attacks reported
Reuters
May 28, 2013
Heavy fighting raged around the strategic Syrian border town of Qusair and the capital Damascus on Monday and further reports surfaced of chemical weapons attacks by President Bashar al-Assad's forces in rebel areas. Intensified government offensives are widely seen as a bid to strengthen
Assad's position before a peace conference proposed by the United States and Russia for next month.
In Brussels, British Foreign Secretary William Hague, who was pushing his European Union colleagues to allow member states to arm the rebels, said the expiry of existing EU sanctions this week meant countries could now choose to send weapons to opposition fighters if they wanted to.
Full report at:
http://www.hindustantimes.com/world-news/restofasia/Syria-fighting-rages-more-chemical-attacks-reported/Article1-1067367.aspx
-------------
Egypt's 'rebel' campaign to reveal final anti-Mursi signature count
29 May 2013
Ahead of Egyptian President Mohammed Mursi's first anniversary in power, organizers of an anti-Mursi campaign are set to reveal the final count of signatures on Wednesday which may lead to mass protests later this week.
The "Tamarod" (rebellion) campaign has attracted global media attention for reportedly garnering some three million signatures as of last week, the group's organizers said, according to local Egyptian media.
Full report at:
http://english.alarabiya.net/en/News/middle-east/2013/05/29/Egypt-s-rebellion-campaign-to-reveal-final-anti-Mursi-signature-count.html
----------
South Asia
Six suicide attackers killed in Afghanistan: officials
May 29, 2013
KABUL: Afghan security forces killed six suicide bombers who attacked the Panjshir provincial governor's office early Wednesday, officials said, in an assault on one of the most stable areas of the country.
Panjshir, an ethnically Tajik area northeast of Kabul, was a bastion of anti-Taliban resistance during the extremists' 1996-2001 regime, and has been among the most peaceful provinces in Afghanistan since they were ousted.
The attack, which was claimed by Taliban insurgents in a text message sent to the media, will heighten concerns about the militants' ability to strike in districts where they have little presence or public support.
Full report at:
http://beta.dawn.com/news/1014684/six-suicide-attackers-killed-in-afghanistan-officials
-------------
Burma Muslim-Buddhist clashes erupt in Shan state
29 May 2013
Clashes between Muslims and Buddhists have been reported in Lashio, the capital of Burma's north-eastern Shan state.
Local residents said a mosque and shops owned by Muslims were set on fire.
The clashes began after claims spread that a Muslim man had doused a Buddhist woman with fuel and set her on fire at a petrol station.
Recent months have seen a number of clashes between Buddhist and Muslim communities in Burma.
The unrest - the extent of which remains unclear - reportedly erupted when police refused to hand over the man accused of setting the Buddhist woman alight to a crowd.
Full report at:
http://www.bbc.co.uk/news/world-asia-22697104
-----------
Growing crystal meth use blurs drug-hungry Afghanistan's future
May 29, 2013
KABUL: Impoverished Afghanistan, already plagued by insurgency and struggling to contain crippling rates of opium addiction, faces another potential headache with spiralling usage of the synthetic drug crystal methamphetamine.
The growing use of the drug, known as crystal meth or ice, comes at a critical time. Some fear that, with the exit of most foreign troops by the end of next year and dwindling interest and aid from the international community, significant addiction to the relatively new drug could wreak social havoc.
Full report at:
http://beta.dawn.com/news/1014703/growing-crystal-meth-use-blurs-drug-hungry-afghanistans-future
---------
Chinese schoolboy, 15, exposed as Egypt's ancient temple graffiti vandal
CLIFFORD COONAN
TUESDAY 28 MAY 2013
The parents of a Chinese teenager who scratched his name into a 3,500-year-old Egyptian artwork have apologised for his actions after internet users tracked down the boy to name and shame him.
The 15-year-old, from Nanjing, was identified after a photo of his graffiti – which said "Ding Jinhao was here" in Mandarin – at the Temple of Luxor was posted online on Friday.
A micro blogger named Shen, who visited the temple on the banks of the River Nile three weeks ago, cited the graffiti as an example of shameful behaviour by Chinese tourists abroad. The posting attracted a torrent of replies, including suggestions that the perpetrator be tracked down.
Full report at:
http://www.independent.co.uk/arts-entertainment/art/news/chinese-schoolboy-15-exposed-as-egypts-ancient-temple-graffiti-vandal-8633556.html
-------------
Britain holding up to 90 suspects at Afghanistan base
May 29, 2013
LONDON: Britain is holding up to 90 people at its main base in Afghanistan, Defence Secretary Philip Hammond admitted Wednesday, as lawyers claimed they were possibly being detained unlawfully.
British lawyers representing two of the men being held at Camp Bastion in the southern province of Helmand claim their cases could amount to internment.
Hammond told BBC radio that those being held included people suspected of murdering British troops who will be passed on to the Afghan authorities.
Full report at:
http://beta.dawn.com/news/1014702/britain-holding-up-to-90-suspects-at-afghanistan-base
-------------
Africa
Kenyan Police Kill Muslim Cleric with Ties to Somali Militants
BY MAALIK_ENG, 27 MAY 2013
A Muslim cleric accused of possessing explosives and radicalizing Kenyan youths into joining the Somali Islamist rebel group al Shabaab was killed in a shootout with police on Sunday, Kenyan authorities said.
Police said Khalid Ahmed, a Somali with a Kenyan passport, had been a close friend of Aboud Rogo, a slain Muslim cleric whom the Kenyan government and the United States accused of helping al Qaeda-linked Islamist militants in Somalia.
Senior police official Thomas Sangut said Ahmed was killed in an exchange of gunfire with police at his family home in the Indian Ocean port city of Mombasa. Two policemen were wounded, and a hand grenade, two gun magazines and 68 rounds of ammunition were recovered, Sangut told a news conference.
Full report at:
http://allafrica.com/stories/201305280291.html
-----------
Kenya Police Accused of Abusing Somali Refugees
May 29, 2013
NAIROBI, Kenya — Kenyan police abused and extorted money from Somali refugees after attacks in the capital believed to have been carried out by the Somali militant group al-Shabab, an international human rights group said Wednesday.
The Human Rights Watch report, covering mid-November to late January, also said that police arbitrarily arrested more than 1,000 asylum seekers.
Kenya was hit by a string of grenade attacks last year in Nairobi's Eastleigh area, which is highly populated by Somali immigrants. The Somali militant group al-Shabab had vowed to carry out attacks on Kenya because it sent troops into Somalia in 2011 to fight the rebels.
Full report at:
http://www.nytimes.com/aponline/2013/05/29/world/africa/ap-af-kenya-refugees.html?ref=africa&_r=0&gwh=9FB7FA829D792CEBC79DC4A3553B6BAE
----------
Boko Haram rebels say Nigerian military offensive is failing
May 29, 2013
KADUNA: The leader of Boko Haram Islamist rebels said on Wednesday that the Nigerian military offensive is failing in its goal of crushing the four-year-old insurgency.
Abubakar Shekau's statement, in a video seen by Reuters, was the first word from Boko Haram since President Goodluck Jonathan declared a state of emergency on May 14 in the three northeastern states worst hit by the insurgency.
Thousands of extra troops were sent to the region and Boko Haram camps were hit with air strikes. The military has since claimed that insurgents have been halted.
Full report at:
http://beta.dawn.com/news/1014708/boko-haram-rebels-say-nigerian-military-offensive-is-failing
----------
Tunisian Police Stop FEMEN Activists Disrobing
May 29, 2013
TUNIS, Tunisia — Tunisian police seized three foreign activists who disrobed in front of the Ministry of Justice on Wednesday to protest against the jailing of a Tunisian member of the Ukrainian feminist group FEMEN.
The three women, described by FEMEN earlier as one German and two French, approached the entrance to the ministry wearing coats which they took off, revealing naked torsos with "Free Amina" and other slogans written across their stomachs.
Wearing just jean shorts, the women chanted "Free Amina" and carried banners calling for her release before people in the crowd attempted to cover them.
Full report at:
http://www.nytimes.com/aponline/2013/05/29/world/middleeast/ap-ml-tunisia-feminist-protest.html?ref=middleeast&gwh=9B01B6D2F56E95E6217416078E50E549
-------------
A daring rescue in Mali saves pages of history
May 29, 2013
WHEN RADICAL Islamists stormed into northern Mali last year, they seized the ancient crossroads city of Timbuktu and began to impose their vicious intolerance on people and history. They enforced a strict form of sharia law, hacking off hands and feet for perceived violations of Islam; they burned or destroyed priceless artifacts, including manuscripts dating from when Timbuktu was at the center of Islamic study of science, culture and law.
Full report at:
http://www.washingtonpost.com/opinions/a-daring-rescue-in-mali-saves-pages-of-history/2013/05/28/f242a018-c739-11e2-9245-773c0123c027_story.html
-------------
Seize chance to protect women's rights, HRW tells Libya
May 29, 2013
TRIPOLI — Libyan authorities should seize a historic opportunity to promote and protect women's rights as the country transitions from four decades of dictatorship, Human Rights Watch said in a new report.
The parliament, government, and other bodies should ensure that women can participate actively and equally in the drafting of the new constitution and the reform of legislation that affect their lives, Human Rights Watch said.
Full report at:
http://www.saudigazette.com.sa/index.cfm?method=home.regcon&contentid=20130529167676
------------
Somali Govt to Exploit Al-Shabaab's Widening Internal Rift
BY ADNAN HUSSEIN, 27 MAY 2013
Mogadishu — The Somali government is closely monitoring the widening rift within al-Shabaab's leadership, vowing to take advantage of this instability and intensify its ongoing military campaign against the militants.
"The war on al-Qaeda and the rogue al-Shabaab group will continue until they are completely decimated and destroyed, regardless of the sacrifices that have to be made," Somali Minister of Interior and National Security Abdikarim Hussein Guled told Sabahi.
"Al-Qaeda fighters and al-Shabaab militants are locked up in our prisons, and our security units are closely following the militia members and supporters of this group who have started to return to the capital," he said.
Full report at:
http://allafrica.com/stories/201305280145.html
-------------
Mideast
Gaza's 'Rocket' hopes to fulfill 'Palestinian dream'
29 May 2013
Arab Idol is an over-the-top TV rating smash in the Middle East, and a young crooner from a Palestinian refugee family, whom admirers have nicknamed "the Rocket," is stealing the show.
The surprise breakout of the second season is a 23-year-old Gaza Strip resident named Mohammed Assaf, whose patriotic folk songs and romantic ballads — with their themes of grit, longing and love — have propelled him into the final rounds.
"I think this shows the world there are many normal people in Gaza, that Gaza is not just this place of terrorists and criminals but nice people," said Ala'a Nabrees, 22, a longtime friend. "He is the Palestinian dream."
Full report at:
http://www.arabnews.com/news/453243
-------------
Israel, US Threatens War With Syria As Sectarian Fighting Spreads Across Region
By Alex Lantier
22 May, 2013
Israeli and Syrian forces exchanged fire across the cease-fire line in the Golan Heights yesterday, amid rising US and Israeli threats of intervention in the US-led sectarian proxy war in Syria, which is rapidly spreading throughout the region.
Fighting in the Golan Heights started overnight when Syrian forces fired at an Israeli vehicle that allegedly crossed into Syrian territory. Israeli forces fired rockets into Syrian territory and claimed to have destroyed the source of Syrian fire.
Full report at:
http://www.countercurrents.org/lantier220513.htm
-------------
Iran's presidential candidates clash over nuclear approach
Reuters | May 29, 2013
DUBAI: A former Iranian nuclear negotiator running for president used his first television appearance of the campaign to reject accusations he had been too soft in talks with world powers.
The most prominent moderate candidate in an election dominated by hardliners, cleric Hassan Rohani, nuclear negotiator from 2003 to 2005, oversaw an agreement to suspend Iran's fledgling uranium enrichment-related activities.
Iran has since stepped up its nuclear programme which many countries, particularly in the West, fear is aimed at acquiring a weapons capability, something Tehran strongly denies.
Full report at:
http://timesofindia.indiatimes.com/world/middle-east/Irans-presidential-candidates-clash-over-nuclear-approach/articleshow/20327947.cms
-------------
Israel Seals Deal Ending Military Exemptions for Ultra-Orthodox
May 29, 2013
JERUSALEM — Israel clinched a deal on Wednesday to abolish wholesale exemptions from military service for Jewish seminary students, ended a brief crisis that divided the ruling coalition parties.
The issue of "sharing the national burden" is at the heart of heated debate over privileges the ultra-Orthodox minority has enjoyed for decades, and a government-appointed committee had failed to formulate a new conscription law earlier this week.
Full report at:
http://www.nytimes.com/reuters/2013/05/29/world/middleeast/29reuters-israel-military-orthodox.html?ref=middleeast&_r=0&gwh=CEAB937EA7E41D9F67E70F8E6EB12D65
-------------
Netanyahu tells ministers stay silent on Syria
29 May 2013
Israel's Prime Minister Benjamin Netanyahu has ordered his cabinet to stay silent on the issue of Russian missile deliveries to Syria, public radio said on Wednesday.
His remarks came after several ministers criticized Moscow's arms deals with Damascus and raised the possibility of an Israeli response should the Jewish state feel under threat.
Defense Minister Moshe Yaalon on Tuesday warned Israel would "know what to do" if Russia delivered promised anti-aircraft missiles to the regime of Syrian President Bashar al-Assad.
Full report at:
http://english.alarabiya.net/en/News/middle-east/2013/05/29/Netanyahu-tells-ministers-stay-silent-on-Syria.html
-----------
Australia
Toowoomba's Muslim population plans suburban mosque
May 28, 2013
Adam Davies
Plans to establish a mosque in Toowoomba to cater for the growing number of Muslims are well advanced.
The Islamic Society of Toowoomba is the driving force behind the Toowoomba Mosque Project.
Two locations, one at Harristown and another at Rangeville, have been mooted as possible sites.
However, it is believed the preferred site is the former Uniting Church grounds located at the corner of West and Stephens Streets given its proximity to the University of Southern Queensland. A second site under consideration is located in Long St, Rangeville.
Islamic Society of Toowoomba president Dr Shahjahan Khan said the current facility at the university was no longer adequate.
http://www.brisbanetimes.com.au/queensland/toowoombas-muslim-population-plans-suburban-mosque-20130528-2n8hd.html#ixzz2UfLiCm7X
-------------
Southeast Asia
Sedition charges against five Malaysian opposition politicians
May 29, 2013
Prosecutors filed sedition charges on Wednesday against another five opposition politicians and activists who urged Malaysians to protest what they insist was a fraud-tainted victory by the long-ruling coalition in recent national elections.
The five and a student activist charged last week had criticised the government while speaking at a political forum earlier this month. They pleaded not guilty to making seditious remarks at the forum, and one, an opposition political official, called the charges an intimidation tactic.
Full report at:
http://www.thehindu.com/news/international/sedition-charges-against-five-malaysian-activists/article4762507.ece
-------------
Police Officer Publicly Caned in Aceh for Gambling
May 28, 2013
A police officer was publicly caned in an Aceh district on Tuesday for violating Shariah law, making him the first law enforcer to receive such a punishment.
Darwin, the head of general crimes unit at the Sabang Attorney's Office, told the Jakarta Globe that Brig. Irwanuddin was lashed six times for gambling in the district of Aceh Besar.
He was the first policeman punished for violating a "qanun" (bylaw) since the province implemented partial Shariah law in some districts.
Full report at:
http://www.thejakartaglobe.com/news/police-officer-publicly-caned-in-aceh-for-gambling/
-------------
Malaysia linked to world's largest money laundering scheme, NYT reports
May 29, 2013
KUALA LUMPUR, May 29 ― Unlicensed money exchangers in Malaysia had aided the operators of a global currency exchange that ran a US$6 billion (RM18.33 billion) money-laundering operation online, a hub for criminals peddling in everything from stolen identities to child pornography, The New York Times (NYT) reported.
The currency exchange called Liberty Reserve is believed to be the world's largest cyber money-laundering case and was based in the United States but operated well beyond the country's borders as well as traditional international banking regulations, providing easy and anonymous cover increasingly sought by criminals to fund their activities, the widely-read daily reported, citing American law enforcement officers.
Full report at:
http://www.themalaysianinsider.com/malaysia/article/malaysia-linked-to-worlds-largest-money-laundering-scheme-nyt-reports/
----------
URL: https://newageislam.com/islamic-world-news/new-age-islam-news-bureau/islamic-body-set-to-ban-amplification-of-mosque-sermons-in-indonesia/d/11797