New Age Islam News Bureau
6 Feb 2017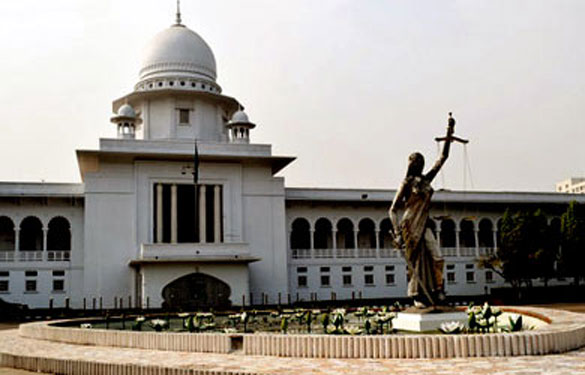 Islamic political parties and Hefazat-e-Islam Bangladesh are planning to launch a movement demanding the removal of a sculpture of Lady Justice from the High Court premises.
------
• Islamic Authority Rejects Egypt's Move to Reform Divorce
• US, UK, Saudi Planning Major War on Islam: Scholar
• Muslim Organisations Too Oppose Triple Talaq As Is Practised Now: Law Panel
• Bangladesh Islamist Groups: Remove High Court Sculpture of a Lady Justice
Arab World
• Islamic Authority Rejects Egypt's Move to Reform Divorce
• U.S. Moves to Resume Admitting Refugees, Including Syrians
• More ISIL Commanders Break Allegiance with Abu Bakr Al-Baghdadi in Nineveh
• At former jihadist training camp, Iraqi police face drones, crack snipers
• Russia, Turkey, Iran discuss Syria ceasefire implementation in Astana
• Syrian army chips away at ISIS on several fronts
• US VP warns Iran not to test Trump administration
• Turkish Army Loses Key Town to ISIL in Northern Syria
• Syrian Gov't Grants Amnesty to over 100 Militants in Homs Province
• Damascus: Syrian Army Drives ISIL out of More Positions near Al-Seen Airbase
• Syrian Armed Forces Pound Positions of ISIL, Nusra Terrorists in Hama
--------
North America
• US, UK, Saudi Planning Major War on Islam: Scholar
• Trump to Visit Central Command, With Sights on Battling Islamic State
• How Trump's policies and rhetoric are forging alliances between U.S. Jews and Muslims
• 'We have to band together': Vandalized Pointe-Saint-Charles mosque opens doors to public
• 'A choice to work together': Edmonton pastor attends Muslim friend's spiritual meeting
• As we learned in Quebec, no one is safe from extremism
• US customs targeting Muslim Americans at borders
--------
India
• Muslim Organisations Too Oppose Triple Talaq As Is Practised Now: Law Panel
• Pak's Empathy for Kashmir Is Just 'Crocodile Tears': Bangla Minister
• Pakistan thanks India for reuniting 5-year-old boy with mother
--------
South Asia
• Bangladesh Islamist Groups: Remove High Court Sculpture of a Lady Justice
• Negotiation Is the Only Way Forward, China Told Taliban
• Myanmar commanders should be punished for rape of Rohingya: HRW
• Helmand child bomber was assigned by his father for insurgency
• Death toll from Afghan avalanches tops 100
--------
Pakistan
• NA to Take Up Crucial Bill Aimed At Curbing Terrorism, Extremism
• Shujaat meets Musharraf, moots merger of PML groups
--------
Mideast
• Yemeni Zalzal-II Missile Hits Saudi-Backed Militias' Gatherings in Ma'arib Province
• Yemeni troops kill 7 Saudi soldiers in Najran, Jizan, pound Saudi bases
• Lebanese police plan demolition of 50 Palestinian refugee homes
• Israel Arabs and Jews protest house demolitions
• Ballistic missile attack reported in Saudi capital: Yemeni media
• Mass Wedding Of Yemenis Who Lost Their Limbs In War With Houthis
--------
Southeast Asia
• Why Trump's Travel Ban Puts Macau, Malaysia in Islamic State's Sights
• The world's largest majority-Muslim nation isn't sure how to deal with Trump
• Hong Kong protesters denounce Donald Trump's 'Muslim ban' outside US consulate
--------
Africa
• Somalia's Al Shabaab Executes Four Men Accused Of Spying
• In Niger, Christian and Muslim Leaders Push Harder To Counter Creeping Radicalism
• Libya halts more than 400 migrants bound for Europe
• South Sudan opposition accuses Egypt of attacking its positions
• Boko Haram militants seize Sasawa community in Yobe
• Tributes to Tunisian killed in Quebec mosque attack
--------
Europe
• Russia's Lavrov Backs Renewal of UN-Led Syria Talks
Compiled by New Age Islam News Bureau
URL: https://www.newageislam.com/islamic-world-news/new-age-islam-news-bureau/islamic-authority-rejects-egypt's-move-to-reform-divorce/d/109974
--------
Islamic Authority Rejects Egypt's Move to Reform Divorce
February 6, 2017
Cairo, Feb 5 (AP) Egypt's top Islamic authority today rejected President Abdel-Fattah el-Sissi's suggestion that legislation be adopted to invalidate the practice of Muslim men verbally divorcing their wives.
It marked a rare instance of a public institution contradicting the president, who has presided over a wide-scale crackdown on dissent in recent years while seeking to rally the country's entrenched interests behind him.
The Council of Senior Clerics in Al-Azhar, the highest authority in Sunni Islam, unanimously ruled that verbal divorce, when meeting all requirements, has been an undisputed practice since the days of the 7th century Prophet Muhammad.
The requirements, it explained, included that the man has a sound mind, full consciousness and uses appropriate phrasing.
Muslim women in Egypt cannot verbally divorce their husbands but can apply for divorce in a court of law.
In a carefully-worded statement, the council made no mention of el-Sissi, or his suggestion last month for legislation requiring such divorces to be carried out in the presence of a state-authorised cleric. It was addressed to "the people".
However, its rejection of the president's proposal was uncompromising, and it made a thinly-veiled reference to the constitution, which refers to Al-Azhar as the main authority on religious and Islamic affairs.
The council expressed concern over the high rate of divorce in Egypt, where 40 per cent of marriages end in divorce within five years, according to figures cited by the president. But it pointed out that the figures include only documented divorces, suggesting that reducing the number of verbal divorces would have little impact.
El-Sissi had proposed the change during a televised address he gave last month with the Grand Imam of Al-Azhar, Ahmed al-Tayeb, in attendance. He turned to him and said with a smile: "What do you think, your eminence, the imam?" indirectly acknowledging that he needed Al-Azhar's backing for his proposed legislation.
Al-Tayeb, appointed by presidential decree, heads the Council of Senior Clerics.
Ayman al-Sayad, an analyst who closely monitors religious affairs, said that Al-Azhar's rejection of the proposal showed that it has "drawn a clear line between religion and politics." He added: "It has decisively settled the issue, but went to great lengths so as not to appear confrontational." El-Sissi, a devout Muslim whose public comments are often peppered with Quranic verses or mentions of God, has repeatedly called for moderating Islam's discourse to counter extremism. Recently, he instructed authorities to standardise Friday sermons in mosques across Egypt, a move billed as combatting extremism but which was seen by critics as further curtailing free speech. AP
http://www.india.com/news/agencies/islamic-authority-rejects-egypts-move-to-reform-divorce-1813923/
--------
US, UK, Saudi Planning Major War on Islam: Scholar
Feb 5, 2017
The British government's extensive arms deals with Saudi Arabia are part of a Zionist plan to wage a major war against Muslim countries in the Middle East, says an academic in London.
Professor Rodney Shakespeare made the remarks while discussing a new poll that shows a majority of Britons oppose London's weapons sales to Riyadh.
Conducted by Opinium on behalf of the Campaign against the Arms Trade (CAAT), the survey showed that almost 62 percent of British people think selling arms to Saudi Arabia, the UK's largest arms customer, was "unacceptable."
The UK government has been under immense pressure by human rights groups to end arms shipments to the Saudis.
The UK government has sold over £3.3 billion worth of arms – including fighter jets, bombs and missiles – to the Saudi regime since it attacked Yemen in March 2015.
The war has killed at least 11,400 people in Yemen, according to local sources.
"There is an issue bigger than the sale of arms by the UK to Saudi Arabia," Shakespeare told Press TV on Sunday.
"The UK is supporting Saudi Arabia's regime as part of supporting what is going to be a coming war in the Middle East, essentially to forward the interests of the Zionist Israel," he added.
According to the scholar, Zionist elements within the governments of US President Donald Trump and UK Prime Minister Theresa May are eager to wage wars against China, Russia and nations in the Middle East.
Referring to Trump's recent entry ban against citizens of seven Muslim-majority countries, Shakespeare said that the move was aimed at creating a "background" for a "wholesale war" on Islam.
"UK politics is controlled by Zionism and Trump has appointed Zionist after Zionist and that is why Saudi Arabia was not put on the visa banning list, nor was Qatar," he argued, describing the Riyadh regime as "the progenitor, the great force and philosophical, financial pusher of Wahhabism."
"So there is more to this than just the supply of arms, which is really about the support for a coming situation in which Zionism will be able to expand and the Middle East states will be essentially destroyed as independent entities" except for Iran, he further explained.
http://www.presstv.ir/Detail/2017/02/05/509283/US-UK-Saudi-Shakespeare-Israel-Islam
--------
Muslim organisations too oppose triple talaq as is practised now: Law panel
by Shalini Nair
February 6, 2017
A MAJORITY of those who had responded to its questionnaire on a uniform civil code, including many Muslims organisations, have opposed spontaneous triple talaq, Law Commission chairperson Justice B S Chauhan has said.
The commission is currently examining the more than 40,000 responses it has received to the questionnaire issued in October 2016.
Read | Centre may take 'major step' on triple talaq after polls: Ravi Shankar Prasad
Speaking to The Indian Express, Justice Chauhan said the larger consensus was that spontaneous triple talaq, as is currently practised, was not in keeping with what was stated in the Shariat, which mandates a three-month iddat period meant for reconciliation and arbitration.
"While we are yet to tabulate the huge number of responses, one thing we have observed is that most people, even among the Muslims, have opposed the practice of spontaneous triple talaq. They have held that iddat period should be observed," said Chauhan.
The 'Questionnaire on Uniform Civil Code' was issued by the law panel around the same time that the Union government filed its response in a Supreme Court case opposing instantaneous triple talaq, and had generated much controversy due to its timing. The All India Muslim Personal Law Board carried out its own mass signature drive and sent it to the Law Commission, opposing any inference in the Shariat even if it is to outlaw the practice of instantaneous triple talaq which is not as prescribed in the Muslim personal law.
Considering the overwhelming response, the Law Commission had extended the deadline for feedback on the questionnaire until the end of December 2016.
Chauhan said, "In December, Justice Mohammad Mustaq of the Kerala High Court delivered a judgment examining the validity of triple talaq and sent it to the Law Commission, referring the matter to us. Those who have been alleging that this exercise carries forward the government's agenda should understand that with the court order, we are bound to examine the matter now."
The high court judgment, favouring codification of Muslim divorce laws, held, "The empirical finding establishes that triple talaq as practised in India in almost all the case(s) is not by following Qur'anic injunctions and such practices are allowed in the name of religion, without its backing. The only way out for the State is to find out the meaning of rationale of the personal law and to regulate divorce in accordance with the purpose of law."
At the same time, Chauhan clarified that the commission is not only looking at triple talaq but at the issue of gender justice in personal laws of all religions, in terms of marriage, divorce, child custody and property rights. "Why are we only talking of triple talaq? Except for certain matriarchal societies, such as those in parts of the Northeast, most women still have no right to agricultural land. We will be looking at gender justice in all aspects of personal law. Never before in India has any law commission sought responses from people. This was a first-of-its-kind experiment. In any developed country, law is made after consultation with stakeholders. After all, enforcement of law depends upon acceptability of law," he said.
http://indianexpress.com/article/india/muslim-organisations-too-oppose-triple-talaq-as-is-practised-now-law-panel-4509714/
--------
Bangladesh Islamist Groups: Remove High Court Sculpture of a Lady Justice
February 06, 2017
Islamic political parties and Hefazat-e-Islam Bangladesh are planning to launch a movement demanding the removal of a sculpture of Lady Justice from the High Court premises.
Speaking to the Dhaka Tribune, leaders of several Islamic political parties and Hefazat-e-Islam called the sculpture a "Greek idol" and demanded its immediate removal, claiming it was in violation of Islamic principles.
They threatened to launch a movement against the government if their demand is not met.
Secretary General of Islami Oikkaya Jote (IOJ) and the convener of Dhaka city unit of Hefazat Mufi Fayzullah said: "We will go for a strong movement against the government to compel them to remove the Greek idol. We do not know why the government installed that idol there."
Three top Islamist leaders were working to unite various Islamist parties and organisations to make the movement a success, the Dhaka Tribune found.
Jamiat Ulema-e-Islam yesterday organised a discussion programme at the National Press Club auditorium with several Islamic scholars as part of the plan.
Islamist parties will submit a memorandum to the Supreme Court authority within a week, Jamiat Ulema-e-Islam Nayeb-e-Amir Nur Hossain Kashemi told Dhaka Tribune.
Sources said Nur Hossain Kashemi and IOJ's Abul Hasnat Amini were working together to unite all Islamist groups on this issue.
Primarily they are in contact with Hefazat-e-Islam Ameer Allama Shah Ahamed Shafi and other parties including Islami Oikya Jote, Islami Andolon, Khelafat Andolon, Bangladesh Khelafat Majlish and Jamiat Ulema-e-Islam, sources said.
Hefazat Secretary General Junaid Babunagari said that as the majority of Bangladeshis were Muslims, they would not tolerate a Greek idol in front of the Apex court.
People of all faiths were against this, he said.
Islami Andolan Bangladesh chief and the Pir of Charmonai Rezaul Karim said if the sculpture was not removed the public would "create a river of blood" in protest.
A Hefazat source in Chittagong, where the group is based, said the Hefazat chief Shafi will hold a meeting and issue a press statement within a few days.
http://www.dhakatribune.com/bangladesh/2017/02/06/saving-jovial-face/
--------
Arab World
U.S. moves to resume admitting refugees, including Syrians
Feb 6, 2017
The U.S. State Department on Saturday moved to begin admitting refugees, including Syrians, as soon as Monday after a federal judge on Friday blocked a Trump administration temporary ban on refugee admissions.An email from the State Department's refugee office reviewed by Reuters Saturday said the U.S. government is working with its legal team and interagency and overseas partners to comply with the ruling.
Trump's Jan. 27 executive order had suspended refugee admissions for 120 days and indefinitely barred Syrian refugees but U.S. Judge James Robart in Seattle on Friday blocked the president's order.
A U.S. State Department official told Reuters on Saturday that officials "expect some refugees to arrive Monday."
The U.S. instructed the International Organization for Migration "to rebook refugees of all nationalities, including Syrians, who were" to schedule to arrive since the Trump's order was signed, the email said.
"We are focusing on booking refugee travel through February 17. We are asking that arrivals resume this Monday, the first normal travel day of the week, if possible. We are aware that some refugees may not be ready to depart on short notice," the email said.
A United Nations spokesman, Leonard Doyle, told the New York Times about 2,000 refugees were ready to travel.
Refugees do not usually enter on weekends, a U.S. official said, as the department hews to a strict set of rules on how their admissions are processed.
Other travelers from seven Muslim majority countries affected by President Donald Trump's week-old curb on immigration can rework their flights after the judge's order, as long as they have valid visas.
Refugees fleeing war, hunger and persecution have less autonomy. Advocates working on their behalf urged the government to move quickly on admitting them.
International Refugee Assistance Project Director Becca Heller called for "the instant resumption of the U.S. Refugee Admissions Program to immediately take the most vulnerable refugees out of harm's way."
During the week of the ban, the government admitted 843 refugees - but no Syrian refugees, government figures show. Officials previously told Reuters that they were "in transit" and had already been cleared for resettlement before the ban took effect.
For refugee families, they are trying to keep expectations in check and hope they do not end up back where they started.
Ayham Oubeid, a Syrian living in Cleveland, has been waiting for over a year for his brother George's family to come to the United States as refugees. His brother, who has health issues, is living in Dubai on a work visa that covers him, his six-year-old daughter and five-months pregnant wife.
George left his job and moved the family out of their apartment when he was told they would be resettled in the United States on Feb. 13. But the family's plane tickets were canceled when Trump announced the temporary ban. Without George's job, the family could lose the work visa and be sent back to Syria in the midst of its deadly civil war.
Upon hearing of the judge's ruling from Friday, Oubeid called George. He was careful not to be too hopeful, knowing the judge's order could be overturned.
"I don't want to get excited. I don't want my brother to get excited. Because it was hard for him when he lost everything and was told he couldn't come," Oubeid said.
http://nation.com.pk/international/05-Feb-2017/u-s-moves-to-resume-admitting-refugees-including-syrians
--------
More ISIL Commanders Break Allegiance with Abu Bakr Al-Baghdadi in Nineveh
Feb 05, 2017
"A number of ISIL commanders have brought to a halt the terrorist group's suicide attacks after breaking their allegiance with their leader in Nineveh province," the Arabic-language media outlets quoted an unnamed security source as saying on Sunday.
The source reiterated that after the move by the ISIL commanders the rift has widened among the ISIL commanders.
In a relevant development in mid-January, Vice-Chairman of Nineveh Province Council Nouralddeen Qablan disclosed that ISIL's commanders are seriously worried about the recent victories of the Iraqi forces in Mosul battlefields that have intensified disunity among the terrorists.
Full report at:
http://en.farsnews.com/newstext.aspx?nn=13951117001043
--------
At former jihadist training camp, Iraqi police face drones, crack snipers
Feb 6, 2017
As a walkie-talkie carried word of another casualty from an Islamic State mortar attack, an Iraqi policeman peered through leaves at enemy positions just across the Tigris River. He kept his head low to avoid snipers but also had an eye on the sky.
Minutes later, the militants sent a drone overhead. It carried out surveillance and dropped an explosive. Then mortar bombs landed nearby, sending the policemen running for safer ground.
More than three months into the battle to drive them from their biggest stronghold, the hardline Sunni militants of Islamic State remain lethal and determined, despite being driven from the eastern half of the city of more than a million people.
Few are more acutely aware of the danger they pose than police Lt-Colonel Falah Hammad Hindi, who instructed his men to take cover as mortars landed ever closer.
"The weapon of choice is the drone," said Hindi, whose unit faces sometimes 16 drone attacks in a single day as well as mortar bombs and snipers.
His unit, charged with holding ground while Iraqi troops prepare to expand their offensive to west Mosul, is stationed on a former Islamic State training ground and closed military area on the east bank of the Tigris.
He has gained insight into the militants' thinking and strengths and gave a frank assessment of their capabilities, starting with the snipers he can spot without binoculars.
"The snipers are highly effective. They are foreign fighters, the most committed," Hindi told Reuters.
When Islamic State swept into Mosul in 2014 and declared a caliphate on land straddling Iraq and Syria, they attracted volunteers from as far afield as Afghanistan and Tunisia and also won many sympathizers in Mosul, Iraq's second largest city.
POTATOES AND DATES
Mosul's predominantly Sunni population was angered by Iraq's Shi'ite-dominated army, accusing it of widespread abuses of their minority sect, allegations rejected by the government.
Islamic State exploited that resentment, hunting down and executing members of the army and police as it tightened its grip on Mosul and simultaneously attracting local volunteers who saw it, initially, as a bulwark against Shi'ite power.
New recruits were trained at the site where Hindi and his men are now based, a former plant nursery, family park and state-owned honey farm.
Here they learned the group's credo, a version of Islam even more radical than its predecessor in Iraq, al Qaeda.
Trees and lush greenery provided ideal cover from air strikes, so jihadists could become indoctrinated in relative safety. To be extra cautious, the militants built an underground tunnel with sandbags for air raids.
Aside from weapons training, jihadists learned discipline. They were made to suffer in the cold when it rained or snowed.
"Some men were fed only a few potatoes per week," said Hindi, who lost a brother to an Islamic State attack. "Others were only allowed to eat three dates per day. They became battle-ready here."
In order to battle Islamic State militants positioned about 500 meters across the river at a hospital and hotel, policemen study their training for clues.
They also rely on intelligence from residents of west Mosul, turned against Islamic State by the brutality of its rule.
"They hide in their homes and provide information about the jihadists. Their movements, their weapons," said Hindi, 32.
The risks are high. Some informers have been executed.
The campaign for west Mosul will likely involve far tougher and more complex street fighting because the west's narrow streets mean far fewer tanks and armored vehicles can be deployed against Islamic State.
Full report at:
http://nation.com.pk/international/06-Feb-2017/at-former-jihadist-training-camp-iraqi-police-face-drones-crack-snipers
--------
Russia, Turkey, Iran discuss Syria ceasefire implementation in Astana
6 February 2017
Experts from Russia, Turkey, Iran and the United Nations have started a technical meeting in Kazakhstan's capital, Astana, to discuss in detail the implementation of the Syrian ceasefire agreement, Kazakhstan's Foreign Ministry said on Monday.
"Representatives of Jordan are expected to take part for the first time," a ministry spokesman said of the talks. He said the agenda included reviewing the implementation of the cessation of hostilities, discussing a proposal from the Syrian armed opposition about the ceasefire, and determining options about how to implement it.
Full report at:
https://english.alarabiya.net/en/News/middle-east/2017/02/06/Russia-Turkey-Iran-discuss-Syria-ceasefire-implementation-in-Astana.html
--------
Syrian army chips away at ISIS on several fronts
6 February 2017
Syrian troops and allied militia on Sunday chipped away at territory held by ISIS militants on several fronts across the country, state media and a monitoring group said.
Forces loyal to President Bashar al-Assad have doubled down against ISIS in Syria's fractured north, as well as near Damascus and the ancient city of Palmyra. On Sunday, regime forces edged closer to the town of Al-Bab, the last remaining ISIS bastion in Aleppo province.
"Regime forces advanced and seized Owaisheh, a village east of Al-Bab," said the Syrian Observatory for Human Rights monitor. "They are hundreds of meters from the only route that IS has to access territory further east," Observatory head Rami Abdel Rahman said.
They were backed by fighters from Lebanese Hezbollah and by Russian artillery, he said. Al-Bab, 25 kilometers south of the border with Turkey, is seen as a prize by nearly all sides in Syria's complex war.
Also read: Emergence and rise of the Free Syrian Police
Government troops are approximately five kilometers from the town's southern edges, but Turkey-backed rebels have already reached the edge of the town from the north. Assad's forces were also locked in fighting on Sunday with ISIS in the central province of Homs.
Abdel Rahman said the troops had captured the Hayyan oilfield west of the celebrated desert city of Palmyra. State news agency SANA said "Syrian troops expanded their area of control" near Palmyra after clearing two villages of ISIS.
Full report at:
https://english.alarabiya.net/en/News/middle-east/2017/02/06/Syrian-army-chips-away-at-ISIS-on-several-fronts.html
--------
US VP warns Iran not to test Trump administration
6 February 2017
Days after the Trump administration imposed new sanctions on Iran, Vice President Mike Pence issued a stern warning to the country in an interview with ABC News Chief Anchor George Stephanopoulos.
"Iran would do well not to test the resolve of this new president," Pence said on "This Week" Sunday, adding that Iran should "think twice about their continued hostile and belligerent actions."
When Stephanopoulos pressed the vice president on what actions by Iran would test Trump's resolve, the vice president specifically mentioned the country's ballistic missile tests and military support for Houthi militias in Yemen.
Asked how the US would respond to another provocation, Pence answered that the "president said everything's on the table" – including military action.
Pence told Stephanopoulos on ABC's "This Week" that Iran's provocative tone is an insult to the nuclear deal the country reached with the Obama administration, five other major powers, and the European Union.
Full report at:
https://english.alarabiya.net/en/News/middle-east/2017/02/06/US-VP-warns-Iran-to-think-twice-before-testing-Trump.html
--------
Turkish Army Loses Key Town to ISIL in Northern Syria
Feb 05, 2017
ISIL engaged in several-hour-long clashes with the Turkish army in the town of al-Baza'ah and managed to capture the town, inflicting heavy casualties on the Turkish soldiers and their allied militants.
The ISIL stormed the positions of the Turkish soldiers and Ankara-backed militants with several bomb-laden suicide vehicles and bombers, inflicting major casualties on the Euphrates Shield Operation's forces.
ISIL's attack was very heavy and caused the Turkish army and allied militants to retreat from al-Baza'ah and move to the adjacent village of al-Saflaniyeh, locals reported.
In relevant developments in the province on Friday, ISIL targeted a gathering of Turkish soldiers and Ankara-backed militant groups in a small town near al-Bab East of Aleppo province, killing seven and wounding at least four more.
Full report at:
http://en.farsnews.com/newstext.aspx?nn=13951117001241
--------
Syrian Gov't Grants Amnesty to over 100 Militants in Homs Province
Feb 05, 2017
105 militants that had laid down their arms and joined the nationwide peace agreement in a neighborhood in Homs and in the towns of al-Rastan, Talbiseh and al-Dar al-Kabireh were granted government amnesty.
The Russian Reconciliation Center for Syria announced on Monday that over 1,200 militants in Northwestern Damascus were granted government amnesty.
The Russian center disclosed through the Russian Defense Ministry's bulletin that over 1,200 militant that had laid down their arms and joined the nationwide peace agreement were granted government amnesty and returned to normal life in Wadi al-Bardi, adding that the rest of the militants that did not intend to join the peace plan with the Syrian Army left the region for Idlib along with their families.
Full report at:
http://en.farsnews.com/newstext.aspx?nn=13951117001092
--------
Damascus: Syrian Army Drives ISIL out of More Positions near Al-Seen Airbase
Feb 05, 2017
The army soldiers engaged in fierce clashes with ISIL and managed to seize back the garrison of the third Battalion, al-Kasarat al-Sharqi and al-Kasarat al-Qarbi regions to the South and East of the al-Seen airbase.
Army reports said the ISIL suffered a heavy death toll and its military hardware sustained major damage in the attacks.
In the meantime, the Syrian Air Force targeted ISIL's gatherings in Eastern al-Qalamoun near al-Rahibeh region, killing a number of militants.
The army helicopters meanwhile pounded terrorists' concentration centers in the town of al-Moqayer and its surroundings in Western Damascus.
In relevant developments in the province on Saturday, the army soldiers stormed ISIL's gatherings and movements and took full control over al-Emarati farm to the East of al-Seen airbase, killing a large number of terrorists and destroying five vehicles.
Full report at:
http://en.farsnews.com/newstext.aspx?nn=13951117000415
--------
Syrian Armed Forces Pound Positions of ISIL, Nusra Terrorists in Hama
Feb 05, 2017
The army's artillery units opened heavy fire at al-Nusra's concentration centers in Aqrab in the countryside of the town of Masyaf, destroying the positions and killing all the militants inside them.
The army men also targeted movements of Jeish al-Izzah terrorists in the village of Atshan in Northern Hama, killing a number of militants and destroying three motorcycle.
Terrorists' centers and movements in al-Satahiyat region to the West of Salamiyah came under heavy attack of the army soldiers as well.
Terrorists in al-Satahiyat suffered a heavy death toll and the remaining pockets of them fled the battlefield.
The army aircraft meantime bombed ISIL's positions in Aqayrabat region and to the East of al-Bal'as Mountain, destroying a position and a vehicle carrying munitions and killing the terrorists on board.
Also, the Air Force launched a fresh round of massive strikes against the gatherings and movements of Al-Nusra Front on Monday to pave the way for the ground forces to take back the rest of the lands under the control of the militants in Northern Hama.
Full report at:
http://en.farsnews.com/newstext.aspx?nn=13951117000767
--------
North America
Trump to visit Central Command, with sights on battling Islamic State
February 6, 2017
[PALM BEACH, United States] President Donald Trump travels to US Central Command on Monday, meeting officers who will form the tip of the spear in implementing his new strategy to defeat the Islamic State group.
After a three-day break in southern Florida, Mr Trump will stop off at Centcom headquarters in Tampa on his way back to Washington.
The military command is responsible for an area that includes the Middle East and Central Asia.
It plays a key role in Operation Inherent Resolve - the US-led mission to "degrade and defeat" the Islamic State group - which has resulted in 17,861 strikes across northern Syria and Iraq since August 2016.
Apart from seizing territory and declaring a caliphate, the Islamic State group has claimed responsibility for attacks in Africa, Europe, the United States, Southeast Asia and across the Middle East.
It's seen as influencing attackers in San Bernardino, California, who killed 14 people in December 2015, and the attacker of an Orlando nightclub, who left 49 dead in June last year.
In late January, Mr Trump ordered generals to begin a 30-day review of the US strategy to defeat the Syria and Iraq-based militant group.
Mr Trump had made fighting "radical Islamic terrorism" a central plank of his election campaign and the issue is emerging as the organising principle of his foreign and domestic policies.
He used potential cooperation in the fight against the Islamic State group as a reason to embrace Russia and has tried to implement an order banning refugees and nationals of seven Muslim-majority countries from entering the United States.
The ban has spurred an unprecedented battle with the courts. On Sunday, Mr Trump tried to pin the blame for future attacks on the federal judge who blocked his executive order.
"Just cannot believe a judge would put our country in such peril. If something happens blame him and court system. People pouring in. Bad!" Mr Trump said.
He did not offer evidence for the suggestion that would-be terrorists are flocking to the country.
Most experts express more concern about Americans becoming radicalised and carrying out IS-inspired attacks, rather than the group dispatching clandestine agents around the world.
Hundreds of Mr Trump's own diplomats have voiced their opposition to the ban.
The contours of Mr Trump's policy to fight the Islamic State group abroad are still coming into focus.
On January 28, he signed a presidential memorandum that called for a review including any "recommended changes to any United States rules of engagement." That could foreshadow a tougher approach, but it is one that some experts believe could fuel radicalisation.
During Mr Trump's first days in office, US special forces carried out a raid against Al-Qaeda in Yemen which resulted in the deaths of one US soldier, 14 jihadists and as many as 16 civilians.
Mr Trump also called for the "identification of new coalition partners" - a likely nod toward Russia.
Moscow has deployed aircraft, naval assets and troops to Syria, but has so far trained its fire on rebels with the aim of propping up Bashar al-Assad's regime.
After substantial territorial gains, IS is now on the back foot, struggling to hold onto the Iraqi city of Mosul and with its "capital" in Raqa under threat.
But the battle is approaching a fork in the road.
Mr Trump has reportedly shelved his predecessor Barack Obama's plans for taking Raqa with the help of Kurdish forces and must soon decide how to proceed.
http://www.businesstimes.com.sg/government-economy/trump-to-visit-central-command-with-sights-on-battling-islamic-state
--------
How Trump's policies and rhetoric are forging alliances between U.S. Jews and Muslims
Feb 06 2017
Donald Trump may not be able to forge peace in the Middle East, but he is doing wonders for relations between Jews and Muslims in the United States.
Jewish and Muslim activists in the United States are forging alliances like never before in reaction to the president's rhetoric and action toward Muslim immigrants.
Many Jewish organizations have interpreted Trump's executive order banning entry by citizens of seven predominantly Muslim countries as a call to arms. Jewish delegations turned out en masse for a 10,000-strong demonstration Sunday night in New York. ("Granddaughter of Holocaust survivors standing with refugees, Muslims immigrants," read one sign.)
Almost every day in New York this last week there was an interfaith conference or prayer service — involving Christian groups as well as Muslims and Jews — devoted to the current crisis over predominantly Muslim immigrants and refugees.
"We have common interests," said Al Hadj Talib Abdur-Rashid, the imam of the Mosque of Islamic Brotherhood in Harlem. He was one of several Muslim leaders who appeared at a rally in Brooklyn in November after a playground was defaced with pro-Trump graffiti and swastikas. "The same kind of people who bomb synagogues [also] bomb black churches and now mosques."
A Muslim-Jewish Advisory Council, made up of business and cultural leaders of both communities, both Democrats and Republicans, was formed days before the election and convened for its first regular meeting Wednesday in Washington to push the government for a coordinated response to hate crimes, up sharply against both Muslims and Jews.
The week after the election, Jonathan Greenblatt, chief executive of the Anti-Defamation League, raised eyebrows when he declared at a meeting in New York that if Trump imposed a Muslim registry, "this proud Jew will register as Muslim'' — a dramatic statement for the head of an organization founded to fight anti-Semitism and protect Jewish identity.
There has been an incredible coming together of synagogues around the country to welcome Muslim refugees. Jews really understand what it is to be 'the other.'
— Rabbi Jennie Rosenn, vice president for community engagement of the Hebrew Immigrant Aid Society
To many Jews, Trump's targeting of migrants from predominantly Muslim countries evokes painful memories of Jews who were forced to identify themselves with yellow stars before their extermination at the hands of Nazis — and of the countries that turned them away when they tried to flee.
"It speaks to a lot of people very personally because their own families have stories about being refugees. There is a communal resonance,'' said Shuli Passow, a rabbi at New York's congregation B'nai Jeshurun, who recalled how her grandparents were hidden in barns and basements in Poland during the Holocaust.
In addition, Passow said there is a religious imperative to take in refugees. "One of the core tenets of the Jewish religion is welcoming the stranger. That is a phrase that is repeated 36 times in the Torah," she said.
When a mosque in Texas was destroyed by fire on the same weekend that the immigration ban was announced, members of a nearby Jewish congregation offered the keys to their synagogue so their Muslim neighbors would have a place to pray.
Rabbi Jennie Rosenn, vice president for community engagement of the Hebrew Immigrant Aid Society, was on the Greek island of Lesbos working with refugees when the news broke last week about Trump's executive order suspending immigration from seven majority-Muslim countries and halting all refugee admissions.
"We are all heartbroken," said Rosenn. "It is a betrayal of what America stands for, what we as Jews stand for, and is a terrible recollection of our own history."
The Hebrew Immigrant Aid Society's work with Muslims predates Trump's presidency, although the organization is feeling added urgency now.
Formed in 1881 to resettle Jews fleeing pogroms in Europe, it has in recent years devoted itself to helping non-Jewish refugees. In the last year, it helped resettle more than 4,000 in the United States, about half of them Muslim. Rosenn said that 270 synagogues and thousands of congregants nationwide have volunteered their time to find housing and furniture for refugees, to teach them English and enroll their children in school.
"There has been an incredible coming together of synagogues around the country to welcome Muslim refugees. Jews really understand what it is to be 'the other' and to arrive in a strange country,'' said Rosenn.
One of the beneficiaries of their hospitality here is Ahed Festuk, who fled Syria in 2015 after being targeted by Islamic militants for driving a car and for her activism. Growing up in Aleppo, Festuk never met a Jew and never hoped to. Everything she had read in the public school textbooks was about the violence of the state of Israel.
Fleeing Syria: A desperate migration »
Once in New York, she started to meet Syrian Jews, who in turn introduced her to American Jews who were eager to help her get settled in her new life.
"They told me that their families were refugees too. People helped them and that they would help me," said Festuk, 29, a bookkeeper who has flowing blond curls and wears skinny jeans.
Festuk has been studying English in a free program that is now housed in the basement of the B'nai Jeshurun synagogue, located on New York's Upper West Side. Her English is now good enough that she volunteers as a translator — and speaks out against the Trump travel ban.
"Syrian people are victims, not criminals,'' she said.
Trump's executive order prompted almost universal condemnation from the leading American Jewish organizations, which often squabble among themselves on issues relating to Israel and gay rights. This time, it was not just from the predictable liberal groups, but also from more traditional groups such as the Orthodox Union and the Rabbinical Council of America. Even the conservative synagogue in Washington, D.C., where President Trump's daughter Ivanka is sending one of her three children to school, spoke up against the ban.
It didn't help that the ban was issued on Holocaust Remembrance Day, timing which the Hebrew Immigrant Aid Society called "incredibly offensive" and the Anti-Defamation League called "tone deaf."
Trump also managed to offend some of his Jewish supporters by issuing a statement for the remembrance day that omitted mention of Jewish victims. Even Morton Klein, president of the Zionist Organization of America, which has been staunchly pro-Trump, wrote that he felt "compelled to express our chagrin and deep pain" at the omission of any mention of the 6 million Jews who died at the hands of Nazi Germany.
On the Trump presidency so far, there is divergence on the question (posed so often that it is a cliche) of whether he is good or bad for the Jews.
Full report at:
http://www.latimes.com/nation/la-na-jew-muslim-2017-story.html
--------
'We have to band together': Vandalized Pointe-Saint-Charles mosque opens doors to public
Feb 03, 2017
Mosques in Montreal opened their doors Friday to show the public what goes on inside and to spread awareness about Islam and the Muslim community.
One of those mosques was the Khadijah Masjid Islamic Centre, in Montreal's Pointe-Saint-Charles neighbourhood, which Thursday had its windows smashed and was egged.
The act of vandalism happened on the same day that thousands attended a funeral for three of the six Quebec City mosque shooting victims just miles away.
The vandalism is being treated as a hate crime by police.
Members of the Khadijah Masjid Islamic Centre told CBC News that people who commit such acts are themselves victims of misinformation.
Dozens of people from the community rallied outside the mosque in support of its members.
"The acts of vandalism don't express Canadian values, Quebec values, and we're not going to put up with it," rally attendee Jen Fisher said.
Manuel Johnson said it is unacceptable that people are targeted for their religious beliefs or ethnic background.
"We have to band together to fight hatred and xenophobia," he said.
The public was also welcomed inside to attend the mosque's third prayer.
Elsewhere in Montreal, and across Canada, the Ahmadiyya Muslim community opened their doors.
One of its mosques, the Al-Nusrat Mosque in Montreal North, wanted to dispel myths about Islam.
Full report at:
http://www.cbc.ca/news/canada/montreal/we-have-to-band-together-vandalized-pointe-saint-charles-mosque-opens-doors-to-public-1.3967115
--------
'A choice to work together': Edmonton pastor attends Muslim friend's spiritual meeting
Feb 05, 2017
When Farooq Maseehuddin enters the room, his friend Bev Sesink immediately greets him with a hug.
The Muslim spiritual leader and the Christian spiritual leader are launching a discussion about the power of forgiveness.
"She said, 'God, please give to me the forgiveness that I need to give to him,'" Sesink says, recounting a piece of a sermon that captures the resiliency of the Jewish faith during the Holocaust. "I know your word says, 'If I do not forgive, neither will I be forgiven.'"
It's Sunday morning and the two men are standing in the foyer of the Boyle Street Community League building, where people have started arriving for Tarjuma, a Muslim community gathering.
Show of support at Edmonton mosque feels like 'a blanket of love'
Sesink has a congregation of his own at Calvary Community Church in Mill Woods, but he articulates a need to be with his friend, whose community is showing tremendous strength in the face of a trying test.
The associate pastor left his service early.
"Where there's a choice to work together, there's an opportunity to learn and serve together and realize we do have a lot in common in spite of the differences we do have," Sesink says.
Given the political climate in the United States, where U.S. President Donald Trump's travel ban on citizens from seven Muslim-majority countries has been stayed, and the fallout from a fatal shooting at Quebec City mosque, Sesink's gesture means a lot to Maseehuddin.
"I think it speaks to the strength of our friendship. It also speaks to the importance of building connections and building relationships when you're not at the crucible of a geopolitical or national crisis," Maseehuddin says.
'I just began by saying hello'
The two men first connected five years ago. They worked together to build an Islamic version of a Christian program to support young married couples.
"It means a lot to have a friend like Bev, but it also means a lot for a leader within a local church to extend his hand through the various resources that he has to not just myself and my family, but also our entire community," Maseehuddin says.
Sesink had been reading a book titled Muslims, Christians and Jesus by Carl Medearis when it dawned on him how little effort he had made to connect with people of different faiths in his diverse Mill Woods neighbourhood.
He contacted the Imam, the person who leads prayer, of the local mosque and began volunteering at nearby school. Slowly, he made his way into the community, unsure he could be a part of it.
"I just began by saying hello and noticed people were surprised," says Sesink, who has learned greetings in five different languages.
"People, they warm up, like they're going, 'Maybe I might be accepted.' So I've made a point to do that," he says. "I refuse to be the silent majority that isn't affirming of those who are moving into our community or have been here for some time but still don't feel accepted."
Maseehuddin says for some Muslims, that is an unfortunate reality.
"One thing that Muslims often say is that we just want people to know is that we are just people like everyone else," he says.
"Sometimes because we wear our faith on our sleeves, in some ways very visibly, it can be intimidating to get to know one another."
As Sesink and Maseehuddin have gotten to know one another, they've realized they are very similar. They're both husbands and fathers who want the best for the communities they serve.
"I think interfaith connection has to be personal if it's going to be real," Maseehuddin says.
"I think it extends beyond the shells of our faith or our identities as members of a particular faith tradition. It's getting to know one another as people."
'What people all across Canada want to see'
Sesink helps himself to a cup of coffee and a cookie as he converses with the Muslim teens manning the reception table. He walks toward the Willow Room, where Mustafa Ghani will deliver a message about spiritual growth. He sits in the second row, listening intently.
"You have this idea that it does actually make sense to plant this seedling," Ghani tells 50 or so people packed into the small space as they contemplate the Hadith of the Prophet Muhammad from different perspectives. "That may grow into fruition. That little plant may grow into a beautiful plant that gives people shade and gives people fruit. And the person has to have hope."
Full report at:
http://www.cbc.ca/news/canada/edmonton/bev-sesink-farooq-maseehuddin-friends-1.3968281
--------
As we learned in Quebec, no one is safe from extremism
MARGARET WENTE
Feb. 04, 2017
When I heard about the terrible mosque attack on Sunday night, my first reaction was: This can't be true. This is Canada. This is what you might expect in the United States, now that Donald Trump's in charge.
But no, it happened here. Canadians who aren't Muslims are badly shaken. Many Muslims are in fear, understandably so. Amid the outpourings of solidarity and support, people are searching for answers about why it happened – and what we can do to prevent a next time.
The hard thing we learned this week is that there are dangers from extremism on all sides. If Islamist fanatics can gun down Canadian soldiers in the name of God, then Muslim-haters can massacre Canadian Muslims at prayer.
We don't know what motivated Alexandre Bissonnette, the suspect in the Quebec City shootings, or what turned him into an alleged mass murderer. Nonetheless, politicians went straight to the t-word, describing it as a terrorist attack. Many people are drawing a link to Quebec's undying obsession with cultural protectionism, which sometimes crosses the line into immigrant-bashing. Some leaders and media figures have expressed remorse for their anti-Islamic rhetoric and vowed to tone it down. "Words can hurt. Words can be knives slashing at people's consciousness," said Quebec's Premier Philippe Couillard, who seemed deeply affected. Some critics say he should ditch Bill 62, the latest effort to devise a law around religious accommodation.
I have no idea if Quebec's political climate fed the alleged killer's rage. God knows there's plenty of other fuel for Islamophobes. On the Internet, it takes no time at all to tap into an overflowing sewer of anti-Islamic venom. The dominant theme is that Muslims are taking over Canada, all Muslims are extremists and Islam is a threat to white people. We must keep them out, or at least ban Islam.
That narrative of civilization under siege has been popularized by nationalist political parties across Europe and by right-wing media in the United States. Now, it has been normalized by Mr. Trump, who warned against "the hateful ideology of radical Islam" during his campaign. His chief adviser, Stephen Bannon, warned in 2014 that "there is a major war brewing, a war that's already global." Among the President's first acts in office was to slap a completely arbitrary ban on visitors, immigrants and refugees from seven Muslim-majority countries, which caused a furious backlash and total chaos.
Whether these outrageous provocations will fan the flames of xenophobia is anybody's guess. In New York the other day, a man kicked and berated an airline worker wearing a hijab, saying, "Trump is here now" and "he will get rid of all of you." (He was charged with hate crimes.) Last weekend, someone torched a mosque in Texas. The good news: More than $1-million (U.S.) has already been raised to rebuild it.
One poll of American sentiment, conducted by the Brookings Institution, had an unexpected finding: People's attitudes toward "Muslim people" have become dramatically more favourable since Mr. Trump hit the scene. By October, 2016, 70 per cent of Americans said they felt "favourable/somewhat favourable" about Muslims – up from 53 per cent the year before. "The more one side emphasized the issue … the more the other side took the opposite position," its commentary said.
One wrong way forward would be to shut down or discourage discussions of Muslim accommodation on the grounds that such talk feeds racism. This is what has happened in much of Europe, where a populist backlash now threatens the entire political order. The Muslim situation in Canada is far different. Yet, somewhere, between the false extremes of "Islam is an existential threat to the world" and "Islam is a religion of peace," we need to carve out a place to talk.
Full report at:
http://www.theglobeandmail.com/opinion/as-we-learned-in-quebec-no-one-is-safe-from-extremism/article33896677/?reqid=3b045fbd-3a0a-4fec-bbab-b339f49abeb4
--------
US customs targeting Muslim Americans at borders
02 February 2017
American Muslims returning to the U.S. are being targeted for enhanced questioning, the head of Council on American-Islamic Relations' (CAIR) Florida bureau told Anadolu Agency on Wednesday.
"For years there have been reports of American Muslims detained by customs and questioned about their religious practice," Hassan Shibly said.
"However, in the last two weeks, we noticed a strong increase in members of the American Muslim community, who are U.S. citizens, being subjected to secondary inspection," he added, referring to an additional level of questioning some travelers are subjected to when they enter the U.S.
The revelation comes just days after President Donald Trump singed an executive order that bans nationals of seven Muslim-majority countries from entering the U.S. for 90 days. It also banned Syrians refugees and migrants indefinitely.
The Trump administration has vigorously defended the ban on grounds of national security, in defiance of massive nationwide protests and legal challenges questioning the constitutionality of the ban.
Shibly estimates 50 - 70 percent of those held back hours for secondary inspection are Muslim, despite the fact that American Muslims represent 1 percent of the population.
CAIR has received "thousands of complaints" in an "overwhelming" surge of feedback online and through other communication channels. "It is very clear, there is no denying that the CBP [Customs and Border Protection] is disproportionately targeting law abiding American Muslims for enhanced questioning," he said, calling it "gross violations of civil rights".
Muslim Americans are asked "extremely inappropriate" questions suggestive of religious profiling, such as: "Are you a devout Muslim?", "How many times a day do you pray?", "What school of thought do you follow?" and "What scholars do you listen to?"
CBP then shares the information with the FBI without disclosing the practice to those who were questioned, Shibly added.
Full report at:
http://www.worldbulletin.net/haber/184111/us-customs-targeting-muslim-americans-at-borders
--------
India
Pak's empathy for Kashmir is just 'crocodile tears': Bangla minister
Feb 5, 2017
DHAKA: Terming Pakistan's "empathy" for Kashmir as "crocodile tears", a senior Bangladeshi minister on Sunday said Pakistan should apologize for 1971 genocide it committed before talking about Kashmir.
"The Pakistani rulers' empathy for Kashmir is in fact nothing but crocodile tears while they repeatedly plead innocence instead of seeking apology for the 1971 brutality and genocide they committed," Information minister Hasanul Haq Inu said.
He said Pakistan should apologize for 1971 genocide they committed before talking about Kashmir.
The minister also commented that the history of Pakistan had always been one of oppressing ethnic groups besides Bengalis.
Inu made the remarks while responding to a journalist on the reported observance of 'Kashmir Solidarity Day' at the Pakistan high commission here, according to an official statement.
Inu, a member of Prime Minister Sheikh Hasina's Cabinet, called the "celebration" in Dhaka "beyond diplomatic norms and a mischievous move" by Pakistan to drag Bangladesh into "what is basically a bilateral issue between India and Pakistan".
Inu's left-leaning Jatiya Samajtantrik Dal (JASOD) is a partner in the ruling Awami League-led grand alliance.
Pakistan has been observing 'Kashmir Day' every year on February 5 since 1990.
http://timesofindia.indiatimes.com/india/paks-empathy-for-kashmir-is-just-crocodile-tears-bangla-minister/articleshow/56987076.cms
--------
Pakistan thanks India for reuniting 5-year-old boy with mother
Feb 5, 2017
ISLAMABAD/NEW DELHI: Pakistan has thanked India for its cooperation in reuniting a five-year-old boy with his Pakistani mother nearly a year after he was taken to India on the sly by his father.
"We are thankful to Indian authorities for their cooperation in this humanitarian matter," Pakistan's High Commissioner to India Abdul Basit tweeted.
The boy, Iftikhar Ahmed, was on Saturday handed over to Pakistan Rangers by Indian authorities at Wagah where his mother was waiting for him for several hours.
"I am extremely happy to have my son back. I am thankful to the Pakistani government for its help for return of my child," Iftikhar's mother Rohina Kiyani had said at Wagah.
"I had lost all hope of getting my child back. It's not a less than a miracle for me," she said.
The boy's mother alleged that her estranged husband, who hails from Jammu and Kashmir, had lied to her that he was taking the child to a wedding along with him as he took him to Dubai and from there to Kashmir in March 2016.
Rohina with the help of Pakistan High Commission in New Delhi had filed a custody case in an Indian court.
Full report at:
http://timesofindia.indiatimes.com/india/pakistan-thanks-india-for-reuniting-5-year-old-boy-with-mother/articleshow/56983931.cms
--------
South Asia
Negotiation is the only way forward, China told Taliban
Feb 06 2017
China's Special Representative for Afghanistan and Pakistan has said negotiation is the only way forward and the issue has been shared with the Taliban group during the contacts the Chinese officials had with the group.
In a meeting with President Mohammad Ashraf Ghani, the Chinese envoy Deng Xijun, said Beijing has always emphasized on the recognition of the legitimacy of the Afghan government and the elected Afghan President.
He said the Taliban group has been encouraged to join negotiations and talks are underway with Pakistan to revive talks in the framework of the Quadrilateral Coordination Group.
Xijun further added that the Chinese government will participate in all meetings that help bring peace and stability in Afghanistan, emphasizing that their presence in Moscow summit was also aimed at the same.
According to Xijun, the concerns of the Afghan government and people were shared during the meeting with the Russia and Pakistani officials.
He also added that the presence of the Afghan government's representative in the next meetings was also discussed and emphasized upon during the meeting.
In his turn, President Ghani hailed China for their support to Afghanistan, specifically in peace efforts and added that the Afghan government is keen to boost regional cooperation, thanking China for their support in transit sector.
President Ghani further added that the conclusion of peace process with Hezb-e-Islami shows the capacity of the Afghan government to hold peace talks with the militant groups.
He said the Taliban-led insurgency encourages other militant groups to start activities in Afghanistan which puts the regional stability and China in danger.
President Ghani said the recent attacks in Kabul, Kandahar, and other provinces shows that the militants have adopted enmity with the Afghan people.
http://www.khaama.com/negotiation-is-the-only-way-forward-china-told-taliban-02815
--------
Myanmar commanders should be punished for rape of Rohingya: HRW
Feb 6, 2017
Human Rights Watch on Monday called for Myanmar to punish army and police commanders if they allowed troops to rape and sexually assault women and girls of the Rohingya Muslim minority.
The New York-based campaign group said it had documented rape, gang rape and other sexual violence against girls as young as 13 in interviews with some of the 69,000 Rohingya Muslims who have fled to Bangladesh since Myanmar security forces responded to attacks on border posts four months ago.
"The sexual violence did not appear to be random or opportunistic, but part of a coordinated and systematic attack against Rohingya, in part because of their ethnicity and religion," a Human Rights Watch (HRW) news release said.
Reuters was unable to contact a Myanmar government spokesman to respond to the allegations.
An estimated 1.1 million Rohingya live in the western state of Rakhine, but have their movements and access to services restricted. Rohingyas are barred from citizenship in Myanmar, where many call them "Bengalis" to suggest they are illegal immigrants from Bangladesh.
Independent journalists and observers have been barred from visiting the army's operation zone in northern Rakhine since the Oct. 9 attacks that killed nine border police.
The government has so far dismissed most claims that soldiers raped, beat, killed and arbitrarily detained civilians while burning down villages, insisting instead that a lawful operation is underway against a group of armed Rohingya insurgents.
The HRW report comes just days after United Nations investigators said Myanmar's security forces had "very likely" committed crimes against humanity, posing a dilemma for de facto leader Aung San Suu Kyi.
Full report at:
http://nation.com.pk/international/06-Feb-2017/myanmar-commanders-should-be-punished-for-rape-of-rohingya-hrw
--------
Helmand child bomber was assigned by his father for insurgency
Feb 06 2017
A teenage child suicide bomber, who had surrendered to the security forces in southern Helmand province, was assigned by his own father for insurgency, local officials said.
The provincial government office issued a statement following the detention of the child suicide bomber, saying the child was initially used to gather information regarding the check posts in Helmand.
The statement further added that the 12-year-old Nabiullah is originally hailing from Shajoin district of Zabul who assigned by his own Taliban father to participate in insurgency activities.
According to the local officials, Nabiullah was eventually tasked to conduct more insurgency besides gathering information and was later assigned to conduct suicide attack on Ishaqzoi check post.
The child has confessed that he was forcefully taken by his father to join the Taliban group.
The local officials are saying that efforts are underway to safely return the child to his mother.
Full report at:
http://www.khaama.com/helmand-child-bomber-was-assigned-by-his-father-for-insurgency-02816
--------
Death toll from Afghan avalanches tops 100
Feb 6, 2017
More than a 100 people have been killed in a series of avalanches triggered by days of heavy snowfall around Afghanistan, including 50 in one village, officials said Sunday, warning the death toll could rise still further.
The avalanches struck after three days of heavy snow, which has destroyed scores of homes and blocked roads mainly in central and northeastern provinces, making it difficult for rescue workers to reach the stricken villages.
The bulk of the deaths however occurred in remote Nuristan province, where at least 50 people were killed in a single village, Mohammad Omar Mohammadi a spokesman for the ministry of natural disaster told AFP.
"Avalanches have buried two entire villages in Bargmatal district, 50 bodies were recovered from one village while rescuers are trying to reach the other village," said the spokesman.
Elsewhere 54 people were killed in northern and central Afghan provinces, where officials said massive avalanches destroyed 168 houses and killed hundreds of cattle.
Bad weather and deep snow had hampered efforts of rescue workers to reach the isolated villages, raising fears the toll could rise sharply, according to officials.
In Badakhshan province also in the northeast of the country, at least 18 people, including three women and two children, were killed when avalanches struck their houses overnight, said provincial spokesman Naweed Frotan.
"Several dozens are still trapped, we are trying to rescue them," he said, adding that many roads were still blocked.
Five people were killed by avalanches in the Balkhab district of Sari Pul province in northern Afghanistan and at least 70 people trapped under the snow were being rescued, said provincial spokesman Zabiullah Amani.
"The roads to Balkhab are still blocked and we are trying to open them," he said.
Freezing weather killed at least two people and over 100 animals in the western province of Badghis. In Parwan province just north of Kabul, the spokesman for governor Wahid Sediqqi said 16 people died.
Full report at:
http://www.dawn.com/news/1312900/death-toll-from-afghan-avalanches-tops-100
--------
Pakistan
NA to take up crucial bill aimed at curbing terrorism, extremism
AMIR WASIM
Feb 6, 2017
ISLAMABAD: The National Assembly is set to take up on Monday (today) an important bill seeking amendments to various laws with an objective of strengthening criminal justice system and enhancing punishment in various offences to effectively curb terrorism and extremism in the country.
The Criminal Laws (Amendment) Bill, 2016, is placed in the name of Interior Minister Chaudhry Nisar Ali Khan on the agenda issued for the Monday's session of the National Assembly which will be meeting after a two-day recess.
The bill, which has already been passed by the Senate, proposes amendments to the Pakistan Penal Code (PPC), 1860; the Police Act, 1861; the Code of Criminal Procedure, 1898; the Qanoon-i-Shahadat, 1984; the Protection of Pakistan Act, 2014; and Anti-Terrorism Act, 1997.
Through an amendment to Section 182 of the PPC, the punishment for giving false information to a government servant that causes him to use his lawful powers to injury was increased from a maximum of six months to up to seven years in case the offence about which information has been given is punishable with death and five years in case it is punishable with life imprisonment.
The punishment for the offence of deliberately using words to hurt the religious feelings of any person has been enhanced from year-long imprisonment and unspecified fine to imprisonment extendable to three years and not less than one year, and/or fine of Rs500,000.
The amendment prescribes the same punishment for inciting religious, sectarian or ethnic hatred by using loudspeaker, sound amplifier or any other device.
Another amendment to the PPC has suggested enhanced punishment in cases of forced marriages.
Section 498-B of the PPC in its present form reads: "Whoever coerces or in any manner whatsoever compels a woman to enter into marriage shall be punished with imprisonment of description for a term which may not be less than three years and shall also be liable to a fine of Rs500,000."
The Section 23 of the Police Act, 1861, outlining duties of a police officer is also being amended to include in them through the law prevention of sectarian and hate speeches and proliferation of hate material by any person, organised group, organisation or banned outfit.
Through an amendment to Section 29 of the Police Act, the punishment for officers guilty of any violation of duty, wilful breach or neglect of any rule, regulation or lawful order made by a competent authority, has been increased from confiscation of three-month salary or imprisonment not exceeding three months to imprisonment of up to three years with Rs100,000 fine.
Every person opposing or not obeying the lawful orders of superiors or violating the conditions of any licence granted by a district superintendent or assistant district superintendent of police for the use of music or for the conduct of assemblies and processions will now have to undergo imprisonment for up to three years with fine, under an amendment to Section 32 of the Police Act.
The Statement of Object and Reason of the bill says: "Terrorism, sectarianism and extremism have gripped the entire country and these acts have become the order of the day. The country is passing thorough an extraordinary situation, which requires stringent measures to be taken to curb this menace that has infiltrated society."
The same bill had earlier been passed by the National Assembly in May last year, but the Senate approved it with some amendments thus making it necessary for the government to get it passed from the lower house of parliament again.
Published in Dawn February 6th, 2017
http://www.dawn.com/news/1313056/na-to-take-up-crucial-bill-aimed-at-curbing-terrorism-extremism
--------
Shujaat meets Musharraf, moots merger of PML groups
ZULQERNAIN TAHIR
Feb 6, 2017
LAHORE: The Chaudhrys of Gujrat have renewed efforts to bring all factions of the Muslim League, except the N-League, on one platform in order to introduce a new political force before the 2018 general election.
Pakistan Muslim League-Quaid leaders Chaudhry Shujaat Husain and Moonis Elahi called on former president and APML chief retired Gen Pervez Musharraf in Dubai on Sun­day and discussed with him matters relating to formation of a new party, to be known as 'United Muslim League'.
"Chaudhry Shujaat and Moonis Elahi have held an important meeting with Gen Musharraf for bringing all Muslim League factions (minus N) under one umbrella. The Chaudhrys have renewed efforts since they feel this is the right time to enter the political arena with a new party in the presence of the PML-N, PTI and PPP," a PML-Q leader privy to the development told Dawn.
He said the PML-Q believed that there had been a political vacuum, especially in Punjab, and the new party could make its mark in the run-up to the 2018 elections. "The United Muslim League will not only take on board disgruntled leaders of other parties but will also be in position to make seat-adjustment with like-minded parties in the coming elections," he said, claiming that the effort this time would succeed.
After having a long discussion with the Chaudhrys, Gen Musharraf held a meeting with PML-Functional chief Pir Sibghatullah Rashdi to explore the idea of a "United Muslim League", the PML-Q leader said.
"Now the Chaudhrys and Musharraf will have a series of meetings with other PML factions and some disgruntled leaders to finalise the plan," he said.
However, according to a PML-Q spokesman, Chaudhry Shujaat said at the Dubai meeting the political situation demanded that all opposition parties gather on one platform.
"Pervez Musharraf said his heart beats for Pakistan and he wants to return home at the earliest," he added.
The Chaudhrys had about one-and-a-half-year ago launched efforts for the United Muslim League under the leadership of Gen Musharraf and Chaudhry Shujaat, but these could not bear fruit because of a lack of consensus over leadership and some other issues.
Sardar Zulfiqar Khosa, a veteran politician from southern Punjab and PML-N's disgruntled leader, who had earlier favoured the reunification of all Muslim League factions, except PML-N, now sees things differently. "For me the chapter of United Muslim League is over. At my place Chaudhry Shujaat, instead of announcing the merger of all Muslim League factions, only talked about the possibility of an alliance among them. After that I am not keen to be part of this effort," Mr Zulfiqar told Dawn on Sunday.
Full report at:
http://www.dawn.com/news/1313039/shujaat-meets-musharraf-moots-merger-of-pml-groups
--------
Mideast
Yemeni Zalzal-II Missile Hits Saudi-Backed Militias' Gatherings in Ma'arib Province
Feb 05, 2017
The Saudi-backed militias' military positions in Hareeb region in Ma'arib province were hit by Zalzal-II missiles in reaction to Saudi Arabia's continued airstrikes on the Yemeni civilians.
Several pro-Saudi mercenaries were killed and wounded in the Yemeni attacks.
In a relevant development on Wednesday, the Yemeni army and popular forces continued their advances against the Saudi-backed militias in Ta'iz province, and seized back a strategic mountain and its surrounding hilltops.
The Yemeni forces are now in full control of al-Ravi mountain and several of its surrounding hilltops in al-Waziyeh region in Ta'iz province.
The Yemeni army and popular forces, meantime, pounded Nour Ein military base near al-Khazra border crossing with Katyusha rockets.
The Yemeni forces' artillery units also hit the gathering centers of the Saudi army troops behind Alib mountains in Najran province, killing and injuring a number of them.
The Yemeni forces also hit al-Zaqileh and al-Ramadi military bases South of the kingdom with a number of missiles.
Also on Tuesday, the Saudi-led forces sustained heavy losses in the Yemeni army's missile attacks on their military positions in the Red Sea island.
"The Yemeni army targeted and pounded the Saudi-led military training center with a ballistic missile Zuqar Island in the Red Sea, killing at least 80 Saudi and UAE soldiers and officers," the Arabic-language media outlets quoted an unnamed Yemeni military source as saying.
The source noted that the Saudi-led forces' military hardware also sustained heavy losses in Yemen's missile attacks.
"Saudi Arabia and the UAE are using Zuqar Island for training the Saudi-led forces and sending them through Saudi land borders to Yemen," he added.
The source noted that Saudi-hired mercenaries could also be seen among the fatalities in Zuqar Island.
Also on Tuesday, Yemen's army and popular forces targeted and destroyed a Saudi warship with 176 crews and naval forces in the waters near Bab al-Mandab Strait, the 11th Saudi vessel sinking offshore Yemen.
The Saudi warship dubbed as 'Al-Madina' was targeted by Yemeni missiles in the Al-Mukha coastal waters in the province of Ta'iz.
The sunken ship had repeatedly fired rockets at residential areas in Ta'iz province, inflicting casualties and destruction there.
http://en.farsnews.com/newstext.aspx?nn=13951117000877
--------
Yemeni troops kill 7 Saudi soldiers in Najran, Jizan, pound Saudi bases
Feb 5, 2017
Yemeni army soldiers, backed by fighters from allied Popular Committees, have killed at least seven Saudi troops in the kingdom's southwestern border regions of Najran and Jizan as the Riyadh regime pushes ahead with its campaign against Yemen.
According to a report by Yemen's Arabic-language al-Masirah television network, the Yemeni forces on Sunday gunned down two Saudi troops in a sniper attack on al-Tala'a military base in Najran, and killed three more by attacking al-Makhroq base with rocket-propelled grenades in the same region.
The Yemeni troops also launched a heavy artillery attack against a number of Saudi military bases in the region, including al-Sadis and al-Shabakeh. They also bombarded the Rejla Camp with artillery shells.
The Yemeni forces also launched an attack against al-Qais military base in Jizan, killing two more Saudi soldiers. They managed to destroy three Saudi military vehicles in the vicinity of al-Fariza and another near al-Jamayel base in the same region.
The Yemeni fighters also managed to destroy two military vehicles and an armored vehicle, belonging to the Saudi-led coalition, in the western coastal line of Yemen's southwestern province of Ta'izz, near the Bab al-Mandeb strait.
Yemen's Houthi Ansarullah fighters and their allies in the army have been launching retaliatory attacks against parts of the Saudi territory adjacent to northern Yemen, as well as the gatherings of Riyadh-allied militants inside Yemen.
Armed tribesmen, loyal to the Houthi Ansarullah movement, attend a gathering in the capital, Sana'a, Yemen, on January 1, 2017. (Photo by AFP)
A report by Reuters published in April last year showed that at least 400 Saudi soldiers had been killed in the cross-border fire since the start of the campaign in March 2015. Riyadh has maintained a policy of ambiguity regarding its casualties in the war on Yemen. Senior military officials have said that they would not release such information until after the campaign.
Full report at:
http://www.presstv.ir/Detail/2017/02/05/509253/Yemen-Saudi-Arabia-Najran-Jizan
--------
Lebanese police plan demolition of 50 Palestinian refugee homes
Feb 5, 2017
Lebanese police authorities have ordered dozens of Palestinian refugee families living in the southern part of the country to evacuate their homes to pave the way for their demolition.
Palestinian sources, speaking on condition of anonymity, said the officials had handed eviction orders to 50 families in al-Qasimiya community north of the southern Lebanese city of Tyre, which is sometimes romanized as Sour and located about 80 kilometers south of the capital, Beirut, Arabic-language Safa news agency reported on Sunday.
The sources said Lebanese authorities planned to knock down the Palestinian homes and construct an inter-city motorway in the area instead.
The homes were constructed in al-Qasimiya community following Nakba Day (the Day of Catastrophe).
Each year on May 15, Palestinians across the world commemorate Nakba Day, which marks the displacement of hundreds of thousands of Palestinians from their homeland during the 1948 Palestine war.
Palestinians stage protests and marches, deliver lectures and observe other events in the occupied territories annually to mourn their ancestors' displacement.
Arab Palestinians in Israel hold Palestinian flags as they march for the right of return for Palestinian refugees, who fled their homes or were expelled during the 1948 Palestine war that followed the creation of Israel, during the 68th anniversary of Nakba Day (Day of Catastrophe) near Rahat, the Israeli-occupied Palestinian territories, on May 12, 2016 (Photo by AFP)
The al-Qasimiya community houses some 6,000 Palestinian refugees, who are mostly working in agriculture.
Full report at:
http://www.presstv.ir/Detail/2017/02/05/509245/Lebanon-police-eviction-order-demolition-Palestinian-refugee-homes-Tyre-Sour
--------
Israel Arabs and Jews protest house demolitions
5 February 2017
Israeli Arabs and Jews marched arm-in-arm through central Tel Aviv on Saturday night, calling for the government to stop demolishing Arab homes built without permits that it rarely grants. An AFP journalist said that around 1,000 protesters took part, many carrying banners in Hebrew and Arabic, reading "Jews and Arabs together".
Leading the march were opposition lawmakers from the left-wing Meretz party and from the Joint List, a coalition of mainly Arab parties. Israeli Arabs say that Prime Minister Benjamin Netanyahu's right-wing government has cracked down on unlicensed Arab construction to try to placate Jewish settlers angry at a demolition order against the Amona wildcat outpost in the occupied West Bank.
Tensions flared last month when police flooded the Arab village of Umm al-Heiran in southern Israel to supervise demolitions, and a policeman and his Arab alleged attacker were killed in disputed circumstances. Police said that villager Yacoub Abu al-Qiyan, 50, was shot dead after he rammed officers with his vehicle, killing one of them.
They alleged he was active in the Israeli Islamic Movement and may have been influenced by ISIS -- a claim residents strongly denied, calling him a respected teacher. "Members of our government are proud to establish alternative facts," Meretz MP Michal Rozin told the demonstrators on Saturday.
"They do this not from ignorance," she added. "They are building a narrative of fear, racism and hatred of the other in a deliberate and sinister fashion which serves their political ends." In a December video address, Netanyahu linked the order to dismantle the Amona outpost with a fresh offensive on unapproved Arab construction in Israel.
"The law must be equitable; the same law which obliges vacating Amona also obliges removing illegal construction in other parts of our country," he said. "Therefore I have given orders to speed up demolition of illegal construction... in all parts of the country and we shall do that in the coming days."
Full report at:
https://english.alarabiya.net/en/News/middle-east/2017/02/05/Israel-Arabs-and-Jews-protest-house-demolitions-.html
--------
Ballistic missile attack reported in Saudi capital: Yemeni media
Feb 6, 2017
Yemen's local media have reported a ballistic missile attack on Saudi Arabia's capital Riyadh.
The Yemeni army made the announcement of their first ever attack on the city via a statement released by the official state Yemen news agency on Sunday.
In the statement, they claimed that the missile had been launched at a Saudi military base located to the west of the capital in retaliation for the kingdom's relentless war against their country.
It went on to stress that the attack shows that Riyadh is well within the range of Yemen's missiles.
Saudi officials have not made any comments on the reports yet, but locals have said on Twitter that the missile struck a military camp to the west of al-Mazahimiyah town near Riyadh.
The regime in Riyadh has been incessantly pounding Yemen since March 2015 in a bid to reinstall the country's ex-government and crush the Houthi Ansarullah movement.
Full report at:
http://www.presstv.ir/Detail/2017/02/06/509301/yemen-saudi-arabia-riyadh-ballistic-missile
--------
Mass wedding of Yemenis who lost their limbs in war with Houthis
5 February 2017
40 Yemeni amputees married in a mass wedding in Taiz in Yemen on Saturday.
The amputees sustained their injuries during battles against Houthi militias and forces loyal to former president Ali Abdullah Saleh.
Hundreds attended this wedding which was organized in Taiz's Gamal Street and celebrated despite the ongoing war in the city.
The wedding was held under the headline "love and mercy," and it was organized by the NGO Muath Developmental Foundation in coordination with the NGO Developmental Care Foundation and sponsored by Taiz governor Ali al-Maamari, according to the Anadolu news agency.
Another party was held for grooms and brides of the mass wedding in a hall in Taiz University.
Full report at:
https://english.alarabiya.net/en/News/middle-east/2017/02/05/Mass-wedding-of-Yemeni-amputees-in-war-with-Houthis.html
--------
Southeast Asia
Why Trump's Travel Ban Puts Macau, Malaysia In Islamic State's Sights
6 FEB 2017
The decision by US President Donald Trump to slam shut the doors of America to the citizens of seven Muslim-majority countries has been widely perceived as one that will inflame anti-US sentiment around the world.
Opponents of arguably the most controversial US leader to occupy the White House argue that the move – introduced in an opening flurry of presidential executive orders – say it will have the opposite effect to its stated intention of making Americans safer; instead it will work as a recruiting sergeant for extremist groups like Islamic State and al-Qaeda.
It fuels concerns among regional counterterrorism officials that the US-backed war machine currently encircling Islamic State (IS) could spawn a greater terror network in Southeast Asia and elsewhere, one made up of fleeing militants seeking a safe haven in their home countries.
In October last year, Jeremy Douglas, the representative for the United Nations Office on Drugs and Crime (UNODC) in Southeast Asia and the Pacific, told This Week in Asia that the threat posed by foreign terrorist fighter returnees was "real and imminent".
"Increasing military pressure on [IS] in Syria and Iraq is now expected to result in more returnees including many that will want to pursue violent jihad in the region," Douglas said.
The UNODC estimates there are 516 Indonesians, 100 Filipinos, 100 Malaysians and two Singaporeans fighting in Syria and Iraq. If even just a handful of these battle-hardened fighters return to home soil, they have the potential to orchestrate large-scale attacks either by working in small cells or as "lone wolves".
That warning was followed last month by a reiteration that the threat of a "spectacular'' attack on a high-profile target – specifically the world's richest gaming hub Macau – was being underestimated.
It wasn't the first time the Hong Kong-based risk consultancy Steve Vickers and Associates had suggested terrorists might be considering a "spectacular attack on a soft target such as a mall in Australia or casino in Macau".
Trump to explore military options for defeating Islamic State
A Vickers report in 2016 suggested that Macau's gaming sector offered a "nexus of Chinese, American and Jewish interests" that a terror group would find particularly appealing. Las Vegas Sands tycoon Sheldon Adelson and Wynn Resorts chairman Steve Wynn – two big players in Macau – are both Jewish.
In its latest risk report for 2017, Vickers reiterated his concerns about Macau: "An understated threat is terrorism. Macau represents a unique agglomeration of Chinese, American and Jewish interests, engaged alongside triad societies [Chinese organised crime] in an activity [gambling] that Islamists deem sinful. Worse, the city is vulnerable."
Sources have also told This Week in Asia that in recent months security checks have been stepped up on visitors arriving in the casino hub who are travelling on or carrying passports from Islamic countries and whose last port of call was the Philippines.
Vickers said: "The Philippines is definitely a weak link because of its relatively porous and multifaceted coastline, plus the obvious threat of a support network for radical Islamists in the country's restive southern regions.''
A security insider has also told This Week in Asia that Macau's international airport, which connects it to key regional cities – is considered a "weak link" when it comes to the gaming hub's security.
A warning came in August 2015 when Indonesian authorities arrested six men suspected of plotting a terror attack on Singapore's Marina Bay district, the home of Las Vegas Sands' Marina Bay Sands integrated resort.
Police said the six planned to fire rockets at Marina Bay from Batam, an Indonesian island across the Strait of Singapore. The men were detained following a series of raids on multiple locations, including one where weapons were found.
The arrested men were said by police to be part of the KGR@Katibah terrorist group. They are believed to have had organisational help from Muhammad Bahrun Naim, an Indonesian currently fighting in Syria with IS. Bahrun is suspected of involvement in January's terror attack in Jakarta that killed eight people. The Jakarta Post reported that Indonesian authorities were acting on a tip from their Singapore counterparts. Singapore Defence Minister Ng Eng Hen posted a Facebook message saying everyone "should assume that there may be more plots, other terror cells on the lookout for ways and new munitions to penetrate our defences".
Marina Bay is a popular hub for international tourists, as it offers a mix of residential, commercial, hotel and entertainment options, and Marina Bay Sands is one of its most visibly striking features. There is no evidence that the casino was a specific target of the plot.
Vickers, however, said predictions of an attack on a "spectacular" target like Macau in the wake of Trump's so-called "Muslim ban" could be overly dire.
While standing by his assessment last month, Vickers, who formerly served in the Criminal Intelligence Bureau of the Hong Kong police, said: "The terrorists often strike when they are on the back foot and feel they are being ignored. It might just be that the recent events in the United States have been a boost to their public relations machine.'' ■
http://www.scmp.com/week-asia/politics/article/2067907/why-trumps-travel-ban-puts-macau-malaysia-islamic-states-sights
--------
The world's largest majority-Muslim nation isn't sure how to deal with Trump
By Vincent Bevins
Feb 6, 2017
JAKARTA, Indonesia — The tumultuous beginning of Donald Trump's presidency seems to have catapulted Indonesia into a highly awkward situation.
Officials in the country, traditionally an ally of the United States, have made apparently contradictory statements on Trump's new immigration policies, prompting some analysts to suggest that the government wants to signal its opposition to the rules without accidentally picking a fight with the unpredictable U.S. president.
Soon after the executive order banning or restricting travel from seven countries went into effect, Foreign Minister Retno Marsudi said that Indonesia, which is not among the seven, had "deep regrets about the policy." Later, President Joko "Jokowi" Widodo said: "We are not affected by the policy. Why fret?" Johan Budi, his spokesman, said that Widodo had "made sure that the policy of the American president does not have an impact on Indonesian citizens. … Therefore, people are asked to remain quiet."
Then on Thursday, at a news conference in Jakarta, Foreign Ministry spokesman Arrmanatha Nasir said Trump's policy was a "mistake" that could prove counterproductive, but also expressed confidence that the United States and Indonesia will nevertheless be cooperating more soon.
As the largest country in Southeast Asia — its 17,000 islands stretch across 735,358 square miles — Indonesia is at the center of potential conflicts between the United States and the region's rising power, China — especially tensions related to trade or the South China Sea. As a mostly Muslim country and a secular democracy, the country also walks a tightrope between its Western alliances and solidarity with the Islamic world. The explosive first weeks of the Trump administration have made that balance much more tenuous, and a slip could mean a shift away from the United States.
"The Widodo government is not likely to take a very assertive stance on the 'Muslim ban' for the time being," said Christine Susanna Tjhin, a foreign policy researcher at the Center for Strategic and International Studies in Jakarta. Tjhin added that Widodo is typically nonconfrontational and that "a fight with Trump would not be regarded as productive."
Among other possibilities, a U.S. escalation of tensions with China or a move to protectionism that would throw off the regional balance of power, Tjhin said.
"With Trump, his unpredictability and capacity to do or say anything is no longer a surprise," she said. "Indonesia is really taking a cautious, wait-and-see approach."
The Trump Organization has done business in Indonesia, the world's fourth-most-populous nation, and local tycoon Hary Tanoesoedibjo attended Trump's inauguration. Widodo publicly congratulated Trump on his victory.
But on the day that the Foreign Ministry's Nasir spoke, news broke that a disagreement had erupted out of nowhere between the United States and Australia, Indonesia's neighbor and ally. Because even friendly governments can inadvertently be drawn into public disputes, it's possible that Indonesian officials believe the best strategy is simply to try to avoid getting the new president's attention and hope to emerge unscathed.
Full report at:
https://www.washingtonpost.com/news/worldviews/wp/2017/02/05/the-worlds-largest-majority-muslim-nation-isnt-sure-how-to-deal-with-trump/?utm_term=.2143d3001e0f
--------
Hong Kong protesters denounce Donald Trump's 'Muslim ban' outside US consulate
05 February, 2017
More than 100 people gathered outside the United States consulate on Sunday to protest President Donald Trump's executive order temporarily banning people from seven Muslim-majority countries from entering the country.
The protesters – mostly Indonesian domestic helpers – chanted "No one is illegal", "No ban, no wall", and "US imperialist, number one terrorist", as they made their way to the consulate, in Central, from Chater Garden.
Hong Kong must be vigilant in changing economic landscape, says financial secretary Paul Chan
The executive order on January 27 called for a 120-day suspension of the country's refugee programme, and a 90-day ban on travel to the US from seven predominantly Muslim countries: Iran, Iraq, Syria, Sudan, Somalia, Libya, and Yemen.
The White House said the suspensions were to give time to tighten the approval process for entry to the US to "[protect] the nation from foreign terrorist entry into the United States".
"With [Trump's] policies and orders, the Trump presidency poses a threat to solidarity, racial understanding and justice that many of us uphold and promote," said Eni Lestari, chairwoman of International Migrants Alliance, a campaign group.
Lestari, who comes from Indonesia, the world's largest Muslim country, added that she was afraid the list of banned countries could become permanent, or that more Muslim countries would be added.
There have been some specific cases of refugees affected by the suspension in Hong Kong because they come from one of the countries listed in the order.
Trump travel ban takes US to brink of constitutional crisis
Another protester, Nick Thorpe, said: "America was built on the principle of democracy, and now it's basing its foreign policy on the persecution of minorities and religions, [which] seems at odds with why the country was founded in the first place."
The group had a petition, but no one from the consulate came to accept it.
Lestari said that was probably because it was a Sunday, and that they would fax it to the consulate the next day. But League of Social Democrats legislator Leung Kwok-hung, who had joined the march, said he did not believe no one was available at the consulate because "US imperialism operates 24 hours globally".
Full report at:
http://www.scmp.com/news/hong-kong/education-community/article/2068228/hong-kong-protestors-denounce-donald-trumps
--------
Africa
Somalia's al Shabaab executes four men accused of spying
Feb 6, 2017
Al Shabaab militants in Somalia publicly beheaded four men accused of spying for the country's Western-backed government, the United States and neighboring Kenya, residents in the south of the Horn of Africa country said.
The al Qaeda-linked group confirmed the executions, which took place on Sunday after the men were found guilty by an al Shabaab court in Jamame district of lower Jubba region, some 70 km (43 miles) north of Kismayu.
"The court ruled on their cases and four of the men were executed publicly in Jamame District according to the Sharia this (Sunday) afternoon," Mohamed Abu Abdalla, al Shabaab's governor for the Jubba region, told Reuters, without elaborating on the method of execution.
Full report at:
http://www.reuters.com/article/us-somalia-violence-idUSKBN15L0H0?il=0
--------
In Niger, Christian and Muslim leaders push harder to counter creeping radicalism
Feb 6, 2017
FEBRUARY 5, 2017 ZINDER, NIGER—Aichatou Kane was preparing for Friday lunch with fellow congregants when the gate that separated the church compound from the busy street outside burst open, and hundreds of people wielding clubs and gasoline canisters began streaming in.
"They started burning the church, and then they turned to our residence. They invaded every part of the house," says Mrs. Kane, who is the wife of the church's pastor. "Then someone told us to convert to Islam."
It was Jan. 16, 2015, days after two gunmen stormed the offices of the French satirical magazine Charlie Hebdo in Paris, killing 12 journalists. In much of the Muslim world, public outrage arose in response to what followed – the magazine continued with the publication of the next issue, again featuring a caricature of the prophet Muhammad.
In Niger, a West African country where at least 90 percent of the population practices Islam, protests turned into riots in which some 68 Christian churches, schools, and orphanages were burned over two days across several cities, according to the Evangelical Church and Missions Associations of Niger.
Rioters also targeted police, government buildings, and French businesses in what experts say was a display of frustration toward the West and Niger's secular government, including President Mahamadou Issoufou, who had expressed support for the French after the Paris attack. Ten people were reportedly killed and dozens were injured.
For a number of religious leaders, meanwhile, the violence was a wake-up call. Until the 2015 riots, Niger had a history of relatively peaceful religious relations between its Muslim majority and small Christian minority. Now, the increasing extremist influence from neighboring northern Nigeria – the seat of Boko Haram – seemed to threaten the status quo, pushing religious leaders here to focus their efforts on building bridges between faith communities and denouncing violence.
'For a dialogue'
After the attacks, Muslim and Christian religious leaders formed committees in their cities, "for a dialogue," says Mohamadou al-Hadi Ashara, an imam who runs a Koranic school in the southern city of Maradi.
In the month after the riot, he used his Friday sermons to convey a pointed message to his 1,000-plus students and their families.
"Peaceful coexistence," he says.
For Elisée Assan Oumara, the secretary general of evangelical churches in Zinder, the attacks pointed to a "sleeping radicalism," exploited by preachers from Nigeria.
Southern Niger and northern Nigeria share a common language and culture, and members of the same family may live on either side of the border, intermingling often.
In recent years, sermons developed for the context of northern Nigeria, where radical preachers are much more hostile to Christians, have been broadcast into Niger, says Ibrahim Yahaya Ibrahim, a PhD candidate at University of Florida, whose dissertation is a study of the riots in Zinder, his hometown. "Something is changing in Niger in terms of religiosity, and it's very much influenced by Nigeria."
Following the riots, 10 Islamic groups in Maradi formed a union and created a new rule for preaching in the area, according to Mr. Ashara, the imam there.
"Now we have taken measures, no one can come from outside and deliver a violent sermon," he says. "In order to preach in our country, you should have a correspondent [sponsor] in the country, you should present what you will preach. If it is against Islamic laws, you will be prevented from preaching."
But it is unclear if those regulations are being enforced or if there is even a mechanism to do so, says Hamza Cherbib, a West Africa research assistant at the International Crisis Group.
Full report at:
http://www.csmonitor.com/World/Africa/2017/0205/In-Niger-Christian-and-Muslim-leaders-push-harder-to-counter-creeping-radicalism
--------
Libya halts more than 400 migrants bound for Europe
5 February 2017
Libya's coast guard said Saturday it intercepted more than 400 African migrants attempting to reach Europe, a day after EU leaders agreed on moves to curb mass migration from the country.
General Ayoub Qassem, the coast guard spokesman, said 431 people on inflatable crafts were rounded up between Thursday and Saturday at sea off the town of Sabratha, 70 kilometres (45 miles) west of the capital Tripoli.
"The migrants are of different African nationalities and there are a great deal of women and children among them," he said. Italy's coastguard said Thursday that more than 1,750 migrants had been rescued in the Mediterranean within 24 hours. Around 230 people have died en route to Europe since the start of 2017, according to the United Nations.
European Union leaders meeting Friday in Malta approved a new strategy to "break the business model" of traffickers who helped 181,000 mainly African migrants enter the EU via Libya and Italy last year.
93 migrants helped ashore in Cyprus
Meanwhile, a boat carrying more than 90 migrants believed to be from Syria was rescued off the northwest coast of Cyprus, the island's authorities said Saturday. The vessel carrying 93 people, including 47 children, was spotted eight nautical miles from shore overnight and escorted to Kato Pyrgos in Cyprus' Paphos region.
They will be taken to a reception centre on the outskirts of the capital Nicosia on Saturday following medical check-ups, authorities said. Local media reported that the migrants told police that they travelled from Turkey and paid $2,000 (1,850 euros) each to reach Cyprus.
Full report at:
https://english.alarabiya.net/en/News/middle-east/2017/02/05/Libya-halts-more-than-400-migrants-bound-for-Europe-.html
--------
South Sudan opposition accuses Egypt of attacking its positions
Feb 4, 2017
Egypt's air force has dropped bombs on the positions of South Sudan's opposition movement near the northern village of Kaka, the opposition's armed wing has claimed.
In a statement on Saturday, the Sudan People's Liberation Army-In Opposition, also known as the SPLA-IO, accused the Egyptian air force of dropping "more than nine bombs" on their positions the previous day.
The SPLA-IO is the armed wing of the Sudan People's Liberation Movement-In Opposition (SPLM-IO), which is led by former Vice President Riek Machar.
Machar and his followers have been fighting government forces under the leadership of President Salva Kiir for more than three years now.
South Sudan's conflict began in 2013 after Kiir and Machar, who hail from rival tribes, disagreed on a number of political issues. A peace agreement convinced Machar to return to the capital, Juba, but fighting broke out again in July 2016 after tensions escalated in the world's youngest nation.
The Saturday statement condemned the alleged attacks by the Egyptian air force and warned that the move could spark a "regional war."
The statement claimed that Egypt was involved in the conflict in South Sudan, which indicated "that the Juba regime is provoking the region."
Cairo meeting in January irked South Sudan opposition
The opposition in South Sudan had previously accused Egypt of using its influence on the government in Juba to advance its regional objectives.
Kiir met with Egyptian President Abdel Fattah el-Sisi on January 10, with reports saying the Egyptian side was seeking closer cooperation from Juba on sensitive regional issues, especially a dispute between Egypt and Ethiopia, a South Sudan neighbor, on how to manage the water of the Nile River.
Full report at:
http://www.presstv.ir/Detail/2017/02/04/509130/South-Sudan-SPLA-Machar-Kiir
--------
Boko Haram militants seize Sasawa community in Yobe
By Maina Maina
February 6, 2017
Gunmen suspected to be members of the Islamic sect, Boko Haram terrorists took over Sasawa town in Yobe State on Sunday after fierce battle with the Nigerian troops on Sunday.
Locals told DAILY POST that the terrorists were in a convoy of vans and motorcycles
Sasawa is about 30 kilometres from Damaturu, the Yobe state capital, northeast, Nigeria.
According to locals in the area, the insurgents came in droves Sunday evening and sacked the troops stationed in the town.
"Residents scampered for safety as the terrorists detonated explosive devices and fired gunshots sporadically," locals told newsmen in Damaturu, the Yobe state capital.
There is no official details yet, however, other sources said troops were being mobilised to the area.
http://dailypost.ng/2017/02/06/boko-haram-militants-seize-sasawa-community-yobe/
--------
Tributes to Tunisian killed in Quebec mosque attack
06 February 2017
Mourners held a ceremony at Tunisia's main airport on Saturday to receive the body of a Tunisian-born victim of the January 29 attack on a Quebec mosque.
The attack also wounded eight people.
Thabti's body arrived at Tunis-Carthage International Airport in a coffin wrapped in the flags of both Tunisia and Canada.
His widow and their young son attended the ceremony along with Prime Minister Youssef Chahed ahead of Thabti's burial in the town of his birth, Tataouine, in southeastern Tunisia.
Full report at:
http://www.worldbulletin.net/africa/184276/tributes-to-tunisian-killed-in-quebec-mosque-attack
--------
Europe
Russia's Lavrov backs renewal of UN-led Syria talks
06-Feb-17
MOSCOW: Russia supports the continuation of talks on the Syrian crisis under United Nations auspices, Foreign Minister Sergei Lavrov said.
In an interview published on the ministry's web site on Sunday, Lavrov said international talks on Syria that took place in Kazakhstan's capital Astana in January were a "breakthrough step" in efforts to resolve the crisis.
The format of Astana talks between representatives of Syrian President Bashar al-Assad and opposition groups, however, should not replace the Geneva talks led by UN special envoy Staffan de Mistura, Lavrov said.
The next round of Geneva talks have been scheduled for Feb. 20, diplomats told reporters last Tuesday. They had been planned to begin on Feb. 8 but Lavrov said last week that they had been postponed.
The minister also reiterated Moscow's stance on relations with new U.S. President Donald Trump. Lavrov said the two countries were in a position to solve bilateral issues, improve ties and coordinate efforts to fight "international terrorism", but only on the basis of mutual respect.
http://dailytimes.com.pk/world/06-Feb-17/russias-lavrov-backs-renewal-of-un-led-syria-talks
--------
URL: https://www.newageislam.com/islamic-world-news/new-age-islam-news-bureau/islamic-authority-rejects-egypt's-move-to-reform-divorce/d/109974
New Age Islam, Islam Online, Islamic Website, African Muslim News, Arab World News, South Asia News, Indian Muslim News, World Muslim News, Womens in Islam, Islamic Feminism, Arab Women, Womens In Arab, Islamphobia in America, Muslim Women in West, Islam Women and Feminism, Moderate Islam, Moderate Muslims, Progressive Islam, Progressive Muslims, Liberal Islam