New Age Islam News Bureau
30 Apr 2014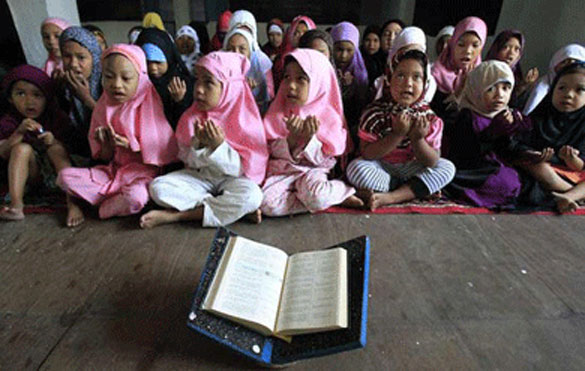 Filipino Muslim women shout slogans during a rally at the Mendiola bridge leading to the Malacanang presidential palace in Manila, Philippines Monday April 14, 2014. AP
------------
Pakistan
• Islamabad Suburban Mosque Named after Salmaan Taseer's Assassin
• Jamaat-e-Islami Seeks Ban on Indian Movies in Buses
• TTP talks will restore peace: Pak PM
• Son kidnapped to avenge Swat Operation: Yousuf Raza Gillani
• Petition filed in Pakistan court to prove Bhagat Singh's innocence
• Blast kills five including a key commander in South Waziristan
• Pak minister slams Modi's 'irresponsible' statement on Dawood
Arab World
• Saudi Scholars Say 'Forced Marriages Are Entirely Against Islamic Teachings'
• Syria: Army Eliminates Terrorist Groups, Obliterates Their Weaponry
• Syria's Homs attacks: Death toll reaches 100
• Activists say airstrike on Syrian school kills 9
• Iraq Sunni bloc rule out coalition with PM Maliki
• Egypt's justice ministry says condemnation of death sentences is 'inadmissible'
• Egyptian cleric Qaradawi Slams Death Sentences against Muslim Brotherhood Members
• Saudi Arabia slams Norway's human rights record
• Iraq polling centre blast kills two women - officials
• US-Egypt relationship 'a marriage, not a fling': Fahmy
• Saudi Arabia ends 'largest' military manoeuvres in its history
South Asia
• Afghan and foreign forces kill 60 near Pakistan border
• China's president says Xinjiang is front line on terror
• Blast hits railway station in China's Xinjiang
• PM Sheikh Hasina envisages another nuclear power plant
• Karzai: U.S and British forces run illegal prisons in Afghanistan
Mideast
• Yemen troops ambushed by al-Qaeda suspects found executed
• Gülen investigated for constitutional crimes: report
• IDF and Shin Bet thwart West Bank terror cell planning attacks against Israelis
• Iran warns Egypt death sentences encourage instability
• U.S. demanding swift solution for equality at Western Wall
Southeast Asia
• 15 dead as Philippines battles Islamic militants
• Brunei sultan pushes ahead with tough Sharia code
• Indonesia protests Czech mosque raid
• Mara 'stupid' to ask non-Muslims about Islam, says Sarawak minister calling it bigotry
• United States is a hypocrite, says Dr M
• Guan Eng calls Tian Chua 'irresponsible, unethical' for lying over Hudud issue
• Book launched by Najib banned for 'promoting Shiism'
North America
• Pentagon quietly sends more intelligence officers to Iraq
• US politician wants to create 'New Israel' state in Texas, claims all sides will win
• US in secret talks with Hezbollah – Israeli reports
• US sets $5m bounty on Chinese man over dealings with Iran
• Revealed: the most 'miserable' countries in the Muslim world
• Unrecognised 9/11 hero Salman Hamdani finally honoured
India
• Pak keen on peace with India, wants sustained talks: Envoy
• India, KSA work on modalities for hiring of domestic workers
Europe
• Protestors picket Law Society over Sharia guidance'
• UN says 9,000 child soldiers fighting in S. Sudan war
• Syria's Assad aim at presidential elections is not to allow US, EU to overthrow gov't like in Ukraine – expert
• Crimean Tatars 'forced' to become Russian citizens
• Masked gunmen tighten grip on eastern Ukraine
• Amnesty: Pakistan should investigate spy agency over journalist attacks
• German president responds to PM Erdoğan's criticism: I even restrained myself
• British Government Computers Made Anti-Muslim Comments on Wikipedia
• Maldives should repeal the death penalty – UN Human Rights office
Africa
• Tunisia to receive $250 million World Bank loan
• Shooting outside Libyan parliament
• Senegal rebels agree to ceasefire
Compiled by New Age Islam News Bureau
URL: https://www.newageislam.com/islamic-world-news/new-age-islam-news-bureau/islamabad-suburban-mosque-named-after-salmaan-taseer's-assassin/d/76810
-------------
Pakistan
Islamabad Suburban Mosque Named after Salmaan Taseer's Assassin
Apr 30, 2014
ISLAMABAD: In the suburbs of the capital, along the road to the airport, lies Ghori Town, a housing society near Khanna Bridge. This otherwise unassuming neighbourhood, however, has a curious claim to fame and an unexpected link with the man who was convicted of murdering former Punjab governor Salmaan Taseer and is currently awaiting confirmation of his death sentence in prison.
Taseer was shot and killed by Mumtaz Qadri, a member of his own security detail, at the Kohsar Market in Sector F-6 on January 4, 2011. The shooter Qadri has become a divisive figure in Pakistani society. He is hailed as a 'hero' by some and denounced as a cold blooded murderer by others. Clerics from the Barelvi school of thought are among those proclaiming Qadri's 'heroism'.
Perhaps this is why a mosque in the suburbs of the very city Taseer was killed in, has been named after Mumtaz Hussain Qadri. The mosque is constructed on a 10-marla plot of land, next to a girls' seminary, the Jamia Rehmania Akbaria Ziaul Binaat. Even though the housing society is not fully developed and several houses in the neighbourhood are still under construction, there are already four mosques, catering to people from different schools of thought, in close proximity to each other.
The mosque's prayer leader, Mohammad Ashfaq Sabri, told Dawn: "The mosque was built to pay tribute to the services of the man who taught a lesson to a blasphemer," adding that the name was chosen in consultation with religious scholars and residents of the area.
Sabri said the main prayer hall was constructed by the housing society's developers, but more storeys are expected to be added, which will be paid for by donations.
But those living in Ghori Town say no one asked them. In fact, several residents Dawn spoke to refused to be named for fear of reprisals.
"I know who Qadri is and what he did. I have a very different opinion of him, but I can't speak out because I'm afraid something might happen to me or my family," said one of the mosque's neighbours.
Another Ghori Town-resident, Mohammad Tufail, said: "Have you ever heard of clerics consulting anyone in the neighbourhood before naming a mosque? But I figure, what's in a name? We just go there, pray and come back. I don't want to get involved in the politics of these Maulvis."
"I cannot comment on whether this is right or wrong. I work to provide for my family and I don't want religious fundos beating down my door because they don't like something I said," said Faisal Rasool, another resident of Ghori Town. Saleem Janjua, who also lives close to the Mumtaz Qadri mosque, offers his own interpretation of events.
"Some religious leaders or the owners of the housing society probably wanted cheap publicity. This will make the mosque popular and fund raising easier," he told Dawn.
When word of the mosque's controversial name got out, it triggered a major backlash on social networking sites. The late governor's daughter Sheherbano Taseer, Oscar winner Sharmeen Obaid-Chinoy, Aseefa Bhutto-Zardari and dozens of others condemned the decision to name the mosque after "a murderer".
Civil society, politicians expressed concern
"It is clear that the fabric of our society has changed," Ayesha Siddiqa, a security analyst who has also studied banned organisations, told Dawn.
"Extremism and violence terrify the common man and stop them from speaking out on such issues. There are people who would oppose such a move, but they have no voice," she said.
Pakistan People's Party (PPP) Senator Farhatullah Babar also expressed his shock.
"A mosque had been named after a self-confessed murderer. This will not promote peace and harmony in society, only deepen divisions".
http://www.dawn.com/news/1103232/suburban-mosque-named-after-salmaan-taseers-assassin
-------------
Jamaat-e-Islami seeks ban on Indian movies in buses
April 30, 2014
LAHORE- Jamaat-e-Islami MPA in Punjab Assembly Dr Syed Wasim Akhtar today submitted a resolution in the assembly, seeking a ban on showing vulgar Indian movies in passenger buses.
The resolution says that obscene movies were shown in the inter-districts buses that cause mental agonies for the passengers especially for women. The resolution says that when someone tried to ask the drivers to stop running the movies they were snubbed. It called on the Punjab government to focus on the important matter and take steps to stop the people from facing embarrassment. The Jamaat leader in a separate statement said that the Indian vulgar movies had spoiled the character of the youth.
http://www.nation.com.pk/national/30-Apr-2014/jamaat-e-islami-seeks-ban-on-indian-movies-in-buses
-------------
TTP talks will restore peace: Pak PM
April 30, 2014
LONDON: Prime Minister Nawaz Sharif has expressed confidence that his government's peace initiative would help restore the much-needed peace in Pakistan. "Peace will return to Pakistan soon as the dialogue with the Tehreek-e-Taliban Pakistan is making headway," he told journalists in London where he arrived on Tuesday on a three-day official visit.
He said the government started the negotiation process with good intentions. "The whole world adopted such approaches [to quell unrests]," he said and referred to how the United Kingdom resolved the Ireland issue.
About the Karachi situation, he said peace in the port city was imperative. "We did not waste time [after coming to power]. We took all the parties on board. And through [the ongoing targeted] operation, the [law and order] situation in Karachi is being controlled. Peace in Karachi is dear to us as it is the economic hub and commercial centre of Pakistan."
About the economy, the prime minister said his cabinet has taken measures to create an investment-friendly environment, prompting expatriates to invest in the country and share their part in its development. "Economic indicators are showing upward and positive trends," he added.
Later, the premier met with British International Development Secretary Justine Greening where they discussed issues pertaining to development and welfare. Nawaz said his priorities included reviving the economy, overcoming the energy shortages, eradicating extremism and protecting human rights. "Pakistan appreciates the generous development assistance by the British government, especially in the health and education sectors," he added.
During his trip, the prime minister will hold discussions with his British counterpart David Cameron on matters of mutual interest. According to an official, the premier would discuss matters related to Afghanistan, especially the withdrawal of NATO and British forces from the country. The new government of Afghanistan and its relations with Pakistan will also come under discussion, he added.
Youm-e-Shuhada
In his message on the occasion of Youm-e-Shuhada (Martyrs' Day), being observed today (Wednesday), Premier Nawaz said the entire nation is standing behind their valiant armed forces to fulfil the sacred mission of the defence of the motherland.
"The mutual relations of our armed forces and people for stability of country's defence will not be allowed to wean," he said.
The great sons who sacrificed their today for the nation's tomorrow were our benefactors and the sacred blood of these martyrs would keep alive the determination for the defence of the country in the hearts of our soldiers and officers.
Parents deserve accolades for upbringing these brave sons of the soil, the prime minister said, adding that the entire nation presented tributes to the martyrs.
He said that being defenders of the frontiers, the armed forces were our proud national asset.
http://tribune.com.pk/story/702152/ttp-talks-will-restore-peace-pm/
-------------
Son kidnapped to avenge Swat Operation: Yousuf Raza Gillani
Apr 30, 2014
LAHORE- Former Prime Minister of Pakistan Syed Yousuf Raza Gillani said that his son Ali Haider Gillani was kidnapped to avenge the Swat Operation.
Speaking to journalists in Lahore, former PM Yousuf Raza Gillani said that the release of TTP captives as a part of the peace process was a one-sided act. He added that Taliban told him that they are avenging the operation carried out in Swat. Gillani demanded Federal Interior Minister Chaudhry Nisar Ali Khan to bring the video tape of Ali Haider in front of the masses. He claimed that he also has a video that will be surfaced soon.
http://www.nation.com.pk/national/29-Apr-2014/son-kidnapped-to-avenge-swat-operation-yousuf-raza-gillani
---------
Petition filed in Pakistan court to prove Bhagat Singh's innocence
Apr 30, 2014
LAHORE: A copy of the FIR registered against Bhagat Singh in the then Lahore SSP's murder case in 1928 has been sought here to prove the innocence of the legendary freedom fighter.
Petitioner Imtiaz Rashid Qureshi, chairman of the Bhagat Singh Memorial Foundation, had filed a petition seeking attested copy of the FIR registered against Singh, Sukhdev and Rajguru for allegedly killing then SSP John P Saunders.
The additional district and sessions court on April 11 had ordered the police to provide Qureshi a copy of the FIR.
During yesterday's hearing, Qureshi told the court that he had showed the court order to the police but they refused to give him a copy of the FIR.
The sessions court issued a notice to Lahore Police chief Chaudhry Shafiq regarding compliance of the court's order.
Full report at:
http://timesofindia.indiatimes.com/india/Petition-filed-in-Pakistan-court-to-prove-Bhagat-Singhs-innocence/articleshow/34383065.cms
-------------
Blast kills five including a key commander in South Waziristan
Apr 30, 2014
PESHAWAR: At least five militants including a key commander were killed and three others were injured on Wednesday in a remote controlled blast in the Shaktoi area of South Waziristan, officials claimed.
The official sources said that the incident was a continuation of the ongoing infighting between rival factions of Taliban, the Sajna and Shehryar Mehsud groups.
The commander who was killed in the blast has been identified as Amir Hamza.
The militants killed in the incident have not been identified as yet.
Full report at:
http://www.dawn.com/news/1103258/blast-kills-five-including-a-key-commander-in-south-waziristan
-------------
Pak minister slams Modi's 'irresponsible' statement on Dawood
Omer Farooq Khan,TNN | Apr 30, 2014
ISLAMABAD: Pakistan's interior minister Chaudhry Nisar Ali Khan on Tuesday condemned Narendra Modi's statement on underworld don Dawood Ibrahim and warned that BJP's prime ministerial candidate could become a great threat to regional peace.
Modi had recently said that he will bring back Dawood from Pakistan if he comes to power.
"Before making such an irresponsible statement, Modi should have first confirmed the whereabouts of Dawood," Pak's interior minister said.
Nisar said that those who are giving statements that Islamabad shelters Dawood Ibrahim and are talking about launching operation against him on Pakistani soil, should realize that Pakistan is not so weak that it will be afraid of such threats.
Full report at:
http://timesofindia.indiatimes.com/india/Pak-minister-slams-Modis-irresponsible-statement-on-Dawood/articleshow/34419474.cms
-------------
Arab World
Saudi Scholars Say 'Forced Marriages Are Entirely Against Islamic Teachings'
30 April 2014
Forced marriages are entirely against Islamic teachings, scholars told Makkah daily on Tuesday.
The scholars said the United Nations has classified these types of unions to be a serious violation of human rights.
Mohammed al-Suhali, director of the Islamic studies center at Umm Al-Qura university and member of the National Society for Human Rights (NSHR), said such marriages are rejected both religiously and socially.
"This type of marriage has nothing to do with the religion and is nothing more than a social norm," he said.
Al-Suhali said forced marriages have become a phenomenon in some conservative societies that do not give any value to the opinions of the would-be husband or wife.
He said: "There is no religious text that permits forced marriages. It is only considered permitted by people with personal interests or hidden agenda."
Under the Saudi system, any woman who is forced by her male guardian to marry against her wishes can go to the court to revoke the marriage contract.
The system said the role of the guardian was only to give advice, not force their women to marry against their free will.
Al-Suhali called for spreading awareness among society against these types of marriages. He said imams could use their Friday sermons to talk about forced marriages. "Parents are guardians to their daughters, not their masters," he said.
Full report at:
http://english.alarabiya.net/en/News/middle-east/2014/04/30/Saudi-scholars-say-forced-marriages-are-against-Islam-.html
-------------
Syria: Army Eliminates Terrorist Groups, Obliterates Their Weaponry
Apr 30, 2014
The Syrian army units continued operations against theSyrian Army armed terrorist groups in many provinces on Tuesday, killing large numbers of terrorists and destroying their hideouts, gatherings and weaponry.
SANA reporter said that the army units carried out a series of operations against terrorists' dens and gatherings in the northern farms of al-Mleiha town, killing and injuring scores of them, in addition to destroying their weapons and ammunition.
Other army units destroyed terrorists' dens and gatherings in Zamalka and Erbin towns in the countryside.
Meanwhile, an army unit inflict heavy losses upon terrorists in Aliyeh farms in Douma area.
In the same context, the army units clashed with terrorists in Jobar neighborhood, eliminating scores of them and injuring others, in addition to destroying their equipment.
A military source told SANA that the army continued pursuing the terrorist groups in the areas of al-Ramouseh, al-Amryeh and al-Rashedeen in Aleppo's old city, killing 4 of them and destroying their weapons and ammunition.
Full report at:
http://www.almanar.com.lb/english/adetails.php?fromval=1&cid=23&frid=23&eid=148905
-------------
Syria's Homs attacks: Death toll reaches 100
Apr 30, 2014
At least 100 people, mostly civilians, were killed in twin car bomb attacks claimed by jihadists in a pro-regime area of Syria's Homs, an NGO said Wednesday, updating an earlier toll.
The attack on Tuesday was the deadliest of its kind in Homs since the start of Syria's conflict three years ago, and comes as government forces launch fresh offensives in a bid to overrun a handful of besieged rebel quarters in the central city.
Two car bombs exploded in a pro-government neighborhood in the central Syrian city of Homs Tuesday, The Associated Press quoted state media and activists as saying.
The attack in the Abbasiyeh neighborhood of Homs came just hours after one of the deadliest mortar strikes in the heart of the capital, Damascus, killed more than a dozen people, the agency quoted officials and activists as saying.
Full report at:
http://english.alarabiya.net/en/News/middle-east/2014/04/29/Car-bombs-kill-at-least-37-in-Syria-s-Homs-.html
----------
Activists say airstrike on Syrian school kills 9
Apr 30, 2014
A government airstrike hit a school on Wednesday in the northern Syrian city of Aleppo, killing at least nine people, including three children, activists reported.
The airstrike hit the Ein Jalout school in an eastern neighbourhood of Aleppo, said the Britain-based Syrian Observatory for Human Rights and the local Aleppo Media Centre.
The school appeared to have been hosting an exhibition of children's paintings when the airstrike hit, according to a man speaking in a video from the school that was posted online. Another video showed colourful scrawled paintings.
Forces loyal to Syrian President Bashar Assad have been trying to take eastern rebel-held parts of Aleppo from rebels in recent weeks, using a mix of airstrikes and dropping crude barrel bombs on opposition areas.
http://www.thehindu.com/news/international/world/activists-say-airstrike-on-syrian-school-kills-9/article5962779.ece
-----------
Iraq Sunni bloc rule out coalition with PM Maliki
World Bulletin / News Desk
Apr 30, 2014
Parliament Speaker and Sunni leader Usama al-Nujaifi said Wednesday that his coalition would not join "any alliance whatsoever" with Shiite Prime Minister Nouri al-Maliki as Iraqis head to the polls for a key parliament vote.
"We will hold off on talk of alliances until results of the parliament polls have been announced. But we've drawn a red line when it comes to [coalitions with] al-Maliki," al-Nujaifi told reporters Wednesday.
Al-Maliki, who leads a Shiite-dominated coalition in the current parliament, has faced mounting criticism from Sunni MPs who accuse him of sponsoring a heavy-handed crackdown on Sunni dissent and marginalizing Sunnis.
Al-Nujaifi's "United for Reform" coalition currently holds 25 of 328 seats in the assembly, which was elected in 2005.
Full report at:
http://www.worldbulletin.net/headlines/135137/iraq-sunni-bloc-rule-out-coalition-with-pm-maliki
-----------
Egypt's justice ministry says condemnation of death sentences is 'inadmissible'
Apr 30, 2014
Egypt's justice ministry on Tuesday rejected the local and international reaction to the previous day's mass death sentence for 683 people, describing the massive public outcry as "inadmissible."
An Egyptian court on Monday sentenced the chief of the outlawed Muslim Brotherhood, Mohamed Badie, and 682 of the group's supporters to death, a further escalation in the government's crackdown on the movement of deposed president Mohamed Morsi. Their charges included inciting violence in the period after Morsi's ouster last summer.
The same court in the southern governorate of Minya on Monday also overturned 492 of 529 death sentences it had handed down in March. The remaining defendants were jailed for life, according to judicial sources.
Full report at:
http://english.ahram.org.eg/NewsContent/1/64/100141/Egypt/Politics-/Egypts-justice-ministry-says-condemnation-of-death.aspx
-------------
Egyptian cleric Qaradawi Slams Death Sentences against Muslim Brotherhood Members
Apr 30, 2014
Egyptian cleric Sheikh Yousef al-Qaradawi has condemned as "politicized" an Egyptian court's decision to sentence hundreds of Muslim brotherhood members to death.
The court on Monday imposed death sentences on 683 suspected Islamists -- including Muslim Brotherhood leader Mohamed Badie -- amid a crackdown on supporters of ousted Islamist president Mohammad Mursi.
The Association of Muslim Scholars responded by saying it "rejects these verdicts coming from a court that takes orders from those who came to power in a military coup and govern Egypt using coercion and repression."
Full report at:
http://www.almanar.com.lb/english/adetails.php?fromval=1&cid=21&frid=21&eid=148960
-------------
Saudi Arabia slams Norway's human rights record
Apr 30, 2014
Norway's human rights record has been dragged up for harsh criticism by...Saudi Arabia. The Middle Eastern nation has called for any criticism of religions or the Prophet Mohammed in the country to be made illegal.
Saudi Arabia was joined by other Islamic countries in its critique of Norway's approach to its Muslim population, according to Norway's The Local.
Norway's Foreign Minister, Borge Brende, witnessed the comments in Geneva on Monday at a session of the United Nations' Universal Periodic Review. During the review, all UN members are closely scrutinized by the other constituent states of the body.
Brende noted the irony of Saudi Arabia lambasting a country for its human rights record to Norway's NTB wire agency.
Full report at:
http://rt.com/news/155688-saudi-human-rights-norway/
-------------
Iraq polling center blast kills two women - officials
Apr 30, 2014
A bomb near a polling station in north Iraq killed two women on Wednesday, officials said, as voters cast their ballots in the country's first general election since US troops withdrew, AFP reports.
The blast occurred in the town of Dibs, near the ethnically-mixed city of Kirkuk, according to a police official and a doctor at a nearby hospital.
In other regions of the country violence flares. Militants seized a polling station in north Iraq, evacuated election staff and voters and set off explosives, destroying the building, according to a security official and an election commission employee.
Two mortars landed near voting centres west of Baghdad Wednesday morning. The mortars did not cause any casualties, according to Shaker al-Essawi, a senior municipal official in the area just west of Baghdad where the attacks took place.
Full report at:
http://voiceofrussia.com/news/2014_04_30/Iraq-polling-center-blast-kills-two-women-officials-6044/
-------------
US-Egypt relationship 'a marriage, not a fling': Fahmy
Apr 30, 2014
Foreign Minister Nabil Fahmy has described Egypt-US relations as "a marriage," during an interview on Washington-based National Public Radio (NPR).
Fahmy is currently on a visit to the United States during which he has met a number of high-level officials, including members of the foreign affairs committee of the House of Representatives and Secretary of State John Kerry.
"It's like a marriage. It's not a fling; it's not a one-night affair. This is something, if you're going to invest in it, it's going to cost you a lot of money, it's going to take time, and you're going to have to make a lot of decisions... I think it's well-founded, but any marriage has its hiccups."
Full report at:
http://english.ahram.org.eg/NewsContent/1/64/100176/Egypt/Politics-/USEgypt-relationship-a-marriage,-not-a-fling-Fahmy.aspx
-------------
Saudi Arabia ends 'largest' military manuevers in its history
Apr 30, 2014
Saudi Arabia ended military exercises Tuesday along the borders of Iraq and Kuwait, as well as other regions, in what the media described as the largest in the kingdom's history.
"We are preparing our armed forces to protect" the nation, daily Al-Eqtisadiah website quoted general staff chief Lieutenant General Hussein al-Qabeel as saying.
The armed forces "do not aim to attack anyone as this is not our wise government's policy," Qabeel added.
English-language daily Arab News said "tens of thousands of soldiers, backed by military jets, helicopters and ships as well as tankers and anti-missile systems, are participating" in the "largest military exercise in the kingdom's history."
Full report at:
http://english.ahram.org.eg/NewsContent/2/8/100156/World/Region/Saudi-Arabia-ends-largest-military-manuevers-in-it.aspx
-------------
South Asia
Afghan and foreign forces kill 60 near Pakistan border
Apr 30, 2014
KABUL: Afghan troops backed by Western air power killed at least 60 militants near the Pakistan border, Afghanistan's intelligence agency said on Wednesday, in one of the biggest single assaults against the Taliban-linked Haqqani network.
US officials say Washington has intensified its drive against the network in an attempt to deal a lasting blow to the militants in Afghanistan before foreign combat forces depart this year.
About 300 Haqqani insurgents and foreign fighters came under intensive fire on Monday when they tried to storm Afghan bases in Ziruk district of Paktika province, the National Directorate of Security (NDS) said in a statement.
The Nato-led international force declined to comment.
The Haqqani network, which professes obedience to Taliban leader Mullah Mohammad Omar, is believed to have been involved in some of the most deadly attacks of the Afghan war.
The group has been blamed for attacks on hotels popular with foreigners in Kabul, the bombing of the Indian embassy in the capital, a 2011 attack on the US embassy and several big attempted truck bombings.
Full report at:
http://www.dawn.com/news/1103262/afghan-and-foreign-forces-kill-60-near-pakistan-border
-------------
China's president says Xinjiang is front line on terror
April 30, 2014
BEIJING: Police are the "fists and daggers" in the fight against terrorism, China's President Xi Jinping said on a trip to the western Xinjiang region where authorities say members of a Muslim minority are waging a violent separatist campaign.
Xi's tour, reported in state media late on Monday, was his first to the region since a ruling Communist Party conclave in November in which he ushered in a national security commission to combat foreign and domestic threats.
Xi has raised the pitch of his warnings on security threats after a spate of deadly attacks, including one in the southwestern city of Kunming in March in which 29 people were killed and 140 injured by knife-wielding attackers who the government said were militants from Xinjiang.
Full report at:
http://www.nation.com.pk/international/30-Apr-2014/china-s-president-says-xinjiang-is-front-line-on-terror
-------------
Blast hits railway station in China's Xinjiang
Apr 30, 2014
An explosion on Wednesday rocked a railway station in Urumqi, capital of China's Xinjiang province.
Details about the blast and casualties are unclear, Xinhua reported, citing officials.
Ambulances and police cars have rushed to the scene.
The blast came days after the first visit of President Xi Jinping to Xinjiang, which in recent years witnessed a spurt in attacks by militants as province experienced ethnic tensions between native Uygur Muslims and Han Chinese settlers from other provinces.
http://www.thehindu.com/news/international/world/blast-hits-railway-station-in-chinas-xinjiang/article5962986.ece
-----------
PM Sheikh Hasina envisages another nuclear power plant
Apr 30, 2014
Prime Minister Sheikh Hasina has envisaged to build another nuclear power plant in the southern part of the country after successful completion of the first one in Rooppur.
The premier said this while addressing the officials of the Ministry of Science and Technology at Bangladesh Secretariat during her first visit to the ministry on Wednesday after taking office in January last.
"We have many isolated coastal islands in the country's southern part. I have envisaged building another nuclear power plant to meet our growing demand for electricity," she said, reports BSS.
Full report at:
http://www.dhakatribune.com/bangladesh/2014/apr/30/pm-another-nuclear-plant-country#sthash.vBEIIXuU.dpuf
-------------
Karzai: US and British forces run illegal prisons in Afghanistan
By GHANIZADA - Wed Apr 30 2014
Afghan President Hamid Karzai criticized the US and British forces in Afghanistan for running illegal detention facilities in southern Afghanistan.
Karzai instructed the security institutions and Afghan attorney general to take immediate steps in order to close or transfer the NATO detention facilities in southern Afghanistan.
The instruction by President Hamid Karzai was given after the Afghan probe team confirmed the presence of NATO jails in southern Kandahar and Helmand provinces.
According to the findings of the probe team, the US forces are operating three jails in Kandahar airfield while three other jaisl are being operated by British forces in southern Helmand province.
Full report at:
http://www.khaama.com/karzai-us-and-british-forces-illegal-prisons-in-afghanistan-3632
----------
Mideast
Yemen troops ambushed by al-Qaeda suspects found executed
Apr 30, 2014
Suspected Al-Qaeda jihadists have executed three Yemeni soldiers they captured in an ambush of an army convoy backing an offensive against extremist strongholds in the south, a security official said Wednesday.
"Residents found the bodies of three soldiers, bearing marks of torture, near a road intersection in Ataq," the official said, referring to the capital of Shabwa province in south Yemen.
Yemen's security forces on Tuesday launched an offensive against militant bastions in Shabwa and neighboring Abyan provinces, with 36 people -- 21 soldiers and 15 extremists -- killed so far, according to an AFP tally Wednesday compiled from several sources.
The three men executed were among 15 soldiers captured by militants during Tuesday's ambush near Al-Saeed, one of several towns in Shabwa province targeted in the offensive by Yemeni troops, who are backed by tribal militia, the official said.
Full report at:
http://english.alarabiya.net/en/News/middle-east/2014/04/30/Yemen-troops-ambushed-by-al-Qaeda-suspects-found-executed.html
-------------
Gülen investigated for constitutional crimes: report
Apr 30, 2014
U.S.-based Islamic scholar Fethullah Gülen, Turkish Prime Minister Recep Tayyip Erdoğan's ally-turned-nemesis, is being investigated for "attempting to eliminate or prevent the functioning of the government partly or completely" and "forming and managing an illegal organization," Ntvmsnbc has reported.
Erdoğan told journalists on April 29 that a legal process will begin for the extradition of Gülen from the United States, signalling that proceedings will be opened against Gülen in order to get the necessary warrant to file the request with U.S. authorities. Ntvmsnbc reported that a prosecutor working at the unit for "crimes against the Constitution" is in charge of the probe against Gülen.
Full report at:
http://www.hurriyetdailynews.com/gulen-investigated-for-constitutional-crimes-report.aspx?pageID=238&nID=65777&NewsCatID=338
-------------
Israeli ministry working to allow Jews to pray in Al-Aqsa
World Bulletin / News Desk
Apr 30, 2014
A senior official at Israel's Religious Affairs Ministry has revealed that his ministry was working on new regulations aimed at allowing Jews to pray in the Al-Aqsa Mosque compound in Al-Quds (occupied East Jerusalem), Israeli media has reported.
"Whoever is permitted by his primary rabbi to ascend to the Temple Mount [the term used by Jews to refer to the compound] should and may ascend to the Temple Mount and pray there," Deputy Minister Rabbi Eli Ben-Dahan said in a video message shown at a Tuesday conference held to discuss construction of a Jewish temple on the site on which the Al-Aqsa Mosque now stands.
Full report at:
http://www.worldbulletin.net/todays-news/135139/israeli-ministry-working-to-allow-jews-to-pray-in-al-aqsa
--------
IDF and Shin Bet thwart West Bank terror cell planning attacks against Israelis
Apr 30, 2014
The IDF and the Shin Bet (Israel Security Agency) revealed Wednesday that they had arrested seven members of a Hamas-affiliated terror cell in the West Bank city of Kalkilya over the past several months.
The terror cell, which consisted of seven Palestinians, including 21-year-old Khaled Jamal Mahmoud Daud, who holds Israeli citizenship, were planning bombing and shooting attacks against Israelis, according to the IDF.
Security sources assess that the cell plotted to launch attacks on Israeli targets both in the West Bank and within the Green Line.
During interrogation of the suspects, investigators discovered that the men had been producing and testing improvised explosive devices made from fertilizers and planned to purchase weapons from inside Israel as well.
Full report at:
http://www.jpost.com/Defense/IDF-and-Shin-Bet-thwart-West-Bank-terror-cell-planning-attacks-against-Israelis-350888
-------------
Iran warns Egypt death sentences encourage instability
Apr 30, 2014
Iran on Tuesday warned that the 683 death sentences handed down by an Egyptian court to suspected Islamists could add to a deteriorating situation in the country.
The verdicts passed on Monday in Cairo amid a crackdown on supporters of ousted Islamist president Mohamed Morsi were condemned by the United States and the United Nations.
In remarks that expressed concern rather than all-out criticism, Iran's foreign ministry spokeswoman Marzieh Afkham said the judgements went against Egypt's historic principle of tolerance.
Full report at:
http://english.ahram.org.eg/NewsContent/1/64/100119/Egypt/Politics-/Iran-warns-Egypt-death-sentences-encourage-instabi.aspx
---------
U.S. demanding swift solution for equality at Western Wall
Apr 30, 2014
The U.S. administration is highly involved and interested in reaching a suitable and swift solution to non-Orthodox prayer arrangements at the Western Wall, according to an official in the Prime Minister's Office, who also said the issue affects Israel's foreign relations.
Washington regards the problem as sensitive and fears that far-reaching structural changes at the site could spark a confrontation with Palestinians over the Temple Mount, according to Reuven Pinsky, chairman of the PMO's national heritage department, whose comments were revealed in a recently released protocol of a government meeting in November.
Pinsky was explaining to a committee why it should grant an exemption from issuing a tender in order to enable the PMO to continue working with an architect long involved in the plans for Robinson's Arch. An egalitarian prayer platform for non-Orthodox worshipers is supposed to be built at the Robinson's Arch site, south of the existing Western Wall prayer plaza.
During the course of the discussion with the exemption committee, Pinsky explained that it is urgent that the work relationship be approved and that a plan be presented very soon. Full report at:
http://www.haaretz.com/news/national/.premium-1.588057
-------------
Southeast Asia
15 dead as Philippines battles Islamic militants
Apr 30, 2014
The Philippine military said Wednesday it had launched an air and ground assault against Islamic militants wanted for a spate of kidnappings, with 14 militants and one soldier killed in the clashes.
The fighting began on Tuesday after marines overran a camp of the Al-Qaeda-linked Abu Sayyaf group on the heavily forested island of Jolo, military spokespeople said, AFP reports.
The military captured the Abu Sayyaf camp on Monday on the fringes of the small Muslim-populated town of Patikul, 950 kilometres (590 miles) south of Manila, a well-known stronghold of the group.
The camp had been used as a training ground for the Abu Sayyaf's new recruits and as a launching pad for its frequent kidnapping raids, said Captain Rowena Muyuela, spokeswoman for the military in the south.
Full report at:
http://voiceofrussia.com/news/2014_04_30/15-dead-as-Philippines-battles-Islamic-militants-4494/
-------------
Brunei sultan pushes ahead with tough sharia code
Apr 30, 2014
The sultan of oil-rich Brunei announced that tough Islamic criminal punishments would be introduced Thursday, pushing ahead with plans that have sparked rare domestic criticism of the fabulously wealthy ruler and international condemnation.
"With faith and gratitude to Allah the almighty, I declare that tomorrow, Thursday May 1, 2014, will see the enforcement of sharia law phase one, to be followed by the other phases," the absolute monarch said in a royal decree Wednesday.
Plans for the sharia penalties -- which will eventually include flogging, severing of limbs and death by stoning -- triggered condemnation on social media sites in the tiny, sleepy sultanate earlier this year.
Full report at:
http://english.ahram.org.eg/NewsContent/2/9/100167/World/International/Brunei-sultan-pushes-ahead-with-tough-sharia-code.aspx
-------------
Indonesia protests Czech mosque raid
April 30 2014
The Indonesian government has filed a diplomatic complaint with the Czech government over a recent raid at a mosque in Prague in which dozens of people, including several Indonesian diplomats, were apprehended by local police.
"Besides filing a diplomatic note, Deputy Foreign Minister Wardana also summoned the Czech Ambassador to Indonesia [Tomas Smetanka] to the Foreign Ministry in Jakarta on Tuesday afternoon," Foreign Minister Marty Natalegawa told The Jakarta Post via text message.
Marty is now in New York, the US, to attend the Preparatory Committee (PrepCom) meeting for the 2015 Review Conference of the Parties to the Treaty on the Non-Proliferation of Nuclear Weapons (NPT).
Full report at:
http://www.thejakartapost.com/news/2014/04/30/indonesia-protests-czech-mosque-raid.html
-------------
Mara 'stupid' to ask non-Muslims about Islam, says Sarawak minister calling it bigotry
Apr 30, 2014
A senior Sarawak cabinet minister has taken Majlis Amanah Rakyat (Mara) to task for posing questions on Islam to non-Muslim bumiputera students applying for Mara scholarships, saying it smacked of religious bigotry.
State Land Development Minister Tan Sri Dr James Masing (pic) also described Mara as "stupid" for quizzing the students on Islam during their interview for the financial assistance, and questioned the relevance of such questions.
"Don't tell me Mara, which runs several educational and technical institutions, after 51 years (of Malaysia) will claim ignorance in failing to understand the racial and religious make-up of the state.
Full report at:
http://www.themalaysianinsider.com/malaysia/article/mara-stupid-to-ask-non-muslims-about-islam-says-sarawak-minister-suspecting
-------------
United States is a hypocrite, says Dr M
Apr 30, 2014
Former Prime Minister Tun Dr Mahathir Mohamad today accused the United States of being a hypocrite in telling Malaysia to give equal opportunities to non-Muslims when there is no equality in their own country.
He said unlike the US, Malaysia had allowed Chinese immigrants to get rich and those from India to become lawyers and doctors.
Dr Mahathir, who is Malaysia's longest-serving prime minister, said this while commenting on US President Barack Obama's remarks at a young leaders town hall meeting in Universiti Malaya recently where the president had said that Malaysia must ensure non-Muslims in the country also have equal opportunites as its Muslim majority if it wanted to continue prospering.
Full report at:
http://www.themalaysianinsider.com/malaysia/article/united-states-is-a-hypocrite-says-dr-m-over-obamas-call-for-equal-opportuni
-------------
Guan Eng calls Tian Chua 'irresponsible, unethical' for lying over hudud issue
Apr 30, 2014
The DAP has trained its guns at PKR vice-president Tian Chua for "lying" that Pakatan Rakyat (PR) and the DAP had agreed to PAS implementing hudud only in Kelantan and Terengganu.
DAP secretary-general Lim Guan Eng (pic) said the party considers it "irresponsible, wrong and unethical" for Tian Chua to drag the DAP into adopting his stand of supporting PAS in implementing hudud laws within the borders of Kelantan and Terengganu, but not in other parts of Malaysia.
He said DAP leaders were shocked when Tian Chua declared in Chinese newspapers that implementing hudud laws in Kelantan and Terengganu is PR policy because it was agreed to by PR and DAP.
Full report at:
http://www.themalaysianinsider.com/malaysia/article/guan-eng-calls-tian-chua-irresponsible-unethical-for-lying-over-hudud-issue
-------------
Book launched by Najib banned for 'promoting Shiism'
BY ELIZABETH ZACHARIAH
APRIL 30, 2014
A book launched by Prime Minister Datuk Seri Najib Razak with much fanfare in 2012 by renowned local author Faisal Tehrani was banned by the Home Ministry last week, for purportedly promoting Shia teachings.
While Home Minister Datuk Seri Ahmad Zahid Hamidi, in a gazette dated April 22, did not relate the ban to Shia contents, he said "Perempuan Nan Bercinta" was "likely to be prejudicial to public order".
Najib, when launching the 410-page Malay-language book along with other titles in 2012, had said that novelists have the freedom to write in the country.
The book was published by Institut Terjemahan dan Buku Malaysia (ITBM), and printed by Percetakan Nasional Malaysia Berhad, both government-linked companies.
Full report at:
http://www.themalaysianinsider.com/malaysia/article/book-launched-by-najib-banned-for-promoting-shiism
---------
North America
Pentagon quietly sends more intelligence officers to Iraq
Apr 30, 2014
The United States is reportedly increasing the number of intelligence officers deployed to Iraq amidst new waves of violence there being attributed to jihadists from the group known as the Islamic State of Iraq and the Levant.
On Friday, Reuters reported that the Pentagon has sent an entire team of high-level American intelligence agents abroad in order to investigate reports of growing insurgency, citing two current and one former US officials familiar with the matter.
The officials, Reuters claimed, believe the ISIL "now boasts territorial influence stretching from Iraq's western Anbar province to northern Syria."
An Al-Qaeda offshoot, the ISIL has for years been working towards imposing Sharia law in the parts of Iraq that are typically Sunni-majority regions. In recent days, however, those efforts have been linked to grave acts of violence that have killed dozens just over the weekend.
By Saturday, the Associated Press had reported that the ISIL was claiming responsibility for a bombing one day earlier that left no fewer than six people dead. The following day, ISIL was attributed with taking the lives of 33 after an attack was waged at a political rally for a hardline Shiite group known as Asaib Ahl Al-Haq.
Full report at:
http://rt.com/usa/155460-us-intel-officers-iraq/
-------------
US politician wants to create 'New Israel' state in Texas, claims all sides will win
Apr 30, 2014
A piece of Texas could become the "new Israel" if one US politician has his way, claiming that all sides in this type of deal would win. Congressional candidate Allan Levene is proposing to create a second entity of Israel on the eastern coast of the southern state, Texas. He has high hopes of calling the place "new Israel."
An estimated 8,000 square miles of lightly populated land, which shares its border with the Gulf of Mexico, would be given to Israel as its second state, or rather a non-contiguous part of its nation. However, there is a catch. In order for Israel to get this land, it can only do so by withdrawing to its borders that were agreed on before 1967.
It seems like a solid deal for Israel because it would allow the nation to have a peaceful territory far away from the tension in the Middle East in a location where, as Levene states, "the climate is similar," and Israel could "have access to the Gulf of Mexico for international trade," according to an article from the Jewish Telegraphic Agency.
Full report at:
http://voiceofrussia.com/2014_04_30/US-politician-wants-to-create-New-Israel-state-in-Texas-claims-all-sides-will-win-4215/
-------------
US in secret talks with Hezbollah – Israeli reports
Apr 30, 2014
Sources in Washington, DC have told reporters at Israel's DEBKAfile that secret discussions involving the White House and Hezbollah have recently taken place in the island nation of Cyprus.
According to the news site's unnamed sources, officials working within the administration of United States President Barack Obama have reached out to members of the militant Lebanese group that's designated as a terrorist organization by the US — unbeknownst to the media until the site published reports of the meeting on Tuesday this week.
Hezbollah leader Hassan Nasrallah, DEBKAfile reported, considers himself to be a key figure with regards to potentially resolving the bloody civil war in Syria that has pitted President Bashar Al-Assad's regime against anti-government rebels for three years now.
Full report at:
http://rt.com/usa/155728-hezbollah-cyprus-us-talks/
-------------
US sets $5m bounty on Chinese man over dealings with Iran
Apr 30, 2014
WASHINGTON: The United States unveiled a new indictment and slapped a $5 million reward on Tuesday on the head of a Chinese man it called a "principal supplier" to Iran's ballistic missile programme.
Washington said Li Fangwei, or Karl Lee, has continued to ship equipment and materials to Iran even after he and his company LIMMT Economic and Trade were first indicted and blacklisted by the United States in 2009.
The Department of Justice's new charges allege that he used China-based front companies — some with the same address as LIMMT — to move millions of dollars worth of payments from Iran through the US financial system.
The department said it had seized of nearly $7m linked to the payments, claiming the money from the accounts of Chinese banks in US banks.
From 2006 to 2014, the Justice Department said, Li used front companies for more than 165 separate US dollar transactions, worth more than $8.5m.
Full report at:
http://www.dawn.com/news/1103170/us-sets-5m-bounty-on-chinese-man-over-dealings-with-iran
-------------
Revealed: the most 'miserable' countries in the Muslim world
30 April 2014
A U.S. think tank has ranked 90 countries according to their levels of "misery", with several Muslim-majority countries on the list.
The Cato Institute used data from the Economist Intelligence Unit to rank countries according to unemployment, lending, inflation and economic health.
The most "miserable" Muslim-majority country on the list was Iran, which came in second place after Venezuela in the full ranking of 90 countries.
Meanwhile Egypt, where tourism revenues have dropped 43 percent so far this year due to ongoing unrest, was ranked as the 6th most miserable country, and the second Muslim-majority country on the list.
Explaining why the ranking was drawn up, Steve Hanke, a professor at Johns Hopkins University who calculated the data, said that politicians seek information on the happiness of their citizens.
Full report at:
http://english.alarabiya.net/en/News/world/2014/04/30/Revealed-the-most-miserable-countries-in-the-Muslim-world.html
------------
Unrecognised 9/11 hero Salman Hamdani finally honoured
Apr 30, 2014
When Mohammed Salman Hamdani, a 23-year-old Pakistani-American researcher and certified Emergency Medical Technician on his way to work on September 11, 2001, saw the twin towers of the World Trade Centre burning and collapsing, he did not hesitate to rush in to offer assistance to those trapped within.
Tragically, like nearly 3,000 others that day, he perished in the terror attack.
Yet his tale was unique because one month later, even as his mother Talat Hamdani and the rest of his family mourned their loss, they had an unpleasant shock when they discovered that the New York Police Department had been circulating a flyer suggesting that their son was possibly involved with the al-Qaeda group that carried out the attack.
In a vitiated atmosphere a growing spate of hate crimes against the Muslim community and minorities, including Hindus and Sikhs, emerged in parallel to the Bush administration's 'War on Terror'.
Full report at:
http://www.thehindu.com/news/international/world/unrecognised-911-hero-salman-hamdani-finally-honoured/article5960155.ece
----------
India
Pak keen on peace with India, wants sustained talks: Envoy
PTI | Apr 30, 2014
MUMBAI: Maintaining that wars between the two countries have fetched no returns, Pakistan on Tuesday said it wants a sustained and comprehensive dialogue process with India and asserted Prime Minister Nawaz Sharif was keen on peace with New Delhi for growth and prosperity of his country.
"Our Prime Minister Nawaz Sharif is very clear about his views, his policies and his vision. He has articulated that unless we have peace with India, it would continue to be very difficult to attain our aspirations of development and prosperity," Pakistan high commissioner to India Abdul Basit said on Tuesday evening.
Stating that peace is in the mutual interest of both the countries, he said, "We have fought wars in the past and have achieved nothing out of them. For peace, we would like to have a sustained and comprehensive dialogue process.
"At one stage, Pakistan was reluctant to enter into a dialogue process with India. We wanted the Jammu and Kashmir issue to be resolved first, but that did not work, nor will it work in the future if we have any pre-conditions."
Full report at:
http://timesofindia.indiatimes.com/india/Pak-keen-on-peace-with-India-wants-sustained-talks-Envoy/articleshow/34390533.cms
-------------
India, KSA work on modalities for hiring of domestic workers
Apr 30, 2014
Indian authorities are working on the legal modalities of a framework to facilitate mechanisms to address disputes arising between domestic workers and their employers in the Kingdom. A senior official arrived Monday to discuss the legal formalities of the contractual mode for Indian domestic workers in the Kingdom.
Their visit aims to address the issues of domestic workers for which an official agreement was signed in New Delhi between Overseas Indian Affairs Minister Valayar Ravi and Saudi Labor Minister Adel Fakeih in January this year.
The Indian team is headed by Ruolkhumlien Buhril, protector general of emigrants (PGE) in New Delhi and other senior officials.
Full report at:
http://www.arabnews.com/news/563366
-------------
Europe
Protestors picket Law Society over Sharia guidance'
Apr 30, 2014
Lawyers have staged a protest over legal guidance issued to make wills compliant with Islamic Sharia law. The Lawyers' Secular Society took their misgivings to the street and protested outside the Law Society's building in London. They say that there is no place for Sharia-related guidance in the legal sphere. VoR's Juliet Spare has more.
Around 40 protestors holding banners congregated outside Kings College London to protest against Sharia related guidance that has been issued by the Law Society which represents solicitors in England and Wales
Women's rights organisations and members of the Lawyers Secular Society stood on the pavement opposite the Law Society's building holding banners which read 'Don't support Sharia bias against women' and 'One secular law for all'.
Chris Moos, secretary of the LSE Student Union Atheist, Secularist and Humanist Society, said:
"I'm protesting against the practice note that the Law Society has issued, which condones discrimination against women, against adopted or illegitimate children as they call it, and non-Muslims. Sharia law has many interpretations but the one they have chosen is very discriminatory. We think our society should represent everyone and should not condone this kind of behaviour and discrimination."
Full report at:
http://voiceofrussia.com/uk/news/2014_04_29/Lawyers-Secular-Society-protest-Law-Society-s-Sharia-related-guidance-6552/
-------------
UN says 9,000 child soldiers fighting in S. Sudan war
Apr 30, 2014
Over 9,000 children have been recruited as soldiers in South Sudan's four-month long civil war by both government and rebel forces, the UN's human rights chief said on Wednesday. "Children have also been killed during indiscriminate attacks on civilians by both sides," AFP quoted UN High Commissioner for Human Rights Navi Pillay as saying.
http://rt.com/news/line/2014-04-30/#60452
-------------
Syria's Assad aim at presidential elections is not to allow US, EU to overthrow gov't like in Ukraine - expert
Apr 30, 2014
Syria's President Bashar al-Assad has announced his candidacy for the June 3 presidential elections. He is widely expected to win a third seven-year term in office. Six other contenders are in the race, but they are not considered to be serious rivals for al-Assad. Mark Dankoff, political commentator from San Antonio, told the Voice of Russia, that elections in Syria will be fair and legitimate.
Elections will be held under the control of security services and voting will only take place in regime-held parts of the country. Meanwhile more than one third of Syrian territory is controlled by rebels.
Potential opposition candidates have been excluded from taking part by new laws passed last month, including a requirement that Syria's president must be at least 40 years old. Large numbers of refugees – a third of the Syrian population – are also likely to be excluded from voting as they have left the country illegally. Only those with exit stamps in their passports will technically be allowed to vote.
Full report at:
http://voiceofrussia.com/2014_04_30/Syrias-Assad-aim-at-presidential-elections-is-not-to-allow-US-EU-to-overthrow-govt-like-in-Ukraine-expert-0962/
----------
Crimean Tatars 'forced' to become Russian citizens
World Bulletin / News Desk
Apr 30, 2014
Crimean Tatars in Crimea are forced to become Russian citizens, the Crimean leader Mustafa Jemilev told Anadolu Agency (AA) at an interview in Berlin on Wednesday.
Jemilev said that those who do not want Russian citizenship will be treated as foreigner and will have no right to employment or the right to vote. "The biggest issue is that our people are compelled to be Russian citizens, which many do not want to accept."
He added that the Crimean Tatars do not want to be under Russian domination but feel powerless, and he accuses Russia of taking advantage of Ukraine's current political situation to occupy Crimean soil.
"We cannot struggle with Russia as we are few in number, and we know what Russia's aim is," Jemilev said.
On March 16, 98 percent of the voters who turned out, voted to secede from Kiev in favor of unification with Moscow in a controversial referendum.
Full report at:
http://www.worldbulletin.net/headlines/135147/crimean-tatars-forced-to-become-russian-citizens
------------
Masked gunmen tighten grip on eastern Ukraine
Reuters | Apr 30, 2014
HORLIVKA, UKRAINE: Masked gunmen in military fatigues took control of a government building in another Ukrainian town on Wednesday, as pro-Russian separatists tightened their grip on a swathe of the country's industrial east largely unopposed by police.
Local media reports said the gunmen turned up at first light, and were later seen by a Reuters photographer to be controlling entry to the building in the town of almost 300,000 people. They refused to be photographed.
The heavily armed men wore the same military uniforms without insignia as other so-called "green men" who have joined pro-Russian protesters with clubs and chains in seizing control of a string of towns across Ukraine's Donbass coal and steel belt abutting the border with Russia.
A police official in nearby Donetsk, the provincial capital where separatists have declared a "People's Republic of Donetsk", said separatists were also in control of the Horlivka police division, having seized the regional police HQ earlier in April.
Full report at:
http://timesofindia.indiatimes.com/world/europe/Masked-gunmen-tighten-grip-on-eastern-Ukraine/articleshow/34423352.cms
------------
Amnesty: Pakistan should investigate spy agency over journalist attacks
30 April 2014
Pakistani authorities should investigate the country's powerful spy agency for human rights abuses against journalists following a spate of attacks on leading reporters, London-based Amnesty International said in a report published on Wednesday.
The report sheds light on the threat it says the country's media faces, including from political parties, Islamist insurgents and its own intelligence agencies.
At least 34 journalists have been killed in Pakistan as a direct consequence of their work since 2008 and eight have been killed in the past 11 months since Prime Minister Nawaz Sharif was elected to power in May 2013, Amnesty said.
Full report at:
http://english.alarabiya.net/en/media/print/2014/04/30/Amnesty-Pakistan-should-investigate-spy-agency-over-journalist-attacks.html
-------------
German president responds to PM Erdoğan's criticism: I even restrained myself
Apr 30, 2014
German President Joachim Gauck did not wait long to respond to Prime Minister Recep Tayyip Erdoğan's harsh reaction to his criticism of the Turkish government, saying he even "restrained himself" during his visit to Ankara.
"I allow myself to comment about the critical issues of a society. I not only talk with the government, but also those who are governed. This is a normal thing among friends," Gauck said late April 29, commenting on Erdoğan's reaction that his remarks were not proper for a statesman but rather for "a priest."
Gauck, who was elected president following the resignation of Christian Wulff after a corruption scandal, was a former East German Lutheran pastor.
Full report at:
http://www.hurriyetdailynews.com/german-president-responds-to-pm-erdogans-criticism-i-even-restrained-myself.aspx?pageID=238&nID=65768&NewsCatID=510
-------------
British Government Computers Made Anti-Muslim Comments on Wikipedia
The Huffington Post UK
30/04/2014
Government computers have been used to insert insults into Wikipedia entries about Muslims.
An investigation by the BBC revealed the phrase "all Muslims are terrorists" had been added to an article on veils.
The changes were made from a Whitehall IP address around October 2006.
Stevie Benton from Wikimedia UK, the charity behind the website, called the edits "appalling".
He added: "Wikipedia is the encyclopaedia that anyone can edit.
"This openness has led to an enormous reference work of great value.
"While vandalism does occasionally happen we are grateful to the many thousands of volunteers who write, edit and organise the content."
The news comes just a few days after it was revealed Whitehall computers had been used to edit the page for the Hillsborough disaster.
Full report at:
http://www.huffingtonpost.co.uk/2014/04/30/government-computers-anti-muslim-wikipedia-whitehall_n_5238344.html?utm_hp_ref=uk
-------------
Maldives should repeal the death penalty – UN Human Rights office
By Lucy Lovell | April 30th, 2014
The United Nations Human Rights Office (OHCHR) on Tuesday voiced deep concern about a new regulation in the Maldives that effectively overturns a 60-year moratorium on the use of capital punishment in the country and allows for children as young as seven to be sentenced to death.
"We urge the Government to retain its moratorium on the use of the death penalty in all circumstances, particularly in cases that involve juvenile offenders and to work towards abolishing the practice altogether," said Ravina Shamdasani, spokesperson for the Office of the High Commissioner for Human Rights (OHCHR).
Full report at:
http://minivannews.com/politics/maldives-should-repeal-the-death-penalty-un-human-rights-office-83772
-------------
Africa
Tunisia to receive $250 million World Bank loan
Apr 30, 2014
The World Bank announced on Monday that it will loan Tunisia $250 million in support of key reforms in a country that is still suffering economic fallout from the 2011 revolution. The loan "focuses on laying the foundations for a competitive economy to create more and better jobs for the Tunisian people and provide financial support for macro-economic stabilisation," the bank declared.
According to AFP, Tunisia's economy suffered greatly from instability that followed the 2011 revolution that toppled its leader Zine El Abidine Ben Ali. Its vital tourism sector plummeted before rebounding slowly, and the country remains plagued by social conflict fuelled by poverty and high unemployment.
"This loan is an effort... to assist Tunisia in creating the conditions for the social and economic changes that Tunisians took to the streets for," said Simon Gray, World Bank country director for the Maghreb. "If sustained, these reforms will not only address immediate concerns, but will also have a positive impact on growth and employment creation in the medium term," he said in the statement.
Full report at:
http://voiceofrussia.com/news/2014_04_30/Tunisia-to-receive-250-million-World-Bank-loan-9251/
-----------
Shooting outside Libyan parliament
Apr 30, 2014
A spokesman for the interim Libyan parliament said shooting broke out outside the main entrance to the parliament on Tuesday, causing lawmakers to postpone the selection of a new prime minister in the capital, Tripoli.
Parliament spokesman Omar Humaidan said there was an exchange of fire when presidential guards prevented an armed group from entering the building while members of the interim parliament were holding a special session to select a new prime minister, more than a month after sacking liberal-leaning Prime Minister Ali Zidan.
Lawmaker Hussein al-Ansari said that in voting on Tuesday the parliament had two candidates to choose from- 42-year-old businessman Ahmed Matiq from the country's third biggest city of Misrata, and Omar al-Hassi, a political science professor from the country's second largest city of Benghazi. Al-Hassi is backed by the hard-line Islamist bloc in parliament while Mr. Matiq is supported by independents.
The vote to choose a new prime minister was postponed until May 4.
http://www.thehindu.com/news/international/world/shooting-outside-libyan-parliament/article5960531.ece
-----------
Senegal rebels agree to ceasefire
World Bulletin / News Desk
Apr 30, 2014
Salif Sadio, the leader of Senegal's rebel Movement of Democratic Forces of Casamance (MFDC) faction, has declared a ceasefire in the battle against government forces, saying that he wants to give the peace process initiated by President Macky Sall a chance.
The MFDC had been fighting for an independent state in Senegal's southern Casamance region since 1982, launching campaigns in which thousands of people have been killed over the three-decade period.
Rebels in the region claim that they are fighting against being dominated by the Wolof people - Senegal's biggest ethnic group. The ethnically and religiously mixed Casamance enclave, is cut off from the mostly Muslim mainland Senegal by The Gambia.
The announcement comes after the two sides met in peace talks in Italy, but this is not the first time a ceasefire has been achieved, with previous ceasefires failing to secure a long-term peace.
http://www.worldbulletin.net/todays-news/135149/senegal-rebels-agree-to-ceasefire
-------------
URL: https://www.newageislam.com/islamic-world-news/new-age-islam-news-bureau/islamabad-suburban-mosque-named-after-salmaan-taseer's-assassin/d/76810