New Age Islam News Bureau
29 November 2020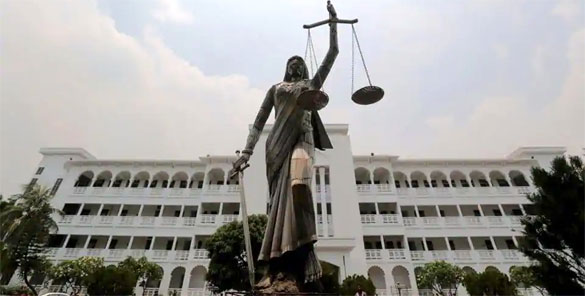 The statue of Lady Justice stands after it was reinstalled near the Supreme Court complex in Dhaka, Bangladesh, May 28(AP)
------
• Islam Never Allows Extremist, Sculpture Of Bangabandhu Will Be Established In Bangladesh, Says Awami League
• A Shadowy Islamic State Cell Looking To Free Western Jihadi Brides From Kurdish Refugee Camps
• Islamic Group's Investigation To Reveal 'Structural Bias' Of Government Agencies Prior To Christchurch Terror Attack
• Pakistan: Muslim Bloc Organisation of Islamic Cooperation Reaffirms 'Unequivocal' Support For Kashmir
• Organization of Islamic Cooperation States' Normalization With Israel Betrayal Of Muslims
• Uttar Pradesh Police Files First Case Under New Law Against 'Love Jihad'
• President, Members Of Board Of European Muslim Forum Send Letter To President Aliyev
• Congress Quietly Pays $850,000 In Settlement To Muslim Aides Targeted In House Inquiry That Morphed Into Right-Wing Conspiracy Theories
• Islamic Cleric, Hammed Ademola Warns Bobrisky: You Will Regret Your Actions, To Be Transformed Into A Woman
• Islamist Terrorists Kill Four Salvation Army Members in C. Sulawesi, Manhunt Launched
South Asia
• Islam Never Allows Extremist, Sculpture Of Bangabandhu Will Be Established In Bangladesh, Says Awami League
• OIC Stands By the People and Government of Afghanistan
• Islamist group planned Friday protests on Facebook: police
• Batticaloa Sharia Campus will not operate as a private institution - G.L.
• Ghazni Car Bomb Claims 30, Wounds 21
• Doha Yields Agreement on Ground Rules: Intra-Afghan Negotiations
-----
Arab world
• A Shadowy Islamic State Cell Looking To Free Western Jihadi Brides From Kurdish Refugee Camps
• Egypt: Hundreds Of Muslim Villagers Attack Christians After Alleged Facebook Comment On His Deemed Insulting To Islam
• UAE said blocking visas for 11 Muslim countries, as Israelis allowed in freely
• Saudi Arabia ranked sixth for safest travel
-----
New Zealand
• Islamic Group's Investigation To Reveal 'Structural Bias' Of Government Agencies Prior To Christchurch Terror Attack
• Christchurch mosque attack inquiry: Evidence suppressed for 30 years, gunman's forever
• Christchurch mosque attack: Police admin failure allowed terrorist to get gun licence - report
-----
Pakistan
• Pakistan: Muslim Bloc Organisation of Islamic Cooperation Reaffirms 'Unequivocal' Support For Kashmir
• Imam Of Badshahi Mosque Visits Islamabad Chamber Of Commerce And Industry
Our Correspondent
• Sindh High Court Orders To Stop Individuals Building Mosques On State Lands
• Asad promises Karachi-like uplift projects for other Sindh cities
• Opposition challenging govt writ, violating court order: CM's aide
• Ordinance restraining children from evicting aging parents being considered
• '52pc of forced conversion cases reported in Punjab'
------
Mideast
• Organization of Islamic Cooperation States' Normalization With Israel Betrayal Of Muslims
• Muslim World Battling Islamophobia 'Virus' Alongside COVID-19, Says Erdoğan
• Iran Warns US, Israel Against 'Adventuristic' Moves After Scientist Assassination
• Senior Pakistani Shia cleric: Zionists behind assassination of Iranian scientist
• Hussein Ibrahim Taha to head Muslim bloc OIC
• Turkey condemns 'threat message' against Muslim scholar in Greece
-------
India
• Uttar Pradesh Police Files First Case Under New Law Against 'Love Jihad'
• Samajwadi Party Against 'Love Jihad' Law, Will Oppose It In House
• Tripura Hindu outfit seeks nationwide law to curb 'Love Jihad'
• Muslims Constitute 30% Of West Bengal Voters; BJP Eyes This Core Votebank Of Mamata Banerjee
-----
Europe
• President, Members Of Board Of European Muslim Forum Send Letter To President Aliyev
• European Churches Defend Jews And Muslims Against Circumcision Bans
• Ebbw Vale man charged with threatening to kill Muslims
• Quebec mosque shooter has sentence reduced by 15 years
• Russian official: Fakhrizadeh was assassinated with US green light
-----
North America
• Congress Quietly Pays $850,000 In Settlement To Muslim Aides Targeted In House Inquiry That Morphed Into Right-Wing Conspiracy Theories
• Senior US Senator Sanders slams 'reckless, illegal' assassination of Iranian scientist
• UN Special Rapporteur: Extraterritorial targeted killing violation of human rights
• Three US officials say Israel regime behind assassination: New York Times
• The New Team In Washington Surveys West Asia Trump Leaves Behind
------
Africa
• Islamic Cleric, Hammed Ademola Warns Bobrisky: You Will Regret Your Actions, To Be Transformed Into A Woman
• Mozambique LNG prospects lifted by international response to Islamist insurgency
• Boko Haram terrorists kill 43 farm workers in Nigeria
• Boko Haram Attack: Northern Elders demand removal of service chiefs
------
Southeast Asia
• Islamist Terrorists Kill Four Salvation Army Members in C. Sulawesi, Manhunt Launched
• Stop pressuring Muhyiddin over DPM's post, Ahmad Zahid tells Umno members
• Dr Mahathir rallies Malaysians amid report of 266 suicides nationwide during MCO
• Ex-Mardi researcher slashed to death trying to deter home invasion in Bangsar
Compiled by New Age Islam News Bureau
URL: https://www.newageislam.com/islamic-world-news/islam-allows-extremism-sculpture-bangabandhu/d/123605
------
Islam Never Allows Extremist, Sculpture Of Bangabandhu Will Be Established In Bangladesh, Says Awami League
Nov 28, 2020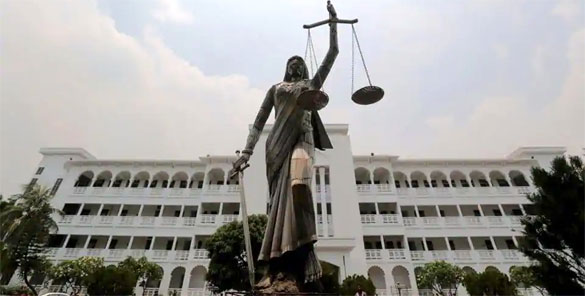 The statue of Lady Justice stands after it was reinstalled near the Supreme Court complex in Dhaka, Bangladesh, May 28(AP)
------
DHAKA,(BSS) – Awami League Joint General Secretary Mahbub-Ul-Alam Hanif today said Islam never allows extremist and people do not support extremism in the country.
"Alem and Olema are respectable, they are representing Islam. They are bearers and carriers of Islam. But there is no place for extremism in Islam," he said this, while speaking at a discussion and Doa Mahfil as the chief guest.
Hanif said the sculpture of Father of the Nation Bangabandhu Sheikh Mujibur Rahman will be established in the country. No force has the power to stop it, he said.
Dhaka South City Awami League (AL) unit organised the discussion and doa mahfil marking 14th death anniversary of former city AL president and ex-mayor of Dhaka Mohammad Hanif with its president Abu Ahmed Mannafi in the chair. General Secretary of the unit Humayun Kabir also spoke in the programme.
Hanif said, "You are talking about sculpture. There are many sculptures in other Muslim countries in the world. None talks about sculpture there. The sculpture of Bangabandhu will be established in Bangladesh too, none has the strength and power to stop it."
"People in Mecca don't talk about sculpture. You are speaking like the language of militants. As an independent state, the country did not become independent after nine months war to hear Pakistani ghosts or threats of Razakars. It's an independent country. There is a government and people," he said.
The AL joint general secretary said the country's Alem society and Islamic scholars repeatedly cleared that sculptures and idols are not the same but a communal force is creating unwanted debates over the establishing of sculpture of Bangabandhu.
Hanif said a religious fundamentalist group is trying to spread misinterpretation over the sculpture of Bangabandhu, the architect of independent Bangladesh, to spread hatred among religious people.
Hanif said some people in the name of Alem, Olema and Islamic scholars are trying to create an issue centering the sculpture of Bangabandhu with ill motive.
Following the footsteps of Bangabandhu, his daughter Prime Minister Sheikh Hasina, as a devoted follower of Islam, is establishing model mosque complex in every upazila to foster true Islamic practice, he added.
Hanif said those who threaten Shapla Chattar again should be ashamed, adding, "They should have an idea about the power of government, our GDP is at 5, where the GDP is going down in the world during the coronavirus pandemic. This was done due to the present government led by Prime Minister Sheikh Hasina."
"Bangladesh is now a role model of development. No development activities of the BNP government were visible. BNP's politics is full of false allegations. They always lie about the vote. Even there is no issue in the political arena, but they are trying to make issue," he said.
https://www.bssnews.net/?p=491678
---------
A Shadowy Islamic State Cell Looking To Free Western Jihadi Brides From Kurdish Refugee Camps
By OMAR WAHID
29 November 2020
VEILED PLEA: A letter from a detainee at a camp in Syria that has been posted on Facebook by a group raising funds for her escape
-----
A shadowy Islamic State fundraising cell seeking to free Western jihadi brides from Kurdish refugee camps in Syria has been exposed by The Mail on Sunday.
Undercover reporters spent weeks communicating with a 'fixer' in Turkey before catching a 'courier' on camera in London last Friday picking up what he thought was a £4,500 donation to the terror group's cause.
As the Metropolitan Police began an investigation, this newspaper can reveal the sophisticated network apparently created to fund the escape of jihadi brides from camps in Syria. The camps include Al-Hol where Shamima Begum, who fled Britain aged 15 to join ISIS five years ago, was held.
The Government last week launched a bid at the Supreme Court to overturn a decision to allow Begum, now 21, to leave Syria and return to the UK to challenge a decision by the Home Office to strip her of her British citizenship.
Its lawyers argued that doing so 'would create significant national security risks'. Meanwhile, there is mounting concern about the resurgence of ISIS influence in the camps where an estimated 13,500 foreign women and children linked to the terror group are held.
According to a report last week, an Instagram group called Caged Pearls – believed to be run by British women detained in Al-Hol who are raising money to fund their escape from the camps – is advertising itself with a poster reading: 'Al-Hol – The cradle of the new Caliphate.'
It was at the sprawling Al-Hol camp where the MoS first learned in September that ISIS supporters were raising money in the UK to help jihadi brides bribe their way to freedom, either to return to their homelands or rejoin the remnants of the terror group scattered across the Middle East.
One such fundraiser was named as 'Sumaya Holmes', who had been smuggled out of the camp and travelled to Turkey. Holmes is said to be the widow of a British convert who died fighting for ISIS in Syria and the wife of a Bosnian jihadi now serving a prison sentence in his home country.
On her Facebook page, Holmes openly touts for donations, posting photographs of women in burkas holding up placards pleading for help to escape.
'Assalam Alaykum [May peace be upon you all] I am a sister from camp Al-Hol and I need $6,000 [£4,500] so that I can escape from PKK [Kurds]. Please, I ask everyone to help me and donate as much as they can,' reads one sign.
Below it, Holmes has written: 'This is my friend and she is in need of help. She sent me this photo yesterday...Please, even if you can't help, pass it to those who can donate to her. Jazakallah Khayr [May God reward you].'
Another picture posted by Holmes shows a woman holding a piece of paper inside a tent. It reads: 'I am your Muslim sister in Al-Hol camp. I need help from my brothers and sisters to be freed from the hands of the SDF [Syrian Defence Forces]. Allah only knows our situation, and I am in need of support. I need $7,000 [£5,200] to be able to get out with my children.
She sent the address and mobile phone number of a fundraiser based in Britain who she said ran a money exchange that could provide such a service. Again, the undercover journalist refused.
Holmes then provided details of a man called 'Anas' in London who could collect the cash in person. When an offer to donate £4,500 was made, Holmes wrote: 'Ok akhi [my brother] this amount of money you want to contribute to free 1 sister or its for the sisters in camps?' The reporter replied, 'Free one sister,' and received the response: 'OK i will see to one sister insha Allah [God willing].'
Holmes had meanwhile been busy spouting her support for ISIS on her Facebook page. In one post, she described Abdullakh Anzorov, the Chechen who last month beheaded teacher Samuel Paty near Paris, as a 'hero', adding: 'There are no words that can describe my feelings towards him and what he did for our Prophet, peace be upon him. Little Mujahid [jihad warrior], you're an example to many Inshaallah [God willing] #chechanhero.'
'Akh [brother], how shall I bring the cash? In an envelope or what?' the journalist asked when a time on Friday had been agreed. 'An envelope, please anytime, but tell me a quarter of an hour before you arrive, please,' replied Anas.
In the event, the reporter changed the plan – citing concerns that the police might be watching – and left an A4 brown envelope under gas cylinders at a nearby service station. As it is illegal to hand over money to a suspected terrorist, the envelope contained only a crossword puzzle book. The journalist then informed Anas where he could find the package, attaching a photograph of where he had left it.
Within moments, as an MoS team looked on, a bearded man wearing a white crash helmet arrived on a silver scooter. He knelt down, dragged out the envelope and smiled before messaging the reporter: 'File received, let me check the money and tell you.'
The man was soon back in touch. 'There are [sic] no money in the envelope, there is only a book. ??? ... It seems that you are not serious about your subject.'
We immediately informed Scotland Yard. Last night, a spokesman said the information was being assessed by counter-terrorism detectives. Confronted yesterday, Anas denied involvement. 'No, no, I don't take anything, you are wrong,' he said before hanging up. He did not answer further calls.
In a series of messages on Facebook Messenger, Holmes denied involvement. 'That's not true, you're bulls****ing,' she wrote. 'Good luck with publishing your lies.'
With the UK's terror threat level at 'severe', the revelations will reignite concerns about the dangers of ISIS supporters who have returned to the UK or will seek to in future. Estimates suggest about 300 of the 900 Britons who went to Syria to join ISIS are back in the UK.
Dr Vera Mironova, an expert on ISIS and research fellow at Harvard University, said: 'To escape from the camps costs about $18,000 [£13,500] and the success of these campaigns shows the sheer amount ISIS are able to fundraise online,' she said.
'Once the women are smuggled out, it is impossible to monitor them. The women who collect money online are still with ISIS and are trusted and supported by the organisation's members worldwide. They work with a network of supporters globally.'
https://www.dailymail.co.uk/news/article-8996835/The-shadowy-Islamic-State-cell-looking-free-Western-jihadi-brides.html
-----------
Islamic Group's Investigation To Reveal 'Structural Bias' Of Government Agencies Prior To Christchurch Terror Attack
Cate Broughton
Nov 29 2020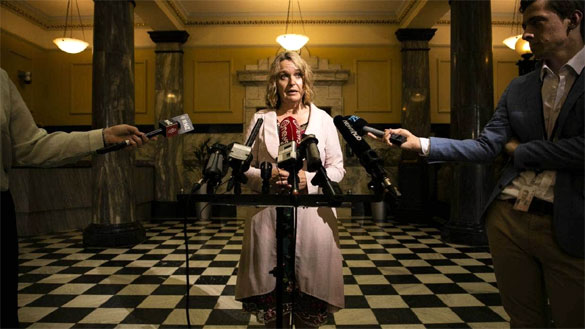 Minister of internal affairs Jan Tinetti received the Royal Commission of Inquiry into the terrorist attacks on Christchurch mosques last week.
-------
A report by Muslim Kiwis to the Royal Commission of Inquiry into the Christchurch terrorist attacks is expected to highlight failings of police, security services and customs prior to March 15, 2019, with new information not previously released publicly.
The Federation of Islamic Associations of New Zealand's (FIANZ) report, to be released at 10.30am on Monday, would show institutional racism, a lack of transparency and inadequate resourcing in various agencies, FIANZ Royal Commission committee chairman Abdur Razzaq Khan said.
"We are not there to blame any organisation, but we are there to ensure that the dysfunctions, that people are aware of it, and we can look for changes in the approach to various things the NZSIS and the police are doing."
The terrorist, a 29-year-old Australian national, was sentenced to life without parole in August for the killing of 51 people, the attempted murder of 40, and for committing a terrorist act. The massacre took place at two Christchurch mosques on March 15, 2019.
The release of the group's submission preceded the Inquiry report, handed to the Minister for Internal Affairs last week, and expected to be made public before Christmas.
Minister of internal affairs Jan Tinetti received the Royal Commission of Inquiry into the terrorist attacks on Christchurch mosques last week.
more than $500m had been allocated to the NZSIS in the previous 10 years, while its focus was Islamic terrorism at the expense of other extremists and terrorists.
agencies ignored the international security landscape in 2018, which pointed to an increase of violence and murder by right-wing extremists in Western countries.
FIANZ Royal Commission committee chairman Abdur Razzaq Khan said FIANZ met with the director-general of the New Zealand Security and Intelligence Service (NZSIS) and the police commissioner early this year to let them know their findings in advance of the inquiry process.
"I mean the depth of information, we spent a lot of time going through it, and a lot of what we found out subsequently came through in the media."
Recommendations made in the report included an inquiry into the structure and function of the NZSIS; democratising the process of setting and reviewing New Zealand's intelligence priorities; addressing institutional racism and increased focus on diversity and inclusiveness; specific hate crime legislation and countering of right-wing extremism.
The Press and Stuff are as much a part of Canterbury as a yawning nor'west arch. For 160 years our reporters have championed this community, fought in your corner, and represented the uncrushable spirit of Ōtautahi Christchurch.
We're asking for your support to keeping fighting like we did to get cold, damp social housing upgraded; to undertake investigations like our work to solve the mystery of Angela Blackmore's murder; to help make this region a better place.
https://www.stuff.co.nz/national/christchurch-shooting/123545909/islamic-groups-investigation-to-reveal-structural-bias-of-government-agencies-prior-to-christchurch-terror-attack
-----------
Pakistan: Muslim Bloc Organisation of Islamic Cooperation Reaffirms 'Unequivocal' Support For Kashmir
MQureshiPTI
29-11-2020
The Organisation of Islamic Cooperation (OIC) has reiterated its "strong and unequivocal support" for disputed Kashmir in a resolution adopted unanimously in the Muslim bloc's gathering in Niger, Pakistan said.
Representatives of 57-member states attended the two-day meeting that ended on Saturday during which OIC discussed issues confronting the Muslim world.
The situation in India-administered Kashmir was one of the session's main points of focus with OIC's Council of Foreign Ministers reaffirming strong support for Kashmiris struggling for the region's right to self-determination.
"The OIC categorically rejected illegal and unilateral actions taken by India since 5 August 2019," the Pakistani foreign office said in a statement, adding the resolution demanded that India "cancel the issuance of domicile certificates to non-Kashmiris" as well as other unilateral and illegal actions there.
Established in 1969, the OIC is the world's second-largest inter-governmental organisation after the UN, with 57 member states spread across four continents.
The OIC has previously condemned human rights violations in Kashmir, its annexation by India, and the newly-introduced domicile laws that allow non-Kashmiris to take jobs and buy properties in the disputed Himalayan territory.
Kashmir, divided by a highly militarised de facto border, is claimed by both Pakistan and India who rule it in parts. In 1947, both countries gained independence from Britain. India immediately took the dispute to the UN which called for a plebiscite in the region in multiple resolutions.
Rebel groups in India-administered Kashmir have fought for decades for the region's independence or a possible merger with Pakistan. They enjoy popular support.
Since 1989, the fighting has left tens of thousands dead, a number mostly made up of civilians. India has stationed more than 500,000 troops in the region.
Tensions soared again between the two nations last August when the Indian government revoked Muslim-majority Kashmir's decades-old semi-autonomous status and annexed it. This caused anger inside Kashmir as well as in Pakistan.
The OIC and Pakistan want the changes reversed. Kashmiris say India is enacting a demographic change in the region by settling Hindu outsiders.
In Saturday's resolution, the OIC urged the international community to evaluate their ties with India and include the people of Kashmir in any peace process talks.
OIC emphasised that the territorial dispute, specifically "granting the right to self-determination to the people of Jammu and Kashmir" has remained unresolved on the agenda of the United Nations Security Council for over seven decades.
Other items on the OIC agenda included the Palestinian cause, Islamophobia, the plight of Muslim minorities and communities in non-member states, and fundraising for the Rohingya case at the International Court of Justice.
The member states also decided to hold further talks on the Kashmir dispute in OIC's foreign minister's session in Islamabad next year.
https://www.trtworld.com/asia/muslim-bloc-oic-reaffirms-unequivocal-support-for-kashmir-41889
----------
Organization of Islamic Cooperation States' Normalization With Israel Betrayal Of Muslims
Source : Press TV
November 29, 2020
Iran has denounced the normalization of ties between certain member states of the Organization of Islamic Cooperation (OIC) and Israel as "a betrayal of Muslims" and a violation of the 57-nation body's principles.
Iranian Foreign Ministry Director General for International Peace and Security Reza Najafi made the remarks at the 47th session of the OIC's Council of Foreign Ministers in Niger's capital, Niamey, on Saturday.
Najafi expressed serious concerns about a decision by certain OIC countries to forge formal diplomatic relations with Tel Aviv, saying, "Any interaction with the fake and illegal Zionist regime, whose life involves 60 years of crime, murder, torture and displacement of thousands of Palestinians, is considered a betrayal of Muslims and a violation of the fundamental principles of the OIC and will deal a serious blow to the unity of the organization's member states and the Muslim Ummah."
"A few members of the organization betrayed the Muslim Ummah by revealing their secret relations with the Zionist regime," he added.
Najafi further urged the international community to strengthen efforts towards upholding the Palestinians' inalienable rights to return to their homeland and establish an independent state in the occupied territories, with East Jerusalem al-Quds as its capital.
Israeli prime minister Benjamin Netanyahu signed normalization pacts with Emirati Foreign Minister Sheikh Abdullah bin Zayed Al Nahyan and Bahrain's Foreign Minister Abdullatif Al Zayani during an official ceremony hosted by US President Donald Trump at the White House in mid-September.
Elsewhere in his comments, Najafi referred to Friday's assassination of Iranian nuclear scientist Mohsen Fakhrizadeh, who was a professor of physics at Imam Hussein University in Tehran and headed the Defense Ministry's Organization of Defensive Innovation and Research (SPND).
"Yesterday, an Iranian scientist was assassinated by Israel's mercenary terrorists. It may be related to the betrayal of [Muslims]. We strongly condemn this cowardly terrorist act and remind that the era of hit and run is over," he said.
Iran's President Hassan Rouhani said in a message on Saturday that "the wicked hands of the global arrogance, with the usurper Zionist regime as the mercenary, were stained with the blood" of the prominent scientist.
The Iranian official also stressed that relying on foreigners will not bring security for the countries in the region and will rather cause despair for them.
"We call on everyone to engage in dialogue as the only constructive and fruitful way to resolve differences. Together, we will mark a better future for our region. As one of the founders of the OIC, the Islamic Republic of Iran which believes in the principles of the organization, has put friendship and brotherhood between Islamic countries at the forefront of its foreign policy, and has always initiated and defended peace and security in the Persian Gulf, Yemen, Syria and Iraq and Lebanon and other regional issues," Najafi underlined.
Additionally, he condemned US unilateralism, including economic terrorism against developing countries, amid the coronavirus outbreak.
"The world is now watching whether the new American leaders will abandon the destructive, illegal and bullying methods of the outgoing regime and opt for multilateralism, cooperation and respect for the law or not …! Regardless of any change in the US government's approach, the Islamic countries must be collectively determined to preserve their unity in order to resolve problems."
https://en.abna24.com/news//oic-states%e2%80%99-normalization-with-israel-betrayal-of-muslims_1090355.html
-----------
Uttar Pradesh Police Files First Case Under New Law Against "Love Jihad"
by Alok Pandey,
November 29, 2020
Lucknow: Uttar Pradesh Police has filed its first case under the state's new anti-conversion law, accusing a Muslim man of putting pressure on a woman to change her religion.
The case was reported on Saturday at the Deorania Police station in Bareilly district under the Uttar Pradesh Prohibition of Unlawful Conversion of Religion Ordinance, 2020, cleared on Saturday by Governor Anandiben Patel.
The Hindu woman's father has alleged that the accused was trying to force her to convert to Islam. He has also reported that the accused, on being confronted by his family, threatened to kill them.
"The boy had abducted the girl. So another case was already filed against him. He was putting pressure on the girl to convert. A case has been now filed under Sections 3 and 5 of the new ordinance. This is besides sections of the IPC," Sansar Singh, Bareilly Rural Superintendent of Police, told media.
Chief Minister Yogi Adityanath's Cabinet, on Tuesday, okayed the ordinance, proposing a maximum punishment of 10 years for "love jihad" related offences.
The new law mandates a jail term of the accused between one to five years, with Rs 15,000 penalty, if convicted of carrying out forceful conversions for marriage.
According to the new law, a marriage will be declared "null and void" if the conversion of a woman is solely for that purpose, and those wishing to change their religion after marriage need to apply to the district magistrate.
In recent weeks, BJP-run states like Uttar Pradesh, Haryana, and Madhya Pradesh have revealed plans to enact laws to counter alleged attempts to convert Hindu women to Islam in the guise of marriage.
https://www.ndtv.com/india-news/love-jihad-uttar-pradesh-files-case-against-muslim-man-first-under-new-anti-conversion-law-2331697
---------
President, members of Board of European Muslim Forum send letter to President Aliyev
28 November 2020
BAKU
President and members of Board of the European Muslim Forum a sent a letter to Ilham Aliyev, President of the Republic of Azerbaijan.
"Dear Mr. President,
On behalf of the European Muslim Forum, a pan-European platform representing the interests of Muslims in all Europe, which geographically includes your state and, of course, Azerbaijani Muslims are part of the Muslim community of Europe, we express our profound respect to Your Excellency and on behalf of the entire Muslim community of Europe we congratulate on the outstanding victory of the Azerbaijani people and fraternal Azerbaijan, which under your guidance won a history-shaping victory during the blessed month of Rabi al-Awwal, the month of our Prophet (peace and blessings of Allah be upon him) amid the unprecedented anti-Islamic hysteria and biased explicit propaganda against the legitimate historical rights of the Azerbaijani people to the lands of the historical Karabakh khanate. What you, your army and your people have managed to do is something that the entire global Ummah, 1.7 billion of your fellow believers, is proud of today. The way you have achieved this, in a coherent and organized manner, thanks to a well-defined strategy with the sophisticated weaponry, the coherence and heroism of your troops, the generosity towards the enemy and the unity of all the peoples and religions of your country, this success is worthy of the highest appreciation and the deepest respect.
As you probably know, our organization has repeatedly raised the point of a fair solution to the Karabakh issue, the liberation of the occupied, as well as the restoration of a huge number of monuments and Muslim religious and historical sites that were in a deplorable and often desecrated state, including the installation of latrines, stockyard, including hog houses within the walls of mosques. We have proposed several times to hold a large pan-European conference in support of the brotherly Azerbaijani people and their legitimate claims. The fact that now the Azerbaijani people themselves, despite many factors, liberated their lands is undoubtedly the best scenario that could have happened at all, for which we are grateful to the Almighty Creator and proclaim Salavats to our Prophet (peace and blessings of Allah be upon him).
For our part, continuing our initiatives, we kindly ask Your Excellency to allow the delegation of European Muslim leaders to visit the liberated territories of Azerbaijan, in order to see for themselves what a sad condition the almost 30-year occupation of your lands has led to, and what acts of vandalism and blasphemy against religion in general were in the occupied territories, as well as for moral support and evidence of our fraternal solidarity with the people of Azerbaijan and, of course, what is no less important now is to inform about the real situation and the truth about the Karabakh conflict, its origins, its tragic history, and its heroic ending.
We consider the most important points for our delegation to visit Shusha, Agdam and Khojaly, where we would like to hold a prayer at the place where the tragedy in Khojaly happened. We are convinced that the "Caucasian Srebrenica" should receive its memorial as edification for posterity.
We pray to the Almighty that no more military operations will be conducted on the blessed lands of brotherly Azerbaijan and that Karabakh will become a showcase of nobility, prosperity and friendship, as it should be in our beloved brotherly Azerbaijan, as a role model for many countries of Europe and the entire Eurasian region.
We take this opportunity to once again congratulate Your Excellency, your people, and all the national and religious communities of your wonderful country on this common victory, which we all are proud of," the letter said.
https://en.trend.az/azerbaijan/politics/3341875.html
---------
Congress Quietly Pays $850,000 In Settlement To Muslim Aides Targeted In House Inquiry That Morphed Into Right-Wing Conspiracy Theories
BY NOAM SCHEIBER
NOV 28, 2020
The House of Representatives quietly paid $850,000 this year to settle wrongful termination claims by five Pakistani American technology specialists, after a set of routine workplace allegations against them morphed into fodder for right-wing conspiracy theories amplified by President Donald Trump.
Together, the payments represent one of the largest known awards by the House to resolve discrimination or harassment claims, and are designed to shield Congress from potentially costly legal action.
But aides involved in the settlement, which has not previously been reported, said it was also an attempt to bring a close to a convoluted saga that led to one of the most durable — and misleading — story lines of the Trump era. The aides said its size reflected a bid to do right by a group of former employees who lost their jobs and endured harassment in part because of their Muslim faith and South Asian origins.
What started as a relatively ordinary House inquiry into procurement irregularities by Imran Awan, three members of his family and a friend, who had a bustling practice providing members of Congress with technology support, was twisted into lurid accusations of hacking government information.
In 2018, Trump stood next to President Vladimir Putin of Russia at a now-infamous news conference in Helsinki, and implied that one of the employees involved in the House case — a "Pakistani gentleman," he said — could have been responsible for stealing emails of Democratic officials leaked during the 2016 campaign. His own intelligence agencies had concluded that the stolen emails were part of an election interference campaign ordered by Moscow.
"It is tragic and outrageous the way right-wing media and Republicans all the way up to President Trump attempted to destroy the lives of an immigrant Muslim American family based on scurrilous allegations," said Rep. Ted Deutch, D-Fla., who had employed Awan and is chairman of the Ethics Committee.
"Their names were smeared on cable TV, their children were harassed at school, and they genuinely feared for their lives," Deutch added. "The settlement is an acknowledgment of the wrong done to this family."
The case originated in 2016, when officials in the House, then controlled by Republicans, began investigating claims that the specialists had improperly accounted for purchases of equipment and bent employment rules as they worked part-time for the offices of dozens of Democratic lawmakers.
In the hands of the chamber's inspector general and later the Capitol Police, the investigation slowly expanded to include concerns that the workers had illicitly gained access to, transferred or removed government data and stolen equipment.
In early 2017, the House stripped their access to congressional servers, making it impossible for them to continue their work. One by one, the lawmakers terminated them.
But as the inspector general's findings were shared with Republican lawmakers and trickled into conservative media in early 2017, they began to take on a life of their own. The Daily Caller, which led the way, published allegations that the workers had hacked into congressional computer networks, and other right-wing pundits speculated that the group were Pakistani spies.
Trump, in addition to his comments in Helsinki, repeatedly amplified conspiracy theories about the investigation on Twitter, where he referred to a "Pakistani mystery man." At one point, he publicly urged the Justice Department not to let one of the workers "off the hook."
But in the summer of 2018, the department did just that, taking the unusual step of publicly exonerating Awan. The department concluded in a court filing that after interviewing dozens of witnesses, and reviewing a Democratic server and other electronic records, it had found "no evidence" that Awan illegally removed data, stole or destroyed House equipment, or improperly gained access to sensitive information.
The statement came during a sentencing hearing for an unrelated offense — that Awan had lied about his primary residence on an application for a home-equity loan, for which he was sentenced by judge to one day of time served and a three-month supervised release.
House officials and the Capitol Police revisited their investigation of Awan and his colleagues after the Justice Department's findings became public. The review found that the original investigation had reached certain conclusions about misbehavior that were not necessarily supported by facts, but upheld the ban on their access to the House computer network, preventing their reinstatement, congressional aides said.
Awan's lawyers approached the House after Democrats took control of the chamber in 2019 to discuss a possible settlement. Many of the lawmakers who had employed him pushed their leaders to strike a deal.
The resulting agreement was signed by Rep. Zoe Lofgren of California, the chairwoman of the Administration Committee, in January and paid out this summer. It resolved claims brought by Awan and the other four staffers under the Federal Tort Claims Act that House officials behaved negligently in their second inquiry after the Justice Department found no evidence of illegal conduct.
The settlement also resolved claims that House officials inflicted emotional distress on the group, and that the initial investigation was motivated by the employees' religion, national origin, race, or political affiliation.
In a statement, Lofgren said that the employees had threatened to sue various House members, offices and other employees, "seeking millions of dollars in compensatory and punitive damages." She said the House decided to settle "due to the likelihood of an unfavorable and costly litigation outcome," although she asserted that based on the information it had at the time, the House had been right to revoke their network access.
Awan declined to comment on the settlement. Peter Romer-Friedman, one of the Awans' lawyers, said that they would "never forget the courage and kindness" of lawmakers who had stood by his clients.
Awan was born in Pakistan in 1980 and moved to Northern Virginia in 1997. While in college, he worked as an intern for a company that provided IT services to congressional offices. He was hired directly by the office of Rep. Robert Wexler of Florida after graduating and worked setting up email accounts and new equipment like phones and laptops for staff members.
Over the years, other Democratic members of Congress hired Awan to perform similar work under an arrangement that made him a "shared employee" and for which he was typically paid $20,000 each year per member of Congress. As the workload grew, Awan brought on two of his brothers, his wife and a friend to assist him, and they became shared employees as well. Together they eventually worked for more than 30 members of Congress.
Their employers included Rep. Debbie Wasserman Schultz of Florida and Rep. Cedric Richmond of Louisiana, who was recently named by President-elect Joe Biden to a top White House position. The connection to Wasserman Schultz, who was the chairwoman of the Democratic National Committee at the time of the 2016 email hack, is what prompted the baseless theories seized on by Trump that Awan, not the Kremlin, was responsible.
House investigators found that Awan and his four co-workers violated certain administrative rules — for example, working as a team in which they would provide services to offices that didn't technically employ them, and breaking up payments for equipment like iPads into increments that were below $500, the point at which a purchase would trigger a more cumbersome procurement process.
But Joshua Rogin, Deutch's chief of staff, said in a declaration accompanying a separate defamation lawsuit brought by the Awans against the Daily Caller and others that he did not believe that the arrangements violated House rules and that he was unaware that the rules the five were accused of violating had been enforced against any other House employees.
"I understood this investigation to be both politically motivated and based on bias over their nationality, ethnicity and religion," he said in the declaration.
In January of 2019, Luke Rosiak, a reporter for the Daily Caller News Foundation who had written more than two dozen stories about Awan, published a book in which he reported that one or more of the family members had hacked congressional servers, stolen cellphones and laptops and sent equipment to government officials in Pakistan. The book also refers to Imran Awan as a "mole."
In an interview with the Epoch Times in July of that year, he referred to Awan as "basically an attempted murderer, an extortionist, a blackmail artist, a con man."
Awan and the family members and friend who worked with him on Capitol Hill are suing Rosiak, The Daily Caller and Salem Media Group, the owner of Rosiak's book publisher, Regnery, for defamation and unjust enrichment. The case is currently pending in court.
Matthew Lee, a lawyer for The Daily Caller, declined to comment on details of the litigation but called the plaintiffs' account of events "one-sided."
https://www.chicagotribune.com/nation-world/ct-nw-nyt-congress-settlement-trump-20201128-gcnri4dnvzdajefo325eouxkei-story.html
-----------
Islamic Cleric, Hammed Ademola Warns Bobrisky: You Will Regret Your Actions, To Be Transformed Into A Woman
November 28, 2020
By John Owen Nwachukwu
Islamic cleric Hammed Ademola has said Nigerian crossdresser Bobrisky would regret going under the knife to be transformed into a woman.
The cleric in a viral video claimed he was told in a revelation that Bobrisky does not have more than 3 years to live.
Ademola said Bobrisky, who recently revealed he had cut off his manhood is spending money gotten from the devil.
Insisting that Bobrisky's money is from the devil, the cleric, who spoke in Yoruba language, warned Bobrisky to change his ways because his end is near.
He also extended the warning to friends of the popular bleaching cream dealer, asking them to stay away from him or they would soon have problems in their lives.
https://dailypost.ng/2020/11/28/you-will-regret-your-actions-islamic-cleric-warns-bobrisky-video/
----------
Islamist Terrorists Kill Four Salvation Army Members in C. Sulawesi, Manhunt Launched
BY :RULLY SATRIADI
NOVEMBER 29, 2020
Jakarta. The National Police and Indonesia Military has launched an operation to hunt down an Islamist terror group East Indonesia Mujahidin, or MIT, hiding in a forest in Sigi, Central Sulawesi, after the terrorist allegedly killed a Christian family in The Salvation Army church's outpost on Friday.
This was the third violent attack by the terror group in the last three months. Ali Ahmad, also known as Ali Kalora, lead an estimated ten followers and has been evading the government's military operation in the Central Sulawesi jungle for the past two years.
"Today, we are deploying 100 troops from the Tinombala Task Force, Central Sulawesi Police Mobile Brigade, and Indonesia Military to carry out the pursuit of the Ali Kalora group," Brig. Gen. Awi Setiyono, the National Police spokesman, said on Saturday.
The police first received a report on Friday that an unknown group attacked a family in Lemban Tongoa village in Sigi and burned their houses, Awi said. The first police arrived at the scene at 01:00 on Friday, finding four bodies and seven houses burned down. Two of the bodies were mutilated, while one of them was beheaded.
Adjutant Chief Comr. Yoga Priyahutama, the Sigi police chief, lead an investigation team that questioned five witnesses at the scene.
The witnesses identified three of the attackers as members of East Indonesia Mujahidin, based on the terrorists' photograph the police shown to them, Awi said.
MIT was a terror organization mainly operating in Central Sulawesi, with an affiliation to Southeast Asia transnational terrorist group Jemaah Islamiyah. Ali Kalora emerged as the group's new leader after a police operation in July 2016 killed MIT charismatic leader Santoso.
In August, the group ambushed and robbed a vehicle carrying medical workers. In a separate incident, MIT took two farmers' hostages and killed one of them. The military operation in the last two years has reduced the group fighting force to around a dozen members, who hide in the thick jungle of Central Sulawesi.
The Salvation Army said in a statement on Saturday that the victims were the church's members working in a Sulawesi outpost, looking to establish the church work and develop a society there.
Brian Peddle, international leader of The Salvation Army, denounced the terror attack. "Throughout all aspects of Salvation Army ministry and influence, we work for peace," he said.
"We find the news from Lembantongoa greatly disturbing. Our hearts go out to our people who have been victims of evil and to the families of those whose faith has caused such harm. I call upon all Salvationists to pray for each person who has been affected, for the continuing witness of our people, and for healing in the communities," he said.
Yusak Tampai, The Salvation Army's territorial commander for Indonesia, urged around 60,000 of the church members in the region to "remain calm but alert and careful, spreading a strong message of hope and uniting in prayer to strengthen each other."
Erik A. Kape, The Salvation Army's commander for Palu, said on Sunday that four men falling victim in Friday's attack were part of The Salvation Army's small congregation in the village.
"The congregation consists of 12 families, with around 40 people. They hold regular mass service every week and Sunday school for the children there," Erik said.
"I was a little bit disappointed that it was described [in the news] as a residential house used as a church. That was wrong. I can assure you that it was a church because I was the one who officiated it last Christmas," Erik said.
"We hope the security apparatus to arrest the perpetrators immediately. Let this be the last thing. No more innocent victims should die," Erik said.
Indonesian Communion of Churches (PGI) strongly condemned Friday's attack and called for the government to catch the terrorists and secure the area.
"This incident demonstrates barbaric acts that should be denounced by all civilized people," Philip Situmorang, a PGI's spokesman said in a statement on Saturday.
"We continue to pray for and support all the government's efforts to maintain the security and order of the people in the Unitary State of the Republic of Indonesia, that is free from acts of terror and extremism," Philip.
The National Commission on Human Rights (Komnas HAM) also condemned the attack. "There must be no room for terrorists in this country," Dedi Askary, Komnas HAM representative for Central Sulawesi, said.
The Indonesian Solidarity Party (PSI) and the Indonesian Democratic Party of Struggle (PDI-P), and the National Democratic Party also released statements to condemn the attack on Saturday, while other parties remained silent.
Zainal Abidin, the chairman of the Central Sulawesi Religious Harmony Forum (FKUB), called all parties in Central Sulawesi to remain calm and not link the attack to any religion.
"Any religion does not teach and justify the act of killing fellow humans," Zainal, who is also the chairman of the Indonesian Ulema Council (MUI) in Palu, said.
https://jakartaglobe.id/news/islamist-terrorists-kill-four-salvation-army-members-in-c-sulawesi-manhunt-launched
----------
South Asia
OIC Stands By the People and Government of Afghanistan
M.A.Ansari
November 29, 2020
Kabul (BNA) The Government of the Islamic Republic of Afghanistan welcomes the OIC standing by the people and Government of Afghanistan with its Resolutions 4/47-POL on Situation on Afghanistan, 4/47-POL on Crimes of Daesh and 5/45-POL on Regional Initiatives in Support of Afghanistan, all adopted during the 47th Council of Ministers of Foreign Affairs of the OIC meeting held on the 27th and 28th November in the Niamey, Niger.
The OIC called on the Ulema and religious institutions across its member's states to declare the war against the Muslim state and people of Afghanistan illegitimate and call for the support of the peace talks. Reflecting collective support of the Islamic states for the Afghan peace talks, these resolutions explicitly welcomed the start of the Afghan peace talks and commended the Afghan Government's good will gesture of the release of the Taliban prisoners.
Condemning the recent terrorist attacks in Afghanistan – particularly those targeting civilians such as the recent attack in Bamyan, Kabul University, Kosar training center and the maternity hospital in Kabul – the OIC called on the Taliban to reduce violence and agree to an immediate ceasefire.
The OIC has, as an institution, reiterated its full support and commitment to the peace talks in Afghanistan and has asked the international community to do the same. It specifically asked states to support an Afghan owned inclusive peace process, to reach a political solution based on the renunciation of violence, cutting ties with terrorist groups, preservation and advancement of the Afghanistan's democratic, political and socio-economic and development achievements of the past 19 years and respect of the Afghan Constitution – benefiting all Afghans.
The OIC restated its support to the Afghan Government in its efforts to bring peace, both through the peace talks and through the work of the Afghan National Defence and Security Forces in their fight against terrorism. The OIC welcomed the successful renewal of the partnership between the international community and Afghanistan through the 2020 Afghanistan Conference in Geneva, especially in ensuring economic and social development in Afghanistan.
The OIC and its members state documented their support of various regional economic and infrastructure initiatives that aim to enhance corporation between Afghanistan and its neighbors. These include the trans-Afghanistan railway project, TAPI Mega project and CASA 1000 regional power project.
The Government of Afghanistan appreciates the OIC resolutions and values them as the refection of the collective Islamic international community's viewpoint. The Government of Afghanistan is looking forward to working closely with the OIC and its members states in order for the contents of these resolution to be put in practice.
https://bakhtarnews.com.af/muslim-world-stands-by-the-people-and-government-of-afghanistan/
----------
Islamist group planned Friday protests on Facebook: police
Senior Correspondent
29 Nov 2020
Protests and counter-protests erupted over the construction of Bangabandhu Sheikh Mujibur Rahman's statue. The Islamists launched protests against the demonstration by an organisation, named the Muktijuddho Mancha, which demanded the arrest of Mamunul for opposing the construction of Bangabandhu's statue.
Mamunul, who is also acting secretary general of Bangladesh Khelafat Majlish and president of its youth front Bangladesh Jubo Khelafat Majlish, demanded the removal of the statue of the Father of the Nation in Dhaka's Dholairpar at a party event in the capital on Nov 13.
The radical group took out a procession on Nov 27 after gathering at the Baitul Mukarram National Mosque on the pretext of Friday prayers. They ended up clashing with the police, according to two cases filed with Paltan and Ramna police.
Abu Bakr Siddique, OC of Paltan Police Station, said they had arrested 14 people on charges of obstructing police duty. Another nine people were arrested on similar charges, said Monirul Islam, OC of Ramna Police Station.
The arrestees were produced in a court on Saturday. The police did not seek a remand order for them. Most of the arrestees are aged between 18 and 30. Most of them are madrasa students, the police officials said.
According to the case details, the Muktijuddho Mancha occupied the Shahbagh intersection, demanding the arrest of Mamunul for his remarks opposing the construction of Bangabandhu Sheikh Mujibur Rahman's statue. The Muktijuddho Mancha also burnt the effigies of Mamunul.
Madrasa students and other supporters of Mamunul, who gathered in the guise of worshippers, took out a procession after the Friday prayers in protest against the Mancha's demonstration.
They marched on from the Nightingale point to Shantinagar. Clashes erupted after the police moved to disperse them at Shantinagar. The protesters threw brickbats at the police before fleeing through the alleyways in nearby areas.
Citing some arrestees, the case with the Paltan police states that the protests were galvanised by the Facebook group, "Shahikhul Hadis Muhammad Mamunul Haque Supporters Group".
https://bdnews24.com/bangladesh/2020/11/29/islamist-group-planned-friday-protests-on-facebook-police
----------
Batticaloa Sharia Campus will not operate as a private institution - G.L.
Sandasen MARASINGHE
29-11-2020
The Batticaloa Sharia Campus will not be allowed to operate as a private institution under its present management board, Education Minister Professor G.L. Peiris told Parliament yesterday.
Professor Peiris also said that the Batticaloa Sharia Campus will be absorbed by the Government and it shall be linked with a major university so that the campus's facilities could be utilized by the students.
"The present Government will never allow extremist forces to operate in the country unlike the Yahapalana Government," Prof. Peiris also assured.
Prof. Peiris made these observations responding to a question raised by Parliamentarian Dr. Kavinda Jayawardena regarding the controversial Batticaloa Sharia Campus.
"During our rule before 2015, we never allowed extremists to influence our society. But the Yahapalana Government in the pretense of reconciliation, allowed all sorts of extremists to enter the country. Some such extremist influencers were given on-arrival-visa during the Yahapalana regime. We always had a mechanism to eradicate such extremist campaigns," Prof. Peiris observed.
MP Dr. Kavinda Jayawardena questioned whether the courses at Batticaloa Campus include Sharia law and in reply the Minister Peiris said that the Government will closely scrutinize what goes into the syllabus. The Professor also said that the Government will not allow the campus to offer degrees in such subjects.
The Minister said the Government has decided to increase the number of students who are enrolled in universities and the Batticaloa campus could be used to facilitate the increased number of students.
Minister Peiris also pointed out that the extremists were nurtured by the previous Yahapalana Government and the country had to face the consequences. "This Batticaloa campus has facilities that are better than those of the Peradeniya University. Where does this money come from? These monies have entered the country in billions. The Central Bank needs to probe into this matter as to how such a large amount of money made it into the country.
They should find where the source is. The CBSL External Resources Department should investigate it. We shall never allow such financial transactions to take place. We will monitor as to what purpose these monies are brought into the country," he said.
http://www.dailynews.lk/2020/11/28/local/234710/batticaloa-sharia-campus-will-not-operate-private-institution-gl
----------
Ghazni Car Bomb Claims 30, Wounds 21
By Mohammad Haroon Alim
29 Nov 2020
A suicide vehicle attack occurred close to a public protection unit in Ghazni province on Sunday, officials confirmed.
The bomber detonated "a Humvee vehicle, loaded with explosives" near the public protection police unit.
Aref Rahmani, Ghazni Representative in Parliament told Khaama Press, that at least 30 people were killed and 15 others were wounded following the attack, a member of the provincial council told media.
But Zahirshah Nikmal, Director for Ghazni's Public Health department reported to Khaama press that at least 21 people are injured, Seven of the injured are in extremely critical condition.
The death toll in the casualties are expected to rise further, all casualties are said to be security members of the Unit.
In another suicide incident caravan of Atajan Haqbayan, the head of Zabul Provincial Council was hit with another suicide attack in the Qalat city of this province, Haqbayan, and three others were wounded in the attack.
Haqbayan, after the attack talked to the media, he seemed mildly injured in the incident.
It is said that at least three individuals are killed and 22 people including children were injured in the car bomb attack on the head of Zabul's provincial council.
In a similar report, Koh-e-Safi district governor of Parwan province was wounded in an ambush by unknown gunmen attack on his vehicle, Abdul Ghafoor Popalzai district governor of Kalakan confirmed to media.
The district governor was on the Kabul-Parwan highway when the incident happened.
https://www.khaama.com/ghazni-car-bomb-claims-30-wounds-21-098098/
----------
Doha Yields Agreement on Ground Rules: Intra-Afghan Negotiations
By Mohammad Arif Sheva
29 Nov 2020
DOHA, Qatar – The Afghan and Taliban negotiating teams have agreed on the procedural rules after months of struggle, said Mohammad Naeem Wardar, a spokesman for Taliban's political office in Qatar, Saturday evening.
This came days after an exclusive interview with Khaam Press Wardak said the Afghan and Taliban negotiating teams met on peace dialogues but had not yet reached to any agreement, denying reports that Doha talks have agreed on procedural rules.
While reports on such a breakthrough has been circulating around for weeks now, the spokesman confirmed on Saturday that both side of the negotiations "finalized" an agreement in 21 articles on November 15; but did not make any formal announcement prior to this report.
"…negotiations between the negotiating teams was completed and finalised in 21 articles on the 15th of November 2020," he said in a tweet. "The mentioned procedure was interpreted in the existence of the host/facilitator country on 17th November 2020."
Wardar also said a copy of the agreement "was handed over to the host/facilitator country" soon after both side of the negotiation agreed on terms and condition that can potentially lead to the main talks – the intra-Afghan negotiations on peace in Afghanistan.
The intra-Afghan talks launched on September 12, 2020; since then the negotiations were halted due to disagreement on the ground rules for the talks.
https://www.khaama.com/doha-yields-agreement-on-ground-rules-intra-afghan-negotiations-34534/
-----------
Arab world
Egypt: Hundreds Of Muslim Villagers Attack Christians After Alleged Facebook Comment On His Deemed Insulting To Islam
Sat 28 Nov 2020
by Tola Mbakwe
Hundreds of local Muslim villagers in Barsha in Minya governorate attacked the homes and properties of local Christians on Wednesday.
According to persecution watchdog Christian Solidarity Worldwide (CSW), the incident began after rumours circulated that a Christian man, who remains anonymous to ensure his security, had posted a comment on his Facebook page that was deemed insulting to Islam. The man claims that his page had been hacked.
The aggressors also tried to attack the church of Abou Sefin, where the congregation was celebrating the beginning of the Coptic fast. CSW said minibus belonging to the church was set on fire and several homes and properties were damaged, but no one was hurt. Police were arrived quickly, and arrested a number of local Muslims and Christians who were involved in clashes.
The allegation that sparked the violence comes amid a significant increase in the number of people arrested on charges relating to contempt of religion and blasphemy during 2020.
CSW's CEO Scot Bower said: "While we are relieved that nobody was hurt in this incident, the Egyptian government must do far more to combat sectarian violence and bring an end to the culture of collective punishment in the Minya region. This incident must be thoroughly investigated, with those responsible brought to justice. The societal hostility underpinning sectarian discord, which facilitates frequent outbreaks of violence in the area, must also be addressed."
CSW has urged Egyptian authorities to engage positively with human rights organisations to promote religious diversity through civic engagement and education.
Lord Jesus, thank You for the steadfast faith of our brothers and sisters in Egypt. May they know how much they are loved and valued in Your sight. Bring home the women and girls who have been abducted and restore them to their families and communities. Please change the hearts of those who wage war against Your people and reveal to them Your great love and mercy.
In a world of fake news there's never been a greater need for quality Christian journalism. Premier's mission is to provide the Church with the most up to date and relevant news, told from a Christian perspective. But we can't do it without you.
Unlike many websites we haven't put up a paywall — we want to keep our journalism free at the point of need and as open as we can. Premier's news output takes a lot of time, money and hard work to produce. No one in the UK is sharing news like we are across radio, magazines and online so please help us to continue that today.
For a monthly gift of £8 or more we'd also be able to send you a free copy of the brand new Premier Bible, a wonderful Anglicised version of the NLT packed with exclusive bonus content, reading plan and resources to help you get the most out of scripture.
https://premierchristian.news/en/news/article/egypt-hundreds-of-muslim-villagers-attack-christians-after-alleged-facebook-post
---------
UAE said blocking visas for 11 Muslim countries, as Israelis allowed in freely
By AP and TOI STAFF
28 November 2020
Travel agencies in countries across the Middle East and Africa said the United Arab Emirates has temporarily halted issuing new visas to their citizens, even as the Gulf state allows Israelis into the country visa-free following the normalization deal between the two countries.
Confusion over the unexplained UAE visa ban targeting 11 Muslim-majority nations, in addition to Kenya, swirled after a leaked document from Dubai's state-owned airport free zone surfaced this week, declaring restrictions against a range of nationalities.
Emirati authorities have not acknowledged the suspension that comes as the UAE welcomes Israeli tourists for the first time in history, the coronavirus pandemic surges across the region and those searching for work in the federation of seven sheikhdoms increasingly overstay their tourist visas amid a cascade of business shutdowns and lay-offs.
Israel's Foreign Ministry announced on Monday that Israel and the UAE have agreed on a plan that will allow Israelis to travel to the Gulf nation even before a mutual visa-waiver program comes into effect.
The two nations, which established formal diplomatic relations in September, have signed and ratified the visa-waiver program. However, it will only go into effect 30 days after both countries send each other official missives about the program.
Until the program takes effect, Foreign Minister Gabi Ashkenazi and ministry officials asked Abu Dhabi for an interim solution for visa-free travel, the Foreign Ministry said.
They agreed that Israeli airlines will be granted permits to enter the UAE for all Israeli passengers on their flights via an electronic process.
Israel's cabinet on Sunday ratified the mutual visa exemption agreement. The ministers voted unanimously to approve the treaty, which was signed in Tel Aviv last month. The UAE government reportedly ratified the agreement on November 1.
The UAE-Israel visa exemption agreement will mean that citizens from both countries will be allowed to enter each other's countries without having to go through the hassle of applying for a visa first.
It is the first such arrangement between the Jewish state and an Arab country. Notably, even Israel's closest ally, the United States, has so far refused to sign a visa exemption agreement with the Jewish state.
On Thursday a flydubai plane landed in Dubai from Tel Aviv with some 200 Israelis on board for the return leg of the first commercial flight to Israel by the UAE's state-owned airline. The Emirati budget airliner is offering twice-daily flights between the two cities.
Travel agents in Pakistan said the UAE has barred single men under the age of 50 from the country, although those traveling with family can still obtain visas. Last week, Pakistan's foreign office said it had "learnt that the UAE has temporarily suspended the issuance of new visit visas" in a move "believed to be related to the second wave of COVID-19."
Bestways Travel company south of Islamabad was skeptical. "With such specific age and gender limits, obviously this has nothing to do with the coronavirus," agent Jamchit Agha said. He said it was more likely tied to security concerns, or fears about young men overstaying visas to find jobs in Dubai, the region's financial hub. Dubai relies on millions of low-paid expat workers from Southeast Asia.
Several travel companies across Afghanistan also claimed the UAE had stopped issuing visas to citizens, without offering any explanation.
In Kenya, speculation has spread that the country landed on the UAE's blacklist over a spate of fake certificates showing negative results on coronavirus tests used to travel to the UAE, resulting in 21 arrests Thursday.
Two travel agents in Lebanon, a country that has sent legions of skilled workers to the UAE as its own economy plunged, confirmed visa applications were currently on hold except for those with a foreign passport or residency in a third country.
Iraqi Foreign Ministry spokesman Ahmed al-Sahaf said Iraq has not been officially informed of an Emirati travel ban against its citizens, but the country was aware of the reported blacklist and is following up through diplomatic channels. An employee at Dubai's budget airline, flydubai, in Baghdad said the company was taking far fewer visa applications, pending instructions expected next week.
Saeed Mohammed, an agent at Arabian Nights Tours in Dubai, said he frequently faces difficulties obtaining UAE entry visas for Iranians, Turkish citizens and those from Yemen's rebel-held capital due to simmering political tensions.
Despite long-standing visa troubles, Mohammed said he's never seen the 100% visa rejection rate of the past week, with some dozen visitor visas denied each day from Yemen, Iran, Turkey, Afghanistan and other countries.
One travel agent in Istanbul said she wasn't at all surprised by the ban, especially given the UAE's growing trend of rejecting Turkish visas over the past few months — the result of a political rivalry, not the coronavirus, she added.
Israel's national carrier El Al said Monday that, starting on December 13, it will operate 14 weekly flights to Dubai, including three on Sundays and Thursdays and two on other days, presumably excluding Saturdays.
Prices will start at $299 (about NIS 1,000) per ticket, the company said, with premium tickets starting at $599 (more than NIS 2,000) and Business Class tickets at $899 (NIS 3,000 and change).
During a visit to Israel by Bahraini Foreign Minister Abdullatif bin Rashid al-Zayani last week, Israel and Bahrain — which have similarly recently normalized relations with US mediation — signed an agreement allowing citizens from each country to apply online for a visa to the other country by December 1.
https://www.timesofisrael.com/uae-said-blocking-visas-for-some-muslim-countries-as-israelis-allowed-in-freely/
-----------
Saudi Arabia ranked sixth for safest travel
RAWAN RADWAN
November 28, 2020
JEDDAH: Saudi Arabia has ranked sixth among the safest travel destinations during the COVID-19 pandemic.
According to an article published by Wego Travel Blog, called "Safe Places to Travel During the COVID-19 Pandemic," the Kingdom was the only Middle East country in the group. Countries were chosen according to an EU methodology for its travel risk assessment.
The classification methodology includes epidemiological criteria, countries' ability to significantly decrease and stabilize the spread of the virus for a sustained period of time, health system capacity, and centers with large-scale testing capacity to detect and monitor infections.
Its daily death count has been decreasing as of late, with fewer than 20 deaths per day since Nov. 12. The total number of deaths recorded in the Kingdom since the beginning of the pandemic has reached 5,870.
There are approximately 5,000 active cases and the number of recoveries has reached 346,023, with 401 recorded recoveries on Saturday. The Kingdom's recovery rate is 96.9 percent.
Riyadh recorded the highest number of new cases with 55, Jeddah was second with 28, Madinah had 15 cases and Makkah 12. There are 675 patients in critical care units, a decrease from Friday's 698.
Health clinics set up by the ministry as testing hubs or treatment centers have helped hundreds of thousands of people around the Kingdom since the outbreak.
Takkad centers provide COVID-19 testing for those who show no or mild symptoms or believe they have come into contact with an infected individual, while the Tetamman clinics offer treatment and advice to those with virus symptoms, such as fever, loss of taste and smell, and breathing difficulties.
https://www.arabnews.com/node/1769796/saudi-arabia
---------
New Zealand
Christchurch mosque attack inquiry: Evidence suppressed for 30 years, gunman's forever
Isaac Davison
28 Nov 2020
Evidence given by ministers and public sector bosses to the Royal Commission of Inquiry into the Christchurch terrorist attack will be suppressed for 30 years.
And an interview with the Australian-born terrorist will never be released out of concern it could inspire and assist further attacks.
The inquiry's report was provided to Internal Affairs Minister Jan Tinetti yesterday and will be publicly released on December 8, after first being shared with victims' families and political party leaders.
It will detail any failings by police, spies, and other government agencies in the leadup and aftermath to the mosque shootings on March 15, 2019, in which 51 people were killed.
In a final minute issued yesterday, commissioners Sir William Young and Jacqui Caine said evidence and submissions by public sector chief executives and current and former ministers would be subject to non-publication orders for 30 years.
National security was cited as a reason for the suppressions. Full publication of the evidence could provide a "how-to manual for future terrorists", the commissioners said. Those concerns would likely have "dissipated" in 30 years, they said.
"We told them that our process was private and that we would not publish in our report what they told us without first going back to them.
"If there are significant failings, the people at the top are responsible for that. And so I find it difficult that those people would continue in their roles.
"Also, for past ministers of the Crown who are included in that, there is no accountability for them unless the report itself contains sufficient evidence and submissions that recounts any failings, negligence, incompetence on their part."
A coroner's inquest would also allow exploration of aspects of the attack which the Royal Commission had ruled out, such as the role of social media companies or recommendations for gun reforms.
The commissioners noted that some members of Muslim communities, academics and public sector agencies wanted the inquiry's interview with terrorist Brenton Tarrant to be published.
"Some people are frustrated that, by his guilty pleas, the individual avoided a trial at which the reasons for the terrorist attack might have been explored," their minute said.
The transcript would be provided to the New Zealand Police and the New Zealand Security Intelligence Service (SIS) to help them improve their knowledge of extreme right-wing and lone actor terrorists, the commissioners said.
But it would not be publicly released because it included details about how he planned and prepared for the attack and could enable further attacks.
It also included acknowledgements by the terrorist about what he felt were "mistakes" in the way he carried out the terrorist attack - which could be read by potential terrorists as "advice".
A number of individuals involved in the inquiry would also have their identities suppressed, including the police officers who vetted Tarrant for his firearms licence and the people who provided references for him.
"I know this will have been a challenging process for whānau, survivors and witnesses of the terrorist attack and I want to acknowledge their engagement," she said in a statement yesterday.
"It is only right that they have the space and opportunity to privately reflect on the findings. We ask people to respect their privacy during this time," Tinetti said.
https://www.newstalkzb.co.nz/news/national/christchurch-mosques-terror-attack-evidence-suppressed-by-royal-commission-for-30-years/
-----------
Christchurch mosque attack: Police admin failure allowed terrorist to get gun licence - report
Patrick Gower
29-11-2020
A failure by police to follow their own administrative guidelines allowed the March 15 terrorist to get his gun licence, according to an investigation by leading members of New Zealand's Muslim community.
It found the terrorist should never have got the gun licence because he did not have appropriate referees - but police gave it to him anyway.
Mahrukh Sarwar and Nour Malak investigated how police let the terrorist get a gun licence that allowed him to buy the weapons he used in last year's attack.
The police forms show one referee must be a spouse, partner, or next-of-kin who normally resides with or is related to you, and the other must be a person who is unrelated to you, over 20 years old, and knows you well.
The type of gun used in the attack was subsequently banned, but the report shows when the terrorist got his license, police had "deprioritised" checks.
"Due to increased demand in other police priority areas, fewer resources have been available for firearms licensing activities in the 2017-18 year," it says.
"And because they were putting all their resources and all their focus on the Muslim community, they missed right-wing extremism and they missed the Christchurch terrorist."
The report details that, starting with Anders Breivik's mass murder in Norway in 2011, there have been 45 white supremacist terrorist attacks that should have been warning signs for our spies.
https://www.newshub.co.nz/home/new-zealand/2020/11/christchurch-mosque-attack-police-admin-failure-allowed-terrorist-to-get-gun-licence-report.html
----------
Pakistan
Imam Of Badshahi Mosque Visits Islamabad Chamber Of Commerce And Industry
Our Correspondent
November 29, 2020
Islamabad : Imam and Khateeb of Badshahi Mosque, Lahore Molana Syed Muhammad Abdul Kabir Azad visited Islamabad Chamber of Commerce and Industry (ICCI).
He held a meeting with ICCI President Sardar Yasir Ilyas Khan and exchanged views on matters of mutual interest including the role of religious scholars in promoting peace, tolerance and interfaith harmony in the society.
Molana said that business community was playing an important role in the economic development of the country by promoting business and industrial activities besides making significant contributions towards the public welfare projects, which was laudable.
He discussed the prospects of promoting sharia compliant businesses that would give further boost to the business and economic activities in the country.
Molana said the Ulema were playing crucial role in foiling any nefarious agenda against Pakistan as they were the flag-bearers of unity, brotherhood, tolerance and peace in the society.
He said the Ulema belonging to all schools of thought were one on integrity and stability of the country and would never let the elements working against the interests of Pakistan to succeed in their conspiracies.
Speaking on the occasion, the ICCI president highly appreciated the services of Molana Syed Muhammad Abdul Khabir Azad for Islam and promotion of interfaith harmony in society.
He said that Molana Saheb was playing key role in promoting a positive and true image of Islam and Pakistan at national and international level, which was commendable.
He said ICCI would consider organizing a seminar on promoting sharia compliant businesses where Molana Syed Muhammad Abdul Khabir Azad would be invited as Chief Guest.
He said the peace and harmony was very important for better growth of business activities and hoped that our Ulema would continue to play their positive role in making Pakistan a peaceful and harmonized country.
ICCI Vice President Abdul Rehman Khan, Baser Daud, Tariq Nusrat Wani, Khalid Chaudhry and others also spoke on the occasion and paid tribute to the great services of Molana Syed Muhammad Abdul Khabir Azad for Islam and Pakistan.
https://www.thenews.com.pk/print/750728-imam-of-badshahi-mosque-visits-chamber
-----------
Sindh High Court Orders To Stop Individuals Building Mosques On State Lands
Our Correspondent
November 28, 2020
SUKKUR: The Sindh High Court circuit bench Sukkur on Friday ordered all the deputy commissioners to remove encroachments and directed them to prevent any construction even for a mosque by individuals on state lands, suggesting the government to build mosque and appoint Pesh Imam and Mowzaan on salary.
While hearing a petition against the encroachment on proposed lands and revenue quarters, the SHC ordered the deputy commissioners to remove all illegal encroachments from the state lands and proposed housing schemes, especially from the revenue employees' quarters. Meanwhile, the court has ordered all the deputy commissioners to vacate not only revenue department's quarters but other properties as well. The court had adjourned the case till December 17.
https://www.thenews.com.pk/print/750459-shc-orders-to-stop-individuals-building-mosques-on-state-lands
----------
Asad promises Karachi-like uplift projects for other Sindh cities
M.B. Kalhoro
29 Nov 2020
SUKKUR/LARKANA: Federal Minister for Plann­ing, Development and Special Initiatives Asad Umar has vowed that the federal government will soon announce Karachi-like development packages for other cities of Sindh.
During his interaction with media personnel in Sukkur and Larkana on Saturday, Mr Umar held the Pakistan Peoples Party's (PPP) government in Sindh responsible for problems of the province.
Speaking at a workers' convention titled 'Youth of Sukkur' and later to reporters at Jatoi House in Sukkur, he severely criticised the leaderships of the PPP and other opposition parties, saying that they had no interest in solving problems of the people.
He criticised the opposition parties for what he called their non-seriousness towards the real issues of the people. He claimed the PTI government wanted to sit with the opposition for finding ways to solve the problems of the people, but the opposition parties were not ready to talk about the real issues of the people.
Mr Umar said the federal government was fully aware of problems being faced by the people of Sindh, adding that it would execute federal-funded development projects in the province.
The federal minister said Prime Minister Imran Khan was deeply concerned about the rising inflation in the country and he would soon take important decisions to control it.
He said the prime minister wanted to provide equal opportunities to the people of all parts of the country and for the purpose he had planned many initiatives. PM Khan and his team were working to make this country secure and its people prosperous, he added.
He said the prime minister had announced a development package for nine districts of Balochistan. Imran Khan was not the leader of only Punjabis, Pakhtuns, Sindhis, Balochs or Mohajirs, instead he was the leader of every Pakistani and he would work for all of them, he explained.
Mr Umar said that Pakistan's response to the Covid-19 pandemic had been appreciated globally. He cautioned the people that cases of coronavirus were rising in the country, urging them to follow the government's prescribed SOPs (standard operating procedures) to prevent the spread of the second wave of the virus in the country.
The federal minister said the government was making all-out efforts to protect the people from the virus and save their livelihoods from its impact.
He said the government had a plan to make Pakistan Steel Mills functional and federal Minister for Pri­vatisation Mohammadmian Soomro was working on this plan. The government would increase its capacity of production which would provide employment opportunities to the people.
Leader of the Opposition in Sindh Assembly Firdous Shamim Naqvi, members of the provincial assembly Sidra Imran, Bilal Ghaffar, Arsalan Taj, Shahzad Qureshi, Dr Sanjay Gangwani, Mehmood Moulvi, Mubeen Jatoi and others were present on the occasion.
Also speaking at some gatherings in Larkana, Mr Umar again criticised the opposition parties and said that the leaders of these parties had joined hands to pressurise Prime Minister Imran Khan.
Despite billions of rupees had been allocated for Larkana, the city was in a very bad condition, he said, adding that no major development project was launched by the provincial government for the city.
He claimed that there was a political stagnation in Sindh, adding that for breaking this political stagnation all political parties should support the prime minister's vision.
https://www.dawn.com/news/1593008/asad-promises-karachi-like-uplift-projects-for-other-sindh-cities
----------
Opposition challenging govt writ, violating court order: CM's aide
Aamir Yasin
29 Nov 2020
RAWALPINDI: Special Assistant to the Punjab Chief Minister on Information Firdous Ashiq Awan on Saturday lashed out at opposition parties and said that they were not only challenging the government writ and exposing people to Covid-19, but openly violating the court orders.
Addressing a press conference at the Rawalpindi Press Club, she said the law will take its course against the Pakistan Democratic Movement (PDM) leadership for breaking the stadium's locks in Multan.
Accompanied by PTI North Punjab President and MNA Sadaqat Ali Abbasi, the special assistant noted that the second wave of Covid-19 was proving to be more dangerous as compared to the first one and the next two weeks were very crucial.
She said they accepted the democratic right of the opposition parties but it was also "our responsibility to protect the lives of the people from coronavirus so we will not spare those who violate the law and play with people's health".
Firdous Ashiq Awan said it was strange that PML-N leaders were spreading hatred in Multan on the day when their mother's body was lying at home for burial and they were busy in politics.
She said that Punjab Chief Minister Usman Buzdar knew the democratic rights of the opposition but it is their responsibility to protect the people from Covid-19.
"The miscreants are trying to take law in their hands in Multan which is the city of saints. The law has the power to stop them and also provide the constitutional and legal protection to the people," she said.
"According to our traditions, there is nothing more important than honor and respect of mother. Nawaz Sharif should have shown courage and participated in funeral of his mother," she said.
https://www.dawn.com/news/1592957/opposition-challenging-govt-writ-violating-court-order-cms-aide
-----------
Ordinance restraining children from evicting aging parents being considered
Malik Asad
29 Nov 2020
ISLAMABAD: The government is considering a proposal to promulgate an ordinance that would restrain children from evicting their aging parents from their homes.
Federal Law Minister Dr Farogh Naseem on Saturday discussed the proposal with Prime Minister Imran Khan to promulgate the ordinance to prescribe the right of parents to evict their children and their spouses and protect rights of parents living with their children, a Law Ministry statement said.
Firstly, it should restrain children from evicting their parents from their homes if the houses are owned by the children. Secondly, if the houses are owned by parents, they should have the right to evict children and their spouses through simple procedures i.e. within 10 days through intervention of the police or district management. Thirdly, if houses are constructed with funds provided by parents or grandparents, but they are registered in the names of children, some remedy is to be provided to parents till the time they are alive.
Dr Naseem told Mr Khan that if such an ordinance were promulgated it would earn the prime minister, law minister, the entire cabinet and also the president prayers of all parents of Pakistan.
Within a matter of seconds, the prime minister approved the proposal and asked the law minister to urgently draft the ordinance.
https://www.dawn.com/news/1593004/ordinance-restraining-children-from-evicting-aging-parents-being-considered
----------
'52pc of forced conversion cases reported in Punjab'
Staff Reporter
29 Nov 2020
LAHORE: Minority rights organisation Center for Social Justice (CSJ) held a consultation where they denounced the rise in the incidents of forced conversion of women, and specifically of underage girls from the religious minority communities.
CSJ stressed that around 162 questionable conversions had been reported in the media between 2013 and 2020 and abuses which had occurred in violation of religious freedom enshrined in Pakistan's constitution of 1973.
According to CSJ data, around 52 per cent of the incidents of alleged forced conversions had occurred in Punjab, 44pc in Sindh, while 1.23pc each were reported in the federal and Khyber Pakhtunkhwa areas, while one case (0.62pc) was reported from Balochistan.
The highest number of such cases — 21 — was reported in Bahawalpur during the past seven years roughly. Similarly 14 cases were reported in Lahore, 12 in Karachi, 10 in Faisalabad, 8 in Hyderabad, 6 each in Tharparkar, Ghotki and Kasu, 5 in Badin, 4 each in Umarkot and Sialkot.
The figures show that 54.3pc of the victims (girls and women) belonged to the Hindu community, 44.44pc Christian while 0.62 pc belonged tothe Sikh and Kalash communities.
Over 46.3pc of the victims of forced conversion were minors clearly (some 32.7 pc of them aged between 11-15 years), while only 16.67pc of the victims were above 18 years, though the claim was not always verified by the lower courts through record of the National Database and Registration Authority (Nadra), school etc.
Speakers at the event agreed that the actual ratio of the underage victims could be higher because the exact age of over 37pc of the victims was not mentioned in the reportage.
A steady increase in conversions from three cases in 2013, to 13 in 2014, 20 in 2015, to 31 in 2016 was reflected in the data. Dropping slightly to 23 in 2017, then further to 11 in 2018. However, the highest number of 49 cases was reported in 2019, while 13 cases have been reported till November 2020.
Peter Jacob, Executive Director of CSJ and Chairperson of the People's Commission for Minorities' Rights stated that due to the absence of adequate response from the state, involuntary, unethical and manipulated conversions and marriages pose a serious threat to the social cohesion, religious freedom and the respect for human rights.
They said an administrative and policy intervention on an urgent basis was necessary to protect the rights of religious minorities, especially of minority women and children.
"The government should strengthen institutional protection of minority rights by undertaking legal, policy and administrative measures to cater to the challenges of forced conversions in Pakistan," he said.
The participants initiated a signature campaign addressed to the prime minster, urging the government to consider recommendations presented by the People's Commissions for Minorities Rights and CSJ.
The recommendations urged the federal human rights ministry to carry out a comprehensive study and analysis of the issue, including the under-trial cases; the parliamentary committee established in November 2019 should only make statements based on factual inquiries and comprehensive data analysis.
It was demanded that police must investigate all such cases under Section 498-B of the Pakistan Penal Code, as this enactment was particularly relevant to forced conversion and marriages involving minority women. The law has not been applied since its enactment in 2017.
They also said that the majority Act be amended to bring it in conformity with the NADRA Act and other laws.
https://www.dawn.com/news/1592945/52pc-of-forced-conversion-cases-reported-in-punjab
-----------
Mideast
Muslim world battling Islamophobia 'virus' alongside COVID-19, says Erdoğan
Nov 28 2020
AHWAL
Turkish President Recep Tayyip Erdoğan on Saturday condemned what he called the rising Islamophobia in Western countries, saying Muslim countries were battling the "virus" of prejudice against Islam alongside the deadly coronavirus.
The Turkish president referred specifically to France, accusing the European nation of "contempt" towards the Prophet Muhammad "under the guise of freedom of thought," state-run Anadolu news agency reported.
Erdoğan's remarks arrive amid an ongoing row with France over French President Emmanuel Macron's crackdown on radical Islam,which he maintains has become a global problem, and efforts to create an Islamic model native to France devoid of what he calls foreign influence. The Turkish president has blasted his French counterpart over his stance, while calling on Muslim countries to boycott all French products.
"Cultural racism, discrimination, and intolerance have reached levels that cannot be concealed in countries that for many years have been hailed as cradles of democracy," Erdoğan said in a video message to the 23rd annual convention of the Muslim American Society.
Noting that the marginalization of Muslims due to their beliefs, language, names, or dress has become ordinary in many countries, Erdoğan said Islamophobia and xenophobia had become a trend guiding state policy in some Western countries.
This year, the Muslims world has been confronted by only the deadly coronavirus, but the "virus that is Islamophobia," Erdoğan said.
https://ahvalnews.com/islamophobia/muslim-world-battling-islamophobia-virus-alongside-covid-19-says-erdogan
---------
Iran warns US, Israel against 'adventuristic' moves after scientist assassination
Source : Press TV
November 29, 2020
Iran's Ambassador to the United Nations Majid Takht-Ravanchi says there are "serious indications of Israeli responsibility" in the assassination of Iranian physicist Mohsen Fakhrizadeh.
In a letter to UN Secretary-General Antonio Guterres and the UN Security Council (UNSC) on Friday evening, Iran's ambassador to the world body said that the Islamic Republic reserves the right to defend itself.
"The cowardly assassination of Martyr Fakhrizadeh -- with serious indications of Israeli responsibility in it – is another desperate attempt to wreak havoc on our region as well as to disrupt Iran's scientific and technological development," Takht-Ravanchi said in the letter.
The letter came hours after Fakhrizadeh, the head of the Defense Ministry's Organization of Defensive Innovation and Research (SPND), was assassinated by terrorists in his vehicle in a small city east of the capital Tehran in an attack that also involved a car bombing.
"Warning against any adventuristic measures by the United States and Israel against my country, particularly during the remaining period of the current administration of the United States in office, the Islamic Republic of Iran reserves its rights to take all necessary measures to defend its people and secure its interests," the letter further read.
The letter went on to refer to the assassination of several prominent Iranian scientists in terrorist attacks over the past decade, saying that there was strong evidence that some foreign parties were behind those assassinations.
"Over the current decade, several top Iranian scientists have been targeted and assassinated in terrorist attacks and our firm evidence clearly indicates that certain foreign quarters have been behind such assassinations," it said.
"One of the latest services of Martyr Fakhrizadeh was his outstanding role in the development of the first indigenous COVID-19 test kit, which is a great contribution to our national efforts in curbing the COVID-19 pandemic at a time when Iran is under inhumane sanctions of the United States, strictly preventing our access to humanitarian goods including medicines and medical equipment," he said.
In conclusion, Iran's envoy urged Guterres and the UNSC to strongly condemn the terrorist act and take necessary measures against its perpetrators.
What was clearly a state-sponsored assassination of our prominent scientist was also a clear violation of int'l law, designed to wreak havoc on our region.
Separately on Friday, Iran's Judiciary Chief Ebrahim Raeisi said the "big crime" was carried out by "traitorous elements linked to foreigners and international Zionism with the sinister goal of hindering the country's scientific progress."
Raeisi further praised the scientist's role in speeding up Iran's advancements in various scientific fields, including the nuclear industry, saying Fakhrizadeh's martyrdom will not block the country's path forward.
He called on the country's security and intelligence institutions in addition to relevant judicial bodies to do their utmost to arrest and serve justice to the criminals and mercenaries involved in the crime as soon as possible.
https://en.abna24.com/news//iran-warns-us-israel-against-adventuristic-moves-after-scientist-assassination_1090331.html
----------
Senior Pakistani Shia cleric: Zionists behind assassination of Iranian scientist
Source : Irna
November 29, 2020
Secretary General of Majlis Wahdat-e-Muslimeen (MWM) strongly condemned the assassination of a prominent Iranian scientist Mohsen Fakhrizadeh, and said the Zionist regime and the United States are behind the heinous cowardly act.
Allama Raja Nasir Abbas Jafri in a statement on Saturday said the Zionist regime is playing with a fire which will soon engulf the illegitimate state.
Mohsen Fakhrizadeh, the head of Research and Innovation Organization of the Iranian Defense Ministry, was assassinated by terrorists in a terrorist attack near Tehran on Friday afternoon.
Allama Raja Nasir Abbas Jafri added that agents of the United States and the Zionist regime have assassinated the prominent defense scientist of Iran which is very unfortunate.
He said targeting Iran's most important figure is the worst aggression and interference in the internal affairs of the states, adding that the Zionists are playing with fire which will soon engulf the illegitimate Israeli regime.
He said that the United States, the Zionist regime and some Arab dictators in the region States are bent on destroying the peace of the region.
Allama Jafri added that the US is on the verge of collapse and the end of the Zionist regime is an eternal and undeniable fact. He said only some of their mercenaries in the region have the illusion of showing their power by buying security from outside.
Addressing some Arab rulers, he said that they should stop spreading hatred and a hypocritical approach and play a role in strengthening the position of the Islamic world.
Iranian Foreign Minister Mohammad Javad Zarif reacting to the assassination of Mohsen Fakhrizadeh, Head of the Research and Innovation Organization of the Ministry of Defense, highlighted the Israeli regime's role in the act.
"Iran calls on int'l community—and especially EU—to end their shameful double standards & condemn this act of state terror," Zarif wrote in his Twitter account on Friday.
https://en.abna24.com/news//senior-pakistani-shia-cleric-zionists-behind-assassination-of-iranian-scientist_1090326.html
----------
Hussein Ibrahim Taha to head Muslim bloc OIC
Omer Erdem
28.11.2020
Hussein Ibrahim Taha from Chad was on Saturday elected as the next secretary general of the Organization of Islamic Cooperation (OIC).
Taha was elected as the two other contenders from Benin and Nigeria decided to support him and Al-Othaimeen withdrew his own candidacy.
Established in 1969, the OIC is the world's second largest inter-governmental organization after the UN, with 57 member states spread across four continents.
Upon completion of his primary and secondary education in Chad, Taha started his undergraduate studies in Paris at the National Institute of Oriental Languages and Civilizations (INALCO) in 1972.
Taha, who was appointed as Chad's Ambassador to Taiwan in 2001, continued his diplomatic career until 2017 as the Ambassador to France, Spain, Portugal, Greece and the Vatican.
He was appointed as an Adviser to the President and Deputy Secretary General in 2019 after his ministerial duty, and was nominated for the OIC General Secretary by the Chadian government in November 2020.
https://www.aa.com.tr/en/middle-east/hussein-ibrahim-taha-to-head-muslim-bloc-oic/2059182
----------
Turkey condemns 'threat message' against Muslim scholar in Greece
Nov 29 2020
AHVAL
Turkey slammed on Saturday a racist threat message written on the elevator of an apartment building in northeastern Greece where Islamic scholar Ahmet Mete is residing.
"This incident once again revealed the intolerance of racist and extremist groups in Greece towards the existence of the Turkish Minority in Western Thrace and their representatives," Turkey's Foreign Ministry spokesman Hami Aksoy said.
"We expect the Greek state to enlighten the heinous incident and bring its perpetrators to justice by carrying out an investigation with due seriousness and sensitivity," he added.
Western Thrace's Muslim-Turkish minority of around 150,000 people has long been an issue of contention between Ankara and Athens with Turkey calling out Greece for what it calls failure to grant full rights to the minority, including a state denial of ethnic identity and restrictions on freedom of religion.
https://ahvalnews.com/turkey-greece/turkey-condemns-threat-message-against-muslim-scholar-greece
---------
India
Samajwadi Party Against 'Love Jihad' Law, Will Oppose It In House
Pervez Siddiqui
Nov 29, 2020
Lucknow: Samajwadi Party will oppose the 'love jihad' law on forced religious conversions when it comes up in the assembly next month. SP president Akhilesh Yadav made the announcement after Governor Anandiben Patel signed the ordinance.
Yadav said SP is not in favour of such law and will oppose it strongly. "We will ask government to bring a law which guarantees doubling of farmers' income," he said, questioning the law as government schemes offer incentives for inter-faith marriages.
"On one hand, the government offers Rs 50,000 to those opting for inter-caste and inter-religion marriages, and on the other, they have brought this law," he added.
He also cast doubts on 'selling' a mall and expressway and said it will be probed 'when time comes'.
The SP chief accused BJP of selling a government-owned shopping mall worth Rs 1,000 crore to a private entity at throwaway prices. He further added that an expressway was also being sold in a similar fashion.
"Time will expose the corruption this government is indulging in," he added.
He said it is ironic that government talks of zero tolerance for corruption but, in an international survey, the country has figured on the top of the list of nations where bribery is most prevalent.
Hitting out at CM Yogi Adityanath's announcement of setting up 10,000 MW solar power units, Yadav said, "He does not know anything about a solar panel."
"During SP government, we had set up a solar power unit on the suggestion of country's President. The unit produced enough power to meet the needs of an entire village, but this government snapped the supply saying the villagers have not paid bills.
https://timesofindia.indiatimes.com/city/lucknow/akhilesh-sp-against-love-jihad-law-will-oppose-it-in-house/articleshowprint/79469754.cms
----------
Tripura Hindu outfit seeks nationwide law to curb 'Love Jihad'
Priyanka Deb Barman
Nov 28, 2020
The Hindu Jagaran Mancha in Tripura is demanding an effective law to curb alleged 'love jihad' across the country and nearly 300 members of the outfit blocked the National Highway at Subhash bridge in Udaipur of Gomati district on Friday in support of their demand.
Citing instances of alleged 'love jihad' across the country and claiming that incidents like the recent abduction and rape of a Hindu minor girl at Boxanagar-- a border village in Sepahijala district— by a youth from a minority community were on the rise, the agitators demanded a stringent law to curb forced interfaith relationships.
A case was registered on October 27 against the youth under Section 366 (A), 376 and 4 of POCSO Act. Within a few days after her abduction during the Durga puja festivities, the minor girl was recovered from Durlabhnarayan area in the district, but the accused is yet to be arrested.
"The protesters demanded a strict law to check love jihad. The prime accused in the abduction and rape of the minor is absconding and police investigation is on to trace the accused," said Dhrubha Nath, Udaipur sub divisional police officer.
"Around nine cases of Love Jihad were lodged at different police stations in Tripura during the Covid-19 pandemic. No accused has been arrested in any of these cases. A law can act as a safeguard for such cases," said Uttam Dey, Jagaran Mancha president.
However the police rejected the claim and said no such case related to purported 'love jihad' was lodged in the state in past three-four months.
The protest comes on a day when Uttar Pradesh governor Anandiben Patel gave assent to an ordinance against forcible or fraudulent religious conversions, which provides for imprisonment of up to 10 years and fine of up to Rs 50,000 under different categories.
Uttar Pradesh Prohibition of Unlawful Conversion of Religion Ordinance, 2020 has been brought in by the Yogi Adityanath government to curb religious conversions only for the sake of marriage. According to the ordinance, a marriage will be declared "null and void" if the conversion of a woman is solely for that purpose and those wishing to change their religion after marriage need to apply to the district magistrate.
Madhya Pradesh government has also indicated that it would double the duration of sentence to 10-years of rigorous imprisonment from a 5 year sentence for cases of forceful religious conversions and marriages by enticement or fraud.
https://www.hindustantimes.com/india-news/tripura-hindu-outfit-seeks-nationwide-law-to-curb-love-jihad/story-hdXgAEZOBXS29YLO38ImzO.html
----------
Muslims constitute 30% of West Bengal voters; BJP eyes this core votebank of Mamata Banerjee
Ravi Dubey
Nov 27, 2020
As the West Bengal Assembly elections are nearing, political parties have started to woo Muslim voters. This is considered the core vote of the Trinamool Congress; the Left-Congress also keeps an eye on it. Now BJP has also started expanding its reach to this community. BJP's Bengal in-charge Kailash Vijayvargiya said in a meeting on Wednesday that our party's specialty is that 'Siraj and Jai Shri Ram' sit together on its platform. He said this because Siraj Khan, a former TMC Zilla Parishad member of Midnapore, joined the BJP along with his supporters. Vijayvargiya claimed that the difference between Prime Minister Narendra Modi and Chief Minister Mamata Banerjee is that while the PM carries everyone along, the Chief Minister of West Bengal advocates a special class.
About 30 percent of Muslim voters in Bengal are in a decision-making role in about 100 of the state's 294 seats. Muslim voters in Bengal are considered the core vote bank of TMC since 2010. However, along with the Left and Congress, the BJP is now trying to bring the Muslim community into its fold.
In West Bengal, it is not easy for any party to ignore the Muslims and win the electoral battle. The BJP also held Muslim conferences to woo 30 percent strong Muslim votes in the 2018 Bengal Panchayat elections. The BJP had given tickets to more than 850 people from the Muslim community, in which 27 had won. In the 2016 assembly elections, the BJP fielded 6 Muslim candidates.
https://www.dnaindia.com/analysis/news-muslims-constitute-30-of-west-bengal-voters-bjp-eyes-this-core-votebank-of-mamata-banerjee-2858784
----------
Europe
European Churches Defend Jews And Muslims Against Circumcision Bans
John Burger
11/28/20
At a time when anti-Semitism has shown up in more ways and more places in Europe, a number of countries are considering a ban on a practice that has been deeply ingrained in Jewish life for eons.
Denmark's Parliament is expected to vote soon on a motion to ban circumcision, according to Rabbi Andrew Baker, the American Jewish Committee's director of international Jewish affairs, writing at Religion News Service this week. Finland and Belgium are considering similar legislation, he said. In recent years, legislators and activists in Iceland, Germany and Sweden have attempted to prohibit the practice.
Baker attributes the push for bans, in part, to children's rights defenders who claim it is an act of disfigurement and mutilation. "In fact, some compare it to female genital mutilation, a barbaric procedure that is banned in most countries," he writes.
While medical circumcision of infants is common in America, the practice is much rarer in Europe. But in Jewish and Muslim communities, circumcision is still considered a religious obligation, but western Europeans, who are "strongly secular," tend to view organized religion with scepticism and even disdain, he explained.
Baker is also convinced that anti-Muslim animus plays a role in the current anti-circumcision campaign. "The politicians leading the charge in the Finnish Parliament are members of a right-wing, nationalist party well-known for attacking Muslims but with little interest in children's rights," he writes.
Churches in Europe have spoken out against the proposals. Two years ago, when Iceland was considering such legislation, the Council of Bishops' Conferences of Europe (CCEE) issued a statement saying the move "would not only amount to an infringement of the fundamental human right of Freedom of Religion or Belief, but would also be perceived as a signal that people with a Jewish or Muslim background are no longer welcome to Iceland."
Cardinal Angelo Bagnasco, President of the CCEE, said that "the Catholic Church is particularly committed to defending the child's right, which also includes the right — the duty of the family to educate their children according to their own religious convictions. This initiative is against religious freedom and the principles of democracy proper to a civil society."
Last year, The Church of Sweden voiced support for Jewish and Muslim communities in their fight against the proposed circumcision ban.
Both Sweden and Germany adopted compromise legislation that imposed some conditions regulating the procedure and provided additional medical oversight, while still permitting a circumcision to take place in a synagogue or family home, Baker said.
https://aleteia.org/2020/11/28/european-churches-defend-jews-and-muslims-against-circumcision-bans/
----------
Ebbw Vale man charged with threatening to kill Muslims
By Iwan Gabe Davies
29-11-2020
A MAN was remanded in custody after being charged with threatening to kill Muslims, burn down a mosque and blow up council buildings.
Robert John Armstrong, 44, from Ebbw Vale, appeared before Newport Magistrates' Court charged with making threats to kill and threatening criminal damage.
The defendant faces allegations he threatened to kill "members of the Muslim community", Blaenau Gwent council employees and "people of Pakistani origin".
Armstrong also faces charges under the Criminal Damage Act of threatening to burn down a mosque and blow up Blaenau Gwent council buildings.
Armstrong, of Station Road, Waunlwyd, is due to appear before Newport Crown Court on December 23.
https://www.southwalesargus.co.uk/news/18906550.ebbw-vale-man-charged-threatening-kill-muslims/
----------
Quebec mosque shooter has sentence reduced by 15 years
BY LIBYAN EXPRESS
NOV 28, 2020
The Quebec Court of Appeal has ruled in the case of the city mosque shooter by reducing his sentence by fifteen years, making it so he is eligible for parole after serving 25 years.
Alexandre Bissonette who shot and killed six people in a mosque in 2017 was sentenced to forty years without the possibility for parole, but due to a court ruling that considers serving life sentences consecutively unconstitutional, he is now eligible to apply for parole after just 25 years served.
Bissonette pleaded guilty to the murder of six men and injury of nineteen others in a mosque shooting in 2019, his lawyers claimed that he was not islamophobic and could use from psychiatric help and not prison.
People have taken to social media to express their disdain for the ruling in favour of Bissonette, saying it is unfair that the victim's families will still be grieving in 25 years and he'll have the chance to be back out in the world in his early 50s, the same age of some of his victims.
Bissonnette showed no remorse during his trial and expressed a desire to take the lives of more Muslims in his interrogation, stating that he wanted to protect people from possible future terrorist attacks.
https://www.libyanexpress.com/quebec-mosque-shooter-has-sentence-reduced-by-15-years/
----------
Russian official: Fakhrizadeh was assassinated with US green light
Source : Pars Today
November 28, 2020
Mohsen Fakhrizadeh, head of the Research and Innovation Organization of the Ministry of Defense, was assassinated and martyred on Friday afternoon local time in Damavand, Tehran Province, by unknown individuals during an armed conflict with his bodyguards.
Dmitry Polyanskiy, First Deputy Permanent Representative of the Russian Federation to the United Nations on Friday, in response to the martyrdom of Mohsen Fakhrizadeh, head of the Research and Innovation Organization of the Ministry of Defense, referred to the New York Times report in which three intelligence officials blamed the Israeli regime for the assassination.
"What the New York Times analysis says is a reflection of the United States' readiness to give the green light to foreign political assassinations," he wrote on Twitter.
Addressing the US green light, Russia's deputy ambassador to the United Nations emphasized: "Not a thing to boast for a democratic country."
https://en.abna24.com/news//russian-official-fakhrizadeh-was-assassinated-with-us-green-light_1089956.html
----------
North America
Senior US Senator Sanders slams 'reckless, illegal' assassination of Iranian scientist
Source : PressTV
November 29, 2020
Senior US Senator Bernie Sanders says the assassination of Iranian scientist Mohsen Fakhrizadeh was an "illegal" move aimed at undermining possible talks between Iran and the incoming US administration.
However, US President Donald Trump's former hawkish national security advisor John Bolton defended the assassination, and claimed that the "threat" of Iran developing a nuclear weapon fully justifies the "pre-emptive attack".
Earlier in the day, a senior US official told the Washington Post that the United States had nothing to do with the scientist's killing and believes Iran has been told that.
The official, who spoke on the condition of anonymity to discuss a sensitive matter, said there was little doubt Israel was behind the attack.
The former head of the US Central Intelligence Agency described the assassination as a crime that risked to inflame regional conflict in the Middle East.
"This was a criminal act & highly reckless. It risks lethal retaliation & a new round of regional conflict. Iranian leaders would be wise to wait for the return of responsible American leadership on the global stage & to resist the urge to respond against perceived culprits," tweeted Brennan, who ran the CIA under President Barack Obama from 2013-2017.
Brennan said he didn't know whether a foreign government authorized or carried out the assassination of Fakhrizadeh, but said, "Such an act of state-sponsored terrorism would be a flagrant violation of international law & encourage more governments to carry out lethal attacks against foreign officials."
https://en.abna24.com/news//senior-us-senator-sanders-slams-reckless-illegal-assassination-of-iranian-scientist_1090329.html
----------
UN Special Rapporteur: Extraterritorial targeted killing violation of human rights
Source : Mehr News
November 28, 2020
In reaction to the assassination of an Iranian scientist, UN Special Rapporteur said that an extraterritorial targeted killing, outside an armed conflict, is a violation of international human rights law.
In a tweet on Friday, Agnes Callamard wrote, "Murder of #MohsenFakhrizadeh, #Iran's top nuclear scientist: many questions still as to the circumstances of his killing. No State or non-State actors have yet claimed responsibility."
"An extraterritorial targeted killing, outside an armed conflict, is a violation of international human rights law prohibiting the arbitrary deprivation of life and a violation of the UN Charter prohibiting the use of force extraterritorially in times of peace," she added.
"International human rights obligations apply to the conduct of a State outside its territory as confirmed by the International Court of Justice, the Human Rights Committee, the Inter-American Commission on Human Rights and the European Court of Human Rights, States have engaged in acts of aggression resulting in deprivation of life violate ipso facto their treaty obligations," she said.
"States that fail to take reasonable measures to settle their int'l disputes by peaceful mean fail to comply with their positive obligation to ensure the right to life," Callamard noted.
Fakhrizadeh was assassinated on Friday in a multi-pronged attack involving at least one explosion and small fire by a number of assailants in Absard city of Damavand County, Tehran province.
https://en.abna24.com/news//un-special-rapporteur-extraterritorial-targeted-killing-violation-of-human-rights_1090017.html
----------
Three US officials say Israel regime behind assassination: New York Times
Source : Press TV
November 28, 2020
Three US officials have said that Israel was behind the assassination of Iranian scientist Mohsen Fakhrizadeh in a terrorist attack near the capital Tehran, according to a report.
"One American official — along with two other intelligence officials — said that Israel was behind the attack on the scientist," The New York Times reported on Friday.
"It was unclear how much the United States may have known about the operation in advance, but the two nations are the closest of allies and have long shared intelligence regarding Iran," it added.
Fakhrizadeh,59, had been targeted on Friday in a multi-pronged attack involving at least one explosion and small fire by a number of assailants in Absard city of Damavand County, Tehran Province.
The attack targeted the vehicle carrying Fakhrizadeh, who headed the Iranian Defense Ministry's Organization of Defensive Innovation and Research (SPND), the Fars news agency said.
Iranian Foreign Ministry Mohammad Javad Zarif roundly condemned the terror attack, saying there were "serious indications" of the Israeli regime's role in the assassination of Fakhrizadeh, a professor of physics at Imam Hussein University of Tehran.
"Terrorists murdered an eminent Iranian scientist today. This cowardice—with serious indications of Israeli role—shows desperate warmongering of perpetrators," he said in a tweet.
The top Iranian diplomat called on the international community, especially the European Union, to "end their shameful double standards & condemn this act of state terror."
Fakhrizadeh's name was mentioned multiple times in a presentation in 2018 by Israeli Prime Minister Benjamin Netanyahu, during which he repeated baseless claims about the Iranian nuclear program.
The regime has been behind the assassination of several Iranian nuclear scientists. It has also conduced cyberattacks on Iranian nuclear sites.
That's a telling analysis from @nytimes reflecting readiness of US establishment to give green light to political extra territorial assasinations. Not a thing to boast for a democratic country! #Iran #Fakhrizadeh https://t.co/OdFum1ftLu
The New York Times summarized the "chilling message" that "American officials" wanted to send to Iranian top scientists with the assassination of Fakhrizadeh: "If we can get him, we can get you, too." Indistinguishable from Mafia talk.
Deputy Permanent Representative of Russia to the UN, Dmitry Polyanskiy, tweeted, "That's a telling analysis from @nytimes reflecting readiness of US establishment to give green light to political extra territorial assassinations. Not a thing to boast for a democratic country! #Iran #Fakhrizadeh."
https://en.abna24.com/news//three-us-officials-say-israel-regime-behind-assassination-new-york-times_1089960.html
----------
The New Team In Washington Surveys West Asia Trump Leaves Behind
Saeed Naqvi
27 Nov 2020
For the new team being announced by the Biden administration any innovation can only follow repair work of the considerable wreckage that is being left behind by the outgoing team.
At this moment of transition, what construct does one place on the outgoing Secretary of State, Mike Pompeo's participation in the cloak-and-dagger meeting with Saudi Crown Prince Mohammad bin Salman and Israeli Prime Minister, Benjamin Netanyahu in the mega city of Neom being built on the Red Sea? The drama of this meeting was heightened by Netanyahu's office denying the meeting in tones which seemed to suggest that the Israelis were not busting their guts to keep the meeting secret. A pretense of secrecy was essential because otherwise "MBS" would be in "trouble".
Netanyahu's Education Minister, Yoav Galant, could not contain his joy at the "amazing achievement" because the "Sunni world" was joining the Israel-US alliance to counter "Iranian Shiite extremism".
This Shia-Sunni confrontation, real or simulated, has been the game ever since the Shah was toppled in Iran. Why then this secrecy now? Why is MBS so scared being seen in an embrace with Netanyahu on Saudi soil? Because his people will find out? Do his people matter? But it turns out that human rights is an article of faith with the incoming Secretary of State, Antony Blinken. This may well be a source of anxiety not just for Saudi Arabia but all monarchies and authoritarian systems. Are there any in our vicinity?
A hint about MBS's source of anxiety was available in the other crucial virtual meeting the Saudi king had with President Tayyip Erdogan of Turkey. The Turkish strongman is part of a quadrangle which both, Washington (the incoming administration) and MBS, Netanyahu too, should by analyzing.
After the Soviet collapse in 1991, it was elementary that creating a distance between Moscow and Beijing would remain a US strategic goal. But George W Bush and his deluded Neocons asked for the moon – full spectrum global dominance into the American Century. The financial crisis of 2008 rapped them hard on the knuckles. American decline was well underway when Trump greased the downward slide even more effectively.
The evolving Biden team will contemplate at the menacing quadrangle I mentioned at the outset. To begin with, Moscow and Beijing have never been closer. The duet spotted the potential of Iran too, and included it in the club. After all, Washington is just about to dust up the Iranian nuclear file for a resumption of a conversation with Tehran.
No sooner had Trump lost the election, when Imran Khan was on his maiden trip to Kabul. This, when the US troop withdrawal from the Afghan capital had run into the sort of snags which US representative for Afghanistan, Zalmay Khalilzad was trying to sort out. Was the Pakistan Prime Minister now effectively being positioned to handle the Afghan file? This became a very real anxiety in both Tehran and New Delhi. But Iran being re-invited on the nuclear file, mollifies it somewhat. How happy New Delhi should be with its exertions in the Quad (US, Australia, Japan, India) only time can tell. The Japanese Foreign Minister has already clarified: our membership of the Quad is not directed against any country.
So, while the US was on the Trump rollercoaster and coping with the social mayhem and galloping Covid, other countries were moving increasingly in concert. There has been so much continuous chanting of the Shia-Sunni conflict that real and abiding antipathies have been lost sight of.
A convenient point of departure to explain this narrative are the two events in December, 1979, which rattled the Saudis, indeed the world – Ayatollah Khomeini's return, signaling the Iranian revolution. Around the same date, an anti-monarchy Sunni, Juhayman al-Otaybi, defied the Saudi state by occupying the holiest Muslim Mosque of Mecca.
Unable to flush out Otaybi and his armed supporters, Saudis sought Western help. A situation emerged which to a non-Muslim would read like a comedy. Since non-Muslims are not allowed in Mecca, US and French soldiers had to be converted to Islam to enter the mosque and accomplish the holy task of killing Otaybi and his men. This "rebellion within" gives Saudis nightmares. But they feel more secure externalizing the threat. They have persistently targeted Iran and Shiaism as threats to themselves, Israel, indeed, the West. When did you last hear of the 15-day siege of the Mecca Mosque?
To point fingers at the Muslim Brotherhood (Al-Ikhwanul Muslimoon) as the enemy would isolate most of the GCC Sheikhdoms from the larger Muslim "Umma". They would then be perceived as only the "Wahabi" sect of the Sunni world.
Incalculable Saudi wealth, particularly after the quadrupling of oil prices following the 1973 Yom Kippur war, had the Western Military Industrial Complex salivating on Arab petrodollars. The oil-rich Sheikhs are, by formal agreements, dependent on Western arms. Their wealth plus their links to Israel give them considerable control on Western media which has quite shockingly harped only on the Shia-Sunni conflict.
When the Arab Spring dethroned Hosni Mubarak, Muslim Brotherhood's Mohamed Morsi became Egypt's President. Coming to power of a Brother in Egypt caused the Saudis to load their camels with their billions and turn up in Cairo to stabilize General Abdel Fattah el-Sisi's coup in Cairo. Brothers in power in Egypt was anathema to the Israelis too because the Hamas in Gaza would now have help from all sides. Brother in Turkey, Qatar and Egypt. They were ideologically coherent with Hamas.
At the Shia end, the Hezbullah in Lebanon, Iran, the Alawi elements in the Syrian Army, the Shia majority in Iraq, war-tried Houthis of Yemen are all supporting the Palestinian cause to the hilt.
No, it is not the Shia-Sunni divide which is bothering MBS and Netanyahu. What worries them deeply is the Shia-Sunni combine zeroing in on the Israelis and the Wahabis in unlikely comradeship.
https://www.milligazette.com/news/8-international/33765-new-team-washington-surveys-west-asia-trump-leaves-behind/
------------
Africa
Mozambique LNG prospects lifted by international response to Islamist insurgency
By David Whitehouse
27 November 2020
Police forces from both Tanzania and Mozambique have agreed to conduct joint operations against terrorist groups at their shared border following an attack in October in which more than 20 locals in a Tanzanian village were beheaded.
The cooperation is a sign that Mozambique "will have the help that it needs," says Alessandro Nanotti, a former project manager at the Rovuma LNG project for Italy's Eni. "It's happening already." Delays to the start of production at Rovuma, scheduled for 2024, are now likely to be limited to those caused by COVID-19, he says. "It does improve the prospects."
Mozambique needs to ask for joint intervention, but has so far failed to do so as it wants to show it's in full control, says Nanotti. It has mostly relied on private military contractors from countries such as Russia and Zimbabwe. Yet neither Mozambique's army, which is unequipped for modern war, nor the contractors are capable of ending the insurgency. "Mozambique can't rely on itself any more."
It's only when the death toll started reaching tragic figures that the insurgency moved up the international agenda. The beheading of more than 50 people in the Muatide village of northern Mozambique led French President Emmanuel Macron to call for an international response to the insurgency.
Nanotti traces the roots of the insurgency which began in 2017 to the successive expulsions of Islamic State (IS) fighters from Kenya and Tanzania. The IS units ended up in northern Mozambique because they didn't have anywhere else to go.
Once there, they joined forces with a local youth movement that was disenchanted by the lack of local jobs, he says. Though northern Mozambique is predominantly Muslim, this local movement was not a radical Islamic one, he adds. "It was not about religion. Radical Islam was a way to identify themselves" from 2017.
Supporting the Mozambique government won't be straightforward. Northern Mozambique is a difficult region to access and better infrastructure is needed to get there, Nanotti says. Even drones would struggle to detect insurgents operating from forest areas, he adds.
Complete the form and download, for free, The Africa Report's COVID-19 How Africa can navigate the pandemic. Get your free PDF by completing the following form
The prospects of a global energy transition towards renewable sources means that the window of opportunity to develop new LNG projects is closing, Nanotti argues. Liquefaction of natural gas entails 8% to 9% of the gas being emitted, meaning that cleaner alternatives will have priority for new development, he says. The next few years are the "last chance" for Mozambique to produce LNG. "You have to do it now."
https://www.theafricareport.com/52389/__trashed-21/
----------
Boko Haram terrorists kill 43 farm workers in Nigeria
Guardian, AFP
November 29, 2020
Boko Haram militants killed at least 43 farm workers and wounded six in rice fields near the north-east Nigerian city of Maiduguri on Saturday.
The assailants tied up the agricultural workers and slit their throats in the village of Koshobe, the militia said.
"We have recovered 43 dead bodies, all of them slaughtered, along with six others with serious injuries," said militia leader Babakura Kolo, who helped the survivors.
"It is no doubt the handiwork of Boko Haram who operate in the area and frequently attack farmers."
The victims were labourers from Sokoto state in north-west Nigeria, roughly 1,000 kilometres (600 miles) away, who had travelled to the north-east to find work, said another militiaman Ibrahim Liman who corroborated the death toll.
"There were 60 farmers who were contracted to harvest paddy in the rice fields. 43 were slaughtered, with six injured," Liman said.
Eight others were missing, presumed to have been kidnapped by the terrorists, he said.
The bodies were taken to Zabarmari village, two kilometres away, where they would be kept ahead of burial on Sunday, said resident Mala Bunu who took part in the search and rescue operation.
The attack is one of the worst waged by the rival terrost groups in the region since Boko Haram's insurgency began in 2009.
Nigeria's president, Muhammadu Buhari, said through a spokesman in a tweet: "I condemn the killing of our hardworking farmers by terrorists in Borno state. The entire country is hurt by these senseless killings. My thoughts are with their families in this time of grief. May their souls rest in peace."
Nigerian government officials have long insisted that terrorists were "technically defeated" and reduced to sporadic attacks. Refugees across the north-east have been urged to return home to a region the government has said is now safe.
But beyond major cities and garrison towns where military presence is strong, significant parts of north-east Nigeria remain acutely vulnerable, with people effectively occupied and governed by roaming terrorist groups. Attacks in the north-east – particularly targeting farmers, security forces and aid workers – have increased in recent years.
Last month Boko Haram militants slaughtered 22 farmers working on their irrigation fields near Maiduguri in two separate attacks.
Boko Haram and ISWAP, its IS-linked rival, have increasingly targeted loggers, herders and fishermen in their violent campaign, accusing them of spying and passing information to the military and the local militia fighting them.
At least 36,000 people have been killed in the conflict, which has displaced about two million since 2009.
The violence has also spread into neighbouring Niger, Chad and Cameroon, prompting a regional military coalition to fight the militants.
The attack took place as voters went to the polls in local elections in Borno State. The elections had been repeatedly postponed because of an increase in attacks by Boko Haram and ISWAP.
African publication HumAngle reported that the people of the village are refusing to bury the bodies of the 43 victims until the state governor has witnessed the atrocity.
https://en.abna24.com/news//boko-haram-terrorists-kill-43-farm-workers-in-nigeria_1090365.html
---------
Boko Haram Attack: Northern Elders demand removal of service chiefs
By The Nigeria Voice
29-11-2020
A group of Northern Elders under the aegis of Coalition of Northern Elders for Peace Development have commended the Sultan of Sokoto, Alhaji Muhammadu Sa'ad Abubakar for demonstrating the courage to speak on the deplorable security situation in the troubled region.
According to the group, the position of the Sultan aptly captured a true reflection of the state of insecurity in the North which they maintain, is largely responsible for the food crisis bedevilling the country.
In the bid to proffer lasting solution to the security challenges, the Coalition called for the immediate removal of the Service Chiefs as part of the restructuring of the security architecture of the country.
While reflecting to Sultan's position, the Coalition in a statement co-signed by its national coordinator, Mr Zana Goni and the National Women Leader, Hajia Mario Bichi, submitted that the Sultan vindicated their consistent alarm on the state of insecurity in the region.
In the bid to address the myriad of crises bedevilling the region, the group called on other prominent Northern leaders to join their voices in projecting the true position of things in the region, with the view to draw the attention of relevant authorities.
The statement read: "More importantly, they reiterated their call on President Muhammadu to rejig and restructure the security architecture in the country, in order to cause meaningful change in status quo.
It continued: "We most respectfully commend the Sultan of Sokoto, our father, for stating the true position of things in the North, as it concerns insecurity.
"We had said it over and over again, that the state of insecurity had reached a point where our farmers can hardly access their farms, even as travellers on busy highways can no longer guarantee their safe arrival without being kidnapped.
"Our mothers, fathers and children are now at the mercy of terrorists and bandits, who kill, harass and destroy property without being confronted, in many instances, by our security operatives.
"As patriotic elders, we think the position of the Sultan is a Clarion call to our dear President, His Excellency Muhammadu Buhari, to restructure the security architecture in the country without further delay.
" We applaud our President for ensuring huge budgetary allocation to the military and security sectors, thereby demonstrating his interest in securing lives and property.
"We, however, regret that our Security Chiefs have not shown commensurate commitment in tackling these security challenges, owing to what we see as lethargy and spent ideas.
"Accordingly, we call on President Muhammadu Buhari to sack the Service Chiefs without further delay, and appoint younger senior officers that will bring fresh perspectives and ideas to bear in addressing the deteriorating security situation in the North in particular, and the country in general."
Recall that the Sultan of Sokoto had at last Thursday's meeting of the Nigerian Inter-Religious Council (NIREC), expressed grave concern over the precarious security situation in the North, saying the region was now the worst place to live.
Reflecting on the activities of bandits in the North West, the Sultan said: "people leave foodstuff in their houses for bandits."
While calling for urgent action through actionable engagement, the spiritual leader of Muslims in Nigeria said: "Security situation in Northern Nigeria has assumed a worrisome situation", regretting that no strong media platform could report the story to the world.
The monarch had said: "Few weeks ago, over 76 persons were killed in a community in Sokoto in a day. I was there alongside the governor to commiserate with the affected community.
"Unfortunately, you don't hear these stories in the media because it's in the North. We have accepted the fact that North me doesn't have strong media to report the atrocities of these bandits.
"People think the North is safe but that assumption is not true. In fact, it's the worst place to be in this country. Because bandits go around in the villages, households and markets with their AK 47 rifles and nobody is challenging them.
"They stop at the market, buy things, pay and collect change, with their weapons openly displayed. These are facts I know because I am at the centre of it. I am not only a traditional ruler; I am also a religious leader.
"So, I am in a better place to tell the story. I can speak for the North in this regard because I am fully aware of the security challenges there. We have to sincerely and seriously find solutions to the problem; otherwise, we will find ourselves soon, in a situation where we would lose sleep because of insecurity.
"As religious leaders, we must promote peace, love, unity and tolerance among our followers. We will discuss all these issues at the close door session of the meeting and possibly come out with strong suggestions for government," the Sultan noted.
https://www.thenigerianvoice.com/news/294208/boko-haram-attack-northern-elders-demand-removal-of-se.html
------------
Southeast Asia
Stop pressuring Muhyiddin over DPM's post, Ahmad Zahid tells Umno members
29 Nov 2020
by Ahmad Zamzahuri
BAGAN DATUK, Nov 29 — Umno president Datuk Seri Dr Ahmad Zahid Hamidi has asked the party's leaders and members not to pressure Muhyiddin Yassin to reinstate the deputy prime minister's post and give it to Umno.
Ahmad Zahid said appointments as deputy prime minister, minister and deputy minister are the absolute prerogative of the prime minister.
"As such, there should not be any open speculation, interpretation or analysis on the post of deputy prime minister although it must be admitted that this matter has been discussed at party meetings. The appointment is the prerogative of the prime minister.
"Any parties can request but let's not pressure because we have to respect the power accorded to the prime minister," Ahmad Zahid, who is Bagan Datuk Member of Parliament (MP), said after joining local residents for breakfast at Warung Kopi Atan Deris at the Hutan Melintang jetty here today.
Umno vice-president Datuk Seri Ismail Sabri Yaakob, in an exclusive interview with a local Malay daily, said the issue of Umno asking for the deputy prime minister post would be raised after the debate on Budget 2021 in the Dewan Rakyat has been completed.
Ismail Sabri said apart from the senior minister post held by him, Umno had not been given other senior portfolios despite having the largest bloc of MPs in the Perikatan Nasional government.
https://www.malaymail.com/news/malaysia/2020/11/29/stop-pressuring-muhyiddin-over-dpms-post-ahmad-zahid-tells-umno-members/1927159
---------
Dr Mahathir rallies Malaysians amid report of 266 suicides nationwide during MCO
BY KEERTAN AYAMANY
29 Nov 2020
KUALA LUMPUR, Nov 29 — Former prime minister Tun Dr Mahathir Mohamad today called on Malaysians to not despair and come together to face the burdens that have materialised as a result of the movement control order (MCO).
Through a video published on his Twitter page, the senior politician responded to recent reports citing police statistics that 266 Malaysians took their own life from the months of March to October this year, during the various phases of MCO.
"I believe we will be able to overcome this challenge because God does not test us if we cannot endure it.
"Rest assured, there is light at the end of the tunnel," he said.
He said that when faced with seemingly insurmountable challenges, there will always be those who begin to lose all hope.
"It is true that the pain is felt more acutely by those who shoulder the burden than those who are observing from afar.
"Insyallah, we will overcome these trials and tribulations together," he added.
On November 18, Malay daily Kosmo! quoted Bukit Aman Management Department director Datuk Ramli Din as saying 25 per cent of the suicide cases during the MCO were caused by debt, followed by 24 per cent due to family problems, and 23 per cent due to marital woes.
A further 15 per cent were reportedly due to relationship breakups, while work pressure, psychological problems and drugs were among the reasons cited for the remaining 13 per cent of cases.
https://www.malaymail.com/news/malaysia/2020/11/29/dr-mahathir-rallies-malaysians-amid-report-of-266-suicides-nationwide-durin/1927176
----------
Ex-Mardi researcher slashed to death trying to deter home invasion in Bangsar
29 Nov 2020
by Ahmad Zamzahuri
KUALA LUMPUR, Nov 29 — A former researcher of the Malaysian Agricultural Research and Development Institute (Mardi) was slashed to death by two burglars who broke into his house in Bukit Bandaraya, Bangsar here early today.
Kuala Lumpur Criminal Investigation Department chief SAC Nik Ros Azhan Nik Ab Hamid said Dr Wan Hassan Wan Embong, 71, was believed to have been slashed with a parang when he tried to put up a fight against the burglars, who broke in through the kitchen window of the double-storey bungalow.
Wan Hassan, who suffered injuries to the face and neck, was believed to have died at the scene, he told Bernama when contacted.
His wife, a 70-year-old government pensioner, had slash wounds on the right hand, he said.
Nik Ros Azhan said there was a blackout and the couple were alone at home when the incident happened at 3.30am.
Nik Ros Azhan said the couple's daughter called the police after her mother informed her of the incident.
"Efforts to track down the suspects are continuing, including by viewing the CCTV recordings of neighbouring houses because the victims' house did not have a closed-circuit camera," he added.
Nik Ros Azhan said the suspects fled with a wallet and laptop computer, among other things, but the actual value of belongings taken by the burglars has yet to be established.
The body of Wan Hassan was taken to the Universiti Malaya Medical Centre, where his wife was treated.
He said the case was being investigated under Section 302 of the Penal Code for murder.
https://www.malaymail.com/news/malaysia/2020/11/29/ex-mardi-researcher-slashed-to-death-trying-to-deter-home-invasion-in-bangs/1927148
-------
URL: https://www.newageislam.com/islamic-world-news/islam-allows-extremism-sculpture-bangabandhu/d/123605
New Age Islam, Islam Online, Islamic Website, African Muslim News, Arab World News, South Asia News, Indian Muslim News, World Muslim News, Women in Islam, Islamic Feminism, Arab Women, Women In Arab, Islamophobia in America, Muslim Women in West, Islam Women and Feminism