New Age Islam News Bureau
13 March 2019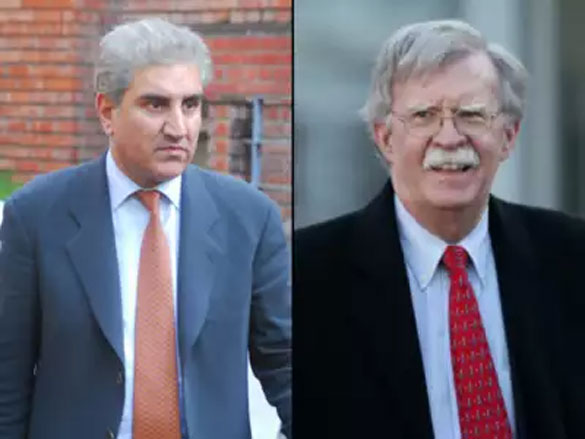 Pakistan foreign minister Shah Mahmood Qureshi and US national security advisor John Bolton (R)
------
•
Islam Does Not Even Allow an Illegal Extension in A Mosque: Pakistan SC
• US Holds Pakistan's Feet to Fire on Terrorism
• Speeches, Cyber Trail in India's Pulwama Proof Establish Role of Jaish
• Lucknow: Muslim Litigants Meet AIMPLB Officials, Clerics Before Ayodhya Panel Begins Work
• US Midwestern States Shaken By Influence Of Islamic State
• Turkish Paper: Abu Bakr Al-Baghdadi under Control of US Army Troops
• US Sees 'Urgency' As UN Security Council Takes Up JeM Resolution
• Amid Peace Talks with US, Taliban Wipe Out Entire Afghan Army Company
Pakistan
• Islam Does Not Even Allow an Illegal Extension in A Mosque: Pakistan SC
• US Holds Pakistan's Feet to Fire on Terrorism
• Threat of Further Escalation between India, Pakistan over: Pak Govt Assessment
• Pakistan wants to solve issues with India through negotiations: Imran
• Pakistan, India to hold talks regarding Kartarpur Corridor on March 14
• Objectives Resolution termed deviation from Quaid-i-Azam's vision
• Pakistan military eyes key role developing giant copper and gold mine
• China, Pakistan to upgrade their jointly-produced fighter jet: Report
• Apex committee resolves to pursue zero tolerance for terror
---------
India
• Speeches, Cyber Trail in India's Pulwama Proof Establish Role of Jaish
• Lucknow: Muslim Litigants Meet AIMPLB Officials, Clerics Before Ayodhya Panel Begins Work
• ED Attaches Gurugram Property Linked to LeT chief Hafiz Saeed
• UNSC set to decide on designating JeM chief Masood Azhar as 'global terrorist'
• NIA Exposes Hizbul Mujahideen's Plot to Spread Terror Network in UP, Assam
• ED to attach 25 properties linked to Hafiz Saeed, Srinagar businessman Zahoor Watali
• Pulwama Attack: Evidence Shows Pakistan's Mentoring Of Jaish Continues
• Litigants oppose Ravi Shankar on Ayodhya mediation committee
• Valley groups call NIA summons of Mirwaiz Umar Farooq an interference
---------
North America
• US Midwestern States Shaken By Influence Of Islamic State
• US's Bolton Says Pakistan Committed to Easing Tensions with India
• US, Taliban talks end for now with no Afghan peace deal
• Trump sees advantage in debate over Israel, anti-Semitism
• US envoy for Afghanistan says partial 'draft' agreement reached with Taliban
---------
Mideast
• Turkish Paper: Abu Bakr Al-Baghdadi under Control of US Army Troops
• Israel Shuts Jerusalem Al-Aqsa Mosque Compound After Unrest
• In joint statement, Iran, Iraq hail 'turning point' in 'strategic' cooperation
• US relocating terrorists from Mideast to Central Asia: Iran president
• Turkey censures Netanyahu for 'discrimination' against Arab Israelis
• More than a dozen Houthis killed in clashes with government troops
---------
Europe
• US Sees 'Urgency' As UN Security Council Takes Up JeM Resolution
• EU Human Rights Chair Urges Justice for Khashoggi
• EU Says Will Blacklist UAE, Oman as Havens for Tax Evasion
• Berlin's digital archive on display to preserve memory of Syria
• These Are the Types of Islamophobia Fox News Is OK With
---------
South Asia
• Amid Peace Talks with US, Taliban Wipe Out Entire Afghan Army Company
• Some Rohingya Refugees Prefer Death in Bangladesh over Repatriation to Myanmar
• U.S.-Taliban Negotiators 'Agreed In Draft' On Troop Withdrawal, Counter-Terrorism
• Afghan armed forces launch Walid-40 operations in Balkh province
• ISIS-K group surrenders to Afghan forces in Kunar province
• Taliban's Red Unit militants, Afghan soldiers suffer casualties in Baghlan clash
---------
Southeast Asia
• Forever Pendatang, Forever Dhimmi, Forever Grateful
• Muslim Detention Camps Are Like 'Boarding Schools,' Chinese Official Says
• 13 Malaysians who joined Islamic State want to come home
• 10,000 Complaints about Provocations against Islam in 7 Days in Malaysia
---------
Arab World
• Alleged Coup Attempt Exposes Hazimite Faction within Islamic State
• Security Expert: US Planning to Relocate 5,000 ISIL Terrorists to Iraq from Syria
• Terrorists Preventing Implementation of Sochi Agreement
• Hundreds surrender in Baghouz with ISIS near defeat
• US-backed SDF says 38 ISIS fighters killed in Syria enclave
• Water, food drying up in Rukban refugee camp: Russia, Syria
• Syria condemns US senator's comments on occupied Golan Heights
• US-backed SDF says assault on Daesh enclave is as good as over
---------
Africa
• Suspected Leadership Changes to IS-Backed Boko Haram Faction Continue
• Somali army kills 8 al-Shabaab militants
• Turkey trains Gambian protocol officers for OIC summit
• Al-Shabaab claims to have killed US soldier following Somalia clashes
• Soldiers repel Boko Haram attack on military base – Official
Compiled by New Age Islam News Bureau
URL: https://www.newageislam.com/islamic-world-news/islam-even-allow-illegal-extension/d/118014
---------
Islam Does Not Even Allow an Illegal Extension in A Mosque: Pakistan SC
March 13, 2019
ISLAMABAD: The Supreme Court Tuesday observed that Islam did not even allow an illegal extension in a mosque.
The top court's observation came during the hearing of Jamia Hafsa case.
The court directed the Capital Development Authority (CDA) to submit a comprehensive report on a 20 Kanal plot allotted to Jamia Hafsa — a seminary for women — in Sector H-11. A three-member bench of the court, headed by Justice Gulzar Ahmed and comprising Justice Qazi Faez Isa and Justice Ijaz Ul Ahsan, heard the case. During the course of hearing, Justice Gulzar asked on how much area was Lal Masjid built and who owned its land.
The deputy attorney general responded that Lal Masjid was built on the state land. On this, Justice Gulzar summoned the chairman CDA.
Chairman CDA Amir Ali Ahmed informed the court that the authority had allotted 9,533 yards of land in 1970 and 206 yards were allotted to Jamia Hafsa. He told the court that Maulana Abdullah was appointed as the mosque's muezzin, and he was succeeded by his son Maulana Abdul Aziz.
Justice Gulzar remarked, "It means Maulana Abdul Aziz is a government employee." Amir Ali Ahmed said Maulana Abdul Aziz was removed from the position in 2004 but he still controlled the mosque. Justice Gulzar asked if the mosque was Maulana Aziz's personal property. Justice Ijaz Ul Ahsan also asked where was the federal government writ that it could not even free up a mosque in the federal capital.
The parents of two children also appeared before the court and said their children had been missing since 2007. "We do not need buildings and lands, we only need our children. Even the Indian spy Kulbhushan Jadhav is allowed to meet his family but we are not allowed to meet our children," they parents complained.
Taking action, the court took directed the deputy commissioner to submit a detailed report on the missing children and adjourned hearing for a month.
https://www.thenews.com.pk/print/443359-islam-doesn-t-allow-illegal-mosque-extension-sc
---------
US Holds Pakistan's Feet To Fire On Terrorism
Mar 12, 2019
WASHINGTON: The Trump administration is holding Pakistan's feet to the fire on the issue of terrorism, asking Islamabad to take 'meaningful steps' against terrorist groups operating in Pakistan and de-escalate tensions with India in the face of Pakistan trying to deflect responsibility and attribute the most recent flare-up to India's 'aggression'.
In a pointed rebuke of Pakistan's effort to blame India for clashes following the Pulwama terrorist attack, US national security advisor John Bolton on Monday issued a terse tweet saying: ''Spoke with Pakistani FM Qureshi to encourage meaningful steps against JeM and other terrorist groups operating from Pakistan. The FM assured me that Pakistan would deal firmly with all terrorists and will continue steps to deescalate tensions with India.''
Spoke with Pakistani FM Qureshi to encourage meaningful steps against JeM and other terrorist groups operating from… https://t.co/7M3M7hAfam
— John Bolton (@AmbJohnBolton) 1552332422000
The tweet came some five hours after Pakistan put its own spin on the conversation, saying that in a phone call to ''provide him (Bolton) Pakistan's perspective on the recent regional developments … Foreign Minister Qureshi said that Indian aggression of 26 February was a violation of Pakistan's territorial integrity and sovereignty as well as the UN Charter. He also said that Pakistan's response on 27 February was purely in self-defence against external aggression.''
However, the Trump administration has rejected the Pakistani narrative from the get-go, describing the Pulwama bombing claimed by the Pakistan-based Jaish-e-Mohammed as a terror attack and India's response in striking the Balakot terror camps as counter-terrorism action. Many other world capitals have taken the cue from Washington and demanded that Pakistan roll up the terrorists and terror groups that operate with impunity in Pakistan, often with state patronage, and initiate attacks against India.
The US State Department, too, has followed the White House's tough line on the issue.
On Monday, following a meeting between India's foreign secretary Vijay Gokhale and Secretary of State Mike Pompeo, the department's deputy spokesman Robert Palladino said "Pompeo affirmed that the United States stands with the people and government of India in the fight against terrorism'' and the two ''discussed the importance of bringing those responsible for the attack to justice and the urgency of Pakistan taking meaningful action against terrorist groups operating on its soil."
''They noted the strength of our partnership and discussed ways to further enhance cooperation, including on counterterrorism.
They also discussed our complementary visions for the Indo-Pacific, US-India defense cooperation, and the growing US-India economic partnership, including joint efforts to expand bilateral trade in a balanced and reciprocal manner,'' the State Department said in a statement.
While the Pakistani statement on Qureshi's phone call with Bolton said ''The need for dialogue between Pakistan and India to find peaceful resolution to all outstanding disputes was also emphasized,'' (it did not say who emphasized it) the immediate emphasis from Washington is that Pakistan needs to roll up terror networks and de-escalate before any other issue.
The Pakistani statement also said the country foreign minister "cautioned against any Indian misadventure, keeping in view the forthcoming elections" and claimed "Ambassador Bolton concurred."
In the battle of perception being fought on social media and mass media, Pakistan believes that following the Pulwama attack, it has managed to bring world attention to the so-called Kashmir; India on the other hand believes the focus has returned to Pakistan's use of terrorism and terror groups operating in Pakistan to keep Kashmir on the boil.
https://timesofindia.indiatimes.com/world/pakistan/us-holds-pakistans-feet-to-fire-on-terrorism/articleshow/68382141.cms
---------
Speeches, cyber trail in India's Pulwama proof establish role of Jaish
Shishir Gupta
Mar 13, 2019
India's investigations into the Pulwama terror attack have established the involvement of the Pakistan-based Jaish-e-Mohammed (JeM) terrorist group, which had anyway claimed responsibility for the attack.
This proof – the group used the same Internet Protocol (IP) address from a location near Rawalpindi, Pakistan, to upload the video confession of the suicide bomber Adil Ahmad Dar, and also the statement of its spokesperson Mohammed Hassan – is part of the body of evidence India has handed over to Pakistan and also to top diplomats of other countries (including permanent members of the United Nations Security Council) as New Delhi attempts to once again get Pakistan to act against the terror group, and to have its leader Masood Azhar listed by UNSC as a global terrorist.
UNSC will decide that on March 13, but there has been no response from Pakistan to the evidence India has shared with it. The US, UK and France are leading the resolution for the UNSC designating Masood Azhar a global terrorist.
China, which has previously blocked efforts directed at this, is expected to take a last-minute decision on whether to apply a three-month hold on it or go with the resolution.
According to the evidence collected by Indian security agencies, and seen by Hindustan Times, investigations reveal that the WhatsApp number 7006250771, associated with JeM spokesperson Muhammed Hassan, was used to claim responsibility for the terror attack. This number was last active on WhatsApp on February 14, 2019 at 4.42 pm with the associated IP address of 103.255.7.0. This IP was tracked to a location near Rawalpindi.
Jaish used the same Indian tele-selector to upload the confessional video of the suicide bomber on social networking sites including pro-JeM Telegram channel "Afzal Guru Squad—Al Islam" as soon as Adil Ahmed Dar triggered the vehicle-borne, RDX-packed device against the Central Reserve Police Force bus at Lethpora in Pulwama. Kakapora resident Dar was an active terrorist of the Ansar Ghazwat ul Hind since March, 19, 2018, according to the evidence. The same Jaish spokesperson also claimed the group's responsibility for the attack on an army brigade in Tangdhar in 2015.
According to the evidence, the plot for the Pulwama attack was hatched by JeM chief Masood Azhar and his younger brother Abdul Rauf Asghar, the de facto operational commander of the terrorist group, to avenge the death of their kin Talha Rasheed, son of Masood Azhar's brother-in-law Abdul Rasheed. Talha Rasheed was gunned down by Indian security forces at Kandi Aglar, Pulwama on November 6, 2017. Rauf Asghar's close confidant/bodyguard Mohammed Ismail and Mohammed Umar, son of Masood Azhar's elder brother Ibrahim Azhar, infiltrated into India in mid-2018. Usman Haider, another son of Ibrahim Azhar, was gunned down by Indian security forces in Tral, Awantipora, Pulwama on October 30, 2018, within days of his infiltration into the valley. India has told Pakistan that JeM cashed in on the killing of Talha Rasheed and Usman Haider for radicalizing more young people in the valley against India and raising funds for terror strikes.
Indian investigations have also revealed that Jaish's Abdul Rasheed Ghazi infiltrated into the valley on December 9, 2018 with the objective of training local radicalized Kashmiri youth to avenge the killing of Usman Haider and Talha Rasheed. An Afghan war veteran, Ghazi is an explosives expert. The execution of the Pulwama attack was carried out by Pakistani national Kamran, who along with another Pakistani national Haider were killed in an encounter with the Indian security forces on February 18.
The evidence collected by India includes a series of annexures – videos of speeches, pamphlets, and social media posts using Pakistan numbers on WhatsApp, Telegram and Facebook. In one 2018 speech, Mufti Asghar says in Balakot, the Jaish terror factory struck by Indian Air Force jets on February 26, that he will turn Pulwama into Talhawama by taking spectacular revenge for the killing of his kin. The evidence also includes an audio message from Masood Azhar on February 5, asking Kashmiri Muslims to unite, and that if this happens, they will achieve their ends within a month.
The evidence also shows that Pakistani intelligence operatives made pseudonymous calls to CRPF offices, hospitals, police control rooms and locals to ferret out details of casualties as well as the movement of Indian troops after the attack. These details were used to propagate the notion that the strike was carried out by a disaffected native Kashmiri and was an outcome of mass unrest in the Valley.
India also has shared brief details about six prominent and older JeM attacks including the near simultaneous attack on Pathankot airbase on January 2, 2016 and the attack on Indian consulate in Mazar-e-Sharif in Afghanistan. The evidence concerning the Pathankot attack shows that all four terrorists were in touch with Pakistani phone numbers with one number +92321312786 actually being associated with JeM headquarters in Bahawalpur, Pakistani Punjab. The two JeM handlers of the Pathankot airbase attackers were identified as Shahid Latif and Kashif Shahid Latif; both were released by India in 2010 after serving 16 years in jail on terrorism charges.
The attack on the Indian consulate at Mazar-e-Sharif was carried out by three JeM terrorists, who before being gunned down by Afghan forces in a 25-hour battle, inscribed "Afzal Guru Ka Intekam—Ek Shaheed, Hazaar Fidayeen" in their own blood on the wall of a nearby building. The evidence shared reveals that the three JeM terrorists moved into Afghanistan from Pakistan and were hosted by local Taliban commander Atta Mohammed.
The Indian evidence shared with Pakistan and other countries through diplomatic channels also recounts dozens of JeM attacks in Jammu and Kashmir. The evidence also has a list of 80 JeM terrorists thriving under Islamabad's patronage across the border. Despite sharing the past jihadi history of Masood Azhar, Ibrahim Azhar, Rauf Asghar and the pin-point locations of terror training camps in Pakistan and Pakistan Occupied Kashmir, there has been total silence from the Imran Khan government, Indian security officials said.
https://www.hindustantimes.com/india-news/speeches-cyber-trail-in-india-s-pulwama-proof/story-n1mmAHPrvHiSoj0n1mmM1I.html
---------
Lucknow: Muslim Litigants Meet AIMPLB Officials, Clerics Before Ayodhya Panel Begins Work
by Asad Rehman
March 13, 2019
A day before the negotiation panel constituted by the Supreme Court begins the process in Ayodhya, Muslim litigants in the Babri Masjid-Ramjanmabhoomi title suit case reached Islamic Seminary Nadwatul Ulama in Lucknow Tuesday where they held a meeting with the chairman and prominent office-bearers of the All India Muslim Personal Law Board (AIMPLB), and clerics.
AIMPLB chairman Maulana Rabey Hasan Nadwi is also the rector of the Islamic seminary. At the meeting, the litigants, who will be appearing before the panel to reach an amicable solution for the dispute, and others reportedly talked over the argument to be presented in favour of their case.
Iqbal Ansari, whose father Hashim Ansari was the oldest litigant in the case, representing his father after his death, said Hindu seers in Ayodhya have raised objection over Art of Living founder Sri Sri Ravi Shankar being in the panel and that should be considered. Others litigants present at the meeting included Mehboob Ali and Mahfuzur Rahman.
Babri Action committee convener Zafaryab Geelani, who is also a member of AIMPLB and a lawyer, AIMPLB general secretary Maulana Mohammad Wali Rahmani, Sunni cleric and AIMPLB member, Maulana Khalid Rasheed Firangi Mahali, and Jamiat Ulema-e-Hind's Uttar Pradesh president Maulana Ashhad Rasheedi were present at the meeting.
Speaking to reporters after the meeting, Iqbal Ansari said, "Ravi Shankar ka virodh pehle Hinduon ne kiya hai, baad mein hum kar rahe hain… Hum Ayodhya mein rehte hain. Sadhuo ke saath mein rehte hain. Agar sant saath mein nahi hai, toh hum Ravi Shankar se koi baat nahi karenge (Ravi Shankar's name was first opposed by the Hindus, now we are opposing it… We live in Ayodhya. If they (sadhus) are not with us, then we won't talk to Ravi Shankar)."
Asked if he was opposed to Ravi Shankar being a mediator, Iqbal Ansari told The Indian Express over phone, "Hum toh yeh keh rahe hain ki hum court ka samman karte hain. Panel ka bhi samman karte hai, jo ki court ka hi banaya hua hai. Jab Ravi Shankar ka Ayodhya ke sant virodh kar rahe hain, toh baat kaise hogi? Humein virodh nahi hai (I am saying that we respect the court. We also respect the panel constituted by the Supreme Court. When Ravi Sankar's appointment is being opposed by the seers in Ayodhya, how will a disucssion happen? We have no objection)."
"Panel jaise hi bana, Ayodhya ke santon ne Ravi Shankar ka virodh kiya (The moment the panel was formed, seers in Ayodhya opposed his name)," he said adding the seers of Hindu Mahasabha and Nirmohi Akhara are opposed to Ravi Shanker being in the panel.
"This is a 70-year-old issue. We want to settle it peacefully. We don't want any conflict between the Hindus and Muslims. Harmony between the two communities should not be disturbed… We will first listen to what the panel says and will then decide what to do," Ansari said.
https://indianexpress.com/article/cities/lucknow/lucknow-muslim-litigants-meet-aimplb-officials-clerics-before-ayodhya-panel-begins-work-5623529/
---------
US Midwestern States Shaken By Influence Of Islamic State
Mar 13, 2019
Islamic State may be on the brink of defeat in Syria, but its ideology remains a potent recruitment tool. In the American midwest, a region that has proved fertile ground for the terror group and other extremist recruiters, communities and law enforcement officials face a new challenge: dealing with returning jihadists and dozens of extremists due for release from prison in the coming years.
According to the programme on extremism run by George Washington University in the US capital, Minnesota and Ohio make up two of the three US states with the highest per capita rate of individuals travelling to join Islamic State, also known as Isis.
The attraction to the terror group remains a worry for US authorities. Last October, 19-year-old Naser Almadoaji, an Iraqi-born US citizen from Dayton, Ohio, was arrested while attempting to board an aircraft to Kazakhstan, from where he planned to cross into Afghanistan and join up with an Islamic State affiliate group.
Almadoaji, who attended a school in the suburban district of Beavercreek until 2015 and worked at a local supermarket, also attempted to make contact with an unnamed terrorist group after travelling to Egypt and Jordan last year.
Laith Alebbini (28), also from Dayton, was arrested before attempting to fly to Syria in April 2017. Prosecutors say Alebbini has since been open about his support for Islamic State.
"Frankly, the threat of international terrorism is something that is present in Dayton, in the southern district of Ohio and throughout the country," Ben Glassman, the US attorney for the southern district of Ohio, told reporters in December. Contacted by phone, several people involved with the local Muslim community in Dayton refused to comment on whether radicalisation was a concern among their community.
Attacks
Ohio has experienced several Islamic State-related attacks and near misses in recent years. In November 2016, a Somali refugee was shot dead in the state capital, Columbus, after staging a car and knife attack that was later claimed by Islamic State.
A month later, a 20-year-old Islamic State sympathiser from Cincinnati was sentenced to 30 years in prison after buying automatic rifles and ammunition that police officers say he planned to use to attack government targets in Washington DC. At least eight people from Ohio have been charged with attempting to travel to Syria or Iraq to join Islamic State, and one, Abdirahman Sheik Mohamud from Columbus, returned with plans to conduct a terrorist attack.
Minnesota, a largely rural state bordering Canada, has the highest per-capita rate of individuals in any US state travelling to join extremist groups in Syria, Iraq and Somalia. In November 2017, a 20-year-old man stabbed and badly injured two people at a mall in Bloomington, Minnesota. The perpetrator, Mahad Abdiraham, said his actions were to "answer the call of jihad." Abdiraham received a 15-year jail term but may be eligible for release in 2026.
More than 40 per cent of those who left the US to join extremist groups such as Islamic State and Hayat Tahrir al-Sham, the former al-Qaeda affiliate in Syria, remain unaccounted for, and while President Donald Trump has called on European countries to repatriate Islamic State fighters from Syria, he has refused to allow American extremists, such as Hoda Muthana, a 24-year-old woman from Alabama, return to the US.
Disengagement programme
Some "rehab for terrorists" successes have been recorded. Minnesota is home to the first de-radicalisation programme in the country, the Minnesota Extremist Disengagement Program, which works with defendants formerly involved with foreign and American terrorist organisations but who are deemed fit for temporary release before sentencing.
Of 30 people charged with involvement with foreign terrorist organisations in the district, 12 were deemed suitable to take part in the programme. Of those 12, 10 completed it successfully. While the number of participants is too few to definitively call it a success, its results are promising.
"The vast majority [of radicalised Minnesotans] are males in their late teens on through to early to mid-20s," says Kevin Lowry, Minnesota's former chief federal probation officer and the architect of the programme. In many cases those involved would have started looking at or been exposed to radicalisation materials in their mid-teens, he says.
Many, Lowry says, are second-generation immigrants whose parents work multiple jobs. "I think that they've been targeted by [the east African-based terror group] al-Shabaab [but] the number of these cases is minuscule when you're looking at a community [of Somali immigrants in Minnesota] upwards of 100,000 people."
Still, the dearth of de-radicalisation programmes is concerning for many. About 80 people convicted of terrorist-related crimes are set for release from US prisons in the coming five years. No disengagement programmes exist in American prisons for ex-jihadists, and funding, Lowry says, is hugely lacking.
Judges in Minnesota and Ohio have been forced to place individuals convicted of terrorist-related offences in halfway houses or delay their sentencing because, upon their release, there are insufficient facilities to help with their specific reintegration needs.
https://www.irishtimes.com/news/world/us/us-midwestern-states-shaken-by-influence-of-islamic-state-1.3823409
---------
Turkish Paper: Abu Bakr Al-Baghdadi Under Control of US Army Troops
Mar 12, 2019
The Yeni Shafaq published a picture of al-Baghdadi in a US armored vehicle, disclosing that the CIA spy agency is monitoring the presence of al-Baghdadi and his movements.
The Turkish newspaper pointed to the issuance of passport with new names and IDs for al-Baghdadi and 140 ISIL terrorists, and said that provision of the fake documents is just part of the US secret operations that is aimed at relocating the terrorists to Iraq.
It noted that the US spy agency has interrogated 2,000 ISIL terrorists in special centers that the US has set up in the camps controlled by the Kurdish forces in Syria and Iraq before giving new passports and documents to them.
This is while French, Israeli and British inspectors regularly visited the camps during interrogations.
Damascus has announced that the US and Turkey know the whereabouts of the ISIL (Daesh) leader Abu Bakr al-Baghdadi.
Syrian Ambassador to the UN Bashar al-Ja'afari said in an interview with al-Mayadeen television channel in early March that the West is working "to prolong the crisis in Syria" and that the administration of US President Donald Trump is seeking to keep up "investing in terrorism" in Syria and Iraq in order to pursue its agenda in the region.
He also accused the US-led coalition of transferring Daesh elements.
In a relevant development in early February, a senior source in the Syrian Democratic Forces (SDF) said that al-Baghdadi was being protected by the Americans in Eastern Syria, adding that Washington plans to play a Hollywood-like scenario to declare end of the ISIL caliphate.
The Arabic-language website of Sputnik news agency quoted the source as saying on Sunday that Baghdadi was being heavily protected by the American forces in a secret place in Eastern Euphrates region.
He added that the Americans "are waiting for an opportunity to conduct heliborne operations by their marine forces in Southeastern Deir Ezzur and declare the capture of al-Baghdadi and end of ISIL on footage".
The source insisted that the time for the "above-mentioned theater is close", adding that the American forces have held SDF back from further advances in the ISIL-occupied regions in Eastern Euphrates to play the scenario.
US President Donald Trump said in early February that the country would likely announce that all of the ISIL terrorist group caliphate had been retaken in Syria and Iraq.
"It should be formally announced, sometime probably next week, that we'll have 100 percent of the caliphate," Trump stated during his remarks at a ministerial meeting of US-led coalition member states.
Earlier, the American president said during his second State of the Union address that it was time to return US troops deployed in Syria back home.
In December, Trump declared the ISIL terrorist group defeated in Syria, and announced the US troop pullout from the country but gave no timeline.
Also in early February, a senior US administration official told reporters that Syria's Al-Tanf region would be the last place in the country that American troops leave as they implemented a planned withdrawal.
"In terms of Al-Tanf — that is, in terms of the drawdown plans — Al-Tanf would be the last place that we would withdraw from, and I think that's something that has not been scheduled; it would be conditions-based," the official noted.
http://en.farsnews.com/newstext.aspx?nn=13971221000499
---------
US sees 'urgency' as UN Security Council takes up JeM resolution
Anwar Iqbal
March 13, 2019
WASHINGTON: The United States is urging Pakistan to see the "urgency" of taking action against "terrorists" as the UN Security Council takes up a resolution declaring Jaish-e-Mohammad (JeM) chief Masood Azhar a global terrorist.
US Secretary of State Michael R. Pompeo emphasised the need for an immediate action against terrorists at a meeting with Indian Foreign Secretary Vijay Gokhale in Washington on Monday, the State Department said. The UN Security Council (UNSC) is expected to take up a resolution on March 13 that seeks to declare the JeM chief a global terrorist. But China, which has vetoed similar moves in the past, reminded the UNSC on Monday that "a responsible solution" can come only through discussions.
China urged the international community to also focus on the Kashmir dispute while demanding such issues. "China's position on the designation of a terrorist by the 1267 Sanctions Committee is consistent and clear," said Chinese Foreign Ministry spokesman Lu Kang when asked about China's stand on the issue.
"China adopted a responsible attitude, followed the rules of the procedure of the committee and participated in the discussions in a responsible manner. Only through discussions can we come up with a responsible solution," he said.
Diplomatic sources in Washington said that the United States, which jointly moved the resolution along with Britain and France, wants the UNSC to adopt the resolution this time. Besides asking China not to veto the move, Washington is also using its influence in Pakistan to soften its opposition, the sources added.
Bolton's call to FM Qureshi
As Secretary Pompeo met his Indian counterpart in Washington, US National Security Adviser John Bolton spoke telephonically with Foreign Minister Shah Mahmood Qureshi on Monday to discuss this and other issues with him.
After the telephone call, Mr Bolton released a brief message on Twitter, which includes the points Secretary Pompeo discussed with the Indian foreign secretary.
"Spoke with Pakistani FM Qureshi to encourage meaningful steps against JeM and other terrorist groups operating from Pakistan," he tweeted Monday afternoon.
"The FM assured me that Pakistan would deal firmly with all terrorists and will continue steps to de-escalate tensions with India," he wrote.
Pakistan's Foreign Office also issued a statement on Monday which said that Mr Qureshi informed Mr Bolton that the Indian aggression of Feb 26 was a violation of Pakistan's territorial integrity and sovereignty as well as the UN Charter. "Pakistan's response was purely in self-defence against external aggression," he said.
A simmering conflict between India and Pakistan over Kashmir had escalated into a potentially dangerous confrontation when Indian planes violated Pakistani airspace on Feb 26. Next day Pakistan and India were involved in an aerial dogfight and Indian fighter pilot Abhinandan Varthaman was captured by Pakistan. Some days later Pakistan had him returned as a goodwill gesture and to defuse the crisis.
FM Qureshi also underlined measures Pakistan had taken to defuse tensions, including the decision to release the Indian pilot. "Pakistan wishes peace and stability in the region," he said, pointing out that last week, Islamabad sent its envoy back to New Delhi and was sending an official delegation to India this week to discuss the reopening of the Kartarpur corridor.
The Kartarpur corridor is about 120km north of Lahore and will be used by Sikh pilgrims coming from India on a visa-free basis to visit their holy sites in Pakistan.
Pakistan was also ready to continue weekly contacts at the Military Operations Directorate level, he added. The Military Operations Directorate is part of both Indian and Pakistan armies and headed by the Director General Military Operations (DGMO).
Mr Bolton appreciated Pakistan's measures, which helped defuse the crisis and urged continued restraint on both sides, the Foreign Office said.
Both sides emphasised the need to resolve all outstanding issues and Mr Qureshi cautioned against any Indian misadventure, the statement added.
https://www.dawn.com/news/1469308/us-sees-urgency-as-un-security-council-takes-up-jem-resolution
---------
Amid peace talks with US, Taliban wipe out entire Afghan army company
Mar 13, 2019
HERAT: Taliban fighters killed or captured an entire Afghan national army company of more than 50 soldiers on Monday, Afghan officials said, the latest in a series of major attacks by the group even as it pursues a peace deal with the United States.
The attack, in which Taliban were reported to have killed 16 soldiers and taken 40 prisoners, took place in northwestern Badghis province, close to the country's western border with Turkmenistan. It came as Taliban negotiators entered a third week of talks with US diplomats in Qatar, at the end of which on Tuesday both sides claimed "significant progress".
In the assault, a large force of Taliban insurgents surrounded a base in the Bala Murghab district. After four hours of fighting, the militants captured or killed all of the soldiers in their base, as well as others at two outposts nearby, according to Abdul Aziz Beg, head of the Badghis provincial council.
The episode was the deadliest in a weeklong insurgent campaign that has killed, wounded or captured 70 soldiers in the district, Beg said. "The district is on the verge of collapse," Beg said. "The fighting has gone on for a week, but the government is not paying any attention."
Qais Mangal, a spokesman for the Afghan ministry of defence, confirmed the attack and said that four security outposts were captured by the Taliban.
https://timesofindia.indiatimes.com/world/south-asia/amid-peace-talks-with-us-taliban-wipe-out-entire-afghan-army-company/articleshow/68384388.cms
---------
Pakistan
Threat of further escalation between India, Pakistan over: Pak govt assessment
Mar 12, 2019
ISLAMABAD: The threat of further escalation between India and Pakistan after the Pulwama terror attack is over, an internal assessment of the Pakistan government has concluded.
The Express Tribune reported that the assessment was shared by a senior official on Monday in a background briefing on the current state of relations between the two neighbouring countries.
"There is a visible de-escalation in tension," the official said.
The official told journalists that Pakistan did not foresee any further "aggressive action" from India, the report said.
Tensions flared up between India and Pakistan after a suicide bomber of Pakistan-based Jaish-e-Muhammed (JeM) killed 40 CRPF personnel in Kashmir's Pulwama district on February 14.
Amid mounting outrage, the Indian Air Force carried out a counter-terror operation, hitting the biggest JeM training camp in Balakot, deep inside Pakistan on February 26.
The next day, Pakistan Air Force retaliated and downed a MiG-21 in an aerial combat and captured Indian pilot, who was handed over to India on March 1.
There was fear that India may launch more strikes or escalate the situation to end the crisis on a high note, the paper said.
When asked whether Pakistan feared another possible 'misadventure' by India before the elections in the country, the official confidently replied: "There is no room for such aggressive action from India".
The upbeat assessment of the government is apparently linked to hectic diplomacy involving many regional and international players, seeking de-escalation in tensions between the two countries, the paper said.
In a first sign of easing of tensions, Pakistani and Indian high commissioners resumed their diplomatic work in Islamabad and New Delhi on Saturday.
Both countries called back their envoys for consultations soon after the Pulwama attack.
India handed over to Pakistan a dossier on "specific details" of involvement of the JeM in the attack.
https://timesofindia.indiatimes.com/world/pakistan/threat-of-further-escalation-between-india-pakistan-over-pak-govt-assessment/articleshow/68372596.cms
---------
Pakistan wants to solve issues with India through negotiations: Imran
March 13, 2019
ISLAMABAD: Prime Minister Imran Khan has reiterated that Pakistan is a great campaigner of peace in the region and for the reason it is prepared to settle all disputed with India through negotiations.
He was talking to German Foreign Minister Heiko Maas and Deputy Chairman of Cabinet of Ministers and Minister of Foreign Affairs of Turkmenistan Rashid Meredov here at the Prime Minister Office (PMO) on Tuesday who called on him.
The two foreign ministers had meeting with the prime minister separately. Talking to German Foreign Minister Heiko Maas, Prime Minister Khan praised the leadership of German Chancellor Angela Merkel particularly her handling of the immigration crisis. Welcoming the German Foreign Minister, the prime minister said that Pakistan attaches high importance to its relations with Germany, which are characterised by shared democratic values and multifaceted cooperation. Prime Minister Khan apprised the German Foreign Minister on the current regional situation, including India and Afghanistan as well as the steps taken by his government towards de-escalation. He stressed upon the international community to take notice of the grave human rights violations in Indian Held Kashmir (IHK).
On bilateral front, the prime minister welcomed Germany's investment in hydroelectric power generation and automobile sectors of Pakistan.
The German foreign minister welcomed Pakistan's efforts towards peace and stability in the region. He appreciated prime minister's responsible handling of the situation, particularly the decision of releasing the Indian pilot, which has been noted positively by the international community.
Foreign Minister Maas underscored Pakistan's key role towards peaceful settlement in Afghanistan. The foreign minister reiterated German Chancellor Angela Merkel's invitation to the prime minister to visit Germany.
Prime Minister Imran Khan received a courtesy call by the Deputy Chairman of Cabinet of Ministers and Minister of Foreign Affairs of Turkmenistan, Rashid Meredov who is visiting Islamabad. The prime minister warmly received the Minister and his delegation and welcomed them to Pakistan.
Minister Meredov conveyed the sincere prayers and good wishes of his leadership for peace, prosperity and goodwill of Pakistan, its government and people. The prime minister reciprocated with his message of sincere prayers and best wishes for Turkmen President Gurbanguly Berdimuhammedov and his people.
The Turkmen Foreign Minister briefed the prime minister about the existing fraternal relations between Pakistan and Turkmenistan that are marked by mutual trust and understanding.
The Turkmen Minister for Energy, Charymyrat Purchekov and Ambassador to Turkmenistan to Pakistan were also present during the call.
Prime Minister Imran Khan says steps are being taken to ensure business friendly environment to the foreign investors and improving ease of doing business in the country.
In the meanwhile Prime Minister Imran received message of Japanese government pertaining to its decision to enhance its engagements with Pakistan on Tuesday. The message was conveyed by Mitsubishi Corporation Chief Executive Kimihide Ando who called on the prime minister along with his delegation. On the occasion the prime minister said that steps are being taken to ensure business friendly environment to the foreign investors and improving ease of doing business in the country.
He conveyed to the prime minister that his government has decided to increase its engagement with Pakistan and support Japanese companies in increasing investment in Pakistan. Talking on the occasion, Kimihide Ando said that the company is encouraged by the business friendly policies of the present government and intends to further strengthen its footprint especially in meeting energy requirements of the country.
The prime minister welcomed the decision of Japanese government and the interest of Mitsubishi Corporation regarding exploration of greater business opportunities in Pakistan. Advisor to Prime Minister Abdul Razzak Dawood, Chairman Energy Task Force Nadeem Babar and senior officials were also present on the occasion.
Meanwhile, long awaited meeting of two ruling coalition leaders Prime Minister Imran Khan and former prime minister Chaudhry Shujaat Hussain has taken place here at the Prime Minister Office (PMO) Tuesday afternoon. Shujaat Hussain who heads his Pakistan Muslim League-Quaid (PML-Q) met Prime Minister Khan on his invitation and sorted out differences with him cropped up due to non-fulfillment of certain commitment by the administration made two months ago.
Officially no word has been given about the difference or elimination of differences but well placed political sources told The News that the meeting that had added significance since it took place a day after a meeting in Lahore prison between former prime minister and Quaid of the PML-N Nawaz Sharif and Bilawal Zardari, succeeded in ironing out the differences and in all probabilities the PML-Q share in the federal cabinet will be enhanced in a couple of days.
Two nephews of Chaudhry Shujaat will be inducted as federal minister in the cabinet before the next sitting of the National Assembly. The two leaders met with each other after long pause. SAPM Naeemul Haq played an important role in paving the way for meeting since he met the Chaudhry Shujaat thrice in between.
The sources pointed out that the affairs in Punjab were significant part of the discussions where PML-Q's speaker Punjab Assembly Chaudhry Pervez Elahi is supporting PTI Chef Minister Usman Buzdar despite opposition within the ruling party.
Federal Minister Chaudhry Tariq Bashir Cheema and SAPM Naeemul Haq were also present in the meeting.
Full report at:
https://www.thenews.com.pk/print/443447-pakistan-wants-to-solve-issues-with-india-through-negotiations-imran
---------
Pakistan, India to hold talks regarding Kartarpur Corridor on March 14
Mar 13, 2019
LAHORE: Pakistan and India will hold foreign-ministerial level dialogues on March 14 following a major development in the opening of Kartarpur Corridor, a local news outlet reported on Tuesday.
Foreign Office (FO) spokesperson Dr Mohammad Faisal will lead the Pakistani delegation in the dialogues to be held in Attari on Thursday.
The Pakistani delegation will hold a press briefing at Wagah border at 8:30 am before departing to India for Kartarpur Corridor talks.
The delegation will inform about the progress of the dialogues on the Kartarpur Corridor project after reaching back at Wagah border.
Full report at:
https://www.pakistantoday.com.pk/2019/03/12/pakistan-india-to-hold-talks-regarding-kartarpur-corridor-on-march-14/
---------
Objectives Resolution termed deviation from Quaid-i-Azam's vision
Shazia Hasan
March 13, 2019
KARACHI: "The Objectives Resolution, adopted by the Constituent Assembly of Pakistan on March 12, 1949, was a deviation from the Quaid-i-Azam's perception of Pakistan," said Dr Syed Jaffar Ahmed, one of the leading scholars of Pakistan Studies, during his talk at the University of Karachi's department of history on Tuesday.
The resolution over the years stirred much debate on its rationale and utility and even after 70 years it is important to reassess this historic document with objectivity, he added.
Pakistan, Dr Jaffar reminded, did not have a constitution in 1947 as the Government of India Act of 1935 served as the interim constitution here. Meanwhile, India was quick in making its own constitution after independence which led to pressure on the government from the Pakistani press for not being able to do the same.
"It was in February of 1949 that the Constituent Assembly met and the draft of the resolution was presented after which Shabbir Ahmed Usmani sent it to jail to Maulana Maududi there who was doing time for his fatwa on jihad in Kashmir. It was after Maududi had made amendments to the text of the Objectives Resolution that it was passed by the Constituent Assembly," he said, adding that the resolution had made Pakistan a theocracy.
"This resolution talks about democracy, it talks about federations, it talks about provincial autonomy and it also talks about minorities. Then what is the objection?," the scholar asked before saying that finding out required careful reading of the constitutional documents.
"You will not find the word 'republic' in there," he said. "It means that the drafters were trying to avoid the sovereignty of the state to the people." And they drafted that the sovereignty over the state belongs to God.
"So what then is the role of the parliament?" he asked. "For example, if the parliament is discussing a bill which has been proposed, who will decide the will of God or His intention? Therefore the parliament was given a devolved authority as for all laws it needs to be seen whether they fulfil the spirit of the Quran and Sunnah," he explained.
"In his famous August 11, 1947 speech, the Quaid-i-Azam named the Constituent Assembly as having sovereignty. But after what happened Quaid's philosophy was compromised. The bureaucracy here wanted to take control, too. And then a civil-military nexus emerged taking shelter in the slogan of Islam," he said.
"In 1956, when the first Constitution was finally made, the Objectives Resolution was made a preamble. In the 1962 and the 1973 Constitutions, too, as the preamble it was put in the beginning of the Constitution. Then in 1985 there was the eighth amendment drafted and enforced by the technocratic-military government of General Zia to change Pakistan's system of governance to a semi-presidential system while removing martial law. The eighth amendment made Islam and Article 2 and then Article 2(A) a part of the Constitution and thus that preamble became an operative part of the Constitution. It was all being done in the name of Islam," said Dr Jaffar.
The eighth amendment also changed things for minorities in Pakistan. "On the surface everything seemed fine but one word, 'freely', mentioned in the Quaid's Aug 11 speech where he had talked about minorities being allowed to freely practice their religion was missing," he said.
"For 25 years no one noticed. Then in 2010 it was noticed at the time of the 18th Amendment. The word could not have been dropped accidentally because you need an amendment in the Constitution even if you need to put in an extra comma. And here neither the assemblies nor the Senate knew anything about it," he said.
"It was a clear departure from the neutrality the Quaid wanted in Pakistan. But it was said that when making his speech the Quaid at the time was only saying that to pacify the feelings of the minorities here. Such kind of talk only belittles his speech and what he was trying to say," he said.
Full report at:
https://www.dawn.com/news/1469241/objectives-resolution-termed-deviation-from-quaid-i-azams-vision
---------
Pakistan military eyes key role developing giant copper and gold mine
Mar 13, 2019
ISLAMABAD: Pakistan's military is taking a key role in the development of one of the world's biggest untapped copper and gold deposits, which is currently stalled by a multi-billion dollar legal wrangle with foreign mining firms, multiple sources familiar with the situation said.
The Reko Diq mine has become a test case for Prime Minister Imran Khan's ability to attract serious foreign investment to Pakistan as it struggles to stave off an economic crisis that has forced it to seek an International Monetary Fund bailout.
Ten current and former provincial and federal government officials and mining sources familiar with the project in the Baluchistan region say the military has become the most important voice on the future of Reko Diq, which it sees as a strategic national asset.
The military will not only be in a position to decide which investors develop the deposit, but an army-controlled engineering firm, Frontier Works Organization (FWO), is positioning itself to be a member of any consortium involved, these people said.
"This has been taken over by GHQ," said a senior Baluchistan government official, referring to the Pakistan army's General Headquarters in the garrison city of Rawalpindi.
In a statement in response to Reuters' questions about its role in Reko Diq, the military spokesman's office said: "(The military) may only participate in government's plan of development of Reko Diq, as per national requirements."
But it acknowledged that FWO, best known for building roads through Pakistan's rugged and lawless border regions, has developed "substantial" mining capability in recent years and would be interested in taking a role in the project.
"If an opportunity arises of participating in developing Reko Diq, FWO may work at par with other competitors (or) companies provided the project is financially viable (or) suitable," the statement said. When asked, a spokesman declined to elaborate on the statement.
Pakistan's Information Minister Fawad Chaudhry said civilian authorities in the insurgency-hit southwestern province of Baluchistan were in charge of Reko Diq and, along with Khan, would take a decision, but added that the military "and all other stakeholders are obviously important players".
FWO referred questions to the military spokesman's office. Khan's spokesman Iftikhar Durrani said Baluchistan province was in charge of Reko Diq, and referred questions to the provincial government and the military spokesman's office.
The manoeuvring behind the project shows how the military, which has historically dictated Pakistan's security and foreign policy, is leveraging its sway over the civilian government at federal and provincial level to carve a growing role in the nation's business affairs.
The army has ruled the nuclear-armed nation for nearly half its history and is considered to have a major influence over Khan's recently elected government. A military spokesman declined to comment.
"The military has taken a front seat," said Ayesha Siddiqa, author of the book "Military Inc.", which analyses the army's business interests and influence in Pakistan.
"They've understood that the economy is important for having a strong military," she said. "Control of the economy also gives the military a handle over expanding their business interests."
Talks
Buried at the foot of an extinct volcano near the frontier with Iran and Afghanistan, the mine's development has long been delayed by a dispute with previous investors in the project, Canada's Barrick Gold and Chile's Antofagasta.
The government is urgently trying to settle the dispute as a World Bank arbitration tribunal, which ruled against Pakistan in 2017, is in the next few months expected to announce how much in damages the country must pay to the foreign firms, who are claiming more than $11 billion.
The dispute relates to the withholding of a mining lease.
Islamabad is also trying to find new partners to invest in the project.
But any new investors will need the blessing of Pakistan's military, according to government officials and mining sources.
State-run companies from resource-hungry China have long coveted Reko Diq and more recently Saudi Arabia has shown interest, according to Pakistani officials.
Some Western diplomats say the Reko Diq dispute has been a significant foreign investment deterrent, with international businesses unnerved at how Pakistan dealt with the companies that had pledged to invest $3.3 billion to develop the country's then-biggest mining project.
Barrick Gold and Antofagasta, whose joint venture Tethyan Copper Company (TCC) discovered vast mineral wealth in Reko Diq, say they had invested more than $220 million by the time the Baluchistan government, in 2011, unexpectedly refused to grant them the critical mining lease needed to keep operating.
Pakistan argued its move was legitimate because TCC's feasibility study was incomplete and the country's Supreme Court voided the deal in 2013. But in 2017 the World Bank's International Centre for Settlement of Investment Disputes (ICSID) ruled against Pakistan.
TCC did not respond to requests for comment and Antofagasta and Barrick Gold both declined to comment. Reuters could not determine whether either company would be willing to return to the project.
Foreign Investors
The last serious attempt at settling the Reko Diq case was scuppered in 2016 by the military, which vetoed paying hundreds of millions of dollars to TCC, according to a senior Baluchistan official and two former senior officials in Islamabad.
But the military has since changed its stance and is more open to a settlement with TCC, according to a lawmaker close to the military and a source close to Prime Minister Khan. The military was also involved in appointing Pakistan's current legal team.
In response to a Reuters question about blocking the previous settlement effort, the military said: "Let's see how the case progresses." It did not elaborate or comment on whether it was playing any role in the latest negotiations.
Some mining experts say a likely solution would be for a new investment consortium to pay the settlement fee on behalf of cash-strapped Pakistan in exchange for future royalty fees or mining rights.
Information Minister Chaudhry said Pakistan was engaged in negotiations with "both" the current investors about a settlement and also potential new investors, with interest coming from the Middle East and Europe. He declined to name the potential investors.
Pakistani Finance Minister Asad Umar said in October that Saudi Arabia has inquired about investing in Reko Diq and another government official confirmed talks were ongoing.
Saudi Arabia did not respond to a Reuters request for comment on Reko Diq. During Crown Prince bin Salman's visit to Pakistan last month, the kingdom pledged to invest $2 billion in mineral development projects, though the provisional agreements were vague and did not mention any specific projects.
China's state-owned miner China Metallurgical Group Corporation (MCC), which operates the Saindak copper and gold mine close to Reko Diq, has been eyeing the bigger deposit for more than a decade, according to mining and MCC officials.
A few years ago Chinese state giant Norinco also made an approach, according to two sources familiar with Norinco's offer.
MCC and Norinco did not respond to requests for comment.
When a mining company approached former general Abdul Quadir Baloch about Reko Diq around 2016, when he was federal minister for the frontier regions, he took their proposal not only to then-premier Nawaz Sharif, but also to the army chief.
"The military has to give a (security) guarantee to any company coming in to explore or exploit this project, so they are a stakeholder," said Baloch.
The military declined to comment on Baloch's assertions. Sharif, who has since been jailed on corruption charges, could not be reached for comment.
The army-run FWO does not have the funds or the expertise to develop the Reko Diq project, which boasts 5.9 billion tons of ore. But it could be part of a consortium alongside global miners who have the know-how to mine such a gargantuan deposit.
The military's role in developing natural resources in Baluchistan also carries risks, however, analysts say.
Full report at:
https://timesofindia.indiatimes.com/world/pakistan/pakistan-military-eyes-key-role-developing-giant-copper-and-gold-mine/articleshow/68384852.cms
---------
China, Pakistan to upgrade their jointly-produced fighter jet: Report
Mar 12, 2019
BEIJING: China and Pakistan plan to upgrade their jointly-produced JF-17 Thunder fighter jet to enhance its "informatised warfare" capability and weapons which experts says could effectively defend against strong opponents like India.
The development and production of the JF-17 Block 3 are underway, Yang Wei, a Chinese legislator and chief designer of the China-Pakistan codeveloped fighter jet, said.
The Pakistan media claimed that JF-17 aircraft was used to carry out an attack along the Line Of Control (LOC) on February 27. The Indian Air Force, however, said a US made F-16 has been shot down during the attack.
The up-gradation of JF-17 is aimed to enhance the jet's "informatised warfare" capability and weapons, the state-run Global Times reported on Tuesday.
"Informatised warfare" is often used by the Chinese military which broadly refer to use of information and communication technology in modern wars.
The JF-17, which was previously referred as FC-1 Xiaolong, a single-engine multi-role light fighter was being jointly produced by the two countries for several years with engines supplied by Russia.
It is mostly used by Pakistan than by China as the Chinese Air Force has acquired new generation aircraft like Russia's Sukhoi as well as array of home grown new planes including stealth aircraft.
The JF-17 is currently contending with India's Tejas and South Korea's FA-50, the Global Times report said.
"All related work is being carried out," for JF-17 Block 3 Yang was quoted as saying by the daily.
"The third block will see the JF-17's informatised warfare capability and weapons upgraded," Yang said.
Wei Dongxu, a Beijing-based military analyst, told the Global Times that the JF-17 Block 3 is expected to be fitted with an active electronically scanned array radar, which can gather more information in combat, enabling the fighter jet to engage from a farther range and attack multiple targets at the same time.
A helmet-mounted display and sight system could also allow pilots to aim whatever he sees.
Pakistan, the main user of the JF-17, could further share information between the fighter and other platforms, taking advantage of the whole combat system to effectively defend against strong opponents like India, Wei said.
With the new upgrade, Wei expects the JF-17 Block 3 to match an improved version of the F-16 fighter jet.
Yang said that the development and batch production for the JF-17 Block 3 are going simultaneously, thanks to the broad experience.
Wei said this probably means while the upgrades like the new AESA radar are still in development, the airframe, which remains roughly the same, can be manufactured without waiting.
Once new developments are complete, they can be fitted on the airframe very fast, ensuring a quick delivery time, Wei said.
Full report at:
https://timesofindia.indiatimes.com/world/pakistan/china-pakistan-to-upgrade-their-jointly-produced-fighter-jet-report/articleshow/68380492.cms
---------
Apex committee resolves to pursue zero tolerance for terror
Saleem Shahid
March 13, 2019
QUETTA: A meeting of the Apex Committee, presided over by Chief Minister Jam Kamal Khan Alyani, has decided to pursue zero tolerance policy on terrorism and vowed to purge Balochistan of the menace of terrorism by implementing the National Action Plan (NAP).
Commander Southern Command Lt Gen Asim Saleem Bajwa, provincial Home Minister Meer Zia Langove, Chief Secretary Dr Akhtar Nazeer and civil and military officials attended the meeting.
It decided to prevent negative propaganda against national security institutions and take measures to effectively highlight the state's narrative.
Reviewing action against terrorist groups and their funding networks, the apex committee directed law enforcement agencies to establish strong communication for carrying out decisive action against armed groups disturbing peace.
Expressing satisfaction over declining crime rate in Balochistan, the committee decided to beef up security on all national highways in the province.
The apex committee reviewed the security situation in the province and decided to expand the network of the Counter Terrorism Department across Balochistan.
It stressed the need for strong prosecution system, prevention of cyber crime, fostering religious harmony, protection of rights of minorities and adequate security for their places of worship.
The committee was given briefing on Quetta and Gwadar safe city projects and resolved to expedite progress on the projects by removing hurdles.
Full report at:
https://www.dawn.com/news/1469322/apex-committee-resolves-to-pursue-zero-tolerance-for-terror
---------
India
ED attaches Gurugram property linked to LeT chief Hafiz Saeed
Munish Pandey
March 12, 2019
In a major crackdown against those sponsoring terror in India, the Directorate of Enforcement (ED) has attached property of Pakistan-based terror outfit LeT's chief Hafiz Saeed.
According to the agency, "We have attached a property worth Rs 1.03 crore of Zahoor Ahmad Shah Watali, a financial conduit, in the matter of terror financing by Hafiz Muhammad Saeed (Founder of Lashkar-e-Taiba and Jamaat-Ud-Dawa)."
India Today has learnt that the attached property is just few miles away from the national capital in Gurugram.
The attachment is part of the investigation that the agency is conducting against Srinagar-based businessman Zahoor Ahmad Shah Watali, Hafiz Saeed, Mohd. Hizb-ul-Mujahideen head Yusuf Shah alias Salahuddin and others.
The ED initiated the investigation under the Prevention of Money Laundering Act (PMLA) based on a charge sheet filed by National Investigation Agency (NIA) against Hafiz Muhammad Saeed, Mohd Yusuf Shah alias Salahuddin, Aftab Ahmad Shah alias Shahid-Ul-Islam, Altaf Ahmad Shah alias Fantoosh, Nayeem Ahmad Khan, Farooq Ahmad Dar alias Bitta Karate , Mohammad Akbar Khanday, Raja Mehrajuddin Kalwal, Bashir Ahmad Bhat alias Peet Saifullah, Zahoor Ahmad Shah Watali, Kamran Yusuf and Javed Ahmad Bhat under IPC sections 120B, 121 & 121A, 1860 read with section 13, 16, 17, 18, 20, 38, 39 and 40 of the Unlawful Activities (Prevention) Act (UAPA), 1967.
"The accused Zahoor Ahmad Shah Watali has been found to be involved in fund raising and as a financial conduit for Hurriyat leaders. The NIA investigation also revealed that the All Party Hurriyat Conference (APHC) and other secessionists instigate the general public, especially the youth, to observe strikes and issue directives to the masses to hold anti-India protests, demonstrations and processions through press releases, newspapers and social media," said the agency.
The probe agency further during the investigation found that the secessionists instigate the masses to resort to violence, particularly stone pelting at security forces at encounter sites and also after the dispersal of Friday prayers. "This is done wilfully to create such circumstances which will arouse disaffection among the people of Jammu and Kashmir towards the Indian government," said an officer.
According to the ED, it was revealed during the investigations that Hurriyat leaders are receiving funds from Pakistan through conduits and also from the Pakistan High Commission directly. It was substantiated by an incriminating document seized during the search from the house of Ghulam Mohammed Bhatt, who worked as the cashier-cum-accountant with Zahoor Ahmad Shah Watali.
"The document shows that Zahoor Ahmad Shah Watali was receiving money from Hafiz Saeed, the ISI, Pakistan High Commission at New Delhi and also from a source based in Dubai," added the office.
The ED claims, Zahoor Ahmad Shah Watali was remitting the same to the Hurriyat leaders, separatists and stone-pelters of Jammu and Kashmir. "The said document has been maintained in regular course of his business and is signed by Zahoor Ahmad Shah Watali himself. This document clearly shows that Hurriyat leaders were receiving funds from Pakistan through the officials of Pakistan High Commission and through Zahoor Ahmad Shah Watali. The signature of Zahoor Ahmad Shah Watali has also been verified and as per the expert report, his signature on the questioned document matches with his specimen handwriting as well as his admitted handwriting," said the ED document, a copy of which was acquired by India Today.
Zahoor Ahmad Shah Watali along with other nine accused are under Judicial Custody at Central Jail, Tihar, New Delhi in the case investigated by NIA.
"Ongoing investigations conducted by ED has resulted in quantification of proceeds of crime to the tune of Rs. 7 Crore (approx.) . One immovable property of accused Zahoor Ahmad Shah Watali, located in Gurugram, having a value of Rs. 1.03 Crore has been attached provisionally under PMLA," said the ED.
In continuation of their crackdown against terror funding, the ED is all set to attach 24 other properties linked to Srinagar based businessman Zahoor Ahmad Shah Watali and Hafiz Saeed. These properties are spread across Jammu and Kashmir and other parts of the country. The ED suspects a substantial part of the money came through Hafiz Saeed-led Hizb-ul Mujhahideen.
https://www.indiatoday.in/india/story/ed-attaches-gurugram-property-linked-to-let-chief-hafiz-saeed-1476093-2019-03-12
---------
UNSC set to decide on designating JeM chief Masood Azhar as 'global terrorist'
Mar 13, 2019
UNITED NATIONS: The fate of the proposal to designate Pakistan-based terror group Jaish-e-Muhammed's chief Masood Azhar as a global terrorist by the UN Security Council will be known in less than 24 hours when the deadline to raise objections to the bid expires.
The proposal to designate Azhar under the 1267 al-Qaida Sanctions Committee of the UN Security Council was moved by France, UK and the US on February 27.
It was under the no-objection period and Committee members had a period of 10 working days to raise any objections to the proposal. The noobjection period deadline ends 3 pm Wednesday (12:30am IST).
The Committee makes its decisions by consensus of its members.
All eyes are on China, which has in the past blocked India's bids to get Azhar listed as a UN-designated global terrorist.
According to the listing rules of the al-Qaida Sanctions Committee, if no objection is received by the end of the no-objection period, the decision will be deemed adopted, meaning that Azhar will become a UN-designated global terrorist.
The proposal is the fourth such bid at the UN in the last 10 years to list Azhar as a global terrorist.
In 2009, India moved a proposal by itself to designate Azhar, whose JeM had taken responsibility for the suicide attack against Indian security forces in Pulwama on February 14 in which 40 Central Reserve Police Force (CRPF) personnel were killed.
In 2016 again India moved the proposal with the P3 - the United States, the United Kingdom and France in the UN's 1267 Sanctions Committee to ban Azhar, also the mastermind of the attack on the air base in Pathankot in January, 2016.
In 2017, the P3 nations moved a similar proposal again. However, on all occasions China, a veto-wielding permanent member of the Security Council, blocked India's proposal from being adopted by the Sanctions Committee.
A UNSC designation will subject Azhar to an assets freeze, travel ban and an arms embargo. An assets freeze under the Sanctions Committee requires that all states freeze without delay the funds and other financial assets or economic resources of designated individuals and entities.
The travel ban entails preventing the entry into or transit by all states through their territories by designated individuals.
Under the arms embargo, all states are required to prevent the direct or indirect supply, sale and transfer from their territories or by their nationals outside their territories, or using their flag vessels or aircraft, of arms and related materiel of all types, spare parts, and technical advice, assistance, or training related to military activities, to designated individuals and entities.
Hectic diplomatic and political parleys have preceded the closely-watched March 13 deadline as New Delhi reached out to member countries of the UNSC.
In the wake of the February 14 terror attack in Pulwama, India launched a major diplomatic offensive against Islamabad, holding briefing for envoys of 25 countries, including from the five permanent UNSC members -- the United States, China, Russia, the United Kingdom and France -- to highlight Pakistan's role in using terrorism as an instrument of state policy.
India also handed over to Pakistan a dossier on "specific details" of involvement of the JeM in the Pulwama terror attack.
Just two days before the March 13 deadline on Azhar's listing, Foreign Secretary Vijay Gokhale met Secretary of State Mike Pompeo in Washington. The Ministry of External Affairs (MEA) in New Delhi said in a statement that Pompeo expressed his "understanding" of India's concerns regarding cross-border terrorism.
"They agreed that Pakistan needs to take concerted action to dismantle the terrorist infrastructure and to deny safe haven to all terrorist groups in its territory. They also agreed that those who support or abet terrorism in any form should be held accountable," the MEA said.
The State Department said in a statement that Pompeo affirmed that the United States stands with the people and government of India in the fight against terrorism.
Pompeo and Gokhale "discussed the importance of bringing those responsible for the attack to justice and the urgency of Pakistan taking meaningful action against terrorist groups operating on its soil", according to a statement by Deputy Spokesperson Robert Palladino.
On Monday, America's National Security Advisor John Bolton tweeted that he had spoken with Pakistani Foreign Miniter Shah Mahmood Qureshi to "encourage meaningful steps against JeM and other terrorist groups operating from Pakistan."
Bolton said Qureshi assured him that Pakistan would deal firmly with all terrorists and will continue steps to deescalate tensions with India.
An inkling of Beijing's view on the issue came during Foreign Ministry Spokesperson Lu Kang's press conference Monday in Beijing when he was asked about how China would respond to the proposal to list Azhar in the UNSC.
Full report at:
https://timesofindia.indiatimes.com/india/unsc-set-to-decide-on-designating-jem-chief-masood-azhar-as-global-terrorist/articleshow/68386255.cms
---------
NIA exposes Hizbul Mujahideen's plot to spread terror network in UP, Assam
Abhishek Bhalla
March 11, 2019
It started as a case related to fake Indian currency when Uttar Pradesh Police began an investigation in September 2018, arresting a member of Hizbul Mujahideen, the Kashmiri terror outfit with counterfeit notes from Kanpur.
The investigation was handed over to the National Investigation Agency within days.
Joining the dots investigators have unraveled a plot by the terror group to go beyond Kashmir and target places in Hindi heartland of Uttar Pradesh and even spread its tentacles to the east by setting up bases in Assam.
This is part of a chargesheet filed by the agency in a special court in Lucknow.
One of the arrested persons, who has now been accused of terror activities by the NIA in its chargesheet filed on March 11, is Kamruj Zaman from Assam's Hojai district. He was arrested from Kanpur on September 13, 2018.
Osama Bin Javed, the other person to be charged is absconding and belongs to South Kishtwar, J&K.
Both have been accused of raising funds for terror activities by a banned group and conspiring to carry out terrorist acts under different sections of the anti-terror law, Unlawful Activities Prevention Act.
"After completion of training, Zaman was directed to set up hideouts and select targets in UP and Assam for terrorist attacks," NIA has stated.
Zaman first came under the gaze of agencies when on April 8, 2018, a photograph of his brandishing an AK-47 rifle went viral on social media.
He later escaped to Bangladesh fearing his arrest.
"However, he was constantly in touch with and Riyaz Naikoo, HM operational commander in Kashmir, over BBM chat application. In the first week of August 2018, he returned to India and stayed in Assam for some time," NIA said.
On 25 August 2018, on directions of Javed and Riyaz Naikoo, he proceeded to Kanpur where he carried out reconnaissance of a few temples to carry out terror attack. He was also trying to collect arms and explosives to carry out terror activity, according to NIA.
NIA has said that the investigation has established that both Zaman and Javed had joined Hizbul Mujahideen (HM) and were given a nine-month weapon training from June 2017 to March 2018 by two HM cadres identified as Mohammad Amin and Riyaz Ahmed--both from Kishtwar. The two are also absconding.
The case was originally registered by Anti Terror Squad of UP against Zaman and others under of UA (P) Act on allegations of hatching a criminal conspiracy to carry out terrorist attacks by HM cadres at different places in UP. Later this case was re-registered by NIA.
In a separate chargesheet filed in Guwahati NIA stated that Zaman recruited others in Assam.
After returning from Bangladesh, he conspired and recruited his associates namely Sahnawaz Alom, Saidul Alam, Omar Faruk and others as members of Hizb-Ul-Mujahideen, to raise an HM module in Assam.
Full report at:
https://www.indiatoday.in/india/story/nia-exposes-hizbul-mujahideen-plot-to-spread-terror-network-in-up-assam-1475685-2019-03-11?utm_source=recengine&utm_medium=web&referral=yes&utm_content=footerstrip-4
---------
ED to attach 25 properties linked to Hafiz Saeed, Srinagar businessman Zahoor Watali
Munish Pandey
New Delhi
March 12, 2019
In a major crackdown against terror funding and Hafiz Saeed, the Enforcement Directorate(ED) is in the process of attaching 25 properties in Jammu and Kashmir and other parts of country associated to Srinagar based businessman Zahoor Ahmed Shah Watali.
The probe agency believes a large amount of money that was used to procure these properties came from chief of Pakistan based terror organisation Lashkar-e-Taiba (LeT), Hafiz Saeed.
Sources have told India Today that the agency has initiated the process of attaching these properties which include bungalows, palatial houses and farmhouses across the country.
Watali is being investigated by the agency for allegedly handling Hafiz Saeed's finances in India.
The ED's investigation is based on a case registered by the National Investigative Agency. Watali was arrested by the NIA in August last year for his alleged involvement in terror funding.
According to sources, these properties worth crores are part of "proceeds of crime" invested by Watali.
ED has named Hafiz Saeed as an accused in its case. Watali, Hafiz Saeed, Hizbul Mujahideen chief Syed Salahuddin and nine others have been accused by the NIA of "conspiring to wage war against the government" and sponsoring terrorism in the Kashmir valley.
Full report at:
https://www.indiatoday.in/india/story/ed-to-attach-25-properties-linked-to-hafiz-saeed-srinagar-businessman-zahoor-watali-1475790-2019-03-12?utm_source=recengine&utm_medium=web&referral=yes&utm_content=footerstrip-1
---------
Pulwama attack: Evidence shows Pakistan's mentoring of Jaish continues
Mar 13, 2019
The evidence India shared with Pakistan following a suicide bombing in Pulwama that killed 40 Central Reserve Police Force (CRPF) troopers shows that the neighbouring country has kept up efforts to launch and support terror groups including the Jaish-e-Mohammed (JeM) and Lashkar-e-Taiba (LeT), according to findings of investigations by Indian agencies.
The Indian government stepped up diplomatic efforts to isolate Pakistan after the JeM, a terror group based on its soil, claimed responsibility for the February 14 attack. India shared evidence of terrorist safe havens with the Pakistan government shortly after the attack, even as Islamabad said the Masood Azhar-led group has denied its hand in the bombing.
"Pakistan has regularly provided weapons, training, financial support and use of its soil for these terrorist groups. Pakistani forces help the infiltrating groups to cross over into the Indian territory using all means, including covering fire. Mentored and facilitated by the Pak establishment/ISI, Pak/PoK-based terrorist outfits operating in J&K continued their inimical activities against India," India told Pakistan in a document, reviewed by HT.
Data collected by security and intelligence agencies shows that 254 terrorists were killed in Jammu and Kashmir last year, and 115 of those were of Pakistani origin. "Since 2004, over 1,900 Pakistani terrorists have been killed in the state," the document added. India has maintained that the ISI, Pakistan's spy agency, has continued to assist Pakistani terrorists crossing over into India by providing them training, identifying new infiltration routes, coordinating among terror camps and raising funds.
The terrorist group led by Azhar, who is said to be living in Pakistan's Bahawalpur, is behind some of the worst terrorist attacks in India, including the September 2016 raid on an Indian Army facility at Uri that killed 19 and an assault on an airbase the same year in Pathankot.
Since the Pathankot attack, JeM terrorists have carried out more than a dozen attacks in India, according to the document. "The involvement of JeM terrorists in connivance with Pakistani security agencies is evident in all these attacks. However, Pakistan continues to remain in denial mode despite glaring evidence. Moreover, no action has been taken by Pakistan Government on Letter Rogatories (LR) and investigation requests by India."
India is making efforts along with the United States, France and Britain to list Azhar through the United Nation's Islamic State and al Qaeda Sanctions Committee. The listing will go ahead on March 13 if it isn't blocked by any member of the UN Security Council. China has in the past vetoed attempts to designate Azhar.
"As part of its cyber campaign, several hundred audio/video messages of Masood Azhar have been despatched from across. JeM continues to mobilise public opinion for the 'Kashmir cause' as well as seek support from Pak establishment/ISI. In 2018, JeM succeeded in recruiting large number of local youths in Valley as well as exploited routes on IB [International Border] for infiltrating its cadres into J&K," the document said. "JeM was also noticed for targeting SF [security forces] camps using assault rifles of bigger calibres like M4 rifle. All this would not be possible without state's patronage," it added.
Indian fighter jets on February 26 bombed a site in Balakot in Pakistan, known to be a terrorist training centre of the JeM, after the Pulwama attack. The strikes triggered a sharp escalation in tensions with Pakistan, which attempted an air operation in retaliation, and brought back into focus Islamabad's inaction over curbing terrorist groups operating on its soil.
Full report at:
https://www.hindustantimes.com/india-news/pulwama-attack-all-evidence-points-to-pakistan-in-aiding-terror-groups/story-NZRnqbGy4DfCcZXiy1KsFI.html
---------
Litigants oppose Ravi Shankar on Ayodhya mediation committee
Mar 12, 2019
The Supreme Court-appointed mediation committee on the Ayodhya dispute is set to meet litigants for an interaction on Wednesday to kick off the mediation process even as Hindu saints continue to oppose the presence of Art of Living founder Sri Sri Ravi Shankar in the panel.
A  Muslim litigant, too, has asked the spiritual leader to quit the panel if he fails to clear his stand on a letter in which he had purportedly suggested that Muslims should give up their claim on the disputed land.
"Sri Sri Ravi Shankar is not an independent mediator as he had written a letter to us in the past asking us to give up our claim on the disputed land. Hence, I have asked him to either clear his stand or recuse himself from the panel," said Iqbal Ansari, son of Hashim Ansari, one of the main litigants in the Ayodhya title suit.
Apart from Sri Sri Ravi Shankar, the mediation panel comprises Justice (retired) FM Ibrahim Kalifulla and senior advocate Sriram Panchu.
The saints of Ayodhya are opposing any kind of mediation in the case and they consider Sri Sri Ravi Shankar "a rank outsider" on the Ram Mandir issue.
"Sri Sri Ravi Shankar has never been associated with the movement," said Mahant Nritya Gopal Das, head of the Ram Janmabhoomi Nyas, which spearheaded the Ram temple movement in the late 1980s and the early 1990s.
Full report at:
https://www.hindustantimes.com/india-news/litigants-oppose-ravi-shankar-on-ayodhya-mediation-committee/story-tTIA0IbmUesg6lc2Ig0aLM.html
---------
Valley groups call NIA summons of Mirwaiz Umar Farooq an interference
Mar 12, 2019
Ashiq Hussain
A day after Mirwaiz Umar Farooq, chairman of the separatist All Parties Hurriyat Conference, refused to appear before the National Investigation Agency in Delhi in connection with a probe into alleged terror funding, Kashmiri groups on Tuesday described the summons sent to him as interference in the region's religious affairs.
Mutahida Majlis Ulema, a body of religious scholars headed by Farooq, held a convention against the NIA summons to Mirwaiz and a ban on the Jamaat-e-Islami, and called for a protest shutdown on Saturday.
Full report at:
https://www.hindustantimes.com/india-news/valley-groups-call-nia-summons-of-mirwaiz-umar-farooq-an-interference/story-9JLIRinIzLVxDhtl2xDnnK.html
---------
North America
US's Bolton says Pakistan committed to easing tensions with India
Mar 13, 2019
WASHINGTON: White House national security adviser John Bolton said on Monday Pakistan's foreign minister has assured him Islamabad is committed to de-escalating tensions with India and dealing "firmly" with terrorists.
Bolton's comments follow a Feb. 14 suicide bombing, claimed by Pakistan-based militants, which killed at least 40 Indian paramilitary police.
"Spoke with Pakistani FM (Shah Mehmood) Qureshi to encourage meaningful steps against JeM (Jaish-e-Mohammed) and other terrorist groups operating from Pakistan," Bolton said on Twitter.
"The FM assured me that Pakistan would deal firmly with all terrorists and will continue steps to deescalate tensions with India," Bolton added.
Pakistan, which denies Indian accusations of aiding militant groups, last week announced a crackdown against all proscribed outfits.
Pakistan's foreign ministry late on Monday said Qureshi informed Bolton "about the de-escalatory measures taken by Pakistan" in the wake of the aerial bombing missions carried out by both countries in late February.
Qureshi told Bolton that Pakistan's strike in Kashmir on Feb. 27 was in self-defence and retaliation to India's raid on its territory a day earlier. New Delhi said it hit a JeM training camp in Pakistan, but Islamabad denies any such camp exists.
The two countries fought an aerial dogfight over Kashmir on Feb. 27, and a couple of days later Pakistan returned a downed Indian pilot in a gesture that appeared to de-escalate the crisis.
German Foreign Minister Heiko Maas, in a joint conference with Qureshi, commended Pakistan on Tuesday for returning the pilot and offering talks with India. But he also urged Islamabad to stamp out militant groups which attack neighbouring countries.
"We both agreed that cross-border terrorism has to be permanently stopped and there too there have been positive signs in the past few days that we welcome very much," Maas said. "Ultimately it's about fighting any kind of terrorism and extremism."
https://www.pakistantoday.com.pk/2019/03/12/uss-bolton-says-pakistan-committed-to-easing-tensions-with-india/
---------
US, Taliban talks end for now with no Afghan peace deal
13 March 2019
US and Taliban negotiators wrapped up their longest round of peace talks on Tuesday with progress made but no agreement on when foreign troops might withdraw, officials from both sides said.
The 16 days of talks, in which the United States also sought assurances that the Taliban would not allow militant groups to use Afghanistan to stage attacks, are expected to resume in late March.
The negotiations in Qatar included the Taliban's political chief Mullah Abdul Ghani Baradar and a US team led by special envoy Zalmay Khalilzad.
Khalilzad, an Afghan-born veteran US diplomat, said the sides made progress on discussions about counter-terrorism assurances and a troop withdrawal from Afghanistan.
"The conditions for peace have improved. It's clear all sides want to end the war. Despite ups and downs, we kept things on track and made real strides," Khalilzad said on Twitter.
The Taliban have held multiple rounds of peace talks with the American team led by Khalilzad but have so far refused to talk to the Afghan government.
"When the agreement in draft about a withdrawal timeline and effective counter-terrorism measures is finalised, the Taliban and other Afghans, including the government, will begin intra-Afghan negotiations on a political settlement and comprehensive ceasefire," Khalilzad said.
Some progress
Taliban spokesman Zabihullah Mujahid said the sides made progress on the issues of withdrawing foreign forces and preventing future attacks on other countries from Afghanistan.
But, in a statement, he stressed that no agreement was reached on a ceasefire or talks with the Afghan government.
A spokesman for Afghan President Ashraf Ghani tweeted that he hoped to see a long-term ceasefire agreement and the start of direct talks between the government and Taliban soon.
Khalilzad said he would return to Washington to brief US and international officials.
Talks ended on a day in which Taliban insurgents stepped up pressure on the battlefield, killing 20 Afghan soldiers and capturing another 20 in western Afghanistan. In another province, officials said an air strike killed both Taliban fighters and civilians.
About 14,000 US troops are based in Afghanistan as part of a US-led NATO mission to train, assist and advise Afghan forces. Some US forces carry out counter-terrorism operations.
The United States has been pushing the Taliban to agree to a ceasefire and to talk with Afghanistan's government, which the militant group considers a US puppet regime.
"The US officials were pressing the Taliban to declare a ceasefire, but our leaders were clear that a ceasefire can only be announced after the foreign force withdrawal announcement (is) made," said a senior Taliban commander privy to the talks.
Another Taliban source said on condition of anonymity there was frustration on some issues during the peace talks and that a senior member of the extremist group told US officials at one point that the Taliban are "not their servants" and need no US approval for any future decisions.
Washington intervened in Afghanistan in 2001 to help overthrow a Taliban government that had sheltered Osama bin Laden's al Qaeda group, responsible for the Sept. 11 attacks that killed nearly 3,000 people in the United States.
A US-led international force has fought since then against a Taliban insurgency. The foreign presence peaked in 2010 at more than 130,000 troops including 100,000 Americans, but was sharply cut back after 2014.
Full report at:
https://english.alarabiya.net/en/News/world/2019/03/13/US-Taliban-talks-end-for-now-with-no-Afghan-peace-deal.html
---------
Trump sees advantage in debate over Israel, anti-Semitism
March 13, 2019
WASHINGTON: President Donald Trump can't get enough of Rep. Ilhan Omar.
As Democratic lawmakers try to turn the page after the liberal legislator's use of anti-Semitic tropes ignited an embarrassing, intra-party fight, the Republican president is trying to prolong and weaponize the issue for his 2020 campaign, asserting during a private weekend fundraiser that Democrats "hate" Jews.
While Trump publicly muses about winning over Jewish voters for his re-election, his motivations are more complicated and expansive. The president's rhetorical escalation also is designed to unsettle the Democratic primary debate, exploit an issue that can energize his supporters and move past his own history of toying in anti-Semitic motifs.
Trump on Tuesday promoted comments by former model and 2016 campaign staffer Elizabeth Pipko, who said on Fox & Friends that "Jewish people are leaving the Democratic Party."
Pipko, who serves as spokesperson for the group "Jexodus," which bills itself as speaking for "Jewish Millennials tired of living in bondage to leftist politics," saw her comments amplified by Trump on Twitter. "There is anti-Semitism in the Democratic Party," she continued. "They don't care about Israel or the Jewish people."
Her comments mirrored Trump's charge on Friday that Democrats had become an "anti-Israel" and "anti-Jewish" party, responding to the House voted a day before to disapprove of all prejudice in response to Omar's invocation of "dual-loyalty" charges against American supporters of Israel earlier this month.
Speaking later that evening, Trump went even further in an appearance before Republican National Committee donors, charging that Democrats "hate" Jewish people, according to a person who heard the remarks but spoke on condition of anonymity to describe the president's comments at a private event.
Omar had sparked a political firestorm that derailed the Democrats' focus on investigations of the Trump administration, including a public back-and-forth over how, or even if, her party should condemn her comments. The ultimate resolution, which passed the House overwhelmingly, didn't call out Omar by name.
As a small percentage of the nation, American Jews are not a particularly significant voting bloc, nor is Israel their decisive issue of concern. And both parties acknowledge the controversy is unlikely to alter dramatically the electoral votes of the American Jewish community, which has skewed decisively toward Democrats for more than a generation.
Even a small shift, though, can be significant.
"We're slicing the salami very thin, and an incremental shift in traditional Democratic blocs to the other side can have a profound impact," said Matt Brooks, executive director of the Republican Jewish Coalition. He said his group plans to make "the largest investment that we've ever had in the 2020 race in terms of outreach, advocacy and independent expenditures on behalf of the president."
Stoking the fight also gives Trump an opportunity to deflect criticism of his own rhetoric, invigorate evangelical Christians for whom the Israel issue is a powerful motivator and paint Democrats into a radical corner.
It also plays into Trump's attempt to cast Democrats as radicals ahead of the 2020 campaign, said conservative commentator Seth Mandel, executive editor of the Washington Examiner magazine. He noted that Democratic Rep. Alexandria Ocasio-Cortez and Sen. Bernie Sanders pushed back against efforts to condemn Omar's comments. "It makes it very easy to say they're just adopting whatever the socialist says."
White House press secretary Sarah Sanders kept the controversy alive on Monday by criticizing Democrats for failing to explicitly repudiate Omar.
"It's something that should be called by name," she said. "It shouldn't be put in a watered-down resolution."
Sanders pointed to Republican condemnation of Rep. Steve King earlier this year, including stripping the Iowa Republican of his committee memberships, after he made remarks defending white supremacy. But King had long espoused racially charged ideas, and the GOP only took action after it lost its majority in the chamber.
Minnesota Sen. Amy Klobuchar, who is running for the Democratic presidential nomination, warned that Trump's politicization of the issue "threatens the bipartisan support for Israel."
"The problem is that the president sees it somehow as a way to make some kind of political hay and a wedge," she said. "And he keeps addressing it that way. And I just think it's a mistake, as someone that's a strong supporter of Israel, that he keeps doing it."
Hallie Soifer, the executive director of the Jewish Democratic Council of America, said her group welcomes Trump's focus on the issue of anti-Semitism. "He himself has emboldened anti-Semites in our country by both repeating anti-Semitic tropes and conspiracy theories," she said. "He has no credibility with Jewish voters."
Trump has been among the loudest critics of Omar, including last month when he called on her to resign from the House, or at least resign her post on the Foreign Affairs Committee over her suggestion that Jewish money drove support for Israel.
But Trump himself has repeatedly deployed some of the same tropes that sent fire toward Omar. He was slow to condemn white supremacists who marched violently in Charlottesville, Virginia, in 2017. In 2016 he circulated an image of a six-pointed star alongside a photo of Hillary Clinton, a pile of money and the words "most corrupt candidate ever." And he told a group of Republican Jewish donors he didn't expect to earn their support because he wouldn't take their money.
"You want to control your politicians, that's fine," he told the Republican Jewish Coalition in 2015. Ultimately, the group and many of its donors backed Trump. Brooks said Trump's comments were meant obviously in jest and any suggestion otherwise is "unfair and ridiculous."
"Jexodus" is hardly the first time Trump has tried to peel away minority voters from the Democratic coalition. He has pushed the "WalkAway" and "Blexit" movements to win over black voters to the GOP, but those efforts proved to have limited, if any impact.
According to AP Votecast, a survey of more than 115,000 midterm voters and 3,500 Jewish voters nationwide, voters who identified as Jewish broke for Democrats over Republicans by a wide margin, 72 percent to 26 percent, in 2016.
Full report at:
http://www.arabnews.com/node/1465971/world
---------
US envoy for Afghanistan says partial 'draft' agreement reached with Taliban
Joyce Karam
March 12, 2019
The US special representative for Afghanistan announced on Tuesday that a draft agreement has been reached with the Taliban on counter-terrorism assurances and troop withdrawal after 13 days of talks in Doha.
Zalmay Khalilzad, the first US official to lead talks with the extremist group, tweeted on Tuesday that the talks have concluded in Doha and he was on his way back to Washington.
"The conditions for #peace have improved," Mr Khalilzad said. "It's clear all sides want to end the war. Despite ups and downs, we kept things on track and made real strides."
U.S. Special Representative Zalmay Khalilzad
✔
@US4AfghanPeace
(1/4) Just finished a marathon round of talks with the Taliban in #Doha. The conditions for #peace have improved. It's clear all sides want to end the war. Despite ups and downs, we kept things on track and made real strides.
1,191
10:29 PM - Mar 12, 2019
Twitter Ads info and privacy
626 people are talking about this
He said a peace agreement would focus on four issues: counter-terrorism assurances, troop withdrawal, including the Afghan government in talks and a comprehensive ceasefire.
"In January talks, we agreed in principle on these four elements," Mr Khalilzad said. "We're now 'agreed in draft' on the first two."
But the draft agreement will need to be finalised, he said.
When that happens, "the Taliban and other Afghans, including the government, will begin intra-Afghan negotiations on a political settlement and comprehensive ceasefire", Mr Khalilzad said.
"We will meet again soon and there is no final agreement until everything is agreed."
The Taliban also voiced optimism on Tuesday.
"For now, both sides will deliberate over the achieved progress, share it with their respective leaderships and prepare for the coming meeting, the date of which shall be set by both negotiation teams," the group told The Washington Post.
The US waged its war in Afghanistan to overthrow the Taliban and Al Qaeda in 2001 after the terrorist attacks of 9/11.
But despite 18 years of war, the group remains undefeated.
US President Donald Trump has expressed interest in withdrawing troops from America's longest war but his military generals have said no such order has been given yet.
Now, the US envoy is hoping to seal an agreement before Afghan voters go to the polls in July.
But former US diplomats including Ryan Crocker have warned against legitimising the Taliban before it abandons terrorism, or using the talks as a justification for withdrawal.
Full report at:
https://www.thenational.ae/world/the-americas/us-envoy-for-afghanistan-says-partial-draft-agreement-reached-with-taliban-1.836282
---------
Mideast
Israel shuts Jerusalem Al-Aqsa mosque compound after unrest
March 12, 2019
JERUSALEM: Unrest at a highly sensitive Jerusalem holy site led Israeli police to shut off access to it on Tuesday after several weeks of tension at the location.
Police said they evacuated the Al-Aqsa mosque compound after a Molotov cocktail damaged a police post.
Video spread online of scuffles between police and Palestinians before the site was cleared.
More than 10 people were arrested, police said, while the Palestinian Red Crescent reported two people hurt.
A police officer suffered from smoke inhalation, police said.
Police said they found a number of firecrackers and Molotov cocktails in searches of the site.
Residents said police were also restricting Palestinian access to Jerusalem's Old City, where the site is located.
Worshippers later prayed outside the locked gates of the site in protest.
Jordan, the custodian of the site, condemned its closure as "unacceptable."
Abdul Nasser Abul Al-Basal, Jordanian minister of Islamic affairs, told state-run Al-Mamlaka TV that the closure was an "attack on religious freedom."
The compound is the third-holiest site in Islam and a focus of Palestinian aspirations for statehood.
It is also the location of Judaism's most sacred spot, revered as the site of the two biblical-era Jewish temples.
Jews are allowed to visit but cannot pray there and it is a frequent scene of tension.
It is located in east Jerusalem, occupied by Israel in the 1967 Six-Day War and later annexed in a move never recognized by the international community.
Recent weeks have seen scuffles over a side building at the site known as the Golden Gate.
Palestinian worshippers have been entering the site despite an Israeli order that it should stay closed.
Access to the Golden Gate was closed in 2003 during the second Palestinian intifada over alleged militant activity there, police say.
Palestinian officials argue that the organization that prompted the ban no longer exists and there is no reason for it to remain closed.
Israel and Jordan are believed to be holding discussions to resolve the issue.
Police have filed a request with Israeli courts for an order to re-close the building, but the court has reportedly delayed any decision to allow for more negotiations.
There are concerns in Israel that tensions at the site could boil over and become a political issue ahead of April 9 Israeli elections.
http://www.arabnews.com/node/1465726/middle-east
---------
In joint statement, Iran, Iraq hail 'turning point' in 'strategic' cooperation
Mar 12, 2019
Tehran and Baghdad have hailed Iranian President Hassan Rouhani's historic three-day visit to Iraq as a "turning point" in efforts to strengthen "strategic" cooperation between the two neighbors based on non-interference in each other's internal affairs.
In a joint statement on Tuesday, Iran and Iraq said they discussed regional issues, common challenges, fight against terrorism and ways to promote security, stability and economic cooperation in the region in line with the interests of its nations.
According to the statement, the two sides emphasized the need for the establishment of security in the Middle East as a contributing factor to the region's economic growth and development.
It added that Iran and Iraq also expressed their firm determination to battle terrorism and organized crimes, which pose a threat to regional security and peace, calling for collective cooperation to uproot terrorism in all political, intellectual and financial aspects.
The two sides said they held important talks in a cordial and constructive atmosphere and expressed their willingness to enhance relations in various spheres, including politics, security, economy, healthcare, trade, culture, science and technology.
Iran and Iraq further emphasized that the 1975 Algiers Agreement and its attached protocols should be carefully implemented with goodwill and agreed to start joint operation to dredge Arvand Roud as soon as possible.
The 1975 Algiers Agreement (commonly known as the Algiers Accord, sometimes as the Algiers Declaration) was an agreement between Iran and Iraq to settle their border disputes and conflicts (such as the Shatt al-Arab, known as Arvand Roud in Iran), and it served as basis for the bilateral treaties signed on June 13, 1975.
Javad Zarif
✔
@JZarif
Last night, PM hosted dinner w/unprecedented guest list—a who's who of Iraqi politics: All Iraqis are our friends;
Today leaders issued historic joint declaration:
-Commitment to implement 1975 Treaty
-Expeditious dredging of border river:
Removed another vestige of Saddam war.
1,004
7:34 PM - Mar 12, 2019
Twitter Ads info and privacy
324 people are talking about this
In a post on his official Twitter account on Tuesday, Iranian Foreign Minister Mohammad Javad Zarif pointed to the "historic joint declaration" and said the two sides urged commitment to the implementation of the 1975 Treaty and the expeditious dredging of the border river.
'US, major powers hatching plot after plot against nations'
Earlier on Tuesday, the Iranian president said big powers, particularly the United States, have constantly been hatching plots against Middle Eastern nations.
"Like in the past, Iran is ready to take steps to solve regional problems and promote dialog and interactions among regional countries," Rouhani said in a meeting with Leader of Iraq's National Wisdom Movement Ammar al-Hakim in Baghdad on Tuesday, the second day of his visit to the neighboring country.
He called on Iranian and Iraqi officials to make more efforts to fulfill their duties towards the two nations.
The Iranian president further said Tehran and Baghdad play an influential role in the region, adding that the two sides should make plans in accordance with the current circumstances in the region as well as common goals and work to strengthen bilateral cooperation in all fields.
Enhanced Iran ties help Iraq's development, reconstruction: Hakim
The Iraqi official, for his part, said Iraq has managed to overcome major challenges, adding that further expansion of relations with Iran can help accelerate Iraq's reconstruction and development.
He stressed the importance of maintaining unity and coherence among various political groups in Iraq and emphasized that the National Wisdom Movement feels duty-bound to resist against anti-Iran media propaganda and excessive demands of arrogant powers from the Islamic Republic.
Rouhani is in Baghdad at the head of a high-ranking politico-economic delegation on his first visit to the country since 2013. The trip is aimed at solidifying strategic ties despite US efforts to keep the two neighbors apart and curb Iran's influence in the region.
Iran and Iraq on Monday signed five memorandums of understanding for the expansion of bilateral cooperation in various economic and healthcare sectors.
The documents were signed by senior officials of the two countries in the presence of President Rouhani and Iraqi Prime Minister Adel Abdul-Mahdi in Baghdad.
Hashd al-Sha'abi plays key role in Iraq national unity: Rouhani
The Iranian president also said on Tuesday that Iraq's pro-government Popular Mobilization Units (PMU), known in Arabic as Hashd al-Sha'abi, plays a highly important role in fighting terrorism, establishing national security and reinforcing unity in the Arab country.
In a meeting with Faleh al-Fayyad, the PMU head and Iraq's National Security Advisor, Rouhani added that the Iraqi nation's fight against terrorists was a source of pride for the Muslim world.
The Iraqi official, for his part, said the Iranian president's visit to Iraq would serve the two nations' interests.
The expansion of cooperation between Iran and Iraq would prepare the ground for major developments in the Middle East, Fayyad added.
He emphasized that Iraq always considers itself as a defender of the Islamic Republic in different areas and is proud of neighboring Iran's political, economic, regional and international achievements.
In November 2016, the Iraqi parliament voted to integrate Hashd al-Sha'abi, which was formed shortly after the emergence of Daesh, into the military.
Full report at:
https://www.presstv.com/Detail/2019/03/12/590857/Rouhani-statement-Ammar-alHakim-Hashd-alShaabi-Faleh-alFayyad-US-Baghdad
---------
US relocating terrorists from Mideast to Central Asia: Iran president
Mar 12, 2019
Iranian President Hassan Rouhani says the fight against terrorism is not over yet despite the collapse of the Daesh terror group in Iraq and Syria as the United States is now relocating the Takfiri terrorists from the Middle East to Afghanistan, Central Asia and the Caucasus.
In a meeting with Iraqi religious and tribal leaders and elites in Baghdad, Rouhani said the hegemonic powers brought Daesh and other terrorists to the region in an attempt to sow discord among neighboring countries, nations, tribes and religions so they could justify their illegitimate presence in the region, portray a violent image of Islam and ultimately represent themselves as the "saviors."
However, he added, the Iraqi and Syrian nations -- along with the vigilant people of the region -- foiled the plots hatched by the imperialist powers.
"Muslims in the region managed to let the world know that the terrorists are not true Muslims, and that Islam is the religion of justice, mercy and peaceful coexistence among all ethnicities and religions, contrary to all the Islamophobic propaganda," Rouhani said.
Regional nations, he said, showed the world that the global arrogance, itself, is the main sponsor of terrorists, adding, "It is clear where they (terrorists) receive financial and military support, and how and in which markets they sell the looted artifacts."
"We did not allow imperialist powers to present themselves as the region's saviors. Now everyone knows that Western powers had no role in the elimination of the terrorists from the region," the Iranian president said.
The terrorists were in fact banished thanks to the endeavors of the Iraqi nation and army as well as the fatwas issued by religious leaders, Rouhani added.
The Iranian president warned, however, that the issue of terrorism has not yet been fully solved.
"Terrorists may still create problems for the people of the region in various different ways as the Americans have other plots in mind for the region and are now transferring the terrorists to Afghanistan, Central Asia and the Caucasus," Rouhani said.
Elsewhere is his remarks, the Iranian chief executive hailed Tehran-Baghdad ties as excellent and exemplary, urging strong unity between the two neighbors as well as other regional friendly countries.
Additionally on Tuesday, Rouhani held talks with the former Iraqi prime minister, Haider al-Abadi.
During the meeting, the Iranian president expressed his satisfaction with the growing bilateral relations and called for boosting cooperation in the fields of trade, economy and higher education.
Abadi, for his part, highlighted the importance of Rouhani's trip and hailed close cooperation between the two neighbors in the fight against terrorism over the past years.
All Iraqi parties and politicians support the enhancement of ties with Iran, he said, noting that the strategic relations would not be undermined in any way.
Full report at:
https://www.presstv.com/Detail/2019/03/12/590833/Iran-Hassan-Rouhani-Iraq-terrorists-Afghnaistan
---------
Turkey censures Netanyahu for 'discrimination' against Arab Israelis
Mar 13, 2019
Turkey has denounced Israeli Prime Minister Benjamin Netanyahu for his "blatant racism" against Arab Israelis after the rightist premier said the occupied territories do not belong to all its citizens.
Recently, Rotem Sela, a popular Israeli TV host and actress, took to Instagram to criticize anti-Arab comments by Culture Minister Miri Regev, an outspoken Netanyahu loyalist.
Netanyahu fired back by referring to a controversial law adopted last year that declares the occupied territories exclusively "the nation-state of the Jewish people."
"Israel is not a state of all its citizens," he wrote in an Instagram post. "According to the basic nationality law we passed, Israel is the nation state of the Jewish people – and only it."
The Israeli prime minister also suggested on his online Likud TV webcast that Arab citizens had more affiliation with the Arab countries in the region than with Israel.
"The Arab citizens have 22 nation states around them and they do not need another," he said.
The remarks sparked condemnations, with critics saying Netanyahu was demonizing the Arabs, who make up some 17.5 percent of Israel's population, in a bid to boost right-wing turnout for the April legislative elections.
On Tuesday, Turkish presidential spokesman Ibrahim Kalin strongly condemned Netanyahu's "blatant racism and discrimination."
"1.6 million Arabs/Muslims live in Israel. Will the Western governments react or keep silent under pressure again?" Kalin asked on his official Twitter account.
Ibrahim Kalin
✔
@ikalin1
Netanyahu says that Israel is "a nation state not of all its citizens but only of the Jewish people".
I strongly condemn this blatant racism and discrimination.
1.6 million Arabs/Muslims live in Israel.
Will the Western governments react or keep silent under pressure again?
1,660
1:48 PM - Mar 12, 2019
Twitter Ads info and privacy
502 people are talking about this
Netanyahu, however, responded hours later, calling Turkish President Recep Tayyip Erdogan a "dictator" who jails journalists and judges.
Turkey slams Israel's 'brazen attacks' on al-Aqsa
Separately on Tuesday, Ankara censured Israel's stepped-up raids on the sacred places of Islam after the regime forces closed all entrances to the al-Aqsa Mosque compound in Jerusalem al-Quds amid clashes with Palestinian worshipers.
"Unfortunately, today, Israel's aggression has increased with encouragement from the US. We talk about all these issues and will not give up our sacred and national causes," Turkish Foreign MInister Mevlut Cavusoglu said in the province of Antalya.
He also called on the international community to stand against Tel Aviv, adding, "It is time to put a stop to Israel's recklessness. We can't tolerate brazen attacks on our holy places and the world must react to this."
Palestinians have long been wary of Israeli attempts to change the status quo of al-Aqsa Mosque, which is Islam's third holiest site and where only Muslim prayers are allowed under the status quo reaffirmed in 1967 between Israel and Jordan.
Ties between Ankara and Tel Aviv soured in 2010 after an Israeli raid on a Gaza-bound Turkish aid flotilla killed 10 Turkish activists in high seas.
Full report at:
https://www.presstv.com/Detail/2019/03/13/590903/Israel-Turkey-Arab
---------
More than a dozen Houthis killed in clashes with government troops
March 12, 2019
RIYADH, CAIRO: New fighting has erupted in northern Yemen as support for Iran-backed Houthi militias in their heartland crumbles.
Thousands of civilians caught in clashes between warring factions are trapped in the impoverished Hajjah governorate.
The number of people displaced has doubled in the past six months, with over 5,300 families fleeing in the past weeks, according to the UN Office for the Coordination of Humanitarian Affairs.
The Houthis imposed tight control over Hajjah's mountainous district of Kushar after powerful local tribesmen took up arms against them. The Houthis shelled the district — home to 100,000 people — and killed and wounded scores of civilians. Thousands were displaced. As the Houthi siege strangled the area, the Saudi-led coalition airdropped food and medicine to the tribes.
"Ongoing fighting in the north of Hajjah is creating an extremely concerning situation for the population," said the medical charity Medecins Sans Frontieres, which is operating in the region.
The district's tribes remained neutral in Yemen's civil war after a 2012 deal with the Houthis. But after the Houthis tried to use the district to send weapons and reinforcements to the front lines, the deal collapsed.
Ali Argash, a Yemeni university professor who grew up in Kushar, said that for the past two months mediation between tribal leaders and Houthis failed to prevent a conflict.
"We were searching for peace and told them, you are the de facto authority, tell us what you want and we will do it," he said. "We tried to avoid the war but we were forced into it."
The fighting underscores the fragmentation of the Houthis' support base in northern Yemen, where they have mostly been in control since the start of the conflict.
Full report at:
http://www.arabnews.com/node/1465406/middle-east
---------
Europe
EU human rights chair urges justice for Khashoggi
Michael Hernandez
13.03.2019
WASHINGTON
Justice must be achieved for slain Washington Post columnist Jamal Khashoggi, the chair of the EU's Subcommittee on Human Rights wrote in an opinion piece published Tuesday.
"Khashoggi's heinous murder shines a light on how these rights have been brutally trampled on under the Saudi regime," Antonio Panzeri wrote in the Washington Post newspaper.
Khashoggi was brutally murdered inside the Saudi Consulate in Istanbul last October shortly after he entered the diplomatic facility. Riyadh initially denied any role in the killing but has since sought to blame his death on a botched rendition operation carried out by rogue agents.
In November, the CIA concluded with high confidence that Saudi Crown Prince Mohammed bin Salman ordered Khashoggi's killing, according to The Washington Post.
Panzeri said that despite going on a "tour of world capitals" to tout reforms in his country that portray it as being a regional leader in human rights, bin Salman's government has been "following a path that leads in a completely different direction."
"The regime, despite small concessions, has continued to behave in an authoritarian and repressive manner," said Panzeri. "The need to forge relationships with international powers explains the crown prince's occasional concessions. Fortunately, there are still some leaders who see through the smokescreen and have some qualms about trading with a dictator."
Full report at:
https://www.aa.com.tr/en/americas/eu-human-rights-chair-urges-justice-for-khashoggi/1416435
---------
EU says will blacklist UAE, Oman as havens for tax evasion
Mar 13, 2019
The finance ministers of the European Union have agreed to revise a blacklist for tax havens outside the bloc, adding 10 countries including the United Arab Emirates, Oman, and British and Dutch oversea territories to the list, despite last-minute push-back by some EU nations.
EU officials said Tuesday the bloc is increasing the number of blacklisted countries from 5 to 15 as part of a plan to raise the bar of tax good governance globally and cut out the opportunities for tax abuse.
The EU list is composed of countries that failed to deliver on their commitments to comply with required good-governance criteria.
"The United Arab Emirates facilitates offshore structures and arrangements aimed at attracting profits without real economic substance, and has not yet resolved this issue," the Council of the European Union announced on Tuesday.
Pascal Saint-Amans, head of the Organization for Economic Cooperation and Development (OECD)'s tax group, had earlier described the UAE as a concern and argued that the country has not been "proactive" in curbing abuse.
EU documents seen by Reuters show that Italy and Estonia objected to the new tax haven list, as they opposed the inclusion of the United Arab Emirates, but to no avail.
The new EU blacklist also includes Oman as the Sultanate "does not apply any automatic exchange of financial information, has not signed and ratified the OECD Multilateral Convention on Mutual Administrative Assistance as amended, and has not yet resolved these issues."
The Dutch Caribbean island of Aruba, Barbados, Belize, the British overseas territory of Bermuda, Fiji, the Marshall Islands, Vanuatu and Dominica are also included in the new list released by the 28-nation bloc.
They join Samoa, Trinidad and Tobago, and three US territories of American Samoa, Guam, and the US Virgin Islands which were already on the blacklist.
The blacklist was first set up in December 2017 after revelations of widespread tax avoidance schemes used by corporations and wealthy individuals to lower their tax bills.
Pressure from the United States, Saudi Arabia and Panama prompted EU governments earlier this month to block another blacklist of countries that show deficiencies in countering money laundering and terrorism financing.
A unanimous majority of European Union member states moved to block the new EU money-laundering blacklist that included Saudi Arabia and several US territories, following an appeal by Saudi Arabia's King Salman bin Abdulaziz Al Saud.
Saudi King Salman has reportedly written letters to all EU leaders appealing against the oil-rich kingdom's blacklisting.
Full report at:
https://www.presstv.com/Detail/2019/03/13/590886/European-union-tax-haven-blacklist-uae-oman
---------
Berlin's digital archive on display to preserve memory of Syria
Mar 12, 2019
A special exhibition of the Syrian Heritage Archive Project hosted by Berlin's Museum of Islamic Art takes visitors on a virtual tour through the Syrian cultural landscape ravaged by the country's war.
The special exhibition, which opened on February 28, features one of the most comprehensive archives on Syria created outside the country, including artefacts, images, maps and films.
Islamic Art Museum Director Stefan Weber noted that "it is one of the largest, maybe the largest photo archive on Syria in the world."
The exhibition focuses on Aleppo and such Syrian towns as Palmyra and Raqqa that have been severely affected by the drawn-out war in the country, with many cultural treasures destroyed or irretrievably lost.
Full report at:
https://www.presstv.com/Detail/2019/03/12/590867/Berlin-digital-archive-Syria
---------
These Are The Types Of Islamophobia Fox News Is OK With
13/03/2019
"Think about it. [Rep. Ilhan] Omar wears a hijab," Fox News host Jeanine Pirro looked straight into the camera and told her viewers Saturday night. "Which, according to the Quran 33:59, tells women to cover so they won't get molested. Is her adherence to this Islamic doctrine indicative of her adherence to Sharia law, which in itself is antithetical to the United States Constitution?"
Her on-air comments, which explicitly questioned Omar's loyalty as an American lawmaker simply because of her religious beliefs, were widely criticized, with civil rights groups nationwide calling for Pirro's resignation. Her employer even condemned her comments in a statement released on Sunday, saying they "do not reflect those of the network."
Omar (D-Minn.), one of the first two Muslim women elected to Congress, later thanked the network on Twitter for its condemnation. Shortly after that, Pirro released a statement defending her segment, saying that she did not call Omar un-American and that her "intention was to ask a question and start a debate, but of course because one is Muslim does not mean you don't support the Constitution."
But to say Pirro's comments do not reflect Fox News' position is far from the truth. For years, she has propagated anti-Muslim disinformation without any consequence — and so have her colleagues throughout the network. Fox News has amassed a well-documented history of spewing anti-Muslim propaganda with impunity.
Pirro has been a one-woman source of Islamophobic sound bites
In a 2016 segment of "Fox News Live," Pirro advocated for mosques to be surveilled and supported Newt Gingrich's call to "test every person here who is of a Muslim background, and if they believe in Sharia, they should be deported," as he told the network's Sean Hannity.
In 2015 she invited a Steve Emerson, a "high-profile Muslim-basher," according to the Southern Poverty Law Center, to discuss his since-disproved theory about so-called no-go zones in the U.K. and France; he claimed Muslims who refuse to assimilate reside in enclaves that are beyond the control of local law enforcement and even bar non-Muslims from entering.
After the 2015 Charlie Hebdo attack in France, Pirro's show promoted bigoted inaccuracies — among many during Fox News' coverage. The network was forced to issue not one but four corrections in a single day for wildly inaccurate reporting about Muslims in Europe.
That year, she went on a seven-minute Islamophobia-riddled tirade in which she said a "reverse Crusade" was in progress against white Christians. In another instance, she called for the mass murder of Islamists — a label used to describe politicians who run on political platforms influenced by the Islamic faith.
A few days after the 2015 National Prayer Breakfast, a national interfaith event held in Washington, D.C., Pirro again took to her show and collectively blamed Muslims, a community of 1.6 billion people, for a series of terrorist attacks. She berated then-President Obama to "stop defending Islam" and to "start protecting Americans."
"Consider this: The first World Trade Center attack in 1993, by Muslims. The USS Cole bombers were Muslim. The Fort Hood shooter was Muslim. The shoe bomber was Muslim. The underwear bomber was Muslim. The Boston bombers were Muslim. The Sept. 11 hijackers were Muslim," she said. "Mr. President, please identify what other violence is being committed against Americans in the name of any other religion, or is it just coincidence?"
At Fox News, numerous other hosts and guests have traded in anti-Muslim bigotry, lies and fearmongering
Fox News has repeatedly pushed anti-Muslim conspiracy theories, hosted numerous Islamophobic personalities and consistently weaved in blatant hate and bigotry in its coverage of Muslims.
A Fox News representative told HuffPost that these instances occurred under old management.
Media Matters, a nonprofit research center dedicated to monitoring and correcting misinformation in American media, has long documented Fox News' Islamophobic history.
"It's definitely not isolated to her show. That's a given," said Rebecca Lenn, Media Matters' director of external affairs. "Fox News has definitely been a leading driver of the anti-Muslim fervor in the media landscape for a long time. There is no doubt, taking a step back, that bigotry and extremism are at the very heart of the network, and that's becoming even more of a reality since the network has positioned itself as Trump's go-to propaganda network."
There is no shortage of examples of blatant anti-Muslim rhetoric broadcast on Fox News.
On "Fox & Friends," co-host Brian Kilmeade claimed in 2010 that "all terrorists are Muslims." In another episode of the same program that year, co-host Pete Hegseth had some advice for the Muslim community, saying, "If you don't want to be portrayed in a negative light, maybe don't burn people alive and set off bombs and things like that."
"Muslim immigration means more Islamic terrorism," said Pamela Geller on Sean Hannity's show in 2017. The Southern Poverty Law Center designated her "the anti-Muslim movement's most visible and flamboyant figurehead."
"You have to admit, there is a Muslim problem in the world," Jesse Watters said on "The O'Reilly Factor" in 2017.
The anti-Muslim hatred goes back for years. In 2010, when Muslim Americans wanted to construct an Islamic center known as Park51 in lower Manhattan, Fox News commentators regularly demonized idea in a number of segments. In August of that year, Fox News legal analyst Peter Johnson said New York Muslims should "give up their rights" in order to be "good neighbors." One month later, Fox News host Bill Hemmer said the center "could also be the first stop for a radical jihadist who comes to America who wants to go pray."
While Obama was running for president and throughout his time in the White House, Fox News anchors continually recycled the narrative that he was a Muslim (he isn't), insinuating that just being of the Islamic faith would be problematic.
As with Pirro's recent smear against Omar, former Fox News contributor Eric Bolling claimed in 2012 that Obama was a Muslim who "answered to the Quran first and to the Constitution second."
Other examples of Fox News' perpetuation of anti-Muslim hysteria include pushing the conspiracy that Sharia, a religious framework that Muslims adhere to in everyday life, is set to take over the U.S. government and replace it with a violent, backward legal framework. (No national Muslim organization has ever called for Sharia to supersede American courts. In fact, the sheer idea goes against how Sharia actually works.)
Lenn said Pirro's latest comments are just another example of an overarching problem at Fox News that is unlikely to end anytime soon.
Full report at:
https://www.huffingtonpost.in/entry/fox-news-islamophobia_n_5c8811ebe4b038892f482d12
---------
South Asia
Some Rohingya refugees prefer death in Bangladesh over repatriation to Myanmar
March 12, 2019
COX'S BAZAAR, Bangladesh (RNS) — When 60-year-old Dil Mohammad found out in November that he was on a list of some 2,000 Rohingya refugees to be sent back to Myanmar, he grabbed the bottle of rat poison and poured it down his throat. His wife forced him to vomit and rushed him to the nearby Médecins Sans Frontières hospital.
To Mohammad, suicide, a grave sin in Islam, was preferable to returning to the persecution that his people have suffered for decades in their historic home in western Myanmar.
"It's better to die in Bangladesh, where I would get a proper Islamic burial, than be killed in Myanmar for being Muslim," he said. "God will forgive my act of suicide because he knows our pain."
Some 700,000 Rohingya, a Muslim ethnic minority from northern Rakhine state across the border in Myanmar, have flooded into refugee camps in Bangladesh since August 2017, when Rohingya militants known as ARSA (the Arakan Rohingya Salvation Army) attacked Myanmar border police, setting off a violent retaliation. Rohingya villages have been razed and Myanmar troops have allegedly raped and killed thousands of Rohingya civilians.
Mohammad and his family, fearing for their lives, walked for days through forests in torrential rain, arriving in Bangladesh in September 2017.
"There was nothing here when we arrived, just trees and land," said Mohammad. Local Bangladeshi families helped the refugees set up shelters and provided food and water until aid groups and Bangladesh's armed forces arrived to set up makeshift camps.
Abdul Hamid, a community leader in the camps, said he left a flourishing restaurant business and expansive ancestral farmland in Myanmar. Now he and his family live off meager rations of rice and lentils supplemented by occasional meat and vegetables when they manage to secure cash. They sleep in a dusty hut with sewage running in a gutter out front.
"We struggle with the refugee life here, but we're grateful to be alive. We'd rather die here than be killed just for being Muslim in Myanmar," Hamid said.
In October, Bangladesh and Myanmar agreed to put into effect a bilateral repatriation agreement, with the first 150 refugees scheduled to return in mid-November. The plan was opposed by the U.N.'s refugee agency, UNHCR, and other aid groups, as well as by the refugees.
"When I heard we were on the list, I sent my family away to one camp and I ran away to another," said Hamid.
A few weeks before repatriation began, officials from Bangladesh's Refugee Relief and Repatriation Commission summoned 54 refugees and, according to Hamid, told them that those who were willing to go back to Myanmar would receive identification cards to replace ones that had been confiscated in Myanmar under a 1982 law that stripped the Rohingya and other minorities of their citizenship.
That measure also prohibited them from traveling, while making life at home difficult. It blocked access to state schools beyond primary grades, made minorities ineligible for government jobs and placed restrictions on marriage, family planning and religious choice.
Besides proving their identity, the assembled refugees were told in November, their new cards would guarantee them certain rights.
"They told us Bangladesh would bring us back if we were treated badly there, but how are we supposed to believe that?" asked Hamid.
Khairul Bashir, another community leader, said he and his family were also on the list, adding that all the families in his section of the camp were ready to take poison if the authorities forced them to go.
"There's a mice problem in the camps right now, so we all have rat poison in the house," Bashir explained. "We were all prepared to die."
According to a recent Amnesty International report, satellite images show that Myanmar's military has built bases and roads where the Rohingya villages once stood.
"None of us are ready to go back until the 1982 law is repealed and we get full rights as citizens in Myanmar," explained Mohammad Ilyas, whose name has been modified to conceal the identity of his family.
One of the few educated members of his community, Ilyas, who owned a pharmacy in Myanmar, said he had taught himself about medicines after being forced to leave school after the 10th grade.
RRRC officials and UNHCR representatives approached Ilyas to help survey the families in the camp block where he lives. The agencies often come to him for help, he said, because he is respected in his community for being one of the few educated members, despite not being an official community leader. When he learned that his family was also being surveyed, he became suspicious.
On repatriation day in November, none of the 150 refugees in the first group, including Mohammad, Hamid, Bashir and Ilyas, agreed to go back. Since Bangladesh and Myanmar had agreed to only take those who were going back to Rakhine state voluntarily, the cars that were supposed to take the refugees to temporary transit camps went away empty.
During a U.N. Security Council meeting on Feb. 28, Bangladesh's foreign secretary, Shahidul Haque, called on Myanmar to address the decades-long state practices of deprivation, disenfranchisement and atrocities.
"Not a single Rohingya has volunteered to return to Rakhine due to the absence of a conducive environment there," he told the council.
But Bangladesh, one of the most densely populated nations in the world, has been hosting more than a million refugees for more than a year. The government appears to be very much set on repatriation.
According to local media reports, preparations are underway to relocate more than 23,000 Rohingya to Bhasan Char, an uninhabited Bangladeshi island in the Bay of Bengal, starting in mid-April. The island takes two and a half hours to reach by boat, and during monsoon season the water there rises up to 8 feet above normal levels.
Human Rights Watch and aid groups have condemned Bangladesh's decision to relocate the refugees to Bhasan Char. The U.N. special rapporteur on Myanmar, Yanghee Lee, who visited the island recently, questioned "whether the island is truly habitable," pointing out that "Ill-planned relocation, and relocations without the consent of the refugees concerned, have the potential to create a new crisis."
None of the refugees Religion News Service spoke with were willing to relocate to the island.
Haque told the Security Council that his country will no longer be able to take in any more refugees. Bangladesh's priority now, he said, is to ensure the "safe, voluntary, sustainable and dignified return of the Rohingyas." He called on Myanmar to dismantle existing internally displaced persons camps, where more than 130,000 Muslim inmates have been detained for more than six years.
The Rohingya have made the release of the prisoners one of their demands for returning to Myanmar.
"Once we see that our relatives in Myanmar have gotten full citizenship rights and treated humanely, no one will have to force us to go back," explained Hamid. "We will gladly go back ourselves."
https://religionnews.com/2019/03/12/some-rohingya-refugees-prefer-death-in-bangladesh-over-repatriation-to-myanmar/
---------
U.S.-Taliban negotiators 'agreed in draft' on troop withdrawal, counter-terrorism
13 Mar 2019
The U.S. Special Representative for Afghanistan Reconciliation Ambassador Zalmay Khalilzad and Taliban political leaders have 'agreed in draft' regarding the withdrawal of forces and counter-terrorism during the fifth round of talks in Qatar.
"The conditions for #peace have improved. It's clear all sides want to end the war. Despite ups and downs, we kept things on track and made real strides," Ambassador Khalilzad said in a Twitter post.
He said "Peace requires agreement on four issues: counter-terrorism assurances, troop withdrawal, intra-Afghan dialogue, and a comprehensive ceasefire. In January talks, we "agreed in principle" on these four elements. We're now "agreed in draft" on the first two."
He also added "When the agreement in draft about a withdrawal timeline and effective counterterrorism measures is finalized, the Taliban and other #Afghans, including the government, will begin intra-Afghan negotiations on a political settlement and comprehensive ceasefire."
Full report at:
https://www.khaama.com/u-s-taliban-negotiators-agreed-in-draft-on-troop-withdrawal-counter-terrorism-03471/
---------
Afghan armed forces launch Walid-40 operations in Balkh province
12 Mar 2019
The Afghan Military in the North has announced that the National Defense and Security Forces have launched Walid-40 operations in northern Balkh province.
The 209th Shaheen Corps in a statement said at least six Taliban militants were killed or wounded during the first day of operations.
The statement further added that the operations have been launched to suppress militants and eliminate existing threats.
According to Shaheen Corps, the Afghan Special Forces and Air Forces have also taken part in the newly-launched Walid-40 operations.
At least three Taliban militants were killed and three others were wounded during the first day of operations in Baba Qushqar area of Chematal district, the 209th Shaheen Corps said, addign that several fighting postions of Taliban have fallen into the hands of armed forces so far.
Full report at:
https://www.khaama.com/afghan-armed-forces-launch-walid-40-operations-in-balkh-province-03466/
---------
ISIS-K group surrenders to Afghan forces in Kunar province
13 Mar 2019
A member of the Islamic State of Iraq and Syria Khurasan (ISIS-K) group has surrendered to Afghan forces in eastern Kunar province, the Afghan military said Tuesday.
According to a statement released by 201st Silab, a member of ISIS-K group identified as Hezbullah has surrendered to Afghan forces in Manogi district.
The statement further added that Hezbullah was involved in anti-government armed insurgency in Manogi district.
The 201st Silab Corps also added that Hezbullah has also handed over a weapon to armed forces after renouncing violence.
The anti-government armed militants including ISIS-K sympathizers have not commented regarding the surrender of the militant so far.
Full report at:
https://www.khaama.com/isis-k-group-surrenders-to-afghan-forces-in-kunar-province-03472/
---------
Taliban's Red Unit militants, Afghan soldiers suffer casualties in Baghlan clash
12 Mar 2019
A clash broke out between Afghan armed forces and militants of the Red Unit of Taliban in northern Baghlan province leaving at least 12 dead or wounded.
The 209th Shaheen Corps in a statement said the clash took place at around 10:10 am todayin Tapa Qarghan area of Dand-e-Ghori district, leaving at least 4 Taliban militants dead and 4 others wounded.
The statement further added that two soldiers of Public Order Forces of the military also lost their lives in the clash and two others sustained injuries.
According to 209th Shaheen Corps, the clash broke out after Taliban militants attacked on security outposts of Public Order Forces.
An 822mm rocket launcher and some weapons were also confiscated following the clash, the 209th Shaheen Corps said, adding that the dead bodies of two militants were also left in the area.
Full report at:
https://www.khaama.com/talibans-red-unit-militants-afghan-soldiers-suffer-casualties-in-baghlan-clash-03469/
---------
Southeast Asia
Forever pendatang, forever dhimmi, forever grateful
Dennis Ignatius
March 13, 2019
Over the past few weeks, as the competition between Pakatan Harapan (PH) and the Umno-PAS alliance for the Malay vote has heated up, we've been given stark reminders of how the Umno-PAS leadership views non-Malays and what we can expect should the Ketuanan Melayu ideology they espouse dominate Malaysian politics.
Their view of non-Malays, put simply, is forever pendatang, forever dhimmi and forever grateful.
Pendatang forever
The concept of the non-Malay as pendatang is of course, intrinsic to the Ketuanan Melayu ideology and central to the thinking of Umno and PAS leaders.
It regards non-Malays as interlopers, without commitment or loyalty to the nation and, therefore, undeserving of equal treatment or constitutional protection. It is intended to strip them of their very identity as Malaysians and suggests that they have no inherent right to be here.
In their view, non-Malays, no matter how long they have lived here, are pendatangs and penumpangs and will always remain so.
Others – Muslims from Indonesia, Bangladesh, Pakistan, the Middle East – can migrate to Malaysia and quickly become proud Malays but Malaysian-born non-Malays are doomed to remain pendatangs and penumpangs in perpetuity unless they convert.
Dhimmi forever
This racial division is further reinforced by a religious worldview that segregates Malaysians according to their faith into Muslim and dhimmi.
In historical Islam, the "dhimmi" were conquered people who had submitted to Islamic rule. They had few rights, and had to pay a special tax and be forever subservient to Muslim authority in exchange for protection.
Some Islamic scholars have also argued that dhimmis are automatically excluded from all participation in the political process.
No surprise then that men like Abdul Hadi Awang are constantly complaining that there are too many non-Muslims in Parliament or that key positions like the chief justice and attorney-general are held by non-Muslims. In their twisted theocratic version of Malaysia, non-Malays, as dhimmis, have no business being in Parliament or holding important positions.
The religious establishment is largely supportive of this religious division; in recent discussions on the issue, the muftis of Pahang and Perak, for example, insisted that there was nothing wrong with viewing non-Muslims as dhimmis.
Forever grateful
And for this privilege – the privilege of being pendatang and dhimmi forever – non-Malays are expected to remain forever grateful.
As Hadi likes to constantly remind us all, "Other races should appreciate [that] Muslims… accepted them as citizens and allowed them to practise their religion and use their language."
Citizenship is no longer viewed by Ketuanan Melayu ideologues as part of the Merdeka agreement between all Malaysia's ethnic communities, but as an act of unilateral generosity for which eternal gratitude must be given.
For Hadi, such gratitude must be manifested by perpetual submission, docility, and servility especially involving anything PAS says or does. To do otherwise is to be ungrateful and unmindful of Malay sensitivities.
An existential threat
Of course, Umno and PAS leaders insist that all this does not amount to discrimination against non-Malays. Mohamad, for example, insists that he was not trying to sideline non-Malays, and that he wants every community to "feel comfortable" while PAS vice-president Iskandar Abdul Samad reiterated that PAS-Umno cooperation would not give rise to an extremist government.
It is a sign of how delusional, irrational, even duplicitous Umno and PAS have become to expect non-Malays to be comfortable with such a racist system or that non-Malays will see such policies as anything but extremist.
Dividing the nation into Muslims and dhimmis might be acceptable in a theocratic Islamic state like Saudi Arabia but it can never be acceptable in a secular democratic state like Malaysia.
Far from bestowing a divine right to rule on anyone, the Federal Constitution bestows upon all citizens – Muslim and non-Muslim – certain inalienable rights, rights that may not be unilaterally abrogated by muftis or anyone else.
It goes without saying that the Ketuanan Melayu vision of Malaysia is at variance with the Federal Constitution. It threatens to strip non-Malays of their constitutional rights, privileges and protections. Clearly, it is not the Malays and the position of Islam that are under threat; it is the non-Malays who now face an existential threat from the Ketuanan Melayu ideologues and their followers.
Given this situation, it is hard to fathom how MCA and MIC can continue to remain unperturbed by the Umno-PAS cooperation or how they can continue to work with the very groups that are out to disenfranchise the minority communities they claim to represent. Are they so devoid of principle that they would minimise the very real dangers that the Ketuanan Melayu ideology of Umno and PAS now poses to non-Malays just for the sake of a few crumbs from Umno's table?
Confronting Ketuanan Melayu
The Federal Constitution indisputably acknowledges Islam as the official religion of the federation and confers special rights on the Malays, but that can never be used to justify an ethno-religious apartheid state or legitimise a system of discrimination against any citizen.
Like it or not, Malaysia is by constitutional mandate a secular democracy that makes no distinction between Muslim and dhimmi or Malay and pendatang. And, like it or not, we are all Malaysia's sons and daughters.
None of us can change the past; we can only try to make the most of our diversity and endeavour to forge a better future. And that journey can only truly begin when we confront the Ketuanan Melayu ideology and expose it for what it is: a sinister and contemptible racist creed that has no place in a multicultural constitutional democracy like ours.
https://www.freemalaysiatoday.com/category/opinion/2019/03/13/forever-pendatang-forever-dhimmi-forever-grateful/
---------
Muslim Detention Camps Are Like 'Boarding Schools,' Chinese Official Says
By Chris Buckley and Amy Qin
March 12, 2019
BEIJING — A senior official from China's far west said on Tuesday that the internment camps for Muslim minorities there were like boarding schools and that their numbers of inmates would shrink, as the government pushed back against international criticism of the mass detentions.
China's sweeping confinement of Uighurs and other Muslim minorities in the Xinjiang region has drawn condemnation from foreign governments and international bodies, including in recent weeks. A United States envoy called it part of a "war with faith." Turkey, once quiet about the detentions, has become critical. The United Nations high commissioner for human rights recently demanded answers.
Yet at the annual meeting of China's national legislature, which began last month, Communist Party officials from Xinjiang appeared serenely unbowed about the policies.
Foreign experts, citing satellite images and government documents, have estimated that the camps have held without trial as many as a million Uighurs, Kazakhs and other Muslims in a program that tries to turn them into loyal, Chinese-speaking supporters of the party.
In a meeting room jammed with foreign and Chinese journalists, the chairman of the Xinjiang government, Shohrat Zakir, dismissed that estimate, but did not say how many inmates they held.
"Some voices internationally have said Xinjiang has concentration camps or re-education camps. These claims are pure lies," Mr. Zakir said at the gathering of Xinjiang delegates of the Communist Party-controlled legislature, the National People's Congress, which was opened to journalists.
"In fact, our centers are like boarding schools where the students eat and live for free," Mr. Zakir said, using their official name, "educational training centers."
He indicated that the camps could eventually be phased out, but did not say how long that might take.
"Over all, the education training centers will have fewer and fewer people, and if one day society doesn't need them, these centers can gradually disappear," Mr. Zakir said.
Since last year, Mr. Zakir, a Uighur, has served as one of the government's most prominent defenders of Beijing's offensive against Islamic religious activities and ethnic dissent in Xinjiang. In October, he was the first Chinese official to defend in detail the mass detentions.
Adrian Zenz, a lecturer at the European School of Culture and Theology in Germany whose research concluded that the indoctrination camps in Xinjiang could hold a million or more inmates, said that the facilities worked under at least eight names, and not just the training centers that Mr. Zakir mentioned.
"In my view, it might well be as high as 1.5 million," he said of the population held for indoctrination. "There is virtually no Uighur family without one or more members in such detention, and a rising number of Kazakhs and other Muslim minorities are likewise affected."
Mr. Zakir's latest remarks underscored how the Chinese government has been unmoved by the global criticism of its policies, and confident that its propaganda drive of closely supervised visits to Xinjiang by selected diplomats and journalists could blunt the condemnation.
The press event on Tuesday was part of that propaganda effort. Held in the Xinjiang room at the imposing Great Hall of the People, the gathering featured around 60 officials, including some from the Uighur, Hui, Tatar and Mongolian ethnic minorities, sitting before a floor-to-ceiling painting of a snowy mountain scene from the region.
Over the nearly two-hour session, the officials took turns to praise China's leader, Xi Jinping, and the party's drive to eradicate poverty, invigorate the local economy and attract tourists to the region. They often invoked the pomegranate, the multi-seeded fruit that the government treats as a symbol of ethnic harmony.
One official described how policies to improve waste sorting and install modern toilets had helped transform a village.
"Our lives are getting better day by day," said Chen Liang, the local official. "For all of these good things, we really have to thank Xi Jinping and the party."
Such arguments resonate with many Chinese people but were unlikely to stem the global criticism, which has drawn on accounts from former camp inmates and extensive research documenting how hundreds of detention camps have expanded across Xinjiang since 2017.
The Uighurs are a Turkic people who share traditions and language traits with Islamic populations across Central Asia and Turkey. Last month, the Turkish Foreign Ministry accused China of the "reintroduction of concentration camps in the 21st century" and called policies in Xinjiang a violation of the "fundamental human rights" of Uighurs and other Turkic Muslims.
The Turkish foreign minister, Mevlut Cavusoglu, kept up the criticism later in February.
"While recognizing China's right to combat terrorism, we think that a distinction should be made between terrorists and innocent people," Mr. Cavusoglu said at a meeting of the United Nations Human Rights Council in Geneva.
Michelle Bachelet, the United Nations high commissioner for human rights, said she wanted independent access to investigate reports of "enforced disappearances and arbitrary detentions," especially in Xinjiang.
Sam Brownback, the United States' ambassador at large for international religious freedom, has been much blunter. "We need to call these camps what they are; they're internment camps created to wipe out the cultural and religious identity of minority communities," Mr. Brownback told journalists in Hong Kong last week.
But in a possible sign of China's influence, some activists abroad who have denounced the internments in Xinjiang have come under growing pressure.
Serikzhan Bilash, the founder of an organization in Kazakhstan that helps ethnic Kazakhs who have fled neighboring Xinjiang, was detained on Sunday in Almaty.
He was placed under house arrest for two months in Astana, the capital of Kazakhstan, and was being investigated on suspicion of "inciting ethnic hatred," his lawyer, Aiman Umarova, said by telephone.
In Beijing, Chen Quanguo, the Communist Party secretary of Xinjiang, remained mostly silent in the presence of reporters. Mr. Chen is the chief enforcer of tough policies in the region, but he let Mr. Zakir do most of the talking. The Xinjiang police often follow and restrict foreign journalists who visit the region, but Mr. Chen struck a different note in his brief opening comments.
Full report at:
https://www.nytimes.com/2019/03/12/world/asia/china-xinjiang.html
---------
13 Malaysians who joined Islamic State want to come home
March 12, 2019
KUALA LUMPUR: A group of 13 Malaysians who left to join the terrorist group Islamic State (IS) to fight in Syria are now itching to return to Malaysia.
The 13 are caught in the all-out offensive by the United States-backed Syrian Democratic Forces (SDF) against IS fighters in eastern Syria and some have contacted their families pleading to return home.
Al-Jazeera reported that Malaysian police were working with the Syrian authorities to bring them back home.
The news agency, quoting Special Branch counterterrorism unit head Datuk Ayob Khan Mydin Pitchay, reported that as the offensive was entering its final stage, more Malaysians were longing to return home.
"We are trying to bring them home.
"But, you know, the situation is difficult as it involves many parties from different countries," he told Al Jazeera.
Ayob Khan said Muslim leaders and psychologists would evaluate the returnees' ideology, even as some countries are attempting to strip former fighters and their families of citizenship and prevent them from returning.
Malaysia has made it clear that its citizens would be allowed to come back, provided they comply with checks and enforcement, and completed a one-month government-run rehabilitation programme.
"Not everyone will be detained but all returnees will be interrogated," Ayob Khan said.
"We will conduct thorough checks and investigations on each returnee.
"We will bring in ulama and psychologists to evaluate their ideology and psychological make-up.
"We will compare intelligence which we received from friendly foreign services.
"If there is evidence that a returnee was involved in IS militant activities, he or she will be charged in court," he was quoted as saying.
To date, 11 Malaysians have returned to the country. Eight were charged in court and convicted, all of them men. The other three were one woman and two children aged 3 and 5.
"The woman went through a rehabilitation programme and has now returned to her kampung," Ayob said.
"She continues to be monitored."
Even though IS has all but collapsed in Iraq and Syria, police said there were Malaysians who were still willing to fight for the group.
"We are keeping an eye on them," Ayob said.
"Those who cannot go to Syria are now setting their sights on Mindanao in southern Philippines where militant groups have links to IS," he said, adding that there were still 51 Malaysians in Syria, including 17 children.
A total of 102 Malaysians are known to have left the country to join IS.
Full report at:
https://www.nst.com.my/news/nation/2019/03/468558/13-malaysians-who-joined-islamic-state-want-come-home
---------
10,000 Complaints about Provocations against Islam in 7 Days in Malaysia
By Nur Aqidah Azizi
March 12, 2019
SEREMBAN: The special unit set up by the Islamic Development Department of Malaysia (Jakim) to monitor all forms of provocation against Islam has received 10,000 complaints in just seven days.
Deputy Minister in the Prime Minister's Department Fuziah Salleh said the unit was set up last Thursday to monitor the conduct of irresponsible parties who insult the Prophet Muhammad (pbuh) and Islam in all platforms, including social media.
"Every complaint is being investigated because some of the posts came from fake accounts and there were also repeated complaints and that is what we are going to look into," she told a press conference after the pre-launch of the 1440H/2019 National Tilawah Al-Quran at the Seremban Municipal Council hall, here, today.
"What is worrying is the numbers are growing and it seems there's no stopping it," she said.
Fuziah added that the approach taken by the current government was to bridge the gap among all races so that Malaysians could live in harmony and respect one another's beliefs.
"We don't want to resort to punishment but more to find ways to fix the situation.
"The government today has sent a clear message that this culture (religious humiliation) should not be continued in society and we should live together as a multi-racial society and respect one another," she said.
Asked what action would be taken by Jakim on the participation of a group of people championing the rights of the lesbian, gay, bisexual, and transgender (LGBT) at a Women's March gathering in Kuala Lumpur on Saturday, Fuziah said the case had been handed to the police for further investigations.
Full report at:
https://www.nst.com.my/news/nation/2019/03/468555/10000-complaints-about-provocations-against-islam-7-days
---------
Arab World
Alleged Coup Attempt Exposes Hazimite Faction Within Islamic State
By: Rafid Jaboori
March 12, 2019
As Islamic State (IS) was losing its last strongholds in Syria to the advancing, U.S.-backed, Syrian Democratic Forces (SDF), there were reports of a coup attempt against its leader Abu Baker al-Baghdadi. The attempted ouster of the IS leader started with reports about fighting near the town of Hajin in Eastern Syria near the border with Iraq, which is one of the last IS-controlled areas to fall to the hands of the U.S.-backed forces. The plan included an attack on his convoy with an improvised explosive device (IED)—a direct attempt on the life of al-Baghdadi (Asharq al-Awsat, February 8).
The attempt had apparently failed, but it revealed the scale of the internal division between IS and a more radical group within it known as the Hazimite, named after the radical Saudi jihadist cleric Sheikh Ahmed Bin Omar al-Hazimi. Al-Hazimi was arrested in his home country and has been in prison since 2015. Media reports indicated that IS issued a warrant and put a bounty on an individual named Abu Muath al-Jazairi, who was accused of leading the ultra-radical Hazimite faction (Alsumaria, October 7, 2016). [1]
The recent events also indicate a possible new path for the group after losing all the territory it controlled in Iraq and Syria. One of the features of this next period could be shaped by the rivalry between two or more IS factions over who is more genuine in its extremist ideology and practices.
Roots of Division
Abu Muath al-Jazairi is believed to be a prominent leader of the Hazimite faction. He is from Algeria and is better known as Abu Muath al-Asimi. [2] Hazimites and their supporters appear to hold high respect of al-Asimi and his writings. Since the arrest of al-Hazimi and the killing of other Hazimites, al-Asimi emerged as a Hazimite ideologue. [3] A considerable number of IS members from North African countries are believed to have become Hazimites. That could be tracked to the years al-Hazimi himself had spent in Tunisia after the Arab Spring upheaval that struck the region in 2011 and after (Noon Post, July 31, 2017).
The central point of the disagreement between Hazimites and the rest of IS concerns the notion of takfeer (excommunication). IS is well-known for its broad, extremist definition of who should be declared apostate or non-Muslim and consequently excommunicated, but Hazimites believe IS has not gone far enough. According to the doctrine introduced by al-Hazimi and promoted by those influenced by him, anyone who does not embrace a radical Salafist interpretation of Islam is not a Muslim. In their world, ignorance of their ideology or having no access to it is not an excuse for an individual or a group not to embrace al-Tawheed (literal meaning is monotheism, but for them, it is specifically Salafism and more specifically their interpretation of it). Accordingly, those who do not believe in al-Tawheed should be considered kafir (non-believers) and anyone who does not consider them kafir should be excommunicated as he is equally a nonbeliever (Almarjie-Paris, May 9, 2018).
This last notion has been alarming for many IS members and its leadership because it could lead to what is called "chain takfeer," an endless chain of denunciation for the group's members and even leaders who showed the slightest degree of tolerance. Before his killing in a coalition airstrike in 2015, Bahraini IS ideologue Turki al-Bin Ali wrote arguments against the Hazimites condemning their hard lines (Al-Quds, July 26, 2017).
In 2016, IS launched a purge against the Hazimites. Prominent Hazimite figures were executed but al-Asimi survived and is believed to be living in Turkey now. He has written a number of essays against IS leadership. As the military campaigns against IS intensified and reached the largest two cities it controlled—Mosul in Iraq and its self-declared capital Raqqa in Syria—IS communication lines became difficult to maintain. In an attempt to tackle that challenge, al-Baghdadi delegated some of his power to a body called the Delegated Committee and decreased his visibility significantly in order to avoid being detected. The Delegated Committee, which was created to go around logistical and field challenges, found itself in the middle of the theological debate of who should be kafir and what were the limits, if any. In May 2017, the Delegated Committee issued a statement that was perceived to be an acknowledgment of the Hazimi doctrine. At one point, even an article in the IS weekly publication al-Naba attacked and condemned prominent jihadists like al-Qaeda's Attiyah al-Libi as kafir (Jihadology, June 15, 2017). That implied that al-Baghdadi himself might be considered kafir as he previously praised al-Libi. That led al-Baghdadi to appear again to take back control of his group which was seemingly about to disintegrate. He reshuffled the Delegated Committee, removing members and putting more trusted men in charge (Al-Quds, October 21, 2017). However, by the time al-Baghdadi introduced his new measures the Hazimites seemed to have morphed into a distinct, new entity that is not part of IS. That led to a significant question—will the Hazimites split completely from IS or try to take it over?
Conclusion
Since the inception of the Hazimite group, the question was if it was part of IS or a new group. The writings of al-Asimi indicate the latter, but the recent attempt on al-Baghdadi's life suggest otherwise. The appeal of the Caliphate figure has been quite attractive to jihadists around the world, and convinced many to declare allegiance to IS and consider themselves parts of the movement. IS might be very weak and lost in Iraq and Syria, but there are other regions that could be well suited to become its new headquarters, helping maintain the claim it persists and holds territory, or according to its infamous slogan, is "remaining and expanding."
The Hazimites have already gained a base of support in West Africa. The leader of the Nigerian radical group Boko Haram Abubakar Shekau is already leading a faction that was condemned by IS as too extremist (Mauri News, November 21, 2017; See Militant Leadership Monitor, January 4).
The Hazimite ideology is more suitable for an age of total violence without any consideration of governing a territory. Yet the symbolism of the Caliphate has been central in the IS' appeal to jihadists. By eliminating al-Baghdadi, Hazimites could well be poised to take over leadership of the IS heartland in Iraq and Syria in order to subsequently inherent influence over its franchises in North and West Africa.
Unlike in 2016-2017, IS and its leadership obviously do not have the capacity to quell a better-prepared coup attempt. One of the main reasons behind IS' domination in Syria was that it was less prone to splits compared to other militant groups. By moving to areas controlled by the Syrian government, IS will need to face new challenges that are not similar to the environment of 2011-2014. Groups of IS fighters have reportedly already moved to the areas controlled by the Syrian regime, fleeing the SDF's final campaigns against their last remaining pockets. The IS element in the Syrian civil war was vital to the survival of the Syrian regime which always wanted the war to be portrayed as a confrontation between a secular government and savage jihadists who threaten not only the regime, but the world. Therefore, the regime would not accept being excluded from the U.S. and SDF endgame. Both IS and the Hazimites will likely try to initiate new bases or revive old ones in Syria.
Iraq, however, remains IS and its leaders' favorite retreat. More than a year and a half since the Iraqi government declared victory against IS, the group is not completely defeated. It lost all the territory it held in Iraq, but a new phase of IS insurgency has emerged. Despite deployments of thousands of Iraqi armed forces and Shia militias in the areas IS controlled, the group is still able to launch attacks and destabilize the area. The Iraqization of the IS leadership, which was introduced by al-Baghdadi, was vital to the group's ascendancy. It will likely be key to any strategy of survival and revival. But that will always require keeping the position of the Caliphate intact and occupied by al-Baghdadi or one of his inner circle when he dies. The Hazimites have proven to represent an imminent threat to that.
Notes
[1] The bounty is new but the warrant was issued in 2016. See November 7, 2016 https://www.alsumaria.tv/news/181897/بالوثيقة-داعش-يصدر-مذكرات-قبض-واعدام-بال/ar
[2] Al-Jazairi means the Algerian in Arabic. Al-Asimi means the one who comes from al-Asima which means the capital in Arabic and that is a common word Algerians use to refer to their capital.
[3] See writings about al-Asimi July 7, 2016 https://justpaste.it/vy9e
https://jamestown.org/program/alleged-coup-attempt-exposes-hazimite-faction-within-islamic-state/
---------
Security Expert: US Planning to Relocate 5,000 ISIL Terrorists to Iraq from Syria
Mar 12, 2019
"Washington plans to help 5,000 more ISIL terrorists get out of Syria and reach Iraq," Sabah al-Akili told the Arabic-language al-Maloumeh news website on Tuesday.
The Iraqi security expert described the US move as an attempt to create insecurity inside Iraq as the Iraqi parliament is determined to expel ISIL terrorists from Iraq.
"The US intends to gather up the ISIL terrorists in Iraq to release them later exactly as it did before," al-Akili said.
He pointed to the move by the Syrian Democratic Forces (SDF) to hand over the ISIL militants to Iraq with the US green light, and said that Iraq had agreed to receive the militants because they were Iraqi nationals, but French terrorists were also among them and this shows that the US plans start of a new round of chaos in Iraq.
In a relevant development in late February, the Syrian sources said that the US Army has transferred senior ISIL commanders to safe places in lieu of receiving over 50 tons of gold treasure from the terrorists.
According to the initial information obtained in Deir Ezzur, the US Army troops stationed in Al-Jazeera region of Eastern Euphrates agreed with the ISIL commanders to relocate them to safe places after receiving tens of tons of gold ingot that the terrorists had stolen from different parts of Syria and Iraq, the state-run SANA news agency reported.
The local sources, meantime, reported that the US Army took control of ISIL's 50 tons of gold treasure in Baqouz region in Southeastern Deir Ezzur after it had reached an agreement with the terrorists.
They pointed to the recent intensified movements by the US choppers concurrent with flights over several ISIL-controlled regions in Eastern Euphrates, and said that the US has conducted important heliborne operations in key areas where the ISIL commanders' hideouts are located and where the gold treasure was hidden.
In a relevant development earlier in February, a source close to Kurdish forces said that the US Army was taking ISIL's gold treasure that is estimated to weigh around 50 tons from Eastern Syria to America.
The Kurdish-language Bas News quoted a Kurdish source as saying that the Americans have transferred tens of tons of the gold ingots they have seized from the ISIL terrorists in Baghouz region in Southeastern Deir Ezzur to their own country and only kept a small portion of the treasure to be given to the Kurdish fighters.
The source who spoke on the condition of anonymity reiterated that about 50 tons of ISIL's gold has been sent to the US from the US military base in Kobani in Northeastern Aleppo.
The report comes as the US has been using the airport in Southern Kobani for transferring consignments and military equipment in recent years.
In a relevant development also last month, the US Army troops took out a sum of 40 tons of gold ingots belonging to the ISIL in heliborne operations after agreeing with the terrorist group and while Washington is preparing to announce the end of ISIL in Eastern Euphrates.
"The US troops in concordance with the ISIL terrorist group relocated big boxes packed with ISIL's gold treasure on several helicopters from al-Dashisheh region in Southern Hasaka," the SANA news agency quoted local sources in Eastern Deir Ezzur said.
The sources pointed to boxes containing 40 tons of gold ingots that the ISIL had hidden in the Eastern part of al-Shadadi city, and said that the ISIL had stolen the treasure of gold from the Iraqi city of Mosul and different parts of Syria.
The US troops reportedly took out a group of ISIL terrorist commanders from Eastern Syria in two heliborne operations in Hajin region of Eastern Deir Ezzur and al-Dashisheh in Southern Hasaka and they were directed to the place where the gold treasure was hidden.
In a relevant development earlier this month, the London-based Syrian Observatory of Human Rights (SOHR) said the Washington-backed militants were trying to find and seize millions of dollars and at least 40 tons of gold left behind by the ISIL terrorist group.
The SOHR reported that the ISIL terrorists had stolen about 40 tons of gold and millions of dollars from the population once under their control in Iraq and Syria, which was later transferred to Eastern Euphrates in Eastern Deir Ezzur.
"The US-led coalition forces and the Syrian Democratic Forces (SDF) deliberately do not target the areas under the control of the ISIL terrorists and commanders in Eastern Euphrates in Deir Ezzur as they are trying to locate this treasure by forcing the ISIL militants to speak about its location after surrendering," it quoted informed sources as saying.
They noted that part of the cash dollars and gold have been transferred from Turkey to the areas under the ISIL control by Turkish brokers and intelligence service who have close ties with the ISIL.
Meantime, an SDF Commander, Adnan Afrin, said that the ISIL is now under the siege of the SDF in an area no larger than one square kilometers in Eastern Euphrates.
In a relevant development earlier in February, a prominent Syrian military expert revealed that Washington plans to transfer the remnants of the ISIL terrorists from Eastern Euphrates to other regions through Turkey and Iraq.
The Arabic-language website of Sputnik quoted Brigadier General Mohammad Issa as saying that less than 600 ISIL militants are stationed in a 4-km/sq region in Eastern Euphrates who will be soon evacuated from the region to foreign territories.
He added that the operations to transfer these militants will be conducted similar to the operations earlier carried out to evacuate the ISIL terrorists from Raqqa, saying that the US forces will transfer them via Iraq or Turkey to some other Arab states for future operations.
Issa questioned the US forces' claims of fighting against the terrorist groups along with the SDF, stressing that the Syrian army will soon move to retake control over this region.
Media reports said last Sunday that the US army had agreed with the ISIL on the latter's exit from areas under Washington's control in Eastern Euphrates.
The US-led coalition troops and the SDF had reached an agreement with the ISIL terrorists on the militants' retreat from areas under the control of the US and its allied forces, the Arabic-language al-Mayadeen TV news channel reported.
It pointed to the preparations by the ISIL to move its terrorists out of Eastern Euphrates, and said that the ISIL terrorists might be transferred to al-Anbar desert of Badiya al-Tanf in Western Iraq.
The report comes as the SDF claimed that it had started the final battle for uprooting the remaining elements of the ISIL from Eastern Euphrates.
Also the Arabic-language service of RT quoted media activists as saying on Saturday that the US-led coalition forces have carried out heliborne operations in the Eastern Badiyeh of Deir Ezzur.
Full report at:
http://en.farsnews.com/newstext.aspx?nn=13971221000709
---------
Terrorists Preventing Implementation of Sochi Agreement
Mar 12, 2019
"Tahrir al-Sham has claimed that it is fully in charge of security of the demilitarized zone and prevented the Turkish Army from patrolling the region," the Arabic-language al-Watan newspaper quoted sources close to the Ankara-backed National Liberation Front (NFL) as saying.
The sources noted that the Turkish Army's patrolling has been suspended for the coming days in order to prepare the grounds for resolving the rising disputes among Tahrir al-Sham militants.
They said that Tahrir al-Sham believes that the Turkish Army patrols in the demilitarized zone will serve as a pretext for future patrols by the Russian troops in the outskirts of the region to be followed by the implementation of others parts of the Sochi Agreement, while the terrorist group is standing tough against its implementation.
Some analysts also pointed to Ankara's efforts to show the extent of Tahrir al-Sham's power in Northern Syria, and said the move by Tahrir al-Sham has probably taken place with the green light of Turkey or the US.
Russia had demanded that Turkey do more to tackle hardcore fighters in Syria's Idlib province and fulfill promises it made as part of a deal with Moscow last year
In early February, Foreign Ministry Spokeswoman Maria Zakharova said the situation in Idlib was rapidly deteriorating and Tahrir al-Sham was trying to seize control of the entire area
Russian Foreign Minister Sergey Lavrov has also stated that some Western countries wish to preserve an enclave that is a terrorist hotbed in Syria's Idlib province
Full report at:
http://en.farsnews.com/newstext.aspx?nn=13971221000601
---------
Hundreds surrender in Baghouz with ISIS near defeat
12 March 2019
ISIS faced imminent defeat in its final enclave on Tuesday as hundreds of extremists and their families surrendered and the US-backed Syrian Democratic Forces said the battle was as good as over.
The besieged enclave of Baghouz is the last shred of territory held by the extremists who have been driven from roughly one-third of Iraq and Syria over the past four years.
A Reuters journalist in Baghouz saw hundreds of people surrendering to the SDF, which launched its final attack to capture Baghouz on Sunday, backed by US-led international coalition air strikes and after weeks of siege.
SDF official Mustafa Bali said a large group of ISIS fighters and their families had surrendered en masse.
"Once our forces confirm that everyone who wants to surrender has done so, ... the clashes will resume," he said. The extremists' defeat was very near, he said.
The Baghouz enclave was pounded overnight with barrages of rockets and fires raged inside, but the situation was calm on Tuesday morning.
"The operation is over, or as good as over, but requires a little more time to be completed practically on the ground," SDF spokesman Kino Gabriel told al-Hadath TV.
The SDF has been laying siege to Baghouz for weeks but repeatedly postponed its final assault to allow the evacuation of thousands of civilians, many of them wives and children of ISIS fighters. It finally resumed the attack on Sunday, backed by coalition air strikes.
Gabriel said 25 ISIS extremists had been confirmed killed so far in clashes, in addition to an unknown number of extremists killed by air strikes.
The SDF, which is spearheaded by the Kurdish YPG militia, has been advancing slowly into Baghouz to minimize its losses from sniper fire and landmines.
ISIS's defenses include extensive tunnels. The extremist group's most hardened foreign fighters are holed up inside the enclave, the SDF has said.
While Baghouz is the last populated territory of what was once the group's self-proclaimed "caliphate", extremists still operate in remote areas elsewhere. It is widely assessed that they will continue to represent a potent security threat.
The bulk of the people evacuated from the diminishing ISIS territory have been transported to a camp for internally displaced people in al-Hol, in northeastern Syria, where the United Nations says conditions are dire.
The camp, designed to accommodate 20,000 people, is now sheltering more than 66,000.
Full report at:
https://english.alarabiya.net/en/News/middle-east/2019/03/12/Hundreds-surrender-in-Baghouz-with-ISIS-near-defeat.html
---------
US-backed SDF says 38 ISIS fighters killed in Syria enclave
12 March 2019
The Syrian Democratic Forces (SDF) said on Tuesday 38 ISIS fighters were killed in a US-backed offensive against the extremists' only remaining enclave in eastern Syria, after the area was pounded in a bombardment overnight.
Calm returned to Baghouz with no sign of fighting on Tuesday morning after Reuters TV footage showed the fierce bombardment, during which the enclave was targeted with rockets and fires raged inside.
The enclave is the last shred of territory held by the extremists who have been driven from territory in Iraq and Syria over the past four years by an array of enemies, including a US-led international coalition.
The SDF has been laying siege to Baghouz for weeks, but repeatedly postponed its final assault to allow the evacuation of thousands of civilians, many of them wives and children of ISIS militants. It finally resumed the attack on Sunday, backed by coalition air strikes.
Mustafa Bali, head of the SDF media office, said the SDF command had confirmed 38 ISIS fighters had been killed.
Three SDF fighters were killed and 10 wounded, he wrote on Twitter. The extremists had fired two rockets, he added, an indication of continued ISIS resistance.
US-led coalition jets mounted 20 air raids that had destroyed ISIS military vehicles, defensive fortifications, two ammunition stores and a command post.
Washington does not believe any senior ISIS leaders are in Baghouz, assessing they have gone elsewhere as part of the group's shift towards an insurgency, a US defense official has said.
The group still operates in remote territory elsewhere and it is widely assessed that it will continue to represent a potent security threat.
The bulk of the people evacuated from the diminishing ISIS territory have been transported to a camp for internally displaced people in al-Hol, in northeastern Syria, where the United Nations says conditions are "extremely dire".
The camp, designed to accommodate 20,000 people, is now sheltering more than 66,000, the UN said.
Obdurate support voiced by many evacuees for ISIS, particularly among foreigners, has posed a complex security, legal and moral challenge.
Full report at:
https://english.alarabiya.net/en/News/middle-east/2019/03/12/US-backed-SDF-says-38-ISIS-fighters-killed-in-enclave.html
---------
Water, food drying up in Rukban refugee camp: Russia, Syria
Mar 12, 2019
The Russian and Syrian coordination centers on returning refugees have warned about severe water shortages in a refugee camp near Syria's frontier with Jordan amid attempts by US-backed terrorists to disrupt water deliveries to the civilians stranded there.
"Behind the camp's wall are reservoirs with a volume of 210 cubic meters, into which water brought from Jordan is filled and then distributed among the camp's residents," the centers said in a joint statement released by the Russian Defense Ministry said on Tuesday.
"Simple calculations show that each resident can receive no more than 5 liters of water per day. That is not only barely enough for cooking and drinking, but also insufficient for washing and doing laundry, which leads to unsanitary conditions," it added. The statement added that members of the US-backed Jaysh Maghawir al-Thawra (Revolutionary Commando Army) terrorist group disrupt water deliveries to the camp, criminally using it as a bargaining chip for blackmailing and profiteering purposes.
The ministry then pointed to the persistent shortage of food, warm clothing and medication in addition to the poor sanitary and epidemiological situation in Rukban camp, noting that refugees there suffer from exhaustion, acute intestinal diseases and infections.
Nearly 700 new graves discovered outside Rukban camp
Separately, Russian satellite images have shown three more cemeteries near the Rukban refugee camp with hundreds of graves.
Russian and Syrian coordination centers on returning refugees said the cemeteries were located in close proximity to water points, which are a source of spreading infectious diseases.
"Nearly 700 graves have been found in the unmarked burial sites," the centers pointed out.
Last week, Russia's Defense Ministry said Russian satellites had found a cemetery with 300 graves immediately outside Rukban camp's fence.
Russian Foreign Minister Sergei Lavrov said on March 6 that the United States needs the Rukban refugee camp in order to justify its illegitimate military presence in Syria.
"The fact that people are not allowed to leave [the camp] and are held hostage makes one suggest that the US needs this camp to continue justifying its illegitimate presence there," Lavrov said at a joint press conference with Kuwaiti Deputy Prime Minister and Foreign Minister Sheikh Sabah al-Khalid al-Hamad Al Sabah in Kuwait City.
He added, "This is in line with the US policy aimed at creating something like a quasi-state on the eastern bank of the Euphrates River. It does not want these territories to get back under the control of Syria's legitimate authorities."
The United Nations says about 45,000 people, mostly women and children, are trapped inside Rukban, where conditions are desperate. This is while Geneva-based international aid agency Doctors Without Borders has put the number there at some 60,000.
Full report at:
https://www.presstv.com/Detail/2019/03/12/590866/Syria-Russia-warn-food-and-water-drying-up-in-Rukban-refugee-camp
---------
Syria condemns US senator's comments on occupied Golan Heights
Mar 12, 2019
The Syrian government has severely censured the recent remarks by a US Republican senator and a close ally of President Donald Trump that the occupied Golan Heights should remain "forever" under the control of the Israeli regime.
"These statements (by Senator Lindsey Graham) show the arrogant mentality of the US administration, and that it views regional issues with Zionist eyes in a way which serves Israeli interests," an unnamed official at the Syrian Ministry of Foreign Affairs and Expatriates was quoted by official SANA news agency as saying on Tuesday.
The official added Graham's statements not only show his ignorance of historical and geographical facts, but also demonstrate Washington's disregard for international law.
"All United Nations resolutions – particularly Security Council resolution 497, adopted unanimously on December 17, 1981, affirm the legal status of the Syrian Golan as occupied territory, and declare Israel's annexation of it as null and void," the official pointed out.
He concluded that the Syrian people in general, and the people of the occupied Syrian Golan in particular, are determined to continue their struggle until the occupied Golan is fully liberated and restored to the homeland.
On Monday, Graham told Israeli Prime Minister Benjamin Netanyahu he will push for the United States to formally recognize the Golan Heights as part of Israel.
He said the idea of the strategic plateau going to any party other than the Tel Aviv regime was "off the table", vowing to work to have Washington recognize the occupied territory as part of Israel "now and forever."
During the past few years, Israel has frequently attacked military targets in Syria in what is considered as an attempt to prop up terrorist groups that have been suffering heavy defeats against Syrian government forces.
Back in April 2015, Israeli Prime Minister Benjamin Netanyahu officially admitted for the first time that the regime's military had conducted strikes in Syrian territory.
Damascus says Israel and its Western and regional allies are aiding Takfiri terrorist groups operating inside the Arab country, while the Tel Aviv regime's military carries out such sporadic strikes against Syrian government forces. The Israeli regime has even set up field hospitals to treat wounded militants evacuated from Syria.
Moreover, the Syrian army has repeatedly seized huge quantities of Israeli-made weapons and advanced military equipment from the foreign-backed militants inside Syria.
Full report at:
https://www.presstv.com/Detail/2019/03/12/590880/Syria-condemns-Trumps-ally-over-comments-on-occupied-Golan-Heights
---------
US-backed SDF says assault on Daesh enclave is as good as over
March 12, 2019
BAGHOUZ: Daesh was close to defeat in its final enclave on Tuesday after ferocious bombardments overnight and the US-backed Syrian Democratic Forces (SDF) said the offensive to capture the area was nearly over.
The beseiged enclave of Baghouz is the last shred of territory held by the extremists who have been driven from roughly one third of Iraq and Syria over the past four years by its enemies, including a US-led international coalition.
"The operation is over, or as good as over, but requires a little more time to be completed practically on the ground," SDF spokesman Kino Gabriel told Al-Hadath TV. Daesh was still putting up resistance with weapons including car bombs.
The Baghouz enclave was targeted with barrages of rockets overnight and fires raged inside, but the bombardments ceased on Tuesday morning.
The SDF has been laying siege to Baghouz for weeks but repeatedly postponed its final assault to allow the evacuation of thousands of civilians, many of them wives and children of Daesh fighters. It finally resumed the attack on Sunday, backed by coalition air strikes.
Gabriel said 25 Daesh fighters had been confirmed killed so far in clashes, in addition to an unknown number of militants killed by air strikes. Another SDF official earlier said 38 extremists had been confirmed killed.
The SDF, which is spearheaded by the Kurdish YPG militia, has been advancing slowly into Baghouz to minimize its losses from sniper fire and land mines.
Three SDF fighters have been killed, Mustafa Bali, head of the SDF media office, said on Twitter.
Daesh's defenses include extensive tunnels and Daesh's most hardened foreign fighters are holed up inside the enclave, the SDF has said.
However the United States does not believe any senior Daesh leaders are in Baghouz, assessing they have gone elsewhere as part of the group's shift toward guerrilla tactics, a US defense official has said.
The group still operates in remote territory elsewhere and it is widely assessed that it will continue to represent a potent security threat.
The bulk of the people evacuated from the diminishing Daesh territory have been transported to a camp for internally displaced people in Al-Hol, in northeastern Syria, where the United Nations says conditions are dire.
The camp, designed to accommodate 20,000 people, is now sheltering more than 66,000, the UN said.
The World Health Organization on Tuesday said 106 people, mainly infants, have died on the journey to Al-Hol, which takes at least six hours, since December.
Obdurate support voiced by many evacuees for Daesh, particularly among foreigners, has posed a complex security, legal and moral challenge.
Full report at:
http://www.arabnews.com/node/1465476/middle-east
---------
Africa
Suspected Leadership Changes to IS-Backed Boko Haram Faction Continue
March 12, 2019
by John Campbell
Outsiders see through a glass darkly with respect to Boko Haram, the deadly and resurgent Islamist movement centered in northeastern Nigeria and the Lake Chad Basin. Conventional wisdom is that there are two main factions: the oldest is led by Abubakar Shekau, while the newer faction, which split around 2016, has been led by Abu Musab al-Barnawi up to now.
In 2015, Shekau pledged allegiance (whatever that might mean) to Abubakar al-Baghdadi's Islamic State (IS). However, IS apparently withdrew its recognition of Shekau and in 2016 tapped the al-Barnawi faction, referred to as the Islamic State West Africa (ISWA). Shekau's faction, however, did not disappear but continued operations. The primary difference between the two appears to be that Shekau's faction takes a harder line on who is an apostate Muslim, and therefore deserving of death. There are varying reports about the degree of tactical and strategic cooperation between the two factions.
Al-Barnawi is said to be a son of Mohammed Yusuf, the founder of Boko Haram whom the police extra-judicially murdered in 2009. However, some commentators believe the "brains" behind the faction was Mamman Nur, a close colleague of Yusuf and a fellow preacher. In September 2018, there were reports that Nur was murdered by his own faction because he was too "soft," that he misappropriated ransom money, and that he might have been open to a dialogue with the Nigerian government. In late February 2018, al-Barnawi reportedly replaced with Abu Abdullah Ibn Umar al-Barnawi as head of ISWA. (The two al-Barnawis do not appear to be related; al-Barnawi signifies that the person is from Borno.) There remain questions about the fate of Abu Musa al-Barnawi. Abu Abdullah Ibn Umar al-Barnawi appears to be an unknown figure.
With a dearth of confirmable facts, there are hypotheses. One is that Abu Musa al-Barnawi has been murdered, and another is that he has returned to Shekau's faction. Others speculate that, because there has been no IS announcement about the apparent change in leadership, IS must not have been involved, suggesting that it has little control over the faction. Some have suggested that, with its defeats in Syria and Iraq, IS needs ISWA more than ISWA needs IS.
With respect to the alleged removal of al-Barnawi, there has been silence from all of the presumed dramatis personæ: nothing from al-Baghdadi or Abu Musab al-Barnawi or Abu Abdullah Ibn Umar al-Barnawi or, for that matter, Shekau.
What to make of the fog? First, Boko Haram is far from a unified movement, and there is a pattern of assassination within both factions. But they are still deadly; there has been a recent upsurge in violence associated with its factions documented by the Nigeria Security Tracker, primarily against military targets. Second, the influence of international groups, primarily IS, appears to be marginal and waning, depending on whether they advance primarily local grievances. Finally, unlike IS, Boko Haram lacks an international agenda, and its attacks are concentrated in the Lake Chad Basin and northeast Nigeria.
https://www.cfr.org/blog/suspected-leadership-changes-backed-boko-haram-faction-continue
---------
Somali army kills 8 al-Shabaab militants
Mohammed Dhaysane
12.03.2019
Somali special forces killed eight al-Shabaab militants overnight in the country's Lower Shabelle region, state media said Tuesday.
"Somali security forces conducted an overnight operation in Daru Salam village in Lower Shabelle and killed eight members of the Al-Shabaab terrorist group," the Somali National News Agency reported.
Adow Mohamed, a Somali National Army captain in Lower Shabelle, confirmed the operation to Anadolu Agency by phone.
"Our special forces alongside our international partners conducted an operation against al-Shabaab in Daru Salam in the Lower Shabelle region after we received intelligence and killed eight al-Shabaab fighters," Mohamed said.
Meanwhile, al-Shabaab claimed it had killed one U.S. serviceman and wounded two others.
Full report at:
https://www.aa.com.tr/en/africa/somali-army-kills-8-al-shabaab-militants/1416004
---------
Turkey trains Gambian protocol officers for OIC summit
Mustapha K Darboe
12.03.2019
Turkish government organized a protocol training program for dozens of Gambian officers ahead of the Organization of Islamic Cooperation (OIC) summit slated for November.
The Turkish team -- led by Emre Zeki Karagol, deputy director general for protocol at the Turkish Foreign Ministry, included colleagues Yigithan Ozden and Turgay Dagistanli.
Two-days program ended on Tuesday. Among 58 participants were security officials and media officers.
"My friends and I have held around 18 different meetings … We are here to share our experiences," said Emre Zeki Karagol.
"We will share our mistakes so that you do not repeat those …"
Salimatta Touray, permanent secretary at Gambia's Foreign Ministry, said the training "could not have come at a better time".
"We are heading for the OIC summit and we want Gambia to do the best… Our protocol is still young so I will urge the participants to take advantage of this," Touray added.
Turkey has been instrumental in helping to build the capacity of Gambia as it prepares to host the OIC in several areas. Since 2017, Turkey has organized several training programs for country's security forces, particularly the police.
Turkey's ambassador in Banjul Ismail Sefa Yuceer said Turkey's aim is to help Gambia hold a successful OIC summit. Turkey is the current chair of the OIC.
"OIC is one of the greatest events in the world… We are ready to share our experience with our Gambian brothers so that this event will be a success," said Yuceer.
Full report at:
https://www.aa.com.tr/en/africa/turkey-trains-gambian-protocol-officers-for-oic-summit/1415810
---------
Al-Shabaab claims to have killed US soldier following Somalia clashes
13.3.2019
The US Africa Command (Africom) has not responded to reports by Al-Shabaab militants that an American soldier was killed during a military operation in Somalia's Lower Shabelle region.
State media in that country report that during Tuesday's overnight operation, carried out by Somali Special Forces supported by Africom, eight Al-Shabaab militants were killed.
The Somali National News Agency reported on Tuesday: "Somali security forces conducted an overnight operation in Daru Salam village in Lower Shabelle and killed eight members of the Al-Shabaab terrorist group."
Adow Mohamed, a Somali National Army captain in Lower Shabelle, confirmed: "Our special forces alongside our international partners conducted an operation against Al Shabaab in Daru Salam in the Lower Shabelle region after we received intelligence and killed eight Al-Shabaab fighters."
Full report at:
https://citizen.co.za/news/news-africa/2100393/al-shabaab-claims-to-have-killed-us-soldier-following-somalia-clashes/
---------
Soldiers repel Boko Haram attack on military base – Official
March 13, 2019
The Nigerian Army on Tuesday said its troops successfully foiled a coordinated attack by Boko Haram insurgents at a military location in Borno.
Ado Isa, Deputy Director, Army Public Relations, Operation Lafiya Dole, stated this in a statement issued in Maiduguri.
Mr Isa disclosed that troops of 152 Battalion neutralised a number of the insurgents when they attempted to infiltrate its location on Monday at Bula-Yobe-Banki axis in Borno.
He said that the troops killed unspecified number of the insurgents while many of them escaped with gunshot wounds, adding that various caliber of ammunition and equipment were recovered in the encounter.
Mr Isa said "the dogged troops of 152 Battalion successfully crushed some Boko Haram terrorists when they attempted to infiltrate their location on March 11, 2019, at about 19.00 hours at Bula –Yobe-Banki axis in Borno.
"The terrorists, in their futile attempt came in with several gun trucks mounted with Anti-Aircraft (AA) guns and motorcycles.
"The troops engaged the terrorists with superior fire power and inflicted heavy casualty on them and their equipment.
"The fierce gun battle set confusion and disorganisation in the terrorists' camp, with them withdrawing in disarray while the troops gave them a hot pursuit.
"In the process, unconfirmed number of terrorists was neutralised while several others fled with gunshot wounds".
Mr Isa added that a gun truck mounted with AA gun and several motorcycles belonging to the insurgents were destroyed, while one gun truck mounted with AA gun and Mortar Carrier were recovered from the terrorists.
According to him, the Theatre Commander, Operation Lafiya Dole, Maj.-Gen. Benson Akinroluyo, through the Acting General Officer Commanding (GOC), 7 Division, and Commander Sector 1, Operation Lafiya Dole, Brig.-Gen. Bulama Biu, commended the troops over their gallantry.
Full report at:
https://www.premiumtimesng.com/regional/nnorth-east/319921-soldiers-repel-boko-haram-attack-on-military-base-official.html
---------
URL: https://www.newageislam.com/islamic-world-news/islam-even-allow-illegal-extension/d/118014
New Age Islam, Islam Online, Islamic Website, African Muslim News, Arab World News, South Asia News, Indian Muslim News, World Muslim News, Women in Islam, Islamic Feminism, Arab Women, Women In Arab, Islamophobia in America, Muslim Women in West, Islam Women and Feminism