New Age Islam News Bureau
6 Jun 2020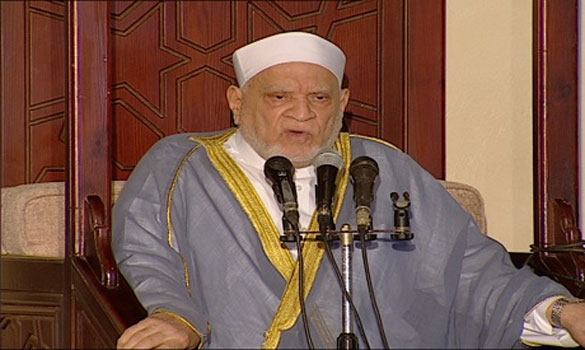 Egyptian cleric Ahmed Omar Hashem delivering Friday's sermon from Cairo's Al-Azahar mosque on 5 June, 2020, for the first time since March due to the coronavirus pandemic
--------
• Coronavirus Response in Arab Region Gets Interfaith Funding
• 'You Targeted Muslim Majority': Kerala Hackers Take Down Maneka Gandhi's NGO Website Over Malappuram Remarks
• Ahmadzai Wazir Tribe Convenes Jirga To Raise an Armed Lashkar
• IndonesianCouple Publicly Flogged 100 Times In Aceh For Having Pre-Marital Sex
• New Name, Same Game: American Muslims Vow to Fight New 'Counter-Terror' Initiative
• Speaker: Imam Khomeini Removed US' Knee from Neck of Oppressed People
• Libya's UN-Recognized Govt. Takes Full Control of Tripoli, Suburbs from Haftar's Forces
• French Army Kills Al-Qaeda North Africa Chief Abdelmalek Droukdel In Mali
-----------
Arab world
• Islam Calls for Compliance with Quarantine in Outbreaks, Says Cleric at Egypt's Azhar Mosque
• Coronavirus Response in Arab Region Gets Interfaith Funding
• Coronavirus: IMF says Egypt has agreed to $5.2 billion aid package
• Expecting the collapse: Meet Lebanon's young political party ready to take power
• George Floyd vigil shines a light on racism in Lebanon
• Egypt brings criminal charges against doctor, father in FGM case of three daughters
• Coronavirus: Saudi Arabia temporarily suspends prayers in Jeddah mosques
• Bahrain delays resumption of Friday prayers after hike in coronavirus cases
• Worshippers flock to reopened Prophet's Mosque for Friday prayers
• Iraqi forces team up for anti-IS operation in Kirkuk
--------
India
• 'You Targeted Muslim Majority': Kerala Hackers Take Down Maneka Gandhi's NGO Website Over Malappuram Remarks
• Turkish Historical TV Drama Sets New Battleground For Indians, Pakistanis
• 20 Hindus Named in Fresh Delhi Riots Charge Sheets for Killing 2 Muslim Brothers
• Delhi Police Confiscated Passports Of 723 Foreigners and ID Cards Of 23 Nepali Tablighis: Centre
• India: No need for federal agency to probe Muslim group
• In rebuttal to Pak, India quotes Imran Khan's '40,000 terrorists' remark
• Attempts to create India-Afghanistan divide won't succeed: MEA to Pak
• Faesal, Madani, Mansoor 'informally' asked not to move out of their residences
• Haj Committee of India announces full refunds amid COVID-19 lockdown
• Pleas on Jamia violence during CAA-protests to be heard on June 12
--------
Pakistan
• Ahmadzai Wazir Tribe Convenes Jirga To Raise an Armed Lashkar
• Pakistan Has Suffered Rs2.5tr Loss Because Of Covid-19
• 3 million job loses expected in Pakistan due to Covid-19 outbreak
• Court issues notice to PM Imran in defamation case
• Shehbaz to be indicted in Ramzan Sugar Mills case on 11th
• PM rejects option of imposing another lockdown
• Balochistan warns SOPs violators of strict three-day lockdown
--------
Southeast Asia
• IndonesianCouple Publicly Flogged 100 Times In Aceh For Having Pre-Marital Sex
• 'It makes us uncomfortable': Governor wants Bible in Minang language taken down from store
• Muslims In Jakarta Rejoice as Mosques Open for Friday Prayers, After Months of Praying at Home
• Malay-Muslims have responded well to Covid-19 challenges: Masagos
• Dr Mahathir: DAP bogeyman invented by Najib; Malays not so easily crushed
--------
North America
• New Name, Same Game: American Muslims Vow to Fight New 'Counter-Terror' Initiative
• Pope blasts racism, violence in address to Americans
• In a bombshell, US blogger Cynthia Ritchie accuses PPP's Rehman Malik of rape
• US says will continue with its policy of harsh sanctions on Iran
• US Navy veteran released from Iranian custody
• Man, who slashed Brooklyn cop in neck probed for terror links: sources
• UN Report on Terrorism Reiterates What Pakistan PM Publicly 'Confessed': Sources
• Senior US diplomat praises Saudi Arabia's 'productive' role in Yemen
--------
Mideast
• Speaker: Imam Khomeini Removed US' Knee from Neck of Oppressed People
• Zarif Calls on US to Release Iranian Hostages
• Iran's Mining Sector Sees 60% Investment Surge in Defiance of US Sanctions
• Iran Calls for Removal of Inhumane Sanctions against Syria
• Iranian Speaker Stresses Reinvigoration of Ties with Russia
• Iran, UN Confer on Latest Developments in Afghanistan
• Palestinians come out in force to protest US-backed Israel plan
• Hamas calls for new strategy to counter challenges facing Palestinian cause
• Palestinians, Arabs 'must learn lessons of Naksa'
--------
Africa
• Libya's UN-Recognized Govt. Takes Full Control of Tripoli, Suburbs from Haftar's Forces
• Fight against Turkey no longer just in Tripoli: Libyan National Army spokesperson
• UN extends 2011 arms embargo mandate to inspect Libya-bound ships
• Libyan government forces retake Haftar's last stronghold in west
• More than two million facing hunger in Burkina Faso: Government
• 27 killed, some burned alive in jihadi attacks on predominantly Christian villages in Mali
• Nigerian troops intensify fight against Boko Haram militants
• Boko Haram terrorists kill army commander, troops neutralise nine insurgents
--------
Europe
• French Army Kills Al-Qaeda North Africa Chief Abdelmalek Droukdel InMali
• Turks living in Europe to reunite with homeland soon
• German neo-Nazis trained at Russian camps: report
--------
South Asia
• Bomb blamed on Taliban kills 11 pro-government Afghan militiamen
• First US air strikes on Taliban since ceasefire
• US forces conduct airstrikes on Taliban in Afghanistan
• Father files case over son taken hostage, tortured in Libya
Compiled by New Age Islam News Bureau
URL: https://www.newageislam.com/islamic-world-news/islam-calls-compliance-with-quarantine/d/122052
--------
Islam calls for compliance with quarantine in outbreaks, says cleric at Egypt's Azhar mosque
5 Jun 2020
Well-known cleric Ahmed Omar Hashem delivered on Friday the first Friday sermon at Cairo's historic Al-Azhar mosque in over two months, saying that Islam was the first to call for quarantine during outbreaks and citing Prophet Muhammad's teachings in which he called people not to "enter or leave an infected land."
The member of Al-Azhar's senior scholars underscored the importance of sticking to the Islamic rule of "doing whatever possible" in the face of the coronavirus crisis, referring to the need to abide by all preventive measures against the virus.
Hashem delivered the sermon from Al-Azhar mosque in the old Islamic area of Cairo for the first time in about 70 days.
All Islamic and Christian houses of worship have been closed since March in a bid to curb the spread of the novel coronavirus.
Last week, the country's endowments ministry, which is responsible for administering mosques and Islamic centers nationwide, decided to resume holding Friday prayers every week at one mosque in the presence of only 20 worshippers. The sermon and prayers are livestreamed on television and social media platforms.
Hashem said the fact that health experts are struggling to deal with the coronavirus is a proof that "this universe has a God."
The preacher urged all Muslims around the world to repent to Allah so that the infliction is lifted. He appealed to affluent countries and people to give a hand to poor and displaced individuals.
Hashem also heaped praise on health workers, saying their job in treating coronavirus patients represents the "greatest worship."
The weekly prayer was performed at Cairo's Al-Sayyida Nafisa Mosque last Friday. Next week's prayer will be held at Al-Hussain Mosque under the same restrictions, according to the endowments ministry.
The move comes as a preliminary step before a final say on the gradual reopening of houses of worship is made.
Prime Minister Mostafa Madbouly said recently that the reopening of mosques and churches will be considered after mid-June.
http://english.ahram.org.eg/NewsContent/1/64/371572/Egypt/Politics-/Islam-calls-for-compliance-with-quarantine-in-outb.aspx
--------
Coronavirus response in Arab region gets interfaith funding
05 June 2020
Coronavirus has spread around the world, impacting all countries and peoples, and now the COVID-19 response is also crossing borders – religious ones.
A major international interfaith organization is offering grants for interreligious initiatives that respond to the coronavirus pandemic and promote public health.
The King Abdullah Bin Abdulaziz International Center for Interreligious and Intercultural Dialogue, globally known as KAICIID, announced last week it will provide funding for individual and group projects that take an interreligious approach to responding to the health crisis.
KAICIID
✔
@KAICIID
KAICIID's small grants for IRD projects in the #ArabRegion are open for applications!
If you are working to counter #hatespeech or developing initiatives to respond to #COVID19 in the region, apply now: http://bit.ly/2Wrh46D
Embedded video
371
10:43 PM - May 12, 2020
Twitter Ads info and privacy
36 people are talking about this
"Religious communities are on the front lines of responses to the COVID-19 pandemic, preventing the spread of infection, and supporting the most vulnerable groups in society," KAICIID said in a statement on its website.
KAICIID said it will offer small grants for organizations and individuals in the Arab region, Myanmar and Nigeria, to launch projects that enhance the role of interreligious dialogue during the pandemic.
While some leaders and believers of different faiths have already united during the COVID-19 crisis, this is the first international effort to fund and inspire interfaith responses to COVID-19.
Last month Pope Francis and Egypt's Grand Imam Ahmad al-Tayeb promoted and participated in a worldwide day of fasting and prayer to ask "God to help humankind overcome the coronavirus pandemic." Other prominent religious leaders have also held Zoom multifaith prayer calls for hope and an online interfaith memorial for COVID-19 victims was launched in the UK.
Now KAICIID will give 3,000-5,000 euros to organizations, institutions or individuals with short-term projects that focus on building dialogue bridges between diverse religious and ethnic communities in the Arab region.
An intergovernmental organization started in 2012 by Saudi Arabia, Austria, and Spain, KAICIID is dedicated to promoting interreligious dialogue to prevent and resolve conflict. The Vatican is a founding observer and the organization's Secretary General is Faisal bin Abdulrahman bin Muaammar, who is also adviser to Saudi Arabia's King Salman bin Abdulaziz Al Saud.
https://english.alarabiya.net/en/coronavirus/2020/06/05/Coronavirus-response-in-Arab-region-gets-interfaith-funding.html
--------
'You targeted Muslim majority': Kerala hackers take down Maneka Gandhi's NGO website over Malappuram remarks
05th June 2020
THIRUVANANTHAPURAM: The official website of People for Animals (PFA), an animal rights NGO founded by BJP MP Maneka Gandhi, was hacked on Friday by a group of "ethical hackers" over her remarks made on Malappuram district while referring to the death of a pregnant elephant in Kerala.
A message on the defaced website read, "Maneka Gandhi dragged the sad death of pregnant elephant for dirty politics," with the popular 'coffin dance' music playing in the background.
Gandhi has been facing the wrath of Keralites after she tweeted that Malappuram district was known for "its intense criminal activity," especially with regard to animals.
"Mallapuram (sic) is known for its intense criminal activity specially with regards to animals. No action has ever been taken against a single poacher or wildlife killer so they keep doing it. I can only suggest that you call/email and ask for action," she tweeted.
The message on the website further said the incident happened in Palakkad district and "we all know that you deliberately brought up Malappuram district to spread communally motivated false information targeting Muslim majority !!!."
"Your agenda is clear, love for animal is intertwined with hate for Muslims. Spreading false information by a person especially being an ex-minister and a Lok Sabha member is a real threat to the nation and not acceptable," it read.
Meanwhile, in Malappuram District, a tree was planted by Muslim Youth League state president Munavarali Shihab Thangal along with the priest of Thripuranthaka temple at the temple premises in a response to the former Union Minister.
Thangal, an influential Muslim leader and Manikandan Embrathiri, the temple priest, planted the tree together on the World Environment Day as "a message of secularism" to those who "spread hate" against the district.
"We intend to give out a message of secularism. We named the tree, 'Maithree'. Malappuram has a history of protecting the temples and mosques without any discrimination. That's why we decided to give out a message of secularism on the World Environment Day," Thangal told reporters.
CPI(M) state secretary, Kodiyeri Balakrishnan claimed that the remarks of BJP national leaders were intended to "target a particular religious group."
In a major breakthrough in the case relating to the death of a pregnant wild elephant in Kerala, one person was arrested on Friday.
"One person was arrested today. There are more accused in the case and efforts are on to nab them", Kerala Forest Minister K Raju told media. Forest and police officials are conducting a joint probe into the elephant's death and a 'very fruitful investigation' is going on, he said.
The Kerala Forest Department in a tweet said, "KFD has zeroed in on the culprits and recorded the first arrest in the wild elephant death case."
Kerala Chief Minister Pinarayi Vijayan had on Thursday said there was an "organised campaign" at the national level against Kerala and Malappuram district while accusing the BJP leaders, including central ministers, of being involved in spreading contradicting facts and statements.
The 15-year-old elephant is suspected to have consumed a pineapple filled with powerful fire crackers, which exploded in the animal's mouth in the Silent Valley Forest and it died in Velliyar River about a week later.
Vijayan's assurance of stern action came amid a social media storm over the brutality meted out to the elephant and the Centre expressing serious concern.
The social media has been trending with the various forms of hashtag, including 'I Stand with Malappuram'.
The message on the PFA website also read, "the bond between Hindu and Muslim in Malappuram is strong.
So, stay down, keep dreaming and keep it real.
" The web page was hacked by 'Kerala cyber warriors'.
The page featuresa person in aGuy Fawkes mask, which was used as a major plot element in 'V for Vendetta',a British graphic novel written by Alan Moore and illustrated by David Lloyd.
https://www.newindianexpress.com/states/kerala/2020/jun/05/you-targeted-muslim-majority-kerala-hackers-take-down-maneka-gandhis-ngo-website-over-malappuram-2152714.html
--------
Ahmadzai Wazir Tribe Convenes Jirga To Raise an Armed Lashkar
June 06, 2020
Dilawar Wazir
WANA: The Ahmadzai Wazir tribe has again convened a jirga to raise an armed Lashkar on Saturday (today) to go ahead with an earlier decision to demolish the house of Awami National Party (ANP) leader Ayaz Wazir.
The tribal jirga held a session at Kiri Kot in South Waziristan district on Friday and decided that 1,200-strong Lashkar would proceed to the house of Mr Wazir and raze it.
Before marching on the house of Mr Wazir, tribal elders would meet to take final decisions about the Lashkar's raid. The Lashkar will be accompanied by drum beaters.
Presently, tension is running high in the area.
The ANP has already announced that it will lodge an FIR against the elders of Ahmadzai Wazir tribe for instigating people against the party leader and raising a Lashkar to demolish his house.
Earlier, local ulema and Mr Wazir's clan had presented four rams to the jirga as repentance (Nanawatay) but the jirga turned down the offer.
Speaking at Friday's jirga, tribal elder Malik Jameel said that Mr Wazir had spoken at a jirga with the district administration on Thursday without taking the tribal elders into confidence, which had resulted in commotion and the jirga was marred by hooliganism.
Later, he said, the tribal elders had taken a collective decision to punish Mr Wazir for foiling the jirga which was held to restore peace in the area. He said that the jirga elders had decided that the house of Mr Wazir would be demolished. Beside, the jirga had also slapped a fine of Rs1 million on Mr Wazir.
On the other hand, the district administration and the police are making efforts to restrict the Ahmadzai Wazir tribe from implementing the jirga decision to demolish Mr Wazir's house.
The district police officer has made it clear to the Ahmadzai Wazirs that, if implemented, the jirga decision would be considered as taking the law into their hands.
https://www.dawn.com/news/1561628/ahmadzai-wazir-tribe-convenes-jirga-to-raise-lashkar
--------
Indonesian Couple Publicly Flogged 100 Times In Aceh For Having Pre-Marital Sex
June 5, 2020
ACEH BESAR: Two Indonesians caught having pre-marital sex were flogged a hundred times each on Friday in conservative Aceh province with a fraction of the usual crowd watching, due in part to coronavirus fears.
Aceh is the only region in Muslim-majority Indonesia to impose Islamic law, which allows whipping for charges including gambling, adultery, drinking alcohol, and gay sex.
Local officials have continued the practice despite bans on mass gatherings during the coronavirus pandemic, insisting they have taken adequate safety measures to prevent infections.
On Friday, the couple had their temperatures checked and wore face masks as they were lashed with a rattan cane outside a mosque on the western tip of Sumatra.
The man's flogging was briefly paused because he couldn't bear the pain, while a second flogger had to be pressed into service to finish the heavy lashing of his female partner.
"This young couple deserved a hundred lashes because they violated Islamic law," said Agus Kelana Putra, head of general crime division at the prosecutor's office in Aceh Besar district.
Another man caught in a hotel room with a woman was also whipped 40 times but his underaged female partner was spared.
Dozens watched Friday's flogging, a spectacle criticised by rights groups but which regularly attracted hundreds before the pandemic.
"Not so many people came because today because they've seen it many times before – or they're afraid of Covid-19," local resident Faisal said.
https://www.freemalaysiatoday.com/category/world/2020/06/05/couple-publicly-flogged-100-times-in-aceh-after-virus-precautions-taken/
--------
New name, same game: American Muslims vow to fight new 'counter-terror' initiative
By Umar A Farooq
5 June 2020
Ahmed Mohamed made headlines five years ago when he brought a homemade clock to his US public high school.
A robotics enthusiast, Mohamed loved engineering and had dreams of studying at the world-renowned Massachusetts Institute of Technology.
Still, when Mohamed tried to impress his engineering teacher with his latest invention, complete with a circuit board and a digital display, the 14-year-old's life was turned upside down.
Mohamed was escorted to his principal's office, handcuffed by police and suspended from school for three days.
After authorities finally realised that the clock was not a "bomb," Mohamed received messages of support from across the globe, including an invitation to visit the White House by then President Barack Obama.
"Cool clock, Ahmed. Want to bring it to the White House?" Obama tweeted. "We should inspire more kids like you to like science. It's what makes America great."
While Mohamed's story was noteworthy, the incident didn't occur in a vacuum. It was the result of an initiative introduced by Obama that almost exclusively targeted Muslims.
Last month, President Donald Trump launched a new iteration of the Countering Violent Extremism (CVE) programme called Targeting Violence and Terrorism Prevention (TVTP).
Activists have slammed the scheme, calling it a continuation of the harmful Obama-era strategy that not only fails to present convincing evidence of the causes or "drivers" of "violent extremism," but also damages Muslim and minority communities in the process.
What is CVE?
The CVE initiative was introduced by the Obama administration in 2011 as a means to curb efforts by individuals "inspired by al-Qa'ida and its affiliates and adherents" to recruit and radicalise people in the US.
The strategy was supposed to work by recruiting community leaders, social workers, teachers, imams, public health providers and others to assist the government in identifying individuals that may be "at risk" of becoming violent extremists.
Since 2011, the programme has funneled tens of millions of dollars into research and seen grants given to organisations including schools and mental health center as well as Muslim groups.
Pilot programmes were initially launched in the US cities of Boston, Minneapolis and Los Angeles, cities which host large Muslim communities, but they have since been rolled out elsewhere across the country.
Since its inception, the initiative has been met with resistance by some in the Muslim community largely because it casts an aura of suspicion on individuals, surveils people without their consent and continues to use entrapment as a means of securing prosecution.
Surveillance and intelligence gathering was found to have been extended to teenagers in schools and even to young children.
"What CVE does is that it creates training [materials] that tell teachers: This is what to look out for," Fatema Ahmed, executive director of the Muslim Justice League (MJL), told Middle East Eye.
The framework of CVE has also been used extensively within the State Department and for foreign policy, as it has initiated numerous programmes in the Middle East using CVE's approach to countering extremism.
From 2015 to 2017, the department spent about $497m in CVE programmes abroad.
"The State Department has a huge CVE framework focused predominantly on external countries," Ahmed said.
New name, same game
This year, a little less than a decade after CVE was created - funding programmes for policing, schools and mental health facilities - were morphed under TVTP by the Trump administration.
Reuters first reported in 2017 that under the rebranding, the programme would no longer target groups such as white supremacists who have carried out bombings and shootings in the US, but would focus solely on Islamic extremism.
According to the Department of Homeland Security, $80m had been allocated to the scheme, including $10m in grants similar to CVE grants given in 2016. Applications for grants are due on 17 June and the $10m will be disbursed in September, it said.
"Instead of funding schools, hospitals and public infrastructure in the midst of a pandemic, the federal government is allocating $80m of our tax money to target Muslim communities," said Ahmed.
"The people who are doing CVE, these types of law enforcement agencies or federal agencies think that they can rename it to essentially repackage it."
Hammad Alam, a staff attorney with Asian Americans Advancing Justice (AAAJ), agreed, describing the name change as "a smoke and mirrors kind of strategy".
"TVTP is essentially CVE. It's a rebranded program," Alam told MEE.
Modelled after the UK's controversial Prevent programme, the roots of CVE's surveillance framework can even be traced back to the targeting of Black Americans who organised for racial justice, Ahmed from the MJL said.
The rights group noted how the programme works to "legitimise discrimination" against Muslims, most visibly seen in the case of informants.
For instance, law enforcement-led community outreach programmes to Somali communities in Minnesota covertly operated as a channel for conducting surveillance, The Intercept reported by in 2015.
"There's a unique sort of lens by which Muslim immigrant communities are viewed as prone to terrorism and international links," Alam of the AAAJ said.
Legitimising discrimination
While the government has touted the use of informants as a necessary tool to combat terrorism, the American Civil Liberties Union has called it discriminatory and said it creates an atmosphere of "fear and mistrust".
Other forms of this come in academic research, which the government funds to create links between Muslims and terrorism.
"That helps give a cover for these programmes, even though plenty of academics and researchers have shown that none of this makes sense," Ahmed said.
Ahmed noted that much of the research being done to ascertain whether CVE is effective is funded by CVE grants.
"You don't really find a bunch of independent people think CVE is a great idea," she said. "The academic research that supports CVE is really sketchy."
The Brennan Center for Justice said in a report last year that the programme used discredited ideological markers and vague behavioral identifiers to find individuals at risk for extremist tendencies.
That, critics argue, has led to anti-Muslim profiling and the stigmatisation of innocent behaviours, including growing a beard, traveling to Muslim-majority countries or criticising US foreign policy.
Muslims aiding in surveillance
Rights group say that while they remain committed to stopping CVE in all its forms, the scheme would not be possible without the help of a key group of people: members of the Muslim community themselves.
They say that much of the funding mosques and community groups receive from CVE grants is opaque and hard to track, and the US government helps culture "leaders" within the Muslim community.
When the initiative was first announced in 2011, the FBI engaged with some community leaders before launching pilot programmes in 2014, Ahmed said.
"Unsurprisingly some of those leaders then applied for CVE.
"The structure of CVE is to recruit Muslim 'leaders' and deputise them - which is a facade - which makes it seem like it's a community-led effort, even though it wasn't.
"It obviously gets these agencies into the communities in ways that they can't anymore."
Some of the individuals central to the creation of CVE are Muslims like Haroon Azar, who served as the regional director in Los Angeles for the Department of Homeland Security. Others include those of Middle Eastern descent and Arab speakers.
Alam said that the reason some these individuals work with the government is to create "legitimacy" for themselves, while the government thinks it can gain currency by pushing the claim it is working with people who say they "know how these communities operate".
"It's no coincidence that many of those involved in the creation of CVE and these types of programmes are either Muslims themselves or they are of Middle Eastern descent," Alam said.
Being 'radical' is not a bad thing
Alam argues that the US domestic counterterrorism programme uses language that criminalises individuals that are either outwardly religious or fighting for equal rights.
The most contentious of these terminology debates centers around the term "radicalisation".
It was the center of the widely debunked NYPD framework, called "Radicalisation in the West", and has been used to villanise Muslims simply for seeming to look or act religious.
The framework identifies four steps to full radicalisation: pre-radicalisation, self-identification, indoctrination and jihadisation.
Some of the signs of radicalisation it mentions include "wearing traditional clothing", "growing a beard", and "giving up cigarettes, gambling, drinking".
It also mentions getting "involved in social activism and community issues" as a sign of becoming an extremist. Still, within this debate, communities have been split on how to approach that term, Alam noted.
Some organisations have criticised the government's approach in surveilling the Muslim community while maintaining the language around radicalisation.
"Some organisations genuinely do feel that, yes, we have a problem with violence. We have a problem with, 'radicalisation'," Alam said.
"We think that being a radical - there's nothing wrong with that," he said.
"From an Islamic perspective, for those of us who bring our faith practice into our work, we believe that the Prophet was a radical himself, and he brought a radical vision to the world."
"And so to us, we have to defend that sort of terminology."
An uphill battle
This week, a coalition of more than 70 organisations called on the Trump administration to end its TVTP programme, highlighting the harm caused by unwarranted surveillance.
"The federal government should not, once again, waste tens of millions in taxpayer dollars on a failed, harmful surveillance program," Nabihah Maqbool, a legal fellow with Muslim Advocates, said in a statement.
"Whether they call it TVTP, CVE or another acronym, these programmes are all based on junk science and only serve to unfairly paint American Muslims and other vulnerable communities as criminals and subject them to unnecessary and dangerous over-policing."
Alam said that the name change positively highlights the advocacy work done by civil rights groups to ensure that communities are disassociated with CVE programmes.
"A lot of these name changes we feel are a direct result of our own advocacy," Alam said.
With a new name and new funding streams, however, it will be another uphill battle for groups working to eliminate unwarranted surveillance of their communities.
Still, Alam said the work they have done over the past years will not be undone, and the relationships and trust they have developed may allow them to be better equipped to combat any programmes to come.
"We've worked hard and engaged in community education for a long time," Alam said.
"There's still a lot of work to do. But we have gotten to a point where there is community recognition around these programmes and there's trust as well of our organisations and our voice to say 'Look, these are the issues; this is a problem that you should be wary of'."
https://www.middleeasteye.net/news/new-name-same-game-us-muslims-aim-to-combat-tvtp-new-cve-initiative
--------
Speaker: Imam Khomeini Removed US' Knee from Neck of Oppressed People
Jun 05, 2020
The Iranian legislators in a statement on Tuesday deplored the brutal killing of a black man by an American policeman, describing it as a symbol of racial terrorism in the US.
"The US police's racial terrorism has acted again against the black people and has revealed the anti-human nature of the US regime. George Floyd is just one of hundreds of African-Americans who are brutally killed every year by the country's police," the statement said.
It noted that the recent developments displayed the reality behind the human rights that the US claims to support, adding that US President Donald Trump's threats to kill the Americans show that not only other nations but also the American people are the victims of the US state terrorism.
"The Islamic Consultative Assembly (parliament) condemns the brutal killing of George Floyd as the latest example of the US police's racial terrorism and hopes for the success of the popular movement," the statement concluded.
Iranian Foreign Ministry Spokesman Seyed Abbas Mousavi had also in a message to the US officials and police on Monday asked for end of state violence against the American people by the Washington regime, cautioning the White House rulers that the world is watching their brutal behavior.
Mousavi made the remarks in a press conference in Tehran in reaction to the recent incidents and daylight violence against the US protestors after the death of a black man by the police.
He first addressed the American people, saying, "The world has heard your outcry over the state oppression. The world is standing with you. The American regime is pursuing violence and bullying at home and abroad."
"We are greatly regretful to see along the people across the world the violent scenes that the US police have recently unfolded. We deeply regret to see the American people who peacefully seek respect and no more violence are suppressed indiscriminately and met with utmost violence."
Mousavi then addressed the American officials and police, saying, "Stop violence against your people and let them breathe."
The Iranian foreign ministry had also on Sunday called on the White House to stop intimidation of protestors and listen to the American people's voice.
"Failed to keep its promise of stopping wasting money on foreign adventurism and embattled in a Covid-19 crisis of its own making, US regime now employs army, vicious dogs and ominous weapons to intimidate protesters," the Iranian foreign ministry wrote on its official twitter page.
It underlined the need for the US to "listen to its people and change its bankrupt policies".
Protests erupt for a 7th day across the US over the death of George Floyd, an unarmed black man, at the hands of a police officer in Minneapolis, Minnesota.
At least 40 cities have imposed curfews and National Guard members have been activated in 15 states and Washington, DC.
One former officer, who was seen with his knee on Floyd's neck, was charged with third-degree murder and manslaughter but protesters say the charge isn't harsh enough, and are demanding charges for the other officers involved.
https://en.farsnews.ir/newstext.aspx?nn=13990316000043
--------
Libya's UN-recognized govt. takes full control of Tripoli, suburbs from Haftar's forces
04 June 2020
Libya's UN-backed government says its forces have managed to fully regain control of the capital, Tripoli, and its suburbs, after being besieged for more than a year by forces loyal to renegade General Khalifa Haftar.
Since 2014, two rival seats of power have emerged in Libya, namely the internationally-recognized government of Prime Minister Fayez al-Sarraj, known as the GNA, and another group under Haftar's command and based in the eastern city of Tobruk, which is supported militarily by forces loyal to him and is collectively known as the so-called Libyan National Army (LNA).
The strongman, supported by the United Arab Emirates, Egypt, and Jordan, launched a deadly offensive to capture Tripoli, the seat of the GNA, in April last year. His forces, however, haven't been able to advance past the city's outskirts.
In a statement on Thursday, the GNA's military operations room said that it now had control over all borders of the Tripoli city administrative area.
"Tripoli has been liberated and fully secured, and we have reached the administrative borders of the city of Tarhuna, southeast of the capital," said Mustafa al-Majei, the spokesperson of the Volcano of Rage Operation.
"The military vehicles of putschist Khalifa Haftar's militia have been seen withdrawing from Tarhuna toward the city of Bani Walid," located 180 kilometers (112 miles) southeast of Tripoli, he added.
The all-out Volcano of Rage operation, part of the larger Operation Peace Storm, was launched by GNA forces in April to liberate Tarhuna city, which was Haftar's main foothold in west Libya. The GNA launched Operation Peace Storm on March 26 to counter Haftar's attacks on Tripoli.
Separately the GNA's deputy defense minister Salah Namrush said, "Our forces are continuing their advance, chasing the terrorist militias from the walls of Tripoli."
"Some of their commanders are fleeing towards Bani Walid airport," in the interior 170 kilometers (110 miles) southeast of the capital, he added on Facebook.
Meanwhile, Reuters quoted an unnamed military source from the LNA as saying that Haftar's forces had completed their withdrawal on Thursday from Tripoli's districts of Ain Zara, Abu Salim and Qasr bin Ghashir toward a town near Tarhuna.
The Thursday development came just a day after the GNA troops managed to liberate Tripoli's International Airport, which has been closed for the past six years and was seized by Haftar's forces last year, when he waged an offensive against the capital.
These military gains were made ahead of what appeared to be moves toward talks on a ceasefire between the two sides, after months of gains to oust Haftar from much of his foothold in the northwest.
On Monday, the UN said both sides had agreed to resume ceasefire negotiations, but warned that a flood of weapons and armed men into Libya in defiance of an arms embargo clearly threatened a major new escalation, an apparent reference to what Ankara is doing.
In recent months, Ankara, a close ally of Tripoli, has significantly helped the GNA push back Haftar's forces and take back multiple areas by providing the GNA with logistics and military equipment.
Furthermore and in a controversial move, Ankara has also sent thousands of Turkish-backed Syrian militants there to allegedly fight alongside the GNA fighters against Haftar's forces.
Erdogan vows support for GNA against pro-Haftar forces
Additionally on Thursday, Sarraj arrived in Turkey to meet with the country's President Recep Tayyip Erdogan in Ankara, as the two allies seek to lock in recent gains against Haftar.
During a joint press conference with Sarraj following their meeting behind closed doors in Ankara, Turkish President Recep Tayyip Erdogan pledged increased support for the GNA fighting Haftar's forces.
"History will judge those who cause bloodshed and tears in Libya by supporting putschist Haftar," Erdogan said, stressing that Turkey would stand by the GNA and continued fighting on all international platforms for a "just and legitimate solution."
Erdogan also called on the international community to stop Haftar from illegally "selling" Libya's oil, which rightfully belongs to the Libyan people.
"We will continue our struggle until we eliminate the enemy in Libya," Sarraj added, referring to the ongoing fight between his government and Haftar's forces.
"The Libyan government will not allow negotiations in next stages with warlord Khalifa Haftar," he stressed.
Multiple international attempts to bring about peace between the two warring sides in Libya have failed.
Libya plunged into chaos in 2011 when a popular uprising and a NATO intervention led to the ouster of long-time dictator Muammar Gaddafi.
https://www.presstv.com/Detail/2020/06/04/626742/Libya-GNA-Tripoli-Haftar-Turkey-Erdogan-Fayez
--------
French army kills al-Qaeda North Africa chief Abdelmalek Droukdel in Mali
06 June 2020
France said on Friday its military forces had killed al-Qaeda's North Africa (AQMI) chief Abdelmalek Droukdel during an operation in northern Mali, a key Islamist fighter that its forces had been hunting for more than seven years.
"On June 3, French army forces with the support of their local partners, killed al Qaeda in the Islamic Maghreb's emir, Abdelmalek Droukdel, and several of his closest collaborators, during an operation in northern Mali," French Armed Forces Minister Florence Parly wrote on Twitter.
Droukdel was among North Africa's most experienced militants and was one of those who took part in the Islamist militant takeover of northern Mali before a French military intervention in 2013 drove them back and scattered fighters across the Sahel region.
For all the latest headlines follow our Google News channel online or via the app.
Droukdel was believed to be hiding in the mountains of northern Algeria. The group operates across northern Mali, Niger, Mauritania and Algeria.
Parly said that French forces, which number about 5,200 in the region, had also on May 19 captured Mohamed el Mrabat, a fighter she identified as a veteran militant in the region and member of Islamic State in the Greater Sahara.
"Our forces, in cooperation with their local partners ... will continue to track these (people) down without respite," Parly said.
https://english.alarabiya.net/en/News/world/2020/06/06/Head-of-al-Qaeda-in-the-Islamic-Maghreb-killed-in-Mali-sources.html
--------
Arab world
Coronavirus: IMF says Egypt has agreed to $5.2 billion aid package
06 June 2020
An IMF team has agreed on a one-year, $5.2 billion financing package for Egypt to help the country alleviate the economic impact of the COVID-19 pandemic, the fund announced Friday.
The IMF board must still approve the financing from the fund's Rapid Financing Instrument (RFI), which allows nations to circumvent the lengthy negotiations usually needed to secure a full economic assistance program -- time most countries do not have as they struggle to cope with the coronavirus crisis.
The new funding comes on top of $2.8 billion the IMF board approved a month ago, although at the time officials acknowledged that more help would be needed.
Cairo requested the aid, known as a Standby Arrangement, to support its efforts "to maintain macroeconomic stability amid the COVID-19 shock while continuing to advance key structural reforms," IMF mission chief Uma Ramakrishnan said in a statement.
"This will safeguard the gains achieved by Egypt over the past three years and put the country on strong footing for sustained recovery as well as higher and more inclusive growth and job creation over the medium term," she said.
It also will open the doors to financing from other lenders and help support job creation by the private sector.
The IMF team held virtual negotiations with Egyptian officials on the terms of the package, which the fund's board is expected to approve in "coming weeks," she said.
Egypt has suffered over 1,100 COVID-19 fatalities with over 31,000 cases, according to Johns Hopkins University's tally.
https://english.alarabiya.net/en/business/economy/2020/06/06/IMF-says-Egypt-has-agreed-to-5-2-billion-aid-package.html
--------
Expecting the collapse: Meet Lebanon's young political party ready to take power
05 June 2020
As Lebanon stands on the brink of collapse, and some say a complete overhaul of the country's governance is needed, a young political party is fighting to emerge from the shadows to shepherd the country to a more secular future.
When I first spoke to Mounir Doumani, a representative of a fledgling Lebanese political party, he told me his party was "waiting for the complete collapse of the state" so that they could step in and begin a new era of governance for the country.
It was January 2019, nearly nine months before mass protests broke out in October.
At the time, I thought he was overly optimistic, if not to say crazy.
Catching up with him a year and a half later, he corrects me. His party Mouwatinoun wa Mouwatinat fi Dawla (Citizens in a State) aren't waiting for Lebanon to collapse – they are expecting it.
He said "waiting" seemed passive.
"Only in moments of crisis, political or economic, can you change the power structure," he told me during our meeting in Beirut in 2019.
I remember nodding politely, perhaps in my own naivety as a fresh journalist only in her first few months working in Beirut, with a shallow understanding of the depth of the country's problems or the fragility of the political bedrock.
Early warning signs
Long before October 2019, experts in Lebanon had already begun to warn that the country's shaky political foundations had led to a precarious situation.
Ziad Abdel Samad noted that experts had begun raising the alarm in 2016 as the central bank began its first in a series of unorthodox financial engineering mechanisms designed to protect the local currency that has now lost over half its value. Samad is the co-founder and executive director of the Beirut-based Arab NGO Network for Development and recently spoke during Al Arabiya English's webinar, Lebanon's unprecedented crisis, challenges and paths forward.
In a January 2019 article in Lebanese monthly magazine le Commerce du Levant, the Citizens in a State Secretary General Charbel Nahas said: "We believe that Lebanon has entered a pre-crisis phase and that the current political system can neither avoid it nor face it … But we fear that an uncontrolled crisis will have a devastating effect on the country."
The dollar squeeze began to hit home in mid-2019, but in January, Nahas told the French-language magazine, "Since the Lebanese economy is not competitive – producing almost nothing and importing everything – the loans in national currency induce a currency outflow."
"The probability of a crisis occurring is extremely high. We can't predict it mathematically, but the developments we see every day seem to point in that direction."
On the brink
In May 2020, Doumani and I spoke again, amid a resurgence in the protests that had begun back in October. Despite a new, supposedly technocratic government headed by Prime Minister Hassan Diab, the Lebanese people had become increasingly frustrated with the worsening economic situation, rising inflation spurred by a dollar shortage, and a decades-old corrupt regime more concerned with sectarian politics than governing.
As increasingly hungry protesters took to torching banks, I asked Doumani how his party envisions securing the right to govern – and what its proposals are to guide Lebanon through a time of crisis.
"It will happen through something called negotiated peaceful transition of power," he told me bluntly and confidently.
He pointed to examples including North Africa and General Charles de Gaulle's rise to power through election in France. In the Arab Spring uprisings in 2011, Tunisia became what some say is a potential model for democratic transition as the country's former ruler Zine al-Abidine Ben Ali fled the country within a month of the uprising's onset, and by 2013, legislators had implemented a law to set up a transitional justice process to expose human rights abuses committed by the government and hold perpetrators accountable.
"It doesn't mean there's no violence," he said. "It means that it doesn't end with whoever wins a revolution in power."
Citizens in a State was formed in 2016 and is led by Secretary General Charbel Nahas, who has served both as labor and telecommunications minister and is a former World Bank economist.
"The name is really long, unsexy and unmarketed, but we really wanted the name to reflect the mission of the party. The party has one objective – to establish a state," he said.
The power of the ballot box?
Despite its grand goals, the party failed to win a single seat in the 2018 parliamentary elections.
Doumani, however, put this down to the problems with the current electoral system in Lebanon, with sectarian quotas ensuring a balance of power among Christian, Shia, and Sunni constituencies.
"Elections are a tool used by the regime to renew legitimacy; they'll never produce a result not based on secular legitimacy," said Doumani.
While the party did win two seats in two different municipalities in 2016, Doumani said that even then the party could see the state needed to change radically, and therefore focused on driving significant change rather than just winning seats.
"Maybe it was too early to say it, but we knew it was going to happen, so we tried to bring people together, but that takes an understanding of the reality of the situation," he said.
And now, with Lebanon inching closer to collapse, Doumani said elections cannot be relied upon to drive change.
"Elections will not be on the table, not now, not in the near future," he said, explaining that elections don't work while the state is on the verge of collapse as no one party can claim true legitimacy.
In a country with stronger institutions capable of dealing with such a situation, such as in France that allowed de Gaulle to come to power, elections could work, he explained.
Doumani's criticisms of the electoral process were shared by experts who took part in Al Arabiya English's webinar.
Samad said that while people have called for early elections, in Lebanon the decision-making process happens outside institutions by informal groups, armed or unarmed.
One problem is the role of Iran-backed political and military group Hezbollah, which has a strong influence over Lebanese politics and backs the Diab government against protesters.
"I doubt that any election or political process can lead to change unless we really engage with the constitution," Samad said.
An article in the Lebanese constitution calls for an elected body to be formed to abolish the "political confessionalism according to a transitional plan."
But in reality, the country's power-sharing system, in place since the end of the country's 15-year civil war, allocates power to each sect. Consequently, it reinforced loyalty along sectarian, rather than national lines.
But the system developed had its limitations, one being that strong state institutions failed to materialize.
Calls for an end to the sectarian system
One of the key themes of the October protests was a move away from sectarian ties that had for so long united groups along religious lines. Historically, individuals turned to sectarian leaders, rather than the state, to address their issues.
But as people thronged the streets in fall 2019, that mindset had visibly shifted. Shias, once loyal to Hezbollah, had joined their Sunni and Christian fellow citizens, now waving Lebanese, rather than party flags. However, a few counter protests did occur. At one protest in downtown Beirut, Sunni, Christian, Druze, and Shia religious leaders joined hands and processed through the street.
This change could be viewed as supportive of the aims of mouwatinoun wa Mouwatinat fi Dawla. For four years the party has been developing its vision for a new type of Lebanon, a secular state that addresses citizens' needs directly, and not through religious sectarian communities.
"The party's objective has always been to move away from the sectarian regime model, not for ideological reasons, for very practical reasons," Doumani, said, referring to the current system's failures.
When asked about sectarian representation of party's leadership, he said that it's not something they take into consideration, but acknowledged that in Lebanon it's often possible to identify someone's sect by their last name or hometown.
Perverse system
Today, crises continue to mount in the small country. At the core of this, some analysts say, is the sectarian system.
And asking those in power to reform themselves is "very naïve," said Nasser Yassin, the interim director at the American University of Beirut's Issam Fares Institute for Public Policy and International Affairs.
During Al Arabiya English's webinar, Yassin said what was needed was a complete overhaul of the system, but recognized that it'd be a bloody affair no one is prepared to engage in.
"The sectarian system is perverted," Doumani said.
He said "perverted" wasn't quite the right word, but defined as "a thing having been corrupted or distorted from its original course, meaning, or state," the term aptly describes the squandered manner in which the ruling elite has governed.
"It's a system based on looting, on redistribution. It works in good times because even people who are getting a little are getting more. It doesn't matter because they're getting a share, and they're satisfied. As soon as things go wrong, and there's nothing to loot anymore, the sects control people through loyalty and turn them against the other," explained Doumani.
Nothing left to loot
One main catalyst for the outbreak of protests on October 17, 2019, was a new tax on voice-over-internet-protocol (VOIP) apps, like WhatsApp. The move was seen as the state trying to squeeze taxpayers even more to cover losses from mismanagement and corruption, rather than address deeper issues such as its ailing electricity sector, which bleeds up to $2 billion annually and has contributed to the state's massive debt of around $89.5 billion.
People in Lebanon were already burdened by a dollar shortage that had slowly begun to see the value of the local currency slip and the 2019 austerity state budget that saw pensions cut from the Army and public sector employees, the culmination of policies in place since the 1990s.
The new WhatsApp tax, which would charge users $0.20 a day for calls on the country's most popular communications app, was a step too far for many.
Yassin said Lebanon had entered a state of "low-intensity collapse."
"[The political elite are] going to adapt to this and make us adapt," he said. "They are going to continue to gather what they can from the collapsing state."
In Doumani's view, most of the traditional political parties have failed to realize that the political system has failed.
Instead, the regime has tried to reinvent itself through Prime Minister Diab's government, which came to power following the protests. While protesters demanded an independent, technocratic government, what they got was a one-color, Hezbollah-backed government chock-full of fresh faces with familiar political ties.
Years ago, it was difficult to convince people to break with political alliances, Doumani said. But now, that seems to be shifting.
When asked why the party believes they should be the group to lead Lebanon through this, he suggested that as a movement, they have people who are getting prepared every day to take the reins, when the time comes.
"There's people that are willing to take on the challenge of running a country in complete bankruptcy and through transition, and they are part of the movement," he said. "We know what to do because we knew what was going to happen."
Doumani added that they have been coordinating with other groups to present a united opposition front to the ruling elite.
But Yassin, a political analyst, said he hasn't yet seen an opposition front form yet strong enough to take on the state, though he acknowledged there have been some concerted efforts.
"People often say it's a weak state, but we also have very powerful leaders who know the rules of the game, and they know how to utilize the state and its resources," he said. "They know how to use clientelist networks for their own gain."
"It's not so easy to uproot the system."
Nahas
As protesters called for the end of sectarian politics, they chanted "Kellon yaani kellon," or "all of them means all of them," in reference of desire for a technocratic government, rid of any politicians with ties to existing political parties.
How does any party with a member of the old establishment – Nahas – at the helm have a chance of gaining legitimacy from the same people who chanted "kellon yaani kellon?"
Doumani offered an indirect response.
"When we talk about a new structure or society, we're not talking about different people, we're talking about the same people that are in this society. We're talking about some people who had responsibilities in it, we're talking about people who didn't have responsibilities in it."
Nahas, for his part, resigned from the government in 2012 rather than sign a decree related to transportation allowances for workers because he believe it violated Lebanese law and would eventually deprive them of end-of-service compensation.
"I don't see Charbel Nahas as part of 'kellon yaani kellon,'" Yassin said. "He was part of the government at some point, but he wasn't part of the main stream and came from the margins."
With Nahas at the party's head, they have developed a four-phase plan that aims to move Lebanon through a complete collapse by appointing a transitionary government that will in the final phase hold parliamentary elections.
Transition and future vision
An interactive infographic on the party's website lays out their political vision. In the short-term, Doumani said recouping state losses will be the most challenging hurdle. A new electoral law will have to come shortly after, as well as ensuring that individual communities are protected and are protected from each other.
In phase three, titled "formation of a cohesive society and fortified economy," the party lists enmity with Israel, the relationship with Syria, Hezbollah's weapons, and a census – the last of which was conducted in 1932 – as issues to be dealt with.
On paper, it's all there.
Full report at:
https://english.alarabiya.net/en/features/2020/06/05/Expecting-the-collapse-Meet-Lebanon-s-young-political-party-ready-to-take-power.html
--------
George Floyd vigil shines a light on racism in Lebanon
05 June 2020
Following the killing of unarmed black man in the United States, demonstrations have sprung up around the world in support of the nationwide protests in the US. In Lebanon, demonstrators used a candlelight vigil as a way to shine a spotlight on racism in Lebanese society.
Several dozen people gathered in Beirut to hold a vigil for George Floyd after he was killed by a police officer in the US at the end of May. During this vigil, those present condemned racism globally, but also in Lebanon. The kafala system, under which migrant workers relinquish their passports to their employers and gives little rights to the workers themselves, was central to the Lebanese vigil.
"Like the October Revolution," Claudia Youakim, the organizer of the vigil, told Al Arabiya English, "that focused on the exploitative political structure in Lebanon, the Black Lives Matter Movement focuses on structural and systemic racism, not only in the US, as we see it here in Lebanon with such practices as the kafala system."
Youakim explained that holding vigils is an important act so that people do not forget that those who have been killed are human beings; it's a way to ensure they don't become another statistic.
"They had family, friends, a community, a life, one that was abruptly stolen from them at the hands of their oppressors," she said. "As a movement we stand united, as a transnational community, who voice our disgust with their ill treatment. We are their voices and a part of their community – worldwide. If one of us can't breathe, we all can't breathe!"
Even though Floyd was killed in the US, Lebanese believe that it is highlighting issues that exist in their country as well. Lama El-Amine, an attendee of the vigil, specifically sited Lebanese singer Tanya Saleh, who posted a picture of herself in blackface in what Saleh said was solidarity with the protests in the US. However, she received widespread criticism for her actions.
"I'm here [at the vigil] because of Tanya Saleh," El-Amine told Al Arabiya English, "This is not acceptable in 2020. A famous singer in Lebanon posted something on Facebook and people asked her to take it down, but she didn't want to. This is a big problem."
Youakim also spoke out against Saleh's actions and encouraged the singer to educate herself on the issues.
"I am disgusted, as are my fellow community members. I'd tell her to read history books that speak to racial issues and trends," she said.
While many Lebanese have said that they support the demonstrations in the US, for El-Amine, they are not looking at the prejudices that exist within their own country as she is often treated differently due to her dark skin.
"I have never felt like I am Lebanese because of that [racism]," she explained. "They never treat me as Lebanese because they always say really bad words to me when I was a child or when I grew up. Whenever I'm walking in the street anywhere in Lebanon, I feel like there is racism."
El-Amine pointed out that people always seem surprised that she speaks Arabic and will push back when she tells them that she is Lebanese.
"When I tell them that I'm Lebanese they say that I'm definitely not Lebanese and that there must be something 'wrong' in my family" she said. "They insist that one of my parents is not Lebanese. I basically need to give people my CV in order for them to accept me. It's not acceptable!"
Full report at:
https://english.alarabiya.net/en/News/world/2020/06/05/George-Floyd-vigil-shines-a-light-on-racism-in-Lebanon.html
--------
Egypt brings criminal charges against doctor, father in FGM case of three daughters
04 June 2020
Egypt's prosecutor-general has brought criminal charges against a father for the genital mutilation of his three daughters, while likewise charging a physician who allegedly performed the illegal procedure.
"The doctor went to their (the girls) home under the guise that he would vaccinate them against the coronavirus," the prosecutor-general said in a Wednesday statement.
A forensic report revealed "the excision of ... reproductive organs."
Attempts to create a coronavirus vaccine have not yet moved beyond early trials.
Female Genital Mutilation (FGM) has been banned in Egypt since 2008, but the procedure remains rife in the Muslim majority country, with many believing it promotes women's chastity.
Investigators said the doctor had given the girls – all under the age of 18 – a general anesthetic, according to the prosecutors' statement.
"They lost consciousness and when they woke up they were shocked to find their legs bound together and a sensation of pain in their genitals," the statement said.
The three minors notified their mother, who is divorced from their father.
Investigators spoke to the mother and also questioned the girls' aunt, who corroborated their account, according to the prosecution statement.
Since 2016, doctors found guilty of performing FGM in Egypt can face between five and seven years in jail.
But Reda el-Danbouki, executive director of the Cairo-based Women's Centre for Guidance and Legal Awareness, said judges and police are still not taking the legislation seriously enough.
"It's really shocking that authorities such as judges and the police continue to treat FGM cases with extreme leniency here," he said in a statement on Thursday.
In January, Nada Hassan Abdel Maqsood, a 12-year-old girl, bled to death after forcibly undergoing FGM, sparking fury online and in the media.
Her parents and the doctor were referred to a criminal court in February.
But the doctor was "set free almost immediately and a trial date is now in doubt", Danbouki said.
A survey in 2015 by the United Nations children's agency UNICEF showed nearly 90 percent of Egyptian women and girls aged between 15 and 49 had been subjected to FGM.
Full report at:
https://english.alarabiya.net/en/News/middle-east/2020/06/04/Egypt-brings-criminal-charges-against-doctor-father-in-FGM-case-of-three-daughters.html
--------
Coronavirus: Saudi Arabia temporarily suspends prayers in Jeddah mosques
05 June 2020
Saudi Arabia will be suspending prayers in all mosques in the city of Jeddah from June 6 until June 20 as part of efforts to curb the coronavirus pandemic in the country, the Ministry of Interior said on Friday, according to the Saudi Press Agency (SPA).
For more coronavirus news, visit our dedicated page.
The announcement comes after the Ministry of Health noticed a spike in the number of cases reported in the area, according to SPA.
Saudi Arabia on May 26 announced that mosques across the Kingdom would be allowed to reopen for daily prayers and the weekly Friday prayers during the second stage of the easing of restrictions starting next Sunday, May 31, until Saturday, June 20.
At the time, the Ministry of Islamic Affairs set several mandatory guidelines for mosques, including ordering the removal of all copies of the holy Quran and other books and only opening 15 minutes before the prayer starts.
Al Arabiya English
✔
@AlArabiya_Eng
Watch: Dozens of Muslims in #SaudiArabia perform the Fajr prayer in the Prophet's Mosque in #Medina for the first time since March as the country begins to ease its #coronavirus restrictions.https://english.alarabiya.net/en/coronavirus/2020/05/31/Watch-Saudi-Arabia-s-mosques-reopen-after-two-months-as-coronavirus-rules-ease.html …
Embedded video
22
7:44 PM - May 31, 2020
Twitter Ads info and privacy
See Al Arabiya English's other Tweets
However, following the new announcement, mosques in Jeddah will have to shut their doors temporarily.
The interior ministry also announced several other restrictions, including the reimposition of a curfew from 3 p.m. to 6 a.m., banning gatherings of more than five people, and halting all workplace attendance for employees in both the private and public sector.
All essential workers and groups who were previously exempt from restrictions will also be exempt from the new measures given that they continue to adhere to precautionary rules and procedures.
An official from the interior ministry added that the number of cases in the capital Riyadh will also be monitored in the upcoming days to determine whether strict measures must be imposed, according to SPA.
Full report at:
https://english.alarabiya.net/en/coronavirus/2020/06/05/Coronavirus-Saudi-Arabia-suspends-prayers-in-Jeddah-mosques-again.html
--------
Bahrain delays resumption of Friday prayers after hike in coronavirus cases
05 June 2020
Bahrain confirmed it will delay a resumption of Friday prayers after the island Kingdom saw a rise in new coronavirus infections during the past week after the Eid al-Fitr holiday, according to the country's national taskforce against COVID-19.
The country was set to witness a return of Friday group prayers in mosques starting from June 5 under strict coronavirus precautionary measures.
The Kingdom's National Taskforce for Combating the Coronavirus said the decision to delay was due to an increase in coronavirus infections caused by a failure by people in adhering to the precautionary measures.
In late March, Bahrain, along with the rest of the Gulf countries, had suspended group prayers and Friday prayers in mosques as part of the efforts to control the spread of the coronavirus.
Bahrain on Thursday detected 414 new cases of the COVID-19 coronavirus, mostly in foreign workers and some from recent arrivals to the island kingdom, according to health officials.
Out of the 5,480 active cases, 5,471 are currently in stable condition while nine patients are currently under critical care.
Bahrain's death toll due to COVID-19 currently stands at 21 as of Thursday.
Full report at:
https://english.alarabiya.net/en/News/gulf/2020/06/05/Bahrain-delays-resumption-of-Friday-prayers-after-hike-in-coronavirus-cases.html
--------
Worshippers flock to reopened Prophet's Mosque for Friday prayers
June 06, 2020
MADINAH: Hundreds of thousands of worshippers attended the first Friday prayers to be held at the Prophet's Mosque in Madinah since the gatherings were suspended to stop the spread of the coronavirus disease (COVID-19) outbreak.
The green light for the resumption of the prayer meetings came as part of a plan to gradually reopen the Kingdom's mosques while ensuring worshippers and visitors adhered to preventive measures.
A ban on access to the Rawdah remained in place and only groups of worshippers numbering up to a maximum of 40 percent of the mosque's capacity were being allowed entry.
Precautionary measures also included the allocation of specific doors for the entry of worshippers, the installation of thermal cameras, removal of all carpets so that prayers could be performed on the marble, sanitization of the mosque's floors and courtyards, periodic opening of domes and canopies to ventilate the mosque, and the removal of Zamzam water containers.
The Prophet's Mosque in Madinah will be closed after evening prayers and reopened one hour before dawn prayers. Parking lots will operate at 50 percent capacity and a media awareness campaign has been launched to highlight safety procedures at the holy site.
Medical teams have also been stationed at the main entrances to the mosque in cooperation with the Ministry of Health.
Elsewhere in the Kingdom, worshippers also flocked to perform Friday prayers at mosques amid strict health measures.
On May 31, Saudi authorities reopened all mosques for prayers, except in Makkah, as part of the Kingdom's plan for a gradual return to normal life.
Last week the minister of Islamic affairs, dawah and guidance said that the country's mosques were ready to welcome back worshippers, following his field trips to check that necessary preparations had been made.
Full report at:
https://www.arabnews.com/node/1685491/saudi-arabia
--------
Iraqi forces team up for anti-IS operation in Kirkuk
Jun 4, 2020
Iraq's armed forces began a major operation called "Heroes of Iraq - Victory of Sovereignty" to clear remnants of the Islamic State in the northern province of Kirkuk at dawn Tuesday. The operation comes ahead of key talks with the United States later this month.
Prime Minister Mustafa al-Kadhimi visited the operation in its early hours and social media was later flooded with photos of him walking alongside the forces and members of a local family. He then discussed the operation during a regularly scheduled cabinet meeting in the capital.
Kadhimi was sworn in on May 6 after several months of a government void.
Attacks and intimidation continue in the southern areas of Kirkuk province against locals and the various forces deployed there, as well as in neighboring Diyala and Salahuddin. However, the strategic location and disputed status of Kirkuk render it of particular importance.
The operation aims to clear both the oil-rich province of Kirkuk, disputed between the Kurdistan Regional Government (KRG) and the central government in Baghdad but back under Baghdad control since late 2017, and Salahuddin.
Weapons caches, hideouts, IEDs and other supplies were found and at least two "terrorists" were killed during the operation on Tuesday, according to a statement by the Iraqi Security Media Cell.
US-led international coalition spokesman Col. Myles B. Caggins III noted in a voice message to Al-Monitor Wednesday that "the Iraqi security forces are focusing significant energy on defeating the remnants" of IS "south of Kirkuk and along the Hamrin-Makhmour mountains, Nineveh plains and some areas in Anbar."
"The coalition continues to support with high level advising," he continued. "There were military officers who participated in the planning process. We shared intelligence and, in the first day of the operation we conducted three airstrikes in support of the Iraqi security forces on the ground. This area has had a presence of [IS] holdouts because of the terrain. The terrain, the topography is difficult to access. There are mountain and cave complexes and because the people of Iraq reject" IS, he said, the international terrorist organization "has been forced into mountains and desert areas, where they are traveling on motorbikes into villages to commit crimes to raise money" or to commit "acts of terror or attacks on security forces."
Caggins stressed that the "Heroes of Iraq campaign is going to happen in multiple stages throughout 2020" and brings together multiple Defense and Interior Ministry forces as well as both Sunni and Shiite Popular Mobilization Units (PMU).
Bringing together the Interior Ministry, Defense Ministry and PMU in a manner vaguely reminiscent — though on a much lower scale — as was seen during the war against IS between 2014 and 2017, the operation may also be intended to boost morale, provide a show of strength and foster a sense of unity.
In a press conference posted on YouTube late in the day on Tuesday, spokesman for the commander-in-chief of the armed forces Brig. Gen. Yahia Rasoul detailed the operation.
The "Victory of Sovereignty" name may be a rebuttal of the oft-heard accusations that Iraq is under undue influence or the control of the United States or Iran.
Since previous Prime Minister Haidar al-Abadi declared victory against IS on Dec. 9, 2017, Iraq has struggled to deal with reconstruction efforts and returning internally displaced citizens to their home regions, non-state actors, economic woes, regional tensions and IS remnants. Both the United States and Iran have provided support in various ways and maintain geopolitical interest in the country.
Protests over unemployment and lack of public services in Iraq's oil capital of Basra in 2018 were followed by massive demonstrations across the central and southern parts of the country starting in October 2019 that brought down the government months later.
The protests were still limping on and occasionally flaring up in some squares across the country as of early June, even after the new government was sworn in. Many protesters claim that Iran-backed armed groups were behind the deaths of many of the hundreds who lost their lives. Chants and placards held aloft during the early months railed against both US and Iranian influence, with "we want a homeland" a popular rallying call.
Meanwhile, IS sleeper cells have long taken advantage of security gaps between KRG and central government territories as well as persisting grievances among some parts of the population.
The last IS-held town to be retaken in Iraq was Rawa in western Anbar in 2017, but Hawija and nearby villages in Kirkuk province had been left until after the months-long battle to regain Mosul.
This reporter accompanied the PMU Liwa Ali al-Akbar during the October 2017 operation to clear Hawija. The battle was unexpectedly easy compared to the tough fights for the various districts of Mosul and other areas of the country during which she had also accompanied Iraqi forces.
Many claimed at that time that the IS fighters who had withstood such a long siege simply vanished, while others posited they had shaved their beards and fled to the KRG or to the nearby Hamrin mountains, which acts as a separating line between the western part of the Kirkuk region and northeastern Salahuddin.
The Hamrin mountain chain stretches from this point to near the Iranian border in Diyala province — which has for months seen the highest number of attacks — and has long been what some Iraqi Kurds consider what they would like as the border of a future independent state.
Several weapons caches were found and two soldiers were injured by IS shooting from tunnels during a December 2017 operation into the Hamrin mountains this reporter accompanied local forces on a few weeks after the national declaration of victory against the international terrorist organization.
The Heroes of Victory operation that began on Tuesday is also referred to as "Heroes of Victory Two," as it was preceded by another one with the same name that started on Feb. 12 and focused on Iraq's westernmost region of Anbar to the Syrian border.
Full report at:
https://www.al-monitor.com/pulse/originals/2020/06/iraq-kirkuk-isis-kadhimi.html?utm_source=iterable&utm_medium=email&utm_campaign=1267725_
--------
India
Turkish historical TV drama sets new battleground for Indians, Pakistanis
Jun 5, 2020
NEW DELHI: A Turkish historical TV drama set in the 13th century is, strangely, the latest friction point between Indians and Pakistanis on social media. Titled Dirilis Ertugrul or Resurrection Ertugrul, the series is on the life of Ertugrul Bey, the father of Osman I – the founder of the Ottoman Empire.
The series, which was first aired in 2014 in Turkey, has become an instant hit in Pakistan after state broadcaster PTV aired the Urdu dubbed version on the first day of Ramzan this year. In no time, it broke the YouTube watching record, surpassing the viewer count of the show in Turkey. This was especially after Pakistan Prime Minister Imran Khan himself endorsed the show as one promoting "good culture" and revealed his binge-watching habit.
But it isn't that the show is only popular in Pakistan; even Indians have been binge-watching it if social media posts are anything to go by. One big factor behind it is a positive portrayal of Muslims when the trend has been, especially after 9/11, to show Muslims in stereotypical roles, mostly negative, in Hollywood and Bollywood productions. "The series has been helpful in debunking the barbaric image of Muslim rulers that recent xenophobic Bollywood movies have created," said Dr Sana Aziz who teaches history at Aligarh Muslim University (AMU).
She added that for the Turkish people, the series has become a means to reinvigorate nationalism and masculinity. "In a way, this series has become Turkey's own Mahabharata moment on screen," Aziz said.
But what explains this new wave of jingoism in Pakistan where some of their news channels and social media stars have claimed that the show has triggered panic among "kuffar ke lashkar" or "infidel armies" – a pejorative reference to the western world and India? In fact, several Pakistani users have claimed, wrongly, that the Indian government has banned the show in India, fearing a "Muslim resurgence". Indian cyber warriors have responded with contempt and spite, but in their zeal, they have also landed jibes on Indian Muslims.
"There is a common idea among conservative-minded fans of the show in Pakistan that the West and Jews and other traditional enemies of Islamist anxiety are somehow terrified by the popularity of the show," Ziyad Faycal of Friday Times told TOI from Lahore.
He explained that the show is being understood as a teaching tool for Muslim cultural motifs and values and represents the yearning among Turkey's Islamist leaders for an idealised past where Muslim piety and virility overcame problems. "It has obviously struck a similar chord in Imran Khan's 'Naya Pakistan'. He has recommended it not just as a source of entertainment during the Covid-19 lockdown, but as a didactic tool that would remind us who 'our' heroes are and what 'our' values are," Faycal added.
This never-ending, ahistorical quest for "our" values in Pakistan is rooted in the rather embarrassing realisation among nationalists that the set of values Pakistan inherited on Partition were inherently Indian values. That has fuelled the need to look outside the subcontinent for heroes and ideals to cherish. But what do historians think about this depiction?
Professor Ali Nadeem Rezavi, former head of history at AMU, said the Pakistani version of the series is a good example of how language sometimes kills a good presentation. "It has been excessively filled with religiosity of present times in a historical setting depicting 13th-14th century developments. Yes, the Turkish tribe is charged by religious zeal, absorbed in mystical ideals and teachings, but is shorn of overzealous communalism. The Urdu dialogues loaded with a heavy dose of religious piety destroys the balance," Rezavi said.
He added, "In SOAS London, we were once shown a Turkish marquee in which we spent some time. Ertugrul recreates that with perfection. See it to comprehend the Turks, their society, their movements and predilections, not to rekindle your faith in Islam. Don't use it to further your own vested interests. Many tried to do that, history gobbled them."
Dr Aziz also thinks the series can help her students to understand the establishment of Turkish rule in India in the late 12th century. "The series reflects on the incessant migrations that the Turks were forced to take up due to Mongol attacks that led to the establishment of their independent empires in different parts of the world, including India. They would also understand the complexities of political negotiations that happened between sedentary rulers and the Turkish pastoral tribes. It points to the fact that consolidation and the survival of early medieval Muslim empires worked through multi-layered kinship networks," Aziz said.
https://timesofindia.indiatimes.com/india/turkish-historical-tv-drama-sets-new-battleground-for-indians-pakistanis/articleshow/76222307.cms
--------
20 Hindus named in fresh Delhi riots charge sheets for killing 2 Muslim brothers
ANANYA BHARDWAJ
4 June, 2020
New Delhi: The Delhi Police Crime Branch Thursday filed two more charge sheets in connection with the February communal riots in northeast Delhi — this time, against 20 Hindus, charging them for the murder of two Muslim brothers, Hashim Ali and Amir Ali.
While one charge sheet named nine Hindus, the other named 11. In the murder case of Hashim, nine Hindus have been named, while in the murder of Amir, 11 accused have been named by police.
The two brothers were on their way home on a bike on 25 February when they were allegedly stopped by a Hindu mob, and then thrashed, stabbed, stripped naked, following which the bodies were dumped in a drain.
According to the police, the accused men were part of a WhatsApp group, called 'Kattar Hindu', in which they discussed about "taking revenge from the Muslims".
Some of the accused were identified as Pankaj Sharma, Sumit Chaudhary, Ankit Chaudhary, Lokesh Kumar, Prince, Rishabh Choudhry, Jatin Sharma, Vivek Panchal, Himanshu Thakur — all residents of northeast Delhi.
While the police have registered a case of riot, arson and murder with a comment intent against the accused, they have not been booked for criminal conspiracy (IPC Section 120 B) or promoting enmity between different groups on grounds of religion (IPC Section 153 A), like the Muslim men and activists accused in other cases, where they have been booked for "hatching a conspiracy to start a riot".
"More than conspiracy, this group was made (created) to talk about revenge, retaliation and not any conspiracy to create a riot," a senior police officer said.
"They have been booked under murder, common intent. Minimum punishment for this is life. It will be incorrect to say that strong charges have not been pressed against the Hindus," he added.
According to the police, out of the total arrested, 700 are Muslims and 630 are Hindus. "So the proportion of accused on both sides is the same," he said.
All the accused men are currently in judicial custody. Their bail applications have been rejected by the court, police said.
'Lathi, dande, gun ka intezam karlo'
According to a source in Delhi Police, the group was created on the night of 24 February to "seek revenge" and had over 125 members, all residents of northeast Delhi.
According to the source, members of the group spoke about how they have been "targeted by the Muslims, their shops and houses burnt, so now is the time to retaliate."
They even spoke about equipping Hindus with "lathis, rods and other weapons" and "take positions across northeast Delhi on 25 February and strike".
"Some of the chats read: Lathi, danda, gun, explosive sab ka intezam karlo (Get ready with sticks, guns and explosives). Many in that group even told people who spoke of retaliating to calm down and not resort to violence," the source said.
The source said two members added many people to the group, but not all were involved in active rioting.
"Some members of these groups were only sending and receiving chats, only a few others were involved in active rioting," he said.
In that group, one member also confessed to have killed one Muslim and encouraged others to pick up weapons.
"One man in the group said 'maine kisi ka kaam tamam kar diya hai'," the source said.
"This group was also being used to update the residents of the situation in pockets of northeast Delhi and how and where to congregate on one call," he added.
How the police identified the 'killers'
It is this WhatsApp group that led police to the alleged killers.
On 26 February, when the police were fishing out bodies from Johripur drain, two men on a bike visited the area to take a round. On finding them suspicious, they were stopped by the police and questioned.
When the police checked their phones, they stumbled upon this WhatsApp group and the chats. Their phones were confiscated and other people were identified from that WhatsApp group, the source said.
"They said they had come to take a round. But when their phones were checked, we found this group and then we analysed its contents to reach the killers," the source said.
The police also said they had received a PCR call from the area where the two Muslim brothers were intercepted, which they have put on record.
Full report at:
https://theprint.in/india/20-hindus-named-in-fresh-delhi-riots-charge-sheets-for-killing-2-muslim-brothers/435724/
--------
Delhi police confiscated passports of 723 foreigners and ID cards of 23 Nepali Tablighis: Centre
Jun 6, 2020
NEW DELHI: The union government on Friday informed the Supreme Court that it has confiscated passports of 723 foreign nationals and seized identity cards of 23 Nepal nationals for taking part in Tablighi Jamaat congregation at Nizamuddin Markaz in violation of lockdown norms in the last week of March.
In an affidavit filed in the PIL of Supriya Pandita, the Centre said it has blacklisted 960 foreigners who were found to have travelled to India to take part in Tablighi Jamaat at Nizamuddin on either tourist visas or e-visas, which does not permit participation in religious activities.
"Passports of 723 accused foreigners and identity cards of 23 accused Nepal nationals have been taken into possession through seizure/handing over memos. Some of the foreign nationals were unable to provide/produce their passports. Efforts are on to account for all passports," the Centre told a bench headed by Chief Justice S A Bobde, which adjourned hearing by two weeks.
Petitioner wanted fixing of accountability on Delhi government, Delhi police and others for allowing congregation of Tablighi Jamaat at Nazamudin and the assembly of migrant workers at Anand Vihar ISBT and Gazipur border on march 28 in complete violation of lockdown, which was enforced since March 25 to completely stop human movement from one place to another.
The Centre said Delhi Police had repeatedly warned the Tablighi Jamaat at Nizamuddin against holding congregation and yet a video of their religious head Maulana Mohd Saad was found exhorting followers to defy lockdown and social distancing norms to attend religious congregation. It said that the investigations are at the concluding stage and that it would file a probe status report in sealed cover before the SC, if needed.
Full report at:
https://timesofindia.indiatimes.com/india/delhi-police-confiscated-passports-of-723-foreigners-and-id-cards-of-23-nepali-tablighis-centre/articleshow/76227419.cms
--------
India: No need for federal agency to probe Muslim group
By Shuriah Niazi
05.06.2020
NEW DELHI
India's government said on Friday there is no need for separate probe by a federal agency into a gathering of a Muslim religious group in March, which has been blamed for the coronavirus outbreak in the country.
The Tablighi Jamaat has recently faced public vilification in India, as the country's initial coronavirus cases in April were being linked to its gatherings, especially one in the capital New Delhi in March.
In a written response on Friday, the government told the Supreme Court that the Delhi police's probe into the group's activities is "progressing on a day-to-day basis" and efforts are being made to complete it as soon as possible.
Asserting there was no negligence or unnecessary delays in the investigation, the government said a probe by the Central Bureau of Investigation, a federal agency, "does not merit any consideration."
India's top court is hearing a petition filed by a lawyer, Supriya Pandita, against the central and Delhi governments, as well as the Delhi police, accusing them of risking millions of lives by allowing the congregation in March.
Foreign members banned for a decade
On Thursday, the government banned 2,250 foreign members of the Tablighi Jamaat from entering India for the next 10 years.
These people were in India during the countrywide lockdown implemented to stem the spread of the virus.
They were among those who attended a gathering at the Tablighi Jamaat headquarters Delhi's Nizamuddin locality from March 13 to March 15.
The Indian government filed a case against the group's chief Maulana Mohammad Saad Kandhalvi for arranging the event despite the lockdown imposed by Prime Minister Narendra Modi.
In mid-April, the police added charges of culpable homicide not amounting to murder against Kandhalvi and six others, saying many people who attended the religious gathering had succumbed to COVID-19.
Full report at:
https://www.aa.com.tr/en/asia-pacific/india-no-need-for-federal-agency-to-probe-muslim-group/1866549
--------
In rebuttal to Pak, India quotes Imran Khan's '40,000 terrorists' remark
Jun 05, 2020
A new UN report that refers to the presence of thousands of Pakistani terrorists in Afghanistan is a reiteration of Prime Minister Imran Khan's acknowledgement last year that his country hosts up to 40,000 terrorists, people familiar with developments said on Friday.
Reacting to the Pakistan Foreign Office's contention that the external affairs ministry was using the UN report to "slander Pakistan", the people, who spoke on condition of anonymity, said the UN Security Council's analytical support and sanctions monitoring team had only reiterated what Khan "has already confessed".
As first reported by HT, the UN report, issued last month, said there are some 6,500 Pakistani nationals among foreign terrorists operating in Afghanistan, and the Jaish-e-Mohammed (JeM) and Lashkar-e-Taiba (LeT) play a key role in bringing foreign fighters into the war-torn country.
"Pakistan's Foreign Office would do well to recall that their prime minister admitted last year that Pakistan still hosts 30,000 to 40,000 terrorists. Pakistan's leadership is also on record acknowledging that in the past, terrorists had used the country's soil to carry out terror attacks on other countries," said one of the people cited above.
Speaking at the US Institute of Peace in Washington last July, Khan had said Pakistan still has "about 30,000 to 40,000 armed people who have been trained and fought in some part of Afghanistan or Kashmir".
"The UN Security Council's analytical support and sanctions monitoring team's report has only reiterated what the prime minister of Pakistan has already confessed. Instead of casting aspersions on the report, Pakistan should introspect and put an end to any kind of support for terrorism emanating from territories under its control," the person said.
The person added that the UN and the world community are "acquainted with the reality that Pakistan is the nerve centre of terrorism".
Pakistan houses "one of the largest numbers of UN-designated terrorists and terrorist entities", and its "fallacious attempts to point fingers at others cannot deflect attention from the facts on the ground", the person said.
"Moreover, Pakistan's attempts to create a divide in the traditional and friendly relations between the people of India and Afghanistan will not succeed. The people of Afghanistan and the international community are well aware of who the 'spoiler' is, and who is sheltering, training, arming and financing terrorists and sponsoring violence against innocent Afghans and members of the international community," the person said.
In a statement issued on Thursday, Pakistan's Foreign Office had contended the external affairs ministry had misrepresented the UN report to slander Pakistan. "Pakistan categorically rejects India's malicious allegations, which are aimed at misleading the international community," it said.
The statement said there was no reference to "safe havens" in Pakistan in the report, which it claimed was based on "briefings provided in Afghanistan to the [UN team] by certain quarters who have long expressed scepticism about the Afghan peace process".
The Foreign Office also contended India was trying to "create complications for the Afghan peace process", and that Pakistan had highlighted what it was said was India's "sponsorship of terrorist organisations in Afghanistan".
Full report at:
https://www.hindustantimes.com/india-news/in-rebuttal-to-pak-india-quotes-imran-khan-s-40-000-terrorists-remark/story-CaUcsfsqLFSiOPWJsKitoO.html
--------
Attempts to create India-Afghanistan divide won't succeed: MEA to Pak
by Shubhajit Roy
June 6, 2020
Reminding Pakistan that its prime minister, Imran Khan, had last year admitted that Pakistan still hosts 30,000 to 40,000 terrorists, India on Friday said Islamabad's attempts to "create a divide in the traditional and friendly relations between the people of India and Afghanistan will not succeed".
This came a day after Pakistan accused New Delhi of distorting the contents of a report on terrorism by the United Nations Analytical Support and Sanctions Monitoring Team. "This reveals that India's agenda is to create complications for the Afghan peace process," Pakistan's foreign ministry had said.
The Ministry of External Affairs' official spokesperson Anurag Srivastava said, "The Ministry of Foreign Affairs of Pakistan would do well to recall that their prime minister admitted last year that Pakistan still hosts 30,000 to 40,000 terrorists. Pakistan's leadership is also on record acknowledging that in the past. terrorists had used the country's soil to carry out terror attacks on other countries."
He said the UN Security Council's Analytical Support and Sanctions Monitoring Team Report only reiterated what Khan already admitted to.
"Instead of casting aspersions on the report, Pakistan should introspect and put an end to any kind of support for terrorism emanating from territories under its control. The UN and the international community is well acquainted with the reality that Pakistan is the nerve centre of terrorism. It houses one of the largest numbers of UN-designated terrorists and terrorist entities. Its fallacious attempts to point fingers at others cannot deflect attention from the facts on the ground," he said.
The MEA spokesperson further said the people of Afghanistan and the international community are well aware of "who the 'spoiler' is, and who is sheltering, training, arming and financing terrorists and sponsoring violence against innocent Afghans and members of the international community".
On June 2, India had expressed "serious concern" over a United Nations report which stated that a large number of foreign terrorist fighters, including up to 6,500 Pakistan nationals, are operating in Afghanistan.
He had said this "vindicates India's long-standing position that Pakistan remains the epicentre of international terrorism".
"That proscribed terrorist entities and individuals continue to enjoy safe havens and recruit, train, arm, finance and operate with impunity from Pakistan with state support. They inflict violence and spread terrorism in the region and other parts of the world," he had said.
Full report at:
https://indianexpress.com/article/india/attempts-to-create-india-afghanistan-divide-wont-succeed-mea-to-pak-6445461/
--------
Faesal, Madani, Mansoor 'informally' asked not to move out of their residences
Jun 5, 2020
SRINAGAR: IAS officer-turned-politician Shah Faesal and two PDP members, including the maternal uncle of former chief minister Mehbooba Mufti, who were released from detention under the PSA earlier this week have been "informally" told not to move out of their houses, informed sources said.
The three were shifted to their official residences on Wednesday after they were released following revocation of the controversial Public Safety Act (PSA) against them by the home department of the union territory.
However, they were conveyed informally that they should not step out of their homes and a police guard has also been posted outside, the sources said.
When contacted, Sartaj Madani, uncle of Mehbooba Mufti, told PTI over phone that he was not sure whether he had been kept under house arrest but added that he was not allowed to go to his native village in Bijbehara of South Kashmir.
"I was told that I can go without assigning any reason," he said.
Efforts to seek a reaction from Peer Mansoor, political advisor during the tenure of Mehbooba Mufti as chief minister, and Faesal, a 2010 batch IAS officer did not fructify as their phones were not reachable.
Full report at:
https://timesofindia.indiatimes.com/india/faesal-madani-mansoor-informally-asked-not-to-move-out-of-their-residences/articleshow/76220143.cms
--------
Haj Committee of India announces full refunds amid COVID-19 lockdown
05th June 2020
NEW DELHI: The cancellation of Haj 2020 pilgrimage is almost a certainty now, Haj Committee CEO, Maqsood Ahmed Khan, told the New Indian Express on Friday.
Talking about a letter he had issued on Friday evening offering pilgrims 100 per cent refunds on the amounts they had deposited for their Haj pilgrimage, Khan said that there was "less than 5 percent chance" of Haj pilgrimage happening this year, in view of the COVID-19 pandemic.
The letter issued on behalf of the Haj Committee of India stated that 100 per cent refunds were being offered to the pilgrims after "communication (dated March 13) was received from Saudi authorities...conveying to temporarily halt the preparations for Haj 2020. As only a few weeks are left for the preparatory work in India, for Haj 2020, yet Saudi authorities have not communicated any further development."
Khan also made it clear that all the pilgrims—those who do not even apply for cancellations-- will get the refunds automatically deposited in their accounts.
Chances of the Haj pilgrimage being dropped this year became apparent with curbs being put on the movement of international flights and with no communication from Saudi Arabia. The Haj flights from India to Saudi Arabia were scheduled to commence from 25 June and the 40-day pilgrimage is scheduled to end by August 2.
A total of two lakh Indian Muslims were supposed to go on the pilgrimage this year. Of this, 70 per cent people were scheduled to go through the Haj committee while private tour operators were given a quota of facilitating 30 per cent pilgrims.
Khan explained that the committee finalises applications in two stages but because of the coronavirus threat, this process also got delayed and only one batch of applications comprising 1.25 lakh pilgrims were given clearance.
The Haj fees or expenditure for the pilgrimage is collected in three instalments. The final instalment was not collected from pilgrims because the final amount is decided after getting approval from Saudi authorities, Khan said. All pilgrims selected by Haj Committee of India however, have paid Rs 8.1 lakh each, the first instalment and some had also paid the nd instalment of around Rs 1.10 lakh.
Indonesia, the world's largest Muslim majority country which sends the highest number of pilgrims to Saudi Arabia is the only country so far to have announced the cancellation of Haj 2020.
Full report at:
https://www.newindianexpress.com/nation/2020/jun/05/haj-committee-of-india-announces-full-refunds-amid-covid-19-lockdown-2152823.html
--------
Pleas on Jamia violence during CAA-protests to be heard on June 12
Jun 05, 2020
The Delhi High Court Friday said it will hear next week pleas related to the violence during Jamia Millia Islamia University protests against the Citizenship (amendment) Act (CAA) in December last year.
A bench of Chief Justice D N Patel and Justice Prateek Jalan listed the matter for June 12 after senior advocate Colin Gonsalves and lawyer Sneha Mukherjee, appearing for the petitioner, sought time to file rejoinder to the Delhi Police's affidavit which was submitted on Thursday.
The hearing was conducted through video conferencing as the functioning of courts have been restricted due to the COVID-19 pandemic.
Delhi Police, represented through advocates Amit Mahajan and Rajat Nair, sought dismissal of pleas seeking quashing of FIRs and directions against alleged police brutality in the university during the anti-CAA protests.
It said the petitions were an utter abuse of PIL jurisdiction as the incidents of violence in and around the campus were well-planned and orchestrated attempts by some persons with local support.
One of the petitioners, Nabila Hasan, has sought action against the police for allegedly brutally attacking the petitioners, students and residents of Jamia Millia Islamia. The plea sought against the alleged ruthless, and excessive use of force and aggression unleashed by police and paramilitary forces on students within the university.
Opposing a batch of PILs seeking setting up of a judicial commission to look into the violence, the police has said the claim of police brutality is utter falsehood.
The police has filed the affidavit in response to various petitions, moved by lawyers, students of JMI, residents of Okhla in south Delhi, where university is located and the Imam of Jama Masjid mosque opposite Parliament House, in which they had also sought medical treatment, compensation and interim protection from arrest for the students.
The pleas have also sought registration of FIRs against the erring police officers.
The affidavit filed by Rajesh Deo, Deputy Commissioner of Police, Crime Branch, said exercising fundamental right to dissent should be respected, but "no person can be allowed to commit breach of law, indulge in violence, arson and riotous activity causing danger to life, limb and property of innocent citizens under the garb of exercise of fundamental right of free speech and assembly".
Such fundamental rights are not absolute and are liable to reasonable restrictions under the Constitution, it said.
Under the garb of organising a protest, it is completely impermissible for the citizens to create law and order situation and to lay a siege and paralyse the day to day activity of fellow citizens who are completely unconnected with the cause for which protests are organised by a section of the society, it said.
The police said that videos and photographs collected by it show that under the garb of student protest, it was a well-planned and orchestrated attempt by some persons with local support to intentionally perpetrate violence in the area.
It said the evidence showed that there was large scale violence, arson and stone pelting on December 13 and 15, 2019, which resulted in lodging of three FIRs.
Regarding the prayer in the petitions to frame guidelines on use of force to govern the conduct of police personnel in such cases, the affidavit said it is not maintainable and added that due procedure/ standard protocol was followed by the police authorities to control the unruly mob and to maintain law and order in the area.
On the violence incident of December 15, the affidavit has said, police received an input that some former students and other persons will assemble at JMI for protesting the newly acted CAA and NRC and will go to Parliament and the President House.
Full report at:
https://www.hindustantimes.com/india-news/pleas-on-jamia-violence-during-caa-protests-to-be-heard-on-june-12/story-oZiIuawTjlkS0W616SsaYK.html
--------
Pakistan
Pakistan has suffered Rs2.5tr loss because of Covid-19
Khaleeq Kiani
June 06, 2020
ISLAMABAD: Pakistan is estimated to have faced an economic loss of up to Rs2.5 trillion because of the Covid-19 pandemic in the current fiscal year.
This was the near-consensus reached by various international lending agencies and different arms of the government attending a meeting presided over by Adviser to the Prime Minister on Finance and Revenue Dr Abdul Hafeez Shaikh.
They also agreed that the pandemic would have a spillover impact in the next fiscal year.
The meeting was informed that the size of the national economy as measured by the gross domestic product (GDP) had shrunk from Rs44tr to about Rs41.5tr, down by Rs2.5tr.
Another estimate put the loss at about Rs1.6tr based on the growth rate. Under this estimate, the GDP was originally estimated to grow by 3pc during current fiscal year, but it actually contracted by 0.4pc, which meant the total GDP loss of 3.6pc or Rs1.58tr.
For the next year, too, the Planning Commission has estimated the GDP growth rate of 2.3pc but the ministry of finance, State Bank of Pakistan, Asian Development Bank, the World Bank and the UNDP do not consider it to be a realistic estimate and they have projected about 1.9pc growth rate for the next year given the continuation of contraction impact in Pakistan's trading partners and domestic economic challenges.
Mr Shaikh asked the international development partners and the government agencies to continue evaluating the losses suffered by Pakistan's economy due to Covid-19 to help the government come up with a swift and robust policy response.
The meeting was held to evaluate the economic losses suffered by the country's economy due to Covid-19.
The meeting was also attended by Minister for Industries and Production Mr Hammad Azhar, Adviser to the Prime Minister on Commerce and Investment Abdul Razak Dawood and senior officials of the finance division.
The adviser appreciated what he called an excellent work done by the Planning Commission, the State Bank of Pakistan and the development partners in assessing and evaluating the losses suffered by the country's economy in the wake of Covid-19.
He said that the government had announced its Rs1.2tr stimulus package not only to help the businesses but also to help the poorest segments of the people to alleviate their miseries and suffering to some extent.
Earlier, the State Bank of Pakistan Governor, Reza Baqir, who attended the meeting by Zoom, presented a detailed analysis of the State Bank of Pakistan as well as its policy response to the economic impact of Covid-19.
Mr Xiaohong Yang, Country Director for Asian Development Bank in Pakistan, also gave a detailed presentation on the economic losses suffered by countries in Asia in general and by Pakistan in particular due to Coronavirus.
The data presented by the ADB also showed promising signs of recovery in Pakistan's economy in the post-Covid-19 scenario.
During the meeting, Julien Harneis, United Nations Resident Humanitarian Coordinator in Pakistan, and Mr Patchamuthu Illangovan, Country Director of the World Bank in Pakistan, also provided similar data.
Mr Asif Saeed, Member of Planning Commission, also presented a detailed report prepared on the instruction of the government on economic losses suffered by the economy due to Covid-19.
https://www.dawn.com/news/1561551/pakistan-has-suffered-rs25tr-loss-because-of-covid-19
--------
3 million job loses expected in Pakistan due to Covid-19 outbreak
Jun 5, 2020
ISLAMABAD: Cash-strapped Pakistan is expected to record around 3 million jobs loses due to the coronavirus outbreak, the finance ministry told the country's Senate on Friday.
In response to Senator Mushtaq Ahmed's question on estimated damage to the economy due to the pandemic, the finance ministry said the industrial sector is likely to lose 1 million jobs and the remaining 2 million will be lost in the service sector.
The ministry cited the Pakistan Institute of Development Economics study and said the job loss could be greater at an estimated 18 million jobs, including agricultural, services and industrial sectors.
The novel coronavirus has spread at a rapid rate in Pakistan, since its first case diagnosed on February 26. So far, 89,249 cases have been reported in the country with 1,838 deaths.
However, economic constrains have led to the coronavirus lockdown being lifted. Prime Minister Imran Khan had called the enforcing of a strict lockdown a "mistake" as it aggravated the economic situation.
"Lockdown is not a solution as it can only slow down. So it was a mistake to shut down business in the country," Khan had said on Monday, after reviewing the coronavirus situation.
The finance ministry on Friday told the Upper House of the Parliament that the percentage of people living in poverty would increase from 24.3 per cent to 33.5 per cent.
Similarly, the fiscal deficit is expected to rise from the initial target of 7.5 per cent to 9.4 per cent of the Gross Domestic Product.
It said exports will fall from $25 billion to $22 billion due to no trade with the United States, the European Union, the United Kingdom and the Middle East. Remittances will also fall from $23 billion to $21 billion.
Tax revenue also decreased from $29 billion to $24 billion, while the Federal Bureau of Revenue is expected to suffer a loss of $4 billion to $5.5 billion between April and June.
The ministry said the Pakistan rupee depreciated from Rs 154.23 in February to Rs 166.70 in March. In May, the Pakistan Rupee was valued at Rs 163.10 against the Dollar.
The ministry said Gross Domestic Product growth for 2020 fiscal was estimated at 3.24 per cent. However, the GDP growth posted negative growth of -0.4 per cent -- industrial sector -2.64 per cent, agricultural sector 2.67 per cent and services sector -0.59 per cent.
Full report at:
https://timesofindia.indiatimes.com/world/pakistan/3-million-job-loses-expected-in-pakistan-due-to-covid-19-outbreak/articleshow/76221699.cms
--------
Court issues notice to PM Imran in defamation case
June 06, 2020
A sessions court in Lahore issued notice to Prime Minister Imran Khan on the Rs10 billion suit for damages filed by Pakistan Muslim League-Nawaz (PML-N) President Shehbaz Sharif under the Defamation Ordinance, 2002.
A sessions court in Lahore issued notices to Prime Minister Imran Khan and others in the Rs10 billion suit for damages filed by Pakistan Muslim League-Nawaz (PML-N) President Shehbaz Sharif under the Defamation Ordinance, 2002.
The case started in 2017, when Shehbaz, who was then the chief minister of Punjab, sent a Rs10 billion defamation notice to the Pakistan Tehreek-e-Insaf (PTI) chairman, stating that the latter had falsely accused the former of having "offered to pay a sum of Rs10,000,000,000 to the defendant in exchange for his withdrawing/backing-off from, or remaining silent on the issue of the Panama Papers' case".
On Friday, the PML-N president submitted a plea to expedite the defamation suit, which was heard by Judge Sohail Anjum.
In his plea, Shehbaz's lawyer said that PM Imran is not presenting before the court in the case. He said that defamation case against the premier is pending since past three years.
Following the arguments, the court subsequently issued a notice to the nominated parties' lawyers for a response.
On Thursday, PML-N Secretary Information Marriyum Aurangzeb had challenged the prime minister to submit a formal response over his claim of "hush money" allegedly offered by the opposition leader, saying that if the premier does not do so then he would not be morally eligible to hold office.
Talking to media, Marriyum had said that the premier would also cease to be righteous and trustworthy in the light of Article 62, 63 of the Constitution. "A lying, sugar robbing, incompetent and unqualified person does not deserve to be the leader of the great Pakistani nation. The person who is playing with the lives of his countrymen does not deserve to hold the office of the prime minister," she had added.
The former information minister had said that the leader of the "NAB-Niazi alliance", Imran, had been an absconder from the case for the past three years by delaying proceedings 33 times.
She had said for the past six years, he had been an absconder in the foreign funding case in addition to the 23 secret accounts case which he delayed for two years.
Marriyum clarified that Babar Awan could not represent PM Imran in the case because he was a government office holder and called out the hypocrisy of the system, saying the court had conveniently excused him appearing in court over the danger of contracting Covid-19 but Shehbaz was summoned twice a week.
Full report at:
https://www.pakistantoday.com.pk/2020/06/06/court-issues-notice-to-pm-imran-in-defamation-case/
--------
Shehbaz to be indicted in Ramzan Sugar Mills case on 11th
June 06, 2020
An accountability court here on Friday directed Leader of the Opposition in the National Assembly Shehbaz Sharif and Punjab Assembly Opposition Leader Hamza Shehbaz to appear in person in the Ramzan Sugar Mills case.
The accountability judge set June 11 for the indictment of the father-son duo and other accused in the case. He directed the Pakistan Muslim League-Nawaz (PML-N) president to show up on the next hearing at any cost.
The hearing was postponed to June 11.
Full report at:
https://www.pakistantoday.com.pk/2020/06/05/shehbaz-to-be-indicted-in-ramzan-sugar-mills-case-on-11th/
--------
PM rejects option of imposing another lockdown
June 06, 2020
ISLAMABAD: Prime Minister Imran Khan on Friday rejected an option of imposing another lockdown in the country.
Speaking at a media briefing, he said the country could not afford to go back to lockdown and urged people to follow the government's standard operating procedures (SOPs) for curbing the spread of deadly coronavirus.
The prime minister said the government was preparing the budget for financial year 2020-21 in a way to generate more revenue and cut expenses as a shortfall of Rs800 billion in total tax collection had already been witnessed due to the Covid-19 crisis.
Endorsing his decision not to impose another lockdown, Mr Khan said that the countries still witnessing an increase in the number of Covid-19 cases were compelled to lift lockdowns. "What these countries had gained from strict lockdown? Their people lost jobs, poverty increased while cases of coronavirus continued to increase there," he added.
The prime minister said lockdowns had created havoc in the whole world as the nations which were giving loans had themselves come under debts. "We were already facing financial crunch due to huge burden of debts taken by the previous regime and since we came to power we have retired Rs5000 billion as interest on foreign loans," he said, adding that his government had paid half of the tax collected last year in debt retirement and half of the money was left to run the country.
Talking about the forthcoming federal budget, which is likely to be announced on June 12, the prime minister said the government had to cut its expanses and increase income to combat the coronavirus situation. However, he said the government would impose smart lockdown where required and for which Corona Relief Tiger Force would be used to provide assistance to the people.
"It is important for you [Tiger Force volunteers] to ensure that people follow SOPs because we can't go back to another lockdown as the country can't afford it," he said, adding that if curve of Covid-19 was slowed down by following SOPs, it would reduce pressure on hospitals.
He said the country was already emerging from a difficult situation before the pandemic hit, adding that Rs50 billion was given to the utility stores as subsidy and Rs144bn distributed among the poor under the Ehsaas programme. "How much more money can Ehsaas give? That is why it's important for the people to ensure the implementation of SOPs."
The prime minister said the government had reopened industries to provide jobs and work opportunities to daily wage earners. "The purpose of reopening industries was to help the vulnerable. A lockdown for [the privileged] is not a problem, but it is a problem for the working class," he added.
He said the main objective of the Tiger Force was to create awareness among the masses. "In Pakistan we have 1,700 deaths, we knew corona would spread. We have to understand corona is a virus that spreads when people gather so that is why we need to maintain social distancing. I will give you instructions every day. We will regularly give instructions on what you need to do, what the hotspots are [and] we will guide you," he said.
"The virus will spread, you can't stop that. You can lock people up in their rooms and that will slow the spread but this will not end it," he added.
The prime minister said none of the country's coronavirus cases was traced back to mosques, despite the government's critics stating otherwise. "The government's critics said that the virus will spread from mosques but no cases emerge from there and today the world is opening mosques with standard operating procedures in place," he added.
Full report at:
https://www.dawn.com/news/1561617/pm-rejects-option-of-imposing-another-lockdown
--------
Balochistan warns SOPs violators of strict three-day lockdown
Saleem Shahid
June 06, 2020
QUETTA: The Balochistan government has warned people and the business community that a three-day complete lockdown would be imposed across the province if they continued to violate SOPs and other instructions issued in connection with Covid-19.
Balochistan government spokesman Liaquat Shahwani told a press conference on Friday that a large number of traders and people were not observing SOPs and this was leading to increase in coronavirus cases with each passing day across the province.
"The government is now seriously considering to impose a strict lockdown for three days in Quetta and other areas of the province in view of non-serious attitude of the masses and members of the business community," Mr Shahwani said.
He expressed concern over rising cases of coronavirus among women and said that 24 per cent women in Balochistan had tested positive for coronavirus and the number was increasing with each passing day.
He said though the cases of coronavirus had reached over 5,500 in the province, a large number of people had also recovered from the disease and that was a very positive sign.
He said in Balochistan condition of only 16 patients was serious and only one patient was on the ventilator.
Mr Shahwani said that treatment of Covid-19 patients with plasma of recovered patients had also started in Balochistan.
"One serious patient of Covid-19 fully recovered after he was administered plasma of a recovered patient in Quetta," the spokesman said, adding that people recovering from the deadly virus were donating their plasma.
In reply to a question about locust swarms invading the provincial agriculture land, the spokesman said that 32 districts of the province were under the invasion of locusts and the provincial government had been carrying out sprays in several districts to protect corps from being ruined.
Full report at:
https://www.dawn.com/news/1561625/balochistan-warns-sops-violators-of-strict-three-day-lockdown
--------
Southeast Asia
'It makes us uncomfortable': Governor wants Bible in Minang language taken down from store
Apriza Pinandita
June 5, 2020
The West Sumatra provincial administration is currently under the spotlight after its letter requesting the central government take down a Bible application from a digital distribution service circulated widely, prompting debates in the country.
According to a copy of the letter obtained by The Jakarta Post, which was dated May 28 and addressed to Communication and Information Minister Johnny G. Plate, West Sumatra governor Irwan Prayitno requested the ministry take down an application named "Kitab Suci Injil Minangkabau" (The Bible in Minangkabau language) that was available on Google Play Store.
He said the existence of the application had caused Minangkabau people – most of whom are Muslim residents of the province – to be uncomfortable.
"The application contradicts Minangkabau culture with its philosophy of Adat Basandi Syarak, Syarak Basandi Kitabullah [culture is based on sharia, sharia is based on Quran]," Irwan wrote in the letter.
Irwan asked the ministry – through the Informatics Application Directorate General – to take down the app and to prevent similar apps from emerging in the future.
West Sumatra Communication and Information Agency head Jasman Rizal confirmed the request. "We appreciated the people who were responsive by giving us information [about the existence of the app]," said Jasman as quoted by tribunnews.com on Thursday.
The finding, Jasman added, had been discussed by the West Sumatra office of the Indonesian Ulema Council (MUI) and the West Sumatra governor. As of Wednesday, the application had been taken down from Google Play Store, he said.
The issue has triggered a public uproar, not only from some West Sumatrans but also from the public across the country. The keyword "Minang" is one of Twitter's trending topics in Indonesia, with more than 8,000 tweets as of Friday noon.
"What was asked is actually specific, to take down the app which is in the Minang language, the one in Indonesian is left alone […] Why should [we] make a big deal out of this?" a user named @adianasrul responded.
A senior journalist in West Sumatra, Syofiardi Bachyul, wrote on his Facebook account that the Minang language was not identical to Islam. He quoted his own writing in 2018, also posted on Facebook, which describes the history of Buddhism in Sumatra, including Minang land, before Islam came to the area.
When asked about the issue, MUI secretary-general Anwar Abbas echoed the statement of the West Sumatra governor, which emphasized the religious philosophy that was observed by most Minangkabau people, the one that was guided by Islamic beliefs, despite the fact that 69,253 residents -- or 1.43 percent of West Sumatra residents are Christian, 2010 census data from Statistics Indonesia (BPS) reveal.
"So, the guidance of the Minangkabau people is not the Bible. Hopefully, there will not be a Bible [published] in Minangkabau language," Anwar told the Post on Friday.
Meanwhile, Hariyono, the deputy head of the Agency for Pancasila Ideology Education argued that the governor's move contradicted the values of Pancasila, which give space for religious freedom.
"Every individual is given the freedom to observe their beliefs as long as they do not cause disruption in the public. And of course, some of the residents of West Sumatra are also Christian, and the governor himself is a governor to everyone, not a certain ethnicity or religious belief," he told the Post.
"Officials and public figures must be wise to respond to the dynamics of religious life in their surroundings," he said, citing numerous figures from West Sumatra who also upheld diversity during the Indonesian struggle for independence, such as Agus Salim, Mohammad Natsir and Mohammad Hatta.
Hariyono said he believed that holy books could be translated into any language as long as they were not misinterpreted.
Halili Hasan, a researcher from the Setara Institute for Democracy and Peace, responded to the issue by emphasizing the fact that the existence of the application did not violate the law and the Constitution.
"The request from the governor could be a bad precedent, as one day it will be used by some groups that do not value diversity to do the same thing," he told the Post.
According to him, the existence of the application is indeed important for the advancement of tolerance and does no harm to Minangkabau culture, which is basically open to interacting with other cultures.
"What is dangerous, I think, is the perspective of local political elites and intolerant groups [in West Sumatra] which, for me, are not representative enough for the Minangkabau people and its inclusive culture," he said.
Meanwhile, Religious Affairs Ministry director general for Christian community guidance Thomas Pentury asserted that although the matter was the domain of the Communication and Information Ministry, he wanted the people in West Sumatra to remain in harmony despite the issue, adding that he believed the development of the application had gone through the correct procedure.
"We need to see this matter from a positive perspective and I hope that this issue is not being blown up," Thomas said.
Christians in West Sumatra have experienced hardship in trying to establish churches in the province. On Christmas last year, some Catholics and Protestants in Dharmasraya regency in West Sumatra had to get into tough negotiation with the local authority to be able to celebrate Christmas at home.
https://www.thejakartapost.com/news/2020/06/05/it-makes-us-uncomfortable-governor-wants-bible-in-minang-language-taken-down-from-store.html
--------
Muslims In Jakarta Rejoice as Mosques Open for Friday Prayers, After Months of Praying at Home
June 5, 2020
After months of praying at home, Muslims in Jakarta are now able to perform the first Friday prayers in mosques on Friday following the transitional period in the capital city that starts to ease restrictions in public spaces in the capital city.
Denny Faizal, a 22-year-old university graduate, joined the Friday prayer, a weekly congregational prayer mandatory for Muslim men, in Teladan Mosque in Tebet, South Jakarta. It was his first Friday prayer in a mosque after only performing it at home since mid-March, weeks before the official implementation of the large-scale social restrictions (PSBB) in April amid the social distancing measures taken to curb the spread of COVID-19.
He said the mosque followed the protocols mandated by the city administration, namely body temperature check before entering the premise, assigning the 1-meter distance policy between participants and requiring them to wear a face mask. The congregations must also bring their own prayer mats and a bag to store their footwear. In addition, the sermons given before the prayer was quicker compared to normal times, he said.
"Alhamdulillah [thank God], I can perform Friday prayers again. I feel very happy," Denny told The Jakarta Post on Friday.
"I hope that we can continue holding Friday prayers in mosques and that the PSBB will be over soon."
Many Jakartans have also shared their experience participating in Friday prayers with the additional physical distancing measure and health protocols trough social media.
"Alhamdulillah, this afternoon I performed Friday prayer in congregation at the Masjid Raya Al-Azhar in Sentra Primer, East Jakarta. It was conducted with health protocol to prevent COVID-19 [transmission], such as maintaining physical distance, temperature checking, and requirement to wear a face mask," Twitter user @azzam_satriawan posted on Friday.
Muhammad Azzam Satriawan
@azzam_satriawan
Alhamdullilah, tadi siang saya baru saja melaksanakan ibadah Sholat Jumat secara berjamaah di Masjid Raya Al-Azhar, Sentra Primer, Jakarta Timur. Dilakukan protokol kesehatan untuk mencegah Covid-19 seperti menjaga jarak, pengecekan suhu dan wajib memakai masker saat Sholat.
View image on TwitterView image on Twitter
11:15 AM - Jun 5, 2020 • Masjid Raya Al-Azhar
Twitter Ads info and privacy
See Muhammad Azzam Satriawan's other Tweets
"Earlier, [I participated in] Friday prayer in the Bangka Raya area of [South] Jakarta. My temperature was checked when I entered the mosque and I was given a plastic bag to carry my footwear," another Twitter user @naavyyk posted on Friday.
navy' fanani
@naavyyk
• Jun 5, 2020
Jumatan di New Normal, a thread
navy' fanani
@naavyyk
Tadi sholat jumat di wilayah Bangka Raya Jakarta, masuk halaman masjid dicek suhu dan diberi kantong plastik buat bungkus alas kaki
View image on Twitter
11:42 AM - Jun 5, 2020
Twitter Ads info and privacy
See navy' fanani's other Tweets
President Joko "Jokowi" Widodo also performed the prayer in the Baiturrahim mosque situated in the presidential palace complex.
Kompas.com also reported that Governor Anies Baswedan performed Friday prayer in the Fatahillah mosque located in the City Hall compound.
Some mosques in the city such as Al Azhar Mosque in South Jakarta were also packed with congregations, among them was former Vice President Jusuf Kalla who is also the chairman of the Indonesian Mosque Council (DMI), as reported by Tempo.co.
To prevent overcrowding in mosques during the weekly prayer, the Indonesian Ulema Council (MUI) had issued a fatwa allowing the prayer to be conducted in turns in two groups, rather than the usual simultaneous prayer at noon.
Besides mosques, the Jakarta Administration has also allowed other houses of worship to operate during the transition phase.
The Jakarta archdiocese, for example, had been gearing up to open its churches by preparing a new worship protocol following the Religious Affairs Ministers' announcement that houses of worship would be gradually reopened.
Full report at:
https://www.thejakartapost.com/news/2020/06/05/muslims-in-jakarta-rejoice-as-mosques-open-for-friday-prayers.html
--------
Malay-Muslims have responded well to Covid-19 challenges: Masagos
Hariz Baharudin
June 06, 2020
By responding with unity, resilience and compassion to disruptions brought about by the Covid-19 pandemic, the Malay-Muslim community here has demonstrated how it is a community of success, said Mr Masagos Zulkifli, Minister-in-charge of Muslim Affairs, yesterday.
Mr Masagos was speaking at his annual Hari Raya get-together for more than 100 community and religious leaders, which was held virtually via videoconferencing platform Zoom and featured a musical performance by singer Ramli Sarip.
The minister also announced a new wakaf, or Islamic endowment fund, to support the community.
He said that challenges for Malay-Muslims here have been multi-fold amid the pandemic.
He noted how members of the community have had to make adjustments to cope with changes, such as the closure of mosques, the disallowing of congregational prayers, the postponement of the Haj pilgrimage, and the inability to visit loved ones during Hari Raya celebrations.
"We made difficult adjustments to our social and religious norms to contain the spread of Covid-19, to pull our weight like everyone in our country to keep Singapore safe.
"We also pulled together community resources to provide holistic support to the vulnerable among us," said Mr Masagos, who is also Minister for the Environment and Water Resources.
"It was not easy to adapt to this uncertain situation, but I am glad that we have stayed united, compassionate and civic-minded.
"I want to put on record how proud I am of the way our community has responded to the Covid-19 pandemic thus far."
During the recent eight-week circuit breaker period that began on April 7, when most Singaporeans had to stay home to prevent the spread of the coronavirus, the Malay-Muslim community continued to give back and support one another, said Mr Masagos.
He highlighted how Muslims donated to the OurMasjid.sg portal to sustain mosques and their staff.
He also noted how the Singapore Malay Chamber of Commerce and Industry worked with businesses, the Islamic Religious Council of Singapore (Muis), and other organisations to cook and distribute food for 20,000 front-liners and needy families on a daily basis.
This ground-up effort of providing these meals, called the SGUnited Buka Puasa and held during the fasting month of Ramadan, raised $3 million, he added.
Yesterday, Mr Masagos also announced a new endowment fund that will serve to fund the community's institutions and its programmes, as well as to help develop religious teachers here.
Dubbed the Wakaf Masyarakat Singapura (Singapore Community Wakaf), the fund will be managed by Muis and will help fulfil the financial needs of community members and institutions who fall through the cracks, he said.
"I have asked Muis to set up the Singapore Community Wakaf, which aims to financially support our religious institutions, asatizah (Islamic religious teachers) development and community programmes, whose needs are not systematically funded by platforms such as the Mosque Building and Mendaki Fund and zakat collections," said Mr Masagos, referring to the annual Muslim alms giving.
Traditionally, wakaf is defined as the permanent dedication by a Muslim of any property for any purpose defined by Muslim law as religious and charitable, but the concept has evolved to be similar to a trust fund, where money is invested and the returns are used to help the community.
In a factsheet yesterday, Muis said there are currently 91 of such wakaf that it looks after, with a total asset value of more than $800 million.
The council added that in recent years, more than $3 million is disbursed from these investments annually, where 85 per cent of these funds are given out yearly to local beneficiaries, while the remaining goes to the poor and the needy overseas.
Full report at:
https://www.straitstimes.com/singapore/malay-muslims-have-responded-well-to-covid-19-challenges-masagos
--------
Dr Mahathir: DAP bogeyman invented by Najib; Malays not so easily crushed
05 Jun 2020
By Azril Annuar
KUALA LUMPUR, June 5 ― Tun Dr Mahathir Mohamad has again defended DAP today, saying the perception that the party is out to ruin the majority Malays is merely a political propaganda invented by Datuk Seri Najib Razak after Umno lost the general election.
Speaking to a press conference at the Perdana Leadership Foundation in Putrajaya, the Langkawi MP gave several historical examples of Malay ingenuity including the Dawn Raid which saw PNB taking over then British-owned rubber and oil palm conglomerate Guthrie Corporation Limited.
He also recalled that the Malaysia won its independence by defeating the British-proposed Malayan Union and during the 1997 currency crisis the nation did not run to the International Monetary Fund or the World Bank for assistance, but managed to handle it internally.
All the victorious incidents that he recalled did not have any other ethnic intervention and it happened under Malay leadership and was executed only by Malays.
"For the DAP to crush the Malays isn't easy, but it is good propaganda by Najib who lost everything. The moment Najib lost the election, he wanted the support to PAS so he suggested to PAS lets form a Malay-Muslim government, but of course they didn't have enough numbers.
"But after that he kept on pushing for a Malay-Muslim government and created this fear of DAP. DAP has six members of Cabinet. Bersatu, which won only 13 seats also had six members. So, in the Cabinet we are equal.
"And six out of almost 30 Cabinet members, you mean to say these six can manipulate all? They cannot. I don't know if people think I'm easily manipulated or not," said Dr Mahathir.
Touching on a snap election, Malaysia's oldest active MP said that it is not a good idea as the government is still busy battling the dreaded Covid-19 pandemic.
He pointed out that the country is not fit to carry an election as there will be no campaigning, crowds are not allowed to gather and that since elections are expensive, it will just divert funds that can be used to fight off Covid-19 for the elections ― which will lead to more suffering by the people.
The 94-year-old Langkawi MP also predicted that an election will most likely see his party Bersatu being wiped off the map.
"Umno has said it will contest all seats won by Bersatu, which means they are not supporting Bersatu.
Full report at:
https://www.malaymail.com/news/malaysia/2020/06/05/dr-mahathir-dap-bogeyman-invented-by-najib-malays-not-so-easily-crushed/1872867
--------
North America
Pope blasts racism, violence in address to Americans
Giada Zampano
04.06.2020
ROME
As protests over the brutal death of George Floyd continued to rock the US, Pope Francis condemned racism in any form in a Wednesday address but also reminded his audience that violence is self-destructive.
In his greetings to the English-speaking faithful at his weekly general audience, the Pope specifically addressed the people of the United States.
"I have witnessed with great concern the disturbing social unrest in your nation in these past days, following the tragic death of Mr. George Floyd," he said. "We cannot tolerate or turn a blind eye to racism and exclusion in any form and yet claim to defend the sacredness of every human life."
Francis cited a recent statement from Archbishop José Gomez of Los Angeles, president of the US Conference of Catholic Bishops (USCCB), to denounce the violence that erupted at some of the protests.
"At the same time, we have to recognize that 'the violence of recent nights is self-destructive and self-defeating. Nothing is gained by violence and so much is lost'," he said.
Francis said he was joining the Church in Saint Paul and Minneapolis and throughout the entire US "in praying for the repose of the soul of George Floyd and of all those others who have lost their lives as a result of the sin of racism."
He also asked Americans to implore God for "the national reconciliation and peace for which we yearn."
The US has been facing violent protests since last week, when a video went viral showing Floyd being pinned down by Derek Chauvin, a white police officer in Minneapolis, Minnesota, as he was being arrested.
Chauvin knelt on his neck for nearly nine minutes. Shortly after, Floyd appeared to lose consciousness, but Chauvin maintained his position on the victim. He died shortly after being taken to a hospital.
His last words were "I can't breathe," which became a slogan for nationwide protests.
An independent autopsy on Monday found that Floyd was killed by "asphyxiation from sustained pressure."
US President Donald Trump is facing criticism from Christian leaders for having used religious symbols during public appearances and photo opportunities.
After a White House press conference on Monday, Trump made a surprise visit to the historic St. John's Episcopal Church by walking to the church after police used tear gas and flash bangs to clear protesters away.
That was after the president sparked outrage for threatening to use the military to crack down on protests if state governors failed to contain street violence.
https://www.aa.com.tr/en/americas/pope-blasts-racism-violence-in-address-to-americans/1864401
--------
In a bombshell, US blogger Cynthia Ritchie accuses PPP's Rehman Malik of rape
June 06, 2020
The conflict between the PPP and Pakistan-based American blogger Cynthia D. Ritchie intensified on Friday after the latter came out with allegations of rape and assault against some top PPP leaders.
Ritchie, who was at the centre of a controversy last week when she tweeted what the PPP described as "derogatory and slanderous remarks" about slain former prime minister Benazir Bhutto, accused former interior minister Senator Rehman Malik of having raped her in Islamabad in 2011.
"In 2011, I was raped by the former interior minister Rehman Malik. That's right, I'll say it again. I was raped by the then interior minister Rehman Malik," she said a live video on her Facebook page, also accusing former federal minister Makhdoom Shahabuddin and ex-prime minister Yousuf Raza Gilani of "physically manhandling" her while Gilani was staying at the "President's House".
While Malik could not be reached for a comment despite multiple attempts, Gilani and his son strongly denied the allegations.
Ritchie said she was reserving "some of the more graphic details" because her audience could include children, but added that she would be "happy to go into more detail" with neutral investigative journalists.
The blogger has nearly 220,000 followers on Twitter and a hashtag championing her as a "pride of Pakistan" (#CynthiaIsPrideOfPakistan) was the top trend on Friday evening.
In a tweet before going live on Facebook, the American alleged members of "#ZardarisFilthyPPP" were threatening her because "they know that over the years I have been raped/assaulted by men in the highest ranks of PPP. They don't want the world to know."
In another post after her allegations, she said the alleged assault took place at Malik's house in the Ministers' Enclave around the time of the raid in which Al Qaeda leader Osama bin Laden was killed. "I thought it [was] a meeting about my visa but I was given flowers/a drugged drink," she wrote, adding claiming she "kept quiet" thinking no one in the then PPP government would help her.
"Recently they (PPP members) attacked family; I've had it. Ready to face any accuser," she said, adding that she is now engaged to a man whom she met in Pakistan, and it was him who encouraged her "to speak out, so we can move on as a couple".
In her video, Ritchie alleged that she has endured harassment "primarily from the PPP" for a number of years now. "I have received countless threats against my life, rape threats, claims that PPP has my father," she claimed, adding that she has "evidentiary support" of everything she has been posting.
Ritchie also said she had informed about the incident to "someone" at the US Embassy in 2011, "but due to 'fluid' situation and 'complex' relations between US and Pakistan, [the] response was less than adequate".
Dawn has reached out to the embassy to verify the veracity of her statement.
Last week, the PPP had filed a complaint with the Federal Investigation Agency's (FIA) Cyber Crime Wing against Ritchie for posting on her Twitter account what it described as derogatory and slanderous remarks about Benazir Bhutto. The complaint was filed by PPP's district president in Islamabad Advocate Shakeel Abbasi.
'You haven't seen nothing yet'
Detailing her time in Pakistan, Ritchie said she has been "in and out" of the country since 2009. "I shifted here end of 2010 and I was invited here by the PPP when [Asif Ali] Zardari was president, PM Gilani, interior minister Rehman Malik and the federal minister at the time Makhdoom Shahabuddin.
"Initially things were quite pleasant. I was very well-facilitated; I had no idea of the political battle that was taking place or had been taking place between PTI, PPP, PML-N etc.," she said.
She continued: "Because I had been assisting [the] PTI gratis, on my own time, with their social media strategies back in late 2010-2011, I learnt eventually that PPP was trying to draw me away from PTI."
"PPP, you've attacked me for too long," the blogger said while addressing the party leadership. "You've created false accounts trying to research my family, getting information from my sisters who naively had no idea who they were talking to and then leaking deeply personal family information on Twitter.
"You think I don't have contacts in the United States, you think I don't have contacts here or elsewhere to be able to track and trace what you were doing. For those who've called me a bitch because I have dared to stand up to you, you haven't seen nothing yet," she concluded.
Gilani denies 'filthy' allegations
Former premier Gilani not only denied the charges levelled by Ritchie, but said that he even considered responding to such allegations "humiliation and disgrace".
Talking to ARY News, he questioned as to what Richie was doing at the Presidency when she was allegedly manhandled, and why she had been staying in Pakistan. He alleged that she had come to Pakistan as part of a campaign to malign politicians.
"Who has given them the right to malign politicians?" he asked.
Gilani said those raising such allegations "should be ashamed" and asked whether a person of the prime minister's stature could do such an act at the Presidency.
The former prime minister claimed that Ritchie was maligning him because his two sons had filed a defamation case against her for her allegedly defamatory tweet against Bhutto.
Full report at:
https://www.dawn.com/news/1561548/in-a-bombshell-us-blogger-cynthia-ritchie-accuses-ppps-rehman-malik-of-rape
--------
US says will continue with its policy of harsh sanctions on Iran
05 June 2020
The United States Special Representative for Iran has said that Washington will continue with its policy of harsh sanctions against Iran.
Brian Hook said on Friday that Washington plans to continue the harsh economic sanctions policy against the Islamic Republic in an attempt to bring it to the negotiating table on issues such as the nuclear program.
"We refuse to play by that rule book. When you play under house rules, the house always wins," Hook said. "So we are going to continue with our policy."
He said the US would like to see Iran negotiate a new nuclear agreement.
Washington's so-called maximum pressure campaign against Tehran officially started when Republican President Donald Trump unilaterally pulled his country out of the 2015 Iran nuclear deal officially known as the Joint Comprehensive Plan of Action (JCPOA) in May 2018.
Trump pulled his country out of the Iran nuclear deal and re-imposed harsh sanctions against the Islamic Republic in order to make Tehran capitulate to Washington's wishes.
Iran, however, has not given in to US pressure and has announced the start of unlimited nuclear research and development work.
Iranian Foreign Minister Mohammad Javad Zarif has said it is up to Trump to decide when to redress his mistake of leaving the Iran nuclear deal signed between the Islamic Republic and major world powers.
In a post on his official Twitter account on Friday, Zarif directly addressed Trump, with a screenshot of his Tweet on the release of Michael White, a US citizen who had been sentenced to prison in Iran since 2018 for "security crimes" and in a lawsuit brought by "private plaintiffs."
Iranian Foreign Ministry Spokesman Abbas Mousavi said in a statement on Thursday night that White was released after satisfying the plaintiffs in respect to the cause of action while being granted "Islamic mercy for his other crimes."
Tensions between Iran and the United States have increased since Trump unilaterally withdrew his country from the international nuclear agreement and reinstated the sanctions.
Under Washington's pressure, the three European signatories to the JCPOA -- France, Britain and Germany -- have so far failed to fulfill their contractual obligation to protect Tehran's business interests against the sanctions.
Full report at:
https://www.presstv.com/Detail/2020/06/05/626838/US-says-will-continue-with-policy-of-harsh-sanctions-on-Iran
--------
US Navy veteran released from Iranian custody
Michael Hernandez
04.06.2020
WASHINGTON
A US Navy veteran has been freed from Iranian custody after being held for nearly two years, President Donald Trump said Thursday.
Michael White is currently on a plane from Switzerland after having "just left Iranian Airspace," Trump said on Twitter.
"We expect him to be home with his family in America very soon," added Trump as he thanked Switzerland, which represents US interests in Iran, for its "great assistance."
A widely-reported statement in the name of White's mother, Joanne, thanked the State Department and Switzerland for efforts in securing her son's release, saying she owes them "a debt I can never repay."
"For the past 683 days my son, Michael, has been held hostage in Iran by the IRGC and I have been living a nightmare," Joanne White said, referring to Iran's Islamic Revolutionary Guards Corps. "I am blessed to announce that the nightmare is over, and my son is safely on his way home."
White, whose family says suffers from underlying health conditions, was among a wide batch of prisoners who were granted furlough from prison in Iran because of concerns for their health as the coronavirus rapidly spreads in that country. He reportedly tested positive for COVID-19.
Full report at:
https://www.aa.com.tr/en/americas/us-navy-veteran-released-from-iranian-custody/1865581
--------
Man, who slashed Brooklyn cop in neck probed for terror links: sources
JUN 04, 2020
A man shot by police after he slashed an officer in the neck in Brooklyn is being investigated for possible links to terrorism, police sources said Thursday.
The suspect, 20-year-old Dzenan Camovic, has no criminal history — but the Joint Terrorism Task Force is investigating his background, sources said, and whether he is linked to ISIS or other terror groups.
The FBI's William Sweeney said the New York office is on the case.
"We will respond as if one of our own is attacked," he said in a statement.
Such terror probes typically involve looking at a person's travel history and personal relationships, though it was not immediately clear why the NYPD and FBI have suspicions about him.
Camovic is an immigrant, possibly from Bosnia, officials and neighbors of the suspect said.
All three of the cops wounded in the clash with Camovic were also immigrants, Mayor de Blasio said.
"People come here from all of this country, all over this world to find a better life and they represent this entire world and then some choose to represent all of us," de Blasio said.
Federal agents on Thursday raided Camovic's home on E. 22nd St. near Newkirk Ave. in Flatbush — roughly a mile from the fracas — as stunned neighbors looked on.
"I was shocked to hear that he stabbed a police officer and then they shot him and he's still alive, it's amazing," said neighbor David Song. "He seemed so quiet and like a nice guy. I don't know what made him come out like that. He never seemed angry."
Camovic was critically wounded by police gunfire late Wednesday night after slashing Officer Yayonfrant Jean Pierre in the neck in what de Blasio called an "absolutely unprovoked attack."
"I've seen the video myself and I can say there were two of our officers simply trying to protect the community and they came under unprovoked attack — and that is absolutely unacceptable," de Blasio said. "An attack on any one of our officers is an attack on all of us."
Camovic held the knife in his right hand as he slashed Jean Pierre with a sideways motion.
Jean Pierre, a native of Haiti, survived the slashing and was in good spirits at the hospital, as were the two officers shot in the hands during the hail of gunfire, source said.
"He's doing OK," said a relative of Jean Pierre who declined to give her name. "He's still in the hospital."
The two shot cops were identified by authorities as Officers Randy Ramnarine and Dexter Chiu.
"(Jean Pierre) is an exemplary young man giving back to the country that welcomed him and embraced him," de Blasio said, adding that all three officers, "represented all that is great about great about New York City."
Hours after the attack, cops released a photo of the knife they say Camovic used on Jean Pierre.
Responding officers fired 22 times, striking Camovic eight times.
Police Commissioner Dermot Shea said it wasn't clear if Camovic, who managed to grab the gun away from Jean Pierre, actually fired at police. Friendly fire has not been ruled out, officials said.
"We are in the preliminary stages of uncovering evidence, creating links and exploring links if there are any," Shea said. "This is very early in the game."
A relative of the suspect, who declined to give his name, said terrorist ties are out of the question.
"Absolutely not," the relative said.
"I have the utmost respect for law enforcement, but it's easy to accuse a Muslim of terrorism. It's the first offense that comes to mind when someone mentions Muslim. He might have been attacked yesterday. He could have been provoked, and he might have mentioned, like anyone would mention, God. He might have said Allah, but no one knows. I just hope law enforcement will do their due diligence."
The relative said Camovic lives with his father, mother, and sister. He said the father worked as a superintendent in a few buildings in the neighborhood.
Full report at:
https://www.nydailynews.com/new-york/nyc-crime/ny-possible-terror-link-knife-attack-brooklyn-20200604-zujmgpaupnhbrgbwn3nxc7pu5e-story.html?utm_source=iterable&utm_medium=email&utm_campaign=1267725_
--------
UN report on terrorism reiterates what Pakistan PM publicly 'confessed': Sources
Jun 5, 2020
NEW DELHI: A recent report by the UN Security Council mentioning about Pakistan-based terror groups sending thousands of terrorists to Afghanistan is a reiteration of what Pakistan Prime Minister Imran Khan publicly "confessed", official sources said on Friday.
The UN report said that around 6,500 Pakistani nationals were among foreign terrorists operating in Afghanistan and that Pakistan-based terror groups Jaish-e-Mohammad and Lashkar-e-Taiba are engaged in trafficking fighters into that country.
The sources said that the international community is well acquainted with the reality that Pakistan is the "nerve centre of terrorism".
"The Ministry of Foreign Affairs of Pakistan would do well to recall that their prime minister admitted last year that Pakistan still hosts 30,000 to 40,000 terrorists," said a source.
In a dramatic admission, Khan, during a visit to the US in July last year, said that about 30,000-40,000 "armed people", who have been trained and fought in some part of Afghanistan or Kashmir, were in Pakistan.
The sources said Pakistan's attempts to create a "divide" in the traditional and friendly relations between the people of India and Afghanistan will not succeed.
After the report by the Analytical Support and Sanctions Monitoring Team was submitted to the UN Security Council, India said the findings vindicated its long standing position that Pakistan remained the epicentre of international terrorism.
Pakistan on Thursday accused India of attempting to mislead the international community on the matter.
"The UN report has only reiterated what the Prime Minister of Pakistan has already confessed. Instead of casting aspersions on the Report, Pakistan should introspect and put an end to any kind of support for terrorism emanating from territories under its control," said a source.
Full report at:
https://timesofindia.indiatimes.com/world/pakistan/un-report-on-terrorism-reiterates-what-pakistan-pm-publicly-confessed-sources/articleshow/76224247.cms
--------
Senior US diplomat praises Saudi Arabia's 'productive' role in Yemen
05 June 2020
A senior US official Thursday lauded Saudi Arabia for its productive role in Yemen, while criticizing the Iran-backed Houthis for their lack of good faith in negotiations.
"We are supportive and appreciative of the Saudi's flexibility. We really think that they are now playing a productive role on Yemen," David Schenker, the US Assistant Secretary of Near Eastern Affair, said during a webinar with the Middle East Institute think tank.
Schenker cited Saudi Arabia's one-week unilateral ceasefire followed by a one-month unilateral ceasefire.
The Arab Coalition announced a complete ceasefire in Yemen in April.
He also commended the Riyadh Agreement, which looks to bring together the Southern Transitional Council and the internationally recognized Yemeni government under Abd-Rabbu Mansour Hadi, back together "to get them to come to some sort of political agreement about representation within the government."
The STC announced a self-administration rule in the south on April 25 and applied emergency rules in the city of Aden and southern governorates. Shortly after its "self-rule" announcement, Saudi Arabia urged all parties in the south of Yemen to abide by the Riyadh Agreement.
"If you want to make headway on negotiations with the Houthis about what their future role will be, it's important to have a unified Yemeni government also sitting at the table," the senior US official added.
While the senior US diplomat spoke positively of the kingdom's good faith in negotiations, he said "we haven't seen … by any stretch of imagination" the same good faith by the Houthis.
Speaking during the MEI webinar "Shifting Dynamics and US Priorities in the Middle East: A Conversation with David Schenker with Middle East Institute," Schenker was asked about relations between Washington and the GCC.
He said that the relationship in the energy and security sectors remained solid.
"We remain tight partners with our Gulf friends and coordinate with them what we're doing," said Schenker while adding that "a lot is read into when we take an asset out of the region."
He pointed out that there was still an "enormous" number of US troops in the region and assets that can reach the region "in relatively short time."
Full report at:
https://english.alarabiya.net/en/News/gulf/2020/06/05/Senior-US-diplomat-praises-Saudi-Arabia-s-productive-role-in-Yemen.html
--------
Mideast
Zarif Calls on US to Release Iranian Hostages
Jun 05, 2020
"Prof. Sirous Asgari was happily reunited with his family on Weds. This can happen for all prisoners," Zarif tweeted on Thursday.
"Pleased that Dr. Majid Taheri and Mr. White will soon be joining their families," he added.
"No need for cherry picking. Iranian hostages held in—and on behalf of—the US should come home," Iran's top diplomat said.
Iranian scientist Sirous Asgari, who was illegally imprisoned in the US, arrived in Iran on Wednesday.
Earlier, Iranian Foreign Minister in an Instagram message had announced that a plane carrying the country's scientist who was illegally jailed in the US was heading towards Tehran.
Asgari, a 59-year-old professor of materials engineering who was acquitted in November 2019 on charges of stealing trade secrets related to his academic activities at Ohio State University, was arrested by the US Immigration Service for revoking his visa.
"Hello friends, good news, the plane carrying Dr. Sirous Askari flew from America," Zarif wrote on his Instagram page.
In relevant remarks on Monday, Iranian Foreign Ministry Spokesman Seyed Abbas Mousavi said Asgari's case is over.
Full report at:
https://en.farsnews.ir/newstext.aspx?nn=13990316000033
--------
Iran's Mining Sector Sees 60% Investment Surge in Defiance of US Sanctions
Jun 05, 2020
Spokesman for IMIDRO, Iran's largest metals holding, Mohammad Sepehr said that investment in new mining projects, including opening mines or launching processing industries, had amounted to $3.2 billion over the past Iranian year ending March 19.
Sepehr said the figure indicated some 60% increase compared to the previous year when total investment in the sector topped $2 billion.
He added that a boom in investment had occurred despite the illegal US sanctions imposed as well as the coronavirus outbreak that began in Iran in late February.
The Spokesman said that other of mining projects worth $2.2 billion would become operational in the current Iranian year ending March 2021.
According to IMIDRO mine discovery in Iran grew by 210% over the past year to reach 310,000 square kilometers.
In relevant remarks in September 2019, the Iranian Mines and Mining Industries Development and Renovation (IMIDRO) announced that the country is going to increase investment in the mining sector, recounting that 150 mines will be re-activated in a bid to boost Tehran's economic growth in the face of the US unilateral sanctions.
An IMIDRO official, Somayyeh Kholousi, said that plans were in place to revive operations in some 150 closed mines across Iran in the upcoming months, adding that the projects would lead to permanent employment for around 3,000 workers.
Iran is planning to employ an extra 10,000 people in the mining industry in projects worth nearly $3.9b until the end of the current Persian calendar year in March, she added.
Kholousi said the South Aluminum Project, planned to be opened in November in Fars province, would seek to compensate for the reduced exports of aluminum from Iran over the past years.
The official noted that the massive expansion of the mining sector in Iran would lead to an increase in the production of steel of up to 39 million tons a year while it would also increase aluminum production by three times.
Kholousi added that a main goal of the expansion project is to increase the output for key products like copper cathode and graphite electrodes. She said Iran would import 50 percent less of graphite electrodes, a product widely used in the steel industry, next year.
She said the share of the net private investment in Iran's mining industry had increased over the past 18 months to reach nearly $140 million.
Iran, a country highly rich in minerals and metal reserves, has sought to use the potential to offset the impacts of a series of American sanctions imposed on its oil industry.
Kholousi said the total investment expected to be injected to the mining sector in Iran until March 2022, when a current national development plan concludes, would top $16 billion.
Earlier, the IMIDRO had announced that the country exported 633,050 tons of steel in the last local calendar month (between July 23 and August 22) which shows a 37% jump in comparison with figures from corresponding period in the last year.
Full report at:
https://en.farsnews.ir/newstext.aspx?nn=13990316000099
--------
Iran Calls for Removal of Inhumane Sanctions against Syria
Jun 05, 2020
"Iran announces its support for the Syrian nation and government, and strongly urges the lifting of all inhumane sanctions against the country," Mousavi said on Friday.
He described more EU and US sanctions against Syria "an illegal and inhumane act", adding, "The most negative impacts of such sanctions will be inflicted upon the Syrian people and ordinary citizens."
In a relevant event on May 27, Iranian and UN officials in a meeting in Tehran conferred on the latest developments in Syria, stressing the need for sending humanitarian aid to the war-hit country to soothe the crisis amid the coronavirus epidemic.
UN Secretary-General's Special Envoy for Syria Geir O. Pedersen held a phone conversation with Senior Assistant to Iran's Foreign Minister in Special Political Affairs Ali Asqar Khaji in Tehran on Wednesday.
During the phone talk, the latest developments in the political field, humanitarian issues, problems of the Syrian people and holding the next meeting of the constitution committee were discussed.
Both sides underlined the need to send humanitarian aid to the Syrian people, specially given the coronavirus outbreak, assisting the Syrian refugees to return to their homes and continued political process to resolve problems in the country.
Khaji, for his part, called for the removal of illegal and inhumane sanctions against the Syrian nation, stressing the necessity for the establishment of stability and security in Syria and continued fight against terrorism.
Iran has helped the Syrian government and people in confrontation against the terrorist groups which had occupied the country.
It has also underlined its readiness to assist the country in reconstruction efforts which has been welcomed by the Syria side.
In relevant remarks earlier in May, Khaji had underlined continued cooperation among Iran, Russia and Syria in fighting terrorist groups.
"The strategic cooperation among Russia, Syria and Iran in line with the fight against the ominous phenomenon of terrorism and the ongoing consultations of the three countries to settle the crisis in Syria politically will continue," Khaji said in a meeting with Syrian Ambassador to Tehran Adnan Hassan Mahmoud.
He also reiterated Tehran's firm support for Syria in combat against terrorism.
Khaji pointed to the continued US unilateral sanctions against the Syrian nation in the conditions of coronavirus outbreak and the crisis in the country, stressing the need for the international community to support the Syrian nation and the country's national sovereignty and territorial integrity within the framework of the international laws and fight against terrorism.
Full report at:
https://en.farsnews.ir/newstext.aspx?nn=13990316000250
--------
Iranian Speaker Stresses Reinvigoration of Ties with Russia
Jun 04, 2020
Qalibaf made the remarks in response to a message sent from Chairman of Russia's State Duma Volodin Viaсheslav on his election as Iran's new parliament speaker.
He said that Iran's parliament is ready to follow up active mechanism for joint high parliamentary commission which will accelerate implementation of mutual agreements.
Continued constructive bilateral parliamentary talks will play a leading role in strengthening friendly relations in the international and regional arenas, Qalibaf noted.
He wished prosperity and success for the friendly Russian nation and government.
The Iranian parliament last Thursday elected Qalibaf, the former mayor of the capital city of Tehran, as the new speaker.
Qalibaf secured 230 votes out of a total of 264 votes cast by the new legislators to become the next parliament speaker.
Fereydoon Abbasi and Mostafa Mirsalim, the other candidates, gained 17 and 12 votes, respectively after Qalibaf.
Amir-Hossein Ghazizadeh Hashemi from Mashhad constituency and Ali Nikzad from Ardebil constituency received 208 and 196 votes to be elected as first vice-speaker and second vice-speaker, respectively.
The 11th round of the Islamic Consultative Assembly (parliament) kicked off work on Wednesday in the presence of new legislators, President Hassan Rouhani, Judiciary Chief Ebrahim Rayeesi and other high-ranking officials.
The 11th parliamentary elections and the midterm elections for the Assembly of Experts – a body whose members designate the country's Leader – were held simultaneously on February 21.
The lawmakers are elected for a 4-year term, with no limitation for the incumbent or former parliamentarians to run again.
Full report at:
https://en.farsnews.ir/newstext.aspx?nn=13990315000391
--------
Iran, UN Confer on Latest Developments in Afghanistan
Jun 04, 2020
During the phone talks on Wednesday, Taherian Fard and Lyons discussed the latest development in Afghanistan, as well as the measure taken by Iranian Foreign Minister Mohammad Javad Zarif on the issue.
The two sides stressed the need for the United Nations' more active role in this regard and encouraging inter-Afghan talks.
In a relevant development last month, Iranian President Hassan Rouhani in a phone conversation with his Afghan counterpart Ashraf Ghani stressed his country's readiness to further strengthen relations and cooperation with Kabul.
Rouhani congratulated Ghani on his new term in office, and expressed satisfaction with the agreement reached between the political groups in the country.
He expressed the hope that with the efforts of all elements of the government and the High Council for National Reconciliation greater peace, stability and security would be achieved in Afghanistan.
Referring to the measures and successes of Iran in the fight against coronavirus and providing free medical and health services to Afghan immigrants, Rouhani said, "Health services to the Afghan brothers in the fight against coronavirus will be continued."
He stated that the policy of the Islamic Republic of Iran is to develop fraternal and friendly relations and cooperation with all neighbors, specially Afghanistan, and noted, "We consider the development of stability and security in Afghanistan in line with our own stability and security and believe that disagreements among groups can be resolved within the framework of principles and we are always by the side of the Afghan government and people in doing so."
"We must work to accelerate the implementation of agreements and projects between us, including the Khaf-Herat railway, as one of the most important economic projects between the two countries," said Iranian President, adding, "The bilateral relations between Iran and Afghanistan are on the path to progress."
"Completing and launching the Chabahar-Zahedan railway project in the coming year can create a positive transformation in the development of transportation of goods in the region," he noted.
During the conversation, both sides stressed the need to work for the comprehensive development and strengthening of Tehran-Kabul relations in order to ensure the interests of both nations.
Ghani, for his part, wished good health and success to the government and people of Iran in fighting coronavirus, and praised the assistance and medical services provided to Afghan refugees in Iran.
Referring to the constructive role of the Islamic Republic of Iran in the stability and security of the region, Ghani called on Iran to support the peace and dialogue process in Afghanistan.
Full report at:
https://en.farsnews.ir/newstext.aspx?nn=13990315000333
--------
Palestinians come out in force to protest US-backed Israel plan
05 June 2020
Hundreds of Palestinians have rallied in the city of al-Khalil (Hebron) in southern West Bank against a United States-backed Israeli plan to annex huge swathes of the occupied territory.
The rallies were held on Friday on the anniversary of Israel's 1967 occupation of the West Bank and the Gaza Strip.
The regime occupied the territories during a Western-backed war that year. It was forced to leave Gaza in 2005 but keeps the coastal sliver under a crippling siege. Across the West Bank, Tel Aviv has illegally built over 230 settlements that house more than 600,000 Israelis.
The rallies that had been called by West Bank-based Palestinian political factions took place in protest against a plan announced by Israel's prime minister Benjamin Netanyahu to annex the areas where the settlements have been built and the Jordan Valley. The areas that are targeted by the regime's scheme comprise 30 percent of the West Bank.
Netanyahu announced the plan emboldened by a hugely-controversial plot that was detailed and backed by US President Donald Trump on January 28.
The protesters on Friday chanted anti-Tel Aviv and anti-Washington slogans, waved Palestinian flags, and held up banners some of which read, "No to the policy of annexation of the West Bank. No to division of al-Khalil."
"Today is a day for general mobilization in all of the country's governorates against the annexation deal, which was announced by Netanyahu, and in rejection to Trump's 'deal of the century,'" one demonstrator said, referring to the US plot by the ironic name that has been assigned to it by the US president.
The participants, the protester said, were seeking "to send a message to the world, especially Israel, that the people will not accept any solution less than a Palestinian state on the 1967 borders with Jerusalem (al-Quds) to be the capital."
Another participant said the protest was one that "rejects and condemns all Israeli measures and is against the American administration's bias in favor of Israel."
The US plot also re-endorsed Washington's incendiary recognition of al-Quds as Israel's "capital." The recognition that came during Trump's presidency flies in the face of Palestinians' age-old demand that the city's eastern part serve as the capital of their future state.
Full report at:
https://www.presstv.com/Detail/2020/06/05/626841/Palestine-protest-Israel-West-Bank-Hebron-annexation-United-States-Netanyahu-Trump
--------
Hamas calls for new strategy to counter challenges facing Palestinian cause
05 June 2020
The head of the political bureau of the Hamas resistance movement has called for a coherent national strategy in the face of dangers and challenges that threaten the Palestinian cause.
"The first component of such a strategy is consensus on a national plan outside the Oslo Accords [signed between the Israeli regime and the Palestine Liberation Organization (PLO)], and to terminate all agreements in addition to relevant security and economic annexes," Ismail Haniyeh said at a virtual conference on the occasion of Naksa (Setback) Day, which is commemorated every year on June 5 and marks the displacement of Palestinian people after Israel prevailed in the 1967 Six Day War.
He added, "The second element seeks the launch of a comprehensive resistance campaign against the Zionist Occupation (Israel) through popular, media, political and economic means, and armed struggle in particular."
Haniyeh stressed that the third component is to restructure the PLO and incorporate all Palestinian factions in it, whilst the fourth one is aimed at the formation of a regional bloc that safeguards the Palestinian cause.
The high-ranking Hamas official went on to say that Palestinians and Jordanians share three challenges, the first of which is the upshot of Nakba Day (the Day of Catastrophe), which is commemorated on 15 May every year and marks the expulsion of hundreds of thousands of Palestinians from their homeland when the Israeli regime was created back in 1948, and Naksa Day.
Whilst the second challenge is strategic threats, the third common danger is US President Donald Trump's so-called Middle East plan, which strongly favors Israel and has been rejected by the Palestinians, in addition to the Tel Aviv regime's plans to annex large parts of the occupied West Bank, Haniyeh pointed out.
Full report at:
https://www.presstv.com/Detail/2020/06/05/626800/Hamas-calls-for-new-strategy-to-counter-challenges-facing-Palestinian-cause
--------
Palestinians, Arabs 'must learn lessons of Naksa'
June 06, 2020
AMMAN: Leading Palestinian and Arab figures have used the 53rd anniversary of Naksa — the displacement and occupation of Arab territories that followed Israel's victory in the 1967 war against Egypt, Syria, and Jordan — to highlight political mistakes made during and after the conflict.
Adnan Abu-Odeh, political adviser to Jordan's King Hussein and King Abdullah II, told Arab News that Arab countries and the Palestinian leadership had failed to understand the goals of Zionism.
"Governments that participated in the war were naive, expecting a repeat of the 1956 Sinai invasion when the US ordered an Israeli withdrawal. This was followed by the mistaken belief that we could liberate the land using guerrilla warfare," he said.
Anees Sweidan, director-general of foreign relations in the PLO, told Arab News that the Palestinian cause is undergoing a complicated phase where political opportunities are limited.
"The US bias towards Israel and absence of unity has put the Palestinian movement in a difficult situation. It is harder to generate external support and the financial crunch is causing much suffering despite the fact that we have made important accomplishments in the UN and Europe."
Abdalqader Husseini, chairperson of the Faisal Husseini Foundation, said that the opportunities the anniversary offers should not be ignored.
"We need to realize that this is an illegal occupation that continues to dig deeper and escalate every day to the degree that the international community has lost interest and world conscience has become numb to Israeli practices. We in Jerusalem have not normalized with the occupiers and we have not accepted the new situation as an inescapable reality that we must accept."
Jordanian MP Kais Zayadin said that the biggest mistake Arab countries made was to trust that the occupying state would make peace and reach a lasting solution to the Palestinian cause.
"We went to Madrid with hope, the Palestinian leadership went to Oslo with optimism that they could reach a phased solution that would lead to statehood. As we remember this Naksa, we must revisit the path that has allowed the occupying entity to steal our land and cause havoc to our people without any deterrence from the international community," he said.
Nibal Thawabteh, director of the Bir Zeit University's Media Development Center, said the biggest mistake since 1967 was focusing on politics and avoiding community development.
"We don't have a strong sense of citizenship, some have become accustomed to religious Islam. We need to work more on the citizenship."
Ahmad Awad, director of the Amman-based Phenix Center for Economic and Informatics Studies, said there is a lack of acknowledgment of the reasons behind the Arab loss.
"Political, economic and cultural factors caused our loss, and we feel that most Arab countries have not learned this lesson. Instead of learning, we are going backwards, failing to defend their existential rights, shifting to isolationism as well as cultural and economic regression in our region."
Instead of looking backward, some Palestinians wanted to look forward.
Mahdi Abdulhadi, head of the PASSIA thinktank in Jerusalem, said that Palestinian youth who never felt the shock of the 1967 defeat but have seen the exposure of Arab regimes in the face of the "deal of the century" will prevail.
"They personify the meaning of steadfastness for dignity, and they have the will to protect our heritage, our identity, and our holy places."
Lily Habash, a Exeter University political science graduate, told Arab News that things look different on the ground.
"The world is changing and Israel uses geopolitical and regional changes to its advantage," she said.
Dangers today encourage despair but Palestinians will be steadfast in the long term, she added.
Full report at:
https://www.arabnews.com/node/1685466/middle-east
--------
Africa
Fight against Turkey no longer just in Tripoli: Libyan National Army spokesperson
05 June 2020
Libyans will be the ones to get Turkey out of Libya and the battle against Turkish forces will no longer remain only in Tripoli, Libyan National Army spokesperson Major General Ahmed al-Mismari told Al Arabiya in an interview on Thursday.
"Libyan army chief General Khalifa Hafter fully knows the intentions of Turkish President Recep Tayyip Erdogan and the Al-Wefaq government militia in Tripoli," al-Mismari said, referring to the Government of National Accord led by Fayez al-Sarraj.
"The Libyan army will return to arms if the Turks are not removed … The army has re-positioned outside Tripoli to provide an opportunity for a political solution," al-Mismari added.
The Libyan National Army announced on Thursday it had captured the town of Fam Molga west of Tarhunah, 65 kilometers to the southeast of Tripoli.
The LNA said it was withdrawing from Tripoli districts starting on Thursday, according to a military source, while forces fighting for Libya's UN-recognized government said they had regained control over Tripoli.
Al-Sarraj, the head of Libya's UN-recognized GNA government said on Thursday that his forces were "determined" to take over the entire country from his rival Haftar. Sarraj recently met in Ankara after meeting Turkish President Erdogan, his main supporter.
The UN-recognized Government of National Accord led by Fayez al-Sarraj is fighting a civil war against an alternative government based in the eastern city of Benghazi whose forces are led by General Khalifa Haftar. The GNA relies on a plethora of militias, including Islamist and terrorist groups, formed in and after the 2011 uprising against longtime dictator Gaddafi.
Haftar launched an offensive to capture the Libyan capital of Tripoli in April vowing to end the rule of militias that include hardline groups linked to al-Qaeda and others.
https://english.alarabiya.net/en/News/north-africa/2020/06/05/Libyan-National-Army-will-return-to-arms-if-Turkish-forces-not-removed-Spokesperson.html
--------
UN extends 2011 arms embargo mandate to inspect Libya-bound ships
06 June 2020
The UN Security Council on Friday unanimously extended for a year a resolution authorizing the inspection of ships suspected of breaking a 2011 arms embargo on Libya.
The renewal had already been unanimously decided upon last year by the 15 members of the Security Council, but Russia, which backs strongman Khalifa Haftar in his fight against the UN-recognized government in Tripoli, had expressed doubts in talks at the beginning of the month, diplomats said.
For the past year, there have been constant violations of the embargo on both sides of the war, making it a "farce," one diplomat said.
For all the latest headlines follow our Google News channel online or via the app.
The European naval Operation Irini, launched at the start of April using aerial surveillance and satellite tracking, aims to strengthen the UN resolution on controlling arms shipments to Libya.
Drafted by Germany, the resolution "decides to extend the authorizations as set out in resolution 2473 for a further 12 months from the date of this resolution," and requested the Secretary-General to report to the Security Council within 11 months of its adoption.
Al Arabiya English
✔
@AlArabiya_Eng
• Feb 18, 2020
Replying to @AlArabiya_Eng
The sea port in Libya's capital Tripoli was attacked, UN Libya envoy Ghassan Salame says, without giving details. https://english.alarabiya.net/en/News/north-africa/2020/02/18/Libyan-Army-targets-Turkish-ship-carrying-weapons-in-Tripoli-port.html …
Embedded video
Al Arabiya English
✔
@AlArabiya_Eng
"The Turkish ship loaded with weapons and ammunition docked this morning in the port of Tripoli was destroyed," says the Libyan National Army's media center.#Libya #Turkeyhttps://english.alarabiya.net/en/News/north-africa/2020/02/18/Libyan-Army-targets-Turkish-ship-carrying-weapons-in-Tripoli-port.html …
Embedded video
24
6:22 PM - Feb 18, 2020
Twitter Ads info and privacy
48 people are talking about this
The authorization for inspections on the high seas is also linked to other resolutions, such as 2292 and 2146. The latter, which was renewed in March, aims to prevent the illegal import or export of oil to or from Libya.
After a French naval vessel recently intercepted a tanker seeking to load up at the eastern port of Tobruk without permission from Tripoli, as part of the Irini operation, Russia called for a meeting of the Security Council to demand an explanation.
Germany and France said at that session at the start of the week that Operation Irini was being carried out within the strict framework of the UN resolution.
https://english.alarabiya.net/en/News/north-africa/2020/06/06/UN-extends-mandate-to-inspect-Libya-bound-ships-for-2011-arms-embargo.html
--------
Libyan government forces retake Haftar's last stronghold in west
05 June 2020
Libya's government forces have regained control of the strategic town of Tarhuna in the southeast of the capital Tripoli, the last major stronghold of Libyan rebels under the command of renegade general Khalifa Haftar.
"Our heroic forces have extended their control over the whole of Tarhuna," Mohamad Gnounou, the military spokesman for Libya's Government of National Accord (GNA), said on Friday.
The GNA's operations room also announced in a statement that its forces had reached the center of Tarhouna after entering from four sides.
Tarhuna was the main launchpad for the 14-month offensive against the capital that Haftar's militias finally abandoned this week.
The Libyan government forces announced the full liberation of the capital Tripoli and its suburbs on Thursday after being besieged for more than a year by Haftar's self-styled Libyan National Army.
Libya has been in chaos since 2011, when a popular uprising and a NATO intervention led to the ouster of long-time dictator Muammar Gaddafi.
Since 2014, two rival seats of power have emerged in Libya, namely the internationally-recognized government of Prime Minister Fayez al-Sarraj, and another group based in the eastern city of Tobruk, supported militarily by Haftar's rebels.
The strongman, supported by the United Arab Emirates, Egypt, and Jordan, launched a deadly offensive to capture Tripoli, the seat of the GNA, in April last year. His forces, however, haven't been able to advance past the city's outskirts.
Full report at:
https://www.presstv.com/Detail/2020/06/05/626802/Libya-GNA-Tarhuna-Khalifa-Haftar
--------
More than two million facing hunger in Burkina Faso: Government
04 June 2020
More than a tenth of the population in Burkina Faso, a drought-stricken West African country plagued by militancy, is at risk of hunger, according to government figures.
A report by the country's council of ministers found that 2,151,970 people will suffer from "severe food insecurity" across the nation this month and next -- roughly half a million more than last year.
In addition, "137,175 people in the Sahel, Centre-Nord, Est and Boucle du Mouhoun regions could encounter a food emergency," the report said, singling out arid areas that have also been badly hit by militant attacks.
The ministers announced a plan for 25 billion CFA francs ($42 million) to help vulnerable populations.
They also called for "urgent responses" to support the agricultural and livestock industries, for malnourished children under five to receive assistance and for the supply of drinking water to be bolstered.
Chronic malnutrition in Burkina Faso decreased from 35.1 percent in 2009 to 25.4 percent in 2019, while acute malnutrition fell from 11.3 percent to 8.1 percent over the same period, according to a national nutrition survey.
But that remains well above the World Health Organization's critical thresholds, the government said.
Since 2015, Burkina Faso has battled militancy that has killed nearly 1,000 people and caused around 860,000 to flee their homes.
Inter-community and ethnic violence has led to more bloodshed and, along with the increasing militant attacks, have stretched already slim resources in the country's Sahel north.
Full report at:
https://www.presstv.com/Detail/2020/06/04/626746/Two-million-Facing-Hunger-Burkina-Faso
--------
27 killed, some burned alive in jihadi attacks on predominantly Christian villages in Mali
June 06, 2020
Suspected Islamic radicals killed at least 27 people, some of whom were burned alive, in a series of attacks that spanned from last Tuesday to Wednesday evening in three villages that advocates say are predominantly inhabited by Christians in Central Mali, officials said.
As escalations in communal violence have plagued the West African country in recent years, local officials told Reuters that attacks in the villages of Bankass, Koro and Tillé were carried out by armed men on motorcycles whom they believe to be jihadists that claim to protect Fulani herders from Dogon farmers.
"We were surprised by the attack on the village of Tillé," Doucombo Deputy Mayor Yacouba Kassogué told the news agency. "Seven were killed, all Dogons, some of them burned alive."
At least 20 additional people were reported to have been killed in neighboring villages of Bankass and Koro.
According to local officials, most of the victims in those two villages were shot or burned to death.
According to the interdenominational Christian aid agency Barnabas Fund, the attacks carried out last week in Central Mali victimized "mainly-Christian Dogon villages."
"Since 2016, jihadists have been waging a war to occupy north and central Mali with the declared aim of establishing Sharia (Islamic law) throughout the country," a statement from the aid agency reads.
"Mali suffered its worst year of extremist violence in seven years in 2019. Jihadi militants carried out murderous attacks in the north and central area, laying waste to Christian villages and causing hundreds to flee with only the clothes on their backs."
Dozens were reportedly killed during a suspected Fulani attack in the mainly-Christian village of Sobame Da, a village in the Mopti region of central Mali, in June 2019.
Although initial reports suggested that over 100 were killed in Sobame Da, officials later revised the death toll to 35, including 24 children, on grounds that officials had earlier confused missing persons with those killed.
However, some community leaders argued that the initial death toll was accurate and that investigators did not uncover everybody in homes burned by the perpetrators, according to The Washington Post.
Mali, a predominantly Muslim country in West Africa, ranks as the 29th-worst country in the world when it comes to Christian persecution on Open Doors USA's 2020 World Watch List.
According to the Joshua Project, the Dogon community has traditionally celebrated animistic religion but are increasingly turning to Islam "for lack of an alternative." Today, the majority of Dogon communities are Muslim but about 11% believe in Jesus.
"In the few villages where Christianity has been lived out by missionaries, or locals who have become Christians elsewhere, one can indeed see the growth of the Christian faith," the Joshua Project reports.
According to an Open Doors dossier on Mali, Islamic militants in the country "have been busy attacking the country's security forces and Christians." The document reports that "Christian villages were targeted and destroyed, with the attacks sometimes having both ethnic and religious elements."
"With the increasing attacks in the Mopti region and other areas, church schools and churches have been burned down, hundreds of schools (including Christian schools) have been closed down in 2019," an Open Doors field researcher was quoted as saying.
Full report at:
https://www.christianpost.com/news/27-killed-some-burned-alive-in-jihadist-attacks-on-predominantly-christian-villages-in-mali.html?utm_source=iterable&utm_medium=email&utm_campaign=1267725_
--------
Nigerian troops intensify fight against Boko Haram militants
2020-06-05
LAGOS, June 5 (Xinhua) -- The Nigerian troops had achieved encouraging results in recent operations against extremist group Boko Haram and other gunmen groups across the restive northern region, a military spokesperson said.
John Enenche, Nigeria's defense spokesperson, said in a statement reaching Xinhua in Lagos on Friday that dozens of militants had been killed while many others surrendered in operations by the troops between Monday and Wednesday.
One soldier was killed and another wounded in one operation, Enenche added.
He said in continuation of the clearance operations across the northeast, troops of Army Super Camp 6 on Wednesday in conjunction with Borno state Civilian Joint Task Force, conducted a deliberate ambush operation against Boko Haram militants at Lawanti River line in Konduga of Borno state, killing six of them while others escaped with gunshot wounds.
Relatedly, the military spokesperson said the troops had on Tuesday an encounter with some Boko Haram militants at Daban Magaji in Borno, killing 9 of them and destroying one Boko Haram gun truck as well as capturing one anti-aircraft gun, two rifles and a large cache of anti-aircraft ammunition.
He said troops of 144 Battalion deployed in Madagali of Adamawa state on Monday briskly cleared Boko Haram camps at several villages in the area. During the encounter at Gajinji village, troops killed one militant and arrested 2 adult females identified to be the local Boko Haram commander's wives.
Furthermore, resulting from sustained artillery bombardments and ground assaults against Boko Haram hideouts in the northeast, more militants are surrendering to the troops in recent days, according to Enenche.
Speaking on the fight against bandits in the northwest, Enenche said troops of Operation Whirl Punch acting on credible information raided on Wednesday a bandits' camp in Chikun local government area of Kaduna state, killing two of them while others escaped with gunshot wounds.
Full report at:
http://www.xinhuanet.com/english/2020-06/05/c_139117248.htm
--------
Boko Haram terrorists kill army commander, troops neutralise nine insurgents
June 6, 2020
Boko Haram fighters have shot dead an acting Commanding Officer of the Nigerian Army, Major K. Yakubu, during a gun battle in the Doron Naira and Magaji areas of Borno State.
The bloody encounter also left nine suspected terrorists dead.
The Defence Headquarters, Abuja, said on Friday that the army officer, said to be commanding the 401 Special Forces Brigade, was killed while troops were conducting a clearance operation in the affected areas.
The military noted that the troops recovered one 120mm mortar base plate, one religious book, metal links for aircraft ammunition and a roll of copper wire abandoned by the Boko Haram terrorists.
The Coordinator of the Defence Media Operations, Major General John Enenche, said, "On June 2, the combined troops of 19 Brigade and 401 Special Forces Brigade conducted a robust clearance operation at Doron Naira and Magaji. The troops had an encounter with some Boko Haram terrorists hibernating in the area.
"The troops, through superior fire, neutralised nine of them. They destroyed one Boko Haram gun truck as well as captured one anti-aircraft gun, two AK-47 rifles and a large cache of anti-aircraft ammunition.
"However, one officer paid the supreme price while one soldier was injured in action. The injured soldier is currently receiving treatment in our military medical facility."
The DMO added that two female Boko Haram terrorists also surrendered to troops at the 144 Battalion deployed in Madagali, Adamawa State, in another clearance operation.
Full report at:
https://punchng.com/boko-haram-terrorists-kill-army-commander-troops-neutralise-nine-insurgents/
--------
Europe
Turks living in Europe to reunite with homeland soon
Büşra Nur Bilgiç Çakmak
05.06.2020
Land roads from Europe to Turkey opened with certain conditions, giving an opportunity to Turkish expats who want to spend summer holiday in their homeland Turkey.
The roads used often by expats in France, Belgium, the Netherlands, and Germany opened completely, via Austria, Hungary, Serbia, and Bulgaria.
As of Thursday, June 4, Austria decided to open its borders to all its neighbors except Italy, and it was announced that health checks will be terminated, especially in Germany, Czechia, Slovakia, Slovenia, Switzerland, Liechtenstein and Hungary, and quarantine and test conditions will be lifted.
In Hungary, another country on the route to Turkey, the border crossings can be made at certain times of the day without prior permission, according to the government's regulation on transit passes.
According to the government's decision, it is possible to pass through the Hegyeshalom Border Gate on the Austrian border at 8 p.m.-noon local time (1800-1200GMT) every day, and at the Roszke Border Gate on the Serbian border between 10 a.m.-10 p.m. local time (0800-2000GMT) every day.
Passengers will be screened for health during the pass, while the COVID-19 test is also not required. According to the regulation, those who do not follow the rules will be fined.
Transitions from Serbia back to pre-pandemic period
On the other hand, entering and leaving Serbia, another country on the route, returned to the pre-pandemic normals.
According to information received from the Turkish Embassy in Belgrade, Serbia opened its borders to everyone on May 22, and lifted COVID-19 test requirement.
Also, foreigners entering Serbia started to be informed of the pandemic at the borders.
In Bulgaria, according to the information shared by the government crisis desk, no conditions are required for transit, while the police controls on highways reduced, and those who would transit the country were to be warned not to proceed in convoys on the highway.
Switzerland, Germany to open borders on June 15
Switzerland, which closed its borders after the state of emergency declared on March 16, reached an agreement in principle to open its borders with Germany, France and Austria on June 15.
Germany, on the other hand, removed the travel warning it had put into practice for 31 countries. According to the decision of the Council of Ministers, from June 15, the travel warning for 26 EU member states, as well as Britain, Iceland, Norway, Switzerland and Liechtenstein, has been lifted.
Czech Republic, one of the alternative routes between Germany and Austria, announced the borders will be opened to seven countries as of June 15, with no quarantine and COVID-19 test requirements.
https://www.aa.com.tr/en/europe/turks-living-in-europe-to-reunite-with-homeland-soon/1866574
--------
German neo-Nazis trained at Russian camps: report
05.06.2020
Right-wing extremists in Germany are participating in paramilitary training at a special camp near city of Saint Petersburg in Russia, German news magazine Focus reported Friday.
Members of the youth wing of Germany's extreme-right National Democratic Party (NPD) and the minor right-wing party The Third Way have completed the training, the report said, citing German intelligence sources.
The participants received training in how to use weapons and explosives. They were also trained in close combat, the magazine said.
Swedish and Finnish nationals are also among the trainees. Participants go on to join Russian militias active in eastern Ukraine.
Run by 'terrorist' organization
The "Partizan" camp is run by followers of Russia's right-wing extremist Russian Imperial Movement (RIM). German intelligence believes RIM has two camps close to Saint Petersburg. The organization seeks the restoration of the Russian Empire.
The US recently added RIM to its list of global terrorist groups. The group had "provided paramilitary-style training to white supremacists and neo-Nazis in Europe," the US said.
Russia responded at the time saying that adding the group to the list did not help fight terrorism and that the US had not provided any details.
Moscow also considers the movement of the ultra-right-wing Christian Orthodox Russians to be extremist. However, the group is not banned in Russia.
German intelligence is aware that extremists from Germany are attending the camps. For legal reasons however, they cannot prohibit the travel to Russia, Focus reported.
Full report at:
https://www.dw.com/en/german-neo-nazis-trained-at-russian-camps-report/a-53692907?utm_source=iterable&utm_medium=email&utm_campaign=1267725_
--------
South Asia
First US air strikes on Taliban since ceasefire
June 06, 2020
KABUL: The US launched its first air strikes against the Taliban since a rare ceasefire between the militants and Afghan forces, the US military said on Friday.
The two assaults took place on Thursday and Friday in separate provinces in Afghanistan, US forces spokesman Sonny Leggett said on Twitter.
"These were the 1st US air strikes against (the Taliban) since the start of the Eid ceasefire," he wrote. "We reiterate: All sides must reduce violence to allow the peace process to take hold."
Leggett said that an air strike was carried out against 25 armed Taliban fighters executing a coordinated attack on an Afghan force checkpoint in Farah province in the west. He said a second attack was conducted in Kandahar in the south.
He did not give casualty figures, and a Taliban spokesman refused to comment on the strikes, which were conducted at a time when the United States is steadily pulling its troops out of Afghanistan.
The Taliban announced a surprise three-day ceasefire with Afghan forces to mark the Eidul Fitr holiday.
There has since been an overall drop in violence across the country, with the Afghan government saying it is ready to start long-delayed peace talks with the insurgents.
Washington signed a landmark deal with the Taliban in February, in which it pledged to withdraw all US troops in return for security guarantees in a bid to pave the way for negotiations between warring Afghan sides.
The Taliban have largely refrained from launching major attacks on Afghan cities since the deal was signed, but have continued to target Afghan forces.
Under the agreement, which excluded the Afghan government, Washington and the militants said they would refrain from attacking each other. However, the Pentagon last month said it would continue to conduct defensive strikes against the Taliban when they attack Afghan partners.
https://www.dawn.com/news/1561659/first-us-air-strikes-on-taliban-since-ceasefire
--------
US forces conduct airstrikes on Taliban in Afghanistan
June 06, 2020
KABUL: American forces conducted two airstrikes on Taliban fighters to foil the militant group's plan to launch attacks on Afghan security forces, a US military spokesperson said on Friday, in a move that could hurt the peace process.
The airstrikes, conducted in two different provinces, were the first since the start of the Eid ceasefire declared by the Taliban and Afghan forces last month.
Sonny Leggett, a US military spokesperson based in Afghanistan, said in a tweet that an airstrike was carried out against 25 armed Taliban fighters executing a coordinated attack on an Afghan force checkpoint in Farah province in the west.
He said a second attack was conducted in Kandahar in the south.
He did not give casualty figures, and a Taliban spokesperson refused to comment on the airstrikes, which were conducted at a time when the United States is steadily pulling its troops out of Afghanistan.
US President Donald Trump in recent weeks has restated his desire for a full military withdrawal from Afghanistan but has not set a target date, amid speculation he might make ending America's longest war part of his re-election campaign.
But Afghan security officials and European diplomats said the fighting had yet to ebb despite all parties working towards finding a political settlement to end the Afghan war.
Full report at:
https://www.pakistantoday.com.pk/2020/06/05/us-forces-conduct-airstrikes-on-taliban-in-afghanistan/
--------
Father files case over son taken hostage, tortured in Libya
June 5th, 2020
DMP detective branch will now investigate the case
The father of a survivor of recent Bangladeshi migrant killings in Libya, has filed a case against 16 people under human trafficking and anti-terrorism acts of Bangladesh.
Mannan Munshi, from Shariatpur Sadar upazila, filed the case with Dhaka's Paltan police station on Thursday.
Paltan police station Sub Inspector (SI) Shahin Uddin confirmed the matter.
Dhaka Metropolitan Police (DMP) Detective Branch (DB) Deputy Commissioner (North) Moshiur Rahman said the case will now be investigated by them.
They will investigate to find out how Mannan's son Rakib was taken to Libya and who else, other than the currently accused, were involved, he added.
Mannan Munshi told Dhaka Tribune that eight to nine months ago, two of his acquaintances, Mohsin and Monir, tempted him to earn a lot of money by sending his son to Libya.
He agreed and sold some of his land to give Tk3.5 to Mohsin. Rakib was subsequently taken to Libya, kept hostage and tortured and he had to again provide the same amount of money, he added.
2020/05/online-news-1590681370362.jpg
After surviving a brutal assassination spree in Libya, Rakib called them once but has not contacted the family since then, said Mannan.
"I demand justice," he added.
Meanwhile, the Criminal Investigation Department (CID) has also filed two cases in Paltan and Banani police stations.
Paltan Police SI Shahin Uddin said, CID's Organized Crime Department's Sub-Inspector Rafikul Islam filed a case naming 36 people along with a few unnamed on early Friday.
On the other hand, CID's Organized Crime SI Md Kamruzzaman filed another case against 33 people along with an unidentified few in Banani police station on Thursday night.
Full report at:
https://www.dhakatribune.com/bangladesh/nation/2020/06/05/father-files-case-over-son-taken-hostage-tortured-in-libya
--------
URL: https://www.newageislam.com/islamic-world-news/islam-calls-compliance-with-quarantine/d/122052
New Age Islam, Islam Online, Islamic Website, African Muslim News, Arab World News, South Asia News, Indian Muslim News, World Muslim News, Women in Islam, Islamic Feminism, Arab Women, Women In Arab, Islamophobia in America, Muslim Women in West, Islam Women and Feminism