New Age Islam News Bureau
19 Sept 2017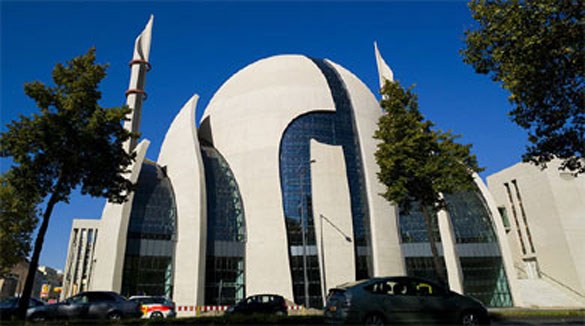 The DITIB Central Mosque of the Turkish Community in Cologne's Ehrenfeld district, western Germany © Rolf Vennenbernd / DPA / AFP
-----
• Islam a 'Political Doctrine,' Not Just a Religion – Co-Chair of Germany's AfD Party
• Hafiz Saeed's JuD to Contest 2018 General Elections in Pakistan
• Osama Bin Laden's Son Hamza Is Being 'Groomed' To Lead Al-Qaeda
• Indian government to SC: Some Rohingya Muslims have links with Pak's ISI, Islamic State
• Myanmar Leader Defends Handling of Crimes against Rohingya Muslims
Europe
• Islam a 'Political Doctrine,' Not Just a Religion – Co-Chair of Germany's AfD Party
• UK 'Biggest Audience' In Europe for Jihadist Web Content
• Report: 500 Islamic State Jihadis Fueling Resurgence on Europe's Doorstep, Libya
• Islamophobia witnessed every day in Europe, NGOs tell OSCE
• Eiffel Tower starts work on anti-terror upgrade
--------
Pakistan
• Hafiz Saeed's JuD to Contest 2018 General Elections in Pakistan
• Waiting For Resurgence: Al-Qaeda Core in Pakistan
• Two religious parties candidates bag 11pc of vote in NA-120
• 1 dead, 12 injured in blast at Pak-Afghan border in Balochistan's Chaman area
• NAB chief should be appointed by judiciary, reiterates Siraj
• Two terrorists eliminated in CTD search op
• Ahsan for drafting national narrative against extremists
--------
North America
• Osama Bin Laden's Son Hamza Is Being 'Groomed' To Lead Al-Qaeda
• US Moves Closer To Designating Pakistan a Terrorist State
• Muslim-US conference calls for new strategy to spread spirit of tolerance
• Qatar 'rejects fanaticism and extremism', delegation tells US-Muslim forum
• Extremism has little foothold in Muslim world: MLW
• Over 3,000 extra US troops deployed to Afghanistan: Pentagon chief
--------
India
• Indian government to SC: Some Rohingya Muslims have links with Pak's ISI, Islamic State
• 'Rat Poison in Water Supply': Water Samples from Madrassa Sent To Forensic Science Laboratory
• Sushma Swaraj takes well-aimed swipe at Pakistan on sidelines of UN meet in NY
• Al-Qaida Man on Mission to 'Recruit Rohingya Youth' Held In Delhi
• Goa outfit holds rally against atrocities on Rohingya Muslims
--------
South Asia
• Myanmar Leader Defends Handling of Crimes against Rohingya Muslims
• The U.N. Says Rohingya Muslims Are Facing Ethnic Cleansing In Myanmar. So Why Is India Trying To Kick Them Out Too?
• Aung San Suu Kyi Says Myanmar Ready to Begin Verification Process for Refugees Who Wish To Return
• 20,000 Bangladesh Hardliners Rally for Rohingya
• Taliban's deputy chief for Jawzjan province killed in security operations
• Pakistani and ISIS militants killed in Nangarhar airstrike and operations
--------
Arab World
• Iraq Supreme Court Orders Suspension of Kurdistan Referendum
• Saudi Rulers Crushing Kingdom's Human Rights Movement: HRW
• Arab quartet meet in New York to discuss new approach to Qatar crisis
• Syrian army sends more troops across Euphrates, close to US-backed forces
• Egypt's Sisi on Qatar: It's time to confront supporters of terrorism
• Arab Federation for Human Rights calls on UN to intervene in Al-Murrah case
• Syria troops closer to besieging IS after crossing key river
• Syria: Deir Ezzur Military Airport Reopened after Almost Three Years
• US Forces Retreat from Base in Syrian Deserts
• ISIL Suffers Heavy Defeats in Clashes with Syrian Soldiers near Border with Iraq
• Several Al-Nusra Terrorists Killed in Clashes with Rival Group in Eastern Damascus
• Syrian forces inch closer to besieging Daesh terrorists in Dayr al-Zawr
--------
Southeast Asia
• Malaysia Scraps Beer Festival Following Islamists' Objections
• Indonesia: Jakarta Govt, Muslim Group Team Up To Fight Extremism
• West Java police foils terrorist plot against Indonesian President Joko Widodo
• Indonesia's Only Transgender Islamic School Quietly Running Again
• Thai Junta and Muslim Separatists Trade Blame Over Delayed Peace Steps
• Priest Rescued as Philippine Troops Retake Marawi Militant Stronghold
--------
Mideast
• Israel Gets First Joint US Military Base
• Turkey Puts On Trial 31 Staff from Pro-Gulen Daily
• Iranian supreme leader's representative attacked by angry mob
• Houthi militias trick members of Saleh's Republican Guards out of Sanaa
• Turkish tanks engage in drills on Iraqi border ahead of Kurdish independence vote
• Israeli bulldozers demolish Palestinian home near al-Quds
• UN chief urges correct implementation of JCPOA
• US committed to no international obligation: Iran's Rouhani
• US will pay high price if Trump scraps JCPOA: Rouhani
--------
Africa
• Suicide Bombers Kill 15 in Northeast Nigeria
• Chibok mediator wins UN prize for educating victims of Nigeria's Boko Haram
• Nigeria: Islamic Group Condemns Alleged IPOB Attacks On Muslims
Compiled by New Age Islam News Bureau
URL: https://www.newageislam.com/islamic-world-news/islam-political-doctrine-just-religion/d/112582
--------
Islam a 'Political Doctrine,' Not Just a Religion – Co-Chair of Germany's AfD Party
18 Sep, 2017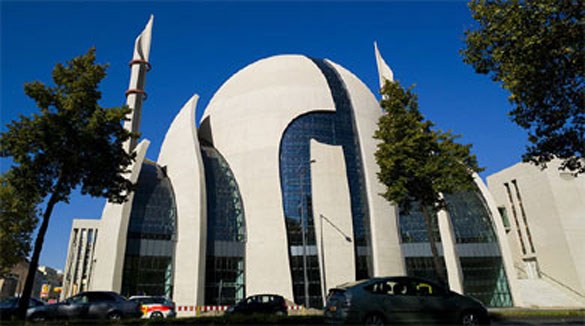 The DITIB Central Mosque of the Turkish Community in Cologne's Ehrenfeld district, western Germany © Rolf Vennenbernd / DPA / AFP
----------
Islam is not only a religion, but also a "political doctrine" seeking to penetrate all areas of society, said Alexander Gauland, the co-chair of the right-wing Alternative for Germany (AfD) party, adding that it is "incompatible" with democracy.
"The growing Islamization of Germany poses an urgent challenge for its public and state order; cultural identity and internal peace," Gauland said during the press conference held less than a week before the German parliamentary elections scheduled for September 24.
The politician, who is also one of the leading candidates from his party in the forthcoming vote, added that "orthodox Islam… is incompatible" with "the principles of the modern, secular, free and democratic law-bound state."
He went on to say that an approach to Islam cannot be based only within the framework of the religious freedom as Islam itself is not only a religion "but also a political doctrine" as it does not recognize the separation of church and state.
"Islam puts its religious law, the Sharia, above the secular law," he said, adding that "Sharia regulates all areas of society and also seeks to regulate political life."
The politician went as far as to say that "a widely used differentiation between Islam and Islamism that is presented as a distortion of the Islamic religion [within the framework of this approach] should be rejected," as Islamist rhetoric and ideas are all "rooted in the Koran."
Gauland, 76, also said that most Muslims who live in Germany are "good, law-abiding and well-integrated citizens," who should have the right to "exercise their religion in private" as it is "part of religious freedom."
He demanded, however, that all German mosques and Muslim communities register with the German authorities and reveal their sources of income to prevent the situation in which mosques are run by organizations "threatening the German constitutional order" and are funded by foreign powers seeking to exert its influence on Germany or terrorist organizations such as Islamic State (IS, former ISIS/ISIL).
The politician also demanded a total ban on wearing Muslim face veils in public, adding that public officials and civil servants should not be allowed even to wear a headscarf.
Gauland made his statements during the AfD "Criminality via Immigration" press conference that dealt with internal security issues and focused primarily on Islam and migrant crime.
It was also attended by the second AfD co-chair, Alice Weidel, who in particular demanded forced deportations of migrants and refugees who committed serious criminal offenses on German soil and said that Germany should be exempted from a regulation issued by the European Court of Human Rights that bans European countries from deporting refugees back to their home countries if they are deemed "unsafe."
AfD in hot water over own rhetoric
AfD politicians have repeatedly branded Islam as incompatible with the German constitutional order. In April, the party's deputy chief and a member of the European Parliament, Beatrix von Storch, already called Islam "a political ideology that is not compatible with the basic law."
At that time, Gauland also echoed her words, saying that "Islam is not a religion like Catholic or Protestant Christianity, but rather intellectually always associated with the takeover of the state."
The party leaders' statements led to the AfD being branded "Nazis" by German Muslims and left-wing politicians, and even prompted condemnation from the secretary general of the Council of Europe, Thorbjorn Jagland, who warned that such statements are "contrary to European values."
Gauland is generally known for his provocative statements. Just three days ago, on September 15, he said that his compatriots should be "proud of the achievements of the German soldiers in two world wars," adding that Germany should stop apologizing for its Nazi past.
In August, the scandalous politician landed in hot water after he slammed the German government's commissioner for integration, Aydan Oezoguz, who is of Turkish origin, and said that she should be "disposed of in Anatolia."
His remark was labeled as racist by many German politicians, including the General Secretary of the German Chancellor Angela Merkel's Christian Democratic Union (CDU), Peter Tauber, and the Social Democratic candidate for chancellor, Martin Schulz.
Other AfD senior officials are no strangers to controversy either. In January, senior party leader Bjoern Hoecke criticized the well-known Holocaust Memorial in Berlin, branding it a "monument of shame in the heart of the capital."
However, despite all its scandals and alleged far-right sympathies, the AfD party is still on the rise in Germany. According to a poll conducted by the Emnid public opnion research center on September 16, the party enjoys the backing of some 11 percent of Germans and its popularity has slightly increased over the past several weeks.
If this trend continues, the AfD could come third in the forthcoming elections, behind only Merkel's CDU and their government partners, the Social Democrats (SPD).
https://www.rt.com/news/403737-afd-islam-germany-doctrine/
--------
Hafiz Saeed's JuD to contest 2018 general elections in Pakistan
Sep 18, 2017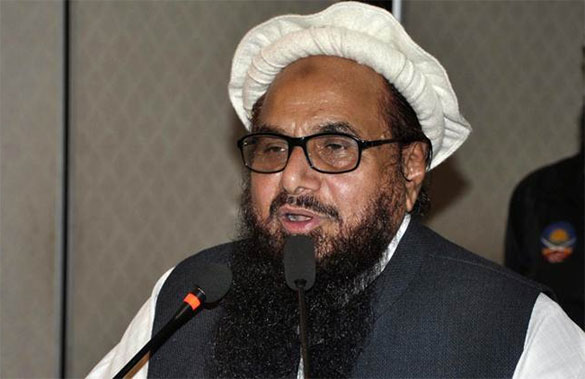 Hafiz Saeed, Chief of Pakistan's religious group Jamaat-ud-Dawa addresses a seminar in Lahore, Pakistan, Monday, Jan. 30, 2017. ÔªøPakistan has placed the leader of a charity linked to a militant group under house arrest. Hafiz Saeed, whose Jamaat-ud-Dawa is a front for Lashkar-e-Taiba, the group behind the 2008 Mumbai attacks, was placed under house arrest along with four aides.(AP Photo/K.M. Chaudary)
-----------
LAHORE: Mumbai terror attack mastermind Hafiz Saeed's Jammat-ud-Dawah will foray into Pakistan's political scene by contesting the 2018 general elections, a senior member of the outfit said, a day after its candidate finished third in a crucial by-poll.
Last month, Jamaat-ud-Dawah, a front for the Lashkar-e- Taiba terrorist group that carried out the deadly 2008 Mumbai attack, announced that it was launching the Milli Muslim League+ .
Sheikh Yaqoob, a JuD-backed candidate who was defeated by ousted prime minister Nawaz Sharif's wife Kulsoom Nawaz from a parliamentary seat that fell vacant after he was disqualified by the Supreme Court, said the new front "will field candidates in every constituency of the country in next year's election."
Yaqoob wanted to contest Sunday's election from Milli Muslim League, launched just before the NA-120 by-poll, but could not do so as the Election Commission of Pakistan is yet to register it as a political party.
Yaqoob was placed in 2012 on a US Treasury sanctions list of those designated as leaders of terrorist organisations, The New York Times reported.
"We have got a very good response in NA-120. It was our first election and people have welcomed us," said Yaqoob, who contested as an independent candidate.
"We are here to stay in the political field. People want a party that talks about making Pakistan strong against its enemies - India, United States and Israel and at the same time help them in solving their basic livelihood problems," he said.
The JuD formed Milli Muslim League at the time when Saeed was detained in Lahore.
Saeed and his four aides - Abdullah Ubaid, Malik Zafar Iqbal, Abdul Rehman Abid and Qazi Kashif Hussain - were placed under house arrest in Lahore on January 30 under anti- terrorism act+ .
The JuD has been declared as a foreign terrorist organisation by the United States in June 2014.
http://timesofindia.indiatimes.com/india/hafiz-saeeds-jud-to-contest-2018-general-elections-in-pakistan/articleshow/60732475.cms
--------
Osama Bin Laden's Son Hamza Is Being 'Groomed' To Lead Al-Qaeda
Sep 19, 2017
Paris: A photo montage published by Al-Qaeda to mark the 16th anniversary of 9/11 shows the face of Osama bin Laden in the flames of the Twin Towers.
At his side is his son Hamza, the "crown prince of jihad".
The young man, now 28, has appeared since childhood in the propaganda network founded by his father.
And now, some officials and analysts believe he might try to unify jihadists around the world, taking advantage of the military weakness of the Islamic State (IS) group.
In a report published by the Combating Terrorism Center (CTC), former FBI special agent and Al-Qaeda specialist Ali Soufan wrote: "Now in his late 20s, Hamza is being prepared for a leadership role in the organisation his father founded.
"As a member of the bin Laden dynasty, Hamza is likely to be perceived favourably by the jihadi rank-and-file.
"With the Islamic State 'caliphate' apparently on the verge of collapse, Hamza is now the figure best placed to reunify the global jihadi movement."
'Victory or martyrdom'
The 15th of bin Laden's 20 children, a son of his third wife, Hamza has been groomed to follow in his father's footsteps since childhood.
At his side in Afghanistan before 9/11, he learned how to handle weapons, and ranted in his thin voice against Americans, Jews and "Crusaders" in videos uploaded online.
On the eve of the attack on the World Trade Center and the Pentagon, Hamza was separated from his father, whom he was never to see again.
He was evacuated with the clan's wives and other children to Jalalabad in Afghanistan, then on to Iran, where they were placed under house arrest for years. His whereabouts now are unknown.
A sophisticated system of messengers allowed bin Laden and his favourite son to remain in contact by writing letters, some of which were found during the raid that killed the terrorist in Abbottabad, in Pakistan.
In them Hamza assures his father that he is "forged in steel" and ready "for victory or martyrdom".
"What makes me really sad is that the legions of mujahideen started, and I did not join them," he wrote in July 2009.
In an audio message in August 2015, Hamza pays homage his father the "martyr" and his elder brother Khalid, who died while trying to defend him at Abbottabad and asks jihadists around the world to "strike from Kabul to Baghdad, from Gaza to Washington, London, Paris and Tel Aviv".
One year later, in a diatribe entitled "We are all Osama," he called for vengeance, warning: "If you think you will not be held accountable for the crime in Abbottabad, you are mistaken."
Eighteen months later, after similar appeals, the US State Department reinforced his credibility within jihadist circles by putting his name on the blacklist of "international terrorists".
Like father, like son
Soufan said: "Hamza's messages frequently repeat, almost word-for-word, sentences uttered by the elder bin Laden during Al-Qaeda's heyday in the late 1990 and early 2000s.
"Hamza even makes an effort to sound like his father intoning his words with the same quiet intensity.
"As the Islamic State continues to crumble, many of its adherents will be looking for new banners under which to fight. Many factors suggest that Hamza could be a highly effective leader.
"It remains to be seen how, exactly, the organisation will make use of him, but it is clear that his star is on the rise. That should worry policymakers in the West as well as in the Muslim world."
http://www.timesnownews.com/international/article/osama-bin-ladens-son-hamza-bin-laden-is-being-groomed-to-lead-al-qaeda-us-attacks-islamic-state/92910
--------
Indian government to SC: Some Rohingya Muslims have links with Pak's ISI, Islamic State
Sep 18, 2017
NEW DELHI: The Centre told the Supreme Court (SC) on Monday it has intelligence inputs of links between some Rohingya Muslims+ and Pakistan's ISI and the Islamic State, making them "a serious security threat to the country".
The Centre further said in its affidavit in the SC that militant elements among the Rohingya are active in Delhi, Hyderabad, Mewar and Jammu. It added that it will place all intelligence inputs in a sealed envelope before SC on October 3 to prove its claim that Rohingyas are a security threat.
It added there is an "organised network of touts operating in Myanmar and West Bengal and Tripura to facilitate the influx of illegal Rohingya" refugees into India. The Centre said many Rohingya have "illegally" got voter identity cards and PAN cards, and some are "using the 'hawala' route to raise money for illegal activities".
In its 15 page affidavit, filed in the SC on a plea by the Rohingya against their deportation, the Centre hinted that the SC shouldn't interfere in executive policy dealing with illegal Rohingya migrants+ .
Still, there was an impressive line up of eminent lawyers present in the SC who appeared for the Rohingya refugees and against their deportation. They included Fali Nariman, Kapil Sibal, Rajeev Dhawan, Colin Gonsalves, Ashwani Kumar and Prashant Bhushan.
As well, the SC refused a plea to issue a notice to the National Human Rights Commission+ , which publicly supported the Rohingya Muslims and said it would argue against their deportation.
The Centre in its affidavit firmly argued for deporting the Rohingya refugees.
Read this story in Bengali
It contended that the organised Rohingya Muslim influx started in 2012 and added that there are around 40,000 such refugees in the country currently. It reiterated the home ministry's comments that the "presence of illegal Rohingya Muslims in India is not only a drain on India's resources but also a serious security threat to country."
A plea filed in the SC by two Rohingya immigrants, Mohammad Salimullah and Mohammad Shaqir, who are registered refugees under the United Nations High Commission of Refugees, stated that their deportation "would be in contradiction with the Principle of Non-Refoulement, which has been widely recognized as a principle of Customary International Law".
The Centre said on Monday that the right to residence is available to citizens and not illegal migrants like the Rohingya.
Meanwhile, the SC told the Centre to file by October 3 a further response to petitions filed in the top court by Rohingya refugees against their proposed deportation.
The apex court set October 3 as the next date for hearing the case.
http://timesofindia.indiatimes.com/india/centre-to-supreme-court-some-rohingya-muslims-have-links-with-paks-isi-islamic-state/articleshow/60729638.cms
--------
Myanmar leader defends handling of crimes against Rohingya Muslims
Sep 19, 2017
Myanmar's leader has finally broken her silence only to defend how her government is dealing with the massive human rights violations committed against Rakhine-based Rohingya Muslims, which the UN says amount to ethnic cleansing. Aung San Suu Kyi fell short of singling out the military in the globally-condemned violence, which has triggered a massive exodus of Muslim refugees to Bangladesh.
On Tuesday, Suu Kyi addressed the nation for the first time since August 25, when a fresh upsurge in violence subjected the Rohingya in Muslim villages across the western state of Rakhine to mass killings, torture, rape and arson attacks and forced more than 417,000 to flee their homeland.
Suu Kyi has faced harsh international criticism amid several reports about systematic attacks by the Myanmar military and majority Buddhists against the persecuted Muslim community.
In her address, however, Suu Kyi claimed that most Muslim villages had not been affected by the violence, wondering about the reasons why the exodus to Bangladesh still continued, despite the fact that there had been no "clearance operations" since September 5.
She said her government intended to find out why people in almost 50 percent of Muslim villages that remained unaffected had preferred to stay, acknowledging in the process that half of Rohingya villages had been destroyed and burned to the ground in the ongoing bout of violence.
There have been "allegations and counter-allegations" that need to be investigated before taking any action, Suu Kyi said.
The leader of the Asian country's civilian government said Myanmar does not fear international scrutiny and is committed to finding a sustainable solution to the situation in Rakhine. Suu Kyi's silence has provoked immense international criticism in recent weeks, especially after dismissing reports of ethnic violence in Rakhine as "a huge iceberg of misinformation" meant to "promote the interests of the terrorists."
In her speech, Suu Kyi even refused to use the word Rohingya to refer to members of the minority group, naming them only once while making mention of the Arakan Rohingya Salvation Army, a group that purportedly fights to defend the rights of the minority group. She claimed that peaceful conditions were disturbed only after armed groups had staged terrorist attacks on dozens of police outposts in August.
She claimed that Myanmar was ready to verify the national status of the Rohingya refugees who have fled violence in recent weeks. "We are prepared to start the verification process at any time," she suggested.
But the brutality against the Rohingyas has its roots in the very fact that Myanmar does not recognize them as citizens and has denied citizenship rights to 1.1 million members of the community for several decades, alleging they are Bengalis who have in the past migrated to the country from Bangladesh. The Rohingya were stripped of their citizenship in 1982 despite having lived in the country for generations.
Due to their status, the Rohingya are not free to travel and practice their religion, having little access to medical care, food or education.
The de facto leader further said she felt deeply for the suffering of "all the people caught up in the conflict."
"We condemn all human rights violations and unlawful violence. We are committed to the restoration of peace and stability and rule of law throughout the state," she added.
The government claims its attacks in Rakhine are a response to armed "terrorists," but reports and evidence presented by witnesses and international organizations tell a different story.
The latest evidence published by Amnesty International points to "a mass-scale scorched-earth campaign" across Rakhine State, where Myanmar's forces and vigilante mobs "are burning down entire Rohingya villages and shooting people at random as they try to flee. In legal terms, these are crimes against humanity – systematic attacks and forcible deportation of civilians."
The rights group further highlighted the "horrific situation" in Myanmar, criticizing the international community's failure to address the plight of hundreds of thousands of Rohingya refugees in Bangladesh.
The UN said last week that Rohingya Muslims in Myanmar are facing a risk of ethnic cleansing at the hands of military forces.
Human Rights Watch called for harsh sanctions and an arms embargo against the Myanmar military over its ethnic cleansing campaign against Muslims.
The government forces in Myanmar do not even spare the fleeing Rohingya refugees. Recent reports by Amnesty and Bangladeshi officials say the military plants landmines on the path of those trying to cross into Bangladesh, causing them to sustain serious wounds or lose their body organs.
Muslims being wiped off Myanmar's map
On Monday, a humanitarian group reported that Myanmar's Rohingya Muslim community is literally "being wiped off the map" amid the ongoing crackdown.
"For generations, Rohingya Muslims have called Myanmar home. Now, in what appears to be a systematic purge, they are, quite literally, being wiped off the map," said Chris Lewa, director of Arakan Project, AP reported.
In Bangladesh, where officials say the size and speed of the exodus is overwhelming, the new refugees are joining tens of thousands of previous refugees, hoarding into sprawling refugee camps, where there are shortages of all sorts.
"This is the worst crisis in Rohingya history," said Lewa.
"Security forces have been burning villages one by one, in a very systematic way," she said, adding, "And it's still ongoing."
Meanwhile, international opinion has hardened against Myanmar as the US, Britain, Australia and France renewed calls for Suu Kyi to push for an end to violence against Rohingya Muslims.
Bangladesh Prime Minister Sheikh Hasina, in a related development, said she spoke to US President Donald Trump on Monday about Rohingya refugees flooding into her country. However, she said expected no help from the US president.
http://www.presstv.ir/Detail/2017/09/19/535668/Asia-Myanmar-Aung-San-Suu-Kyi-Amnesty
--------
Europe
UK 'biggest audience' in Europe for jihadist web content
Sep 19, 2017
Online jihadist propaganda attracts more clicks in the UK than any other country in Europe, a report has found.
Britain is the fifth-biggest audience in the world for extremist content after Turkey, the US, Saudi Arabia and Iraq, Policy Exchange's study said.
The think tank suggested the UK public would support new laws criminalising reading content that glorifies terror.
The government has told internet companies like Facebook and Google to do more to to remove jihadist material.
Former US military chief General David Petraeus, who wrote a foreword to the report, said efforts to combat online extremism were "inadequate".
He said the bombing of a London Tube train last week "merely underscored once again the ever-present nature of this threat."
"There is no doubting the urgency of this matter," he said.
"The status quo clearly is unacceptable."
Islamic State group: The full story
The report suggested new laws to criminalise the "aggravated possession and/or persistent consumption" of extremist ideology - but not to criminalise someone who "stumbles across" jihadist content.
It said child pornography was approached in a similar way, with tougher penalties for the most serious cases.
Under section 58 of the Terrorism Act 2000, it is currently an offence to possess information that could assist a would-be terrorist, but not material which glorifies terrorism.
Policy Exchange surveyed 2,001 adults in the UK, finding 74% of people supported new laws to criminalise the "persistent consumption" of extremist material online.
'Vast' online presence
Its 130-page report found IS produces more than 100 new articles, videos and newspapers in a week - saying any decline of the terror group in the online space had been "significantly overstated".
"For at least a year, the production of content has continued despite the death of key figures, loss of territory and ongoing fighting," it said.
The jihadist group has retreated from territories it has seized in the Middle East, following pressure from a number of Iraqi and Syrian forces.
IS, also known as Daesh, disseminated its online propaganda across a "vast ecosystem" of platforms, the report found - including file-sharing services, encrypted messaging platforms and social media websites, as well as Facebook, Google and Twitter.
Internet giants say they have made efforts to clamp down on extremist content, with Google describing online extremism as a "critical challenge for us all".
Facebook said it was working "aggressively to remove terrorist content" from its website, and had developed a shared industry database of "hashes" - unique digital footprints - which catalogues violent extremist videos or images.
Twitter said that terrorist content had no place on its platform.
Home Secretary Amber Rudd said: "We know that Daesh pose a threat online and this report helps to highlight the scale of the issue.
"I have made it crystal clear to internet bosses that they need to go further and faster to remove terrorist content from their websites and prevent it being uploaded in the first place."
The report suggested the UK government introduce a "sliding scale" of measures to bear down on internet companies - including giving the proposed new commission for countering extremism powers to oversee the removal of online content.
Policy Exchange said 74% of Britons surveyed thought big internet companies should be more pro-active in locating and deleting extremist content.
Martyn Frampton, Policy Exchange's co-head of security and extremism, said governments and security services were playing a "fruitless game of whack-a-mole" by focusing on removing individual pieces of content.
"If the internet companies won't do what their customers want and take more responsibility for removing this content, then government must take action through additional regulation and legislation," he said.
Mrs Rudd added: "The internet cannot be used as a safe space for terrorists and criminals, and industry need to ensure that the services they provide are not being exploited by those who wish to do us harm."
http://www.bbc.com/news/uk-41313312
--------
Report: 500 Islamic State Jihadis Fueling Resurgence on Europe's Doorstep, Libya
18 Sep 2017
Chaos-ridden Libya is experiencing an Islamic State (ISIS/ISIL) resurgence that is posing a clear and present danger to Europe while the jihadist group's so-called caliphate continues to dwindle in Iraq and Syria, primarily at the hands of the U.S-led coalition, reports the Wall Street Journal (WSJ).
Libya, a jihadi breeding ground located just across the Mediterranean only a few hundred miles from the European coast, is currently home to a regenerating ISIS wing, presently comprised of nearly 500 terrorists.
The ISIS branch in Libya is reportedly seeking to exploit the ongoing migrant flow into Europe and carry out attacks there.
"Islamic State said two years ago that it planned to infiltrate migrant groups and carry out attacks in Europe," notes WSJ. "Tens of thousands of migrants have crossed the Mediterranean Sea from Libya and arrived in Italy this year."
"They [ISIS] consider Libya to be the main entrance to Europe," Abu Baara al-Ansari, a Syrian who says he defected from the terrorist group in June, told the Journal via the Telegram encrypted messaging system.
ISIS terrorists are reportedly capitalizing on the deteriorating security condition in Libya, trying to re-establish its stronghold there as its members are increasingly pushed out of the Middle East.
The Journal reports:
Islamic State has formed a number of clandestine cells in Libya a year after losing its main stronghold in the chaotic North African country, part of the militant group's efforts to regroup on Europe's doorstep.
The small cells, comprising up to several dozen fighters, have set up new bases outside Libyan towns in the past several months and started making money by hijacking commercial trucks and extorting migrant-smuggling rings, according to Libyan and European security officials.
Echoing the U.S. military, armed groups in Libya for months have been warning that ISIS is "regrouping" in Libya following their American-backed defeat late last year in the coastal city of Sirte, once considered the organization's largest stronghold outside its Middle East-based caliphate.
Despite the group's collapse in Sirte, U.S. Africa Command (AFRICOM), which oversees American military activities in Africa, estimates that an estimated 500 ISIS members remain "active in Libya now," down from a peak of 4,000 to 6,000 when the group still held Sirte, notes the Journal.
WSJ concedes that other officials have said it is hard to estimate how many ISIS fighters are still in Libya, noting that the group can operate "relatively unhindered" across the country.
A resurgent ISIS "is definitely becoming a problem in Libya," an unnamed European security official told WSJ, indicating that "the terror group can raise revenue in Libya by tapping lucrative rackets and take advantage of weapon stockpiles in a country that is both vast and politically unstable."
The Journal reports the Islamic State's "efforts to stage a comeback in Libya" have prompted concern among European officials, adding that jihadists have increasingly traveled from Syria to Europe to engage in deadly terrorist attacks in recent years.
Just recently, British authorities identified one of the suspects of the ISIS-claimed London subway bombing that left an estimated 30 people wounded as 21-year-old Syrian refugee Yahyah Farroukh.
The United Nations-backed government in Tripoli failed to respond to WSJ's requests for comment about ISIS activities in Libya.
Nevertheless, armed groups in Libya, including some affiliated with the U.N.-brokered government, have warned against the growing ISIS presence in Libya in recent months.
ISIS is reportedly urging its members to abandon the shrinking Islamic State caliphate in Iraq and Syria and travel to Libya to join their fellow terrorists there.
The Journal learned from an unnamed U.S. State Department official that there has been "a marked decrease" in the number of foreign fighters traveling to or from war-devastated Libya.
Nevertheless, "European security officials and the Islamic State defector say the group's fighters—including Syrians and Iraqis, as well as Libyans—have been trying to enter Libya in hopes of reaching Europe to launch attacks.
European officials told WSJ foreign fighters are entering Libya overland through Sudan, flying there from Turkey and Syria.
Libya has descended into chaos since the U.S.-backed overthrow and execution of dictator Moammar Gadhafi in 2011, with warring factions fighting for territory and influence.
Full report at:
http://www.breitbart.com/middle-east/2017/09/18/report-500-islamic-state-jihadis-fueling-groups-resurgence-on-europes-doorstep-libya/
--------
Islamophobia witnessed every day in Europe, NGOs tell OSCE
Sep 19, 2017
Held in the Polish capital Warsaw, this year's Human Dimension Implementation Meeting (HDIM) of the Organization for Security and Co-operation in Europe (OSCE) assigned several sessions to Islamophobia and the discrimination against Muslims in Europe.
A number of non-governmental organizations (NGOs) from European countries, including Germany, France, Belgium and Austria, attended the sessions and explained the situation they are facing. While the OSCE regarded the issue as a problem, representatives of far-right groups were also given the floor to express their anti-Islam and anti-Muslim ideas.
As members of the Muslim community provided their accounts of discrimination as well as physical and rhetorical attacks, people from far-right groups attacked the core values of Islam and accused Muslims of violating rules and not adapting to European values.
They brought back old arguments; namely, saying that Islam and the West were incompatible while demonstrating their hatred openly. Despite explicit defamations, their statements were allowed, in line with the freedom of speech.
Even at the OSCE meeting, it was made clear that Islamophobia is on the rise in Europe. Several reports have even indicated that hatred towards Muslims has seemingly become a part of daily life on the continent.
A report by the Collectif Contre l'Islamophobie en France (CCIF) claimed that Islamophobic attacks have increased by 500 percent in France in the last two years while the Bertelsmann Foundation's findings indicated that 57 percent of Germans consider Muslims to be a threat.
The representatives of NGOs claimed that the rhetoric adopted by the media as well as politicians is fueling further hatred, as Muslims face a collective punishment after each and every terror attack.
An imam at the Finsbury Park Mosque, Mohammad Mahmoud, said in one of the sessions that their community is facing threats and hate speech.
"We have seen severed pig heads thrown at our mosque and racist writings on the walls. Women, in particular, are afraid to walk in the streets alone. They can't even take their children to school," he said.
"Our mosque has also been the target of arson and car-ramming attacks, resulting in the death of one person."
Condemning racism in all forms, the imam said that members of his congregation only want to live in harmony with the rest of the community.
Nadia Omani, a member of the Coordination against Racism and Islamophobia (CRI), said that women are the victims in almost 90 percent of all Islamophobic attacks and added that Muslim women wearing hijab find it nearly impossible to gain employment.
Meanwhile, Elif Şimşek from the Ankara-based Migration Research Foundation said: "According to Bertelsmann's surveys, 61 percent of Germans believe that Islam is not compatible with the West, while in France, the headscarf is seen as being against the Vivre-ensemble according to some 79 percent of the population."
"A Pew Research Center report from September 2016 linked negative perspectives about refugees with the fact that diversity in European societies is no longer welcome. The report found that only four out of every 10 respondents who took part in the survey thought that their countries were more 'livable' with the inclusion of various identities and ethnicities," she added.
Quoting London-based Chatham House's report, Şimşek said, "Only 25 percent of Europeans believe migration can make positive contributions to their countries."
It was noteworthy that the speakers pointed out that Muslim communities in Europe also suffer as a result of arbitrary state policies. For instance, a ban on the full-face veil is regarded as a success for Western society and oppressive for Muslims.
European Muslim Initiative for Social Cohesion (EMISCO) spokesperson Veysel Filiz said that Islamophobia is being trivialized by the major players involved, criticizing the OSCE for allowing the far-right and anti-Islamists to claim that some of the NGOs present at the Warsaw sessions were followed by Anders Breivik, who massacred 69 teenagers in a summer camp in 2011 in Norway.
Full report at:
https://www.dailysabah.com/europe/2017/09/19/islamophobia-witnessed-every-day-in-europe-ngos-tell-osce
--------
Eiffel Tower starts work on anti-terror upgrade
Sep 19, 2017
PARIS - Works began Monday to boost security at the Eiffel Tower as an anti-terrorism measure, city hall said, with bulletproof glass walls set to go up around the world's most visited monument. The changes come after a string of jihadist attacks in the French capital over the past two years in which more than 200 people have died. A bulletproof glass wall will be installed around the monument's gardens under the 30-million-euro ($36-million), nine-month works, the city's tourism chief, Jean-Francois Martins, told AFP. Visited by six to seven million people each year, the landmark already has a permanent police patrol.
http://nation.com.pk/international/19-Sep-2017/eiffel-tower-starts-work-on-anti-terror-upgrade
--------
Pakistan
Waiting For Resurgence: Al-Qaeda Core In Pakistan
Sep 19, 2017
The decline of the Islamic State (IS) terrorist group in the Middle East and the dilapidation of its Pakistan Chapter (Walayat-e-Khurasan) have provided Al-Qaeda Central (AQC) enough space to reassert itself in Pakistan. It appears that the AQC policy of 'wait and see' has worked and the group is now making calculated moves to stage a comeback. The AQC in Pakistan is launching new auxiliary organisations and capitalising on IS returnees from Iraq and Syria to revive.
By Farhan Zahid*
The rise of IS as the leader of global jihad in June 2014 eclipsed Al-Qaeda's preeminence within the jihadist fraternity. However, IS' recent battlefield defeats, including the loss of Mosul, and other territorial losses in the Middle East has significantly weakened the group's clout. These developments have once again made the competition for the leadership of global jihad a contested domain.
Against this backdrop, this article examines AQC's status in Afghanistan and Pakistan, the group's ties with the Afghan and the Pakistani Taliban, other militant groups and its current strategy. The article argues that given the recent setbacks in the Middle East, IS will not be able to hold its ground much longer in the Af-Pak region against AQC and its affiliates.
Background
With significant territorial losses in 2016 and 2017, it is now evident that IS will not be able to hold territories in Iraq, Syria, Libya, Nigeria and Afghanistan. IS control of its territories in Syria is weakening, with its presence now confined to Raqqa. Similarly, in Nigeria the IS-affiliated Boko Haram is facing a three- pronged assault from Nigerian, Cameroonian and Chadian forces in the territory under its control. Likewise, IS has already lost Sirte, its stronghold in war-torn Libya. It is obvious that the momentum IS established in 2014-2015 has been reversed in the affected countries.
In Pakistan, the situation is a little complicated compared to other countries as AQ is gradually regaining its lost momentum. The surfacing of a pro-AQ militant group, Jamaat ul Ansar al-Sharia, in the port city of Karachi in June 2017 signifies this. As claimed by law enforcement officials in Karachi, Ansar Al-Shariah comprises returnees from Syria and Libya. These war- returnees are well-trained and battle- hardened militants who are trying to resurrect AQ in Pakistan.1
Al-Qaeda's Possible Revival in Pakistan
After proclaiming the self-styled caliphate in Mosul in June 2014, IS urged other jihadist groups to pledge their oath of allegiance to the so-called Caliph Abu Bakr Al-Baghdadi. Responding to IS' call, as many as 50 jihadist groups, some as large as Boko Haram of Nigeria and as small as Ansar al Bait al- Maqadis of Egypt, shifted their loyalty from AQ to IS. The widespread defections to IS dented AQ's standing as the leader of global jihad. Following these developments, the aspiring jihadists looked towards IS for direction, mentorship and inspiration. At that time, AQ appeared down and out as it lacked numbers, appeal and the power to fight back. However, it went into hibernation and managed to survive.
Notwithstanding the abovementioned defections, the AQ chief Ayman al-Zawahiri succeeded in keeping the major jihadi affiliates loyal to the group. For instance, the Somalian militant group Al-Shabab, Al- Qaeda in the Islamic Maghreb (AQIM) and the Yemini affiliate Al-Qaeda in the Arabian Peninsula (AQAP), rejected IS' Caliphate proclamation. Moreover, the AQ based in the Pakistan-Afghanistan border region has argely remained immune from the clutches of IS-Khurasan (ISK), the regional affiliate of IS in Af-Pak.2
AQ's Post-IS Reorganisation in Pakistan
In September 2014, to curtail IS' influence in its backyard, AQ announced its chapter for South Asia, Al-Qaeda in the Indian Sub- Continent (AQIS).3 Asim Umar, a former commander of a Kashmiri militant group Harkat-ul-Jihad Al-Islami (HUJI) was appointed as the chief of AQIS. Zawahiri, in his 55-minute video, described AQIS as:
"This entity [AQIS] was not established today, but it is the fruit of a blessed effort for more than two years to gather the mujahideen in the Indian subcontinent into a single entity to be with the main group, Qaedat al-Jihad, from the soldiers of the Islamic Emirate and its triumphant emir, Allah permitting, Emir of the Believers Mullah Muhammad Omar Mujahid." 4
The first target of AQIS was an intelligence officer of the Inter-Services Intelligence (ISI) Brigadier Zahoor Fazal Qadri. AQIS assailants gunned him down on September 6, 2014 in Punjab's Sarghoda district, while he was off duty and offering prayers at a Sufi shrine. The group's spokesperson Usama Mahmood claimed responsibility for the attack in a statement, "The Sargodha attack should be taken as a warning [to] the slaves of [the United States of] America in the Pakistani Armed Forces to leave the US- backed 'war on terror' or get ready to face the consequences." 5
Following that, AQIS recruited serving Pakistan Navy officers and carried out a botched naval dockyard attack in Karachi.
The plan was to hijack a frigate and target the US-Pakistan joint naval exercise in the Arabian Sea. However, the plan failed as Pakistan Navy commandos killed two of the six attackers and arrested the other four near Quetta while they were escaping to Afghanistan. AQIS chief Asim Umar claimed responsibility for the terrorist attack.6
Al-Qaeda's Affiliates in Pakistan
Most of the jihadist groups in Pakistan have remained loyal to AQ barring a few marginalised elements of the Tehri k-e- Taliban Pakistan (TTP-Shahidullah faction), Karachi-based Jundulah, and a lesser-known Tehrik-e-Khilafat Pakistan. No major jihadist group has pledged allegiance to IS. On the contrary, AQ, as mentioned above, made a move in reinvigorating its agenda with the creation of AQIS in September 2014.
Pakistan remains pivotal for AQ and its future survival. The group considers the Af-Pak region its home and birthplace. Veteran AQ leaders still allegedly maintain residence in tribal areas and other parts of Pakistan and Afghanistan. AQ also maintains close relations with Pakistani Islamist militant groups such as: Harkat ul Jihad-e-Islami (HuJI), Harkat ul Mujahedeen (HuM), Lashkar-e-Jhangvi (LeJ), Jaish-e- Mohammad (JeM) and to some extent Lashkar-e-Taiba (LeT).7 Although AQ lost the Central Asian militant group, the Islamic Movement of Uzbekistan (IMU) that pledged allegiance to ISK, it possesses stable relations with the Afghan Taliban.
IS-AQ Competition
AQ will not concede ground to IS in the Af- Pak region given its longstanding ties with other Islamist militant groups, stakes in the Afghan conflict and the nature of terrain that provides it with enough ungoverned spaces to survive and expand. The IS' flirtation with AQ-linked Islamist terrorist groups has not yielded the desired results for ISK. The IS' apparent plan was to lure AQ-linked Islamist terrorist groups operating in Pakistan and gain as much as space possible in Pakistan's jihadist landscape. Another reason for AQ to consider IS its bête noire was the IS-Afghan Taliban clash of interests in Afghanistan, in particular, and ideological issues, in general. The IS ingress in the Af-Pak can undermine Taliban's unrivaled monopoly, which will weaken AQ. This is why AQ has not only reaffirmed its support to successive leaders of the Afghan Taliban but it has further strengthened its operational ties with them as well.
AQ strategy for Pakistan
The AQ has adopted a long-term strategy of "wait and see" in Pakistan. The group has not conducted any major terrorist attack in Pakistan in the last two years,8 following the establishment of AQIS. More recently, the emergence of a pro-AQ group Jamaat al- Ansar al-Sharia in Pakistan is indicative of the fact that AQ is about to make a rebound in Pakistan. As claimed by law enforcement officials in Karachi, the organisation comprises returnees from Syrian and Libya. While the exact numbers are not known, these well trained and battle-hardened militants are now eyeing the resurrection of AQ in Pakistan9.
Meanwhile the AQ-affiliated terrorist organisations have continued terrorist attacks in Pakistan. For instance, AQ-linked TTP is involved in masterminding and executing major terrorist attacks in Pakistani cities and tribal areas. It appears that AQ is maintaining a low profile amid Pakistani state's crackdown against IS in different parts of the Federally Administered Tribal Areas (FATA), and Afghan and US forces' operations in neighboring Afghan provinces of Nangarhar and Paktika.
The IS has not been able to outsmart AQ, which is apparently waiting for the complete destruction of ISK by Pakistani, Afghan, US forces and the Afghan Taliban and to absorb the ISK remnants in the region once again. There are, indeed, guestimates indicating that AQ now comprises around 50-10010 leaders and rank and files; it has always been AQ's strategy to rely on local Islamist terrorist groups for attacks and work in tandem with these groups for logistics, safe havens and recruitment.
In fact, AQ has always been a small group of Islamist militants who collude with local Islamist groups and build their capacities, provide funds and logistics, work on their skill development and ideological indoctrination. Post 9/11, AQ transformed from a hierarchical organisation to a decentralised movement mentoring the next generation of jihadists and engaging in a war of ideas instead of operational fighting. It is also true that AQ suffered massively in Pakistan because of the US drone campaign against its top leaders. However, it seems that it is now hoping for local militants for a lead role. Traditionally, Deobandi (a sub-sect of the Sunni-Hanafist school of thought) militant organisations have dominated Pakistan's jihadist landscape leaving very little room for the Takfiri-Salafist-jihadist outfits to operate. Given this, it is expected that ISK would have no choice but to rejoin AQ.
Conclusion
AQ, at least in Pakistan, is trying hard to preserve itself and hitherto has not allowed IS to consolidate its position in the diverse Jihadist landscape of Pakistan. IS has not been able to replace AQ in Pakistan as far as influence over other jihadi organisations is concerned, and ISK has not appealed to the Pakistani Islamist terrorist groups linked with AQ. For instance, the ISK developed a working relationship with violent sectarian group Lashkar-e-Jhangvi (LeJ) and perpetrated terrorist attacks with its assistance but it could not convince several LeJ factions to change sides.
AQ's reemergence will pose new security challenges to regional peace and security. Fragmentation and reintegration of terrorist groups is as old as terrorism. A possible realignment and absorption of ISK within AQC cannot be ruled out. US President Donald Trump's announcement of stepping up the war effort in Afghanistan will give AQ the right political environment in the region to re-launch its jihadist activities. In this regard, the surfacing of Jamaat al-Ansar al-Sharia needs to be monitored closely. At the same time, pacification of the Afghan conflict to the satisfaction of all the stakeholders is equally important to defeat AQ, operationally and ideologically.
About the author:
*Farhan Zahid did his PhD in Counter Terrorism (Topic: Al-Qaeda-linked Islamist violent Non-State Actors in Pakistan and their relationship with Islamist Parties) at Vrije University Brussels, Belgium.
Source:
This article was published by RSIS in its Counter Terrorist Trends and Analyses, Volume 9, Issue 09 | September 2017, paged 1-4 (PDF).
Notes:
1. Discussions with a senior police officer of Karachi police, on 17 August 2017, who requested for anonymity.
2 Only a handful of Jihadi groups joined hands with ISIS-Khurasan chapter and pledged allegiance to Abu Bakr al-Baghdadi.
3 "Al-Qaeda chief Zawahiri launches al-Qaeda in South Asia", BBC News, September 4, 2014, http://www.bbc.com/news/world-asia-29056668
4 Bill Rogio, "US adds Al-Qaeda in the Indian Subcontinent, leader to terrorism list", Long War Journal, June 30, 2016, http://www.longwarjournal.org/archives/2016/06/us- adds-al-qaeda-in-the-indian-subcontinent-leader-to- terrorism-list.php
5 "Al-Qaeda claims slaying of ISI brigadier", News International, September 20, 2014, https://www.thenews.com.pk/archive/print/526386-al- qaeda-claims-slaying-of-isi-brigadier.
6 Fahim Zaman and Naziha Syed Ali, "Dockyard attacker planned to hijack Navy frigate", Dawn, September 13, 2014, https://www.dawn.com/news/1131654; Shehzad Baluch, "Quetta Operation: Three Navy men held over dockyard attack", Express Tribune, September 12, 2014, https://tribune.com.pk/story/761240/quetta- operation-three-navy-men-held-over-dockyard- attack/
7 All have worked with Al-Qaeda. HuJI's leader Qari Saifullah Akhter was close to Al-Qaeda leadership in Afghanistan during Taliban era (1996-2001) and HuJI's offshoot, the 313 Brigade led by Ilyas Kashmiri, later became part of Al-Qaeda Core in tribal areas of Pakistan; HuM Emir Fazal ur Rehman Khalil was co-signatory of Osama Bin Laden's Fatwa against the US in 1998, and he was also part of Bin Laden-led Islamic Front against Jews and Crusaders; Lashkar-e-Jhangvi, a sectarian jihadi group of Pakistan trained its rank and file at Al- Qaeda-run training camps in Taliban-ruled Afghanistan; Jaish-e-Mohammad and Lashkar-e- Taiba joined hands to perpetrate Indian Parliament attack in December 2001 to create a military standoff between Pakistan and India in order to provide breathing space to under sieged Al-Qaeda leadership at Pakistan-Afghanistan border. HuM and JeM along with Khalid Shaikh Mohammad kidnapped and assassinated Wall Street Journal's correspondent Daniel Pearl in Karachi in March 2002. Apart from these activities, scores of terrorist incidents against US and western interests and against Pakistani security forces were conducted by these organisations in collusion with Al-Qaeda. Most importantly, the TTP provides sanctuaries and safe havens to Al-Qaeda leaders in tribal areas, where TTP as the umbrella organization of more than 27 factions operates. Al-Qaeda planned and executed many of the high profile terrorist attack while comfortably staying in TTP-controlled areas.
8 AQ's modus operandi is based upon franchising local Islamist groups and developing their capacities and providing them logistics support. AQ-linked groups in Pakistan perpetrate acts of terror in connivance with AQ. For example, Daniel Pearl was abducted by AQ affiliates and later KSM visited their safe house and beheaded Pearl. Danish Embassy bombing in 2008 was planned and executed by Hammad Adil cell in Islamabad, an AQ-TTP linked cell operating from Islamabad.
9 Discussions with senior police officer of Karachi police, who requested for anonymity in July 2017.
10 Thomas Joscelyn and Bill Roggio, "Sending more troops to Afghanistan is a good start", Long War Journal, August 21, 2017, http://www.longwarjournal.org/archives/2017/08/sen ding-more-troops-to-afghanistan-is-a-good- start.php?utm_source=feedburner&utm_medium=e mail&utm_campaign=Feed%3A+LongWarJournalSit eWide+%28FDD%27s+Long+War+Journal+Update %29
http://www.eurasiareview.com/19092017-waiting-for-resurgence-al-qaeda-core-in-pakistan-analysis/
--------
Two religious parties candidates bag 11pc of vote in NA-120
Amjad Mahmood
September 19, 2017
LAHORE: Results of Sunday's by-election in the National Assembly constituency NA-120 (Lahore-III) have sprung up some surprises, with two candidates backed by religious parties finishing third and forth and winning together about 11 per cent of the vote cast.
Many people had been expecting a better turnout in view of the vigorous campaigns run by almost all major contestants in the race. Some were predicting a better tally for the ruling Pakistan Muslim League-Nawaz (PML-N), while others were writing off the role of religio-sectarian outfits in the competition.
However, the two candidates backed by religious parties that appeared to most chip away at the PML-N vote share, together won about 11pc. Neither party — one of which is linked to Hafiz Saeed — existed in 2013.
Analysts say the by-election results will certainly concern Nawaz Sharif's party.
Although Begum Kulsoom of the PML-N defeated Pakistan Tehreek-i-Insaf's (PTI) Dr Yasmin Rashid, the margin of victory came to around 14,000 in the Sept 17 by-poll from over 39,000 votes back in the 2013 general elections.
Unusual for a by-poll, there were 43 players in the contest for the seat that fell vacant after the disqualification of former prime minister Nawaz Sharif.
PML-N leaders tout Begum Kulsoom's victory as proof that Mr Sharif remains popular with voters and say the closer margin is largely due to the strong showing by the two candidates backed by religious parties.
"Frankly speaking, I'd been hoping for a healthier voter turnout keeping in view the hype created by vigorous electioneering by almost all major players," says Ahmad Bilal Mehboob of Islamabad-based think tank Pildat. "But, surprisingly, it shrank by 18 to 20 per cent."
Around seven per cent reduction in the vote bank of the PML-N further shocks Mr Mehboob, who thinks that the presumed victimisation of the party leader [in the Panama Papers case] should have motivated the sympathisers enough to at least keep the poll ratio intact, if not improved. "It means that PTI's point of view on Panama [Papers] case and Nawaz Sharif's character gained more acceptance among the voters."
Senior political analyst Dr Hassan Askari argues that the committed and hard-line vote did not shift from the PML-N, but others who are not hardcore or are somewhat independent, they seemed to have shifted.
"The committed voters remained loyal to the PML-N leadership but the independent thinking or floating voters who had been with the Sharifs on an issue basis either didn't come out to vote or shifted to the PTI and other parties apparently because the ruling party's campaign couldn't give them a clear and convincing message," he says.
Right-wing vote
One of the surprises of Monday's official results was the third-place finish of Azhar Husain Rizvi, an independent candidate backed by Labbaik Ya Rasulallah, a coalition of Islamist groups. He won 6pc of the vote campaigning on a platform of support for strict blasphemy laws.
His campaign posters praised executed killer Mumtaz Qadri, a bodyguard who assassinated former Punjab governor Salmaan Taseer for suggesting the laws might be reviewed. After his execution, Qadri was hailed by some religious sects as a martyr for Islam.
Yaqoob Sheikh, who was himself designated a terrorist by the United States in 2012, captured nearly 5pc of the vote. Sheikh was was an independent candidate, though he was backed by the newly formed Milli Muslim League (MML) that is loyal to Hafiz Saeed.
The MML — a political version of Hafiz Saeed's Jamaatud Dawa (JuD) — represents the Ahle Hadith school of thought. The MML on Monday said it planned to contest another by-election in Peshawar next month.
Despite their relatively strong gains, neither the MML nor the LYR is seen as having much chance of winning many seats in 2018.
Use of mosques
The by-election also saw revival of the use of places of worship for politicking as the candidates backed by the MML and LBY made mosques as their "base camps" for their electioneering.
The last time mosques prominently used for political movements in this part of the country was during the Zulfikar Ali Bhutto government when the nine-party Pakistan National Alliance had after allegations of rigging in the 1977 general elections launched a Nizam-i-Mustafa movement against the then PPP government.
Allama Khadim Hussain Rizvi-led LYR, which belongs to the Barelvi school of thought, fully took advantage of 100-plus mosques in the area for Azhar Husain's campaign.
Allama Rizvi used harsh language against the ruling PML-N for hanging Mumtaz Qadri. The Jamiat Ulema-i-Pakistan of Qari Zawwar Bahadur as well as the Sunni Ittehad Council — both former allies of the N-League — also extended their support to Azhar.
The MML made Masjid Al-Qadisia, the JuD headquarters which also happens to be situated in the very constituency, as its main election office. It also made use of other mosques of the Ahle Hadith school of thought, around 40 in number, in the area for seeking votes for Yaqoob Sheikh, who bagged 5,822 votes to stand fourth.
The MML's campaign seemed well financed and organised as in the words of an observer it was matching banner-to-banner, polling camp-to-polling camp with the PML-N and the PTI.
In comparison, the Labbaik seemed devoid of resources. It didn't have women workforce to mobilise its sympathisers among the fair sex, otherwise its tally might have improved further.
Full report at:
https://www.dawn.com/news/1358574/two-religious-parties-candidates-bag-11pc-of-vote-in-na-120
--------
1 dead, 12 injured in blast at Pak-Afghan border in Balochistan's Chaman area
Syed Ali Shah
September 18, 2017
A child has died and at least 12 other people were injured after a suspected suicide attack attempted to target a paramilitary vehicle near the Chaman border crossing in Balochistan, officials told DawnNews.
The injured had been taken to Civil Hospital Chaman for treatment, with three of them in critical condition, District Police Officer Abdul Hayee Baloch and administration official Qaiser Khan Nasir said.
A 12-year-old boy injured in the blast succumbed to his injuries at CHC, hospital sources said.
Nasir said a suicide bomber targeted the paramilitary patrol but their vehicle sped away and it was passers-by who were struck by the explosion.
A senior administration official speaking to DawnNews added that body parts of a suspected suicide attacker were collected by law enforcement agencies during an initial sweep of the area following the blast.
Security has been tightened in and around the border in the aftermath of the explosion. Besides Levies, Frontier Corps personnel have also reached the spot and cordoned off the area to probe the incident.
Majlis-e-Abrar, a breakaway faction of the Tehreek-i-Taliban Pakistan, claimed responsibility for the attack. The group has claimed several such attacks earlier.
In the recent past, militants have carried out low-intensity bombings in Chaman, targeting police stations and other national installations.
Chaman is considered a sensitive town in Balochistan as it shares a border with Afghanistan's volatile Kandahar province.
Last week, Pakistani and Afghan officials had, in a meeting in Kabul, agreed to formulate an action plan seeking to improve security along the Pak-Afghan border through enhanced cooperation.
However, a day after the meeting, at least six Frontier Constabulary (FC) personnel and a child were injured in two consecutive explosions at the Pak-Afghan border at Torkham in the Federally Administered Tribal Areas.
The same day, a United States (US) drone strike killed three suspected militants in Kurram Agency near the shared border with Afghanistan.
Pakistan and Afghanistan have shared a tense relationship as of late, with both sides accusing each other of housing terrorists.
The latest violence at the Pak-Afghan border comes after the US announced a new Afghanistan and South Asia policy, taking a harder line on Pakistan as it urged Islamabad to take stronger action against 'safe havens' in the country.
Full report at:
https://www.dawn.com/news/1358492/1-dead-12-injured-in-blast-at-pak-afghan-border-in-balochistans-chaman-area
--------
NAB chief should be appointed by judiciary, reiterates Siraj
19-Sep-17
KARACHI: Jamaat-e-Islami (JI) chief Sirajul Haq has reiterated the demand that the National Accountability Bureau (NAB) chairman should be appointed by the superior judiciary.
Addressing a press conference here on Monday, he said that the chief justice of Pakistan and chief justices of all high courts should be given powers to appoint the NAB chairman.
He criticised the bureau, saying: "Instead of ensuring accountability, the NAB was a facilitator of corruption and corrupt individuals." He said that a chairman of the bureau was recently sacked on corruption charges and the next chairman was yet to be appointed.
Haq stressed that it was the right time for both the government and the leaders of the opposition to handover the powers of appointing the NAB chief to the judiciary, as this would remove the influence of politicians and government officials from the institution.
Haq said that the JI would continue its campaign against corruption and corrupt individuals and reiterated his demand to hold all those mentioned in the Panama papers accountable. "We want the supremacy of law, merit and the constitution", he remarked.
Talking about the issues in Karachi, he said that the city had been badly been neglected and highlighted up the city's water woes as an example. Haq said that water shortage used to be an issue in Karachi but the situation had been made worse with the emergence of contaminated water and that out of 118 samples of tap water across the city, 88 were not fit for human consumption.
Haq stressed that the problem should be taken up on all levels of government. He lambasted both the Muttahida Qaumi Movement-Pakistan (MQM-P) and the Pakistan People's Party (PPP) for what he called an abysmal performance of both political parties in the city, and asked the MQM-P to show where it had used its powers and funds to improve the life of the Karachiites.
He said that the JI always stood with the masses and that he would approach the judiciary to seek basic facilities for Karachiites.
Full report at:
http://dailytimes.com.pk/pakistan/19-Sep-17/nab-chief-should-be-appointed-by-judiciary-reiterates-siraj
--------
Two terrorists eliminated in CTD search op
September 19, 2017
MULTAN-The alleged commander of Tehreek-e-Taliban Pakistan (TTP) along with another terrorist was shot dead in crossfire with the Counter-Terrorism Department during a search operation in Jalalpur Peer Wala here on Monday.
According to CTD sources, acting on a tip-off, the lawmen conducted a search operation in Jalalpur Peer Wala. The CTD personnel, however, came across firing from the terrorists, which was ensued by a shootout. As a result, two terrorists identified as Ijaz Ashgar, a commander of the TTP and another one was killed while four others managed to escape from the scene.
According to CTD, Ijaz was the commander of outlawed TTP. Hand grenade, weapons and explosive material was also recovered from the terrorists.
http://nation.com.pk/national/19-Sep-2017/two-terrorists-eliminated-in-ctd-search-op
--------
Ahsan for drafting national narrative against extremists
September 19, 2017
ISLAMABAD - Interior Minister Ahsan Iqbal on Monday expressed his 'deep concerns' over reports of law enforcement agencies that students of universities have been found affiliated with militant organisations.
The minister gave these remarks while presiding over a meeting at the Higher Education Commission (HEC) on the implementation of the National Action Plan (NAP) here in Islamabad. Seventy vice-chancellors of universities participated in the meeting through live video conferencing.
The minister said that this following a report of the Karachi police that the mastermind of the terrorist attack on MQM leader Khawaja Izharul Hassan was affiliated with a newly emerged militant outfit Ansar-ul-Sharia Pakistan (ASP) and was a student of the Karachi University.
The minister laid emphasis that they had to formulate a national narrative to counter the extremists' agenda. In this connection, he said the youth must be imparted with the importance of peace enjoined by Islamic injunctions and the vision of Pakistan.
The minister also said the government was devising a curriculum for "Friday sermons" that would be mainly based on educating the citizens about practical life in the light of Quran and Hadith.
Iqbal said the youth has tilted towards the social media and after the information revolution; the battle of ideologies was underway on the social media. "It is our duty to undertake collective efforts to prevent our youth from the accessibility of the online material based on extremist ideologies. We have to ensure that our youth uses the social media only for educational and healthy activities," he said.
On the importance of participation in students' politics, the minister said the students must be given opportunities to express their thoughts. "The universities must play their due role in the construction of thought and ideology amongst the students."
The minister also asserted that the students in the universities must also be provided with the forum to hone their leadership skills. In every university, career counselling mechanism must be formed to evaluate the potential of students for better avenues in the future, he added.
"The students must be enjoined to tolerate the difference of opinion of their peers and the society."
Talking on the upcoming International Peace Day on September 21, the minister emphasised to celebrate it with fervour in all universities of Pakistan. He said the day must be marked in every university with the resolve to spread the message of peace among our youth and apprise them of the counter-narrative against extremism.
Separately, the interior minister while speaking to the media after attending a ceremony of Asia Peace Festival organized by Pakistan National Council of Arts (PNCA) said that Pakistan was committed to peace in the region and would not allow anybody to use its soil for terrorism."Pakistan does not want that its land is used against any other country, or any other country uses its land against Pakistan."
To a question, he said the government was working in coordination with the Afghan government to promote regional peace. In certain cases, he said, condemned prisoners in jails were used to defame Pakistan.
The minister said Pakistan would lodge a protest and use diplomatic sources if others committed terrorism against it. He said only a strong economy would ensure a strong defence for Pakistan.
Development and improved standard of living was not possible without peace, stability, and harmony, Ahsan said adding the world had entered the information age and countries were competing for economic ascendancy."If there is a conflict, then the development process gets stalled in the country."
He said Pakistan had defeated terrorism and now its economy, sports activities, and tourism were being revived.
The minister said the by-elections in NA-120 in Lahore was a victory for democracy. People voted for the agenda of development and not for those who wanted to create chaos in the country, he said. He said that the people expressed confidence in the leadership of ousted prime minister Nawaz Sharif.
"In the past, the country was facing up to 20-hour long electricity shortages. Now electricity is available 20 hours a day."
Full report at:
http://nation.com.pk/national/19-Sep-2017/ahsan-for-drafting-national-narrative-against-extremists
--------
North America
US Moves Closer To Designating Pakistan a Terrorist State
Chidanand Rajghatta
Sep 19, 2017
WASHINGTON: Pakistan has indicated it might go for broke against the United States with ties between the two countries reaching a new low.
Enraged at being called out by President Trump for nurturing terrorist groups, Islamabad is said to have devised a ''three-option toughest diplomatic policy,'' including an extreme case scenario where it will block access for US and Nato military supplies to land-locked Afghanistan.
Actions prior to this will include, according to the Pakistani media, limiting diplomatic relations with US and reducing mutual cooperation on terrorism-related issues and non-cooperation in US strategy for Afghanistan+ .
Pakistan has also warned that it will not buy any more F-16s from the US, and will lean towards China in the future.
Small problem for Pakistan: Washington is not about to blink.
After giving Pakistan a taste of the kind of financial vulnerability it is under by banning operations in the US of Habib Bank, the country's leading financial institution, for regulatory violations, the Trump administration has indicated it has more weapons up its sleeve.
Among them: Stripping Pakistan of the status of a non-Nato ally+ , cutting off all aid, imposing travel ban on suspected ISI personnel in the US operating undercover, and finally, formal designation of Pakistan as a terrorist state.
Withdrawal of non-Nato ally status and designating it a terrorist state would limit weapons sales and probably affect billions of dollars in IMF and World Bank loans, along with access to global finance, the Financial Times reported over the weekend.
Pakistan partisans in the US have long argued that the country is ''too big to fail'' and applying too much pressure on it will push it into China's arms, but the Trump administration appears to have reckoned that the country is already firmly in the Chinese camp, and Beijing can do little to stave off a financial meltdown if Washington decides to put the squeeze on a country whose elites have greater affinity for London and New York than for Beijing.
Talk of a western visa ban terrifies Pakistani military and political elites such as General Musharraf and Nawaz Sharif who own prime property and camp out in the west whenever things get too hot at home.
Pakistan bravado in threatening to cut off US access to Afghanistan came ahead of a possible meeting of its new Prime Minister Shahid Khaqan Abbasi with vice-president Mike Pence in New York on sidelines of the UN General Assembly.
President Trump appears to have little time or patience with a country whose proliferation activities are being recalled again following North Korea's aggravations in the nuclear and ballistic missile sphere+ .
Even the State Department, whose bureaucrats have long advocated a cautious line on Pakistan fearing its collapse and a "loose nukes" scenario appear to have fallen in line with the White House's get-tough policy stemming from Islamabad's continuing perfidy regarding using terrorism as a policy instrument.
''Some who recall being beguiled by late nights spent with military and civilian leaders over Johnnie Walker Blue Label — the expensive whisky beloved by Pakistan's elite in the officially dry country — say even forceful private conversations regularly disappoint,'' the FT noted in a report, quoting James Dobbins, special envoy in 2013-14 saying, ''It's very difficult to deal with an interlocutor who says he agrees with you but actually doesn't.''
On Pakistani television, some talking heads and anchors are now discussing the imminent collapse of the country's economy if US puts the squeeze in Islamabad.
Pakistanis are also stunned that many reports now rank Bangladesh, which broke away from Pakistan in 1971, ahead of it in several economic metrics, including exports and foreign exchange reserves. But the country's hardline nationalists and fantasists believe China, and perhaps even Russia, will come to its rescue.
http://timesofindia.indiatimes.com/world/us/us-comes-closer-to-designating-pakistan-a-terrorist-state/articleshow/60736610.cms
--------
Muslim-US conference calls for new strategy to spread spirit of tolerance
19 September 2017
NEW YORK: A major conference on cultural communication between the US and the Muslim world has called for a long-term strategy to spread the spirit of tolerance and equality between peoples.
Delegates also called for sustainable development programs to create a secure and stable environment for young people to protect them from extremist ideas.
The conference in New York, organized by the Muslim World League, recommended the establishment of an Islamic-American communication forum to bolster ideological, cultural and scientific communication between the Islamic and American peoples.
It also called for coordination between research organizations, centers, universities and media institutions to counter deviant ideas and protect communities from their negative impact.
Delegates emphasized the importance of spreading the culture of the Islamic-Western co-existence, the encouragement of research and studies focusing on effective communication, and resistance to Islamophobia. They also urged the media to spread the culture of peace and understanding, adopt credibility and objectivity, and abstain from promoting the culture of violence and hatred or producing content fomenting religious, ideological or sectarian conflict.
Full report at:
http://www.arabnews.com/node/1163611/saudi-arabia
--------
Qatar 'rejects fanaticism and extremism', delegation tells US-Muslim forum
18 September, 2017
Qatar's Foreign Minister Sheikh Mohammed al-Thani has told a US-Islamic forum that his country rejects all forms of extremism as Doha fends off accusations by a Saudi-led coalition that is backs terrorism.
Thani told the US-Islamic World Forum that Qatar was committed in its "absolute rejection of all forms of fanaticism and extremism" at the New York conference on Sunday.
The meeting was attended by Qatar Emir Tamim al-Thani who is due to attend the upcoming UN General Assembly meeting in New York.
It comes as Saudi Arabia, the UAE, Egypt and Bahrain renew their criticism of Qatar as world leaders meet at the UN headquarters in the US.
The Saudi-led, anti-Doha coalition have blockaded Qatar since June and issued a list of demands that the emirate says infringes on their soveriegnty.
Thani said terrorism and extremism had been allowed to flourish in the region "occupation and oppression" and coincides with "increased political division and ideologies" in the world.
"We have to build bridges to achieve harmony between cultures. Recently, we have witnessed increased bigotry of religion and the use of selective agenda for political ends," he told the meeting
"Religion has nothing to do with terrorism but extremists work to spread the discourse of bigotry and isolation to exist in different countries and societies, and they belong to different religions."
Qatar has been accused by the Saudi-led coalition of supporting extremism and terrorism, but has yet to be presented with evidence of the accusations.
Full report at:
https://www.alaraby.co.uk/english/news/2017/9/18/qatar-rejects-fanaticism-and-extremism-delegation-tells-us-muslim-forum
--------
Extremism has little foothold in Muslim world: MLW
Sep 19, 2017
NEW YORK: According to Arab News, The vast majority of Muslims are interested in cultural communication with the non-Muslim world and extremism is an abnormal and isolated occurrence, Mohammed Al-Issa, secretary-general of the Muslim World League, (MWL) told a conference in New York on Saturday.
"Cultural communication generates understanding among nations … and this leads to the alliance of civilizations," Al-Issa said.
Extremism "has little foothold in the Muslim world," he said, and according to the latest estimates, the term could be applied to only one in 200,000 people. "The impact of intellectual and military terrorism and extremism is shrinking, in a clear and tangible way."
Al-Issa said extremism was a general and comprehensive concept, and to attribute it only to Islam was false since it also had intellectual, political and racial aspects.
He was speaking on the opening day of the International Muslim World League Conference, attended by more than 450 representatives of Islamic institutions and scientific, intellectual and political organizations from around the world.
The two-day conference will discuss issues including cultural contributions from the US and the Islamic world, the Islamic contribution to the promotion of world peace, Muslims in the US, integration and citizenship, and the relationship between the US and the Islamic world.
Yousef bin Ahmad Al-Othaimeen, secretary-general of the Organization of Islamic Cooperation, told delegates at the conference that cultural communication enhanced linkage between cultures and helped to close the cultural gap. "We look forward to living in dignity and security and protecting our families and Muslims," he said.
Al-Othaimeen said more than 1.8 billion Muslims around the world lived in peace and reflected moderate Muslim ideologies.
Full report at:
http://nation.com.pk/international/18-Sep-2017/extremism-has-little-foothold-in-muslim-world-mlw
--------
Over 3,000 extra US troops deployed to Afghanistan: Pentagon chief
Sep 18, 2017
The Pentagon has confirmed that the US is sending over 3,000 additional soldiers to war-ravaged Afghanistan, citing the so-called war on terrorism.
Defense Secretary James Mattis made the announcement during an impromptu news conference with reporters at the Pentagon on Monday.
The decision followed US President Donald Trump's South Asia strategy, announced in August, when Mattis said he had signed orders to send additional troops without specifying the size of the force.
The retired United States Marine Corps general has so far managed to keep the exact number in the dark but earlier reports suggested that it would be closer to 3,500.
Most of the forces, half of which come from the 82nd Airborne, were already en route to Afghanistan.
The former general further commented on recent military accidents that have resulted in the deaths or injuries of over 50 troops since June, asserting that "after we find the specifics (as to what caused each accident)," we will see "what are the circumstances surrounding those issues."
The United States sent forces to Afghanistan about 16 years ago to defeat the Taliban terrorists but the militant group is still fully operative.
Full report at:
http://www.presstv.ir/Detail/2017/09/18/535650/US-sending-over-3K-troops-to-Afghanistan
--------
India
'Rat poison in water supply': Water samples from madrassa sent to Forensic science laboratory
Sep 18, 2017
AGRA: Aligarh police on Monday sent the water samples collected from Madrassa Chacha Nehru, where some unidentified men allegedly mixed rat poison in the water supply, to Forensic science laboratory (FSL).
Confirming the move, SSP Aligarh, Rajesh Pandey said that water samples have been sent and report is expected to come next week. Police is investigating the matter, he said.
On Friday evening, two unidentified men had allegedly mixed rat poison in the water supply of Madrassa that houses 4000 children. The institution is run by Al Noor Charitable Society which is headed by former vice president Hamid Ansari's wife, Salma Ansari.
A student had spotted the miscreants and alerted the warden on time. Police, however, claimed that student's statement had not been consistent, and therefore, could not be relied upon.
According to madrassa warden Junaid Siddiqui, Salma Ansari will be visiting the Madrasa on Tuesday to inquire about the incident.
As a precautionary measure, the boundary wall of the madrasa is being scaled and the process of installing CCTV cameras has started, he said.
http://timesofindia.indiatimes.com/india/rat-poison-in-water-supply-water-samples-from-madrassa-sent-to-forensic-science-laboratory/articleshow/60736725.cms
--------
Sushma Swaraj takes well-aimed swipe at Pakistan on sidelines of UN meet in NY
Shailaja Neelakantan
Sep 19, 2017
NEW DELHI: Without mentioning it, Union minister Sushma Swaraj managed a well-aimed swipe at Pakistan while "deploring" North Korea's recent missile tests.
At a trilateral meeting with the US and Japan, the external affairs minister made it a point to say that North Korea's "proliferation linkages must be explored".
It has long been suspected - and some say proven - that Pakistan is the mother lode of North Korea's nuclear programme.
"The external affairs minister deplored North Korea's recent actions and stated its proliferation linkages must be explored and those involved must be held accountable," said external affair spokesman Raveesh Kumar, reported ANI
Successive US administrations have known of the Pakistan-North Korea nuclear relationship+ via Central Intelligence Agency inputs. In fact, Abdul Qadeer Khan, the "father" of Pakistan's atomic bomb, confessed in 2004 to selling nuclear secrets to Iran, North Korea and Libya.
Earlier this month, Pakistani nuclear physicist, Pervez Hoodbhoy, told Germany's Deutsche Welle media outlet that there was "complicity at a very high level", indicating that AQ Khan didn't act alone. Hoodbhoy said "it is very hard to believe that AQ Khan single-handedly transferred" all this technology from Pakistan to North Korea.
"...it was a high-security installation in Pakistan and guarded with very fearsome amount of policing and military intelligence surrounding it. Moreover, the centrifuge weighs half a ton each and it is not possible that these could have been smuggled out in a match box, so certainly there was complicity at a very high level," said Hoodbhoy to Deutsche Welle.
Last week, India and Japan also made a veiled reference to Pakistan in a joint statement+ they release after talks between Prime Minister Narendra Modi and his Japanese counterpart Shinzo Abe.
Full report at:
http://timesofindia.indiatimes.com/india/sushma-swaraj-takes-well-aimed-swipe-at-pakistan-on-sidelines-of-un-meet-in-ny/articleshow/60741558.cms
--------
Al-Qaida man on mission to 'recruit Rohingya youth' held in Delhi
Rajshekhar Jha
Sep 19, 2017
NEW DELHI: In the biggest breakthrough made by Indian intelligence this year, the special cell of Delhi Police has arrested 28-year-old Samiun Rahman, a British national who police said was al Qaida's key recruiter in India.
Rahman, who has family roots in Bangladesh, was allegedly setting up base in Delhi, Mizoram and Manipur to radicalise and recruit Rohingya refugees to wage war against India as well as to fight the Myanmar army.
He was described as a battle-hardened mujahideen who had fought for the Qaida's al-Nusra front in Aleppo, Syria, before being sent to Bangladesh as a recruiter. Rahman was arrested from Vikas Marg in east Delhi while trying to establish contact with a recruit, police said.
Rahman was earlier arrested in Bangladesh on charges of terror financing and was released in April 2017. He was thereafter contacted by Nusra commander Mohammad Jowlani who directed him to go to India and recruit Rohingya refugees, police said.
They said Rahman was in touch with top Qaida and al-Nusra commanders for instructions through secure messaging app called 'protective text'. He told interrogators that he had tapped around 12 Rohingya refugees living in Kashmir, northeast, Delhi, Bihar and Hazaribagh (Jharkhand).
"He was setting up a base in Delhi and two northeastern states and preparing the recruits to carry out strikes in India and fight the Myanmar army. He was being assisted by al-Qaida cadre in Delhi, Hazaribagh and other places in India, who are being identified," said deputy commissioner (special cell) Pramod Kushwah.
Police found Rahman was carrying a voter ID card in the name of Shumon Haq, a resident of Kishanganj, Bihar. "We have recovered US $2,000, a laptop, a 9mm pistol and magazines apart from Indian and Bangladeshi SIM cards. Rahman has also been to Morocco, the Islamic Republic of Mauritania, Turkey and for terror activities. He has been taken on remand for interrogation," Kushwaha told TOI.
Officials said the special cell had got wind of Rahman's activities two months ago and was tracking him since then. The tip-off was on one "Raju bhai" from al-Qaida who was recruiting people and trying to set up a base in Delhi to carry out terror strikes in India.
A special team comprising ACP Govind Sharma and three inspectors Kailash Bisht, Ravinder Tyagi and Pramod Chauhan was formed and surveillance mounted on the suspect on social media networks.
Last month, cops found that Rahman had crossed over from Bangladesh and rented a house in Kishanganj, Bihar. A team was sent there and a watch kept over his activities. A few weeks ago, cops found that the suspect had come to Delhi/NCR.
On Sunday, the team zeroed in on the suspect at Vikas Marg (near ITO), while he was waiting to a contact, and arrested him. "A case under sections of Unlawful Activities (Prevention) Act, 2008 and Arms Act has been registered against him and investigations have begun to unearth the entire 'al-Qaida' module developed by him," Kushwaha added.
Full report at:
http://timesofindia.indiatimes.com/india/al-qaida-man-on-mission-to-recruit-rohingya-youth-held-in-delhi/articleshow/60739553.cms
--------
Goa outfit holds rally against atrocities on Rohingya Muslims
September 18, 2017
Members of a Goa-based Muslim outfit today staged a peace march to denounce the atrocities on Rohingyas in Myanmar and sought the intervention of India and the UN to stop their exodus from the neighbouring country. Nearly 100 members of the Salcette Muslim Forum in Margao, located 35 km south of Panaji, took out the march.
The protesters alleged thousands of Rohingya Muslims have been subjected to "torture" and forced to flee their homes in Myanmar's Rakhine state. They also submitted a memorandum addressed to External Affairs Minister Sushma Swaraj and UN Secretary-General Antonio Guterres. The memorandum was submitted to South Goa District Collector Anjali Sehrawat.
"Thousands of Rohingya Muslims have been rendered homeless in Myanmar and their human rights violated," they said in the memorandum. The forum demanded the UN and Indian government's intervention to stop atrocities against the community.
Full report at:
http://indianexpress.com/article/india/goa-outfit-holds-rally-against-atrocities-on-rohingya-muslims-4849696/
--------
South Asia
The U.N. says Rohingya Muslims are facing ethnic cleansing in Myanmar. So why is India trying to kick them out too?
Sep 19, 2017
More than 400,000 Rohingya Muslims have streamed out of Myanmar in recent weeks, fleeing a bloody military crackdown that a top United Nations official described as "a textbook example of ethnic cleansing."
Now the Rohingya are facing expulsion from another country: India, where an estimated 40,000 refugees are scattered amid a population of 1.3 billion.
The Indian government on Monday told the country's Supreme Court that the Rohingya population posed a threat to national security and that intelligence reports suggested some refugees had links to militant groups based in Pakistan.
India's Hindu nationalist government made the allegations in an affidavit arguing that the country's highest court should not block its efforts to deport Rohingya refugees.
"India is already saddled with a very serious problem of illegal migrants and is attempting to address the situation in the larger interest of the nation," the government said.
For several weeks, officials have said they would like to expel the Rohingya, who they say are in the country illegally. Human rights groups say such a move would violate international laws against sending refugees back to countries where they face persecution.
The Buddhist majority in Myanmar, also known as Burma, has long been accused of oppressing the Rohingya, an ethnic and religious minority of some 1 million people living mostly in the country's western Rakhine state. The violence has exploded since Aug. 25, when a Rohingya militant group attacked Myanmar police checkpoints, killing a dozen officers.
The Myanmar army has responded with severe force, shooting civilians and setting fire to villages, according to accounts compiled by international human rights groups. As of Saturday, the U.N. said, 412,000 Rohingya had escaped over the border into Bangladesh. Myanmar's government says about 400 people have been killed, nearly all of them militants.
The Rohingya are sometimes described as one of the world's most mistreated minority groups. Myanmar refuses to grant them citizenship, calling them interlopers from Bangladesh even though many families trace their lineage in the country back several generations.
Thailand, which borders Myanmar to the east, has routinely pushed back boats carrying Rohingya refugees attempting to cross the Andaman Sea to reach safety in the Muslim-majority nations of Malaysia or Indonesia.
The move by India means there is one less country willing to accept the Rohingya.
Many Rohingya Muslims living in the overwhelmingly Hindu country arrived following an eruption of communal violence in 2012 in Rakhine state. There are pockets of several thousand Rohingya in New Delhi, Hyderabad, the northern city of Jammu and three other areas in the country, according to Indian officials.
About 16,500 Rohingya in India are registered with the U.N. refugee agency, which said last month that it had not been informed of any official plan to deport the refugees.
The group lived in relative peace until this year, when right-wing Hindus in Jammu began putting up signs calling on the Rohingya to leave the city, saying they posed a security threat. The leader of the group said he would "identify and kill" Rohingyas if authorities did not take action.
Current and former officials in Jammu and Kashmir state – the only one in India with a majority Muslim population – said they had seen no evidence that the refugees were involved in terrorism or other major crimes.
Omar Abdullah, the top official in the state until January 2015, tweeted Monday, "No such intelligence reports ever came up for discussion" while he was in office.
But India's central government said in August that "infiltration" by migrants from Rakhine state, "besides being [a] burden on the limited resources of the country also aggravates…security challenges."
In the affidavit filed Monday, the Indian government alleged that the Rohingya were a threat to Indian citizens, arguing that Islamic State could use the refugees to carry out attacks and that the arrival of migrants was changing the demographics in border states.
The government argued that it was not a signatory to U.N. refugee conventions. But human rights experts said that sending Rohingya back to Myanmar would violate international laws against "refoulement," or forcibly returning refugees to countries where they faced a credible threat of persecution.
"The Indian government… cannot return the Rohingya to a country that is engaged in ethnic cleansing against the Rohingya," said Meenakshi Ganguly, South Asia director for Human Rights Watch.
"If there are credible security threats, instead of condemning the entire community, just as the Burmese are, Indian authorities can prosecute any militant suspects by producing evidence in court."
Some Muslims viewed India's actions as another example of the country's growing intolerance for religious minorities under Prime Minister Narendra Modi, a staunch Hindu nationalist.
While Muslim-majority countries across Asia have criticized Aung San Suu Kyi, the leader of Myanmar's governing party — and some have called for her Nobel Peace Prize to be rescinded — Modi in a meeting this month praised her leadership and expressed concern over "extremist violence," but did not mention the Rohingya.
http://www.latimes.com/world/asia/la-fg-india-rohingya-20170918-story.html
--------
Aung San Suu Kyi says Myanmar ready to begin verification process for refugees who wish to return
September 19, 2017
Myanmar State Counsellor Aung San Suu Kyi on Tuesday said the country will soon begin the verification process for the return of Rohingya refugees who had fled the western Rakhine state in recent weeks in the backdrop of an army crackdown.
Suu Kyi, in a State of the Union address, the first since attacks by Rohingya Muslim insurgents on August 25 sparked a military response forcing over 410,000 Rohingya into Bangladesh, said her administration wants to bring an end to suffering of all people as quickly as possible.
"We don't want Myanmar to be a nation divided by religious beliefs or ethnicities. Hate and fear are main scourges," Suu Kyi said. She added the responsibility to establish peace lies with the government.
The pro-democracy leader, who spent 15 years under house arrest during military rule in Myanmar, condemned the violation of human rights and unlawful violence. She has been criticised by the international community for her silence on the conflict that has festered in recent weeks.
"We condemn all human rights violations and unlawful violence. We are committed to the restoration of peace and stability and rule of law throughout the state…human rights violations and all other acts that impair stability and harmony and undermine the rule of law will be addressed in accordance with strict laws and justice," she vowed.
Watch Suu Kyi's speech
Suu Kyi went on to add that Myanmar is making efforts to restore peace and stability in the western state. "We want to find out why this exodus is happening. We would like to talk to those who have fled as well as those who have stayed. I think it is very little known a great majority of Muslims in the Rakhine state have not joined the exodus…the government has been making every effort to restore peace and stability and to bring harmony in Rakhine communities," she said.
Describing Myanmar as a "complex country", Suu Kyi said the country does not fear scrutiny from international community. "Burma is a complex nation. People expect us to overcome all the challenges in shortest time possible," she said. "Myanmar does not fear international scrutiny, we are committed to finding a sustainable solution in Rakhine state."
Also read: Key takeaways from Aung San Suu Kyi's speech
At the same time, she opened the door to international observers, asking them to visit the south-east Asian country and see things 'for yourself.'
"We would like you (world) to think of our country as a whole, not just as little afflicted areas," she said.
Full report at:
http://indianexpress.com/article/world/myanmar-rohingya-muslim-crisis-aung-san-suu-kyi-state-of-the-union-address-live-updates-4850454/
--------
20,000 Bangladesh hardliners rally for Rohingya
18 September 2017
At least 20,000 Islamist hardliners marched in Bangladesh on Monday in protest against the violence which has driven the Rohingya Muslim minority from neighboring Myanmar across the border into squalid refugee camps.
White-robed protesters chanting "God is great" assembled outside Bangladesh's largest mosque before a planned "siege" of the Myanmar embassy in the capital Dhaka.
The turnout eclipsed a similar rally after weekly prayers last Friday, when 15,000 demonstrators urged the government to go to war against Buddhist-majority Myanmar over the "genocide" of Rohingya Muslims.
Police strengthened security before Monday's rally, deploying extra officers around Dhaka amid fears the demonstrators could turn violent.
The hardline Hefazat-e-Islami group had vowed hundreds of thousands of its followers would lay siege to the Myanmar embassy, but police halted the march before it reached the mission.
"Around 20,000 people joined the protest," deputy commissioner of Dhaka Metropolitan Police Anwar Hossain told AFP.
There was "tension" but the crowd was slowly dispersing, he added.
Hefazat officials put the attendance figure much higher, with supporters from across Bangladesh pouring into the capital to rally.
Maolana Saifuddin, a 27-year-old teacher at an Islamic school outside Dhaka, said he was protesting at the "barbaric genocide" of the Rohingya by the government of Aung Sung Suu Kyi.
"We'll besiege the Myanmar embassy to send a message to the Myanmar government that we won't tolerate this genocide of our Muslim brothers in Arakan," Saifuddin told AFP, using the Bengali name for Myanmar's westernmost state of Rakhine.
Another protester, Abu Raihan, told AFP it was his religious duty to "protest the slaughter in Myanmar" of fellow Muslims.
The plight of the Rohingya, a Muslim minority who are reviled and denied citizenship in Myanmar, has roused emotion across the Islamic world, with protests held in Pakistan, Malaysia and Indonesia.
The Rohingya in Rakhine have deep historic and linguistic ties with communities in the Chittagong region over the border, and images on social media purportedly showing abuses against the Muslim minority have aroused strong sympathy in Bangladesh.
Many homegrown Islamist groups are calling on the government to go to war with Myanmar and liberate Rakhine for the persecuted Rohingya minority.
The UN says more than 410,000 Rohingya refugees have poured into Bangladesh since a fresh outbreak of violence in Myanmar's westernmost state on August 25.
Many of those crossing the border bring harrowing tales of rape, murder and arson at the hands of Myanmar's security forces and Buddhist mobs.
Full report at:
https://english.alarabiya.net/en/News/world/2017/09/18/20-000-Bangladesh-hardliners-rally-for-Rohingya.html
--------
Taliban's deputy chief for Jawzjan province killed in security operations
Sep 19 2017
A top Taliban leader has been killed during the counter-terrorism clearance operations in northern Jawzjan province of Afghanistan.
The 209th Shaheen Corps of the Afghan national army in the North said Taliban's shadow military chief or Aqcha Qari Noorullah was killed during the operation of the security and defense forces today.
The Shaheen Corps officials said Qari Noorullah was also operating as the deputy chief of the Taliban for Jawzjan province, Naqib Jendi.
The anti-government armed militant groups including the Taliban insurgents have not commented regarding the report so far.
The security situation has started to deteriorate sharply during the recent years with the rampant insurgency led by the Taliban.
The loyalists of the Islamic State of Iraq and Syria (ISIS) terrorist group have started their operations in some districts of the province as they attempt to expand their foothold in the north.
Full report at:
http://www.khaama.com/talibans-deputy-chief-for-jawzjan-province-killed-in-security-operations-03473
--------
Pakistani and ISIS militants killed in Nangarhar airstrike and operations
Sep 18 2017
Several militants including militants of Tehrik-e-Taliban Pakistan and loyalists of the Islamic State of Iraq and Syria (ISIS) terrorist group were killed during the airstrike and ground operations in eastern Nangarhar province of Afghanistan.
The provincial government media office in a statement said the militant suffered the casualties in Bati Kot and Achin districts.
The statement further added that a total of twelve militants including three Pakistani insurgents were killed during the operations.
An airstrike conducted by the US forces in Achin district left at least nine militants of the ISIS terrorist group dead, the statement said.
The provincial government said the airstrike was carried out late on Sunday night in the vicinity of Mamand Dara area of Achin district.
According to the provincial government, several weapons, ammunitions, and explosives belonging to the insurgents were also destroyed in the airstrike.
The Afghan special forces conducted an operation in Bati Kot district which resulted into the killing of at least three militants.
Full report at:
http://www.khaama.com/pakistani-and-isis-militants-killed-in-nangarhar-airstrike-and-operations-03468
--------
Arab World
Iraq supreme court orders suspension of Kurdistan referendum
Sep 19, 2017
Iraq's supreme court on Monday ordered the suspension of a September 25 referendum on the independence of Iraqi Kurdistan, to examine whether such a poll would be constitutional.
"The supreme court has issued the order to suspend organising the referendum set for September 25... until it examines the complaints it has received over this plebiscite being unconstitutional," it said in a statement.
The court took the decision after it "reviewed requests to stop the referendum", the statement said.
Court spokesman Ayas al-Samouk, told AFP: "We have received several complaints and this is why we decided to suspend the referendum."
A source in parliament said at least three lawmakers had filed complaints against the poll.
Neighbours Turkey and Iran, as well as the United States and United Nations, have pleaded for the autonomous Kurdish region of northern Iraq to settle its differences with Baghdad through negotiations rather than secession.
Iraqi Kurdish leader Massud Barzani has said a "yes" vote would not trigger an immediate declaration of independence but rather kick-start "serious discussions" with Baghdad.
http://nation.com.pk/international/18-Sep-2017/iraq-supreme-court-orders-suspension-of-kurdistan-referendum
--------
Saudi rulers crushing kingdom's human rights movement: HRW
Sep 18, 2017
Amnesty International has said that Saudi rulers are trying to crush the kingdom's human rights movement after they arrest two more activists.
According to the rights group on Monday, Abdulaziz al-Shubaily and Issa al-Hamid, both founding members of the Saudi Civil and Political Rights Association (ACPRA), were detained over the weekend.
"This is a dark time for freedom of expression in Saudi Arabia," said director of campaigns for Amnesty International in the Middle-East Samah Hadid.
"These two arrests have confirmed our fears that the new leadership under Mohammed bin Salman is determined to crush the kingdom's human rights movement," she added.
Over the past few weeks, Saudi authorities have arrested some 30 clerics, intellectuals and academics, known for opposing the absolute monarchy, in what multiple rights advocates have described as a coordinated crackdown on dissent.
"Saudi Arabia's embattled human rights community has already suffered heavily at the hands of the authorities, and now with these latest arrests almost all the country's most prominent human rights defenders are in prison on bogus terrorism-related charges," added Hadid.
The arrests come amid reports that King Salman bin Abdulaziz Al Saud plans to renounce power in favor of his son Crown Prince Mohammed.
Full report at:
http://www.presstv.ir/Detail/2017/09/18/535651/amnesty-saudi-human-rights-danger
--------
Arab quartet meet in New York to discuss new approach to Qatar crisis
19 September 2017
The foreign ministers of Saudi Arabia, Bahrain, Egypt and the United Arab Emirates held a meeting in New York to discuss the Qatar crisis and a new mechanism to deal with it.
This new approach was not detailed, however it comes after a Paris-based Qatari sheikh Sultan bin Suhaim Al-Thani released a statement saying that he "hopes the ruling family and dignitaries respond to an invitation for a national meeting".
Egypt's Foreign Minister Sameh Shoukry said the quartet meeting aims to get Qatar to stop supporting terrorism and destabilizing the region.
"One of our demands is that Qatar stops interfering in other countries' affairs. We do not interfere in other countries' affairs in general. This is a solid principle we adhere to," Shoukry told reporters.
Full report at:
https://english.alarabiya.net/en/News/middle-east/2017/09/19/Arab-quartet-meet-in-New-York-to-discuss-new-approach-to-Qatar-crisis.html
--------
Syrian army sends more troops across Euphrates, close to US-backed forces
18 September 2017
Syrian troops crossed to the eastern side of the Euphrates river in Deir al-Zor on Monday, state media and a monitoring group reported, increasing their presence in an area where US-backed forces have also advanced.
A commander in a militia of the US-backed Syrian Democratic Forces (SDF) confirmed Syrian army units had crossed and said his fighters were ready to drive them back.
"If there are clashes between us and them - we're ready for those if the forces of the regime don't go back to the other bank," Ahmed Abu Khawla of the SDF's Deir al-Zor military council said.
Russia's foreign ministry said on Friday Syrian government forces crossed the river for the first time in their offensive against ISIS in Deir al-Zor province.
Monday's crossing took place near a southern suburb of the city seized by the army on Saturday, the British-based Syrian Observatory for Human Rights said.
The convergence of the Syrian army offensive from the west and the separate SDF operation from the east has increased tension between the two sides.
The SDF said they came under attack from Syrian forces and Russian jets backing them on Saturday, after Abu Khawla said they would not allow the army to cross the river and would consider shots fired in their direction as an attack.
The SDF has advanced to within kilometers of the river, while the Syrian army has retaken much of the city, most of it on the western side.
The US- and Russian-backed offensives against ISIS have generally stayed out of each other's way with the Euphrates often acting as a dividing line. Talks have been under way to extend a formal demarcation line, officials have said.
Full report at:
https://english.alarabiya.net/en/News/middle-east/2017/09/18/Syrian-army-sends-more-troops-across-Euphrates-close-to-US-backed-forces.html
--------
Egypt's Sisi on Qatar: It's time to confront supporters of terrorism
19 September 2017
Egyptian President Abdel-Fattah al-Sisi who is in New York for the UN General Assembly session said the time has come to efficiently confront parties that support terrorism and get them to bear their responsibility.
He specifically addressed Qatar and said it must respond to the four boycotting countries' demands to show that it does not aim to harm Arab countries' interests or interfere in their internal affairs.
Sisi also met with Israeli Prime Minister Benjamin Netanyahu in New York to discuss the Middle East peace process in their first public talks, his office said on Tuesday.
Sisi emphasized the importance of "resuming negotiations between the Israeli and Palestinian sides to reach a comprehensive solution," the statement said.
The Egyptian president also met with former American officials and with delegations from research centers, Jewish organizations and think tanks on Monday.
Ambassador Alaa Youssef, the president's spokesperson, said the president welcomed these American figures who contribute to creating the American vision and direct decision-making circles on how to address different international affairs.
Sisi also confirmed the importance of strategic relations between Egypt and the US, noting that Egypt is concerned about improving and developing these ties.
War on terrorism
According to Youssef, Sisi discussed Egyptian developments and said Egypt has been fighting a war against terrorism and extremism over the past years. Sisi added that the international community must adopt a comprehensive approach to confront terror groups and deal with funding and arming them and limit their ability to recruit fighters.
Commenting on the situation of human rights in Egypt, Sisi said there is now a constitutional framework that organizes relations between state authorities and gives several jurisdictions to the elected parliament.
He added that Egypt is keen on respecting human rights which must not be summed up in political rights as they must also include economic and social rights.
Regarding the regional situation, Sisi said it's important not to divide countries in the Middle East as this will lead to more conflicts.
Sisi discussed Egypt's efforts to revive the peace process and said Egypt supports all international initiatives which aim to reach a fair settlement according to international references.
He added that in the past phase, Egypt talked with the Palestinians in the West Bank and Gaza to narrow the gap and reach a reconciliation so the Palestinian Authority can return to Gaza.
Full report at:
https://english.alarabiya.net/en/News/gulf/2017/09/19/Egypt-s-Sisi-on-Qatar-It-s-time-to-confront-supporters-of-terrorism.html
--------
Arab Federation for Human Rights calls on UN to intervene in Al-Murrah case
18 September 2017
The United Nations is being called on to intervene in the unraveling issue of the al-Ghufran branch of Al-Murrah tribe in Qatar, many of whom were left displaced after Doha stripped them of their citizenship.
Members of al-Ghufran branch of the Al-Murrah family accused Qatari authorities of launching "a systematic repression and injustice campaign" against their tribe, according to a report by the Arab Federation for Human Rights.
Qatari authorities had revoked the citizenship of Sheikh Taleb bin Lahom bin Shreim and 54 of his relatives, including 18 women and children, because he refused to follow their orders to criticize Saudi Arabia.
The call was made in Geneva by several of the family's members during a meeting at the United Nations of human rights practitioners from Arab and European countries.
The meeting, entitled "International human Rights associations and the Ghufran Clan Issue" shed light on the conditions the clan have been put under since 1996 in Qatar including the revocation of the citizenship 56 Murrah tribe members last week including the tribal chief.
Members of the tribe appeared before the audience on Monday and shared the stories of their citizenship revocations.
One tribe member, Mohammed al-Marri, criticized the secretary general of the Qatari National Council on Human Rights, Ali Sumeigh al-Marri for not voiceing concerns and ignoring the infringements against his own tribesmen.
Mohammed al-Marri further criticized the Qatari attorney general Ali Futais Al Marri for his role and inaction to stop the violations committed against the tribe.
Full report at:
https://english.alarabiya.net/en/News/gulf/2017/09/18/UN-called-to-intervene-Murrah-Story.html
--------
Syria troops closer to besieging IS after crossing key river
Sep 19, 2017
MOSCOW - Syrian government troops came closer Monday to encircling the Islamic State group in a pocket of Deir Ezzor city after crossing the adjacent Euphrates River, Moscow and a monitoring group said.
Russian-backed Syrian forces are trying to tighten the noose around IS militants still inside the eastern city, which lies on the western banks of the Euphrates. The army has sealed off the city from three sides, but IS still controlled eastern districts along the river, which both militants and civilians had used as an escape route. On Monday, elite Syrian troops crossed the river, Russia's defence ministry said.
"Today, Syrian government forces, reinforced by a unit of the 4th Armoured Division and with the support of Russian aviation, crossed the Euphrates River in the Deir Ezzor region," the ministry said in a statement.
It said "shock troops" had already captured several villages on the river's eastern banks from IS and were pushing further east. The Britain-based Syrian Observatory for Human Rights told AFP that Syrian commandos and reconnaissance units had crossed the river using a floating bridge. "This paves the way for completely besieging the city," said Observatory head Rami Abdel Rahman.
The Euphrates slices diagonally across the province of Deir Ezzor, an oil-rich region that borders Iraq.
Until Monday, Syrian troops had been fighting only west of the Euphrates, while the US-backed Syrian Democratic Forces waged a rival offensive against IS to the river's east. The SDF has captured more than 500 square kilometres (190 square miles) from IS in northeastern parts of the province, according to the US-led coalition, which is providing air cover. To prevent the two operations from clashing, the coalition, the SDF, Syria's government and Russia have agreed on a "de-confliction line" in northeast Syria.
That line runs from the neighbouring province of Raqa southeast along the Euphrates River to Deir Ezzor.
It was tested on Saturday after the US-led coalition and the SDF accused Russian warplanes of bombing SDF fighters east of the Euphrates, a claim Moscow has denied.
General Joe Dunford, chairman of the US Joint Chiefs of Staff, said he spoke to his Russian counterpart General Valery Gerasimov on Sunday.
"We have been engaged at every level to re-establish de-confliction at the Euphrates river," he said.
Full report at:
http://nation.com.pk/international/19-Sep-2017/syria-troops-closer-to-besieging-is-after-crossing-key-river
--------
Syria: Deir Ezzur Military Airport Reopened after Almost Three Years
Sep 18, 2017
The sources said that the first cargo flights landed in Deir Ezzur military airports after almost three years after restoring security to the airport and its surrounding regions.
The sources added that two military planes also took off from the airbase.
Field sources reported earlier today that a Saudi commander of ISIL and 29 more terrorists were killed in the Syrian Army troops' operation in the Northwestern countryside of Deir Ezzur city.
The sources confirmed that Abu Obeideh al-Najdi, a Saudi Emir of ISIL in the Northwestern countryside of Deir Ezzur city, was killed along with 29 terrorists in clashes with the army soldiers.
The army is now pushing to secure the remaining towns and oilfields under ISIL's control in the Northwestern countryside of Deir Ezzur province.
http://en.farsnews.com/newstext.aspx?nn=13960627001352
--------
US Forces Retreat from Base in Syrian Deserts
Sep 18, 2017
Al-Qasiyoun website quoted Mahmoud Abdullah, one of the commanders of Jeish Maqavir al-Thorah, as saying that the US army forces have retreated from al-Zakaf bae in Eastern Homs towards regions near al-Tanf airbase at Syria's border with Iraq and Jordan.
The source further told al-Qasiyoun that the move came after an agreement with the Russian forces.
No independent source has confirmed the claim yet.
The Arabic-language al-Hadath news quoted another Arab news network, Elam al-Harbi, as reporting that all the British soldiers have left al-Tanf and al-Zakaf bases at Syria's border with Iraq for al-Arzaq base in Jordan.
Elam al-Harbi had previously reported that Ahmad Abdu terrorist group and later Jeish al-Soud al-Sharqiyeh had left Syria's Badiyeh (desert) in Southern Damascus for Jordanian territories after receiving assurances from Russia and Jordan.
Elam al-Harbi had said that the two terrorists groups were to hand over the region that was previously under their control to the Syrian government.
A Lebanese media outlet reported last week that the UK ended training of the Free Syrian Army (FSA) terrorists in al-Tanf base and withdrawn from the base in Southern Homs near the border with Iraq.
The English-language AMN website reported that the United Kingdom withdrew its troops from the coalition-operated al-Tanf base in Syria's Southwestern desert and ended all military assistance hitherto provided to FSA-affiliated mercenaries in the region.
Full report at:
http://en.farsnews.com/newstext.aspx?nn=13960627001192
--------
ISIL Suffers Heavy Defeats in Clashes with Syrian Soldiers near Border with Iraq
Sep 18, 2017
The army men engaged in fierce clashes with ISIL around the town of Humeimeh in Eastern Homs and repelled their heavy offensive.
The army units killed a large number of terrorists, mostly non-Syrians, in the clashes.
Field reports said that ISIL called for dispatch of fresh fighters during the battle.
The Syrian Army General Command announced in statement on Sunday that the Iraqi government forces launched a fresh round of anti-ISIL operation codenamed Val Fajr 3 to push terrorists away from the borderline with Iraq.
The statement said that the army and popular forces kicked off Val Fajr 3 operation to accomplish the earlier phases, Val Fajr 1 and 2 operations that ended with recapturing a large region East of al-Dhumayr up to the borders with Jordan, al-Basiri triangle region up to the borders with Iraq, third station and the road from the town of al-Sukhnah to Deir Ezzur.
Full report at:
http://en.farsnews.com/newstext.aspx?nn=13960627000537
--------
Several Al-Nusra Terrorists Killed in Clashes with Rival Group in Eastern Damascus
Sep 18, 2017
Al-Nusra and Faylaq al-Rahman engaged in heavy fighting near the town of Kafr Batna in Eastern Damascus, leaving eight Al-Nusra terrorists dead and several more wounded.
Faylaq al-Rahman's Spokesman Wael Alwan said on Sunday that one of the key media activists of Jeish al-Islam was killed in exchange of fire with the rival terrorists of Faylaq al-Rahman in Eastern Ghouta.
Alwan said that Faylaq al-Rahman's terrorists opened fire at a group of Jeish al-Islam terrorists that intended to approach Fayalq's positions near Hamouriyeh in Eastern Ghouta, leaving Khaled al-Omari, one of the media activists of Jeish al-Islam, dead and some others wounded.
Full report at:
http://en.farsnews.com/newstext.aspx?nn=13960627000738
--------
Syrian forces inch closer to besieging Daesh terrorists in Dayr al-Zawr
Sep 18, 2017
Syrian government forces, backed by allied fighters from popular defense groups, have come closer to encircling Daesh Takfiri terrorists in a pocket of the strategic eastern city of Dayr al-Zawr after crossing over the Euphrates River.
"Today, Syrian government forces, reinforced by a unit of the 4th Armored Division and with the support of Russian aviation, crossed the Euphrates River in the Dayr al-Zawr region," the Russian Defense Ministry said in a statement.
The statement added that "shock troops" had already captured several villages on the eastern banks of the river from Daesh and were making further advances eastward.
The so-called Syrian Observatory for Human Rights (SOHR) also reported that Syrian army commandos and reconnaissance units had crossed the river using a floating bridge.
"This paves the way for completely besieging the city," the observatory's head, Rami Abdel Rahman, commented.
Syrian army troops and their allies have sealed off Dayr al-Zawr, located 450 kilometers northeast of the capital Damascus, from three sides, but Daesh terrorists still control the eastern flank along the Euphrates River.
Syrian troops are fighting only west of the river, while US-backed militiamen from the so-called Syrian Democratic Forces (SDF) have waged a rival operation to the east of the Euphrates.
Dayr al-Zawr airbase starts operation for first time in a year
Meanwhile, Syria's official news agency SANA has reported that the Dayr al-Zawr military airport has begun functioning for the first time in nearly a year.
On September 9, Syrian army troops and pro-government fighters managed to break a nearly three-year siege imposed by Daesh Takfiri terrorists on the airbase.
Syrian government forces and their allies had launched a push the previous day towards the military site as part of a multi-pronged offensive to retake the entire Dayr al-Zawr from Daesh terrorists.
Daesh overran large parts of Dayr al-Zawr province, including its oil fields, in mid-2014 as it seized swathes of land in Syria and neighboring Iraq.
By early 2015, the Takfiri terrorists were in control of some parts of Dayr al-Zawr city and besieged the remaining parts, which were under government control. It is estimated that 100,000 people remain in the government-held parts of the city.
Full report at:
http://www.presstv.ir/Detail/2017/09/18/535616/Syrian-forces-tighten-noose-on-Daesh-in-Dayr-alZawr
--------
Southeast Asia
Malaysia Scraps Beer Festival Following Islamists' Objections
Sep 19, 2017
Kuala Lumpur. Malaysian authorities scrapped an annual beer festival on Monday (18/09) after an Islamist party objected to the event that had been planned for the first weekend of October in the capital.
Though there are plenty of beer drinkers among the sizable Chinese and Indian minorities, protests against events deemed to be "Western" and unIslamic – such as concerts and festivals involving alcohol – are common in Muslim-majority Malaysia and are usually led by the Pan-Malaysian Islamic Party (PAS).
Kuala Lumpur City Hall (DBKL) said in a short statement on Monday that it has rejected the application for a permit by the organizers of the "Better Beer Festival 2017" to host the event, which would have entered its sixth year.
"If the organizers continue with the event without DBKL's approval, action will be taken in accordance to existing laws," City Hall said.
Mybeer, the company organising the event, said in a separate statement that it was informed by DBKL officials that the decision was made "due to the political sensitivity surrounding the event."
Riduan Mohd Nor, a member of PAS's central committee, said in a statement on Sept. 10 that there is no guarantee that such events would not lead to criminal acts, rape and free sex.
Opponents of the beer festival also launched a campaign on Facebook to block the event.
Around 6,000 people had been expected to attend the two-day festival, which would have featured craft beers from at least 11 countries, according to Facebook posts by the organizers and local news reports.
http://jakartaglobe.id/international/malaysia-scraps-beer-festival-following-islamists-objections/
--------
Indonesia: Jakarta Govt, Muslim Group Team Up To Fight Extremism
September 19, 2017
By Ryan Dagur
The Jakarta city government is working with Nahdlatul Ulama (NU), Indonesia's largest Islamic organization, to train and educate Islamic preachers to spread messages of unity and peace in a bid to combat a rise in extremism and religious intolerance.
The Islamic organization will train up to 1,000 preachers in a program starting in November.
New Jakarta governor, Djarot Saiful Hidayat, said authorities want to educate preachers "to preach proper Islamic teachings … and a tolerant Islam."
He said he does not want extremism and intolerance to gain a foothold in the city.
According to Maksum Machfiedz, the deputy head of NU's central executive board, the training program, to be funded by city authorities will focus on how to make Islam Nusantara (Islam of the Archipelago) a central practice among Muslims in Indonesia.
Islam Nusantara is a concept developed by the NU, based on cultural and pluralist approaches, to propagate peaceful Islam throughout the world.
Activists have welcomed the move, calling it an urgently needed response to the growing threat of extremism, which is increasingly being promoted in places of worship.
Bonar Tigor Naipospos, deputy director of the Setara Institute for Democracy and Peace told ucanews.com on Sept. 14 that intolerant and extremist groups target mosques, especially those in housing areas and near offices to spread their views.
"They try to become the preachers during prayers, especially Friday prayers," he said.
Naipospos said this was clearly seen during this year's Jakarta gubernatorial election, where mosques were used by intolerant groups to attack the incumbent Chinese Christian governor, Basuki Tjahaja Purnama, who was later convicted of blasphemy for having complained that voters were being falsely told that voting for non-Muslims was against the Quran.
Naipospos said the joint effort between the Jakarta authorities and the NU needs to be a model that can be applied in other cities.
"We need further efforts to save houses of worship from intolerant groups," he said.
Father Antonius Benny Susetyo, an activist, said the training initiative was a step forward for people to understand religion in its entirety so as not to be fooled that it is something to be used for political purposes.
"Religion is often used as political tool for the manipulation of truth and to justify violence," he said.
Full report at:
http://www.eurasiareview.com/19092017-indonesia-jakarta-govt-muslim-group-team-up-to-fight-extremism/
--------
West Java police foils terrorist plot against Indonesian President Joko Widodo
SEP 18, 2017
JAKARTA - Police in Indonesia's West Java on Monday (Sept 18) foiled a plot to attack President Joko Widodo and his security detail, after they arrested a 31-year-old militant with five Molotov cocktails, or petrol bombs.
The suspect was nabbed near a helicopter landing pad at Penggung Airport in Cirebon, a city in West Java province, where President Joko, better known as Jokowi, was visiting on Tuesday for a cultural festival.
Preliminary investigations indicate that the suspect, identified by the police by the initials "IM", is a member of the Jemaah Ansharut Daulah (JAD), a local terrorist network with ties to the Islamic State in Iraq and Syria (ISIS). The JAD has also been behind a series of attacks in Indonesia recently.
West Java police spokesman Umar Surya Fana told Detik News that aside from the Molotov cocktails, the suspect was also carrying, among other items, a bayonet, an Airsoft replica of a pistol, as well as a note with an invitation for jihad.
This is the second attempt by JAD militants in just over a month to attack the President and police officers.
Indonesian counter-terrorism police on Aug 15 also foiled a plot to attack the Istana Negara presidential palace in Jakarta with "chemical bombs" after they arrested five suspects during a raid in Bandung, also in West Java.
The suspects, said to be members of a local JAD cell, include a married couple who were deported from Hong Kong recently after being caught for allegedly spreading extremist ideology.
The terror plot was uncovered by officers from police counter-terrorism unit Densus 88 when they raided a house in Antapani, a small village in Bandung.
Among the items found in the house were chemicals that the suspects had planned to use in home-made bombs, said the police.
Full report at:
http://www.straitstimes.com/asia/se-asia/west-java-police-foils-terrorist-plot-against-indonesian-president-joko-widodo
--------
Indonesia's Only Transgender Islamic School Quietly Running Again
September 18, 2017
YOGYAKARTA, INDONESIA —
Indonesia's only Islamic school for transgender people closed with much drama in February 2016 after it came under fire by a local hardline Muslim group. The school's closure was one of the darkest points in a larger anti-LGBT hysteria that seized Indonesia in 2016, with its effects still reverberating.
If you ask today around the leafy Kotagede neighborhood of Yogyakarta, a university town in Central Java, for the Al-Fatah pesantren, or Islamic boarding school, you may get some blank stares. But if you ask for "Ibu Shinta's house," you'll be immediately sent on your way. Even some locals don't realize her briefly famous school is up and running again. But for Ibu Shinta, the 2016 episode was only a hiccup in the history of Pesantren al-Fatah, which turns nine years old on Thursday.
Ibu ("Madam") Shinta is Shinta Ratri, a 55-year-old transgender activist who moved the school to her family's Javanese-style house in 2014 when the school's original founder died. After four months of closure, Ibu Shinta quietly reopened al-Fatah's doors in June 2016, during Ramadan, which she described as a "good time for worship."
Beyond providing a place for weekly religious study, the re-opened school is also a lifeline of services and just ordinary social life for the local transgender community.
Waria social services
Ibu Shinta and her students are known as waria, a term for transgender women that combines the Indonesian words for woman (wanita) and man (pria). Many have found employment as sex workers or in hair salons.
The al-Fatah school has become an important local center of the national "Transgender Care" program, an initiative of the Indonesian Family Planning Association to give vocational training, ID cards, and social services to waria across Indonesia.
"There are also services related to education, like starting a 'trans school' for waria adolescents, and programs for elderly waria like mobile clinics and food aid," Ibu Shinta told VOA. "Complete, right? We pray that it works out."
On its last anniversary, the school organized a free health clinic with a local doctor that was attended by 76 people.
The Transgender Care program currently operates in eight provinces, and Ibu Shinta said an effort to "map" all its participants and services across Indonesia is an eventual goal.
Study group
Al-Fatah's main scholastic activity is a weekly study group that meets on Sunday evenings, where waria can pray together, discuss Islamic theology, and practice reading the Quran in Arabic.
On a recent Sunday, there were six waria present, including Ibu Shinta; she said there are about 42 members in total, but the weekly attendance fluctuates between seven and 25. A local university student helped Yuni Shara al-Buchory read some Quran verses. When the evening call to prayer sounded, they filed into the reception room to pray. Ibu Shinta and Yuni Shara put on satin mukenas, women's prayer dresses, and the others came as they were.
"I felt lost for the four months the school was closed, without a place to study religion," said Yuni Shara. "I would go into town to hang out, work, buy snacks, and eventually I would wonder: there is something missing, but what?" During that time it was like, she said, her life was incomplete.
But it would be wrong to paint al-Fatah as merely a place for quiet study; after all, its students aren't teenagers like in an ordinary pesantren, but working adults. The remaining six days a week, and even after hours on Sundays, it's a community hub for Yogyakarta waria. They watch movies, cook and eat together, and swap gossip on each other's clients.
It's a deep well of normalcy for a group that occupies an increasingly uncertain societal space. Granted, in Yogyakarta, that space is safer than elsewhere in Indonesia — even the region's sultan called on the community to respect the waria at the height of last year's anti-gay hysteria.
Optimistic outlook
Today, Ibu Shinta is "not at all concerned" about local Islamists. She is focused on building up warias' social safety net as well as her own school. Al-Fatah does not fundraise, but Ibu Shinta does ask researchers and students to donate about $15 when they visit.
There is rising community goodwill again, with Ibu Shinta pointing out that last year her school received one goat as a donation on Eid al-Adha (the holy annual "Sacrifice Feast" when animals are ceremonially slaughtered and shared, and this year they received two.
"Waria and other trans women constructions or phenomena have been around for a very long time," said Dede Oetomo, a prominent LGBT rights activist based in East Java. "Most Indonesians know about them, and have at least tolerated them if not accepted them fully, especially if they are not in their own families."
Full report at:
https://www.voanews.com/a/indonesia-transgender-islamic-school/4033393.html
--------
Thai Junta and Muslim Separatists Trade Blame Over Delayed Peace Steps
Sep 19, 2017
Bangkok. Thailand's junta and a Malay Muslim separatist faction have blamed each other for a delay in setting up a "safety zone" as a confidence-building measure towards ending a decades-old insurgency.
Talks on the zone ended last week in Malaysia without full agreement to be followed by bombings that killed a soldier and a policeman in the Thai south, where more than 6,500 people have been killed since 2004.
No group claimed responsibility for the latest attacks.
On Monday (18/09), the Mara Patani faction said that implementing a safety zone had been "a little delayed," because some details, "especially from the Thai side," had not been satisfactorily addressed, but that did not mean talks had failed.
"The correct approach is to continue dialogue, not walking away from it," Abu Hafez Al-Hakim, a leader of the group, said in a statement.
At the weekend, Thailand's chief negotiator had said the insurgents were not ready for the safety zone, despite the sincerity of the Thai government.
"If the dissidents are not ready, then people's participation in the process will be delayed," Gen. Aksara Kerdphol said, adding that talks would continue.
The proposed safety zone would be jointly administered by Thai authorities and the separatists in a district of the three southern provinces that formed part of a Malay Muslim sultanate until being annexed by the mostly Buddhist Thai kingdom in 1909.
Within the safety zone, neither side would attack the other.
"If you want to create peace you have to work with your enemy," Al-Hakim told Reuters, saying he was hopeful a safety zone could be set up within three to six months.
But the Barisan Revolusi Nasional (BRN) group, which has greater control over combatants than other factions, has not joined talks. A leader of the group told Reuters last week that the current negotiations were doomed.
Pak Fakih said in a rare interview that safety zones could be "a trick by the military in trying to uncover the insurgent networks."
The BRN neither claims nor denies responsibility for any specific attack, but says it is continuing to fight to send a signal to the government.
The leader of another insurgent group, Patani United Liberation Organization (PULO), also said he was uneasy about the government's safety zone plan, but would go along with it in the spirit of cooperation.
Full report at:
http://jakartaglobe.id/international/thai-junta-muslim-separatists-trade-blame-delayed-peace-steps/
--------
Priest Rescued as Philippine Troops Retake Marawi Militant Stronghold
Sep 19, 2017
Manila. Philippine troops rescued a catholic priest held hostage for almost four months by Islamic State-linked rebels after an offensive that captured a stronghold of the militants in southern Marawi City, defense officials said on Monday (18/09).
Marawi's vicar-general Father Teresito "Chito" Soganub was kidnapped along with other Christians as militants rampaged through the city on May 23, burning churches and schools, releasing prisoners and seizing arms in a well-planned assault.
Soganub, flanked by Defence Secretary Delfin Lorenzana and military chief General Eduardo Ano, appeared to be in good health and high spirits when he was presented to the media in Manila. He expressed his thanks but gave no statement.
"Our troops gained the upper hand, the terrorists were forced to withdraw to nearby structures on the periphery of the mosque," Lorenzana told a media briefing in Manila, referring to the Bato mosque held by the rebels for 117 days.
"Troops had opportunity to snatch Father Chito [...]"
The appearance of Soganub is some rare good news for a military that has suffered a string of setbacks in Marawi, from deadly accidents during a controversial campaign of air strikes to repeatedly missing deadlines on when the battle would be won.
The siege of the city by an alliance of rebels from the island of Mindanao, and numerous foreign fighters, has been the biggest internal security crisis in years for the Philippines, a country used to separatist and communist rebellions.
Soganub made an appearance under duress in a militant propaganda video about a week after his capture, urging the government to stop the military operation in Marawi in exchange for sparing lives of hostages.
The priest was among scores held by militants at the Bato mosque, one of Marawi's largest, which troops captured on Saturday afternoon. He was rescued along with another hostage, Lordvin Ocopio.
The rebels who laid siege to Marawi are from an extremist faction of the Abu Sayyaf group, led by Isnilon Hapilon, the so-called "emir" of Southeast Asia, and members of the militant Maute family, which has deep clan connections in the lakeside town and surrounding areas.
Military chief Ano said about 10 foreigners were still in the battle among some 50-60 rebels, who were holding 45-50 hostages.
Hapilon was among those still fighting but several of the Maute brothers were likely dead, Ano added, citing information provided by civilians who escaped and some captured rebels.
As of Monday, 149 members of government forces had died in combat, along with 47 civilians.
Full report at:
http://jakartaglobe.id/international/priest-rescued-philippine-troops-retake-marawi-militant-stronghold/
--------
Mideast
Israel gets first joint US military base
Sep 19, 2017
JERUSALEM - Israel on Monday inaugurated with its US ally a joint missile defence base on Israeli soil, the first ever, a senior Israeli air force officer said.
The new facility, at an undisclosed location in southern Israel, was announced as Israeli Prime Minister Benjamin Netanyahu was due to meet US President Donald Trump in New York on the fringes of the UN General Assembly.
"We inaugurated, with our partners from the United States Army, an American base, for the first time in Israel," Brigadier General Tzvika Heimowitz, head of Israeli missile defences, told journalists.
"An American flag is flying permanently over a US army base situated inside one of our bases."
Heimowitz said the move was not a direct response to any specific incident or immediate threat, but was a combination of "lessons learned" in the 2014 war in Gaza and intelligence analysis of future dangers.
"We have many enemies around us, near and far," he said.
The outgoing Israel air force chief in June warned neighbours of the "unimaginable" military power at the country's disposal.
On September 7 Syria's army accused Israeli warplanes of hitting one of its positions, killing two people in an attack that a monitor said targeted a site where the regime allegedly produces chemical weapons.
Israel, without confirming it was behind the attack, indirectly warned Syria and Iran that it would not tolerate any "Shia corridor from Tehran to Damascus".
Israel accuses Iran of building sites to produce "precision-guided missiles" in both Syria and Lebanon and Netanyahu is expected to reiterate the point in his talks with Trump.
The country has bought 50 F-35 stealth fighters from the United States.
Israel has a sophisticated anti-missile defence system, including the Iron Dome short-range interceptor which has successfully brought down rockets fired from Syria, Lebanon, Egypt's lawless Sinai region and the Gaza Strip.
It also has the medium-range David's Sling and the Arrow missile defence system, designed to counter more distant threats.
Heimowitz did not comment on the specific role of the new joint base, but said the "few dozen" US personnel there would be under Israeli command.
"This is not part of an exercise or manoeuvre," he said. "It is a presence as part of the joint effort of Israel and the US to improve defence."
http://nation.com.pk/international/19-Sep-2017/israel-gets-first-joint-us-military-base
--------
Turkey puts on trial 31 staff from pro-Gulen daily
Sep 19, 2017
ISTANBUL - Thirty-one former employees of a now shuttered Turkish newspaper that had backed the US-based Islamic preacher Fethullah Gulen went on trial Monday charged with links to the failed 2016 coup.
Those on trial include writers and executives from the Zaman daily and its English-language sister publication Today's Zaman, which were taken over by the state in March 2016 and shut down in July that year. The trial is the latest to get underway for journalists in Turkey under the state of emergency imposed after the botched putsch, fuelling growing concerns over press freedoms in the country.
Both publications were closely aligned with Gulen, whom Turkey accuses of orchestrating the July 15, 2016, coup attempt against President Recep Tayyip Erdogan. Gulen has strongly denied the charge.
Twenty-two suspects in the case are being held in detention, with the remainder free under judicial supervision or on the run, the state-run Anadolu news agency said.
The trial is being held at a special courthouse next to the Silivri prison complex on the outskirts of Istanbul.
Those being held in jail include the prominent academic and former Zaman columnist Mumtazer Turkone and the writer Sahin Alpay.
They are charged with seeking to overthrow the Turkish government and with membership in an armed terror group. If found guilty, they face multiple life sentences.
According to the P24 press freedom website, there are 171 journalists behind bars in Turkey, most detained under the state of emergency.
Dozens are currently on trial, with the most prominent and controversial case being pursued against staff at the anti-Erdogan Cumhuriyet daily.
Seventeen suspects are on trial in that case, including writers, executives and even cartoonists, and five of them are being detained during the proceedings.
The Cumhuriyet employees say they vigorously opposed the coup and have long been critical of Gulen. One of the paper's writers on trial, Ahmet Sik, even wrote a book exposing Gulen's role in Turkish politics.
Once an ally of Erdogan and his Islamic-rooted Justice and Development Party, Gulen amassed huge influence through supporters in the media, the judiciary, police and education.
But in the last half decade he fell out with the government, which accused the Pennsylvania-based preacher of seeking to build a "parallel state" aimed at usurping Erdogan.
Full report at:
http://nation.com.pk/international/19-Sep-2017/turkey-puts-on-trial-31-staff-from-pro-gulen-daily
--------
Iranian supreme leader's representative attacked by angry mob
18 September 2017
A video has surfaced after being shared by Iranian social media users showing an angry mob attacking and breaking into Cleric Hassan Abutrabi, the Iranian supreme leader's representative and preacher, in Borujerd city.
The reason behind the attack was Abutrabi's involvement in cases of corruption and taking the people's money, according to various Iranian news sites including irankhabar.ir.
Demonstrations and rallies against government linked financial institutions, persist in various Iranian provinces and cities after they first erupted months ago. The demonstrations also seek to express the people's dismay towards the Revolutionary Guards taking their money.
The money in question was originally deposited by the people to earn interest through their banking. However, the concerned institutions later declared bankruptcy and closed due to their inability to repay the owners.
The video
The video depicts people tearing apart Abutrabi's office. The attack resulted in fist fights and quarrels involving sharp objects between the protestors and Abutrabi's security.
The protestors can also be heard chanting against Abutrabi.
Iranian activists linked the incident to the rise in the number of angry citizens' attacks on religious men. This is due to the latter being involved in corruption, and occupying positions of power, wealth, jobs and opportunities at the expense of marginalized groups in the country.
Full report at:
https://english.alarabiya.net/en/News/middle-east/2017/09/18/WATCH-Iranian-supreme-leader-s-representative-attacked-by-angry-mob.html
--------
Houthi militias trick members of Saleh's Republican Guards out of Sanaa
18 September 2017
Houthi militias have pulled a clever trap to stir away the dissolved Republican Guard's officers and soldiers from the Yemeni capital, Sanaa. The guard's loyalty lay with ousted Yemeni President Ali Abdullah Saleh.
Sources from the Republican Guard said that Houthi militias, who control Yemen's Ministry of Defense in Sanaa, informed a large group of officers and soldiers loyal to Saleh that they can collect their salaries, which have been suspended for about a year, from Dhamar governorate last Thursday.
The governorate is located 120 km south of the Yemeni capital.
Sources continued to explain that the Houthis' lie pushed many to travel to Dhamar to receive their salaries. Upon their arrival to the designated location, Houthi militias detained them in a camp and confiscated their phones and IDs.
News website, asima-online.net, said a private source revealed that the officers did not receive their salaries as per the Houthis' "trick." Instead, militias wanted to stir the Guard away from Sanaa, pre-anticipating and preventing any military action against them from Saleh.
Full report at:
https://english.alarabiya.net/en/News/gulf/2017/09/18/Houthi-militia-trick-members-of-Saleh-s-Republican-Guards-out-of-Sanaa-.html
--------
Turkish tanks engage in drills on Iraqi border ahead of Kurdish independence vote
Sep 18, 2017
Turkish tanks have engaged in large scale military drills on the country's border with Iraq a week before a Kurdish independence vote which Ankara deems as a national security threat.
On Monday, some 100 military vehicles, mostly tanks and vehicles carrying missiles, took part in war games which were launched at Habur border gate, a crossing point into Iraq.
The Turkish military has announced that the drill will continue until September 26, one day after the upcoming Kurdish independence vote.
The region is adamant to hold the referendum on September 25 despite regional and international opposition. Critics say partitioning Iraq could be the last thing the country, scarred by years of violence, needs.
Also on Monday, the UN urged Iraq's Kurdish leaders to scrap the upcoming secession vote, saying it would undermine the ongoing battle in the Arab country against Daesh terrorists.
Iraqi Prime Minister Haider al-Abadi also formally demanded suspension of the upcoming Kurdish independence referendum. Iraqi Kurdish lawmakers on Friday approved holding the secession vote in the face of fierce opposition from the central government in Baghdad, the United Nations and the US.
President of the Kurdistan Regional Government (KRG) Massoud Barzani told a rally for secession in the northern city of Dohuk that the Iraqi Kurdistan did "not take legitimacy from anyone."
Meanwhile, Britain's Defense Secretary Michael Fallon has also said he would try to persuade the KRG president to call off the controversial independence referendum.
Turkish jets kill 8 PKK terrorists
Meanwhile, the Turkish Air Force has killed at least four PKK terrorists after they were marked by a drone in Mount Suki region, on the Iraqi side of the border, said a statement issued by the Hakkari Governor's Office.
Later in the day, another four PKK terrorists were killed in an airstrike at Avasin Basyanarea of northern Iraq, said the Turkish General Staff.
"Those who are chasing dreams in Syria and Iraq should know very well that any attempt that threatens our national security, from inside or outside our borders, will be immediately retaliated in kind," said Turkish Prime Minister Yildirim in a speech in the southern Turkish town of Sanliurfa after the airstrike were announced.
PKK militants have been waging a bloody campaign in southeastern Turkey for decades, which has left more than 40,000 people dead.
Full report at:
http://www.presstv.ir/Detail/2017/09/18/535649/turkey-iraq-kurdistan-war-games-referendum
--------
Israeli bulldozers demolish Palestinian home near al-Quds
Sep 18, 2017
The Israeli forces have demolished a Palestinian residential building in a West Bank village located to the southeast of occupied East Jerusalem al-Quds.
The Palestinian Wafa news agency reported on Monday that Israeli bulldozers demolished the residential building in the village of al-Zayyem under the pretext it had been built without a permit.
The agency noted that Israeli forces cordoned off the area where the building was located before bulldozers proceeded to demolish it.
This is while the village, categorized as Area B, is under Palestinian Civil Administration and that building permits in Area B are usually issued by local municipal councils and not by the Israeli regime, according to Wafa.
The demolition of Palestinian homes and structures most commonly takes place in Area C, where nearly all Palestinian applications for building permits are denied by the Israeli authorities.
A recent report by the United Nations Office for the Coordination of Humanitarian Affairs (OCHA) showed that Israeli authorities have demolished or seized 1,089 Palestinian-owned structures since the start of the last year up until December 28. The demolitions have left some 1,593 Palestinians homeless and affected the lives of another 7,101, according to the report released on December 29, 2016.
The UN also notes that the "vast majority" of the Palestinian structures are destroyed or seized because the Israeli policies made it virtually impossible for Palestinians to obtain building permits.
Full report at:
http://www.presstv.ir/Detail/2017/09/18/535644/Israel-razes-Palestinian-home-near-Jerusalem
--------
UN chief urges correct implementation of JCPOA
Sep 19, 2017
The UN chief has stressed the importance of the correct implementation of the JCPOA during a meeting with Iranian President Hassan Rouhani.
On Monday, António Guterres met with Rouhani, who is in New York to take part in the 72nd annual session of the United Nations General Assembly.
Stressing that Iran is committed to the Joint Comprehensive Plan of Action (JCPOA), Guterres noted that the UN wishes for closer cooperation with Tehran towards diplomatically solving regional countries issues.
The JCPOA was signed by Iran and the five permanent members of the United Nations Security Council – the United States, France, Britain, Russia and China – plus Germany on July 14, 2015 and went into effect on January 16, 2016.
US President Donald Trump, who had made no secret of opposing the nuclear agreement in his election campaign, has threatened to "tear up" the agreement, calling it "the worst deal ever negotiated."
Tensions have risen between Tehran and Washington since Trump entered the Oval Office, with each side accusing the other of failing to honor the spirit of the JCPOA.
In his turn, Rouhani called on the global body to do its best to implement the World Against Violence and Extremism (WAVE) resolution.
"Iran has engaged in valuable operations against terrorism in the region. Political solutions must be sought for regional problems," he added.
Rouhani also highlighted the importance of supporting Iraq's constitution and territorial integrity while stressing the dangers of the upcoming referendum in Iraq's Kurdistan region.
The region is adamant to hold an independence referendum on September 25 despite regional and international opposition. Critics say partitioning Iraq could be the last thing the country, scarred by years of violence, needs.
Full report at:
http://www.presstv.ir/Detail/2017/09/19/535655/iran-un-new-york-rouhani-guterres
--------
US committed to no international obligation: Iran's Rouhani
Sep 18, 2017
Iranian President Hassan Rouhani says the United States has failed to remain committed to any of its international obligations, stressing that Washington is not a reliable country.
"Today, you can see that the US is trampling on its agreements with Cuba and other countries one after the other," Rouhani said in a meeting with Bolivia's President Evo Morales in New York on Monday.
Rouhani pointed to the White House's intention to undermine the historic nuclear deal, known as the Joint Comprehensive Plan of Action (JCPOA), reached between Iran and the P5+1 group of countries, and said, "On the nuclear agreement, the Americans are looking for excuses and the world can see what Iran has repeatedly announced is true that the US is not reliable."
Iran and the five permanent members of the United Nations Security Council – the United States, France, Britain, Russia and China – plus Germany signed the nuclear agreement on July 14, 2015 and started implementing it on January 16, 2016.
Under the JCPOA, Iran undertook to put limitations on its nuclear program in exchange for the removal of nuclear-related sanctions imposed against Tehran.
US President Donald Trump, who had made no secret of opposing the nuclear agreement in his election campaign, has threatened to "tear up" the agreement, calling it "the worst deal ever negotiated."
The United State, which is a party to the landmark nuclear agreement, seems to be laying out a case for abandoning it.
Elsewhere in his remarks, the Iranian chief executive, who is in New York to take part in the 72nd annual session of the United Nations General Assembly, said Iran and Bolivia had a common stance against the hegemonic powers.
"The US is drawing up new plans and plots against developing countries on a daily basis, but it has always faced defeat," Rouhani added.
He noted that the US has been seeking to use terrorism as a means in the Middle East, but regional nations, particularly the Iraqi and Syrian people, are defeating the vicious scourge, emphasizing that terrorism is on the verge of full elimination in the region.
The Bolivian president, for his part, said the US had always pursued hostile policies in the world, particularly toward the Latin American countries, adding that the hegemonic powers sought to divide allied nations.
Full report at:
http://www.presstv.ir/Detail/2017/09/18/535639/Iran-Bolivia-US-Hassan-Rouhani-Evo-Morales-JCPOA
--------
US will pay high price if Trump scraps JCPOA: Rouhani
Sep 18, 2017
Iranian President Hassan Rouhani says Washington will pay a high price if US President Donald Trump carries out his threats to scrap the historic nuclear deal reached between Iran and the P5+1 group of countries in 2015.
"Leaving such an agreement would carry a high cost for the United States of America," Rouhani said in an exclusive interview with CNN's Christiane Amanpour in New York on Monday.
"I do not believe Americans would be willing to pay such a high price for something that will be useless for them," he added.
The Iranian chief executive, who is in New York to take part in the 72nd annual session of the United Nations General Assembly, further emphasized that the Trump administration's move to scrap the accord "will yield no results for the United States."
However, Rouhani warned that such an action "will generally decrease and chip away at international trust placed in the United States of America."
Rouhani made the remarks amid growing concerns about the future of the nuclear agreement, known as the Joint Comprehensive Plan of Action (JCPOA), which was signed by Iran and the five permanent members of the United Nations Security Council – the United States, France, Britain, Russia and China – plus Germany on July 14, 2015 and went into effect on January 16, 2016.
Under the JCPOA, Iran undertook to put limitations on its nuclear program in exchange for the removal of nuclear-related sanctions imposed against Tehran.
Trump, who had made no secret of opposing the nuclear agreement in his election campaign, has threatened to "tear up" the agreement, calling it "the worst deal ever negotiated."
Tensions have risen between Tehran and Washington since Trump entered the Oval Office, with each side accusing the other of failing to honor the spirit of the JCPOA.
The United States, which is a party to the landmark nuclear agreement, seems to be laying out a case for abandoning it.
In its efforts to undermine the deal, the White House has recently attempted to sway the International Atomic Energy Agency's (IAEA) reporting on Iran.
Last month, US Ambassador to the United Nations Nikki Haley traveled to Vienna to press the IAEA to request access to Iran's military sites, a move that Washington hoped would undermine the JCPOA.
The IAEA Director General Yukiya Amano on Monday once again confirmed that Iran was implementing its commitments under the JCPOA.
Full report at:
http://www.presstv.ir/Detail/2017/09/18/535628/Iran-US-New-York-Hassan-Rouhani-CNN-Christiane-Amanpour-Donald-Trump-JCPOA
--------
Africa
Suicide bombers kill 15 in northeast Nigeria
Sep 19, 2017
KANO - At least 15 people were killed on Monday when suicide bombers attacked an aid distribution point in northeast Nigeria, in the latest suspected strike by Boko Haram insurgents against civilians.
The blasts occurred in the Konduga area, about 40 kilometres (25 miles) from the Borno state capital, Maiduguri, both of which have been repeatedly targeted by the militant group. On August 16, at least 28 people were killed and more than 80 injured when three female suicide bombers detonated their explosives outside a camp for displaced persons in Konduga. A rescue worker said the first blast on Monday happened at 11:10 am (1010 GMT) in the village of Mashalari. "(It) killed 15 people and left 43 others injured," he told AFP.
"It happened during aid distribution by an NGO, when people had gathered to receive donations," he said, speaking on condition of anonymity.
"Twelve minutes later, another bomber struck, but luckily only she died."
The rescue worker said both bombers were women but did not specify which NGO was distributing aid.
Northeast Nigeria is in the grip of a humanitarian crisis caused by the Boko Haram insurgency, which has left at least 20,000 people dead and displaced more than 2.6 million since 2009.
The violence has devastated farming, leading to chronic food shortages and leaving hundreds of thousands of people on the brink of starvation and dependent on aid agencies for help.
Babakura Kolo, from the Civilian Joint Task Force, a militia assisting the military with security against Boko Haram, confirmed the rescue worker's account.
"We have dispatched out team to the scene," he said.
Nigeria's military and government maintains that Boko Haram is a spent force as a result of a sustained counter-insurgency campaign over the last two years.
But continued attacks, particularly in hard-to-reach rural areas of Borno, suggest claims of outright victory are premature.
This month, militants fired a rocket-propelled grenade into a camp for the internally displaced near the border with Cameroon, killing seven.
Amnesty International says Boko Haram attacks since April have killed nearly 400 people in Nigeria and Cameroon - double the figure of the previous five months.
The UN children's fund said last month that 83 children had been used as suicide bombers this year, four times as many as in all of 2016.
http://nation.com.pk/international/19-Sep-2017/suicide-bombers-kill-15-in-northeast-nigeria
--------
Chibok mediator wins UN prize for educating victims of Nigeria's Boko Haram
18 September 2017
A Nigerian lawyer who helped to secure the release of dozens of the Chibok schoolgirls kidnapped by Boko Haram in 2014 was on Monday announced the winner of a U.N. prize for providing an education to children uprooted by violence in northeast Nigeria.
Zannah Mustapha is the founder of two schools which offer free education, meals and healthcare to its pupils, and even enrol children born to Boko Haram fighters to learn alongside those orphaned by the Islamist group's eight-year insurgency.
The Nansen Refugee Award, which is bestowed by the U.N. refugee agency (UNHCR), has been won in the past by Eleanor Roosevelt and Luciano Pavarotti, and the winner receives $150,000 to fund a project complementing their existing work.
"I am exceedingly happy and motivated to do more ... I will scale up my efforts," Mustapha told the Thomson Reuters Foundation by phone from Maiduguri, the capital of Borno state.
"Some of the students that started in my school have graduated, and they are now going into university - I can use this money to help them complete the cycle," Mustapha added.
His first venture, Future Prowess, opened a decade ago and was the only school in Borno state in northeast Nigeria to remain open when Boko Haram in 2009 began their brutal campaign to carve out an Islamic state.
The Islamist militants have killed hundreds of teachers and forced more than 1,000 schools to shut, leaving tens of thousands of children without an education, aid agencies say.
UNHCR chief Filippo Grandi hailed Mustapha for helping to foster peace and rebuild communities devastated by violence.
"Education is one of the most powerful tools for helping refugee children overcome the horrors of violence and forced displacement," Grandi said in a statement.
"It empowers young people, equips them with skills and works to counter exploitation and recruitment by armed groups," added Grandi, who will present the award in Geneva early next month.
Mustapha's work also includes helping to negotiate the release of more than 100 of the 220-odd girls snatched from their school in Chibok in April 2014 in the biggest publicity coup of Boko Haram's insurgency that prompted global outrage and the international campaign #bringbackourgirls.
The return of 82 of the girls in May marked the second group release of the Chibok girls by the militants - with both deals brokered by Switzerland and the Red Cross and mediated by Mustapha - after a group of 21 were freed in October last year.
A few others have escaped or been rescued but about 113 of the girls are believed to be still held captive by Boko Haram.
The extremist group has killed at least 20,000 people, uprooted more than 2.7 million and sparked one of the largest humanitarian crises in the world, according to aid agencies.
Full report at:
https://english.alarabiya.net/en/News/world/2017/09/18/Chibok-mediator-wins-UN-prize-for-educating-victims-of-Nigeria-s-Boko-Haram.html
--------
Nigeria: Islamic Group Condemns Alleged IPOB Attacks On Muslims
18 SEPTEMBER 2017
By Oladeinde Olawoyin
The Muslim Rights Concern, MURIC, has condemned reported attacks on Muslims in some parts of the South-east and at the popular Abraka Market in Asaba, Delta State.
MURIC, in a statement issued by its President, Ishaq Akintola, described the attacks as wicked, cowardly, and unjustifiable.
The Delta Police Command had last week arrested two persons in connection with attack at the popular Abraka market in Asaba in which four persons were allegedly killed. The command had, in a statement in Asaba by its spokesperson, Andrew Aniamaka, given the names of the suspects as Abraham Ndudi from Kwale, Delta State and Okereke Ifeanyi from Ogbaru in Anambra State.
"The suspects were nabbed for their alleged involvement in the dastardly shooting and killing of four persons at the popular Abraka market in Asaba on Friday, September 15th, 2017 at about 10:45pm," the police spokesperson said.
He added that the command has intensified efforts to arrest the third suspect, known simply by his alias, "Last Burial." Mr. Aniamaka said the armed suspects, who are suspected members of the Indigenous People of Biafra (IPOB) or secret cults, had at about 10:45 p.m. on Friday night fired indiscriminately into the market.
MURIC in its statement, Sunday, said that an irate IPOB mob also attacked a Yoruba Mosque in Umuahia, Abia State, and "destroyed the mosque, tore copies of the Glorious Qur'an and defecated inside the mosque.
Some Yoruba Muslims caught up in the mayhem were manhandled and robbed of their laptops and handsets, the group said.
"It is well known that most Northerners who live in the South East and South West are poor citizens who engage in menial works like shoe-mending, shoe-shining, gate-keepers, etc. What crime has this poor and innocent class committed towarrant such a deadly attack? They are neither politicians nor civil servants," MURIC said.
The group said that the attacks are a direct product of hate speeches delivered by Nnamdi Kanu, the leader of the proscribed separatist group, IPOB.
"It is not surprising, therefore, that IPOB terrorists have started killing innocent Hausa people and attacking Yoruba mosques. Objective and pragmatic leaders of thought in the South-east should prevail on Kanu and IPOB members to stop their terrorist activities henceforth," Mr. Akintola said.
"We are irked by the silence of Yoruba leaders on IPOB's attack on the Yoruba mosque. Are Yoruba Muslims no longer part of the Yoruba nation? Are they not the majority group in the South West? Are the elitist Yoruba leaders still bent on marginalising the majority Yorubas in their midst just because the Muslims are not vocal?
"MURIC demands proper prosecution of the two IPOB members arrested in connection with the terrorist act. We implore the Delta Police Command to fish out their accomplices. The law must take its due course."
The group also admonished those it called "IPOB apologists", particularly constitutional lawyers who have faulted the Nigerian Army's declaration of IPOB as a terrorist organisation. It asked such people to tell the world the correct name for a group which allegedly sprays innocent and unarmed citizens with bullets without stealing anything from them.
The statement noted further that MURIC is not averse to the idea of any group demanding its rights, stressing that it will, however, not take kindly to attacks on Muslims and their places of worship.
"We do not issue threats. Neither do we engage in violence. Our motto is 'Dialogue, Not Violence' and we will stick to our pacifist vow to the end. But we will not hesitate to seek redress for any act of aggression committed against Muslims.All legitimate options are on the table. We will pursue those who oppress and persecute Muslims to the highest court in the world.
"We appeal to Muslims in and outside the South-east sub-region not to take the law into their hands. Two wrongs do not make a right. We advise disgruntled groups to channel their grievances through their state governors. The Federal Governmentshould, as a matter of urgency, set up a commission to dialogue with such groups.
Full report at:
http://allafrica.com/stories/201709180717.html
--------
URL: https://www.newageislam.com/islamic-world-news/islam-political-doctrine-just-religion/d/112582
New Age Islam, Islam Online, Islamic Website, African Muslim News, Arab World News, South Asia News, Indian Muslim News, World Muslim News, Women in Islam, Islamic Feminism, Arab Women, Women In Arab, Islamophobia in America, Muslim Women in West, Islam Women and Feminism