New Age Islam News Bureau
23 Dec 2014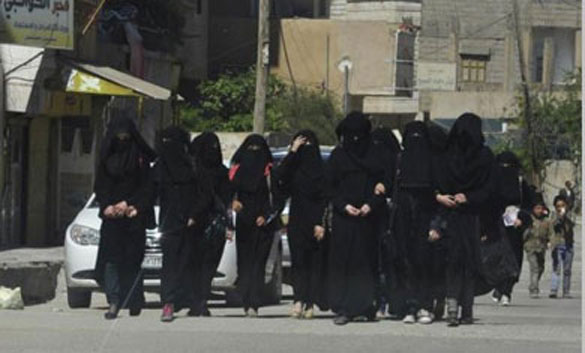 Students adhering to the ultra-conservative dress code in Raqqa, Zaid al-Fares
-------------
Arab World
• ISIS Will Conquer Europe Soon, Undertake Religious Cleansing and Kill Ruthlessly
• Raqqa: Isis Bans Education and Threatens Jail for Girls Who Show Flesh
• ISIL Burns Islamic Education Curriculum in Ninawa: Reports
• Tens of ISIL Terrorists Killed in Daylong Clashes in Syria's Kobani
• Iraqi Troops Kill 16 ISIL Terrorists in Baiji
• ANF shuts down schools, imposes dress code in rural Idlib
• 'Shariah preserves environment': Saudi Minister
• For gay Syrians, jihadist threat adds new fear
Pakistan
• Jews Didn't Do In Palestine What Terrorists Did In Peshawar: ANP
• Pak Madrasa Expels Sons of Marriott Bombing Accused
• 13 Suspected Militants Killed In Karachi Police Operation
• Extremist leader to be freed as Pakistan mulls new terror steps
• Altaf's views about Lal Masjid inappropriate: JUI-F leader
• State Will Protect Every Citizen Irrespective Of Religion, Sect or Caste: PM
• Pakistani Hindu refugees fight for their identity in secular India
• Four more convicts to be executed in Faisalabad today
• Six bullet-riddled bodies recovered from Mohmand Agency
• Regulate Torkham border; repatriate refugees: PTI chief
• 11 militants carried out Peshawar school attack: police report
South Asia
• Bangladesh Ex-Minister Sentenced To Hang For Genocide
• 1 ANA Martyred, 7 Insurgents Killed Across Afghanistan
• 6 Taliban militants blown up by own explosives in Nangarhar
• Turkey should look after Uighur Turks in Thailand, says head of Uighurs
• Muslim party quits in major blow to Mahindra Rajapaksa
• China mulls national security law to deal with terrorists
Africa
• Clashes claim 20 lives in Central Africa
• Dozens killed in Nigeria bomb blasts
• Five killed as Libyan forces and Islamist fighters clash in Benghazi
• Algeria troops 'kill' chief militant behind Frenchman's murder
• Central African Republic - Muslims Trapped in Enclaves
Mideast
• Turkish President Erdoğan Declares Birth Control 'Treason'
• Iranian Speaker Slams Israeli-Arab Support for Terrorists
• Five bombs explode in Yemeni capital, killing one
• Turkey welcomes limited dual citizenship in Germany, demands more
• Israeli who joined ISIS may have citizenship revoked
• 8 Arab east Jerusalem residents indicted for using Facebook to incite terrorism
• Palestinians say Gaza reconstruction pledges unfulfilled
Europe
• Satellite Images Show 290 Heritage Sites in Syria Damaged By War: UN
• Kazakh President Slams Islamic State
• Four Azerbaijanis Arrested By IS In Raqqa Appear In New Video
• Germany: Thousands stage anti-immigration rally, rail against 'Islamisation of West'
North America
• 'No Act of Terror Can Serve Islam': U.S Muslim Organisations
• U.S. Government Pledges to Work with CAIR, MAS on UAE Designation
• Case of police surveillance of N.J. Muslims goes before federal appeals court
Southeast Asia
• Human Rights Group Calls For Inquiry into Malaysia's Role in CIA Torture
• Defer sitting to introduce Islamic criminal law, lawyers tell Kelantan
• Malaysian, Indonesian militants form Isis cell, says report
• Hudud plan not a problem for Pakatan, says PAS
India
• 'As UK, U.S and India Watched, Lashkar Man Zarrar Shah Plotted 26/11'
• Kalyan youth may be in ISIS 'custody'
Compiled by New Age Islam News Bureau
URL: https://newageislam.com/islamic-world-news/isis-conquer-europe-soon,-undertake/d/100646
--------
Arab World
ISIS Will Conquer Europe Soon, Undertake Religious Cleansing And Kill Ruthlessly
23 Dec, 2014
The radical terror group ISIS has claimed that it is only a matter of time before its fighters conquer Europe. The claim was made by the spokesman of the outfit to veteran journalist Juergen Todenhoefer, who undertook a risky visit to the ISIS controlled areas in Mosul of Northern Iraq.
"We will conquer Europe one day. It is not a question of we will conquer Europe, just a matter of when that will happen. But it is certain. ... For us, there is no such thing as borders. There are only front lines," the spokesman identified as a German ISIS fighter told the German journalist.
Religious Cleansing
Defending mass enslavement and beheadings, the ISIS spokesman said it is planning to carry out "the largest religious cleansing campaign" in history and will not hesitate to kill hundreds of millions of people, if required, reported the Christian Post.
"Our expansion will be rapid and perpetual. The Europeans need to know that when we come, it will not be in a nice way. It will be with our weapons. Those who do not convert to Islam or pay the Islamic tax will be killed," the spokesman said. Todenhoefer visited the Iraqi city of Mosul, which had a large Christian population before it was taken over by ISIS in June and clamped Islamic laws on the land, forcing people to convert to Islam or face death.
On Shiite Muslims not ready to share the same beliefs as ISIS, the spokesman said anyone refusing to convert will be killed. "150 million, 200 million or 500 million, it does not matter to us, we will kill them all." The ISIS has already captured a number of cities across Iraq and Syria and continues to shock people with its horrendous acts like beheading of prisoners on camera and enslaving of religious minorities and women, including Christians.
The terror group claims it is on a divine mission to establish an Islamic caliphate across the Middle East region and eventually take over the world. The German journalist in his comments noted that Islamic State is a lot more dangerous than it has been perceived by Western leaders, reported Independent.
Brave Journalist
Todenhöfer, 74, is the first Western journalist in the world to be allowed access to ISIS territories in Syria and Iraq. Todenhöfer took the challenge of travelling through Turkey to ISIS held Mosul, after holding months of negotiations with the group's leaders.
http://au.ibtimes.com/articles/576934/20141223/isis-conquer-europe-iraq-mosul-turkey-germany.htm#.VJne0sBxo
--------
Raqqa: Isis bans education and threatens jail for girls who show flesh
23 Dec, 2014
The Islamic State (Isis) has completely shut down Raqqa's education system as it battles to control the hearts and minds of young people in its Syrian city.
The militant Islamic group has also passed an order banning girls from travelling outside Raqqa, and introduced an ultra-conservative uniform for its female citizens.
Any women found to have violated the new dress code, which completely covers the body from head to to, faces a lengthy spell in prison.
The closure of Raqqa's schools marks the culmination of a series of drastic education reforms introduced by IS, which has aimed to turn the city's education hubs into hot-houses for extremist propaganda.
IS leaders previously ordered the strict segregation of students by gender, with all mixing forbidden, and closed both public and private universities. Teachers were forced to undergo a 'legitimacy course' and a range of subjects, including science, sports and philosophy, were banned as they apparently contravene the law of God.
While curbing the freedom and power of traditional schools, the organisation has introduced its own indoctrination 'bootcamps' where children are taught to fight and given lessons in hard-line Islam.
According to one activist, who calls himself Maher Hamoud, Isis and its adherents are "dramatically trying to drag the people of Raqqa to them [and] spread ignorance among the people of the city. This is a big threat to the future of an entire generation of children."
Security crackdown
The new law on women follows an earlier edict which prohibited the egress of any woman under the age of 50. This directive attracted widespread disapproval and the protests have forced IS to modify their order.
The new edict bans "any girl, unless they exceed 30 years old, from leaving Raqqa city whether or not they are with mahram (someone close to the girl such as a father, brother, or uncle)."
Some may believe the new law represents a loosening of IS' repressive approach to women, given that women aged between 30 and 50 will now, theoretically, be allowed to leave Raqqa. However this is offset by the new ultra-conservative dress code, violation of which is punishable with up to a month in jail.
IS is frantically trying to improve its border security to prevent Raqqa's citizens from leaving without permission. The organization, known locally as Daash, has ramped up the monitoring of the various checkpoints dotted around the city, and perpetrated a string of vicious executions, including that of a 98-year-old man who was one of Raqqa's most respected elders.
http://www.ibtimes.co.uk/raqqa-isis-bans-education-desperate-jihadis-shut-down-all-schools-1480595
--------
ISIL burns Islamic education curriculum in Ninawa: reports
23 Dec, 2014
Reports are emerging that "Islamic State of Iraq and the Levant" (ISIL) elements burned the Islamic education curriculum in Ninawa province and replaced it with another promoting hate and violence, the Iraqi Human Rights Ministry said December 7th.
"We received confirmed reports that ISIL gangs burned all the Islamic education curricula approved for school students, which had been in Ninawa educational directorate warehouses," ministry spokesman Kamel Amin told Mawtani.
"The terrorists earlier banned the teaching of the curriculum for not being compatible with their extremist views that deviate from the principles and teachings of Islam, which calls for moderation, tolerance, moral character, good and positive values," he said.
"ISIL prepared a new curriculum for Islamic education that incites intolerance, hatred, violence against others and declaring other religious sects and components, who do not believe its misleading convictions and visions, disbelievers," Amin said.
"The change in school curricula, the abolition of some and manipulation of its content are within the priorities of that group," he said. "From its deviant perspective, it considers scientific and humanities courses as those of infidels and that they call for atheism and immorality."
"Those criminals will be defeated and eliminated by the determination of our security forces and soon enough they will not find time to violate the rights of our students in Ninawa or poison their minds and create new generations of extremists and intellectually mutilated people," he said.
International organisations such as the UN Educational, Scientific and Cultural Organisation and the UN Mission in Iraq monitor this kind of abuse, which threatens the future of Iraqi students and has serious effects and implications, he said.
Amin urged the world to support Iraq in its war on terror.
The ministry, he said, "will continue to gather information and monitor all violations committed by ISIL in areas under its control via a sub-committee within the ministerial committee in charge of documenting the group's crimes and presenting them to the UN special team charged with investigating facts and problems".
'DEVIANT PRACTICES'
Ghazi al-Mutlaq, general manager of curricula and textbooks at the Ministry of Education, condemned the burning of the Islamic education curricula.
"These terrorists oppose any religious or humanities content that does not agree with its wrong attitudes, beliefs and interpretations of the spirit and provisions of our religion," he told Mawtani. "It targets those who disagree with them. Burning Islamic education curricula is only part of those deviant trends and practices."
"This curriculum was prepared by professors and researchers with a high degree of excellence and qualifications in their respective fields," he said. "Its content was based on the Qur'an and the sunnah and what has been agreed upon by Islamic sects, in addition to what they offer of theology concepts that educate our students on the virtues of loving good and people."
The ministry "does not approve of the changes ISIL made in the curriculum, and its mechanisms, methods of teaching and educational system as a whole, both in Ninawa and other areas controlled by this terrorist group", he said.
'ISIL DISTORTS ISLAM'
Sheikh Fouad al-Meqdadi, a member of the Union of Muslim Scholars, denounced ISIL practices as "brutal and barbaric."
"ISIL's burning of Islamic education books falls within the shameful crimes committed by the group against innocent people who were killed, displaced, held captive and enslaved in addition to it violations of honour and holy sites, and its destruction of cultural property," he said.
"These groups practice all that is brutal and barbaric and claim this is religion, while Islam is innocent of them," he said. "They have their own distorted vision and doctrine of Islam and the other monotheistic religions."
"Thus, any textbook that does not correspond with what such criminal gangs believe and violates their vision and faith, was doomed to be burned," he said.
There are grave risks, he warned, should ISIL feed students deviant religious concepts and ideas, stressing the need to "confront those attempts and to quickly purge the region from the filth of terrorists".
http://al-shorfa.com/en_GB/articles/meii/features/2014/12/18/feature-02
--------
Tens of ISIL Terrorists Killed in Daylong Clashes in Syria's Kobani
23 Dec, 2014
The Kurdish Peshmerga fighters inflicted massive losses on the Islamic State of Iraq and the Levant (ISIL) militants in the Syrian town of Kobani, killing tens of the terrorists and injuring dozens more in heavy fighting.
At least 70 ISIL terrorists were killed in fierce clashes with the Kurdish fighters over the past 24 hours.
The Peshmarga fighters killed at least 20 ISIL terrorists, including the commander of Jundallah Takfiri terrorist group Abu Zahreh, in the surrounding areas of Yarmouk school.
In another battle, the Kurdish fighters killed over 50 ISIL terrorists and injured dozens more during an ISIL attack on Kobani city's cultural center.
The ISIL Takfiri terrorists currently control parts of Syria and Iraq. They have threatened all communities, including Shiites, Sunnis, Kurds, Christians, Ezadi Kurds and others, as they continue their atrocities in Iraq.
Senior Iraqi officials have blamed Saudi Arabia, Qatar, and some Persian Gulf Arab states for the growing terrorism in their country.
The ISIL has links with Saudi intelligence and is believed to be indirectly supported by the Israeli regime.
http://english.farsnews.com/newstext.aspx?nn=13931001001284
--------
Iraqi Troops Kill 16 ISIL Terrorists in Baiji
23 Dec, 2014
The Iraqi government troops on Monday killed 16 terrorists of the Islamic State of Iraq and the Levant (ISIL) group in Baiji in Salahuddin province.
"The Iraqi Army and the volunteers attacked the ISIL terrorists' shelters in Baiji, and killed 16 of them and burned four of their vehicles," an informed source said.
http://english.farsnews.com/newstext.aspx?nn=13931001001226
--------
ANF shuts down schools, imposes dress code in rural Idlib
23 Dec, 2014
Al-Nusra Front (ANF), al-Qaeda's arm in Syria, has begun applying what it refers to as sharia in areas under its control in rural Idlib, where it has imposed a dress code on girls and women and prohibited teachers from teaching without its permission.
On December 9th, ANF gunmen stormed the Mediterranean Institute in the city of Harem in Idlib province -- which is affiliated with the National Coalition for Syrian Revolutionary and Opposition Forces -- and suspended work at all departments, including the Arabic and English departments and the elementary teacher training department, according to Uday Zurayq, a teacher at the institute.
ANF gunmen announced on the day they stormed the institute that they were suspending work there "because it teaches English, the language of infidels and crusaders, according to the gunmen", Zurayq told Al-Shorfa.
"The language of infidels and crusaders at a time when foreign fighters constitute a large percentage of ANF fighters and communicate with each other in this language," he said. "It seems as if it is halal for them and haram for the rest of the citizens!"
Work also was suspended in the other departments of the institute, he said, with stipulation by ANF that work in the Arabic department would resume under its supervision and based on its curricula.
"This drove students to forego the institute completely, particularly after ANF informed the institute's administration that girls would not be allowed to attend classes since they must be accompanied by a mahram," Zurayq said.
Full report at:
http://al-shorfa.com/en_GB/articles/meii/features/2014/12/22/feature-01
--------
'Shariah preserves environment': Saudi Minister
23 December 2014
As part of the inauguration ceremony to kickstart this year's International Environmental Cities forum, Municipal and Rural Affairs Minister Prince Mansour bin Miteb stressed the role of Islamic Shariah in environmental preservation.
The event, held on Sunday, was organized by the Riyadh municipality in cooperation with the Dubai municipality and the Environmental Center for Arab Towns, and was attended by international experts and high-ranking Saudis.
Prince Mansour pointed out that landscape architecture should be based on a practical design for buildings, environmental friendly and compatible with a sustainable urban growth.
"That has been achieved in Riyadh, in the embodiment of the concept of landscape architecture through the implementation of an environmentally friendly city, by creating parks, gardens and facilities that have met the terms of the environmental accreditation projects," he said.
Full report at:
http://www.arabnews.com/saudi-arabia/news/678526
--------
For gay Syrians, jihadist threat adds new fear
23 Dec, 2014
Since jihadists from the Islamic State group seized control of two northeastern Syrian provinces, Jad has lost all contact with friends there from the country's tight-knit gay community.
The 32-year-old gay man, part of a community that has long suffered from persecution in socially conservative Syria, fears the worst.
"I don't have any news from them, their Facebook pages have been closed down," Jad said, sharing drinks with friends at a traditional cafe in an old neighbourhood of Damascus.
"Are they still alive? Have they managed to flee?" he wondered. "I don't know, and that's frightening."
His concern has only grown as the jihadists have released images showing attacks on homosexuals, including photographs this month of a man being thrown off a building and stoned.
Full report at:
http://www.dawn.com/news/1152660/for-gay-syrians-jihadist-threat-adds-new-fear
--------
Pakistan
Jews Didn't Do In Palestine What Terrorists Did In Peshawar: ANP
23 Dec, 2014
PESHAWAR – Awami National Party (ANP) chief Asfand Yar Wali Khan has said that the Jews did not do in Palestine what the terrorists have done in Army Public School, Peshawar.
He said that terrorism issue has become more complicated. He advised Pakistan and Afghanistan to work together and dig out a solution of this issue as soon as possible.
Talking to journalists after addressing the death anniversary of slain Awami National Party leader Bashir Bilour, Asfand Yar said that Afghanistan and Pakistan should together dig out the solution to the problem of terrorism and seek advice from United States and China as well.
Awami National Party chief said that the hearts of the displaced persons must be won. He said that their hopelessness will be a great threat. He also visited the young injured kids admitted in the Lady Reading Hospital.
http://www.dailytimes.com.pk/national/22-Dec-2014/jews-didn-t-do-in-palestine-what-terrorists-did-in-peshawar-asfand
--------
Pak madarsa expels sons of Marriott bombing accused
December 23, 2014
A madarasa in Pakistan's Punjab province has expelled two sons of a fugitive accused of having carried out the deadly Marriott Hotel bombings in 2008 in the national capital.
The militants rammed an explosive-laden truck into the five-star hotel and exploded it, killing more than 50 people. Mohammad Ashfaq, the accused behind the Marriott attack, had absconded to Afghanistan after the assault. Ashfaq's sons – 17-year-old Suhaib and 10-year-old Suhail – were expelled from madarssa Abdullah Bin Abbas in Kamalia town, where they were to memorise the Quran, the Dawn said.
Qari Ghulam Rasool of madarssa said he was not aware that they were Ashfaq's sons. "We came to know about their relations when their maternal uncle Arshad was arrested on Sunday," he said. Arshad, brother-in-law of Ashfaq, was picked up for his alleged involvement and having links with the perpetrators of Peshawar school massacre, the Express Tribune reported.
Full report at:
http://indianexpress.com/article/world/neighbours/pak-madarsa-expels-sons-of-marriott-bombing-accused/#sthash.TrZb9ItT.dpuf
---------
13 suspected militants killed in Karachi police operation
23 Dec, 2014
KARACHI: At least 13 suspected militants were killed on Monday after a shootout with police in Karachi, DawnNews reported.
Malir Police headed by SSP Rao Anwar carried out an operation in a Sohrab Goth locality where the alleged militants were hiding.
Officials said the suspects resorted to firing after sensing danger. The police returned fire and after a shoot out, 13 suspected militants were killed.
Police claimed the men were affiliated with the banned Tehrik-i-Taliban Pakistan (TTP) and Al Qaeda.
They also said that some of the men were wearing uniforms of law enforcement agencies.
A large cache of arms and ammunition was also seized during the operation. A police official said the militants were preparing to carry out a major terrorist attack in the city.
http://www.dawn.com/news/1152481/13-suspected-militants-killed-in-karachi-police-operation
--------
Extremist leader to be freed as Pakistan mulls new terror steps
23 Dec, 2014
The leader of a banned Pakistani sectarian militant group is set to walk free from jail, officials said Tuesday, even as the government considers "radical changes" to tackle militancy after a Taliban school massacre.
Malik Ishaq, the head of Lashkar-e-Jhangvi (LeJ), which is dedicated to killing minority Shiite Muslims, is expected to be released on Thursday after the Punjab provincial government withdrew a request to extend his detention under public order laws.
The announcement comes less than 24 hours after Prime Minister Nawaz Sharif pledged to eradicate the "cancer" of sectarianism and will add to concerns about the effectiveness of the government response.
LeJ has claimed responsibility for numerous bloody attacks, including two bombings targeting Shiites in the southwestern city of Quetta in 2013 that killed a total of nearly 200 people.
A senior legal official told AFP that the decision not to seek an extension of Ishaq's detention was made by a three-judge review panel at Lahore High Court on Monday.
Full report at:
http://english.ahram.org.eg/NewsContent/2/9/118644/World/International/Extremist-leader-to-be-freed-as-Pakistan-mulls-new.aspx
--------
Altaf's views about Lal Masjid inappropriate: JUI-F leader
23 Dec, 2014
HYDERABAD: The central secretary of information of the Jamiat Ulema-i-Islam-Fazl, Hafiz Hussain Ahmed, has said he hopes Altaf Hussain will take back his statement about demolition of Lal Masjid as it is inappropriate and indecent.
Difference of opinion is welcome but Altaf Hussain should have avoided making such a statement.
The MQM leader usually makes such remarks in the heat of his fiery speeches but positive thing about him is that when his attention is drawn to a particular point, he does not flinch from taking it back, he said.
He was speaking at a meeting held in memory of JUI-F Sindh leader Dr Khalid Mehmood Soomro who was recently killed in a targeted attack and later to journalists at the press club here on Monday.
He said that Altaf Hussain had the right to differ with the viewpoint of Maulana Abdul Aziz and criticise him for his outbursts but it was not appropriate to call for demolition of Lal Masjid.
Full report at:
http://www.dawn.com/news/1152510/altafs-views-about-lal-masjid-inappropriate-jui-f-leader
--------
State will protect every citizen irrespective of religion, sect or caste: PM Nawaz
23 Dec, 2014
ISLAMABAD: Prime Minister Nawaz Sharif said Tuesday that each and every citizen of Pakistan will be protected by the state, irrespective of their religion, sect or caste, and that no cause is holier than protecting the life and property of the people.
PM Nawaz was addressing a meeting in Islamabad to discuss matters relating to the scourge of terrorism in the country.
"We cannot forget and forgive atrocities committed by barbarians in Peshawar, Quetta and Wagha," the prime minister said. "There will be no discrimination and exception in our war against terrorism."
On Dec 16, a deadly Taliban attack on the Army Public School in Peshawar left 141 people dead — including 132 school children.
In the wake of the attack, a meeting of the country's civilian and military leadership, headed by PM Nawaz, had agreed on zero tolerance for terror. The leadership had agreed that no leniency would be extended to terrorists and tough steps would be taken in this regard.
The country's political leadership also constituted a committee to work out a national action plan for countering terrorism and asked recommendations from all parliamentary parties in this regard. The first meeting of the committee is under way at the Parliament House in the federal capital.
Full report at:
http://www.dawn.com/news/1152671/state-will-protect-every-citizen-irrespective-of-religion-sect-or-caste-pm-nawaz
--------
Pakistani Hindu refugees fight for their identity in secular India
23 Dec, 2014
The camp for Pakistani Hindu refugees stands next to a landfill. It's a straggle of tents lining a busy thoroughfare. This is now home. The government has donated tents, sent water tanks, mobile toilets and a generator that runs for a few hours a day.
The neighbouring Majnu ka Tilla gurdwara chips in with tea and langar, in a characteristic display of altruistic generosity that is the way of Sikhism.
The ground that serves as bed is uneven and cold, not clean enough, though not really dirty, and the children run around in clothes that are far from adequate for the chilly Delhi winter.
One expects resignation and defeat, but what one encounters is gratitude. It disarms you. Where is the anger at the unfairness of being homeless? I don't see it. When they speak to you, they speak of their mulk and how, once upon a time, things were all right and it was home. But everything changed.
Full report at:
http://indiatoday.intoday.in/story/pakistani-hindu-refugees-majnu-ka-tilla-refugee-camp-gadia-lohars-vann-gujjars/1/408186.html
--------
Four more convicts to be executed in Faisalabad today
December 23, 2014
FAISALABAD: Arrangements have been finalised for four more convicts to be sent to the gallows within the next few hours.
The convicts, Ghulam Nabi, Abdul Malik, Nawazish Ali and Mushtaq, were shifted to a district jail from the central jail in Faisalabad under tight security.
They were convicted for involvement in an attack on former president General (retd) Pervez Musharraf.
Nine militants were awarded capital punishment in the Musharraf attack case of which five have already been hanged in Faisalabad.
Further, the mastermind of the GHQ attack, Aqeel alias Dr Usman, was also hanged in Faisalabad as Prime Minister Nawaz Sharif allowed capital punishment for those who have already been sentenced to death in terrorism cases.
PM Nawaz took the step to lift a six-year moratorium on death penalties following Tehreek-e-Taliban Pakistan's attack on the Army Public School and College in Peshawar on Tuesday, which left 148 people, most of them children, dead.
http://tribune.com.pk/story/811042/four-more-convicts-to-be-executed-in-faisalabad-today/
--------
Six bullet-riddled bodies recovered from Mohmand Agency
23 Dec, 2014
PESHAWAR: Security personnel recovered six bullet-riddled bodies from the Yakagund area of Mohmand Agency on Tuesday, sources said.
Official sources said the victims had been shot dead and their bodies were dumped in Yakagund.
The bodies were shifted to District Headquarters Hospital for identification and autopsy.
There was no immediate claim of responsibility for the killings.
Mohmand Agency is one of Pakistan's seven tribal agencies near the Afghan border which are rife with homegrown insurgents and are said to be strongholds of Taliban and Al Qaeda operatives.
http://www.dawn.com/news/1152680/six-bullet-riddled-bodies-recovered-from-mohmand-agency
--------
Regulate Torkham border; repatriate refugees: PTI chief
23 Dec, 2014
PESHAWAR: Pakistan Tehreek-e-Insaf (PTI) chief, Imran Khan has stressed that the war against terrorism is difficult but can be won if the nation is united. He said by setting aside political differences, they are with the government to deal with terrorism.
The PTI chairman spoke with media here and said the nation had decided to fight terrorism and demanded the Frontier Constabulary (FC) be allowed to play its true role. Khan said the FC is responsible for guarding the border between FATA and the province and should resume this duty. "The police cannot bear this additional burden." According to Khan it was unrealistic to expect the police to fight terrorism. The PTI chairman also called for the Pak-Afghan border to be controlled as 15,000-20,000 people were crossing it daily. "There are only 500 visas issued at the border," Khan said. He added terrorism could not be stopped without controlling movement at the Torkam border.
Khan also called on the federal government to help the Khyber Pakhtunkhwa government over the issue of Internally Displaced Persons and Afghan refugees. He demanded repatriation of five hundred thousand Afghan refugees and financial assistance by the federal government to KP government for the IDPs. He said the war against terrorisms is difficult but not impossible. "If the country is united, it could be won," he emphasized.
http://www.dailytimes.com.pk/national/23-Dec-2014/regulate-torkham-border-repatriate-refugees-imran
--------
11 militants carried out Peshawar school attack: police report
December 23, 2014
PESHAWAR: Eleven terrorists carried out the brutal attack on Peshawar's Army Public School of which seven went inside the building while four stayed outside for coordination, Express News reported on Tuesday.
According to the initial investigation report on the attack which left over a hundred people, mostly schoolchildren, dead on December 16, the four attackers who were in the vicinity to assist those inside the school building eventually managed to escape through Bihar Colony.
These attackers reportedly entered Peshawar from Landi Kotal the morning of the attack and arrived at 3am in the Bihar Colony area of the city.
Detailing how the attack unfolded, the report stated that the attackers entered the school campus around 10:15am while the first explosion took place at 10:30am.
The report further said that the attackers arrived in two groups, one of which used a Suzuki van belonging to the school. Both groups are believed to have entered the school at the same time.
Two of these attackers were from Afghanistan, the report added.
http://tribune.com.pk/story/811044/11-militants-carried-out-peshawar-school-attack-police-report/
--------
South Asia
Bangladesh ex-minister sentenced to hang for genocide
23 Dec, 2014
DHAKA: Bangladesh's war crimes court on Tuesday sentenced a former government minister to hang for rape and genocide during the 1971 independence struggle against Pakistan.
Syed Mohammad Kaiser became the 15th person to be convicted of atrocities by the International Crimes Tribunal, which found him guilty of heading a militia that rounded up and killed some 150 people in the nine-month conflict.
The 73-year-old, who uses a wheelchair, did not react as the judge read out the verdict and said he would be "hanged by the neck until his death".
Lawyers for Kaiser, a former minister with the Jatiya Party which forms part of Bangladesh's ruling coalition, have rejected the charges and say they will appeal.
The government of Prime Minister Sheikh Hasina created the International Crimes Tribunal, a domestic court, in 2010.
It has mostly focused on the trials of the leaders of the largest religious party, Jamaat-e-Islami, although a former minister of the main opposition Bangladesh Nationalist Party has also been sentenced to hang.
Full report at:
http://www.dawn.com/news/1152672/bangladesh-ex-minister-sentenced-to-hang-for-genocide
--------
1 ANA Martyred, 7 Insurgents Killed Across Afghanistan
Dec 23 2014
The Defence Ministry of Afghanistan on Tuesday morning said a soldier of the Afghan National Army (ANA) embraced martyrdom while on clearance operations.
A statement issued by the ministry's spokesman Gen. Zahir Azimi states that seven insurgents were also killed including 2 foreign fighters and eight others sustained injuries in these operations conducted in Kapisa and Nimroz provinces in past 24 hours.
The statement adds that 49 different types of Improvised Explosive Devices (IEDs) were also seized by Afghan National Army in the operations.
After the responsibility of the security started to transfer over to Afghan forces in Afghanistan there is an increase in the military operations against the insurgents.
http://www.khaama.com/1-ana-martyred-7-insurgents-killed-across-the-country-2598
--------
6 Taliban militants blown up by own explosives in Nangarhar
Dec 23 2014
At least six Taliban militants were blown up by own explosives in eastern Nangarhar province of Afghanistan, local official said.
The incident took place late on Monday in Pechigram district while the militants were busy to produce an Improvised Explosive Device (IED).
Provincial police spokesman, Hazrat Hussain Mashriqwal, confirmed that six militants were killed following the blast.
The Taliban militants group has not commented regarding the incident so far.
Taliban insurgents frequently use Improvised Explosive Device (IED) as the weapon of their choice to target Afghan and coalition security forces which normally lead to civilian casualties.
According to a UN report released on Friday, the civilian casualties hit a record high this year, with 3,188 civilians killed and 6,429 injured by the end of November.
The United Nations Assistance Mission in Afghanistan (UNAMA) report warned that civilian casualties were expected to exceed 10,000 by the end of the year.
http://www.khaama.com/6-taliban-militants-blown-up-by-own-explosives-in-nangarhar-9161
--------
Turkey should look after Uighur Turks in Thailand, says head of Uighurs
23 Dec, 2014
Turkey should look after the 290 Uighur Turks who are being kept in a camp in Thailand and face the possibility of being executed if returned to China, said the president of the World Uighur Congress (WUC) Rebiya Kadeer.
Kadeer, who is an Uighur businesswoman and principle activist for Uighur independence, said, "We are Turks. Our race, language, religion, culture, essence and words are one, Turkey has welcomed around 1 million Syrians, has provided various aid, mostly money, to people fleeing Iraq, Palestine, Libya and Somalia. It has done well, but Turkey should also look after the 290 Uighur Turks, which include children, women and elderly people that are being kept in camps in Thailand and face the danger of execution if they return to China," said Kadeer. "Turkey is the only country that the Uighur Turks trust and hope from."
Kadeer questioned why Turkey is not helping the Uighur Turks when it is rendering aid to all manners of individuals who have fled wars, by establishing tent cities and providing food and healthcare.
Full report at:
http://www.hurriyetdailynews.com/turkey-should-look-after-uighur-turks-in-thailand-says-head-of-uighurs-.aspx?pageID=238&nID=75950&NewsCatID=356
----------
Muslim party quits in major blow to Mahindra Rajapaksa
23 Dec, 2014
COLOMBO: Sri Lanka's President Mahindra Rajapaksa suffered a setback to his re-election hopes Monday when a key minister and his minority Muslim party quit the coalition government.
Industry and Commerce Minister Rishad Bathiudeen said he was switching allegiance to Maithripala Sirisena, the main opposition candidate seeking to topple Rajapakse in a Jan 8 election.
It is the latest in a series of blows for the 69-year-old president, who was seen as the favourite when he called snap polls last month but has seen his former health minister Sirisena garner significant support.
Bathiudeen accused Rajapaksa of failing to restrain a radical Buddhist group accused of attacking mosques, churches and businesses run by religious minorities in the Buddhist-majority country.
Full report at:
http://www.dawn.com/news/1152583/muslim-party-quits-in-major-blow-to-sri-lankan-leader
--------
China mulls national security law to deal with terrorists
23 Dec, 2014
China is formulating a new national security law to safeguard security in the backdrop of a spurt in terrorist attacks in the Muslim-majority Xinjiang province.
A draft legislation which aims to be a "comprehensive and fundamental piece of legislation" was tabled today in the Standing Committee of the National People's Congress (NPC) for its first reading.
Tabling the draft, Director of the Commission for Legislative Affairs of the NPC Standing Committee, Li Shishi, told lawmakers, "It was necessary to make a fundamental law on national security in accordance with the new contemporary environment."
It comes in the backdrop of some of the worst terrorist attacks in China this year by suspected militants of the East Turkistan Islamic Movement (ETIM), an al-Qaeda backed militant body having support in the Muslim-majority Xinjiang province.
Full report at:
http://www.thehindu.com/news/international/world/china-mulls-national-security-law-to-deal-with-terrorists/article6715826.ece
----------
Africa
Clashes claim 20 lives in Central Africa
23 Dec, 2014
BANGUI: At least 20 people have been killed and dozens injured in the latest inter-ethnic clashes in the Central African Republic, police said on Monday.
An official said the violence broke out on Friday when mainly Christian anti-balaka militias launched an attack against rebels of the largely Muslim former Seleka alliance and Peul in the central region of Bambari. "At least 12 people were killed in that attack," the official said.
He said ex-Seleka rebels and armed Peul herders — also known as the Fulani — launched a reprisal attack on Saturday on the village of Kouango, 90 kilometres (55 miles) south, killing at least eight people, injuring dozens and setting several homes on fire.
"Many residents fled to the bush and others sought refuge in the capital Bangui where hundreds of people from both regions have arrived in recent months," the official said.
Bambari, which lies near the dividing line separating the Christian south from the northern region controlled by ex-Seleka rebels, has been the scene of fierce clashes that have left more than 100 people dead and at least 200 injured since June.
Last week 28 people were killed in sectarian clashes in Mbres, just days after a reconciliation ceremony organised by the UN peacekeeping mission there.
The former French colony that is diamond-rich but dirt poor has suffered numerous coups and bouts of instability since independence in 1960, but the March 2013 toppling of Francois Bozize's regime by the Seleka rebel coalition triggered the worst upheaval to date.
http://www.dawn.com/news/1152558/clashes-claim-20-lives-in-central-africa
--------
Dozens killed in Nigeria bomb blasts
23 Dec, 2014
At least 27 people have been killed and 60 wounded following two bomb attacks at a market and bus station in northeast Nigeria.
A massive explosion rocked a market in Bauchi on Monday, setting the entire area ablaze as rescue workers struggled to contain the fire.
Al Jazeera's Ahmed Idris, reporting from Abuja, said the attack appears to have been designed to maximize casualties targeting traders as they were leaving the market.
"At least seven people have been killed according to health officials and the entire market is up in flames," he said.
Haruna Mohammed, police spokesman for Bauchi state said 19 people were also wounded, the Reuters news agency reported.
Earlier on Monday, another explosion killed at least 20 people at a bus station in Gombe city, not far away from Bauchi.
Full report at:
http://www.aljazeera.com/news/africa/2014/12/deadly-blast-at-nigeria-bus-station-20141222122023301934.html
--------
Five killed as Libyan forces and Islamist fighters clash in Benghazi
23 Dec, 2014
At least five people were killed and 35 wounded in clashes between Libyan pro-government forces and Islamist fighters in Benghazi, medics and military officials said.
Army special forces and troops led by former general Khalifa Haftar have been fighting to oust Islamist groups in the eastern coastal city since October and have managed to retake the airport area and army camps that were seized in August.
Islamist groups have managed to retain some control over the port and the Lithi residential area.
The fighting is part of a wider struggle for control of the North African country which sits on Africa's largest oil reserves. Former rebel groups which helped topple Muammar Gaddafi in a 2011, NATO-backed uprising now fight each other.
Full report at:
http://english.ahram.org.eg/NewsContent/2/8/118593/World/Region/Five-killed-as-Libyan-forces-and-Islamist-fighters.aspx
--------
Algeria troops 'kill' chief militant behind Frenchman's murder
23 December 2014
An Algerian television network reported on Tuesday that the army has killed the head of the Jund al-Khilafa militant group behind the beheading of a Frenchman in September.
Abdelmalek Gouri, whose group has pledged allegiance to the Islamic State of Iraq and Syria (ISIS) organization that has overrun large parts of Iraq and Syria, was killed in Sidi Daoud, about 80 kilometres (50 miles) from Algiers, Nahar TV said.
The army killed two other members of Jund al-Khilafa in the same operation, the channel said.
The security services confirmed Gouri's identity, according to the report, which could not be immediately confirmed.
Full report at:
http://english.alarabiya.net/en/News/middle-east/2014/12/23/Algeria-troops-kill-chief-militant-behind-Frenchman-s-murder-.html
--------
Central African Republic - Muslims Trapped in Enclaves
23 Dec, 2014
Nairobi — Hundreds of Muslim residents in western parts of the Central African Republic are trapped in enclaves in deplorable conditions, Human Rights Watch said today. They fear attacks if they leave, but interim government authorities and United Nations peacekeepers block them from fleeing abroad or provide no security assistance.
"Those trapped in some of the enclaves face a grim choice: leave and face possible attack from anti-balaka fighters, or stay and die from hunger and disease," said Lewis Mudge, Africa researcher at Human Rights Watch. "While there are good reasons to ensure that the country's Muslim population does not diminish further, under the current circumstances, the government's policy of no evacuations is absolutely indefensible."
UN peacekeepers should not be complicit in preventing Muslims from leaving to seek safety, Human Rights Watch said.
Full report at:
http://allafrica.com/stories/201412221058.html
--------
Mideast
Turkish President Erdoğan declares birth control 'treason'
23 Dec, 2014
After expressing his staunch opposition against abortions, C-sections and morning-after pills, Turkish President Recep Tayyip Erdoğan has now tackled the contraception issue by declaring that it was "treason to the country," in remarks that are likely to revive controversy on reproductive health.
"They betrayed this country for years by [promoting] birth control and attempting to dry up our [next] generations," Erdoğan said.
Contraception is the latest network of treason to be discovered by the president in Turkey after declaring the Gülen movement last week to engaged in treachery.
Addressing the bride and groom at the wedding ceremony of the son of businessman Mustafa Kefeli on Dec. 21, he advised the newlyweds that using contraceptive methods was a betrayal to Turkey's ambition to make itself a flourishing nation with a growing young population.
"One [child] would be strange, two means rivalry, three means balance and four means abundance. And God takes care of the rest," he said, relating ostensible words of wisdom from an elderly man in the Central Anatolian district of Beypazarı.
Full report at:
http://www.hurriyetdailynews.com/turkish-president-erdogan-declares-birth-control-treason.aspx?pageID=238&nID=75934&NewsCatID=338
--------
Iranian Speaker Slams Israeli-Arab Support for Terrorists
23 Dec, 2014
Iranian Parliament Speaker Ali Larijani lambasted the Zionist regime and certain Arab states' financial and political supports for the terrorist groups in the region.
"At present, certain terrorist streams are being fed by the resources of the Zionist regime and certain regional Arab countries," Larijani told reporters in Beirut on Monday.
He warned that certain states are making a tactical use of terrorism and ignite a fire which cannot be extinguished easily, adding that during his visit to Beirut he would hold talks with the Lebanese officials on ways to fight terrorism.
Larijani underlined that the developments in the region, specially in Syria, Lebanon and Iraq, are specially complicated.
Full report at:
http://english.farsnews.com/newstext.aspx?nn=13931001000658
--------
Five bombs explode in Yemeni capital, killing one
23 Dec, 2014
ADEN: Five bombs exploded on Tuesday in Sanaa's old quarter, where many supporters of the Shia Muslim Houthi movement live, killing a member of the group and wounding another person, a senior security official said.
One of the bombs was placed near the home of Ismail al-Wazir, a professor at Sanaa University, state news agency Saba quoted the director general of the Sanaa police, Brigadier General Abdelrazzaq al-Mo'ayad, as saying.
Wazir, who is close to the Houthi group, escaped an assassination attempt in April when gunmen opened fire on his vehicle, killing two of his security guards.
No one has claimed responsibility for the April attack or Tuesday's bombings, but the Houthis have been fighting the Sunni Islamist Al Qaeda and allied tribesmen since its gunmen captured Sanaa in September and forced the resignation of a government they had long accused of corruption.
Full report at:
http://www.dawn.com/news/1152669/five-bombs-explode-in-yemeni-capital-killing-one
--------
Turkey welcomes limited dual citizenship in Germany, demands more
23 Dec, 2014
Turkey has welcomed new German legislation that partially removes the citizenship "option model," which affects approximately 3.5 million Turkish immigrants living in Germany, the largest ethnic minority in the country.
A written statement by the Turkish Foreign Ministry on Dec. 22 welcomed the adoption of the new law, but also said a "fair and final solution" to the issue would be enabling dual citizenship for Turks in Germany.
Dual citizenship would "serve to strengthen social integration," said the statement.
According to the agreement between the Christian Democratic Union/Christian Social Union (CDU/CSU) and the Social Democratic Party (SPD), the "option model," which required foreigners to choose a single citizenship by the age of 23, has been abolished.
The new regulation aims to provide citizenship to all foreigners in Germany, regardless of their country of origin or date of birth, which is a relative development compared to the previous restrictions.
The coalition government of the Social Democrats and Greens had passed a law in 2000 ruling out dual citizenship.
http://www.hurriyetdailynews.com/turkey-welcomes-limited-dual-citizenship-in-germany-demands-more-.aspx?pageID=238&nID=75929&NewsCatID=510
--------
Israeli who joined ISIS may have citizenship revoked
23 Dec, 2014
Interior Minister Gilad Erdan is considering if he will revoke the citizenship of an Israeli minor who joined joined Islamic State in Syria or Iraq and is now trying to come back home for medical treatment.
Erdan said, in an interview with Channel 2 on Monday, that he is waiting for Foreign Minister Avigdor Liberman's recommendation in order to decide how to proceed in revoking the citizenship of Marwan Haldi, a Nazareth resident, before he can return to Israel.
"This is someone who was most likely trained to kill as part of the most brutal terror organizations in the world," Erdan said in a statement to The Jerusalem Post. "It's up to me to seriously reconsider his return to Israel as well as his continuing to be a citizen."
Haldi reportedly left Israel about two months ago and had since cut off all ties with his family. However, a few days ago, his relatives were informed that he was in Turkey, hospitalized in serious condition and suffering from burns over his entire body. It was not reported how he sustained these injuries, however.
Problems initially began when relatives of Haldi requested a new copy of Marwan's passport from the Interior Ministry so that he could come back to Israel, but their request went unanswered. Now the family is threatening to take the case to the Supreme Court.
"Haldi's continued presence in Turkey could cause permanent damage to his health," said Haldi's attorney Hussein Abu Hussein.
http://www.jpost.com/Israel-News/Israeli-who-joined-ISIS-may-have-citizenship-revoked-385462
--------
8 Arab east Jerusalem residents indicted for using Facebook to incite terrorism
23 Dec, 2014
Eight Arab east Jerusalem residents arrested last week on charges of using their Facebook accounts to allegedly incite terrorism were indicted by the Jerusalem Magistrate's Court on Monday.
The suspects were charged with "incitement to violence or terror" and "supporting a terrorist group" after disseminating numerous photos and videos imploring Arabs to kill Jews and Israeli security forces.
"They directly called for violence and terror against [Jewish] citizens and security forces and praised, encouraged and supported these deeds and their perpetrators," the indictment stated.
Full report at:
http://www.jpost.com/Arab-Israeli-Conflict/8-Arab-east-Jerusalem-residents-indicted-for-using-Facebook-to-incite-terrorism-385431
--------
Palestinians say Gaza reconstruction pledges unfulfilled
23 Dec, 2014
International donors have so far failed to deliver billions of dollars in aid money that was promised to rebuild the war-battered Gaza Strip, a Palestinian official said Monday, saying the rift between rival Palestinian factions is deterring foreign governments from sending aid.
In the wake of a 50-day war between Israel and Palestinian militants over the summer, international donors promised $2.7 billion to help rebuild Gaza at a conference in Cairo in October. But Palestinian Deputy Prime Minister Mohammed Mustafa said "not even one penny" has been received from major donors such as Qatar, the United Arab Emirates and Turkey.
"Frankly speaking, what is happening now is not encouraging," Mustafa said. He said just a trickle of money has been received, but refused to elaborate.
Full report at:
http://english.alarabiya.net/en/News/middle-east/2014/12/22/Palestinians-say-Gaza-reconstruction-pledges-unfulfilled.html
------
Europe
Satellite images show 290 heritage sites in Syria damaged by war: UN
23 Dec, 2014
Satellite imagery indicate that 290 cultural heritage sites in Syria, whose history stretches back to the dawn of civilization, have been damaged by its ongoing civil war, the United Nations' training and research arm (UNITAR) said on Tuesday.
Syria's heritage spans the great empires of the Middle East but cultural sites and buildings around the country, such as Aleppo's Umayyad Mosque, have been looted, damaged or destroyed in the three-year-old conflict.
Using commercially available satellite pictures, UNITAR found that 24 sites were completely destroyed, 189 severely or moderately damaged and a further 77 possibly damaged.
This is "an alarming testimony of the ongoing damage that is happening to Syria's vast cultural heritage", UNITAR said in a new report.
"National and international efforts for the protection of these areas need to be scaled up in order to save as much as possible of this important heritage (for) humankind."
Clashes between President Bashar al-Assad's forces and rebels have damaged historical sites and buildings throughout Syria. Pillaging has threatened tombs in the desert town of Palmyra and Roman temples have been damaged.
Full report at:
http://english.ahram.org.eg/NewsContent/2/8/118637/World/Region/Satellite-images-show--heritage-sites-in-Syria-dam.aspx
--------
Kazakh President Slams Islamic State
23 Dec, 2014
The President of Kazakhstan, Nursultan Nazarbaev, has said that Islam is a religion of peace, and that the Islamic State group and Islamic terrorism have nothing to do with that religion.
Speaking at his annual meeting with reporters at the Astana-based presidential residence on December 21, the Akorda, Nazarbaev said that the problem of "extremism and terrorism" had become particularly acute at the end of last century and the beginning of the twenty-first century.
"However, there is no reason to link [extremism and terrorism] with Islam," Nazarbaev added.
The Kazakh president pointed to the fact that the Islamic State group in Syria and Iraq has militants from many nationalities, and said that "Islamic terrorism" has no religious or national origins.
Full report at:
http://www.rferl.org/content/kazakh-president-nazarbaev-islamic-state/26756490.html
--------
Four Azerbaijanis Arrested By IS In Raqqa Appear In New Video
23 Dec, 2014
The Islamic State group has released a new video showing four Azerbaijani men it says were arrested as part of a "cell of extremists" who had been plotting an armed rebellion in Raqqa, Islamic State's de facto capital in Syria.
The men, two of whom speak in Azeri and two in accented Russian, look frightened and give what appear to be forced "confessions" -- possibly read from a script -- about their part in the alleged plot.
In the video, shared on social media on December 21, the first Russian-speaking man, named as Abu Maryam, says that he and others considered "this nation" (a reference to local Syrians) "mushriks" (polytheists). Abu Maryam said that he and his fellow conspirators wanted to kill them and appropriate their property.
Full report at:
http://www.rferl.org/content/islamic-state-azerbaijanis-raqqa-video/26756843.html
--------
Germany: Thousands stage anti-immigration rally, rail against 'Islamization of West'
Record 17,000 stage anti-Islam rally in Germany
23 Dec, 2014
A record 17,000 anti-Islamic protesters rallied for their tenth demonstration in as many weeks Dec. 22 in eastern Germany, celebrating the rise of their far-right populist movement by singing Christmas carols.
Germany has for weeks grappled with the emergence of the "Patriotic Europeans Against the Islamisation of the Occident" or PEGIDA, whose ranks in the city of Dresden have swelled rapidly from just a few hundred in October.
About 4,500 counter-demonstrators marched through the city under the slogan "Dresden Nazi-free," warning that there was no space for racism and xenophobia in the country that perpetrated the Holocaust.
Most PEGIDA followers insist they are not Nazis but patriots who worry about the "watering down" of their Christian-rooted culture and traditions. They often accuse mainstream political parties of betraying them and the media of lying.
Full report at:
http://www.hurriyetdailynews.com/record-17000-stage-anti-islam-rally-in-germany.aspx?pageID=238&nID=75961&NewsCatID=351
--------
North America
'No act of terror can serve Islam': U.S Muslim organisations
23 Dec, 2014
WASHINGTON: Muslim organisations in the United States have rejected efforts by the Taliban and other extremist groups to hide behind Islam to justify their violent agenda.
"No act of terror will ever serve the cause of Islam," says the All Dulles Area Muslim Society (ADAMS), a leading Muslim group.
In separate messages, all major Muslim groups in the United States have also rejected the Taliban claim that last week's brutal attack on a school in Peshawar was jihad.
"The souls of the depraved people who carried out this attack are beyond redemption, and obviously already lost to the evil Darkness that inspired their action," ADAMS said.
"There can be no justification, religious or otherwise, for the killing of innocent schoolchildren and school staff," said the Islamic Society of North America, the largest Muslim organisation in the United States and Canada.
"Our deepest condolences and prayers go out to the victims and their families of this senseless attack," said ISNA president Azhar Azeez.
The Islamic Circle of North America, the second largest Muslim group in the region, described the Peshawar school attack as "senseless and brutal and noted that the Tehreek-i-Taliban was "quick to claim responsibility for the horrifyingly inhumane act."
Full report at:
http://www.dawn.com/news/1152593/no-act-of-terror-can-serve-islam
--------
U.S. Government Pledges to Work with CAIR, MAS on UAE Designation
23 Dec, 2014
The Council on American-Islamic Relations (CAIR) said today that its representatives met with U.S. government officials about a recent move by the United Arab Emirates (UAE) to add CAIR and the Muslim American Society (MAS) to its list of "terrorist" groups.
In a joint statement, CAIR and MAS said:
"The Council on American-Islamic Relations (CAIR) and the Muslim American Society (MAS) met with senior U.S. government officials regarding the United Arab Emirates' (UAE) recent inclusion of the two legally-operating organizations on a list of groups it considers to be terrorist entities. The two American Muslim organizations and the U.S. government pledged to work together to achieve a positive solution to the UAE designations.
"A State Department spokesman rejected the designations two days after the list was issued and affirmed that department officials meet regularly with representatives of CAIR and MAS."
CAIR is America's largest Muslim civil liberties and advocacy organization. Its mission is to enhance the understanding of Islam, encourage dialogue, protect civil liberties, empower American Muslims, and build coalitions that promote justice and mutual understanding.
http://www.prnewswire.com/news-releases/us-government-pledges-to-work-with-cair-mas-on-uae-designation-300013134.html
--------
Case of police surveillance of N.J. Muslims goes before federal appeals court
23 Dec, 2014
A federal appeals court will consider a lawsuit over alleged police spying on New Jersey Muslim communities next month in what advocates say could be their best chance to hold police accountable.
The lawsuit alleges that New York City police violated Muslims' constitutional rights when they monitored Muslim student groups, businesses, schools and mosques including ones in Paterson and Newark, based on their religion.
"The court is going to have to decide whether this is a constitutional claim. If it's yes, it will go back to trial court and we'll get to move forward on the case," said Glenn Katon, legal director at Muslim Advocates, the civil rights group that filed the lawsuit.
The U.S. Third Circuit Court of Appeals in Philadelphia is scheduled to hear the appeal Jan. 13 and a rally is being planned outside the courthouse the same day in support of the Muslim individuals and groups that filed the lawsuit.
Full report at:
http://www.northjersey.com/news/case-of-police-surveillance-of-n-j-muslims-goes-before-federal-appeals-court-1.1174402
---------
Southeast Asia
Human rights group calls for inquiry into Malaysia's role in CIA torture
23 Dec, 2014
Human rights group Suaram urges Putrajaya to set up an independent commission of inquiry to unravel the authorities' involvement in the United States's torture programmes, following a US Senate report in which Malaysia was implicated.
The recent report on Central Intelligence Agency (CIA) tactics after the September 11, 2001 terrorist attacks have revealed that Malaysia was one of many allies in the US "Global War on Terror" in which suspected militants were captured and sent to secret prisons for interrogation.
Suaram executive director Yap Swee Seng said until now, there are no details on the extent of Malaysia's role in the controversial report.
"The names of US allies had been redacted from the executive summary.
However, Malaysia was named in having assisted CIA in at least two cases in an earlier report titled "Globalising Torture: CIA Secret Detention and Extraordinary Rendition" by the Open Society Justice Initiative in February last year.
"Details of the extent of 'contribution' by the Malaysian government remain unknown to the public," Yap said in a statement today.
Full report at:
http://www.themalaysianinsider.com/malaysia/article/human-rights-group-calls-for-inquiry-into-malaysias-role-in-cia-torture-tac#sthash.7bdXcPHN.dpuf
--------
Defer sitting to introduce Islamic criminal law, lawyers tell Kelantan
23 Dec, 2014
A lawyers' group wants the PAS-led Kelantan government to postpone the special sitting to amend its Shariah enactment for the implementation of hudud in the state until it had carried out consultation with stakeholders.
Lawyers for Liberty executive director Eric Paulsen said it was shocked at the Kelantan government's extreme haste in holding the sitting despite the controversy and strong objections.
"What is even more outrageous and unbecoming is that the draft hudud amendments and implementation plan are still shrouded in secrecy despite the obvious seriousness and far reaching implications they would have on Malaysia," he said in a statement today.
The state government is proposing changes to the Shariah Criminal Enactment II 1993 ahead of its plan to table in Parliament a private member's bill to amend the Federal Constitution and facilitate implementation of hudud in Kelantan.
http://www.themalaysianinsider.com/malaysia/article/defer-sitting-to-introduce-islamic-criminal-law-lawyers-tell-kelantan#sthash.IuXCX9y6.dpuf
--------
Malaysian, Indonesian militants form Isis cell, says report
23 Dec, 2014
Malaysian and Indonesian militants are believed to have joined forces to form a cell under the banner of the Islamic State of Iraq and Syria (Isis), Sinar Harian Online reported today.
The cell, named "Katibah Nusantara Lid Daulah Islamiyyah", uses Bahasa Indonesia/Malaysia as their official language.
Sinar Harian Online quoted a Bukit Aman source as saying that cell members had been sent to Afghanistan and the Middle East to undergo military training.
"Katibah Nusantara Lid Daulah Islamiyyah or Malay Archipelago Unit for the Islamic State is one of the Isis cells in the Middle East."
"It is understood the unit was formed as many members had trouble communicating in English or Arabic with other Isis members."
The source said militant members from the cell provided financial facilities for those wanting to fight with Isis.
Full report at:
http://www.themalaysianinsider.com/malaysia/article/malaysian-indonesian-militants-form-isis-cell-says-report#sthash.tezgCRKt.dpuf
--------
Hudud plan not a problem for Pakatan, says PAS
23 Dec, 2014
PAS today dismissed talks that its renewed push for hudud in Kelantan will destroy Pakatan Rakyat, saying the coalition had "agreed to disagree" on issues such as this.
Its information chief Datuk Mahfuz Omar said in the spirit of democracy, the party would accept if Parliament rejects the move to introduce the Shariah enactment.
"I don't consider hudud can split PR. This is because we have reached an agreement previously... when the late Karpal Singh was still alive, we had reached a consensus on this (hudud), to agree to disagree," he told reporters at the PAS headquarters in Kuala Lumpur today.
"PAS has agreed that DAP did not agree on hudud. The meaning here is we respect each others' opinions.
"This is a fine democratic achievement that PR has made.
"Like a married couple, there must be something that they disagree with one another, but they can still live under one roof. No problem."
The Pokok Sena MP's statement comes as the PAS-led Kelantan government recently moved to convene a special sitting of the legislative assembly on Monday to amend its Islamic laws in order to pave the way for a private member's bill in Parliament.
Full report at:
http://www.themalaysianinsider.com/malaysia/article/hudud-plan-not-a-problem-for-pakatan-says-pas#sthash.wm5meuBR.dpuf
--------
India
'As UK, US and India watched, Lashkar man Zarrar Shah plotted 26/11'
Dec 23, 2014
Months before the 26/11 attacks took place, British, US and Indian intelligence agencies were already spying on the online activities of the Lashkar-e-Toiba's Zarrar Shah, tracking his Internet searches and messages.
But they failed to piece together the larger design, according to a report published in The New York Times on Monday.
"What happened next may rank among the most devastating near-misses in the history of spycraft. The intelligence agencies of the three nations did not pull together all the strands gathered by their high-tech surveillance and other tools, which might have allowed them to disrupt a terror strike so scarring that it is often called India's 9/11," said the report, 'In 2008 Mumbai Attacks, Piles of Spy Data, but an Uncompleted Puzzle'.
According to the report, "The British had access to a trove of data from Mr Shah's communications, but contend that the information was not specific enough to detect the threat. The Indians did not home in on the plot even with the alerts from the United States. Clues slipped by the Americans as well."
Full report at:
http://indianexpress.com/article/india/india-others/as-uk-us-and-india-watched-lashkar-man-plotted-2611/99/#sthash.TNse0jkP.dpuf
--------
Kalyan youth may be in ISIS 'custody'
Bharti Jain, TNN | Dec 23, 2014
NEW DELHI: One of the three Kalyan youth who volunteered to fight for ISIS and are still holed up in Iraq/Syria, may be in "custody" of the global terror outfit in Mosul, according to intelligence reports reaching New Delhi. The suspected reason is that ISIS may have got whiff of the youth's plans to "desert" the ISIS territory and escape to India.
Sources in the security establishment indicated that R&AW, in its latest report, cited inputs that ISIS may be "holding" the Kalyan youth in Mosul. The intelligence, which needs to be further confirmed, follows reports in the foreign media that ISIS had executed around 100 members for trying to flee their base in the northern Syrian city of Raqaa.
It may be recalled that the parents of the three ISIS youth, encouraged by the safe return of the fourth Kalyan youth Areeb Majeed to Mumbai recently, have been in touch with the Indian government to also secure their release from ISIS territory and facilitation of their journey back home.
Full report at:
http://timesofindia.indiatimes.com/india/Kalyan-youth-may-be-in-ISIS-custody/articleshow/45610567.cms
---------
URL: https://newageislam.com/islamic-world-news/isis-conquer-europe-soon,-undertake/d/100646