New Age Islam News Bureau
13 Aug 2015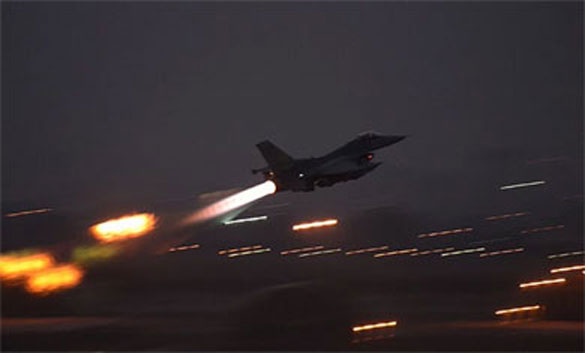 An F-16 Fighting Falcon takes off from Incirlik air base in Turkey, on Wednesday. Photograph: Krystal Ardrey/AP
--------
Arab World
• ISIS Truck Bomb in Baghdad Kills More Than 70 and Injures 200
• Departing U.S. Army Chief Says Iraq May Have To Be Partitioned
• ISIL Preparing to Launch Chemical Attack on Al-Shadadi
• ISIL Comes Under Iraqi Forces' Siege in Ramadi
• Egypt Muslim Brotherhood calls for peaceful protests
• Political activist dies in Egypt custody: Rights activists
-----------
India
• Islamic State `Mission 2020` Map Includes India, Middle East
• Kishtwar: 'Lashkar Man' In Burqa among Two Held at I-Day Venue
• Centuries-Old Qur'an Copy Found In India
• Muslims in Nepal demand a Hindu state
• Second Indian freed from Libya returns to Bengaluru
• Islamic State link unlikely in Kashmir, observers say
• AIMPLB Asks Muslims to Resist Govt's 'Brahmin Dharma Push'
• Pak ceasefire violations continue for fifth day
• BJP workers held for 'posing' as census officials in Muslim areas
• Pakistan NSA Sartaj Aziz to visit India for talks on August 23
• Indian envoy to Pak calls for candid talks on terror and need for building trust
------------
South Asia
• Taliban Kill Up To 15 Police in Southern Afghanistan
• Six Writers Threatened With Death in Bangladesh
• Terrorist attack in Kabul planned in Pakistan: Ghani
• Search underway for Mullah Omar's grave in Zabul
• Hefajat's Mufti Izharul shown arrested in ACC case
---------
Mideast
• Alleged U.S. Drone Strike in Yemen Kills 5 Al-Qaeda Militants
• U.S. Launches First Anti-ISIS Airstrikes from Turkey
• Iran to expand economic cooperation with Pakistan: Javad Zarif
• Turkey has no plan to send ground forces to Syria
• Zarif, Assad discuss fight against 'terror'
• Iran shuts border post into Turkey after truck attacked
• Erdogan vows no let-up in fight against Kurdish rebel
• Houthis responsible for bloodshed in Yemen
• Turkey Replaces Al-Nusra Front with Turkmen Rebel Group in Aleppo Countryside
• Iran Launches Hectic Diplomacy to Build Regional Coalition against ISIL
-----------
Pakistan
• Military Foils Independence Day Bomb Plot
• Four Cops Killed In Karachi Attack
• Agencies accused of supporting banned outfits
• Muttahida resignations: JUI-F chief tasked to woo MQM back to parliaments
• Nigeria keen to boost trade ties with Pakistan
• Arifwala City tense after man accused of 'desecration' of the Holy Quran
------------
Africa
• Nigeria: Boko Haram Is Said to Have a New Leader
• Boko Haram: Six Suspected Suicide Bombers Arrested In Maiduguri
• Day Senators rose against Boko Haram
• Uganda: Rival Muslim Sects Fight At Court
• Rwandan rebels kidnap 6 Tanzanian Muslim leaders in DR Congo, demand $20,000 ransom
----------
North America
• Anti-Muslim Group Can't Post Bus Ads with Photos of Terrorists, Claim about Reward for Capture
• Islamic State Group Claims They Hacked US Military
• U.N. statement on Syria delayed over Venezuela objections
• Orlando Airport Accommodates Muslims
• Hirsi Ali Teams Up With Act for America for Event on Islam
• A Fresh Perspective: Proud to be a Canadian
------------
Europe
• Spain Arrests Man Marketing Islamic State Clothing Range
• Islamic State's Egyptian Ally Says It Beheads Croat - SITE
• Muslim mothers promote diversity at schools in France
• Police arrest Syrian in Germany for runaway migrant freighter
• Committedly Islamic, avowedly feminist: Germany's Islamic feminist movement
-----------
Southeast Asia
• Two Lawsuits Today Spotlight Supremacy of Constitutional Guarantees Vs Islamic Law
• Malaysia Needs Moderate Islamic Leadership, Says Former Minister
• Malaysian ship in uncharted waters – Muslim Professionals Forum
• In Indonesia, Muslim group protests church construction
• After decade of peace, many in Aceh left behind
Compiled by New Age Islam News Bureau
URL: https://www.newageislam.com/islamic-world-news/new-age-islam-news-bureau/isis-truck-bomb-in-baghdad-kills-more-than-70-and-injures-200/d/104262
------------
Arab World
ISIS Truck Bomb in Baghdad Kills More Than 70 and Injures 200
August 13, 2015
A refrigerated truck packed with explosives blew up in a crowded market in Sadr City, a Shi'ite district in north-eastern Baghdad.
At least 70 people were killed and 200 wounded on Thursday when a refrigerated truck packed with explosives blew up in a crowded market in Sadr City, a Shi'ite district in north-eastern Baghdad, police and medical sources said.
There was no immediate claim of responsibility for the blast, but Islamic State, ultra-radical Sunni Muslim militants who seized swathes of northern Iraq last year, have claimed similar attacks targeting Shi'ite neighbourhoods.
http://www.thehindu.com/news/international/scored-killed-truck-bomb-blast-in-baghdad/article7534177.ece?homepage=true
-----------
Departing U.S. Army chief says Iraq may have to be partitioned
12 August 2015
The U.S. Army's outgoing chief of staff warned Wednesday that reconciliation between Shiites and Sunnis in Iraq is becoming harder and that partitioning the country "might be the only solution."
General Raymond Odierno, who once served as the top U.S. commander in Iraq and retires Friday after nearly 40 years in uniform, said the U.S. focus for now should be on defeating the Islamic State of Iraq and Syria (ISIS), the militant group that has seized large portions of the country.
But in a valedictory news conference he took a pessimistic view about the underlying conflict between Shiites and Sunnis that brought the two communities to brink of civil war in 2006.
Asked if he saw any possibility of reconciliation between the two, Odierno said "It's becoming more difficult by the day" and pointed to a future in which "Iraq might not look like it did in the past."
Asked about partition, he said: "I think that is for the region and politicians to figure out, diplomats to figure out how to work this, but that is something that could happen.
"It might be the only solution but I'm not ready to say that yet."
In the meantime, he said, "We have to deal with ISIL first and decide what it will look like afterwards." ISIL is an acronym some U.S. officials use in referring to ISIS.
The U.S. military, which withdrew from Iraq in 2011, has resumed training Iraqi forces and select Syrian rebels as part of a renewed effort to contain and eventually roll back ISIS. U.S. warplanes also are conducting air strikes against ISIS targets in Iraq and Syria.
Odierno said ISIS "has been blunted somewhat" by the airstrikes and Kurdish and to a less extent Iraqi forces on the ground.
"I think right now we are kind of at a stalemate and continue to make some progress," he said, adding it was important to continue rebuilding the Iraqi military.
Odierno served as the top U.S. commander in Iraq from 2008 to 2010. He had urged that a residual US force be left in country, but the U.S. and Iraqi governments were unable to reach an agreement that would have allowed them to stay.
http://english.alarabiya.net/en/News/middle-east/2015/08/12/Departing-U-S-Army-chief-says-iraq-may-have-to-be-partitioned.html
-----------
ISIL Preparing to Launch Chemical Attack on Al-Shadadi
Aug 12, 2015
"The ISIL militants were unloading plastic barrels of chemical materials from the trucks and they did not allow the civilians to get close to them," informed local sources told FNA on Tuesday.
They noted that ISIL is preparing for a surprise attack on Hasaka city.
Abu Mohammad al-Adnani, the ISIL commander in al-Shadadi, has ordered the foreign ISIL militants to be stationed in their positions near al-Shadadi in preparation for the chemical attack.
In June 2013, Russian journalists, who were in Syria, said there was no doubt that the foreign-backed opposition fighters and terrorists have used chemical weapons in attacks in the vicinity of the Syrian city of Aleppo on March 19, 2013.
These Russian journalists handed over some videos to the United Nation Secretariat. The videos showed the foreign-backed fighters of the opposition forces had used chemical weapons in attacks in the area of the Syrian city of Aleppo.
The report about these videos, which were handed over to the United Nation Secretariat by these Russian journalists were already confirmed by the spokesman for Deputy UN Secretary-General Farhan Haq, Syria News reported.
Farhan Haq said the videos showed the "opposition fighters" used chemical weapons in their attacks on March 19. The information will be given to Oke Selstemu, who is the head of the UN experts investigating the possible use of chemical weapons/weapons of mass destruction in Syria.
On Friday, the UN Security Council unanimously adopted a resolution on establishing the Joint Investigative Mechanism (JIM) to identify and bring to justice individuals and organizations responsible for chemical weapon attacks in Syria.
According to the resolution, the UN secretary general and the OPCW are to submit recommendations regarding the establishment of the mechanism to the Security Council within 20 days after the adoption of the resolution.
A mission to eliminate Syria's chemical arsenal was announced after a deadly gas attack killed hundreds outside Damascus in August 2013.
http://english.farsnews.com/newstext.aspx?nn=13940521000557
-----------
ISIL Comes Under Iraqi Forces' Siege in Ramadi
Aug 12, 2015
"The ISIL has been besieged from all angles in Ramadi," Brigadier General Ahmad al-Bilawi, an Iraqi military Commander in Ramadi, said on Wednesday.
This is for the first time that the Takfiri terrorists have come under all-out sieged as Iraq's joint forces are showing stronger resolve to win back the city.
Earlier today, the military sources said that the Iraqi Army and the Shiite Volunteer Forces of Hashd al-Shaabi have continued their joint operations against strongholds of the ISIL Takfiri terrorists in Ramadi.
"The Iraqi forces alongside Hashd al-Shaabi militia are advancing against the ISIL rebels in the Northern and Eastern sides of Ramadi," Head of the security committee in the Khalidiyah Council in Anbar province Ibrahim Fahdawi said.
"The Iraqi army men and Shiite forces have advanced from the Northern front against the militants and have reached the outskirts of Jirashi between Abu Diab area and Anbar Operations Command," said Fahdawi, adding, "The security forces have also advanced in the East and from the direction of Husaybah and al-Madyaq regions."
In late July, the ISIL terrorists started fleeing Ramadi to save their lives after sustaining heavy casualties in initial clashes in Ramadi.
Popular and military sources in Iraq said ISIL members had lost morale after the recent victories of the popular troops in Al-Anbar province and were fleeing the city of Ramadi.
The Iraqi army and the volunteer forces won back control over strategic hilltops in the Eastern parts of the city of al-Ramadi.
http://english.farsnews.com/newstext.aspx?nn=13940521001112
-----------
Egypt Muslim Brotherhood calls for peaceful protests
Aug 13, 2015
Egypt's Muslim Brotherhood movement has called on its supporters to launch peaceful protests on the second anniversary of the Rabaa and Nahda massacres.
In a statement issued on its website, the movement urged Egyptians to hold peaceful rallies all over the country on Friday to mark the second anniversary of the "mass-slaughter of thousands of innocent Egyptians in the Rabaa and Nahda massacres," decrying the killings as the "the most horrid humanitarian crime, the worst massacre in the history of Egypt."
"We call on the masses of patriotic Egyptian people to join a roaring revolutionary wave of non-violent protests that should continue until the end of August. We will demonstrate in all the major streets and public squares, under the slogan 'Rabaa: Earth will not drink up blood,'" read the statement.
A supporter of deposed Egyptian president Mohamed Morsi (C) is seen beaten by pro-government and army supporters during clashes that erupted at Tahrir Square in Cairo, July 22, 2013. (© AFP)
The movement noted that it will never succumb to pressures exerted by the "despotic corrupt military rule," adding that Egyptians are intent on giving "the world a new example of resisting oppression, despotism and brutal military coups."
Meanwhile, Egypt's Interior Ministry vowed to launch another heavy-handed crackdown on anti-government protests.
In July 2013, Egypt's first democratically elected president, Mohamed Morsi, was ousted by the military under the leadership of Abdel-Fattah el-Sisi, the country's current president.
On August 14, 2013, Egyptian security forces raided two camps of pro-Morsi protesters in Cairo: One at the al-Nahda Square and another larger one at the Rabaa al-Adawiya Square.
According to the Egyptian Health Ministry, the attacks claimed the lives of 638 people, 595 of whom were civilians, and injured at least 3,994 others.
Egyptian Muslim Brotherhood leader Mohamed Badie (C) gestures from the defendants' cage as he and others attend their trial, along with ousted president Mohamed Morsi, at the police academy in Cairo, June 2, 2015. (© AFP)
Following the military ouster of Morsi, thousands of his supporters and also proponents of the Muslim Brotherhood movement have been jailed, with many of them, including Morsi himself, receiving death penalties in mass trials.
http://www.presstv.ir/Detail/2015/08/13/424524/Egypt-Muslim-Brotherhood-Rabaa-Nahda-Morsi-Sisi
-----------
Political activist dies in Egypt custody: Rights activists
Aug 12, 2015
Egyptian rights advocates have recorded the death of another political activist behind bars, in what is viewed as prison authorities' negligence in dealing with those jailed for opposing the government, Press TV reports.
Human rights activists said Wednesday that Rifaat Radwan died in the Abu Za'abal prison in Qalyubia north of the capital Cairo
The prisoner, whose health condition had seriously deteriorated in the past few months, died because of what is said to be lack of medical services, rights activists in Qalyubia said.
Two years ago, 37 political activists were reportedly trapped in the back of a van and gassed to death outside the Abu Za'abal prison.
Radwan was arrested about a year ago when he was inside his house in Kafr Ajwa in the city of Zaqaziq northeast of Cairo. He was accused of operating for groups linked to the banned Muslim Brotherhood movement. He was also charged with taking part in "unauthorized" anti-government protests, and "incitement" against the military-backed government of President Abdel Fattah el-Sisi.
The file photo shows Ahmed Hussein Ghozlan, a top member of Egypt's Muslim Brotherhood party, who died in jail on July 31, 2015, reportedly due to negligence by prison officials.
According to the rights groups, the death of Radwan is the ninth recorded among political detainees inside detention facilities over the past 12 days.
Among those who lost their lives in Egyptian custody were senior Brotherhood members and supporters of Anti-Coup Alliance.
Full report at:
http://www.presstv.ir/Detail/2015/08/12/424430/Egypt-Qalyubia-Abu-Zaabal-prison-Rifaat-Radwan
-----------
India
Islamic State `Mission 2020` Map Includes India, Middle East
11 Aug 2015 03
The Islamic State plans to take over Middle East, North Africa, parts of Europe and almost the entire Indian subcontinent, by the next five years, according to a chilling map that features in a new book on the dreaded terror group 'Empire of Fear: Inside the Islamic State' .
According to the map, the Islamic State of Iraq and Syria (ISIS) plans to take control of the Middle East, North Africa, most of the Indian subcontinent and parts of Europe, within the next five years, to complete its caliphate.
According to the map, Andalus is the Arabic name given to the parts of Spain, Portugal and France that were occupied by the Moors from the 8th to the 15th century while the Indian subcontinent would come under 'Khurasan'.
The caliphate --- a state governed by Sharia law which ISIS plan to claim -- covers areas from Spain in the west to China in the east, the Mirror reported citing the map.
The map reveals the calculated way ISIS plans to take over the world by 2020.
Supporters of Caliph Ibrahim, alias Abu Bakr al-Baghdadi, propagated a map via Twitter, showing the caliphate, whose territory comprehends the north and east of Syria and half of Iraq, and is expected to expand in the future like the historic caliphate of the 7th century, to include the Near and Middle East, North Africa, and then Spain, Portugal, Austria, southeast Europe, the Caucasus, central Asia and the sub-Saharan regions of Africa. And there was timeline for the planned annexations, in which, for instance, the fall of Madrid is announced for the year 2020.
BBC reporter Andrew Hosken, who includes the map of the targeted areas in his new book 'Empire of Fear: Inside the Islamic State', said ISIS wants "to take over all of what they see as the Islamic world.
Full report at:
http://www.saharasamay.com/world-news/676577685/isis-mission-to-conquer-india-by-2020.html
-----------
Kishtwar: 'Lashkar Man' In Burqa among Two Held at I-Day Venue
by Arun Sharma
Aug 13, 2015
Two suspected Lashkar-e-Taiba terrorists, one of them wearing a ladies suit and a Burqa, were arrested by Jammu and Kashmir Police at Kishtwar town on Wednesday. Identifying them as Jamal Din and Abdul Karim, both brothers and residents of Keshwan Thakrai, sources say that they were arrested from Chowghan ground, the venue of forthcoming Independence Day parade at the district headquarters. They appear to have come there to do a reece of the area. Both the arrested terrorists happened to be brothers of slain Lashkar terrorist Habib Gujjar who was killed by police and security forces in a joint operation in 2011. Jamal Din was held by police earlier as well for his association with terrorist activities, but released later. According to sources, Jamal was wearing a ladies suit and a burqa over it. He even wore ladies shoes, but alert police officials at the Chowghan Ground suspected something fishy in his behaviour. The police were already looking for Jamal as part of their exercise to keep watch on suspicious elements ahead of important events like Independence Day celebrations. Full report at:
http://indianexpress.com/article/india/india-others/jk-two-suspected-let-terrorists-held-at-venue-of-i-day-parade/
-----------
Centuries-Old Qur'an Copy Found In India
12 August 2015
CAIRO – One of the world's oldest copies of the holy Qur'an, recovered by police in the south western state of Karnataka, is believed to be dating back to the period of Mughal ruler, Akbar, which existed at least four centuries ago.
"There is no information except that it is dedicated to the saints of that period," historian Prof. Sheikh Ali told The Hindu on Tuesday, August 11.
"Though I have seen many copies of the Qur'an in India, I have not seen one as old as this."
The 410-year-old Qur'an copy, which is believed to be the oldest in the Indian subcontinent, was recovered by police in Karnataka's Mysuru district.
A gang that bought the copy from an anonymous person in Hyderabad was intending to sell it for Rs. 5 Crore, approximately $776,754, according to the police.
"When we learnt about them trying to sell the valuable book by sharing videos, a team of policemen approached them in K.R. Nagar posing as prospective buyers," Mysuru district Superintendent of Police, Abhinav Khare, said.
Historians described the recovered 604-page copy as a "piece of art."
"It was written in 1050 of the Hijri calendar, which works out to 1605 AD, which is around the period when Mughal rule was at its peak in India and the time when Akbar was succeeded by Jehangir," historian Ali added.
The Qur'an is a revelation from God, the creator of the worlds, so He is the original author.
The holy book is originally in Arabic, with many of its translations in several languages.
There could be multiple translations by different authors in the same language such as English.
Full report at:
http://www.onislam.net/english/news/asia-pacific/491667-centuries-old-quran-copy-found-in-india.html
------------
Muslims in Nepal demand a Hindu state
Aug 12, 2015
In an unusual move, Muslims in Nepal have backed the ongoing campaign for reinstating the country's erstwhile Hindu identity, saying they are more "secure" under a Hindu state than under a secular Constitution.
"It is to protect Islam. I have opened my mouth demanding that Nepal be declared a Hindu state in order to protect my own religion," said Amjad Ali, chairman of the Rapti Muslim Society, who is also involved in the protest programmes demanding a Hindu state in Nepal.
CPN-UML CA member Anarkali Miya said she has personally experienced missionaries trying to influence people from other faiths to follow Christianity. "I believe Nepal should not adopt secularism. It will only create more problems in future," Miya said.
Udbudhin Fru, chairman of Muslim Mukti Morcha affiliated to the UCPN (Maoist), also admitted the growing influence of Christianity in Nepal.
"Turning the country secular is nothing but a design to break the longstanding unity among Muslims and Hindus. So there is no alternative to reinstating the country's old Hindu State identity in order to allow fellow citizens to live with religious tolerance," Babu Khan Pathan, chairperson of the Rastrabadi Muslim Manch Nepalgunj, was quoted as saying by The Himalayan Times.
Full report at:
http://www.deccanherald.com/content/494893/muslims-nepal-demand-hindu-state.html
-----------
Second Indian freed from Libya returns to Bengaluru
05 Aug 2015
Bengaluru: Vijay Kumar, the second Indian released by the Islamic State (IS) militants in Libya last week, returned to Bengaluru on Tuesday night to a warm welcome by his family and friends.
"I am happy to be back in India and Bengaluru. The ordeal is over finally," a relieved Vijay Kumar told reporters soon after landing at the Kempegowda international airport from Tunisia via Dubai.
A lecturer at the University of Sirte in Libya, he was freed on Saturday along with Laxmikant Ramakrishna from Raichur in north Karnataka, about 490km from here.
"We are releasing you as you taught our students. You go to India and practice Islam," Kumar cited his abductors telling him while releasing them.
Asserting that their abductors treated them well and did not harm or even touched them, Kumar said they asked him if he was a Muslim.
"When I told that am an Indian have been here (in Libya) for over four years to teach their students, they respected and told we can go to India," Kumar said, adding some of them (abductors) wielding guns were his students not long ago.
Ramakrshina, another lecturer at the same university, returned to Hyderabad earlier in the day and reached Raichur by late evening.
Vijakumar and Ramakrishna were abducted on July 29 along with two other Indians - T. Gopikrishna and Balaram Krishna from the neighbouring states of Andhra Pradesh and Telangana.
Full report at:
http://www.indiatvnews.com/news/india/second-indian-freed-from-libya-returns-to-bengaluru-53424.html
-----------
Islamic State link unlikely in Kashmir, observers say
August 12, 2015
Umar Shah, Srinagar
Religious and civic leaders have downplayed fears voiced by security forces that the Islamic State (IS) group is making inroads in the restive northern Indian state of Jammu and Kashmir.
The military expressed concern after news channels in India showed footage of young Kashmiri boys waving black IS flags at gatherings during the holy month of Ramadan.
Militants in India's only Muslim-majority state want Kashmir to become part of Pakistan or independent from India. Many people are also angry at what they see as oppressive measures being conducted by New Delhi to stamp out dissent.
"The manner in which they [terror groups] use social media and how they manage to engage young people are serious. So these are issues we need to look at more seriously," Lt. Gen. D.S. Hooda, the northern army commander, told ucanews.com.
Other members of the security forces have voiced similar concerns.
However, religious leaders and other leading figures in Kashmir say hints of the Islamic State in Kashmir are signs of desperation, not terrorism, and that security forces are jumping to conclusions.
Altaf Hussain, a renowned author, says people in Kashmir do not support the cruel practices of the Islamic State.
"There is no other reason why Kashmiri youths should wave IS flags other than to make their protests noticed by one and all," Hussain said.
Kashmir's chief cleric, Mirwaiz Umar Farooq, holds a similar view and said the waving of IS flags was simply an expression of anger against the federal government.
"It is a fact that there is rampant oppression in the state. All avenues and opportunities of free expression of opinion and freedom of democratic means of assembly are denied to Kashmiris," he said.
"People are demanding the opportunity to exercise their right to self-determination and their voice is being muzzled. Growing anger among people and especially the youth, in such circumstances, is quite natural. If it is termed as radicalization then it is also important to see who after all is actually responsible for it," the cleric told ucanews.com.
There could otherwise be no connection between the IS and Kashmir as the two are poles apart in terms of culture and politics, he added.
Full report at:
http://www.ucanews.com/news/islamic-state-link-unlikely-in-kashmir-observers-say/74066
-----------
AIMPLB asks Muslims to resist govt's 'Brahmin dharma push'
by Mohd Faisal Fareed
Aug 13, 2015
The All India Muslim Personal Law Board (AIMPLB) has given a call to all minority organisations, institutions and Imams to fight against what it called the "NDA government's sinister design to impose Vedic culture and Brahmin dharma". The AIMPLB will push forward the agenda during its first conclave of clerics, Imams, qazis and heads of minority schools and colleges on August 17 in Bhopal. The conclave is being held to implement the resolution that was passed by its working committee in June slamming the Central government for propagating yoga, surya namaskar and Vande Matram in educational institutes. The resolution had termed these as "part of Brahmin dharma and against the ideology of Muslims".
Full report at:
http://indianexpress.com/article/india/india-others/aimplb-asks-muslims-to-resist-govts-brahmin-dharma-push/
-----------
Pak ceasefire violations continue for fifth day
August 13, 2015
The latest escalation from the Pakistani side is apparently aimed at helping militants to infiltrate from across the border ahead of Independence Day to carry out attacks in J&K.
Pakistani troops violated the ceasefire for the fifth day today increasing the arch of firing and shelling along LoC by targeting scores of Indian posts and civilian areas in three districts of Jammu, Rajouri and Poonch, drawing retaliation from the Army. The latest escalation from the Pakistani side is apparently aimed at helping militants to infiltrate from across the border ahead of Independence Day to carry out attacks in Jammu and Kashmir, officials said.
There have been four ceasefire violations in three sectors of Krishnagati, Bhimbhergali and Pallanwala in Poonch, Rajouri and Jammu districts overnight and a total of seven such violations since Wednesday, they said.
Full report at:
http://www.thehindu.com/news/national/pakistan-ceasefire-violations-continue-for-fifth-day/article7534085.ece?w=spa
-----------
BJP workers held for 'posing' as census officials in Muslim areas
Sudipto Mondal
Aug 13, 2015
Five BJP women's wing activists were arrested by the police in a Muslim dominated area of Bengaluru on Wednesday evening after locals accused them of trying to steal their voter ID cards.
While the women told the police that they were campaigning for the civic polls scheduled for August 22, residents of Siddapura (ward number 144) lodged an FIR saying the women were trying to con them into parting with their voting cards.
"Five women came into my house around 5pm and told me they were from the census department. They asked me to show them my voting card. When I showed them the card, they said it was no longer valid and tried to take it away," Shamsunissa (62) told HT.
There was some tension in the area after hundreds surrounded the women workers, but police escorted them to the safety of a jeep.
Shamsunissa said that just when she was questioning the women, dozens of men from her locality barged into the house shouting "chor-chor" (thief).
"The men asked the women for their ID cards and there was confusion. After a few minutes, the women started crying and confessed that they were BJP workers," she said.
Tabrez Suhail (32), one of the men who barged into Shamsunissa's house, told HT, "We were following these women for around an hour. They would go to the Muslim houses where the women were alone and ask for their voter cards claiming they were census officials. We knew that no census is being conducted right now and got suspicious."
The BJP women took down names and phone numbers in cases where people refused to part with their voter cards, he alleged.
Full report at:
http://www.hindustantimes.com/india-news/bjp-workers-held-for-posing-as-census-officials-in-muslim-areas/article1-1379533.aspx
-----------
Pakistan NSA Sartaj Aziz to visit India for talks on August 23
Aug 13, 2015
Pakistan's national security advisor Sartaj Aziz will visit India for talks on August 23, he said on Thursday, in the neighbour's first attempt in months to restart dialogue between the two countries.
"I can confirm that I will be going to India on August 23," Sartaj Aziz, the advisor on foreign affairs to Pakistani Prime Minister Nawaz Sharif, told a news conference.
Prime Ministers Narendra Modi and Nawaz Sharif had agreed during a meeting in the Russian city of Ufa in July that the NSAs would meet to discuss all issues related to terrorism.
The new strategy marks a change from the government's earlier position when it summarily called off scheduled talked between foreign secretaries of the two countries after Pakistani high commissioner Abdul Basit held talks with Kashmiri separatists.
Reports have suggested that Pakistan wants India's alleged involvement in fomenting unrest in Balochistan, the financial hub of Karachi and the tribal areas to be part of the talks. The civilian government has become vocal about this issue since the powerful army's corps commanders accused India of "whipping up terrorism" in Pakistan in May.
Full report at:
http://www.hindustantimes.com/india-news/pakistan-nsa-sartaj-aziz-to-visit-india-for-talks-on-august-23/article1-1379688.aspx
-----------
Indian envoy to Pak calls for candid talks on terror and need for building trust
INTIKHAB HANIF
Aug 13, 2015
LAHORE: Indian High Commissioner Dr T.C.A. Raghavan urged Pakistan on Wednesday to understand his country's perspective on terrorism instead of coming up with a "defensive stance" whenever the issue is raised.
"There is a need to understand why we are raising this issue," he said, adding that the two countries should candidly discuss the issue of terrorism.
He said that Pakistan had faced a lot of terrorism which, he added, would have to be looked into from different angles so that the two countries could move forward.
He was delivering a lecture on "The Peace Dividends" at the Human Rights of Commission of Pakistan office. The lecture was attended by a large number of rights, peace and civil society activists and academicians, including I.A. Rehman, Hina Jilani and Dr Mubarak Ali.
"There is a need to understand why we are raising this issue"
Mr Raghavan said that though the two countries had made a lot of progress in developing good relations, mainly through technology (internet and satellite television) and travel facilities, they were required to develop trust in each other. "Without this, issues like the Kashmir dispute cannot be resolved."
He said India wanted peace with its neighbours to strengthen its economy. Its major achievement has been the attainment of six per cent GDP growth despite its diversity and huge population. And it wants to raise it further to seven to eight per cent in 25 years in order to meet challenges like poverty.
He said Indian (presumed) aspirations about its regional and global approaches as discussed by defence experts did not match its top priority of raising its GDP growth rate. It was important to heed this priority, he added.
He said historically relations between Pakistan and India had been complex. But they were not bad before the 1965 war when they signed the Indus Basin Water Treaty. It was a landmark achievement and both the countries have been remarkably sticking to it.
The diplomat said neighbours did have historical legacies which should not influence their policies to each other.
He said the dividends of peace would enable India and Pakistan to focus on their domestic challenges. "We have a huge challenge of development and transferring its benefit to our people."
Full report at:
http://www.dawn.com/news/1200208/indian-envoy-calls-for-candid-talks-on-terror-and-need-for-building-trust
-----------
South Asia
Taliban kill up to 15 police in southern Afghanistan
Aug 13, 2015
KANDAHAR: Taliban insurgents dressed in police uniforms killed up to 15 policemen after raiding a security checkpoint in southern Afghanistan, officials said Wednesday, in the latest attack of their intensifying summer offensive.
The attack on Tuesday in Musa Qala district in the volatile province of Helmand highlights an expanding insurgency that has left beleaguered Afghan forces stretched on multiple fronts.
"At least nine policemen were killed after insurgents disguised in police uniforms attacked a check post in Musa Qala district," said Omar Zwak, spokesman for the governor of Helmand.
But Bashir Shakir, a member of the provincial council, gave a higher toll, saying 15 policemen were killed in the late night attack.
Read: New Taliban leader calls for unity in ranks in first audio message
Taliban spokesman Qari Yusouf Ahmadi claimed responsibility for the raid.
The Taliban are stepping up their summer offensive, launched in late April, amid a bitter leadership dispute following the announcement of the death of longtime supremo Mullah Omar.
Full report at:
http://www.dawn.com/news/1200240/taliban-kill-up-to-15-police-in-southern-afghanistan
-----------
Six writers threatened with death in Bangladesh
Aug 13, 2015
DHAKA: Bangladesh police have launched an investigation into apparent death threats against six secular writers, days after the murder of a fourth blogger in six months.
The six, who include poets, bloggers and a journalist, all live in the southern city of Barisal and went to police after their photographs appeared late on Tuesday on a new Facebook page registered under the name Ansar-BD.
"There are three anti-Islamic poets and three organisers of bloggers. They are the enemy of Islam. We should do whatever it takes," read the post.
Police said they did not know who was behind the threat but were taking it seriously, and the country's elite security force was investigating.
Full report at:
http://www.dawn.com/news/1200133/six-writers-threatened-with-death-in-bangladesh
-----------
Terrorist attack in Kabul planned in Pakistan: Ghani
August 12, 2015
KABUL: President Mohammad Ashraf Ghani has blamed that the terrorist attack in Shah Shaheed area of Kabul that left 15 killed and hundreds of others wounded was orchestrated in Pakistan.
In two separate meetings with envoys of a number of countries in Presidential Palace on Tuesday, President Ghani said that this attack was planned by terrorist groups in Pakistan.
He said after Mullah Mohammad Omar was announced dead, terrorist groups openly organized gatherings in Pakistan and announced 'war' against the government of Afghanistan.
President Ghani further said that Pakistan needs to acknowledge the sincerity of the issue and take strict actions against terrorist groups in its soil.
Full report at:
http://nation.com.pk/national/12-Aug-2015/terrorist-attack-in-kabul-planned-in-pakistan-ghani
-----------
Search underway for Mullah Omar's grave in Zabul
Aug 13 2015
A search has been ongoing to find the grave of Mullah Mohammad Omar, the supreme leader of Taliban, in southern Zabul province.
Mohammad Anwar Ishaqzai, governor of Zabul province has told VOA news that there hasn't been any improvement but the search is in progress.
He did not specifically said who is looking for Mullah Omar's grave but VOA quoting sources say that those looking for it are associated with the National Directorate of Security (NDS) – Afghanistan's intelligence agency.
There are rumors that if Mullah Omar's body was brought into Zabul province, he would have been laid to rest in Shinkay or Nawbahar districts where several Taliban commanders have been buried.
Full report at:
http://www.khaama.com/search-underway-for-mullah-omars-grave-in-zabul-3750
-----------
Hefajat's Mufti Izharul shown arrested in ACC case
August 13, 2015
A Chittagong court yesterday granted the prosecution's appeal to show Hefajat-e Islam leader Mufti Izharul Islam Chowdhury arrested in a case filed by the Anti-Corruption Commission (ACC) for not submitting his wealth statement.
Divisional Special Judge Mir Ruhul Amin passed the order after hearing the petition filed on August 10, said ACC's public prosecutor Mejbah Uddin Chowdhury.
Full report at:
http://www.thedailystar.net/city/hefajats-mufti-izharul-shown-arrested-acc-case-126190
-----------
Mideast
Alleged U.S. drone strike in Yemen kills 5 al-Qaeda militants
13 August 2015
A suspected U.S. drone strike has killed five al-Qaeda fighters in eastern Yemen on Wednesday, officials said, as extremist groups claimed a string of attacks in the war-torn country.
The officials said the bombs hit the men in their car while they were traveling on a coast road east of the Arabian Sea port of Mukalla, which was occupied by al-Qaeda fighters in April after security forces retreated.
Al-Qaeda in the Arabian Peninsula (AQAP) is the deadliest branch of the global militant organization and has taken advantage of a war pitting Houthi militiamen against forces loyal to exiled President Abdrabbu Mansour Hadi to grab territory and operate more openly.
Full report at:
http://english.alarabiya.net/en/News/middle-east/2015/08/13/Suspected-U-S-drone-strike-kills-5-al-Qaeda-militants-in-Yemen.html
-----------
U.S. launches first anti-ISIS airstrikes from Turkey
13 August 2015
The U.S. on Wednesday launched its first airstrikes by Turkey-based F-16 fighter jets against Islamic State of Iraq and Syria (ISIS) targets in Syria, the Pentagon said.
The airstrikes mark a limited escalation of a yearlong air campaign that critics have called excessively cautious.
Previously, the U.S.-led coalition bombing the jihadist group had used unmanned drones for missions launched from Turkey, with jets flying from carriers and other bases in the region.
"Today, the United States began flying manned counter-ISIL missions from Incirlik Air Base, Turkey. Strikes were conducted," Pentagon spokeswoman Commander Elissa Smith said, using another acronym used for ISIS.
"This follows Turkey's announcement last month that it would open its bases to United States and coalition members'' air operations against ISIL, as part of deeper U.S.-Turkey counter-ISIL cooperation," she added.
Pentagon officials have said the main advantage of using Incirlik is its proximity to ISIS targets in northern Syria, although a senior U.S. defense official said Wednesday that the F-16s may also be used on missions over Iraq. The official was not authorized to discuss F-16 mission details publicly and spoke on condition of anonymity.
Full report at:
http://english.alarabiya.net/en/News/middle-east/2015/08/13/U-S-launches-first-anti-ISIS-strikes-from-Turkey-.html
-----------
Iran to expand economic cooperation with Pakistan: Javad Zarif
MATEEN HAIDER
Aug 13, 2015
ISLAMABAD: Iranian Foreign Minister Javad Zarif on Thursday said that Iran intends to expand economic cooperation with Pakistan, along with increasing regional cooperation.
Addressing a joint press conference on his day-long visit to Pakistan, the visiting FM along with Adviser to Prime Minister Nawaz Sharif on Foreign Affairs and National Security Sartaj Aziz said that constructive and positive discussions to expand bilateral cooperation were held during the meeting, according a report published on Radio Pakistan.
He said during the discussions, both sides reviewed the regional situation and extremism. He added that Iran hopes for a positive outcome from the talks between the Afghan Taliban and Afghan government being mediated by Pakistan, which will help bring peace in the region.
Aziz said that views on regional and international issues of mutual interest were also exchanged during the meeting.
"We agreed that enhancing bilateral collaboration in the energy sector was one of the major areas of mutually beneficial cooperation," Aziz said. Progress on the Iran-Pakistan gas pipeline was also emphasised, he added.
Sartaj further said that economic integration and connectivity within the region should be improved in order to achieve better economic and commercial activity "not just between our two countries but all the neighbouring countries as well".
He also said that Pakistan welcomes the agreement on nuclear deal, hoping that it will lead to peace on an international level.
Earlier, the top Iranian diplomat arrived at PM House and discussed bilateral ties with Prime Minister Nawaz Sharif. He also took the premier into confidence over the recent nuclear deal between the United States, Russia, China, Britain, France and Germany.
Take a look: Iran nuclear deal: World leaders voice relief
Zarif also held formal talks with Sartaj Aziz at the Foreign Office where all aspects of bilateral cooperation between the two countries were reviewed.
This is Zarif's second trip to Pakistan in a span of four months which is part of a South Asia visit. He is scheduled to travel to Delhi from Islamabad.
Zarif had at the end of last month undertaken a visit of Arab countries touring Kuwait, Qatar and Iraq for what was described by the Iranian foreign ministry as an effort to "strengthen ties and develop cooperation in all fields with neighbours".
Also read: Iran FM's visit to focus on economic cooperation
Besides developing trade and economic cooperation, Iran is through this regional outreach seeking to address its neighbours' concerns and engage them for resolution of regional issues, such as the conflicts in Syria and Yemen, and also for dealing with the threat from terrorist groups, including Daesh.
Full report at:
http://www.dawn.com/news/1200244/iran-to-expand-economic-cooperation-with-pakistan-javad-zarif
-----------
Turkey has no plan to send ground forces to Syria
13 August 2015
Turkey does not expect to deploy ground forces in Syria to fight Islamic State of Iraq and Syria (ISIS), although that option should remain on the table, Foreign Minister Mevult Cavusoglu said in a television interview on Thursday.
"Right now, no ground operation is envisaged, but in the future whatever is needed to fight ISIS - including ground operations - should be done, this is my personal opinion," Cavusoglu told HaberTurk TV.
Full report at:
http://english.alarabiya.net/en/News/middle-east/2015/08/13/Turkey-does-not-plan-to-send-ground-forces-to-Syria-FM.html
-----------
Zarif, Assad discuss fight against 'terror'
13 August 2015
Iran's Foreign Minister Mohammad Javad Zarif met embattled Syrian President Bashar al-Assad in Damascus on Wednesday, and called on regional countries to "fight terrorism and extremism".
Assad, in turn, thanked key ally Iran for its support in a four-year civil war that has cost more than 240,000 lives.
"I say to the other (regional) players and to our neighbours that now is the time to care about the truth, answer the aspirations of the Syrian people and work to fight terrorism, extremism, and sectarianism," Zarif said.
He did not give details on his discussions with Assad on finding a solution to the war, only describing the exchange of views as "good".
An Iranian foreign ministry spokesman had said a new Iranian peace plan was based on "respect for the Syrian people's legitimate right to reforms and to decide their own future".
Assad, quoted by state news agency SANA, expressed his "appreciation for Iran's strong support for Syria".
Full report at:
http://english.alarabiya.net/en/News/middle-east/2015/08/13/Iran-s-FM-Syria-s-Assad-discuss-fight-against-terror-.html
-----------
Iran shuts border post into Turkey after truck attacked
12 August 2015
Iran has closed its main border crossing post into Turkey after an Iranian truck was torched in a fresh attack on vehicles entering from the Islamic republic, state television said Wednesday.
The report did not say who carried out the attack or what the motive was, but there has been growing unrest in Turkey in recent weeks involving Kurdish separatists.
"Following a new attack yesterday evening on an Iranian truck in Turkey, the Bazargan border post into the country has been closed," said Davoud Keshavarzian, head of the road traffic organisation.
However, he said the border remains open from Turkey into Iran.
"Luckily, the driver is alive but his truck was burnt," Keshavarzian said.
He added that he had spoken with the Turkish ambassador and asked that "the Turkish government ensure the safety of Iranian drivers in Turkey as Iran does for Turkish drivers".
More than 71,000 trucks have passed through Bazargan, located in northwestern Iran, since the beginning of the Iranian fiscal year on March 20.
On Saturday, Iran warned citizens to avoid land travel to neighbouring Turkey after an Iranian bus was attacked by gunmen in the east of the country.
At the end of July, Iran suspended train services between Ankara and Tehran after two bomb blasts on the railway in eastern Turkey.
Full report at:
http://english.alarabiya.net/en/News/middle-east/2015/08/12/Iran-shuts-border-post-into-Turkey-after-truck-attacked-.html
-----------
Erdogan vows no let-up in fight against Kurdish rebel
12 August 2015
Turkish President Recep Tayyip Erdogan on Wednesday vowed to fight on against Kurdistan Workers' Party (PKK) militants, in the face of mounting attacks on security forces blamed on the Kurdish rebels.
"Let me put it clearly, the operations will continue," he said in a televised speech in Ankara, as Turkey presses on with air strikes on PKK targets in the country's southeast and in northern Iraq.
"We will never stop in the face of all these attacks. We will continue to fight with determination," he added.
Erdogan vowed "no concessions" in the fight against "terror", saying: "A state subjected to an armed attack has the right to defend yourselves with arms."
Turkey is currently pressing a two-pronged "anti-terror" offensive against Islamic State (ISIS) jihadists in Syria and PKK militants following a wave of attacks.
But, so far, the air strikes have overwhelmingly concentrated on the separatist Kurdish rebels, to the frustration of Western commentators who want to see Turkey ramp up its involvement in the fight against IS.
The state-run Anatolia news agency reported over the weekend that so far 390 "terrorists" had been killed in the campaign against the PKK.
But the Kurdish rebels have hit back, leaving a 2013 truce declared by the PKK in tatters.
According to an AFP toll, 29 members of the security forces have been killed in violence linked to the PKK since the current crisis began.
Erdogan called on the PKK, which is blacklisted as a terrorist organisation by Ankara and much of the international community, to law down arms and bury them "under concrete".
Until it did so, the Turkish state would continue its offensive, he said.
"The most important task of a state is to protect lives."
Full report at:
http://english.alarabiya.net/en/News/middle-east/2015/08/12/Erdogan-vows-no-let-up-in-fight-against-Kurdish-rebel.html
-----------
Houthis responsible for bloodshed in Yemen
13 August 2015
RIYADH: Gulf states have reiterated their criticism of Iran for supporting the Houthis in Yemen in violation of the UN arms embargo.
During talks here with UN Special Envoy to Yemen Ismail Ould Cheikh Ahmed on Wednesday, GCC Secretary General Abdullatif Al-Zayani stressed that Iran is the main culprit in backing the Houthis and in supplying arms and ammunition to the militants, who are responsible for the bloodshed in Yemen.
A GCC statement said that talks between Al-Zayani and the UN envoy focused on "the need to enforce UN Security Council Resolution 2216, which imposed an arms embargo on Houthi rebels and forces loyal to former President Ali Abdullah Saleh."
"A range of other subjects including the latest developments in Yemen were discussed by the two officials," said the GCC statement.
It also said that the Security Council voted with an overwhelming majority in April this year in favor of the resolution imposing the arms embargo against the Houthi rebels and blacklisted the son of Yemen's former president and a Houthi leader.
In addition to the arms embargo, the GCC also demanded that the Houthis pull back and refrain from more violence.
Full report at:
http://www.arabnews.com/featured/news/790671
-----------
Turkey Replaces Al-Nusra Front with Turkmen Rebel Group in Aleppo Countryside
Aug 12, 2015
The Al-Sultan Murad Brigade militants crossed the Turkish border into Syria on Monday and occupied areas that were previously under the control of Al-Nusra Front.
Witnesses said the Al-Sultan Murad Brigade was equipped with DshK-equipped four-wheel drive vehicles, trucks packed with weapons and ammunition.
The Al Nusra Front militants withdrew from the areas under their control in the Aleppo countryside.
Full report at:
http://english.farsnews.com/newstext.aspx?nn=13940521000418
-----------
Iran Launches Hectic Diplomacy to Build Regional Coalition against ISIL
Aug 12, 2015
"In light of effects of the Vienna (nuclear) agreement, we visited the friendly regional states, including Kuwait, Qatar and Iraq and presented logical solutions to regional talks to obviate the existing concerns in the region that have resulted from ISIL's increased growth and the danger posed by such groups," Zarif said during the meeting in Beirut on Wednesday.
He said that the friendly regional states have underlined their agreement with these positive proposals.
Late in July, the Iranian top diplomat took a three-leg tour of Kuwait, Qatar and Iraq. He is again on a four-leg tour of Lebanon, Syria, Pakistan and India. He was also due to visit Turkey on Tuesday, but the preplanned trips was called off due to unknown reasons.
Zarif underscored the necessity for the establishment of peace and stability in the region, and said that the regional nations are ready to partner in campaign against the ISIL and Iran will also make its utmost effort to find a way to settle the regional problems.
During the meeting, both officials emphasized finding new solutions to the regional crises through partnership of all sides.
Berri, for his part, hailed the nuclear agreement between Iran and the world powers, and expressed the hope that a proper solution would be found to hold internal talks about election of Lebanon's president.
He also underlined Iran's important role in maintaining the resistance front's unity in the region and resistance against the enemies, and said, "Supporting the resistance front is the strategy of all of us."
Berri said all the regional nations hope that the nuclear agreement will be a prelude to openings in the region through new methods and approaches to end the old hostilities.
In relevant remarks today, Zarif in a meeting with Lebanese Defense Minister Samir Moqbel underlined that the nuclear agreement between Tehran and the world powers has led to a political opening for the region.
"We believe that removing the nuclear obstacle from the world's agenda has led to an opening in the region," Zarif said during the meeting in Beirut on Wednesday morning.
Full report at:
http://english.farsnews.com/newstext.aspx?nn=13940521001130
-----------
Pakistan
Military foils Independence Day bomb plot
August 13, 2015
ISLAMABAD - The military said Wednesday security forces had foiled a plot to bomb Independence Day celebrations in Karachi after arresting a Taliban gang in the city.
A key Talban commander was among many apprehended in an intelligence-based operation conducted in Karachi and Hyderabad. "Some high-value targets, including Tehreek-e-Taliban Pakistan Swat chapter deputy emir in Karachi, Bakhat Zaman, have been arrested," Inter Services Public Relations (ISPR) said in a statement.
These terrorists were plotting to sabotage Independence Day celebrations on August 14 in the port city.
The ISPR said that security forces busted the foreign-sponsored gang in these operations and averted a major terrorist attack.
The statement added that the militant gang had been planning the attack since some time and had prepared an explosive-laden vehicle and motorcycle, which they planned to use on August 14.
Full report at:
http://nation.com.pk/national/13-Aug-2015/military-foils-independence-day-bomb-plot
-----------
Four cops killed in Karachi attack
August 13, 2015
KARACHI - At least four policemen were killed and a bystander wounded in a target killing incident in Korangi neighbourhood here on Wednesday. The victim cops were having meals at a roadside eatery in Korangi's Zaman Town locality when gunmen came and targeted them.
Police said the cops used to go there to have some meal. Gunmen rushed to the spot and sprayed bullets minutes after the policemen parked their mobile van and started taking food.
The assailants fled after completing their swift operation while the victims died on the spot. Witnesses said the armed assailants also took their officials submachine guns (SMGs) away with them. Following the incident, extra contingent of law enforcers including police and Rangers also reached the site. Rescuers from different welfare associations shifted them to a Jinnah Postgraduate Medical Centre (JPMC).
"The victims were shot in their heads with a close range. The injured passerby is out of danger," said sources at the medicolegal section of the hospital.
The victim policemen were identified as ASI Aqeel Ahmed, 45, who was a mobile officer. Three constables were identified as Jamil, 46, Anwar Hussain, 35, and Akhtar, 42, while the injured passerby as Atif Saghir, 32. The victim ASI was the resident of Landhi area and the constables were the residents of Korangi.
It is pertinent to mention here that a total 242 police officials and personnel have so far been killed in Karachi since the operation began on September 5, 2013. Two SPs, five DSPs and SHOs, 28 sub-inspectors, 30 assistant sub-inspectors, 41 head constables and 130 constables were among the police officials and personnel who lost their lives in the past 23 months. On the other hand, 331 terrorists, 38 kidnappers, 10 extortionists and 806 robbers were also killed during the 3,569 encounters with the police in the same period.
The recent major attack on the police in Karachi was occurred in Azizabad locality on May 27 when three policemen of Azizabad police station were killed by four assailants on two motorcycles.
"It is clear in the SOP that no policeman will be allowed to take meal or food item from a roadside café or a restaurant," Korangi division SP Afnan Amin explained. "But while violating the SOP, these policemen were taking meals at the eatery on daily basis." SP Amin said no doubt the assailants were monitoring these policemen for the last few days and it was a preplanned attack. "These policemen (deceased) left their bulletproof vests in the mobile and put their guns on side. They were busy taking meals due to which they could not even retaliate," SP Amin explained.
Full report at:
http://nation.com.pk/national/13-Aug-2015/four-cops-killed-in-karachi-attack
-----------
Agencies accused of supporting banned outfits
Aug 13, 2015
ISLAMABAD: The country's intelligence agencies came under the radar in the Senate on Wednesday for allegedly continuing their policy of backing some militant outfits. During a debate on a motion on 'resurrection of banned outfits under a different name or as charity organisations', senators from the PPP and Pakhtunkhwa Milli Awami Party (PkMAP) accused the security establishment of taking action against banned outfits in the country on the basis of preference. The mover of the motion, PPP's Farhatullah Babar said permitting banned outfits to reinvent themselves under different names as charity organisations undermined the state's credibility in fighting militancy.
Mr Babar said that in a reply to a question on July 7 the government had admitted that Jamaatud Dawa (JuD) was a reincarnation of the banned Lashkar-e-Taiba (LeT) and that it had been allowed to function because of a court order. He added that the government had failed to provide a copy of the court judgment despite the Senate chairman's orders and the minister's promise to do so by the next day.
According to Mr Babar, questions were bound to arise when banned outfits worked under the guise of charity organisations.
"Are these so-called charities allowed to function to serve as pressure groups on the elected government and parliament or are they meant to advance some security and foreign policy goals through non-state actors?" he asked.
The impunity being enjoyed by members of these banned outfits gave rise to the suspicion that they had the protection of some "invisible forces and agencies".
He said the issue had become even more urgent after the announcement by Afghan President Ashraf Ghani to dissociate himself from Pakistan-sponsored peace talks with the Afghan Taliban, alleging that Islamabad did not have the same definition of terrorism in regard to Afghanistan which it had for itself. PML-N's retired Gen Abdul Qayyum criticised Mr Babar for doubting the sincerity of the security agencies merely on the basis of the Afghan president's statement. "It is not necessary that whatever the Afghan president says is correct," he said.
The PML-N senator called for strict legislation to stop resurrection of banned outfits as charity organisations.
Full report at:
http://www.dawn.com/news/1200204/agencies-accused-of-supporting-banned-outfits
-----------
Muttahida resignations: JUI-F chief tasked to woo MQM back to parliaments
Aug 13, 2015
ISLAMABAD: Jamiat Ulema-i-Islam-Fazl (JUI-F) chief Maulana Fazlur Rehman on Thursday was tasked with the responsibility to convince Muttahida Qaumi Movement (MQM) lawmakers to withdraw their resignations submitted a day earlier.
Earlier, Prime Minister Nawaz Sharif chaired a meeting of the parliamentary leaders to discuss the matter of resignations submitted by MQM lawmakers.
After the meeting, Maulana Fazlur Rehman addressed mediapersons outside Parliament House and said that Khursheed Shah had tasked him with the responsibility "to contact Altaf Hussain and MQM leadership so that they agree to take back their resignations and return to parliaments."
He said MQM's actions could cause a political crisis and that he will make efforts to defuse the situation.
Full report at:
http://www.dawn.com/news/1200252/muttahida-resignations-jui-f-chief-tasked-to-woo-mqm-back-to-parliaments
-----------
Nigeria keen to boost trade ties with Pakistan
August 13, 2015
SIALKOT
High Commissioner of Nigeria in Pakistan Dauda Danladi has stressed a need for establishing strong trade links between the businessmen of Nigeria and Pakistan for further strengthening the bilateral trade ties.
He said that the time was ripe for both of the countries to take advantages of the two-way trade between the two brotherly countries. Danladi discussed the matters of mutual interest with Sialkot exporters during a meeting held at Sialkot Chamber of Commerce and Industry (SCCI) office where SCCI President Fazal Jillani and SVP Mir Alamgir Meyer were also present.
The Nigerian high commissioner said that there were bright opportunities of setting up joint ventures with Sialkot business community in different trade fields while several Nigerian companies were showing keen interest in this regard.
He said that his country was keen to establish some direct trade links between the chambers of commerce and industries of Pakistan and Nigeria to boost bilateral trade. He said that the time was ripe to further strengthen trade ties between the two countries. He pledged full support and cooperation to ensure easy access of Sialkot business community to international trade markets of Nigeria.
He agreed with SCCI proposal regarding the regular exchange of updated trade information and mutual trade delegations to enhance the trade between the two countries. He invited the Sialkot business community to divert their business activities to Nigeria. Mr Dauda Danladi urged the Sialkot businessmen to organise the trade fairs and industrial exhibitions in Nigeria besides investing in Nigeria by enjoying the business and investment friendly policies of Nigeria. He said that Nigeria has a very liberal investment policy for the foreign investors.
The Nigerian high commissioner said that the Nigerian economy was getting strengthened day by day due to some effective and positive trade and export policies.
Full report at:
http://nation.com.pk/national/13-Aug-2015/nigeria-keen-to-boost-trade-ties-with-pakistan
------------
Arifwala City tense after man accused of 'desecration' of the Holy Quran
SHAFIQ BUTT
Aug 13, 2015
SAHIWAL: Tension gripped Arifwala city on Wednesday, after a man allegedly desecrated the Holy Quran in its Muzaffarabad locality.
According to local sources, Sabir, a resident of Muzaffarabad locality was accused by his sisters of burning pages of the holy book on the advice of a practitioner of black magic to bring back his estranged wife.
Soon, the news spread in the city, prompting groups of protesters to burn tyres on main roads, intersections and markets, the sources said.
They said an angry mob also stopped the Karachi-bound Farid Express at the local railway station.
Full report at:
http://www.dawn.com/news/1200162/arifwala-tense-after-man-accused-of-desecration
-----------
Africa
Nigeria: Boko Haram Is Said to Have a New Leader
By RICK GLADSTONE
AUG. 12, 2015
The leader of Boko Haram, the Islamist militant group that has traumatized Nigeria and expanded its attacks in three neighboring countries, has been wounded and replaced, the president of Chad said in a state radio broadcast Wednesday. President Idriss Déby, whose forces have been collaborating with their counterparts in Nigeria, Cameroon and Niger to battle Boko Haram, said its leader, Abubakar Shekau, had ceded control to another militant identified as Mahamoud Daoud. Mr. Déby did not elaborate on the source of this information, which could not be confirmed independently. But he asserted that Boko Haram's capabilities had been crushed by the four-country military campaign against the group and that it would be finished as a fighting force by year's end.
http://www.nytimes.com/2015/08/13/world/africa/nigeria-boko-haram-is-said-to-have-a-new-leader.html?_r=0
-----------
Boko Haram: Six suspected suicide bombers arrested in Maiduguri
By Maina Maina
August 12, 2015
Less than 48 hours after suicide bombers attacked Sabon Gari Market in Damboa local government council killing 51 people, another set of six suspected suicide bombers were arrested on Wednesday by members of the civilian JTF and paraded at Sector 4 located at Milk Shop in Maiduguri, the Borno State capital.
DAILY POST also reports that the arrest was coming few hours after local vigilante in Damboa reported a threat letter warning of more attacks.
Speaking to our correspondent, a member of the civilian JTF at the milk shop in Maiduguri, Umar Hassan disclosed that the suspects hid improvised explosive devices, IEDs under the basket they used for hawking medicine.
Full report at:
http://dailypost.ng/2015/08/12/boko-haram-six-suspected-suicide-bombers-arrested-in-maiduguri/
-----------
Day Senators rose against Boko Haram
Aug 12 2015
Since the return of democracy in Nigeria in 1999, the tradition has been that senators sponsor motions and bills based on issues that affect their immediate constituencies.
Their debates and contributions in the Senate chamber were also shaped by issues and concerns from their senatorial districts, political party affiliation, geo-political zones and sometimes religious persuasions.
To certain extent, observers contend that in the past, the direction taken by the senators during debates and contributions on bills and motions had affected the performance of the third arm of government in the discharge of its legislative functions.
But recently, members of the Eight Senate threw away all sentiments when they spoke with one voice and called for renewed vigour on the war against Boko Haram insurgency that is bedeviling parts of the country.
The most interesting part of the resolve was that the person that moved the motion is a member of the Peoples Democratic Party (PDP) and hails from far away Rivers State. He is Senator George Thompson Sekibo, Rivers East.
Until recently the Boko Haram menace was seen as a problem of the North and even within the region, the crisis was prevalent in the northeastern part where the All Progressives Congress (APC) is the leading political party.
During the Seventh Senate, those following activities of the National Assembly believed that the Boko Haram issue was regarded as a no-go-area by the legislators, partly because, most of them feared that they may be attacked by the insurgents.
In fact, a member of the Seventh Assembly once said the insurgents lived everywhere and that, they have contacts of politicians and can easily track them.
"If you discuss the issue on the floor of the chamber, the next thing you hear is a phone call threatening you," he said.
But the allusion was recently demystified when Sekibo sponsored a motion on the need to contain the terrorist group once and for all.
For the first time in recent times, the debates that followed culminated in a visit to the North-east by the senators, led by the Senate President, Abubakar Bukola Saraki.
Saraki led the senators to Maiduguri while the Deputy Senate President, Ike Ekweremadu, led others to Yola, Adamawa State.
Also, it was gathered that during the recent screening of the Service Chiefs, the issue of Boko Haram insurgency dominated the floor. At the end, the senators gave marching orders to the security chiefs to end the insurgency soonest.
In moving the motion which was sponsored by him and 37 others, Sekibo queried the inability of government to rehabilitate and rebuild infrastructure in areas once occupied by the Boko Haram but reclaimed by Nigerian troops.
He said: "A situation where people are kept without hope for the future would encourage them to give up themselves as recruits for the Boko Haram group where there is possibility for them getting food and means of sustenance. The displaced may even engage in other sinister activities that could inadvertently affect the nation negatively," he said.
He added that thousands of buildings, social amenities and infrastructures such as electricity and telephone services have been destroyed in the North-east zone.
Moved by Sekibo' s motion, the Deputy Senate president said the patriotism exhibited by the senator from Rivers State showed that Nigeria's democracy is advancing.
"We are senators of the Federal Republic of Nigeria, we should think beyond our constituencies. This motion is very important to me because what the people of the North-east are experiencing is similar to what we experienced during the civil war in the South-east, "he said.
On his part, the Senate leader, Ali Ndume, said he was emotionally moved by Sekibo's motion.
Full report at:
http://www.dailytrust.com.ng/news/politics/day-senators-rose-against-boko-haram/106118.html
-----------
Uganda: Rival Muslim Sects Fight At Court
By Abubaker Kirunda and Denis Edema
12 AUGUST 2015
Jinja — Anti-Riot Police personnel were yesterday morning forced to fire live bullets and teargas canisters to disperse members of rival Muslim factions that had started fighting each other within court premises in Jinja.
The rival SAnti-Riot Police personnel were yesterday morning forced to fire live bullets and teargas canisters to disperse members of rival Muslim factions that had started fighting each other within court premises in Jinjahiite and Tabliqs were at the Jinja Court to follow proceedings of a case in which a group of 22 people believed to be accomplices of the leader of the rebel group Allied Democratic Forces (ADF), Sheikh Jamil Mukulu, are answering charges of murder and terrorism.
The charges are relate to the Christmas Day killing of the leader of the Shiite Muslim sect in Uganda, Sheikh Dr Abdul Kadhir Muwaya, and the shooting dead of Buyinja Sub-county chairman in Namayingo District, David Okware.
They are also charged with the killing of two police officers attached to Bugiri Central Police Station and a host of other Muslim sheikhs murders around the country.
According to the Jinja District Police Commander, Mr Apollo Kateeba, trouble began when members of the Shiite sect allegedly made derogatory statements against the Tabliqs accusing the latter of having had a hand in the murder of the sheikhs.
Full report at:
http://allafrica.com/stories/201508120693.html
-----------
Rwandan rebels kidnap 6 Tanzanian Muslim leaders in DR Congo, demand $20,000 ransom
12 AUG 2015
THE kidnappers of six Tanzanian imams and their Congolese driver have asked for a ransom of $20,000, a source from the Congolese Islamic Community (COMICO) said Tuesday.
The six Tanzanian imams and their Congolese driver were kidnapped on Aug. 2, 2015, by men suspected to be members of the Democratic Forces for the Liberation of Rwanda (FDLR) in Rutshuru territory, North Kivu province in the east of the Democratic Republic of Congo (DR Congo).
"Currently, they have been located in Rutshuru forest. There are people following them. Their kidnappers are asking for a ransom of $20,000," COMICO coordinator El Hadji Masudi said.
"We do not have money, but we hope they will be released soon," he said, adding that "our Tanzanian brothers had come to preach." Civil society groups in North Kivu have equally expressed concern over the abduction.
"This is an unfortunate incident because the kidnappers may destroy our country's good relations with Tanzania, making us look like enemies of our Tanzanian brothers," said Thomas Mwiti, the president of North Kivu civil society groups. Mwiti revealed that close to 500 people had been kidnapped in Rutushuru territory since the beginning of this year.
This development can only awkward for Tanzania. In 2013, Tanzania's President Jakaya Kikwete, called on Rwanda to open political negotiations with the FDLR, drawing a remarkably angry response from Kigali.
Rwanda sees the FDLR as no more than remnants of the forces that carried out the genocide that killed nearly million people in the country in 1994.
Full report at:
http://mgafrica.com/article/2015-08-12-rwanda-rebels-kidnap-6-tanzanian-muslim-leaders-in-dr-congo-demand-20000-ransom
-----------
North America
Anti-Muslim group can't post bus ads with photos of terrorists, claim about reward for capture
Aug. 12, 2015
By MARTHA BELLISLE, Associated Press
SEATTLE (AP) — An anti-Muslim group cannot post ads on buses in Washington state showing photos of wanted terrorists and wrongly claiming the FBI offers a $25 million reward for one of their captures, a federal appeals court ruled Wednesday.
A three-judge panel of the 9th U.S. Circuit Court of Appeals rejected a claim by the American Freedom Defense Initiative that King County violated its First Amendment right to free speech by refusing to post the advertisements on buses.
The group — whose leader, Pamela Geller, organized the Prophet Muhammad cartoon contest in Texas that exploded in violence in May — has similar bus ads in other cities and has gone to court with mixed results after some transportation officials rejected them.
David Yerushalmi, the group's lawyer, said it will appeal Wednesday's ruling to the U.S. Supreme Court.
The American Freedom Defense Initiative sought to display an ad in Washington state called "Faces of Global Terrorism," which included 16 photographs of militants with their names listed and the statement "AFDI Wants You to Stop a Terrorist." It said the FBI offers a $25 million reward to capture one of the people shown.
King County Metro Transit rejected the banner, saying it failed to meet advertising policy guidelines that prohibit ads that are "false or misleading, demeaning or disparaging or harmful or disruptive to the transit system."
The appeals court agreed that the claim about the reward was false.
"The FBI is not offering rewards at all, and the State Department offers a reward of at most $5 million, not $25 million, for the capture of one of the pictured terrorists," the court said.
The judges said Metro's rejection "likely was reasonable."
"Nothing in the record suggests either that Metro would have accepted the ad with the same inaccuracy if only the ad had expressed a different viewpoint or that Metro has accepted other ads containing false statements," the ruling said.
The American Freedom Law Center has a mixed record on court fights over ads in other cities.
A federal judge ruled in its favor when it sued the Southeastern Pennsylvania Transportation Authority for refusing to run an ad that said "Islamic Jew-Hatred: It's in the Quran."
The group won court rulings in New York City twice, and a case in Detroit is pending, said Yerushalmi, the group's attorney.
Full report at:
http://www.usnews.com/news/us/articles/2015/08/12/federal-court-anti-muslim-group-cant-post-ads-on-buses
-----------
Islamic State Group Claims They Hacked US Military
Aug 12, 2015
A Twitter account which claims to be a hacking group for the Islamic State (IS) claimed Tuesday that it hacked into the U.S. military.
The account said that it has published the personal information of hundreds U.S. military and government personnel. It claimed that the names, emails, passwords, credit card information and phone numbers of Air Force, Marine, NASA, New York Port Authority and New Jersey Port Authority personnel have been published. The account, now suspended, was linked to ISIS fighter Abu Hussain al-Britani.
A security firm named Flashpoint Intelligence, which is also a consultant for NBC News, could not confirm the claim made by the account. The claim mirrors a similar one made in March, when the group said that it had published names, photos and addresses of U.S. service members. This claim was found to be overblown and the information to already be freely available. Service members whose names were published in the alleged hack were not suspended from service or granted personal security.
Full report at:
http://www.military.com/daily-news/2015/08/12/islamic-state-group-claims-they-hacked-us-military.html
-----------
U.N. statement on Syria delayed over Venezuela objections
13 August 2015
U.N. Security Council approval of a draft statement strongly backing intensive preparatory talks on key issues to restore peace to conflict-torn Syria has been delayed because of objections from Venezuela.
Council diplomats had hoped to adopt the presidential statement on Wednesday afternoon. But Venezuela asked for changes to some language about a political transition and discussions were continuing, the diplomats said, speaking on condition of anonymity because consultations have been private.
"Expect it to be adopted tomorrow," Russia's U.N. Ambassador Vitaly Churkin told reporters as he left the council on Wednesday afternoon.
Churkin said last Friday there was "a high possibility" the deeply divided council would endorse U.N. special envoy Staffan de Mistura's recently announced plan aimed at setting the stage for new peace talks to end the Syrian war.
The draft council statement demands that all parties in Syria "work urgently" toward fully implementing the roadmap to peace adopted by key nations in Geneva in June 2012. It calls for the formation of a transitional government with full executive powers "on the basis of mutual consent" and ends with elections.
Full report at:
http://english.alarabiya.net/en/News/middle-east/2015/08/13/U-N-statement-on-Syria-delayed-over-Venezuela-objections.html
-----------
Orlando Airport Accommodates Muslims
12 August 2015
FLORIDA – Accommodating Muslim travelers, a Florida international airport announced plans to build a prayer room for Muslims, as the flights to United Arab Emirates will start next month.
"Orlando is truly becoming a global community, and we want to be able to accommodate and provide high-quality amenities for all our passengers," airport Director Phil Brown said in a written statement to the Orlando Sentinel.
With a cost of $250,000, a reflection room will be built at Orlando International airport where Muslim travelers used to pray in public or in restrooms.
Muslim travelers also used to pray in a nondenominational chapel tucked away on Airside B.
The prayer room will include an ablution area, or clean zone, carry-on-luggage bins and shoe racks, as well as directional signs for north, south, east and west.
According to Robert Susann, the airport chaplain, seeing Muslim at the chapel that has a couple of prayer rugs is not uncommon.
"We try to cover everybody," Susann said. "We're doing the best we can."
"This is the place where we welcome people of all faiths," he added.
"I'm here to bring the presence of God to them."
Dedicating a prayer room to Muslims won the applause of the airport Chaplin who described it as a "good idea".
He added that its location on Airside 4, where Dubai-based Emirates will be located, along with several other international carriers, will make it easier for Muslim travelers.
"That's handier for them," Susann said.
Muslims pray five times a day, with each prayer made of a series of postures and movements, each set of which is called a rak'ah.
The five prayer times are divided all through the day which starts with fajr prayer at dawn.
Welcomed
Praising the prayer room, Shayan Modarres, an Orlando Muslim civil-rights attorney, said that it will be a welcome addition for the Muslims.
Many Muslims, he said, have felt isolated and uncomfortable in this country after the terrorist attacks of 9-11. But having a reflection room at the airport, he said, "is a great step in the right direction, especially for tolerance and inclusion."
The Muslim attorney expects that the prayer room will draw dozens of Muslim travelers every day.
"This is the right message we need to send," Modarres said. "It's reconciliation."
In addition to Muslim, the prayer room will be open to other faiths
"Travel involves anxiety. People are anxious when they fly," Imam Muhammad Musri, president of the Islamic Society of Central Florida, said.
"They like to have space where they can relax and pray."
Orlando airport is not the first American airport to dedicate a prayer room to Muslim travelers.
Full report at:
http://www.onislam.net/english/news/americas/491669-orlando-airport-accommodates-muslims.html
-----------
Hirsi Ali Teams Up With Act for America for Event on Islam
Jordan Denari
Nathan Lean
13/08/2015
Co-authored by Nathan Lean, Author of the Islamophobia Industry.
Next month, Ayaan Hirsi Ali, a controversial voice calling for Islamic reform, is scheduled to appear at a Washington, DC event hosted by one of the nation's most active anti-Muslim groups. The Somali-born author and activist will deliver the keynote address at the annual conference of ACT for America, a non-profit advocacy group that lobbies across the country for bans on Sharia, and promotes the profile of its founder, Brigitte Gabriel, who has said, among other things, that practicing Muslims cannot be loyal American citizens. The two-day event brings together a host of commentators, bloggers, and ex-military personnel with histories of inflammatory statements about Islam and Muslims, and features a legislative session on Capitol Hill with scheduled speeches by fourteen members of Congress.
Islamophobia in Action
ACT for America is a grassroots organization founded in 2007 that boasts nearly 300,000 members and 890 chapters across the country. Intent on educating the public and elected officials "to impact national security policy," ACT has been a central player in the movement to generate fears about Islamic Sharia law. Their members introduced David Yerushalmi's anti-foreign law bill in several state legislatures, an effort accompanied by a public outreach blitz about the "threat" of Sharia to America.
Steered by Guy Rodgers, the former Christian Coalition and Republican strategist, ACT courts numerous elected officials at state and national levels, most notably Peter King, who appeared on ACT!'s internet television show before hosting a series of hearings on radicalization that singled out Muslims in 2011. The face and founder of the organization, Brigitte Gabriel, has generated controversies over Muslims serving in government and campaigned against the Islamic "indoctrination" in middle and high school history textbooks.
Gabriel, who has authored books with titles like Because They Hate, confirms and validates the anti-Muslim rhetoric of more widely-known voices like Pamela Geller and Robert Spencer. Though she lacks expertise on issues like terrorism, she is often called upon by Fox News to provide "expert" analysis of the latest terrorist attack. Using a pseudonym instead of her Arabic given name, Gabriel draws large crowds at speaking engagements, where she describes "losing her country of birth to radical Islam during the Lebanese Civil War."
Reforming Islam?
The keynote speaker at ACT's upcoming conference is Ayaan Hirsi Ali, a prominent voice on Islam and a self-proclaimed reformer. Hirsi Ali's harsh views on Islam are well documented. She has called it a "nihilistic cult of death" that should be defeated "in all forms," including by military means, while paradoxically offering in her latest book, Heretic, what she sees as the necessary steps to reform that followers of Islam should adopt.
Like Gabriel, Hirsi Ali doesn't speak from a place of formal expertise on Islam, but rather from personal experience. Her story of persecution in the Middle East is not unlike Gabriel's, and forms the basis of the arguments made in her books and presentations. Having secured a post at Harvard University, she has done dozens of interviews in mainstream media outlets and attracted sizeable donations to her foundation. Yet her message has failed to attract many in the American Muslim community, who believe she misrepresents Islam. Instead it finds support among the religion's fiercest critics and gains traction within groups like ACT, which primarily direct their rhetoric at policymakers, conservative Christians, and right-leaning activists. Hirsi Ali's upcoming appearance at the group's conference shows that it's really not Islam she desires to change, as much as the public's perception of it.
Full report at:
http://www.huffingtonpost.com/jordan-denari/hirsi-ali-and-act-for-ame_b_7977994.html?ir=India&adsSiteOverride=in
-----------
A Fresh Perspective: Proud to be a Canadian
By DAN ILLOUZ
08/13/2015
I am Candaian. I was born in Montreal, raised in Montreal and graduated high school, college and law school in Montreal. The values I grew up on were both Jewish and Canadian values. While I now live in Israel, I still hold dear these values which made me into who I am today.
As a Canadian, I was always proud of the great stories of Canadian heroism which we were taught in school. Canada has a long history of standing up for freedom. Unfortunately, until recently, it felt only like history.
For example, when the free world was threatened in the Second World War, Canada carried out a vital role in defending the Free World and contributed forces beyond what can be expected of a small nation of then only 11 million people.
Between 1939 and 1945 more than one million Canadian men and women served full-time in the armed services! More than 42,000 were tragically killed while heroically defending freedom and Canadian values.
Canada was a lighthouse for freedom, with a clear moral compass and showing the world how a small country that is ready to stand up for what is right can make a real difference.
However, in the past few decades, Canada became the country of neutrality.
Canada started adopting policies that were more appropriate to Swiss values than Canadian values. Instead of standing up for freedom, Canada stayed away from big questions of international relations, preferring the safe route of consensus and neutrality to the tough battle for freedom and values. By trying to please everyone, Canada's moral voice was silenced. Canadians were seen as "nice and friendly" but nothing more. They had no voice.
This was true until Stephen Harper became prime minister. Since then, Canada has regained its voice and its moral clarity. It has regained its moral leadership.
Prime Minister Harper once said that "Canada is not just any country, but a people determined to do right – compassionate neighbors, courageous warriors, and confident partners; a bastion of freedom in an unfree world." Since becoming prime minister, Harper has made sure that this statement would be a continuing reality.
In the Middle East, Harper has led the world with his moral clarity. With the rise of Islamic State, Canada immediately agreed to contribute troops to defeat this evil group. How can a freedom-loving country do anything else? When the world powers preferred personal interest over values and followed the American president's utopian vision set out in the dangerous agreement with Iran, Canada made it clear that it would not remove sanctions on the Islamic, gay-hanging, freedom-hating regime as long as it does not change its ways. As the world ignored the sponsorship of terrorism, the affronts to human rights, and the regional destabilization, let alone the continued calls for the destruction of both America and Israel, Canada did not budge and, rather, questioned how world leaders could trust such an evil regime.
Full report at:
http://www.jpost.com/Opinion/A-Fresh-Perspective-Proud-to-be-a-Canadian-412005
------------
Europe
Spain arrests man marketing Islamic State clothing range
Aug 13, 2015
MADRID (Reuters) - Spanish police have arrested a man for selling T-shirts showing a British aid worker as he was about to be executed by Islamic State militants as well as a range of clothing bearing IS slogans, the government said on Wednesday.
The man, a Spanish citizen whose name was not released, was detained during a police operation on Tuesday night in Naron in northwestern Spain.
From his shop and online he sold a range of clothes promoting Islamic State and another Islamist militant group, Harakat Sham al Islam, the Interior Ministry said.
They included T-shirts with a silk-screened image showing hostage Alan Henning as he was about to be beheaded by Islamic State last year, together with his executioner and the IS flag.
Pictures released by the Spanish government showed a range of items the man was marketing including sweatshirts, T-shirts, bags and baby bodysuits bearing slogans in Arabic of Islamic State or Harakat Sham al Islam.
Full report at:
https://uk.news.yahoo.com/spain-arrests-man-marketing-islamic-state-clothing-range-125304180.html
-----------
Islamic State's Egyptian ally says it beheads Croat - SITE
By Omar Fahmy and Igor Ilic
Aug 13, 2015
CAIRO/ZAGREB (Reuters) - An Egyptian group allied to Islamic State has published a photograph it said showed the beheaded body of a Croatian hostage it threatened to kill last week, the SITE monitoring service said on Wednesday.
Reuters could not independently verify the authenticity of the picture, which carried a caption that said: "killing of the Croatian hostage, due to his country's participation in the war against Islamic State, after the deadline expired."
Croatian Prime Minister Zoran Milanovic said authorities were examining the image.
"It is my duty to break the silence and tell the Croatian public that we cannot confirm with 100 percent certainty that it is true what we see, and which is horrifying," he told a news conference.
"I don't know if we will be able to do it in the coming days, but what we see does not look good ... I'm afraid that for the first time, what has happened to the citizens of other countries has happened to a Croatian citizen."
The photograph, circulating on Twitter accounts of Sinai Province supporters, shows a man's severed head placed on his body, with a knife driven into sand next to it and the black Islamic State flag in the background.
Next to the picture are screenshots of Arabic language news articles with the headlines: "Croatia confirms its support for Egypt in efforts to fight terrorism and extremism" and "Croatia affirms its continued support for the Kurdistan region."
A spokesman at the Egyptian Interior Ministry's press office said: "We have seen this news on line but are currently making our own checks. If we confirm that it is indeed true, we will inform the media through a statement."
Last week, an online video purportedly from Sinai Province showed a man who identified himself as Tomislav Salopek and said the group would kill him in 48 hours unless Muslim women in Egyptian jails were freed.
The White House expressed solidarity with Croatia, saying: "If confirmed, the United States condemns this brutal act by a terrorist group that has pledged allegiance to ISIL," using an alternate acronym for the militant organisation.
Ardiseis Egypt, a unit of French oil and gas geology company CGG , confirmed the video showed one of its employees who was kidnapped on July 22 while travelling to Cairo.
A spokesman for CGG could not confirm this, adding the firm had no information other than what was circulating on the Internet and was trying to find out more from Croatian and Egyptian authorities.
The spokesman said the hostage was an expert contractor rather than employee of its subsidiary.
Full report at:
https://uk.news.yahoo.com/islamic-state-egypt-affiliate-behead-croatian-hostage-113300555.html#wk582z9
-----------
Muslim mothers promote diversity at schools in France
By Web Desk
August 13, 2015
A group of French Muslim mothers have launched a campaign to fight social apartheid and promote diversity at schools in France.
The initiative, named "la mixite'", calls for the adoption of secular laws and the promotion of inclusion to make schools "more French." Campaigners have staged rallies and visited several schools in Petit Bard estate, where about 5,000 Muslim families of Moroccan background live, to advocate integration.
Read: France bans face covering veils
Safia, a mother of three, who is among the campaign leaders, called for the end of the 'ghettoisation' of French schools where every pupil is of immigrations origin. She added, "That is exactly what we are fighting for. "We'd love it if class photographs showed fair-haired or red-headed children side by side with our children."
Activists have also launched a Facebook page and sent letters to the city hall, the local education authority and France's Morocco-born education minister, Najat Vallaud-Belkacem, who is the first woman in French history to hold this office. Muslim mothers hope that Belkacem, who has been vocal on many aspects of discrimination in French society, will support their cause.
Full report at:
http://tribune.com.pk/story/936606/muslim-mothers-promote-diversity-at-schools-in-france/
-----------
Police arrest Syrian in Germany for runaway migrant freighter
12 August 2015
Police arrested a Syrian in Germany on Wednesday suspected of helping to set a freighter packed with migrants on a collision course with the Italian coastline.
Italian and German forces, working in collaboration, handcuffed the 26-year-old alleged trafficker in Soest in the country's northwest and were hunting for his brother, 22, also believed to have played a role in the major maritime drama.
The brothers, plus a third accomplice, were suspected of having helped set the Moldovan-registered Blue Sky M freighter on course for Italy in December before abandoning the controls, locking the engine on and hiding themselves among the 768 asylum seekers on board.
Italy's coastguard managed to board, unlock the engine and bring the vessel under control just five miles (eight kilometres) from the cliffs.
An eight-month investigation found the Blue Sky M voyage was organised by an international network of criminals operating between Lebanon, Romania, Syria and Turkey, police said in a statement.
Full report at:
http://english.alarabiya.net/en/News/middle-east/2015/08/12/Police-arrest-Syrian-in-Germany-for-runaway-migrant-freighter-.html
-----------
Committedly Islamic, avowedly feminist: Germany's Islamic feminist movement
12 August 2015
There are two general tendencies that govern how Muslim minorities in Europe are spoken about by mainstream European politicians and journalists. One is that the attention is overwhelmingly on Muslim communities living in Britain and France. Other European countries get a mention only when there erupts a crisis or a murder, as was the case in the Jyllands-Posten controversy in 2005 in Denmark.
The other striking tendency is that Muslim minorities in Europe are typically spoken of as distinct from the people and common sensibilities of the nation in which they live. They are taken to be a troublesome minority, one whose existence is alien, and whose very presence raises a "question" for European modernity.
There is a phenomenon in Germany which boldly challenges both of these tendencies that saturate the dominant discourse around Muslim minorities in Europe.
The last 15 years has seen the emergence and growth of a women's Islamic movement in Germany. Refreshingly, the movement is not straightforwardly a "Berlin-only" phenomenon. It exists in cities across Germany to be sure, and also has local chapters in smaller residential towns.
Imama Andrea Reimann is a German convert to Islam who founded DMK Berlin. DMK is a charity that specialises in setting up reading and discussion groups within mosques and people's houses across Germany. The first such group was Berliner Muslime hier Zuhause. Non-Muslims are welcome, and the emphasis is on Islam's place in modern Europe and the need to encourage interfaith conversation and internal critique of mainstream Islamic practices. The practices which receive particular critical attention are practices deemed to be gender-discriminatory.
Reimann told Middle East Eye that DMK's material is released only in German. Discussion groups are all advertised as requiring only German linguistic ability – no familiarity with Arabic is presumed. This is in line with the DMK's membership figures and with its ideology. Sixty percent of DMK's members are Germans of European descent. And 64 percent of members are women.
The last two decades have witnessed the establishment of a distinctly German community of Muslims, many of whom are German-born. These people by and large do not speak Arabic. Most do not speak or read fluent Turkish, despite the fact that Germany's biggest Muslim demographic group is descended from Turkey.
The German Islamic feminist movement absorbs people who are first and foremost German, rather than Turks or Arabs. It is committedly Islamic in its approach, emphasising close hermeneutic engagement with the Quran. It also avows that a feminist reading of the Quran is possible, desirable, and accurate. Reimann maintains that the Quran is "an anti-patriarchal text". The Quran itself has been imposed with patriarchal and other politically unjust interpretations across centuries, reinforced by an elite, though disparate, body of scholars who historically have been almost exclusively male. This systematic misreading of the Quran has everything to do with politics, so Reimann claims, and very little to do with sensitively and charitably interpreting scripture.
Dr Riem Spielhaus is a lecturer at Humboldt University who has published widely on notions of secularism, secularity, feminism and the place of Muslims in modern Europe. She suggested to MEE that the modern German Islamic feminist movement, with DMK and other self-organised community groups very much at the vanguard, has been influenced by the women's movement in Egypt.
Influenced by the work of self-identified feminist Muslim scholars such as Amina Wadud, Saba Mahmood and Gayatri Spivak, women in Egypt since the 1970s have started to "re-read" the Quran and Hadiths. They have sought to identify more accurate readings of these foundational texts, and to challenge those readings which under critical pressure look suspiciously politically grounded to preserve male (or other) social privilege.
Muslim women who are seeking to engage hermeneutically with the Quran as a text of social justice are starting to make ripples in Western Europe. There are at least two powerful motivations behind this movement. The first, clearly, is the belief that such anti-patriarchal and critical readings of the Quran are justified by the text and by appeal to traditional jurisprudential sources of Quranic interpretation.
The second reason is that this new wave of Quranic interpretation is strategically useful and politically urgent. It is strategically useful since it evidences how Islam need not and should not be seen as some hopelessly misogynistic or barbarian set of beliefs and practices. And this constitutes a healthy antidote to the perceived wisdom of modern Europe that Islam is an alien force that must either be accommodated or else must be forcibly integrated into secular European modes of thinking and living.
Full report at:
http://www.middleeasteye.net/columns/committedly-islamic-avowedly-feminist-rise-islamic-feminist-movement-germany-1582473654
-----------
Southeast Asia
Two lawsuits today spotlight supremacy of constitutional guarantees vs Islamic law
BY ZURAIRI AR AND IDA LIM
Aug 13, 2015
KUALA LUMPUR, Aug 13 — The country's highest court sits today to hear two separate cases that essentially deal with one fundamental question: will future Malaysians have the right to challenge Shariah enactments that encroach on their constitutional rights regardless of their religious background?
In their appeals to outlaw cross-dressing among Muslim men and to bar non-Muslims from practising as Shariah lawyers, state Islamic authorities have argued that fundamental constitutional rights guaranteed to all Malaysians cannot be applied to determine the validity of Islamic laws.
But lawyers and observers have told Malay Mail Online that should Federal Court rule in favour of the Islamic religious bodies, all Malaysians — but especially Muslims — will effectively lose their only recourse for judicial challenge against discriminatory Shariah laws that they argue will see further curbs to their civil liberties.
"Shariah laws are just penal codes that are creations of human beings, they can be challenged and we should be allowed to challenge them," lawyer and activist Siti Kasim told Malay Mail Online over the phone yesterday.
"If the appeals are allowed by our learned judges, basically any of the provisions in Shariah law in any state, we will not be able to challenge them as the transgender applicants did in Negri Sembilan."
Siti was referring to the first among the two cases, where the Court of Appeal had in November 7 last year ruled that Section 66 of the Negri Sembilan Shariah Criminal Enactment 1992 prohibiting cross-dressing by Muslims was unconstitutional and void.
When the case was taken up in the country's apex court on January 27, the Negri Sembilan government was allowed to challenge the ruling together with four other applicants: its Islamic Religious Affairs Department (JHEAINS), JHEAINS' director, its chief enforcer, and the state's chief Shariah prosecutor.
It was later revealed in May that Negri Sembilan, represented by prominent lawyer Tan Sri Muhammad Shafee Abdullah, will argue if Islamic laws can be tested with Part II of the Federal Constitution.
Part II which covers Articles 5 to 13, deal with the fundamental liberties guaranteed to all Malaysians, including the right to non-discrimination and equality before the law.
"This has a larger implication. It may also suggest that Muslims have lesser rights in Malaysia. I think any country that has different rights for different people, cannot achieve its highest standards of human rights," said S. Thilaga of transgender advocacy group Justice for Sisters.
Similar arguments will be put forth by the Federal Territories Islamic Religious Council's (MAIWP) lawyer Mohd Haniff Khatri Abdulla, in the second case where a non-Muslim lawyer Victoria Jayaseele Martin is seeking to be admitted as a Shariah lawyer in the federal territories.
Full report at:
http://www.themalaymailonline.com/malaysia/article/two-lawsuits-today-spotlight-supremacy-of-constitutional-guarantees-vs-isla
-----------
Malaysia needs moderate Islamic leadership, says former minister
AUGUST 13, 2015
SINGAPORE — Rising religious fundamentalism in Malaysia is holding back the country from reaching its full potential, warned former federal minister Zaid Ibrahim, who argued that a new moderate Islamic political voice is necessary to appeal to the changing electorate.
In a wide-ranging interview with TODAY here yesterday, Mr Zaid, who was a Minister in the Malaysian Prime Minister's Office, spoke about the danger of allowing fundamentalist ideas to influence Malaysian public policy. "If you have the ulama and the mullah (Islamic theologians) determine what the policies should be, then you'll never have the right policies," said Mr Zaid.
"For example, if you have an education policy, and the mullah says: Oh, you can't do this, because that's not Islamic, then what happens?" he said, emphasising that public policy should be based on religious values, but not on fundamentalist Islamist thinking.
He warned that any attempt to change the situation was difficult, since religious figures are dominating most aspects of the government, religion and even education.
"There is no other religious education other than what has been approved by (fundamentalist Islamists). You only have one view of Islam in Malaysia," he added.
With Islam and the state intertwined, it is necessary to convince the electorate that they should support a moderate, democratic and non-violent narrative of Islam, he said.
"If you fail, then you have the violent Islam, the ISIS Islam ... The challenge is for us to build a moderate, intellectually-driven Islam that is peaceful," he said, referring to the Islamic State militant group.
For Mr Zaid, the new progressive Islamic party, Gerakan Harapan Baru (GHB), is an ideal platform for a moderate Islamic voice that would appeal to a young, educated electorate that rejects both the narratives of the ruling United Malays National Organisation (UMNO) and the Islamist opposition party Parti Islam Se-Malaysia (PAS).
"You cannot have (UMNO's) Islam because it's not working. You cannot have the PAS Islam because it's not going to win votes. So, I think it's worthwhile pursuing this third approach," Mr Zaid said, referring to the GHB.
The month-old group comprises moderates formerly from PAS who were ousted from their positions during party polls in June.
Full report at:
http://www.todayonline.com/world/malaysia-needs-moderate-islamic-leadership-says-former-minister?singlepage=true
-----------
Malaysian ship in uncharted waters – Muslim Professionals Forum
13 August 2015
American historian Henry Adams wrote that the American President "resembles the commander of a ship at sea. He must have a helm to grasp, a course to steer and a port to seek".
Written more than a century ago, this is equally applicable to any national leader today.
Few in Malaysia are in doubt that our ship is in the eye of a severe storm, rudderless and in imminent danger of floundering.
We have faced many squalls of differing severities in our short history as an independent nation but never have we been in such peril.
We are on the verge of sinking into the depths of a failed state. It is no longer a safe haven that we proudly call home.
In our current predicament, it is not an external gale force wind that threatens us but an internal twister, namely, a failed captain of the ship who has lost his sea legs and our ship is now drifting aimlessly and dangerously.
That such a scandal is being attributed to the commander of the ship reflects a perception of weakness as a leader of men and that the trust deficit has plunged into deep waters.
Our ship is in dire need of a new captain to chart a new course, to steer to a "port to seek" where we all seek to live harmoniously and desire that the bounty of the land be shared equitably among its people.
A national reconciliation and a rethinking of how this new "course to steer" is in order.
Outdated practice of politics have to give way to the primacy of rebuilding our once esteemed institutions of the state.
An admittedly tall order but one that we must undertake.
Finally, the "helm to grasp". It is a given that those who aspire to be leaders of men must have qualities that enable him/her to discharge his/her duties not only effectively but also with utmost integrity.
This has been the benchmark from the earliest human civilisations as can be gleaned from the literature of ancient Greece and Rome, the wisdom of the Chinese and Indian sages and up to our modern times.
Within the context of Malaysia and the Malay-Muslim leadership in particular, we are not short of repositories of wisdom from whence guidance could be obtained.
The following is Abu Bakr's address to the people of Medina when elected Caliph of the nascent Muslim state upon the death of Prophet Muhammad in 632 AD.
It encapsulates the essential qualities of humility, truthfulness, sense of justice and accountability that are necessary for a leader of men, "I have been given the authority over you, and I am not the best of you. If I do well, help me, and if I do wrong, set me right. Sincere regard for truth is loyalty and disregard for truth is treachery. The weak amongst you shall be strong with me until I have secured his rights, if God wills, and the strong amongst you shall be weak with me until I have wrested from him the rights of others, if God wills".
Al Ghazali wrote a short tract specifically addressed to how a ruler should conduct himself in running the affairs of the state.
Full report at:
http://www.themalaysianinsider.com/sideviews/article/malaysian-ship-in-uncharted-waters-muslim-professionals-forum
-----------
In Indonesia, Muslim group protests church construction
August 10, 2015
More than a thousand Muslim demonstrators staged a rally in an Indonesian city Aug. 10, urging local authorities to revoke a building permit for a Catholic church.
The protesters in a strongly Muslim area of North Bekasi, near Jakarta, claimed the leaders of the St. Clara Parish Church obtained a building permit through improper means.
"We want the mayor to revoke the building permit … as it is invalid," said protester Ustadz Ismail Ibrahim, a Muslim leader with the Islamic Friendship Association of Bekasi. The group includes several Islamic organizations and boarding houses in the area.
Local authorities granted the church a building permit in July. However, churches across Indonesia have struggled with highly restrictive legislation that critics say makes it difficult to obtain the proper permits.
In 2006, the religious affairs and home affairs ministries issued legislation that laid out onerous requirements to build places of worship. Church officials, for example, are obligated to provide a list of names and signatures of 90 worshippers and get signed support from at least 60 local residents along with approval by a village head.
Ibrahim claims the parish church violated these rules.
"They manipulated the data and forced local residents to sign on a paper with no letterhead," he said. "It was proved when we asked the local residents and found out that they weren't aware of it."
Full report at:
http://www.ucanews.com/news/in-indonesia-muslim-group-protests-church-construction/74053
-----------
After decade of peace, many in Aceh left behind
August 13 2015
Fakhruddin Kasem hoped for a prosperous new life when Indonesia struck a deal to end a separatist conflict in Aceh, but a decade on the unemployed former rebel is so desperate he hopes to join the Islamic State group to make ends meet.
While many ex-fighters have benefited from peace in the western Indonesian province, with ex-rebels now Aceh's key political players, former local commander Kasem is among a number that feel let down.
"As a rebel fighter, I feel betrayed by the leadership as they have not taken care of me," said the 35-year-old, one of about 100 ex-rebels who pledged last month to join IS in Syria as they claim being salaried jihadists is the only way they can support their families.
Up to 500 nationals from Indonesia, the world's most populous Muslim-majority country, are believed to have travelled to the Middle East to join IS, sparking fears they could revive sophisticated militant networks responsible for attacks on Western targets on their return.
It is not clear whether the ex-rebels will really join the fight in Syria and Iraq, but the threat highlights how the transition to civilian life for many Free Aceh Movement (GAM) rebels has not always been smooth.
In 1976, GAM launched its fight for an independent Islamic state in Aceh, which is fiercely proud of its identity and was historically an important trading centre and seat of Muslim learning.
Over the next 29 years, fighting between rebels and Indonesian government forces left about 15,000 people dead -- with abuses committed by both sides -- before the 2004 tsunami finally persuaded GAM and Jakarta to strike a peace deal.
The destructive, quake-triggered waves left around 170,000 dead in Indonesia, the vast majority in Aceh, and tens of thousands more in countries around the Indian Ocean.
The deal was signed on August 15, 2005, in the Finnish capital Helsinki, with the rebels agreeing to give up their demands for independence in exchange for greater autonomy.
The GAM fighters laid down their arms and Jakarta withdrew non-local security forces from Aceh and granted an amnesty to rebels and political prisoners.
Full report at:
http://www.thejakartapost.com/news/2015/08/13/after-decade-peace-many-aceh-left-behind.html
-----------
URL: https://www.newageislam.com/islamic-world-news/new-age-islam-news-bureau/isis-truck-bomb-in-baghdad-kills-more-than-70-and-injures-200/d/104262