New Age Islam News Bureau
21 October 2020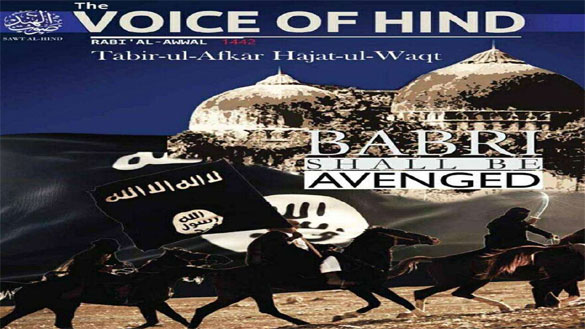 ISIS Magazine 'Voice of Hindi' cover.
-----
• All Terrorists Have Grown Up in Madrasas, says Madhya Pradesh Culture Minister
• Gilgit Baltistan Not Part of Pakistan, Its Laws Do Not Apply': Protesters Demand Release of Political Prisoners
• 'Demoralized, Shocked' Sindh Police In Open Revolt Against Pak Army Over IGP 'Kidnaping', Jittery Bajwa Orders Inquiry
• Linking Terrorism To Islam Shows Ignorance: Imam of Egypt's Al-Azhar
• 'Welcome To Israel': First UAE Delegation Received By Israeli PM Netanyahu At Airport
• French MP Warns Of Generalized Suspicion of Muslims
• Sadat Mansoor Naderi Ensures 'People Involvement' In The Peace Process
India
• ISIS Terrorists Trying To Trick Indian Muslims to Take Up Arms to Avenge Babri, In 'Voice of Hind' Magazine
• All Terrorists Have Grown Up in Madrasas, says Madhya Pradesh Culture Minister
• National Commission for Women Chief Meets Maha Guv, Highlighted The Distinction Between A Consensual Inter-Faith Marriage And 'Love Jihad'
• Uttarakhand MoS Rank for Triple Talaq Crusader
• NIA Names 10 in Hizbul Narco-Terror Chargesheet
• Muslim Youth Killed In Jharkhand for Preventing Cow Slaughter
• Five terrorists killed in twin south Kashmir encounter
--------
Pakistan
• Gilgit Baltistan Not Part of Pakistan, Its Laws Do Not Apply': Protesters Demand Release of Political Prisoners
• 'Demoralized, Shocked' Sindh Police In Open Revolt Against Pak Army Over IGP 'Kidnaping', Jittery Bajwa Orders Inquiry
• Kidnapping of Sindh's IGP, arrest of PML-N leader may lead to Pak PM's Watergate scandal: PoK activist
• Pakistan Muslim League-Nawaz chief Shehbaz Sharif sent to jail
• National Assembly echoes with opposition whistles
• At least 15 dead in stampede near Pakistan consulate in eastern Afghanistan
• Pakistan stands by Afghan brethren in hard times: Alvi
--------
Arab world
• Linking Terrorism To Islam Shows Ignorance: Imam of Egypt's Al-Azhar
• Khashoggi's Fiancée, Human Rights Group Sue Saudi Crown Prince In US For Murder
• Human Rights Watch calls on Saudi Arabia to halt eight imminent executions
• Iraqi militias defy government, expand networks and pressure
• Suspected ISIS gunmen kill three Kurds in disputed Kirkuk, burn their bodies
--------
Mideast
• 'Welcome To Israel': First UAE Delegation Received By Israeli PM Netanyahu At Airport
• 'Shameful' UAE visit will encourage more Israeli aggression: Palestinians
• Report: Egypt Concerned about UAE's Likely Turn into Haven for Mossad
• Iran Deplores Takfiri-Style Beheading in Karabakh
• Rocket fire from Gaza after Israel uncover cross-border attack tunnel
• Turkey guilty of violating free speech right, finds European court
--------
Europe
• French MP Warns Of Generalized Suspicion of Muslims
• Islamist Jihad Poses Biggest Terror Threat to Britain
• UN Set To Hold Urgent Donor Conference for Rohingya Muslim Refugees
• France shuts Paris mosque after teacher's beheading
• After teacher beheading, France to dissolve pro-Hamas Muslim group: Macron
• French police raid dozens of targets suspected of extremism after teacher beheaded
--------
South Asia
• Sadat Mansoor Naderi Ensures 'People Involvement' In The Peace Process
• 5 killed, 9 injured in blast in central Afghanistan
• Devotion to Mother Mary spans generations in Bangladesh
• 'Rohingya crisis among worst modern tragedies'
• 50 Taliban Killed in Kandahar Battle
• Special Inspector General For Afghanistan Reconstruction: $19 Billion Dollars Lost To Fraud
--------
Southeast Asia
• Political Reconciliation among Malay Parties Seen As A Tall Order
• Ask And I Will Forgive, Otherwise Find Me in Padang Mahsyar, Najib Tells Dr Mahathir
• Indonesia aims to be major 'player' in halal market
• Indonesia: Calls for rescue of Rohingya stranded at sea
--------
Africa
• Al-Sunni Calls for Young People to Participate In the Libyan Political Dialogue
• Removal from US list not linked to Israel ties: Sudan
• Dialogue Possible With Certain Sahel Jihadists: UN Chief
• Cameroon Chiefs Create Militias for Protection from Separatists
• ICC prosecutor says Omar al-Bashir, other suspects must face justice over Darfur
• Libyan warring sides agree to open air, land routes: UN Envoy
• 2 killed in bomb blast in Somali capital
• Nigeria: 15 killed since start of police abuse protests
--------
North America
• US Warns 'Distressingly High' Afghan Violence Could Derail Deal with Taliban
• U.S. Imposes Sanctions on Qaeda Financier Who Trades in Gems
• Israel has a stranglehold on US foreign policy
• Baltimore County man linked to extremist movement arraigned on gun charge
--------
Australia
• Right-Wing Extremism on The Rise: Police
Compiled by New Age Islam News Bureau
URL: https://www.newageislam.com/islamic-world-news/isis-terrorists-trying-trick-indian/d/123220
--------
ISIS Terrorists Trying To Trick Indian Muslims to Take Up Arms to Avenge Babri, In 'Voice of Hind' Magazine
Oct 20, 2020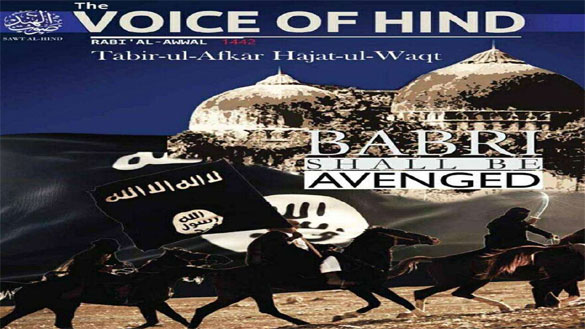 ISIS Magazine 'Voice of Hindi' cover.
-----
New Delhi: In yet another shocker from the corridors of terror, dreaded terrorist organisation Islamic State (ISIS) has released new literature in the latest edition of its magazine where it has put out insinuating content urging Muslims to take up arms to "avenge Babri Masjid".
The content, accessed by Times Now, states that Muslims should take up arms and wage 'jihad' to take revenge against the Indian establishment for the Babri Masjid incident.
The sinister ISIS literature also cites Uttar Pradesh doctor Kafeel Khan to paint false narrative of 'Islamophobia', and also attempts to spread propaganda to instigate Muslims against the Citizenship Amendment Act.
Earlier this month, a chargesheet filed by the National Investigation Agency stated that the Indian module of the terrorist organisation was planning to set up its units inside the jungles of South India.
As per the chargesheet filed in July, an offshoot of the Islamic State operating in southern India – the Al-Hind – had plotted to establish 'ISIS Daishwilayah' (province) inside the dense forests of Karnataka, Tamil Nadu, Andhra Pradesh and Kerala in 2019.
The NIA subsequently filed a chargesheet against 17 conspirators for establishing a terror outfit conspired by two terrorists from Bengaluru and Cuddalore in order to carry out terror attacks across the country.
The two key conspirators – Mehboob Pasha from Bengaluru and Khaja Moideen of Cuddalore – recruited youths, and procured arms and ammunition in large quantities, along with a huge cache explosive material to make improvised explosive devices (IEDs).
Last week, a special NIA court sentenced 15 people with rigorous imprisonment up to 10 years and fine in connection with the ISIS Delhi conspiracy case for trying to establish its base in India by recruiting Muslim youth.
https://www.timesnownews.com/india/article/avenge-babri-isis-magazine-calls-for-jihad-instigates-muslims-to-take-up-arms-video/670025
--------
All Terrorists Have Grown Up in Madrasas, says Madhya Pradesh Culture Minister
Edited by Poulomi Ghosh
Oct 21, 2020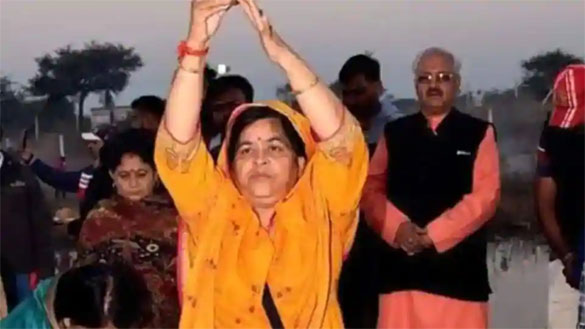 Religion-based education is increasing fanaticism and spreading hatred, the minister said. (Facebook/Usha Thakur)
-----
Madhya Pradesh Culture Minister Usha Thakur said all terrorists have studied in madrasas, championing for the suspension of government funds to madrasas. "All fundamentalists and terrorists of the country have grown up in madrasas. Children are children and students are students. So I believe students of all religions should be collectively given the same education. See, Assam has done this. Religion-based education is increasing fanaticism and spreading hatred," the minister said.
All terrorists are raised in madrasas; they had turned J&K into a terror factory. Madrasas which can't comply with nationalism, they should be merged with existing education system to ensure complete progress of the society: Madhya Pradesh Minister Usha Thakur in Indore. (20.10) pic.twitter.com/1jQEgFBu2r
— ANI (@ANI) October 21, 2020
"What culture are they (madrasas) teaching? If you are a citizen of this country, then you see all fundamentalists and terrorists have grown in madrasas. Jammu and Kashmir was made a factory of terrorists," she added.
Those who want religious education can obtain it at their own expense, as the Constitution gives them this right, the minister said.
"Government's financial assistance to madrasas must stop. The Wakf Board is economically the strongest organisation in the world and it would take care of funding for madrasas," she said.
Assam has recently decided to shut down state-run Madrasad and sanskrit tols and convert them to regular schools to bring uniformity in the education system.
https://www.hindustantimes.com/india-news/see-assam-has-done-this-says-madhya-pradesh-minister-on-shutting-down-madrasas/story-R6Q0IyDCjHS5rg8modYN9H.html
--------
Gilgit Baltistan Not Part of Pakistan, Its Laws Do Not Apply': Protesters Demand Release Of Political Prisoners
Oct 21, 2020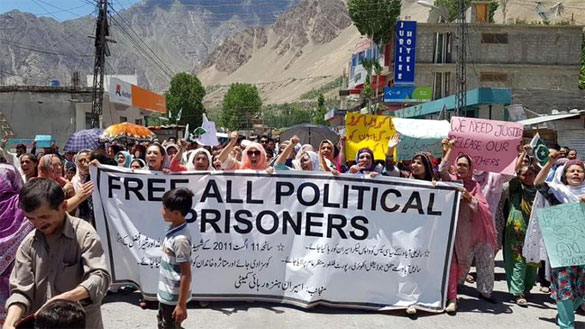 Protests in Gilgit Baltistan demanding the release of political prisoners
-----
GILGIT BALTISTAN: Protests demanding the release of political prisoners, including a prominent local activist Baba Jan, have entered the third week in Gilgit Baltistan with protestors questioning the draconian law under which the activists have been arrested, saying the region is not a part of Pakistan and its laws do not apply here.
Even the remote villages and far-flung corners of the region have joined in the movement that demands the release of political prisoners, who are serving illegal sentences.
Carrying pictures of Baba Jan, a prominent local activist-cum leader serving a ninety-year sentence on trumped-up charges, demonstrators raised slogans against Pakistan government and demanded the immediate release of the political prisoners.
Arrested in 2011, Baba Jan is an activist who challenged the then Pakistani administration which was essentially working against the people of Gilgit Baltistan.
The Pakistan establishment has used the draconian schedule IV of the Anti-Terrorism Act in Gilgit Baltistan to muzzle the reasonable voices that resist its repression.
It has framed dozens under the law not only to give itself a free rein to rule the region but also to send a threatening message to all sections of the society.
Protesters say that their protests have grown huge in size but have generated a little ripple effect because of the biased coverage by Pakistani media. They say their protests are indefinite in nature this time and they will not give in to any administrative persuasion or coercion.
"If you (Pakistan establishment) think you can muzzle our voice through forces, let me tell you, you can not. It is the 21st century, we will not sit quietly. Pakistani media is doing selective reporting and is not covering our issues," a protestor said.
Locals have also threatened the authorities with the intensification of protests if their demands were not met immediately.
They called out Pakistani government for being ghoulish in their attitude while dealing with the people of this illegally occupied region.
A protestor said they are subject to atrocities on the whims of Islamabad as lawfully the region is not even a part of them. Pakistan has misgoverned the region for more than seven decades and has not granted people with even fundamental rights.
"We are not part of Pakistan. Pakistan constitution does not apply to us. There is no logic and law behind the arrest of our people. They have been arrested from the last 10 years. If we are not part of your country so how can your laws apply to us?" asked another protestor.
Freedom of speech, Right to education, property rights or even right of employment is foreign to the people of Gilgit Baltistan.
Pakistan has for decades been plundering the region of its land and resources and been giving it nearly zero returns. Demanding rights has seemingly become an unwritten crime in Gilgit Baltistan. Anybody who has dared to raise his voice against this discrimination has been subject to intimidation, arrest and imprisonment.
https://timesofindia.indiatimes.com/world/pakistan/gilgit-baltistan-not-part-of-pakistan-its-laws-do-not-apply-protestors-demand-release-of-political-prisoners/articleshow/78780878.cms
--------
'Demoralized, Shocked' Sindh Police In Open Revolt Against Pak Army Over IGP 'Kidnaping', Jittery Bajwa Orders Inquiry
Oct 21, 2020
KARACHI: It is not just political parties in Pakistan who are protesting against the 'deep state' in the country, police officers in the Sindh province are also revolting against the atrocities of the powerful army.
Recently, political parties under the banner joint opposition alliance---Pakistan Democratic Movement (PDM)-- protested against the 'puppet' government of Prime Minister Imran Khan and demanded his resignation. Thousands of people participated in the rally in Karachi.
Following the rally, Pakistan Muslim League-Nawaz leader Maryam Nawaz's husband Safdar Awan was arrested from his hotel room.
Almost all police officers in Singh Police applied for leave in protest against the humiliation meted out to the Sindh IGP Mushtaq Mehr, during the PML-N leader Safdar Awan's arrest saga, The News International reported.
PML-N leader and spokesman for Nawaz Sharif and Maryam Nawaz's and former Sindh Governor Muhammad Zubair that the IGP Sindh was 'kidnapped' by Rangers who forced him to file an FIR for Safdar's arrest.
The development caused extreme bitterness among the police officers who retaliated by submitting leave of absence.
Almost the entire top brass of the police, including three Additional IGs, 25 DIGs, 30 SSPs and dozens of SPs, DSPs and SHOs across Sindh, tendered leave applications, as a protest against the "resentment and heartache caused to all ranks of the force" by the unfortunate incident of October 18/19. The incident sent shockwaves in top Army brass with Army chief Qamar Javed Bajwa himself stepped in and order an inquiry into the 'Karachi incident'.
In a tweet, the Sindh Police termed their reaction of filing leave application "as a spontaneous and heartfelt reaction and made on an individual basis rather than on a collective basis."
Following a low key letter of leave by the IGP Mushtaq Mehr, Additional Inspector General of Police, Special Branch, Sindh, Yaqoob Minhas submitted his. Minhas in his application submitted to the IGP that during the recent episode of registration of FIR against the PML-N leader, "the high command of the Sindh Police was ridiculed and mishandled, which has left the entire provincial police force demoralized and shocked."
Asking to proceed on leave, Minhas said: "In such a stressful situation, it is quite difficult for me to discharge my duty in a professional manner. In order to come out of this shock and settle down, I may kindly be granted 60 days earned leave."
The senior police officers were extremely annoyed and upset with the way their IGP was treated.
They warned that they could tender resignations if it is for their dignity.
They asserted that the police force was the first line of defence and thousands of cops have sacrificed their lives in the line of duty and how this force has been treated is unfortunate.
"Right now, we are going on leave but we can tender our resignations too," warned a frustrated a senior police officer who wished not to be named. "How can we work in this stressful environment where there is no respect for us".
Later in the night on Tuesday, Pakistan People's Party Chairman Bilawal Bhutto Zardari, accompanied by Sindh Chief Minister Syed Murad Ali Shah, visited the residence of the IGP Sindh Mushtaq Mehr where a large number of PSP officers had also gathered, to defuse the situation and to express solidarity with the police force and appreciate their role as a frontline force against crimes and terrorism.
On the occasion, Bilawal Bhutto Zardari informed them of his telephonic conversation with Bajwa in which General Qamar Javed Bajwa had assured him of a transparent inquiry into the incident and hoped its results would be announced soon.
Following the meeting with the PPP Chairman Bilawal Bhutto at the IGP's residence, the IGP deferred his own leave and ordered his officers to set aside their leave applications for 10 days in the larger national interest, pending the conclusion of the inquiry.
Meanwhile, Sindh Police spokesperson issued a statement via Twitter appreciating Bajwa for realising the sense of hurt that prevailed within a uniformed force and instituting an impartial inquiry to restore the prestige of the Sindh Police. He also expressed gratitude to the PPP Chairman Bilawal Bhutto and CM Sindh for expressing solidarity with the police leadership.
https://timesofindia.indiatimes.com/world/pakistan/demoralized-shocked-sindh-police-in-open-revolt-against-pak-army-over-igp-kidnaping-jittery-bajwa-orders-inquiry/articleshow/78782200.cms
--------
Linking terrorism to Islam shows ignorance: Imam of Egypt's Al-Azhar
21 October 2020
The grand imam of Egypt's Al-Azhar Islamic Center, Sheikh Ahmed el-Tayyeb, has blasted individuals who link terrorism to Islam, following Islamophobic remarks by French President Emmanuel Macron and the recent murder of a French teacher.
According to AhlolBayt News Agency (ABNA) on Wednesday, Tayyeb tweeted that linking terrorism to Islam was a sign of ignorance.
Tayyeb 's statement comes following the beheading of French school teacher Samuel Paty on Friday after he showed his students blasphemous cartoon images of the Prophet Muhammad (PBUH).
The grand imam of Al-Azhar also condemned the incident in a joint statement read out to an interfaith gathering of Muslims, Christians, and other religions in Rome's Capitol Square attended by the leader of the Catholic Christians, Pope Francis, on Tuesday.
In the statement, Tayyeb emphasized that the religion of Islam was opposed to criminal activities and was innocent of terrorist crimes. He also emphasized that insults against religions in the name of free speech were not condoned, as they provoked hatred.
"I emphasize that insulting religions and attacking their sacred symbols under the banner of freedom of expression is… an open invitation to hatred," the grand imam of Al-Azhar said.
Meanwhile, President Macron was scheduled to attend a memorial in honor of the dead teacher at Sorbonne University, posthumously presenting him France's highest award, the Legion d'Honneur.
Macron vowed on Tuesday to intensify a clampdown on extremists. "Our fellow citizens expect actions," he said during a visit to a Paris suburb.
A number of people, including two underage minors, have already been handed over to a court investigating the happenings leading to the killing.
As part of a crackdown against Muslims, French authorities have also ordered a six-month shutdown of the Grand Mosque of Pantin in a low-income Paris suburb.
Macron prompted a backlash on October 2 — before the latest incident — when he said Islam was "in crisis." He made the remark during a speech in which he unveiled a draft law that would boost secularism in France, which is home to the largest population of Muslims in Western Europe. According to the draft law, some NGOs or organizations that allegedly "act against the law and values of the country" might be shut down or face tight financial audits.
French Muslims widely criticized the remarks and the planned law, voicing concern that the speech would trigger hate crimes against them.
https://www.presstv.com/Detail/2020/10/21/636879/Linking-terrorism-to-Islam-shows-ignorance-Imam-of-Egypt-Al-Azhar
--------
'Welcome to Israel': First UAE delegation received by Israeli PM Netanyahu at airport
Emily Judd
20 October 2020
The first official UAE delegation to Israel landed at Ben Gurion airport near Tel Aviv on Tuesday, accompied by top US officials including Treasury Secretary Steven Mnuchin.
The UAE-US delegation was received by Israeli Prime Minister Benjamin Netanyahu, who opened the trilateral ceremony, which included the signing of four Israel-UAE agreements regarding the promotion and protection of investments, science and innovation, aviation, and visa exemptions.
Netanyahu announced that the UAE and Israel will allow their citizens to travel between countries without visas.
In his speech, Netanyahu said that the officials are "making history in a way that will stand for generations."
"Jews and Arabs are the descendants of one common ancestor: Abraham…in his spirit we wish to foster a Middle East of coexistence and cooperation," he added.
Abraham Fund announced
The US announced the "Abraham Fund," a joint American-Israeli-Emirati initiative based in Jerusalem focused on strengthening regional economic resiliency across the Middle East and to North African countries.
The Abraham Fund will start with a $3 billion trilateral commitment, said US International Development Finance Corporation CEO Adam Boehler.
The countries will "trilaterally open a development office based in Israel to identify and initiate strategic projects with a high developmental impact, including those that catalyze economic growth, improve standards of living, and create high-value, quality jobs," according to a joint statement.
UAE Minister of State Ahmed Al Sayegh said that the fund "reflects the desire of the three countries to put the wellbeing of people first, regardless of their creed or identity."
Participation from other countries to advance the objectives of the fund - promoting regional economic cooperation and prosperity in the Middle East and beyond - is welcomed, the statement said.
Boehler added that "we've already made progress…to change and modernize the checkpoints for Palestinians throughout all of Israel and Jordan."
In his remarks, Mnuchin said that along with the United States, "Israel and the UAE share a similar outlook regarding threats and opportunities in the region."
After the ceremony, Netanyahu, Mnuchin, US Assistant to the President Avi Berkowitz, UAE Minister of State for Financial Affairs Obaid Humaid Al Tayer, and UAE Minister of Economy Abdulla Bin Touq Al Marri met in a closed door meeting, according to the prime minister's office.
The delegation visit is confined to the area of Ben Gurion airport due to coronavirus precautions.
An Israeli delegation already visited the UAE's capital city Abu Dhabi on August 31, taking the first direct flight in history from Israel to the UAE.
The Emirati delegation boarded an Etihad Airways flight on Tuesday morning at the airport in Abu Dhabi.
On Monday the first ever passenger flight from the UAE to Israel landed near Tel Aviv, one month after the countries signed an agreement normalizing ties. Only flight crew were on board.
The flight was operated by Etihad Airways, which became the first Gulf airline to operate a civilian flight to Israel.
https://english.alarabiya.net/en/News/middle-east/2020/10/20/From-Abu-Dhabi-to-Tel-Aviv-First-UAE-delegation-leaves-for-Israel-to-meet-Netanyahu
--------
French MP warns of generalized suspicion of Muslims
Cindi Cook
20.10.2020
PARIS
French lawmaker Adrien Quatennens has warned against a climate of generalized suspicion toward the country's Muslims after the murder of teacher Samuel Paty by an extremist last Friday in the suburbs of Paris.
Quatennens, an LFI Party member of the parliament hailing from the Nord Department, appeared on franceinfo television Tuesday morning and in his appearance called for unity in the fight against terrorism. He said he believes that terrorists have a goal to divide the French society, and that they aim "a cleavage between Muslims and the rest of the population."
At the same time, Quatennens recognized the peril in making sweeping conclusion on the matter.
"This cleavage must therefore be refused. We must fight against Islamist terrorism, but not have a logic of generalized suspicion," he added.
"When attacks like those in Conflans are committed, millions of our fellow citizens suffer to see that this barbarism is committed in the name of their god."
Samuel Paty, a 47-year-old father who taught history and geography at Bois-d'Aulne College in Conflans-Sainte-Honorine in the Yvelines north of the capital, was decapitated Friday by Abdoullakh Anzorov, an 18-year-old man of Chechen origin. The suspect was gunned down by police.
The teacher, during one of his classes on freedom of expression, had shown controversial cartoons depicting Muslim Prophet Muhammad, according to the reports.
Muslim leaders across France have condemned the murder, stressing that extremists abuse religion for their goals and their actions cannot be justified through Islam.
Community leaders expressed their concern that the recent attack would again stigmatize French Muslims and increase Islamophobic views.
The murder has given rise to a renewed police crackdown with Interior Minister Gerard Darmanin on Sunday and Monday launching 34 police operations, 80 investigations, and taking dozens of people into custody.
Critics said French President Emmanuel Macron's government may exploit this murder to intensify its controversial, anti-Muslim campaign.
https://www.aa.com.tr/en/europe/french-mp-warns-of-generalized-suspicion-of-muslims/2012923
--------
Sadat Mansoor Naderi Ensures 'People Involvement' In The Peace Process
By Mohammad Haroon Alim
21 Oct 2020
State minister of peace, Sayed Sadat Mansoor Naderi, including six members of the negotiating team of the Islamic Republic of Afghanistan conducted a virtual meeting with the residence of Badakhshan on Tuesday.
Naderi wrote on his Facebook, that members of the delegation informed the people about the cases and answered their questions.
He added, "People participation and their actual participation" in the peace process is one of the prerequisites for the success of the nation in this process, this series continues to ensure the ownership of the people in the peace process.
The view of the Ministry of State on peace is to put the people at the center of the peace process, for this reason, it establishes a series of consultative meetings and exchange of views with various sections of society.
According to Naderi, the ministry aims are to connect people in the provinces with the negotiating team of the Islamic Republic of Afghanistan.
Naderi said, "The background of other countries in peace negotiations reflects the lengthy agreement on the framework, But the Afghan peace process is well underway"
This comes as a meeting was held in Doha on Monday night with members of the Afghan government and Taliban delegation and contact groups, but as with previous meetings, it was inconclusive.
https://www.khaama.com/sadat-mansoor-naderi-ensures-people-involvement-in-the-peace-process-878787/
--------
India
National Commission for Women Chief Meets Maha Guv, Highlighted The Distinction Between A Consensual Inter-Faith Marriage And 'Love Jihad'
Oct 21, 2020
NCW chairperson Rekha Sharma on Tuesday met Maharashtra Governor Bhagat Singh Koshyari in Mumbai and discussed the "rise" in 'love jihad' cases in the state among other issues, an official statement said. She highlighted the distinction between a consensual inter-faith marriage and 'love jihad' and said that the latter required attention, the National Commission for Women (NCW) said in a statement.
"Madam Chairperson raised the issue of rise in love jihad cases in Maharashtra. She highlighted a distinction between consensual inter-faith marriages and love jihad and said that the latter required attention," the statement said. As part of her visit to Mumbai, she also met a number of government officials, the NCW said.
"Our Chairperson @sharmarekha met with Bhagat Singh Koshyari, His Excellency, Governor of Maharashtra and discussed issues related to #womensafety in the state including defunct One Stop Centres, molestation and rape of women patients at #COVID centres and rise in love jihad cases," the NCW tweeted.
She also raised the issue of the Maharashtra State Commission for Women not having a chairperson and stressed that the position be filled at the earliest to ensure complaints are addressed in a timely manner. She claimed that some 4,000 complaints received by the state commission have not been attended to and redressed. "Till such time that the position is filled, a member from NCW shall visit the state on a monthly basis to look into the concerns raised by the women in the state," the NCW said.
Sharma also enquired into the status of the defunct One Stop Centres and sought their immediate reopening. "Some 188 cases filed under POCSO are pending beyond the statutory three month period. This should be looked into on priority," Sharma was quoted as saying in the statement.
During her visit she met several women's rights groups and NGOs to get a sense of the severity of the issue and the on-ground reality faced by women in Maharashtra.
https://www.hindustantimes.com/mumbai-news/ncw-chief-meets-maha-guv-raises-issue-of-rising-love-jihad-cases-in-state/story-73eFkJhlqMF8csSjZsNPMJ.html
--------
Uttarakhand MoS rank for triple talaq crusader
Oct 21, 2020
DEHRADUN: Shayara Bano, the main petitioner in the triple talaq case in the Supreme Court, was on Tuesday accorded the minister of state (MoS) rank by the Uttarakhand government, just 10 days after she joined the ruling BJP.
Apart from Bano, two more women were given the MoS-rank posts. All three were made vice-presidents of the state women commission. Soon after the appointments, CM Trivendra Singh Rawat said, "These three posts will help us address the womenrelated issues more effectively. All the pending matters will be resolved expeditiously."
A resident of Uttarakhand's Udham Singh Nagar district, Bano had approached Supreme Court against the practice of instant talaq way back in 2014, four months after she was divorced by her husband through speed post. Her case was clubbed with some other petitions. In 2017, the apex court had declared the practice as unconstitutional.
https://timesofindia.indiatimes.com/india/uttarakhand-mos-rank-for-triple-talaq-crusader/articleshow/78778842.cms
--------
NIA names 10 in Hizbul narco-terror chargesheet
Oct 20, 2020
SRINAGAR/ NEW DELHI: National Investigation Agency (NIA) on Tuesday filed a chargesheet against 10 accused - including the slain Hizbul top commander Riyaz Naikoo and drug peddlers based in Punjab - in the Hizbul Mujahideen (HM) narco-terror case. The case involves smuggling of heroin into India by Pakistan-based HM commanders, which would then be received and sold by drug traffickers operating out of Punjab and the proceeds channelised back to Pakistan through hawala or to HM terrorists based in Jammu and Kashmir.
The HM terror financing net was being run and controlled by its top commanders across the border, particularly one Khurshid, who NIA sources on Tuesday described as the financial head of HM in Pakistan.
Among those named in the 14,000-page chargesheet, filed in an NIA special court at Mohali in Punjab, are three Kashmiri HM terrorists – Riyaz Naikoo (who was killed in May), Hilal Ahmed Shergojri (arrested) and Zafar Hussain Bhat (absconding) - and seven members who were part of a Punjab-based drugs trafficking module, namely, Bikram Singh, Maninder Singh, Ranjit Singh, Jaswant Singh, Ranjit Singh, Gagandeep Singh (all arrested); and Iqbal Singh (absconding).
They have been charged under various sections of the NDPS Act, UAPA Act and IPC, besides Section 12(1)(b) of the Indian Passport Act.
The case was initially filed by Punjab police in April following the arrest of Hilal Shergojri and recovery of Rs 29 lakh in cash from his possession. NIA took up investigation of the case on May 8, 2020.
During investigation it emerged that Hilal, who had come to Amritsar to collect Rs 29 lakh, was a member of HM and a close associate of Riyaz Naikoo. "Investigation also unearthed the conspiracy hatched by Pakistan-based HM commanders and their associates and terrorist gangs in Punjab to support and augment the terror infrastructure of HM in India by raising money through drug smuggling/drug pedalling," NIA spokesperson Sonia Narang said.
"Investigation revealed that the accused had received at least six consignments of heroin through Attari border in the garb of importing rock salt granules from Pakistan. Of these, money proceeds of five consignments were partly sent back to Pakistan through hawala operators, while a substantial portion was channelized to HM terrorists in Kashmir through a network of overground workers and other associates," she added.
NIA said a sixth consignment of around 532 kg of heroin was seized in July 2019 at Attari border and a separate case was registered, which was investigated by NIA and a chargesheet filed.
During investigation, NIA has carried out searches at 15 locations belonging to the suspects and accused in Punjab, Haryana and J&K. "So far, Rs 98.5 lakh in cash, eight vehicles and three kg of heroin have been seized from the accused and investments worth several crores have been identified," the spokesperson said. Many incriminating chats between the accused were recovered from the seized devices.
https://timesofindia.indiatimes.com/india/nia-names-10-in-hizbul-narco-terror-chargesheet/articleshow/78775662.cms
--------
Five terrorists killed in twin south Kashmir encounter
Oct 20, 2020
SRINAGAR: Five terrorists were killed in two anti-terror operations in south Kashmir since Monday night.
While three Lashkar-e-Taiba ultras were slain in Pulwama's Hakripora within 24 hours of attacking a CRPF party in Tral, two unidentified terrorists were gunned down late Monday in Shopian's Melhoora, IGP (Kashmir Zone) Vijay Kumar said on Tuesday.
Soon after Monday's terror attack in Tral in which a CRPF jawan was injured, a joint team of J&K Police, Army's 5RR and CRPF launched a cordon-and-search operation in Hakripora. "The holed-up terrorists opened fire at the search party, triggering an encounter in which the trio was killed," a police officer said, adding that the ultras were given a chance to surrender but refused to yield.
Arms and ammunition including three AK-47 rifles besides other incriminating items were seized from the spot, Army spokesperson Col Rajesh Kalia confirmed. Soon after the gunfight broke out, authorities temporarily snapped internet connectivity in the area to maintain law and order.
Confirming the killing of two other ultras in Shopian's Melhoora, Col Kalia said their identities and affiliation were yet to be ascertained.
https://timesofindia.indiatimes.com/india/five-terrorists-killed-in-twin-south-kashmir-encounter/articleshow/78775629.cms
--------
Pakistan
Kidnapping of Sindh's IGP, arrest of PML-N leader may lead to Pak PM's Watergate scandal: PoK activist
Oct 21, 2020
GLASGOW (Scotland): The kidnapping of Sindh inspector general of police (IGP) and later arrest of Pakistan Muslim League-Nawaz (PML-N) leader Mohammad Safdar Awan in Karachi might lead to Prime Minister Imran Khan's Watergate scandal as "IG police is under federal government", said a Pakistan occupied Kashmir (PoK) activist.
Taking to Twitter, Amjad Ayub Mirza said, "IG sindh kidnapped @ 4am. Allegedly forced 2 take action against Nawaz Sharif's soninlaw. Army chief Bajwa orders enquiry. Senior police officers in sindh refuse 2 work. This single incident cud bcome Khan's Watergate since IG police is under federal government."
On early Monday, the police had arrested Safdar Awan, from the hotel they were staying in Karachi, hours after the PML-N vice-president had lashed out at Prime Minister Imran Khan and the PTI government at second power show of 11-party opposition alliance People's Democratic Movement (PDM), which was attended by thousands of people.
"Police broke my room door at the hotel I was staying at in Karachi and arrested Capt. Safdar," Maryam tweeted early Monday.
He was later released on bail.
Citing the statement issued by the Inter-Services Public Relations (ISPR), Dawn reported that Bajwa on Tuesday has directed the Karachi Corps Commander to "immediately inquire into the circumstances to determine the facts and report back as soon as possible".
The statement came minutes after Pakistan People's Party (PPP) Chairperson Bilawal Bhutto-Zardari asked General Bajwa and Director General Inter-Services Intelligence (ISI) Lt Gen Faiz Hameed to probe into the circumstances that led to the incident.
https://timesofindia.indiatimes.com/world/pakistan/kidnapping-of-sindhs-igp-arrest-of-pml-n-leader-may-lead-to-pak-pms-watergate-scandal-pok-activist/articleshow/78782260.cms
--------
Pakistan Muslim League-Nawaz chief Shehbaz Sharif sent to jail
OCTOBER 20, 2020
Shehbaz is the younger brother of three-time former Prime Minister Nawaz Sharif.
Pakistan Muslim League-Nawaz (PML-N) chief and Opposition Leader in the National Assembly Shehbaz Sharif was sent to jail on Tuesday in a money laundering case.
Mr. Shehbaz, the younger brother of three-time former Prime Minister Nawaz Sharif, was arrested by the National Accountability Bureau (NAB) on September 28 after a court here rejected his bail application in the Rs 700 crore money laundering case.
Next day, the 69-year-old former Chief Minister of Punjab province was sent on a physical remand by an accountability court.
On Tuesday, an accountability court of Lahore rejected the NAB's plea seeking further extension to his physical remand.
'No questions asked'
Mr. Shehbaz told the court that NAB didn't ask any questions about money laundering during his three weeks detention.
Talking to reporters, Mr. Shehbaz criticised the Imran Khan government for arresting Mohammad Safdar, son-in-law of Nawaz Sharif. Mr. Shehbaz also termed unholy alliance of Imran Khan and NAB behind political victimisation of opposition leaders. He has been shifted to Kot Lakhpat jail in Lahore.
https://www.thehindu.com/news/international/pakistan-muslim-league-nawaz-chief-shehbaz-sharif-sent-to-jail/article32903652.ece
--------
National Assembly echoes with opposition whistles
Amir Wasim
21 Oct 2020
ISLAMABAD: The National Assembly on Tuesday echoed with whistles for nearly two hours as the opposition staged an unprecedented noisy protest following refusal of Deputy Speaker Qasim Suri to allow them to speak on the current political situation in the country.
The opposition members kept on hurling papers, sometimes in the form of paper airplanes, at the speaker's dais, raised full-throated anti-government slogans and surrounded Mr Suri momentarily, keeping the sergeants-at-arms standing alert beside him almost throughout the proceedings.
Mr Suri, however, remained undeterred and kept on conducting the private member's day proceedings and managed to take up over 100 agenda items in the process.
Holding placards in their hands, the opposition members, mostly women, chanted various anti-government slogans, like Aata Chor, Cheeni Chor and Go Niazi, Go Niazi. A number of opposition members kept on blowing whistles making it difficult for reporters sitting in the press gallery to hear treasury members who were allowed to introduce their private member's bills.
Adviser to the Prime Minister on Parliamentary Affairs Babar Awan and other concerned ministers did not oppose any bills moved by the members, allowing the deputy speaker to refer them to committees.
Qureshi criticises opposition's behaviour, asking deputy speaker to reject its bills on agenda
There was complete silence in the house providing much relief to the treasury members and those sitting in the galleries, though for a brief time, on two occasions when the opposition members staged walkout leaving behind their colleagues to point out quorum. When quorum was first pointed out by Abdul Qadir Patel of the Pakistan Peoples Party (PPP), the deputy speaker declared the house in order after the headcount and continued the proceedings.
However, few minutes later, Javed Hasnain of the Pakistan Muslim League-Nawaz (PML-N) again pointed out lack of quorum forcing Mr Suri to first suspend the proceedings for 10 minutes and then adjourn the sitting till Friday morning. Under the rules, presence of 86 members (one-fourth) of the 342-member house is necessary to run the proceedings.
In the absence of the opposition members, Mr Suri gave floor to Foreign Minister Shah Mehmood Qureshi who lamented the opposition's behaviour and asked the chair to reject all the opposition's bills on the agenda as they were not serious in legislation work.
The minister termed the opposition's behaviour "childish" and "regrettable" and declared that the government was not worried at all over their protest.
"These people have been elected for blowing whistles and they will keep blowing whistles for next three years," Mr Qureshi said while pointing towards the opposition members who were returning to the house when he was still on his legs.
Public meeting in Karachi
It all started when parliamentary leader of the PML-N Khawaja Asif sought floor as he wanted to speak on the latest developments that took place after the opposition's public meeting in Karachi on Oct 18.
The opposition members, who had come well-prepared for the day, brought out placards, banners and whistles and gathered in front of the dais of the speaker, asking him to give an opportunity to the opposition to speak.
Some of the opposition members even reached behind the officials of the National Assembly Secretariat and used their microphones for raising slogans. The deputy speaker was seen constantly receiving instructions from one of his senior staff members who kept on telling him the names of the members for giving them the floor.
There was a 168-point agenda for the sitting which included introduction of 42 private member's bills. The deputy speaker deferred 28 bills, including those that had been submitted by the opposition members, and allowed introduction of 13 bills despite noisy opposition's protest.
The National Assembly hurriedly passed three bills as the deputy chairman sought approval of all the clauses of the bills collectively instead of seeking their approval one by one amid opposition's accusation of bulldosing the legislative business.
The bills passed by the assembly were the Islamabad Rent Restriction (Amendment) Bill, 2020, making the agreement between tenants and landlords mandatory with 10 per cent annual increase in rent, the Islamabad Capital Territory Food Safety Bill, 2020, seeking to establish a food authority in the capital to maintain safety and standards of food and the Islamabad Real Estate (Regulation and Development) Bill, 2020, for regulation and promotion of the real estate sector.
https://www.dawn.com/news/1586171/national-assembly-echoes-with-opposition-whistles
--------
At least 15 dead in stampede near Pakistan consulate in eastern Afghanistan
21 Oct 2020
At least 15 people were killed in stampede among thousands of Afghans gathered outside Pakistan's consulate on Tuesday as jostling broke out between people applying for visas, officials in the eastern city of Jalalabad said.
An estimated 3,000 Afghans had congregated on the open ground outside the consulate, waiting to collect tokens needed to apply for a visa, two provincial officials told Reuters a day after the tragedy.
Sohrab Qaderi, a provincial council member in eastern Jalalabad city, where the incident occurred said of the 15 people dead, 11 were women and several senior citizens were wounded.
"The visa applicants jostled to secure their token from the consulate officials [...] the crowd got out of control, leading to a stampede," said an official in Jalalabad said.
Tens of thousands of Afghans every year travel to neighbouring Pakistan to secure medical treatment, education and jobs. The two countries share a nearly 2,600-kilometre border.
Pakistan hosts about 3 million Afghan refugees and economic migrants, who have fled violence, religious persecution and poverty in their war-torn country.
Officials in the Pakistan embassy in Kabul were not immediately available for comment.
https://www.dawn.com/news/1586246/at-least-15-dead-in-stampede-near-pakistan-consulate-in-eastern-afghanistan
--------
Pakistan stands by Afghan brethren in hard times: Alvi
21 Oct 2020
ISLAMABAD: President Dr Arif Alvi on Tuesday said Pakistan would continue to support the Afghan-led and Afghan-owned peace process for an inclusive, broad-based and comprehensive political settlement in the neighbouring country.
He was talking to Hizb-i-Islami leader Gulbuddin Hekmatyar who called on him here at the Aiwan-i-Sadr. The Afghan dignitary also called on Prime Minister Imran Khan and National Assembly Speaker Asad Qaiser a day after meeting Foreign Minister Shah Mehmood Qureshi in Islamabad.
Welcoming the visiting dignitary, President Alvi said Pakistan and Afghanistan shared a similar history, culture and religion, and the two brotherly countries must further strengthen bilateral cooperation for the mutual benefit of their people.
He said Pakistan would continue to stand by the Afghan nation in difficult times, and contribute to the reconstruction and development of Afghanistan, according to a press release issued by the President's Media Office.
Hekmatyar calls on President and PM, appreciates Islamabad's efforts for Afghan peace
President Alvi underscored the need for peace and stability in Afghanistan, which would benefit not only Afghanistan and Pakistan but also the entire region. He expressed the hope that the intra-Afghan negotiations following the peace agreement between the Taliban and the United States would help bring stability to Afghanistan.
However, he warned the Afghan leader of the spoilers who were bent upon derailing the peace process once again. The Afghan leadership must save the peace-process from being harmed and seize the historic opportunity to establish lasting peace in their country, he added.
He said the international community had acknowledged Pakistan's positive contribution to promotion of peace in Afghanistan.
Mr Hekmatyar lauded Pakistan's efforts for promotion of peace and reconciliation process in Afghanistan.
Pakistan's support for Afghanistan, particularly the assistance extended to the Afghan refugees, opening of the border for transit and bilateral trade during the Covid-19 pandemic and the revised visa policy for the Afghan nationals also came under discussion.
Meanwhile, the visiting Afghan dignitary called on Prime Minister Imran Khan and appreciated his positive role in facilitating the Afghan peace process.
The Afghan leader, who arrived here along with a delegation and also met Pakistan's foreign minister on Monday, thanked Islamabad for its longstanding contribution to the socio-economic development of his country and for hosting millions of Afghan refugees for more than four decades.
Welcoming the dignitary, the prime minister underscored the historic bonds of friendship and brotherhood between Islamabad and Kabul.
Mr Khan highlighted the importance Pakistan attached to the fraternal Afghan people and reaffirmed the country's resolve to foster closer cooperation with Afghanistan, said a press release issued by the PM Media Office.
Mentioning that Pakistan has the highest stake in peace and stability in the region, PM Khan expressed best wishes for successful outcome of the Afghan peace process. He reiterated his longstanding position that there was no military solution to the conflict in Afghanistan and that an Afghan-led and Afghan-owned peace process was the only way forward.
The prime minister noted that intra-Afghan negotiations provided a historic opportunity to the Afghan leadership to establish lasting peace in their country. He expressed the hope that the Afghan parties would work to secure an inclusive, broad-based and comprehensive political settlement.
However, he warned against the damaging role that spoilers could play within and outside Afghanistan. Besides undermining peace and stability, this could also undermine the peace dividend to be accrued in terms of progress and prosperity of the Afghan people, he underlined.
Referring to the enormous potential in bilateral trade, transit and connectivity between Afghanistan and Pakistan, Mr Khan reaffirmed his government's full support for Afghanistan on the path of reconstruction and economic development and dignified return of Afghan refugees. He further said Pakistan would continue to facilitate people-to-people exchanges, promote Afghan investments and enhance programmes for human resource development and capacity building of Afghans, especially in the sectors of health and education.
FO statement
Meanwhile, Foreign Office (FO) spokesperson Zahid Hafeez Chaudhri expressed the hope that the Hezb-i-Islami leader's visit to Pakistan would further help [in peace process] and open a new chapter in the relationship between two countries.
"Pakistan has always supported a peaceful, stable, united, democratic, sovereign and prosperous Afghanistan," he said while speaking to Radio Pakistan's current affairs programme.
He said Mr Hekmatyar's visit was significant and came at a time when the Afghan peace negotiation process was at a critical stage. He said Pakistan had always supported an Afghan-led, Afghan-owned peace process. Pakis­tan had been telling the world that there was no military solution to the prevailing Afghan crisis, he said.
https://www.dawn.com/news/1586178/pakistan-stands-by-afghan-brethren-in-hard-times-alvi
--------
Arab world
Khashoggi's Fiancée, Human Rights Group Sue Saudi Crown Prince In US For Murder
21 October 2020
The fiancée of Saudi journalist Jamal Khashoggi and a human rights group he founded have filed a lawsuit at a US court against Saudi Crown Prince Mohammed bin Salman (MbS), accusing him of ordering the dissident's murder at Riyadh's consulate in Turkey.
The lawsuit was filed in Washington DC on Tuesday on behalf of Hatice Cengiz and Democracy for the Arab World Now (DAWN) – the human rights organization that Khashoggi founded shortly before his death.
It singled out MbS, the de facto ruler of the conservative Persian Gulf kingdom, and over 20 other officials, accusing them of a "brutal and brazen crime" that was the result of "weeks of planning" and premeditation.
The lawsuit said Khashoggi — who lived in the US in self-imposed exile — was murdered "pursuant to a directive of defendant Mohammed bin Salman."
The lawsuit charged that the Saudi crown prince, his co-defendants and others carried out a plot to "permanently silence Mr. Khashoggi" no later than the summer of 2018 after discovering his "plans to utilize DAWN as a platform to espouse democratic reform and promote human rights."
"The objective of the murder was clear — to halt Mr Khashoggi's advocacy in the United States... for democratic reform in the Arab world," it added.
It noted that Khashoggi was the victim of a ruse that first started at the Saudi embassy in Washington DC when he went there to obtain documents to marry Cengiz, a Turkish national.
The lawsuit accused bin Salman and Saudi officials of having "manufactured an opportunity to murder him," which saw officials at Riyadh's US embassy tell Khashoggi he could not receive the documents in the States and would instead have to travel to Turkey's metropolis Istanbul to get them at the Saudi consulate there.
Khashoggi disappeared on October 2, 2018 after entering the Saudi consulate in Istanbul to seek the documents that would allow him to marry Cengiz, who was waiting outside the building. He never emerged.
Turkish officials say Khashoggi was killed and dismembered inside the consulate by a Saudi hit team. His remains have not been found so far.
"The suit seeks to hold accountable those responsible for the brutal premeditated kidnapping, torture, assassination and dismemberment of a US resident, Mr. Khashoggi," said Keith M. Harper, a lawyer for Ms. Cengiz, at a news conference. "This lawsuit is also a search for the entire truth."
The American CIA spy agency and intelligence services of other countries have said the evidence altogether demonstrated bin Salman's culpability.
Agnes Callamard, the UN special rapporteur for extrajudicial, summary or arbitrary executions, who investigated Khashoggi's murder, has also said "credible evidence" links the Saudi crown prince to the killing of the Washington Post journalist and said he should be investigated.
Another lawsuit was also filed against bin Salman in August in a US court by a former top Saudi intelligence official, Sa'ad al-Jabri, who accused the crown prince of sending a hit team to kill him in Canada, where he lives in exile.
Ever since bin Salman became Saudi Arabia's de facto ruler in 2017, the kingdom has arrested dozens of activists, bloggers, intellectuals and others perceived as political opponents, showing almost zero tolerance for dissent even in the face of international condemnations.
Muslim scholars have been executed, women's rights campaigners – including Loujain al-Hathloul – have been put behind bars and tortured, and freedom of expression, association and belief continue to be denied in the kingdom.
https://www.presstv.com/Detail/2020/10/21/636875/Khashoggi-s-fianc%C3%A9e,-human-rights-group-sue-Saudi-crown-prince-for-murder
--------
Human Rights Watch calls on Saudi Arabia to halt eight imminent executions
20 October 2020
Human Rights Watch has called on Saudi Arabia to stop the imminent execution of eight men charged with activities related to a wave of anti-government protests while they were under the age of 18.
In a statement on Tuesday, the New York-based group denounced Saudi Arabia's death penalties as the eight alleged child offenders are awaiting the death penalty.
The group questioned the kingdom's 2018 criminal justice reform, saying the ongoing cases demonstrate critical gaps in the plan, which was expected to curb the death penalty for child offenders.
The HRW obtained and analyzed the charge sheets for two group trials that included the eight men in 2019.
Some of the crimes listed were allegedly committed while the men were between ages 14 and 17.
One of the men, now 18, is charged with a nonviolent crime he allegedly committed at age 9. All eight men have been in pretrial detention for up to two years.
"Saudi spin doctors are marketing judicial reforms as progress while prosecutors appear to blatantly ignore them and carry on as usual," said Michael Page, deputy Middle East director at Human Rights Watch.
"If Saudi Arabia is serious about reforming its criminal justice system, it should start by banning the death penalty against alleged child offenders in all cases," he said.
According to the rights group, the Saudi Public Prosecution accused the detained men, all from Shia-majority towns and villages in the Eastern Province, of several charges that do not resemble recognizable crimes.
It said that the men had been accused of "seeking to destabilize the social fabric by participating in protests and funeral processions", "chanting slogans hostile to the regime," and "seeking to incite discord and division."
The eight are named as: Ahmad al-Faraj, Ali al-Batti, Mohammed al-Nimr, Ali al-Faraj, Mohammed al-Faraj, Ali al-Mabyook, Sajjad al-Yasin, and Yousef al-Manasif.
Saudi authorities arrested the men between April 2017 and January 2018.
Citing Saudi activists in communication with sources close to al-Nimr and al-Faraj, Human Rights Watch said that the men were subjected to torture during their initial detention and interrogation and that both were denied access to legal counsel.
It said that the crimes listed in the men's charge sheets, which for seven of the eight men included attacking police officers or patrols with Molotov cocktails or firearms, are almost entirely based on the men's confessions, and give no details of any injuries to police officers.
The HRW has documented longstanding due process violations in Saudi Arabia's criminal justice system that makes it difficult for a defendant to get a fair trial even in capital cases.
It referred to a case in April 2019, when Saudi Arabia carried out a mass execution of 37 men, 33 of them from the country's Shia minority community.
Citing local activists, the rights group earlier said that more than 200 people from Shia-majority towns and villages in the Eastern Province have gone on trial for similar offenses since 2011.
Mostly Shia residents of Eastern Province towns such as Qatif, Awamiya, and Hufuf have repeatedly held protests over discrimination by the government since 2011.
Ali al-Nimr - who was sentenced to death over his alleged role in anti-regime protests in 2012 when he was 17 years old, is the nephew of Sheikh Nimr al-Nimr, a Saudi cleric who had called for reforms and was executed in January 2016.
Saudi Arabia is one of the top executioners in the world, with more than 2,000 people executed between 1985 and 2016. Suspects convicted of terrorism, homicide, rape, armed robbery and drug trafficking face death penalty.
In the most stunning case of executions, Saudi Arabia executed on January 2, 2016, Sheikh Nimr Baqir al-Nimr, along 46 other people in defiance of international calls for the release of the prominent Shia cleric.
https://www.presstv.com/Detail/2020/10/20/636840/HRW-Saudi-Arabia-child-offenders-
--------
Iraqi militias defy government, expand networks and pressure
Ali Mamouri
Oct 19, 2020
A group of pro-Iran militias in Iraq attacked the headquarters of the Kurdistan Democratic Party (KDP) on Oct. 17, setting the building on fire and raising the flag of the Popular Mobilization Units (PMU).
This comes in reaction to an Oct. 2 statement by Hoshyar Zebari, a former finance minister and foreign minister, who said that Baghdad's Green Zone where most government buildings and foreign ministries are located "should be cleansed from the militias and the PMU presence."
The social pressure on the outlawed militias within the PMU has been extensive since the eruption of the protests in Iraq in October 2019. The militias have since formed pressure groups to silence any critical voices against them.
Following the protests, the militias have started several groups on social networks such as Telegram and WhatsApp, recruiting supporters and promoting their agendas against the United States and its allies in Iraq, and also against the current government headed by Prime Minister Mustafa al-Kadhimi, as the militias view him as an American and his government as a pro-US agent.
Supporters of the militias have organized themselves in various groups, including Rab Allah (God's Fellows), Ahbab Allah (God's Beloveds), Al-Zelm Al-Khashnah (Tough Guys) and Abu Jeddaha (The People of Lighters) in reference to their actions of burning their opponents' buildings.
These thuggish pressure groups try to create social pressure in order to stop any criticism of or action against the militias and their political agendas.
On Aug. 31, for instance, the same groups had burnt the offices of Dijlah TV, in reaction to Dijlah's music programming during the Shiite holiday of Ashura a week earlier. However, this was only an excuse for putting pressure on the TV channel that was supporting the anti-militias' protests in Iraq.
The militias are building an extensive network of influence in Iraq. They are a military force with a large presence in the military and security sectors. The Fatah bloc represents them in the parliament and so they are part of different ministries. In addition, they are building strong social networking and social pressure groups.
Following the attack on the KDP headquarters, the Iraqi security forces arrested some of the attackers. However, Rab Allah has threatened Kadhimi with the burning of the headquarters of the Iraqi Intelligence Service in Baghdad's Mansour area if their people are not released. The intelligence service is headed by the prime minister directly.
Kadhimi is expected to release those arrested under the militias pressure, as happened following the counterterrorism raid on the Kataib Hezbollah base in southern Baghdad in June.
However, the Iraqi political forces and international community have voiced serious criticism. The Iraqi president, prime minister, parliament speaker, Sadrist leader Muqtada al-Sadr, Iraqioun Movement leader Ammar al-Hakim and the Kurdistan Regional Government, among many other Shiite, Sunni and Kurdish groups and leaders, condemned the incident and called upon the government to take action against the militias and affiliated groups.
The United States and the United Nations Assistance Mission for Iraq condemned the incident in separate statements, too.
Following the assassination in January of Iran's Islamic Revolutionary Guards Corps Quds Force Commander Qasem Soleimani and his right-hand man in Iraq Abu Mahdi Muhandis, who had an extensive influence among the militias, the militias' network in Iraq has been affected badly.
In order to repair the damage, it seems that Kataib Hezbollah is taking the lead among the militias, reorganizing them by forming several new groups and connecting them through a number of social networking platforms.
The new militias formed after the killing of Soleimani — such as Ashab al-Kahf and Osba al-Thaerin — are affiliated with Kataib Hezbollah, and could even be new names for the exact same group.
In addition, the social pressure groups affiliated with the militias all appear connected to Kataib Hezbollah.
At the same time as these latest developments, the assassinations and abductions of activists, journalists and others opposing the militias are continuing. Most recently, on Oct. 17, eight members of a Sunni family near Balad, in Salahuddin province to the north of Baghdad, were killed.
A high-ranking official in the province told Al-Monitor that Asaib Ahl al-Haq was responsible for the murders. "These people were abducted by Asaib Ahl al-Haq members in the early morning and their bodies were found in the area a few hours later," the official told Al-Monitor on condition of anonymity. A day prior, a shooting had taken place in the area aimed at an Asaib Ahl al-Haq patrol. So, it seems that the massacre is a retaliatory reaction.
A day after the killings, on Oct. 18, Kadhimi visited the area promising to bring justice to the victims.
With the US elections approaching, it seems that the militias' activities are increasing. Chaos in Iraq could provide a useful pressure tactic that Iran could use in any upcoming negotiations with the United States, which would certainly include Iran's activities in the region and in Iraq in particular.
https://www.al-monitor.com/pulse/originals/2020/10/iraq-us-militias-kurdistan.html?utm_source=iterable&utm_medium=email&utm_campaign=1634313_
--------
Suspected ISIS gunmen kill three Kurds in disputed Kirkuk, burn their bodies
October 20-2020
ERBIL (Kurdistan 24) – Unidentified gunmen shot dead three Kurdish youths on Sunday in rural parts of Iraq's disputed Kirkuk province. Two of the victims were brothers, and the third was their cousin.
Local sources told Kurdistan 24 that the incident occurred in an open field in Kirkuk's Shwan district, an area separating the Kurdish Peshmerga forces and the Iraq army.
The shooters opened fire on the three men—Hariz and Aram Mustafa, and their cousin Peshawa—while inside their vehicle. The assailants later set the car on fire with the dead victims still inside.
Haji Mustafa, Hariz and Aram's grieving father, told Kurdistan 24 that the family suspects "ISIS and extremist groups" were behind the killings, and noted that the young men "did not have any [personal] issues with anyone."
He also explained that the victims were searching for cattle of theirs that had gone missing.
Colonel Luqman Sartki, an officer in the 11th Brigade of the Peshmerga forces told Kurdistan 24 that "it seems that ISIS terrorists are the perpetrators" of the "brutal crime."
Losing all of its territorial claims in Iraq in late 2017, the Islamic State has seen various periods of resurgence since.
Its fighters have been particularly active in vulnerable tracts of inhospitable land located land in or around territories contested between the federal Iraqi government and the Kurdistan Regional Government (KRG).
In recent months, the terrorist organization appears to have taken advantage of several current crises Iraq now faces, including the coronavirus pandemic. The group also exploits the long-standing security gap between Peshmerga and Iraqi forces in the disputed areas to carry out attacks against civilians and members of the security forces.
On Oct.13, the militaries of Iraq's federal government and the autonomous Kurdistan Region agreed to establish two joint coordination centers in Erbil and Baghdad and is discussing similar agreements for Kirkuk and other of the nation's disputed territories.
https://www.kurdistan24.net/en/news/70be992b-e888-4333-9c85-7dd46126ec22?utm_source=iterable&utm_medium=email&utm_campaign=1634313_
--------
Mideast
'Shameful' UAE visit will encourage more Israeli aggression: Palestinians
20 October 2020
Palestinian officials have blasted as 'shameful' the arrival of a United Arab Emirates (UAE) delegation in the Israeli-occupied territories, saying such visits will only embolden the regime to push ahead with its occupation agenda and aggression against Palestinians.
The UAE delegation, which arrived in Israel on Tuesday, was accompanied by US Treasury Secretary Steven Mnuchin and other American officials on the flight from Abu Dhabi to Ben Gurion Airport near Tel Aviv.
During the five-hour visit, which was restricted to the airport due to coronavirus concerns, the two sides signed four agreements in the field of investment, scientific cooperation, civil aviation and visa exemptions, according to Reuters.
Meanwhile, Israel's ministry of foreign affairs said the Emirati delegation had submitted a formal request to open an embassy in Tel Aviv and said it expected Israel to open an embassy in Abu Dhabi soon.
Wasel Abu Youssef, a member of the Executive Committee of the Palestine Liberation Organization (PLO), said Tuesday's UAE visit came amid Israel's new plan to expand illegal settlements in the occupied West Bank and was "shameful."
The Palestinian official said that the visit would only validate Israeli forces' crimes against the Palestinians.
"The bilateral agreements that were announced today and the delegations that come and go, all of that offers the occupation a strength to escalate its aggression and its crimes against the Palestinian people and increases its intransigence and arrogance," said Youssef.
Hamas: Such visit only encourages annexation
Hazem Qassem, a spokesman for the Palestinian resistance movement Hamas, also reacted to the development and said, "Such a visit will only encourage the occupation to pursue the gradual annexation of West Bank lands."
The visit came after Abu Dhabi and Tel Aviv signed a US-mediated agreement at the White House to normalize ties last month.
The normalization deals have drawn widespread condemnation from Palestinians, who seek an independent state in the occupied West Bank and Gaza, with East Jerusalem al-Quds as its capital. They say the deals ignore their rights and are a betrayal of the Palestinian cause.
The UAE and Bahrain justified their deals with Israel as a means to stop the annexation plans in the West Bank and bring peace to the region. Nevertheless, Israel is still going ahead with its expansion plans.
https://www.presstv.com/Detail/2020/10/20/636819/Israel-UAE-delegation-Palestine-
--------
Report: Egypt Concerned about UAE's Likely Turn into Haven for Mossad
Oct 20, 2020
The Arabic-language al-Arabi al-Jadid news website quoted Egyptian officials as saying that Cairo believes the UAE can turn into a regional center for the Israeli companies and Mossad and a danger to Egypt's security because nearly one million Egyptians are living in the UAE and hundreds of thousands of Emiratis travel to Egypt for different reasons each year.
According to the report, the Egyptian officials view the UAE as an environment for intelligence operations, warning that this can lead to tensions between the two countries.
It added that Egypt is now mulling to set up a special department to monitor Israel's activities and assess the possibility to target the Arab country's interests.
The UAE and Bahrain signed an agreement last month towards normalizing relations with Israel, claiming that it was needed to stave off further annexation of Palestinian land and save the so-called two-state solution to the Israeli-Palestinian conflict.
Israeli authorities, however, say annexation plans are not off the table.
Palestinian officials have also denounced the Arab countries' normalization with the regime in Te Aviv.
Palestinians seek an independent state in the West Bank and the besieged Gaza Strip with East Jerusalem al-Quds as its capital. They view the normalization as betrayal of the Palestinian cause.
https://en.farsnews.ir/newstext.aspx?nn=13990729000529
--------
Iran Deplores Takfiri-Style Beheading in Karabakh
Oct 20, 2020
"Iran will not accept beheading people like Takfiris or targeting cities and innocent people," Khatibzadeh wrote on his Twitter account on Monday in reference to the images that have recently gone on viral, and urged both Yerevan and Baku to come to be committed to the international rules and regulations.
In relevant remarks earlier on Monday, he had said, "We are in constant contact with both sides. We have told both sides and repeat again that they should not allow the clashes in that region to go out of control."
He also called on Baku and Yerevan to respect the rights of captives and civilians, not to attack the cities and try to remain committed to the ceasefire.
Khatibzadeh said that Iran has tried to help the two countries respect the international laws as well as civilian and POWs rights, and added, "What we have observed is much worrisome and we pursue the developments with concern."
Renewed clashes between Azerbaijan and Armenia erupted on September 27, with intense battles raging in the disputed region of Nagorno-Karabakh. The area experienced flare-ups of violence in the summer of 2014, in April 2016 and this past July. Azerbaijan and Armenia have imposed martial law and launched mobilization efforts. Both parties to the conflict have reported casualties, among them civilians.
Following Russia-initiated consultations in Moscow, Azerbaijan and Armenia agreed on a humanitarian ceasefire from October 10 to exchange prisoners and the bodies of those killed. However, the ceasefire has reportedly been violated.
The conflict between Armenia and Azerbaijan over the highland region of Nagorno-Karabakh, a disputed territory that had been part of Azerbaijan before the Soviet Union break-up, but primarily populated by ethnic Armenians, broke out in February 1988 after the Nagorno-Karabakh Autonomous Region announced its withdrawal from the Azerbaijan Soviet Socialist Republic. In 1992-1994, tensions boiled over and exploded into large-scale military action for control over the enclave and seven adjacent territories after Azerbaijan lost control of them. Talks on the Nagorno-Karabakh settlement have been ongoing since 1992 under the OSCE Minsk Group, led by its three co-chairs - Russia, France and the United States.
Iran has repeatedly asked for a peaceful settlement of the conflict and urged the cessation of hostilities in Nagorno-Karabakh.
https://en.farsnews.ir/newstext.aspx?nn=13990729000174
-------
Rocket fire from Gaza after Israel uncover cross-border attack tunnel
21 October 2020
The Israeli army said a rocket was fired from Gaza toward Israel on Tuesday night, soon after announcing the discovery of a tunnel infiltrating Israel from the Palestinian territory.
One rocket "was fired from the Gaza Strip towards Israeli territory and was intercepted by the Iron Dome" aerial defense system, the army said in a statement, without indicating if it had caused any casualties or damage.
Air raid sirens sounded in southern Israel near the Gaza Strip, which is controlled by Islamist group Hamas.
There was no immediate claim of responsibility.
For all the latest headlines, follow our Google News channel online or via the app.
Only hours earlier, the Israeli army announced it had found on Tuesday a tunnel that crossed "dozens of meters (yards) into Israel from Gaza".
It originated in "the southern Gaza Strip, from the Khan Yunis area," the army said.
Army spokesman Jonathan Conricus said the tunnel was a violation of Israel's sovereignty.
He said Israel did not know who had dug the tunnel, but said it held Hamas responsible for all activity in the Palestinian enclave.
The tunnel was discovered thanks to underground sensors near the border, the army statement said, adding that "there was no threat to nearby Israeli communities."
Prime Minister Benjamin Netanyahu said in a statement that Israel would "continue to take determined action... against any attempt to attack our sovereignty or our citizens."
Authorities have discovered some 20 tunnels originating from Gaza since 2014, Conricus said.
In August, militants in the Gaza Strip launched a string of incendiary balloons and rocket attacks toward Israel, which responded with air strikes on the enclave.
Hamas and Israel reached an agreement at the end of the month to cease hostilities, although attacks continued.
The deal, mediated by Qatar, aimed to put back on track a fragile Egyptian-brokered truce.
The last reported rocket attack from Gaza was on October 16.
Israel has fought three wars with Hamas since 2008 and there have been numerous flare-ups.
The impoverished and densely populated Gaza Strip has been under a crippling Israeli blockade since 2007, after Hamas took over the coastal enclave.
https://english.alarabiya.net/en/News/middle-east/2020/10/21/Rocket-fire-from-Gaza-after-Israel-uncover-cross-border-attack-tunnel-
--------
Turkey guilty of violating free speech right, finds European court
20 October 2020
The European Court of Human Rights on Tuesday found Turkey guilty of violating the right to free speech of two academics by prosecuting them for publishing a report on minorities.
Ibrahim Kaboglu and Baskin Oran were charged in 2005 for "inciting hatred" and "disparaging the state's judiciary bodies" after releasing their report which highlighted issues relating to the protection of minorities in Turkey, sparking a lively debate in the country.
For all the latest headlines, follow our Google News channel online or via the app.
They were acquitted by a Turkish court in 2008, but the European court – to which they brought their case in 2007 – ruled that even without a conviction their right to free expression had been infringed upon.
The years-long legal proceedings had "interfered" with their liberty of expression, and "inevitably" created pressure on the researchers, leading to self-censorship, the court's seven judges ruled.
In their guilty verdict, the judges ordered Turkey to pay 2,000 euros ($2,360) in damages to both academics.
https://english.alarabiya.net/en/News/world/2020/10/20/Turkey-guilty-of-violating-free-speech-right-finds-European-court
--------
Europe
Islamist jihad poses biggest terror threat to Britain
October 21, 2020
Salah Uddin Shoaib Choudhury
According to Ken McCallum, the new Director-General of British spy agency MI5, Islamist jihadists remains as the biggest terror threat to the United Kingdom, while the mainstream media has chosen to hype his remarks on the comparatively minor threat from the far-right instead.
The Glasgow born new spy boss in his first public address said, "It is still the case that tens of thousands of individuals are committed to this ideology – and we must continually scan for the smaller numbers within that large group who at any given moment might be mobilizing towards attacks."
"Having someone 'on our radar' is not the same as having them under detailed real-time scrutiny. Difficult judgements of prioritization and risk must be made," McCallum added — a warning which will come as little surprise to Britons familiar with learning than a given terrorist was "previously known" to the authorities, or in some cases even a convicted extremist out from prison on license.
Despite McCallum clear admission that Islamist terrorism remains by far the number one threat to Britain, mainstream media outlets such as the BBC and CNN chose to emphasize and often lead on his comments about the "sadly rising" — but comparatively minor — threat of "right-wing extremism" instead.
Romance between Britain and Muslim Brotherhood
In Egypt, Britain donated £500 to the founder of the Muslim Brotherhood — Hassan al-Banna — shortly after the founding of the group in 1928, along with six members of the Suez Canal Company, which was created by and still controlled by the British at the time. By 1941, the Muslim Brotherhood had become so powerful that Britain began offering them financial aid in exchange for not attacking its interests.
In the same year, officials from the British Embassy in Cairo held a meeting with Egyptian Prime Minister Amin Osman where it was agreed that the Egyptian government would secretly provide financial support to the Muslim Brotherhood, but government informers would be planted in the ranks of the group to monitor its activities. The informants were tasked to monitor the group's possible links with Nazi Germany after the Muslim Brotherhood's wing in Palestine established contacts with Adolf Hitler.
Tarek al-Beshri, in his book on Egypt's national movement from 1945-1952, has suggested that the relationship was deeper, and that it was Muslim Brotherhood students who confronted anti-British demonstrations organized by the liberal-nationalist Wafd Party. Al-Beshri claims that Brotherhood prisoners were treated better than Communists and supporters of the fascist Young Egypt Party, among whose members Nasser could be counted.
Al-Banna's assassination in 1949 is generally believed to be the work of agents of the Egyptian government, which does not necessarily conflict with Curtis' suggestion that Al-Banna was struck down by one of his own followers from within the clandestine structure of the Brethren. Curtis then delves into the relationship between Britain and Al-Banna's successor Hassan al-Hudaybi.
In December 1951, British officials held several meetings with one of Al-Hudaybi's advisers, despite the Brotherhood publicly criticizing the British "occupation" of Egypt. In early 1953, British officials held a face-to-face meeting with Al-Hudaybi to understand the group's positions as London tried to forge a new way forward with Egypt after the so-called Free Officers destroyed the parliamentary monarchy with their coup in July 1952, establishing a military despotism and pushing British troops out of the country. The documents indicate that Britain wanted to use the Muslim Brotherhood as a lever to pressure the Cairo regime in negotiations.
Curtis cites a handwritten memo from 7 February 1953 that details a meeting held between British officials and the Muslim Brotherhood, in which a person named "Abu Rafiq" told the eastern advisor of the British Embassy, Trevor Evans, that "if Egypt searched all over the world for a friend, it would only find Britain". The British concluded from this that there was a wing of the Muslim Brotherhood willing to cooperate with London. The memo stated: "The willingness to cooperate probably stems from the increasing middle-class influence in the Brotherhood, compared with the predominantly popular leadership of the movement in the days of Hassan al-Banna".
Nasser accused the Brotherhood of going "behind the back of the revolution" in having contact with Britain's representatives and slammed the British government for "conspiring" with the Muslim Brotherhood. Such charges would be used by Nasser to legitimate his all-out suppression of the Brothers in 1954, a process that had begun earlier and almost certainly contributed to the Brotherhood's outreach to the British in search of a counter-balancing force.
It was after this that a new phase began in relations between the Muslim Brotherhood and Britain as they found common cause in undermining Arab nationalism. This interest was also shared by the conservative Arab regimes allied to London and Washington. These conservative governments granted diplomatic passports, money, and safe haven to the Islamists after Nasser banished them following a failed attempt on his life in March 1954.
In a memo, Evans wrote that Britain would continue its cooperation with the Muslim Brotherhood in order to achieve "Britain's main objective: the disappearance of the Nasser regime." Cooperation was not confined only with the Muslim Brotherhood in Egypt but also extended to the Levant and Iraq, in order to counter the growing pan-Arabist trend.
Eventually, after Nasser died and was replaced by Anwar Sadat, Egypt would change its policy on the Muslim Brotherhood and other Islamists like the "Islamic Group", tacitly encouraging them in order to counter the Communist proxies of the Soviet Union, which was at that time trying to recolonize Egypt.
Probably the best-known case of Britain — and other Western countries — allying with Islamists is Afghanistan after the Soviet conquest in 1979. The West supported insurgent groups to push back against Soviet imperialism, and the most powerful such groups descended from the local manifestation of the Muslim Brotherhood, the Jamaat-e-Islami. These radical Islamic organizations were used to weaken and ultimately defeat the Soviet Union's grip on the country. The Muslim Brotherhood also played a major role in Afghanistan through the relief agencies.
Alongside the Afghan resistance there was a small contingent of "Arab-Afghans", the most infamous being Osama bin Laden, who set up an office in London called the Advice and Reformation Committee, which recruited trainees, purchased equipment, performed services, and received reports send by jihadist organizations across the Muslim world.
Britain's role in helping the Afghan resistance makes it culpable in the subsequent establishment of the Taliban regime, and under its protection the Global Islamic Front to Fight Jews and Crusaders, i.e. Al-Qaeda. Britain played an important role in establishing the Islamic Group — founded in British-ruled India in 1941, which became a major political player in Pakistan following its separation from India — and also secretly cooperated with the Dar al-Islam movement in Indonesia, radical Shiite forces in Iran, Ismaili Shiites in Iraq, and encouraged guerrilla groups in Azerbaijan, Bosnia, Kosovo and Libya.
The British ambassador in Cairo wrote a memo in June 2005, noting that talking to the Brotherhood might be useful in getting information and the group could be used to pressure Mubarak into introducing political reform. The memo warned, however, that while pressuring Mubarak to legitimize the group could damage the London-Cairo relationship, "if the Brotherhood is suppressed aggressively, it will necessitate a response from us".
The British Foreign Office approved this policy. It believed that accommodating radical Islamist organizations would give Britain some regional and international leverage to advance its interests. In Curtis' view, London considered the Muslim Brotherhood as a "reliable bulwark to any more popular national change in Egypt and the region".
Radical Islam on rise in Britain
There is no question that in the 1990s London became possibly the leading centre for Islamist radicals in the world, combining a great concentration of extremists with great freedom to operate. The Algerian Armed Islamic Group (GIA) found London as a reserve base when it began losing its struggle with the Algerian military and France started constricting the GIA's freedom to operate. The Libyan Islamic Fighting Group (LIFG), the Egyptian Jihad Group, and Al-Qaeda itself found London to be hospitable territory, with notorious figures like Omar Othman (Abu Qatada al-Filistini) essentially unhindered as they indoctrinated, recruited, and raised money. Al Qaeda considered London to be the center of its operations in Europe and millions of pounds were raised to recruit and finance terrorists from Afghanistan to Yemen.
This amounted to Britain cooperating with radical Islamist groups and that this brought advantages to London in achieving three main objectives:
First, exerting influence and control of energy resources;
Second, maintaining Britain's place in a pro-Western international financial system. In this respect, Britain cooperated with the U.S., which the author says "has a similar history of collusion with radical Islam", and given the diminishing of British power, it became a junior partner, or the de facto covert arm of the U.S. government, and even "doing the dirty work that Washington could not, or did not want to do".
Third, preventing these groups perpetrating their evil in Britain. As explained by Crispin Black, a former Cabinet Office intelligence analyst, there was a covenant between extremists in Britain and security services: Britain would provide refuge and welfare to the Islamist extremists, and in return they would not launch any attacks inside Britain or against British interests abroad. A Special Branch officer said: "There was a deal with these guys. We told them that 'if you don't cause us any problems, then we won't bother you'."
According to counterterrorism experts, Britain has benefited from cooperation with these group in five specific ways:
Gaining a global counterforce to Arab nationalist Left-wing ideologies and Soviet Communism;
Added a considerable conservative force within their own countries to counter Leftists;
Gave support to pro-Western regimes;
Offered a violent confrontational force that could be used to destabilize or overthrow governments which became hostile to the West; and
Offered a potential military force to fight the war, if necessary, or to use them as political tools to push governments for change.
On November 29, 2019, five people were stabbed on London Bridge. The attacker, Usman Khan, had been released from prison in 2018 "on license". A known extremist boasting ISIS and Al-Muhajiroun flags at the age of 15 didn't alarm the authorities enough then. Khan's hatred was British-born, though, and unrelated to Pakistan.
While radicalized Pakistanis after being migrating to the UK continue their mission of spreading the seeds of radical Islam amongst the fellow Muslims, their immediate targets are, in most cases, Muslim migrants from India and Bangladesh, as well as African nations. Due to the heavy influence of Pakistanis within the mosques and Islamic community centers in Britain – mostly London, the number of radicalized youth and children are on rise at an alarming level while the majority of the Muslim females from Bangladesh, India, and Pakistan in London are not only radicalized but they also are increasingly becoming pro-jihad and supports the jihadist doctrine of transforming Britain into a caliphate.
According to experts, religious radicalism didn't go from Pakistan to the UK, but actually came to Pakistan from London. Al-Muhajiroun had come to Pakistan along with its British-based sister terrorist organization, Hizb ut-Tahrir, in the mid-2000s, and recruited a number of people inside the Pakistan army till the Musharraf government banned them. Brigadier Ali Khan was arrested for his alleged ties with Hizbut and, before that, Colonel Shahid Bashir, commanding officer of the Shamsi air force base, was apprehended by the military police in May 2009 for keeping links with this banned pan-Islamic political outfit.
French scholar Gilles Kepel has studied the "reverse" phenomenon in his books on expat Islam. In the UK, Islamization of the immigrant Muslim community was an early postcolonial trend stemming from the British experience in India. "Communalisation" rather than "integration" suited the UK because it could then farm out the menial jobs to a community formed especially for them.
Workers' mosques came up in the 1950s in the industrial areas of the UK. In the 1950s and 1960s, the mosques were divided against each other on the basis of Barelvi-Deobandi religions. There were even Pathan and Punjabi, Mirpuri, Bengali and Gujarati mosques. Then came the individual charismatic figures like Barelvi Pir Maroof Shah who built a number of mosques for his followers in Bradford, founding the World Islamic Mission in 1973. Sufi Abdullah built himself a similar Barelvi empire in the area in the early 1980s. The Bradford Council of Mosques in the 1980s was already "separating" the community on such questions as halal and girls' education, and the Labour Party was the popular party for the Muslims.
Next came the Rushdie affair in 1988: The protest that was organized against Salman Rushdie's Satanic Verses united the fragmented Muslim community in the UK — toppling its less educated leaders in favor of the anglophone radical ones.
The Islamic Foundation of Leicester sent out the call against Rushdie's blasphemy, but the man who finally ran away with the collective Muslim response was ex-journalist, Kalim Siddiqui, of Jamaat Islami background, who set up his Muslim Parliament and issued what was termed the Muslim Manifesto in 1990, actually challenging the British system. This caused Labour politician Roy Jenkins, who had described the British policy of integration as equal opportunities with cultural diversity in 1965, to say in 1989 that the policy had failed to effect any integration of the Muslim culture and religion within the British society.
Muslim women preaching jihad and religious hatred
Hard-line female Islamists have been attempting to radicalize fellow Muslim girls and women through in most of the mosques and Islamic centers in London. In 2008, one of Britain's influential mosques in London was exposed by 'Channel Four' TV program of being engaged into spreading jihad, radical Islam and religious hatred.
The 'Dispatches' program found that some preachers at the Regents Park Mosque in central London taught a Saudi interpretation of Sharia law that advocates the stoning of homosexuals and the murder of apostates. In the feature program, an undercover reporter spent two months attending sessions at the center, which promised to crack down on extremism following an earlier investigation in early 2007.
A female reporter secretly recorded lectures at the women's section of the London Central Mosque and Islamic Cultural Center (ICC). At one such session, a teacher named Um Amira is shown instructing the group: "He is Muslim, and he gets out of Islam, he doesn't want any more. What are we going to do? We kill him, kill, kill." The same fate should befall an adulterer, the audience is told. She then goes on to say that the punishment for homosexuals is death. "Kill them, throw them from the highest place. We are not going to be like animals, living like animals, or to be like homosexuals. God save us from that."
According to my own study, London mosques and Islamic centers are playing the notorious role of spreading radical Islam, while these establishments also are responsible for turning the future Muslims in Britain into potential jihadists. For the sake of national security, the British authorities, especially the intelligence agencies should widen surveillance within the Muslim-dominated areas as well as the mosques and Islamic centers.
Britain accused of exporting Islamist terrorism to Bangladesh
On September 19, 2019, British weekly news-magazine The Economist reported that Britain has been exporting Islamist extremism to Bangladesh.
In the article titled "Radicalisation in reverse: How Britain exports Islamist extremism to Bangladesh", The Economist portrayed the issue in detail.
The article mentioned that top officials from Bangladesh has been blaming British citizens for their involvement in the planning, funding and promotion of terrorism in the country. It said that in 2015, Prime Minister Sheikh Hasina complained to her then counterpart David Cameron, that British citizens were promoting radicalism in her country.
"Since the first wave of Bangladeshi migrants arrived in Britain in the 1970s, foreign-born preachers have held sway in the community. For a while, the most visible consequence to outsiders was when Bangladeshi restaurants stopped selling alcohol after conservative clerics such as Delwar Hossain Sayeedi came to preach temperance to the diaspora in the 1990s," The article reads.
But the current changed its direction suddenly, The Economist says, with the emergence of Syed Golam Maula, the founder of the Bangladeshi chapter of Hizb-ut-Tahrir, who was introduced to the organization while studying in London in the early 1990s.
According to the magazine, a series of incidents were found with the involvement of several British citizens in the Islamist extremism scene of Bangladesh.
The current of extremism touched its peak soon after 2013 when religious extremists targeted gay activists, atheist bloggers and religious minorities.
The Economist mentioned that Touhidur Rahman, a Briton of Bangladeshi origin, was accused of planning the murder of two secular bloggers.
It also mentioned Rizwan Haroon, who was arrested on suspicion of using a school in Dhaka to recruit youngsters to the so-called Islamic State (IS). He was previously lived in Britain and currently awaiting trial in Bangladesh.
According to America's Federal Bureau of Investigate (FBI) report, one of the leading figures of IS to collect money from overseas countries for the terrorist sect was Siful Haque Sujan, a Bangladeshi-born British citizen believed to have been killed in Syria in 2015.
The article reported that a now-defunct British charity Green Crescent "was connected by Bangladeshi security services to the Holey Bakery attack. In 2009 Bangladeshi forces raided a madrassa funded by Green Crescent and found weapons and extremist literature. They claim the charity's British founder, Faisal Mostafa, has links to Jamaat-ul-Mujahideen, a terrorist outfit, which he denies."
The article traced the new current of British-Bangladeshis involvement in extremism with the rise of Islamic State. It says, "perhaps 100 of the 800 or so Britons who have joined IS are of Bangladeshi origin."
Salah Uddin Shoaib Choudhury is an internationally acclaimed multi-award-winning anti-jihadist journalist, counter-terrorism specialist and editor of Blitz
https://www.weeklyblitz.net/news/islamist-jihad-poses-biggest-terror-threat-to-britain/
--------
UN set to hold urgent donor conference for Rohingya Muslim refugees
20 October 2020
The United Nations (UN) says it will hold a virtual international donor conference to address a "dramatic shortfall" in aid funding for Myanmar's persecuted Rohingya Muslim refugees.
The virtual conference, scheduled to run from 1200 GMT to 1430 GMT on Thursday, was called "to meet urgent humanitarian needs of forcibly-displaced Rohingya both inside and outside Myanmar."
The UN had already appealed for more than $1 billion to meet the humanitarian needs of Rohingya refugees in Bangladesh. The hundreds of thousands of the refugees who fled Myanmarese state-sponsored violence to Bangladesh in 2017 joined many others who had already fled Myanmar in previous years.
The budgetary response to their needs is facing a "dramatic shortfall," Andrej Mahecic, a spokesman for the United Nations Refugee Agency (UNHCR), said.
"Less than half of the requested funds have been received so far," he told reporters at the UN in the Swiss city of Geneva on Tuesday.
Mahecic said the situation needed "stronger international support and a redoubling of efforts to find solutions for this stateless and displaced population."
"The spread of the COVID-19 pandemic has added layers of new challenges and needs to an already complex and massive refugee emergency," he said. "Across the entire region, most Rohingya live on the margins of society and they need to be assured access to basic healthcare, clean drinking water, a reliable food supply, or meaningful work and educational opportunities."
A report from the Association of Southeast Asian Nations (ASEAN) said on Tuesday that the 10-member organization had failed to respond effectively to the Rohingya crisis in Myanmar.
The report said the ASEAN had failed to acknowledge the gravity and scale of the human rights crisis in the Rohingya's home state in Myanmar, the western state of Rakhine, and the Myanmarese authorities' role in creating it.
ASEAN was hampered by its own institutional structure, which allowed member state Myanmar the space to "set the parameters of ASEAN's engagement," it said.
The United Nations (UN) says it will hold a virtual international donor conference to address a "dramatic shortfall" in aid funding for Myanmar's persecuted Rohingya Muslim refugees.
The virtual conference, scheduled to run from 1200 GMT to 1430 GMT on Thursday, was called "to meet urgent humanitarian needs of forcibly-displaced Rohingya both inside and outside Myanmar."
The UN had already appealed for more than $1 billion to meet the humanitarian needs of Rohingya refugees in Bangladesh. The hundreds of thousands of the refugees who fled Myanmarese state-sponsored violence to Bangladesh in 2017 joined many others who had already fled Myanmar in previous years.
The budgetary response to their needs is facing a "dramatic shortfall," Andrej Mahecic, a spokesman for the United Nations Refugee Agency (UNHCR), said.
"Less than half of the requested funds have been received so far," he told reporters at the UN in the Swiss city of Geneva on Tuesday.
Mahecic said the situation needed "stronger international support and a redoubling of efforts to find solutions for this stateless and displaced population."
"The spread of the COVID-19 pandemic has added layers of new challenges and needs to an already complex and massive refugee emergency," he said. "Across the entire region, most Rohingya live on the margins of society and they need to be assured access to basic healthcare, clean drinking water, a reliable food supply, or meaningful work and educational opportunities."
A report from the Association of Southeast Asian Nations (ASEAN) said on Tuesday that the 10-member organization had failed to respond effectively to the Rohingya crisis in Myanmar.
The report said the ASEAN had failed to acknowledge the gravity and scale of the human rights crisis in the Rohingya's home state in Myanmar, the western state of Rakhine, and the Myanmarese authorities' role in creating it.
ASEAN was hampered by its own institutional structure, which allowed member state Myanmar the space to "set the parameters of ASEAN's engagement," it said.
https://www.presstv.com/Detail/2020/10/20/636826/UN-set-to-hold-urgent-donor-conference-for-Rohingya-Muslim-refugees
--------
France shuts Paris mosque after teacher's beheading
October 20, 2020
PARIS: France ordered the temporary closure of a mosque outside Paris on Tuesday, part of a crackdown on Muslims who incite hatred after the decapitation of a teacher who showed his class caricatures of the Prophet Mohammad.
The Grand Mosque of Pantin, a low-income suburb on the capital's northeastern outskirts, had shared a video on its Facebook page before the attack that vented hatred against history teacher Samuel Paty.
Police plastered notices of the closure order outside the mosque as the authorities promised a tough response against the disseminators of hate messages, preachers of radicalised sermons and foreigners believed to pose a security threat to France.
The six-month order was "for the sole purpose of preventing acts of terrorism", the notice issued by the head of the Seine-Saint-Denis department read.
The beheading of a public servant by a suspected Islamist for his use of religious satire to explore with students the debate surrounding freedom of expression, a deeply cherished tenet of democracy in secular France, has convulsed the country and shocked the world.
President Emmanuel Macron is increasingly concerned by what he calls Islamist separatism: the attempt by hostile elements within France's large Muslim community to impose conservative Islamic beliefs over the traditional values of the French Republic in some communities.
'Enemy within'
Interior Minister Gerald Darmain said this week France was confronted by an "enemy within".
The rector of the Grand Mosque of Panin, M'hammed Henniche, this weekend expressed regret over sharing the video on social media, after it emerged Paty had become the victim of a vicious online campaign of intimidation even before he was killed.
In the video, the Muslim father of one of Paty's students said the history teacher had singled out Muslim students and asked them to leave his class before showing the cartoons. He called Paty a thug and said he wanted the teacher removed.
Henniche told Agence France Presse he had shared the video, filmed by the father of a student at Paty's school, not to endorse the complaint but out of concern for Muslim children.
The student's father is now in police custody.
Calls by Reuters to the mosque on Tuesday went unanswered.
"There's no room for violence in our religion", the mosque said in a statement published on Facebook on Monday. "We strongly condemn this savagery."
One Pantin resident, who gave her name as Maya and said her husband prayed at the mosque, called the closure "sad for our community".
https://www.freemalaysiatoday.com/category/world/2020/10/20/france-shuts-paris-mosque-after-teachers-beheading/
--------
After teacher beheading, France to dissolve pro-Hamas Muslim group: Macron
20 October 2020
President Emmanuel Macron said on Tuesday that a pro-Hamas group active in France would be dissolved for being "directly implicated" in the murder of a history teacher.
The decision to shut down the "Cheikh Yassine Collective", which supports the Palestinian cause and is named after the Hamas founder, will be taken at a Wednesday's cabinet meeting, he told an audience in a Paris suburb.
For all the latest headlines follow our Google News channel online or via the app.
He also said that "actions will be stepped up" against Islamist extremism, four days after the beheading of a history teacher that sparked police raids on people and institutions with alleged links to "Islamist" militants.
"This is not about making more statements," Macron said during a visit to a Paris suburb. "Our fellow citizens expect actions. These actions will be stepped up."
Macron had said on Friday that the killing of a teacher who had shown cartoons of the Prophet Mohammed in class bore the hallmarks of "an Islamist terrorist attack".
"A citizen has been murdered today because he was a teacher and because he taught freedom of expression," Macron said near the school where the teacher was killed in a suburb northwest of Paris.
"Our compatriot was flagrantly attacked, was the victim of an Islamist terrorist attack," he added.
"The whole country stands behind its teachers. Terrorists will not divide France, obscurantism will not win."
The assailant had decapitated the teacher before being shot dead by police.
French broadcaster BFMTV reported that the suspected attacker was 18 years old and born in Moscow.
https://english.alarabiya.net/en/News/world/2020/10/20/After-teacher-beheading-France-to-dissolve-pro-Hamas-Muslim-group-Macron
--------
French police raid dozens of targets suspected of extremism after teacher beheaded
19/10/2020
Days after a suspected Islamist beheaded a French school teacher, police on Monday raided Islamic associations and individuals suspected of extremist religious beliefs, arresting dozens of people, said France's interior minister, in a sweep expected to last a few more days.
History teacher Samuel Paty, 47, was murdered on Friday in broad daylight outside his school in a middle-class Paris suburb by an 18-year-old of Chechen origin. Police shot and killed the attacker.
Paty was attacked on his way home from the junior high school where he taught in Conflans-Sainte-Honorine, 40 kilometres (25 miles) northwest of Paris.
The teenage assassin allegedly sought to avenge his victim's use of caricatures of the Prophet Mohammed in a class on freedom of expression to 13-year-olds. Muslims believe that any depiction of the Prophet is blasphemous.
Public figures called the killing an attack on the Republic and on French values.
Fifteen people, including four students, were arrested Monday for questioning, according to a judicial source. The detainees included a man who was in contact with the perpetrator before the attack, the source added.
Interior Minister Gérald Darmanin said there were some 80 investigations being conducted into hate speech online and that he was looking into whether to disband some 51 associations within the Muslim community. The associations included the Collective against Islamophobia in France (known by the French acronym CCIF) and the humanitarian association BarakaCity.
In a statement on the group's Facebook page, BarakaCity slammed the move: "Madness has seized the interior minister who, because he cannot find anything against our NGO, has taken advantage of the emotion caused by this tragedy."
France was also preparing to deport 213 foreigners who were on a government watchlist and suspected of holding extreme religious beliefs, among whom about 150 are serving jail sentences, according to sources.
"They are quite unusual because normally, after such a tragedy, the investigation focuses on what happened, who was behind the attack. This is of course taking place. But the wave of arrests announced by the interior minister that will continue for the next few days is essentially focusing on those who have expressed support for the attacker or against the teacher online," said Marc Perelman, FRANCE 24's French politics editor. "So, it's really a wide net that is being cast by the authorities."
'A fatwa against the teacher'
Police detained 11 people in connection with the attack in the 24 hours that followed Paty's killing. They included four members of the attacker's family, who are being held for questioning.
A photo of the teacher and a message confessing to his murder was found on the mobile phone of his killer, identified as Abdullakh Anzorov, who arrived in France with his family to seek asylum when he was 6 years old.
Police also detained the father of a pupil in Paty's class who had railed against the teacher online and called for his dismissal.
French teachers speak out about religious tensions in their classrooms
A judicial source told Reuters that another detained man was known to the intelligence agencies. Born in Morocco, he had used social media to fight against what he called "Islamophobia" and to put pressure on the government over its treatment of Muslims. In 2011, he agitated against a high school in Saint-Ouen, a working-class city with a large Muslim community near Paris, because it wanted to ban clothing used by Muslim girls to circumvent a ban on veils.
Abdelhakim Sefriuoi: At the centre of French beheading investigation
Darmanin accused the two men of issuing a "fatwa" against Paty, using the term for an Islamic edict that was famously used to describe the 1989 death sentence handed down against writer Salman Rushdie by Iran's Ayatollah Khomeini.
"They apparently launched a fatwa against the teacher," the minister told Europe 1 radio.
Paty, who was praised by pupils and parents as a dedicated teacher, had shown one of the Mohammed cartoons to his civics class.
According to the school, he had given Muslim children the option to leave the classroom before he showed the cartoons, saying he did not want their feelings to be hurt.
The lesson sparked a furore nonetheless and Paty and the school received threats.
French teachers have long complained of tensions around religion and identity spilling over into the classroom.
One education expert warned Monday that the murder might deter teachers from tackling touchy topics in future.
"There's a huge amount of self-censorship," said Jean-Pierre Obin, a former inspector for the French education system. "We must fear that there will now be more."
But Jonathan Renoir, a 26-year-old history teacher at a junior high school in Cergy near Paris, said: "We can't give in to fear; we must continue to talk about controversial things in class."
Another young history teacher in Nice said he, too, was "determined" to carry on.
"I will never stop teaching secularism and the freedom of expression – never," said the teacher, who asked to remain anonymous.
https://www.france24.com/en/europe/20201019-additional-police-operations-under-way-over-beheading-of-french-teacher?utm_source=iterable&utm_medium=email&utm_campaign=1634313_
--------
South Asia
5 killed, 9 injured in blast in central Afghanistan
Oct 20, 2020
KABUL: At least five people were killed and nine more were injured in two roadside bomb blasts in the Jalrez district of Afghanistan's Maidan Wardak province on Tuesday, said the provincial governor's office.
Tolo News, quoting the governor's office statement, said those wounded include five women and four children. The blast had hit two vehicles- a bus and a car carrying civilians.
"The victims of the incident were sent to the provincial health center for treatment," said Mohammad Salim Asgharkhil, head of the provincial hospital as reported by Tolo News.
No group has claimed responsibility for the blast.
This comes in wake of a sharp increase in violence in the country. At least 15 civilians were killed in a car bomb explosion in Ghor province in the west of Afghanistan earlier this week.
Tolo News further called the Jalrez district's Kota Ashro village "has been volatile" in the last one week adding that nearly seven days ago a car bomb explosion, targetting a security forces outpost in the area, left four personnel wounded.
Abdul Jabar, a soldier in the outpost, made remarks in a recorded video stating that the security forces in the outpost were under siege for almost five days.
According to a statement by the ADefense Ministry, the commando forces "conducted an operation in Kota Ashro area, Jalrez district, on Monday and rescued the besieged forces."
https://timesofindia.indiatimes.com/world/south-asia/5-killed-9-injured-in-blast-in-central-afghanistan/articleshow/78771681.cms
--------
Devotion to Mother Mary spans generations in Bangladesh
October 21, 2020
For Francisca Palma, devotion to Mother Mary and praying the rosary every evening are both a family tradition and part of daily life.
During October, the month dedicated to Mary and rosary in the Catholic calendar, Palma has been joining hundreds of women, men, and children in villages in her parish in northern Bangladesh attend special rosary prayers with door-to-door processions.
"With my son and daughter, I have joined various rosary prayers in villages. People come to pray voluntarily and attend actively," Palma said.
The 55-year Catholic woman, a retired primary school teacher, lives in Maria Virgo Potens parish under Rajshahi diocese.
Her family holds "Mother Mary in high regard and pray the rosary every evening. We inherited this tradition from our forefathers, and we are happy to continue it," Palma told UCA News.
She said this October they have been praying the rosary "with special intentions — for the end of violence against women, for peace in the world and welfare of humanity."
The prayer intention refers to the alarming rise in rapes in the country, she noted.
Father Suresh Purification, the rosary ministry coordinator in Rajshahi diocese, said various Marian devotion activities are carried out throughout the year.
"Not only in October but all the year round we organize programs and prayer meetings. People love Mary, and they believe Mary fulfills their prayers. We help people realize how they can be blessed by praying to Mary," Father Purification told UCA News.
Rosary continues to be the common form of evening prayer in Catholic families. As a tradition, such prayers are pushed by mothers.
Shyamoli Halder, a 42-year-old Catholic mother from St. Patrick's Cathedral Church Barishal diocese, asserts that praying rosary "is a part of daily family routine."
During October, they join community rosary prayers at a shrine or family or in the parish church. It encourages families to pray rosary if they do not do it already, she said.
Rosary movement
Catholic tradition holds that rosary prayer began after Mary appeared to Saint Dominic in 1206. Mary gave a rosary to the Spanish Catholic priest, founder of the Dominican Order. She also wanted him to propagate the efficacious prayer, according to the tradition.
Historically, Pope Pius V established the standard 15 Mysteries of Rosary beads, divided into three groups of Joyful, Sorrowful and Glorious Mysteries in Mary's life. Pope John Paul II approved a new set of five and termed them Luminous Mysteries.
In Muslim-majority Bangladesh, Christians, the majority of them Catholics, are a tiny minority accounting for less than half a percent of the population of more than 160 million.
The family rosary movement began to spread in Bangladesh in the 1950s thanks to Irish Holy Cross priest, Father Patrick Peyton (1902-1992). He is widely known as "the rosary priest" for his lifelong efforts in popularizing rosary prayers around the world.
Father Peyton popularized the phrase, "The family that prays together stays together."
The priest visited East Pakistan (now Bangladesh) in 1955 and preached in two parishes of Dhaka archdiocese on the importance of rosary prayers. Since then, Catholic dioceses made significant efforts to popularize rosary prayer.
All eight Catholic dioceses in Bangladesh have Marian shrines, where people flock regularly to pray and pay respects to Mary.
Holy Cross Congregation, the largest religious order in Bangladesh, has been continuing Father Peyton's mission through Holy Cross Family Ministries (HCFM). The ministry has diocesan wings, called Rosary Ministries, for parish level activities.
In each diocese, a team works "with various age groups. And, we can have religious vocations also from them," Holy Cross Father Elias Palma, national director of the HCFM, told UCA News.
During each program rosary beads, prayer books, calendars, portraits, and statues of Mary are distributed to people in order to encourage them to keep praying the rosary, the priest noted.
Interest wanes
The interest in rosary prayer is declining these days for various reasons, rues Francisca Palma.
"Not all are interested in rosary prayer. Sometimes, we see people leaving the place in the middle of the prayer. Parents don't pray and offer moral education to children, and sometimes they dislike religious leaders and don't listen to their call for prayers," she said.
But the crisis can be managed "if families, communities, and parishes play their role properly," she said.
Father Palma (not related) said the drop in interest is caused by modern media aggression.
"It is true family prayers have dropped due to modernity, media, and busy life of people. We have continued our movement to keep up prayerfulness in our families," the priest added.
https://www.ucanews.com/news/devotion-to-mother-mary-spans-generations-in-bangladesh/89959#
--------
'Rohingya crisis among worst modern tragedies'
Muhammet Tarhan
21.10.2020
The Rohingya crisis is among the gravest tragedies in modern times, a senior Turkish diplomat said Tuesday.
In a ministerial committee meeting on the persecuted Muslim group held by the Organization of Islamic Cooperation (OIC), Deputy Foreign Minister Yavuz Selim Kiran underlined that the UN Independent International Fact-Finding Mission on the matter had recorded incidents in Myanmar involving "genocidal intentions."
Noting that Turkey has been maintaining efforts to keep up awareness of the issue in the international community, Kiran said via video link that Ankara would never abandon the Rohingya
He asserted that the group should be allowed to their return to their homeland, adding that if this is not possible, they should at least be allowed to go somewhere they prefer.
Stressing the importance of the OIC's role, he said the body should continue its international efforts to keep Myanmar under pressure for a peaceful solution to the problem.
Kiran added that Turkish President Recep Tayyip Erdogan had given a special importance to the matter, calling on OIC members to stand for the search for justice and prove to the world that Rohingya Muslims are not alone.
He also called member states to increase their financial contributions for the case on the Rohingya genocide, which is currently being heard at the International Court of Justice (ICT) while maintaining relations with Myanmar to sustain relief efforts for the Muslim group.
Persecuted people
The Rohingya, described by the UN as the world's most persecuted people, have faced heightened fears of attack since dozens were killed in communal violence in 2012.
According to Amnesty International, more than 750,000 Rohingya refugees, mostly women and children, fled Myanmar and crossed into Bangladesh after Myanmar forces launched a crackdown on the minority Muslim community in August 2017, pushing the number of persecuted people in Bangladesh above 1.2 million.
https://www.aa.com.tr/en/asia-pacific/rohingya-crisis-among-worst-modern-tragedies/2013370
--------
50 Taliban Killed in Kandahar Battle
By Mohammad Arif Sheva
20 Oct 2020
KANDAHAR, Afghanistan – At least 50 Taliban insurgents, including a Pakistani adviser, killed during an operation carried by Afghan Security Forces in Maiwan and Zeri districts of Kandahar province, local authorities confirmed Tuesday.
Jamal Naser Barekzai, spokesman for local police, told Khaama Press in a phone interview that the in operation by Unit 01 of National Defense was carried for the past 24 hours in Maiwan and Zeri district of the province.
Some 87 Taliban injured during the battle, he added.
Taliban did not immediately commented on the claim.
https://www.khaama.com/50-taliban-killed-in-kandahar-battle-34353/
--------
Special Inspector General For Afghanistan Reconstruction: $19 Billion Dollars Lost To Fraud
By Mohammad Haroon Alim
21 Oct 2020
SIGAR in their most recent report said, as of December 2019, US Congress appropriated nearly $134 billion since the 2002 fiscal year for Afghanistan reconstruction, of which $19 billion of the amount reviewed was lost to waste.
SIGAR says it has so far investigated more than $63 billion and found that 5 percent, $19 billion dollars were lost to waste and fraud.
"Of that $134 billion amount, SIGAR reviewed approximately $63 billion and found that nearly $19 billion of the amount reviewed was lost to waste, fraud, and abuse," SIGAR stated in the recent report.
SIGAR also noted that the United States provided $15.5 billion in reconstruction assistance to Afghanistan during 2018, of which $3.4 million was wasted to fraud and abuse.
John F. Sopko Special Inspector General for Afghanistan Reconstruction said in the statement, That "As promised in our July 2018 response to your request, we have updated the report to provide information on the total amount of waste, fraud, and abuse identified in SIGAR's 111 published products and 55 closed investigations between January 1, 2018, and December 31, 2019".
He further indicated, "$3.4 billion of waste, fraud, and abuse to the previously reported amount based on our review of SIGAR's published products and closed investigations. Of this total, we specifically identified approximately $1.5 billion in taxpayer funds that we believe were wasted, $300 million that were lost to fraud, and $34 million that we believe were lost due to abuse. The remaining $1.6 billion was allocated to counternarcotics efforts that we believe were wasted".
On the other hand, SIGAR reported, that work through December 31, 2019, resulted in about $3.2 billion in savings for US taxpayers.
SIGAR reported that from the outset, corruption in Afghanistan has been a major concern in reconstruction efforts, and is still rampant in the country.
https://www.khaama.com/special-inspector-general-for-afghanistan-reconstruction-19-billion-dollars-lost-to-fraud-878766/
--------
Southeast Asia
Political reconciliation among Malay parties seen as a tall order
Robin Augustin
October 21, 2020
PETALING JAYA: A political analyst sees the strained ties between Umno and PPBM as an obstacle to the kind of national reconciliation that Umno Youth chief Asyraf Wajdi Dusuki has called for.
Speaking to FMT, Bridget Welsh of the University of Nottingham Malaysia said the challenge in reconciliation, particularly between Umno and PPBM, lay in concessions rather than respect.
Asyraf recently urged political parties to put aside their differences and focus on a "national reconciliation agenda".
"If you look at what Umno is saying about setting new conditions, it is not looking for reconciliation," Welsh said. "What it wants is for PPBM to concede in seats, positions and power. It doesn't want PPBM to challenge it as it did in Sabah."
She said this had put Prime Minister Muhyiddin Yassin in a tough position with not much room in which to manoeuvre.
However, she also said Muhyiddin was "quite savvy" and had shown in the past six months that he could negotiate his way out of problems.
"The main question now is whether Umno is willing to accept less than what it wants," she said. "And if it is willing to accept today, what about tomorrow? How long will it be before it is not satisfied again?"
Syed Arabi Idid of the International Islamic University of Malaysia said Malay parties could work together if they perceived a common enemy and if they believed that cooperating would earn them the votes of the Malays.
But they would likely clash when there was no strong common enemy, he added.
"In the near future there will not be a dominant Malay political party," he said. "The number of Malay majority seats are fixed. Now you are talking about distributing the Malay seats between three parties."
He noted that Umno, PAS and PPBM contested against one another in the last general election.
"If they are to stick together, then a lot of sacrifices have to be made and this makes reconciliation problematic. That is why I don't foresee there being any dominant Malay political party."
These sacrifices, he said, included the three Malay parties' willingness to lose their individual identity to come together as one big entity.
James Chin of the University of Tasmania's Asia Institute said he did not see any reconciliation happening, noting that even when Umno was at its strongest, the Malay vote was split with PAS.
https://www.freemalaysiatoday.com/category/nation/2020/10/21/political-reconciliation-among-malay-parties-seen-as-a-tall-order/
--------
Ask and I will forgive, otherwise find me in Padang Mahsyar, Najib tells Dr Mahathir
17 Oct 2020
BY YISWAREE PALANSAMY
KUALA LUMPUR, Oct 17 ― Despite feeling wronged by Tun Dr Mahathir Mohamad, Datuk Seri Najib Razak said he will forgive his mentor-turned-nemesis because Islam teaches its followers to be merciful.
The Pekan MP who was portrayed as Malaysia's number one villain in the wake of the 1MDB global financial scandal was recently cast again as the main antagonist by Dr Mahathir for destroying "his" Umno — resulting in the country's present messy political state.
"Indeed I felt angry. That I cannot avoid, because his words are too harsh, crosses the limit and are baseless, it is difficult to be accepted by any human.
"Truthfully, I cannot deny that in my heart, I was too angry. But like I said, as a person who practises his faith, if he asks for forgiveness, I will forgive him," Najib said of Dr Mahathir in an interview with Malaysia Gazette on its Owh! MG programme aired on Facebook last night.
Explaining his reason, Najib said Islam requires its adherents forgive each other, adding that this is also the character of Allah, who is defined as being the most merciful.
"According to my religious practices, forgiving someone is a must in our faith. Firstly, the nature of Allah Himself. Allah, the most merciful.
"There are also verses in the Quran that says we must forgive. So if say, he has made a mistake or has committed sins towards me, if he asks for forgiveness, I would use my religion as a guide. I will forgive him, but if he does not ask for forgiveness, then he has to find me in Padang Mahsyar," Najib said.
Padang Mahsyar refers to the Islamic justice system in the afterlife where people are judged based on their good and bad deeds.
However, Najib was not above making his own assertions about Dr Mahathir, even as he chose to take the religious high ground with his older political enemy.
In the interview, Najib said cronyism and the culture of money politics was rife during the 95-year-old Dr Mahathir's first tenure as prime minister from 1981 to 2003.
Najib insinuated that a certain tycoon whom he did not name had reaped huge profits from gambling, construction and telecommunications contracts during the first Mahathir administration.
"And this person, we know is close to him. If he takes photos, it is always with him, if it's his birthday, he hosts his birthday parties. And there are few people like this whom other people know about, many people know about. I don't have to mention names, but people know. So this cronyism policy was rife during Dr Mahathir's era," he said.
Najib said that when he took federal power, he tried to rid the country of money politics.
"During my time, I didn't practise cronyism," he said.
He added that his "cronies" were the "rakyat", insisting that the contracts for public projects awarded by his administration were to government-linked companies or statutory bodies like Permodalan Nasional Berhad, Khazanah Nasional, Lembaga Tabung Haji and the Armed Forces Fund Board instead of to private companies
The 67-year-old further asserted that he tried to amend Umno's constitution and make the party more democratic, contrary to Dr Mahathir's portrayal of him as its destroyer.
Najib was Malaysia's sixth prime minister from 2009 to 2018. He was convicted of all seven charges of money laundering RM42 million, power abuse and criminal breach of trust in connection with SRC International Sdn Bhd last July and is currently appealing the verdict even as he is on trial for 1MDB.
Just two weeks ago, Dr Mahathir was interviewed by Malaysia Gazette on the same programme and was asked if he would ever forgive Najib, the son of his mentor, Malaysia's esteemed second prime minister Tun Razak Hussein.
The 95-year-old Langkawi MP who replaced Najib after ousting his Barisan Nasional government said he would not, indicating that their differences were irreconcilable.
"I cannot forgive someone who destroyed my party," Dr Mahathir said in the September 30 interview, adding: "That's what he really did, until people came to really hate Umno".
https://www.malaymail.com/news/malaysia/2020/10/17/ask-and-i-will-forgive-otherwise-find-me-in-padang-mahsyar-najib-tells-dr-m/1913501
--------
Indonesia aims to be major 'player' in halal market
Iqbal Musyaffa
20.10.2020
JAKARTA, Indonesia
The Indonesian vice president said on Tuesday that his country's halal industry has to expand its role in the global trade of halal products, in addition to meeting huge domestic needs.
Speaking in a virtual discussion, Ma'ruf Amin said Indonesia remains a consumer of global halal products as total spending on halal food and beverage products reached $214 billion or 10% share of the world's halal products in 2018.
"We are the biggest consumer compared to other Muslim majority countries," said Amin.
Indonesia should be able to utilize the potential of global halal market which in 2018 had reached $2.2 trillion and is projected to grow to $3 trillion in 2023, said Amin.
"We have to be able to utilize the potential of the world halal market by boosting exports, which are currently around 3.8% of the total market," he added.
The government is working to boost the growth of Indonesian halal industry by easing access and cutting the cost of halal certification for micro and small businesses, Amin noted.
'Food industry has yet to compete'
Several sectors of the Indonesian halal industry have been able to compete in the global market, Teten Masduki, the minister of cooperatives and SMEs (small- and medium-size enterprises), said, also speaking in the discussion.
The country's halal tourism industry ranked fourth in the world, while the Muslim fashion industry the 3rd, and Islamic finance industry the 5th, Masduki added.
"However, for the halal food and beverage industry, Indonesia has not entered the top 10 globally according to the data from the State of the Global Islamic Economic Report 2019-2020," he said.
Masduki said that Indonesian micro and small businesses had difficulty applying for halal certification due to limited access and high cost.
"Now, under the new Job Creation Law, halal certification for SMEs is free of charge," he said.
The minister said the breakthrough was welcomed by micro and small businesses as 60% of SMEs are in the food and beverage sector.
Masduki said that based on the ministry's records in 2014-2019, the sales of SMEs rose by 8.53% on average after obtaining a halal certificate.
"The government not only facilitates the processing of halal certification, but also assists with education of halal product management," he added.
Gov't guarantees availability of halal products
Meanwhile, Religious Affairs Minister Fachrul Razi said that under Law No. 33 of 2014, the country is obligated to ensure the availability of halal products and raising the added value for business operators in producing and selling halal goods.
Razi said the ministry, through the Halal Product Guarantee Agency, allocated a budget to facilitate 3,283 micro and small businesses in obtaining halal certification.
"This facility helps financing micro and small businesses in applying for halal certificates and the realization of government policy to make halal certification free of charge for them," he said.
Razi said Indonesia has halal infrastructure capital for the development of halal industry, adding that the country is facing high public expectations on guaranteed halal products.
He said the experience of Indonesian Ulema Council for 30 years in issuing halal certification, which is now being continued by Halal Product Assurance Organizing Agency, is sufficient capital for the country to compete in the global halal market.
"Many people pay attention to halal products, both nationally and globally, so the opportunities for the halal industry are very promising and it could become a global boom in the future," he added.
https://www.aa.com.tr/en/asia-pacific/indonesia-aims-to-be-major-player-in-halal-market/2012865
--------
Indonesia: Calls for rescue of Rohingya stranded at sea
Pizaro Gozali Idrus
20.10.2020
JAKARTA, Indonesia
Indonesian fishermen on Tuesday spotted a boat carrying Rohingya refugees off the country's northwestern coast, sparking calls for urgent rescue efforts.
The boat was seen in the Malacca Strait, some 80 to 100 miles near the Aceh province's waters, according to Miftach Cut Adek, deputy secretary general of Aceh Sea Commander.
He told Anadolu Agency that the refugees were on their way to Malaysia.
"We cannot confirm how many of them aboard, but they are on a large boat," he said, adding that the fishermen were too far away from the refugee boat to approach it.
"Fishermen usually help them [refugees] when they get nearer to land."
Usman Hamid, executive director of Amnesty International Indonesia, urged Indonesian authorities to urgently rescue the Rohingya refugees adrift off the coast of Aceh.
"We've received reports that border patrols have instructions to turn these refugees away. This is unconscionable," he said, adding that pushing the boat back would violate the country's international obligations.
Now that they have been alerted to boats in distress, he said, the authorities must immediately rescue, disembark the passengers, provide them with shelter, and ensure their safety.
Hamid said that ASEAN – Association of Southeast Asian Nations – countries are failing to help Rohingya who have fled persecution in Myanmar and the hardships of refugee camps in Bangladesh.
"The Rohingya community's suffering is a regional issue in need of a humane regional response in line with international law," he added.
Hamid said Indonesia set an example for regional counterparts when it allowed Rohingya ships onto its shores twice this year.
In September, Indonesia took in 297 Rohingya refugees who landed in Lhokseumawe city in Aceh province, after allowing 99 Rohingya disembark in North Aceh earlier in June.
There are currently some 383 Rohingya at the Lhokseumawe Vocational Center, after at least three refugees died of COVID-19, according to Amnesty International.
"There is no reason Indonesia should lead this refugee crisis alone. There must be shared responsibility among regional countries in order to organize urgent search and rescue and prevent others from facing the same dangers," Hamid stressed.
- 'World's most persecuted people'
The Rohingya, described by the UN as the world's most persecuted people, have faced heightened fears of attack since dozens were killed in communal violence in 2012.
According to Amnesty International, more than 750,000 Rohingya refugees, mostly women and children, fled Myanmar and crossed into Bangladesh after Myanmar forces launched a crackdown on the minority Muslim community in August 2017, pushing the number of persecuted people in Bangladesh above 1.2 million.
Since Aug. 25, 2017, nearly 24,000 Rohingya Muslims have been killed by Myanmar's state forces, according to a report by the Ontario International Development Agency (OIDA).
More than 34,000 Rohingya were thrown into fires, over 114,000 more beaten, and as many as 18,000 Rohingya women and girls were raped by Myanmar's army and police, said the OIDA report, titled Forced Migration of Rohingya: The Untold Experience.
Over 115,000 Rohingya homes were burned down and some 113,000 others vandalized, it added.
https://www.aa.com.tr/en/asia-pacific/indonesia-calls-for-rescue-of-rohingya-stranded-at-sea/2013330
--------
Africa
Al-Sunni calls for young people to participate in the Libyan political dialogue
October 20, 2020
Libya's Representative to the United Nations (UN), Taher Al-Sunni, has called for the active participation of the young people of Libya in the political dialogue.
Al-Sunni said in a tweet on his Twitter account, that the time has come for young men and women to take a prominent stand in the political dialogue presently taking place, adding, "It is no longer acceptable for young people's participation to be a symbolic formality."
He continued by saying that in times of conflict and war, young people are exploited and their participation is compulsory, and indeed essential, however, he added that the opportunity is now available for all of the young people of Libya to organize themselves and not wait for a hand-out, but partake in their right to rebuild the nation.
https://www.libyaobserver.ly/inbrief/al-sunni-calls-young-people-participate-libyan-political-dialogue
--------
Removal from US list not linked to Israel ties: Sudan
Mohammed Alamin
20.10.2020
KHARTOUM
Sudan on Tuesday denied any link between the country's removal from the US list of state sponsors of terrorism and normalization with Israel.
"I can confirm that there is no link between the issue of normalization with Israel and the lifting of Sudan from the terror list," Foreign Minister Omer Qamar Aldin told a press conference in Khartoum.
He said Sudan's removal from the US blacklist was be "the first step for Sudan's return to the international community".
On Monday, US President Donald Trump announced the removal of Sudan from the list of state sponsors of terrorism after Khartoum agreed to pay $335 million as a settlement to the victims of 1998 twin bombings of the US Embassies in Tanzania and Kenya.
For his part, the governor of Sudan's Central Bank, Mohamed Alfatih Zain Alabdin, confirmed that Sudan has transferred $335 million to the families of the 1998 bombings.
The US placed Sudan on the terror list in 1993 on accusations of supporting terror groups. In 1997, Washington imposed economic sanctions on Khartoum and tightened them a year later after the embassy attacks in Kenya and Tanzania.
Sudanese political forces announced categorical rejection of normalization with Israel amid talks of a possible Sudanese deal after the United Arab Emirates (UAE) and Bahrain signed US-sponsored deals in Washington in last month.
The two Gulf states ignored Arab popular rejection of the deal, which Palestinians say ignore their rights and do not serve the Palestinian cause.
https://www.aa.com.tr/en/africa/removal-from-us-list-not-linked-to-israel-ties-sudan/2013012
--------
Dialogue Possible With Certain Sahel Jihadists: UN Chief
OCTOBER 19, 2020
Dialogue may be possible with certain jihadist groups active in Africa's Sahel region, but not "radical" ones such as the Islamic State (IS) group, UN chief Antonio Guterres said Monday.
"There will be groups with which we can talk, and which will have an interest in engaging in this dialogue to become political actors in the future," Guterres said in an interview with French daily Le Monde.
"But there are still those whose terrorist radicalism is such that there will be nothing to be done with them," he added, citing IS.
Much of the vast Sahel region is prey to insecurity and jihadist violence, which erupted after a rebellion in northern Mali in 2012.
The conflict has since spread to the center of the country, as well as neighboring Burkina Faso and Niger, claiming thousands of lives.
Last week, African Union Peace and Security Commissioner Smail Chergui urged dialogue with extremists in the conflict-ridden region.
He pointed to Afghanistan, where the United States and the Taliban agreed a truce in late February, as a possible template.
Chergui's appeal came after Mali's government this month swapped some 200 prisoners for four hostages held by an Al-Qaeda-affiliated group.
The last French citizen held hostage in the world, Sophie Petronin, was released alongside Mali opposition figure Soumaila Cisse, along with two Italians.
'Stronger International Response Needed'
"In Afghanistan, there is a terrorist group with which dialogue is impossible, it is the Islamic State," said Guterres. "Its vision is so radical that there is no prospect of discussion."
He underlined there was "insufficient" security deployment in the Sahel, and called for "more international solidarity" with the region.
A high-level donor conference will be held Tuesday for the Sahel region, where the years-long fighting, climate change, and COVID-19 have plunged millions of people into hunger.
The UN has said it hopes the ministerial-level videoconference will mobilize $2.4 billion.
Guterres said the UN's MINUSMA force in Mali had too limited a mandate to allow "an effective fight against the terrorist threat."
Similarly, France's Barkhane force of some 5,000 soldiers was "limited given the extent of the territory to be controlled," he said.
As for the combined G5 Sahel regional force, it "lacks the means and capacity to respond to this gigantic security challenge," said the UN secretary-general. "The international response must be stronger," he told the newspaper.
https://www.thedefensepost.com/2020/10/19/dialogue-sahel-jihadists/?utm_source=iterable&utm_medium=email&utm_campaign=1634313_
--------
Cameroon Chiefs Create Militias for Protection from Separatists
By Moki Edwin Kindzeka
October 19, 2020
YAOUNDÉ - Traditional village chiefs in Cameroon's restive western regions are for the first time creating armed militias for protection against separatists. Cameroon's government has been asking traditional rulers who fled the separatist conflict to return to their palaces and take part in December's regional elections. But a majority of the chiefs has been reluctant to return due to threats from the rebels.
The Nso people of Cameroon's Northwest region shout and applaud in the town of Kumbo. They came out to listen to a plea from their elders and palace notables to give a memorable welcome to their traditional leader, Sehm Mbinglo, whenever he returns.
Mbinglo fled the area three years ago after separatists abducted him three times and killed two of his children for unknown reasons.
Among the nearly 1,000 people who came to listen to the notables was Dorothy Yekong, who said she is longing to see her Fon, or traditional ruler.
"When the peace makers said the Fon will be coming back, we just felt some peace in Kumbo because when we were there without the Fon it was just as if to say the child is there surrounded by lions. So, if he finally comes, we are sure that peace will return in Kumbo. He is the father of everybody in Kumbo," she said.
Yekong said she was pleading with separatists fighting to create an English-speaking state in Cameroon not to attack palaces and notables who are only there to promote African cultures and traditions.
But shortly after the Nso elders and notable made the plea on people to welcome their village chiefs, separatist groups on social media warned against the chiefs returning.
Donatus Kewa, who said he is a spokesperson for separatist fighters in the North West region, says the chiefs act as informants for the military.
He said the village chiefs and their notables who escaped from the English-speaking regions to the French-speaking zones, especially Cameroon's capital, Yaounde, will be killed if they return. He said the chiefs received help in escaping from the Cameroon military, which he said is an enemy that all English speakers should fight against.
John Ewome Eko, traditional chief of the southwestern village of Boassa, said he is ready to face the separatists. He said he has armed a militia to protect his palace, notables and all traditional artifacts.
"I have put in place a strong vigilante group of more than 100 youths ready to stand and face the Amba guys. They came and burned down parts of my own palace. They left with two girls and they stayed with them in the bushes for two weeks. They were raped, they tortured them, they came back with wounds all over their bodies. They came again, they seized goods from my villagers," he said.
Deben Tchoffo, governor of the Northwest region, said militias created by chiefs should collaborate with government troops. He said no one should fear the separatists, whom he says are only intimidating chiefs and civilians.
"The traditional rulers are committed. The municipal counselors are committed. Elections Cameroon is ready. The security services are securing the region to allow us come the sixth of December to organize those elections in a peaceful environment," he said.
Tchoffo said they were giving fighters another opportunity to drop their weapons and be pardoned or to be crushed by the military.
The separatist crisis that is in its fourth year has killed at least 3,000 people and displaced 550,000, according to the United Nations.
https://www.voanews.com/africa/cameroon-chiefs-create-militias-protection-separatists?utm_source=iterable&utm_medium=email&utm_campaign=1634313_
--------
ICC prosecutor says Omar al-Bashir, other suspects must face justice over Darfur
20 October 2020
Ousted Sudanese President Omar al-Bashir and other suspects wanted by the International Criminal Court for alleged war crimes and genocide in Darfur must face justice without further delay, the court's chief prosecutor said on Tuesday.
Options for prosecuting them, including a trial in Sudan and a hybrid tribunal, were being discussed with Sudanese authorities, prosecutor Fatou Bensouda told reporters during a visit to Khartoum.
"We are seeing what is possible," Bensouda said. "They must all face justice without further delay."
For all the latest headlines, follow our Google News channel online or via the app.
The ICC has outstanding arrest warrants against al-Bashir and three other Sudanese suspects on charges of war crimes, genocide and crimes against humanity.
The conflict in Darfur, in the west of Sudan, escalated from 2003 when mainly non-Arab rebels took up arms against al-Bashir's government, triggering a campaign of repression by the army and mostly-Arab militias. More than 300,000 people are estimated to have been killed and 2.5 million displaced.
Al-Bashir has been in jail in Khartoum since he was forced from office in April 2019 following months of protests.
Bensouda said she was encouraged by meetings with senior officials from the transitional authorities who assumed power after hos overthrow
"I particularly welcomed the assurances of support and cooperation expressed to me by the authorities during this visit," she said.
Al-Bashir appeared in a trial on Tuesday over the 1989 coup that brought him to power.
https://english.alarabiya.net/en/News/middle-east/2020/10/20/ICC-prosecutor-says-Omar-al-Bashir-other-suspects-must-face-justice-over-Darfur
--------
Libyan warring sides agree to open air, land routes: UN Envoy
21 October 2020
Libya's warring parties have agreed to open air and land routes in the country, according to the UN's acting envoy to the country Stephanie Williams.
Williams said on Wednesday she was "quite optimistic" that talks between the warring sides would lead to a lasting ceasefire after they agreed to reopen land and air routes between them.
Speaking at a news conference, she said the two sides meeting in Geneva this week had also agreed to maintain "the current state of calm on the front lines and to avoid any military escalation."
The meetings make up the security aspect of three-track talks, also involving political and economic tracks, that are aimed to lift Libya out of its grueling conflict that has ground on nearly ever since the fall of Muammar Gaddafi in 2011.
Control of the country is currently split between the Turkish-backed Government of National Accord (GNA) and the rival Libyan National Army (LNA).
https://english.alarabiya.net/en/News/north-africa/2020/10/21/Libya-conflict-Libyan-warring-sides-agree-to-open-air-land-routes-UN-Envoy
--------
2 killed in bomb blast in Somali capital
Mohammed Dhaysane
20.10.2020
GAROWE, Somalia
At least two people were killed Tuesday, and three others were wounded, when a bomb blast targeted the nation's immigration and naturalization chief in Mogadishu, according to officials.
Police captain Abdifatah Hassan confirmed the deaths to Anadolu Agency.
The attack occurred near the busy KM4 intersection in the capital.
Government spokesman Ismail Mukhtar Oronjo told the Turkish news agency the attack targeted Mohamed Aden Kofi, head of the Immigration and Naturalization Service.
"A roadside bomb blast targeted the immigration chief. He survived the attack but three security guards were wounded," he said.
No group has claimed responsibility for the attack but Somali-based al-Qaeda affiliated terrorist group, al-Shabaab, have carried out attacks in Somalia.
https://www.aa.com.tr/en/africa/2-killed-in-bomb-blast-in-somali-capital/2013301
--------
Nigeria: 15 killed since start of police abuse protests
Adam Abu-bashal
20.10.2020
ABUJA
At least 15 people have been killed since protests erupted this month in Nigeria against police brutality, Amnesty International said Monday.
The rights organization said two police officers were among the victims while hundreds of people have been injured.
Nationwide protests have continued since Oct. 7 despite the disbanding of the controversial Special Anti-Robbery Squad (SARS) police unit.
Protests against SARS had been going on for several days and demonstrators besieged its headquarters.
They chanted "End SARS" and poured red paint on the street in front of the building – a symbolic reference to the alleged killings by SARS officers.
Despite the dissolution of SARS, the protesters continued their demonstrations calling for comprehensive police reforms including punishments for erring officers, the unconditional release of all detained protesters and compensation for families of the victims of police brutality.
"The disbanding of SARS is only the first step in our commitment to extensive police reforms in order to ensure that the primary duty of the police and other law enforcement agencies remains the protection of lives and the livelihood of our people," President Muhammadu Buhari said last week on Twitter.
In an earlier report, Amnesty International said authorities failed to tackle the impunity enjoyed by SARS, whose brutality and corruption were "becoming increasingly brazen."
https://www.aa.com.tr/en/africa/nigeria-15-killed-since-start-of-police-abuse-protests/2012138
--------
North America
US Warns 'Distressingly High' Afghan Violence Could Derail Deal with Taliban
By Ayaz Gul
October 19, 2020
ISLAMABAD - The United States has warned that "distressingly" high levels of violence in Afghanistan threaten to derail Washington's peace-building deal with Taliban insurgents and the ongoing intra-Afghan peace negotiations.
Zalmay Khalilzad, the U.S. special envoy to the turmoil-hit nation, issued the warning Monday as the Taliban intensified battlefield attacks against Afghan security forces, including large-scale offensives last week in the southern Helmand province.
"Our expectation has been and remains that violence comes down and stays down," Khalilzad said in a series of tweets.
The violence was supposed to be "substantially' reduced following the historic deal the U.S. signed with the Taliban in February to promote a negotiated end to the 19-year-old Afghan conflict, America's longest.
On Sunday, the insurgent group said the U.S. military was violating the terms of the agreement. A U.S military spokesman swiftly rejected the accusations and blamed the Taliban instead for taking steps that were detrimental to the peace process.
Khalilzad also dismissed the insurgent accusations as unfounded and "inflammatory rhetoric," saying they would not help advance the peace process. He stressed the need for strictly adhering to all articles of the U.S.-Taliban pact and Washington's understanding with Kabul to gradually reduce Afghan hostilities.
"Continued high levels of violence can threaten the peace process and the agreement and the core understanding that there is no military solution," Khalilzad said.
"The belief that says violence must escalate to win concessions at the negotiating table is very risky. Such an approach can undermine the peace process and repeats past miscalculations by Afghan leaders," cautioned the U.S. envoy.
Khalilzad noted his delegation in recent meetings with the Taliban agreed to take measures toward decreasing violence and casualties in Afghanistan in line with the agreement. The deal has resulted in reduction in hostilities in Helmand, but violence overall in the country remains high, said the Afghan-born U.S. diplomat.
In its latest assessment, the United Nations noted that days of fighting in Helmand has caused the security situation in several locations to deteriorate, blocking access to the provincial capital, Lashkargah.
The U.N. humanitarian agency said the fighting had triggered the flight of residents, with local authorities initially estimating that 35,000 people fled to Lashkargah. It noted that U.N. assessment teams were still verifying these numbers.
On Sunday, a suicide car bombing in the central Afghan province of Ghor killed at least 15 people and wounded around 150 others. While no group has claimed responsibility, Afghan officials directly blamed the Taliban.
"Violence has stalked Afghans for far too long. It has robbed far too many Afghans of their loved ones," Khalilzad said while responding to the Ghor attack.
The Taliban did not immediately respond to Khalilzad's comments.
The insurgent group, while accusing the U.S. of violating the deal, warned that "all responsibility and consequences from continuation of such actions shall fall squarely on the shoulders of the American side."
The U.S.-Taliban deal requires that all American and coalition forces leave Afghanistan by May 2021 in return for the insurgents cutting ties with terror groups, and reaching a political arrangement with rival Afghan groups to permanently end the conflict through ongoing talks with representatives of the Kabul government.
The intra-Afghan dialogue, which started more than a month ago in Qatar, has not achieved any significant breakthroughs because of disputes over procedural matters related to moving the process forward.
https://www.voanews.com/south-central-asia/us-warns-distressingly-high-afghan-violence-could-derail-deal-taliban?utm_source=iterable&utm_medium=email&utm_campaign=1634313_
--------
U.S. Imposes Sanctions on Qaeda Financier Who Trades in Gems
By Pranshu Verma
Oct. 19, 2020
WASHINGTON — The Trump administration on Monday imposed sanctions on an Australian-based businessman and his gemstone company for helping Al Qaeda move money across the globe to sustain its operations.
Treasury officials said Ahmed Luqman Talib traded in precious stones, allowing him to "move funds internationally" for Al Qaeda. Mr. Talib's business is based in Melbourne, but he works around the world, including in Brazil, Colombia, Sri Lanka, Tanzania, Turkey and the Persian Gulf region, the Treasury Department said in a statement.
Terrorist groups continue to use financial facilitators to help carry out their activities, Treasury Secretary Steven T. Mnuchin said in a statement. The department remained committed to disrupting those financial activities and networks, he added, expressing appreciation for "the collaboration with our Australian partners."
The effects of the sanctions on Mr. Talib are unclear. The measure freezes assets he holds in the United States and prohibits American companies or individuals from doing business with him.
Treasury officials did not disclose whether Mr. Talib held assets or property in the United States. In 2010, he was a student activist in Australia who was shot when Israeli naval commandos killed nine activists on a ship that was carrying aid to Gaza.
The American action against Mr. Talib was notable, experts said, because it showed that the government was still concerned about how extremist groups like Al Qaeda and the Islamic State continue to creatively raise and distribute money for their operations, despite military, intelligence and legal pressures that have dealt significant blows to their activity.
"It goes to show that Al Qaeda still retains these kind of networks," said Charles Lister, the director of the Countering Terrorism and Extremism Program at the Middle East Institute, a think tank. "Even though the U.S. has done a very good job in pressuring the networks to such an extent that they are kind of a miniature version of 10 or 15 years ago."
Mr. Talib's use of gemstones to move finances for Al Qaeda was a departure from what had become a norm in terrorist financing, experts said, which was to stray from transnational funding toward developing income streams in countries where they maintained a presence. But terrorism experts noted the development with interest.
"Governments and private sector have made it harder to move funds via formal and informal financial systems," said Matthew Levitt, the director of counterterrorism and intelligence at The Washington Institute. "It is interesting to see terrorists relying on gemstones, which are easy to move and hold value."
Since the Sept. 11, 2001, attacks, Al Qaeda's influence across the world has diminished. Key leaders, including Osama bin Laden, have been killed. The group's lone ideological leader, Ayman al-Zawahri, is aging, and U.S. intelligence experts do not see him as a potent threat.
Despite that, the group continues to find inventive ways to finance its operations.
In August, the United States government seized about $2 million in Bitcoin and other types of cryptocurrency from accounts that had sent or received funds in alleged financing schemes for three foreign terrorist organizations, including Al Qaeda.
Other groups, like the Islamic State, have also found ways to rely on methods such as kidnapping for ransom, private donations and crowdsourced online fund-raising, according to a United Nations report. ISIS currently has financial reserves estimated at nearly $100 million, the U.N. found.
"ISIS taught us in recent years that international financing of terrorist activities isn't the most sustainable way to go," Mr. Lister said. "That was a big lesson, and it definitely transformed the way Al Qaeda operates."
https://www.nytimes.com/2020/10/19/us/politics/treasury-sanctions-qaeda-gems.html?utm_source=iterable&utm_medium=email&utm_campaign=1634313_
--------
Israel has a stranglehold on US foreign policy
20 October 2020
By Mark Dankof
Donald Trump's escalation and rhetoric on Iran is reflective of both of the Zionist advisors that he has in foreign policy. It's really an intensification of a really bad foreign policy that the United States has found itself getting into since 1948.
Kennedy was the only President of the United States in my lifetime that exhibited any degree of independence from the Israeli lobby. We know what happened there. And the truly bad thing about this election is that the alternative to Donald Trump is a ravenously Pro-Zionist Biden-Harris ticket.
So I would have to say that I would be in total agreement with what has been said by a number of commentators on this whole subject of the stranglehold that Israel has in the foreign policy of the United States through both of the major parties.
And in my particular case, I admit that I voted for Donald Trump this week in early voting in Texas, primarily because I don't care for the Marxist character of the Black Lives Matter movement. I happen to be pro-life on the issue of the unborn. I also happen to be a member of the National Rifle Association and I very firmly believe in the Second Amendment of the United States. So it's on that basis that I voted for Donald Trump, but I did so without any illusions whatsoever that in this key area of foreign policy, and the dangerous risks that this kind of foreign policy poses for world peace that Trump is any good at all in that department, but then neither are his opponents. And this is the sad state of affairs in the American political scene.
Israel will be well served to the detriment of everyone else regardless of who wins this American presidential election. So for me, it boiled down to some domestic issues before I made a final choice in the voting, knowing full well that I was voting for someone who has already demonstrated some very very serious deficiencies in judgment. That's a terrible thing to admit about my vote. It's a terrible thing to admit about the state of this country, but that's the way it is and I want to assure the Iranian people, that if there had been a decent anti-Zionist pro-peace candidate running, who had been at all conversant with some of my ideas on other issues, I would have voted for that person even had been a member of the other party.
But Israel has an absolute stranglehold in this process. That's why you have a Biden-Harris ticket on the Democratic side of the aisle. And at the end of the day, we will be going into 2021 with a very very dangerous situation regardless of what happens on the first Tuesday of November.
I think Trump is playing to his constituency. And sadly enough when you look at this whole issue of Jewish voters it is noteworthy to me that the Jewish News Service reported either yesterday or two days ago that in terms of Israelis, 63% of Israelis believe that Donald Trump will be better for Israel than Joe Biden.
Now whether or not that's true in fact is something that remains to be seen. But the fact that that perception is there really undercuts Trump's appeal to an America first constituency at home that wants to stay out of these foreign conflicts. So this is where we are. And we're involved in a situation where in terms of Jewish money and Jewish political support both of the major party candidates are trying to outdo the other one, in terms of appealing to that basic element that has controlled American foreign policy, and American elections at least since 1948.
https://www.presstv.com/Detail/2020/10/20/636833/Israel-has-a-stranglehold-on-US-foreign-policy
--------
Baltimore County man linked to extremist movement arraigned on gun charge
OCT 19, 2020
GREENBELT — A Maryland man described by the FBI as a member of the anti-government "boogaloo" movement pleaded not guilty to a gun charge on Monday, court records show.
Frank William Robertson Perry, 39, remained jailed after his arraignment on a charge that he illegally possessed a rifle. He is prohibited from possessing a firearm or ammunition due to a 2002 burglary conviction, the FBI said.
A grand jury indicted Perry on the charge after his Oct. 7 arrest.
The FBI identified Perry as a member of the boogaloo movement in September, an agent wrote in seeking a warrant to search the Dundalk home he shares with his girlfriend. Boogaloo adherents are part of a loose, anti-government, pro-gun extremist movement. The name is a reference to a slang term for a sequel — in this case, a second U.S. civil war.
Court records don't specify why the FBI's Joint Terrorism Task Force opened its investigation of Perry, who posted images associated with the boogaloo on a Facebook account that the FBI says belongs to him. The content on Perry's Pinterest account "reflects a substantial interest in firearms and militia extremist activities," the agent wrote.
"The profile also contained numerous saved or pinned pictures of firearms and ammunition, information on how to manufacture gun powder, and various statements regarding one's obligation to fight against a tyrannical government," the agent's affidavit says.
The FBI says Perry's girlfriend purchased the lower receiver of a rifle at a gun store in Baltimore County in April. She stated on a government form that she bought it for herself, but the FBI said investigators reviewed the girlfriend's social media accounts and didn't find any evidence that she is interested in firearms or capable of assembling her own rifle.
https://www.baltimoresun.com/news/crime/bs-md-co-cr-boogaloo-20201019-yvlh4fl4hfc5tlrlultqxxvqmy-story.html?utm_source=iterable&utm_medium=email&utm_campaign=1634313_
--------
Australia
Right-wing extremism on the rise: police
OCTOBER 20 2020
Right-wing extremism has increased in Australia, with federal police seeing a rise in young people being aggressively radicalised online.
Australian Federal Police deputy commissioner Ian McCartney confirmed there had been a higher number of investigations in the area.
"We're dealing with people that are either radicalised in the real world or radicalised online," he told a Senate estimates hearing in Canberra on Tuesday.
"We're finding now that in terms of right-wing extremism, that the concern for us is younger persons being radicalised very aggressively."
Mr McCartney said Islamic-inspired terrorism continued to be the biggest threat, with Sydney and Melbourne the centres of that activity.
He did not reveal exact numbers around the rise in AFP investigations of right-wing groups, arguing it could jeopardise active matters.
"We see it as a real and ongoing threat," he said.
ASIO director-general Mike Burgess said 30 to 40 per of its counter-terrorism workload was related to right-wing extremism, up from 10 to 15 per cent before 2016.
Mr Burgess noted right-wing extremists were more organised, sophisticated, ideological and active than in previous years.
He said coronavirus had reinforced conspiracy theories at the core of their ideologies.
"They see the pandemic as proof of the failure of globalisation, multiculturalism and democracy, and confirmation that societal collapse and a 'race war' are inevitable," he told the committee.
ASIO remains concerned that Islamic-linked terror is the nation's greatest threat.
"We know groups such as ISIL and al-Qaeda continue to call on their supporters to conduct terrorist attacks, in some instances with Australia specifically identified as a target," Mr Burgess said.
The director-general said about 80 Australians who travelled to Iraq and Syria to fight or support Islamic State remained in the region.
"Some may bring back extremist ideology and enhanced battlefield capability back to Australia," he said.
He said multiple jailed terrorists in Australia were due for release over the next five years.
https://www.canberratimes.com.au/story/6976691/right-wing-extremism-on-the-rise-police/?utm_source=iterable&utm_medium=email&utm_campaign=1634313_
--------
URL: https://www.newageislam.com/islamic-world-news/isis-terrorists-trying-trick-indian/d/123220
New Age Islam, Islam Online, Islamic Website, African Muslim News, Arab World News, South Asia News, Indian Muslim News, World Muslim News, Women in Islam, Islamic Feminism, Arab Women, Women In Arab, Islamophobia in America, Muslim Women in West, Islam Women and Feminism