New Age Islam News Bureau
1 Dec 2016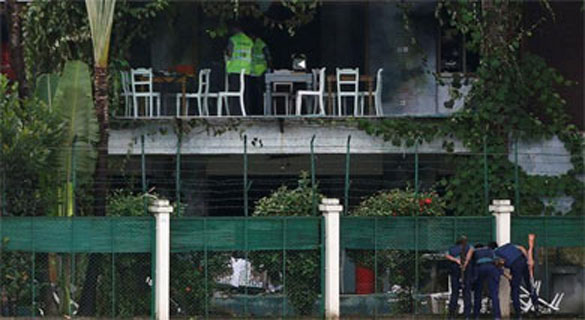 Policemen sneak a look inside the Holey Artisan Bakery and the O'Kitchen Restaurant as others inspect the site after gunmen attacked, in Dhaka, Bangladesh, July 3, 2016. REUTERS/Adnan Abidi/File Photo
---------
• ISIS Terrorists Planned To Kill Kindergarten Children with Poisoned Ice Cream
• New Evidence Shows Deep Islamic State Role in Bangladesh Massacre
• COAS Vows to Take War on Terror to Logical Conclusion
• Khamenei's Top Advisor: Iran Will Head Global Islamic State
Europe
• ISIS Terrorists Planned To Kill Kindergarten Children with Poisoned Ice Cream
• Slovakia Adopts Law to Effectively Block Islam from Becoming Official State Religion
• Albanian PM warns Islamists may seek to undermine Europe via Balkans
• Britain's Muslim Brotherhood Whitewash
• Why Russia and the Assad Regime Want All of Aleppo Before Donald Trump Is Sworn In
• UN: 'No red lines left to cross in Syria'
--------
South Asia
• New Evidence Shows Deep Islamic State Role in Bangladesh Massacre
• Afghan Forces Clear Strategic Pacher Agam District of ISIS Militants
• Rohingya Refugees Seek to Return Home to Myanmar
• Ethnic cleansing in Bangladesh
• 10,000 Rohingyas entered Bangladesh in recent weeks: UN
• Foreigner ISIS commander killed in East of Afghanistan
• Afghans cannot tolerate imposed war anymore, Ghani tells US envoy
• Explosions heard in Kabul amid reports 2 rockets landed in key diplomatic area
• Afghanistan wants regional counter-terrorism framework adopted at Heart of Asia conference
--------
Pakistan
• COAS Vows to Take War on Terror to Logical Conclusion
• Donald Trump Calls Pakistan a "Fantastic Place of Fantastic People"
• Jamaat-e-Islami Ameer Speaks Against 24th Amendment, Forced Conversions Bill
• Hindus in Pakistan slam parties opposing bill criminalising forced conversions
• Pakistan province passes bill outlawing forced conversion of Christians to Islam
--------
Mideast
• Khamenei's Top Advisor: Iran Will Head Global Islamic State
• Yemeni Political Parties Vow to Support New Government
• Turkey seeks 30 life sentences for Syrian Kurdish leader
• Iran expresses grave concerns over Israel's continued crimes
• Terror sponsors must be held to account for chemical raids: Iran envoy
• Israel jails Palestinian youth for 16 years over alleged stabbing attack
--------
India
• Zakir Eyes Long-Term Stay In Malaysia, But Yet To Get Nod
• Hindu Mahasabha Terms IAS Topper Dabi's Decision to Marry Muslim Youth as 'Love Jihad'
• Data from seized GPS set shows Uri attackers did travel from Pakistan
• Nagrota attack revenge for Afzal Guru's hanging, terrorists left posters behind
• Nagrota terror attack: Police probing JeM links
• 23 attack bids foiled along LoC in Kashmir this year: BSF
• 'Suleiman wanted to wage jihad against country'
--------
Southeast Asia
• Malaysia: PM Najib Razak Backs Adoption of Strict Islamic Law
• Ostracising Those Born Out Of Wedlock Un-Islamic, Says Group
• Philippines Ends Five-Day Siege against Islamic State-Linked Rebels
• Clerical Body Issues Edict Legitimizing Friday Prayers Outside Mosques
• ISIS in Indonesia Threatens Donald Trump with 'Assassination'
• Slander is un-Islamic, Umno president says
• Indonesians rally for peace before mass Muslim protest
• Najib pledges government support for Hadi's Shariah Bill
--------
Arab World
• Saudi Mufti Snubs Preacher for Mocking Men Whose Daughters Study Medicine
• ISIL Plans to Surrender Al-Bab, Manbij Cities to Turkey
• Extreme Differences Reported among Ahrar Al-Sham Commanders after Heavy Defeats in Aleppo
• Russia, US envoys trade barbs at UN meeting on Aleppo
• Elite forces progressing steadily in Mosul: CTS commander
• Syrian Official: Chances Increasing for Peace Agreement in Quneitra
• Syrian Army Seizes Back Control of Strategic Region in Dara'a
• Russian Military: Over 600 Militants Leave East Aleppo
• Syrian Army Captures Strategic Sheikh Saeed District in Aleppo
• Syrian Army Advances in Western Aleppo upon Starting New Operation
• Tens of Terrorists Killed in Hama
• Homs: Army Units Continue Clashes with ISIL near Al-Sha'er, Al-Mahr Oil Fields
--------
Africa
• Al-Shabaab in Daring Attack on Police Officers in Mandera
• Civil societies laud military's routing of Boko Haram insurgents
• Uganda: Jailed Sheikhs Lose Petition Against DPP
• Somalia: Puntland Forces Approach Port Town, Ready to Attack Militants
--------
North America
• City's Religious Leaders Confront Americans' Bigotry against Muslims
• More Mosques Receive Hate-Filled Letters from California
• Anti-Muslim Analyst Named To Department Of Homeland Security Transition Team
• Muslim government officials huddle on ways to survive Trump
• What Muslim Americans in Chicago Are Doing To Prepare For a Trump Presidency
• Muslim teen left with brain blood clot after brutal beating
• Why the proposed Montreal-area Muslim housing development goes against Islamic values
Compiled by New Age Islam News Bureau
URL: https://www.newageislam.com/islamic-world-news/new-age-islam-news-bureau/isis-terrorists-planned-to-kill-kindergarten-children-with-poisoned-ice-cream/d/109252
--------
ISIS Terrorists Planned To Kill Kindergarten Children with Poisoned Ice Cream
30 November 2016
An ISIS plot to feed poisoned ice cream to kindergarten children before detonating a bomb in their nursery car park has been revealed in Germany.
The gruesome plan came to light during hearings of two teenage Islamic State fanatics who blew up a Sikh temple in the industrial city of Essen during wedding celebrations.
Mohammed O, 17, one of the temple bombers who carried out the assault in April which wounded four people, planned to sell the toxic ices before blowing himself up in the midst of the children.
A second teen, Yusuf T, 17, was the leader of the so-called Temple bomber group.
The young Salafists first formed their murder gang on Whatsapp and built bombs from ingredients ordered from online retailer Amazon.
When they were captured after the bombing, a letter that Mohammed O. had written to Yusuf T. while he was in detention was intercepted by guards. In it he posed the question: 'May one kill targeted children?'
The letter went on to say: 'I work as an ice cream man with my ice cream van and sell to many children. May I, following Sharia law, use arsenic or warfarin, or better still strychnine, to kill children?'
Then the final question was put to his leader: 'Can I make Istis hadi Amaliya (suicide) in the kindergarten too?'
He also questioned, in the two page letter written on A4 paper, if it might also be possible to crash the van into the kindergarten. And further he asked if it was permissible for him to 'rape the girls of the enemies of the Prophet Muhammad.'
He urged Yusuf T. secretly to obtain a mobile phone so that he could make phone calls to plot the outrage. At the trial in Essen, investigators said that phone numbers of Isis sympathisers were later found on a device owned by T.
Yusuf's defence lawyer Burkhard Bahri said: 'My client suffered a deep impression in pre-trial detention and has renounced the Salafist scene. He wants to have nothing more to do with it and will therefore testify fully in court. '
Both are sitting in juvenile detention until their full trial begins in the next few weeks.
The head of the police in the north-western city of Essen, Frank Richter, called the attack 'religiously motivated terror by the Islamist scene' and said both boys had links to Islamist groups in the region.
A third person was arrested but was later released.
The bomb damaged part of the temple building and blew out some of the windows. It exploded after a wedding party and injured several people who had been guests.
http://www.dailymail.co.uk/news/article-3985290/ISIS-terrorists-planned-kill-kindergarten-children-poisoned-ice-cream-detonating-bomb-school-car-park-German-trial-hears.html
--------
New evidence shows deep Islamic State role in Bangladesh massacre
Dec 1, 2016
By Paritosh Bansal and Serajul Quadir
| DHAKA
DHAKA Before Tamim Ahmed Chowdhury orchestrated Bangladesh's worst militant attack, he sought and won approval for it from Islamic State.A Canadian of Bangladeshi origin, he was told by his contact in the militant group, Abu Terek Mohammad Tajuddin Kausar, to target foreigners, according to a senior police official who has seen communications between the two men.Chowdhury, located in Bangladesh at the time, proposed an attack on a Dhaka eatery frequented by expatriates.On July 1, a group of gunmen stormed the Holey Artisan café in the city's Gulshan neighbourhood, murdering 22 people, most of them foreigners, in an overnight siege that shocked the country.The back-and-forth between Chowdhury, 30, and Kausar, 35, which includes drafts of articles later published in Islamic State magazines, has not been previously reported.Together with attempts by people linked to Islamic State to recruit and fund militancy in the country, the documents show the extremist organisation has built deeper connections with Bangladeshi militants than was previously known.The police official declined to be named due to the sensitivity of the information. Reuters could not independently verify the contents of the communications.As Islamic State comes under pressure in its home base of Syria and Iraq, its activities in outposts such as Bangladesh could intensify, experts have said.The extent of Islamic State's influence in Bangladesh will be key to the country's garment sector that employs millions of people and earns $28 billion a year in exports.Any sign the global jihadi network is making inroads could force Western brands to look elsewhere for cheap clothes.In the year before the cafe atrocity, a string of grisly individual murders, including of bloggers and foreigners, had already raised the alarm for overseas investors.In its Rumiyah magazine published after the café massacre, Islamic State claimed two dozen attacks in the country since September 2015. The claim could not be independently verified.LOCAL MILITANTS OR ISLAMIC STATE?
After the siege, police raided suspected jihadi hideouts and said they killed dozens of militants and arrested hundreds more.Still, the government of Prime Minister Sheikh Hasina has said Islamic State does not exist in the impoverished South Asian nation of 160 million people, and instead blames the rise in political violence on the Islamist opposition.Opposition leaders deny any link and say it can be traced to the bitter rivalry, which has long poisoned politics in the country, between Hasina's ruling Awami League and its main rival, the Bangladesh Nationalist Party (BNP), as well as Jamaat-e-Islami."These are all home-grown people," said Interior Minister Asaduzzaman Khan, adding that the siege militants belonged to a new faction of Jamaat-ul-Mujahideen Bangladesh (JMB), a banned group he said had ties to the opposition Jamaat-e-Islami party. An aide to Hasina said that, while local militant groups had links with Islamic State, the extent of support was limited. "They are not an organised group here. People with Islamic State links are here. But that is not to say Islamic State is here."
FUNDING AND RECRUITING
Bangladesh police first came to know about Chowdhury around fall of last year, but they did not know his whereabouts, the police official said.In December, Dhaka police seized about 3.9 million taka ($50,000) destined for a close associate of Chowdhury's.The money, which the police official said was sent via the informal hawala cash transfer network, came from a UK-based company. The company's founder, Siful Sujan, was killed a few days later in Syria.At the time, investigators could not establish the money had been sent on Islamic State's instructions, the police official said.Chowdhury's group, meanwhile, was recruiting.Tanvir Kaderi and his wife, Abedatul Fatema, had a comfortable middle-class life in Dhaka, with two children and steady jobs. "We were a very happy family," Kaderi's son Mohammed Tahrim Kaderi Abir wrote in a confession presented before a magistrate. Abir, an eighth grade student, wrote that his parents' behaviour started to change after they went on the Haj pilgrimage in 2014.After that, Kaderi told a preacher he had dreamed he was standing with a weapon in his hand in the middle of a desert.
Kaderi also started spending time with acquaintances from the local mosque, who introduced the family to others, including associates of Chowdhury.They in turn preached to the family about faith and jihad and showed them videos of the war in Syria. One gave them a copy of Dabiq magazine, an Islamic State publication, according to the confession.The preparations for the café attack began at least as early as June, around the beginning of the Muslim holy month of Ramadan, according to Abir's confession. Kaderi rented an apartment in Basundhara area of Dhaka, near the cafe.A few days later the five militants who conducted the attack showed up at the house. Kaderi's family moved to Dhaka's old city the night of the raid.
MAGAZINE INTERVIEWS
Chowdhury was killed on Aug. 27. That and the other raids gave police access to his correspondence with Kausar. In one, Chowdhury was asked by Kausar to answer questions for an interview, which was eventually published in Dabiq in April under the nom de guerre Abu Ibrahim al-Hanif.Al-Hanif was identified in the magazine as head of Islamic State in Bangladesh. In another, Chowdhury sent the draft of an article about the café attack, which was published after his death in Rumiyah magazine, the police official said.
Kausar's mother said he moved to Australia in 2006 and she had not heard from him since before the attack. Tahera Begum, who lives in a town 135 miles from Dhaka, said she did not know whether he had links with Islamic State.Before his death, Chowdhury made Kaderi the new point of contact with Kausar, the police official said.At around 7.30 p.m. on Sept. 10, police knocked on the door of Kaderi's apartment, where his wife, one of his sons and some associates were hiding.In the ensuing chaos, police were attacked with grenades and knives, while some women in the apartment threw chilli powder at them. Kaderi ran into a room. As they tried to apprehend him, he swung a scythe at police, who were using his son as a shield. Kaderi told his son, "If you get hit, you will either be martyred or Allah will reward you."By the time the raid was over, Kaderi had slit his own throat. The last known link to Islamic State in Bangladesh was dead, although the police official said they did not know if anyone else was in contact with the militant group.POLITICAL STRIFE
Opposition leaders accuse the government of using militancy as an excuse to stifle dissent."A democracy deficit is definitely encouraging the extremists," said Mirza Fakhrul Islam Alamgir, BNP's secretary general who spent months in jail and now faces prosecution in dozens of cases. The Jamaat leadership has gone into hiding after several of its top leaders were executed during the past two years for war crimes committed during the country's 1971 war of independence from Pakistan.In an email, Maqbul Ahmad, the head of the party, denied any connections with JMB or other militants. "The government is consistently denying the actual presence of terrorism in Bangladesh," Ahmad wrote. "Rather they are using it as an effective instrument of repression of Islamists."Soon after the café attack, the government placed a bounty of 2 million taka ($25,000) on Chowdhury's head. A series of raids on militant hideouts followed. By Oct. 3 police said they had killed 42 militants and arrested at least 221 people, according to an internal police report.Militant groups, including a faction ideologically linked to al Qaeda, have gone quiet and police say the overall security situation is under control, although the threat is not over.($1 = 78.75 taka) (Additional reporting by Amran Abocar in TORONTO; Editing by Mike Collett-White)
This story has not been edited by Firstpost staff and is generated by auto-feed.
http://www.firstpost.com/world/new-evidence-shows-deep-islamic-state-role-in-bangladesh-massacre-reuters-3133468.html
--------
COAS vows to take war on terror to logical conclusion
By Siddique Sajid
01-Dec-16
ISLAMABAD: Chief of Army Staff General Qamar Javed Bajwa has said that the war on terror will continue with focused approach in order to take the military operation to its logical conclusion.
"We will continue to move ahead of the gains already made so far," the army chief said while speaking to troops in North Waziristan during his first visit to field formations after taking over the command of the Pakistan Army.
Paying tribute to brave tribes, officers and men of the army, Frontier Corps, Levies and the police, General Bajwa vowed that no fleeing terrorist would ever be allowed to return. He said that defence and security of Pakistan against external and internal threats would remain his ultimate objective as the COAS.
He stressed the need for expediting the pace of raising of new FC wings to enhance an effective Pakistan-Afghan border management.
He said the temporarily displaced persons' (TDPs) return should be completed within the stipulated time, and they should be assisted in all ways to resettle respectfully.
Earlier, the COAS visited the Corps Headquarters Peshawar, where he was given a detailed briefing on the prevailing security situation in Khyber Pakhtunkhwa, FATA and Malakand Division, ongoing stabilisation and combing operations, progress on the return of TDPs and continuing development work.
Meanwhile, defence sources said that the new COAS would soon announce major reshuffles and make transfers, postings and promotions, as the important office of the chief of general staff is still vacant following the promotion and appointment of General Zubair Mehmood Hayat as the chairman joint chiefs of staff committee (CJCSC).
The new inspector general of training and evolution would also be appointed, a post previously held by General Bajwa himself.
Sources said that four three star generals - Lieutenant General Najeeb, Lieutenant General Wajid, Lieutenant General Ashfaq Nadeem and Lieutenant General Javed Iqbal Ramday - had been superseded due to the appointment of General Bajwa as the army chief. Therefore, they will most likely follow the tradition of the army and leave their responsibilities. However, military sources said it was not a hard and fast rule, so a superseded general could continue rendering service if he wanted to.
Sources said that some corps commanders would also be changed, while the new Inter-Services Intelligence (ISI) director general would also be appointed.
The current ISI DG, Lieutenant General Rizwan Akhtar, may be given a corps, they said, adding that ISPR DG Lieutenant General Asim Saleem Bajwa was also a strong candidate.
http://dailytimes.com.pk/islamabad/01-Dec-16/coas-vows-to-take-war-on-terror-to-logical-conclusion
--------
Khamenei's top advisor: Iran will head global Islamic state
30 November 2016
The world is heading towards establishing a global Islamic government headed by Iran Major General Yahya Rahim Safavi, Iran's top military adviser to Ayatollah Ali Khamenei, has said.
Safavi, who served as commander of the Revolutionary Guards from 1997 to 2007, said the US has begun to retreat on the military and political levels.
He said the world will witness the emergence of a global Islamic government with its axis in Iran.
According to Iranian Fars news agency, Safavi said young men in Yemen and Iraq followed the example of Iran's youths - in reference to establishing militias and parties which were affiliated with the velayat-e faqih regime in Tehran.
He said that America's politicians and military would not be able t0 make a decision to attack Iran.
The velayat-e faqih idea - which has been proposed since Ayatollah Khomeini took power in Iran in 1979 - is not that different from ISIS ideology with both sharing the idea of establishing a global Islamic governance.
https://english.alarabiya.net/en/News/middle-east/2016/11/30/Khamenei-s-top-advisor-Iran-will-head-global-Islamic-state.html
--------
Europe
Slovakia adopts law to effectively block Islam from becoming official state religion
30 Nov, 2016
Parliament in Bratislava has approved a bill that effectively prevents Islam from being registered as a state religion in the near future.
Sponsored by the Slovak National Party (SNS), which is a member in Prime Minister Robert Fico's coalition, the legislation was passed Wednesday, Reuters reported. The law was approved by a two-thirds majority in parliament, comprising both ruling and opposition parties.
The new law more than doubles the required number of a religion's followers for it to qualify for state subsidies and run its own schools. At least 50,000 members, against the previous 20,000, has now been set as a threshold for gaining official status as a religion.'
Currently, 62 percent of Slovakia's 5.4 million population are declared Roman Catholics.
Slovakia's far-right People's Party-Our Slovakia wanted to raise the bar to 250,000, but their proposal was turned down by a majority of lawmakers.
"Islamization starts with a kebab and it's already under way in Bratislava, let's realize what we can face in five to 10 years," chairman of the Slovak National Party (SNS) Andrej Danko said, as cited by Reuters. "We must do everything we can so that no mosque is built in the future," the politician was quoted as adding.
According to the last census, Islam has some 2,000 followers in Slovakia, Reuters reported, adding that there are no recognized mosques in the central European country. The Islamic Foundation in Slovakia, which has not commented on the new legislation so far, puts the number at around 5,000.
https://www.rt.com/news/368755-slovakia-islam-religion-law/
--------
Albanian PM warns Islamists may seek to undermine Europe via Balkans
December 1, 2016
"If we want to have a secure and stable European Union and with it a secure Europe, it's not good if there are holes," Edi Rama told the Frankfurter Allgemeine Zeitung newspaper in comments published on Wednesday. "It's not about how long we still need, it's about how the European Union will continue to develop. In the meantime, we are politically in fairly good form, but the European Union is not at present," he said.
The Muslims of southeastern Europe are one of the world's more moderate Islamic populations, although it is estimated that five to ten percent have become indoctrinated in more extreme forms of Islam, often funded by Middle Eastern donors.
The region has also been a transit zone for migrants making their way to Europe from the Middle East.
Meeting Merkel
"Our European integration remains a major task," Rama said at a meeting with German Chancellor Angela Merkel this week in Berlin.
Merkel in turn said Albania had "undertaken huge reforms" and that Germany had always supported its EU endeavors.
"It is important for the reforms to continue. The European Commission has set five priorities and one of them is judicial reform. The implementation of this reform is key to integration. The fight against crime and corruption must be a continuous battle," Merkel said.
The Albanian road to the EU
Albania has a range of insititutional arrangements with the EU and joined NATO as a full member in 2009.
After the application for EU membership was sent by the government in 2009 the Council of the European Union asked the European Commission to prepare an assessment concerning its readiness to start accession negotiations.
Candidacy status was not granted in December 2010, although Albanians were given the right by the EU to travel without visas to the Schengen area.
Full report at:
http://www.dw.com/en/albanian-pm-warns-islamists-may-seek-to-undermine-europe-via-balkans/a-36589096
--------
Britain's Muslim Brotherhood Whitewash
By CON COUGHLIN
Nov. 30, 2016
Ever since Britain joined the Obama administration in 2011 to demand the removal of Hosni Mubarak, the British government has faced a difficult dilemma about how to handle the Muslim Brotherhood, the party that took over following the Egyptian president's downfall.
Moderate, pro-Western Arab states, including Saudi Arabia and the United Arab Emirates, have long regarded the Muslim Brotherhood as a radical Islamist organization. Under pressure to ban the movement, David Cameron, Britain's prime minister at the time, in 2014 authorized a government inquiry into Muslim Brotherhood activities.
John Jenkins, one of Britain's leading Arabists and a former ambassador to Iraq, Libya, Saudi Arabia and Syria, was appointed to head the inquiry. But despite a thorough review, the inquiry's conclusions were ambivalent over allegations that the Muslim Brotherhood was directly involved in terrorist activity.
When the government finally announced the "main findings" of the review last year, it called membership in the Muslim Brotherhood merely a "possible indicator of extremism" and the group a "rite of passage" to violence for some members. This whitewashing is baffling. Even the review went so far as to identify the Muslim Brotherhood's connection with Hamas, which Britain has designated a terrorist organization.
In early November, the Commons Select Committee on Foreign Affairs said the report's ambivalent conclusions had undermined confidence in Britain's dealings with the Arab world. For example, the report seems to have ignored the fact that shortly after the Muslim Brotherhood's Mohammed Morsi took power in 2012, hardline Salafists emerged and launched a campaign of terror against secular-minded Egyptians. Women were regularly harassed to wear the veil, and Coptic Christians were attacked and killed.
The Morsi government also sought to deepen its ties with Hamas and initiated a rapprochement between Cairo and Tehran. Iranian warships were soon granted passage through the Suez Canal for the first time since the 1979 Iranian revolution.
This worrying precedent hasn't been repeated since Mr. Morsi was overthrown in 2013 by Abdel Fattah Al Sisi, the former defense minister and now Egypt's president. Mr. Morsi and other leading members of the Muslim Brotherhood, meanwhile, have been convicted of treason and terrorism, though Mr. Morsi's death sentence has since been overturned and a retrial ordered.
The governments of Egypt, Saudi Arabia and the UAE have all outlawed the Muslim Brotherhood as a terror organization and want Whitehall to ban the Muslim Brotherhood's ability to operate in Britain. These Arab countries insist that Muslim Brotherhood activists are taking advantage of Britain's tolerant attitude toward Islamist groups to plot terror attacks in the Arab world, allegations that the Muslim Brotherhood denies, claiming that it is opposed to terrorism and violence. Pro-Western Arab states also still resent Britain and America's involvement in supporting the removal of Mr. Mubarak, who had been a loyal ally of Western policy in the region, dating back at least to the First Gulf War.
Full report at:
http://www.wsj.com/articles/britains-muslim-brotherhood-whitewash-1480536404
--------
Why Russia and the Assad Regime Want All of Aleppo Before Donald Trump Is Sworn In
Nov 30, 2016
In the past two days, the Syrian Arab Army and its Shiite militia allies (Hizbullah from Lebanon and others from Iraq) has taken a third to forty percent of the Eastern Aleppo pocket. The northeast zone of the pocket has collapsed, with rebel fights apparently declining any longer to stand and fight. They are taking massive fire from Russian and regime aircraft.
The Russian source Interfax alleges, ""Full control has been established over 12 neighbourhoods" of eastern Aleppo . . . "as Baeidin, Sheikh Fares, Qadisiya, Haidaria, Al-Ghani, Sheikh Hasser , Sheikh Khudr, Jabal Badro, Tareeq Sheikh Najjar, Turab al-Hollok, Bustan al-Basha and Sakhour."
On the order of 80,000 out of the 250,000 who lived in the pocket have fled. The press now has to say there are about 170,000 civilians trapped there, since so many appear to have departed– for regime-held West Aleppo and for the Kurdish-held region.
President-Elect Donald J. Trump has made it clear that he favors a victory of the Bashar al-Assad regime in Syria, and is willing to let Russia do the heavily lifting to finish off Muslim radicals such as Daesh (ISIS, ISIL) and the Levantine Conquest Front (Jabhat Fateh al-Sham), the al-Qaeda affiliate formerly known as the Support (Nusra) Front.
Al-Assad did not disguise his glee when Trump was elected.
But Russia and al-Assad are not willing to risk Trump changing his mind, what with all the hawks milling around him and on his new cabinet. For many hard line Republicans like Michael Pompeo (CIA) and Michael Flynn (NSA), Iran is the next war over the horizon, and al-Assad is seen as a strategic asset to Iran.
Maxim Yusin and Georgy Stepanov quote Vladimir Sotnikov, director of the Russia-East-West Strategic Research Center in Kommersant.ru, (trans by BBC Monitoring) that Bashar "Al-Assad, as well as Russia and Iran who are backing him, aim to take the maximum advantage of the two months of 'doldrums' in the USA after the presidential election was over, but a new administration has not started its work yet. . ."
Sotnikov says that taking all of Aleppo before Trump's inauguration makes it less likely that any demand will be made that he step down. Since there at some point will likely be negotiations over Syria, al-Assad will be able to deal from strength.
Full report at:
http://www.truthdig.com/report/item/why_russia_and_the_assad_regime_want_aleppo_before_donald_trump_20161130
--------
UN: 'No red lines left to cross in Syria'
1 December 2016
There are no "red lines left to cross in Syria," the UN humanitarian chief said Wednesday, accusing parties to the Syrian conflict who have have systematically disregarded the laws of war.
Speaking via video-link from London, Stephen O'Brien told an emergency meeting of the Security Council that was nowhere more apparent than in the besieged city of eastern Aleppo with nearly a quarter of million people trapped inside.
"There are no limits or red lines left to cross. The rules of war - sacrosanct notions borne out of generations of costly and painful lessons and set more than 150 year ago in the First Geneva Convention - have been systematically disregarded in Syria," O'Brien said.
O'Brien said some 25,000 people, most of them women and children, have been displaced from their homes since Saturday and that it is likely thousands more will flee in the coming days as Syrian forces step up their attack.
He said there was no longer any properly functioning hospital in eastern Aleppo, which has been under siege for nearly 150 days and that most of the people trapped inside don't have the means to survive much longer.
He called on the Syrian government to allow the UN and its humanitarian partners unrestricted access to deliver food and medical aid.
He also urged the Security Council for action.
"For the sake of humanity we call on -- we plead -- with the parties and those with influence to do everything in their power to protect civilians and enable access to the besieged part of eastern Aleppo before it becomes one giant graveyard," he said.
Staffan de Mistura told the council that over the last two weeks, government forces have recaptured almost 40 percent of the area in Aleppo previously held by opposition groups forcing thousands to flee.
He said that his office has received credible reports of opposition groups preventing civilians from fleeing areas under their control. Also, he expressed concern that many fleeing the city, who are perceived to have links to the opposition, were being detained by government forces.
Six million children in need of aid
There are about six million Syrian children are "in need of humanitarian assistance," UNICEF Regional Director Greet Cappelaere told the Security Council emergency meeting.
Full report at:
https://english.alarabiya.net/en/News/middle-east/2016/12/01/UN-No-red-lines-left-to-cross-in-Syria-.html
--------
South Asia
Afghan forces clear strategic Pacher Agam district of ISIS militants
Nov 30 2016
The Afghan National Defense and Security Forces (ANDSF) cleared the strategic Pacher Agam district of the loyalists of Islamic State of Iraq and Syria (ISIS) terrorist group.
The provincial police commandment in a statement said at least 17 loyalists of the terror group were killed or wounded during the latest counter-terrorism operations.
The statement further added that the dead bodies of numerous ISIS militants were left in the area and several weapons and ammunition belonging to the terror group were confiscated.
At 13 ISIS militants were killed and 4 other were wounded during the operations, the statement said, adding that 6 Improvised Explosive Device (IED) were also discovered seized by the Afghan forces.
The statement also added that the Afghan forces rescued at least two civilians who were kept as hostage by the loyalists of the terror group.
The loyalists of the Islamic State of Iraq and Syria (ISIS) terrorist group have not commented regarding the report so far.
The ISIS loyalists have been attempting to gain foothold in the strategic Pacher Agam district in a bid to expand their presence and operations in this province.
The deputy HOUSE SPEAKER of the Afghan parliament Zahir Qadir earlier warned that the loyalists of the terror group are attempting to establish the Khurasan Caliphate in Afghanistan and are busy expanding their presence in some of the difficult terrains of the country.
http://www.khaama.com/afghan-forces-clear-strategic-pacher-agam-district-of-isis-militants-02400
--------
Rohingya Refugees Seek to Return Home to Myanmar
November 30, 2016
Rohingya Muslims who have sought refuge in Bangladesh say they are desperate to stop living as refugees and return to their homeland in Myanmar.
"The Rohingyas have been seeking temporary shelter in Bangladesh only to save their lives from a genocide-like situation in Myanmar. For most of us, life as refugees is very hard in Bangladesh. Arakan (Rakhine), where our Rohingya community has lived for centuries, is our ancestral homeland. We want to go back to Arakan," said Mohammad Shaker, a Rohingya leader in the Cox's Bazar district of Bangladesh.
Nurul Islam, a Britain-based Rohingya rights activist and community leader, said whenever anti-Rohingya violence erupts in Myanmar, the international community has taken a keen interest to see that they get safe passage to other countries. But he alleges outside powers do not follow up to help the refugees return to their homeland.
"It appears many in the international community think if all Rohingyas are evacuated from Myanmar, the problem of our community will be solved. They are wrong," said Islam, chairman of Arakan Rohingya National Organization. "The Rohingya crisis will never be resolved until our community members are able to return to their homeland in Arakan."
Long-standing problem
Since the Rohingya Muslims were first targeted by large-scale ethnic violence in 1978, the religious minority community has fled persecution and economic hardship in Myanmar by leaving for Bangladesh and other countries.
Currently, there are up to half a million Rohingyas in Bangladesh, with over 90 percent of them living as illegal refugees, mostly in decrepit shanty-colonies scattered across southeastern Bangladesh.
With no support from the Bangladesh government or the UN refugee agency (UNHCR), most of the refugees do menial jobs, have no access to basic services, and live hand-to-mouth.
Most complain that in Bangladesh their life is full of hardship and their life back in Myanmar was more comfortable.
"After the Rakhine Buddhists burnt my house, with my two children and wife I fled to Bangladesh four years ago. I do odd day-wage jobs to support my family. Often I go without job. I live in a ramshackle shack and I think I can never escape this life of poverty here," said Mohammad Ismail, a 38-year-old Rohingya. "I had my own farmland, I also owned a shop and I was quite well-off. If the situation there changes I want to return to Arakan."
Current crisis
Since a Myanmar military crackdown began in Rakhine state seven weeks ago following the killing of 9 policemen in an armed attack blamed on Rohingya militants, several thousands more Rohingya men, women and children have landed in Bangladesh.
Bangladesh's home minister Asaduzzaman Khan Kamal said that "on humanitarian ground" some of the Rohingyas fleeing the current violence have been provided refuge.
"We shall try to host these people as long as possible. Then we shall start a dialogue with Myanmar so that they can return to their home. We hope Myanmar will take them back, eventually," Kamal said.
But Rohingya community leader Islam alleged the ongoing violence against the Rohingyas in Rakhine is "state-sponsored."
Full report at:
http://www.voanews.com/a/rohingya-refugees-seek-to-return-home-to-myanmar/3617130.html
--------
Ethnic cleansing in Bangladesh
Posted on 1/12/2016
K.N. Pandita
In its editorial of November 16, 2016, The Washington Post carried the story of brutal attacks in Bangladesh killing scores of bloggers, foreigners and members of Hindu religious minorities. A Hindu tailor was killed in April, and a Hindu priest was hacked to death in July last. Over almost two years, radical Islamists have carried out a string of brutal attacks on Hindu minority. July attack in Dhaka left 22 Hindus dead. Prime Minister Sheikh Hasina and her governing Awami League accused Islamist opposition of fomenting terrorism. However, involvement of some leaders of the ruling party is not ruled out.
Pretending some "desecration" Muslim youth went on a spree of attacking, ransacking and destroying 15 temples and the homes of more than 100 families in a Hindu neighbourhood in Nasirnagar. A Bangladeshi Supreme Court lawyer and civil rights activist, Jyotirmoy Barua, laments that social media is used to foment violence against minorities. While the Awami League has suspended three local leaders for their involvement in the attack, the credibility of Ms. Hasina's government is on the line.
In 1941 Hindu population of East Bengal was 28 per cent. The ratio dropped to 22% after the mass migration in 1947. Under Pakistan Hindus faced discrimination and intimidation from the regime. The ratio fell down to 18.5% in 1961. During the liberation war, they faced mass genocide and millions of them took refuge in India. Though some of the refugees returned after liberation yet their ratio fell to 13.5%. In 1981 they were reduced to 12.1%, and only a decade later, the ratio fell to 10%. It is deemed that the recent ratio has fallen below 8%. If the trend continues where will they be in 2050?
On 30th of October, at least 15 Hindu temples and hundreds of Hindu houses in Brahmanbaria's Nasirnagar were looted and destroyed by a group of 150 to 200 Islamists. According to reports, groups of Touhidi Janata and Ahle Sunnat Wal Jamaat staged two separate demonstrations at the Upazila headquarters protesting a Face book post a few days ago. Administration failed to take any security measure to protect the local temples. Some believe that Hefazat-e-Islam and even the ruling Awami League were behind the attacks
A report in Time magazine suggested that in Bangladesh, a deeply impoverished and overcrowded nation, scarcity of land is at the heart of the matter behind communal violence. Jyotrimoy Barua, a Supreme Court lawyer in Dhaka told Time. "Most of the people's houses they are burning are those of the poor. If you burn their house, they will leave the country, and you get their land."
The Modern Tokyo Times reported that the rise of fundamentalist Islam in Bangladesh mirrors a similar emergence of militant groups in Pakistan and threatens hopes for stability in Bangladesh. "Jamaat-e-Islami is a continuing cancer that threatens society directly along with sinister political forces that manipulate Islamists for personal gains," MTT wrote. "Islamist violence directed towards the Hindu community is all too familiar."
Writing in The Diplomat, Sanjay Kumar said Bangladesh's minorities are subject to acts of arson and even rape by J-e-I thugs. After enduring violent attacks and the loss of homes and businesses, many Hindus across Bangladesh live in a state of trauma and fear returning to their native villages. "Jamaat-Shibir (Youth wing of JI) has created a situation of panic in and around the village," a Hindu grocer in Ramganj named Jaynto Mondol told The Diplomat. "They destroyed around 50 shops in my area and we had to flee to another village to take shelter." Mondol said he thinks that J-e-I and its allies want to turn Bangladesh into a "purely Islamic country by throwing the Hindus out. We can't live in peace."
Deutsche Welle, the German broadcaster, reported that the latest round of violence represented the second such wave of anti-Hindu attacks in less than a year. A few months ago Islamists wrecked hundreds of Hindu homes and shops, apparently in retaliation for the country's International Crimes Tribunal sentencing of several aging senior members of J-e-I to death for their part in war crimes committed during the War of Independence against Pakistan in 1971.
Full report at:
http://www.dailyexcelsior.com/ethnic-cleansing-bangladesh/
--------
10,000 Rohingyas entered Bangladesh in recent weeks: UN
December 01, 2016
At least 10,000 Rohingyas have entered Bangladesh recently to flee violence in Myanmar, the United Nations said yesterday.
"Based on reports by various humanitarian agencies, we estimate that there could be 10,000 new arrivals in recent weeks," Vivian Tan, a spokeswoman for the UN refugee agency in Bangkok, told AFP.
"The situation is fast changing and the actual number could be much higher."
The UN estimates that at least 30,000 Rohingyas have been forced to leave their homes in the western state of Rakhine since the Myanmar army started crackdown there in October.
Scores of Rohingya people are sneaking into Bangladesh every day -- many of them crossing the Naf river and others walking across the land border.
Bangladesh has stepped up patrol on the border to try to stop the Rohingyas from entering, but last week it said thousands had streamed into the country.
Apart from 33,000 registered Rohingyas in two refugee camps of Cox's Bazar, more than 3,00,000 of the ethnic minorities from the neighbouring country are living illegally in the district, according to government statistics.
Those interviewed by AFP inside Bangladesh had horrifying stories of gang rape, torture and murder at the hands of Myanmar's security forces.
Analysis of satellite images by Human Rights Watch found hundreds of buildings in Rohingya villages have been razed.
Myanmar has denied allegations of abuse, saying the army is hunting "terrorists" responsible for the raids on police posts in October.
Foreign journalists and independent investigators have been banned from accessing the area to probe the claims.
Myanmar's de facto leader Aung San Suu Kyi, a Nobel peace laureate, has faced a growing international backlash for what a UN official has said amounts to a campaign of ethnic cleansing.
On Wednesday, she vowed to work for "peace and national reconciliation", saying her country faced many challenges, but did not mention the violence in Rakhine state.
Tan said the UN was urging the Bangladesh government to allow the Rohingyas safe haven.
"We are ready to support the government to provide effective humanitarian assistance for these individuals in need of international protection," she said.
On Tuesday, the Office of the United Nations High Commissioner for Human Rights said Myanmar's treatment of the Rohingya could be tantamount to crimes against humanity.
A senior UN official told the BBC on November 24 that Myanmar was seeking the ethnic cleansing of the Muslim Rohingya minority from its territory.
Our Cox's Bazar correspondent reports: although the Bangladesh government has tightened security along the Bangladesh-Myanmar border, hundreds of Rohingyas are entering the country through the border every day.
Locals claimed that around 1,000 people crept into the country through seven border points in Teknaf's Hnila and Whykang unions in the last two days.
As law enforcement agencies heightened vigilance on Cox's Bazar-Teknaf road, Rohingyas, who trespassed into Bangladesh, were taking the dirt roads through villages to reach the camps in Leda and Shaplapur of Teknaf and Kutupalang of Ukhiya.
Rohingyas living in Bangladesh were allegedly helping the trespassers cross the border and find shelter.
Full report at:
http://www.thedailystar.net/frontpage/10000-rohingyas-entered-bangladesh-1323346
--------
Foreigner ISIS commander killed in East of Afghanistan
Dec 01 2016
A commander of the loyalists of Islamic State of Iraq and Syria (ISIS) terrorist group was killed in eastern Nangarhar province of Afghanistan.
According to the local security officials, the ISIS commander has been identified as Mujaid who was in command of a group of at least 20 ISIS fighters.
The officials further added that Mujahid was killed during an operation in Achin district.
The operation was conducted late on Wednesday night, the officials said, adding that the security forces and the local residents did suffer any casualties during the clashes.
The loyalists of the terror group have not commented regarding the report so far.
This comes as the Afghan forces are busy conducting counter-terrorism operations I some key districts where the loyalists of the terror group are active.
Local officials said Wednesday that the strategic Pacher Agam district was cleared during the ongoing operations.
Full report at:
http://www.khaama.com/foreigner-isis-commander-killed-in-east-of-afghanistan-02404
--------
Afghans cannot tolerate imposed war anymore, Ghani tells US envoy
Dec 01 2016
The Afghan people cannot tolerate terrorist attacks and imposed war anymore, President Mohammad Ashraf Ghani told the acting US representative for Afghanistan and Pakistan.
The Office of the President, ARG Palace, in a statement said "President of the Islamic Republic of Afghanistan Mohammad Ashraf Ghani met with Acting US Special Representative for Afghanistan and Pakistan Ms. Laura Miller this morning in Arg."
The statement further added "In this meeting, Ms. Laura Miller discussed the situation in the region, Afghanistan and Pakistan ties and her work in this regard."
Speaking about the war that is organized and imposed on Afghanistan from the outside, the President said that the foreign management of war in Afghanistan is clear to all and cannot be hidden anymore.
Full report at:
http://www.khaama.com/afghans-cannot-tolerate-imposed-war-anymore-ghani-tells-us-envoy-02403
--------
Explosions heard in Kabul amid reports 2 rockets landed in key diplomatic area
Nov 30 2016
At least two explosions were heard in Kabul city earlier tonight amid reports two rockets landed in Shash Darak diplomatic area of the city.
Security sources confirmed that the rockets landed between Pul-e-Mahmood Khan area and Shash Darak but no casualties have been reported so far.
A security official in the Ministry of Interior confirmed that the rockets landed in the vicinity of Maslakh area in Shashdarak and the area has been cordoned off by the security forces.
No group has so far claimed responsibility behind the incident.
This comes as a deadly suicide attack targeted a mosque in the west of Kabul city ten days ago, leaving at least 32 people dead and scores of others wounded.
Full report at:
http://www.khaama.com/explosions-heard-in-kabul-amid-reports-2-rockets-landed-key-diplomatic-area-02401
--------
Afghanistan wants regional counter-terrorism framework adopted at Heart of Asia conference
Nov 30, 2016
NEW DELHI: Afghanistan wants the Heart of Asia conference to adopt a regional counter-terrorism framework, said Shaila ABdali, Afghan ambassador to India. India and Afghanistan conducted a joint press conference in preparation of the ministerial in Amritsar on December 3-4.
However, attention will also be focused on the visit by Sartaj Aziz, Nawaz SHarif's foreign policy adviser, and the possibility of a bilateral meeting with the Indians.
Gopal Baglay, joint secretary in MEA responsible for Pakistan said no request for a bilateral meeting on the sidelines of 6th Heart of Asia Conference had come from Pakistan.
Sartaj Aziz is expected to arrive in Amritsar on the morning of December 4 via the Wagah border and depart the same day.
Following the Nagrota terror attack on Tuesday, there would be little appetite in the Indian system to deal with Pakistan. In fact, the conference would be used to slam Pakistan-sponsored terrorism in the region. Terrorism is the greatest threat facing the region, Abdali said. Expressing condolences for the tragic terror attack in Nagrota, Abdali said Afghanistan condemns it in the strongest possible terms.
Both he and Baglay said connectivity, including Chahbahar project would be discussed at the conference.
Full report at:
http://timesofindia.indiatimes.com/india/Afghanistan-wants-regional-counter-terrorism-framework-adopted-at-Heart-of-Asia-conference/articleshow/55711518.cms
--------
Pakistan
Donald Trump Calls Pakistan a "Fantastic Place of Fantastic People"
November 30, 2016
Pakistan's Press Information Bureau on Wednesday released a candid readout of a phone conversation that reportedly took place between President-elect Donald Trump and Pakistani Prime Minister Nawaz Sharif.
Typically, readouts are mundane summaries of what was discussed between world leaders. What was striking about Wednesday's readout, however, was Mr. Trump's extravagant praise of Pakistan, its people, and culture.
Here's the text:
"Prime Minister Muhammad Nawaz Sharif called President-elect USA Donald Trump and felicitated him on his victory. President Trump said Prime Minister Nawaz Sharif you have a very good reputation. You are a terrific guy. You are doing amazing work which is visible in every way. I am looking forward to see you soon. As I am talking to you Prime Minister, I feel I am talking to a person I have known for long. Your country is amazing with tremendous opportunities. Pakistanis are one of the most intelligent people. I am ready and willing to play any role that you want me to play to address and find solutions to the outstanding problems. It will be an honour and I will personally do it. Feel free to call me any time even before 20th January that is before I assume my office.
On being invited to visit Pakistan by the Prime Minister, Mr. Trump said that he would love to come to a fantastic country, fantastic place of fantastic people. Please convey to the Pakistani people that they are amazing and all Pakistanis I have known are exceptional people, said Mr. Donald Trump."
The characterization of the conversation seems consistent with Mr. Trump's style of rhetoric, though the Trump transition team did not initially offer a similar readout. Late Wednesday evening, the transition team released its more staid version, below:
"President-elect Trump and the Prime Minister of Pakistan Muhammad Nawaz Sharif spoke today and had a productive conversation about how the United States and Pakistan will have a strong working relationship in the future. President-elect Trump also noted that he is looking forward to a lasting and strong personal relationship with Prime Minister Sharif."
During his campaign, the president-elect proposed a Muslim entry ban at one point, which he later modified into a proposal calling for the extreme vetting of Muslims. He has also criticized President Obama and Democratic presidential nominee Hillary Clinton for not using the phrase "radical Islamic terrorism" (Clinton has used it, though not as frequently as Mr. Trump has).
Pakistan is, according to the CIA, a country of 200 million people, 96 percent of whom are Muslim.
And in 2012, Mr. Trump's tweets about Pakistan specifically had a different tone entirely.
"Get it straight: Pakistan is not our friend," he tweeted. "We've given them billions and billions of dollars, and what did we get? Betrayal and disrespect — and much worse. #TimeToGetTough"
http://www.cbsnews.com/news/donald-trump-calls-pakistan-a-fantastic-place-of-fantastic-people/
--------
Jamaat-e-Islami Ameer Speaks Against 24th Amendment, Forced Conversions Bill
November 30, 2016
ISLAMABAD: Jamaat-e-Islami (JI) Ameer, Siraj-ul-Haq snubbed proposed 24th Constitutional Amendment.
He telephoned former President Asif Ali Zardari and demanded to reverse a bill regarding change of religion adopted by Sindh Assembly.
Jamaat-e-Islami rejected Forced Conversions Bill passed by Sindh Assembly and the proposed 24th Amendment in the Constitution.
Addressing a news conference in Islamabad, Siraj-ul-Haq said the bill on forced conversions passed by Sindh Assembly is against the Constitution.
Full report at:
http://nation.com.pk/national/30-Nov-2016/siraj-speaks-against-24th-amendment-forced-conversions-bill
--------
Hindus in Pakistan slam parties opposing bill criminalising forced conversions
Nov 30, 2016
A Hindu lawmaker and civil society members in Pakistan have criticised two religious political parties for opposing the Minorities Bill, which criminalises forced conversions in the Muslim-majority country.
Last week, Pakistan's southern Sindh province passed a law making "forced conversions" punishable with a life sentence and forbidding minors from changing their religion, in a bid to protect minorities.
Dr Ramesh Kumar, members of the National Assembly from the ruling Pakistan Muslim League (N) party, commended on Tuesday the Pakistan Peoples Party government in Sindh for setting the minimum age for religious conversion to 18, Dawn reported.
"People are issued a CNIC (identity card) and driving licence at 18 and are allowed to vote after 18. In Sindh, the age at which someone can be legally married is also 18 because before that, an individual is considered a child. After this law, conversions before the age of 18 will be considered a crime," Kumar said.
He said that girls belonging to minority religions are kidnapped in Sindh and forcibly married, mostly to seminary students, and that they have no choice but to adapt to their new lives.
Ramesh met Jamaat-i-Islami (JI) chief senator Sirajul Haq outside the parliament building and asked him not to protest unnecessarily against the bill for minority rights.
Members of the civil society said incidences of forced conversions were reportedly increasing across the country, particularly in Sindh, and that the bill in question will go a long way in helping the minorities in Pakistan.
Full report at:
http://www.hindustantimes.com/world-news/hindus-in-pakistan-slam-parties-opposing-bill-criminalising-forced-conversions/story-A0mU9mNiZQD6c9Bn3toYjJ.html
--------
Pakistan province passes bill outlawing forced conversion of Christians to Islam
30 November, 2016
Sindh Province's lawmakers have just passed the Sindh Criminal Law (Protection of Minorities) Bill of 2015, which imposes jail sentence on anyone who forces a person from a religious minority to convert to another faith. Main perpetrators of forced conversions could face up to five years in prison while facilitators could face up to three years in jail, The Christian Post details.
"Forced conversion is an abhorrent and violent offence and an issue that has become prevalent across Sindh [that] must be eliminated by recognizing the importance of tolerance, peace and respect for all religions and persons, irrespective of their religion," according to the bill.
Under the new law, newly converted adults are required to be subjected to a 21-day observation to ensure that they are converting to another religion out of their own accord. The measure was passed after Christians and other religious minorities complained of some Muslims' long-time practice of converting people, especially young girls, to Islam.
Charities say forced conversion to Islam affects at least 1,000 mostly Christian girls every year. Perpetrators often use physical, psychological, and emotional violence to force a person to embrace a new faith, Premier reports.
Full report at:
http://www.christiandaily.com/article/pakistan-province-passes-bill-outlawing-forced-conversion-of-christians-to-islam/59545.htm
--------
Mideast
Yemeni political parties vow to support new government
Dec 1, 2016
Political factions in Yemen have expressed full support for the newly-formed "national salvation government", vowing to help the administration accomplish its political, economic, security and military tasks for a final popular victory.
In a ceremony marking the 49th anniversary of South Yemen's independence from the British colonial rule in the capital Sana'a on Wednesday, the parties voiced their readiness to cooperate with the new government.
Head of the Supreme Revolutionary Committee Mohammad Ali al-Houthi hailed the ceremony as a sacred occasion for the Yemeni people, saying it inspires the public to stand firm against any act of aggression on their beleaguered country.
President of the Karamat party, Abdul-Malek al-Hujari, also pledged support on behalf of all Yemeni political factions to the Supreme Political Council -- a coalition between the Houthi Ansarullah movement and former president Ali Abdullah Saleh's General People's Congress party, lauding the formation of the new government.
Hajari further underlined that his party will spare no effort to assist the salvation government advance its plans.
On Tuesday, the new Yemeni government was sworn in after the Houthi Ansarullah movement and their allies announced its formation.
The national salvation government is to replace the Supreme Political Council. It is tasked with running Yemen's internal affairs and dealing with Saudi Arabia's aggression against the impoverished nation.
The new government, led by the former governor of Aden Abdul Aziz Bin Habtoor, has vowed to help UN efforts restore peace and stability in the country.
Habtoor has described the formation of the ruling structure as a vital step in the administration of domestic affairs, asserting that Saudi crimes against Yemeni people would not go unanswered.
The sheer number of the operational sorties conducted by the Saudi military since March 2015, namely 150,000, was a testament to the true NATURE of the Saudi aggression, he said on Tuesday.
Saudi Arabia has been engaged in a deadly campaign against Yemen since March 2015 in an attempt to bring back the former Yemeni government to power and undermine the Houthi Ansarullah movement.
The impoverished Arab country is grappling with the scarcity of food supplies and outbreak of diseases amid Saudi Arabia's atrocious airstrikes.
The United Nations International Children's Fund (UNICEF) says 7.4 million Yemeni children are in dire need of medical help, and 370,000 run the risk of severe acute malnutrition.
http://www.presstv.ir/Detail/2016/12/01/495939/Yemeni-parties-support-National-Salvation-Government
--------
Turkey seeks 30 life sentences for Syrian Kurdish leader
November 30, 2016
Ankara (AFP) - Turkey is seeking multiple life sentences for nearly 70 suspects, including the leader of the main Syrian Kurdish political party, over a deadly bombing in Ankara this year blamed on Kurdish militants, state media said Wednesday.
Syrian Kurdish Democratic Union Party (PYD) leader Salih Muslim and several prominent Kurdish militants have been indicted over the February 17 attack on military vehicles that killed 29 people, the official news agency Anadolu said.
Ankara said the PYD and its military wing, the People's Protection Units (YPG), were responsible for the bombing.
However a radical splinter group of the outlawed Kurdistan Workers' Party (PKK) -- the Kurdistan Freedom Falcons (TAK) -- claimed the attack.
It said the suicide bombing was revenge for Turkish military operations in the Turkey's southeast where violence has RENEWED since the collapse of a ceasefire last year.
The indictment says that TAK is "a unit established to undertake sensational actions" by the PKK, Hurriyet daily reported.
Ankara prosecutors are seeking 30 aggravated life sentences for each of 68 suspects in the attack, with one life term stemming from each victim killed and one additional for acting "against the state's security", Anadolu said.
According to Anadolu, prosecutors divided the accused between the alleged organisation leaders -- including Muslim -- and suspects who "participated" in the attack.
They charged that PKK senior leaders gave instructions for the attack that was then carried out by members and some non-members.
Full report at:
https://www.yahoo.com/news/turkey-seeks-30-life-sentences-syrian-kurdish-leader-134323257.html
--------
Iran expresses grave concerns over Israel's continued crimes
Dec 1, 2016
Iran says the international community's efforts to halt Israel's continued illegal and criminal actions and policies against the people of Palestine have "mostly failed or proven inadequate."
Israel "continues to disregard and disrespect the persistent demands by the international community to abide by international law," said Iran's Deputy Ambassador to the UN Gholam-Hossein Dehqani in a statement addressed to the UN General Assembly on Wednesday.
He went on to voice Iran's regret over the lack of measures by the international community vis-à-vis the host of criminal actions being carried out with "impunity" by the Tel Aviv regime against the people of Palestine.
"The systematic violation of the rights of the Palestinian people, including demolition of homes, forced displacement of Palestinian civilians, arrest and detention of Palestinians, including children, and incessant violence, terror and provocations by Israeli settlers and extremists, including at sensitive religious sites, particularly al-Aqsa Mosque in East Jerusalem al-Quds , have persisted unabated," he stressed.
Dehqani noted that Israel's illegal blockade on the Gaza Strip continues to fuel deprivation and hopelessness among Palestinians, and the rising number of illegal settlements on the Palestinian soil show that Tel Aviv is not interested in making peace with the Palestinians.
He concluded his statement by reiterating Iran's "unwavering support" for Palestine, while assuring that Tehran will do whatever it can for the Palestinians to "realize the cause of a free and prosperous Palestine."
The Gaza Strip has been under an Israeli siege since June 2007. The blockade has led to a dramatic decline in the standards of living as well as substantial levels of unemployment and poverty.
Full report at:
http://www.presstv.ir/Detail/2016/12/01/495920/iran-un-palestine-israel
--------
Terror sponsors must be held to account for chemical raids: Iran envoy
Nov 30, 2016
Iran's envoy to the Organization for the Prohibition of Chemical Weapons (OPCW) says the countries which support the terror groups using chemical weapons in Iraq and Syria must be held accountable.
Addressing the 21st Session of the Conference of the States Parties to the Chemical Weapons Convention (CWC) in The Hague on Tuesday, Alireza Jahangiri expressed serious concern over reports of the use of chemical weapons in Iraq and Syria by terrorists groups, including Daesh and Jabhat Fateh al-Sham -- formerly known as the al-Nusra Front.
"The countries which sponsor such groups and facilitate their access to chemical weapons to be used against innocent people must be held to account over their actions," he said.
Jahangiri further described the Iranian nation as a big victim of chemical weapons, stressing that Tehran attaches paramount significance to the CWC as well as the full implementation of its articles, and spares no effort concerning its global promotion.
The Iranian official further that the Israeli regime must immediately and unconditionally join the treaty.
"Our country's commitment to the CWC and cooperation with the OPCW go beyond legal obligations, and are rooted in religious beliefs as crystallized in the fatwa (religious decree) issued by Leader of the Islamic Revolution Ayatollah Seyyed Ali Khamenei on the prohibition of weapons of mass destruction," the Iranian official said.
On February 22, 2012, Ayatollah Khamenei said the Islamic Republic considers the pursuit and possession of atomic armament "a grave sin" from every logical, religious and theoretical standpoint.
Jahangiri also highlighted the measures taken by the Syrian government on chemical disarmament, calling on the international community to cooperate with the country in this regard instead of exerting pressure on Damascus and pursuing a discriminatory approach toward its case in the OPCW.
Full report at:
http://www.presstv.ir/Detail/2016/11/30/495814/Iran-OPCW-terror-sponsors-responsible-chemical-attacks-Iraq-Syria-Daesh-Nusra-Front
--------
Israel jails Palestinian youth for 16 years over alleged stabbing attack
Nov 30, 2016
An Israeli court has handed down a 16-year prison sentence to a Palestinian youth over an alleged stabbing attack that left an Israeli injured.
The Israeli ministry of judicial affairs said on Wednesday that 21-year-old Mohammed Bader, from the West Bank town of Abu Dis, was accused of stabbing an Israeli in East Jerusalem al-Quds on May 16 as he was walking with his family.
Bader also pleaded guilty to attempted murder under a plea bargain.
On Monday, another Israeli court sentenced a Palestinian to life in prison for what was said to be the killing of two Israelis and the wounding of a third in Tel Aviv with a knife back in 2015.
In a separate case on the same day, judges also jailed another Palestinian citizen for 16 years and six months, AFP reported without saying what he was found guilty of.
Full report at:
http://www.presstv.ir/Detail/2016/11/30/495900/Palestine-Israel-Mohammed-Bader
--------
India
Zakir eyes long-term stay in Malaysia, but yet to get nod
Bharti Jain
Dec 1, 2016
NEW DELHI: Controversial preacher Zakir Naik may have approached the Malaysian authorities around a month ago, seeking a long-term stay in the south-east Asian country, as per inputs reaching the Indian intelligence agencies. Though it is not clear if he applied for a permanent residency or a long-term visa for Malaysia, sources in the Indian security establishment told TOI that Kuala Lumpur has not approved his request yet.
Both Naik and the Malaysian government had recently denied media reports that he had been granted Malaysian citizenship. Malaysian deputy home minister Datuk Nur Jazlan Mohamed was quoted as saying that "we don't give out (citizenships) automatically unless the person was born in the country to Malaysian parents. Besides, Naik is not an important religious personality for the Southeast Asia region as we should have our own moderate model of Islam which fits the soft culture of the people here".
Naik, who was recently booked by the Indian investigative agencies for terror conspiracy and his NGO Islamic Research Foundation (IRF) banned as an unlawful association, too claimed he had not acquired Malaysian citizenship. While both Mohamed and Naik may be right on the latter not having acquired Malaysian citizenship, a top intelligence office told TOI that there was specific information that the Salafist preacher had indeed approached the Malaysian authorities to approve his request for long-term stay there.
Though Naik has a resident visa for Saudi Arabia, it is believed that he is keen on a long stay in Malaysia as it may offer ease of travel and also facilitate his business interests. Naik has visited Malaysia at least seven times in the past. Not only this, he recently chose six Malaysians to be his proteges as part of his international training programme to groom Islamic preachers.
"In 12 to 45 days, God-willing Malaysia will have a preacher like me," he was quoted as having told local daily Utusan Malaysia's weekend edition Mingguan Malaysia in an April 2016 interview. Even as he has reportedly applied for long-term stay in Malaysia, Naik continues to enjoy the patronage of the high and mighty in Saudi Arabia.
http://timesofindia.indiatimes.com/india/Zakir-eyes-long-term-stay-in-Malaysia-but-yet-to-get-nod/articleshow/55716324.cms
--------
Hindu Mahasabha Terms IAS Topper Dabi's Decision to Marry Muslim Youth as 'Love Jihad'
November 30, 2016
Days after UPSC topper, Tina Dabi, announced her plans to marry second ranker Athar Aamir-ul-Shafi Khan, the couple has received flak from Akhil Bhartiya Hindu Mahasabha.
The 2015 UPSC topper Tina Dabi had announced her decision to marry second topper and Kashmiri youth Athar Aamir-ul Shafi Khan on Facebook, but the right-wing outfit got irked about it and termed the decision as 'love jihad'. They even suggested Dabi family for Khan's 're-conversion' or 'ghar-wapsi'.
Mahasabha has asked the IAS officer's parents to cancel the wedding or at least convince Khan to get converted. The outfit also said that they will extend full support to the family in performing Ghar-Wapsi of Athar Khan.
Full report at:
http://indiatoday.intoday.in/story/tina-dabi-love-jihad-hindu-mahasabha-marriage-islam/1/823484.html
--------
Data from seized GPS set shows Uri attackers did travel from Pakistan
December 1, 2016
Forensic experts have established that the terrorists who attacked the 12 Infantry Brigade headquarters in Uri began their journey at a base in Pakistan, highly-placed sources familiar with the investigation have told The Indian Express.
The findings, the sources said, are based on digital data recovered from a severely-damaged Global Positioning System (GPS) unit recovered from the terrorists after the September 18 fighting that claimed their lives.
The data, recovered from the Garmin eTrex GPS unit carried by the terrorists, show the men travelled by road along the Muzaffarabad-Srinagar road towards the Line of Control on September 17, before beginning to hike into the mountains short of Chakothi, the official border point.
Following their penetration of the Line of Control south of Chakothi on the night of September 17, the men continued to walk eastward, traversing three ridgelines before climbing towards the village of Darah Goolan. They rested there before assaulting the 12 Infantry Brigade headquarters in the bowl below.
"It's clear from the timeline of the terrorists' movements, which we now have, that they were able to penetrate the three-tier defences on the Line of Control with relative ease, and evade Army patrols deeper inside Kashmir as well," a source familiar with the case said. "This is an obvious source of concern."
From data recorded on the set, investigators have determined it was first powered-up on September 4, a fortnight before the attack, at a known Lashkar-e-Taiba facility in the Leepa Valley — one of the areas later targeted by the Indian Army in the cross-Line of Control strikes in retaliation for Uri.
There has been no official investigation into how the four attackers succeeded in penetrating the Line of Control defences to cause the Indian Army's worst single loss in the insurgency in Kashmir, but military sources said it is believed they used ladders to scale the barbed-wire fence.
GPS sets, which have a wide range of commercial applications, rely on radiowave signals from a network of satellites to guide users through unfamiliar terrain. The terrorists who attacked Uri were carrying two sets, but one was too badly damaged during the fighting for data to be recovered.
Last month, the Lashkar-e-Taiba admitted responsibility for the attack, naming one of the four terrorists involved in the operation as Muhammad Anas, who operated under the alias Abu Siraqa.
Posters that the organisation put up in his home town, Gujranwala, invited townspeople to join funeral prayers for "lion-hearted holy warrior Abu Siraqa Muhammad Anas, who sent 177 Hindu soldiers to hell at the Uri Brigade camp… and thus drank from the glass of martyrdom".
National Investigation Agency detectives had also recovered syringes, painkillers, other medications and packets of ready-to-eat food bearing markings of Pakistani manufacturers from the terrorists killed in the operation.
Pakistan is yet to initiate criminal proceedings against either members of the organisation, or individuals involved in planning the operation.
In September, responding to a question, Pakistan Interior Minister Chaudhry Nisar Ali Khan said "when Indians themselves have no proof, then what kind of action can Pakistan take? They have only levelled an accusation, and that too only to defame Pakistan".
Full report at:
http://indianexpress.com/article/india/india-news-india/uri-terror-attack-pakistan-terrorist-gps-datas-attackers-did-travel-from-pak-4404185/
--------
Nagrota attack revenge for Afzal Guru's hanging, terrorists left posters behind
by Arun Sharma , Praveen Swami
December 1, 2016
The terrorists who stormed an artillery camp near the headquarters of the XVI Corps in Nagrota on Tuesday left behind posters proclaiming their action was intended to avenge Afzal Guru, the Jaish-e-Muhammad operative hanged in 2013 for his role in the attack on Parliament House. "Afzal Guru shaheed ke inteqaam ki ek aur kisht (another instalment of our vengeance for the martyr Afzal Guru)," the poster reads. The poster proclaims the action to be the work of "Ghazwa-e-Hind key fidayeen", or holy warriors fighting for Ghazwa-e-Hind — some neo-fundamentalist sects attribute the saying to the prophecy of an apocalyptic war with India.
Intelligence sources said the posters indicate that the attackers may have been linked to the Jaish-e-Muhammad, which calls its fidayeen units in Kashmir the Afzal Guru Squad. The prophecy is, however, widely cited by other jihadist groups, including the Lashkar-e-Taiba.
On Wednesday, Border Security Force officials discovered an 80-metre long cross-border tunnel, running across the India-Pakistan international border at Chamliyal. The discovery of the tunnel, used by three terrorists killed while attempting to stage an attack near Samba Tuesday, raised speculation that it or a similar route could have been used by the Nagrota attackers.
The tunnel, BSF officials said, was discovered during searches carried out after no breach was found in the barbed wire fencing that runs along the border in the area where the three Samba terrorists were shot.
Evidence that the Jaish-e-Muhammad carried out the Nagrota strike could lead New Delhi to resume its stalled diplomatic efforts to have the organisatio''s head, Maulana Masood Azhar, listed by the United Nations as a terrorist. New Delhi had made efforts to secure his listing after the attack on the Pathankot airbase, carried out by the Jaish. However, China blocked the moves.
Four terrorists who attempted to storm Indi''s consulate in the Afghan city of Mazar-e-Sharif in January left behind similar messages scrawled in their own blood.""Afzal Guru ka inteqaam"" one message read.""Ek shaheed,
hazaar fidayee"", another said (one martyr, a thousand fidayeen).
Full report at:
http://indianexpress.com/article/india/india-news-india/nagrota-attack-revenge-for-afzal-gurus-hanging-terrorists-left-posters-behind-4404186/
--------
Nagrota terror attack: Police probing JeM links
Nov 30, 2016
JAMMU: Police are probing if Jasih-e-Mohammed (JeM) was responsible for Tuesday's terror attack on an Army camp in Nagrota+ that left 7 soldiers dead, after a note written in Urdu bearing the name of JeM's Afzal Guru Squad (AGS) was recovered from three slain terrorists, a senior official said on Wednesday.
"We are working on these links. We are going into all details, and investigation has started (into the links of JeM with Nagrota terror attack after recovery of notes in Urdu)", Director General Of Police (DGP) K Rajendra Kumar said.
"Let us first complete the probe then we will able to say anything on it," he added.
According to reports, a note, along with three AK-47 rifles, magazines and UBGL grenades, was recovered from the site of attack, pointing to the involvement of JeM's Afzal Guru Squad.
The note, written in Urdu with name bearing at the end of AGS of JeM, says that they have avenged the death of Guru.
The recovered explosives were being disposed off by controlled explosions.
JeM have named a squad after Afzal Guru to target security forces in India last year.
It was first exposed in November last year, when Indian Army repulsed a major terror attack on its Gorkha Rifles (GR) camp near the Line of Control (LoC) in Tangdhar and recovered bags with Afzal Guru Squad markings.
Guru's name also cropped up in Pathankot+ when Rajesh Verma, who was abducted along with Gurdaspur Superintendent of Police told reporters that the militants had told him that they wanted to avenge the death of 2001 Parliament attack convict.
The DGP further said that security agencies were probing if the group came from International Border (IB) and was part of a group of three militants killed at the border in Ramgarh sector in Samba on Tuesday.
Full report at:
http://timesofindia.indiatimes.com/india/23-attack-bids-foiled-along-LoC-in-Kashmir-this-year-BSF/articleshow/55712198.cms
--------
23 attack bids foiled along LoC in Kashmir this year: BSF
Nov 30, 2016
SRINAGAR: BSF on Wednesday said it has foiled 23 attacks, including two BAT actions by Pakistan, along the Line of Control (LoC) in Kashmir Valley this year and is alert to deal with any untoward incident.
"BSF has foiled and faced 23 attacks of militants and Pakistan regulars on its posts and personnel along LoC in Kashmir during this year. The guys (BSF jawans) have done well, they have been doing their jobs with utmost dedication.
"They (BSF jawans) have foiled many infiltration bids on the LoC and also foiled two BAT (Border Action Team of Pakistan) attempts and in one of the actions, three of our guys have been killed, but they foiled the action and killed one militant and recovered weapons," Vikas Chandra, Inspector General, BSF Kashmir Frontier, told reporters here.
The frontier chief of the border guarding force said security at various installations of BSF has been beefed up in the wake of Tuesday's terror attack in Nagrota+ .
"Security arrangements have been made. We are alert 24x7 to deal with any incident during these difficult times," he said.
Chandra said the paramilitary force, along with the Army, was responding to the ceasefire violations "appropriately".
" Ceasefire violations have been taking place+ and we have responded appropriately to them. There were 32 ceasefire violations in 2016 along the LoC on this side. We have lost some men and some others have been injured as well, but that is part of the life, part of duty," he said.
Responding to a question on whether the ceasefire violations were just that or a cover for infiltration, the BSF officer said, "We can say it is combined."
"They are infiltration bids as well and we have foiled many such incidents," he said.
Asked whether the attack on the LoC by Pakistan and mutilation of bodies of soldiers was a BAT action, Chandra said, "Generally BAT actions take place. It would have happened, that is why there has been such action."
Full report at:
http://timesofindia.indiatimes.com/india/23-attack-bids-foiled-along-LoC-in-Kashmir-this-year-BSF/articleshow/55712198.cms
--------
'Suleiman wanted to wage jihad against country'
November 30, 2016
Chennai: Software professional Dawood Suleiman, the key leader and prime organiser of the Al Qaeda-inspired "Base Movement" module, wanted to wage jihad against the country, according to an NIA special public prosecutor.
"This was jihad… He (Suleiman) wanted to wage jihad. Several sections under the Unlawful Activities Prevention Act, Explosives Act and Prevention of Damage to Public Property Act have been invoked against him," Special Public Prosecutor, NIA C S S Pillai told PTI after moving a plea in a court here for the accused's transit remand yesterday.
He was arrested in connection with his alleged role over a series of blasts in court complexes in South India.
After the XI Metropolitan Magistrate Court here granted transit remand for Suleiman, who was produced before it, he was taken by NIA sleuths to Bengaluru.
Full report at:
http://www.siasat.com/news/suleiman-wanted-wage-jihad-country-1076378/
--------
Southeast Asia
Malaysia: PM Najib Razak Backs Adoption Of Strict Islamic Law
DECEMBER 1, 2016
Scandal-plagued Malaysian Prime Minister Najib Razak has expressed support for strict Islamic laws in an interview, reports Reuters.
"We want to develop Islam," Najib said in an interview with pro-government broadcaster TV3 on Nov. 29.
Najib said it was the obligation of the country's Muslim population to support a plan by the Pan-Malaysian Islamic Party to adopt hudud, the system of punishment set up by the Quran.
"Non-Muslims must understand that this is not about hudud but about empowering the Shariah courts," he said.
Last year the federal government rejected hudud. Since then the Pan-Malaysian Islamic Party forged closer links with the United Malay National Organization led by Najib, which led to the party expecting a more accommodating stance on the issue.
Christian groups in Malaysia have voiced their concerns over the renewed effort to allow hudud, even if it is applicable to just one religious community.
Observers say that the bill is a threat to the multicultural country's secular nature and that past leaders — who promoted a moderate form of Islam — would have stopped such moves.
There have been calls for Najib to resign as prime minister over his alleged involvement in a multi-million dollar global misappropriation scandal involving taxpayers' money.
http://www.eurasiareview.com/01122016-malaysia-pm-najib-razak-backs-adoption-of-strict-islamic-law/
--------
Ostracising Those Born Out Of Wedlock Un-Islamic, Says Group
Robin Augustin
December 1, 2016
PETALING JAYA: It is un-Islamic to judge or ostracise unwed pregnant women and their children, says a volunteer group which combats baby dumping and sale.
In calling on society to be more accepting, the founder of Kami Sanggup Ambil Anak Angkat (KSAAA), Hamidah (not her real name), said the stigma against unwed mothers and their children was detrimental to them.
She said this stigma could lead to baby dumping or mother and child being forced to face tough times without support from their friends or families.
"When a girl gets pregnant, people will brand her as being 'sleazy', while the child will be labelled as 'naughty' because his or her mother is 'sleazy, and both mother and child will be ostracised," she said, adding this was more prevalent in the Malay-Muslim community.
She lamented that even children who were adopted faced such pressure from society, but was glad that the National Registration Department (JPN) had now allowed adopted Muslim children to use other names aside from "bin Abdullah" as their surname.
She said in the past, "bin Abdullah" was often used in the Malay community as a surname for adopted children, and this was how people would know whether someone was adopted.
With the JPN's new ruling, she said, it would be harder for people to know whether a child was adopted.
Hamidah related how a teenage mother KSAAA helped had not undegone any medical check-up throughout her pregnancy as her family, friends and the father of the child had abandoned her.
"The poor girl called me at 4am, saying she had been abandoned by the father of the child at the bus stop. So I rushed to pick her up.
"The teenage mother told me she estimated that she was only six months' pregnant but was not sure as she had not gone for any medical check-up before that. At 1pm the same day, she gave birth. She was actually already nine months' pregnant.
Hamidah said this was why society, especially a woman's family, needed to accept that they were not infallible and support them through tough times.
"Islam is beautiful. It is un-Islamic to ostracise a person. In Islam, children born out of wedlock or those adopted are considered orphans and we should look after them.
Full report at:
http://www.freemalaysiatoday.com/category/nation/2016/12/01/ostracising-those-born-out-of-wedlock-un-islamic-says-group/
--------
Philippines Ends Five-Day Siege Against Islamic State-Linked Rebels
December 1, 2016
Manila. Troops in the southern Philippines retook a disused building from Muslim militants on Wednesday (30/11), ending an intense five-day siege that killed dozens of fighters the authorities say had pledged allegiance to Islamic State.
The incident highlights the challenges facing President Rodrigo Duterte in keeping order in the Philippines, particularly in his native south, riven by nationalist rebellions for decades.
The military stepped up its offensive after the weekend, pounding rebels holed up in a disused municipal hall with artillery and bombs dropped from aircraft. The army said 30 members of the security forces were wounded and 61 rebels killed in the operation.
The militants belonged to the Maute group, one of several Islamist groups in the country's restive south.
The siege ended as Duterte visited injured soldiers in Lanao del Sur province, where seven of his advance security party were wounded on Tuesday, when suspected Maute militias set off a bomb under their truck.
"The town is deserted and the Maute is withdrawing towards the mountain," military spokesman Brig. Gen. Restituto Padilla said. "They have been decimated. The capability to sustain and get back to the fight is no longer there."
The government suspects the Maute group in a Sept. 2 bombing in Duterte's home city, Davao, which killed 14 people and wounded more than 70.
Last week Duterte appealed to the Islamic State-linked Abu Sayyaf to disarm and start talks. He urged them to halt piracy and kidnapping and not retaliate on civilians for military operations to drive the rebels from their island strongholds.
Duterte has recently warned Islamic State could take root in the Philippines and stressed the need to avoid "contamination," a risk also faced by neighboring Malaysia and Indonesia.
The former mayor, who is overseeing a drugs crackdown that has killed more than 2,500 people, offered an olive branch to Maute, questioning why it wanted to take orders from Islamic State.
Full report at:
http://jakartaglobe.id/international/philippines-ends-five-day-siege-islamic-state-linked-rebels/
--------
Clerical Body Issues Edict Legitimizing Friday Prayers Outside Mosques
December 1, 2016
Jakarta. The Indonesian Ulema Council, or MUI, has issued an edict to legitimize Friday prayers outside mosques, which will facilitate this week's planned protest action against Jakarta Governor Basuki "Ahok" Tjahaja Purnama.
The protest will be in the form of a mass prayer at the National Monument (Monas) complex in Central Jakarta on Friday (02/12).
However, the edict contradicts one issued by Indonesia's largest Muslim group, the Nahdlatul Ulama (NU), which has discouraged Muslims from participating in the protest.
Thousands of Muslims are expected to gather at Monas for Friday prayers, in a show of protest against Ahok, who is accused of blasphemy.
In the edict issued by the MUI on Tuesday, the country's highest Islamic clerical body says "under certain circumstances, it is legitimate to stage Friday prayers outside a mosque, as long as it is within a residential area."
The council of around 70 Muslim leaders also says in the edict that any Friday prayers held outside the mosque "should not disturb the public order," as it will be then be considered haram, or proscribed by Islamic law.
The edict, which was signed by MUI Fatwa Commission chairman Hasanuddin on Monday, comes after police asked the council last week to "provide explanations about staging Friday prayers on the street."
Full report at:
http://jakartaglobe.id/news/clerical-body-issues-edict-legitimizing-friday-prayers-outside-mosques/
--------
ISIS in Indonesia Threatens Donald Trump with 'Assassination'
November 30, 2016
A new Malay language video purportedly released by the Islamic State titled "Incite the Believers to the Fight 2" features the footage of the Secret Service rushing President-Elect Donald Trump off a Reno, Nevada rally stage after Austyn Crites was dubbed an "apparent threat."
The video was released on ISIS terrorist channels on November 30. The footage of Trump comes at 2:30 after a segment about Asian world leaders participating in the American-led Operation Inherent Resolve, which is currently fighting ISIS in Iraq and Syria.
The segment showing the Trump footage suggests that ISIS wants to put other world leaders in similar situations of perceived "assassination attempts."
ISIS has been a growing threat in the thirteen thousand island nation of Indonesia where 87% of the population is adherent to Sunni Islam. It is the world's largest Muslim population. ISIS is a Sunni Islam extremist organization.
Full report at:
http://heavy.com/news/2016/11/new-isis-islamic-state-incite-the-believers-to-the-fight-2-assassinate-president-donald-trump-threat-secret-service-austyn-crites-reno-nevada-rally-footage-full-uncensored-video/
--------
Slander is un-Islamic, Umno president says
BY RAM ANAND
December 1, 2016
KUALA LUMPUR, Dec 1 — Falsely accusing leaders of cruelty is considered a serious offence in Islam, Prime Minister Datuk Seri Najib Razak said today.
Rejecting such claims against his administration, the Umno president added that unfounded accusations were a sin according to the religion.
Full report at:
http://www.themalaymailonline.com/malaysia/article/slander-is-un-islamic-umno-president-says
--------
Indonesians rally for peace before mass Muslim protest
30 NOVEMBER 2016
JAKARTA: Thousands of Indonesians rallied across the country Wednesday, praying, singing and calling for peace ahead of a major protest this week by Muslims against Jakarta's Christian governor. Friday's rally in Jakarta is expected to attract about 150,000 people who have been angered by allegations that Basuki Tjahaja Purnama insulted Islam, a criminal offence in the Muslim-majority country. That would make it even bigger than a protest earlier this month that was marred by deadly violence. Tens of thousands of people rallied in the capital on November 4 in the largest protest the city has seen for years. It turned violent as night fell, with hardliners setting fire to police cars and battling with security forces, who responded with water cannons and tear gas. One person was killed and hundreds injured. On Wednesday the military and police organised "Archipelago Unity" gatherings across the country to call for peace and reduce tensions before Friday's protest, with thousands packing out a park around a major monument in Jakarta. "The aim of this event is to unite us. There have recently been tensions among us, let's minimise that and come together again," said event organiser Zamroni, who like many Indonesians goes by one name.
Full report at:
http://www.nst.com.my/news/2016/11/193337/indonesians-rally-peace-mass-muslim-protest
--------
Najib pledges government support for Hadi's Shariah Bill
BY RAM ANAND
December 1, 2016
KUALA LUMPUR, Dec 1 — Putrajaya will take up PAS president Datuk Seri Abdul Hadi Awang's private member's Bill to upgrade Shariah punishments, Datuk Seri Najib Razak said today.
Speaking at the Umno general assembly here, the party president said the decision was reached following discussions with the Islamist PAS.
"This is a private member's Bill that will later be taken over by the government," he said.
Umno previously extended various support to Hadi in his efforts to increase the punishments available to the Shariah courts, including elevating his motion above government matters and conducting a special briefing by the deputy prime minister for all Muslim MPs.
Today, Najib, who is also prime minister, assured non-Muslims again that the Bill will not affect them and should not be turned into political fodder
"Worry not, non-Muslims will not be under this law and the government is studying thoroughly to ensure there is no legal dualism here," he added.
Later, he also lauded PAS for not participating in an opposition walkout during parliamentary debate on the federal budget and a recent street protest organised by Bersih 2.0.
"I say thank you to friends from PAS, for being mature in politics, for staying in Parliament, listening to Budget 2017 until the end, and also not joining the Bersih demonstration," he said.
Full report at:
http://www.themalaymailonline.com/malaysia/article/najib-pledges-government-support-for-hadis-shariah-bill
--------
Arab World
Saudi mufti snubs preacher for mocking men whose daughters study medicine
30 November 2016
Saudi Grand Mufti Sheikh Abdul Aziz al-Sheikh on Wednesday has condemned a preacher, who was seen in a video, ridiculing fathers who allow their daughters to study medicine or work in the field since it may permit both genders to mix.
The preacher named Saeed bin Farwa sparked an uproar online after a viral video of him reprimanding fathers who allow their daughters study medicine. Bin Farwa's condescending tone was heightened when he described these fathers by using a lewd word in Arabic, which could mean that they are "not real men."
During his weekly interview, Al-Sheikh, who is Saudi's top cleric, said bin Farwa's statement is "dangerous."
"This is a dangerous statement, and it is not acceptable," the grand mufti said. He also said that "our [medical] universities are protected, and men and women are separated."
"Each gender in two different halls," he added.
There are calls now in Saudi Arabia that want to see bin Farwa sacked from his duty as a preacher in a mosque.
https://english.alarabiya.net/en/News/middle-east/2016/11/30/Saudi-mufti-snyyubs-preacher-for-ridiculing-men-who-allow-daughters-to-study-medicine-.html
--------
ISIL Plans to Surrender Al-Bab, Manbij Cities to Turkey
Nov 30, 2016
Reports said that the ISIL has started a new scenario in the regions near Manbij in coordination with the Turkish government and has attempted in the past few days to reoccupy the villages in the Western and Northwestern parts of the Kurdish-held Manbij with the help of the Turkish forces who are stationed in the Northern villages.
Manbij was taken from ISIL by the YPG Kurdish fighters several months ago. Turkey has repeatedly warned the Kurds to leave the strategic city that links two Kurdish Cantons on the Eastern and Western side of the Tishrin Dam on the Euphrates. Turkey has repeatedly warned Kurds in the last several months to leave the Northeastern parts of Aleppo on the Western side of Tishrin and retreat to the East.
According to field sources, the ISIL terrorists have also agreed to evacuate the strategic city of al-Bab in several stages and reoccupy Manbij again so that the Turkish government will be able to deploy forces in the city under the pretext of fighting against terrorism.
Sources in the SDF (Syrian Democratic Forces) also disclosed that the US forces stationed in Northern Syria have also agreed with the Turkish scenario and have instead promised the Kurdish forces to give them control of the Southern parts of Raqqa province.
In surprising remarks on Wednesday, Erdogan said that the Turkish Army entered Syria to overthrow the Syrian President Bashar Assad, and accused the Syrian government of terrorism.
"We entered Syria to end the rule of al-Assad. We didn't enter for any other reason," the Turkish president said at the first Inter-Parliamentary Jerusalem Platform Symposium in Istanbul, RT reported citing the Turkish-language daily Hurriyet.
Erdogan said that Turkey has no territorial claims in Syria, but instead wants to hand over power to the Syrian population, adding that Ankara is seeking to restore "justice."
"Why did we enter? We do not have an eye on Syrian soil. The issue is to provide lands to their real owners. That is to say we are there for the establishment of justice," he said.
He went on to say that "in his estimation" almost 1 million people have died in the conflict in Syria, although no monitoring group has provided any similar figures. The latest UN estimate stands at 400,000 people killed in the five-year conflict.
Erdogan said that Turkey "had to enter Syria together with the Free Syrian Army."
Turkish troops entered Syria on August 24, launching operation Euphrates Shield. Turkey deployed ground troops and air power to Northern parts of its neighboring country, with the stated goal of retaking areas held by ISIL.
However, many observers have said that Ankara aims to suppress Kurdish forces in Syria and prevent them from connecting three de facto autonomous Kurdish areas into one enclave South of the Turkish border.
In October, Turkey's air forces killed between 160 and 200 fighters of the Kurdish YPG group in 26 airstrikes conducted in just one night. The Turkish military campaign in Syria has also led to increasingly strained relations with Assad's government.
Full report at:
http://en.farsnews.com/newstext.aspx?nn=13950910000562
--------
Extreme Differences Reported among Ahrar Al-Sham Commanders after Heavy Defeats in Aleppo
Nov 30, 2016
Sources close to Ahrar al-Sham disclosed that the status and activities of a number of high-ranking commanders of the terrorist group have been suspended after rising crises resulted from the heavy defeats of the terrorists groups in the war against the Syrian army and its allies.
Taftanaz served as deputy commander of Soqour al-Sham before its merger with Ahrar al-Sham and then was appointed as a commander of the Northern sector of Idlib by al-Masri but he was exempted of this mission and was appointed as deputy commander of the terrorist group.
The replacement came after Jeish Al-Fatah a conglomerate of terrorist groups under the command of the Al-Nusra Front sustained numerous defeats in Aleppo. The backbone of the umbrella group is made of Al-Nusra units, while militants from 12 other terrorist groups, including Ahrar Al-Sham, are all members of Jeish al-Fatah.
Ahrar has been given a political status with its military operations mainly focused in Idlib. The city has now become a shelter of tens of terrorist groups who have all given up fight against the Syrian army in various towns in Damascus, Dara'a and Hom and were relocated to Idlib.
The Syrian army started special operations in Aleppo after several humanitarian pauses declared by Damascus and Moscow to give a chance to the civilian population as well as the militants to leave the Eastern parts of the city through 8 corridors, and managed to take full control of the Northern flank of the Aleppo city's Eastern districts.
The army units have taken back 20 square kilometers of the total 45 square kilometers of Eastern Aleppo after recapturing several regions, and now, with recapturing the Northern part of Eastern neighborhoods of Aleppo, Syrian army forces have turned their attention to the last half of the East Aleppo pocket.
Meanwhile, terrorist commanders stationed in the Eastern parts of Aleppo have threatened Abdullah Muhammad al-Muhaysini, a senior al Qaeda-linked cleric and the religious leader of Jeish al-Fatah coalition of terrorist groups, that they will be forced to give up fight and surrender the city to the army in the next two days if not rescued from outside.
Local sources in Eastern Aleppo have also reported that the terrorists have lost confidence in their commanders after their repeated unfulfilled promises on breaking the army's siege and their morale has weakened after heavy defeats and sustaining abundant casualties and damages.
After continued defeats and nearly two months of insistence on remaining in the city and rejecting the army's several chances to leave Eastern Aleppo with their weapons, terrorists are now facing the realities of war as their comrades' massive attacks on the city to break the army's several-month-long siege have all ended up in fiasco.
The Russian Defense Ministry's Peace Cooperation Center in Syria has said that infighting between terrorist groups in Aleppo has intensified as militants are trying to prevent other comrades from leaving the Syrian city.
Clashes between militant groups have intensified because some militants, who are controlling Eastern Aleppo, wanted to leave the city but were encountered by the most hardline groups," the center's statement added.
Full report at:
http://en.farsnews.com/newstext.aspx?nn=13950910000249
--------
Russia, US envoys trade barbs at UN meeting on Aleppo
1 December 2016
The US and Russia ambassadors to the UN have exchanged barbs during an emergency session at the Security Council in New York on the worsening situation in Syria's Aleppo on Wednesday.
US Ambassador to the United Nations Samantha Power has repeatedly denounced Russia for telling "outright lies" on Russian bombing of Aleppo.
Russia - a key and strong ally to Syrian President Bashar Al-Assad's regime – has boosted Damascus's powers against rebels with its aerial bombardments.
Russia's UN envoy Vitaly Churkin, meanwhile, accused the United States and other Western powers of engaging in "cynical sanctimony."
Churkin rejected criticism against Russia especially after Britain's ambassador, Matthew Rycroft, accused Moscow of supporting "a deliberate act of starvation and a deliberate withholding of medical care" in Aleppo.
In October, Russia vetoed a resolution to stop the bombing in Aleppo.
Churkin said Syria was targeting armed groups such as Jabhat Fateh al-Sham.
Full report at:
https://english.alarabiya.net/en/News/middle-east/2016/12/01/Russia-US-envoys-trade-barbs-at-UN-meeting-on-Aleppo.html
--------
Elite forces progressing steadily in Mosul: CTS commander
Nov 30, 2016
Iraq's elite Counter Terrorism Service (CTS) say they are progressing steadily in their operations to liberate the Daesh-held city of Mosul from its terrorist occupants.
On Wednesday, CTS troops entered the northeastern neighborhood of Qahera, where they commenced operations to purge Daesh militants from it and surrounding districts.
Major General Abdul Ghani al-Asadi, a CTS commander, told reporters that after deployment the troops split up into two groups heading south and north.
"The troops made good progress in both directions according to plan. Troops heading south secured almost 70 percent of al-Ikha neighborhood, which is an important neighborhood," he said.
He noted that the forces had now surrounded the al-Ilam, al-Tamim and al-Noor neighborhoods, and were preparing to cut off the supply routes to the al-Quds and al-Karama neighborhoods.
"These neighborhoods are very important as they constitute lines where troops of army's 9th Division are positioned. As for troops heading north, they have achieved 70 percent of plan," he stressed.
Full report at:
http://www.presstv.ir/Detail/2016/11/30/495919/iraq-mosul-cts-daesh
--------
Syrian Official: Chances Increasing for Peace Agreement in Quneitra
Nov 30, 2016
Mohammad Nader al-Amri underlined that the peace plan in Daraya paved the ground for its implementation in other parts of Damascus, adding that efforts are underway to persuade terrorists to leave al-Tal town in the Northern parts of Damascus.
He said despite the fact that the terrorist groups, specially al-Nusra Front (recently renamed to Fatah al-Sham Front), prevented implementation of the peace plan in Quneitra, reconciliation in Khan al-Sheih and the nearby areas will remove the obstacles to the implementation of the plan in the Southern province of Quneitra as well.
According to reports on Tuesday, a large number of terrorists left Khan al-Sheih town in Western Ghouta of Damascus for Idlib province after reaching an agreement with the Syrian government, while other terrorists are due to leave the town soon.
Based on an agreement with the government, the militants who have decided to leave Khan al-Sheih for Idlib should surrender all their weapons, EQUIPMENT and ammunition to the Syrian government and present the maps of planted mines and tunnels dug under the town.
Also, the government will give amnesty to those militants who seek to remain in the city after the full withdrawal of terrorist groups.
The Syrian army's devastating attacks and advances in Western Ghouta have forced the terrorist groups in Khan al-Sheih region to ask the government forces for a revival of the negotiations after they pushed the last round of peace talks into failure.
As ceasefire talks was in final stages to give the terrorist groups an opportunity to surrender in return for amnesty or relocate to Idlib province similar to other militant groups in Damascus province, the militants, mainly from the Al-Nusra Front, launched attacks to lift the army siege of Khan al-Sheih town irrespective of the truce and pushed the talks into failure.
After repelling terrorists' large-scale attacks to lift the army siege in the town of Khan al-Sheih that pushed the peace talks into failure, the government forces intensified their attacks on militants' defense lines in and outside the town and took full control of more regions.
The terrorists were forced to accept the terms of a truce after they lost over 100 fighters in the Syrian army's recent anti-terrorism operations in Khan al-Sheih that ended up in the army's tightening siege of the town.
"The recent victories of the army men in the al-Soqour region have compelled the militants to call on the government forces to declare their consent to the entire terms of the neglected agreement for leaving the region," several dissident sources said through their social media page.
Informed sources also disclosed on Tuesday that the Syrian army and peace committees of the town of al-Tal have struck an agreement according to which the government troops will stop targeting the terrorists there after the army receives a list of the militants who are planning to lay down their arms and leave the town.
Full report at:
http://en.farsnews.com/newstext.aspx?nn=13950910000601
--------
Syrian Army Seizes Back Control of Strategic Region in Dara'a
Nov 30, 2016
Tal al-Ain, located between the two towns of al-Faqi'e and al-Dalli in the Southern parts of Jassim city, was set free from the terrorist groups' control on Wednesday.
The Syrian army units retook full control of Tal al-Ain after the militants withdrew from their positions and fled the battle field.
According to military sources, the Syrian army and its allies will soon start operations to liberate Jassim city.
In a relevant development on Monday, the terrorist groups' military positions came under assault by the Syrian army in Dara'a province.
The Syrian army hit hard the terrorists' concentration centers Northeast and East of al-Masri Square and to the South of Old Customs in Dara'a.
The terrorists' heavy machineguns and MOTORCYCLES were destroyed in the offensive. According to the army, several terrorists were also killed and many more wounded in the attack.
Full report at:
http://en.farsnews.com/newstext.aspx?nn=13950910000528
--------
Russian Military: Over 600 Militants Leave East Aleppo
Nov 30, 2016
Lt. Gen. Sergey Rudskoy, head of operations in the Russian General Staff, told Sputnik that while 630 militants have been pardoned and let go, 17 militants are still undergoing checks.
"As a result of the Syrian army's successful advance, the militants' system of battle positions has been broken. More than 18 thousand civilians were able to leave areas controlled by terrorists of Aleppo," Rudskoy added.
The Syrian army's recent victories in Eastern Aleppo were secured after it started special operations in Aleppo after several humanitarian pauses declared by Damascus and Moscow to give a chance to the civilian population as well as the militants to leave the Eastern parts of the city through 8 corridors, and managed to take full control of the Northern flank of the Aleppo city's Eastern districts.
The army units have taken back 25 square kilometers of the total 45 square kilometers of Eastern Aleppo after recapturing several regions, and now, with recapturing the Northern part of Eastern neighborhoods of Aleppo, Syrian army forces have turned their attention to the last half of the East Aleppo pocket.
Thousands of civilians, including hundreds of children and newborn babies, have also left the Eastern part of the besieged Syrian city of Aleppo in recent days.
Meanwhile, terrorist commanders stationed in the Eastern parts of Aleppo have threatened Abdullah Muhammad al-Muhaysini, a senior al Qaeda-linked cleric and the religious leader of Jeish al-Fatah coalition of terrorist groups, that they will be forced to give up fight and surrender the city to the army in the next two days if not rescued from outside.
A military source said on Wednesday that the terrorists in Aleppo will finally be forced to agree with the government's plan to transfer the militants to Idlib similar to their comrades in Homs and Damascus.
The Lebanese al-Safir newspaper reported that the terrorists in Aleppo are under the Syrian army's tight noose and have no option but surrendering given the field situation.
The paper referred to heavy attacks launched by the Syrian army against the terrorists in different parts of Aleppo, and wrote it seems that the era of terrorist groups is ending in Aleppo.
Local sources in Eastern Aleppo have also reported that the terrorists have lost confidence in their commanders after their repeated unfulfilled promises on breaking the army's siege and their morale has weakened after heavy defeats and sustaining abundant casualties and damages.
After continued defeats and nearly two months of insistence on remaining in the city and rejecting the army's several chances to leave Eastern Aleppo with their weapons, terrorists are now facing the realities of war as their comrades' massive attacks on the city to break the army's several-month-long siege have all ended up in fiasco.
The Russian Defense Ministry's Peace Cooperation Center in Syria has said that infighting between terrorist groups in Aleppo has intensified as militants are trying to prevent other comrades from leaving the Syrian city.
Clashes between militant groups have intensified because some militants, who are controlling Eastern Aleppo, wanted to leave the city but were encountered by the most hardline groups," the center's statement added.
Full report at:
http://en.farsnews.com/newstext.aspx?nn=13950910000665
--------
Syrian Army Captures Strategic Sheikh Saeed District in Aleppo
Nov 30, 2016
The Syrian army, supported by the Lebanese Hezbollah and Iraqi al-Nujaba forces, had started a new phase of operations in Sheikh Saeed a few days ago but made slow advances due to the deployment of hundreds of terrorists in the region.
The Syrian forces could seize back control of the strategic district on Wednesday after hours of continued clashes with the militants and pushed them back from the region.
A battlefield source had earlier said that al-Sheikh Saeed "is the Southern gate to the Aleppo city's Eastern districts", adding that recapturing al-Sheikh Saeed will result in new military developments in the Eastern part of the city the most important of which will be preparing the ground for starting new military operations to take control of Aleppo castle and end the decisive battle of Aleppo.
Battlefield sources disclosed on Tuesday that the Syrian army is preparing to start a new round of military operations to seize back a strategic bastion of the terrorists Southwest of Aleppo province, while the Lebanese Hezbollah and Iraqi al-Nujaba have dispatched many more of their fighters to Aleppo province to take part in the upcoming Khan Touman liberation operation.
Full report at:
http://en.farsnews.com/newstext.aspx?nn=13950910000623
--------
Syrian Army Advances in Western Aleppo upon Starting New Operation
Nov 30, 2016
The Army troops and popular forces launched massive attacks on the terrorists' bases from al-Tabari School, Cement Square and Rasoul A'zam Mosque and could regain control of several residential complexes after killing and wounding tens of militants.
The Syrian army and popular forces started a new round of assaults in the Westernmost edge of Aleppo city on Tuesday to purge terrorists from regions that are still under their control, after capturing almost half of the city's Eastern districts.
The Syrian army troops and the Lebanese Hezbollah fighters backed by the missile and artillery units fiercely attacked the terrorists' military bases in Jamiat al-Zahra district as the country's fighter jets strongly hit the terrorists' military positions there.
"The terrorist groups are fully aware that if their defense lines collapse in the early hours of the army operation they will be taken by surprise in the entire region and would lose vast grounds. Hence, they will wholeheartedly defend their military positions," a battlefield source said, adding that the Syrian army soldiers have managed to win several building blocks and complexes to the West of Jamiat al-Zahra district despite the resistance shown by the terrorists.
The military source said the terrorists intend to block the Syrian army's advances by dispatching reinforcements from the Southern part of the town of al-Lairmoun.
Over 90 percent of the Jamiat al-Zahra district is under the Syrian army control and the operation there is aimed at purging terrorists from a small portion still under their control.
A sum of 16,000 terrorists raided the Western and Southwestern districts of Aleppo late October to rescue their entrapped comrades in the Eastern parts of the city.
But, the so-called 'Great Epic Operation' and 'Abu Omar Saraqib' ended in major defeats even in absence of Russian airstrikes, the militants admitted, blaming their TOP commander for their "humiliating defeat in Western and Southwestern Aleppo.
"Jeish al-Fatah's operations failed to meet the coalition's military objective of lifting the siege on our comrades trapped in the Eastern part of the city," militants told their affiliated media outlets and on their social media pages late October".
The militants also complained in their social media posts that Abdullah Muhammad al-Muhaysini, senior al Qaeda-linked cleric and religious leader of Jeish al-Fatah coalition of militant groups, is to blame for the "humiliating result" of the operation in Aleppo.
The terrorists slammed al-Muhaysini for his "totally wrong strategy" for removing the army siege on their fellow militants under siege in Eastern Aleppo, saying that his "naive plans sent hundreds of fighters to meet their death."
Full report at:
http://en.farsnews.com/newstext.aspx?nn=13950910000463
--------
Tens of Terrorists Killed in Hama
Nov 30, 2016
The Syrian fighter jets launched airstrikes on the gathering centers and moves of Fatah al-Sham and other affiliated groups in Taybat al-Imam, al-Lataminah, Jeni al-Albawi, Sakik, Northern al-Ma'an, North of Kafar Zita and al-Sayyad in the Northern parts of Hama.
During the operations, tens of terrorists, including their commanders, were killed and wounded and their hideouts and military vehicles were smashed.
The Syrian warplanes also pounded Fatah al-Sham, Jeish al-Izza and Jeish al-Nusra terrorist groups' strongholds in Ma'arkaba, al-Zalaqiyat, Northern Halfaya and Zor Abuzaid in Northern Hama, killing dozens of militants and blowing up their military vehicles.
Earlier this week on Monday, the Syrian fighter jets struck and destroyed the military hardware and arms depot of terrorists in Hama province.
The Syrian warplanes fully destroyed several arms depot and military positions of the terrorists in Morek, Atshan, Ma'an, al-Quneitrat and al-Arbaeen regions.
The terrorists' military hardware in Kafroumeh, al-Tamateh and Khan Sheikhoun came under the Syrian army attacks, destroying their armored vehicles and ammunition depot.
Scores of terrorists were killed and injured in the Syrian army attack on their convoys and military positions in Souran, Sakik and Tal Taryee.
Full report at:
http://en.farsnews.com/newstext.aspx?nn=13950910000442
--------
Homs: Army Units Continue Clashes with ISIL near Al-Sha'er, Al-Mahr Oil Fields
Nov 30, 2016
The Syrian air force and artillery units, meantime, targeted the terrorists' positions and hideouts in the region which destroyed their bases and military EQUIPMENT and killed a large number of militants, including several non-Syrian terrorists.
The Syrian fighter jets also launched airstrikes against the ISIL bases in al-Sukhnah, al-Tayyebah, Talat al-Awamid and the Northern parts of al-Quaryatayn dam in the Eastern and Southeastern parts of Homs which smashed their headquarters and military vehicles and wounded tens of militants.
The air force also targeted the bases of Fatah al-Sham (formerly known as al-Nusra Front), Rajalallah and Ahrar al-Sham terrorist groups in al-Rastan city and the two towns of Talbiseh and Tir Ma'alah as well as al-Qajar, al-Qanto, al-Sam'alil and Tal Zahab in the Northern and Northwestern parts of Homs, blowing up their bases and inflicted tens of casualties on them, including their commanders.
Full report at:
http://en.farsnews.com/newstext.aspx?nn=13950910000370
--------
Africa
Al-Shabaab in daring attack on police officers in Mandera
December 1, 2016
The police officers from the General Service Unit and Rapid Deployment Unit, escaped death narrowly, when their vehicle run over a bomb planted on the Elwak-Dabacity road in Mandera.
The incident occurred at around 9am on Tuesday, November 29.
According to Mandera County Police Commander, Job Boronjo, the attackers numbering about five, had aimed to blow up buses using the road.
The attackers are said to have fled to the Somali border, when they realised the police convoy escorting the bus was big.
No police officer was injured during the incident.
The attack on the police officers in Mandera, comes just days after Kenya Police issued an alert on areas highly likely to be attacked by terror group al-Shabaab.
On Thursday, November 24, police warned of possible attacks in Kilifi, Tana River and Kitui counties following leaked intelligence.
https://tuko.co.ke/223196-al-shabaab-launch-scary-attack-police-officers-mandera.html
--------
Civil societies laud military's routing of Boko Haram insurgents
By Latifat Opoola
Nov 30 2016
A coalition of 20 northern youth organizations has commended the Chief of Army Staff General Tukur Buratai over the military successes against Boko Haram insurgents.
The groups under the aegis of Arewa Renaissance Youths disclosed this in a statement released by its convener Engr Auwal Rabiu Dansharif after its meeting in Neema GUEST PALACE HOTEL
The youth said the "successes recorded so far in the fight against Boko Haram insurgency is a direct result of General Buratai's competence and determination."
"The coalition believes that the military under General Buratai is capable of ending the six-year-old insurgency in the Northeast and ensure the permanent return of normalcy in the areas," the statement read.
Dansharif said "the successes recorded so far against the insurgents were made possible by the tremendous support of President Muhammadu Buhari to the Armed Forces since May 29, 2015."
Full report at:
http://www.dailytrust.com.ng/news/general/civil-societies-laud-military-s-routing-of-boko-haram-insurgents/173969.html
--------
Uganda: Jailed Sheikhs Lose Petition Against DPP
30 NOVEMBER 2016
By Juliet Kigongo
Kampala — The Constitutional Court on Wednesday threw out the petition in which nine suspects including the leader of Tabliq Sect Sheikh Yunus Kamoga wanted the state to give them the evidence it intended to use against them in the murder trial.
Sheikh Kamoga and group wanted the Constitutional Court to hold the Director of Public Prosecutions, Mike Chibita, liable for contempt of earlier court orders.
In March last year, Justice Ezekiel Muhanguzi of the International Crimes court ordered the DPP to disclose all the evidence to the accused to enable their lawyers prepare their defence. However the DPP did not avail them the said evidence and the accused petitioned the Constitutional Court.
Yesterday, a panel of five justices of the court led by Deputy Chief Justice Steven Kavuma, dismissed the petition for lack of merit. The judges ruled that the petition contained no ground that required constitutional interpretation.
The court also ruled that it could not interfere with the mandate of the chief government prosecutor since he is not supposed to work under the direction or influence of any one or institution as per the provisions of the Constitution.
"At this stage, therefore, the question of failure to avail evidence to the petitioners by the Director of Public Prosecutions is clearly moot. We find that both issues 6 and 7 of this petition do not raise any issues for constitutional interpretation," the court ruled.
"They are devoid of any merit and are accordingly dismissed. The petition fails and is hereby dismissed with costs," the judges added.
Further in their ruling, the judges observed that Sheikh Kamoga and his co-accused should have sought redress in other courts such as the International Crimes Division which is the trial court or the High Court's Civil Division to enforce their rights they felt had been violated.
"If the petitioners feel they suffered any injustice or were aggrieved in any way, they are still at liberty to seek remedies in any competent court under appropriate law including article 50 of the Constitution," the judges advised Kamoga and his group.
In their petition, Sheikh Kamoga and group had also asked the court to interpret whether it was lawful for police to torture them and detain them beyond the constitutional 48-hour limit without arraigning them and charging them in court.
The judges also dismissed this complaint, saying there was nothing in it that required constitutional interpretation.
Full report at:
http://allafrica.com/stories/201611300854.html
--------
Somalia: Puntland Forces Approach Port Town, Ready to Attack Militants
29 NOVEMBER 2016
Hundreds of pro-government Somali forces began moving toward the port town of Qandala on Monday for an offensive against Islamic State fighters who seized it last month, Qandala's mayor said.
The forces include militia fighters, soldiers from the semi-autonomous region of Puntland and fighters from the same clan as Abdiqadir Mumin, the Somali insurgent leader who has pledged allegiance to Islamic State, Somali security officials said.
"We and our forces left Bosasso today with the intention to capture to Qandala, which is now only 100 km (60 miles) away from us. We shall keep on moving until we liberate the town," Jamac Mohamed Khurshe told Reuters.
Bosasso is a major Somali city.
Full report at:
http://allafrica.com/stories/201611300118.html
--------
North America
City's Religious Leaders Confront Americans' Bigotry against Muslims
November 30, 2016
Religious bigotry exists. Maybe in America not as much as in some other countries, but it is there and it has a long history.
Catholics experienced a great deal of it up into the 20th century. For Jews, down through the ages it has been a fact of life. In this generation Protestant Evangelicals are a favoured target for secularists. African Americans are unique because they have experienced bigotry regardless of religion.
Most recently Muslims have been a special target, fuelled in part by horrific acts of violence by a handful of Islamic radicals, and it doesn't help when a president-elect opines that maybe America should ban all Muslims from entering the country.
Muslims are here already and part of the American fabric, and many of them are American citizens.
"We've been here for 300 years," said Imam Kenneth Nuriddin of the Philadelphia Masjid, which is predominantly an African American congregation. "We've faced issues like this in the past so we are not strangers to them. We have outreach programs. The main thing we are trying to do is keep people from reacting and getting alarmed.
"I think what we have is a human problem, a family problem and a world problem," Imam Nuriddin said. "There are extreme elements that haven't changed and these extreme elements have to be brought into the mainstream."
A widely circulated report in November by the Federal Bureau of Investigation showed a 67 percent rise in documented hate-crime incidents against Muslims nationwide in 2015. The 257 anti-Muslim hate crimes were up from 154 in 2014, according to the bureau's Uniform Crime Report.
By comparison the F.B.I. reported that of the 1,354 hate crimes "motivated by religious bias" that were reported last year, 51 percent were anti-Jewish, 22 percent anti-Muslim and 4 percent anti-Catholic.
"We are forced to come together and what we do in America can help the whole world." — Imam Kenneth Nuriddin of the Philadelphia Masjid
Here in the Philadelphia area there have not been many open attacks on Muslims. In January 2016 a Muslim man from Morocco reported he was physically assaulted in center city Philadelphia because he was speaking Arabic.
In December 2015 unidentified bigots in a pickup truck threw a pig's head at a Kensington mosque.
One incident in September 2014 saw a New Hampshire-based group with the improbable name American Freedom Defense Initiative place ads on SEPTA buses which linked Islam with Adolph Hitler.
One of the groups consistently speaking out against religious intolerance is the Religious Leaders Council of Greater Philadelphia, which was founded in 2006 to unite religious leaders, provide mutual support and speak out on matters of concern to all.
At this time there are more than 30 member congregations — Christian, Jewish, Muslim and others.
Co-conveners are Archbishop Charles Chaput of the Archdiocese of Philadelphia, Bishop Clare Schenot Burkat with the South-eastern Pennsylvania Synod of the Evangelical Lutheran Church of America, Imam Anwar Muhaimin of Quba Masjid and Rabbi David Straus, representing the Jewish Community Relations Council of the Jewish Federation of Greater Philadelphia.
The Religious Leaders Council can take public action when religious bigotry appears, as it did two years ago with the SEPTA bus ads, which a court ruled could not be prohibited.
At that time the Religious Leaders issued a statement that read in part:
"It was our hope as religious leaders that hate-filled messages would not be carried throughout the neighbourhoods of Philadelphia on the sides of SEPTA buses, trolleys and subways. We condemn inflammatory messages that serve to divide, stigmatize and incite prejudice. We will continue to reject attempts to stereotype any tradition or community. "Working as spiritual leaders and working with the members of the diverse faith and ethnic communities within Philadelphia, our challenge and our hope is to strengthen the ties among all communities to improve the quality of life."
Msgr. Michael Carroll, who has been deeply involved in interfaith and peace and justice issues for decades, represents the Philadelphia Archdiocese at most meetings, which are held at the Interfaith Center of Greater Philadelphia in the city's Fishtown section.
"It's conversations with topics, just sharing ideas," Msgr. Carroll said.
He explained that most Christian denominations and of course Catholics have a central leadership, but in the case of Muslims, each mosque is independent.
Although no one person speaks for all Muslims, there are four Muslims on the Religious Leaders Council, which probably gives a fair representation of Muslim leadership in the Philadelphia area.
At least 55 mosques are established in the region, according to one listing. Most are located in Philadelphia but others are in every county of Southeastern Pennsylvania.
People tend to associate Muslims with the Middle East, but in fact they come from all over, including Indonesia, which has more Muslims than any country in the world.
There is a large concentration of Indonesian immigrants in South Philadelphia, both Christian and Muslim, and many of them find their way to the various outreach programs offered at St. Thomas Aquinas Parish and its Aquinas Centre, according to the pastor, Msgr. Hugh Shields.
"It's a safe environment for people and everyone is most welcome to our food programs, educational programs, all of our programs. It's a respectful relationship with everyone living together and working together," he said.
Regardless of faith, all of the immigrants face the same problems and the same fears, Msgr. Shields believes.
But not all Muslims are immigrants, and Imam Nuriddin of the Philadelphia Masjid leads lifelong citizens and new arrivals to this country.
"We have to know immigrants are here for a reason," he said. "There has been social and economic destruction because global interests don't always have human interests.
"There have been flare-ups all over the world. We get flare-ups to a large extent based on global issues that affect everyone. We are forced to come together and what we do in America can help the whole world."
At the end of the day, bigotry and its effects are not a Christian problem, or a Jewish problem or a Muslim problem. It is a problem for everyone, and in Philadelphia the Religious Leadership Council, the Interfaith Center and their member congregations are at the heart of the remedy.
http://catholicphilly.com/2016/11/news/local-news/citys-religious-leaders-confront-americas-latest-bigotry-against-muslims/
--------
More mosques receive hate-filled letters from California
December 1, 2016
Several more mosques nationwide have reported receiving a hate-filled letter from California that warns Muslims to leave the country or face genocide. The identical letters postmarked from the Los Angeles area have now shown up at mosques throughout California and in Ohio, Michigan, Rhode Island, Indiana, Colorado and Georgia.
Los Angeles police have been investigating the letters addressed to "the children of Satan" as a hate incident, but not a crime because it does not contain a specific threat. The letters appeared to be photocopies of a handwritten note referring to Muslims as "vile and filthy people" and saying that President-elect Donald Trump would do to Muslims what Hitler did to Jews.
The Council on American-Islamic Relations has asked the FBI to investigate. The FBI said the threats, while inflammatory and awful, do not pose a threat specific enough to investigate at this point, but they're monitoring the situation and urged anyone to report such incidents.
Police in Providence, Rhode Island, said they would increase patrols after one of the letters was received at Masjid Al-Kareem. Faissal Elansari of the Islamic Center of Rhode Island said he feels a wave of hate at his doorstep, WPRI-TV reported.
Envelopes have had a return address in the city the letter was sent, often 331 Oak St, but are postmarked in Los Angeles or Santa Clarita, a suburb about 30 miles north.
The name above the return address is Reza Khan, said Shehadeh Abdelkarim, president of the Islamic Center of Cleveland, which received one of the letters. He noted that's a Muslim name.
Full report at:
http://indianexpress.com/article/world/world-news/more-mosques-receive-hate-filled-letters-from-california-4404316/
--------
Anti-Muslim analyst named to Department of Homeland Security transition team
1 December 2016
US President-elect Donald Trump has added an analyst known for her anti-Muslim views to his Department of Homeland Security transition team.
Katharine Gorka, who heads the Council on Global Security think-tank and Threat Knowledge Group consulting firm, has expressed views against Islam and called for an all-out ideological war with "Islamists". She has also criticised the Department of Homeland Security for emphasising that Islam is a religion of peace.
In that context, she denounced the Al Jazeera TV channel, comparing its access to US airwaves with "sponsoring Nazi and Soviet broadcasts into the United States".
Gorka's think-tank focuses on the Muslim Brotherhood, having publishing numerous articles denouncing the group and warning against its influence in the US.
The Council on Global Security has also defended Egypt's President Abdel Fattah al-Sisi against US criticism.
Muslim American activists have denounced Countering Violent Extremism (CVE), a federal programme that calls for cooperation between Muslim communities and law enforcement, as intrusive. However, Gorka has said CVE relies too much on Muslim Americans, insinuating that US Muslims are not to be trusted with turning in individuals with violent tendencies.
Earlier this year, Gorka was appointed as a security adviser to Trump's then-Republican rival Ted Cruz.
The Council on American-Islamic Relations (CAIR) said it was "alarmed" by Trump's recent appointees, including Gorka.
The organization said in a statement that Gorka has a history of "Islamophobic views", citing her writings in the "White supremacist website Breitbart" and criticism of Obama for saying that Islam is a religion of peace.
"She is married to Sebastian Gorka, another Breitbart News contributor. Sebastian Gorka, who is also known for his Islamophobic views, calls religious profiling of Muslims 'common sense,'" CAIR added.
Full report at:
http://www.middleeasteye.net/news/anti-muslim-analyst-named-department-homeland-security-transition-team-2051638147
--------
Muslim government officials huddle on ways to survive Trump
11/30/16
Muslim-Americans and other minorities holding national security jobs in the federal government fear for their futures under President-elect Donald Trump — enough so that some have held informal meetings to discuss how to protect themselves from potential anti-Muslim witch-hunts.
The employees are on edge about everything from retaining their security clearances to the possibility of discriminatory treatment under Trump, whose top aides include known peddlers of conspiracy theories about Islamists infiltrating the U.S. government. Many, especially in the intelligence realm, fret that Trump's rhetoric and actions could undermine their work by damaging America's relationships overseas. The sudden anxiety is extraordinary after eight years of life under President Barack Obama, who made pursuing diversity in the federal ranks a national security priority.
"I feel apprehensive," a Muslim intelligence official told POLITICO. "I fear that — whatever white power movement or equivalent all of a sudden feels empowered by the president-elect, whatever tidbits of that community make their way into government — at the most basic level people who are brown, Middle Eastern, Muslim or Sikh or whatever will either be looked at with a lens of suspicion or concern, or something more overt may take place."
"My initial reaction was, 'Oh my God, should we quit and leave?'" said a State Department official of Muslim heritage who — like most sources contacted for this story — was unwilling to speak on the record for fear of angering the new administration. "People are still struggling to understand what it means right now. Does it make sense to stay on board? Do you wait to see what the policies are going to be? I just feel like it's completely mysterious how this is going to work out."
During his presidential campaign, Trump insulted numerous minority groups, including Mexicans, the disabled and African-Americans. But few groups felt the sting of his rhetoric as keenly as Muslims. Even though Trump has often framed his stance as being against "radical Islamic terrorists," his call for a ban on Muslims entering the U.S., his hostility toward Syrian refugees and reports that he might re-launch a registry of immigrants from Muslim countries has made many in that community view his coming presidency with dread.
Conway shoots down report that Trump is 'furious' with her
Since the Nov. 8 election, Muslims and members of other minority groups at the State Department have held informal meetings to talk about the implications of a Trump administration, multiple sources told POLITICO. Some of the gatherings have brought together Muslims and Jews, the latter of whom are deeply concerned about the anti-Semitism expressed by many Trump supporters. ("Muslims and Jews who disagree on Palestine and Israel are agreeing on this stuff," a State Department official of Arab descent told POLITICO.)
The anxieties are especially acute for career civil service and Foreign Service officers, who, unlike political appointees, are not immediately on the chopping block come Inauguration Day. Muslim employees especially worry they will be singled out, and that they may be denied promotions, lose their security clearances, be barred from certain assignments or otherwise be hampered in their jobs by Trump's incoming political appointees. There's been talk of organizing letters expressing the employees' concerns or taking other steps, but no concrete decisions have been made yet, several sources said.
Many of the employees are taking solace in U.S. laws that offer strong civil service protections, knowing that if they encounter discrimination they can file legal complaints. But others fear Trump aides may make moves that are hard to prove as being based on overt ethnic or religious discrimination, such as simply appointing fewer Muslims or other minorities to prominent posts at State, the Department of Homeland Security, the Pentagon or elsewhere.
These concerns have only grown since the election as Trump has handed out top jobs to people who have promoted harsh views of Islam and Muslims.
Retired Lt. Gen. Michael Flynn, Trump's nominee for national security adviser, is on the advisory board of Act for America, an organization the Southern Poverty Law Center has tagged as an anti-Muslim hate group. Flynn has also called Islam a "cancer" and once alleged in a speech that Democrats in Florida had "voted to impose sharia law at the local and state level." (PolitiFact ruled the latter claim "Pants on Fire.")
GOP Rep. Mike Pompeo, Trump's nominee for CIA chief, in 2013 accused Muslim leaders in the United States of failing to sufficiently condemn the Boston Marathon bombings, and said they were "potentially complicit" in the attacks. (When asked to apologize, Pompeo said he was "not backing down.")
And Stephen Bannon, due to become a senior adviser in Trump's White House, formerly oversaw Breitbart News, a far-right publication that has singled out Muslims serving in the Obama administration with stories that question their loyalty and imply they might be affiliated with extremist groups such as the Muslim Brotherhood.
The Trump campaign did not respond to a request for comment for this story.
It's never been easy to get a security clearance or a promotion if you are Muslim or have relatives in countries wracked by terrorism. Many Muslim federal employees felt especially nervous under the George W. Bush administration after the Sept. 11, 2001, attacks, said Muhammad Fraser-Rahim, a former analyst at the National Counterterrorism Center. "On a few occasions I felt like I just always had to go the extra mile just to make people comfortable," he said.
But such difficulties could be amplified under Trump, many Muslims inside and outside government fear. In particular, they worry the incoming president's rhetoric and actions could make it harder to recruit new employees of minority ethnic and religious backgrounds, some of whom have linguistic and cultural skills that are highly valued in the national security establishment. People who speak various dialects of Arabic, Pashto, Urdu or Farsi, for instance, are considered critical to battling terrorist groups such as the Islamic State; talented linguists can take years to replace.
That's especially the case for U.S. intelligence organizations such as the CIA, said a former senior operations manager with the agency. "A lot of times when you hear 'We need more diversity,' that's political correctness, but in the agency that's the lifeblood," he said. "I think Trump's rhetoric is going to have a real chilling effect for people who are contemplating work in the intel communities if they are Muslim or ethnically tied to that part of the world."
If Trump keeps up the rhetoric and implements some of the more draconian measures he alluded to during his campaign, such as "extreme vetting" of immigrants from countries affected by terrorism — which many suspect will basically cut off Muslims — that could make it harder for CIA officers to recruit agents in some of those countries, the former operations manager said. For one thing, many of the agents hold out hope of getting resettled in the United States in return for helping the CIA and other intelligence agencies.
"Inside the CIA or in the intel world, you've got this concept of a hard target. It might be easy to recruit Guatemalans. But if you're talking about Russians, Chinese, North Koreans, those are hard targets, and now you could add people in the Muslim world as well," he said.
Another major concern, especially among diplomats, is how to defend or explain policies that could deeply insult important allies such as Jordan or Saudi Arabia. While career employees view it as their duty to carry out the mission given to them by whoever the president is, Trump's approach to international issues is so anomalous that few in the Republican foreign policy establishment supported him during the presidential campaign. Trump has vowed to rip up trade agreements, questioned the value of NATO and promised to reinstate torture.
"I wouldn't probably have felt this [way] if it was President Mitt Romney or President John McCain," said the State Department official of Muslim heritage. "It's still on the spectrum, for lack of a better word. This is completely unknown."
Full report at:
http://www.politico.com/story/2016/11/donald-trump-muslims-government-231890
--------
What Muslim Americans In Chicago Are Doing To Prepare For A Trump Presidency
November 30, 2016
Ever since Donald Trump won the election earlier this month, many of the marginalized groups he targeted during his campaign have wondered what his presidency will mean for them. One group, in particular, is using this time to organize.
Full report at:
https://www.wbez.org/shows/morning-shift/what-muslim-americans-in-chicago-are-doing-to-prepare-for-a-trump-presidency/c31e2fd8-4ba9-45f9-bc99-1875881af40e
--------
Muslim teen left with brain blood clot after brutal beating
Nov 30, 2016
Noah Rabbani was just trying to get home from a friend's house overnight on Saturday — but ended up in intensive care after a brutal beating from two men with baseball bats.
Now, the 15-year-old Saltfleet Secondary student has to go through surgery to remove a blood clot on his brain and does not have full movement on his right side. His family is left wondering if his attack was a hate crime.
"It's just a total shock. He's such a good kid," said his aunt, Huma Aslam.
According to police, Rabbani was walking in the area of Rymal Road East and Fletcher Road just after midnight, where he was assaulted and robbed of his backpack.
A police news release says two men got out of a car next to where he was walking, with one holding a baseball bat.
"The males approached the boy and struck him with the bat several times causing serious injuries," the news release reads. "The suspects ran back to the car and left in an unknown direction."
Aslam says her nephew didn't have anything of real value in the backpack to steal — just a water bottle and some books. The teen's family says he's a quiet, kind boy and an exceptional student who has won several academic awards.
But considering that Rabbani is of Pakistani and Muslim background, Aslam says, his family is worried that the incident was a hate crime, and he was targeted for the colour of his skin.
Hamilton woman faces checkout line racism fueled by Trump win
Woman calls cab driver n--ger during altercation caught on tape
"It just seems like all of a sudden after the election in the U.S. there have been more violent incidents in our country," Aslam said. "It's the timing of it all.
"Here we are in Canada, the greatest country in the world. I'm just really in shock."
Hamilton police Const. Asuf Khokhar said the investigation is still ongoing, and detectives are "looking at all aspects."
It's difficult to say exactly what happened, because the teen still isn't able to speak much. He sustained injuries to his brain, jaw, limbs and spine, and currently isn't really able to move the right side of his body.
The swelling was so bad that doctors had to wait days to operate, his aunt says. The family is pleading with anyone in the area who saw anything to contact police.
After his attack, Rabbani managed to get to his grandmother's house a few doors down, and provided a brief description of who attacked him — two white men, one around five foot six with a thin build, the other around five foot eight.
Full report at:
http://www.cbc.ca/news/canada/hamilton/teen-attack-1.3874867
--------
Why the proposed Montreal-area Muslim housing development goes against Islamic values
Nov 30, 2016
Verse 49:13 of the Quran reads: "O mankind, indeed, We have created you from male and female and made you peoples and tribes that you may know one another."
The verse invites intercultural and interfaith understanding and cooperation, stating that gender, tribal and national differences are divinely ordained.
There are dozens of other verses in the Quran reiterating this point. The idea of "knowing one another," the best English translation of the word taarafu, refers to activity that is reciprocal and ongoing.
Indeed, from an Islamic perspective, the definition of "parent," "neighbour" and "people" includes both Muslims and non-Muslims, with diversity and inclusion as key Islamic principles. That's why the proposal to build a 100-home "Muslim community" just south of Montreal, as conceived by Nabil Warda, the 68-year-old accountant behind the project, actually goes against Islamic values.
Residents must adhere to Muslim values
Warda said in an interview that non-Muslims would be welcome in the community, but that they would have to adhere to Muslim values: "There must be some modesty in the way you dress," he said. "We don't want women living there going half-naked down the streets. We don't like that." But after receiving national attention (and criticism), the project has since been put on hold.
Warda claimed that the main goal of his project is to provide a way for Muslims to buy homes without taking on traditional mortgages and thus having to pay interest, which some Muslims consider to be forbidden. But he failed to mention that the European Council for Fatwa and Research, headed by Dr. Yusuf al-Qaradawi, the former president of the International Union of Muslim Scholars (IUMS), met in the United States in 1999 and issued a statement allowing mortgages.
Developer vows to go ahead with Montreal-area Muslim housing project
The council based its ruling on the fact that, according to an explanation in Arab News, "owning a house is a necessity for living, and the alternative of renting a house does not provide a satisfactory solution." Furthermore, some Muslim scholars argue that the mortgage contract is different from the concept of reba or interest banned by the Quran, since borrowers get the full ownership of the house they buy, and they get to live in the house while they're paying back the loan.
But there's reason to reject this proposal, beyond just the mortgage question. That is simply because this "Muslim development" would encourage isolation, rather than integration into Canadian society. It was our choice to come to Canada, and we must immerse ourselves in the country to which we now belong — that means by learning the language, following legislation and living in diverse communities. We must become Canadians by culture and Muslims by religion.
Islamic Community Centre of South Shore
Social mixing is important in Islam. Pictured here is the Islamic Community Centre of Brossard. (Radio-Canada)
Tariq Ramadan, professor of Contemporary Islamic Studies at Oxford University, has written and spoken extensively about the need for Muslims to get out of their "social and intellectual ghettos".
Full report at:
http://www.cbc.ca/news/opinion/muslim-housing-development-1.3872767
--------
URL: https://www.newageislam.com/islamic-world-news/new-age-islam-news-bureau/isis-terrorists-planned-to-kill-kindergarten-children-with-poisoned-ice-cream/d/109252
New Age Islam, Islam Online, Islamic Website, African Muslim News, Arab World News, South Asia News, Indian Muslim News, World Muslim News, Womens in Islam, Islamic Feminism, Arab Women, Womens In Arab, Islamphobia in America, Muslim Women in West, Islam Women and Feminism, Moderate Islam, Moderate Muslims, Progressive Islam, Progressive Muslims, Liberal Islam