New Age Islam News Bureau
11 Aug 2015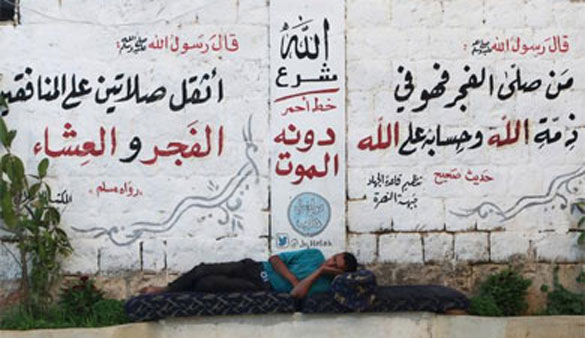 Buffer zone: A man rests in front of a wall decorated with religious phrases written by members of al Qaeda's Nusra Front in Aleppo's Qadi Askar neighborhood, Syria July 13, 2015. REUTERS/ABDALRHMAN ISMAIL
--------
Southeast Asia
• ISIS Support Rising in World's Largest Muslim Nation; Jihadists Post Photo of Baby between Gun and Grenade
• More Malays Identifying As Muslims First, Says Independent Pollster
• In Indonesia, Muslim group protests against planned church construction
----------
Arab World
• Over 50 Terrorists Killed near Aleppo Central Prison
• Bomb Attacks in Iraq's Diyala Kill At Least 33: Police
• Al Qaeda in Syria Leaves Border Area Where Turkey Seeks Buffer
• Syria: Tens of Foreign Takfiri Terrorists Killed in Lattakia
• ISIS offers fridges, cookers and carpets to recruits: Reports
• Saudi crown prince: The criminals disregarded the sanctity of God's houses
• Saudi beheads citizen for murder
• Egypt delays verdict in trial of Qaeda chief's brother
• ISIS claims responsibility for twin attacks in Iraq
• Four Saudis get death in Iraq; defense not allowed
• Syria rebels fire 1,000 missiles at Shiite towns
• Pregnant Swedish teenager held by Daesh in Syria
• Iraq premier rolls out sweeping reforms after demonstrations
• Syrian regime releases journalist Mazen Darwish
• Saudi FM discusses Yemen, Syria with German counterpart
----------
India
• Just Four of the 26 Persons Executed In India Since 1991 Belonged To the Muslim Community
• Muslim and Hindu Singers Promote Communal Harmony by Performing At Gujarat Festival Held in US
• Owaisi: All India Muslim Personal Law Board Should Appeal Ram Temple Order
• Tripura militants have camps in Bangladesh: CM
• If India boycotts meet, it's their choice: Pakistan
• Udhampur attack: Pak terrorist Naveed sent to 14-day NIA custody
• Indian PM Narendra Modi to make history in UAE
----------
South Asia
• War Trial: Death for Siraj, Akram Jailed Until Death
• Five Dead, 16 Wounded in Suicide Attack near Kabul Airport
• Afghans Call to Boycott Trade with Pakistan for Sheltering Terror
• Two landmine planters killed by own bomb in Farah
• Ashraf Ghani slams Pakistan over recent Kabul attacks
• Parliament deplores 'sexual terrorism'
• Indian, Afghan agencies behind Balochistan unrest: FC
• Kidnappers kill abducted engineers in Ghazni
• Five civilians wounded in Ghazni, Nangarhar explosions
• 5.9-magnitude quake hits Pakistan, Afghanistan
-----------
North America
• Feds: Man Wanted to Form Small Army for Islamic State Group
• This Study Shows Just How Diverse America's Muslims Actually Are
• Canadian Muslims speak for action against ISIS
• Trump supports use of US ground troops to fight ISIS
• How a Muslim cemetery became a battleground for America's soul
• How Uninformed U.S. Politicians Help ISIS
---------
Europe
• Russia Keen to Limit Saudi Influence in Islamic Finance Push
• Moscow Becoming Europe's Largest Muslim City
• Moscow Cathedral Mosque to be reopened on Eid al-Adha
• Liberty, equality, mixité: Muslim mothers' fight against social apartheid in France
• How France Can Stop Its Citizens Joining ISIS
----------
Pakistan
• Committee Formed To Resolve Issue of Madrasa Registration
• Key Taliban Commander, 11 Men Surrender in Orakzai
• Experts Call For Sustained Pak-India Ceasefire to Rid Terror
• No Muslim state signed trade deal with Pakistan since 2007
• Phantom, Bangistan and more: Bollywood films banned in Pakistan
• Kasur child abuse case: LHC CJ seeks report on inclusion of ATA clauses
• Seven bodies found in Balochistan's Quetta and Pishin districts
• CM vows 'deterrent punishment' for Kasur culprits
• Target killers linked to MQM arrested in Karachi, Rangers say
• Nation united to curb extremism: Shahbaz
• 'Pakistan has raised Rohingya Muslims issue at all forums'
-----------
Mideast
• Turkish Warplanes Ramp up Offensive against PKK
• Ansarullah Foils Saudi Plot to Capture Sana'a
• Israel releases suspects linked to toddler's death
• Day of violence in Istanbul leaves at least 4 dead
• Another poll suggests Turkey's AK Party could regain overall majority
• Yemeni Forces Seize 11 Hummer Vehicles from UAE Troops in Lahij Province
• Iran, Japan Poised to Cooperate in Various Industrial Fields
• Turkey identifies female assailant in US Consulate raid
----------
Africa
• Somalia: Central Jail Hit By Deadly Al Shabab Assault
• IS attack kills nine in Libya
• Ex-Army GOC: Many Boko Haram Suspects Arrested in Lagos, Ogun
Compiled by New Age Islam News Bureau
URL: https://www.newageislam.com/islamic-world-news/new-age-islam-news-bureau/isis-support-rising-in-world-s-largest-muslim-nation;-jihadists-post-photo-of-baby-between-gun-and-grenade/d/104233
-----------
Southeast Asia
ISIS Support Rising in World's Largest Muslim Nation; Jihadists Post Photo of Baby Between Gun and Grenade
BY STOYAN ZAIMOV
August 10, 2015
Australian reports have claimed that support for the Islamic State terror group is rising in Indonesia, the largest Muslim nation in the world, with an active recruitment center operating in the capital, Jakarta.
Fairfax Media reported on exclusive footage obtained through Indonesian terrorism analyst and documentary filmmaker Noor Huda Ismail, which shows young Indonesian men inside the al-Fataa mosque pledging allegiance to IS leader Abu Bakr al-Baghdadi.
IS has recruited tens of thousands of foreign fighters from across the world in its efforts to establish an Islamic Caliphate on the territories of Iraq and Syria, and has rallied extremist factions from various countries.
Indonesia is home to close to 12.7 percent of the entire Muslim population in the world, and according to the Fairfax report, it is experiencing a rise in extremism support. The footage captured from the mosque reportedly shows Fauzan al-Anshori, a former devotee of the extremist cleric Abu Bakar Bashir, leading the young men into prayer and an oath of devotion to Baghdadi.
The al-Fataa administrators have denied that they support IS, but said that anyone can come to the mosque to pray, as long as it is in observance of Islamic law.
"Anyone can come here as long as their rituals are in accordance with Shariah," an administator identified as Farihin said. "The activities are just a response to what is happening in the Middle East."
Budi Waluyo, an associate of Farihin, added in the same interview that people do come to the mosque to learn about IS' message.
"So many people are interested in Islamic State since the caliphate was declared by Sheikh al-Baghdadi [in June last year]," Waluyo said. "They are curious and come to listen. They have different levels of understanding and knowledge of the Quran.
"Some get really deep into the doctrine. Then we talk about different things like how to collect finances," he added.
The report noted that thousands of Indonesias are believed to have pledged allegiance to IS, and somewhere between 300 to 700 have traveled to Syria to join its ranks.
Besides recruitment operations, IS supporters have also been indoctrinating youths into joining the terrorists.
IS has released several videos of young boys dressed in uniforms performing military drills and pledging allegiance to the jihadists, calling them "cubs of the caliphate."
The Islamic extremists have also targeted newborns, and the Fairfax report shared an image of an infant lying beside a grenade and a gun next to a message in Indonesian which translates to: "Uncles and aunts come and fight in Syria for jihad wherever you are."
The photo is very similar to another image spread through social media in April, where another infant is seen lying beside a gun, a hand grenade, and an IS birth certificate. The photo also included a message, which warned that the child will grow up to be a threat.
"By showing the birth certificate, and the fact that the group are indoctrinating babies, I think IS are indicating they will be around for a long time," a terrorism expert at the Australian National University said back then.
http://www.christianpost.com/news/isis-support-rising-in-worlds-largest-muslim-nation-jihadists-post-photo-of-baby-between-gun-and-grenade-142557/
----------
More Malays Identifying As Muslims First, Says Independent Pollster
BY ANISAH SHUKRY
10 August 2015
Most Malays identify themselves as "Muslims first" rather than Malaysian or Malay first, independent pollster Merdeka Center said today, amid rising religious conservatism in the country.
Executive director Ibrahim Suffian said its recent survey found 60% of Malays saw themselves as being Muslim first, as opposed to 27% who identified as Malaysians and just 6% as Malays.
In contrast, only 3% of the Chinese and 16% of the Indians said they identified themselves by their religion, according to the survey, which he said would be published on September 5.
"Most Malaysians see themselves as Malaysians first with the exception of the dominant group Malays," Ibrahim told a roundtable discussion on the politics of race in Malaysia, organised by the Global Movement of Moderates today.
"Malays are increasingly identifying themselves as Muslim first."
He added that less Malays were identifying themselves by their ethnicity compared to ten years ago, despite Barisan Nasional's (BN) reliance on race to woo voters.
Race labels
In 2005, 11% of Malays polled by Merdeka Center said they saw themselves as 'Malay first'. This has now dropped to 6%, said Ibrahim.
Meanwhile, most Chinese (58%) and Indians (63%) saw themselves as Malaysians first, while 24% Chinese and 11% Indians identified themselves by their ethnicity, according to the latest survey, Ibrahim said.
"Future campaigning based on race will have a tough time to convince the electorate," he said.
He added that the 2013 general election results already suggested Malaysians did not respond to race-baiting.
"If you look overall, BN still lost 4% of popular votes so I think there's a limit to how much racial rhetoric can be used.
"Maybe as many as 40% Malays don't respond to Malay markers. They are more concerned with issues of good governance, and what the government can do for them."
He said that Malay voter support for Umno improved only by 2% during the last election, and that support figures were markedly lower among young Malay voters.
Meanwhile, PAS gained 1.2% more popular votes because of support from the non-Malays, he said.
"Malay support for PAS declined marginally by 1.3%, mostly from Perlis and Kedah.
"This means that its partnership with DAP did not substantially subtract support in locations such as Perak, Selangor or Johor," he said. – August 10, 2015.
http://www.themalaysianinsider.com/malaysia/article/more-malays-identifying-as-muslims-first-says-merdeka-centre
----------
In Indonesia, Muslim group protests against planned church construction
August 10, 2015
More than a thousand Muslim demonstrators staged a rally in an Indonesian city Aug. 10, urging local authorities to revoke a building permit for a Catholic church.
The protesters in a strongly Muslim area of North Bekasi, near Jakarta, claimed the leaders of the St. Clara Parish Church obtained a building permit through improper means.
"We want the mayor to revoke the building permit … as it is invalid," said protester Ustadz Ismail Ibrahim, a Muslim leader with the Islamic Friendship Association of Bekasi. The group includes several Islamic organizations and boarding houses in the area.
Local authorities granted the church a building permit in July. However, churches across Indonesia have struggled with highly restrictive legislation that critics say makes it difficult to obtain the proper permits.
In 2006, the religious affairs and home affairs ministries issued legislation that laid out onerous requirements to build places of worship. Church officials, for example, are obligated to provide a list of names and signatures of 90 worshippers and get signed support from at least 60 local residents along with approval by a village head.
Ibrahim claims the parish church violated these rules.
"They manipulated the data and forced local residents to sign on a paper with no letterhead," he said. "It was proved when we asked the local residents and found out that they weren't aware of it."
However, Rasnius Pasaribu, a secretary at the parish church, maintained that the church had met all necessary requirements.
"We have gone through all procedures. All administrative processes are done. But they urged [local authorities] to revoke the building permit," he told ucanews.com.
According to Pasaribu, protesters said the area is "Kota Santri", or a city of pious Muslims, and there should therefore be no churches in the area.
Both Ibrahim and Pasaribu say local authorities will look into the matter and that, for now, church officials have been told not to start construction until the issue has been resolved.
The parish church, which was established in 1996, has about 9,400 people in its congregation. Church officials bought a 6,500-meter-square parcel of land in 2000, but have been unable to begin construction. In the ensuing years, Catholics in the parish have conducted Sunday services in a nearby shophouse.
The church is far from alone in having trouble obtaining proper permits, even just in Bekasi. Authorities have shut down Protestant and Catholic churches in the area and refused or revoked permits for new construction. Earlier this year, New York-based Human Rights Watch criticized the Indonesian government for failing to protect religious minorities, including Christians.
http://www.ucanews.com/news/in-indonesia-muslim-group-protests-against-planned-church-construction/74053
----------
Arab World
Over 50 Terrorists Killed near Aleppo Central Prison
Aug 10, 2015
The Syrian troops and the resistance forces pushed back a raid by the militants of the Free Syrian Army and the Islamic Front on the Aleppo Central Prison, and killed over 50 militants in heavy clashes which lasted for several hours.
The Aleppo Central Prison is located to the West of Sheikh Najar Industrial City and to the East of Seifat and Handarat regions and is on a crossroad linking the Eastern parts of the city of Aleppo to its Northwestern parts.
Meantime, the Syrian army also repelled militants' attack on a strategic military airport in the Eastern countryside of the city of Aleppo.
The army units pushed back the ISIL militants' offensive on Aleppo's Kowaires Military Airport with artillery and heavy machinegun fire, and killed at least 60 Takfiri terrorists in heavy clashes.
The Syrian army captured Kowaires airport after it purged the terrorists from the nearby towns.
Aleppo is the largest city in Syria and serves as the capital of the Aleppo Governorate.
The ISIL terrorists have besieged the Kowaires airport for over 2.5 years now, but the airport itself is under the Syrian army's control.
The Syrian army's helicopters supply foodstuff and other needs to the Syrian troops defending the airport.
Since 2011, Syria has been faced massive insurgency created by the certain Western countries and their regional allies that staged a propagandistic war against Damascus.
http://english.farsnews.com/newstext.aspx?nn=13940519000835
----------
Bomb attacks in Iraq's Diyala kill at least 33: police
August 11, 2015
BAQUBA: Three explosions, two of them suicide bombings, killed at least 33 people near Baquba, the capital of Iraq's restive eastern province of Diyala on Monday, police and medics said.
The blasts targeted mostly Shia areas and came less than a month after a massive suicide attack left at least 120 dead in Khan Bani Saad, which is also in Diyala.
The deadliest of Monday's bombings was in an area called Huwaydir. Security sources and medics at the main hospital in Baquba said at least 20 people were killed there and 45 wounded.
"A suicide bomber driving a booby-trapped vehicle blew himself up in the middle of the central market area in Huwaydir," a police lieutenant-colonel said.
Another suicide bomber drove his explosives-laden vehicle past a checkpoint before blowing himself up in Kanaan district, killing at least 10 and wounding the same number, a police captain said.
An improvised explosive device also went off in a neighbourhood between Baquba and Huwaydir, killing three and wounding four, the same source said.
The self-styled Islamic State (IS) claimed responsibility for the string of bombings on Monday that killed at least 33 people and wounded many more in the eastern Iraqi city of Baquba.
The group, which controls large swathes of the country's north and west, said in a statement circulated online by supporters that the target was "rejectionists", as the radical Sunni militants refer to Shia Muslims.
It was not immediately clear how many of the victims were civilians.
Following the July 17 bombing in Khan Bani Saad, the provincial authorities had tightened security across the province, especially in Baquba which lies about 70 kilometres north of Baghdad.
The Khan Bani Saad blast came on the eve of the end of the holy fasting month of Ramazan and shocked the nation.
Baghdad announced in January that Iraqi forces had "liberated" Diyala, a religiously and ethnically mixed province which was partly overrun by IS after the jihadists launched a brutally effective offensive last June.
The jihadists no longer have fixed positions in the province, but have reverted to their old tactics of planting car bombs and carrying out suicide operations or hit-and-run attacks.
http://www.dawn.com/news/1199641/bomb-attacks-in-iraqs-diyala-kill-at-least-33-police
----------
Al Qaeda in Syria leaves border area where Turkey seeks buffer
August 11, 2015
BEIRUT: Al Qaeda's branch in Syria, the Al-Nusra Front says it has quit frontline positions against the self-styled Islamic State (IS) north of Aleppo and ceded them to other rebels, leaving an area of northern Syria where Turkey wants to set up a buffer zone.
Nusra Front's statement criticised a Turkish-US plan to drive IS from the Syrian-Turkish border area, saying the aim was to serve "Turkey's national security" rather than the fight against President Bashar al-Assad.
The United States and Turkey last month announced their intention to drive IS from a strip of territory in northern Syria near the Turkish border in a campaign that would provide air cover for Syrian rebels in the area.
Though Nusra is an enemy of IS, its foothold in northern Syria has been a problem for the US-led campaign against the ultra-hardline group. Late last month, Nusra attacked Syrian rebels trained as part of the US-led campaign against Islamic State, calling them agents of US interests.
Nusra said Turkey was acting to prevent the formation of a Kurdish state in northern Syria, and the Turkish government and the US-led alliance against IS were seeking to direct the battle according to their priorities.
"Facing this current scene, our only option was to withdraw and leave our frontline positions (with IS) in the northern Aleppo countryside for any fighting faction in these areas to take over," the Nusra Front said.
Syrian rebels taking part in the plan as ground forces were not doing so voluntarily, it added.
The Nusra Front said it would maintain frontlines with IS in other areas including Hama province and the Qalamoun mountain range at the border with Lebanon.
The planned buffer would prevent a powerful Syrian Kurdish militia, the YPG, from further expanding a zone of control that already stretches some 400 kilometres along the Syrian-Turkish border. The YPG has seized wide areas of territory from IS this year, backed by US-led air strikes.
Insurgent sources said Nusra had handed over two villages north of Aleppo to an alliance of rebel groups operating in the area known as Jabhat al-Shamiya, or the Levant Front.
The Nusra Front is one of the most powerful insurgent groups fighting in the four-year-long Syrian war that has estimated to have killed a quarter of a million people and largely reduced Assad's control to the cities of western Syria.
Nusra has been a major force behind insurgent advances in northwestern Syria this year. Turkish support for the rebels has been crucial throughout the conflict. Assad last month said Turkey had intervened directly to assist insurgents who advanced in the northwest earlier this year.
Full report at:
http://www.dawn.com/news/1199618/al-qaeda-in-syria-leaves-border-area-where-turkey-seeks-buffer
----------
Syria: Tens of Foreign Takfiri Terrorists Killed in Lattakia
Aug 10, 2015
The Syrian warplanes attacked the gathering centers of the Al-Nusra Front terrorist group in the villages of al-Halwa and al-Roza in Northeastern Lattakia, killing tens of Takfiri terrorists.
Notorious Saudi terrorist Mohammad Faqarati nicknamed Nasser al-Islam was among the foreign terrorists killed in Lattakia.
On Sunday, the Syrian army troops continued their mop-up operations against the foreign-backed Takfiri militants in Lattakia.
The army destroyed a vehicle loaded with ammunition and shells' depot belonging to the Takfiri terrorists in al-Rihaniya village in the Northern countryside of Lattakia.
Full report at:
http://english.farsnews.com/newstext.aspx?nn=13940519001213
----------
ISIS offers fridges, cookers and carpets to recruits: Reports
11 August 2015
Potential ISIS militants in Britain are being offered accommodation fitted with domestic appliances, to lure them to Syria, British newspaper the Daily Mail has reported.
Washing machines, fridges, cookers, beds and carpets have all been listed in a bid to coax Brits to join the militants in Syria. They are also being offered extra pay for every child they take with them, the report claimed.
Former supermarket security guard Omar Hussain, 27, who apparently now acts as an ISIS propagandist in western Syria is quoted by the newspaper as saying that potential fighters will be given receive rent, as well as monthly supplies of basic foods such as bread, rice and pasta.
Full report at:
http://english.alarabiya.net/en/News/middle-east/2015/08/11/ISIS-offers-fridges-cookers-and-carpets-to-recruits-Reports.html
----------
Saudi crown prince: The criminals disregarded the sanctity of God's houses
10 August 2015
Saudi Crown Prince Mohammed bin Nayef chaired Monday a Cabinet session held in Jeddah, according to the Saudi Press Agency (SPA).
During the session, which took place at Al-Salam Palace, the vice Custodian of the Two Holy Mosques offered his condolences to King Salman bin Abdulaziz on the passing of members of the Saudi police force during a terror attack in the southern Saudi city of Abha.
On Thursday, a terror attack targeted a mosque in the city of Abha killing 15 people, including 12 members of the Saudi police force.
The bombing was the deadliest attack in recent years on Saudi Arabia's police forces, and the most recent in a series of attacks on mosques in the kingdom.
Prince Mohammed bin Nayef said: "The terrorist bombing revealed the extent of hatred of these criminals as well as their disregard for the sanctity of God's houses and the lives of innocent people, as they have a deviant thought and are stripped of all religious, moral and human values and their work has no relevance to Islam."
Prince Mohammed bin Nayef also said these acts would not affect the Kingdom and the unity of its people.
Full report at:
http://english.alarabiya.net/en/News/middle-east/2015/08/10/Saudi-deputy-crown-prince-The-criminals-disregarded-the-sanctity-of-God-s-houses.html
----------
Saudi beheads citizen for murder
August 11, 2015
RIYADH: Saudi Arabia beheaded one of its citizens on Monday after he was convicted of murdering a relative, the interior ministry said, adding to a sharp increase in executions this year.
Saleh al-Zahrani was convicted of shooting dead Attiya al-Zahrani during a dispute between them, said the statement carried by the official SPA news agency.
The latest beheading in the southwestern Baha region brings to 115 the number of executions this year in the kingdom, compared with 87 for all of 2014, according to AFP tallies.
Rights group Amnesty International says Saudi Arabia is one of the world's most prolific executioners.
Full report at:
http://www.dawn.com/news/1199610/saudi-beheads-citizen-for-murder
----------
Egypt delays verdict in trial of Qaeda chief's brother
August 11, 2015
CAIRO : Egypt Monday postponed again its verdict in the trial of the brother of the Al-Qaeda chief but sentenced 10 co-defendants to death for forming a "terrorist group", a court official said.
The verdict against Mohamed al-Zawahiri, whose brother Ayman al-Zawahiri heads the global jihadist network, was postponed until September 27.
Zawahiri was arrested in August 2013 at the height of a campaign of repression of Islamists in the wake of the army's ouster of the country's Islamist president Mohamed Morsi.
He and 67 co-defendants are accused of having formed "a terrorist group linked to Al-Qaeda" and plotting attacks on government installations, security forces and Egypt's Christian minority - all charges which his lawyer has denied.
On Monday, 10 of those on trial were sentenced to death for "joining a terrorist group, inciting the killing of police and army officers and attacking police and government buildings," the court official said.
Full report at:
http://nation.com.pk/international/11-Aug-2015/egypt-delays-verdict-in-trial-of-qaeda-chief-s-brother
----------
ISIS claims responsibility for twin attacks in Iraq
11 August 2015
At least 58 people were killed and more than 100 wounded on Monday in two blasts in eastern Iraq claimed by the Islamic State of Iraq and Syria (ISIS) in a province once considered mostly free of them.
In January Iraqi officials declared victory over the insurgents in Diyala province, which borders Iran, after security forces and Shi'ite paramilitaries drove them out of towns and villages there. But the militants have remained active.
An explosion at a market in Huwaidar, about 4 km (2.5 miles) north of the provincial capital of Baquba, killed 51 people and wounded at least 80, police and medical sources said.
Infographic: Twin attacks in Iraq
"The attacker managed to pass a checkpoint by lining up with a wedding motorcade and then split off with his explosives-packed vehicle to blow it up in a crowded marketplace," said Diyala police captain Mohammed al-Tamimi.
ISIS, which controls large parts of northern and western Iraq, claimed responsibility for the attack in the mixed Sunni-Shi'ite Muslim province and said the target was "rejectionists", as the group refers to Shi'ites.
Full report at:
http://english.alarabiya.net/en/News/middle-east/2015/08/11/ISIS-claims-Iraq-car-bombs-that-kill-nearly-60.html
----------
Four Saudis get death in Iraq; defense not allowed
11 August 2015
JEDDAH: Four Saudis accused of terrorism were recently given the death sentence in Iraq without being allowed to defend themselves, local media reported, quoting informed sources, on Monday.
The Saudis — Fahad Alhezan, Majed Al-Baqmi, Mohammad Abdullah Al-Obaid and Jarallah Salim Al-Jarallah — were transferred from Al-Nasiriyah, Baghdad and Sosah's prisons to a prison in the Green Zone.
The Green Zone is a residential area for embassies, ministries and Iraqi Parliament and is surrounded by five security barricades.
The sources said that the death sentence was issued by the Al-Nasiriyah Court without the presence of a defense lawyer. The lawyer of Al-Jarallah, appointed by the Saudi embassy in Jordan, was killed in Iraq, said the sources.
A number of Saudis are languishing in Iraqi jails, many of them on terrorism charges. A ray of hope had emerged following the appointment of Thamer Al-Sabhan as the Saudi ambassador in Baghdad last month.
Al-Sabhan has been directed by Custodian of the Two Holy Mosques King Salman to work on the prisoners' file and ensure that the prisoners come back to Saudi Arabia. A special meeting is scheduled to be held with the parents of the prisoners.
Four other Saudis — Abdullah Azzam Al-Qahtani, Bader Oufan Al-Meri, Mohammad Sidat Al-Shanqiti and Ali bin Hasan Al-Shahri — were sentenced to various terms in jail in Iraq.
The spokesman for the prisoners' families, Abdullah Al-Nahed, said: "We appeal to Iraq's ministries of justice and interior to allow our children to contact us. Some of us here have not spoken with them for over a year now."
Full report at:
http://www.arabnews.com/saudi-arabia/news/789646
----------
Syria rebels fire 1,000 missiles at Shiite towns
10 August 2015
Syrian rebels fired around 1,000 rockets, mortar shells and homemade projectiles at two besieged Shiite towns in Idlib province, a monitor said Monday.
The Syrian Observatory for Human Rights said there were reports of dead and injured in the heavy fire on Fuaa and Kafraya that started on Sunday night, but it had no confirmed toll.
Fuaa and Kafraya are among the last regime-held outposts in the northwestern province of Idlib, most of which has been captured by an alliance that includes Al-Qaeda affiliate Al-Nusra Front.
The alliance, known as the Army of Conquest, began an attack against the villages on July 15, saying it was retaliation for a regime offensive on Zabadani, the last rebel-held bastion along Syria's border with Lebanon.
It said the attack would "give you a taste in the north of what our people are tasting in Zabadani".
Full report at:
http://english.alarabiya.net/en/News/middle-east/2015/08/10/Syria-rebels-fire-1-000-missiles-at-Shiite-towns-Monitor.html
----------
Panel rejects ministry's Haj cost package
11 August 2015
JEDDAH: The National Committee for Haj and Umrah has expressed reservations over Haj rates announced by the Haj Ministry, saying that the pricing should be jacked up.
The committee, which ostensibly protects the interests of Haj operators, feels that the pricing will lead to heavy losses for the operators.
Earlier, Haj Minister Bandar Hajjar announced that the minimum and maximum costs of Haj this year will be SR3,000 and SR11,890, respectively.
According to the announcement, Haj charges have been divided into various categories such as low, medium, top and supreme.
The committee said some points in the ministry's announcement were completely different from those agreed upon by the two parties. Some of these points contradict with some provisions of inland pilgrims' regulations and those regulations applicable in Civil Defense and Ministries of Haj and Municipal and Rural Affairs.
The Haj Ministry has assigned a consulting team to work out a preliminary study on Haj rates and e-portal but it (the study) proved to be inefficient because it depended on an un-specialized firm and, therefore, the findings were disappointing to the pilgrims and the sector, the committee said.
Full report at:
http://www.arabnews.com/saudi-arabia/news/789676
----------
Iraq premier rolls out sweeping reforms after demonstrations
10 August 2015
BAGHDAD: Iraqi Prime Minister Haider Al-Abadi proposed scrapping top government posts and privileges on Sunday in an ambitious reform drive sparked by swelling popular anger over corruption and poor governance.
The proposed reforms followed weeks of demonstrations and a call for tougher reform measures from top Shiite cleric Grand Ayatollah Ali Al-Sistani.
Amid a major heatwave that has seen temperatures top 50 degrees Celsius (120 degrees Fahrenheit), protesters have railed against the poor quality of services, especially power outages that leave Iraqis with only a few hours of government-supplied electricity per day.
But even with popular pressure and Sistani's backing, the entrenched nature of corruption in Iraq and the fact that parties across the political spectrum benefit from it will make any efforts to change the system extremely difficult.
One of the most drastic proposals outlined in an online statement by Abadi was the call for the elimination of the posts of vice president and deputy prime minister "immediately."
The Cabinet approved the reform plan on Sunday, Abadi's office said, but changes such as abolishing the posts would apparently require the constitution to be amended, which would necessitate parliamentary action.
The three vice presidential posts, which come with more privileges than responsibilities, are held by former top officials — Abadi's predecessor and main rival Nuri Al-Maliki, ex-Parliament speaker Osama Al-Nujaifi and former premier Iyad Allawi.
Full report at:
http://www.arabnews.com/middle-east/news/788961
----------
Syrian regime releases journalist Mazen Darwish
, 10 August 2015
Syrian authorities on Monday released a prominent human rights activist who spent more than three years in prison for reporting on the government's crackdown on protesters in the early days of the uprising against President Bashar Assad, activists said.
The release of Mazen Darwish appeared to be a goodwill gesture by Assad, whose government continues to hold thousands of political prisoners, according to human rights groups.
Darwish was the director of the Syrian Center for Media and Freedom of Expression when he was arrested in February 2012 in a Damascus security raid, along with two of his colleagues. The organization confirmed his release on Monday but said he is still standing trial and is scheduled to attend a court hearing on Aug. 30.
"After an arbitrary arrest that lasted three years, five months, and 23 days, Mazen Darwish has been released from prison today," the group said in a statement. It said his release followed an amnesty issued last month by Assad that supposedly covered his case.
Darwish was an outspoken critic of the government's crackdown on protests that erupted against Assad's rule in March 2011. He was one of the rare journalists who dared publish details of arbitrary arrests and violations by policy and security forces and became a symbol of the battle for human rights in Syria following his detention.
He has been standing trial on charges of "promoting terrorist acts."
"This is a good step," said Mahmoud Merei, who heads the Arab Organization for Human Rights. Speaking by telephone from the Syrian capital Damascus, Merei said "political detention should end in Syria and we hope that this decision will be followed by similar ones."
What began as an Arab Spring-style uprising against Assad's rule became a full-blown civil war in Syria. The conflict, now in its fifth year, has killed at least 250,000 people and wounded more than a million, according to the United Nations.
International human rights and press freedoms organizations, including the New York-based Committee to Protect Journalists and Amnesty International have long called on the Syrian government to release Darwish. The United Nations also called for his release.
In February, 71 human rights groups called on the Syrian government to immediately free Darwish and his colleagues Hani al-Zitani and Hussein Gharir. The joint statement came on the third anniversary of their arrest.
Full report at:
http://english.alarabiya.net/en/News/middle-east/2015/08/10/Syrian-regime-releases-journalist-Mazen-Darwish.html
----------
Saudi FM discusses Yemen, Syria with German counterpart
10 August 2015
Saudi Foreign Minister Adel al-Jubeir held talks with his German counterpart Frank-Walter Steinmeier on Monday, and Syria and Yemen were among the discussed topics.
Jubeir said he discussed the crises in Yemen and Syria and addressed ways to combat terrorism and Iran's nuclear agreement with the West.
During a joint press conference, he added that Saudi Arabia is looking to strengthen bilateral cooperation with Germany in the future.
On Tuesday, Jubeir will visit Moscow to discuss the conflict in Syria with his Russian counterpart Sergei Lavrov, according to a statement issued by the Russia's foreign ministry and confirmed by the Saudi Press Agency.
Full report at:
http://english.alarabiya.net/en/News/middle-east/2015/08/10/Al-Jubeir-to-visit-Russia-for-Syria-and-Yemen-talks.html
----------
India
Just Four of the 26 Persons Executed In India Since 1991 Belonged To the Muslim Community
Aug 11, 2015
NEW DELHI: Just four of the 26 persons executed in India since 1991 belonged to the Muslim community, and yet a perception has been created by some media channels in the aftermath of the hanging of Yakub Memon that members of the minority community are being targeted, said government sources.
An internal report by the I&B ministry has taken exception to the "tenor of discussion'' in the four channels — Aaj Tak, ABP News, NDTV India and NDTV 24X7 — and argued it was a "serious threat to national security'' and had "sown seeds of distrust between communities.'' The common thread in their reporting was that Supreme Court had been unfair to Memon.
The ministry feels that, at the very least, an explanation should be demanded from these channels. "Repeated examples of the death sentence of Beant Singh being commuted are being cited. Truth is both of them are on death row. Similarly in the Rajiv Gandhi assassination case, it was the Congress government that delayed consideration of the mercy petition that led to SC converting their death sentence to life imprisonment,'' said a source who had reviewed the report.
The channels have been charged with telecasting content that was denigrating to the President, judiciary, could incite violence and against national security. The ministry has prepared grounds for justifying their action against the channels pointing out that two Hindi channels broadcast wanted gangster Chhota Shakeel's interview without editing out comments that clearly suggested unleashing of communal violence and made disparaging comments on the judiciary.
"The world has seen what you did with Yakub Memon... We don't believe in your judiciary. This was justice based on revenge. You people took revenge from one person...'' Chhota Shakeel told Aaj Tak. And he told ABP News: "The world has seen how you have executed an innocent man... After Babri Masjid people had taken action and many things had happened. For every action, there is a reaction... there are many people besides us (who can take action).''
The anchor on NDTV India described the order to hang Memon as "unfortunate'' and said that the courts only found merit in the prosecution's case while NDTV 24X7 in an interview of lawyer Majeed Memon broadcast remarks against the Indian judicial system. Memon was quoted commenting on the pardon given to accused Usmann Jaan Khan saying, "If you show this pardon to any person outside India, UK authorities or US authorities or the best brains in the world as far as criminal law is concerned, they will laugh at you. They will laugh at you; they'll say is this justice? Usmaan Jaan Khan has played a role in this whole operation 10 times more than Yakub.''
Full report at:
http://timesofindia.indiatimes.com/india/Just-4-of-26-hanged-since-91-Muslims/articleshow/48430762.cms
----------
Muslim and Hindu singers promote communal harmony by performing at Gujarat festival held in US
Aug 10, 2015
Rajkot, Aug 10 (ANI): India is a multi-religious, multilingual and multi-racial country, and the people have always enjoyed this diversity. A model of religious amity among people of different faiths was seen at the Gujarat Festival held recently in the United States of America. The festival witnessed a variety of performances by artists of different religious backgrounds highlighting a confluence of art and communal harmony. People were treated with melodious folk songs performed by Osman Mir who started his career as a tabla player. Full report at:
http://www.aninews.in/videogallery9/41199-muslim-and-hindu-singers-promote-communal-harmony-by-performing-at-gujarat-festival-held-in-us.html
----------
Owaisi: All India Muslim Personal Law Board should appeal Ram Temple order
August 11,2015
Hyderabad: AIMIM President and Hyderabad MP Asaduddin Owaisi on Monday said the All India Muslim Personal Law Board should file an appeal against the Supreme Court order allowing replacement of tarpaulin and other material at the makeshift Ram temple at the disputed site in Ayodhya.
AIMPLB must appeal against (the ruling) or implead itself in this particular case, he said on the social networking site, Twitter. The Supreme Court on Monday ordered replacement of old and worn-out tarpaulin sheet, ropes and other material at the makeshift Ram temple.
Full report at:
http://www.thehansindia.com/posts/index/2015-08-11/Owaisi-All-India-Muslim-Personal-Law-Board-should-appeal-Ram-Temple-order-169238
----------
Tripura militants have camps in Bangladesh: CM
Aug 11, 2015
AGARTALA: Terrorist outfits of Tripura have camps in Bangladesh, though they have no hideout in the state currently, chief minister Manik Sarkar said.
"Militant outfits have no camps or hideouts in Tripura. However, the terrorists of the state have camps in adjoining Bangladesh," he told the Tripura assembly on Monday.
Sarkar, who holds the home portfolio, said during the past two years (2013 and 2014), 12 extremist-related incidents had occurred in the state in which four people were killed, two injured and 18 people abducted. Of the 18 kidnapped people, 16 were released by the rebels.
"There is no militancy related incident so far this year. A significant number of militants have surrendered to the government in the recent past," he added.
India is erecting a fence and putting up flood lighting along the 4,096-km India-Bangladesh border in West Bengal, Assam, Tripura, Meghalaya and Mizoram to check trans-border movement of militants and check border crimes.
"Of the 856-km India-Bangladesh border with Tripura, fencing could not be completed in a little over 115 km border due to numerous reasons, including objection raised by Bangladeshi border guards," Sarkar added.
Full report at:
http://timesofindia.indiatimes.com/india/Tripura-militants-have-camps-in-Bangladesh-CM/articleshow/48434085.cms
----------
If India boycotts meet, it's their choice: Pakistan
Aug 11, 2015
ISLAMABAD: If India boycotts the Commonwealth Parliamentary Conference (CPC) here because the Jammu & Kashmir assembly speaker was not invited, it is India's problem, a Pakistani official has said.
But come what may, Pakistan won't budge from its stand, said Sardar Ayaz Sadiq, speaker of the national assembly who is also the president of the CPC.
The Dawn on Tuesday quoted Sadiq as saying that Pakistan's position on Jammu & Kashmir was clear.
Pakistan broke protocol on Kashmir speaker, Indian envoy says
"Pakistan will not invite the speaker of the Jammu & Kashmir assembly to the (CPC) (next month).
Full report at:
http://timesofindia.indiatimes.com/india/If-India-boycotts-meet-its-their-choice-Pakistan/articleshow/48435488.cms
----------
Udhampur attack: Pak terrorist Naveed sent to 14-day NIA custody
Aug 11, 2015
Naveed Yakub, the captured Pakistani terrorist, was on Tuesday remanded to 14-day police custody by the special National Investigation Agency (NIA)-designate court.
He was brought back to Jammu on Monday evening from Srinagar as security agencies feared that the LeT may try to target him. He was produced before the NIA court early Tuesday morning, official sources said.
NIA said it needed Naveed's custody as more angles of the case needed to be investigated for which his custody is important.
Naveed has been booked under the Unlawful Activity Prevention Act. The NIA has also slapped him with murder charges under section 302, for which the maximum sentence can be hanging.
As per reports, Naveed had infiltrated through Tangdhar area of Kupwara and then travelled to Tangmarg area of Baramulla in North Kashmir. He stayed in Baba Reshi ain Tangmarg before proceeding towards Awantipore in South kashmir through Srinagar.
Full report at:
http://www.hindustantimes.com/india-news/udhampur-attack-pak-terrorist-naveed-sent-to-14-day-nia-custody/article1-1378800.aspx
----------
Indian PM Narendra Modi to make history in UAE
10 August 2015
Indian Prime Minister Narendra Modi is set to make history when he visits the United Arab Emirates (UAE) later this month.
Modi's visit on August 16 and 17, will be the first by an Indian prime minister in 34 years - the previous being by Indira Gandhi in 1981.
The visit is expected to focus on strengthening trade and investment between the two countries.
Official engagements will also be held in Abu Dhabi and Dubai that will concentrate on energy, trade and security partnership between the two countries.
A reception has also been arranged in Dubai, which is expected to be attended by more than 40,000 Indians.
Dr Shamsheer Vayalil, member of the organizing committee said: "Prime Minister Narendra Modi's visit is of great significance for the bilateral relations and social ties that exist between the UAE and India. We are not leaving any stone unturned to show our support and love for our homeland to our Prime Minister.
"We are making all the possible efforts to ensure that the entire Indian community can become a part of this historic visit. We are hoping that this is a first of many visits by the Indian PM to the Emirates."
Full report at:
http://english.alarabiya.net/en/News/middle-east/2015/08/10/Indian-PM-Narendra-Modi-to-visit-the-UAE-.html
----------
South Asia
War trial: Death for Siraj, Akram jailed until death
August 11, 2015
A special tribunal today found two Bagerhat Razakars guilty of war crimes during the Liberation War of Bangladesh in 1971.
International Crimes Tribunal-1 found Sheikh Sirajul Haque alias Siraj Master guilty in five of the six charges brought against him.
Siraj Master was given death in each of the five charges that included two of genocide and three of crimes against humanity. He can be either hanged or shot down, the verdict said.
Khan Akram Hossain was found guilty in one charge of crimes against humanity against the three brough against him. He was awarded jail until death.
Justice M Enayetur Rahim-led tribunal began reading out the summary of 133-page verdict around 11:00am. Both the convicts were brought to the court premises around 9:00am.
One other Abdul Latif Talukder, who was also accused along with these two men, has been abated from the trial after he died while undergoing treatment at a Dhaka hospital a few days ago.
Full report at:
http://www.thedailystar.net/country/war-trial-bagerhat-razakars%E2%80%99-taken-tribunal-125131
----------
Five dead, 16 wounded in suicide attack near Kabul airport
August 11, 2015
KABUL: At least five people were killed and 16 wounded by a suicide car bomb at a busy roundabout near the entrance to Kabul's international airport on Monday, police said.
"Our initial information shows four people have been martyred in the suicide attack. We are trying to identify the victims," Kabul CID chief Fraidoon Obaidi told AFP.
He said 10 others were wounded while the Afghan health ministry put that figure at 15.
Obaidi confirmed that the explosion was caused by a suicide car bomb.
"The explosion occurred at the first checkpoint of Kabul airport," said deputy Kabul police chief Sayed Gul Agha Rouhani.
Smoke billowed from the scene of the explosion. An AFP photographer saw pieces of charred flesh strewn around the checkpoint, where passengers undergo the first round of body checks before entering the airport. Ambulances with wailing sirens rushed to the area and were seen removing bodies.
No group immediately claimed responsibility for the attack, which follows a wave of lethal bombings in the Afghan capital on Friday as the insurgency escalates after a bitter power transition within the Taliban.
Blasts in Afghanistan on Friday struck near an army complex, a police academy and a United States special forces base, killing at least 51 people.
They were the first major attacks since Mullah Akhtar Mansour was named as the new Taliban chief in an acrimonious power transition after the insurgents confirmed the death of longtime leader Mullah Omar.
Full report at:
http://www.dawn.com/news/1199602/five-dead-16-wounded-in-suicide-attack-near-kabul-airport
----------
Afghans call to boycott trade with Pakistan for sheltering terror
Aug 11 2015
Outraged with a series of deadly and devastating bombings in capital Kabul and across the country, the activists have started a campaign to boycott the Pakistani products and currency widely used in Afghanistan.
The campaign gained momentum particularly in social media following a press conference by President Mohammad Ashraf Ghani on Monday who slammed Pakistan's role in curbing the mercenaries having safe havens in Pakistan from where they coordinate and launch deadly attacks in Afghanistan.
Ahead of President Ghani's press conference, scores of people gathered in Shah Shaheed area to hold a candle light vigil to remember the victims of the devastating attack.
Pictures emerging from the site showing the angry protesters condemning the brutal attack, blaming Pakistan's powerful military intelligence – ISI for supporting the terror groups by providing them with safe havens within the Pakistani soil.
The pictures purportedly show the protesters calling for boycott of the Pakistani products and currency by going further and putting the Pakistani currency on fire.
Furor was sparked among the Afghan people after scores of people were killed or wounded in spate deadly attacks by the Taliban group in capital Kabul last week.
Full report at:
http://www.khaama.com/afghans-call-to-boycott-trade-with-pakistan-for-sheltering-terror-9582
----------
Two landmine planters killed by own bomb in Farah
Aug 11 2015
Two landmine planters have been killed in the explosion of their own bomb in western Farah province.
Abdul Rawouf Rahmani, a spokesman for the military in Farah province said that two Taliban militants were planting a landmine on a roadside that exploded on them in Kansak area of Bala Baluk District this morning.
He added that both insurgents were killed on the spot.
In the meantime, Rahmani said that Afghan National Army has begun a clearance operation in Pusht Rod District which is successfully ongoing.
He said four Taliban insurgents have been killed and nine others wounded during this operation since yesterday.
Full report at:
http://www.khaama.com/two-landmine-planters-killed-by-own-bomb-in-farah-3737
----------
Ashraf Ghani slams Pakistan over recent Kabul attacks
August 11, 2015
KABUL: Afghan President Ashraf Ghani lambasted Pakistan on Monday over a recent wave of insurgent attacks in the capital Kabul that killed at least 56 people.
"The last few days have shown that suicide bomber training camps and bomb-producing factories which are killing our people are as active as before in Pakistan," Ghani told a news conference.
"We hoped for peace but we are receiving messages of war from Pakistan." Pakistan has historically supported the Taliban insurgents and many Afghans accuse it of nurturing militant sanctuaries on its soil in the hope of maintaining influence in Afghanistan.
Since coming to power last year Ghani has courted Pakistan, expending substantial domestic political capital in the process, in hopes Islamabad will persuade the Taliban to come to the negotiating table.
But his comments on Monday are the strongest yet against Pakistan.
"In my telephone call with Pakistan prime minister (on Sunday), I told Pakistan to see terrorism in Afghanistan the same way it sees terrorism in Pakistan," he said, referring to Prime Minister Nawaz Sharif.
"I ask the Pakistani government if the mass killings of Shah Shaheed had happened in Islamabad and the perpetrators were in Afghanistan, what would you do?" he said, referring to a Kabul neighbourhood that suffered a fatal truck bombing on Friday.
At least five people were killed Monday when a Taliban suicide car bomber struck near the entrance of Kabul's international airport.
Take a look: Five dead, 16 wounded in suicide attack near Kabul airport.
The attack follows a barrage of deadly bombings in the Afghan capital on Friday, which struck close to an army complex, a police academy and a US special forces base and killed at least 51 people.
Pakistan had brokered peace talks between the Afghan government and Taliban in July, the first round of which took place in Murree. But after the announced death of Taliban supremo Mullah Omar, a second round of talks has been postponed on the Taliban's insistence, said Islamabad.
Also read: Peace talks in jeopardy: Afghan Taliban postpone second round of talks.
Pakistan responds to Ghani's comments
A statement by the Foreign Office on Monday said: "We have taken note of the press conference by the President of Afghanistan held in Kabul today and its contents relating to Pakistan.
Full report at:
http://www.dawn.com/news/1199613/ashraf-ghani-slams-pakistan-over-recent-kabul-attacks
----------
Parliament deplores 'sexual terrorism'
August 11, 2015
ISLAMABAD - The Parliament yesterday strongly condemned the sexual abuse of children in Kasur, asked the government to punish the perpetrators and vowed to make new laws to curb child abuse.
Both the houses of parliament unanimously adopted separate resolutions saying that the alleged abuse of 280 children in Hussain Khanwala village of Punjab was dreadful and intolerable.
"The house vehemently condemns these horrendous incidents in the strongest possible terms and expresses its deepest sympathy and solidarity with the victims and their families," read the resolution moved by Inter-Provincial Coordination Minister Riaz Pirzada in the National Assembly.
The resolution called upon the provincial government to ensure that all the culprits and their accomplices are apprehended so that the guilty can be given exemplary punishment.
"This house reiterates its commitment to support enforcement of laws relating to protection of rights of the child and resolves to enact appropriate legislation in this regard at the earliest," it said.
Unfortunately, the house adopted the resolution when only around 30 lawmakers, mainly from opposition benches, were present.
The opposition lawmakers spent nearly two hours to convince the speaker to initiate debate by taking up the issue in shape of adjournment motion or call-attention notice.
Despite the walkouts of all major opposition parties including PPP, PTI, MQM, the chair gave treasury lawmakers a chance to speak who argued that a provincial matter cannot be debated in the National Assembly.
Almost all the MNAs across the political divide however termed it 'sexual terrorism' and they were unanimous that exemplary punishment should be awarded to the culprits and their associates. It was proposed that additional legislation should immediately be enacted to deal with this heinous crime.
PPP lawmaker Nafeesa Shah said there was a need of proper legislation to deal with this brutality which "snatches the innocence of childhood from the children". "It (Kasur scandal) is just a tip of the iceberg… this is not a provincial matter but a national tragedy."
PTI lawmaker Shah Mehmood Qureshi remarked that exemplary punishment should be given to the criminals. He opposed judicial enquiry of the matter, arguing that it might not satisfy the aggrieved families. Citing the example of Model Town report, he said the report of judicial commission on this incident too would disappoint the victims.
An MQM lawmaker thanked the media for highlighting the incident. "SHOs and police officers should also be probed thoroughly who were serving in this area for last five years," said Rashid Godil, adding that it should not be considered a provincial matter. A suggestion was also floated from religio-political party (JUI-F) to deal this issue in an 'Islamic way' under 'Hadood ordinance'. Party lawmaker Naeema Kishwar said, "Culprits should be stoned to death under Islamic law."
Full report at:
http://nation.com.pk/national/11-Aug-2015/parliament-deplores-sexual-terrorism
----------
Indian, Afghan agencies behind Balochistan unrest: FC
August 11, 2015
QUETTA - Frontier Corps (FC) Balochistan chief Major General Sher Afgan said Monday that Indian and Afghan intelligence agencies were involved in the prevailing unrest in the restive province.
He said spy agencies of the two countries were behind subversive activities to disrupt peace in the province.
"However, our forces with the support of masses foiled designs of enemies," Major General Sher Afgan told reporters at FC headquarters.
"More than 50,000 FC personnel are guarding the border along Afghanistan, and providing security to 416 kilometres of gas pipelines, 300 kilometres of railway lines and other vital national installations in Balochistan," said Maj Gen Afghan.
"Terrorism is the biggest problem in the province," he said.
The FC chief said despite receiving support from abroad, only a handful of miscreants were present in Balochistan and adding that "their number is on a constant decline".
In response to a question, Maj Gen Sher Afgan said the government had already announced Rs5 billion compensation package for militants laying down their weapons before security forces.
Full report at:
http://nation.com.pk/national/11-Aug-2015/indian-afghan-agencies-behind-balochistan-unrest-fc
----------
Kidnappers kill abducted engineers in Ghazni
Aug 11 2015
Officials have found the dead bodies of four engineers who were abducted by armed men from Jaghato District of Ghazni province five days before.
Shafiq Nang Safai, spokesman for the governor of Ghazni province said that the four dead bodies were found in Gusfandi area of Ghazni city on Tuesday morning.
The engineers were reportedly working on a construction project when gunmen abducted them.
However, no further details have come on surface to indicate who the kidnappers were, motive behind the kidnapping and why they killed the hostages?
Ghazni is one of the volatile provinces where insurgents are functioning in several of its remote areas.
Full report at:
http://www.khaama.com/kidnappers-kill-abducted-engineers-in-ghazni-3738
----------
Five civilians wounded in Ghazni, Nangarhar explosions
Aug 11 2015
Five civilians have sustained injuries in two separate explosions in Ghazni and Nangarhar provinces.
Shafiq Nang Safai, spokesman for the governor of Ghazni province said that a motorcycle-bomb blasted in Ali Lala square of Ghazni city leaving three civilians wounded earlier this morning.
Another explosion took place targeting the border police in Naranj Bagh area of Jalalabad city around 06:00 am this morning.
Full report at:
http://www.khaama.com/five-civilians-wounded-in-ghazni-nangarhar-explosions-3735
-----------
5.9-magnitude quake hits Pakistan, Afghanistan
August 11, 2015
KABUL : A 5.
9-magnitude earthquake hit northern Afghanistan on Monday, the US Geological Survey said, with tremors felt as far away as Indian-administered Kashmir.
The quake struck 224 kilometres (140 miles) deep beneath the Hindu Kush mountains and close to the Wakhan Corridor, the narrow strip of far northeastern Afghanistan that lies between Tajikistan and Pakistan.
In Pakistan the quake was felt in Khyber Pakhtunkhwa province in the northwest and the central province of Punjab, as well as the capital Islamabad.
A 5.
Full report at:
http://nation.com.pk/international/11-Aug-2015/5-9-magnitude-quake-hits-pakistan-afghanistan
----------
North America
Feds: Man Wanted to Form Small Army for Islamic State Group
NEWARK, N.J.
Aug 10, 2015
A former New Jersey man who traveled to the Middle East last year wanted to form a small army to fight with the Islamic State group, federal authorities said Monday, weeks after the man's brother was arrested in the same alleged plot.
Nader Saadeh, 20, was charged with attempting to provide material support to a designated terrorist organization.
He was ordered held without bail following a brief appearance Monday in U.S. District Court in Newark. A judge appointed a lawyer to represent him after Saadeh said he could not afford to pay for an attorney.
The former Rutherford resident's arrest came after authorities arrested his 23-year-old brother, Alaa, and 21-year-old Samuel Rahamin Topaz of Fort Lee on similar charges.
Authorities say Nader Saadeh traveled to the Middle East in May to join the Islamic militant organization but was arrested in Jordan and had been held there in custody. It was not immediately clear when or how he returned to the United States.
He could face several decades in prison if convicted on all counts.
Between 2012 and 2013, Saadeh allegedly expressed his hatred for the United States and his wish to form a small army via electronic messages. After the Islamic State group's leader declared an Islamic caliphate in parts of Syria and Iraq in July 2014, authorities say Saadeh posted images of the group's flags on Facebook.
Full report at:
http://abcnews.go.com/US/wireStory/jersey-man-charged-plotting-support-terror-group-32991865
----------
This study shows just how diverse America's Muslims actually are
August 10th, 2015
Between teenage brides and celebrity athletes/chefs/musicians-turned militants, there's more than enough media coverage about Westerners flooding into the Syrian battlefield. But what about the millions of normal Muslims practicing Islam in the US?
Turns out, they're just as diverse.
A 2014 study by the Pew Research Institute showed Islam to be among the most diverse religions in America, just behind Seventh Day Adventists (who knew?).
In research that examined 29 different religious affiliations and five racial and ethnic groups — Hispanics, non-Hispanic whites, blacks, Asians and a category of mixed-race Americans and other races — Islam is ranked as having the second most diverse group of members.
Pew catagorized their findings on a 10 point scale in the following way: The more diversely populated the religion, the higher the number. This means, a religious group made up entirely of one race would get zero, while one comprised of equal parts of all five categories would get a 10.
Full report at:
http://www.albawaba.com/loop/study-shows-just-how-diverse-america%E2%80%99s-muslims-actually-are-729084
----------
Canadian Muslims speak for action against ISIS
Bob Diotte
Monday, August 10, 2015
It's the first time I have seen a major communication from Canadian Muslims. But there it was; a full page ad in the Financial Post saying they were a Canadian Muslim voice that wishes to be heard.
It went on to say they acknowledge the extraordinary experience of acceptance of Muslims in Canadian society and that they are committed to countering the impact of the hate-filled ideologies of the Muslim Brotherhood, the Khomeinists and other extremist groups on Canada.
It goes on outlining their beliefs and notes that they unequivocally support Canadian legislation prohibiting forced marriages, female genital mutilation and other such loathsome practices. It also states they support Canada's continued involvement in the military mission against ISIS as well as Canada's listing of the Iranian and Syrian regimes as state sponsors of terror.
It concludes by stating that they are Canadian Muslims committed to a Canadian tomorrow and asks that we stand with them in their fight against radical Islam in Canada today.
You can see the entire text by logging on to: muslimsfacingtomorrow.com
Election interesting
— and confusing
The current federal election is certainly going to be the most interesting and perhaps the most confusing of any federal election in recent times.
My late father Tony, was an active NDP supporter and I always argued with him; stating that this new party (the NDP is fairly new) should really have infiltrated the Liberal Party and moved its policies to the left.
That would have meant a clear distinction between the old-line parties, with the Tories representing business and the Liberals looking after the middle class.
That would have meant those who spent most of their time building a new party could have spent their time gaining power within the Liberal Party and they might, in fact, be the governing national party by now.
However it might just happen soon the way things are going.
I think many NDP supporters have been surprised to learn that Thomas Mulcair was in fact a Liberal Cabinet Minister in Quebec under Premier Charest up until 2006.
Medicare among the best
No doubt we have one of the best medicare programs in the world.
Yes, it isn't perfect but it's what the average Canadian has said it is what he or she wants. However, we can do some fine tuning to make it even better by trimming some of the costs.
For example a recent story out of Toronto's Western Hospital shows how we can improve the system by controlling costs.
Full report at:
http://www.saultthisweek.com/2015/08/10/canadian-muslims-speak-for-action-against-isis
---------
Trump supports use of US ground troops to fight ISIS
August 10, 2015
Republican presidential candidate Donald Trump said today that he supported the use of U.S. ground troops to fight Islamic State in the Middle East.
Speaking on MSNBC's "Morning Joe" program, the billionaire businessman said it would take American soldiers to target the militant group.
"They have great money because they have oil," Trump said. "Every place where they have oil I would knock the hell out of them."
"I would knock out the source of their wealth, the primary sources of their wealth, which is oil. And in order to do that, you would have to put boots on the ground. I would knock the hell out of them but I'd put a ring around it and I'd take the oil for our country," he told MSNBC.
Full report at:
http://nation.com.pk/international/10-Aug-2015/trump-supports-use-of-us-ground-troops-to-fight-isis
----------
How a Muslim cemetery became a battleground for America's soul
August 10, 2015
Farmersville, Texas, lies about 35 miles northeast of Dallas — a few hours from my home in Houston. So when I read that the city council had scheduled a special town hall meeting to address opposition to a Muslim cemetery, I decided to take a road trip to attend the meeting.
As I neared Farmersville I drove past quaint businesses, many of which were in residential buildings. I stopped in a gas station where the clerk said he hadn't heard of the cemetery controversy but shared that his Hindu faith required him to be accepting of everyone.
I didn't realize I wasn't yet in Farmersville.
I turned onto Texas State Highway 78 and drove through an increasingly rural landscape. The road went on for miles until signs for Farmersville finally began to appear.
I arrived late at Farmersville High School, the location of the meeting, and found a jam-packed parking lot. There were at least four police cruisers in the lot. Two officers directed me to park in a grassy area behind the school or in the church lot across the street.
I chose the back lot, half-kidding myself that it would make for a quicker escape, if necessary.
The temperature must have been in the 80s inside the school cafeteria. There were dozens of people in the hallways, the overflow from the cafeteria. The sound of makeshift paper fans waving back and forth filled the room. A line of people stood behind the microphone waiting for their turn to speak.
In the hallway a smiling woman manned a table with pamphlets extolling the town's virtues. "Farmersville: Discover a Texas Treasure."
The first speaker I heard complained to Imam Khalil Abdur-Rashid, the Islamic Association of Collin County representative, about what she understood to be the tenets of his faith.
"It's not your custom to bury caskets," she said, referring to the prevalent and erroneous belief that Muslims, who sometimes bury their dead without coffins, may poison the drinking water. The potential pollution of the water was repeated over and over.
The imam assured the audience that cemetery planners were going "above and beyond" Texas state requirements. His voice was not as loud as that of a man in the back of the room who shouted, "You're all liars!"
Farmersville is a town of about 3,300 with a median income of $42,000. Three-quarters of the residents are white. It's typical of small-town America.
So is the protest really about Farmersville? Or is it about Islamophobia of the sort that has beset American towns for years? Are these the same angry people we see in towns across America, scared of cemeteries, scared of mosques, scared of Muslims?
The people in this rural part of Texas are not the first to fear the unfamiliar.
In his book "American Panic: A History of Who Scares Us and Why," Mark Stein examines the history of American bigotry. He quotes a 19th-century politician charging that Catholicism will rob Americans of our rights, and writes about a New York-based business owner who viewed Chinese immigrants as "ready and anxious" to step over Americans "to possess the land."
At the town hall meeting, a woman faced Abdur-Rashid.
"Everywhere you have been you've caused some kind of problem," she said. "It's not going to happen in Farmersville."
Full report at:
http://gazette.com/how-a-muslim-cemetery-became-a-battleground-for-americas-soul-commentary/article/1557148
----------
How Uninformed U.S. Politicians Help ISIS
BY KURT EICHENWALD
AUGUST 10, 2015
The world has to confront an increasingly intractable problem: the growing threat from radical Christian terrorists who have slaughtered thousands of innocents. There's the loose affiliation of terror groups tied to the Christian Identity movement, as well as the Orange Volunteers, the Army of God, the Phineas Priesthood and many, many others. And those are just the homegrown organizations—Christianity has inspired violent groups overseas that murder and behead people, and rape and kill young children. The Lord's Resistance Army, a radical fundamentalist Christian group, has committed thousands of murders and kidnappings in the name of Jesus. There's also the Church of Almighty God in China, the National Liberation Front of Tripura in India and other Christian terrorist organizations around the globe.
On top of those are the "lone wolf" terrorists inspired by Scripture filled with calls for violence, including murdering nonbelievers and those who don't honor the Sabbath, slicing open the bellies of pregnant women and celebrating the bashing of babies to death on rocks. There's Eric Rudolph, Shelley Shannon, Paul Jennings Hill—all murderers for Christ. Anders Behring Breivik killed 77 people in Norway, proclaiming he was seeking to create a "monocultural Christian Europe."
Christians often deny that these acts of terrorism have anything to do with Christianity and state that theirs is a religion of peace, but they fail to strongly condemn the violent actions. Plenty refuse to even denounce the murder of doctors who provide health care services that the devout oppose. And the greatest financial support for the radical Catholic terrorists in the Irish Republican Army came from American Christians. Despite the IRA's murder of 1,800 people, American politicians proved they were soft on terrorism. Representative Peter King of New York even went to Ireland and hung out with the group's sympathizers. Fortunately, the British were tough and used enhanced interrogation techniques—including waterboarding—on these radicals.
Try Newsweek for only $1.25 per week
Offended by what you've just read? Good. You're supposed to be. That diatribe, while all true, is horrific. Sadistic lunatics, whether as individuals or groups, have nothing to do with Christianity. They have just appropriated a peaceful religion to justify their murderous impulses.
Don't think, though, that this is about to become a false equivalence of the terrorism undertaken by self-identified Christians and Muslims. Sunni extremists accounted for 70 percent of all terrorist killings in 2011, or 8,886 people, according to the most recent unclassified report by the government's National Counterterrorism Center; the number of Christian terrorists is so small that the NCC does not give it an individual category, although this was the year of the Breivik massacre. For Muslims, though, the most important number is how many devotees of Islam who do not commit terrorist acts themselves are inclined to support the religious teachings of those who do. In Europe alone, according to Angel Rabasa, a senior political scientist at the Rand Corporation, 1 percent of all Muslims are at risk of becoming radicals because they sympathize with the fundamentalist teachings that preach violence. That percentage may seem low, but given that Islam has about 1.6 billion adherents, the number of Muslims open to violence is far too high. Based on Rabasa's analysis, more than 300,000 Muslims in Europe could be radicalized, a dangerously large group of nonviolent people who could be pushed over the edge toward terrorist acts.
So the point of the "Christian terrorists" rant is to prove a point about national security imperatives in the face of violent attacks by some Muslim sects and the abject ignorance of some prominent Republicans who insist that, by avoiding the phrase "radical Islamic terrorists," the Obama administration is soft on ISIS, Al Qaeda and others. This GOP demand for its own form of political correctness feeds into what the Islamic murderers want, intelligence experts say, because it helps them portray the Western fight against terrorist groups as a war on Muslims. In fact, with the endless parsing of language about terrorism—such as criticizing Obama for calling the Benghazi attack an "act of terror" rather than "a terrorist act" (or was it the other way around?)—the GOP PC police have shown themselves willing to undermine America's fight against psychopathic monsters to score political points with the uninformed.
Full report at:
http://www.newsweek.com/why-not-war-radical-islamist-terrorists-361360
----------
Europe
Russia Keen to Limit Saudi Influence in Islamic Finance Push
11th August 2015
In an article for the Russian International Affairs Council, Yuri Barmin Analyst on Russia and its Middle East policy presents a great overview of the current state of affairs of the development of Islamic finance within Russia and the CIS. Yuri discusses the double push by Russian banks to enter into the Islamic financial market, initially during the global financial crisis in 2008 and most recently since 2014 due to the imposition of EU sanctions.
The initial push by VTB to issue a $200 million sukuk in 2009 in cooperation with Kuwait Finance House fell through due to a complexities, though Ak Bars from Tatarstan was later successful in tapping Middle Eastern investors in 2011 and 2014. An "Islamic window" was launched in the Bashkir branch of the Nizhniy Novgorod-based Ellipse Bank.
Referring to a Russian language article the author states that Islamic banking could account for up to 5% of the entire financial market in Russia just five years after its legalization. As of now, several Islamic banks have voiced their intention to open branches in Russia. They include Bahrain's Al Baraka, Sudan's Al Shamal, UAE's Al Hilal as well as leading Malaysian banks.
Legal Framework Lacking
Referring to a lack of legal framework, "The development of Islamic finance in Russia is hampered by the absence of a necessary legal framework. For instance, Russian laws do not contain definitions of such terms as "an Islamic financial institution" or "a bank acting in compliance with the principles of Sharia law", as well as a number of other terms specific to this type of banking."
Full report at:
https://www.islamicfinance.com/2015/08/russia-keen-limit-saudi-influence-islamic-finance-push/
----------
Moscow becoming Europe's largest Muslim city
Jul 31 2015
Though turning more hostile to Muslims, Moscow has witnessed major `Eid Al-Fitr prayer in which more than 60,000 gathered for prayers at the golden-domed Sobornaya mosque despite the bewildered and scared faces of passersby and baton-wielding police officers around them.
"You want to pray at a mosque, you have to enter a cage," Murad Abdullaev, a full-bearded 29-year-old from Derbent, Russia's southernmost city in the restive province of Dagestan, told Al Jazeera.
"You pray at work, you get reprimanded, but when your colleagues show up hungover or take long cigarette breaks, it's OK," he said describing his colleagues at a construction company in southern Moscow.
In a scene that became normal over the past few years, thousands of Muslims gathered on Saturday morning, chanting "God is great!"
They bent, knelt, and prostrated in front of the golden-domed Sobornaya mosque in Moscow's main square and five temporarily blocked streets.
An additional 180,000 gathering at five other mosques and three dozen temporary sites in Moscow and the greater Moscow region, to mark the end of this year's holy month of Ramadan, police said.
Each person had to pass through a metal detector and undergo an identification check.
Nevertheless, some Muscovites appeared unhappy about the scene, though the prayer was held in the early hours of the day.
"Again, [some] streets are full of praying people, again the adjoining streets are blocked, [there are] tensions with police," popular blogger Ilya Varlamov wrote.
"For many years, this has been the picture in Moscow twice a year. And each time, everyone is surprised," the blogger said.
Unwelcome
In Moscow, Muslims, either Russian-born or immigrant, secular or practicing, don't feel welcome.
With only six mosques in the large city, attempts to build new ones have been met with protests and rallies.
There are only two halal hotels in the city that sees millions of visitors a year. The city's only Muslim gym and health clinic closed down shortly after opening.
Despite the large number of Muslim population in the city, there are only a handful of Muslim kindergartens or schools.
Full report at:
http://www.dailytrust.com.ng/news/islamic-forum/moscow-becoming-europe-s-largest-muslim-city/20806.html
----------
Moscow Cathedral Mosque to be reopened on Eid al-Adha
August 10, 2015
Moscow: On the eve of the Muslim holy feast of Eid al-Adha, re-opening ceremony of the Moscow Cathedral Mosque, with the President of the Russian Federation and foreign leaders is scheduled in September 2015.
In the year of the 70th anniversary of the Great Victory over fascism of our people, through 111 years after its opening, a renewed Moscow Cathedral Mosque – the Main, by definition of President Vladimir Putin, in Russia Mosque reopens the doors of prayer rooms for Muslim believers, for guests from around the world.
Start of forming the Muslim community of Moscow dates from the early Middle Ages. The evidence became extant Tatar names of streets, historic buildings farmsteads, Arab and Turkish embassies. To 1894 refers the application by the Second Imam of Muslim parish Bedretdinov Alimov for permission to organize a mosque in the northern parts of the then Moscow. Long correspondence ended in a compromise: the authorities gave the green light to build a mosque on private land in the alley Vypolzov, which in 1902 had been bought for this purpose by Kasimov Tatars entrepreneurs H.M. Baibekov, H.H. Akbulatov and S.V. Bakirov; for these purposes, they spent 35 thousand rubles.
These funds, as well as the means of the Tatar businessman and philanthropist Salih Erzin, Moscow Cathedral Mosque was built in 1904. S.Y. Erzin – born in the village Azeev, now the Ryazan region. The first imam of the mosque came from a famous family of the village of Nizhny Novgorod ishans Ovechy Ovrag, Bedretdin Alimov and his son Safa Alimov.
The mosque was a sample of the Tatar religious architecture of the early XX century. Prayer hall was designed for 800 people during the holiday services over 1,000 worshipers were praying inside the mosque. The mosque, even in the harshest years of persecution of religion was not closed a single day, although the millstones of repressions hit imams Abdulvadud Fattakhiddin and Abdullah Suleiman. Moscow Cathedral Mosque remembers such prominent ulems and muftis like Galimzhan Baroudi, Rizaetdin Fakhretdin, Musa Bigiyev and others.
The Mosque on Vypolzov lane for many decades was the only Muslim working temple on the vast expanses of the Central European part of Russia. From Moscow mosque Muslims went to the fronts of the Great Patriotic War, the funds were organized to raise a tank column.
It was on the basis of the Moscow Cathedral Mosque leading Muslim organizations of modern Russia, the Spiritual Administration of Muslims of the Russian Federation and the Council of Muftis of Russia were set up, which is chaired by Mufti Sheikh Ravil Gainutdin.
With the increase of number of Muslim worshipers from both the number of Russian citizens and migrant workers, the Russian capital witnessed many thousands of clusters of believers in the days of Friday and Eid prayers. Suffice it to note that during the major Muslim holidays of Uraza bairam and Kurban bairam in the mosque, on the adjacent territory and surrounding streets come 100 thousand Muslims and more.
Full report at:
http://nation.com.pk/international/10-Aug-2015/moscow-cathedral-mosque-to-be-reopened-on-eid-al-adha
----------
Liberty, equality, mixité: Muslim mothers' fight against social apartheid in France
Colin Randall
August 10, 2015 Updated: August 10, 2015 1
In France, 'la mixité' once meant just boys and girls going to the same school. Now Muslim mothers have adopted the word in their campaign against social apartheid.
In a country that has liberty, equality and fraternity as its national motto, a banner that denounces "social apartheid" should do more than prick the collective conscience – it should sting like a scorpion.
The campaign of a group of Muslim mothers who are demanding an end to the "ghettoisation" that condemns their children to attend schools where every pupil is of immigrant origin, has, indeed, duly stung liberal French consciences.
It is a mantra of French politics that to be integrated in to society the country's Muslim population – unofficially estimated at between five and seven million people – needs to be doing more, needs to be "more French".
"That is exactly what we are fighting for," says Safia, 36, a mother of three who is among the campaign leaders in the southern town of Montpellier. Like the others, she prefers to be identified only by her first name.
"We'd love it if class photographs showed fair-haired or red-headed children side by side with our children."
Montpellier is one of the most attractive cities in France, the third-largest on the Mediterranean coast after Nice and Marseille.
In opinion polls, it has frequently been voted the place people wish they could call home.
In common with all French towns and cities, it has a sizeable minority of families who have roots in the former colonies of North and Sub-Saharan Africa.
As with elsewhere in France, the immigrant population in Montpellier is largely congregated in low-cost estates. The Petit Bard estate is home to more than 5,000 people, mostly of Moroccan family backgrounds.
In their bid for school inclusion, a group of Petit Bard women have staged marches, occupied several schools, created a Facebook campaign page and fired off letters to the city hall, the local education authority and one senior government figure they simply call Najat.
France's education minister, Najat Vallaud-Belkacem, is from Morocco, too. One of seven children born in the village of Bni Chiker, in the Rif region of Morocco, she is also a product of an unpromising young life in the banlieues. A builder's daughter, she grew up in the northern city of Amiens after arriving in France aged five.
There is broad agreement in France that the country needs more success stories like hers and fewer grim accounts of disaffected young Muslims joining terrorist groups in Syria and Iraq.
The women of Petit Bard want to know how their children can hope to make something of their lives if they are confined as victims of "social apartheid".
They are looking to Ms Vallud-Belkacem, who has been vocal on many aspects of discrimination in French society, to take a robust position in their corner and help end what amounts to segregated schooling.
Full report at:
http://www.thenational.ae/world/europe/liberty-equality-mixit-muslim-mothers-fight-against-social-apartheid-in-france
----------
How France Can Stop Its Citizens Joining ISIS
Nitzan Horowitz
Aug 11, 2015
The Parisian parliamentarian was furious: Monsieur, I cannot tell you how many Muslim lawmakers we have. We don't ask one's religion. All the legislators are French, and their religion is a private matter. C'est tout."
This Israeli was surprised. Perhaps you can just tell me how many Muslims there are? No, because no one is counting: France is a secular state with strict separation of religion and state.
The French Revolution's Declaration of the Rights of Man and the Citizen stated, "Men are born and remain free and equal in rights. Social distinctions may be based only on considerations of the common good."
read more: http://www.haaretz.com/opinion/.premium-1.670497
The principle was thus established: Be a Jew/Catholic/Muslim at home, but French when you leave the house. For over a century, it was forbidden to collect data about religious affiliation and race in the population censuses (except for that period during World War II when they conducted a precise registration of a certain group). There is even a law forbidding religious symbols in school, basically aimed at stopping the wearing of veils.
However, something went profoundly wrong along the way. Masses of citizens born in France now define themselves first and foremost as Muslim. Some don't even see themselves as French at all. Meanwhile, masses of other French people are obsessed with "the Muslim problem." It is tearing up the nation. Not only via the books of Michel Houellebecq, but also via terror attacks.
The secular model is cracked. The lofty principle that views religion as a citizen's private concern is too simplistic, and merely serves to conceal the failure of integrating the descendents of immigrants.
Take, for example, the fact that only 1 percent of the French Parliament is Muslim, while Muslims make up 10 percent of the population. There are no official figures, as noted, so these are estimates. In addition, Muslims make up a reported 60 percent of the French prison population.
And the official answer to all this? There is no problem with Muslims, because there are no Muslims – they are all French.
French secularism is vital now more than ever, but it is desperate need of repair. We are not really dealing with religions here but an unacceptable social gap. There are places around Paris where even the police fear to tread.
They call them ungrateful, brats, but the overwhelming majority of immigrant children want progress and integration. True, a small minority doesn't want to integrate. But the question is, who are we supporting? Let face the facts: What chance do Aisha and Omar – a secular French couple whose parents were born in the same hardscrabble neighborhood – have to escape and rent an apartment in a nice area, when they're competing with the likes of Christophe, Marie and Olivier?
Full report at:
http://www.haaretz.com/opinion/.premium-1.670497
----------
Pakistan
Committee formed to resolve issue of Madrasa registration
August 11, 2015
KARACHI: The Sindh government has announced forming of a committee to resolve the longstanding dispute over registration of religious schools and handed over the draft of an agreement to the representatives of the Ittehad-i-Tanzeemat-i-Madaris Pakistan (ITMP) on ways to getting Madrasas into the mainstream educational system, officials said on Monday.
A government spokesman said that during a meeting with the representatives of the boards of various schools of thought, Senator Dr Qayyum Soomro, adviser to the chief minister on Auqaf and religious affairs, announced that the government would set up a coordination committee, which would also include officials of the Madrasas boards belonging to different schools of thought and sects.
The spokesman said the ITMP representatives were given a draft agreement by Dr Soomro in which the religious boards were asked to agree to the inclusion of compulsory contemporary subjects in the curricula of matriculation (equivalent to Sanaviyya Aamma in Madrasas) and intermediate (equivalent to Sanaviyya Khassa).
If agreed, all five boards in the ITMP will be independent to design the content of religious education and continue to work towards ensuring that their education will improve and develop a 'positive social attitude' so that the 'religious hatred and extremism should be curbed'.
Full report at:
http://www.dawn.com/news/1199659/committee-formed-to-resolve-issue-of-Madrasa-registration
----------
Key Taliban commander, 11 men surrender in Orakzai
ALI AKBAR
August 11, 2015
PESHAWAR: Tehreek-i-Taliban Pakistan (TTP) commander Razman Shah and eleven other 'TTP' men surrendered to security forces in the Kalaya area of Orakzai Agency on Monday.
Razman Shah is believed to be an important commander of the banned militant group's Orakzai chapter.
The other 'militants' include Meer Khan, Shahid, Abdullah, Ameenullah, Mohammad Ameen, Irfan, Hazrat Mohammad, Meela Khan, Speen Mir Khan, Mohammad Adeel and Dinullah.
The 12 'TTP' men who laid down their arms all belonged to the banned outfit and were wanted by security forces because of their involvement in different terror activities, security sources said.
Orakzai is one of Pakistan's seven semi-autonomous tribal regions in the northwest, where Pakistani Taliban and Al Qaeda-linked militants are said to have carved out strongholds.
It was a key abode of former Tehreek-i-Taliban Pakistan (TTP) chief Hakimullah Mehsud before he was killed in a US drone strike in North Waziristan in 2013.
Full report at:
http://www.dawn.com/news/1199592/key-taliban-commander-11-men-surrender-in-orakzai
----------
Experts call for sustained Pak-India ceasefire to rid terror
August 11, 2015
ISLAMABAD - International experts have called for a sustained ceasefire and increased India-Pakistan dialogue to reduce border clashes and terrorist incursions.
The experts who have recently held 16th Chaophraya Dialogue under the Indo-Pak Track-II in Bankok, called for devising a permanent cross-border mechanism to deal with terrorism.
National security advisors, DGMOs, DG BSF and DG Pakistan Rangers from both sides need to have regular interactions in order to candidly discuss the gains made after the Operation Zarb-e-Azb against terrorism, they maintained.
The dialogue looked at permanent cross-border mechanisms that can deal with militancy and terrorism days after the Gurdaspur attacks and renewed violence across the Line of Control, says a statement issued by the Jinnah Institute, an Islamabad based policy think-tank, on Monday.
The event was organized in collaboration with the Australia-India Institute.
The participants of the meeting recounted how many times the LoC had been violated over a year, as well as casualties on both sides.
They believed that a quick and ready exchange of intelligence was crucial to prevent terrorist acts and emphasized the need for progressively higher levels of contact between intelligence officials from both sides.
They also believed that evolving threats like Daesh/ISIS that have a transnational character make this task more urgent, as the participants discussed how militant cells cooperating with ISIS had been discovered in India and Pakistan.
They expressed grave concern at the increasing presence of the Daesh/ISIS in Afghanistan and discussed how the agencies of India, Pakistan and Afghanistan could coordinate efforts towards intelligence sharing.
Participants discussed the ongoing 26/11 Mumbai trials in Rawalpindi and its legal complications.
They encouraged the two sides to enter into a Mutual Legal Assistance Treaty (MLAT) in criminal matters based on the model treaty available with SAARC, so that the 26/11 and Samjhauta trials could be expedited.
Participants also underscored the need for insulating the trials from undue political scrutiny and letting the process have a legal course.
They encouraged both sides to cooperate on capacity building of law-enforcement agencies, share best practices, and consider if some of these initiatives could be taken up at the SAARC level.
Full report at:
http://nation.com.pk/national/11-Aug-2015/experts-call-for-sustained-pak-india-ceasefire-to-rid-terror
----------
No Muslim state signed trade deal with Pakistan since 2007
August 11, 2015
ISLAMABAD - No Muslim country has signed a Free or Preferential Trade Agreement with Pakistan during the last five years, the National Assembly heard on Monday.
Federal Minister for Commerce Khurram Dastgir said there had been no new trade agreements with an Islamic country since deals were struck with Malaysia and Indonesia in 2007.
Pakistan had been facing trade deficit with Indonesia even before signing the PTA and it still persists.
Heavy palm oil import was the major reason for the deficit.
In 2013-14, Pakistan imported 2.
2 million tons of palm oil amounting to $1.
9 billion.
Of the total import of palm oil, 52 percent was imported from Indonesia.
The minister said palm oil is raw material for cooking oil and other consumer items.
Availability of palm oil at cheaper rates has resulted in lower cost of production and benefited consumers.
To another question, the minister said that no trade agreement has been signed between Pakistan and Iran during last three years.
However, Pakistan signed the PTA with Iran in March 2004 and is operational since September 2006.
In order to reduce trade deficit and enhance Pakistan's exports to Indonesia, the Ministry of Commerce has regularly been conducting trade promotional activities like exhibitions, trade fairs and business delegations.
Presently, the ministry is scheduling Pak-Indonesia official meeting to review the trade agreement.
Pakistan signed FTA with China in November 2006, which became operational from July 2007.
The Agreement on Trade in Services was signed on February 21, 2009 and it became operational from October 10, 2010
At present both the countries are negotiating for the second phase of FTA for trade in goods and the agreement for trade in services is also under review.
But the min - ister informed the house Pakistan's exports to European Union have increased from $6.
Full report at:
http://nation.com.pk/national/11-Aug-2015/no-muslim-state-signed-trade-deal-with-pakistan-since-2007
----------
Phantom, Bangistan and more: Bollywood films banned in Pakistan
Prashant Singh
Aug 11, 2015
Saif Ali Khan, Katrina Kaif-starrer Phantom has run into trouble with regards to its release in Pakistan. According to reports, Jamat-ud-Dawah (JuD) chief and alleged 26/11 mastermind Hafiz Saeed has filed a plea in a court in Lahore seeking a ban on its release, alleging that the film, which revolves around the 26/11 attacks, contains "filthy propaganda" against the country. Incidentally, the film's trailer features a clip of Saeed's real-life speech.
However, this isn't an isolated case. A number of Hindi films have been prohibited from releasing in Pakistan for diverse reasons over the past few years.
In January, Akshay Kumar's Baby was banned because reportedly it portrayed "a negative image of Muslims". Similarly, Riteish Deshmukh's new film, Bangistan, was banned. It was accused of propagating "anti-Pakistan and anti-Muslim" sentiments.
http://www.hindustantimes.com/Images/popup/2015/8/110815_HTCafe_1.jpg
Akshay Kumar starrer Baby was banned in Pakistan in January.
"Can the censor boards in these countries (also including Singapore) give us a written explanation clearly specifying what did they find offensive in our film (sic)," Ritesh Sidhwani, producer of Bangistan, had tweeted, when the ban was announced.
In 2012, another Saif-starrer, Agent Vinod, was banned from releasing in Pakistan, due to its storyline. "It is a shame that the movie is banned, with no offence to anyone, as the idea is to have open films between the two countries," Saif had said.
Salman Khan's Ek Tha Tiger (2012) had also met with the same fate. Even Vidya Balan's The Dirty Picture (TDP; 2011) was not allowed to release in Pakistan, because, apparently, the "subject matter and bold scenes" of the movie were considered unsuitable for the audience.
"You can ban a film today, but it's just one touch away from a download [online]. That defeats the entire purpose. But I suppose every society has its own dos and don'ts," says Milan Luthria, who directed TDP.
Pakistan had also banned the release of Tere Bin Laden (2010), and Raanjhanaa (2013) because of their alleged "controversial themes". Aamir Khan's production venture, Delhi Belly (2011), too, was not cleared due to its bold content. "It's common knowledge that there are several countries that are very protective about what they show. So, it's an ongoing battle. Hopefully, progress will prevail at some point," adds Milan.
http://www.hindustantimes.com/Images/popup/2015/8/110815_HTCafe_1b.jpg
Salman Khan and Kareena Kapoor Khan in Bajrangi Bhaijaan.
However, Salman's Bajrangi Bhaijaan was an exception. Reportedly, Salman Khan's Bajrangi Bhaijaan was one of the first Indian films revolving around the Indo-Pak theme to be allowed to release in Pakistan around Eid this year. Director Kabir Khan's film was approved by the Pakistani censor board with several cuts. It made 6 million Pakistani rupees in its first week in Karachi and Islamabad.
Full report at:
http://www.hindustantimes.com/bollywood/bollywood-films-banned-in-pakistan/article1-1378589.aspx
----------
Kasur child abuse case: LHC CJ seeks report on inclusion of ATA clauses
IMRAN GABOL
August 11, 2015
LAHORE: The Lahore High Court (LHC) on Tuesday sought a report from Advocate General Punjab Naveed Rasool Mirza, Inspector General Police Punjab Mushtaq Sukhera and Home Secretary Punjab Azam Suleman to determine if the Kasur child abuse case can be tried in an anti-terrorism court (ATC).
A petition filed by Advocate Aftab Ahmed Bajwa in the LHC on Monday was heard by LHC Chief Justice Manzoor Ahmed. The petition stated that since the case is of a serious nature, it should be tried in an ATC.
The report will describe what sections of the Anti-Terrorism Act - in particular, Section 7 of the ATA, "Punishment for acts of terrorism" - are applicable to the case in order to decide whether the case can be tried in an ATC.
Also read: Child abuse case: Accused says children abused in his presence
Police have contacted victims' families to inform them that Section 7/ATA has been included in the seven First Information Reports lodged against the accused.
The LHC CJ ordered the SP Investigation and SHOs to present the report in a hearing which is scheduled to take place tomorrow.
Full report at:
http://www.dawn.com/news/1199803/kasur-child-abuse-case-lhc-cj-seeks-report-on-inclusion-of-ata-clauses
----------
Seven bodies found in Balochistan's Quetta and Pishin districts
SYED ALI SHAH
August 11, 2015
QUETTA/PISHIN: The bodies of five men and two women were recovered from Balochistan's Quetta and Pishin districts on Tuesday morning.
Police sources told DawnNews that bullet-riddled bodies of two men and as many women were found in Killi Paind Khan area of Quetta. The sources further said that all victims had received multiple bullet wounds, adding that they were shot from a close range.
Motive behind killing was not known. The corpses were shifted to Civil Hospital Quetta for postmortem.
Full report at:
http://www.dawn.com/news/1199810/seven-bodies-found-in-balochistans-quetta-and-pishin-districts
----------
CM vows 'deterrent punishment' for Kasur culprits
August 11, 2015
LAHORE: Chief Minister Shahbaz Sharif presided over a high-level meeting here on Monday to review the situation in the wake of the Kasur incident, its progress, law and order and steps taken under the National Action Plan in the province.
He pledged not to let suspects involved in child abuse in Kasur escape deterrent punishment. He also called for foolproof security arrangements for Independence Day functions and asked the cabinet committee on law and order to play an effective role.
The chief minister said the ban on use of loudspeaker, distribution of hate literature and wall-chalking should be implemented effectively, disallowing any banned organisation to collect donations.
The meeting expressed satisfaction over the steps taken under National Action Plan for eliminating terrorism.
Adjournment motions: Various opposition parties on Monday submitted to the Punjab Assembly call-attention notice and adjournment motions against the Kasur child abuse incident, while the Pakistan Awami Tehreek demanded that Shahbaz Sharif resign as chief minister.
The Pakistan Tehreek-i-Insaf through opposition leader Mahmoodur Rashid submitted a call-attention notice and an adjournment motion on the issue, while Jamaat-i-Islami's Dr Waseem Akhtar and PML-Q's Khadija Umar also separately submitted motions.
The notice asked the chief minister to explain how police could remain ignorant of the child abuses committed on such a large scale.
The adjournment motions called for earlier trial of the suspects and awarding them the strictest punishment for such an inhuman crime and distorting the image of the country. These also demanded that the officers who attempted to divert the investigations by declaring it a land dispute based issue should also be taken to task.
It was feared that being influential the suspects could win respite from subordinate courts as the youths who exposed the scandal were already being given threats. Therefore, the case should be referred to a military court for proper trial and punishment as the Lahore High Court has already rejected the government's plea to set up a judicial commission to probe the issue.
Full report at:
http://www.dawn.com/news/1199788/cm-vows-deterrent-punishment-for-kasur-culprits
----------
Target killers linked to MQM arrested in Karachi, Rangers say
IMTIAZ ALI
August 11, 2015
KARACHI: Rangers conducted a surgical action in Ranchore Line area on Monday and arrested six alleged target killers having reported ties with Muttahida Qaumi Movement (MQM), said Rangers spokesperson.
Huge cache of weapons was also recovered from the possession of alleged MQM workers dubbed target killers by Sindh Rangers.
The spokesman then went on to give details of the arrested suspects.
Khurram alias Muchar, unit in-charge MQM unit 28, was arrested over charges of involvement in extortion, dumping of weapons and target killings.
Mahmood, an active worker of MQM unit 20, who has already confessed to murdering 47 people when he was arrested earlier in November 2014, was arrested on charges of kidnapping and torture.
Rangers also arrested Shahid alias Kala, an active worker of MQM unit 31, who had earlier confessed six murders during initial interrogation when he was arrested in September 2014. Shahid was currently on bail.
Mubin, the committee member of MQM unit 20, also faced arrest as he had confessed to numerous target killings, extortion, arson, rioting and other heinous crimes when he was earlier arrested in May 2013.
Zubair alias Handi, worker of Ranchore Line Sector , was arrested over his alleged involvement in armed clashes, rioting, murders after kidnapping, cash van robbery — during which two guards were killed in Azizabad in 2013 — and extortion.
The sixth suspect arrested by Rangers was Kashif alias Macha, worker of MQM unit 30, involved in target killings and extortion.
In addition to giving details about the arrested suspects, Rangers spokesperson also gave details about the huge cache of weapons that was recovered from the possession of alleged MQM workers.
Fourteen SMGs (along with 120 rounds), five 12-bore repeaters (along with 45 cartridges), six 30-bore pistols (along with 110 rounds), two 30-bore mousers, one 44-bore rifle, one MP5, one 9mm pistol (with 82 rounds), two LMGs along with 250 rounds of ammunition, 32 awan bombs, five kg of explosives and two grenades were recovered by Rangers.
Also read: War of words between Rangers and MQM over fresh arrests
Karachi Corps Commander Lt Gen Naveed Mukhtar on Friday had reiterated his trust in Rangers and other law enforcement agencies (LEAs) leading the 'Karachi operation', which he said, was "apolitical, indiscriminate and free of any compromise" aimed at bringing the violence-hit city back to normality.
Full report at:
http://www.dawn.com/news/1199619/target-killers-linked-to-mqm-arrested-in-karachi-rangers-say
----------
Nation united to curb extremism: Shahbaz
August 10, 2015
LAHORE - Punjab Chief Minister Shahbaz Sharif said on Sunday that the whole nation was united to curb extremism, terrorism and sectarianism.
He was talking to Federal Minister for Railways Khawaja Saad Rafiq who called on him here.
During the meeting they discussed matters of mutual interest and country's overall situation.
The Chief Minister said, terrorists have no religion and they are enemies of the country and its people.
Full report at:
http://nation.com.pk/lahore/10-Aug-2015/nation-united-to-curb-extremism-shahbaz
-----------
Mideast
Turkish warplanes ramp up offensive against PKK
11 August 2015
Turkey carried out air strikes on 17 Kurdish militant targets in the southeastern province of Hakkari on Monday and Tuesday, the military said, ramping up an offensive against the insurgents.
Turkey has been buffeted by increased fighting between its military and the outlawed Kurdistan People's Party (PKK), which has waged a three-decade insurgency for greater Kurdish autonomy.
In ground fighting, security sources said the PKK attacked a military station in Sirnak, a province adjacent to Hakkari, and killed one soldier in a 20-minute battle.
Full report at:
http://english.alarabiya.net/en/News/middle-east/2015/08/11/Turkish-warplanes-strike-PKK-targets.html
----------
Ansarullah Foils Saudi Plot to Capture Sana'a
Aug 10, 2015
He said the Saudis planned to kill a number of Yemeni army commanders to destabilize the country and push it into chaos in a bid to pave the way for the takeover of Sana'a and a subsequent military coup by the pro-Hadi militias.
Earlier today, the popular forces captured nearly a dozen fully-equipped military vehicles of the UAE units of the Saudi-led troops in Yemen's Lahij province.
The Yemeni forces confiscated 11 Hummer vehicles from the Emirati troops in Lahij province, reports said, adding that the Saudi-led troops were due to transfer the vehicles to the militant forces loyal to the fugitive president, Mansour Hadi.
The media sources announced recently that the UAE has dispatched over 1,500 troops to Aden to fight alongside the Saudis against the Yemeni army and Ansarullah fighters.
The clashes between the Ansarullah fighters and the Saudi-backed al-Qaeda terrorists as well as the pro-Hadi militias continue in the Southern parts of the country as Saudi Arabia has been striking Yemen for 138 days now to restore power to fugitive president Mansour Hadi, a close ally of Riyadh. The Saudi-led aggression has so far killed at least 5,379 Yemenis, including hundreds of women and children.
Full report at:
http://english.farsnews.com/newstext.aspx?nn=13940519001272
----------
Israel releases suspects linked to toddler's death
11 August 2015
JERUSALEM: Israel has released all suspects detained in raids as part of a probe into the firebombing of a Palestinian home that killed an 18-month-old child and his father, authorities said Monday.
Full report at:
http://www.arabnews.com/middle-east/news/789406
----------
Day of violence in Istanbul leaves at least 4 dead
10 August 2015
ISTANBUL: Two women opened fire at the heavily protected US Consulate in Istanbul Monday, while assailants exploded a car bomb at a police station then fired on police inspecting the scene, in a day of heavy violence in Turkey's largest city.
In the southeast of the country a roadside bomb killed four police, and Kurdish rebels attacked a helicopter, killing a conscript. There has been a recent sharp spike in violence between Turkey's security forces and rebels of the Kurdistan Workers' Party, or PKK, as Turkey has attacked PKK targets in Iraq in tandem with airstrikes against Islamic State militants in Syria.
One of the consulate attackers was later shot and taken into custody in a nearby building and hospitalized. The far-left Revolutionary People's Liberation Army-Front, or DHKP-C, identified her as 51-year-old Hatice Asik, and said she was a member of the group, though it did not directly claim responsibility for the attack. The DHKP-C and the PKK both have Marxist origins and have cooperated in the past, though there was no immediate indication of PKK involvement in this attack.
The second woman was still being hunted. There were no other casualties.
Hours earlier, an overnight bomb attack at a police station in Istanbul injured three policemen and seven civilians and caused a fire that collapsed part of the three-story building. The suspected bomber was killed during the explosion, according to the Istanbul governor's office.
Unknown assailants later fired on police inspecting the scene of the explosion, sparking another gunfight with police that killed a member of the inspection team and two assailants. There was no immediate responsibility claim for that attack.
Turkey last month carried out a major security sweep, detaining some 1,300 people suspected of links to banned organizations, including the PKK, the DHKP-C and extremists of the Islamic State group.
Turkey has recently started taking a more active role against IS militants. Last month it conducted aerial strikes against IS positions in Syria and agreed to let the US-led coalition use its bases for its fight against IS. On Sunday, the US military announced that a detachment of six F-16 fighter jets and some 300 personnel have arrived at Turkey's southern Incirlik Air Base.
Full report at:
http://www.arabnews.com/middle-east/news/789236
----------
Another poll suggests Turkey's AK Party could regain overall majority
10 August 2015
Turkey's AK Party has gained support in the last two months and could recover the absolute majority it lost in June, if a snap parliamentary election were held immediately, Turkish pollster MAK found in its latest survey.
The poll is the second in a week to indicate that the AK Party founded by President Tayyip Erdogan would be able to form a single-party government, suggesting that rising violence between government forces and Kurdish militants was bolstering support for the AKP.
The AKP would secure 44.7 percent of the vote if a snap election were held immediately, MAK found, almost 4 percentage points more than the 40.9 percent it gained in June, its worst result for more than a decade.
Negotiations to form a government, which started about a month after the June 7 general election, have been overshadowed by Ankara's offensive against Kurdish and Islamic State militants in Syria and Iraq, as well as rising violence between government forces and Kurdish militants in southeast Turkey.
Critics have said that, with the AKP having failed to assemble a majority coalition, Erdogan wants to use the crackdown on militants to bolster support from nationalists and pave the way for a snap election.
Prime Minister Ahmet Davutoglu was due to hold a meeting with the main opposition CHP leader Kemal Kilicdaroglu later on Monday. But lawmakers of both parties say forming a coalition will be difficult.
Full report at:
http://english.alarabiya.net/en/News/middle-east/2015/08/10/Another-poll-suggests-Turkey-s-AK-Party-could-regain-overall-majority.html
----------
Yemeni Forces Seize 11 Hummer Vehicles from UAE Troops in Lahij Province
Aug 10, 2015
The Yemeni forces confiscated 11 Hummer vehicles from the Emirati troops in Lahij province, reports said, adding that the Saudi-led troops were due to transfer the vehicles to the militant forces loyal to the fugitive president, Mansour Hadi.
The media sources announced recently that the UAE has dispatched over 1,500 troops to Aden to fight alongside the Saudis against the Yemeni army and Ansarullah fighters.
The clashes between the Ansarullah fighters and the Saudi-backed al-Qaeda terrorists as well as the pro-Hadi militias continue in the Southern parts of the country as Saudi Arabia has been striking Yemen for 138 days now to restore power to fugitive president Mansour Hadi, a close ally of Riyadh. The Saudi-led aggression has so far killed at least 5,379 Yemenis, including hundreds of women and children.
Full report at:
http://english.farsnews.com/newstext.aspx?nn=13940519001249
----------
Iran, Japan Poised to Cooperate in Various Industrial Fields
Aug 10, 2015
At the meeting, Iranian Trade Minister Mohammadreza Nematzadeh voiced Tehran's willingness to increase mutual cooperation with the East Asian country in power and automotive sectors.
"Iran has the world's largest hydrocarbon resources and accordingly its top priority is improving its production, investment, and trade ties in this area with Japan," Nematzadeh said, and added, "Our second priority in cooperation with the Japanese is in the power sector and production of the needed equipment in this field."
The Japanese minister Daishiro Yamagiwa, who headed a high-ranking economic delegation, said Tokyo is ready to start a new round of strategic and durable cooperation with Tehran in various areas after the removal of US-led sanctions.
Diplomatic relations between Iran and Japan were formally established in 1926 and throughout history, the two countries have maintained a friendly and strongly cooperation in various arenas.
Full report at:
http://english.farsnews.com/newstext.aspx?nn=13940519000863
----------
Turkey identifies female assailant in US Consulate raid
Aug 11, 2015
Turkish officials say they have identified one of the two women involved in a recent armed attack on the United States' Consulate building in Turkey's largest city and economic hub of Istanbul.
The Istanbul Governor's Office said one of the assailants, who attacked the well-guarded US Consulate in Istanbul's Sariyer district at around 7 a.m. local time (0400 GMT) on Monday, went by the name Hatice Asik, and was a member of the far-leftist Revolutionary People's Liberation Army-Front (DHKP-C).
She was later detained after being wounded in a clash with police near the consulate building. The woman was taken to a nearby hospital, where she received treatment amid tight security measures.
Asik had spent three years in jail for DHKP-C membership, and had been released from prison on July 8.
Police sources, speaking on the condition of anonymity, said the middle-aged woman was known by the alias Hulya, and had been designated as a potential bomber by the far-left group.
A view of the US Consulate building in Istanbul, Turkey, which was attacked on August 10, 2015 (© AP)
Eyewitness Engin Yuksek said the second female assailant managed to escape after the consulate attack.
Yuksek said police demanded that the women, who were carrying bags, surrender, but one of them replied, "I will never surrender to you. We've come here to take revenge for Suruc."
On July 20, a deadly bomb attack attributed to Takfiri Daesh (ISIL) militants left 32 people dead in the southeastern Turkish town of Suruc, across the border from the northern Syrian town of Kobani.
Full report at:
http://www.presstv.in/Detail/2015/08/11/424241/Turkey-US-Consulate-Hatice-Asik-Sariyer-DHKPC
----------
Africa
Somalia: Central Jail Hit By Deadly Al Shabab Assault
10 AUGUST 2015
By Shabelle English
At least 3 Al Shabab militants have been confirmed dead in an attack on central jail outside Beledweyne, a town lies some 206 miles (332 km) north of Mogadishu, officials said.
Somalia's chief of government forces in Beledweyne town told Shabelle Media that its troops had clashed with Al Shabab agents after the militants launched an ambush attack on the jail.
Col. Ali Mahad Alla said that at least 3 Al Shabaab members who armed Ak-47s had been killed in the attack, adding that the targeted jail is under control of government forces.
The Somalia soldiers launched an operation which was intended to confirm the overall security in the town after the ambush attack by the insurgents, Ali stressed.
It is unclear if anyone on suspicion of Al Shabaab militants has been arrested in the crackdown.
Full report at:
http://allafrica.com/stories/201508110443.html
-----------
IS attack kills nine in Libya
August 11, 2015
TRIPOLI - A car bomb attack claimed by the Islamic State group has killed nine people and wounded dozens in Libya's eastern coastal city of Derna, a medical source said.
"Nine persons were killed and dozens wounded in a car bomb in Derna city" on Sunday night, a medical official in eastern Libya told AFP by telephone.
"Some of the dead and wounded are civilians.
"
IS said it was behind the attack and that it was carried out by a Sudanese militant.
"The martyr Abu Jaafar al-Sudani blew up his car bomb.
.
.
in the city of Derna, causing many dead and wounded," read a statement the group posted online.
The jihadist group's fighters last month lost control of Derna, which had been a bastion of IS since late last year.
IS promised to avenge its fighters in a video posted online.
After the fall of dictator Moamer Gaddafi in 2011, Libya now has two governments vying for power in the oil-rich country, one based in Tripoli in the west and another internationally recognised in Tobruk, to the east of Derna.
Meanwhile, a Libyan official visited a prison in rebel-held Tripoli on Monday to meet detainees including a son of slain dictator Moamer Gaddafi, after claims that he was ill-treated in jail.
The visit by Mustafa al-Kulaib, justice minister in the Tripoli-based government, comes after Human Rights Watch called for a probe into reported abuse of prisoners at Al-Hadba prison.
HRW made the request last week after an undated video posted on an Arab news website earlier this month showed prison guards and officials beating up prisoners including Saadi Gaddafi.
"The situation does not really reflect what people are saying," Kulaib said after touring Al-Hadba and speaking to detainees.
Al-Hadba is controlled by the Fajr Libya militia coalition which seized Tripoli last year and is opposed to the internationally recognised government which is based in the east.
Full report at:
http://nation.com.pk/international/11-Aug-2015/is-attack-kills-nine-in-libya
----------
Ex-Army GOC: Many Boko Haram Suspects Arrested in Lagos, Ogun
11 Aug 2015
Day in, day out the newspapers and tv stations alike are awash with reports of visits by permanent secretaries to President Muhammadu Buhari to make presentations on the state of their respective ministries (an interesting side bar: a good number of these permanent secretaries are women so perhaps truly, hope springs eternal for Nigeria!). As the President's spotlight zeroes in on these ministries, departments and agencies (MDAs), one parastatal that stands out as being deserving of highlighting because it is in dire need of unbundling and re-organisation, is the Nigerian Maritime Administration and Safety Agency (NIMASA). Only recently NIMASA's Director General, Ziakede Akpobolokemi was sacked and replaced by Callistus Obi, the Executive Director, Maritime Labour and Cabotage Services, as the acting DG and within 72 hours the Federal Government did a turnaround and replaced him with Haruna Jauro, the Executive Director, Finance and Administration. As expected the rumour mill went into overdrive with insinuations as to what might have triggered the sudden manoeuvrings in NIMASA.
NIMASA is the foremost maritime regulatory agency in Nigeria. It was established in 2006, arising from the merger of the National Maritime Authority (NMA) and the Joint Maritime Labour Industrial Council (JOMALIC). The agency derives its powers from a combination of the following laws, the Nigerian Maritime Administration and Safety Agency Act 2007, the Merchant Shipping Act 2007 and the Coastal and Inland Shipping (Cabotage) Act 2003. It is charged with a vast array of functions which are contained in S. 22 of the NIMASA Act and include amongst so many others the responsibility to pursue the development of shipping and regulate matters relating to merchant shipping and seafarers; administer the registration and licensing of ships; establish maritime training and safety standards; regulate the safety of shipping as regards the construction of ships and navigation; carry out air and coastal surveillance; administer the provisions of the Cabotage Act 2003; provide maritime security; and establish the procedure for the implementation of international conventions on maritime safety and security, maritime labour and commercial shipping to which Nigeria is a party.
In furtherance of a part of its functions under the NIMASA Act the agency appears to have developed a comprehensive training programme for seafarers called the Nigerian Seafarers Development Programme (NSDP) which was designed to develop the capacity of workers in the maritime sector. Under this programme from 2011 till date NIMASA was reported to have spent N20 billion in training some 2,500 seafarers. The NSDP, a scholarship scheme was supposed to have been jointly funded by NIMASA and State governments in the ratio of 40:60 but due to the huge capital requirement and the seeming poverty of so many States NIMASA ended up funding the scheme exclusively. Locally, NIMASA has built a specialised maritime university and a maritime science and technical college in Delta state as well as maritime institutes in six universities across the country. The Nigerian Maritime University is now ready to begin academic activities at its temporary campus at Kurutie, Delta state. The agency also commenced the construction of a shipyard/dockyard in 2014 and set up a steering committee with the aim of establishing a national carrier shipping line through a public-private partnership arrangement. Other notable achievements for the agency have been the recognition of NIMASA Seafarer Certification by the United Kingdom, Australia, Egypt, the Bahamas, Vietnam and the Dominican Republic.
Full report at:
http://www.thisdaylive.com/articles/ex-army-goc-many-boko-haram-suspects-arrested-in-lagos-ogun/217195/
----------
URL: https://www.newageislam.com/islamic-world-news/new-age-islam-news-bureau/isis-support-rising-in-world-s-largest-muslim-nation;-jihadists-post-photo-of-baby-between-gun-and-grenade/d/104233