New Age Islam News Bureau
11 Jun 2015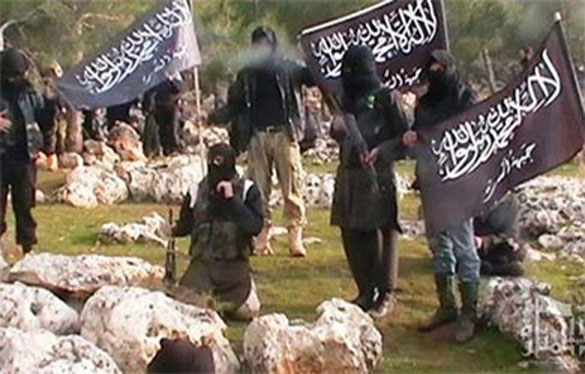 Militants of Nusra Front, File photo
------------
Arab World
• ISIS's Dirty Bomb: Jihadists Have Seized 'Enough Radioactive Material to Build Their First WMD'
• Syrian Troops Kill 300 Terrorists in Idlib Province in 2 Days
• Al-Qaeda's Syria Affiliate Kills 20 Druze Minority
• Either repentance or death: Islamic State imposes regulations on Syrians
• Saudi Arabia Mulls Allowing Women to Travel without Men's Permission
• Arming Iraq's Anbar tribes key in 'defeating' ISIS
• Secretly filmed footage shows life within ISIS-held Mosul
• Tens of Egyptian journalists protest 'shrinking press freedoms'
• King Salman: Reject intolerance, youth told
South Asia
• Eight Soldiers Martyred, 33 Militants Killed In Military Operations in Afghanistan
• Coordinated Terrorist Attacks Suppressed In Eastern Afghanistan, 13 Insurgents Killed
• Bangladesh Jihadists planned to hack e-banking systems
• Foreigners including six insurgents killed in VBIED explosion in Maidan Wardak
• Myanmar enacts unfair population control law
Pakistan
• 'We Didn't Build Nukes to Fire on Shab-e-Baraat', Musharraf Says
• Jamaat Considers Expansion of Cadre among Non-Muslims
• At Least 10 Suspected Militants Killed In Dattakhel: ISPR
• Jamaat-i-Islami Emir assails Sharifs for 'Mughal governance'
• Two cops killed, six others injured in Peshawar suicide blast
• Eight injured in grenade attack at Mansehra's Hazara University
• Four policemen killed in Quetta gun attack
• EU demands reinstatement of death penalty moratorium in Pakistan
Africa
• Three Female Suicide Bombers Die in NE Nigeria: Police
• Nigeria, Regional Leaders Meet to Discuss New Boko Haram Force
• A Christian religious extremist, Jonathan O'Toole, on anti-American jihad in Kenya
• French troops in Mali struggle to identify the enemy
• Al Qaeda militants in Libya attack IS after leader killed
Mideast
• Israel's Strategic Position 'Enhanced By Chaos of Arab Neighbourhood'
• Turkey's Pro-Kurdish Opposition Open to Coalition without AKP
• Yemeni Forces Attack Saudi Military Base
• IRGC Commander Says Attacking Iran Ends in US Destruction
• Iran spending $6 bln annually to support Assad regime: report
• Israel bars shot Palestinian from treatment in Jerusalem
India
• Retired Muslim Teacher Helps Build Saraswati Temple in School
• Hindus in Mahoba to Fast in Ramzan for AIIMS in the District
• Muslims Can Take Allah's Name In Place Of Shlokas: Minister
• Hand over Kashi, Mathura, Ayodhya to Hindus: VHP Leader Ashok Singhal
• Hard to imagine similar ops on Pak soil: Experts
• India, Bangladesh share terror info
• Pakistan official denied visa for ISI, terror links: India
• India should be declared Hindu nation: Pravin Togadia
• Mirwaiz wants UN to be third party in resolving Kashmir issue
Europe
• UK Schools Can Monitor Pupils' Online Activity with 'Anti-Radicalisation' Software
• Ban Asks Religious Leaders to Promote Harmony
• Putin: Russia Ready to Coordinate Efforts with Muslim Countries in Fight against Terrorism
• France says no guarantees yet on Iran nuclear deal
• UK: Businessman is first person jailed under forced marriage laws
Southeast Asia
• Malaysia: Anti-Rape Crusader Takes Non-Criminalisation of Marital Rape in Stride
• Western tourists who stripped on 'sacred mountain' are blamed for earthquake that killed 16 Malaysian people
• Brunei pharmaceutical plant launches first range of Halal supplements
North America
• Muslim Family Expelled From NY Empire State Building for Praying Get Payout
• Anti-Sharia activist added to Ted Cruz's camp, Muslim activists cry foul
• Quebec Wants to Ban Religious Face Coverings for Government Workers
• Glenn Beck Absolutely Unleashes on Feminists over Middle East Hypocrisy
• US becomes biggest oil producer in 2014, surpasses Saudi Arabia
Australia
• Tony Abbott Opens Summit on Countering Terrorist Propaganda
• Islamic State: Brisbane anti-IS fighter takes to Facebook, says terrorist group 'must be stopped'
• Julie Bishop calls for more women involved in combating extremism
Compiled by New Age Islam News Bureau
URL: https://www.newageislam.com/islamic-world-news/new-age-islam-news-bureau/isis-s-dirty-bomb--jihadists-have-seized--enough-radioactive-material-to-build-their-first-wmd-/d/103443
----------
Arab World
ISIS's Dirty Bomb: Jihadists Have Seized 'Enough Radioactive Material to Build Their First WMD'
Adam Withnall,The Independent | Jun 11, 2015
LONDON: The ISIS militant group has seized enough radioactive material from government facilities to suggest it has the capacity to build a large and devastating "dirty" bomb, according to Australian intelligence reports.
ISIS declared its ambition to develop weapons of mass destruction in the most recent edition of its propaganda magazine Dabiq, and Indian defence officials have previously warned of the possibility the militants could acquire a nuclear weapon from Pakistan.
According to the Australian foreign minister, Julie Bishop, Nato has expressed deep concerns about the materials seized by ISIS from research centres and hospitals that would normally only be available to governments.
The threat of ISIS's radioactive and biological weapons stockpile was so severe that the Australia Group, a 40-nation bloc dedicated to ending the use of chemical weapons, held a session on the subject at its summit in Perth last week.
"This is really worrying them," Ms Bishop said in an interview with the Australian.
When they swept across territory in Syria and Iraq, she said, "the insurgents did not just clear out the cash from local banks".
Last week Ms Bishop spoke at the Australia Group meeting about fears ISIS was weaponising poisonous gases such as chlorine.
And speaking to the Australian, she confirmed that the concerns she was raising stemmed from reports filed by the Australian department of defence as well the foreign office.
The growing concerns about ISIS's development of weapons of mass destruction come at a time when experts fear the militant group will be "more active than ever" to mark the start of Ramadan and the one-year anniversary of its declaration of a "caliphate".
ISIS said it was changing its name to "Islamic State" following the first public address by its leader Abu Bakr al-Baghdadi in Mosul on 29 June last year, and the US-based Institute for the Study of War has noted that the group usually reserves its major operations to coincide with the Islamic holy month.
http://timesofindia.indiatimes.com/world/middle-east/ISISs-dirty-bomb-Jihadists-have-seized-enough-radioactive-material-to-build-their-first-WMD/articleshow/47626987.cms
----------
Syrian Troops Kill 300 Terrorists in Idlib Province in 2 Days
June 11, 2015
Syrian troops killed more than 300 foreign-backed terrorists and injured hundreds of others in a large-scale military operations in the Northwestern Idlib province in the past two days.
A Syrian source present on the battle scene explained that the Syrian army's operations in the past 48 hours have claimed the lives of over 300 Takfiri terrorists, most of them foreign nationals.
"In these operations hundreds of terrorists were also injured and the number of their casualties was so high that the field hospitals set up for the terrorists didn't admit many of them," the source said.
According to the source, the Syrian army also staged massive airstrikes in Idlib and its countryside, forcing the terrorists to evacuate their positions and even command centers in different regions, including Mahambal, Sanqarah, al-Moqbelah, Ain al-Hamra, Bastaqoul, Katasfara and Kafar Shalaya as well as Idlib, Ariha and Jisr al-Shughour cities.
Earlier reports from Syria had said that 7 high-profile commanders were killed after Syrian warplanes targeted al-Nusra Front positions in Idlib.
According to reports by FNA dispatches, the Syrian fighter jets launched their heaviest air raids yet on al-Nusra targets in the Northwestern province of Idlib on Monday, leaving more than 50 militants dead and 115 others seriously injured.
The reports also said that at least seven senior commanders of the terrorist group were also killed in the strikes, adding that Osama Bin Torki and Seyfeddin Torkestani were among the dead ringleaders.
On June 7, the army troops took back three villages almost two kilometers (one mile) South of Hasakah after driving out the al-Nusra terrorists.
Syrian forces, backed by volunteer forces, also stymied an attempt by the terrorist to infiltrate a village in Northeastern Hasakah.
The ISIL Takfiri terrorists currently control shrinking swathes of Syria and Iraq. They have threatened all communities, including Shiites, Sunnis, Kurds, Christians, Ezadi Kurds and others, as they continue their atrocities in Iraq.
Senior Iraqi officials have blamed Saudi Arabia, Qatar, and some Persian Gulf Arab states for the growing terrorism in their country.
The ISIL has links with Saudi intelligence and is believed to be indirectly supported by the Israeli regime.
http://english.farsnews.com/newstext.aspx?nn=13940320001194
----------
Al-Qaeda's Syria Affiliate Kills 20 Druze Minority
11 June 2015
At least 20 members of Syria's Druze minority have been killed in an unprecedented shoot-out with Al-Qaeda affiliate Al-Nusra Front in north-western Syria, a monitor said on Thursday.
The Syrian Observatory for Human Rights said the deaths came Wednesday in the village of Qalb Lawzah in Idlib province, most of which is now controlled by an alliance including Al-Nusra.
Observatory director Rami Abdel Rahman said villagers had protested after a Tunisian Al-Nusra leader "tried to seize a house belonging to a Druze resident of Qalb Lawzah, claiming he was loyal to the regime."
"Relatives of the owner of the house protested and tried to stop him, then there was an altercation and shooting," he added.
"The Tunisian leader brought his men and accused the Druze residents of the village of blasphemy and opened fire on them killing at least 20 people, among them elderly people and at least one child."
Abdel Rahman said some of the villagers had weapons and returned fire, killing three members of Al-Nusra.
The Druze deaths were reported by Syria's official SANA news agency, which accused Al-Nusra and allied Islamist rebel group Ahrar al-Sham of an "appalling massacre committed against the poeple of Qalb Lawzah that claimed the lives of at least 30 people."
Quoting local sources, SANA said the dead included five members of a single family, three clerics and two women.
The agency also said the "terrorists... looted and burned dozens of homes."
The Druze, followers of a secretive offshoot of Shiite Islam, made up around three percent of Syria's pre-war population of 23 million people.
They are concentrated mostly in the southern province of Sweida, the only Druze-majority region of Syria, but there are several Druze villages through other parts of the country, including in Idlib.
The community has been somewhat divided during the country's uprising, with portions fighting alongside the government, but some parts expressing sympathy for the opposition.
Mostly, the Druze have taken up arms only in defense of their areas, and have kept out of the fighting more broadly.
The head of the Druze community in neighboring Lebanon, Walid Jumblatt, is however a vocal opponent of President Bashar al-Assad's regime.
Writing on his official Twitter account on Thursday, he said contacts were underway to "calm the situation" after the deaths in Qalb Lawzah, without specifying further.
https://english.alarabiya.net/en/News/middle-east/2015/06/11/Al-Qaeda-s-Syria-affiliate-kills-20-Druze-.html
----------
Either repentance or death: Islamic State imposes regulations on Syrians
June 11, 2015
Hasakah, Syria – Jihadists of the Islamic State group (IS/ISIS) imposed a so-called "collective repentance" on residents of al-Bukamal city in the province of Deir ez-Zor, eastern Syria, local activists reported on Monday.
The group demanded civilians to head the mosques of the city Monday afternoon, without notifying them about the reason.
"IS militants rallied al-Bukamal streets and called residents to be present altogether in the mosques of the city in the prayer time for an important issue, without specifying the exact reason for this call," said the civil rights activist Samer al-Furati, member of the campaign of 'Voice and Image' that documents IS violations against civilians in the region.
The group called on people for "collective repentance" at the hands of Sharia officials of the group in al-Bukamal mosques.
Al-Furat added that usually a small number of civilians meet the IS Sharia officials in mosques for repentance, pointing out that the collective repentance was earlier imposed on residents of the Shuhail town last week and perhaps will be imposed on the entire countryside of Deir ez-Zor province in the coming days.
"Butchers are not allowed to sell meat without the group's permission, while those who do not shave their beard must pay a fine of 15,000 Syrian pounds," the source told ARA News.
"These laws and regulations come to crack down on people and take advantage of financial penalties by imposed fines on vendors and the population," al-Furati argued.
Speaking to ARA News in Deir ez-Zor, civil rights activist Saray ad-Din said that the group has demanded Amer ar-Rafdan, the IS prince of al-Bukamal, to call on people for new round of repentance.
"Ironically, they (IS militants) arrest anyone who does not abide by the laws of the group. I myself had been detained for a short period because of wearing an illegal dress according to their perspective," he said.
"Subsequently, I pledged to implement IS regulations to be released; otherwise, I may have been beheaded." he added.
On Saturday evening, the radical group executed some 10 people of the Sheitaat Arab clan, who were detained earlier this year, near the oil field of Tanak in the eastern countryside of Deir ez-Zor, eyewitnesses told ARA News. Hundreds of members of Sheitaat clan have been summarily executed by the group on charges of links to Syrian rebels.
http://aranews.net/2015/06/either-repentance-or-death-islamic-state-imposes-regulations-on-syrians/
--------
Saudi Arabia mulls allowing women to travel without men's permission - if they have good reason
June 11, 2015
Saudi Arabia is considering easing regulations on women travelling to get up to speed with "advanced countries", officials said.
Currently in the ultraconservative kingdom, women below 45 years of age are not allowed to go on a journey without previously obtaining permission from a male guardian.
The director general of the Saudi passport department, Maj. Gen. Sulaiman Al-Yahya, however said such regulation should be changed, with a woman's ability to move freely being based on her reason for travel rather than age, Arab News reported.
Al-Yahya said the new laws would modernise the Saudi system bringing it in line with "advanced countries".
Full report at:
http://www.ibtimes.co.uk/saudi-arabia-mulls-allowing-women-travel-without-mens-permission-if-they-have-good-reason-1505400
----------
Arming Iraq's Anbar tribes key in 'defeating' ISIS
11 June 2015
One of the "conditions" to defeat militants in Iraq is to arm Sunni tribes in the western province of Anbar, Iraqi Finance Minister Hoshyar Zebari told Al Arabiya News Channel in an exclusive interview aired Thursday.
Zebari, who was the former foreign minister, described the fall of Anbar to the Islamic State of Iraq and Syria (ISIS) group as a "setback.
"The fall of Anbar was a setback we are trying to remedy," he said. "The government, al-Hashid [Popular Mobilization units] and the international coalition are exerting great efforts to recapture Ramadi."
Full report at:
https://english.alarabiya.net/en/News/middle-east/2015/06/11/Iraqi-minister-Arming-Anbar-tribes-key-in-defeating-ISIS.html
----------
Secretly filmed footage shows life within ISIS-held Mosul
June 11, 2015
The BBC has published an in-depth view of life in Mosul on Tuesday, a year after ISIS took over, and using secretly filmed footage of the day-to-day events and happenings within the northern city of Iraq as well as interviewed a handful of residents that fled.
The lives of several Iraqi residents have changed drastically since the arrival of the militant group, they told the BBC.
Full report at:
https://english.alarabiya.net/en/perspective/features/2015/06/10/Secretly-filmed-footage-shows-life-within-ISIS-held-Mosul-.html
----------
Tens of Egyptian journalists protest 'shrinking press freedoms'
June 11, 2015
Around 300 journalists staged a protest on Wednesday at the Journalists' Syndicate in downtown Cairo against the imprisonment of their colleagues, criticising what they described as the stifling of press freedoms in Egypt.
Participants at the protest – called for by the union's Freedoms Committee – held aloft posters of detained journalists and banners calling for their release.
They also raised slogans to demand higher salaries and syndicate protection from arbitrary sacking by newspaper bosses.
Some protesters carried a symbolic coffin for the press, expressing their disgruntlement at current conditions.
Full report at:
http://english.ahram.org.eg/NewsContent/1/64/132478/Egypt/Politics-/Tens-of-Egyptian-journalists-protest-%E2%80%98shrinking-pr.aspx
----------
King Salman: Reject intolerance, youth told
June 11, 2015
JEDDAH: Custodian of the Two Holy Mosques King Salman has called on young people to abide by Islamic principles and reject intolerance.
Addressing the president and senior officials of the Youth Welfare Presidency and sports clubs recently, King Salman also reportedly said the government would continue to support youth and sports programs.
"Sports competitions should be regulated according to our religious values and teachings that reject intolerance and dissension between citizens. These values also strengthen our allegiance and commitment to the nation."
"The youth form the backbone of nations and play a fundamental role in their progress. We thank God for having young people who are ready to sacrifice their lives for their religion and nation."
Full report at:
http://www.arabnews.com/featured/news/760246
----------
South Asia
Eight soldiers martyred, 33 militants killed in military operations
Jun 11 2015
Eight soldiers have embraced martyrdom and 33 insurgents were killed in newest military operations across the country, ministries of defense and interior announced on Thursday morning.
General Zahir Azimi stated in a tweet that eight soldiers embraced martyrdom in past 24 hours. However, the tweet did not have the exact location of the incidents.
In the meantime, 33 militants were killed and nine others wounded in separate military operations eleven provinces in past 24 hours.
The operations were conducted in Khost, Ghazni, Takhar, Kunduz, Badakhshan, Balkh, Kandahar, Oruzgan, Kabul, Nangarhar and Kapisa provinces where two Improvised Explosive Devices (IEDs) placed by insurgents were also defused by the security forces.
http://www.khaama.com/eight-soldiers-martyred-33-militants-killed-in-military-operations-3477
----------
Coordinated terrorist attacks suppressed in eastern Afghanistan, 13 insurgents killed
Jun 11 2015
Two coordinated terrorist attacks have been repelled by security forces in eastern Afghanistan, 13 militants were killed in retaliatory fire.
Hazrat Hussain Mashriqiwal, spokesman for the police headquarters of eastern Nangarhar province say that a group of armed men attacked a number of security check posts in Hesarak District yesterday.
He said security forces responded to the attack leaving 12 assailants killed and eight others wounded.
Full report at:
http://www.khaama.com/coordinated-terrorist-attacks-suppressed-in-eastern-afghanistan-13-insurgents-killed-3475
----------
Bangladesh Jihadists planned to hack e-banking systems
June 11, 2015
Members of Bangladesh Jihadi Group, a platform of banned militants organisations, not only planned bank robberies but also formed a research cell to take control of the electronic banking system of several banks.
Before being busted by law enforcers, they were developing a software to infiltrate the e-banking systems and change information about the account holders, and have the money transferred to their accounts or withdrawn using fake debit and credit cards.
Detectives made with the findings after interrogating the nine members of the group arrested on Sunday and analysing the laptop recovered from their possession. Yesterday was the second day of their seven-day remand.
They also found a software in the laptop that allows users to withdraw highest Tk25,000 from a credit card.
Full report at:
http://www.dhakatribune.com/crime/2015/jun/11/jihadists-planned-hack-e-banking-systems#sthash.tP6Dhfta.dpuf
----------
Foreigners including six insurgents killed in VBIED explosion in Maidan Wardak
Jun 11 2015
Six militants were killed and five others wounded after a vehicle-borne improvised explosive device (VBIED) they planned to target government facilities with exploded in Chak District of Maidan Wardak province, officials said on Thursday.
Qari Mohammad alias Mutaqi was loading explosive materials into a Mazda model vehicle inside his home in Baidari area of Araban valley that exploded leaving six insurgents killed and five others wounded.
Full report at:
http://www.khaama.com/foreigners-including-six-insurgents-killed-in-vbied-explosion-in-maidan-wardak-3479
----------
Myanmar enacts unfair population control law
June 11, 2015
On May 23, 2015, the Law for Health Care Relating to Control of Population Growth (The Pyidaungsu Hluttaw Law 28/2015), which allows authorities the power to implement 'birth spacing', was signed by the President of Myanmar, Thein Sein. This is one of four pieces of legislation that together make up the 'Protection of Race and Religion Laws', a package of bills reported to have been driven by nationalist Buddhist monks with an anti-Muslim agenda.
The law permits the government to control population growth in certain areas by limiting how often women may have children. It has been widely condemned both for violating women's rights and for its potential to be used as a tool for ethnic and religious discrimination against communities like the Rohingya.
Full report at:
https://www.malaysiakini.com/letters/301425
---------
Pakistan
'We didn't build nukes to fire on Shab-e-Baraat', Musharraf says
PTI | Jun 11, 2015
ISLAMABAD: Accusing India of destabilising Pakistan, former military ruler Pervez Musharraf has said nuclear weapons are for the defence of the country and not for "celebratory" occasion.
Musharraf, who ruled from 1999 to 2008, claimed India is carrying an aggressive attitude as a preplanned strategy with the ultimate end game of denuclearizing Pakistan.
"We do not want to use nuclear capability but if our existence comes under threat, who do we have these nuclear weapons for? If I say in Chaudhary Shujaat's style, do we have nukes saved to be used on Shab-e-Baraat?" he told Dunya News.
"Don't attack us, don't challenge our territorial integrity because we are not a small power, we're a major and nuclear power. Don't push us," 71-year-old Musharraf said.
"We should have self-confidence that their (Indian) dream to denuclearise Pakistan is not possible. We won't let their end game materialize," he added.
Full report at:
http://timesofindia.indiatimes.com/world/pakistan/We-didnt-build-nukes-to-fire-on-Shab-e-Baraat-Musharraf-says/articleshow/47628510.cms
----------
At least 10 suspected militants killed in Dattakhel: ISPR
June 11, 2015
ISLAMABAD: At least 10 suspected militants were killed during a search operation by security forces in Dattakhel area of North Waziristan tribal region, according to statement issued by the Inter-Services Public Relations (ISPR).
The statement said that the operation was conducted in Dattakhel area close to Pak-Afghan border in North Waziristan.
The information could not be independently verified since access to journalists is severely restricted in the region.
North Waziristan is one of the seven regions in Pakistan's Federally Administered Tribal Areas (Fata) governed by tribal laws which is situated along the Pak-Afghan border and is rife with Taliban militant activity.
The Pakistan Army launched Zarb-i-Azb, a comprehensive operation in 2014, against foreign and local terrorists who were hiding in sanctuaries in the North Waziristan tribal region, a week after the brazen insurgent attack on the country's busiest airport in Karachi.
http://www.dawn.com/news/1187572/at-least-10-suspected-militants-killed-in-dattakhel-ispr
---------
Jamaat considers expansion of cadre among non-Muslims
June 11, 2015
LAHORE: The Jamaat-e-Islami (JI) Pakistan is deliberating a strategy to expand its cadre among minority religious groups in the country.
For the first time in the party's 74-year history, non-Muslims were invited to its ijtema in November last year. A separate enclosure was set up at the Minar-e-Pakistan grounds for Christians, Hindus and Sikhs in attendance at the three-day congregation.
"Minorities' wings in the Jamaat have been functional at sub-national levels since the 80s. However, there had not been a concerted effort at integrating minority communities into the party's organisation before the ijtema," says Ameerul Azim, JI's central information secretary.
Azim says non-Muslims were allowed to display their own [religious] literature at the ijtema. He adds that engagement with people from minority religious communities [for whom he uses the new amir's preferred term 'Pakistani biraderi'] is needed because they are part of the national electorate.
Full report at:
http://tribune.com.pk/story/901583/jamaat-considers-expansion-of-cadre-among-non-muslims/
----------
Jamaat-i-Islami Emir assails Sharifs for 'Mughal governance'
June 11, 2015
LAHORE: Jamaat-i-Islami (JI) Emir Sirajul Haq has criticised the Sharif brothers for what he called adopting a "Mughal style of governance" and destroying democratic institutions in the country by running them on "unconstitutional" lines.
He was speaking at the inauguration of an educational institute here on Wednesday.
Siraj said until bifurcation of society into haves and have-nots, and oppressors and oppressed was not eliminated and a justice-based governance system established the country could not progress.
The Jamaat leader further said the current system was based on exploitation of the poor due to which the rich were getting richer and the poor becoming poorer.
He added that incidents of mothers jumping into canals with children and fathers killing dear ones out of hunger were a matter of shame for society and the government.
The JI chief said it was unfortunate that the federal budget protected interests of the rich and ignored the poor.
http://www.dawn.com/news/1187490/siraj-assails-sharifs-for-mughal-governance
----------
Two cops killed, six others injured in Peshawar suicide blast
June 11, 2015
PESHAWAR: At least two policemen were killed and six others were injured Thursday morning when a suicide blast targeting the vehicle of Deputy Commandant of Frontier Reserve Police (FRP) occurred in Peshawar's Hayatabad area.
Senior Superintendent of Police (SSP) Mian Saeed confirmed that the attack was a suicide blast which took place near Deputy Commandant FRP Malik Tariq's vehicle when he was on his way to the FRP office.
"The bomber was on a motorcycle and he rammed it into the vehicle of Malik Tariq who was on his way to the office," Mian Saeed told reporters at the scene.
Saeed added that it had yet to be determined whether the bomber was wearing a suicide vest or his motorcycle was packed with explosives.
Full report at:
http://www.dawn.com/news/1187561/two-cops-killed-six-others-injured-in-peshawar-suicide-blast
----------
Eight injured in grenade attack at Mansehra's Hazara University
June 11, 2015
MANSEHRA: Eight students, including a female, at Mansehra's Hazara University were injured when an unidentified person set off a hand grenade during a clash between students and a security guard on campus.
A clash occurred on campus when an argument, which broke out between a student and a security guard, turned violent.
Aerial firing also took place during the clash, although no one at the scene was hurt by the firing.
Taking advantage of the chaos, an unidentified person set off a hand grenade injuring the students.
Police and rescue teams arrived on the scene.
The injured have been admitted to King Abdullah Teaching Hospital for treatment.
Police teams began gathering evidence as a probe into the incident went underway.
http://www.dawn.com/news/1187577/eight-injured-in-grenade-attack-at-mansehras-hazara-university
----------
Four policemen killed in Quetta gun attack
June 11, 2015
QUETTA: Four policemen were killed on Thursday in Quetta's Pashtunabad area when unidentified assailants opened fire on a police mobile.
The armed motorcyclists opened indiscriminate fire at a patrolling police mobile in the Manan Chowk area of Pashtunabad. Police said the assailants sped away on their motorcycles.
Police sources told DawnNews that two policemen died on the spot, while two others succumbed to their injuries on the way to Civil Hospital in Quetta.
A heavy contingent of police and Frontier Corps personnel reached the scene of the crime.
The attack comes a week after four policemen were killed on Pashtunabad's Mullah Salam Road while on a routine patrol.
A crackdown was launched in Balochistan's provincial capital city in the aftermath of last week's Pashtunabad gun attack on Saturday.
Police on Sunday claimed to have arrested 33 suspects during various raids in the area.
http://www.dawn.com/news/1187568/four-policemen-killed-in-quetta-gun-attack
----------
EU demands reinstatement of death penalty moratorium in Pakistan
June 11, 2015
ISLAMABAD: The European Union (EU) on Thursday expressed concern over increasing executions in Pakistan and demanded of the government to reinstate the moratorium on death penalty and fully respect all of its international obligations.
"Effective implementation of the international conventions is a requirement under the European Union's Generalised System of Preferences (GSP) Regulation," a statement issued by EU delegation mission to Pakistan said.
The EU spokesperson Catherine Ray recalled at least 150 people have been executed in Pakistan since December 2014, when the government lifted the moratorium on executions in place since 2008.
Full report at:
http://www.dawn.com/news/1187562/eu-demands-reinstatement-of-death-penalty-moratorium-in-pakistan
----------
Africa
Three female suicide bombers die in NE Nigeria: Police
June 11, 2015
Three female suicide bombers died in the flashpoint Nigerian state of Borno when the explosives strapped to their bodies detonated, police said Wednesday, adding no one else was killed.
State Police Commissioner Aderemi Opadokun said the bombers died on Tuesday on their way to the state capital Maiduguri, which has been hit multiple times by Boko Haram, including suicide attacks.
http://english.ahram.org.eg/NewsContent/2/9/132462/World/International/Three-female-suicide-bombers-die-in-NE-Nigeria-Pol.aspx
----------
Nigeria, regional leaders meet to discuss new Boko Haram force
June 11, 2015
Nigeria's new President Muhammadu Buhari on Thursday holds talks with regional leaders on Boko Haram, with hopes a new fighting force will help crush the Islamists after six years of violence.
Heads of state and government from Niger, Chad, Cameroon and Benin jet in to Nigeria's capital, Abuja, after two days of preparatory discussions involving military top brass and defence ministers.
The meetings come on the back of Buhari's appeal to world leaders at the G7 summit in Germany last weekend for more help in combating extremism and visits to Chad and Niger.
Buhari, 72, has made ending the militants' reign of terror his top priority and has already moved the military's command centre from Abuja to Maiduguri, in the rebels' northeastern stronghold.
Full report at:
http://english.ahram.org.eg/NewsContent/2/9/132484/World/International/Nigeria,-regional-leaders-meet-to-discuss-new-Boko.aspx
----------
A Christian religious extremist, Jonathan O'Toole, on anti-American jihad in Kenya
June 11, 2015
Nakuru, Kenya — Among the second-hand clothing stalls in this large, central Kenyan city, Jonathan O'Toole stands tall and proud behind a ten-foot poster of a bloody foetus.
"A great judgment is coming on this prostitute called the USA," bellows O'Toole. "And every nation that follows will perish with them."
O'Toole's voice strains under the burden of his palpable anger. A small crowd of curious onlookers gathers under the midday sun to watch and listen to the street preacher. He asks for an "amen." They stare silently at this angry, earnest American proselytizing amid the old shirts and shoes.
Full report at:
http://www.humanosphere.org/human-rights/2015/06/a-christian-religious-extremist-on-anti-american-jihad-in-kenya/
----------
French troops in Mali struggle to identify the enemy
June 11, 2015
Confronted with jihadists, separatists, traffickers and bandits, all in similar pick-ups and wearing the same military garb, French troops in Mali face a vexing conundrum -- figuring out exactly who the enemy is.
It has become a problem, too, for the international community following the formulation of a peace deal signed on May 15 by the Malian government and its allies, and due to be ratified by the Tuareg-led rebellion this month.
In the northwestern desert of Timbuktu, the soldiers of the French "Operation Barkhane" find themselves fighting what the force, with its weakness for a pithy acronym, has termed GAT, or "armed terrorist groups".
Full report at:
http://english.ahram.org.eg/NewsContent/2/9/132488/World/International/French-troops-in-Mali-struggle-to-identify-the-ene.aspx
----------
Al Qaeda militants in Libya attack IS after leader killed
June 11, 2015
BENGHAZI: Al Qaeda-linked militants in eastern Libya declared holy war on the local Islamic State affiliate after one of their senior leaders was killed Wednesday by masked gunmen, which set off clashes between the rival jihadi groups that left 11 people dead on both sides, including a top militant commander.
The hours-long fighting in the eastern coastal city of Darna erupted after gunmen opened fire on Nasser Akr, an Al Qaeda-inspired militant once held in the United Kingdom on terrorism charges.
Full report at:
http://www.dawn.com/news/1187365/al-qaeda-militants-in-libya-attack-is-after-leader-killed
---------
Mideast
Israel's strategic position 'enhanced by chaos of Arab neighbourhood'
June 11, 2015
Israeli generals, ministers and ex-Mossad chiefs were milling around at this week's Herzliya conference talking national security at a time of unprecedented turmoil across the Middle East. Binyamin Netanyahu, now prime minister for the fourth time, deployed his signature phase about living in a "tough neighbourhood." But a cursory glance around the Arab world left even the hyperbole-prone Netanyahu, on that point at least, sounding like a master of understatement.
Israel's strategic position has never been so good, argued one senior official – thanks to the diversions and divisions of the wars in Syria and Iraq, the jihadis of the Islamic State, collapse in Libya and conflict in Yemen. It has benefited too from the Egyptian military's crushing of the Muslim Brotherhood and the squeeze on Hamas in the Gaza Strip. Jordan has come though the Arab spring unreformed and maintains discreet but intimate security links with the Jewish state.
Full report at:
http://www.theguardian.com/world/on-the-middle-east/2015/jun/11/israels-strategic-position-enhanced-by-chaos-of-arab-neighbourhood
----------
Turkey's pro-Kurdish opposition open to coalition without AKP
June 11, 2015
Turkey's pro-Kurdish Peoples' Democratic Party (HDP) said on Thursday it was open to all options for a coalition government other than with the ruling AK Party, and that President Tayyip Erdogan should remain within his constitutional limits.
The HDP was a big winner in a national election on Sunday, crossing the 10 percent threshold to enter parliament for the first time and helping to deprive the AKP, founded by Erdogan, of the overall majority it had held for more than a decade.
The result has left the AKP searching for a junior coalition partner or facing the prospect of trying to rule alone in a minority government. If it fails in either option, Turkey could face a snap election.
Full report at:
http://english.ahram.org.eg/NewsContent/2/8/132497/World/Region/Turkeys-proKurdish-opposition-open-to-coalition-wi.aspx
----------
Yemeni Forces Attack Saudi Military Base
June 11, 2015
Yemeni army and Ansarullah fighters stormed a Saudi military base near the border between the two countries in retaliation for Riyadh's ongoing bombardment of their country.
The Yemeni forces stormed military base, Jabal al-Dood, forcing the Saudi soldiers to flee.
Meanwhile, two Saudi soldiers were killed in Dhahran al-Janoub of Asir Province after Yemeni fighters shelled their positions in a retaliatory attack.
On Thursday, Yemeni fighters fired several mortar rounds as well as 26 rockets on three military bases in Saudi Arabia's Southwestern city of Jizan.
Meanwhile, three Yemeni women were killed after Saudi warplanes targeted areas in Yemen's province of Sa'ada.
Full report at:
http://english.farsnews.com/newstext.aspx?nn=13940321000398
----------
IRGC Commander Says Attacking Iran Ends in US Destruction
June 11, 2015
Commander of the Islamic Revolution Guards Corps (IRGC) Navy Rear Admiral Ali Fadavi said Washington never dares to attack Iran since White House officials have come to realize that such a move would endanger life of the US.
"The Americans rest assured that if they take any action against the Islamic Revolution, they would not only fail to inflict any harm on this revolution, but also endanger and lose their life and existence," Rear Admiral Fadavi told a gathering of IRGC and Basij members in Southern Fars province on Wednesday.
Full report at:
http://english.farsnews.com/newstext.aspx?nn=13940320001256
----------
Iran spending $6 bln annually to support Assad regime: report
June 11, 2015
The Iranian government is reportedly spending billions of dollars yearly to prop up the Syrian regime, according to a spokeswoman for the U.N. special envoy for Syria.
"The Special Envoy has estimated Iran spends $6 billion annually on supporting the Assad regime in Syria. So it's $6 billion not $35 billion," Jessy Chahine, the spokeswoman for de Staffan de Mistura said Monday in an email, Bloomberg reported.
Chahine's claims come in reaction to previous reports from the Christian Science Monitor citing that de Mistura informed last month a think tank in Washington that Iran was spending three times its official military budget to back the Assad regime.
Full report at:
https://english.alarabiya.net/en/News/middle-east/2015/06/10/Iran-spending-6-bln-annually-to-support-Assad-regime-report.html
----------
Israel bars shot Palestinian from treatment in Jerusalem
June 11, 2015
Israel has barred a Palestinian photographer allegedly shot in the eye by an Israeli soldier from entering east Jerusalem for specialist treatment, he told AFP on Wednesday.
Nidal Shtayyeh, who works for Chinese news agency Xinhua, was wounded while covering a small demonstration at Huwarra checkpoint near the northern West Bank city of Nablus on May 16.
As he was covering the rally, Shtayyeh was hit in the face by a rubber bullet which entered his eye, causing serious damage, he told AFP.
"The march was peaceful and no stones were thrown, no photographers were taking any pictures," he said, accusing soldiers of firing sound bombs at the photographers without any provocation.
Full report at:
http://english.ahram.org.eg/NewsContent/2/8/132482/World/Region/Israel-bars-shot-Palestinian-from-treatment-in-Jer.aspx
--------
India
Retired Muslim teacher helps build Saraswati temple in school
June 11, 2015
AHMEDABAD: Children of Marida village near Nadiad lovingly call him Abdul Chacha, a retired school teacher who is also known for his teaching and the life lessons he gives to his students.
In a rare gesture, this teacher, Abdul Vora, constructed goddess Saraswati temple within the village school premises for the children to be inspired. "I am a teacher first and everything else later. For me, my children are my inspiration and theirs is goddess Saraswati. So the temple," says Vora, who had served as a teacher in the Hindu-dominated village for nearly three decades.
Vora put a large amount of his savings in the construction of the temple. "The temple took five years to be constructed. Many villagers also contributed whatever they could,'' says Vora.
It does not end there. Vora even taught children how to perform Pooja at the temple. "The temple project was initiated by Abdul Saheb and later residents of the village joined in," says a teacher at the school.
Full report at:
http://timesofindia.indiatimes.com/city/ahmedabad/Retired-Muslim-teacher-helps-build-Saraswati-temple-in-
----------
Hindus in Mahoba to Fast in Ramzan for AIIMS in the District
Shailvee Sharda,TNN | Jun 11, 2015
LUCKNOW: After Muslims writing 'mann ki baat' to Narendra Modi in Sanskrit to press for an AIIMS-like institute in Mahoba, Hindus in the district have decided to fast during the Islamic month of Ramzan to take the campaign forward.
"We want to attract the attention of policy makers towards our problem. We have opted for unconventional route to show that lack of health services in the region is a special issue that cannot be ignored," said social activist Tara Patkar, who would lead the group of the 25-odd Hindu Rozedars.
The effort is brainchild of the Bundeli Samaj which has pitched in its demand since the district is situated in the heart of Bundelkhand and does not have proper medical care facilities. "Health facilities are pathetic in our region. For simple health problems we either head to Kanpur or Jhansi and when the disease is complex, we have to go all the way to Lucknow or Delhi," Mohammad Samad, a local madrasa teacher said.
Full report at:
http://timesofindia.indiatimes.com/india/Hindus-in-Mahoba-to-fast-in-Ramzan-for-AIIMS-in-the-district/articleshow/47627746.cms
----------
Muslims Can Take Allah's Name In Place Of Shlokas: Minister
June 11, 2015
After dropping 'Surya Namaskar' from the official yoga programme to "avoid controversy", the government on Thursday said chanting 'Shlokas' during 'International Yoga Day' was not "compulsory" and appealed to Muslims to participate in the event. Shripad Naik, Minister for AYUSH, the coordinating ministry for the event at Rajpath on June 21, said Muslims can "take the name of Allah instead of reciting 'Shlokas'" during the event.
While some minority groups have objected to the holding of the event by government, especially inclusion of Surya Namaskar, representatives of some Muslim organisations who met Naik today said those opposing yoga were "enemies of humanity" and yoga has nothing to do with religion. External Affairs Minister Sushma Swaraj had said a Committee which decided the common yoga protocol had not included Surya namaskar "because they wanted easy asanas (exercise) in it, which can be performed by anyone."
Full report at:
http://indianexpress.com/article/india/india-others/muslims-can-take-allahs-name-in-place-of-shlokas-shripad-naik/#sthash.F6fWphbF.dpuf
----------
Hand over Kashi, Mathura, Ayodhya to Hindus: VHP Leader Ashok Singhal
June 11, 2015
Vishwa Hindu Parishad (VHP) leader Ashok Singhal on Wednesday appealed to the Muslim community to "hand over" Kashi, Mathura and Ayodhya to Hindus for "love and amicable atmosphere" in the society. Addressing a programme where Union Home Minister Rajnath Singh was also present, Singhal said, "I again appeal the Muslim community to hand over three places — Kashi, Mathuraand Ayodhya — to Hindus peacefully…love and amity will prevail in the society."
Stating that he was not opposed to "peaceful Islam" but to "Jehadi Islam", the VHP leader said, "Once Muslim clerics had agreed to give back these three places but Jehadis did not let it happen." Mentioning extremist group ISIS's deeds, he said, "At a time when everyone wants to live in peace in the world, Jihadi Islam is not letting it happen." Referring to the death of 50 Shias in a blast in Pakistan earlier this year, Singhal said they too were followers of Prophet Mohammad. He appealed Muslims not to follow "confused Jehad" and contribute towards development of the country by joining the mainstream.
http://indianexpress.com/article/india/india-others/hand-over-kashi-mathura-ayodhya-to-hindus-ashok-singhal/#sthash.mNdvxE5E.dpuf
--------
Hard to imagine similar ops on Pak soil: Experts
Deeptiman Tiwary,TNN | Jun 11, 2015
NEW DELHI: The Army strikes inside Myanmar have led to speculation that these are signs of things to come on India's western border with Pakistan. But those in the security establishment and strategic experts warned that such pursuits against Islamabad are neither desirable nor possible.
What is possible, and in the thought process of the Modi government, are covert operations in the western neighbourhood. Sources say given India's hostile relationship with Pakistan, any open strike against an anti-India outfit within Pakistan would virtually be an attack on the establishment in Islamabad.
Full report at:
http://timesofindia.indiatimes.com/india/Hard-to-imagine-similar-ops-on-Pak-soil-Experts/articleshow/47622846.cms
----------
India, Bangladesh share terror info
Dwaipayan Ghosh,TNN | Jun 11, 2015
KOLKATA: India and Bangladesh have decided to exchange all information on terror organizations, including the Jammat-ul-Mujahideen (JuM), which as responsible for the blast at Khagragarh in Burdwan last year.
During a four-day visit to Dhaka in May, the National Investigation Agency used the database of the Rapid Action Battalion (RAB), the anti-terror unit of the Bangladesh Police, to build its inventory of terror outfits in the neighbouring country. Now, the Indian central agency is keen on further strengthening the connection with the Bangaldeshi unit to nail terror groups. The NIA, which submitted a formal chargesheet in the Khagragarh blast case on March 30, has hinted that the RAB dossiers might prove invaluable evidence in the trial.
Full report at:
http://timesofindia.indiatimes.com/india/India-Bangladesh-share-terror-info/articleshow/47622270.cms
----------
Pakistan official denied visa for ISI, terror links: India
Sachin Parashar,TNN | Jun 11, 2015
NEW DELHI: India denied visa to a Pakistani foreign ministry official earlier this month because, it claimed, that he had worked as an ISI operative in the past and harboured links with militant outfits, including Mumbai attacks accused Hafiz Saeeed, the Taliban and the Haqqani network.
Pakistan had applied for a diplomatic assignment visa for the official, Mohammed Idrees, to facilitate his posting at its high commission here. Sources said the visa was denied under "compelling circumstances" and that India was well within its rights to do that even if Pakistan had applied for a diplomatic visa.
Full report at:
http://timesofindia.indiatimes.com/india/Pakistan-official-denied-visa-for-ISI-terror-links-India/articleshow/47621401.cms
----------
India should be declared Hindu nation: Pravin Togadia
June 11, 2015
PATNA: Vishwa Hindu Parishad (VHP) president Pravin Togadia on Wednesday said the BJP government led by Prime Minister Narendra Modi should declare India a Hindu nation.
"India should be declared a Hindu rashtra (nation) by the BJP led central government," Togadia said in Bihar's Madhepura district after offering prayers at the Sinheshwar temple.
Togadia said it was high time that all Hindus were united and alert and aware about their religion.
He said that cow slaughter should be banned in the country.
Togadia is currently on a two-day visit to Bihar to attend VHP functions in different parts of the state.
http://timesofindia.indiatimes.com/india/India-should-be-declared-Hindu-nation-Pravin-Togadia/articleshow/47617481.cms
----------
Mirwaiz wants UN to be third party in resolving Kashmir issue
June 11, 2015
SRINAGAR: Moderate Hurriyat Conference chairman Mirwaiz Umar Farooq today suggested involvement of United Nations as a third party for smooth dialogue between India and Pakistan for a resolution on Kashmir issue.
"Hurriyat is desirous of a meaningful dialogue for the development of friendly relation between India and Pakistan. The involvement of third party is imperative for everlasting solution to Kashmir issue," Mirwaiz said in a statement here.
He said trust deficit and frequent breakdown in the dialogue were the biggest hurdles in resolution of outstanding issues.
Full report at:
http://timesofindia.indiatimes.com/india/Mirwaiz-wants-UN-to-be-third-party-in-resolving-Kashmir-issue/articleshow/47616665.cms
----------
Europe
UK Schools Can Monitor Pupils' Online Activity with 'Anti-Radicalisation' Software
June 11, 2015
Schools will be able to monitor radicalisation of pupils online using new spy software which detects key words used by extremists, it has been announced.
The technology can be installed on school computers to pick up phrases popular with jihadist sympathisers such as 'YODO', which means 'You Only Die Once.' Also in the glossary of alert terms are 'Jihadi bride' and 'jihobbyist', which describes someone who supports jihadist organisations but is not an active member.
Up to 40 per cent of secondary head teachers are expected to adopt the software, which is an upgrade of existing anti-bullying technology already used in their schools.
It has been developed in partnership with counter-extremism think tank, the Quilliam Foundation in response to 'escalated demand' by teachers.
Impero Software, which created the technology, said all schools with a contract for its anti-bullying software would be able to use the new service - currently four in ten.
It allows teachers to monitor online activity in real time and alerts them whenever terms from the radicalisation library are used.
Full report at:
http://www.dailymail.co.uk/news/article-3118613/Schools-buy-anti-radicalisation-software-monitor-pupils-online-activity-flag-key-phrases-including-jihadi-bride-jihobbyist-Yodo-die-once.html#ixzz3cjUcZSZF
----------
Ban asks religious leaders to promote harmony
June 11, 2015
UNITED NATIONS: UN Secretary General Ban Ki-moon said on Wednesday religious leaders had a pivotal role to play in times of turmoil as they can provide a value-based glue to hold communities together and provide a common ground for peace-making.
Addressing religious leaders at a conference of "traditional religions" in Astana, capital of Kazakhstan, the UN chief said: "You can do so by fostering dialogue; by using spiritual authority to encourage individuals to act humanely; and by promoting shared values – as enshrined in the Universal Declaration on Human Rights and the International Covenant on Civil and Political Rights."
In his opening remarks, the Secretary General reminded religious leaders of their obligation to speak out when "so-called adherents of their faith" commit crimes in its name.
"[They] must teach their followers the true meaning of reconciliation, understanding and mutual respect," Ban emphasised. "All…crimes committed in the name of religion are crimes against religion."
http://www.dawn.com/news/1187452/ban-asks-religious-leaders-to-promote-harmony
----------
Putin: Russia Ready to Coordinate Efforts with Muslim Countries in Fight against Terrorism
June 11, 2015
Russia is ready to coordinate efforts with Muslim countries in fighting terrorism and looking for peaceful ways to settle regional conflicts, according to the Russian President Vladimir Putin's address to the session of the "Russia-Islamic World" strategic vision group read out by Russian Foreign Minister Sergey Lavrov on Thursday.
"Russia has launched active cooperation with the Organization of Islamic Cooperation in the observer status precisely 10 years ago," the president said in the address. "Since then, our friendly ties with Muslim countries have considerable strengthened," he noted, Itar-Tass reported.
Full report at:
http://english.farsnews.com/newstext.aspx?nn=13940321000543
----------
France says no guarantees yet on Iran nuclear deal
11 June 2015
Any deal with Iran must be verifiable and there are no guarantees on this yet, French Foreign Minister Laurent Fabius said on Thursday.
"We must be able to verify the sites," Fabius told BFM TV. "We don't yet have certainty on this."
"We want a deal with Iran but ... the deal must be verifiable, solid, robust and today we don't have guarantees on this," he said. "A deal that cannot be verified cannot be implemented."
Iran and six major powers reached a framework nuclear deal on April 2 in Lausanne, Switzerland, and are seeking to strike a final agreement by June 30 under which Iran would restrain its nuclear program in exchange for relief from economic sanctions.
"We are not yet at the end of the discussion," Fabius said.
Full report at:
https://english.alarabiya.net/en/News/middle-east/2015/06/11/U-S-dubs-last-step-in-Iran-nuclear-talks-as-tough-.html
---------
UK: Businessman is first person jailed under forced marriage laws
June 11, 2015
A businessman has become the first person in the UK to be jailed under forced marriage laws introduced a year ago.
The man, who cannot be identified for legal reasons, was sentenced to 16 years in prison on Wednesday after making a 25-year-old woman marry him under duress last year.
The man, who was already married, "systematically" raped his victim for months, threatened to go public with hidden camera footage of her in the shower unless she became his wife, and threatened to kill members of her family if she told anyone of the abuse.
The 34-year-old developed an "irrational obsession" with his victim and lured her to his home under the promise of a get-together with friends, Merthyr crown court heard.
Full report at:
http://www.theguardian.com/society/2015/jun/10/34-year-old-man-first-person-to-be-convicted-under-forced-marriage-laws
----------
Southeast Asia
Malaysia: Anti-Rape Crusader Takes Non-Criminalisation of Marital Rape in Stride
June 11, 2015
KUALA LUMPUR, June 11 — DAP's Yeo Bee Yin, whose rape awareness campaign reignited debate over marital rape, today deemed it progress that Putrajaya is even discussing non-consensual sex in marriage despite deciding not to criminalise it.
The Damansara Utama assemblyman said, however, that Malaysia should at least increase the penalty for men who cause hurt in order to obtain sex from their wife from the current maximum imprisonment sentence of five years to 20 years, the same punishment for rape.
"I see it as a very healthy progress. At least they get to discuss it; last time they couldn't discuss because it's taboo," Yeo told Malay Mail Online.
"Criminalising marital rape should be a very collective decision that suits society, not follow what Westerners do," she added.
Full report at:
http://www.themalaymailonline.com/malaysia/article/anti-rape-crusader-takes-non-criminalisation-of-marital-rape-in-stride#sthash.5rPrixIy.dpuf
----------
Western tourists who stripped on 'sacred mountain' are blamed for earthquake that killed 16 Malaysian people
June 11, 2015
Tourists who took off their clothes on a sacred mountain have been blamed for causing a devastating earthquake that killed more than 16 people.
The 5.9-magnitude earthquake shook Borneo just a week after Western tourists took pictures of themselves in the buff on Mount Kinabalu.
The deputy chief minister of Sabah state, Tan Sri Joseph Pairin, has joined with indigenous people in Sabah to blame the tourists for angering the 'spirit of the mountain'.
The tourist group of 10 included two Canadians, two Dutch and a German national.
After posing for the pictures on the hallowed ground, they posted the images on social media.
Sabah's chief tribal priest called a Bobolian, Tindarama Aman Sirom Simbuna, says that the 10 tourists in question should be fined 10 buffalo to appease the gods.
Full report at:
http://www.mirror.co.uk/news/world-news/western-tourists-who-stripped-sacred-5845113
----------
Brunei pharmaceutical plant launches first range of halal supplements
June 11, 2015
Simpor Pharma Sdn Bhd, the first pharmaceutical plant in Brunei, launched its initial range of halal health supplements at yesterday's opening of the Third ASEAN Consumer Fair (ACF).
The health supplements, which are being marketed under the SP brand, include Omega-3 fish oil softgels, Omega-3 fish oil and tumeric softgels, Omega-3 fish oil and folic acid softgels, multi-vitamin tablets, vitamin E softgels, B-complex tablets, vitamin C powder, CoQ10 softgels as well as Omega-3 gummies. The supplements, which sell for $10 to $25 per bottle, are available at one of the booths in the five-day fair.
Simpor Pharma executives said the company will first develop the local market for its products before venturing overseas.
Full report at:
http://yourhealth.asiaone.com/content/brunei-pharmaceutical-plant-launches-first-range-halal-supplements
---------
North America
Muslim Family Expelled From NY Empire State Building for Praying Get Payout
June 11, 2015
NEW YORK: A Muslim family that filed a $5 million a lawsuit against the owner of the Empire State building after being forcibly removed for praying on the observation deck of the building have settled for an undisclosed sum.
The husband and wife; Fahad 32 and Amina Tirmizi 30, who were removed from the observation deck of the Empire State building for praying, claimed their civil rights were violated along with their First and 14th amendment rights which are assured by the New York City and the New York State.
Two security guards approached them when they were silently praying and one rudely poked Fahad and told him they aren't allowed to pray.
The couple claim they were 'assaulted, battered and forcibly removed' from the renowned sky scraper's observation deck.
Full report at:
http://tribune.com.pk/story/901022/muslim-family-expelled-from-empire-state-building-for-praying-get-payout/
--------
Anti-sharia activist added to Ted Cruz's camp, Muslim activists cry foul
June 11, 2015
The Council on American-Islamic Relations, the nation's largest Muslim civil rights and advocacy organization, has urged Republican presidential candidate and Texas Senator Ted Cruz to remove Kevin Kookogey as his state chairman for Tennessee because of his longstanding support for anti-Muslim causes.
"If Senator Cruz chooses to keep Mr. Kookogey on his campaign staff, it would serve as an endorsement of anti-Muslim hate," said CAIR Government Affairs Manager Robert McCaw. "In the past few months, Senator Cruz has attended several conferences featuring notorious Islamophobes like Robert Spencer and Frank Gaffney. Despite calls to distance himself from such anti-Muslim bigots, it seems that Senator Cruz is only drawing closer to hate-mongers."
As chairman of the Williamson County Republican Party, Kookogey oversaw the adoption of a resolution condemning Tennessee Governor Bill Haslam for appointing a Muslim lawyer to the state's Department of Economic and Community Development.
Full report at:
http://www.theventureonline.com/2015/06/anti-sharia-activist-added-to-ted-cruzs-camp-muslim-activists-cry-foul/#sthash.c5F9qjuM.dpuf
----------
Quebec Wants to Ban Religious Face Coverings for Government Workers
June 11, 2015
In its latest quest for "religious neutrality", Quebec is taking another run at making it illegal for both government employees and members of the public to wear religious face coverings in government service offices.
The legislation, tabled Wednesday at the Canadian province's legislature by the ruling Liberal party, aims to promote "adherence to State religious neutrality" by mandating that government services be provided to and by people with uncovered faces.
"We are convinced the way we are approaching this is respectful and will be a plus for society," said Quebec Justice Minister Stéphanie Valée at a news conference on Wednesday. "We don't judge people for their beliefs or absence of beliefs."
Full report at:
https://news.vice.com/article/quebec-wants-to-ban-religious-face-coverings-for-government-workers
----------
Glenn Beck Absolutely Unleashes on Feminists Over Middle East Hypocrisy
June 11, 2015
Glenn Beck on Wednesday turned his ire on American feminists who he believes should be more concerned about the systematic oppression of women in the Middle East than getting someone else to pay for their birth control.
"The feminist movement … has been reduced to political hackery," Beck said on his television program. "Ground zero for the war on women? Not here. I mean sure, abortions aren't free yet, I know. … But you want to know where real persecution is happening? Over in the Middle East!"
"Where are the cute little feminists standing up for all those who are forced to marry, cover their faces, sew their private parts closed, the subjects of stoning for not obeying Islamic law, which allows them to not walk outside without a man?" Beck demanded. "You know, all those great things!"
Full report at:
http://www.theblaze.com/stories/2015/06/10/glenn-beck-absolutely-unleashes-on-feminists-over-middle-east-hypocrisy/
----------
US becomes biggest oil producer in 2014, surpasses Saudi Arabia
June 11, 2015
The United States has overtaken Saudi Arabia as the world's biggest oil producer in 2014 while India has recorded the highest growth in energy consumption among major economies.
The US produced 15.9 per cent more oil in 2014 at 11.6 million barrels of oil per day to topple Saudi Arabia's 11.5 million bpd production, according to BP Plc's Statistical Review of World Energy released on Wednesday.
Russia with 10.8 million bpd oil production was placed third.
The US surpassed Russia as the world's largest producer of oil and gas, producing 1,250.4 million tons of oil and oil equivalent natural gas in 2014. This compared with Russia's 1,062 million tons of oil equivalent.
Full report at:
http://www.financialexpress.com/article/industry/us-becomes-biggest-oil-producer-in-2014-surpasses-saudi-arabia/83048/
----------
Austrlaia
Tony Abbott opens summit on countering terrorist propaganda
June 11, 2015
Tony Abbott has opened a regional summit on countering terrorist propaganda in Sydney, telling delegates Islamic State "is coming if it can for every person and every government with a simple message: submit or die".
Representatives from governments and civil society groups from 25 countries are meeting for two days to share ideas for challenging the appeal of Isis and other jihadi groups at the countering violent extremism (CVE) summit. More than 15,000 foreign fighters are estimated to have travelled to Iraq and Syria to join the conflict, including at least 100 Australians.
The prime minister said waves of immigration had helped Australia flourish, "yet the tentacles of the death cult have extended even here as we discovered to our cost during the Martin Place siege last December".
Full report at:
http://www.theguardian.com/australia-news/2015/jun/11/sydney-summit-to-share-ideas-on-challenging-terrorist-propaganda
----------
Islamic State: Brisbane anti-IS fighter takes to Facebook, says terrorist group 'must be stopped'
June 11, 2015
A Brisbane man fighting against Islamic State (IS) has taken to Facebook, saying he is willing to sacrifice his life to "help liberate the innocent children and women to give them a better chance at life".
Ashley Dyball — aka Mitchell Scott — 23, reportedly joined the Kurdish militia in May when he travelled to Iraq.
Yesterday he posted a status update on Facebook, saying he could not return home and was prepared to sacrifice "one life to save many".
Mr Dyball said he had "short, limited time" and it was his "life decision" to "help raise awareness for the innocent people here [Iraq] trying to live a life that are slaughtered on a daily basis".
Full report at:
http://www.abc.net.au/news/2015-06-11/brisbane-anti-is-fighter-says-life-decision-to-stop-is/6537470
----------
Julie Bishop calls for more women involved in combatting extremism
June 11, 2015
Foreign Affairs Minister Julie Bishop says that women and families need to be more included in the nation's – and the Abbott government's – efforts to combat radicalisation of young Australians.
Addressing a major counter-terrorism summit in Sydney on Thursday, Ms Bishop will say that women can be "powerful voices against extremist propaganda and the radicalisation of members of their families or communities".
Ms Bishop says that while families can be incubators of extremism, they can also form the most effective frontline against the predatory behaviour of radical recruiters such as those from the Islamic State terror group, according to speech notes provided by her office.
"The ability of women and families to act as champions of counter-radicalisation means we must do more to engage women and families and empower them in this role," she will tell the Regional Summit to Counter Violent Extremism in Sydney.
Full report at:
http://www.brisbanetimes.com.au/federal-politics/political-news/julie-bishop-calls-for-more-women-involved-in-combatting-extremism-20150610-ghkzpm.html
----------
URL: https://www.newageislam.com/islamic-world-news/new-age-islam-news-bureau/isis-s-dirty-bomb--jihadists-have-seized--enough-radioactive-material-to-build-their-first-wmd-/d/103443