New Age Islam News Bureau
6 Jun 2015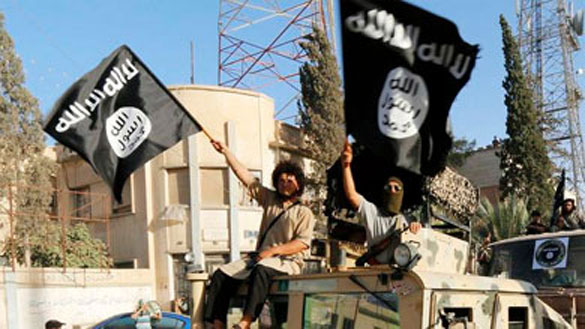 ISIS has so far published around 1,700 photos, videos and other posts, reaching up to 200,000 users on Twitter and other social media sites. (File photo: Reuters)
----------
South Asia
• ISIS Leader in Afghanistan Says Taliban Fights For Pakistani Intelligence
• 11 Soldiers Martyred, 96 Militants Killed In Newest Military Operations in Afghanistan
• 'Secret letter' reveals Afghan pressure on Pakistan
• Bangladesh Shuts Madrasa, Forbids Banners for India Tour
• Hasina to give Jamdani saree for Modi's mother
• B'desh media describes Modi's visit as 'historic'
Arab World
• Iraq: Army Kills over 40 ISIL Militants in Tikrit
• Nasrallah Threatens To Displace 'Millions' Of Israelis in Future War
• Looks CAN Kill: ISIS Militant's Selfie Leads U.S. Airstrike to His Location
• 13 ISIL Terrorists Killed in Iraq's Ramadi
• Iraqi Airstrike Kills Tens of ISIL Terrorists in Ramadi
• 2 Saudi Soldiers Killed in Retaliatory Attack
• Islamic State militants use water as weapon in western Iraq
• Egyptian court overturns naming Hamas terror organization
• Syria: Army Wins Back New Areas in Idlib, Hama from ISIL
• KSA pledges continued support for Palestinians
• Qatar: Decisive Storm prevented Houthi takeover
• Another city falling to Daesh
• A year in office, Sissi tries to rule Egypt as 1-man show
• ISIS working to 'develop chemical weapons'
• Saudi Arabia says shoots down Scud missile fired by Yemen's Houthis
India
• J&K: Pak Taliban Posters Warn Telecoms, Petrol Pumps, and Alcohol-Sellers
• 3 Militants Killed As Army Foils Infiltration Bid In J&K
• Reveal stand on Ram temple, Sena tells Modi
• Haryana Violence: Court Case Hits Muslims Who Were Promised They Could Build Mosque
• Muslim groups soften stance regarding Yoga day in Mumbai
• Flush out militants from your soil, India plans to tell Myanmar
Pakistan
• Setting A Precedent: Dir, Swat's Women Take to the Streets for Voting Rights
• Eight Militants Killed In North Waziristan Air Assault
• Four policemen killed in Quetta gun attack
• PML-N Hasn't Learnt Anything From Past: Jamaat-e-Islami
• Two 'would be' suicide bombers killed in Sargodha blast
Africa
• Nigeria: Muslim Scholars Teach Peace to Broken Youths
• ISIS Seizes another Town in Libya
• Nigeria, Chad Renew Commitment in War against Boko Haram
• Nigeria suicide bombers 'faked fight' to attract onlookers
• Collaborating to Fight Terror in East Africa
Europe
• ISIS Aims New Recruitment Video at Balkan Muslims
• Situation in Libya has reached a tipping point: UN
• Tony Blair's new role fighting anti-Semitism - a kick in the teeth for Palestinians?
• UN report cites Israel crimes against children, no consensus on listing
• Muslim community in Macao grows rapidly
Southeast Asia
• How Long Must We Tolerate DAP's Insults, Asks Ulema
• Non-Muslim PAS supporters slam party for un-Islamic behaviour
Mideast
• Turkey Detains Russian Student Trying To Cross Into Syria 'To Join ISIL'
• Yemen: Army Captures Several Saudi Soldiers in Border Clashes
• On Social Media, Terror Suspects Left Few Signs of Extremism
• Iran Sentences Group of Christians to Combined 24 Years in Prison for 'Evangelizing'
• Israelis defend W. Bank town set for demolition
• Turkish PM: Bomb attacks target Turkish democracy
North America
• US Cities Take Different Tacks Fighting Extremist Recruiting
• Obama Urged To #justsaytheirname By Pro-Rohingya Activists on Twitter
• Encouraging Signs for American Muslims
• Toronto's New Aga Khan Park Blends Muslim and Canadian Traditions
• Canada orders deportation of Pakistani accused of US consulate bomb plot
• A Triumph of Religious Freedom in the US
Compiled by New Age Islam News Bureau
URL: https://newageislam.com/islamic-world-news/isis-leader-afghanistan-says-taliban/d/103368
---------
South Asia
ISIS Leader In Afghanistan Says Taliban Fights For Pakistani Intelligence
June 6, 2015
The leader of the Islamic State of Iraq and Syria (ISIS) affiliates in Afghanistan has said that the Taliban militants are fighting on behalf of Pakistan's military intelligence – Inter Services Intelligence (ISI).
In an interview with BBC Persian, the ISIS leader in Afghanistan, Abdul Rahim Muslim Dost, said they found other ways to wage jihad after realizing Taliban are receiving instructions from Pakistani intelligence.
The former Guantanamo prisoner says they are defending against the Taliban attacks and confirmed the group's fighters are engaged in fighting with the Taliban militants.
He said the Taliban militants initially started fight with the ISIS affiliates and warned that anyone who start fighting with them will face death.
This comes a local official in Nangarhar province said ISIS affiliates have beheaded at least ten Taliban fighters after they were captured following an ambush in Achin district.
In other parts interview, Dost called the airstrikes the most barbaric way of killing and insisted that beheading is the most pitiful way to execute a convict.
Dost said the airstrikes cause casualties to everyone including women, children and elders while their fighters have been instructed to refrain from harming the civilians.
http://www.khaama.com/isis-leader-in-afghanistan-says-taliban-fights-for-pakistani-intelligence-1172
---------
11 Soldiers Martyred, 96 Militants Killed In Newest Military Operations in Afghanistan
Jun 06 2015
11 soldiers have embraced martyrdom while 96 militants were killed in newest military operations across the country, ministries of defence and interior announced Saturday morning.
General Zahir Azimi, spokesman for the Ministry of Defense issuing a statement says that the 11 soldiers embraced martyrdom in past 48 hours. He has not written the exact locations the incidents with military.
In the meantime, a statement issued by the Ministry of Interior states that 96 militants were killed and 61 wounded during separate military operations in 11 provinces in past 24 hours.
The statement further states that four other insurgents were also apprehended by the security forces.
The operations were conducted in Badakhshan, Jowzjan, Uruzgan, Ghazni, Paktiya, Paktika, Helmand, and Kandahar, Khost, Takhar and Kunduz provinces.
28 different types of Improvised Explosive Devices (IEDs) were also defused by the security forces during these operations, the statement adds.
http://www.khaama.com/11-soldiers-martyred-96-militants-killed-in-newest-military-operations-3437
---------
'Secret letter' reveals Afghan pressure on Pakistan
June 6, 2015
ISLAMABAD: Officials at the Presidential Palace in Kabul recently leaked contents of President Ashraf Ghani's 'secret letter' to Prime Minister Nawaz Sharif, demanding the "arrest of Taliban leaders in Pakistan".
Taking their usual stance, Pakistani officials insist they are unaware of any such letter.
Afghan and international outlets like BBC and Voice of America report that Ghani issued a month's deadline to Pakistani leaders to take action against the Afghan Taliban and authorities in Kabul have not refuted any such media reports.
In his letter, the Afghan president pushes Islamabad to extend its operation against the Haqqani Network and not allow the Afghan Taliban to treat their injured on Pakistani soil.
The contents of Ghani's leaked letter raise certain concerns about the re-emergence of the traditional blame game that previously widened mistrust between the two countries and badly affected security cooperation.
There is also speculation among observers in Afghanistan that 'sharing' details of the letter with the media could be an attempt by Ghani to respond to harsh criticism by some leaders about the government's approach towards Pakistan.
During Ghani's first state visit to Pakistan in November last year, leaders from both sides agreed to use bilateral forums to address each other's concerns instead of the media, according to officials privy to those meetings.
Ghosts of yore
Public insinuations by former President Hamid Karzai caused a serious setback to bilateral relations between the two neighbours. Although Kabul has not officially issued Ghani's letter to the media, the local and international press quoted an "unnamed official" at the Presidential Palace who shared the details.
A senior Pakistani official, dealing with Afghan affairs, told The Express Tribune "certain elements across the border are opposed to an improved relationship". He especially mentioned Hamid Karzai and his close aides, saying they have "created obstacles" for his successor to normalise ties with Pakistan.
Karzai strongly condemned the recently signed Memorandum of Understanding between the two countries about intelligence sharing and said it was against Afghan's national interest. He had earlier opposed Ghani's decision to send army officers for training to Pakistan.
Two to tango
Elements in Afghanistan will be trying to frustrate efforts by both countries to improve relations, but it will be unfair to shift all the blame on Kabul. Pakistani leaders will also have to seriously look into the past disappointments of Afghan officials.
Many in Pakistan believe that President Ashraf Ghani has taken practical steps to address to the concerns of Pakistanis and now it is Islamabad's time to return the favour.
Ghani's letter coincides with remarks by Afghan Deputy Foreign Minister Hekmat Karzai who said in Islamabad last week, "Pakistan has now agreed with our notion that both countries have been involved in an undeclared war for 20 years."
"People in Afghanistan believe that whoever launches attacks on the security forces, kills tribal elders and burns schools has roots in Pakistan and they view this as an undeclared war," said Hekmat who was in the federal capital to co-chair a Heart of Asia-Istanbul Process meeting.
Convincing the Taliban
Although these allegations are nothing new, they reflect a change in the mood of President Ghani's regime.
There is also added frustration over the fact that the Taliban are unwilling to talk to the Afghan president. The fact that the militant organisation has stepped up its attacks is also seen as another major setback.
Afghan leaders will be mistaken of think Pakistan can force Taliban leaders to gather on the negotiating table with Kabul.
In fact, anyone who has held meetings with the Taliban, including China, has failed to convince the outfit to join the intra-Afghan dialogue.
Many in the Taliban office in Qatar such as its head Tayyeb Agha do not want Pakistan to be involved in the peace process at this stage, claim several leaders of the organisation.
For its part, the Taliban leadership encouraged interaction with Afghan political leaders, civil society members as well as women social activists at unofficial talks along the lines of the meetings held in Qatar last month. The Taliban on Friday confirmed its emissaries met Afghan social activists in Norway on June 3-5 to "listen to their concerns".
http://tribune.com.pk/story/898501/secret-letter-reveals-afghan-pressure-on-pakistan-2/
---------
Bangladesh Shuts Madrasa, Forbids Banners for India Tour
Jun 06 2015
DHAKA: Bangladesh authorities have shut down a madrassah next to a cricket stadium in Dhaka and forbidden provocative banners ahead of the Indian team's upcoming tour of the country, officials said Saturday.
Maulana Abdus Shakoor, head of the Rauzatun Saliheen Alim Madrassa, said he had received a letter from the authorities asking him to keep the madrassa closed during the one-off test match from June 10 to June 14.
"This is the first time we have received a request from the government administration to keep the complex closed," Maulana Shakoor told AFP.
Test cricket will return to Fatullah stadium after nine years, having hosted its only five-day match against Australia in 2006. The ground has so far hosted 10 one-day internationals, including five matches of the Asia Cup in 2014.
Bangladesh Cricket Board security chief Hussain Imam said the madrassa was told to shut "as part of additional security measures" for the Indian cricketers, who arrive in Dhaka on Monday to play the Test and three one-day internationals.
Maulana Shakoor said he was surprised by the diktat as classes in the seminary were held during the Asia Cup last year.
"But this time we have been asked to declare a vacation for five days. I have got verbal permission only to keep 25 orphans in our dormitory on humanitarian grounds," he said.
Bangladeshi madrasas have been under the spotlight in recent months after two of their students were arrested over the slaughter of an atheist blogger in the heart of the country's capital.
Cricket board's Imam said security steps were also being scaled up in view of the controversial World Cup match between the two teams in the World Cup in Australia-New Zealand earlier this year.
Bangladesh fans were left infuriated when several umpiring decisions went against the cricket minnows, dashing their hope to reach the semifinals for the first time.
The then Bangladeshi president of the International Cricket Council Mustafa Kamal added fuel to the controversy by suggesting the umpires were biased in favour of heavyweights India.
Imam said the authorities have also banned any anti-Indian banners and festoons in the stands during the matches.
"We will not allow anyone to enter with banners or festoons carrying offensive language or obscene cartoons," he said.
http://tribune.com.pk/story/898912/bangladesh-shuts-islamic-seminary-forbids-banners-for-india-tour/
---------
Hasina to give Jamdani Saree for Modi's mother
June 6, 2015
Bangladesh Prime Minister Sheikh Hasina will give "an exquisite Jamdani saree" to Prime Minister Narendra Modi.
"It will be given to Mr. Modi for her mother," said a senior Bangladeshi diplomat.
A Dhakai Jamdani is one of the most expensive gifts in Bangladesh, often given to an honoured guest.
"The colour of the hand stitched saree, selected by Ms. Hasina, would be off-white and it is made in Dhaka," said the official.
Dhakai Jamdanis often cost in lakhs.
http://www.thehindu.com/news/national/narendra-modis-twoday-visit-to-bangladesh/article7289153.ece
---------
B'desh media describes Modi's visit as 'historic'
June 6, 2015
Bangladeshi media today described Prime Minister Narendra Modi's maiden visit to the country as "historic" and "a visit of high hopes".
The leading dailies of Bangladesh are all agog about the two-day visit.
Dailies and news channels gave wide coverage to Modi's visit that began today as news was accompanied with photographs of Modi and his schedule and deals that are expected to be signed.
"Modi flies in Today, Hopes so High," said a banner headline of The Daily Star. "A visit of High Hopes," said a headline of leading Bengali daily Prothome Alo.
"Dhaka ready to welcome Modi, both sides upbeat major breakthroughs expected," said the Daily Observer. "Modi arrives today on very meaningful visit," said the Independent.
The capital city Dhaka had a festive look with streets adorned with life-size cutouts of Modi, West Bengal Chief Minister Mamata Banerjee and Bangladeshi Prime Minister Sheikh Hasina.
Describing Bangladesh as an "exceptional neighbour", India yesterday said Prime Minister Modi's "historic" visit will help the two sides to consolidate and deepen cooperation in key areas of power, energy and connectivity.
http://www.thehindu.com/news/international/bdesh-media-describes-modis-visit-as-historic/article7288884.ece
-------
Arab World
Iraq: Army Kills over 40 ISIL Militants in Tikrit
June 6, 2015
The Iraqi army made huge gains in its fight against the ISIL terrorists in the Northern city of Tikrit and claimed the lives of more than 40 terrorists, a military source announced.
Iraqi Ministry of Defense issued a statement, saying that the army troops backed by popular fighters pressed ahead with their major offensive against ISIL in Northern Tikirt, killing at least 40 militants.
It said, "The security forces managed to kill more than 40 ISIL elements in a military operation in the North of Tikrit."
"The operation resulted in destruction of four heavy armored vehicles," the statement added.
Earlier, the army troops intensified their offensive against the Takfiri group near the city of Ramadi and managed to take back the Morur district.
The army troops also seized control of the Anbar traffic police building in an area called Khamsa Kilometer near Ramadi. An army officer said ISIL terrorists were forced to withdraw from the building after a fierce fighting.
Full report at:
http://english.farsnews.com/newstext.aspx?nn=13940315000132
---------
Nasrallah threatens to displace 'millions' of Israelis in future war
June 6, 2015
Hzbollah leader Hassan Nasrallah threatened to leave millions of Israelis without homes in a future war between the Lebanese Shiite militia and the Jewish state.
Addressing supporters in south Beirut, Nasrallah said that the "time in which Israelis destroyed our homes and maintained their homes has ended in 2006," referring to the Second Lebanon War in which the IDF battled with Hezbollah forces in southern Lebanon for a month.
"I clearly say to Israel: the Resistance (Hezbollah) threatens to displace millions of Israelis in the next war if imposed on Lebanon," Nasrallah said.
He appeared to be responding to comments from an unnamed senior IDF official to military reporters on Thursday to the effect that Israel, if it had no choice in a future war with Hezbollah, would force 1 million to 1.5 million Lebanese residents to evacuate their homes in order to target the Hezbollah missile launchers and other weaponry emplaced in the villages of southern Lebanon. "If you push 1.5 Lebanese from their homes, the islamic resistance in Lebanon will force millions of Israelis from their homes," Nasrallah said.
Full report at:
http://www.timesofisrael.com/nasrallah-threatens-to-displace-millions-of-israelis-in-future-war/
---------
Looks CAN kill: ISIS militant's selfie leads U.S. airstrike to his location
6 June 2015
U.S. intelligence, which heavily monitors social media accounts from the Islamic State of Iraq and Syria, managed to locate and destroy one of the group's headquarters in Syria by using a selfie photo taken by one of the militants.
According to Air Force General Hawk Carlisle, airmen from Hurlburt Field were the first to pick up on the photo.
"The guys that were working down out of Hurlburt, they're combing through social media and they see some moron standing at this command," Carlisle said, according to the New York Post.
"And these guys go: 'We got an in.' So they do some work, long story short, about 22 hours later through that very building, three [joint direct attack munitions] take that entire building out," he said.
Carlisle did not mention the location of the headquarters destructed by the air strikes.
According to the U.S. based weekly newspaper Air Force Times, ISIS has so far published around 1,700 photos, videos and other posts, reaching up to 200,000 users on Twitter and other social media sites.
https://english.alarabiya.net/en/variety/2015/06/06/U-S-air-force-bombs-ISIS-headquarter-thank-to-militant-selfie-.html
---------
13 ISIL Terrorists Killed in Iraq's Ramadi
June 6, 2015
At least 13 ISIL terrorists were killed after the Iraqi army, backed by popular fighters, made more gains in its military campaign against the Takfiri group in the Western city of Ramadi, Anbar province.
According to Iraqi media reports, more than 13 ISIL militants lost their lives after they attempted to sneak into the area of Husaybah al-Sharkiya area, Eastern Ramadi.
Earlier, the army troops intensified their offensive against the Takfiri group near the city of Ramadi and managed to take back the Morur district.
The army troops also seized control of the Anbar traffic police building in an area called Khamsa Kilometer near Ramadi. An army officer said ISIL terrorists were forced to withdraw from the building after a fierce fighting.
The Iraqi forces have tightened their noose around the terrorists in the Western city of Ramadi.
Full report at:
http://english.farsnews.com/newstext.aspx?nn=13940315000125
---------
Iraqi Airstrike Kills Tens of ISIL Terrorists in Ramadi
June 6, 2015
An Iraqi airstrike killed tens of Takfiri terrorists in the city of Ramadi, Iraq' interior ministry announced on Friday.
"Over 40 ISIL terrorists, including their commanders, were killed in airstrikes by Iraqi warplanes in the Western parts of Ramadi," al-Sumeria news website quoted Iraqi interior ministry's spokesman Sa'ad Ma'an as saying on Friday.
He noted that ISIL commanders such as Ebrahim al-Kuwaiti, Adnan al-Sahrawi, Abu Mohamed al-Jezrawi, Mervan al-Rawi and Abu Hamzeh al-Kabisi have been among the ISIL's casualties in Ramadi.
Full report at:
http://english.farsnews.com/newstext.aspx?nn=13940315000549
---------
2 Saudi Soldiers Killed in Retaliatory Attack
June 6, 2015
Yemeni army troops, backed by Ansarullah fighters, killed two Saudi soldiers at border areas after launching a retaliatory attack against Saudi Arabia in the monarchy's Southwestern province of Jizan.
According to Arab media reports, the Yemeni artillery fired rockets into Jizan region on Friday, killing two Saudi border guards.
The attack came after Saudi airstrikes hit residential areas in Sana'a, Sa'ada and border cities, killing large groups of people.
Full report at:
http://english.farsnews.com/newstext.aspx?nn=13940315000228
---------
Egyptian court overturns naming Hamas terror organization
AP | Jun 6, 2015
CAIRO: Egypt's state news agency is reporting a court has overturned a decision naming Hamas a terrorist organization.
The MENA news agency reported Saturday that the Urgent Matters Appeals Court made the decision. They cited a lack of jurisdiction for overturning the early court's ruling.
There was no immediate government reaction.
Egypt initially declared the group a terrorist organization in February. That ruling further isolated Hamas, which once found open support under Egypt's toppled Islamist President Mohammed Morsi. Egypt's new government recently has begun clearing a buffer zone along its border with Gaza Strip in an attempt to destroy a cross-border network of tunnels that Hamas considers a lifeline.
There was no immediate reaction from Hamas.
http://timesofindia.indiatimes.com/world/middle-east/Egyptian-court-overturns-naming-Hamas-terror-organization/articleshow/47565064.cms
----------
Islamic State militants use water as weapon in western Iraq
Reuters | Jun 6, 2015
BAGHDAD: Islamic State militants have closed gates of a dam on the Euphrates River in western Iraq, reducing the water and giving them greater freedom of movement to attack government forces downstream on the southern bank, local officials said.
The militants have redirected the flow of water to their advantage on the battlefield around the city of Ramadi. But the tactic also threatens southern provinces with drought and the water has been reduced to worrying levels, the officials said.
The Euphrates has acted as a barrier between the militants who control its northern bank and pro-government forces who are trying to advance towards Ramadi on the other side.
A spokesman for the governor of Anbar province, of which Ramadi is the capital, said security forces would now have to redeploy along the river to prevent the insurgents from infiltrating.
"Previously they had to monitor only the bridges and certain areas, but now all of the river will be crossable," Hikmat Suleiman said.
Full report at:
http://timesofindia.indiatimes.com/world/middle-east/Islamic-State-militants-use-water-as-weapon-in-western-Iraq/articleshow/47561361.cms
----------
Qatar: Decisive Storm prevented Houthi takeover
June 6, 2015
SANAA: Iran-backed Houthi Shiite rebels and Yemen's government agreed Friday to attend UN-brokered peace talks in Geneva aimed at ending a more than two-month war.
The Geneva meeting, provisionally set for June 14, would be the first significant effort to stop the fighting which has led to what the United Nations has called a "catastrophic" humanitarian situation.
Ezzedine Al-Isbahi, information minister of the Yemeni government based in Riyadh, said they would send a delegation to Switzerland.
UN envoy Ismail Ould Cheikh Ahmed told the Security Council on Wednesday that the government would attend but that he was still in consultation with the rebels.
"The government agreed to participate in the Geneva talks," Isbahi said. He added that the meeting would involve "consultations on implementing Resolution 2216" which the Security Council passed in April.
Full report at:
http://www.arabnews.com/featured/news/757681
---------
Another city falling to Daesh
June 6, 2015
BEIRUT: Activists and the Daesh group's radio station say militants have reached the southern gates of the northeastern city of Hassakeh amid intense air raids and shelling.
Daesh extremists captured the power station and the juvenile prison just south of Hassakeh.
Hassakeh is split between government forces and Kurdish fighters who have been attacking IS positions elsewhere in the province.
Daesh radio station Al-Bayan said the militants are about one kilometer from the southern entrance in the city claiming to have killed dozens of soldiers.
Daesh has been attacking Hassakeh since May 30, facing stiff resistance from government forces.
The Observatory and the Local Coordination Committees say government warplanes repeatedly attack IS forces near Hassakeh on Friday.
http://www.arabnews.com/middle-east/news/757386
---------
A year in office, Sissi tries to rule Egypt as 1-man show
June 6, 2015
CAIRO (AP) — The words of the pro-government TV talk show host left no room for debate. President Abdel-Fattah el-Sissi is synonymous with Egypt, he lectured his audience, and Egyptians are either on his side or are enemies of the nation.
"Whoever has a problem living in this country should grab his passport and leave," said the TV host, Tamer Amin, telling viewers no one should complain about price hikes, power outages or other problems.
A year after the general-turned-politician took office in a landslide election win, Sissi largely has silenced political opposition and is trying to run the country as a one-man show, a far cry from the democracy millions dreamed of when they toppled autocrat Hosni Mubarak in a stunning 2011 uprising.
Full report at:
http://www.timesofisrael.com/a-year-in-office-sissi-tries-to-rule-egypt-as-1-man-show/
---------
ISIS working to 'develop chemical weapons'
6 June 2015
ISIS has shown it is prepared to use chemical weapons and is likely to have among its recruits the technical expertise to develop them, Australia's Foreign Minister Julie Bishop said.
In a speech late Friday, Bishop said Australia had no doubt that the Syrian regime had used toxic chemicals including sarin and chlorine over the past four years.
But she said apart from some crude and small scale endeavors, the conventional wisdom had been that ISIS's intention to acquire and weaponize chemical agents was largely aspirational.
"The use of chlorine by Daesh, and its recruitment of highly technically trained professionals, including from the West, have revealed far more serious efforts in chemical weapons development," she said in Perth, using the Arabic acronym for ISIS.
Full report at:
https://english.alarabiya.net/en/News/middle-east/2015/06/06/ISIS-working-to-develop-chemical-weapons-.html
---------
Saudi Arabia says shoots down Scud missile fired by Yemen's Houthis
June 6, 2015
Saudi Arabia shot down a Scud missile fired into the kingdom by Yemen's dominant Houthi group and its army allies on Saturday, according to the Saudi state news agency, in the first use of the missile in over two months of war.
The missile was launched early Saturday morning in the direction of Khamees al-Mushait, and was intercepted by a Patriot missile, a statement by the leadership of the Saudi-led joint Arab military coalition said.
The area is home to largest air force base in southern Saudi Arabia, the world's top oil exporter, but there are no oil facilities in the area.
Full report at:
http://english.ahram.org.eg/NewsContent/2/8/132062/World/Region/Saudi-Arabia-says-shoots-down-Scud-missile-fired-b.aspx
---------
KSA pledges continued support for Palestinians
June 6, 2015
JEDDAH: The Kingdom recently signed seven agreements with the United Nations Relief and Works Agency for Palestine Refugees in the Near East (UNRWA) worth $111 million, the bulk meant for refugees in the Gaza Strip.
This was disclosed by Abdullah Al-Muallemi, permanent representative of the Kingdom to the United Nations. He was speaking at the UN headquarters in New York during a gathering held to mark the 65th anniversary of the UNRWA.
Al-Muallemi said the Kingdom would continue to support the Palestinian people. He said Saudi Arabia has given the UNRWA more than $500 million over the past 15 years.
He said the UNRWA was established in the wake of one of the world's worst tragedies when Israel displaced more than 700,000 Palestinians. The UNRWA was the main support for the Palestinian people.
He accused Israel of failing to abide by international law and UN resolutions. The Zionist regime also refuses to seek a comprehensive solution by agreeing to the Arab peace initiative.
http://www.arabnews.com/featured/news/757651
--------
India
J&K: Pak Taliban Posters Warn Telecoms, Petrol Pumps, And Alcohol-Sellers
June 6, 2015
Taliban posters warning of attacks on telecoms, petrol pumps, cable operators and alcohol-sellers have surfaced in Jammu and Kashmir's restive Sopore area, where militants recently killed two men working with mobile phone service providers.
The posters, bearing initials of the Tehreek-i-Taliban's Kashmir wing, warned petrol pump owners of dire consequences if they allow military and police vehicles to refuel at their establishments.
Cable operators were told to stop showing Indian shows while people selling alcohol and drugs have been asked to immediately stop such un-Islamic activities.
Moreover, residents have been told not to give shelter to non-Kashmiri labourers at their homes.
This is the first time Taliban posters have surfaced in Kashmir, though police say there was no presence of the Pakistan-based group in the Valley. Intelligence agencies, however, reported in January about the outfit trying to send militants from across the border into the state.
The posters have increased people's anxiety in the volatile border districts, especially Baramulla district, where mobile phone services were suspended after the killing of two telecom workers in May.
Full report at:
http://www.hindustantimes.com/india-news/pak-taliban-posters-warn-telecoms-petrol-pumps-cable-operators-alcohol-sellers-in-kashmir/article1-1355277.aspx
---------
3 militants killed as army foils infiltration bid in J&K
PTI | Jun 6, 2015
SRINAGAR: Three militants were killed as army on Saturday foiled an infiltration bid along the Line of Control in Kupwara district in third such incident in a fortnight.
"Alert troops noticed suspicious movement near the Line of Control in Tootmaar Gali area of Kupwara district during the wee hours.
"As soon as the infiltrators crossed to this side of the LoC, they were challenged," an army official said, adding three militants were killed in the ensuing gunbattle.
This is the third infiltration bid foiled by the army in two weeks.
Three soldiers and a militant were killed in a failed infiltration bid on May 25 in Tangdhar sector while four militants and a civilian were killed in the same area earlier this week.
http://timesofindia.indiatimes.com/india/3-militants-killed-as-army-foils-infiltration-bid-in-JK/articleshow/47563392.cms
---------
Reveal stand on Ram temple, Sena tells Modi
June 6, 2015
Amid a renewed clamour for a Ram Mandir in Ayodhya, with conflicting comments from the BJP, NDA constituent Shiv Sena on Friday asked Prime Minister Narendra Modi to reveal his "Mann ki Baat" on the issue.
"Since the BJP is in power at the Centre with a comfortable majority, it must take more concrete steps on the Ram Mandir," said the Sena. The Sena, in an editorial in its mouthpiece Saamna , warned its ally that if the sentiments of 'Rambhakts' were ignored for too long, they could erupt like a volcano.
Full report at:
http://www.thehindu.com/news/national/other-states/reveal-stand-on-ram-temple-sena-tells-modi/article7287993.ece?ref=tpnews
--------
Haryana Violence: Court Case Hits Muslims Who Were Promised They Could Build Mosque
June 6, 2015
Dozens of Muslims have returned to the village they were forced to flee after communal violence on May 25, but the situation in Atali is far from peaceful. Tension prevailed after a section of the dominant Jat community in the village approached a Faridabad court on Friday, seeking a stay on the construction of the mosque that is at the centre of this festering dispute.
The riot, which saw 2,000 heavily armed men selectively burn and vandalise Muslim homes, was apparently triggered by a long contest over the ownership of a piece of land. While the Jat community maintains that the disputed land in question belonged to the gram Panchayat, Muslims say it was Waqf land.
Full report at:
http://indianexpress.com/article/cities/delhi/ballabhgarh-communal-violence-court-case-hits-muslims-who-were-promised-they-could-build-mosque/#sthash.MUwob1ve.dpuf
---------
Muslim groups soften stance regarding Yoga day in Mumbai
Mohammed Wajihuddin,TNN | Jun 6, 2015
MUMBAI: A section of Muslims has said the community should join others to observe International Yoga Day on June 21 but should skip surya namaskar, a yogic exercise which involves bowing to the sun god, and avoid uttering Om, an invocation to another deity.
"Muslims can do yoga as part of physical exercise. They should not utter Om and skip surya namaskar as Islam doesn't allow bowing to anyone except Allah," said Mufti Aijaz Arshad Qasmi, who handled the fatwa section of Darul Uloom Deoband till 2006 and now runs the website www.fatwaonline.org. "We keep getting queries about whether Muslims can do yoga and the standard reply is "yes", but they must ensure surya namaskar is skipped," added Qasmi, who also runs the NGO Peace Foundation of India.
Full report at:
http://timesofindia.indiatimes.com/india/Muslim-groups-soften-stance-regarding-Yoga-day-in-Mumbai/articleshow/47561522.cms
---------
Flush out militants from your soil, India plans to tell Myanmar
Rajat Pandit,TNN | Jun 6, 2015
NEW DELHI: India is planning to ask Myanmar to step-up "coordinated military operations" to flush out Indian insurgent groups operating from its soil, even as the Army on Friday launched intensive area domination patrols as well as search and destroy missions in Manipur.
Another decision taken in the aftermath of the ambush in the Chandel district of Manipur on Thursday, which killed 18 soldiers and injured a dozen others in the deadliest such attack in over three decades, is to bolster the "intelligence network" along the porous 1,643-km land border with Myanmar, said sources.
This came after Army chief General Dalbir Singh Suhag visited Manipur on Friday to review the internal security situation and discuss various counter-insurgency steps being undertaken with top operational commanders, including Eastern Army Command chief Lt-Gen M M S Rai and 3 Corps commander Lt-Gen Bipin Rawat.
Full report at:
http://timesofindia.indiatimes.com/india/Flush-out-militants-from-your-soil-India-plans-to-tell-Myanmar/articleshow/47561299.cms
---------
Pakistan
Setting a precedent: Dir, Swat's women take to the streets for voting rights
June 6, 2015
MINGORA / PESHAWAR / LOWER DIR: At the heels of the ECP's decision to hold a re-poll in PK-95 Lower Dir, women from the conservative Swat and Lower Dir districts took to the streets on Friday to demand their fundamental right to vote – setting a new precedent.
A majority of the protesters who gathered in Mingora hailed from Charbagh union council. Many of them said on the day of local government polls they had either been barred from entering polling stations or told to return to cast their votes later.
"The Election Commission of Pakistan has termed elections in PK-95, Lower Dir-II null and void because women were not allowed to vote," a protester said. "The same should have been done in parts of Swat."
Speaking to The Express Tribune, another protester said the administration is equally responsible for the loss of women's suffrage as it must take tangible steps to provide equal rights to women in all spheres.
Full report at:
http://tribune.com.pk/story/898569/setting-a-precedent-dir-swats-women-take-to-the-streets-for-voting-rights/
----------
Eight militants killed in North Waziristan air assault
June 6, 2015
SHAWAL: At least eight terrorists were killed in an air strike by security forces on Friday in Shawal area of North Waziristan, sources said.
According to sources, five militants were also injured as jets bombed their hideouts.
On Wednesday, nine militants were killed in an air strike in Datta Khel area of North Waziristan.
Thirteen terrorists were also injured in the assault by jets.
http://www.thenews.com.pk/article-187082-Eight-militants-killed-in-North-Waziristan-air-assault
-------
Four policemen killed in Quetta gun attack
June 6, 2015
QUETTA: At least four policemen were killed when unidentified gunmen opened fired at their vehicle in Quetta's Pashtoonabad area on Saturday.
Police sources told DawnNews that armed men opened fire at a police mobile in Mullah Salam Road area of Pashtoonabad. They said the policemen were on routine patrol when miscreants attacked their vehicle.
Three policemen were killed on the spot whereas one succumbed to his injuries on way to a hospital.
According to police sources, those killed included an assistant sub-inspector (ASI), a driver and two constables.
Bodies of the slain policemen were brought to Civil Hospital Quetta for postmortem.
Police said the assailants escaped unhurt after carrying out the attack.
Full report at:
http://www.dawn.com/news/1186549/four-policemen-killed-in-quetta-gun-attack
---------
PML-N hasn't learnt anything from past: Jamaat-e-Islami
June 6, 2015
MANDI BAHAUDDIN: Claiming credit for saving the country from an imminent martial law in the recent past, Amir Jamaat-e-Islami (JI) Sirajul Haq on Friday night said that the ruling Pakistan Muslim League-Nawaz (PML-N) has not learnt anything from the past.
Speaking at a public rally organised in the wake of by-election in NA-108 here, he vowed to eradicate the masses in Punjab of oppressing rulers if given a chance.
The by-polls are scheduled for June 8 after the seat got vacated due to disqualification of Pakistan Tehreek-i-Insaf (PTI) MNA Ijaz Chaudhry over fake degree and concealment of assets.
The JI amir in his speech today said that the same one class has been ruling over the country for the last 50 years. "A corrupt group has a complete authority over your democracy," he said.
Full report at:
http://www.thenews.com.pk/article-187110-PML-N-hasnt-learnt-anything-from-past:-Siraj
---------
Two 'would be' suicide bombers killed in Sargodha blast
June 6, 2015
SARGODHA: Two 'would be' suicide bombers were killed, while one suspected militant was arrested on Saturday morning, following a blast near Khayyam Chowk in Sargodha, Express News reported.
According to reports, the blast, which occurred after two suicide bombers detonated their jackets, was extremely loud and its noise reached out to far areas.
Earlier, it was reported that the blast was caused by a gas cylinder malfunction. However, after the Bomb Disposal Squad (BDS) and police reached the scene, it was discovered that it was actually a suicide attempt.
According to witnesses, the two suicide bombers were arguing among themselves when their jackets suddenly detonated, killing them.
Police revealed that perhaps their motive was not to carry out the suicide attempt there, but in another city.
Last week, two people died and another three were injured when a liquefied petroleum gas (LPG) cylinder of a rickshaw exploded on Lahore's Ferozepur Road.
Police and rescue teams arrived at the scene immediately after the blast and moved the injured to the hospital.
http://tribune.com.pk/story/898882/three-killed-in-sargodha-gas-cylinder-blast/
----------
Africa
Nigeria: Muslim scholars teach peace to broken youths
June 6, 2015
Classrooms are springing up in the dirt fields of Maiduguri, Borno State, in northern Nigeria to teach Muslim children and youth, peace, reconciliation, and forgiveness.
The classes are meant to counter the message of violence promoted by Boko Haram, a Muslim sect whose insurgency has resulted in the death of thousands of Nigerians.
My imam teaches us that peace is the way to live
According to reports, the school, al-Ilmu Nurul Hayat Islamiya, is now teaching a new State-sanctioned curriculum based on peace and tolerance in an effort to dilute the influence of Boko Haram.
In the State-wide peace-building initiative, under the guidance of Jama'atu Nasril Islam, the umbrella organisation for Muslim groups in Nigeria, Muslim scholars have produced a peace-based curriculum to fight the Boko Haram influence at schools.
Full report at:
http://www.theafricareport.com/West-Africa/nigeria-muslim-scholars-teach-peace-to-broken-youths.html
---------
ISIS seizes another town in Libya
June 6, 2015
The Islamic State of Iraq and Syria (ISIS) militants have seized another town in Libya, the group and a military source said on Friday, expanding the territory they control in the strife torn country.
The militant group, which controls large parts of Iraq and Syria, has exploited a security vacuum in Libya as two rival governments struggle for power, four years after the ousting of Muammar Qaddafi.
ISIS took over the city of Sirte on Libya's central Mediterranean coast in stages this year, occupying government buildings and last month the city's airport.
Full report at:
https://english.alarabiya.net/en/News/africa/2015/06/05/ISIS-seizes-another-town-in-Libya.html
---------
Nigeria suicide bombers 'faked fight' to attract onlookers
June 6, 2015
Two suicide bombers killed at least 31 people and injured 38 others in a crowded market in the northeast Nigeria city of Yola after faking a fight, police said Friday.
The bombers with explosives strapped to their bodies entered the Jimeta Main Market after sundown on Thursday and "pretended to be fighting", said area police spokesman Othman Abubakar.
The staged fight between the two men "attracted the attention of people nearby to see what was happening," he told AFP.
"When people had gathered they detonated their explosives... They killed a sizeable number of people," he added.
Full report at:
https://english.alarabiya.net/en/News/africa/2015/06/05/Nigeria-suicide-bombers-faked-fight-to-attract-onlookers-.html
---------
Nigeria, Chad Renew Commitment in War Against Boko Haram
June 6, 2015
Abuja — President Muhammadu Buhari and his Chadian counterpart, President Idriss Deby, on Thursday in N'Djamena, capital of Chad, reaffirmed the resolve of both countries to cooperate in the war against Islamist terrorist group, Boko Haram.
In a communiqué issued at the end of Buhari's one-day official visit to Chad, both leaders agreed on the need to quickly make the Multi-National Joint Task Force (MNJTF) fully operational to effectively combat terrorism in North-east Nigeria and "everywhere" that Boko Haram insurgents operate.
Full report at:
http://allafrica.com/stories/201506051265.html
---------
Collaborating to Fight Terror in East Africa
June 6, 2015
Uganda's soldiers have seen war and peacekeeping in all its forms and on many terrains. We delivered defeat to the once-potent Lord's Resistance Army, of Joseph Kony infamy. These days the LRA is in tatters, most of its leadership dead or in custody. That fight prepared us for the next one: the spread of global terrorism to our region.
This fight began in 1998, when al Qaeda introduced East Africa to its breed of terrorism with the gruesome attacks on the American embassies in Tanzania and Kenya. Since then, we have battled varying forms and perpetrators of this evil. In recent years the chief perpetrator has been al-Shabaab, the Somalia-based terrorist group with ties to al Qaeda.
Full report at:
http://www.wsj.com/articles/collaborating-to-fight-terror-in-east-africa-1433544129
---------
Europe
ISIS Aims New Recruitment Video at Balkan Muslims
June 6, 2015
ISIS launched a new push to reel in disaffected Muslims as fighters in Syria and Iraq with a new video posted online Thursday, offering them a "stronghold" there to worship freely -- and to fight for.
The 20-minute video by the core-ISIS propaganda machine, Al-Hayat Media Center, starred a group of camouflage-clad mujahideen from the Balkans region of Eastern Europe pleading for their countrymen to join brothers in the "caliphate," or pure Islamic state, claimed a year ago by the terror group.
"If you want honor, come here, brothers. Don't let the dirty tawaghit [tyrants] arrest you, humiliate you, break into your houses in the middle of the night, finding your wives uncovered," urges one Albanian fighter, cradling a young son and toddler daughter, with his wife covered in a full niqab.
The Bosnian jihadi is even shown buckling a child into a car seat of a small KIA, just like a normal dad anywhere -- albeit with an AK-47 slung over his shoulder.
Full report at:
http://abcnews.go.com/International/isis-aims-recruitment-video-balkan-muslims/story?id=31554167
---------
Situation in Libya has reached a tipping point: UN
June 6, 2015
A mad flurry of peace talks are underway to try and secure a deal to end Libya's civil war before it reaches its anniversary next month: They will fail.
Nothing United Nations envoy Bernadino Leon will said at talks this week in Algeria, or will say during a second round in Morocco tomorrow and Monday or in the third round in Berlin on Wednesday is going to change the situation on the ground.
Libya has been at war with itself ever since the Islamist-led Libya Dawn, a militia coalition, lost elections in June last year and rebelled against the elected government. The militias captured Tripoli and the elected, internationally recognised government was obliged to flee to Tobruk, with the civil war duly following.
Full report at:
http://gulfnews.com/opinion/thinkers/situation-in-libya-has-reached-a-tipping-point-1.1530310
---------
Tony Blair's new role fighting anti-Semitism - a kick in the teeth for Palestinians?
June 6, 2015
Just days after his resignation as Middle East peace envoy, Tony Blair has announced he will be taking on a new role, this time based in Europe. Blair is set to serve as Chair of the European Council on Tolerance and Reconciliation (ECTR), an "opinion-making and advisory body" seeking to tackle amongst other social ills, racism, Xenophobia and anti-Semitism across the Continent. Inevitably, Blair's announcement has garnered hefty criticism. It beggars a few questions: how suitable is Blair in curbing Anti-Semitism? And how can we work towards ridding Europe of Xenophobia more generally?
Many challenge Blair's efficacy, claiming that his seven-year stint as lead diplomat of the Quartet, mediating between Israel and Palestine has proven overwhelmingly fruitless. Others question his foreign policy track-record, which for many is muddled by the Iraq War. These issues are very much engrained in the memories of his harshest critiques, considering how present-day Iraq is now a battlefield ripe for radical extremists, such as ISIS.
An article written jointly by Blair and Kantor, claims "it is the abuse of religion which then becomes a mask behind which those bent on death and destruction all too often hide". No doubt religious extremism can be a cause for hatred, but there is danger in essentialising prejudices as exclusively stemming from faith-based radicalism. It is fact that throughout history and even at present, the bulk of Xenophobia in Europe be it racist, anti-Jewish or anti-Muslim is founded in neo-fascist or fervent nationalist movements.
Full report at:
http://www.telegraph.co.uk/news/politics/tony-blair/11653223/Tony-Blairs-new-role-fighting-anti-Semitism-a-kick-in-the-teeth-for-Palestinians.html
---------
UN report cites Israel crimes against children, no consensus on listing
June 6, 2015
UNITED NATIONS: UN agencies in Israel and the Palestinian territories reported an alarming number of child victims in last year's war in the Gaza Strip but were split on whether Israel should be put on a list of violators of children's rights, a UN document shows.
Their 22-page confidential country report, obtained by Reuters on Friday, was prepared by United Nations agencies on the ground for submission to the UN special envoy for children and armed conflict as she readied a draft of the annual list.
The special envoy, Leila Zerrougui of Algeria, included Israel's army and the Palestinian militant group Hamas in the draft she sent to Secretary-General Ban Ki-moon, who has final say on the list, UN sources have said.
Full report at:
http://tribune.com.pk/story/898898/un-report-cites-israel-crimes-against-children-no-consensus-on-listing/
------------
Muslim Community in Macao Grows Rapidly
June 6, 2015
The Muslims are among the oldest residents of Macao. They first arrived as traders from Persia and the Middle East in the Ming dynasty (1368-1644), before the Portuguese, and have had a continuous presence ever since.
The first mosque was built in the 1880s for soldiers of the Portuguese army from south India. During World War Two, many Muslims from the mainland and Hong Kong took refuge in Macao, which was neutral. The Islamic Association of Macao (IAM) was established in 1935.
Over the last 10 years, the size of the community has increased several fold to more than 10,000, with the arrival of 8,000 Indonesians, most of them domestic maids, as well as people from India, Pakistan and Bangladesh, who work in the casinos, construction, IT and the universities.
Full report at:
http://www.macaunews.com.mo/content/view/3427/5/lang,english/
---------
Southeast Asia
How long must we tolerate DAP's insults, asks Ulama
June 6, 2015
PAS's Dewan Ulama today defended its motion for the party to cut ties with DAP, saying that it had remained patient in the face of DAP's insults for far too long.
Dewan Ulama chief Datuk Mahfodz Mohamad told delegates at the party's 61st muktamar that it came up with the motion to prove to the public that the Islamist party still had some dignity left.
But he said should the Shura Council choose to reject the motion and remain allies with DAP, he and the rest of the Dewan Ulama would accept the decision.
"The Dewan Ulama brought up this motion to show we still have dignity and to dispel the perception that PAS is a DAP tool (kuda tunggangan)," said Mahfodz in his winding-up speech.
"DAP insulted PAS, but all this while we have been quiet and patient. But how long must we be patient with DAP's insults?"
He said DAP had insulted PAS president Datuk Seri Abdul Hadi Awang and interfered in the party's elections, which were carried out on Thursday.
Full report at:
http://www.themalaysianinsider.com/malaysia/article/how-long-must-we-tolerate-daps-insults-asks-ulama#sthash.lIG7LqhL.dpuf
---------
Non-Muslim PAS supporters slam party for unIslamic behaviour
June 6, 2015
PAS's non-Muslim supporters, the Dewan Himpunan Penyokong PAS (DHPP)?, today berated the party members over their unIslamic behaviour and wanted to know why the ulama (clerics) refused to put a stop to the slander and lies within the Islamist party.
In his winding up speech at the 61st PAS muktamar, or annual congress, DHPP chief N Balasubramaniam ?asked delegates whether the slander and negative campaigning that had marred the polls were among the Quran's teachings.
"I am stunned by the culture of slandering, and labelling that is going on in PAS. I am unsure, doesn't the Quran or Islam prohibit such behaviour?
"Why is PAS practising what the Quran forbids? Why are the ulama not doing anything to stop the slander, which has been going on for so long?"
Full report at:
http://www.themalaysianinsider.com/malaysia/article/pass-non-muslim-supporters-slam-party-for-unislamic-behaviour#sthash.cY5AUnmY.dpuf
------
Mideast
Turkey detains Russian student trying to cross into Syria 'to join ISIL'
June 6, 2015
Turkish authorities have detained a female Russian student as she attempted to cross into war-torn Syria, Russian authorities said June 5.
Moscow State University student Varvara Karaulova, 19, was found in the Turkish border town of Kilis after she vanished from the Russian capital, the interior ministry said in a statement.
"The operation to track her down was sucessful thanks to the swift use of all of Interpol's capabilities and the coordinated actions by the Turkish and Russian law enforcement agencies," the statement said.
Karaulova was currently being held by Turkish immigration officials, the statement added.
The cultural studies major -- who had apparently developed an interest in Islam and Arabic -- went missing on 27 May after skipping lectures at the prestigious university and flying to Istanbul, local media has reported, sparking speculation she wanted to link up with jihadists from the Islamic State or Iraq and the Levant (ISIL).
Full report at:
http://www.hurriyetdailynews.com/turkey-detains-russian-student-trying-to-cross-into-syria-to-join-isil.aspx?pageID=238&nID=83528&NewsCatID=359
---------
Yemen: Army Captures Several Saudi Soldiers in Border Clashes
June 6, 2015
Yemeni troops have captured several Saudi soldiers in border skirmishes, a military official announced.
Yemen's Army Spokesman Sharaf Luqman made the announcement on Friday, saying that the Yemeni soldiers, backed by popular fighters, inflicted major losses on Saudi troops at border areas and captured several border guards.
Most recently, Saudi fighter targeted a university in the city of Dhamar in the country's Southwest several times. Attacks on a public hospital in the Dhamar Province also left three people dead and several others injured.
Six civilians lost their lives in a village in the Majz region of Sa'ada in Northwestern Yemen on Thursday.
Full report at:
http://english.farsnews.com/newstext.aspx?nn=13940315000119
---------
On social media, terror suspects left few signs of extremism
6 June 2015
Usaama Rahim liked an Islamic State page on Facebook but also spoke out against the kind of violence Islamic State extremists are fomenting across the Middle East.
In his public postings, the knife-wielding 26-year-old, who was fatally shot by members of Boston's Joint Terrorism Task Force on Tuesday, appeared to be a conservative Muslim, frowning on women plucking their eyebrows and musing on the proper length for men's robes.
His decision to like the Islamic State in Iraq page concerns some moderate Muslim leaders who reviewed his social media postings with The Associated Press, but they note he posted no bloody pictures and made none of the violent calls to arms many supporters of armed extremist groups espouse on social media.
Full report at:
https://english.alarabiya.net/en/media/digital/2015/06/06/On-social-media-terror-suspects-left-few-signs-of-extremism.html
---------
Iran Sentences Group of Christians to Combined 24 Years in Prison for 'Evangelizing'
June 6, 2015
A Persian-language news outlet reported this week that Iran has sentenced a group of 18 Christians to between one and ten years in prison each for organizing "house churches" and "propaganda against the regime."
The news surfaces as activists continue to call for the liberation of U.S. citizen Saeed Abedini, a pastor arrested after Muslim Iranians complained that he was open about his faith in public.
Radio Farda announced the news of the sentences, though the names of those affected have not been released. The sentences came down from the court between March and May, and vary between one-year sentences for some in the group to up to ten years for five Christians in the group considered church leaders. Even those sentenced to one year in prison are forbidden from leaving Iran for two years after their sentences conclude.
Fox News adds that they were all sentenced for violating various provisions of Article 500 of the Islamic Penal Code, which does not specifically target any religion, but instead states that "anyone who engages in any type of propaganda against the Islamic Republic of Iran or in support of opposition groups and associations, shall be sentenced to three months to one year of imprisonment." Christianity, as a religion other than Shia Islam, is often interpreted as an "opposition group."
Full report at:
http://www.breitbart.com/national-security/2015/06/05/iran-sentences-group-of-christians-to-combined-24-years-in-prison-for-evangelizing/
---------
Israelis defend W. Bank town set for demolition
June 6, 2015
SUSYA, Palestine: Hundreds of Israelis and Palestinians marched Friday in support of a West Bank village slated for demolition, a plan they said epitomizes the Israeli occupation.
The march in Susya, southeast of Hebron, took place on the anniversary of what the Palestinians call the Naksa (Setback), when Israel's occupation of the West Bank in the 1967 Six Day war displaced hundreds of thousands of people.
Israel's High Court ruled in May that Susya's 340 residents could be relocated and its structures demolished, which Human Rights Watch derided as "a grave breach" of Israel's obligations to the Palestinian populace under its military rule.
HRW said the villagers built the homes in 1986 on agricultural land they owned, after being evicted by Israel from their previous dwellings on land declared as an archaeological site.
Authorities then argued that the new site was unsuitable for habitation due to its remote location, HRW said.
Full report at:
And from 2000-2014, only 206 permits were issued, Israeli NGO Bimkom says.
http://www.arabnews.com/middle-east/news/757396
---------
Turkish PM :Bomb attacks target Turkish democracy
World Bulletin / News Desk
June 6, 2015
Both the Turkish President Recep Tayyip Erdogan and the Prime Minister Ahmet Davutoglu have reacted angrily to the blasts killed 2 people and injured over 100 in a HDP rally yesterday.
"It is obvious that the blasts aim to overshadow [Sunday's elections]," Erdogan said in a live televised interview at A Haber TV channel. "Democratic expansion, national unity and brotherhood projects and solution process. There are groups who want to overshadow these things."
Full report at:
http://www.worldbulletin.net/headlines/160293/turkish-pm-bomb-attacks-target-turkish-democracy
--------
North America
US cities take different tacks fighting extremist recruiting
June 6, 2015
COLUMBUS, Ohio (AP) — As Islamic State propagandists set their sights on recruiting Western youths through slickly produced videos, newscasts, blogs and tweets, U.S. cities with large Muslim populations are reaching out to fight the threat — and finding that one size does not fit all.
Two cities in Maine are mining their substantial Somali communities as they recruit officers and teenage cadets.
In Columbus, leaders of the Somali community, which is overwhelmingly Muslim, meet frequently with law enforcement, and a mosque gives youngsters an outlet for their energies.
And in Jersey City, New Jersey, with a history of connections to terrorism and mistrust of authorities by its large Muslim immigrant population, the city's police department has formed an advisory council with local Arab-American leaders, and the recreation department will provide youths with sports, chess and other activities similar to the outreach used to combat street gangs.
Full report at:
https://en-maktoob.news.yahoo.com/us-cities-different-tacks-fighting-extremist-recruiting-160539460.html
---------
Obama urged to #justsaytheirname by pro-Rohingya activists on Twitter
June 6, 2015
The Rohingya, a Muslim minority group from Burma, have been described as "the most oppressed people on earth."
Over the years, the group, who number around 1.3 million, have faced persecution from Burma's government and from Buddhists in Burma, who make up the majority of the population there.
The UN has reported evidence of direct state complicity in ethnic cleansing and severe human rights abuses against the Rohingya, including blocking off humanitarian aid and incitement of anti-Muslim violence.
Full report at:
http://english.ahram.org.eg/NewsContent/2/9/132036/World/International/Obama-urged-to-justsaytheirname-by-proRohingya-act.aspx
---------
Encouraging signs for American Muslims
June 6, 2015
Times are tough for American Muslims, but there are also plenty of reasons to be optimistic.
First, the bad news. Organized bigotry against Muslims continues to thrive.
In Arizona, about 250 protesters recently assembled in front of the Islamic Community Center of Phoenix for a rally designed to intimidate Muslims. Many of the demonstrators came bearing arms.
Jon Ritzheimer, the rally's organizer, a man who has a fondness for wearing a T-shirt that says "F---k Islam," told CNN that "true Islam is terrorism" and that "the core values of Islam" are "what I really hate." He said he organized the protest along with a poorly attended "Draw Muhammad" contest in a gesture of solidarity with an earlier "Draw Muhammad" event in Garland, Texas, that ended when gunmen from Arizona attacked it and were shot dead by police.
Full report at:
http://www.bradenton.com/2015/06/05/5835300_encouraging-signs-for-american.html?rh=1
---------
Toronto's new Aga Khan Park blends Muslim and Canadian traditions
June 6, 2015
The brand new Aga Khan Park is un-Torontonian: there are no signs telling visitors what to do. Torontonians are a people used to overly officious and rule-ridden public spaces and this kind of respect is disconcerting.
Both the Aga Khan Museum and Ismaili Centre opened here at Eglinton Ave. and the DVP last year, but the park that surrounds the buildings made its formal debut two weeks ago.
I met Sarah Pirani recently who enthusiastically described the new park and gardens and offered to take me on a walk. She's a volunteer at the museum and, with her background in landscape architecture; she assisted the team that created the park walking tours program. It was her infectious enthusiasm that made visiting the park a priority.
"It's a modern interpretation of a garden from Muslim civilizations," says Pirani, explaining the core area of the park between the two buildings is a contemporized version of a "chahar bagh," or four-part garden. Designed by Beirut-based landscape architect Vladimir Djurovic, five gently flowing infinity pools are surrounded by a formal orchard-layout of trees and stone benches.
Full report at:
http://www.thestar.com/life/2015/06/05/torontos-new-aga-khan-park-blends-muslim-and-canadian-traditions.html
---------
Canada orders deportation of Pakistani accused of US consulate bomb plot
June 6, 2015
OTTAWA: Canadian immigration authorities on Friday ordered the deportation of a Pakistani man accused of plotting to bomb the US consulate and financial buildings in Toronto.
Jahanzeb Malik is the second Pakistani national in recent months to be ordered out of the country on national security grounds.
According to the immigration board's written decision, Malik "planned to conduct a violent attack against a United States government building and other targets in the financial district of Toronto, which could have resulted in the death and/or serious injury of persons as well as the destruction of property."
Full report at:
http://tribune.com.pk/story/898781/canada-orders-deportion-of-pakistani-accused-of-us-consulate-bomb-plot/
---------
A Triumph of Religious Freedom in The Us
June 6, 2015
The United States Supreme Court on Monday ruled in favour of a Muslim woman, Samantha Elauf, who filed a lawsuit after she was denied a job at an apparel company, Abercrombie & Fitch, because she wore a hijab (headscarf) for religious reasons.
In an 8-1 verdict, the court handed victory to the US Equal Employment Opportunity Commission (EEOC), a federal agency that sued the company on her behalf. Ms Elauf was 17 years old when the discrimination occurred during a job interview at a shop in Tulsa, Oklahoma in 2008. The apex court based its ruling by invoking the country's 1964 Civil Rights Act, which bans discrimination based on religious beliefs and practices.
Groups representing Christians, Jews, Sikhs, etc., also filed court papers backing Elauf, who told reporters she sought to protect the rights of people of all faiths at work. Thus, it's a triumph for everybody regardless of his or her faith.
Full report at:
http://www.dailytrust.com.ng/daily/index.php/islamic-forum/56458-a-triumph-of-religious-freedom-in-the-us
---------
URL: https://newageislam.com/islamic-world-news/isis-leader-afghanistan-says-taliban/d/103368