New Age Islam News Bureau
31 May 2015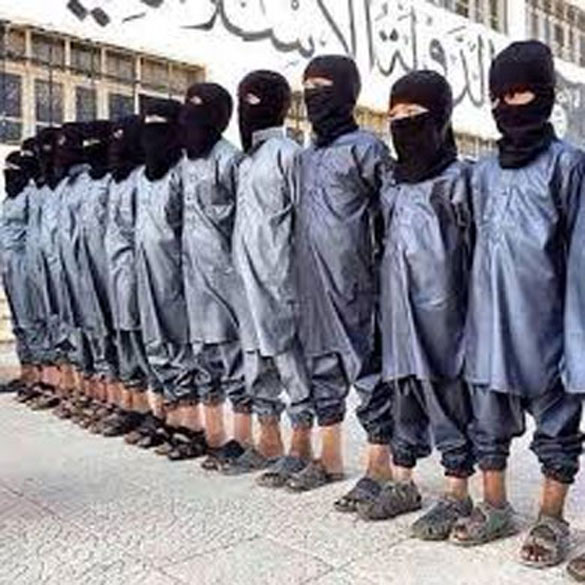 ISIS abducts 500 children in Iraq; most of them will be used as suicide bombers. Shabestan News Agency
--------
India
• Haryana: Before Violence, Court Ruled Mosque Land Muslim Property
• Tamil Nadu engineer, Zakir Ahmed nabbed near international border in J&K
• Tension in Nagaur after Cow Slaughter Rumours, 30 Held
----------
Arab World
• ISIS Kidnaps 500 Children in Iraq for Suicide and Other Terrorist Attacks• Regime Raids Kill 20 Civilians in Northwest Syria: Monitor
• 18 ISIL Terrorists Killed in Iraq's Fallujah
• Popular Forces Foil Terrorist Attack on another Mosque in Awamiya
• Syrian Army Strikes Major Blow at Al-Nusra Terrorists in Al-Quneitra, Dara'a
• Saudi FM: Iran interfering in Mideast affairs
• Al-Anoud Mosque embraces spirit of coexistence
• Fire at clinic in Syria kills 25, mostly children: State TV
• Egypt court sentences TV presenter El-Beheiry to five years on charges of blasphemy
---------
Pakistan
• Giant Cross Rises in Pakistan, Home to a Christian Minority
• Seven Militants Linked To Mastung Tragedy Killed: Balochistan Home Minister
• Comic Book 'Guardians' To Steer Young Pakistanis Away From Extremism
• Curbing violence: Karachi-style operation planned for Balochistan
• Pakistan's acquisition of nuclear power smashed India's dreams: Sartaj Aziz
• ANP's Mian Iftikhar Hussain arrested after killing of PTI activist
• Seminary student molested, strangled in Chichawatni
-------
South Asia
• Five Policemen Martyred, Eight Militants Killed In Samangan
• Two Soldiers Martyred, 33 Militants Killed In Military Operations
• Police Arrest Suspected Islamic State 'Coordinator' In Bangladesh
• Afghan leader demands action from Pakistan against Taliban
• Rocket hits school in eastern Afghanistan, killing three
• Daesh, Taliban clash left five killed from both sides in Nangarhar
• Desperate Bangladeshi migrant families await calls for ransom
----------
Africa
• Boko Haram Suicide Bomber Hits Mosque in Nigeria Kills 30
• Suicide Bomber Hits Checkpoint near Libya's Misrata, Several Dead
• Nigerian Army Repels Boko Haram as New President Starts Term
---------
North America
• Islamic State Fighter Trained On American Soil Under Government Programme: US Officials
• US police kill more than two people a day: Report
--------
Mideast
• Fresh Wave of Saudi Aerial Attacks Kills 23 in Sa'ada
• Saudi Forces Running for Their Lives in Jizan
• Morning Prayer Held Before Hagia Sophia To Demand Re-Conversion Into Mosque
• Yemenis' Retaliatory Attack Leaves 1 Saudi Soldier Dead, 7 Injured
• Website reveals identities of pro-Palestinian college students in bid to block future jobs
• Opposition parties slam ruling AKP over democracy, economy, Syria
--------
Europe
• Saudi-Led Yemen Coalition Still Using Cluster Bombs: HRW
• Plans to mark genocide of Muslims at Srebrenica
• In France, a Party's Name Change Tracks a Drift to the Right in Europe
• Britain is preparing to 'expand' Iraq training mission
---------
Southeast Asia
• Utusan Warns Marina about Commenting On Hudud
• Human trafficking mastermind believed hiding in Thailand
• Trafficking essential to Malaysia's economy, says Huffington Post
URL: https://www.newageislam.com/islamic-world-news/new-age-islam-news-bureau/isis-kidnaps-500-children-in-iraq-for-suicide-and-other-terrorist-attacks/d/103259

---------
India
Adani hires MBA grad who was denied job for being a Muslim
TNN | May 31, 2015,
AHMEDABAD: All's well that ends well. Zeeshan Khan, who made national headlines after he was denied a job by a Mumbai-based diamond firm because of being a Muslim, has decided to join the Ahmedabad-based Adani group.
"I received about a dozen offers following the religious discrimination I had to face. My mail box is flooded with solidarity messages," says Khan, 22, who was in Ahmedabad to complete formalities at Adani's corporate office. "Among all the offers I got, this was the best," says Khan, who will join the group's Mumbai office as an executive trainee. When asked why he chose to join Adani, he said it was one of the biggest integrated infrastructure companies in the country.
"We encourage talent irrespective of caste, creed and religion. We found Zeeshan a competent candidate and hence a job was offered," said an Adani spokesperson.
In the third week of May, Khan had sent a email application to Hari Krishna Exports Pvt Ltd for a marketing job. Within 15 minutes, he received the reply: "We regret to inform you that we hire only non-Muslim candidates." Khan and his friends put out a screenshot of the mail on social media and it went viral.
(A Mumbai diamond jewellery export firm's rejection letter to Zeeshan. Photo: ANI/Twitter)
Khan, who did his MBA in Mumbai, approached the Mumbai police and a case was registered against the company under section 153B of the IPC, which deals with national integration and provides for a jail term of up to three years for the guilty.
Earlier this week, Khan received a call from the HR department of Adani group. "I cleared the interview and was offered this job," he said.
http://timesofindia.indiatimes.com/india/Adani-hires-MBA-grad-who-was-denied-job-for-being-a-Muslim/articleshow/47486173.cms
---------
Tamil Nadu engineer, Zakir Ahmed nabbed near international border in J&K
May 31 2015
Mystery surrounded the detention of a 32-year-old mechanical engineer, identified as Zakir Ahmed, a resident of Ambur in Vellore district of Tamil Nadu, near the international border in Gajansoo area of Jammu and Kashmir.
The Army claimed that Ahmed was detained by "a mobile vehicle checkpost established by the Army at Marh… at around 2000 hours on May 29", when he was travelling in an auto-rickshaw from Chakrali village on the border towards Jammu.
An Army spokesperson said Ahmed was handed over to the J&K Police at Kanachak police station and an FIR was filed.
However, Ambur DSP P Ganesan said J&K Police contacted the Ambur police station about two-and-a-half months back, seeking information about Ahmed, after he was reportedly picked up from a railway station there.
"They called us for basic inquiry and details of his identity and address. They also wanted us to send one of his relatives as they found him mentally unstable. We immediately contacted his family, who said he had left home several years ago. When we conveyed the message from the J&K Police, his parents said they would not be able to go," said Ganesan.
"When our officers visited his parents, they confirmed that Ahmed was mentally unstable and had left home more than five years ago. They said he was a graduate with a diploma in mechanical engineering and was undergoing treatment for his mental illness in Bangalore for some time… Since his parents were not able to go to J&K, we reported the same to them," said Ganesan.
Vellore SP Senthil Kumari also said that Ahmed's custody was reported about three months back and J&K police officials had contacted their counterparts in Ambur.
When contacted, both Jammu SSP Uttam Singh and SP (Railways) Suram Singh said they had no recollection of Ahmed's arrest from the railway station some months ago. "We can say anything about it only after going through our records on Monday," they said.
Station House Officer Railway police station Neeraj Choudhary denied having apprehended any person from Tamil Nadu during that period. "I don't think we apprehended any such person from the railway station area," he said.
Ahmed's father, R Nazir Ahmed, 60, said he had not met him for the last two years. "Somehow we made him study mechanical engineering from an institute in Vaniymabadi near Vellore. Then he got married. We hoped that the marriage and having a child would improve his mental illness. But even after a child, he was unable to lead a normal life," he said.
"His wife and seven-year-old son live in Kerala now. A few years back, we took him to National Institute of Mental Health and Neurosciences in Bangalore… For almost six years, he was wandering off and I was going after him, bringing him home, before he disappeared again," said Nazir, who lives in Haneef Nagar near Ambur.
"About three months ago, local police officials came home to inform us that he was in the custody of Army or police in Jammu and Kashmir. They wanted us to go there and bring him back. I am a mechanic and earn Rs 150-200 daily. Physically and financially, I am unable to run after him anymore… I refused to go," he added.
http://indianexpress.com/article/india/india-others/jk-tamil-nadu-engineer-with-suspected-terror-links-intercepted-by-army-near-international-border/99/#sthash.QKk98hj2.dpuf
---------
Haryana: Before Violence, Court Ruled Mosque Land Muslim Property
May 31, 2015
Less than two months before communal violence erupted in Atali village in Ballabhgarh, a Faridabad court had ruled that the Hindu petitioners had "miserably failed" to establish that the mosque at the centre of the dispute stood on land owned by the gram panchayat.
Violence swept the village on May 26, as 2,000 heavily armed men set on fire several Muslim homes and shops in an hour-long rampage. Fifteen people were injured. Some 150 terrified Muslim villagers have been camping at Ballabhgarh police station ever since.
Atali village residents Satish Kumar, 43, and Yogender, 31, had sought "relief of declaration that the gram panchayat… is absolute owner" of the disputed property, and that the "present possession by Muslims was illegal, null and void". Muslims claim the land belongs to the Waqf Board. The Jats had approached the court arguing that the panchayat was the owner, and that Muslims had got the land for a graveyard, not a mosque. On March 31, civil judge Vinay Sharma ruled that after a "close scrutiny" of the case, the "inevitable conclusion" was that the disputed property "has always been in possession of the Muslim community". The order noted that "though the plaintiffs… have tried to establish that the suit property vests in the Gram Panchayat, but they have miserably failed to do so." The Atali panchayat then approached the SDM and obtained a stay on the construction of the mosque. Earlier in May, a district revenue office team from Chandigarh came to Ballabhgarh to investigate the matter and submitted a report, following which the SDM allowed the Muslims to resume construction. It began a week ago, and the violence followed. The Muslims submitted that the land belonged to the Haryana Waqf Board, and produced a gazette notification dated November 21, 1970 that said the land was "reserved as Kabristan". Records submitted during the trial showed the electricity connection was "in the name of Jama Masjid, Atali". Counsel for the defendants argued that "Muslim inhabitants of the village offer their prayers in [a] tin shed [at the disputed site] since the time of their forefathers". The petitioners argued that the disputed property couldn't be vested with the Waqf Board since "in the revenue record, the panchayat has been shown as owner" of the site, and that between 2004 and 2006, the panchayat had constructed a community hall there "with its own funds". Former sarpanch Daya Ram testified that during his tenure from 2005 and 2010, the panchayat had passed a resolution and constructed a chaupal at the site with its own funds, and that "there doesn't exist anything in the said property". His cross examination, however, revealed that at the site "exists a tin shed", where Muslims offer prayers, and that the community hall had been "constructed exclusively for the Muslim community". The court noted that "there is not merit in the submissions made by the plaintiff", and with the Gazette notification being "conclusive proof". It added that a civil court could not decide the question of whether a property belonged to the Waqf Board. The court added that barring two entries, "for continuous fifty years" the property has "been shown as Gair Mumkin Kabristan and is in possession of the Muslim community". After perusing the jama bandis, or land records, of the period from 1954-55 to 2005-2006, the court said it was "compulsive to draw an inference that the nature of the suit property has always been Gair Mumkin Kabristan".
http://indianexpress.com/article/india/india-others/before-violence-court-verdict-mosque-land-muslim-property/99/#sthash.HSQ0TGGH.dpuf
---------
Tension in Nagaur after cow slaughter rumours, 30 held
May 31, 2015
More than 30 persons were detained and police force was deployed in a village in Nagaur following rumours that hundreds of cows had been slaughtered and were being skinned outside the village.
Officials said that pictures of cow carcasses were circulated in the area via WhatsApp and Facebook, with an aim to incite tension.
While locals claimed about 200 cows had been slaughtered and brought to Kumhari village near Nagaur, police said it was a routine municipal job involving dead animals. "Every municipality contracts out collection of stray dead animals, their skinning, separation of bones, etc. This is what Hamid, the municipal contractor, was doing. It is nothing new… he has been doing it for some time now… It is a routine job carried out on private land," Nagaur collector Vishal Rajan said. "But some people with vested interests started this misinformation campaign on WhatsApp and Facebook," he added. As rumours spread, people gathered in Kumhari village and pelted stones at municipal vehicles. "They burnt a JCB vehicle and a tractor and pelted stones… Some 30-35 people have been detained," Nagaur SP Raghuvendra Suhasa said. Five companies of the Rajasthan Armed Constabulary were deployed in Kumhari and senior district officials were sent to the spot, Suhasa said, adding that the situation was under control.
http://indianexpress.com/article/india/india-others/tension-in-nagaur-after-cow-slaughter-rumours-30-held/#sthash.uSiQm3rB.dpuf
---------
Union Cabinet okays coastal shipping pact with Bangladesh
TNN | May 31, 2015
NEW DELHI: The Union Cabinet on Saturday approved the agreement on coastal shipping between India and Bangladesh for faster and economic movement of goods between the two countries.
"Exim trade between India and Bangladesh would be benefited by way of reduction in freight charges. It will also improve the utilization of port capacities of Indian ports and open up new opportunity for Indian coastal vessels. It will also help in decongestion of roads especially at the land custom stations/integrated check posts at the Indo-Bangladesh border," an official release said.
The Indian ports serving as trans-shipment ports for Bangladesh cargo will derive benefits by way of enhanced throughput as a result of Indo-Bangladesh coastal trade, it said. Government also said that both the nations shall render the same treatment to the other country's vessels as it would have done to its national vessels used in international sea transportation.
India`s trade with Bangladesh has grown rapidly during the past few years. Bangladesh is now India`s largest trade partner in south Asia. Currently, there is no significant cargo movement between the sea ports of Bangladesh and India as it is not profitable for the big ocean going vessels to operate between the ports of the two countries.
Therefore, to reduce the cost of shipping operations, a lower but pragmatic standard of vessel known as River Sea Vessel (RSV) has been prescribed for coastal shipping.
The RSV category has significantly lower construction and operation costs without compromising on safety. For Indo-Bangladesh coastal shipping, the RSV category of vessel has been agreed upon by both the countries.
http://timesofindia.indiatimes.com/india/Union-Cabinet-okays-coastal-shipping-pact-with-Bangladesh/articleshow/47486789.cms
-------
Arab World
ISIS Kidnaps 500 Children in Iraq for Suicide and Other Terrorist Attacks
May 31 2015
ISIS militant group which is also known by its Arabic name Daesh has kidnapped 500 children in separate attacks in Iraq and taken them to their bases in Iraq and Syria, local officials say.
According to officials the children were abducted from Anbar and Diyala province.
Farhan Mohammad, a member of the Provincial Council of Anbar province said that the militant group kidnapped 400 children only from his province.
"Daesh has kidnapped at least 400 children in the western province of Anbar, and taken them to their bases in Iraq, and Syria," he said.
Farhan Mohammad added that the abductions continued for over a week in the towns of Rawa, Ar Rutba, Anah and Al-Qaim.
He cautioned that the militants group is recruiting children in the area they control for suicide and other terrorist attacks.
General Kasim Al-Saidi the police chief of Diyala province says that 100 children abducted in his province
He said "Daesh has recruited about 100 children under the age of 16. They are going to brainwash these kids into being suicide bombers."
He also warned that ISIS would give military training to these children and use them in attacks.
Images have emerged in the past allegedly showing Daesh-run military training camps for children.
http://www.khaama.com/isis-kidnapped-500-children-in-iraq-3410
---------
Mosque attack 'shameful plot': Grand Mufti
May 31 2015
JEDDAH: Grand Mufti Abdul Aziz Al-Asheikh described the terror attack on Al-Anoud Mosque in Dammam as a shameful plot.
He praised the efforts of the security forces in foiling the heinous crime. "This is a criminal attempt to divide our citizens in difficult times," he said.
He stressed the importance of cooperation among people, advising them not to provide cover to terrorists "who are bent upon destabilizing the Kingdom."
http://www.arabnews.com/featured/news/754471
---------
18 ISIL Terrorists Killed in Iraq's Fallujah
May 31 2015
At least 18 terrorists were killed in fierce clashes between the Iraqi army and ISIL Takfiri group in the city of Fallujah on Sunday.
According to reports, the Iraqi troops claimed the lives of 18 terrorists after repelling an attack by the Takfiri group in the Western city of Fallujah.
The Takfiris lost their lives in a vain attempt to carry out a suicide attack against the country's Quick Reaction Force (QRF) in the flashpoint city.
Earlier, the army troops intensified their offensive against the Takfiri group near the city of Ramadi and took back the Morur district.
The retaking of the strategic district will open the way for Iraqi troops to make further gains in their fight against the ISIL in the flash point city of Ramadi.
The army troops also seized control of the Anbar traffic police building in an area called Khamsa Kilometer near Ramadi. An army officer said ISIL terrorists were forced to withdraw from the building after a fierce fighting.
Latest reports coming out of the city suggest that the army troops closed in on the city from three directions early on Saturday, laying a siege on the Takfiri group.
This is while the Iraqi forces also tightened their noose around the terrorists in the Northern Tharthar district.
The latest developments came after Iraq's Ministry of Defense issued a statement on Saturday, saying that the army troops claimed the lives of 45 ISIL terrorists in Western Baghdad after storming the terrorists' hideouts.
Elsewhere in Iraq, 38 Takfiri militants were killed and 90 others captured in Salahuddin province, the statement added.
It added that elsewhere in Anbar province, Iraqi army units killed at least 16 ISIL terrorists in the Abu-Shehab neighborhood of the provincial capital Ramadi, 18 in the al-Kurma region and 20 others in the al-Qa'im area.
The ISIL Takfiri terrorists currently control shrinking swathes of Syria and Iraq. They have threatened all communities, including Shiites, Sunnis, Kurds, Christians, Ezadi Kurds and others, as they continue their atrocities in Iraq.
Senior Iraqi officials have blamed Saudi Arabia, Qatar, and some Persian Gulf Arab states for the growing terrorism in their country.
The ISIL has links with Saudi intelligence and is believed to be indirectly supported by the Israeli regime.
http://english.farsnews.com/newstext.aspx?nn=13940310001158
---------
Popular Forces Foil Terrorist Attack on another Mosque in Awamiya
May 31 2015
The volunteer forces in the Saudi town of Awamiya in Qatif region foiled a terrorist attack against a Shiite mosque and prevented a third blast incident at a Shiite religious center in Eastern Saudi Arabia in just week.
The popular forces discovered and defused a vehicle loaded with munitions parked in front of al-Abbas (AS) mosque before the midday prayers.
Reports said that the vehicle was to explode when the worshippers ended their prayers and came out of the mosque.
Also, eyewitnesses said that after discovering the vehicle, the Saudi security forces were informed but they arrived at the scene after several hours of delay.
The incident happened after a Friday terrorist attack on a Shiite mosque in Dammam by the ISIL left 3 people dead and 4 others wounded even though a volunteer force tackled the suicide bomber and blocked his path to the mosque compound.
While the footage taken of the blast showed that these were the Shiite popular forces who prevented the suicide bomber from entering the mosque, the Saudi interior ministry announced in a statement that the country's security forces had foiled the Friday terrorist attack on a Shiite mosque in Dammam.
The popular forces committees were set up at the request of a number of Shiite clerics and people in Qatif.
"The people in Saudi Arabia's Eastern province believe that the government ignores security measures in the Shiite-populated areas and even doesn't prevent the Takfiri clerics' propaganda against the Shiites in the media," a member of the popular forces said.
"The Saudi government's incapability in controlling the Takfiri terrorists was displayed again in the Friday terrorist attack on Imam Hossein (AS) mosque in Dammam and it is of much surprise that the Saudi interior ministry tries to show off as the hero who saved people's life during the mosque attack," a local resident in Dammam said.
After the second terrorist attack on a Shiite mosque in the past week, hundreds of Saudi protestors took to the streets of the Eastern Province.
The Eastern Saudi city of Dammam witnessed on Friday a mass rally held by its locals to condemn the criminal explosion which was carried out by Takfiri terrorists at Imam Hossein's (AS) mosque.
The participants chanted slogans against ISIL, and accused the Saudi regime of conspiring with Takfiri groups to support terrorist attacks in the Shiite-populated region.
http://english.farsnews.com/newstext.aspx?nn=13940310001166
---------
Syrian Army Strikes Major Blow at Al-Nusra Terrorists in Al-Quneitra, Dara'a
May 31 2015
The Syrian army pressed ahead with its military campaign against the Al-Nusra Front on al-Quneitra and Dara'a provinces, claiming the lives of scores of the terrorists, informed sources announced.
The sources confirmed that al-Nusra Front's gathering centers were targeted by the Syrian army in the nearby areas of the villages of Abu Shitah and Rasem al-Khawaled in the countryside of al-Quneitra, which resulted in the killing or wounding of several fighters.
The sources added that heavy clashes erupted between the Syrian army and al-Nusra fighter in al-Bitar farm in the surroundings of Atman town in the Southern province of Dara'a.
A number of al-Nusra terrorists were also killed, their weapons and ammunition were destroyed in the army operations against one of their gatherings in al-Na'imeh village, 4 km to the East of Dara'a, according to the source.
Syria has been grappling with a deadly crisis since March 2011. The violence fuelled by Takfiri groups has so far claimed the lives of over 210,000 people, according to reports. New figures show that over 76,000 people, including thousands of children, lost their lives in Syria last year.
http://english.farsnews.com/newstext.aspx?nn=13940310000594
---------
Saudi FM: Iran interfering in Mideast affairs
31 May 2015
Saudi Foreign Minister Adel Al-Jubeir said Sunday that Iran is the only country interfering in the Middle East's affairs.
Jubeir, who was speaking at a joint press conference with his Egyptian counterpart, also said that the Islamic Republic is supporting terrorism.
The minister added that his country will not stand idly in the face of Iran's meddling in the region's affairs.
Speaking about regional matters, Jubeir said there is an ongoing coordination between the Kingdom and Egypt regarding both Yemen and Syria.
Also during the conference, Egyptian Foreign Minister Sameh Shukri said that his country shares similar views with Saudi Arabia regarding the Yemeni crisis.
Shukri reiterated Egypt's participation in the military coalition led by Saudi Arabia that is fighting Houthi militias in Yemen.
Shukri also condemned the latest mosque attack in Saudi Arabia last Friday which claimed the lives of four people, including the suicide bomber.
https://english.alarabiya.net/en/News/middle-east/2015/05/31/Saudi-FM-Iran-interfering-in-Mideast-affairs-.html
---------
Al-Anoud Mosque embraces spirit of coexistence
May 31 2015
DAMMAM: A photograph showing a group of diverse worshippers praying in the Al-Anoud Mosque in Dammam is not strange or surprising. This is unfortunately the mosque where a suicide bomber detonated explosives on Friday.
The mosque was built in the 1980s and accommodates about 7,000 worshippers. Prayers used to be performed by Shiite imams but the mosque is open and receives all Muslims without differentiating between their affiliations.
On Fridays, the mosque was crowded with worshippers, both Sunni and Shiite.
The mosque was built according to an Islamic architectural style which combines modernity and tradition; it is located in the middle of Al-Anoud district and is a destination for many visitors, both local and those from Gulf countries.
It is seen as one of the leading mosques which embrace the spirit of tolerance and coexistence.
Headed by Ali Al-Nasser, the management of the mosque adopted the idea that the mosque be turned into a center for rapprochement, convergence and fraternity, but the recent suicide bombing in the Al-Qadeeh Mosque in Qatif forced the management to prevent women from attending and performing Friday prayers for their own protection.
During his Friday sermon, Ali Al-Nasser, the prayer leader, was speaking about rejecting violence and terrorism and praying for the souls of the martyrs. He said that the bombing was part of "an agenda to tear apart the national unity and security and peace of our beloved Kingdom" when all of sudden the worshippers heard the sound of the bomb outside. One man in the mosque recorded the moment on his mobile camera.
When the source of the explosion was clear, stories began to unfold. First it was said that an over-heated car had exploded, then more details came, saying that a terrorist attack on the worshippers in the mosque had been thwarted.
The corridors of the mosque were stained with blood and body parts and citizens nearby documented the whole horror scene.
http://www.arabnews.com/saudi-arabia/news/754456
---------
Fire at clinic in Syria kills 25, mostly children: State TV
May 31 2015
A fire at a small clinic in northeast Syria on Sunday killed 27 people, mostly children, and injured about 30 others, official media said.
State news agency SANA, citing police, said dry branches had caught fire and the blaze spread to a fuel tank which exploded.
"At least 27 people were killed ... and at least 30 people are being treated for burns," it said, citing a doctor at the scene.
It said the clinic had also suffered "significant material damage".
State television said most of the victims of the blaze at the Maysalun clinic in the majority Kurdish city of Qamishli were children.
The city lies on the border with Turkey in Syria's northeastern province of Hasakeh.
Control of Qamishli is divided between Kurdish forces and regime troops loyal to President Bashar al-Assad.
The city has been relatively spared from the violence of Syria's conflict, which has left more than 220,000 people dead since it began in March 2011 with anti-government demonstrations.
http://english.ahram.org.eg/NewsContent/2/8/131588/World/Region/Fire-at-clinic-in-Syria-kills-,-mostly-children-St.aspx
---------
Regime raids kill 20 civilians in northwest Syria: Monitor
May 31 2015
Regime air strikes killed at least 20 civilians in a rebel-dominated area of northwestern Syria, a monitor said May 31 after raids elsewhere in the country left more than 70 dead.
"The regime's planes have committed another massacre, this time in Jabal al-Zawiya," a mountainous region in the province of Idlib, the Syrian Observatory for Human Rights said of the May 30 bombing.
"Many wounded are in critical condition," said the Britain-based group, which relies on a network of sources on the ground.
The raids came on the same day that barrel bombs dropped by President Bashar al-Assad's helicopters killed more than 70 civilians, including children, in the northern province of Aleppo.
Those strikes, which targeted a market in the jihadist-controlled town of Al-Bab as well as a rebel-held neighbourhood in Aleppo city, prompted an international outcry.
"This is further shocking proof of the horrific and indiscriminate methods the Assad regime is using to kill and injure innocent civilians, including children," said British Foreign Secretary Philip Hammond.
"Our position remains as strong as ever -- we will continue to call for a political transition to a future in which Assad has no part," he said.
Regime barrel bombs -- crude weapons made of containers packed with explosives -- have often struck schools, hospitals, and markets in Syria.
But the May 30 death toll was among the highest.
http://www.hurriyetdailynews.com/regime-raids-kill-20-civilians-in-northwest-syria-monitor-.aspx?pageID=238&nID=83226&NewsCatID=352
---------
Egypt court sentences TV presenter El-Beheiry to five years on charges of blasphemy
May 31 2015
An Egyptian misdemeanors court late Saturday sentenced TV presenter Islam El-Beheiry to five years in jail on charges of "blasphemy" over a controversial show he presents about Islam.
The case was filed by lawyer Mohamed Abdel Salam.
reviously broadcast on private TV channel Al-Qahera W Al-Nas, El-Beheiry's show With Islam has tackled controversial issues such as punishment for apostasy, the debate on early marriage, and different interpretations of the Hadith, the sayings and teachings of Islam's Prophet Muhammed.
The ruling could be appealed in front of the Cairo Court of Appeal.
In early April, Al-Azhar, the country's leading Sunni Islam institute, filed an official complaint against El-Beheiry's show with the Free Media Zone, the state department in charge of managing cable TV channel contracts.
Effat Abdel-Azim, the head of the Free Media Zone, confirmed receiving the complaint, along with CDs allegedly showing that El-Beheiry had insulted the fundamentals of Islam.
The presenter wrote on his Facebook page on 22 April that the programme had been suspended due to "disputes with the channel."
http://english.ahram.org.eg/NewsContent/1/64/131569/Egypt/Politics-/Egypt-court-sentences-TV-presenter-ElBeheiry-to-fi.aspx
--------
Pakistan
Giant cross rises in Pakistan, home to a Christian minority
May 31 2015
Now towering over this violent port city in Pakistan, where Islamic militant attacks and gangland shootings remain common, is an uncommon sight in this Muslim-majority country: a 42-meter (140-foot) Christian cross.
The cross, being built by a businessman who said the idea came to him in a dream, is rising as Christians here often face discrimination. A tiny minority of Pakistan's 180 million people are Christians who eke out livings in menial jobs like garbage collection.
Christians have faced mob violence in blasphemy cases, which often turn out to be false allegations over personal disputes. Under Pakistan's harsh blasphemy laws, anyone accused of insulting Islam, the Prophet Muhammad or other religious Islamic figures can be sentenced to death.
Christians also face extremist attacks. A Taliban suicide attack outside two churches in Lahore in March killed 15 people during services. In 2013, another Taliban suicide attack killed over 80 people at the All Saints Church in Peshawar.
The persecution has forced some Christians to flee, though some remain, like businessman Parvez Henry Gill. Gill said he had a dream some two years ago in which God told him to do something for his community.
"I want to show the world the Christian community in Pakistan has religious freedom," he said.
Gill said some people have criticized the cross, but "I leave that to God."
Likely to be completed in a few months, the cross stands at the entrance of a Christian cemetery in the center of Karachi. The cemetery, built under British rule, is nearly 200 years old and its administrators will take care of the cross once it's constructed.
The construction of the cross came as a surprise to many living around it, neighbor Adnan Ali said. But Bishop Sadiq Danial of Church of Pakistan, an Episcopal church, said he offered to demolish the cross if it becomes too divisive, though he doubted it would come to pass.
"We spread peace," he said.
http://www.hurriyetdailynews.com/giant-cross-rises-in-pakistan-home-to-a-christian-minority.aspx?pageID=238&nID=83221&NewsCatID=356
---------
Pakistan's acquisition of nuclear power smashed India's dreams: Sartaj Aziz
May 31 2015
ISLAMABAD: Adviser to the Prime Minister on Foreign Affairs and National Security Sartaj Aziz on Sunday said that Pakistan's acquisition of nuclear power "smashed India's dreams".
Aziz was addressing a gathering of the Nazaria Pakistan Council where he also said that Pakistan's enemies would not succeed in sabotaging the Pak-China Economic Corridor (PCEC).
kistan's adversaries have started their conspiracies to sabotage the Pak-China Economic Corridor, but make it clear that enemies' nefarious designs will never succeed."
He also said India's desire for regional hegemony would not be allowed, and stated that economic prosperity and self-reliance are imperative to a strong defence.
The adviser said Pakistan ─ and the entire region's future ─ was dependent on the completion of the PCEC.
Wlking about the war on terrorism, Sartaj Aziz said Pakistan has to fight a war against evil ideologies, including extremism and terrorism, which are harming the country.
Aziz's assertions follow statements by the Pakistan Army that Indian spy agency Research and Analysis Wing (RAW) is involved in terrorism in Pakistan.
A May 5 conference chaired by Chief of Army Staff General Raheel Sharif at General Headquarters "took serious notice of RAW's involvement in whipping up terrorism in Pakistan," according to a statement by Inter-Services Public Relations.
RAW has quite often been blamed by law-enforcement agencies for being involved in subversive activities in Pakistan, but it's unusual for a corps commanders' conference to directly point fingers at the hostile intelligence outfit.
Earlier this month, Foreign Secretary Aizaz Ahmad Chaudhry said the Indian intelligence agency RAW is involved in various terrorist activities across Pakistan, adding that the matter had been taken up "a number of times" at the highest level with India through diplomatic channels.
The government in January decided to take a tougher approach towards India and forcefully raise its concerns over alleged Indian involvement in acts of terrorism in Pakistan.
Successive governments in Pakistan always pointed to the Indian hand in terrorism, more particularly in Balochistan and tribal areas, but did not disclose specific information about the alleged role. That, a senior national security official said, would not be the case any more.
Foreign secretary leaves for Washington
Foreign Secretary Aizaz Chaudhry left Islamabad for Washington to lead a highlevel Pakistani delegation at a Pak-US strategic dialogue commencing from 2 June in the United States' capital, Foreign Office spokesman Qazi Khalilullah told DawnNews.
The third round of strategic dialogue will review progress made in various areas of cooperation including arms control, international security, defence, science and technology, counter-terrorism, education and energy.
Foreign Office sources said the foreign secretary received important directives from political leadership before his departure to the US, where he will also speak to senior US officials about Indian spy agency RAW's alleged involvement in terrorism in Pakistan.
Chaudhry will also meet high ranking officials at the US State Department and brief them about the security situation in the region, including Afghanistan and Pakistan's achievement in the war against terrorism.
Diplomatic sources said both sides are slated to discuss possible dates for Prime Minister Nawaz Sharif's visit to the US which is expected to occur after the approval of the federal budget of Pakistan.
US President Barack Obama has already extended an invitation to Nawaz Sharif through diplomatic channels to visit Washington this year.
http://www.dawn.com/news/1185311/pakistans-acquisition-of-nuclear-power-smashed-indias-dreams-sartaj-aziz
---------
ANP's Mian Iftikhar Hussain arrested after killing of PTI activist
May 31 2015
PESHAWAR: Awami National Party (ANP) central general secretary Mian Iftikhar Hussain was arrested on Sunday after the killing of a Pakistan Tehreek-i-Insaf (PTI) activist in Pabbi area of Khyber Pakhtunkhwa's Nowshera district.
A clash between activists of ANP and PTI occured outside near residence of Mian Iftikhar Hussain in Pabbi area after the Saturday night announcement of the area's results of the Local Government polls held on Saturday.
A PTI activist, identified as Habibullah, died of gunshot wounds suffered during the clash. A case was registered against the veteran ANP leader and his guards on various charges including murder and attempted murder over the complaint of the deceased's father.
The situation in the area turned tense after police arrested the former information minister of Khyber Pakhtunkhwa province.
As police failed to control the situation additional contingents of security men, including Army personnel, were called in to diffuse the tension prevailing in the area.
Later during the day, the ANP leader was presented in court which remanded him in police custody for one day.
ANP chief Asfandyar Wali Khan talking to DawnNews said that jailing of its leaders and activists was not new to the party and the arrest of Mian Iftikhar was part of PTI's revenge tactics.
Mian Iftikhar Hussain: A profile
At least six people had died and dozens other wounded during scuffles among supporters of candidates at various polling stations in Khyber Pakhtunkhwa.
The violence claimed five lives in Charsadda alone whereas 55 people were wounded in the provincial capital city of Peshawar during the largest local government elections held in Khyber Pakhtunklhwa's history. The elections were marred with brawls, chaos, violence, mismanagement and a complicated balloting process.
Khyber Pakhtunkhwa police registered a total of 87 First Information reports (FIRs) and arrested 197 people for violence during local government polling in the province, according to a spokesperson of the Khyber Pakhtunkhwa police.
The spokesperson added that 35 Ak-47 rifles, 10 shotguns, 7 repeater guns, 46 handguns and 1,830 rounds were also recovered from the arrested persons.
http://www.dawn.com/news/1185306/anps-mian-iftikhar-hussain-arrested-after-killing-of-pti-activist
---------
Seminary student molested, strangled in Chichawatni
May 31 2015
SAHIWAL: The body of a 14-year-old seminary student was found at the central graveyard of Chichawatni on Saturday.
City police said the boy was molested and strangled to death.
The deceased, of Ghafoor Town, had learnt the Holy Quran by heart from seminary Azizul Uloom. He used to visit the seminary daily for repeating the lessons. When he did not return home on Friday evening, his mother contacted the seminary only to learn that he was absent from the class on Friday.
His family and neighbours launched a search to find him. On Saturday, they learned that his body was lying in the graveyard.
City police said the initial postmortem showed that the boy was molested and later strangle to death.
Sources in the district police officer said Chichawati police had arrested two suspects.
BREACH: Local villagers plugged a 50-foot breach in the embankment of Sohagpara canal near village 55/D, Pakpattan, on Friday evening.
Villagers said as irrigation officials failed to respond their calls, they filled the gap on their own.
The breach occurred on Thursday afternoon and by evening it had inundated thousands of acres of cotton, vegetables, fodder, and rice in village 54-D, 55-D and 70-D.
aheemullah, of 55-D, said that when no official turned up to help them, the villagers with tractors and sand bags started filling the embankment and it took them a day to plug the breach. They demanded a probe into official negligence into the issue.
Shafiq, a senior irrigation official, did not return call to comment on the situation.
http://www.dawn.com/news/1185266/seminary-student-molested-strangled-in-chichawatni
---------
SC rejects plea for abolition of death penalty
May 31 2015
ISLAMABAD: The Supreme Court has dismissed a plea seeking abolition of the death penalty in Pakistan on the grounds that miscarriage of justice is bound to happen in the presence of an ineffective and defective criminal justice system in the country.
A three-judge bench headed by Justice Mian Saqib Nisar had taken up the petition. Filed by Barrister Zafarullah Khan of the Watan Party, it had asked the court to order an end to capital punishment because it violated Article 9 of the Constitution and was therefore unconstitutional.
Authored by Justice Nisar, the judgment stressed the need for parliament to correct the deficiencies in criminal prosecution laws, if any, through an amendment.
Bench says petitioner may approach appropriate forum
Referring to the petitioner's submission that the government should adopt a uniform policy on death penalty (since it granted a moratorium on capital punishment but then withdrew it), the verdict said the plea raised was not in line with the grievance propounded by Barrister Zafarullah and suggested he approach the appropriate forum in this regard.
The petitioner, the judgment regretted, neither challenged any statutory provisions of any law nor had he mentioned any law which prescribed the death penalty.
But when asked to refer to criteria on the basis of which laws prescribing the death penalty should be struck down, the petitioner could only refer to Article 9 of the Constitution, which says that no person shall be deprived of life or liberty, save in accordance with the law.
It was clear from the reading of Article 9, the verdict explained, that the right to life and liberty of a person was not absolute in nature. Rather the right was circumscribed and subject to law, meaning that a person could not be bereft of life and liberty, except in accordance with law.
Moreover, Article 4(2) of the Constitution, which says that no action detrimental to the life, liberty, body, reputation or property of any person shall be taken except in accordance with the law, reinforces the legal position that a person can be deprived of his life and liberty if it is provided and prescribed by any law.
The verdict said the petitioner had failed to show how, on the basis of these two articles, the Supreme Court, while exercising its jurisdiction in terms of Article 184(3) of the Constitution — which deals with the enforcement of fundamental rights — could order the abolition of the death penalty and annul any law, the validity of which has not been challenged before. During the proceedings, the petitioner argued that Article 9 was not a properly worded provision of the Constitution and therefore parliament should make necessary amendments in this regard.
The judgment however explained that the Supreme Court while exercising its jurisdiction did not deem it appropriate to issue such a direction to the parliament, though it could make such suggestions.
The court also rejected the plea raised by the petitioner that the criminal justice system was unfair, unreasonable and convictions and death punishments lacked due process.
Also, Article 10A of the Constitution, which ensures fair trial and due process, provides a clear answer to the plea raised. Thus, if any convict is aggrieved on account of lack of fair trial or due process of law, he has the remedy before the appropriate forum in appropriate proceedings to challenge such trial and convictions, the judgment concluded.
http://www.dawn.com/news/1185246/sc-rejects-plea-for-abolition-of-death-penalty
---------
Curbing violence: Karachi-style operation planned for Balochistan
May 31 2015
ISLAMABAD: A day after gunmen methodically slaughtered 20 men after plucking them from Karachi-bound passenger buses in Mastung district, The Express Tribune has learnt that the federal government might launch a Karachi-style surgical operation in Balochistan.
The go-ahead for the operation is likely to be given in a high-level meeting Prime Minister Nawaz Sharif has convened next week to discuss the law order situation in the troubled province.
The meeting was convened after Premier Nawaz spoke to Balochistan Chief Minister Dr Abdul Malik Baloch, the military leadership and other stakeholders in the province.
"Unabated targeted killings motivated by ethnic or sectarian hatred has forced the civil and military leadership to order a Karachi-like operation in Balochistan," a source told The Express Tribune.
Officially, the Prime Minister House confirmed that a meeting on the law and order situation in Balochistan has been convened. Chief Minister Baloch told journalists in Quetta that he and Premier Nawaz agreed to convene a multi-party conference to discuss the latest wave of violence in the province and a way out.
Conversely, highly credible sources said the government thinks there is no need for convening another all-party conference. And instead Premier Nawaz and army chief General Raheel Sharif will preside over a high-level meeting where important decisions are likely to be taken.
Sources, however, said the meeting might announce the launch of a Karachi-style targeted operation in the province wrecked by ethnic, sectarian and Taliban violence. "It will be intelligence-led operation," another source told The Express Tribune. "The paramilitary Frontier Corps will lead the operation, while the Pakistan Army will be on standby," he added. Like Karachi, the Balochistan operation will be targeted at organised crimes, sectarian militants, hostile foreign agencies, Taliban insurgents, smugglers, weapons runners and proscribed outfits operating near the border with Iran, Jundullah in particular, according to sources. The objective of the operation will be to dismantle the network of militants and criminals.
The intelligence network in Balochistan will be expanded and strengthened. Government and security officials have long accused foreign spy agencies, India's Research and Analysis Wing (RAW) in particular for fuelling unrest in Balochistan as part of its bigger game plan to sabotage the Gwadar deep seaport project which has been dubbed 'game-changer' for the region.
Sources said that RAW's strategy in Karachi and Balochistan is the same: to target peaceful communities to whip up fear and panic and destabilise Pakistan. "In Balochistan, the Pashtoon-dominated areas are by and large peaceful, while the regions where the Baloch are in majority are volatile," a third source said. "Perhaps this is why Baloch insurgents, on the instigation of RAW, targeted the Pashtoons in a bid to pit the two communities against each other," the source added, referring to Friday's deadly attack in the Khad Kocha area of Mastung district.
Mureed Baloch, a spokesperson for a shady insurgent group United Baloch Army, claimed responsibility for the slaying of Pashtoons in Mastung, saying that it was in retaliation for the ongoing military operations in Kalat and Mastung districts.
Sources said that Premier Nawaz will take all political stakeholders in Balochistan into confidence before announcing the launch of the surgical operation. Two key parties in the province – Pashtoonkhwa Milli Awami Party of Mehmood Khan Achakzai and the National Party of Dr Baloch – are coalition partners of the PML-N both at the Centre as well as in Balochistan.
Sources also said that Dr Baloch, as well as other stakeholders, have already offered full support for the intelligence-based operation in Balochistan. However, the launch of the operation will be announced at the high-level meeting in Quetta.
http://tribune.com.pk/story/895141/curbing-violence-karachi-style-operation-planned-for-balochistan/
---------
Seven militants linked to Mastung tragedy killed: Balochistan home minister
May 31 2015
ISLAMABAD: Balochistan Home Minister Mir Sarfaraz Bugti claimed on Sunday that security forces have killed at least seven militants who were allegedly behind the brutal Mastung massacre that killed 22 people.
"The militants were killed after security forces carried out a search operation in the area," Bugti told a news conference.
Further, he said, "500 personnel of Frontier Corps, police and Balochistan Levies took part in the targeted operation."
"The operation, supervised by FC Inspector General Sher Afghan, would continue till all militants behind the Mastung carnage are arrested," he added.
Gunmen on Friday kidnapped about 30 people from two coaches going from Pishin to Karachi in the Khad Khocha area of Mastung district and killed at least 19 of them. Three passengers later died in the hospital.
The Balochistan home minister had previously accused the Indian intelligence agency, Research and Analysis Wing (RAW), for being behind the attack.
Later, the banned United Baloch Army (UBA) claimed responsibility for the killings.
A UBA spokesperson, Mureed Baloch told newsmen on phone that the incident "is revenge for killing of militants in Mastung and Kalat areas by security forces".
Balochistan has been facing unrest over the past several years due to attacks carried out by Baloch separatists and other militant organisations.
Media reports suggested that authorities have planned a Karachi-style targeted operation in Balochistan in the wake of sudden spike in attacks.
http://tribune.com.pk/story/895218/seven-militants-linked-to-mastung-tragedy-killed-balochistan-home-minister/
---------
Comic book 'Guardians' to steer young Pakistanis away from extremism
May 31 2015
ISLAMABAD: When Taliban militants stormed a school in Peshawar last December, killing 150 people, mainly children, in the country's deadliest terror attack, comic book creators Mustafa Hasnain and Gauhar Aftab decided it was time to act.
The pair had already been working on a series to raise awareness about the corruption that plagues the country.
But they quickly decided to shift their focus to violent extremism and felt holding candle-light vigils was not the best way to effect change.
Hasnain, a British-educated computer graphics specialist, founded his own company Creative Frontiers in 2013, today employing 20 people, including young male and female artists, programmers and writers, in a hip Silicon Valley-style office in the city of Lahore.
He explained, "It was a huge watershed moment for us. I got together with Gauhar and I said 'We really have to do something about this'.
"We used to stand over there (at vigils) with a candle… but we wanted to do something more."
The result was "Paasban" — or "Guardian" — a three-part series featuring a group of close friends at college who begin to worry when one of them drops out to join a religious student group that is ostensibly working for charitable causes. Some in the group however, suspect it may have darker aims.
Fifteen thousand of the books are set to be distributed for free from June 1 at schools in the cities of Lahore, Multan and Lodhran while some copies will be made available in book stores. The comic will also be distributed on a tailor-made app the group have developed for Apple and Android smartphones.
For English-language script writer Aftab, the pathway from disillusionment to signing up to carry a gun and fight the so-called enemies of Islam was not just something he had read about in the news — it was a choice he had almost made as a child.
A product of Aitchison College in Lahore, Aftab came under the influence of a charismatic teacher who convinced him at the age of 13 to leave behind his school and family to fight jihad against the Indian army in the disputed Himalayan region of Kashmir.
Eventually pulled back by a last-minute family intervention, he came to identify the methods that radicals use to attract young people to violent jihad.
"De-emphasising the virtues and values of your traditional faith, moving you towards the more minimalistic standpoint when it comes to religion, demonising various factors or forces that you feel to be threatening Islam, then (finally) glorifying the aspect of martyrdom," he said.
By creating a storyline that features a protagonist going through these experiences, said Aftab, young people who see the same thing going on in their lives or those of their friends will be better equipped to identify and avoid the same fate.
The Urdu translation was written by renowned script-writer Amjad Islam Amjad, responsible for some of Pakistan's most popular TV shows, in an effort to ensure an audience that is as wide as possible in a country where English is mainly used by the educated elite.
While comic-books in the US tradition often feature heroes with super-powers such as Superman, Paasban's creators decided to concentrate on creating ordinary heroes, or "Guardians" they felt the Pakistani audience would relate better to.
The art is inspired by Alphonse Mucha and Pakistani artist Abdur Rahman Chughtai, though the action is more in line with Western comics and Japanese Manga, according to creative director and co-creator Yahya Ehsan.
But what the three hope will eventually land them a sustainable revenue stream beyond the donor-funding they currently receive is a digital app they have developed that they say is the best of its kind in the world for bringing graphic novels to life on smartphones.
The app is optimised to work on the low-end smartphones available from about $70 that have flooded the Pakistani market since the advent of 3G data connections last year, with some estimates placing smartphone penetration at 20 per cent of the country's estimated 80 million mobile users.
Users can swipe from panel to panel, with simple animations depicting new characters entering a scene, all set to a brooding background soundtrack.
Aftab, the writer, said he hoped other writers and artists would follow their lead and use the app to encourage a debate on what he calls the "real" Islam of peace which he discovered once out of the clutches of his former teacher.
"We want to promote the idea that you don't have to be secular to be non violent… What you need to be is a Muslim who rejects the violent extremist form certain groups have given to our faith," he said.
http://tribune.com.pk/story/895216/comic-book-guardians-to-steer-young-pakistanis-away-from-extremism/
---------
South Asia
Five Policemen Martyred, Eight Militants Killed In Samangan
May 31 2015
Five policemen have embraced martyrdom and eight militants were killed in a short gun battle in central Samangan province.
The clash erupted after a group of insurgents attacked a security check post in Dara-e-Sof District of this province last night.
Khairullah Anosh, acting governor of this province said that nine other militants and one soldier also sustained injuries in the fighting.
Taliban have claimed responsibility for the attack.
Taliban have increased their attacks against security forces after announcing their spring offensive last month.
Currently fighting continues between the militant group and security forces in at least sixteen province of the country.
http://www.khaama.com/five-police-martyred-eight-militants-killed-in-samangan-3409
---------
Police arrest suspected Islamic State 'coordinator' in Bangladesh
May 31 2015
Police in Bangladesh arrested a suspected member of Islamic State (IS) in Dhaka, a senior officer said on Sunday, following the detention days earlier of two other suspects, including an IT manager at a subsidiary of Coca-Cola Co.
The suspect picked up on Saturday night was a coordinator for IS in Bangladesh, Shaikh Nazmul Alam, a deputy commissioner of Detective and Criminal Intelligence Division, told Reuters.
"We arrested him with hundreds of training related videos for Islamist extremists, and also a large number of books on al Qaeda and IS translated into Bangla," Alam said.
Police said the detained man was Abdullah Al Galib, a former member of Hizbut Tahrir, and a follower of Ansarullah Bangla Team, two militant Islamist groups in Bangladesh. "We have been following him for a long time and arrested him yesterday night from Banani, a posh area of the city," Alam said. Police have arrested more than a dozen people suspected of links with Islamic State, amid growing fears that the group could be extending its influence among Muslims in South Asia.
http://indianexpress.com/article/world/world-others/police-arrest-suspected-islamic-state-coordinator-in-bangladesh/#sthash.C928dUnE.dpuf
---------
Afghan leader demands action from Pakistan against Taliban
May 31 2015
KABUL: Afghan President Ashraf Ghani demanded tough action from Pakistan against Afghan Taliban militants in a letter seeking greater anti-terrorism cooperation, after facing strong public criticism over a controversial intelligence-sharing deal between the neighbours.
The spy agencies of both countries this month agreed to trade intelligence and bolster cooperation in their fight against the Taliban, the latest sign of a thaw in once-frosty ties.
The Afghan government played down the significance of the deal, which triggered uproar in parliament and an avalanche of public criticism, with many accusing Ghani's government of selling out to Pakistan.
In the letter, whose contents were shared by officials with AFP on Sunday, Ghani asked Islamabad's civilian and military leadership to condemn the Afghan Taliban's annual spring offensive and reiterated Kabul's longstanding demand of denying insurgents sanctuary on their side of the border.
The letter also demanded that Pakistan place Taliban leaders in Quetta and Peshawar under house arrest and detain members of the Taliban-allied Haqqani network "responsible for recent terror campaign in Afghanistan".
The letter comes as the Taliban intensify their annual spring offensive, launched in late April, which has sent civilian casualties soaring.
It marks the first fighting season in which Afghan forces will battle the insurgents without the full support of US-led foreign combat troops.
Afghan officials have frequently accused Pakistan of harbouring and nurturing Taliban insurgents, who are waging a 13-year war against local and foreign troops in the country.
But Ghani has actively courted Pakistan, which has historically backed the Taliban, since coming to power in what observers say is a calculated gambit to pressure the insurgents to the negotiating table.
Afghanistan's engagement with Pakistan in its fight against the Taliban is seen as a major policy shift from the previous Hamid Karzai government, which accused Islamabad of destabilising Kabul.
http://www.dawn.com/news/1185315/afghan-leader-demands-action-from-pakistan-against-taliban
---------
Rocket hits school in eastern Afghanistan, killing three
May 31 2015
KABUL: A teacher and two students were killed when a rocket struck a school compound in eastern Afghanistan on Sunday, government officials said, as intensifying combat across the country takes a high toll on civilian life.
In the worst affected provinces, families are too afraid to send their children to school and some have closed until further notice.
our other people were injured in Sunday's attack in Logar and it was so far unclear who was responsible, district chief Baraki Barak said.
The education ministry condemned the attack in a statement.
Schools have closed in provinces worst hit by the fighting, which has escalated since the withdrawal of most foreign troops in 2014.
In northern Baghlan, for example, at least 18 schools have closed this month over fears students may be caught in the crossfire, the provincial acting education director said.
"Five of these schools are still closed and I ask the government and Taliban to let Afghan children to go to school," Abdul Rashed said.
http://tribune.com.pk/story/895286/rocket-hits-school-in-eastern-afghanistan-killing-three/
---------
Daesh, Taliban clash left five killed from both sides in Nangarhar
May 31 2015,
Five militants have been killed in a clash erupted between two rival armed groups in eastern Nangarhar province.
Mohammad Hassan Osmanzai, governor of Haska Mina District said that the clash erupted between the fighters of Taliban and affiliates of Daesh which left five insurgents from both sides killed and three others wounded in Nari Oba area on Saturday.
He said four of those killed were fighters of Taliban group and one another member of Daesh. Osmanzai added that three fighters of Daesh were also wounded in the clash.
No one on behalf of Taliban or Daesh has yet commented on the report but both groups are opposing each others.
Several clashes have been reported between the two sides in parts of the country including the same eastern province of Nangarhar and Farah province in the past.
http://www.khaama.com/daesh-taliban-clash-left-five-killed-from-both-sides-in-nangarhar-3407
---------
Two Soldiers Martyred, 33 Militants Killed In Military Operations
May 31 2015
Two soldiers have embraced martyrdom while 33 insurgents killed in fresh military operations across the country, ministries of defence and interior announced on Sunday.
General Zahir Azimi, spokesman for the Ministry of Defence says that two soldiers have embraced martyrdom in past 24 hours. The exact location of the incident is not specified.
In the meantime, a statement issued by the Ministry of Interior states that 33 militants were killed and 42 wounded during separate military operations in eight provinces in past 24 hours.
The statement adds that these operations were conducted in Sar-e-Pul, Kandahar, Uruzgan, Helmand, Kunduz, Logar, Kapisa and Paktika provinces. Five suspects were also arrested during these operations.
Security forces also discovered and defused five different types of Improvised Explosive Devices (IEDs) during these operations, the statement states.
http://www.khaama.com/two-soldiers-martyred-33-militants-killed-in-military-operations-3406
---------
Desperate Bangladeshi migrant families await calls for ransom
May 31 2015
In Bangladesh's southernmost tip, families cling to scraps of paper with Malaysian and Thai hand phone numbers scribbled on them as their only links to loved ones missing after boarding fishing boats, lured by hopes of a brighter future overseas.
Some of the families have received calls from those numbers, from people claiming to be holding their husbands or sons and asking for ransom to get them home.
Sometimes the captives have phoned themselves in all-too-brief calls, pleading for their families to heed the demands. The families call back but either nobody answers or, if they do, the phone goes dead.
In recent weeks, as reports of mass graves of migrants emerged from Malaysia and Thailand and images of hundreds of starving people abandoned at sea spread around the world, the calls to families in Teknaf have become more persistent.
Khaleda Banu, from a dirt-poor fishing settlement, said a man phoned her four days ago saying her 19-year-old son, missing since November, was alive. She could have him back if she handed over 30,000 taka ($385) as part payment.
But she had already paid that amount months ago when the first call came and nothing had happened. The man hung up and wouldn't answer her calls and now the mother, surrounded by neighbours, is sick with worry.
"My son just slipped away. I was sleeping when he left," she said. She found out later a man claiming to be a recruiter had persuaded him that his carpentry skills would earn him 10 times more money in Malaysia than at home.
She filed a case against the agent who has since been arrested. But the agent can't help her find her son.
Thousands of people, mostly Rohingya Muslims fleeing persecution in Buddhist-majority Myanmar, but also Bangladeshis have been trying to slip into Thailand, Malaysia and Indonesia for years through people-smuggling networks.
More than 4,000 migrants have landed in Indonesia, Malaysia, Thailand, Myanmar and Bangladesh in recent weeks since Thailand launched a crackdown on people-smuggling gangs. Around 2,000 may still be adrift in boats on the Andaman Sea and Bay of Bengal, the United Nations said.
The journey for a large number begins in the coastal town of Teknaf bounded on one side by Myanmar from where the Rohingya cross over, and the Bay of Bengal on the other. A hub of the narcotics and smuggling trade from Myanmar, Teknaf is the shortest route to Thailand and Malaysia.
"MALAYSIA AIRPORTS"
The traffickers use a route along the edges of Bangladeshi and Myanmar's waters, darting across the border back and forth to dodge security forces of the two countries, taking advantage of the lack of joint patrolling, officials say.
ome 3,000 fishing boats, most of them long-bowed, ply the waters that are used by traffickers to move their people cargoes. There are 60 jump-off points along a 100-km (60-mile)stretch of powder-white sand, reputed to be the world's longest unbroken beach. Locals refer to the departure jetties as "Malaysia airports".
ome families said that the traffickers had lured their loved ones by not asking for money at the beginning of the voyage to Southeast Asia.
To many in Bangladesh, which exports tens of thousands of workers each year across the world, that seemed too good an offer to turn down, having seen friends and relatives had over huge amounts in previous years to go abroad.
Mohammad Hassan said agents told his son-in-law, who earned a living making fishing nets, that he could pay for the journey after he had found work in Malaysia.
Then, months after he went away, the call came: the agents demanded that Hassan pay a ransom of 220,000 taka ($2,830) to get him freed from a Thai camp where he was being held.
"I told the man I am a daily wage laborer. Where can I arrange that money? I don't have things to sell."
A week ago, Hassan said, tears welling up, he received a call saying his son-law and a father of three had been killed and his body buried on a hillside in Thailand.
"This has become an extortion racket. They are preying on gullible people," said Mohammad Abuzar Al Zahid, commanding officer of the Border Guard Bangladesh responsible for the defense of the Teknaf area.
"These brokers have spread everywhere, in the villages, in towns. They are like veins in your body."
Authorities say the traffickers are part of a network that for years has preyed on the Rohingya, a largely stateless minority in Myanmar.
The gangs promise to deliver the refugees to Muslim-majority Malaysia and in recent years targeted Bangladeshis too. Typically there are about 500 to 600 Rohingya on a boat along with some 200-300 Bangladesh nationals.
Sometimes the gang members don't even bother taking their victims to the sea, keeping them confined below decks in a fishing boat moored in the placid waters of the Naf River and making ransom calls to their families, Zahid said.
From the man who makes the first contact with a potential migrant to the international agents into whose hands he is finally passed, its a web of faceless middlemen who don't know each other and cannot ensure their security, said Zahid based on the interrogation reports of traffickers who had been caught.
"There is a whole support group, the boatmen who take these victims to the cargo ships, the people who sell foodstuffs for the journey and then the people who collect money."
A newspaper quoted the owner of a trawler as saying that his entire 17-member crew, supposed to have gone fishing, had sold the vessel to traffickers in return for getting them into Malaysia.
In Teknaf, there are shops selling large water containers, sacks of puffed and flattened rice, fruit, biscuits and drinks for the job seekers embarking on the journey.
"The administration has only now woken up when graves turned up in Thailand and people are floating in the sea," said former MP from the area, Mohammad Ali. "Law enforcement has been negligible."
But Bangladeshi Prime Minister Sheikh Hasina said migrants trying to leave the country illegally were partly to blame for their predicament.
"They are tainting the image of the country in the international arena and putting their life into danger," state media quoted her last week as telling government officials, calling the migrants "mentally sick".
"There is sufficient work for them. Still they are leaving the country in such disastrous ways."
http://www.dhakatribune.com/bangladesh/2015/may/31/desperate-bangladeshi-migrant-families-await-calls-ransom#sthash.XnsG16gB.dpuf
--------
Africa
Suicide bomber hits checkpoint near Libya's Misrata, several dead
31 May 2015
A suicide bomber attacked a checkpoint outside the Libyan city of Misrata on Sunday, killing several people, a local official said.
ew other immediate details were available about the attack on the post west of Misrata on the highway to the capital Tripoli.
But ISIS militants have carried out several attacks in the area recently.
Two rival governments are battling for control of Libya, allowing Islamist fighters to gain ground in the chaos.
Misrata city is allied with the unofficial government that controls Tripoli.
The internationally recognized government operates out of east Libya.
https://english.alarabiya.net/en/News/middle-east/2015/05/31/Suicide-bomber-hits-checkpoint-near-Libya-s-Misrata-several-dead-.html
---------
Boko Haram Suicide Bomber Hits Mosque in Nigeria, Kills 30
May 31 2015
A Boko Haram suicide bomb blast outside a mosque and rocket-propelled grenades that exploded into homes as people slept killed at least 30 people in the Nigerian city Maiduguri on Saturday, residents and officials said.
The explosion killed people who were prostrating themselves for afternoon prayers outside the mosque, including traders from the nearby crowded marketplace in the largest city in Nigeria's troubled northeast, survivors said, AP reported.
Trader Ali Bakomi said the bomber was pushing a wheelbarrow and pretending to be an itinerant trader when he joined them.
Borno state Gov. Kashim Shettima toured the scene where one wall was reduced to rubble and another was splattered with blood. Officials told him the bomber killed himself and 16 other people.
Earlier Saturday, rocket-propelled grenades killed at least 13 others in the city and injured more, according to resident Idrissa Mandara. Such grenades are a new tactic that has brought terror to the city that is the birthplace of Boko Haram.
Mari Madu, another resident, said he counted 40 thunderous blasts that began around 1 a.m. before he lost count.
"Each time they (Boko Haram terrorists) fired into the town, we saw bright sparkling flashes which moved with great speed ... One of the blasts shook my roof so badly that I thought it must have landed on my house," he said.
Several homes were destroyed in the suburb Dala-Lawanti, about 20 kilometers (12 miles) west of the city center, he said.
He counted 13 people killed in his compound: six men, five children and two women.
An intelligence officer said Boko Haram was firing the rocket-propelled grenades. Soldiers fired heavy assault rifles in response, said the officer, who insisted on anonymity because he is not supposed to give information to journalists.
The nearly 6-year-old insurgency by the terrorist group in Northeastern Nigeria has killed an estimated 13,000 people. Maiduguri's population of 2 million has swelled with hundreds of thousands of refugees who have been forced from their homes.
http://english.farsnews.com/newstext.aspx?nn=13940310000303
---------
Nigerian Army Repels Boko Haram as New President Starts Term
May 31 2015
Nigeria's military repelled a Boko Haram attack on the key Northeastern city of Maiduguri, hours after President Muhammadu Buhari took office vowing to crush the terrorist group.
The overnight attack on the Borno state capital saw rocket-propelled grenades fired into homes in a bombardment that reportedly lasted several hours, AFP reported.
he fighting was most heavily concentrated in the Dala suburb to the South of the city.
In his inaugural speech after taking the oath of office on Friday, Buhari described Nigeria's Takfiri terrorists as a "mindless" and "Godless" group that would ultimately be destroyed.
He announced plans to reinforce Maiduguri with a new command and control center to better coordinate the counter-insurgency effort, a move analysts said signaled his commitment to intensifying the fight.
Maiduguri-based vigilante Babagana Bulunkutu said the RPGs fell on homes "while residents were sleeping."
"Five houses were destroyed," and terrorist gunmen fired indiscriminately in Dala and two neighboring suburbs, Bulunkutu said.
Three senior security sources in Maiduguri who were not authorized to speak publicly said the attack had been repelled.
"All is under control. There is no cause for alarm," one of those sources said.
http://english.farsnews.com/newstext.aspx?nn=13940310000481
-------
North America
US police kill more than two people a day: Report
May 31 2015
US police have killed people at a rate of more than two a day this year, The Washington Post reported Sunday, using its own tally for lack of complete federal statistics.
The federal government must rely on partial data because the country's 17,000 or so state and local police agencies are not required to report such killings.
The newspaper is tracking the deaths as a national debate rages over police use of deadly force, especially in black and other minority communities.
The Post found that relative to the overall population, blacks were killed at three times the rate of other minorities or whites in the police killings it analyzed this year.
The report noted that most of the people killed were armed with potentially lethal objects -- mainly guns, but also knives and other items. Sixteen percent were carrying a toy or were unarmed.
The Post found that so far this year, at least 385 people have been shot and killed by police across the United States -- a rate of more than two a day.
"These shootings are grossly under­reported," former police chief Jim Bueermann, head of a nonprofit organization dedicated to improving law enforcement, told The Post. "We are never going to reduce the number of police shootings if we don't begin to accurately track this information."
One of the most prominent recent cases to fuel the ongoing debate about police violence is that of Michael Brown, an 18-year-old who was fatally shot last year in Ferguson, Missouri.
The death and subsequent lack of legal action against the police officer who shot him prompted widespread riots in the St Louis suburb.
In Baltimore last month, riots broke out following protests over the death of Freddie Gray, 25, who died from injuries sustained in the back of a police van.
The Post found that many of the killings stemmed from minor interactions between police and community members that escalated into sudden violence.
In one case, for instance, police in the Florida city of Miami Gardens killed a schizophrenic man who was waving a broomstick. His mother had called police because she couldn't persuade him to come in from the cold.
http://english.ahram.org.eg/NewsContent/2/9/131571/World/International/US-police-kill-more-than-two-people-a-day-Report.aspx
---------
Islamic State fighter trained on American soil under government programme: US Officials
May 31, 2015
An Islamic State fighter who appeared in an online video calling for jihad was trained in counter-terrorism tactics on American soil under a State Department programme before defecting to the dreaded terror group, according to US officials.
Colonel Gulmurod Khalimov, a former police commander from Tajikistan, features in the video in black Islamic State of Iraq and Syria (ISIS) garb with a sniper rifle and a bandolier of ammunition.
He says in the video that he participated in programmes on US soil three times, at least one of which was in Louisiana. This claim was confirmed by the State Department to CNN.
"From 2003-2014 Colonel Khalimov participated in five counter-terrorism training courses in the United States and in Tajikistan, through the Department of State's Diplomatic Security/Anti-Terrorism Assistance programme," spokeswoman Pooja Jhunjhunwala was quoted as saying. The programme is intended to train candidates from participating countries in the latest counter-terrorism tactics, so they can fight the very kind of militants that Khalimov has now joined. A State Department official said Khalimov was trained in crisis response, tactical management of special events, tactical leadership training and related issues. In the video, Khalimov says that what he saw during his training sessions turned him against his sponsors. "…I've been to America three times. I saw how you train soldiers to kill Muslims," he says in Russian. "You taught your soldiers how to surround and attack, in order to exterminate Islam and Muslims." Then, in the most chilling part of the 10-minute video, he looks directly into the camera and says, "We will find your towns, we will come to your homes, and we will kill you." Experts are now concerned that this defector has brought ISIS not only a propaganda victory but also an insider's knowledge of the playbook the United States is using in the fight against ISIS. "That is a dangerous capability," said former Army intelligence officer Michael Breen. "It's never a good thing to have senior counter-terrorism people become terrorists."
http://indianexpress.com/article/world/world-others/isis-fighter-trained-on-american-soil-under-state-department-programme-us-officials/#sthash.xrlL9kJi.dpuf
--------
Mideast
Fresh Wave of Saudi Aerial Attacks Kills 23 in Sa'ada
May 31 2015
At least 23 people, including women and children, were killed after Saudi warplanes flattened a number of residential neighborhoods in the Northwestern Yemeni province of Sa'ada.
According to Yemeni media reports, more than 23 civilians lost their lives and dozens of others sustained injures in Ketaf district in the latest wave of Saudi airstrikes against the Arab country.
Saudi Arabia has been bombing Yemen in the last 67 days to bring its ally, fugitive president Mansour Hadi, back to power.
The airstrikes have so far claimed the lives of more than 4,155 civilians, mostly women and children.
According to a recent report by Freedom House Foundation, most of the victims of the deadly Al Saud campaign are civilians, including a large number of women and children.
Thousands of residential buildings have been destroyed, and hundreds of civil and public facilities were reduced to rubble as a result of the bombardments by Saudi warplanes on the Yemeni cities and towns, the group said.
http://english.farsnews.com/newstext.aspx?nn=13940310000530
---------
Yemenis' Retaliatory Attack Leaves 1 Saudi Soldier Dead, 7 Injured
May 31 2015
A Saudi border guard was killed and seven others injured during a mortar attack by the Yemeni troops on the Southwestern city of Jizan on Sunday.
Saudi Arabia's Interior Ministry issued a statement on Sunday, saying that a Saudi soldier was killed at border areas after Yemeni fighters fired rockets and mortar rounds into Jizan.
The retaliatory attack came after Saudi bombers pounded residential areas in Yemeni border cities and claimed the lives of scores of civilians.
The tribal forces have increased attacks on the Saudi border guards in recent days, making the Saudi forces withdraw 20 kilometers in their territories two days ago.
Saudi Arabia has been bombing Yemen in the last 67 days to bring its ally, fugitive president Mansour Hadi, back to power.
The airstrikes have so far claimed the lives of more than 4,132 civilians, mostly women and children.
According to a recent report by Freedom House Foundation, most of the victims of the deadly Al Saud campaign are civilians, including a large number of women and children.
Thousands of residential buildings have been destroyed, and hundreds of civil and public facilities were reduced to rubble as a result of the bombardments by Saudi warplanes on the Yemeni cities and towns, the group said.
http://english.farsnews.com/newstext.aspx?nn=13940310000333
---------
Saudi Forces Running for Their Lives in Jizan
May 31 2015
Saudi soldiers fled the battlefield after Yemeni troops launched a retaliatory attack and hit a kingdom's military base in the Southwestern province of Jizan on Sunday.
According to al-Masirah satellite television network, the Yemeni army, backed by popular fighters, targeted a military post by rockets and mortar rounds in Jizan and forced the Saudi troops to flee the region.
The report by the Arabic language TV added that the monarchy's troops escaped their bases using armored vehicles.
Saudi Arabia's Interior Ministry issued a statement early on Sunday, saying that a Saudi soldier was killed at border areas after Yemeni fighters fired rockets and mortar rounds into Jizan.
The retaliatory attack came after Saudi bombers pounded residential areas in Yemeni border cities and claimed the lives of scores of civilians.
The tribal forces have increased attacks on the Saudi border guards in recent days, making the Saudi forces withdraw 20 kilometers in their territories two days ago.
Saudi Arabia has been bombing Yemen in the last 67 days to bring its ally, fugitive president Mansour Hadi, back to power.
The airstrikes have so far claimed the lives of more than 4,155 civilians, mostly women and children.
According to a recent report by Freedom House Foundation, most of the victims of the deadly Al Saud campaign are civilians, including a large number of women and children.
Thousands of residential buildings have been destroyed, and hundreds of civil and public facilities were reduced to rubble as a result of the bombardments by Saudi warplanes on the Yemeni cities and towns, the group said.
http://english.farsnews.com/newstext.aspx?nn=13940310001083
---------
Website reveals identities of pro-Palestinian college students in bid to block future jobs
May 31 2015
A website is publicising the identities of pro-Palestinian students, in a bid to prevent them from getting jobs once they have graduated from college.
"It is your duty to ensure that today's radicals are not tomorrow's employees," a female said in a video posted to the website's YouTube account.
However, the website, Canary Mission, which is keeping its own backers' identity a secret, has posted profiles of dozens of students and recent graduates.
Of the profiles posted, some of the students are active in Students for Justice in Palestine (SJP), an anti-Zionist, pro-Palestinian college student activism organization in the United States, Canada and New Zealand, while others were involved in recent pro-BDS (boycott, divestment and sanctions) resolutions at campuses in California.
The website features videos and photographs of the activists and in some cases the students' majors as well.
Moreover, the website provides link to Facebook pages, Twitter pages and LinkedIn profiles of the student and the groups and movements to which they have alleged links.
"I think it's creepy and I think it's McCarthyist," said Max Geller, an SJP member who is profiled on the site. "This is not a badge of honour. This is scary."
Geller said that some of what is written about him on the site is untrue, and that he has contacted an attorney.
"The focus on young people and students is an effort to try to tell people that there will be a price for you taking a political position," founder of the pro-Palestinian website The Electronic Intifada, Ali Abunimah, said.
"It's an effort to punish and deter people from standing up for what they believe."
However, president of the Middle East Forum Daniel Pipes defended the website as a way of forcing people to understand the seriousness of their political stands.
"Collecting information on students has particular value because it signals them that attacking Israel is serious business, not some inconsequential game, and that their actions can damage both Israel and their future careers," he said.
However, though making pro-Palestinian students' profiles public, those operating the website have been keeping their own identities hidden.
There are no names of Canary Mission staff members, volunteers, donors or allies on the site. Further, the web domain is registered in a way that hides its ownership.
A person named Joanna responded via email to a request for comment from the group. She agreed to an interview but did not go back to the reporter and did not reply back to a questions sent to her.
Further, right-wing pro-Israel groups that focus on campuses said they had no relationship with Canary Mission.
http://tribune.com.pk/story/894886/website-reveals-identities-of-pro-palestinian-college-students-in-bid-to-block-future-jobs/
---------
Opposition parties slam ruling AKP over democracy, economy, Syria
May 31 2015
Turkey's three leading opposition parties slammed the ruling Justice and Development Party (AKP) over what they portrayed as a weakened democracy, worsened economy and botched Syria policy during their May 30 rallies.
"Would you say 'yes' to HDP to end the system of slavery?" the Kurdish problem-focused Peoples' Democratic Party (HDP) co-chair Selahattin Demirtaş asked hundreds of thousands of his party's supporters during their campaign rally at Kazlıçeşme Square in Istanbul.
Blaming the government for polarizing the country, Demirtaş stressed that the ruling party supporters who came to a nearby square to listen to President Recep Tayyip Erdoğan and Prime Minister Ahmet Davutoğlu "are also brothers and sisters."
"They are not our enemy. We will live together. Do they have the courage to say the same thing?" he asked.
At one point, Demirtaş interrupted his speech out of respect for the Islamic call to prayer that was heard at the square, where Turkish flags were waved together with the flags of HDP and Iraq's autonomous Kurdistan Regional Government (KRG), as well as the symbols of the outlawed Kurdistan Workers' Party (PKK). Portraits of modern Turkey's founder Mustafa Kemal Atatürk were also in the square.
http://www.hurriyetdailynews.com/opposition-parties-slam-ruling-akp-over-democracy-economy-syria.aspx?pageID=238&nID=83214&NewsCatID=338
---------
Morning prayer held before Hagia Sophia to demand re-conversion into mosque
May 31 2015
A group of devout Muslims from across Turkey prayed before the city's historic Hagia Sophia on the 562nd anniversary of the Turkish conquest of Istanbul, demanding that the site be turned back into a mosque.
Men and women from across the country gathered before the Hagia Sophia museum early May 31, as part of an event organized by the Anatolian Youth Association (AGD) with the motto "Break the chains, Open Hagia Sophia," and prayed the morning prayer with a call for the reconversion of the museum into a mosque.
Designed as a Christian basilica in the sixth century by Anthemios of Tralles and Isidorus of Miletus, Hagia Sophia is now a UNESCO World Heritage site.
Hagia Sophia remained a center of Orthodox Christianity until 1453, when the city was conquered by Ottoman Turks under Sultan Mehmed II, known as the Conqueror of Istanbul. After 916 years of service as a church, he ordered Hagia Sophia to become a "victory mosque," symbolizing the Muslim conquest. The mosaics of the church were covered with plaster, but they were successfully restored in the 20th century.
Hagia Sophia was used as a mosque for 482 years. Following the Ottoman Empire's collapse, it was converted into a museum by republican officials in 1935.
http://www.hurriyetdailynews.com/morning-prayer-held-before-hagia-sophia-to-demand-re-conversion-into-mosque-.aspx?pageID=238&nID=83229&NewsCatID=341
--------
Europe
Saudi-led Yemen coalition still using cluster bombs: HRW
May 31 2015
DUBAI/RIYADH: Human Rights Watch on Sunday published new evidence alleging a Saudi-led coalition is using internationally banned cluster bombs in Yemen, urging it to stop such attacks that were harming civilians.
The New York-based watchdog said it documented the use of three types of cluster munitions in Yemen, where Saudi-led warplanes have pounded positions of rebels and allies loyal to former president Ali Abdullah Saleh since March 26.
"The Saudi-led coalition and other warring parties in Yemen need to recognise that using banned cluster munitions is very likely to harm civilians," said HRW's senior emergencies researcher Ole Solvang.
"These weapons can't distinguish military targets from civilians, and their unexploded submunitions threaten civilians, especially children, even long after the fighting," she added in a statement.
The organisation said the banned munitions had wounded civilians including a child in attacks on northern stronghold of the Houthi rebels, pointing out that a HRW team had visited Saada province this month.
wo of three people wounded in one attack from the air were likely to have been civilians, while the source of ground-fired cluster bombs that wounded four other civilians, including a child, was not determined, HRW said.
Both cases took place in an area under attack by the coalition, it added.
Saudi Arabia and the nine Arab members of the coalition are not signatories of the 2008 Convention on Cluster Munitions that prohibits their use.
Cluster bombs can be fired by rockets, mortars, and artillery or dropped by aircraft.
Typically they break up in the air into many bomblets, but they can become de facto landmines on the ground if they fail to explode.
According to the World Health Organisation, the Yemen conflict has since March killed almost 2,000 people and wounded 8,000, with hundreds of women and children among the casualties.
Read more: Saudi-led air strikes on Yemeni police headquarters leave 45 dead
Saudi border guard dies in Yemen shelling
Shelling from Yemen has killed a Saudi border guard and wounded seven others, the latest casualties along the kingdom's southern frontier, the interior ministry said on Sunday.
The attack happened at 6:30 pm Saturday when shells "from across the border with Yemen" hit their patrol, the ministry said in comments carried by the official Saudi Press Agency.
It said the strike occurred in Jazan region's Harth municipality, where fatal shell fire has landed before.
In coordination with the army, the border guard force "dealt with the situation accordingly," said the ministry.
The latest casualty brings to at least 31 the number of people, military and civilian, killed in the border area since a Riyadh-led coalition began air strikes against rebels in Yemen on March 26.
Coalition warplanes have been bombing the Houthi rebels and their allies in support of pro-government forces in Yemen.
he air campaign led to deadly skirmishes between the rebels and Saudi forces along the frontier, and sparked cross-border barrages which have hit residential areas of Saudi Arabia.
Inside Yemen, weeks of fighting between pro- and anti-government forces have killed almost 2,000 people and displaced more than half a million, according to the United Nations.
http://www.dawn.com/news/1185309/saudi-led-yemen-coalition-still-using-cluster-bombs-hrw
---------
Plans to mark genocide of Muslims at Srebrenica
May 31 2015
PLANS to commemorate the worst atrocity on European soil since the Second World War at Srebrenica have been unveiled, featuring a host of prominent Scottish figures.
This year marks the 20th anniversary of the genocide, with plans for a high-profile service in St Giles' Cathedral in Edinburgh on 10 July attended by First Minister Nicola Sturgeon.
UK charity Remembering Srebrenica established its Scottish board this year, chaired by former Moderator of the General Assembly of the Church of Scotland the Very Rev Dr Lorna Hood and including Ruth Davidson, MSP, leader of the Scottish Conservatives.
Another board member, chairman of the Scottish Police Federation Sergeant David Hamilton, 43, drove relief lorries to Sarajevo during the siege of the city by Bosnian Serb forces.
As an aid worker in Bosnia during the 1992-95 war, he delivered aid on behalf of Edinburgh Direct Aid to communities across Bosnia and was in the city of Tuzla shortly after the Srebrenica genocide in 1995. He remembers the sight of "rows and rows of women and young children" in the refugee camps, which had been hastily constructed to house those who had been deported from Srebrenica.
"It struck us all that something quite wrong was taking place. The refugee centres were full of just women and children," he said.
Weeks later the full horror of what had taken place emerged
"It was some weeks later that the full horror of what had taken place emerged. To think that something as horrific as that can take place on the edge of Europe just 20 years ago is truly chilling. The memories will stay with me for life."
The Srebrenica enclave had a population of about 60,000 – 40 per cent of its population was Bosnian Muslim.
http://www.scotsman.com/news/plans-to-mark-genocide-of-muslims-at-srebrenica-1-3788339
---------
In France, a Party's Name Change Tracks a Drift to the Right in Europe
May 31 2015
PARIS — In one sense, it was just an effort at rebranding a party that has suffered electoral defeat, scandal and internal divisions in the past few years. This weekend, France's main conservative party, under the leadership of former President Nicolas Sarkozy, voted to rename itself the Republicans, dropping its rather unwieldy identity as the Union for a Popular Movement.
But in adopting a name that plays much more directly to French nationalism and French history — allusions to the Republic date to the French Revolution — the party was also offering the latest evidence of the ways in which the far-right National Front is reshaping politics in France two years before the next presidential election.
Mr. Sarkozy's strategy, analysts said, is to try to co-opt some of the appeal of the National Front and its charismatic leader, Marine Le Pen, in part through policy shifts to the right on issues like immigration and social issues, and in part through symbolism. The newly named Republicans are going to focus on "some of the subjects of the National Front in order to bring in some of the National Front voters, but so as not to be accused of having the same politics as the National Front, it is going to say, 'We are Republicans and they are not,' " said Jerome Fourquet of IFOP, one of France's major polling companies.
France is not the only European nation that has seen its center of political gravity shift to the right. Prime Minister David Cameron and his Conservative Party won an outright majority in the British elections this month. Poland elected a new president who stood to the right of the incumbent. Far-right parties are putting political pressure on center-right and center-left governments in Sweden and the Netherlands, among other places.
At the same time, some center-left parties — including the governing Socialists in France — have moved more toward the political middle, at least on economic issues. "There is a phenomenon here of moving to the right that we see in other European countries," said Mr. Fourquet, adding, "The right is the still to the right, but the left is less to the left than before."
But nowhere has the far right's ascendancy been as striking as in France. Not only has the National Front steadily increased its share of the votes in elections at every level since Ms. Le Pen took over the party from her father, Jean-Marie Le Pen, in 2011, but it has managed to find policy positions that polls and the results of local elections suggest appeal to voters, responding to their day-to-day concerns in ways that the more entrenched parties have not been able to.
Ms. Le Pen is now considered likely to be a serious presidential candidate in 2017, and one of the main threats to Mr. Sarkozy's hopes of a comeback from his defeat in 2012 and a series of subsequent and ongoing investigations into his campaign's finances. A three-way race in which Ms. Le Pen and Mr. Sarkozy split the vote on the right could hurt both of them in their efforts against President François Hollande, despite Mr. Hollande's depressed standing in opinion polls.
It remains to be seen how the National Front might change if it ever got enough votes to be in national power. But its ability to keep pulling more followers has clearly disconcerted more mainstream conservatives, who now are discussing how far they should go in the same direction.
The Republicans' tone on limiting immigration and especially on benefits for those who come to France, and on banning the wearing of religious symbols in universities, including the head scarves worn by Muslim women, are clear responses to the success of the National Front's anti-immigration positions. Since the term immigrant is often code here for "Muslim," it also plays to the National Front's view that there is a frightening "Islamization" happening in the country.
It is positions like these that have led a number of analysts to refer to the newly constituted Republicans as National Front-Lite or Le Pen Lite. Such suggestions disconcert more centrist conservatives who bristle at such suggestions.
"I find that way of looking at it very strange," said Nathalie Kosciusko-Morizet, the vice president of the Republicans and a member of the French Parliament, who said that the Republicans included a broad spectrum of conservatives and centrists.
"It is both a strategic error and a moral failing to run after the National Front" in the search for votes, she said. "It's a moral failing because it is not in our tradition and never will be, and it's a strategic error because we won't convince voters who are already skeptical of politicians and see them as insincere."
Her views seem unlikely to deter other Republicans, who are quite willing to use language that is indistinguishable from that of Ms. Le Pen. At a meeting of Republicans on the outskirts of Paris on Saturday, Laurent Wauquiez, the party's secretary general, said that foreigners came to France "not to find work but to benefit from our system of social services. This cannot continue."
These views reflect real changes in what it means to be a conservative in France, going far beyond the language and slogans, said Thomas Guenolé, a political scientist and professor at Sciences Po, who specializes in comparison of the French and American political systems.
"Something is changing on social issues," Mr. Guenolé said. "It is not droitizaition," he said, using the French word for the turn to the right. "It is Le Penization. Becoming closer and closer to Le Penisme, the thinking of Jean Marie Le Pen, which is an ideology of hatred against Jews, Arabs, and foreigners," he said, referring to Ms. Le Pen's father, the National Front's founder, whose views on foreigners continue to dominate the party despite efforts by his daughter to push him to the margins.
"If you leave out the anti-Semitic part of Jean Marie Le Penn's thinking, every other element except that, you have in Nicolas Sarkozy."
"The idea that more immigration means more unemployment, means less safety in France, more insecurity, that's Le Penisme and Nicolas Sarkozy says that too," Mr. Guenolé said.
The governing Socialists, led by Mr. Hollande and Manuel Valls, the prime minister, have embraced an economic agenda that accepts a less protectionist approach and is willing to entertain a loosening of labor laws to allow for a more flexible job market movement — views that are closer to those of conservatives and are also embraced by Mr. Sarkozy.
So with many parties moving to the right in one way or another, the best hope for the Republicans might be to cast themselves as defenders of traditional French values and a tough approach on immigration and on Islam, but as more responsible than Ms. Le Pen on economic issues, said Etienne Schweisguth, the research director at the Center for European Studies at Sciences Po.
"There are still some people who, although they are drawn by her positions on immigrants and law and order, are fearful of what it would mean to have the National Front run the government and Marine Le Pen in charge of the presidency," he said.
http://www.nytimes.com/2015/05/31/world/europe/in-france-a-partys-name-change-tracks-a-drift-to-the-right-in-europe.html?_r=0
---------
Britain is preparing to 'expand' Iraq training mission
Reuters | May 31, 2015
LONDON: Britain is preparing to expand its military training mission in Iraq and increase the number of personnel helping ready the moderate Syrian opposition in Turkey, a British source familiar with the plan said on Sunday.
The ministry of defence says nearly 800 British soldiers are already working in training and support roles in the region at a time when Islamic State militants are making gains in both Iraq and Syria.
"The UK is preparing to offer more," the source told Reuters, saying London was keen to step up its contribution in response to events on the ground.
A final decision had not yet been taken and was not imminent in the coming days, the source said, but Britain's presence would soon be expanded.
British forces are already training Iraqi soldiers in, among other disciplines, how to deal with roadside bombs, while other British soldiers are taking part in US-led efforts to train the moderate Syrian opposition in Turkey.
When asked to confirm the expansion plans, a ministry spokesman said: "Nearly 800 UK personnel are deployed on operations in the region, helping Iraqis to strengthen and mobilise against ISIL and we will continue to keep our contribution under regular review."
http://timesofindia.indiatimes.com/world/uk/Britain-is-preparing-to-expand-Iraq-training-mission/articleshow/47490748.cms
--------
Southeast Asia
Teen Suspect Held for Posting Child Sexual Abuse Clip Online
May 31 2015
Jakarta. The East Java Police have arrested a teenager suspected of disseminating a child sexual abuse video on the Internet.
A 19-year-old college student identified only as M.S.A. was apprehended early on Thursday after the police's cybercrime investigators tracked him down, Sr. Comr. Muhammad Nurrahman, director of the East Java Police's special crime unit, said on Friday.
The video, which lasts a little over four minutes, according to police shows a boy and a girl — both believed to be no older than 10 years — engage in sexual acts after being instructed to do so by unseen adults, who police say are responsible for producing the movie.
According to preliminary investigations, Nurrahman said, the clip has been filmed using a mobile phone about three years ago in Madiun, a city in the western part of East Java.
The Indonesian Commission for Child Protection (KPAI) has called the video disturbing.
The suspect, according to police, admitted to having downloaded the video from a Facebook account, at an Internet cafe where he had worked since he was in senior high school.
On March 29, the suspect uploaded the clip to his blog and shared a link to the blog post on various social media accounts.
The case has become widely known since earlier this week.
"I was told about [the video] by a friend of mine. I uploaded it just for fun," M.S.A. was quoted as as saying by news portal Tribunnews.com.
The police said they would charge M.S.A. under the 2008 law on information and electronic transactions, which could see him being sentenced to a maximum six years in jail and a total fine of Rp 1 billion ($75,500).
Police are continuing their investigation into the case, and officers are currently trying to find out who made the video, news portal Merdeka.com reported.
http://thejakartaglobe.beritasatu.com/news/teen-suspect-held-posting-child-sexual-abuse-clip-online/
---------
Human trafficking mastermind believed hiding in Thailand
May 31 2015
PADANG BESAR (Thailand), May 31 — The 'snakehead' behind the trafficking of Rohingya refugees and Bangladeshi immigrants is believed to have gone into hiding in Ranong, bordering Kawthoung in Myanmar.
This is to avoid detection by the authorities as the heat intensifies to track down the mastermind behind a human trafficking network, going by the observation of locals at Ban Ta Lok here, where a mass grave containing six bodies believed to be that of human trafficking victims was found.
Recently, Bernama and TV3 which visited the mass grave — about a month after it was discovered — was informed by the locals that the illegal activity was operated by the snakehead's henchmen. (Snakehead is an international criminal slang for human smugglers)
he henchmen are in hiding at a place called Bukit Gelas, not far from where the mass grave was located.
Prior to the discovery of the mass graves, Surin Mochen, 85, pointed out that the likes of Rohingya refugees could be seen roaming around the village, though not that often.
He said: "The henchmen brought the refugees from somewhere. The henchmen have a boss (snakehead) who is from Ranong...the boss comes from Ranong," he said when met at a mosque where the remains of the victims were placed to perform prayers, about four weeks ago.
Another local, Yunus Hamid, 45, who was met at the location verified Surin's information.
"The people here are saying the 'boss' (snakehead) is from Ranong... (but) he does not come here... according to local hearsay, the 'boss' in question is of Thai origin.
Currently, there is no development on the victims of human trafficking... no further development. Now, there are soldiers patrolling the surrounding areas," he said.
Ranong is located along the northern Andaman coast in the south of Thailand and is easily accessible via boat from Kawthoung, Myanmar.
Today, Thai online media The Daily Star reported that Region 9 police deputy commander, Pol Maj-General Putthichat Ekachan was quoted as saying that 81 arrest warrants had been issued thus far, including four new arrest warrants.
The arrest warrants were in connection with human trafficking activities. — Bernama
http://www.themalaymailonline.com/malaysia/article/human-trafficking-mastermind-believed-hiding-in-thailand#sthash.gKrdChzF.dpuf
---------
Trafficking essential to Malaysia's economy, says Huffington Post
May 31 2015
KUALA LUMPUR, May 31 — Human trafficking is integral to Malaysia's economy, the Huffington Post has said in criticising the participation of Malaysia, which it accused of relying on slave labour, in the Trans-Pacific Partnership Agreement (TPPA).
The US paper said in a news report that the lack of consequences over Malaysia's dismal ranking in the US State Department's annual people-trafficking reports for the past seven years also explains Putrajaya's "apathetic" response to the current migrant crisis.
Perhaps more to the point, trafficking is an integral part of the nation's political economy, fed by surrounding countries," said the Huffington Post report published today.
There are an estimated four million foreign workers in Malaysia, with the US State Department's 2013 Trafficking in Persons Report saying that half of them are undocumented.
The Huffington Post noted that the majority of Rohingya flee Myanmar to Malaysia, Thailand and Indonesia and that the migrant crisis was further exacerbated after Thai authorities cracked down on land-based migrant routes that later forced people smugglers to go by sea, pushing even more migrants to Malaysia.
Local authorities also recently discovered 139 graves in abandoned people-smuggling camps in Wang Kelian, Perlis, near the Thai border.
The Huffington Post noted that foreign workers generally migrate willingly to Malaysia than other Asian countries like Indonesia, Thailand, Bangladesh and Nepal.
It cited the US State Department's human trafficking report as saying that a number of the migrants then encounter forced labour or debt bondage to their employers, employment agents or informal labour recruiters.
The Huffington Post also quoted the US State Department — which has given the worst ranking, Tier 3, to Malaysia three times for the past seven years on its human trafficking reports — as saying that Malaysian immigration officials reportedly facilitate people smuggling.
The paper also criticised Malaysia for introducing a policy in 2013 that placed the burden of paying immigration and employment authorisation fees on foreign workers instead of their employers, besides pointing out that employers in construction, agriculture and domestic work regularly seize foreign workers' passports.
Malaysia's human trafficking record came into the spotlight after the US Senate passed legislation last week that prohibits countries which engage in slave labour, such as Malaysia, from being part of the TPPA, a massive trade deal involving the US and 11 Pacific nations. The trade Bill will now be debated in the US House of Representatives.
International Trade and Industry Minister Datuk Seri Mustapa Mohamed, however, told Malay Mail Online last Sunday that Malaysia's Tier 3 ranking on human trafficking can be resolved if it is seen as taking concrete steps to implement the recommendations in the US State Department's report.
http://www.themalaymailonline.com/malaysia/article/trafficking-essential-to-malaysias-economy-says-huffington-post#sthash.tfwn3coI.dpuf
---------
Utusan warns Marina about commenting on hudud
May 31 2015
The Sunday edition of Umno mouthpiece Utusan Malaysia has cautioned social activist Datin Paduka Marina Mahathir to be careful in her criticism of hudud or the Islamic penal code.
Mingguan Malaysia's editors, writing under the pen name of Awang Selamat, today said that the daughter of former prime minister Tun Dr Mahathir Mohamad, should not be so hard when commenting on hudud as she was Muslim herself.
They said she should also be careful when discussing matters of religion.
"Awang feels that Marina has the right to say whatever she wants, but she should be careful especially when discussing topics that involve Islam.
"If she is against hudud, it is going overboard for a Muslim to make such harsh comments. What more when hudud is not yet a reality," the paper's editors wrote in an editorial today.
Marina has openly stated her rejection of hudud in Malaysia before, and in a recent interview with an online news portal, reiterated her position, saying she would not want to live in a country where the Islamic penal code was official policy.
"I cannot live in a country where people want to cut off hands, I'm sorry, or stone people to death," Marina was reported as saying.
"I would never live in Saudi Arabia. I don't want to live in a country where this is official policy," she had said.
State enactments on hudud punishments have been passed in Kelantan, a state in the northeast of Malaysia's peninsular, but cannot be enforced because federal law and the constitution do not allow for the punishments that include amputation of limbs for theft and caning for alcohol consumption, among other offenses.
It remains to be seen whether a private member's bill submitted to Parliament will be allowed on the agenda. The bill proposes amendments to a federal law governing the scope of punishment to be meted out by the Shariah courts.
http://www.themalaysianinsider.com/malaysia/article/utusan-warns-marina-about-commenting-on-hudud#sthash.2Kaaf67n.dpuf
---------
URL: https://www.newageislam.com/islamic-world-news/new-age-islam-news-bureau/isis-kidnaps-500-children-in-iraq-for-suicide-and-other-terrorist-attacks/d/103259