New Age Islam News Bureau
21 Aug 2015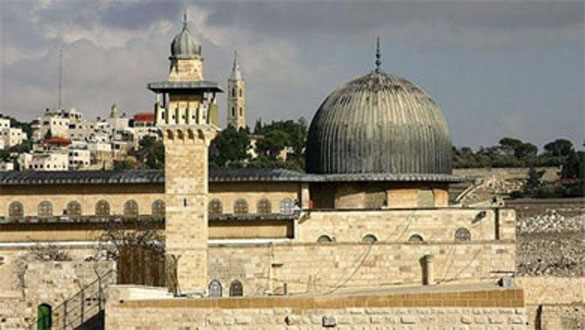 A view of the al-Aqsa Mosque in al-Quds (Jerusalem)
-------------
Arab World
• ISIS Destroys Syrian Monastery, Moves Christian Captives
• Australia Considers Joining U.S.-Led Syria Air Campaign against Isis
• Iraq Could Face 'Partition' Without Reform
• Iraqi Air Strike Kills 19 Terrorists
• Over 10 Terrorists Killed in Lattakia
• Leader: Ansarullah Frees Residential Areas in Taiz, Arrests Terrorists' Ringleader
• Syrian Army Hits Militants Hard in Homs, Qunietra
• Al-Qaeda duo executed for killing Frenchman
• One killed after Israeli raids on Syria post
• Saudi will 'not accept any behaviour that undermines hajj': Crown Prince
• UN must 'criminalize' Houthi acts
• Daesh claims Cairo bombing
• Syrian man walks in on his own funeral after 36 hours stuck under rubble
------------
South Asia
• 16 ISIS Fighters to Become Suicide Bombers after Contracting AIDS from Sex Slaves
• ISIS Claims It Blew Up 10 Men In Nangarhar For Planning Drone Attack
• 3 school children killed as rocket lands in a school in Paktika
• Gen. Dostum's tank comes under heavy fire by Taliban in Faryab
• US finds Pakistan's action against Haqqani terrorist network inadequate
-----------
Mideast
• At Least 54 Dead As Saudi Warplanes Pound South-Western Yemen
• Turkey Kills 771 Suspected PKK Militants in Less Than a Month: Turkish Media
• Muslims' Unity Foils Israeli Bid To Destroy Al-Aqsa Mosque: Iran
• New Israeli Raid on Syria Kills Five: Media
• U.S. says Turkey must do more to fight ISIS
• Yemen's Houthis in deadly clashes with Hadi loyalists
• Israel refuses to let sisters of Hamas leader visit Gaza
• Palestinian detained by Israel ends two-month hunger strike
• Yemeni Forces Attack Saudi Military Base
• Rouhani: Al-Aqsa Desecration Displays Necessity for Muslims' Wariness of Israel's Brutality
• Analyst Describes Iran's Syria Peace Plan Logical
------------
India
• Attack on a Prominent Faizabad Mosque Ignites Fears of a Larger Communal Design
• Being Indian and Muslim: Online Forum Becomes Debating Point
• Pak Bride Sends Rakhi to Her Brothers in Pak Appealing For Peace
• In a fresh ceasefire violation, Pak targets BSF posts on IB in Jammu
----------
Africa
• Cameroon: Tens of Thousands Flee Boko Haram Violence
• Libya Wants Airstrikes against Daesh
• On the frontline of Somalia's fight against al-Shabab
• Somali MPs set to impeach president for corruption
• Army, Ondo govt allay fears on Boko Haram attack
• NAF Jets Hit Boko Haram's Targets
-------------
Pakistan
• Pakistan Minorities Hail Court Ruling on Electing Non-Muslim Mps
• Death Sentence for Cleric by Military Court Challenged
• Two men who spied on Shuja Khanzada arrested
• Step up pace of Karachi operation, orders PM
• Prime minister ignored questions about Karachi operation: MQM
• Altaf Hussain's arrest warrant reissued
• Police destroy TTP offices, nab two dozen
• Imran seeks compensation for Attock blast victims
-----------
North America
• Pope to Meet Son of Yemen Muslims in New York Visit
• US Must Devote Attention to Dangerous Mosques
• Guard at US 'Muslim-free' gun range shoots self
• New York man plotted to harm Muslims, Obama with X-ray device
------------
Southeast Asia
• Expert Tells Politicians: IS Threat Is Now Actual
• Malaysia Arrests 10 Alleged Terrorists with Links To Islamic State
• Art Harun shocked at PM's Islam-only human rights stance
• Removing unjust leader is Islamic, says Mujahid
-----------
Europe
• Slovakia Bans Muslim Immigrants, Allows Christians
• UK and Iran to reopen embassies as ties thaw
Compiled by New Age Islam News Bureau
URL: https://newageislam.com/islamic-world-news/isis-destroys-syrian-monastery,-moves/d/104341
-------------
Arab World
ISIS Destroys Syrian Monastery, Moves Christian Captives
21 August 2015
ISIS militants have demolished a monastery in the central Syrian province of Homs, a monitor said on Thursday, in a strategically located town the jihadist group wrested from government control earlier this month.
The group has also transferred several dozen Christians, captured during its offensive, to a location near its stronghold in northeastern Syria, the monitor said.
Militants used bulldozers to raze the monastery in the town of Qaryatain, which they had captured in early August, the Britain-based Syrian Observatory for Human Rights said.
Government warplanes were still pounding the area with air strikes two weeks after ISIS took the town, the monitor said.
Qaryatain is near a road linking the ancient Roman city of Palmyra to the Qalamoun Mountains, along the border with Lebanon.
The hard-line militant group has been gaining ground in the desert areas east and south of Homs after it took over Palmyra last May.
The Syrian army has launched a large-scale counteroffensive to recapture the city, which lies in a region where some of Syria's largest gas fields are located, but so far it has made no significant advances.
Full report at:
https://english.alarabiya.net/en/News/middle-east/2015/08/21/ISIS-destroys-Syrian-monastery-moves-Christian-captives.html
-------------
Australia considers joining U.S.-led Syria air campaign against ISIS
21 August 2015
Australia is considering a request from the United States to extend its air campaign against the Islamic State group in Iraq into Syria, Prime Minister Tony Abbott said Friday.
The United States has been leading a coalition of Western and Arab powers carrying out air strikes against ISIS fighters in Syria and Iraq since last year.
Canberra -- using six RAAF F/A18 combat jets and two support aircraft based in the United Arab Emirates -- joined the raids in Iraq but not the strikes on targets in Syria, citing legal concerns.
Australia has also sent about 500 soldiers, including around 170 special forces troops, to serve as advisers in Iraq.
Abbott said while there were legal issues around any involvement in Syria, Australia would "carefully consider" the Pentagon's request and reveal its decision in a few weeks.
"We have a formal request from the Americans to extend our airstrikes into Syria," the prime minister told reporters in the western city of Perth.
"(ISIS) is a movement of almost incalculable, unfathomable evil and it's very important that Australia play its part in the campaign to disrupt, degrade and ultimately destroy this death cult.
"While there is a little difference between the legalities of airstrikes on either side of the border, there's no difference in the morality."
The Australian military's chief of joint operations Vice Admiral David Johnston said in a media briefing on Wednesday that his country's involvement in Syrian airstrikes, if it does occur, would not be a "game-changer".
"The contribution of Australia, while always welcome, isn't a game-changer one way or the other," Johnston said.
Full report at:
https://english.alarabiya.net/en/News/middle-east/2015/08/21/Australia-considers-joining-U-S-led-Syria-air-campaign-against-ISIS-.html
-------------
Iraq could face 'partition' without reform
21 August 2015
Iraq's top Shiite cleric, Grand Ayatollah Ali al-Sistani, warned on Thursday that the country faces dire consequences including possible "partition" if real reform is not carried out.
Sistani, who is revered by millions, has made multiple calls for reform measures this month that have helped spur a wide-ranging anti-corruption drive by Prime Minister Haider al-Abadi.
"Today, if true reform is not realized by fighting corruption without mercy and realizing social justice on different levels, it is expected that circumstances will become worse than before," Sistani said in a written statement from his office in response to questions from AFP.
Iraq could be "dragged to... partition and the like, God forbid," he said.
It was Sistani's most direct warning yet on the possible consequences if reforms he has advocated are not carried out.
Corruption in Iraq has already cost the country dearly in the war against the Islamic State of Iraq and Syria (ISIS) jihadist group, which overran around a third of the country last year, Sistani said.
Without rampant corruption, especially in the security forces, and abuse of power by top officials, "the Daesh terrorist organization would not have been able to control a large part of the territory of Iraq," he said, using an Arabic acronym for the jihadist group.
Amid a major heatwave that has seen temperatures top 50 degrees Celsius (120 degrees Fahrenheit), protesters have railed against the poor quality of services, especially power outages that leave just a few hours of government-supplied electricity per day. Thousands of people have turned out in Baghdad and cities in the Shiite south to vent their anger and pressure the authorities to make changes.
Full report at:
https://english.alarabiya.net/en/News/middle-east/2015/08/21/Iraq-could-face-partition-without-reform.html
-------------
Iraqi Air Strike Kills 19 Terrorists
Aug 20, 2015
The Iraqi air strike killed 19 ISIL terrorists in Tuz Khormato district in Kirkuk province on Wednesday, an informed source said.
The ISIL Takfiri terrorists currently control shrinking swathes of Syria and Iraq. They have threatened all communities, including Shiites, Sunnis, Kurds, Christians, Ezadi Kurds and others, as they continue their atrocities in Iraq.
Full report at:
http://english.farsnews.com/newstext.aspx?nn=13940529000424
-------------
Over 10 Terrorists Killed in Lattakia
Aug 20, 2015
The army, backed by the popular defense groups, targeted one of the Takfiri militants' hideouts in al-Mraij village, 48 km Northeast of Lattakia city.
A military source said that at least 12 terrorist, mostly al-Nusra terrorists, were killed during the army operation. Two cars loaded with weapons and ammunition were also destroyed.
Full report at:
http://english.farsnews.com/newstext.aspx?nn=13940529000493
-------------
Leader: Ansarullah Frees Residential Areas in Taiz, Arrests Terrorists' Ringleader
Aug 20, 2015
"Ansarullah forces took back control of several residential areas in Taiz," Hosham al-Zaidi told FNA in Sana'a on Thursday.
"The Ansarullah forces also arrested Baradar al-Makhlafi, the commander of the Saudi-backed terrorists in Taiz," he added.
The revolutionary forces launched fresh military operations to take back full control of the strategic province of Taiz on Tuesday.
The clashes between the Ansarullah fighters and the Saudi-backed al-Qaeda terrorists as well as the pro-Hadi militias continue in the Southern parts of the country as Saudi Arabia has been striking Yemen for 148 days now to restore power to fugitive president Mansour Hadi, a close ally of Riyadh.
Full report at:
http://english.farsnews.com/newstext.aspx?nn=13940529000260
------------
Syrian Army Hits Militants Hard in Homs, Qunietra
Aug 20, 2015
The Syrian army killed all members of a terrorist group, and destroyed their pick-up truck, vehicle, and a motorcycle in Housh al-Zabadi village in Talbeiseh in the Northern countryside of Homs.
A number of terrorists were also killed and others were injured in a military operation in Jarjeiseh village in the vicinity of al-Rastan Lake.
Meanwhile, the army killed Takfiri terrorists in Jebata al-Khashab, al-Hamidiya and Roweyhine villages in the countryside of Qunietra.
Syria has been grappling with a deadly crisis since March 2011. The violence fuelled by Takfiri groups has so far claimed the lives of over 230,000 people, according to reports. New figures show that over 76,000 people, including thousands of children, lost their lives in Syria last year.
Full report at:
http://english.farsnews.com/newstext.aspx?nn=13940529000506
-------------
Al-Qaeda duo executed for killing Frenchman
21 August 2015
JEDDAH: Two Chadian murder convicts Isa Saleh Hassan Barqaj and Isaac Isa Ahmed Shaqila were executed in Jeddah on Thursday for killing a French engineer 11 years ago, the Interior Ministry said.
They belonged to a terrorist cell that had ties with Al-Qaeda. The cell subscribed to ideology that violated the Holy Qur'an and Sunnah.
The duo monitored and followed Laurent Barbot, a technical assistant for French electronics group Thales, and killed with a machine gun on Sept. 26, 2004, said the SPA.
They were also convicted of plotting to assassinate foreign officials in the Kingdom, as well as tracking and opening fire on a vehicle belonging to one consulate, the statement said. The ministry said despite their precautions, security services arrested the militants.
Meanwhile, sources told Arab News that the two were members of the 11-member cell and that they all were arrested in the Makkah region.
Full report at:
http://www.arabnews.com/featured/news/794451
-------------
One killed after Israeli raids on Syria post
20 August 2015
Israeli air raids on a Syrian army position in the Golan Heights killed one person and wounded seven others, a Syrian military source said Friday.
"The enemy aircraft struck a military position in the area of Quneitra at 11:30 pm (2030 GMT Thursday), martyring one and wounding seven soldiers," said the source, quoted by the official news agency SANA.
Earlier, the Israeli army has warned the government in war-wracked Syria it will "suffer the consequences" after four rockets crashed on Thursday into the north of the Jewish state and the occupied Golan.
Syria's state run news agency SANA, however, later said that an Israeli helicopter fired several missiles inside Syria, targeting the governorate building in Quneitra but that the strikes caused only material damage.
"This was the work of Islamic Jihad, an organization financed and working for Iran, and we consider the Syrian government responsible for the firing and it will suffer the consequences," the Israeli army said in a statement.
It was referring to a Palestinian militant group which is based in the Gaza Strip. Islamic Jihad on their part have denied the Israeli allegation, according to Reuters news agency. They previously threatened reprisals should one of its activists in Israeli detention, Mohammed Allan, die of a hunger strike.
Full report at:
https://english.alarabiya.net/en/News/middle-east/2015/08/20/Missiles-hit-Israeli-village-near-Lebanon-border.html
-------------
Saudi will 'not accept any behaviour that undermines hajj': Crown Prince
20 August 2015
During a meeting of the Supreme Hajj Committee, Saudi Crown Prince Mohammed bin Naif bin Abdulaziz, who is also the Kingdom's interior minister, reiterated King Salman bin Abdul-Aziz's directives and keenness on providing the best services and security to all pilgrims.
Prince Mohammed highlighted the readiness of all sectors especially security services to provide the best protection for pilgrims, and to deal decisively with any undermining of pilgrims' security and safety. He also stated that the kingdom had not accepted and would not accept any behavior, or act that undermined Hajj. Any violation would be dealt with utmost decisiveness, he said.
Full report at:
https://english.alarabiya.net/en/News/middle-east/2015/08/20/Saudi-will-not-accept-any-behavior-that-undermines-hajj-Crown-Prince-.html
-------------
UN must 'criminalize' Houthi acts
21 August 2015
RIYADH: The World Assembly of Muslim Youth (WAMY) has called on the United Nations to criminalize the actions of the Houthi rebels in Sanaa.
"These Houthi militias have forcefully occupied the WAMY headquarters and other charitable organizations in the Yemeni capital," Saleh Al-Wohaibi, WAMY secretary-general, told Arab News on Thursday.
He said that all the WAMY staff members in Sanaa have returned to Saudi Arabia because of their unlawful occupation. "We had one dormitory full of orphans under our care, who were also chased out of the home," he said.
"The inhumane, criminals acts of the rebels will have to be met with the right form of actions," he said, appealing to the United Nations to use their offices to punish the rebels.
Al-Wohaibi said the whole world observed the United Nations' World Humanitarian Day on Wednesday and it was time for everyone to fight atrocities against innocent people everywhere.
Full report at:
http://www.arabnews.com/middle-east/news/794471
-------------
Syrian man walks in on his own funeral after 36 hours stuck under rubble
By KHAAMA PRESS - Fri Aug 21 2015
Syrian man walks in on his own funeralA man walked in on his own funeral after he was presumed dead following a series of deadly airstrikes by the Syrian Army Air Force which left over 100 people dead.
According to the activists, Mohammed Rayhan woke up from under the rubble after 36 hours and made his way home where his family members believed he was among those killed since he failed to come home.
The activists further added that Rayhan was in the market which was bombed by the Syrian Air Force that left at least 117 people dead including 16 children and 7 women.
With dust still covering his hair and beard, Rayhan arrived just in time to disrupt the final day of his own as wakes typically last three days.
London-based Syrian Observatory for Human Rights said stories similar as the one of Mohammed Rayhan "happens many times in Syria now".
Rami Abdurrahman, the activist group's director, told The Independent "Lots of people go missing, get lost in rubble, and only turn up later."
Full report at:
http://www.khaama.com/syrian-man-walks-in-on-his-own-funeral-after-36-hours-stuck-under-rubble-1416
-------------
South Asia
16 ISIS Fighters to Become Suicide Bombers after Contracting AIDS from Sex Slaves
Aug 20 2015
The Islamic State of Iraq and Syria (ISIS) terrorist group has ordered sixteen of its fighters to become suicide bombers after contracting HIV from two Moroccan sex slaves, it has been reported.
According to the doctor who was forced to treat the ISIS fighters, the men were quarantined by terror group's leadership after they went through medical tests, confirming they had HIV.
The doctor whose identity has not be revealed further added that the men were treated at an ISIS-run hospital in the eastern-Syrian city of Al-Mayadeen.
He said the men who are mostly foreign nationals had unprotected sex with two Moroccan sex slaves.
"Most of those infected are foreign militants who had sexual intercourses with two Moroccan women. The women passed on the disease to the militants before their infection was revealed," the doctor quoted by ARA News – a Syrian independent press agency, said.
He said "We were ordered by the group's local leadership to transfer the infected militants to a quarantine centre in the city."
He also added that the two Moroccan women escaped to Turkey "for fear of execution by the IS".
In order to avoid further spread of the disease, the ISIS leadership issued a decision through its Sharia Commission to run tests for AIDS on its members in Deir ez-Zor, following a state panic caused with the spread of the news.
A civil rights activist in al-Mayadeen said "IS leadership is planning to assign suicide attacks for its militants who are tested positive with AIDS."
http://www.khaama.com/16-isis-fighters-to-become-suicide-bombers-after-contracting-aids-from-slaves-1412
-------------
ISIS claims it blew up 10 men in Nangarhar for planning drone attack
Aug 21 2015,
The affiliates of the Islamic State of Iraq and Syria (ISIS) terrorist group have claimed that the men in eastern Nangarhar province were blown up for planning drone strike against the group's fighters in this province.
A statement which is believed to be released by the affiliates of the teror group states that men belonged to three tribes in Mamand district of Nangarhar province.
The statement further added the men met with the Afghan government and Taliban representatives to plan and coordinate a drone strike against ISIS affiliates to fight and expel them.
It also added that the men were executed in the same way the ISIS affiliates were blown up by the US drones.
The horrific video was released by the terror group affiliates on 10th August which shows a group of ten men is shown being blown up after forcing them sit on Improvised Explosive Device (IED) planted beneath them in the ground.
The video was released after the terror group received numerous blows following airstrikes and military operations by conducted by the Afghan forces and coalition security forces lately.
The group's Khurasan province chief was killed along with 30 militants in a drone strike in Nangarhar province last month.
The Afghan Intelligence – National Directorate of Security (NDS) said Hafiz Syed was killed after the Afghan security forces provided information regarding his location to the coalition security forces.
He was the second highest affiliated ISIS leader killed in Afghanistan during the past one week. A senior commander of ISIS Shahidullah Shahid was killed in a drone strike in eastern Nangarhar province last week.
Acording to NDS, Shahid was killed in a drone strike in Achin district. He was a spokesman for the Tehreek-i-Taliban Pakistan (TTP) who later pledged allegiance to ISIS terror group.
He was one of the few senior members of TTP who joined Daesh when it first emerged in the region few months ago and was planning to engulf a widened war in the region and play a central role for the terror group.
http://www.khaama.com/isis-claims-it-blew-up-10-men-in-nangarhar-for-planning-drone-attack-1413
-------------
3 school children killed as rocket lands in a school in Paktika
By KHAAMA PRESS - Fri Aug 21 2015
Afghan students killed in PaktikaAt least three school children were killed after a rocket landed in a school in southeastern Paktika province of Afghanistan amid fierce clash between the Taliban militants and Afghan security forces.
According to local government officials, the incident took place on Thursday afternoon in Sar-e-Rawza district.
The provincial education department spokesman Mohammadullah Hemat said a rocket landed in Hayat Baba High School during gun battle between the security forces and Taliban militants.
Hemat further added that the victims of the incident were all children aged below 12 years and another school child was also wounded in the incident.
It is yet not clear who fired the rocket but the local residents are blaming the Taliban militants saying that the militants fired a Rocket Propelled Grenade (RPG) rocket which landed inside the school.
The Taliban militants group has not commented regarding the incident so far.
Paktika is among the relatively volatile provinces in southeastern Afghanistan where anti-government armed militant groups including the Taliban militants and insurgents from the Haqqani terrorist network are actively operating in a number of its districts.
http://www.khaama.com/3-school-children-killed-as-rocket-lands-in-a-school-in-paktika-1415
-------------
Gen. Dostum's tank comes under heavy fire by Taliban in Faryab
By KHAAMA PRESS - Fri Aug 21 2015
DostumThe convoy of the First Vice President Gen. Abdul Rashid Dostum was ambushed by the Taliban in militants in Qaisar district of northern Faryab province.
Gen. Dostum was reportedly travelling in an armored in an M11117 Armored Security Vehicle and was on his way to Ghormach district of Badghis province when he was ambushed by Taliban militants.
He survived the attack unhurt but his tank received numerous bullet shots by the Taliban militants.
At least eight Taliban militants were reported killed and 13 others were detained after the security forces responded to the Taliban ambush.
Gen. Dostum is currently busy in coordinating counter-terrorism operations against the Taliban insurgents in northern parts of the country.
He said earlier this month that he will go to frontline if the Taliban militants did not refrain from violence and surrender to the Afghan security forces.
Going to the frontline along with the Afghan security forces was part of Gen. Dostum's promises to clear northern parts of the country from the Taliban militants and foreign insurgents.
Speaking to a gathering of the Afghan security forces in Qaisar district, Gen. Dostum said those Taliban militants who are having better knowledge of the realities should surrender and join the government of national unity.
Gen. Dostum further added that the government will welcome all those militants belonging to Taliban, Haqqani network or any other militant group if they start contacts with the government and understand the ground realities.
He had set a deadline for the Taliban militants to surrender in northern parts of the country during a trip to northern Faryab province last month.
http://www.khaama.com/gen-dostums-tank-comes-under-heavy-fire-by-taliban-in-ghormach-1418
-------------
US finds Pakistan's action against Haqqani terrorist network inadequate
Aug 20 2015
The Haqqani terrorist network accused of numerous deadly attacks in Afghanistan has not been damaged during the military operations conducted by the Pakistani military, the United States has told Pakistan.
The United States has reportedly warned that it would not be certifying to the Congress that its (Pakistani) counter-terrorism operation in North Waziristan damaged the Haqqani network.
According to the informed sources in the government of Pakistan, the US Department of Defence has conveyed the concerns in this regard to thee Pakistani mission in Washington as well as to the authorities in Islamabad.
The next tranche of Coalition Support Fund (CSF) has also reportedly been blocked following the move by the United States.
Pakistan has so far received around $13 billion from the United States as part of the reimbursement for operations and maintenance costs incurred in direct support of US operations in Afghanistan since 2001.
Full report at:
http://www.khaama.com/us-finds-pakistans-action-against-haqqani-terrorist-network-inadequate-1411
-------------
Mideast
At Least 54 Dead As Saudi Warplanes Pound South-Western Yemen
Aug 21, 2015
At least 54 civilians have been killed and scores of others injured after Saudi military aircraft launched a series of airstrikes in Yemen's southwestern province of Ta'izz.
Saudi fighter jets bombarded residential buildings in the Salh district of the province, situated approximately 350 kilometers (217 miles) south of the capital, Sana'a, late on Thursday, leaving 43 civilians, mostly women and children, dead.
Some 40 people also sustained injuries in the airborne attacks.
Additionally, Saudi warplanes carried out three airstrikes against al-Ja'malah area in Yemen's northwestern and mountainous province of Sa'ada. There were no immediate reports of possible casualties and the extent of damage inflicted.
A Yemeni man, who was injured in a Saudi airstrike, lies in bed at a hospital burn unit in the Yemeni capital city of Sana'a on August 9, 2015. ©AFP
Saudi jets also hit two areas in the central Yemeni province of Ma'rib on Thursday, though no information on possible fatalities and the scope of damage was available.
Moreover, Saudi warplanes struck the presidential palace in Ta'izz Province, but there were no reports of casualties.
A large number of Saudi soldiers also died as Yemeni army soldiers backed by fighters from Popular Committees attacked them in Saudi Arabia's southwestern region of Jizan.
Additionally, Yemeni soldiers together with allied forces destroyed six military vehicles in al-Jarrah area in Jizan region.
Full report at:
http://www.presstv.ir/Detail/2015/08/21/425655/Saudi-airstrikes-Yemen-Taizz-civilians-casualties
-------------
Turkey kills 771 suspected PKK militants in less than a month: Turkish media
Aug 21, 2015
Turkey has reportedly killed at least 771 "suspected" Kurdistan Workers' Party (PKK) militants in less than a month, Turkish media say.
The fatalities were caused in "operations carried out by Turkey's security forces between July 22 and August 20," the country's Anadolu Agency reported on Friday.
"Out of the 771 killed, 430 died in airstrikes in northern Iraq, including the Qandil Mountain," where the group's military headquarters is located, it added.
Ankara launched airstrikes against purported Daesh (ISIL) targets in Syria as well as PKK positions in Iraq and Turkey after a deadly July 20 bomb attack attributed to Daesh terrorists left 32 people dead in the southeastern Turkish town of Suruc, across the border from the northern Syrian town of Kobani.
Full report at:
http://www.presstv.ir/Detail/2015/08/21/425703/Turkey-PKK-Iraq-Daesh
-------------
Muslims' Unity Foils Israeli Bid To Destroy Al-Aqsa Mosque: Iran
Aug 21, 2015
Iran has underlined the need for unity among Muslims in the face of Israeli bids to destroy the sacred al-Aqsa Mosque in al-Quds (Jerusalem).
In a statement released on Friday, the Iranian Foreign Ministry stressed the Islamic Republic's unwavering support for the Palestinian cause and the Palestinian nation, and said unity and solidarity among Muslims as well as all freedom-seeking people would thwart a plot by the Israeli regime to destroy the al-Aqsa Mosque.
The statement was issued on the 46th anniversary of Israel's burning of the al-Aqsa Mosque.
On August 21, 1969, the mosque was set on fire by an Australian settler in coordination with Israeli officials and military forces. The fire gutted the south-eastern wing of the mosque.
In its Friday statement, the Iranian Foreign Ministry also highlighted the Palestinian nation's demand for "robust and practical" action by Islamic countries in support of the al-Aqsa Mosque, which it said serves as the link of unity among all divine religions.
The ministry also criticized Israel's plot to target the achievements made by the Palestinian Intifada movement and the resistance front against the Tel Aviv regime, saying Israel is trying in vain to sap the will and determination of Muslims in liberating the holy city of Quds.
It also warned against Israel's bid to change the demography of Quds and press ahead with its project to Judaize the holy city. The statement further warned against raids on the al-Aqsa Mosque by extremist Israeli settlers.
Full report at:
http://www.presstv.ir/Detail/2015/08/21/425702/Iran-Foreign-ministry-alAqsa-Mosque-arson-attack
-------------
New Israeli raid on Syria kills five: Media
Aug 21, 2015
Syrian state media report that a new military strike by the Israeli regime against Syria has killed five people.
The attack reportedly targeted an area in the Golan Heights.
The victims have been described as unarmed civilians.
The strike is the latest in over a dozen Israeli attacks on the Syrian territory since Thursday.
(This item is being updated.)
http://www.presstv.ir/Detail/2015/08/21/425708/Syria-Golan-Heights-Israel-military-strike
-------------
U.S. says Turkey must do more to fight ISIS
21 August 2015
Turkey should play a full part in the U.S.-led air campaign against the Islamic State of Iraq and Syria (ISIS) group and take better control of its border with Syria, the U.S. defense secretary said Thursday.
Pentagon chief Ashton Carter said Turkey had agreed in principle to join the anti-ISIS coalition but should now add its own warplanes to the "air tasking order," the military structure coordinating strikes.
"They need to join the ATO and they need to work more on controlling their border. And we've made that clear," he told reporters.
"Their leadership has indicated that this needs to be done. It's overdue, because it's a year into the campaign, but they're indicating some considerable effort now."
Turkey agreed last month to step up its involvement in the war raging across its southern border in Syria and to allow U.S. planes to launch strikes from a Turkish base.
But its involvement in the battle against ISIS group has so far been limited and it appears to be concentrating on its recently revived war with Kurdish separatist militants.
Carter said ISIS is still able to bring fighters and supplies over the Turkish border and into Syria.
Full report at:
https://english.alarabiya.net/en/News/middle-east/2015/08/21/U-S-says-Turkey-must-do-more-to-fight-ISIS.html
-------------
Yemen's Houthis in deadly clashes with Hadi loyalists
20 August 2015
At least 21 Iranian-backed Houthi militias have been killed in Yemen's central city of Ibb during clashes with forces loyal to legitimate President Abd Rabbu Mansour Hadi.
According to Al Arabiya News channel, a number of Houthis were injured during the heavy clashes that took place on Thursday.
Meanwhile, the Arab coalition led by Saudi Arabia has targeted Houthi positions in the western province of Maareb.
Also on Thursday, 11 civilians were killed and more than 35 injured by shelling in Yemen's third largest city of Taez, independent local officials, witnesses and medical officials said, according to Reuters news agency.
Full report at:
https://english.alarabiya.net/en/News/middle-east/2015/08/20/Yemen-s-Houthis-in-deadly-clashes-with-Hadi-loyalists-.html
-------------
Israel refuses to let sisters of Hamas leader visit Gaza
20 August 2015
Israeli authorities said on Thursday they had denied a request by a top Hamas leader to allow his three sisters living in Israel to travel to the Gaza Strip to attend his son's wedding, hinting the decision was because some Israelis are still missing in Gaza.
Israel said that Ismail Haniyeh's request was denied because of "Israeli humanitarian cases" in Gaza - apparently a reference to two Israeli citizens who Israel says are being held in Gaza, as well as the remains of Israeli soldiers Hamas is said to have from last summer's war.
The Hamas leader's sisters live in Israel because they married members of Israel's Arab minority before the first Palestinian Intifada erupted in 1987, when travel between Israel and Palestinian areas was easier. Haniyeh's son Amir is to be married later on Thursday.
Hamas and Israel are bitter enemies and have fought three wars since Hamas violently wrested control of Gaza in 2007 from forces loyal to the Western-backed Palestinian President Mahmoud Abbas. Since then, Hamas has ruled Gaza while Abbas governs parts of the West Bank.
Full report at:
https://english.alarabiya.net/en/News/middle-east/2015/08/20/Israel-refuses-to-let-Hamas-Ismail-Haniyeh-s-sisters-visit-Gaza.html
-------------
Palestinian detained by Israel ends two-month hunger strike
21 August 2015
ASHKELON: Palestinian detainee Mohammed Allan ended a two-month hunger strike Thursday that had put his life at risk and sparked intense debate over his detention without trial by Israeli authorities, his lawyer said.
"Mohammad Allan regained consciousness and is not on hunger strike," Jamil Al-Khatib told journalists of his 31-year-old client after Israel's top court late Wednesday temporarily lifted his detention without trial.
Khatib spoke after visiting Allan in hospital in the southern Israeli city of Ashkelon and said his health was improving, though he remained bedridden. He was receiving vitamins and minerals intravenously.
Full report at:
http://www.arabnews.com/middle-east/news/794296
-------------
Yemeni Forces Attack Saudi Military Base
Aug 20, 2015
There is still no report on possible casualties from the attack.
The incident came a day after a Saudi soldier was killed in retaliatory rocket attacks by the Yemeni army and the Ansarullah fighters. Also on Wednesday, the Yemeni army targeted Saudi security bases in Dhahran al-Janub in Asir Province with several Katyusha rockets.
Earlier in the day, Saudi fighter jets bombed the presidential palace and nearby buildings in the Yemeni province of Ta'izz.
Saudi air raids also hit the provinces of Hajjah and Sa'ada.
Meanwhile, a US website quoted an unnamed source in the Pentagon as saying that the Saudi regime has employed cluster bombs in its military aggression against the Yemeni people.
"The US is aware that Saudi Arabia has used cluster munitions in Yemen," US News quoted the source as saying.
The clashes between the Ansarullah fighters and the Saudi-backed al-Qaeda terrorists as well as the pro-Hadi militias continue in the Southern parts of the country as Saudi Arabia has been striking Yemen for 148 days now to restore power to fugitive president Mansour Hadi, a close ally of Riyadh.
Full report at:
http://english.farsnews.com/newstext.aspx?nn=13940529000271
-------------
Rouhani: Al-Aqsa Desecration Displays Necessity for Muslims' Wariness of Israel's Brutality
Aug 20, 2015
In 1969, Israel set fire to the pulpit of the al-Aqsa mosque, in Jerusalem. 46 after the arson attack, the regime is still continuing the desecration of Muslims' sanctities, specially the al-Aqsa mosque.
"That event meant that the aggressor and occupier Zionist regime does not respect any social and human principle, doesn't show mercy to the people, children and women, continues massacre and aggression and even desecrates the Muslim world's first Qibla and a place which is also respected by other divine religions," Rouhani said, addressing a gathering on the occasion of the International Mosques Day on Thursday.
Full report at:
http://english.farsnews.com/newstext.aspx?nn=13940529000334
-------------
Analyst Describes Iran's Syria Peace Plan Logical
Aug 20, 2015
"The plans presented by different sides on the Syrian case haven't been worked out based on an efficient view of the crisis in Syria," Issa Zaher told FNA on Thursday.
He reiterated that the plans presented on the Syrian issue should consider the country's interests, and said, "Any way, Iran's updated plan to settle the crisis in Syria is more logical and more appropriate than others."
Zaher said that after the nuclear agreement between Tehran and the world powers in July, the world has pinned hope on future developments due to Iran's growing power and given the importance of the restoration of tranquility in the region.
Iranian Deputy Foreign Minister for Arab and African Affairs Hossein Amir Abdollahian announced earlier this month that Tehran would soon present an updated version of its plan to the UN to settle the crisis in Syria.
"Iran's updated initiative on Syria will be presented to the UN secretary general," Amir Abdollahian said.
Full report at:
http://english.farsnews.com/newstext.aspx?nn=13940529000535
------------
India
Attack on a Prominent Faizabad Mosque Ignites Fears of A Larger Communal Design
Aug 21, 2015
Early on Tuesday, anxiety gripped the town of Ghaziabad as word spread about a prominent mosque being set afire by unidentified miscreants the previous night.
A part of the Madani Masjid, located in Faizabad's Mughalpura locality, was gutted in the attack. The mosque houses a madrasa and the local office of Jamaat-e-Ulema Hind, a national organisation of Muslim clerics.
According to the First Information Report registered on August 18, the attack occurred around 11.30 pm on August 17. "Bottles full of petrol were thrown inside the mosque which was then set on fire," the FIR said. "One portion of the mosque that housed religious texts and books of madrasa was completely burnt down."
Qari Badshah, the imam of the mosque, told Scroll.in over the phone that he informed the police as soon as he noticed flames. "But the police took nearly two hours to reach the spot even though the Kotwali [police station] is merely 500 meters away," he said.
The enraged imams of the town, Muslim clerics and locals of Faizabad held a meeting at Madani Masjid in the afternoon of August 18 and resolved to organise a bandh if the district administration did not take "appropriate actions" in next 48 hours, the imam said. He added, "All those present in the meeting also took extra care not to do anything that might help the communal elements."
Unusual developments
The attack is not an isolated case. Over the last few weeks, developments seemingly aimed at igniting communal tension have also taken place in other areas of eastern Uttar Pradesh.
On August 5, for example, Belesra subdivision of Ballia district witnessed a communal flare up following reports of a relationship between a Hindu boy and a Muslim girl. Earlier, on July 12, over 150 people attacked Muslim households of Nagar Newaju Rai village of Ghazipur district of Uttar Pradesh. One person was killed and scores injured.
Full report at:
http://scroll.in/article/749596/attack-on-a-prominent-faizabad-mosque-ignites-fears-of-a-larger-communal-design
-------------
Being Indian and Muslim: Online Forum Becomes Debating Point
Abhishek Saha
Aug 21, 2015
Software engineer Tehreem Ansari has often been asked to explain why she wears a Hijab, the traditional Muslim headscarf. In addition to this, she has been called a Pakistan sympathiser though she has no interest in the neighbouring country.
The remarks by Ansari, 22, came in response to the query "As an Indian Muslim, what kind of discriminations did you ever face?" posted on popular question-answer website Quora.
"Having to explain your Hijab, even though it's your cloth, and you chose to wear it for yourself, and you are not oppressed," she wrote, listing the types of discrimination she had faced.
She added: "Being joked and called a terrorist/Jihadi with a bunch of acquaintances just coz you are a Muslim."
The question, asked earlier this week, has registered more than 200,000 views and garnered 16 detailed answers, while six others have collapsed because of poor language and shallow reasoning.
Responding to the question, Kasim Saiyyad narrated an incident that occurred at a police station where he had gone for his verification in connection with a passport application. It was his first encounter with the police.
"He (a policeman) looked at me very suspiciously. It was very uncomfortable for me. He was simultaneously looking at the documents and at me which was making me more nervous. He asked me why I stay in Hindu colony. I should have stay in Muslim colony (As far as his behaviour with me, he could have asked me why am I living in India and not in Pakistan?). He threw few more questions on the same line. I was not expecting such type of questions."
Discrimination against Muslims made headlines recently after a 25-year-old communications professional, Misbah Quadri, complained to the National Human Rights Commission (NHRC) that she was denied a flat in Mumbai because of her faith.
Quadri is not the only Muslim to face such discrimination.
There are numerous instances and anecdotes of Muslims not being allowed to purchase or rent apartments in Hindu-dominated areas.
In May, 22-year-old Zeeshan Khan was refused job by a Mumbai-based diamond exporting company on the ground that the company considers only "non-Muslim candidates".
The incidents involving Quadri and Khan got a lot of attention on social media platforms and they received considerable support.
The marginalisation and ghettoisation of Muslims is a harsh reality that several reports and studies have reflected, including the 2006 Rajinder Sachar Committee's report that placed the socio-economic and educational status of Muslims below that of Scheduled Castes.
An anonymous Quora user responded to the thread by saying that though he (or she) is not a Muslim, many people mistook him for one because of his fair complexion and ambiguous surname, and openly said discriminatory things.
"A property agent in Bangalore asked me if I am a Muslim. I asked him why? He said the house owner doesn't rent out to Muslims."
Another anonymous user listed five instances when he felt Muslims behave in a way that he has a problem with. He had witnessed Muslims supporting Pakistan during cricket matches against India. One of his Muslim students is pro-Pakistan on social media while a Muslim colleague of his has an instrumental version of the Pakistani national anthem as her mobile ringtone, the user posted.
Full report at:
http://www.hindustantimes.com/analysis/being-indian-and-muslim-online-forum-becomes-debating-point/article1-1382535.aspx
-------------
Pak bride sends Rakhi to her brothers in Pak appealing for peace
Yudhvir Rana
Aug 20, 2015
AMRITSAR: This time Rakhi is not just a festival to be celebrate by Hindus and Sikhs alone , but for the Pakistani bride Tahira Zahur, the festival of Rakhi has brought an opportunity to call upon Pakistani brothers in power to stop encouraging terrorists operating from Pak soil to play havoc in India and instead establish permanent cordial relations for the peaceful existence of their sisters living in India.
"Dinanagar terror attack has moved me so much so that I am unable to believe that the terrorists came from same country where I came" said Tahira while talking to TOI on Thursday. Dinangar is less than forty kilometres from Qadian.
Resident of Faislabad in Pakistan, Tahaira was married to Chaudhary Maqbool Ahmad in 2003 and shifted to Qadian, international headquarters of Ahmadiyya Muslim sect India , in Gurdaspur district.
Full report at:
http://timesofindia.indiatimes.com/city/amritsar/Pak-bride-sends-Rakhi-to-her-brothers-in-Pak-appealing-for-peace/articleshow/48559331.cms
-------------
In a fresh ceasefire violation, Pak targets BSF posts on IB in Jammu
Sanjay Khajuria
Aug 21, 2015
JAMMU: Shifting focus from the Line of Control (LoC) in Poonch, Pakistan troops in fresh ceasefire violation targeted forward posts of Border Security Force along the International Border in Samba district in this winter capital of the state.
This was the second time that Pakistan Rangers targeted forward Indian posts after violating ceasefire and injuring a villager along IB and LoC in Poonch on August 17/18.
"Pakistan Rangers resorted to three rounds of firing on a BoP along IB in Samba sector around 2230 hours," a senior BSF officer said on Thursday.
"There was no retaliation from the BSF side and no injury or casualty was reported in the cross border firing," he added.
Full report at:
http://timesofindia.indiatimes.com/india/In-a-fresh-ceasefire-violation-Pak-targets-BSF-posts-on-IB-in-Jammu/articleshow/48567239.cms
-------------
Africa
Cameroon: Tens of thousands flee Boko Haram violence
20 August 2015
Tens of thousands of people in northern Cameroon are in need of humanitarian aid after fleeing attacks by Boko Haram in neighbouring Nigeria, says Médecins Sans Frontières (MSF) today. MSF teams are scaling up their assistance to the refugees and to local communities.
Between 100 and 200 refugees from Nigeria arrive each day in Minawao camp in north Cameroon, which is already sheltering some 45,000 Nigerians, according to official figures. Some 90,000 Cameroonians from the area bordering Nigeria have also been forced to flee their homes, as incursions and violent attacks by Boko Haram continue unabated.
"Boko Haram burned our house and took all our cows and belongings," says Samuel, 45, from Nigeria. "They kidnapped my wife and two of my children and held them in one of their jails. My wife managed to escape and is trying to join me in Minawao, but I don't have any news of my children. I don't even know if they are still alive."
Weeks or months after being forced to flee, many of the refugees and displaced people are extremely vulnerable, with insufficient food, shelter and access to medical care.
The poor living conditions pose additional health risks in a region often stricken by food insecurity, and where access to medical care is limited. As the rainy season sets in, MSF teams are seeing increasing numbers of patients with malaria. With people unable to plant or harvest crops after fleeing their homes, there has been a significant rise in admissions to MSF's nutrition programmes in recent months. The number of children treated at MSF's intensive therapeutic feeding centre in Mokolo has more than tripled since May.
"The rise in admissions is a first warning sign," says MSF head of mission Hassan Maiyaki. "To respond to the increasing needs, we are reinforcing our capacity to treat malnourished children at the hospital in Mokolo, and we are also starting to offer intensive nutritional care at the hospital in Kousseri."
Full report at:
http://www.msf.org/article/cameroon-tens-thousands-flee-boko-haram-violence
-------------
Libya wants airstrikes against Daesh
Aug 21, 2015
BAYDA — Libya's prime minister wants Arab allies to carry out airstrikes against the country's powerful Daesh (the so-called IS) affiliates but says they don't need to send ground forces into the increasingly chaotic North African country.
Abdullah Al-Thinni, who heads an internationally-recognized government at war with both extremists and rival Islamist-backed authorities that control the capital, said his forces need weapons and other support to take on Daesh group, and have been let down by the international community. "We're fully relying on Arab nations and not on the international community, as we were let down after repeated unanswered appeals," Al-Thinni told The Associated Press in an interview late Wednesday. Al-Thinni said he doesn't want foreign troops on the ground, because that would be a "violation of Libya's sovereignty." Instead, he said his own forces could direct airstrikes "from an Arab coalition, either nations on their own or in clusters, to eliminate these groups" before moving in to secure territory. — AP
http://www.saudigazette.com.sa/index.cfm?method=home.regcon&contentid=20150821254052
-------------
On the frontline of Somalia's fight against al-Shabab
21 Aug 2015
The Somali army is training new recruits in the port city of Kismayo, one of the last remaining strongholds of al-Shabab.
Until they finish their training, fighters from the regional administration have the task of defending the territory under government control.
Full report at:
http://www.aljazeera.com/news/africa/2015/08/somalia-kismayo-al-shabab-150820123943117.html
-------------
Somali MPs set to impeach president for corruption
Aug 20, 2015
Somali legislators say they are poised to stage a no-confidence vote to unseat the president, rejecting international warnings that the planned impeachment could hamper peace efforts in the war-torn country.
In a motion filed earlier this week, opposition lawmakers accused President Hassan Sheikh Mohamoud of corruption, saying that the Somali leader must be impeached at the parliament.
"This motion is not aimed at destruction, but rather correction," said parliament member Abdi Barre Yusuf, a supporter of the motion, on Thursday.
Abdirahman Hosh Jibril, another MP, also said the motion is merely aimed at "bringing about change."
Jibril further added that the supporters of the motion have accused the president of having "intervened with the independent constitutional institutions of the country like the courts."
It is not yet clear how many legislators will vote in favor of the motion to oust the troubled president, but opposition lawmakers claim they have the support of the majority of the parliament.
However, at least 90 members are needed for a motion to be put to parliamentary debate. Two-thirds of the 275-member House would also have to support the motion in order to force out the president.
This is while the United Nations, regional countries and the 22,000-strong African Union force (AMISOM), which is battling Somalia's al-Qaeda-linked al-Shabab militant group, have voiced opposition to the motion.
Full report at:
http://www.presstv.ir/Detail/2015/08/20/425608/Africa-Somalia-Hassan-Sheikh-Mohamoud-United-Nations-AMISOM-alShabab
-------------
Army, Ondo govt allay fears on Boko Haram attack
August 21, 2015
THE Nigerian Army and the Ondo State Government have dispelled the rumour that Boko Haram terrorists are planning an attack in the state.
This was contained in a statement made available to The Guardian by the Assistant Director, Army Public Relations, 32 Artillery Brigade, Owena Cantonment, Captain Adenegan Ojo, while denying a publication in one of the national dailies (not The Guardian) during the week on the arrest of some terrorists planning to attack the state.
The statement read: "Our attention has been drawn to a news story published by a newspaper in its page 7 of Wednesday, 19 August 2015 titled 'Anxiety in four Ondo local govts over Boko Haram' which reported that some suspected insurgents from Chad were arrested at Oke-Agbe Akoko in Akoko Northwest Local Council.
I am using this medium to inform the general public that the news story was not true, as no Boko Haram suspects were arrested anywhere in Ondo State."
Adenegan explained that, "the Commanding Officer 323 Artillery Regime, Lt. Col Wo Ubi, had an interactive session with the members of National Union of Road Transport Workers (NURTW) and other security agencies at Ikare Akoko, on the need to be vigilant and keep security agencies informed on any suspected persons or actions that could lead to security threat in the state."
He stated that the Army chief at the session, "only recalled an effort by a commercial driver at Ifedore who alerted soldiers at a checkpoint on some suspected persons who were later arrested and handed over to the appropriate authority for further investigation. That was in June this year."
Full report at:
http://www.ngrguardiannews.com/2015/08/army-ondo-govt-allay-fears-on-boko-haram-attack/
-------------
NAF Jets Hit Boko Haram's Targets
August 20, 2015
The Chief of Air Staff, Air Marshal Sadiq Abubakar, has directed the personnel of the Nigerian Air Force, engaged in the fight against Boko Haram, to intensify the aerial bombardments of Sambisa forest.
The directive followed a recent tour of the trouble-spots in the North-East by the National Security Adviser (NSA) Major-General Babagana Monguno (rtd) and the Service Chiefs, who also visited several internally displaced persons (IDP) camps in Borno, Yobe and Adamawa States – including the Dalori camp.
A statement issued by Air Commodore Dele Alonge the Director of Public Relations and Information said the personnel had taken up the task with F-7 fighter aircraft carrying out interdiction missions over designated targets and suspected Boko Haram locations.
"Also, the Alpha Jet carried out armed reconnaissance and attack some moving vehicles belonging to BHT. While, the Mi -24 and Mi-35 attack helicopters further carried out interdiction missions at some identified targets all in Sambisa forest.
"Furthermore, the ATR-42 and Diamond-142 surveillance aircraft continued with their ISR missions over Damasak, Alafia and Sambisa forest, where some abandoned vehicles belonging to the terrorists were seen at some locations in the forest."
Full report at:
http://dailytimes.com.ng/naf-jets-hit-boko-harams-targets/
-------------
Pakistan
Pakistan minorities hail court ruling on electing non-Muslim MPs
19/08/2015
Pakistan's religious minorities are hailing what they see as a rare victory after the country's top court announced a landmark ruling earlier this month on the participation of minority groups in elections.
The court ruled that non-Muslim representatives allotted for reserved seats should be selected through secret ballots conducted among minority groups themselves and not from party lists drawn up through a proportional representation system. Minorities are currently allowed 10 reserved seats in the national parliament.
These list of candidates representing the minorities in Pakistan have been manipulated by the "Selection system" which has significantly authorized Muslim political parties to allocate the 10 reserved seats for minorities in the National Assembly as they like.
The ruling followed a challenge by Julius Salik, founder of the World Minority Alliance party and a former Christian minister, to constitutional amendments made in 2010 concerning seats reserved for minorities.
They claimed minorities were not being properly represented through party lists. Whereas, 5 Hindu and 1 Parsi selected in the National Assembly come from Punjab and Sindh, whilst 2 Christians belong to Balochistan.
The surprisingly dubious fact is that; Punjab the most populated province of Pakistan home to the largest number of Christian community where they rank second after Muslim majority had only 1 Christian selected for National assembly.
Religious minorities feel they have no ability to participate in elections because there is in fact no election at all, they told the court.
The Supreme Court agreed, ruling that this method does not conform to any of the principles of democracy which would allow the minorities to choose their own representatives.
"Additional seats for minorities are not a matter of grace and benevolence of political parties but are constitutional requirements so that the legitimate interests of the minorities are provided for," the court said.
"It would be equally tragic if minorities come to regard themselves … as second-class citizens or the 'children of a lesser god', forever to remain subservient to the majority's goodwill and unrepresented by their own chosen representatives," it added.
Michael Javed, a former Christian lawmaker, hailed the verdict as historic and said the ruling has come as a big relief for increasingly frustrated minorities.
"No Christian, Hindu or any other minority member can become member of parliament unless he offers bribes under the garb of party funding and even then there is no assurance that he would get the promised seat," he lamented.
Javed said many disgruntled Christian leaders have left Pakistan after being treated as second-class citizens in their own country.
The principle complainant in the case, Julius Salik, is now based in the United States, he said.
Challenge ahead
Cecil Chaudhry, executive director of the Pakistani bishops' National Commission for Justice and Peace, hailed the verdict, but said it did not go far enough.
He called for a fresh way to elect minority representatives.
Full report at:
http://en.radiovaticana.va/news/2015/08/19/pak_minorities_hail_court_ruling_on_electing_non-muslim_mps/1166174
-------------
Death Sentence for Cleric by Military Court Challenged
Aug 21, 2015
PESHAWAR: A woman on Thursday moved the Peshawar High Court against the death sentence awarded to her cleric son by a military court for terrorism, claiming he was an internally displaced person from Bajaur Agency and was a prayer leader at Jalozai camp.
Anwar Bibi filed a petition saying security forces had taken her son, Qari Zahir Gul, into custody in 2011 and later, she learned that he was shifted to an internment centre in Khar area of Bajaur Agency.
Last year, the convict's brother, Waheed Gul, had moved the high court seeking permission to meet the detainee, who was not convicted at that time.
Mother moves PHC saying her son was IDP, used to be prayer leader at Jalozai camp before arrest
That petition has been pending with the court, which is to hear it on Sept 9, whereas the convict has been kept in Timergara district prison.
The petitioner, Anwar Bibi, has requested the high court that on acceptance of her petition, the proceedings of the military court, if any, on the basis of which the detainee had been convicted and sentenced to death may be declared void, illegal and without lawful authority.
She prayed the court to direct respondents, including interior and defence secretaries to submit complete Challan of his case before the court having jurisdiction in the matter for further proceedings.
The petitioner has cited several provisions of the Constitution as well as other laws in support of her contention saying provisions of military courts were not applicable to her son.
The ISPR, media wing of the Pakistan Army, had announced on April 2 that the military chief had confirmed death sentence awarded to six hardened terrorists tried by the recently established military courts.
Without naming names and the offences in which they were found involved, the ISPR had also said convicts were involved in the heinous acts of terrorism, manslaughter, suicide bombing, and damage to public life and property.
Later, the six sentenced to death were identified in the media as Noor Saeed, Haider Ali, Murad Khan, Inayatullah, Israruddin and Qari Zahir.
Mother of convict Haider Ali, Bacha Laiqa, had challenged his conviction before the high court around a week ago.
Hailing from Swat, the woman claimed her son was a 10th grader, who had passed his ninth grade board examination in Swat with 'A' Grade and was a juvenile when he was handed over to security forces in 2009.
Full report at:
http://www.dawn.com/news/1201857/death-sentence-for-cleric-by-military-court-challenged
-------------
Two men who spied on Shuja Khanzada arrested
Aug 21, 2015
LAHORE: The Counter-Terrorism Department on Thursday took two members of a banned organisation into custody who allegedly spied on the assassinated home minister of Punjab, retired Col Shuja Khanzada.
The suspects, identified as Qari Tahir and Mohammad Zubair, had constantly been following Mr Khanzada over the past couple of weeks before terrorists targeted him with a suicide attack in Attock on Aug 17.
The suspects were arrested on information provided by intelligence agencies and they were shifted to an undisclosed location for interrogation, a senior CTD official told Dawn.
Meanwhile, seven members of a banned organisation were detained from different areas of Lahore.
Full report at:
http://www.dawn.com/news/1201875/two-men-who-spied-on-shuja-khanzada-arrested
-------------
Step up pace of Karachi operation, orders PM
HABIB KHAN GHORI
Aug 21, 2015
KARACHI: Prime Minister Nawaz Sharif reiterated on Thursday that no obstruction would be tolerated in the way of implementation of the National Action Plan against terrorism, directing the Sindh government and law enforcement agencies to step up the pace of operation in Karachi.
During his brief stay in the city, the prime minister presided over a meeting of the provincial apex committee, held a separate meeting with Governor Dr Ishratul Ibad and Chief Minister Qaim Ali Shah, inaugurated an extension project of the Karachi Nuclear Power Plant, KANUPP-II, and addressed a function of the Parsi community.
During his meeting with the governor and the chief minister at the Governor's House, Mr Sharif said the Karachi operation was not against any party, but against criminal elements. The government, he said, believed in resolving political issues through talks and, therefore, genuine complaints of the Muttahida Qaumi Movement (MQM) would also be taken into account and addressed accordingly.
Besides reviewing the law and order situation and ongoing operation in Karachi, the meeting also discussed the issue of resignations of MQM lawmakers. The prime minister called upon the Muttahida legislators to review their decision and play their active role in parliament and work with the government.
CM says NAB, FIA interfering in Sindh govt's affairs
According to sources, the chief minister briefed Mr Sharif on the overall situation and development projects being carried out in the province.
The prime minister said that before taking decisions on important issues, the government had taken into confidence all parliamentary parties. The government's main objective was to eliminate terrorism and develop economy, he said, adding that the Karachi operation would be taken to its logical end. "The federal government will extend its cooperation to the Sindh government for this purpose," Mr Sharif added.
He asked the Sindh government to expedite the pace of work on mega development projects and take steps to solve problems being faced by the people of Karachi.
The prime minister claimed that the operation had restored peace in Karachi, damaged terrorists' capacity to strike back and curbed extortion, target killings and kidnappings for ransom. But, he said, some more time was needed to achieve full results.
"We are facing many challenges. The martyrdom of Punjab Home Minister Shuja Khanzada, who was actively pursuing the National Action Plan, will not deter us from pursuing our mission and we will move forward with full strength," he said.
The prime minster condemned the attack on MQM leader Rashid Godil and said the people involved would soon be arrested and brought to justice.
APEX COMMITTEE: Addressing the apex committee meeting at the Governor's House, the prime minister expressed the hope that the situation in Karachi would further improve.
The meeting was attended by Dr Ishratul Ibad, Qaim Ali Shah, Rangers Director General Major General Bilal Akbar, Sindh Chief Secretary Siddique Memon, IG Ghulam Haider Jamali and other senior officials.
Mr Sharif said the elements involved in the Baldia Town inferno would be exposed and given exemplary punishment.
Full report at:
http://www.dawn.com/news/1201870/step-up-pace-of-karachi-operation-orders-pm
-------------
Prime minister ignored questions about Karachi operation: MQM
Aug 21, 2015
KARACHI: The Muttahida Qaumi Movement (MQM) expressed "disappointment" over Prime Minister Nawaz Sharif's visit to Karachi on Thursday and said he did not respond to questions raised by the party about the operation launched in the city by law-enforcement agencies.
Speaking at a press conference at the MQM's headquarters, Dr Farooq Sattar alleged that while Mr Sharif was chairing a meeting held to review the progress made in the operation, the law-enforcement agencies were busy arresting MQM workers.
"We are extremely disappointed that the prime minister did not come up with answers to our questions (about the operation)," he said.
"It seems that Mr Sharif was presented a gift of arrest of more MQM workers. Since the constitutional violations were taking place under the prime minister, how can one expect anything good to emerge (from the operation)?"
Dr Sattar said that under Article 10 of the Constitution it was mandatory for law-enforcement agencies to state reasons for arresting someone, reiterating his party's claim that MQM workers were being detained illegally in the ongoing operation.
"It's no longer a secret that MQM is being cornered," he said.
"On the one hand live telecast of Altaf Hussain's speeches has been banned, in line with the minus-Altaf formula, on the other MQM workers are being arrested without any defined charges. Who will inform us about the charges against our 160 workers who have been arrested recently?"
Full report at:
http://www.dawn.com/news/1201872/prime-minister-ignored-questions-about-karachi-operation-mqm
-------------
Altaf Hussain's arrest warrant reissued
Aug 21, 2015
KARACHI: An antiterrorism court reissued on Thursday an arrest warrant against Muttahida Qaumi Movement chief Altaf Hussain in a case pertaining to criminal intimidation.
The MQM chief was booked for allegedly threatening Rangers officials during a TV talk show following a pre-dawn raid on his party headquarters, Nine Zero, and adjoining areas in Azizabad, on March 11.
The police submitted on Aug 1 an investigation report to an ATC in which Mr Hussain was charge-sheeted under in Section 512 (record of evidence in absence of accused) of the criminal procedure code and shown as an absconder. Thereafter, the court issued a non-bailable warrant against the MQM chief.
ATC-III Judge Saleem Raza Baloch issued a fresh non-bailable warrant and asked the investigating officer for his arrest and production on Sept 5.
The charge-sheet said that the paramilitary force had raided the MQM headquarters on March 11 and contended that several criminals and suspects were arrested along with a huge quantity of arms, ammunition and explosives during the raid.
Full report at:
http://www.dawn.com/news/1201739/altaf-hussains-arrest-warrant-reissued
-------------
Police destroy TTP offices, nab two dozen
August 21, 2015
KARACHI - The law enforcement on Thursday destroyed the offices of outlawed Tehreek-e-Taliban Pakistan (TTP) and nabbed at least two dozen suspected militants in their dominated area of District West here.
There were a number of areas considered extremely dominated areas of the militants including Manghopir, Sultanabad, Kunwari Colony, Gulshan-e-Bunair, Future Colony, Sohrab Goth and Ittehad Town.
Tehreek-e-Taliban Pakistan is ruling the roost in the above-mentioned areas because the areas are Pushtoon dominated areas.
TTP was operating in the areas since 2009 and developed a strong organisational structure in all the Pushtoon dominated areas.
TTP operatives cut off the TV cables and also shut down the CDs shops in these areas.
They also restricted women without veil in some parts of the vicinities.
Since the Karachi operation started two years ago, police and Rangers have arrested and killed a number of militants in Karachi during various raids, operations and encounters but the militant groups remained exist in various parts of the city especially in the Pashtoon dominated areas.
TTP used to open various offices in their dominated areas with different identities.
On Thursday, extra contingent of law enforcers launched door-to-door operation over the presence of militants.
It also faced resistance from the militants during the search operation in parts of Manghopir including Mir Muhammad Goth and Sultanabad.
They attacked the police with heavy weaponry.
Full report at:
http://nation.com.pk/national/21-Aug-2015/police-destroy-ttp-offices-nab-two-dozen
-------------
Imran seeks compensation for Attock blast victims
August 21, 2015
ATTOCK - Chairman Pakistan Tehrik-e-Insaf (PTI) Imran Khan said yesterday that Shuja Khanzada was a brave, committed and true patriot who wanted to root out militancy from the country.
He sacrificed his life for a noble cause which will never go waste, he added.
Khan condoled Jahangir Khanzada, the son of Shuja Khanzada, and said the whole nation is in grief after the death of his father.
He said this while talking to media persons after offering prayer for the departed soul of Shuja Khanzada here at village Shadi Khan.
On the occasion Former State Minister Malik Amin Aslam and other notables of the area were also present.
Full report at:
http://nation.com.pk/national/21-Aug-2015/imran-seeks-compensation-for-attock-blast-victims
-------------
North America
Pope to meet son of Yemen Muslims in New York visit
Aug 21, 2015
Mariano Andrade, Agence France-Presse, New York, United States | World | Fri, August 21 2015,
Essa Nahshal, the seven-year-old son of Muslim parents from Yemen, is one of 24 school pupils picked to meet the pope in New York next month and he couldn't be happier.
"I'm not nervous at all," he grinned in an interview with AFP ahead of the pontiff's arrival in the Big Apple on September 24-25, the second leg of his inaugural US tour. "I'm just happy."
In New York, Pope Francis will visit the United Nations, lead mass at Madison Square Garden and visit the 9/11 Memorial.
He will also visit a Catholic school in East Harlem, where he will talk to officials, and meet pupils from four schools and unaccompanied immigrant children supported by Catholic charities.
Schools run by the New York archdiocese claim to among the most diverse in the United States: 45 percent of pupils are white, 29 percent Hispanic, 15 percent African American and five percent each Asian and multi-racial.
Twenty-three percent are non-Catholic. Essa is one of them but that doesn't stop him from having a high opinion of the pope.
"He seems like a very nice guy, because he takes care of the homeless and cares for the people," said Essa, who is going into the third grade at St Charles Borromeo School in Manhattan.
He told AFP he has "a lot of things" he wants to ask the pope, such as what part of Argentina he is from and when he was born.
"You can always make friends. People are very friendly," Essa said.
Aleeya Francis, principal of St Charles Borromeo, said Essa has two siblings at the same school.
"The family want a good education for their children," she explained.
"We do not discriminate. We understand and we respect each other faith. That makes his family feels comfortable."
Full report at:
http://www.thejakartapost.com/news/2015/08/21/pope-meet-son-yemen-muslims-new-york-visit.html
-------------
US Must Devote Attention to Dangerous Mosques
Aug 21, 2015
The vast majority of Muslims in the United States are for the most part peaceful or moderate. However there is a real threat among a minority of pro-Sharia law advocates of Islam to be recognized in our courts of law.
Sheikh Muhammad Hisham Kabbani told the State Department at an open forum that "the most dangerous thing that is going on now in 80 percent of mosques is teaching extremist ideology. Because (Islamic jihadists) are very active, they took over the mosques, and we can say that they took over 80 percent of the mosques that have been established in the U.S. And there are more than 3,000 mosques in the U.S. So it means that the methodology or ideology of extremist has been spread to 80 percent of the Muslim population."
Full report at:
http://www.chicoer.com/opinion/20150820/letter-us-must-devote-attention-to-dangerous-mosques
-------------
Guard at US 'Muslim-free' gun range shoots self
21, 2015
TULSA, Oklahoma -- A man guarding a small-town gun range that declared itself a "Muslim-free" business dropped his gun and accidentally shot himself.
Authorities said a bullet struck the unidentified man in his arm after he dropped the weapon Tuesday. He was among several armed residents guarding the Save Yourself Survival and Tactical Gear store in Oktaha, a town of 390 about 65 miles southeast of Tulsa.
The Council on American-Islamic Relations says the Oklahoma business and ones in several other states have declared themselves "Muslim-free," and the organization has asked the U.S. Department of Justice to investigate some for possible civil rights violations.
The armed locals said they began guarding the Oklahoma shop after owners claimed they received death threats over the sign. The owners didn't immediately return a message seeking comment about the alleged threats.
"The way they were holding their weapons, with the fingers on the triggers, you can tell a couple of these gentlemen have no idea about weapons safety. It's like the Clampetts have come to town," Muskogee County Sheriff Charles Pearson told the online news outlet muskogeenow.com, comparing the armed men to the family in the TV series "The Beverly Hillbillies."
Full report at:
http://www.chinapost.com.tw/international/americas/2015/08/21/443766/Guard-at.htm
-------------
New York man plotted to harm Muslims, Obama with X-ray device
| Thursday, 08.20.201
ALBANY, N.Y. — A Ku Klux Klan member conspired to use a remote-controlled X-ray device hidden in a truck, which he called "Hiroshima on a light switch", as a weapon of mass destruction to harm Muslims and President Barack Obama, a prosecutor told jurors on Monday.
But a lawyer for Glendon Scott Crawford said at the start of his trial that government undercover agents dragged him further into the plot to build what media dubbed the "death ray" machine after he tried to pull away in the initial stages, when he had no more than "a piece of paper" sketching out his ideas.
In opening arguments at U.S. District Court in Albany, a lawyer for Crawford, 51, of Galway, New York, said the device would have never been built if not for the government supplying the necessary components via "criminal" sources.
"(Crawford) has strong political views and he saw Muslim extremism in Europe coming here," defense lawyer Kevin Luibrand said.
Crawford and Eric Feight were arrested in 2013 and charged in the plot to unleash radiation at a mosque in Albany and a Muslim school in nearby Colonie.
The men also planned to attack the White House, according to a recording of their May 2012 conversation played at the trial, in which Crawford described himself a Klansman and called the remote-controlled device "Hiroshima on a light switch."
Feight, of Hudson, New York, pleaded guilty in 2014 to providing material support to terrorists. He faces 15 years at his sentencing, which has been delayed, and it was not known whether he would testify against Crawford.
Rodney Margolis, chief executive of the Jewish Federation of Northeastern New York, testified that Crawford tried to interest Jewish leaders in a "black-bag operation" that "would kill Israel's enemies while they slept."
Full report at:
http://www.arabamericannews.com/news/news/id_10938/New-York-man-plotted-to-harm-Muslims,-Obama-with-X-ray-device.html
------------
Southeast Asia
Expert tells politicians: IS threat is now actual
Sheith Khidhir Bin Abu Bakar
August 21, 2015
PETALING JAYA: The arrest of six security personnel with alleged links to Islamic State (IS) is a reminder that the threat posed by the militant group is no longer "potential" but "actual," an expert has warned.
Political scientist and Islamic scholar Ahmad El-Muhammady, who serves on the police anti-terrorism force, told FMT he was particularly keen to give the reminder to politicians on both sides of the divide. He said they seemed to be so preoccupied with their political differences that they might have forgotten their obligation to play a role in raising awareness of the threat.
"The threat of IS is under control, but it is persistent," he said.
"It is under control because our security force is very quick in taking action against any elements connected to IS."
However, he cautioned that more Malaysians might become attracted to IS if there wasn't a more holistic approach in countering the group's influence.
"We need participation from everyone – family institutions, schools, universities, NGOs, businesses communities, and society at large to cooperate with the security forces to prevent more individuals from being victims of IS," he said.
Full report at:
http://www.freemalaysiatoday.com/category/nation/2015/08/21/expert-tells-politicians-is-threat-is-now-actual/
-------------
Malaysia arrests 10 alleged terrorists with links to Islamic State
21 August, 2015
Ten Malaysians have been arrested for fostering suspected links with Islamic State (IS) and planning attacks in the country, police said.
Malaysia's national police chief Khalid Abu Bakar said late on Thursday that the 10 individuals were allegedly "planning to obtain weapons to launch attacks in the country and arrange logistics for Malaysians to join the IS in Syria".
He did not elaborate on details of the alleged attack plots.
The eight men and two women, aged between 24 and 42, were arrested on Wednesday in various parts of the Muslim-majority country, according to an official statement.
Among the 10 were a kindergarten teacher, a former interior designer and two civil servants. The remaining six suspects were members of state security forces, police said.
Authorities say dozens of Malaysians have travelled to Syria to fight in the civil war there, and have warned of radicals returning home to stage attacks.
Over the past year, police have arrested numerous suspects whom they say were IS sympathisers plotting such attacks.
Full report at:
http://www.scmp.com/news/asia/southeast-asia/article/1851421/malaysia-arrests-10-alleged-terrorists-links-islamic-state
-----------
Art Harun shocked at PM's Islam-only human rights stance
August 21, 2015
PETALING JAYA: Prime Minister Najib Razak's recent statement that Malaysia was only willing to defend human rights "in the context of Islam" has shocked and worried lawyer and activist Art Harun who now has asked if the Federal Constitution is to be amended next to allow this to take place legally.
In his latest 'Art of the Matter' video uploaded on YouTube, the lawyer said, "I find that (PM's statement) shocking. Simply because the Federal Constitution defines human rights from Article 5 onwards in its absolute terms," he said, explaining that Article 8(2) clearly states that there shall be no discrimination against citizens on the grounds only of religion, race, descent, place of birth or gender in any law or in the appointment to any office or employment.
He said that nowhere was it mentioned that these rights, freedoms and liberties were only available within the context of Islam and added, "I wonder if what the prime minister meant is that there is any intention to amend the Federal Constitution so as to limit human rights only to those within the limits of Islam."
Remarking at how ironic it was that Malaysia occupied a seat in the United Nations Human Rights Council from 2006-2009, Art added, "When a country occupies such a seat, that country must protect human rights at an international level."
He questioned why Malaysia had even occupied the seat in the first place since it was only concerned about limiting the defence of human rights in the context of Islam.
He said this ran contrary to how the UN viewed the situation and asked, "Isn't that hypocritical of us? Or we simply do not understand what human rights means?"
He pointed out that when Malaysia was trying to win a seat at the same council for the period of 2010-2013, Human Rights Watch had written a letter, admonishing the PM, and telling him to show a "stronger commitment to human rights" if the country is expected to be taken seriously. It also called for reforms in the country's laws, policies and practices that better respected the human rights of "all the people in Malaysia".
Full report at:
http://www.freemalaysiatoday.com/category/nation/2015/08/21/art-harun-shocked-at-pms-islam-only-human-rights-stance/
-------------
Removing unjust leader is Islamic, says Mujahid
21 August 2015
In Islam, a leader who fails to perform his duty and deliver justice to the people, must be reprimanded and can even be removed if necessary, says New Hope Movement (Gerakan Harapan Baru) leader Datuk Mujahid Yusof Rawa.
Mujahid said this was stated in the Hadith, which taught Muslims that it was an act of jihad to speak the truth before a cruel and unjust leader.
He was responding to Perak Mufti Tan Sri Dr Harussani Zakaria's remark yesterday that it was "haram" (forbidden) to topple the government,
"I don't know if it was a fatwa or he was voicing his own opinion.
"But in Islam, it is clear that a leader in government who has failed to perform his duty to protect and deliver justice to the people, and instead oppressed them or came to possess wealth that he should not... Such a leader has to be reprimanded and also has to be replaced if necessary.
"As Muslims, we are taught to practise 'amar ma'ruf nahi munkar' (enjoin good, forbid evil). We don't just apprehend those who are engaged in vice. If leaders commit wrongdoings, they must also be apprehended," Mujahid told reporters in Penang today.
He also said it was clear that there were leaders who had committed wrongdoing, but he did not name anyone.
"There are so many questions about the RM2.6 billion. When investigations were underway, interferences happened. They used the police, and the PAC (Public Accounts Committee) members were promoted into the Cabinet. Bank Negara governor Tan Sri Zeti Akhtar Aziz also faced pressure.
Full report at:
http://www.themalaysianinsider.com/malaysia/article/removing-unjust-leader-is-islamic-says-mujahid
-------------
Europe
Slovakia Bans Muslim Immigrants, Allows Christians
20 August 2015
BRATISLAVA – Slovakia has announced a ban on Muslim immigrants from Syrian refugees under a new EU scheme, saying it would only accept Christians.
"We want to really help Europe with this migration wave but... we are only a transit country and the people don't want to stay in Slovakia," Interior ministry spokesman Ivan Netik told the BBC on Wednesday, August 19.
"We could take 800 Muslims but we don't have any mosques in Slovakia so how can Muslims be integrated if they are not going to like it here?"
According to Netik, the decision to reject Muslims was that they would not feel at home in the country which has no mosques.
Though the UN's refugee agency (UNHCR) called on countries to take an "inclusive approach" to relocation, Netik denied the move was discriminatory and said it was intended to ensure community cohesion.
The newly admitted immigrants followed an EU-members agreement last month to take in 32,000 asylum seekers arriving in Italy and Greece over the next two years, fewer than the 40,000 target.
The scheme was made voluntary after some nations - including Slovakia - refused to accept set quotas.
The number of migrants at the EU's borders has surged in recent months, reaching a record high of 107,500 in July.
Most are Syrians, Afghans, and sub-Saharan Africans, fleeing instability or poverty.
While EU Commission spokeswoman Annika Breithard did not comment directly on the Slovak statement, she stressed that EU states were banned from any form of discrimination.
On the other hand, Babar Baloch, Central Europe spokesman for the UNHCR, said: "Resettlement is greatly needed for many refugees who are at extreme risk among the world's most vulnerable groups.
Full report at:
http://www.onislam.net/english/news/europe/492319-slovakia-bans-muslim-immigrants-allows-christians.html
-------------
UK and Iran to reopen embassies as ties thaw
Aug 21, 2015
TEHRAN: Britain and Iran will reopen their respective embassies in the coming days, an Iranian official said on Thursday, four years after protesters angry over nuclear sanctions stormed the UK mission in Tehran.
The official said Foreign Secretary Philip Hammond, who helped negotiate a historic deal between Iran and the West on the Islamic republic's nuclear programme, "will travel on Sunday to Iran for the reopening of the British embassy".
"At the same time" Tehran would reopen its embassy in London, the official said, without providing a specific date.
The Foreign Office confirmed Hammond would be visiting Iran in the coming days but did not mention the reopening of the embassy.
Hammond would be the first British foreign secretary to visit Iran in more than a decade.
Several European officials have travelled to Tehran since July 14, when Iran struck the nuclear agreement with Britain, China, France, Germany, Russia and the United States.
Full report at:
http://www.dawn.com/news/1201746/uk-and-iran-to-reopen-embassies-as-ties-thaw
-------------
URL: https://newageislam.com/islamic-world-news/isis-destroys-syrian-monastery,-moves/d/104341