New Age Islam News Bureau
29 May 2020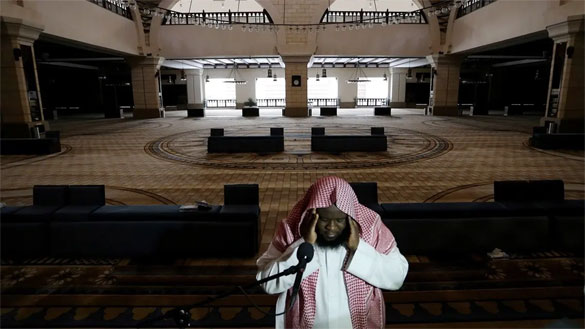 A cleric at an empty Al-Rajhi Mosque as Friday prayers were suspended following the spread of COVID-19 in Riyadh, Saudi Arabia. (Reuters)
--------
• Iraq Military Spokesman to Asharq Al-Awsat: ISIS No Longer Poses a Threat
• 'Azerbaijan Wouldn't Exist Without Caucasian Islamic Army'
• Pakistan Will Remain A Responsible Nuclear State, Qureshi Says
• Locust Attack: A Joint Fight by India And Pakistan, Over The Years
• Indonesia Rolls Out Public Shaming for Coronavirus Violators
• South Africa: COVID-19 - MJC Recommends That Mosques Stay Closed for Another Month
• US Adviser Accuses VOA Of Being 'Voice of Iran'
• Iran: Brutal Killing of Floyd Indicates Systematic Racism in US
------
Arab World
• ISIS Criticizes Muslim Scholars for Closing Mosques as Preventive Measure Due to Coronavirus
• Iraq Military Spokesman to Asharq Al-Awsat: ISIS No Longer Poses a Threat
• Coronavirus: Dubai Re-Opens Four Beaches, Major Parks Starting May 29
• Bahrain Allows Friday Prayers in Mosques from June 5, Coronavirus Tally At 9,977
• Prayers at Mosques across Qatar Remain Suspended: Ministry of Endowments
• Syria decries European Union's hypocrisy after sanctions prolonged for another year
• Saudi Arabia Sanitizes Over 90,000 Mosques For Reopening On Sunday
• Saudi-led coalition impounding 20 ships loaded with food, oil off Yemen coast: Official
• Senior Hamas official's health deteriorating in Saudi detention: NGO
• Lebanese MPs fail to reach agreement on draft amnesty law
• Coronavirus: 36 Countries Applied For Debt Relief, Says Saudi G20 Secretariat
--------
Europe
• 'Azerbaijan Wouldn't Exist Without Caucasian Islamic Army'
• Anti-Semitic Crime Rises in Germany, Most from Far Right
• Russia Blasts US for Ending Iran Sanctions Waivers, Quitting Intl. Treaties
• Infection fear doesn't stop migrants heading for Europe
• Russian jets deployment in Libya sparks fears of Ankara-Moscow clash
• EU extends sanctions against Assad regime
• Turkey, Hungary agree on cultural cooperation
--------
Pakistan
• Pakistan Will Remain A Responsible Nuclear State, Qureshi Says
• Pak to defend itself effectively against any form of aggression: Qureshi
• FM Qureshi chides India for toying with risky military concepts
• Covid-19 problem requires global solution: PM
• Nawaz eulogised for 'making Pakistan nuclear power'
• NAB reviews probes against opposition leaders
• Espionage convicts entitled to education remission: PHC
• PPP moves FIA over 'derogatory, slanderous remarks' about Benazir Bhutto
--------
India
• Locust Attack: A Joint Fight by India And Pakistan, Over The Years
• India Trashes Pakistan's Objection to Commencement of Construction of Ram Temple
• 300 Indian Nationals Stuck In Pakistan Due To Covid-19 To Return Home On Saturday
• Telangana Waqf Board Raps Graveyard Committees for Turning Away Muslim Man's Body over Covid-19 Fears
• 129 Indians Return from Bangladesh, Quarantined
• Re-run of Pulwama attack foiled, explosives-laden car seized in Kashmir
• India trashes Pakistan's objection to commencement of Ram temple construction
--------
Southeast Asia
• Indonesia Rolls Out Public Shaming for Coronavirus Violators
• Undocumented Workers: Malaysia to send back those who test Covid-19 negative
• 'It's Too Late': In Sprawling Indonesia, Coronavirus Surges
• No More Recess: Gov't to Overhaul School System
--------
Africa
• South Africa: COVID-19 - MJC Recommends That Mosques Stay Closed for Another Month
• Coronavirus: Tunisians protest over jobs amid economic downturn
• Libya coast guard detains 400 migrants bound for Europe: UN
• Diplomat behind Sudan-Israel normalization attempts dies of coronavirus
• Armed bandits kill 60 people in northwest Nigeria
• Takfiri militants kill 40 civilians in DR Congo
• Nigerian army rescues 241 hostages from Boko Haram
--------
North America
• US Adviser Accuses VOA Of Being 'Voice of Iran'
• Due to US pressure, Iran can either negotiate or manage economic collapse: Hook
• US committed to long-term defense partnership with Saudi Arabia: Pentagon spokesman
• VOA wasting $17 million of US taxpayer money to spread propaganda against Iran: Scholar
• Tampa supporter of Islamic State terror group nabbed in undercover sting, FBI says
--------
Mideast
• Iran: Brutal Killing of Floyd Indicates Systematic Racism in US
• Police Arrest 14 Takfiri Separatists in Southern Iran
• VP: Iran Exporting Machinery to Europe for Production of Masks
• DM: IRGC Speed Boats Tighten Security Belt in Persian Gulf
• IRGC Commander: Iran Not to Bow to Enemies
• Iran's exports to India fall over 94 percent in first quarter of 2020
• Iran says US must show respect or keep humiliating itself
• Commander: IRGC Navy Vessels Enjoy 92knots/h Cruising Capability
• Iran's 4th Fuel Tanker Arrives in Venezuela's Special Economic Zone
• Iran changes tack in Iraqi politics after mastermind's assassination
--------
South Asia
• Afghan Government Says Ceasefire Still in Place Even As Skirmishes WithTaliban Resume
• Rohingya refugee crisis: 'The bodies were thrown out of the boat'
• Bangladesh Eases Out Of Covid-19 Straitjacket
• At least 14 Afghan militants killed in separate Taliban attacks: Officials
• Ex-Afghan spy chief: Qatar eroding peace efforts
Compiled by New Age Islam News Bureau
URL: https://www.newageislam.com/islamic-world-news/isis-criticizes-muslim-scholars-closing/d/121981
--------
ISIS Criticizes Muslim Scholars for Closing Mosques as Preventive Measure Due to Coronavirus
29 May 2020
ISIS is criticizing senior Muslim scholars for closing mosques as a preventative measure against the spread of the coronavirus, the group said in a video recording released Thursday.
"Those who sided with the shutdown [of mosques] are a group associated with government entities…" ISIS spokesman Abu Hamza al-Qurashi said. "[Coronavirus] is a pretense to shut down mosques…we have evidence that this is the main reason."
Controversial Kuwaiti imam Hakem al-Mutayri echoed the sentiment, saying the National Assembly in Kuwait should be investigated for its decision to close mosques, in a post on Twitter.
Since the coronavirus pandemic began, senior Muslim scholars have urged worshippers to heed medical and government guidelines, to suspend mosque services and activities, and to pray at home.
Dr. Mohammed Al-Issa, Secretary General of the Muslim World League (MWL), called on communities to follow "all health guidelines" during the crisis and said the temporary closure of mosques in some countries across the Islamic world is considered a "religious duty" in light of the pandemic.
The Kingdom of Saudi Arabia's Grand Mufti Sheikh Abdulaziz Al Sheikh asked Muslims to pray at home during Ramadan, and the Saudi Arabian government suspended mosque services.
Meanwhile ISIS issued its own preventative measures against COVID-19 to its followers in mid-March.
ISIS fighters should "stay away from the land of the epidemic," the group said in its March newsletter, according to Homeland Security Today.
The group also advised its followers to "cover the mouth when yawning and sneezing."
Exploiting the pandemic
The UN human rights chief accused ISIS earlier this month of taking advantage of the pandemic to step up violence on civilians.
For all the latest headlines follow our Google News channel online or via the app.
ISIS appears "to view the global focus on the COVID-19 pandemic as an opportunity to regroup and inflict violence on the population" in Syria, Michelle Bachelet said in a statement.
ISIS gunmen executed 11 people during two attacks on a desert highway in eastern Syria in mid-May, according to the Syrian Observatory for Human Rights.
At least 10 Iraqi militiamen were killed by ISIS fighters on May 2 in a coordinated attack near the Iraqi city of Samarra, according to security officials.
https://english.alarabiya.net/en/coronavirus/2020/05/29/Coronavirus-ISIS-criticizes-Muslim-leaders-for-closing-mosques-as-preventive-measure.html
--------
Iraq Military Spokesman to Asharq Al-Awsat: ISIS No Longer Poses a Threat
27 May, 2020
Since the start of 2020, ISIS has been mounting activities that suggest the group has reorganized its ranks after the defeats it sustained in the past few years on both sides of the Syrian-Iraqi borders.
The Iraqi army, however, is showing no signs of concern over the growing activities of the terrorist group.
Military spokesman Yehya Rasool said ISIS no longer poses a threat to Iraq and that its cells are nearly completely destroyed and unable to threaten Iraqi towns and civilians.
The lack of public display of concern does not mean that Iraqi authorities aren't taking the threats posed by ISIS seriously. In the last few weeks, dozens of security campaigns were carried out against ISIS hideouts across the country.
Rasool, in an interview with Asharq Al-Awsat, clarified that these raids are preemptive and are based on intelligence reports.
This indicates that Iraqi security apparatuses own a substantial corpus of intelligence on ISIS cells, extracted from interrogating hundreds of the group's operatives and leaders who were arrested during the course of the past years.
Other than Iraqi raids, the Arab- Kurdish Syrian Democratic Forces have been mounting anti-ISIS campaigns with the aid of the US-led international coalition in Syria.
"Iraqi security forces, after defeating ISIS, intensified their intelligence effort and began preemptive operations and arrested many terrorist leaders and elements, as well as those who finance these terrorist gangs, especially in areas that were under the control of ISIS," Rasool told Asharq Al-Awsat.
He added that one of the "most prominent terrorists arrested" is the "mufti of ISIS," who was detained on January 16.
"Mufti of ISIS," Shifa al-Nima, loomed large over ISIS as a religious figure who issued fatwas against several clerics who refused to swear allegiance to the group.
Al-Nima, whose actual name is Abu Abdul Bari, encouraged ISIS members to attack security forces and destroy historic sites during their reign over large swathes of Iraq and Syria.
https://english.aawsat.com/home/article/2304266/iraq-military-spokesman-asharq-al-awsat-isis-no-longer-poses-threat
--------
'Azerbaijan wouldn't exist without Caucasian Islamic Army'
Jeyhun Aliyev
28.05.2020
If the Caucasian Islamic Army had not come to the aid of the Azerbaijani people in 1918, their republic would not have been able to survive for a precarious two years until 1920, when it fell into Soviet hands, according to an Azerbaijani historian.
Anar Isgandarov, who is also a lawmaker at the Azerbaijani Parliament, told Anadolu Agency in an exclusive interview that the establishment of the Azerbaijani Democratic Republic, also known as the Azerbaijan People's Republic, on May 28, 1918, was one of the most glorious chapters in the country's history and is celebrated each year in Azerbaijan as Republic Day.
The Caucasian Islamic Army, comprised of Turkish and Azerbaijani soldiers, protected the country's territorial integrity and liberated Baku -- Azerbaijan's present-day capital -- 102 years ago, setting the stage for the country's independence in 1991.
"The Caucasian Islamic Army, headed by the 29-year-old Nuri Pasha, paid a noble price of over 1,300 martyrs during the military operation to liberate Baku alone. In this sense, the Caucasian Islamic Army has an irreplaceable role in the republic's life, ownership of Baku and turning the city into the capital," Isgandarov said.
On Sept. 15, 1918, an elite Ottoman force, dubbed the Caucasian Islamic Army, under the leadership of Nuri Pasha (Killigil), was sent to what is today Azerbaijan and Dagestan further north in Russia in the final months of the World War I, following a plea from the region's people. Together with local Azerbaijani people, many of them sacrificed their lives for the cause of helping a brotherly nation.
"They were martyred for us, for their Muslim brothers," he said.
The liberation of Baku at the time paved the way for the transfer of the capital from the northwestern town of Ganja and ensured the territorial integrity of Azerbaijan, setting the basis for its contemporary boundaries.
"Look, this is the history that we could not write in the Soviet era for 70 years. This is the history of heroism, this is the history of honor, this is the history of nations' and brothers' love for each other," asserted Isgandarov.
Even today, after so many years since Azerbaijan restored its independence, its people visit the memorials of Turkish martyr's and pray for their souls, Isgandarov said.
"In December 1918, the first decision of [newly established] Azerbaijani Parliament was to place a monument for the martyred Ottoman soldiers and officers in the highest location in Baku city. Though its plan and sketches were prepared, the [Soviet] occupation in April 1920 didn't allow [its construction]. Finally, in 1999-2000 the monument has been erected."
Long path to independence
Mammad Amin Rasulzade, a statesman, prominent public figure, and founder of the Azerbaijani Democratic Republic, was the only member of the country's establishment who "kept this struggle until his last breath."
Many of the country's other top figures were later persecuted and killed, while others immigrated or exited political life, Isgandarov said.
"He devoted whatever he had, including his family, his son, his wealth, to the independence of the Republic."
Emerging from the internal upheaval brought on by the fall of the Romanov Tzars in Russia, a Transcaucasian parliament, known as the Seym or Supreme Power of the Transcaucasia, was formed in Tbilisi, the capital current of Georgia, on Feb. 14, 1918, by representatives from the Southern Caucasus.
The Muslim faction of the Seym comprised of 44 delegates who were elected from the region to the Russian Constituent Assembly formed after the 1917 Revolution and represented over a million Turkic Muslims in Azerbaijan and the Southern Caucasus.
The Muslim faction, or Council of Muslims, was functioning as a Muslim Parliament of Transcaucasia.
Following the persistent claims of the Azerbaijani representatives, who were among the most consistent attendees in the parliament, the Seym proclaimed the independence of Transcaucasia on April 9, 1918.
This led to the establishment of the United Republic of Transcaucasia. However, serious contradictions and conflicts among the disparate national interests hampered both the Transcaucasian Seym and the Republic of Transcaucasia.
As a result, Isgandarov said, the Georgian delegation left the Seym and proclaimed the independence of Georgia on May 26, 1918,
Establishment of Azerbaijani Democratic Republic
Following Georgia, members of the Muslim faction held a separate meeting one day later and decided to proclaim the independence of Azerbaijan.
With this purpose, the Transcaucasian Muslim Council proclaimed itself the National Council of Azerbaijan -- the country's lawmaking body.
During that meeting, Rasulzade was elected Chairman of the National Council of Azerbaijan, though he was not present at the meeting and was in Batumi, Georgia, Isgandarov added.
On May 28, 1918, a historic meeting in Tbilisi adopted the Declaration of Independence of Azerbaijan, consisting of six articles, thus, making Azerbaijan the first Parliamentary Republic in the Muslim East, he said, adding: "The occasion turned the geographical reference of Azerbaijan into the political concept."
"After the other government's [Georgia] proclamation of independence, the government lead by Fatali Khan Khoyski came to Ganja city [Azerbaijan] in June, and was not able to come directly to Baku because the city was then controlled by Armenian militants."
Isgandarov underlined that the Caucasian Islamic Army came to help the Azerbaijani people in Ganja upon their plea from the Ottoman Empire, and completed its mission in September in Baku after liberating the city.
During the independence years, the parliament adopted laws and decrees to build a national army and recognize Azerbaijani as the official language, as well as others on national emblems, citizenship and national currency.
The laws and decrees adopted primarily aimed to uphold the country's independence, territorial integrity and rights and liberties and create a democratic state based on law.
"In July 1919, the Azerbaijani parliament passed a law on gender equality in elections, whereas many European countries adopted that law only after World War II."
In January 1920, Azerbaijan was de facto recognized by the international community at the Paris Peace Conference following World War I.
The Azerbaijani Democratic Republic was toppled after almost two years by the Soviet Union, and the country was restored its independence only after the collapse of the USSR in 1991.
Territorial integrity of Azerbaijan
May 28, the anniversary of the founding of the Azerbaijani Republic, is a "sacred day" in the history of the country's people, said Isgandarov.
"I'd like to sincerely congratulate the entire Muslim Turkic world, including every person in the Republic of Turkey, because this holiday is their holiday as much as it is ours."
"Same as Oct. 29 [Republic Day of Turkey] is an esteemed day for Anatolian Turks, same as the Fourth of July [US Independence Day] is illustrious for Americans, same as the Bastille Day [July 14] is honorable for French, May 28 is the same for the Azerbaijani people," he added.
Isgandarov underlined that the "souls of all the martyrs" would find peace when Azerbaijan ensures its territorial integrity.
"I'm sure that with the help of the brotherly Turkish Republic, Azerbaijan will ensure its territorial integrity," he said, referring to Azerbaijani lands occupied by Armenian forces.
Upper Karabakh, or Nagorno-Karabakh, is an internationally recognized territory of Azerbaijan that has been illegally occupied since 1991 by Armenian military aggression.
Four UN Security Council and two UN General Assembly resolutions, as well as decisions by many international organizations, refer to this fact and demand the withdrawal of the occupational Armenian forces from Upper Karabakh and seven other occupied regions of Azerbaijan.
The OSCE Minsk Group -- co-chaired by France, Russia and the US -- was formed to find a peaceful solution to the conflict, but has yet to get any results.
https://www.aa.com.tr/en/asia-pacific/azerbaijan-wouldnt-exist-without-caucasian-islamic-army/1856360
--------
Pakistan will remain a responsible nuclear state, Qureshi says
May 29, 2020
ISLAMABAD: Foreign Minister Shah Mahmood Qureshi has said that Pakistan is a peace-loving country and its conduct as a nuclear state will continue to be defined by restraint and responsibility.
Addressing a webinar organised to mark Yaum-e-Takbeer here on Thursday, the foreign minister said, "We are opposed to a nuclear or conventional arms race in the region."
He said that Pakistan has demonstrated its commitment to peace and stability by putting forward the proposal for a strategic restraint regime. "Our desire for peace should not leave anyone in doubt regarding our capability and we will defend ourselves effectively against any form of aggression," he said.
He said, "Today we are commemorating Yaum-e-Takbeer in the backdrop of the Covid-19 pandemic which threatens the international community without regard to geographic boundaries, and ethnic, political and religious divides."
He said the recent escalation along the Line of Control (LoC), incessant ceasefire violations and the canard of cross-border infiltration are designed to divert international attention from the gross human rights violations by the Indian occupation forces in Occupied Kashmir.
The foreign minister said that BJP government's illegal and unilateral actions of 5 August 2019 in an attempt to change the internationally-recognized disputed status of occupied Jammu and Kashmir and alter its demographic structure in flagrant violation of the Security Council resolutions, UN Charter and bilateral agreements have engendered further volatility in South Asia.
Qureshi categorically stated that any aggression by India will receive a befitting response. In a statement, he said Pakistani people and armed forces are ever ready to respond to any Indian hostility.
The foreign minister said, "India's bellicosity is aimed at provoking Pakistan, but we showed patience in the past and will exercise restraint in future too." However, he made it clear that Pakistan reserves complete right to its defense.
Qureshi said, "We prefer the path of peace but our desire for calm should not be misconstrued as our weakness." He gave a clear message to India to act sensibly and live with peace.
https://www.pakistantoday.com.pk/2020/05/28/pakistan-will-continue-to-remain-responsible-nuclear-state-qureshi-says/
--------
Locust Attack: A Joint Fight By India And Pakistan, Over The Years
by Shubhajit Roy
May 29, 2020
In 1993, as swarms of locusts started coming into Jaisalmer, Anil Sharma, a locust warning officer, was asked by a senior official, "How locust can come to India when we have fencing on the (India-Pakistan) border?" Sharma politely replied that locust is an insect and knows no barriers.
As another locust swarm comes from Pakistan, the spotlight is again on the India-Pakistan dynamic that has come into play. The Ministry of External Affairs says it has reached out to Pakistan for cooperation, and is awaiting their response. Despite the ups and downs in the bilateral relationship, cooperation on the locust warning system has survived the wars, terrorist attacks, and political turmoil.
While legend has it that locusts were part of the Mahabharata during Karna's battle with Arjuna, modern-day records suggest that since the beginning of the 19th century, there have been at least eight "outbreaks" in India from 1812 to 1889, and a ninth in 1896-1897.
According to history of the Locust Warning Office published by the UN Food and Agriculture Organization (FAO), there were "serious invasions" of locusts in India every few years during the 1900s. A "five-year invasion" from 1926 to 1931 is estimated to have to have damaged crops worth Rs 2 crore (about $100 million at today's prices).
The princely states and provinces had their own structures to deal with this, but there was no coordination. After the 1926-32 "invasion", the British Indian government sponsored a research scheme, starting 1931, which led to the permanent Locust Warning Organization (LWO) in 1939, with its headquarters in New Delhi and a substation in Karachi.
In 1941, a conference of princely states in desert areas and provinces affected by locusts was held. Its role was expanded in 1942, and in 1946 a bureaucratic structure was put in place.
Beginning of cooperation
Iran too suffered locust attacks, in 1876, and in 1926-1932. "Apparently the first case of collaboration between countries in the region occurred in 1942 when a delegation from India helped with locust control work in southwest Persia. Over the next two years, Indian help was also provided to Oman and Persia. This was followed by the first conference within the region on Desert Locust, which was held in Tehran in 1945 and involved Iran, India, Saudi Arabia and Egypt… A second conference took place in 1950 also in Tehran with Pakistan participating," the FAO says.
In the 1950s, India and Iran cooperated and Pakistan provided two aircraft for locust surveys in Saudi Arabia. Following another attack during 1958-61, a decision was taken to group Iran, Afghanistan, Pakistan and India together and the FAO Desert Locust commission was formed in 1964. The commission held annual sessions, skipped in 1965 and 1999 but held in 1971. Even in the last six years when the relationship between India and Pakistan has deteriorated, it has been held in 2014, 2016 and 2018.
India and Pakistan
In 1977, the two countries began to meet on the border. From 1991 to 2003, special border surveys took place during the summer, undertaken by locust control officers in their respective countries.
Joint border meetings have taken place every year since 2005 till 2019, except in 2011. This has been despite every diplomatic strain, including the 26/11 Mumbai attacks.
Monthly meetings are held between June and October-November at Zero Point, west of Barmer, Rajasthan and east of Chor, Tharparkar. Three to four officers from each country normally attend. Each country takes turns at hosting the meeting on its respective side of the border.
Arrangements are made in advance and protocols are followed for crossing the border. The meeting is held in the morning. "Fortnightly bulletins, FAO bulletins and maps showing survey locations, locust infestations, green vegetation and rainfall in each country are exchanged and discussed," the report on their activities said.
While politics and diplomacy is kept out of the technical discussions, locust control authorities feel that one of the more difficult challenges faced by the commission is that of "insecurity and sensitivities" in the region.
https://indianexpress.com/article/explained/locust-swarm-pakistan-india-fight-6432158/
--------
Indonesia rolls out public shaming for coronavirus violators
May 29, 2020
BENGKULU, Indonesia: Indonesian officials are forcing social distancing violators to recite Quran verses, stay in "haunted" houses and submit to public shaming on social media as the country battles to contain surging coronavirus infections.
The Southeast Asian archipelago began deploying around 340,000 troops across two dozen cities to oversee enforcement of measures aimed at halting transmission of the disease, such as wearing facemasks in public.
But provincial leaders are buttressing these efforts with their own zealous campaigns to fight the virus.
Police in western Bengkulu province have assembled a 40-person squad to find lockdown scofflaws and force them to wear placards with promises to wear masks and keep their distance from others in future.
Pictures of the perpetrators are then uploaded to social media for maximum shaming effect, according to an official.
"People in Bengkulu still aren't aware of the importance of following the rules, especially when it comes to wearing masks and not gathering" in big groups, said Martinah, Bengkulu's public order agency chief, who goes by one name.
"This is for the sake of themselves and their families," he added.
Some of those singled out by police have bristled at the punishment, including fisherman Firmansyah, who was punished for failing to abide by the mask rule while alone on his boat.
"It's silly to wear a mask when I'm out at sea," he said, after he was nabbed returning to shore.
"There's no regulation to wear a mask in the water. If there was, I'd comply with it."
Farther north in conservative Aceh province, those flouting public health regulations have been forced to atone by reading passages from the Qur'an.
The area's tiny non-Muslim minority are spared from the punishment.
"If we find them not wearing face masks they'll just be reprimanded," said local government spokeswoman Agusliayana Devita.
Capital city Jakarta announced new rules this month that could see residents who break social distancing rules forced to clean public facilities — including toilets — while wearing vests that label them as rule-breakers.
To the east in Sragen regency, offenders have been jailed in repurposed abandoned houses that local residents believe are haunted — tapping widespread beliefs in the supernatural, which play a key role in Indonesian folklore.
Indonesia has confirmed around 24,000 cases of COVID-19 and 1,496 deaths, but the country of more than 260 million has some of the lowest testing rates in the world.
Researchers estimate the true number of virus fatalities is several times the official toll.
https://www.arabnews.com/node/1681506/world
--------
South Africa: COVID-19 - MJC Recommends That Mosques Stay Closed for Another Month
29 MAY 2020
The Muslim Judicial Council (MJC) has recommended that mosques stay closed for another month due to the risk of the spread of the novel coronavirus.
"In light of the special situation in our province, where the Western Cape has 65% of national infections and 70% of national deaths, we strongly encourage masajid (mosques) to remain closed for another month," the MJC said in a statement on Thursday.
However, it added that mosques that were able to "afford, implement and rigorously enforce safety and sanitary procedures" should open"within the limits allowed by Level 3 regulations".
This was after careful consideration of the risks, the safety of the congregants, and advice received from experts.
"When considering the ability to enforce these procedures, masjid committees must consider the fact that within our hospitals and health facilities, despite the implementation of stringent precautionary measures, there have been over 1 000 infections of healthworkers, including doctors and nurses," the MJC noted as it explained its decision.
Staggered approach
The MJC recommended that mosques within hotspot areas not open at all and that people aged 60 and older, as well as those who have underlying conditions, should not attend.
It recommended that mosques which want to open on 1 June, do so with the full knowledge that they can comply with safety regulations.
The council also recommended a staggered approach and that instead of starting with 50 people, it slowly phase in the numbers of congregants.
This week President Cyril Ramaphosa announced that religious leaders were regarded as "essential workers" and religious gatherings of a maximum of 50 people would be allowed from 1 June.
Sunday is expected to be a day of prayer for those on the Covid-19 front line and those suffering as a result of the pandemic.
https://allafrica.com/stories/202005290239.html
--------
US adviser accuses VOA of being 'voice of Iran'
May 29, 2020
WASHINGTON: The Trump administration on Thursday accused a Congress-funded US broadcaster, Voice of America (VOA), of being the voice of Iran.
A press note circulated by the White House referred to an article US Special Representative for Iran Brian Hook wrote for The New York Post on Wednesday, raising serious doubts about VOA's performance. "Why are US taxpayers funding a 'Voice of the Mullahs' in Iran?" asked the White House note.
Hook, also senior adviser to US Secretary of State Michael Pompeo, wrote that he was receiving regular complaints about VOA's Persian service. "Iranian viewers say its American taxpayer funded programming often sounds more like the 'Voice of the mullahs' than the 'Voice of America'," he added.
Hook said that addressing such complaints was a priority for the Trump administration and urged VOA to give access to independent and truthful reporting.
"VOA Persian needs to do a better job of countering Iranian disinformation and propaganda. This is a priority for the Trump administration, because supporting the Iranian people includes giving them access to independent and truthful reporting," he wrote.
Voice of America was founded in 1942 to communicate US policies to a global audience. VOA's congressionally funded Persian News Network received more than $17 million in taxpayer funds last year.
"But VOA is failing to represent America to Iran with fact-based content that is reliable and authoritative," Hook wrote.
Earlier this month, US President Donald Trump said he was not satisfied with VOA's coverage of Covid-19, because it became an echo chamber for Chinese propaganda and disinformation. "The president is only the latest person to voice frustrations with VOA programming," Hook wrote.
He also referred to a 2017 report by a US think-tank, the American Foreign Policy Council (AFPC), which claimed that VOA's Persian "perpetuated … pro-regime propaganda, rather than objective reporting."
A follow-up analysis by the AFPC in 2019 demanded "truly sweeping change" to "transform American broadcasting into an agile, streamlined, digital-first media platform."
In 2014, a group of congressional representatives called for an investigation into VOA Persian after allegations that it deliberately papered over the regime's brutal human rights record, Hook recalled.
He noted that one VOA employee of VOA Persian told The Wall Street Journal that the network often refuses to air criticism of Iranian regime terror unless it's "balanced with the [Iranian] perspective."
Hook claimed that there was also widespread mismanagement at the organisation as "VOA Persian has failed to create an open and transparent workplace."
Urging VOA Persian to highlight human rights violations in Iran, corruption within the Iranian government and to counter Tehran's propaganda, Hook warned: "If it can't meet these standards — and soon — Congress should consider ending its funding and shutting down VOA Persian as a fiduciary duty to American taxpayers."
https://www.dawn.com/news/1560098/us-adviser-accuses-voa-of-being-voice-of-iran
--------
Iran: Brutal Killing of Floyd Indicates Systematic Racism in US
May 28, 2020
"Brutal killing of George Floyd by Minneapolis' white man in uniform in cold blood is a harrowing demonstration of systematic racism and white supremacism glorified by the current administration," Foreign Ministry Spokesman Seyed Abbas Mousavi wrote on his twitter page.
He also posted the footages which display how Floyd was killed by a white police officer.
The Iranian foreign ministry had also on Wednesday lashed out at the US police brutal behavior.
"6 years after 'I can't breathe' pleas of Eric Garner, George Floyd, another black man, dies after a cruel and inhumane arrest," the foreign ministry wrote on its official twitter page.
The tweet came after a video of a handcuffed black man dying while a Minneapolis officer knelt on his neck for more than five minutes sparked a fresh furor in the US over police treatment of African Americans Tuesday.
"It seems that US police brutality against blacks knows no boundaries. And as always, the response to calls for justice, is employing even more force," the tweet added.
Police and protesters clashed in Minneapolis on Tuesday evening following a demonstration at the intersection where George Floyd was killed in an altercation with several police officers the day before.
Hundreds of protesters gathered in the city on Tuesday evening to demand justice after Floyd, who was African American, was killed when a white Minneapolis police officer knelt on his neck as he lay on the ground during an arrest. Footage of the incident showed Floyd shouting "I cannot breathe" and "Don't kill me!"
A large and diverse crowd had gathered at the start of the protest, with some carrying signs reading "I can't breathe" and "Jail killer KKKops" and chanting "Prosecute the police." Activists had blocked traffic for several blocks in every direction, and the crowd spilled out into the streets.
https://en.farsnews.ir/newstext.aspx?nn=13990308000671
--------
Arab World
Coronavirus: Dubai re-opens four beaches, major parks starting May 29
29 May 2020
Dubai is re-opening four beaches and major parks to the public starting Friday, the Dubai Media Office announced on Thursday as the emirate begins easing coronavirus restrictions.
Dubai will re-open JBR beach, Al Mamzar, Jumeirah and Umm Suqeim beaches, as well as major parks and the Dubai Frame to the general public.
Visit our dedicated coronavirus site here for all the latest updates.
Dubai's Municipality asked everyone to adhere to the coronavirus precautionary measures at all locations.
This is the latest in Dubai's measures to re-open the emirate and ease coronavirus restrictions, after the emirate shortened curfew hours, and allowed gyms, cinemas, retail and wholesale shops, and other business activities to resume operations on Wednesday.
Dubai also announced on Thursday that all the Dubai Culture and Arts Authority's museums will re-open to the public starting from June 1, with a visitor capacity limit of 50 percent.
The emirate had previously only allowed hotel beaches to re-open, with access restricted to hotel guests on May 12. At the time, Dubai Municipality set strict precautionary guidelines, including: maintaining a two-meter distance between people and four-meter distance between two groups of people on beaches, restricting groups to no more than 10 people, and opening the beach with a limited capacity of 30 percent.
The Municipality set COVID-19 precautionary measures for parks, including:
Check temperature of all staff and visitors before entry.
Provide thermal scanners, cameras and thermometers for health checks to monitor potential infected cases.
Staff must wear masks and gloves at all times.
All visitors must wear a mask at all times, no visitor is allowed entry without wearing a mask (including children).
Practice social distancing (two meters between every two individuals).
Increase the frequency of cleaning and disinfection of park during and after operating hours.
Ensure availability of hand sanitizers in all public areas, including entrances and washrooms.
Close water fountains, water dispensers and work-out equipment.
Allocate an isolation area in the park for emergency use or in case of dealing with COVID-19 positive cases.
Mandate visitors to wear gloves while using self-renting equipment.
Two meter distance between people and four meter distance between two groups of people.
Limit groups to no more than 10 people (can be family, friends or trainers).
Fifty percent of the park's car parking lot should be closed to the public.
High risk groups are prohibited from entering the park.
All public seating and benches in the park must be sanitized after every customer's use with a minimum frequency of once per hour during operating hours.
No entertainment activities of any kind to be performed.
https://english.alarabiya.net/en/coronavirus/2020/05/29/Coronavirus-Dubai-re-opens-four-beaches-major-parks-starting-May-29.html
--------
Bahrain allows Friday prayers in mosques from June 5, coronavirus tally at 9,977
28 May 2020
Bahrain will resume holding Friday group prayers in mosques starting from June 5, the Ministry of Justice, Islamic Affairs and Endowments said on Thursday.
The ministry said that mosques will be obliged to adhere to strict coronavirus precautionary measures and that any decisions related to the COVID-19 crisis will be subject to periodic review.
Visit our dedicated coronavirus site here for all the latest updates.
In late March, Bahrain, along with the rest of the Gulf countries, had suspended group prayers and Friday prayers in mosques, as part of the efforts to control the spread of the coronavirus.
The Gulf countries instructed Muslims to pray at home, even during the Holy Month of Ramadan and Eid al-Fitr.
The Ministry of Health reported on Thursday 285 new coronavirus cases, raising the total number of confirmed COVID-19 cases in Bahrain up to 9,977.
Most of the new cases were expat workers, 208 out of 285, while the other 77 were people who came into contact with previously infected individuals.
Bahrain also reported the recovery of 143 patients, raising the total number of recoveries up to 5,295. The death toll stood at 15 fatalities.
The country had allowed Barbershops and Women's salons to reopen as of Wednesday and the Ministry of Health said on Thursday that it inspected thousands of facilities to ensure their compliance with coronavirus precautionary measures.
Movie showings at outdoor cinemas, non-essential medical services, and professional sports exercises in outdoor spaces were all recently allowed to resume in the country.
Full report at:
https://english.alarabiya.net/en/coronavirus/2020/05/28/Bahrain-allows-Friday-prayers-in-mosques-from-June-5-coronavirus-tally-at-9-977.html
--------
Prayers At Mosques across Qatar Remain Suspended: Ministry Of Endowments
May 28 2020
Prayers at mosques across Qatar shall continue to remain suspended, the Ministry of Endowments (Awqaf) and Islamic Affairs has clarified on Thursday.
In a tweet, Awqaf explained that some infographics circulating on social media about the safe practices in the mosques are intended to foster awareness about the preventive and precautionary measures against Covid-19, when the circumstances become conducive to reopen the mosques.
Mosques in Qatar were closed temporarily in April as part of measures to combat the Covid-19 outbreak. The call to prayer is made and people are expected to pray at their homes.
Full report at:
https://www.gulf-times.com/story/664283/Prayers-at-mosques-remain-suspended-Awqaf
--------
Syria decries European Union's hypocrisy after sanctions prolonged for another year
29 May 2020
Syrian Ministry of Foreign Affairs and Expatriates has censured the European Union (EU) over prolonging its sanctions against the war-ravaged Arab country for another year, stating such measures expose the hypocrisy of the bloc and spurious statements of its officials.
"These sanctions are a flagrant violation of the most basic humanitarian principles and the international law… They are a crime against humanity," Syria's official news agency SANA quoted an unnamed source at the ministry as saying late on Thursday.
He added, "It was no surprise for the EU to renew its sanctions on Syria, particularly as the United States had earlier taken the same step. The measure underlines that the EU has lost its independence in terms of decision-making, and is subjugated to US policies."
"The decision reconfirms the EU's deep involvement in the war on Syria and its unstinting support for terrorist groups. The union is, therefore, fully responsible for Syrian bloodshed, and exacerbation of people's sufferings due to cruel and unjust sanctions," the source pointed out.
Earlier in the day, the European Council, headquarters of the 27 EU countries, announced in a statement the renewal of its sanctions against Syrian President Bashar Assad and other top political officials, military officers and business people for another year.
The sanctions would be extended until June 1, 2021, more than a decade after the Syrian conflict began.
The EU imposed the first round of its sanctions against Syria in May 2011. They include travel bans, asset freezes and measures targeting operations like oil imports, certain investments as well as technology transfer.
The bloc claims the measures are designed to avoid hindering the delivery of humanitarian aid.
This is while Syria's Ambassador to the United Nations Bashar al-Jaafari said earlier this month that unilateral sanctions imposed by Western countries are hampering the Damascus government's efforts to import medicine and other medical supplies to fight the deadly novel coronavirus outbreak in the country.
"Unilateral coercive economic measures hinder Syria's ability to meet the basic needs of its people and confront the epidemic of the novel coronavirus," Jaafari said on May 10 through the video link at a symposium organized by the Sanctions Kill coalition, which comprises a group of activists working to promote anti-sanctions campaigns.
Full report at:
https://www.presstv.com/Detail/2020/05/29/626323/Syria-decries-European-Union%E2%80%99s-hypocrisy-after-sanctions-prolonged-for-another-year
--------
Saudi Arabia sanitizes over 90,000 mosques for reopening on Sunday
May 29, 2020
DUBAI: The Saudi Ministry of Islamic Affairs has sanitized over 90,000 mosques in the Kingdom ahead of their reopening on Sunday, state news agency SPA reported.
However, mosques in Makkah will remain closed in accordance with orders from the Minister of Islamic Affairs Abdullatif Al-Sheikh.
The authority also carried out an extensive media campaign in several languages to educate worshippers on safety measures and procedures in mosques, such as performing ablution at home and sanitizing hands before entering the places of worship.
Individuals were advised to read electronic copies of the Quran from their own phones, bring prayer mats from home and maintain a two-meter distance between each other.
Elderly people, persons with chronic illnesses and children under 15 years were advised to perform prayers at home, the report added.
The Kingdom has eased coronavirus restrictions after over two months of lockdowns, with domestic flights to resume on Sunday.
Full report at:
https://www.arabnews.com/node/1681496/saudi-arabia
--------
Saudi-led coalition impounding 20 ships loaded with food, oil off Yemen coast: Official
28 May 2020
The Saudi-led coalition waging a brutal military campaign against Yemen is reportedly seizing nearly two dozen ships carrying food and oil supplies for the impoverished and war-ravaged Arab country.
An unnamed official at Hudaydah port said 20 vessels, loaded with thousands of tons of oil derivatives and foodstuff, are stranded off the coast of Yemen, Arabic-language al-Masirah television network reported on Thursday.
He added that the vessels had undergone inspection by the United Nations and obtained the relevant documents to dock at the Yemeni port.
"The continued detention of the ships in light of the coronavirus pandemic attests to the sheer brutality of the [Saudi-led] alliance and its lack of seriousness as regards [Yemen's] peace talks," Yemeni Deputy Foreign Minister Hussein al-Ezzi told al-Masirah TV.
He added that the Saudi-led coalition's blockade of Yemen is keeping out fuel and food needed for the Yemeni population in an attempt to exacerbate economic strains on them.
Saudi Arabia and a number of its regional allies launched the devastating war on Yemen in March 2015 in order to bring former president Abd Rabbuh Mansur Hadi back to power and crush the popular Houthi Ansarullah movement.
The US-based Armed Conflict Location and Event Data Project (ACLED), a nonprofit conflict-research organization, estimates that the war has claimed more than 100,000 lives over the past five years.
More than half of Yemen's hospitals and clinics have been destroyed or closed during the war by the Saudi-led coalition, which is supported militarily by the UK, US and other Western nations.
Full report at:
https://www.presstv.com/Detail/2020/05/28/626303/Saudi-led-coalition-seizing-20-ships-loaded-with-food,-oil-off-Yemen-coast-Official
--------
Senior Hamas official's health deteriorating in Saudi detention: NGO
28 May 2020
The health condition of a high-ranking official of the Palestinian Islamic Resistance Movement, Hamas, who is currently being held at a detention center in Saudi Arabia, has reportedly deteriorated prompting his family, his group and Amnesty International to call on King Salman to order his immediate release.
The Prisoners of Conscience, an independent nongovernmental organization advocating human rights in Saudi Arabia, announced in a post on its official Twitter page that Hani, the son of the 81-year-old Mohammed al-Khudari, has been moved to his father's prison cell amid the latter's signs of worsening health and his inability to move.
Mai al-Khudari, in press remarks to the Palestinian Information Center on April 15, called on the Saudi monarch and Crown Prince Mohammed bin Salman to swiftly free his father and brother, and send them back to Palestine.
"My father and brother are innocent, and we call on Saudi Arabia to take quick steps to pardon them and other Palestinians who were arrested with no guilt," she said.
She also expressed her family's great concern over the health condition and the lives of her brother, especially in light of the spread of the highly contagious new coronavirus.
Back on April 4, Amnesty International called on Saudi Arabia's King Salman to order the immediate release of the distinguished Hamas figure and his son, citing his poor health condition amid the coronavirus pandemic.
"Given the current COVID-19 pandemic and Dr. Mohammed al-Khudari's poor health, I urge you to secure his release without delay. I also call on you to ensure these unfounded charges against Dr. Mohammed al-Khudari and Dr. Hani al-Khudari are dropped and that they are released," Amnesty said in a letter to the Saudi monarch at the time.
The human rights group further noted that Dr. Khudari and his son were brought before the Specialized Criminal Court (SCC) in the capital Riyadh on March 8 as part of a mass trial of 68 individuals on trumped-up charges under the so-called counter-terror law.
On March 22, Ismail Haniyeh, the head of the Hamas political bureau, in a letter addressed to the Saudi monarch pleaded with him to make a quick decision and order the freedom of Palestinian detainees in Saudi prisons.
"In light of the pandemic of the novel coronavirus that has spread across the globe, due to fears for the lives of our honorable brethren and given all humanitarian and religious considerations … the release of the Palestinians becomes a humanitarian and national necessity. We are all confident that His Majesty will not hesitate to do so," the letter read.
Dr. Khudari and his son Hani were arbitrarily arrested on April 4, 2019 and remained in detention without charges until March 8 this year.
Khudari has been living in Saudi Arabia for over 30 years, and represented Hamas between mid-1990s and 2003 in Saudi Arabia.
His son is a also university professor and has no political affiliation. Both men have had no legal representation since their arrest.
'Palestinians held in Saudi jails denied family visits'
Meanwhile, Mohammed Nazzal, a member of the Hamas political bureau, wrote on his Twitter page that 65 Palestinian detainees in Saudi jails were denied family visits during Eid al-Fitr holiday, which marked the end of the holy Muslim fasting month of Ramadan.
Full report at:
https://www.presstv.com/Detail/2020/05/28/626286/Senior-Hamas-official-health-deteriorates-in-Saudi-jail,-loses-ability-to-move
--------
Lebanese MPs fail to reach agreement on draft amnesty law
May 29, 2020
BEIRUT: The Lebanese Parliament on Thursday failed to approve a draft law on general amnesty, after tensions rose during a vote and the Future Movement, led by former prime minister Saad Hariri, walked out of the legislative session.
"They want to bring us back to square one," he said. "Every party has its own arguments, as if they want to score points."
The Free Patriotic Movement tried to amend the law by excluding "perpetrators of crimes against public funds and terrorist crimes" from the amnesty. Minister of Justice Marie Claude Najm, who is affiliated with the FPM, asked for "amendments to the draft law so that it does not include those accused of tax evasion and violating maritime property."
The draft law was referred to the parliament despite disagreements between parliamentary committees over the basic issue of who should and should not be included in the amnesty. The former government, led by Hariri, proposed a general amnesty law before it resigned last October in the face of mounting pressure resulting from public protests.
There were a number of protests during the legislative session, some opposing the adoption of the law entirely, while others were directed at specific provisions within it.
The draft law includes an amnesty for about 1,200 Sunni convicts, 700 of whom are Lebanese. Some are accused of killing soldiers in the Lebanese Army, possessing, transporting or using explosives, kidnap and participating in bombings.
It was also covers about 6,000 Lebanese Christians, most of whom fled to Israel following the withdrawal of occupying Israeli soldiers from southern Lebanon in 2000, as well as nearly 30,000 people from the Bekaa region, the majority of whom are from the Shiite community and wanted for drug trafficking, drug abuse, murder, kidnap, robbery and other crimes.
Hezbollah appeared to agree to a pardon for entering Israel, but object to a pardon for anyone who worked or communicated with the enemy or acquired Israeli citizenship.
Before the session, the Lebanese Order of Physicians highlighted overcrowding in Lebanese prisons, and this health risk this poses during COVID-19 pandemic.
"There are 20 prisons for men, four for women and one juvenile prison holding a total of 8,300 inmates, 57 percent of whom are in the Roumieh Central Prison," the LOP said. It added that 57 percent of prisoners are Lebanese and 23 percent are Syrian, one third have been convicted while the rest are awaiting trial, and the overcrowding is so bad each prisoner has the equivalent of only one square meter of space. The organization described the situation as "a time bomb that must be avoided."
In other business during the session, as part of anticorruption reforms required as a condition for receiving international economic aid, the Parliament approved a law to increase transparency in the banking sector, with responsibility for this resting with the Investigation Authority of the Lebanese Central Bank and the Anti-Corruption Commission.
It also endorsed a draft law to create a mechanism for top-level appointments in public administrations, centers and institutions. An amendment was added to prevent ministers from changing or adding candidates for the position of director general. The FPM opposed this, while Hezbollah and the Lebanese Forces voted in favor. Hariri accused the FPM of having a "desire to possess the entire country."
MPs rejected a draft law to allow Lebanon to join the International Organization for Migration because, said MP Gebran Bassil, "it's unconstitutional and facilitates the accession, integration and settlement process." Lebanon hosts about 200,000 Palestinian and a million Syrian refugees.
The session sparked a wave of street protests. Some of them, led by the Syrian Social Nationalist Party and the Lebanese Communist Party, opposed the approval of a general amnesty that includes those who fled to Israel.
Protesters burned the Israeli flag in Sidon in protest against a law that "affects Israeli agents who sold their land, fought their people, and plotted against them." They set up a symbolic gallows on which they wrote: "This is the fate of Zionist agents who fled execution."
Full report at:
https://www.arabnews.com/node/1681471/middle-east
--------
Coronavirus: 36 countries applied for debt relief, says Saudi G20 secretariat
29 May 2020
The Saudi Arabian G20 secretariat said on Thursday that 36 countries applied for suspension of official bilateral debt payments to assist them in their fight against the coronavirus pandemic and its economic impact.
"The Debt Service Suspension Initiative (DSSI) has received 36 applications in the first month of implementation. The initiative could provide around $14bn in immediate and critical liquidity relief by official bilateral creditors alone for the poorest nations in 2020," the Saudi G20 secretariat said in a statement after the "G20 International Financial Architecture Working Group" meeting.
The G20, Group of 20 major economies, with Saudi Arabia holding its Presidency currently, had agreed on the debt relief initiative on April 15, "to ensure those nations are supported in full capacity to fight the COVID-19 pandemic and alleviate their economic pressure."
Saudi G20 Presidency Policy Lead of the International Financial Architecture Working Group, Bandr Alhomaly, said the liquidity relief "would help vulnerable countries strengthen their fight against the pandemic," and added that the estimated $14 billion could increase if additional creditors, including multilateral development banks and private sector creditors, joined the initiative.
The Saudi G20 Presidency also joined on Thursday a UN event titled "Financing for Development in the Era of COVID-19 and Beyond," to discuss global liquidity and financial stability, debt vulnerability, private sector creditors engagement, external finance and remittances for inclusive growth, and illicit financial flows.
The Kingdom's Minister of Finance, Mohammed al-Jadaan, said: "As the president of the G20 in 2020, the Kingdom of Saudi Arabia immediately took concrete steps to drive and coordinate international response, with the aim of developing collective actions to address the global challenges presented by the COVID-19 pandemic."
Saudi Arabia, in its capacity as holder of the G20 Presidency, had pledged in mid-April $500 million to international organizations to support the global efforts in combating the coronavirus pandemic.
The Kingdom also called on all countries and international organizations to take part in the global efforts to close the required financing gap in order to combat the COVID-19 pandemic, which is estimated to be over $8 billion according to the Global Preparedness Monitoring Board (GPMB).
Full report at:
https://english.alarabiya.net/en/coronavirus/2020/05/29/Coronavirus-36-countries-applied-for-debt-relief-says-Saudi-G20-secretariat.html
--------
Europe
Anti-Semitic Crime Rises in Germany, Most From Far Right
May 27, 2020
BERLIN — Anti-Semitic crimes in Germany last year reached their highest level since the country started keeping statistics, amid an overall strong increase in right-extremist criminality that is a cause for "great concern," Interior Minister Horst Seehofer said Wednesday.
Overall, politically-motivated crimes were up 14.2% in 2019 over the previous year, which is the second highest level since authorities began tracking such crimes in 2001, Seehofer told reporters in Berlin. Crimes by the extreme left rose the most, increasing 23.7% to 9,849, but the majority of politically motivated crimes were from the extreme right, with 22,342 cases and an increase of 9.4%.
At the same time, crimes linked to a foreign ideology dropped 23.7% to 1,897 and those motivated by a religious ideology fell 27.5% to 425.
"The largest threat, as in the past, is the threat from the right," Seehofer said. "Extreme-right politically motivated cases make up more than half of all of such recorded crimes — it is an order of magnitude that causes us concern, great concern."
Nearly 40% of all political crimes were classified as "propaganda crimes" — such as displaying banned symbols like the swastika. Violent crime dropped 15.9% to 2,832 cases.
Of particular note was a 13% increase in anti-Semitic crimes to 2,032, more than 93% of which were attributed to the far right. Similarly, anti-Muslim crimes rose 4.4% to 950, more than 90% at the hands of a far-right perpetrator.
Seehofer said right-wing extremists had left a "trail of blood" across Germany in recent years, noting the attack on a synagogue in Halle last year in which the gunman was prevented from entering the building but killed two people on the street, a February attack in Hanau in which a gunman killed nine people of foreign background, and the murder last June of a regional politician who supported Merkel's welcoming policy toward migrants.
"We have every reason to continue with the greatest vigilance here," he said.
Charlotte Knobloch, a Holocaust survivor and German Jewish leader, said the increase in anti-Semitic crimes was "no longer surprising" and that she was particularly worried about how visible it had become in recent years. She suggested it was being fanned by the success of the far-right Alternative for Germany party, which is the largest opposition party nationally with seats in every state parliament — although it has seen support slip below 10% in recent polls.
"Various extremist groups have played their part in making this anti-Semitism socially acceptable," Knobloch said in a statement. "Above all, the so-called Alternative for Germany."
She said the coronavirus pandemic has created a new platform for anti-Semitism, and called on authorities to crack down on conspiracy theories being spread over the internet.
Seehofer said authorities, accused in the past of downplaying right-wing activity, are not "blind in the right eye" and have taken action to combat the trend.
He noted that the country's domestic intelligence last year increased surveillance of the Alternative for Germany, particularly focusing on its youth arm and a faction known as "The Wing," which has downplayed the country's Nazi past and suggested it might pursue "revolutionary" means to achieve its political aims.
He said the decision has been "highly effective" but has not "wiped the ideas off the table."
Security services have also turned more attention to followers of the so-called Reich Citizens movement, whose philosophy rejects the current German state order and overlaps with far-right extremist groups. On Wednesday, police raided more than two dozen homes tied to 31 suspected members of the movement, believed to have been involved with forged passports, driving licenses and citizenship certificates, prosecutors in Stuttgart and Karlsruhe said.
Seehofer said officials were also systematically checking out movement members who have permits for weapons — revoking 790 since 2016, including 380 last year — and would continue to do so.
https://www.nytimes.com/aponline/2020/05/27/world/europe/ap-eu-germany-extremism-1st-ld-writethru.html
--------
Russia blasts US for ending Iran sanctions waivers, quitting intl. treaties
28 May 2020
Russia condemns the United States for undermining international security by deciding to end waivers on the American sanctions that target Iran and withdraw from a number of international treaties, including a recent one pertaining to unarmed surveillance flights.
"The nature of this behavior is clearly disruptive," Russia's Foreign Ministry spokeswoman Maria Zakharova told reporters on Thursday, AFP reported, adding, "Washington's actions are becoming more and more dangerous and unpredictable," she added.
She was referring on one hand to a recent decision by Washington to end sanctions waivers for nations that remain in a 2015 nuclear accord between Tehran and major world powers.
Washington itself left the agreement in 2018 and returned the sanctions that the deal had lifted.
The European partners to the deal -- the UK, France, and Germany -- have already knuckled under Washington's pressure by ending their trade with the Islamic Republic for fear of facing the American punitive measures. Russia and China, which are also parties to the nuclear deal, have, however, refused to choke up their cooperation with Tehran in defiance of Washington's threats.
Also on Thursday, Behrouz Kamalvandi, spokesman for the Atomic Energy Organization of Iran (AEOI), underplayed the effect of the US' maneuvers, saying Washington's move concerning the waivers bore no effect on Iran's activities, including engagement in nuclear cooperation with Russia.
Iran can obtain fuel for its nuclear reactors from Russia "without any problem and at any time we found the need." Even if the existing nuclear fuel ran out, the Islamic Republic would be able to produce its own fuel without any need to "[rely on] help from any other country," he added.
On the other hand, Zakharova was addressing another controversial decision by the US to leave the Treaty on Open Skies, which allows member state militaries to conduct surveillance flights over each other's skies each year at short notice..
Full report at:
https://www.presstv.com/Detail/2020/05/28/626310/Russia-United-States-Iran-nuclear-agreement-Open-Skies
--------
Infection fear doesn't stop migrants heading for Europe
May 29, 2020
ROME: The Tunisian Coast Guard thwarted several attempts by traffickers to take migrant groups to the coast of Italy in the past few days as the weather improves.
Fear of infection has not deterred the migrants — Italy still considers its ports as "not safe" from the COVID-19 pandemic although the number of new cases in the country has drastically fallen in the past week.
Tunisian National Guard spokesman Houssem Eddine Jebabli said that 49 people were stopped in the Sfax and Nabeul governorates as they were about to board boats and dinghies to reach Sicily.
Tunisian Coast Guard units in El Amra, in the Sfax governorate, intercepted a boat which had been stolen a few days earlier from local fishermen. Fourteen people aged between 20 and 29 were on board, all from Tunis and Sfax. Five of them were wanted by the police for petty crimes. The officers also seized significant sums of money in foreign currency, which they believed had been paid by the migrants to traffickers to take them to Italy.
The Tunisian prosecutor confirmed the arrest of eight people, and said others had also been charged but not detained. In Sidi Youssef, in the Kerkennah Islands, the coast guards arrested eight people aged between of 20 and 32 from Sfax and Gabes and charged them with preparing an illegal trafficking operation. The suspects, who were found with 16,000 Tunisian dinars (SR20,000) in their possession, were all charged by the public prosecutor, and three were detained.
In the Nabeul governorate, coast guard units intercepted a boat off the coast of Korba with 21 people aboard, mostly from Nigeria, heading toward Italy.
"The migrants said they spent all their money to pay for the trip from North Africa to Europe. Now they are desperate. We are sure they will try to reach Italy again as soon as they can find a way," a spokesman for the Intersos charity told Arab News.
Despite the Tunisian authorities' efforts, migrants from Tunisia continue to make the journey.
Italian police said that 71 Tunisians disembarked on the island of Lampedusa on Wednesday. They were intercepted by an Italian Finance Police patrol boat on a dinghy 10 miles off the coast and were taken to the migrant reception center on the island.
The Catholic charity Caritas Intemelia in Ventimiglia, in northwestern Italy, reported that the passage of migrants, mainly Afghans, had resumed at the border with France. The charity, which has reopened its socio-legal assistance office in the town, said the French authorities have been "extremely strict" in patrolling the border, sending migrants back to Italy, including mothers with children. It believed migrants want to go to France as they feel safer from COVID-19 in that country.
Maurizio Marmo, the director of Caritas Intemelia, said: "In the light of the new Italian decree on foreigners who have the necessary requirements, we will examine individual situations, evaluating the possibility for legalization."
The charity is also awaiting information about developments at the Parco Roja migrant center, which has been under quarantine for weeks after one person tested positive for COVID-19.
"In the past two months we have recorded very few crossings between Italy and France," Marmo said. "At the moment our center is full and the kitchen is still closed due to the health emergency, but we continue to distribute food packages to those in transit.
"We understand that a Moroccan mother and a Senegalese mother were sent back by French police guards. Children younger than 10 years old were traveling with them. They were assisted by volunteers from other humanitarian organizations."
Full report at:
https://www.arabnews.com/node/1681446/world
--------
Russian jets deployment in Libya sparks fears of Ankara-Moscow clash
May 28, 2020
JEDDAH: Russia's deployment of fighter aircraft to Libya to support mercenaries backing eastern strongman Gen. Khalifa Haftar on Thursday ratcheted up the threat of a confrontation between Ankara and Moscow, experts warned.
In a statement, the US military's Africa Command said: "US Africa Command assesses that Moscow recently deployed military fighter aircraft to Libya in order to support Russian state-sponsored private military contractors operating on the ground there."
The warplanes had been painted "to camouflage their Russian origin," the statement added.
Despite Moscow's dismissal of claims about its role in the presence of Russian mercenaries in Libya, University of Oxford researcher Samuel Ramani said that new revelations about Russia deploying MiG-29 fighter jets to Libya could create tensions with Turkey.
"Russian jets are being deployed in order to stem the tide of Turkey's military offensive, which has combined the use of ground force proxies and air force personnel in a hybrid warfare-style fashion. There is also the heightened risk of an accidental aerial conflict between Russia and Turkey," he told Arab News.
The UN said on Wednesday it was following the developments "with great concern" and highlighted the possible "devastating consequences" of any breaches of an arms embargo imposed on Libya.
Turkey supports Syrian rebels and Libya's Government of National Accord, while Russia backs Syria's President Bashar Assad and the Libyan forces of Haftar.
In recent months, there have been steps for rapprochement between Assad and Haftar whose common enemy is still Turkey. Haftar decided to reopen the Libyan Embassy in the Syrian capital Damascus which had been closed for eight years, while flights resumed recently between Damascus and the Libyan city of Benghazi under Haftar's domain.
However, Ramani pointed out that the long-term impact on Russia-Turkey relations was more unclear.
"Russia is reportedly scaling back its Wagner Group mercenary presence in Libya and replacing those forces with fighter jets, and it is unclear whether this will do more than stall Turkey's advance, while Moscow pushes for a diplomatic settlement," he said.
He noted the timing of the reports, which had come on the same day of a meeting between Russian Foreign Minister Sergei Lavrov and Libya's House of Representatives' (HOR) head Aguila Saleh.
Ramani added that Turkey was unlikely to change its conduct in Libya much, in response to Russia's new developments, but would be more vigilant if Russia's air war expanded, and the Russian S-400 defense system deal would likely remain in place.
"The only way the S-400 deal could collapse is if the US were to intervene in a material fashion that benefits Turkey and hurts Russia, which is a near-impossibility at present, due to (the coronavirus disease) COVID-19 pandemic," he said.
Turkey was set to activate the S-400 missile defense system in April and risked harsh sanctions from Washington for the move. However, the target date was postponed officially due to the COVID-19 outbreak that changed national priorities.
But Turkish rulers still insist on using the Russian system, although it is unclear how the diverging moves in Libya recently would impact on their resolve.
In an interview with FRANCE 24 on May 25, Ibrahim Kalin, the spokesman for Turkish President Recep Tayyip Erdogan, said although Turkey had delayed the activation of the system due to the pandemic, the government was still planning to operate it.
Kalin also hinted that if the US were willing to send Patriot missiles to Turkey, Erdogan would be ready to listen to the offer.
Seth Frantzman, Middle East security analyst and executive director of the Middle East Center for Reporting and Analysis, said the Russian move meant to balance Ankara's role in Libya and to make up for the losses in the Russian-made Pantsir air defense system and show Russia's strength.
"It's a bargaining chip related to Syria. Russia wants to show a strong hand in Libya to drive concessions in Syria's rebel-held Idlib province, likely through a new regime offensive to illustrate that Russia is not abandoning its partners in Libya and that it is willing to symbolically commit air force assets very publicly," he told Arab News.
Frantzman pointed out that while both Turkey and Russia worked together, they were also jockeying for popularity and influence in the region.
The UN said on Wednesday it was "following with great concern" claims that Russia sent jets to Libya.
The UN secretary-general's spokesman, Stephane Dujarric, said that, if proven, it would "constitute a flagrant violation of the arms embargo" imposed on Libya in 2011.
Without mentioning Russia, Dujarric said: "Reports of violations have increased significantly in the past few weeks, with reported near-daily transfers by air, land and sea.
Full report at:
https://www.arabnews.com/node/1681301/middle-east
--------
EU extends sanctions against Assad regime
Agnes Szucs
28.05.2020
BRUSSELS
EU foreign ministers on Thursday decided to extend sanctions for one more year against the Bashar al-Assad regime in Syria and its supporters.
The restrictive measures have been in place since 2011 in response to the violent repression of the civilian population.
"EU's sanctions target those responsible for their suffering, members of the Syrian regime, their supporters and businesspersons who finance it and benefit from the war economy," EU foreign policy chief Josep Borrell said.
The EU banned the travel and froze the assets of members of the Assad regime, as well as companies and business people benefitting from their ties with political elite.
The European assets of the Syrian central bank are also suspended, as well as the import of oil.
The EU also restricted the export of equipment and technology that might be used for internal repression, including the monitoring or interception of internet or telephone communications.
Currently, 273 people and 70 entities are on the EU's blacklist in connection with the Syrian conflict.
Today's decision removed one company from the list for stopping their sanctionable activities, as well as two deceased people.
The new measures will remain effective until June 1, 2021.
"The EU is determined to continue its support to the Syrian people and remains committed to use every tool at its disposal to push for a political solution to the conflict that would benefit all Syrians and put an end to the ongoing repression," Borrell said.
Syria has been ravaged by a civil war since early 2011 when the Assad regime cracked down on pro-democracy protesters.
Full report at:
https://www.aa.com.tr/en/europe/eu-extends-sanctions-against-assad-regime/1856734
--------
Turkey, Hungary agree on cultural cooperation
Merve Aydogan
28.05.2020
An agreement to enhance cultural cooperation between Ankara and Budapest was published in Turkey's Official Gazette on Thursday.
The agreement aims "to strengthen existing cultural relations and further promote reciprocal cooperation on the basis of equality and mutual respect."
According to the protocol, both Turkey and Hungary must aim to develop cooperation between cultural and art institutions.
Governments of both the countries will organize joint projects on protection, restoration and scientific investigation of intangible cultural heritage.
Exchange of information material and publication, particularly in public and national libraries, exchange of microfilms and digital copies of manuscripts to enrich each country's collections, has also been agreed upon.
Mutual events and reciprocal visits of bands, artists while supporting and promoting music, choreography, opera, ballet and other art forms will be arranged in line with the agreement.
Full report at:
https://www.aa.com.tr/en/europe/turkey-hungary-agree-on-cultural-cooperation/1856088
--------
Pakistan
Pak to defend itself effectively against any form of aggression: Qureshi
28 MAY 2020
By Sajjad Hussain
Islamabad, May 28 (PTI) Pakistan''s Foreign Minister Shah Mahmood Qureshi said on Thursday that his country will defend itself effectively against any form of aggression.
"We are opposed to a nuclear or conventional arms race in the region," Qureshi said while addressing a webinar to mark ''Yaum-e-Takbeer'' here, organised to celebrate the nuclear tests conducted by Pakistan in 1998.
He said Pakistan demonstrated its commitment to peace and stability by putting forward the proposal for a Strategic Restraint Regime.
"Our desire for peace should not leave anyone in doubt regarding our capability and we will defend ourselves effectively against any form of aggression," he said.
Army spokesman Maj Gen Babar Iftikhar tweeted that Pakistan on 28th May 1998 "successfully established credible minimum nuclear deterrence and restored balance of power in the region."
Opposition Pakistan Muslim League-Nawaz (PML-N) organized an event and its leaders highlighted the role of former premier Nawaz Sharif for resisting international pressure to conduct nuclear tests.
"There was pressure but Nawaz Sharif showed true leadership in the difficult times," former premier Shahid Khaqan Abbasi said.
Sharif was serving prime minister in 1998 for the second time when the nuclear tests were carried out by Pakistan. He was convicted and sentenced to jail on corruption charges in 2018. He is currently in London to receive medical treatment. PTI SH ZH
https://www.outlookindia.com/newsscroll/pak-to-defend-itself-effectively-against-any-form-of-aggression-qureshi/1849186
--------
FM Qureshi chides India for toying with risky military concepts
May 29, 2020
ISLAMABAD: Pakistan on Thursday accused nuclear-armed India of risky behaviour for toying with dangerous military concepts, but assured the world that it (Pakistan) would continue to act with restraint and responsibility.
"The flawed notion of establishment of a 'new normal' and fantasies of 'punishing Pakistan' while remaining below the threshold of a nuclear conflict demonstrate irresponsible and dangerous behaviour by India," Foreign Minister Shah Mehmood Qureshi said at a webinar, while referring to the Feb 2019 post-Pulwama stand-off.
The webinar was organised by the Institute of Strategic Studies Islamabad (ISSI) to commemorate the nuclear tests conducted by Pakistan on this day in 1998.
Mr Qureshi's remarks came in the backdrop of high running tensions between the two arch rival neighbours. Ceasefire violations and allegations of cross-LoC infiltration by India have escalated the situation.
The foreign minister said India's illegal annexation of Occupied Kashmir last August added to volatility in the region. "The irresponsible statements made by senior members of the BJP government, including on nuclear issues and threats of dismemberment, leave little doubt about the reckless mind-set at work," he added.
The security situation resulting from "hegemonic ambitions of a larger neighbor under the rule of an ultra-nationalist and revisionist regime", he said, does not allow Pakistan to lower its guard.
He emphasised Islamabad's desire for peace saying Yaum-i-Takbeer observance reminds us about Pakistani quest for peace and its resolve to defend its territorial integrity, sovereignty and independence.
Mr Qureshi said that 'credible minimum deterrence' would remain the guiding principle of Pakistan's nuclear posture and reiterated Islamabad's pledge to stay away from regional arms race.
"Pakistan has demonstrated its commitment to peace and stability by putting forward the proposal for a Strategic Restraint Regime (SRR). Yet our desire for peace should not leave anyone in doubt regarding our capability and will to defend ourselves effectively against any form of aggression," he maintained.
The foreign minister recalled Pakistan's growing technological prowess and offered cooperation with other countries in civilian nuclear application. He said Pakistan wanted to expand its high technology exports.
Full report at:
https://www.dawn.com/news/1560121/fm-qureshi-chides-india-for-toying-with-risky-military-concepts
--------
Covid-19 problem requires global solution: PM
Kalbe Ali
May 29, 2020
ISLAMABAD: Prime Minister Imran Khan reiterated on Thursday that the Covid-19 pandemic was a global problem that required a global solution, urging the developed world to "put their minds together".
"If developed countries put their minds together and treat this as a global situation, I think we will all come out of it unscathed. Right now things look bleak, but if we treat it as a global issue the world will come out of it," Prime Minister Khan said while addressing a virtual High-Level Event on Financing for Development (FFD) in Era of COVID-19 and Beyond.
The event was hosted by the prime ministers of Canada and Jamaica and the UN secretary general.
About 50 leaders took part in the event on development financing, including Italian Prime Minister Giuseppe Conte, South African President Cyril Ramaphosa, Canadian Prime Minister Justin Trudeau, British Prime Minister Boris Johnson and Costa Rican President Carlos Alvarado Quesada. Several leaders, such as German Chancellor Angela Merkel and French President Emmanuel Macron, said the crisis could be an opportunity to grow a "more resilient" economy to aid the fight against global warming.
PM Khan said that when Pakistan imposed lockdown measures to curb the spread of the virus, everything came to a standstill, as it did in most economies of the world, and the biggest issue for economies like Pakistan was to look after the most vulnerable section of population, and the people affected in the non-formal sector of economy.
In his address, the prime minister shared his vision on possible ways to address the debt issue and the enormous financial challenges facing developing countries. He said that while these problems had been faced by most countries, the developing world had taken a larger hit. He maintained that when compared with the stimulus packages of other developed countries, the developing world had only given $7 trillion to stimulate their economies.
"When you compare that with the developing world, unfortunately we do not have the fiscal space to revive our economy, to look after the most vulnerable section of our society. Out of a population of 220 million, almost 150m were counted among the most vulnerable section including the non-formal sector, daily wagers, weekly wagers, whose families are dependent on them earning money so that they could eat. But the problem was and the problem is that we have falling exports and remittances. We had big, ambitious plans to revive our tourism sector, and all this took a nosedive," he added.
PM Khan said Pakistan had an ambitious programme of fighting climate change by planting 10 billion trees, but all this money was diverted into dealing with the effects of the coronavirus lockdown. He referred to his discussions with the leaders of Ethiopia, Nigeria and Egypt and said he was informed that those countries too were facing problems similar to the ones being faced by Pakistan.
"Therefore, I really welcome the G20's initiative," the prime minister said, referring to the group's decision to include all countries under the World Bank's International Development Association (IDA) to be eligible for debt relief.
He said there were 1.5 billion people in the developed world, but the developing world faced a population of six billion people. "Unless the problem is dealt with holistically as a global problem with global solutions, the world is not going to recover from this recession if the bigger part of the world's population is wallowing in poverty," Mr Khan told the event.
Meanwhile, the foreign affairs ministry has said the invitation extended to Prime Minister Khan reflects the recognition of his role as a sincere spokesman for developing countries and the timeliness of his call for collective action to overcome the debt distress of so many developing countries.
The prime minister's leading role in advancing solutions to the vital issues of debt, liquidity, investment and sustainable development will greatly enhance the prospects for Pakistan and other developing countries to secure the international support, it added.
Prime Minister Khan had in April issued a call for a "Global Initiative on Debt Relief" to create fiscal space for developing countries to enable them to recover from the current crisis and revive sustainable economic growth. In response to his call, and under Pakistan's leadership, a representative group of developing and developed countries, and major financial institutions, have commenced informal consultations on the sidelines of the United Nations to evolve an agreement on some measures and practical actions to address the debt challenge of developing countries.
Full report at:
https://www.dawn.com/news/1560120/covid-19-problem-requires-global-solution-pm
--------
NAB reviews probes against opposition leaders
Syed Irfan Raza
May 29, 2020
ISLAMABAD: The Nat­ional Accountability Bureau (NAB) on Thursday revie­wed progress in investigations into corruption allegedly committed by former prime ministers Nawaz Sha­rif and Shahid Khaqan Abb­asi, former president Asif Zardari and Leader of the Opposition in the Nat­ional Assembly Shahbaz Sha­rif, his sons and "cronies".
The matter was discussed at a meeting chaired by NAB chairman retired Justice Javed Iqbal at the bureau's headquarters.
"The meeting reviewed progress on the ongoing inquiries/investigations of mega corruption... of former prime minister Nawaz Sha­rif, former chief minister Shahbaz Sharif, Hamza Sha­hbaz, Salman Shahbaz, Has­san Nawaz, Hussain Nawaz, Ahad Cheema, Fawad Hassan Fawad, Shahid Khaqan Abbasi, Ahsan Iqbal, Miftah Ismael, Imran ul Haq Sheikh and others," said a press release issued by the anti-graft watchdog.
The meeting also rev­iew­ed progress in the investigations into fake accounts cases against Mr Zardari, Abdul Ghani Majeed, Anwar Majeed and others, besides reviewing recovery of looted money and depositing it in the national exchequer.
The meeting was also attended by Deputy chairman of NAB Hussain Asghar and other senior officials, including the prosecutor general, director general (operations), DG NAB Rawalpindi and director generals of other regional bureaus through video link.
The NAB top command also discussed investigations against 56 companies of Punjab and latest situation about recovery of looted money from CEOs of public limited companies and the process of depositing it in the national exchequer.
The meeting also reviewed progress in investigations in sugar and wheat scandals, especially embezzlement of wheat in Sindh and recovery of Rs10 billion.
Cases regarding Kachhi canal, Gwadar Development Authority, progress in inquiries/investigations in the affairs of 435 offshore companies against Saifullah brothers, Aleem Khan and others and mutual legal assistance applications sent to different countries, on-going inquiries/investigations against Khyber Bank, Peshawar, Amir Muqam, retired Capt Safdar, Sardar Mehtab Abbasi, Akram Durrani and probes into fake cooperative housing societies and Modaraba/Musharaka scams in which NAB had arrested 45 accused were also reviewed.
Participants of the meeting decided to utilise all available resources for return of looted money from corrupt elements.
The meeting also reviewed measures taken for the arrest of proclaimed offenders and absconders.
The anti-graft watchdog decided to conclude complaint verifications, inquiries and investigations within the prescribed timeframe and file early hearing applications in various accountability courts, besides filing appeals against grant of bail to accused persons so that the cases could be concluded to their logical end as per law.
Speaking on the occasion, the NAB chairman said the bureau had chalked out a three-pronged strategy comprising awareness, prevention and enforcement to make Pakistan a corruption-free country. "NAB has no affiliation with any political party as it is national anti-corruption institution having only affiliation with state of Pakistan," he added.
He said NAB strictly believed in serving the country as per law and continued to do so without caring about any pressure, threat and propaganda. "NAB would continue to perform its duties as per law as its officers always believe in elimination of corruption from country as their national duty," he added.
The chairman appreciated the performance of all DGs and directed them to keep up the good work in future "Due to our continued efforts to combat corruption, reputed national and international organisations have appreciated NAB's performance which is [a matter of] pride for Pakistan," he added.
In a separate meeting, the NAB chief said the bureau was committed to rooting out corruption with iron hands in an atmosphere of renewed energy and dynamism.
He said NAB officers should double their efforts in nabbing corrupt elements and recovering from them hard-earned looted money of innocent people.
Mr Iqbal said to eliminate the possibility of any NAB officer influencing the discharge of official business, a new concept of "combined investigation team" had been introduced under which two investigation officers, a legal consultant, a financial expert under the supervision of the additional director/case and the director concerned were working as a team to ensure fair, transparent and unbiased, inquiry/ investigations.
The quality of inquiry and investigation, he said, must have improved due to establishment of NAB's first forensic science lab in Islamabad which had the facilities of digital forensics and document and fingerprint analysis which would help in gaining solid evidence during conduct of inquiries and investigations.
Full report at:
https://www.dawn.com/news/1560119/nab-reviews-probes-against-opposition-leaders
--------
Espionage convicts entitled to education remission: PHC
Waseem Ahmad Shah
May 29, 2020
PESHAWAR: The Peshawar High Court has ruled that the government can grant remission in sentences to the convicts of espionage and anti-state activities on the basis of their degrees secured in detention.
In a detailed verdict on 14 petitions of convicts, a larger bench consisting of Justice Lal Jan Khattak, Justice Ishtiaq Ibrahim and Justice Ijaz Anwar ruled that the ban imposed under the Prison Rules, 1978, on sentence remission for convicts of espionage and anti-state activities is not applicable to education remission.
Justice Lal Jan Khattak, Justice Ishtiaq Ibrahim and Justice Ijaz Anwar ruled that Rule 201-A and 214-A of the prison rules placed embargo on the grant of ordinary and special remissions to convicts under the charge of espionage/anti-state activities but there was no mention in these rules of educational remission provided to prisoners who acquire different category of education in the prison.
"Education remission is an independent provision of the Prison Rules, which is covered neither by Section 201 (ordinary remissions) nor by Section 214 (special remissions). Section 201-A and 214-A places embargo on the grant of ordinary and special remissions only, while there is nothing in those provisions about the refusal of education remissions and its seems quite logical and reasonable for the reason that those persons who are convicted of the offences referred above can transform themselves into good citizens by getting proper education, so they can lead a respectable and changed life after serving the sentence," it added.
The court ruled that the refusal of education remissions under prison rules 201-A and 214-A would not be applicable to the prisoners undergoing the sentence for the offences of espionage/anti state activities except in the cases in which the particular law has placed clog on the same in unequivocal terms."
The bench had reserved judgment in 14 petitions filed by different categories of prisoners, including those convicted under the Anti-Terrorism Act on Mar 13 after the completion of arguments.
It recently released a detailed judgment disposing of petitions with different directions.
The judgment authored by Justice Ishtiaq Ibrahim declared that the presidential remission under Article 45 of the Constitution won't apply to prisoners, who were specifically excluded by the notifications granting remissions.
It added that the question of refusal of remission granted by the country's president under Article 45 of the Constitution to particular class of convicts is justified and had been adjudicated by a Supreme Court bench in the Nazar Hussain case.
In different notification issued for granting presidential remission different categories of convicts were excluded including those convicted for murder, espionage, anti-state activities, sectarianism, robbery, kidnapping, abduction and terrorist acts.
Some petitioners, who were convicted under the Anti-Terrorism Act, had challenged their exclusion from the grant of those remissions.
The bench ruled that under Article 45 of the Constitution, the president enjoyed unfettered powers to grant remissions in respect of offences and no clog stipulated in subordinate legislation could abridge the power.
"However when the notification by itself has categorised the availability of remission to a particular class of prisoners and withheld to another class then this Court cannot add or omit to the said notification unless the same is contrary to law and discriminatory," it added.
The bench accepted one of the petitions filed by prisoner Mohammad Umer, who was arrested in a murder case in Mar 2001 by the then tribal administration of Kurram Agency and was convicted by an assistant political agent and sentenced to 14 years rigorous imprisonment on two counts.
The APA had ruled that the convict's sentences would run consecutively and not concurrently.
Shabbir Hussain Gigyani, lawyer for the petitioner, had said under Code of Criminal Procedure, the APA was not empowered to order that the sentences should run consecutively.
The bench ruled that the sentences would run concurrently and not consecutively.
It also observed that the provincial government and jail authorities should consider the cases of convicts covered by rules 140(ii) and 143 of the prison rules, which conferred powers on the jail authorities and government for consideration of cases under Section 401 of CrPC.
The said rules relate to sending cases of convicts, who have completed 15 years imprisonment, to the government for suspension or remitting their remaining sentences.
Full report at:
https://www.dawn.com/news/1560046/espionage-convicts-entitled-to-education-remission-phc
--------
PPP moves FIA over 'derogatory, slanderous remarks' about Benazir Bhutto
May 29, 2020
The Pakistan People's Party (PPP) has requested the Federal Investigation Agency's (FIA) Cybercrime Wing to take immediate action and initiate proceedings against a Twitter account operated under the name 'Cynthia D. Ritchie' for making "extremely derogatory and slanderous remarks" about former Pakistani prime minister and late party leader Benazir Bhutto.
In a letter to the FIA, Shakeel Abbasi — an advocate at the Islamabad High Court and the PPP's district president — requested the agency to take action against Ritchie.
"Through this application, it is brought to your notice that a woman, who goes by the name of Cynthia D. Ritchie on Twitter has passed extremely derogatory and slanderous remarks about Shaheed Mohtarma Benazir Bhutto, through her Twitter handle/account," the letter, dated May 28, read.
"Her remarks being false, untrue, defamating and slanderous as they are, have caused immense pain and agony to the millions across Pakistan who revere and hold Shaheed Mohtarma Benazir Bhutto in high esteem," it added.
"Your office is requested to take immediate action and initiate proceedings against this woman as prescribed by the law and under your mandate.
Full report at:
https://www.pakistantoday.com.pk/2020/05/28/ppp-moves-fia-over-derogatory-slanderous-remarks-about-benazir-bhutto/
--------
India
India trashes Pakistan's objection to commencement of construction of Ram temple
May 28, 2020
NEW DELHI: India on Thursday trashed Pakistan's criticism of commencement of the construction of the Ram temple in Ayodhya, saying Islamabad has no locus standi over the issue.
"We have seen an absurd statement by Pakistan on a matter on which it has no locus standi. Given its record, Pakistan should be embarrassed to even mention minorities," external affairs ministry spokesperson Anurag Srivastava said.
Pakistan foreign office on Wednesday said that while the world is grappling with the unprecedented Covid-19 pandemic, "the RSS-BJP combine" was advancing the Hindutva agenda.
The commencement of construction of a mandir at the site of the historic Babri Masjid in Ayodhya on May 26, 2020, is another step in this direction and the government and people of Pakistan condemn it in the strongest terms, it said.
The Supreme Court, in a landmark verdict in the Babri Masjid-Ram Janmabhoomi title case last year, paved way for construction of the Ram temple in Ayodhya.
"As for the judiciary, Pakistan must realise that theirs is thankfully not the norm. There are others elsewhere with credibility and integrity that Pakistan understandably finds difficult to recognise," Srivastava said.
He was replying to a question on Pakistan's reaction on the matter.
"India is a nation served by the rule of law and which guarantees equal rights to all faiths. Pakistan's Foreign Office may take time out and read their own constitution to realize the difference," the MEA spokesperson said.
https://timesofindia.indiatimes.com/india/india-trashes-pakistans-objection-to-commencement-of-construction-of-ram-temple/articleshow/76077586.cms
--------
300 Indian nationals stuck in Pakistan due to Covid-19 to return home on Saturday
May 29, 2020
As many as 300 Indian nationals, stuck in Pakistan due to the coronavirus pandemic, are going to come back home. The Indian government has given permission for them to return, Hindustan Times' Hindi language publication Hindustan reported.
According to reports in the Pakistan media, quoted by Hindustan, these people will cross into India through the Attari-Wagah border crossing on Saturday, media reports further said.
Among this group of people are 80 students from Jammu and Kashmir who have been studying in Lahore. The group also includes 10 Indian nationals in Islamabad and 12 in Nankana Sahib who went to meet their relatives and got stuck there due to global travel restrictions in the wake of Covid-19. About 200 Indian nationals are living in Karachi and other parts of Pakistan's Sindh province, Hindustan reported.
They were asked to sign an affidavit after which they got the permission to return. Pakistan has made all the arrangements to take the group to Wagah border - they will be brought there by Friday night and handed over to Indian authorities on Saturday.
One hundred seventy six Pakistani nationals stuck in India due to the lockdown returned to Pakistan on Wednesday through the Attari-Wagah border crossing. They were stranded in India for the last two months. Most of these people came to India on pilgrimage.
The Pakistani Rangers received them from the Border Security Force (BSF).
"Upon their arrival, the Pakistani citizens including women and children were screened and transferred to quarantine centres in Lahore where they will stay for 72 hours," Mohammad Younis of Edhi Foundation told news agency PTI.
They were stuck in Chhattisgarh, Gujarat, Madhya Pradesh, Maharashtra, Punjab, Rajasthan, Uttar Pradesh, Uttarakhand and Delhi due to the extended lockdown and the closure of the Attari-Wagah border following the outbreak of the COVID-19 pandemic.
Full report at:
https://www.hindustantimes.com/india-news/300-indian-nationals-stuck-in-pakistan-due-to-covid-19-to-return-home-on-saturday/story-Po8zIK7wX73D2dZtjMyehJ.html
--------
Telangana Waqf Board Raps Graveyard Committees for Turning Away Muslim Man's Body over Covid-19 Fears
MAY 29, 2020
After News18 Urdu reported about a man being denied burial in Muslim graveyards over Covid-19 fears and his last rites being performed in a Hindu resting place in Hyderabad, Telangana State Waqf Board has taken cognisance of the incident and said it will issue notices to the caretakers of the graveyards.
Board's chairman Mohammed Saleem has warned of strict action against the caretakers, i.e., mutavallis of graveyards committees if they deny any body a respectful burial as per the norms. "The graveyard is not anyone's personal property," he said. "We will not tolerate if anyone turns away the family members of the deceased when they come to seek land for burial."
Saleem said that across the state, except for a nominal fee, graveyard committees can't collect any substantial amount from the family members of the deceased on the pretext of allocating land.
Based on the News18 Urdu report, the organisation Tehreek Muslim Shabban has lodged a complaint with the Telangana State Waqf Board against management committees of five graveyards for allegedly denying land for burial to a Muslim man. President of the organisation, Mohd Mustaq Malik, also demanded framing of guidelines for the management committees of graveyards and permission to bury in any of them.
While the Majlis Bachao Tahreek also took interest in this matter, Asaduddin Owaisi's All India Majlis-e-Ittehad-ul-Muslimeen (AIMIM) is asking people not to behave in such an inhumane manner, while spreading awarenessabout precautionary measures to tackle the coronavirus threat.
Four days ago, a man from Hydershah Kot area, Mohammad Khwaja Miyan, had died of cardiac arrest and his family could not get any land for burial at five graveyards in the city. "We could not take the body to our native place as it's over 200 km away. What were we supposed to do in such a situation?" asked a relative.
Full report at:
https://www.news18.com/news/india/telangana-waqf-board-raps-graveyard-committees-for-turning-away-muslim-mans-body-over-covid-19-fears-2642369.html
--------
129 Indians return from Bangladesh, quarantined
May 29, 2020
AGARTALA: 129 people, including 105 residents of Tripura, returned from Bangladesh amid coronavirus pandemic. Each of them will undergo a Covid-19 test and 7-day institutional quarantine.
They all arrived here on Thursday through Akhaura-Agartala Integrated Check Post in Agartala.
The administration has arranged facilities for the returnees in view of Covid-19 guidelines. On their arrival, social distancing was maintained and their luggage and hands were sanitised. Also, they underwent thermal screening.
"129 people have returned to the country, including 105 people from Tripura. All the necessary arrangements were made for them. Now, everyone will undergo Covid-19 testing and 7-day institutional quarantine," an official said.
"I am a second-year medical student, pursuing my studies in Bangladesh. We had to return due to Covid-19 pandemic. With the help of the Indian High Commission, we have finally returned," a returnee said.
Full report at:
https://timesofindia.indiatimes.com/india/129-indians-return-from-bangladesh-quarantined/articleshow/76083218.cms
--------
Re-run of Pulwama attack foiled, explosives-laden car seized in Kashmir
May 29, 2020
SRINAGAR/NEW DELHI: A vehicle-borne IED attack, similar to the one that killed 40 CRPF personnel in Pulwama last year and led to the IAF bombing a Lashkar camp in Balakot, was averted after a joint team of the J&K police, CRPF and Army acted swiftly on intelligence inputs to intercept a car which was abandoned by the driver after being fired upon.
The tip-off said a white Santro fitted with explosives was on the move in Pulwama with plans to enter the highway to target a security convoy. Police believe the fidayeen plot to target the forces or their installations was a joint venture of Jaish-e-Mohammad and Hizbul Mujahideen. The suspect car was intercepted at a checkpoint on Wednesday night and signalled to halt which it did not, leading to the security forces opening fire.
The foiled suicide mission was uncannily similar to the Pulwama attack of February 14, 2019. The plan was to station the vehicle on a side road used to get on the highway and ram it into a passing convoy. A white Maruti Eeco was used by Jaish suicide bomber Adil to hit the CRPF convoy, while it was a white Santro here. Both had a fake number plates. Explosives were packed in a container in both instances.
"The likely route of the IED-fitted car was developed based on inputs and security forces deployed at multiple checkpoints. When the driver refused to halt, the car was fired at. The driver panicked and fled, abandoning the explosives-laden vehicle in Ayangund area of Rajpora in Pulwama. Since it was dark and the area around the vehicle was populated, J&K police chose to keep watch during the night from a safe distance. A search of the vehicle later found a container packed with explosives. This container itself weighed around 50 kg. This morning we got the nearby area vacated and then destroyed the car in a controlled explosion," J&K DGP Dilbag Singh told TOI.
Capture
J&K police IG Vijay Kumar said the explosives, as per preliminary examination, included ammonium nitrate and RDX. While inputs of Jaish and Lashkar-e-Taiba planning a spectacular suicide mission in collaboration with Hizbul Mujahideen to target security convoys and installations has been reaching security agencies for the past 4-5 months, more so around the anniversary of the Battle of Badr (17th day of Ramzan) on May 11, the plans were seen to have been thwarted by intensified counter-terror operations. These actions have seen 70 terrorists, including 21 senior commanders and deputy commanders of terror outfits, killed so far this year.
Sources said a Pakistani Jaish terrorist from Rawalpindi, Jameel Pashah, active in Kashmir since 2015, and who escaped during an encounter in Kulgam a fortnight ago, was the mastermind of the fidayeen plot. A top intelligence functionary said Jameel fitted the Santro with the fake number of a two-wheeler registered in Kathua.
Intelligence agencies and police had picked up a conversation of terrorists with controllers across the border some five days ago about a probable terror attack which prompted stepped-up deployment.
At a press conference on Thursday, IG Vijay Kumar said one Adil and Waleed Bahia, who worked for Hizbul-Mujahideen and Jaish respectively, and two others were believed to be part of this foiled terror attempt. "Over the past year, the security forces have neutralised commanders, including Ansar Ghazwat-ul-Hind (AGuH) founder Zakir Musa (killed in May 2019), top Jaish commander Qari Yasir (January 2020), LeT/The Resistance Front commander Asif Ahmad (April 2020), AGuH leader Burhan Koka (April 2020) and Hizb deputy commander Junaid Sehrai (May 2020). They are desperate to hit back with a big attack," the officer said.
Dilbag Singh said there were reports as well as visual proof that Hizb chief Syed Salahuddin had recently called a meeting with leaders of other tanzeems like JeM and LeT in Muzaffarabad in PoK to give final shape to a plot for a big attack on Indian forces. As in the case of Pulwama on February 14, 2019, the police believe the explosives and other resources may have been arranged by Pakistan-based terror outfits. The attack, it is suspected, was to be executed either by a Pakistani terrorist — a man who slipped away from an encounter site in Kulgam two weeks ago or a local Hizb terrorist might have abandoned the explosives-laden car.
Full report at:
https://timesofindia.indiatimes.com/india/re-run-of-pulwama-attack-foiled-explosives-laden-car-seized-in-kashmir/articleshow/76081664.cms
--------
India trashes Pakistan's objection to commencement of Ram temple construction
May 29, 2020
India on Thursday trashed Pakistan's criticism of commencement of the construction of the Ram temple in Ayodhya, saying Islamabad has no locus standi over the issue.
"We have seen an absurd statement by Pakistan on a matter on which it has no locus standi. Given its record, Pakistan should be embarrassed to even mention minorities," External Affairs Ministry Spokesperson Anurag Srivastava said.
Pakistan Foreign Office on Wednesday said that while the world is grappling with the unprecedented Covid-19 pandemic, "the RSS-BJP combine" was advancing the Hindutva agenda. The commencement of construction of a mandir at the site of the historic Babri Masjid in Ayodhya on May 26, 2020, is another step in this direction and the government and people of Pakistan condemn it in the strongest terms, it said.
The Supreme Court, in a landmark verdict in the Babri Masjid-Ram Janmabhoomi title case last year, paved way for construction of the Ram temple in Ayodhya.
"As for the judiciary, Pakistan must realise that theirs is thankfully not the norm. There are others elsewhere with credibility and integrity that Pakistan understandably finds difficult to recognise," Srivastava said.
He was replying to a question on Pakistan's reaction on the matter.
Full report at:
https://indianexpress.com/article/india/india-trashes-pakistans-objection-to-ram-temple-construction-6432050/
--------
Southeast Asia
Undocumented Workers: Malaysia to send back those who test Covid-19 negative
May 29, 2020
Malaysia will send back undocumented Bangladeshi migrant workers, who are currently at different deportation centres in the country, following Covid-19 tests.
Illegal immigrants who tested negative would be sent back to their respective countries, Malaysian Senior Minister for Security Ismail Sabri Yaakob told Bernama, the country's national news agency, yesterday.
On the other hand, illegal immigrants who tested positive are being treated at a temporary hospital in the country, according to reports in Malaysian media.
One report published by The Star on Wednesday on its online version said there were 227 positive cases from three deportation centres in Bukit Jalil, Semenyih and Sepang.
Of the infected, 53 Bangladeshis tested positive, the highest cases from one country, it said.
Asked about the number of Bangladeshis at the deportation centres, Zahirul Islam, labour welfare counsellor at Bangladesh High Commission in Kuala Lumpur, said he cannot say the total number at the moment.
He, however, said some 244 Bangladeshis were at Bukit Jalil and Semenyih centres in April, adding that Malaysia has some 12-13 such centres all over the country.
Wishing anonymity, an official at the Bangladesh mission in Kuala Lumpur said the deportation could take place by arranging special flights amid air travel ban or via regular flights once air communication between the two countries resume.
According to the Bernama report, Sabri thanked three countries -- Indonesia, Nepal and Bangladesh -- for agreeing with Malaysian government's proposal to send the immigrants home.
"The foreign ministry will discuss with its counterparts in the three countries over the move," the report quoted Sabri as saying.
As of yesterday, 354 illegal immigrants who tested positive were taking treatment at the temporary hospital, added the Bernama report.
Meanwhile, The Star yesterday reported, quoting Sabri, that throughout the movement control order period starting from March 18, some 41 human traffickers were arrested while seven suspected smugglers were taken in by authorities in Malaysia.
Authorities also chased away three boats with 86 illegal immigrants aboard.
https://www.thedailystar.net/city/news/undocumented-workers-malaysia-send-back-those-who-test-covid-19-negative-1906105
--------
'It's Too Late': In Sprawling Indonesia, Coronavirus Surges
By Hannah Beech and Muktita Suhartono
May 28, 2020
The 1,340 Maluku Islands are a long way from anywhere. So remote are these Indonesian isles that the country's most famous novelist was imprisoned there in a gulag that was actually an archipelago.
But the coronavirus is stalking the farthest reaches of the planet.
The first case of the virus in the Malukus was confirmed in mid-March: a hardware technician who had journeyed from Indonesia's most populated island, Java. With the central government loath to impose a national lockdown, local officials took matters into their own hands, instituting quarantines and limiting flights and ferries.
It didn't work. Twenty-five medical workers at one hospital in Ambon, the biggest city in the Malukus, have tested positive for the coronavirus, even though none had contact with Covid-19 patients there. A hat vendor with no history of travel to other Indonesian viral hot spots became sick and died in early May, signaling that community transmission had begun.
Over the past week in Maluku Province, positive coronavirus tests have increased by double digits each day, with limited testing — only around 600 people have been tested — surely obscuring the true caseload.
"We didn't expect it to happen this fast," said Kasrul Selang, the head of the coronavirus task force in Maluku Province. His wife has tested positive for the coronavirus.
The world's fourth most populous country, Indonesia offers both a cautionary tale for how dithering leadership can thwart public health and a medical puzzle for why an unprepared nation's hospitals have so far not been overwhelmed by the virus.
With thousands of islands straddling a section of the Equator wider than the continental United States, Indonesia has counted on its sprawling archipelago and youthful population to slow the deadly spread of the virus. But with sharp caseload increases in far-flung regions like the Malukus and full-blown outbreaks on more populated islands like Java, Indonesia's luck may be running out.
In early May, Indonesia had recorded fewer than 12,000 cases of the coronavirus, with around 865 deaths. By Thursday, the number had increased to 24,538 confirmed cases and 1,496 deaths. Health experts say even this doubling of cases reflects the limits of testing rather than the true caseload.
In an alarming glimpse at what could be runaway transmission, a random sampling of 11,555 people in Surabaya, the country's second largest city, found last week that 10 percent of those tested had antibodies for the coronavirus. Yet the entire province of East Java, which includes Surabaya, had 4,313 officially confirmed cases as of Thursday.
"Massive infection has already happened," said Dono Widiatmoko, a senior lecturer in health and social care at the University of Derby and a member of the Indonesian Public Health Association. "This means it's too late."
Yet even as the country's caseload accelerates, the Indonesian government has said that national coronavirus restrictions, already a scattershot effort, must be relaxed to save the economy.
"If people don't eat and they get sick, it will be worse," said Joko Widodo, the president, at a briefing for the foreign news media.
There is widespread concern among public health experts, however, that Indonesia's health care system will break down if the coronavirus spreads as intensely as it did in the United States or Europe.
Worryingly, more than half of Covid-19 deaths in Indonesia were of people below age 60. In the United States, most deaths have been among the elderly. The relative youth of the victims in Indonesia, health experts say, hints at hospitals that are unable to provide the kind of lifesaving treatment offered in other countries.
And epidemiologists fear an even bigger surge in cases next month. Last week, in a country with the largest Muslim population in the world, millions of Indonesians gathered to pray and travel at the end of Ramadan, the Islamic holy month. In the capital, Jakarta, more than 465,000 vehicles left the capital during the holiday period, according to a toll operator.
While the Indonesian government announced some coronavirus travel restrictions in late April, they have not been enforced rigorously, critics say. Loopholes abound. Airport staff have complained about entire families, including children, flying under exemptions meant for business travelers.
Modeling by epidemiologists at the University of Indonesia forecasts that up to 200,000 Indonesians may require hospitalization for the virus because of Ramadan-related activity.
Achmad Yurianto, the spokesman for the National Covid-19 Task Force, said that he expected a surge in confirmed cases beginning next week because of all the holiday movement.
Because Indonesia's testing rates are the worst among the 40 countries most affected by the virus — 967 per 1 million people, compared to 46,951 per 1 million people in the United States, as of Wednesday — Indonesians, especially those with asymptomatic or mild cases, are unknowingly spreading the virus, infectious disease experts warn.
"The disaster is still coming," said Dr. Pandu Riono, an epidemiologist who led the University of Indonesia's modeling effort. "Even after many months, we still have leaders who believe in miracles rather than science. We still have terrible policies."
The Indonesian government should have known better. For weeks, even as nearby countries recorded spiraling local infections, Indonesia's leaders acted as if the archipelago were somehow immune to the coronavirus.
"They were in denial," said Dr. Erlina Burhan, a senior pulmonologist at Persahabatan Hospital in Jakarta. She noted that she has already been falling asleep in exhaustion at her desk because of the deluge of coronavirus casework.
Indonesia didn't confirm its first coronavirus case until early March. Neighboring Malaysia and Singapore recorded their first cases in late January.
Meanwhile, some hospitals, particularly on crowded Java, were logging big upticks in pneumonia cases with symptoms similar to Covid-19. But bodies were buried before coronavirus tests were administered.
The governor of Jakarta said hundreds of people had probably died of Covid-19 in the capital but were not part of any official coronavirus count.
Denial continued among Indonesia's top leaders, even as a cabinet minister fell ill in mid-March. The nation's health minister suggested that prayer could ward off the virus. Or maybe exercise and vitamins could do the trick.
Mr. Joko, the president, eventually admitted that the true situation wasn't being shared with the public to avoid panic spreading across the archipelago.
Because national restrictions weren't put into place until about a month ago, some provincial officials instituted their own travel bans, just as state governors did in the United States.
In Maluku Province, the governor began limiting arrivals at the airport and big ports in late March, after the first case was confirmed there. About 6,000 outsiders were quarantined.
But in a notoriously corrupt country, not everyone followed the rules. Even if official ports of entry were monitored, fishermen moved back and forth from the Malukus to viral hot spots like Makassar on the island of Sulawesi, where infections proliferated after a gathering of a Muslim revivalist group.
For each place like Maluku Province that tried to impose local discipline, others were proceeding as if life were normal.
"If they had restricted movement since the beginning, the disease would not have spread to almost all over Indonesia," said Dr. Rodrigo Limmon, head of the Ambon branch of the Indonesian Doctors Association.
In the Malukus, medical staff resorted to using plastic raincoats from convenience stores for lack of proper equipment. Ambon, which was devastated by communal violence at the turn of the century, has only 25 ventilators. The Haulussy Hospital, where the 25 medical workers tested positive, was forced to close.
"If they get sick or die, how will we survive?" said Wiesye Pelupessy, founder of an Ambon civil society group that has been distributing personal protective equipment for local medical workers.
Some officials are hopeful that, for now, the virus hasn't spread to the farthest-flung islands in the Maluku island chain. The southeastern Malukus have not yet recorded a single case.
There are other, even more unlikely, places in Indonesia that have avoided out-of-control epidemics. The tourist island of Bali had direct flights from Wuhan, the Chinese city that was the center of the initial outbreak. Even in March, holidaymakers were arriving in Bali from Europe and other places hard hit by the virus.
Yet Bali has had just 420 confirmed cases. Gusti Ngurah Mahardika, a virologist at Udayana University in Bali, checked in with local crematories to see whether more bodies were coming in because of the coronavirus. They were not.
"It is not the Indonesian habit to hug and to kiss," he said, looking for possible factors that might have contributed to the island's low caseload. The same cultural social distancing has been mentioned in connection with the relatively low number of infections in countries like Japan and Thailand compared with Brazil or Italy.
Full report at:
https://www.nytimes.com/2020/05/28/world/asia/indonesia-coronavirus-surge.html
--------
No More Recess: Gov't to Overhaul School System
BY TARA MARCHELIN
MAY 28, 2020
Jakarta. The Women Empowerment and Child Protection Ministry says it is preparing "new normal" guidelines for schools that will be closely based on Covid-19 health protocols.
"We will overhaul the school system according to the 'new normal' guidelines. Schools need to get themselves ready to conduct classes online and offline," Ciput Eka Purwanti, the ministry's assistant deputy for child protection, said on Thursday.
Ciput said the ministry has made recommendations for reducing school hours and cutting recess.
"School should be limited to a maximum of four hours a day with no recess," she said.
Ciput said the ministry has learned lessons from Australia, which has trialed reopening schools with only two classes.
Schools in Indonesia should trial running more classes in shifts, according to Ciput.
"There will be a one-hour interval between shifts. This will allow students to come to school and go home at different times and prevent them from gathering in school areas," she said.
Schools also have to install more hand-washing facilities to prevent long queues for students when they want to wash their hands.
However, Ciput admitted schools that lack access to clean water will find it difficult to follow the new regulations.
"Ministries and state agencies responsible for clean water infrastructure should work together to help these schools," Ciput said.
The Women Empowerment and Child Protection Ministry is already working with other ministries and state agencies to prepare the new school protocol.
"We've discussed the issue with the Education and Culture Ministry and the Covid-19 Task Force. Next week, we'll discuss it with the Religious Affairs Ministry to work out the protocols for Islamic boarding schools and madrasahs," she said.
Parents to Step In
In the new system, parents are expected to take on a greater role in assisting their children with online learning.
"Parents should step in more to accompany their children when they study at home," Ciput said.
Parents should start educating their children about the health protocol to prevent coronavirus transmission, including washing hands frequently, wearing masks, keeping a safe distance with friends and not touching the face.
Parents should also make sure their children get enough nutrition to support their immune system.
"In many countries, few children contract Covid-19. But it's different in Indonesia. Here 5 percent of Covid-19 patients are children aged 0 to 17," Ciput said.
According to ministry, the high rate of Covid-19 infection among children in Indonesia is caused by lack of awareness about the disease.
Full report at:
https://jakartaglobe.id/news/no-more-recess-govt-to-overhaul-school-system
--------
Africa
Coronavirus: Tunisians protest over jobs amid economic downturn
28 May 2020
Hundreds of Tunisians protested on Thursday in at least seven cities to demand jobs, heaping pressure on a government facing the worse economic crisis in more than 60 years due to the coronavirus pandemic.
In the southern city of Gafsa, a witnesses said hundreds of university graduates gathered in front of the state headquarters, chanting slogans such as "we need jobs."
Hundreds more protested in Hajeb El Ayoun and Sidi Bouzid, witnesses said. Smaller protests by unemployed people also broke out in the cities of Beja, Kasserine, Tozeur and Safax, state news agency TAP said.
For all the latest headlines follow our Google News channel online or via the app.
Even before outbreak hammered Tunisia's tourism sector, which accounts for nearly 10 percent of gross domestic product, successive governments since the uprising of 2011 have failed to resolve stubbornly high inflation and unemployment that has bred discontent especially among young people.
On Wednesday, a company official told Reuters said protesters calling for jobs brought Tunisia's phosphate output to a halt by staging sit-ins at state-run Gafsa Phosphate (CPG), the country's sole producer. Phosphate is a key source of foreign currency.
The official unemployment rate is 15.3 percent but looks certain to rise.
Tunisia started relaxing restrictions on movement and businesses this month, allowing 75 percent of government employees to return to work - but the authorities expect the economy to shrink by 4.3 percent this year, which would be its steepest contraction in more than 60 years.
The country has so far recorded 1,068 confirmed cases of the coronavirus and 48 deaths.
The birthplace of the Arab Spring, Tunisia is the only country to achieve a peaceful transition to democracy following the 2011 revolts that swept autocrats from power across North Africa and the Middle East.
https://english.alarabiya.net/en/coronavirus/2020/05/28/Coronavirus-Tunisians-protest-over-jobs-amid-economic-downturn.html
--------
Libya coast guard detains 400 migrants bound for Europe: UN
25 May 2020
Libya's coast guard intercepted about 400 Europe-bound migrants off the country's Mediterranean coast over the past two days, and brought them to the capital of Tripoli from where they were taken to a detention center, the UN migration agency said Monday.
Safa Msehli, a spokeswoman for the International Organization for Migration said the migrants were taken to the al-Nasser detention center in the town of Zawya, west of Tripoli, she said.
Mselhi said departures from Libya have increased, which is "especially worrying amid a sharp decrease in ... search and rescue capacity."
Libya, which descended into chaos following the 2011 uprising that toppled and killed longtime dictator Muammar Qaddafi, has emerged as a major transit point for African and Arab migrants fleeing war and poverty to Europe.
Most migrants make the perilous journey in ill-equipped and unsafe rubber boats. The IOM said last month that its estimated death toll among migrants who have tried to cross the Mediterranean Sea since 2014 has surpassed 20,000.
Since the outbreak of the coronavirus pandemic, major maritime rescue charities, such as Ocean Viking and Sea-Watch, have suspended migrant rescue operations. Also, travel disruptions have forced the UN refugee and migration agencies to halt their resettlement flights for the most vulnerable people.
In recent years, the European Union has partnered with the coast guard and other Libyan forces to stop the flow of migrants. Rights groups say those efforts have left migrants at the mercy of brutal armed groups or confined in squalid and overcrowded detention centers that lack adequate food and water.
Full report at:
https://english.alarabiya.net/en/News/north-africa/2020/05/25/Libya-coast-guard-detains-400-migrants-bound-for-Europe-UN.html
--------
Diplomat behind Sudan-Israel normalization attempts dies of coronavirus
Friday, 29 May 202
A close adviser to the head of Sudan's sovereign council and a key figure behind burgeoning clandestine relations between the Northeast African country and the Israeli regime has died of the novel coronavirus after being flown to Occupied Territories to receive treatment.
English newspaper the Jerusalem Post, citing a report published by Israel's Channel 13 television network, said Najwa Gadaheldam had passed away, just days after contracting the highly contagious virus.
Channel 13 added that an Israeli plane landed in Khartoum International Airport on Tuesday morning with senior diplomatic officials, medical personnel and equipment, after learning of Gadaheldam's condition.
The Israeli medical team arrived too late when the Sudanese diplomat was already in critical condition. Gadaheldam later died from complications stemming from the coronavirus.
The flight caught public attention after her plane took an unusual flight path and appeared on radar and various flight tracking sites, which would have otherwise remained a secret.
Earlier this week, the office of Israeli prime minister Benjamin Netanyahu revealed that the 70-year-old chairman of the Likud party and Sudanese leader, Abdel Fattah al-Burhan, had a telephone conversation on the first day of Eid al-Fitr holiday, which marked the end of the holy Muslim fasting month of Ramadan.
The two official apparently discussed ways to strengthen mutual ties during the phone call.
Back on February 16, Netanyahu said that an Israeli civilian aircraft had flown through Sudanese airspace for the first time, in what was seen as another example of warming ties with the Israeli regime.
Israeli newspaper Haaretz, quoting an unnamed Israeli official, said then that the plane was "a private Israeli executive jet."
Burhan met Netanyahu in the city of Entebbe in central Uganda on February 3.
A high-ranking official with the Palestinian Islamic resistance movement, Hamas, has denounced Sudan's decision to forge normal relations with Israel, describing such attempts as nothing but a "mirage."
Full report at:
https://www.presstv.com/Detail/2020/05/29/626328/Diplomat-behind-Sudan-Israel-normalization-attempts-dies-of-coronavirus
--------
Armed bandits kill 60 people in northwest Nigeria
28 May 2020
Armed bandits have killed at least 60 people in a string of attacks on villages in the restive northwest of Nigeria, local sources say.
Residents and medics said on Thursday that dozens of heavily-armed gunmen riding motorcycles raided five villages in Sabon Birni district in Sokoto state late Wednesday.
"We received a total of 60 dead bodies and several people with gunshot injuries from the villages attacked by the bandits last night," media outlets quoted a nurse at the general hospital in Sabon Birni as saying.
A second medic said "all the bodies had bullet wounds, most of them were shot in the head".
A local traditional leader also said: "We lost 60 people in the attacks. The bandits killed 16 in Garki, 13 in Dan Aduwa, 22 in Kuzari, seven in Katuma and two in Masawa."
Sabon Birni district, which is located 175 kilometres (110 miles) from the state capital Sokoto, has been repeatedly attacked by armed groups and gangs.
In the most recent attack on Monday, 18 people were killed when gunmen raided five other villages in Sabon Birni district.
Northwestern Nigeria has been wracked by years of violence involving clashes between rival communities over land, attacks by heavily-armed criminal gangs and reprisal killings by vigilante groups.
Cattle rustling and kidnapping for ransom have also flourished in the security vacuum.
The Nigerian government has so far failed in halting unrest that has killed an estimated 8,000 people since 2011 and displaced 200,000.
Security experts say Nigeria can ill afford more instability as it is already struggling to contain insurgencies by Borko Haram Takfiri terrorists in the northeast, conflicts in central states, and militant groups in the Niger Delta to the southeast.
27 killed in central Mali ethnic violence
Elsewhere in Africa, at least 27 people were killed and many others wounded in three attacks on ethnic Dogon farming villages in central Mali in less than 24 hours.
Local officials said the attacks took place between Tuesday night and Wednesday evening. They believed the raids were carried out by militants, who often say they are defending Fulani herders against rival Dogon farmers.
"We were surprised by the attack on the village of Tillé. Seven were killed, all Dogons, some of them burned alive," said Yacouba Kassogué, the deputy mayor of Doucombo, the municipality in which Tillé is located.
Raids on villages in the neighboring areas of Bankass and Koro killed another 20 civilians.
Central Mali has been ravaged in recent years by ethnic reprisal killings.
Fulani civilians have also been frequent victims of violence by vigilante militias who accuse them of supporting Takfiri militant groups operating across the region.Over 150 were killed in a single village by suspected Dogon vigilantes in March last year.
Unrest in the central region coincides with an ongoing al Qaeda-linked militants campaign that the Mali government is struggling to contain.
Mali has been in chaos since 2012, when Takfiri militants seized the northern two-thirds of the country. French forces intervened the following year to drive them back, but the militants have since regrouped and expanded their operations into neighboring countries such as Burkina Faso and Niger.
Full report at:
https://www.presstv.com/Detail/2020/05/28/626304/Nigeria--Sokoto-Sabon-Birni-Mali-al-Qaeda-Boko-Haram
--------
Takfiri militants kill 40 civilians in DR Congo
28 May 2020
Takfiri militants have launched a brutal attack on a village in the northeastern Democratic Republic of the Congo near the Ugandan border, killing at least 40 civilians.
The massacre was perpetrated by the armed militants from the so-called Allied Democratic Forces (ADF) early on Tuesday when they attacked Samboko Village, located about 100 kilometers southwest of the city of Bunia in the DR Congo, with machetes and looted the villagers' food and valuables.
The ADF, which was driven out of Uganda and moved into the DR Congo in the late 1990s, had a day earlier killed at least 17 in the nearby village of Makutano.
More than 400 people have reportedly lost their lives in attacks by the ADF since the Congolese army began an offensive to oust the group from its bastions last year.
The ADF has pledged allegiance to the Takfiri Daesh terrorist group, and the latter has claimed responsibility for some ADF attacks in the DR Congo.
Over the past two months, about 200,000 people have fled their homes in Ituri Province — where the two villages recently attacked are located — due to the widespread violence by a variety of armed groups.
A United Nations (UN) report said in January that more than 700 people had been killed in Ituri since late 2017, adding that some of the killings might constitute a "crime against humanity."
Researchers and rights groups say some Congolese soldiers have been involved in the killings since 2014 for a variety of motives often related to competition for power in the country's lawless zones dominated by dozens of militia groups.
UN warns of possible war crimes in northeastern DR Congo
The UN warned on Wednesday that widespread and systematic killings, beheadings, sexual assaults, and other barbaric acts by militia mostly from the ethnic Lendu community in the northeastern DR Congo may constitute "crimes against humanity and war crimes."
The United Nations Joint Human Rights Office (UNJHRO) said in a report that in the six months to April 2020, at least 296 people had been killed, 151 wounded, and 38 raped, including women and children, mostly by militia linked to the CODECO rebels form the Lendu ethnic group.
"The persistence of this violence is likely to push members of the communities targeted by the attacks, who have so far shown restraint, to form self-defense militias," UNJRHO said. "This could increase the likelihood of large-scale inter-communal violence in the region."
"There is a high risk that leaders with more radical positions will emerge and plunge the area into a more serious cycle of violence, with even more attacks against (the army) and civilians," UNJRHO added in the report.
Full report at:
https://www.presstv.com/Detail/2020/05/28/626274/DR-Congo-Takfiri-militants
--------
Nigerian army rescues 241 hostages from Boko Haram
Adam Abu-bashal
29.05.2020
Nigerian troops have rescued 241 hostages abducted by the Boko Haram terrorist group in the country's northeast, an official said Thursday.
Defense Ministry spokesman John Enenche told reporters that a clash took place between the army and Boko Haram in the Gamboru region of Borno State.
Enenche said that following the clash, the army rescued 136 children and 105 women in an operation against the terror group.
Fourteen Boko Haram members were neutralized during the operation, he said, adding a remarkable amount of ammunition was also seized.
He stressed that the army suffered no losses or injuries during the operation.
No information about when the hostages were abducted was disclosed.
Boko Haram launched a bloody insurgency in 2009 in northeastern Nigeria but later spread its atrocities to neighboring Niger, Chad and Cameroon, prompting a military response.
More than 30,000 people have been killed and nearly 3 million displaced in a decade of Boko Haram's terrorist activities in Nigeria, according to the UN Office for the Coordination of Humanitarian Affairs.
Full report at:
https://www.aa.com.tr/en/africa/nigerian-army-rescues-241-hostages-from-boko-haram/1857125
--------
North America
Due to US pressure, Iran can either negotiate or manage economic collapse: Hook
28 May 2020
US President Donald Trump's "maximum pressure" policy is giving Iran a choice between negotiating with the United States or managing the economic collapse caused by US sanctions, US Special Representative for Iran Brian Hook said on Wednesday.
"Because of our pressure, Iran's leaders are facing a decision: Either negotiate with us or manage economic collapse," Hook told reporters during a conference call.
The United States said on Wednesday it will terminate sanctions waivers that had allowed Russian, Chinese, and European companies to carry out work originally designed to make it harder for Iranian nuclear sites to be used for weapons development.
For all the latest headlines follow our Google News channel online or via the app.
The waivers, which officials said expire on July 27, covered the conversion of Iran's Arak heavy water research reactor, the provision of enriched uranium for its Tehran Research Reactor, and the transfer of spent and scrap reactor fuel abroad.
In a statement, US Secretary of State Mike Pompeo gave no precise justification for the move, which will halt some work originally designed to make it more difficult for Iran to potentially develop fissile material for nuclear bombs.
https://english.alarabiya.net/en/News/middle-east/2020/05/28/Due-to-US-pressure-Iran-can-either-negotiate-or-manage-economic-collapse-Hook.html
--------
US committed to long-term defense partnership with Saudi Arabia: Pentagon spokesman
28 May 2020
The United States is committed to a long-term defense partnership with Saudi Arabia, especially as it relates to regional air defense to deal with any "Iran-related emergencies," Pentagon spokesman Sean Robertson told Asharq al-Awsat newspaper on Thursday.
Robertson also confirmed that the US is committed to long-term defense contracts with Saudi Arabia and intends to strengthen the air defense capabilities in the region.
"The American forces maintain strong capabilities in the [regional] operations, including air defense, to address any Iran-related emergencies as needed," Robertson was quoted as saying by the pan-Arab daily Asharq al-Awsat.
Earlier this month, the US removed two of its four Patriot anti-missile units from Saudi Arabia, leaving two more at Prince Sultan airbase.
Saudi Arabia will replace two US missile defense batteries at oil sites and will still be able to defend itself from any Iranian aggression, according to experts in the field who said the move did not affect strong US-Saudi relations.
Robertson said his statement come "in response to some American press reports that claimed that reducing the forces or their equipment in the region might open the way for increased threats in the Middle East."
Full report at:
https://english.alarabiya.net/en/News/gulf/2020/05/28/US-committed-to-long-term-defense-partnership-with-Saudi-Arabia-Pentagon-spokesman.html
--------
VOA wasting $17 million of US taxpayer money to spread propaganda against Iran: Scholar
28 May 2020
By Kevin Barrett
[Brian Hook] in Trump's White House has lashed out at the Voice of America, specifically the Persian language part of it, saying it's a huge waste of the taxpayers' money.
Well, he may be right about that. The Voice of America is the US government official propaganda channel that is out there trying to undermine any governments that remain at least a little bit independent.
And, of course, Hook may be right that actually the commercial US channels may be doing a better job of undermining independent governments and selling American propaganda than VOA is. So, let's give him that. But he is completely out of his mind in terms of his specific criticisms of the Persian language VOA.
It's actually rather hilarious to look at what Hook is saying and of course, he represents the thought of Mike Pompeo. These people are psychotic. They are complete maniacs and their criticisms are that the anti-Iran propaganda put out by VOA isn't rabid, and one-sided enough.
He apparently wants VOA to do nothing but viciously attack Iran in its Iranian language program and he thinks that would be effective propaganda for trying to convince the Iranian people to destroy their own country and overthrow their own government and become traitors to their own constitution.
Well, the fact is that the VOA people, as bad as they are at their jobs, are at least proficient enough to know that the way you can propaganda is you have to be somewhat subtle. You have to come across as if you're being reasonable and balanced, while subtly highlighting a particular point of view that you're trying to get across and that is what VOA does in its Persian services as well as other services, attacking other independent countries.
But Pompeo and Hook apparently think that if they can force the VOA Persian service to only hire rabid lunatics like them who lash out and drool with rabid mania at all times, 24/7, 365 [days], that will somehow convince the Iranian people that they're right and that Iran is wrong. And, well, go ahead, try it.
The people that Trump is brought into his administration, many of them, like Pompeo and Hook, are just not very sophisticated like Trump himself and Trump's unsophisticated approach to the world is not bearing a whole lot of dividends in many areas, not least of which is the response to the coronavirus with 100,000 US deaths and counting and probably Trump has blown his reelection.
That kind of ineptitude is going to carry over into other areas, but the smart thing here would be to just shut down VOA Persian as Hook is threatening, rather than to waste even more money by turning it into a voice of Pompeo and Hook's rabid lunacy, which would get absolutely no traction in Iran or anywhere else.
Of course, the one area where Hook is right is that the $17 million of US taxpayer money that are going to fund the VOA Persian service propaganda is largely wasted. As I said earlier that the whole regime change effort on Iran is a wasted effort in terms of actual US interest. But even given that if we accept the idea that the government should be encouraging propaganda, the commercial efforts are vastly bigger and probably more effective than VOA is anyway.
So this is indeed a waste of the American taxpayers' money and it's also very offensive that all of these efforts are being used to undermine independent governments.
I think if the American people understood what's going on, they would pressure their government to allow other countries to be themselves and to have independent policies.
Unfortunately, that's not the approach of the current [US] regime. And, in fact, the whole bubble in which the foreign policy experts in America exist in is all based on this American exceptionalist ideology. And so they are going to be propagandizing people, and stealing the taxpayers' money to do it for some time.
Full report at:
https://www.presstv.com/Detail/2020/05/28/626305/US--Iran-VOA-Brian-Hook-Kevin-Barrett
--------
Tampa supporter of Islamic State terror group nabbed in undercover sting, FBI says
By Jack Evans
May 29, 2020
A Tampa man faces federal charges after FBI agents said he gave "material support" to the Islamic State and may have scouted Honeymoon Island State Park for a possible attack.
Muhammed Momtaz Al-Azhari, 23, is charged with attempting to provide material support or resources to a designated foreign terrorist organization, the Department of Justice announced Wednesday.
Al-Azhari was arrested Sunday in a federal sting operation in which he acquired weapons from an FBI informant with whom he'd shared his desires to carry out a mass shooting on behalf of a terror group, according to a criminal complaint.
The document refers to the terror group as the Islamic State of Iraq and al-Sham, or ISIS.
Al-Azhari, a U.S. citizen, served three years in prison in Saudi Arabia after being convicted in 2015 of attempting to join a terrorist organization there while traveling to Syria to fight against the Syrian government, according to the complaint. In late 2018, he returned to the U.S. — first to California, where his grandmother lives, and then to Tampa.
He spent much of this spring trying to illegally acquire guns from an undercover FBI agent posing as an eBay seller, the complaint said. Al-Azhari called off the deal after Tampa police arrested him for trying to carry a pistol into a Home Depot. The complaint goes on to say that Al-Azhari worked at a Tampa Home Depot, though it doesn't specify which one.
In late April, according to the complaint, Al-Azhari also used the online shopping site Wish to order a bulletproof vest, a balaclava and materials that he'd talked about converting into a firearm silencer.
Much of the complaint details the FBI's monitoring of Al-Azhari's online and phone communications through the spring. He regularly read Islamic State news and participated in Islamic State-focused chat rooms. He researched bomb-making and disguises.
FBI agents said he also traveled multiple times to Orlando, specifically to Pulse nightclub. That was the site of the 2016 mass shooting that killed 49 people and injured 53 other, authorities say, carried out by a shooter who'd sworn allegiance to the Islamic State. At least one of those times, agents said, Al-Azhari took photos of the building and later told the confidential source who participated in the sting that he wanted to do something like what the shooter had done.
Agents said they also found self-shot videos on Al-Azhari's iPhone in which he showed off guns, mimicked shooting people and announced his support for the Islamic State.
"God willing, the exhalted, the Islamic State is lasting," he said at the end of one of the videos, according to the complaint.
Earlier this month, agents said, Al-Azhari drove to Honeymoon Island but turned around once he got there. In the early morning hours two days later, he searched on Google maps for "FBI" and "central intelligence" as well as Honeymoon Island, Clearwater Beach and "busy beach." Agents said in the complaint that they believe he was looking for a target.
On May 20, agents said, Al-Azhari started talking with the confidential source, who has a criminal record that includes robbery and gun possession convictions. Over the next four days, according to the complaint, they talked about acquiring guns, and Al-Azhari talked about his desires to kill Americans and move to Iraq or Syria.
"I want to join ISIS," he told the source, according to the complaint. "They are the real followers."
Al-Azhari also told the source that he was keeping track of locations where he'd seen military license plates or "anything government-related," agents said, and suggested the two target a police officer. On Saturday, agents said, the source showed Al-Azhari pictures of a Glock pistol and an AK-47 — the kinds of guns he'd tried to buy from the eBay seller. The source told Al-Azhari they were his cousin's guns, and the cousin was willing to sell.
The two agreed to pool their money for the Glock and a silencer, according to the complaint. That afternoon, they met in Tampa, where the source gave Al-Azhari a bag containing the gun and silencer. Al-Azhari took the bag and got into the source's passenger seat, at which point FBI agents said they arrested him.
Full report at:
https://www.tampabay.com/news/crime/2020/05/27/tampa-supporter-of-islamic-state-terror-group-nabbed-in-undercover-sting-fbi-says/
--------
Mideast
Police Arrest 14 Takfiri Separatists in Southern Iran
May 28, 2020
The detainees had opened fire at police posts and centers of the Basij volunteer forces, hoisted the flag of the al-Ahwazia terrorist group across the city and carried banners in support of the group, Police Chief of Khuzestan province Brigadier General Heidar Abbaszadeh said Wednesday.
He added that they had sent videoclips of their activities abroad.
Abbaszadeh said police forces in coordination with judicial officials carried out four separate operations and arrested the elements, eight of whom were involved in shootings while the remaining six were engaged in raising the flags of the terrorist group across the city.
Five motorcycles and 12 cellphones were also confiscated from them, according to the police official, who said the detainees had confessed to the offenses and their cases were sent to judicial authorities.
Nine of them were sent to prison while an investigation was still underway for the remaining detainees, he added.
On September 22, 2018, four gunmen had attacked a military parade in the Southern Iranian city of Ahvaz, killing at least 25 people and wounding 69 others. A four-year-old boy was among the fallen victims.
Gunmen opened fire on people from behind a viewing stand during a parade held to mark Iran's eight-year defense against the invasion of the country by former Iraqi dictator Saddam Hussein in the 1980s.
Al-Ahwazia terrorist group claimed responsibility for the September 22 terrorist attack in Ahvaz.
https://en.farsnews.ir/newstext.aspx?nn=13990308000609
--------
VP: Iran Exporting Machinery to Europe for Production of Masks
May 28, 2020
Sattari made the remarks on Wednesday, addressing a session of Strategic Headquarters for Implementing Comprehensive Scientific Outline of Iran.
He also noted that the country has already exported coronavirus diagnostic kits to a number of countries.
Sattari had announced earlier this month that Iranian knowledge-based firms have started manufacturing coronavirus test kits and eight countries have agreed to import such items from the country.
"Iran presently has a capacity of producing 1 million serology test kits per day and 1.5 million of C-Creative Protein (CPR) test kits per month," Sattari said.
"Part of the mentioned figure is used inside the country and the rest is exported," he added.
In relevant remarks on May 10, Deputy head of the Iranian presidency's office for scientific affairs Mehdi Qalenoyee said that Iranian firms are going to export serological test kits to eight more countries after a first successful cargo was sent to Germany earlier in the week.
Qalenoyee said export of two types of coronavirus test kits to the Philippines and Pakistan was waiting for confirmation from the local officials after Iranian companies manufacturing the special tools sent sample kits to labs in those countries.
He added that India, Nigeria and Armenia will receive the items once travel restrictions are eased.
The official also said that Qatar, Georgia and Syria will soon be included in the list of export destination for the Iranian test kits.
Full report at:
https://en.farsnews.ir/newstext.aspx?nn=13990308000544
--------
DM: IRGC Speed Boats Tighten Security Belt in Persian Gulf
May 28, 2020
General Hatami made the remarks, addressing a ceremony to deliver over 100 speed boats to the IRGC Navy in the Persian Gulf on Thursday.
"Today, with the delivery of the domestically-built offensive boats to IRGC's naval fleet, the security belt of the Persian Gulf, specially the strategic Strait of Hormuz, will be more tightened than before," he said.
General Hatami noted that "over 80% of the equipment, including telecommunications, radars, and control and monitoring systems, used in the vessels delivered to the IRGC today, is domestically manufactured, and all their weapons systems have been localized under the supervision of the Defense Ministry".
Referring to the instructions of Leader of Islamic Revolution Ayatollah Seyed Ali Khamenei on "production surge" in the current year, the Defense Minister, said, "Certainly, following the orders of the Leader over boosting the power and capabilities of the Islamic Republic's navy, we will increase the depth of our presence in free waters through the design and manufacture of different surface and sub-surface vessels."
He assured that the country's defense capabilities will also observe a considerable leap on the ground, see and air as well as the electronics and aerospace this year.
General Hatami referred to the delivery of Damavand destroyer, Separ (Shield) warship, and light and semi-heavy submarines, including Ghadir and Fateh to the armed forces, as well as other patrols, search and rescue vessels to the police as measures of the Ministry of Defense in equipping the Armed Forces fleet in the Persian Gulf and the Sea of Oman.
The IRGC Navy was equipped with over 100 home-made missile-launching speed boats on Thursday.
During a ceremony, participated by several high-ranking military officials, including IRGC Commander Major General Hossein Salami, IRGC Navy Commander Rear Admiral Alireza Tangsiri, and General Hatami, 112 new-generation offensive speed boats of different classes were unveiled and delivered to the IRGC naval forces in the Persian Gulf.
Full report at:
https://en.farsnews.ir/newstext.aspx?nn=13990308000396
--------
IRGC Commander: Iran Not to Bow to Enemies
May 28, 2020
General Salami made the remarks, addressing a ceremony to deliver over 100 speed boats to the IRGC Navy in the Persian Gulf on Thursday.
He hailed Iran's significant progress in the defense sector, warning that the Islamic Republic will give crushing response to enemies if threatened.
"The Islamic Republic has the determination. We will not bow to enemies. We will not retreat. Progress is the nature of our work. Defense is our logic in war but not in the sense of passivity against the enemy. Our operations and tactics are offensive and we have shown it in the battlefield," General Salami said.
The IRGC commander said that a key portion of Iran's maritime power is still "unknown" to others.
"The most important and dangerous part of this power is unknown. Our enemies will see this power the day when they pursue an evil intention against this land. On that day, they will get to see the real firepower of our forces at the sea and in the sky, and the battlefield will turn into a hell for the enemies of Iran and Islam," he warned.
The IRGC Navy was equipped with over 100 home-made missile-launching speed boats on Thursday.
During a ceremony, participated by several high-ranking military officials, including General Salami, IRGC Navy Commander Rear Admiral Alireza Tangsiri, and Defense Minister Brigadier General Amir Hatami, 112 new-generation offensive speed boats of different classes were unveiled and delivered to the IRGC naval forces in the Persian Gulf.
Full report at:
https://en.farsnews.ir/newstext.aspx?nn=13990308000341
--------
Iran's exports to India fall over 94 percent in first quarter of 2020
28 May 2020
Iran's exports to India fell by more than 94 percent in the first quarter of 2020, according to figures released by India's Ministry of Finance on Thursday.
Iran's exports to India were worth over $2 billion in the first quarter of last year and over $3 billion in the same period in 2018. This figure fell below $80 million in the first quarter of this year.
India's exports to Iran have also dropped by 38 percent in the first quarter of 2020 compared with the same period last year.
US President Donald Trump withdrew from the Iran nuclear deal in 2018 and launched a "maximum pressure" campaign against the regime in Tehran, saying he wanted a more comprehensive deal that would cover nuclear issues, Iran's ballistic missile program and Iranian activities in the Middle East. Trump's sanctions on Tehran have devastated the Iranian economy.
India, previously Iran's second-largest oil customer after China, stopped buying Iranian oil in the second half of last year.
Full report at:
https://english.alarabiya.net/en/business/economy/2020/05/28/Iran-s-exports-to-India-fall-over-94-percent-in-first-quarter-of-2020.html
--------
Iran says US must show respect or keep humiliating itself
28 May 2020
Iran's Foreign Ministry spokesman says the United States must admit defeat and start respecting the Iranian nation instead of further humiliating itself.
"We do shatter your max pressure campaign with maximum resistance, stiffening resolve and reliance on the national capabilities," said Abbas Mousavi in a tweet on Thursday night, addressing US officials.
"It is you who face a choice: either admit defeat and start respecting the Iranian Nation or further keep being hated, humiliating and isolating yourselves," he added.
He made the remarks in reaction to Wednesday comments made by US Special Representative for Iran Brian Hook, who claimed President Donald Trump's "maximum pressure" policy is giving Iran a choice between negotiating with the United States or managing what he called "economic collapse" caused by US sanctions.
"Because of our pressure, Iran's leaders are facing a decision: Either negotiate with us or manage economic collapse," Hook told reporters during a conference call.
In May 2018, Trump unilaterally pulled his country out of the multilateral Iran nuclear deal, officially known as the Joint Comprehensive Plan of Action (JCPOA), in defiance of global criticism.
Ever since withdrawing from the agreement, Washington has launched a so-called maximum pressure campaign against Tehran, seeking to pressure it with a growing list of widespread sanctions targeting the Islamic Republic.
Tehran has responded to the sanctions and the failure of JCPOA signatories – specifically Britain, France and Germany – to protect the deal by gradually suspending its own commitments to the nuclear accord.
Full report at:
https://www.presstv.com/Detail/2020/05/28/626314/iran-us-sanctions-brian-hook
--------
Commander: IRGC Navy Vessels Enjoy 92knots/h Cruising Capability
May 28, 2020
"We have increased the speed to 92 knots/h in our military vessels at sea by means of indigenized know-how," Rear Admiral Tangsiri said, addressing a ceremony to deliver 112 speed boats to the IRGC Navy in the Persian Gulf on Thursday.
"This speed is three times faster than the speed of the US vessels which is due to its unique design and enhancement of its engine structures," he added.
Rear Admiral Tangsiri also declared that manufacturing of two vessels named after martyred Commander of the IRGC Quds Force Lieutenant General Qassem Soleimani and Deputy Commander of Iraq's Popular Mobilization Forces (PMF) Abu Mahdi al-Muhandis has started, adding that the projects will be accomplished within a year.
Rear Admiral Tangsiri had announced in October that Iran plans to manufacture speed boats in the near future which voyage at the speed of 100 knots per hour.
"Today, marine vessels which cruise at 90nots/h will be unveiled," Rear Admiral Tangsiri said.
"God willing, we will go toward (building) speed vessels with 100knots/h speed," he added.
Tangsiri underlined that the Iranian Armed Forces' preparedness has established security and stability in the Persian Gulf region, adding, "Iran has several times sent messages to the Persian Gulf littoral states that this region belongs to the Persian Gulf littoral states and we are capable of establishing security through sympathy among the neighboring states in the region."
Full report at:
https://en.farsnews.ir/newstext.aspx?nn=13990308000649
--------
Iran's 4th Fuel Tanker Arrives in Venezuela's Special Economic Zone
May 28, 2020
According to a report by Marine Traffic website which tracks the traffic of tankers in the international water, Faxon tanker entered Venezuela's special economic zone on Thursday morning.
Iran has sent five tankers loaded with 1.53 million barrels of gasoline and alkylate to Venezuela to help jump start the oil refineries in the Latin American state amid a fuel crisis.
Three of the vessels, Fortune, Forest and Petunia, have already reached Venezuela under military escort.
The fourth tanker Faxon arrived in the Caribbean Sea on Wednesday and in Venezuela's special economic zone on Thursday while the last ship, Clavel, is en route to Venezuela.
Iran's fuel supply to Venezuela has sharply irked the US as the oil sectors of both countries are subject to draconian American sanctions.
A US official said earlier this month that President Donald Trump's administration was considering responses, prompting Tehran to warn of retaliatory measures if Washington causes any problem for the tankers.
On Friday, President Rouhani said his country is always entitled to defend its sovereignty and territorial integrity, and warned that if his country's oil tankers in the Caribbean or anywhere in the world get into trouble by the Americans, Tehran will definitely retaliate.
"Although some of the US measures have created unacceptable conditions in different parts of the world, we will not be the initiator of tension and clash," Rouhani said in a phone call with the Qatari Emir, Sheikh Tamim bin Hamad Al Thani.
Referring to the American moves in the Caribbean, he reiterated, "If our oil tankers face problems in the Caribbean Sea or anywhere in the world by the Americans, they will face problems reciprocally."
We see the conditions today more apt for cooperation, especially given the outbreak of this disease; but the US continues its incorrect decisions and inhumane behaviors, the president noted.
He made it clear, "As before, we stress that the security of our region, particularly the marine security, is maintained by the regional countries and we have always announced that we are ready for cooperation with the neighboring countries."
The Qatari Emir, for his part, underlined that the regional security should be maintained by the countries in the region and they should cooperate with each other to secure waterways in the region.
Hamad Al Thani also added that his country will try to deescalate tension.
Also, Chief of Staff of the Iranian Armed Forces Major General Mohammad Hossein Bagheri on Friday warned Washington of the dire repercussions of any hostile move against Iran's interests, vowing that Tehran would not hesitate to strike back in case it is targeted by the US.
Bagheri noted Iran's right to free shipment in the high seas, and stressed that the armed forces are constantly monitoring every small move of the enemies, including the adventurous, terrorist and antihuman American army in the region and faraway lands.
"We stand firm and decided to give the US an appropriate response for any miscalculation against the national interests of Iran," the top commander stressed, in a stern warning to the US to avoid any hostile move aganst five Iranian tankers carrying fuel to Venezuela.
Venezuela's defense minister said last Wednesday that planes and ships from the nation's armed forces will escort Iranian tankers arriving with fuel to the gasoline-starved country to prevent any US aggression.
Defense Minister Vladimir Padrino López said Venezuela's navy and air force will welcome the five Iranian tankers, seeing them through the nation's maritime territory and into port.
He compared the fuel tankers to humanitarian aid that China and Russia have sent to help Venezuela combat the new coronavirus pandemic.
Meantime, Iranian Defense Minister Brigadier General Amir Hatami warned the US against any hostile move or trouble-making for the country's oil tankers in international waters.
"Troubling the oil tankers is a violation of international laws and security. Both international organizations and countries which are sensitive to the laws and waterways' security should certainly show reaction to such an act," General Hatami told reporters after a cabinet meeting in Tehran last Wednesday.
He described any possible US trouble-making for the Iranian tankers in the free waters as "piracy".
Full report at:
https://en.farsnews.ir/newstext.aspx?nn=13990308000599
--------
Iran changes tack in Iraqi politics after mastermind's assassination
MAY 27, 2020
BAGHDAD (Reuters) - Two diplomats are quietly leading Iran's push to influence politics in Iraq, in a departure from the more blunt enforcement employed by Qassem Soleimani, a top commander slain in a U.S. air strike.
The consensual tactics in a country where Iran has wrestled with Washington for influence for nearly two decades was designed to break a political deadlock in Baghdad and hasten the departure of nearly 5,000 U.S. troops from Iraq, according to three senior Iranian officials involved in the process.
"Sometimes you need to step back, observe and plan based on realities on the ground," said a senior Iranian official, who spoke on condition of anonymity.
"We want the Americans to leave the region. If there is chaos in Iraq ... Americans will use it as an excuse to extend their stay."
A U.S. State Department spokesman said Washington did not interfere in Iraqi politics.
Washington and Tehran came close to war earlier this year after rocket attacks on Iraqi bases hosting U.S. forces and U.S. air strikes against militia groups, including the one that killed Soleimani in January in Baghdad.
The powerful commander of the elite Quds force of Iran's Revolutionary Guards (IRGC) had steered political allies in Iraq, fought proxy wars across the Middle East and sought to impose his will on politics in Baghdad.
Since his death, Iranian officials have held substantive talks with Iraqi President Barham Salih for the first time in years aimed at building trust and pushed Iran's Shi'ite allies to compromise to end an impasse that prevented the formation of a stable government.
Some Iraqi sources cautioned, however, that the officials that come to Iraq still have links to the IRGC, years of experience of dealing with Iraqi matters and considerable sway over many political and paramilitary groups.
Iran's foreign ministry and its embassy in Baghdad were not available to comment on the contacts between its officials and Iraqi government and militia figures. Salih's office was not immediately available for comment on Iran's role in Iraq.
NEW PRIME MINISTER
The most tangible outcome of Iran's new approach was the appointment by parliament this month of new prime minister Mustafa al-Kadhimi, a former intelligence chief viewed suspiciously by some groups allied to Iran for his friendly ties with the United States.
Kadhimi's office did not immediately respond to requests for comment for this article.
Iraq had suffered deep political turmoil after former Prime Minister Adel Abdul Mahdi, whom Iran supported, resigned in November in the face of mass protests against economic hardship and an allegedly corrupt ruling elite.
President Salih opposed the Iran-allied parties' preferred candidates to replace Abdul Mahdi as too divisive for Iraq's Sunni and Kurdish groups, a senior Iraqi official said.
In March, Ali Shamkhani, secretary of Iran's national security council, made an official visit, dining with Salih at the presidential palace.
"After Shamkhani's visit, things went more smoothly," another official said. "Iran showed it was willing to work with some respect for Iraqi sovereignty, and to let Iraq choose its cabinet."
Shamkhani's office and the spokesman for Iran's national security council were not available for comment.
Kadhimi emerged as the frontrunner for premier, even though some Iran-backed militias continued to oppose him.
One militia publicly suggested he was involved in Soleimani's killing in Baghdad in his role as head of Iraq's intelligence service, which was set up by the Americans after the U.S.-led invasion of Iraq to topple Saddam Hussein.
The service said in a statement that the charge was "baseless".
At the Baghdad home of a Shi'ite leader, hours before a parliamentary vote on Kadhimi's cabinet, Iranian Foreign Ministry official Hassan Danaifar and current Iraq envoy Iraj Masjedi convinced party and paramilitary chiefs to support Kadhimi.
"The message from the Iranian delegation was clear - Kadhimi is the only choice left to maintain some stability in Iraq and save face," said a militia official close to Iraq's influential Badr Organisation who was briefed on the meeting.
Reuters was unable to reach Danaifar and Masjedi for comment.
RISKS REMAIN
A lawmaker from the Dawa party that dominated Iraq's government until 2018 said some of the groups in Iraq allied to Iran distrusted Kadhimi for his perceived closeness to Tehran's arch-enemy, Washington.
So even though Danaifar and Masjedi did enough to win the votes needed to install Kadhimi, some militia say they still feel suspicion and bitterness.
The Iran-backed Kataib Hezbollah group, which levelled the accusation over Soleimani, said there had been "great pressure" from Tehran to approve Kadhimi.
An official in Iran-backed Asaib Ahl al-Haq, Jawad al-Tulaibawi, likened Kadhimi's accession to "being forced to ... eat a carcass".
Some Iraqi officials attribute Iran's more flexible stance to pressure from U.S. sanctions, the devastating spread of the coronavirus at home and the death of Soleimani.
When Kadhimi became prime minister, the United States granted Iraq a four-month extension to a sanctions waiver that allows Baghdad to import Iranian energy – an economic lifeline for Iran.
Washington has said that the concession was aimed at supporting the new government.
Full report at:
https://www.reuters.com/article/us-iraq-iran-politics/iran-changes-tack-in-iraqi-politics-after-masterminds-assassination-idUSKBN2332DG
--------
South Asia
Afghan government says ceasefire still in place even as skirmishes with Taliban resume
May 28, 2020
KABUL: Skirmishes between Taliban fighters and Afghan security forces recommenced in Afghanistan in the day since a three-day ceasefire expired, but government officials said on Thursday that the incidents were minor and the truce could still hold.
The Taliban have remained silent on government appeals for an extension of the ceasefire, which was announced for the Eid al-Fitr holiday that ends the Muslim holy fasting month of Ramadan.
"Taliban attacked checkpoints in the Syagird district of central Parwan province late Wednesday night," a spokeswoman of the province's governor said, adding that seven Afghan security forces personnel were killed.
Taliban spokesman Zabiullah Mujahid, meanwhile, said the government had carried out air strikes on Wednesday in the southern province of Zabul despite the group's fighters not having carried out any attacks.
The United States has reached an agreement with the Taliban to withdraw U.S. forces after more than 18 years in Afghanistan, leaving the Afghan government to negotiate a peace deal with the Islamist insurgents to end the war.
But so far the conflict has not subsided, with the holiday ceasefire having come at a time of intensified fighting. Since the truce formally ended on Tuesday night, senior Afghan government officials say there have been some violations from both sides, but not big enough to doom the ceasefire effort.
"The ceasefire is not over yet; there have been violations because it is a complicated technical process that requires good coordination between both sides," said Javid Faisal, spokesman for the Afghan National Security Advisor (NSA).
The Afghan government freed 900 Taliban members from prison on Tuesday, the biggest such release yet, as part of a prisoner swap under the deal struck by the Islamist group and the United States in Qatar in February.
The prisoner exchange is a precursor to the peace talks, and the government said an extension in the ceasefire was important to furthering the peace process. The Taliban welcomed the prisoner release and said they would reciprocate soon, but said nothing about extending the ceasefire.
A Taliban delegation has arrived in Kabul to work with a government team on the release of prisoners on both sides, spokesmen for both sides said on Twitter on Thursday.
https://timesofindia.indiatimes.com/world/south-asia/afghan-government-says-ceasefire-still-in-place-even-as-skirmishes-with-taliban-resume/articleshow/76069201.cms
--------
Rohingya refugee crisis: 'The bodies were thrown out of the boat'
May 29, 2020
"Nobody knows how many people have died. It could be 50 or even more," recalls Khadiza Begum.
The 50-year-old was among 396 Rohingya Muslims who had tried to reach Malaysia but who finally returned to the Bangladeshi shore after the boat carrying them was stranded at sea for two months.
Her estimate on the number of deaths comes from the funerals her son officiated as an imam, a Muslim preacher, on the same boat.
The human smugglers never delivered them to their longed-for destination.
Khadiza had to run away from her home in Myanmar because of violence that UN investigators described as a "textbook example of ethnic cleansing".
Neighbouring Bangladesh gave her shelter, settling the fleeing Rohingya Muslims in what has now become the world's largest refugee camp.
Around one million Rohingya are housed in Cox's Bazar in Bangladesh, and some among them, like Khadiza, hold dreams of a better life in Malaysia, lying across the Bay of Bengal.
But in Khadiza's case, the dream turned into a nightmare.
She recounts how the crew - the human traffickers - tried to conceal deaths on their crowded boat.
"They would run both engines so that none could hear the sound of splashing water when bodies were thrown out."
Often, she says, the bodies were disposed of during the night: "I know for sure at least 14 to 15 women died."
The death of a woman who was sitting next to her continues to traumatise Khadiza. Severely dehydrated, the woman was initially disoriented and behaving strangely. The crew took her to the upper deck of the boat, where Khadiza says she died.
"I am still haunted by her death. She died in front of our eyes."
The woman had four children with her. "My son informed the eldest daughter, just 16 years old, that her mother had died."
"The woman's three other children didn't know what happened to their mother." she says. "They were crying. It was heart-breaking.
"The body was immediately thrown out."
Khadiza is a mother of four, too. She was made homeless and stateless in 2017 after her husband and one of her sons were killed during army operations in the Rakhine state of Myanmar.
Her village was torched, forcing her to go to Bangladesh to settle in the Cox's Bazar refugee camp with her children.
After marrying off her eldest daughter, she craved to provide a better life for her remaining son and daughter. "We had a tough life. I didn't see any future for us in a refugee camp."
Stories she heard about the Rohingya who crossed the sea to Malaysia for a better life fascinated her. Khadiza sold her jewels and put together $750 (£610) to pay to traffickers who would arrange a boat for them.
Then one night in February, she received the phone call she had been waiting for.
She kept her intentions secret and bundled some clothes and gold jewels in a small bag. "I told my friends and neighbours that I would be going away for medical treatment," she tells the BBC.
With her son and daughter in tow, Khadiza locked their home and slipped away in darkness.
A man met them near a bus stand, guiding them to a farm house where she saw hundreds of others.
The group was taken to a boat that slowly set sail in the Bay of Bengal, between the Saint Marin's Islands in Bangladesh and Akiab in Myanmar.
"I had been planning for months. I wanted a better life. I was dreaming of a new life in a new country," she says.
After two days they were transferred into a another boat: a bigger one, full of people.
Khadiza says she didn't even have room to stretch her legs: "There were families with women and children. I think there were more than 500 people."
The boat was larger than a typical trawler used in South Asia, but certainly not big enough to carry so many people.
Crew members stayed on the upper deck, women were given the middle deck and men were pushed to the bottom. Ironically, the crew were Burmese men from Myanmar - the country from where the Rohingya were forced out.
"At the beginning I was scared," Khadiza remembers. "I didn't know what our destiny would be, but as we settled in, I started dreaming again.
"I thought we would achieve a better life. So whatever troubles we were going through did not matter."
The boat lacked basic facilities like water and sanitation. Khadiza washed herself only twice in two months by drawing water from the sea, in front of others.
Toilets consisted of two wooden planks with a hole in the middle.
"A few days after we started our journey to Malaysia, a boy fell through the hole into the sea," Khadiza remembers. "He fell and died."
It was the first of many deaths she witnessed.
After sailing for seven days, sometimes in bad weather, the group finally spotted the Malaysian coast. Here, there were expecting smaller boats to transport them to the land.
But none arrived.
The coronavirus outbreak had tightened Malaysian security: with coast guards conducting more frequent patrols, making it difficult to sneak in the country.
The captain told the refugees they would not be able to land in Malaysia. Khadiza's hopes had been shattered by the pandemic.
The crew had to retreat, but faced a shortage of food and water.
On their way to Malaysia the refugees had been given rice twice a day, sometimes with lentils, and a mug of water.
"At first, it became one meal every day. Then one meal every two days - just plain rice with nothing else," Khadiza recalls.
The lack of drinking water was becoming unbearable.
Khadiza says that, in desperation, some of the refugees even drank seawater: "People would try to quench their thirst by soaking clothes in water, then wringing it get the drops in their mouths."
Days later, off the coast of Thailand, a small boat arranged by the human traffickers brought in much needed supplies.
But, while they were waiting for another chance to get to Malaysia, the Burmese navy intercepted them.
"They arrested the captain and three crew members, but they were released," Khadiza says. "I guess they made some sort of a deal."
Their second and last attempt to land in Malaysia was also to end in failure. It became clear to everyone on the boat that they were going nowhere.
"We were drifting around in the sea, with no hope of ever reaching the shore. People were getting desperate. We kept asking ourselves how long we could survive like this."
So, a group of refugees went up to the crew and pleaded with them to disembark anywhere, regardless of whether it was Myanmar or Bangladesh.
But the crew refused, believing it too risky. They could be arrested and their boat taken away.
As the boat drifted aimlessly in Bay of Bengal, stories accusing the crew of rape and torture started circulating.
"Things were getting out of control," Khadiza says. "I heard one of the crew members was attacked and killed - his body dumped in the sea."
There were 10 Burmese crew members overseeing almost 400 refugees. "They realised it would be very difficult for them to fight and win," she says.
The crew demanded more money to hire small boats which would take them ashore. Those on board coughed up another $1,200.
After a few days, a small boat approached them. Immediately, the captain and most of the crew members jumped in to run away.
Those remaining managed to steer the boat towards Bangladesh, with the help of two remaining crew members.
"I was so happy when I finally saw the coast for the first time in two months." Khadiza remembers.
They were back in Bangladesh again. After seeing the people in such a bad condition, local villagers informed the Bangladeshi Coast Guard.
Full report at:
https://www.bbc.com/news/world-asia-52832841
--------
Bangladesh eases out of Covid-19 straitjacket
May 28, 2020
Bangladesh's decision to slowly ease its Covid-19 restrictions despite constantly surging numbers of cases has drawn a mixed response.
The ongoing nationwide general holiday for public and private organizations won't be extended beyond May 30 and public transport on roads, railways and waterways will resume on a limited scale from May 31, Farhad Hossain, state minister for public administration, said on May 27.
All education institutes will remain closed until June 15, he said, adding the government will issue a gazette notification. All places and transport services will have to follow strict health guidelines.
Full report at:
https://www.ucanews.com/news/bangladesh-eases-out-of-covid-19-straitjacket/88201
--------
At least 14 Afghan militants killed in separate Taliban attacks: Officials
Thursday, 28 May 2020
At least 14 members of Afghanistan's security forces have been killed in an attack blamed on the Taliban, officials say, the first deadly assaults since a three-day ceasefire between the government and the militants ended.
The incident occurred at a checkpoint in the east-central province of Parwan on Tuesday, said Waheeda Shahkar, a spokeswoman to the provincial governor, adding, "The Taliban have also suffered casualties."
According to District Police Chief Hossein Shah, Taliban militants set fire to the checkpoint, claiming the lives of five security forces. Two more were also shot dead, he added.
Additionally on Tuesday, Taliban militants launched an attack on a police post, killing seven policemen in the western city of Farah, said provincial police spokesman Mohibullah Mohib. "Eight Taliban fighters were also killed in the clash," he added.
The Taliban group, however, has no yet claimed responsibility for the attacks, which were the first deadly ones that Afghan officials have blamed on the militants since a bilateral three-day truce ended on Tuesday night.
Figures by Afghanistan's Independent Human Rights Commission show civilian casualties fell by 80 percent during the temporary ceasefire, which was held over the Eid al-Fitr, which marks the end of the holy fasting month of Ramadan.
A day earlier, Afghan security forces carried out airstrikes on positions held by suspected "militants" in the south of the country, killing 18 of them, police said.
The unexpected ceasefire offer by the Taliban and a brief lull in violence had raised hopes that stalled peace talks between the militants and the Afghan government could begin soon.
Kabul responded to the ceasefire by releasing some 1,000 Taliban inmates this week, and plans to further free an equal number of prisoners in the coming days.
The militant group, for its part, has said that it plans to releases another group of government prisoners. The Taliban have so far freed around 300 Afghan security force personnel.
A peace deal inked between the United States and the Taliban on February 28 stipulated that the Taliban stop their attacks on foreign forces in return for the US military's phased withdrawal from Afghanistan and also a prisoner exchange between the group and the government in Kabul, which was excluded from the talks.
The prisoner swap is regarded as a confidence-building move ahead of long-awaited peace talks between Kabul and the militant group, which rejected a government offer of truce for the duration of Ramadan and continued its attacks.
Full report at:
https://www.presstv.com/Detail/2020/05/28/626284/Afghanistan-Taliban-Parwan-attack-prisoners-truce
--------
Ex-Afghan spy chief: Qatar eroding peace efforts
May 29, 2020
KABUL: The advent of an abrupt troop withdrawal from Afghanistan as part of US President Donald Trump's re-election campaign could leave the country with heightened conflict and the region in chaos, Afghanistan's former intelligence chief has warned.
Under the Feb. 29 peace deal signed between the Taliban and the US in Qatar, Washington has already begun withdrawing troops from the country and, by spring next year, all personnel will be gone.
Rahmatullah Nabil, former head of the Afghan National Directorate of Security, said that Washington was poised to give a significant role in Afghan affairs to its Cold War era ally, Pakistan, despite the fact that Islamabad had been a key supporter of the Taliban — at the time of the Soviet withdrawal from the country, Pakistan used the Taliban as a proxy to advance its doctrine of strategic depth.
"If the deal is such that the destiny of Afghanistan is placed in Pakistan's hands in exchange for the guarantee of withdrawal of US troops that are immune from attacks ... I dare say that this deal cannot be implemented but will lead to more intensive war in Afghanistan and the region," he told Arab News on Wednesday.
He said that if the move was for Trump to be able to use the election slogan "I ended the war in Afghanistan" that he was "not very optimistic" about the prospect of peace.
Pakistan, on the other hand, has consistently called for an "Afghan-led, Afghan-owned" peace and reconciliation process, and an inclusive intra-Afghan dialogue as the only way to realize the Afghan national reconciliation, leading to prompt end of the prolonged conflict.
"It is critical that the intra-Afghan negotiations commence at the earliest, culminating in a comprehensive and inclusive political settlement in Afghanistan," Pakistan's Foreign Ministry said in a statement on May 17, adding: "Pakistan reiterates its commitment to continue to support a peaceful, stable, united, democratic and prosperous Afghanistan at peace with itself and its neighbors."
Trump, who has declined to set a timetable for complete troop withdrawal, said the US had been in Afghanistan long enough. "We can always go back if we want to," the president said during a news conference on Wednesday.
The Pentagon was preparing for Trump to withdraw thousands of troops before the presidential election in November, US media reported on Wednesday.
Since the Taliban halted attacks on foreign troops as per the Qatar accord, US officials no longer argue that the pullout will be conditional, which means that the US may not wait for the start of intra-Afghan talks before completing its military withdrawal.
Nabil, who served initially as chief of the Presidential Protection Force before serving for five years as general director of Afghanistan's spy agency until 2015, also said that Qatar was playing its part in the "New Great Game" to find a footstep in Afghanistan, which is why the oil-rich nation had given shelter and provided funds to Taliban leaders in Doha and allowed them to own businesses there.
"They (Qatar) want to be part of regional game in the meantime, and want to undermine the role of the UAE and Saudi Arabia," Nabil said.
The office of Afghan President Ashraf Ghani did not respond to Arab News' request for comment as to how he viewed the US withdrawal, and whether Trump's administration had shared plans and details surroundin it with Kabul.
Said Azam, a Kabul-based political analyst, told Arab News that the post-US withdrawal period in Afghanistan would see other regional powers, such as India, Iran, Russia and China, fight for their interests.
The International Crisis Group, in a report following the Doha deal, said: "The impact of a US military withdrawal on the Afghan government would extend beyond its security forces' fate; any negative shift in the country's already tenuous security situation could prompt an end not only to civilian and humanitarian assistance, but also to vital foreign commercial investments.
Full report at:
https://www.arabnews.com/node/1681411/world
URL: https://www.newageislam.com/islamic-world-news/isis-criticizes-muslim-scholars-closing/d/121981
New Age Islam, Islam Online, Islamic Website, African Muslim News, Arab World News, South Asia News, Indian Muslim News, World Muslim News, Women in Islam, Islamic Feminism, Arab Women, Women In Arab, Islamophobia in America, Muslim Women in West, Islam Women and Feminism