New Age Islam News Bureau
9 May 2015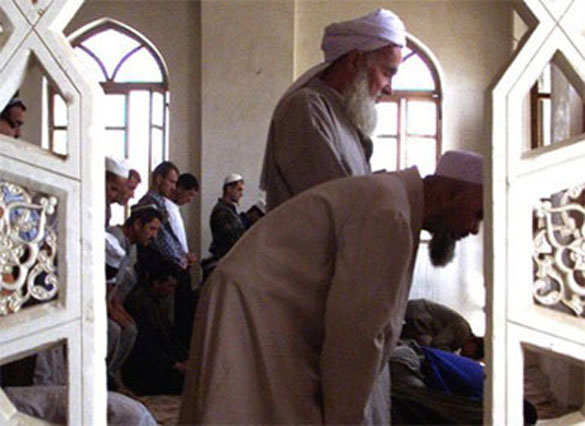 After Beards, Hijabs, Tajikistan Wants To Ban 'Arabic-Sounding' Names
------------
Arab World
• ISIL Selling off Kidnapped Girls in Naked Slave Bazaars
• Terrorist Groups Suffer Heavy Losses in Two Battlefields in Syria's Al-Quneitra
• 30 Prisoners Killed, 40 Escape in Iraq Jail Break
• Iraq launches Sunni anti-ISIS force in Anbar
• Several Int'l Terrorists Killed in Syrian Army's Operations in Damascus Countryside
• Yemen ceasefire to begin Tuesday May 12, at 11 PM: Saudi FM
• Syria Reclaims 6,000 Antiquities Looted by Takfiris
• Militants shoot dead two Egyptian policemen
• IS claims deadly bombing on Shia mosque in Iraq
• Kurd Leader: 'Ideological War' Against IS Group
• Syrian Opposition Leader: Saudi Arabia, Turkey Helping Al-Nusra Front in Idlib, Dara'a
• Al-Nusra Front Terrorists' Advances in Idlib Province Halted by Syrian Army
Europe
• After Beards, Hijabs, Tajikistan Wants To Ban 'Arabic-Sounding' Names
• Four Danish Buses Torched and Daubed With 'Anti-Israel' Graffiti
• Officials Threaten to Close Mosque Installation at Venice Biennale
• British Muslims Launch 2015 Scholars Awards
• U.N.: Yemen import curbs endanger thousands of children
Mideast
• After Beards, Hijabs, Tajikistan Wants To Ban 'Arabic-Sounding' Names
• HDP Co-Chair Slams Erdoğan over Abusing Religion, Quran
• Dozens of Palestinian Minors Held in Israeli Prison
• Al-Qaeda Terrorists Flushed out of Yemen's Southern City
• Turkish PM Davutoğlu: Turkey will not intervene in Syria
• Saudi-led warplanes bomb Sanaa airport
• Iranian President Slams New Saudi Gov't for Wrong Strategy in Yemen
India
• Madani Wants Deoband Fatwa to 'Defend Islam' In Modi Era
• Grenade attack in Kashmir's Shopian; 14 injured
• 26/11 mastermind Lakhvi's release from jail was mistake by Pakistan: US
• Indian agencies worried at growing use of cell phones by terrorists from inside jail
North America
• Islamic State could soon execute 9/11-scale attack in U.S.; FBI warns local cops
• Young Muslims Are Inviting You to Draw Your Friend Muhammad
• Sen. Tom Cotton delivers the ugly truth: 'Islamic State seems to be winning right now'
• US: Safe zones in Syria linked to Turkey's steps
• Journalist working in Pakistan put on US terror list: report
• Islamic State threat targets Detroit Muslim leaders
South Asia
• Islamic State, Taliban Pairing Up In Northern Afghanistan: Official
• Gunmen Kill 2; Kidnap Others during Cricket Match In Afghanistan
• Maldives defends death penalty and flogging
• Taliban execute own fighters for "spying"
• 11 militants killed in fresh military operations
• Hizb-ut-Tahrir leader held in Chittagong
• AL leader: Khaleda must face trial for every killing
Southeast Asia
• A Caliphate Guarantees You Free Education, Health, Hardline Islamists Tell Malaysians
• 'Malaysia houses 80% of slave camps'
• Over 100 Rohingya migrants found in south Thailand
Africa
• CAR Militias Poised To Sign Disarmament Agreement
• Boko Haram Terrorists Open Fire in Nigerian School
• Libya rejects EU migrant plan, says not asked
• Shebab militants kill Somali lawmaker
Pakistan
• 'Govt Fully Determined To Curb Terrorism, Restore Peace in Karachi': Pak President
• Saulat Mirza's Wife, Sister Make Last-Ditch Attempt To Delay Hanging
• No foul play: Gilgit helicopter crash was due to technical fault, says foreign secretary
• Balochistan raids: Up to a dozen terror suspects rounded up
• KASB Securities merges with Bank Islami
Compiled by New Age Islam News Bureau
URL: https://www.newageislam.com/islamic-world-news/new-age-islam-news-bureau/isil-selling-off-kidnapped-girls-in-naked-slave-bazaars/d/102881
---------
Arab World
ISIL Selling off Kidnapped Girls in Naked Slave Bazaars
May 09, 2015
TEHRAN (FNA)- Girls in Syria and Iraq are being "stripped naked" and being sold in "slave bazaars" by ISIL terrorists, according to the United Nations.
Latest revelations made by Zainab Bangura, Special Representative of the UN Secretary General on Sexual Violence in Conflict, give a harrowing account of how the Takfiri group has institutionalized practices of sexual violence against women and girls in the region, Sputniknews reported.
Bangura visited Syria, Iraq, Lebanon, and Turkey from April 18 to 29 to interview girls who had escaped ISIL captivity and survived sexual violence.
During a briefing with journalists, Bangura detailed the harrowing circumstances for women and girls in ISIL controlled territory, saying that they live in a state of perpetual fear and danger.
"Women and girls are at risk and under assault at every point of their lives," she said.
She described the institutionalization of sexual violence by ISIL terrorists, saying it has become central to the group's ideology, as well as a method to their advancement.
"ISIL has institutionalized sexual violence and the brutalization of women as a central aspect of their ideology and operations, using it as a tactic of terrorism to advance their key strategic objectives."
ISIL terrorists use sexual violence to demoralize dissenters, to dismantle familial and community structures, and for the purposes of extracting intelligence. Girls are married off at a young age and passed among ISIL members. The terrorist group additionally capitalizes on this violence by raising funds through trafficking, prostitution, and ransoms.
"Girls are literally being stripped naked and examined in slave bazaars," Bangura said, from where they are "categorized and shipped off to Dohuk or Mosul or other locations to be distributed among ISIL leadership and fighters."
One of the girls she interviewed was temporarily married 20 times, and forced to undergo surgery to "repair" her virginity after each marriage. Stories like these, Bangura stressed, illustrate how sexual violence is being used by the group systematically as a weapon of war.
Bangura called on the UN to take measures to counter the violence, citing concerns about children born of rape. These children, she warned, create a "generation of stateless children," which could in turn serve to exacerbate extremism in the region.
http://english.farsnews.com/newstext.aspx?nn=13940219000379
-------
Terrorist Groups Suffer Heavy Losses in Two Battlefields in Syria's Al-Quneitra
09 May, 2015
Reports coming from the al-Quneitra province said militant groups have sustained a great number of casualties in fierce clashes with the army.
The source told FNA that strongholds of al-Nusra Front, the so-called Islam Army, Yarmouk Army, and Ahrar al Sham al-Islamia in the nearby areas of al-Qahtaniya village were targeted by the army men in which the terrorist groups faced heavy death toll.
Meantime, al-Samadaniya al-Gharbiya in the Northeast of Quneitra was the scene of bloody clashes between the Syrian soldiers and the terrorist of al-Nusra Front whose members were killed and its vehicles were massively targeted by the armed forces.
A well-known terrorist Muthanna Saleh al-Nayef was among the killed fighters in the battlefront.
On Friday, military sources confirmed that several Takfiri terrorists, including two ring leaders, have been killed in the Syrian Army's offensives against the terrorists' strongholds.
The sources said that the terrorists' gathering centers in the nearby areas of the town of Mashara, located between the two provinces of Dara'a and al-Quneitra, were massively targeted by the Syrian army men, which resulted in the killing of tens of the fighters, including Moaaz Nawaf Al-Heraki and Ali Khaled Al-Zoubi.
Syria has been faced massive insurgency since 2011. Damascus has always reiterated that the solution to the crisis is only political based on an inter-Syrian dialogue and led by Syria without foreign interference.
http://english.farsnews.com/newstext.aspx?nn=13940219001297
---------
30 Prisoners Killed, 40 Escape In Iraq Jail Break
09 May, 2015
BAGHDAD: Six guards and 30 detainees were killed in a prison break north of Baghdad during which 40 inmates also escaped, an interior ministry spokesman said Saturday.
The spokesman said the break on Friday started when an inmate took a weapon from a warden at the prison on the main police compound in Khalis, a town around 50 kilometres north of Baghdad.
"One of the prisoners seized a weapon from a guard. After killing him, the inmate headed up to the weapons storage and he seized more weapons," said Brigadier General Saad Maan.
"Clashes erupted inside. We lost a first lieutenant and five policemen, forty prisoners fled. Nine of them were held on terror charges and the rest for common crimes," he said.
Maan added that 30 prisoners who had been held on terrorism charges were killed in the clashes.
http://www.dawn.com/news/1180953/30-prisoners-killed-40-escape-in-iraq-jail-break
---------
Iraq launches Sunni anti-ISIS force in Anbar
9 May 2015
More than 1,000 Sunni fighters from Anbar joined Iraq's Popular Mobilization force Friday as part of government efforts to make the fight against the Islamic State of Iraq and Syria group a cross-sectarian drive.
Political, security and tribal leaders attended a large parade at a base in Amriyat al-Fallujah in a bid to give new momentum to the province's homegrown anti-ISIS fightback.
"Your country has been stolen by a bunch of thieves and thugs and you must fight to take it back," Anbar Governor Soheib al-Rawi said at the event.
"Let this day be the day when we declare a massive revolution against Daesh... kick Daesh out of our homes, fight their extremist ideology and tighten the noose around them," he said, using an Arab acronym for IS.
Parts of Anbar province have been under jihadist control since before the nationwide June 9 offensive by IS, and the capital Ramadi has been on the brink of falling completely for months.
The counter-offensive has so far been spearheaded by Shiite militias, some of which are now operating under a government-controlled umbrella known as the Hashed al-Shaabi -- or Popular Mobilization Brigades.
However, Prime Minister Haider al-Abadi has been keen to deflect criticism of the organization as a Shiite-only body, and has defied challenges within his own camp to push for the inclusion of Sunni fighters in their home provinces.
Hundreds of Sunni tribal fighters had already been fighting under the Popular Mobilization banner in Anbar in recent weeks, but Friday marked their official recruitment.
Sunni fighters in the troubled western Iraqi province had so far been using their own weapons and not receiving payment.
The new system comes with an organized vetting process designed to avoid the lack of accountability that prevailed under previous attempts to enlist Sunni fighters in recent years.
Rawi said that, according to Abadi's executive order, the plan was for the Sunni force with the Popular Mobilization units in Anbar to reach 6,000 men.
http://english.alarabiya.net/en/News/middle-east/2015/05/09/Iraq-launches-Sunni-anti-ISIS-force-in-Anbar-.html
---------
Several Int'l Terrorists Killed in Syrian Army's Operations in Damascus Countryside
09 May, 2015
Scores of terrorists, including foreign nationals, were killed in heavy clashes between the Syrian Army and the terrorist groups in Harasta area, in Damascus countryside, military sources said.
The sources said that a number of terrorists, including Abdelhadi al-Gherban from Jordan, Othman Ahmad Taher al-Nazir from Sudan, Nawaf al-Tabatbai'e from Kuwait, al-Sedeek al-Abadi from Libya, Samih Hammoudeh from Palestine, and Abdeljalil Bou Aouf, Abdullah al-Helwani, Haidar Badran, Ziyad al-Haboushi, Mohammad al-Dali, and Fayssal al-Rifa'i killed by the Syrian army men.
On Tuesday, The Syrian security forces killed all members of a terrorist group affiliated to the Al-Nusra Front in the Eastern parts of the capital, Damascus.
"The terrorists had penetrated into Rokneddin district of Damascus and they were going to flee the scene, but the Syrian forces killed all of them in heavy clashes," a Syrian military source said.
Full report at:
http://english.farsnews.com/newstext.aspx?nn=13940219000398
---------
Yemen ceasefire to begin Tuesday May 12, at 11 PM: Saudi FM
09 May, 2015
PARIS: Saudi Arabia's foreign minister says a five-day ceasefire in Yemen will start May 12 at 11 p.m.
Adel al-Jubeir says the stop in fighting will be renewable, depending on compliance by Yemen's Houthi rebels and their allies.
He urged them to cease fighting. He made the comments at a news conference in Paris.
Only hours ago, Saudi-led forces carried out air strikes in Yemen's Saada province, a bastion of Iranian-allied Houthi rebels, and warned all civilians to leave a day after Riyadh promised a harsh response to cross-border Houthi attacks.
Full report at:
http://tribune.com.pk/story/883213/yemen-ceasefire-to-begin-tuesday-may-12-at-11-pm-saudi-fm/
---------
Syria Reclaims 6,000 Antiquities Looted by Takfiris
09 May, 2015
Syrian authorities have reclaimed 6,000 antiquities looted by terrorist groups and smuggled out of the country, an archaeology official said.
Ahmad Deeb, who heads Syria's General Directorate of Antiquities and Museums (GDAM), said the items include 69 antiquities and eight mosaic panels retrieved from neighboring Lebanon, press tv reported.
Deeb added that the GDAM has taken a number of steps to protect the country's artifacts from robbery or destruction by terrorists such as emptying and closing museums in militant-controlled areas and moving their antiquities to safe places.
Damascus said the move to safeguard most of the museums' movable items is aimed at avoiding the repetition of what took place in Iraq after the ouster of former dictator Saddam Hussein in 2003, when Iraqi museums were plundered of treasures.
Full report at:
http://english.farsnews.com/newstext.aspx?nn=13940219000484
---------
Militants shoot dead two Egyptian policemen
9 May 2015
Militants shot dead two Egyptian policeman in the capital of North Sinai overnight Friday, security officials said.
The gunmen, suspected of belonging to ISIS's affiliate in Egypt, shot dead the policemen in the town of El-Arish before fleeing in a vehicle, the officials said.
Militants have killed scores of policemen and soldiers in an insurgency in the peninsula since the army overthrew Islamist president Mohamed Morsi in 2013.
The main militant group, formerly known as Ansar Beit al-Maqdis, pledged allegiance to IS, which controls territory in Iraq and Syria, in November last year.
It is based in the north of Sinai but has carried out attacks in Cairo and killed three South Korean tourists in a suicide bombing last year in a south Sinai resort.
http://english.alarabiya.net/en/News/middle-east/2015/05/09/Militants-shoot-dead-two-Egyptian-policemen-.html
---------
IS Claims Deadly Bombing On Shia Mosque In Iraq
09 May, 2015
The Islamic State group claimed responsibility for a bomb attack on a Shia mosque in eastern Iraq Friday that officials said killed at least 10 people including a senior policeman.
Fifteen people were also wounded in the attack on Al-Zahraa mosque in Baladruz, a district in Diyala province 75 kilometres (46 miles) northeast of Baghdad, the interior ministry said.
There were conflicting reports on the nature of the attack.
The interior ministry said two car bombs went off and a police officer told AFP one car exploded and immediately afterwards a suicide bomber blew himself up.
IS, in an online claim posted on jihadist websites, said a suicide bomber in a car carried out the attack.
"Brother Abu Jihad al-Ansari... drove his booby-trapped car... and blew it up, killing dozens," the statement said.
The interior ministry identified one victim of the "twin terrorist attack" as Colonel Adnan al-Tamimi, who led a rapid intervention force in Baladruz.
Friday's attack is the latest in a series of IS bombings targeting Shiite districts or militias in Iraq, since members of the community have joined ranks with government forces to battle the jihadist group.
The extremist group, which controls chunks of Iraq and neighbouring Syria, was present in many areas of Diyala province, which authorities said they retook in January.
http://english.ahram.org.eg/NewsContent/2/8/129745/World/Region/IS-claims-deadly-bombing-on-Shia-mosque-in-Iraq.aspx
---------
Kurd Leader: 'Ideological War' Against IS Group
09 May, 2015
The president of Iraq's Kurdistan Region told VOA that he was focused not only on fighting Islamic State but also on making sure that another group like it does not emerge.
Masoud Barzani said his government was trying to provide "full security and stability for all of Iraq, and especially for the Kurdistan Region and [displaced people], whether Arabs, Kurds, Turkmens, Christians, to return to their homes."
He said the fight against Islamic State was posing several challenges, but Kurdish fighters, or Peshmerga, have been able to meet the region's needs in the battle.
Barzani said the fight was more than just a military or economic war; "it is an ideological war," he said, and in Kurdistan, "the regional government is taking some practical steps so religious leaders play their role and do not allow our young people, because of some ignorant clergymen or misguided ones, to make the mistake" of joining Islamic State.
Barzani is in Washington with a high-level delegation meeting with U.S. officials.
Earlier this week, Barzani met with President Barack Obama and Vice President Joe Biden for talks on a wide range of issues, including the fight against Islamic State and initiatives to address the needs of the Iraqi people.
The White House said Obama and Biden repeated the strong U.S. commitment to the Iraqi Kurdistan Region and the Kurdish people. They also commended the bravery of Peshmerga in the fight against IS.
The U.S. is providing security assistance to Kurdish Peshmerga fighters.
http://www.voanews.com/content/kurdistan-leader-ideological-war-against-islamic-state/2760904.html
---------
Syrian Opposition Leader: Saudi Arabia, Turkey Helping Al-Nusra Front in Idlib, Dara'a
09 May, 2015
Head of the western-backed Syrian opposition group known as Dissidents Alliance, Khaled Khoja, disclosed that Saudi Arabia and Turkey have provided wide military backup for the Al-Nusra Front to help the terrorist group make advances in Idlib and Dara'a provinces.
"Turkish President Recep Tayyip Erdogan during his recent visit to Riyadh had discussed with Al Saud officials the Saudi and Turkish help to the Al-Nusra Front," Khoja said.
On Friday, the American defense officials said at least 400 US military trainers are ready in Turkey and Jordan to start training of over 3,000 anti-Syria militants this week to join fight against the government of President Bashar al-Assad.
The United States will also provide the militants with weapons, trucks and tactical radios for their communication.
On Monday, Arab media sources revealed that Ankara has intensified attempts to unite different terrorist groups to coordinate their plots and actions against Damascus.
Al-Hayat daily reported that Turkey is endeavoring to gather the dissident and terrorist groups, including the so-called Ahrar al-Sham Movement and Jeish al-Islam, to unite them against the Syrian people and government.
Full report at:
http://english.farsnews.com/newstext.aspx?nn=13940219001325
---------
Al-Nusra Front Terrorists' Advances in Idlib Province Halted by Syrian Army
09 May, 2015
The Syrian Armed Forces managed to prevent the al-Nusra Front's recent advances in the Northwestern province of Idlib, military sources in the battlefields said.
The sources said that the army confronted the terrorists of al-Nusra Front in Kafar Haya, and on the road between the towns of Bzabour , Kafar Lata and al-Rami, which resulted in the killing and wounding of several fighters.
Full report at:
http://english.farsnews.com/newstext.aspx?nn=13940414
-----------
Europe
After Beards, Hijabs, Tajikistan Wants To Ban 'Arabic-Sounding' Names
09 May, 2015
In what is seen as an extension in an anti-Islam campaign, Tajikistan is deliberating on a legislation that, if passed, would see 'Arabic-sounding' names for newborns banned in the Muslim-majority country.
The drive has already resulted in men being forced to shave their beards and women who wear Hijab being labelled as prostitutes.
Tajik President Emomali Rahmon has now directed his parliament to consider a bill that would restrain registration of names which are deemed to be 'too Arabic', said an official of the Ministry of Justice, Civil Registry department.
Official Jaloliddin Rahimov said, "After the adoption of these regulations, the registry offices will not register names that are 'incorrect' or 'alien' to the local culture, including names denoting objects, flora and fauna, as well as names of Arabic origin".
The move, however, may not remain confined to names of those born after the bill is passed. Some parliamentarians have reportedly demanded that citizens who have names that sound 'Arabic' should change them to 'Tajik-sounding' ones.
The ministry has also offered help to parents who could not come up with such a name on their own.
Islam is the largest religion in the country with about 90% of the population Muslim.
The secular government has been worried by what it perceives as rise of Islam in unprivileged and poverty-hit villages which it claims are fast becoming fertile grounds for militancy.
The government has in recent times clamped down on beards and Hijab; symbols of Islamic clothing. It has also moved to close independent mosques while prayer leaders have been encouraged to use their sermons to heap praise on the president.
On the other hand, human rights groups have been highlighting that Muslims are arrested on false pretences, confusing faith with terrorism.
According to analysts, the latest measure would take a very wide net of population into its range if passed.
Interestingly, the president's name Emomali, a version of 'Imam Ali' who was the son-in-law of Prophet Muhammad (pbuh) and known as the fourth caliph for Sunnis and first imam amongst Shia Muslims.
The move has been met with some opposition, at least on social media:
http://tribune.com.pk/story/883271/after-beards-hijabs-tajikistan-wants-to-ban-arabic-sounding-names/
---------
Four Danish buses torched and daubed with 'anti-Israel' graffiti
09 May, 2015
Danish police are investigating after four buses in Copenhagen were set ablaze and daubed with "anti-Israel" slogans.
Officers are examining a possible link between the vandalism and the decision by city transit authorities to remove pro-Palestine advertisements calling for a boycott on Israeli goods last week.
Investigator Jens Moeller Jensen said there "could be a political motive. We consider this one theory." But he added that the police could not "link it to anything for now."
The Danish-Palestinian Friendship Association, which paid for the adverts, said they work "to influence the Danish public and the Danish authorities to do more for the Palestinians' right to self-determination."
The controversial adverts, featured on 35 buses across the city, showed two Palestinian women claiming they "conscience is clean" as they "neither buy products from the Israeli settlements nor invest in the settlement industry."
Movia Bus Company removed the adverts, labelling them "unnecessarily offensive", after receiving close to 100 complaints, a spokesperson told the BBC.
http://www.independent.co.uk/news/world/europe/four-danish-buses-torched-and-daubed-with-antiisrael-graffiti-10237846.html
---------
British Muslims Launch 2015 Scholars Awards
09 May, 2015
Highlighting positive work by Muslim scholars in the community, a non-profit British group has announced the launch of 2015 awards dedicated to celebrate the contributions and achievements of British imams and scholars in the community.
"British Imams and Scholars undertake excellent and often unrecognised work, striving to make our communities and society a better place for everyone," the organizing body of the British Imams and Scholars Contributions and Achievements (BISCA) said in a statement sent to OnIslam.net.
Full report at:
http://www.onislam.net/english/euromuslims/euro-muslims/485737-british-muslims-launch-2015-scholars-awards.html
---------
U.N.: Yemen import curbs endanger thousands of children
09 May, 2015
Restrictions on imports in conflict-hit Yemen are hampering aid efforts and threaten the lives of tens of thousands of children, the U.N. warned Friday.
Yemen already imported 90 percent of its food requirements before the conflict began and much of its fuel, essential to deliver aid and keep critical health facilities running at a time of acute power shortages, the U.N. children's agency said.
"Fuel may run out in less than a week in Yemen," said UNICEF spokesman Christophe Boulierac.
"If restrictions on the commercial imports of food and fuel continue, then it will kill more children than bullets and bombs in the coming months," he said.
"Humanitarian access to many areas is extremely difficult and we are frequently being blocked by parties to the conflict from going to places where people need us most."
The spokesman said 120,000 children risked suffering from severe acute malnutrition over the next three months if health and hygiene services do not function normally and children are not vaccinated against diseases such as diarrhoea, pneumonia and measles.
Boulierac said 2.5 million children under five are at immediate risk of diarrheal and other communicable diseases with sanitation systems collapsing.
Full report at:
http://english.alarabiya.net/en/perspective/analysis/2015/05/08/U-N-Yemen-import-curbs-endanger-thousands-of-children-.html
---------
Mideast
HDP co-chair slams Erdoğan over abusing religion, Quran
09 May, 2015
Peoples' Democratic Party (HDP) co-chairman Selahattin Demirtaş has criticized President Recep Tayyip Erdoğan for exploiting religion and the Muslims' holy book, the Quran, while equally slamming the religious directorate for remaining silent on the issue.
"God did not send the Quran for you [Erdoğan] to make your own advertisement. You should know your place. And there was no voice from the Diyanet [the Directorate of Religious Affairs]… He uses the Quran in a public rally," Demirtaş said in his address in the eastern Anatolian province of Elazığ, as part of his election campaign for the upcoming polls.
Demirtaş referred to Erdoğan's public rally in Siirt, another eastern Anatolian town with a sizeable population of Turkish citizens of Kurdish origin, in which he had introduced the Quran in Kurdish. The HDP's co-chairman argued it was the only copy published in Kurdish and that it was not done by the Diyanet either, but rather by a private foundation. "Those who exploit this religion will pay God back," he said.
Criticizing Prime Minister Ahmet Davutoğlu for benefiting from the state and for using state planes, Demirtaş complained the HDP were trying to compete against the state but also vowed they will be successful in the polls, despite all obstructions.
In the case the HDP cannot pass the 10 percent election threshold, Davutoğlu will lose his seat as prime minister, Demirtaş said.
"Mr. Davutoğlu, do openly say if you are against the presidential system," he said.
http://www.hurriyetdailynews.com/hdp-co-chair-slams-erdogan-over-abusing-religion-quran-.aspx?pageID=238&nID=82164&NewsCatID=338
---------
Dozens of Palestinian Minors Held in Israeli Prison
09 May, 2015
Eighty-four Palestinian children are being held in Israel's Ofer Prison, 35 of them were arrested in April, the Palestinian Prisoners' Club said.
The Palestinian Prisoners' Club quoted its representative in the Ofer Prison, Abdel Fattah Dola, as saying that the detained minors include 29 who were arrested from their homes after Israeli forces stormed them.
An Israeli military court issued various rulings against 14 Ofer prisoners, nine of whom are under the age of 15, Dola said.
He also noted that the minors held in Ofer prison include five sick prisoners.
Some 131 Palestinian minors have been in and out of Ofer since the start of 2015.
http://english.farsnews.com/newstext.aspx?nn=13940337
---------
Al-Qaeda Terrorists Flushed out of Yemen's Southern City
09 May, 2015
Yemen's Ansarullah fighters along with army units continued to press ahead with their operations against the Saudi-backed al-Qaeda terrorists in Aden and managed to flush the militants out of a strategic city.
The Yemeni troops made more gains in their military campaign against al-Qaeda terrorists in the Southern province of Aden late on Friday, and pushed them back from the city of Arish.
The Yemeni forces also seized some military equipment and vehicles belonging to the terrorists.
The Ansarullah fighters and army troops have made major advances in their fight against the al-Qaeda terrorists and forces loyal to fugitive President Mansour Hadi across Yemen in recent weeks.
Full report at:
http://english.farsnews.com/newstext.aspx?nn=13940219000350
---------
Turkish PM Davutoğlu: Turkey will not intervene in Syria
09 May, 2015
Prime Minister Ahmet Davutoğlu has strictly denied reports that Turkey was preparing to directly intervene in the Syrian crisis.
Speaking to a group of reporters on the plane returning from election rallies in the eastern provinces of Bingöl and Elazığ on May 6, Davutoğlu also denied recent media reports claiming a new deal between Turkey and Saudi Arabia.
"We have had very good relation with Saudi Arabia since the new king," Davutoğlu said. There is nothing new, we agreed in the past [on Syria], and the same cooperation is continuing today."
Davutoğlu said the reports of military intervention were "speculations without any basis."
"The case is, the situation in Syria is changing fast," said the prime minister. "The regime has lost control of major parts of the county, and is getting tightly wedged. It now There were reports on the Israeli media that [Syrian President Bashar] Assad could move from Damascus to Latakia. Even the Alawite groups no longer give soldiers to the regime. The balances inside Full report at:
http://www.hurriyetdailynews.com/turkish-pm-davutoglu-turkey-will-not-intervene-in-syria.aspx?pageID=238&nID=82172&NewsCatID=510
---------
Saudi-led warplanes bomb Sanaa airport
09 May, 2015
SANAA: Warplanes from the Saudi-led coalition struck Sanaa's international airport on Saturday, shortly after authorities in the rebel-controlled Yemeni capital said it would reopen to receive humanitarian aid, witnesses said.
The runway was hit by two missiles, witnesses said, a day after the civil aviation authority in Sanaa announced it would temporarily reopen the airport, which has been targeted frequently by air strikes.
Earlier Saturday, warplanes hit a nearby airbase, following a night of intensive bombardment of Shiite Huthi rebel positions in their northern stronghold of Saada.
Saudi Arabia on Friday announced a humanitarian ceasefire in Yemen starting May 12, but has vowed to step up retaliatory strikes on the rebels, which it accuses of launching cross-border attacks on the kingdom.
http://tribune.com.pk/story/883587/saudi-led-warplanes-bomb-sanaa-airport/
---------
Iranian President Slams New Saudi Gov't for Wrong Strategy in Yemen
09 May, 2015
Iranian President Hassan Rouhani lashed out at the new Saudi government for its wrong and naive policies and strategies in the region, specially the military invasion of Yemen.
"A government which doesn't understand and doesn't know the regional and global political issues and is rookie and wants to present itself after long years and a government that has done whatever it wanted to do through buying it with its dollars and has different other options for exercising influence other than using its dollar (reserves) has opted for using bombs and thinks that it can show its power through using bombs and show that it is influential in the region, but this is a strategic and big mistake they have made," Rouhani said, addressing a ceremony in Tehran on Saturday.
He said that Saudi Arabia has purchased fighter jets from the world powers and has launched a military attack against its neighbor instead of assisting it.
Rouhani criticized the international relief organizations for ignoring the needs of the war-stricken Yemeni people, and said if a European country was attacked instead of Yemen, all the Red Crescent Societies and Red Crosses would have been mobilized to dispatch aid to that country.
Full report at:
http://english.farsnews.com/newstext.aspx?nn=13940219100074
---------
India
Madani wants Deoband fatwa to 'defend Islam' in Modi era
Ex-MP Madni asks Darul Uloom to issue fatwa on 'defending minorities' under Modi govt
09 May, 2015
For the first time in over a century, Darul Uloom Deoband – an influential seat of Sunni Islam in Uttar Pradesh – will ponder over whether "sufficient religious freedom" exists in the country under the Modi government.
Well-known cleric and former MP Mahmood Madni, has sought a "fatwa", or a religious ruling on how to defend Islam in the face of campaigns from right-wing Hindu groups.
Madni heads a faction of the Jamiat Ulama-e-Hind, a Muslim organisation with wide following.
He said the ruling would be publicly declared before a large gathering of clerics at a rally in New Delhi on May 16, the first-year anniversary of the Modi government.
On that day, he will launch a yearlong campaign to implement the fatwa, which is still being deliberated upon. His movement would focus on religious freedom, growing attacks on minorities, re-conversion programmes such as "ghar wapsi" and a generally tougher cultural climate under the Modi government, he said.
Full report at:
http://www.hindustantimes.com/india-news/madni-calls-for-fatwa-to-defend-islam-places-of-worship-under-modi-govt/article1-1344639.aspx
---------
Grenade attack in Kashmir's Shopian; 14 injured
PTI | May 9, 2015
SRINAGAR: At least 14 civilians, including two minor girls, were injured today in a grenade attack by militants at a busy market in Shopian district of south Kashmir, police said.
The ultras hurled the grenade at a police party in main town market of Shopian, 52 kms from here.
The grenade missed the intended target and exploded in a crowded place, resulting in injuries to 14 people, a police official said.
The injured, including two minor girls, have been rushed to a local hospital.
http://timesofindia.indiatimes.com/india/Grenade-attack-in-Kashmirs-Shopian-14-injured/articleshow/47213498.cms
---------
26/11 mastermind Lakhvi's release from jail was mistake by Pakistan: US
IANS | May 9, 2015
NEW DELHI: US ambassador to India Richard Verma on Friday said release of Zaki-ur-Rehman Lakhvi, the 26/11 Mumbai terror attack mastermind, from jail, was "a mistake" and his country has already shared its concern on issue with Pakistan.
"We have shared our concern about this issue. We have raised it with the Pakistani government and we have been very clear that the perpetrators of those in the attacks of Mumbai have to be brought to justice," Verma said in an interview with news channel CNN-IBN.
"The release of Lakhvi is a mistake," he said.
On being asked that what action can the US take on the issue, specially when it has sold a billion dollars worth of weapons to Pakistan, he said terrorism of Pakistan faces is a challenge to all and so the aid that goes to Pakistan is to support democratic reforms and civic society.
"It also provides them the tools to combat this dangerous insurgency. But we also have to communicate our differences when we have them crack down on safe havens. The president (Barack Obama) has been very impelling on that and to crack down on the perpetrators and to hold them accountable will continue to erase them," Verma said.
Lakhvi, who is among seven people charged with planning and helping to carry out the 2008 Mumbai terror attack, was released from a jail in Rawalpindi in April this year, after the Lahore High Court suspended his detention and ordered his immediate r
http://timesofindia.indiatimes.com/india/26/11-mastermind-Lakhvis-release-from-jail-was-mistake-by-Pakistan-US/articleshow/47213257.cms
---------
Indian agencies worried at growing use of cellphones by terrorists from inside jail
TNN | May 9, 2015
NEW DELHI: With mobile phones being seized with regularity across jails in India—around 80 were seized from Tihar Jail in the past one year--intelligence agencies have expressed concern that this could aid terrorism as many high-profile militants are locked up in these jails.
Sources in the security establishment say terror elements often do their recruitments when in jail. "Most incarcerated terrorists, if holding high positions in their outfit, are ideologically motivated and good indoctrinators. They look for vulnerable small-time criminals and recruit them within the jail. When these criminals get out, they execute attacks on instructions," said an intelligence official.
Full report at:
http://timesofindia.indiatimes.com/india/Indian-agencies-worried-at-growing-use-of-cellphones-by-terrorists-from-inside-jail/articleshow/47209878.cms
---------
North America
Islamic State could soon execute 9/11-scale attack in U.S.; FBI warns local cops
09 May, 2015
Though much Islamic State rhetoric may be bluster, analysts say the terrorist group is sufficiently wealthy and has enough social media savvy that, if unchecked, it likely could execute a 9/11-scale attack in the U.S. a few years from now.
In the latest indication of U.S. counterintelligence difficulties with "lone wolf" attacks, the FBI director said Thursday that the agency warned local police and sent them an intelligence bulletin several hours before a Muhammad cartoon-drawing contest that a man with Islamist terrorist ties might show up there.
FBI Director James B. Comey insisted in a roundtable discussion with reporters that the bureau didn't know that Elton Simpson and a fellow American Muslim planned to shoot up the event by an anti-Shariah group in Garland, Texas.
Full report at:
http://www.washingtontimes.com/news/2015/may/7/islamic-state-could-soon-execute-911-scale-attack-/#ixzz3ZcWL9lIu
---------
Young Muslims Are Inviting You to Draw Your Friend Muhammad
09 May, 2015
The campaign is a creative response to Islamophobia
Did you know that Muhammad is the most common name in the world? The chances are you know a Muhammad or know somebody who knows one.
Muslim American activist Amani al-Khatahtbeh, who runs the popular blog MuslimGirl.net, is fighting Islamophobia by inviting people to draw a picture of their friends who are called Muhammad.
The campaign is in response to the inflammatory Muhammad Art Exhibit and Contest organized by Pamela Geller of the American Freedom Defence Initiative (AFDI) in Garland, Texas, on Sunday night. Participants there were invited to draw images of the Prophet Full report at:
http://time.com/3849782/draw-muhammad-mohammed-picture-islam-muslim/
--------
Sen. Tom Cotton delivers the ugly truth: 'Islamic State seems to be winning right now'
09 May, 2015
Sen. Tom Cotton said that the Islamic State is "actively trying to inspire attacks" in the U.S. by recruiting disaffected youths who view the terror group as a winning force.
Appearing on CNN's "The Situation Room," the Arkansas Republican argued that there is "no doubt" the two slain gunmen who attacked a Muhammad cartoon drawing contest Sunday in Texas were inspired by the Islamic State.
"There is an investigation ongoing, but there's no doubt if we just looked on social media that this was an Islamic State-inspired attack, regardless of whether it was an Islamic State-plotted or -resourced or -planned attack," Mr. Cotton said, The Hill reported.
"And that's in part because the Islamic State seems to be winning right now, so they are appealing to disaffected, alienated youth all around the country who want to be with what they see is the winning force," he said.
Full report at:
http://www.washingtontimes.com/news/2015/may/7/tom-cotton-islamic-state-seems-to-be-winning-right/#ixzz3ZcVTFrRJ
---------
US: Safe zones in Syria linked to Turkey's steps
09 May, 2015
The U.S. military's top-ranking officer says contingency plans have been drawn up for a safe zone in consultation with Turkey, while a senior Pentagon official has told Hürriyet that this is conditional on Turkey's steps on plans to train Syrian rebels, which remains a source of tension between the two countries.
"We've been planning for such a contingency for some time," General Martin Dempsey told members of the Senate Appropriations defense subcommittee on May 6.
Dempsey said U.S. forces were capable of carving out a buffer zone in Syria but it was a "major political decision" and would mean troops stationed elsewhere would not be available for other missions.
"It's practical militarily, but it would be a significant policy decision to do so," he said.
He also said that for "this to be practical and effective, it would have to involve regional partners."
Full report at:
http://www.hurriyetdailynews.com/us-safe-zones-in-syria-linked-to-turkeys-steps-.aspx?pageID=238&nID=82102&NewsCatID=352
---------
Journalist working in Pakistan put on US terror list: report
09 May, 2015
WASHINGTON: US authorities placed an Al Jazeera journalist on a watch list of suspected terrorists, linking him to al Qaeda, a report said Friday, citing documents provided by former NSA contractor Edward Snowden.
The online news site The Intercept said Al Jazeera's Islamabad bureau chief, Ahmad Muaffaq Zaidan, was on a terror watch list, and was described in the National Security Agency documents as "a member" of both al Qaeda and the Muslim Brotherhood.
Zaidan told The Intercept he "absolutely" denied being part of the organizations, while noting that he had through his work conducted interviews with senior al Qaeda leaders including Osama bin Laden.
Full report at:
http://tribune.com.pk/story/883482/journalist-working-in-pakistan-put-on-us-terror-list-report/
---------
Islamic State threat targets Detroit Muslim leaders
09 May, 2015
Local Shia Muslim leaders were encouraged to have extra security during Friday prayer services after an anonymous, unverified online threat was apparently issued by the Islamic State terrorist group naming Michigan.
The apparent ISIS threat issued earlier this week on Justpaste.it says that 71 soldiers in 15 states, including Michigan, are "ready at our word to attack any target we desire," according to the anonymous post.
Whether it's a legitimate threat, a prank or some kind of fear-mongering, it's "disturbing," said Dawud Walid, executive director of the Council on American-Islamic Relations Michigan Chapter. He said he hasn't seen anything like it before and advised the leaders about the threat, noting the Islamic State has "a particular loathing for Shia Muslims."
Walid said Shia Muslims have been targeted in Iraq and Syria, where the majority of Islamic State casualties have been Muslim. He also said that recent incidents in Troy and Texas "have us concerned about a backlash against Muslims in metro Detroit."
Full report at:
http://www.freep.com/story/news/local/michigan/2015/05/07/islamic-state-isis-muslims-michigan/70954260/
---------
South Asia
Islamic State, Taliban pairing up in northern Afghanistan: Official
09 May, 2015
KUNDUZ: Foreign fighters allied with the Islamic State group are training Taliban insurgents in a restive Afghan province, an official said on Friday (May 8), the first such claim as the government raises the alarm over an emerging IS threat.
President Ashraf Ghani has repeatedly raised fears that IS - notorious for their brutal reign of terror in Syria and Iraq - are making steady inroads into Afghanistan, which is already in the grip of a fierce Taliban insurgency.
But the governor of Kunduz, the scene of intense fighting for two weeks that has displaced thousands, has gone further by claiming that the two groups are joining forces in the northern Afghan province.
IS fighters are "supporting the Taliban, training the Taliban, trying to build the capacity of the Taliban for a bigger fight", provincial governor Mohammed Omar Safi told the BBC.
Local observers have viewed claims of IS's rise in Afghanistan with caution.
The Middle Eastern group has never formally acknowledged a presence in Afghanistan and most self-styled IS insurgents in the country are believed to be Taliban turncoats rebranding themselves to appear a more lethal force.
Full report at:
http://www.channelnewsasia.com/news/asiapacific/islamic-state-taliban/1834654.html
---------
Gunmen kill 2; kidnap others during cricket match in Afghanistan
09 May, 2015
KABUL: Afghan officials say gunmen killed at least two people and kidnapped others in an assault on a cricket match in a rural area near the Pakistan border.
Gen. Zelmai Oryakhail, the police chief of Paktia province, said Saturday that gunmen opened fire on the match Thursday, killing a police officer and a civilian.
He says five others were wounded in the attack in the province's Zazi Aryub district.
Abdul Wali Sahee, Paktia's acting governor, says 36 people, mostly teenagers, were kidnapped by the gunmen.
Oryakhail says all but three have been freed. No group has claimed responsibility for the attack, though officials said they suspect the Taliban launched the assault.
The insurgents are active in provinces along Afghanistan's border with Pakistan.
http://www.dawn.com/news/1180944/gunmen-kill-2-kidnap-others-during-cricket-match-in-afghanistan
---------
Maldives defends death penalty and flogging
09 May, 2015
The Maldives has defended the death penalty for murder and flogging for fornication at a UN human rights review, stating the punishments are mandatory in Islamic law.
Several countries including France, the United Kingdom, Ukraine, Namibia, Spain, Australia and Montenegro expressed concern over Maldives' decision to end a six-decade moratorium on the death penalty last year.
However, speaking to the UN human rights council in Geneva, legal affairs secretary Aishath Bisham said: "We would like to stress that Islamic principles dictate that its legal measures are to be enforced and regulated by law and process after necessarily subjecting it to rigorous judicial framework."
The Maldives constitutional assembly had declared Islam to be the state religion and the basis of all laws enacted in the country, and requires judges to refer to Islamic law, she noted.
However, the enforcement of the death penalty and flogging are "never intended to be arbitrary or capricious," she said.
Full report at:
http://minivannews.com/politics/maldives-defends-death-penalty-and-flogging-97827#sthash.8d2clNcV.dpuf
---------
Taliban execute own fighters for "spying"
May 09 2015
Taliban militant group has allegedly executed four of their own fighters after accusing them for betray in eastern Nooristan province.
Hafiz Abdul Qayoum, acting governor of Nooristan province says that the execution was carried out in Kamdesh District yesterday.
He said Taliban killed these people on the accusation of cheating within the militant group and spying for government.
Taliban spokesman has not yet commented on the report.
Kamdesh is one of the most restive districts in eastern Nooristan province believed to be home for several terrorist groups.
The district has witnessed some serious fighting of government and foreign forces with militants including the "Battle of Kamdesh".
Around 300 Taliban militants attacked an American Army outpost near the town of Kamdesh which left eight American soldiers dead and 27 others wounded in October 2009.
Also, a group of masked me believed to be from Pakistan-based Lashkar-i-Taiba group hanged to death 12 Taliban militants in this district last year.
http://www.khaama.com/taliban-execute-own-fighters-for-spying-3306
---------
11 militants killed in fresh military operations
May 09 2015
11 militants were killed and six others wounding during separate military operations across the country in past 24 hours, a statement issued Saturday morning by the Ministry of Interior states.
According to the statement the operations were jointly conducted by Afghan National Police, Afghan National Army and personnel from the National Directorate of Security (NDS) in Kandahar, Zabul, Uruzgan, Kunar, Ghazni, Paktiya, Herat and Logar provinces.
The statement adds that two more Taliban were arrested during the operations and some weapons and ammunition seized.
Seven different parts of Improvised explosive Devices (IEDs) were also discovered and defused in Kandahar and Nangarhar provinces during the past 24 hours, the statement adds.
IEDs are the second biggest cause of the increasing civilian casualties during the ongoing war in Afghanistan.
Eight percent increase was noticed in civilian casualties in the first quarter of current year compared to the first quarter of last year.
http://www.khaama.com/11-militants-killed-in-fresh-military-operations-3302
---------
Hizb-ut-Tahrir leader held in Chittagong
09 May, 2015
Police have detained a leader of the banned Islamist outfit Hizb-ut-Tahrir from Chittagong city's Chandgaon area.
Detainee Sorful Awal is also a former lecturer of Cox's Bazar International Law College.
Deputy Commissioner Poritosh Gosh of Chittagong Metropolitan Police told the Dhaka Tribune that on the basis of intelligence information, police raided a residence in Chandgaon on Friday night and held the Hizb-ut-Tahrir leader.
He said: "It is believed that Sorful Awal has link with Islamic State militants."
He, however, said the matter would be cleared after detailed interrogation.
He was being interrogated at Chandgaon police station when the story was filed.
http://www.dhakatribune.com/crime/2015/may/09/hizb-ut-tahrir-leader-held-chittagong#sthash.BcsgfS7l.dpuf
---------
AL leader: Khaleda must face trial for every killing
09 May, 2015
BNP Chairperson Khaleda Zia will have to face trial in every murder case filed against her for burning and killing innocent people in the name of nationwide blockade earlier this year, several Awami League leaders said yesterday.
They further said Khaleda also must stand trial for her conspiracy and attack on common people in the capital's Karwan Bazar area during the city polls campaign last month.
The ruling party leaders made these remarks at different events around Dhaka yesterday.
Speaking at a discussion organised by Islami United Party at National Press Club, Awami League's Publicity and Publications Secretary Dr Hasan Mahmud urged police to register cases against the BNP chief on the grounds that her security personnel launched an attack on people. Law preserves equal rights for everyone, he said.
Hasan further said the passing of Land Border Agreement (LBA) bill in the Indian parliament was a diplomatic success of the Awami League-led coalition government of 14 parties.
Food Minister Md Qamrul Islam, who attended the discussion as well, asked Khaleda to stop killing people along with Jamaat.
Full report at:
http://www.dhakatribune.com/politics/2015/may/09/al-leader-khaleda-must-face-trial-every-killing#sthash.6UlQIQ2Y.dpuf
--------
Southeast Asia
A Caliphate Guarantees You Free Education, Health, Hardline Islamists Tell Malaysians
09 May, 2015
KUALA LUMPUR, May 9 — Making its case again for the establishment of an Islamic state here, hard-line Islamist group Hizbut Tahrir Malaysia (HTM) told Malaysians that citizens of a caliphate would be guaranteed free education and health services, amid concerns of the rising cost of living.
The group also said that earnings from natural resources such as oil and gas should be distributed equally among the public.
"A caliphate will not only never confiscate the rights of the public forbidden by Allah, but instead will grant all the rights that will subsequently lighten their burden," the group said in its weekly newsletter, referring to the taxes imposed by Putrajaya.
"For example, education, security and health are the three things that become the public collective rights that a country is obliged to provide for free."
HTM said that a caliphate is obliged to provide enough infrastructure, facilities and workforce to provide the best service for to the public.
Full report at:
http://www.themalaymailonline.com/malaysia/article/a-caliphate-guarantees-you-free-education-health-hardline-islamists-tell-ma#sthash.kzEWliwe.dpuf
--------
'Malaysia houses 80% of slave camps'
09 May, 2015
A former president of the Rohingya club in Thailand has alleged that Malaysia is housing some 80% of the holding camps where young Bangladeshi and Rohingya migrants are kept.
Abdul Kalam alleged that Malaysians are also directly involved in the trafficking syndicate.
Kalam works with Thai police as a translator when Myanmar refugees are rescued.
"The slave trafficking camps near the Thai border typically house between 500 and 1,000 people," The Straits Times quoted Kalam.
However, Kedah police chief Senior Deputy Comm Datuk Zamri Yahya refuted allegations that such camps exist on the Malaysian side of the border.
More than 100 suspected migrants from Bangladesh and Myanmar have been found in Thailand's southern Songkhla province, Thai police said on Friday.
On May 2, police exhumed 26 bodies from a mass grave in the Sadao district in Songkhla province. All are believed to be migrants from Myanmar and Bangladesh.
The discovery of the large camp, hidden deep in the jungle, came this week with the arrest of a trafficker named Anwar, who is thought to be one of southern Thailand's most significant traffickers.
http://www.dhakatribune.com/world/2015/may/09/malaysia-houses-80-slave-camps#sthash.rK6fYUbY.dpuf
---------
Over 100 Rohingya migrants found in south Thailand
09 May, 2015
BANGKOK: More than 100 suspected Rohingya migrants from Myanmar and Bangladesh have been found in Thailand's southern Songkhla province, police said on Friday.
Police said the 111 migrants had been left alone in the jungle after suspected human traffickers who had brought them into the country fled.
"They were found on a mountain and, from our initial investigation, the people who brought them fled so they were wandering alone," Police Lt. Col. Somkiat Ostaphun, deputy superintendent of Rattaphum police station, told Reuters.
Thai Prime Minister Prayuth Chan-ocha on Friday called for a three-way meeting with neighbors Malaysia and Myanmar to try to resolve a regional human trafficking crisis following the discovery of a mass grave in the country's far south.
Full report at:
http://www.arabnews.com/world/news/744341
---------
Africa
CAR Militias Poised To Sign Disarmament Agreement
09 May, 2015
A senior UN official said he expected armed groups in Central African Republic (CAR) to sign a disarmament agreement during this week's peace forum, boosting efforts to improve security across a nation torn apart by more than two years of sectarian violence and decades of coups and poor governance.
Aurélien Agbénonci, the head of the UN Development Programme (UNDP) in CAR and the secretary general's deputy special representative, said the UN peacekeeping mission, known as Minusca, was ready to support the implementation of any disarmament accord, and had made this clear to the myriad militia that still hold sway in large parts of the former French colony.
"One of the achievements we are expecting from the forum is this agreement on disarmament, demobilisation and reintegration (DDR). If [the armed groups] agree to DDR, if they agree to get involved in [Minusca/UNDP-run] labour-intensive work programmes … we will boost the restoration of state authority," he said.
Full report at:
http://www.theguardian.com/global-development/2015/may/08/central-african-republic-militias-disarmament-agreement-undp
---------
Boko Haram Terrorists Open Fire in Nigerian School
09 May, 2015
Boko Haram gunmen opened fire on students after walking into a high school in Potiskum in Northeast Nigeria, critically injuring six, witnesses and a humanitarian aid worker said.
The gunman, who was caught and beaten by locals, was accompanied by a suicide bomber who detonated but only blew himself up, Reuters reported.
"We came out from lectures when we saw two people at the gate...he brought out a gun and started shooting," Musa Ahmed, a student at the College of Administrative and Business studies, said.
"The suicide bomber...detonated the bomb killing himself alone but six of students were shot by the man with the gun."
Yobe was one of three states where the Boko Haram gained control of territory last year. Government troops recaptured key towns in the state in March. The terrorists are now concentrated in Borno state mainly in the Sambisa forest reserve.
http://english.farsnews.com/newstext.aspx?nn=13940219000473
---------
Libya rejects EU migrant plan, says not asked
9 May 2015
Libya's ambassador to the United Nations is largely rejecting a European Union plan to fight the growing migrant crisis, saying his Western-backed government hasn't even been consulted and ruling out EU forces on Libyan soil "at this stage."
In an interview Friday with The Associated Press, Ambassador Ibrahim Dabbashi said the best way to resolve the migrant crisis is to arm the "legitimate" government in a country that has fractured. A rival regime is backed by Islamist-allied militias who have taken the capital, Tripoli.
And the ambassador warned that if there is no progress in U.N.-led peace talks in the coming weeks, his government, which is under a U.N. arms embargo, "has to take necessary steps even to take the capital by force."
Full report at:
http://english.alarabiya.net/en/News/middle-east/2015/05/09/Libya-rejects-EU-migrant-plan-says-not-asked.html
---------
Shebab militants kill Somali lawmaker
09 May, 2015
Islamic militants have claimed responsibility for the assassination of a member of parliament on Friday in the semi-autonomous northern Somalia state of Puntland.
Lawmaker Said Hussein Nur was shot dead as he left a mosque after evening prayers.
"The Mujahedeen fighters got rid of an apostate member in the Puntland parliament in northern Galkayo," said a statement from Al-Shebab, Somalia's Al-Qaeda aligned militants.
"Such attacks will continue", said the statement, posted on a Shebab website.
Puntland's vice president, Abdihakin Abdulahi Haji, confirmed the attack.
"A member of the Puntland parliament was assassinated in Galkayo and even though we do not have details about the ongoing investigations, we suspect that the violent elements are responsible for the killing," Haji told reporters, referring to the Shebab.
Witnesses in northern Galkayo town described the attack by heavily armed gunmen outside a mosque on Friday evening.
Full report at:
http://english.ahram.org.eg/NewsContent/2/9/129786/World/International/Shebab-militants-kill-Somali-lawmaker.aspx
---------
Pakistan
'Govt Fully Determined To Curb Terrorism, Restore Peace in Karachi': Pak President
09 May, 2015
KARACHI - President Mamnoon Hussain on Saturday said the government was fully determined to eradicate terrorism from the country.
Addressing the convocation of Jinnah University for Women in Karachi, he said operation Zarb-e-Azb would continue till elimination of last terrorist from the country.
The president said law and order situation had improved in Balochistan and Karachi as a result of the effective measures taken by the government, adding that Karachi would be reverted to its original status of the "city of lights", and in future, no one would dare to disturb the law and order in the city.
Mamnoon Hussain said the era of unrest was over in Karachi and the city would see peace again. He also said that the killers of Dr Shakil Auj, Dr Waheed ur Rehman and others would be arrested soon, and no one would dare to disturb peace. "Karachi is a city of famous people and we will make it the city of lights again," he added
The president said work was under way on several mega projects to meet the shortage of energy in the country. "More than 10,000 megawatts (MW) of electricity will be added to the national grid by 2018," he added.
He made it clear that China was investing in Pakistan, not giving loans. He said efforts were being made to remove misunderstandings about the route of Pakistan-China Economic Corridor. The president called for social boycott of corrupt persons in order to eliminate the menace of corruption from the country.
He urged the students to work hard and play their due role in development of the country, and said that instead of following the West blindly, Pakistanis had to protect their social
http://www.dailytimes.com.pk/national/09-May-2015/govt-fully-determined-to-curb-terrorism-restore-peace-in-karachi
---------
Saulat Mirza's Wife, Sister Make Last-Ditch Attempt to Delay Hanging
09 May, 2015
KARACHI: With tears streaming down their faces and choked voices, the wife and the sister of Saulat Mirza appealed to the president, prime minister of Pakistan and the chief of army staff on Friday to have mercy on the death row prisoner and give him more time so that they can seek forgiveness for him from the victims' families.
The fresh appeal to the authorities came after their petition for the deferment of his hanging was rejected by the Sindh High Court. "Our petition was rejected this morning," said Nikhat, the wife of the convict, at a hurriedly called press conference at the Karachi Press Club. She was accompanied by his sister, Sumaira Wajahat.
Full report at:
http://www.dawn.com/news/1180811/wife-sister-make-last-ditch-attempt-to-delay-hanging
---------
No foul play: Gilgit helicopter crash was due to technical fault, says foreign secretary
09 May, 2015
ISLAMABAD: Foreign Secretary Aizaz Chaudhry said that the Pakistan Army helicopter crashed in Naltar valley of Gilgit-Baltistan on Friday morning due to a technical fault in its engine as it neared the landing site, ruling out the possibility of any terror related activity. He added that the blackbox of the ill-fated aircraft had been recovered.
Addressing a press conference in Islamabad on Friday evening, Chaudhry dismissed as "bogus" a claim made by the Tehreek-e-Taliban Pakistan that they had shot down the helicopter carrying diplomats. Seven people, including two foreign envoys and two pilots were killed when the helicopter crashed into a school in the scenic valley.
He added that there was no security lapse with nearly 1,000 soldiers deployed and all heights (high vantage points) occupied by security forces.
Full report at:
http://tribune.com.pk/story/883199/no-foul-play-naltar-helicopter-crash-was-an-accident-says-foreign-secretary/
---------
Balochistan raids: Up to a dozen terror suspects rounded up
May 9, 2015
QUETTA: The Frontier Corps (FC) conducted multiple raids in different areas of Balochistan and arrested a number of suspected militants, including three members of the banned United Baloch Army (UBA).
The FC's spokesperson told The Express Tribune that one of these raids was carried out in Mangochar area of Kalat district. "During the raid, FC personnel booked three militants of the banned UBA and shifted them to an undisclosed location for further investigation," he said.
Elsewhere in Lehri area of Zhob district, the paramilitary force recovered a huge cache of arms and ammunition while arresting two suspected terrorists.
"At least seven rocket launchers, 14 improvised explosive devices, 12 anti-personnel mines, six bombs, two SMGs with 13 magazines, three hand-grenades, 80 detonator wires, a telescope and a Motorola cellphone were recovered," said the FC official.
He said the force also defused 26 bombs on the spot. Meanwhile, the FC also captured four suspected militants from different parts of Sohbat district. "The FC launched a search operation at Goth Hamzani, Goth Doda, Tibba and adjacent area of grid and arrested four suspected persons, who are being investigated," he said.
In another raid in Killi Thratta area of Pishin district, the law enforcing agency also arrested two suspected terrorists, who are being questioned.
Iranian citizens held
The Frontier Corps also took into custody two Iranian citizens, who were trying to enter into Pakistani territory in Panjgur on Friday. "Both Iranians were trying to enter Pakistan without legal travel documents when FC soldiers spotted and arrested them," said an official. Investigations are under way.
http://tribune.com.pk/story/883427/balochistan-raids-up-to-a-dozen-terror-suspects-rounded-up/
---------
KASB Securities merges with Bank Islami
May 9, 2015
KARACHI: KASB Securities has now become a subsidiary of Bank Islami after the latter acquired the parent company of the brokerage house at a nominal value of Rs1,000, a stock filing said on Friday.
A standalone brokerage house previously owned by KASB Bank, KASB Securities became part of Bank Islami following the government's approval of the merger scheme of its parent company with the Islamic lender on May 7.
KASB Bank, which ceased to exist after the central bank cancelled its banking licence on May 7, held the largest stake (77.1%) in KASB Securities at the end of 2014.
Individual investors owned 21.4% shares while associated companies, such as KASB Corporation, owned about 1.1% shares in KASB Securities, a publicly listed company.
Without being at fault per se, KASB Securities became a victim of its parent company's lack of capital adequacy. Counted among prominent brokerages in the country, KASB Securities posted a net profit of Rs108.6 million in 2014, up 33.4% from its earnings in the preceding year.
Full report at:
http://tribune.com.pk/story/883339/kasb-securities-merges-with-bank-islami/
--------
URL: https://www.newageislam.com/islamic-world-news/new-age-islam-news-bureau/isil-selling-off-kidnapped-girls-in-naked-slave-bazaars/d/102881