New Age Islam News Bureau
18 Oct 2017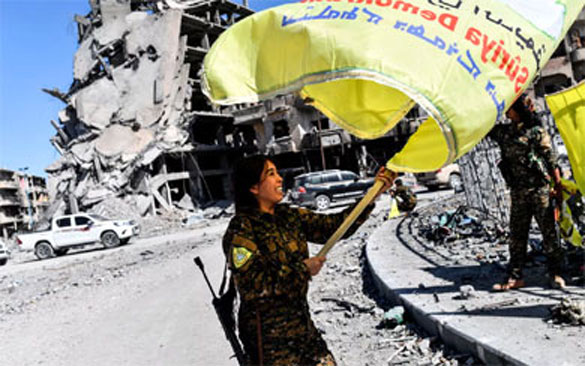 Rojda Felat, a Syrian Democratic Forces (SDF) commander, waves her group's flag at the iconic Al-Naim square in Raqqa on October 17, 2017. CREDIT: AFP
----
• Isil's Caliphate 'Capital' In Raqqa Falls after Last Jihadists Surrender
• Taliban Attacks Leave 70 Dead, 170 Injured In Two Afghan Provinces
• Pakistan Moves towards Legalising Bengalis and Biharis, Not Rohingyas
• Malaysian Teacher Seen as New 'Emir' of Pro-IS Militants
• Judge Temporarily Halts New Version of Trump's Travel Ban
• AQIS Links: Islamic Preacher Let Off For Want of 'Sufficient Evidence'
Arab World
• Isil's Caliphate 'Capital' In Raqqa Falls after Last Jihadists Surrender
• 3,250, Including 1,130 Civilians, Killed In SDF Offensive To Seize Raqqah: SOHR
• King Salman orders establishment of 'King Salman Complex' for Prophet's Hadith
• One Day after Shiite Militias Attack Kurds, Islamic State Resurfaces Near Kirkuk
• Iraqi Forces Impose Control over Entire Oilfields in Kirkuk
• Iraq: Kurdish Fighters Retreat Completely from Sinjar
• More Terrorist Commanders Killed in Clashes with Syrian Army Troops East of Deir Ezzur
• Manama Center for Human Rights: Qatar violating right to political participation
• Bahrain court sentences 4 dissidents to 15 years in prison
--------
South Asia
• Taliban Attacks Leave 70 Dead, 170 Injured In Two Afghan Provinces
• Afghan Police Arrest 13-Year-Old Boy Recruited For Suicide Attack
• US drone strike leaves two Taliban leaders dead in Nangarhar province
• Myanmar army killed hundreds in campaign to expel Rohingya Muslims: Amnesty
• US senators thank Bangladesh PM Sheikh Hasina for treatment of Rohingya
• Rohingya refugees can participate in Bishwa Ijtema
• Satellites reveal hundreds of villages destroyed in Rakhine
--------
Pakistan
• Pakistan Moves towards Legalising Bengalis and Biharis, Not Rohingyas
• Khan Asked Supporters to Throw Acid On My Face: Gulalai
• 7 policemen killed, 22 others wounded in blast in Quetta
• One dead, five injured in blast near Sher Qalandar shrine
• Pakistan's flip-flop on Hafiz Saeed, other terror outfits continues
• Serious rights concerns persist in Pakistan: EU
• Mufti Qavi escapes from court scene in Qandeel murder case
--------
Southeast Asia
• Malaysian Teacher Seen as New 'Emir' of Pro-IS Militants
• Philippine President Declares Marawi Liberated as Battle Goes On
• Wan Ji: Penang government labelled anti-Islam for rejecting 'Taliban' approach
• Only Muftis Can Issue Fatwas, Deputy Minister Reminds Malaysians
• Raja Muda Perlis wants Muslims to stand up against Islamophobia
• Files reveal details of US support for Indonesian massacre
--------
North America
• Judge Temporarily Halts New Version of Trump's Travel Ban
• US Will Help Restore Water, Power to Raqqa after Fall of ISIS
• The TDSB steps on another politically correct landmine
• There's nothing neutral about Quebec's religious neutrality bill, Muslim advocate says
• US support for Saudis highlights Trump's indifference to human rights: Analyst
• US forces kill dozens of ISIL fighters in Yemen
--------
India
• AQIS Links: Islamic Preacher Let Off For Want of 'Sufficient Evidence'
• Boycotted For Marrying a Muslim: Armed With Law, 61-Yr-Old Files Social Boycott Complaint
• Hadia Ruling to Test Court's Role in 'Love Jihad' Cases
• Taj Mahal Not a Symbol of Worship, Most Mughals 'Aiyaash': UP Shia Waqf Board Chairman
• India Can Help US 'Keep an Eye on Pakistan', Says Ambassador Nikki Haley
• Tunda Conviction in Sonipat Blasts Case: 'No Direct Evidence, But Circumstances Form Complete Chain'
• Kali Puja is a Hindu-Muslim initiative in this Assam village cluster
--------
Europe
• European Officials Expecting Terror Attacks, Even As IS Weakens
• 10 Far-Right Terrorists Arrested In France over Suspected Plot to Kill Muslim Politicians
• Britain is facing a terrorist threat as unrelenting as it is unprecedented, MI5 chief warns
• British men suffering Islamophobic abuse because they 'look Muslim', reveals research
• Hollande slams Trump's 'double fault' over Iran nuclear deal
--------
Mideast
• Israel Threat Won't Deter Hamas, Fatah from Unity Efforts: PA
• Israel Approves Plans For Nearly 1,292 Settler Units In WB
• US strikes kill 'dozens' at IS training camps
• Leader's Top Aide Dismisses IRGC's Partnership in Kirkuk Operations
• Hamas Says Unity Deal at Risk If Abbas Does Not End Sanctions
• Nearly dozen rights activists to go on trial in Turkey next week
• Netanyahu says Israel won't allow Iran military presence in Syria
• Turkey and EU pledge to boost counter-terrorism cooperation
--------
Africa
• ISIS in the Congo: Video Calls Jihadists to New Turf in Central Africa
• Uganda: Aga Khan Deserves Most Excellent Order of the Pearl of Africa Medal
• UN warns of abuse of Libyan refugees on shocking scale
• Turkish foundation sends $150,000 aid to Nigeria
Compiled by New Age Islam News Bureau
URL: https://www.newageislam.com/islamic-world-news/isil-caliphate-capital-raqqa-falls/d/112931
--------
Isil's caliphate 'capital' in Raqqa falls after last jihadists surrender
Josie Ensor
17 OCTOBER 2017
The Islamic State's "capital" fell on Tuesday after US-backed forces declared victory in the Syrian city where the jihadist group plotted attacks on the West.
Brig Gen Talal Silo, the spokesman for the US-backed Syrian Democratic Forces, said that clashes with Islamic State of Iraq and the Levant (Isil) fighters in Raqqa had stopped, ending their three-year reign of terror in the city.
"The SDF is now in control of the former capital of terrorism," Mr Sllo told the Daily Telegraph. "A formal declaration will be made from the city soon, after the clearing operations end. Raqqa is still full of landmines."
The fighters limped out from their final redoubt in Raqqa's central hospital on Tuesday and onto waiting buses.
Having promised to fight to the death for the capital of their so-called caliphate, in the end Islamic State's jihadists surrendered after realising they had been cornered.
"Cowards to the end," said Macer Gifford, a Briton fighting alongside the US-backed Syrian Democratic Forces in Raqqa. He has been battling Islamic State of Iraq and the Levant (Isil) militants in the city since the start of the offensive in June and was there to watch some of the last of them flee.
"It was difficult to see them so close and to just watch them leave," the former currency trader from Oxford told the Telegraph.
After a devastating four-month battle, the remaining 200-odd fighters gave up their fight and agreed to an evacuation deal which saw them bused out of the city to the last-remaining slivers of territory still under the jihadists's control to the south.
The final black flag was taken down from the city's stadium, which had been used as a prison during Isil's brutal three-year rule and had become synonymous with the group's violent excesses. Photos showed Kurdish female fighters of the SDF waving their own yellow flag in its place.
All that was left to do was check the many tunnels Isil had dug for sleeper cells and IEDs, Talal Silo, the SDF"s spokesman, said.
"A formal declaration will be made from the city soon, after the clearing operations end. Raqqa is still full of landmines," Mr Silo told the Daily Telegraph. "But the SDF is now in control of the former capital of terrorism."
During the campaign for Raqqa the city suffered massive devastation from Isil's mines as well as from US-led coalition air strikes which left most of its buildings levelled and in ruins.
The Britain-based Syrian Observatory for Human Rights monitor put the overall death toll for the battle at 3,250, including fighters and civilians, but said hundreds were still missing or unaccounted for. Five British volunteers were also killed.
Isil's use of civilians as human shields forced the coalition to rely on coordinated air strikes, at a heavy cost.
"They never fought us face-to-face like men," Mr Gifford, who uses a pseudonym, told the Telegraph by phone. "They would just shoot at us from sniper positions and drive at us with car bombs.
"They surrounded themselves with women and children, which they used as protection against the strikes."
An international charity group says tens of thousands of people who did manage to flee are now in desperate need of aid and that the nearby camps are "bursting at the seams."
With the high levels of destruction reported in and around the city, most families have nowhere to return home and are likely to stay in camps for months or years to come.
The militants seized the city in early 2014 in a blitzkrieg offensive across Syria and neighbouring Iraq, making it the headquarters of its self-styled "caliphate".
At one point they controlled approximately a third of Syria and a third of Iraq, making up a quasi-state the size of Britain.
So confident was the group during its height they threatened to conquer Rome.
Col. Ryan Dillon, spokesman for the anti-Isil coalition, said on Tuesday the fall of Raqqa would deny Isil the "well spring" that provided planning and support for terror operations in Syria and around the world. The effect the loss of the city, which had become the administrative heart of the Islamic State, will have on the group cannot be underestimated.
It was from Raqqa its miliants filmed their slickly produced and often gory propaganda videos which lured thousands of recruits from around the world to join them.
They plotted the most devastating attacks on Europe from the city's internet cafes.
It was from the hills outside Raqqa Briton Mohammed Emwazi, otherwise known as Jihadi John, executed two of his countrymen in videos which shocked the world in 2014.
The jihadists would continue to rule over the city's residents with an ultra-conservative and brutal interpretation of Sharia law for another three years.
Schools were closed and children were sent to mosques for indoctrination into jihad and camps for military training. Adults were stoned to death and beheaded for infractions as minor as smoking or listening to music.
But the group's fortunes changed dramatically after Iraqi forces began their offensive to retake its most prized territory of Mosul last year. And in recent months in Syria they have been forced back into a strip of the Euphrates valley and surrounding desert.
Now more than 85 per cent of Isil's territory in Syria has been liberated and around 90 per cent in Iraq.
But experts say Isil will remain a serious threat for the foreseeable future, despite its significant territorial losses. And that while the battle may be over, the war is yet to be won.
"Today marks the end of Caliphate ISIS, but the beginning of Insurgency ISIS," said Hassan Hassan, a resident fellow at the Tahrir Institute for Middle East Policy and co-author of ISIS: Inside the Army of Terror.
Charlie Winter, a senior research fellow at the International Centre for the Study of Radicalisation and Political Violence, warned that its ideology would linger long after its "caliphate" was gone.
"I don't think it's simply a question of taking away the Islamic State's territory and the Islamic State's idea disappears," he said.
He said the group saw itself as successful, having "managed to declare a caliphate and keep it going" - something unprecedented in modern jihadism.
http://www.telegraph.co.uk/news/2017/10/17/raqqa-liberated-isils-caliphate-capital-falls-last-jihadists/
--------
Taliban attacks leave 70 dead, 170 injured in two Afghan provinces
Oct 17, 2017
The Taliban militants have launched coordinated attacks on police forces in two neighboring provinces in southern Afghanistan, leaving at least 70 people dead and nearly 170 others injured.
Militants with explosives-laden vehicles had initially attacked a police training center in Gardez, the capital of Paktia Province in southeast Afghanistan, claiming at least 41 lives and wounding 158 others.
"At first a suicide bomber detonated a car filled with explosives near the training center, making way for a number of attackers to start their assault," the Interior Ministry said in a statement.
Hospital officials said "women, students and police" were among the victims.
A battle is underway between the attackers, armed with guns and vests, and security forces inside the center located near the Paktia police headquarters, the ministry added.
"At the moment the area is sealed by the Crisis Response Unit and efforts are ongoing to eliminate the terrorists," the statement noted.
Separately in the southern Ghazni Province, the militants attacked a police station and a checkpoint in the center of Andar District, leaving 25 policemen dead and 10 others injured, according to provincial authorities.
Elsewhere in western Afghanistan, Farah Province's police chief Abdul Maruf Fulad said the Taliban had attacked a government compound in Shibkho district and killed at least three security forces.
The Taliban have claimed responsibility for all the assaults.
The militants have warned that there will be no let-up in their attacks until foreign forces fully withdraw from Afghanistan.
Afghanistan is still suffering from insecurity and violence years after the United States and its allies invaded the country as part of Washington's so-called war on terror. The invasion removed the Taliban from power, but militancy continues to this day. Taking advantage of the chaos, the Takfiri Daesh terror group has also emerged in eastern Afghanistan.
http://www.presstv.com/Detail/2017/10/17/538895/Afghanistan-Taliban-Paktia-Ghazni-Farah
--------
Pakistan moves towards legalising Bengalis and Biharis, not Rohingyas
Zia Ur Rehman
Oct 18 2017
Every evening, a group of men, elders from Karachi's Bengali community, would huddle together outside a small tea stall in Machar Colony. And every evening the conversation would be the same.
Their voices, soft and loud, dejected and angry, would complain about the troubles they face acquiring national identity cards. Everyone had a story to tell, of harassment by law enforcement agencies. Machar Colony is a poor neighbourhood, inhabited mostly by people of Bengali and Burmese descent. Walking through it was an ordeal. Police would often stop and frisk men, old and young. Then ask for a bribe, ranging from Rs200 to Rs1,000. Since few had a computerised national ID card they would be forced to pay the demanded amount. "In some instances, our people were even locked up for a few hours, due to the non-production of identity documents," Shamsul Islam, an elder, tells Geo.tv.
But on October 12, the conversation was different. The voices were eager. The men more animated. A day earlier, a special parliamentary committee held a meeting in Islamabad to discuss the issues faced by the Bengali community, who migrated from East Pakistan prior to 1971 and are still denied citizenship. The 18-member committee was formed in January and has been chaired by the Deputy Speaker of the National Assembly Murtaza Javed Abbasi. Its agenda was to suggest a way forward for the re-verification of blocked ID cards.
Several meetings later, the committee decided, unanimously, to suggest a constitutional amendment to give legal status to the Bengalis in Pakistan. During the sit-downs, Sheikh Salahuddin, a member of the committee and a parliamentarian from the Muttahida Qaumi Movement, insisted that Bengalis as well as Biharis, who repatriated to Pakistan after Dhaka's fall, were also vulnerable to harassment. The committee agreed to facilitate both communities.
There are few, if any, estimates of the exact number of the Bengalis in Karachi. But unofficial tallies put their number at 1.5 million, spread out across the poorest neighbourhoods, including Machar Colony, Ibrahim Hyderi, Arakanabad, 100 Quarters, Chashma Goth, Burmi Colony, Ali Akbar Shah Goth and Ziaul Haq Colony.
Lack of official documents denies these communities employment opportunities and other perks. Few can open bank accounts or purchase properties or even vote. Community elders complain that there are areas where basic civic facilities do not exist, such as clean drinking water or a proper sewerage system.
Khawaja Salman, a central leader of the Pakistan Muslim Alliance, a political party representing the Bengali community, told Geo.tv that his party members, and leaders from the Pakistan Muslim League-Nawaz's Karachi chapter, recently met President Mamnoon Hussain and the newly-appointed interior minister to discuss the citizenship issues of the community. The meeting was positive. All of the problems faced by the Bengalis were brought up and the government promised to address them, adds Salman.
After a long time, it seems, that the parliamentarians are taking a keen interest in the rights of the Bengali and Bihari minorities in Karachi. But, strangely, the Rohingyas in the city have been left out. Outside Pakistan, the Rohingyas are fleeing persecution in Myanmar. The United Nations has branded it ethnic cleansing. While Pakistan has spoken out against the violence on international platforms, it has done little to regularise the Rohingyas at home.
"The issue of citizenship is a big issue that needs to be solved," says a senior official of the National Database and Registration Authority based in Islamabad, who asked not to be named.
"Bengalis consider themselves 'Pakistanis,' but according to the law they are aliens.," he added.
Even if the new legislation is made and passed, explained the official, the Afghan and Rohingya refugees would not benefit. "Their case is totally different and cannot be mixed with that of the Bengalis and Biharis."
As of now, the will to mainstream the two minorities is there, but that has yet to be translated into paper. Yet, already, Sindhi ethnic parties are opposing any such initiatives. Abdul Khaliq Junejo, head of the Jeay Sindh Mahaz, believes that the Sindhi people will reject and protest against any government moves to legalise illegal immigrants, mainly Bengalis.
"The large scale of influx and migration, from inside and outside the country, is forcing the Sindhi people to become a minority in their own province," Junejo said. "Instead, the government should send these people back home. And make sure they do not vote or have any other rights."
https://www.geo.tv/latest/162968-pakistan-to-grant-citizenship-to-bengalis-and-biharis-not-rohingyas
--------
Malaysian Teacher Seen as New 'Emir' of Pro-IS Militants
Oct 18, 2017
Kuala Lumpur. The battlefield deaths of two leaders of an Islamic State alliance in the southern Philippines could thrust a Malaysian who trained at an Al-Qaeda camp in Afghanistan as the militant group's new regional "emir," experts and officials say.
Intelligence officials describe Malaysian Mahmud Ahmad as a financier and recruiter, who helped put together the coalition of pro-Islamic State (IS) fighters that stormed Marawi City in May.
Isnilon Hapilon, Islamic State's anointed "emir" in Southeast Asia, and Omarkhayam Maute, one of two Middle East-educated brothers at the helm of the militant alliance, were killed in a raid on a building in Marawi and their bodies recovered on Monday (16/10), Philippine Defense Secretary Delfin Lorenzana said.
Philippine authorities said they were still searching for Mahmud.
"Based on our information, there is still one personality, Dr. Mahmud of Malaysia, and he is still in the main battle area with some Indonesians and Malaysians," military chief, Gen. Eduardo Ano, said on Monday. "But their attitude is now different, they are no longer as aggressive as before." He did not elaborate.
Ano urged the 30 militants remaining in a shrinking combat zone to surrender and free hostages as troops stepped up their fight.
Abdullah Maute, the alliance's military commander, was reported killed in August, though no body was found.
Intelligence officials in Malaysia believe Mahmud left Marawi months ago.
Malaysia's police counter-terrorism chief Ayob Khan Mydin Pitchay told Reuters in July that Mahmud "managed to sneak out from Marawi city to another safe place with his followers."
The 39-year-old Mahmud, who holds a doctorate in religious studies and was a university lecturer in Kuala Lumpur, was Hapilon's second-in-command in the IS's Southeast Asia "caliphate," according to a July report by Indonesia-based Institute of Policy Analysis and Conflict (IPAC).
Recruitment and Financing
Sitting in the inner circle of the Marawi command center, Mahmud controlled recruitment and financing, the IPAC report said.
He was the contact for foreigners wanting to join the fight in the Philippines or with IS in the Middle East, it said.
"It wasn't just Indonesians and Malaysians contacting Dr. Mahmud ... he was also the contact for Bangladeshis in Malaysia who wanted to join the fighting in Mindanao," IPAC's director Sidney Jones told Reuters.
Rohan Gunaratna, an analyst at the S. Rajaratnam School of International Studies in Singapore, described Mahmud as "the most important IS leader in Southeast Asia."
Ahmad El-Muhammady, a lecturer at the International Islamic University of Malaysia (IIUM) and a counter-terrorism advisor to the police, said Mahmud often solicited funds for IS operations.
"He's always the one asking people "does anyone have any money they'd like to donate?" and he will usually reply when followers in the region ask him about the situation in the Philippines," Ahmad said.
'Just Disappeared'
Mahmud grew up in Batu Caves, a crowded Kuala Lumpur suburb, famous for a Hindu temple housed in a large complex of caverns. Mahmud's wife and three children were last known to be living there, although Reuters could not locate them.
Before leaving Malaysia in 2014, Mahmud taught young Muslim students at a tahfiz, a school to memorise the Koran, in Nakhoda, a village near Batu Caves, residents said. "When he (Mahmud) started the school, he did stay there for the first one or two years, but then he just disappeared," said 50-year-old Zainon Mat Arshad, a Nakhoda resident who went to the mosque where Mahmud prayed.
"When he was at the tahfiz school, he kept mostly to himself and if he had come over to pray on Friday, I don't think anyone would have recognized him," said Zainon. "He didn't mingle with the local community."
Security experts say Mahmud studied at Pakistan's Islamabad Islamic University in the late 1990s before going to Afghanistan where he learned to make improvised explosive devices at an Al Qaeda camp.
In 2000, he returned to Malaysia to get a doctorate, which earned him a post as a lecturer in the Islamic Studies faculty at the University of Malaysia in Kuala Lumpur.
Former students described Mahmud as a quiet person who kept to himself.
"He wasn't the kind of lecturer who hung out at cafes with his students as some others did," said one former student, who declined to be identified.
Wrote Jihad Book
The few signs of his militant beliefs were discovered later, including a book he wrote on jihad under his nom de guerre, Abu Handzalah, said Ahmad, the IIUM lecturer.
He was put on Malaysia's most-wanted list in April 2014 after leaving the country with several others, including his aide, a Malaysian bomb maker named Mohammad Najib Husen, to work with the Abu Sayyaf group, notorious for violent kidnappings and beheadings in the southern Philippines, Ahmad said.
Mahmud received funding for the Marawi operation directly from IS headquarters, through the group's Southeast Asian unit led by Syrian-based Indonesian militant Bahrumsyah, the IPAC report said.
In a video released by the Philippines army in June, Mahmud is seen alongside Hapilon as well as Omarkhayam and Abdullah Maute - the pair of brothers who orchestrated the Marawi siege.
http://jakartaglobe.id/international/malaysian-teacher-seen-new-emir-pro-militants/
--------
Judge Temporarily Halts New Version of Trump's Travel Ban
By VIVIAN YEE
OCT. 17, 2017
President Trump's attempts to block travelers from a handful of countries — most of them predominantly Muslim — from coming to the United States hit another legal snag on Tuesday, when a federal judge in Hawaii issued a nationwide order freezing most of Mr. Trump's third travel ban the day before it was to take effect.
At least for now, the judge's order will prevent the Trump administration from stopping almost all travel to the United States indefinitely from most of the countries named in the ban.
The ban, now in its third iteration, was one of Mr. Trump's earliest and most controversial decisions after taking office in January, and it has also been one of the most legally troubled. Both previous versions were ordered halted by federal district judges who said they violated the Constitution or exceeded the president's authority, and those orders were upheld on appeal.
The Supreme Court was scheduled to review the second version of the order when Mr. Trump issued the third. Given the litigation surrounding the travel bans, the Supreme Court seems likely to take an interest in the current version as well.
Citing his campaign promises to keep terrorists and criminals out of the country, Mr. Trump initially ordered an immediate suspension of travel from seven predominantly Muslim countries, a move that plunged airports across the country into confusion and protest in January. That order was eventually blocked by a federal judge in Seattle. Mr. Trump's second attempt narrowed the scope of the ban, but still struggled to survive judicial scrutiny; it was blocked in March by the same Hawaii judge who issued Tuesday's order, Derrick K. Watson of Federal District Court in Honolulu.
The third travel ban, Judge Watson wrote on Tuesday, "suffers from precisely the same maladies as its predecessor." Among those flaws, he wrote, was that the ban "plainly discriminates based on nationality" in a way that undercut "the founding principles of this Nation," and that the government had not shown that the United States' national interests would be harmed by admitting travelers from the affected countries.
The Trump administration swiftly denounced the judge's order, saying that the latest travel restrictions were issued after an "extensive worldwide security review" by Homeland Security officials.
The judge's order "undercuts the President's efforts to keep the American people safe and enforce minimum security standards for entry into the United States," the White House said in a statement. "These restrictions are vital to ensuring that foreign nations comply with the minimum security standards required for the integrity of our immigration system and the security of our nation." The statement called the ban "lawful and necessary" and expressed confidence that the courts would "swiftly restore its vital protections."
The third version of the ban went further than the original, imposing permanent restrictions on travel instead of the original 90-day suspensions. Most citizens of Iran, Libya, Syria, Yemen, Somalia, Chad and North Korea, as well as certain Venezuelan government officials and their families, were to be excluded from entering the United States at all, while citizens of Iraq were to face extra barriers to entry. The ban was scheduled to go into effect on Wednesday.
Judge Watson's order blocks the administration from shutting the country's doors to people from Chad, Iran, Libya, Syria, Yemen and Somalia. It does not prevent the administration from barring North Koreans or Venezuelans or from subjecting Iraqis to stricter scrutiny.
The White House took pains to emphasize that the latest version was extensively vetted, with each of the affected countries subject to its own set of restrictions tailored to its security capabilities. The rollout of the third version of the executive order was supposed to avoid all the chaos of the first one: Legal permanent residents who were barred from the United States under the first travel ban would not be affected by the third, and people who already hold valid visas, including students now in the United States and employees of American businesses, would not have their visas revoked, as could have happened under the earlier ban. (Once their visas expired, however, they would be subject to the ban.)
Administration officials noted that non-Muslim countries were included in the order. But critics of the ban said that the addition of North Koreans and a small number of Venezuelans did little to disguise the ban's targeting of Muslims.
Judge Watson appeared to find few substantial differences between Mr. Trump's second effort and his third.
"Professional athletes mirror the federal government in this respect," he wrote. "They operate within a set of rules, and when one among them forsakes those rules in favor of his own, problems ensue."
The judge found that the government's rationale for barring people from certain countries from entering the United States — that doing so would bolster national security — did not make sense, writing that the administration had failed to show a clear link between a person's nationality and the threat he or she posed.
"The categorical restrictions on entire populations of men, women, and children, based upon nationality, are a poor fit for the issues regarding the sharing of 'public-safety and terrorism-related information' that the president identifies," the judge wrote. Meanwhile, he added, dangerous people of other nationalities could fall outside the scope of the ban: "This leads to absurd results," he wrote, adding that the executive order was "simultaneously overbroad and underinclusive."
The judge also said that the order contradicted the administration's public rationale by applying fewer restrictions to people from Iraq and Venezuela, which the administration said had failed to clear the security standards it had set, than it did on Somalia, which had met the baseline requirements. The administration also provided no coherent explanation for many of the carve-outs for certain categories of people in the ban, such as Iranian students, the judge wrote.
While the administration's national security goals were important, Judge Watson said, the government had failed to prove that letting people affected by the ban into the country would directly harm the interests of the United States.
A spokesman for the Justice Department, Ian Prior, said the judge's order failed to "properly respect the separation of powers" between the executive branch and the judiciary, and said the administration would appeal. The government has consistently argued that the president has broad powers to determine who may enter the country.
The judge's ruling came in a suit filed by the state of Hawaii. The state's attorney general, Douglas Chin, said in a statement: "This is the third time Hawaii has gone to court to stop President Trump from issuing a travel ban that discriminates against people based on their nation of origin or religion. Today is another victory for the rule of law. We stand ready to defend it."
Judge Watson's earlier ruling on the second version of the travel ban was upheld by an appeals court, but the Supreme Court ultimately allowed portions of that travel ban to take effect. It also allowed Mr. Trump to continue controlling the flow of refugees into the country. Administration officials said last month that Mr. Trump would cap refugee admissions at 45,000 over the next year.
https://www.nytimes.com/2017/10/17/us/trump-travel-ban-blocked.html?mtrref=www.google.co.in&gwh=A36E34DB3682871093173E893614CC1E&gwt=pay
--------
AQIS Links: Islamic Preacher Let Off For Want of 'Sufficient Evidence'
October 18, 2017
A Delhi court on Tuesday discharged Islamic preacher Maulana Anzar Shah Qasmi, who was arrested by the Delhi Police Special Cell for his alleged links to an al Qaeda in the Indian Subcontinent (AQIS) module. During charge proceedings, Additional Sessions Judge Siddhartha Sharma discharged Qasmi stating that there was "not sufficient evidence" against him.
The other accused in the case — Mohammad Asif, Abdul Rehman and Zafar Masood — were charged under sections of Unlawful Activities Prevention Act, to which they pleaded not guilty and claimed trial.
The case dates back to December 2015, when the main accused Asif (41) was arrested from Delhi's Seelampur flyover where he had allegedly gone to meet a contact. Hailing from UP's Sambhal district, he was purportedly sent to India by al Qaeda leader Ayman Al Zawahiri for recruiting youths for AQIS. Three mobile phones, a laptop and other incriminating articles were seized from his possession, Delhi Police Special Cell had said. Based on his inputs, Qasmi was arrested.
Qasmi's advocate M S Khan said that evidence against Qasmi was fabricated and hence he was discharged.
"It was alleged that Qasmi had met Asif and that a letter was supplied to him for recruiting members of AQIS. Police had said that the meeting with Asif was based on a testimony of an eyewitness who could not prove the meeting in the court. Qasmi did not know the other accused and the police could not recover the letter being given to him."
Khan said the police had also alleged that Qasmi had been giving sermons asking people to join AQIS, which was not proved. "There was not enough evidence to substantiate this claim," he added.
http://indianexpress.com/article/india/aqis-links-islamic-preacher-maulana-anzar-shah-qasmi-let-off-for-want-of-sufficient-evidence-4895914/
--------
Arab World
3,250, including 1,130 civilians, killed in SDF offensive to seize Raqqah: SOHR
Oct 17, 2017
A so-called monitoring group says at least 3,250 people dead, more than a third of them civilians, have lost their lives ever since militants from US-backed Syrian Democratic Forces (SDF) launched an operation to retake the northern Syrian city of Raqqah, which served as Daesh Takfiri terrorist group's de facto capital in the war-ravaged Arab country.
The Syrian Observatory for Human Rights (SOHR) reported on Tuesday that at least 1,130 civilians were among those killed since the start of the operation in early June.
The Britain-based noted that hundreds more people are still missing and may have been buried alive in their homes as a result of shelling, bomb explosions as well as airstrikes conducted by the US-led coalition purportedly fighting the Daesh Takfiri terrorist group in Syria.
The report came as a senior commander for the SDF force said that the US-backed militants had fully recaptured Raqqah, located about 455 kilometers (283 miles) northeast of the capital Damascus.
Brigadier General Talal Sello told The Associated Press that clearing operations were underway to remove land mines left behind and search for Daesh terrorist group's sleeper cells.
Sello added that there are no longer clashes in the city.
A formal declaration will be made from the city once the clearing operations end. Raqqah is still full of landmines, but members of the Syrian Democratic Forces are now in control of the former "capital of terrorism," the top SDF commander pointed out.
Earlier on Tuesday, SDF forces captured Raqqah hospital, which had served both as a medical facility and a Daesh command center.
Musafa Bali, a spokesman for the SDF, said 22 Daesh militants were killed in the advance on the hospital.
On Monday, the Kurdish-led SDF captured Paradise Square, where Daesh terrorists used to perform killings and decapitations, forcing local residents to watch after summoning them with loudspeakers.
"The stadium is a huge structure with underground rooms and tunnels. There are also buildings around it" still under the control of Daesh extremists, Bali said.
On June 6, the SDF said it had launched an operation aimed at pushing Daesh out of Raqqah.
The city of Raqqah, which lies on the northern bank of the Euphrates River, was overrun by Daesh terrorists in March 2013, and was proclaimed the center for most of the Takfiris' administrative and control tasks the following year.
http://www.presstv.com/Detail/2017/10/17/538919/3250-including-1130-civilians-killed-in-SDF-offensive-to-seize-Raqqah-SOHR
--------
King Salman orders establishment of 'King Salman Complex' for Prophet's Hadith
17 October 2017
Saudi King Salman issued a Royal Decree on Tuesday establishing the "King Salman Complex", the compound of King Salman for the Prophet's Hadith.
According to the royal order, the complex will be located in the city of Al-Madinah.
It has a council of elite scholars from around the world, and its president and members are appointed by royal decree.
Sheikh Mohammed bin Hassan Al-Sheikh was also appointed as a member of the Supreme Scholars Council and Chairman of the Scientific Council of the Assembly.
A Royal Order was issued today, which reads as follows:
In the name of Allah the Merciful
Number: A / 35
Date: 27/1 / 1439H
With the help of Allah,
We are Salman bin Abdul-Aziz Al Saud
King of Saudi Arabia
Having considered the Basic Law of Government, issued by Royal Decree No. (A / 90) dated 27/8/1412 AH.
Having considered the Council of Ministers Regulation issued by Royal Decree No. (M / 13) dated 3/3/1414 AH.
And after considering the regulations, orders, royal decrees, resolutions and related instructions. In view of the great posture of the Prophet's Sunnah among Muslims, as the second source of Islamic legislation after the Holy Quran, and in continuation of this country's service to Islamic law and its sources; as well as the importance of the existence of a body concerned with the service of the Prophet's Hadith, its sciences combined and classification, investigation and study. We ordered what is to come: First: The establishment of a complex called (the compound of the Custodian of the Two Holy Mosques King Salman bin Abdul-Aziz Al Saud for the Prophet's Hadith) which will be based in Medina.
Second: The complex shall have a scientific council that includes the elite of the scholars of Hadith in the world. Its president and members will be appointed by a royal decree.
Full report at:
https://english.alarabiya.net/en/News/gulf/2017/10/18/King-Salman-orders-the-establishment-of-Basim-Assembly-for-the-Prophet-s-Hadith.html
--------
One Day After Shiite Militias Attack Kurds, Islamic State Resurfaces Near Kirkuk
17 Oct 2017
Terrorists affiliated with the Islamic State have resurfaced in the Kirkuk region of Iraq, reportedly attacking two villages north of Kirkuk city mere hours after the Iraqi military and its Iran-backed militia allies began an invasion against the Kurdish government controlling the city.
The attacks in the Kirkuk region provide the Islamic State a much-needed optimistic headline following their loss of Raqqa, Syria—the self-proclaimed capital of the ISIS "caliphate." The attacks also recall the group's first major loss in Kirkuk at the hands of Kurdish Peshmerga in 2014, following the Iraqi military's abandonment of the city.
Kurdish news outlet Rudaw reported on Tuesday morning that the villages of Makha and Twelha, in the Dibis province, had fallen under Islamic State attack. "It is not clear whether Iraqi or Kurdish forces were in control of the two villages when the attack took place," Rudaw noted.
Al Jazeera confirms that the Islamic State terrorists "seized control" of the villages in question, citing security sources in Erbil, the capital of Iraqi Kurdistan. The sources noted that the Islamic State appeared to act as soon as the Peshmerga began retreating from the region. The Kurdistan Regional Government (KRG) withdrew from parts of Kirkuk to prevent bloodshed over the weekend and have since reinforced closer to Erbil, largely allowing the Iraqi government to retake parts of Kirkuk, including the eponymous city.
As news of ISIS's resurgence in areas where the Kurdish Peshmerga had kept them from overrunning villages emerged in Iraq, Kurds in Syria celebrated the fall of the jihadist organization in Raqqa, which terror chief Abu Bakr al-Baghdadi had declared the capital of the ISIS "caliphate."
The Syrian Democratic Forces (SDF), a multi-ethnic coalition largely consisting of members of the Kurdish Syrian People's Protection Units (YPG/YPJ), announced on Tuesday that the Islamic State had fled the city. "Everything is finished in Raqqa, our forces have taken full control of Raqqa," SDF spokesman Talal Sello confirmed to the Agence France-Presse (AFP). "The military operations in Raqqa have finished, but there are clearing operations now underway to uncover any sleeper cells there might be and remove mines."
The Islamic State typically leaves mines, explosives, and an assortment of booby traps in the buildings of cities and towns it has captured once its terrorists are defeated to maximize death and injury both to victorious militias and civilians returning home.
Back in Iraq, the KRG is struggling to maintain control of disputed territory it controlled due to its campaign against the Islamic State. Kirkuk is among these. In 2014, the Islamic State invaded the city, seeking to control its large oil assets. The Iraqi military fled. At one point that year, the Washington Post reported that over 90,000 Iraqi soldiers had deserted when faced with the possibility of fighting ISIS.
Kirkuk never fell to the Islamic State because of the Peshmerga, who stepped in when the Iraqi army fled. The Kurds also prevented an ISIS invasion of Kirkuk city a year ago, killing dozens of jihadist attackers. While Kirkuk is often not considered part of traditionally Kurdish territory, it lies on the border with what was considered Kurdistan prior to 2014. The BBC noted at the time that it also boasted a significant Kurdish population before attempts by Saddam Hussein to ethnically cleanse the area.
The U.S.-led Global Coalition against ISIS has not acted to protect Kurdish allies, instead publishing a statement on Monday expressing "concern" regarding the Iraqi invasion of Kurdish territory and calling attacks on the Peshmerga a "misunderstanding."
Full report at:
http://www.breitbart.com/national-security/2017/10/17/one-day-shiite-militias-attack-kurds-islamic-state-resurfaces-kirkuk/
--------
Iraqi Forces Impose Control over Entire Oilfields in Kirkuk
Oct 17, 2017
Asem Jihad said that all the oilfields in Kirkuk have come under the control of the Iraqi security forces, adding that management control over the oilfields has been handed over to the oil ministry.
In relevant developments the global oil markets reacted to the escalation of the conflict with a surge in oil prices.
On Monday afternoon the price of December futures for the North Sea oil mixture Brent rose by 1.75 percent, to $58.17 per barrel, whereas the price of November futures for WTI rose by 1.46 percent to $52.2 per barrel.
According to reports, Iraqi forces are now in control of all of the city's government buildings, state-owned North Oil and North Gas companies, the Kirkuk International Airport, and K-1 Airbase.
Government troops have also reopened the highway linking the Kirkuk city and the capital Baghdad.
The Peshmerga fighters also left the towns of Bashiqa and Bahzani in Nineveh after the government forces took control of the town of Sinjar on Tuesday when the Pishmarga withdrew from the town a day earlier.
Iraq's Joint Operations Command (JOC) said on Monday that "anti-terrorism units" had captured the K1 military base Northwest of Kirkuk city following the withdrawal of Kurdish Peshmerga fighters.
In the meantime, the Iraqi Federal Police Command reported that the Iraqi force gained control over the North gas company, Mollah Abdullah power plan, Maryam Beig bridge, Khlid bridge, the village of Sajalan, Sarjalan police center, al-Hadithen warehouses, al-Huweija square, Huweija regiment command center, the village of Chahish, al-Reshad crossroad, and the villages of Tobzadeh and Qarash Tapeh.
The army forces captured several strategic positions, including Leilan region in Kirkuk Babakar fields, police center and Kirkuk power plan.
In the meantime, the Arabic-language Elam al-Harbi said that forces of the Federal Police and rapid reaction units restored security to Kirkuk airport and al-Horieyh base.
The Iraqi force also captured the governor general building in Kirkuk, while other units of the Iraqi forces seized control over the town of Tuz Kharmato in Southern Kirkuk.
Meanwhile, Pishmarga accused some of the Kurdish officials of betrayal and delivering positons to the volunteer forces of Hashd al-Shaabi.
Iraqi joint forces' mission to restore security to Kirkuk province was announced by Iraqi Prim Minister Haydar al-Abadi and the Chief Commander of Iraq's Armed Forces yesterday morning.
The Iraqi forces captured over 100 sq/km of land in Kirkuk province. Tensions were high between the central government in Baghdad and the Kurdistan Regional Government (KRG) over the controversial referendum.
Full report at:
http://en.farsnews.com/newstext.aspx?nn=13960725001339
--------
Iraq: Kurdish Fighters Retreat Completely from Sinjar
Oct 17, 2017
Local witnesses said that the Iraqi military troops took control over the Central part of Sinjar in Western Nineveh after Pishmarga forces retreated.
They added that the Iraqi forces seized the town without any clashes with the Kurdish forces and hoisted the Iraqi flag in Sinjar.
"The Iraqi army and Popular Mobilization Forces entered the town of Sinjar after the Pishmerga withdrew without a fight," the Iraqi volunteer forces of Hashed al-Shaabi said.
In the meantime, the commander of the local Izadi fighters, Masloum Shingali, said the Kurdish forces left before dawn on Tuesday, adding that there was no fighting and that the Kurdish forces "left immediately as they didn't want a fight".
The town's mayor, Mahma Khalil, also announced that the Popular Mobilization Forces are securing Sinjar.
The Northwestern town is infamous as the site of one of the ISIL group's worst atrocities, when it killed thousands Izadi men and abducted thousands of women and girls as sex slaves in 2014.
The loss of Sinjar marks the second major city in Iraq that the Peshmerga forces have conceded to the Iraqi government forces in the last 24 hours, as the first was Kirkuk.
Full report at:
http://en.farsnews.com/newstext.aspx?nn=13960725000988
--------
More Terrorist Commanders Killed in Clashes with Syrian Army Troops East of Deir Ezzur
Oct 17, 2017
A large number of ISIL terrorists, including Abdul Hamid al-Jarvan, their field commander in al-Mayadeen region, were killed in the army advances West of the town of al-Mayadeen.
In the meantime, the Syrian Air Force and the army's artillery units pounded ISIL's positons in the villages of Shaqra, al-Ji'eh, Zeiban, Mahkan, Mouhassa and Bu Amr, destroying ISIL's Islamic police centers in Albu Kamal region and killing Abu Mohanad al-Halabi, one of the senior commanders of the ISIL and his Chechen aide.
Relevant reports said on Monday that the army soldiers, backed up by Russian bombers, stormed several districts inside Deir Ezzur city, liberating several building blocks in the al-Rusafa and al-Rashidiyah neighborhoods, killing and wounding scores of terrorists.
Full report at:
http://en.farsnews.com/newstext.aspx?nn=13960725000779
--------
Manama Center for Human Rights: Qatar violating right to political participation
17 October 2017
The Manama Center for Human Rights has denounced the recent attack on the workers living at Sheikh Sultan bin Suhaim Al-Thani's palace in Qatar and the freezing of Sheikh Abdullah bin Ali Al-Thani's assets.
The Center expressed its "condemnation of the security authorities in Qatar who stormed the palace of Sheikh Sultan bin Suhaim al-Thani without the permission or warrant and the destruction of the palace's contents and the confiscation of some property and the attack on the workers".
The rights group also called on the authorities in Qatar to "respect the principles of human rights and the purposes enshrined in the Universal Declaration of Human Rights, the International Covenant on Civil and Political Rights and all relevant international and regional human rights instruments and declarations".
Full report at:
https://english.alarabiya.net/en/News/gulf/2017/10/17/Manama-Center-for-Human-Rights-Qatar-violating-right-to-political-participation.html
--------
Bahrain court sentences 4 dissidents to 15 years in prison
Oct 17, 2017
A court in Bahrain has upheld 15-year jail terms handed down to four citizens and revoked their citizenship as the Manama regime relentlessly continues with its crackdown on human rights activists and pro-democracy campaigners in the tiny Persian Gulf kingdom.
On Tuesday, Bahrain's Court of Appeal found the defendants guilty of collaborating with a foreign country, establishing and joining a terrorist group, training in the use of weapons and explosives, and importing munitions and explosives, Arabic-language Bahrain Mirror news website reported.
The same court upheld 15-year jail terms against seven anti-regime activists on September 28, after finding them guilty of killing a member of security forces and setting his patrol car ablaze with a Molotov cocktail during clashes in the village of Karzakan, located 20 kilometers southwest of the capital Manama, on December 17, 2015.
The court also pressed charges of illegal gathering and rioting in addition to possession of flammable materials against the convicts, and ordered them to pay 10,200 dinars ($27,835) altogether over damage inflicted on regime forces during the protest.
Manama has gone to great lengths to clamp down on any sign of dissent. On March 14, 2011, troops from Saudi Arabia and the United Arab Emirates were deployed to assist Bahrain in its crackdown.
Scores of people have lost their lives and hundreds of others sustained injuries or got arrested as a result of the Al Khalifah regime's crackdown.
On March 5, Bahrain's parliament approved the trial of civilians at military tribunals in a measure blasted by human rights campaigners as being tantamount to imposition of an undeclared martial law countrywide.
Full report at:
http://www.presstv.com/Detail/2017/10/17/538954/Bahrain-court-sentences-4-dissidents-to-15-years-in-prison
--------
South Asia
Afghan police arrest 13-year-old boy recruited for suicide attack
Oct 17 2017
The Afghan police forces have arrested a young boy recruited by the anti-government armed militant groups for a suicide mission.
The provincial government media office in Nangarhar said the 13-year-old boy was arrested from the vicinity of Haska Mina district.
The statement further added that the boy has been identified as Waqat who was arrested during a search operation.
The boy was recruited by the Islamic State of Iraq and Syria (ISIS) terrorist group loyalists, the statement said, adding that the boy is originally a resident of Chaparhar district of Nangarhar.
Waqar who is police custody has confessed that he was recruited by the ISIS militants for a suicide mission and is currently being further investigated by the police forces, the statement added.
The anti-government armed militant groups including the ISIS loyalists have not commented regarding the report so far.
This is not the first time a young boy has been arrested in connection to a suicide attack plot but numerous young boys and children have been held by the security personnel before the militants mange to use them for the terrorist related activities.
http://www.khaama.com/afghan-police-arrest-13-year-old-boy-recruited-for-suicide-attack-03662
--------
US drone strike leaves two Taliban leaders dead in Nangarhar province
Oct 18 2017
The US forces in Afghanistan conducted a drone strike in eastern Nangarhar province of Afghanistan, leaving at least two leaders of the group dead.
The provincial government media office in a statement said Tuesday that the airstrike was carried out in the past 24 hours in Bati Kot district.
The statement further added that the militants were targeted in Ghandi Kalai area of the district.
The Taliban leaders killed in the airstrike have been identified as Faisal and Obaidullah, the statement said, adding that a motorcycle of the militants and some weapons were also destroyed.
In the meantime, the provincial government said a militant affiliated with the ISIS terrorist group was killed during the clashes with the security forces in Haska Mina district.
The anti-government armed militant groups have not commented regarding the reports so far.
This comes as the Afghan security forces are busy conducting counter-terrorism operations against the IS and other insurgent groups in this province.
The US forces based in Afghanistan also support the Afghan forces in their fight against the terrorist groups and often carry out airstrikes to suppress the insurgency of the terror groups.
Full report at:
http://www.khaama.com/us-drone-strike-leaves-two-taliban-leaders-dead-in-nangarhar-province-03665
--------
Myanmar army killed hundreds in campaign to expel Rohingya Muslims: Amnesty
Oct 18, 2017
Myanmar security forces killed hundreds of men, women and children during a systematic campaign to expel Rohingya Muslims, Amnesty International said in a new report Wednesday that calls for an arms embargo on the country and criminal prosecution of the perpetrators.
More than 580,000 refugees have arrived in Bangladesh since Aug. 25, when Myanmar security forces began a scorched-earth campaign against Rohingya villages. Myanmar's government has said it was responding to attacks by Muslim insurgents, but the United Nations and others have said the response was disproportionate.
The continuing exodus of Rohingya Muslims has become a major humanitarian crisis and sparked international condemnation of Buddhist-majority Myanmar, which still denies atrocities are taking place.
Based on interviews with more than 120 fleeing Rohingya, Amnesty International said at least hundreds of people were killed by security forces who surrounded villages, shot fleeing inhabitants and then set buildings alight, burning to death the elderly, sick and disabled who were unable to flee.
In some villages, women and girls were raped or subjected to other sexual violence, according to the report.
The witnesses repeatedly described an insignia on their attackers' uniforms that matched one worn by troops from Myanmar's Western Command, Amnesty International said.
When shown various insignia used by Myanmar's army, witnesses consistently picked out the Western Command patch, it said.
The 33rd Light Infantry Division and border police, who wear a distinctive blue camouflage uniform, were also frequently involved in attacks on villages, along with Buddhist vigilante mobs, witnesses said.
Matthew Wells, an Amnesty crisis researcher who spent several weeks at the Bangladesh-Myanmar border, said the rights group plans to issue another report in the coming months examining individual criminal responsibility, including specific commanders and others that may be involved in abuses.
He said hundreds of Rohingya have been treated for gunshot wounds and doctors say that the injuries are consistent with people being shot from behind as they fled.
STORY CONTINUES BELOW ADVERTISEMENT
There were credible indications that a total of several hundred people had been killed in just five villages that were the focus of Amnesty's reporting. Wells said that given that dozens of villages across northern Rakhine State have been targeted in a similar fashion, the death toll could be much higher.
He said satellite imagery, corroborated by witness accounts, show that Rohingya homes and mosques have been burned entirely in villages, while non-Rohingya areas just one or two hundred yards (meters) away were untouched.
"It speaks to how organized, how seemingly well-planned this scorched-earth campaign has been by the Myanmar military and how determined the effort has been to drive the Rohingya population out of the country," Wells said.
Among almost two dozen recommendations, the human rights group called for the UN Security Council to impose a comprehensive arms embargo on Myanmar and financial sanctions against senior officials responsible for violations that Amnesty says meet the criteria for crimes against humanity.
It said the council should explore options for bringing the perpetrators to justice under international law if Myanmar authorities do not act swiftly.
"It is time for the international community to move beyond public outcry and take action to end the campaign of violence that has driven more than half the Rohingya population out of Myanmar," Amnesty International said.
On Aug. 25, a Rohingya insurgent group known as the Arakan Rohingya Salvation Army attacked at least 30 security posts on Aug. 25, causing dozens of casualties, according to Myanmar authorities. The brutal attacks against Rohingya that followed has been described by the UN as "textbook ethnic cleansing."
The exodus of Rohingya into Bangladesh has continued, with a few small breaks, over the last eight weeks.
New arrivals, almost all terrified and starving, have described scenes of incredible violence with army troops and Buddhist mobs attacking Rohingya homes.
Full report at:
https://beta.theglobeandmail.com/news/world/myanmar-army-killed-hundreds-in-campaign-to-expel-rohingya-muslims-amnesty/article36636770/?ref=http://www.theglobeandmail.com&
--------
US senators thank Bangladesh PM Sheikh Hasina for treatment of Rohingya
October 18, 2017
Nine top US Senators have thanked Prime Minister Sheikh Hasina for sheltering more than half a million Rohingya, fleeing persecution in Myanmar.
"We thank you for your courageous efforts to protect the most vulnerable individuals fleeing atrocities in Burma [Myanmar]," the senators wrote in a letter to Hasina, released to press on Tuesday.
They appreciated Hasina's speech at the UN General Assembly last month where she put forth a five-point proposal to end the Rohingya crisis.
The senators lauded the Hasina government's "extraordinary generosity" in ensuring safety and shelter of the Rohingya, calling it "a beacon of hope as the world watches this crisis unfold".
Hundreds of thousands of desperate Rohingya started crossing into Bangladesh since late August after the Myanmar military launched "security operations" targeting the mainly-Muslim ethnic minority.
Buddhist-majority Myanmar, which does not recognise the Rohingy and considers them illegal immigrants from Bangladesh, claimed the operations were response to insurgent attacks on police posts and an army base by insurgents on August 25.
The UN has described Myanmar violence as a "textbook example of ethnic cleansing" and its investigation found that the military operations had begun earlier, possibly in early August.
"We understand that the challenges for Bangladesh are significant, given the strain from the pre-existing refugee population," the senators said.
Bangladesh had already been hosting an estimated 400,000 Rohingya. The latest influx, dubbed as the fastest-growing humanitarian emergency by the UN, pushes the number close to a million.
The senators said despite challenges, "Bangladesh has been a shining example for all countries in supporting fleeing civilians in desperate need of aid".
The letter was signed by Senator Ben Cardin, Ranking Member of the Senate Foreign Relations Committee, and Senator Cory Gardner. Other signatories were Senators Dick Durbin, Marco Rubio, Jeanne Shaheen, Jeff Merkley, Tim Kaine, Chris Coons and Cory Booker.
They requested Prime Minister Hasina to increase cooperation with the UN High Commissioner for Refugees, the International Organization for Migration, and its related NGO partners.
Full report at:
http://www.dhakatribune.com/bangladesh/2017/10/18/us-senators-thank-bangladesh-pm-hasina-treatment-rohingya/
--------
Rohingya refugees can participate in Bishwa Ijtema
October 18, 2017
Rohingya refugees will get the opportunity to participate in Bishwa Ijtema which is scheduled to be held in two phases in January.
Home Minister Asaduzzaman Khan Kamal told this to reporters at a programme in Dhaka Tuesday.
This year, Bishwa Ijtema, the second largest congregation of Muslims in the world, will be held in two phases on the bank of the Turag River, on the outskirts of Dhaka. The first phase of the Ijtema will be held on January 12-14 while the second phase on January 19-21, the home minister confirmed.
Cox's Bazar Assistant Deputy Commissioner and Executive Magistrate AKM Lutfor Rahman told the Dhaka Tribune that the biometric registration of the Rohingya refugees was going to be completed before the Ijtema, and hoped that the interested Rohingya devotees would attend the congregation by showing the IDs.
Full report at:
http://www.dhakatribune.com/bangladesh/2017/10/18/rohingya-refugees-can-participate-bishwa-ijtema/
--------
Satellites reveal hundreds of villages destroyed in Rakhine
October 17, 2017
Nearly 300 villages in northern Rakhine State, Myanmar have been partially or totally destroyed by fire since Aug. 25, reported Human Rights Watch (HRW) citing satellite images.
The rights group said satellite images show at least 288 villages affected by burning conducted by the Myanmar army as part of its "clearance operations" in response to attacks by Rohingya militants on government posts on Aug. 25.
Since then, the Myanmar army has conducted a campaign of ethnic cleansing which has resulted in an exodus of more than 530,000 Rohingya to neighboring Bangladesh. "These latest satellite images show why over half a million Rohingya fled to Bangladesh in just four weeks," said Phil Robertson, deputy Asia director for HRW, in a statement.
"The Burmese military destroyed hundreds of Rohingya villages while committing killings, rapes, and other crimes against humanity that forced Rohingya to flee for their lives," said Robertson.
Full report at:
https://www.ucanews.com/news/satellites-reveal-hundreds-of-villages-destroyed-in-rakhine/80550
--------
Pakistan
Khan asked supporters to throw acid on my face: Gulalai
October 18, 2017'
Lahore - Pakistan Tehreek-e-Insaf (PTI) MNA Ayesha Gulalai said that the party chief Imran Khan had asked his supporters to throw acid on her face as soon as she came out with allegations against him.
She took to Twitter on Tuesday while participating in the online trend #MeToo, being used by women worldwide to speak up on being sexually harassed.
On Sunday, Gulalai tweeted that even though a committee was formed to investigate her allegations of sexual harassment against the PTI chief, he was refusing to turn up before it.
#MeToo started trending on social media on Sunday across the globe after American actor Alyssa Milano asked women to write MeToo as their status if they had ever been harassed, to show people the magnitude of the problem.
http://nation.com.pk/national/18-Oct-2017/khan-asked-supporters-to-throw-acid-on-my-face-gulalai
--------
7 policemen killed, 22 others wounded in blast in Quetta
Syed Ali ShahU
October 18, 2017
At least seven policemen were killed and 22 people injured in an explosion in the Sariab Mill area on the Quetta-Sibbi Road on Wednesday.
According to initial reports, security sources claimed a roadside bomb exploded just as a police vehicle carrying 35 police personnel passed the area, DawnNews reported. However, the nature of the blast has yet to be ascertained.
Civil Hospital Quetta Spokesperson Wasim Baig confirmed seven casualties and said that eight injured had been brought to the medical facility where emergency has been imposed.
Balochistan Home Minister Sarfaraz Bugti while condemning the attack confirmed that six policemen had lost their lives in the attack while 22 others were injured and being treated at the Civil Hospital and Combined Military Hospital (CMH) in Quetta.
"The war against terrorism is not over. Balochistan is on the forefront of this fight and we will not stop until there is not a single terrorist left in the area," the home minister said.
He added: "These cowardly attacks will not hinder our security forces in executing their duties."
Security forces have reached the location and cordoned off the area, and a security sweep is underway.
In a separate incident, Police Inspector Abdul Salam was shot dead on Quetta's Qambrani road, in what security sources claim was a target killing.
Balochistan has experienced incidents of violence and targeted killings for over a decade. In recent months, the province has faced a number of security challenges, with security personnel in the province often being targeted in roadside explosions and suicide attacks.
Fifteen people, including eight soldiers, were martyred when a suicide bomber targeted a military truck near the Pishin bus stop in Quetta on August 13.
Earlier in June, 14 people ─ including seven policemen ─ lost their lives in a suicide blast that shook Shuhada Chowk in Quetta's Gulistan Road area.
Full report at:
https://www.dawn.com/news/1364600/7-policemen-killed-22-others-wounded-in-blast-in-quetta
--------
One dead, five injured in blast near Sher Qalandar shrine
October 18, 2017
At least one dead five injured following an explosion at a house adjacent to Sher Qalandar shrine.
According to rescue workers, a bang of explosion was heard in Mahmood colony near Imamiya colony, Ferozwala, a few kilometers away from Lahore, which resulted in flattening the building near the shrine.
It was not immediately ascertained what caused the blast. However, police and rescue teams rushed to the spot and cordoned off the area.
Further investigation is underway.
http://nation.com.pk/national/18-Oct-2017/one-dead-five-injured-in-blast-near-sher-qalandar-shrine
--------
Pakistan's flip-flop on Hafiz Saeed, other terror outfits continues
Oct 18, 2017
NEW DELHI: Islamabad continues with its policy of double standards and flip-flop in countering terror. Pakistan's Punjab government on Tuesday sought an extention of the detention of Mumbai attack mastermind Hafiz Saeed under public safety law, two days after it withdrew its application to prolong his house arrest.
The flip-flop continues despite recent admission by Pakistani Foreign Minister that Saeed has become a liability for Pakistan. Hafiz's house arrested ends on October 24. Under Pakistan law, the government can detain a person for up to three months under different charges. This detention can be extended only if a judicial review board approves.
Islamabad, according to Pakistan watchers, does not feel the need to continue with the façade of pretending to rein in one of its strategic assets (read Saeed) once it successfully pulled off the caper of "rescuing" Western hostages from a terror organisation.
Authorities had earlier detained Hafiz under Anti-Terrorism Act (ATA). Hafiz and his outfit Jamat-ud Dawa (JuD) is banned by the United Nations and the US has put $10 million bounty on his arrest. Saeed was arrested in a crackdown in January this year and put under house arrest. The Pak government recently withheld registration of a Hafiz Saeed-led political party, Milli Muslim League (MML) ostensibly under international pressure.
But Pakistan's reluctance to press charges against him has been a sore point in relations with Washington and India over the past decade. India and Afghanistan have accused Pakistan's military of backing and using terrorist groups such as LeT as proxies.
MML is likely to continue operating unofficially, as it did last month when one of its leaders contested a by-election in the eastern city of Lahore as an independent candidate. The MML is actively running a campaign for its candidate contesting another by-election on October 26 to be held in Peshawar.
Hafiz continues to enjoy considerable freedom, in spite of strident criticism that the Pakistani government faced, both at home and abroad. Arguably, Hafiz's detention was carried out to show that Pakistan was ready to accommodate US President Donald Trump's concerns coinciding with his inauguration as the President.
It is no secret that Inter-Services Intelligence or ISI wants to integrate organisations like JuD into mainstream by bringing them into politics as part of its so called "de-radicalization drive."
Pakistani army spokesman Major-General Asif Ghafoor said the integration of terrorists into the country's politics would be based on seeking a constructive role for the terrorist-linked groups, although he did not comment on the military's role in any such strategy.
It appears that the Pak army wants to mainstream some of terror organisations after growing international pressure with increasing footprints of Pak origin terrorists world over.
Another Islamist designated a terrorist by the US, Fazlur Rehman Khalil, also plans to form his own party soon. Tehrik-e-Labaik Pakistan gained 6% of votes by riding on the back of a blasphemy killer Mumtaz Qadri whom it called a hero and a martyr.
Pakistan army intends to still use JuD and Lashkar-e-Taiba as a foreign policy tool.
Full report at:
https://economictimes.indiatimes.com/news/defence/pakistans-flip-flop-on-hafiz-saeed-other-terror-outfits-continues/articleshow/61123930.cms
--------
Serious rights concerns persist in Pakistan: EU
Amin Ahmed
October 18, 2017
ISLAMABAD: The European Union says that despite some institutional and legal measures taken by the government of Pakistan in 2016, wide-ranging and serious human rights concerns persist in the country, and that they are exacerbated by a weak criminal justice system, religious extremism and militancy.
"Security challenges have continued to slow progress on access to justice and the rule of law," says the EU annual report on 'human rights and democracy in the world in 2016' approved by the EU Council on Monday.
"The rule of law remains uncertain on much of the country's territory, and access to justice remains limited. Pakistan continued to execute a high number of convicts during 2016, however far fewer than in the previous year," the report says.
In Pakistan, there are persistently huge differences in the situation of upper and lower class citizens, and of women living in cities or the countryside. Pakistan remained one of the most difficult places to be a child due to lack of education, child marriages and child labour. Religious minorities still live in fear of persecution and violence. Discrimination and violence against women continued to be widespread.
European Union report says country's security challenges continue to slow progress on access to justice
The report says that "self-censorship and intimidation are widespread in Pakistan, whereas the country is considered one of the world's most dangerous places to be a journalist". Criticism of armed forces and the security establishment is severely restricted, it says.
Human rights defenders, lawyers and health workers involved in polio vaccination also continued to be targets of violent attacks. A new restrictive Cybercrime Act was adopted and NGOs and INGOs are under heavy pressure, including with regard to registration.
The report says that Pakistan has made serious efforts to participate in the 'GSP Plus' process through a better focus on trying to show effective implementation of the 27 conventions and addressing shortcomings.
However, considerable implementation challenges clearly remains, due in part to the devolution of many areas of competence to the provinces. More progress is needed on the ground, through the effective implementation across all the provinces and territory of Pakistan.
The human rights institutions need to become autonomous and fully operational. The role played by civil society, including NGOs and INGOs, in development and humanitarian assistance in a democratic society needs to be further enhanced, it says.
The EU raised its concerns consistently in its human rights dialogues with the government of Pakistan and urged it to take concrete action. 'GSP Plus' had some impact in terms of enhancing the reform process. Pakistan also became more open to Universal Periodic Review (UPR) reporting.
Full report at:
https://www.dawn.com/news/1364519/serious-rights-concerns-persist-in-pakistan-eu
--------
Mufti Qavi escapes from court scene in Qandeel murder case
OCTOBER 18, 2017
MULTAN: Mufti Abdul Qavi escaped from the session court in Qandeel Baloch murder case on Wednesday. His stunt followed after the court refused to grant him bail.
Earlier, Qavi's lawyer had requested the court to postpone the hearing till Wednesday as he had to prepare a proper rundown for his arguments in the case.
The hearing of the case was conducted by Chaudhry Ameer Muhammad Khan, with main suspects in the case being Waseem and Haq Nawaz. The police had requested the court to reject Mufti Abdul Qavi's bail so completion of challan and additional investigation could be carried out further.
While expressing his submission of trust over the court in getting justice for all, Qavi explained himself as having no connection with the murder. He also said that he will accept whatever the decision will be announced by the court.
Model and social media sensation, Qandeel Baloch shot to fame through her provocative selfies and Facebook videos, in which she danced, proposed to politicians and made bold statements against the Qavi in attempts of bringing him to shame.
She was eventually put to silence in July last year at the hands of her own brother, Muhammad Waseem, who confessed to strangling her to death over the so-called 'honour' of the family.
Full report at:
https://dailytimes.com.pk/127117/mufti-qavi-escapes-court-scene-qandeel-murder-case/
--------
Southeast Asia
Philippine President Declares Marawi Liberated as Battle Goes On
Oct 18, 2017
Manila. Philippine President Rodrigo Duterte declared the southern city of Marawi liberated from pro-Islamic State militants on Tuesday (17/10), although a military spokesman said 20-30 rebels were still fighting it out and were holding about 20 hostages. Speaking to soldiers a day after the killing of two leaders of the rebel alliance, Duterte said the fight was over and it was time to heal the wounded and rebuild the city of 200,000 people on the island of Mindanao.
"I hereby declare Marawi City liberated from terrorist influence that marks the beginning of rehabilitation," Duterte told soldiers in Marawi.
Isnilon Hapilon, Islamic State's "emir" in Southeast Asia, and Omarkhayam Maute, one of two "khalifas" at the helm of the Dawla Islamiya militant alliance, were killed in a targeted operation on Monday and their bodies had been recovered and identified, authorities said.
The 148-day occupation by Islamic State loyalists marked the country's biggest internal security crisis in years.
Experts say the government has for years underestimated the extent to which extremism has taken root in impoverished and underdeveloped Muslim areas of the Catholic-majority Philippines.
Military spokesman Restituto Padilla said that although the fight was not completely over, the remaining rebels were "stragglers" who no longer posed a threat.
"There is no way that they can get out anymore, there is no way for anyone to get in," Padilla told news channel ANC.
"So choking them to death at this point will be very key for our troops to do since the area is very much contained and very much controlled."
Padilla said Malaysian operative Mahmud Ahmad had been in Marawi City since the start of the fight and the military believed he was still there. The authorities could not be completely certain, however, but saw him as no threat.
"Dr. Mahmud is an academic, he's not a fighter," Padilla said. "We don't feel he is a problem."
Some security experts say Mahmud, 39, a skilled recruiter and fundraiser who trained at an al Qaeda camp in Afghanistan, is a candidate to replace Hapilon as Islamic State's point-man in Southeast Asia.
http://jakartaglobe.id/international/philippine-president-declares-marawi-liberated-battle-goes/
--------
Wan Ji: Penang government labelled anti-Islam for rejecting 'Taliban' approach
October 17, 2017
GEORGE TOWN, Oct 17 — The Penang government has been unfairly accused of being anti-Islam simply because it rejected a "Taliban" or extreme approach, preacher Wan Ji Wan Hussin said today.
The Penang Chief Minister information officer said the state government was accused as being anti-Islam for rejecting the Taliban approach.
"What was worse is that we were accused of insulting the religion and raising provocation by stating that we reject Taliban," he said in a statement issued today.
He pointed out that Islam is a religion that believes in protecting the rights of those who deserve it.
"Islam also teaches that non-Muslims must not be forced to practise Islam and that non-Muslims should not be forbidden to practise their own religions," he said.
He said the teachings of Islam was also against cruelty towards non-Muslims and the religion frowned upon non-Muslims being denied their rights.
"In fact, the Nabi Muhammad SAW explained that he was ready to be the defender of non-Muslims who were mistreated by Muslims," he said.
On a historical point of view, the Taliban approach has already broken Islamic principles, he said.
Wan Ji said the Taliban had denied the rights of non-Muslims to practise their own religions when they ruled Afghanistan previously.
"We believe that not only Penang, but also Johor through the Sultan fully reject the Taliban approach," he said.
Therefore, he said the state rejecting the Taliban approach does not mean it is anti-Islam.
He said the Islam practised in Penang is one that promotes a harmonious society and it stressed on the welfare and wellbeing on the people.
Wan Ji said this means the non-Muslims in Penang has the freedom to organise any programmes for non-Muslims such as the recent Oktoberfest as long as they comply with regulations set by the local authorities.
"It is because of how we practise Islam in a peaceful manner with freedom for all, that anyone is given space to deliver religious sermons in Penang as long as they do not instigate violence.
"In fact, there were many preachers from both PAS and Umno who freely delivered sermons in Penang and sometimes, they even slandered the state government in their sermons," he said.
To further prove his point that the state government was never anti-Islam, he said the state had handed out RM15.55 million in total funds to kaffa teachers, religious school teachers and tahfiz teachers between 2008 and 2016.
"The state had also allocated RM50 million each year towards the development of Islamic religious affairs in the state," he said.
By rejecting the Taliban approach, he said all issues raised can be discussed peacefully and through respect for each other.
Full report at:
http://www.themalaymailonline.com/malaysia/article/wan-ji-penang-government-labelled-anti-islam-for-rejecting-taliban-approach#SbiSPdyXEUEwJA3I.97
--------
Only muftis can issue fatwas, deputy minister reminds Malaysians
October 18, 2017
KUALA LUMPUR, Oct 18 — Malaysians need not listen to strange or confusing "fatwas" from preachers, Datuk Asyraf Wajdi Dusuki said today after a video purportedly prohibiting Muslim women getting their hair cut by non-Muslims resurfaced on social media.
The deputy minister in the Prime Minister's Department in charge of Islamic matters gave a reminder that only state muftis who are appointed by their respective state Rulers are authorised to issue fatwas and urged against spreading assertions made by other preachers that will only cause confusion.
"There are those who become famous via reality television shows who have become brave to publish their own rules.
"After the launderette issue, there is an issue purportedly that it is haram to get a haircut with non-Muslims, until it caused polemic in the society," he said in a Facebook post.
The deputy minister was referring to a 2015 video of Penang-based religious preacher, Shahul Hamid Seeni Muhammad, warning Muslim women not to frequent non-Muslim hair salons, which was widely shared on the internet again recently.
In a separate Facebook post, Federal Territories Mufti Datuk Zulkifli Mohamad Al-Bakri also weighed in on the latest controversy and stressed that Islam today does not ban Muslim women from having their hair cut by non-Muslims.
Full report at:
http://www.themalaymailonline.com/malaysia/article/only-muftis-can-issue-fatwas-deputy-minister-reminds-malaysians#oVUbvYEbl2yqDT3M.97
--------
Raja Muda Perlis wants Muslims to stand up against Islamophobia
October 18, 2017
DHAKA, Oct 18 — The Raja Muda Perlis Tuanku Syed Faizuddin Putra Jamalullail wants Muslims to apply the principle of moderation in tackling the issue of Islamophobia.
Tuanku Syed Faizuddin, who is also the president of the Perlis Islamic Religious and Malay Customs Council (MAIPs), said Muslims should be moderate in their religious dealings.
Speaking at the Liqa Mawaddah programme organised by MAIPs at the Kurmitolla Golf Club here yesterday, he stressed that Muslims should emphasise moderation in their lives.
"Islamophobia must be effectively tackled through 'wasatiyyah' which stresses on moderation," he said in his speech to about 150 Malaysians who are living in Bangladesh.
The programme included a special talk by the Mufti of Perlis Datuk Dr Mohd Asri Zainul Abidin titled 'Wasaatiyyah: How Islam disciplines its followers through regulations".
As part of the programme, Tuanku Syed Faizuddin also presented MAIPs's contribution of RM5,000 to the First Secretary of the Malaysian High Commission in Dhaka, Idham Zuhri Mohd Yunus, for the Ibnu Sabil Fund.
The fund is to help Malaysians who encounter emergencies in Bangladesh, including being stranded.
Other than Bangladesh, MAIPs has also held similar programmes in London, Riyadh, Jeddah, Kuwait, Muscat, Doha and Dubai.
Also present were Malaysian Consultative Council for Islamic Organisations (MAPIM) president Azmi Abdul Hamid and chairman of the Daffodil International University (DIU) Bangladesh, Sabur Khan.
Full report at:
http://www.themalaymailonline.com/malaysia/article/raja-muda-perlis-wants-muslims-to-stand-up-against-islamophobia#YaeblRtfVRGGH8th.97
--------
Files reveal details of US support for Indonesian massacre
Oct 17, 2017
Declassified files have revealed new details of U.S. government knowledge and support of an Indonesian army extermination campaign that killed several hundred thousand civilians during anti-communist hysteria in the mid-1960s.
The thousands of files from the U.S. Embassy in Jakarta covering 1963-66 were made public Tuesday after a declassification review that began under the Obama administration. The Associated Press reviewed key documents in the collection in advance of their release.
The files fill out the picture of a devastating reign of terror by the Indonesian army and Muslim groups that has been sketched by historians and in a U.S. State Department volume that was declassified in 2001 despite a last-minute CIA effort to block its distribution.
In 1965, Indonesia had the world's third-largest communist party after China and the Soviet Union, with several million members, and the country's president, the charismatic Sukarno, was vociferously socialist and anti-American.
U.S. officials despaired of Indonesia's apparently unstoppable drift into the communist fold and were ecstatic when conservative generals imposed martial law in Jakarta, seized state radio and set out to annihilate the country's communist party on the pretext that it had tried to overthrow the government. Within months, the army would prevail in its power struggle with Sukarno, shifting Indonesia's political orientation to the U.S. and opening its huge market to American companies.
The newly released files underline the U.S. Embassy's and State Department's early, detailed and ongoing knowledge of the killings and eagerness to avoid doing anything that would hinder the Indonesian army. Historians had already established that the U.S. provided lists of senior communist party officials, radio equipment and money as part of active support for the army.
The documents also show that U.S. officials had credible information that contradicted the Indonesian army's lurid story that the kidnapping and killing of seven generals in an abortive coup by junior officers on Sept. 30, 1965, which paved the way for the bloodbath, was ordered by the Indonesian communist party and Beijing.
The documents specifically mention mass killings ordered by Suharto, a general who within months would seize total power and rule Indonesia for more than three decades, and the pivotal role in carrying out the massacres by groups that today remain Indonesia's biggest mainstream Muslim organizations: Nahdlatul Ulama, its youth wing Ansor and Muhammadiyah.
A Dec. 21, 1965, cable from the embassy's first secretary, Mary Vance Trent, to the State Department referred to events as a "fantastic switch which has occurred over 10 short weeks." It also included an estimate that 100,000 people had been slaughtered.
In Bali alone, some 10,000 people had been killed by mid-December, including the parents and distant relatives of the island's pro-communist governor, and the slaughter was continuing, the cable said. Two months later, another embassy cable cited estimates that the killings in Bali had swelled to 80,000.
A cable that was part of the 2001 State Department volume showed that by April 1966, the embassy was staggered by the scale of the murders and acknowledged, "We frankly do not know whether the real figure is closer to 100,000 or 1,000,000." Even the Indonesian government had only a "vague idea" of the true number, the cable said.
The release of the documents coincides with an upsurge in anti-communist rhetoric in Indonesia, where communism remains a frequently invoked boogeyman for conservatives despite the collapse of the Soviet Union nearly three decades ago and China's embrace of global capitalism.
Discussion of the 1965-66 period that departs from the Suharto era's partly fictional account of a heroic national uprising against communism is still discouraged. A landmark symposium last year that brought together aging survivors of the bloodbath and government ministers sparked a furious backlash. And last month, an anti-communist mob led by retired generals attacked a building in central Jakarta where activists had planned to discuss the killings.
"The mass killings of 1965-66 are among the world's worst crimes against humanity, and our country's darkest secret," said Veronica Koman, an Indonesian human rights lawyer. "The 1965-66 survivors are all very old now, and I'm afraid that they will not see justice before they die. Hopefully with these cables coming to light, the truth can emerge and perpetrators can be held accountable."
U.S. Senator Tom Udall, who in 2015 introduced a resolution in the Senate urging Indonesia's government to create a truth and reconciliation commission, said the U.S. must also confront its role in these "terrible acts."
Indonesia's Muslim mass organizations are among those reluctant to face scrutiny for their role, which in the fevered atmosphere of 1965 was characterized by Islamic leaders as a holy war against atheists.
Under the direction of the army, the Muslim organizations Nahdlatul Ulama and Muhammadiyah were enthusiastic participants in mass murder, carrying out indiscriminate killings as well as organized executions, according to the documents. They also mention the army's recruiting of Catholics to help with its extermination campaign in central Java.
A December 1965 cable from the U.S. Consulate in Medan, Indonesia, reported that preachers in Muhammadiyah mosques were telling congregations that all who joined the communist party must be killed, saying they are the "lowest order of infidel, the shedding of whose blood is comparable to killing chicken."
A detailed four-page report covering mid- to late November 1965 by the U.S. Embassy's political affairs officer, Edward E. Masters, discussed the spread of mass executions to several provinces and the role of youth groups in helping to solve the "main problem" of where to house and what to feed PKI prisoners. PKI is the Indonesian acronym for the country's communist party.
"Many provinces appear to be successfully meeting this problem by executing their PKI prisoners, or killing them before they are captured, a task in which Moslem youth groups are providing assistance," the report said. A cable from earlier in the month mentions an estimated 62,000 prisoners in the province of Central Java alone.
Ansor, the youth arm of Nahdlatul Ulama, was responsible for "brutal attacks" on communists, according to a Dec. 10, 1965, cable, but also caused problems by doing the same to non-communists involved in personal feuds with its members.
Possibly the earliest mention of systematic bloodshed in cables to Washington is a mid-October 1965 record of conversations between the embassy's second secretary and Bujung Nasution, a special assistant to Indonesia's attorney general involved with intelligence matters. Like other intermediaries of the Indonesian army and its allies sent to approach the embassy, Nasution was apparently trying to assess whether the U.S. would object to the extermination campaign.
According to Nasution, the army had already executed many cadres, but this information, he said, must be closely held because the army needed more time to break the communists.
The memo described Nasution as alarmed that reports of atrocities had been leaked to the Malaysian press. It said he warned that it was critical that Sukarno did not learn of the extent of the army's repression, especially from the foreign media.
In response, the second secretary, Robert G. Rich, reassured Nasution.
Full report at:
http://abcnews.go.com/International/wireStory/files-show-details-us-support-indonesia-bloodbath-50529889
--------
North America
US will help restore water, power to Raqqa after fall of ISIS
18 October 2017
The United States will take the lead in helping to clear rubble and restore basic services after the fall of ISIS in ts Syrian stronghold of Raqqa, the US State Department said on Tuesday.
"We will assist and take, essentially, the lead in bringing back the water, electricity and all of that," State Department spokeswoman Heather Nauert told a briefing. "But eventually the governance of the country of Syria is something that I think all nations remain very interested in."
"The United States and our allies have prepared for next steps and will continue to work with partners to provide humanitarian assistance to those in need and support the stabilization efforts in Raqqa and other liberated areas," Nauert said.
https://english.alarabiya.net/en/News/world/2017/10/18/U-S-will-help-restore-water-power-to-Raqqa-after-fall-of-ISIS.html
--------
The TDSB steps on another politically correct landmine
Barbara Kay
October 17, 2017
Out of desperation to claim title as the most politically correct institution in Canada, the Toronto District School Board has made itself a target for mockery twice in the last month.
Last week, the TDSB announced that, out of respect for Indigenous peoples, it was going to retire "chief" from its senior staff nomenclature, changing such honorifics as "chief of social work" to "manager of social work." They claimed it was a requirement from the Truth and Reconciliation Commission Report. Only it wasn't. Critics had a field day ridiculing them.
A more serious blunder occurred with the publication of the TDSB's Islamic Heritage Guidebook for Islam Heritage Month (October). The guidebook — a full 170 pages long — contained a definition of Islamophobia that raised alarm bells, to wit: "Islamophobia refers to fear, prejudice, hatred or dislike directed against Islam or Muslims, or towards Islamic politics or culture." It was quickly, and publicly, noted that "Islamic politics or culture" was so broad that anything voiced with the word "Islam" or "Muslims" in it falling short of overt praise (including the rest of this column) could be construed as Islamophobic.
A TDSB spokesperson stated the concerning words had been inserted "in error" and would be removed. But there was no "error" in the composition of the definition. This guidebook was composed with infinitesimal care lavished on every single word it contains, as you'll see if, as I did, you take the trouble to read the whole thing. Instead of "in error," the TDSB was "at fault." For it seems to me the TDSB officials were so eager to ingratiate themselves with their Muslim partners on this project that they failed to read what was presented to them with a critical eye, and so overlooked the danger the controversial words represented.
But that isn't the only thing in the guidebook that makes me uneasy. For instance, quite appropriately alluding to Malala Yousafzai as an example of a courageous Muslim girl who paid a horrible price for her (modestly) feminist principles, the guidebook states, "This brave young girl survived an attack by those who didn't support education of girls…"
Well sorry, but that won't do. I quite understand the instinct to put one's best cultural foot forward during these heritage months, but there are limits. Malala was violently assaulted by fellow Muslims practicing an extremist version of Islam that has for decades dominated a significant swath of the Muslim world and wreaked havoc in the West. Vaporizing Malala's would-be killers into identity-free "those" crosses the line from "best foot forward" to "misleading."
That is not the only thing that makes me uneasy
I'm also uncomfortable with the guidebook's soft sell to children on the hijab. One book recommended to elementary level children is "Hats of Faith," which features nine different head coverings linked to Christians, Jews, Sikhs and other groups, and which suggests that the hijab is identical in principle to these other forms of head gear.
But it isn't.
Head coverings in most other cultures arise organically over time, and may or may not be linked to a belief system or to modesty. But the hijab is a modern invention, and only came into common usage with the Iranian revolution of 1979, when it was imposed on women, and even girls in primary school, to embody Iran's turn from a West-friendly nation to an Islamist, West-hostile nation.
Since then, the hijab, as well as the niqab, although worn by some women for modesty, has been widely acknowledged to signal a commitment to political Islam amongst significant numbers of hijabis. The hijab has also featured as the trigger in honour-motivated crimes against girls and women, most tragically here in the 2007 death of teenager Aqsa Parvez, whose refusal to wear the hijab sparked the family plot that led to her death.
It is disingenuous to suggest that the hijab is anodyne
It is therefore disingenuous to suggest that the hijab is as anodyne an accessory as a kippah or an African turban.
Normalizing the hijab for young girls, as it happens, is a "thing" in children's literature, a topic I have been researching for the past few months. I was particularly disturbed by a Canadian book called Tilt Your Head, Rosie the Red, targeting seven and eight year olds, in which an independent young girl who likes to wear superhero capes (feminist empowerment), turns her cape into a hijab for a day so a Muslim girl in her class wearing a hijab won't feel excluded. I would have liked the book if the young Muslim girl had tried turning her hijab (female disempowerment) into a superhero cape for a day in return, but that didn't happen.
Full report at:
http://nationalpost.com/opinion/barbara-kay-the-tdsb-steps-on-another-politically-correct-landmine
--------
There's nothing neutral about Quebec's religious neutrality bill, Muslim advocate says
October 17, 2017
Shaheen Ashraf says Quebec's new "religious neutrality" bill is just another example of the government targeting Muslims to get votes.
Bill 62 would force people uncover their faces while providing or receiving public services in the province.
That means it would effectively ban public workers — including doctors, nurses, teachers and daycare workers — from wearing the niqab, burka or any other face covering.
It would also apply to people receiving a service from the government, which means Muslim women could be forced to remove their face coverings while riding a city bus or seeking medical care.
While critics call the bill discriminatory, Quebec Justice Minister Stéphanie Vallée insists it's not about religion.
"This is a bill about le vivre ensemble [living together in harmony], it's a bill about guidelines and clearly establishes neutrality of the state,"she said Monday in an interview with Daybreak host Mike Finnerty.
Ashraf isn't buying it. The Canadian Council of Muslim Women board member spoke with As It Happens host Carol Off about the controversial legislation. Here is part of their conversation.
Why do you think they're passing this law?
I would put it to diversion tactics. You know, there are so many other issues facing Quebecers here, starting with the breakdown of roads.
Probably their popularity is going down and they just want some more votes.
Does this, in Quebec, get you votes by going after [these] women and saying they have to uncover their faces or else?
Anything to go after Muslims. Whoever goes after Muslims will be popular in Quebec.
That's a strong statement, a very broad statement. Can you back that up?
Well, look at the Charter of Values. Which sector of the community was that targeting?
But the Parti Quebecois, didn't they lose?
They lost because the majority of Quebecers are not like that — but a big portion are.
I think it's basically fear-mongering and pandering to these fearful people, you know? I mean, there are some Quebecers who have never met another Muslim, you know? Because once you meet the person you know that they are just normal human beings like yourself.
AS IT HAPPENS: Far-right mistakes bus seats for burkas
Feminists we've spoken with about this issue believe that they're helping Muslim women. They actually belive that it's good for them to get out from under what they believe is an oppressive system and to free them. There are many women who believe that. Have you encountered them?
I have encountered that, yes. But what I want you to know is that I wear the scarf, but I am a feminist at heart. And feminism is not defined by your dress. Feminism is the way you think.
You wear a hijab?
Yeah.
Just your head covered, but you don't wear a burka or anything?
No.
Why have you taken this on? Why have you become the champion of these women?
I'm a champion for women — doesn't matter their religion, their colour, their creed, whatever.
I'm a champion for women's rights. I feel strongly I am a feminist. But I also feel that your dress does not define your thoughts. Really a woman wearing a niqab wears a niqab because she firmly believes that her religion requires that of her.
There is a very very small section who would be coerced into doing that. Otherwise, all the other women they do it out of their own free well.
Full report at:
http://www.cbc.ca/radio/asithappens/as-it-happens-tuesday-edition-1.4358311/there-s-nothing-neutral-about-quebec-s-religious-neutrality-bill-muslim-advocate-says-1.4358313
--------
US support for Saudis highlights Trump's indifference to human rights: Analyst
Oct 17, 2017
The US government's support for Saudi Arabia in its brutal war against Yemen highlights that Washington and Riyadh threaten human rights and are indifferent to human suffering, says an American analyst.
"Human rights matter for the United States as rhetorical device to allow intervention in various countries' affairs," said Don DeBar, a political commentator and radio host in New York.
"Does the United States care about human rights? Certainly their alliance with the Saudis in an illegal war on Yemen indicates not," DeBar told Press TV on Tuesday.
Men and women have no rights in Saudi Arabia and a small group in the country control everything, the analyst added.
Amnesty International has compiled a list of 100 ways the Trump administration has threatened human rights in the US and around the world.
Washington has been providing military support for Saudi Arabia in the form of mid-air refueling flights and targeting intelligence.
The US military has provided refueling services to some 10,400 aircraft in that region, according to data provided by military.com on October 9.
But in Congress, opposition to the US support for the Saudi war is growing. Lawmakers recently introduced a constitutional resolution to withdraw all US support for the war.
House Representative Ro Khanna is working on a legislation to end the US military's involvement in the deadly aggression.
Speaking to Democracy Now! in an interview published on Monday, the California Democrat said US military support for Riyadh had never been approved by lawmakers.
"Unfortunately, we have been aiding Saudi Arabia. We have been fueling the Saudi—refueling Saudi planes. We've been assisting Saudi Arabia with targeting. And none of this has been approved by the United States Congress," said Khanna.
While the US military started helping the Saudi-led conflict under command of then President Barack Obama, the cooperation grew dramatically larger under the administration of President Donald Trump.
Trump secured major arms deals with the oil-rich kingdom during a trip in May.
Full report at:
http://www.presstv.com/Detail/2017/10/17/538957/US-Trump-Saudi-Yemen-Don-DeBar
--------
US forces kill dozens of ISIL fighters in Yemen
17 October 2017
U.S. forces killed dozens of ISIL militants in a strike on two of its training camps in Yemen's al Bayda governorate, the Pentagon said Monday.
"ISIS used the camps to train militants to conduct terror attacks using AK-47s, machine guns, rocket-propelled grenade launchers and endurance training," it said in a statement, referring to the Islamic State of Iraq and Syria, another name for ISIL.
The Pentagon did not describe how the strikes were conducted, but the Associated Press has claimed that drones were used during the strikes.
ISIL has used ungoverned spaces of Yemen to plot, direct, instigate, supply and recruit for attacks against America and its allies around the world, the statement said, adding Yemen has been a hub for terrorist recruiting, training and transit for years. "In coordination with the government of Yemen, U.S. forces are supporting ongoing counterterrorism operations in Yemen against ISIS and al-Qaida in the Arabian Peninsula to degrade the groups' ability to coordinate external terror attacks and limit their ability to hold territory seized from the legitimate government of Yemen," it added.
http://www.worldbulletin.net/america-canada/195054/us-forces-kill-dozens-of-isil-fighters-in-yemen
--------
India
Boycotted For Marrying a Muslim: Armed With Law, 61-Yr-Old Files Social Boycott Complaint
By Chandan Shantaram Haygunde
October 18, 2017
Ramesh Dattu Hiranwale, 61, made a police complaint on Tuesday, alleging that he had been socially boycotted by the Veershaiva Lingayat Gawali community he belongs to since he married a Muslim girl in 1992. Following the complaint, police have booked 20 people, said to be members of caste panchayat of Hiranwale's community, under a new Maharashtra law that seeks to protect people from social boycott.
In his complaint, Hiranwale said he was not allowed to attend his father's funeral and was forced to marry a Hindu woman on the assurance that his social boycott would end. "I was also asked not be present for the engagement ceremony of my niece in December 2016," he said. An advocate who no longer practises, Hiranwale told The Indian Express that he had fallen in love and married Shamshunnisa Khan, a girl living in his neighbourhood, on June 19, 1992.
"Soon, I was boycotted by my caste panchayat. I had to leave my ancestral home at Gawali Wada in Pune Camp. I started living at Shamshunnisa's house. I requested the caste panchayat several times and even apologised to them. But the boycott continued… At one point, they assured me that they would stop the boycott if I married a Hindu woman. I was under pressure and got married to a Hindu girl from Pune. But even then, the boycott continued," he alleged. "I came back to Shamshunnisa. She supported me. I was accepted by her family. They honour me by adding my name on the wedding cards of my Muslim relatives… I miss similar treatment by my own community. I do visit my ancestral house and meet my relatives. They do not hate me. But they are forced to maintain a distance due to the pressure from the caste panchayat," Hiranwale said. He has also alleged that some caste panchayat members demanded money from him for lifting the social boycott.
He said he decided to speak up after the suicide of 48-year-old Arun Kisan Naikunji, who belonged to Hiranwale's community, in August last year allegedly because of similar harassment by caste panchayat. Arun's brother had alleged that the caste panchayat had ordered his boycott because he had helped someone marry a woman from a different caste. Arun's son had even registered an FIR against some members of the caste panchayat for abetment of suicide, but the complaint was later withdrawn. Hiranwale said he had approached police in September last year, immediately after Arun's death, complaining against the panchayat in his own case, but no FIR was registered. However, the situation changed a few days ago after the Maharashtra Andhashraddha Nirmulan Samiti (MANS), an organisation founded by slain rationalist Narendra Dabholkar that fights against superstitious practices, decided to take up Hiranwale's case. Additionally, the police are now armed with a new law, the Maharashtra Protection of People from Social Boycott (Prevention, Prohibition and Redressal) Act, which came into force on July 13, 2017.
On October 9, Nandini Jadhav, district president of MANS, wrote to the police, demanding investigation into Hiranwale's case, and also into Arun's suicide. On Tuesday, Pune police called MANS activists, Hiranwale and the 20 people he had named in his complaint. "After long discussions since 11 am in the morning, police decided to register an FIR," Hiranwale said.
Meanwhile, the Veershaiva Lingayat Gawali Community Trust submitted a letter to Pune police commissioner in September last year, in the wake of Arun's suicide, claiming that the caste panchayat had been abolished by the community in 1983. "No incidents of social boycott of any person from our community take place," the trust had claimed in its letter last year, which has been accessed by The Indian Express.
Shailendra Bidkar, one of the accused in Hiranwale's complaint, claimed that the allegations of social boycott were false. "Our caste panchayat was abandoned in 1983. Last year, we felicitated Hiranwale in front of the police and his family members to spread the message that he was not being boycotted. But he is still filing false complaints," Bidkar told The Indian Express, hours before the FIR was registered in the evening.
Shamshunnisa, a post-graduate and former school teacher, said she was not bothered about what the caste panchayat does. "I have moved on now and do not care at all about the caste panchayat. I have a good family and neighbourhood where I live with respect. But I do feel that we all are human beings and incidents like social boycott should not happen. I am happy that my family has accepted my husband," she said.
http://indianexpress.com/article/india/boycotted-for-marrying-a-muslim-armed-with-law-61-yr-old-files-social-boycott-complaint-4895919/
--------
Hadia Ruling to Test Court's Role In 'Love Jihad' Cases
Oct 18, 2017
NEW DELHI: The outcome of a case at the Supreme Court over a Hindu woman from Kerala, who converted to Islam and later married a man from that community, could possibly bring clarity over whether courts can intervene in marriages which some right-wing groups allege as love jihad.
The case has also gained political significance with the BJP and Kerala's ruling Left parties taking contrasting positions, and accusing each other for their stance.
A three-member bench headed by Chief Justice Dipak Misra is scheduled to hear the matter next on October 30, after the woman's husband moved the court to withdraw a previous order. In the earlier order, a bench led by then CJI JS Khehar asked the National Investigation Agency to probe the case. While the Centre has also backed the court's decision, the Kerala government filed an affidavit saying that there was no scope for an NIA probe.
At a hearing earlier this month, Justice Misra said he would not go by emotions but by law, and adjourned the case to allow passions to cool after senior advocate Dushyant Dave alleged that right-wing politics was at play in a simple case of a girl marrying a boy.
The woman, Akhila alias Hadiya, is a major and can marry whoever she chooses to, Dave argued, and demanded the court to withdraw the earlier order for the NIA probe.
The 24-year-old woman's father, KM Ashokan, had claimed that his daughter was brainwashed and radicalised. On his complaint, the Kerala High Court had on May 24 declared the marriage null and void and sent her to her father. According to her husband, Shafin Jahan, such a decision was legally unconscionable. "How can the high court annul a marriage in a habeas corpus petition," Dave argued in the top court.
The SC said it would examine whether the high court can annul the marriage.
The high court was unhappy over the manner in which the marriage was conducted. It was not the typical case in which a girl falls in love with a boy of another faith and one of them converts to the religion of the other. In such a case, the court would have accepted her choice, the high court had said. Here, the marriage was with a "stranger" and was allegedly arranged by a self-proclaimed social activist and member of a political party associated with a radical organisation. This case had too m ..
A two-judge high court bench, comprising Justices K Surendra Mohan and K Abraham Mathews, had also said the father's fears that the woman was in control of forces working behind the scenes were justified.
The same high court had earlier rejected a habeas corpus petition filed by the father, shortly after the woman had gone missing. She later appeared in court in the first round to declare she had embraced Islam voluntarily and expressed her unwillingness to stay with her "non-believer" father.
The court dismissed her father's petition at the time and allowed her to stay separately but permitted the parents to visit her. The father, a former army man, approached the high court again expressing fears over her safety while she lived with her guardian. By then, she had also married the Muslim man.
This time, the HC directed that she stay at her parental home under tight security.
In the top court, additional solicitor general Tushar Mehta had initially appeared for the NIA in the case. At the last hearing, the agency was represented by ASG Maninder Singh.
Singh and the husband's lawyer, Dave, had a spat after the latter alleged that the NIA was being overenthusiastic in its probe. Dave pointed an accusing finger at right-wing propaganda over alleged instances of love jihad, prompting the court to urge all counsels to keep politics out of the court debate. < ..
Dave said at the heart of the case was the freedom of choice of religion. Senior advocate Indira Jaising insisted that the bench meet the woman and allow her say to prevail. The woman's father has opposed the plea to withdraw the court order.
In another twist in the case, a woman from Kerala moved the top court, through Uttar Pradesh additional advocate general Aishwarya Bhatti, demanding a probe into her daughter's whereabouts.
Full report at:
https://economictimes.indiatimes.com/news/politics-and-nation/hadia-ruling-to-test-courts-role-in-love-jihad-cases/articleshow/61122847.cms
--------
Taj Mahal Not a Symbol of Worship, Most Mughals 'Aiyaash': UP Shia Waqf Board Chairman
Oct 17, 2017
NEW DELHI: The chairman of the Uttar Pradesh Shia Waqf Board on Tuesday jumped into the controversy surrounding the Taj Mahal, saying that the monument cannot be a symbol of "worship." He also alleged that "most Mughals were 'aiyaash'" or 'dissolute.'
"The Taj Mahal can be a symbol of love but not of worship. Apart from one or two, most Mughals were 'aiyaash'. Muslims don't consider them idols," chairman Syed Waseem Rizvi told ANI.
Rizvi also addressed the criticism surrounding the state government's proposal to build a 100 metre statue of Lord Ram in Ayodhya, saying that he did not "understand why there is an issue."
"No one opposed when Mayawati built her own statues. I don't understand why there is an issue over building the Ram statue," he said.
He added that the construction of the statue would be "a good step as Ayodhya is centre of Hindu heritage."
The controversy around the Taj has only heated up in the past few weeks.
On Monday, BJP MLA Sangeet Som questioned why people like Mughal Emperor Shah Jahan, "who tried to wipe out Hindus", are considered part of India's culture and history, and threatened to "change that history".
"Many were sad when the Taj Mahal was removed from the list of historical places. What kind of history? What place's history? Whose history? The history that the man who built the Taj Mahal imprisoned his father? The history that he wanted to wipe out the Hindus from all of Uttar Pradesh and India?" Som had asked.
Som's comments had come under strong criticism from various quarters, including from AIMIM's Asaduddin Owaisi, who had demanded to know if PM Modi will "stop hoisting Tiranga" from the Red Fort, since it was also built by "traitors."
A spokeswoman for Samajwadi Party had said that the Taj must not be dragged into any controversies.
A day after Som's comments, Uttar Pradesh chief minister Adityanath unequivocally said the monument was Indian.
"It does not matter who built it (Taj Mahal) and for what reason; it was built by blood and sweat of Indian labourers," he said.
Full report at:
https://timesofindia.indiatimes.com/india/taj-mahal-not-a-symbol-of-worship-most-mughals-aiyaash-up-shia-waqf-board-chairman/articleshow/61117915.cms
--------
India can help US 'keep an eye on Pakistan', says ambassador Nikki Haley
October 18, 2017
US Ambassador to the UN, Nikki Haley said India can help America "keep an eye on Pakistan" to ensure that it can be held accountable for harbouring terrorists.
"That is going to be really important in making sure that we hold them accountable, because we are at a point where we kind of laid the ground work that we need to see better partnership from Pakistan. We can't continue to see them harboring the terrorists. We have to see something change. India is going to witness that. India is going to help us with that," Haley said, while speaking at an event organised by US India Friendship Council.
Haley said Trump has taken a "tougher approach to Pakistan harboring terrorists."
"Pakistan has been a partner to the US at times. We value and respect that. But, we cannot tolerate this government or any other government giving safe haven to terrorists who target Americans. This new approach will require understanding and restraint from both Pakistan and India," she said.
Underlining President Donal Trump's new strategy for combating terrorism in Afghanistan and South Asia, the US, she said, is looking at India to help them more in extending economic and development assistance.
"We are really going to need India's help in Afghanistan. They are the good neighbours and partner that we have in the region," she said.
"So, having them help not only with infrastructure and the aid that they can give towards rebuilding Afghanistan, (They can) also help us to keep an eye on Pakistan," Haley said.
The Trump Administration is hoping to expand India's contribution in Afghanistan through a deep partnership, she said.
The partnership between India and America is strong and getting stronger because it is rooted in a shared belief in hard work education family and achievement, she said.
"President Trump said when he hosted Prime Minister Modi on his visit to the US in June that, India has a true friend in the US and it is a friendship based on shared values," Haley said.
"Working at the UN really brings home how important it is for countries to share our commitment to democracy. Countries that honour and respect a voice of their people don't threaten peace and security. But, take a look at the countries that are causing most of the trouble in the world. And you will see countries that don't respect the will of their own people," she said.
For instance, Haley said, Trump has just announced a new tougher approach to ensuring that Iran never gets a nuclear weapon.
"It would be catastrophic for the safety of Americans and the world if Iran became a nuclear power. But India is a nuclear power and nobody gives it a second thought. Why," she asked.
"Because India is a democracy that threatens no one," she said.
The US and India have both felt the pain of terrorism and we share the commitment of defeating terrorists and the hateful ideology that motivates them, Haley said.
Responding to a question, Haley said India is a responsible nuclear power.
"We want to show the world that yes there are countries that have nuclear weapon, but they are not supposed to act like North Korea. They are not supposed to manage themselves like Iran," she said.
Haley also said there was a plan for her to travel to India by the end of this year, she said responding to another question.
"There was a plan, possibly I would go (to India) by the end of this year but there's another crisis that has come up that will send me somewhere else. But yes, I mean I would love to go back to India," she said.
Full report at:
http://indianexpress.com/article/india/india-can-help-us-to-keep-an-eye-on-pakistan-says-nikki-haley-4896185/
--------
Tunda conviction in Sonipat blasts case: 'No direct evidence, but circumstances form complete chain'
by Sofi Ahsan
October 18, 2017
ABDUL KARIM Tunda's admission of illegal migrations from one country to another, including Pakistan and Bangladesh, and his meetings with LeT leaders like Hafiz Saeed and Zakir-ur- Rehman Lakhvi connect him with the activity of terrorism, the trial court which sentenced him to life imprisonment last week in the 1996 Sonipat blasts case has said in its verdict.
Additional Sessions Judge, Sonipat, Dr Sushil Kumar Garg said while pronouncing the verdict that the guilt of an accused can also be established by circumstantial evidence and added that in the blasts case, it is "almost impossible to find out a witness who can claim to have actually seen a bomb being planted somewhere by some person." Tunda was convicted on October 9 under Sections 307 (attempt to murder) and 120 B (conspiracy) of the IPC and section 3 of the Explosives Act for the twin blasts and has been held to be the mastermind behind the blasts.
The trial court has said in its judgment that it also observed Tunda's conduct, including his claim of being a Pakistani national, and "all these circumstances, taken cumulatively, form a chain so complete that there is no escape from the conclusion that the same are consistent only with the guilt of the present accused and totally inconsistent with his innocence."
"Undoubtedly, in this case there is no direct evidence of the crime in plantation of the bombs. The prosecution case hinges on circumstantial evidence in this regard. It is an accepted proposition of law that even in cases where no direct evidence is available in the shape of eye-witnesses etc. a conviction can be based on circumstantial evidence alone," the judgment reads.
During the trial, Tunda had told the court that he was in Lahore at the time of the blasts and that he went there using an illegal passport. "The accused herein has miserably failed to bring on record any facts or circumstances which would make the plea of his absence even probable, let alone, being proved beyond reasonable doubt," the court said while rejecting his contention.
"The direct and circumstancial evidence against the accused showing presence of the accused over the spot in question, proclaimation of his name by someone at the place of occurrence to be the mastermind of the incident, and the unproved plea of alibi of the accused, lead this court to presume the accused to be a mastermind of the bomb blasts at Sonipat on 28.12.1996," it said.
Full report at:
http://indianexpress.com/article/india/abdul-karim-tunda-conviction-in-sonipat-blasts-case-no-direct-evidence-but-circumstances-form-complete-chain4895867/
--------
Kali Puja is a Hindu-Muslim initiative in this Assam village cluster
Oct 17, 2017
More than half a century ago, the convergence point of roads leading to three villages in western Assam's Nalbari district was named Milan Chowk or centre of unity.
About 10,000 people live in these three villages — Sandheli, Pokua and Panigaon — about 75km north-west of Guwahati and half of them are Hindus and the other half Muslims.
When the inhabitants of these three villages decided to organise a Kali Puja in 2015, they realised why their forefathers had chosen the name.
"Our forefathers vowed not to let communal disturbances elsewhere touch the three villages. And regular meetings at Milan Chowk have helped maintain harmony even in the toughest of times," Mohammed Ibrahim Ali, president of Milan Chowk Committee, told the Hindustan Times.
During such meetings, the villagers decided to help organise each others' festivals and share good vibes. But it was in 2015 that they started organising Kali Puja on a large scale.
"This is the third time that we are organising Shyama Puja. We ensure that the rituals are according to tradition," Ali said.
Shyama is another name of Kali — the Hindu goddess of dissolution and destruction.
The committee organises festivals celebrated by people of both religions such as Eid and Rongali Bihu.
Paramesh Sarma, the committee's working president, said festivals organised jointly by Hindus and Muslims are occasions for people of the three villages to catch up.
"Unlike olden times, work takes many people out of villages these days," he said.
Full report at:
http://www.hindustantimes.com/india-news/kali-puja-is-a-hindu-muslim-initiative-in-this-assam-village-cluster/story-XBKYD0FddoRMr7fSSWByvK.html
--------
Europe
European Officials Expecting Terror Attacks, Even As IS Weakens
October 17, 2017
Terrorism experts say the collapse of the Islamic State terrorist group in Syria and Iraq may not reduce its efforts to spread in Europe.
European officials remain concerned that the group will continue to gain and radicalize European followers. They also say it may not reduce so-called "lone wolf" attacks in Europe.
Kurdish-led forces supported by the United States are close to removing Islamic State forces from the Syrian city of Raqqa. The terror group has used the city as its headquarters in Syria. But French and Belgian officials do not believe killings will stop in Europe for the next few years.
Experts say territory held by the Islamic State helped the group gain fighters from other countries. They say it also helped the group show it was different from the terror group al-Qaida which opposed the creation of the Islamic State, or IS.
Al-Qaida's leaders criticized Islamic State leader Abu Bakr al-Baghdadi for naming himself caliph, or leader. Experts say one way for IS to show it still has power is to carry out attacks on targets in the West like al-Qaida did.
Last month, al-Baghdadi released a recording in which he criticized the United States. It was the first time he had spoken publicly in 11 months.
In the recording, he called on jihadists to attack the Syrian government. And he said IS still exists although it has lost much of the territory it had captured. He repeated the words of IS propaganda chief Abu Mohammad al-Adnani. He said holding territory was less important than the desire to fight. Al-Adnani is now dead.
Al-Baghdadi also praised attacks on the West. He said "America, Europe and Russia are living in a state of terror."
French president says terrorism a top priority
French President Emmanuel Macron spoke about terrorism in August. At the time, IS had been ousted from the Iraqi city of Mosul and Kurdish-led forces began their attack on Raqqa.
Macron said the fight against Islamic terrorism is France's "top priority." He said it would remain so for some time.
Since 2015, a series of terror attacks has killed more than 240 people in France. The country has 350 Islamic extremists in prison and nearly 6,000 militants under surveillance.
Belgium also has supplied an unusually large number of fighters to IS and other jihadist groups.
French and Belgian officials say IS is very innovative. They say efforts to reduce the group's activities on the internet have not been very successful. The group makes changes to its messages often to target possible recruits.
It tests new ideas, much like companies that sell products do.
Charlie Winter recently published a study on IS for the International Center for the Study of Radicalization and Political Violence. The research center is based in King's College, London.
Winter says the media war has always been as important for IS as victories in Syria and Iraq. He wrote that, for IS, "propaganda production and dissemination is at times considered to be even more important than military jihad."
Winter says that although IS has lost much of its territory, it can still take part in information warfare and recruit and incite. And he says "the international community must be equally as creative and strategic-minded in its approach towards counter-communications."
Officials and experts warn that radicalization remains a serious problem. Former French Prime Minister Manuel Valls has called radicalization "a deadly social model."
France is not alone in struggling to understand radicalization and to develop effective ways to fight it. Western governments still do not know how people are radicalized and why they take part in deadly attacks.
Farhad Khosrokhavar is a sociologist and professor in Paris, France. He is concerned that governments still consider radicalization only a national security problem.
He says governments should understand radicalization as part of other long-term problems. These include problems of stigmatization, social exclusion and delinquency.
He says experts are only beginning to understand how the internet and closed social media groups can help form jihadist groups.
He said they can be used to create the cult of what he calls the "negative hero."
At a conference in London last year, Khosrokhavar said a number of jihadist attackers in the West had been diagnosed with depression or other mental illnesses.
But political leaders facing public demands to stop violence often resist efforts to increase understanding of radicalization.
Former French Prime Minster Valls once said he was tired of social and cultural excuses used to explain jihad.
"To explain is to excuse," he said.
Both France and Belgium have struggled to create programs that reduce radicalization. Earlier this year, an effort to create de-radicalization centers in France ended because of differences over how to run the programs.
I'm Bryan Lynn.
And I'm Anne Ball.
Correspondent Jamie Dettmer reported this story from Brussels, Belgium. Christopher Jones-Cruise adapted the report for VOA Learning English. Mario Ritter was the editor.
https://learningenglish.voanews.com/a/europe-radicalization-future/4066336.html
--------
10 far-right terrorists arrested in France over suspected plot to kill Muslim politicians
18 October 2017
Ten suspected far-right terrorists have been arrested in Paris for plotting to kill Muslim politicians and attack places of worship, French television network M6 said late Tuesday.
According to the channel, 10 men aged from 17 to 25 were arrested in Seine-Saint-Denis and in the vicinity of Marseille.
Nine of the suspects had reportedly been arrested in the morning and the tenth was apprehended later in the evening. Russian network Sputnik said in a piece that judicial sources said the suspects have been placed under custody.
French newswire AFP also confirmed the report, quoting the Le Monde newspaper that the investigation was based on far-right "activism."
It also reported that one of the suspects was a woman,and the ten are suspected of links to Logan Alexandre Nisin, a former militant of the far-right group Action Francaise Provence who was arrested in June, the source said.
Full report at:
https://www.dailysabah.com/europe/2017/10/17/10-far-right-terrorists-arrested-in-france-over-suspected-plot-to-kill-muslim-politicians
--------
Britain is facing a terrorist threat as unrelenting as it is unprecedented, MI5 chief warns
Kim Sengupta
Oct 17, 2017
Britain is experiencing a terrorist offensive which is as unrelenting as it is unprecedented, drawing from a growing pool of Islamist extremists, and with some murderous plots taking just a few days from inception to the point of attack, the head of MI5 has warned.
Andrew Parker, the director general, said he had never faced such a high tempo of attempted and successful bombings, shootings and stabbings in his 34 years of working in the Security Service.
With jihadis returning from fighting in Isis ranks in Syria and Iraq, and the internet providing motivation and material, the pace of violence shows no sign of falling.
Charting the scale of the problem, Mr Parker said that MI5 and police have stopped seven attacks by Islamists in the past seven months. Twenty major acts have been detected in the past four years and 379 suspects have been arrested in the first six months of this year.
There are, at present, 500 live operations under way targeting 3,000 people with 20,000 more who have been on the counter-terrorism radar and others who are not even known to the law agencies.
Mr Parker recalled that he had said in a speech two years ago that despite a string of successful operations he feared "that we had not yet reached the high-water mark".
He said today: "Sadly that has proved to be the case. Islamist terrorism is an acute and enduring challenge that requires a sustained and comprehensive approach."
The internet has provided terrorists with access and immediacy. "They can go online to get explosives and learn how to build a bomb", said the director general.
As a result they can "accelerate from inception to planning to action in just a handful of days, exploiting safe space online which can make it harder to detect and gives us a smaller window to intervene".
The internet providers had a duty to help protect public safety, Mr Parker said. He did not want to dwell, he said, too much on specific matters such as encryption, which have been used by terrorists to plan and communicate, arguing there needs to be an element of partnership on this vital issue between Government and private industry.
Speaking at a location in central London, the director general said: "The threat is multidimensional, evolving rapidly, and operating at a scale and pace we have not seen before. We have seen a dramatic upshift in the threat this year. It's the highest tempo I have seen in my 34-year career. Today there is more terrorist activity, coming at us more quickly, and it can be harder to detect.
"The threat is more diverse than I've ever known. Plots developed here in the UK, but plots directed from overseas as well. Plots online, complex scheming and also crude stabbings, lengthy planning, but also spontaneous attacks.
"Extremists of all ages, gender and backgrounds, united only by the toxic ideology of violent victory that drives them. These threats are sometimes now coming at us more quickly, whether crude but lethal attack methods – for example using a knife or a vehicle – or more sophisticated plots."
To add to the security threat, hundreds of British Muslims who had joined Isis in the Middle East are expected to be heading home. More than 800 had made the journey out, said Mr Parker, and around a hundred of them are believed to have been killed.
A relatively small number have returned, but, as Isis faces defeat, he added they are now advising would-be fighters to carry out their jihad in other countries.
"This upshift is driven by the murderous strategy of Daesh [Isis] and online propaganda. Daesh directing mass casualty plots, Daesh encouraging particular extremists in the UK to kill, Daesh inspiring attacks generally, by lone actors or small groups or anyone who will listen to their poisonous message," said Mr Parker. "We've also seen that terrorism breeds terrorism. Would-be attackers take encouragement from the acts of others and can be galvanised into taking action themselves, acts of violence become normalised in their twisted thinking."
Technological advance was inevitable and welcome, Mr Parker said. "But an unintended side effect is that these advances also aid the terrorists. Whether it's the ease of online purchasing, social media content, or encrypted communications, addressing these challenges is about partnerships and ethical responsibility," he said.
"No company wants to provide terrorists with explosive precursors. Social media platforms don't want to host bomb-making videos. And communications providers don't want to provide the means of terrorist planning beyond the sight of MI5. Some helpful action is being taken. But there is a challenge of pace, volume and reach as these technologies continue to develop so rapidly. We have a shared responsibility to do all that we can to prevent terrorist exploitation of internet-carried services."
Asked about the security implications of a possible hard Brexit, Mr Parker stressed that cooperation with partner agencies in Europe will continue: "We don't just stand with our European colleagues, we work with them. We share intelligence. We run joint operations, every single day.
"Only last week I met again with my counterparts from 30 European security services as we decided on the next stages of collective action. It might help illustrate how close our working is if I say that we have a joint operational centre, which happens to be based in the Netherlands, where officers from across our services are working alongside each other every day in joint facilities with shared data in joint endeavour against the terrorists.
"This delivers real results. Together we have stopped attacks. More than a dozen terrorists are in custody today who might not otherwise have been found in time." The 12 suspects, it is believed, are being held in Europe. The plots some of them have been allegedly involved in have a British connection.
MI5 is doing its utmost and achieving success against terrorists, said Mr Parker. "I've always been clear that we can't hope to stop everything. But I can tell you that MI5 and our partner agencies are bringing the full weight of our growing capabilities to counter this new intensity of threat.
"Day in and day out we are identifying and disrupting threats: stopping terrorism. Our response is unrelenting. When an attack happens we are determined, using the harsh light of hindsight, to squeeze out every last drop of learning so that we can be the very best we can be, now and in the future.
"The women and men of MI5 are of course members of the public, who are drawn from across the society that they protect. They get up and come to work every single day to make terrorist attacks less likely and to keep the country safe.
Full report at:
http://www.independent.co.uk/news/uk/home-news/isis-terrorist-threat-uk-britain-mi5-warning-a8005536.html
--------
British men suffering Islamophobic abuse because they 'look Muslim', reveals research
Oct 18, 2017
Non-Muslim men living in the UK have suffered verbal, physical and emotional abuse because they "look Muslim," research has revealed.
Interviewees described how animal excrement had been pushed through their mailboxes and their shop windows smashed. Others said they were called terrorists or linked to Isis because of their skin colour or their beards.
The study found there were increases in hostility around the EU referendum and after terror attacks.
In research presented at the House of Commons during Hate Crime Awareness Week, Dr Imran Awan and Dr Irene Zempi argued the experiences of non-Muslim men suffering Islamophobia because they look Muslim remains invisible, both in official statistics and academic research.
"Although it's a case of mistaken identity, Islamophobic abuse should not be happening in the first place," Dr Awan, Associate Professor of Criminology at Birmingham City University, told The Independent.
He said the research showed how perpetrators of hate crimes target their victims "based on prejudice and stereotypes".
The researchers interviewed 20 non-Muslim men aged between 19 and 59 from black, white and Asian backgrounds. They included those from the Sikh, Christian and Hindu faiths, as well as atheists. Their responses were made anonymous in order to prevent them from being identified.
They found hate crimes would spike around "trigger events" such as terror attacks or the EU referendum.
One interviewee said they were sent a message on social media reading: "Vote Out. Kick out the Muslims." Another said after Brexit they were told: "Today is the day we get rid of the likes of you."
Others said they noticed an increase in harassment after Islamist terror attacks around the world.
"Every time there's a major terrorism incident there's a sharp rise in hate directed at me and my family," one person told the researchers.
Another agreed, adding: "Sadly the overall situation is deteriorating. Islamophobia is having an increasing impact on the lives of Asian men who look Muslim. The hatred that lies behind Islamophobia is spreading."
New figures released by the Home Office support their findings, showing hate crimes rocketed by around a third in the UK in the past year, with the police recording unprecedented spikes around the EU referendum and terror attacks.
Some argued Donald Trump's administration and its stance towards Muslims had promoted and encouraged anti-Muslim sentiments.
"I've noticed that abuse has increased on social media after Trump coming into power," one said. "I'm on a lot of sites having discussions with people, and I find that racism and Islamophobia are very prevalent. Trump's views are very extreme, like banning Muslims to enter US. You could not make this up five years ago."
Another said: "Trump really changed everything, didn't he? He is so blatantly racist and anti-Muslim that he changed the climate completely."
Victims told the researchers they were targeted because they were perceived to "look Muslim," with one called a "traitor" and "ginger terrorist" because of his beard. "They think I'm Muslim, a convert to Islam, but I'm not, I'm an atheist," they said.
Another said: "It's happened to me ever since I grew a beard. I'm not a Muslim but people stare at me because they think I am. After the Woolwich terrorist attack, people kept giving me bad looks."
Others said they felt their skin colour led to them being perceived as Muslim. One described being on a train when someone shouted "f*** off you P**i Muslim!" They said when they replied to say they weren't Muslim, the attacker laughed and said "you all look the same."
One person was told: "You've killed innocent people, go back to Syria, you Isis terrorist."
The interviews revealed the emotional and psychological impacts suffered from experiencing anti-Muslim hate crimes.
Many of those interviewed reported suffering from anxiety, depression and physical illness as a result of the abuse. "We live in fear every day," one person said. "We face abuse and intimidation daily but we should not have to endure this abuse."
Victims also said they felt loneliness and isolation after they were abused in public and no one came to help them. Some said being abused led them to suffer from depression, eating disorders and sleeping problems.
Dr Awan and Dr Zempi's recommended a public awareness campaign on how to report hate crimes, as well as training and workshops to teach bystanders how to respond if they witness hate crimes.
Full report at:
http://www.independent.co.uk/news/uk/home-news/muslim-hate-abuse-racism-uk-verbal-physical-emotional-look-beards-islamophobia-research-a8005156.html
--------
Hollande slams Trump's 'double fault' over Iran nuclear deal
17 October 2017
Former French president Francois Hollande on Tuesday slammed Donald Trump's hardline stance on the Iran nuclear deal -- which Paris helped to negotiate -- as a "double fault", warning the US president's "unpredictability" threatened global stability.
"Donald Trump's decision not to certify the accord and to demand that Congress strengthen sanctions is, to my eyes, a double fault," Hollande told a conference in Seoul.
The former leader's first speech on international affairs since leaving the Elysee in May touched on global issues including climate change, economic protectionism and populist politics -- and laid into the "confusion" appearing to emanate from the White House.
Trump has said the agreement was letting Iran off the hook but left it up to the US Congress to decide whether to reimpose sanctions.
The former French leader said the US president's actions showed a "deep misunderstanding of the negotiation's purpose", which was to "stop Iran from obtaining weapons, and not to make it change its politics".
He also accused Trump of "damaging the credibility of any future negotiations with North Korea" with Washington's about-turns, a concern shared by European Union ministers.
"It has to be shown that agreements will be kept to in the long term," Hollande said.
The EU said Monday it would send its chief diplomat Federica Mogherini to Washington next month to fight for the nuclear deal.
Hollande said the world "has not been this polarised, in different ways, since 1945".
"And the role of the United States serves to further complicate the situation, especially if confusion reigns at its top."
Full report at:
http://www.worldbulletin.net/europe/195066/hollande-slams-trumps-double-fault-over-iran-nuclear-deal
--------
Mideast
Israel threat won't deter Hamas, Fatah from unity efforts: PA
Oct 18, 2017
Palestinian factions have blasted Israel's threat that it will not negotiate with a unity government including Hamas, with the Palestinian Authority (PA) saying such a hostile stance would not affect the nation's resolve in pursuit of its goals.
"Israeli remarks will not change the official Palestinian position to move forward with reconciliation efforts and achieve the hopes and aspirations of our people," PA President Mahmoud Abbas's spokesman Nabil Abu Rudeine said in a statement released by WAFA news agency on Tuesday.
Abu Rudeine further said the two sides would keep up reconciliation efforts "in order to achieve the national project, end the occupation and establish the independent Palestinian state on all the Palestinian territory occupied in 1967, with East Jerusalem (al-Quds) as its capital."
Abbas's Fatah Party and Hamas have been at odds ever since the latter scored a landslide victory in Palestinian parliamentary elections in 2006. Hamas governs the Gaza Strip while Fatah has set up offices in the West Bank.
Last week, however, Fatah and Hamas signed a provisional unity agreement in the Egyptian capital, Cairo, in which the latter agreed to dissolve its administrative committee in Gaza.
The fresh Hamas-Fatah reconciliation efforts have enraged Israeli Prime Minister Benjamin Netanyahu, who said that the regime would not accept "imaginary appeasement where the Palestinian side is reconciling at the expense of our existence."
On Tuesday, Netanyahu's office said in a statement that Tel Aviv had decided not to hold talks with a Palestinian unity government that includes Hamas unless the resistance movement meets a range of conditions.
Those conditions include a demand that Hamas recognize the Israel regime, disarm, sever its ties with Iran, return the bodies of Israelis who are claimed to be held in Gaza, and that the PA assume full security control of the coastal sliver.
Abu Rudeine further emphasized the reconciliation deal and the PA's return to Gaza had been welcomed by the international community and this would "achieve the aspirations of our people ... ending the occupation and establishing an independent Palestinian state."
Hamas rejects 'Zionist interventionism'
Additionally, Hamas spokesman Hazem Qassem said that "the conditions [set] by the occupation reveals that Israel is greatly injured by the reconciliation," noting, "This is not a new attitude for Israel."
Another Hamas spokesman Fawzi Barhoum also told AFP that the Palestinian movement would ignore "blatant Zionist interventions in Palestinian issues."
"The response must be to continue to strengthen the internal Palestinian front, and complete the reconciliation in every file under what was agreed in the Cairo agreement," he added.
Hamas and Fatah had agreed on a unity government in April 2014, but it fell apart months later as the two sides failed to narrow their differences.
In the same year, the latest round of Israeli-Palestinian talks collapsed. Among the major sticking points in those discussions was Israel's continued settlement expansion on Palestinian territories.
http://www.presstv.com/Detail/2017/10/18/538992/Palestine-Israel-Fatah-Hamas-Benjamin-Netanyahu
--------
Israel approves plans for nearly 1,292 settler units in WB
Oct 17, 2017
Israeli authorities have approved plans for construction of 1,292 settler homes in the occupied West Bank, a settlement watchdog NGO reports.
Peace Now reported that the Israeli authorities approved the plans on Tuesday, noting that further approvals were likely on Wednesday
The Israeli committee which oversees the settlement construction in the West Bank is expected to approve the construction of over 2,000 units in the course of its two-day meeting.
According to Israeli officials, a total of around 12,000 residential units will be granted different stages of approval in 2017, four times the amount last year.
Settlement building in the occupied West Bank and annexed east Jerusalem al-Quds is considered illegal under international law.
Since the inauguration of US President Donald Trump in January 2017, the regime in Tel Aviv has stepped up construction of settler units on the occupied Palestinian land in a blatant violation of international law.
Less than a month before Trump took office, the United Nations Security Council adopted Resolution 2334, which called on Israel to "immediately and completely cease all settlement activities in the occupied Palestinian territories, including East Jerusalem" al-Quds.
In May, the Israeli Foreign Ministry appealed to the US to nullify Resolution 2334.
About 600,000 Israelis live in over 230 illegal settlements built since the 1967 Israeli occupation of the Palestinian territories of the West Bank and East Jerusalem al-Quds.
Palestinians want the West Bank as part of a future independent Palestinian state, with East Jerusalem al-Quds as its capital.
The continued expansion of Israeli settlements is one of the major obstacles to the establishment of peace in the Middle East.
Full report at:
http://www.presstv.com/Detail/2017/10/17/538947/Israel-settlement-West-Bank
--------
US strikes kill 'dozens' at IS training camps
Oct 18, 2017
ADEN - The US military said Monday it killed dozens of Islamic State fighters at the group's training camps in central Yemen, in the first such strikes in the country's conflict.
Witnesses said villagers were prevented by tribal leaders from approaching the area and retrieving the dead and wounded for fear of additional strikes.
Locals said the camps, both in Bayda province, were named after prominent IS figures: Yemen chief Abu Bilal al-Harbi and former global spokesman Abu Mohamed al-Adnani, killed last summer in a US air strike.
This is the first time allies of Yemen's internationally recognised government have announced raids against IS footholds.
"US forces killed dozens of ISIS members in a strike on two ISIS training camps... in Al-Bayda Governorate, Yemen, disrupting the organization's attempts to train new fighters," US Central Command, which oversees US forces in the region, said in a statement.
"ISIS used the camps to train militants to conduct terror attacks using AK-47s, machine guns, rocket-propelled grenade launchers and endurance training."
IS and its militant rival Al-Qaeda have taken advantage of a conflict between the government and Huthi rebels, who control the capital Sanaa, to bolster their presence across much of the south. The US is the only force known to operate armed drones over Yemen, but previous known strikes have exclusively targeted Al-Qaeda.
IS, however, has risen to prominence in the country's civil war targeting both army recruits of the government and Shias, which it considers heretics. It entered the war in March 2015 with a series of attacks on mosques in the capital, leaving more than 140 people dead. The group's last major attack was a suicide bombing in the government stronghold of Aden last December, which killed 48 soldiers.
"Strikes against ISIS targets disrupt and destroy militants' attack-plotting efforts, leadership networks and freedom of maneuver within the region," the CENTCOM statement read.
Al-Qaeda has distanced itself from IS attacks, claiming that it seeks to avoid "the shedding of any Muslim blood" while focusing on fighting the "Americans and their allies."
The Saudi-led coalition, which intervened in Yemen in March 2015 to roll back Huthi rebel gains, has also turned its firepower on the militants and backed forces loyal to President Abedrabbo Mansour Hadi.
The Yemen war has killed 8,673 people and wounded 58,636 - among them many civilians, according to the UN.
Full report at:
http://nation.com.pk/international/18-Oct-2017/us-strikes-kill-dozens-at-is-training-camps
--------
Leader's Top Aide Dismisses IRGC's Partnership in Kirkuk Operations
Oct 17, 2017
"The IRGC plays no role in the Kirkuk operations," Velayati told reporters in Tehran on Tuesday.
Noting that most of the Kurdish people are opposed to the "ambitious measures" by the Iraqi Kurdistan region's president Massoud Barzani, he said that the Iraqi government gained control of the Kirkuk region almost without any resistance by the Kurds.
"Mr. Barzani should accept that he has made a mistake and admit it and try to make up for this mistake," Velayati said.
Iraqi forces captured a military base, an airport and oilfields outside the Northern city of Kirkuk after the prime minister, Haider al-Abadi, ordered the army to "impose security" on the Kurdish-held territory.
Iraqi troops began advancing on the oil city in the early hours of Monday morning.
Full report at:
http://en.farsnews.com/newstext.aspx?nn=13960725000798
--------
Hamas says unity deal at risk if Abbas does not end sanctions
17 October 2017
Hamas warned on Tuesday that Palestinian president Mahmud Abbas's delay in easing sanctions on Gaza was putting at risk a landmark unity deal signed last week.
"The continuation of the punitive measures against our people in Gaza a month after the dissolution of the administrative council spoils the general atmosphere for reconciliation," a party spokesman said in a statement to Hamas media.
Islamist group Hamas last month agreed to dissolve its administrative council, seen as a rival government in Gaza, and return civilian power in the enclave to the Palestinian Authority a decade after seizing it in a near civil war.
Chief among their demands, however, was that Abbas drop a series of measures taken against Gaza.
Among these were reductions in energy payments for the territory, which left its two million residents with only a few hours of mains electricity per day.
Hamas is due to hand over Gaza's border crossings by November 1 ahead of a full transfer of power by December 1.
The PA's top border official visited Gaza on Monday.
Previous reconciliation agreements between Hamas and Abbas's Fatah, based in the occupied West Bank, have collapsed over implementation of specific issues.
Full report at:
https://english.alarabiya.net/en/News/middle-east/2017/10/17/Hamas-says-unity-deal-at-risk-if-Abbas-does-not-end-sanctions.html
--------
Nearly dozen rights activists to go on trial in Turkey next week
Oct 17, 2017
Turkey will put eleven human rights activists, including two local heads of Amnesty International, on trial next week on charges of affiliation to a movement led by US-based opposition cleric Fethullah Gulen, whom the Ankara government accuses of having masterminded the failed July 2016 coup attempt, and aiding Kurdish and left-wing militants.
Turkey's official Anadolu news agency reported that the activists, among them Amnesty's Turkey director Idil Eser, German national Peter Steudtner and Swede Ali Gharavi, will stand trial at the main Istanbul court on October 25 after an indictment prepared by prosecutors was approved.
Ten of the defendants were arrested during a raid against a workshop on digital security at a hotel on Büyükada Island near Istanbul in July. Steudtner and Gharavi were leading the workshop.
Amnesty's Turkey chairman Taner Kilic, who was detained in June, will be tried alongside the ten.
The suspects are accused of links to Gulen's movement, and providing assistance to Kurdistan Workers' Party (PKK) and far-left Revolutionary People's Liberation Party-Front (DHKP-C) militants.
Earlier this month, a Turkish prosecutor called for jail sentences of up to 15 years on terrorism charges for the activists.
Steudtner's detention stoked tensions in Berlin and German officials said they were reviewing Turkey's applications to buy weaponry from the Western European country.
German Foreign Minister Sigmar Gabriel has described the terror charges against the rights activists as "incomprehensible."
Chancellor Angela Merkel said last month that Turkey's 12-year bid for the European Union membership should be halted.
Sweden has also summoned Turkey's Ambassador Ömer Kaya Türkmen over the case of Gharavi, saying it was "worried" about the accusations against him.
During the July 15 botched putsch last year, a faction of the Turkish military declared that it had seized control of the country and the government of President Recep Tayyip Erdogan was no more in charge. The attempt was, however, suppressed a few hours later.
Ankara has since accused Gulen of having orchestrated the coup. The opposition figure is also accused of being behind a long-running campaign to topple the government via infiltrating the country's institutions, particularly the army, police and the Judiciary.
Additionally, the Ankara government has outlawed his movement, and has branded it as the Fetullah Terrorist Organization (FETO).
Gulen has denounced the "despicable putsch" and reiterated that he had no role in it.
"Accusations against me related to the coup attempt are baseless and politically motivated slanders," he said.
The 76-year-old cleric has also called on Ankara to end its "witch hunt" of his followers, a move he said is aimed at "weeding out anyone it deems disloyal to President Erdogan and his regime."
Turkish officials have frequently called on their US counterparts to extradite Gulen, but their demands have not been taken heed of.
Turkey, which remains in a state of emergency since the coup, has been engaged in suppressing the media and opposition groups suspected to have played a role in the failed coup.
Tens of thousands of people have been arrested in Turkey on suspicion of having links to Gulen and the failed coup. More than 110,000 others, including military staff, civil servants and journalists have been sacked or suspended from work over the same accusations.
Full report at:
http://www.presstv.com/Detail/2017/10/17/538930/Nearly-dozen-rights-activists-to-go-on-trial-in-Turkey-next-week
--------
Netanyahu says Israel won't allow Iran military presence in Syria
Oct 17, 2017
Israeli Prime Minister Benjamin Netanyahu has held talks with the Russian defense minister in East Jerusalem al-Quds, saying Tel Aviv will not allow Iran to establish a military presence in Syria.
"The meeting mostly dealt with Iran's attempt to establish itself militarily in Syria," Netanyahu's office said in a statement on Tuesday.
"Prime Minister Netanyahu told Russian Defense Minister [Sergei] Shoigu, 'Iran needs to understand that Israel will not allow this,'" it added.
Their talks came after the Israeli military violated Syria's territory and launched an air strike on an anti-aircraft battery in Syria in the vicinity of the Lebanese border on Monday.
In response, the Syrian army targeted an intruding warplane and forced the fighter jets to retreat.
Both Iran and Russia are supporting the government of Syrian President Bashar al-Assad in its fight against terrorism. Iran has been providing military advisory support for the Syrian forces at the request of Damascus.
During the talks with the Russian foreign minister, Netanyahu also claimed that "Iran will have an arsenal of nuclear weapons within 8-10 years," if Tehran's nuclear deal with the world powers is not revised.
Netanyahu's repeated opposition to the 2015 nuclear deal, known as the Joint Comprehensive Plan of Action (JCPOA), between Iran and the US, Britain, France, Germany, Russia and China, comes as US President Donald Trump announced on Friday that he would not certify Iran's compliance with the agreement.
While Trump did not pull Washington out of the nuclear deal, he gave the US Congress 60 days to decide whether to reimpose economic sanctions against Tehran that were lifted under the pact. Reimposing sanctions would put the US at odds with other signatories to the accord and the European Union.
Full report at:
Iran says it will not agree to any revision of the nuclear deal.
http://www.presstv.com/Detail/2017/10/17/538927/Iran-Syria-Israel-Russia
--------
Turkey and EU pledge to boost counter-terrorism cooperation
18 October 2017
ANKARA: Turkey and the EU will reportedly boost cooperation on "issues related to regional dynamics," according to Federica Mogherini, the high representative of the EU for foreign affairs and security policy.
During a press conference before a foreign affairs meeting in Luxembourg on Monday, Mogherini said both parties would discuss ways to improve coordination on Syria and Iraq, as well as on counter-terrorism.
The EU foreign policy chief revealed she had spoken to Turkey's Foreign Minister Mevlut Cavusoglu earlier that day to discuss these matters, as well as the "Kurdish issue."
Both Turkey and the EU have designated the Kurdistan Workers' Party (PKK) as a terrorist organization, but Ankara continues to voice its displeasure that some EU member countries allow pro-PKK rallies to take place. Turkey has called for the EU to cut off the PKK's cash flow in Europe.
The EU, meanwhile, has been heavily critical of Turkey's own anti-terrorism laws, claiming they do not respect international human rights legislation.
Cigdem Nas, secretary-general of the Economic Development Foundation in Istanbul, said that EU membership talks with Turkey are not progressing, so the EU intends to develop a different kind of partnership with Turkey.
"Within such a partnership, security and foreign policy emerge as the priority areas for cooperation, along with migration and refugee issues," Nas told Arab News. "These are all areas in which the EU — reflecting a pragmatic and interest-based approach — relies on Turkey's cooperation.
"Keeping in mind the problem foreign fighters caused in Europe, regarding the increase in acts of terrorism, Turkey's cooperation is essential to control the gateway from the Middle East to the EU," she added.
"With Turkey's increased involvement in the Syria and Iraqi conflict and the (simultaneous) sidelining of the EU from the issue, relatively speaking, the EU now attaches greater importance to strategic cooperation with Turkey," Nas continued.
Nas cited the changing relationship between Europe and the US, characterized by the Trump administration's demands that its European partners assume more responsibility for their own defense, as one reason why cooperation with countries such as Turkey – which lie on Europe's boundaries – has taken on greater significance.
"It is noteworthy that the agenda of the European Council meeting to be held on Oct. 19 lists the debate on Turkey under external relations and not under enlargement," she said. "This choice reflects the approach of the EU to relations with Turkey."
Kostas Ifantis, associate professor of international relations at Kadir Has University in Istanbul, underlined that, for the EU, controlling the immigration tops its security and political agendas.
"There can be no effective control without the cooperation of Turkey," Ifantis told Arab News.
However, Ifantis points out, joint counter-terrorism policies can be complicated.
"Intelligence sharing has proven very hard to arrive at because Cyprus is a member of the EU," he said, referencing the ongoing disagreement between Turkey and Greece over the island.
"Although some intelligence sharing takes place in the context of NATO, the fact that NATO is not very popular in Ankara complicates things further," Ifantis added.
Full report at:
http://www.arabnews.com/node/1179191/middle-east
--------
Africa
ISIS in the Congo: Video Calls Jihadists to New Turf in Central Africa
BY BRIDGET JOHNSON
OCTOBER 17, 2017
A video circulating on pro-ISIS message boards purports to show the expansion of ISIS into the Democratic Republic of the Congo, though the Islamic State has not yet pushed on their official media channels the call to join fighters in the African country. The DRC is only about 10 percent Muslim, with about 80 percent of residents following some form of Christianity.
The two-minute video shows several men dressed in camouflage and wielding weapons in a nondescript rainforest area, as a few young boys mingle around. The video quality is rough compared to highly produced films from ISIS' official and affiliated media arms, but also resembles some rough-cut video statements delivered by Boko Haram in Nigeria.
With a logo including ISIS' insignia and a rifle, the group calls itself "The City of Monotheism and Monotheists," or MTM.
The jihadist delivering the statement is the only one in the group who does not look Congolese; he speaks Arabic and declares that those in the lands of "kuffar," or disbelievers, should migrate to the DRC for jihad. "I swear to God that this is Dar al Islam of the Islamic State in Central Africa," he said, swearing again that the group is "in the jihad."
None of the fighters who appear to be Congolese speak in the video; the official language in the DRC is French, with other local dialects spoken as well.
The declaration of an ISIS chapter is a first for this part of Africa; the closest affiliations are Boko Haram to the northwest and, to the west, some Al-Shabaab members in Somalia who pledged allegiance to ISIS over al-Qaeda (the latter still being the terror group's official patron). ISIS doesn't always recognize groups of adherents as provinces, though caliph Abu Bakr al-Baghdadi has urged followers to expand their reach as ever-increasing amounts of ISIS' original turf have been reclaimed by local forces in Iraq and Syria.
In an audio message last November, al-Baghdadi addressed ISIS adherents in far-flung regions, including Afghanistan, the Caucasus, Indonesia, Philippines, Sinai, Bangladesh, West Africa and North Africa, as the "base of the caliphate," and warned that "kuffar will try to split you."
SPONSORED
Four U.S. soldiers were killed in an ambush while on a routine counterterrorism patrol with local forces in Niger at the beginning of the month. Both al-Qaeda and ISIS operate in the region.
In a Pentagon briefing last week, Joint Staff Director Lt. Gen. Kenneth McKenzie Jr. noted it's "easier to actually stop resources than it is people" going from Syria, where ISIS' caliphate is crumbling, to Africa, and "I think we're having significant success doing that; probably not perfect, because perfection is probably not an attainable goal."
"But we strive very hard to prevent that," he said. "Now, what you can't prevent is local franchisement. You know, self-enabled radicalization. That's a harder task to prevent and we're going to continue to work at that ... I'm sure some personnel have moved. We're stopping I think the vast majority of that. I'm not going to tell you that we're going to be able to stop everyone."
There is, the general said, "some minimal flow of people across the divide," though fewer jihadist transfers than this time a year ago.
The United Nations' peacekeeping force, MONUSCO, has been operating in the DRC, which is nearly a quarter the size of the United States, since 1999, though the UN cut troop levels in March with the encouragement of the U.S.
The State Department issued a new warning Monday about travel to the DRC "because of ongoing instability and sporadic violence in many parts of the country."
"Armed groups operate in the provinces of North and South Kivu, Bas-Uele, Haut-Uele, Ituri, Tanganyika, Haut-Lomami, and the Kasai region," the warning states. "These groups have been known to kill, rape, kidnap, pillage, and carry out operations in which civilians may be indiscriminately targeted."
Also on Monday, a new report from The Sentry, an investigative initiative co-founded by George Clooney and John Prendergast, connected a prominent Congo bank with funding Hezbollah in subversion of sanctions.
BGFIBank DRC, states the executive summary of The Terrorists' Treasury, has been used by individuals and entities subject to U.S. sanctions for their Hezbollah connections, including key Hezbollah financier Kassim Tajideen, "to move money through the international banking system, despite several warnings from bank employees that doing so could violate U.S. sanctions."
The bank is run by DRC President Joseph Kabila's brother.
https://pjmedia.com/homeland-security/isis-congo-video-calls-jihadists-new-turf-central-africa/
--------
Uganda: Aga Khan Deserves Most Excellent Order of the Pearl of Africa Medal
18 OCTOBER 2017
By Austin Bukenya
The Most Excellent Order of the Pearl of Africa was on October 9 conferred upon the Aga Khan. This was at Uganda's 55th Independence Day festivities in the western region of the country, close to the world-famous Queen Elizabeth National Park.
The Order of the Pearl of Africa is the country's highest possible award and it derives its name from Winston Churchill's 1908 unforgettable encomium of the land as the loveliest on the continent. Uganda has many nicknames, including our jocularly intimate 'Matooke Republic', but the 'Pearl' is one of which Ugandans are proudest, regardless of its colonial origins.
Anyway, the Order of the Pearl, instituted in 2005, is a very rarely-awarded honour. The first of its so-far five recipients was, I believe, Mwalimu Julius Nyerere, posthumously. It is normally reserved for Heads of State and Government. This, indeed, is what had me prick my ears when I heard that the Aga Khan was going to be the Guest of Honour at the independence celebrations, and he was to be vested with the Pearl of Africa Order. I could not help wondering if the Aga Khan was a Head of State or government somewhere.
Those more knowledgeable than I will already have noticed my ignorance of these matters. Indeed, my ruminations today are a frank admission of such ignorance and a humble plea for enlightenment from those privileged to have inside knowledge of the Shia Ismaili "Imamat" and its Head, the Aga Khan. My curiosity needs no apology, but I should add that I am sure I am not alone in my unawareness of the essential facts of this significant segment of our world and society.
We may read the daily paper, watch a TV programme, resort to a banking, insurance or other financial service, attend school or receive medical care. Hardly are we aware that most of these times we are benefiting from an Aga Khan enterprise. Even more importantly, few of us in East Africa, especially in the urban areas, ever go through the day without interacting with "subjects" of the Aga Khan at work, at school or at play.
This already hints at the sovereignty, the virtual 'Head-of-State' status, of the Aga Khan. But the story is even more intricate and fascinating, as I found out when I started looking around a little. I will not attempt to tell it in detail, as I cannot claim to have understood it all, and I do not wish to rashly arouse the controversies that are inherent in most such great stories. Rather, I will pick upon just a handful of strands of the Imamat phenomenon that I found most relevant to our experiences and aspirations.
The Aga Khan is a Muslim spiritual leader of the worldwide Shia Imami Ismaili community hence his followers' reference to him as the Imam. His leadership is hereditary, tracing his roots to the earliest days of Islam and his descent to the Prophet (SAW). Prince Karim Aga Khan is the 49th leader in the unbroken line of this genealogy.
The Imam's spiritual role highlights a few points for me. The first is that, even in our pluralistic, largely secularistic world, it is possible to hold a faith and at the same time win respect beyond its strictly denominational interests. The Muslim secret, as I think the Ismailis interpret it, lies in Islam's struggle to reconcile spirituality (din) with earthly material practicality (dunya). The Aga Khan has elucidated this in many of his lectures, including a landmark one, 'The Cosmopolitan Ethic in a Fragmented World', which he gave in November 2015 at Harvard, his alma mater.
It is probably this systematic reconciliation of spirituality and practicality that largely constitutes the power or sovereignty of the Aga Khan and his community. While cherishing the essentials of their Islamic faith, the Ismailis also appear to attach special importance to the material development and well-being of all the members of the faith.
"Leadership in the spiritual realm - for all Imams," the Aga Khan said at Harvard, "whether they are Sunni or Shia -- implies responsibility in worldly affairs; a calling to improve the quality of human life." One does not have to be Ismaili or Muslim to realise the wisdom of this approach to faith and life, especially in these days of fanatical and violent extremism that is giving faiths like Islam a sadly bad press.
Another aspect of the Ismaili practice of reconciliation is the determined acceptance of global pluralism. While acknowledging their identity as members of a community with specific historical and cultural roots, the Ismailis appear to have accepted the reality that they have to live in a world of diversity. They thus cannot afford the luxuries of narrow exclusion and discrimination on the grounds of caste, race, faith or nationality.
It would be naïve to portray the Ismailis uniformly as angelic champions of non-discrimination. But they have made a strikingly good job of inclusiveness and cross-cultural cooperation, which has enabled them to live and thrive in diverse countries all over the world. The Aga Khan and his people seem to have achieved this mainly through ensuring that their development efforts target the entire societies and countries in which they live.
The Aga Khan's umbrella development arm, the Aga Khan Development Network (AKDN), is a good example of this. All the services and enterprises under its portfolio - and they are a multitude, believe me - seem to operate on two basic principles. The first is hiring the best professionals from any community for all of their jobs, and the second is offering their services equally to all and sundry, regardless of background.
Full report at:
http://allafrica.com/stories/201710180103.html
--------
UN warns of abuse of Libyan refugees on shocking scale
Oct 17, 2017
The UN refugee agency (UNHCR) has warned that thousands of Libyan refugees are currently living in dire conditions in a hub to the west of the capital Tripoli, saying they could be exposed to abuse on a shocking scale.
The UNHCR said its staff working in the city of Sabratha with authorities of Libya's internationally-recognized government had described a "picture of human suffering and abuse on a shocking scale" among refugees previously held by smugglers.
UNHCR spokesman Andrej Mahecic said some 14,500 refugees were currently held by government-allied forces after suffering for months at the hands of smugglers. He said another 6,000 people were still being held by smugglers, prompting fears that a similar pattern of sexual abuse and forced labor could be enforced on them.
"Amongst the refugees and migrants who suffered abuse at the hands of smugglers, there are pregnant women and new-born babies," said Mahecic, who was speaking to reporters in Geneva, Switzerland.
The official added that hundreds had not eaten for days when found by authorities, while hundreds of others had no shoes and clothes. Many of them also recounted how they had suffered from abuse, including sexual violence and forced labor while showing their bullet wounds.
The UNHCR said official detention centers and assembly points were packed with refugees and many children, among them "a worrying number of unaccompanied and separated children, many under the age of six," were forced to sleep in the open. The UN agency also said that the facilities lacked water tanks and other sanitation equipment.
Full report at:
http://www.presstv.com/Detail/2017/10/17/538920/Libya-refugees-plight-UN
--------
Turkish foundation sends $150,000 aid to Nigeria
17 October 2017
Thousands of Nigerians have benefited from Turkey's Diyanet Foundation's humanitarian aid in 2017 including food stuffs and packs distributed to schools, a Turkish diplomatic official said.
Diyanet, the charity arm of Turkey's Presidency of Religious Affairs, said in a press release that it spent at least $150,660 on various humanitarian projects across Nigeria in the current year.
That excludes six educational scholarships offered to Nigerian citizens and regular distribution of academic books to schools, according to Ali Kasikirik, religious affairs attache of the Turkish Embassy in capital Abuja on Tuesday.
Three of the scholarships were for undergraduate studies while the remaining three were for high schools.
Kasikirik said the foundation spent $1,000 to organize a Qur'an recitation competition in Abuja, and the winners were sponsored by Turkey's Presidency of Religious Affairs to participate in an international Qur'an competition held in Turkish capital Ankara in May.
According to Diyanet's statement, the foundation spent at least $20,170 on a food distribution program during the Ramadan, benefiting some 500 families in Wuse, Dei Dei, Durumi Internally Displaced Persons camp, Mpape and Jikoko areas of the capital.
The statement added that in June, eight cows were sacrificed and 56 portions of meat were distributed to 250 families. The cost of this program was $2,650. In July, two cows were sacrificed and 14 portions of meat were distributed, which cost $840.
"During the Eid al-Adha, Diyanet Foundation conducted the yearly sacrificial meat distribution program in Abuja. A total of 250 cows were slaughtered making 1,750 portions and 6,500 families benefited from the program. The total amount spent on the program was $117,500," it said.
Diyanet also helped renovate an orphanage home under Nurul Bayan International Academy in October. The renovation cost $4,500, with an additional $1,500 spent on furniture including bunk beds, mattresses, bedsheets and blankets.
Full report at:
http://www.worldbulletin.net/africa/195083/turkish-foundation-sends-150000-aid-to-nigeria
--------
URL: https://www.newageislam.com/islamic-world-news/isil-caliphate-capital-raqqa-falls/d/112931
New Age Islam, Islam Online, Islamic Website, African Muslim News, Arab World News, South Asia News, Indian Muslim News, World Muslim News, Women in Islam, Islamic Feminism, Arab Women, Women In Arab, Islamophobia in America, Muslim Women in West, Islam Women and Feminism