New Age Islam News Bureau
4 Dec 2016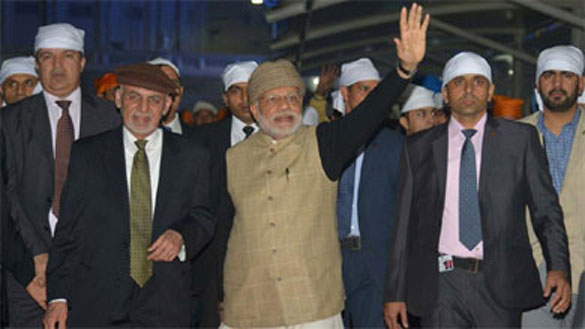 Prime Minister Narendra Modi (C), Afghan President Ashraf Ghani (2L) pay respects at the Golden temple in Amritsar on December 3, 2016. (AFP)
---------
• ISIL Mulling Successor for Abu Bakr Al-Baghdadi
• 20 PKK Militants Killed As Military Foils Attack on Turkish Army Base
• US Worries about Aid Taliban Receive From Pakistan, Russia, Iran
• Europe's Jews Have Reason to Fear Today's Political Climate
Arab World
• ISIL Mulling Successor for Abu Bakr Al-Baghdadi
• Syrian Army Forms New Volunteer Force to Intensify War on Terrorism
• ISIS lure Raqqa civilians into ranks with food rations
• ISIS targeting civilians in Mosul's al-Qadisiyah
• Syria: Jeish Al-Fatah's Religious Leader Acknowledges Militants' Defeat in Aleppo Battles
• Syria army retakes over half of militant-held east Aleppo
• Syria: Terrorists Continue to Gun Down Civilians Fleeing from Eastern Aleppo
• IS exploits rain, hits militias west, south of Mosul
• Syria urges NE Aleppo residents to return home
• Aleppo: Syrian Army Dispatches Hundreds of Forces, Equipment to Southeastern Districts
• Syria: Popular Forces Seize Terrorists' Chemicals Warehouse in Aleppo
• Syrian Analyst: Aleppo Battle As Important to Israel As War in Tel Aviv
• Aleppo under fire as UN talks continue to fail
• Terrorists vow to never surrender Aleppo
• Iraqi army troops seize back four villages north of Daesh-held Mosul
--------
Mideast
• 20 PKK Militants Killed As Military Foils Attack on Turkish Army Base
• Iran Offers To Mediate Between Pakistan and India
• Beijing expresses concern as Yemen's Houthis form govt
• Turkey proposes to trade in local cash with Iran, others
• Iran sanctions re-imposition symbol of American 'black and white' thinking
• Pro-Hadi militias set to launch new assault on Yemen coastline
• Israeli forces detained 527 Palestinians in November
• Yemeni snipers kill 4 Saudi troopers in retaliatory attacks
--------
North America
• US Worries about Aid Taliban Receive From Pakistan, Russia, Iran
• Russia Says It Killed Islamic State 'Emir' In North Caucasus
• Muslim Cleric Fights US Deportation over Undisclosed Detention by Israel
• Major pro-Israel donor accuses Muslim US lawmaker of being anti-Semite
• When a Muslim-American stand-up comic sat next to Donald Trump's son
• US: College student wanted to join ISIS as he was 'deeply in love'
• US offers Kabul more support under Trump
--------
Europe
• Europe's Jews Have Reason to Fear Today's Political Climate
• Islamic State Militants Planning Car Bombs in Europe: Report
• Morocco arrests Daesh operative linked to French plot
• Russia sends demining team to Syria to clear Aleppo's liberated areas
• Germany detains senior extremist wanted by Turkey
• Morocco arrests eight over alleged ties with ISIL
• Trump's election and its impact on Europe
--------
India
• End Terror For Stability: Modi Tells Pak's Aziz, Other Heart of Asia Diplomats
• Peculiarities of Personal Laws Should Be Protected: Jamiat Ulema-i-Hind
• Persecuted In Myanmar, Rohingya Muslims Find New Home in Jammu
• Muslims Mobilise In Marathwada for Reservation
• Pakistan Says Ready to Talk, Won't Raise Kashmir at Afghan Forum
• PM Modi, Afghan President Ghani hold bilateral talks; focus on trade, security
• Babri Demolition 25th Year: Ayodhya Muslims Make Garlands for Hindu Devotees
• Stop Killing Muslims and Dalith in So Called Encounter
• Plans underway to connect Afghanistan-India via air transport corridor: Modi
--------
South Asia
• Ghani: Undeclared War Intensified In 2016, Urges Pakistan For Real Fight Against Terror
• Suu Kyi Must Stop Rohingya 'Genocide': Mayalsia PM
• Crackdown could radicalise Rohingya
• DMP chief contradicts Reuters on Tamim-IS ties
• Important to end terror for stability in Afghanistan: Modi
• Afghan Taliban hang university student in public
• 20 houses of Hindus set on fire in Bangladesh
• No info on Tamim getting IS nod before Dhaka attack
• Afghan teen arrested over alleged rape and murder of a girl in Germany
• Trump vows support to help unearth Afghanistan's massive natural resources
--------
Africa
• Troops Kill 7 Daesh-Linked Militants in Northern Somalia
• Libyan forces suspend anti-ISIL campaign in Sirte
• Nigeria University reconciles Christians, Muslims divided by Boko Haram
• Somali Refugees Are Not a Threat
--------
Pakistan
• Pakistan Opposition Politicians Slam Hard-line Cleric's Provincial Win
• Pakistan supports 'every effort' for Afghan peace
• Pakistan and UAE pledge to boost bilateral cooperation
• No booze but plenty of saag paneer ... how Scotland's Christian Pakistanis will be celebrating Christmas
• Bilawal says he will be Pakistan's PM in 2018
• CII invites Nawaz, Zahid to day-long seminar
• JI urges SC to form probe commission on Panama leaks
--------
Southeast Asia
• Malaysia Promotes Moderation to Counter Negative Perception of Islam
• Members who breathe fresh air into Umno
• Setya Novanto, Surya Paloh stand up for diversity after anti-Ahok rally
• Jokowi Draws Fire for Attending Dec. 2 Mass Prayer Rally
Compiled by New Age Islam News Bureau
URL: https://www.newageislam.com/islamic-world-news/new-age-islam-news-bureau/isil-mulling-successor-for-abu-bakr-al-baghdadi/d/109277
--------
ISIL Mulling Successor for Abu Bakr Al-Baghdadi
Dec 03, 2016
According to the dissident-backed London-based center, information obtained from reliable sources showed that the ISIL leaders in Iraq have called on other commanders of the terrorist group in Raqqa of Syria and the commander of Jeish al-Sham to convene in a secret place in Iraq.
According to the unnamed sources, the ISIL is seeking to hold a meeting to choose a successor for Abu Bakr al-Baghdadi "to run a Caliphate for Muslims".
The news was released as contradictory reports have appeared in recent months on the fate of ISIL leader Al-Baghdadi.
Spokesman of Hashd al-Shaabi (the Iraqi volunteer forces) Ahmad al-Assadi said in mid November that the latest information and intel shows that ISIL Leader Abu Bakr al-Baghdadi is still in Iraq, hiding somewhere outside Mosul.
"The terrorist, Abu Bakr al-Baghdadi, is in a region between the town of Tal Afar (some 54km North-West of Mosul) and the town of al-Baaj (157km to the South-West of Mosul)," al-Assadi was quoted as saying by Iraq's al-Ma'louma news agency.
He also said that the operations of the volunteer forces cover an area 14,000 sq/km around Mosul that includes the towns of al-Hazar, al-Baaj and its surrounding regions towards Tal Afar.
Based on an agreement made earlier, the Iraqi popular forces and Peshmarga Kurdish troops will not be part of the invading forces inside the two cities of Tal Afar and Mosul, while they will help tighten and maintain the siege on the rims of the two cities. Various units of Iraq's armed forces, including the army, police and anti-terrorism troops, lead the assault.
Al-Assadi's statement is the last in a string of reports on the fate of the notorious ISIL leader. During the last several months, many contradictory reports have surfaced the media about the health conditions and location of Abu Bakr Al-Baghdadi.
A prominent Iraqi military analyst said in late October that Riyadh and Ankara had hatched plots to transfer al-Baghdadi from Mosul to Libya, but the massive presence of the popular forces and Russian fighter jets along the bordering areas of Iraq and Syria dissuaded them.
"The two countries were working to take al-Baghdadi to Turkey either by moving him through Mosul and Kirkuk to the North or through al-Qa'em and al-Ratba corridor to Deir Ezzur in Syria and then to Turkey to eventually transfer him to Libya," Safa al-A'asam told al-Ma'louma.
He added that the ISIL concluded that transferring al-Baghdadi through Tal Afar region to Raqqa in Syria is also impossible given the massive presence of Hashd al-Shaabi in the Southern front near Baaj district, South-West of Mosul and Northwest of the province of Nineveh, as well as the numerous flights done by the Russian fighter jets over the Syrian bordering areas with Iraq.
"The ISIL is now working to find a different path through the Iraq-Syria borders to take al-Baghdadi to Turkey and then to Libya or any other countries," al-A'asam said.
The statements came as reports from western Iraq said earlier in October that al-Baghdadi has succumbed to his fatal INJURIES and died in a region along the border with Syria.
"Al-Baghdadi had been severely wounded in the Al-Anbar battle in Western Iraq last month (September), and his wounds were so lethal that he could not move freely at all," a local Iraqi source told the Arabic service of the Russian Sputnik news agency in mid October.
The source said despite long treatment in Mosul, the general health conditions of the ISIL leader deteriorated due to "a deep abdominal cut, damage to his liver and crippling wounds in his left limbs".
The source said al-Baghdad lost his life in the town of Al-Baaj some 100km (60 miles) West of Mosul near the border with Syria, but his death is CONCEALED to avoid the loss of morale among ISIL ranks who are faced with a tough war in Mosul and Syria these days.
There have been numerous reports on the fate or location of the ISIL leader in the last two years. As the war ravages over the self-proclaimed capital of the terrorist cult, Mosul, in Western Iraq, Arab media sources said earlier this month that al-Baghdadi had fled to Raqqa in Syria before the Iraqi army started its operations in Mosul, but his wife was taken.
According to Iraq's Sumeriya News, local sources in Nineveh quoted defected ISIL leaders as saying earlier this year that al-Baghdadi had managed to escape from Mosul to Raqqa, but one of his wives was arrested.
The defected militants stated that senior members of the terrorist group, called the ISIL police, rebelled against al-Baghdadi and called on his supporters to surrender themselves.
The source did not mention who captured Baghdadi's wife, but his words implied that she had been captured during a mutiny and by those who rebelled against the terror leader.
Another report also in early October claimed that "accurate information" showed Baghdadi's food had been poisoned by unknown individuals and the food was given to him in Baaj district.
Sumeriya News cited a local source in Northwestern Nineveh province as saying that al-Baghdadi and three of his aides had been transferred to an unknown location under strict measures.
Numerous reports had indicated from September or early October that al-Baghdadi and other TOP commanders of the terrorist cult started evacuating Mosul in anticipation of the Iraqi army's massive attack to take back the city.
The exact location of al-Baghdadi has been a subject of speculation. However the account on sighting al-Baghdadi has intensified the speculations that the ISIL leader was in Mosul before the start of Iraqi forces' operations to retake the strategic city.
Also reports said in June that al-Baghdadi had been seriously wounded in an airstrike in Western Iraq.
Local sources in Iraq's Nineveh province confirmed that Baghdadi and other leaders in the ISIL were wounded in an air raid on one of the ISIL command headquarters close to the Syrian border.
Baghdadi was seriously wounded by an airstrike on March 18, 2015, that killed the three other men he was travelling with.
He was said to be receiving treatment for spinal INJURIES after being wounded in that strike.
In mid-May, Iraq's local sources disclosed that al-Baghdadi returned to Iraq from Syria and hid in Nineveh province.
"Al-Baghdadi and a group of ISIL commanders have stealthily returned to Iraq's Nineveh province," the Arabic-language Sumeriya News quoted an unnamed local Iraqi source as saying at the time.
Al-Baghdadi returned to Nineveh province through ISIL-controlled desert roads in Iraq and Syria, added the source.
The source noted that Al-Baghdadi hi in an unknown place in Nineveh province.
The ISIL Leader is running a secret life as his life is at stake more than anyone in the world now. Al-Baghdad's terrorist group is under massive airstrike by the Syrian, Russian and Iraqi Air Forces all throughout the Western Iraq and Eastern Syria.
While reports earlier this year said the ISIL leader was always on the move between Iraq's Mosul and Syria's Raqqa - the self-proclaimed capital of the terrorist group - tips and intel revealed in November that al-Baghdadi had moved from the Syrian city of Albu Kamal to the Iraqi city of Mosul in Nineveh province.
In early March, informed intelligence sources disclosed that the al-Baghdadi had moved from Turkey to Libya to escape the hunt by the Baghdad Intelligence Sharing Center after he was traced down and allegedly targeted a number of times in Iraq and the Syria.
"Abu Bakr al-Baghdadi who was injured in Syria was sent to Turkey for treatment and from there he was sent to Libya," the Arabic-language media outlets quoted former Egyptian intelligence officer Hesam Kheirullah as saying.
In December, 2015 sources in Libya said al-Baghdadi had arrived in Sirte, the hometown of the slain Libyan dictator Muammar Gaddafi, which is under the control of the Takfiri groups.
Then in October the same year, Iraq's air force bombed his convoy as he was heading to al-Karable to attend a meeting with ISIL commanders. 25 other ISIL militants were killed in the SPECIAL operation that was the product of the Baghdad Intelligence Sharing Center where the latest intel arrives from Iranian, Russian, Iraqi and Syrian spy agencies round the clock.
The notorious terrorist leader escaped the attempt on his life narrowly, but with fatal injuries. Few hours after the assault, the spokesman of Iraq's joint forces declared that Al-Baghdadi was injured in the Iraqi airstrike on his convoy and was taken away from the scene by his forces.
The terrorist leader was first transferred to Raqqa, where surgeons saved his life but failed to give him a thorough treatment due to a lack of specialized MEDICAL EQUIPMENT.
Sources disclosed a few days later that the ISIL leader had been taken to Turkey for treatment through a series of coordination measures by the CIA.
"The CIA has done the coordination with the Turkish intelligence service (MIT) for transferring al-Baghdadi to Turkey," the Arabic-language al-Manar TV quoted unnamed sources as saying.
The source said that two companions of al-Baghdadi who were also injured in the attack on the ISIL leader's convoy and were captured by the Iraqi forces confirmed that al-Baghdadi had been injured in the attack.
After specialists said al-Baghdadi needed months of recovery, one of his aides was appointed to run the cult until the so-called caliph would return to duty.
Al-Baghdad has, thus far, escaped several attempts on his life, making him suspicious of his team of bodyguards.
"While everyone is looking for him in Iraq and Syria, no one expects him to be in Sirte," the Libyan source told FNA, adding, "If he is to be exposed to danger, Sirte would be the last place on Earth for his life to be endangered as it is the safest Takfiri stronghold in the world."
The Syrian army, the National Defense Forces (NDF), the Lebanese Hezbollah and the Syrian and Russian Air Forces, as well as the Iraqi army and popular forces, Al-Hashed Al-Shaabi, have been conducting large-scale operations in Syria and Iraq to end the ISIL control over swathes of lands in the two countries.
http://en.farsnews.com/newstext.aspx?nn=13950913001047
--------
20 PKK militants killed as military foils attack on Turkish army base
Dec 3, 2016
Nearly two dozen members of the Kurdistan Workers' Party (PKK) militant group have been killed after Turkish military forces thwarted their assault on an army base in the country's southeastern province of Hakkari.
The Turkish General Staff said in a statement that scores of Kurdish militants had crossed the border from Iraq's northern and semi-autonomous Kurdistan region into southeastern Turkey on Friday, and sought to mount an attack on a military position in the Cukurca district of the province, located more than 1,000 kilometers east of the capital, Ankara.
Turkish Air Force fighter jets launched an aerial attack in response, killing 20 Kurdish militants.
Three soldiers also lost their lives and six others sustained injuries during clashes with the Kurdish militants.
A total of 275 PKK militants were killed and 23 others captured during clashes with Turkish security forces in November, according to figures compiled by Turkey's official Anadolu news agency.
Another 19 Kurdish militants surrendered themselves to authorities.
Turkish army commanders salute during the funeral ceremony for pilot Lieutenant Burak Abikebahsi and army officer Mekan Sahin at Kocatepe Mosque in Ankara, Turkey, on May 14, 2016. (Photo by AP)
Fourteen members of the security personnel were killed, and 18 civilians lost their lives during the mentioned period. More than 100 people were also injured.
Furthermore, 560 PKK suspects were arrested, out of whom 367 were taken into custody.
A shaky ceasefire between the PKK, which has been calling for an autonomous Kurdish region since 1984, and the Turkish government collapsed in July 2015. Attacks on Turkish security forces have soared ever since.
Over the past few months, Turkish ground and air forces have been carrying out operations against the PKK positions in the country's troubled southeastern border region as well as northern Iraq and Syria.
http://www.presstv.ir/Detail/2016/12/03/496284/Turkey-Kurdish-militants-PKK-army-base-Hakkari
--------
US worries about aid Taliban receive from Pakistan, Russia, Iran
December 04, 2016
WASHINGTON - The "malign influence" of Pakistan, Russia and Iran with the Taliban-led insurgency, and concerns about future political stability of the Afghan government threaten international efforts aimed at stabilising the war-raved country, warns a top US commander.
"We're concerned about the external enablement of the insurgent or terrorist groups inside Afghanistan; in particular where they enjoy sanctuary or support from outside governments," said General John Nicholson, leader of NATO's Resolute Support Afghan mission.
He told reporters at the Pentagon Friday, the Haqqani Network, which is fighting alongside the Taliban, still poses the greatest threat to Americans, coalition and Afghan partners from its sanctuary in neighbouring Pakistan.
"And the Haqqanis hold five American citizens hostage right now," Nicholson said. "I think this is worth remembering as we think about the Haqqani Network. And they remain a principal concern of ours, and they do enjoy sanctuary inside Pakistan."
Pakistani officials, however, insist their security forces have uprooted any infrastructure Taliban insurgents and their allies were using for cross-border attacks, and extensive efforts are being undertaken to secure the porous Afghan border.
Nicholson raised concern about Taliban insurgents' links to Russia and Iran, saying they are not advancing the cause of stability in the region.
Moscow is allegedly helping and arming the Taliban in a bid to contain the influence of Islamic State affiliates in Afghanistan and prevent it from threatening neighbouring Central Asian states.
Speaking at a UN General Assembly session late last month in New York, Russian envoy Vladimir Safronkov even called for easing UN sanctions on the Taliban for promoting peace talks between warring sides.
"So, Russia has overtly lent legitimacy to the Taliban," Nicholson said. But he dismissed assertions about the Taliban's successes against rival IS fighters. Instead, he said, Afghan forces and the US counterterrorism effort are the ones taking on and "achieving the greatest effect" against loyalists of the Middle Eastern terrorist group in Afghanistan.
"So, this public legitimacy that Russia lends to the Taliban is not based on fact, but it is used as a way to essentially undermine the Afghan government and the NATO effort and bolster the belligerents," Nicholson added.
The general suggested Iran maintains contacts and influence with the Taliban for similar reasons. He said Afghan officials have engaged both Iranian and Russian governments over the issue.
"We're hopeful — speaking now as commander Resolute Support — that these outside actors will act in a positive way, so we can work together to help bolster the capability and legitimacy of the Afghan government, not the belligerents," Nicholson said.
He also called for Afghan leaders to make sure their internal political rivalries do not undermine security efforts in the country.
A lack of electoral reforms, internal rivalries plaguing President Ashraf Ghani's national unity government, growing political opposition and the recent unseating of several Afghan ministers by an increasingly assertive parliament all have fueled political uncertainty and confrontation.
"And one possible risk of Afghan political instability is a fracture, but we have not seen this happen within the security forces," Nicholson said. He praised Afghan security forces for prevailing against the resurgent Taliban in the outgoing year and appeared upbeat about their future successes.
"You know, my message to our Afghan partners and members of the political opposition is that we respect your political process, but please don't allow that process to undermine security gains, which have been made this year at such great cost."
http://nation.com.pk/national/04-Dec-2016/us-worries-about-aid-taliban-receive-from-pakistan-russia-iran
--------
Europe's Jews have reason to fear today's political climate
Dec. 03, 2016
To be Jewish and European today is to wonder just who can be trusted. If you're one of the 1.5 million Jews of Europe, you're still coming to terms with the string of shocking terrorist attacks on Jewish primary schools, museums and markets over the past five years; many have come to distrust their Muslim neighbours.
Yet there's a growing sense now that, as terrifying as this threat is, it may be the lesser of their worries. This year's dramatic political shifts have led many to worry about a far larger, non-minority group, a surprising number of whom seem to be returning to anti-democratic, anti-minority politics aimed at Jewish populations.
Until recently, far more attention was focused on the first threat. That's because the far-right parties, such as France's National Front, Britain's UKIP and the Alternative for Germany, have in recent years tried to gain mainstream democratic credibility by attempting to kick out their overtly anti-Semitic officials, claiming to be tolerant of Jews (in large part by opposing Muslims) and making supportive noises about Israel.
The problem, though, is that citizens who support these parties have not all gone along on this symbolic ride. If Europe's far-right parties have stopped talking about "devious Jews" and instead use euphemisms such as "globalists" and "cosmopolitan elites," their supporters are translating it back. It has become acceptable for many to speak openly against Jews, Muslims and even democracy itself.
To understand this, it's worth following the work of Yascha Mounk, a Harvard University scholar. Mr. Mounk made headlines this week with a new study, co-authored with Roberto Stefan Foa at the University of Melbourne, which found that voters in most European countries and the United States are increasingly less likely to believe it is "essential" to live in a democracy. This effect is stronger among younger people and right-wing voters.
For Mr. Mounk, this is part of a larger phenomenon. Two years ago, he published Stranger in My Own Country, a memoir of his life as a young German Jew. It noted that the Christian Europeans around him, while professing liberal tolerance, were continuing to treat Jews such as himself as different, other or outside. In an essay titled "Europe's Jewish Problem," he linked these observations to the rise of the new right-wing populist movements.
"Europe's political climate is more hostile to Jews now than at any time since the second intifada," he wrote. But he concluded that it wasn't Muslim anti-Semitism leading the trend; rather, it was the far larger populations of Christians. As he noted, the number of Spanish citizens who express unfavourable VIEWS of Jews is almost 50 per cent; Muslims make up less than 3 per cent of Spain's population and aren't growing fast. So "a European anti-Semite remains far more likely to be Christian than Muslim."
The larger problem, he concluded, is "the tendency of wily politicians to play Jews and Muslims against each other for purposes of their own."
A recent large-scale survey of French attitudes toward Jews by political scientist Dominique Reynié found that anti-Semitism in general is declining, but the country's Muslims do indeed have higher rates of anti-Jewish beliefs than the general population. What really stood out, though, were the many people who support Marine Le Pen's National Front party: They were even more likely than Muslims to agree with Jewish-conspiracy claims such as "Jews use their status as victims of the Nazi genocide for their own interest" or "the Jews are responsible for the current economic crisis." And they were almost equally likely to support statements such as "there is a Zionist conspiracy on a global scale," at rates twice as high as the general population. Muslims make up only 7 per cent of the population of France, but Ms. Le Pen commands at least one-fifth of the population, and her support is rising fast.
These parties and movements, Mr. Mounk concluded, attract those who are hostile toward both Muslims and Jews. "The very same revival of nationalism that has been fuelled by their invocation of Jews [as foils for their politics]," he wrote, "can, in this way, quickly turn into anti-Semitism." And that, combined with a growing group of voters who don't care about democracy, is something that Europe ought to fear.
http://www.theglobeandmail.com/opinion/europes-jews-have-reason-to-fear-todays-political-climate/article33185441/
--------
Arab World
Syrian Army Forms New Volunteer Force to Intensify War on Terrorism
Dec 03, 2016
The Syrian government announced formation of a new popular force named the Fifth Combat Corps as the Iraqi parliament approved a bill to annex the country's volunteer forces, Hashd al-Shaabi, to the Iraqi Armed Forces, FNA dispatches said.
The Saudi paper, al-Arab compared the Fifth Combat Corps with its Iraqi counterpart, saying the Fifth Combat Corps consist of volunteer troops who want to defend Syria and are considered as the Syrian President's Hashd al-Shaabi.
The Saudi paper claimed that Russia and Iran have assisted the Syrian army with the formation of the Fifth Combat Corps, adding that senior military experts have been assigned to train the members of this corps.
The Fifth Combat Corps will start its mission after four months of coordination and training, while opposition groups are on the verge on complete collapse due to internal conflicts and clashes with Syria's resistance forces.
The Fifth Combat Corps is most likely to take part in battles against the terrorists in Northern Homs, Idlib and Raqqa.
The exact number of the volunteers in the Fifth Combat Corps is still unclear, but each corps is normally comprised of four divisions and each division is made of around 30,000 soldiers.
http://en.farsnews.com/newstext.aspx?nn=13950913001052
--------
ISIS lure Raqqa civilians into ranks with food rations
3 December 2016
ISIS in Syria's Raqqa province have declared amnesty for those who are spying on the extremist group and turn themselves in, the Syrian Observatory for Human Rights reported on Saturday, according to activists.
Activists spoke about ISIS's attempt to seduce and lure civilians migrating from the northern part of Raqqa towards the occupied area by granting housing and salaries as well as food rations and electricity in return for their sons joining the militant group.
Full report at:
https://english.alarabiya.net/en/News/middle-east/2016/12/03/ISIS-lure-Raqqa-civilians-into-ranks-with-food-rations-.html
--------
ISIS targeting civilians in Mosul's al-Qadisiyah
3 December 2016
Sources close to Al Arabiya reported the deaths of dozens of civilians at the hand of an ISIS booby-trapped tanker that exploded on Saturday, in the newly-liberated Qadisiyah neighborhood east of Mosul.
Media sources indicated that the bomber driving a booby-trapped tanker blew himself up in the morning in the Qadisiyah neighborhood, killing at least 24 and wounding dozens more, including women and children. The sources added that the militant group targeted the civilian residents of the neighborhood for their cooperation with anti-terrorism forces.
Amid an imminent final military push to boot ISIS out of Mosul and the elation its residence for the deposition of the notorious militants, some are alarmed and expressed their skepticism and fear of likely violations and abuse by Iraqi military following its integration with the Shiite-led Popular Mobilization Units.
Full report at:
https://english.alarabiya.net/en/News/middle-east/2016/12/03/ISIS-targeting-civilians-in-Mosul-s-al-Qadisiyah.html
--------
Syria: Jeish Al-Fatah's Religious Leader Acknowledges Militants' Defeat in Aleppo Battles
Dec 03, 2016
Al-Muhaysini underlined the widening rifts among commanders of the militant groups, and added, "Commanders are just justifying the root cause of the existing rifts, while these rifts among the militants pushed the (militant groups') 'Great Epic Operation' in Aleppo into total failure and a major, crushing defeat."
The Saudi Mufti (religious leader) termed as fruitless the start of any fresh offensive by the militants given the absence of unity and widening gaps among the militants, and regreted that unity is no more of any use after the almost complete fall of Aleppo to the army and the recent evacuation of all militants from Damascus.
The Syrian army units started SPECIAL operations in Aleppo after several humanitarian pauses declared by Damascus and Moscow to give a chance to the civilian population as well as the militants to leave the Eastern parts of the city through 8 corridors.
District after district have fallen into the hands of the Syrian army soldiers and their allies in the city of Aleppo, as the pro-government troops have recaptured important blocks and districts in the Northern and Southern parts of Eastern Aleppo as well as Southern and Western parts of the war-ravaged city.
Also, tens of thousands of civilians, including hundreds of children and newborn babies, have also left the Eastern part of the besieged Syrian city of Aleppo in recent days, while hundreds of militants laid down their arms and left Eastern Aleppo through the special corridor.
Meanwhile, terrorist commanders stationed in the Eastern parts of Aleppo have threatened al-Muhaysini that they will be forced to give up fight and surrender the city to the army in the next two days if not rescued from outside as a number of terrorists have called for the Syrian government's green buses to take them to other regions.
The Syrian army's rapid advances in the Eastern districts of Aleppo has perplexed the terrorist groups and created chaos among them.
The Syrian government's tapping of contacts and radio exchanges between the terrorists in and outside Aleppo showed that the militants who are stationed outside the city are asking their comrades to reconstruct their lines immediately to prevent any further collapse.
Full report at:
http://en.farsnews.com/newstext.aspx?nn=13950913001253
--------
Syria army retakes over half of militant-held east Aleppo
04-Dec-16
Syria's army advanced overnight deeper into east Aleppo where it now controls more than half of the former militant stronghold after a fierce assault that has sparked an international outcry.
Thousands of civilians have fled eastern neighbourhoods of the battered city since President Bashar al-Assad's government began its latest offensive in mid-November.
Overnight, government troops and allied forces seized the district of Tariq al-Bab where heavy fighting had raged a day earlier, the Syrian Observatory for Human Rights said Saturday.
The government has now recaptured around 60 per cent of eastern parts of the city that the militants overran in mid-2012, according to the Britain-based monitor.
The advance opens the road leading from the government-controlled west of the city to the international airport just outside Aleppo to the east, which is also held by the government forces.
Syrian armed forces have made swift gains in east Aleppo, and its loss would be the biggest blow yet to Syria's militants in the more than five-year-old war.
More than 300,000 people have been killed since the conflict started with anti-government protests in March 2011, and over half the country's population has been displaced.
Militants have struggled to hold back government ground forces, who have advanced backed by air strikes and artillery fire.
On Friday, they rolled back some regime gains in the Sheikh Saeed district on Aleppo's southeastern outskirts, but it was unclear how long they could hold that line.
Sheikh Saeed borders the last remaining parts of Aleppo still in militant hands.
In preparation for street-by-street fighting in these districts, hundreds of fighters from Syria's elite Republican Guard and Fourth Division arrived in Aleppo Friday, the Observatory said.
On Friday, as the army advanced in Tariq al-Bab, an AFP correspondent said residents had emptied out of neighbouring Shaar district, anticipating the arrival of fighting there.
'Race again time'
Full report at:
http://www.dawn.com/news/1300341/syria-army-retakes-over-half-of-militant-held-east-aleppo
--------
Syria: Terrorists Continue to Gun Down Civilians Fleeing from Eastern Aleppo
Dec 03, 2016
"Commanders of terrorist groups have ordered their combatants via wireless communication and radio devices to gun down the people who try to leave the militant-held neighborhoods in the Eastern part of Aleppo," the sources said.
The terrorists try to prevent civilians from leaving Eastern Aleppo to use them as human shields and accuse the government forces of killing civilians in a bid to used the ensuing public opinion and western media pressures on Damascus.
After thousands of civilians escaped the terrorist-held areas in Eastern Aleppo following the government troops' crushing victories over the militants in recent days, the militant groups have assigned a large number of their forces to the mission to prevent people from fleeing Aleppo. The militants have thus far killed or wounded tens of civilians in their fresh round of shooting spree on fleeing crowds.
The terrorist groups gunned down eight civilians fleeing the Eastern districts towards army-controlled regions and blamed the army soldiers for their killing on Saturday.
In several demonstrations in recent weeks, the Syrian civilians have called for exit of militant from their residential areas.
The civilians that have left Eastern Aleppo in recent days were carrying Syrian government flags and chanting pro-government slogans.
Concurrent with army's advances in recent days, the terrorist groups' missile units targeted the Eastern neighborhoods of Aleppo city, killing or wounding several civilians.
A Syrian Democratic Council member said late in November that the terrorists of the Free Syrian Army (FSA) targeted areas near the Syrian government-established humanitarian corridors, blocking exit paths of civilians who sought to leave militant-held neighborhoods in the Eastern part of Aleppo city.
Full report at:
http://en.farsnews.com/newstext.aspx?nn=13950913000977
--------
IS exploits rain, hits militias west, south of Mosul
04-Dec-16
BAGHDAD: The militant Islamic State group has staged near simultaneous attacks on positions of state-sanctioned militias west and south of Iraq's northern city of Mosul, apparently taking advantage of bad weather conditions that normally disrupt air support, two militia officials said on Saturday.
One official said IS militants breached the defences of Shia militiamen at a village west of the northern Iraqi town of Tal Afar. Reached by telephone near Tal Afar, he said the attack on the village of Sharea took place on Friday night. Fighting continued into Saturday, he added, without giving details.
On Saturday, an IS statement said the attack on the village began with a suicide car bombing that killed and wounded "dozens" of militiamen. A "multi-pronged" attack on the village followed, forcing the militiamen to flee, it added.
IS fighters seized from the militiamen nine all-terrain vehicles fitted with machine guns, two Humvees, weapons and munitions, according to the statement.
In the second attack, the militants targeted a Sunni tribal militia deployed in the town of Shirqat south of Mosul on Friday night, according to an official from the militia. He gave no details and IS had no immediate word on the attack.
Bad weather persisted in northern Iraq on Saturday, with thick fog, rain and a dust storm. Such conditions normally reduce to a minimum air activity by the Iraqi military or the allied US-led coalition.
Full report at:
http://www.dawn.com/news/1300420/is-exploits-rain-hits-militias-west-south-of-mosul
--------
Syria urges NE Aleppo residents to return home
Dec 4, 2016
The Syrian army has called on the displaced residents of liberated districts of northeastern Aleppo to return home as the Syrian forces advance against terrorists on the battlefield in the flashpoint city.
The general command of the Syrian army and armed forces made the call in a statement released on Saturday, saying that the state institutions had already begun the rehabilitation of the liberated neighborhoods in the city.
Reports say over the past two days, hundreds of Syrian families have returned to the strategic eastern Aleppo district of Masaken Hanano, which was retaken from militants last month.
The army has managed to restore security and stability to the area, while authorities are working to provide services and utilities to the locals.
On Saturday, at least 10 buses, adorned with pictures of Syrian President Bashar al-Assad as well as the Syrian and Russian flags, traveled directly from government-held western Aleppo to recently recaptured areas in the east. It was the first such trip in the past few years.
The trip started at the Razi bus stop in central Jamiliyeh neighborhood and ended after 30 minutes in Masaken Hanano.
"I haven't been to my house for almost six years," said passenger Hala Hassan Fares, adding, "Our house is totally burned, but we're going to see my father, who is 80 years old."
Driver Abdullah al-Ali also expressed his joy over the situation, saying, "I'm so happy for these people going back to check on their homes."
Syrian pro-government forces set up an outpost in the recently retaken neighborhood of Sakan al-Shababi in eastern Aleppo on December 2, 2016. (Photo by AFP)
The Syrian government forces, who are in full control of western Aleppo, have been conducting operations to purge militants from the city's east.
Backed by Russia's air cover, the Syrian army forces and their allies have dealt heavy blows to the militants over the past few weeks.
According to the so-called Syrian Observatory for Human Rights, the Syrian forces are now exerting control over 60 percent of eastern Aleppo, which was among the first areas that fell to the Takfiri militant groups following the outbreak of foreign-backed militancy in the Arab state over five years ago.
Full report at:
http://www.presstv.ir/Detail/2016/12/04/496360/Syria-Aleppo-Masaken-Hanano
--------
Aleppo: Syrian Army Dispatches Hundreds of Forces, Equipment to Southeastern Districts
Dec 03, 2016
"The Syrian army and popular forces have dispatched hundreds of forces, tanks and other military hardware to the Southern parts of Eastern Aleppo after the army and its allies fortified their positions in the districts Northeast of the city," the Syrian field source said.
He further added that the newly deployed troops will join several flanks in upcoming raids on Southeastern Aleppo.
In the meantime, a massive operation just started to restore security to the Aleppo International Airport following the recent liberation of the Youth Housing Complex and Sheikh Saeed, forcing the militants to pull forces back from more positions in the region.
A Syrian Army commander revealed on Wednesday that the Army and its allies were to start a comprehensive military campaign to liberate the Southern districts of Eastern Aleppo SHORTLY after they drove out the militants from the Northern neighborhoods of the city's East in a swift 72-hour operation.
Syrian Army soldiers and popular forces continue to advance against the terrorist groups in Eastern parts of Aleppo city, reinvigorating security at the city's International Airport.
Following their SPECIAL operation to extend the security ring around the Aleppo International Airport Southeast of the city earlier this week, the Syrian government forces continued to push militants back from their positions on the Western side of the airport.
After capturing the Southern district of Sheikh Saeed and the Youth Housing Complex district in the Eastern part of the city in recent days, the army and popular forces stormed terrorists' positions from two flanks to reinvigorate security in areas near the airport.
The army also carried out a massive operation in the neighborhoods adjacent to the Youth Housing Complex and targeted terrorists' positions in al-Halwaniyeh to restore security to Western parts of the airport and managed to advance against the militants in neighborhoods near the Youth Housing Complex.
In the meantime, tens of terrorists, who were afraid of the fall of al-Halwaniyeh to the army, evacuated their positions in al-Sha'ar neighborhood and moved to al-Sukri district.
The army men also try hard to advance in the districts of Jabal Badrou and Ard al-Hamra towards the Southern neighborhoods of these districts, including Karam al-Tarab, Karam al-Jazmati, Karam al-Qaterji and Karam al-Maysar to gain the upper-hand over the militants on the Western side of the airport.
In the meantime, a field source underlined that providing more security to Aleppo international airport is one of the most IMPORTANT objectives of the army after the recent liberation of the Youth Housing Complex and and the capture of al-Bohouth al-Elmiyeh Northwest of the airport.
The army and Hezbollah carried out a joint offensive against terrorists' strongholds in Aleppo city on Thursday to reinvigorate security at the city's International Airport.
The Syrian army troops who had managed to capture Sheikh Saeed in the South and the Youth Housing Complex to the East started moving towards the airport from two different directions.
Full report at:
http://en.farsnews.com/newstext.aspx?nn=13950913001198
--------
Syria: Popular Forces Seize Terrorists' Chemicals Warehouse in Aleppo
Dec 03, 2016
The Kurdish-language Hawar news reported that the Kurdish Fighters found a WAREHOUSE of chemicals used for building weapons in Ba'eidin neighborhood Northeast of Aleppo city.
Hawar news added that a plaque was also found in the warehouse which read in both Turkish and Arabic languages 'Turkish-European Campaign to collect aid for Turkmen'. "And this proves that the terrorists were Turkmen militants and the Turkish flags prove that the chemicals have been supplied by Turkey," the report stated.
Head of the Chief Operations Directorate of Russia's General Staff told reporters on Wednesday that experts of the Russian Defense Ministry had started to examine possible chemical weapons production sites in Aleppo.
Full report at:
http://en.farsnews.com/newstext.aspx?nn=13950913001307
--------
Syrian Analyst: Aleppo Battle As Important to Israel As War in Tel Aviv
Dec 03, 2016
"After the Syrian army and its allies laid siege on the terrorist groups in the Eastern parts of Aleppo, the US showed reaction and Ankara, Riyadh, Doha and Tel Aviv were terrified," Manif Hamdoush told FNA on Saturday.
"Aleppo is like a thorn in the eyes of the Zionists who are waiting to see the results of the current battle in the city as if the battle was being fought in Tel Aviv, and they showed their anger at the recent victories of the Syrian army and its allies by launching the recent airstrikes on Syria," he added.
The Syrian defense ministry confirmed last Wednesday that the Israeli fighter jets had launched a strike at army positions in the Western parts of Damascus, saying that they fired two missiles at al-Saboura region from areas near the Lebanese territories. Syria's state TV reported on Wednesday that the Israeli warplanes attacked Western Damascus after violating Lebanon's airspace.
Full report at:
http://en.farsnews.com/newstext.aspx?nn=13950913000703
--------
Aleppo under fire as UN talks continue to fail
3 December 2016
The eastern neighborhoods of Aleppo are witnessing a tragic situation in light of the vicious siege and non-stop bombardment. In the meantime, the international platforms are deploying all possible efforts but none have led to any result so far.
On Friday, the United Nations General Assembly initiated talks about a draft resolution to end the fighting in Syria amid the frustration emerging from the humanitarian crisis in Aleppo. In the same context, there are American and Russian talks that are aimed at finding a solution to the crisis.
The United Nations General Assembly began talks on Friday on a draft resolution presented by Canada that demands to end the fighting in Syria amid frustration of some states and rights groups over UN Security Council deadlock on the nearly six-year conflict.
Outrage
The draft resolution expressed the outrage at the escalation of violence in Syria, particularly in Aleppo. It demanded aid access, an end to indiscriminate and disproportionate attacks and an end to sieges in Aleppo.
For his part, Special Envoy for Syria, Staffan de Mistura, said on Friday evening from Rome that he will travel on Saturday to New York to discuss the situation of Aleppo with the Secretary-General.
De Mistura said in the press conference from Rome that he will meet with the Secretary General of the United Nations to discuss the steps to be taken regarding the needed policies and check the facts regarding the military situation in Syria.
He added: "We'll follow his advice. I am not now in a position that allows me to talk about the developments of the situation before going to New York, but what is very important now, is to take quick actions regarding Aleppo. The situation there is really tragic, as more than 40000 are trapped and need help."
'God knows'
Al-Arabiya correspondent said that when asked if the solution in Syria is still far-fetched or if it is approaching, the UN envoy said "God knows".
Full report at:
https://english.alarabiya.net/en/News/middle-east/2016/12/03/Aleppo-under-fire-as-talks-continue-to-fail.html
--------
Terrorists vow to never surrender Aleppo
Dec 3, 2016
Takfiri militant commanders in Syria's divided city of Aleppo have vowed to never leave the city as Russia announces readiness for talks with the US over the terrorists' withdrawal.
"I asked the factions, they said 'we will not surrender'," said Zakaria Malahifji, the political officer of the Turkey-backed Fastaqim group in Aleppo on Saturday.
"The military commanders in Aleppo said 'we will not leave the city. There is no problem with corridors for civilians to leave, but we will not leave the city'," he added.
Earlier in the day, Russian Foreign Minister Sergei Lavrov said Moscow was ready to enter talks with Washington over the militants' withdrawal from Aleppo.
Aleppo, Syria's second largest city, remains split between government forces in the west and foreign-backed terrorists in the east, making it a frontline battleground.
"Moscow is ready to immediately send our military experts and diplomats to Geneva to work out joint actions with our US colleagues in line with the [new] American proposals, which would ensure the withdrawal of all militants without exception from eastern Aleppo, and would provide unimpeded humanitarian supplies to the city's residents and ensure the establishment of normal life in eastern Aleppo," he said.
Full report at:
http://www.presstv.ir/Detail/2016/12/03/496334/aleppo-syria-us-russia-lavrov
--------
Iraqi army troops seize back four villages north of Daesh-held Mosul
Dec 3, 2016
Iraqi army soldiers have managed to liberate four villages north of the strategic city of Mosul as government forces, backed by fighters from Popular Mobilization Units and Kurdish Peshmerga fighters, press ahead with an operation to expel Daesh terrorists from the area.
The commander of Nineveh Liberation Operation, Lieutenant General Abdul Amir Yarallah, said in a press statement on Saturday that the 16th Infantry Division of the Army had recaptured the village of Gara Tepe, and hoisted the Iraqi national flag over a number of buildings there, Arabic-language al-Sumaria television network reported.
Yarallah added that Iraqi government forces inflicted heavy losses on Daesh during clashes with the Takfiri terrorists.
Iraqi soldiers also established control over the villages of Kuri Ghariban, al-Darawish and Abu Jarbouah north of Mosul, located some 400 kilometers north of the capital, Baghdad.
Moreover, Iraqi Special Operations Forces managed to liberate al-Kafa'at neighborhood in the eastern quarter of Mosul on Saturday.
Iraqi Federal Police also announced that security forces had foiled an infiltration attempt by Daesh terrorists into the village of Azbah south of Mosul.
Full report at:
http://www.presstv.ir/Detail/2016/12/03/496306/Iraq-Mosul-Gara-Tepe-Kuri-Ghariban-alDarawish-Abu-Jarbouah
--------
Mideast
Iran offers to mediate between Pakistan and India
04-Dec-16
Iranian Foreign Minister Javad Zarif on Saturday said Iran is willing to mediate between Pakistan and India over the long standing issue of Kashmir, reported DawnNews.
"The bond we have with India and Pakistan is important to us, we hope for the best for both countries," said Zarif who was on a visit to New Delhi where the Heart of Asia ministerial conference is taking place.
"If Iran can be of any help to any of them, we stand ready. We are not volunteering, but we stand ready because these two neighbours are extremely important to us and we share common ideals," said the Iranian foreign minister.
Iran has also offered its assistance in reducing the tension between the two nuclear-armed neighbours, added DawnNews.
Zarif added that Iran's hopes 'to move forward to a better relation between its very dear friends, India and Pakistan'.
The Iranian offer of mediation comes at a time when Adviser to the Prime Minister on Foreign Affairs Sartaj Aziz is in India to attend the Heart of Asia ministerial conference.
Aziz is leading the Pakistani delegation to the meeting of the process that focuses on regional cooperation between Afghanistan and its neighbours to improve connectivity and tackle security threats.
Cross-border firing a new normal
Cross-border firing appears to have become a routine as tensions simmer between Pakistan and India following an alleged 'surgical strike', unrest in Kashmir and the Uri army base attack.
The Indian deputy high commissioner has been summoned to the Foreign Office several times in protest against 'unprovoked' Indian fire and loss of lives due to incidents of cross-border firing.
Indian Prime Minister Narendra Modi stepped up a drive to isolate Pakistan diplomatically after the Uri army base attack last month. Hours after the attack occurred, Indian Home Minister Rajnath Singh termed Pakistan a 'terrorist state' and accused Pakistan of involvement.
The Uri attack occurred days before Prime Minister Nawaz Sharif was set to address the United Nations General Assembly regarding Indian human rights violations in held Kashmir.
Following the attack, India claimed it had conducted a cross-border 'surgical strike' against 'launch pads of terror' in Azad Jammu and Kashmir — a claim Pakistan has strongly rejected.
Pakistan maintains that India is attempting to divert the world's attention away from atrocities committed by government forces in India-held Kashmir.
Pakistan and India have, most recently, locked horns over Kashmir since Indian forces stepped up a crackdown against protesters after Hizbul Mujahideen commander Burhan Wani was killed by government forces in July.
http://www.dawn.com/news/1300336/iran-offers-to-mediate-between-pakistan-and-india
--------
Beijing expresses concern as Yemen's Houthis form govt
December 04, 2016
BEIJING - China's Foreign Ministry has expressed concern after Yemen's armed Houthi movement and its political allies formed a new government, in what appeared a blow to UN-backed efforts to end 20 months of war in the country.
Diplomats had hoped the Houthis, who control the capital Sanaa, would hold off on putting together a cabinet of their loyalists and instead form a unity government with their Yemeni foes, whom they pushed into Saudi exile.
The Houthis, who control territory with more than half of Yemen's population, previously said forming a government with their allies did not mean abandoning the UN-sponsored peace process.
The flight of Abd-Rabbu Mansour Hadi, the internationally recognised president, triggered military intervention by a coalition led by Saudi Arabia that has carried out thousands of air strikes on the Houthis but failed to dislodge them from Sanaa.
In a statement late on Friday, China's Foreign Ministry said it supported Yemen's legal government.
"We do not approve of any side in Yemen taking any unilateral actions that complicate the situation, and believe this is not beneficial to a political resolution of the Yemen issue," the ministry said in a short statement.
China hopes relevant parties in Yemen continue dialogue to resolve the differences and reach an equitable settlement all sides can accept on the basis of United Nations resolutions and Gulf Cooperation Council initiatives, it added.
Full report at:
http://nation.com.pk/international/04-Dec-2016/beijing-expresses-concern-as-yemen-s-houthis-form-govt
--------
Turkey proposes to trade in local cash with Iran, others
Dec 4, 2016
Turkey has proposed to establish a mechanism to trade in local currencies with Iran as well as China and Russia.
Turkish President Recep Tayyip Erdogan was quoted by media as saying that he had already proposed Russian President Vladimir Putin to conduct trade between the two countries with local currencies.
"I proposed Putin the following: Let's do our trade in local currencies. Whatever I buy [from you] I shall pay you in Russian ruble, and whatever you buy from me make the payment in Turkish Liras," Turkey's Hurriyet newspaper quoted Erdogan as saying.
He added that he had made the same offer to China and Iran and his offer was found reasonable.
"We have given the necessary instructions to our central banks and we will try to conduct such [trade] relationships between us through this way," Erdogan said.
The Turkish president said last April that Tehran and Ankara had decided to double the volume of bilateral trade while phasing out the US dollar as the dominant currency for their transactions.
Full report at:
http://www.presstv.ir/Detail/2016/12/04/496368/Turkey-to-trade-in-local-cash-with-Iran-others
--------
Iran sanctions re-imposition symbol of American 'black and white' thinking
Dec 3, 2016
The US Congress re-imposition of sanctions against Iran on pretexts such as human rights and support for terrorism shows the American "black and white" mode of thinking, given the generally accepted fact that Saudi Arabia is the leading state sponsor of terrorism, says a former US Senate foreign policy analyst.
James George Jatras told Press TV on Saturday that the Senate's recent vote to extend the Iran Sanctions Act (ISA) for another 10 years reflects the "absurd" attitude lingering in the US politics to consider Iran a "state sponsor of terrorism."
"It is really incredible that so much of the American political class likes to repeat this mantra: Iran a chief state sponsor of terrorism, and that is absolutely absurd," he said. "Everybody who knows anything about terrorism knows that Saudi Arabia by far is the world's leading state sponsor of terrorism."
Iran says the ISA extension, passed unanimously on Thursday, is a violation of the nuclear deal between Tehran and the world powers, vowing to retaliate against the move.
'Signature accomplishment'
According to Jatras, the administration of US President Barack Obama does not believe that the extension is a violation of the agreement, dubbed the Joint Comprehensive Plan of Action (JCPOA).
Full report at:
http://www.presstv.ir/Detail/2016/12/03/496335/Calling-Iran-terrorist-a-mantra-in-US-nuclear-
--------
Pro-Hadi militias set to launch new assault on Yemen coastline
Dec 4, 2016
Yemen's former president Abd Rabbuh Mansour Hadi has ordered a major assault on the country's the Red Sea coast against Houthi Ansarullah fighters and allied army forces, who have been defending the nation against a deadly Saudi offensive.
Yemeni military sources said Saturday that reinforcements have been deployed by the ex-government to the war-torn country's Red Sea shoreline, which is mostly controlled by army troops and Ansarullah fighters, AFP reported.
The former government now aims to push the Houthis back "from the western coast and Bab al-Mandab [Strait]," a Yemeni source said.
The offensive aims to seize an area stretching from Dhubab District in the southwestern province of Tai'zz to al-Khukha District, located 90 kilometers (60 miles) northwards. The contingents use tank reinforcements, armored vehicles, and Katyusha rocket launchers, according to the report.
Meanwhile, reports say Ta'izz been the scene of fierce clashes between Yemeni armed forces and pro-Saudi since Saturday.
Saudi aircraft were also reported to have carried out as many as 13 strikes against residential buildings in Sanhan District in western Sana'a Province, causing considerable damage to civilian properties.
Separately, it was reported on Sunday that the Yemeni army and Ansarullah fighters had targeted gunboats belonging to the Saudi mercenaries off Dhubab.
The Houthis took control of state affairs in 2014 after Hadi resigned despite Ansarullah's calls on him to review the decision. Hadi's resignation created more chaos in a country already grappling with al-Qaeda terror threats.
A devoted Riyadh ally, Hadi then fled to the Saudi capital, before returning to the port city of Aden earlier this year.
In March 2015, the Saudi military launched a military campaign in Hadi's support. The ongoing offensive has left thousands of Yemenis dead so far.
The new assault comes days after UN special envoy Ismail Ould Cheikh Ahmed traveled to Aden to discuss a new attempt to end the country's conflict.
Full report at:
http://www.presstv.ir/Detail/2016/12/04/496358/Yemen-Hadi-Houthis-Ansarullah-Red-Sea-Saudi-Arabia
--------
Israeli forces detained 527 Palestinians in November
Dec 4, 2016
A recent report has highlighted Israel's heavy-handed crackdown on Palestinians, with a record number of 527 Palestinians being detained by Israeli forces in November alone.
According to the report released by the Palestinian prisoners' society's center authority of detainees and ex-detainees affairs on Saturday, 120 of those detained were children.
The report noted the highest rate of arrests had taken place in East Jerusalem al-Quds. It also showed that around 7,000 Palestinians are currently being held in Israeli prisons, 700 of whom in administrative detention.
Under the so-called administrative detention, Israel jails Palestinians without trial or charge for periods of up to six months which can be renewed an infinite number of times.
Some Palestinian prisoners have been held in administrative detention for up to 11 years.
Full report at:
http://www.presstv.ir/Detail/2016/12/04/496341/palestine-israel-detain-quds
--------
Yemeni snipers kill 4 Saudi troopers in retaliatory attacks
Dec 3, 2016
Yemeni army soldiers, backed by fighters from allied Popular Committees, have shot dead four Saudi troops in the kingdom's southwestern border regions of Jizan and Asir amid Riyadh's aerial attacks against its beleaguered southern neighbor.
Yemeni forces shot and killed three Saudi troops in the al-Dhabra military base of Jizan region, located 969 kilometers south of the capital, Riyadh, on Saturday evening, Arabic-language al-Masirah television network reported.
Separately, Yemeni soldiers and Popular Committees fighters launched an attack against a base in the al-Rabu'ah town of Asir region, killing a Saudi trooper there.
Earlier, Yemeni forces and their allies fired a barrage of artillery rounds at al-Mostahdeth camp in Jizan, but no immediate reports of possible casualties and damage were available.
Also on Saturday, Yemeni forces fired several missiles at Jizan's al-Kars military outpost, but no casualties were reported.
Yemeni army soldiers also pounded a gathering of Saudi-sponsored Yemeni militiamen loyal to resigned president Abd Rabbuh Mansur Hadi in the Nihm district of Yemen's western-central province of Sana'a.
Similarly, casualties were caused when Yemeni soldiers and Popular Committees fighters launched a number of Katyusha rockets at Sehna Jin Camp in the central Yemeni province of Ma'rib.
Full report at:
http://www.presstv.ir/Detail/2016/12/03/496324/Yemen-Saudi-soldiers-Jizan-Asir
--------
North America
Russia says it killed Islamic State 'emir' in North Caucasus
December 4, 2016
MOSCOW, Russia — Russia's FSB security service said Sunday it had killed an "emir" of the Islamic State group in a raid in the volatile North Caucasus.
The FSB said in a statement that "among the neutralized bandits was the head of the Caucasus region's branch of the Islamic State Rustam Aselderov, and four of his close associates."
The FSB said that 35-year-old Aselderov was involved in blasts in the southern Russian city of Volgograd which killed 34 in 2013. He was fighting for another Caucasus insurgent group at the time. It also linked him to twin CAR blasts in Dagestan in 2012 that killed 14 and injured at least 120.
The FSB said he also organized a foiled attack that was to take place on Moscow's Red Square on New Year's Eve 2010 involving two female suicide bombers.
The warlord pledged allegiance to IS leader Abu Bakr al-Baghdadi in December 2014, the first major militant to do so in the Caucasus.
IS named Aselderov, also known as Sheikh Abu Mohammad al-Qadari, the governor of a new Caucasus province.
IS has since claimed responsibility for a number of attacks on police in Dagestan.
Aselderov previously fought with the local Caucasus Emirate insurgent group, taking over as leader of its Dagestan branch in 2012, the FSB said.
In 2015 the US Department of State imposed sanctions on Aselderov as a "foreign terrorist fighter" after the jihadist group appointed him leader of its North Caucasus franchise.
Russia in October OFFERED a 5 million ruble ($78,000) REWARDfor information on Aselderov's whereabouts.
The FSB said a joint operation with the interior ministry had cornered Aselderov and his fighters in a private house in the city of Makhachkala, where they found AUTOMATICweapons and a large amount of ammunition and explosives."
The Russian North Caucasus is one of the major sources of foreign jihadists fighting in Syria and Iraq.
http://www.timesofisrael.com/russia-says-it-killed-islamic-state-emir-in-north-caucasus/
--------
Muslim cleric fights US deportation over undisclosed detention by Israel
December 4, 2016
PATERSON, New JERSEY — The leader of one of New Jersey's largest mosques is heading to court to fight from being deported after federal authorities say he lied on his green card application about being detained by Israel more than 20 years ago.
Imam Mohammad Qatanani told his congregation at the Islamic Center of Passaic County that he will return to court on Monday, after the Department of Homeland Security appealed an immigration judge's decision not to deport him eight years ago after finding no credible links to terrorism, The Record (http://bit.ly/2gYYpqX ) reported.
Qatanani came to the US from Jordan. He was born in the West Bank and said that he was detained by Israeli officials while visiting there in 1993.
Federal officials say that he didn't disclose being convicted in Israel for being a member of Hamas, but Qatanani denies that he was ever part of the group classified as a terrorist organization by the US government. He says that he was only detained like many others at the time and was never told that he was convicted of anything.
His brother-in-law was a senior Hamas military leader killed by Israel, but Qatanani said in 2008 that he did not participate with him in political activities.
"I know that justice will prevail and that everything will be in the right way. I believe in the judicial system in this country," Qatanani, 52, said Friday.
An attorney for homeland security wasn't AVAILABLE for comment.
Full report at:
http://www.timesofisrael.com/muslim-cleric-fights-us-deportation-over-detention-by-israel/
--------
Major pro-Israel donor accuses Muslim US lawmaker of being anti-Semite
Dec 4, 2016
A major Israeli-American billionaire donor to the US Democratic Party has tried to obstruct the nomination of a Muslim congressman to become CHAIR of the Democratic National Committee (DNC), accusing him of "anti-Israel" stance.
Haim Saban, who donated millions of dollars to Hillary Clinton's presidential campaign, has accused Democratic Congressman Keith Ellison from the state of Minnesota of being an "anti-Semite and anti-Israel individual," local news outlets reported Saturday.
The remarks by the wealthy pro-Israel donor came as Ellison was trying to shore up support in his efforts to become the next DNC chairman.
"If you go back to his positions, his papers, his speeches, the way he has voted, he is clearly an anti-Semite and anti-Israel individual," Saban claimed on Friday during a forum at the Washington-based think tank, the Brookings Institution, as cited by CNN.
"Words matter and actions matter more. Keith Ellison would be a disaster for the relationship between the Jewish community and the Democratic Party," he added in what THE TV network described as an unprompted statement.
This is while a major pro-Israeli Jewish organization in the US, called the Anti-defamation League (ADL), also slammed Ellison over his remarks on the Israeli regime in a 2010 address, questioning his ability to "represent the Democratic Party's traditional support for a strong and secure Israel."
Full report at:
http://www.presstv.ir/Detail/2016/12/04/496350/US-IsraeliAmerican-donar-Haim-Saban-Muslim-lawmaker-Congressman-Keith-Ellison-Minnesota-DNC
--------
When a Muslim-American stand-up comic sat next to Donald Trump's son
Shailaja Neelakantan
Dec 4, 2016
NEW DELHI: A Muslim-American comedian, Mohammed 'Mo' Amer, discovered he had an interesting flight companion for his transatlantic trip to Scotland recently - US President-elect Donald Trump's son Eric.
While this was interesting in itself, Mo faced a particular challenge. He knew a conversation would give him plenty of material for his stand-up comedy, or as he described it, "Sometimes God just sends you the material." But what would or should he say to a man whose father promised to ban all Muslims from the US and set up a 'Muslim registry' - a network that would register, trace and track Muslims living across the US.
Mo did the simple thing. He asked Eric Trump about it and then mentioned the answer on a Facebook post.
In the post that features a selfie with Mo and Eric, the former says:"Good news guys Muslims will not have to check in and get IDs. That's what I was told," wrote Mo.
Mo's Facebook post invited a whole bunch of hilarious comments from his friends and followers and some ripostes from Mo himself.
One said: "Best post I've seen all day. God has a wicked sense of humor - love it!"
To which Mo said: "I know. Not sure where to start. He did order the pork chop. I think he's f***ing with me." (Muslims don't eat pork for religious reasons, just like Jews eat only 'kosher' food. Mo was making a joke.)
The US President elect has also said he would build and "impenetrable, physical, tall, powerful, beautiful, southern border wall" between the US and Mexico to keep immigrants from the latter out of the US.
About that, one wag wrote to Mo: "Yanni get his business card I know some brothers and some amoos, that want to put bids in to build that wall."
Someone also asked the Houston-raised stand-up comic "Are you being vetted for a cabinet position?" and Mo replied " I think so."
In the selfie, Eric is shown wearing a sweater with the word 'Trump' on it. A lot of people found that funny and wondered if the Trump scion was afraid he would lose his sweater.
"He has his name on his sweater. HE HAS HIS NAME ON HIS SWEATER" said one commenter. Another wrote that he has a name on his sweater " In case he gets lost! "
Many commended Mo for his resolve to not change seats.
Full report at:
http://timesofindia.indiatimes.com/world/us/When-a-Muslim-American-stand-up-comic-sat-next-to-Donald-Trumps-son/articleshow/55785619.cms
--------
US: College student wanted to join ISIS as he was 'deeply in love'
December 4, 2016
Muhammad Dakhlalla aka Mo is at the start of an eight-year prison sentence for trying to join and help the Islamic State (ISIS), which he says was because he was deeply in love with a girl. In his senior year at Mississippi State (USA), he met and fell for Jaelyn Young, a sophomore studying chemistry and who was also interested in Islam, the religion in which Mo grew up as his father, Oda, is an imam and his mother, Lisa, a New Jersey-born woman who converted to Islam.
His parents helped found and build the Islamic Center of Mississippi in Starkville, reports CNN. It was not long after they became a couple, Jaelyn converted to Islam and it was a complete surprise to Mo. Then came another surprise, he said. Jaelyn was changing fast, he said, becoming stricter and more conservative in all parts of her life.
But, he said, he was deeply in love and his intelligence and reasoning was blinded. His words shed light on just how powerful ISIS' online propaganda can be for American youths. Pursuing her conversion and new religion, Jaelyn went to the Internet and there, she found ISIS. Jaelyn merely showed Mo the videos — the clips did the rest.
"It started out with when … she first became Muslim, you know, she wanted to learn more. … I'm not sure how she came across some of the videos that she did at first, but I remember, like, some of them. Like, one of the first ones I remember seeing, a video that how ISIS came to be. And it was basically mentioning … historical struggles in the Middle East. And then somehow it ties that back into, you know, everything is, like, the Western society's fault. You would see a lot of non-Muslims using like, vulgar language, and a whole lot of slander on top of that."
Mo followed Jaelyn's lead. He said the goal was never to take part in jihad or commit violence — but rather to help out as fellow Muslims in the newly forming Muslim state. "When she first looked at these videos, she had … a strong belief that, 'OK, this is the group to really help out, you know, the Muslims," he said.
The young lover said he did what his partner did. They began communicating through the Internet with people they thought were in ISIS, in Syria. According to the FBI, Jaelyn reached out to a contact she thought would help her and Mo travel to Turkey, cross the border into Syria and join ISIS. The two secretly married, began an intensive preparation period and bought one-way plane tickets to Istanbul.
Full report at:
http://indianexpress.com/article/world/world-news/final-year-student-wanted-to-join-isis-as-he-was-deeply-in-love-4409630/
--------
US offers Kabul more support under Trump
04-Dec-16
KABUL: US President-elect Donald Trump has assured Afghanistan's leader in a phone call that his administration stands ready to up support to the country if necessary, a Kabul statement said on Saturday. "If Afghanistan needs more security assistance, his administration, after assessing the needs, will focus on providing more security support," the statement released by President Ashraf Ghani's office read. The statement cited a phone call between Trump and Ghani on Friday, the first official communication between the two since Trump's November 8 election. "President elect Trump praised the Afghan forces' defence of Afghanistan and its people and emphasised that the US will continue to remain with the government and people of Afghanistan during his term," it said. During the recent US election however, Afghanistan got scarcely a passing mention at debates between Trump and Democratic candidate Hillary Clinton. Nevertheless, the situation there will be an urgent matter for the new president. On Friday, US and NATO Commander in Afghanistan General John Nicholson said the Afghan forces had lost control of a small percentage of terrain they previously held. Additionally, Islamic State terrorists have been trying to expand their presence in Afghanistan.
http://dailytimes.com.pk/world/04-Dec-16/us-offers-kabul-more-support-under-trump
--------
Europe
Islamic State militants planning car bombs in Europe: Report
December 3, 2016
Islamic State terrorists have infiltrated operatives into Europe who could be plotting attacks in European cities, the EU's police force has warned in a report. Europol said this week that the terror group is determined to continue attacks against EU members and could deploy methods that have been successful in Syria and Iraq, including "car bombs, extortion and kidnappings".
"France remains high on the target list for IS (ISIS) aggression in the EU, but so too do Belgium, Germany, the Netherlands and the UK," said the report. "Estimates from some intelligence services indicate several dozen people directed by IS may be currently present in Europe with a capability to commit terrorist attacks, and that there are indications that IS has been preparing for terrorist attacks in Europe since 2013," it adds.
Europol's report, outlining the changing modus operandi of the terror group, warned that more foreign fighters would return to the EU as IS lost ground in the Middle East. "Those who manage to enter the EU will pose a potential security risk for the Union. Given the high numbers involved, this represents a significant and long-term security challenge," the report warns.
The report also warned of "a real and imminent danger" of IS trying to recruit Syrian refugees into jihadism once they reached Europe. "A real and imminent danger is the possibility of elements of the (Sunni Muslim) Syrian refugee diaspora becoming vulnerable to radicalisation once in Europe and being specifically targeted by Islamic extremist recruiters. It is believed that a number of jihadists are travelling through Europe for this purpose," it said.
The report cited unconfirmed information that German police were aware of around 300 attempts by jihadists to recruit Syrian refugees into their cause. Europol said that IS appeared to remain focused on "soft targets", lightly-guarded places where there were large numbers of civilians to kill, rather than more difficult targets like power grids or nuclear facilities.
http://indianexpress.com/article/world/world-news/islamic-state-militants-planning-car-bombs-in-europe-report-4408559/
--------
Morocco arrests Daesh operative linked to French plot
Dec 3, 2016
Authorities in Morocco have detained a man suspected of operating for the Daesh Takfiri terrorist group, saying he was allegedly involved in a plot on the French soil.
The Moroccan Interior Ministry said on Saturday that the unidentified man had been cooperating with a terror cell that was busted in France in November, adding that the cell was plotting to carry out an attack in Paris on Thursday.
A group of seven men were arrested in the French cities of Strasbourg and Marseille on November 19 and 20, with authorities saying later that the men had been in contact with a commander in Iraq or Syria.
Moroccan officials said the arrested Daesh operative had been linking the group's members stationed on the Syrian-Turkish border with members of the cell in France, transferring instructions from leaders of Daesh in Syria to the terrorists in the French territory.
France has been the main victim of Daesh attacks on the European soil in the recent past. Paris saw the deadliest of all in November 2015, when 130 people were killed in a matter of night across the capital city by Daesh operatives.
Full report at:
http://www.presstv.ir/Detail/2016/12/03/496317/Morocco-Daesh-operative-French-plot
--------
Russia sends demining team to Syria to clear Aleppo's liberated areas
Dec 3, 2016
Russia has dispatched a bomb disposal unit to Syria to help demine the liberated eastern parts of the flashpoint city of Aleppo, the Russian Defense Ministry says.
"An advance unit of the international anti-mining center of the Russian Armed Forces has flown to Syria to participate in the humanitarian demining of districts in eastern Aleppo liberated from the militants," the ministry said in a statement, RT reported on Friday.
The statement further said that the bomb disposal unit "is fully autonomous and is equipped with the most advanced demining tools and means of protection."
According to Chief of the Main Operational Directorate of the General Staff of the Russian Armed Forces Lieutenant General Sergei Rudskoi, more than 200 servicemen and 47 units of combat and special equipment would be involved in clearing the newly-liberated areas of the city from mines and booby traps.
The former commander of the Russian engineering troops, Colonel-General Nikolai Serdtsev, described the bomb disposal mission in Aleppo as much more "complicated" than the one carried out in Palmyra city, in the central province of Homs, back in April and May.
He added that Russian sappers in Aleppo could not use unmanned ground vehicles, such as the Uran-6 bomb disposal robots, which were employed in Palmyra.
"Robots work on search of metal, and there the whole [city] is inundated with armature. Spoons, forks, everything will be indicated and it will be extremely problematic to operate for mine detectors," Serdtsev told the Interfax news agency on Wednesday.
According to the Russian military, around 18,000 explosive objects were defused, and over 8,500 booby-trapped houses were cleared by the Russian demining troops in Palmyra. In addition, over 800 hectares of territory, 23 kilometers of roads and 10 sites of historic heritage were cleared of explosives during the mission.
Aleppo, Syria's second largest city, remains divided between government forces in the west and foreign-backed terrorists in the east, making it a frontline battleground.
The Syrian army has recently advanced deep inside the longtime militant stronghold of eastern Aleppo, taking control of key neighborhoods. The government troops have managed to re-establish control over half of the areas that had been under the control of terrorists in the east of the city.
Full report at:
http://www.presstv.ir/Detail/2016/12/03/496202/Russia-demine-sappers-Syria-Aleppo-Palmyra-alNusra-Front
--------
Germany detains senior extremist wanted by Turkey
04 December 2016
Germany has detained a suspected member of the terror group DHKP-C, officials said on Saturday.
The Federal Prosecutor's Office said that Musa Asoglu, 55, holds Dutch citizenship and was detained in Hamburg.
The office also said the suspect was a key figure of the European wing of the DKHP-C.
Asoglu had a PRICE of 4 million Turkish liras (more than $1 million) put on his head and was also featured in the "category red" of Turkish Interior Ministry's "wanted terrorists" list.
Last year, Turkey's Interior Ministry updated its list of "wanted terrorists", which includes 676 names.
Full report at:
http://www.worldbulletin.net/europe/181162/germany-detains-senior-extremist-wanted-by-turkey
--------
Morocco arrests eight over alleged ties with ISIL
03 December 2016
Morocco has arrested eight men with alleged ties to ISIL active in the cities of Fez and Tangiers, the interior ministry said on Friday.
A rifle, ammunition "and documents inciting towards rebellion" were seized during the operation on Thursday, it said in a statement.
A study by the US-based Soufan Group said last December that at least 1,200 Moroccans had travelled to fight alongside IS in Iraq and Syria in the previous 18 months.
Full report at:
http://www.worldbulletin.net/africa/181126/morocco-arrests-eight-over-alleged-ties-with-isil
--------
Trump's election and its impact on Europe
DEC 03, 2016
I t is particularly difficult to foretell what the foreign policy of a US president-elect will be. We have plenty of examples of US presidents who – after coming into office – did not follow through on their electoral campaign pledges.
Even though Obama did actually conclude the agreement with Iran – as promised during his first presidential campaign – he was able to do that only in his second term, after having embittered the sanctions for years. While George W. Bush presented himself as an "isolationist" – in opposition to Bill Clinton and his humanitarian interventionism – he ended up launching two major wars in Afghanistan and Iraq, restraining from others just because of the poor-performances in these two. Richard Nixon, who won two terms on anti-communism, ended the war against the Vietnamese Communists and stroke a DEALwith Maoist China. Both Wilson in 1916 and Roosevelt in 1940 campaigned on an isolationist platform, just to lead their country into the first and second world war as soon as they were re-elected.
Forecasting the foreign policy stances of the upcoming administration is now even harder than with those of the past, considering that the President-Elect is not a long-time politician, and we do not even know who his Secretary of State will be. Even though a Republican-controlled Congress is certainly good for President Trump, the GOP is now bitterly divided among opposing factions, with Trump's "populist" wing fighting an internecine war against the mainstream conservatives within the party, many of whom did not even endorse him in the general election. In fact, regardless of the success of the insurgent candidate, Congress is still filled up with Tea Partiers and establishment Republicans, potentially harboring resentment towards the rising pro-Trump hardliners. This internal conflict may well produce an hostile Congress for President Trump, especially when it comes to the most controversial points of his agenda, such as a review of foreign TRADE STRATEGIES towards fair trade.
So, before trying to figure out the potential consequences for Europe, let's try to define at least some general elements of Trump's hypothetical foreign policy.
• First of all, Trump has outlined a non-interventionist policy: no more wars for state-building or regime change. He want to spend less in military intervention and more in military supremacy, which means more R&D and less operational costs. This would imply sharing responsibilities with US allies, as well as leaving them more strategic freedom in and the pursuit of their particular interests.
• He also wants to normalize relations with Russia, that have reached the bottom on Ukraine and Syria. He thinks that NATO is too expensive for Washington, whereas European allies are acting as free riders . NATO is the 28-nations – almost 70-years old – military alliance that unites US, Canada and Europe. Conceived as defensive alliance against USSR, experienced a consistend expansion of its membership in the years following the end of the Cold War, welcoming many former communist Eastern European countries; at the same time, it switched its focus from European defense out-of-area operations. Those are offensive military operations such as in Yugoslavia and Serbia, during the '90, or in Afghanistan, Iraq, Libya and the Gulf of Aden in last fifteen years. However – since the Ukrainian crisis – NATO is redirecting its resources to the defense of its Eastern border, along an arc of tension with Russia ranging from the Arctic to Syria.
• The July 2015 nuclear deal with Iran (the JCPOA), strongly wanted by President Obama, has been harshly criticized by Trump. Under this deal, Iran agreed to eliminate its stockpile of medium-enriched uranium, cut its stockpile of low-enriched uranium by 98%, and reduce by about two-thirds the number of its gas centrifuges for 13 years. For the next 15 years, Iran will only enrich uranium up to 3.67%. The main criticism on this deal is that the Iranian nuclear programme is suspended, rather than aborted, and in the meantime the Islamic Republic could be strengthened by the lifting of sanctions while keeping a regional stance opposed to the US. It is unlikely that Trump will reject the agreement as a whole, since that would require to negotiate a new one (and many years were needed for the current) or to come back to direct confrontation with Iran, which would mean major efforts in the Middle East for Washington - something Trump wants to avoid. So, the most probable outcome could be that the US introduces new extra verification measures of Tehran's compliance of the Agreement, and promptly withdraws from it if any violation is observed.
• Trump is a vocal opponent of international free trade agreements, such as the North America Free Trade Agreement (NAFTA), the Transatlantic Trade and Investement Partnership (TTIP), and the Trans-Pacific Partnership (TTP), seen as factors of de-industrialization and industrial outsourcing, especially in China and Mexico.
Assuming that these vectors remain sound and Trump Administration manages to implement them at least in part, we could try to forecast some effects on Europe.
First, we have to consider that major European NATO members have been reducing their defence spending since the end of the Cold War. Not considering the US, it is only since 2015 that NATO defence expenditures are growing, as a consequence of Russian assertiveness in Eastern Europe. NATO guideline is to spend 2% of the GDP for Defence but, in recent years, only 3 out of 28 members follow this rule: United States (currently spending 3.61% of the GDP), United Kingdom (2.21%), and – surprisingly – Greece (2.38%). Greek good will, which is not diminishing but even increasing under Prime Minister Alexis Tsipras, is due to Athen's dependance on foreign loans, sometimes informally swapped with arms purchasing. Since 2015, two more countries abide by the 2% rule: Estonia and Poland. No wonder, since they are the most anti-Russian countries in NATO and the most vocal supporters of a military buildup on its Eastern border.
Anyway, all that said, the remaining 23 members out of 28 spend for defence less than the recommended 2%: for example France 1.78%, Turkey 1.56%, Germany 1.19%, Italy 1.11%, Spain 0.91%. Since 2012, the US alone spends yearly more than all European allies altogether. Moreover, the limited improvement this year is due to the build-up on the Russian border - a military build-up that Trump will probably do not go along with.
It is highly improbable that Trump wants to dismantle NATO and – even if this was the case – it would be almost impossible for President Trump to realize it without facing insuperable obstacles. Most probably, Trump will just follow on Obama's path in trying to lead from behind - just avoiding to mess up with Russia again. The theory of "leading from behind" arose in business circles, with Linda Hill of the Harvard Business School acknowledged as its mother. In foreign policy, it means to encourage others to take the initiative, while quietly establishing the strategy and leading the game. This, however, is a delicate art, because is a very SHORT step from leading from behind to be led from the front.
About Obama's doctrine, Charles Krauthammer wrote on The Washington Post: "It's been a foreign policy of hesitation, delay and indecision, marked by plaintive appeals to the (fictional) international community to do what only America can".
The experience of Libya in 2011 isn't indeed comforting, with the UK and France pressing for a military intervention against the Gaddafi regime, only to leave afterwards a country broken into pieces and exposed to Islamist infiltration, even by ISIS.
But that's not solely Europe's fault, nor it is completely US' fault: the responsibility is on the West as a whole, as London and Paris messed up Libya, like the US had messed up Iraq before, while our Arab allies are messing up Syria. Consequences are evident: with the treat of al-Qaida doubled up by ISIS, a lot of states in the region are either failed or on the verge of failing, Europe is under pressure from terrorist attacks and from an unprecedented flow of immigrants, with those two factors giving a huge contribution to Brexit and other displays of popular distrust towards the European establishment and institutions.
That's why I think that the new line dictated by Trump – although challenging – will be positive for Europe We are facing problems that cannot be resolved without Russia's help, not to say with Russia's enmity. Think about the Syrian conundrum: a major Arab state has collapsed, and very hardly could be recomposed after five years of savage civil, ethnic and religious war, in which interests of many regional and world powers conflicted one another. Tensions in Eastern Europe compel both Russia and NATO to increase military expenditures, while mutual sanctions are harming both economies.
Even though the European establishment is complaining about Trump's stance on Russia and the mutual exchange of compliments between him and President Putin, we have to keep in mind that it was the United States to push for a confrontation with Russia, while many EU countries – such as Italy – were in favor of improving relations with it.
In fact, Italo-Russian relations have been free from critical issues since the Soviet-Yugoslav "separation" in 1948 and, even though Italy was part of the Western bloc, it often kept pushing for an improvement in its relations with the USSR.
A few years after the end of the Second World War, Manlio Brosio – then Italian ambassador in Moscow (and future NATO Secretary General – looked for Soviet support for his project of a neutral Italy, but failed in his attempt. Ten years later, politicians such as Amintore Fanfani, or public managers such as Enrico Mattei, launched the "New Atlantism" doctrine, according to which
– while remaining loyal to the west – Italy would act independently, seeking friendly relations with Communist and Mediterranean countries. After the end of the Cold War, Italy has always been one of the warmest supporters of cooperation with Russia, especially during the government of Silvio Berlusconi, whose friendship with Putin was well-known. In 2002, during a meeting presided by Berlusconi in Pratica di Mare, Russia and NATO signed an historical cooperation agreement.
This agreement could well be the starting point for a new approach to collective security in Europe: one that seeks to engage, rather than confront Russia.
However, not everyone in Europe will agree, especially among the Eastern countries such as Poland, Estonia, Latvia, Lithuania, Romania or Hungary that – still recalling the period of Soviet domination – mistrust the Russians. It is true, anyway, that recent elections in Moldova and Bulgaria, both former Communist states, have witnessed the victory of Russia-friendly candidates. Those Eastern countries are also very conservative and suspicious of pro-immigration and liberal policies of Western Europe. In the mid- long-term, this factor could orient them towards Russia again.
Great Britain – a traditional rival of Russia – has in recent years led the front of anti-Russian countries opposed to a lifting of sanctions. But now that London seems next to leave the EU, and considering that the British usually follow a line dictated in Washington, it could be well possible that their stance towards Russia will soften a lot.
A major obstacle remains in Germany, where the German social-democratic party – relatively pro-Russian, for west-European standards ¬– is going through a difficult time. Power is still strongly in the hands of the Christian-democrats and especially of Angela Merkel, who is toying with the idea of assert herself as the new leader of a liberal Western front, opposed to both Trump and Putin. Apart from her mania of grandeur, she is also following the objective national interests of Germany: the great winner of the process of European integration. Free trade, combined with a common currency (and so the inability for competitors, such as Italy, to conduct a competitive devaluation) have given Germany the economic dominance in the European Union. If Russia wants to move forward her influence in Eastern Europe, it has to confront face German opposition.
Full report at:
http://moderndiplomacy.eu/index.php?option=com_k2&view=item&id=1981:trump-s-election-and-its-impact-on-europe&Itemid=132
--------
India
End terror for stability: Modi tells Pak's Aziz, other Heart of Asia diplomats
Dec 04, 2016
Welcoming diplomats on Saturday, including Pakistan's foreign affairs advisor to its premier, Prime Minister Narendra Modi said it was important to end terrorism and violence for fostering stability in Afghanistan and the region.
Foreign ministers of Kyrgyzstan, Iran, Afghanistan, and Slovakia, which holds the European Union Presidency this month, along with foreign affairs advisor to Pakistan's Prime Minister, Sartaj Aziz, called on Modi ahead of the sixth to the Heart of Asia Conference on Afghanistan.
Modi stressed on "the need to end terrorism and violence for fostering stability, security and development in Afghanistan and our region," external affairs ministry spokesperson, Vikas Swarup, said.
Modi also said it was the collective responsibility of all those in the region to work together to help Afghanistan out of its current difficulties, Swarup added.
The Prime Minister stated that his several interactions with both the common people of Afghanistan and the country's leadership had convinced him that Afghans were tired of the continuing violence and terrorism.
In this context, Modi hoped the discussions in the conference will produce results.
"They (foreign ministers) greatly appreciated the continued commitment and engagement of India and its leadership for these ends. The foreign ministers warmly thanked India for hosting the Conference and expressed confidence that all friends of Afghanistan will work together for realising the aspirations for peace and development," Swarup said.
Pakistan's diplomat Aziz arrived in Amritsar earlier than scheduled amid speculation of possible bilateral meets between India-Pakistan as ties remain tenuous.
Read | No India-Pak bilateral meeting on sidelines of Heart of Asia conference
India's external affairs minister Sushma Swaraj, who is undergoing treatment for renal failure, is not attending the conference; finance minister Arun Jaitley is instead heading the Indian delegation.
In a goodwill gesture, Aziz sent a bouquet to Swaraj, extending his "sincere good wishes for her full and speedy recovery" from illness.
Aziz, who arrived on a special flight, was received by Pakistan high commissioner Abdul Basit.
Pakistan and India had held a meeting during last year's Heart of Asia Summit in Islamabad during which both countries had agreed to start a 'Comprehensive Bilateral Dialogue' which was to cover all outstanding issues. The resumption of the dialogue could, however, not take place due to the Pathankot terror attack in January this year.
Earlier this week, Basit had said they was ready for unconditional resumption of dialogue if India was ready.
India has made it clear it will never accept continued cross border terrorism as the 'new normal' in bilateral ties with Pakistan and that talks cannot take place in an atmosphere of "continued terror".
Tension between the two countries escalated after the cross border terror attack on an army base in Nagrota.
During Sunday's proceedings at the conference, India is likely to step up its efforts to corner Pakistan diplomatically by mobilising support for concrete action against state-sponsored terrorism.
Afghanistan, which has also been witnessing increased attacks from terror groups operating from Pakistani soil, is set to push hard for a regional counter-terror framework with "binding" commitment at the annual HoA conference, a platform set up in 2011 to assist the war-ravaged country in its transition.
http://www.hindustantimes.com/india-news/ahead-of-heart-of-asia-meet-modi-stresses-on-cooperative-effort-to-end-terror/story-GUQUEfqUxX7HjAyXYPrgoI.html
--------
Peculiarities Of Personal Laws Should Be Protected: Jamiat Ulema-i-Hind
DECEMBER 03, 2016
It tells SC that practices of marriage and divorce like polygamy, triple talaq warrant no interference from courts
Getting rid of the 'peculiarities' of the Islamic personal law will be akin to enforcing the Uniform Civil Code by judicial process, Jamiat Ulema-i-Hind, a prominent Islamic organisation, told the Supreme Court.
The peculiarities of personal laws should be protected to secure freedom of religion and practices of marriage and divorce like polygamy, triple talaq and 'nikah halala' warrant no interference from courts,
Counter-affidavit
In a counter-affidavit filed in the Supreme Court recently, Jamiat has said the personal law of Islam is neither local nor regional. It has an aura of certainty as it is "primarily based on the Holy Koran and the Sunnah of Prophet Muhammad, explained and applied by various scholars of great antiquity and authority after thorough research."
The Jamiat was responding to a batch of petitions seeking to abolish personal law practices like triple talaq as discriminatory to Muslim women and unconstitutional.
The Supreme Court had itself triggered the flurry of litigation after taking suo motu cognisance of whether Islamic practices of marriage and divorce were a source of suffering and discrimination to women.
"In personal laws, new concepts of modern times should not be evolved by the courts," the Jamiat said.
Full report at:
http://www.thehindu.com/news/national/Peculiarities-of-personal-laws-should-be-protected-Jamiat/article16756168.ece
--------
Persecuted in Myanmar, Rohingya Muslims find new home in Jammu
Dec 04, 2016
Words fail 70-year-old Mohammed Younus and a much younger Shah Alam when they try to explain how lucky they are to be alive and, perhaps, safe.
They are among hundreds of Rohingya Muslim migrants from Myanmar, who have taken shelter in and around Jammu and Kashmir's winter capital.
"Four years ago, I came to Jammu. The junta in Myanmar had unleashed the gravest atrocities on Rohingyas and the world was silent. They are raping our girls and women, setting our houses on fire, firing at us as if we are sitting ducks, and chopping people into pieces," Younus said.
As a mark of proof, he lifted his shirt to show bullet scars on his torso.
Mohammed Younus says the Myanmar junta unleashed the gravest atrocities on the Rohingyas (Nitin Kanotra / HT Photo )
The Rohingyas, a stateless ethnic group loathed by many of Myanmar's Buddhist majority, were forced to leave their homes since a bloody crackdown by the army in their home state of Rakhine. Many came to India, with nothing but the clothes they were wearing and with horrifying stories of rape, torture and murder.
Several Rohingya families — the majority with United Nations High Commissioner for Refugees (UNHCR) cards and some without papers — have found Jammu a safe haven.
"I work at a scrap-dealer's shop; my wife and eldest daughter work as domestic helps. We have to pay Rs 500 a month for the shanty and Rs 200 for electricity. Some NGOs help us. Life is not easy, but at least we are alive here," said 45-year-old Shah Alam in a pidgin mix of Hindi and Urdu.
Fellow migrant Maulana Shafiq, 37, runs a madarsa or Islamic school for Rohingya children in Narwal Bala, where a sizeable number of these stateless people live.
He said about 3 million of the 4 million Rohingyas in Myanmar fled to Bangladesh, India, Saudi Arabia, Malaysia and Thailand to escape the persecution.
Those left behind put up with inhuman, concentration camp-style restrictions. They can't marry without permission, married women can't conceive, and can't even run small shops for livelihood. Rohingyas can't even go out at night in Myanmar. There's a 6pm-to-8am curfew.
A Rohingya Muslim repairs a shanty in Narwal Bala area of Jammu after over 80 shanties were reduced into ashes in a major fire recently. (Nitin Kanotra / HT Photo )
Mohammed Yousuf, a 21-year-old who landed in Jammu in 2012, couldn't be more thankful to the people of his adopted home. "Here all religions live in total harmony. Death doesn't stalk us here."
The state has several charities that help the Rohingyas.
Full report at:
http://www.hindustantimes.com/india-news/persecuted-in-myanmar-rohingya-muslims-find-new-home-in-jammu/story-NOv2VcEw2PyNW4Y28E1w7M.html
--------
Muslims mobilise in Marathwada for reservation
by ZEESHAN SHAIKH
December 4, 2016
In the backdrop of the ongoing Maratha unrest in Maharashtra for reservation in jobs and education, there has been a massive mobilisation of the Muslim community in Marathwada for the same cause. Lakhs of Muslims were seen carrying out silent marches on Friday in Sillod, Aurangabad. Other major cities of Marathwada, including Nanded and Latur, have also seen similar marches recently. Their next rally is slated to be held in Beed.
The protests, led by Muslim Aarakshan Sangharsh Kruti Samiti — an umbrella organisation of all Muslim political, social and religious organisations — have demanded 10 per cent reservation for Muslims and the protection of Muslim Personal Law, among other privileges.
Full report at:
http://indianexpress.com/article/india/muslims-mobilise-in-marathwada-for-reservation-4409544/
--------
Pakistan says ready to talk, won't raise Kashmir at Afghan forum
by Nirupama Subramanian
December 4, 2016
Pakistan is ready to talk with India, and India's concerns about terrorism from Pakistan can be addressed within the framework of a comprehensive dialogue agreed upon on the sidelines of last year's Heart of Asia, Sartaj Aziz, Pakistan's advisor on foreign affairs to Prime Minister Nawaz Sharif, told The Sunday Express on Saturday.
"I am here to attend the Heart of Asia meeting and, by coming here, we are showing our commitment to, first of all, the importance of Heart of Asia for Afghanistan's peace and security. I am also here to show our commitment to peace and security of the region, and commitment to promote multilateral peace for this purpose," Aziz said.
He added that Pakistan would not raise Kashmir or any bilateral issue with India at Heart of Asia, as "this is not the forum" for it, and reiterated that his presence in India was an indication that Pakistan was ready for bilateral talks.
"If India shows any interest, I would certainly like to meet. I don't think we need to request for a meeting. We are here, so we will see how it goes," Aziz said.
Pakistan, he said, was "desirous" of peace. "Peace requires dialogue, any issues can be discussed across the table than through the media. If we don't have structured dialogue, then the dialogue through media increases hostility and increases negative perceptions," Aziz said.
"Whenever India is ready, we will be ready. Terrorism is a subject under the comprehensive dialogue, when we meet, we can discuss that also," he said.
A senior Indian official, however, told The Sunday Express there was "no possibility" of a bil)ateral India-Pakistan meeting on the sidelines of the 6th Ministerial Conference of the Heart of Asia Istanbul Process on Afghanistan, which began on Saturday and will be formally inaugurated on Sunday by Prime Minister Narendra Modi and Afghan President Ashraf Ghani.
"Frankly, it is a challenge to find something to talk about when they are pushing in infiltrators every night across," the official said.
Aziz, who flew into Amritsar from Islamabad, advanced his arrival to Saturday evening from Sunday morning, apparently to avoid the early morning fog. Within an hour of his arrival, Aziz attended a grand dinner for all delegates hosted by Modi at a village-theme restaurant on the Amritsar-Attari road.
He was among the first delegates to arrive at the venue, looking relaxed as he strolled in with Pakistan High Commissioner to India Abdul Basit. He got himself a blue safa tied by a turbanwallah, and walked down the cobbled pathway appreciating the exhibits and stalls in the faux village.
On the way he ran into Indian Foreign Secretary S Jaishankar, who took a couple of seconds to recognise him with the turban on. The two shook hands and greeted each other warmly, before Jaishankar rushed off in the opposite direction.
The banquet was set up under a huge tent decked up in festive colours, with several rows of round tables, all in front of a stage. Aziz was listed for Table 2.
He took off his safa and was looking for his place at the table when the Iranian delegation walked in, and Iranian Foreign Minister Mohammed Javed Zarif and Aziz hugged each like long-lost friends.
As waiters swanned around with trays of juice, Aziz and Zarief sat by themselves and chatted for over 30 minutes before the arrival of Modi and President Ashraf Ghani of Afghanistan.
Modi walked briskly towards the head table with Ghani, only giving Aziz a quick mid-stride namaste. Apart from Modi and Ghani, the head table had Zarief, Punjab Chief Minister Parkash Singh Badal, Punjab Governor V P Singh Badnore and two others.
Minister of State M J Akbar gave Aziz company at Table 2, later joined by Punjab Deputy CM Sukhbir Badal, and his wife and Union minister Harsimrat Kaur Badal.
External Affairs spokesman Vikas Swarup and Basit were seated side by side on a table immediately behind. Punjab BJP president Vijay Sampla, who was slotted to sit on Table 2 with Aziz, did not attend the dinner.
If Aziz was put out at being sidelined in the seating, he did not show it, and could be seen applauding the shows on the stage, where a speed artist drew a portrait of Ghani in a few minutes, dancers performed Bhangra and Kathak, Afghan pop singer Farhad Darya sang, and Punjab's own Harshdeep Kaur belted out Laung gawacha.
Later, the foreign ministers of Kyrgyzstan, Iran, Afghanistan, and Slovakia (which holds the European Union Presidency this month) and Aziz called on Modi. The PM stressed that it was the collective responsibility of all to work together to help Afghanistan, and hoped that the conference would produce good results.
Full report at:
http://indianexpress.com/article/india/pakistan-says-ready-to-talk-wont-raise-kashmir-at-afghan-forum-heart-of-asia-conference-sartaj-aziz-4409455/
--------
PM Modi, Afghan President Ghani hold bilateral talks; focus on trade, security
December 4, 2016
Prime Minister Narendra Modi and Afghan President Ashraf Ghani on Sunday held bilateral talks focusing on a range of key issues including boosting TRADE AND INVESTMENT, India's reconstruction activities in the war-ravaged country and ways to strengthen defence and security partnership.
The issue of firming up an air cargo service pact between the two countries is understood to have figured in the talks which will give India a leverage in Afghanistan as Pakistan continued to deny transit link through its territory.
Ghani arrived in Amritsar last evening to attend the Heart of Asia – Istanbul Process conference which began on Saturday. In the meeting, Modi assured Ghani of India's continued support for ensuring peace and stability in Afghanistan.
Read: Sartaj Aziz meets Afghan President Ashraf Ghani on sidelines of Heart of Asia conference
Also, Afghanistan is learnt to have sought enhanced supply of military hardware from India. Afghanistan has been trying to revamp its military to fight the resurgent Talibans after drawdown of NATO forces began nearly two years back.
Sources said both India and Afghanistan were keen to finalise the air cargo agreement as soon as possible and that the broad contours of the pact were already finalised.
India and Afghanistan have been exploring various connectivity projects for greater two-way trade. In May, India, Iran and Afghanistan had signed an agreement to set up a trade and transport corridor with Chabahar in Iran as the hub with an aim to develop a transit corridor.
Also Read: Heart of Asia conference LIVE: Bilateral meeting between Afghan President, PM Modi lasts for one hour
The sea-land route of Chabahar Port was designed to bypass Pakistan and the project was seen as India's effort to counter China's plan to develop Gwadar port in Pakistan.
Afghanistan was very keen on deeper defence and security cooperation with India and there were indications that Ghani may press for ramping up supply of arms and military hardware from India though Pakistan would be unhappy if there was closer Indo-Afghan military cooperation.
Full report at:
http://indianexpress.com/article/india/pm-modi-afghan-president-ghani-hold-bilateral-talks-focus-on-trade-security/
--------
Babri demolition 25th year: Ayodhya Muslims make garlands for Hindu devotees
Dec 4, 201
AYODHYA: Turning down the volume of his vintage radio playing the Ram Katha in the background, 65-year-old Mohammad Salim looks up from carving the sharp edges of the wooden "khadhao," an art he has mastered over the years of making the peculiarly Indian footwear.
"I don't remember when I made my first 'khadhao' (wooden slippers), but the sadhu who bought it seemed so pleased with my craftsmanship that he asked me my name. When I told him it was Salim, he smiled and returned every year to buy a pair from me," he said.
Salim is the third generation of his family who has continued making 'khadhao' for Hindu priests in Ayodhya, having picked up the art while his father worked at it for years on. "I have never had any problem working here in Ayodhya. Everyone knows we are Muslims and they still buy the kadhao from us irrespective of that," said Salim, who remembers the fateful day on December 6, 1992, when he fled Ayodhya and how his home and family shop were brought down.
Many, like Salim in Ayodhya, remember the day with sadness and even fear but are happy preparing "puja samagri" (items required for puja), garlands for mandirs and the 'khadhao'.
The few Muslim houses attached one after another have had their household dependent on 'khadhao' making for generations. "People buy 13 pairs from us for the 'tehrahi' ritual. The last few senior priests also wear them," said Hashim, another craftsman.
Naema Khatoon, who sells various items required to perform puja in Babu Bazar around the Hanuman Garhi area, says "the day is sad and terrifying for all of us," she said.
Not far, in Alamgarhi Katra, around 12 Muslim families have been cultivating flowers for puja garlands to decorate temple idols.
Full report at:
http://timesofindia.indiatimes.com/city/lucknow/Ayodhya-Muslims-make-garlands-for-Hindu-devotees/articleshow/55780396.cms
--------
Stop Killing Muslims and Dalith in So Called Encounter
December 3, 2016
Revolutionary writer Vara Vara Rao accused state governments of killing Dalits and Muslims in Malkangiri and Bhopal encounters in the name of naxalism and terrorism. Addressing a protest meeting held by Civil Liberties Committee (Telangana) here at Sundarayya Vignana Kendram, Wara Wara Rao said Dalit and Muslim genocide in the name of terrorism and naxalism should stop. He said no religion of the world teaches terrorism, especially Islam never teaches that; despite that Muslim youth are implicated in wrong cases. It is a deliberate plan to kill them in encounter. Vara Vara Rao said Maoists took up arms only after justice was denied to them by the governments. Social activist Prof. Hara Gopal said fight against imperialism is termed as Maoism while imperial forces are exploiting natural resources for their personal use. He said tribals have right over natural resources of the country but the state government are snatching away their right from them and are handing over the same to investors. Prof. Hara Gopal proposed for a united platform. Prof. P L Vishweshwar Rao said shedding the blood of innocent people in the name of development model has become the practice of state governments. (Photo: Zabi)
http://www.siasat.com/news/stop-killing-muslims-dalith-called-encounter-1078787/
--------
Plans underway to connect Afghanistan-India via air transport corridor: Modi
Dec 04 2016
The Indian Prime Minister Narendra Modi said Sunday that plans are underway to connect Afghanistan with India through air transport corridor.
In his speech during the opening of the 6th Heart of Asia conference in Amritsar, Prime Minister Modi identified four key issues in supporting Afghanistan, beginning with an Afghan-led, Afghan-owned and Afghan-controlled process.
Second, he said, we must demonstration strong collective will to defeat terror networks that cause bloodshed and spread fear.
"Terrorism and externally induced instability pose the gravest threat to Afghanistan's peace, stability and prosperity. And, the growing arc of terrorist violence endangers our entire region. As such, support for voices of peace in Afghanistan alone is not enough. It must be backed by resolute action. Not just against forces of terrorism but also against those who support, shelter, train and FINANCE them," Modi said.
Modi further added that "Third, our bilateral and regional commitments of material assistance for Afghanistan's development needs must continue and increase."
He also highlighted the issue of connectivity, saying "We see Afghanistan as the hub for strengthening links of connectivity btw South Asia & Central Asia."
Full report at:
http://www.khaama.com/plans-underway-to-connect-afghanistan-india-via-air-transport-corridor-modi-02419
--------
South Asia
Ghani: Undeclared war intensified in 2016, urges Pakistan for real fight against terror
Dec 04 2016
President Mohammad Ashraf Ghani said Sunday that the undeclared war imposed on the Afghan nation intensified in 2016, specifically after the conclusion of the major Brussels summit on Afghanistan.
Speaking during the inauguration of the Heart of Asia summit in Amritsar India, President Ghani urged Pakistan to take real steps in the fight against terrorism.
President Ghani warned that around 30 terrorist groups are attempting to establish permanent presence and foothold in the country as he called for a joint effort to identify the cross-border terrorism.
He also added that there is a need to organize a fund for identifying and tackling threats posed by the terror networks, insisting that such steps should be taken without a blame game.
In other parts of his speech, President Ghani pointed towards the need for the dialogue to tackle the economic criminals in the region.
He said the criminal networks open doors for major crimes in the region that will boost the regional instability.
President Ghani also spoke regarding the economic potential of Afghanistan, insisting that the country has a great potential to attract investment in energy sector which is a sign that Afghanistan will move forward.
He said Afghanistan plays key role in regional connectivity and pointed towards the inauguration of the railway between Afghanistan and Turkmenistan, emphasizing that a reduction in transit costs will have a positive impact on the lives of the people.
http://www.khaama.com/ghani-undeclared-war-intensified-in-2016-urges-pakistan-for-real-fight-against-terror-02418
--------
Suu Kyi must stop Rohingya 'genocide': Mayalsia PM
Dec 4, 2016
KUALA LUMPUR: Aung San Suu Kyi must step in to prevent the "genocide" of Rohingya Muslims in Myanmar, Malaysia's prime minister said Sunday as he mocked the Nobel laureate for her inaction.
Addressing a 5,000-strong rally in Kuala Lumpur, Najib Razak said the Myanmar government must stop the bloody crackdown in its far west that has sent thousands of Rohingya fleeing, many with stories of rape, torture and murder.
"What's the use of Aung San Suu Kyi having a Nobel prize?" Najib asked a raucous crowd.
"We want to tell Aung San Suu Kyi, enough is enough... We must and we will defend Muslims and Islam," he said as supporters chanted "Allahu Akbar" ("God is greater").
"We want the OIC(Organisation of Islamic Cooperation) to act.
"Please do something. The UN do something. The world cannot sit and watch genocide taking place," said Najib.
More than 10,000 Rohingya have fled to Bangladesh in recent weeks, the United Nations said on Wednesday, escaping a bloody army crackdown in the north of Rakhine state.
Arrivals in Bangladesh have told AFP horrifying stories of gang rape, torture and murder at the hands of Myanmar's security forces.
Myanmar has denied allegations of abuse, but has also banned foreign journalists and independent investigators from the area.
Muslim-majority Malaysia has recently upped its criticism of Myanmar for its handling of the crisis.
Last month it summoned the Myanmar ambassador, while around 500 Malaysians and Rohingya marched to the embassy in the Malaysian capital carrying banners denouncing the "genocide."
A senior minister has called on ASEAN, the ten-country Southeast Asia bloc, to review Myanmar's membership, while a strongly worded statement from the foreign ministry Saturday accused Myanmar of engaging in "ethnic cleansing."
But analysts said Sunday the issue is a convenient smokescreen for Najib, who is fighting allegations he took part in the looting of billions of dollars of public cash through state fund 1MDB.
Full report at:
http://timesofindia.indiatimes.com/world/rest-of-world/Suu-Kyi-must-stop-Rohingya-genocide-Mayalsia-PM/articleshow/55786128.cms
--------
Crackdown could radicalise Rohingya
December 04, 2016
The US government, a key sponsor of Myanmar's democratic transition, says a security crackdown that has displaced tens of thousands of Rohingya Muslims and left an unknown number dead risks radicalising a downtrodden people and stoking religious tensions in Southeast Asia.
The military moved in after armed attacks by unknown assailants on police posts along the border with Bangladesh in October. The attacks in Rakhine State were a possible sign that a small number of Rohingya were starting to fight back against persecution by majority Buddhists who view them as illegal immigrants although many have lived in Myanmar for generations.
The top US diplomat for East Asia, Daniel Russel, is critical of the military's heavy-handed approach and says the escalation of violence risks inciting jihadist extremism in the country also known as Burma. He is also calling on neighbouring countries, such as Muslim-majority Malaysia and Indonesia, to resist the urge to stage protests that could further stir religious passions.
Assistant Secretary of State Russel told The Associated Press that, "if mishandled, Rakhine State could be infected and infested by jihadism which already plagues neighbouring Bangladesh and other countries."
The plight of the Rohingya, once characterised by the UN as the world's most friendless people, has attracted the attention of Muslim extremists since a spike in inter-communal violence in Rakhine in 2012 that left hundreds dead and forced more than 100,000 into squalid camps.
Meanwhile, Malaysia accused Myanmar of engaging in the "ethnic cleansing" of its Rohingya minority yesterday, as former UN chief Kofi Annan visited a burned out village in strife-torn Rakhine state.
"The fact that only one particular ethnicity is being driven out is by definition ethnic cleansing," Malaysia's foreign ministry said in an unusually strongly-worded statement.
Myanmar has balked at such criticism, saying the Rakhine crisis is an internal issue -- but international pressure on the country is mounting.
Malaysia's statement noted that hundreds of thousands of Rohingya have fled to neighbouring countries in recent years -- including some 56,000 to Muslim-majority Malaysia.
That, the statement said, "makes this matter no longer an internal matter but an international matter".
Full report at:
http://www.thedailystar.net/frontpage/crackdown-could-radicalise-rohingya-1324693
--------
DMP chief contradicts Reuters on Tamim-IS ties
Arifur Rahman Rabbi
December 04, 2016
Police have no information regarding Reuters' claim that militant leader Tamim Ahmed Chowdhury, who was killed in a drive in August, sought and won approval from the Islamic State for the July 1 Gulshan cafe attack.
"As we do not have any information about it, I will not make any comment," DMP chief Asaduzzaman Mia said in response to a query during a press briefing at the Police Headquarters yesterday. "Now the detectives will look into the matter."
Quoting a senior police officer seeking anonymity, Reuters on November 30 ran a report claiming that Tamim was told by his contact in the Islamic State group, Abu Terek Mohammad Tajuddin Kausar, to target the foreigners.
Before Tamim orchestrated the attack on Holey Artisan Bakery in Gulshan diplomatic zone on July 1, he sought and won approval for it from IS via Kausar, Reuters said, adding that its source, the senior police official, had seen communications between the two. The agency said that it could not independently verify the contents of the communications.
IS took credit for the attack that claimed 23 lives including 17 foreigners. The five attackers, who stormed the upscale cafe with sophisticated arms and machetes, were killed in a commando operation the next morning.
Bangladesh authorities deny presence of IS operatives in the country and blame local militant groups linked to a new faction of banned outfit Jama'atul Mujahideen Bangladesh (JMB) for the recent targeted killings claimed by the IS group.
Since September last year, IS claimed responsibilities for 26 attacks in Bangladesh that killed 45 people.
Full report at:
http://www.dhakatribune.com/bangladesh/2016/12/04/dmp-chief-contradicts-reuters-tamim-ties/
--------
Important to end terror for stability in Afghanistan: Modi
Dec 04 2016
The Indian Prime Minister Narendra Modi said Saturday that the elimination of terror is important to bring stability in Afghanistan.
Modi made the remarks during a meeting with the foreign ministers of Kyrgyzstan, Iran, Afghanistan, Slovakia, and Pakistan's foreign affairs adviser Sartaj Aziz.
The Indian Prime Minister further insisted it was the collective responsibility of all those in the region to work together to help Afghanistan out of its current difficulties.
Modi further added that the Afghan people were TIREDof the continuing violence and terrorism, pointing towards his several interactions with both the common people of Afghanistan and the country's leadership, according to India's External Affairs Ministry Spokesperson Vikas Swarup.
Full report at:
http://www.khaama.com/important-to-end-terror-for-stability-in-afghanistan-modi-02416
--------
Afghan Taliban hang university student in public
December 04, 2016
GHAZNI - Taliban militants publicly hanged a university student after accusing him of killing a senior intelligence officer, Afghan officials said Saturday. The militants took Faizul Rehman, a fourth-year student at Kabul Polytechnic university, from his car as he was travelling home to visit his family in the Chak district of Maidan Wardak province, around 60 kilometres (37 miles) west of Kabul on Thursday. "They hanged him on Friday in front of (the) public. Local elders tried to mediate to release him, but they failed," Abdul Rehman Mangal, a spokesman for the governor of Maidan Wardak, told AFP.
http://nation.com.pk/international/04-Dec-2016/afghan-taliban-hang-university-student-in-public
--------
20 houses of Hindus set on fire in Bangladesh
December 3, 2016
Dhaka: At least 20 houses of Hindus were set on fire in Bochaganj upazila of Dinajpur in Bangladesh early Saturday.
A report published in The Daily Star said that houses of seven families of Hindus were set on fire in Railway Colony.
Fortunately, no one was injured as residents managed to escape on time.
A person named Jewel was held by the locals, who allegedly set the fire.
The residents claimed that Jewel had been threatening them ever since a scuffle broke out during Durga Puja celebrations earlier this year.
In October this year, at least 15 Hindu temples in Bangladesh were vandalised over allegations of disrespect shown to Islam on Facebook, triggering panic among the minority community in the Muslim-majority nation.
Full report at:
http://zeenews.india.com/news/world/20-houses-of-hindus-set-on-fire-in-bangladesh_1955569.html
--------
No info on Tamim getting IS nod before Dhaka attack
December 04, 2016
Dhaka Metropolitan Police Commissioner Asaduzzaman Mia yesterday said they did not have any information on Tamim Ahmed Chowdhury winning Islamic State's (IS) approval before orchestrating the July 1 Gulshan café attack.
"As there is no information on this, we don't want to make any comment on it," he told journalists replying to a query on Thursday's Reuters report that cited Tamim before orchestrating the attack sought and won approval for it from IS.
Police, however, will investigate into this matter, the DMP boss said in a programme at DMP headquarters.
In the programme, Dutch-Bangla Bank Ltd (DBBL) donated Tk 2 crore to be used in constructing a building for Counter Terrorism and Transnational Crime (CTTC) unit, DMP's special unit that wiped out militants after the July 1 attack.
Tamim, the coordinator of Gulshan and Sholakia attack, was shot dead with his two accomplices in a police raid in Narayanganj on August 27.
Full report at:
http://www.thedailystar.net/city/no-info-tamim-getting-nod-dhaka-attack-1324840
--------
Afghan teen arrested over alleged rape and murder of a girl in Germany
Dec 04 2016
A teenage Afghan migrant has reportedly been arrested by the authorities in Germany over alleged rape and murder of a university student.
According to the officials, the 17-year-old asylum seeker was taken into custody on suspicion he raped and killed a 19-year-old university student.
The officials further added that the teen asylum-seeker was identified as a suspect based on traffic video from near the crime scene.
Dieter Inhofer, prosecutor in the southwestern city of Freiburg, quoted by DPA news agency, said DNA evidence has tied the boy to the crime scene. He was living in the area with a family.
According to the student vanished on her way home from a party early on Oct. 16. Her body was found in a river later that day.
This comes as an Afghan man seeking asylum in Germany has allegedly raped a 4-year-old Iraqi boy at an asylum center in the town of Boostedt in the northern Schleswig-Holstein state.
Full report at:
http://www.khaama.com/afghan-teen-arrested-over-alleged-rape-and-murder-of-a-girl-in-germany-02417
--------
Trump vows support to help unearth Afghanistan's massive natural resources
Dec 03 2016
The president-elect of the United States Donald Trump vowed support under his upcoming administration to help unearth Afghanistan's massive natural resources which include some of the world's rare earth elements.
Trump made the commitment during a tlelphone conversation with the Afghan President Mohammad Ashraf Ghani.
Trump said Afghanistan has considerable natural resources and his administration will be prepared to assist Afghanistan in this sector.
He said Afghanistan has a great potential in economic development and the country's natural resources can play a key role in this regard.
President Ghani and Trump also discussed security issues and other regional issues including fight against terrorism, the Office of the President, ARG Palace, said.
In his turn, Trump pledged support to review Kabul's requirements in security related issues and assist the Afghan government accordingly.
Full report at:
http://www.khaama.com/trump-vows-support-to-help-unearth-afghanistans-massive-natural-resources-02415
--------
Africa
Troops kill 7 Daesh-linked militants in northern Somalia
Dec 3, 2016
Pro-government forces in Somalia have killed seven militants from a faction loyal to the Daesh Takfiri terrorist group in the northern parts of the African country.
Troops from Somalia's semi-autonomous Puntland region killed the militants on Saturday as they were advancing toward the port town of Qandala, which has been in the grip of the faction since last month.
According to Captain Mohamed Saiid, the head of a Puntland military unit, militants carried out an attack in the village of Bashaashin, some 34 kilometers from Qandala. He added that Somali soldiers seized the militants' weapons and took full control of the village.
Saiid further said that Daesh-affiliated militants "retreated to a hill outside the village." He added that the troops would keep on pursuing the militants till they are eliminated them from Qandala.
The group is thought to be led by Abdiqadir Mumin, who broke away from the much larger al-Qaeda-linked al-Shabab Takfiri terrorist group last year and pledged allegiance to Daesh.
The faction, however, has no known operational links to Daesh terrorists in Syria and Iraq, and Qandala is the first town that came under their control.
Somalia has been the scene of deadly clashes between government forces and al-Shabab militants since 2006. Although they have been pushed out of the capital, Mogadishu, and other major cities by the government and African Union troops, they continue to carry out incursions into the capital.
In addition, the country has not seen a powerful central government since the former dictator, Mohamed Siad Barre, was toppled by warlords in 1991. Since 2007, some 22,000 peacekeepers have been deployed in Somalia in the multi-national African Union force to aid the government in fighting militancy.
Clashes between rival factions as well as famine and disease have claimed the lives of over one million people in the past two decades. Some 1.4 million people are internally displaced in Somalia, over 300,000 of whom have taken refuge in the capital.
http://www.presstv.ir/Detail/2016/12/03/496325/Somalia-Daesh-Shabab-Puntland-Qandala
--------
Libyan forces suspend anti-ISIL campaign in Sirte
03 December 2016
Libyan forces loyal to the Tripoli-based unity government have suspended a military campaign against ISIL terrorist group in the northern city of Sirte.
Speaking to Anadolu Agency on Friday, Mohamed al-Ghasri, a spokesman for the anti-ISIL operation, cited keenness to SAVE the lives of civilians for the suspension.
"The operation was suspended temporarily for saving the lives of civilians," he said.
Al-Ghasri said two women had blown up themselves as civilians were using safe corridors to flee the battlefield, killing four people.
Full report at:
http://www.worldbulletin.net/africa/181121/libyan-forces-suspend-anti-isilcampaign-in-sirte
--------
Nigeria University reconciles Christians, Muslims divided by Boko Haram
December 3, 2016
Zamiyat Abubakar
The American University of Nigeria (AUN) on Tuesday took a major step to reconcile residents of Mubi Local Government Area of Adamawa State.
Mubi is one of the local government areas in Nigeria's North-east zone that Boko Haram insurgents overran and occupied for months in 2014.
During the crisis, the relationship between Christians and Muslims in the town said to be one of the largest in the state, was seriously strained.
But through its Peer-to-Peer Challenging Extremism campaign tagged, #IAmABeliever, the AUN brought members of Christian and Muslim self-protection groups together for training and sharing of stories on how they survived the Boko Haram carnage.
The programme titled, "Stories-for-Peace Workshop," was organized by AUN students in collaboration with Illusions of Reflection – a Mubi-based youth group.
The workshop was attended by over 500 members of the Boys Brigade, a non-denominational Christian security group and the Nigerian Aid Group of the Jama'atu Nasril Islam, a Muslim protection group.
Two highly revered religious leaders, Hamid Hammad and Ezekiel Williams, also attended the event.
Addressing the participants, Sheik Hammad lauded the AUN initiative and emphasised the IMPORTANCE of true and uniting stories in peace-building.
"It's a welcome idea. Peace is very important in the world and in our society. When telling stories, please make sure what you are going to tell is genuine and is not going to cause any conflict in society," he said.
Rev. Williams, who is also a leader of the Boys Brigade, shared stories of how he escaped with 50 other Christians after being trapped in Mubi under Boko Haram for five days.
He attributed their survival and escape to divine intervention.
Other Christians and Muslims faithful also shared stories of close shaves with death, personal losses and trauma when Boko Haram attacked the area.
The AUN's Dean of Arts and Science, Jacob Udo-Udo Jacob, who moderated the story-telling session, said throughout human history, shared stories have played a crucial role in bringing peoples and communities together.
"Stories provide a shared space for everyone to experience the tribulations and triumphs of the other, this can help bind a people together," said Mr. Jacob.
The programme also featured a joint protection operation training for the Christian and Muslim groups.
AUN's Assistant Vice President, Safety and Security, Lionel Rawlins, led the training on methods of protecting religious places from terrorist attacks.
Mr. Rawlins advised both groups to work together to protect each other's places of worship.
The event ended with a 500-meter walk for peace, where Muslims and Christians marched holding hands to the gate of Adamawa State University in Mubi.
The university was among the educational institutions sacked by Boko Haram during the 2014 invasion.
Full report at:
http://www.premiumtimesng.com/news/more-news/216995-nigeria-university-reconciles-christians-muslims-divided-boko-haram.html
--------
Somali Refugees Are Not a Threat
We still don't know exactly what motivated the Ohio State student who wounded 11 people with his CAR and a knife on Monday, before a campus police officer shot and killed him. We know that the student, Abdul Razak Ali Artan, was a Somali refugee, and that he felt Muslims were subject to unfair scrutiny in his community, and in the United States in general. We know that he posted a rant on Facebook just minutes before the attack, saying he was "willing to kill a billion infidels in retribution for a single DISABLED Muslim."
We also know that ISIS claimed credit for the attack on Tuesday, but that doesn't tell us much. One of the group's shrewdest strategies has been to embrace violent acts by Muslims around the globe, whether or not it played a direct role in them. The tactic makes the group seem more potent and broad-based than it really is. President-elect Donald Trump readily accepted this claim, highlighting the ISIS link along with Artan's Somali background in a tweet on Tuesday.
The tweet echoed Trump's past warnings about the threat posed by Somali refugees in the United States, suggesting they will face increased scrutiny under his presidency. It's also possible that he will follow through on his campaign proposal to ban refugees from the country, despite the ongoing violence there. Somalis in Columbus, and across the country, are on edge: Many have children and other close relatives in Somalia, or in Kenyan refugee camps, who are in the midst of the already arduous application process for a family reunification visa.
To blame Somalis and ISIS for acts of violence like Artan's, and to respond with a crackdown on the group as a whole, may strike some as an understandable reaction. But in fact, it is a misdiagnosis of the problem—and a deeply misguided solution. That's not only because it's unfair to blame the group for the sins of a tiny number of individuals. It's also because it's counterproductive and misses the point.
The time I've spent with Columbus' Somali community, working on a master's thesis about young Somalis and the threat of radicalization in 2010 and 2011, revealed that its troubles stem not from a lack of scrutiny, but a surfeit of it. Many of its members escaped the armed conflict in Somalia only to face new obstacles in the U.S. heartland: poverty, alienation, and a wholly justified sense of persecution. The reaction from Columbus Somalis in the wake of Artan's attack was one of horror—at the act itself, but also at the likely consequences for their community. This was Somali Americans' worst nightmare, and something that many of them have been working for years to prevent.
To be clear, Artan's FACEBOOK posts are scary, and his act was brutal. There's no excusing it. And he is not the first Somali refugee in the United States to wish or inflict violence on innocent neighbors. In recent years, a handful of Somali refugees in Columbus, Minneapolis, and other cities have been linked with similar attacks, including a 22-year-old man of Somali descent who stabbed eight people in a Minnesota mall in September. ISIS claimed responsibility in that case, as well. There have also been multiple reports by the FBI of foiled plots involving Somali Americans in recent years, although it's unclear in many cases to what extent the plots were serious to begin with. And a handful of young Somali Americans have either traveled or allegedly planned to travel to Somalia or Syria to join terrorist or insurgent groups. (There was also a foiled plot earlier this year in which three white Americans allegedly planned to blow up a Kansas apartment complex that was home to more than 100 Somali immigrants.)
No doubt Somalia is a troubled country, scarred by religious violence. That's why people are fleeing, and why the United States has taken in some 100,000 refugees from the nation in the past 15 years. But based on what we know about the perpetrators, the troubles that lead to these sorts of attacks don't seem to originate in Somalia, nor with ISIS or any other international terror group.
Full report at:
http://www.slate.com/blogs/browbeat/2016/12/03/last_tango_in_paris_rape_scene_was_coerced_media_reports.html
--------
Pakistan
Pakistan Opposition Politicians Slam Hard-line Cleric's Provincial Win
December 03, 2016
Pakistani opposition political parties are expressing outrage after a hard-line cleric of a banned terror group with links to the Taliban and al-Qaida won a legislative seat in the country's most populous province.
"Rest in pieces National Action Plan," Bilawal Bhutto Zardari, chairman of the Pakistan People's Party and son of slain Pakistani Prime Minister Benazir Bhutto, said in a tweet, referring to Pakistan's counterterrorism initiative.
Masroor Nawaz Jhangvi, son of a Sunni militant group's slain founder, won the Jhang district by-election for a seat in the Punjab Assembly on Thursday.
Jhangvi defeated candidates fielded by Pakistan's three largest political parties, including the ruling Muslim League.
Jhangvi's father helped lead a wave of sectarian violence in Pakistan in mid-1980s.
Lashkar-e-Jhangvi, an offspring of the sectarian group he led, has ties to the Afghan Taliban, al-Qaida and most recently Islamic State militants. The group has been linked by law enforcement to high-profile attacks in Pakistan and Afghanistan.
Effective speaker
Following in his father's footsteps, Jhangvi works through fiery speeches to incite sectarian violence in a nation ripe for and hard-hit by sectarian terror for the past three decades.
Jhangvi's election came days after Mohammed Ahmad Ludhianvi, a leading member of another banned group, was allowed by the Lahore High Court to participate in the election. He then withdrew in favor of Jhangvi.
Ludhianvi's bank accounts in Pakistan have been frozen because of his links to sectarian terror groups.
Dozens of extremist groups have been banned in Pakistan, but many are able to operate under various aliases. Pakistan's English newspaper, The Nation, reported this year that more than 500 candidates backed by banned groups made their way into Punjab's local governance system.
Analysts say Jhangvi's election is a blow to the country's anti-terror efforts.
"The election result from Jhang is a question mark over the effectiveness of the National Action Plan," Pakistan-based security analyst Hasan Askari told VOA's Deewa service.
Terror crackdown plan
The National Action Plan, a counterterrorism initiative started by the government in January 2015, aims to crack down on terror networks. But analysts and opposition politicians say the initiative is loosely enforced. Individuals who have been on a terror watch list, and whose bank accounts have been frozen because of their links to terror groups, should not be allowed to make laws for the country, they say.
"Somebody who should have been behind bars is going to be in the Provincial Assembly instead. How did the Election Commission clear his nomination?" asked Pashtun politician Bushra Gohar.
Punjab remains a harbinger for militant groups, and critics say the government is not doing enough to curb them.
The ruling Muslim League has been accused of having close ties with several banned militant groups in Punjab province.
The Muslim League "has a soft corner for some groups, and it looks like some sort of political bargaining has taken place," Pakistan's former secretary of the interior, Tasneem Noorani, told VOA.
The Muslim League denies the accusation.
"Jhang is a special case, and Jhangvi's victory does not represent the overall atmosphere in the country," Sadiq Farooq, a Muslim League member, told VOA.
Path to more power
But the provincial election result could pave the way for the extremist group to gain more power in the area, said Pakistani politician Abida Hussain, a former ambassador to the United States.
"Jhangvi's victory will help his organization win the national assembly seat in the [upcoming] election," she said.
The repercussions of the Jhangvi victory could be felt in Washington, where U.S. lawmakers have long criticized Pakistan for its leniency toward terrorists.
"It's going to be very alarming in Washington," said Washington-based journalist Anwar Iqbal. "Pakistan is claiming that it is winning the war on terror but this [Jhangvi's win] proves otherwise."
http://www.voanews.com/a/pakistan-opposition-politicians-slam-hard-line-cleric-provincial-victory/3622240.html
--------
Pakistan supports 'every effort' for Afghan peace
December 04, 2016
AMRITSAR - Adviser to the PM on Foreign Affairs Sartaj Aziz arrived in Indian city of Amritsar on Saturday evening, ahead of his scheduled arrival for the Heart of Asia conference on Sunday morning, in a change Indian officials said was necessitated by weather conditions.
Aziz's early arrival also raised speculation that he and Indian Prime Minister Narendra Modi would meet for more than the customary handshake, when he attended a dinner hosted by India for conference delegates, reported Indian media.
Hours after his arrival, Aziz attended a dinner where he exchanged pleasantries with Prime Minister Narendra Modi. Aziz was among the eight foreign ministers of the participating countries in the conference who called on Modi as a group.
Sartaj Aziz shook hands with Prime Minister Narendra Modi. According to High Commissioner Abdul Basit, Prime Minister Modi on the occasion expressed well wishes for Prime Minister Nawaz Sharif.
Talking to the media, Abdul Basit said all the participants had a joint meeting with Prime Minister Modi after the dinner during which issues relating to Afghanistan were discussed.
He said Adviser Sartaj Aziz on the occasion reiterated Pakistan's commitment for peace and stability in Afghanistan and expressed the support for every effort to be made for the purpose.
Basit said the adviser had a lengthy meeting with Iranian Foreign Minister Javad Zarief during the dinner.
He said on Sunday the Indian prime minister and Afghan president would jointly inaugurate the conference, being attended by around 40 foreign ministers and dignitaries of 14 participating countries.
Adviser Sartaj Aziz would also address the conference, he added.
Replying to a question, Basit said the adviser was also scheduled to meet Deputy Prime Minister of Turkmenistan and the head of Chinese delegation on Sunday.
Answering another question, he said the adviser had no other scheduled meeting with the Indian prime minister.
At the airport, Sartaj Aziz was received by Pakistan High Commissioner and Joint Secretary of Indian Ministry of External Affairs.
Sartaj Aziz also sent a bouquet to Indian External Affairs Minister Sushma Swaraj at her residence, extending his sincere good wishes for her full and speedy recovery.
Ms Swaraj, undergoing treatment for renal failure, is not attending the Heart of Asia conference and Finance Minister Arun Jaitley will head the Indian delegation at the Full report at:
http://nation.com.pk/national/04-Dec-2016/pakistan-supports-every-effort-for-afghan-peace
--------
Pakistan and UAE pledge to boost bilateral cooperation
04-Dec-16
ISLAMABAD: The Embassy of United Arab Emirates (UAE) celebrated 45th National Day here at local HOTEL, Federal Minister for Finance Ishaq Dar was the chief guest and Ambassador of UAE Essa Abdulla Al Basha Al Noaimi welcomed the guests at the reception.
The celebration was attended by President of Pakistan Muslim League (Q) Chaudhary Shujjat Hussain, Dr Shahzad Waseem of Pakistan Tehreek-e-Insaf, Shakaut Basra of Pakistan Peoples' Party, former Chairman Joint Chiefs of Staff Committee, General (R) Ehsan Ul Haq, representatives from diplomatic and business community and others.
The ceremony started with anthems of UAE and Pakistan then cake was cut by the chief guests, UAE Ambassador and other guests.
Addressing the ceremony, Federal Minister for Finance Ishaq Dar deeply appreciated for the role of Khalifa Bin Zayed Al Nahyan and other leadership's sagacious policies for UAE and said that they are playing role for the progress in the country in various fields. He said Pakistani leadership and people proud to have contribution in the growth of UAE. Both countries have cooperation in all areas including trade, services, investment, defense, education and health.
"Our diaspora in UAE have significantly contributed in the development of emirates and Source of strong binding between two brotherly countries", he said.
Dar tracing the relations between two countries said that Pakistan was among very first countries which started diplomatic relations with UAE, after its inception in 1972. "Since then our relations has grown to heights".
He also appreciated the role of founder of UAE Sheikh Zayed Sultan Al Nahyan for the foundation of relations between two countries. Ishaq Dar said that Pakistan and UAE have close relation and future wanted to enhance further cooperation between two countries in the various fields. The finance minister on behalf of prime minister of Pakistan and the people of Pakistan also extended heartiest felicitation to the President, Prime Minister and the people of UAE on their national day.
Full report at:
http://dailytimes.com.pk/pakistan/04-Dec-16/pakistan-and-uae-pledge-to-boost-bilateral-cooperation
--------
No booze but plenty of saag paneer ... how Scotland's Christian Pakistanis will be celebrating Christmas
04-Dec-16
THE REVEREND Fredrick D'costa has started work on his Christmas message to his congregation, which he will be delivering in Urdu. He has also selected the carols to be sung on the day, mostly by young children, in the same language.
The dress code for males on Christmas Day is likely to be flowing sherwanis with shalwar kameez for women. And once the service is complete around 200 worshippers will retreat to the community hall within the New Mercy International Church in Glasgow's West End, where they will sample their festive meal.
The menu will range from chicken biryani and tandoori lamb chops to chapli kebabs and saag paneer. Alcohol will not be served. Instead mango and strawberry lassi will be available. And for dessert the trifle will be replaced by gajar ka halwa.
Welcome to Christmas, Pakistani style.
According to the British Pakistani Christian Association the 2011 census shows there are 17,000 Pakistani Christians living in England and Wales. However there is no reliable data about numbers north of the border.
D'costa, originally from the Pakistani port city of Karachi, has been living in Scotland for 14 years. His pastoral duties are not restricted to his parishioners, as he also conducts home visits to Pakistani Christian families in Edinburgh and Ayr.
"It is sadly true that many Scottish people will be celebrating Christmas within a very small family unit or even in isolation. The Pakistani way of doing things is very different, as you know," he says.
"A Pakistani Christmas has a lot of colour and noise. It is about getting as many people involved, not just in your immediate family but also distant relatives. Generally Pakistanis tend to have big families so everyone gets together.
"In Scotland there is more emphasis placed on the commercial aspect of Christmas. However, there are countries around the world where more importance is attached to spirituality. This could be due to the discrimination many Christians face in certain places and as a result they have become stronger and more practicing in their faith."
He continues, "Scottish people do tend to get confused when I tell them I'm a Christian. They automatically assume that I'm a Muslim because I'm originally from Pakistan and that I have changed my name. However when you tell them about the history of Christianity in Pakistan then they take a keen interest."
Christians in Pakistan are the second largest minority group in overwhelmingly Muslim Pakistan, thought to be 1.6 per cent of the 185 million population. In the main they are descendants, or can trace their roots, to low caste Hindus, who turned to Christianity during the British Raj, in order to escape the discrimination a caste system brings.
At the home of Yusuf and Asma (who did not wish to give their full names) the Christmas tree is decorated, with presents in the process of being wrapped up. The couple originally moved from Lahore to England before settling in Scotland in 2002.
Although they are excited at the prospect of celebrating Christmas with their children and grandchildren they do admit their minds are never "far away" from friends and family "back home".
Yusuf reminisces, "When I was growing up in Pakistan the bells would toll on Christmas day and there would be public processions. But I would say the situation has got progressively worse especially in the last ten years. Although the Pakistani Government does offer full security for churches, people generally don't feel comfortable gathering in large crowds."
Earlier this year on Easter Sunday a suicide bomber targeted Christians in Lahore, killing more than 70, although many of them who were in fact Muslims. Human rights groups have also expressed concern at Pakistan's controversial blasphemy laws, which carry a potential death sentence for anyone insulting Islam. Human right campaigners say such laws are unjustly used against religious minorities.
In 2013 a double suicide attack in a church in Peshawar led to the deaths of 80 people. It later transpired that a Church of Scotland Minister based in Grangemouth, Aftab Gohar, lost several members of his family in the blast including his mother.
Although both Yusuf and Asma regularly travel to Pakistan their children are reluctant to travel with them.
Full report at:
http://www.heraldscotland.com/news/homenews/14945151.No_booze_but_plenty_of__saag_paneer_____how_Scotland__39_s_Christian_Pakistanis_will_be_celebrating_Christmas/
--------
Bilawal says he will be Pakistan's PM in 2018
04-Dec-16
Continuing his tirade against the government, Pakistan Peoples Party (PPP) chairman Bilawal Bhutto-Zardari said he will be contesting in the 2018 general elections and is confident that he will win.
"I will become the next prime minister of Pakistan," Bilawal said addressing party workers in Lahore on Saturday.
Criticising Prime Minister Nawaz Sharif, Bilawal said the premier had failed to fulfil his duties to the country and that he should now consider packing up. Bilawal and his supporters then began to chant slogans of "Go Nawaz, go".
"Even after serving in the position three times, if he (Nawaz) isn't ready to do his job, I'll do it. I'm ready to do it," the 28-year-old PPP chairman said, adding that he will run on his slain mother's seat in the 2018 election.
Full report at:
http://www.dawn.com/news/1300263/bilawal-says-he-will-be-pakistans-pm-in-2018
--------
CII invites Nawaz, Zahid to day-long seminar
December 04, 2016
ISLAMABAD - The Council of Islamic Ideology (CII) has invited Prime Minister Nawaz Sharif and Federal Law Minister Zahid Hamid to attend a day-long seminar on the role of various state entities in the Islamic republic and how their functioning could be further spruced up on December 7th.
It would be the last event the CII incumbent Chairman Maulana Muhammad Khan Sherani would be chairing as the chief of the council as he would be retiring on December 8th.
The council will again hold a session to pay farewell to Maulana Sherani on December 8th.
If the prime minister decides to attend the seminar it would be the first time any chief executive of the country will attend a CII event.
Till the time this report was sent to the press, there was no word from the prime minister's media team about decision to attend the event or not.
On the other hand, Maulana Mohammad Khan Sherani's three-year term will culminate on 18th of this month and it would be his second consecutive term as chairman CII, having the status of a federal minister.
Belonging to Jamiat-i-Ulema-i-Islam (JUI-Fazl) Moulana Mohammad Khan Sherani is considered as one of the most powerful man after JUI-F Chief Maulana Fazlur Rehman from the party.
It is expected that Maulana Sherani would try to get another stint in office for which some insiders in the JUI-F have informed The Nation, the party chief had already extended request to Prime Minister Nawaz Sharif.
Full report at:
http://nation.com.pk/national/04-Dec-2016/cii-invites-nawaz-zahid-to-day-long-seminar
--------
JI urges SC to form probe commission on Panama leaks
December 04, 2016
ISLAMABAD - Jamaat Islami on Saturday urged the Supreme Court of Pakistan to appoint Enquiry & Trial Commission and declare the Panama Leaks papers as its basic document.
JI Ameer Sirajul Haq filed the fresh application in the apex court, saying that all persons indicated in the Panama papers along with their families, children, companies and business entities be made respondents, and shall have right to submit their reply in their own defence and in rebuttal to allegations mentioned in the Panama papers.
It said the Federal Board of Revenue and Election Commission of Pakistan shall submit copies of Tax Return, including details of properties, assets etc., in and out of country, along with copies of documents and papers before the Enquiry & Trial Commission within specified period.
The Enquiry & Trial Commission shall issue orders and make such arrangements to get information, documents, papers from other relevant countries as per international laws, pacts, conventions, treaties, including United Nations Convention Against Corruption (UNCAC) specially provisions of Mutual Legal Assistance Request (MLAR) and Stolen Assets Recovery (STAR) initiative.
The commission shall order FIA, NAB and/or other authorities, as deemed necessary, to investigate or enquire or study the available record, papers and information available on the record and submit report about the legal position of the matter which is before Enquiry & Trial Commission within specified period.
Full report at:
http://nation.com.pk/national/04-Dec-2016/ji-urges-sc-to-form-probe-commission-on-panama-leaks
--------
Southeast Asia
Malaysia promotes moderation to counter negative perception of Islam
December 04, 2016
AMMAN: In efforts to address negative perceptions of Islam especially related to extremism, Malaysia has taken initial steps to promote moderation and to explain the beauty of Islam.
Global Movement of Moderates Foundation (GMMF) executive chairman and chief executive officer Datuk Dr Nasharudin Mat Isa said in recent years, many things happened which contributed towards a negative image of Islam in the form of Islamophobia and that was the reason why Malaysia should play a role.
He said Malaysia was well positioned to promote moderation due to uniqueness of the existing model in the country.
"Several issues contributed to the negative image of Islam. Starting with the Taliban militant, Al Qaeda and the latest, Daish. We, in Malaysia, are in very good position to portray the face and the practice of Islam in the practical form compared to other countries," he said.
He said this when presenting a working paper titled 'Driving Moderate Thoughts and Narrative Feedback in Tackling Extremism' at the Addressing Extremism Terrorism Seminar at the University of Jordan here recently.
Nasharudin said the threat of violence in the world today is very 'real', therefore in 2010, Malaysia took the initiatives to promote moderate approach to the world.
"We do not claim we are the earliest (in implementing moderation initiatives). However, the difference is that we want to turn it into a global movement. The Western world must turn its references on Islam to "another world" and not only towards the Arab world.
"Currently, in the Western world's perception, Islam is the Arabs and vice versa. This perception is incorrect, Islam does not belong to Arabs and not all Arabs are Muslims. If they want to look at Islam, look at the world at "the other side". Most populous Muslim country in the world is Indonesia. In China alone there are about 50 to 60 million of Muslims," he said.
He said GMMF has implemented various programmes to promote moderation not only in the country but also globally. Apart from religious, it also focuses on various aspects.
Nasharudin said GMMF has organised several conferences and the latest being the Role of Islam in the World Peace International Seminar to be held on Dec 6- 7 at Universiti Kebangsaan Malaysia.
"This seminar is organised with cooperation from SMEs. It will feature speakers from Indonesia, Thailand, Philippines, the United States and Singapore," he said.
He said GMMF would also establish cooperation with International Moderation Forum, an organisation in Jordan similar to GMMF and they would jointly organise a conference to be held here in May or June next year.
Nasharudin said that GMMF would also continue with the roundtable discussions involving ASEAN countries which started in Singapore in July last year, followed by the second meeting held in Laos a few months ago, with the third one to be held in the Philippines next year. It will then be held in Cambodia next.
"We will also set up 'Distinguished Lectures' in which we will invite famous speakers to give talks. We have also signed up a Memorandum of Understanding (MoU) with the Universiti Islam Antarabangsa and Universiti Utara Malaysia," he said, adding that GMMF was expected to be turned into an information centre through collaboration with the university.
GMMF has cooperated with various parties abroad, which in turn, invited the foundation to share Malaysia's experience in promoting moderation and counter-terrorism, in addition to explaining about Islam.
GMMF was established to become the main reference point for the coordination and dissemination of information and campaign materials to those interested in participating to fight extremism.
This foundation focuses on the establishment of common peace, good governance and rule of law, finance and economics, education, conflict resolution, managing extreme Islamophobia and countering terrorism. -- Bernama
http://english.astroawani.com/malaysia-news/malaysia-promotes-moderation-counter-negative-perception-islam-124644
--------
Members who breathe fresh air into Umno
Sheith Khidhir Bin Abu Bakar
December 4, 2016
Just when you thought this year's Umno general assembly would be another occasion for the pledging of love for leaders and loyalty to party, delegates like Kemelah assemblyman Ayub Rahmat and Pahang Puteri Umno's Norsarfinaz Mohd Azman have emerged to show that Umno is not entirely devoid of members whose intellectual faculties are still intact.
Their call for Umno to realise it is the party that is indebted to the Malays and not the other way round and their demand that leaders stop sugar coating the truth about the country's economy are reminiscent of assemblies of years past, when there was real purpose in the debates.
Ayub may have made a statement that was painfully obvious to all right-thinking Malaysians when he said party leaders should be thanking the Malays for their support instead of demanding loyalty from them, but someone had to say it at Umno's most important forum in order to shock those leaders out of their dream world and to force them to shed their pretensions.
Ayub also stressed the importance of making Malaysia a more Islamic but moderate country. Muslims who subscribe to wasatiyyah might regard the statement as redundant, but surely they have noticed that there has lately been a swelling of the ranks of characters calling for far-right policies under Islam's banner.
Similarly, Norsarfinaz's call for the government to stop underestimating the intelligence of youths was a breath of fresh air against the barrage of statements claiming the economy was fine while all around us prices are increasing and people are losing their jobs.
Full report at:
http://www.freemalaysiatoday.com/category/opinion/2016/12/04/members-who-breathe-fresh-air-into-umno/
--------
Setya Novanto, Surya Paloh stand up for diversity after anti-Ahok rally
December 4, 2016
Supporters of gubernatorial candidate Basuki "Ahok" Tjahaja Purnama retook the public stage on Sunday with a mass gathering in Jakarta to call for unity amid growing pressure from conservative Muslim groups to push for the arrest of the incumbent governor over blasphemy.
NasDem party chairman Surya Paloh expressed hope of national unity in his oration at the event, which saw thousands of people flock to Jl. Jenderal Sudirman and Jl. MH Thamrin to attend the so-called "Kita Indonesia" (We are Indonesia) event.
"We would not reach our national goals if we keep [accusing each other of blasphemy]. Our biggest evils are not ethnic and religious differences, but rather stupidity and poverty," he said.
Golkar Party chairman and House of Representatives Speaker Setya Novanto shared a similar view.
"President Joko "Jokowi" Widodo made a good move by blending in with the rally crowd for the Friday prayer. I hope this peaceful meeting can further cool down the tension," he said, referring to a large-scale rally on Friday that saw more than 500,000 people gather around the National Monument (Monas) in Central Jakarta to join a mass prayer pushing for Ahok's arrest.
Full report at:
http://www.thejakartapost.com/news/2016/12/04/setya-novanto-surya-paloh-stand-up-for-diversity-after-anti-ahok-rally.html
--------
Jokowi Draws Fire for Attending Dec. 2 Mass Prayer Rally
04-Dec-16
Jakarta. President Joko "Jokowi" Widodo has been criticized for attending a mass prayer that formed part of another protest by hardline Muslim groups against Governor Basuki "Ahok" Tjahaja Purnama in Jakarta on Friday (02/12).
Protestors were demanding the jailing of Ahok, a Christian of Chinese descent, who was declared a suspect in a blasphemy investigation last month.
The pro-democracy Setara Institute said the president's action has set a bad precedent for religious tolerance and law enforcement in the country.
"Jokowi's presence in the middle of the masses has set a bad precedent for the national life. Jokowi made a compromise with the elites of intolerant groups, which have repeatedly committed acts of violence," Setara Institute executive director Hendardi said in a statement on Friday.
Full report at:
http://jakartaglobe.id/news/jokowi-draws-fire-attending-dec-2-mass-prayer-rally/
--------
URL: https://www.newageislam.com/islamic-world-news/new-age-islam-news-bureau/isil-mulling-successor-for-abu-bakr-al-baghdadi/d/109277
New Age Islam, Islam Online, Islamic Website, African Muslim News, Arab World News, South Asia News, Indian Muslim News, World Muslim News, Womens in Islam, Islamic Feminism, Arab Women, Womens In Arab, Islamphobia in America, Muslim Women in West, Islam Women and Feminism, Moderate Islam, Moderate Muslims, Progressive Islam, Progressive Muslims, Liberal Islam