New Age Islam News Bureau
23 Aug 2015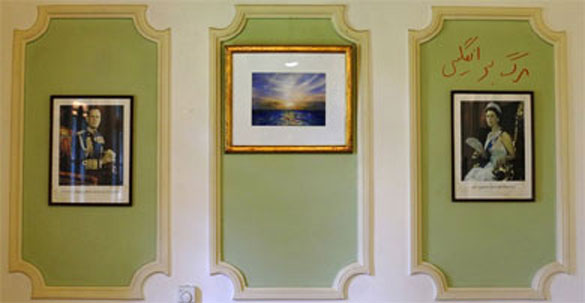 Graffiti in Persian reading "Death to England is seen above a picture of Britain's Queen Elizabeth at the British Embassy in Tehran
---------
Arab World
• ISIL Kills 53 Iraqi Soldiers in Anbar Ambushes
• Fresh Syrian Air Raids Kill Dozens in Douma
• Syrian Army Counter-Attack Kills Several Foreign National Terrorists In Homs
• Syrian Army Retakes more Territories in Al-Ghaab Plains, Kills over 20 Militants
• Syrian Army Repels ISIL Attack on Kuweires Airbase, Kills over 20 Terrorists
• Army Destroys Terrorists' Gatherings in Idlib Countryside
• Yemeni Forces Target Saudi Military Convoy in Jizan Province
• Bombs hit intelligence building in Yemen's Aden
• Al-Zabadani on Verge of Recapture by Hezbollah, Syrian Army
• OPEC faces revolt amid falling crude
-------
Mideast
• 29 PKK Men, Turkish Army Captain Killed In Clashes
• Israel planned to attack Iran three times in recent years: reports
• Beirut protesters call for fall of Lebanese government
• British hostage in Yemen rescued by UAE forces
• Defiant Palestinian Bedouins dread eviction from Susiya
• Israeli forces shoot dead Palestinian man in house raid
• 'Arbitrary' permit laws for West Bank workers in Israel
----
Africa
• Car Bombings In Two Somali Cities Kill 21
• Al-Shabab attack devastates Mogadishu landmark
------
Europe
• Britain Reopens Embassy In Tehran After Four Years
• Petition to arrest Netanyahu gains momentum in UK
• Train attacker visited Syria: French officials
• Italy rescues thousands of refugees stranded off Libya
• Muslim publisher fights Extremism through literature
-------
South Asia
• Bodies Of Three Afghan Policemen Found In Ghazni Province
• Nangarhar Police seize more than 30,000 bullets hidden in civilian vehicle
• Afghan Special Forces conduct complex operation in Uruzgan province
-------
Pakistan
• Four Pakistani Soldiers Killed In Afghan Rocket Attack: ISPR
• Police book head of raided seminary, Madrasa Haqqania
• High profile terrorist, Mian Syed, held in Swat
• Pushed to a corner? MQM launches 'movement for separate province'
• MQM agrees to meet PML-N over resignations, sources say
• Witness in terrorism case shot dead
• Imran confident of more decisions against PML-N soon
-----
India
• Govt Says Cancellation Of Talks By Pakistan Is Unfortunate, Separatists Blame India
• India, Pakistan must talk in neutral country: Former J&K CM, Farooq
• Dawood in Karachi and you expect us to play cricket: BCCI secretary
• Three militants killed in encounter in J&K's Kupwara district
------
North America
• US sees surge in close calls with drones
• US disappointed over collapse of security talks between India, Pakistan
-----
Southeast Asia
• Two dozen skeletons found in Malaysian mass grave
Compiled by New Age Islam News Bureau
URL: https://www.newageislam.com/islamic-world-news/new-age-islam-news-bureau/isil-kills-53-iraqi-soldiers-in-anbar-ambushes/d/104353
-------
Arab World
ISIL Kills 53 Iraqi Soldiers In Anbar Ambushes
23 Aug 2015
Armed Islamic State of Iraq and the Levant (ISIL) members have killed up to 50 soldiers and allied Shia fighters in two separate ambushes in Iraq's Anbar province, according to a top provincial official.
Sabah Al-Karhout, president of the Anbar Provincial Council, told the AP news agency that the ambushes took place on Friday to the west of the provincial capital, Ramadi, but said he had no more details.
There was no immediate word from federal authorities or ISIL, the AP said.
What does one man mean to a group like ISIL?
ISIL controls much of Anbar province, including Ramadi and the city of Fallujah.
Government forces and Shia fighters have been trying to dislodge the group from the province but they have been making slow progress.
On Saturday, Khalid al-Obeidi, the Iraqi defence minister, toured the military's northern command in Anbar, according to a statement issued by his office.
During a meeting he told troops that forces there must use "caution and precision" when advancing to avoid "unjustified losses".
Commander fired
Later, a statement posted on the ministry's official website said Obeidi dismissed the commander of a brigade deployed in Anbar. It did not name the commander, but added that he failed to carry out his duties.
"There is no place for those who neglect to carry out their missions and duties. Those who want victory must be on the front line," it quoted the minister as saying.
It was not immediately clear whether the minister visited because of the ambushes.
ISIL controls about a third of Iraq and neighbouring Syria and has established a self-declared "caliphate" across its territory. Source: AP
http://www.aljazeera.com/news/2015/08/isil-kills-scores-iraqi-soldiers-anbar-ambushes-150822201623436.html
------
Fresh Syrian air raids kill dozens in Douma
23 Aug 2015
At least 34 people have been killed and more than 200 injured after government war planes carried out air raids on Douma, the rebel-held suburb on the outskirts of Damascus, activists told Al Jazeera.
Activists in Douma told Al Jazeera that air strikes continued through Sunday afternoon, adding that at least four buildings collapsed earlier during the day.
The UK-based Syrian Observatory for Human Rights placed the death toll from Saturday's air raids at 34, while local activists reported that at least 37 were killed. At least five children were among those killed.
The death toll is expected to rise, with Syria's Civil Defence, a local NGO, saying they are still rescuing people from under the rubble.
Hundreds of casualties in air raids on Syrian market
The Observatory said government war planes and helicopters hit several residential areas in Douma on Saturday evening. Douma is located in Eastern Ghouta and is part of the Damascus suburb province.
The Observatory reported the use of barrel bombs on both Douma and Daraya, which is located in Western Ghouta.
Activists told the Observatory that surface-to-surface missiles were also used by government forces in those areas.
In a statement released on Saturday night, the Syrian Civil Defence organisation said airs raids on Douma over the past week have killed more than 200 people and wounded more than 400 others - mostly women and children.
The group called upon international organisations and human rights groups to act immediately as it declared Douma as a "disaster town".
On August 16, at least 110 people were killed while over 300 were injured when government warplanes hit a crowded marketplace in Douma.
The market attack was condemned by the UN humanitarian chief, Stephen O'Brien, who said he was "horrified by the total disrespect for civilian life in this conflict".
At least 6,673 air strikes were recorded during the month of July, including 3,654 barrel bombs dropped by government helicopters on 13 out of 14 Syrian provinces, the Observatory said in a report on August 1.
Damascus suburbs and Idlib province were the most targeted provinces, according the Observatory, which has a network of activists on the ground.
At least 791 civilians were killed due to these air strikes, including 207 children below the age of 18. At least 3,000 others were injured while thousands were forced to flee their homes.
The UN has said that some 250,000 people have been killed since 2011 and an estimated 7.6 million are internally displaced.
http://www.aljazeera.com/news/2015/08/monitor-fresh-syrian-air-raids-kill-douma-150823044047026.html
-----
Syrian Army Counter-Attack Kills Several Foreign National Terrorists in Homs
TEHRAN (FNA), Aug 23, 2015 - The Syrian Army repelled a powerful assault of the ISIL Takfiri terrorists on its positions at the village of Al-Hawa in the Central province of Homs, and killed two dozen militants, including foreign nationals in its counter-attack, military sources said.
The sources said that the terrorist group ran into the Syrian forces' well-fortified barriers that encompass the village of Al-Hawa, leaving the ISIL combatants stuck in the open while they would try to evade the rapid gunfire and mortar shells that were fired by the soldiers guarding the contested area.
The ISIL militants also attempted to sneak past frontline fortifications of the Syrian army men and National Defense Forces' (NDF) at the nearby villages of Rahoum and Umm Sahreej; however, they were once again unsuccessful, as the Syrian soldiers repelled all of the terrorist group's infiltration attempts.
The source further added that the terrorist group suffered two dozen casualties during their large-scale assault on the village of Al-Hawa; this includes a number of foreign nationals from the countries of Saudi Arabia, Tunisia, Libya, and Iraq.
The ISIL is targeting this area of the Homs Governorate in order to expand their territorial influence, while also capturing the key highways that lead to the provincial capital of Homs.
http://english.farsnews.com/newstext.aspx?nn=13940601001008
-----
Syrian Army retakes more Territories in Al-Ghaab Plains, Kills over 20 Militants
TEHRAN (FNA), Aug 23, 2015- The Syrian Army launched massive attacks against the rebel positions in al-Ghaab plains in Hama province, and retook control over Jubb al-Zarzur hilltop after killing over 20 militants, military sources said.
The Syrian Army's Tiger Forces, in coordination with the 87th Brigade of the 11th Tank Division, the National Defense Forces (NDF), the Syrian Social Nationalist Party (SSNP), and Liwaa Assoud al-Jabal (Lions of the Mountain Brigade), continued their offensive inside the Northern countryside of the al-Ghaab Plains, capturing more territory from the rebels of Jeish al-Fateh, sources said.
The Syrian army entered the battle for the al-Ghaab Plains from their positions at Jubb al-Ahmar in order to launch an assault on Jeish al-Fateh's two largest factions – Ahrar al-Sham and al-Nusra Front – at the imperative hilltop of Jubb al-Zarzur.
Following their arrival to the contested town of al-Bahsa, the reinforcements from the Syrian army broke-away to the Northwest, where they launched a powerful assault on the rebel positions at Jubb al-Zarzur, killing an estimated 20 enemy combatants before they were able to impose full control over the hilltop.
Meanwhile, to the Northeast of Al-Bahsa, the army's Tiger Forces carried out another assault on Jeish al-Fateh's positions at the contested town of Qarqur; however, both parties were unable to get an advantage over one another during Saturday's firefights, despite the intensity of the clashes.
http://english.farsnews.com/newstext.aspx?nn=13940601000559
-----
Syrian Army Repels ISIL Attack on Kuweires Airbase, Kills over 20 Terrorists
TEHRAN (FNA), Aug 23, 2015- Military sources said that the Syrian Army defended its positions against the ISIL Takfiri terrorists' offensive in the nearby areas of Kuweires Airbase in the Eastern countryside of Aleppo, and killed at least 20 militants in its counterassault.
The ISIL assault began when a large contingent of armed combatants stormed the Southern perimeter of the Kuweires Airbase from their positions at Tal al-Ahmar, attempting to break-through the army's frontline near the small village of Karkeez to the South of the airport.
Following their initial assault on the Southern perimeter, another wave of ISIL combatants carried out an attack on the Kuweires Airbase, but this time from their positions at the village of Rassim Al-'Abboud, where they attempted to infiltrate into the Syrian army's frontlines at the Eastern guard post.
According to a military source in the Aleppo Governorate, the ISIL withdrew their assault after sustaining over 20 casualties, marking the second time in the last two days that they failed to bypass the Syrian forces' defense lines at the Kuweires Airbase.
http://english.farsnews.com/newstext.aspx?nn=13940601000654
----
Army Destroys Terrorists' Gatherings in Idlib Countryside
TEHRAN (FNA), Aug 23, 2015- The Syrian warplanes pounded the gathering centers of the Takfiri terrorists in Idlib countryside over the past 24 hours.
The Syrian fighter jets destroyed the militants' hideouts in Hmeimat, al-Houteh, al-Kababari, Tal Samo, al-Majas, Talab, al-Tiraa and Abu al-Duhour in the Northern parts of Idlib province.
The warplanes also targeted terrorists' positions in al-Bara, al-Sermaniyeh and Ghaniyeh in the Southwestern countryside of Idlib.
Meantime, the supply routes and movements of Al-Nusra Front terrorists were also hit in the airstrikes in Qatroun and al-Janoudiyeh near the border with Turkey.
Also in the past 24 hours, The Syrian air defense system shot down an Israeli warplane violating the Arab country's air space.
The Israeli fighter jet was targeted over the city of Al-Quneitra.
Israel regularly violates the Syrian airspace and it launches missile attacks against the Arab country.
Elsewhere, the Syrian Kurdish Protection Forces (YPG) besieged the ISIL Takfiri terrorists in the town of al-Houl in Northeastern Syria.
The ISIL terrorists were besieged from three Eastern, Northern and Western angles in Al-Houl town located in Hasaka province.
The Kurdish forces have killed dozens of ISIL militants over the past 24 hours.
Al-Houl town was of strategic importance to the ISIL and it was ISIL's last bastion in the region.
Meantime, the Syrian air raids targeted positions of the Takfiri militants in the coastal province of Lattakia on Saturday.
The air raids killed a large group of terrorists in Salma and Ein al-Hour in the Northern countryside of Lattakia.
Meanwhile, the army destroyed hideouts and vehicles of the ISIL terrorists, killing a large group of the Takfiri militants in Tadmur city and its vicinity and in Um Sahrij village in the Eastern countryside of Homs.
Also, military sources announced that over 16 militants, including foreign nationals, were killed in the Syrian Army's counter-attacks in Damascus' countryside.
The sources said that the Syrian Army's 105th Brigade of the Republican Guard, in coordination with the 34th Brigade of the 1st Armored Division and the National Defense Forces (NDF), reclaimed territories captured by the ISIL Takfiri terrorists in the cities of Harasta and Darayya.
The Syrian army men continued their counter-assault inside the Al-Ajmi district of Harasta, to reclaim this area that was captured by the rebels of Jeish Al-Islam.
Elsewhere, the Syrian government forces on conducted mop-up operations against the Takfiri militants in many areas across the Southern Province of Daraa.
The army targeted the Takfiri militants' hideouts to the South of al-Kark quarter in Northwestern Daraa al-Balad neighborhood in the city of Daraa, and killed a number of terrorists and destroyed their weapons and ammunition.
The Syrian troops also targeted terrorists' positions in the Western part of Tafas town, and killed a number of them.
http://english.farsnews.com/newstext.aspx?nn=13940601000418
------
Yemeni Forces Target Saudi Military Convoy in Jizan Province
TEHRAN (FNA), Aug 23, 2015 - The Yemeni army and popular forces hit a Saudi military vehicle convoy in the province of Jizan with missiles on Sunday.
The Saudi military convoy comprising tanks and armored personnel carriers came under the Yemeni forces' attack in Jizan in Southern Saudi Arabia.
The attack came in retaliation for the Saudi-led aggresion against Yemeni people.
Several Saudi military men were killed in the Yemeni raid on their convoy.
On Saturday, the Yemeni forces destroyed Saudi Arabia's al-Mamout military base in the Southern parts of the country.
Saudi Arabia has been striking Yemen for 151 days now to restore power to fugitive president Mansour Hadi, a close ally of Riyadh. The Saudi-led aggression has so far killed at least 5,516 Yemenis, including hundreds of women and children.
Hadi stepped down in January and refused to reconsider the decision despite calls by Ansarullah revolutionaries of the Houthi movement.
Despite Riyadh's claims that it is bombing the positions of the Ansarullah fighters, Saudi warplanes are flattening residential areas and civilian infrastructures.
http://english.farsnews.com/newstext.aspx?nn=13940601000467
-----
Bombs hit intelligence building in Yemen's Aden
By Staff writer | Al Arabiya News, 22 August 2015
A series of bombs exploded, without casualties, outside a building used by intelligence services in Yemen's Tawahi city in the Aden governorate, Al Arabiya News Channel reported.
Fighters loyal to Hadi captured Aden from the Houthis and their allies, forces loyal to former president Ali Abdullah Saleh, in July after months of street battles and air strikes on the Houthis by a Saudi-led coalition.
The intelligence offices are located near the administration offices of Aden's port and the radio and television building, the official said.
Explosive devices had been planted on the fence of surrounding the building, he said, which was severely damaged in the blasts. He gave no further details on the identity of the bombers.
There has been no claim of responsibility so far. [With Reuters]
https://english.alarabiya.net/en/News/middle-east/2015/08/22/Bombs-hit-intelligence-building-in-Yemen-s-Aden.html
-----
Al-Zabadani on Verge of Recapture by Hezbollah, Syrian Army
TEHRAN (FNA), Aug 23, 2015- The Syrian Army and Lebanese Hezbollah forces advanced further into al-Zabadani after they secured a collection of villas en route to the Mahata Roundabout near the city-center, local sources said.
The sources said that the Syrian Army's 63rd Brigade of the prestigious 4th Mechanized Division, the Lebanese Hezbollah Resistance Movement, the National Defense Forces (NDF), and the Syrian Social Nationalist Party (SSNP) are on the verge of capturing the imperative resort-city of al-Zabadani after almost 45 days of fierce firefights with Ahrar Al-Sham, the Free Syrian Army (FSA), and Al-Nusra Front.
On Saturday morning, the battle for Al-Zabadani appeared all but over, as the news spread amongst Hezbollah and Syrian army social media activists detailed the complete capture of this resort-city located near the Syrian-Lebanese border crossing.
However, the news of al-Zabadani's capture by the joint forces of Hezbollah and the Syrian army was prematurely reported, as the latter units were engaged in a violent firefight with Ahrar Al-Sham and al-Nusra Front's combatants near the Uthman Neighborhood inside the city's Western sector.
Meantime, the Syrian Air Force pounded away at Ahrar al-Sham and al-Nusra front fighters entrenched inside Al-Zabadani's city-center.
http://english.farsnews.com/newstext.aspx?nn=13940601000456
-----
OPEC faces revolt amid falling crude
SYED RASHID HUSAIN
RIYADH, 23 08 15: Crude producers are under pressure. Budgetary gaps are widening. The Organisation of the Petroleum Exporting Countries' (OPEC) policy of elbowing out high cost producers through increased output — and preserve market share — doesn't seem to be working.
Are some OPEC members getting ready to revolt against the policy? If Dalan McEndree is to be believed, that is a real possibility.
Writing for Oilprice.com, McEndree believes it is even likely. With the fiscal position of a number of OPEC member states worsening, he speculates that 'the Saudis will face an OPEC outsider revolt at the December 4 OPEC meeting.'
The current situation is frightening from the producers view point. Already toying with the bottom registered during the last recession, markets appear destined to go down further.
With the summer driving season coming to a close, demand traditionally slows down and refineries around the globe go into their regular maintenance. Markets are bracing for the scenario. "Demand for crude will soon fall nationally from current levels in September with the onset of seasonal refinery maintenance, leading to further builds (in stockpiles)," BNP Paribas reported.
A consensus seems to be emerging that prices might have to fall further. There's a "conceivable reality," the US oil prices may plummet to a new 11-year low of $33 a barrel or lower this year, a Citigroup report said last week.
This new "How low can oil go?" report contends that capital markets are "getting nervy." As per a CNBC survey, majority of traders and analysts now see oil falling to the same range — $30 to $40 in the near term.
Cumberland Advisers' David Kotok thinks the worst may be yet to come.
"We could go back to $15 or $20, this is a downward slope, we don't know a bottom," Kotok said in an interview with Bloomberg.
And this is playing havoc with most, if not all, OPEC producers. As oil prices slump, the risk of worsening political turmoil is rising within 'most vulnerable' in OPEC. The Fragile Five' listed by RBC Capital Markets Ltd included Algeria, Iraq, Libya, Nigeria and Venezuela.
Venezuela "appears poised for a near-term crisis" amid protests and shortages of basic goods, RBC analysts Louney and Helima Croft underlined. Nigeria is no different. Its currency naira has weakened 7.8 per cent against the dollar this year, pushing inflation outside the central bank's upper target of 9pc, and, the recovery of Nigeria's depleted cash reserves has hit a plateau.
Iraq, facing instability from the ongoing fight with IS, has also seen its problems compounded by the fall in oil prices, causing its budget to shrink significantly. According to Fitch Ratings, Iraq may post a fiscal deficit in excess of 10pc this year, and all the savings accrued during the years of high oil prices have been depleted.
Libya's risks of further political chaos are among the highest within OPEC, matched only by Iraq, says RBC. Threats have also intensified in Algeria as it faces "a looming leadership transition".
Others too are faced with crucial issues. The world's ninth-largest oil producer, Mexico hedged oil exports for 2016 at an average price of $49 a barrel, down 36pc from the hedge for this year — $76.40 a barrel. The Mexican crude-oil benchmark is currently trading near $38, some 60pc lower than a year ago.
Norway's economic growth is slowing as plunging crude prices sap investments and drive up unemployment in Western Europe's biggest petroleum producer.
OPEC kingpin Saudi Arabia too is faced with hard choices. Saudi Arabia's real GDP growth is expected to slow to 2.8pc this year, and further to 2.4pc in 2016 as government spending begins to adjust to the lower oil income, the IMF said. The fund forecasts a fiscal deficit of 19.5pc of GDP in the kingdom this year.
Is a revolt within OPEC – really possible and practical — as McEndree believes? The idea seems farfetched — for one simple reason. Other than Riyadh and its allies, none else has the sheer capacity and crude muscle to influence the global energy demand-supply balance in the real sense. Markets need to wait for a cue from Riyadh.
http://www.dawn.com/news/1202195/OPEC-faces-revolt-amid-falling-crude
------
Mideast
29 PKK men, Turkish army captain killed in clashes
AGENCIES, 23 Aug, 2015
DIYARBAKIR/ANKARA: Turk­ey's military said on Saturday that warplanes conducted new air strikes against Kurdish rebel targets in northern Iraq, killing 29 militants.
A brief military statement said the air raids against the Kurdistan Workers' Party, or PKK, targets were carried out on Thursday and Friday.
Separately, at least 12 rebels were killed as the military clashed with PKK rebels near the town of Uludere, close to Turkey's border with Iraq on Friday, the military said.
Kurdish militants armed with rocket launchers and assault rifles killed a Turkish army captain in an attack on a military outpost in the southeast late on Friday, the latest in clashes which have brought a peace process to the brink of collapse.
Security sources said Kurdistan Workers' Party (PKK) militants attacked the outpost in the southeastern province of Sirnak at around 9:30pm, prompting an hour-long firefight. The captain in charge of the outpost died of his injuries in a military hospital hours later.
Turkey has launched more than 400 air strikes against PKK camps in northern Iraq and southeastern Turkey since late July, in what it says is a response to mounting attacks on police officers and soldiers.
Ankara, the United States and European Union all consider the PKK a terrorist organisation.
Kurdish activists accuse Turkey of launching the military campaign in a bid to stifle Kurdish political gains in Turkey and territorial ambitions in northern Syria, where groups allied to the PKK have been battling the self-styled Islamic State. Ankara denies these accusations.
The violence comes at a difficult time for the Nato member, which faces a snap election in November after the ruling AK Party lost its majority in a June parliamentary poll for the first time since coming to power more than a decade ago.
It has also left in tatters a ceasefire agreed two years ago with the PKK as part of efforts to end a conflict in the predominantly Kurdish southeast which has killed some 40,000 people over the past three decades.
http://www.dawn.com/news/1202232/29-pkk-men-turkish-army-captain-killed-in-clashes
-----
Israel planned to attack Iran three times in recent years: reports
THE NEWSPAPER'S CORRESPONDENT, 23 08 2015
NEW YORK: Israeli leaders planned to attack military targets in Iran in recent years, but they were held back due to the opinions of other governments and military leaders, according to an audio recording leaked to an Israeli television broadcaster, CNN and the New York Times reported on Saturday.
One planned strike was canned after scheduling conflicts with a joint military exercise with the United States got in the way, according to the audio.
The recording with former Defence Minister Ehud Barak was leaked to Israel's Channel 2. It detailed three strikes Barak had allegedly planned with Prime Minister Benjamin Netanyahu, in 2010, 2011 and 2012, the reports said.
CNN has translated the audio, which is in Hebrew.
In 2010, an Israeli military assessment put an end to the plans, Barak apparently reportedly said in the recording.
"At that crucial moment, essentially, the answer from the IDF (Israel Defence Forces) was that the accumulated capability does not meet the threshold of the IDF chief of staff that he can say this is operational," the recording attributed to Ehud Barak said.
Without the chief of staff's sign-off, Netanyahu and Barak could not order the strike.
"The prime minister, the defence minister, the foreign minister, the IDF chief of staff, the head of Mossad, the head of IDF intelligence, the head of Shin Bet" withdrew for a meeting, the recording said.
"In this forum, essentially, we wanted to know what the situation is. The answer was not affirmative, we could not get this combination out of them."
Shin Bet is Israel's internal security service while Mossad is its foreign intelligence agency.
Then in 2011, IDF Chief of Staff Benny Gantz changed the assessment. The capabilities were there, the recording said. Netanyahu, Barak and then Foreign Minister Avigdor Lieberman supported the idea of striking targets in Iran.
Eight other ministers also got on board, though two needed some convincing, the recording said — they were then Strategic Affairs Minister Moshe Ya'alon, who is now Defence Minister, and then Finance Minister Yuval Steinitz, now Energy Minister.
"The IDF chief of staff presents all of the things, all of the difficulties, all of the complications, and all of the problems including the possibility that there will be losses, and you see in front of our eyes how Bugi and Steinitz are melting," the recording attributed to Barak said. The two changed their minds, the CNN reported. Reportedly, the idea to attack surfaced again in 2012.
"We planned to do it, but then I spoke with (then US Defence Secretary) Panetta and said that I request, I demand to postpone the drill," the recording attributed to Barak said.
Panetta obliged, but the window of opportunity fell a few days before the next election. It got postponed again.
"The Americans agreed to postpone (joint military exercises) to another date, but also the other date wasn't comfortable for the same reasons," the voice said.
http://www.dawn.com/news/1202228/israel-planned-to-attack-iran-three-times-in-recent-years-reports
------
Beirut protesters call for fall of Lebanese government
Diana Al Rifai | 23 Aug 2015
Hundreds have gathered in Beirut a day after police fired tear gas, rubber bullets and water cannons at demonstrators who were protesting against what they call Lebanon's "political dysfunction".
Protesters camped overnight in the Lebanese capital's Riad al-Solh square waiting for Prime Minister Tammam Salam's response to Saturday's police violence.
We want to topple [the government], and we wont stop until we do.
Azza El Masri, protester,
In a televised address on Sunday morning, Salam said members of the security forces will be held accountable for the violence against protesters . Salam also called on an emergency parliament session on Thursday to deal with the country's ongoing political crisis.
"I have been, like many other fellow Lebanese, patient enough, but yesterday's outcry should not be ignored," he said.
"I was never in this for a position in government, I am one of you. I am with the people. Do not pit this conflict [as] one camp against the other. Target all the politicians."
Angered by Salam's speech on Sunday, a number of the protesters chanted: "The people want the fall of the regime".
Tensions in Lebanon have peaked recently after protests against the government's inability to ensure that rubbish is disposed of effectively.
Last month the country was left with mounting piles of rubbish after politicians, divided by regional and local conflict, were unable to agree where to dump the capital's refuse.
The crisis was temporarily resolved when the rubbish was finally cleared, but bickering within the government over which company to award the new contract has exposed it to allegations of corruption from opponents.
The prime minister said on Sunday that if legislators could not reach an agreement on the rubbish crisis on Thursday, there is a possibility the government will be dissolved.
"If the meeting is not productive, there is no need for the council of ministers all together," Salam said.
An online group named "You Stink!" along with other civil society groups organised this weekend's protests, calling on Lebanese people to join them in a revolt against what they call "a corrupt system".
Azza El Masri, who is part of the "You Stink" campaign told Al Jazeera that protesters are not backing down and the protests will continue.
"We want Tammam Salam and all the political class to resign. When people were chanting that they wanted to topple the regime yesterday, they were serious. We want to topple [the government], and we won't stop until we do," El Masri said.
" YouReek or YouStink [protesters] have vowed to stay at Riad al-Solh until the Minister of Environment resigns, until those who were randomly arrested are freed, and until the riot police are held accountable for the violence," El Masri added.
Joey Ayoub, one of the organisers of "You Stink" and was present during the protests on Saturday and Sunday, told Al Jazeera protesters were met with police brutality, tear gas canisters and water cannons.
"As one of those who helped organise this protest, I can safely tell you that the government's reaction was beyond anything we were expecting," Ayoub told Al Jazeera.
The Lebanese Red Cross said at least 15 civilians were injured during the protests on Saturday in addition to 35 officers.
http://www.aljazeera.com/news/2015/08/beirut-protesters-call-fall-lebanese-government-150823090224862.html
-----
British hostage in Yemen rescued by UAE forces
By Staff writer | Al Arabiya News, 23 August 2015
A British hostage has been freed in Yemen following an operation by United Arab Emirates forces, the Foreign Office in London announced Sunday.
"I'm pleased to confirm that a British hostage held in Yemen has been extracted by UAE forces in a military intelligence operation," Foreign Secretary Philip Hammond said in a statement reported by Agence France-Presse. "The British national is safe and well".
Emirati state news agency WAM said on Sunday that the hostage, who went missing in Feb. 2014, was taken to Abu
Dhabi on a military plane on Saturday night.
Abu Dhabi Crown Prince Sheikh Mohammed bin Zayed al-Nahyan spoke to British Prime Minister David Cameron to tell him about the release on Saturday, WAM added.
The statements did not identify the person or give any further details of the operation to free them.
Yemen has been wracked by conflict since March, when a Saudi-led coalition launched air strikes against Iranian-backed Houthi militias.
Yemeni loyalists are backed by countries including Saudi Arabia and the UAE.
Last year, British teacher Mike Harvey was released after being held for five months in Yemen following negotiations by the government in Sanaa. (With AFP and Reuters)
https://english.alarabiya.net/en/News/middle-east/2015/08/23/British-hostage-in-Yemen-rescued-by-UAE-forces-.html
-----
Defiant Palestinian Bedouins dread eviction from Susiya
24 Jul 2015
It is barely 7am and Wadha Nawaja has already put the mattresses away, prepared breakfast and fed the animals. She is doing the dishes, as her 10-month-old grandchild gazes at the water tap.
Like a magician, she opens and closes it quickly, so as not to lose a single drop of water.
Time has taken its toll on Wadha. The lines that wind through the 49-year-old's face tell the story of a village.
She has lived in Susiya, in the occupied West Bank, for most of her life - this is where she got married, raised her children, and is helping them raise theirs.
But times have changed. It's not the tough Bedouin lifestyle or the lack of services denied to Palestinians by the Israeli occupation; it's the constant fear of expulsion that is becoming too heavy to shoulder, Wadha says.
"Whenever we hear a car approaching, we jump outside to check if they're here to destroy the village."
Sandwiched between an illegal Israeli settlement and a settler-run archaeological site in the southern Hebron hills, the 350-strong Palestinian community face some of the worst living conditions in the occupied West Bank.
There are no services in Susiya. Palestinians here pay exorbitant amounts to fill their water tanks and generate their own electricity.
"The electricity and water pipes pass through our land, but we are not allowed to use them," says Mohammad Nawaja, a 70-year-old village elder. "If they could, they would ban us from air, so they push us out of here."
The village has been demolished three times: In 1986, lands were confiscated as Khirbet Susiya was declared an archaeological site.
In 2001, Palestinians were forced out, their property destroyed and water cisterns sealed, after an Israeli settler was killed nearby. In 2011, the last wave of demolitions took place under the pretext of a lack of permits.
Given that the village falls within 'Area C' - under full Israeli control as per the Oslo Accords - locals have to get an Israeli permit to be able to build there.
However, figures obtained by Bimkom, an Israeli NGO, suggest that getting such a permit is nearly impossible. In 2014, Israeli authorities received 240 Palestinian building requests in 'Area C,' but only one was approved.
UN figures show Israel carried out 590 demolitions in the same area, displacing 1,177 Palestinians last year.
Unable to get these permits, Palestinians in Susiya ended up living in tents that are now under threat of demolition after the Israeli authorities turned down a master plan that they put forward - at least five versions of it.
'All in this together'
In May, the Israeli Supreme Court refused to grant Palestinians an injunction against the demolition of their homes, which gives the Israeli army the green light to demolish Susiya at any time.
Threats to demolish about 70 structures in the village were followed by warnings that nearly 40 of those structures would be destroyed after the Muslim holiday of Eid Al Fitr - days before August 3, which is when the Israeli Supreme Court is due to review a Palestinian appeal against the Israeli rejection of their master plan.
With this imminent threat looming over their already difficult lives, Wadha tries to comfort herself saying that although life in Susiya is "bitter," she wouldn't trade living here for anywhere else.
"We're all in this together," she says. "It's not like they'll tear down the village and leave my home standing."
The kitchen, she says jokingly, is what she would miss most if her house was to be demolished. And by kitchen she means a rack, a sink and a curtain under a countertop - those are the cabinets.
"We got the kitchen recently. It wasn't always like that," she said with a smile. "It'll be hard, but we'll build it again."
Source: Al Jazeera
http://www.aljazeera.com/blogs/middleeast/2015/07/defiant-palestinian-bedouins-dread-eviction-susiya-150724074146914.html
-----
Israeli forces shoot dead Palestinian man in house raid
23 Jul 2015
Israeli forces have broken into a house and killed a 52-year-old Palestinian man in a village north of Hebron in the occupied West Bank.
Falah Abu Maria was shot in the chest two times from a relatively close range, according to medical sources, on Thursday in Beit Ummar village while he was trying to help his 22-year-old son, Mohammad, who was injured in the leg by the soldiers.
The Israeli troops carried out the raid to detain Mohammad and started shooting when one of the family members attempted to strangle one of the soldiers, Israeli media claimed.
Falah's brother, Waheed, was on an extended hunger strike last year. His cousin, Hashem, was shot dead last year during a West Bank demonstration in solidarity with the besieged Gaza Strip.
On Wednesday morning, a 21-year-old Palestinian, Mohammed Ahmed Alauna, was also killed during an arrest raid near the town of Jenin.
The UN says at least 16 Palestinians have been killed in the occupied West Bank since the start of 2015 and about 1,000 have been injured.
According to the Palestinian Prisoners Society, there are currently about 100 to 140 Palestinian prisoners from Beit Ummar in Israeli prisons.
Every month, Israeli forces detain tens of Palestinians, with an average age range of 18 to 20.
Beit Ummar, a site of regular tensions, is a town of about 17,000 Palestinians.
Source: Al Jazeera
http://www.aljazeera.com/news/2015/07/israeli-forces-shoot-dead-palestinian-man-house-raid-150723053423786.html
-------
'Arbitrary' permit laws for West Bank workers in Israel
Nigel Wilson | 23 Aug 2015
Ramallah, occupied West Bank - In a sparsely furnished Ramallah living room, A. is slumped on a foam mattress under a striplight. He has just been released by Israeli police after being caught entering Israel without a permit for the fourth time.
"I was climbing over the wall. When I got over, there was an army jeep driving around nearby," said A., who requested that his full name not be used. "They arrested me and took me to the police station in Beit Hanina."
After spending 10 hours in Israeli police custody with around 50 other Palestinians also caught that day, A. was taken to a West Bank checkpoint and eventually returned to Ramallah.
He is one of the tens of thousands of Palestinians who travel to work in Israel each year, drawn by markedly better employment prospects and higher wages.
In total, according to the Bank of Israel, 92,000 Palestinians crossed the Green Line to work in 2014, a figure that includes both those with and without permits.
Israel recently announced it would increase the number of work permits granted to Palestinians residing in the occupied West Bank by 8,000.
We cross through a hole in the fence. Then, we run for 200 or 300 metres, sometimes two kilometres if there are soldiers... It's dangerous.
Unnamed Palestinian worker in Israel
However, these permits are only granted according to strict criteria. For young, unmarried Palestinian men, it is extremely rare to receive a work permit because this demographic supposedly represents a greater risk to security.
The days and weeks following the Eid al-Fitr festival, marking the end of Ramadan, are a particularly busy time for crossings, as Palestinians seek extra cash after what can be an expensive holiday.
S., another Palestinian who requested that his name not be used, regularly crosses into Israel from a remote area about an hour's drive from the southern occupied West Bank city of Hebron.
According to him, every morning hundreds of Palestinian men gather within sight of the wire fence that follows the route for an unbuilt separation wall built by Israel through the occupied West Bank.
"We cross through a hole in the fence. Then, we run for 200 or 300 metres, sometimes two kilometres if there are soldiers. Then, we get in to the car on the other side," he said, noting they are then picked up by Israeli Bedouin. "It's dangerous."
After they pack into the waiting cars, the workers are driven to another meeting point, where they switch vehicles and are driven to their destination. Some of these Palestinian passengers arrange work destinations in advance, while others go to a city to search for work.
"One day the soldiers started shooting at the workers as they were crossing. Sometimes the cars are chased by the army; sometimes they crash. I've seen this many times," S. told Al Jazeera.
S., who is 31 years old and has two young children, has been working in construction in Israel since he was 14. He has applied for work permits on numerous occasions, but has never been granted one.
He usually works for two weeks at a time, returning home to see his wife and family every other weekend before repeating the journey.
In the 17 years that S. has been working in Israel, he had been arrested several times and was sent to Israeli prison on six separate occasions, spending between three and nine months there each time for entering Israel without a permit.
Despite this, he thinks the prospect of earning a much higher wage is worth the threat to his freedom.
"On average, I receive 500 shekels ($131) a day in Israel," he said. "It's the only way to provide a good life to my wife and children. In the West Bank, I can earn 100 shekels ($26) a day. It's enough to buy food and cigarettes for myself, but it's not enough to feed my family."
Tens of thousands of Palestinians travel to work in Israel each year, drawn by markedly better employment prospects. [EPA]
Unemployment in the occupied West Bank reached 16 percent in the first quarter of 2015, according to the Palestinian Central Bureau of Statistics, while the average daily wage in that period was just 94 shekels ($25).
Although economic incentives are the main factor pulling Palestinians to work in Israel, those without permits are vulnerable to various forms of abuse by employers.
"If illegal Palestinian workers are injured on the job, employers do not cover the cost of their medical treatment," said Arafat Amro, a field worker at the Israeli workers' rights NGO Kav LaOved. "They usually take the injured man to the West Bank checkpoint and just leave them there."
Many workers without permits are paid less than the minimum wage in Israel, and are often forced to sleep in tough conditions, either crowded into the building site where they work, or outside under trees, Amro told Al Jazeera.
"The minimum wage in Israel is 25 shekels ($7) an hour, but some of the illegal workers only receive 100 shekels ($26) for a 10-hour shift. Employers also underpay workers by reducing the hours or days they have worked on their pay slip," he said.
There is no official data on the number of Palestinians working without a permit in Israel.
Amro told Al Jazeera that up to 60,000 Palestinians work in Israel without a permit, although the number varies depending on the security situation at any given time, and can fall as low as 30,000.
The number of Palestinians who work illegally is so high because their applications for permits to work are rarely successful. S. has never been granted a permit, and his several stints in Israeli prisons mean he has been blacklisted by the police and prohibited from even applying for a permit for 20 years, he said.
Most of the people that are refused in court are people that have family members that were caught throwing stones - not really serious things.
Sylvia Piterman, spokesperson for Machsom Watch
Sylvia Piterman, a spokesperson for the Israeli human rights NGO Machsom Watch, estimated that tens of thousands of other Palestinians are arbitrarily blacklisted by the police and security services.
"It's a very big problem," she told Al Jazeera. "Some have a permit and a normal, steady life, and suddenly, the security services stop them from crossing. Their life is cut.
"Most of the people that are refused in court are people that have family members that were caught throwing stones - not really serious things. Even brothers of prisoners that were released in the Shalit deal, they can't get a permit," she said, referring to the prisoner exchange in which Hamas freed Israeli soldier Gilad Shalit in exchange for Israel releasing 1,027 Palestinian prisoners. "It is collective punishment."
Machsom Watch appeals against certain cases in which Palestinians have been blacklisted, advocating on behalf of many who approach the group asking for their services.
Machsom Watch first appeals to find out the justification behind the authorities' decision as Palestinians are not initially given a reason when they are blacklisted. If the group thinks it has a strong case, it will take appeals to the next stage.
From January to May this year, the group submitted 810 appeals against blacklist decisions to the relevant authorities in the occupied West Bank. In 359 of the cases, the Palestinians were removed from the blacklist.
For Palestinians like A., working in Israel without a permit carries considerable risk. The 22-year-old has been arrested four times. He knows that if he is caught again this year, he faces the prospect of jail time.
But that will not deter him. "I'm going to try again in two or three days," he said. "I don't want to lose this job. I don't have a choice."
Source: Al Jazeera
http://www.aljazeera.com/news/2015/07/permit-laws-west-bank-workers-israel-150729094809544.html
-----
Africa
Car bombings in two Somali cities kill 21
23 Aug 2015
The car bombing near the Internal Security Ministry and the Juba Hotel in Mogadishu killed five people [AP]
At least 21 people have been killed in car bomb attacks in two cities in Somalia, police and military sources have said.
A car exploded in the capital Mogadishu at a busy junction on Saturday evening, killing at least five people.
"So far we know five civilians died in this evening's blast and seven others were injured," Mohamed Yusuf, the spokesman for the interior security ministry told reporters at the scene.
The explosion was close to the Internal Security Ministry and the Juba Hotel.
Witnesses told Al Jazeera that they also heard gunfire during the incident. There was no immediate claim of responsibility
Earlier on Saturday, al-Shabab claimed a suicide car bomb attack at Kismayo University, which is being used as a base for training government troops.
The attack by a member of the armed group, in which at least 16 troops died, was launched as soldiers were lining up for training, military officials said.
Sheikh Abdiasis Abu Musab, the spokesman for military operations for al-Shabab, said the group was behind the bombing in the southern port city.
"A minibus loaded with explosives was detonated inside the training part of the military camp," Mohamed Abisalad, a Somali military official in Kismayo, said.
"The incident is still being investigated to establish how the suicide bomber managed to pass by several checkpoints outside the camp."
Al-Shabab group, which is fighting to overthrow the internationally-backed government in Mogadishu, has lost control of most of its territory to African Union troops in recent years, but has stepped up attacks in the capital and elsewhere.
Source: Al Jazeera and agencies
http://www.aljazeera.com/news/2015/08/deadly-car-bomb-blasts-somalia-150822161333102.html
-----
Al-Shabab attack devastates Mogadishu landmark
26 Jul 2015
At least 10 people have been killed in a car bombing at the gate of a hotel in Mogadishu, the Somali capital.
Ambulance sirens and gunfire were heard on Sunday near the Jazeera Palace Hotel, frequented by government officials and dignitaries and home to several embassies, soon after the blast.
The armed group al-Shabab, which frequently launches bomb and gun attacks against officials and others in Mogadishu in its bid to topple Somalia's government, quickly claimed responsibility.
"A suicide car bomb exploded at the gate of Jazeera Hotel," Major Nur Osoble, a police officer, told Reuters news agency.
The Jazeera Palace Hotel houses the UN, Western diplomatic missions and AMISOM [Mustaf Abdi/Al Jazeera]
The AU force in Somalia (AMISOM) said it was helping to evacuate the wounded.
The hotel has been the target of al-Shabab attackers in the past, including in 2012 when suicide bombers stormed the hotel while President Hassan Sheikh Mohamud was inside.
On Saturday al-Shabab fighters killed Abdulahi Hussein Mohamud, a parliament member, spraying his vehicle with gunfire as he travelled through a southern district of Mogadishu, killing him, his two guards and the driver.
Al-Shabab said in a statement that its "Mujahideen fighters targeted and killed a member of the parliament and his guards", adding that it "will continue targeting" legislators.
The attack on Sunday comes a day after US President Barack Obama said during his visit to Nairobi, in neighbouring Kenya, that while al-Shabab had been "weakened", the overall security threat posed by it remained.
"We have been able to decrease their effective control within Somalia and have weakened those networks operating here in East Africa," he said.
"That doesn't mean the problem is solved."
http://www.aljazeera.com/news/2015/07/deaths-reported-blast-somali-capital-150726134119645.html
------
Europe
Britain reopens embassy in Tehran after four years
AP — 23 08 2015
TEHRAN: British Foreign Secretary Philip Hammond reopened the British Embassy in Tehran on Sunday, nearly four years after it was closed following an attack by hard-liners, Iranian state TV reported.
Hammond arrived in Tehran on Sunday to attend the reopening ceremony and to hold talks with Iranian officials. The trip marked the first time a British foreign secretary has visited Tehran since 2003.
Britain has had no diplomatic presence in Tehran since hard-liners protesting the imposition of international sanctions stormed it in November 2011, but the election of President Hassan Rouhani and the recent nuclear deal between Iran and world powers have brought about a significant diplomatic thaw.
The Iranian Embassy in London was simultaneously reopened in London, the semiofficial ISNA news agency said.
"Four years on from an attack on the British Embassy, I am today re-opening it," Hammond said in a prepared statement. "Our relationship has improved since 2011. President Rouhani's election and last month's nuclear agreement were important milestones. I believe that we have the potential to go much further."
Terrorism, regional stability and the spread of the Islamic State group in Syria and Iraq are among the challenges Britain and Iran should be prepared to work together on, Hammond said.
Iran's Foreign Minister Mohammad Javad Zarif welcomed the reopening of the British Embassy, saying it showed Iran's regional and global significance.
"The world has realised Iran's constructive role in the region and the globe," state TV quoted Zarif as saying Sunday. "Of course, we have differences with some European countries but that can be negotiated through interaction, open eyes and a realistic approach."
Hammond and the new British charge d'affaires, Ajay Sharma, were attending the embassy reopening ceremony together with representatives of the Iranian Ministry of Foreign Affairs, the Foreign Office said.
Hammond was also accompanied by a small British trade delegation to discuss possible future trade opportunities following last month's nuclear deal, the ministry added.
The British Embassy would initially have a small number of staff with limited consular services, but officials expect to upgrade its leadership to full ambassador status in coming months.
Iranian hard-liners oppose the improved relations with London. Many of them had called the British Embassy the "epicentre of sedition" when they attacked it in 2011.
They accused the country and its media, including the BBC, of fomenting unrest and encouraging rioters in Iran after the disputed 2009 presidential elections.
http://www.dawn.com/news/1202315/britain-reopens-embassy-in-tehran-after-four-years
----
Petition to arrest Netanyahu gains momentum in UK
Philippa H Stewart | 23 Aug 2015
London, United Kingdom - An online petition urging the arrest of Israel's prime minister for alleged war crimes over the 2014 Gaza assault is on course to hit the 100,000 signatures needed to have it debated in the UK parliament.
"I honestly don't expect him to get arrested because of the universal jurisdiction laws," said Damian Moran, who created the petition in response to Benjamin Netanyahu's announcement he would visit the United Kingdom in September.
"It is a clear message to him that there's a massive amount of people who don't want him here."
Published on August 7, the petition has already gathered more than 76,000 supporters, well past the 10,000 required to get a formal government response.
Petitions that pass the 100,000 mark are considered for debate in parliament.
Arms deal
The main focus of Moran's petition is the 51-day bombardment of Gaza that started in July 2014 and left more than 2,200 Palestinians dead, including 1,492 civilians.
In the same conflict, 66 Israeli soldiers and five civilians were killed.
"Benjamin Netanyahu is to hold talks in London this September. Under international law he should be arrested for war crimes upon arrival in the UK for the massacre of over 2,000 civilians in 2014," the introduction to the campaign reads.
Moran, a Derry-born software developer now living in Manchester, told Al Jazeera he didn't expect anything to come of the campaign, but he wanted to "shine a spotlight" on Israel's military action in Gaza.
"Politicians in the UK support Israel, [Prime Minister] David Cameron supports Israel. The British government has made fresh arms deals with Israel and they can't say for sure whether British weapons were used in the assault on Gaza," Moran said.
"There was a deal approved by David Cameron within weeks of the conflict. It just shouldn't be happening. The people don't want it so why is the government doing it - who works for who here?" Moran said, referring to a $6.3m arms deal approved by the UK, which included components for air-to-surface missiles.
In July this year, the UK government lifted all remaining restrictions over selling arms to Israel. The UK's export criteria is meant to ban sales to anywhere there is a "clear risk" the weapons will be used in human rights abuses.
Weeks have passed since the petition signatures surpassed the number required for a government response, but Moran is still waiting for the government. But he said the main aim is to get the subject debated in parliament - even though he does not expect it to be addressed.
The key players in the Israel-Gaza conflict
"They'll just say 'blah blah blah, universal jurisdiction, good luck,'" said Moran.
In an email to Al Jazeera, a spokesman for the Embassy of Israel in London called the petition "a meaningless publicity stunt".
"The relationship between the Israeli and UK governments has never been closer; mutual trade has doubled over recent years, while academic, scientific and cultural cooperation is constantly growing," it said.
"Against this backdrop, the petition you refer to can only be viewed as a meaningless publicity stunt."
War crimes?
It is not the first time the issue of war crimes has been raised in relation to Operation Protective Edge, as it was dubbed by the Israeli armed forces.
Shortly after the bombardment ended, Amnesty International said "it appears that the attacks directly and deliberately targeted civilians or civilian objects, which would constitute war crimes".
The repeated, disproportionate attacks on homes indicate that Israel's current military tactics are deeply flawed and fundamentally at odds with the principles of international humanitarian law.
Philip Luther, Amnesty International
Following the 2014 war the human rights organisation released a report chronicling the actions of the Israelis towards Palestinian citizens.
"Israeli forces … brazenly flouted the laws of war by carrying out a series of attacks on civilian homes, displaying callous indifference to the carnage caused," said Philip Luther, Amnesty's director of the Middle East and North Africa Programme.
"The report exposes a pattern of attacks on civilian homes by Israeli forces which have shown a shocking disregard for the lives of Palestinian civilians, who were given no warning and had no chance to flee.
"The repeated, disproportionate attacks on homes indicate that Israel's current military tactics are deeply flawed and fundamentally at odds with the principles of international humanitarian law," Luther added.
Netanyahu, however, defended Israel's actions and dismissed criticism from international organisations, including the United Nations.
"Israel defends itself according to international law and we are not the only ones to say so," the prime minister said in a public address in 2014.
Regardless of the validity of the online petition, it is unlikely to yield any real results.
The Foreign and Commonwealth Office told Al Jazeera that under international law, "visiting heads of foreign governments have immunity from legal process, and cannot be arrested or detained".
For Moran, however, the point was not the actions of the government, but the reaction of the public.
"I wasn't expecting to get much more than 10,000 [signatures]," he said. "I just wanted to shed some light on things. I don't want it to be ignored."
http://www.aljazeera.com/indepth/features/2015/08/petition-arrest-netanyahu-gains-momentum-uk-150823071707233.html
-----
Train attacker visited Syria: French officials
AFP, 23 Aug, 2015
ARRAS: A suspected jihadist gunman overpowered by three young Americans on a packed Amsterdam-Paris commuter train had visited Syria and was known to both French and Spanish intelligence services, officials said on Saturday.
The suspect, who was wrestled to the floor after opening fire with an assault rifle on a high-speed train on Friday evening, is believed to be a 26-year-old of Moroccan origin and is now being interrogated by counter-terrorist officials near Paris.
He is understood to have lived in both Spain and France, and a Spanish counter-terrorism source said he travelled to war-torn Syria last year.
"Once in France he went to Syria, then returned to France," the source said.
French Interior Minister Bernard Cazeneuve said Spanish intelligence services had flagged the man to the French authorities "due to his membership of the radical Islamist movement". Armed with a Kalashnikov assault rifle, an automatic pistol, nine cartridge clips and a box-cutter, the attacker opened fire on board the TGV train just after it crossed from Belgium into France on Friday evening.
But the attack was quickly stopped when three Americans — including two off-duty soldiers — charged the gunman and overpowered him.
"I looked back and saw a guy enter with a Kalashnikov. My friends and I got down and then I said 'Let's get him'," Alek Skarlatos, a 22-year-old member of the National Guard in Oregon, told France's BFMTV.
Spencer Stone, who is reportedly in the US Air Force, was the first to reach the gunman who slashed him in the neck and hand with a box-cutter.
"At that point I showed up and grabbed the gun from him and basically started beating him in the head until he fell unconscious," said Skarlatos, who recently returned from service in Afghanistan.
Their friend, US student Anthony Sadler, told French TV the attacker "didn't stand a chance". "He didn't say anything. He was just telling us to give back his gun. 'Give me back my gun! Give me back my gun!'" said Sadler.
A 62-year-old British consultant, Chris Norman, was also praised for helping subdue the gunman, as was a Frenchman who had earlier tried to stop him as he came out of the toilet carrying a gun.
"The bravery of Mr Norman and the other passengers helped to prevent a terrible incident," said British Prime Minister David Cameron in a statement.
http://www.dawn.com/news/1202225/train-attacker-visited-syria-french-officials
------
Italy rescues thousands of refugees stranded off Libya
23 Aug 2015 09
Italy's coastguard says authorities have rescued about 4,400 refugees who were stranded in overcrowded and rickety vessels in the Mediterranean after receiving distress calls from 20 boats drifting in waters off the Libyan coast.
One of the biggest single-day rescue operations to date in the Mediterranean Sea reportedly occurred on Saturday, the Italian navy said.
The rescued refugees included a group of 311, including a new-born baby, who were picked up by a boat belonging to the humanitarian group Doctors Without Borders. The boat is expected to dock on Monday in Vibo Valentia in Calabria, according to port authorities.
Italy's border force battles to rescue migrants at sea
Two navy ships also transported to safety almost 1,000 refugees from two wooden boats in danger of sinking just off Libya, the Italian navy said.
A further 370 had been picked up by the Italian customs police and were headed for Messina in Sicily.
No casualties have been reported in the rescues.
Al Jazeera's Claudio Lavanga, reporting from the town of Scilla in Calabria, said that 14 of the vessels used by the refugees were rubber dinghies.
"This is not the first time we have seen so many vessels carrying refugees being rescued at the same time. It is clearly a tactic by human smugglers who wait for good weather and sea conditions before they send out as many boats as they can," he said.
Despite the favourable conditions for the rescue operation, it is still a very dangerous situation, he added.
"As we have seen in the past, many migrants die or risk their lives just as they see their rescuers approach them," he said.
In a separate development, police in the Sicilian town of Palermo announced on Saturday that they arrested six Egyptian nationals on suspicion of people smuggling following the rescue of a stricken boat on August 19.
Testimony from the 432 people on board suggest the vessel had been packed with more than 10 times the number of people it was designed for, with many of the passengers, including a number of women and children, locked below decks.
More than 170,000 migrants and refugees from Africa, the Middle East and South Asia had landed at Italy's southern ports in 2014 after being rescued in the Mediterranean, while the total for 2015 so far has already topped 104,000. Another 135,000 or more have landed in Greece since January.
Thousands of refugees and migrants have died at sea while trying to reach Europe.
http://www.aljazeera.com/news/2015/08/italy-rescues-thousands-refugees-stranded-libya-150823044300808.html
------
Muslim publisher fights Extremism through literature
Editor 08/21/2015 Respond
London based Muslim publisher Minhaj-ul-Quran Publications has been confronting extremist ideology through moderate literature and works published by the leading Islamic authority Dr Muhammad Tahir-ul-Qadri.
Minhaj-ul-Quran Publications is one of the leading Islamic publisher based in the UK that has published more than 30 titles over the past 5 years to tackle extremism and terrorist counter narratives.
The headlines such as "UK prisons are fertile breeding grounds for radicalising young and vulnerable Muslims" are on the rise. Spokesman to Minhaj-ul-Quran UK, Shahid Mursaleen said "there is a deep rooted concern that Muslim students and prisoners could be at risk of being radicalised in British Universities and jails and then potentially being recruited for Syria or elsewhere, when they leave, like Jihadi John. Unfortunately nothing much has been done to tackle radicalisation inside UK campuses or prisons."
Minhaj-ul-Quran Publications has published the following titles to counter Extremism and promote moderation in the UK.
The following Islamic books were published in 2015:
1. Islamic Curriculum on Peace and Counter Terrorism (For Young People and Students)
2. Islamic Curriculum on Peace and Counter Terrorism (For Clerics, Imams and Teachers)
3. Islamic Curriculum on Peace and Counter Terrorism (Essential Further Reading)
4. The Supreme Jihad, 2015
5. Relations of Muslims and Non-Muslims, 2015
6. Islam on Love and Non-Violence, 2015
7. Islam on Serving Humanity, 2015
8. Peace Integration and Human Rights Ed 2, 2015
9. Islamic Spirituality and Modern Science, 2015
10. Muhammad The Peacemaker, 2015 [To be Published in 2015]
The following Islamic books were published in 2014:
11: Mawlid al-Nabi: Celebration and Permissibility
12. Fatima The Great Daughter of Prophet Muhammad
13. Hajj and Umra: Teaching of Islam Series
14. Zakah and Charity: Teaching of Islam Series
The following Islamic books were published in 2013
15. Islam on Mercy and Compassion
16. Muhammad The Merciful
17. The Glorious QURAN – English Only Translation
18. The Constitution of Medina [63 Constitutional Articles] – e-book
The following Islamic books were published in 2012
19. Prophetic Virtues and Miracles
20. Righteous Character & Social Interactions
The following Islamic books were published in 2011:
21. The Glorious QURAN – Arabic-English Hardback
22. Faith: Teachings of Islam Series
23. Spiritual and Moral Excellence: Teachings of Islam Series
24. Peace and Submission: Teachings of Islam Series
25. Fasting and Spiritual Retreat: Teachings of Islam Series
26. Purification and Prayer: Teachings of Islam Series
The following Islamic books were published in 2010
27. Fatwa on Terrorism and Suicide Bombings
28. Introduction to Suicide Bombings and Terrorism
29. Peace, Integration and Human Rights Ed. 1
The following Islamic books were published in 2008-2009
30. Imam Bukhari and the Love of the Prophet [pbuh]
31 Clarity Amidst Confusion: Imam Mahdi and the End of Times
32. The Islamic State: True Concept and Eradicating Misconceptions (Khilafah)
http://www.minhajpublications.com/muslim-publisher-fights-extremism-through-literature/
------
South Asia
Bodies of three Afghan policemen found in Ghazni province
AP —
KABUL, 23 Aug 2015: An Afghan official says the bodies of three border police officers who were abducted in a volatile eastern region have been found by local residents.
Shafiqullah Nang, spokesman for the governor of the eastern Ghazni province, said on Sunday that the three officers were kidnapped by insurgents last week.
He says they were driving from Ghazni to neighboring Paktika province, which borders Pakistan, after a few days' break with their families.
No group immediately claimed responsibility.
The Taliban, as well as criminal gangs, have long operated in the rugged eastern border regions of Afghanistan. Insurgents have stepped up attacks on Afghan security forces in recent months following the conclusion of the U.S. and Nato combat mission at the end of last year.
Moreover, at least 12 people including three Nato contractors were killed Saturday when a suicide car bomber struck a foreign forces convoy, officials said, underlining the precarious security situation in the Afghan capital.
The blast came amid heightened security in Kabul after a wave of bombings earlier this month that killed more than 50 people and wounded hundreds, prompting fury from President Ashraf Ghani who blamed Pakistan for failing to rein in Taliban insurgents.
US-led Nato forces ended their combat mission in Afghanistan in December last year, although a 13,000-strong residual force remains for training and counter-terrorism operations.
The Taliban are stepping up their summer offensive, launched in late April, amid a bitter leadership dispute following the announcement of the death of longtime leader Mullah Omar.
http://www.dawn.com/news/1202313/bodies-of-three-afghan-policemen-found-in-ghazni-province
------
Nangarhar Police seize more than 30,000 bullets hidden in civilian vehicle
By KHAAMA PRESS - Sun Aug 23 2015
20130202_140444Police in eastern Afghanistan's Nangarhar province have seized more than 30,000 bullets from a civilian vehicle during a raid.
Hazrat Hussain Mashriqiwal, spokesman for Nangarhar police says the raid was conducted in Surkh Aab Bridge area of Surkh Rod District by personnel from the counter-narcotics department of the police headquarters.
He said the counter-narcotics department officials stopped a suspicious puck-up vehicle for search and recovered 31,000 bullets used for Kalashnikov and two Kalashnikovs from it.
Mashriqiwal further said that the bullets and Kalashnikovs very placed in the vehicle very expertly.
Noor Agha, the driver of the vehicle who is said to be from Logar province was also detained and put in jail.
Although, It is yet unknown what Noor Agha's plans were but Nangarhar has turned into a hot spot for Taliban and Daesh militants and most of them use Kalashnikovs.
http://www.khaama.com/nangarhar-police-seize-more-than-30000-bullets-hidden-in-civilian-vehicle-3811
-----
Afghan Special Forces conduct complex operation in Uruzgan province
By KHAAMA PRESS - Sun Aug 23 2015
Afghan commandos Afghan Special Security Forces launched a complex operation to provide relief to Commander Samad and his Afghan Local Police members in Khas Uruzgan, Uruzgan province last night.
This operation included four Mi-17 helicopters from the Afghan Air Force, which launched during hours of darkness from a base in Kandahar province.
The local police unit had been guarding villagers and family members for weeks from attacks by the Taliban in this narrow valley at an elevation of 2,800 meters.
Landing within 50 meters of the besieged compound, the four helicopters and elite members of an Afghan National Mission Unit recovered close to 60 villagers and family members.
In accordance with the orders by the Ministry of Defense and Lieutenant General Raziq, the Afghan Special Security Forces relocated the oppressed villagers from Khas Uruzgan to a safe location.
According to a senior coalition advisor, "This complex operation involving multiple aircraft flying during hours of limited visibility and in difficult terrain was a complete success and saved dozens of lives. It is a remarkable example of the capabilities of the Afghan Special Security Forces and the Afghan Air Force."
The Afghan Security Forces are committed to continuing operations in order to provide stable security in Uruzgan province.
http://www.khaama.com/afghan-special-forces-conduct-complex-operation-in-uruzgan-province-9595
------
Pakistan
Four Pakistani soldiers killed in Afghan rocket attack: ISPR
DAWN.COM
ISLAMABAD, 23 Aug 2015: A cross border rocket attack at an army post near Pak-Afghan border in Khyber Agency killed four soldiers and injured others, the military's media wing reported.
According to the details, the Inter-Services Public Relations said that the rocket was fired by terrorists from Afghanistan on Sunday which resulted in the death of four military men and injured four others.
Responding to the attack, the army retaliated in a befitting manner and targeted the area from where the rocket fire came, it added.
This is not the first time that a cross border attack has happened on Pak-Afghan border.
The attack comes at a time when relations between Islamabad and Afghanistan had started deteriorating in the wake of a surge in Taliban attacks inside Afghanistan and statements of the Afghan leadership against Pakistan.
Pakistan had summoned the Afghan ambassador last week to protest over a border clash in which three Frontier Constabulary men were killed on August 16 and 17.
Afghanistan's Ambassa­dor Janan Mosazai was summoned by Foreign Secretary Aizaz Chaudhry a day after Pakistani envoy in Kabul Abrar Hussain was summoned by the Afghan foreign ministry over the same incident in which they claim that eight of their border guards had been killed.
"A strong protest was also lodged on cross-border violations from the Afghan side on 16 and 17 August 2015, which resulted in death of three FC personnel and injuries to two others," a FO statement said.
"The Afghan ambassador was conveyed that, as a matter of policy, Pakistani authorities do not initiate fire and return fire only in self-defence," it added.
Earlier in July, two soldiers were wounded when Afghan National Army fired at Pakistan Army's position in Angoor Adda area of South Waziristan Agency.
A rocket-propelled grenade-7 and a few rounds of small arms were fired on the Angoor Adda gate from the Afghan side causing injuries to the soldiers, ISPR had said.
http://www.dawn.com/news/1202316/rocket-attack-from-afghanistan-kills-four-soldiers-ispr
-----
Police book head of raided seminary, Madrasa Haqqania
MUNAWER AZEEM
ISLAMABAD: Following a dramatic midnight raid on the Madressah Haqqania that led to at least four arrests on Thursday night, the capital police on Saturday booked the seminary's administrator under the Anti-Terrorism Act and the Maintenance of Public Order, but no arrests were made, officials told Dawn.
Following the raid, Qari Ahsanullah – who is also the khateeb of the adjoining Masjid Qasmia – had delivered a Friday sermon that severely criticised the police action against the seminary. Police had taken at least four men into custody from the seminary. The suspects are said to be linked to the Attock bombing that claimed the life of Punjab home minister Col Shuja Khanzada.
After receiving information about the alleged use of hate speech by the cleric, the Special Branch were asked by the Central Police Office to investigate the issue.
They were also tasked with preparing a report on the khateeb's more incendiary speeches and recommending legal action against him, sources said. "The Special Branch probe found that the khateeb targeted security forces and the government in the speech and declared them agents of foreign intelligence agencies," an official told Dawn.
Qari Ahsanullah accused of inciting people against the government, riling up religious sentiments
During his speech, he incited the people against the government of the day and used religion to incite them towards violence, according to the FIR lodged against Qari Ahsanullah.
In response to the Special Branch report and their recommendations, a case was registered against Qari Ahsan under ATA 11EE (Proscription of persons) and 16 MPO (Dissemination of rumours). The complaint was lodged by the station house officer of Margalla police station.
Qari Ahsan was already included on a watchlist, under the Fourth Schedule of the ATA, since 2009.
Consequently, he was required to regularly submit surety bonds ensuring his good behaviour, officials said, adding that he had also made a commitment that he would not get involved in promoting sectarian hatred and would respect the state and it departments.
However, the speech on Friday violated his surety bond of good behaviour, which led to the registration of the case against him.
An police officer, on condition of anonymity, told Dawn that although the case had been registered, he had not been arrested.
"We are waiting for directions from the concerned quarters before taking further legal action," he added.
When Qari Ahsan was asked for comment, he claimed to be unaware that a case had been registred against him. "First I will see if an FIR has been lodged against me and what the charges are and then I will decide what to do," he told Dawn.
http://www.dawn.com/news/1202287/police-book-head-of-raided-seminary
-----
High profile terrorist, Mian Syed, held in Swat
THE NEWSPAPER'S CORRESPONDENT
MINGORA, 23 Aug. 2015: Swat police claimed on Saturday to have arrested a high profile terrorist in Matta tehsil.
According to Counter-Terrorism Department (CTD), Mian Syed, a resident of Bara Bamakhela area in Matta tehsil, was arrested on a tip-off. He was wanted by law enforcement agencies in several terrorist activities in Swat.
"Mian Syed was one of the terrorists, who were involved in the slaughtering incident of a Class-IV employee identified as Iqbal in Matta police station in 2009," said an official of Counter Terrorism Department.
The arrested person was shifted to an unidentified location for investigation.
Meanwhile, the bullet riddled body of a young man was found at Asharo Pezo area of Charbagh tehsil. The deceased was identified as Adnan Khan, a resident of Cham area in Charbagh tehsil.
Police shifted the body to a hospital for postmortem and started investigation. According to police sources, a pistol was also found near the body.
http://www.dawn.com/news/1202298/high-profile-terrorist-held-in-swat
-----
Pushed to a corner? MQM launches 'movement for separate province'
By Rabia Ali
KARACHI: August 23, 2015
Along with the decision to break talks with the government and not withdraw resignations, the Muttahida Qaumi Movement (MQM) has officially announced the launch of its movement for a separate province.
Senior leader Dr Farooq Sattar told The Express Tribune that they have publicly announced a movement for a separate province in lower Sindh early on Saturday. "We are now focusing on getting a separate province and we will start mobilising people."
The MQM will not hold any negotiations with the government and will not return to the assemblies, a press release stated on Saturday.
Last week, the MQM quit the Senate and the National and Sindh assemblies, citing their reservations over the ongoing targeted operation in Karachi. They had claimed that they were being victimised.
However, a few days later, the party agreed to talks with the government-appointed mediator, Maulana Fazl ur Rehman, who came to Nine Zero on Tuesday. On Rehman's invitation, the party agreed to hold further talks with the government in Islamabad. However, the premier's visit to Karachi on Thursday and the cold shoulder he extended to the MQM made its leaders rethink their decision. "We have refused any talks. There will be no talks. The prime minister did not utter a single word regarding the MQM's issues and reservations, and we feel the government is not serious."
The MQM is now focusing on a separate province but, Sattar admitted, the party has yet to think of a demarcation. It will consist of lower Sindh and constitute urban parts of the province, he added.
MQM Rabita Committee member Amin ul Haque said that they will hold consultations with the people of Karachi, Hyderabad, Mirpurkhas and Nawabashah. "The party supports formation of other provinces also, such as the Hazara province," he said. The party also held a press conference on Saturday where former senator Farogh Naseem that the Constitution has space for formation of a new province.
http://tribune.com.pk/story/942994/pushed-to-a-corner-mqm-launches-movement-for-separate-province/?utm_source=Daily+Roundup+Newsletter&utm_campaign=8804db3ee2-Daily_Roundup_5pm&utm_medium=email&utm_term=0_19961368d8-8804db3ee2-65338937
------
MQM agrees to meet PML-N over resignations, sources say
DAWN.COM
ISLAMABAD, 23 08 15: The Muttahida Qaumi Movement (MQM) has agreed to hold meeting with Pakistan Muslim League (PML-N) leaders to discuss party resignations and its return to the Parliament, DawnNews reported on Sunday.
Sources close to JUI-F chief Maulana Fazlur Rehman, who is mediating between the MQM and the government, said the meeting is expected to take place in the next two or three days.
The JUI-F chief is coordinating with government in this regard and will inform the MQM after deciding a meeting date with PML-N leaders, sources added.
Moreover, DawnNews further reported that a meeting of the MQM coordination committee will be held in London to discuss the matter.
Know more: Fazl, Dar, Khursheed Shah urge MQM to reconsider talks
MQM lawmakers had simultaneously submitted their resignations in the National Assembly, Senate and the Sindh Assembly on Wednesday August 12, 2015 due to reservations over the Rangers-led operation in Karachi.
The MQM legislators had accused the law enforcement agencies of discriminatory action against MQM, forced disappearances and extra judicial killings.
The prime minister had then requested the JUI-F head to hold talks with the MQM leadership in an attempt to convince them to withdraw their resignations.
Maulana visited the MQM headquarters earlier this week but the mission remained inconclusive in the wake of an attempt on the life of Muttahida MNA Rashid Godil. However the two sides had agreed to put the talks on hold for a while and start the process again in a couple of days in Islamabad.
But before the next round of talks could begin, MQM in a statement said its members' resignations from all three legislative floors were final, adding that it would not partake in dialogue over the matter anymore.
http://www.dawn.com/news/1202314/mqm-agrees-to-meet-pml-n-over-resignations-sources-say
------
Witness in terrorism case shot dead
THE NEWSPAPER'S CORRESPONDENT
KOHAT: Unidentified armed men shot dead the sole eyewitness in a terrorism case related to the murder of four Customs officials in Muhammadzai village here Saturday.
Police said that Hukam Khan, a watchman at a filling station, had given a statement in court of law and on his identification the killers of Customs officials were arrested on February 2, 2015.
The CID department, which had been handed over the case, told Dawn that according to eyewitness some armed men came to Wahab CNG, snatched weapons from the watchmen and manhandled them. While going back, the armed men opened indiscriminate firing on the vehicle of Customs department, standing along the road.
Inspector Abdul Wahab of Karak, constable Shamim Iqbal of Shakardarra and driver and constable Hidayatullah and Mohammad Hafeez, both residents of College Town, were killed in the firing. Hukam Khan, Abdul Wahab and Mohammad Wahab were injured in the firing. They were taken to a hospital for treatment.
The case was being investigated by the Counter -Terrorism Department. Three suspects were arrested and they were in Kohat prison on judicial remand.
On Saturday, armed men shot dead Hukam Khan. Eyewitnesses told police that the gunmen fled towards Ublan refugee camp and disappeared in the mountains after committing the crime.
The City police registered a case and launched hunt for the attackers.
http://www.dawn.com/news/1202300/witness-in-terrorism-case-shot-dead
-------
Imran confident of more decisions against PML-N soon
THE NEWSPAPER'S STAFF REPORTER
LAHORE, 23 Aug. 2015: Pakistan Tehreek-i-Insaf Chairman Imran Khan has said that PML-N's second wicket has fallen but it took the chief of a political party to struggle for two-and-a-half-years and spend millions of rupees to get justice. He said PML-N's third and fourth wicket would fall soon.
He announced that the PTI would contest the NA-122 by-election with full force under "neutral umpires" only.
Mr Khan was speaking to the highly charged supporters at his Zaman Park residence here on Saturday after a tribunal set aside election of Ayaz Sadiq in NA-122 and that of Mohsin Latif in PP-147 and ordered re-polling. He congratulated the party leaders and workers whose struggle during the 126-day sit-in had materialised.
Mr Khan lambasted the Election Commission of Pakistan and returning officers for allegedly playing a fixed match in favour of PML-N and added that the judicial commission's report had exposed them all by identifying 40 lapses and mismanagement on their part.
He also condemned the Nadra chairman for charging him Rs2.6m and still failing in verifying the voters' thumb impressions on ballot papers.
He said the judicial commission had identified that four ECP provincial members were responsible for the lapses and mismanagement in the 2013 elections. "ECP offi­cials should be ashamed now and resign voluntarily, otherwise a sit-in would be staged against them," he added.
The PTI chief said the tribunal's decision had proved that he did not waste country's two years and put the blame on Prime Minister Nawaz Sharif for the same. "Now the people of Pakistan have come to know that why Nawaz Sharif was not opening the four constituencies for investigation," he asserted. "Every constituency opened from now onwards will prove that rigging was committed in the general elections."
http://www.dawn.com/news/1202273/imran-confident-of-more-decisions-against-pml-n-soon
------
India
Govt says cancellation of talks by Pakistan is unfortunate, separatists blame India
PTI | Aug 23, 2015
LUCKNOW/SRINAGAR/NEW DELHI: The cancellation of the NSA-level talks by Pakistan is "unfortunate", Union home minister Rajnath Singh said in Lucknow on Sunday and made it clear that the possibility of any future dialogue will depend on the neighbour.
He underlined that India stands for dialogue and cordial relationship with Pakistan, a day after the talks between NSA Ajit Doval and his counterpart Sartaj Aziz were called off.
"The cancellation of NSA-level talks between India and Pakistan is unfortunate. India is in favour of dialogue," Singh said on the sidelines of a function at Sanskrit Vidyapeeth here.
On Pakistan blaming India for cancellation of talks, the home minister said, "It is Pakistan which has cancelled the talks and not India."
He said that India has always been of the view of maintaining good and cordial relationship with the nighbours and its efforts would continue.
"But Pakistan should not have deviated from the agenda decided during the meeting between Prime Minister Narendra Modi and Pakistan Prime Minister Nawaz Sharif (in Ufa in July)," he said.
On Pakistan's criticism of India's objections to Aziz's meeting with Kashmiri separatist leaders, Singh said, "The thing was that there will be no third party in NSA-level talks. It was only NSA-level talks. There was nothing like that others too will hold talks before, later or in between."
He said Pakistan should have held talks as per pre-decided agenda.
On Pakistan's claim that Kashmir was the main agenda, the home minister said, "... then why was it not decided earlier that when it would be part of NSA-level talks? It was never an issue on agenda."
India has maintained that terror was the only agenda on the talks between the two NSAs.
Asked about possibility of any dialogue in future, Singh said, "go and ask Pakistan, how can I reply to it.
Separatists accuse India
Moderate Hurriyat Conference leader Mirwaiz Umer Farooq said calling off of the talks was unfortunate.
"Yet another opportunity lost by both the countries to engage with each other. The last nail in the coffin was put by external affairs minister Sushma Swaraj when she made it clear that there will not be any talks on Kashmir. Instead of moving forward, we are only moving backwards," he said.
He regretted that the BJP had assured, along with its ally PDP, that they would talk to all shades of opinion. "I think there is a lot of difference in what they say and what they do," the Hurriyat leader said.
He hoped a better sense will prevail and the government will discuss Kashmir with Kashmiris.
Another separatist leader Shabir Shah, who continues to be under house arrest at the guest house in south Delhi, said he was disappointed that the talks had been cancelled.
"I wish the government had not put any conditions to Pakistan ahead of talks," he said.
Hardline Hurriyat Conference, headed by Syed Ali Shah Geelani, also termed the cancellation of NSA talks as unfortunate but said "at the end of the day, it is a diplomatic victory for us as well as Pakistan".
Ayaz Akbar, the spokesman for the hard-line group, said, "A message has gone to the world that Kashmir issue is not a bilateral territorial dispute between India and Pakistan and that people of Jammu & Kashmir are the principal party to it. The fanatic approach adopted by government is not practicable. How long will New Delhi pursue this policy?"
http://timesofindia.indiatimes.com/india/Govt-says-cancellation-of-talks-by-Pakistan-is-unfortunate-separatists-blame-India/articleshow/48641837.cms
-----
India, Pakistan must talk in neutral country: Former J&K CM, Farooq
IANS | Aug 23, 2015
JAMMU: India and Pakistan must hold their dialogue in a neutral country, former Jammu and Kashmir chief minister Farooq Abdullah said on Sunday after the collapse of the NSA-level talks.
"I think the way forward is they can't talk in this country or in Pakistan. They have to find another third neutral country where they can talk," the National Conference leader told the media.
"Otherwise I don't see there is going to be ever any breakthrough between these two countries," he said.
Islamabad on Saturday axed the talks between the Indian and Pakistani national security advisers after New Delhi strongly opposed to any meeting by the visiting Pakistani officials with Kashmiri separatists.
The former chief minister also said Pakistan needed to realise how terrorism was affecting it.
He said everybody was hoping that something better would come out of the NSA talks in New Delhi and bombing on the Kashmir border would stop.
"I think Pakistan does not realise that how terrorism is eating its own land.
"Every day they also have incidents where lots of people die. If they do not want to stop terrorism, India cannot help," Abdullah added.
http://timesofindia.indiatimes.com/india/India-Pakistan-must-talk-in-neutral-country-Farooq/articleshow/48642087.cms
------
Dawood in Karachi and you expect us to play cricket: BCCI secretary
PTI | Aug 22, 2015
NEW DELHI: BCCI secretary Anurag Thakur made it clear that there will be no cricketing ties with Pakistan until they stop giving shelter to mafia Don Dawood Ibrahim and not make attempts to indulge in dialogue with separatist leaders.
"Dawood in Karachi. NSA wants to meet separatists here. Are you really serious about peace and you expect we'll play cricket with you?" Thakur said in a twitter message.
The BCCI was scheduled to have a series with Pakistan in UAE in December but Thakur has made it clear that no cricketing ties will resume until cross border terrorism stops.
http://timesofindia.indiatimes.com/sports/toi-cri/top-stories/Dawood-in-Karachi-and-you-expect-us-to-play-cricket-Anurag-Thakur/articleshow/48626896.cms
-----
Three militants killed in encounter in J&K's Kupwara district
PTI | Aug 23, 2015
SRINAGAR: Three militants were killed today in an encounter with the army in Kupwara district of north Kashmir.
The encounter began last night after troops launched a search operation in Khumhair forests of Handwara tehsil, 100 kms from here, following information about the presence of the militants, an army official said.
"Three terrorists have been killed while one soldier has sustained injuries during the operation," the official said.
He said the identity and group affiliation of the slain militants is being ascertained.
http://timesofindia.indiatimes.com/india/Three-militants-killed-in-encounter-in-JKs-Kupwara-district/articleshow/48637908.cms
------
North America
US sees surge in close calls with drones
Business Insider | Aug 23, 2015
WASHINGTON: It was a fine summer day over the airport at Charlotte, North Carolina and a CRJ200 commuter jet was preparing to land when its pilots spotted something odd outside their cockpit window a drone. The unmanned craft flew about five to 10 feet above the plane, the captain wrote afterward to NASA's Aviation Safety Reporting System. He said the event lasted just one to two seconds, and the silver or blue drone appeared to be of the hobby or home-built type.
"We notified ATC and they did a good job of making callouts to other traffic in the area," the captain wrote.
As more and more small radio controlled drones appear in American skies, so do worries that someday , one might bump into a full-sized airplane possibly with grim results. Nearly 700 close encounters with drones have been reported by pilots so far this year, according to Federal Aviation Administration statistics. That's about triple the number for all of last year, The Washington Post newspaper, which first reported the FAA figures, said.
"Because pilot reports of unmanned aircraft have increased over the past year, the FAA wants to send a clear message that operating drones around airplanes and helicopters is dangerous and illegal," the aviation authority said.
"Unauthorized operators may be subject to stiff fines and criminal charges, including possible jail time."
Several close shaves
Since the start of August, there have been at least 75 close calls, including a dozen last Sunday , in every corner of the nation. In California, at least 13 incidents have been reported in which drones are said to have disrupted efforts to put out wildfires. Chesley "Sully" Sullenberger, who famously splash-landed a US Airways Airbus A320 onto the Hudson River in New York with no loss of life after a mid-air run-in with migrating birds, is among those who sense danger for the flying public. "Because they are easy to get, these devices are becoming ubiquitous," he said. "It allows people to do stupid, reckless, dangerous things with abandon... (but) it has been difficult to catch them in the act. This must stop."
In a report this past week, Lloyd's of London cited "negligent or reckless pilots" as well as "patchy" regulation as key considerations for insurers as drones become increasingly commonplace worldwide. The Consumer Electronics Association expects global sales of consumer-oriented drones to approach 425,000 units this year, up 65% from 2014.
The FAA is still drafting a comprehensive set of regulations for drones in US skies, in anticipation of their widespread use for tasks as varied as agricultural surveying to parcel delivery.
But for recreational drone pilots, the rules now are clear: no higher than 400 feet, always within sight and nowhere near an airport. "As more people buy remote controlled drones, we need to make sure they act responsibly ," Richard Blumenthal, a member of the Senate transportation committee that oversees the FAA, said.
Legislation in the works
Blumenthal is co-sponsor of a proposed Consumer Drone Safety Act that would establish a more thorough set of rules on when, where and how recreational drones are flown. Rich Hanson, government and regulatory affairs director for the Academy of Model Aeronautics, said there is no doubt that some drone operators are acting irresponsibly . "But the vast majority that are being seen flying inappropriately are doing so just because they don't know any better," said Hanson, whose organization is part of a "Know Before You Fly" educational campaign to spread the gospel of safe drone flying.
Hanson, a drone enthusiast, cited another factor: the dubious reliability of GPS devices that are appearing on a number of small drones. While the technology is bound to improve over time, it's not uncommon for a drone to lose a GPS signal and zoom off on its own, its operator unable to control it. As for a mid-air collision, Hanson said the prospect of a small drone defined as being 25 kilograms or smaller -knocking out a commercial airliner is "highly unlikely . The idea that we have a catastrophic failure on the horizon that's going to kill hundreds of people, I think, is certainly overstated," he said.
http://timesofindia.indiatimes.com/world/us/US-sees-surge-in-close-calls-with-drones/articleshow/48637608.cms
-----
US disappointed over collapse of security talks between India, Pakistan
By ZABIHULLAH MOOSAKHAIL - Sun Aug 23 2015
Del6323749The United States has been disappointed over the collapse of 'National-Security-level' talks between Pakistan and India.
John Kirby who is the spokesman for State Department said that they encourage both neighboring countries to resume the formal dialogues soon.
"We are disappointed the talks will not happen this weekend and encourage India and Pakistan to resume formal dialogue soon.
"We were encouraged by the constructive interaction between the leaders of India and Pakistan earlier this year at Ufa, particularly the announcement of dialogue between the countries' National Security Advisors,"
After soldiers from both sides exchanged heavy fire on the joint border in Kashmir and they blamed each other for supporting terrorist networks against the other, leaders of both countries decided to hold security-level talks to ease tension.
Sartaj Aziz, the National Security Advisor of Pakistan's Prime Minister was scheduled to sit with his Indian counterpart in New Delhi on August 23 and 24 but they called off the meeting after not reaching to a conclusion on its agenda.
Pakistan insisted to discuss the Kashmir territory while India said the talks on needs to focus on terrorism.
India's Foreign Minister Sushma Swaraj said that the talks would not take place if Sartaj Aziz insists on meeting the separatists from Kashmir under Indian Administration.
"It is not reasonable for India to now assume the right to decide unilaterally that, from now onward, other issues will be discussed after terrorism has been discussed and eliminated." Pakistan's Foreign Ministry said.
http://www.khaama.com/us-disappointed-over-collapse-of-security-talks-between-india-and-pakistan-3810
-----
Southeast Asia
Two dozen skeletons found in Malaysian mass grave
23 Aug 2015
The graves were found close to where authorities in May had found hundreds of bodies in illegal detention camps [Reuters]
Malaysian police have found 24 human skeletons - all believed to be victims of human trafficking - in newly discovered graves along the Thai border in the northern Malaysian state of Perlis.
"Following on from the operation in which we found ... bodies of illegal immigrants, 24 more bodies have been found and dug up," police said in a statement on Sunday, adding that the remains had been handed over to medical experts.
The heavily forested Thai-Malaysia border has been a transfer point for smugglers transporting people to Southeast Asia by boat from Myanmar and Bangladesh.
The individuals are often held for ransom in squalid conditions and, according to some witness accounts, are subjected to torture and starvation.
Malaysian police exhume bodies from mass grave
Police uncovered the bodies in the Bukit Wang Burma area near the Malaysian border with Thailand, close to where authorities in May had found hundreds of bodies in illegal detention camps.
Thailand has previously been accused of ignoring official complicity in the multi-million dollar trade which flourished until recently through the southern provinces and into Malaysia.
In July, however, Thai prosecutors announced 72 people had been indicted for human trafficking after an operation led to the unravelling of vast networks of people smugglers.
Earlier this month, 22 people who had profited from the human trafficking trade were arrested in Thailand as part of the ongoing crackdown.
Among the suspects was Lieutenant General Manas Kongpan, thought to be a major kingpin in the human trafficking trade.
According to the US state department's annual Trafficking in Persons report in June, Malaysia has been relegated to the lowest ranking.
This ranking is shared by nations including Zimbabwe, North Korea and Saudi Arabia, indicating that Malaysia has failed to observe basic international requirements to stop trafficking within its borders.
The report which ranks nations according to their efforts to prevent the illegal trade of persons is considered to be the benchmark index for international anti-trafficking commitments.
It was not immediately clear if the 24 newly discovered bodies were those of the Rohingya minority ethnic group in Myanmar, whose members have fled widespread persecution in that country.
http://www.aljazeera.com/news/2015/08/dozen-skeletons-malaysian-mass-grave-migrants-smuggling-150823052916560.html
------
URL: https://www.newageislam.com/islamic-world-news/new-age-islam-news-bureau/isil-kills-53-iraqi-soldiers-in-anbar-ambushes/d/104353