New Age Islam News Bureau
14 Jun 2014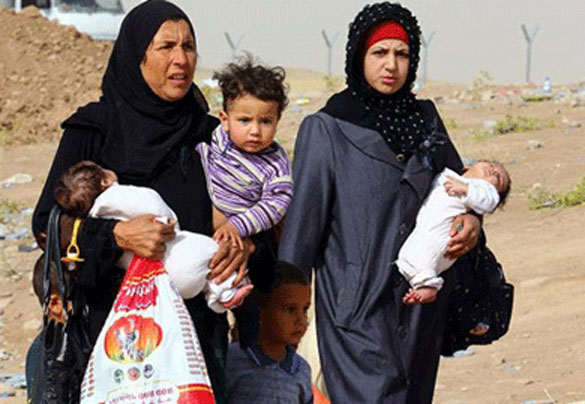 Iraq refugees fleeing from Mosul head to the self-ruled northern Kurdish region, as they walk past an area in Irbil, Iraq, 350 kilometers (217 miles) north of Baghdad, (AP Photo)
-------------
Arab World
• ISIL Issues '10 Commandments' For Islamic Rule
• Egypt Religious Institution Forbids Muslims from Joining ISIL
• 30 killed in blast near Syrian-Iraqi border - TV
• Qataris call for a boycott of 'racist' UK
• Syrian Army Advances in Kasab, Strikes Nusra Terrorists in Rankous
• Maliki threatens to ban Al Arabiya News in Iraq
• Al-Maliki calls on Iraqis to unite in fighting militants
• Kurds seize disputed oil hub amid Iraq chaos
• ISIL jihadists push towards Baghdad: Sectarian war all over again
• Iraq blocks social media amid rising tension
Pakistan
• JUI-F MNA Questions Why Minorities Could Not Be PM or President
• Country's leadership must unite against Taliban: Former Minister
• Balochistan: Christian MP shot dead by guard
• Jirga, militants to discuss deadline
• 1,000-year-old village discovered in Mardan
• Twin blasts in Mansehra leave 1 dead, 3 injured
• Dr Tahirul Qadri, his sons involve in money laundering: minister
Mideast
• Suicide Car Bomb Kills 5 Yemeni Soldiers, Wounds 10
• Islamic Jihad calls for kidnapping of Israeli soldiers to free prisoners
• Israeli official: Abbas' 'terror government' responsible for fate of missing teens
• Iran intelligence minister blames Israel, US for Iraq crisis
• Turkey 'did not allow weapons to be supplied' to rebel groups in Syria
• Hassan Rouhani says ready to aid Iraq, 'can think' of role with US
South Asia
• 'Khaleda's remand will solve Zia killing mystery'
• 10 killed in violent clashes in Bangladesh capital
• Afghans vote again in final test as Taliban threats loom
India
• Muzaffarnagar riot victims asked to leave camps in 3 days
• Forces capable of responding to ceasefire violations: Arun Jaitley
• FMSA hails PM's declaration of fair deal about Muslims
Southeast Asia
• Diversity Is God-Given, Sultan's Consort Reminds Muslims
• DAP urges A-G to act on defiance shown by Selangor Islamic council
• Najib rapped for passing the buck on interfaith child custody battles to apex court
• Book on 'Christian Agenda' for internal use only, says religious authority
Africa
• Scholars on know-Islam mission in Zambia
• Zanzibar mosque bombing kills one, wounds seven
• Nigeria's Fulanis deny women abduction by Boko Haram
• It's inconceivable to get all kidnapped girls back - former Nigerian leader
• A more effective strategy to deter Somali youth from jihadist causes
Europe
• ISIL militants 'executed 1,700 Shiite soldiers', UN alarmed
• Britain to issue first Islamic bonds by Western sovereign
• Hold polls as planned, UN tells Libya
• Crimean mosque attacked and set fire
• Belgian govt orders trial of 46 'Islamists'
• UN intensifies efforts to support Iraq's displaced
North America
• Qurans burned in front of U.S mosque
• FBI 'raids 19 schools associated with Gülen'
• U.S. warship sent to Gulf to be on standby for Iraq
• Resurgent Violence Underscores Morphing of Al-Qaeda Threat
• US lawmakers call for suspension of trade talks with Brunei over Islamic laws
• John Kerry and Sartaj Aziz discuss India-Pak ties, regional integration
• No talks with Iran on Iraq crisis: U.S.
Compiled by New Age Islam News Bureau
URL: https://www.newageislam.com/islamic-world-news/new-age-islam-news-bureau/isil-issues-'10-commandments'-for-islamic-rule/d/87546
-----------
Arab World
ISIL Issues '10 Commandments' For Islamic Rule
14 June, 2014
Militants of the Islamic State of Iraq and the Levant (ISIL), who abducted 80 Turks in northern Iraq and who are approaching ever closer to the Iraqi capital Baghdad, have set rules for those living under their control in the province of Nineveh.
The group, which has made clear that it intends to create a new Caliphate, published the document two days after taking the provincial capital Mosul.
Arabic-speaking reporter Jenan Moussa translated the document. A redacted version is as follows:
1) People, you tried secular rulings (Republic, Baathist, Safavid) and they gave you pain. Now is time for the Islamic state of Imam Abu Bakr El Qurashi.
2) For those asking "Who are you?" We are soldiers of Islam and have taken on our responsibility to bring back the glory of the Islamic Caliphate.
3) Money we took from the Safavid (Shiite Prime Minister Nouri al-Maliki) government is now public. Only Imam of Muslims can spend it. The hand of anyone who steals will be cut.
4) We ask all Muslims to be on time for prayers in the mosques.
5) We warn tribal leaders and sheikhs not to work with the government and be traitors.
6) No drugs, no alcohol and no cigarettes are allowed.
7) For the police, soldiers and other infidel institutions: You can repent. We have opened special places that will allow you to repent.
8) Gatherings, carrying flags (other than that of the Islamic state) and carrying guns are not allowed. God ordered us to stay united.
9) Our position on shrines and graves is clear. Simply, all will be destroyed.
10) For women: Dress decently and wear wide clothes. Only go out if necessary.
http://www.hurriyetdailynews.com/isil-issues-10-commandments-for-islamic-rule.aspx?pageID=238&nID=67762&NewsCatID=352
----------
Egypt Religious Institution Forbids Muslims from Joining ISIL
14 June, 2014
A major Islamic center in Egypt issued a religious decree forbidding Muslims from joining the Takfiri militants of the Islamic State of Iraq and the Levant (ISIL).
Dar al-Ifta Spokesman Ibrahim Negm announced the fatwa on Friday, saying the ISIL's terrorist activities in Syria and Iraq "serve the enemies of Islam", press tv reported.
The Sunni cleric also condemned the extremist group for committing crimes in Muslim nations in the name of religion. Negm said the ISIL has adopted the wrong interpretation of Islam.
Dar al-Ifta is Egypt's official Islamic body that issues religious edicts.
ISIL, an Al-Qaeda offshoot group that has been wreaking havoc in Syria, recently captured a number of cities in Northern and North-central Iraq.
On Friday, top Shiite cleric Grand Ayatollah Ali al-Sistani issued a religious decree calling on people to take up arms and defend their country against the Takfiri militants.
Iraqi men from all walks of life are flocking to recruitment centers to join the army in its fight against the ISIL extremists.
Iraqi Prime Minister Nouri al-Maliki also said authorities will arm citizens in Nineveh and Salahuddin provinces to fight the militants. Maliki has blamed Saudi Arabia and Qatar for the security crisis and growing terrorism in his country, denouncing Riyadh as a major supporter of global terrorism.
Over the past days, Iraqi armed forces have been engaged in fierce clashes with the terrorists, who have threatened to take their acts of violence to other Iraqi cities, including the capital, Baghdad.
http://english.farsnews.com/newstext.aspx?nn=13930324000735
-----------
30 killed in blast near Syrian-Iraqi border - TV
14 June, 2014
A bomb attack targeting a weapons bazaar in eastern Syria close to the Iraqi border killed 30 "terrorists" on Saturday, state television reported.
"A big explosion hits a terrorist arms market in Mayadeen, killing 30 terrorists and wounding dozens of others," the television reported.
A rebel official from the town in Deir Ezzor province told AFP the blast killed at least 15 civilians in a street market.
He said a car bomb was detonated by the jihadist Islamic State of Iraq and the Levant (ISIL), the same group which has spearheaded an offensive in neighbouring Iraq this week that has seen militants sweep down from second city Mosul towards Baghdad.
http://voiceofrussia.com/news/2014_06_14/30-killed-in-blast-near-Syrian-Iraqi-border-TV-5544/
-----------
Qataris call for a boycott of 'racist' UK
14 June, 2014
Qatari Twitter users have launched a campaign urging citizens to avoid travelling to the UK this summer, in a bid to show displeasure with British media's reporting on the wealthy Gulf state's successful bid to host the 2022 FIFA World Cup.
Some Qataris say the stories recently published by The Sunday Times - in which allegations of World Cup wrongdoing were made - had racist overtones, the Gulf state's pro-government newspaper al-Sharq reported.
Ilham Badr, a Qatari woman media figure, urged fellow citizens on Twitter to not visit the UK this summer and to look for "other beautiful cities that are not racist and whose governments are not defaming our country," according to Qatari daily The Peninsula.
Jabir al-Merri, another Qatari media figure, said on Twitter that "Racism against the Arabs has surfaced after one of the Arab countries proved that it is capable to host the World Cup."
"All the world is against their [British media's] racism and is supporting us. FIFA will not kneel down to their media campaign," wrote another user.
The UK - in particular its capital London - has long been a popular spot for vacationing Qataris. Last year, Britain's ambassador to Qatar remarked that many of the Gulf state's citizens regard the UK as their "second home."
Not alone
Qataris have not been alone in their allegations of "racism" by British media.
The racism claims towards Qatar were bolstered this week by FIFA President Sepp Blatter who said the reports against Qatar's World Cup bid were driven by "racism and discrimination."
Blatter also said there is a plot "to destroy FIFA," referring to the scandal as "Qatargate."
Sponsor pressure
His remarks came as Qatar's controversial 2010 winning bid to host the tournament was being investigated by FIFA's chief ethics investigator, Michael Garcia, who will deliver his findings in a report addressed to the ethics committee in late July.
Calls for a revote have meanwhile rode high, as some of FIFA's key sponsors – Visa, Adidas and Sony – have demanded that claims of bribery be taken seriously.
Qatar's hosting of the World Cup has been plagued by controversy from the outset.
Common criticisms over its World Cup project are the country's extreme summer heat, allegations into mistreatment of laborers toiling to complete its sports stadiums and its lack of local football tradition or infrastructure.
http://english.alarabiya.net/en/News/middle-east/2014/06/13/Qataris-call-for-a-boycott-of-racist-UK.html
-----------
Syrian Army Advances in Kasab, Strikes Nusra Terrorists in Rankous
14 June, 2014
The Syrian army regained control over Hill 803 in Kasab in Latakia northern countryside at borders with Turkey, inflicting heavy losses upon the militant groups.
The Syrian army also fiercely clashed with the militant groups in Kasab, controlling Height 714.
Battlefield sources told Al-Manar that the Syria army killed an "Islamic Front" commander in Rankous which lies in Qalamoun in Damascus countryside.
The Syrian military frustrated Nusra militants' attempt to sneak into the safe areas in Rankous, killing and injuring dozens of them.
Units of the Syrian army continued Friday pursuing the armed terrorist groups and carried out successful operations against their dens and gatherings in Aleppo, Daraa, Homs and in other provinces, inflicting heavy losses upon them.
http://www.almanar.com.lb/english/adetails.php?fromval=1&cid=23&frid=23&eid=156319
-----------
Maliki threatens to ban Al Arabiya News in Iraq
14 June 2014
The Iraqi government threatened on Saturday to close the Baghdad office of Al Arabiya News Channel and ban correspondents of both Al Arabiya and sister news channel, Al Hadath, from reporting in the country.
The warning from Prime Minister Nouri al-Maliki comes as a growing number of political figures in the country have been urging the Iraqi leader to resign and form a transitional government.
Sheikh Ali Hatem, the leader of the Al-Dalim tribe, urged political blocs in the parliament to sack Maliki and ensure the formation of a transitional government to "save what is left of Iraq."
Full report at:
http://english.alarabiya.net/en/media/television-and-radio/2014/06/14/Maliki-Al-Arabiya-Channel.html
-----------
Al-Maliki calls on Iraqis to unite in fighting militants
14 June, 2014
Kurdish forces take control of central Iraqi town; Rouhani says Iran is ready to help Iraq if asked
Iraqi Prime Minister Nuri al-Maliki called on Iraqis of different religious and ethnic sects to unite to defeat the Sunni-led insurgency.
"We all belong to one country and one religion," the Shia premier said in the central city of Samara.
"Don't listen to those talking about Sunnis and Shias ... From Samara, we will start the battle to vanquish terrorism," he said.
Kurdish forces take control of Qarah Taba
Kurdish military forces have taken control of a disputed town in central Iraq, a local politician said on Saturday, in their latest advance as Iraqi government troops are on the back foot in the face of a widening Sunni-led insurgency.
Full report at:
http://www.thehindu.com/news/international/world/almaliki-calls-on-iraqis-to-unite-in-fighting-militants/article6114761.ece
-----------
Kurds seize disputed oil hub amid Iraq chaos
14 June, 2014
KIRKUK, Iraq: After a decades-long dispute between Arabs and Kurds over the oil-rich northern Iraqi city of Kirkuk, it took just an hour and a half for its fate to be decided.
As Al-Qaeda-inspired militants advanced across northern Iraq and security forces melted away, Kurdish fighters who have long dominated Kirkuk ordered Iraqi troops out and seized full control of the regional oil hub and surrounding areas, according to a mid-ranking Army officer. He said he was told to surrender his weapons and leave his base.
His account was corroborated by an Arab tribal sheik and a photographer who witnessed the looting of army bases after troops left and who related similar accounts of the takeover from relatives in the army. All three spoke to The Associated Press Friday on condition of anonymity because they feared retribution from Kurdish forces.
Full report at:
http://www.arabnews.com/news/586576
-----------
ISIL jihadists push towards Baghdad: Sectarian war all over again
14 June, 2014
An Iraqi army colonel said Saturday that Iraqi security forces have readied a counter-offensive against militants north of Baghdad, after Prime Minister Nouri Al-Maliki announced that the cabinet had authorised "unlimited powers."
Jihadists pushed towards Baghdad Friday after capturing Udhaim, a town 90 kilometres north of the capital, in a lightning three-day offensive the Iraqi government has failed to stop.
US President Barack Obama said he was exploring all options to save Iraq's security forces from collapse as US companies evacuated hundreds from a major air base.
Fighters from the Sunni Islamic State of Iraq and the Levant (ISIL, also known as Daesh) seized the town of Dhuluiyah Thursday. ISIL spokesman Abu Mohammed Al-Adnani promised that the battle would "rage" on to Baghdad and Karbala.
Full report at:
http://english.ahram.org.eg/NewsContent/2/8/103639/World/Region/ISIL-jihadists-push-towards-Baghdad-Sectarian-war-.aspx
-----------
Iraq blocks social media amid rising tension
14 June, 2014
Iraq's communications ministry has ordered internet and mobile companies to block social media websites and applications, technicians from two major service providers said Friday, as Islamist militants prepare for a strike towards Baghdad.
The technicians said video-sharing site YouTube, social network site Facebook, micro-blogging site Twitter and communications applications WhatsApp and Viber were all affected, according to Agence France-Presse.
However, the communications ministry was not immediately reachable for comment.
The move appeared to be linked to a major militant offensive, spearheaded by jihadist group the Islamic State of Iraq and Syria (ISIS), which has overrun all of one province and chunks of three more since Monday.
Full report at:
http://english.alarabiya.net/en/media/digital/2014/06/13/Iraq-suspends-Facebook-citing-security-reasons-.html
-----------
Pakistan
JUI-F MNA questions why minorities could not be PM or president
June 14, 2014
ISLAMABAD: Representation of minorities in the Parliament has been a topic of debate for quite some time and was discussed in the National Assembly session on Saturday.
The issue was raised by Jamiat Ulema-e-Islam-Fazl (JUI-F) MNA Asiya Nasir, who questioned the constitutional provision that puts a bar on minorities from holding the office of prime minister as well as that of the president.
"Article 25 of the Constitution says all men and women are equal but at the same time non-Muslims cannot hold the office of prime minister as well as that of the president … this is not acceptable to us," remarked the JUI-F MNA.
Addressing the National Assembly during the budget debate with empty treasury and opposition benches, Nasir said that she was the first minority member who was given the opportunity to speak on the budget but she was not interested as the government had presented a 'traditional budget'.
Full report at:
http://tribune.com.pk/story/721787/jui-f-mna-questions-why-minorities-could-not-be-pm-or-president/
-----------
Country's leadership must unite against Taliban: Former Ministe
14 June, 2014
KARACHI: Former interior minister and Pakistan Peoples Party (PPP) leader Rehman Malik on Saturday said time had come for the country's leadership to come together and stand united against the Taliban instead of taking the dialogue route, DawnNews reported.
Malik was speaking to media representatives at the airport in Karachi which recently suffered a terrorist attack that claimed 34 lives.
The PPP leader told reporters that the attack on the airport had resulted in portraying the country in a very negative light, adding that the government should ensure increased security and better patrolling at airports across Pakistan.
Full report at:
http://www.dawn.com/news/1112707/countrys-leadership-must-unite-against-taliban-rehman-malik
-----------
Balochistan: Christian MP shot dead by guard
14 June, 2014
QUETTA/ISLAMABAD: Minority member of the Balochistan Assembly Handery Masieh was killed by his guard in Quetta on Saturday, an official said.
He was killed in a firing incident in Nawan Killi — located in the suburbs of Quetta — the provincial capital of Balochistan.
Jan Muhammad Buledi, the government spokesperson of Balochistan, told Dawn.com that his security guard opened fire on Christian MPA Masieh outside his residence as a result of which he suffered serious bullet wounds.
"Masieh succumbed to his injuries in the hospital," Buledi added.
Masieh was elected on a ticket of the National Party (NP) as a minority member in the Balochistan Assembly. He belonged to Balochistan's Mastung district and was an active leader of the ruling NP.
Full report at:
http://www.dawn.com/news/1112713/balochistan-minority-mpa-shot-dead-in-quetta
-----------
Jirga, militants to discuss deadline
14 June, 2014
MIRAMSHAH: The elders of the Uthmanzai Wazir tribe and a militants' council plan to meet here on Saturday to discuss a 15-day deadline given by the government to local tribes for flushing out militants from the area.
According to sources, a jirga led by Haji Sher Mohammad and the Mujahideen Shura led by Hafiz Gul Bahadur will meet at an undisclosed place to discuss the situation amidst an exodus of non-combatants from the area during the past couple of days.
The government had given the 15-day deadline to a jirga which visited Peshawar on June 6 and met the Khyber Pakhtunkhwa governor and Peshawar corps commander.
Later, the tribal elders held several meetings with the Taliban council to persuade them to prepare a joint strategy for ousting militants, including foreigners, from the area.
Following a meeting with Gul Bahadur, the Taliban Shura asked militants to stay peacefully or vacate the area, vowing not to allow them to create unrest.
Full report at:
http://www.dawn.com/news/1112619/jirga-militants-to-discuss-deadline
-----------
1,000-year-old village discovered in Mardan
June 14, 2014
MARDAN - Abdul Wali Khan University Mardan Archaeology Department has discovered a 1,000-year-old village at Mian Khan area of tehsil Katlang, Mardan.
"This village is the oldest area in the Khyber Pakhtunkhwa province," Abid-ur-Rehman, Field Director and Muhammad Ashfaq, Field Officer, told The Nation during a visit to the site. Javed Ali, Field Assistant accompanied by Amir Zeb and Riaz Khan, senior master students of the Tourism Department, AWKUM and Abid Mahmood, Media In-charge AWKU, were also present on the occasion.
They said the staff of AWKU started archaeological excavations on May 2, 2014 at the site of Koi Tangay Kandaray located at the Mian Khan Village of Tehsil Katlang, Mardan under the supervision of Prof Dr Ihsan Ali, a well-reputed archaeologist, aimed at finding out the cultural profile of the area and to unearth hidden treasure which will be displayed at AWKUM Museum and to train students and researchers on various field techniques. "The Mian Khan village itself is very well known to the world in terms of archaeological and historical importance," they added.
Full report at:
http://www.nation.com.pk/national/14-Jun-2014/1-000-year-old-village-discovered-in-mardan
-----------
Twin blasts in Mansehra leave 1 dead, 3 injured
June 14, 2014
MANSEHRA: Two blasts in Mansehra, near a vehicle of security forces, left one person dead and three others injured, Express News reported on Saturday.
The two explosions took place in the Shinkiari area of the city.
In the first blast, three people were injured and were taken to a local hospital for medical treatment.
The bomb was planted on the roadside and detonated via a remote control device, according to sources.
Full report at:
http://tribune.com.pk/story/721745/blast-near-security-forces-vehicle-in-mansehra-injures-3/
-----------
Dr Tahirul Qadri, his sons involve in money laundering: minister
14 June, 2014
FAISALABAD – State Minister for Water and Power Abid Sher Ali has said that Pakistan Awami Tehreek chairman Dr Tahirul Qadri and his son are involved in money laundering.
"Tahirul Qadri and his sons are indulged in money laundering and facts will come to public soon on this count," the state minister told journalists after an 'open public court' here on Saturday.
"We will welcome Tahirul Qadri on his arrival in Pakistan. If he wants container, we will provide (container) to him equipped with all facilities," he told a questioner. Those who talk of non-accepting the constitution will be proceeded against under the constitution, he cautioned.
Full report at:
http://www.dailytimes.com.pk/national/14-Jun-2014/qadri-his-sons-involve-in-money-laundering-minister
-----------
Mideast
Suicide Car Bomb Kills 5 Yemeni Soldiers, Wounds 10
14 June, 2014
A predawn suicide car bomb attack killed Saturday five Yemeni army soldiers and injured 10 others in the troubled southern province of Abyan.
"A suicide bomber detonated an explosive-packed vehicle near an army outpost in the Abyan's district of Mahfad around 2:30 in the morning, as a result, five army personnel were killed and 10 others injured," a local security official said, Xinhua reported.
He added suspected members of the Yemen-based Al-Qaeda offshoot were behind the large explosion in Mahfad town of Abyan.
Heavy shooting and armed confrontations occurred after the suicide blast, according to local residents.
Full report at:
http://english.farsnews.com/newstext.aspx?nn=13930324000939
-----------
Islamic Jihad calls for kidnapping of Israeli soldiers to free prisoners
14 June, 2014
A senior Islamic Jihad official in Gaza called on the Palestinians to resume kidnappings of Israeli soldiers in order to use them as bargaining chips which would be traded for jailed terrorists, Hashavua Ma'ariv reported.
The official, Khaled al-Batash, told worshippers at a mosque in Gaza that "kidnapping soldiers is the only way to free prisoners."
His remarks came hours before Israeli forces launched a manhunt in search of three yeshiva youths who went missing in the Hebron area before dawn Friday.
Al-Batash noted that Palestinian prisoners have been released only as part of swaps involving kidnapped soldiers.
Full report at:
http://www.jpost.com/Defense/Islamic-Jihad-calls-for-kidnapping-of-Israeli-soldiers-to-free-prisoners-358274
-----------
Israeli official: Abbas' 'terror government' responsible for fate of missing teens
14 June, 2014
Israeli government officials are holding Palestinian Authority President Mahmoud Abbas responsible for the fate of three yeshiva students who went missing in the West Bank on Friday.
Deputy Minister Ofir Akunis said that Abbas "and the government of terrorism" – a reference to the new unity government that has the support of Hamas – is "directly responsible" for the well-being of the missing teens.
"This is the unavoidable result of the legitimacy that [Abbas] gave to a terrorist organization," Akunis said. "The international community must recant the blessing it gave to this government and to remember that a terrorist is a terrorist even if they have a title of minister or government member."
Full report at:
http://www.jpost.com/Diplomacy-and-Politics/Shock-anger-grip-Israeli-politics-as-nation-receives-news-of-possible-kidnappings-358275
-----------
Iran intelligence minister blames Israel, US for Iraq crisis
14 June, 2014
WASHINGTON -- Iranian deputy minister of intelligence Hojjat al-Eslam Ali Khazaei says terrorists supported "by Israel and America" are responsible for the fall of Mosul, Iraq, to the Islamic State of Iraq and Syria (ISIS).
The statement by the Iranian official came as the government officially denied sending troops over its border with Iraq to aid the defense of Baghdad from Sunni extremists, seeking to carve a new caliphate in the region and impose Sharia law.
Full report at:
http://www.jpost.com/Iranian-Threat/News/Iran-intelligence-minister-blames-Israel-US-for-Iraq-crisis-359296
-----------
Turkey 'did not allow weapons to be supplied' to rebel groups in Syria
14 June, 2014
Deputy Prime Minister Bülent Arınç has dismissed claims that Turkey has supported the arming of fighters in Syria and Iraq.
"Turkey has not allowed arms support and border crossings to armed fighters in Syria, including the Free Syrian Army [FSA]. It has only allowed humanitarian aid," Arınç told reporters on June 13.
He said Turkey had had in "no contact" with the militants of the Islamic State of Iraq and the Levant (ISIL), which is currently spreading across northern Iraq. "Definitely, we were not in connection with these groups anyway. We obey all measures taken by United Nations Security Council decisions on the fight against terror and its financing. We have adopted these measures with our Cabinet decisions," Arınç said.
Full report at:
http://www.hurriyetdailynews.com/turkey-did-not-allow-weapons-to-be-supplied-to-rebel-groups-in-syria.aspx?pageID=238&nID=67783&NewsCatID=338
-----------
Hassan Rouhani says ready to aid Iraq, 'can think' of role with US
Reuters | Jun 14, 2014
ANKARA: Iran could contemplate cooperating with its old adversary the United States on restoring security to Iraq if it saw Washington confronting "terrorist groups in Iraq and elsewhere", Iranian President Hassan Rouhani said on Saturday.
Rouhani, a relative moderate who has presided over a thaw in Iran's relations with the west, added that Tehran stood ready to provide help to Iraq within the framework of international law, but so far Baghdad had not requested such assistance.
Shi'ite Muslim Iran has been alarmed by the seizure this week of several major northern Iraqi towns by Sunni Islamist insurgent forces and their sweep southward to within an hour's drive of Baghdad, and not far from the Iranian border.
A senior Iranian official told Reuters earlier this week that Tehran, which has strong leverage in Shi'ite-majority Iraq, may be ready to cooperate with the United States in helping Baghdad fight back against the jihadist ISIL rebels.
Full report at:
http://timesofindia.indiatimes.com/world/middle-east/Hassan-Rouhani-says-ready-to-aid-Iraq-can-think-of-role-with-US/articleshow/36542137.cms
-----------
South Asia
'Khaleda's remand will solve Zia killing mystery'
14 June, 2014
Awami League Joint General Secretary Mahbub-ul Alam Hanif has said the mystery behind the killing of late president Ziaur Rahman would be solved, if Khaleda is placed on remand.
Addressing Tarique Rahman,he said: "The killing mystery of your father will be solved , if your mother can be placed on remand. It is Khaleda, who should face trial for the murder, not the Prime Minister Sheikh Hasina."
The ruling party leader made the statement while exchanging views with the local leaders at his Kushtia residence on Friday.
Regarding the anti-government movement of the BNP, he said: "Our Country has moved forward and the people now want to see progress. They do not want unrest any more, so they will boycott the BNP."
Among others, AL town unit President Taizal Ali Khan, Sadar police station unit General Secretary Akhtaruzzaman and other local leaders were present in the view exchange.
http://www.dhakatribune.com/politics/2014/jun/14/khaledas-remand-will-solve-zia-killing-mystery#sthash.ZcGRk4CR.dpuf
-----------
10 killed in violent clashes in Bangladesh capital
14 June, 2014
Violent clashes between Bengalis and Urdu-speaking Biharis (or stranded Pakistanis) on Saturday left 10 people dead in Mirpur area here over the use of firecrackers overnight to celebrate an Islamic festival.
Witnesses and police said nine people, including eight of a family, were burnt to death and another died in gunshot as a camp of Biharis was set on fire over the dispute. Several others were also wounded in the violence later.
"The clash erupted between the local Bengali youths and the Biharis this morning over exploding crackers and fireworks marking the Shab-e-Barat night...the Bengalis set fire at a house, causing the casualties," Dhaka's additional Deputy Police Commissioner Jasim Uddin told a TV channel.
Full report at:
http://www.thehindu.com/news/10-killed-in-violent-clashes-in-bangladesh-capital/article6114785.ece
-----------
Afghans vote again in final test as Taliban threats loom
14 June, 2014
KABUL: Afghans headed back to the polls on Saturday for a second round of voting to elect a successor to President Hamid Karzai in a decisive test of Afghanistan's ambitions to transfer power democratically for the first time in its tumultuous history.
The vote pits former anti-Taliban fighter Abdullah Abdullah against ex-World Bank economist Ashraf Ghani after neither secured the 50 percent majority needed to win outright in the first round on April 5.
Voters were not put off by a couple of rockets landing in the capital and formed long queues at polling station before voting began at 7 a.m. (0230 GMT) "Afghan people always rise from the ashes to face challenges.
Today is one such challenge and we will rise to the occasion," said Arash Yarmand, an electrical engineer preparing to cast his vote in Kabul.
"There's a lot of expectations from the new government and we hope they live up to it." As most foreign troops leave by the end of 2014, whoever takes over from Karzai will inherit a troubled country with an increasingly violent Taliban insurgency and an economy crippled by corruption and the weak rule of law.
Full report at:
http://www.dawn.com/news/1112690/afghans-vote-again-in-final-test-as-taliban-threats-loom
-----------
India
Muzaffarnagar riot victims asked to leave camps in 3 days
14 June, 2014
Sub-divisional Magistrate Suresh Kumar Mishra on Saturday said that a team of government officials visited the camps and "appealed" to the riot-displaced people to return back to their villages
Displaced villagers who have been living in camps on government land in neighbouring Shamli district since the Muzaffarnagar communal riots in September last year have been asked to vacate them within three days by authorities.
Sub divisional Magistrate Suresh Kumar Mishra on Saturday said that a team of government officials visited the camps on Friday and "appealed" to the riot-displaced people to return to their native villages within three days.
Full report at:
http://www.thehindu.com/news/national/other-states/muzaffarnagar-riot-victims-asked-to-leave-camps-in-3-days/article6114199.ece
-----------
Forces capable of responding to ceasefire violations: Arun Jaitley
Press Trust of India | Srinagar | June 14, 2014
Defence Minister Arun Jaitley on Saturday said the country's forces are capable of responding to ceasefire violations along the Line of Control by Pakistan.
Jaitley, who arrived here on a two-day visit to Jammu Kashmir, said he will review security related matters with the state government and officers involved in the security grid.
Asked about ceasefire violations, including the one ahead of his visit, the Defence Minister said "our forces are capable of responding to it".
Jaitley was speaking to reporters at the Raj Bhavan, where he will be staying overnight.
Accompanied by Army chief General Bikram Singh, Jaitley arrived here on his maiden visit since assuming charge as Defence Minister last month and is slated to meet Governor N N Vohra and Chief Minister Omar Abdullah.
Full report at:
http://indianexpress.com/article/india/india-others/forces-capable-of-responding-to-ceasefire-violations-arun-jaitley/
-----------
FMSA hails PM's declaration of fair deal about Muslims
PTI | Jun 14, 2014
ALIGARH: The Forum For Muslim Studies And Analysis, a body of Muslim intellectuals, has in a resolution hailed Prime Minister Narendra Modi's declaration in the Parliament that the community would be "given a fair deal
In a resolution passed here on Friday the forum has said that the PM's assurance has given fresh hope to the Muslims that they would be treated with "justice and fair play" in the BJP-led NDA regime.
The FMSA said that the PM's announcement that his government would have "zero tolerance" for communal violence and terrorism was a very positive signal.
It would play a very major role in ensuring that his road map for economic recovery becomes a reality, the forum said.
Full report at:
http://timesofindia.indiatimes.com/india/FMSA-hails-PMs-declaration-of-fair-deal-about-Muslims/articleshow/36557601.cms
-----------
Southeast Asia
Diversity is God-given, sultan's consort reminds Muslims
14 June, 2014
God created diversity so that people from different backgrounds could interact with one another and achieved mutual respect, Tuanku Raja Zarith Sofia Sultan Idris Shah told Muslims today, amid rising racial and religious intolerance in multi-ethnic Malaysia.
The consort to the Sultan of Johor quoted two verses from the Quran – Al Maidah, verse 48 and Al Hujurat, verse 13 – which described how God had deliberately created diversity among mankind so that they may be tested as well as learn from one another.
"These verses clearly remind us that diversity is God-given. He created diversity…and this should encourage us to interact with each other and try to achieve mutual love and respect," she told a seminar on "Extremism among the Muslims in Contemporary Times" at Universiti Teknologi Malaysia (UTM) here.
Raja Zarith, who is UTM's chancellor, noted that even the Prophet Muhammad, had declared the differences in his community as being God's will, and that he strived to achieve peace among the non-Muslim groups as well.
Full report at:
http://www.themalaysianinsider.com/malaysia/article/diversity-is-god-given-sultans-consort-reminds-muslims#sthash.2h36WOYW.dpuf
-----------
DAP urges A-G to act on defiance shown by Selangor Islamic council
14 June, 2014
Attorney-General Tan Sri Abdul Gani Patail (pic) has been urged to take a firm stand on the open defiance shown by the Selangor Islamic Religious Council (Mais) over the seized Bibles issue.
In making the call, DAP's Puchong MP Gobind Singh Deo said Gani must order both Mais and the Selangor Islamic Religious Department (Jais) to return the Bibles seized from The Bible Society of Malaysia about six months ago.
On Thursday, Gani had issued a statement declaring the case closed and ordered Jais to facilitate the return of the seized holy books to BSM.
However, Mais this morning called on the authorities to take action against BSM.
Mais said in a statement that it did not agree with Gani's decision to close the case, and claimed his decision would cause confusion among Muslims.
Full report at:
http://www.themalaysianinsider.com/malaysia/article/dap-urges-a-g-to-act-on-defiance-shown-by-selangor-islamic-council#sthash.dF8686ZF.dpuf
-----------
Najib rapped for passing the buck on interfaith child custody battles to apex court
14 June, 2014
Lawyers and civil groups are mystified by Datuk Seri Najib Razak's (pic) suggestion that parties in interfaith child custody battles should appeal to the Federal Court to settle conflicting decisions of the civil and shariah courts.
They pointed out that the cases in question have already been through the legal process and the courts have ruled on them, and questioned the need to turn to the apex court as proposed by the prime minister.
At the same time, they criticised him for "passing the buck" on unilateral conversions to the Federal Court, saying the High Court had already ruled that civil courts had jurisdiction over shariah law in such matters.
Full report at:
http://www.themalaysianinsider.com/malaysia/article/najib-rapped-for-passing-the-buck-on-interfaith-child-custody-battles-to-ap#sthash.S0ItCGfH.dpuf
-----------
Book on 'Christian Agenda' for internal use only, says religious authority
14 June, 2014
The book titled "Exposing the Christian Agenda" (pic) by Selangor Islamic Religious Council (Mais) which was distributed at the recent seminar in Universiti Teknologi Mara was for internal use and not for public consumption, said Sallehin Mukhyi.
In defending the book, the Selangor exco in charge of religious affairs said there had been no violation of any law and no reports had been specifically lodged by interested parties against it.
"This book is for internal use and not for the public, the law will depend who received it, if there are reports.
"As far as I know, this is for internal study and not for public consumption," he said at a press conference in Kajang today.
Full report at:
http://www.themalaysianinsider.com/malaysia/article/book-on-christian-agenda-for-internal-use-only-says-religious-authority#sthash.NZTXU54j.dpuf
----------
Africa
Scholars on know-Islam mission in Zambia
14 June, 2014
With the image of Islam tarnished by the likes of Nigeria's militant Boko Haram group, the Muslim community in the Southern African country of Zambia is hoping to project a more positive image of their faith.
"By definition, Islam means peace; its followers are expected to be peaceful people," Badru Kisalita, a Ugandan Muslim preacher, told Anadolu Agency on the sidelines of a two-day program sponsored by the Islamic Council of Zambia.
"The action of Boko Haram does not reflect the true picture of a good Muslim," he said.
Boko Haram, which means "Western education is forbidden" in Nigeria's local Hausa language, has been blamed for numerous attacks – on places of worship and government institutions – and thousands of deaths the past five years.
In mid-April, Boko Haram militants stormed a high school in Nigeria's northeastern Borno State, and abducted scores of schoolgirls.
Full report at:
http://www.worldbulletin.net/todays-news/138988/scholars-on-know-islam-mission-in-zambia
-----------
Zanzibar mosque bombing kills one, wounds seven
14 June, 2014
A bomb explosion killed one person and wounded at least seven in front of a mosque near Zanzibar's capital Stone Town, police said on Saturday.
Tanzania's Indian Ocean archipelago, famed for its white-sand beaches and historic buildings, has been hit by a series of bomb attacks over the past year, targeting mosques, churches and restaurants.
"Unknown assailants threw a hand-made explosive device from a passing car as worshippers emerged from a mosque in the Darajani area on Friday night," Zanzibar police spokesman Mohammed Mhina told Reuters by phone.
Full report at:
http://www.worldbulletin.net/todays-news/138999/zanzibar-mosque-bombing-kills-one-wounds-seven
-----------
Nigeria's Fulanis deny women abduction by Boko Haram
14 June, 2014
Leaders of the Fulani community in the Nigeria's northeastern Borno State have denied reports about the abduction of 20 women by Boko Haram militants.
"We need to tell the world that there is nothing like that," Amadu Musa, Borno chairman of the Miyetti Allah Cattle Breeders Association of Nigeria (MACBAN), told reporters late Friday.
"Our women and girls are intact," he said.
Last week, media had reported that some 20 Fulani women had been abducted by Boko Haram militants, who called for their release on a ransom of 30 cows.
"It takes us this long to respond because we made series of consultation to avoid issuing conflicting statements that will generate tension," Musa said.
Full report at:
http://www.worldbulletin.net/world/138997/nigerias-fulanis-deny-women-abduction-by-boko-haram
-----------
It's inconceivable to get all kidnapped girls back - former Nigerian leader
14 June, 2014
Nigeria's former president Olusegun Obasanjo has voiced fears that not all of the Nigerian schoolgirls kidnapped by Boko Haram would ever return. "It's inconceivable to get all of them back," he said in an interview with the Premium Times online news site published Thursday.
"If you get all of them back, I will consider it a near-miracle," he was quoted as saying.
Boko Haram militants abducted 276 girls from their school in the remote town of Chibok, in northeastern Borno state, on April 14. Nearly two months on, there is little sign of the girls being freed or rescued, despite Nigeria's military saying that they knew where the teenagers were being held and an international rescue effort.
Obasanjo, who last month held exploratory talks to open channels of communication with the Islamists through intermediaries, echoed widely held doubts that all of the girls were still together. Analysts suspect that the 219 girls still missing are likely to have been split into smaller groups and possibly taken outside Nigeria.
Full report at:
http://voiceofrussia.com/news/2014_06_14/Its-inconceivable-to-get-all-kidnapped-girls-back-former-Nigerian-leader-7202/
-----------
A more effective strategy to deter Somali youth from jihadist causes
14 June, 2014
Many people found themselves disconcerted when the news broke that Somali youth are going to Syria to join a Jihadist group to fight against the regime there. It is an experience of deja vu.
More than 20 Somali youth have already gone to Somali to join Al Shabaab, an extremist group, affiliated with Al Qaida. One of the Somali boys, Ahmed Shirwac, was the first U.S. citizen to carry out a suicide bombing in the northeastern region of Somalia known as Puntland. Many of these youth were killed in combat; some who survived managed to come back. They were prosecuted, convicted and sent to federal prison.
The Somali community has since been tenacious and resolute not to have such a thing happen again. And so when the news broke that young Somali were going to Syria to join a jihadist group, most of the community were dumbfounded that their youth still continued to slip out of Minneapolis to join terror groups across the globe. The FBI has focused on this pipeline for recruitment for the last few years and launched an operation dubbed "Operation Rhino." But the program has been a colossal failure, and this failure calls for an immediate revision along with genuine collaboration of the community.
Full report at:
http://www.somalicurrent.com/2014/06/13/a-more-effective-strategy-to-deter-somali-youth-from-jihadist-causes/
--------
Europe
ISIL militants 'executed 1,700 Shiite soldiers', UN alarmed
14 June, 2014
Concerns are growing over executions and mounting abuses by militants led by the Islamic State of Iraq and the Levant (ISIL), amid a warning from the United Nations that hundreds of people were killed, many of them summarily executed, after the seizure of Mosul.
"The full extent of civilian casualties is not yet known but reports received by UNAMI, the U.N. mission in Iraq, to this point suggest that the number of people killed in recent days may run into the hundreds and the number of wounded is said to be approaching 1,000," Rupert Colville, the spokesman of the U.N.'s human rights chief Navi Pillay, told reporters in Geneva on June 13. UNAMI has its own network of contacts and had interviewed some of the 500,000 who fled Mosul, he said. A further 40,000 people were estimated to have fled from Tikrit and Samara, according to the International Organization for Migration.
Full report at:
http://www.hurriyetdailynews.com/isil-militants-executed-1700-shiite-soldiers-un-alarmed.aspx?pageID=238&nID=67754&NewsCatID=352
-----------
Britain to issue first Islamic bonds by Western sovereign
14 June, 2014
The British government has mandated banks to arrange a five-year 200 million pound sukuk - the world's first Islamic bond to be issued by a Western sovereign.
The Islamic bond could be issued in the coming weeks, subject to market conditions, The Treasury said in a statement late on Thursday.
The roadshow will start on June 17 in Jeddah and Kuala Lumpur, then moving to Riyadh, Dubai, Doha, and Abu Dhabi, ending in London on June 20, lead banks said.
A sovereign sukuk is the centrepiece of Prime Minister David Cameron's bid to position London as a leading hub for Islamic finance, as competition heats up with financial centres in the Middle East and Asia.
Full report at:
http://english.alarabiya.net/en/business/banking-and-finance/2014/06/13/UK-mandates-banks-for-maiden-sovereign-sukuk-in-coming-weeks-.html
-----------
Crimean mosque attacked and set fire
14 June, 2014
A Crimean mosque was vandalized on June 12 and set on fire by unknown people throwing three Molotov cocktails .
According to the closed-circuit cameras, the provocators drew Nazi swastika signs on the fence and molotov cocktails were thrown around 5:00 a.m to The Chukurcha-Jami by a male individual on June 13th.
After the attack, the police started an investigation to find attackers.
The Mosque was also vandalized in 2004 with statements being written on the walls that insulting Islam.
http://www.worldbulletin.net/muslim-world/138885/crimean-mosque-attacked-and-set-fire
-----------
Belgian govt orders trial of 46 'Islamists'
14 June, 2014
BRUSSELS; A Belgian court ordered that 46 suspected members of a radical Islamist group, believed to be involved in sending young fighters to Syria, stand trial later this year.
Sixteen people alleged to be part of Sharia4Belgium, including its head Fouad Belkacem, face charges of leading a terrorist organisation, the federal justice office said.
The remaining 30 will be tried on charges of belonging to Sharia4Belgium, it said.
However, only eight of the 46 ordered to face trial are currently in Belgium, scene last month of an attack at a Jewish museum in Brussels that left four people dead and shocked the country.
Full report at:
http://www.dawn.com/news/1112602/belgian-govt-orders-trial-of-46-islamists
-----------
UN intensifies efforts to support Iraq's displaced
14 June, 2014
The United Nations bodies have launched emergency operations to help people affected by the conflict in Iraq's Mosul where half a million people have been displaced in the last week.
"The United Nations World Food Programme is launching an initial emergency operation to provide food assistance to 42,000 of the most vulnerable people displaced by conflict this week in Iraq," the agency's spokesperson Elisabeth Byrs said Thursday in a press conference at the UN Office in Geneva.
The agency is planning to deliver about 550 metric tons of food a month as part of the operation.
The aid convoys will reach the families displaced by the conflict through the Turkish border, Byrs said
More than 300,000 residents have fled Mosul since Friday mostly to the Kurdish-populated parts of the country, where they are hosted in refugee camps, following the ISIL's advances on the city.
Full report at:
http://www.worldbulletin.net/headlines/138942/un-intensifies-efforts-to-support-iraqs-displaced
-----------
North America
Qurans burned in front of U.S mosque
14 June, 2014
Several Qurans were burned in front of a Dearborn mosque yesterday in possible connection with anti-Islam Pastor Terry Jones' visit to the city, Press & Guide reported.
The three books were burned in front of the Karbala Islamic Educational Centre, according to the report. The imam of the mosque, Sheikh Husham Al-Husainy, confirmed that the incident occurred and that police are investigating.
Al-Husainy said he met with public safety officials, including the FBI and Dearborn's police chief.
"I've been in this mosque for 20 years, and this never happened," he said.
The mosque is the centre of Dearborn's Iraqi Shi'a community and is often visited by people interested in its history. Al-Husainy said visitors come each week and for group tours.
Jones is visiting Dearborn to rally against Islamic law. Jones planned to speak in front of the Islamic Centre of America but, because he did not obtain a permit from the city, he will be speaking in front of City Hall, one of Dearborn's designated "free speech zones."
http://www.worldbulletin.net/muslim-world/138911/qurans-burned-in-front-of-us-mosque
-----------
FBI 'raids 19 schools associated with Gülen'
14 June, 2014
U.S. federal agents have raided 19 charter schools, including three in Ohio, where an FBI criminal investigation in Cleveland has led to search warrants in Indiana and Illinois over the past week, Ohio-based Beacon Journal has reported.
Concept Schools, a charter school operator headquartered near Chicago, manages 19 charter schools in Ohio, second only to Texas with 44 such schools. There are nearly 140 charter schools, spread across 26 states, reportedly associated with Turkish cleric Fethullah Gülen, an Islamic cleric exiled from Turkey, living in Pennsylvania.
Concept Schools, which emphasizes math and science, has been investigated previously by the U.S. Department of Labor for its use of foreign workers. Ohio audits found that public money for the schools had been used improperly for visas, according to the report.
The Turkish government has recently started an international campaign against the global network of schools affiliated with Gülen, the ruling Justice and Development Party's (AKP) ally-turned-nemesis.
http://www.hurriyetdailynews.com/fbi-raids-19-schools-associated-with-gulen.aspx?pageID=238&nID=67788&NewsCatID=358
-----------
U.S. warship sent to Gulf to be on standby for Iraq
14 June 2014
The United States will deploy one of its naval aircraft carriers to the Gulf to give President Barack Obama military options in light of the situation in Iraq, CNN quoted a U.S. official as saying, as the government in Baghdad bolstered the capital's defenses against any possible attack by al-Qaeda inspired militants.
The U.S. official told CNN that Washington plans to move the George H.W. Bush aircraft carrier to provide the American president with options for possible airstrikes.
Obama on Friday set the bar high for U.S. military involvement in Iraq, where a string of areas have fallen to militants belonging to the Islamic State of Iraq and Greater Syria, ruling out the possibility of putting U.S. troops on the ground in Iraq.
But the U.S. leader did say he was considering a range of other options drawn up by the Pentagon.
Full report at:
http://english.alarabiya.net/en/News/middle-east/2014/06/14/U-S-mulls-Iraq-options-sends-warship-to-Gulf.html
-----------
Resurgent Violence Underscores Morphing of Al-Qaeda Threat
14 June, 2014
Washington/Islamabad. In Iraq, an Al-Qaeda splinter group is threatening Baghdad after seizing control of two cities. In Pakistan, the Taliban attacked a major airport twice in one week. And in Nigeria, the Islamist militant group Boko Haram was blamed for another mass kidnapping.
A cluster of militant attacks over the past week is a reminder of how the once-singular threat of Al-Qaeda has changed since the killing of Osama bin Laden, morphing or splintering into smaller, largely autonomous Islamist factions that in some cases are now overshadowing the parent group.
Each movement is different, fuelled by local political and sectarian dynamics. But this week's violence is a measure of their ambition and the long-term potential danger they pose to the West.
Full report at:
http://www.thejakartaglobe.com/international/resurgent-violence-underscores-morphing-al-qaeda-threat/
-----------
US lawmakers call for suspension of trade talks with Brunei over Islamic laws
14 June, 2014
One hundred and nineteen members of the House of Representatives signed a letter urging Secretary of State John Kerry and US Trade Representative Michael Froman to shun Brunei in talks on a Pacific free trade zone agreement unless it addresses its recently introduced Islamic laws that threatens the human rights of groups including women and LGBTIs.
The Southeast Asian country in May implemented the first phase of the law that covers general offences such as not performing Friday prayers. It says it will ultimately punish sodomy and adultery with the death penalty, including by stoning.
The letter is the first public action by US lawmakers to pressure Brunei into abandoning its draconian Islamic laws.
In May, celebrities in Hollywood launched a boycott against properties with ties to the Sultan of Brunei, including the Beverly Hills Hotel and the Hotel Bel-Air.
Full report at:
http://www.gaystarnews.com/article/us-lawmakers-call-suspension-trade-talks-brunei-over-islamic-laws140614#sthash.my194Aat.dpuf
-----------
John Kerry and Sartaj Aziz discuss India-Pak ties, regional integration
PTI | Jun 14, 2014
WASHINGTON: US secretary of state John Kerry and Pakistan national security advisor Sartaj Aziz have discussed Pakistan's relations with India and Afghanistan, regional integration, energy and economic issues, officials here said.
"They discussed regional economic integration as well as regional relations of Pakistan with India and Afghanistan, given changes in government leadership in both countries," a state department official said.
The meeting between the two leaders in London was held on the sidelines of the Global Summit to End Sexual Violence in Conflict.
"In light of the recent attacks on the Karachi airport, secretary Kerry reaffirmed our steadfast commitment to the people of Pakistan in their efforts to counter terrorism and build a peaceful and prosperous future," the official said.
Full report at:
http://timesofindia.indiatimes.com/world/pakistan/John-Kerry-and-Sartaj-Aziz-discuss-India-Pak-ties-regional-integration/articleshow/36521229.cms
-----------
No talks with Iran on Iraq crisis: U.S.
14 June, 2014
"No, we are not talking to the Iranians about Iraq," says the State Department Deputy Spokesperson
The United States on Saturday said that it was not holding any talks with Iran on the unfolding developments in Iraq, wherein militant group the Islamic State of Iraq and Syria (ISIS) has gained control of a portion of the country.
"No, we are not talking to the Iranians about Iraq," State Department Deputy Spokesperson Marie Harf told reporters when asked about the possibility of any direct or indirect contacts with Iran on the Iraq crisis.
"What we've said is that all of Iraq's neighbours, including the Iranians, need to not do things to destabilise the situation even further, to not try to promote any sectarian tensions. We've been very clear about that publicly," she added.
Full report at:
http://www.thehindu.com/news/international/no-talks-with-iran-on-iraq-crisis-us/article6114219.ece
----------
URL: https://www.newageislam.com/islamic-world-news/new-age-islam-news-bureau/isil-issues-'10-commandments'-for-islamic-rule/d/87546