New Age Islam News Bureau
24 Jun 2015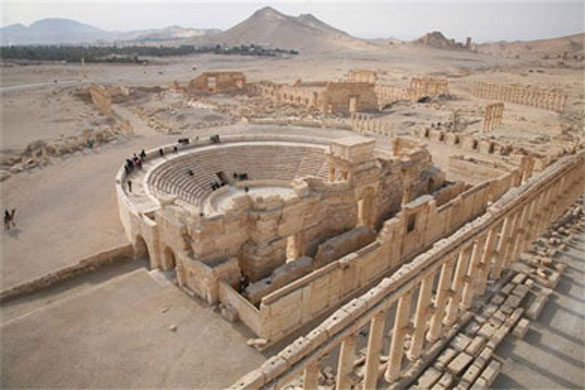 An aerial view taken on January 13, 2009 shows a part of the ancient city of Palmyra. AFP Photo
----------
Arab World
• ISIL Destroys Ancient Islamic Mausoleums In Syria's Palmyra
• Egypt to Remove 'Extremist' Books from Mosque Libraries
• Isil Suicide Bombers Attack Hasaka, 10 Killed
• Syrian Regime Barrel Bomb Kills 10 Civilians in Aleppo: Monitor
• 11 Killed, Dozens Injured In Bombings in Damascus, Hasakah
• Hezbollah, Syria forces secure more areas in Qalamoun
• ISIS drowns, decapitates 'spies' in brutal new video
• Saunas and Art Therapy: Rehab for Convicted Saudi Extremists
• US, Shiite fighters not working together at Iraq base: Pentagon
• UN says more than 3 million Iraqis displaced by ISIL, fighting
• Egypt opens Gaza crossing for third time in a month
• U.N: Syrian government troops, rebels both target civilians
• Iran, Iraq, Syria to strengthen cooperation against ISIS: officials
• Saudi Deputy Crown Prince heads to France
• Army officers among 8 jailed for terrorism
• State of fear: Survivors tell of life under Daesh rule
• ISIL Finance Minister Killed in Iraq's Mosul
-----------
Mideast
• PYD's Muslim Says No Plan for Founding a Kurdish State
• Yemen Forces Retake Houthi-Held Border Crossing
• Envoy: Iran Ready for Multi-Billion-Dollar Joint Ventures with Turkish Firms
• Israel hits Gaza after Palestinian rocket attack: army
• Red Cross fears for Palestinian hunger striker in Israel
• Niece of jailed Kurdish leader enters Turkish parliament
• U.N. official urges Iran to ratify test ban pact
• Palestinian Knesset members call for prosecution of Israel officials
• Spokeswoman Rejects Report on Forced Repatriation of Iranian Asylum-Seekers from Australia
• Turkey's new parliament convenes amid coalition search
• Fresh attempt likely to break Gaza blockade
• Iran's ayatollah rejects long-term nuclear research freeze
-----------
South Asia
• 37 Militants Killed In Afghanistan Military Operations
• Lanka's Buddhist Clergy Opposes Sharia-Based Banking
• US to decide on troops level in Afghanistan after the fighting season
• Keep faith in govt, Shahriar says on Razzak return
• Trial of three Bangladesh war crimes accused ends
• Defence 'failures' cited in diggers' deaths in Afghanistan
• UN urges attention to Afghan refugees' plight
----------
Africa
• Boko Haram Slits Throats of 20 Nigerian Villagers
• 10 killed in bomb attack in Nigeria's Yobe
• Nigerian Muslim Charity Feeds Thousands
• Muslim human rights group accuses Kenyan government of harassment
----------
India
• India's Move in UN Seeking Action against Pakistan on Lakhvi Blocked By China
• India 'Resetting' Iran Ties despite Sanctions
• Lakhvi 'a snake', can also bite China: BJP
• India Hindu nationalist jibe at Muslim vice-president disturbs yoga calm
• 'Converted' Muslims can get backward class benefits: HC
• VHP, Muslim personal law board spar over Yoga Day
----------
Southeast Asia
• At Least 18 Dead In Attack in China's Xinjiang
• Malaysia: Non Muslims Foster Ramadan Spirit
• Shahbudin: Die cast for professionals, progressives in PAS
• UK website pleads for ex-PetroSaudi director
• Report on non-Muslim pupils told to drink urine dismissed
• Remain true to Islam, Hadi tells PAS members
------------
Pakistan
• 10 Killed In Rangers Operation In Karachi
• US Plotting More Bloodshed in Pakistan: Jamaat-e-Islami Punjab
• Do Not Fast In Extreme Heat: Sheikh ul Hadith Mufti Naeem
• US envoy discusses Afghan peace with PML-Q leaders
• UK online snooping against Pakistan 'alarming'
• Soldier martyred in NWA blast
• UN urges world not to 'forget' Afghans in Pakistan
• Hafeez nominated as new Gilgit-Baltistan CM
• JI wants all Pakistani prisoners to be brought back
• Relentless heat wave takes another 337 lives
----------
North America
• Harper Invites Muslim Leaders to Break Fast With Him at 24 Sussex
• Mass. Muslims Iftar Remembers Charleston Victims
• Clinton calls Charlseton killings 'racist terrorism'
• Obama laments 'distorted impression' of Muslims
• Ramadan and the Blending of American Muslims
-----------
Europe
• UK Preacher Says He's Ready to Go to Jail for Calling Islam 'Satanic;' Churches Leaders Fear
• Britain Struggles to Stem Flow of Radicalized Youth to Islamic State
• Italy Denies Role in Imam's Extraordinary Rendition
• Being Targeted for Christian Beliefs
Compiled by New Age Islam News Bureau
URL: https://www.newageislam.com/islamic-world-news/new-age-islam-news-bureau/isil-destroys-ancient-islamic-mausoleums-in-syria-s-palmyra/d/103632
-----------
Arab World
ISIL Destroys Ancient Islamic Mausoleums in Syria's Palmyra
June/24/2015
Islamic State of Iraq and the Levant (ISIL) fighters have destroyed two ancient Muslim mausoleums in the historic Syrian city of Palmyra, the country's antiquities director said June 23.
Maamoun Abdulkarim said ISIL jihadists blew up the tombs of Mohammed bin Ali, a descendant of the Prophet Mohammed's cousin, and Nizar Abu Bahaaeddine, a religious figure from Palmyra, three days ago.
Bin Ali's burial place is located in a mountainous region four kilometres (almost three miles) north of Palmyra, in central Syria.
Photos published by ISIL depicted two armed men carrying cannisters, apparently filled with explosives, walking up the rocky hill to the site.
Abu Bahaaeddine's tomb, nestled in a leafy oasis about 500 metres (yards) from Palmyra's ancient ruins, is said to be more than five centuries old.
ISIL has destroyed at least 50 mausoleums dating between 100-200 years old in the regions under its control in north and east Syria, the antiquities director said.
"They consider these Islamic mausoleums to be against their beliefs, and they ban all visits to these sites," Abulkarim said.
Ten days ago, fighters from the jihadist group also destroyed a number of tombstones at a cemetery for Palmyra residents, Abulkarim told AFP.
"All tombs with marble designs were destroyed. For them, graves should not be visible," he said.
The extremist group captured Palmyra, a renowned UNESCO World Heritage site, from pro-government forces on May 21.
At the weekend, ISIL fighters mined the city's ancient site, renewing fears that they would demolish the famed ruins as they have other historic sites in Iraq.
Syria's army has advanced in recent days west of the city, near key oil and gas fields.
http://www.hurriyetdailynews.com/isil-destroys-ancient-islamic-mausoleums-in-syrias-palmyra-.aspx?pageID=238&nID=84442&NewsCatID=352
-----------
Egypt to remove 'extremist' books from mosque libraries
23 June 2015
Egypt's Minister of Religious Endowments said Monday it is planning the removal of any books inciting extremism from mosque libraries, the Cairo-based newswebsite al-Ahram reported.
Mohamed Mokhtar Gomaa said all mosques around Egypt must provide a list of their library's contents for inspection.
Gomaa said that no books can be added to the library without the ministry's approval.
He added that immediate action will be taken against unlicensed preachers.
A law signed by former interim-President Adly Mansour stipulates that preachers who do not have permits could face jail terms up to a year.
https://english.alarabiya.net/en/News/middle-east/2015/06/23/Egypt-to-remove-extremist-books-from-mosque-libraries-.html
-----------
ISIL suicide bombers attack Hasaka, 10 killed
June/24/2015
Islamic State of Iraq and the Levant (ISIL) suicide bombers killed at least ten people and injured dozens in two coordinated attacks on June 23 in the heart of the northeastern Syrian city of Hasaka, a monitor and a resident said.
The UK-based Syrian Observatory for Human Rights said at least three bombers targeted a key Syrian army security compound in the heart of the government-held portion of the city while a bomber blew himself up in the Kurdish portion of the city at a police station run by the Kurdish Peoples Protection Units (YPG).
The ethnically-mixed city is divided into separate zones run by the government of Syrian President Bashar al-Assad and a Kurdish administration with a well-organised militia.
The Observatory, which tracks violence across the war-torn country, said both the Kurds and the Syrian authorities were keeping a tight lid on the numbers of casualties.
A resident of Hasaka contacted by Reuters said the Kurds and Syrian forces cordoned off the main arteries within the city after the explosions.
Syria's state news agency SANA confirmed that two explosive-laden cars were detonated in twin bombings near a main roundabout in the city and close to a children's hospital, but gave no details.
Earlier this month, the ultra-hardline ISIL militants were repelled by the Syrian army after they made lightning advances south of the strategically located city by conducting around a dozen suicide attacks using explosives-filled trucks at military checkpoints there.
http://www.hurriyetdailynews.com/isil-suicide-bombers-attack-hasaka-10-killed.aspx?pageID=238&nID=84446&NewsCatID=352
-----------
Syrian regime barrel bomb kills 10 civilians in Aleppo: Monitor
23 June 2015
At least 10 civilians, including two children, were killed Monday in a government barrel bomb attack on a mosque in Syria's northern city of Aleppo, a monitoring group said.
"The faithful were in the middle of the Maghrib (evening) prayers in a mosque in Aleppo's rebel-held district of Ansari," the Syrian Observatory for Human Rights said, adding that the attack also left some 20 people injured.
https://english.alarabiya.net/en/News/middle-east/2015/06/23/Syrian-regime-barrel-bomb-kills-10-civilians-in-Aleppo-Monitor-.html
-----------
11 killed, dozens injured in bombings in Damascus, Hasakah
Jun 24, 2015
At least 11 Syrian people have been killed and dozens of others injured in bomb attacks in the Syrian provinces of Damascus and Hasakah.
According to reports, a bomb planted in a vehicle detonated near a mosque in the town of Tal al-Tabeen on the outskirts of the capital, Damascus, on Wednesday, killing at least 10 people and injuring dozens of others.
Elsewhere, in the northeastern city of Hasakah, a car bomb went off at the headquarters of the Kurdish fighters at Sinalco Square, while another one detonated near a pediatric hospital.
According to local sources, who spoke on condition of anonymity, at least one Syrian was killed and 13 others, including children and women, suffered injuries in the attacks.
Also, two other terrorists detonated the explosive devices they were carrying at the headquarters of a unit of the Syrian army in the city. There has been no report on the number of casualties in the incident.
Meanwhile, an explosive device went off near a school in the Anaba neighborhood in the western Syrian port city of Lattakia, causing material damage but no casualties.
No group or individual has yet claimed responsibility for the bomb attacks.
At least four civilians were killed and several others injured in a car bomb attack carried out by foreign-sponsored militants in Syria's southwestern province of Dara'a on June 22.
On June 21, a police source, also speaking on condition of anonymity, said a bomber wearing an explosive vest blew himself up inside the Hadaya Hotel in al-Qamishli city, located on the border with Turkey and 680 kilometers (420 miles) northeast of Damascus, killing one person and injuring 11 others.
Full report at:
http://www.presstv.in/Detail/2015/06/24/417270/Syria-bomb-attacks-Damascus-Hasakah
-----------
Hezbollah, Syria forces secure more areas in Qalamoun
Jun 24, 2015
Syrian government troops backed by fighters from Lebanon's Hezbollah resistance movement have retaken some new hilltops from Takfiri militants operating in the strategic, mountainous region of Qalamoun.
Syrian soldiers and Hezbollah fighters engaged the foreign-sponsored extremists in Qalamoun, located about 330 kilometers (205 miles) north of the Syrian capital, Damascus, and subsequently took control of Shoabat al-Bakara, Thalaja, Shoabat al-Shakara, Beit Shakour and Taleel Hajj Ali.
They later took complete control of Qurnat Dalil Semaa and Shoabat Awad. Scores of militants were killed or injured in the process.
On Monday, Hezbollah fighters and Syrian army forces thwarted an ISIL attack in northern Qalamoun, inflicting casualties on the ranks of the terrorist group.
The development came on the same day as Hezbollah fighters launched a missile attack on the positions of ISIL on the outskirts of the Lebanese town of Arsal, located about 124 kilometers (77 miles) northeast of the capital, Beirut. A militant vehicle equipped with a 33-mm machine gun was destroyed during the operation.
Full report at:
http://www.presstv.in/Detail/2015/06/24/417264/Hezbollah-Syrian-forces-Qalamoun-clahes-
-----------
ISIS drowns, decapitates 'spies' in brutal new video
23 June 2015
An Islamic State of Iraq and Syria (ISIS) group video released Tuesday showed the militants murdering 16 men by drowning them in a cage, decapitating them with explosives and firing a rocket-propelled grenade into a car.
The video, apparently shot in Iraq's Nineveh province, was one of the most brutal yet in a series released by the militants of killings of opponents in areas under ISIS control.
ISIS has executed hundreds of people by gunfire, dozens by beheading, stoned some to death, thrown others from buildings and burned a captured Jordanian pilot alive.
Videos of the killings are a key propaganda tool of the militants, used to shock and terrify their enemies as well as to draw in new recruits seeking the most brutal and active militant group.
Full report at:
https://english.alarabiya.net/en/News/middle-east/2015/06/23/ISIS-drowns-decapitates-spies-in-brutal-new-video.html
-----------
Saunas and Art Therapy: Rehab for Convicted Saudi Extremists
Aya Batrawy, Associated Press, Riyadh, Saudi Arabia | World | Wed, June 24 2015
For most of his 20s, all Badr al-Enezi could think about was becoming a Jihadi fighter. After getting in touch with former Guantanamo Bay prisoners who had returned to militancy, he began plotting how to take up arms.
Instead, he was caught by Saudi authorities and spent six months in prison. His next six months in detention were far different: He dabbled with art therapy, played soccer and enjoyed perks like an Olympic-size pool and a sauna at a rehab centre for convicted extremists.
Gourmet-style meals were prepared for him at the palm-tree-lined complex on the outskirts of the Saudi capital, Riyadh, and his laundry was taken care of. He was treated "like a brother," he says.
Equally important, he was challenged to think differently about Islam.
And now, after successfully completing the de-radicalization program and renouncing any notion of fighting abroad, he serves as a mentor for new entrants to the centre, named after Saudi Arabia's powerful interior minister, Crown Prince Mohammed bin Nayef.
"What is the secret? It is that the ideas we carry cannot be cured by weapons only. It also requires an ideological cure," the 30-year-old says of the facility, which in many ways serves as the centre-piece of Saudi Arabia's counter-terrorism strategy.
As the kingdom faces a new domestic threat from the Islamic State group that has killed 40 Saudi civilians and security personnel since November, it is revving up the groundbreaking program, which rehabilitates extremists through months of indoctrination by moderate Islamic clerics, sociologists and psychologists.
The effort is complicated by the kingdom's regional competition with Shiite rival Iran, which has stoked anti-Shiite rhetoric from hard-line Saudi clerics and fueled attacks on the country's Shiite Muslim minority, viewed by Sunni extremists like the Islamic State group as apostates.
Across the kingdom, Saudi officials and commentators slam Iran as an expansionist power that seeks to dominate the region, but conservative clerics take it even further, using language that is often laced with derogatory references to Shiites in general. In sermons and on Twitter, these clerics, who follow an ultraconservative Sunni doctrine known as Wahhabism, refer to Shiites as "rafideen," an Arabic slur for "rejectionists."
Full report at:
http://www.thejakartapost.com/news/2015/06/24/saunas-and-art-therapy-rehab-convicted-saudi-extremists.html
-----------
US, Shiite fighters not working together at Iraq base: Pentagon
June/24/2015
The Pentagon said June 23 that there are some Shiite fighters at an Iraqi military base where Washington just sent 450 reinforcements, but they were not working with US forces, underscoring concerns over links with the sectarian fighters.
Pentagon spokesman Colonel Steve Warren said that while there is a "small group" of Shiite fighters at the Taqaddum base, there numbered only in the lower double digits, did not form full units and did not interact with US forces.
Taqaddum is a key area in the fight to retake the city of Ramadi and the Sunni province of Al-Anbar from the Islamic State of Iraq and the Levant (ISIL).
Thiite and Kurdish fighters have been critical in bolstering a weakened Iraqi military in efforts to fight ISIL. But the United States is hesitant to see Shiite militias involved in its efforts to battle ISIL, despite their battle readiness.
Many of the forces are backed by US-rival Iran and the military has not forgotten intense fighting with Shiite groups after the 2003 American invasion of Iraq.
The US and international observers also fret that such militias could spark sectarian fighting during campaigns.
Full report at:
http://www.hurriyetdailynews.com/us-shiite-fighters-not-working-together-at-iraq-base-pentagon---.aspx?pageID=238&nID=84444&NewsCatID=352
-----------
UN says more than 3 million Iraqis displaced by ISIL, fighting
June/24/2015
The number of people displaced within Iraq due to violence and fighting by the Islamic State of Iraq and the Levant (ISIL) has exceeded 3 million, the United Nations said June 23, a grim milestone for the war-battered country.
The International Organization for Migration, or IOM, said that at least 3.09 million people have been displaced between January 2014 and June 4 within 18 Iraqi provinces. The majority of the displaced are from Anbar province, Iraq's Sunni heartland captured last summer in a blitz by ISIL militants.
ighting in Anbar has intensified in the past months as Iraqi forces, backed by US-led coalition airstrikes fight to claw back territory held by ISIL.
The IOM report said that more than 276,000 people have been displaced over a two-month period between April and June alone amid fighting in Anbar's provincial capital, Ramadi, which eventually saw the city slip out of Iraqi government's control.
At least 45 percent of Anbar's displaced have fled to Baghdad, while about 35 percent are elsewhere within the sprawling desert province.
Iraq has been ravaged by violence since ISIL first entered Anbar in late 2013 amid fierce clashes with Iraqi security forces that sent civilians fleeing from their homes. The Sunni militant group then waged a lightening advance across northern Iraq last June, often giving non-Sunni Muslims in territories they captured an ultimatum to convert to Islam, pay a religious tax or die.
Full report at:
http://www.hurriyetdailynews.com/un-says-more-than-3-million-iraqis-displaced-by-isil-fighting.aspx?pageID=238&nID=84443&NewsCatID=352
-----------
Egypt opens Gaza crossing for third time in a month
23 June 2015
Egypt opened the Rafah border crossing with the Gaza Strip Tuesday, a Palestinian official said, allowing the delivery of cement supplies into the badly destroyed territory.
The move, which also allowed Palestinians to leave and enter Gaza, came almost a year after the outbreak of a bloody and destructive 50-day war between Israel and militant organisation Hamas, with tens of thousands of homes still in ruins.
Egyptian authorities have now opened the crossing three times during the last month, making officials in Gaza hopeful that Cairo might ease restrictions on movement to and from the coastal enclave.
Until last year, Palestinians were able to leave via Rafah, but since October the frontier has been closed as Cairo struggles with a growing insurgency in the Sinai Peninsula, for which it partly blames Islamist militants in Gaza.
Restrictions across the border have also been tight since the 2013 overthrow in Cairo of Islamist president Mohamed Morsi, whose Muslim Brotherhood organisation is an ally of Hamas.
"Rafah will be open for three days... to allow sick people, students studying abroad and those with foreign residency permits" to come or go, Maher Abu Sabha, director of border crossings in Gaza, told AFP.
Cairo was also allowing an "important quantity" of cement of enter the Strip, he said.
"This is a sign of a warming of relations with Egypt," he added.
Earlier this month, Egyptian authorities allowed 3,520 tonnes of construction material into Gaza, Egyptian sources told AFP on condition of anonymity.
The material is needed to repair a large amount of damage caused during the July-August war which killed 2,200 Palestinians, 73 on the Israeli side, and destroyed tens of thousands of homes, leaving 100,000 people homeless.
Full report at:
https://english.alarabiya.net/en/News/middle-east/2015/06/23/Egypt-opens-Gaza-crossing-for-third-time-in-a-month-.html
-----------
U.N: Syrian government troops, rebels both target civilians
23 June 2015
In Syria's civil war, both government forces and opposition fighters are targeting civilians in a way that has led to "unspeakable suffering," U.N. investigators said Tuesday.
The assessment, in a report by the Independent International Commission of Inquiry on Syria, sought to draw attention to the plight of the civilians, saying that with "each passing day there are fewer safe places in Syria."
Government forces have consistently failed to employ precision weapons "when attacking targets in dense urban areas, causing mass civilian casualties," the report said.
It said the government's use of barrel bombs in aerial attacks against whole areas rather than specific targets, "is in violation of international humanitarian law and, as previously documented, amounts to the war crime of targeting civilians."
But it also said that anti-government armed groups continue to shell "civilian-inhabited areas under government control indiscriminately," stressing that indiscriminate attacks on civilian-inhabited areas are committed across Syria "by most, if not all, of the warring parties."
"In no instance have the parties to the conflict shown any commitment to the paramount obligation under international law to distinguish between civilian and military objectives," said Brazilian diplomat Paulo Sergio Pinheiro, who chairs the panel.
Syria's conflict, which began in March 2011, has killed more than 220,000 people, according to U.N. figures.
Full report at:
https://english.alarabiya.net/en/News/middle-east/2015/06/23/U-N-Syrian-government-troops-rebels-both-target-civilians.html
-----------
Iran, Iraq, Syria to strengthen cooperation against ISIS: officials
23 June 2015
Officials from Iran, Iraq and Syria will meet next week in Baghdad to strengthen their joint fight against the Islamic State jihadist group, media reports said Tuesday.
Representatives of the three countries "will have a meeting next week in Baghdad to reinforce their cooperation in the fight against terrorism," Ali Akbar Velayati, foreign affairs adviser to Iranian supreme leader Ayatollah Ali Khamenei, said Tuesday.
Velayati spoke after meeting Syrian Interior Minister Mohammad al-Chaar, who is visiting Tehran, Iranian state TV said.
"Iran has brotherly and historic relations with these two countries (Iraq and Syria). Next week, we will bear witness to an important evolution in the relationship among these three countries," Velayati said.
Citing Chaar, Syrian pro-government daily Al-Watan said the meeting would aim "to discuss the mechanisms of strategic cooperation and coordination to combat terrorism."
"The terrorists of Daesh are active in Syria and Iraq, so we have to coordinate at the highest level to fight terrorism," the Syrian interior minister said, quoted by Iran's official news agency IRNA.
Full report at:
https://english.alarabiya.net/en/News/middle-east/2015/06/23/Iran-Iraq-Syria-to-strengthen-cooperation-against-ISIS-officials.html
-----------
Saudi Deputy Crown Prince heads to France
23 June 2015
Saudi Arabia's Deputy Crown Prince Mohammad Bin Salman headed to France on Tuesday on an official visit.
The visit follows an invitation from the French government, which stated Prince Mohammad is due to meet French President Francois Hollande and other senior officials.
According to the Saudi Press Agency, Prince Mohammad is set to discuss bilateral ties between Saudi Arabia and France.
Full report at:
https://english.alarabiya.net/en/News/middle-east/2015/06/23/Saudi-Deputy-Crown-Prince-heading-to-France.html
-----------
Army officers among 8 jailed for terrorism
23 June 2015
RIYADH: The Special Criminal Court here has sentenced eight people, including two army officers, to jail terms of between one and 17 years for terror-related activities.
The court found the defendants guilty of forming a terrorist cell inside the Kingdom, supporting Al-Qaeda's aims to attack private and public property, and adopting Takfiri ideas.
The court decided that the first defendant, an army officer, had rebelled against the government by meeting with terrorists, adopting Takfiri ideas and supporting Al-Qaeda, a local publication reported.
He was also found guilty of supporting the terrorist attack targeting Crown Prince Mohammad bin Naif, deputy premier and interior minister, and entering the Yanbu refinery to launch an attack. The court ruled that he had broken his military oath and sentenced him to 16 years in jail and a travel ban for the same period after he completes his sentence.
The second defendant, also a soldier, was convicted of trying to travel to places of unrest, and using the Internet to log into suspicious websites and upload Takfiri material supporting Al-Qaeda. He was convicted of breaking his military oath by teaching Al-Qaeda members to manufacture explosives. He was sentenced to three and a half years in jail starting from the day of his arrest, and banned from travel for the same period.
إعلان
The third defendant was found guilty of rebelling against the government, meeting with extremist groups, and participating in the terrorist attack that targeted Prince Mohammad bin Naif. He was sentenced to 17 years in jail and banned from travel for the same period.
The fourth defendant was accused of adopting Takfiri ideas and meeting with others with the same views, planning to carry out terrorist attacks inside the Kingdom, and publishing prohibited material on the Internet. He was sentenced to 16 years and banned from travel for the same period after finishing his sentence.
The fifth defendant was found guilty of rebelling against the government, trying to travel to troubled areas without permission, and training with the Taleban and receiving money to support them. He was sentenced to five years in jail and banned from travel for the same period.
Full report at:
http://www.arabnews.com/saudi-arabia/news/766166
-----------
State of fear: Survivors tell of life under Daesh rule
Last updated: Tuesday, June 23, 2015
ESKI MOSUL, Iraq — When the Daesh (the so-called IS) fighters burst into the Iraqi village of Eski Mosul, Sheikh Abdullah Ibrahim knew his wife was in trouble.
Buthaina Ibrahim was an outspoken human rights advocate who had once run for the provincial council in Mosul. The Daesh fighters demanded she apply for a "repentance card." Under the rule of the extremist group, all former police officers, soldiers and people whose activities are deemed "heretical" must sign the card and carry it with them at all times.
"She said she'd never stoop so low," her husband said.
Buthaina Ibrahim was an outlier in her defiance of Daesh. It would cost her dearly.
The self-proclaimed "caliphate," declared a year ago, demands obedience. Untold numbers have been killed because they were deemed dangerous to Daesh, or insufficiently pious; 5-8 million endure a regime that has swiftly turned their world upside down, extending its control into every corner of life to enforce its own radical interpretation of Islamic law or Shariah.
Daesh is a place where men douse themselves with cologne to hide the odor of forbidden cigarettes; where taxi drivers or motorists usually play the Daesh radio station, since music can get a driver 10 lashes; where women must be entirely covered, in black, and in flat-soled shoes; where shops must close during prayers, and everyone found outdoors must attend.
There is no safe way out. People vanish — their disappearance sometimes explained by an uninformative death certificate, or worse, a video of their beheading.
"People hate them, but they've despaired, and they don't see anyone supporting them if they rise up," said a 28-year-old Syrian who asked to be identified only by the nickname he uses in political activism, Adnan, in order to protect his family, which still lives under Daesh rule. "People feel that nobody is with them."
The Associated Press interviewed more than 20 Iraqis and Syrians describing life under the group's rule. One AP team traveled to Eski Mosul, a village on a bend in the Tigris River north of Mosul where residents emerged from nearly seven months under Daesh rule after Kurdish fighters drove the extremists out in January. The Daesh forces remain dug in only a few miles away, so close that smoke is visible from fighting on the front lines.
Another AP team traveled to the Turkish border cities of Gaziantep and Sanliurfa, refuges for Syrians who have fled Daesh territory.
Full report at:
http://www.saudigazette.com.sa/index.cfm?method=home.regcon&contentid=20150624248247
-----------
ISIL Finance Minister Killed in Iraq's Mosul
Jun 24, 2015
TEHRAN (FNA)- The ISIL Takfiri terrorists' master of coin has been killed after a roadside bomb detonated in the Northern Iraqi city of Mosul, a report said.
"ISIL Finance Minister Mohammed Zaalan al-Afari was killed in a booby trap ambush on the Gayara-Mosul road after he took part in the opening of a women's prison for those not committed to sexual jihad," Saeed Mamuzini, a media officer of the Kurdistan Democratic Party's (KDP) 17th branch in Mosul, said, Rudaw reported.
Afari was a former Iraqi army officer who joined the Takfiri ranks in 2004 and allegedly had close ties with ISIL leader Abu Bakr al-Baghdadi and the slain al-Qaeda leader in Iraq, Abu Musab al-Zarqawi.
"Alongside Afari four other militants were killed by the booby trap," said Mamuzini, adding that the Mosul Independent Youth group have claimed responsibility for the attack.
On June 3, the Syrian troops managed to claim the life of Muhammad Ghalab Al-Moghair, the Takfiri terrorist group's Foreign Minister along with his brother and two other militants during a major offensive in Hasaka in Northeastern Syria.
Back in May, the Syrian army killed the so-called oil minster of the ISIL terrorist group in Deir Ezzur.
Also, Izzat Ibrahim al-Douri, Saddam Hussein's Right-Hand Man and a senior commander of the ISIL Takfiri group, was killed during an operation by Iraqi popular forces in Salahuddin province in Iraq just a few months ago.
Additionally, the top war commander of the ISIL, Sheet Al-Samarrai who was called by the terrorist group as its war minister, was killed in an Iraqi airstrike on April 27 in Nineveh province in April.
Full report at:
http://english.farsnews.com/newstext.aspx?nn=13940403000487
-----------
Mideast
PYD's Muslim says no plan for founding a Kurdish state
June 24 2015
The People's Protection Units (YPG), the military wing of Syria's Democratic Union Party (PYD), have no intention of creating a "Kurdish corridor" that would supposedly lay the ground for the foundation of an independent Kurdish state, PYD leader Salih Muslim has stated.
"Let me say right away that we don't have a project aimed at founding a Kurdish state," Muslim said when asked to comment on Ankara's increasing concerns over Syrian Kurds' quest for their own autonomous Kurdish state on Syria's border with Turkey.
"God has placed Kurds in Syria by the border with Turkey. Kurds are living there too. What should we do – shall we leave our soil, our homeland just because the Turkish state is annoyed?" Muslim asked.
"These [fears] are groundless and shameful," Muslim said, as he referred to recent news reports in some Turkish dailies which suggested that "the PYD is more dangerous than the Islamic State of Iraq and the Levant (ISIL)."
"Our concern is protecting ourselves, our people from the treachery of ISIL," he said.
Agencies and media reports say PYD forces are heading toward Raqqa, the de-facto ISIL capital in Syria, after routing the jihadists from the key town of Tal Abyad in northern Syria, which is located by the Turkish border.
Full report at:
http://www.hurriyetdailynews.com/pyds-muslim-says-no-plan-for-founding-a-kurdish-state.aspx?pageID=238&nid=84426
-----------
Yemen forces retake Houthi-held border crossing
24 June 2015
Army forces loyal to Yemen's exiled president seized a border crossing with Saudi Arabia on Tuesday, officials in the area and witnesses said, dealing a rare blow to the country's dominant Houthi group.
The Houthis and their allies in Yemen's army control three other crossings with the kingdom, which has led an anti-Houthi alliance in a three-month bombing campaign against the group to restore President Abd-Rabbu Mansour Hadi to power.
Eyewitnesses reported that thousands of Yemenis gathered there to flee the country after the Wadee'ah crossing in eastern Hadramawt province changed hands amid heavy combat.
After restoring the crossing, anti-Houthi fighters will to join popular resistance forces who are fighting in the governorates of Marib and al-Jawf, sources told Al-Hadath, Al Arabiya News' sister channel.
They are also preparing for a military move to storm Aden, the same sources added.
Fighting between Saudi and Houthi forces has closed all other entry points to impoverished Yemen's oil-rich neighbor, and one border facility has been destroyed in artillery exchanges.
A blockade of Yemen's sea and air ports by the Arab coalition has created a humanitarian crisis in which food, fuel and medicine are scarce. More than 20 million Yemenis - 80 percent of the population - need aid, according to the United Nations.
The Houthis say their seizure of the capital, Sanaa, in September and their spread throughout the country, which has run up against fierce resistance by local fighters, is a revolution against Hadi's corrupt government and Sunni militants.
Full report at:
https://english.alarabiya.net/en/News/middle-east/2015/06/24/Anti-Houthi-forces-seize-Saudi-border-crossing.html
-----------
Envoy: Iran Ready for Multi-Billion-Dollar Joint Ventures with Turkish Firms
Jun 24, 2015
"Iran is looking for cooperation with Turkish companies in highway, airport and railway construction projects worth $10 billion in a period of three to five years," Bigdeli said.
The Iranian ambassador said that Iran has many projects and is ready to grant them to the Turkish firms.
In May, Turkish Ambassador to Tehran Reza Hakan Tekin announced that a large number of his country's traders and capital holders have shown interest to invest in Iran.
"The Turkish firms are willing to invest in Iran," Hakan Tekin said in a meeting with Head of Isfahan Chamber of Commerce Seyed Abdolvahab Sahlabadi.
He noted that the conditions can be paved for the presence of Turkish investors in Iran due to the reasonable energy prices and the large number of Iranian experts.
The Turkish envoy said that his country has already invested over $2.1 billion in Iran.
Earlier this year, Iranian Ambassador to Ankara Alireza Bigdeli announced that the number of Turkish companies willing to invest in Iran has considerably increased in recent years.
"About 174 Turkish companies have already opened their branch offices in Iran," Bigdeli said.
The Iranian ambassador reiterated that the number of Turkish companies with representative offices in Iran is likely to rise to 300 in 2015.
"The Turkish businessmen and investors have become much interested to increase their presence in Iran," Bigdeli said.
Full report at:
http://english.farsnews.com/newstext.aspx?nn=13940403000583
-----------
Israel hits Gaza after Palestinian rocket attack: army
June/24/2015
The Israeli air force struck a militant target in the Gaza Strip early on June 24, the military said, hours after Palestinians fired a rocket into southern Israel.
"In response to this attack, the Israel Defence Forces struck the launcher from which the rocket was fired at Israel earlier," an army statement said.
"A hit was confirmed."
The rocket fired earlier fell on open ground in the vicinity of Yad Mordechai, it said, referring to a kibbutz near the Israel-Gaza border.
No injuries were reported in either the rocket strike or the Israeli response.
It was the fifth such incident in just under a month.
The last rocket to hit Israel previously was on June 6 and was answered within hours by an Israeli air strike into the coastal strip.
Neither caused any casualties.
Full report at:
http://www.hurriyetdailynews.com/israel-hits-gaza-after-palestinian-rocket-attack-army.aspx?pageID=238&nID=84433&NewsCatID=352
-----------
Niece of jailed Kurdish leader enters Turkish parliament
23 June 2015
For many Turks, the name Ocalan is indelibly linked to the man they revile as leader of a Kurdish insurgency in which 40,000 people died. But on Tuesday, an Ocalan became one of the country's youngest parliamentarians.
Dilek Ocalan, the 28-year-old niece of jailed militant leader Abdullah Ocalan, took her oath along with other deputies elected to parliament earlier this month. Her arrival as a lawmaker for the pro-Kurdish People's Democratic Party (HDP) underlines a remarkable turnaround in recent years for Turkey's 14 million Kurds.
It also breaks a decades-old taboo over her name. At her swearing in, the speaker addressed her as "Sayin Ocalan" using an honorific that means "esteemed." Scores of people have been prosecuted in the past for using the same term to refer to her uncle.
Her appearance in parliament would have been unthinkable a decade ago. But President Tayyip Erdogan braved the anger of nationalists to open talks with Abdullah Ocalan and his Kurdistan Workers' Party (PKK), and it was Dilek who delivered many of her uncle's public statements from his prison.
"First of all I see myself as a representative of women and youth," she recently told local media. "I may be Kurdish, but I will be representing all those exploited, oppressed, ignored groups, all peoples, cultures, beliefs and languages."
Dilek Ocalan was one of 80 HDP politicians elected on June 7. The HDP won more than 10 percent of the vote, the minimum required to enter parliament, allowing a pro-Kurdish party to be represented for the first time.
Full report at:
https://english.alarabiya.net/en/News/middle-east/2015/06/23/Niece-of-jailed-Kurdish-leader-enters-Turkish-parliament.html
-----------
U.N. official urges Iran to ratify test ban pact
23 June 2015
The head of the U.N.'s nuclear test ban treaty organization challenged Iran on Tuesday to ratify the treaty as quickly as possible to prove that it is serious about not wanting to develop atomic arms.
Iran and six world powers are racing to meet a June 30 deadline for a deal that would limit Tehran's nuclear programs in exchange for the lifting of sanctions, with a renewed round to start Wednesday.
While Iranian ratification of the test ban treaty is not part of that agreement, Lassina Zerbo told The Associated Press that it would add weight to Tehran's insistence that it is not interested in such weapons.
"The CTBT bans nuclear explosions anywhere, and that's already an assurance they could give to the international community that they are not in that process," said Zerbo, who heads the UN's Comprehensive Test Ban Treaty Organization.
Of the CTBTO's 196 member states, 183 have signed the treaty and 164 have ratified it. But it still needs ratification of eight more of the countries involved in originally negotiating it for it to enter into force.
Its world-wide monitoring network has been up for years, however. It was among the first to detect North Korea's underground nuclear explosions and plays a key role in reporting and categorizing earthquakes and other natural disasters.
Like Iran, the United States has signed the treaty and both countries are among the eight whose ratification is needed for the treaty to become active. But the Obama administration has failed to get the needed two-thirds Senate majority for ratification.
Also among the eight is Israel, which also has signed but not ratified. Zerbo, however, dismissed suggestions that Tehran could not be expected to make the first move ahead of its two adversaries, saying doing so now would be a chance for Iran to "show great leadership ... that might help the U.S. change its position."
Zerbo said Iranian ratification should have come much earlier because with the nuclear talks in the end phase, pushing Tehran to do so now would complicate chances of reaching an agreement.
Full report at:
https://english.alarabiya.net/en/News/middle-east/2015/06/23/U-N-official-urges-Iran-to-ratify-test-ban-pact.html
-----------
Palestinian Knesset members call for prosecution of Israel officials
Jun 24, 2015
The Palestinian members of the Israeli parliament (Knesset) say the recent UN report on Israel's latest war on the Gaza Strip has provided enough evidence for the prosecution of Israeli officials at the International Criminal Court (ICC).
In a Tuesday statement, Palestinian members of the Knesset (MKs) said Israeli authorities "should necessarily be sued over the war crimes" they committed during last summer's 50-day war.
The facts in the report confirm that Gaza suffered disproportionately greater casualties and destruction during the war, the statement added.
The report, issued on Monday by the UN Independent Commission of Inquiry on the 2014 war on Gaza, condemned as "unprecedented" the devastation and human suffering caused by Israel's aggression against the besieged enclave.
"The extent of the devastation and human suffering in Gaza was unprecedented and will impact generations to come," it read.
A Palestinian child sits in front of the rubble of buildings destroyed by Israel during the 50-day war on Gaza in 2014, in the village of Khuzaa, in the southern Gaza Strip, June 15, 2015. (© AFP)
Over 2,140 Palestinians, most of them civilians, were killed and more than 11,100 others injured during the Israeli war. According to estimates, a third of the civilian fatalities were children. The war ended with a truce in August 2014.
Full report at:
http://www.presstv.in/Detail/2015/06/24/417263/Palestine-Israel-Knesset-Gaza-ICC
-----------
Spokeswoman Rejects Report on Forced Repatriation of Iranian Asylum-Seekers from Australia
Jun 24, 2015
"We are resolved to settle the issue. We don't want to force any Iranian national to choose his/her place of living according to our will, and forced repatriation is not on our agenda," Afkham told reporters in her weekly press conference in Tehran on Wednesday.
"We are ready for cooperation with Australia to find a solutions in this regard and we are in talks with the other side at consulate level and we are ready for an expert study to find legal ways," she added.
Afkham also announced that a delegation from Australia is due to visit Tehran to discuss the problem.
In relevant remarks earlier this month, officials close to an Iranian delegation that was in Australia last week for consular cooperation categorically denied the news reports on forced repatriation of Iran's asylum-seekers from Australia.
Full report at:
http://english.farsnews.com/newstext.aspx?nn=13940403000506
-----------
Turkey's new parliament convenes amid coalition search
Jun 23, 2015
ANKARA: Turkey's parliament convened on Tuesday for the first time since President Recep Tayyip Erdogan's party lost its overall majority in legislative elections, with political factions seeking to thrash out a deal on the first coalition government for over a decade.
Turkey has not seen a coalition since the ruling Islamic-rooted Justice and Development Party (AKP) came to power in 2002 and so far there has been no breakthrough in efforts to agree a deal.
With Erdogan looking on, main opposition Republican People's Party (CHP) MP Deniz Baykal, who as parliament's oldest member at 76 is acting speaker, declared the session open. After a bruising election campaign, Baykal called for calm in Turkey, saying the "conditions no longer exist for continuing the polarisation of society".
Wearing the traditional tailcoat and white bow tie of the Turkish speaker, he also urged respect for Turkey's secular traditions as set out by its modern founder Mustafa Kemal Ataturk.
Full report at:
http://www.dawn.com/news/1190069/turkeys-new-parliament-convenes-amid-coalition-search
-----------
Fresh attempt likely to break Gaza blockade
Jun 23, 2015
JERUSALEM: Activists aboard a flotilla of boats are to set sail soon for Gaza in a fresh bid to break Israel's blockade of the territory, five years after a similar attempt ended in a deadly raid.
The so-called Freedom Flotilla III — a convoy of ships carrying pro-Palestinian activists, at least one European lawmaker and an Arab-Israeli MP — will try to reach the shores of the Gaza Strip by the end of the month.
Their campaign comes as Israel faces heavy international pressure over its actions in Gaza, with a UN report released on Monday saying both the Jewish state and Palestinian militants may have committed war crimes during last year's conflict in the besieged coastal enclave.
Israel's blockade of the territory dates back to 2006, after Hamas captured an Israeli soldier, and was tightened a year later when the Islamist movement consolidated control of Gaza.
"We're not alone in considering the blockade to be inhumane and illegal," Staffan Graner, an activist who is sailing aboard Swedish trawler the Marianne of Gothenburg, said. "What we want to do... is to keep up international pressure that the blockade should end."
The Marianne of Gothenburg, which set sail from Sicily on Friday, will join four other vessels carrying some 70 people en route for Gaza, according to a statement from the Platform of French NGOs for Palestine, an advocacy group supporting the effort.
Among those aboard will be former Tunisian president Moncef Marzouki, Spanish MEP Ana Maria Miranda Paza and Arab-Israeli lawmaker Basel Ghattas, organisers said.
Ghattas's decision to join the flotilla caused outrage in Israel. On Sunday, deputy foreign minister Tzipi Hotovely said the flotilla was "the work of provocateurs whose aim is to blacken Israel's face", adding that the ministry had been working "through diplomatic channels night and day" to prevent it from reaching Israeli waters.
In a letter to Prime Minister Benjamin Netanyahu, Ghattas urged that he "command the Israeli security forces to stay away and allow the flotilla to arrive at its destination". "Any form of takeover to prevent this will only involve Israel in yet another difficult international crisis or scandal," he warned.
Full report at:
http://www.dawn.com/news/1190054/fresh-attempt-likely-to-break-gaza-blockade
-----------
Iran's ayatollah rejects long-term nuclear research freeze
June/24/2015
Iran's top leader has rejected a long-term freeze on nuclear research and supports banning international inspectors from accessing military sites as a deadline in negotiations with world powers approaches.
Ayatollah Ali Khamenei also says Iran will sign a final deal provided all economic sanctions now on Iran are first lifted.
hamenei's comments, made June 23 night and broadcast on Iranian state television, suggests the Islamic Republic may be toughening its stance ahead of a June 30 deadline for a final deal.
Full report at:
http://www.hurriyetdailynews.com/irans-ayatollah-rejects-long-term-nuclear-research-freeze.aspx?pageID=238&nID=84440&NewsCatID=352
-----------
South Asia
37 Militants Killed In Afghanistan Military Operations
By KHAAMA PRESS - Wed Jun 24 2015
37 militants have been killed in newest military operations across the country, Ministry of Interior announced on Wednesday.
A statement issued by the ministry states that the operations were carried out in five provinces where 41 militants also sustained injuries in past 24 hours.
155 different types of Improvised Explosive Devices (IEDs) weapons and ammunition were also seized by the security forces during these operations.
Full report at:
http://www.khaama.com/37-militants-killed-in-newest-military-operations-3538
----------
Lanka's Buddhist clergy opposes Sharia-based banking
FRANCES BULATHSINGHALA
June 24, 2015
COLOMBO: A hardline group representing Sri Lanka's Buddhist clergy has kicked up a storm over the central bank's decision to allow private banks to offer financial services based on Islamic principles.
The BBS, which had a few years ago spearheaded a campaign against Halal food, alleged in a statement on Tuesday that "Muslim extremists" were now attempting to sow divisions by using the banking process. "We blame the previous government for not taking action on the spread of Sharia law. A (BBS) delegation called on the governor of the central bank to discuss the issue as it is a threat to Sri Lankan society," BBS General Secretary Galagodaatte Gnanasara said.
Full report at:
http://www.dawn.com/news/1190055/lankas-buddhist-clergy-opposes-sharia-based-banking
-----------
US to decide on troops level in Afghanistan after the fighting season
By KHAAMA PRESS - Wed Jun 24 2015
The United States will decide regarding the troops withdrawal timeline from Afghanistan after the ongoing fighting season, the US Permanent Representative to NATO said.
In response to a question regarding the deteriorating security situation and announcement of troops withdrawal timeline from Afghanistan by 2016, Ambassador Douglas Lute, said "Whether or not the U.S. adjusts its timeline is a decision to be made in Washington after this fighting season. Presidents Ghani and Obama agreed — I believe the visit was in February or March of this year — that this would obviously be a fighting season during which the Afghan forces would be tested. I think that's proving to be true."
He said, "In the aftermath of this fighting season, given the current level of support, they agreed that together they would take an assessment as to progress this year and what the challenges of the future lay."
Full report at:
http://www.khaama.com/us-to-decide-on-troops-level-in-afghanistan-after-the-fighting-season-1235
----------
Keep faith in govt, Shahriar says on Razzak return
june 23, 2015
State Minister for Foreign Affairs Md Shahriar Alam has urged the people to keep faith in the government over the issue of bringing back abducted BGB Naik Abdur Razzak.
The junior minister also expressed his hope that the authorities would bring Razzak back home from Myanmar in a short time.
In his latest Facebook status posted on Tuesday, Alam said: "Naik Abdur Razzak will be brought back home very soon. Process is under way."
Every country should abide by the clauses of "Vienna Convention" regarding the relationship between the two countries, he said in the post.
Moreover, there is way to remind about the convention if any country violates or forgets the clauses, he added.
The post read: "We are aware of the dignity of our citizens, officials and defence members."
Patience, strategy and accurate decisions are necessary to settle such kind of situation, he opined in the social media.
He ends saying: "I know that a citizen may not understand these things. But I would like to say to them: Keep trust on us."
Full report at:
http://www.dhakatribune.com/bangladesh/2015/jun/23/shahriar-razzak-be-brought-back-soon
-----------
Trial of three Bangladesh war crimes accused ends
June 24, 2015
The International Crimes Tribunal-1 yesterday concluded hearing arguments in a case against three war crimes accused from Bagerhat and would deliver its verdict any day.
Sheikh Sirajul Haque alias Siraj Master, 73, Khan Akram Hossain, 62, and Abdul Latif Talukder, 69, face seven charges for their alleged involvement in crimes against humanity and genocide committed in Bagerhat during the Liberation War in 1971.
Of the seven charges, four have been brought
against Siraj alone for the killing of more than 600 people, two against all of them for the killing of 47 people, and one against Khan Akram and Abdul Latif for killing a person.
Wrapping up its arguments, the prosecution sought capital punishment of the accused, claiming that they were able to prove all seven charges.
However, defence counsels claimed that the prosecution "simply failed to prove" the charges and sought acquittal of their clients. A defence counsel also accused the investigation officer of the case of adopting "pick and choose" policy to implicate his clients, and requested the tribunal to launch a probe against the investigator.
After hearing the closing arguments from both the prosecution and the defence, the three-member tribunal, led by Justice M Enayetur Rahim, kept the case waiting for verdict.
"PICK AND CHOOSE"
Prosecutor Syed Haider Ali placed rebuttal of defence arguments yesterday. When he was placing arguments on the seventh charge, the tribunal raised question over implicating Akram in the charge.
The charge was related to the killing of a freedom fighter allegedly by Akram, Latif and other Razakars.
According to the charge, Justice Enayetur Rahim said, the incident took place in Kachua but the prosecution did not bring the charge against the Razakars of Kachua Razakar camp, including the camp commander.
He said the prosecution brought the charge against Akram, who was allegedly the commander of Daibaggahati Razakar camp, which was far away from Kachua.
"Wasn't there any probability of local Razakars' involvement in the incident?" he asked.
Justice Rahim said a defence counsel had already raised a question about "pick and choose" of their clients by the investigator, which the prosecution could not deny.
Refuting the allegation of resorting to "pick and choose" policy by the investigator, prosecutor Haider Ali said eyewitnesses had testified that Akram was involved in the incident. "So there was no scope of such probability here," he added.
Justice Rahim said several prosecution witnesses, during their testimonies, told names of people who were allegedly involved in the crime, but the prosecution did not bring charges against them for the crime. The tribunal also expressed discontent over the issue.
Haider Ali said investigation was going on against them [whose names surfaced] and they would be brought under trail.
Full report at:
http://www.thedailystar.net/backpage/trial-three-war-crimes-accused-ends-102085
-----------
Defence 'failures' cited in diggers' deaths in Afghanistan
June 24, 2015
A series of systemic failures by the Australian Defence Force at a remote base in Afghanistan contributed to a deadly insider attack, an inquest has heard.
The Australian Army has come under scathing criticism over what's been deemed a failure to protect its troops at an Oruzgan patrol base in August 2012.
Lance Corporal Stjepan Milosevic, Sapper James Martin and Private Robert Poate were gunned down by a rogue Afghan National Army soldier inside the shared base during a mentoring mission.
An inquest into their deaths was held in Brisbane last year.
Advertisement
In his closing submissions on Wednesday, counsel assisting the Queensland deputy coroner Peter De Waard identified several systemic deficiencies he said contributed to the deadly outcome.
Full report at:
http://www.smh.com.au/national/defence-failures-cited-in-diggers-deaths-in-afghanistan-20150624-ghwfhh.html
-----------
UN urges attention to Afghan refugees' plight
Jun 23, 2015
The head of the UN refugee agency has urged the world not to "forget" about the sufferings of over a million Afghan refugees living in Pakistan.
"My appeal is for the international community to understand that this is not only the responsibility for Pakistan or Iran or other neighboring countries, it is a collective responsibility," UN High Commissioner for Refugees (UNHCR) Antonio Guterres said during a visit to Afghan refugee camps in Pakistan on Tuesday.
He said ongoing upheavals in the Middle East region have diverted the world's attention away from the plight of Afghan refugees.
"The attention of the international community has been focused dramatically on the Middle East crisis in Syria, in Iraq, in Yemen," he added.
Full report at:
http://www.presstv.in/Detail/2015/06/23/417184/Afghanistan-Pakistan-UN-US
----------
Africa
Boko Haram slits throats of 20 Nigerian villagers
Jun 23, 2015
Boko Haram Takfiri militants have slaughtered at least 20 people including several women during a violent attack on a village in the troubled northeastern Nigeria.
Militants on motorcycles and pick-up vans stormed the remote village of Debiro in northeastern Borno State and rounded up at least 20 people before slitting their throats, the online news agency Sahara Reporters quoted witnesses as saying on Tuesday.
The heavily-armed militants then set scores of houses ablaze in the area.
"It was in the afternoon time when we started hearing gunshots and people were running helter-skelter, there was confusion everywhere, some were shot dead and many had their throats slit. We were helpless as our foodstuffs were carted away by the rampaging militants who later burnt down most of the houses in our village,'' a fleeing resident said.
''I can't say tell you the correct number of people killed, but at least 20 people including women had their throats slit,'' the resident added.
Full report at:
http://www.presstv.in/Detail/2015/06/23/417193/Nigeria-Boko-Haram-Borno--Debiro
-----------
10 killed in bomb attack in Nigeria's Yobe
Jun 24, 2015
At least 10 people have been killed in northeast Nigeria in a bombing attack carried out by a girl believed to be 12.
According to reports, the girl detonated her explosives at a market in the area of Wagir, in the Gujba district, south of Damaturu, the capital of Yobe State, on Tuesday.
At least 30 other people were reportedly injured in the deadly attack.
In a similar incident on Monday, two teenage female bombers detonated their explosives near a crowded mosque in the northeastern Nigerian city of Maiduguri, killing about 30 people.
Reports said that many were injured in the attacks.
No group has claimed responsibility for the bombings; however, the Takfiri Boko Haram group has claimed responsibility for a number of deadly attacks and bombings in various parts of Nigeria during the past six years.
Full report at:
http://www.presstv.in/Detail/2015/06/24/417279/Nigeria-Yobe-Boko-Haram
-----------
Nigerian Muslim Charity Feeds Thousands
23 June 2015
LAGOS – Aiming to promote spirits of brotherhood during the holy month of Ramadan, a group of Islamic charity organizations have planned to fight hunger in the south eastern states of Nigeria by providing free iftar meals to thousands of people.
"It is planned to facilitate genuine love and true spirit of brotherhood in Islam among Muslims of all walks of life and to foster unity through the instrumentality of Ramadan fast cum Iftar Saim," Zakat and Sadaqat Foundation (ZSF) executive director/chief executive officer, Imam Abdullahi Shuaib, told The National newspaper.
Aiming to foster unity in the society, Imam Shuaib noted that some of their programs include Public lectures/seminars, distribution of food items, beverages, groundnut oils, sugar and milks.
These services would be offered to individuals, orphanage homes, physically-challenged people and prison yards.
A faith-based non-governmental organization, the ZSF head office in Lagos state and its plan this year is to increase the number of Iftar beneficiaries to up to 35,000 citizens including non-Muslims.
Along with helping the poor, ZSF aimed at providing a window for wealthy people to earn Allah's blessings by assisting the needy to maximize reward in the holy month.
Working to improve people's life in Nigeria, the Ramadan Iftar Saim program will extend to Federal Capital Territory, Edo, Delta, Kwara and Niger states.
Ramadan is the holiest month in the Islamic calendar.
In Ramadan, adult Muslims, save the sick and those traveling, abstain from food, drink, smoking and sex between dawn and sunset.
Muslims dedicate their time during the holy month to be closer to Allah through prayers, self-restraint and good deeds.
Full report at:
http://www.onislam.net/english/news/africa/488085-nigerian-muslim-charity-feeds-thousands.html
-----------
Muslim human rights group accuses Kenyan government of harassment
Jacqueline Kubania
23 June 2015
A Kenyan human rights group has accused the government of using anti-terror measures to crack down on its work, suggesting it has been targeted for exposing abuses by the security services.
Muslim Human Rights (Muhuri) is to apply to the courts to unfreeze its bank accounts as part of an ongoing legal battle after it was placed it on a state list of "terror suspects" in the wake of the recent al-Shabaab attack at Garissa university.
The government lost the first round when a high court ruled earlier this month that Muhuri and another human rights group, Haki Africa, should be removed from the list.
The two groups have criticised the country's anti-terror policies, accusing the government of making arbitrary arrests and conducting extra-judicial killings.
"We are currently working with the Independent Policing Oversight Authority to follow up cases of extrajudicial killings and forced disappearances, and we think that has triggered the government's heavy handed response," a spokeswoman said.
Following the death of 147 people in the attack on Garissa in April, 86 organisations and individuals were listed as terrorist organisations. The government says their finances are to be investigated.
The list included Al Qaida, Boko Haram and Islamic state - alongside the NGOs and several money transfer organisations, Hawalas, which predominantly serve the Somali community.
Thirteen of the hawalas are set to be reopened after Kenya's president, Uhuru Kenyatta, ordered the Central Bank to lift their suspension because an investigation had cleared them of involvement in terror.
Full report at:
http://www.theguardian.com/world/2015/jun/23/muslim-human-rights-group-accuses-kenyan-government-of-harassment
----------
India
India's move in UN seeking action against Pakistan on Lakhvi blocked by China
June 23, 2015
UNITED NATIONS: China blocked India's move in the UN demanding action against Pakistan over the release of Zaki-ur-Rehman Lakhvi in violation of a resolution of the world body as it contended that India provided insufficient information, Indian media reported today.
As the UN sanctions committee met here at India's request, a clarification was to be sought from Pakistan over Lakhvi's release in the Mumbai attacks trial but the Chinese representatives blocked the move on grounds that India did not provide sufficient information, official sources said.
In a letter to the current chair of the UN sanctions committee Jim McLay, India's permanent representative to the UN Asoke Mukherjee last month had said that Lakhvi's release by a Pakistani court was in violation of the 1267 UN resolution dealing with designated entities and individuals.
Full report at:
http://nation.com.pk/national/23-Jun-2015/india-s-move-in-un-seeking-action-against-pakistan-on-lakhvi-blocked-by-china
-----------
India 'resetting' Iran ties despite sanctions
Jun 24, 2015
India has begun mending ties with Iran despite uncertainty surrounding nuclear negotiations between Tehran and the P5+1 countries, the second Indian English-language daily The Hindu wrote on Wednesday.
"After cutting down oil imports from Tehran in the recent past following sanctions, India is now keen on pushing for connectivity with Iran, which will pave the way for its entry into Afghanistan and the Central Asian region," the paper said.
India signed a memorandum of understanding in May for development of the strategic Chabahar Port in southeast Iran. A commercial accord is still needed to implement the pact. New Delhi says it will use terminals in the port to operate container and multi-purpose cargo ships.
The Hindu said New Delhi had ignored warning from the US not to rush into trade agreements with Iran before a nuclear deal was clinched with Tehran. Indian Foreign Secretary S. Jaishankar and Transport Minister Nitin Gadkari recently visited Tehran for discussions.
India is also indicating increasing interest in the North-South Transport Corridor which includes a network of ship, rail and road routes connecting the Central Asian nations and Russia to the Persian Gulf via Iran.
The Hindu indicated that India will attend a follow-up meeting scheduled for July to further streamline work related to the corridor.
The international transport corridor across India's Mumbai through Bandar Abbas in Iran to Astrakhan in Russia and Baku in Azerbaijan is expected to substantially reduce cargo transport time among the nations.
The Hindu said India, however, must look beyond trade and economic ties with Iran. It quoted former diplomat M. K. Bhadrakumar as saying that India would need to "work doubly hard to undo the damage caused by toeing the US line."
He said India should not have allowed its relations with Iran to decline despite the sanctions. "Before the sanctions, economic ties between India and Iran were growing exponentially," he said.
Full report at:
http://www.presstv.in/Detail/2015/06/24/417273/iran-india-trade-ties-sanctions-
-----------
Lakhvi 'a snake', can also bite China: BJP
TNN | Jun 24, 2015,
NEW DELHI: BJP spokesperson M J Akbar said on Wednesday that Mumbai terror attacks mastermind Zaki-ur-Rehman Lakhvi is a snake which could bite both India and China ferociously.
M J Akbar said the ministry of external affairs (MEA) has taken up this issue seriously with China.
"And, I think, we hope that China sees the wisdom of our position and understands that terrorism, particularly of the most vicious kind, spearheaded by terrorists like Lakhvi is a snake that while trying to bite India is also a snake which can bite China very ferociously," Akbar said here.
Full report at:
http://timesofindia.indiatimes.com/india/Lakhvi-a-snake-can-also-bite-China-BJP/articleshow/47798960.cms
------
India Hindu nationalist jibe at Muslim vice-president disturbs yoga calm
Jun 23, 2015
The Indian government has apologized to the country's Muslim vice-president after comments by a senior member of the Hindu nationalist ruling party triggered allegations that sectarianism had tainted a mass event to celebrate World Yoga Day.
The row has taken some of the sheen off the event led by Prime Minister Narendra Modi, who along with 36,000 people flexed his way into world records on a New Delhi avenue on Sunday at the largest ever session of the ancient Hindu discipline.
In a post on Twitter, Ram Madhav, a general secretary in the ruling Bharatiya Janata Party who coordinates closely with Modi and top ministers, questioned why the vice president, Hamid Ansari, did not attend the celebrations.
It was later revealed that Ansari had not been invited. In his post, Madhav also, wrongly, stated that a TV public broadcaster that Ansari heads had not covered the event.
Madhav later deleted the tweet and Modi's yoga minister said sorry.
"We apologize for that," yoga minister Shripad Naik told reporters. "It should have been avoided, it's a mistake."
Ansari, a veteran diplomat who previously represented India at the United Nations, has often been a target of hardline Hindu nationalists who accuse him of putting his religion before the nation.
Full report at:
http://www.reuters.com/article/2015/06/23/us-india-yoga-idUSKBN0P316R20150623
-----------
'Converted' Muslims can get backward class benefits: HC
June 24, 2015
by Arun Janardhanan
Making the argument that caste mark continues even after conversion, though the degree may be less in Islam, the Madras High Court has ordered that a Hindu backward class (BC) person, who embraces Islam, shall be considered as backward class Muslim. The court delivered the verdict on a petition filed by R Ayesha, a backward Hindu by birth, who embraced Islam.
The HC also directed the Tamil Nadu Public Service Commission (TNPSC) to treat the petitioner, Ayesha, as a backward class Muslim candidate and consider her for the post of typist, she had applied for earlier.
The court came to the rescue of Ayesha after she was denied a government job, which she had applied for in 2014. Ayesha, a Hindu by birth, embraced Islam in 2005 and also obtained a community certificate of Muslim Labbai community, a recognised BC community in Islam as per a 1994 government order.
Full report at:
http://indianexpress.com/article/india/india-others/converted-muslims-can-get-backward-class-benefits-hc-3/
-----------
Muslim law board attacks government over Yoga
June 23, 2015
In a scathing attack on the NDA government, the All India Muslim Personal Law Board (AIMPLB) has accused it of violating the Constitution of secular India and implementing the RSS agenda by introducing practices such as Yoga and 'Surya namaskar'. Reaching out directly to Muslim organisations and Imams, the apex body representing Muslims in the country, also said the community should remain "cautious" as there are organisations that are "attacking" Islamic beliefs.
The AIMPLB slammed the government's move to push for yoga, saying it's a violation of the secular Constitution, which does not allow the promotion of religious activities by the government. "In the present scenario, the government and under its garb several organisations and individuals are today violating the Constitution," said Maulana Wali Rehmani, the working general secretary of the AIMPLB, in a letter. In the letter sent to various Muslim bodies and individuals, Rahmani alleged that the celebration of the Yoga Day and introduction of 'Surya namaskar' and Vande Matram in the schools were aimed at implementing the RSS agenda. He said it is not a mere coincidence that the International Yoga day and the death anniversary of the Sangh's ideologue K B Hedgewar falls on the same day–June 21. He accused the government of diverting peoples' attention from the real issues like price rise through such acts. He appealed to the people, institutions and the imams of mosques to raise the awareness about it. Referring to Chapter 6 of the Gita, Rahmani said yoga and 'Surya namaskar' are Hindu religious practices and these are "against the ideology of Muslims". "Muslims should remain cautious as there are organisations that are attacking Islamic beliefs..," the veteran cleric said in his two-page letter. He asked clerics to discuss these issues during Friday sermons, and prepare the Muslim community for a movement. The letter said that at its working committee meeting in Lucknow on June 7, AIMPLB had passed a resolution against yoga, saying it was un-Islamic. Rahmani also sought opening of old mosques which are under government control for prayers, saying the body will approach the Delhi High Court if the permission to perform payers was not granted.
http://indianexpress.com/article/india/india-others/muslim-law-board-attacks-government-over-yoga/
-----------
VHP, Muslim personal law board spar over Yoga Day
TNN | Jun 24, 2015
NEW DELHI/LUCKNOW: The hotheads of All-India Muslim Personal Law Board (AIMPLB) and Vishwa Hindu Parishad (VHP) got into a sharp altercation on Tuesday with Sadhvi Prachi reacting acerbically to the Muslim body's charge that the Union government had selected June 21 for the International Yoga Day as it is RSS founder Keshavram Baliram Hedgewar's death anniversary.
"They should connect themselves with the traditions of India, the culture of India... there's no need for any objection. If they are objecting, then they should go to Pakistan. People who are objecting to it have no right to reside in India," the sadhvi said when asked to react to AIMPLB's opposition to Yoga Day.
On Monday, AIMPLB's executive member Maulana Ather Ali had called the Yoga Day a conspiracy to enforce "Brahmin dharma and Vedic culture" all over the country, with the board writing to its members and asking all Muslim organizations to close ranks against the "Hindutva forces".
For the first time, the board asked its members to engage clerics who deliver Friday sermons to object to 'Surya Namaskar' and yoga as these don't comply with Muslim religious beliefs
COMPLETE COVERAGE: International Yoga Day
"India's pluralistic ethos is under assault from Hindutva forces. We'll do everything required to save our religious beliefs," Maulana Ather Ali had said.
His comments came days after BJP MP Yogi Adityanath's said those opposed to 'Surya Namaskar' should go "drown in the sea" amidst protests by Muslim groups over participation in the June 21 event.
On Tuesday Prachi intoned: "They (AIMPLB) have India's food and sing songs of Pakistan. Yoga works like a binding factor. It's not related to a single religious belief. Democracy does not tell you to object India's traditions and cultures."
The two-page letter from AIMPLB's Maulana Wali Rehmani states, "Sri Krishna taught Yoga to Sri Arjun in detail in chapter number two of the Gita. They greet the rising sun with pranaam and recite Om while performing different steps of yoga," adding that Muslims should stay away from 'Surya Namaskar' and Vande Mataram.
AIMPLB's Zafaryab Jilani said the letter is a guide to increase awareness among Muslims. "We've decided to rope in like-minded people from all walks of life to take up the issues aimed at pushing a communal agenda," Jilani said.
Full report at:
http://timesofindia.indiatimes.com/india/VHP-Muslim-personal-law-board-spar-over-Yoga-Day/articleshow/47792157.cms
----------
Southeast Asia
At Least 18 Dead In Attack in China's Xinjiang
Jun 23, 2015
BEIJING: At least 18 people are dead after ethnic Uyghurs attacked police with knives and bombs at a traffic checkpoint in China's western Xinjiang region, Radio Free Asia reported on Wednesday.
The attack occurred on Monday in a district of the southern city of Kashgar, where tensions between Muslim Uyghurs that call the region home and the majority Han Chinese have led to bloodshed in recent years.
Suspects killed several police officers with knives and bombs after speeding through a traffic checkpoint in a car in Kashgar's Tahtakoruk district, United States-based Radio Free Asia said, citing Turghun Memet, an officer at a nearby police station.
Armed police responded to the attack and killed 15 suspects "designated as terrorists," Radio Free Asia cited Memet as saying.
Full report at:
http://www.dawn.com/news/1190154/at-least-18-dead-in-attack-in-chinas-xinjiang
-----------
Malaysia: Non Muslims foster Ramadan spirit
June 23, 2015
Kuala Lumpur: Putting aside religious differences and fostering the spirits of Ramadan, Malaysia's non-Muslims have expressed their joy and wish to participate in the Ramadan rituals, joining Muslims' special Iftar meals, news agencies reported.
"It's only during the fasting month that you see so many types of dishes, particularly ones that are not commonly prepared," Jeann Yora Mahin, said.
"I am excited to try all as you don't get to enjoy them every day."
Full report at:
http://www.ummid.com/news/2015/June/23.06.2015/malaysia-non-muslims-foster-ramadan-joy.html
-----------
Shahbudin: Die cast for professionals, progressives in PAS
June 24, 2015
KUALA LUMPUR: A political analyst has taken to his blog to argue that it was "unbecoming" of PAS President Abdul Hadi Awang to issue an Open Letter warning against leaders and members leaving the Islamic party. "It was really pathetic harking back to the history from a long time ago and citing examples from the time of Prophet Mohamad to illustrate what the Islamic struggle should be all about."
"Why raise the issue of swimming and sinking?" asked Shahbudin Husin in a reference to Hadi reminding that those who left PAS in the past did not fare well at all. "He was obviously referring to PasMa, the NGO, and the G18 of professionals and progressives in PAS."
"These are people who have been sunk by the pro-ulama block in PAS during the recent party elections."
Hadi, added the analyst, should not always resort to history to justify his actions and press the case in his favour. "History is not static, in the mould of the past, but always comes out with something new."
"Who knows what history will bring?" he asked. "Those who leave PAS and set up a new political party may emerge while those who remain behind in the old party may sink into oblivion."
"Hadi knows in his heart that a PAS without the professionals and progressives will be a party that would interest no one. He fears for the future that the pro-ulama block has created."
Shahbudin was also commenting on an announcement by PasMa that it would remain an NGO, assisting a new Pakatan Rakyat in its struggle, and that an existing but dormant political party would be activated and renamed to become a new Islamic party to replace PAS in the informal opposition alliance.
The political analyst agreed that Hadi's sudden turnaround to insist that Prime Minister Najib Abdul Razak must be retained at least until he finishes his term, as he had been duly elected by the people and given the mandate, was the last straw for the professionals and progressives who have since dubbed themselves G18.
"Hadi even went so far as to retract previous statements that Umno was the new pharaoh," recalled the analyst. "It seems that he's keener on working with Umno rather than working for its downfall come the 14th General Election in 2018."
The bottomline, he continued, was that the die had been cast, the point of no return had been reached, and things will never be the same again. "This is the price which has to be paid by both sides for the purge that has taken place in the Islamic party where the winners take all and the losers lose all."
Full report at:
http://www.freemalaysiatoday.com/category/nation/2015/06/24/shahbudin-die-cast-for-professionals-progressives-in-pas/
-----------
UK website pleads for ex-PetroSaudi director
June 24, 2015
KUALA LUMPUR: Clare Rewcastle Brown, the Editor of the UK-based whistleblower website The Sarawak Report, has written to the Swiss Foreign Ministry to demand that Swiss and UK-based PetroSaudi International be properly investigated in Switzerland on the following grounds:
"conspiring to perpetrate a malicious action against a former Director of the company, who parted ways (with the company) owing to his concerns over its corrupt practices."
Writing on behalf of "your citizen in captivity Xavier Justo", after speaking to a Swiss Foreign Ministry official (name withheld), Rewcastle referred to news reports in Malaysia on his purported arrest in Thailand and the seizure of items from him and which PSI allegedly claims belong to them.
The news reports, according to her, appeared only in Malaysia and was allegedly orchestrated by the company which issued a press release on Justo's arrest.
Rewcastle wants the Swiss Foreign Ministry to investigate the basis of Justo's detention in Thailand and secure his release and have the items seized returned to him.
Briefly, the website is concerned that PSI was trying to use undue and illegal influence to try and obtain from Justo what has been seized from him by the Thai police. Justo, said Rewcastle in referring to a PSI release carried by certain media in Malaysia, has been detained for the last two days at a prison in Bangkok.
"I strongly believe that this Swiss national is being made subject to revenge and harassment regarding a matter over which the Thai courts have no valid jurisdiction," said Rewcastle. "I am concerned that corruption and/or misleading of the Thai authorities are behind this malicious arrest."
Full report at:
http://www.freemalaysiatoday.com/category/nation/2015/06/24/uk-website-pleads-for-ex-petrosaudi-director/
-----------
Report on non-Muslim pupils told to drink urine dismissed
June 23, 2015
PUTRAJAYA: The Education Department today dismissed as untrue a social media report that a senior assistant of a primary school in Kedah had asked non-Muslim pupils to drink their own urine.
Deputy Director-General of Education Ahmad Tajudin Jab said the pupils had misunderstood what the teacher had told them. "The teacher had advised the non-Muslim pupils not to drink in the presence of Muslim pupils (during the current fasting month). He had said that they could drink outside or in the washroom.
"However, some pupils had misunderstood this and claimed that the teacher had ordered non-Muslim pupils to drink their own urine. The teacher had never said that. We have to clarify that. The pupils misunderstood it," he told reporters at his office here. -----------
He said the senior assistant had made the statement during the school assembly, advising non-Muslim pupils not to drink in the presence of Muslim pupils.
Full report at:
http://www.freemalaysiatoday.com/category/nation/2015/06/23/report-on-non-muslim-pupils-told-to-drink-urine-dismissed/
-----------
Remain true to Islam, Hadi tells PAS members
June 23, 2015
KUALA LUMPUR: PAS President Abdul Hadi Awang has called on PAS members in an open letter to understand what the Islamic party was all about so that they would not be misled, no matter what happens in the future.
"Whoever has followed PAS or read its history would have witnessed the waves it has encountered and the meanderings, the loss of leaders even at the highest levels, ordinary members and supporters, either by themselves or sinking with the party or other organisations," said Hadi.
Every PAS member, he said, must be conscious that he's with a congregational organisation that was set up up firmly based on creed and dogma and that he must always be true to the faith.
Full report at:
http://www.freemalaysiatoday.com/category/nation/2015/06/23/remain-true-to-islam-hadi-tells-pas-members/
------------
Pakistan
10 killed in Rangers operation in Karachi
Jun 24, 2015
KARACHI: At least 10 suspected terrorists were killed late on Tuesday when Sindh Rangers conducted an intelligence-based operation in Karachi's Manghopir area and Super Highway near Kathor, an official press release said.
Acting on a tip-off, the Rangers carried out an operation on Super Highway near Kathor in which two paramilitary personnel were also injured.
Full report at:
http://www.dawn.com/news/1190024/10-killed-in-rangers-operation-in-karachi
-----------
US Plotting More Bloodshed In Pakistan: Jamaat-e-Islami Punjab
June 24, 2015
BAHAWALPUR
Jamaat-e-Islami Punjab Ameer Dr Syed Wasim Akhtar expressed concern over the annual report issued by the US on terrorism in which it was stated that Al Qaida, Haqqani Network, Tehreek-e-Taliban, Lashkar-e-Jhangvi are still active in Pakistan.
He said that the US report was aimed to intensify terrorism in Pakistan. He added that the biggest terrorist in the world is America which has sabotaged the peace of the whole world especially in Iraq, Afghanistan and Pakistan where hundreds of thousands of people had been killed in the name of war on terrorism but the United Nations and human rights organisations, which claims to be the peace makers and humanitarian, did not moved even by an inch.
He said that time has come for the Muslims to get united against the non-Muslim conspiracies as America, Israel and India are promoting terrorism throughout the world including South Asia. He questioned the presence of around one dozen Indian consulates at Pak-Afghan borders.
"The government should immediately come out of the so-called war on terror to concentrate on the national welfare. There is a need to review the interior policies of current government," he said. He further said that it had been motive of Jamaat-e-Islami from the day one that the role of America should be finished to eliminate any kind of terrorism in the country. Raymond Davis Network and Raw are spreading anarchy in Pakistan along with nurturing terrorism; and without eliminating such networks, peace could never be restored in Pakistan, he said.
ALTRUISTIC HELP FOR DESERVING POOR CLAIMED: Flah-e-Insaniyat Foundation Chairman Hafiz Abdul Rauf said that one-month ration will be distributed to more than 50,000 families during Ramazan.
In Indonesia, he added, more than 100 shelters had been established for Rohingya Muslims initially and food items to 3,600 people were distributed daily. Non-profit organizations like Save the Children are threat to the sovereignty of the country, he said.
Addressing an Iftar dinner, he noted that a rescue centre after every 50 kilometre is being established there. He said that its organisation was establishing ambulances and water rescue network throughout Pakistan in each district, especially the areas where healthcare was not available and they are deprived of government's attention.
Full report at:
http://nation.com.pk/national/24-Jun-2015/us-plotting-more-bloodshed-in-pakistan
-----------
Do Not Fast In Extreme Heat: Sheikh ul Hadith Mufti Naeem
June 23, 2015,
Karachi: Famous religious scholar from Jamia Binoria Karachi and sheikh ul Hadith mufti Naeem has announced that in view of the ongoing heat wave in the country, fast can be foregone.
According to Mufti Naeem, the elderly, patients, and children if asked by a doctor not to fast then they are excused the fast.
He further said that those not fasting would not incur 'Kufara' rather one can fast a Qaza Roza later.
Full report at:
http://nation.com.pk/national/23-Jun-2015/do-not-fast-in-extreme-heat-mufti-naeem
-----------
US envoy discusses Afghan peace with PML-Q leaders
June 24, 2015
ISLAMABAD - President and former Prime Minister Chaudhry Shujaat Hussain and senior central leader and former Deputy Prime Minister Chaudhry Pervaiz Elahi have said that peace in Afghanistan essential for the regional stability besides resolution of Kashmir dispute, ending Indian interference in Balochistan which were effecting Indo-Pak relations.
They expressed these views while talking to US Ambassador to Pakistan, Richard Olson who called on PML-Q leaders at their residence here on Tuesday.
During the meeting, which lasted for more than one hour, views were exchanged also about Afghanistan and situation in the region besides Pakistan.
Full report at:
http://nation.com.pk/islamabad/24-Jun-2015/us-envoy-discusses-afghan-peace-with-pml-q-leaders
----------
UK online snooping against Pakistan 'alarming'
HASSAN BELAL ZAIDI
Jun 24, 2015
ISLAMABAD: Digital rights activists and lawmakers appear equally concerned by recent claims that Britain's Government Communications Headquarters (GCHQ) gained access to Pakistan's Internet Exchange under its computer network exploitation (CNE) — or hacking — operations.
The revelations, made by journalists Glenn Greenwald and Andrew Fishman in a recent article for The Intercept, indicate that by using vulnerabilities in 'Cisco routers' and software reverse-engineering (SRE), the agency was able to access "almost any user of the Internet" inside Pakistan and also able "to re-route selective traffic across international links towards GCHQ's passive collection systems."
An official GCHQ document, marked 'Top Secret' and released by The Intercept along with Mr Greenwald's story, is claimed to be the source of these claims. The document is purported to be an application for the extension of a warrant under which GCHQ conducted international surveillance.
In a specific reference to Pakistan the document states: "GCHQ's CNE operations against in-country communications switches (routers) have also benefited from SRE. Capability against Cisco routers developed by this means has allowed a CNE presence on the Pakistan Internet Exchange which affords access to almost any user of the internet inside Pakistan. Our presence on routers likewise allows us to re-route selected traffic across international links towards GCHQ's passive collection systems."
Former minister for Information Technology and a current member of National Assembly Standing Committee on Information Technology Awais Ahmed Khan Leghari was surprised by these claims when asked to comment. He said that he had never heard of anything like it during his time in office, adding that if these claims were proven to be credible, they warranted pursuing in an international court of law.
"This is against global telecom regulations. No country's agency can authorise intelligence-gathering against another country, no treaty ratified by Pakistan under the International Telecommunica­tion Union (ITU) gives UK intelligence the right to do this," he said.
Lately, GCHQ has been under fire in the UK for what a judicial oversight body called "act[ing] unlawfully in the handling of intercepted communications data and breaching human rights".
The revelations have also alarmed civil society and digital rights groups in Pakistan. Nighat Dad of the Digital Rights Foundation, in a statement released on Tuesday, said: "This hacking operation, at a scale never previously seen before... seriously undermines the right to privacy of all Internet users in Pakistan. By targeting a key point in Pakistan's communications infrastructure, GCHQ have put at risk the security and integrity of a significant portion of [the country's] communications infrastructure."
Full report at:
http://www.dawn.com/news/1190080/uk-online-snooping-against-pakistan-alarming
-----------
Soldier martyred in NWA blast
June 24, 2015
MIRANSHAH - A security man was martyred and six others injured in a remote controlled blast here on Tuesday.
Security sources said that unknown miscreants targeted vehicle of security forces with remote controlled explosives device in tehsil Mir Ali of North Waziristan Agency (NWA).
Due to blast the vehicle was destroyed resultantly a security men was martyred while six others sustained injuries who were rushed to Agency Headquarters hospital for treatment where according to hospital sources condition of some injured people was serious.
The security forces cordoned off the area after the blast and launched search action.
http://nation.com.pk/national/24-Jun-2015/soldier-martyred-in-nwa-blast
-----------
UN urges world not to 'forget' Afghans in Pakistan
June 24, 2015
PESHAWAR - The UN's top official for refugees Tuesday urged the world not to "forget" the millions of Afghans forced to live for decades in Pakistan because of war in their homeland.
Pakistan has the world's second-largest refugee population, 1.5 million, most of them Afghans living for years in poor conditions in camps in the restive northwest.
Islamabad is keen for the refugees to return to Afghanistan, with more than 65,000 going back this year - a big jump on last year's 25,000.
On a visit to the camps in Pakistan, UN High Commissioner for Refugees Antonio Guterres said Afghanistan, where security gains against the Taliban remain fragile and reversible, needed help to create an environment in which people returning could thrive.
"The attention of the international community has been focused dramatically on the Middle East crisis in Syria, in Iraq, in Yemen," Guterres said, noting that Afghans were still the second largest refugee group in the world, after Syrians.
"My appeal is for the international community to understand that this is not only the responsibility for Pakistan or Iran or other neighbouring countries, it is a collective responsibility." Last week the UN said the number of people forced to flee war, violence and persecution has soared to a record 60 million, half of them children, and the situation was getting out of control. Afghan refugees have come under increasing pressure in Pakistan following a Taliban massacre at a school in December.
The number of Afghans crossing the border back to their homeland Afghanistan in the first four months of this year fleeing "pressure" from Pakistani officials was nine times higher than the same period last year, according to the International Organisation for Migration.
Many of those who have returned have struggled to find work or even proper housing on reaching Afghanistan, with many setting up encampments on the fringes of Jalalabad, the largest city in southeast Afghanistan. Guterres urged Afghanistan's international partners to invest in the country to help build the economy so it could absorb the returnees.
Antonio Gutterres also called on Governor Khyber Pakhtunkhwa Sardar Mahtab Ahmad Khan here at Governor's House on Tuesday and discussed matters pertaining to the Afghan refugees in Pakistan and their voluntary repatriation to homeland.
Indrika Ratwatte (Representative in Pakistan UNHCR), Jacques Franquin, (Head of UNHCR Sub-office Peshawar), Daisy Dell (Director of the Bureau for Asia and the Pacific) were also accompanying the high commissioner. Minister for SAFRON Abdul Qadir Baloach were also present in the meeting.
Full report at:
http://nation.com.pk/national/24-Jun-2015/un-urges-world-not-to-forget-afghans-in-pakistan
-----------
Hafeez nominated as new Gilgit-Baltistan CM
June 24, 2015
GILGIT (Meraj Alam) - Prime Minister Nawaz Sharif on Tuesday nominated Hafiz Hafeezur Rahman as Chief Minister Gilgit-Baltistan. The PML-N has grabbed 22 out of 33 seats of the Gilgit-Baltistan Legislative Assembly.
Hafiz Hafeezur Rahman will take oath of his office on June 26 and Prime Minister Nawaz Sharif will visit Gilgit to attend the ceremony.
Regarding security arrangements during upcoming visit of the PM, a meeting was held under the chair of IG Police Gilgit-Baltistan Zafar Iqbal Awan in central police office. He directed the police officers concerned for ensuring foolproof security during the PM's visit. He was also briefed about the security plan chalked out in connection with the PM's visit.
WOMEN RESERVED AND TECHNOCRATS' SEATS: Chief Election Commissioner G-B Justice (R) Tahir Ali Shah on Tuesday announced the results of 6 reserved seats for women and 3 technocrats of G-B Legislative Assembly.
According to official results, the PML-N secured 4 seats out of 6 in GBLA in women reserved election and 2 out of 3 technocrats' seats. With this development, the PML-N's number of seats has reached to 22 in Gilgit-Baltistan.
Full report at:
http://nation.com.pk/national/24-Jun-2015/hafeez-nominated-as-new-gilgit-baltistan-cm
-----------
JI wants all Pakistani prisoners to be brought back
June 24, 2015
MULTAN
Jamaat-e-Islami Punjab Ameer Dr Syed Waseem Akhtar has demanded the government to adopt emergency measures to bring those Pakistanis back to the country who are imprisoned abroad.
Talking to the journalists here on Tuesday, he added that currently over 8,000 Pakistanis were in jails of different countries while over 62,000 crossed Pak-Iran border illegally between 2009 and 2013. He pointed out that poor local conditions, unemployment, poverty and lawlessness played as major elements forcing youth to go abroad. He added that the youth fell prey to human smugglers in their desire to go abroad, who smuggled them to Eastern Europe via Quetta, Iran, Turkey and Central Asian states. He regretted that hundreds of youngsters lost their lives in containers and vessels operated by human smugglers but nothing was done to stop this crime.
Referring to casualties of over 400 citizens in Karachi due to heat wave, he said that worst-ever loadshedding in the history of the country unveiled the reality of government's tall claims. He maintained that the citizens faced horrible loadshedding besides scorching heat in Ramazan. He said that the rulers had no point to stay in government, if they failed to offer relief to the government. He demanded the government to refrain from invoking the wrath of Allah Almighty and end loadshedding forthwith.
44PC PILES ON METRO BUS ROUTE COMPLETED: Chief Engineer Multan Metro Bus Project Sabir Khan Saddozai has said that 44 percent of total piles on Metro route have been accomplished and 104 capped.
Full report at:
http://nation.com.pk/national/24-Jun-2015/ji-wants-all-pakistani-prisoners-to-be-brought-back
-----------
Relentless heat wave takes another 337 lives
HASAN MANSOOR
Jun 24, 2015
KARACHI: While prolonged power cuts and the harsh heatwave persisted across Sindh, another 337 people — 311 in Karachi alone — died in public and private sector hospitals of the province on Tuesday, taking the combined death toll to 782 in a mere three days.
At least 136 deaths were reported on Sunday and 309 on Monday.
A government official told Dawn that the heatstroke had so far claimed the lives of at least 744 people in Karachi and 38 in other parts of Sindh.
On Tuesday, 311 people died in Karachi, eight in Hyderabad, two in Matiari, three in Tando Allahyar, seven in Badin and six in Thatta and Sujawal districts.
"We are continuously receiving people in a critical condition or dead; there has been no let-up," said Dr Seemin Jamali, joint executive director of the Jinnah Postgraduate Medical Centre, where most of the deaths have been reported since harsh weather conditions struck Karachi.
"We have recorded 279 deaths so far and there are still a large number of people in our wards," she said.
Sindh Health Secretary Saeed Ahmed Mangnejo claimed that although heatstroke patients were still being admitted to hospitals in Karachi, their number was coming down gradually.
"Awareness is rising about the danger of sunstroke and people are taking precautionary measures," he added.
Scenes of speeding ambulances with sirens wailing were witnessed all day at the city's major hospitals and outside the Edhi morgue, where officials said their facility had been stretched to the limit because of the persisting emergency situation.
According to officials, there are 11,550 beds in public sector hospitals of Karachi, most of which were already occupied by patients with various diseases and were insufficient for the heatstroke patients coming in hordes.
Full report at:
http://www.dawn.com/news/1190088/relentless-heatwave-takes-another-337-lives
-----------
North America
Harper Invites Muslim Leaders To Break Fast With Him At 24 Sussex
06/22/2015
OTTAWA - Prime Minister Stephen Harper may have made Canadian history Monday night, inviting Muslim leaders to 24 Sussex to break the Ramadan fast.
During the holy month of Ramadan, Muslims fast daily between dawn and sunset and the break-the-fast dinner, called the iftar, is traditionally a festive and spiritual event.
U.S. President Barack Obama hosts an iftar annually at the White House. But Harper's office says Monday is the first time one has been held at 24 Sussex.
In his speech to the dinner, Harper says his house ultimately belongs to all Canadians and hopes everyone can share in the blessings of the month.
He also notes tradition is that those who host an iftar bring goodness upon themselves.
The Conservative government's relationship with the Muslim community has been tense, with major flare-ups over issues such as a new bill banning face veils during citizenship ceremonies.
Full report at:
http://www.huffingtonpost.ca/2015/06/22/harper-invites-muslim-lea_n_7641480.html
-----------
Mass. Muslims Iftar Remembers Charleston Victims
23 June 2015
CAIRO-Eradicating religious and racial bigotry from the community, a group of US Muslims have planned to use this year Ramadan to invite interfaith religious groups to iftar meals, offering them an insight into the spirits of the holy month.
"Because of the recent tragic event in Charleston, SC, we will be devoting part of our reflections, and prayers (to that)," Dr. Mohammed Saleem Bajwa, president of the Islamic Society of Western Massachusetts, told Mass Live.
Bajwa was referring to the tragic death of nine people who lost their lives during a 17 shooting at a Bible study meeting at Emanuel African Methodist Episcopal Church in South Carolina.
Twenty-one year-old Dylann Roof has been arrested and charged with their murders in what is being investigated as a hate crime by the FBI.
All the dead were African Americans.
The annual iftar meal, open to Muslims and non-Muslims alike, is planned next Thursday at the Islamic society.
Full report at:
http://www.onislam.net/english/news/americas/488093-mass-muslims-iftar-remembers-charleston-victims-.html
-----------
Clinton calls Charlseton killings 'racist terrorism'
24 June 2015
Democratic presidential hopeful Hillary Clinton decried the Charleston church massacre as an act of "racist terrorism" Tuesday, and called for the Confederate flag to be removed from the state capitol grounds.
Speaking at a church in Florissant, Missouri, Clinton said Americans were struggling to come to grips with Wednesday's killing of nine African Americans at Emanuel African Methodist Episcopal Church by a suspected white supremacist.
"That night, word of the killings struck like a blow to the soul. How do we make sense of such an evil act -- an act of racist terrorism perpetrated in a house of God?"
She said the killings by 21-year-old suspect Dylann Roof was an indication of entrenched racism in the United States.
"I know it's tempting to dismiss a tragedy like this as an isolated incident, to believe that in today's America, bigotry is largely behind us. That institutionalized racism no longer exists," she said.
"But despite our best efforts, and our highest hopes, America's long struggle with race is far from finished."
Clinton's comments came at Christ the King United Church, just four miles (six kilometers) from Ferguson, Missouri, where unarmed black teenager Michael Brown was shot dead by a white police officer in August, sparking weeks of protests and a national debate about race relations.
Full report at:
https://english.alarabiya.net/en/News/world/2015/06/24/Hillary-Clinton-calls-Charlseton-killings-racist-terrorism-.html
-----------
Obama laments 'distorted impression' of Muslims
By Ben Kamisar
Jun 23, 2015
President Obama stressed religious tolerance during an Iftar dinner to celebrate the Muslim holiday of Ramadan, linking the murders of nine black Christians in South Carolina with the killings of three Muslims in North Carolina earlier this year.
ADVERTISEMENT
"Our prayers remain with Charleston and Mother Emanuel church," Obama said Monday night, using the nickname of the historically black church in Charleston where nine people were killed Wednesday night after a gunman opened fire in a Bible study.
"As Americans, we insist that nobody should be targeted because of who they are, or what they look like, who they love, how they worship. We stand united against these hateful acts."
Obama lamented the "distorted impression" that many Americans have of Muslims.
"Here in America, many people personally don't know someone who is Muslim. They mostly hear about Muslims in the news — and that can obviously lead to a very distorted impression," Obama said.
Full report at:
http://thehill.com/blogs/blog-briefing-room/news/245798-obama-laments-distorted-impression-of-muslims
-----------
Ramadan and the Blending of American Muslims
Imam Feisal Abdul Rauf
23/06/2015
Iftar is not a ceremony that many Americans know about.
Among Muslims, it is a meal that comes after sundown during the holy month of Ramadan to break the fast that Muslims endure each day from first light.
Ramadan marks the foundation of Islam when friends and families come together in contemplation and fasting and to renew their commitment to community, family and charity.
A month of fasting during daylight hours creates intense psychological and physical effects that tend to slow down one's metabolic functions, quieting the machinery of life, giving one time to think more and react less.
In this time of turmoil in the Muslim world, it should give us all time to reflect on what God calls us to do.
The Iftar I celebrated Saturday night in New York City was an event co-organized by the Cordoba Initiative and the American Egyptian Youth Network, an organization that promotes intercultural community between American and Egyptian youth.
Two things were important about it.
First, it attracted Muslim immigrants from countries as diverse as Egypt, Pakistan and Indonesia. And second, members of other faith groups - Christian and Jewish - joined in, including young Egyptian Coptic Christians, whose faith has been persecuted back home.
We celebrated the significance of Ramadan and talked about how to forge an American Muslim identity in the United States. And we talked about how Muslims are following the same immigrant journey that so many faiths have experienced as they adapted to their new homeland.
Muslims have become a significant group in the United States. More than seven million strong, many have left behind homelands in turmoil of sectarian fighting. They have come to a country where the differences between Shia and Sunni Muslims don't lead to violence. Now they will become Americans, leaving behind much of their traditional culture.
That's why it is so important to have Jews and Christians as part of the Iftar mix. They can tell Muslims that what we are going through is not new. Their forbearers experienced the same thing.
A rabbi told me that just 70 years ago there were German synagogues, Polish synagogues, Hungarian synagogues. A priest told me about Irish Catholic churches, Polish Catholic churches, Italian Catholic churches.
Full report at:
http://www.huffingtonpost.com/imam-feisal-abdul-rauf/ramadan-american-muslims_b_7646500.html?ir=India&adsSiteOverride=in
-----------
Europe
UK Preacher Says He's Ready to Go to Jail for Calling Islam 'Satanic;' Churches Leaders Fear
BY STOYAN ZAIMOV
June 23, 2015
A British preacher from Belfast who's facing prosecution for calling Islam "satanic" and "spawn of the devil" has said that he's willing to go to jail if it's necessary. Other British churches have meanwhile also expressed concerns they might be targeted for their beliefs.
Pastor James McConnell of the Metropolitan Tabernacle in north Belfast has said that he will plead not guilty to the charge of making a "grossly offensive" statement for his comments in 2014 which were broadcasted online.
McConnell has told the Belfast Telegraph that he does not regret what he said, and is "prepared to go to jail for it if necessary."
Earlier he revealed that the controversial remarks were made in the context of drawing attention to how some followers of Islam have used doctrine as justification for violence.
"I have qualified my comments by reference to those who use their religion as justification for violence. As a preacher of the Word of God, it is this interpretation of the doctrine of Islam which I am condemning," he said.
Northern Ireland's Public Prosecution Service has accused the 78-year-old pastor of Islamophobia, however, and said that he will be prosecuted at court for his comments.
"That offense was one of sending, or causing to be sent, by means of a public electronic communications network, a message or other matter that was grossly offensive," a PPS spokesman said.
Other church leaders have said that such prosecution is causing them concern.
Peter Lynas, Northern Ireland director of the Evangelical Alliance, said: "I don't agree with all that pastor McConnell said, but I am deeply concerned about this prosecution for allegedly sending a message that is grossly offensive.
"Many churches will be wary of what they place on the Internet until this case is heard and the law is clarified. This prosecution seems to stretch the Communications Act well beyond what parliament intended."
Lynas added that he believes other churches will also be concerned.
"People will want to be cautious until they see what happens in court, until they get clarity," he said.
Full report at:
http://www.christianpost.com/news/uk-preacher-says-hes-ready-to-go-to-jail-for-calling-islam-satanic-churches-leaders-fear-being-targeted-for-christian-beliefs-140735/
-----------
Britain Struggles to Stem Flow of Radicalized Youth to Islamic State
June 23, 2015
LONDON—
In front of banks of TV cameras last week, three men pleaded for their wives and children to come home. Earlier this month, the wives, who are sisters, disappeared with their nine children on the way back from a pilgrimage to Saudi Arabia. It's believed they crossed from Turkey into Syria to join the Islamic State terror group.
One of the husbands, Mohammed Shoaib, made an emotional appeal: "They are young kids, 7 and 5, and you know I love you so much."
Three British schoolgirls from London joined Islamic State in February. Earlier this month, a 17-year-old boy from northern England blew himself up in a suicide attack in Iraq for Islamic State. Days later, a white British Muslim convert, Thomas Evans, was killed fighting for al-Shabab in Somalia.
Speaking at a security conference in Slovakia last week, Prime Minister David Cameron said the Muslim community in Britain must do more to counter radical views.
"There are people who hold some of these views, who don't go as far as advocating violence, but who do buy into some of these prejudices, giving the extreme Islamist narrative weight and telling fellow Muslims, 'You are part of this.' This paves the way for young people to turn simmering prejudice into murderous intent," he said.
Mistaken view?
The British prime minister is taking the wrong approach, argued radicalization expert Joana Cook of King's College London.
"By viewing the Muslim community as one single, unified unit like this, you really do not understand the diversity of the community," she said. "And by a sweeping broad analysis like this, you also risk alienating the law-abiding, peaceful citizens that are going to be your biggest allies."
Instead, Cook said, authorities should engage more deeply with Muslim communities.
"Nobody wants to see their child go abroad or fall victim to radicalization or become radicalized," she said. "So this is very important for a lot of people in these communities, and it's very important to have strong, positive relations between security actors and communities."
Full report at:
http://www.voanews.com/content/britain-struggles-stem-flow-youth-islamic-state/2834862.html
-----------
Italy denies role in imam's extraordinary rendition
June 24, 2015
STRASBOURG, France - Italy denied any involvement on Tuesday in the CIA's "extraordinary rendition" of an Egyptian imam kidnapped in Milan in 2003 on charges of terrorist connections.
Abu Omar was kidnapped "exclusively" by CIA agents and "was never in the hands of the Italian authorities," Paolo Accardo, lawyer for the Italian government, told the European Court of Human Rights in Strasbourg.
Omar, also known as Osama Mustafa Hassan Nasr, brought the case after kidnapping convictions against top Italian spies were overthrown on appeal last year.
His was one of the most notorious cases of the West's "extraordinary rendition" programme, in which terrorist suspects were kidnapped and taken to countries where they could be tortured and illegally detained with impunity.
Omar was taken to Egypt, where he was held in secret for more than a year and says he was tortured.
The kidnapping in broad daylight by an ally of Italy became a scandal in the country when it was revealed.
Full report at:
http://nation.com.pk/international/24-Jun-2015/italy-denies-role-in-imam-s-extraordinary-rendition
-----------
Being Targeted for Christian Beliefs
A British preacher from Belfast who's facing prosecution for calling Islam "satanic" and "spawn of the devil" has said that he's willing to go to jail if it's necessary. Other British churches have meanwhile also expressed concerns they might be targeted for their beliefs.
Pastor James McConnell of the Metropolitan Tabernacle in north Belfast has said that he will plead not guilty to the charge of making a "grossly offensive" statement for his comments in 2014 which were broadcasted online.
McConnell has told the Belfast Telegraph that he does not regret what he said, and is "prepared to go to jail for it if necessary."
Earlier he revealed that the controversial remarks were made in the context of drawing attention to how some followers of Islam have used doctrine as justification for violence.
"I have qualified my comments by reference to those who use their religion as justification for violence. As a preacher of the Word of God, it is this interpretation of the doctrine of Islam which I am condemning," he said.
Islam
(Photo: Reuters/Stefan Wermuth)A man gestures during a speech by Muslim speaker Osman (C) at Speakers' Corner in Hyde Park, London, Britain May 3, 2015.
Northern Ireland's Public Prosecution Service has accused the 78-year-old pastor of Islamophobia, however, and said that he will be prosecuted at court for his comments.
"That offense was one of sending, or causing to be sent, by means of a public electronic communications network, a message or other matter that was grossly offensive," a PPS spokesman said.
Other church leaders have said that such prosecution is causing them concern.
Peter Lynas, Northern Ireland director of the Evangelical Alliance, said: "I don't agree with all that pastor McConnell said, but I am deeply concerned about this prosecution for allegedly sending a message that is grossly offensive.
"Many churches will be wary of what they place on the Internet until this case is heard and the law is clarified. This prosecution seems to stretch the Communications Act well beyond what parliament intended."
Lynas added that he believes other churches will also be concerned.
"People will want to be cautious until they see what happens in court, until they get clarity," he said.
Full report at:
http://www.christianpost.com/news/uk-preacher-says-hes-ready-to-go-to-jail-for-calling-islam-satanic-churches-leaders-fear-being-targeted-for-christian-beliefs-140735/
-----------
URL: https://www.newageislam.com/islamic-world-news/new-age-islam-news-bureau/isil-destroys-ancient-islamic-mausoleums-in-syria-s-palmyra/d/103632http://www.newageislam.com/islamic-world-news/new-age-islam-news-bureau/isil-destroys-ancient-islamic-mausoleums-in-syria-s-palmyra/d/103632