New Age Islam News Bureau
16 Nov 2014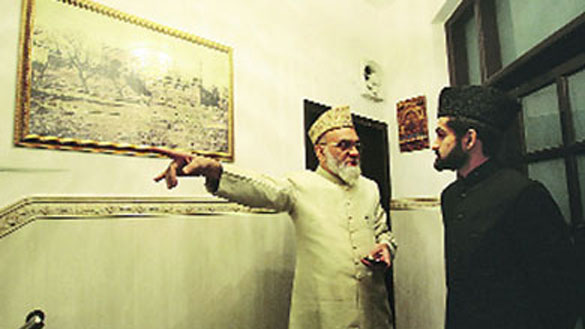 Shaban, 19, to be next Delhi'sJama Masjid Imam (Source: Express archives)
------------
Arab World
• ISIL Claims Beheading Of Us Aid Worker, 18 Syrians
• Kurdish Refugees Struggle To Survive As They Outrun Assad's Army and ISIS
• Several Isil Terrorists Killed In Salahuddin
• Fearing Backlash, Jordan Asserts Al-Aqsa Custodianship
• Takfiri Militants Sustain Heavy Losses in Aleppo
• Imam of Grand Mosque in Makkah: Peace in KSA 'is essential for Ummah'
• Army kills more militants in Sinai assaults
• Shiites in fear as deadly bigotry spreads to new shores
• UAE names over 80 Muslim 'terrorist' groups
Europe
• Caliphate in Europe: Sweden Cedes Control of Muslim Areas
• Halal-Certified, Alcohol-Free Whisky and Gin to Make European Debut
• Far-right rally against radical Islamists held in Germany
• British government faces popular pressure over Israeli aggression
• Imams failing young Britons, says Ahmadiyya Muslim leader
South Asia
• 15 Taliban Militants Killed During Counter-Terrorism Operations
• China Wants Uighur Refugees Back From Thailand
• US pursuing 'dual policy' toward Afghanistan: Karzai
• Afghan female MP survives suicide attack, three killed
• He always thought he was a target of Jamaat-Shibir
India
• Minority Affairs Minister Slams Shahi Imam for Picking Son, Imam Calls Her 'Senile'
• How a Network of Sleeper Cells Helped Terror Modules Flourish in West Bengal
• 'Court stay will impede Muslim integration into mainstream': Mumbai HC
Pakistan
• 27 suspected militants killed in Dattakhel air blitz
• 90% of North Waziristan cleared of terrorists: Maj Gen Zafar
• Haqqani network sanctuary is thing of the past: army
• Child killed, 13 injured in Khuzdar explosion
• IS no threat, says ISPR chief
• Army snubs 'malicious' Pentagon report on Pakistan
• 1,200 militants killed during 5-month offensive: army
• Man held for 'planning' bid on Musharraf's life
• PTI turned to masses after govt closed all doors for justice: Imran
North America
• Homesick Jihadists Debating Whether to Return To Their Comfortable Lives
• Obama rules out alliance with Syria's Assad against ISIL
• Muslim Calls for Boycotting Islamophobic Media
• Catholics and Muslims working together for others
• Most senior U.S. military officer says fight against ISIS 'starting to turn'
• US seeking to confirm authenticity of new IS video
Southeast Asia
• Provide Clear Remedy in Civil Law When Spouse Converts To Islam, Says Dap
• • Minister Blames Malaysians' Apathy for Rise in Extremism
• Kelantan May Resort To Guillotine
• DAP berates MCA, Gerakan for silence over apex Shariah court plan
• Twenty die in fresh unrest in southern Philippines
Mideast
• Israel will 'never' limit Jerusalem settlements: FM
• Netanyahu accuses Abbas of violating pledge to calm tensions in Jerusalem
• Erdogan: Muslims discovered Americas first
• IRGC Official: US, Zionists Pursuing Failed Plots against Islamic Revolution
Africa
• Morocco arrests five would-be jihadists
• Armed clashes in Libya's Tripoli, airport shutdown
• 340 dead in month-old battle for Libya's Benghazi
Compiled by New Age Islam News Bureau
URL: https://www.newageislam.com/islamic-world-news/new-age-islam-news-bureau/isil-claims-beheading-of-us-aid-worker,-18-syrians/d/100035
-----------
Arab World
ISIL claims beheading of US aid worker, 18 Syrians
Nov 16 2014
Islamic State of Iraq and the Levant (ISIL) on Nov. 16 claimed to have executed Peter Kassig, a US aid worker kidnapped in Syria, as a warning to the United States.
The same video showed the gruesome simultaneous beheadings of at least 18 men described as Syrian military personnel, the latest in a series of mass executions and other atrocities carried out by IS.
"This is Peter Edward Kassig, a US citizen of your country," said a black-militant wearing a balaclava, the same outfit worn by the man who beheaded two American journalists and two British aid workers in earlier videos.
The man stood over a severed head bearing a resemblance to Kassig, a former American soldier who risked his life to provide medical treatment and aid to those suffering from Syria's civil war.
"Here, we are burying the first American crusader in Dabiq, eagerly waiting for the remainder of your armies to arrive," the militant said.
Dabiq is the site of a major 16th century battle in what is now northern Syria that saw the Ottomans defeat the Mamluks and begin a major expansionist phase of an empire the ISIL onsiders to have been the last caliphate.
In a highly choreographed sequence earlier in the video, jihadists marched at least 18 prisoners said to be Syrian officers and pilots by a wooden box of long military knives, each taking one as they passed, then forced them to kneel in a line and decapitated them.
ISIL spearheaded a militant offensive that overran much of Iraq's Sunni Arab heartland since June after seizing major territory in neighbouring Syria, and carried out a series of atrocities in both countries.
The group has killed hundreds of Iraqi and Syrian tribesmen who opposed it, attacked religious and ethnic minorities, sold women as slaves, executed scores of Iraqi security personnel and carried out beheadings on camera.
http://www.hurriyetdailynews.com/isil-claims-beheading-of-us-aid-worker-18-syrians.aspx?pageID=238&nID=74391&NewsCatID=352
-----------
Kurdish refugees struggle to survive as they outrun Assad's army and ISIS
Nov 16 2014
Standing in a muddy street in the UN High Commissioner for Refugees' ramshackle Domiz Camp, we were visitors to another world.
A young man who works for the Kurdistan Regional Government (KRG) accompanied my colleague and me. He had driven us from Erbil to the camp, and was now assisting us as a translator.
"Could we offer you some tea?" My heart sank as we entered the sparse living quarters of a Syrian family. We folded ourselves onto cushions, close to the ground. The threadbare seating was the only furnishing in sight.
Still, their hospitality was touching. How could we refuse tea? Two pretty young women appeared. They smiled warmly and gracefully poured steaming tea into small, matching glasses.
Then we met two babies – both born as refugees – along with their proud parents and an assortment of aunts, uncles and grandparents.
Family members came and went, everyone wanting a look at the unexpected visitors.
Two contrasting subjects comprised most of the conversation. Various family members, sometimes all speaking at once, repeated their gratitude to the KRG for giving them shelter and safety.
But they also made sure we understood they had lost everything – their homes, ID cards and passports, jobs, shops, cars and cash. All they'd ever owned was gone.
We also discovered that they hadn't fled from Islamic State, as we'd first assumed. They had run for their lives from Syrian President Bashar Assad's ruthless army – the men avoiding forced conscription and the women escaping bombs, mortar fire and other notorious cruelties that inevitably follow in the Syrian soldiers' wake.
After a while, we said our goodbyes and entered another home across the way. There, we met a frail man in his early 40s who explained that he hadn't been able to "stop shaking" since the day he and his family ran for their lives. He couldn't understand what had happened to his trembling hands.
His worried wife explained that she works part-time for the UN at the refugee camp, and is trying to arrange to move the family some - where – anywhere – to find medical help. She showed us their family's UNHCR refugee document – their only ID.
"But without passports we can't travel," she sighed. "We can't cross borders, board airplanes or check into hotels... " Her pretty face was lined with dread. She knows very well that her husband needs help – possibly for Parkinson's disease – and fears for her children if they lose him.
She is doing everything she can. And somehow, it isn't enough.
ASSAD'S VICIOUS assaults against his own people, including torture, rape, chemical attacks, barrel bombs and indiscriminate murders of every imaginable kind, have stunned the world.
The death toll of Syria's seemingly endless civil war has reached more than 200,000.
During the onslaught, several al-Qaida-affiliated terrorist groups were spawned among the Sunni fighters seeking to overthrow Assad. They are bloodthirsty enough.
But by now, we're well aware of another destructive force sweeping across the Middle East: Islamic State marauders, who have slashed, raped, torched and murdered their way through large swathes of Syria and Iraq.
Other Sunni rebels are certainly merciless.
But Islamic State is bigger, wealthier, better organized and more ruthless than all the rest.
In one assault after another, Islamic State ferociously battered Iraq's Yazidi and Shi'ite villages, subjecting innocents to unimaginable abuses.
Then, starting in June 2014, motivated by Islamist piety, Islamic State religiously cleansed the heartland of Christianity in Iraq – Mosul and the Nineveh plain – of its indigenous Christians. In August, the town of Qaraqosh was finally emptied of its believers.
Young Christian men who resisted Islamic State's edict of "convert, pay jizya tax or leave" were shot. The elderly and newborns did not fare well on the long, hot trek, since most of those who fled weren't even allowed to carry food or water with them. The survivors eventually limped into Erbil, the Kurdistan region's capital city.
It's true, thanks to being People of the Book, that the Christians didn't face the same terrible fate as the Yazidis and non-radicalized Muslims.
Yet even without the beheadings, crucifixions, kidnappings and sex slavery that the others endured (in a few cases, Christians too) they, like the Syrians in Domiz, have lost everything.
Even today, they have little more than the clothes in which they fled, with nothing remaining of a lifetime's toil.
And not only have they lost many loved ones, but in a sense, they've lost some part of themselves. They are no longer teachers, shop own ers, farmers, bankers or businessmen. They've forfeited all control over their lives, and have to rely on strangers whom they barely trust.
The elderly seem especially adrift, heartsick and despairing.
KURDISTAN WAS already hosting thousands of Syrian Kurdish refugees when the Christians found themselves in Ankawa, Erbil's Christian district. Exhausted, hungry and dehydrated, they collapsed on sidewalks, inside abandoned buildings, on strangers' couches and in churches and schools.
Reports on the fate of the Christians soon trickled out. Some of us wrote about their struggles, using whatever information we could gather. But it was difficult to grasp the situation's complexities by just reading the news and emailing people who had visited.
Thanks to the Hudson Institute, where I'm a fellow, I was able to travel to Erbil from October 28 until November 4. A colleague and I visited not only refugees in the Domiz Refugee Camp near Dohuk, but also the Christians in Ankawa. Afterwards, I wrote an account, some of which follows: We were visiting the Mar Yousef church compound in the Ankawa district, a Christian enclave in a mostly Muslim city, packed to the rafters with refugees and their meager possessions.
In an odd way, it is rather colorful.
The church's roofs and ramparts are strung with random laundry items. Several classrooms have become sleeping quarters for 10 families each – 40-50 women and children per room. During the day, the rooms are piled to the ceiling with brightly printed mats that serve as mattresses by night. A huge pot of rice simmers just inside each door.
Male refugees, even fathers and husbands, sleep in a different section of the compound. They mingle with their families during the day.
It was raining, and the air was damp and heavy with human smells – food, sweat and latrines. Bathing takes place in a cubicle with peeling paint, a rickety door and a cold water tap about three feet from the ground.
Two other cold taps on the grounds provide water for drinking, laundry and dishwashing. Beyond that, there is no running or hot water, no heat and the barest food essentials.
"We have no money to buy food," Faten, who was once a schoolteacher, told me. "[Islamic State] took everything. Everything..."
SEEING AND hearing of so much loss and grief was distressing. And not surprisingly, one particular question arose more than once: "Why isn't the UN taking care of this?" Unfortunately the answers – gleaned from well-informed aid workers, NGOs, security personnel and professionals working among the refugees – were disturbing.
We learned that the UN camps are rife with violence, drugs, sexual abuse and theft. Christian newcomers have avoided them. But other dangers, looming in the near future, are even more deadly.
Not only has the UN done a poor job of planning, supervising and equipping the existing refugee camps in Kurdistan, it has not prepared them for the winter.
"It's a disaster in the making," a security expert told us. "Winterization of the tent cities is the most essential and urgent issue for them. Somebody needs to replace the tents with caravans [prefabricated dwellings with foundations] before the rain and snow hit, and the mud starts flowing. But how's that going to happen in a month's time?" The KRG is stretched to its limits financially – it hasn't received funds legally due to it from the Baghdad government since January. It is offering what help it can, while its Peshmerga militia remains on high alert, responsible for Kurdistan's safety as Islamic State continues to encroach around it.
In fact, when my colleague and I traveled to the Domiz Camp, our driver explained that we would need to take an indirect route; Islamic State was dangerously close to the main highway between Erbil and Dohuk. We had to skirt around them.
Considering the state of the camps, not to mention the refugees who are still sleeping in abandoned buildings and tents along the highways, one wonders whether the UN is really putting its existing funding to good use.
The day after I left, Kurdistan's Rudaw media reported, "The UN is looking for private Kurdish donors for its program to prepare 1.26 million Iraqis for winter, as it is still $173 million short of what it needs for shelter and basic items like blankets and fuel for cooking and heating."
Instead of fund-raising, perhaps the UN should consider putting its own house in order.
Within the UN, there are two very different refugee organizations. The UNHCR works in Kurdistan and other global trouble spots.
UNHCR defines a refugee as someone who has fled his country "owing to well-founded fear of being persecuted for reasons of race, religion, nationality, membership of a particular social group or political opinion." These people face loss of their home, livelihood and community and are entitled to remain refugees for one generation only.
UNHCR has a staff of 7,739. They assisted 45.2 million refugees in 2012, and their budget reached a record $4.3 billion.
And then there's the UN Relief and Works Agency for Palestine Refugees in the Near East. As those of us who live in Israel know all too well, UNRWA serves only Palestinian "refugees" – millions of them.
UNRWA's website explains that in the beginning, the agency was in responsible for "850,000 persons, based on painstaking census efforts and identifica - tion of fraudulent claims. The 1948 registered refugees and their descendants now number 5 million..."
Timon Dias wrote for Gatestone Institute, "UNRWA is the only UN refugee agency... that designates the descendants of the original refugees as refugees as well – even though 90 percent of UNRWA-designated refugees have never actually been displaced."
To serve those five million Palestinians, UNRWA's staff numbered an astonishing 31,000 in 2012. Their budget was $907,907,371.
If the surviving refugees from 1948 and their first-generation offspring were the only ones designated to receive assistance from UNRWA today, and the staff was pared down appropriately, the surplus funds could be redirected to UNHCR.
And that might just be a lifesaver.
AFTER SAYING goodbye to the Domiz families and the Christians in Ankawa, it was honestly difficult to envision a better life for them. Despite their gratitude for a temporary safe haven, despair shadows them.
"We are miserable," one Christian woman told me with a weary smile. "Miserable."
As my plane took off, her face was just one of the innumerable snapshots of Kurdistan swirling around in my head.
Sorting through it all, trying to fit the pieces together, somehow I was reminded of the 850,000 Arabic-speaking Jewish refugees from Muslim lands that flooded Israel in the 1950s-1970s.
They, too, had been expelled with nothing but the clothes they wore. They, too, had lived in tents.
They'd also mourned their losses and struggled to learn a new language and customs. And they had to reach deep into themselves to find enough faith and strength to go on.
They had no UNHCR or UNRWA. But they had one great advantage: They had come home. They were Jews in the Land of Promise. Amid all the difficulties, "Next year in Jerusalem" had become – in spite of everything – a miraculous reality.
Will Kurdistan ever become a true home to the refugees who have found a safe haven there? Or will they someday safely return to their ravaged homes and villages, summoning the courage and resources to rebuild? Or will they travel on to new nations, and try to start over? Right now, no one can say.
Only through the kindness of others, the strength of their families and heaven's tender mercies, will they find their way. And may God go with them.
http://www.jpost.com/Not-Just-News/Kurdistans-refugees-381700
-----------
Several ISIL Terrorists Killed in Salahuddin
Nov 16 2014
The Iraqi Army launched a ground offensive in Salahuddin province on Sunday, and killed several ISIL terrorists.
The army soldiers staged a successful operation in Awja area, Eastern Tikrit, and claimed the lives of fourteen Takfiri terrorists including a senior commander.
The crisis in Iraq escalated after the ISIL militants took control of Mosul in a lightning advance on June 10, which was followed by the fall of Tikrit, located 140 kilometers (87 miles) Northwest of the capital, Baghdad.
Soldiers of the Iraqi army and Pishmarga have been engaged in heavy fighting with the militants on different fronts and have so far been able to push them back in several areas.
http://english.farsnews.com/newstext.aspx?nn=13930825001095
-----------
Fearing backlash, Jordan asserts Al-Aqsa custodianship
Nov 16 2014
Jordan's tough stance towards Israel over Jerusalem's Al-Aqsa mosque reflects a determination to preserve its custodianship of the flashpoint site as well as its own stability, analysts say.
By recalling its ambassador to Israel, the Hashemite kingdom sent a message that deploying police inside the mosque compound had crossed a red line and put their diplomatic ties in jeopardy.
In parallel, Jordan's King Abdullah II hosted a diplomatic push which brought together US Secretary of State John Kerry and Israeli Prime Minister Benjamin Netanyahu for talks in Amman on Thursday.
"Recalling the Jordanian ambassador and the diplomatic push sent a tough message to Israel that violating Al-Aqsa would endanger the peace treaty," Oraib Rantawi, head of Amman's Al-Quds Centre for Political Studies, told AFP.
Kerry would not have interrupted his busy schedule and flown to the region "unless Washington realised that ties were deteriorating between Jordan and Israel, and Israel and the Palestinians", he said.
The status of Jerusalem is one of the most contentious issues in the Israeli-Palestinian conflict, and the Al-Aqsa compound is the scene of frequent confrontations between protesters and police.
Tensions soared to a new level earlier this month when Israeli police entered several metres (yards) inside the mosque during clashes triggered by a vow by Jewish far-right groups to visit the holy site.
"The violations at Al-Aqsa undermine the credibility and legitimacy of the Jordanian leadership and its ability to carry out its custodianship of the mosque," said Rantawi.
"It also an embarrassment towards its people, and this threatens the kingdom's stability and security," he added.
Jordan, which has a 1994 peace treaty with Israel, is home to more than two million Palestinian refugees, as well as large numbers of Jordanians of Palestinian origin.
The Al-Aqsa compound, holy to both Muslims and Jews, is one of the most sensitive spots in the Middle East.
Israel captured Jerusalem's mostly Arab eastern sector from Jordan in the 1967 Six-Day War and later annexed it in a move never recognised internationally.
In March 2013, Palestinian president Mahmud Abbas signed a deal with King Abdullah, entrusting him with the defence of Muslim holy sites in Jerusalem.
The deal confirmed a verbal agreement dating back to 1924 that gave the kingdom's Hashemite leaders custodial rights over the Muslim holy sites.
"For Jordan, Al-Aqsa is an internal issue," said Mohammad Abu Rumman, researcher at the University of Jordan's Center for Strategic Studies, pointing to its custodianship and the Palestinian origins of many Jordanians.
The Palestinians, who make up almost half of Jordan's population of seven million, want east Jerusalem as the capital of their future state.
Jordan is seen as a key player in Israeli-Palestinian peace talks, and King Abdullah has repeatedly called on Israel to end "its unilateral action and repeated attacks" against Jerusalem's holy sites.
Rantawi said this month's clashes at Al-Aqsa had "violated the historic Hashemite trusteeship, the peace treaty and the Palestinian-Jordan deal".
The Hashemites are direct descendants of the Prophet Mohammed and were in the past also the custodians of Mecca and Medina -- Islam's holiest sites in Saudi Arabia.
The history of the dynasty is intertwined with the Al-Aqsa mosque compound, where Sharif Hussein bin Ali al-Hashimi, who led the Great Arab Revolt of 1916 against Ottoman rule, is now buried.
His son, King Abdullah I, great-great-grandfather of the reigning monarch, established modern-day Jordan in 1921. He was assassinated in 1951 during Friday prayers at Al-Aqsa.
"Attacks on Al-Aqsa target the Jordanian leadership, its reputation and its relations with society," said Abu Rumman.
"They also go as far as raising questions -- on the Jordanian street and the Arab street -- over Jordan's legitimacy."
The unrest at Al-Aqsa has infuriated Jordanians and sparked anti-Israeli demonstrations and calls for Amman to break its peace treaty with the Jewish state.
It also comes after Jordan joined US-led air strikes on the Islamic State jihadist group, which has seized large parts of Syria and Iraq, prompting fears of a militant backlash.
Abu Rumman said failure by Jordan to react to "violations" at Al-Aqsa would have fanned popular discontent and raised questions over its inaction.
He said the United States had understood what was at stake, and "pressure was put on Israel".
Following Thursday's talks, Jordanian Foreign Minister Nasser Judeh told reporters "firm commitments" were made to maintain the decades-old status quo that allows only Muslims to pray at Al-Aqsa.
On Friday, Israel eased restrictions and allowed men of all ages to pray at the mosque for the first time in months.
http://english.ahram.org.eg/NewsContent/2/8/115628/World/Region/Fearing-backlash,-Jordan-asserts-AlAqsa-custodians.aspx
-----------
Takfiri Militants Sustain Heavy Losses in Aleppo
Nov 16 2014
Foreign-backed militants sustained heavy toll in surrounding countryside of Aleppo province, as the Syrian Army made major advances against the armed groups.
The army soldiers struck a major blow at the rebels in the areas of Anadan and al-Nairab in Aleppo, and killed scores of them.
Also, the army stormed the hideouts of the insurgents in the districts of Quneitrat and Banan al-Hoss in the nearby areas of al-Sfeireh town, East of Aleppo, killing and injuring a large number of them.
Meantime, the rebels suffered major losses in the neighborhoods of al-Lairamon, al-Khaz'aliyeh, al-Ashrafiyeh, Bani Zaid, al-Ramounseh, al-Ameriyeh, al-Zahra and the old city of Aleppo.
Syria has been experiencing unrest since March 2011 with organized attacks by well-armed gangs and terrorists against both the army and civilians.
The unrest, which took in terrorist groups from across Europe, the Middle-East and North Africa, has transpired as one of the bloodiest conflicts in recent history.
As the foreign-backed insurgency in Syria continues without an end in sight, the US government has boosted its political and military support to Takfiri extremists.
A military source told SANA that the army units killed and injured several terrorists in Anadan Aleppo city, and destroyed a vehicle with all terrorists on board west to al-Nairab, Aleppo city.
Other terrorists were killed and wounded in Quneitrat village and Banan al-Hoss in the countryside of al-Sfeireh town, east to Aleppo, which has been declared secure and safe by the Syrian Arab army on November 1st, 2013.
The source noted that the army killed numbers of terrorists in the neighborhoods of al-Lairamon, al-Khaz'aliyeh, al-Ashrafiyeh, Bani Zaid, al-Ramounseh, al-Ameriyeh, al-Zahra residential buildings and the old city of Aleppo, destroying their tools and equipment.
http://english.farsnews.com/newstext.aspx?nn=13930825000296
-----------
Imam of Grand Mosque in Makkah: Peace in KSA 'is essential for Ummah'
Nov 16 2014
Peace and stability in the Kingdom are essential to the well-being of Muslims all over the world, said imam and Khateeb at the Grand Mosque in Makkah Sheikh Saleh Al-Talib in his sermon on Friday.
"Every man on earth should realize that the security of the land of the two holy mosques is the security of every Muslim on earth." He said the country's leaders are not being complacent about protecting the Kingdom.
Al-Talib said that Muslims fighting each other around the world are playing into the hands of Islam's enemies.
He said that Saudi Arabia protects the rights of all groups because the country has a constitution based on Islamic law. "In the Kingdom, there are people who believe in creeds different from the majority faith but live in total amity."
Full report at:
http://www.arabnews.com/saudi-arabia/news/660841
-----------
Army kills more militants in Sinai assaults
Nov 16 2014
Egyptian troops killed three suspected militants late on Saturday in fresh assaults in North Sinai, where the military is battling a growing Islamist insurgency, security sources told Al-Ahram's Arabic news website.
Fourteen others were arrested in raids in the southern part of the provincial capital of Al-Arish as part of a broad military campaign aimed to battle surging militancy.
On Friday, the Sinai based Ansar Beit al-Maqdis, a militant group that has sworn allegiance to Islamic State, claimed responsibility for two deadly attacks that killed at least 31 soldiers on 24 october, in the deadliest violence since the 2013 ouster of Islamist president Mohamed Morsi.
Full report at:
http://english.ahram.org.eg/NewsContent/1/64/115618/Egypt/Politics-/Army-kills-more-militants-in-Sinai-assaults.aspx
-----------
Shiites in fear as deadly bigotry spreads to new shores
Nov 16 2014
A flood of anti-Shiite propaganda online and on satellite television is spreading bigotry and violence to countries which have so far had little experience of the sectarian hatred that has set the Middle East alight.
Shiite Muslims from Australia to Nigeria, from Britain to Indonesia, are increasingly the victims of intimidation and even violent attacks from fellow Muslims as hardline Sunni ideologies gain an ever more global reach.
"The rise of anti-Shiism or Shia-phobia, is quite concerning to Shiite communities living in the West, and the Internet, Youtube, Twitter and Facebook play a big role in promoting these hate messages," said Yousif al-Khoei, a prominent Shiite community leader in London.
Khoei, a director of the Al-Khoei Foundation, a charitable and educational organisation, said there had been an increase in threats in Britain including against himself and has called for greater police vigilance.
Last year he helped Shiite victims of a violent attack by Islamic radicals, which the British press dubbed the "first case of Muslim sectarian violence in Britain".
This year low level intimidation continues, Khoei said, particularly at some universities, where there have long been concerns over infiltration by Islamic radicals.
In Australia, a Shiite community leader was shot in the face outside a prayer hall on November 3, reportedly hours after passers by had shouted "Shiite dogs" and had threatened to return to carry out an attack.
In Nigeria, where attacks on Shiites are relatively rare despite widespread violence between Christians and Muslims, a suicide bomber killed 15 people at a Shiite ceremony, while in Vienna, a Shiite mosque was evacuated after a bomb threat.
Full report at:
http://english.ahram.org.eg/NewsContent/2/8/115613/World/Region/Shiites-in-fear-as-deadly-bigotry-spreads-to-new-s.aspx
-----------
UAE names over 80 Muslim 'terrorist' groups
Nov 16 2014
ABU DHABI: The United Arab Emirates, which belongs to a US-led coalition fighting jihadists, on Saturday issued a list of 83 Islamist groups which it classified as "terrorist organisations".
The list, approved by the cabinet and published on the official WAM news agency, is similar to an announcement made by Riyadh in March.
It blacklists Al Qaeda and the Islamic State (IS), as well as the Muslim Brotherhood and Yemen's Shia Huthi militia.
The UAE has jailed dozens of Emiratis and Egyptians for forming cells of the Brotherhood, outlawed in Egypt and Saudi Arabia, which accuses the movement of seeking to overthrow the Gulf monarchies.
Full report at:
http://www.dawn.com/news/1144757/uae-names-over-80-muslim-terrorist-groups
--------
Europe
Caliphate in Europe: Sweden Cedes Control of Muslim Areas
Nov 16 2014
Political Correctness: The perils of multiculturalism and open borders have reached critical mass in Sweden. There are Muslim enclaves where postal; fire and other essential services -- even police officers themselves --require police protection.
A police report released last month identifies 55 of these "no-go zones" in Sweden. These zones are similar to others that have popped up in Europe in recent years. They formed as large Muslim populations emigrating to politically correct and tolerant European states refuse to assimilate and set up virtual states within a state where the authorities fear to tread.
Soeren Kern of the Hudson Institute has documented the proliferation of these zones. They are de facto Muslim micro-states under Shariah law that reject Western values, society and legal systems. In these districts non-Muslims are expected to conform to the dictates of fundamentalist Islam or face violent consequences.
"A more precise name for these zones," says Middle Eastern expert Daniel Pipes, "would be Dar al-Islam -- the House of Islam or the place where Islam rules."
Muslim immigration to Sweden has been fostered by an open-border asylum policy. In the 1990s, the country welcomed 100,000 refugees fleeing the conflict in the Balkans.
Sweden has also been a haven for refugees from Iraq, and a recent estimate put the number of Iraqi refugees living there at 125,000. Since September 2012, asylum-seekers from the Arab world are immigrating to Sweden at the rate of some 1,250 per week, writes Kern.
According to a report in the Daily Caller, Swedish police officers in May pursued a suspect into one of these zones in the southern city of Landskrona. Their car was rammed, the officers forced out. They were quickly surrounded by roughly 50 "thugs" and called for backup while holding back the threatening mob with drawn weapons.
Other officers who responded were forced to stop a half mile away, just outside the zone. The police commander didn't press the issue fearing an escalation. Only with the help of a few residents whom the cornered police knew were the officers allowed to exit the restricted area.
Swedish police have not seriously tried to contest the zones since the 2013 Stockholm ghetto riots in which hundreds of cars and buildings were burned. The police report that there are now vehicle checkpoints operated by Muslim gangs on the borders of these zones. Instead of confrontation, Swedish authorities occasionally send special "dialogue officers" in a sort of Muslim outreach program.
http://www.aina.org/news/20141115211944.htm
------------
Halal-certified, alcohol-free whisky and gin to make European debut
Nov 16 2014
TEETOTALERS across Europe will soon be able to trick fellow party guests — and — themselves into believing they're drinking a gin and tonic when a company selling halal, alcohol-free liquor makes its cross-Atlantic expansion next year.
After first launching in the US three years ago with its line of fake, zero-alcohol liquors, ArKay Beverages is set to expand throughout Europe next year.
Developed for teetotalers such as Muslim drinkers, pregnant women and designated drivers, the range of halal-certified, imitation liquors drew worldwide interest when it first launched in 2011.
In 2015, company president Sylvie Grattagliano said that ArKay is poised to launch in supermarkets and liquor stores across Europe, including Italy, Spain, Germany, the Netherlands and England, with a particular emphasis on France, home to the largest Muslim population in Western Europe.
Bottles of zero alcohol whisky, gin, vodka, brandy, amaretto and even blue curacao are set to hit major supermarket retailers across France, including Auchan, Casino and Franprix, Grattagliano said.
Full report at:
http://www.therakyatpost.com/life/food-life/2014/11/16/halal-certified-alcohol-free-whisky-gin-make-european-debut/#ixzz3JHyDUbbh
------------
Far-right rally against radical Islamists held in Germany
Nov 16 2014
A rally in Hanover called by self-proclaimed hooligans against radical Islamism has drawn a smaller crowd than expected and ended peacefully.
Less than 3,000 people gathered outside the city's main station, out of an expected turnout of 5,000.
A counter-demonstration from several left-wing groups was held a stone's throw away and both demos passed off without incident.
Police had put tight controls in place after a similar rally in Cologne last month which ended in violence. It marked a rise in far-right extremism in Germany.
In Hanover cameras caught an animated exchange between residents and demonstrators.
"I`m against these radicals who behead people…But I won`t go with theses neo-Nazis.." said one woman, to which a man responded, "We`re not neo-Nazis..but it`s better to be with neo-Nazis than with Salafists".
Full report at:
http://www.euronews.com/2014/11/15/far-right-rally-against-radical-islamists-held-in-germany/
-----------
British government faces popular pressure over Israeli aggression
Nov 16 2014
About two-thousand protesters gathered in front of 10 Downing Street, the headquarters of the British government, to ask the foreign secretary to "summon the Israeli ambassador to tell him that Israel must immediately end its provocative actions, abide by international law, and respect Palestinian human rights."
The demonstrators had gathered in protest the Israeli occupation of East Jerusalem and aggression on the Palestinian people.
The protesters described the situation in East Jerusalem as "untenable," criticising Israel for "scaling up the attacks, the tension and the hatred against Palestinians in the city."
They also called on the British government to work to "stop the destruction of Jerusalem, end the brutal occupation and end Israeli apartheid."
Full report at:
http://english.ahram.org.eg/NewsContent/2/8/115602/World/Region/British-government-faces-popular-pressure-over-Isr.aspx
-----------
Imams failing young Britons, says Ahmadiyya Muslim leader
Nov 16 2014
Young British Muslims are being let down by clerics who are under-educated and fail to preach in English, according to a leading religious figure who called for higher standards to be set down for those who can become imams.
Mirza Masroor Ahmad, spiritual leader or caliph to millions of Ahmadiyya Muslims around the world, said it was shameful that Britain had lost 500 or so young people to Islamic State (Isis) and attacked the group for paying money to teenagers to join their "barbaric" fight. He said Muslim leaders in the UK should be teaching "love of country" as well as love of god to disaffected young men and women and working harder to promote the peaceful message of Islam.
"The young people here have been raised in this country and they understand English, they should not be having to hear the messages of the Qur'an in Urdu or Punjabi, or just in Arabic alone. They should be well versed in their religious education as well as in their secular education in English," said the caliph.
Ahmadiyya is a sect of Islam seen as heretical by some Muslims, and its believers are persecuted in many countries, particularly Pakistan. The sect, currently celebrates its 125th year, opened London's first mosque in 1926. Its mosque in Morden, Surrey – western Europe's largest mosque complex – this month hosted a peace symposium where the caliph's keynote speech was attended by cabinet ministers Justine Greening and Ed Davey and by dozens of multifaith dignitaries from around the world.
The caliph spoke of Islamic anger against extremism and called for wider efforts for peace.
He told the Observer the British government should be forgiving to returning jihadis. "These are the frustrated people, educated people, they don't get a proper job here and so the education is not giving them any return. They are frustrated. I myself feel their frustration. These people deserve a second chance. If they come back, of course we have to be vigilant and keep an eye on them."
Full report at:
http://www.usa-press.com/imams-failing-young-britons-says-ahmadiyya-muslim-leader/
-------------
South Asia
15 Taliban militants killed during counter-terrorism operations
Nov 16 2014
At least 15 Taliban militants were killed and 16 others were injured during clearing operations by Afghan national security forces.
The Ministry of Interior (MoI) said at least 3 Talibanmilitants were also arreted during the operations conducted by Afghan National Police (ANP), Afghan National Army and Afghan Intelligence – National Directorate of Security (NDS) forces.
A statement released by MoI said the operations were conducted in Kandahar, Kunar, Laghman, Zabul, Uruzgan, Ghazni and Paktia provinces.
Various types of weapons and ammunition were also confiscated Afghan national security forces during the operations, MoI said.
Afghan security forces confiscated 16 rounds of Improvised explosive Device (IED) from Ghor, Herat, Logar and Uruzgan provinces, the statement added.
The anti-government armed militant groups have not commented regarding the reports so far.
http://www.khaama.com/moi-15-taliban-militants-killed-during-counter-terrorism-operations-9002
-----------
China wants Uighur refugees back from Thailand
Nov 16 2014
BEIJING — More than 200 refugees detained in Thailand earlier this year are believed to be Chinese Uighurs and should be repatriated, a Chinese consul said, dismissing concerns they will be mistreated.
The refugees' claim to be Turkish cannot be confirmed and they refuse to cooperate with Chinese authorities on proper identification, said Qin Jian, the consul in Songkhla.
"They have been uncooperative and refused to communicate at all," Qin said.
The refuges are likely fearful of being mistreated in China if they are returned, although Qin said such concerns are unwarranted.
"If they do not have criminal records back in China, there will be no prosecution," the consul said.
Ethnic tensions between minority Uighurs and the majority Han Chinese have left about 400 people dead in the past 20 months.
Full report at:
http://www.saudigazette.com.sa/index.cfm?method=home.regcon&contentid=20141116224524
-----------
US pursuing 'dual policy' toward Afghanistan: Karzai
Nov 16 2014
The former Afghan President Hamid Karzai has accused the United States of growing extremism in the region, blaming Washington of pursuing a 'dual policy' towards Afghanistan.
Speaking during an interview with Radio Free Europe/Radio Liberty, Karzai said senior U.S. officials would tell him that neighboring Pakistan was harboring terrorists responsible for attacks inside Afghanistan but urge him not to raise the issue with Pakistani leaders.
He sid the United States "has been both encouraging the thief to steal and the house owner to safeguard his house."
Full report at:
http://www.khaama.com/us-pursuing-dual-policy-toward-afghanistan-karzai-9005
-----------
Afghan female MP survives suicide attack, three killed
16 November 2014
A suicide bomber on Sunday targeted a vehicle convoy of Afghan lawmakers that included a prominent female MP, killing three civilians and injuring 17 others, officials said.
The blast, in which the attacker detonated an explosives-packed car, left the MPs' vehicles badly damaged on a main road in the west of Kabul, close to the parliament.
"[Shukria] Barekzai -- she is fine and suffers small injuries," interior ministry spokesman Sediq Sediqqi said of the politician via Twitter.
Full report at:
http://english.alarabiya.net/en/News/asia/2014/11/16/Aafghan-female-MP-survives-suicide-attack-three-killed.html
-----------
He always thought he was a target of Jamaat-Shibir
Nov 16 2014
Rajshahi University (RU) Professor Dr AKM Shafiul Islam, who was brutally killed yesterday, had a longstanding suspicion that Jamaat-e-Islami and its student wing Islami Chhatra Shibir men might assault him physically.
The professor of sociology at RU who has always been vocal against Jamaat-Shibir's activities on campus, shared his notion several times over the last eight years with his family members, relatives and close associates, one of his relatives told the Dhaka Tribune.
Prof Shaiful was known as a progressive and secular-minded teacher, who played a significant role in protesting the gruesome killing of RU geology Professor Dr S Taher Ahmed in 2006.
Jamaat-Shibir men and pro-BNP-Jamaat teachers were largely blamed for Taher's killing. Two years before that, another progressive and secular-minded teacher Prof Muhammad Yunus was killed. The radical and communal groups were largely suspected for that killing too.
Just like Chittagong University (CU), RU has come to be known as a den of the Jamaat-Shibir. The manner in which these three RU teachers had been killed were almost identical. They were all brutally hacked to death.
Full report at:
http://www.dhakatribune.com/crime/2014/nov/16/he-always-thought-he-was-target-jamaat-shibir#sthash.r17lctjo.dpuf
----------
India
Minority Affairs Minister Slams Shahi Imam for Picking Son, Imam Calls Her 'Senile'
Nov 16 2014
Questioning Delhi Jama Masjid Shahi Imam Ahmed Bukhari's decision to anoint his 19-year-old son, Shaban Bukhari, as the Naib Imam or the "deputy Imam", Minority Affairs Minister Najma Heptulla has said there is no provision under the Waqf Act for hereditary appointment of the Imam of a mosque. Such appointments are the prerogative of the state Waqf Board, she said.
Hitting back at her, Bukhari said the minister had become "senile".
Speaking to The Sunday Express, Heptulla said, "It is true that there is nothing in the Waqf Act that condones hereditary appointment of Imams. Under the Act, it is the prerogative of the State Waqf Board to appoint the Imam of a mosque. The Imam draws his salary from the board too. I will talk to Mateen Ahmed (former Delhi MLA and former chairman of the Delhi Waqf Board) about this. We are also having a meeting of clerics from all over the country. Let us see if somebody raises this matter there."
When contacted, Bukhari said, "I do not feel the need to react to what Najma Heptulla says. Let her talk rubbish as she wants to. She has become senile. It is time that she stayed at home." His family said it is a tradition that has been going on for 14 generations.
Ahmed made it clear that the anointment does not have the sanction of the State Waqf Board, but said the law does not bar such appointments. Ahmed said the Waqf Act does not have a provision for such appointments and as a former chairman of the Delhi Waqf Board he does not agree with the decision either. He said he has therefore decided to skip the anointment ceremony on November 22.
Full report at:
http://indianexpress.com/article/india/india-others/najma-heptulla-slams-bukhari-for-picking-son-he-calls-her-senile/#sthash.VAgz2hcP.dpuf
-----------
How a network of sleeper cells helped terror modules flourish in West Bengal
Nov 16 2014
New Delhi: The identification of the second militant killed in Khagragarh in Burdwan on 2 October while assembling bombs inside a house has laid bare the role of jihadi sleeper cells in spreading terror network in West Bengal. The second of the two militants killed on 2 October, Shubhan Mondal alias Suvan Sheikh, was recently identified as Abdul Karim by his father. Even while dying, Abdul Karim didn't disclose his name and address and this kept the police and investigation agencies in dark almost for 40 days.
National Security Advisor Ajit Doval on visiting the blast site had remarked, "(The) State is sitting on a ticking time bomb," and cautioned Chief Minister Mamata Banerjee, "Terror modules unearthed after the Burdwan blast had far more sinister designs than earlier believed."
Full report at:
http://www.firstpost.com/india/network-sleeper-cells-helped-terror-modules-flourish-west-bengal-1805001.html
----------
'Court stay will impede Muslim integration into mainstream': Mumbai HC
VINAYA DESHPANDE
Nov 16 2014
The Bombay High Court has observed that an interim stay on reservation in education for the 50 sub-castes of Muslims specified by Maharashtra government "will certainly impede the process of drawing the Muslim youths into the mainstream of secular education." In its judgment on Friday, the court refused to grant interim stay on Maharashtra government's ordinance giving five per cent reservation to Muslims in education.
But the court granted interim stay to reservation for specified Muslims sub-castes in government jobs on the grounds that "the State has no power to breach the ceiling limit of 50 per cent." It also said that five per cent additional educational reservation could not be imposed on private and unaided educational institutes as it would be an unreasonable restriction on their fundamental right.
Full report at:
http://www.thehindu.com/news/national/court-stay-will-impede-muslim-integration-into-mainstream/article6603674.ece
-----------
Pakistan
27 suspected militants killed in Dattakhel air blitz
Nov 16 2014
RAWALPINDI: The military on Sunday claimed 27 militants were killed in air strikes targeting militant compounds in North Waziristan Agency.
A statement released by the Inter Services Public Relations (ISPR) said 27 terrorists, including some of their important commanders and foreign fighters, were killed in precision strikes North Wazirstan's Dattakhel area.
The strikes are part of the military's ongoing militant clean-up operation in the restive tribal area, however as access to the agency is limited, there can be no independent verification of the information provided by the military.
The Pakistan Army says it has so far driven out suspected terrorists from "90 per cent" territory of North Waziristan Agency since the start of Operation Zarb-i-Azb in June.
A total of 1,198 terrorists have been killed and 356 injured since the operation was launched five months ago, Zarb-i-Azb Military Operation Commander Maj Gen Zafarullah Khan said on Saturday.
Full report at:
http://www.dawn.com/news/1144882/27-suspected-militants-killed-in-dattakhel-air-blitz
-----------
90% of North Waziristan cleared of terrorists: Maj Gen Zafar
Nov 16 2014
MIR ALI (North Waziristan): Pakistan Army has so far cleared 90 percent of North Waziristan Agency (NWA) of terrorists and killed 1,198 terrorists and injured 356 during the ongoing military operation Zarb-e-Azb launched in June this year, said Commander Zarb-e-Azb Military Operation Major General Zafar Ullah Khan during press briefing on Saturday.
"So far 2,708 square kilometre of area has been vacated while the remaining area would be cleared as early as possible," he said. The major general, however, said that the return of temporarily displaced persons (TDPs) to their homes would be possible after removal of landmines and improvised explosive devices (IEDs) laid by the terrorists, which would take time.
"In an across the board military operation against foreign and local terrorists hiding in North Waziristan, we have also made major recoveries of weapons, ammunition, explosives, IEDs, and their manufacturing facilities," he told reporters who were especially flown to Mir Ali and Miranshah for a briefing.
Full report at:
http://www.dailytimes.com.pk/national/16-Nov-2014/90-of-north-waziristan-cleared-of-terrorists-maj-gen-zafar
-----------
Haqqani network sanctuary is thing of the past: army
Nov 16 2014
WASHINGTON: Pakistan has ruled out any discrimination in its ongoing operation against militants in North Waziristan, with a military spokesman stressing that the Afghan Haqqani network having a sanctuary on the Pakistani side of the Afghan border is a thing of the past.
"We're against terrorists, we didn't care about their human colour. This include all nationalities and all groups," Major General Asim Bajwa said.
In interviews with Voice of America's Urdu and Pashto services, ISPR Director General Bajwa said the Zarb-e-Azb operation has eliminated hundreds of terrorists and the Pakistani forces are now engaged in clearing peripheral areas of the tribal territory as well. "The Haqqani network is history now. This is a thing of the past."
When asked about safe havens of the Tehreek-e-Taliban Pakistan (TTP) commanders including Mullah Fazalullah in Afghanistan, Bajwa said Pakistani and Afghan leaders regularly discuss these issues.
Full report at:
http://www.dailytimes.com.pk/national/16-Nov-2014/haqqani-network-sanctuary-is-thing-of-the-past-army
-----------
Child killed, 13 injured in Khuzdar explosion
Nov 16 2014
KHUZDAR: One child was killed and 13 others were wounded in a blast in Khuzdar city of Balochistan on Sunday.
Majeed Marri, a police officer told Dawn that the bomb went off near Arbab Complex area of Balochistan's Khuzdar district.
The blast damaged shops and smashed the glasses of nearby houses in the area.
The victims were rushed to Civil Hospital Khuzdar for medical treatment where an emergency was imposed.
"The number of injured likely to be increased," Marri said.
Police and personnel of frontier corps reached the spot to investigate into the blast. Motive behind the blast cannot be ascertained yet, the police officer said.
No one had claimed responsibility for the incident till the filing of this report.
Khuzdar is considered to be one of the most sensitive districts of Balochistan.
Targeted killings, bombings and rocket attacks have claimed scores of lives in the district and forced many to migrate to Sindh and other parts of Balochistan.
http://www.dawn.com/news/1144886/child-killed-13-injured-in-khuzdar-explosion
-----------
IS no threat, says ISPR chief
Nov 16 2014
WASHINGTON: The militants of the Islamic State group may have some individuals in Pakistan but they are not a major cause of concern, says the chief spokesman for the Pakistani military.
In reply to a question about IS presence in Pakistan, during an interview to VOA Deewa (Pashto service), ISPR chief Maj Gen Asim Saleem Bajwa said: "There could be isolated cases where they are trying to show their presence or to become relevant, but I don't see this growing" into a major threat.
About Operation Zarb-i-Azb, Gen Bajwa said the military had already pushed the militants out of their main access route and from two arteries in North Waziristan, the east-west Bannu-Dattakhel corridor and Ghulam Khan and Spinwam Shiva routes.
http://www.dawn.com/news/1144869/is-no-threat-says-ispr-chief
-----------
Army snubs 'malicious' Pentagon report on Pakistan
Nov 16 2014
MIR ALI: The Pakistan Army has taken strong exception to a recent report by the US Defence Department which accused Pakistan of using "proxy forces to hedge against the loss of influence in Afghanistan and to counter India's superior military".
Pakistan has already summoned US Ambassador Richard Olson to the Foreign Office to convey concerns over the report earlier this month.
The country's protest over what the Foreign Office called "unwarranted comments" had been conveyed by the Prime Minister's Adviser on National Security and Foreign Affairs, Sartaj Aziz to the US ambassador at the Foreign Ministry.
Briefing reporters from both national and international media at the army headquarters in Mir Ali, North Waziristan on Saturday, Major General Zafarullah Khan Khattak termed the report "baseless, malicious, demoralising and contrary to ground realities".
Full report at:
http://www.dawn.com/news/1144710/army-snubs-malicious-pentagon-report-on-pakistan
----------
1,200 militants killed during 5-month offensive: army
Nov 16 2014
MIR ALI: The Pakistan army has killed 1,200 suspected militants in an anti-Taliban offensive during the past five months, seriously reducing the group's ability to carry out attacks, senior officers said on Sunday during a rare trip to the conflict zone.
The ongoing operation has targeted the militant stronghold in North Waziristan, a mountainous region that borders Afghanistan and has acted as a staging post for deadly attacks in both Afghanistan and Pakistan.
The offensive was launched as Western forces began withdrawing from Afghanistan.
In the centre of Mir Ali, the second largest town in the region, there was hardly a building untouched by the fighting.
Full report at:
http://www.dawn.com/news/1144894/1200-militants-killed-during-5-month-offensive-army
-----------
Man held for 'planning' bid on Musharraf's life
Nov 16 2014
LAHORE, Nov 15: Mughalpura police claimed on Saturday to have arrested a hardened criminal, allegedly involved in a conspiracy to murder former president Pervez Musharaf.
DSP Abdul Qayyum Gondal told the media that the suspect was also involved in dacoity-cum-murder cases. He said the police arrested the suspect, Waqar alias Noumi, on the basis of intelligence reports.
Police teams were formed to round up the criminal, he said, adding that finally Noumi was nabbed when he was preparing for committing the crime.
The police also recovered from his possession illegal weapons, cash and some mobile phones, he said.
Full report at:
http://www.dawn.com/news/1144842/man-held-for-planning-bid-on-musharrafs-life
-----------
PTI turned to masses after govt closed all doors for justice: Imran
Nov 16 2014
SAHIWAL: Pakistan Tehreek-e-Insaf (PTI) Chairman Imran Khan has said that inflexibility of the ruling government, which closed all doors of justice to his party, forced him to turn to masses for staging protests and sit-ins to demand justice and probe alleged rigging in the 2013 general election. Addressing a gathering of PTI supporter in Zafar Stadium, Sahiwal city, on Saturday, Imran Khan said that how one could expect justice from those who came into power through rigging.
He said that the election tribunal which was supposed to dispense justice in four months failed to do so even after a lapse of 17 months. "Will we ever be able to get justice?" he asked. The PTI chief said that he had no curse for power but his struggle was aimed at endowing the poor countrymen of their inborn and basic rights.
Full report at:
http://www.dailytimes.com.pk/national/16-Nov-2014/pti-turned-to-masses-after-govt-closed-all-doors-for-justice-imran
-----------
North America
Homesick Jihadists Debating Whether to Return To Their Comfortable Lives
16 November 2014
The Islamist revolts in Iraq and Syria have attracted a wide range of foreign fighters — some 2,000 from Western countries, including more than 100 from the United States. But what are those countries supposed to do when the fighters want to return home? As governments debate whether to block their homecoming, revoke their citizenship, or even help them reintegrate, the jihadists are publicly mulling their future, according to a review by SITE Intelligence Group. Foreign fighters within the Islamic State, Jabhat al-Nusra and other jihadist groups are wondering: How long will we remain here? And what happens next?
A collection of online jihadists' messages from May to October this year shows that foreign fighters in Iraq and Syria are aware that their decisions to leave home will likely be permanent. They also pressure each other, in the name of "steadfastness" (and with the implied threat that a departure would be tantamount to betrayal), to remain. "Dude!I don't get parents that beg their kids to come back from Syria knowing they'll face certain imprisonment! 4 a very long time! What the?" tweeted a user named "Dawlat Islam Citizen" on July 8. (Many tweets, including this one, have been taken down.)
That explains why, in response to an article about a jihadist fighter allegedly planning to return home, a pro-al-Qaeda fighter in Syria named "Abu Yehya Al Shami" sent these tweets on May 16:
Full report at:
http://www.washingtonpost.com/posteverything/wp/2014/11/14/homesick-jihadists-are-debating-whether-to-return-to-their-comfortable-lives-in-the-west/
-----------
Obama rules out alliance with Syria's Assad against ISIL
Nov 16 2014
US President Barack Obama on Sunday rejected any alliance with Bashar al-Assad against the Islamic State of Iraq and the Levant (ISIL), arguing that the Syrian ruler was illegitimate and that any such pact would backfire.
"Assad has ruthlessly murdered hundreds of thousands of his citizens. As a consequence, he has completely lost legitimacy with the majority of the country," Obama told reporters after a G20 summit in Brisbane.
"For us to then make common cause with him against ISIL would only turn more Sunnis in Syria in the direction of supporting ISIL and would weaken our coalition [against ISIL]," he said.
US reports this week said the president had ordered a wholesale review of his administration's Syria policy, with Assad still in power despite an armed uprising that is now in its fourth year.
The conflict has become many-sided as jihadists gain ground, notably the ISIL and the Al-Nusra Front, which is affiliated to Al-Qaeda.
Full report at:
http://www.hurriyetdailynews.com/obama-rules-out-alliance-with-syrias-assad-against-isil.aspx?pageID=238&nID=74383&NewsCatID=359
-----------
Muslim Calls for Boycotting Islamophobic Media
16 November 2014
CAIRO – Lamenting negative portrayals of Muslims in the western media, Mehdi Hasan, Huffington Post UK's political director, has called for imposing sanctions and boycotting media outlets that spread Islamophobic messages.
The press has proven "singularly unable or unwilling to change the discourse, the tone or the approach" towards Muslims, immigrants and asylum seekers, Hasan, who is also a columnist for the New Statesman magazine, was quoted by the Guardian on Friday, November 14.
Hasan believes that the only way to combat "dishonest" and "demonizing" press coverage of Muslims is through boycotting ads and issuing stricter regulations on the biased newspapers.
"We're not going to get change unless there is some sanction, there is some penalty. This is not just about Muslims; it is about all minorities," the Muslim columnist added.
Therefore you have to ask questions about: does it need to be externally imposed, either by better regulation or via some form of commercial imperative?
"Though, that requires a separate campaign to get companies to give a damn about this stuff," he added.
Full report at:
http://www.onislam.net/english/news/europe/479781-muslim-calls-for-boycotting-islamophobic-media.html
----------
Catholics and Muslims working together for others
16 November 2014
(Vatican Radio) The Catholic-Muslim Forum held its third Seminar in Rome from Tuesday 11th to Thursday 13th November 2014. The theme it took as its main topic for deliberation was "Working Together to Serve Others". Three particular issues were dealt with in papers from both sides: working together to serve young people, enhancing our interreligious dialogue, and service to society.
Below please find the final statement published at the conclusion of the forum
The delegates acknowledged many examples across the world of active Catholic-Muslim collaboration in educational, charitable, and relief efforts. After the presentations of the papers and the discussions which ensued in a cordial and fraternal atmosphere, the participants agreed on the following points:
1. The delegates recognised that their gathering took place in a time of severe tension and conflict in the world, underlining the vital importance of enhanced service and mutual cooperation. In this context the delegates unanimously condemned acts of terrorism, oppression, violence against innocent persons, persecution, desecration of sacred places, and the destruction of cultural heritage. It is never acceptable to use religion to justify such acts or to conflate such acts with religion.
Full report at:
http://en.radiovaticana.va/news/2014/11/13/catholics_and_muslims_working_together_for_others/1111058
----------
Most senior U.S. military officer says fight against ISIS 'starting to turn'
16 November 2014
During a an unannounced visit to Iraq, the most senior U.S. military officer told American troops in Baghdad that the battle with the Islamic State of Iraq and Syria (ISIS) militant group was "starting to turn."
Chairman of the Joint Chiefs of Staff Gen. Martin Dempsey told the troops the U.S. military had helped Iraqi and Kurdish forces "pull Iraq back from the precipice," Reuters news agency reported.
"And now, I think it's starting to turn. So well done," he told a group of Marines at the U.S. embassy in Baghdad.
Dempsey landed in Iraq for the first time since President Barack Obama authorized an array of responses to an offensive launched by ISIS this summer, which he said would take several years to "drawn-out."
Full report at:
http://english.alarabiya.net/en/News/middle-east/2014/11/16/Dempsey-ISIS-fight-starting-to-turn-.html
-----------
US seeking to confirm authenticity of new IS video
Nov 16 2014
The White House says the U.S. intelligence community is working to determine the authenticity of a video that purports to show that Islamic State militants have beheaded American aid worker Peter Kassig.
National Security Council spokeswoman Bernadette Meehan says that if the video is authentic, the White House would be "appalled by the brutal murder of an innocent American." She says the White House expresses its deepest condolences to Kassig's family and friends.
The video emerged just minutes after President Barack Obama departed Australia for the U.S. The president was in Australia for the Group of 20 economic summit.
Kassig, 26, was captured last year while helping provide medical aid to Syrians. His friends say he converted to Islam in captivity and changed his name to Abdul-Rahman.
IS actions trigger international fury
Australian combat jets were pulled out of a potential strike on a moving Islamic State (IS) target in Iraq because of concerns that civilians could be killed, the defence ministry said.Read here
Full report at:
http://www.thehindu.com/news/us-seeking-to-confirm-authenticity-of-new-is-video/article6605115.ece
---------
Southeast Asia
Provide clear remedy in civil law when spouse converts to Islam, says DAP
Nov 16 2014
The DAP wants amendments made to the Law Reform (Marriage and Divorce) Act to stop unilateral conversion of minors by a spouse who has embraced Islam.
Its national vice-chairman M. Kulasegaran (pic) said a long lasting solution must be found or else cases of such nature would recur.
"Section 51 of the Law Reform (Marriage and Divorce) Act must be clarified to give a proper remedy to the non-converting spouse," the Ipoh Barat MP told a forum on Tamil awakening in Butterworth today.
Kulasegaran, a lawyer, is the counsel for kindergarten teacher M. Indira Gandhi, who is embroiled in a custody battle with her ex-husband Muhammad Ridzuan Abdullah.
Ridzuan has refused to hand over their youngest daughter, Prasana Diksa, to Indira, despite a 2010 High Court order awarding her custody of their three children.
The Shariah High Court in Ipoh had in 2009 given Ridzuan custody of the three children after he unilaterally converted them to Islam.
Full report at:
http://www.themalaysianinsider.com/malaysia/article/provide-clear-remedy-in-civil-law-when-spouse-converts-to-islam-says-dap#sthash.oO9OkFJw.dpuf
-----------
Minister blames Malaysians' apathy for rise in extremism
Nov 16 2014
A lackadaisical attitude towards extremism has spurred the rise of "outrageous" religious bigotry in the country, Minister in the Prime Minister's Department Tan Sri Joseph Kurup said today.
According to news portal Malaysiakini, the minister in charge of national unity said the country was now witnessing a dramatic deterioration of moderation.
"Religious bigotry is in our news every single day. Group or individuals had outrageously called for Bibles to be burned, dragging cow's head or insulting the holy month of Ramadan," he said in his speech at the Limkokwing University of Creative Technology, in Cyberjaya, today.
"What is wrong with us today? How is such a monstrous, bizarre act by self-proclaimed race and religious champions and hypocritically playing the God card to justify their spiritual arrogance be even comprehensible?"
Last year in January, Perkasa chief Datuk Ibrahim Ali had called for Muslims to burn Bibles containing the word "Allah", after making allegations that the holy books were being distributed outside a school in Penang.
Full report at:
http://www.themalaysianinsider.com/malaysia/article/minister-blames-malaysians-apathy-for-rise-in-extremism#sthash.Yj9equGW.dpuf
-----------
Kelantan may resort to guillotine
November 16, 2014
KOTA BARU: A smaller form of the guillotine, similar to that reportedly used to behead French King Louis XVI and his queen Marie Antoinette during the height of the French Revolution in 1793, is set to emerge in Kelantan.
The PAS-led state's hudud law technical committee, said to be facing problems finding suitable methods to amputate limbs of those convicted of stealing, is considering this "mini" form of the guillotine as an option.
Its chairman Datuk Mohd Amar Abdullah said he would suggest to the panel to use such a contraption, which would not need a surgeon to operate.
Mohd Amar, who is Kelantan deputy Mentri Besar, said despite the negative reactions to getting surgeons to amputate the limbs of offenders, the committee was still mulling the idea.
Full report at:
http://www.thestar.com.my/News/Nation/2014/11/16/Ktan-may-resort-to-guillotine-Contraption-effective-and-would-not-require-a-surgeon-to-operate-says/
-----------
DAP berates MCA, Gerakan for silence over apex shariah court plan
Nov 16 2014
MCA and Gerakan were today flayed by DAP for keeping silent over Putrajaya's plan to set up a Shariah federal court which carries the same powers as the civil Federal court.
Berating the two Barisan Nasional component parties, DAP parliamentary leader Lim Kit Siang said their ministers had failed to object to such an "unconstitutional move".
"MCA and Gerakan ministers should explain why they have not raised any objection at Friday's Cabinet meeting to the unconstitutional proposal.
"MCA and Gerakan Ministers – as well as other Cabinet members – were remiss in their constitutional oath and political responsibilities in failing to object to such a proposal at Friday's Cabinet meeting and to demand that all federal government involvement in such an unconstitutional development be halted immediately," he said in a statement today.
The Gelang Patah MP said MCA and Gerakan had, instead, delegated the responsibility of objecting to the plan to minor leaders who are not parliamentary or state representatives, a move which Lim is certain would be ignored by Putrajaya.
Full report at:
http://www.themalaysianinsider.com/malaysia/article/dap-berates-mca-gerakan-for-silence-over-apex-shariah-court-plan#sthash.Lj650xUN.dpuf
-----------
Twenty die in fresh unrest in southern Philippines
Nov 16 2014
Twenty people died in a single day in the southern Philippines following a fresh outbreak of unrest in the strife-torn region, officials.
The military earlier said that 15 people were killed Friday after heavy fighting between government forces and Al-Qaeda-linked militants in the jungle region, where various Muslim extremist and bandit groups are active.
Three plantation workers including a father and son were shot dead in the southern island of Basilan on Friday in a suspected extortion attempt, said Senior Inspector Gean Gallardo, police chief of the island's capital.
"These three victims are just ordinary workers who have no axe to grind with anybody," he said.
Full report at:
http://english.ahram.org.eg/NewsContent/2/9/115587/World/International/Twenty-die-in-fresh-unrest-in-southern-Philippines.aspx
-----------
Mideast
Israel will 'never' limit Jerusalem settlements: FM
16 November 2014
Israel will never agree to limit its construction activity in Occupied East Jerusalem, Foreign Minister Avigdor Lieberman said on Sunday.
"One thing should be clear: we will never accept the definition of building in Jewish neighborhoods of Jerusalem as settlement activity," he said at a news conference with his German counterpart Frank-Walter Steinmeier.
"We won't accept any limitation on building in Jewish areas of (east) Jerusalem," he said.
His remarks came four days after Israel approved plans to build 200 homes in Ramot in Occupied East Jerusalem despite months of almost daily clashes and tensions there with Palestinians, triggered in part by settlement expansion.
The announcement prompted a sharply-worded rebuke from Washington which reiterated its "unequivocal" opposition to such construction in east Jerusalem, warning it could "exacerbate this difficult situation on the ground and... will not contribute to efforts to reduce the tension."
Full report at:
http://english.alarabiya.net/en/News/middle-east/2014/11/16/Israel-will-never-limit-Occupied-Jerusalem-settlement-building-FM.html
-----------
Netanyahu accuses Abbas of violating pledge to calm tensions in Jerusalem
Nov 16 2014
Palestinian Authority President Mahmoud Abbas must halt his anti-Israel propaganda, so that calm can be restored to Jerusalem, Prime Minister Benjamin Netanyahu told his cabinet on Sunday during its weekly meeting.
"Abbas must stop the incitement that leads to violence," Netanyahu said, explaining that the PA's official media had called for a day of rage on Friday.
It's an act, he said that violates the pledge that Abbas made just one day earlier in Amman to take immediate steps to restore calm to Jerusalem.
"On Thursday I met in Amman with King Abdullah and US Secretary of State John Kerry. We called for the restoration of calm and quiet as well as an end to incitement and violence. I said there that you can not stop the violence if you do not stop the incitement that leads to violence," Netanyahu said.
Propaganda by radical Islamists and the PA is one of the roots of the militant passion against Israel, Netanyahu said.
Full report at:
http://www.jpost.com/Arab-Israeli-Conflict/Netanyahu-accuses-Abbas-of-violating-pledge-to-calm-tensions-in-Jerusalem-381930
----------
Erdogan: Muslims discovered Americas first
Nov 16 2014
Muslim sailors and not an expedition led by Christopher Columbus discovered the Americas, claimed Turkish President Recep Tayyip Erdogan while speaking in an Istanbul summit of Muslim Leaders from Latin America on Saturday, Agence France-Presse reported.
"Contacts between Latin America and Islam date back to the 12th century. Muslims discovered America in 1178, not Christopher Columbus," the Turkish president said in a televised speech.
According to the conservative president, Muslims found the New World almost three centuries before Columbus did.
"Muslim sailors arrived in America from 1178. Columbus mentioned the existence of a mosque on a hill on the Cuban coast," Erdogan said.
Full report at:
http://english.alarabiya.net/en/variety/2014/11/15/Erdogan-says-Muslims-not-Columbus-discovered-Americas.html
-----------
IRGC Official: US, Zionists Pursuing Failed Plots against Islamic Revolution
Nov 16 2014
Head of the Islamic Revolution Guards Corps (IRGC) Public Relations Department General Ramezan Sharif underlined the failure of the US and Zionists' plots against the Islamic Revolution, and said the enemies are not capable of staging a military attack against Iran.
"Today, the US and the Zionists have grown desperate how to fight the Islamic Revolution of Iran; they know that wherever they embark on military action, they will fail and therefore, they are seeking to wage a soft war (against Iran)," Sharif said in the South-eastern city of Zahedan on Sunday.
"The enemy is never able to stage a military attack against Iran," he stressed.
Sharif also said Iran has always emphasized unity among Muslim states, and the enemy has been striving hard to undermine and destroy Tehran's measures to this end.
In relevant remarks earlier this week, IRGC Lieutenant Commander Brigadier General Hossein Salami underlined enemies' failure in implementing their different plots against Iran, and said the country is now growing into a world power.
Full report at:
http://english.farsnews.com/newstext.aspx?nn=13930825000993
-----------
Africa
Morocco arrests five would-be jihadists
Nov 16 2014
Morocco arrested five people Saturday in the southern city of Marrakesh on suspicion of seeking to join jihadists in Iraq and Syria and of aiding terrorist activities, the interior ministry said.
Three of those arrested, whose identities were not given, were "preparing to join terrorist organizations in Syria and Iraq, in particular the Islamic State of Iraq and Syria (ISIS)" group, a ministry statement said.
The other two were suspected of involvement in terrorist propaganda, with one of them calling for suicide attacks to be carried out in Morocco.
On Thursday, four French Islamists were arrested in Marrakesh and in Laayoune, in Moroccan-controlled Western Sahara, for links to "terrorist organizations."
Full report at:
http://english.alarabiya.net/en/News/africa/2014/11/15/Morocco-arrests-five-would-be-jihadists-.html
-----------
Armed clashes in Libya's Tripoli, airport shutdown
Nov 16 2014
TRIPOLI - Armed clashes broke out in Libya's capital Tripoli closing down the city's main working airport, local residents and an official said on Sunday.
Tripoli has been mostly calm since the Libya Dawn force, an armed faction allied to the city of Misrata, took over the capital in the summer and set up its own government in rivalry to Prime Minister Abdullah al-Thinni.
It was not immediately clear who was involved in Sunday's fighting, and there was no confirmation from health authorities of any casualties.
A spokesman for the civil aviation authority said Mitiga airport had been closed because of the security situation.
http://www.jpost.com/Breaking-News/Armed-clashes-in-Libyas-Tripoli-airport-shutdown-381912
----------
340 dead in month-old battle for Libya's Benghazi
Nov 16 2014
At least 340 people have been killed in fighting for Libya's second city Benghazi since the launch of a government-backed offensive against Islamist militias a month ago, medical sources said Saturday.
More than 200 of the dead have been soldiers -- either members of the regular army or loyalists of controversial retired general Khalifa Haftar, the Red Crescent and hospital sources said.
But civilians are also among the casualties, caught up in the crossfire as troops battle to wrest the eastern city back from the militias that seized it in July.
All of Libya's three big cities -- the capital Tripoli, third city Misrata and Benghazi -- are largely under the control of Islamist-led militias.
Full report at:
http://english.alarabiya.net/en/News/africa/2014/11/15/340-dead-in-month-old-battle-for-Libya-s-Benghazi-.html
-----------
URL: https://www.newageislam.com/islamic-world-news/new-age-islam-news-bureau/isil-claims-beheading-of-us-aid-worker,-18-syrians/d/100035