Hindu-Muslim tragic Love story: Call for justice gets shriller by Mohit Kandhari
India: Shia board decides to tone down weddings by Manjari Mishra
17 killed in South Waziristan air strikes By Anwarullah Khan and Sailab Mehsud
Karzai Rival Hints at Flexibility on Afghan Vote by Elisabeth Bumiller And Sabrina Tavernise
Some See Iran as Ready for Nuclear Deal by MICHAEL SLACKMAN
US seeks to calm Pak fears over aid, but says no change in bill
Pakistan army headquarters attack: 40 suspects picked up in Lahore
Murder case against Musharraf for Bugti killing
Myths of our Afghanistan debate by Amir Taheri
Afghanistan was part of successive empires until 1702
11 killed in Iraq mortar attack
85,000 Iraqis killed from 2004-2008: Govt
Try Blair for war crimes: Say families of soldiers killed in Iraq
Fatah-Hamas Unity Circus
Britain ready to send more troops to Afghanistan
Threat Persists in Yemen, Somalia
(59 protesting Shias killed in Yemen by govt. Forces)
Troops in Kashmir to take back seat
8 mosques to host 'Meet Your Muslim Neighbour' open house
House Republicans seeks Muslim 'spy' probe
Indonesia: Christians and Muslims against pro-abortion bill
Muslim Mafia - Congressmen Slam CAIR
Now British Muslims Demand Full Sharia Law by By Martyn Brown
Pakistan jets bomb Taliban bastion
Ho hum, Pakistan
Compiled By New Age Islam News Bureau
URL: https://newageislam.com/islamic-world-news/is-pakistan-losing-plot-5/d/1917
------
5 terror attacks in Pak in a day, 38 dead
15 October 2009
LAHORE: Teams of gunmen attacked three law enforcement facilities across the eastern city of Lahore on Thursday, paralyzing Pakistan's cultural capital, while a car bomb devastated a northwest police station, killing a total of 38 people in an escalating wave of terror in this nuclear-armed US ally.
Another bombing in the north-western city of Peshawar later in the day wounded five people, further rattling the country.
The bloodshed, aimed at scuttling a planned offensive into the militant heartland along the Afghan border, highlights the militants' ability to carry out sophisticated strikes on heavily fortified facilities and exposes the failure of the intelligence agencies to adequately infiltrate the extremist cells.
No group immediately claimed responsibility, though suspicion fell on the Pakistani Taliban who have claimed other recent strikes. The attacks Thursday also were the latest to underscore the growing threat to Punjab, the province next to India where the Taliban are believed to have made inroads and linked up with local insurgent outfits.
President Asif Ali Zardari said the bloodshed that has engulfed the nation over the past 11 days would not deter the government from its mission to eliminate the violent extremists, according to a statement on the state-run news agency.
``The enemy has started a guerrilla war,'' Interior Minister Rehman Malik said. ``The whole nation should be united against these handful of terrorists, and God willing we will defeat them.''
The wave of violence practically shut down daily life in Lahore. All government offices were ordered shut, the roads were nearly empty, major markets did not open and stores that had been open pulled down their shutters.
The assaults began just after 9 a.m. when a group of gunmen attacked a building housing the Federal Investigation Agency, a law enforcement branch that deals with matters ranging from immigration to terrorism.
``We are under attack,'' said Mohammad Riaz, an FIA employee reached inside the building via phone by The Associated Press during the assault. ``I can see two people hit, but I do not know who they are.''
The attack lasted about 1 1/2 hours and ended with the death of two attackers, four government employees and a bystander, senior government official Sajjad Bhutta said. Senior police official Chaudhry Shafiq said one of the dead wore a jacket bearing explosives.
Soon after, a second band of gunman raided a police training school in Manawan on the outskirts of the city in a brief attack that killed nine police officers and four militants, according to police and hospital officials. One of the gunmen was killed by police at the compound and the other three blew themselves up.
The facility was hit earlier this year in an attack that sparked an eight-hour standoff with the army that left 12 people dead.
A third team of at least eight gunmen scaled the back wall of an elite police commando training center not far from the airport and attacked the facility, Lahore police chief Pervez Rathore said.
A family barricaded itself in a room in a house, while the attackers stood on the roof, shooting at security forces and throwing grenades, said Lt. Gen. Shafqat Ahmad, the top military official in Lahore.
Two attackers were slain in the gunbattle and three blew themselves up, he said. One police nursing assistant and a civilian also died in the attack, he said.
Television footage showed helicopters in the air over one of the police facilities and paramilitary forces with rifles and bulletproof vests taking cover behind trees outside a wall surrounding the compound. Rana Sanaullah, provincial law minister of Punjab province, said police were trying to take some of the attackers alive so they could get information from them about their militant networks.
Officials have warned that Taliban fighters close to the border are increasingly joining forces with Punjabi militants spread out across the country and foreign al-Qaida operatives, dramatically increasing the dangers to Pakistan. Punjab is Pakistan's most populous and powerful province, and the Taliban claimed recently that they were activating cells there and elsewhere in the country for assaults.
An official at the provincial Punjab government's main intelligence agency said they had precise information about expected attacks on security targets and alerted police this week, but the assailants still managed to strike. The official spoke on condition of anonymity because he was not authorized to comment on the situation.
Despite their reach and influence, the nation's feared spy agencies have failed to stop the bloody attacks plaguing the country.
Kamran Bokhari, an analyst with Stratfor, a US-based global intelligence firm, said Pakistan needed to penetrate more militant groups and intercept conversations to prevent attacks, but the task was complicated in a country so big and populous.
``The militants are able to exploit certain things on the ground, like the anti-American sentiment, which is not just in society — it's also in the military,'' he added.
In the Taliban-riddled northwest, meanwhile, a suicide car bomb exploded next to a police station in the Saddar area of Kohat, collapsing half the building and killing 11 people — three police officers and eight civilians — Kohat police chief Abdullah Khan said.
Early Thursday evening, a bomb planted in a car outside a home in the Gulshan Rehman area of Peshawar city exploded, city police chief Ijaz Khan said. A nearby school was closed at the time. Local police official Aalam Sher said five wounded people were hospitalized.
Footage shown on local TV showed people who appeared to be teenagers being put into ambulances. The damaged vehicle was flipped on its side and jutted out of what appeared to be a garage. Piles of bricks littered the nearby roads.
The US has encouraged Pakistan to take strong action against insurgents who are using its soil as a base for attacks in Afghanistan, where US troops are bogged down in an increasingly difficult war. It has carried out a slew of its own missile strikes in Pakistan's lawless tribal belt over the past year, killing several top militants including Pakistani Taliban chief Baitullah Mehsud.
One suspected US missile strike killed four people overnight Thursday when it hit a compound in an area in North Waziristan tribal region where members of the militant network led by Jalaluddin Haqqani are believed to operate, two intelligence officials said. They spoke on condition of anonymity because they were not authorized to speak to the media.
Pakistan formally protests the missile strikes as violations of its sovereignty, but many analysts believe it has a secret deal with the US allowing them.
The militants have claimed credit for a wave of attacks that began with an October 5 strike on the UN food agency in Islamabad and included a siege of the army's headquarters in the garrison city of Rawalpindi that left 23 people dead.
The Taliban have warned Pakistan to stop pursuing them in military operations.
The Pakistani army has given no time frame for its expected offensive in South Waziristan tribal region, but has reportedly already sent two divisions totaling 28,000 men and blockaded the area.
Fearing the looming offensive, about 200,000 people have fled South Waziristan since August, moving in with relatives or renting homes in the Tank and Dera Ismail Khan areas, a local government official said, speaking on condition of anonymity because he was not authorized to talk to the media.
Source: http://timesofindia.indiatimes.com/world/pakistan/5-terror-attacks-in-Pak-in-a-day-38-dead/articleshow/5127665.cms
-------------
Hindu-Muslim tragic Love story: Call for justice gets shriller
Mohit Kandhari, October 15, 2009
Rajneesh's family turns down ex-gratia, wife threatens self-immolation in front of Parliament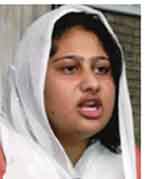 The family of a Jammu-based businessman, who died under mysterious circumstances in police custody in Srinagar on October 5, has demanded a CBI probe into his death and refused to accept the ex-gratia payment announced by the State Government.
In what seems like a replay of Kolkata's infamous Rizwanur Rahman murder case, the Jammu love tragedy — involving a Hindu man and a Muslim woman — has caused much tension and the police are being accused of covering up the case. But unlike the countrywide uproar in the Rizwanur case, few have cared to take up the case of Rajneesh Sharma's traumatised family members, who have threatened to immolate themselves if the culprits are not punished.
Mourning the death of her husband for 10 days, Aanchal Sharma nee Amina Yousaf — who was looking forward to decorating her house and celebrating her first Diwali after marriage — on Wednesday vowed to immolate herself in front of Parliament House if justice were not delivered and her husband's killers not brought to book by the State Government.
Rajneesh had married Amina on August 21 after she embraced the Hindu religion and rechristened herself as Aanchal. Since her family members were opposed to the marriage, she believes that her brothers and father conspired with police to eliminate her husband. After angry protests broke out in Jammu, the State Government had announced an ex-gratia payment of Rs 3 lakh along with two Government jobs for Rajneesh's family members.
"We want a thorough CBI probe into Rajneesh's mysterious death in custody. We do not want compensation, we only want justice. My father and brothers hatched a conspiracy and got my husband killed in police custody; still they are roaming freely. I want to see them behind bars," Aanchal Sharma, sitting alongside mother-in-law Raj Kumari, said.
"Rajneesh was brutally murdered in police custody because he married a Muslim girl," Pawan Sharma, the elder brother of Rajneesh, alleged. "The ongoing magisterial probe is no good…. We do not trust it," he said. A separate post-mortem examination, conducted by the board of doctors in Government Medical College Hospital in Jammu, is learnt to have established that Rajneesh was tortured before he died mysteriously in police custody.
Clutching one of her husband's favourite shirts, 27-year-old Aanchal said, "Why is our young and dynamic Chief Minister (Omar Abdullah) shying away from intervening in the matter? If Omar can take note of the Shopian double rape-murder case, why is he keeping silent in this case?" she asked.
"Why are his Cabinet colleagues and other elected representatives of the Congress and the National Conference not demanding action against the culprits?" Anchal questioned. "I am ready to immolate myself if justice is not delivered," she said, giving a three-day ultimatum to the State Government to act.
"We want justice. We do not want any monetary assistance or Government jobs in lieu of my son's life. We have lost the bread-earner of our family and we will not sit silently. My son was priceless," Raj Kumari said.
Rajneesh's body was found hanging inside the lock-up bathroom of Ram Munshi Bagh police station on October 5, five days after he was detained by the Kashmir police for allegedly kidnapping Amina. Rajneesh had been picked up from the residence of his elder brother, Pawan, on the intervening night of September 29-30.
On Tuesday, Delhi-based Civil Society Front co-convener and Bharatiya Janata Party national secretary Balbir Punj also demanded a CBI probe into the matter. Punj, who also called upon the family members in Jammu, said the Civil Society Front had taken a serious note of the "heinous crime" and it would take up the issue with the National Human Rights Commission, Women's Commission, Parliament and Home Ministry. He alleged that Rajneesh had become a victim of communal mindset.
Deputy Commissioner (Jammu) MK Dwivedi told The Pioneer, "I have already forwarded the post-mortem report to the State Government. I have also maintained that we are ready to hand over the compensation cheque to the bereaved family. We are waiting for them to inform us in whose name they want the cheque," he clarified.
Source: http://www.dailypioneer.com/209131/Call-for-justice-to-Jammu%E2%80%99s-Rizwanur-gets-shriller.html
------
Shia board decides to tone down weddings
Manjari Mishra, 15 October 2009
LUCKNOW: Ostentatious expenditure at Shia nikah stands to be banned. The All India Shia Personal Law Board, preparing to announce its national policy on October 25 in Delhi, has decided to allow public use of mosques and imambaras for the purpose of solemnising Muslim marriages.
Talking to TOI on Wednesday, president of the body and noted Shia scholar and cleric, Maulana Mirza Athar said the issue, to be incorporated in the policy document, will help bridge the gap between poor and rich in the community.
The move envisages throwing open the doors of all Shia mosques and imambaras for hosting nikahs in a bid to stop wasteful expenditure, said the Maulana. "We have ample land, both in the sprawling imambaras and mosques, and it can be well utilised." The practice, he said, would be made mandatory for the community, "which has over the years shown a marked tilt towards consumer culture, opting for hosting the pious event in five star hotels and marriage halls."
Making the use of masjid and imambara mandatory, he said, would go a long way in bringing social equality. "The poor or the middle class will no more feel conscious once they see the rich brethren also following the same instructions. It will also make the nikah less of a burden for the community," he said.
Topics:
Source: http://timesofindia.indiatimes.com/articleshow/msid-5125737,prtpage-1.cms
------------
17 killed in South Waziristan air strikes
By Anwarullah Khan and Sailab Mehsud, 15 Oct, 2009
LADDAH/KHAR, Oct 14: Warplanes hit militants' hideouts and some civilian areas in South Waziristan, leaving 17 militants and some non-combatants dead.
According to sources, two planes bombed militant positions in Saam, Khasura, Spinkai, Gorgoray and Tangi Bazay areas. According to local people, one of the bombs hit a cave-house in Spinkai area, killing one Nekum Khan and eight members of his family and injured six others.
Security officials said the father of local Taliban leader Noor Wali Mehsud was killed when a bomb hit his house. They said the total number of militants killed in the attack could not be ascertained.
Sources said that the number of casualties in the air strikes which started on Tuesday was 26.
The town of Sara Rogha which had almost been destroyed during a military operation last year also came under attack on Wednesday.
Nine people were killed in an attack on Maulvi Khan Sarai on Tuesday. Houses of two tribal elders, Yaqoob Shah and Allauddin Mehsud, were hit in Shinkai Mela.
According to reports reaching here, militants have asked shopkeepers and about 200 people living near Razmak town in North Waziristan to move to safe places.
Thousands of tribal people, it may be mentioned, left the area amid reports of an imminent military offensive in the Mehsud area. Security forces are reported to be consolidating their positions and moving tanks and heavy artillery towards Makin and Razmak. Troops are also building strategic roads on Mamo Mountains.
In Bajaur, troops have intensified action in Salarzai where air and ground offensive was launched on Monday.
Local people said that troops backed by tanks and artillery entered the area on Wednesday and set up checkpoints. They were received by elders of Salarzai tribe and volunteers of the local lashkar.
Witnesses said that a convoy of more than 80 vehicles had entered Pashet and headed towards Mulla Said and Torget areas.
Elders of Salarzai had been asking the government for some time to send troops to the area and have raised a lashkar against militants.
Security forces have secured hilltops and other key locations to curtail movement of militants.
Meanwhile, helicopter gunships attacked militants' hideouts in Mamond on Wednesday. Five suspected militants were killed and seven others injured. Troops have also claimed destroying several bunkers.
Source: http://www.dawn.com/wps/wcm/connect/dawn-content-library/dawn/the-newspaper/front-page/17-killed-in-south-waziristan-air-strikes-509
----
October 16, 2009
Karzai Rival Hints at Flexibility on Afghan Vote
By ELISABETH BUMILLER and SABRINA TAVERNISE
WASHINGTON — A runoff election between President Hamid Karzai of Afghanistan and his main opponent, Abdullah Abdullah, appears likely, the Karzai government's ambassador to Washingtonsaid Thursday.
The comments by the ambassador, , Said Tayeb Jawad, are the first time that Mr. Karzai's government has publicly acknowledged the probability of a runoff.
In an interview on Wednesday and in a follow-up telephone conversation on Thursday, Mr. Jawad said that although he had no direct contact with the Independent Election Commission auditing the vote, the Karzai government was preparing for the commission to announce on Saturday that a runoff was necessary.
"Chances are there will be a second round, although it was not so sure up to a couple of days ago, but now it looks like there will be a second round," Mr. Jawad said in the interview on Wednesday in Washington.
A runoff would further complicate the debate President Obama is leading at the White House about whether to send as many as 40,000 more American troops to Afghanistan. Administration officials have said that Mr. Obama will announce his decision within the next several weeks, but not knowing who is in charge in Kabul might change that timetable.
The earliest a runoff could be realistically held, Mr. Jawad said, was late October or early November, with the vote tally expected back two weeks later. If the election is not held by early November, it would have almost certainly have to be delayed until the spring of 2010 because heavy snow and closed roads throughout the country would prevent many votesr from going to the polls.
If is unclear if administration officials would wait for the results of a runoff before announcing a decision on troops, or whether they might simply point to a runoff as evidence that the Afghan government was moving toward some reform.
The Aug. 20 election has been marred by widespread evidence of fraud and ballot-stuffing for Mr. Karzai. Administration officials have repeatedly said that a major factor in Mr. Obama's review of U.S. strategy in Afghanistan, and whether he should send additional forces to supplement the 68,000 American troops already there, is the lack of a strong partner in Kabul.
Mr. Jawad did not discount the possibility that there could be a power-sharing arrangement between Mr. Karzai and Mr. Abdullah, but he said he viewed it with skepticism.
"That's peaceable, that's doable, that's probably a good way to go politically, but whether it would make a huge difference as far as the reality on the ground, and as far as bringing more capable, skillful Afghans to the government, I doubt it," Mr. Jawad said.
Earlier Thursday in Kabul, Mr. Abdullah hinted that he might be willing to negotiate, but only after an announcement about whether the vote needs to go to a second round.
"It will be a different environment, no doubt, once the announcement is made," Mr. Abdullah said at a news conference. "We reserve our reaction and what to do post-announcement, for that period."
Some analysts believe Mr. Abdullah is waiting to know the strength of his bargaining position in order to negotiate for cabinet positions. Mr. Abdullah himself has repeatedly ruled out entering Mr. Karzai's government.
But it is unclear whether the candidates could stop the process, even if they wanted. The country's Constitution requires a second round to be held in two weeks if none of the candidates receives more than half the vote.
"Constitutionally, it's impossible," said Wadeer Safi, a professor at Kabul University, referring to skipping the runoff.
But Afghanistan violated its own Constitution as recently as this spring, when Mr. Karzai failed to hold elections within the time frame it mandated. To preserve his legitimacy, the Supreme Court ruled that Mr. Karzai could remain the legal head of state until a new one was selected, even though his term had expired.
"There might be some other miracle they could do," Mr. Safi said.
In further evidence that Mr. Karzai was feeling vulnerable, his longtime ally, Zalmay Khalilzad, the former American ambassador here, arrived on Wednesday. A spokeswoman for the American Embassy in Kabul said Mr. Khalilzad, who is an American citizen born in Afghanistan, had come as a "private citizen" and that he was not representing the United States government.
Mr. Khalilzad, who also served as the United States ambassador in Iraq, had been extremely close to Mr. Karzai, but relations became strained this spring after Mr. Karzai reportedly led Mr. Khalilzad to believe he would get a position in the government and later dropped the offer.
A Western official said Mr. Khalilzad had come on the invitation of Mr. Karzai, but a spokesman for Mr. Karzai's campaign denied that. The two men met Thursday morning, the spokesman said, but he gave no further details on the meeting.
In a brief appearance on Afghan television on Wednesday night, Mr. Khalilzad indicated that he had come to help Afghans during a difficult election process, but an official in Mr. Abdullah's campaign said they did not want his assistance.
"We do not need any broker," the official said. "We do not need anyone in the middle who would say, 'Let's see what we can do for you.'"
Both Mr. Khalilzad and Mr. Karzai are Pashtuns, the largest ethnic group in Afghanistan, and there is tremendous distrust for them in the campaign of Mr. Abdullah, who is a Tajik.
Elisabeth Bumiller reported from Washington, and Sabrina Tavernise from Kabul, Afghanistan. Abdul Waheed Wafa contributed reporting from Kabul.
http://www.nytimes.com/2009/10/16/world/asia/16afghan.html?ref=global-home&pagewanted=print
------------
Some See Iran as Ready for Nuclear Deal
By MICHAEL SLACKMAN, October 15, 2009
RIYADH, Saudi Arabia — Iran says it has no plans to build nuclear weapons. Western nations say they do not believe Iran and periodically release intelligence reports that they say prove Iran has been working on building a bomb.
For years, that has been the point of contention in an intractable international dispute.
But as the United States and its Western allies prepare for a second round of direct negotiations with Tehran this month, that may no longer be the central question. The more pertinent point, Iran experts and regional analysts say, is that Iran finally may be ready to make a deal.
The analysts cite a confluence of factors, from Iran's internal political crisis to the change in leadership in Washington, and one overriding point: Iran's leadership may have achieved much of what it set out to accomplish when it stepped up its clandestine nuclear program in 1999.
In contentious, high-stakes negotiations, deals are possible when both sides have a chance to declare victory, and that point may have been reached.
"If the Iranian endgame is to keep enrichment, and if the United States' endgame is to make sure there are no nuclear weapons in Iran, then it can be a win-win," said Trita Parsi, author of a book on Iran and president of the National Iranian American Council, an independent advocacy group in Washington. "Those who have been criticizing the administration for compromising or giving Iran a concession, they are wrong. It is not a concession to adjust to an unchanging reality."
For Iran, this is not exactly about compromising — which it has shown little appetite for — as much as cooperating. For the West, it is not about winning concessions but about developing verifiable assurances that Iran is not producing weapons.
"I think the Iranians are simply in no mood to accept any serious limits on the expansion of their program," said Flynt Leverett, director of the Iran Project at the New America Foundation. "From their point of view, they already suspended enrichment for almost two years, from 2003 to 2005, and from their perspective, they got nothing for that and they're not going to do that again."
But Mr. Leverett said Iran sees "that by expanding, they've gotten the attention of the international community and they have cards to play."
And that may have been Iran's primary goal from the start.
There are many analysts inside and outside Iran who say that Tehran's objective has been to master — or at least appear to master — the process of preparing nuclear fuel, fashioning a warhead and providing the means to deliver that warhead, but not actually to build a weapon.
Full report at: http://www.nytimes.com/2009/10/15/world/middleeast/15iran.html?ref=global-home&pagewanted=print
----
US seeks to calm Pak fears over aid, but says no change in bill
14 October 2009
WASHINGTON: Senior US lawmakers sought on Tuesday to soothe anger in Pakistan over a proposed multibillion-dollar US aid package, saying they would provide assurances that the United States has no intention of interfering with Pakistan's sovereignty.
Democratic Senator John Kerry, who co-sponsored the aid package, said lawmakers would prepare an explanatory statement to accompany the bill, which has language that some in Pakistan see as outside interference with their government.
The statement would "set the record absolutely straight" and correct misinterpretations about the bill, Kerry told reporters after meeting with foreign minister Shah Mahmood Qureshi.
"The bill doesn't have to be changed. If there is a misinterpretation, it just has to be clarified," Kerry said.
A statement would not alter the bill, which already has been approved by the US Congress and must still be signed into law by President Barack Obama. Any changes would have to be voted on by both chambers of Congress.
Rep. Howard Berman, the Democratic chairman of the House of Representatives Foreign Affairs Committee, said before his meeting on Tuesday with Qureshi that the statement would explain what the bill does and what it does not do. The bill, he said, is meant to help Pakistan's people, not dictate what the country should do.
Qureshi was pressing lawmakers and the Obama administration for the assurances on the bill just a week after he was in Washington praising the aid package. During that first trip, Pakistan's military publicly criticized the bill, which triples nonmilitary assistance to the country.
The bill would provide Pakistan with $1.5 billion a year over the next five years to spend on democratic, economic and social development programs. But Pakistan's military has objected to language that links money for counterterrorism assistance to Pakistan cracking down on militancy and meeting other conditions.
The dispute shows the strains between the fragile civilian government of President Asif Ali Zardari and the military. It also highlights rising mistrust about US intentions in Pakistan.
Full report at: http://timesofindia.indiatimes.com/world/us/US-seeks-to-calm-Pak-fears-over-aid-but-says-no-change-in-bill/articleshow/5122548.cms
-----
Pakistan army headquarters attack: 40 suspects picked up in Lahore
14 October 2009
LAHORE: Four days after Taliban's brazen strike on Pakistan's army headquarters, security agencies are continuing their sweep to nab suspects involved in the attack and other recent militant assaults and have arrested about 40 people over the past two days.
In an operation in this capital of Punjab province, police picked up 40 people, including a key suspect Luqman, 25, who was caught with an explosive jacket, police said.
Most of the suspects arrested here belong to banned militant groups like the Lashkar-e-Jhangvi, Siphah-e-Sahaba, Sipah-e-Muhammad and Jaish-e-Mohammad, all Punjabi militant groups.
"They were arrested for their alleged links with those carrying out terrorist attacks across the country," a senior police officer said.
Luqman was nabbed at one of 16 checkpoints set up along the 75-km boundary between Punjab and the restive North West Frontier Province.
Luqman has links with Aqeel alias Dr Usman, who was shot and caught during the commando operation to clear the occupation by militants of the intelligence office in the Army Headquarter complex, a police source said.
The police source said Luqman also had links with Hanif Gabol, a resident of Choti Zaireen who was involved in recruiting teenage seminary students for training in militant camps in the lawless Waziristan tribal region.
Source: http://timesofindia.indiatimes.com/world/pakistan/Pakistan-army-headquarters-attack-40-suspects-picked-up-in-Lahore/articleshow/5123615.cms
-----
Murder case against Musharraf for Bugti killing
14 October 2009
ISLAMABAD: Acting on a high court order, Pakistan police has registered a murder case against former President Pervez Musharraf and several of his key aides in connection with the killing of Baloch nationalist leader Nawab Akbar Bugti in a military operation in 2006.
The case was registered on Tuesday at Dera Bugti police station in Balochistan on the orders of the provincial high court, lawyers representing Bugti's kin said.
Others named in the case are former premier Shaukat Aziz, former interior minister Aftab Ahmed Khan Sherpao, former chief minister Jaam Yousuf and former provincial home minister Shoaib Nosherwani.
Former Balochistan governor Awais Ahmed Ghani, who is now the governor of the North West Frontier Province, has also been named in the First Information Report. However, police will include him in the investigation only after he completes his term in office.
The Balochistan High Court had directed police to register a case against Musharraf and his aides on October 7 in response to a petition filed by Bugti's son Jamil Akbar Bugti.
The court had also summoned Musharraf to appear before it but neither he nor his counsel attended the proceedings.
Musharraf, who resigned as president in August last year, is currently abroad for a lecture tour. He has been living outside Pakistan since mid-April.
Source: http://timesofindia.indiatimes.com/world/pakistan/Murder-case-against-Musharraf-for-Bugti-killing/articleshow/5123342.cms
-----
Britain to send 500 extra troops to Afghanistan
14 October 2009
LONDON: British Prime Minister Gordon Brown announced Wednesday an extra 500 troops for Afghanistan, but pressed NATO allies to do their "fair share" in the increasingly deadly and unpopular mission.
The announcement, taking Britain's force level in Afghanistan to 9,500, came as a new poll underlined growing public doubts about the eight-year-old Afghan mission, with one in three Britons saying troops should be withdrawn.
"We have agreed in principle a new British troop level of 9,500," Brown said in a statement to the House of Commons. The Ministry of Defence confirmed this represented an increase of 500.
He stressed the increase was based on three conditions, including an Afghan government commitment to provide enough new troops to be trained and that units can be properly equipped for the task.
"Third, that our commitment is part of an agreed approach across the international coalition, with all countries bearing their fair share," he told lawmakers.
"Britain supports (US commander) General (Stanley) McChrystal's ambition to accelerate the growth of the Afghan security forces," Brown added.
In a statement on Afghanistan and Pakistan, Brown also announced that Britain would provide an extra 10 million pounds (16 million dollars, 10.7 euros) in humanitarian aid for areas of Pakistan "liberated" from militants.
Britain currently has around 9,000 troops in Afghanistan, the second largest deployment after the United States. There have been 221 British deaths there since the war began in 2001.
The news is likely to be welcomed in the US, where President Barack Obama has struggled to persuade even Washington's closest allies to dispatch more troops to Afghanistan amid spiralling violence and waning public support.
Full report at: http://timesofindia.indiatimes.com/world/uk/Britain-to-send-500-extra-troops-to-Afghanistan/articleshow/5124264.cms
-----
Myths of our Afghanistan debate
Afghanistan was part of successive empires until 1702
Amir Taheri, October 15, 2009
Myth No. 1: No foreign power ever managed to subjugate Afghanistan, "The graveyard of empires."
Historic truth is different. What's now known as Afghanistan was part of successive empires until 1702, when a Persian adventurer, Ahmad Dorrani, set it up as his fiefdom. With the European powers' rise, it became a buffer state separating the domains of Russia, Britain and Persia.
The Afghans did win one 19th-century battle against a British-led Sikh army, but that was the exception that proves the rule. After that, the British emerged as the power behind the Kabul throne, maintaining their influence until the '40s.
Starting in the '50s, America and the Soviet Union treated Afghanistan as a buffer state -- until the Soviets staged a coup in 1977 that ended the Afghan monarchy and, two years later, propelled the Communists into power.
Myth No. 2: There's no Afghan nation -- only a hodgepodge of tribes and ethnic
Again, the truth is different.
Yes, Afghanistan is composed of 18 different communities marked by ethnic, linguistic and religious differences. But ask any Afghan who he is, and he won't hesitate to reply: an Afghan!
The national identity has taken shape over 300 years -- after all, as a state, Afghanistan is older than America, Germany and Italy. It is also one of the oldest Muslim nation-states.
Myth No. 3: Afghanistan never had a central government and was ruled by feudal chiefs.
Also false: From 1860 to 1977, a string of Afghan monarchs imposed effective rule throughout their realm. But the monarchy was never absolute, if only because the loya jigrah, a high assembly of tribal and religious leaders, would restrain a despotic king or help a weak one.
Full report at: http://www.nypost.com/p/news/opinion/opedcolumnists/myths_of_our_afghanistan_debate_jwh5n7ZaKcraDDBSTk4m5L
----
11 killed in Iraq mortar attack
October 14, 2009
BAGHDAD: Eleven people were killed and 60 others wounded in attacks in Baghdad, the northern city of Mosul and the Shiite shrine city of Karbala on Wednesday, police and ministry officials said.
In northwest Baghdad, nearly simultaneous mortar attacks and shootings during jewellery heists in the popular Jawadain market left eight dead, an interior ministry official said.
Three mortar rounds struck the market in the predominantly Shiite neighbourhood of Shaala at around noon (0900 GMT), killing seven people and wounding 14.
At about the same time, gunmen attacked jewellery shops in the area, killing one store owner and robbing three stores.
In Karbala, south of Baghdad, three bomb explosions near shrines in the city killed two people and wounded 46.
The attacks occurred near the Abbas and Hussein shrines at 5:00 pm (1400 GMT), around the time of evening prayers, police Major Alaa Abbas said.
In a statement, provincial governor Amal Addin Majid al-Herr blamed elements from now-executed dictator Saddam Hussein's banned Baath Party for the attack.
And in the restive city of Mosul, a policeman who had changed into civilian clothing was shot by gunmen as he was walking in the east of the city, a police official said.
Source: http://www.thenews.jang.com.pk/updates.asp?id=89093
--------
More than 85,000 Iraqis killed from 2004-2008: Govt
15 October 2009
BAGHDAD: More than 85,000 Iraqis died violently from 2004 to 2008, according to figures released by the government on Wednesday, the first such official data since the 2003 US-led invasion.
The report, published by the human rights ministry, also said nearly 150,000 people had been wounded in that period, during part of which communal violence engulfed the country and Iraq threatened to fall into civil war.
"Outlawed groups, through terrorist attacks like explosions, assassinations, kidnappings and forced displacements, are responsible for these terrible figures, which represent a big challenge for the rule of law and for the people of Iraq," the report said.
A total of 85,694 people died as a result of violence, while 147,195 people were wounded, the report said. Included in the death toll were 15,000 unidentified bodies.
Sectarian bloodshed blighted Iraq in 2006 and 2007, the two years with the highest death tolls in the period covered by the report -- 32,622 and 19,155, respectively.
The report does not include figures for the number of dead and wounded in the immediate aftermath of the US-led invasion of Iraq in March 2003.
Independent British website www.iraqbodycount.org calculates that at least 93,540 people died in Iraq from the beginning of the war until August 2009.
Source: http://timesofindia.indiatimes.com/world/middle-east/More-than-85000-Iraqis-killed-from-2004-2008-Govt/articleshow/5125849.cms
------
Try Blair for war crimes: Say families of soldiers killed in Iraq
October 15, 2009
Families of British servicemen killed in Iraq have told members of the official inquiry into the conflict that former Prime Minister Tony Blair should be held accountable for taking the nation to war.
Many blamed Blair for the deaths of their loved ones in what they termed as an "illegal" conflict. Some even called for him to be prosecuted for war crimes.
According to The Scotsman, inquiry chairman Sir John Chilcot has confirmed that Blair will give evidence and insists he and his committee will not shy away from criticising individuals.
The panel has not begun hearing from witnesses. Yesterday, it held the first in a series of meetings for bereaved families and Iraq veterans to say which areas they want it to examine.
Among those attending the session in London was Deirdre Gover, 63, whose son, Flight Lieutenant Kristian Gover, 30, died in a helicopter accident in Basra, southern Iraq, in July 2004.
Speaking afterwards, she said: "I hold Tony Blair personally responsible for the death of my son. My son as an officer was prepared to die for his Queen and country in a just conflict. This was totally unjustified and wrong, and I think that's what the inquiry will prove."
The mood at yesterday's mostly private meeting between families and Sir John and four members of his committee was described as sombre and quietly emotional.
Roger Bacon, 67, whose son, Major Matthew Bacon, 34, from the Intelligence Corps, was killed by an improvised explosive device while riding in a lightly armoured Snatch Land Rover in Basra in September 2005, said: "I cannot understand any of the so-called reasons that we went to war. Weapons of mass destruction? They don't exist. Regime change? An entirely immoral thing to do - and if it's the sort of thing we're supposed to do, why haven't we gone into Zimbabwe?"
Source: http://www.thedailystar.net/newDesign/news-details.php?nid=109832
-----
Fatah-Hamas Unity Circus
15 October 2009
The fate of the Palestinian unity agreement hangs by a thread. Even though Fatah has agreed to bridge differences and reunite with Hamas following Egyptian mediation efforts, things are far from certain. The foundation of such an agreement is tenuous and threatens to jeopardise recent progress made in Cairo talks.
Apparently, Hamas has asked Egypt to delay the meeting scheduled for the third week of October when two sides were to sign the unity agreement. Fatah has reiterated its commitment to another Egyptian proposal whereby it will sign a unity agreement separately on October 15. Expecting Hamas to reciprocate positively at this juncture is a bit farfetched since it had already asked the Egyptians for postponement.
Hamas is understandably angry with what it calls a weakening of Palestinian position, brought about with the procrastination of Palestinian President Mahmoud Abbas in referring the Richard Gladstone report on Israeli war crimes during the last Gaza offensive, which killed almost 1400 Palestinians and 13 Israelis, to the UN Human Rights Council. In response, Abbas has accused Hamas of trying to stall unity talks, implying that it was not interested in reconciliation.
Full report at: http://www.khaleejtimes.com/displayarticle.asp?xfile=data/editorial/2009/October/editorial_October29.xml&section=editorial&col=
-----
Britain ready to send more troops to Afghanistan
October 15, 2009
LONDON: Britain is ready to raise troop numbers in Afghanistan by 500 to 9,500, Prime Minister Gordon Brown said on Wednesday, providing certain conditions are met.
Worsening violence in the eight-year, US-led war against the Taliban has led to calls for a change of strategy including the option of sending more troops to bolster security.
More than 100,000 Western troops are serving in Afghanistan, of whom 65,000 are American. The number of US troops is already due to increase to 68,000 later this year.
US President Barack Obama is considering a military recommendation to boost his force with a further 40,000 troops next year.
Brown said Britain would send the additional troops as long as three conditions were met, including Kabul agreeing to provide Afghan troops to be trained and fight alongside British forces.
"I've agreed in principle to a new British force level of 9,500 which will be put into effect once these conditions are met," Brown told parliament.
A government source said the deployment was not imminent but there was a will to send the extra forces as soon as possible.
The increase in British numbers also had to be part of an agreed approach with other military forces in Afghanistan, Brown said, with all countries bearing their fair share.
And he said the correct military equipment had to be available for every soldier and unit deployed in the country.
Brown said he had received assurances from Afghan President Hamid Karzai and his election opponent Abdullah Abdullah that Afghan troops would be made available.
Source: http://www.thenews.jang.com.pk/daily_detail.asp?id=203280
-----
Threat Persists in Yemen, Somalia
OCTOBER 13, 2009
While Washington obsessed Monday over President Barack Obama's plans in Afghanistan, as well as over a new burst of violence next door in Pakistan, some unsettling news arrived to remind everyone that the extremist threat isn't limited to those troubled countries.
Reports from Yemen said government forces had killed 59 Shiite rebels in the country's north. The death toll is a sign of the intensity of the government's current fight against a Shiite revolt that has forced tens of thousands of Yemenis out of their homes.
Combine that revolt in the north with separatist unrest in the south and a growing al Qaeda movement, all in the Arab world's poorest country bordering Saudi Arabia, and you have a recipe for the kind of incubator for trouble that Afghanistan became before the 9/11 attacks. Lest we forget, barely a year has passed since al Qaeda forces struck the U.S. Embassy in the Yemeni capital of Sanaa.
Somali President Sheik Sharif Sheik Ahmed, left, in Minneapolis on Oct. 4.
Meanwhile, a second nation, this one in Africa, is moving much further down the track toward failed-state status and becoming a haven for Islamic extremists. It's Somalia, where Islamist militias are not only battling a virtually powerless central government, but over the weekend threatened to advance across the border to hit targets in Kenya as well.
Somali President Sheik Sharif Sheik Ahmed visited the U.S. in recent days and warned that "a foreign idea" is taking hold in his country; he didn't mention foreign terrorists, but that's what he meant. The State Department's most recent terrorism report says that al Qaeda "elements" are benefiting "from safe haven in the regions of southern Somalia."
Taken together, the reports from Yemen and Somalia present a vivid reminder that al Qaeda became a direct threat during the 1990s precisely because it was able to fill the power vacuum that Afghanistan had become. That could happen again in Afghanistan or Pakistan, of course -- but not only there. Write to Gerald F. Seib at jerry.seib@wsj.com
Full report at: http://online.wsj.com/article/SB125537463884180867.html
---
Troops in Kashmir to take back seat
15 Oct, 2009
SRINAGAR, Oct 14: Army and paramilitary troops in occupied Kashmir will take a back seat to police in ensuring law and order in the region, Home Minister P. Chidambaram said on Wednesday.
With levels of militant violence on the decline, he said Indian troops were starting to hand over day-to-day civil security matters to local law-enforcement authorities.
The strategy appears partly aimed at reducing tensions caused by the presence of an estimated 500,000 Indian troops who are viewed with fear and suspicion by many in the Muslim-majority region and have been regularly accused of human rights abuses.
"The state police will take a front line in maintaining law and order, the paramilitary forces will take a back seat and the army will defend the borders," he told reporters.
Violence has fallen sharply since India and Pakistan launched a peace process in 2004. "What credit should I give to Pakistan?" he said. "The infiltration is still taking place from Pakistan."
He said New Delhi was willing to hold talks with "every section of political opinion" in Kashmir, including those who favour independence.—AFP
Source: http://www.dawn.com/wps/wcm/connect/dawn-content-library/dawn/the-newspaper/front-page/troops-in-kashmir-to-take-back-seat-509
-----
8 mosques to host 'Meet Your Muslim Neighbor' open house
Oralandar Brand-Williams, October 15, 2009
Saturday event aims to promote peace and dispel myths
The Detroit News
Detroit --Eight metro Detroit mosques are encouraging non-Muslims to visit their houses of worship Saturday as part of a coordinated open house to promote better understanding of the Quran holy book and Islam.
Members of the sponsoring Council of Islamic Organizations say the open house aims to promote peace, understanding, friendship and tolerance among people of all faiths and "to convey the correct understanding of Islam and Muslims."
Imam Aly Lela, of the Islamic Association of Greater Detroit in Rochester Hills, said he is inviting non-Muslims to his mosque because he sees it as a "first step toward mutual understanding to get to know each other and take a close look into this culture."
"The open house is a wonderful opportunity to come and ask questions they have on their minds in a friendly environment," Lela said of the event, called "Meet your Muslim Neighbour: Sharing our Common Heritage."
The mosque tours are free, and children are welcome, say organizers. Visitors are expected to dress modestly, but that interpretation may vary from mosque to mosque, with some requiring head scarves for women and others not. Visitors should call ahead of time to find out.
Full report at: http://www.detnews.com/article/20091015/LIFESTYLE04/910150403/1410/METRO01/8-mosques-to-host--Meet-Your-Muslim-Neighbor--open-house
-----
House Republicans seeks Muslim 'spy' probe
October 15, 2009
A group of House Republicans is calling for an investigation into whether a leading American Muslim advocacy group tried to "spy" on congressional offices by placing interns on key security committees.
Rep. Sue Myrick, North Carolina Republican, cited an internal January 2007 memo in which the Council on American-Islamic Relations (CAIR) discussed placing Muslim interns on Capitol Hill to "focus on influencing congressmen responsible for policy that directly impacts the American Muslim community."
CAIR said it had a particular interest in influencing the judiciary, intelligence and homeland security committees.
The memo was unearthed by David Gaubatz and Paul Sperry, authors of a book titled "Muslim Mafia: Inside the Secret Underworld That's Conspiring to Islamize America." Mrs. Myrick, a founder of the House Anti-Terrorism Caucus, wrote a forward for the book and was given an advance copy. A CAIR spokesman, dismissing the Wednesday morning Capitol Hill news conference as "a book launch for Muslim bashers," said the memo constitutes stolen property, as it was obtained by the son of an author who posed undercover inside the advocacy group.
"They had a spy in our organization for months, stole our property and the most they can come up with is that we placed interns on Capitol Hill? I wish we had placed more interns," spokesman Ibrahim Hooper cq said. He added that the group has filed a police report on the matter.
"Muslims are interested in international affairs, civil rights, civil liberties, First Amendment issues, freedom of religion, so it's natural they'd be interested in certain committees," he said.
Mrs. Myrick and Republican Reps. John Shadegg of Arizona, Paul Broun of Georgia and Trent Franks of Arizona called Wednesday for an investigation by the House sergeant-at-arms into whether CAIR was successful in planting congressional interns.
"If an organization that is connected to or supports terrorists is running influence operations or planting spies in key national security-related congressional offices, I think this needs to be made known," Mr. Broun said.
CAIR, which calls itself "America's largest Muslim civil liberties and advocacy organization," has a history of controversy. The Justice Department labeled the organization as an "unindicted co-conspirator" in the trial of the Holy Land Foundation, a group that was convicted last year of funding the Palestinian militant Islamist group Hamas.
Source: http://washingtontimes.com/news/2009/oct/15/gop-seeks-muslim-spy-probe/
-----
Indonesia: Christians and Muslims against pro abortion bill
October 14, 2009
Parliament approves health reform bill that would allow abortion within six weeks of pregnancy. President Yudhoyono has to sign the bill into law before it comes into effect. Inter-faith movement calls for its cancellation, saying it is "morally wrong."
Jakarta – Muslims, Catholics, Protestants, Buddhists, Hindus, Confucians and women activists have joined forces to oppose a law that legalises abortion. The Indonesian parliament has just passed a health reform bill that would extend the grounds for terminating pregnancies. The president must now sign the bill before it becomes law, but a broad popular campaign is now underway to have it cancelled.
At a press conference organised yesterday afternoon at the headquarters of the Indonesian Ulemas Council (MUI) in Jakarta, religious leaders and anti-abortion NGOs slammed the new legislation authorising abortion for being "morally defective" and "morally wrong" as well as contrary to "every religious belief that respects human life from conception."
This year's health reform bill was approved by parliament on 14 September in the last days of the preceding legislature. A new parliament took office on 1 October, and confirmed President Susilo Bambang Yudhoyono in office. He now has to ratify the law.
Full report at: http://www.speroforum.com/site/article.asp?id=20894&t=Indonesia%3A+++Christians+and+Muslims+against+pro+abortion+bill
-----
Muslim Mafia - Congressmen Shaddegg, Myrick, Broun and Franks Slam CAIR
October 14, 2009
San Francisco, CA - PipeLineNews.org - U.S. Representatives John Shadegg (AZ-03), Sue Myrick (NC-09), Paul Broun (GA-10) and Trent Franks (AZ-02) today called on federal officials to investigate the actions and non-profit status of the Council on American Islamic Relations (CAIR).
In a memo obtained through Paul Sperry's newest book Muslim Mafia: Inside the Secret Underworld that's conspiring to Islamize America, CAIR lays out plans to place interns in the Committees on the Judiciary, Intelligence, and Homeland Security for the purpose of influencing policy.
In 2008, CAIR was named as a co-conspirator in the Holy Land Foundation terrorism case in Dallas, Texas, which led to guilty verdicts on 108 charges based on funnelling more than $12 million to HAMAS. Later that year, the FBI cut all ties with CAIR.
In response to these recent claims in Muslim Mafia, Myrick, Shadegg, Broun and Franks call on:
1) The US Department of Justice to share with each member of Congress and their Chiefs of Staff an executive summary of the findings that led them to name CAIR as a co-conspirator in a terrorism case;
2) The House Sergeant at Arms to work with the Staff Directors and Committee Chairmen of the House Judiciary, Homeland Security and Intelligence Committees to see if CAIR was successful in placing interns in any of said committees since the drafting of this memo in January of 2007;
3) The Internal Revenue Service to launch a full investigation into the legality of the lobbying activities of CAIR to judge if they are in violation of their federal non-profit status.
"It's frightening to think that an organization with clear-cut ties to terrorism could have a hand in influencing policy - especially national security policy - within our government," said Rep. Myrick. "The investigations that we're asking for are simple, and I'm hopeful that they will bring to light any and all information regarding the goals of CAIR."
Full report at: http://www.pipelinenews.org/index.cfm?page=cair10.14.09.htm
-----
Now British Muslims Demand Full Sharia Law
October 15, 2009
By Martyn Brown
A RADICAL Muslim group sparked outrage last night as it launched a massive campaign to impose Sharia law on Britain.
The fanatical group Islam4UK has ­announced plans to hold a potentially ­incendiary rally in London later this month.
And it is calling for a complete upheaval of the British legal system, its officials and ­legislation.
Members have urged Muslims from all over Britain to converge on the capital on October 31 for a procession to demand the full implementation of sharia law.
On a website to promote their cause they deride British institutions, showing a mock-up picture of Nelson's Column surmounted by a minaret.
Plans for the demonstration have been ­delivered to the Metropolitan Police and could see up to 5,000 extremists marching to demand the controversial system.
The procession – dubbed March 4 Shari'ah – will start at the House of Commons, which the group's website describes as the "very place where the lives of millions of people in the UK are changed and it is from here where unjust wars are launched".
The group then intends to march to 10 Downing Street and "call for the removal of the tyrant Gordon Brown from power".
The march will then converge on Trafalgar Square where protesters expect it "will gather even more support from tourists and members of the public, making clear in the heart of London the need for Shari'ah in society".
The group declared: "We hereby request all Muslims in the United Kingdom, in Manchester, Leeds, Cardiff, Glasgow and all other places to join us and collectively declare that as submitters to Almighty Allah, we have had enough of democracy and man-made law and the depravity of the British culture.
"On this day we will call for a complete upheaval of the British ruling system its members and legislature, and demand the full implementation of Shari'ah in Britain."
Last night politicians and fellow Muslims condemned the group's incendiary comments, which come in the wake of recent violent incidents in towns and cities like Manchester, Birmingham and Luton, Beds.
Conservative MP and ex-Army officer Patrick Mercer said: "It is extremely distasteful and is stoking the fires of fear within the British public. "If anyone thinks that those views are a step forward in society they are seriously deluded. They are repellent and repulsive."
The group was also attacked by Tory MP Philip Davies who said: "This march is clearly a deliberate and provocative attempt to incite racial tension and disrupt community cohesion.
"The simple solution is for these people to move to a country which already has sharia law."
A spokesman for the Islamic Society of Britain said: "99.999 per cent of Muslims despise these people. This only serves to fuel racial ­tensions."
And Tory MP and Daily Express columnist Ann Widdecombe, said: "You cannot have two legal systems side by side and the one we have now works and the British people are perfectly happy with it."
The rally has not yet been given final approval. A spokesman for the Metropolitan Police said: "We have received an application for the march but we have yet to meet with the organisers."
A Home Office spokesman said: "Everyone has the right to express their view so long as it is done sensibly, without violence and does not incite religious hatred."
Plans for the march are revealed on the website Islam4UK, which is fronted by preacher Anjem Choudary who has also called for all British women to wear burkhas.
Explaining the Nelson's Column mock-up he said that under sharia law the construction and elevation of statues or idols is prohibited and consequently the statue of Nelson "would be removed and demolished without hesitation". At the base of the column the friezes would be replaced with Islamic decoration and giant urns would be filled with gold coins for the poor.
Mr Choudary has said that under sharia law in Britain people who commit adultery would be stoned to death, adding that "anyone who becomes intoxicated by alcohol would be given 40 lashes in public".
He has also mocked the deaths of British soldiers, and branded an Army homecoming parade a "vile parade of brutal murderers".
Source: http://www.express.co.uk/posts/view/134080/Now-Muslims-demand-full-Sharia-law
-----
Pakistan jets bomb Taliban bastion
October 14, 2009
Pakistani aircraft bombed Taliban fighters in their South Waziristan bastion on Wednesday as more soldiers and tanks moved in for an expected offensive against them.
Officials say most attacks in the country — including four major ones since October 5 that killed more than 100 people — are plotted in South Waziristan on the Afghan border.
"It was intense bombing. Three hideouts were hit," Mohammad Khalid Khan, a senior government official in the region's main town of Wana, told Reuters by telephone.
Pak Army HQ attack: 40 suspects held
Four days after Taliban's brazen strike on Pakistan's Army headquarters, security agencies are continuing their sweep to nab suspects involved in the attack and other recent militant assaults and have arrested about 40 people over the past two days.
In an operation in this capital of Punjab province, police picked up 40 people, including a key suspect Luqman, 25, who was caught with an explosive jacket, police said.
Source: http://www.hindustantimes.com/Pakistan-jets-bomb-Taliban-bastion/H1-Article1-465443.aspx
-----
Ho hum, Pakistan
October 14, 2009
It seems that Congress General Secretary Rahul Gandhi and we share the same opinion on 'India-Pakistan': Indians are a bit too obsessed about our neighbouring country. Interacting with university students in Shimla on Tuesday — the place where his grandmum and Pakistani premier Zulfikar Ali Bhutto signed the famous accord when Mr Gandhi was a two-year-old — the 39-year-old stated that far too much importance was given to Pakistan in India and that our un-neighbourly neighbour is "just a small piece in India's foreign policy," a line that in certain circles morphed into "just a small piece of land".
Generations of Indians, especially those north of the Vindhyas, have obsessed about Pakistan. This is, to an extent, understandable. Indians who felt the tremors of Partition, directly or indirectly, have looked at the country that Jinnah built with a strange proprietorial interest as if its existence was always a temporary plan. As a result, they have demonised as well as romanticised the country to the point that either Pakistan is a psychological rationalisation for all of India's ills or it poses no real problems at all considering, as the touching phrase goes, 'we're the same people'. Both pictures are exaggerated and don't help when it comes to conducting the real business of level-headed diplomacy.
When Mr Gandhi says that he doesn't have the time to "think of Jinnah for a second", his rhetorical statement — with a nudge to history-obsessed BJP men — comes as music to our ears. Pakistan is an important part of our foreign policy, considering it obsesses about India. But we have certainly moved on — or, at least, should — since the time when India-Pakistan ties were part of an emotive public discourse that cajoled and bullied foreign policy. Today's India is more obsessed about tying its own shoelaces than figuring out ways of tripping Pakistan or taking its shoe-size. That India-Australia cricket matches are bigger draws than India-Pakistan ones these days should tell you the story.
Source: http://www.hindustantimes.com/rssfeed/editorials/Ho-hum-Pakistan/Article1-465383.aspx
URL: https://newageislam.com/islamic-world-news/is-pakistan-losing-plot-5/d/1917