New Age Islam News Bureau
8 March 2020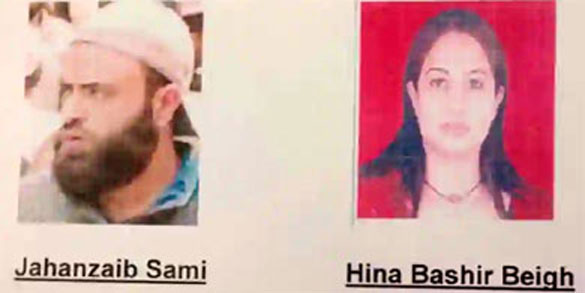 Jahanzaib Sami had come to the notice of the Indian intelligence operatives some time back for his association with senior members of ISKP in Afghanistan. (HT Photo/ Sourced)
-----
• IS-Linked Couple Using Anti-CAA Protests to Incite Terror Attack Held from Jamia Nagar: Cops
• Imams of Grand Mosque and Prophet's Mosque Stress the Importance of Precautionary Measures Taken by Kingdom's Government to Prevent Spread of Coronavirus
• Islamist 'Thorn' Sparks Polarisation amid Algeria's Hirak
• Mainland Greece to temporarily house 'migrants from Turkey
• Bangladesh Islamic Parties Vow to Resist Indian PM's Arrival In Dhaka
• Malaysia: Minorities Question Whether New Government Represents Them
----------
India
• IS-Linked Couple Using Anti-CAA Protests to Incite Terror Attack Held from Jamia Nagar: Cops
• Hyderabad: 'Muslims Not Opposed To Citizenship Being Accorded To Hindus, Sikhs, Christians and Parsis As It Was Being Projected In Certain Quarters
• Delhi riots: Violence that killed 53 in Indian capital 'was anti-Muslim pogrom', says top expert
------
Arab world
• Imams of Grand Mosque and Prophet's Mosque Stress the Importance of Precautionary Measures Taken by Kingdom's Government to Prevent Spread of Coronavirus
• Saudi Arabia reopens Mecca's Grand Mosque but bars people from touching the cuboid Kaaba shrine after it was closed for disinfecting over coronavirus
• Crackdown on Shia TV channels, websites expected in Egypt
• Coronavirus: How Past Experience with Epidemics Is Shaping Muslim Pilgrimages
• Egypt executes Islamic extremist Hesham Ashmawy
• Road crash in Syria kills 22, including Iraqi pilgrims
-----
Africa
• Islamist 'Thorn' Sparks Polarisation amid Algeria's Hirak
• Tunisian Islamist figure resigns from party in widening split in Ennahda's leadership
• Face your Corruption Charges, Stop playing Ostrich, Muslim Group asks Emir Sanusi
-------
Mead east
• Mainland Greece to temporarily house 'migrants from Turkey
• US church group stranded in West Bank hotel in Coronavirus quarantine ordeal
• Iran's security chief in Baghdad for talks with Iraqi officials
• US, Israel waging biological warfare on massive scale
• WHO says very optimistic about Iran's anti-coronavirus fight, vows full support
• Destiny of Islam, humanity depends on Turkey
------
South Asia
• Bangladesh Islamic Parties Vow to Resist Indian PM's Arrival In Dhaka
• Ghani: As a 'President', I do not wish to have 'Taliban' prisoners
• Islamic Emirate of Taliban 'Unacceptable'; U.S. and Russia
• Philippine Clashes Leave 14 Militants, 4 Soldiers Dead
• CAA: A small step towards Humanity
------
Southeast Asia
• Malaysia: Minorities Question Whether New Government Represents Them
• Thousands protest in Bangladesh to condemn violence against Indian Muslims
• Is it game over for Malaysia's Mahathir Mohamad?
• Thailand and Malaysia bar cruise ship over virus fears
------
Europe
• Queensland's First Muslim Scout Group Combines Religion and Tradition to Empower Youth
• Powerful video by Riz Ahmed on fictional future of Muslim genocide in Britain
• The Muslim running for mayor in Christian Bavaria
• The young Muslim girls in Cardiff taking their future into their own hands
• Christchurch terror victims need more financial support - Muslim leader
• US, Russia: 'Will Not Support' an 'Islamic Emirate in Afghanistan
• Dutch-Muslim leader accused of writing Hitler was Jewish in pro-Hamas email
-----
North America
• How To Mobilize 1 Million American Muslim Voters In 2020
• New FDD Report Makes the Case for Sanctions on the Islamic Republic of Iran's State-Run Media
• Comment: American expediency in Afghanistan
• Do Jews really want to stand up against antisemitic extremists?
----
Pakistan
• Certain Elements Trying To Attack Islam In Garb Of Rights Campaign: JI Chief
Compiled by New Age Islam News Bureau
URL: https://www.newageislam.com/islamic-world-news/is-linked-couple-using-anti/d/121254
------
IS-linked couple using anti-CAA protests to incite terror attack held from Jamia Nagar: Cops
Mar 08, 2020
Shishir Gupta Hindustan Times, New Delhi
A couple from Kashmir, accused of links with the Islamic State - Khorasan Province (ISKP), has been detained by the police from south Delhi's Jamia Nagar on Sunday morning, people familiar with the development said.
The couple, a senior official associated with the intelligence-driven early morning operation in the national capital Delhi alleged, had been in touch with senior ISKP members in Afghanistan to exploit the ongoing agitation against the amended citizenship law to incite Muslim youth to carry out terror strikes.
"Jahanzaib Sami and wife Hina Bashir Beigh, a couple from Srinagar in Kashmir, have been detained. We are in the process of completing the formalities to place them under arrest," a senior police officer told Hindustan Times.
Jahanzaib Sami had come to the notice of the Indian intelligence operatives some time back for his association with senior members of ISKP in Afghanistan. The ISKP is the Afghanistan-based affiliate of IS. It appears that he intended to carry out terror strikes including a suicide attack and had also been attempting to procure weapons for this purpose.
For the present, however, Jahanzaib Sami's activities were largely confined to propaganda for the proscribed terror group on cyber space and had been advocating that the group should expand its focus to the Indian hinterland, and not just Jammu and Kashmir.
Intelligence officials say that Jahanzaib Sami had also been in touch with Huzaifa al-Bakistani, the Pakistani commander of the Islamic State's Khorasan wing who played a key role in efforts to radicalise Kashmiri youngsters to join the terror group. Huzaifa al-Bakistani, a Pakistani national who first joined the Lashkar-e-Taiba before upgrading to the IS, was a well-known online recruiter for IS.
Huzaifa al-Bakistani was killed in a drone strike in Afghanistan. His death was confirmed in July last year by the media channel of IS which claimed he had given "sleepless nights to Indian agencies.
Jahanzaib Sami's wife Hina Bashir Beigh was also active on pro-IS handles on social media and facilitated in spotting what the group considered 'talent' for its terror activities, a Delhi Police officer said.
In his initial questioning, Jahanzaib Sami is alleged to have told a group of interrogators about his role in publishing and publicising the February edition of the IS magazine Sawt al Hind (Voice of India).
In this edition of the digital magazine, the Islamic State's subcontinental branch had called on Indian Muslims angered by the Citizenship Amendment Act to abandon political protest, and instead turn to jihadist violence.
"Democracy is not going to save you," the terrorist group's magazine released online on 24 February said.
"It is assessed that the magazine, which also ridiculed mainstream Muslim leaders for what it considered deceiving the community's interests, may have influenced a section of society, particularly Muslim youth," an intelligence official familiar with investigations against Jahanzaib Sami said.
The official said Jahanzaib Sami had spoken about the role of some other people in connection with the magazine that had attempted to provoke the youth to join 'jihadi violence'. The effort to identify these alleged associates - including one who he has identified as 'Al Hind' - is still on.
https://www.hindustantimes.com/india-news/is-linked-couple-using-anti-caa-protests-to-incite-terror-attack-held-from-jamia-nagar-cops/story-GKQTi3hmXAG1s5JJqyTurI.html
----
Imams of Grand Mosque and Prophet's Mosque stress the importance of precautionary measures taken by Kingdom's government to prevent spread of Coronavirus
March 08, 2020
Makkah/Madinah,The Imam of the Grand Mosque (Alharam) in Makkah and the Imam of the Prophet's Mosque in Madinah stressed in Friday Prayer's Khutbah the importance of precautionary measures taken by the Kingdom's government to prevent the spread of Coronavirus.
In his Friday sermon delivered at the Grand Mosque, Sheikh Dr. Abdullah bin Awad Al-Juhani stressed the necessity of taking care because of the fear of the spread of the epidemic.
He said, "From this standpoint, the measures taken by the government of the Kingdom of Saudi Arabia being led by the Custodian of the Two Holy Mosques and His Royal Highness the Crown Prince came to suspend Umrah and visit temporarily to limit the spread of this deadly epidemic in accordance with the provisions of Sharia."
He added, "Health safety for people is one of the ruler's greatest responsibilities. The ruler has to decide in this regard after consulting scholars and specialists."
In Madinah, Dr. Salah bin Muhammad Al-Budair, said in his Friday sermon that the world had been struck by coronavirus.
He emphasized the importance of the precautionary measures taken by the government of the Kingdom of Saudi Arabia to prevent the outbreak of the Coronavirus, including the suspension of entry to the Kingdom for the purpose of Umrah and temporary visit to the Prophet's Mosque.
He praised the wisdom of this decision, its great goals and benefit to health of the people and countries.
https://www.spa.gov.sa/viewfullstory.php?lang=en&newsid=2044137
------
Islamist 'thorn' sparks polarisation amid Algeria's Hirak
08/03/2020
TUNIS - Algerians took to the streets for the 55th successive Friday on March 6, continuing their demands for broad changes in the military-dominated regime.
However, heated debate about attempts by Islamists to influence the pro-democracy movement revived polarisation between secularists and Islamists. Some describe Islamists as a "thorn" in the side of the Hirak, as the protest movement is known.
The dispute raised concerns that Islamists could disrupt the unity among protesters and leading figures despite ideological differences.
Algeria's first experiment in multiparty elections in the 1990s backfired because of polarisation between secularists and Islamists, who assailed democracy as "heresy" and said the elections would be the "last vote" if they were to win.
Algeria plunged into a civil war that killed an estimated 200,000 people after Islamists won elections in 1992 and established armed groups involved in massive bloodshed. That legacy has many Algerians reluctant to support Islamist groups.
"The Islamists know that it is impossible for them to gain power through support of people in the streets. That's why they nurture ideas about disrupting the unity of the democratic movement," said secularist opposition figure Said Saadi.
"The strategy of the Islamists is to ally themselves with the hard-pressed ruling authorities on the hope they would dominate the regime in the mid-term."
The head of the Muslim Brotherhood in Algeria, the Movement for Peaceful Society, AbderrazakMakri, called secularists in the protests "members of Masonic movements and agents of (former colonial power) France."
"These secularists do not want us to be part of the Hirak as if they own the Hirak," he said. "They spread rumours against us to undermine our image."
Algeria's year-long protest movement has seen people across the country take to the streets in large numbers each week in peaceful demonstrations. The movement began February 22, 2019, when protesters mobilised to oppose long-time President Abdelaziz Bouteflika's bid to seek a fifth term in office.
Bouteflika was ousted in April but protesters' demands grew to include broad reforms of the military-dominated government.
Analysts said the protests have been a breakthrough for Algeria, moving the country beyond its fear of a resurgent Islamist threat to the public demanding serious democratic reforms.
Months of protests yielded results and many figures in Bouteflika's regime once believed to be untouchable were jailed. However, efforts to stop presidential elections were unsuccessful and AbdelmadjidTebboune, a former prime minister, was elected in December
Tebboune, who briefly served under Bouteflika, reached out to protesters, praising the movement as "democratic" and giving them some concessions. He recently said the "blessed Hirak saved the country from a total collapse."
Islamists kept a low profile in the protests after demonstrators rejected their attempts to lead the movement. Makri, however, said Islamists represent an important voice and should not be sidelined.
"We have been marching in the Hirak for more than one year. We are present in all regions," said Makri, who threatened to organise "Islamists only" protests.
"Unfortunately, there is a political and ideological current that seeks to sow division among Algerians. I blame the radical secularist current, which aims to monopolise the Hirak," he said. "We know their names and their organisations. They have websites financed by foreigners and they have associations linked to Masonic groups."
The debate over relations between Islamists and secularists in the Hirak erupted when protest leader Mustapha Bouchachi and two Hirak figures visited Islamist leader Ali Belhadj the day the Hirak marked its first anniversary, February 22.
Belhadj, who once led the now-banned Islamic Salvation Front that many Algerians blame for the civil war, is under state surveillance.
One activist wrote on social media: "We cannot successfully fight for democracy with people who see democracy as heresy."
Bouchachi defended the visit, saying "Belhadj is suffering from serious violations of his rights. I visited him out of my convictions as a campaigner for human rights. There is no political project behind such visit."
Saadi responded: "It is one thing to defend the civic rights of a man. We will never hesitate to do that. But it is another issue when an uprising by citizens for democracy endorses the record, stands and convictions of this man, his project and past. That is what is happening now after this visit."
Saadi and other secularists argue that Islamists can only be accepted in the movement when they abandon their "fundamentalist agenda."
"The Algerian question will find its way of resolution when what remains of the temptations of the Muslim fundamentalism becomes a conservative political current," said Saadi.
Mohamed Benchicou, a secularist who shared time in prison with Belhadj, said "Belhadj has not changed and he sticks to his ideas."
"He deliberately lets other people draw profiles of him as a changed man. He finds that amazing," said Benchicou. "That is why the initiative by Bouchachi and others to visit him is more than an error, a fault. The visit is an act of deception to use the prestige of the Hirak for the benefit of a person who declares himself openly and publicly as the enemy of democracy."
For many secularists, coexistence with Islamists on the political scene presents a serious dilemma over how to build a functioning multiparty democracy.
"Those who want the exclusion of the Islamists put themselves in a big contradiction," said protest figure LahouariAddi. "They demand that the military does not dominate the state and at the same time want to shut out the Islamists, which represent up to 20% of the electorate."
"How we can exclude the Islamists if we do not call the army to do that?" he asked. "What can we do to achieve that?"
While the Hirak is viewed as a uniting force for Algerians, it has yet to effectively address polarisation between Islamists and secularists.
"The Hirak is bringing Algerians together in their diversities but (the movement) has yet to free the movement of the thorn of the Islamists," said political writer Ahmed Merad.
https://thearabweekly.com/islamist-thorn-sparks-polarisation-amid-algerias-hirak
------
Mainland Greece to temporarily house 'migrants from Turkey
07 March 2020
"We want to build two closed centers in [the northern region of] Serres and the greater Athens area with 1,000 places," NotisMitarachi, migration minister, told Greece's Skai TV on Saturday.
"We need the backing of local communities. We cannot leave all [these] people on the islands," he said, referring to the Greek island of Lesbos and four other Augean islands that have been hosting Europe-headed migrants.
Turkish President Recep Tayyip Erdogan claimed on March 1 that the country would no longer keep migrants from crossing onto Europe, alleging that Turkey could host no more refugees from neighboring Syria.
Ever since, over 1,700 migrants are said to have landed on the islands from Turkey, adding to the 38,000 who are already crammed into overstretched refugee centers there.
Erdogan's announcement came after Turkey's military intervention in neighboring Syria prompted deadly clashes with the Syrian military, and threatened direct confrontation with Russia, which is backing Damascus against militancy and terrorism.
Observers say Turkey played the refugee card to enable European support for its operations in Syria, where Ankara backs a number of anti-Syria militant groups, and potentially pit the Western military alliance of NATO against Damascus and Moscow.
https://www.presstv.com/Detail/2020/03/07/620355/Greece-camps-Turkey-
-----
Bangladesh Islamic parties vow to resist Indian PM's arrival in Dhaka
March 08, 2020
In Bangladesh, the Muslim parties have announced a countrywide protest for March 12 and a human chain will be formed.
Indian Prime Minister Narendara Modi is scheduled to visit Bangladesh on March 17 to join the state program marking the country's founding president Sheikh Mujibur Rahman's birth centenary.
Thousands of Islamist political activists are holding rallies and brought out processions in Dhaka protesting against Indian prime minister Narendra Modi's upcoming visit to Bangladesh and vowed to resist him in the country.
They blamed Modi for recent killing of Muslims in Indian capital New Delhi for protesting against 'communal law' of Citizenship Amendment Act and National Register of Citizens and termed him 'a killer of Muslims'.
One of the protests was organised by the SamamanaIslamiDalgulo, a combine of like-minded Islamist parties, while the other protest was organised by the IslamiAndolan Bangladesh. They staged demonstrations at Baitul Mukarram National Mosque premises and adjacent areas to press home their demands.
According to reports, the Muslim parties have announced a countrywide protest for March 12 and a human chain will be formed. The protesters have been asked to join the rally wearing black shrouds, carrying black flags, and shoes.
The large-scale violence in India's national capital Delhi that left 51 people dead and over 400 injured in Hindu-Muslim clashes has evoked a sharp response from the international community.
https://www.radio.gov.pk/08-03-2020/bangladesh-islamic-parties-vow-to-resist-indian-pms-arrival-in-dhaka
------
Malaysia: Minorities Question Whether New Government Represents Them
March 8, 2020
By Hadi Azmi
When he first addressed the nation as Malaysia's new prime minister, Muhyiddin Yassin vowed to serve "all Malaysians," but non-Malays already are criticizing his government by saying that his largely Malay-based ruling coalition could effectively shut out minorities.
Muhyiddin's Perikatan Nasional (National Alliance) bloc is dominated by parties whose members belong to the Muslim Malay majority, and there are only three lawmakers from parties affiliated with the coalition that represent minorities.
That's in stark contrast to the PakatanHarapan (Alliance of Hope), where minorities were well represented, but which collapsed last week less than two years after it won a historic election.
Charles Santiago, an MP representing the multi-cultural Democratic Action Party (DAP), took aim at Muhyiddin's move to remove himself from Pakatan to gain power by aligning his party with a coalition that had ruled the multi-ethnic country before the 2018 election.
"Malaysia is set up as a multicultural, secular nation by the founding fathers. This is a test of the founding fathers' vision of Malaysia," Santiago told BenarNews.
https://www.eurasiareview.com/08032020-malaysia-minorities-question-whether-new-government-represents-them/
----
Arab world
Saudi Arabia reopens Mecca's Grand Mosque but bars people from touching the cuboid Kaaba shrine after it was closed for disinfecting over coronavirus
8 March 2020
Saudi Arabia reopened Saturday the area around the sacred Kaaba in Mecca's Grand Mosque, Islam's holiest site, reversing one of a series of measures introduced to combat the coronavirus outbreak.
Saudi authorities this week suspended the year-round umrah pilgrimage, during which worshippers circle the Kaaba seven times, and also announced the temporary closure of the area around the cube structure.
But King Salman has 'allowed for the opening of the Mataf (where people circle the Kaaba) for non-umrah performers' starting on Saturday at dawn, the official Saudi Press Agency (SPA) reported.
https://www.dailymail.co.uk/news/article-8086883/Saudi-Arabia-reopens-Meccas-Grand-Mosque.html
-----
Crackdown on Shia TV channels, websites expected in Egypt
08/03/2020
CAIRO - Egypt's Salafists welcomed a court ruling ordering Egyptian authorities to suspend operations at Shia TV channels and internet service providers to take down Shia sites. The verdict, they said, protects Egypt against attempts by Iran to spread Shia Islam in Egypt.
Egypt's Supreme Administrative Court, which rules in disputes between ordinary citizens and state institutions, ordered Shia TV channels be taken off the airwaves in Egypt and the blocking of Shia websites.
The case was brought by Egyptian lawyer Samir Sabri, who accused the channels and websites of intentionally working to spread Shia Islam to destabilise Egypt. "The presence of these channels and sites has so many negative effects on Egypt," Sabri said. "They pose a real danger to Egypt's religious and cultural identity."
The court verdict does not name the Shia channels affected. Dozens of Shia channels are broadcast via Egyptian communications satellite series Nilesat. They include religious channels and some that have social content.
The court verdict orders the closure of Shia websites, including al-Nafis, which is owned and operated by Shia activist Ahmed Rasem al-Nafis.
Nafis, a medical doctor in his late 60s, has been accused of promoting Shia Islam in Egypt and nurturing ties with Shia clerics in Iraq and Iran. His site is not a religious one but contains articles that often defend Iranian policies in the region. He said the verdict to take down his site bodes ill for freedom of faith and expression in Egypt.
Sabri's lawsuit was seen as an aid to millions of Egyptian Salafists who had been fighting against Shia Islam.
The Salafists, ultraorthodox Muslims who claim to adhere to a purer version of Islam, even as some people view them as religious zealots, have been lobbying against Shia Islam, considering it heresy. They carried out campaigns against Shia Islam, trying to increase awareness of what they described as dangers inherent in the spread of Shia ideas.
In June 2013, a Salafist mob attacked a house in Giza province near Cairo, where Shias gathered to celebrate the birth of Imam al-Mahdi, believed by Shias to be the redeemer of Muslims. Chanting "Allahu Akbar," the mob killed four people in the house.
However, this is less about animosities between Salafists and Shias and more about Egyptian fears of the expansion of Shia Islam in Egypt, analysts said. Deep under these fears are political, cultural and geostrategic conflicts between Egypt and Iran.
Egypt was believed to be the centre of the Islamic world for many years. It is home to al-Azhar, the epicentre of Sunni Islamic learning.
"Egypt has real fears from the expansion of Shia Islam in it," said Mervat Zakaria, an Iranian affairs specialist at the Arab Centre for Migration and Research think-tank. "This expansion is strongly connected with Iran's desire to expand its political influence."
The conflict between Cairo and Tehran dates back hundreds of years but was re-energised by the 1979 Islamic Revolution and Iran's mullahs' support of the 1981 assassination of Egyptian President Anwar Sadat, a close friend of Mohammad Reza Pahlavi, the last shah of Iran before the revolution.
Relations between Tehran and the Palestinian faction, Hamas, which rules the Gaza Strip on Egypt's north-eastern border, are alarming to Cairo. Egypt views Iranian support to the Houthi militia in Yemen as putting security in the Red Sea in peril and endangering the Suez Canal.
The expansion of Shia Islam, Salafists said, hits at the heart of Egypt's social and religious fabric. "This is why we have to do everything we can to stop this expansion," Abdel Hamid said.
It is not clear how Egyptian authorities will enforce the court ruling and block Shia channels and take down Shia websites. Egyptian authorities have acted to pressure Shia citizens, including closing Shia centres and preventing them from entering important shrines, such as that of Al Hussein, near downtown Cairo.
The Egyptian Ministry of Islamic Endowments welcomed the verdict and said it would be a good step on the road of preventing divisions.
"We do not want divisions in our country," said Sheikh Khaled al-Guindi, a member of the Supreme Council for Islamic Affairs, the executive body of the ministry. "Shia channels do nothing but insult Sunnis and their religious symbols."
https://thearabweekly.com/crackdown-shia-tv-channels-websites-expected-egypt
-----
Coronavirus: How Past Experience With Epidemics Is Shaping Muslim Pilgrimages
March 7, 2020
Due to concerns over the global spread of the coronavirus – especially in nearby Iran – Saudi Arabia has temporarily suspended travel to its holy sites. Millions of Muslims visit the Saudi kingdom around the year for pilgrimage.
The current travel restrictions prevent the entry of both overseas pilgrims and Saudi citizens into the holy cities of Mecca and Medina. This has had a direct impact on the umrah pilgrimage, known as the "lesser pilgrimage," that can be performed at almost any time of the year.
Whether or not the restrictions will extend to the hajj, which begins around July 28, can be known only after it becomes clear how long the coronavirus outbreak will last.
Both the umrah and hajj are important pilgrimages for Muslims, but they differ in many respects.
https://nationalinterest.org/blog/buzz/coronavirus-how-past-experience-epidemics-shaping-muslim-pilgrimages-130527
-----
Egypt executes Islamic extremist Hesham Ashmawy
08/03/2020
CAIRO - Egypt executed top Islamist militant Hesham Ashmawy after he was convicted of involvement in high-profile jihadist attacks in Egypt and the region.
"The execution by hanging was carried out based on a decision by the military court… and after taking all the relevant judicial procedures," said army spokesman Tamer al-Rifai.
Ashmawy — dubbed Egypt's "most wanted man" by local media — was a former officer with Egypt's special forces who went on to fight with al-Qaeda linked groups.
On March 2, a Cairo court sentenced Ashmawy and 36 other people to death for having been convicted for 54 crimes, including killing police officers and setting off explosives at security installations.
Ashmawy, 42, joined the Egyptian armed forces as a young man and became a member of an elite unit but was dismissed in 2012 over his hardening religious views.
He was convicted last November by a military court for his role in 14 crimes, including the 2014 killing of 22 soldiers in a border post attack and a 2013 assassination attempt on a former interior minister.
Ashmawy was also found guilty of having led the Ansar Beit al-Maqdis Islamist militant group in the Sinai region. Ashmawy broke with the organisation after it pledged allegiance to the Islamic State in November 2014.
Other charges against him included infiltrating Libyan territories and forming an al-Qaeda aligned militant group, al-Mourabitoun, there.
In October 2018, the Libyan National Army captured Ashmawy in the eastern city of Derna and he was extradited to Egypt in May.
Egypt has for years been fighting an insurgency in North Sinai that escalated after the army's 2013 ouster of Islamist President Muhammad Morsi.
https://thearabweekly.com/egypt-executes-islamic-extremist-hesham-ashmawy
------
Road crash in Syria kills 22, including Iraqi pilgrims
07 March 2020
A break failure caused the tanker to crash into 15 vehicles and two large buses carrying several Iraqi passengers, said Interior Minister Mohammad Khaled al-Rahmoun, while inspecting the site of the accident outside Damascus.
Another 70 people were injured in the accident, he added.
He noted that the final number of victims is not clear yet, as civil defense members are still removing the damaged vehicles from the site.
Victims of the crash are believed to include Iraqi Shia pilgrims visiting holy shrines near the capital.
Holy sites in Syria have remained popular among Shia pilgrims from across the region despite an eight-year war that has displaced millions.
https://www.presstv.com/Detail/2020/03/07/620362/Syria-car-crash-homs-iraqi-pilgrims
-----
India
Delhi riots: Violence that killed 53 in Indian capital 'was anti-Muslim pogrom', says top expert
12 hours ago
The religious violence in Delhi that overshadowed Donald Trump's visit to India last month "qualifies as a pogrom" against Muslims and should be described as such, according to a leading academic and one of the country's top lawyers.
The fallout from the three days of bloodshed in Delhi, which began two weeks ago on Sunday and ended in the deaths of at least 53 people, is still being fiercely contested, with police facing intense criticism for their perceived failure to step in and quash the unrest sooner.
https://www.independent.co.uk/independentpremium/world/delhi-riots-pogrom-violence-deaths-modi-bjp-india-police-a9384891.html
----
Africa
Tunisian Islamist figure resigns from party in widening split in Ennahda's leadership
08/03/2020
TUNIS - Abdelhamid Jelassi, a leading figure in Tunisia's Islamist Ennahda Movement, resigned from the party, citing a "cleansing" of dissent by Ennahda President Rached Ghannouchi.
Jelassi, who once said "Ennahda is all my life. I did learn no trade except being its advocate," resigned March 6, joining ZiedLaadhari, who stepped down in November as party secretary-general, as part of the widening split in the Islamist movement's leadership.
The party meets in May to decide on a replacement for Ghannouchi as Ennahda president. Jelassi's resignation signals mounting tensions that could trigger a bitter feud during the party congress.
"I belonged to Ennahda for 40 years to defend a set of values and principles. I believe that continuing in Ennahda is not useful to advance these values," said Jelassi, a former party vice-president.
Jelassi and other party figures said they counted on the party congress to shift the movement from Ghannouchi's tight control but Jelassi said he now expects the congress to be stacked with Ghannouchi's loyalists.
"Democracy inside Ennahda has become impossible," he said. "Some friends inside Ennahda still gamble on reforming the party from inside. For me that is not possible anymore."
Jelassi, before his resignation, said Ennahda had experienced "genuine internal labour of change" to decide its future.
Jelassi and other party figures, such as Mohamed Ben Salem, disagreed with Ghannouchi over party management and decision making as well as its shifting alliances with other parties.
"It is crucial for Ennahda to find solutions to its problems before its congress. Failing in that, Ennahda risks meeting the same fate as NidaaTounes," Jelassi warned before his resignation.
NidaaTounes, founded by BejiCaid Essebsi in 2012 as a counterweight to Ennahda, won parliamentary elections and the presidency in 2015 for Caid Essebsi, who died in office last year.
NidaaTounes has since splintered amid leadership infighting and sank into political irrelevance. While it once had 89 seats in parliament, it did not win a seat in last year's elections.
Ennahda has also been losing voter support, the trust of potential allies and the loyalty of party officials. The poor performance of successive coalition governments, of which it was a member, and the perception of lack of internal democratic practices caused disaffection among its traditional constituencies and fuelled dissent in its leadership.
Former Ghannouchi Chief-of-Staff ZouheirChehoudi resigned last September, asking in an open letter that Ghannouchi "resign from politics and stay home." He accused Ghannouchi of being surrounded by "a corrupt and corrupting minority in the party's leadership."
Additional party resignations came in January when HichemLaarayedh, the son of former Prime Minister Ali Laarayedh, and ZiedBoumekhla, a member of the decision-making Choura Council, announced their departure.
Jelassi contrasted his beliefs with the party's leadership saying: "I will remain faithful and committed to my convictions and values, including belief in social democracy, a political life ruled by the respect of moral values, keeping our commitments and upholding clarity."
Zigzags by Ghannouchi in his policies and alliances and the suspicion of a power grab being behind his exclusion of important figures from Ennahda's list of candidates during the latest elections deepened distrust within the party.
Public distrust of Ennahda has also deepened, polls indicate, over the perception of ineptitude in government and accusations of a secret apparatus involved in the assassination of two leftist leaders in 2013. Ennahda vehemently rejected the accusations.
Before last October's elections, Ennahda pledged not to align itself with QalbTounes, saying its leader, Nabil Karoui, was "dogged by suspicions of corruption." However, Ennahda later worked to convince QalbTounes to support Ghannouchi, 78, in the vote for parliamentary speaker.
Ghannouchi voiced support for Tunisian President Kais Saied before his election in October, saying Saied and Ennahda would bolster the government's stability because they belong to the same "revolutionary" bloc. However, Ghannouchi is now locked in a fight with Saied over who holds the most power and influence over government and diplomacy.
"Tunisia's new government and new president represent political forces stirring up populism, polarisation and tensions," said the International Crisis Group in an assessment of the situation in Tunisia. It urged "compromise on the country's major long-term national strategic orientation."
"This would make it possible to mitigate ideological conflicts and reduce the populist surge that could weaken the country's ability to deal with either an external shock caused by a worsening security context at the regional level or the deterioration of its macro-economic stability," the International Crisis Group added.
https://thearabweekly.com/tunisian-islamist-figure-resigns-party-widening-split-ennahdas-leadership
---------
Face your Corruption Charges, Stop playing Ostrich, Muslim Group asks Emir Sanusi
07-03-2020
A foremost regional faith-based organisation Muslim Youth League (MYL) has called out the former Central Bank Governor and Emir of Kano, Muhammad Sanusi II over allegations of illegal sales of landed property belonging to the Emirate worth more than two billion naira and allegedly diverting same through proxy companies to private use. The group expressed deep disappointment over the several allegations of corruption that have been associated with the name of the controversial Emir.
In a terse press release obtained by our correspondent in Abuja, the group frowned at the implication of the on the Muslim Ummah across the country. It will be recalled that the Kano State Anti-Corruption and Public Complaints Commission has issued an invitation for the Emir to appear before it on the 9th of March 2020 for interrogations. Rather than face the agency to clear his name, the embattled Emir approached a Kano High court to get an interim injunction restraining the Kano State Anti-corruption agency from investigating him.
According to the Muslim group, "the Emir should stop playing the ostrich and come out to clear his name. He should face the numerous allegations levelled against him. He should stop forcing the Commission to release the names of the whistleblowers and jeopardize the investigation. It was the Emir that called our former President Goodluck Jonathan for allegations of corruption, now he is now neck-deep in the diversion of public resources and selling of public property. He should save himself from disgrace'
The group further cautioned the High Court Judge who issued the interim injunction, Justice Allagoa to refrain from issuing frivolous orders and giving the judiciary a bad name. 'We may have no choice than to petition you to the National Judicial Council (NJC)", the group further warned. It will be recalled that it is the same Justice Lewis Allagoa who on Thursday set aside a ruling of the FCT High Court suspending the National Chairman of All Progressives Congress (APC), Adams Oshiomhole. The interim order by Justice Allagoa was said to hurriedly granted in less than 24 hours after Mr. Oshiomhole was stopped by another injunction from Justice DanlemiSenchi.
Many observers believe that the Emir is allegedly using delay tactics to rally around prominent Nigerians to persuade the Chairman of Kano State anti-corruption Commission, Mr. MagajiMuhuyiRimingado and prevail on him to drop the investigations against Emir.
https://www.vanguardngr.com/2020/03/face-your-corruption-charges-stop-playing-ostrich-muslim-group-asks-emir-sanusi/
------
Mead east
US church group stranded in West Bank hotel in Coronavirus quarantine ordeal
08 March 2020
A US church group of 13 people have been stranded in a quarantined hotel near the occupied Palestinian town of Bethlehem on suspicion of being exposed to the Coronavirus during their trip and are coordinating with American and Palestinian officials in a desperate effort to return home.
"It was going to be the trip of a lifetime," said 42-year-old Chris Bell, lead pastor of the 3Circle Church in Fairhope, Alabama, in a video chat with Reuters on Saturday from the second floor of the Angel Hotel in Beit Jala, next to Bethlehem. "The 13 of us would be what I would call a community of faith."
Things "went bad" for the group on Tuesday when they learned they had shared the hotel with a Greek tourist who apparently carried the Coronavirus, Bell said.
According to the report, after the group left the next morning for a trip they were called back to the hotel the next day and told to go into quarantine.
He further stated that they were awaiting test results and expected to be in quarantine for 14 days, meaning they still had to wait nine more days.
Palestinian security forces stop a vehicle at a checkpoint in Beit Jala on the outskirts of the biblical city of Bethlehem in the occupied West Bank on March 7, 2020, currently under lockdown due to COVID-19 corona virus. (Photo by AFP)
The pastor added that his group has not left its hotel floor and everyone wears gloves and masks when they leave their rooms, noting that his wife was with him but their three children in the US were being looked after by friends and family.
According to the hotel's owner, more than 40 workers and guests were placed in isolation in the building.
The report further cited an official of the US embassy in occupied Jerusalem (al-Quds) as saying that she was aware of reports that the group is in quarantine but noted: "Due to privacy considerations, we have no further details to share."
This is while Palestinian security forces wearing masks and gloves were stationed around the hotel on Saturday as they have been since the first cases were announced.
The Angel Hotel was the first area of Coronavirus concern in the Bethlehem area. After several of its workers tested positive this week, the Palestinian Authority put restrictions on foreign tourist travel and later declared a 30-day state of emergency.
The measures effectively shut down the city, including the Church of the Nativity, believed to be the birthplace of Jesus, and local mosques.
Elsewhere in the West Bank, Palestinian security forces staffed checkpoints and turned foreigners away, while schools, colleges, kindergartens and national parks were ordered closed.
https://www.presstv.com/Detail/2020/03/08/620371/US-pastor-Alabama-church-group-occupied-Palestine-Bethlehem-corona-virus
------
Iran's security chief in Baghdad for talks with Iraqi officials
08 March 2020
Iran's top security official has traveled to Baghdad to hold talks with Iraqi officials and political leaders on security and political issues as well as boosting relations between the two neighbors.
Secretary of Iran's Supreme National Security Council (SNSC) Ali Shamkhani arrived in Baghdad on Saturday night at the head of a high-ranking politico-security delegation.
Speaking upon his arrival, Shamkhani said that he will exchange views with Iraqi President Barham Salih, caretaker Prime Minister Adil Abdul-Mahdi, Parliament Speaker Mohamed al-Halbousi and leaders from different political factions.
Iran, he said, has maintained good brotherly relations with neighboring Iraq since the ouster of former dictator Saddam Hussein in 2003.
In 2014, when Daesh unleashed its campaign of terror in Iraq, Iranian military advisers rushed to the aid of Iraqi armed forces on Baghdad's request, helping them gradually reverse the Takfiri terrorist group's gains and ultimately liberate their entire homeland some three years later.
Shamkhani's trip comes in the wake of the US assassination of the Middle East's most prominent anti-terror commander General Qassemi Soleimani and his Iraqi trenchmate Abu Mahdi al-Muhandis in Baghdad in January.
General Soleimani was in Baghdad at the invitation of the Iraqi government when he was targeted.
The terrorist act led to a crisis in diplomatic relations between the US and Iraq which demanded that the American troops leave the country.
The Trump administration has been defiant and instead threatened to seize Iraq's oil money being held in a bank account in New York as compensation for its military presence in the Arab country.
Meanwhile, some individuals in Iraq's intelligence agency have been implicated in the assassination. It is not clear if the issue will feature in the Iranian security official's talks in Baghdad.
Elsewhere in his remarks, Shamkhani referred to the outbreak of a new coronavirus in the region, saying that both facts and rumors were spreading about the epidemic.
The fact is that the Islamic Republic is in possession of abundant resources and will score a victory over the epidemic, he noted.
The virus, known as COVID-19, first emerged in China late last year and is now spreading in Europe and across the Middle East, sparking fears of a global pandemic.
https://www.presstv.com/Detail/2020/03/08/620377/Iran-Ali-Shamkhani-Iraq
-------
US, Israel waging biological warfare on massive scale
08-03-2020
By Kevin Barrett
The Israel-supported group United Against Nuclear Iran (UANI) is pressuring the big pharmaceutical companies to end their Iran business at the exact moment that Iran is the second hardest-hit country by the coronavirus pandemic after China.
The group United Against Nuclear Iran has paid John Bolton a quarter of a million dollars, which (money) is coming from Israel, which of course gets that money by raiding the United States Treasury to the tune of well, one estimate published in Christian Science Monitor two decades ago was that Israel had already stolen trillions, literally trillions of dollars. That's what it cost the United States. So Americans have allowed Israel to colonize them and raid them and rape and pillage them.
And this UANI group is just one of the many Israel pressure groups running United States foreign policy. It's just an outrage. And now they're trying to amplify the plague of coronavirus in Iran, which one suspects that they themselves may have actually engineered, because otherwise how could an Israeli company claim that they'll have a vaccine against coronavirus in less than two weeks when all scientists say that if there's a novel outbreak like this, it would take at least a year to have a vaccine.
A recent article by former CIA officer Philip Giraldi suggests that probably the US and Israel are working together. They're the same people who used Stuxnet against Iran, endangering the nuclear facilities not only in Iran, but all over the world because it got loose and nearly created horrible nuclear accidents all over the world. And apparently now they've done the same thing with this coronavirus.
Philip Giraldi's article is called, Who Made Coronavirus? Was It the U.S., Israel or China Itself?, and he strongly suspects the US and Israel, with China being America's biggest geostrategic antagonist and Iran being Israel's biggest problem.
just said the same thing. He said this looks like a biological warfare attack against Iran and China. And a new study coming out of China from Tongji University in Shanghai, entitled Single-cell RNA expression profiling of ACE2, the putative receptor of Wuhan 2019 coronavirus shows that this virus has been engineered to target East Asians, and presumably a version of it has been perhaps released and developed by the Israelis to target Iranians.
So we are seeing biological warfare on a massive scale. The United States is the country that has been waging biological warfare on and off ever since it exterminated Native Americans by giving them smallpox blankets, during the Korean War, the United States dropped literally hundreds of thousands of bombs bearing plague... and other diseases on China and North Korea and covered it up. And the book "This Must Be the Place" gives the details on that.
The United States waged biological warfare against its own Congress in 2001 with the anthrax component of the 9/11 anthrax false flag operation, which terrorized Tom Daschle and Patrick Leahy, the leaders of the movement that blocked the Patriot Act, into giving up and allowing the Patriot Act.
So the United States is run by lunatics, by psychopaths who are entirely capable of launching World War 3 by way of a biological warfare attack on China and Iran, with the Iran component presumably led by Israel. That's the most likely explanation for what we're seeing.
In that context, this move by these Israel lobbies that are presumably behind this biological warfare attack, and this launching of what could become World War 3, are pressuring United States to try to help this plague spread in Iran as much as possible by preventing Iran from getting any of the medicines and medical equipment that would need to fight this virus.
And the United States is pursuing this kind of policy right now. Trump has not allowed medical equipment and supplies to go through to Iran. It's absolutely disgusting. We're seeing more smallpox blankets from the psychopaths in charge and the people of the world need to rise up and overthrow these people as soon as possible.
https://www.presstv.com/Detail/2020/03/07/620357/US,-Israel-waging-biological-warfare-on-massive-scale
------
WHO says very optimistic about Iran's anti-coronavirus fight, vows full support
07 March 2020
The World Health Organization (WHO) says it will "provide all the support" to the Iranian government in its fight against the deadly novel coronavirus, expressing great optimism that the Islamic Republic will succeed in containing the disease.
"We are very optimistic that together we will make excellent progress," Emergency Director for WHO's Regional Office for the Eastern Mediterranean, Richard Brennan, told journalists in Tehran on Saturday.
He hailed Iran's great efforts to battle the coronavirus, saying, "We have been impressed by the way that the [Iranian] government and the health workers and other sectors of the society are really working hard to defeat the virus."
He noted that the WHO team, consisting of colleagues from the world's health body -- the Robert Koch Institute in Germany and the Chinese Center for Disease Control and Prevention (CCDC) -- have had numerous meetings with Iranian health officials and workers over the past few days.
"We have a tremendous exchange of experiences and information," Brennan said, adding that the WHO team has "learnt from the Ministry of Health and the health workers in Iran."
The WHO official also warned about a campaign of misinformation and propagation and said, "Misinformation makes the job of doctors and nurses so much harder."
"We also know that one of the biggest enemies in defeating the outbreak is misinformation, rumors and false news. We have to keep the communication accurate and precise about the true realities of the disease," he emphasized.
He extended his congratulations in particular to the hardworking doctors, nurses and other health workers in laboratories and elsewhere for their really tremendous work.
Iran is currently battling one of the world's deadliest outbreak of the coronavirus outside China, where it originated.
On Saturday, the head of the Iranian Health Ministry's Public Relations and Information Center, KianoushJahanpour, reported 21 new deaths from the coronavirus and 1,076 fresh cases in the past 24 hours, bringing the overall tolls to 145 dead and 5,823 infected.
"More than 16,000 people are currently hospitalized as suspect cases," Jahanpour said in a televised news conference.
He said that 1,669 of confirmed cases have recovered from the illness, including in some provinces where recovery rate has reached 40 percent.
Earlier in the day, Iran's Foreign Minister Mohammad Javad Zarif lashed out at US President Donald Trump for tightening "illegal" sanctions against Iran, saying such a move is aimed at draining the Islamic Republic's resources required in the fight against the novel coronavirus.
https://www.presstv.com/Detail/2020/03/07/620350/coronavirus-Richard-Brennan-World-Health-Organization-Tehran
------
Destiny of Islam, humanity depends on Turkey
08 March 2020
Turkey is face to face with two important sieges that will determine the Islamic world's destiny in particular and the world's destiny at large. One is an internal siege while the other is an external one.
Western imperialists settled in our region and turned our region into hell. Turkey, confined into the Anatolian continent, could not be physically colonized, but it colonized itself mentally. It itself did (was able to do) from inside and carried out at its own hands the sort of destruction the West could not dare do even in its own colonies. It stopped its own civilization march! (Really, it inflicted that on itself?)
Turkey was pushed into Westernization, secularization; secularism was imposed top-down, using Jacobean methods, as if to change religion, on this grand nation that has been the flag-bearer of Islamic civilization for a millennium. The community's soul, the sole source of its history, its past, its Islamic identity and sensitivities, the biggest guarantee of its future were dealt a major blow.
Where things stood at the time, society divided into two. As SherifMardin drew the outline years ago, "two societies" emerged.
Turkey's problems multiplied and became layered: the more it became secular the more ethnic identities came to the forefront; the Islamic identity and sensitivities that kept the society together corroded, the common denominator bringing society together is in pieces: the Kurdish question surfaced.
Among these divided social/cultural identities, sovereignty struggles, fights are going to take place in the upcoming period; someone is making preparations for this; this process has long started.
If we fail to break this siege, the destiny of Islam – not only us but all Muslims – as well as the destiny of the Islamic world will be left to the mercy of Western imperialists and their servants' evil plots. This will cost both the Islamic world and humanity dearly – God forbid!
The siege from outside is, in fact, a historic siege, a siege at a scale that will turn the flow of history upside down: This is the Shiite-Persian empire attempt that imperialists have been striving greatly to turn into a reality.
This attempt is invading the Sunni Arab world, which constitutes the heart of the Islamic world, step by step; it is enslaving it and carrying our unbelievable massacres such as the ones in Syria, Iraq and Yemen. When I draw attention to these murders by Iran, the horrific strategies and the creepy steps it develops in connection to the colonialist, imperialist West's puppet policies, I am accused of sectarian analysis.
It is spoiling the game that has been planned to entirely pave the way for a marginal sect other than the mainstream and change the Islamic world's axis, consequently the prevention of Islam's march!
Turkey was stopped with secularism. For a thousand years, Muslim Turkey that has been the representative of our civilization claims, which made it possible for us to make world history, disappeared.
Secular Turkey was the project hatched in order to stop Muslim Turkey; in other worlds, it is an attempt to make us deny the civilization claims that have made it possible for us to make world history for a millennium and draw us to self-destruction and, as a result, prevent our historic march.
The Islamic world is being stopped through Shiite attacks, by paving the way for Iran and the Shiite-Persian empire to dominate the entire Arab world; the foundations of the great sectarian war are being laid!
The Shiite world's invasion of the Sunni world, the collapse of the Sunni backbone is a great disaster whose consequences will be extremely destructive and turn upside down the structure of Muslim societies and the flow of history.
If Turkey is able to overcome the secular shackle siege that has led us to be stopped from within, and the Shiite siege from outside, we will start making both our region and the world's history again within the next century-long timeframe.
Therefore, we must tread carefully, with foresight, carefully strengthening the inside front in terms of Islamic identity and sensitivities in preparation for the blessed future that we can build once again.
https://www.yenisafak.com/en/columns/yusufkaplan/destiny-of-islam-humanity-depends-on-turkey-2047374
------
South Asia
Ghani: As a 'President', I do not wish to have 'Taliban' prisoners
07 Mar 2020
President Ghani gave a speech at the National Council inauguration ceremony on Saturday, saying he is aware of the Taliban's demand to release their 5,000 prisoners before the intra-Afghan dialogue kicks off.
The President in his statement said, he as the 'President' does not wish to have 'Taliban' prisoners, while he had already announced his disagreement in the release of 5,000 Taliban prisoners.
The President did not further clarify what did he really mean by not wishing to have Taliban prisoners as a 'President'.
The release of Taliban prisoners should be based on a clear and transparent process that ensures the people will notice a positive change and a complete ceasefire after the Taliban prisoners release, the President said.
This comes as the U.S and the Taliban signed an agreement on the 29th of February 2020 in Doha Qatar, one of the verbal conditions agreed between both parties was freeing 5,000 Taliban prisoners in Afghanistan before another series of intra-Afghan dialogue starts.
The intra-Afghan talks were said to kick off 10 to 15 days after the US and the Taliban deal signing ceremony, but so far the Afghanistan government has been unable to prepare a list of an inclusive delegation.
President has said on Saturday he will finalize the list of participants within the next two days.
The intra-Afghan talks were said to kick off 10 to 15 days after the US and the Taliban deal signing ceremony, but so far the Afghanistan government has been unable to prepare a list of an inclusive delegation.
https://www.khaama.com/ghani-as-a-president-i-do-not-wish-to-have-taliban-prisoners-56875876/
------
Islamic Emirate of Taliban 'Unacceptable'; U.S. and Russia
March 7, 2020
KABUL: The United States and Russia on Saturday jointly announced that the Islamic Emirate of Taliban is not acceptable and the international community and the United Nations will not support reinstatement of such regime.
The statement welcomed the agreement signed between US and Taliban and called it a crucial step towards ending the war in Afghanistan. "Urged all sides to further decrease violence in order to create an environment conducive to intra-Afghan negotiations."
Washington and Moscow once again called on the Taliban to make all-out efforts and ensure that Afghanistan's soil would not be used by Al-Qaeda and other terrorist groups as a threat to foreign countries.
"It is expected that all sides will observe a ceasefire during intra-Afghan negotiations so as to reach an agreement on a political roadmap for Afghanistan's future," added the statement.
The US and Taliban last Saturday signed a peace deal that pave the ground for a gradual drawdown of foreign troops and intra-Afghan-talks.
http://www.afghanistantimes.af/islamic-emirate-of-taliban-unacceptable-u-s-and-russia/
----
Philippine Clashes Leave 14 Militants, 4 Soldiers Dead
March 7, 2020
Manila, Philippines (AP) -- Philippine troops have killed at least 14 Muslim militants aligned with the Islamic State group in a weeklong offensive in a southern province that also left four soldiers dead, a regional military commander said Saturday.
Lt. Gen. CirilitoSobejana said an unspecified number of militants, including gunmen belonging to the Bangsamoro Islamic Freedom Fighters, were wounded in clashes in the towns of Ampatuan and Datu Hoffer Ampatuan in Maguindanao province.
The bodies of five of the slain militants were recovered by government forces, he said, adding that 10 soldiers were wounded in the fighting.
The Islamic State group claimed that militants killed 43 soldiers using explosives while repulsing the recent military assaults in two Maguindanao villages, but Sobejana said the claim was "untrue."
Government forces launched air strikes and artillery fire on an encampment of the militants in Salman village in Ampatuan on Monday after receiving intelligence that the gunmen were plotting attacks, the military said.
Troops later assaulted the encampment and another group of armed militants in Datu Hoffer Ampatuan, seizing firearms, ammunition and homemade bombs, the military said.
The largest Muslim rebel group in the southern region, the Moro Islamic Liberation Front, signed an autonomy deal with the government in 2014, ending decades of separatist insurrection.
Its leader and many of its commanders have been appointed to govern a five-province autonomous region under a transitional setup, but smaller hard-line armed groups, including some that have been linked to the Islamic State group, have continued to fight the government.
https://www.bloomberg.com/news/articles/2020-03-07/philippine-clashes-leave-14-militants-4-soldiers-dead?utm_source=google&utm_medium=bd&cmpId=google
------
Thailand and Malaysia bar cruise ship over virus fears
8 MAR 2020
Thailand and Malaysia have barred a cruise ship carrying about 2,000 people, including dozens of Italians, from docking due to fears about the new coronavirus, an official said Sunday.
The Costa Fortuna was first turned away from the popular Thai holiday island of Phuket Friday, despite there being no suspected virus cases aboard, according to its operator.
Thai authorities had imposed restrictions "on Italians that have transited in Italy in the last 14 days", Costa Cruises said on Twitter.
Italy has been hard hit by the virus with more than 230 fatalities, the most deaths from the disease of any country outside China, where the outbreak began in December.
On Saturday the vessel tried to dock in the northern Malaysian state of Penang but was also refused entry, local politician Phee Boon Poh told AFP.
The decision was taken as Malaysia had decided to restrict entry of all cruise ships to the country's ports, he said. Malaysia's Star newspaper also reported a ban had been imposed.
The case has similarities with that of the Westerdam, a cruise ship that was at sea for two weeks and was rejected by five countries over fears its passengers could have the virus.
Worldwide, the total number of people with Covid-19 has passed 100,000 while 3,500 have died across 95 nations and territories.
https://www.bangkokpost.com/world/1874269/thailand-and-malaysia-bar-cruise-ship-over-virus-fears
------
Europe
Queensland's first Muslim Scout group combines religion and tradition to empower youth
By Rachel Riga
8 hours ago
The Muslim Crescent Scouts in Logan Central, south of Brisbane, is one of the state's newest groups within the scouting movement, which has been grappling with a decline in membership across Australia.
Group founder Farah Scott said the community had been seeking a program to help kids stay active and be social, and scouting provided the best framework.
"People were saying, 'Let's do something like Scouts' and I thought why do something like Scouts — let's do Scouts," she said.
"Everyone in the community was very excited when we started because there's no outside programs at the mosque.
"There was nothing for kids to be sociable, to get outdoors, to get off the devices, and meet other kids and have fun."
Ms Scott said the Muslim Crescent Scouts program was not dramatically altered from traditional Scouts and was open for anyone to join.
"We still do the basic Scout program, but it's more Muslim-friendly in the sense that the girls feel comfortable wearing their scarves because majority of the participants are Muslim," she said.
"They know the food will be halal, they'll stop for prayer times and Islamic festivals will be observed and celebrated.
"Their parents feel comfortable letting them go out and to be with the other kids, and they know that they are going to be looked after and have fun."
The group meets each Sunday during the school term to learn a range of skills including knot tying, tent building, bushwalking, bushcraft and survival first aid.
More than 50 million people participate in scouting worldwide, with about 15,000 people involved in Queensland.
Abdullah Gemicioglu, 17, said he joined Muslim Crescent Scouts to get outdoors and gain practical life skills.
"I decided to join the Scouts because I felt like as a male, and in religion, usually the male assumes more work," he said.
"I've been able to use the skills in real life so learning how to tie knots, lifting other things using rope configurations, so it's been quiet useful.
"I found that most kids nowadays are usually inside too much … they don't develop any type of skills like back in the days, so I feel it's a really good activity to do."
In Muslim tradition, men and women don't shake hands with the opposite sex, so the Muslim Crescent Scouts have been able to adapt the parade so participants only shake hands with the same gender.
Chammie Kamara, 23, is an assistant Scout leader for the group and said scouting is new for the Muslim community.
She said she hoped other women in the community would join the group or be inspired to take up a new activity.
"It doesn't have to be just Muslim people because it's nice to socialise with people who are not from our religion so you get to learn about a different religion, their culture, what they do.
"I would prefer that we have different nationalities and religions all mixed together so we can all learn about each other."
Data from a Scouts Australia youth program review showed there was 114,500 youth members in Australian scouting in 1979, but by 2018 that had fallen to 55,730.
The youth program has been recently overhauled and allows Scouts to be rewarded in specialist areas, including adventure and sport, arts and literature, environment, growth and development, and STEM and innovation.
"Scouting is life skills — we're trying to create a better world through having young people who are engaging with their communities," he said.
"We're trying to encourage young people to really take responsibility for their own futures … if they want to do snow skiing in other states or want to do archery — there is no limit."
In Queensland, there are several other diverse Scouts groups including Chinese, Buddhist and Coptic (Egypt).
Scouts Queensland holds an annual Agoonoree camp where 80 children with special needs are able to participate in a week-long camp at Samford.
Mr Parr said Scouts had always embraced and promoted diversity and inclusion, but the formation of specific groups had helped the organisation remain relevant.
"We always promote inclusivity but I think on the diversity side, in our space, Queensland has probably been a little bit behind some of the other branches," he said.
"We are now starting to catch up and I think that we are getting more in tune with engaging with other communities."
https://www.abc.net.au/news/2020-03-08/muslim-scouts-troop-especially-popular-with-girls/12026890
------
Powerful video by Riz Ahmed on fictional future of Muslim genocide in Britain
12 hours ago
A powerful short film produced by British Pakistani actor and rapper, Riz Ahmed, about a fictional future where Muslims are witch-hunted, killed and forcibly detained by far-right death squads with the support of the government.
https://5pillarsuk.com/2020/03/07/powerful-video-by-riz-ahmed-on-fictional-future-of-muslim-genocide-in-britain/
-------
The Muslim running for mayor in Christian Bavaria
32 MINS AGO
With his neatly trimmed beard, sharp suit and broad smile, Ozan Iyibas looks like a typical politician out to win votes ahead of a municipal election in southern Germany's Bavaria region.
But he has unleashed a mini earthquake with his candidacy -- as the first Muslim standing for the Christian Social Union (CSU) in a predominantly Catholic region.
"I don't see any contradiction in this choice," says the 37-year-old, sitting back in an armchair and clutching a mug of tea in the town of Neufahrn.
"It's a question of values. The values of my religion are very close to those of Christians."
While Iyibas won the local CSU's nomination unanimously, such support is not always a given in the region where party chief Markus Soeder in 2018 ordered crosses to be displayed at the entrances of all public buildings, as a way of honouring the region's "cultural heritage".
In another Bavarian village, Wallerstein, resistance from local CSU members was so great against a Muslim candidate that the hopeful was forced to pull out of the race.
"It was not about me, but about my faith. For example, an argument is that the C in CSU and I as a Muslim did not go together," SenerSahin told Sueddeutsche Zeitung.
Party top brass had sought to intervene in Sahin'sfavour, but the rank and file would not budge, even though Sahin is a successful entrepreneur who was both player and trainer in the village football club and whose wife is Catholic.
The CSU, sister party of Chancellor Angela Merkel's Christian Democratic Union (CDU), has been the dominating force in Bavaria since the end of World War II.
But the far-right and Islamophobic AfD, and the ecologist Greens, have in recent years chipped away at that support, which at the last state elections in 2018 hit its lowest level since 1954.
Iyibas, who is of Turkish origin and an adherent of Alevism, a secular branch of Islam, said he has been brought up to feel at ease in a predominantly Catholic environment from a young age
In recent years the CSU has swung between lurching right to save its conservative vote, and veering left to win back younger, ecologically minded voters.
In Neufahrn, the CSU is counting on Iyibas' unusual profile to rejuvenate the party and wrest the mayoral post from the Greens at the March 15 vote.
The consultant for start-ups was born just a few kilometres (miles) away from the town where he grew up in the suburbs of Munich.
When he crosses paths with someone he knows, they discuss the local economy, public transport, the environment -- but not religion.
"In my opinion, the most important issue is housing," says Erica, a pensioner who he meets at the entrance to a grocery store.
Iyibas, who is of Turkish origin and an adherent of Alevism, a secular branch of Islam, said he has been brought up to feel at ease in a predominantly Catholic environment from a young age.
"When I was little, my mother took me to a church and I asked her why. She replied that if we were going to live here, we needed to understand and share the values of this country. That's what I have done."
Stefan Wurster, a professor of political studies at the Bavarian School of Public Policy, has noted that "many Germans from migrant backgrounds believe in conservative values that correspond with those of the CSU."
The conflict in the party today, he says, is "less between Christians and Muslims, and more between religious people and atheists".
AfD members have branded him an "enemy" on Facebook, and have told him that they "will fight against a Muslim mayor".
http://www.digitaljournal.com/news/world/the-muslim-running-for-mayor-in-christian-bavaria/article/568370
------
The young Muslim girls in Cardiff taking their future into their own hands
ByAnna Lewis
8 MAR 2020
It's Friday night and a group of eight schoolgirls are chatting and laughing in a room just off Cardiff's Loudoun Square.
As afternoons go this one is pretty productive. To mark the end of another week these teenagers are unwinding and letting off steam before getting stuck in to the night ahead of them.
Today their subject is mental health and the girls' aspirations. A few weeks ago it was kick boxing, on another occasion it was cooking and nutrition – whatever they feel like doing.
While these may seem like activities any after-school club may cover, for these young Muslim girls a female-only group was not an option they had before.
She speaks four languages – Somali, English, Dutch and Arabic – after moving from Holland to Cardiff around four years ago, but to her that's not a big deal.
Now she is putting her head down and studying hard and is thinking about becoming a lawyer. Every week Friday nights are a time to focus on her.
Saynab, who also attends with her 13-year-old sister Aisha, said: "We wanted somewhere for girls. The boys used to have the pavilion every Friday and as girls we wanted to have something like that as well.
"We do exercises, cooking, mental health discussions. I feel more comfortable here. I can take my hijab off, it's just more comfortable.
Co-founded by MymunaSoleman and her 16-year-old cousin Hafsa Mahamoud, Project GLOWW (Girls Leading Others With Wisdom) is based in the CCHA Culture and Media Centre in Plas Iona, Butetown.
A building with a constant hum of activity, it's the perfect venue for the group. To accommodate the girls the centre even frosted the windows of the room they use to allow them to remove their hijabs if they wish.
Both Mymuna and Hafsa's vision saw them create the group as a safe space for girls of all ages, religions, and backgrounds to come and open up about the pressures of teenagehood. Since then it's gone from strength to strength with as many as 15 girls turning up to take part.
As well as their weekly Friday meets up there are big plans on the horizon including a camping trip in the near future and preparations to make for a community-wide Eid celebration.
Hafsa, who is thinking about going to midwifery after she finishes school, said: "This is out of the school environment. You're not just learning all the time you are doing things out of the classroom.
GLOWW is a safe space for its members to speak about any worries or issues they may have (Image: Mark Lewis)
For Mymuna the idea behind GLOWW started with one powerful image – a photo of a Cardiff Somali woman shared on Twitter.
It was shared by Flourish, a Cardiff Council Housing Association project that supports and empowers working families both individually and a community.
To do that they give members of those Cardiff communities the reigns to do what they want and what they feel is needed most.
Mymuna said: "What caught my eye was seeing a Somali woman, a local Somali lady, which you don't usually see who was part of this group called Flourish.
"From the get-go both [organisers] Heather and Rhiannon were amazing people. We felt like even though they were from a different background they basically said you can take ownership of it and it wasn't patronising – that mentality wasn't there even though they were different.
As a fierce advocate for feminism, and feminism that includes women of colour, Mymuna is determined to educate those who make assumptions about her as a Muslim women or are too hesitant to ask.
It's not an easy job – she speaks about those who avoid sitting next to her on the bus or are taken aback when she speaks to them in Welsh – but it's something she is determined to do.
Mymuna said: "I think one of the main things for young girls who are BAME or Muslim is being labelled and stereotyped and put into a box.
"It can be hard for them to express themselves and explain their own identity, not how people view them. [These girls in GLOWW] want to have their own voice, their own space.
"One thing we discuss is what's going through your mind. Some girls say they are only saying these things now because they are in a safe space. Now conversations have started off the back of what we have discussed. It's becoming more normal.
"The girls have said it's an opportunity they have never had before. It's an opportunity to discuss what matters to them."
https://www.walesonline.co.uk/news/wales-news/gloww-flourish-butetown-cardiff-ccha-17882113
------
Christchurch terror victims need more financial support - Muslim leader
10 hours ago
A Christchurch Muslim leader says the Government needs to properly compensate those who have been unable to return to their old jobs following the mosque attacks.
The secretary of the Muslim Association of Canterbury, FerozDitta, sustained serious leg injuries at Al Noor Mosque, which had prevented him from returning to work as a truck driver.
"I get 80 percent of my cover, being self employed, there's nobody else I can turn to for my 20 percent. Not having a medical clearance to drive trucks, I'll have to retrain, and I'm in my early 50s."
https://www.newshub.co.nz/home/new-zealand/2020/03/christchurch-terror-victims-need-more-financial-support-muslim-leader.html
-----
US, Russia: 'Will Not Support' an 'Islamic Emirate in Afghanistan
YESTERDAY - 10:18 PM
This was echoed by the Russian President's Special Envoy for Afghanistan Zamir Kabulov, who said on March 3 that Russia has reiterated to the Taliban it will never accept any monopoly of power in Afghanistan:
"We have told the Taliban straight more than once that we accept no monopoly and [are opposed to] the Taliban's return to power," Kabulov said as quoted by TASS news agency. "We are not the only ones to say it. Afghanistan's neighbors — Pakistan and Iran — and also the United States and China share this position," Kabulov said, as quoted by TASS.
However, on Friday US President Donald Trump told reporters that the Taliban could "possibly" overrun the Afghan government after foreign troops withdraw from the country. And also that "countries have to take care of themselves" because "you can only hold someone's hand for so long."
But the deal-related statement says that the US and Russia Federation issued welcomed the Taliban's commitment to "joining a political process and their prospective role in a new post-settlement Afghan Islamic government as determined by the intra-Afghan negotiations."
The two nations also appreciated the February 22-28 reduction of violence and urged all sides to further decrease violence in order to create an environment conducive to intra-Afghan negotiations.
Further, the US and Russian envoys called on the Taliban and other Afghan violent groups to take concrete steps to ensure that the territory of Afghanistan should not be used by al-Qaeda, Daesh, or other international terrorist groups to threaten or attack other countries.
They also called on all Afghans "to begin discussions immediately on issues of mutual concern, such as prisoner releases and a ceasefire," and expressed readiness "upon the commencement of the intra-Afghan negotiations to review the status of sanctions designations in order to support the peace process."
This comes as an NBC News report on Saturday claimed the US government had collected "persuasive intelligence" that the Taliban "do not intend to honor the promises they have made in the recently signed deal with the US," citing conversations with American officials who are unnamed in the report.
"They have no intention of abiding by their agreement," NBC News quoted one official who was briefed on the intelligence, which two others described as "explicit evidence shedding light on the Taliban's intentions."
But on Saturday, a Taliban spokesperson Suhail Shaheen tweeted a response to the report, denying its claims:
"We categorically reject allegations by US intel officials to NBC News that the Islamic Emirate has no intention of abiding by the agreement. The agreement implementation process is going good so far & such comments by US officials cannot be justified," said Taliban spokesperson Suhail Shaheen.
https://tolonews.com/afghanistan/us-russia-will-not-support-islamic-emirate-afghanistan
----
Dutch-Muslim leader accused of writing Hitler was Jewish in pro-Hamas email
March 7, 2020
The email carrying the signature of Yahia Bouyafa, chairman of the Association of Moroccan Mosques in the Netherlands, said that "Hamas is a legitimate and growing protest movement" against "usurpers" that used the Holocaust, "perpetrated by the Jew Hitler," as a "pretext to steal Palestinian land," the text read, according to an article published Sunday by De Telegraaf daily.
Aron Vrieler, a spokesman for the Centre for Information and Documentation on Israel, or CIDI, called the letter "the most vicious form of antisemitism" and urged Muslim groups to condemn it.
Saïd Bouharrou, the association's second in command, told De Telegraaf: "This is bizarre and light years removed from everything we do. The association distances itself from such statements and I distance myself from it. We have a warm place in our heart towards the Jewish community, I don't want to hear about this sort of nonsense."
https://jewishnews.timesofisrael.com/dutch-muslim-leader-accused-of-writing-hitler-was-jewish-in-pro-hamas-email/
-------
North America
How to mobilize 1 million American Muslim voters in 2020
At the end of 2019, I told you that the build-up to the 2020 General Election will be pivotal for both the history of our nation and the American Muslim community. We knew then that there is a lot at stake this year, not just for Muslims, but all people across our nation.
As we have already seen, this election season continues to fuel a dramatic rise in anti-Muslim and ant-immigrant hate. We believe it will rise even higher closer to election day.
As Muslims, we know our campaign is not for a more liberal or conservative country, but for a more just country.
We are the most diverse community in this nation, and we are fighting for freedom, racial and religious equality, immigration reform, improving healthcare, enhancing education, and protecting the environment.
With more than one million registered Muslim voters in the U.S. – including large communities in swing states – we are well positioned to become a deciding factor in 2020.
As the nation's largest Muslim civil rights and advocacy organization, CAIR is working tirelessly to register and mobilize Muslim voters. We are doing this under CAIR's nationwide one million Muslim votes (#MuslimsVote) campaign, which is based on six goals:
1) Increase Muslim voter registration and turnout by 20 percent in 2020;
2) Encourage and train 200 Muslims to run for office, and track their progress;
3) Nationally distribute presidential voter guides and congressional scorecards;
4) Survey and report on American Muslim views and attitudes about the election;
5) Work with other Muslim organizations to promote a unified "Muslim Policy Platform;" and,
6) Confront Islamophobia through documentation, reporting and pushing back.
With your help, we can succeed by investing in much needed resources in these efforts.
How Muslim voters respond to these electoral opportunities and challenges will be determined by the support of loyal supporters like you who can help us complete transformational projects.
Despite the darkness we often face, the reality is that our community will move forward as it has over the past 25 years with CAIR continually planting the seeds of empowerment through its service to American Muslims and the Constitution, inshallah. We need your support to make this happen.
There are many organizations that deserve your support, but there is no organization like CAIR for Muslims in America.
https://www.cair.com/press_releases/how-to-mobilize-1-million-american-muslim-voters-in-2020/
------
Torture TV: New FDD Report Makes the Case for Sanctions on the Islamic Republic of Iran's State-Run Media
March 7, 2020
Washington D.C., February 27 – Iran state television should earn new global sanctions for its role in the torture and forced confessions of political prisoners, according to a new report from the Foundation for Defense of Democracies (FDD).
"Torture TV: The Case for Sanctions on the Islamic Republic of Iran's State-Run Media," highlights Tehran's violations of international law by televising forced confessions of political prisoners.
The publication, co-authored by FDD Senior Vice President for Government Relations and Strategy Toby Dershowitz and Government Relations Analyst Talia Katz, is the most comprehensive report on Iran's forced confessions practice since Islamic Republic of Iran Broadcasting (IRIB) transitioned to new leadership in 2016.
"Torture TV" comes in the wake of deadly nationwide protests, during which the Iranian regime arrested protestors and forced them to confess to falsehoods on Iran state television. Amid the violent crackdown, Iranian President Hassan Rouhani and Interior Minister AbdolrezaRahmaniFazli publicly called for televised confessions.
The report demonstrates how the Islamic Republic employs forced confessions "to frame the innocent, scare its citizens into submission, and propagandize against its enemies." The authors argue that the "practice of extracting forced confessions should earn [Iran state media] sanctions worldwide."
Dershowitz and Katz also detail how interrogators working with IRIB use a range of torture techniques to extract forced confessions from political prisoners. These include "beat[ing] prisoners with cables, sometimes to the point of paralysis; hold[ing] prisoners in solitary confinement for years; or threaten[ing] forced injections of hallucinogenic drugs." The report shows that some "reporters" on state-run news programs are actually IRGC and Ministry of Intelligence interrogators who extracted the forced confessions.
They add that, "Imposing sanctions on IRIB, its leadership, and other facilitators of forced confessions would follow an established precedent." The report lists designations imposed by the United States, European Union, and Canada nearly a decade ago. However, "IRIB's leadership has changed since these designations," and these new officials "continue to work with the clerical regime's judicial system and intelligence community to extract and broadcast false confessions."
The authors chronicle eight case studies of forced confessions since May 2016, when Ayatollah Ali Khamenei appointed a new director general of IRIB, and one additional case study that began before 2016. The case studies "capture a representative sample of the regime's targets: dual nationals, non-citizens, members of religious minority groups, and political activists." Each study details the victims' backgrounds, their arrests and trials, their treatments in prison, and their broadcasted false confession.
Mark Dubowitz, CEO of FDD and head of its Iran program, commented that, "Iran's victims of coerced false confessions have spanned the spectrum of Iranian society and has generated calls from across the Iranian diaspora for meaningful action." He continued, "This report provides policymakers from around the globe the tools needed to hold Iran accountable for its malign human rights abuses with the goal of the Islamic Republic ending its illegal and inhumane practice."
The report notes that "Nobel Peace Prize laureate Shirin Ebadi, an Iranian dissident and human rights lawyer whose own husband was a victim of forced confession in 2009, asserts that targeting IRIB would cripple Tehran's ability to spread propaganda and attack or intimidate dissidents." She called on Western satellite providers to refuse to air IRIB channels outside of Iran's borders.
The report offers policy recommendations especially for the United States, Canada, the European Union and the United Kingdom. These recommendations include fresh sanctions on new leaders of the Iranian state media machine, halting the sales of audiovisual equipment, and working with satellite companies to terminate services to IRIB.
https://www.fdd.org/analysis/2020/03/07/torture-tv-new-fdd-report-makes-the-case-for-sanctions-on-the-islamic-republic-of-irans-state-run-media/
-----
Comment: American expediency in Afghanistan
Mar 8 2020
Mar 8 (IANS): The US-Taliban agreement signed at Doha on February 29 -- in the presence of Secretary of State Mike Pompeo -- does make a lot of sense from the American point of view as it marks an apparent progress on the promise of President Donald Trump that he would bring his troops back from the godforsaken Afghan territory which had been the scene of the longest running combat of America anywhere in pursuit of the post-9/11 'war on terror'.
The US picked up from where it had suspended talks being held by its representative, Zilmay Khalilzad, with Taliban , after the radical outfit decided on a tactical move to scale down its militant activity to facilitate resumption of negotiations. The agreement meant to pave the way for a swifter move towards final peace, essentially opens up the course for the US to reduce the strength of American troops to 8,600 in the immediate range and withdraw the rest before 14 months were over. The Taliban had earlier rejected any negotiation with the Afghan government on power sharing compelling Khalilzad to hold the Doha dialogue at the back of President Ashraf Ghani but it has now agreed to participate in 'intra- Afghan' talks from March 10 by which time mutual release of 1,000 prisoners held by the Taliban and nearly 5,000 in the custody of the Afghan government would supposedly be worked out too.
Perhaps the most interesting feature of the agreement is the nuanced distinction made by the US policy makers between the Taliban -- the Asian component of the radical Taliban-Al Qaeda axis -- and the Arab radicals led by Osama bin Laden who had dominated the Afghan Emirate installed at Kabul by Pakistan in 1996. The agreement rests on an affirmation from the Taliban that it would not allow Al Qaeda or ISIS to organise any act of terror from Afghan soil against the US. This clearly was designed to claim that the Trump Presidency had made America more secure -- notwithstanding the historical fact of the hands-in -glove kind of relationship existing amongst these radical entities.
It is significant that the agreement has been hailed by Taliban supporters as a victory -- those of them attending the event chanted Allah-o-Akbar all through the proceedings. Also, the tenor of religious extremism was so evident in the bitter remarks made by the Taliban top leader Mullah Baradar before pressmen earlier to the effect that even though the US had ousted the Islamic Emirate from Afghanistan that regime was coming back finally. Mullah Baradar was the signatory to the agreement with Zilmay Khalilzad.
The Afghanistan situation has differing implications for the US and India though their shared concerns would be on the possibility that the Taliban might again dominate Afghan polity and that Afghanistan might become the anchor once again of radical Islamic militancy in South Asia. President Trump had an innate aversion towards Islamic extremism and he was not keen beyond a point to fight somebody else's war overseas -- the 'war on terror' fundamentally required the Muslim world to fight the radicals on its own soil first. The US President, in his own words, would rather 'bomb out the enemy' on its home ground -- like he claimed to have done to ISIS in Syria and Iraq -- than leave American soldiers in a messy battleground.
For India, it is like a trouble spot next door made more dangerous because of the total connivance of Pakistan with Islamic radicals of the Pak-Afghan belt as also its sponsorship of the India-specific militants of LeT, JeM and Hizbul Mujahideen. US has kept Pakistan on its side for handling the Taliban challenge and visualised India's role as somewhat limited to aiding development and helping the Ashraf Ghani government to run a democratic regime in Afghanistan. The agreement pleases Pakistan but compels India to watch out against further developments in Afghanistan. The first response of Ashraf Ghani against accepting any conditionality for intra-Afghan talks, by way of release of prisoners, speaks of the atmosphere of distrust that prevails all round.
The Afghan strategy of India has to be to try to keep a democratic form of government going in Afghanistan and get both the US and Russia to work for that objective -- this alone will give India an effective channel of contact with that country. It is not ruled out that with the assertion of the Taliban in Afghan politics, the forces of the erstwhile Northern Alliance would also step up their activities and all of this would recreate domestic turbulence of the kind that had led Benazir Bhutto to despatch the Taliban to Kabul in 1993, in the first place. The Taliban were the radical fundamentalists produced by the Deobandi madrasas in the Pak-Afghan region particularly the North West Frontier and they suppressed all infighting ruthlessly to establish the Islamic Emirate at Kabul in 1996 under Mullah Omar.
This regime wedded to extreme fundamentalism was -- it may be recalled -- given recognition only by Saudi Arabia and UAE, besides Pakistan. The Taliban rule then lost no time in unleashing its hatred against the US and because of its intrinsic radicalism went after the symbols of idol worshippers too, destroying the Buddhist statues of Bamiyan in the bargain. The attempt of the US to oust the Taliban government in which Osama bin Laden was Mullah Omar's main mentor, had laid the run up to 9/11. Much water has flown under the bridge since but the historical antipathy of Islamic radicals towards the US-led West is not likely to fade away any time soon. In the post- agreement period there should ideally be a total convergence between the US and India on Afghanistan in the interest of the democratic world.
The Doha agreement is an expedient move forward for the Trump administration in a situation that had put the American troops in an Afghan quagmire on account of the persistent violence by the Taliban there, the duplicitous role of Pakistan as an intermediary between the US and the radical outfit and the inevitable play of Cold War alignments in a country that was aptly described once as 'the geographical pivot of history'. The new reality of the rise of faith-based terror propelled by radical Islam being a prime threat to the democratic order in the post- Cold War era is yet to sink in amongst the vulnerable countries. The danger of 'radicalisation' sustaining itself through the 'revivalist' forces within the Muslim world is still not fully grasped there -- the Organisation of Islamic Conference (OIC) though broadly friendly to the West has not been able to proclaim its rejection of the use of Jehad as a form of 'warfare' in today's world. Perhaps no other country is in for the kind of threat that India faces on this count, primarily because of the planned 'proxy war'
Pakistan had launched against this country since the mid-Nineties by infiltrating hardened Mujahideen across the LoC in Kashmir and elsewhere. The tentative US-Taliban agreement may help the Trump regime in the short run but it should ring in the alarm bells for India for the distinct possibility it creates of a hostile Pakistan further queering the pitch for India -- after acquiring a sway in Afghanistan through a friendly Taliban. Our strategy has to be a mix of strong counter-terror operations on our territory and even beyond our borders, an effective 'de radicalisation' programme and a diplomatic outreach to Afghanistan to prempt any anti-India manoeuvres of Pakistan in that country.
https://www.daijiworld.com/news/newsDisplay.aspx?newsID=682371
-----
Pakistan
Certain elements trying to attack Islam in garb of rights campaign: JI chief
March 08, 2020
KARACHI: Jamaat-i-Islami chief Senator Sirajul Haq on Saturday described the 'ruling elite' as a hurdle between women and their rights in Pakistan.
He expressed regret that certain elements were trying to exploit this oppression and attack Islam in the garb of their campaign for human rights.
Addressing a 'Khawateen Conference' at Bagh-i-Jinnah organised by his party's women wing, the JI chief said the women of Pakistan were actually deprived of their rights by the ruling elite, feudal lords and the capitalist system, which never allow the implementation of all the laws which were derived from the teachings of Islam to protect women and their rights.
"One wonders over the recent claims of the same ruling elite and feudal lords who proudly call for women's rights," he said. "They should be questioned by women themselves as to what have you done for rights of women while enjoying power in the parliament and in the economic system of the country. Islam is the only tested system for more than 15 centuries, which ensures rights of women in her every role. These feudals, ruling elite and capitalists don't want that system to work here in Pakistan."
He referred to the rural culture which was "patronised and run" by the powerful individuals and feudal lords with strong influence in the ruling elite and the parliament, where women were deprived of their share in inheritance, which no system ensured, except Islam.
He challenged the past and present rulers of the country of showing any practical example in which they had taken action against their party leaders, who were known for their role to run this culture in the rural areas.
"We [Jamaat-i-Islami] have suggested the Election Commission of Pakistan to disqualify all those people from contesting elections, who deprive their women from inheritance and those who don't pay Haq Mehar to their wives and also those who are instrumental in seizing women's rights guaranteed by Islam in their constitutes," he said.
Addressing the conference, the party's general secretary for women wing Durdana Siddiqi said that despite 50-year presence in the Sindh government, the PPP did nothing for safeguarding women's rights and the key segment of the society was still deprived of basic human rights.
In Sindh, including Karachi, she said services of many working women in factories were not regularised and they faced transport problems while experiencing insecurity at their workplace.
"Today, women are deprived of heirship rights and still face brutal tradition like karokari or honour killing," she added. "Our aim is to implement Islam in all spheres of life and build a true welfare society. It is the responsibility of the court of law and rulers to ensure women's rights under true spirit of Constitution and prevailing laws."
https://www.dawn.com/news/1539158/certain-elements-trying-to-attack-islam-in-garb-of-rights-campaign-ji-chief
------
URL: https://www.newageislam.com/islamic-world-news/is-linked-couple-using-anti/d/121254
New Age Islam, Islam Online, Islamic Website, African Muslim News, Arab World News, South Asia News, Indian Muslim News, World Muslim News, Women in Islam, Islamic Feminism, Arab Women, Women In Arab, Islamophobia in America, Muslim Women in West, Islam Women and Feminism