New Age Islam News Bureau
20 Aug 2018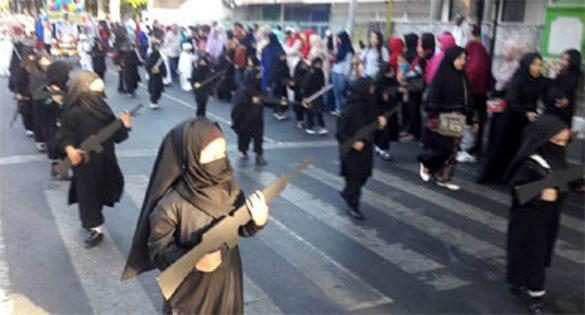 The kindergarten principle said the costumes were chosen as a way to increase the children's "faith and devotion to God". Photo by Twitter user rasjogja.
------
• Is It Really A Surprise That Radicals Might Have Infiltrated Indonesian Kindergartens?
• Muslim Clerics in Pakistan Honour Late Cardinal Tauran
• Palestinians Receive 10 Tonnes of Letters Israel Withheld For 8 Years
• Curtis Cheng's Son Calls For End to Political 'Scapegoating' Of Muslims
• Donate 10% of Eid Budget for Kerala Flood Victims: Farangi to Muslims
• A Journey to Hajj That Changed Islam in America
Southeast Asia
• Is It Really A Surprise That Radicals Might Have Infiltrated Indonesian Kindergartens?
• Wan Azizah: LGBT Fine As Long As Kept In Private, Not 'Glamourised'
• New education adviser wards off attacks over old comment on Muslim prayers
--------
Pakistan
• Muslim Clerics in Pakistan Honour Late Cardinal Tauran
• Prime Minister Khan Asks Nation to Have Compassion for Poor, Adopt Austerity
• Aitzaz's 'unilateral' nomination further divides opposition
• Pompeo to hold talks with Imran next month
• NAB summons Shahbaz today in three corruption cases
• Pakistan welcomes Afghanistan's ceasefire announcement on Eid-ul-Azha
• Two injured in ball bomb attack
--------
Mideast
• Palestinians Receive 10 Tonnes Of Letters Israel Withheld For 8 Years
• Israel Closes People Crossing With Gaza despite Egypt, UN Truce Attempts
• Several gunshots fired at US embassy in Turkish capital
• Yemeni army gains control of district in Hodeidah, kills Houthi leaders in Saada
• Turkey, Qatar central banks ink currency swap agreement
--------
Europe
• Curtis Cheng's Son Calls For End to Political 'Scapegoating' Of Muslims
• Egyptian Accused Of Hijacking Plane Extradited From Cyprus
• Europe must 'pay price' to save nuclear deal: Iran FM
• UK parliament attack suspect charged with attempted murder
• NRC reports Turkish-Dutch youngsters trained by radical Islamist Nureddin Yıldız in Turkey
--------
India
• Donate 10% of Eid Budget for Kerala Flood Victims: Farangi to Muslims
• Muslim Man, Who Converted to Hinduism, Moves SC for Wife's Custody
• Kashmiri Engineer Suspected To Be ISIS Sympathiser Deported From UAE
• Navjot Singh Sidhu May Have Overreacted By Hugging Pakistan Army Chief, but Not All Controversies Were His Own Making
• SIMI Activists' Encounter: Supreme Court Disposes Of Plea for Further Inquiry
• Mumbai blast accused Farooq Takla got Indian passport in 2011 with fake identity: CBI
--------
North America
• A Journey to Hajj That Changed Islam in America
• Washington Agrees with Putin on Iran's Pullout from Syria
• Lockheed Martin bomb reportedly used on school bus in Yemen
• Bolton repeats anti-Iran threats in Israel visit
• US forces to stay in Iraq 'as long as needed': Coalition
--------
Arab World
• More Than Two Million Muslims Performing Waqoof-e-Arafat Today
• Turkish Army, Allied Militants Set up New Bases in Northern Syria
• Notorious Terrorist Commander Killed in Huge Blast in Northwestern Syria
• ISIL Fails to Remove Syrian Army Siege in Sweida Deserts
• Syrian Army Sends More Troops to Northwest for Idlib Operation
• Syrian Army Repels ISIL's Heavy Offensive in Homs Deserts
• Syrian Army Accuses US of Planning ISIL Attacks from Al-Tanf Zone
• Egyptian monks sent to trial over killing of bishop
• New accusations against Lebanon's Hezbollah of running secret Beirut prisons
• Daesh landmine kills 5 civilians in Syria's Sweida province
• Iraq sentences 14 to death over Daesh Camp Speicher massacre
• US warns Americans not travel to Iraq due to 'terrorism,' general insecurity
--------
South Asia
• Afghanistan Announces Muslim Eid Holiday Ceasefire with Taliban
• 'Everything Is Business': Rohingya Crisis Presents Economic Opportunity
• Ghani announce conditional ceasefire with Taliban during Eid Al-Adha
• Taliban militants seize district in northern Faryab province
• NATO commander reaffirms support to Afghanistan after deadly Kabul attack
--------
Africa
• 19 Dead In Boko Haram Raid on Nigerian Village: Locals
• Italy threatens to send migrants 'back to Libya'
• Restoration of mast destroyed by al Shabaab in Ijara almost complete
• Boko Haram jihadists kill four farmers in NE Nigeria
Compiled by New Age Islam News Bureau
URL: https://www.newageislam.com/islamic-world-news/is-really-surprise-that-radicals/d/116157
--------
Is it really a surprise that radicals might have infiltrated Indonesian kindergartens?
August 20, 2018
This 17 August, Indonesia was shocked by an unusual – and deeply troubling – celebration of Indonesian Independence Day. A video circulated widely on Facebook (link is external) showing kindergarten students from Probolinggo, East Java, participating in an Independence Day parade wearing black robes typically associated with conservative Islamist groups and carrying fake automatic weapons.
Especially shocking to many Indonesians was the fact that the children were from a Kartika Kindergarten, managed by the Army Wives Association (Persit) and supposedly under the supervision of the local district military command (Kodim) – which one would assume would be wary of any displays of radicalism.
In a press conference following the uproar, the kindergarten principal said the kindergarten had chosen to "highlight Muhammad's struggle" as a way to increase their student's "faith and devotion to God". (link is external) The head of the local military command reportedly also gave permission for the costumes to be used, believing it would "promote Islamic values". (link is external)
Rather than easing tensions, the responses of the head of the kindergarten and the military commander raised further questions. Many claimed their responses – interpreting jihad as involving fighting non-believers with weapons – were evidence of the infiltration of Salafi teachings into the school system and the military. Others suggested it was further evidence of the influence of funds from Saudi Arabia on local understandings of Islam. Some were more forgiving, dismissing the debacle as the actions of a naïve teacher with little understanding of the political implications of such a display.
While the choice of costume was deeply disturbing, the fact that something like this could happen in an Indonesian kindergarten was not a surprise to me. I was more surprised that so few members of the public were aware of the poor supervision over the Indonesian early childhood education system.
In 2014, I conducted research on early childhood education in Aceh with Ary Hasriadi, a researcher from Ininnawa Makassar. We found that compared to other levels of education, early childhood education received the lowest level of supervision from the national government. Kindergartens were basically free to teach whatever they wanted, with limited direction or control by the Ministry of Education and Culture. In Aceh Timur District, for example, the local government issued a policy preventing girls from dancing, even at kindergarten level, apparently as a means of "implementing shari'a" and protecting girls from "bad behaviour". In a school in another district, female students were prevented from singing the national anthem, because the school principle believed it could "weaken their faith".
Under Indonesian law, early childhood education can be implemented both through the formal education system and through informal community-based organisations. Formal early childhood education institutions include kindergartens (Taman Kanak-Kanak, TK) and Islamic kindergartens (Raudatul Athfal, RA). Informal early childhood education includes playgroups and childcare centres, managed by the community. The law provides for government oversight of kindergartens and early childhood education but in practice, supervision is minimal, and focuses on the fulfilment of administrative requirements, such as suitable facilities, availability of teachers, play equipment and teacher-student ratios. The curriculum is subject to very little oversight.
According to data from the Ministry of Education and Culture, in 2016-2017, there were more than 88,000 kindergartens and more than 105,000 playgroups, childcare centres and other early childhood education institutions across Indonesia. In Jakarta alone, there were more than 2,400 kindergartens and more than 2,000 playgroups, childcare centres and other early childhood education institutions. In East Java, home of the Probolinggo kindergarten, there were more than 14,000 kindergartens and more than 19,000 playgroups, childcare centres and other early childhood education institutions.
Only a small number of these kindergartens are directly managed by the Ministry of Education and Culture. Some 96.4 per cent of kindergartens across Indonesia are managed by private community groups or religious organisations – including the Probolinggo kindergarten. Meanwhile, of the total 105,000 informal early childhood education centres, 95.4 per cent had yet to pass government accreditation.
Growth in early childhood education facilities in Indonesia has been driven in part by parents' desires to ensure their children have basic skills in reading, writing and arithmetic before they enter primary school. This has occurred because many primary schools are now using competency in reading, writing and arithmetic as selection criteria for new students, on the basis that schools are overcrowded.
As most Indonesians are Muslim, kindergartens and other early childhood education institutions are filled predominantly with students from Muslim communities. And as one would expect, early childhood education institutions also provide religious instruction, as many parents demand. Consequently, Indonesia has seen a blossoming of integrated Islamic kindergartens (Taman Kanak-Kanak Islam Terpadu, or TKIT), which aim to provide Islamic education at the kindergarten level and then channel students into the Islamic education system.
The quality of education in these TKIT can be highly variable. The growth in TKIT occurred at around the same time as the growth in the Tarbiyah movement, the conservative educational movement associated with the Prosperous Justice Party (PKS). But TKIT are not only associated with the Tarbiyah movement. There are many "moderate" TKIT, just as there are several are affiliated with Salafi or extremist groups. I visited an Islamic school in Bogor, for example, which offered education from kindergarten to high school level and received its funding from Salafis from Kuwait.
Because so many kindergartens are run by private groups and religious organisations, it is difficult to find any that do not have a religious affiliation. Non-denominational kindergartens are usually only found in large cities, and are usually only those kindergartens that are bilingual or follow an internationally recognised curriculum, like Montessori schools.
In community or privately-run religious kindergartens, children are often pushed to memorise religious material. At a time when they should be developing and refining their fine motor skills through activities like drawing and painting, children are asked to sit still and recite religious texts. The focus on memorising religious texts is in many cases not just the result of school policy, many parents also demand it. It is a great source of pride for many mothers when their children are able to recite Islamic texts before entering primary school.
The lack of control over teaching in kindergartens is also influenced by the educators. In several kindergartens they require their teachers to hold qualifications to teach at the kindergarten level, however, in many places, teachers have no formal training in early childhood education, let alone a particular educational philosophy. But with salaries sometimes as low as Rp 200,000 (about A$20) per month, what quality can one expect from these teachers?
Given these vast challenges, is it really surprising that there was a kindergarten that thought it was appropriate to encourage its students to wear long robes and carry weapons as a form of following the example of the prophet Muhammad?
Of equal concern is that so many parents and the parade organisers allowed the kindergarten children to dress as violent jihadists and did not see anything worrying about it. If the children were wearing bikinis or revealing costumes would members of the school community or parade organisers have stopped them from marching?
Indonesians should not blame only the kindergartens, we must blame ourselves for allowing our kindergartens to become places where this kind of thing can happen.
http://indonesiaatmelbourne.unimelb.edu.au/is-it-really-a-surprise-that-radicals-might-have-infiltrated-indonesian-kindergartens/
--------
Muslim Clerics in Pakistan Honour Late Cardinal Tauran
August 17, 2018
Muslim clerics in Pakistan's Punjab province paid glowing tributes to late French Cardinal Jean-Louis Tauran at a special mourning service held in Lahore on Aug. 12.
Cardinal Tauran, the former president of the Pontifical Council for Inter-religious Dialogue, died in the United States on July 5 at the age of 75 after spending years battling Parkinson's disease.
He visited the Islamic Republic eight years previously and made a strong impact due to his efforts to promote inter-faith harmony.
"This is our loss. We are saddened by the death of the cardinal, who spent his life among people like us," Allama Zubair Abid said at the service.
"About 15 years ago such interfaith gatherings were impossible in Pakistan. We respect anyone who promotes peace and reject extremism regardless of their faith," he added.
Allamu was one of about a dozen Muslims who joined the congregation at the city's Sacred Heart Cathedral.
The solemn ceremony started with a recitation from the Quran by Qari Khalid Mehmood of the Punjab Assembly and ended with the Peace Prayer of St. Francis.
During his trip to Pakistan in 2010, Cardinal Tauran met former president Asif Ali Zardari in Islamabad. He urged him to pardon Christian mother Asia Bibi, who had been sentenced to death under the nation's strict blasphemy laws.
Two years later, he voiced his support for Rimsha Masih, a Christian Pakistani girl who suffered from Down syndrome and who was arrested for allegedly burning a copy of the Quran.
In Lahore, the prelate inaugurated the Dominican Peace Center at a ceremony attended by leaders of the Catholic Church and the (Protestant) Church of Pakistan as well senior Muslims, Hindus, Sikhs and Bahais.
He later rubbed shoulders with Muslim and other clerics at a meeting organized by Lahore Archdiocese's National Commission for Inter-religious and Ecumenism.
In the wake of that trip, staff at the Peace Center regularly mailed greetings translated into Urdu to Muslim leaders to mark Eid, an important Muslim festival marking the end of the holy fasting month of Ramadan.
Cardinal Tauran also offered six-month scholarships to three Muslim educators who studied about Christianity at the Vatican.
Sohail Ahmad Raza, director of interfaith relations at Minhaj-ul-Quran International, an NGO founded in 1980, shared some memories of that visit.
"One day I walked into a church wearing a cap. The congregation asked me to remove it in honor of the Cardinal but he saw what was happening and allowed me to keep wearing it," he told ucanews.com.
"He was a compassionate and humble person. We shall miss his message of love at future Eid celebrations."
Lahore Archbishop Sebastian Shaw said the late cardinal was famous for never forgetting people's names. He remembered all the Muslim visitors he received from Pakistan even as he battled old age and poor health.
"I know he also felt much pain for the suffering of Rohingya Muslims [in Myanmar and at the refugee camps in Bangladesh]," the archbishop said.
"His final trip to Saudi Arabia was focused on laying a strong foundation for closer ties between the Holy See and Riyadh. We have lost a true champion of inter-religious dialogue."
https://www.ucanews.com/news/muslim-clerics-in-pakistan-honor-late-cardinal-tauran/83086
--------
Palestinians receive 10 tonnes of letters Israel withheld for 8 years
Aug 19, 2018
Palestinian people living in the Israeli-occupied West Bank are set to receive a special delivery of some 10.5 tonnes of letters and postal packages that the Tel Aviv regime had kept for up to eight years.
"We received tons of Palestinian mail because of the intolerance of the occupation authorities who refused to bring it through Jordan and as it is stamped for the Palestinian postal destination," Hussein Sawafta, the director general of the Palestinian post service, told reporters Sunday.
Postal workers in the West Bank city of Jericho sorted through scores of mail sacks that Israeli authorities had finally allowed to enter the city through the border with Jordan.
The Palestinian ministry of telecommunications posted photos of the letters on its Facebook page, showing large piles of letter bags in a room as employees worked on them.
Ramadan Ghazawy, a Palestinian postal official, said even after many years of delay, the Israeli side had done a poor job of classifying the mail.
"After eight years it didn't come categorized as it is supposed to be, with lists and categorized. We got it all mixed."
From toys to wheelchairs
Family photographs and personal letters as well as medicine were among the delayed packages. Other shipments also included children's toys to wheelchairs for the disabled.
The letters were kept in Jordan since 2010 because Israel refused to let any sort of direct transfer to the Palestinian Authority in the West Bank, Palestinian officials said.
Any letter or package that is addressed for the West Bank and Gaza Strip, undergoes Israeli security inspection first.
Israeli authorities claimed that this was not going to happen in future as moves were under way to implement a 2016 agreement that allows direct international mail flow to the West Bank.
However, Palestinian telecommunications minister Allam Mousa said Israel was delaying the agreement's implementation and still blocked mail directly through Jordan, and therefore violating international resolutions.
"A team was formed from across the city (Jericho) to deliver (the mail) to the people as soon as possible," said Sawafta.
Delivery problems
Ghazawy said delivering the mails was going to be difficult and even impossible in some cases due to the damage the boxes and the envelopes had sustained over these years, while the addresses on others had worn off.
"There are toys for kids. Maybe they were one year old when those gifts were sent. Now they are eight," Ghazawy said.
https://www.presstv.com/Detail/2018/08/19/571657/Israel-Palestine-letters-delayed-8-years
--------
Curtis Cheng's son calls for end to political 'scapegoating' of Muslims
19 Aug 2018
The son of murdered New South Wale police accountant Curtis Cheng has called for an end to political "scapegoating" of Muslims in Australia following last week's speech by senator Fraser Anning calling for a ban on Muslim immigration.
Alpha Cheng's father was shot in cold blood by a 15-year-old Muslim boy, Farhard Jabar, outside the NSW police headquarters in Parramatta in 2015. Two others were jailed for planning the attack and supplying the weapon.
But he said that was no reason to victimise a community.
"I am tired of needing to explain to adults that the actions of these individuals cannot be attributed to an entire group of people. If I, of all people, can think this way, then sure as hell our 'elected' representatives can think this way too," Cheng wrote in an opinion piece in Fairfax Media.
He said if anyone were to believe that all terrorists are Muslim, then "that person could, and should, be me".
"It would be frighteningly easy – and I choose those words deliberately – to keep indulging this train of thought. It is not that hard, really.
"A Muslim killed my father. His parents were Muslims. He was manipulated by other Muslims. They are related to Muslims. They probably came from a Muslim country. It is all their fault, kick them out, keep them out," he wrote.
But he said this was the narrative "those who wish to divide us" were trying to push to "victimise and persecute an entire group because of their religious/cultural background".
"We who seek to see the best in what Australians stand for must believe otherwise," he said.
"My best friend is of a Muslim background. I have met inspirational students, teachers, activists and politicians, who just happen to be of a Muslim background.
"Being a Muslim doesn't make them a good friend or person. In the same vein, being a Muslim doesn't make you a terrorist."
Cheng said he was tired of continually explaining his thoughts, but despite his family's loss he would not stop "seeking out the beauty, friendships, and empathy of those who make Australia worth standing up for in the first place".
"Our futures are shared. Let us not forget that."
https://www.theguardian.com/australia-news/2018/aug/20/curtis-chengs-son-calls-for-end-to-political-scapegoating-of-muslims
--------
Donate 10% of Eid budget for Kerala flood victims: Farangi to Muslims
August 19, 2018
The Islamic Centre of India has appealed to Muslims to at least donate 10 per cent of their Eid-ul-Adha budget for flood-ravaged Kerala.
Head of the Islamic Centre of India and senior member of All India Muslim Personal Law Board Maulana Khalid Rasheed Farangi said the amount should be deposited in the Kerala chief minister's relief fund.
"Bakr-Eid is a festival which symbolises sacrifice in the real sense. This time, it is the flood-affected people of Kerala who need our support," he said.
Farangi also said Eid will be celebrated on August 22 in Uttar Pradesh.
https://www.business-standard.com/article/pti-stories/donate-10-of-eid-budget-for-kerala-flood-victims-farangi-to-muslims-118081900455_1.html
--------
A Journey to Hajj That Changed Islam In America
August 20, 2018
MAKKAH: Malcolm X was an American Muslim minister and human rights activist. To his admirers he was a courageous advocate for the rights of blacks, a man who indicted white America in the harshest terms for its crimes against black Americans. But his detractors accused him of preaching racism and violence.
He has been called one of the greatest and most influential African Americans in history. Malcolm was a member of the Nation of Islam; an African American politico-religious movement founded by Wallace D. Fard Muhammad in the 1930s.Their goals were to improve the spiritual, mental, social, and economic conditions of African Americans in the US. Critics have described the organization as black supremacist.
Malcolm formally left the organization and made a Muslim pilgrimage to Makkah, where he was profoundly affected by the lack of racial discord among orthodox Muslims. He returned to America as Al-Hajj Malik El-Shabazz and founded the Organization of Afro-American Unity, which advocated black identity and held that racism, not the white race, was the greatest foe of the African American. Malcolm's new movement steadily gained followers, and his more moderate philosophy became increasingly influential in the civil rights movement, especially among the leaders of the Student Non-Violent Coordinating Committee. This organization was founded after Malcolm's awakening from his pilgrimage to Makkah.
"Never have I witnessed such sincere hospitality and overwhelming spirit of true brotherhood as is practiced by people of all colours and races here in this ancient Holy Land, the home of Abraham, Mohammad and all the other Prophets of the Holy Scriptures," Malcolm X wrote in his letter from Makkah, a letter that he spent the night duplicating while staying there. He sent a copy to his wife and his older sister Ella. He also asked for a copy to be sent to the press in the US.
He also wrote: "During the past 11 days here in the Muslim world, I have eaten from the same plate, drunk from the same glass, and slept on the same rug — while praying to the same God — with fellow Muslims." He ends his letter: "Never have I been so highly honored. Never have I been made to feel more humble and unworthy."
He signed his name with his new title Al-Hajj Malik El-Shabazz. "Al-Hajj" is a title given to those who performed the pilgrimage.
When Malcolm first arrived at Jeddah Airport, he noticed that the people there were pilgrims from Ghana, Indonesia, Japan and Russia. He then explained in his biography: "I don't believe that motion picture cameras ever have filmed a human spectacle more colorful than my eyes took in." He concluded "Chinese, Indonesians, Afghans. Many, not yet changed into the Ihram garb, still wore their international dresses. It was like pages out of the National Geographic magazine."
On Feb. 21, 1965, one week after his home was firebombed, Malcolm X was shot dead by Nation of Islam members while speaking at a rally of his organization in New York City.
http://www.arabnews.com/node/1359091/saudi-arabia
--------
Southeast Asia
Wan Azizah: LGBT fine as long as kept in private, not 'glamourised'
20 August 2018
KUALA LUMPUR, Aug 20 — The lesbian, gay, bisexual, and transgender (LGBT) community have a right to exist in Malaysia if they keep their "practice" behind closed doors, said Deputy Prime Minister Datuk Seri Dr Wan Azizah Wan Ismail.
However, she advised the minority group against seeking to "glamourise" their private lives, telling them to understand that in Malaysia is a country where the "official religion" is Islam.
"LGBTs have the right to practise whatever [it is] they do in private," she told Malay Mail in an exclusive interview.
"Islam is the official religion [of Malaysia], whereby you have certain practices and it is there in black and white.
"As a Muslim, I have my preferences as to their rights it is the same [rights] as the people who do not believe in Islam," Dr Wan Azizah explained.
Article 3(1) of the Federal Constitution states that "Islam is the religion of the Federation, but other religions may be practised in peace and harmony".
In addition, the Pandan MP pointed out that existing laws prohibit "homosexuality", and referenced Section 377A of the Penal Code that criminalises "carnal intercourse against the order of nature" as proof.
"Homosexuality, there are laws [against it]," she said.
Dr Wan Azizah's own husband, Datuk Seri Anwar Ibrahim, had been charged and sentenced for sodomy under the abovementioned Section, twice. He has maintained his innocence, claiming political persecution.
She was asked to comment on the recent debate surrounding minister in charge of Islamic affairs Datuk Mujahid Yusof Rawa's meeting with transgender advocate Nisha Ayub.
The minister in the Prime Minister's Department has insisted that comments he made to the press after the meeting were not orders or directives, but his personal views on matters such as the use of gender-specific washrooms by transgenders, among others.
Mujahid also asked detractors to stop manipulating his remarks or drawing conclusions from these, saying he was not bending over backwards to accommodate the LGBT community.
Mujahid courted controversy when he ordered organisers at the George Town Festival 2018 to remove the portraits of LGBT activists Pang Khee Teik and Nisha last week.
He met with Nisha in an attempt to defuse the situation, but the meeting only served to renew the controversy.
Attention on the treatment of the LGBTs was heightened following a recent mass assault against a transgender in Seremban, Negri Sembilan that left the victim in a hospital with multiple injuries.
Dr Wan Azizah's deputy, DAP's Hannah Yeoh, issued a statement jointly with Lim Kit Siang's aide, civil liberties lawyer Syahredzan Johan, to condemn provocative remarks that the two said may have fuelled the violence against transgenders.
https://www.malaymail.com/s/1664056/wan-azizah-lgbt-fine-as-long-as-kept-in-private-not-glamourised
--------
New education adviser wards off attacks over old comment on Muslim prayers
19 August 2018
KUALA LUMPUR, Aug 19 — Datin Noor Azimah Abdul Rahim has defended herself against fierce criticism online over a previous remark on mandatory Muslim prayers in schools now used to question her appointment to the National Education Advisory Council.
The chairman of the education lobby Parent Action Group for Education Malaysia (PAGE) said critics were mistaken in their belief that her organisation was opposed to Muslims' congregational prayers (solat berjemaah) in schools.
Noor Azimah, whose appointment was announced by the education minister on August 16, noted that PAGE's position was that simply such prayers should not be mandatory.
"We wish to reiterate that PAGE is in full support of congregational prayer (solat berjemaah).
"Unlike what was reported in the media, we did not object to the proposal for congregational prayer (solat berjemaah) to be conducted in schools," she said in a brief statement today.
She stressed that her group only wanted this to be optional due to practical considerations.
Noor Azimah argued that such events placed undue demands on parents' time and resources, adding that the prayers could either be done individually or in smaller congregations.
"We believe that there was an element of sensationalisation of our statement by certain media which was subsequently misunderstood by our critics," she added.
The statement came after Facebook users left over 390 mostly negative comments on an August 17 post on Education Minister Maszlee Malik's official Facebook page. The post announced Noor Azimah's appointment to the advisory council.
Many critical users focused solely on her alleged objection or obstruction to having Islamic prayers in schools, but mostly without providing basis for their claim aside.
Their dissatisfaction may have been based on Noor Azimah's comments as reported on December 2, 2017, in response to a Kuantan district education officer's reported instruction for all schools in the district to hold a mass prayer within the school compound before students leave for home.
The December 2 news report carried Noor Azimah's views that prayers were good but can be done in private, but said Islamic practices were never meant to be imposed on others and that principals should ensure non-Malays in the multiracial national schools do not feel alienated.
PAGE had also on December 6, 2017 already clarified Noor Azimah's comments.
Many of those who left Facebook comments in the past few days also protested her appointment by claiming that she was a "liberal", while a few questioned her qualifications.
According to the announcement, however, Noor Azimah who was once selected as one of business weekly The Edge's Ten Inspiring Malaysians in 2013 has been invited on multiple occasions to provide her views in programmes with the education ministry and ministry of science, technology and innovation.
Noor Azimah is also listed as a member of the education committee in government think-tank Academy of Sciences Malaysia.
Full report at:
https://www.malaymail.com/s/1663993/new-education-adviser-wards-off-attacks-over-old-comment-on-muslim-prayers
--------
Pakistan
Prime Minister Khan asks nation to have compassion for poor, adopt austerity
August 19, 2018
Prime Minister Imran Khan's first address to the nation since being elected the country's new premier was broadcast at 9.30pm on Sunday, August 19, 2018, by Pakistan Television.
The address — essentially a road map to the 'Naya Pakistan' PM Khan has promised his supporters — began following a recitation from Holy Quran and the playing of the national anthem.
The new premier promised wide ranging reforms with a focus on safeguarding Pakistan's resources and their redistribution from the rich to the disadvantaged.
He began by thanking those who had stood by him in his political struggle.
"I want to thank all my supporters who have been with me on this journey for the last 22 years," he started. "I salute all those who stood by me in my most difficult times; those who bore ridicule to support me ... I could not have been here without you." Clarifying that he had stepped into politics not to pursue it as a career or profession, PM Khan said his only motivation was to help set Pakistan "on the path envisioned by [Quaid-i-Azam Mohammad Ali] Jinnah and [Allama Mohammad] Iqbal."
The prime minister then moved on to identifying Pakistan's economic challenges and later spoke about how he would go about fixing them.
Foremost on his mind were Pakistan's debt liabilities.
"Never in Pakistan's history have we faced such difficult economic circumstances," he said. "Our debt burden is now at Rs28 trillion. We haven't been as indebted in our entire history as we have become in the last ten years," he regretted.
"The interest that we have to pay on our debt obligations too has reached levels where we have to take on more debt just to settle it," he said.
Meanwhile, "our human development index ranking is also in the doldrums" he observed. Quoting from a United Nations report, PM outlined deficiencies in Pakistan's human development, noting that: "We are unfortunately among the five countries where infant mortality is highest because they do not have access to clean water."
"We also have the highest rates of mortality for pregnant women," he regretted.
He also spoke passionately about Pakistan suffering from the highest incidences of stunting in children. "I have been saying this for ages and nobody took me seriously. We are talking about 45 per cent of this nation's children. They are not getting proper nutrition. They are not developing properly. They are automatically left behind. What must their parents go through seeing their children in such a state?" he asked.
Khan then pointed to the difference in the lifestyles of Pakistan's rich and poor.
"I want to speak about how the rich and powerful live in this country," he said. "The prime minister has 524 servants and 80 cars. The prime minister, which is me, also has 33 bulletproof cars. The prime ministers all have helicopters and aeroplanes to fly them. We have massive governor houses and every conceivable luxury."
How could it be, he asked, that: "On one hand we don't have money to spend on our people, and on the other we have people living like our colonial masters used to live?"
Exhorting the rich and the privileged to reassess their priorities, he urged: "We need to be compassionate towards our compatriots: towards those who cannot afford to eat twice a day. We need to ask what will happen to the 25 million children out of school. We need to ask what happens to our population. We need to ask how we are to grapple with climate change.
"This is the time that we decide to change our destiny."
The prime minster then explained he will use the examples of governance set forth by the Holy Prophet (Peace Be Upon Him) "to bring the nation out of its plight."
"What did the Holy Prophet do to unite all the tribes living in the Arabian peninsula?" he asked. "What did he do to mould them [the Arabs] into one of the most powerful nations on earth? I want to speak on those principles today.
"I want to speak about how we are going to lift ourselves based on that model."
The prime minster then proceeded to give a five-point agenda:
"The first thing is the supremacy of law," he said. "The law has to be the same for everyone.
"The second thing is Zakat. What does Zakat mean? It means that I spend based on what I have on those who do not have enough. This is called progressive taxation. The rich pay more to subsidise the poor. This happens in Scandinavian countries, where there is good healthcare, good education and justice for all. The disabled, the orphans and widows have support.
"The third is compassion. In the west, they care for animals in ways that would put us to shame. The have shelters for animals. Animals fare better there than humans do here. We need to incorporate those lessons.
"The fourth is merit. Without merit you cannot do anything. The responsibilities of the ruler entail that they are sadiq and ameen. They have to be truthful . They can have no conflict of interest. The west has these laws. In our country, you see people amassing untold riches during their tenure in power.
"The fifth is education. The Holy Prophet stressed education above everything else. After the Battle of Badr, he made it incumbent on his people to attain an education. Look at us today: we are nowhere because we have not followed his instructions."
Perhaps realising that he was placing a tall order for his supporters, he said: "You should not feel overwhelmed. We are in this together and we will find a way out together."
He then proceeded to explain what he himself was doing towards that goal.
Measures to cut down on expenses
PM Khan detailed how he plans on cutting down his own as well the country's expenditure, saying: "I will keep only two people with me out of the [prime minister's staff of] 524. I will be staying in a three-bedroom house that served as the military secretary's house.
"I will have to keep two of the cars because my intelligence agencies tell me my life is under threat. I also wish I did not have to move out of Banigala, but I have been forced to do so because it is not safe to stay there."
"We will be auctioning off all the other bullet proof cars," he promised. "I invite businesses to come and buy them. We will put the proceeds of that auction in the state treasury.
"I also wish that all the governor houses are kept as simple as possible," he said. "I further wish that the PM House will be turned into a university. It is in a great location to be one.
"I am forming a committee under Dr Ishrat Husain to figure out how to cut expenses nationwide," he revealed.
He also urged his supporters to adopt austerity measures.
"I want you to understand that the money we lavish on ourselves could be spent on those who our state has left behind. Naya Pakistan also requires a 'nayi soch'. We have to think about those who we have left behind."
Tax reforms instead of loans
On reforming the financial sector, PM Khan explained that instead of trying to rebuild the economy via external loans, his government will try and fulfill its needs from within.
"No country can succeed by taking on debt again and again," he said. "Debts are taken for brief periods of time. We cannot go on the way we have. And you need to realise that when these people give us money, they attach conditions to it.
"I will be ashamed to go abroad and ask for money. If the leader of the nation has to go and ask for debt, how will my nation feel?
"We also need to pay our taxes. I am going to fix the Federal Board of Revenue on a priority basis. It has lost its credibility and that is why people don't pay taxes. I will promise my people that I will protect your tax money and spend it on you.
"We will keep our end of the bargain, but I want you to pay your taxes too. That is your responsibility. Pay your taxes so that we can lift our destitute out of poverty.
"I promise you, if I can assure you that your tax money will be spent on you, we will not face these deficits in the future. God willing, this will not happen again.
"We are also creating a task force to repatriate wealth looted from this country. We need to put an end to money laundering. It is our biggest problem right now.
"We need to boost our exports. How will that happen? We will need to help export industries. We have made a business advisory council to help address their challenges.
"Then we need to boost investment. We need to bring in money from abroad. There is going to be an office in the prime minister's secretariat dedicated to this purpose.
"We need to help our small and medium businesses. They are the backbone of our economy. We need to reduce the cost and difficulties of doing business for them."
Message to overseas Pakistanis
PM Khan invited overseas Pakistanis to invest in the country and help rebuild the economy. "We need to facilitate overseas Pakistanis," he said. "Our embassies need to facilitate them in every way we can.
"I have a special message for overseas Pakistanis. We are trying our best to create a good investment environment for you. We want that you bring your money to Pakistan and park it in Pakistani banks as we are short of foreign exchange. Send your money through official accounts. We need your help."
Rooting out corruption
The prime minister said that rooting out corruption will also be a high priority for his government.
"I will meet the NAB chairman and facilitate him with whatever he needs," he said. "We will also enact a law for whistleblowers like we did in Khyber Pakhtunkhwa. Whoever helps identify corruption will get a share of the money that we recover. The SECP and the FIA will be fixed on a priority basis.
"I have kept the FIA and the interior ministry under me because I want to personally oversee our efforts to eradicate corruption.
"I want you all to understand that the moment we start going after corrupt people, they will start raising a hue and cry. They are everywhere. They will come out on the streets. They will say that democracy is in danger. I want you all to continue standing with me. We will save this country or these corrupt people will save themselves."
Revamping the judiciary
PM Khan said that he will seek Chief Justice Mian Saqib Nisar's help to revamp the judicial system.
"The next focus will be on revamping our judiciary," he said. "We have a massive backlog of cases. We will sit with the chief justice and discuss how we can ensure that cases can be wrapped up within a year. We have to do this for our people.
"I want to make a special request to the chief justice. There are quite a few widows who have approached me for help. They are embroiled in property disputes. I want to request the chief justice: please, at least for widows, resolve such cases at the earliest.
"I declare this as my resolve: the weak who are systematically discriminated against in our country will always have my support."
KP police model to be implemented in Punjab
The prime minister said he has asked former KP IG Nasir Khan Durrani to implement the KP police model in Punjab.
"We also need to fix our police," Khan said. "The Khyber Pakhtunkhwa police is our biggest success. We won the election because of how good our police had become. The former IG who oversaw those successes, Nasir Khan Durrani, has been asked to help fix the Punjab police and he has agreed.
"We do not have the power to do so in Sindh, but we will work with the Sindh government as well to do what we can."
Educational reforms
The prime minister said his focus will be to improve public sector education as well as madressahs (seminaries).
"We also need to fix our education system," he said. "We need to focus on government schools, which are in a shambles. I know that salaried individuals are making huge sacrifices to make sure their children get a decent education. They sometimes work two jobs to give their children the best they can.
"We therefore need to make sure our government schools are good enough that everyone can send their children to them. This is an emergency."
"We also cannot leave madressah students behind. They too should become engineers and doctors and generals. Why do we not give them the opportunity? We need to do it."
Healthcare reforms
PM Khan stressed the need to "fix the healthcare system. It is immensely difficult to fix the pre-existing system. It takes a long time: the Khyber Pakhtunkhwa health system did not start showing results till the fifth year. But we still need to do it.
"We also need to introduce the health card all over Pakistan. We have given every household in Khyber Pakhtunkhwa Rs550,000 in case of a healthcare emergency. We should give it all over Pakistan."
Dams to be built to end water crisis
Khan said that a "water crisis is brewing" which require dams to be built to resolve it.
"There was a crisis brewing but we weren't prepared," he said. "We have an emergency. Karachi doesn't have water due to the tanker mafia. Quetta and Islamabad too.
"A ministry will work towards saving water. New methods will be taught to farmers. Canals will be lined to save water, while the Bhasha Dam will be constructed at all costs. It's a commendable initiative started by the chief justice."
Civil service reforms
The PM said that he will enforce meritocracy to restore civil service to its formerly held high standards. "In the 1960s we were considered one of the best in the world," he said. "It is unfortunate how we have fallen behind. Dr Ishrat Hussain is forming a committee to bring merit back.
"We will not tolerate any political interference in anyone's appointment. I just want people ready to work for the nation.
"But an ordinary man, when he steps into any govt office, also has to be given respect. This is his right, which he will be given. Bonuses will be given to those who serve people in a timely manner. Otherwise, penalties will also be imposed."
Devolution of power
Khan stressed the need to transfer the power to the local government, saying: "Power must be given to the bottom-most tier. Nazims will be directly elected in districts, while checks and balances will be kept.
"Development funds are given to MNAs and MPAs but the development takes place in baldiyaat."
Plan for the youth
The prime minister said that "jobs must be given to the country's youth. A big project of housing will be started. It will be a one-window operation [create] jobs and [to boost] industries. The youth will be given loans without interest so they can become entrepreneurs.
"Cricket grounds have been taken over and houses schemes made over them. We need to build playgrounds and parks for them."
Environmental issues
Khan said he will replicate KP's billion tree in the entire country. "We planted 1 billion trees in KP," he said. "We will bring our expertise and plant trees all over the country. Karachi has a heatwave as it has nothing but concrete. A large-scale initiative will be initiated to make Pakistan green again."
"The menace of pollution has to be addressed immediately as it leads to the spread of innumerable diseases."
Compassion for the underprivileged
The prime minister vowed that his government will have compassion for and take care of the neglected and the underprivileged.
"Street children are our children, and if we don't look after them who will?" said Khan. "Widows and the handicapped ... we will take responsibility of all.
"I want us to develop compassion in our hearts. It's in the animal kingdom where it is the survival of the fittest. In human beings, it [should be] different.
"The Madina model"
PM Khan said he "will follow Medina's example" to rid Pakistan of its chronic problems.
"They did not borrow from Roman or Persian empires," he said. "They strengthened the people and made them self-sufficient. They adopted simple ways.
"I will show you that, I will lead a simple life. I will save every penny, I will do no business as my doing so will only harm other businessmen."
Take ownership and help me help you: PM
The prime minister, at the end of his maiden address, told the nation to play a more proactive role in the rebuilding.
"I need your help," he said. "When you are being robbed you don't wait for the police to come. You nab them and hand them over. [Similarly], you should help me catch these robbers of the nation. This is the social media age. Keep check on and report such people. We have to act as a team. Help me protect your money."
"We have to take ownership and serve the nation. My vision is: one day will come when Pakistan will have no one taking Zakat. If we succeed in our nation building we will offer aid to other countries.
"This is my idea for Pakistan. This is the Pakistan I want to see."
https://www.dawn.com/news/1427995/prime-minister-khan-asks-nation-to-have-compassion-for-poor-adopt-austerity
--------
Aitzaz's 'unilateral' nomination further divides opposition
Amir Wasim
August 20, 2018
ISLAMABAD: Cracks in the alliance of opposition parties have further widened following a unilateral decision by the Pakistan Peoples Party (PPP) to nominate senior party leader and legal wizard Chaudhry Aitzaz Ahsan as its candidate for the post of president of the country.
Reacting to media reports that the PPP has decided to field Mr Ahsan in the Sept 4 presidential election against the nominee of the ruling Pakistan Tehreek-i-Insaf (PTI) Dr Arif Alvi, the Pakistan Muslim League (PML-N) on Sunday categorically stated that Mr Ahsan could not be considered a joint opposition candidate because the PPP had not consulted any of the parties sitting on the opposition benches before making the decision.
The PML-N is also angry because the PPP refused to vote for its president Shahbaz Sharif in the Aug 17 election for the office of prime minister only because of his controversial statements against the PPP leadership in the past, whereas the PPP has now nominated a person who had also made some nasty remarks about the illness of Nawaz Sharif and his wife Kulsoom Nawaz in recent past.
"How can you expect us to vote for the nominee of Asif Ali Zardari after refusal of the PPP to vote for our president (Shahbaz Sharif) in the National Assembly and our candidate (Hamza Shahbaz for the office of chief minister) in the Punjab Assembly," said PML-N information secretary and Senator Mushahidullah Khan, when contacted to seek his party's viewpoint on the PPP's move.
Mr Khan alleged the PPP had nominated Mr Ahsan intentionally in order to provide a walkover to the PTI in the presidential election. "The PPP has been hand in glove with the PTI since earlier this year when first it managed to topple the PML-N government in Balochistan and then got Sadiq Sanjrani elected as Senate chairman." The PML-N leader claimed that the PPP was doing all this "under pressure" after the opening of the fake accounts case against Mr Zardari and his sister Faryal Talpur. "You see, how he (Mr Zardari) has been granted a protective bail in the case on a holiday," he said in reference to the granting of two weeks' protective bail to the PPP co-chairman by the Islamabad High Court on Saturday, only a day after a banking court had issued arrest warrants for him.
Mr Khan advised the PPP to better "formally" join the treasury benches with the PTI, instead of "playing tricks" on the opposition parties. He termed the PPP's justification of not voting for Shahbaz Sharif "unrealistic and an excuse".
The PPP had refused to vote for Mr Sharif despite agreeing on a formula during an opposition parties' multi-party conference earlier this month that authorised the PML-N to nominate any candidate for the PM office.
Mushahidullah Khan recalled that when Shahbaz Sharif had stated that he would drag Asif Zardari in the streets, the party's supreme leader Nawaz Sharif as well as the PML-N had expressed their displeasure and asked the younger Sharif to withdraw his statement. On the other hand, he said, Mr Zardari never withdrew the offensive remarks he had uttered against Nawaz Sharif on a number of occasions.
When asked if the PML-N would not vote for Mr Ahsan because of his controversial statements about the illness of the ousted prime minister and his wife, Mr Khan said that "this issue is irrelevant" as they knew that the PPP was actually a 'B-team' of the PTI.
When contacted, PPP's Punjab secretary general Chaudhry Manzoor Ahmed rejected the PML-N's allegation that the party or Mr Zardari had been doing all this under pressure. "There is no pressure on us," he said, adding that had there been any deal, Anwar Majeed would not have been arrested in the fake accounts case.
The PPP leader said that so far they had only proposed the name of Aitzaz Ahsan and they would soon start contacts with other parties. He claimed that the party was in touch with the PML-N at "certain level" and was awaiting a response.
Responding to a question, Mr Ahmed said Shahbaz Sharif could not have won the election even if the PPP had voted for him. "You could only raise objections if we had voted for Imran Khan," he added.
The PPP leader said the party had tasked different members with contacting political parties on its proposal to nominate Mr Ahsan for the post of president.
Similarly, PPP information secretary Dr Nafeesa Shah said that Aitzaz Ahsan was the best choice for the office of president as he had a long struggle for the cause of democracy in his credit. She said the president should be a person like Aitzaz Ahsan who should be acceptable to the federation.
Rejecting the PML-N's objections to Mr Ahsan's unilateral nomination, she said that "every party has its own strategy".
The PTI has already approved the nomination of Dr Arif Alvi as the party's candidate for the post of president.
Full report at:
https://www.dawn.com/news/1428057/aitzazs-unilateral-nomination-further-divides-opposition
--------
Pompeo to hold talks with Imran next month
Anwar Iqbal
August 20, 2018
WASHINGTON: US Sec­retary of State Michael Pompeo is likely to visit Islamabad in the first week of September for consultations with Prime Minister Imran Khan and his team on issues of mutual interests, diplomatic and official sources told Dawn.
Mr Pompeo, who is expected in Islamabad on Sept 5, will likely be the first foreign dignitary to meet the newly elected prime minister, who took the oath of his office on Saturday.
During his talks with the Pakistani officials, Secre­tary Pompeo may focus on two major issues: efforts to revive once close ties between the two states and Pakistan's support for a US-led move to jump-start the Afghan peace process, the sources said.
Pakistan is likely to seek the US support for its bid to obtain an expected $12 billion financial package from the International Monetary Fund. Islamabad also hopes that an improvement in relations will lead to the resumption of US security assistance to the country and the restoration training facilities for their military.
Alice Wells, who heads the Bureau for South and Central Asian Affairs at the State Department, may also accompany Mr Pompeo, according to the sources.
Mr Pompeo and his delegation may also visit India and Afghanistan during this trip, which is part of the Trump administration's efforts to conclude a peace agreement in Afghanistan before the mid-term congressional elections in the United States scheduled for November.
Earlier this week, US officials urged Pakistan to help end the Afghan war, adding that recent terrorist attacks in Afghanistan had not discouraged them from negotiating peace with some Taliban factions. Ms Wells reminded Pakistan that now was the time to peacefully end the 17-year-old war in Afghanistan and encouraged Islamabad to play a leading role in this process.
Apparently, Washington believes that Pakistan still has enough influence over the Afghan Taliban to persuade them to join the peace process, and wants Islamabad to help establish a political set-up in Kabul that would allow a peaceful withdrawal of American troops from Afghanistan.
On Monday last week, Secretary Pompeo telephoned Saudi Crown Prince Mohammed bin Salman and sought his support for arranging another ceasefire in Afghanistan.
The first ceasefire on Eidul Fitr led to the first face-to-face talks between the US and Taliban officials in Doha last month. Both sides are now trying to hold the second round also in Doha in September.
In recent statements, the US officials have also expressed the desire to restore their once close ties with Pakistan.
On Saturday, the US State Department said that it recognised and welcomed the new Pakistani prime minister, dispelling the impression that Washington was not happy with Imran Khan's election.
In an earlier statement, a senior US official had expressed the hope that the Pakistan Tehreek-i-Insaf government would work with the US for translating tough issues into mutual achievements.
In her speech at the Pakistan Embassy earlier this week, Ms Wells not only welcomed Mr Khan's election but also expressed the desire to work with his government for resolving difficult issues. "A negotiated political settlement to the 17-year-long conflict in Afghanistan is a critical shared goal, and an area where we all would hope to see progress in the coming months," she said.
In a similar message on Tuesday, Secretary Pompeo also stressed this point and expressed the desire to work with Pakistan to "advance (the) shared goals of security, stability, and prosperity in South Asia".
However, on July 27, the State Department had expressed "concerns about flaws in the pre-voting electoral process", noting that "these included constraints placed on freedoms of expression and association" during the campaign period. The department pointed out that such practices were "at odds with Pakistani authorities' stated goal of a fully fair and transparent election".
Full report at:
https://www.dawn.com/news/1428061/pompeo-to-hold-talks-with-imran-khan-next-month
--------
NAB summons Shahbaz today in three corruption cases
August 20, 2018
LAHORE: The National Accoun­tability Bureau (NAB) summoned on Monday former chief minister and PML-N president Shahbaz Sharif for his alleged involvement in three corruption cases.
NAB has been conducting inquiries against Mr Sharif in different corruption cases, including Ashiana-i-Iqbal Housing Scheme, Punjab Power Development Company (PPDC) and the potable water project.
Mr Sharif was directed to appear before the NAB investigating team at 11am in the Ashiana-i-Iqbal Housing scheme corruption case and at 2pm again in the PPDC case.
The PML-N president has already appeared three times before the NAB investigating team and recorded his statements.
In the past, Mr Sharif had requested the NAB team to suspend its investigation till the general election 2018.
The NAB team has now resumed the investigation after the general election and started summoning people in the cases.
In the PPDC case, Mr Sharif was facing charges of illegal appointments.
The NAB investigating team had rejected his reply to the questionnaire in the case and termed it incomplete and unsatisfactory.
According to a notification available with Dawn, NAB said: "You (Shahbaz Sharif) are hereby called upon to appear on August 20 at 2pm at Investigation Wing-II, NAB Thokar Niaz Baig before combined investigation team to record your statement regarding nomination of Syed Farrukh Ali Shah as member NEPRA (Punjab) and his appointment as Chief Executive Officer (CEO) PPDCL."
Mr Sharif was also summoned in the Ashiana-i-Iqbal Housing Scheme case over disclosures of former principal secretary Fawad Hassan during investigation.
Fawad was arrested by NAB for alleged misuse of authority and awarding contracts illegally in the housing scheme while serving as the secretary of implementation to Mr Sharif in 2013.
The clean water case pertains to alleged corruption in Punjab Saaf Pani Company.
Mr Sharif had earlier appeared before NAB's joint investigation team in the Saaf Pani case and answered questions put to him by investigators.
The company was established by the Punjab government to conceive, plan, design, execute and manage projects for the provision of safe drinking water, in terms of both access and quality, to communities living in rural areas of the province.
Full report at:
https://www.dawn.com/news/1428054/nab-summons-shahbaz-today-in-three-corruption-cases
--------
Pakistan welcomes Afghanistan's ceasefire announcement on Eid-ul-Azha
Aug 20, 2018
ISLAMABAD: Pakistan has welcomed the Afghan government's declaration of a ceasefire during the upcoming religious festival of Eid -ul-Azha. Pakistan fully supports all such efforts that contribute to achieving durable stability and lasting peace in Afghanistan.
Coinciding with the Independence Day of Afghanistan, the announcement has an even greater significance.
"Pakistan considers Eid-ul-Azha as an appropriate occasion for all parties to make a commitment to a ceasefire along the lines of a much-appreciated ceasefire in Afghanistan during Eid-ul-Fitr," said a statement of the FO here Sunday.
"The people of Afghanistan deserve peace. We also call upon all parties that in defence of the holy tradition of sacrifice during Eid ul Azha to implement a ceasefire in hostilities – preferably for a more extended period of time. This would allow the people of Afghanistan to celebrate the great Abrahamic tradition in comfort and peace, during this holy month of Zil Hajj," added the statement.
Full report at:
https://www.pakistantoday.com.pk/2018/08/19/pakistan-welcomes-afghanistans-ceasefire-announcement-on-eid-ul-azha/
--------
Two injured in ball bomb attack
AUGUST 20, 2018
KARACHI: A ball bomb attack on a house in Landhi Shah Latif Town injured at least two women.
The ball was thrown by unidentified persons from outside the house. SSP Malir said that the attack was a result of an old rivalry.
This is the second attack on Ghulab Nabi Baloch, who is a vegetable vendor. The same rivalry has led to a gun attack in the past.
Law enforcement agencies are confident that they will apprehend the attackers soon.
https://dailytimes.com.pk/286377/two-injured-in-ball-bomb-attack/
--------
Mideast
Israel closes people crossing with Gaza despite Egypt, UN truce attempts
19 August 2018
Israel closed its only crossing for people with the Gaza Strip on Sunday except for humanitarian cases over border incidents that saw protests and clashes at the weekend, an Israeli official said.
A spokesman for the Israeli defence ministry unit that oversees the crossing confirmed it had been closed. Border protests and clashes on Friday left two Palestinians dead by Israeli fire.
The closure and border incidents came despite attempts by Egypt and UN officials to reach a long-term truce between Israel and Hamas, the Islamist movement that runs the blockaded Gaza Strip.
https://english.alarabiya.net/en/News/middle-east/2018/08/19/Israel-closes-people-crossing-with-Gaza-despite-Egypt-UN-truce-attempts.html
--------
Several gunshots fired at US embassy in Turkish capital
20 August 2018
Several gunshots were fired from a vehicle at the US embassy in the Turkish capital, Ankara, on Monday, hitting a window in a security cabin but causing no casualties, police and broadcaster CNN Turk reported.
The attack coincided with a deepening row between Ankara and Washington over the trial of a U.S. pastor in Turkey.
A police officer told Reuters at the scene the drive-by shooting occurred around 5 a.m. (0200 GMT) and that nobody was hurt. The embassy was set to be closed this week for a public holiday to mark the Islamic Eid al-Adha festival.
Police teams were searching for the assailants, who fled in a white car after the attack, CNN Turk said. Four or five gunshots were heard, it said.
Broadcaster Haberturk showed police teams inspecting one of the entrances to the embassy and apparent damage caused by a gunshot could be seen in one window. It said empty cartridges were found at the scene.
Full report at:
https://english.alarabiya.net/en/News/middle-east/2018/08/20/Several-gunshots-fired-at-US-embassy-in-Turkish-capital.html
--------
Yemeni army gains control of district in Hodeidah, kills Houthi leaders in Saada
19 August 2018
A Yemeni military source confirmed on Sunday that most of al-Durahmi district, which is a key strategic point to enter Hodeidah port city, is under the control of the Yemeni legitimate forces which combed large areas of the city amid the surrender of dozens of Houthi militias.
This military development comes on the heels of Yemeni army clashes with Houthi militias, pushing them out of al-Durahmi city, while seizing control of the main road linking between the governorates of Hajjah, Saada and Hodeidah.
In another development, a military source said that the Yemeni national army liberated positions in Jabal al-Gharra and its surrounding areas in Saada and east of Baqim, after intense battles in which dozens of Houthi leaders were killed, among them senior field leaders.
In al-Jawf, the Yemeni national army launched a major offensive against Houthi positions liberating strategic posts in the district of Khab ash-Shaaf.
Full report at:
https://english.alarabiya.net/en/News/gulf/2018/08/19/Yemen-s-Army-control-most-of-Durahmi-killing-Houthi-leaders-in-Sadaa.html
--------
Turkey, Qatar central banks ink currency swap agreement
Aug 20, 2018
Qatar and Turkey's central banks have entered a currency swap agreement aimed at providing liquidity and support for financial stability.
Qatar's central bank made the announcement on Sunday, several days after Doha promised to give Turkey $15 billion in support.
The deal, signed by both central banks' directors, will create a two-way currency exchange line, which will in turn bolster Turkey's currency.
The Turkish lira has lost about 30 percent of its value against the US dollar since the beginning of August. The currency crash occurred in the wake of tensions with the United States. The detention of Andrew Brunson, an American pastor, in Turkey has cast doubts over the future of Ankara's partnership with Washington.
On Friday, UAE State Minister for Foreign Affairs Anwar Gargash hit out at Qatar's pledge to direct investment in Turkey.
In a post on his Twitter page, Gargash referred to a recent visit to Ankara by the Qatari emir and his pledge to help Turkey overcome an ongoing currency crisis and described it as an attempt to "buy sovereignty".
"Full sovereignty cannot be bought with money but is achieved by establishing sincere and reliable relations with surrounding countries," Gargash said in his tweet, the daily Gulf News reported.
The emir of Qatar arrived in Turkey on a "working" visit aimed at strengthening mutual cooperation.
In a "private" meeting, Turkish President Recep Tayyip Erdogan and Sheikh Tamim discussed bilateral relations and ways to expand the existing strategic ties between the two sides in various fields.
During the meeting, Qatar pledged $15 billion in direct investments in "Turkey's financial markets and banks", Turkish officials said.
The announcement helped the Turkish national currency lira recover from record lows against the US dollar.
Only one day after Qatar pledged the investment, the lira strengthened some 4 percent against the greenback to around 5.75 per dollar.
Media outlets close to the UAE and Saudi Arabia quoted "analysts" as saying that Qatar had been "forced" to make the investment pledge in exchange for keeping the Turkish military base and Turkish soldiers on its soil.
On August 10, US President Donald Trump announced that his administration was doubling steel and aluminum tariffs on Turkey. The move came as part of the US' reaction to Turkey´s two-year-long detention of an American pastor over terrorism charges.
Full report at:
https://www.presstv.com/Detail/2018/08/20/571681/turkey-qatar-ban-deal-currency
--------
Europe
Egyptian accused of hijacking plane extradited from Cyprus
Aug 19, 2018
An Egyptian man accused of hijacking a plane and diverting it to Cyprus has been sent back from the Mediterranean island to his homeland after a two-year extradition battle, officials said Sunday.
Seif al-Din Mohamed Mostafa, 61, allegedly used a fake suicide belt to seize an EgyptAir airliner from Alexandria to Cairo in March 2016.
"Cypriot authorities yesterday handed over to the Egyptian authorities, Egyptian detainee Seif al-Din Mohamed Mostafa," a statement from Cyprus's justice ministry said.
Officials at Cairo airport confirmed his arrival amid tight security late Saturday. Egypt's attorney general said that Mostafa was being handed over to prosecutors in the country for further investigations.
Mostafa fought his extradition on the grounds he will not receive a fair trial in Egypt, but the Cypriot supreme court dismissed Mostafa's appeal against being sent home last year.
Mostafa's request for asylum was refused as Cypriot authorities deemed him a "perpetrator of serious crimes". During hearings, Mostafa described himself as a liberal who wanted democracy for an Egyptian people subjected to "abductions, disappearance, illegal detention and extrajudicial killings".
Mostafa said his motive for hijacking the domestic Egyptian flight was to seek asylum in Italy and tell the world about the "repressive" Egyptian government.
The justice ministry in Cyprus said Mostafa eventually "expressed the wish to go back to his own country" and withdrew an appeal to the European Court of Human Rights that stayed the extradition. "
Egyptian authorities have given assurances that Mostafa will face legal procedures that comply with international standards," the ministry said.
According to Cypriot police, Mostafa gave a voluntary statement admitting to the hijacking, which ended peacefully with his arrest. Most of the 55 passengers were quickly released after the plane landed, but some escaped only minutes before the six-hour standoff finished.
https://www.presstv.com/Detail/2018/08/19/571645/Cyprus-Egypt-plane-hijack-extradition-Cairo-airport
--------
Europe must 'pay price' to save nuclear deal: Iran FM
August 20, 2018
TEHRAN - Iran's Foreign Minister Mohammad Javad Zarif said Sunday that Europe had not yet shown it was willing to "pay the price" of defying Washington in order to save the nuclear deal.
Zarif said European governments had put forward proposals to maintain oil and banking ties with Iran after the second phase of US sanctions return in November.
But he told Iran's Young Journalist Club website that these measures were more "a statement of their position than practical measures".
"Although they have moved forward, we believe that Europe is not yet ready to pay the price (of truly defying the US)," Zarif said.
US President Donald Trump pulled out of the 2015 nuclear deal in May, and began reimposing sanctions earlier this month that block other countries from trading with Iran.
A second phase of sanctions targeting Iran's crucial oil industry and banking relations will return on November 5.
Europe has vowed to keep providing Iran with the economic benefits it received from the nuclear deal, but many of its bigger companies have already pulled out of the country for fear of US penalties.
"Iran can respond to Europe's political will when it is accompanied by practical measures," said Zarif.
Full report at:
https://nation.com.pk/20-Aug-2018/europe-must-pay-price-to-save-nuclear-deal-iran-fm
--------
UK parliament attack suspect charged with attempted murder
19 August 2018
A man accused of crashing his car into the security barriers surrounding Britain's Houses of Parliament was charged Saturday with attempted murder, police said.
Salih Khater, 29, a Sudanese-born British national living in Birmingham, central England, will appear in custody at Westminster Magistrates Court in London on Monday, police said.
He is charged with one count of attempting to murder members of the public and one of attempting to murder police officers following the incident outside London's iconic Palace of Westminster on Tuesday.
The Crown Prosecution Service (CPS), England's state prosecutors, are treating the case as terrorism, the police said.
"The charges follow an incident in which Khater drove his car into a stationary group of members of the public then at police officers, before crashing into the barriers outside the Houses of Parliament," London's Metropolitan Police said in a statement.
"Due to the methodology, iconic location and the alleged targeting of civilians and police officers, the CPS are treating this case as terrorism."
Full report at:
https://english.alarabiya.net/en/News/world/2018/08/19/UK-parliament-attack-suspect-charged-with-attempted-murder.html
--------
NRC reports Turkish-Dutch youngsters trained by radical Islamist Nureddin Yıldız in Turkey
August 19, 2018
The political Islamist National View (Milli Görüş) organization has taken dozens of Turkish-Dutch youngsters to Turkey in recent years to have them taught by radical imam Nureddin Yıldız, who supports jihad in Syria and legitimizes violence against women, according to the NRC newspaper in the Netherlands.
NRC reported that various trips have been organized to Yıldız's education center, according to flyers, photos, and reports published online since 2013. NRC also wrote that Dutch parliamentarians expressed concern about a Turkish government plan to establish weekend schools in the Netherlands focused on Turkish language, history and religion.
"The Dutch parliament fears that Turkey is trying to keep ahold of Turkish-Dutch people. But the opposite also happens, and Dutch Turks go to Turkey for education in radical Islamic schools," wrote NRC.
Stating that Milli Görüş has 50 organizations and some 15,000 supporters in the Netherlands, NRC said that "the movement is strongly anti-Western." Stating that a number of radical preachers are affiliated with Milli Görüs, including Nureddin Yıldız, NRC wrote that Yıldız has his own Sosyal Doku Foundation, an educational institute in İstanbul.
"In his statements, Yıldız said Abdullah Al-Muhaysini, a notorious al-Qaeda leader in Syria, deserves support from Muslims. Yıldız has also ties with the armed jihadist group Ahrar al-Sham," according to NRC
"Youth Associations of Milli Görüs in the Netherlands, including in The Hague, Schiedam, Rotterdam and Deventer, translate lectures given by Yildiz in order to spread his ideology. Also 'training camps' are organized by his institute."
According to NRC, Yıldız long maintained a warm relationship with the Turkish establishment. He was a regular speaker in a foundation led by Bilal Erdoğan, a son of Turkish President Recep Tayyip Erdoğan.
Full report at:
https://stockholmcf.org/nrc-reports-turkish-dutch-youngsters-trained-by-radical-islamist-nureddin-yildiz-in-turkey/
--------
India
Muslim man, who converted to Hinduism, moves SC for wife's custody
August 20, 2018
THE SUPREME Court has sought the Chhattisgarh government's response to a petition by a Muslim man who claimed to have converted to Hinduism to marry a Hindu woman. The man has approached the apex court seeking the release of his wife from her parents custody.
A bench headed by Chief Justice of India Dipak Misra also directed the Superintendent of Police of Chhattisgarh's Dhamtari district to produce the woman before the court on August 27.
According to the petition, Mohd Ibrahim Sidhiqui had converted to Hinduism in February this year and taken the name of Aryan Arya to marry Anjali Jain, also a resident of Dhamtari. It alleged that she was being deprived of her liberty by her family members.
The petitioner also said that earlier, when the Chhattisgarh High Court decided the matter, it erroneously declined to direct his wife's family to release her.
According to the petitioner, he had been in a relationship with the woman for the past couple of years. They got married on February 25. The woman then returned to her parents' home and did not immediately inform them about the marriage. Subsequently, when she fled home, she was detained and shifted to a shelter home for women, he claimed.
https://indianexpress.com/article/india/muslim-man-who-converted-to-hinduism-moves-supreme-court-for-wife-custody-5314839/
--------
Kashmiri engineer suspected to be ISIS sympathiser deported from UAE
August 19, 2018
A Kashmiri man, living in the United Arab Emirates (UAE), was deported to India on August 14 on suspicion of being an ISIS sympathiser, news agency PTI reported. Irfan Ahmad Zargar, a 36-year-old resident of Chattatabal area on the outskirts of Srinagar, allegedly showed active support to ISIS activities in Syria on social media platforms.
Zargar was interrogated by the NIA for two days before being handed over to Jammu and Kashmir police, who were carrying out detailed investigations, PTI quoted officials as saying.
Zargar, an engineer, was picked up by the authorities in Dubai on April 28 this year when he was entering into the Gulf country from Oman, officials told PTI. Zargar, who used to work with a telecom company in Dubai, maintained that he had travelled to Oman for setting up a handcrafts business.
One of his kin had approached External Affairs Minister Sushma Swaraj on Twitter for help in the matter. The Indian Consulate General in Dubai had initiated the process to reach out to the man after the Swaraj's intervention. However, the Dubai authorities had refused to entertain any plea until they had completed their own investigation in the case.
The Dubai authorities interrogated him on his social networking activities, especially his appreciation for ISIS-related posts. They also carried out searches at his apartment.
Full report at:
https://indianexpress.com/article/india/kashmiri-engineer-suspected-to-be-isis-sympathiser-deported-from-uae-5314191/
--------
Navjot Singh Sidhu may have overreacted by hugging Pakistan army chief, but not all controversies were his own making
Vipin Pubby
Aug 19, 2018
Cricketer-turned-politician Navjot Singh Sidhu loves to court controversies but the latest one, pertaining to his Pakistan visit to attend Imran Khan's swearing-in ceremony as the Prime Minister of Pakistan, has more to do with actions beyond his control. Sidhu, now a Cabinet minister of Punjab, had duly sought clearance from the Centre to be present at the ceremony even though two other invitees, former cricket captains Sunil Gavaskar and Kapil Dev, refrained from accepting the invitation. For a government whose head, Prime Minister Narendra Modi had paid an impromptu visit to Pakistan to greet his then counterpart Nawaz Sharif, it didn't seem a big deal.
Yet Sidhu landed himself directly in a controversy by hugging Pakistan army chief General Qamar Javed Bajwa twice at the function. Later talking to the media the Congress leader said that while General Bajwa had walked to greet and hug him, he had reciprocated the gesture when he was informed by General Bajwa about a sentimental gesture proposed for the Sikhs.
The gesture was the proposal to provide free access to Sikh devotees to a historic gurdwara just three kilometres inside Pakistan. The gurdwara called Gurdwara Kartarpur Sahib near Gurdaspur, is one of the holiest of holy shrines for the Sikhs as Guru Nanak Dev, their first guru, had spent his last days in that particular Gurdwara. His 550th birth anniversary falls next year and Sikhs have been demanding a free corridor to enable them to pay obeisance.
Sidhu said he was not expecting the announcement of such a gesture and spontaneously hugged General Bajwa for it. He told Pakistan media: "Imran Khan, my dear friend, has said they will walk two steps if one step is taken by India. I will make efforts to convince authorities in India to take that first step. Both the Punjabs can earn great profit by opening borders," he said.
The BJP has, however, gone hammers and tongs after its former four-time Member of Parliament. Party spokesman Sambit Patra, demanding Sidhu's suspension from Congress, said, :It is not an ordinary thing. Sidhu is not an ordinary man but a minister in the Punjab government. Every Indian has taken this issue very seriously."
Patra also asked whether Sidhu had taken permission from his party chief Rahul Gandhi for the same.
BJP's Punjab chief, Shwet Malik described his visit and gestures as "anti-national" and sought action against the Congress leader. Shiromani Akali Dal, which had been having a running battle with Sidhu, said his conduct was "unbecoming of a minister". In a statement, SAD spokesperson Dr Daljit Singh Cheema said Sidhu's "public gestures have not only hurt martyrs' families but also countrymen in general".
Even the Congress has sought to disassociate itself from the visit saying it was a personal visit by a friend of Imran Khan.
Political observers, however, point out that condemnation from the BJP is uncalled for because Sidhu, as a legislator, was supposed to seek permission from the Union government and that he was duly given that permission. In fact, the permission is also seen as a gesture of willingness of the government to keep channels of communications open with Pakistan and to build bridges. It's pointed out that at the worst of crisis, like the Kargil War, the 2001 Indian Parliament Attack and the surgical strikes, channels of communication were kept open.
Sidhu, given his history of being a child of controversies, perhaps over-reacted to the gesture of General Bajwa, but not all the controversies relating to his Pakistan visit were made of his own.
Even as the BJP reacted violently to Sidhu hugging the Pakistan Army chief, what appears to be a deliberate slight to him and the country was to seat him next to the 'president' of the Pakistan Occupied Kashmir Masood Khan in the front row for the swearing-in ceremony. It is well known that India does not regard POK as a part of Pakistan and that it remains a disputed territory, the seating arrangement (which is done meticulously keeping in mind protocol and other considerations) does not appear above board. Critics have pointed out that Sidhu could have been seated with foreign dignitaries or with Imran's other cricket friends.
Full report at:
https://www.firstpost.com/india/navjot-singh-sidhu-may-have-overreacted-by-hugging-pakistan-army-chief-but-not-all-controversies-were-his-own-making-4995471.html
--------
SIMI activists' encounter: Supreme Court disposes of plea for further inquiry
August 20, 2018
THE SUPREME Court has turned down a prayer for further inquiry into the death of eight men of the banned Students Islamic Movement of India (SIMI) in an encounter with Madhya Pradesh police following a jailbreak in October 2016.
A bench of Justices Ranjan Gogoi, Navin Sinha and K M Joseph disposed of the plea after taking note of the findings of a judicial commission of inquiry. The report by a retired High Court judge had concluded that "the use of force resulting in (the) death of the escaped persons was quite inevitable and quite reasonable under the prevailing circumstances".
The court which perused the report, said, "In view of the report of the Commission of Inquiry constituted by a retired High Court judge, which has been brought on record, we are not inclined to interfere. The Special Leave Petition is accordingly disposed of."
In July 2017, the apex court had issued a notice on the plea filed by a relative of one the dead men seeking an independent inquiry into the deaths.
The petitioner alleged that it was a case of extra judicial killing. He said the Madhya Pradesh High Court, while rejecting his prayer earlier, had not considered his prayer that he and other relatives were not permitted to participate in the proceedings of the inquiry committee.
Full report at:
https://indianexpress.com/article/india/simi-activists-encounter-supreme-court-disposes-of-plea-for-further-inquiry-5314824/
--------
Mumbai blast accused Farooq Takla got Indian passport in 2011 with fake identity: CBI
August 19, 2018
Farooq Takla, the alleged "active conspirator" behind the 1993 Mumbai bomb blasts and a close aide of Dawood Ibrahim, had managed to get an Indian passport under the assumed identity of Mushtaq Mohammed Miyan in 2011, the CBI has said.
The passport issued by the Indian consulate in Dubai was recovered from Takla when he was brought from there on March 8, 2018 and arrested at the Indira Gandhi International Airport here, the CBI has claimed in a chargesheet it filed before a TADA court in Mumbai last week.
The agency has alleged that Md Farooq Yasin Mansoor alias Farooq Takla had escaped to Dubai after the serial blasts in March 1993, that killed 257 people, and was living under an assumed identity of Mushtaq Mohammed Miyan.
The passport recovered from Takla was issued by the Indian consulate in Dubai on February 8, 2011, it said.
The agency had taken over investigation in the bombings from the Bombay (now Mumbai) Police on November 19, 1993. The police had filed a chargesheet on November 4, 1993 in which Takla, accused number 196, was listed as one of the 44 absconders.
After taking over the case, the CBI got a Red Corner Notice issued against Takla in 1995, the officials said. After getting input that Takla was living in Dubai under the cover of assumed identity of Mushtaq Mohammed Miyan, the agency got a fresh non-bailable warrant issued in August last year, they said.
It is alleged that Takla was a close aide of Dawood Ibrahim and Anees Ibrahim and an active conspirator behind the 1993 mayhem at the nerve centres of Mumbai which shook the entire country.
Takla, then a resident of Shaikh Burhan Kamruddin Street, managed air tickets, accommodation, and briefing for five accused who had travelled to Pakistan via Dubai for getting training in handling of arms, ammunition and explosives, which were used in the blasts, the CBI has alleged in its chargesheet.
He allegedly received Saleem Bismillah Khan alias Saleem Kurla (now dead) and four others — Mohammed Haneef Mohammed Usman Sheikh, Sheikh Abraham Sheikh Hussain, Usman Khan and Mohammed Sayeed Ishaq — in Dubai, the chargesheet alleged.
Takla funded their travel and accommodation and briefed them about their steps to visit Pakistan for the training and return to Mumbai, the CBI has alleged
Full report at:
https://indianexpress.com/article/india/mumbai-blast-accused-farooq-takla-got-indian-passport-in-2011-with-fake-identity-cbi-5314342/
--------
North America
Washington agrees with Putin on Iran's pullout from Syria
19 August 2018
The United States is facing a new turning point in its policy toward Syria, as it announced the appointment of former US ambassador to Iraq James Jeffrey will serve as a special advisor to US Secretary of State Mike Pompeo on Syria overseeing talks on a political transition in that country.
The administration also transferred former officer Joe Rayburn from the National Security Council to the State Department as Special Envoy to Syria
Expelling Iran from Syria
The announcement of the appointments, was preceded by a statement issued by the State Department relating to the financial contributions of Saudi Arabia, the UAE and other countries to the stability budget in Syria.
The statement referred to the US commitment to strategic objectives in Syria, pointing out that Trump announced his commitment to staying in Syria until the eliminatation of ISIS and that the United States is working "to ensure the withdrawal of Iranian forces and allies" from Syria.
This official statement stems from a firm conviction by Trump that Iran should be expelled from Arab countries and that American troops' immediate withdrawal from Syria would be a bad step, and would allow Tehran to keep its forces and loyal militias in Iraq, Syria and Lebanon.
The United States wants to cut the road for Iran through the Syria's Democratic Forces (SDF) that have moved to the Syrian area of Bu Kamal to break the Iranian-built pathway between Tehran and Beirut, through Baghdad, Deir al-Zour and Damascus, according to Pierre Ghanim, Al Arabiya News Channel correspondent in Washington.
The Americans view with great caution the seriousness of Iran's stabilization of its forces and alliances in these countries.
Putin in agreement
The US does not see Iran as having any intention of withdrawing from Syria, but it considers that they have the potential to succeed in the mission, especially since the Russian president is in agreement with Washington on that.
The White House considers that Putin and Iran have different interests in Syria and that Putin sees the dangers of Iran's presence in Arab countries, including Syria and Yemen, and that the Russian President informed the Americans of this position before and during the Helsinki Summit.
According to a White House official, Syria was the longest-running topic in the discussions between Presidents Trump and Putin and their top advisors in Helsinki. The talks started three weeks earlier, when Trump National Security Advisor John Bolton met President Putin in Moscow to prepare for the summit, according to a source close to those meetings.
The Russian president said he also did not want an Iranian presence in Syria, but he was not sure if Russia could take them out.
The White House source said: "it was a correct comment", adding that: "The situation seems difficult for Iran to maintain a presence in Syria because of the economic consequences of sanctions. The military threat they pose in Syria is worrying everywhere in the region."
During the announcement of the new appointments at the State Department, the statement said Joe Rayborn, who became deputy assistant secretary of state, would be Syria's special envoy and would coordinate the work on the ground and would be charged with "confronting Hezbollah and building a strong government in Lebanon" and coordinating work with Jordan.
This appointment and mission seem to be another indication of the Americans' interest in fighting the presence of Iran, its allies and militias in Syria and Lebanon, and is now working more closely to coordinate its work and activities to achieve this mission.
Coordinating with the Russia
The Americans are now looking at the next phase of reaching an understandings on the steps needed to be taken with Russia and with European allies, who continue to insist that defeating ISIS and the pull out of Iran and its militias will only take place through progress towards a political solution to the conflict in Syria on the basis of Resolution 2254.
Ambassador Jeffrey will work to revive the political process in coordination with the United Nations and its sponsorship as previously agreed upon.
Accordingly, Syria and Iran will be at the heart of the National Security Advisor John Bolton's talks during his visit to Israel and Geneva, where he is expected to meet with his Russian counterpart in Switzerland and follow up on what President Trump and Putin have begun in Helsinki, including the elimination of ISIS, political process, Iran, the humanitarian situation and the non-use of chemical weapons again.
https://english.alarabiya.net/en/News/middle-east/2018/08/19/Washington-agrees-with-Putin-on-Iran-s-pull-out-of-Syria.html
--------
Lockheed Martin bomb reportedly used on school bus in Yemen
Aug 20, 2018
A school bus attack in Yemen, which left 51 people dead, was carried out using a US manufactured bomb, according to an investigation.
US arms giant Lockheed Martin actually made the laser-guided MK 82 bomb used in the attack last week, CNN reported.
The death toll involved 40 children while 56 of the 79 wounded were also kids.
The attack was branded as a "legitimate military operation," by Saudi Arabia, engaged in the US-backed war on its impoverished neighbor.
"I will tell you that we do help them plan what we call, kind of targeting," said Defense Secretary James Mattis. "We do not do dynamic targeting for them."
Since the beginning of this year alone, 55 airstrikes have been launched against civilian vehicles and buses, according to the Yemen Data Project.
American bombs have already led to hundreds of civilian casualties in the war-ravaged country.
Ninety-seven people were killed in March 2016 by a US-supplied MK 84 bomb, which was followed by the deaths of 155 people in a funeral hall attack.
Some 15,000 Yemenis have been killed and thousands more injured since the onset of the Saudi-led aggression on Yemen in March 2015.
Full report at:
https://www.presstv.com/Detail/2018/08/20/571684/US-Lockheed-Martin-bomb-reportedly-used-on-school-bus-in-Yemen
--------
Bolton repeats anti-Iran threats in Israel visit
Aug 19, 2018
US National Security Adviser John Bolton has arrived in Israel to continue the Trump administration's anti-Iran campaign.
The office of Israeli Prime Minister Benjamin Netanyahu described the hawkish figure as "true friend of Israel and an enthusiastic supporter of the alliance between America and Israel" in a statement Sunday.
Netanyahu welcomed Bolton, claiming that meetings with him would focus on "how to continue to push back against Iranian aggression in the region, and to promise that they will never have nuclear weapons."
The Israeli premier added that the visit was "of great importance in light of President Trump's decisions to move the embassy to Jerusalem (al-Quds) and to leave the bad deal with Iran."
US President Donald Trump finally broke with decades of US policy in December by announcing that the embassy in Israel would be relocated from Tel Aviv to the holy city.
The city has been designated as "occupied" under international law since the 1967 Arab War, which Palestinians want as the capital of their future state.
Trump also withdrew Washington from the landmark Iran nuclear deal in May and decided to re-impose unilateral sanctions against Tehran.
Ever since Trump appeared in office, the Israeli regime has become more outspoken in its anti-Iran stance.
Full report at:
https://www.presstv.com/Detail/2018/08/19/571675/Israels-true-friend-Bolton-arrives-to-talk-Iran
--------
US forces to stay in Iraq 'as long as needed': Coalition
Aug 19, 2018
A spokesman for the US-led coalition purportedly fighting Daesh says American forces will stay in Iraq "as long as needed," amid reports that the terrorist organization is making a comeback in Iraq and neighboring Syria.
"We'll keep troops there as long as we think they're needed ... The main reason, after ISIS is defeated militarily is the stabilization efforts and we still need to be there for that, so that's one of the reasons we'll maintain a presence," Colonel Sean Ryan told a news conference in Abu Dhabi on Sunday.
In recent months, US President Donald Trump has repeatedly touted his administration's success in defeating Daesh and destroying its so-called caliphate in Iraq and Syria.
Trump, who ran for office pledging to end the US military engagements overseas, has dispatched hundreds of additional troops to Iraq and put them closer to the front lines with more freedom to bomb targets.
Coalition officials have talked about how the military campaign dislodged Daesh from about 98 percent of the territory it once held in Syria and Iraq.
However, the Pentagon acknowledged Thursday that the terrorist organization appears to be "well-positioned to rebuild and work on enabling its physical caliphate to re-emerge."
"ISIS probably is still more capable than al-Qaeda in Iraq at its peak in 2006-2007," Pentagon spokesperson Cmdr. Sean Robertson told VOA News in a statement.
In its latest intelligence estimates, the Pentagon put the number of Daesh terrorists operating in Iraq and Syria between 28,000 and 32,000, close to level the terror group boasted at the height of its power.
A separate report from the United Nations painted a similar picture, estimating that around 30,000 Daesh militants are still active in both Arab countries.
Early this year, Defense Secretary James Mattis made a formal request to NATO allies, asking them to deploy more troops to Iraq. NATO responded positively, agreeing to expand the alliance's mission in Iraq with the aim of providing "training" and "advice" to Iraqi armed forces.
Full report at:
https://www.presstv.com/Detail/2018/08/19/571624/US-forces-Iraq-Daesh
--------
Arab World
More Than Two Million Muslims Performing Waqoof-e-Arafat Today
20 August, 2018
MAKKAH (Dunya News) - More than two million Muslim pilgrims from across the world will perform Waqoof-e-Arafat, the main ritual of Hajj in the holy land of Islam, on Monday.
It is first time that special arrangements have been done to deliver hajj sermon in Urdu language as well.
Earlier, the annual ceremony to change Ghilaf-e-Kaaba was held at Masjid-e-Al-Haram.
At least 150kg pure gold and silver whereas 670kg Resham have been used. Governor Makkah, Saudi officials and other significant personalities attended the ceremony.
The covering cloth of the Kaaba, known as Kiswa, is changed on 9th Zilhaj every year on the day of Arafat.
In first phase of Hajj, the pilgrims spent a day and following night (Sunday) in Mina, later moved towards mount Arafat where the main pillar of Hajj pilgrimage, Waqoof-e-Arafat, will be observed.
Imam-e-Kabba will deliver his sermon to Hajj pilgrims in Arafat and the pilgrims would offer Zohar and Asar prayers jointly at Arafat.
The pilgrimages will offer Maghrib and Ishah in Muzdalifah jointly.
After sunset, the pilgrims will leave for Muzdalifah located half-way between Arafat and Mina, where they will stay for a night and offer prayers.
On Tuesday, Muslims would perform Fajar prayer in Muzdalfa and then return to Mina for following act of Hazrat Ibrahim (A.S), Rami, stoning the big Satan.
Later, Hajj pilgrims will shave off heads or trim hairs and then would get off the Ahrams, Hajj cloths, at completion of Hajj rituals.
Celebrating Eid-ul-Adha Muslims will sacrifice Halal animals to follow the Sunnat-e-Ibrahimi.
World s largest annual gatherings in a country
More than two million Muslims from around the globe started the hajj pilgrimage on Sunday in Saudi Arabia, one of the world's largest annual gatherings in a country undergoing unprecedented change.
The ultra-conservative kingdom -- where religion remains a guiding force amid dramatic social and economic reforms -- has mobilised vast resources for the six-day journey, a pillar of Islam.
"It's the dream of every Muslim to come here to Mecca," said Frenchman Soliman Ben Mohri.
"It's the ultimate journey. What worries me is the return to my normal life. For the moment, I am in a dream," the 53-year old told AFP.
Every Muslim is required to complete the hajj journey to Islam's holiest sites at least once in their lifetime if they are healthy enough and have the means to do so.
Tens of thousands of security personnel have been deployed for the pilgrimage, which was struck by its worst ever disaster three years ago when around 2,300 worshippers were crushed to death in a stampede.
This year, the Saudis have launched a "smart hajj" initiative, with apps to help pilgrims with everything from travel plans to medical care.
The interior ministry said on Saturday that the number of pilgrims arriving in Mecca had already surpassed the two million mark, mostly from abroad including large contingents from Egypt, India, Pakistan and Bangladesh.
Wearing the simple white garb of the pilgrim, most of the faithful began moving on Sunday from Mecca to the nearby Mina valley.
They will spend the night there in fire-resistant tents in the desert, where temperatures top 40 degrees Celsius (104 Fahrenheit).
Thousands of buses and vehicles carrying the pilgrims lined the eight kilometre (five-mile) road from Mecca to Mina.
Many pilgrims made the journey walking under the scorching sun, some carrying white or blue umbrellas.
For the Muslim faithful, hajj retraces the last steps of the Prophet Mohammed and also honours the prophets Abraham and Ishmael.
It ends with the Eid al-Adha feast, which is marked by the slaughter of sheep, a tribute to Abraham's sacrifice of a lamb after God spared Ishmael, his son.
Political climate
Earlier in Mecca pilgrims performed a ritual walk seven times around the Kaaba, a black masonry cube wrapped in a silk cloth embroidered in gold with Koranic verses at the centre of the Grand Mosque.
The shrine is the point towards which Muslims around the world pray.
"I feel so fortunate to be here," said Nazia Nour, 36, who came to Saudi Arabia from Auckland.
Pushing her father on a wheelchair, she added: "I can't believe he (God) chose me."
On Monday, pilgrims will climb Mount Arafat for the climax of the hajj, praying and reading the Koran.
The prophet Mohammed delivered his final sermon from the rocky hill to Muslims who had accompanied him on his final hajj, according to Islam.
After sunset, pilgrims head to Muzdalifah, halfway between Arafat and Mina, where they stay at least until midnight.
They gather pebbles to perform the symbolic stoning of the devil on the eve of the Eid al-Adha feast.
Although the kingdom's young de facto leader, Crown Prince Mohammed bin Salman, has spearheaded change in the kingdom, religion remains a key force in Saudi Arabia.
The oil-flush kingdom ended its ban on women driving in June and has boosted female employment in a male-dominated society.
But the reforms have been accompanied by a widening crackdown on dissent, with more than a dozen women's rights campaigners detained in recent weeks. Some have been released.
The hajj also comes more than a year into the worst political crisis to grip the Gulf, pitting Saudi Arabia against Qatar.
Saudi Arabia -- the world's largest exporter of oil -- and its allies accuse Qatar of cosying up to both Sunni Islamist extremists and Shiite Iran, Riyadh's main rival.
They have cut all ties with Qatar -- which denies the charges -- and banned all flights to and from Doha.
Qatar said Sunday that its citizens were unable to take part in the hajj because of the diplomatic dispute.
Saudi authorities have said Qatari pilgrims are still allowed into the kingdom for the hajj.
http://dunyanews.tv/en/Pakistan/453382-More-than-two-million-Muslims-performing-Waqoof-e-Arafat-today
--------
Turkish Army, Allied Militants Set up New Bases in Northern Syria
Aug 19, 2018
The Ankara forces established a number of bases in villages in a border region near the town of Bolboleh in Northern Afrin.
In the meantime, the Turkish troops and allied militants turned several trade centers in Bolboleh into military bases.
Also, Jeish al-Islam said on Saturday that they set up five military bases between the towns of al-Bab and Afrin after withdrawal from Eastern Ghouta.
On Saturday, the Turkish army dispatched a long convoy, including tanks, advances weapons and military vehicles to Hatay province at the border with Syria's Idlib province.
The newly-arrived convoy is planned to enter Syria soon to be further sent to two monitoring points in Tal al-Eis in Idlib and Morek in Northern Hama.
In the meantime, some military analysts pointed to the Turkish troops' backup for the terrorist groups in Idlib, and said the newly-arrived convoy of arms and ammunition might be transferred to regions that are under the control of Tahrir al-Sham Hay'at (the Levant Liberation Board or the Al-Nusra Front).
Full report at:
http://en.farsnews.com/newstext.aspx?nn=13970528000439
--------
Notorious Terrorist Commander Killed in Huge Blast in Northwestern Syria
Aug 19, 2018
Abdul Rezwan al-Bakri nom de guerre Abu Talhah, an experienced field commander of the National Liberation Front, was killed after a bomb planted in his vehicle went off at the terrorist group's base in Jabal al-Arba'ein near the town of Ariha in Southern Idlib.
The entire terrorists in the base were killed or wounded and a large volume of arms and ammunition was damaged in the blast that was the first bomb explosion in the group's bases.
In a relevant development on last week, over 40 terrorists of Tahrir al-Sham as well as a number of civilians were killed in a huge blast at the terrorist group's arms depot in Idlib province.
A huge explosion at a large depot of arms and ammunition of Tahrir a-Sham in the town of Sarmada near Bab al-Hawa border-crossing with Turkey destroyed fully two large six-story buildings in the region, killing 40 terrorists and an unspecified number of civilians. Dozens more have also been wounded in the explosion.
Local sources said that the death toll will rise as a number of people are still under the debris.
There is yet no further report on the cause of the incident.
Full report at:
http://en.farsnews.com/newstext.aspx?nn=13970528000471
--------
ISIL Fails to Remove Syrian Army Siege in Sweida Deserts
Aug 19, 2018
A group of ISIL terrorists who tried to prevail over the army positions in Arz Amirah in Toloul al-Safa region came under an ambush operation by the government forces and suffered several casualties.
At least five ISIL terrorists were captured too.
In the meantime, other units of the army stormed ISIL from three flanks in Toloul al-Safa and managed to advance one kilometer.
Also, the army's artillery and missile units opened heavy fire at ISIL's movements and positions in Toloul al-Safa and inflicted major losses on the terrorists.
Anna News Agency reported on Saturday that the Russian Special Forces were behind the scenes in Eastern Sweida, providing the Syrian army important covering fire around Toloul al-Safa region.
Anna News said the Russian Special Forces operating ATGMs and sniper nests, while the Syrian army advanced across the Badiyeh al-Sham region of Eastern Sweida.
Since the start of their offensive in Eastern Sweida, the army has managed to liberate a large chunk of the ISIL's pocket.
Full report at:
http://en.farsnews.com/newstext.aspx?nn=13970528000583
--------
Syrian Army Sends More Troops to Northwest for Idlib Operation
Aug 19, 2018
The Army dispatched a large number of soldiers and military hardware to Northern Hama, Southern Idlib, Western Aleppo and mountains in Northern Lattakia, preparing for a large-scale operation against terrorists.
In the meantime, the artillery and missile units shelled heavily the strongholds of Kata'eb al-Izzah in the villages and towns of Morek, Abu Obeidah and Ma'arkabah in Northern Hama, inflicting major casualties on the militants.
Other artillery units opened heavy fire at Tahrir al-Sham Hay'at (the Levant Liberation Board or the Al-Nusra Front) positions in Tal al-Sakhar and Kafr Zita regions in Northern Hama, al-Tamanna in Southern Idlib and Jabal al-Turkmen in Northern Lattakia, destroying their positions and killing or wounding a number of gunmen.
Terrorists' failed attempts to evacuate people from regions near the positions of the Syrian Army in Aleppo province pushed on Saturday the militants into deep concern about implementation of a reconciliation plan in Northwestern Syria.
Tahrir al-Sham Hay'at gave a two-day ultimatum to the residents of the villages of Jazraya, al-Othmaniyeh, Howeir al-Eis, Zamar, Jadida Talafaj, Banes, Tal Bajer and Barnah near the positions of the army forces to leave their region.
Tahrir al-Sham has declared the villages near army positions as military zone to prevent people from joining the peace agreement.
Villagers defied the call, stating to Tahrir al-Sham through their local councils that they will never leave their home.
Full report at:
http://en.farsnews.com/newstext.aspx?nn=13970528000408
--------
Syrian Army Repels ISIL's Heavy Offensive in Homs Deserts
Aug 19, 2018
The army forces engaged in a tough battle with ISIL Southeast of al-Bardeh region in the Eastern Badiyeh of Homs.
In the meantime, the army aircraft pounded ISIL's positions and movements in al-Bardeh and also near the T2 Oil Pumping Station and Aweiraz Dam, damaging the terrorists' bases and military equipment.
ISIL suffered heavy casualties and pulled back the remaining pockets of its militants from the battlefield.
A military source said earlier this month that the army men conducted a mop-up operation in Houleh region in Northern Homs, discovering a large depot of terrorists' arms and ammunition, adding that PKC machineguns, sniper rifles made by the western states as well as Israeli grenades were among the seized weapons and munitions.
http://en.farsnews.com/newstext.aspx?nn=13970528000297
--------
Syrian Army Accuses US of Planning ISIL Attacks from Al-Tanf Zone
Aug 19, 2018
According to the Syrian Army statement, the US Coalition allowed free passage to ISIL terrorists from the Tanf zone; they would then attack the government forces after leaving this area, the AMN reported.
Furthermore, the Syrian Arab Army said that the US Coalition was providing the ISIL intelligence about their positions in the Badiyeh Al-Sham region.
The Syrian Army and government have accused the US Coalition of harboring ISIL terrorists on several occasions this year, despite Washington's denials.
The ISIL often navigates through the vast desert region of Syria to carry out attacks against the Syrian army in Sweida, Damascus, Homs and Deir Ezzur provinces.
http://en.farsnews.com/newstext.aspx?nn=13970528000240
--------
Egyptian monks sent to trial over killing of bishop
19 August 2018
Two Christian monks have been sent to trial over the killing of a bishop in an Egyptian desert monastery last month, Alexandria's public prosecutor said on Sunday.
Wael Saad and Ramon Rasmi Mansour, known by their monastic names Isaiah al-Makari and Faltaous al-Makari, were referred to the Damanhour criminal court for alleged involvement in killing Bishop Epiphanius, 64, the abbot of Saint Macarius Monastery, some 110 km northwest of Cairo in Wadi Natroun.
Saad was defrocked this month over what church officials called violations of monastic life, and later detained. Judicial sources said he had confessed under questioning to killing the bishop. There has been no indication of a motive.
The second monk, Mansour, threw himself from atop the monastery in an apparent suicide attempt this month. He has been treated in a Cairo hospital where he has also been questioned as part of the same investigation, judicial sources told Reuters.
Sunday's prosecutor's statement said Saad had long had differences with his superiors, who had on one occasion investigated him for breaking monastery traditions.
It said Saad was accused of striking the bishop three times in the back of the head with a 90-cm steel pipe while Mansour stood guard outside.
Christians make up an estimated 10 percent of Egypt's roughly 96 million population.
Full report at:
https://english.alarabiya.net/en/News/middle-east/2018/08/19/Egyptian-monks-sent-to-trial-over-killing-of-bishop.html
--------
New accusations against Lebanon's Hezbollah of running secret Beirut prisons
19 August 2018
Hussein Mazloum, son of a founder of Lebanon's Hezbollah, has accused the pro-Iranian militia of running systematic operations of torture and kidnapping in Dahya, its stronghold suburb in the capital Beirut.
Mazloum accused the militia of building a number of secret detention centers, away from the Lebanese government's watch, saying that he was detained in one of these centers for nine months.
Mazloum, also known as Hajj Wala, leaked pictures showing what he alleged were entrances to the secret Hezbollah prisons, saying he was subjected to the "worst forms of torture and humiliation" during his time there.
According to Mazloum, the most prominent of Hezbollah's secret detention centers is the central prison in Haret Hreik behind the Bahman hospital (Iranian Hospital), as well as the Bir al-Abd prison behind the Islamic Cooperation Center.
Hezbollah also runs another investigation center near Qaim compound.
According to Mazloum's claims, the most frightening prison is the Mujtaba compound prison behind Hezbollah's Al-Manar TV channel headquarters.
Mazloum added that prisoners abducted by Hezbollah are held in a solitary confinement cell of no wider than two meters, and are prevented from seeing the sun for the duration of their detention period; subjected to various forms of physical and psychological torture.
Mazloum said he will seek justice in front the Lebanese judiciary system against the pro-Iranian militia.
If this case goes to court against Hezbollah, it will not be a precedent.
Full report at:
https://english.alarabiya.net/en/News/middle-east/2018/08/19/New-accusations-to-Lebanon-s-Hezbollah-of-running-secret-prisons-in-Beirut-.html
--------
Daesh landmine kills 5 civilians in Syria's Sweida province
Aug 19, 2018
Five civilians have been killed by a Daesh landmine in the village of Tarba in Syria's southern province of Sweida.
According to Syria's official news agency SANA on Sunday, one person was also severely wounded by the mine which was left behind by the Takfiri terrorists in the village, located in the province's eastern countryside.
The anti-tank mine exploded when a vehicle carrying six people drove over it.
Elsewhere in the province, Syrian government forces made gains in the al-Safa hills where they have laid siege to the last stronghold for the Daesh terrorist group in Sweida.
Syrian artillery, backed by the country's air force, launched accurate strikes against the terrorists, killing a large number of them and destroying large amounts of their equipment.
In another attack, the army carried out a raid on a terrorist convoy in the Qabr al-Sheikh Yassin area, destroying two heavily armed vehicles.
The army also attacked another terrorist gathering near Ghanem hill, capturing five terrorists and destroying a large amount of their equipment.
Sweida, which is largely under the control of the Syrian government troops, is home to the Druze minority, from which Daesh abducted some 30 women and children last month following a brutal attack that killed more than 250 civilians.
The province has been relatively insulated from Syria's seven-year bloody war launched by foreign-backed militants and terror group against Damascus.
Last month's attacks were the bloodiest ever seen in the province, as well as some of the deadliest launched by Daesh in the war-torn country.
Syria troops defeated Daesh late last year and took back all the urban bastions once the terror group had under its control, but the group's remnants have been trying to regroup and have mounted a series of hit-and-run attacks.
Full report at:
https://www.presstv.com/Detail/2018/08/19/571678/daesh-syria-land-mine-gains
--------
Iraq sentences 14 to death over Daesh Camp Speicher massacre
Aug 19, 2018
The Iraqi Judiciary has upheld death sentences against more than a dozen convicts involved in a June 2014 massacre by Daesh Takfiri terrorists at an air force camp in the country's north-central province of Salahuddin.
Head of the Committee for the Commemoration of the carnage, Moin al-Kazemi, said in a statement that Iraqi judicial officials passed the ruling on 14 convicts on Sunday, urging the officials to carry out the sentences as soon as possible.
On June 12, 2014, Daesh terrorists killed around 1,700 Iraqi air force cadets after kidnapping them from Camp Speicher, a former US base. There were reportedly around 4,000 unarmed cadets in the camp when it came under attack by Daesh militants.
Following the abductions, the attackers took the victims to the complex of presidential palaces and killed them. The terrorists also threw some of the bodies into a river.
The massacre was filmed by Daesh and broadcast on social media.
An investigation committee later revealed that 57 members of Saddam Hussein's Ba'ath Party aided Takfiri Daesh terrorists in the massacre.
On August 21, 2016, Iraqi judiciary officials hanged 36 men convicted of involvement in the carnage.
Tikrit was recaptured from Daesh in March 2015. During clean-up operations in the northern part of the city, Iraqi forces found the location of the 2014 carnage.
On June 30, Iraqi Prime Minister Haider al-Abadi, who is also the commander-in-chief of Iraqi forces, pledged to hunt down Daesh militants across Iraq after a series of attacks and abductions carried out by the terrorist group.
"We will chase the remaining cells of terrorism in their hideouts and we will kill them, we will chase them everywhere, in the mountains and the desert," Abadi said.
Abadi declared the end of military operations against Daesh in the Arab country on December 9, 2017.
On July 10 that year, the Iraqi prime minister had formally declared victory over Daesh extremists in Mosul, which served as the terrorists' main urban stronghold in the conflict-ridden Arab country.
In the run-up to Mosul's liberation, Iraqi army soldiers and volunteer Hashd al-Sha'abi fighters had made sweeping gains against Daesh.
Iraqi forces took control of eastern Mosul in January 2017 after 100 days of fighting, and launched the battle in the west on February 19 last year.
Full report at:
https://www.presstv.com/Detail/2018/08/19/571642/Iraq-sentences-14-to-death-over-Daesh-Camp-Speicher-massacre
--------
US warns Americans not travel to Iraq due to 'terrorism,' general insecurity
Aug 20, 2018
ERBIL (Kurdistan 24) – The US State Department on Saturday warned its citizens not to travel to Iraq, citing the threat of terrorist groups and abductions in the country as a risk to Americans traveling in the region.
"U.S. citizens in Iraq are at high risk for violence and kidnapping. Numerous terrorist and insurgent groups are active in Iraq and regularly attack both Iraqi security forces and civilians," a statement by the US State Department read.
"Anti-U.S. sectarian militias may also threaten U.S. citizens and Western companies throughout Iraq. Attacks by improvised explosive devices (IEDs) occur frequently in many areas of the country, including Baghdad."
The Bureau of Consular Affairs also mentioned that the US government's ability to provide routine and emergency services to its citizens in Iraq is "extremely limited."
Although Iraqi Prime Minister Haider al-Abadi declared final victory over the Islamic State (IS) last December, the jihadist group continues to carry out insurgent attacks, ambushes, and kidnapping in the country.
The jihadist attacks have mostly concentrated in the provinces of Kirkuk, Diyala, Salahuddin, and Baghdad.
Over the past few months, commanders of the Iranian-backed Shia Hashd al-Shaabi militia, known as the Popular Mobilization Forces (PMF), have also repeatedly threatened to target US troops in Iraq.
Consular Affairs also warned US citizens not to travel through Iraq to Syria to engage in armed conflict, "where they would face extreme personal risks (kidnapping, injury, or death) and legal risks (arrest, fines, and expulsion)."
Full report at:
http://www.kurdistan24.net/en/news/b2b2f763-727d-44e2-9240-0ca906b9e917
--------
South Asia
Afghanistan announces Muslim Eid holiday ceasefire with Taliban
Aug 19, 2018
Afghan President Ashraf Ghani on Sunday announced a ceasefire with Taliban insurgents from Monday to mark the Muslim Eid al-Adha holiday, despite heavy fighting seen over recent days in the central city of Ghazni.
"The conditional ceasefire will start tomorrow and it will continue as long as the Taliban preserves and respects it," he said in an Afghan independence day ceremony.
It was not immediately clear whether the Taliban had accepted Ghani's call for a truce during Eid, the annual Islamic feast of sacrifice which officially begins on Tuesday.
https://www.moneycontrol.com/news/world/afghanistan-announces-muslim-eid-holiday-ceasefire-with-taliban-2859201.html
--------
'Everything is business': Rohingya crisis presents economic opportunity
August 19, 2018
Captain Min Min, a Buddhist from Myanmar, looks on as a stream of Muslim Rohingya labourers zig-zag up narrow gangplanks hauling sacks of ginger from his boat onto Bangladeshi soil -- one of many seizing the economic opportunities presented by a refugee crisis.
"I don't worry about conflict... everything is just business," the ethnic Rakhine skipper says, offering whiskey, cigarettes and big betel nut-stained smiles as he waits for his nine-tonne cargo to be unloaded.
The Bangladeshi district of Cox's Bazar now hosts around one million Rohingya from Myanmar, the vast majority of whom fled their country a year ago, driven out by the army and mobs of ethnic Rakhine, who falsely brand the Muslim minority as "Bengali" intruders.
The makeshift Rohingya camps have now congealed into tent cities spread out across hills and farmland.
They contain new and dynamic economies, pump-primed by donor money and driven by a captive market of hundreds of thousands in need of food, shelter, work and -- for those who can afford it -- consumer goods.
For generations trade has diluted ethnic and religious rivalries among the Rakhine, Rohingya and Bangladeshis who flit between the two countries.
Commerce was barely interrupted as scores of Rohingya villages were torched in August last year, sparking an exodus of around 700,000 people by land and sea into Bangladesh.
The skies were heavy with smoke, but Min Min says he carried on delivering his 'Made in Myanmar' cargo to Teknaf port -- rice, ginger, make-up, noodles and the "ainshi" chestnuts ubiquitous at Rohingya snack stalls.
The refugee influx has been good for business, adds his friend Thoin Line, an ethnic Rakhine importer from the Bangladesh side of the border.
"The Rohingya are tough... they work night and day," he says, adding, "and their wages are not too high."
Below, a line of drenched, wiry workers emerge from the hull of the boat, each shouldering two 30-kilogramme (66-pound) sacks of ginger imported from Myanmar.
They will earn between 300-500 taka ($3-6) a day for their back-breaking efforts -- a decent wage of sorts for labourers officially barred from working in Bangladesh and thus compelled to pay a share of their earnings to camp leaders who cherry-pick the workforce.
Most refugees are either jobless or stuck at the bottom of the labour ladder, a place they have occupied since Myanmar first began expelling its Rohingya in 1978.
Praying for rain
At the Kutupalong megacamp Bangladeshi entrepreneur Kamal Hussein, 24, is praying for rain.
His income comes from a row of nearly 50 mobile phone charging points secured by bamboo struts.
"Business is slow... it is sunny and most people have solar panels so they don't need our shop," he says.
Business is better when it rains because then "the solar panels don't work", he adds.
Consumer goods like mobile phones are in hot demand as refugees settle in, spending salaries and remittances from relatives overseas.
Salesman Kaiser Ahmed says before last August's crisis he sold five or six phones a week at the existing camps.
"Now it is around 300," he explains.
Like many other Bangladeshis, Kaiser's income has surged in step with the crisis.
Stores to repair and pawn Rohingya jewellery, stalls selling gaudy saris and shops charging refugees 30 US cents to watch live English Premier League football matches on their TVs have sprung up around the camp fringes over the past year.
NGO influx
Furthermore, the non-profits which work in the camps are big buyers of local bamboo, tarpaulins, concrete, pots, pans and blankets and employ thousands of Bangladeshi and Rohingya staff.
Bangladeshi Mohammad Jashan, 26, whose home is just outside Kutupalong, says he has climbed up the value chain in each of the three jobs he has held in foreign organisations in the last 12 months.
He now earns $300 a month for a British charity -- several times higher than the national average.
"My next salary will be higher as I have more skills," he says, beaming proudly.
But pinch points are emerging.
Poorer Bangladeshis say the Rohingya influx has collapsed wages.
Crime, drugs and prostitution are rising, while the foreign NGO influx has warped prices -- making owners of apartments, cars, hotels and restaurants richer, but sharpening the poverty of the locals with nothing to offer them.
Even among the Rohingya resentments are emerging.
"After the new refugees came the NGOs put all the focus into them," says Setara Begum, who was born in Kutupalong and is one of the roughly quarter million refugees to have lived in Bangladesh for years.
"We only get basic rations now," the 18-year-old said.
Keeping the peace
In June the World Bank moved to head off angst between the Rohingya and their Bangladeshi hosts, offering nearly half a billion dollars in grants for refugee health, education and sanitation.
The aim is to help ease Dhaka's burden and establish services that will also be used -- and staffed by -- Bangladeshis.
With refugees unlikely to be repatriated any time soon, cash and jobs are the best route to keeping the peace.
At a beach outside the Shamlapur camp, Rohingya fisherman Mohammad Hossain says he worked his way up over two decades from crew to become the co-owner of two of the distinctive crescent-shaped boats that dot the coastline.
It is a dangerous job in the high monsoon seas.
But there is no shortage of willing crew so the number of boats braving the waves has increased along with the catch, as money is spun from desperation.
Full report at:
https://www.thedailystar.net/news/rohingya-crisis/everything-business-rohingya-crisis-presents-economic-opportunity-1622965
--------
Ghani announce conditional ceasefire with Taliban during Eid Al-Adha
Aug 19 2018
President Ghani announced a conditional ceasefire with the Taliban group during Eid Ald-Adha.
Speaking during a gathering to mark the 99th Independence Day of Afghanistan, President Ghani said the government announces ceasefire with the Taliban, starting from Monday until Eid Milad un Nabi (Birth of Prophet Mohammad), on the condition that the Taliban group also announces a ceasefire.
He said "As we approach Eid-ul-Adha, and to respect the wishes of different segments of Afghan society including religious scholars, political parties, politicians, women and civil society leaders, youth and members of high peace council in all 34 provinces, and to respect the wishes of the religious scholars of the Islamic world that were gathered in the holy mosques and to respect the wishes of the Organization of Islamic Countries (OIC) and the custodians of the two-holy mosques, the King of Saudi Arabia, we announce a ceasefire that would take effect from tomorrow, Monday, the day of Arafa, till the day of the birth of the prophet (PBUH) i.e., Milad-un-Nabi, provided that the Taliban reciprocate.
This comes as President Ghani had earlier said tat consultative meetings are underway regarding the announcement of a ceasefire during Eid Al-Adha and that the government would announce its decision in the light of consultations and recommendations being offered to the government.
He made the remarks during a meeting with the members of the High Peace Council and the Ulemas Council of Afghanistan on Saturday.
President Ghani further added that peace is one of the main demands of the nation, emphasizing that a national consensus exist regarding the peace process as he was pointing towards the Fatwas of the religious scholars and consultative meetings he had with different sects.
He said it would not be acceptable that there would be ceasefire in part of the country while that conflict would continue in its other parts.
Full report at:
https://www.khaama.com/ghani-announce-conditional-ceasefire-with-taliban-during-eid-al-adha-05792/
--------
Taliban militants seize district in northern Faryab province
Aug 19 2018
The Taliban militants have seized the control of Bulcharagh district in northern Faryab province of Afghanistan after days of heavy clashes.
Provincial governor Naqibullah Fayeq said earlier today that the control of the district fell into the hands of Taliban militants on Saturday night.
Fayeq further added that the district was seized after additional forces were not deployed from the center.
According to Fayeq, the security forces were under siege of the Taliban militants for several days as heavy clashes were underway before the fall of the district.
This is not the first time the Taliban militants are taking control of Bulcharagh district but similar attempts were also made in the past where the Taliban militants briefly took over the district.
In the meantime, reports indicate that at least 40 security personnel have been taken hostage after the fall of the district.
Full report at:
https://www.khaama.com/taliban-militants-seize-district-in-northern-faryab-province-05790/
--------
NATO commander reaffirms support to Afghanistan after deadly Kabul attack
Aug 16 2018
The commander of the NATO-led Resolute Support Mission and the US forces in Afghanistan Gen. John Nicholson reaffirmed the alliance's support to Afghanistan in eradicating terrorism after yesterday's deadly attack in the capital.
"We want to express our deepest sympathies to the families and friends of the young Afghan students martyred and wounded in the horrific attack today at the educational center in Kabul," Gen. Nicholson said in a statement.
He said "This type of evil is incomprehensible. We will continue to serve alongside the Afghan National Defense and Security Forces to eradicate these enemies as we strive for the peace and security that the Afghan people deserve."
The death toll from last evening's deadly suicide attack has climbed to at least 48 people, the Ministry of Public Health officials said.
The officials further added at least 67 people who have sustained injuries in the attack, have also been shifted to the hospitals for the treatment.
Full report at:
https://www.khaama.com/nato-commander-reaffirms-support-to-afghanistan-after-deadly-kabul-attack-05776/
--------
Africa
19 dead in Boko Haram raid on Nigerian village: Locals
Aug 20, 2018
At least 19 people have been killed in a raid by Takfiri Boko Haram militants on a village in northwestern Nigeria, locals say.
The militants stormed the village of Mailari in the Guzamala region of Borno State in trucks, firing guns and rocket-propelled grenades.
Abatcha Umar, a local villager who survived the attack, said he had seen 19 dead bodies, including that of his own brother.
The locals had tipped off the Nigerian troops in the nearby town of Gudumbali about the presence of terrorists around the village, but no action was taken, he said.
An aid worker at a camp that received the survivors, and who declined to be identified, put the death toll at 63. The aid worker said hundreds of people from villages in the area had fled to the camp for the displaced in Monguno.
Attacks of this sort in the area are usually attributed to Boko Haram and other Daesh affiliates operating in northeastern Nigeria.
The latest attack is a blow to the government's efforts to eliminate the Daesh-inspired militancy in the country.
In recent months, the military has suffered its heaviest defeats in years, commanders have been repeatedly replaced, and soldiers belonging to special forces have mutinied against their commanders over the dire conditions.
The militancy has left at least 20,000 people dead and made over 2.6 million others homeless since 2009.
Nigerian President Muhammadu Buhari, a former general, came to power in 2015 on a platform of stamping out Boko Haram. But despite losing swathes of territory, the group continues to stage attacks targeting both civilians and military targets.
https://www.presstv.com/Detail/2018/08/20/571688/Nigeria-Borno-Militant-Attack-Boko-Haram
--------
Italy threatens to send migrants 'back to Libya'
August 20, 2018
ROME - Italy's far-right interior minister threatened Sunday to send "back to Libya" nearly 180 people stranded for three days on an Italian coastguard ship if the EU did not step in to resolve another migrant row with Malta.
The 177 people have been sat off the coast of the Italian island of Lampedusa since Thursday after being saved by the coastguard's Diciotti vessel, and Italy is battling with Malta over who should take them in. "Either Europe decides to seriously offer Italy some concrete help, beginning with for example the 180 immigrants on board the Diciotti ship, or we will be forced to do what will definitively end the human traffickers' business. That means taking the people saved in the sea back to Libya," Salvini said in a statement.
Numerous human rights abuses have been reported in detention centres that hold migrants hoping to make the perilous crossing of the Mediterranean and arrive in Europe.
The Diciotti has been stood off Lampedusa while Italy's populist government, in power since June, demanded that Malta take in the passengers.
Earlier on Sunday the Maltese government, which on Wednesday allowed 141 migrants aboard the Aquarius vessel to dock after an agreement to distribute them to a number of European countries, underlined its refusal of Italy's demands.
Prime Minister Joseph Muscat said that the migrants' boat was not in distress and that they also refused help, while interior minister Michael Farrugia wrote on Twitter that "the only solution" was for the people, saved in waters between the countries, to be taken to Lampedusa or another Italian port.
Farrugia added that the Diciotti picked up the migrants inside the Maltese search and rescue area "without any coordination from the competent RCC (Rescue Coordination Centre), just to stop them arriving in Italian waters".
"An interception of a boat that exercises its right to free navigation in the high seas is not considered a rescue operation," said Farrugia.
Malta's refusal to take in the migrants has infuriated the Italian government, already angered by an operation that Salvini says was carried out by the Italian coastguard without the approval of Rome.
"Malta's behaviour is once again unqualifiable and deserves sanction," Italian Minister of Transport Danilo Toninelli said on Twitter on Sunday.
"The EU needs to step forward and open its ports to solidarity, otherwise it has no reason to exist."
The spat between Italy and Malta is the second in just over a month. It follows the battle over 450 people rescued from a fishing ship and taken aboard two EU border agency vessels who were eventually allowed to disembark in Italy after five European countries agreed to take 50 each.
Full report at:
https://nation.com.pk/20-Aug-2018/612770
--------
Restoration of mast destroyed by al Shabaab in Ijara almost complete
Aug. 20, 2018
Reinstallation of the Safaricom mast destroyed by al Shabaab militants in Ijara town last December is nearing completion.
The militia also razed Ijara police station and made away with a vehicle and ammunition.
Residents have had to travel more than 100km to Masalani town to access services. The militants are suspected to be hiding in Boni Forest.
Hulugho deputy county commissioner Richard Siele said residents will have access to the network in a month. He said the mast will be under 24-hour security.
Siele said a multi-agency team including Kenya Defence Forces, police, reservists and the Rapid Deployment Unit have been traversing the area to weed out militants.
He appealled to residents to volunteer information on suspicious activity and guaranteed confidentiality.
Residents commended area MP Sophia Abdi, who was among leaders who pushed for the reinstallment of the mast.
Speaking to the Star on Saturday, Abdi commended the government for its efforts to improve security in the border town, saying residents deserve government protection.
"We all know what insecurity can do to an area. My constituency has been one of the most affected as a result of constant attacks by the militants. It's my hope and prayer that we don't hear of any other attack," she said.
Meanwhile, police reservist Yahya Osman was hijacked two nights ago by gunmen who took his AK-47 rifle, masked him then left with him for Boni Forest.
A wittiness who requested anonymity said the incident happened past midnight on Wednesday
Full report at:
https://www.the-star.co.ke/news/2018/08/20/restoration-of-mast-destroyed-by-al-shabaab-in-ijara-almost-complete_c1805120
--------
Boko Haram jihadists kill four farmers in NE Nigeria
2018-08-19
Four farmers were killed by Boko Haram jihadists outside a key northeast Nigerian city, a militia leader and survivor told AFP on Saturday.
On Friday, around a dozen Boko Haram Islamists riding on motorcycles stormed crop fields near Ali Goshe village, 6km outside the city of Maiduguri, and slit the throats of four farmers.
The attack on civilians comes as the jihadists are launching a surge of assaults against troops in Nigeria, putting the military on the back foot six months before presidential polls.
"So far we have confirmed the death of four people in the attack which happened around midday," said Ibrahim Liman, who is part of the militia taskforce fighting Boko Haram in the region.
"When the Boko Haram terrorists came the farmers fled but the gunmen managed to grab four and slaughter them."
Shuaibu Boka, who was among the farmers who escaped, said the jihadists did not shoot in order to avoid attracting the attention of security forces.
"There were dozens of us tending our crops when they came on motorcycles and we all fled in different directions," Boka said.
"When we returned much later after the gunmen were gone, we found four of our men slaughtered," he said, adding that the jihadists had killed the 75-year-old head of the community.
Boko Haram's nine-year quest to establish an Islamic state in Nigeria has killed over 20,000 people and displaced some 2.6 million from their homes, triggering a dire humanitarian crisis in the remote Lake Chad region.
The majority of the displaced people used to be subsistence farmers, but because of the ongoing violence they can no longer tend to their fields and rely on food handouts from aid agencies to survive.
Doctors Without Borders (MSF) said Friday it was providing emergency help after 33 children died of malnutrition, diarrhoea and malaria over the span of two weeks in Bama, a camp housing people displaced by the insurgency.
Agriculture in the region has been decimated by almost a decade of conflict, with locals unable to sow or cultivate crops and jihadists raiding grain stores.
But farmers have been forced to try to resume their work in areas where the military has restored relative peace to help alleviate chronic food shortages.
Full report at:
https://www.news24.com/Africa/News/boko-haram-jihadists-kill-four-farmers-in-ne-nigeria-20180818
--------
URL: https://www.newageislam.com/islamic-world-news/is-really-surprise-that-radicals/d/116157
New Age Islam, Islam Online, Islamic Website, African Muslim News, Arab World News, South Asia News, Indian Muslim News, World Muslim News, Women in Islam, Islamic Feminism, Arab Women, Women In Arab, Islamophobia in America, Muslim Women in West, Islam Women and Feminism