New Age Islam News Bureau
1 Sept 2014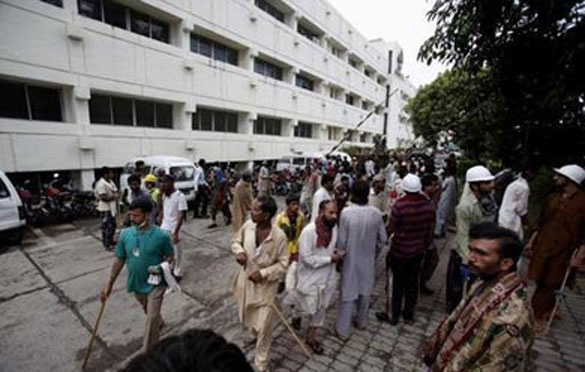 Protesters gather at the state television building in Islamabad, Pakistan on Monday
-----------
Arab World
• IS Fears Make Gulf Monarchies Set Aside Differences
• 42 children dead in Syrian air strikes
• Syrian Army Kills Foreign-Sponsored Militants in Fresh Clean-Up Operations
• Six alleged militants killed in Egypt's Rafah
• Shock As ISIS Slogan Found On School Walls in Riyadh
• Islamist politician proposes new reconciliation initiative
• Islamic State poses global threat, Iraqi minister says
• Hezbollah to focus media on Takfiri threat
• Hezbollah: ISIS wants Lebanon
• Iraq retakes town from militants
• Men-Women Online Chatting Ban Taken Out Of Context: Dar Al-Ifta
North America
• As ISIS Fighters Begin To Blend In, Defeating Them No Easy Matter
• 'Hundreds' of Americans linked to IS
• U.S. sanctions Gaza terror group that declared support for ISIL
• U.S. launches social media offensive against ISIS, Qaeda
• US, UK spied on Turkey, report says citing Snowden
• Lawmakers: Islamic State group wants to hit US
Europe
• Spies to Vet Flight Lists for Returning British Jihadis
• ISIS sets sights on Denmark as EU nation wades into Iraq crisis
• Britain, NATO ready to support Jordan against Islamic State
• Human Rights Watch: ISIS using cluster bombs
• Iraq violence killed at least 1,420 people in August: UN
Pakistan
• 'Anonymous Op Pakistan' Takes Down Government Sites, Leak Bank Records
• Islamabad stand-off: Imran, Qadri booked on terrorism charges
• Marchers deserve no concession, says Jamiat Ulema-e-Islam chief
• Rigidity of govt, protesters may derail democracy: Jamaat-i-Islami
• VC Ajmal Khan swapped for three Taliban, TTP chief claims
• Protesters storm PTV news channel headquarters, forcibly enter Secretariat
• Three tribal cops killed in Jamrud Bazaar check post attack
• Political crisis must end through political means, Army says
• 'Those targeting journalists are enemies of democracy'
• I'm not leaving, Nawaz tells army chief
• Government will not allow protesters to enter state buildings- Khawaja Asif
South Asia
• Afghan Army Claims Lives of 41 Taliban Militants in Joint Operations
• Maldives media raise nearly $2 million for Gaza victims
• Insider attack leaves 3 policemen dead in Uruzgan, Afghanistan
• Abdullah's team asked for evidence on similar handwriting claims
Africa
• Libyan state 'loses control' of most ministries
• Islamist Militia Claims To Have 'Secured' U.S. Embassy Compound in Libya
• Sudan: Over 300 Killed in Clashes between Rezeigat and Ma'alia in East Darfur
Mideast
• 250 Palestinian Minors Locked up behind Israeli Bars
• 21 killed after Shiite rebels, pro-government tribesmen clash in Yemen
• Bennett: Building is Zionist answer to murder of 3 Israeli teens
• Demand for Jewish condemnation elicits limited backlash in Turkey
• Be 'Tolerant' To Internet: Iran President Urges Clerics
Southeast Asia
• Jokowi Urges Clerics to Stand Up to Spectre of Islamic State
• Indonesia offers to train Saudis in naval operations
• My duty is to protect image of Islam, says Khalid Samad
• No need for fatwa on sexual jihad, says minister
India
• ISIS May Free 40 Indian Workers Soon
• No Reason for My Arrest, Says Released On Bail Cleric
Compiled by New Age Islam News Bureau
URL: https://www.newageislam.com/islamic-world-news/new-age-islam-news-bureau/is-fears-make-gulf-monarchies-set-aside-differences/d/98839
------------
Arab World
IS Fears Make Gulf Monarchies Set Aside Differences
01 Sep, 2014
DUBAI: Advances by militants in Syria and Iraq, and US calls for a coalition against them have made Gulf monarchies set aside disputes over Qatar's support for the Muslim Brotherhood, analysts say.
Wary of spectacular gains made by Islamic State jihadists, the oil-rich monarchies fear the militants could advance towards their own borders, where the extreme ideologies could find support.
"The biggest danger [in the Gulf] comes now from these [emerging] terrorist groups, and not from the Muslim Brotherhood," said Abdulaziz Sager, head of the Gulf Research Centre think-tank.
Qatar's relations with Saudi Arabia, the United Arab Emirates and Bahrain sank to a new low in March when the three governments withdrew their ambassadors from Doha, accusing it of meddling in their affairs and supporting the Brotherhood -- designated as "terrorist" by Riyadh.
For Sager, the UAE was "the strictest" against Qatar among the Gulf Cooperation Council countries.
UAE State Minister for Foreign Affairs Anwar Gargash wrote on Twitter Sunday that his country's interest lies "in a strong Arab Gulf... sheltered from regional differences. "Speaking to reporters following a meeting of Gulf Arab foreign ministers, Kuwait's top diplomat Sheikh Sabah Khaled Al-Sabah said that the six-months spat with Qatar was on its way to being resolved.
He said the ambassadors could return to their posts "at any time", without giving a specific date.
The announcement came as Saudi King Abdullah underscored the threat posed by jihadists unless there is "rapid" action.
"Terrorism knows no border and its danger could affect several countries outside the Middle East," Abdullah was quoted as telling ambassadors, including the US envoy, on Friday.
"If we ignore them, I am sure they will reach Europe in a month and America in another month," he warned. Saudi Arabia follows a strict version of Islamic sharia law. Fifteen of the 19 hijackers who took part in the September 11, 2001 attacks on the United States were from the kingdom.
Saudi authorities have long feared blowback from militant groups, particularly after a spate of Al-Qaeda attacks in the kingdom from 2003 to 2006.
IS beliefs supported in Gulf
Kuwaiti political analyst Ayed al-Manaa agrees that "we now have a fear which is much bigger than the differences in foreign policies, with IS taking over one third of Syria and Iraq".
"IS as an ideology, is not only present in [Iraq and Syria]. It is present in our countries and is waiting for the opportunity to appear," said Manaa.
"The political disputes [with Qatar] are no longer a priority... We live in danger from northeast Syria and northwest Iraq. This is an alarm bell for GCC nations to end their differences. "GCC states on Saturday said they are ready to act "against terrorist threats that face the region and the world".
The foreign ministers of Bahrain, Kuwait, Oman, Qatar, Saudi Arabia and the UAE -- the six GCC states -- also pledged a readiness to fight "terrorist ideology which is contrary to Islam".
However, "we are waiting for more details to understand what is needed" for the coalition proposed by US President Barack Obama, said Sabah.
Obama said he was developing a broad plan that would involve military, diplomatic and regional efforts to defeat the IS jihadists who have sown terror through crucifixions and gruesome beheadings.
Obama said he would dispatch US Secretary of State John Kerry to the Middle East to discuss the plan with regional allies, including the Gulf Arab states.
Regional expert Frederic Wehrey said that "the GCC does not have the capacity for real expeditionary military operations outside the Gulf.
"The question is what military value they would bring beyond the symbolic legitimacy of Arab participation," said Wehrey of the Carnegie Endowment for International Peace.
Sagar agrees, pointing out that the participation of GCC leader Saudi Arabia would be limited to "intelligence" and the kingdom's "ability in influencing public opinion in the Muslim world.
"Saudi Arabia's top cleric has already branded Al-Qaeda and IS militants as "enemy number one" of Islam and warned young Muslims to steer clear of "calls for jihad" issued on "perverted" grounds.
http://www.dawn.com/news/1129208/is-fears-make-gulf-monarchies-set-aside-differences
------------
42 children dead in Syrian air strikes
01 Sep, 2014
At least 42 children were killed in 'barrel bomb' explosions in Syria over the past 36 hours, the Syrian Observatory for Human Rights said on Sunday. Syrian aircrafts have dropped dozens of 'barrel bombs' in several areas of the country, many of them in northern Syria, areas that includes Al Raqqa, the capital of the same-named province, as well as the towns of Binsh, Al Abit, Khan Shaykhun, Saraqib and province of Aleppo.
Others died in attacks on the city of Dael, and the towns of Mohasan, Al Rastan and Al Houla. According to the UN, over 190,000 people, 9,000 of whom were children, have been killed in Syria between March 2011 and April 2014.
Syria has been gripped by a deadly conflict since March 2011 displacing millions of people, many of them taking refuge in Lebanon.
http://www.thehindu.com/news/international/world/children-die-in-syrian-air-strikes/article6368535.ece
------------
Syrian Army Kills Foreign-Sponsored Militants in Fresh Clean-Up Operations
Sep 01 2014
Syrian Army continued mop-operations against foreign-sponsored insurgents in the countryside of Daraa and Deir Ezuur, leaving a large number of them dead and wounded.
A military source told the Syrian Arab news agency that the hideouts of the rebels were stormed in a series of operations by the army in al-Hrak city, Izr'a crossroads, Khrab al-Shahem, al-Yadouda, Da'el and Enkhil in the countryside of Daraa.
Shariaa School, near SyriaTel building, al-Yarmouk School, al-Baneen School and the surrounding areas of al-Omari Mosque in Daraa were also cleared up.
A car was also destroyed with all rebels on board on al-Jabiyeh, Nawa road.
Meantime, the Syrian army killed the terrorists of the Islamic State of Iraq and the Levant (ISIL) group in al-Hwaika, al-Rushdieh, al-Ardi, al-Sina'a and al-Jbaileh in Deir Ezuur, destroying their weaponry and ammunition.
Hamza al-Afin and Nazir al-Hassan were identified among the killed terrorists.
Syria has been experiencing unrest since March 2011 with organized attacks by well-armed gangs against Syrian police forces and border guards being reported across the country.
The government blames outlaws, saboteurs, and armed terrorist groups for the deaths, stressing that the unrest is being orchestrated from abroad.
Tel Aviv, Washington and some Arab capitals have been staging various plots to topple President Bashar al-Assad, who is well known in the world for his anti-Israeli stances.
http://english.farsnews.com/newstext.aspx?nn=13930610000918
----------
Six alleged militants killed in Egypt's Rafah
01 Sep, 2014
Six militants were killed and ten arrested in North Sinai late Sunday, state news agency MENA reported.
Security sources said the raid targeted areas of South Rafah.
Egyptian security forces have stepped up their attacks against militants, especially in the Sinai Peninsula, after attacks targeting police and soldiers escalated following the ouster of Islamist president Mohamed Morsi in July 2013.
Over 500 security forces have been reported killed since last year.
Militant attacks have also reached the capital Cairo.
Security forces killed tens of suspected militants in the past several months.
http://english.ahram.org.eg/NewsContent/1/64/109718/Egypt/Politics-/Six-alleged-militants-killed-in-Egypts-Rafah-.aspx
------------
Shock As ISIS Slogan Found On School Walls in Riyadh
1 September 2014
The residents of al-Naseem neighborhood in eastern Riyadh were shocked when they saw the alleged slogans of Islamic State of Iraq and Syria (ISIS) on the walls of some schools, Al-Hayat daily reported.
A number of residents who spoke on condition of anonymity said they suspect that a group of young men were behind it.
The young men did not look religious but used to stay up till late on the streets near the schools, the residents said.
Sulaiman Al-Battah, sociologist, blamed social media for publishing inaccurate news reports and deviant ideas.
He said: "Our society is very passionate about Islam and Muslims. "That is why it is easy to take advantage of young men's feelings, especially in the absence of awareness campaigns.
"It has become a breeding ground for misconceptions and confusion."
He said imams and parents needed to take responsibility for educating young people about the dangers of such deviant ideas.
Full report at:
http://english.alarabiya.net/en/perspective/features/2014/09/01/ISIS-slogan-found-on-school-walls-in-Riyadh.html
------------
Islamist politician proposes new reconciliation initiative
01 Sep, 2014
Egyptian politician Mohamed El-Omda has proposed a new reconciliation initiative to bring together the Muslim Brotherhood and the current government.
El-Omda is an Islamist-leaning former MP who was released from prison last week on bail after nearly a year in detention. He faces charges of inciting violence in 2013 following the ouster of President Mohamed Morsi.
El-Omda gave details of his reconciliation plan at a press conference held at his home in Kom Ombo in Aswan governorate on Sunday, saying that President El-Sisi's term be should be considered a transitional period to "reach to an understanding between the army and the Muslim Brotherhood."
El-Omda said he had not rejected Morsi's legitimacy as president, but "the current circumstances in Egypt force us to act accordingly."
Morsi was ousted in July last year after mass protests against his rule. His Brotherhood group have since been ruled a terrorist organisation.
Full report at:
http://english.ahram.org.eg/NewsContent/1/64/109686/Egypt/Politics-/Islamist-politician-proposes-new-reconciliation-in.aspx
------------
Islamic State poses global threat, Iraqi minister says
September 1, 2014
GENEVA: Islamic State has committed barbaric acts against civilians in Iraq, threatening the country's territorial integrity and posing a global threat, the Iraqi government's human rights minister said on Monday in an appeal for international support.
"The land of ancient Babylon is subjected to threats starting to its very independence, they are attempting to change its demographic and cultural composition," Mohammed Shia' Al Sudani told an emergency debate at the UN Human Rights Council.
"Isis is not an Iraqi phenomenon, it is a transnational phenomenon that poses an imminent danger to all countries of the world, it defies all human rights principles and international law," he told the 47-member Geneva forum.
http://tribune.com.pk/story/756482/islamic-state-poses-global-threat-iraqi-minister-says/
---------
Hezbollah to focus media on takfiri threat
01 Sep, 2014
BEIRUT: Hezbollah's media will focus increasingly on the threat posed by ISIS and takfiri terrorism in general, the party's media adviser, Mohammad Afif, suggested in an interview with The Daily Star.
Afif, who recently returned to his position after a stint as director of news and political programming at Hezbollah's television channel Al-Manar, sees the viciousness displayed by ISIS in online videos, eyewitness reports and media reports as validation for Hezbollah's early interference in the war in Syria.
"This confirms the correctness of our choice to stand against this takfiri ideology from the start and stop it before it reaches us," he said. "It goes against Islamic law, religion and human nature to bear this ongoing criminality, this beheading and displaying of bodies in this fashion. This brutality has nothing to do with Islam, and no sane person can justify it."
Afif also touched on the clashes in Arsal and the kidnapping of Lebanese Army soldiers and security personnel, saying the attack on Arsal was a strategic decision taken after jihadists failed to reach Damascus or hold on to the Qalamoun region following a joint offensive by the Syrian army and Hezbollah.
Full report at:
http://www.dailystar.com.lb/News/Lebanon-News/2014/Sep-01/269130-hezbollah-to-focus-media-on-takfiri-threat.ashx#ixzz3C2hHUH1V
------------
Hezbollah: ISIS wants Lebanon
01 Sep, 2014
BEIRUT: The threat of ISIS to Lebanon cannot be underestimated, a Hezbollah official warned Sunday, stressing that occupying the country was part of the group's expansionist plan.
"The terrorist threat on Lebanon is actual, real and continuous," said Sheikh Nabil Kaouk, the deputy head of Hezbollah's executive council. "And whoever doubts or underestimates [this threat] is either ignorant or negligent, and he harms the high national interest of Lebanon."
Speaking at a ceremony at the southern village Shaqra to honor a Hezbollah martyr killed last Sunday, Kaouk accused "whoever denies Hezbollah's role in protecting" Lebanon of being "oblivious to the truth."
"ISIS's decision has been announced. Their pretended slogan is to create the Islamic State in Iraq and Greater Syria, which includes Lebanon," he said.
According to Kaouk, the fundamentalist group that has claimed authority over large parts of Syria and Iraq also has Lebanon in its sights, but might have been more focused on Syria and Iraq for strategic purposes.
Full report at:
http://www.dailystar.com.lb/News/Lebanon-News/2014/Aug-31/269106-hezbollah-isis-wants-lebanon.ashx#ixzz3C2hWPJ7b
------------
Iraq retakes town from militants
01 Sep, 2014
Iraqi Kurdish forces and Shiite militiamen retook the town of Sulaiman Bek from militants on Monday, removing a key stronghold they have held for over 11 weeks, officials said.
"Sulaiman Bek is under the control of the combined forces," but there is still danger from bombs the militants may have left behind, said Shallal Abdul Baban, the official responsible for the nearby Tuz Khurmatu area.
Fighting to retake the village of Yankaja, also located in Salaheddin province, northeast of Baghdad, was ongoing, Baban said.
A colonel in the Kurdish peshmerga forces and Talib al-Bayati, the top official from Sulaiman Bek, both confirmed that it had been retaken, adding that it had been an important position for the militants.
The town is located near Amerli, where thousands of mainly Shiite Turkmen civilians were trapped by a jihadist siege until Iraqi forces broke through on Sunday.
The Amerli operation was the government's biggest offensive success since militants led by the Islamic State (IS) captured a huge chunk of northern and north-central Iraq in June.
http://english.ahram.org.eg/NewsContent/2/8/109723/World/Region/Iraq-retakes-town-from-militants.aspx
------------
Men-women online chatting ban taken out of context: Dar Al-Ifta
01 Sep, 2014
Egypt's Dar Al-Ifta has clarified its recent edict banning online chats between men and women, arguing that the ruling has been unjustifiably generalised.
On Saturday the authority – the country's highest for issuing religious edicts – said that online chats between men and women who are "foreign to each other" are prohibited except in "cases of necessity".
The edict said that online chats between men and women are "frivolous, evil and open the door for the devil".
On Monday, however, Magdi Ashour – secretary of edicts at Dar Al-Ifta and the academic advisor to the Grand Mufti, Egypt's top Islamic cleric – said in a press statement that edicts from his institution can be issued in response to specific cases.
"It is a great scientific and professional error to take this incident out of its special context and generalise it on matters perceived similar without referring to experts," he said.
Ashour asserted that the religious maxim states that the basic guiding principle is "permissibility".
Full report at:
http://english.ahram.org.eg/NewsContent/1/64/109730/Egypt/Politics-/Menwomen-online-chatting-ban-taken-out-of-context-.aspx
------------
North America
As ISIS Fighters Begin To Blend In, Defeating Them No Easy Matter
01 Sep, 2014
After their lightning takeover in June, flag-waving Islamic State of Iraq and Syria militants paraded through the captured Iraqi city of Mosul in looted U.S.-built Humvees, armoured cars and pickup trucks mounted with heavy machine guns.
Today, many have ditched military-type vehicles that could make them easy targets of U.S. air strikes, and try to blend in with residents, say witnesses. While still terrifying, they are now a far more discreet force.
A Reuter's examination of three weeks of U.S. air strikes reveals significant changes in the way the ISIS operates since the U.S. joined the struggle against them, with fewer militants on the streets of Mosul the clearest sign.
It is unclear how the ISIS' tactics will further change as a result of the reclaiming of the strategic Mosul Dam by Iraqi government and Kurdish forces or Sunday's dramatic retaking of Amerli, where thousands had been cut off from food and water, but clearly battlefield strategies are involving on both sides.
The way the ISIS is adapting shows the scale of problems ahead for President Barack Obama, the Pentagon and U.S.-backed Iraqi and Kurdish forces, as they struggle to reclaim ground from the Sunni militants, who have seized a third of both Iraq and Syria, and want to establish a jihadist hub in the heart of the Arab world.
Full report at:
http://english.alarabiya.net/en/perspective/2014/08/31/As-ISIS-fighters-begin-to-blend-in-defeating-them-no-easy-matter.html
------------
'Hundreds' of Americans linked to IS
01 Sep, 2014
Several hundred US citizens may have had contact with Islamic State jihadists in Syria, the chairman of the powerful House Intelligence Committee said Sunday.
Republican lawmaker Mike Rogers, a former FBI agent, told "Fox News Sunday" he was concerned about efforts to keep track of Americans who had links to the group.
"It's in the hundreds that have at least one time traveled, participated and trained with them," Rogers said.
"Some have drifted back, some have gone to Europe."
The US State Department has previously estimated that more than 100 US citizens had traveled to Syria to join radical groups such as the Islamic State.
"I'm very concerned because we don't know every single person who has an American passport that has gone and trained and learned how to fight," Rogers said.
He also raised concerns about the estimated 500 British citizens and "several hundred" Canadians believed to have traveled to Syria, noting that passport holders from those countries could both enter the United States without a visa.
US officials last week confirmed an American fighting for Islamic State was killed earlier this month in Syria.
Full report at:
http://english.ahram.org.eg/NewsContent/2/9/109693/World/International/Hundreds-of-Americans-linked-to-IS-lawmaker.aspx
----------
U.S. sanctions Gaza terror group that declared support for ISIL
01 Sep, 2014
WASHINGTON — The United States has sanctioned an Al Qaida-inspired group in the Gaza Strip that early this year declared support for the ISIL.
The State Department has announced sanctions on the Mujahadin Shura Council in the Environs of Jerusalem. The department identified Mujahadin as the focus for jihadist militias in the Gaza Strip.
"The Mujahidin Shura Council in the Environs of Jerusalem is an umbrella group composed of several jihadist terrorist sub-groups based in Gaza that has claimed responsibility for numerous attacks on Israel since the group's founding in 2012," the State Department said.
"In addition to these physical attacks, the MSC released a statement in February 2014 declaring support for the Islamic State of Iraq and the Levant."
Full report at:
http://www.worldtribune.com/2014/08/31/u-s-slaps-sanctions-gaza-terror-group/
------------
U.S. launches social media offensive against ISIS, Qaeda
31 August 2014
The United States has launched a social media offensive against the Islamic State of Iraq and Syria and al-Qaeda, setting out to win the war of ideas by ridiculing the militants with a mixture of blunt language and sarcasm.
Diplomats and experts are the first to admit that the digital blitz being waged on Twitter, Facebook and YouTube will never be a panacea to combat the jihadists.
But U.S. officials see social media as an increasingly crucial battlefield as they aim to turn young minds in the Muslim world against groups like ISIS and al-Qaeda.
For the past 18 months, U.S. officials have targeted dozens of social network accounts linked to Islamic radicals, posting comments, photos and videos and often engaging in tit-for-tat exchanges with those which challenge America.
Full report at:
http://english.alarabiya.net/en/media/digital/2014/08/31/U-S-launches-social-media-offensive-against-ISIS-Qaeda.html
------------
US, UK spied on Turkey, report says citing Snowden
01 Sep, 2014
The United States and the United Kingdom have spied on Turkey, German weekly magazine Der Spiegel has reported, citing documents provided by U.S. whistleblower Edward Snowden.
Documents, seen by the magazine and the online magazine Intercept, show that Turkey is one of the United States' leading targets for spying and the political leadership in Washington has tasked the National Security Agency (NSA) with divining Turkey's "leadership intention," as well as monitoring its operations in 18 other key areas.
A document places Turkey at the level of Venezuela and even ahead of Cuba in terms of U.S. interest in intelligence collection, the report said. Information about the "leadership intention" of the Turkish government is given the second-highest priority rating, and information about the military and its infrastructure, foreign policy goals, and energy security are given the third-highest priority rating, it added. Beginning in 2006, the NSA began a broad surveillance operation aimed at infiltrating the computers of Turkey's top political leaders.
Turkey summoned Germany's ambassador in Ankara last month after media reports that Berlin had identified Ankara as a top target of surveillance in a government document from 2009 and had been spying on Turkey for years.
Full report at:
http://www.hurriyetdailynews.com/us-uk-spied-on-turkey-report-says-citing-snowden.aspx?pageID=238&nID=71139&NewsCatID=359
------------
Lawmakers: Islamic State group wants to hit US
01 Sep, 2014
Cities in the United States and Western Europe are being eyed as Islamic State militants' future targets and President Barack Obama needs to take action, two U.S. lawmakers are warning.
Without offering specifics on any threats or suggestions on how to confront them, the leaders of the Senate and House intelligence committees on Sunday prodded the White House to work to prevent the Islamic State extremists from launching attacks on U.S. soil. The bipartisan pair of lawmakers shared a dire warning against the Islamic State group, which now has control of vast swaths of Syria and Iraq, has killed civilians from that region and beheaded American journalist James Foley
"This is a group of people who are extraordinarily dangerous," said Sen. Dianne Feinstein, the California Democrat who leads the Senate intelligence panel. "And they'll kill with abandon."
In a separate TV interview, the leader of the House Intelligence Committee warned the leaders of the Islamic State, sometimes called ISIL or ISIS, are looking for a spectacular attack that would help them raise money and recruit more fighters.
Full report at:
http://english.ahram.org.eg/NewsContent/2/9/109709/World/International/Lawmakers-Islamic-State-group-wants-to-hit-US.aspx
------------
Europe
Spies To Vet Flight Lists For Returning British Jihadis
01 Sep, 2014
The Prime Minister is to give intelligence agencies the power to vet airline flight lists in an effort to stop jihadis entering Britain.
The US-style laws would compel all airlines flying into the country to provide much more information about passengers.
If the name of a traveller appears on a 'watch list' the plane may not be permitted to land in the UK unless the person is stopped from boarding.
The Government wants to improve the flow of airline passenger data to intelligence agencies. At present, some airlines do not release their passenger lists until 30 minutes before flights leave.
There will also be a push to share more data on passengers, but this will run into difficulties in the European parliament on civil liberties grounds.
The airline flight lists measure is among a number of emergency powers which will today be unveiled by David Cameron.
It follows a warning by the king of Saudi Arabia that terror groups could attack in the West within a month.
He said: 'If neglected I'm sure they [terrorists] will reach Europe in a month and America in another month. The evils of terrorism must be fought with force, reason and speed.'
At the centrepiece of Mr Cameron's plans will be a temporary ban on British citizens from coming home if they have travelled to fight alongside Islamist fanatics.
This would stop short of stripping suspects of their British citizenship and making them stateless – a breach of international law – but at the same time prevents them from re-entering.
Full report at:
http://www.dailymail.co.uk/news/article-2739424/Spies-vet-airline-flight-lists-returning-jihadis-Saudi-King-warns-Terrorists-attack-Europe-month.html#ixzz3C4Hir9PJ
-----------
ISIS sets sights on Denmark as EU nation wades into Iraq crisis
01 Sep, 2014
The Islamic State has declared Denmark an "enemy of Islam" and the country is on the militant organization's radar. This is according to a Danish-Turkish jihadist, who only gave his name as OA and previously fought for the organization in Syria.
The 27 year-old, who was born and raised in Denmark says The Islamic State, who was previously known as ISIS, "has become very international and Denmark is high up on the list, believe me," speaking to the Danish broadsheet newspaper, Politiken.
"Denmark is not my country. The Muslims' country is the caliphate and inshallah there will soon be an attack here. Denmark should prepare itself," the militant added as cited by The Local.
Full report at:
http://rt.com/news/183732-isis-denmark-jihad-security/
------------
Britain, NATO ready to support Jordan against Islamic State
01 Sep, 2014
The British ambassador in Amman said that his country and NATO would help Jordan deal with any threat from the Islamic State, a Saudi newspaper reported on Sunday.
Jordan handed NATO secret security reports showing the expansion of the terrorist group in Iraq, including ideas to counter the group's advance towards its territory, the Saudi newspaper Okaz reported.
A NATO Summit is scheduled to begin on Thursday in Wales.
The British ambassador to Jordan, Peter Millet, said his country and NATO are ready to coordinate with Jordan to deal with the danger it faces from the Islamic State. Millet added that the stability and security of the Hashemite Kingdom are a top priority for his government.
Full report at:
http://www.jpost.com/Middle-East/Britain-NATO-ready-to-support-Jordan-against-Islamic-State-373054
---------
Human Rights Watch: ISIS using cluster bombs
1 September 2014
Islamic State of Iraq and Syria (ISIS) militants have used cluster munitions in Syria in at least one location and Syria's regime is continuing to use the widely banned weapon, Human Rights Watch said Monday.
The New York-based group, citing reports from local Kurdish officials and photographic evidence, said IS fighters had used cluster bombs on July 12 and August 14.
They were deployed in fighting around the town of Ayn al-Arab in Aleppo province, near the border with Turkey, in clashes between the militant group and local Kurdish fighters.
The group said it was believed to be the first time ISIS had used cluster bombs, and it was unclear how it had acquired them.
Cluster munitions contain dozens or hundreds of small bomblets and can be fired in rockets or dropped from the air.
Full report at:
http://english.alarabiya.net/en/News/middle-east/2014/09/01/Human-Rights-Watch-ISIS-using-cluster-bombs-.html
------------
Iraq violence killed at least 1,420 people in August: UN
01 Sep, 2014
Violence in Iraq killed at least 1,420 people during the month of August, as Iraqi forces fought to regain areas overrun by jihadist-led militants, the United Nations said on Monday.
At least 1,370 people were wounded during the same period, the UN's Iraq mission said in a statement, adding that the figures do not include Anbar province, and that there were difficulties in verifying incidents in areas where there was fighting or which were outside government control.
http://english.ahram.org.eg/NewsContent/2/8/109733/World/Region/Iraq-violence-killed-at-least-,-people-in-August-U.aspx
------------
Pakistan
'Anonymous Op Pakistan' Takes Down Government Sites, Leak Bank Records
01 Sep, 2014
KARACHI: In the wake of ongoing anti-government protests in Islamabad, a group of hackers calling themselves 'Anonymous Op Pakistan' temporarily brought down numerous government portals in a bid to remove, "every vestige of the Pakistan government from the Internet".
The group also leaked a zip file containing 23,000 bank records allegedly connected to the government. The zip file contained a document that stated the leak was carried out by ASOR Hack Team.
Claiming to be a part of Anonymous - the global hacktivist network - the hackers attacked over two dozen government websites overnight, a few of which remained inaccessible on Monday. Some of the hacked websites were defaced as well.
In numerous online messages, Anonymous Op Pakistan said it was carrying out the attacks for political reasons, in support of the PTI/PAT protesters:
"We are cataloguing the atrocities being committed in Pakistan. We will begin at once assisting the peaceful protesters in Pakistan with every tool and tactic at our disposal. And we will initiate the process of removing every vestige of the Pakistan government from the Internet and shutting down their communications network. And the Pakistani people will then remove this criminal regime from power and lock them in prison where they belong. Prime Minister Nawaz Sharif you are hereby dismissed. You will leave power immediately. For the safety and security of your family we suggest that you depart Pakistan at once. This is your only warning."
Full report at:
http://www.dawn.com/news/1129212/anonymous-pakistan-take-down-government-sites-leak-bank-records
------------
Islamabad stand-off: Imran, Qadri booked on terrorism charges
01 Sep, 2014
The plan to oust the PML-N led government and topple Prime Minister Nawaz Sharif from power is reaching critical mass.
The last 48 hours saw the Pakistan Tehreek-i-Insaf (PTI) and Pakistan Awami Tehreek (PAT) anti-government protests morph Islamabad's Red Zone from a concert ground to a bloody battlefield, with at least three people killed and hundreds injured.
The deadly confrontation shows little signs of letting up, as both Imran Khan and Tahirul Qadri have encouraged their supporters to battle on, while negotiations with the government appear to be going nowhere - despite the Pakistan Army playing the role of 'mediator'.
http://www.dawn.com/news/1129011/islamabad-stand-off-imran-qadri-booked-on-terrorism-charges
------------
Marchers deserve no concession, says Jamiat Ulema-e-Islam chief
September 01, 2014
PESHAWAR - Jamiat Ulema-e-Islam (Fazl) chief Maulana Fazlur Rehman said on Sunday that Imran Khan could not take resignation from his own parliamentarians but he is demanding resignation of an elected prime minister.
"Attack on state institutions is sedition against the state and those who are making the woman and children their shields to attack state institution do not deserve any concession," he remarked while addressing a grand rally here at Khyber Bazaar on Sunday. JUI-F leaders Maulana Gul Nasib Khan, Maulana Shujaul Mulk and Abdul Jalil Jan were also present on the occasion.
The JUI-F chief said that PTI marches and mixed dance of male and female workers are plans to inject Western civilisation in the country. He said from the very beginning he had felt that these people are not working in the interest of the state but are trying to promote Western culture, which is not acceptable to JUI-F and its workers.
Full report at:
http://www.nation.com.pk/editors-picks/01-Sep-2014/marchers-deserve-no-concession-says-fazl
------------
Rigidity of govt, protesters may derail democracy: Jamaat-i-Islami
01 Sep, 2014
LAHORE: Jamaat-i-Islami general-secretary Liaquat Baloch has said the intransigence of those demanding resignations and those rejecting the demand should not end up in the demise of democracy and the constitution.
Speaking at a press conference here on Sunday, Mr Baloch said the entire nation was deeply concerned at the persisting political crisis and wanted its quick and peaceful solution.
He said on the instructions of party emir Sirajul Haq, he had contacted important leaders, including Syed Khurshid Shah, Aitzaz Ahsan, Hasil Bizenjo, Mehmud Khan Achakzai, Maulana Fazlur Rahman, and Asma Jehangir, and they all had stressed on resolving the present crisis in the national spirit and in accordance with the Constitution.
He said if Prime Minister Nawaz Sharif and Punjab Chief Minister Shahbaz Sharif tendered resignations voluntarily, nobody would object to it, but their act like this under the pressure of protest won't be a healthy tradition.
Full report at:
http://www.dawn.com/news/1129124/rigidity-of-govt-protesters-may-derail-democracy-ji
------------
VC Ajmal Khan swapped for three Taliban, TTP chief claims
01 Sep, 2014
Chief of the outlawed Tehreek-i-Taliban Pakistan (TTP) Mullah Fazllullah on Sunday claimed that three Taliban prisoners were released in exchange for Vice Chancellor of Islamia College Professor Ajmal Khan.
Fazlullah, delivering a speech to his followers at the alleged reunion of the three released Taliban prisoners, claimed that "our colleagues are back with us without any legal formalities or signatures". He further said that other prisoners would also be released soon.
Pakistani authorities have not responded to the TTP's claims of the prisoner swap so far.
The TTP Chief said the militant group was willing to use any means, resources and force including kidnappings similar to that of Professor Ajmal Khan to get more of their imprisoned members released.
Full report at:
http://www.dawn.com/news/1129014/vc-ajmal-khan-swapped-for-three-taliban-ttp-chief-claims
------------
Protesters storm PTV news channel headquarters, forcibly enter Secretariat
01 Sep, 2014
Pakistani protesters wielding sticks and throwing stones clashed with police in the centre of the capital Islamabad on Monday after weeks of demonstrations demanding Prime Minister Nawaz Sharif's resignation turned violent over the weekend.
1.20 pm: Pakistan's PTV channel returns to air after the army and paramilitary Rangers cleared its headquarters of protesters and put the building under protection.
12.16 pm: Fresh clashes erupt between police and anti-government protesters who forcibly enter Secretariat in Islamabad after breaking its gate.
12.05 pm: Pakistan's national PTV channel and its English-language PTV World service are taken off the air after protesters stormed its headquarters in central Islamabad. "They have stormed the PTV office," a news anchor said just before the screen went blank. "PTV staff performing their journalistic duties are being beaten up."
11.00 am: Pakistani protesters push closer to Prime Minister Nawaz Sharif's house, clash with retreating police.
Full report at:
http://indianexpress.com/article/world/neighbours/clashes-resume-in-islamabad-as-pressure-mounts-on-pak-pm-nawaz-sharif-to-resign/
------------
Three tribal cops killed in Jamrud Bazaar checkpost attack
01 Sep, 2014
PESHAWAR: At least three tribal police force personnel were killed and another injured in an attack by unidentified gunmen on security checkposts in main Jamrud Bazaar of Khyber tribal region.
Sources said that the attackers stormed main Jamrud Bazaar from the Shahkas and Ghundi areas and targeted the Khasadar force personnel deputed at check posts in the Bazaar.
The sources further said that at least three checkposts were attacked simultaneously by the attackers and added that the exchange gunfire continued till the filing of this report.
Khyber is among Pakistan's seven semi-autonomous tribal districts near the Afghan border, rife with homegrown militants and home to religious extremist organisations.
http://www.dawn.com/news/1129013/three-tribal-cops-killed-in-jamrud-bazaar-checkpost-attack
------------
Political crisis must end through political means, Army says
01 Sep, 2014
ISLAMABAD: After a lengthy four hour meeting at General Headquarters, the Pakistan Army corps commanders came out with a statement "reaffirming support to democracy" and reiterating that the current stand-off between the PML-N led government and the Pakistan Tehreek-I-Insaaf (PTI), Pakistan Awami Tehreek (PAT) needed a political solution.
The meeting, which was headed by Chief of Army Staff (COAS) General Raheel Sharif, saw the corps commanders reject "further use of force" in the crisis, an Inter-Services Public Relations (ISPR) press release stated.
The commanders also expressed "serious concern" over the violent turn of events in the federal capital.
"The Army remains committed to playing its part in ensuring security of the state and will never fall short of meeting national aspirations," the press release stated.
Dawn.com learnt that General Raheel Sharif took the commanders into confidence over his meetings with Prime Minister Nawaz Sharif, PTI Chief Imran Khan and PAT Chief Tahirul Qadri last week.
Full report at:
http://www.dawn.com/news/1129001/political-crisis-must-end-through-political-means-army-says
------------
'Those targeting journalists are enemies of democracy'
01 Sep, 2014
ISLAMABAD: Federal Minister for Information, Broadcasting and National Heritage, Senator Pervaiz Rashid on Sunday strongly condemned torture on media persons in Islamabad.
In a statement issued here, the minister said that the federal government has taken notice of the reports of attacks on journalists. The minister said that the concerned authorities have been directed to ensure that no hurdle is created by police or protesters in the performance of professional duties by journalists.
Senator Rashid said that anyone involved in torture of journalists would be held accountable. He said that the government believes in freedom of expression as democracy and media freedom go hand in hand. The minister said that those targeting journalists, performing their professional obligations, are neither friend of democracy nor democratic system.
http://www.dailytimes.com.pk/national/31-Aug-2014/information-minister-strongly-condemns-torture-on-journalists
------------
I'm not leaving, Nawaz tells army chief
September 1, 2014
ISLAMABAD: As protests in Islamabad seemingly slip out of the government's control, Prime Minister Nawaz Sharif and Chief of Army Staff General Raheel Sharif's met at the PM House on Monday to discuss the political crisis.
According to sources, the embattled Prime Minister Nawaz Sharif informed army chief General Raheel Sharif that he will not resign in the wake of protests by Pakistan Awami Tehreek (PAT) and Tehreek-e-Insaf (PTI).
Insiders said that in the meeting that lasted over two hours, the prime minister and army chief discussed the ongoing political crisis in detail – and its likely fallout.
Sources said that General Sharif presented a range of options before Nawaz, including stepping down for a month to allow for investigations over last year's elections to conclude.
However, a senior Pakistan Muslim League-Nawaz leader insisted that the prime minister will not step down, and will in fact address a joint session of Parliament on Tuesday.
Following his intense meeting with the army chief, the prime minister is currently holding negotiations with opposition leaders. There were also reports by a private television channel that the army chief had asked the premier to resign but the reports were immediately clarified by the ISPR spokesperson Asim Bajwa, who said the reports were baseless.
Full report at:
http://tribune.com.pk/story/756459/pm-nawaz-meets-coas-raheel-sharif/
------------
Government will not allow protesters to enter state buildings- Khawaja Asif
September 01, 2014
Islamabad- Defence Minister Khawaja Muhammad Asif has said the government is ready for negotiations with Pakistan Tehreek-e-Insaf and Pakistan Awami Tehreek for resolving issues.
Talking to a private TV channel, he said the dialogue process was going forward positively with PTI, PAT leaders. Khawaja Asif stressed that government would not allow the protesters to enter the state buildings.
http://www.nation.com.pk/national/01-Sep-2014/government-will-not-allow-protesters-to-enter-state-buildings-khawaja-asif
------------
South Asia
Afghan Army Claims Lives of 41 Taliban Militants in Joint Operations
Sep 01 2014
At least 41 Taliban militants including their local commanders were killed following joint military operations by Afghan national security forces in the past 24 hours.
"Afghan National Police conducted several anti-terrorism joint operations with Afghan National Army and NDS to clear some of the areas from terrorists," the Ministry of Interior said in a statement, Khaama Press reported.
"The operations were conducted in Helmand, Zabul, Kandahar, Laghman, Uruzgan, Ghazni, Logar, Nangarhar, Takhar and Paktika provinces, as a result 41 armed Taliban members were killed, six wounded and 24 others were arrested by Afghan National Security Forces, "the statement further added.
"Afghan National Police discovered and confiscated light and heavy ammunition," it said.
Afghan National Police discovered and defused two different types of Improvised Explosive Devices (IEDs) placed by enemies of Afghanistan for destructive activities in Nangarhar and Helmand provinces.
http://english.farsnews.com/newstext.aspx?nn=13930610000862
------------
Maldives media raise nearly $2 million for Gaza victims
01 Sep, 2014
Media outlets in the Maldives have raised nearly $2 million to help Gaza residents affected by massive destruction caused in the 50-day war between Israel and Hamas, a fundraising organiser said Saturday.
"About 10 media institutions, including on-line and print, came together to raise this money," spokesman Ahmed Zahir said by telephone from Male, the capital of the Sunni Muslim archipelago.
Maldives, a high-end holiday destination in the Indian Ocean, has expressed solidarity with Gaza, whose economy is expected to take years to recover from Israeli shelling and air strikes.
Male has imposed a ban on Israeli-made goods and last month revoked three cooperation agreements on health, tourism and education.
Zahir said $1.91 million was given this week to the Qatar Red Crescent to supply food and water and help victims recover from the widespread destruction caused in the latest fighting.
The money was raised through a 36-hour telethon as well as through other public contributions from state as well as privately-owned companies.
The seven-week conflict claimed the lives of 2,143 Palestinians, more than 70 percent of them civilians, according to the United Nations, and 65 soldiers and six civilians on the Israeli side.
Full report at:
http://english.alarabiya.net/en/media/print/2014/08/30/Maldives-media-raise-nearly-2-million-for-Gaza-victims-.html
------------
Insider attack leaves 3 policemen dead in Uruzgan, Afghanistan
Sep 01 2014
At least 3 policemen were killed following an insider attack in central Uruzgan province of Afghanistan late Sunday.
Provincial governor spokesman, Dost Mohammad Nayab, has said the incident took place on Sunday night in Shahid Asas district.
Nayab further added that the attack was carried out by four policemen who opened fire on their three comrades in a check post in Kekhi area.
He said the assailant policemen managed to flee the area following the attack and have taken with them some weapons and ammunition.
Full report at:
http://www.khaama.com/insider-attack-leaves-3-policemen-dead-in-uruzgan-province-8552
------------
Abdullah's team asked for evidence on similar handwriting claims
01 Sep, 2014
The UN mission in Afghanistan has asked Dr. Abdullah Abdullah's camp to provide evidence regarding their claims, suggeting that similar handriting were being found on results sheets.
United Nations Assistance Mission in Afghanistan (UNAMA), said "Even as the comprehensive audit of the presidential run-off approaches completion, the United Nations is continuing to respond to new technical issues and concerns when raised by the presidential campaigns. This is part of its previously stated commitment to work with both campaigns to respond to any issues which would further the overall objective of the audit to separate fraudulent ballots from valid votes."
UNAMA said, the Reform and Partnership Team raised claims of similar handwriting being found across multiple results sheets on August 23, 2014.
"If supported by evidence, the existence of similar signatures on results sheets from different geographic locations would require a thorough investigation and robust response. At this point however the UN would caution against making predictions about the possible impact of these claims before a proper inquiry has been carried out," the statement by UN said.
Full report at:
http://www.khaama.com/abdullahs-team-asked-for-evidence-on-similar-handrwriting-claims-8554
----------
Africa
Libyan state 'loses control' of most ministries
1 September 2014
Libya's transitional government announced overnight it had lost control of the majority of ministries in Tripoli, a day after a Libyan militia took over an abandoned annex of the U.S. Embassy in the Libyan capital.
In a statement, the government said armed forces had surrounded the government headquarters, preventing workers from entering and threatening to kill ministers and their deputies.
It also said gunmen had directly threatened a great number of state employees, attacked them and burned down their houses.
The government, which along with the newly elected parliament relocated to the remote eastern city of Tobruk, said it is now conducting duties outside the capital.
Separately, Libya's elected parliament, the House of Representatives, on Monday asked Abdullah al-Thinni to form new government, a lawmaker said.
Thinni had been prime minister of the oil producer since March but his position has been challenged by a rival parliament refusing the recognize the House of Representatives.
Libya has been rocked by the worst factional violence since the 2011 fall of Moammar Qaddafi, and a Misrata-led alliance, part of it which is Islamist-leaning, now controls the capital.
Full report at:
http://english.alarabiya.net/en/News/middle-east/2014/09/01/Libyan-state-says-lost-control-of-most-ministries.html
------------
Islamist Militia Claims To Have 'Secured' U.S. Embassy Compound In Libya
01 Sep, 2014
TRIPOLI, Libya (AP) — An Islamist-allied militia group says it has "secured" a U.S. Embassy compound in Libya's capital, more than a month after American personnel evacuated from the country over ongoing fighting.
An Associated Press journalist walked through the compound Sunday after the Dawn of Libya, an umbrella group for Islamist militias, invited onlookers inside. Windows at the compound had been broken, but it appeared most of the equipment there remained untouched.
A commander for the Dawn of Libya group said his forces had entered and been in control of the compound since last week.
A video posted online showed men playing in a pool at the compound. In a message on Twitter, U.S. Ambassador to Libya Safira Deborah said the video appeared to have been shot in at the embassy's residential annex.
http://www.huffingtonpost.com/2014/08/31/us-embassy-libya_n_5744024.html
------------
Sudan: Over 300 Killed in Clashes Between Rezeigat and Ma'alia in East Darfur
01 Sep, 2014
Ed-Daein — The United Nations has said that more than 300 people were killed and hundreds others injured in recent fighting between Rizeigat and Ma'alia tribes in East Darfur state.
The UN Office for the Coordination of Humanitarian Affairs (OCHA) said in its weekly bulletin received by Sudan Tribune that 200 Ma'alya and 123 Rizeigat tribesmen were killed in clashes which took place in the Umm Rakubah area in East Darfur' Abu Karinka locality.
OCHA reported that a further 70 Rizeigat and an unknown number of Ma'alia have been injured, noting that Um Rakubah "has been mostly destroyed and women and children have fled to Adila".
On 16th August, fighting erupted between the Rizeigat and Maalia tribes in East Darfur after the theft of livestock belonging to Ma'alia in Abu Rakubah area.
The Rizeigat attacked the area of Um-Rakoba inhabited by Maalia several times this month. The genesis of the recent outbreak of conflict between the two tribes was a dispute over land ownership claimed by both tribes.
Full report at:
http://allafrica.com/stories/201409010962.html?aa_source=mf-hdlns
------------
Mideast
250 Palestinian Minors Locked up behind Israeli Bars
Sep 01 2014
At least 250 Palestinian children, below the age of 18, are incarcerated in Israeli jails and have been subjected to acts of violence that stand in sharp in contrast with all international children rights conventions, the Palestinian Ministry of Prisoners and ex-Prisoners Affairs said in a statement.
The Israeli security apparatuses have been coming down heavily on the Palestinian minor captives throughout the detention phase and until their release, PIC reported.
The most excruciating violations are detected in the psycho-physical torture ways, including the act of forcing children to sit on the investigation chair chained hand and foot and covering their entire heads with foul-smelling bags, in addition to depriving them of sleep.
Abrupt break-ins into children prison cells, solitary confinement, heavy beating, denial of urgent medical treatment, strip searches, and demolition threats, are some of the terror tactics, among many others, used by the Israeli prison authorities against Palestinian minor captives, paying no heed to their age and the future psychological disorders held in store.
Full report at:
http://english.farsnews.com/newstext.aspx?nn=13930610001225
------------
21 killed after Shiite rebels, pro-government tribesmen clash in Yemen
31 August 2014
At least 21 people were killed in weekend clashes between Shiite rebels and pro-government tribesmen in the north of Yemen, tribal sources said Sunday.
The fighting comes as the Zaidi Shiite rebels, also known as Houthis or Ansarullah, have been pressing for the government to step down and its fuel price hikes to be scrapped.
The clashes have rocked the Majzar region straddling the northern province of Al-Jawf and Marib, southeast of Sanaa, since Friday night, the tribal sources said.
The pro-government tribes are trying to "stop the rebels from advancing on Sanaa," a tribal chief told AFP.
He said, on condition of anonymity, that Ansarullah fighters are trying to capture the Marib-Sanaa road, a key supply route for fuel destined for Sanaa.
The rebels have had armed fighters camped around Sanaa for the past week and held protests almost throughout August to press for the government's resignation, accusing it of corruption.
On Friday, tens of thousands of supporters of the Shiite rebels rallied in northern Sanaa while a similar number of government loyalists held a counter-protest in the south of the capital.
Three days of talks at the end of August between the Yemeni authorities and the rebels failed to reach a deal to end the political standoff.
Full report at:
http://english.alarabiya.net/en/News/middle-east/2014/08/31/21-dead-as-Shiites-battle-pro-government-tribesmen-in-Yemen.html
------------
Bennett: Building is Zionist answer to murder of 3 Israeli teens
01 Sep, 2014
Economy Minister Naftali Bennett (Bayit Yehudi) on Monday praised Sunday's decision to make an additional 4,000 dunams in Gush Etzion state land, paving the way for a new building project in the West Bank.
As a new school year opened in Israel on Monday, Bennett visited the Makor Hayim yeshiva in Gush Etzion, where Naftali Fraenkel and Gil-Ad Shaer, two of three boys kidnapped and murdered by Hamas terrorists in June had been students.
"What we did yesterday was a display of Zionism," Bennett said while on a tour of the area where the new project is expected. "Building is our answer to murder."
Bennett addressed students at the yeshiva, saying, "You students of Makor Hayim were regular students until a couple months ago. Today you are the spearhead. You all now have extra weight on your shoulders- you are makor hahayim (the source of life) of Israel."
The minister told the students that in recent months Israel had undergone two difficult events: the murder of the boys in Gush Etzion and Hamas terror in Gaza. "Yesterday, the government made two decisions: one which built-up and strengthened the Gaza frontier and the second which builds up and strengthens Gush Etzion."
Full report at:
http://www.jpost.com/Arab-Israeli-Conflict/Bennett-praises-decision-to-expand-state-land-in-West-Bank-Building-is-our-answer-to-murder-373087
------------
Demand for Jewish condemnation elicits limited backlash in Turkey
01 Sep, 2014
Several prominent Turkish Jews reprimanded their government over calls for their community to denounce Israeli military action in the Hamas-controlled Gaza Strip.
In the open letter, published on the website of the Hurriyet Daily News on Friday, the Jewish academics, media figures and authors argued that they had no obligation to comment on "Israel's latest attack on Gaza."
"No citizen of this country is under any obligation to account for, interpret or comment on any event that takes place elsewhere in the world, and in which he/she has no involvement. There is no onus on the Jewish community of Turkey, therefore, to declare an opinion on any matter at all," they wrote.
Senior Turkish officials and government friendly media outlets were highly critical of Israel during the conflict, engaging in rhetoric that Jewish groups abroad have decried as anti-Semitic.
Full report at:
http://www.jpost.com/Diaspora/Demand-for-Jewish-condemnation-elicits-limited-backlash-in-Turkey-372998
------------
Be 'Tolerant' To Internet: Iran President Urges Clerics
01 Sep, 2014
Iran's President Hassan Rouhani has urged the country's clerics to be more tolerant of the Internet and new technologies, saying Iran cannot "close the gates to the world."
Mr. Rouhani made the appeal during a meeting with clerics in Tehran on Monday, saying that Internet is important for all aspiring students and experts trying to access new knowledge and science. His speech was broadcast in state television.
Mr. Rouhani, a relative moderate elected last year, has vowed to expand media and Internet freedoms but has faced resistance from hard-liners.
In Iran, websites and Internet applications have sometimes been reported blocked but mostly remain operational.
http://www.thehindu.com/news/international/world/be-tolerant-to-internet-iran-president-urges-clerics/article6369673.ece
---------
Southeast Asia
Jokowi Urges Clerics to Stand Up to Spectre of Islamic State
01 Sep, 2014
Jakarta. President-elect Joko Widodo has called on local Muslim leaders to do more to stop the spread of radical Islamic teaching in Indonesia, as politicians warn of a rising tide of support in the country for the extremist group Islamic State.
"Muslim clerics must be able to read the situations around them," Joko said in a speech to hundreds of members of Nahdlatul Ulama, Indonesia's largest Muslim organization, in Depok, on Saturday.
"When they detect radical movements around them, it is their duty to set things right," he added.
He stressed that only peaceful Islamic teaching could be used to root out or counter radical ideas.
Muslim clerics have a responsibility to combat radical teachings as they are leaders of the Muslim faithful, Joko said.
A similar call came from Melani Leimena Suharli, a deputy speaker of the People's Consultative Assembly, or MPR, who said Indonesian Muslim leaders could play a significant role in countering the Islamic State's attempts to spread its influence in Indonesia and recruit fighters for its ongoing war in Syria and Iraq.
Full report at:
http://www.thejakartaglobe.com/news/jokowi-urges-clerics-stand-specter-islamic-state/
------------
Indonesia offers to train Saudis in naval operations
01 Sep, 2014
ABU DHABI — The Muslim states of Indonesia and Saudi Arabia are exploring naval cooperation.
Officials said Indonesia and Saudi Arabia have discussed such options as joint exercises, training and exchange of officers.
"Indonesia is the world's largest archipelagic country, comprising more than 17,000 islands," Indonesian ambassador to Riyad, Abdul Rahman Fachir, said. "As such, the nation is constantly strengthening naval defense forces to protect its vast territorial boundaries."
In late August, the Indonesian Navy sent a new surface vessel for a three-day visit to Saudi Arabia. The crew of the Indonesian Navy's KRI Bung Tomo, a British ship, was hosted by the Royal Saudi Navy Forces and conducted a pilgrimage, called Umra.
"Saudi Arabia has been chosen for its excellent relations with Indonesia, which are highlighted by the facilities and assistance extended to our ship and allowing its crew to perform Umra," Fachir said.
Full report at:
http://www.worldtribune.com/2014/08/31/indonesia-offers-train-saudi-navy-combat-search-rescue-operations/
------------
My duty is to protect image of Islam, says Khalid Samad
01 Sep, 2014
First, the Shah Alam MP had incurred the wrath of the Sultan of Selangor after proposing that the powers of the Selangor Islamic Affairs Council (Mais) be curbed and then he was charged with sedition for his remarks.
"Of course, I am afraid. Of course, I am concerned how people will react and what they think of me," the PAS central committee member told The Malaysian Insider at his office recently.
Although the risk of being disqualified as MP looms large, Khalid has vowed not to let it rattle him or his principles.
"I feel that my first responsibility is to make sure that we have a proper and more responsible representation of Islamic teachings. That is why I said what I said about Mais."
Khalid said he was not speaking out against the royals, neither was he looking to pick a fight with the sultan.
"I want Mais to be a proper embodiment of Islamic values such that people can see Islam for what it is because these actions also will tarnish the image of the religion," he said, referring to the seizure of Iban and Malay Bibles by the Selangor Islamic Religious Department (Jais) in January.
Full report at:
http://www.themalaysianinsider.com/malaysia/article/my-duty-is-to-protect-image-of-islam-says-khalid-samad#sthash.HtRFypYf.dpuf
------------
No need for fatwa on sexual jihad, says minister
01 Sep, 2014
Datuk Seri Jamil Khir Baharom today said there is no need to issue a fatwa on sexual jihad because the act is clearly against the true teachings of Islam.
The Minister at the Prime Minister's Department said Islam has always been clear about sex.
"Sex outside marriage and free sex are against the Islamic teaching thus anything that related to it (such as sexual jihad) is forbidden.
"There is no need for a fatwa to be issued at this point. Such deviant act is not permitted and there is no two ways about it.
"There is no need to wait for a fatwa because it is already clear," Jamil Khir (pic) told a press conference at the Putra World Trade Centre today.
He said this in response to The Malaysian Insider report recently that some Malaysian women are believed to have joined the Islamic State of Iraq and Syria (Isis) forces to offer Jihad Al-Nikah or sexual jihad.
Full report at:
http://www.themalaysianinsider.com/malaysia/article/sexual-jihad-clearly-against-islam-no-need-for-fatwa-says-minister#sthash.u8c8gIoo.dpuf
------------
India
ISIS May Free 40 Indian Workers Soon
Sep 01, 2014
Ever since 40 Indian factory workers were kidnapped by the ISIS (Islamic State of Iraq and Levant) terror outfit, concrete information now available with New Delhi's top security establishment reveals the ISIS may free the workers once it is convinced the United States and Iraqi forces will not launch further attacks against it.
Intelligence sources said this "crucial information" was conveyed by influential elements within the Saudi establishment who were roped in by Indian agencies to negotiate with the ISIS. The Sunni-dominated ISIS is said to be close to a section of the Saudi regime, which too belongs to the same sect.
Both national security adviser Ajit Doval and Intelligence Bureau chief Asif Ibrahim have been closely monitoring the situation and had even travelled to Iraq following the kidnapping in June. Both the NSA and IB established contacts with influential quarters in Saudi Arabia to help broker a deal with the ISIS.
Though the workers are yet to be released, some Saudi negotiators claim they are absolutely safe and are held in a government building in Mosul. The negotiators also told Indian agencies that the ISIS is convinced that India doesn't support any armed action against them by either the Iraqis or the US.
"According to some key negotiators who have spoken to the kidnappers, the main reason the ISIS is still holding on to Indian workers and those from other countries is that they feel this might act as a deterrent to armed action against them. We are certain the ISIS will not harm the Indian workers, but one may have to wait a while for them to be released," a senior intelligence official said
http://www.asianage.com/india/isis-may-free-indians-soon-902
------------
No Reason for My Arrest, Says Released On Bail Cleric
01 Sep, 2014
Hyderabad-based cleric Maulana Mohammed Abdul Qavi, who was recently released on bail in a terror-related conspiracy case, said here on Sunday that he felt insulted by the rough manner in which the Gujarat police arrested him.
The religious scholar and founder of a religious seminary Idar e Ashraf-ul-Uloom was arrested by the Ahmedabad Crime Branch on March 23, 2014, from the Delhi airport, for his alleged role in a conspiracy by Pakistan's Inter-Services Intelligence. He was accused of sending Muslim youths for training by Pakistan-based terror organisations with ISI links.
A Prevention of Terrorism Act (POTA) court had rejected his bail plea. However, on Thursday, the Gujarat High Court granted him conditional bail.
"For the past 11 years, I have been travelling all over India. I even visited Gujarat last year, but I was not arrested then. I thought, since my life is an open book, I was not that important for the agencies. However, the manner in which they picked me up at the airport like a common criminal or thief was insulting. They arrested me without any basis," Mr. Qavi said.
http://www.thehindu.com/news/national/other-states/no-reason-for-my-arrest-says-cleric/article6367633.ece
------------
URL: https://www.newageislam.com/islamic-world-news/new-age-islam-news-bureau/is-fears-make-gulf-monarchies-set-aside-differences/d/98839