New Age Islam News Bureau
3 Sept 2014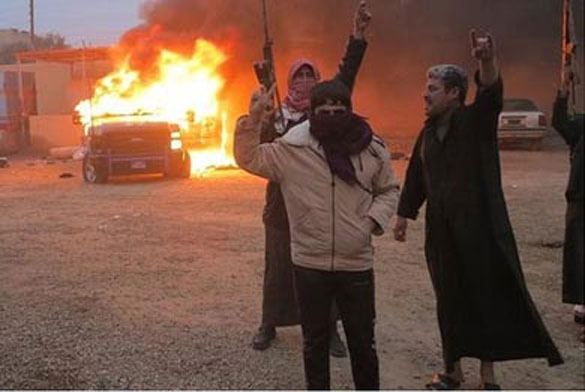 Sunni militants initially co-operated with IS in an uprising against the Iraqi government
-------------
Arab World
• IS Extremists Resort to Graffiti to Demonstrate 'Large Support' in Saudi Kingdom
• Islamic State Makes Millions from Stolen Antiquities in Syria and Iraq
• Iraqi Sunni Rebels 'Ready To Turn On Islamic State'
• Syrians in Lebanon detained for possessing ISIS paraphernalia
• ISIL takes strategic Syrian province in major defeat for Assad
• Syria in Last 24 Hours: Army Regains Control of Strategic Hill in Homs
• Leading War on Terror, KSA Seeks Global Push
• IS Disciplines Some Emirs to Avoid Losing Base
• ISIS posts online apology for beheading video to its FOLLOWERS for releasing it ahead of schedule
• Saudi Court upholds 10-year term for blogger who insulted Islam
• 3 Syrians, Iranian executed for drug trafficking
• Seven alleged jihadists killed in North Sinai
• Gunfire in Lebanon after beheaded soldier identified
Pakistan
• ISIS Making Inroads into Pakistan, Afghanistan, Distributes Pamphlets
• Clashes claimed 54 lives, 45 were shot: Imran Khan
• Army says 910 "terrorists", 82 soldiers killed in North Waziristan
• Hackers continue attack on Pakistani sites, leak sensitive data
• Awami Jirga secures talks revival: Jamaat-e-Islami
• Jamiat Ulema-i-Islam-Fazl plans APC against Imran, Quadri on 6th
• Zardari intends to act as trouble-shooter
• Khuhro asks Imran to step down, invites Hashmi to join PPP
• PTI says resuming negotiations for continuation of Democracy
• Imran met Tahir ul Qadri in London: Hashmi
• Three political workers among 4 killed in Karachi
North America
• Obama says US will 'degrade and destroy' ISIL
• 'I'm Back Obama': Masked Executioners Chilling Threat to Camera
• US says journalist Steven Sotloff beheading video is authentic
• Pentagon: death of al Shabaab leader in U.S. strike would be major blow
• Obama sanctions 350 additional military personnel for Iraq
• Despite dangers, Steven Sotloff was determined to record Arab Spring's human toll
• US closely monitoring situation in Pakistan: State Dept
Southeast Asia
• FPI Seeks Death Penalty for Islamic Students Over 'God Is Rotting' Banner
• PAS Ulema admits duo's support for Wan Azizah foiled plan to work with Umno
• PAS group campaigns to keep Islamist party in Pakatan
• Allah ban is ridiculous - Indonesian minister
South Asia
• 35 Taliban militants killed, 18 others injured in Afghan operations
• Afghanistan Hizb-e-Islami Militants Considering To Join Islamic State
• Jihadist media claims two more Maldivians killed in Syria
Europe
• British Muslims leaders say it is 'Haram' to join ISIS
• Call for State schools to accommodate Islamic beliefs
• Fidel Castro: Israel, US responsible for creating Islamic State
• Four UN troops killed in Mali by explosive: Security sources
• Airstrikes against IS not ruled out: British PM
• Bosnian police detain 16 for involvement in Syria, Iraq conflicts
• Lavrov: Terrorism Cannot Be Fought in Iraq, Overlooked in Syria
• UK officials accused of 'dereliction of duty' in child abuse scandal, mostly Pakistani heritage
India
• Army discovers underground tunnel emanating from Pakistan
• Software to melt India, Pakistan's Sindhi script barrier
• Philippine military seeks probe against Indian commander of peacekeepers in Golan Heights
Mideast
• Hamas popularity rises after Zionist barbarity
• Iran dramatically shifts Iraq policy to confront ISIL
• HDP leader offers sending arms to PKK in fight against ISIL
• Turkey's top cleric urges Pope to act over mosque attacks
• Hamas' Haniyeh would trounce Abbas if elections held today, Palestinian poll says
• Journalist beheaded by Islamic State had Israeli citizenship, wrote for 'Jerusalem Report'
Africa
• Somalia gives Al-Shabaab 45 days to surrender
• After kidnapping schoolgirls, Boko Haram takes aim at churches in northeast Nigeria
• Sudan expels Iran diplomats
Compiled by New Age Islam News Bureau
URL: https://www.newageislam.com/islamic-world-news/new-age-islam-news-bureau/is-extremists-resort-to-graffiti-to-demonstrate-'large-support'-in-saudi-kingdom/d/98880
----------
Arab World
IS Extremists Resort to Graffiti to Demonstrate 'Large Support' in Saudi Kingdom
03 Sep, 2014
JEDDAH — In an apparent attempt to show that it has a large number of supporters in the Kingdom, members of Islamic State (IS) has started writing its slogans on the walls of schools and other buildings in some Saudi cities and towns.
A Saudi expert on extremist groups, Mohammed Al-Omar, said: "IS wants to mislead people by writing graffiti to show that it has many supporters inside the Kingdom.
"This is completely false and against reality."
Al-Omar told Makkah daily that the machinations of IS would not deceive Saudis about their real number in the country.
He also said the organization had established a number of accounts on social media claiming their owners were living inside Saudi Arabia.
"The concerned security forces have thoroughly checked these accounts and come to the conclusion that the owners were not Saudis and were writing from outside the country," Al-Omar said.
He, however, admitted that Al-Qaeda did have supporters in the Kingdom about two decades ago. "IS is a legitimate child of Al-Qaeda," he said. "It is aspiring to have a strong foothold in the Kingdom. It is not, therefore, surprising for them to have some Saudi supporters."
Al-Omar noted every extremist organization was trying to be present in the Kingdom to gain more prominence.
He did not altogether dismiss the presence of IS supporters in the Kingdom for various reasons but said their number was not as big as they were attempting to claim.
"It is a difficult, if not completely impossible, task to find out the exact number of IS supporters in the Kingdom. "However, the terrorist organization does have Saudis who side with them but their number is not as big as they are trying to show."
Al-Omar said two or three people at most were probably responsible for the graffiti. "This does not mean that their number in the Kingdom is big," he said. A Saudi public polling center claimed about 76 percent of Saudis surveyed expressed happiness that large areas in Iraq had fallen into IS hands while 92 percent of them believed it was a true Islamic organization.
The Ministry of Islamic Affairs, Endowments, Call and Guidance strongly doubted these figures and said they were exaggerated.
In its special website aimed at fighting extremism, the ministry said these results could not reflect the real attitude of the Saudi citizens toward IS.
The graffiti was particularly prominent in Jeddah and the southern desert city of Sharourah, where terrorists killed a number of Saudi police officers at a checkpoint during Ramadan.
http://www.saudigazette.com.sa/index.cfm?method=home.regcon&contentid=20140903216827
----------
Islamic State Makes Millions from Stolen Antiquities In Syria And Iraq
Sep 3, 2014
The Islamic State (IS) has been generating significant revenues from the plunder of historical artefacts in Syria and Iraq. The organization encourages digs at archaeological sites and takes a share from the sales. All artefacts are said to be passing through Turkey on their way to buyers across the world.
The plunder of history has reached an unbelievable level, with the warring parties' indifference to historical heritage coupled with international traffickers taking advantage of authority vacuums in many areas. Millennia-old historical sites have been systematically looted. While state authorities and opposition forces exchange recriminations over the plunder and destruction IS, the dark power of the region, has been reckless on this issue, too. IS has made the plunder of historical artefacts in Syria a systematic action, turning it into a source of revenue for itself. Concerns are rife that it will pillage Iraq in a similar way.
It is well known that IS respects nothing beyond its own beliefs, has no scruples about bombing and destroying Shiite tombs and mosques as well as Christian churches, and even considers all this a duty. The organization has had no scruples also about razing immovable cultural heritage and selling the movable ones to Western traffickers.
Hair-raising reports have appeared in the international media. Some even say the looting of historical artefacts has become the Islamic State's main source of revenue, estimating that the money it generates in this way is no less than the money it collects through donations and extortion "taxes" to finance its activities.
IS has been encouraging digs in the regions it controls. All excavated objects are sent to Western markets with the help of international traffickers. IS militants personally joined the plunder in the beginning. But after the organization proclaimed a "state," it adopted a more systematic approach. The militants now only oversee the excavation sites and exact a 20% percent "plunder" tax on the traffickers. According to The Guardian, IS bagged $36 million from antiquities, some 8,000 years old, excavated from the al-Nabuk area alone.
The organization's occupation of Iraqi territories has sparked a new wave of concerns over the historical heritage of a country which is yet to recover from the cultural devastation that followed the 2003 US invasion. The Iraqi Tourism Ministry said last month that about 4,500 historical monuments had already been damaged or stolen, urging local tribes and UNESCO to protect the cities of Ashur, Hadar and Nemrud.
In Syria, which has six sites on the World Heritage List, 90% of the country's historical heritage is estimated to be within the boundaries of current battlefields. The increasing severity of the situation has prompted the International Council of Museums (ICOM) to issue an emergency report, which featured a list of Syrian cultural objects at risk and urged all museums, collectors and auction houses across the world not to acquire and sell such objects. The ICOM report was an expression of grave concern at the threat facing Syria's multicultural heritage — of course, for those who wanted to listen — for, no doubt, the illicit trade is nurtured by the insatiable appetite of Western collectors.
Google images say it all
Google images, easily accessible on the Internet, illustrate how major archaeological sites have been ravaged and come to resemble molehills in just one year. The images, published by National Geographic in July, show the miserable state of the ancient city of Apamea in Syria, which figures on the World Heritage List. The Trafficking Culture website displays even more detailed images. The ancient Roman city has been plundered on a scale it probably never experienced in its 2,000-year history. In the 2011 Google image, the area is seen to be at peace. Less than a year later, in April 2012, the holes left behind the illicit digs make the site look like a field ravaged by moles. There is no doubt that the thieves who plundered the ancient city transferred the artefacts they found to Western collectors.
This kind of pillaging, facilitated by the power vacuum, is said to be carried out by IS, one of the world's richest terrorist groups. The antiquity trafficking IS controls is estimated to be worth $1 billion. UNESCO estimates that "war antiquities" — artefacts smuggled out from war zones — account for a $2.2 billion worldwide illicit market annually. Worse, the more warring groups become aware of that market, the more it grows. The illicit antiquity trade has become the third-largest criminal market after arms and drug trafficking!
The IS-Turkey route
Amr Al-Azm, an archaeologist familiar with the region who once headed the restoration center in Damascus and is based in the United States, has been interviewed by Jason Felch, the author of the book "Chasing Aphrodite." In the interview, which Felch published on his website, Al-Azm says the Syrian state is turning a blind eye to the plundering, while IS is telling people in the regions it controls that they are free to look for and sell historical artifacts — of course, on condition they pay a tax. As a result, many smugglers, among them Turks, have rushed in — virtually "with bulldozers."
Judging by Al-Azm's account, Turkey and Turkish nationals play a leading role in this disgraceful affair. The smugglers' highway is passing through Turkey. All artifacts are funneled to the world via Turkey.
"Some international dealers … started to come in to Syria but it quickly got too dangerous for them. Now the dealers all hang out across the border in Turkey. Only Turkish dealers come into Syria to meet with locals. They buy and take it back. One of the main centres for the illicit trade is Tell Abiab, on the Syrian side, across the border from Urfa. There is also lots of smuggling in [the Turkish border town of] Kilis. … From there, I don't know where it goes," Al-Azm said. Some famous sites, he said, have been looted "to order" by collectors, like the Tomb of the Three Brothers in Palmyra, which is under regime control.
The wars in the region have led to such large-scale bloodshed, migration and devastation that the cultural aspect is again disregarded as an issue to be lamented later. Looting and plunder is a cruel process that also obliterates the identity of the people who live in those lands. Its long-term impact will amount to an irrecoverable disaster. And the allegations that Turkey is turning a blind eye not just to fighters but also to smugglers are terrible. I wish we could say they are implausible.
http://www.al-monitor.com/pulse/security/2014/09/turkey-syria-iraq-isis-artifacts-smuggling.html#ixzz3CIOzcOp8
----------
Iraqi Sunni Rebels 'Ready To Turn On Islamic State'
By Jim Muir BBC News, Irbil
03 Sep, 2014
Stifled by the Islamic State (IS) militants in their own areas, Iraqi Sunni rebels who took up arms against the Shia-dominated government of Nouri Maliki are signalling for the first time that they are ready to turn against IS if Sunni rights are enshrined in a reformed political order in Baghdad.
The rebels, including tribal militants and former army personnel organised in military councils throughout the Sunni areas, see American and international guarantees as crucial to any such deal.
"We don't want guns from the Americans, we want a real political solution, which the US should impose on those people it installed in the Green Zone," said Abu Muhammad al-Zubaai, referring to the Iraqi political leaders who took over after the US-led occupation in 2003.
"The IS problem would end. If they guarantee us this solution, we'll guarantee to get rid of IS," said Mr al-Zubaai, a tribal leader from Anbar province speaking on behalf of the rebels, using a nom de guerre.
The tribal and military rebels, who had been fighting government forces since January, played a role in the spectacular advances scored after IS - in its previous guise as Isis - erupted into Iraq from Syria in June and captured the second city, Mosul, among other mainly Sunni areas.
But since then, the Sunni groups have been suppressed, with IS ordering them to join its own ranks or disarm.
"Living with IS is like holding burning coals in your hand," said Mr al-Zubaai. "They do not tolerate any other flag to be raised. They control all Sunni areas now."
He said tribal militants from the military councils clashed with ARE at Garma, near Falluja recently, killing 16 of the Islamic radicals.
"We had to choose between a comprehensive confrontation with IS, or ceding control of that area and keeping a low profile," he said.
"We decided to stand down, because we are not ready to fight IS in the current circumstances - who would we be fighting for?"
'Nothing to lose'
Events of the past three weeks have heightened the dilemma of the Sunni rebels.
The lightning IS strikes on Iraqi Kurdistan have drawn the Kurdish Peshmerga fighters into the fray in many areas, imposing economic blockades on Sunni townships because of the IS presence there.
With the Americans and other powers becoming involved, the rebels fear they will simply be tarred as IS terrorists and the Sunni areas reduced to rubble.
"The Sunnis feel that everybody is ganging up on them, that they are targeted by everybody," said Mr al-Zubaai.
"The worst thing is to realise that you have nothing to lose any more. The situation is very bad and getting worse. It's enough to make you blow yourself up. This is where the political process has taken us.
"Our biggest concern now is a political solution. A security solution will achieve nothing. The bombing has to stop."
Sense of betrayal
Under Nouri Maliki, who remains as commander-in-chief of the armed forces in a caretaker capacity until the new government is formed, towns like Falluja and many other Sunni areas have been bombed daily, with heavy casualties among civilians.
Sunni militants initially co-operated with IS in an uprising against the Iraqi government
IS does not tolerate any dissent in the areas under its control
Caught between two fires, the position of the Sunni rebels has changed sharply since the IS operation began in June.
In the early phases, they hoped a joint effort would carry the Sunni insurgency into the heart of Baghdad, ousting Prime Minister Maliki and overturning the current constitution and political order.
At that stage, they said, they would have turned on the IS militants and driven them out, as they did with al-Qaeda in Iraq in 2007.
But they feel bitterly deceived by that earlier process, and betrayed by Mr Maliki, who failed to carry out commitments given to the Sunnis and gradually drove them into a position of outright revolt after the bloody suppression of peaceful protest demonstrations from 2012.
That is why they are seeking international guarantees for a new power-sharing deal. They do not trust the Shia, and fear that under Mr Maliki's nominated successor Haidar al-Abadi, who comes from the same party, things may not change.
"Appointing someone from the same Dawa party to succeed Maliki is like appointing a Baathist to replace Saddam Hussein," said Mr al-Zubaai.
Fear of isolation
The tribal and military rebels are proposing a national reconciliation conference under international auspices, with all factions invited except for IS and also the Shia militias, which they regard as equally bad as, or worse than, IS.
A similar high-level "national accord" conference was held in Cairo in 2005, but the outcome was never followed up.
They dismiss as unrepresentative the Sunni politicians who are currently involved in intense negotiations in Baghdad over the formation of a new government under Mr al-Abadi, who has until 10 September to present his cabinet.
"These people have been involved in the political process since 2003, and they achieved nothing," said Mr al-Zubaai.
But as well as pressing for a good allocation of portfolios in the cabinet, the Sunni leaders in Baghdad have been demanding changes to the way power is shared.
If they help hammer out a deal that many Sunnis regard as fair, the rebels may find themselves with no choice but to sign up, or risk finding themselves politically isolated and physically under threat from both IS and a US-backed coalition on the ground.
Growing urgency
But the Sunni rebels, who say they can mobilise 90% of the tribes, believe that only they can tackle IS, with outside help.
The Iraqi army has shown little capability or cohesion in the field, and to defend Baghdad, Mr Maliki had to rely heavily on mobilising Shia militias and volunteers.
If such forces are thrown into battle against IS-held Sunni areas with US air support under a new al-Abadi government, the Americans might find themselves doing what they have been trying to avoid - backing one side in a sectarian civil war involving horrendous carnage and destruction.
But if the tribal and military rebels were on board, it would, by their own account at least, be an entirely different affair.
They say they have written to the Americans, but received no substantive response.
Mr al-Zubaai warned against allowing the situation to drift.
"If things stay the same, a new generation will emerge, beyond the control of the US or Iran or Syria - hundreds of thousands of young men will join up with IS," he said.
"This is a danger the West should be aware of - they have millions of [Muslim] youths, free to embrace the ideology of IS, to wave its flag in the streets."
http://www.bbc.co.uk/news/world-middle-east-28978941
----------
Syrians in Lebanon detained for possessing ISIS paraphernalia
03 Sep, 2014
BEIRUT: Two Syrian nationals were detained for possessing ISIS paraphernalia in Nabatieh, after confessing to transporting ISIS headbands and posters from a Palestinian refugee camp in southern Lebanon.
According to the National News Agency, the two Syrians, identified as Amer al-Saho and Moustapha al-Saho (relation unknown), were being monitored by Army intelligence prior to their detention.
While searching the suspects' car, Army intelligence found black headbands imprinted with ISIS slogans as well as large posters of ISIS head Abu Bakr al-Baghdadi.
The two Sahos, who originate from the Syrian city of Idlib, were immediately transferred to Army Intelligence headquarters in the south after being detained in the Nabatieh village of Nmeirieh.
The pair have confessed to transporting the ISIS paraphernalia from one of the Palestinian camps in south Lebanon according to the NNA.
http://www.dailystar.com.lb/News/Lebanon-News/2014/Sep-02/269346-syrians-detained-for-possessing-isis-paraphernalia.ashx#ixzz3CHtp1auK
----------
ISIL takes strategic Syrian province in major defeat for Assad
03 Sep, 2014
WASHINGTON — Islamic State of Iraq and the Levant has dealt the regime of President Bashar Assad its biggest defeat since the Sunni revolt in 2011, a report said.
The Washington Institute for Near East Policy said ISIL has captured the Raqqa province and would soon take over the neighboring province of Dir Al Zour.
In a report, the institute cited ISIL's seizure of the Syrian Air Force base at Tabqa, which was termed a strategic loss for Damascus.
"This stands as the most significant defeat of regime forces since the beginning of the rebellion," the report, titled "Military Implications of the Syrian Regime's Defeat in Raqqa," said.
Military analyst Jeffrey White asserted that the Syrian military did little to save its positions in Raqa. White, a former U.S. Army intelligence officer, said over the last three months ISIL destroyed the Syrian military and regime militias in Raqqa, including the army's 93rd Brigade and headquarters of the 17th Division.
Full report at:
http://www.worldtribune.com/2014/09/02/isil-takes-syrian-province-verge-capturing-second-biggest-defeat-assad/
----------
Syria in Last 24 Hours: Army Regains Control of Strategic Hill in Homs
03 Sep, 2014
The Syrian army regained control of a strategic hill in Homs countryside in the Central parts of Syria.
The foreign-backed militants were pushed back from Toledo hills and its surrounding areas near Qayee tower where several power stations are located.
The army also killed tens of militants and injured dozens more in Tal Al-Bado, Tal Abu Al-Sanasel and Um Sharshouh regions in Homs countryside.
Also in the past 24 hours, the Syrian army regained control of Al-Tim oilfield in Deir Ezzur in the Eastern parts of the country.
Meantime, the Syrian air force attacked the gathering centers of the Takfiri Islamic State of Iraq and the Levant (ISIL) in Al-Mouhsen city in Eastern Deir Ezzur.
Also, the Syrian army killed a notorious leader of the ISIL terrorist group in Deir Ezzur countryside.
Full report at:
http://english.farsnews.com/newstext.aspx?nn=13930612000272
----------
Leading war on terror, KSA seeks global push
03 Sep, 2014
Crown Prince Salman, deputy premier and minister of defense, held talks with French President Francois Hollande and Prime Minister Manuel Valls on major regional and international issues, including the threat posed by Islamic State (IS) militants to global peace and stability.
Hollande hosted a dinner banquet at the Elysée palace in honor of the crown prince and his accompanying delegation.
Prince Salman said Saudi-French relations have witnessed qualitative improvement thanks to the support of the leaderships in the two countries.
"Saudi Arabia realized the danger posed by terrorism to the international community from early on," Prince Salman told French leaders, adding that the Kingdom hosted an international conference to combat terrorism in 2005.
He said Custodian of the Two Holy Mosques King Abdullah had called for setting up an international counterterrorism center in order to strengthen the fight against terrorism.
Full report at:
http://www.arabnews.com/news/624531
----------
IS disciplines some emirs to avoid losing base
Sep 3, 2014
The Islamic State (IS) took action against some of its Sharia and security emirs (or leaders), ranging from warnings and detentions to killings, according to one of the circulating stories. The militant group also issued a circular providing directives for the publication of photos of slaughter and beheadings. On the other hand, a dispute emerged among senior theorists within the militant group on the practice of takfir — the act of issuing a religious order declaring someone an infidel, a form of excommunication — against those who are deemed ignorant, whereby the movement which did not see the need to declare the opponent a takfiri prevailed.
Full report at:
http://www.al-monitor.com/pulse/security/2014/09/is-takfiri-caliphate.html#ixzz3CIPFjt00
----------
ISIS posts online apology for beheading video to its FOLLOWERS for releasing it ahead of schedule
03 Sep, 2014
ISIS admitted Tuesday it released a video of a man being beheaded before it was supposed to, it has emerged.
Vocativ reported that the video - which allegedly shows the killing of Steven Sotloff - was shared through a Twitter account.
@Khattabyaz warned the first account there had been a mistake, and failed to stop the beheading video from being disseminated, the website reported.
According to the news site, ISIS then wrote on Justpaste 'A clarification about the mistake was made by "Uyun al-Ummah" account, that has published the video before the official time.
'The user saw a tweet with the video and thought it was published officially. We tried to remove the video after we understood that his was published by mistake, and we are sorry to the followers of the Islamic State.'
In a later Twitter message, those responsible apologized and asked fellow jihadis not to 'reproach' them.
Full report at:
http://www.dailymail.co.uk/news/article-2741510/ISIS-posts-online-apology-beheading-video-FOLLOWERS-releasing-ahead-schedule.html
----------
Saudi Court upholds 10-year term for blogger who insulted Islam
03 Sep, 2014
RIYADH — A Saudi court upheld a 10-year jail sentence and 1,000 lashes against a citizen who was accused of insulting Islam.
Raef Badawi had been convicted of creating an anti-Islam website, criticizing senior scholars and mocking national symbols, Al-Madinah newspaper reported.
He was accused of insulting Muslims as well as casting doubt on the existence of houris, the virgin companions of the faithful in Paradise, and the concept of torment in the grave.
He was also charged with inciting his followers to rise up against the country's authorities.
Badawi, founder of the Saudi Liberal Network, has been behind bars since June 2012. The court had also ordered him to pay a fine of SR1 million and put him under a permanent travel ban.
Full report at:
http://www.saudigazette.com.sa/index.cfm?method=home.regcon&contentid=20140903216829
----------
3 Syrians, Iranian executed for drug trafficking
03 Sep, 2014
SAKAKA — Three Syrians convicted of drug trafficking were executed in the northern Al-Jouf region on Tuesday, the Interior Ministry announced. Mahmoud Hassoun, Hassan Musalamani and Yussef Al-Halqi were all arrested with a "large amount of banned amphetamine pills", the ministry said in three separate statements carried by the Saudi Press Agency. The statements did not state if the three were part of the same drug-trafficking ring. In a separate announcement, the ministry said Iranian national Reda Idrisawi was put to death in Eastern Province after he was convicted of trafficking "a large amount of narcotic hashish by sea."
http://www.saudigazette.com.sa/index.cfm?method=home.regcon&contentid=20140903216819
----------
Seven alleged jihadists killed in North Sinai
03 Sep, 2014
Security sources said seven "jihadists" were killed and six others injured Tuesday night in North Sinai, Al-Ahram Arabic news website reported.
Sources told Al-Ahram that a security operation south of Sheikh Zuweid town killed seven jihadists, including two who were in a car carrying machine guns and two on a motorcycle.
Security forces also arrested 11 suspects and eliminated 35 "terrorist hotbeds," according to Al-Ahram.
Egypt's army has been fighting an extremist insurgency in the violence-ridden northern part of the peninsula.
On Tuesday, 11 security personnel were killed and four others injured when an IED, planted by unknown assailants on the Sheikh Zuweid - Rafah international highway, exploded as a police vehicle passed by.
http://english.ahram.org.eg/NewsContent/1/64/109865/Egypt/Politics-/Seven-alleged-jihadists-killed-in-North-Sinai.aspx
----------
Gunfire in Lebanon after beheaded soldier identified
03 Sep, 2014
TRIPOLI, Lebanon: Heavy gunfire was heard in the Akkar region Wednesday as the motorcade carrying the body of a captive Lebanese solider beheaded by ISIS militants arrived in north Lebanon.
The Lebanese Army confirmed Tuesday that DNA test results positively identified the body released to the Muslim Scholars Committee as first Sgt. Ali al-Sayyed.
A funeral service will be held in his hometown Fnaydeq at noon.
Head of the Association of Mayors in Akkar, Zaher al-Kassar, called on local residents to remain united even through difficult times.
"Lebanon remained [neutral] because our military remained unified ... Sgt. Ali Sayyed sacrificed his life for the sake of Lebanon," Kassar said in a statement.
He praised the unity among the people of Akkar and Fnaydeq and called for a massive turnout for the funeral.
Full report at:
http://www.dailystar.com.lb/News/Lebanon-News/2014/Sep-03/269411-gunfire-in-nlebanon-after-beheaded-soldier-identified.ashx#ixzz3CHtfnbKW
----------
Pakistan
ISIS Making Inroads into Pakistan, Afghanistan, Distributes Pamphlets
September 3, 2014
PESHAWAR: In a bid to extend its influence in the South Asian region, the Islamic State of Iraq and Syria, (ISIS), commonly known as Daish, distributed pamphlets in Peshawar and border provinces of Afghanistan as well.
The booklet titled Fatah (victory) is published in Pashto and Dari languages and was distributed in Peshawar as well as in Afghan refugee camps on the outskirts of the city. The logo of the pamphlet has the Kalma, the historical stamp of Prophet Muhammad (PBUH) and a Kalashnikov assault rifle. Some copies were also mysteriously sent to Afghan journalists working in Peshawar.
On the last page of the pamphlet, the editor's name appears to be fake and where the document has been published cannot be ascertained. Since long, Afghan resistance groups, including Haqqani Network, Hizb-e-Islami Afghanistan and Tora Bora group have been publishing similar pamphlets, magazines and propaganda literature in Peshawar black markets.
The ISIS, introducing itself as Daulat-e-Islamia (Islamic State) in the pamphlet, has made an appeal to the local population for supporting its struggle for the establishment of an Islamic caliphate.
Full report at:
http://tribune.com.pk/story/757186/spillover-effect-isis-making-inroads-into-pakistan-afghanistan/
----------
Clashes claimed 54 lives, 45 were shot: Imran Khan
03 Sep, 2014
ISLAMABAD: Pakistan Tehreek-e-Insaf (PTI) chairman, Imran Khan alleged that 54 protesters have so far lost their lives and 45 of them had been shot.
Addressing the participants of Azadi March here in the Red Zone of the capital city on the 19th day of PTI's protest, Imran Khan said this kind of torture was not even witnessed in the eras of Ziaul Haq and Musharraf.
He said the political parties had ganged up in the Parliament and ruled out transparent democracy in the country sans accountability of those involved in the alleged rigging of the last year's general elections.
"Prime Minister Nawaz Sharif is directly responsible for the rigging and that is why no investigation was conducted despite relentless demands," he alleged.
He maintained that eight relatives of Mehmood Khan Acakzai had been appointed on high ranking positions while his brother was made the Governor. "Achakzai is silent over the rigging because it benefited him a big time," he added.
Imran Khan said Akhtar Mengal is also crying rigging in Balochistan.
He said it is also a fact that all the Parliamentary parties have admitted that rigging did take place in elections of 2013.
Full report at:
http://www.thenews.com.pk/article-158604-Clashes-claimed-54-lives,-45-were-shot:-Imran
----------
Army says 910 "terrorists", 82 soldiers killed in North Waziristan
03 Sep, 2014
ISLAMABAD: A statement issued by the military put the official number of "terrorists" killed in Operation Zarb-i-Azb at 910 and added that 82 Pakistani soldiers had also lost their lives during the North Waziristan offensive.
The death tolls and their breakdowns could not be independently verified as journalists have limited access to the restive tribal region.
The statement issued by the Inter-Services Public Relations (ISPR) added that 27 explosives and arms making factories have also been destroyed and the operation in North Waziristan was on track and going according to plan.
The army says it has taken over complete control of major towns of Miramshah, Mirali, Dattakhel, Boya and Degan, which were previously considered militant strongholds.
The statement said the 88-kilometre-long Khajuri-Mirali-Miranshah-Dattakhel road and the Ghariom-Jhallar road have been cleared.
"Huge caches of arms and ammunition, communication equipment, and other logistics facilities used by terrorists have been destroyed; uprooting their ability to attack as a coherent force," the ISPR said.
Full report at:
http://www.dawn.com/news/1129619/army-says-910-terrorists-82-soldiers-killed-in-north-waziristan
----------
Hackers continue attack on Pakistani sites, leak sensitive data
3 September 2014
ISLAMABAD: A network of hackers claiming to be a part of Anonymous — the global hacktivist network — continued a campaign of hacking, DDOS attacks and defacing websites belonging to the Pakistan government, security forces and the Pakistan Muslim League-Nawaz (PML-N) on Wednesday.
The group, going under the names ASOR Hack Team or Anonymous Op Pakistan, hacked into multiple websites and leaked private data of government employees and security forces, raising serious security and privacy concerns.
An unofficial PML-N website http://www.pmln.us was hacked and defaced with political messages related to the handling of the Model Town tragedy. The website was restored.
The Faisalabad Police Department website http://www.faisalabadpolice.gov.pk was hacked and private data leaked online, including usernames, passwords and the names/CNICs/addresses/contact information of employees.
Full report at:
http://www.dawn.com/news/1129615/hackers-continue-attack-on-pakistani-sites-leak-sensitive-data
----------
Awami Jirga secures talks revival: Jamaat-e-Islami
03 Sep, 2014
ISLAMABAD- The newly formed committee, headed by Jamaat-e-Islami Amir Sirajul Haq, managed to restore the stalled talks between the government and Pakistan Tehreek-e-Insaf and Pakistan Awami Tehreek.
During separate meetings with Imran Khan and Allama Tahirul Qadri on Tuesday night, JI Amir Sirajul Haq and his team asked both the sides to show flexibility and resolve the issue through meaningful dialogue for which the PTI and PAT leadership had constituted committees which would resume the negotiations from where they were suspended.
The committee which the JI Amir named as Awami Jirga also asked the government to release the arrested workers of both the protesting parties, allow supply of food to those staging the sit-in in front of the Parliament and provide proper medical treatment to the injured in the last couple of days in the police-protesters clashes. While PTI and PAT were urged to immediately call off the protests being launched by their parties in major cities of the country.
Full report at:
http://www.nation.com.pk/national/03-Sep-2014/awami-jirga-secures-talks-revival
----------
Jamiat Ulema-i-Islam-Fazl plans APC against Imran, Qadri on 6th
03 Sep, 2014
TIMERGARA: The Jamiat Ulema-i-Islam-Fazl announced it would hold an all-party conference in Peshawar on Sept 6 (Saturday) against the Pakistan Tehreek-i-Insaf and Pakistan Awami Tehreek sit-ins outside Parliament House.
JUI-F provincial chief Maulana Gul Naseeb Khan told reporters at the Chakdara Press Club that the PTI and PAT sit-ins were meant to harm democracy.
He said the country couldn't stand impacts of undemocratic and unconstitutional steps.
The JUI-F leader said a committee comprising Haji Ghulam Ali, Maulana Attaur Rehman, Maulana Attaul Haq Darwaish and Maulana Ashraf Ali would visit heads of political parties and invite them to the Sept 6 conference.
Full report at:
http://www.dawn.com/news/1129586/jui-plans-apc-against-imran-qadri-on-6th
----------
Zardari intends to act as troubleshooter
03 Sep, 2014
ISLAMABAD: With the political impasse entering third week, PPP Co-Chairman Asif Ali Zardari has decided to stay in the federal capital and play a role for resolving the crisis created by the situation prevailing in Islamabad.
Sources in the PPP told Dawn that Mr Zardari, who returned from China on Monday, was due to arrive in Islamabad on Wednesday (today) from Karachi.
According to them, he will stay at his residence in F-8/2 sector where he plans to hold meetings with leaders of the PPP and other political parties in a bid to defuse tension, which has gripped the country in the wake of the indefinite sit-ins of the Pakistan Tehreek-i-Insaf (PTI) and the Pakistan Awami Tehrik (PAT).
Full report at:
http://www.dawn.com/news/1129524/zardari-intends-to-act-as-troubleshooter
----------
PTI says resuming negotiations for continuation of Democracy
03 Sep, 2014
ISLAMABAD: Pakistan Tehreek-e-Insaf (PTI) has agreed to resume talks for the continuation of democracy, announced party Vice Chairman, Shah Mehmood Qureshi. The negotiating teams will meet later this evening.
Speaking to journalists following a late night meeting with negotiators Qureshi said, the negotiating teams will meet again at Rehman Malik's residence at 4:00PM and continue from where they left off.
Jamat-e-Islami (JI) Cheif, Siraj-ul Haq added that they will continue negotiations until they reach a logical conclusion, while senior PPP leader Rehman Malik thanked Imran Khan and condemned the use of force against PTI activists.
He added that government should not view the return of the protesting-parties towards negotiations as a sign of weakness, appealing to the government to stop detaining PAT/PTI activists across the country.
Full report at:
http://www.thenews.com.pk/article-158634-Back-to-the-negotiation-table,-for-the-sake-of-Democracy
----------
Imran met Tahirul Qadri in London: Hashmi
03 Sep, 2014
ISLAMABAD: Javed Hashmi continues to make disclosures about Pakistan Tehreek-e-Insaf (PTI) chairman Imran Khan.
In an interview with Hamid Mir during the special edition of 'Capital Talk,' Hashmi said Imran Khan had travelled to London and held a meeting with Pakistan Awami Tehreek (PAT) chief Dr Tahirul Qadri.
Hashmi claimed there were discussions in PTI that former ISI chief Lt. General Shuja Pasha was active in Lahore.
Javed Hashmi further said that Khyber Pakhtunkhwa Chief Minister Pervaiz Khattak informed Khan that provincial parliamentarians of the party would not be resigning. According to Hashmi resignations were not given happily by PTI parliamentarians. Hashmi was also critical of Imran Khan's call for the civil disobedience movement.
Full report at:
http://www.thenews.com.pk/article-158588-Imran-met-Tahirul-Qadri-in-London:-Hashmi-
----------
Three political workers among 4 killed in Karachi
September 03, 2014
KARACHI - Four people including three political workers were shot dead in various violent incidents here on Tuesday.
A middle-aged man who recently embraced Islam Muslim was shot dead in a mysterious fire in Clifton police precincts.
Victim Raja Chawla, 56, was on his way after withdrawing Rs7,00,000 from a private bank at Zamzama when gunmen riding a motorcycle opened fire at his car.
Initially police believed the incident occurred over offering resistance during robbery but investigators later established the fact that motive behind the murder was not snatching.
Police said the victim was living in Bath Island, Clifton and had converted to Islam from Hinduism about 25 years back. He was running his own business. There were some unconfirmed reports that he was receiving threats from unidentified persons over refusal to pay extortion as he had already paid the extortion money twice.
Separately, a contract employee of the K-Electric was shot dead and two more contract employees were wounded in a targeted attack in Baldia Town. The victim was identified as Shabbir, 50, while the injured as Ashfaq and Obaid. They were shifted to Civil Hospital for autopsy.
Full report at:
http://www.nation.com.pk/karachi/03-Sep-2014/three-political-workers-among-4-killed-in-karachi
-----------
North America
Obama says US will 'degrade and destroy' ISIL
3 September 2014
The United States plans to fight Islamic State of Syrian and the Levant (ISIL) until it is no longer a force in the Middle East and will seek justice for the killing of American journalist Steven Sotloff, President Barack Obama said on Sept. 3.
He added destroying the militant group will take time because of the power vacuum in Syria, the abundance of battle hardened fighters that grew out of al-Qaeda in the Iraqi war, and the need to build coalitions, including with local Sunni communities.
ISIL released a video on Sept. 2 showing the beheading of the U.S. journalist, the second American hostage to be killed within weeks, in retaliation for U.S. air strikes in Iraq.
"The bottom line is this, our objective is clear and that is to degrade and destroy (ISIL) so that it's no longer a threat not just to Iraq but also the region and to the United States," Obama told a news conference.
"Whatever these murderers think they will achieve with killing innocent Americans like Steven, they have already failed," Obama said. "They failed because, like people around the world, Americans are repulsed by their barbarism. We will not be intimidated."
U.S and British officials both examined the video, showing the same British-accented executioner who appeared in an Aug. 19 video of the killing of U.S. journalist James Foley, concluding it was authentic.
The United States resumed air strikes in Iraq in August for the first time since the pullout of U.S. troops in 2011 and Obama said the strikes are already proving effective.
"Those that make the mistake of harming Americans will learn that we will not forget and that our reach is long and that justice will be served," he said.
Full report at:
http://www.hurriyetdailynews.com/obama-says-us-will-degrade-and-destroy-isil.aspx?pageID=238&nID=71246&NewsCatID=359
----------
'I'm Back Obama': Masked Executioners Chilling Threat To Camera
03 Sep, 2014
Taunting Obama: Sotloff's masked executioner tells the camera that the killing is in retaliation for US airstrikes in Iraq
'I'm back Obama, and I'm back because of your arrogant foreign policy towards the Islamic state, because of your insistence on continuing your bombings and… on Mosul Dam, despite our serious warnings.
'You Obama, have but to gain from your actions but another American citizen.
'So just as your missiles continue to strike out people, our knife will continue to strike the necks of your people.
'We take this opportunity to warn those governments that enter this evil alliance of America against the Islamic State to back off and leave our people alone'
http://www.dailymail.co.uk/news/article-2741169/ISIS-executioner-Jihadi-John-threatens-execute-British-hostage-beheads-second-US-journalist.html
----------
US says journalist Steven Sotloff beheading video is authentic
AP | Sep 3, 2014
WASHINGTON: The White House says it has determined that a video showing the brutal killing of freelance journalist Steven Sotloff is authentic.
Islamic State extremists released the video showing Sotloff's beheading on Tuesday. It comes two weeks after the militants released a video showing the killing of James Foley, another American journalist.
In the Sotloff video, a masked militant warns President Barack Obama that continuing airstrikes against the group in Iraq will be met with the killing of more western captives.
Sotloff is a 31-year-old Miami-area native who freelanced for Time and Foreign Policy magazines. He vanished in Syria in August 2013.
National security council spokeswoman Caitlin Hayden announced the U.S. intelligence community's assessment of the video in a statement on Wednesday.
http://timesofindia.indiatimes.com/world/us/US-says-journalist-Steven-Sotloff-beheading-video-is-authentic/articleshow/41602520.cms
----------
Pentagon: death of al Shabaab leader in U.S. strike would be major blow
03 Sep, 2014
WASHINGTON: The Pentagon is assessing whether an airstrike on an encampment in Somalia killed al Shabaab leader Ahmed Abdi Godane, but if confirmed the militant's death would represent a "very significant" blow to the group, the Pentagon said.
Rear Admiral John Kirby told a Pentagon briefing that the U.S. special operations strike conducted on Monday involved manned and unmanned aircraft. Kirby said Hellfire missiles and laser-guided munitions were dropped on the camp in south-central Somalia, but he said it was too soon to say what the results of the strike had been.
Since taking charge in 2008, Godane has restyled the group as a global player in the al Qaeda franchise - a transformation that was highlighted when it killed at least 67 people in an attack on a Kenyan shopping mall last September.
http://www.dailystar.com.lb/News/Middle-East/2014/Sep-02/269354-us-airstrike-on-encampment-in-south-central-somalia-targeted-al-shabaab-leader-godane-pentagon.ashx#ixzz3CHtWVHSc
----------
Obama sanctions 350 additional military personnel for Iraq
Press Trust of India | Washington | September 3, 2014
US President Barack Obama has authorised sending another 350 military personnel to Iraq, the White House said adding that this is to secure American diplomatic facilities and personnel in Baghdad from the terrorists of the Islamic State of Iraq and the Levant (ISIL).
"These additional forces will not serve in a combat role," the White House Press Secretary Josh Earnest said.
"The President has made clear his commitment to doing whatever is required to provide the necessary security for US personnel and facilities around the world," he said.
The new arrangement will allow some previously deployed military personnel to depart Iraq, he said, while at the same time providing a more robust, sustainable security force for our personnel and facilities in Baghdad.
Full report at:
http://indianexpress.com/article/world/world-others/obama-sanctions-350-additional-military-personnel-for-iraq/
----------
Despite dangers, Steven Sotloff was determined to record Arab Spring's human toll
Reuters | Sep 3, 2014
WASHINGTON: Even for a freelance journalist covering the tumult in the Arab world, Steven Sotloff's travels seemed nonstop.
In October 2012, the American reporter was in Benghazi, Libya, covering the aftermath of the deadly raid on the US diplomatic compound there. In December, he was in northern Syria, writing about the lives of destitute, displaced Syrians and the war, according to his published reports and his communications with colleagues and editors.
"I've been here over a week and no one wants freelance because of the kidnappings. It's pretty bad here," he e-mailed another journalist. "I've been sleeping at a front, hiding from tanks the past few nights, drinking rain water."
In August 2013, telling colleagues he understood the dangers, Sotloff returned to Syria, slipping across the border from Turkey. He was quickly kidnapped and fell into the hands of Islamic State, the violent militant group that wants to establish a jihadist hub in the heart of the Arab world.
Full report at:
http://timesofindia.indiatimes.com/world/us/Despite-dangers-Steven-Sotloff-was-determined-to-record-Arab-Springs-human-toll/articleshow/41596166.cms
----------
US closely monitoring situation in Pakistan: State Dept
03 Sep, 2014
WASHINGTON: The United States has stated that it had been closely monitoring the situation in Pakistan and in touch with appropriate counterparts there.
State Department Spokesperson Jen Psaki in a briefing said "Well, I think, one, we've obviously been closely watching the situation in Pakistan and we've been in touch with appropriate counterparts there."
The spokesperson said she didn't have any predictions on an outcome of the situation.
She said: "I will just reiterate that we're in no way involved in the process or discussions between parties and can offer no real analysis of what's happening there beyond just reiterating our belief that the parties should work together to resolve differences through peaceful dialogue and ways to strengthen Pakistan's democracy and rule of law."
http://www.thenews.com.pk/article-158633-US-closely-monitoring-situation-in-Pakistan:-State-Dept-
---------
Southeast Asia
FPI Seeks Death Penalty for Islamic Students Over 'God Is Rotting' Banner
03 Sep, 2014
Jakarta. The hard-line Islamic Defenders Front has lashed out against students of an Islamic university in East Java for their choice of a theme during an orientation program, which the organization says is unforgivable and even more extreme than the Islamic State of Iraq and Syria, also known as ISIS and referred to as the Islamic State.
Students of the State Islamic University (UIN) in Surabaya chose the theme "God is rotting" for the student orientation program.
Khoiruddin, secretary general of the Islamic Defenders Front (FPI) in East Java, said the students should not just receive formal sanction such as prison terms but that they should be sentenced to death for saying that God is rotting.
"Don't just give them three- to five-year jail terms, but sentence them to death. The students were involved in controversy too many times," Khoiruddin was quoted as saying by Kompas.com on Tuesday.
He said the student orientation program, which was held from Aug. 28-31, has hurt all Muslims and therefore he believed that the FPI was not be the only mass organization to protest against the incident.
"All mass organizations will protest the students' controversial action," he said.
Khoiruddin said the theme was clearly an insult to the symbol of God, which is considered sacred by Muslims.
Full report at:
http://www.thejakartaglobe.com/news/fpi-seeks-death-penalty-islamic-students-god-rotting-banner/
----------
PAS Ulama admits duo's support for Wan Azizah foiled plan to work with Umno
03 Sep, 2014
A PAS Ulama council spokesman today admitted that the party's plan to cooperate with Umno in Selangor has been foiled after two of its assemblymen openly declared support for Datuk Seri Dr Wan Azizah Wan Ismail's candidacy for the menteri besar (MB) post.
Its information chief, Datuk Dr Mohd Khairuddin Aman Razali, in a Facebook posting yesterday, said the duo's move resulted in Selangor MB Tan Sri Abdul Khalid Ibrahim technically losing his right to remain as MB as the majority of the assemblymen were no longer with him.
"PKR and DAP only have the support of 28 assemblymen, but the figure rose to 30 after the two PAS members threw their support for Wan Azizah.
"Technically, Khalid only had the support of 26 assemblymen, including 13 from PAS and 12 from Umno. So he could not be maintained as the menteri besar in this situation.
"This is why the PAS central committee, in its meeting, decided to send two names as the MB candidate to replace Khalid," he wrote.
PAS's Hulu Kelang state assemblyman Saari Sungib and Morib assemblyman Hasnul Baharuddin signed the statutory declaration affirming their support for Dr Wan Azizah's candidacy as Selangor MB.
Full report at:
http://www.themalaysianinsider.com/malaysia/article/pas-ulama-admits-duos-support-for-wan-azizah-foiled-plan-to-work-with-umno#sthash.xtvGDPLK.dpuf
----------
PAS group campaigns to keep Islamist party in Pakatan
03 Sep, 2014
Some PAS members have started a campaign to ensure the Islamist party stays in Pakatan Rakyat (PR), in what could be a challenge to Datuk Seri Abdul Hadi Awang's conservative leadership in the party.
The Persatuan Ummah Sejahtera Malaysia (PasMa) was formed after some 100 PAS members met in Kota Baru on Sunday, say sources, with the aim to counter the rising possibility of PAS leaving the pact in favour of sharing power with Umno.
"During the meeting on Merdeka Day, we gathered more than 100 people from across the country for one purpose: to make sure PAS's battle is on the right track," one of the movement's founders told The Malaysian Insider.
He declined to be identified as the conservative party does not brook any dissent to the leadership.
Full report at:
http://www.themalaysianinsider.com/malaysia/article/pas-group-campaigns-to-keep-islamist-party-in-pakatan#sthash.I1LuS0Ie.dpuf
----------
Allah ban is ridiculous - Indonesian minister
03 Sep, 2014
Prohibiting use of the word 'Allah' by non-Muslims is taking things a bit "too far", says Indonesia's newly-minted minister of religious affairs.
Minister Lukman Hakim Saifuddin said the word 'Allah' should not be exclusive to any one religion.
"The ministry feels this (having such a prohibition) is going a bit too far. To me, anyone can use the word ('Allah').
"Muslims themselves (in Indonesia) are different, in their accents, in how they greet one another and how they mention God," Lukman said.
He said this when asked for his view on the ruling by Malaysia's Federal Court, which upheld the Home Ministry's ban on use of the word Allah by Catholic weekly Herald.
However, Lukman did not refer specifically to Malaysia in his response.
The minister, who took office in June, was speaking to senior journalists at a roundtable in the ministry's office in Jakarta, organised by US-based East-West Center this morning.
He said he was confident such a claim for exclusivity to Islam in the use of the word would not spread in the republic.
Full report at:
http://www.malaysia-chronicle.com/index.php?option=com_k2&view=item&id=351782:slap-in-the-face-allah-ban-is-ridiculous-indonesian-minister&Itemid=2#ixzz3CI0G1vih
----------
South Asia
35 Taliban militants killed, 18 others injured in Afghan operations
03 Sep, 2014
At least 35 Taliban militants were killed and 18 others were injured during military operations by Afghan national security forces in the past 24 hours.
Interior ministry following a statement said Monday that the operations were jointly conducted by Afghan National Police (ANP), Afghan National Army (ANA) and Afghan Intelligence – National Directorate of Security (NDS) operatives.
The statement further added that the operations were conducted in Nangarhar, Balkh, Kandahar, Maidan Wardak, Paktiya, Helmand and Kapisa provinces.
At least 2 Taliban militants were also arrested during the operations, the statement by interior ministry said, adding that numerous Taliban leaders were also among those killed or injured during the operations.
Full report at:
http://www.khaama.com/35-taliban-militants-killed-18-others-injured-in-afghan-operations-8573
----------
Afghanistan Hizb-E-Islami Militants Considering To Join Islamic State
03 Sep, 2014
Insurgents belonging to a faction of the Hizb-e-Islami led by Gulbuddin Hekmatyar have vowed to continue to their insurgency attacks against the Afghan government, event after the NATO forces leave Afghanistan by the end of this year.
The insurgents have also said they consider to join the Islamic State militants who are currently fighting in Syria and Iraq.
They said the current constitution of Afghanistan is US made and would keep fighting until Sharia Law was established not just in Afghanistan, but throughout the world.
In an interview with the BBC's World Affairs Editor John Simpson, the Hezb-e-Islami fighters have confirmed that they had links with some Islamic State fighters.
The militants have said they have prayed for the Islamic State militants as great Islamic warriors.
Full report at:
http://www.khaama.com/hezb-e-islami-militants-considering-to-join-islamic-state-8572
---------
Jihadist media claims two more Maldivians killed in Syria
By Minivan News
03 Sep, 2014
Online Jihadist group Bilad Al Sham Media (BASM) have claimed two more Maldivians have been killed in the Syrian civil war.
"Martyred brothers in the yesterdays operation include Abu Dujana Maldifi, Abu Ibrahim Maldifi and Abu Ukasha Indonesi," read a post on the BASM facebook page today.
The latest reports follow similar stories in May when two Maldivians – who had taken the names of Abu Nuh and Abu Turab – were said to have been killed after travelling to Syria for jihad
While the group claims that Abu Dujana was the founder and editor of the BASM page, the group has not provided any information regarding his real identity, stating that this omission was at the request of his mother.
Local media has, however, identified Abu Dujana as Yameen Naeem of Georgia in the Maafannu ward of the capital Malé. It is reported that the man, in his early twenties, travelled to Syria after studying in Egypt.
Full report at:
http://minivannews.com/society/jihadist-media-claims-two-more-maldivians-killed-in-syria-89915
----------
Europe
British Muslims leaders say it is 'haram' to join ISIS
03 Sep, 2014
Muslim leaders in Britain have issued a fatwa (religious edict) condemning the Islamic State of Iraq and Syria (ISIS), adding that Brits heading to fight with the militant group are "betraying their own societies."
The Sunday Times reported the fatwa, authored by Sheik Usama Hasan, a former imam from east London.
It is supported by six senior Islamic scholars across the country, says it is "religiously prohibited (haram) to support or join" Isis.
The fatwa states that although Muslims have "moral obligation" to help the Syrian and Iraqi people, they must do so "without betraying their own societies."
In July, leading British Muslim preachers strongly condemned ISIS in an online video aimed at deterring young British Muslims from fighting in Iraq and Syria.
Their ISIS and its self-proclaimed "caliphate" was considered to be the highest-profile kickback thus far from Muslim leaders in Britain to the extremist Islamist group that has taken control of large swathes of Northern and Western Iraq and Eastern Syria.
Full report at:
http://english.alarabiya.net/en/perspective/features/2014/09/01/British-Muslims-leaders-state-it-is-haram-to-join-ISIS-.html
----------
Call for State schools to accommodate Islamic beliefs
Sep 3, 2014
A spokesman for the Muslim community in Ireland has called for radical change in the educational system to accommodate children with Islamic beliefs.
Dr Ali Selim, of the Islamic Cultural Centre in Dublin's Clonskeagh and a lecturer in the Mater Dei Institute and Trinity College, has called for "a revolution of inclusivity" in Irish schools and "an upheaval in Irish educational perspectives".
This was necessary to accommodate the needs of a society which is now "home to a variety of Christian denominations, as well as people of other faiths and of none", he says in his book Islam and Education in Ireland, to be published next week.
Estimating that of approximately 65,000 Muslims in Ireland today as many as 20,000 would be in the under-18 school-going age, he relates difficulties these young people face when it comes to admission to schools, as well as their problems with PE classes, relationship and sexuality education, music and drama classes, and practice of their faith during school hours.
Preference
Full report at:
http://www.irishtimes.com/news/social-affairs/religion-and-beliefs/call-for-state-schools-to-accommodate-islamic-beliefs-1.1915810
----------
Fidel Castro: Israel, US responsible for creating Islamic State
Sep 3, 2014
Israel and the United States are responsible for creating the Islamic State phenomenon, former Cuban president Fidel Castro is quoted as saying on Wednesday.
Writing for official Cuban state media, Castro alleged that Israel's intelligence agency, Mossad, and US Senator John McCain conspired to create the Islamic State.
The remarks were reported and translated into English by the Russia Today news agency.
Castro's column takes aim at the West, particularly NATO for its attitude toward Russia as the Ukraine crisis unfolds.
"Many people are astonished when they hear the statements made by some European spokesmen for NATO when they speak with the style and face of the Nazi SS," Castro wrote.
"Adolf Hitler's greed-based empire went down in history with no more glory than the encouragement provided to NATO's aggressive and bourgeois governments, which makes them the laughing stock of Europe and the world."
Full report at:
http://www.jpost.com/Israel-News/Fidel-Castro-Israel-US-responsible-for-creating-Islamic-State-374318
------------
Four UN troops killed in Mali by explosive: Security sources
03 Sep, 2014
Four United Nations peacekeepers were killed on Tuesday when their truck was blown up by a makeshift explosive in rebel-infested northeastern Mali, security sources told AFP.
"It is a bomb that hit a UN vehicle in the northeast. Four UN soldiers were killed instantly and two others are wounded," said a Malian army spokesman based in Gao, the west African country's largest northern town.
http://english.ahram.org.eg/NewsContent/2/8/109841/World/Region/Four-UN-troops-killed-in-Mali-by-explosive-Securit.aspx
----------
Airstrikes against IS not ruled out: British PM
3 September 2014
British Prime Minister David Cameron was on Wednesday to chair an emergency meeting following the execution of a second US journalist by Islamist fighters in Iraq and the threat that a British hostage will be next.
In a video showing the severed head of 31-year-old Steven Sotloff, a masked militant warned a British man, widely identified as David Cawthorne Haines, would be killed in response to US air strikes against militants in northern Iraq, AFP reported.
According to Reuters the British Foreign Ministry announced earlier Wednesday that an "unsuccessful attempt" had been made to rescue Haines from the hands of IS.
"As I have said consistently over the last few weeks, ISIL terrorists speak for no religion. They threaten Syrians, Iraqis, Americans and British people alike and make no distinction between Muslims, Christians or any other faith," said Cameron ahead of the meeting of Britain's emergency response committee.
Full report at:
http://english.ahram.org.eg/NewsContent/2/8/109888/World/Region/Airstrikes-against-IS-not-ruled-out-British-PM.aspx
----------
Bosnian police detain 16 for involvement in Syria, Iraq conflicts
3 September 2014
Bosnian police detained 16 people on Wednesday on charges of financing terrorist activities, recruiting and fighting on the side of radical groups in Syria and Iraq, authorities said.
The arrests were made in 17 raids the police conducted across the Balkan country, the State Investigation and Protection Agency (SIPA) said in a statement.
It was the first such security sweep since April, when Bosnia introduced jail terms of up to 10 years for its citizens who fight or recruit fighters for conflicts abroad.
The move was aimed at discouraging young Bosnians from going to fight in Syria. Many of those are seen as a possible security threat upon their return home.
"The suspects are connected to financing, organizing and recruiting Bosnian citizens to depart for Syria and Iraq, and taking part in armed conflicts in Syria and Iraq, fighting on the side of radical terrorist groups and organizations," the police statement said.
Full report at:
http://english.alarabiya.net/en/News/world/2014/09/03/Bosnian-police-detain-16-for-involvement-in-Syria-Iraq-conflicts.html
----------
Lavrov: Terrorism Cannot Be Fought in Iraq, Overlooked in Syria
03 Sep, 2014
Terrorism cannot be fought in Iraq while at the same time it is overlooked in Syria, Russian Foreign Minister Sergey Lavrov said, stressing that terrorism should be fought on general bases and without double standards.
In a press conference with Tunisian counterpart Manji Hamidi held in Moscow on Tuesday, Lavrov stressed the need to prevent terrorists in Iraq, Syria, Libya, Mali, and other places from reaching their goals and to work on supporting political solutions to crises in these countries, SANA reported.
"Extremists and weapons trading should be fought instead of toppling regimes for political ends like what happened in Libya," Lavrov said, adding that claiming that some of the extremists are "good" in order to exploit them for personal interests is unjustifiable.
He highlighted that it makes no sense to fight the Islamic State of Iraq and the Levant (ISIL) terrorist organization in Iraq and at the same time say that there can be no cooperation with the Syrian government to fight this organization in Syria.
http://english.farsnews.com/newstext.aspx?nn=13930612000378
----------
UK officials accused of 'dereliction of duty' in child abuse scandal, mostly Pakistani heritage
03 Sep, 2014
LONDON: Britain's interior minister on Tuesday accused local authorities in the English town of Rotherham of a "complete dereliction of duty" for the way they responded to the sexual exploitation of at least 1,400 children by men of mostly Pakistani heritage.
Speaking in parliament, Home Secretary Theresa May said the government was considering investigating the local council in the northern English town, and specifically whether "institutionalised political correctness" — or a fear of being branded racist — was to blame for the cases being mishandled.
Ms May spoke as the police force in South Yorkshire, the county where Rotherham is located, launched an independent investigation into its own handling of the cases and the opposition Labour party suspended four local councillors.
The scale of the abuse, between 1997 and 2013 — in which girls as young as 11 were plied with drugs and alcohol and subjected to gang rapes — was revealed by an independent report published last week.
Full report at:
http://www.dawn.com/news/1129523/uk-officials-accused-of-dereliction-of-duty-in-child-abuse-scandal
----------
India
Army discovers underground tunnel emanating from Pakistan
Sep 3, 2014
With the help of ground penetrating radars and other equipments, the army troops have found that an underground tunnel detected in Pargwal area in August emanates from across the Line of Control (LoC) and has come nearly 150 meters inside the Indian territory.
The tunnel which is four ft high and three ft wide has been dug up 20 ft below the ground. The entire alignment of the tunnel has been detected.
The tunnel, which is big enough to provide safe passage to infiltrating terrorists from Pakistan side, appeared incomplete as it had no exit on the Indian side, sources said.
The troops had stumbled upon the underground tunnel in Chakla area of Pargwal sector on August 22 after an area domination patrol noticed depression in the ground and sounded alert. The cross border tunnel, the second detected by troops in the same sector during the last four years, was found nearly three km away from the earlier one detected in the area during 2010.
A similar cross-border tunnel was found dug up nearly 400 meter into the Indian side from Pakistan at Chillyari near the international border in Samba district in July 2012 as well.
http://indianexpress.com/article/india/india-others/army-discovers-underground-tunnel-emanating-from-pakistan/
----------
Software to melt India, Pakistan's Sindhi script barrier
Amaninder Sharma,TNN | Sep 3, 2014
PATIALA: Bringing down the script barrier between 25 lakh Sindhis in India and four crore in Pakistan, a first-of-its-kind software will enable Sindhis settled on both sides of the border to read each others' literature despite the different scripts.
The yet-to-be-launched software has been developed by Punjabi researchers in Punjabi University, Patiala and Manchester University, England.
Despite having the same language, Sindhis residing on both sides of the border could not read each others' literature since Pakistani Sindhis use Perso-Arabic script and those in India follow the Devnagari script.
The software, which is in trial stage, will remove this barrier as it will transliterate Perso-Arabic Sindhi into Devnagari and vice-versa.
"Like Punjabis, Sindhis also follow two scripts. Hence, the immense need to remove this language barrier. We had begun work on this project in March, last year. A Punjabi scholar form Manchester University is also collaborating on this," said Dr GS Lehal of Punjabi University, coordinator of the project.
Full report at:
http://timesofindia.indiatimes.com/india/Software-to-melt-India-Pakistans-Sindhi-script-barrier/articleshow/41556896.cms
-----------
Philippine military seeks probe against Indian commander of peacekeepers in Golan Heights
TNN | Sep 3, 2014
NEW DELHI: An Indian Lt-General commanding the UN Disengagement Observer Force (UNDOF) in Golan Heights, Iqbal Singh Singha, has landed in a major controversy with the Philippine military seeking an investigation against him for allegedly endangering the safety of its peacekeeping troops during the stand-off with Syrian rebels over the last weekend.
Philippines armed forces chief Gen Gregorio Pio Catapang, as per reports emanating from the Middle-East as well as Manila, alleged Lt-Gen Singha ordered the Filipino troops under UNDOF to lay down their weapons and "show the white flag" to the Syrian rebels to ensure the safety of 44 Fijian peacekeepers earlier taken hostage by them.
Gen Catapang said the Filipino troops — who held their ground without surrendering last Saturday — would have also been taken captive if they had not defied Lt-Gen Singha's orders. "The UNDOF commander wanted to save the Fijians at the expense of the Filipinos. Our troops did not want to surrender. Their honour was at stake. He (Lt-Gen Singha) kept on changing his orders. It is but proper that an investigation be conducted to include him," Gen Catapang, was quoted as saying.
Indian Army officers, who are monitoring the situation from here, said it was for the UN to "comment" on the matter. "But UNDOF is working under Chapter VI of the UN Charter, which is primarily concerned with a supervisory role without any enforcing authority. Peacekeeping operations under Chapter VII give the enforcement authority and the ability to use force beyond self-defence," said an officer.
Full report at:
http://timesofindia.indiatimes.com/india/Philippine-military-seeks-probe-against-Indian-commander-of-peacekeepers-in-Golan-Heights/articleshow/41565872.cms
----------
Mideast
Hamas popularity rises after Zionist barbarity
03 Sep, 2014
JERUSALEM: The popularity of the Hamas group among Palestinians in the West Bank and the Gaza Strip has spiked significantly following the 50-day war with Israel, according to an opinion poll released Tuesday.
The poll, conducted by the Palestinian Center for Policy and Survey Research and headed by leading Palestinian pollster Khalil Shikaki, indicates that 61 percent of Palestinians would choose the Islamic group's leader, Ismail Haniyeh, for president if Palestinian presidential elections were held today.
Only 32 percent would vote for current President Mahmoud Abbas, Hamas' rival, the survey suggested.
The support for Haniyeh marks a stark increase from a poll in June, conducted by the same pollster, which found only 41 percent of Palestinians backed the Hamas figure. At the time, Abbas had 53 percent support. The poll also suggests a majority of Palestinians — 72 percent — support adopting Hamas' armed approach in the West Bank.
The research center said it is the first time in eight years that a majority of Palestinians has voiced such support for the Hamas leader.
Full report at:
demands. But 25 percent said armed groups in the Gaza Strip should give up their weapons.
http://www.arabnews.com/middle-east/news/624381
----------
Iran dramatically shifts Iraq policy to confront ISIL
World Bulletin/News Desk
03 Sep, 2014
As pressure built up for Nouri al Maliki to step down from the prime minister post in Iraq last month, Iran, his most ardent supporter stayed surprisingly silent as top Iranian officials worked to get him out.
Similarly, when the United States, regularly denounced as the Great Satan by officials in Iran, began bombing inside Iraq last month, Tehran stayed quiet.
This marked shift in Iran's approach to Iraq is a response to the gains of ISIL, the militant group which has torn across Iraqi territory and come within striking distance of the Iranian border.
ISIL fighters in Iraq have engaged in acts of brutality often targeting Shi'ites. The majority of Iranians are Shiite Muslims.
As a result of this threat, Iran has had to take a more flexible approach to its policy in Iraq, which has led to a series of dramatic shifts, experts say.
Full report at:
http://www.worldbulletin.net/headlines/143621/iran-dramatically-shifts-iraq-policy-to-confront-isil
-----------
HDP leader offers sending arms to PKK in fight against ISIL
3 September 2014
Peoples' Democratic Party (HDP) Co-Chair Selahattin Demirtaş has said Turkey should consider sending arms to the outlawed Kurdistan Workers' Party (PKK) in its fight against the Islamic State of Iraq and the Levant (ISIL).
"The PKK is fighting [against ISIL]. Turkey should consider what to do if the PKK asks for arms. Why not [send arms] when we consider the current peace process? It might sound strange, but why not send arms to the PKK if peace comes and the PKK stops using arms against Turkey and fights against ISIL?" said Demirtaş.
He also touched on the progress of the peace process, saying President Recep Tayyip Erdoğan would "continue to monitor it."
"Erdoğan wants to have control over the issue. I think he sees himself as being responsible for the issue. So far, there is no time frame written on the table regarding the issue, but they say they want to work with haste," said Demirtaş.
Full report at:
http://www.hurriyetdailynews.com/hdp-leader-offers-sending-arms-to-pkk-in-fight-against-isil.aspx?pageID=238&nID=71231&NewsCatID=338
----------
Turkey's top cleric urges Pope to act over mosque attacks
3 September 2014
Drawing attention to steadily rising attacks against mosques in Germany, Turkey's top cleric has said the Pope must "translate words into deeds with regard to the misperception and misinterpretation of Islam."
In Germany, from 2001 to 2013, an average of 22 mosques were attacked each year, Mehmet Görmez, the head of Turkey's Directorate for Religious Affairs (Diyanet), said on Sept. 2, adding that the figure had risen to 36 in 2013 and to 70 in 2014.
All religious institutions, the Vatican being in the first place, should focus on these rising attacks against mosques in Germany, Görmez said, while speaking at a meeting at the Diyanet's Ankara headquarters. The meeting was also attended by a senior member of the ruling Justice and Development Party (AKP), Ankara deputy Emrullah İşler, who served as deputy prime minister until the new government took office a few days ago.
Full report at:
http://www.hurriyetdailynews.com/turkeys-top-cleric-urges-pope-to-act-over-mosque-attacks.aspx?pageID=238&nID=71226&NewsCatID=393
----------
Hamas' Haniyeh would trounce Abbas if elections held today, Palestinian poll says
03 Sep, 2014
Hamas' popularity has skyrocketed in the wake of Operation Protective Edge to the point where its deputy political bureau chief, Ismail Haniyeh, would win the presidency of the Palestinian Authority if elections were held today, according to a new survey of West Bank and Gaza residents.
The poll, which was overseen by Dr. Khalil Shikaki of the Palestinian Center for Policy and Survey Research, indicates that Haniyeh would attract 61 percent support among prospective Palestinian voters, easily outpacing incumbent Mahmoud Abbas of Fatah (32 percent).
In the Gaza Strip, Haniyeh has the support of 53 percent of residents, while in the West Bank the figure jumps to 66 percent.
Hamas' popularity in the West Bank is at an all-time high following the 50-day long military confrontation with Israel.
According to Shikaki's poll, if the race were a three-way contest between Haniyeh, Abbas, and jailed Tanzim leader Marwan Barghouti, Haniyeh would still emerge as the winner with 48 percent. Barghouti garners 29 percent support, whereas Abbas finishes a distant third with just 19 percent.
Full report at:
http://www.jpost.com/Middle-East/Hamas-Haniyeh-would-trounce-Abbas-if-elections-held-today-Palestinian-poll-says-374297
----------
Journalist beheaded by Islamic State had Israeli citizenship, wrote for 'Jerusalem Report'
Sep 3, 2014
The Foreign Ministry cleared for publication on Wednesday that Steven Sotloff, the Jewish-American journalist who was beheaded by Islamic State terrorists, had Israeli citizenship as well as US citizenship.
Sotloff grew up in Miami, the son of Arthur and Shirley Sotloff, and previously worked for Temple Beth Am Day School in Florida, according to the synagogue website. Sotloff worked in the past for both The Media Line and The Jerusalem Report, filing his last dispatch for the Report from Syria about a year ago, shortly before he was taken hostage.
He lived in Israel for a short period and played for the Ra'anana rugby club.
Both the US and UK said Wednesday that the video purporting to show an Islamic State terrorist beheading Sotloff in reprisal for US air strikes in Iraq is authentic.
"The US Intelligence Community has analyzed the recently released video showing US citizen Steven Sotloff and has reached the judgment that it is authentic," National Security Council spokesperson Caitlin Hayden said.
Full report at:
http://www.jpost.com/Middle-East/Foreign-Ministry-reveals-Journalist-beheaded-by-Islamic-State-terrorist-had-Israeli-citizenship-374307
-----------
Africa
Somalia gives Al-Shabaab 45 days to surrender
World Bulletin / News Desk
03 Sep, 2014
The Somali government has given the members of the Qaeda-linked Al-Shabaab militant group 45 days to surrender and renounce violence.
"The government has given Al-Shabaab 45 days to surrender and return to their homes and families," National Security Minister Khalif Ereg said following a cabinet meeting late on Tuesday.
"The government is committed to rehabilitating militants who surrender during this period and working with them to build a new future for them," he added.
The minister said those who insist to continue fighting would be presented to the court of law.
The government has also called on local preachers and clerics to enlighten Somalis against extremist ideology and its repercussions on the future of Somalia.
Formed in 2004, Al-Shabaab has been battling the government for control over a territory in many of Somalia's regions.
Full report at:
http://www.worldbulletin.net/todays-news/143636/somalia-gives-al-shabaab-45-days-to-surrender
----------
After kidnapping schoolgirls, Boko Haram takes aim at churches in northeast Nigeria
Sep 3, 2014
NAIROBI, KENYA — Five months after Boko Haram abducted more than 200 girls in Nigeria's Borno State, the Islamic extremist group has begun occupying churches in the country's northeastern region, church officials there said.
The militant group, which church leaders and analysts view as an African variation of the Islamic State, is also beheading men, forcing Christian women to convert to Islam and taking them as wives, officials said.
"Things are getting pretty bad," said the Rev. John Bakeni, the secretary of the Maiduguri Roman Catholic diocese in northeastern Nigeria. "A good number of our parishes in Pulka and Madagali areas have been overrun in the last few days."
The militants have turned the church compound and rectory of the St. Denis Parish in Madagali town into their base, the priest said. The militants overran the church center on Aug. 23.
Full report at:
http://www.washingtonpost.com/national/religion/after-kidnapping-schoolgirls-boko-haram-takes-aim-at-churches-in-northeast-nigeria/2014/09/02/49a19958-32c4-11e4-9f4d-24103cb8b742_story.html
----------
Sudan expels Iran diplomats
03 Sep, 2014
KHARTOUM: The government has closed all Iranian cultural centers in Sudan and expelled the cultural attaché and other diplomats, fearing they had become a threat to society, the Foreign Ministry said on Friday.
The expulsions were linked to government concerns that Iranian officials were promoting their Shiitism in the country.
The Iranian Cultural Center and its branches had exceeded their mandates and "become a threat to intellectual and social security," the ministry said in a statement.
Sudan, where many people follow the traditional Sufi tradition has also received delegations from senior Iranian politicians.
A government source told Reuters the diplomats had been given 72 hours to leave.
http://www.arabnews.com/middle-east/news/624371
----------
URL: https://www.newageislam.com/islamic-world-news/new-age-islam-news-bureau/is-extremists-resort-to-graffiti-to-demonstrate-'large-support'-in-saudi-kingdom/d/98880