New Age Islam News Bureau
20 Jul 2013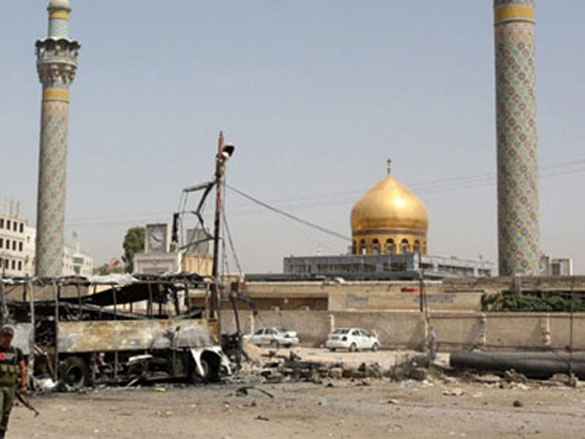 The Syrian government accuses rebels of targeting Sayyeda Zainab shrine, which is now protected by hundreds of Shia militants from Iraq and the powerful Lebanese Hezbollah group. PHOTO: AFP
----------
Arab World
• Iraq's anti-terror chief: U.S.-built prison major Qaeda recruiting ground
• Rocket attack kills custodian of Zainab's shrine in Syria
• 4 Morsy supporters killed at rally: Muslim Brotherhood
• PYD replaces FSA flag with own in Ras al-Ain
• Minister of Human Rights condemns the Heinous Terrorist Bombing in Riffa Area
• Egypt has no intention of waging Syria 'jihad,' FM says
• Egyptian Christians happy Mursi is gone but remain wary
• Crowds March in Egypt to Protest Morsi Detention
• Syria Regime Frees 23 Female Prisoners In Intended Swap For Lebanese Shiites
Pakistan
• Pakistan Taliban to Malala: Come back, we will kill you
• Security forces kill 28 militants in Khyber, FR Kohat
• LeJ hit squad chief arrested, IB tells Nawaz
• Altaf, other MQM leaders under no governmental restrictions in UK
• 40 government employees on terror watch list
• Jamaat leaders' trial internal matter of Bangladesh: Pakistan
• PML-Q nominates Senator Saeed Mandokhel as presidential candidate
• ANP, JUI-F agree on seat-adjustment to jointly contest by-elections
• Nationalists want UN to take notice of Kutchhis' migration
• Minister wants federal govt revisit policy on war on terror
Mideast
• Syrian war presents 'do-or-die' case to Turkey's Kurdish peace bid
• A Conscientious Objector Poses a Challenge to the Israeli Military
• Erdogan accuses world of double standards on Egypt
• Hamas rejects Kerry's announcement: Abbas has no authority to negotiate
North America
• Florida teenager on trial for Yemen holy war designs
• Judge Challenges White House Claims on Authority in Drone Killings
• Action: Urge North Carolina Governor Not to Sign Anti-Islam Legislation
• Reconciliation only path for Afghanistan to achieve peace: US
• US charges ex-head of al-Qaida in the Islamic Maghreb
• Saudi suspect in underwear bomb plots trained others, US says
• Osama bin Laden's son-in-law claims he was tortured by US
South Asia
• Bombings kill 15 in southern Afghanistan
• Death penalties divide Bangladeshi people
• Execution of some verdicts in this tenure: PM Sheikh Hasina
• File appeal seeking death penalty for Ghulam Azam
• Hefazat activist arrested with anti-state magazines
• Myanmar lifts emergency order in riot-hit areas
Southeast Asia
• Indonesia Ends Visas on Arrival for Iran Citizens
• Govt says no guarantee for Shia Idul Fitri homecoming
• Appalled by stand on Allah issue, Christians ask Cabinet to enforce 10-point solution
Europe
• Muslim footballer refuses to wear shirt sponsored by a money-lending company
• French president receives mufti of Paris, Celebrates Ramadan
• UN's Ban calls on Israelis, Palestinians to show courage, leadership
• Italian minister hosts Iftar dinner for Muslims in Italy
• Cambridge Mosque to be Europe's first eco-mosque
• EU ready to blacklist Hezbollah
India
• Parliament to ratify 1974 Indira-Mujib pact
• Curfew continues in Kashmir, 59 injured in clashes
Africa
• Annan urges US, Russia to find common ground in Syrian crisis
Compiled by New Age Islam News Bureau
URL: https://www.newageislam.com/islamic-world-news/new-age-islam-news-bureau/iraq's-anti-terror-chief--us-built-prison-major-qaeda-recruiting-ground/d/12693
-----------
Arab World
Iraq's Anti-Terror Chief: U.S.-Built Prison Major Qaeda Recruiting Ground
20 July 2013
Camp Bucca, a detention facility built and maintained by the U.S. Army in Iraq between 2003 and 2009, was a major recruiting ground for al-Qaeda, a senior Iraqi anti-terror official told Al Arabiya in an interview aired on Friday.
Brigadier General Maher Najm Abdul Hussein, head of the anti-terror and organized crime in Iraq, said more than 90 percent of al-Qaeda members now operating in the country were once inmates at Camp Bucca.
General Abdul Hussein said the detention facility was a "mistake" committed by the U.S. Amy in Iraq, describing the prison as an "incubator" that allowed the terror network to recruit more members.
He said the security crackdown on al-Qaeda has pushed the group to rely less on Iraqi recruits, point that a recent al-Qaeda suicide bomber was from Libya.
The group is using previous desert shelters built up by Saddam Hussein's army as shelters and bases from which it launches attacks in various areas of Iraq, General Abdul Hussein said.
The anti-terror chief said al-Qaeda is also relying on border areas with Turkey and Syria for financial and weapons support.
Suicide attacks, car bombings and other violence have killed more than 200 people since the Islamic holy month of daytime fasting and charity began last week, according to an Associated Press count.
The violence is an extension of a surge of attacks that has roiled Iraq for months, reviving fears of a return to the widespread sectarian bloodshed that pushed the country to the brink of civil war after the 2003 U.S.-led invasion.
http://english.alarabiya.net/en/News/middle-east/2013/07/20/Iraq-s-anti-terror-chief-U-S-built-Camp-Bucca-major-Qaeda-recruiting-ground.html
---------
Rocket attack kills custodian of Zainab's shrine in Syria
July 20, 2013
BEIRUT: A rocket strike near a Shia Muslim shrine in Damascus killed a custodian of Zainab (AS) on Friday, activists and residents said, in an attack that could inflame sectarian tensions in Syria's 28 month old conflict.
Opposition activists and residents said shrapnel killed Anas Romani, the respected caretaker of the gold-domed Zainab (AS) shrine in the capital's southern suburbs, a renowned pilgrimage destination for Shias from Iran, Iraq, Lebanon and beyond.
There were conflicting reports about damage to the shrine. The British-based Syrian Observatory for Human Rights, which has a network of activists across Syria, cited sources as saying the shrine's blue-tiled sanctuary had been hit. But a local resident told Reuters the rockets landed outside the mosque.
The Syrian government accuses rebels of targeting Sayyeda Zainab shrine, which is now protected by hundreds of Shia militants from Iraq and the powerful Lebanese Hezbollah group.
They have been helping Syrian President Bashar al-Assad's forces battle rebels mostly from the Sunni Muslim majority, whom they accuse of threatening Shia symbols in Syria.
The rebels say they are only attacking pro-Assad forces in the area, though many in their ranks use sectarian rhetoric against Assad's Shia supporters.
Syria's uprising-turned-civil war has sectarian dimensions that risk spilling over into neighboring Iraq and Lebanon, which have both suffered their own communal conflicts.
Several Syrian minorities have supported Assad, including his own Alawite sect, an offshoot of Shia Islam. They say they fear the rising Sunni current in the insurgency.
Hezbollah leader Hassan Nasrallah has said protecting Sayyeda Zainab is vital for his group, which now openly acknowledges its involvement on Syria's battlefields, and has threatened "grave retribution" if any harm befalls the shrine.
http://tribune.com.pk/story/579429/rocket-attack-kills-custodian-of-zainabs-shrine-in-syria/
----------
4 Morsy supporters killed at rally: Muslim Brotherhood
July 20, 2013
Four women supporters of Egypt's deposed president Mohammed Morsy were killed in an attack in a Nile Delta city, his Muslim Brotherhood group said on Saturday.
The attack took place at a pro-Morsy march early on Saturday in Mansoura, the group said on its website.
"Killing women in Mansoura by using live bullets and long knives in front of army and police is a shame for the plotters of the bloody military coup and for everyone who has welcomed or stayed silent over its destructive repercussions on human rights", Essam al-Erian, a senior Brotherhood official, posted on his Facebook page.
There was no official comment on the report.
The army ousted Mr. Morsy on July 3 after millions of Egyptians took to the streets demanding his resignation and early presidential elections.
The Brotherhood has denounced Mr. Morsy's toppling as a coup and vowed street protests until he is restored to office.
Dozens have died in clashes across Egypt since Mr. Morsy's overthrow.
At least 51 people, mainly Brotherhood supporters, were killed last week when soldiers opened fire on protesters outside the Republican Guard building in Cairo, where Mr. Morsy is believed to be held.
The army said its soldiers acted in self-defence.
http://www.thehindu.com/news/international/world/4-morsy-supporters-killed-at-rally-muslim-brotherhood/article4935132.ece
----------
PYD replaces FSA flag with own in Ras al-Ain
July 20, 2013
A Syrian Kurdish party with links to the Kurdistan Workers' Party (PKK) has replaced the flag of the opposition Free Syrian Army (FSA) with their own after seizing control of a Syrian town on the Turkish border following days of clashes with fighters affiliated with the al-Nusra Front.
The capture of Ras al-Ain by the Democratic Union Party (PYD) fueled Ankara's fears that the emergence of an autonomous Kurdish region in Syria could embolden homegrown members of the PKK, which is fighting for autonomy in Turkey.
On Friday, Turkish warplanes took off from Diyarbakir and flew low over the Turkish-Syrian border, where clashes continue. Authorities say they didn't violate Syrian airspace and only inspected the area for the safety of Turks.
The military said it had strengthened security along that part of the border with armored vehicles.
After fully capturing the town, PYD militants replaced the flag of FSA, raised on the top of an abandoned factory that is some 100 meters away from the Turkish border, with its own yellow flag. The flag can clearly be seen from the Turkish side.
Turkish troops shot at PYD fighters in Syria in line with their rules of engagement after two rocket-propelled grenades fired from Syria struck a border post on the Turkish side.
The return fire was the second time in as many days that the military had answered in kind. Stray bullets from Syria struck the police headquarters and several homes in the adjacent Turkish town of Ceylanpinar on Tuesday.
The clashes between Kurdish militants, who want an autonomous region within Syria, and Arab fighters from the al-Qaeda-linked al-Nusra Front started on Tuesday after Nusra fighters attacked a Kurdish patrol.
http://www.worldbulletin.net/?aType=haber&ArticleID=113454
----------
Minister of Human Rights condemns the Heinous Terrorist Bombing in Riffa Area
19/07/2013
Manama, July 19th (BNA) –Minister of Human Rights Dr. Salah Bin Ali Abdul Rahman condemned the heinous terrorist bombing, which was committed in the car-parking of Isa Bin Salman Mosque in Riffa area, aiming to kill the worshippers who were performing Taraweeh prayers in this holy month.
The minister said "Such cowardly terrorist act is strange to the morals of Bahrainis, who always ask Allah to preserve Bahrain and its wise leadership, and its loyal people from any danger, and maintain its security and stability."
Full report at:
http://www.bna.bh/portal/en/news/571659
--------
Egypt has no intention of waging Syria 'jihad,' FM says
20 July 2013
Egypt has no intention of waging a holy war against Syria and will "re-examine" diplomatic ties with the war-torn country, Egyptian foreign minister said on Saturday.
The country's newly installed Foreign Minister Nabil Fahmy told reporters that Egypt supports the Syrian peoples' desire for freedom but will not pursue Jihad against the Syrian government.
"There are no intentions for jihad in Syria," Fahmy said according to Reuters.
Ties with Syria severed last month when the Islamist Muslim Brotherhood movement of ousted Egyptian President Mohamed Mursi supported a call by some Sunni clerics for a jihad against the Syrian Alawite regime of President Bashar al-Assad.
Full report at:
http://english.alarabiya.net/en/News/middle-east/2013/07/20/Egypt-has-no-intention-of-waging-Syria-jihad-FM-says-.html
---------
Egyptian Christians happy Mursi is gone but remain wary
20 July 2013
The evening Egypt's army ousted Islamist President Mohammed Mursi, Christian lawyer Peter Naggar celebrated on Tahrir Square with even greater joy than when autocrat Hosni Mubarak fell from power two years ago.
Naggar remains deeply relieved that a year of Islamist rule ended a fortnight ago and yet, as the initial excitement fades, many members of his ancient Christian minority fear Mursi's Muslim Brotherhood will not give up power so easily.
Full report at:
http://english.alarabiya.net/en/perspective/features/2013/07/19/Egyptian-Christians-happy-Mursi-is-gone-but-remain-wary.html
---------
Crowds March in Egypt to Protest Morsi Detention
By KAREEM FAHIM
2013/07/20
CAIRO — Thousands of people, demanding that ousted president Mohamed Morsi be returned to power, marched in several Egyptian cities on Friday, as the United Nations chief human rights official said she had pressed Egypt's new leaders to provide details about why Mr. Morsi was being detained.
At least three people were killed during clashes between pro- and anti-Morsi protesters in the Nile Delta city of Mansoura, state news media reported.
Full report at:
http://www.nytimes.com/2013/07/20/world/middleeast/crowds-march-in-egypt-to-protest-morsi-detention.html
--------
Syria Regime Frees 23 Female Prisoners In Intended Swap For Lebanese Shiites
By BASSEM MROUE 07/19/13
BEIRUT — Mortar shells struck near a major Shiite shrine outside Damascus on Friday, killing its caretaker in an attack that threatens to further escalate sectarian tensions in Syria's civil war, the government and activists said.
State-run news agency SANA said shells fired be rebels fighting to topple President Bashar Assad landed "in the vicinity" of the revered Sayida Zeinab shrine, killing Anas Roumani, the shrine's administrative director. Several people were wounded in the explosion, SANA said.
Protection of the ornate, golden-domed mosque has become a rallying cry for Shiite fighters backing Assad, raising the stakes in a conflict that is increasingly being fought along sectarian lines.
Full report at:
http://www.huffingtonpost.com/2013/07/19/syria-regime-frees-female-prisoners_n_3622920.html
----------
Pakistan
Pakistan Taliban to Malala: Come back, we will kill you
July 20, 2013
A senior representative of Tehrek-e-Taliban has said they will shoot Malala Yousafzai if she chose to return to Pakistan. The representative said that the group had no sympathies with the teenager, who was shot last year for demanding education for girls. The representative said that neither was Adnan Rashid a senior commander of the Taliban nor did the Taliban have anything to do with the letter that was written to Malala on Wednesday.
According to the Express Tribune, he said that Malala had been targeted because of her efforts in promoting secular education in Pakistan.
The representative said that the Taliban Council had obtained the draft of the letter that Rashid had sent Malala, and whether it had any content that went against the rules of the Taliban was being assessed.
He added that the council will also look into the purpose for which the letter had been written to Malala. ANI
http://www.hindustantimes.com/world-news/pakistan/Pakistan-Taliban-to-Malala-Come-back-we-will-kill-you/Article1-1095315.aspx
-----------
Security forces kill 28 militants in Khyber, FR Kohat
July 20, 2013
KHYBER AGENCY: At least twenty-eight militants were killed and six security personnel martyred when security forces clashed with the militants in Khyber Agency and FR Kohat, Geo News reported Saturday.
According to sources close to security forces, ten extremists were killed when security personnel battled with the terrorists in Akka Khel area of Bara Tehsil and also destroyed their two hideouts. Two security men were also martyred during the clashes.
On the other hand, 18 militants have so far been killed in the on-going clashes in Kharmatang area of FR Kohat while Pakistan Air Force fighter jets pounded militant compounds and razed two hideouts to the ground.
During the battle, four security men were also martyred in FR Kohat.
http://www.thenews.com.pk/article-110151-Security-forces-kill-28-militants-in-Khyber,-FR-Kohat
-----------
LeJ hit squad chief arrested, IB tells Nawaz
July 20, 2013
ISLAMABAD: The Intelligence Bureau (IB) has detained the suspected 'death squad' chief of the outlawed Lashkar-e-Jhangvi (LeJ), according to reports submitted by the civilian spy agency to Prime Minister Nawaz Sharif on Friday.
The LeJ 'death squad' chief, Masoom Billah, was arrested after prolonged reconnaissance, the IB claimed in the investigation reports into the failed assassination attempt on Sindh High Court Justice Maqbool Baqar and kidnapping of a minor for a ransom of Rs50 million in Karachi.
Premier Nawaz was told that significant information was gleaned from Masoom Billah about the June 26 attack on Justice Maqbool Baqar that killed nine people and injured many more. Justice Baqar survived the blast with some injuries.
Full report at:
http://tribune.com.pk/story/579496/major-breakthrough-lej-hit-squad-chief-arrested-ib-tells-nawaz/
-----------
Altaf, other MQM leaders under no governmental restrictions in UK
July 20, 2013
KARACHI: Muttahida Qaumi Movement (MQM) leader Wasay Jalil has said that party chief Altaf Hussain is not under any governmental restrictions in the United Kingdom, adding that an international conspiracy was underway against the MQM.
Speaking to media representatives at Karachi's Jinnah International Airport, the MQM leader said Hussain, Raza Haroon, other party colleagues and their family members were faring well and that no leader of the MQM had been charged for any crime.
Full report at:
http://dawn.com/news/1030573/altaf-other-mqm-leaders-under-no-governmental-restrictions-wasay-jalil
-----------
40 government employees on terror watch list
MOHAMMAD ASGHAR
2013-07-20
Despite being put on the Anti-Terrorism Act (ATA) watch list, 40 individuals having links to outlawed organisations are working in different government departments in the Rawalpindi division.
This was disclosed in an intelligence report sent to the provincial government recently.
After observing that the police were not making serious efforts in keeping a vigil on the activities of such individuals, the Punjab home department last week directed all the district police across the province to obtain 'fresh surety bonds' from members of the outlawed outfits, especially those who had been released from jails, Afghan returnees, Lal Masjid elements and others put on the watch list.
Full report at:
http://dawn.com/news/1030395/40-government-employees-on-terror-watch-list
-----------
Jamaat leaders' trial internal matter of Bangladesh: Pakistan
July 20, 2013
The Pakistan foreign office said on Friday that punishments handed over to the Bangladeshi war criminals Jamaat-e-Islami leaders was that country's internal matter.
Pakistan-based newspaper The News published a news item on Saturday quoting a weekly media briefing of foreign ministry when Bangladesh is holding the trial against the persons accused of wartime offences.
Full report at:
http://www.thedailystar.net/beta2/news/jamaat-leaders-trial-internal-matter-of-bangladesh-pakistan/
--------
PML-Q nominates Senator Saeed Mandokhel as presidential candidate
July 20, 2013
LAHORE: Pakistan Muslim League-Q (PML-Q) has nominated Senator Saeed Mandokhel as their candidate for the president slot, Geo News reported on Sunday.
According to a handout issued here, PML-Q president Chaudhry Shujaat Hussain has nominated Senator Saeed Mandokhel from Balochistan as their party candidate for the post of president.
PML-Q handout further said that the party would play its utmost role in the presidential election and in this connection it has already started approaching other opposition parties.
http://www.thenews.com.pk/article-110169-PML-Q-nominates-Senator-Saeed-Mandokhel-as-presidential-candidate
-----------
ANP, JUI-F agree on seat-adjustment to jointly contest by-elections
Tauseef-ur-Rahman
July 20, 2013
PESHAWAR: The Jamiat Ulema-e-Islam-Fazl and Awami National Party which until now have been political and ideological rivals agreed on seat adjustment here Friday for jointly contesting the August 22 by-elections.
The announcement was made in a joint press conference of leaders of both the parties at the JUI-F provincial headquarters. The negotiations between the two parties that were going on for some days proved successful in the end when they agreed to seat adjustment on the national and provincial assembly seats.
Full report at:
http://www.thenews.com.pk/Todays-News-7-191101-ANP-JUI-F-agree-on-seat-adjustment-to-
-----------
Nationalists want UN to take notice of Kutchhis' migration
Shamim Bano
July 20, 2013
Karachi: Sindhi nationalist parties have decided to seek the United Nation's intervention in the issue of Kutchhi residents of Lyari migrating from the violence-hit area to rural areas of Sindh to escape the atrocities against them. They have also asked the federal government to help sort out the matter.
At a conference convened by Jeay Sindh Mahaz titled, "Displacement of Old Sindhis from Karachi; The Recent Killing (Genocide) of Kutchhis in Lyari", held at the Karachi Press Club on Friday, nationalist parties suggested that a letter should be written to the UN to help solve the crisis that had deepened due to the warfare between the communities living in Lyari.
Full report at:
http://www.thenews.com.pk/Todays-News-4-191029-Nationalists-want-UN-to-take-notice-of-Kutchhis-migration
-----------
Minister wants federal govt revisit policy on war on terror
July 20, 2013
MANSEHRA: Criticising the federal government for not taking proper measures to overcome terrorism issue, Khyber Pakhtunkhwa Health Minister Shaukat Yousafzai on Friday said the review of foreign police was a must to overcome the issue.
"The federal government should revisit its foreign policy with regard to the US-led war on terror being fought on our soil," he told reporters after visiting the King Abdullah Teaching Hospital (Kath).Shaukat Yousafzai said two MPAs were killed in the province but the federal interior minister did not even bother to ask about it or condole with his party leadership.
The minister said that his party would introduce village council system to bring about the real change.He said he was shocked to see condition of hospitals across the province where no real services were being imparted.
http://www.thenews.com.pk/Todays-News-7-191103-Minister-wants-federal-govt-revisit-policy-on-war-on-terror
-----------
Mideast
Syrian war presents 'do-or-die' case to Turkey's Kurdish peace bid
CİHAN ÇELİK
July 20, 2013
Amid the increasing tensions and threats over the Turkish government's nearly frozen reconciliation bid to solve the long-standing Kurdish problem, last week's deadly clashes just a few miles across the Syrian border have brought a "do-or-die" moment for Turkey's peace efforts amid Ankara's confusing approach to the Kurdish group both within and out.
Amid the nationalist discourse in the Turkish media on the fragile victory of Kurdish militant groups against the al-Qaeda-linked al-Nusra and Islamic State of Iraq and Syria fighters in the battle-ridden Syrian town of Ras al-Ayn, the cementing Kurdish control in northern Syria has found the regional players shifting their "usual" stances toward each other.
For starters, the People's Protection Units (YPG), which is supposedly the armed wing of the deeply divided Syrian Kurds but more aligned with the Democratic Union Party in Syria - an offshoot of the Kurdistan Workers' Party (PKK) fighting in Turkey - had engaged in another round of flare up with the Turkey-backed main Syrian rebel group, the Free Syrian Army (FSA) before fierce clashes against the al-Qaeda-linked groups in Ras al-Ayn. While the FSA fighters vanished in the battle field against the YPG forces amid recent calls for calm by its "moderate" political patron, the Syrian National Council (SNC), the Kurdish militants overpowered the Islamists in a development that raised eyebrows in Ankara.
Full report at:
http://www.hurriyetdailynews.com/syrian-war-presents-do-or-die-case-to-turkeys-kurdish-peace-bid.aspx?pageID=449&nID=51072&NewsCatID=470
---------
A Conscientious Objector Poses a Challenge to the Israeli Military
By ISABEL KERSHNER
2013/07/20
HAIFA, Israel — AROUND the age of 16, most Jewish Israeli high school students go to "Gadna," the Israeli military's voluntary youth corps, where they spend a week training for the army before mandatory service.
When it was Natan Blanc's turn, he refused to go.
Mr. Blanc's teachers called him in for a chat, and he told them that he was opposed to serving in a force that perpetuated Israel's occupation of the Palestinians. "I explained, and they exempted me," he recalled.
Full report at:
http://www.nytimes.com/2013/07/20/world/middleeast/a-conscientious-objector-poses-a-challenge-to-the-israeli-military.html?pagewanted=all
----------
Erdogan accuses world of double standards on Egypt
July 20, 2013
Turkish Prime Minister Tayyip Erdogan accused Western and Arab nations of "double standards" for failing to condemn the overthrow of former Egyptian President Mohamed Mursi.
Turkey has emerged as one of the fiercest international critics of what it has called an "unacceptable coup" after Egypt's powerful military shunted the country's elected leader from office earlier this month.
Although the United States has expressed concern at Mursi's removal and called for a swift return to democracy, as has the European Union, it has stopped short of calling it a coup, which might have led to sanctions.
Full report at:
http://www.worldbulletin.net/?aType=haber&ArticleID=113465
----------
Hamas rejects Kerry's announcement: Abbas has no authority to negotiate
July 20, 2013
Hamas spokespersons make clear they will not accept negotiations held on behalf of Palestinians by Abbas; Tzipi Livni congratulates Kerry, promises to 'guard Israel's interests'
Hamas dismissed US State Secretary John Kerry's announcement of the resumption of peace talks between Israel and the Palestinians and slammed Palestinian President Mahmoud Abbas : "He has no legitimacy to negotiate in the name of the Palestinian people on the core issues."
Hamas spokesperson Sami Abu Zuhri made it clear to AFP that "Hamas rejects John Kerry's announcement," and the spokesman of the Hamas government, Ihab al-Ghossein, said that "the Palestinian people will not accept those who negotiate on its behalf without a mandate."
Full report at:
http://www.ynetnews.com/articles/0,7340,L-4407236,00.html
----------
North America
Florida teenager on trial for Yemen holy war designs
July 19, 2013
A 19-year-old native of Jacksonville faces up to 30 years in prison for yearning to join 'violent jihad'. The young man established contact with Al-Qaeda's branch in Jordan, hitting the weights and the gun range to ready himself to fight in Yemen.
A grand jury in Tampa Bay has indicted Shelton Thomas Bell, 19, of "conspiring and attempting to provide material support to terrorists", AP reports cites the indictment as saying. He faces up to 15 years in prison in each charge.
Investigators discovered that Bell, who converted to Islam about a year ago, was preparing to fight on the side of the well-known terrorist group Ansar Al-Sharia, an Al-Qaeda affiliate. The Ansar Al-Sharia is notorious for claiming responsibility for multiple attacks, including suicide bombings on Yemeni forces, claiming hundreds of lives.
Bell, trained both physically and in practical shooting from May to September 2012. His 'psychological training', consisted of desecrating a Christian graveyard, as he together with an unidentified person performed "a night-time mission" at a Jacksonville cemetery, where the twosome vandalized religious statues.
Full report at:
http://rt.com/usa/florida-terrorist-bell-jihad-300/
----------
Judge Challenges White House Claims on Authority in Drone Killings
By SCOTT SHANE
2013/07/20
WASHINGTON — A federal judge on Friday sharply and repeatedly challenged the Obama administration's claim that courts have no power over targeted drone killings of American citizens overseas.
Judge Rosemary M. Collyer of the United States District Court here was hearing the government's request to dismiss a lawsuit filed by relatives of three Americans killed in two drone strikes in Yemen in 2011: Anwar al-Awlaki, the radical cleric who had joined Al Qaeda in the Arabian Peninsula; Mr. Awlaki's 16-year-old son, Abdulrahman, who had no involvement in terrorism; and Samir Khan, a 30-year-old North Carolina man who had become a propagandist for the same Qaeda branch.
Full report at:
http://www.nytimes.com/2013/07/20/us/politics/judge-challenges-white-house-claims-on-authority-in-drone-killings.html?_r=0
----------
Action: Urge North Carolina Governor Not to Sign Anti-Islam Legislation
7/19/13)
(WASHINGTON, D.C., 7/19/13) - The Council on American Islamic Relations (CAIR) today called on Muslims and all those in North Carolina who value religious liberty to contact Governor Pat McCrory and urge him to veto an anti-Islam bill, HB 522, which may be adopted by the state's assembly by the end of the month.
Framed as banning the "application of foreign law" in family law cases in state courts, HB 522 is similar in language to the dozens of other anti-Islam bills introduced in state legislatures nationwide. The bill itself is intended to marginalize and stigmatize North Carolina Muslims and will have a negative impact on the rights of people of all faiths and backgrounds.
Full report at:
----------
Reconciliation only path for Afghanistan to achieve peace: US
July 20, 2013
The United States on Saturday said it believes that reconciliation is the only ultimate path forward for Afghanistan to achieve peace, as Washington asked Taliban to decide how it wants to move forward on the peace talks.
"We absolutely believe that reconciliation is the only ultimate path forward for Afghanistan to achieve peace. Afghans have to have these negotiations with Afghans," White House press secretary Jay Carney told reporters.
"The Doha office is a means by which that process could move forward, but the Taliban has to decide that it wants to move forward. If they do not, then we will continue to look for avenues and means for pursuing reconciliation, but ultimately the Taliban have to decide to make that choice themselves," he said in response to a question.
Full report at:
http://www.hindustantimes.com/world-news/americas/Reconciliation-only-path-for-Afghanistan-to-achieve-peace-US/Article1-1095369.aspx
----------
US charges ex-head of al-Qaida in the Islamic Maghreb
AFP | Jul 20, 2013
NEW YORK:US authorities have charged the former leader of al-Qaida in the Islamic Maghreb (AQIM), Mokhtar Belmokhtar, over the deadly January siege at an Algerian gas plant and other crimes.
The one-eyed Algerian Islamist - who allegedly masterminded the seizure in which 38 hostages, including three Americans, died - was charged on eight counts, including kidnapping and conspiring to take hostages.
Both carry maximum sentences of life in prison. The charge sheet also includes a count of conspiring to use a weapon of mass destruction at the time of the siege, during which Belmokhtar and his associates threatened to blow up the entire plant.
Full report at:
http://timesofindia.indiatimes.com/world/us/US-charges-ex-head-of-al-Qaida-in-the-Islamic-Maghreb/articleshow/21181714.cms
---------
Saudi suspect in underwear bomb plots trained others, US says
20 July 2013
The United States believes the Saudi man suspected of designing underwear bombs for Al-Qaeda's Yemeni affiliate has trained a small number of people on his advanced bomb-making techniques, a senior US official said on Friday.
The remarks by John Pistole, who heads the US Transportation Security Administration, were some of the most detailed public comments to date about Ibrahim Hassan Al-Asiri and the thwarted May 2012 plot by Al-Qaeda in the Arabian Peninsula, or AQAP, to blow up a plane with an underwear bomb.
Full report at:
http://english.ahram.org.eg/NewsContent/2/8/76911/World/Region/Saudi-suspect-in-underwear-bomb-plots-trained-othe.aspx
--------
Osama bin Laden's son-in-law claims he was tortured by US
July 20, 2013
Sulaiman Abu Ghaith's attorneys said in papers in Manhattan federal court that their client is charged in a flawed document that fails to adequately explain how he was part of a conspiracy to kill Americans. They said the statute of limitations had expired and that he was denied due process.
They also said he was interrogated at length during a 14-hour flight to the United States earlier this year during which "he was subjected to a variety of deprivation techniques and harsh treatment which constitute torture."
Abu Ghaith, 47, has been held without bail since he was brought to the United States in March to face charges that he conspired against Americans in his role as al-Qaeda's spokesman after the Sept. 11 attacks. Authorities say he had appeared in propaganda videos that warned of further assaults against the United States as devastating as the Sept. 11, 2001, attacks on the World Trade Center and the Pentagon that killed nearly 3,000 people. Abu Ghaith, who has pleaded not guilty, would be the highest-ranking al-Qaeda figure to stand trial on US soil since 9/11.
Full report at:
http://www.telegraph.co.uk/news/worldnews/al-qaeda/10192183/Osama-bin-Ladens-son-in-law-claims-he-was-tortured-by-US.html
----------
South Asia
Bombings kill 15 in southern Afghanistan
July 20, 2013
KABUL: A wave of bombings in southern Afghanistan has killed 15 people, including six members of the country's security services, officials said.
Omar Zwak, a spokesman for the governor of Helmand province, said there were four bombings. All of them took place late on Friday in different locations in Helmand.
He says the most deadly of the attacks was when five members of the Afghan intelligence service and a policeman died when their vehicle hit a roadside bomb in the Sangin district.
Zwak said the deputy head of Sangin's intelligence service was among those killed in the explosion.
Helmand police spokesman Shamim Noorzia said the other three bombings killed six civilians and two police officers.
Insurgents have increased attacks in Helmand as foreign forces withdraw from the area.
http://dawn.com/news/1030579/bombings-kill-15-in-southern-afghanistan
----------
Death penalties divide Bangladeshi people
July 20, 2013
Bangladesh's Jamaat-e-Islami Party Assistant Secretary General Professor Abdur Razzak has blamed the International Crimes Tribunal (ICT) in Bangladeshi capital Dhaka for dividing and polarizing the country.
Speaking to AA in an exclusive, Abdur Razzak, also the attorney of the Jamaat-e-Islami Party stated that the Tribunal had been criticized by the international community and Bangladeshi people since the onset of the trial for not complying with international rules of law.
"National unity is required for war crimes to go to trial at a court in that country. However, there is a serious dissensus among Bangladeshi people," he stressed.
Last week, the Bangladeshi court sentenced the 90-year-old former leader of Jamaat-e-Islami Party Ghulam Azam to 90 years in prison and the 65-year-old Secretary General of the party Ali Ahsan Mohammad Mujahid to death for masterminding the atrocities during 1971 Bangladeshi War of Independence against Pakistan.
Full report at:
http://www.worldbulletin.net/?aType=haber&ArticleID=113379
----------
Execution of some verdicts in this tenure: PM Sheikh Hasina
July 20, 2013
Verdicts of some war crimes cases would be executed within the tenure of this government, Prime Minister Sheikh Hasina expressed optimism on Saturday.
"Commencing the trial of war crimes was on our election manifesto. We did it successfully. We hope that the execution of verdicts of some of the war crimes cases will be carried out within the regime of this government," the prime minister said.
She expressed the hope during the inauguration of a 53MW gas-engine power plant in Ashuganj, reported Bangla daily Prothom Alo.
Full report at:
http://www.thedailystar.net/beta2/news/pm-lays-foundation-of-5-power-plants-in-ashuganj/
----------
File appeal seeking death penalty for Ghulam Azam
July 20, 2013
The Gonojagoron Mancha, a platform of youths demanding the capital punishment for all war criminals, yesterday urged the government to file an appeal with the Supreme Court, seeking death sentence for former Jamaat-e-Islami chief Ghulam Azam.
The protesters, who raised their demands including a ban on Jamaat-e-Islami and Islami Chhatra Shibir, at a rally at the capital's Shahbagh, will meet the attorney general at his office today to press home their demands.
Full report at:
http://www.thedailystar.net/beta2/news/appeal-for-death-penalty-for-ghulam-azam/
----------
Hefajat activist arrested with anti-state magazines
July 20, 2013
Police yesterday arrested a Hefajat-e Islam activist for distributing anti-state and provocative magazines to a crowd before Anderkilla Shahi Mosque in Chittagong city after Juma prayers.
During primary interrogation, Mohammed Alauddin, 24, admitted to Kotwali police that he is an activist of Hefajat-e Islam and yesterday was distributing copies of "Monthly Kashemiya" magazine, which publishes anti-state articles, upon the order from his leaders.
Alauddin is an accused in a case filed for vandalising and torching vehicles, including one of Somoy tv, in the city during a Hefajat-e Islam rally on April 7, said police.
http://www.thedailystar.net/beta2/news/hefajat-man-arrested-with-anti-state-magazines/
----------
Myanmar ethnic cleansing claims 'smear campaign'
July 20, 2013
Myanmar President Thein Sein yesterday denied accusations of ethnic cleansing against Rohingya Muslims, saying the claims were part of a "smear campaign" against his government.
On a visit to Paris, Sein told France 24 television that his government was not guilty of the charges.
"Outside elements are just exaggerating, fabricating news, there is no ethnic cleansing whatsoever," he said.
"This is a smear campaign against the government. What happened in Rakhine was not ethnic cleansing."
In April, Human Rights Watch accused Myanmar of "a campaign of ethnic cleansing" against the Rohingya.
Full report at:
http://www.thedailystar.net/beta2/news/myanmar-ethnic-cleansing-claims-smear-campaign/
----------
Southeast Asia
Indonesia Ends Visas on Arrival for Iran Citizens
July 20, 2013
Indonesia will stop issuing visas on arrival to Iranian citizens, citing frequent violations as Australia announced plans to shut the door on asylum seekers on Friday.
Citizens of Iran have been entitled to a $25 visa on arrival since January of 2010, according to Herawan Sukoaji, spokesman for Indonesian Immigration Office. The office decided to revoke the privlage less than a year later, stating "many times we found Iranians misusing the visa."
"They claimed they only wanted to visit the country, but they brought along a lot of friends wishing to seek asylum," Herawan said.
Full report at:
http://www.thejakartaglobe.com/news/indonesia-ends-visas-on-arrival-for-iran-citizens/
----------
Govt says no guarantee for Shia Idul Fitri homecoming
July 20, 2013
The government has denied making any promises to the displaced Shia community from Sampang, Madura, that they would return home soon.
Speaking after a Cabinet meeting at the State Palace, Coordinating Political, Legal and Security Affairs Minister Djoko Suyanto denied that President Susilo Bambang Yudhoyono had promised the ill-fated Shiites that they would be able to return to their home villages by the end of July, in time for Idul Fitri.
"Who said the government guaranteed it? Just stick to what I said during a press conference," Djoko told The Jakarta Post. He was referring to a press conference at the President's office on Monday.
Full report at:
http://www.thejakartapost.com/news/2013/07/19/govt-says-no-guarantee-shia-idul-fitri-homecoming.html
----------
Appalled by Umno leaders' stand on Allah issue, Christians ask Cabinet to enforce 10-point solution
BY V. ANBALAGAN, ASSISTANT NEWS EDITOR
JULY 20, 2013
Malaysia's largest Christian group wants Putrajaya to enforce an agreed 10-point solution on the usage of the Arabic word "Allah" by the community, saying today it was appalled by statements made by two Umno leaders on the matter.
Christian Federation of Malaysia (CFM) chairman Rev Dr Eu Hong Seng said statements by Kedah Mentri Besar Datuk Mukhriz Mahathir and Urban Well-being, Housing and Local Government Minister Datuk Abdul Rahman Dahlan "were untenable and in flagrant disregard of the 10-point solution decided by the Cabinet in April 2011".
Full report at:
http://www.themalaysianinsider.com/malaysia/article/appalled-by-umno-leaders-stand-on-allah-issue-christians-ask-cabinet-to-enf
----------
Europe
Muslim footballer refuses to wear shirt sponsored by a money-lending company
World Bulletin / News Desk
July 20, 2013
Papiss Cisse Newcastle United's striker has refused to wear the club's new shirt, as it is sponsored by a money-lending company. The principle of benefiting from money lending is against Cisse's Muslim's beliefs, and hence he feels unable to promote the company by wearing the shirt. Unsurprisingly, the decision has not been met with universal acclaim by the club's hierarchy, and compromise suggestions by the player to either wear an unbranded shirt, or one carrying the name of a charity have failed to mitigate the problem.
Cisse has now left the club's training camp in Portugal and there must be question marks about his future at the club if the matter cannot be resolved. It's reported that Newcastle's other Muslim players Cheik Tiote and Moussa Sissoko are prepared to wear the shirt, but speculation is that Cisse will not be persuaded into changing his stance.
http://www.worldbulletin.net/?aType=haber&ArticleID=113386
----------
French president receives mufti of Paris, Celebrates Ramadan
World Bulletin / News Desk
July 20, 2013
French President Francois Hollande on Wednesday received mufti of the Great Mosque of Paris Dalil Boubakeur.
Hollande met Boubakeur in the Elysee Palace and celebrated the Ramadan in the presence of the mufti.
Boubakeur said that he told President Hollande the problems of the Muslims in France and underlined that they demanded more convenience for the religious services.
http://www.worldbulletin.net/?aType=haber&ArticleID=113343
----------
UN's Ban calls on Israelis, Palestinians to show courage, leadership
July 20, 2013
UN Secretary-General Ban Ki-moon on Friday commended US Secretary of State John Kerry for his efforts to resume peace talks between Israel and the Palestinians.
"The Secretary-General welcomes the announcement by US Secretary of State Kerry today in Amman, Jordan, that the basis has been established to resume talks between Israelis and Palestinians," Ban's spokesman said.
Full report at:
http://www.jpost.com/Diplomacy-and-Politics/UNs-Ban-calls-on-Israelis-Palestinians-to-show-courage-leadership-320434
----------
Italian minister hosts iftar dinner for Muslims in Italy
July 20, 2013
Muslim ambassadors in Italy and representatives of Muslim communities attended the iftar dinner.
Italian Minister of Foreign Affairs Emma Bonino hosted Muslim ambassadors in Italy, administration of Italian Islamic Cultural Centre and representatives of Muslim communities at an iftar dinner on Wednesday.
Full report at:
http://www.worldbulletin.net/?aType=haber&ArticleID=113359
----------
Cambridge Mosque to be Europe's first eco-mosque
World Bulletin / News Desk
July 20, 2013
Green issues have been paramount in the design of the new Cambridge Mosque.
Tim Winter, chairman of the Muslim Academic Trust, notes, 'Islamic civilization has been based on the rejection of waste as an under-estimation of God's blessing and so in the construction of the new mosque here in Cambridge, we were very much in the forefront of the local environmental movement'.
Full report at:
http://www.worldbulletin.net/?aType=haber&ArticleID=113323
----------
EU ready to blacklist Hezbollah
20 July 2013
BRUSSELS: EU foreign ministers are likely to put the military wing of Lebanon's Hezbollah group on their blacklist of terror groups, EU diplomatic sources said Friday as the Lebanese government warned against such a step.
"There are still some reservations... but we are moving toward a decision on listing Hezbollah's military wing," a senior EU official said ahead of a meeting of all 28 EU foreign ministers on Monday.
The move was justified by Hezbollah's involvement in an attack against Israeli tourists in Bulgaria last year and its activities in Cyprus, the official said, but would "not impact current EU policy and engagement with Lebanon."
Full report at:
http://www.arabnews.com/news/458511
----------
India
Parliament to ratify 1974 Indira-Mujib pact
TNN | Jul 20, 2013
NEW DELHI: The government will bring a constitutional amendment Bill in Parliament during the forthcoming monsoon session, beginning August 5, for implementation of the Indo-Bangla land boundary agreement.
New Delhi conveyed this to Dhaka during the ongoing home secretary-level talks here on Friday.
Through the constitutional amendment bill, India wants to ratify the 1974 Indira-Mujib pact for demarcation of boundaries and for exchange of 161 adversely-held enclaves with a population of about 50,000 people.
While Bangladesh Parliament has already approved the land boundary deal, India needs to introduce a constitutional amendment bill because its implementation involves territory swap. The approval of land boundary accord has been hanging fire because the government lacks the two-third majority in Parliament for its passage.
Full report at:
http://timesofindia.indiatimes.com/india/Parliament-to-ratify-1974-Indira-Mujib-pact/articleshow/21177462.cms
--------
Curfew continues in Kashmir, 59 injured in clashes
July 20, 2013
While curfew continued in all major towns of Kashmir on Saturday, it was lifted from Ramban with an uneasy calm persisting in the area where four persons were killed in firing by the Border Security Force (BSF) personnel two days ago.
Amarnath yatra was halted for the second day on Saturday in view of the curfew. As a precautionary measure, no fresh batch of pilgrims was allowed to proceed towards Kashmir from the base camp in Jammu.
"Due to the prevailing situation, and the restrictions imposed in the parts of the state, the Amarnath yatra shall remain suspended," a spokesman of the Amarnath Shrine Board said. Vehicular traffic has been suspended on the Jammu-Srinagar national highway.
Full report at:
http://www.hindustantimes.com/India-news/JAndK/Curfew-continues-in-Kashmir-59-injured-in-clashes/Article1-1095354.aspx
-----------
Africa
Annan urges US, Russia to find common ground in Syrian crisis
July 20, 2013
Kofi Annan has called on the US and Russia, two huge powers still in disagreement over a solution to the Syrian crisis that has been continuing for more than two years, to come to a common point to end the prolonged and ever-deepening crisis in Syria.
Kofi Annan, the former UN-Arab League special peace envoy for Syria, has called on the US and Russia, two huge powers still in disagreement over a solution to the Syrian crisis that has been continuing for more than two years, to come to a common point to end the prolonged and ever-deepening crisis in Syria.
Full report at:
http://www.worldbulletin.net/?aType=haber&ArticleID=113472
----------
URL: https://www.newageislam.com/islamic-world-news/new-age-islam-news-bureau/iraq's-anti-terror-chief--us-built-prison-major-qaeda-recruiting-ground/d/12693