New Age Islam News Bureau
26 Dec 2016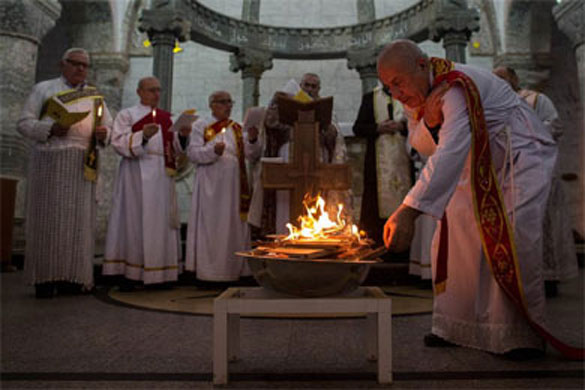 Priests lead a Christmas Day mass at Mar Hanna church in Qaraqosh on Dec. 25, in Mosul.
-------
• Iraqis Celebrate First Christmas near Mosul after ISIS Pushed Out
• ISIS Sympathisers in India Use Al Qaeda Software for Secrecy
• Pope Comforts Terror Victims in Christmas Message
• Turkey-Backed Rebels Kill 68 Islamic State Fighters near Syria's Al-Bab: Military
Arab World
• Iraqis Celebrate First Christmas near Mosul after ISIS Pushed Out
• Over 50 ISIL Terrorists Killed in Syrian Army Attack South of Kuweires Airbase
• Iraq: Blasts in, around Baghdad kill at least 11
• Egypt confirms Al Jazeera producer's arrest for 'provoking sedition'
• Russian jets bolster raids on rebel-held Idlib and rural Aleppo
• Terrorist Commanders Readying to Leave Syria for Turkey with Hefty Amounts of Stolen Money
• Syrian Gov't Grants Amnesty to Hundreds of Militants in Dara'a
--------
India
• ISIS Sympathisers in India Use Al Qaeda Software for Secrecy
• An Exceptional Exchange of Greetings among Christians, Muslims, Sikhs, Jains and Hindus in Varanasi
• Christmas Is For Christians: Kerala Man Assaults Hindu, Muslim Minors For Singing Carols
• Misconceptions Regarding Muslim Personal Law Should Be Removed: AIMPLB
• Muslim Youths Turn 'Gau Rakshaks'
• Muslim Youths Told To Shun Kite Flying
• Nawaz Sharif's daughter thanks PM Modi for wishing her father on his birthday
• Pakistan releases 220 Indian fishermen
• NIA chargesheet against Mohammed Masiuddin: IS man planned attack on Mother House
--------
Europe
• Pope Comforts Terror Victims in Christmas Message
• Muslims Donate 10 Tonnes of Food To Help Homeless At Christmas In London
• Is a 'faceless' preacher behind the Berlin attack?
• Dutch leader tells Israel to 'ignore UN and continue building'
• Scorned by Obama, Israel forges ties with Russia
--------
Mideast
• Turkey-Backed Rebels Kill 68 Islamic State Fighters near Syria's Al-Bab: Military
• Iran's Rouhani Offers Christmas Greetings to Pope, Christians
• Yemen president visits former Qaeda bastion
• Iran Army to hold major air defense maneuvers: Commander
• 'China firms have to compete with giants for Iran oil fields'
• US entered Syria with eye on Iran: Senior commander
• Iran, Russia presidents on phone for 3rd time in month, discuss terrorism
--------
Pakistan
• Pak Afghan Border Troops Stop Bombing Attack from Explosives-Laden Donkey
• Quaid Day Observed With Pledge for Peace
• Pakistani Christian expats celebrate at Pakistan Embassy
• Today's Pakistan Is Not Even close To the High Hopes Jinnah Had for This Country
• NAB is brainchild of dictator to suppress political figures: Abbasi
• Hindu council worried over moves to amend conversion bill
• Islam Teaches Harmony, Tolerance: Mayor of Islamabad
• US approves sale of night vision military system to Pakistan
--------
South Asia
• Report on Muslim Brotherhood and Jamaat e Islami Released
• Taliban Commander among 18 Killed In Kunduz City
• 7 Pakistanis among 14 ISIS loyalists killed in East of Afghanistan
• Government to Make Bangladesh a Failed State: BNP
• Bangladeshi expats top migrant numbers in Oman
• Suicide attack rocks Lashkargah city in South of Afghanistan
• Thieves posing as security personnel arrested in Kabul city
--------
Africa
• Tunisian Police Warn Of Takfiris' Return from Iraq, Syria
• Suicide Bomber in Cameroon Kills Two in Attack On Christmas Market
• French aid worker kidnapped in Mali
• At least 34 people killed over weekend in DR Congo
• Nigeria to open major roads after strike on Boko Haram
• Muslims, youths, traditional rulers celebrate Christmas at pastor's house
• Al-Shabaab militants kill soldier, civilian in Mogadishu
--------
Southeast Asia
• Envoy Moots Special Card to Legalise, Protect Stateless Rohingya
• Three killed as Indonesia police foil militants' New Year's attack
• 16 hurt in Christmas Eve blast at Catholic Church in Philippines
• Indonesian police kill two militants after raid on house in Java
• Muslim businessman decks out in Christmas cheer
• Indonesian police shoot dead two terror suspects
--------
North America
• Calgary Muslim Group Clears Snow, Spreads Christmas Cheer
• Trudeau Praises Canada's Muslim Community
• US Slaps Sanctions on Syrian Ministers, Russian Bank
• Keith Ellison Is 'Muslim Brotherhood Operative'
• Harvard University Launches Fellowships in Islamic Law to Influence U.S. Policy
Compiled by New Age Islam News Bureau
URL: https://www.newageislam.com/islamic-world-news/new-age-islam-news-bureau/iraqis-celebrate-first-christmas-near-mosul-after-isis-pushed-out/d/109498
--------
Iraqis celebrate first Christmas near Mosul after ISIS pushed out
25 December 2016
Several hundred Iraqi Christians flocked on Saturday to a northern town recently retaken from ISIS, celebrating Christmas for the first time since 2013, their joy tainted with sadness over the desecration of their church.
Once home to thousands of Assyrian Christians, Bartella emptied in August 2014 when it fell to ISIS's blitz across large parts of Iraq and neighboring Syria. Iraqi forces took it back in the first few days of the US-backed offensive that started in October.
Women holding candles ululated as they went into the town's Mar Shimoni church, expressing their joy at returning to the place where many of them said they had been baptized.
"This is the best day of my life. Sometimes I thought it would never come," said Shurook Tawfiq, a 32-year-old housewife displaced to the nearby Kurdish city of Erbil.
The church was badly damaged during ISIS's time in control of the town, with crosses taken down, statues of saints defaced and the chancel burnt.
A new cross has been affixed on top of the chapel, while a decorated plastic Christmas tree now stands near the massive gate. Soldiers stood guard nearby and others were posted on rooftops.
A peal of festive bells rang out over the town, which is still largely empty, with many houses reduced to rubble by the fighting that raged two months ago.
"It is a mix of sadness and happiness," Bishop Mussa Shemani told Reuters before celebrating the Christmas Eve Mass.
"We are sad to see what has been done to our holiest places by our own countrymen, but at the same time we are happy to celebrate the first Mass after two years."
The region of Nineveh is one of the most ancient settlements of Christianity, going back nearly 2,000 years.
At Mar Shimoni, the congregation sang and prayed in Syriac, a language close to the one spoken by Jesus.
"It's the church where I was baptized, where I was educated, where I was taught the faith," said Bahnam Shamanny, the editor of Bartelli al-Syriann, a monthly local newspaper.
ISIS targeted all non-Sunni Muslim groups living under its rule and inflicted harsh punishment on Sunnis who would not abide by its extreme interpretation of Islam.
The region's Christians were given an ultimatum: pay a tax, convert to Islam, or die by the sword. Most of them fled to the autonomous Kurdish region, across the Zab river to the east.
It will be some time before people can return and start repairing their houses as the town lacks services and the whole area remains a war zone.
"The whole town would have come to the church if they had the means," said Shamanny. Those who attended the Mass came in a special convoy of buses from Erbil.
The front line in the battle has moved to Mosul, ISIS's last major stronghold in Iraq, 13 kilometers (8 miles) to the west. There, militants are dug in among civilians, fighting off the advance of elite Iraqi units with suicide car bombs, mortars and snipers.
More than one million people are estimated to live in areas of the city that remain under militant control, complicating the war plans of the Iraqi army and the US-led coalition providing air and ground support.
"This is a dark cloud over Iraq," Bishop Shemani told the assembly in his Christmas Eve sermon in Bartella. "But we will stay here in our land no matter what happens. God is with us."
https://english.alarabiya.net/en/perspective/features/2016/12/25/Iraqis-celebrate-first-Christmas-near-Mosul-after-ISIS-pushed-out.html
--------
ISIS Sympathisers in India Use Al Qaeda Software for Secrecy
Dec 26, 2016
A group of alleged Islamic State (IS) sympathisers, conspiring to target police stations in Hyderabad, used a host of encrypted applications, including one developed by al Qaeda's propaganda arm, in order to keep their communication secure, the National Investigation Agency has said.
Al-Fajr Media Centre distributes al Qaeda's online propaganda material. Its technical branch al-Fajr Technical Committee was established in 2012. Two years later, it released an Android version of it is encryption programme called Amn al-Mujahid (security of mujahid) for mobile phones.
"Two members of the (IS sympathiser) group, Mohammed Ibrahim Yazdani and Abdulla Bin Ahmed al-Amoodi had downloaded Amn al-Mujahid encryption on their mobile phones," says the NIA chargesheet against eight members of the group.
Even then, they never discussed their plans on these applications and preferred face-to-face meeting to discuss their targets, the agency noted.
Read | Target IPS, IAS officers: Al Qaeda tells Indian Muslims
The group also used Tor applications like 'Orbot' and 'Orfox', which hide a user's internet usage by bouncing it through a series of computers around the world.
"We will have to continuously update our knowledge and technology to keep track of the suspect communication," an NIA official said on condition of anonymity.
The chargesheet says two handlers of the group—one of them is suspected to an Indian named Shafi Armar who is originally a native of Bhatkal (Karnataka) and a former member of terror outfit Indian Mujahideen—kept them informed about the latest tools to keep their communication secure. Armar moved to IS-held area in Syria two years back.
The chargesheet says the group members had plans to target policemen and police stations in Hyderabad and used navigation and map application 'OsmAnd+' to plot their targets.
One of the group members, Muzaffar Hussain Rizwan was found with a digital document containing three Global Positioning System co-ordinates saved in it. These corresponded to Kamathipura, Afzalganj and Bahadurpura police stations in Hyderabad when plotted on the Google map, says the chargesheet.
Rizwan, during interrogation, confirmed that he was tasked with surveying the police stations.
These coordinates of the police stations were later sent to the IS handler in Syria using Pidgin application which allows users to log into multiple chat accounts simultaneously.
For making Voice-over Internet Protocol (VoIP) calls, the group was asked to use Nymgo application.
Besides, the group was also using 'Chatsecure' and 'Trillian', considered secure chat applications, and Tutanota email that provides end-to-end encryption.
According to the NIA, the group was also planning to target religious places in Hyderabad to foment communal tension in the city.
http://www.hindustantimes.com/india-news/islamic-state-style-indian-outfit-uses-al-qaeda-software/story-BDvzWrNV1Cgs1xsJSIeCTI.html
--------
Pope comforts terror victims in Christmas message
December 26, 2016
VATICAN CITY - Pope Francis urged peace in the Middle East as tens of thousands gathered to hear his Christmas address Sunday, while offering comfort to victims of terrorism after a year of bloody jihadist attacks.
The 80-year-old Argentine called for guns to fall silent in Syria, saying "far too much blood has been spilled" in the nearly six-year conflict.
And he urged Israelis and Palestinians to "have the courage and the determination to write a new page of history" in his message from the balcony of Saint Peter's Basilica to a crowd of 40,000 gathered in the square below which, despite the sunny weather, was far from full.
As Europe ramped up security for the holiday just days after the truck attack that left 12 dead at a Berlin Christmas market, the leader of the world's 1.2 billion Catholics said he hoped for "peace to those who have lost a person dear to them as a result of brutal acts of terrorism".
In Milan, where suspected Berlin attacker Anis Amri was killed in a police shootout on Friday, there was a heavy police presence around the cathedral. The entrance has been protected by concrete barriers since the Berlin attack.
In France, where Berlin has raised grim memories of the jihadist truck rampage in June that left 86 people dead, 91,000 members of the security forces have been deployed to guard public spaces including churches and markets over the weekend.
Religious ceremonies in Germany were heavy with the weight of Monday's attack, which was claimed by the Islamic State group.
"Christmas this year carries a deep wound -- we are celebrating this festival in a different way this year," said Gebhard Fuerst, bishop of Rothenburg in the southeast.
But Baden bishop Jochen Cornelius-Bundschuh offered a note of hope. "At Christmas, a light shines in the world - it shines in powerful darknesses like those we have seen in recent years with the horror of war, civil war and terrorist attacks," he said.
In Israel, security was tight for Christmas celebrations coinciding with the Jewish festival of Hanukkah.
Some 2,500 worshippers packed the Church of the Nativity complex, built over the grotto where Christians believe Jesus was born, for midnight mass in Bethlehem in the Israeli-occupied West Bank.
Archbishop Pierbattista Pizzaballa used his homily there to plead for compassion for refugees and for a halt to the violence wracking the Middle East.
"We fear the stranger who knocks at the door of our home and at the borders of our countries," he said. "Closed doors, defended borders, before personal and political choices, are a metaphor for the fear that inevitably breed the violent dynamics of the present time."
Pope Francis struck a similar tone in his Christmas Eve mass, urging a 10,000-strong crowd in St. Peter's Square to feel compassion for children, notably victims of war, migration and homelessness.
Justin Welby, the Archbishop of Canterbury who leads the world's Anglicans, meanwhile said 2016 had left the world more divided and fearful.
"The end of 2016 finds us all in a different kind of world; one less predictable and certain, which feels more awash with fear and division," he was due to say in his sermon Sunday.
Queen Elizabeth II missed the Christmas Day church service attended by the British royal family as she suffered from a heavy cold, Buckingham Palace said.
The 90-year-old, who is the supreme governor of the Church of England, will join in the family festivities later in the day.
In London, meat-lovers converged on Smithfield Market for the traditional Christmas Eve auction at butcher Harts, waving banknotes in the air as they bid on turkeys, pork cuts and rump steaks.
Elsewhere in the world, despite the security fears, many were braving winter temperatures to take part in traditional revelry.
Among them some 30 hardy Slovaks participated in a winter swim at Bratislava's Zlate Piesky lake, some drinking beer in the nearly freezing water.
But in the world's conflict-torn countries, there were reminders of the violence that has ravaged the world this year.
Christians in Syria's Aleppo were preparing for Christmas services after President Bashar al-Assad's forces retook full control of the ruined former economic hub.
The Old City's Saint Elias Cathedral, its roof collapsed under rocket fire, was set to host its first Christmas mass in five years.
And in Bartalla, near the Iraqi city of Mosul, Christians filled the pews of the fire-scarred Mar Shimoni church for the first service since the town was retaken from IS jihadists who had seized it in 2014.
In the mostly Catholic Philippines, a blast ripped through a police car outside a church as worshippers were arriving for a Christmas Eve mass south of Manila, injuring 13 people.
http://nation.com.pk/international/26-Dec-2016/pope-comforts-terror-victims-in-christmas-message
--------
Turkey-backed rebels kill 68 Islamic State fighters near Syria's al-Bab: military
December 25, 2016
Syrian rebels backed by Turkish warplanes killed 68 Islamic State militants in northern Syria overnight, the Turkish military said on Saturday, as intense fighting around the town of al-Bab continued.
Rebels supported by Turkish troops have laid siege to the Islamic State-held town for weeks under the "Euphrates Shield" operation launched by Turkey nearly four months ago to sweep the Sunni hardliners and Kurdish fighters from its Syrian border.
Fighting around al-Bab has escalated this week with Turkish soldiers and 138 jihadists killed in clashes on Wednesday in the deadliest day since the start of Turkey's Syrian incursion.
Sixty-eight Islamic State militants have been "neutralized" in fighting and air strikes near al-Bab since Friday night, the military said in a statement.
A total of 141 Islamic State targets were hit in the attacks and one of its military headquarters was destroyed, the military said, adding that two of the Turkish-backed rebel fighters had been killed and one wounded.
Defence Minister Fikri Isik said on Friday that the area around a hospital used as a command center and ammunition depot by Islamic State had been cleared of militants, marking a breakthrough for the rebels.
Speaking in Kocaeli province, near Istanbul, Isik also said authorities had information three Turkish soldiers had been captured by Islamic State but nothing else had been confirmed.
Islamic State in Syria released a video on Thursday purporting to show two captured Turkish soldiers being burned to death, according to the US-based SITE Intelligence Group which monitors militant groups online.
http://nation.com.pk/international/25-Dec-2016/turkey-backed-rebels-kill-68-islamic-state-fighters-near-syria-s-al-bab-military
--------
Arab World
Over 50 ISIL Terrorists Killed in Syrian Army Attack South of Kuweires Airbase
Dec 25, 2016
The army soldiers, deployed in Air Force Academy just to the South of the Kuweires Airbase targeted ISIL's military convoys near the villages of Moshrefeh Abu Jabar and Bijan, killing 50 militants and wounding many more.
A bomb-laden vehicle, two machinegun-equipped cars and a large volume of arms and ammunition were destroyed in the army attack.
In relevant developments in the province on Friday, the army soldiers repelled ISIL's attack on government forces' positions in a key town in the Eastern part of Aleppo province, killing over 120 militants and wounding many more.
The army men warded off ISIL's offensives on its strongholds near the town of Deir Hafer, killing 120 terrorists and destroying their military hardware.
http://en.farsnews.com/newstext.aspx?nn=13951005000433
--------
Iraq: Blasts in, around Baghdad kill at least 11
December 25, 2016
BAGHDAD: Iraqi officials say separate bombings in and around Baghdad have killed at least 11 civilians and wounded 34 others.
Police say the deadliest in Sunday's attacks, all carried out with bombs and targeting commercial areas, took place in the southeastern Nahrawan district and southwestern Suwaib district, where three civilians were killed in each. A total of 15 civilians were wounded in these attacks.
Medical officials confirmed casualty figures. All officials spoke on condition of anonymity as they were not authorized to release information.
Full report at:
http://nation.com.pk/international/25-Dec-2016/iraq-blasts-in-around-baghdad-kill-at-least-11
--------
Egypt confirms Al Jazeera producer's arrest for 'provoking sedition'
December 25, 2016
Egypt confirmed on Sunday that it had arrested an Al Jazeera news producer, accusing him of "provoking sedition" on behalf of the Qatar-based broadcaster that it considers a mouthpiece of the banned Muslim Brotherhood.
Judicial sources said Mahmoud Hussain, who was detained on Friday, was being held on charges of disturbing public security and spreading false news.
The Interior Ministry said in a statement that Al Jazeera officials "had ordered some individuals collaborating with the channel inside the country to continue implementing its media plan of provoking sedition, incitement against the state, and spreading chaos through broadcasting false news."
It identified Hussain as a person implementing that plan for the channel which is not allowed to operate inside Egypt.
Full report at:
http://nation.com.pk/international/25-Dec-2016/egypt-confirms-al-jazeera-producer-s-arrest-for-provoking-sedition
--------
Russian jets bolster raids on rebel-held Idlib and rural Aleppo
25 December 2016
Russian jets stepped up strikes on several towns in Syria's rebel-held Idlib province and rural Aleppo two days after the evacuation of rebels from their last pocket in the northern city of Aleppo, rebels and residents said on Saturday.
They said at least eight strikes targeted Binish, Saraqeb and Jisr al Shaqour - main towns in the northwestern Syrian province of Idlib. There were reports of several casualties, mainly among civilians.
Read also: Russian military plane 'carrying 91 onboard' vanishes
Idlib province for months has been a target of Russia's heavy bombing campaign against rebel-held areas. It came even while the former eastern part of Aleppo under insurgent control faced an escalation in aerial raids and shelling until its defenses collapsed and the rebels were forced to agree to an evacuation deal.
The Syrian army has hinted the next major campaign after its victory in Aleppo was to rout insurgents in their stronghold of Idlib province, where mainly Islamist brigades operating under a coalition known as Jaish al Fateh are in control.
Residents and rebels said Russian and Syrian jets also staged heavy strikes on rebel-held parts of western and southern parts of rural Aleppo for the second day since the last rebels left their remaining pocket of territory in Aleppo city.
They raided the town of Khan al Asal, about 14 km (9 miles) west of Aleppo, with cluster bombs while several strikes hit Hreitan and Andan, according to a rebel fighter from Jaish al Mujahdeen. The nearby town of Atareb was also hit.
Full report at:
https://english.alarabiya.net/en/News/middle-east/2016/12/25/Russian-defense-force-plane-missing-from-radar-.html
--------
Terrorist Commanders Readying to Leave Syria for Turkey with Hefty Amounts of Stolen Money
Dec 25, 2016
A journalist who has long been covering developments along the Turkey-Syria border said that Bab al-Hawa and Bab al-Salma are considered as the terrorist groups' two main sources of revenue through which they have been in contact with the outside world.
The journalist added that terrorists have been doing their entire business and transactions via these two border passageways.
In the meantime, Charles Lister, a researcher in Brookings Center, said that Bab al-Hawa border passageway is of significant importance for Ahrar al-Sham, because such border crossings are totally very good sources of income, receiving dispatched aid and logistic cargoes for terrorists to gain more power.
"Ahrar al-Sham, via imposing and levying taxes on people, business and aid convoys that have been going through this border crossing, has gained hundreds of millions of dollar. Estimating the exact amount of their gain is difficult due to the non-stop traffic of convoys and people," the journalist went on to say.
Yet, several media sources have estimated the profit of Bab al-Hawa border crossing for Ahrar al-Sham as much as five million dollars each month.
On the other hand, some locals have underlined that incomes of this border passageway have been owned by the commanders of Ahrar. The commanders have invested huge amounts of money in Turkey. These commanders have prepared the ground for themselves to escape to Turkey as soon as the army expands its rule over more Ahrar-held regions.
One of the members of Ahrar al-Sham that had previously escaped to the border town of Gaziantep Turkey disclosed that these militants have been highly backed by Qatari and Turkish military and monetary supports.
He further added that Turkey-linked Humanitarian Relief Fund and Qatar Charity Society have been two main organizations that have rendered full support for Ahrar al Sham in the several last years.
Except for the mentioned income sources of Bab al-Hawa border crossing to Turkey and Qatar, Ahrar al-Sham has also looted Syria's Central Back Branch in Raqqa.
In spite of these huge sources of income Ahrar al-Sham's fighters are complaining about earning less than 40 dollars each month as their salary.
Militant groups-affiliated sites also disclosed that the 400 monthly payments to the families of Ahrar al-Sham's fighters have been cut in the last one or two months, indicating that commanders of the militants are getting ready to flee to Turkey with the money they have collected.
Full report at:
http://en.farsnews.com/newstext.aspx?nn=13951005001035
--------
Syrian Gov't Grants Amnesty to Hundreds of Militants in Dara'a
Dec 25, 2016
510 wanted-people, including 150 militants that had laid down arms and surrendered to the Syrian army were granted amnesty in the town of al-Sanmin.
The terrorist groups in al-Sanmin had previously refused to join the reconciliation talks.
The Russian Peace Coordination Center in Syria announced earlier today that militants in one more town ended fight against the Syrian government and joined the nationwide reconciliation plan in the last 24 hours.
"Representatives of militants in a town in Homs province inked peace agreement in the last 24 hours," the Russian center said in a statement.
Full report at:
http://en.farsnews.com/newstext.aspx?nn=13951005001367
--------
India
An exceptional exchange of greetings among Christians, Muslims, Sikhs, Jains and Hindus in Varanasi
Dec 26, 2016
In Varanasi, the Hindu holy city, members of the Christian, Islamic, Sikh, Jain and Hindu communities exchanged greetings.The Kashi Qaumi Ekta Manch or United Forum of Communal harmony of Kashi/Varanasi was behind this exceptional event. This inter-faith group is dedicated to developing a climate of dialogue and reconciliation among the city's various communities."For 16 years, Christians have led this program to promote harmony, peace and inter-faith cooperation," said Anand Mathew, the group's founder and coordinator of the Vishwa Jyoti Communications, the information centre of the Indian Missionary Society, speaking to AsiaNews.Last Wednesday, believers and religious leaders from various denominations met to celebrate the sacred moments of their respective creeds: the birth of Muhammad (12 December), the birth of 23rd Jain tirthankara – Parshvanatha – (23 December), the coming of Jesus Christ (December 25), the birth of the 10th Sikh Guru Govind Singh (5 January), and the Hindu festival of Makar Sankranti harvest (January 15).Participants chanted Vedic hymns from the Hindu and Jain traditions, as well as Christmas carols.Fr Anildev, the Acharya of Matri Dham ashram (i.e. abode of the mother, dedicated to the Virgin Mary), pointed out that "Jesus was born in a manger to proclaim God' love for humanity and bring peace to people of goodwill. This means that people must be willing to open their hearts to others.""Christmas," he added, "is an opportunity to join Jesus' mission to reconcile the whole universe with love".Anand Prakash Tiwary, a Hindu, said that the Makar Sankranti festival "is an invitation to return to nature, to create a better environment, and reject modernity that leads to destruction in the name of development."Mohammad Arif Khan, a Muslim, said that the Qur??n, the holy book for Muhammad's followers, "promotes respect for people of different faiths."Finally, Dr Kamaluddin Sheikh, an intellectual, appealed for "harmonious coexistence" among believers and religions.--Asia News
http://www.heraldmalaysia.com/news/an-exceptional-exchange-of-greetings-among-christians-muslims-sikhs-jains-and-hindus-in-varanasi/33907/2
--------
Christmas is for Christians: Kerala man assaults Hindu, Muslim minors for singing carols
December 25, 2016
A Kerala man has been booked for allegedly assaulting a group of minors who were part of a Christmas Carol group in Kollam district.
The group of 13 teenagers - all aged between 14 and 16 years- from Chadayamangalam in the city, had on Friday night visited the house of Jayakumar to sing carols.
16-year-old Abdullah, one of the minors told The News Minute that Jayakumar questioned them what religion they belonged to. When told that they belonged to Hindu and Muslim families, Jayakumar demanded to know why a non-Christian group was out singing Christmas carols.
"We reached his house around 8.30 pm and after we sang carols and played drums, Jayakumar asked us to which religion we belong to. There were no Christians in the group and he shouted at us saying that Christmas should be celebrated only by Christians and not people from other religions. We then left his house," Abdullah said.
However, when the team, part of Yuva Arts Club in the area, moved to a different house, Jayakumar and a few of his relatives barged into the compound and allegedly started beating the group.
"They asked us to sing Hindu devotional songs and we refused to do so. They did not have any weapons then, but they forcefully pulled at our long beards and kicked us on our chests when some of us fell down. They are all part of RSS, I have seen them organising Shakha meetings here," Abdullah alleged.
Full report at:
http://www.thenewsminute.com/article/christmas-christians-kerala-man-assaults-hindu-muslim-minors-singing-carols-54780
--------
Misconceptions regarding Muslim personal law should be removed: AIMPLB
December 25, 2016
Misconceptions regarding Muslim Personal Laws need to be removed both among the Muslims as well as non-Muslims in the country, said secretary of All India Muslim Personal Law Board (AIMPLB), Khaled Saifullah Rehmani. "A few elements are trying to divide the communities by spreading misconception," said Rehmani during a press conference in Aurangabad on Sunday.
He added, "They (community members) are comfortable with the existing law and it should not be changed."
Rehmani and his UP counterpart Zafaryab Jilana were in Aurangabad to address the two-day workshop on Muslim Personal Law.
Jilana said, "Shariyat includes everything from nikah (marriage), divorce, wakf and other important subjects. Some people are spreading fake rumours related to personal laws and dividing the nation."
He said, "It is a misconception that a Muslim can have four wives without any reason. Till there is love and affection in the relation the marriage subsists, but once there is hatred and despite repeated efforts there are no chances of reconciliation only then the option of talaq is exercised."
Full report at:
http://indianexpress.com/article/india/misconceptions-regarding-muslim-personal-law-should-be-removed-aimplb-4444682/
--------
Muslim youths turn 'gau rakshaks'
Neel Kamal
Dec 26, 2016
BATHINDA: In a state where even the government's National Livestock Championship had to bear the brunt of cow vigilante groups' tyranny, two Muslim youths proved to be real 'gau rakshaks'. Prompt action by Shamsuddin Chaudhary and his friend Mubeen saved an injured stray cow bleeding profusely in the middle of the road on chilly December night.
The incident took place at princely town of Malerkotla, the only area of Punjab with a sizeable Muslim population, which has elected only Muslim candidates in every assembly election since 1962.
Malerkotla-based businessman Chaudhary was re turning to his house in Model town after dropping his friend Mubeen at Ajit Nagar area of the town in his car on Saturday midnight. While driving, he spotted a cow bleeing profusely on the road and decided to help the cattle.
Chaudhary told The Times of India, "After watching the cow, which was apparently hit by some fast moving ve hicle, I called up Mubeen.We together started calling up the police to rescue the animal.
"However, we could not get any immediate response. I then called Malerkotla SDM Showkat Ahmed Parray .
"The SDM luckily picked the phone and asked us to wait for five minutes. He called the local municipal council executive officer, who on his part asked the employees to reach Ludhiana bypass, where the animal was lying on the road."
"We then somehow took the animal to the local cow shelter and ensured that no other vehicle hit it till help arrived," he added. An IAS officer of 2014 batch, Parray, told TOI, "I got a call from the youths at 12.40am. I asked the MC officials to save the animal and get it treated properly. I also called the PCR at Sangrur which reached there in half an hour and took the cow to gaushala where the veterinary hospital staff saved her."
Full report at:
http://timesofindia.indiatimes.com/city/chandigarh/muslim-youths-turn-gau-rakshaks/articleshow/56175605.cms
--------
Muslim Youths Told To Shun Kite Flying
Dec 26, 2016
Nagpur: Little-known Islamic organization Assaqafatur Razaviya of Satranjipura has initiated an anti-kite flying campaign to dissuade Muslim youths from the 'vice'. As part of the campaign, the organization, that draws its ideology from Barelvi movement, has pasted posters outside several masjids across the city beside spreading the message through discourses.
During winter, especially in December and January, kite flying becomes rampant across the city. Every year, activists run campaigns to create awareness about the ill-effects of manja, especially the Chinese or nylon one, used for kite flying. Earlier this month, the National Green Tribunal (NGT) had imposed a nationwide interim ban on the use of glass-coated manja for kite flying.
But, Assaqafatur Razaviya has added religious dimension to the issue. Though the posters directly target Muslims and cites the works of Barelvi scholar Ahmad Raza, president of the organization Maulana Ateeque-ur-Rehman sought to promote it as a social campaign. In the poster, the organization states "Kite flying is illicit and a sin. Muslims must overcome the vice and take to the road of progress. Spending money on prohibited acts only brings bankruptcy. Islam doesn't allows acts which create problems for others."
The only social message it gives is the pictures of injuries caused to human and birds along with the caption "patang aur manje ki qatilana tabahi (disasters of kite and manja)".
"We have been doing social work, taking up healthcare initiatives as well as working for the welfare of Muslim community. Anti-kite flying campaign is not limited to the community because it is a social issue. There are already court orders banning the use of manja. Right now, we are publishing posters and discourse. We have received good feedback from parents too," Rehman said.
Rehman added that they were also concerned about the threat to citizens from manja. "If someone gets injured and dies, it would be nothing but murder."
The organization has based its views on Ahkamat-e-Shariat, a book by Ahmad Raza. The campaign has found support from other thinkers and followers of the religion who don't conform to the Barelvi movement.
"This is a good initiative. Kite flying distracts one from worship and is a waste of time," says an imam who belongs to Deobandi movement.
Full report at:
http://timesofindia.indiatimes.com/city/nagpur/Muslim-youths-told-to-shun-kite-flying/articleshow/56172664.cms
--------
Nawaz Sharif's daughter thanks PM Modi for wishing her father on his birthday
Dec 25, 2016
NEW DELHI: Pakistan Prime Minister Nawaz Sharif's daughter, Maryam on Sunday expressed her gratitude to Prime Minister Narendra Modi for his prayers and good wishes for her father.
"Thank you for your kind prayers. Shared your tweet with my father who deeply appreciates the gesture and conveys his best," Maryam tweeted.
Earlier in the day, PM Modi had extended birthday wishes to his Pakistani counterpart Nawaz Sharif.
"Birthday wishes to Pakistan PM Mr Nawaz Sharif. I pray for his long and healthy life," PM Modi had tweeted.
The 18th Prime Minister of Pakistan Nawaz Sharif was born on December 25, 1949.
PM Modi's birthday wishes come as tensions simmer between Pakistan and India amid intermittent ceasefire violations across the Line of Control following a 'surgical strike', unrest in Kashmir and the Uri army base attack.
Full report at:
http://timesofindia.indiatimes.com/india/nawaz-sharifs-daughter-thanks-pm-modi-for-wishing-her-father-on-his-birthday/articleshow/56171145.cms
--------
Pakistan releases 220 Indian fishermen
Dec 25, 2016
KARACHI: Pakistan on Sunday released 220 Indian fishermen, a goodwill gesture which comes amid strain in ties after the recent cross border terror incidents.
The 220 fishermen released from Malir jail here were arrested for allegedly entering Pakistan's territorial waters illegally and fishing, jail superintendent Hassan Sehto told PTI.
The fishermen boarded a train to Lahore, from where they will be handed over to Indian authorities at the Wagah border.
"The interior ministry ordered the release of the 220 fishermen while 219 are still in our custody," Sehto said.
Full report at:
http://timesofindia.indiatimes.com/india/pakistan-releases-220-indian-fishermen/articleshow/56168580.cms
--------
NIA chargesheet against Mohammed Masiuddin: IS man planned attack on Mother House
by SWEETY KUMARI
December 26, 2016
Suspected Islamic state member Mohammed Masiuddin alias Musa, 25, allegedly had planned to attack the Mother House, headquarters of the Missionaries of Charity located in Mullick Bazar in Kolkata. This is according to a December 23 chargesheet filed by the National Investigation Agency (NIA) in Bankshall court. Musa was arrested earlier this year for his alleged links to terror groups such as Islamic State (IS) and Jamaat-ul-Mujahideen Bangladesh (JMB). The Mother house is visited by foreigners frequently. According to the NIA, during interrogation, Musa had allegedly revealed his plans to attack and the Mother House, which he claimed to be a 'soft target'.
According to police sources, security has been increased in and around Mother House area now. Musa is currently under judicial custody till January 3.
In the 60-page chargesheet, the agency says: "A-1 (Md Musa) discusses about some plan and selects Mother Teresa House as the target for terrorist attack in Kolkata and appraises that foreigners (British, Russians, Americans) are easily found there and tells that during the attack, accused one would accompany them". As per sources, this attack was in retribution against such "world powers" bombing Syria and Libya.
"Charges slapped on Musa includes 121 (Wagging or attempting to wage war, or abetting waging of war against the Government of India), 121 A (Conspiracy to commit offences punishable by section 121 from the Indian Penal Code), 122 (Collecting arms etc with intention of waging war against the Government of India), 123 (Concealing with intent to facilitate design to wage war) of IPC and under section 16 (Punishment for terrorist act), 18 (any act preparatory to the commission of a terrorist act) and 20 (Punishment for being member of terrorist gang or organisation) of Unlawful activities (Prevention) Act", a source told The Indian Express.
Musa was recently interrogated by the Federal Bureau of Investigation of the USA and the Rapid Action Battalion Bangladesh (RAB). According to sources, the RAB investigated Musa for links in Dhaka's Holey Artisan Attack, and the FBI inquired about Islamic State's plans to attack foreigners in South Asian Countries.
Full report at:
http://indianexpress.com/article/india/nia-chargesheet-against-mohammed-masiuddin-is-man-planned-attack-on-mother-house-4445100/
--------
Europe
Muslims donate 10 tonnes of food to help homeless at Christmas in London
December 25, 2016
Muslim Londoners have donated 10 tonnes of food to help homeless people this Christmas.
Thousands of people attended a food drive at East London Mosque in order to make and collect donations. An estimated 7,500 people attended in total, The London Evening Standard reports.
After they attended Friday prayers volunteers gathered the supplies, which include rice, pasta, cereal, tinned goods and other items. Donations came from local businesses, colleges, schools and universities.
The donations will now be given to local people in need, including those who are living on the streets. More than 90 per cent of the food will be given to people who are not of the Muslim faith.
Leaders of other religious groups in the community also attended to show their support. Christian Reverend Gary Bradley was among those who backed the drive, saying it was an example of people from "all faiths working together for a common humanity".
Homelessness in the UK is increasing, amid rising rents and local authority cuts which are reducing the number of hostel and council housing places available. The number of people living on the streets in England grew at an "unprecedented" rate between 2015 and 2016, following a spike of around 30 per cent.
On any given night, approximately 3,500 people sleep rough on streets in England. Experts have also warned of 'hidden homelessness' which can occur as people do not fit traditional stereotypes of rough sleepers but are homeless nonetheless, for instance those living in unstable or temporary accommodation.
Latest figures show that 68,560 households were living in temporary accommodation including B&Bs and hostels between July and September last year – the highest since the start of the economic downturn in 2008.
http://nation.com.pk/international/25-Dec-2016/muslims-donate-10-tonnes-of-food-to-help-homeless-at-christmas-in-london
--------
Is a 'faceless' preacher behind the Berlin attack?
26 December 2016
German authorities are looking into whether the suspect behind the recent Berlin attack on a Christmas market is linked to a Germany-based Iraqi preacher named Abu Walaa, dubbed the "preacher without a face."
Ahmad Abdulaziz Abdullah A., commonly known as Abu Walaa, hands out advice on his social media pages and appears in videos with his back to the camera or wearing a black shroud. According to Deutsche Welle, he is suspected of being one of the top recruiters for ISIS in the country.
According to the site, authorities are unclear as to how the attack suspect Anis Amri, a Tunisian refugee who was killed in a shootout with Italian police on Friday, was radicalized but believe the 24-year-old had made contact with members of Germany's Salafist scene.
Federal Criminal Police Chief Holger Münch did not specify how the two men might be linked, despite floating the preacher's name this week.
Walaa, 32, moved to Germany from Iraq in 2000 and originally lived in North-Rhine Westphalia.
He preached at a mosque in the northwestern state of Lower Saxony and built up an online following by sharing his thoughts on a number of mundane topics, including how to maintain a good marriage.
Full report at:
https://english.alarabiya.net/en/features/2016/12/26/Who-is-the-faceless-Islamist-preacher-possibly-behind-the-Berlin-attack-.html
--------
Dutch leader tells Israel to 'ignore UN and continue building'
26/12/16
Leading Dutch politician Geert Wilders has criticized US president Barack Obama for not vetoing the Security Council resolution against Israel on Friday and advised Israel to ignore the UN resolution.
Wilders, the founder and leader of the Dutch Freedom Party, who has dominated Dutch polls during the year of 2016, wrote on his Facebook page:"Obama betrayed Israel. Thank God for Trump. My advise to my Israeli friends: ignore the UN and keep building more and more settlements."
Wilders was voted politician of the year 2016 when 40,000 people participated in the annual public election held by Dutch tv-show 'EenVandaag'. He is known for his sharp criticism of Islam and his outspoken support for Israel.
Wilders lived in Israel for two years during his youth, working on a moshav, and has visited the country 40 times in the last 25 years.
Full report at:
http://www.israelnationalnews.com/News/News.aspx/222286
--------
Scorned by Obama, Israel forges ties with Russia
December 25, 2016
Tension in Israel's relationship with the Obama administration compelled Jerusalem to forge ties elsewhere, sometimes to the benefit of the Jewish state.
Dr. Ariel Cohen, a senior fellow at the Atlantic Council and director of the Center for Energy, Natural Resources and Geopolitics, analyzed Israel's growing relationship with Russia and other countries in a December 20th conference call with the Endowment for Middle East Truth.
"With President [Barack] Obama and the left wing of the Democratic Party turning against Israel, Prime Minister [Benjamin] Netanyahu has made a great effort to build better relationships with Russia, India, African countries and others," Cohen said.
As support for his thesis, Cohen points to Netanyahu's recent visits to Azerbaijan and Kazakhstan and the prime minister's attempts in general to illustrate Israel's ability to find allies in unexpected corners of the globe, including some majority-Muslim countries.
Israel's growing relationship with Russia is "complicated, but clearly a tremendous improvement over relations between the Jewish state and the old Soviet Union," Cohen noted.
"One the one hand, Russia has allied itself with enemies of Israel such as Iran and the Syrian regime of [Bashar] Assad, and the Russians consistently vote against Israel at the United Nations and other international forums," he said. But at the same time, Cohen pointed out, "Russia and Israel have significant trade relations, tourism and medical ties, with thousands of Russians going to Israel every year for medical treatment and teams of Israeli doctors visiting Russia to share their expertise and advice."
One important practical benefit of Israel's relationship with Russia, Cohen told JNS.org in a subsequent interview, is that the Russians have refrained from activating their anti-aircraft batteries in Syria when Israel has bombed weapons convoys traveling from Syria to Hezbollah bases in Lebanon. "The Russians have not interfered even though the casualties of the Israeli strikes included an Iranian general," Cohen said.
Russia continues to support the Palestinian cause, "but at nowhere near the levels of backing that were provided by the old Soviet regime," Cohen said. "In those days, the USSR was the main supporter and funder of Palestinian terrorism, as well as providing diplomatic and political support."
Full report at:
https://worldisraelnews.com/scorned-by-obama-israel-forges-ties-with-russia/
--------
Mideast
Iran's Rouhani offers Christmas greetings to Pope, Christians
Dec 24, 2016
Iranian President Hassan Rouhani has congratulated Pope Francis ahead of Christmas and the new Gregorian calendar year, expressing hope that the world would see peace and justice.
In his message on Saturday, the Iranian president expressed his felicitations over the auspicious birth anniversary of the prophet of friendship and brotherhood, Jesus Christ.
He expressed hope that the new year would be one of spirituality, tolerance, progress and dignity along with peace and justice for all humans across the world.
The Iranian president also hoped that interaction and kindness would be further promoted among followers of all divine religions and called on all moderate, wise and justice-seeking well-wishers to tread the path of patience and dialogue in 2017.
Rouhani's congratulations to world leaders
The Iranian president also on Saturday congratulated world leaders on the auspicious occasion of the birth anniversary of the prophet of peace and kindness and the advent of the new Christian year.
Rouhani expressed hope that in line with the teachings of the prophets, which brought dialogue and understanding among nations, the world would witness stability and security and the end of the sufferings of the countless people plagued by oppression, corruption and terrorism.
The Iranian president also prayed that God bestow "happiness and prosperity" upon nations and governments.
http://www.presstv.ir/Detail/2016/12/24/503307/Iran-Hassan-Rouhani-Pope-Francis-Christmas
--------
Yemen president visits former Qaeda bastion
December 26, 2016
ADEN - Yemen's President Abedrabbo Mansour Hadi visited Mukalla on the southeast coast on Sunday, an official said, his first trip there since loyalist forces retook it from Al-Qaeda in April. Hadi and Prime Minister Ahmed bin Dagher met political and military officials from across Mukalla's Hadramawt province, the official said.
The president praised efforts in the province to "eradicate the forces of evil and terrorism" and bring "security and stability" back to Mukalla. Quoted by the official news agency Saba, Hadi stressed the need to "tighten our ranks to meet the challenges we face", a reference to Al-Qaeda fighters still active across the vast province.
Yemen's internationally recognised government has been based in second city Aden since it was retaken from Shiite Huthi rebels last year. Retaking Mukalla was facilitated by the intervention of Emirati special forces, members of a Saudi-led coalition that backs Hadi's government.
A local official survived an assassination attempt on Sunday in Shibam, around 100 kilometres (65 miles) north of Mukalla, in an attack security sources blamed on Al-Qaeda.
They said Faraj Neji survived an ambush but two of his guards were killed. Loyalist forces have been struggling to secure territory taken by the Huthis since the summer of 2015. A military official said Sunday that five rebels were killed in a coalition air raid in the southern Shabwa province.
Full report at:
http://nation.com.pk/international/26-Dec-2016/yemen-president-visits-former-qaeda-bastion
--------
Iran Army to hold major air defense maneuvers: Commander
Dec 25, 2016
The Iranian Air Defense Force will stage massive five-day military exercises in southern parts of the country to display its might and boost its integrity and cohesiveness, a senior Iranian commander says.
The large-scale maneuvers, code-named Modafean Aseman Velayat 7 (The Defenders of Velayat Skies 7), will kick off on Monday over a vast area of nearly half a million square kilometers in the three provinces of Khuzestan, Hormozgan and Bushehr all the way east to Kerman Province, Brigadier General Farzad Esmaili, the commander of Iran's Khatam al-Anbiya Air Defense Base, said at a press conference on Sunday.
He added that various units of the Army's Air Defense Forces and the Aerospace Division of the Islamic Revolution Guards Corps (IRGC) and Air Force fighter jets, including F-4 Phantoms, will take part in the joint exercises.
The commander noted that more than 17,000 personnel of the Armed Forces will participate in the drills either directly or indirectly.
The maneuver will be held in the "most sensitive" area of the country, Esmaili said and warned extra-regional aircraft to stay out of the drill zone during the exercises.
He added that forces of the Iranian Army and the IRGC would deploy radar systems, electronic eavesdropping devices and low-, medium-, and high-altitude missiles during the massive maneuvers.
The commander said the drills would also include high-level electronic warfare.
Leader of the Islamic Revolution Ayatollah Seyyed Ali Khamenei on September 1 instructed the Iranian Air Force defense forces to constantly upgrade their preparedness for repelling a variety of threats.
"Upgrade your preparedness and options constantly for countering all types of threats," Ayatollah Khamenei said in a meeting with top commanders and officials of the Khatam al-Anbiya Air Defense Base in Tehran.
Full report at:
http://www.presstv.ir/Detail/2016/12/25/503404/Iran-Air-Defense-Modafean-Aseman-Velayat-Farzad-Esmaili-Khatam-alAnbiya-maneuvers
--------
'China firms have to compete with giants for Iran oil fields'
Dec 25, 2016
Iran says it has told the Chinese companies that have developed the initial phases of two major oil fields that they will have to compete with global energy giants for the future phases of the projects.
The announcement was made by Gholam-Reza Manouchehri, the deputy for development and engineering affairs of the National Iranian Oil Company (NIOC).
Manouchehri told Iran's IRNA news agency that the NIOC had informed Sinopec and China National Petroleum Corporation (CNPC) that they would have to participate in tenders for further development of Yadavaran and North Azadegan oil fields.
He added that the Chinese companies had agreed with the proposal.
Based on the contracts with CNPC and Sinopec, they were to be prioritized in talks over the next phases of North Azadegan and Yadavaran, IRNA wrote.
However, it added, it appears that talks with the two have failed and they will therefore need to compete with others in tenders over the next phases of the projects.
Sinopec signed a deal with NIOC in 2007 worth $2 billion to produce 80,000 barrels per day (bpd) in Yadavaran. Later in 2009, CNPC signed a similar $2-billion deal with NIOC to produce 75,000 bpd of oil at North Azadegan.
IRNA further emphasized in its report that there were criticisms against the performance of both companies in the projects.
In May 2014, Iran's Oil Minister Bijan Zanganeh made it clear that he was not satisfied with CNPC's work.
Full report at:
http://www.presstv.ir/Detail/2016/12/25/503393/Iran-tells-China-firms-to-attend-oil-tenders
--------
US entered Syria with eye on Iran: Senior commander
Dec 25, 2016
A senior Iranian commander says the United States started interfering in Syria as a first stage in a chain of successive inroads in the Middle East, with its sights set on the Islamic Republic as the final destination.
Brigadier General Hossein Salami, the Islamic Revolution Guards Corps (IRGC)'s second-in-command, said in a televised interview on Saturday that Syria was the first step in a scenario meant to circumscribe Iran's regional influence by gradually approaching its borders and entangling the country in a crisis at home.
Syria has been experiencing foreign-backed militancy since 2011. The US, Turkey, and some Persian Gulf countries, primarily Saudi Arabia, have been generously providing ideological, political, and financial support to the militants operating to oust the government of Syrian President Bashar al-Assad.
Washington and dozens of its allies invaded Syria in 2014 with the supposed aim of eliminating the Takfiri terror group of Daesh, which they have signally failed to dislodge.
Salami further highlighted the defeats of foreign-backed militants in Syria's strategic northwestern city of Aleppo, saying the US and its allies failed in the initial phase of the scenario aimed undermining Iran as a regional player.
If successful, the scenario would have eliminated Syria, one of Tehran's allies and main supporters of the anti-Israeli resistance movement in the region.
Salami said Washington showed up in Syria to undercut the resistance drive, depose the Syrian administration, and partition the Arab country before heading to Lebanon and Iraq and eventually reaching Iran.
In the event the push had yielded result, Washington would have restored its dominance in the region, he noted.
Full report at:
http://www.presstv.ir/Detail/2016/12/25/503370/Iran-IRGC-Syria-US-Iraq-Lebanon-Aleppo
--------
Iran, Russia presidents on phone for 3rd time in month, discuss terrorism
Dec 24, 2016
The presidents of Iran and Russia have discussed the avenues for the continuation of cooperation between the two countries on the crisis in Syria and the fight against international terrorism.
Iranian President Hassan Rouhani and his Russian counterpart Vladimir Putin held a conversation on the telephone on Saturday for the third time over the past month.
They exchanged views about the latest developments in Syria, particularly after the recent major defeat of terrorists and full liberation of the strategic city of Aleppo from the grips of foreign-backed militants.
The Iranian and Russian presidents also stressed the importance of developing cooperation to help the resumption of dialogue and negotiations to find a political solution to the crisis in Syria.
The Iranian and Russian chief executives had also held phone talks on December 19 and November 28.
The Syrian military announced on Thursday that it had attained full control of the northwestern city of Aleppo, having completely cleansed its eastern side of militants for the first time since 2012.
The victory came about despite military support for the militants by the United States, Turkey, and some Arab countries in the Persian Gulf region.
The Russian president on Friday called his Syrian counterpart Bashar al-Assad to congratulate him on the full liberation of Aleppo, saying, "This success was possible thanks to mutual efforts of all who came together in the fight with international terrorism in Syria."
Also in an annual conference on Friday, Putin said the evacuations in Aleppo would not have been possible without the help of his country, Iran, and Turkey and the goodwill of President Assad.
Full report at:
http://www.presstv.ir/Detail/2016/12/24/503320/Iran-Russia-Syria-Hassan-Rouhani-Vladimir-Putin-Aleppo
--------
Pakistan
Pak Afghan border troops stop bombing attack from explosives-laden donkey
Dec 26, 2016
Pakistan's security forces thwarted a bombing at the Pak Afghan border by capturing a donkey laden with explosives and three men who was plotting to blow up the animal in a rebel attack.
The political administration told media on Sunday that after seeing the donkey moving towards the border they pursued it and recovered explosives of more than 40 kgs from it.
They added that they have informed Afghanistan's border administration about the incident and have also registered a protest.
http://www.pakistantoday.com.pk/blog/2016/12/26/pak-afghan-border-troops-stop-bombing-attack-from-explosives-laden-donkey/
--------
Quaid Day observed with pledge for peace
December 26, 2016
LAHORE - Pakistanis yesterday celebrated the 140th birth anniversary of the father of the nation, the Quaid-i-Azam, Muhammad Ali Jinnah.
Special programs were arranged on the birth anniversary of the founding father. Speakers shed light on the Quaid's struggle for creation of Pakistan and highlighted his guiding principles of unity, faith and discipline.
It was a public holiday and national flag was hoisted atop all public and private buildings.
Quran Khwani was held at the Mazar-e-Quaid in Karachi while change of guards ceremony was also conducted. A large-number of people from all walks of life visited the tomb to pay tribute for the services the great Quaid rendered for the creation of a separate homeland for the Muslims of the subcontinent.
Public and private organisations and educational institutions arranged functions to highlight different aspects of the life of the Quaid-e-Azam.
In their messages, President, Prime Minister, provincial governors, chief ministers and leading politicians asked the nation to seek guidance from the lifestyle and upright character of Quaid-e-Azam Muhammad Ali Jinnah and transform Pakistan into a model state with prevalence of peace, brotherhood, moderation, patience and protection of minorities' rights.
CM MESSAGE
In a message on Quaid Day, Chief Minister Shehbaz Sharif said the Quaid e Azam, Muhammad Ali Jinnah, was a brave and sincere leader under whose leadership Muslims of the sub continent achieved an independent state.
"The historic struggle of the Muslims of the sub continent under the leadership of Muhammad Ali Jinnah succeeded as a result of which an independent country was achieved.
"In the long struggle of independence, the personality and dynamic leadership of the Quaid e Azam is a beacon and this is the light which is needed to illuminate Pakistan in the real sense," he added.
Full report at:
http://nation.com.pk/lahore/26-Dec-2016/quaid-day-observed-with-pledge-for-peace
--------
Pakistani Christian expats celebrate at Pakistan Embassy
December 25, 2016
Abu Dhabi: The Pakistani Christian expatriate community gathered at the Pakistan Embassy in Abu Dhabi to celebrate the day.
The celebrations organised by the Pakistan Embassy featured a band that played Christmas carols, while people sang along, followed by reciting verses from the Bible, performing prayers and reading out the legacy of Jesus.
Reverent James Daniel, Congregation Priest at Church of Pakistan, said that Christmas is a time to bring all humanity together.
"Today, it is an honour to celebrate Christmas at the embassy with all the Pakistani community, regardless of their religion, we are celebrating with our Muslim brothers and want to reflect the teachings of Jesus, convey the message of peace, love, tolerance, and coexistence, and promote interfaith and harmony among all religions," said Reverent Daniel.
Moazzam Ahmad Khan, Ambassador of Pakistan, said that the teachings of Jesus highlighted good virtues, values and deeds.
"Jesus was sent to the people with a message of love, peace, compassion and tolerance for all humanity, and we need to keep reminding ourselves of his message, and the utmost need of embracing and implementing it. That's why we were very keen on hosting not just Christians in today's function, but even Muslim communities to celebrate Christmas together," he said.
Khan wished that his people and country witness peace, progress, prosperity, development, irrespective of cast, sect, religion, ethnicity, in 2017.
The Bhatti family were among the families who were very keen on attending the Christmas celebrations at the embassy.
"We usually come to the embassy for different reasons, but today it's different, this is a prestigious day for us and we are really honoured to celebrate Christmas at the embassy. It acknowledges our contributions to our country's progress and prosperity and it means a lot to us," said 42-year-old mother and teacher Kaukab.
Dr Anjum, 39, a father and network manager, said, "It's important to celebrate such moments with the whole family and educate younger generations that we are one nation together. It's vital to recognise and appreciate good initiatives and today's celebrations reflect humanity, love, commonality and sense of belonging," he said.
Yeshua, 12, expressed his joy and happiness in the celebrations and wished to quickly grow older and taller and become a professional cricketer.
Alice, 65, a grandmother, said that the family celebrates Christmas like back home, by exchanging gifts, cooking meals and attending midnight services.
Full report at:
http://gulfnews.com/news/uae/society/pakistani-christian-expats-celebrate-at-pakistan-embassy-1.1951586
--------
Today's Pakistan is not even close to the high hopes Jinnah had for this country
By Yasser Latif Hamdani
December 25, 2016
Every year on Christmas Day, we in Pakistan remember Quaid-e-Azam Muhammad Ali Jinnah, who is said to have been born on that day in 1876. There are remembrances and tributes; a change of guard; TV shows dedicated to the memory of the man who is credited with (and in some circles blamed for) the creation of Pakistan.
Was the creation of Pakistan right or wrong is a debate that has raged on for seven decades now. However, what is never debated or discussed is whether or not, given the state that we are in today, Mr Jinnah would even want to be remembered as the founder of Pakistan? That Mr Jinnah would have been disappointed with many things in Pakistan today is old hat, but let us take this a step forward: would he have regretted making Pakistan if he could see what we have done in this country?
As an amateur biographer and admirer of the man that he was, regardless of how one views his most notable achievement, I have pondered over this question several times. Even though the democratic government under Prime Minister Nawaz Sharif, in my view, is doing all it can to steady the ship, economically, politically, culturally and socially, there were certain events this past year that has convinced me that if Mr Jinnah of 1947 could travel through time and space and see what has become of his creation, he would most certainly give up the idea of making Pakistan. I will endeavour to explain why through this blog.
First of all the question of whether Pakistan's creation was right or wrong is an exercise in futility because Pakistan is fait accompli, regardless of what one's conclusions are about it. What is far more important is to understand the historical process which led to the creation of a country envisaged as a homeland for the Muslims of the Indian subcontinent. This historical process has its roots partly in the consciousness of upper classes as well as the rising Indian Muslim bourgeoisie and salaried classes – i.e. to use Hamza Alavi's term "Salariat" – which feared exclusion from political power at the hands of three times more numerous Hindus in the inevitable post-British democratic India.
This gave rise to Muslim nationalism and can, as an idea, be traced all the way back to Sir Syed Ahmad Khan who exhorted his followers not to join the Indian National Congress, the main political vehicle of Indian nationalists. The idea of Muslim nationalism was born and brought up in Aligarh Muslim University. It was this idea that led to formation of the All India Muslim League in 1906 and the Muslim demand for separate electorates soon thereafter.
However, it is equally important to note that Jinnah's political upbringing had entirely different roots. Having been called to bar in London and from a family of merchants rather than landed elite, Jinnah escaped entirely the trends that were in vogue amongst Aligarh Muslims. A confident young lawyer, who succeeded in the legal practice at a time when the profession was dominated by British and Hindu lawyers, Jinnah had very little practical use for ideas of Muslim exceptionalism at that time.
More importantly, he saw himself as an Indian first second and last, with the fact that he was a Muslim being entirely incidental and largely confined to his name, which in any event he abbreviated to Jinnah. Amongst his closest friends and associates, there were hardly any Muslims in that early period. The few Muslims who did get entry into his circle were like him, incidental Muslims. It is well known that Jinnah followed none of the dietary prohibitions prescribed by his religion. Nevertheless, after a dispute with the Aga Khan, owing possibly to his sister Mariam Bai's marriage outside the Ismaili community, Jinnah had nominally converted to Khoja Ithna Ashari Shia Jamaat in 1901. If however, he had any religious convictions, he kept them absolutely private.
Jinnah's political vehicle of choice was the Indian National Congress, which under the leadership of men like Pherozeshah Mehta, Gopal Krishna Gokhale, Dadabhoy Naoroji and Badruddin Tyabji was a nationalist party committed to attainment of self-rule for Indians through constitutional means. When the Muslim League was founded in 1906, Jinnah not only stood apart from it, but attacked its leaders as unrepresentative landed reactionaries and willing tools in British policy of divide and rule. Jinnah was also a fervent opponent of separate electorates even after he, as the Congress candidate, defeated the Muslim League candidate in 1910 on a Muslim seat.
In 1913, Jinnah also joined the Muslim League at the behest of his Congress mentors with the objective to bring the Muslim League closer to Congress. He did so, remaining a member of the Congress, on the condition that his membership would in no way impinge on his commitment to the Indian nationalist cause to which his life was dedicated. Not only was he able to woo the League away from its stance of unquestioningly loyalty to the crown but in 1916, managed to bring the League and Congress together in what is known in history as the Lucknow Pact. This December marks the 100th anniversary of that important constitutional document that made Hindu-Muslim Unity possible, however briefly. For his untiring efforts with respect to bringing Hindus and Muslims together in the struggle for self-rule, Jinnah was hailed as the best ambassador of Hindu-Muslim Unity.
So how did such a man, whose early politics was marked with a genuine desire to see Hindus and Muslims march together and wrest from the British the reins of government of their common motherland, later turn so vociferously against the same unity? This question has vexed many a student of Indian history and the freedom struggle. Having studied Jinnah's political career in some detail, I do not think there is any room for the idea that he underwent some kind of transformation in his political ideals. Nor do I accept entirely the supposition that he acted entirely on the Namierian impulse of seeking power, though inevitably some of that did play its part.
Jinnah had come to believe very early on that constitutional advance in India depended entirely on Hindus and Muslims coming together and speaking with one voice. This necessitated the idea of a social contract between these two groups and the Lucknow Pact further solidified the position that the agreement between these two entities, as the largest culturally informed religious identities, was sine qua non to Indian independence.
It was on this premise that Jinnah proceeded from 1916 onwards, and whereas till 1920 Jinnah acted as a Congressman trying to bring the League into the nationalist fold, his defeat at the hands of Gandhi on the issue of constitutional methods versus non-cooperation and the issue of Khilafat Movement, which Jinnah opposed, drove him out of the Congress fold. Still, he persisted in his goal of achieving that ever elusive social contract between Hindus and Muslims. Increasingly though, he realised that he was forced into a position of approaching the Congress as a Muslim partisan rather than an Indian Nationalist trying to build bridges.
The idea of Pakistan developed independently of the efforts of people like Jinnah who had approached the issue top down from an all India centre. There had been countless schemes to divide India into Hindu majority and Muslim majority areas by Hindus, Muslims and the British (88 by KK Aziz's count); by the time Allama Iqbal delivered his famous address in Allahabad. By the late 1930s, several schemes emerged, including Rahmat Ali's Pakistan scheme as well as what became known as "the Confederacy of India" by Mian Kifayet Ali who wrote under the name "A Punjabi".
All of these schemes had one thing in common – they all postulated that the idea of an all India centre was a British creation and that India's diversity called for not one, but multiple federations which could then come together as a confederation or a supra-federation of states. An early variant of this had been the Aga Khan's proposal for a United States of South Asia. The underlying sentiment – on part of the Muslim proponents of these schemes – was for Muslim majority areas to be autonomous (or independent) of a unitary Indian centre that would be dominated by the Hindu majority in the subcontinent.
For someone who was to ride this sentiment ultimately to the creation of Pakistan, Jinnah curiously was never a Muslim nationalist ideologically. Faisal Devji, for example writes that not only did Jinnah consciously not identify with the Muslims, but was contemptuous of them. This does not mean, of course, that he was not sincere about the cause once he took it up. Jinnah was foremost a thinker of sovereignty who believed in representative politics through consensus of the people.
By 1938, after being rebuffed by the Congress in UP, Jinnah was looking to unite the Muslim community in the subcontinent behind his leadership to bring to fruition that long sought after social contract between the Hindus and Muslims. To do this, he needed a demand that could embody at once the impulse for autonomy in Muslim majority areas and the desire for Muslims in Hindu majority areas to escape their minority status. Pressed by the British to produce an alternative to the Congress' demand for a constituent assembly where Muslims would be a perpetual minority outvoted three to one at best, the Muslim League produced the Lahore Resolution.
Full report at:
http://blogs.tribune.com.pk/story/44347/todays-pakistan-is-not-even-close-to-the-high-hopes-jinnah-had-for-this-country/
--------
NAB is brainchild of dictator to suppress political figures: Abbasi
Dec 26, 2016
Federal Minister on Petroleum Shahid Khaqan Abbasi said that the plea bargain clause is a basic flaw in the National Accountability Bureau (NAB) law — which needs amendment.
"NAB was founded by a military dictator to suppress political figures," he said while talking in a private TV channel programme."
He said that there is a consensus among all political parties that the system of NAB should be changed.
Pakistan Muslim League- Nawaz (PML-N) leader Abbasi said that there are a lot of flaws in the NAB law but the government cannot amend it unilaterally. He invited Pakistan People's Party (PPP) for a joint sitting and come up with shared agenda on NAB's laws.
He added that it is the only way to amend the laws due to the proportion of strength of both parties in the houses of parliament.
The petroleum minister said that if the ruling party takes an initiative to amend the laws, the party would be blamed for twisting NAB laws into its favour.
Recently, NAB has approved the appeal of provincial secretary of Balochistan's treasury department Mushtaq Ahmed Raesani and Sohail Majeed, alleged front-man of former Balochistan Finance Minister Khalid Langove.
Commenting on PPP's decision to end reconciliation with PML-N, he said that both the government and the opposition should play their respective roles. We never asked PPP not to act as opposition because we are not afraid of opposition.
Earlier, PML-N leader Chaudhry Nisar had also expressed same views on NAB. He displayed strong opposition to the practice of plea bargains and termed it tantamount to providing a safe passage to thieves.
He also expressed his desire to amend NAB laws and supported the idea that NAB should be completely autonomous that NAB's chief should be appointed by the Supreme Court.
Furthermore, Adviser to the Chief Minister Sindh on Information Moula Bux Chandio criticised PML-N, saying that reconciliation was for the sake of democracy, the constitution and to pave way for legislation to safeguard rights of people but now "PML-N must go".
""The PML-N is a party of insane, narrow minded and those people who cannot see ahead of their nose , who turned to calling names when lost argument, who resort to personal attack, now there will be no reconciliation to them," he said, addressing a press conference on Saturday.
Full report at:
http://www.pakistantoday.com.pk/blog/2016/12/25/nab-is-brainchild-of-dictator-to-suppress-political-figures-abbasi/
--------
Hindu council worried over moves to amend conversion bill
HANIF SAMOON
Dec 26, 2016
MITHI: Patron-in-chief of Pakistan Hindu Council Dr Ramesh Kumar Vankwani has expressed serious concern over reports moves to amend to or abrogate the Sindh Criminal Law (Protection of Minorities) Bill, 2015, and warned if it was done under pressure of 'extremist religious parties' this would add to deepen the sense of insecurity among non-Muslims.
He cautioned that Pakistan might face isolation on international level if the bill was abrogated as the legislation had addressed growing complaints against increasing incidents of abduction and forced conversion of underage minor Hindu girls.
Dr Vankwani, who is also an MNA of PML-N, said in a statement issued on Sunday that they were not against the conversion of religion as a result of deep study or preaching but their concerns were linked to forced conversions only. "Why only underage Hindu girls in Sindh are changing religion," he said.
Full report at:
http://www.dawn.com/news/1304484/hindu-council-worried-over-moves-to-amend-conversion-bill
--------
Islam Teaches Harmony, Tolerance: Mayor of Islamabad
Dec 26, 2016
Mayor of Islamabad and Chairman Capital Development Authority (CDA), Sheikh Anser Aziz said that Islam teaches us the lesson of harmony, brotherliness and tolerance.
Sheikh Anser Aziz was addressing a ceremony organised by Lok Virsa in connection with Christmas celebrations here on Sunday.
He said that it is an honour for me to lead two those organisations which are living example of interfaith harmony and tolerance.
Christian community has played a pivotal role in the development of Islamabad and their services in this regard are remarkable.
The mayor said that welfare of Christian community of the city is among our top priorities. He said that Christian employees of Metropolitan Corporation Islamabad (MCI) and CDA are being provided with facilities in the same manner as the Muslim employees. In this connection, a bonus equal to one basic pay in addition to the advance pay of the month is paid to the non-Muslim employees on their religious festivals.
Full report at:
http://www.pakistantoday.com.pk/blog/2016/12/25/islam-teaches-harmony-tolerance-mayor/
--------
US approves sale of night vision military system to Pakistan
December 25, 2016
ISLAMABAD: The United States (US) has approved the sale of a night vision infrared target sight system for Pakistan to enable greater target accuracy, Radio Pakistan reported.
The arms giant Lockheed Martin Corp will support the Target Sight System (TSS) on the US Navy and Pakistan's AH-1Z Cobra attack helicopters under a $151 million contract deal, said a statement by the US Defence Department.
According to Lockheed Martin, "TSS provides the capability to identify and laser-designate targets at maximum weapon range, significantly enhancing platform survivability and lethality."
The system is designed to offers a infrared sensor with a laser designator turret that provides target sighting in day, night, or adverse weather conditions.
Earlier this year, US State Department said that vital members of the US Congress are not prepared to support military aid to Pakistan unless it takes specific actions against designated terrorists, saying the Obama administration is bound to follow their decision.
"Key members of Congress have been clear they're not prepared to support US military aid to Pakistan absent some specific actions," Elizabeth Trudeau, a State Department's official, said at a briefing.
Full report at:
http://nation.com.pk/national/25-Dec-2016/us-approves-sale-of-night-vision-military-system-to-pakistan
--------
South Asia
Report on Muslim Brotherhood and Jamaat e Islami Released
Dec 23, 2016
The South Asia Democratic Forum (SADF), an organisation working to promote freedom, democracy and peace in South Asia and Europe, will be releasing a new report comparing the 'Muslim Brotherhood' (MB) and the 'Jamaat-e-Islami' (JeI), on December 23, 2016. This report carries out an in-depth study of the origin, ideology and evolution of the MB and JeI, and draws parallels between the two Islamist organisations.
Tracing the origin of the JeI in 1941 by Maulana Sayyid Abu'l-A'la Mawdudi, the report shows how he was deeply influenced by the Brotherhood, and subsequently how the MB borrowed heavily from the writings of Mawdudi. Both groups have a similar ideology that permits use of extreme violence for promoting Islam in society, and during the periods that they have been in the government, namely the Muslim Brotherhood in Egypt from June 2012 to July 2013 and JeI-BD in Bangladesh in 2001, have been marked by incidents of increasing violence against women, minority Muslim communities and political institutions. Moreover, both groups have also been known to give birth to extremely radical offshoots, the Al-Qaeda and Hamas in case of the MB, and the Islamic Chhatra Shibir in the case of
JeI-BD.
The study clearly brings out the deep ideological similarities between Islamist movements like the MB and JeI-BD, which despite their democratic rhetoric and resort to democratic practices like elections to come to power, believe in a Millennial Islamic Movement to establish their 'cherished goal' of global caliphate, or 'God's Kingdom', in which women and minorities would not enjoy equal opportunities and rights. Their lip service to democracy and apparent acquiescence to secular law reflects their pragmatism, not their transformation into liberal democratic organisations. The study further highlights that the founders of both the MB and JeI, and the leadership that followed, continue to strive for 'God's Sovereignty'.
The study cautions that the world needs to take note of the deep ideological similarities between the two Islamist fundamentalist organisations, which have been the ideological inspiration for a multitude of terrorist groups in various parts of the world. Adding that the followers of these ideologies have adopted multi-pronged strategies, namely the spread of the 'madrassa' system of education to mould the thinking of Muslim youth, adherence to a uniform dress code, mass conversions, negation of national boundaries on grounds of religion and intolerance towards other sects and religious beliefs, the study cautions that the spread of such violent Islamic thought has the potential of pushing the world into a violent confrontation between Islam and other religions.
SADF is a non-profit organisation registered in Brussels. It intends to encourage the application of the United Nations' general principles and resolutions regarding human rights. It stands against all kinds of discrimination based on colour, race, language, gender, political orientation, religion, nationality, tradition, ethnic origin or social background, social or legal status, age or birth. The organisation aims to promote labour rights, sustainable development, freedom, open governance, peace and democratic laws.
http://www.prnewswire.com/news-releases/report-on-muslim-brotherhood-and-jamaat-e-islami-released-608047086.html
--------
Taliban commander among 18 killed in Kunduz city
Dec 26 2016
A local commander of the Taliban group was among at least 18 killed during the operations in the strategic Kunduz city.
The Ministry of Defense (MoD) said the Taliban commander Ghulam Safi was killed along with 17 others during the operations conducted in the vicinity of Kunduz city.
The anti-government armed militant groups including the Taliban insurgents have not commented regarding the report so far.
Kunduz is among the relatively volatile provinces in northern Afghanistan where the Taliban group launched several attacks this year as part of their spring offensive to capture the strategic Kunduz city.
In the meantime, the Ministry of Interior (MoI), earlier said top Taliban leader who was leading the deadly battle in northern Kunduz province was killed during an ambush of the Afghan security forces.
Full report at:
http://www.khaama.com/taliban-commander-among-18-killed-in-kunduz-city-02557
--------
7 Pakistanis among 14 ISIS loyalists killed in East of Afghanistan
Dec 26 2016
At least 14 loyalists of the Islamic State of Iraq and Syria (ISIS) terrorist group were killed during the operations in eastern Nangarhar province of Afghanistan.
The Ministry of Defense (MoD) said at least 7 of the militants killed during the operations are hailing from Pakistan.
MoD further added that the operations were conducted with the air support in Haska Mina district.
However, the provincial police commandment officials, said at least 7 militants were killed during the artillery strikes in Haska Mina district.
According to the officials, the militants killed during the operations are foreigners but did not provide further information.
The anti-government armed militant groups including ISIS loyalists have not commented regarding the reports so far.
Both the Afghan and US forces conducted regular strikes against the loyalists of the terror group in this province.
Full report at:
http://www.khaama.com/7-pakistanis-among-14-isis-loyalists-killed-in-east-of-afghanistan-02553
--------
Government to make Bangladesh a failed state: BNP
2016-12-25
The 'unelected and illegal' government is trying to turn Bangladesh into a failed state, says BNP Secretary General Mirza Fakhrul Islam Alamgir.
His remarks on Sunday came in the context of comments by the chief justice concerning the competition for dominance among state bodies.
The BNP leader was attending a programme by its ally, the Bangladesh Khilafat Majlish at the capital.
"The government is turning the country into a place unfit to live," claimed Mirza Fakhrul. "They have destroyed every pillar of the state."
"I am not the only one to say so. Only yesterday (Saturday) the Honourable chief justice spoke of how the different institutions of the state are competing for dominance."
At the National Judicial Conference on Saturday Chief Justice Surendra Kumar Sinha had said: "All the state institutions are entangled in a fight for dominance. Not just agencies and institutions, even departments have become involved. The only exception is the judiciary."
Mirza Fakhrul said the chief justice's comments supported his own.
"Today the state is about to collapse. The government, intentionally and with careful planning, is trying to turn Bangladesh into a failed state."
"I saw a horrific thing in the paper today," he continued. "A four-year-old girl has been taken to hospital after being wounded in a militant attack. They say her mother and father were militants. I do not know the truth, but this is the state of our country now."
The BNP leader said that 'people of all religions, not only Islam, are under attack'.
"Hindu houses are ransacked. Their temples are desecrated. Buddhist monasteries are despoiled. The churches and cathedrals of Christians are destroyed.
Full report at:
http://bdnews24.com/politics/2016/12/25/government-to-make-bangladesh-a-failed-state-bnp
--------
Bangladeshi expats top migrant numbers in Oman
December 25, 2016
For the first time, there are now more Bangladeshis in Oman than any other nationals who work in the Sultanate.
According to the National Centre for Statistics and Information (NCSI) of Oman, as of November-end, 2016, the number of Bangladeshis stood at 694,449, with Indians second highest at 691,775 with the number of Pakistani expats standing at 231,685, reports The Times of Oman.
For decades, Indians have made up the bulk of migrant workers in the Sultanate, but despite police restrictions on the numbers of Bangladeshis allowed to enter Oman, as of November, their numbers had overtaken the Indian migrant numbers.
A Bangladesh Embassy spokesman said their workers were preferred for major projects in the Sultanate while a spokesman for the Indian community here said more Indians were choosing to stay at home as pay and conditions in India are improving.
In the month of November 2016, the numbers of Bangladeshis and Pakistanis increased by 9,424 and 1,287, respectively, while the number of Indians here dropped by 1,607.
This time last year, there were 590,170 Bangladeshis and 669,882 Indians, according to the NCSI.
Three years ago, in November 2013, Bangladeshis in Oman numbered 496,761 while Indians numbered 600,349.
In a three-year burst, Bangladeshis increased by 197,688 while that of Indians increased by 91,426.
Zahed Ahmad, counsellor of the labour wing of the Bangladesh Embassy in Muscat, told the Times of Oman that most Bangladeshis coming to the Sultanate were blue collar workers.
"The Omani sponsors are also very happy with the Bangladeshi workers and this helps us employ more workers," he added.
A large number of the Bangladeshis who come to Oman earn a salary of around OMR90 (US$ 233.64) to OMR100 (US$ 259.60) a month.
"In this salary range, it is hard to hire people from other countries. It is one reason more Bangladeshis are coming to Oman," Zahed Ahmad said.
Mohammed Shafiqul Islam Bhuiyan, president of the Bangladesh Social Club, said most of the Bangladeshis coming to the Sultanate work in sectors like construction, agriculture, household and restaurants.
Full report at:
http://www.thedailystar.net/country/bangladeshi-expats-top-migrant-numbers-oman-1335310
--------
Suicide attack rocks Lashkargah city in South of Afghanistan
Dec 26 2016
A suicide attack rocked Lashkargah city, the provincial capital of southern Helmand province.
Provincial governor's spokesman Omar Zwak confirmed the incident and said an armored vehicle of the security forces was targeted in the attack.
Another security official said the provincial security chief was also in the area when the incident took place.
The official further added that one policeman lost his life in the attack and at least three others were wounded.
No group including the Taliban insurgents has so far claimed responsibility behind the incident.
Helmand is among the relatively volatile provinces in southern Afghanistan where the Taliban insurgents are actively operating in its various districts.
The Taliban conducted various attacks during the year in some key districts of the province including Lashkargah city as efforts are underway by the group to move parts of their leadership council to this province.
Full report at:
http://www.khaama.com/suicide-attack-rocks-lashkargah-city-in-south-of-afghanistan-02555
--------
Thieves posing as security personnel arrested in Kabul city
Dec 26 2016
A group of thieves who were posing as security personnel were arrested before they manage to storm into a house in Kabul city.
The Afghan intelligence, National Directorate of Security (NDS), said the five thieves were posing as members of the Afghan intelligence, police, and attorney general to storm into a house in the 9th police district of the city.
NDS in a statement said the men were arrested and some weapons along with a police vehicle were confiscated by the intelligence operatives.
The statement further added that the thieves have been identified as Abdul Ghafoor famous as Farhad son of Abdul Ahad, Zabiullah son of Rahimdad, Fida Mohammad famous as Farshid son of Payenda Mohammad, Mohammad Nazir son of Mohammad Karim, and Khan Mohammad son of Haji Zar Khan.
Full report at:
http://www.khaama.com/thieves-posing-as-security-personnel-arrested-in-kabul-city-02554
--------
Africa
Tunisian police warn of Takfiris' return from Iraq, Syria
Dec 25, 2016
Tunisian security authorities have warned of the return of thousands of Takfiri militants fighting for terrorist groups in Iraq and neighboring Syria to the small Mediterranean country, demanding "exceptional measures" to combat the phenomenon.
"The return of terrorists from hotbeds of unrest to Tunisia is worrying, and could lead to the Somalization of the country," said a Sunday statement from the internal security forces' national union.
It added that battle-hardened fighters "have received military training and have learnt to use all sorts of sophisticated weapons."
The warning came a day after Tunisian authorities said they had arrested three people, including the nephew of Anis Amri - the main suspect in the December 19 Berlin Christmas market truck attack. The 24-year-old Tunisian was killed in a shootout with police in a suburb of the northern Italian city of Milan on Friday.
The 12 victims of last Monday's attack in the German capital city of Berlin included seven Germans, an Italian, a Czech, a Ukrainian, an Israeli as well as a Pole.
Amri's nephew confessed to Tunisian authorities that he had been in contact with his uncle via Telegram messaging application. Amri had asked him to join Daesh terror group, and had even sent his nephew some money by post to enable him to travel to Germany.
Earlier this month, President Beji Caid Essebsi said Tunisia would refuse to pardon Tunisians, who have fought for terrorist groups.
"Many of them want to return, and we can't prevent a Tunisian from returning to his country, but we will be vigilant," he said.
Hundreds of people gathered outside the Tunisian parliament building on Saturday to express their strong opposition to letting terrorists back in the country.
An image grab taken from a propaganda video on December 23, 2016 shows Anis Amri, the prime suspect in the Berlin Christmas market attack.
As many as 7,000 Tunisians have reportedly left the North African country since 2011 to fight alongside extremist groups in Iraq and Syria, particularly with Daesh.
There are more Tunisians among the ranks of foreign fighters in Iraq and Syria than any other nationality.
Tunisian extremists have also been behind a series of deadly attacks in their own country, namely the attack on foreign tourists at the Bardo National Museum in Tunis on March 18, 2015.
Twenty-one people were killed at the scene, while an additional victim died ten days later. Around fifty others were injured.
Daesh claimed responsibility for the attack. However, the Tunisian government blamed the Okba Ibn Nafaa Brigade, a local splinter group of al-Qaeda in the Islamic Maghreb, for the assault.
On June 26, 2015, a gunman, identified as Seifeddine Rezgui, attacked a hotel at Port El Kantaoui, located about 10 kilometers north of the city of Sousse, killing 38 people. Thirty of the victims were British.
http://www.presstv.ir/Detail/2016/12/25/503422/Tunisia-police-measures-combat-return-terrorists-Daesh-Iraq-Syria-Berlin-Attack-Anis-Amri
--------
Suicide bomber in Cameroon kills two in attack on Christmas market
December 25, 2016
A suicide bomber in the northern Cameroon town of Mora killed a young student and a woman in an attack on a market full of Christmas shoppers, an aide to the governor of Far North region said on Sunday.
Suicide bombers suspected of belonging to the Islamist militant group Boko Haram have launched attacks in Mora, about 30 km (20 miles) from the Nigerian border, several times before.
The bomb also killed the attacker and wounded five other people, said the aide to Governor Midjiyawa Bakary.
"The suicide bomber was pretending to be a beggar and was walking towards the market which was full because of Christmas. Members of a vigilance committee spotted him before he could penetrate the market," a Cameroonian soldier told Reuters.
"He was stopped and in panic he detonated his explosives. If he hadn't been spotted the death toll would have been higher," he said.
Full report at:
http://nation.com.pk/international/25-Dec-2016/suicide-bomber-in-cameroon-kills-two-in-attack-on-christmas-market
--------
French aid worker kidnapped in Mali
25 December 2016
A Frenchwoman who runs an aid group has been kidnapped in Mali's restive north, the French foreign ministry confirmed on Sunday.
Sophie Petronin was abducted in the city of Gao on Saturday, the ministry said, adding that French and Malian authorities were working together "to find and free our compatriot as quickly as possible."
Petronin was the director of a non-governmental organization that helps children suffering from malnutrition, the ministry said, adding that officials were in contact with her family.
Malian officials had on Saturday reported the kidnapping of a woman with dual French and Swiss nationality in Gao, but the Swiss foreign ministry said Sunday there was no indication that Petronin held Swiss citizenship.
Full report at:
https://english.alarabiya.net/en/News/north-africa/2016/12/25/French-aid-worker-kidnapped-in-Mali-.html
--------
At least 34 people killed over weekend in DR Congo
Dec 26, 2016
At least 34 people have been killed over the weekend in eastern Democratic Republic of Congo.
The country has been the scene of multiple attacks and violent protests since President Joseph Kabila refused to step down at the end of his mandate on Tuesday.
Although not being clear if the recent deaths are directly related to Kabila's remaining in office, analysts said that his move has resulted in a security vacuum which is feeding local conflicts.
On Sunday, Nande militants killed some 13 Hutu civilians with machetes and guns in the eastern city of Nyanzale in a move which local activist Innocent Gasigwa said seemed to be in retaliation to attacks on Nande civilians.
"This must be the response for last time," he said in reference to a last week incident in which an ethnic Hutu militia killed 17 Nandes.
On Saturday, 21 civilians and 4 militants were killed during attacks in the city of Beni, said military spokesman Captain Mak Hazukay.
A large number of people have been killed in raids in and around Beni since October 2014. The government blames the ADF militant group for the attacks.
The DR Congo has faced numerous problems over the past few decades such as grinding poverty, crumbling infrastructure, and a war in the east of the country that has dragged on since 1998 and has left over 5.5 million people dead.
Full report at:
http://www.presstv.ir/Detail/2016/12/26/503481/dr-congo-violence-Kabila
--------
Nigeria to open major roads after strike on Boko Haram
25 December 2016
Nigeria Sunday will reopen at least two major roads in the country's northeast previously closed due to repeated attacks by Boko Haram militants, the government announced.
Information Minister Lai Mohammed Mohammed said the Maiduguri-Gubio-Damasak and the Maiduguri-Mungono-Baga roads, both strategically important for international trade among Lake Chad nations, would be reopened at a ceremony attended by top government and military officials.
The reopening follows Saturday's announcement that the army has finally dislodged Boko Haram from the vast Sambisa forest, including the so-called "camp zero" known as the militants' stronghold.
President Muhammadu Buhari had announced the victory in a statement, claiming it marked the final defeat for Boko Haram.
Mohammed said the reopening ceremony will be witnessed by military chiefs, followed by a lunch with the troops who crushed the insurgency.
Full report at:
http://www.worldbulletin.net/africa/182215/nigeria-to-open-major-roads-after-strike-on-boko-haram
--------
Muslims, youths, traditional rulers celebrate Christmas at pastor's house
December 25, 2016
Kaduna – Some Muslims, youths and traditional rulers in Kaduna on Sunday celebrated Christmas at Pastor Yohanna Buru's house in solidarity with Christians to boost inter-religious tolerance.
The News Agency of Nigeria (NAN) reports that hundreds of Muslim youths and traditional title holders from 23 local government areas of Kaduna State attended the celebration.
The Muslims, who were seen at the pastor's house in the early hours of the day, waited for Christian worshipers to close from Church for them to begin the celebration.
Pastor Buru, the General Overseer of Christ Evangelical Intercessory Fellowship Ministry, Sabon Tasha, Kaduna, said "I am glad to host this year's Christmas celebration with both my Muslim and Christian brothers and sisters.
"It is really wonderful to see this number of people in my house today and mostly Muslims who came from different parts of the country. We never expected this
large number of people and that makes me happy.
"To me, this is love, unity and togetherness; we are using this Christmas to bring back peace and unity and we want this relationship maintained for ever."
Dr Yusuf Nadabo, the Dean of Student Affairs, Kaduna State University, also expressed delight at the large number of people who attended the Christmas celebration.
He said "although this is not the first time I am visiting Pastor Buru's house
for Christmas, the number of Muslims in this year's celebration is unprecedented.
"This is the most joyful time of the year. We do not need proof of coexistence because
we did same during Maulud Nabiyyi and it was great."
Full report at:
https://nigerianobservernews.com/2016/12/muslims-youths-traditional-rulers-celebrate-christmas-at-pastors-house/#.WGDcytJ951s
--------
Al-Shabaab militants kill soldier, civilian in Mogadishu
Dec 26, 2016
Somali security forces are pursuing Al-Shabaab militants who killed a soldier and a civilian in the capital Mogadishu, a local official said on Sunday.
Mogadishu municipal government Spokesman, Abdifatah Omar Halane, told reporters that the militants killed the two on Saturday night in the Wadajir district.
Al-Shabaab Islamist group had claimed responsibility for the attack, claiming its fighters killed two soldiers and recovered two AK47 riffle guns.
Al-Shabaab carried out frequent attacks in Somalia in its decade-long fight against the Somali government.
Full report at:
http://pulse.ng/world/in-somalia-al-shabaab-militants-kill-soldier-civilian-in-mogadishu-id5950953.html
--------
Southeast Asia
Envoy moots special card to legalise, protect stateless Rohingya
BY KAMLES KUMAR
December 26, 2016
KUALA LUMPUR, Dec 26 — A special immigration card to identify and confer legal status to the stateless Rohingya community should be established, Organisation of Islamic Countries (OIC) special envoy to Myanmar Tan Sri Syed Hamid Albar suggested today.
Rather than relying on the United Nations High Commission for Refugees (UNHCR) card which identified refugees, the proposed new system would enable the Rohingya to be legally employed, receive medical attention and their children enrolled into legit schools, he added.
"We must have a system of registration. It would be easy for them to get jobs and make them not illegal. A card system like the immigration card can be issued to them," he told a news conference after handing out welfare aid to the Rohingya community here.
'The UNHCR cards only show that they are refugees. We want them to have rights before problems in their country is solved under international laws," he added.
Syed Hamid also said that while Malaysia accepts the Rohingyas escaping their conflict-riddled home state in Myanmar, there is currently no structured framework in place to prevent the people from being exploited.
"We need to structure ourselves properly. We cannot be like now… so that they can get healthcare, go to school and get rights.
"At present in Malaysia, they are all over the place. We don't want them to be exploited by any groups," he said.
The former foreign minister also urged Putrajaya come up with a policy for the Rohingya, with urgent attention on education for their children.
At the same time, Syed Hamid also deflected criticism on Malaysia's delay in signing 1951 UN Refugee Convention.
"We are an open country. We are a maritime state. If we open our shores, a lot of refugees will come in. That is why we are careful," he said.
Malaysia recently became vocal against the persecution of the Rohingya who are predominantly Muslims from the Rakhine state of Myanmar.
The federal government has expressed concern over the Myanmar government's treatment of the Rohingya, highlighting that over 50,000 has fled here and pose a significant security and safety issue to Malaysia.
http://www.themalaymailonline.com/malaysia/article/envoy-moots-special-card-to-legalise-protect-stateless-rohingya
--------
Three killed as Indonesia police foil militants' New Year's attack
December 25, 2016
By FRANSISKY NANGOY
REUTERS
JAKARTA, Indonesia — Indonesian militants supporting Islamic State planned to attack a police post on New Year's eve with machetes and knives, a police spokesman said on Monday.
The plot was broken up after police arrested two of the would-be attackers who led them to their hideout, where police shot dead their two co-conspirators on Sunday after police said they tried to attack officers with machetes.
"The four of them were planning to attack a police post in Purwakarta. They planned to attack on New Year's Eve," Rikwanto, a national police spokesman, told reporters, referring to a district about 100 km (60 miles) east of the capital, Jakarta.
Sunday's raid was the latest in a series over recent weeks that police say have disrupted attacks, raising concern that homegrown militants in the world's largest Muslim-majority nation are getting bolder.
Police said last week that at least 14 people were being interrogated over suicide bomb plots targeting the presidential palace in Jakarta and an another undisclosed location.
Both involved female suicide bombers - a new tactic for Indonesian militants.
Police were still investigating whether the militants involved in the plot disrupted on Sunday had been trying to make bombs.
The suspects were members of Jamaah Ansharut Daulah (JAD), a militant group supporting Islamic State, but it was not yet clear whether they been in direct communication with Bahrun Naim, an Indonesian militant who fled to Syria about two years ago, the spokesman said.
Full report at:
http://www.reviewjournal.com/news/nation-and-world/three-killed-indonesia-police-foil-militants-new-year-s-attack
--------
16 hurt in Christmas eve blast at Catholic church in Philippines
December 25, 2016
Sixteen people were wounded in a grenade explosion outside a Catholic church during a Christmas eve mass in the Philippines' restive southern island of Mindanao, a priest and police said on Saturday.
Security forces across Southeast Asia are on alert ahead of the Christmas and New Year holidays, as police in Australia and Indonesia said they had foiled bomb plots and Malaysian security forces arrested suspected militants.
No group has claimed responsibility for the Mindanao attack, but Muslim rebels and Islamist extremists are known to be active in the province, where there have been blasts in the past.
Bernardo Tayong, Midsayap town police chief, said most of the injured had been standing outside the Sto. Nino parish church in Midsayap town, North Cotabato.
Father Jay Virador said the blast sent the congregation fleeing.
"There was no more concluding prayers as there was a commotion," Virador said. "People hurriedly left the Church."
Full report at:
http://nation.com.pk/international/25-Dec-2016/16-hurt-in-christmas-eve-blast-at-catholic-church-in-philippines
--------
Indonesian police kill two militants after raid on house in Java
December 25, 2016
Indonesian police killed two suspected Islamist militants on Sunday in a gunfight during a raid on a house in West Java, a police spokesman said.
Two men had been arrested in Cibinong and led police to a house at the Jatiluhur dam, national police spokesman Awi Setiyono said.
Full report at:
http://nation.com.pk/international/25-Dec-2016/indonesian-police-kill-two-militants-after-raid-on-house-in-java
--------
Muslim businessman decks out in Christmas cheer
Richard T.W.
December 25, 2016
KUCHING: The shophouse, decked with Christmas baubles and green wreaths, begins to flood with customers soon after the Zohor prayers.
They come in with their headscarfs and skullcaps still on, mill about, fill their bags with traditional cakes such as kuih lapis, kek cincin and tebaloi, a uniquely Sarawakian cake sometimes known in the local vernacular as "sago snakes".
Later in the afternoon, other groups come in for their fill: working women, housewives, the odd tourist or two.
This daily scene is not nothing new to the locals. Kedai Runcit Abdul Wahet, located at the entrance of Kuching's oldest mosque, known appropriately as Masjid Lama, has been operating for the past 100 years.
Mohd Jaya Idris, 40, who has been running the place for the past six years, said business peaks during the holiday periods.
Christmas03
"I enjoy putting up the decorations. It makes the place look more interesting," he said.
The shophouse is connected to a row of grocery stories and restaurants, he said.
Mohd Jaya took over from his uncle Fazlan Abdul Wahid, who ran the family business for 40 years before retiring.
In the past few years that the shophouse has got media attention after Mohd Jaya started matching decorations inside and outside of the shop.
"Early this year, Sin Chew came over to cover the shop," said Mohd Jaya.
"I try to improve on my decorations every year, although the GST has made some things more expensive," he said. He had also ordered red-dyed cakes that matched the festivities.
Full report at:
http://www.freemalaysiatoday.com/category/nation/2016/12/25/muslim-businessman-decks-out-in-christmas-cheer/
--------
Indonesian police shoot dead two terror suspects
December 26, 2016
JAKARTA - Indonesian police Sunday shot dead two terror suspects and arrested two more, only days after foiling separate plans by an IS-linked group for a Christmas-time suicide bombing near the capital. The pair were fatally shot at a house in Purwakarta 100 kilometres (62 miles) east of the capital Jakarta after allegedly resisting arrest.
"We ordered them to surrender and even fired warning shots, but they resisted and started to attack our officers with machetes, so we had to take them down," national police spokesman Awi Setiyono told AFP. Police raided the house after arresting and interrogating two men on Sunday morning. The suspects attacked officers with knives but gave up after being shot and wounded, police said.
After being interrogated, they led police to a house at a separate location where two more members of the group were hiding. Several sharp weapons were seized from the house but no explosives were found.
Police said the suspects and the dead men were members of the Jamaah Ansharut Daulah group, a local militant outfit which supports the Islamic State group and was responsible for a November attack on a church which killed a toddler on Borneo island. "Their target is to attack police officers, in police posts or even at home. They wanted to attack with sharp weapons such as knives and machetes," Setiyono said.
Full report at:
http://nation.com.pk/international/26-Dec-2016/indonesian-police-shoot-dead-two-terror-suspects
--------
North America
Calgary Muslim group clears snow, spreads Christmas cheer
Dec 25, 2016
Cindy Russell was overcome by emotion when she returned to her Ranchlands home in northwest Calgary Christmas morning.
"Oh my goodness, I was emotional," Russell told CBC News Sunday.
"They are just so humble and kind."
Members of the Islamic Association of Northwest Calgary hit the streets every Christmas to shovel sidewalks and driveways and hand out flowers and chocolates to their neighbours.
Russell is staying with her mom over Christmas and returned home to grab a few things.
"I came home and I pulled up to my house. They were quite young. They asked if I lived there," she said.
Muhammad Abbas, outreach director at the association, says it's become a tradition for younger members of the centre for about five years now.
"They shovel snow in the neighbourhood," Abbas said.
"They share the best wishes of the season with our neighbours."
He said about 100 members were out this year.
"We want to make a positive contribution to our community."
It's been a tough year for the association. It's was targeted twice in October by vandals who smashed windows.
Calgary mosque vandalized for second time in a week
Window smashed, burnt Qur'an, hateful letter left at Calgary Islamic centre
Another Calgary Islamic centre was left to deal with broken windows, a burnt Qur'an and a hateful letter weeks earlier.
There's been a string of anti-Muslim actions across the province in recent months.
Russell said the snow-removal gesture could not have come at a better time, "especially right now with all the dialogue going on around the world.
Anti-Muslim posters at University of Calgary prompt rally of support
Cold Lake Mosque hit by vandals, again
"There is so much fear and ignorance and a lot of people who are afraid just haven't taken the time to educate themselves."
Russell has a message for her neighbours from the Islamic association.
"Thank you for showing me the real purpose of this time of year, which doesn't belong to any religion," she said.
"It's time to express love, concern and interest for each other."
http://www.cbc.ca/news/canada/calgary/calgary-muslims-christmas-gesture-1.3912551
--------
Trudeau praises Canada's Muslim community
26/12/16
In his traditional greeting to the Reviving the Islamic Spirit convention taking place in Toronto, Canadian Prime Minister Justin Trudeau commended the Muslim community for its contributions to Canada and reiterated his commitment to combat Islamophobia and politics of hate and division.
"Canada is stronger because of the contributions of its Muslim community. We are stronger because of you. And that's why every day we just chose hope over fear and stand up to the politics of hate and division," said Trudeau.
"That is why our government supports initiatives that encourage inclusion and equality, combats Islamophobia and strengthens the protection of our civil rights," he continued.
In his Christmas message, Trudeau refrained from mentioning the Christian motifs of the holiday, choosing instead to stress the spirit of giving of the Canadian public and adding that Canada will continue to absorb refugees from Syria.
Since winning the election last year, Trudeau has taken the view that Islam is "not incompatible with the Western secular democracy."
Full report at:
http://www.israelnationalnews.com/News/News.aspx/222277
--------
US slaps sanctions on Syrian ministers, Russian bank
24 December 2016
The United States on Friday added several senior Syrian officials including the ministers of oil and of finance and the leadership of a Russian bank to its sanctions blacklist.
US officials also targeted two companies allegedly owned or operated by a Syrian regime insider, Rami Makhluf, which they said had handled oil drilled in areas controlled by the Islamic State group.
"The daily attacks on civilian centers by the government of Syria led by Bashar al-Assad are reprehensible, and both the Government and its enablers must be isolated and held accountable for their barbarism," said Adam Szubin, acting under secretary for terrorism and financial intelligence.
In all, six Syrian ministers were added to the sanctions list, including finance minister Mamun Hamdan and oil minister Ali Ghanem, along with the governor of the Syrian central bank, Dureid Durgham.
Full report at:
http://www.worldbulletin.net/america-canada/182160/us-stocks-dip-lockheed-other-defense-companies-fall
--------
Keith Ellison Is 'Muslim Brotherhood Operative'
12/25/2016
Evidence is mounting in support of the allegation that U.S. Rep. Keith Ellison, the nation's first Muslim congressman and a leading candidate for chairman of the Democratic National Committee, is a Muslim Brotherhood operative and has been for years.
As a mouthpiece for that subversive organization, which Congress is considering declaring a terrorist organization, nothing Ellison says should be taken at face value, experts on the Brotherhood told WND.
This explains how he could speak before Muslim Brotherhood-affiliated groups like the Islamic Society of North America and later claim he has no relationship with the group. In fact, he was scheduled to address the annual convention of another Brotherhood offshoot, the Muslim American Society or MAS, on Tuesday but his name has suddenly disappeared from the list of convention speakers, reports the Investigative Project on Terrorism.
But Ellison has more to explain about his past than a few speaking engagements in front of dubious organizations. His ties run deeper.
The same group that he was scheduled to address, the MAS, paid for Ellison's December 2008 pilgrimage to Mecca. MAS has been called a "national security threat" which has ties to the Brotherhood, as documented in a report Monday by IPT.
MAS paid $13,500 for Ellison's pilgrimage, called the Hajj, to Mecca. It is listed as one of more than a dozen groups spawned by the Muslim Brotherhood in documents filed by the FBI during the Holy Land Foundation trial in Dallas in 2007-08. That trial, despite is unprecedented success in rooting out American Muslims involved in financing the terrorist group Hamas, was shut down by former Attorney General Eric Holder soon after the Obama administration took office in 2008.
'Weekly strategy meetings with CAIR'
Chris Gaubatz is a national security consultant and vice president of Understanding the Threat. He told WND that the concerns about Ellison's past are beyond disturbing.
"After my testimony before Congress this summer his office actually confirmed that he has spoken at Muslim Brotherhood conferences held by the Islamic Society of North America, so there is no secret there," said Gaubatz, co-author of "Muslim Mafia," an investigative book based on documents he was able to secure while working as an undercover intern for the Council on American-Islamic Relations or CAIR.
"When I was working on the Muslim Mafia project Ellison would do weekly projects with CAIR, weekly strategy meetings at CAIR's headquarters in D.C.," Gaubatz told WND. "And then he's got some ties to the MAS as well. So he covers the whole gamut from ISNA to CAIR, to MAS. All are affiliated with the Brotherhood."
What can we believe?
That brings us back to the question: Given his ties to an international brotherhood whose stated goal is the spread of Shariah across the globe, can Ellison be taken at his word when he speaks to the media or on the floor of the U.S. House of Representatives?
In fact, everything about Ellison's public life, his support for far-left causes such as same-sex marriage and abortion on demand through the later stages of pregnancy, might be a smokescreen.
At best, he is a confused individual who doesn't square his spiritual life with his political stances, which seem to be at odds with each other. Unless you understand Islamic law.
When his life is inspected under the lens of Sharia, maybe Keith Ellison isn't such an enigma after all, says a former Islamic imam and expert on the Muslim Brotherhood.
'The code of necessity'
To understand Ellison you have to understand Shariah, says Dr. Mark Christian, who converted to Christianity in 2005 and changed his name from Muhammad Abdullah, leaving behind a comfortable life in Egypt as part of a prominent Muslim family.
Get the book former Minnesota Congresswoman Michele Bachmann is calling the "most important read of 2017." It's "Stealth Invasion: Muslim Conquest Through Immigration and Resettlement Jihad" and it just arrived in the WND Superstore.
"So, does Sharia allow you to accept some stuff that is not Islamic in order to further the political agenda of Islam? Absolutely it does," Christian told WND. It is based on a teaching that is called the code "necessity."
This doctrine, based Quran 2:173, applies to one's personal life as well.
"If somebody lives outside his native country in a country that is not Muslim – say Europe or the United States back when they still were European and American – it was allowed for Muslims to eat meat that was not halal, and to fast in ways they are not supposed to fast," Christian said. "This is Sharia, again, giving them latitude under the code of necessity."
Christian said American politicians and Americans in general don't understand Islamic law and thus are easily deceived.
"It is put upon any Muslim to make the decision to abide or not abide with any Islamic rules or regulations based on if it's going to serve the cause of Islam," he said. "If it's going to protect the life of a Muslim, or protect the person himself, you have the right to make changes to the rules if you are going to protect yourself or your family or another person who is part of your brotherhood as a Muslim in this non-Muslim country, or if it is going to protect and advance the cause of Islam itself in this society."
One of the most 'pro gay' lawmakers in Congress
So Ellison can proudly advocate for LGBT rights to the point where the far-left ThinkProgress.org named him one of its "11 Most Pro Gay U.S. Representatives."
Where's the outcry from Muslim leaders?
"They know without even saying the words that he is doing this to further the cause of Islam and they can actually cheer for him and help him out," says Christian, who founded the Omaha, Nebraska-based Global Faith Institute to help Christians and Jews understand Islam.
That's because pandering to left-wing voting blocs like the homosexual lobby helps re-elect America's first Muslim congressman, term after term after term. And that's a good thing for Islam, Christian says, giving it legitimacy in what was a predominantly Christian nation.
"Sharia law not only allows this but encourages it," he said.
Dr. Christian said he is himself a living example of the law of necessity.
As a convert to Christianity, the rules of Shariah say he should be killed as an apostate. Yet, despite having endured threats and harassment from the Muslim community in Omaha, he lives on.
"Killing me as an apostate is not encouraged in a land that is not Islamic because it might give Islam a bad name and may not further the cause of Islam in America while the Muslim population is still small," he said.
President Obama is treated the same way, even more delicately in fact, without so much as the slightest rebuke thrown his way for denying the religion of his birth.
If Obama is truly a Christian, as he claims to be, that would mark him for death as an apostate. According to Sharia there is no way for a son of a Muslim father to avoid being Muslim, says Christian. There is only one exception – if he qualifies for the law of necessity.
"There is no budging on that," Christian said. "Obama's father was a Muslim. But you have not heard any condemnation by any Muslim that Obama is not practicing Islam and says he's Christian! Why? I will tell you why, because such a condemnation would harm Islam, and the president himself is very helpful to the Islamic cause in America, so you will never hear any Muslim say Obama is an apostate and someone should kill him."
Dr. Christian said the code of necessity as applied by Shariah law is the key to understanding Islam in a non-Islamic society like America.
"It is a way for them to put on the sheep's clothes and deceive most Americans as to who they really are," he said. "This is why the naïve Americans and especially the politicians have been deceived for years by Islam and the Muslim Brotherhood."
"If people realized the fact that Islam is a political movement it would solve many problems we are facing in the West because of Islam and its deceptions," Christian added.
"Taqqiya," or the allowing of Muslims to be untruthful, is just a part of the larger Quranic principle called necessity.
"Taqiyya is a tool to cover for yourself in times of necessity," he explained. "There are three things that justify it, protection of another Muslim's life, protection of one's self and protection of the Islamic movement. And as a matter of fact, it is not only that you are allowed to do that, it is actually praised, because it is looked at as an act of jihad when you are doing this."
What is taqiyya?
Taqiyya is found in Quran 16:106 and also in 3:28.
"This is what Shariah teaches, as taught by Muhammad the founder of Islam. He practiced taqiyya, he practiced deceiving, he practiced all of that in his military career and in his political leadership career," Christian said.
Muhammad was not just a military leader he was also a political figure, the model for Ellison and any Muslim politician.
"He made treaties, he negotiated with others, and the military was just one part of his structure," Christian said. "The way he negotiated with his home town of Mecca when he was about to conquer it, he married one of the girls of the city so he was able to take over without spilling any blood, he was able to deceive them into believing things that were not true."
Christianity's folly
Christianity has got it all wrong in America, he said. If Christianity doesn't change its response to Islam it is going to be silenced by Islam, says Dr. Christian, who penned an op-ed on this topic Thursday in the Washington Times titled Terrorizing Christmas.
Christianity's response to Islam should not be to make Islam comfortable here in the West, trying not to offend by withholding from Muslims the hard truths of the gospel, he said. But before even the gospel can be shared, Christians must explain to Muslims how their religion is built on lies, he said.
"Christians are the most naïve of all Americans," he told WND. "They are the ones who don't understand and don't want to understand the danger that is sitting on the corner trying to devour every church and very Christian on earth."
Again, he says, look at the life of Muhammad if you want to understand the driving force behind Islam.
Full report at:
http://www.wnd.com/2016/12/keith-ellison-is-muslim-brotherhood-operative/
--------
Harvard University Launches Fellowships in Islamic Law to Influence U.S. Policy
25 Dec 2016
Harvard Law School has announced the launch of a series of paid fellowships for research on issues of Islamic law during the 2017-2018 academic year, aimed at influencing public discourse and U.S. policy on Sharia.
According to a recent email sent by the director of Harvard's Islamic Legal Studies Program, Intisar Rabb, the launch of the new program comes "just in time" for the beginning of the Trump administration and has the goal of "building a community of Islamic law scholars in the academy" as well as informing "policy and media discourse about Islamic law."
Fellows will receive a stipend of up to $5,000 per month and are expected to promote the development of policy papers "at the intersection of Islamic law and relevant issues of U.S. policy." These policy papers will include short commentary on recent cases or other Islamic law sources, longer policy briefs, or op-eds, according to the law school website.
Harvard's SHARIAsource Portal has amassed a digital library of Sharia case law from around the world, with 25 editors from 21 different institutions (6 outside of the U.S.) and 1711 primary sources from 18 different countries. The data includes 902 Sharia court cases, 541 legislative acts and 251 Fatwās.
Full report at:
http://www.breitbart.com/big-government/2016/12/25/harvard-university-launches-fellowships-islamic-law-influence-u-s-policy/
--------
URL: https://www.newageislam.com/islamic-world-news/new-age-islam-news-bureau/iraqis-celebrate-first-christmas-near-mosul-after-isis-pushed-out/d/109498
New Age Islam, Islam Online, Islamic Website, African Muslim News, Arab World News, South Asia News, Indian Muslim News, World Muslim News, Womens in Islam, Islamic Feminism, Arab Women, Womens In Arab, Islamphobia in America, Muslim Women in West, Islam Women and Feminism, Moderate Islam, Moderate Muslims, Progressive Islam, Progressive Muslims, Liberal Islam