New Age Islam News Bureau
23 Aug 2014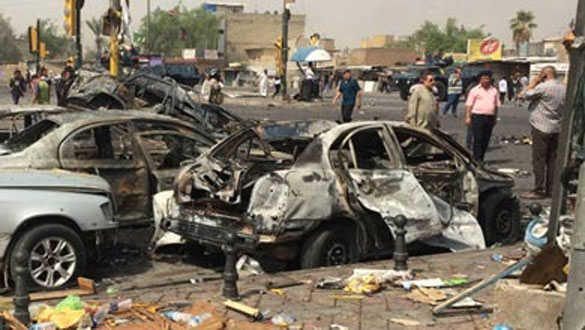 Attack on Sunni mosque kills at least 70 in Iraq (File photo: AFP)
---------
Arab World
• Iraqi Shia Militia Attacks Sunni Mosque near Baghdad during Friday prayers, Kills 70
• Saudi Arabia to Host Arab Meeting On Syria, ISIS
• Suicide attack kills 8 in Baghdad intelligence HQ
• Tit-for-tat Arab-Kurd Kidnappings in Kirkuk
• Foley Tortured after Jihadists discovered his Brother is in US Air Force
• The ISIS Five-Point Plan to Getting Round Suspension of Social Media Accounts
• Bahraini Shiite Cleric Lambasts Al Khalifa Regime for Giving Citizenship to Foreigners
• ISIL Kills Two Civilians, Abducts Syrian Youths in Deir Ezzur
• Captured soldiers: They will kill us, if Hezbollah remains in Syria
• Lebanese Army Commander: I would never trade blood of soldiers for presidency
Europe
• West Poised To Join Forces with Syrian President to Deal with the Threat of ISIS
• Fears of another Mount Sinjar Grow; ISIS Surrounds 18,000 Shi'ite Muslims in Iraqi Town of Amerli
• UK won't work with Syria to tackle Islamic State militants
• Militancy on rise in Austria, says government
South Asia
• 25 Taliban militants killed in Kunduz public uprising
• 37 Taliban militants killed, 24 others injured in Afghan operations
• PM Sheikh Hasina: BNP-Jamaat violence reminds me of '71 massacre
Pakistan
• Afia Siddiqui - Islamic State's Pakistan connection
• Security forces kill 16 suspected militants in Turbat
• Orakzai: Five militants killed, three injured in clash
• 42 'terrorists' detained in Khyber Agency
• MPs of Imran Khan's party resign from Pak Parliament
• Nawaz, Zardari to broach marches today
• Militants execute man for 'spying' in Tirah
• AML sees 'political death' looming for Nawaz or Imran
• Qadri says govt not taking him seriously
• Balochistan Assembly passes resolution against Islamabad sit-ins
Africa
• Airstrikes kill 15 fighters in Libya
• Christians and Muslims must pray against Boko-Haram
• Two IS militants arrested in Morocco
• Tunisia fails to pass counter-terror law
• Peace movements emerge in northern Mali
North America
• President Obama calls jihadists' bluff and launches fresh air strikes
• Imam receives death threat, says ISIS recruiting in Canada
• Biden: U.S. backs Iraq federal system to 'rout terrorism'
• US ready to 'take action' in Syria if Americans threatened
Southeast Asia
• Islamist party again reneges on Pakatan agreement to submit only Azizah's name
• First Ethnic Chinese Governor of Jakarta Takes Indonesia Forward
• After Kelantan division, PKR t'ganu complains about Islamist Bully-Boy Pas
Mideast
• Israel attack kills family of 5 in Gaza: medics
• Islamic scholar Gülen rebukes ISIL for 'brutal atrocities'
• Abbas reaches agreement with El-Sisi on resumption of peace talks
• Gaza 'flash mob' in Istanbul moves audience to tears
• IDF warns Gazans: Steer clear from terror sites
• Hamas voices support for membership of 'Palestine' in ICC
India
• 'Love jihad' on official agenda of BJP's UP unit, meet today
• Army, terrorists locked in fierce gun battle in Kupwara, J&K
Compiled by New Age Islam News Bureau
URL: https://www.newageislam.com/islamic-world-news/new-age-islam-news-bureau/saudi-arabia-to-host-arab-meeting-on-syria,-isis/d/98701
----------
Arab World
Iraqi Shia Militia Attacks Sunni Mosque near Baghdad during Friday prayers, Kills 70
Aug 23, 2014
Iraqi officials worked Saturday to calm soaring tensions after the killing of 70 people at a Sunni mosque, as Washington branded the beheading of an American journalist a "terrorist attack."
The attack at the mosque in Diyala province on Friday, which most accounts said was the work of Shiite militiamen, threatens to increase already-significant anger among Iraq's Sunni Arab minority with the Shiite-led government and to undermine an anti-militant drive that requires Sunni cooperation.
It came as the US, which is carrying out air strikes in Iraq against Islamic State (IS) jihadists, ramped up its rhetoric over the grisly killing of journalist James Foley, carried out by the group and shown in a video posted online.
Deputy National Security Advisor Ben Rhodes said the beheading of Foley "represents a terrorist attack against our country".
In an unanimous statement Friday, the UN Security Council condemned the murder as "heinous and cowardly".
On Saturday, Iraq's Sunni Arab parliament speaker sought to calm tensions caused by the bloody attack on the Sunni mosque a day before.
Salim al-Juburi called for political unity and said "the main aim (of the attack) is to foil all the efforts that have been made to form a government."
"All the political entities condemned the crime, all of them expressed their anger about what happened," he said in televised remarks.
"Now we are waiting for practical measures to hold the criminals accountable."
Iraqi premier-designate Haidar al-Abadi, a Shiite Arab, has condemned the attack and called for "citizens to close ranks to deny the opportunity to the enemies of Iraq who are trying to provoke strife."
Army and police officers said the attack on the Musab bin Omair Mosque in Diyala came after Shiite militiamen were killed in clashes, while other sources said it followed a roadside bomb near one of their patrols.
Doctors and the officers put the toll from the attack, in which worshippers were sprayed with machine-gun fire, at 70 dead and 20 wounded.
Two officers had earlier blamed IS for the attack, saying it had included a suicide bombing, a hallmark of the group, but most accounts pointed to Shiite militiamen.
The interior ministry announced it is conducting an investigation into the attack, which it said was carried out by two gunmen on a motorbike following a bombing targeting security and volunteer forces in the area.
The government turned to militiamen to bolster its flagging forces during the IS offensive, sparking a resurgence of groups involved in brutal sectarian killings in past years.
Ibrahim Aziz Ali, whose 25-year-old nephew was among those killed, told AFP he and other residents heard gunfire and rushed to the mosque, where they were fired on by snipers.
Five vehicles with images of Imam Hussein, one of the most revered figures in Shiite Islam, were parked at the mosque, Ali said.
When they could finally enter, "we found a massacre," he said.
Officers said that angry residents exchanged fire with security forces and militiamen in the area on Friday, but reported no casualties.
US Vice President Joe Biden, writing in The Washington Post, said the US would back a system of "functioning federalism" in Iraq as a means to breach the divisions in the country, and that the US was prepared to "further enhance" its support for Iraq's fight against IS.
The United States began an air campaign against IS in Iraq on April 8, and has since carried out more than 90 strikes, including three against militants in the area of the Mosul dam, the country's largest, on Friday.
Pentagon chiefs warned of the dangers of IS and said operations against it in Syria may also be needed.
"They marry ideology and a sophistication of strategic and tactical military prowess," US Defence Secretary Chuck Hagel. "This is beyond anything we have seen."
Foley's killing has stoked Western fears that territory seized by the militants in Syria and Iraq could become a launch pad for a new round of global terror attacks.
Foley, a 40-year-old freelance journalist, was kidnapped in northern Syria in November 2012.
In the execution video, released online, a black-clad militant said Foley was killed to avenge US air strikes against IS.
The man, speaking with a clear south London accent, paraded a second US reporter, Steven Sotloff, in front of the camera and said he too would die if Washington kept up its attacks.
http://english.ahram.org.eg/NewsContent/2/8/109039/World/Region/Iraq-works-to-ease-tensions-after-mosque-attack-ki.aspx
----------
Saudi Arabia to Host Arab Meeting On Syria, ISIS
Aug 23, 2014
CAIRO: Saudi Arabia is to host a meeting of foreign ministers from several Arab states to discuss the Syrian conflict and the rise of Islamic State of Iraq and Greater Syria jihadists, Egypt's foreign ministry announced Saturday.
It said Egypt, Jordan, Qatar, the United Arab Emirates and Saudi Arabia were to take part in Sunday's talks.
The meeting will address "the growing presence in Iraq and Syria of extremists, notably the Islamic State (ISIS)," the ministry said in a statement.
It added that the rise of ISIS meant the "search for a political solution to the Syria crisis was needed more than ever."
Since declaring a "caliphate" in June. ISIS has conducted a lightning offensive, taking control of territory straddling Iraq and Syria.
The jihadists sparked worldwide horror and condemnation this week when they released a video showing the beheading of US journalist James Foley.
http://www.dailystar.com.lb/News/Middle-East/2014/Aug-23/268266-saudi-arabia-to-host-arab-meeting-on-syria-isis.ashx#ixzz3BDrSbUum
------------
Suicide attack kills 8 in Baghdad intelligence HQ
23 August 2014
A suicide bomber rammed a vehicle into an intelligence headquarters in Baghdad on Saturday, killing at least eight people, police and medical sources said.
The attack came a day after Shiite militiamen machinegunned 68 Sunni worshipers at a village mosque in Diyala Province, raising the prospect of revenge attacks as politicians try to form a government capable of countering Islamic State militants.
Following the mosque attack, two major sunni parliamentary blocs pulled of talks on forming a new Iraqi cabinet, setting up a challenge for prime minister-designate Haider al-Abadi.
An advance by Islamic State of Iraq and Syria (ISIS) militants group through northern Iraq has alarmed the Baghdad government and its Western allies and drawn airstrikes in Iraq for the first time since the withdrawal of American troops in 2011.
Although the air campaign has caused a few setbacks for Islamic State, they do not address the wider problem of sectarian warfare which the group has fueled with attacks on Shiites.
Bombings, kidnappings and execution-style shootings occur almost daily, echoing the dark days of 2006-2007, the peak of a sectarian civil war.
http://english.alarabiya.net/en/News/middle-east/2014/08/23/Baghdad-intelligence-headquarters-suicide-bomb-attack-kills-8.html
--------
Tit-for-tat Arab-Kurd Kidnappings in Kirkuk
Aug 23, 2014
KIRKUK, Kurdistan Region — Residents of the Kurdish village of Arab Koy south of Kirkuk have abducted five Arab villagers in retaliation for the kidnapping of an elderly Kurdish man last week.
According to his relatives, Saeed Kakei had friendly relations with Arab farmers and villagers in the area, continuing to work with them even after the area fell under the control of the radical Islamic State (IS).
Khuwada Shukur, a relative, said despite their traditionally strong ties, during Kakei's last visit to one of the Arab villages he was kidnapped and is now being held in an unknown location.
"We have been living with the Arabs for decades, have had great social relations and visited each other's villages," said Shukur. "We never expected them to do something like this."
Shukur threatened to hold the five Arabs prisoner until Kakei is released.
"If they don't return our man soon I don't think these young men here will sit by idly," said Shukur, who was surrounded by armed Kakeis.
"All these young men stand here fully armed and they are very angry about this ugly act," Shukur told Rudaw.
Relatives believe the extremist IS is holding Kakei.
The hostage took the nickname Kakei after Kakei Kurds who follow a mystic belief system that blends Yezidism and Shiite Islam. They are one of Iraq's many small minorities and mainly live in Kirkuk and Diyala provinces.
Islamic extremists, who believe Yezidis are apostates, have been killing, kidnapping and raping Yezidis and threatening other groups such as Christians in nearby Nineveh province.
Relatives said the abducted man isn't a Kakei, however. He is a Sunni Muslim, but adopted Kakei as his nickname.
The villagers said that the kidnappers have contacted them several times, promising to release Kakei, "but we have not seen anything of it yet."
Abdul Khaliq Hussein, a prominent figure in the village, said that some Arab tribesmen in the area have pledged to work for Kakei's release because "he is an innocent man and didn't do anything wrong."
Hussein said Kakei Kurds and their Arab neighbors traditionally got along well.
"There haven't been any problems in this area that we haven't been able to solve in the past," Hussein said.
Hussein said that Kakei is now held by IS, but he also believes that local Arabs must have facilitated his capture "otherwise how would IS know who he is."
Tribes rather than legal or government institutions continue to resolve most disputes between families and clans in this region.
A police officer in Daquq, the nearest town to Arab Koy village, said he hoped the kidnappings would be solved "in a social manner and not cause fighting between the tribes."
http://rudaw.net/english/kurdistan/23082014
----------
Foley Tortured after Jihadists discovered his Brother is in US Air Force
Jihadists discovered pictures of his U.S. Air Force officer brother on his laptop and tortured him with mock executions and 'crucified him to a wall'
Aug 23, 2014
James Foley was singled out for the harshest treatment by his ISIS captors after they found pictures of his brother who serves in the U.S. Air Force on his laptop computer, fellow prisoners said on Thursday.
He was regularly the victim of mock executions including once when he was 'crucified against a wall,' said French journalist Didier Francois.
Francois, 53, told Europe 1 Radio that the captors gave Foley rougher treatment from the rest of them because they discovered a picture of John Foley — the hostage's 35-year-old officer brother — on his computer.
Giving an insight into the physical and mental torture the hostages endured at the hands of the terrorists, Francois called Foley 'one of the pillars of the group,' who 'never cracked even under the most difficult conditions'.
'He was an extraordinary guy, an extremely nice companion in detention, very solid.'
Francois described the conditions in which all the hostages were held in Syria, as always 'rough and sometimes violent.'
A second French hostage, Nicolas Henin, who spent seven months in captivity with Foley in Syria, including a week during which they were handcuffed together, said the American was always seen as 'some kind of scapegoat' by his captors.
'Being an American he was probably more targeted by the kidnappers. Well, he would be beaten a bit more probably, he was some kind of scapegoat,' Henin told the BBC.
'And the kidnappers knew that his brother was in the U.S. Air Force,' added Henin, who was released in April.
'He became the whipping-boy of the jailers but remained unperturbed'.
The hostages were led by Foley's British killer 'John' – ringleader of gang of British jihadis known as 'The Beatles', who guarded western hostages for ISIS. Francois, 53, said he has 'a rough idea' as to the identity of the left-handed killer.
US Attorney General Eric Holder announced on Wednesday that the Justice Department has launched a criminal investigation into his death.
Foley's brother was working at the Air Force base in Grand Forks, North Dakota as a logistics officer during most of James's captivity. However, he was transferred to a post in Europe just three weeks before his brother's execution, the Air Force confirmed to MailOnline.
A third brother, Mark, is also in the military, but it was the captors' knowledge of John that led to James Foley's tough treatment.
The ISIS thugs made James, 40, read a speech immediately before he was executed in which he laid the blame for his death on recent U.S. bombings in Iraq and singled out his brother.
'Think about what you are doing. Think about the lives you destroy, including those of your own family,' Foley was made to say. 'I call on you, John. Think about who made the decision to bomb Iraq recently and kill those people, whoever they may have been.
'Think, John. Who did they really kill? And did they think about me, you and our family when they made that decision?" he asked.
'I died that day, John, when your colleagues dropped that bomb on those people, they signed my death certificate. I wish I had more time. I wish I could have the hope of freedom and seeing my family once again, but that ship has sailed. I guess all in all, I wish I wasn't American.'
Speaking about the conditions they were kept in together, Henin said: 'The conditions were often quite basic and were sometimes quite difficult.
'We were in extremely narrow rooms and were taken to the bathroom two to three times a day. For emergencies we had a few bottles and a bucket in the corner'.
Henin paid tribute to his former colleague and friend, saying he had been generous with other captives if they were cold or hungry.
He said he was horrified by Foley's killing, but added that he will focus on positive memories from their time together.
'I will try to just remember few, very few opportunities we had to laugh loud together - and it did happen actually a couple of times,' he said.
When asked why he was released but Foley was not he said: 'Some countries like America but also like the UK do not negotiate and, well, they put their people at risk.'
ISIS had demanded a ransom of $132 million for the release of Foley, a spokesman for GlobalPost told NBC, the Boston-based website that Foley was reporting on when he was captured.
Philip Balboni, the CEO and co-founder of GlobalPost, told MailOnline the ransom was considerably higher than for European captives 'purely because he was an American.'
He said members of the Foley family, who live in Rochester, New Hampshire, were attempting to raise the money right up to the last minute after receiving an email from ISIS on Wednesday of last week saying the group planned to carry out the execution.
'We were hopeful right up to 4.30 pm on Tuesday when the execution video started to break,' he said. 'It was our belief that we would be able to re-open negotiations to secure Jim's release.'
It was the Foley family's military history that first got Jim, the oldest of the four brothers to get involved in reporting from the world's most troubled spots, his father, also called John, revealed on Wednesday.
'One of the reasons he was drawn to conflict journalism was because of his brothers in the military,' he said. 'One of his first assignments was to Afghanistan where his Air Force brother was stationed. He wanted to learn what was happening at the human level.'
Full report at:
http://www.dailymail.co.uk/news/article-2730361/Revealed-James-Foley-ISIS-whipping-boy-Terrorist-captors-discovered-pictures-U-S-Air-Force-officer-brother-laptop-suffer-mock-executions-including-crucified-against-wall.html
------------
The ISIS Five-Point Plan to Getting Round Suspension of Social Media Accounts
Aug 23, 2014
ISIS is planning to hack western TV channels and infiltrate the Russian version of Facebook to ensure its propaganda strategy is still spread online to would-be members.
Several users peddling the Islamic State message had their social network accounts suspended this week, in the wake of the horrific video showing the murder of US journalist James Foley.
YouTube and Twitter were among the social network sites which announced it would suspend any accounts of those who played a part in circulating the video.
Since then, ISIS - which spreads its message through a heavy social media presence - has been forced to come up with a new strategy to counter the suspension of accounts.
According to Vocativ.com, the organisation has published a five-point plan on one of its official forums, guiding users about how to continue sharing the ISIS message online.
The first prong of their alternative plan is to redirect supports of the Islamic State to social networks other than Twitter.
The members are also being encouraged to upload videos onto other sites other than YouTube.
ISIS appears to have already turned to VKontakte, the second largest social network service in Europe, which is particularly popular among Russian speakers.
Al-Hayat, the official media wing of ISIS, yesterday launched a page on the site, which has already more than 270 followers.
The video of Foley's murder, as well as several other gruesome photos, are published on the group.
Other users have attempted to set up pages on the site under the ISIS banner, but several have been 'suspended due to calls to violent actions', according to the website.
The five-stage plan also describes how users should hack into and disrupt Western television channels, as well as build an alternative server to support the publications of the Islamic State.
The message also says that ISIS members should find an alternative site to JustPaste - a site which unwittingly became a crucial tool in ISIS's propoganda.
The site allowed users to post material, without having to register online. But that site has also issued a recent crackdown on ISIS members.
The group has also attempted to set-up on Diaspora, a 'community-run' network with no central server.
Although the site's founders said they were struggling to stop the growing number of ISIS supporters promoting activities on the site, all accounts promoted in the ISIS forums appear to have already been shut down.
The plan has come since Wednesday's announcement from Twitter CEO Dick Costolo that any users who shared the graphic images of Mr Foley's beheading would have their account suspended.
YouTube also announced it would shut down any account registered by a member of a designated foreign terrorist organisation. It also said it would remove any videos of the murder.
The Metropolitan Police also warned that 'viewing, downloading or disseminating extremist material within the UK may constitute an offence under terrorism legislation'.
A Twitter campaign urged the public to remember James Foley for how he lived, not how he was murdered.
Mr Foley's friends and colleagues have posted pictures of him at work in Syria, and also shared some of the photographs he has taken in warzones.
MailOnline has contacted Twitter, YouTube and Vkontakte for comment.
http://www.dailymail.co.uk/news/article-2732098/The-ISIS-five-point-plan-getting-round-suspension-social-media-accounts-Get-Russian-version-Facebook-avoid-YouTube-hack-western-TV-channels.html#ixzz3BDf7uQUX
----------
Bahraini Shiite Cleric Lambasts Al Khalifa Regime for Giving Citizenship to Foreigners
Aug 23, 2014
A prominent Bahraini Shiite cleric condemned the Al Khalifa dynasty for granting citizenship to tens of thousands of foreigners.
Sheikh Ali Salman, the secretary general of Bahrain's main opposition party al-Wefaq, says the Manama regime is targeting the indigenous population through the naturalization of foreign nationals, presstv reported.
The Shiite cleric believes the regime policy is aimed at changing Bahrain's demography.
Salman stated that foreign nationals, mainly from Pakistan, have been recruited as security forces to help the Manama regime crush the popular uprising that erupted in 2011.
According to the opposition bloc, the regime has spent more than $5.3bln to accommodate foreigners over the past decade.
Full report at:
http://english.farsnews.com/newstext.aspx?nn=13930601000914
----------
ISIL Kills Two Civilians, Abducts Syrian Youths in Deir Ezzur
Aug 23, 2014
The Islamic State of Iraq and the Levant terrorists killed two civilians in the town of al-Shumaitiye in Deir Ezzur countryside in full sight of locals.
A number of locals said that ISIL terrorists opened fire on locals in the town square, broke into homes, and abducted a number of youths.
The conflict in Syria started in March 2011, when sporadic pro-reform protests turned into a massive insurgency following the intervention of western and regional states.
The unrest, which took in terrorist groups from across Europe, the Middle-East and North Africa, has transpired as one of the bloodiest conflicts in recent history.
As the foreign-backed insurgency in Syria continues without an end in sight, the US government has boosted its political and military support to Takfiri extremists.
Washington has remained indifferent to warnings by Russia and other world powers about the consequences of arming militant groups.
http://english.farsnews.com/newstext.aspx?nn=13930601000414
----------
Captured soldiers: They will kill us, if Hezbollah remains in Syria
Aug 23, 2014
BEIRUT: Nusra Front released a video of captured soldiers and members of the Internal Security Forces asking Hezbollah to withdraw from Syria or else their kidnappers would kill them.
"This apostate group is killing our Sunni families in Syria while it has no business in doing so. I call on my people in Taraya to hold protests against this apostate group. If they don't, we will be killed," a soldier who identified himself as Mahmoud Maarouf Hamaye said.
Hamaye was among nine ISF officers and troops who were seated in a group with a large tent-like material hanging in the back alongside the Nusra Front black flag.
"If you don't withdraw from Syria, these people will kill us. You have no business in Syria and I am a Shiite," an ISF officer said, addressing the camera.
"I call on my relatives and every Shiite [to know] that Hezbollah has nothing [to do in Syria] ... they are killing heroes."
The video was released Friday evening on the YouTube channel of the so-called Network of the White Beacon Correspondents, a group that publishes statements and video issued by the Al-Qaeda-linked group.
The five-minute video was titled "bits from a movie of Lebanese security forces demanding Hezbollah's withdrawal from Syria."
Militants from the Islamic State of Iraq and Greater Syria are still holding 11 soldiers as well as the body of a deceased soldier. Nusra Front still holds 15 ISF members and three soldiers.
The security members were captured during the battle between militants from Syria and the Lebanese Army after the arrest of Imad Jomaa, a commander of an ISIS brigade, took place in the border region of Arsal.
For five days, troops battled the gunmen in a fight described by the Army as an organized plan to gain control over Arsal. The clashes ended with a cease-fire and the withdrawal of the militants from Arsal.
In the video broadcast by two local channels, another hostage asked residents of his Bazalyeh village to block roads and demand Hezbollah withdraw from Syria "because they and everyone else don't care about us."
"I want to reassure my family that I am OK. But if Hezbollah continues to interfere in things that are none of its business, then I will not be OK. We will die if Hezbollah continues in Syria, regardless of how Nusra Front is treating us in a good manner [now]," an ISF officer said.
Raising his voice, the security member said the bombings in Beirut's southern suburbs began after Hezbollah announced that it had regained control of the Syrian town of Qusair.
"Is it of Muslim values to help an oppressor against the Muslim community?" another asked.
One of the captured police officers insisted that they were the ones who asked Nusra Front to record the video and "speak against Hezbollah."
" Nusra Front is not what you think. God sees how we are being treated by Nusra Front. We pressured them to go public to speak against Hezbollah."
http://www.dailystar.com.lb/News/Lebanon-News/2014/Aug-23/268253-captured-soldiers-they-will-kill-us-if-hezbollah-remains-in-syria.ashx#ixzz3BDr65zRi
---------
Lebanese Army Commander: I would never trade blood of soldiers for presidency
Aug 23, 2014
BEIRUT: Lebanese Army Commander Gen. Jean Kahwagi has defended himself and his troops against criticism directed at the military institution following the Arsal battle, saying he would never trade the lives of Lebanese in exchange for political gains.
"They attacked me personally although I have repeated that I will never sacrifice a drop of blood of a soldier or a civilian to reach the presidency if I ever had the chance to reach the post," Kahwagi told An-Nahar in remarks published Saturday.
"I had originally warned against the problem in Arsal many times before the conflict [began and] turned into a real battle, which prompted us to deploy three additional brigades including two military elite units."
At the beginning of the Arsal clashes, lawmakers from the Future bloc had accused Kahwagi, seen as a favorable presidential candidate, of seeking to become a president at the expense of people in Arsal, the northeastern region bordering Syria. But the head of the Future Movement, Saad Hariri, voiced his party's undying support for the Army to "liberate" Arsal from militants.
On Aug. 2 following the Army's arrest of Imad Jomaa, the head of an ISIS brigade, militants from Syria attacked several Army and police posts in Arsal and engaged in five days of clashes with the military that ended with a cease-fire.
Kahwagi hit back at the military's critics who scorned the Army for taking too long to end the battle, saying he spared the lives of Arsal residents and Syrian refugees by refraining from striking Arsal.
"There are 120,000 people, residents and Syria refugees, in Arsal. Did they want me to destroy Arsal and kill Lebanese and refugees?" Kahwagi said.
"We are ready for anything and our front is solid. I say to everyone that the region crumbling and nobody knows where we are going. Enough with the distractions and shame on them for politicizing a military issue."
The commander said 190 brigades from Syrian militants took part in the organized attack "but the Army was decisive, so stop ridiculing the battle because if we did not succeed the results would have been horrifying for Lebanon."
"The story is bigger and more dangerous than that and proof of that is what [British Prime Minister David] Cameron said about the threat of ISIS on Britain itself."
Kahwagi then detailed the first hours after the arrest of Jomaa, whose detention triggered the fighting that killed 19 soldiers and dozens of militants.
"We arrested Imad Jomaa at an Army checkpoint; he had two other people with him. Imad Jomaa confessed during the documented investigation that he planned this scheme in details."
"I arrived at the central command room and the information from soldiers started coming in about consequent attacks by militants from so many areas. We told those who came to us [to resolve the case] that we would not release Jomaa."
He said militants were able to take over the strategic hill of Al-Hosn after a fierce battle with the unit stationed there that wounded a soldier, adding that the military launched several counter attacks and succeeded in regaining control over many posts.
"The battle witnessed many heroic acts by the soldiers and we also used air force."
"Where was the mistake then? In the central command room where all the top officers were gathered?"
"If they want to form a committee then they should go ahead and do that. I am ready for the file that would show me shortcomings."
http://www.dailystar.com.lb/News/Lebanon-News/2014/Aug-23/268241-kahwagi-i-would-never-trade-blood-of-soldiers-for-presidency.ashx#ixzz3BDrIYcJD
---------
Europe
West Poised To Join Forces with Syrian President to Deal with the Threat of ISIS
Patrick Cockburn,
The Independent | Aug 23, 2014
LONDON: Islamist forces are fighting their way into western Syria from bases further east, bringing forward the prospect of US military intervention to stop their advance. If ISIS, which styles itself Islamic State, threatens to take all or part of Aleppo, establishing complete dominance over the anti-government rebels, the US may be compelled to act publicly or secretly in concert with President Bashar al-Assad, whom it has been trying to displace.
The US has already covertly assisted the Assad government by passing on intelligence about the exact location of jihadi leaders through the BND, the German intelligence service, a source has told The Independent. This may explain why Syrian aircraft and artillery have been able on occasion to accurately target rebel commanders and headquarters.
Syrian army troops are engaged in a fierce battle to hold Tabqa airbase in Raqqa province, the fall of which would open the way to Hama, Syria's fourth-largest city.
Further north, ISIS has captured crucial territory that brings it close to cutting rebel supply lines between Aleppo and the Turkish border. The caliphate declared by ISIS on June 29 already covers the eastern third of Syria in addition to a quarter of Iraq. It stretches from Jalawla, a town 20 miles from Iran, which the Iraqi army and Kurdish Peshmerga are trying to recapture, to towns 30 miles north of Aleppo.
Full report at:
http://timesofindia.indiatimes.com/world/middle-east/Stand-by-for-a-U-turn-West-poised-to-join-forces-with-Syrian-President-Bashar-al-Assad-to-deal-with-the-threat-of-ISIS/articleshow/40758554.cms
----------
Fears of another Mount Sinjar Grow; ISIS Surrounds 18,000 Shi'ite Muslims in Iraqi Town of Amerli
Aug 23, 2014
Fears are growing for thousands of Muslim Iraqis who have been surrounded by Islamic State militants in a chilling repeat of the siege of Mount Sinjar.
Iraq's most influential cleric, Grand Ayatollah Ali al-Sistani, today expressed grave concern for 18,000 Shi'ites in the town of Amerli after their food, water and medical supplies were cut off.
The Shi'ite Turkmen community says they have been living under siege for the last two months after the Sunni jihadists captured the surrounding towns and villages.
Dr Ali Albayati, who lives in Amerli, said: 'It is a humanitarian disaster - 20,000 people in Amerli are fighting off death.
'There are children who are only eating once every three days.'
British Foreign Secretary Philip Hammond revealed that Britain was closely monitoring the situation and would be willing 'in principle' to join an international effort to send support to the besieged town.
But he revealed Britain will not work with Syrian President Bashar al-Assad to combat Islamic State fighters in the country - and his permission would not be needed for any military intervention.
Full report at:
http://www.dailymail.co.uk/news/article-2731777/Fears-grow-18-000-Shiite-Muslims-face-starvation-capture-execution-ISIS-surround-sacred-town-Amerli-Iraq.html
----------
UK won't work with Syria to tackle Islamic State militants
Aug 23, 2014
Britain has ruled out negotiating with Syrian President Bashar Assad in the battle against the Islamic State movement, Reuters said. "It wouldn't be practical, sensible or helpful to even think about going down that route," Foreign Secretary Philip Hammond told BBC Radio. The only way to tackle the threat is by working with the Iraqi government which has troops on the ground, Hammond said, adding that dialogue with Assad would not advance the cause. The Islamic State has bases in northern Syria as well as in over one third of Iraq.
http://rt.com/news/line/2014-08-22/#69020
--------
Militancy on rise in Austria, says government
August 23, 2014
VIENNA : Authorities suspect around 130 people resident in Austria - most of them foreign nationals - have allied themselves with militants fighting abroad, officials in Vienna said on Friday, raising their estimate by nearly a third.
Public safety director Konrad Kogler told a news conference the 130 figure included "people actively participating in combat as well as ones who have returned to Austria, because both groups of people are relevant for us".
He thought around two-thirds of them had come back to Austria and one-third were in battle or on the way there.
Officials were tracking the target group's foreign travel and monitoring their activities when they return given the security risk they might pose, he said.
He said 40 of the 130 were Austrian citizens. The others were primarily from Russia, the Balkans and Turkey.
Austria has a population of around 8.5 million people.
The subject is at the top of the news agenda in the neutral Alpine republic after police arrested nine people this week who prosecutors said were believed to be on their way to Syria to join the fighting.
They have not given any more details about the suspects' destination or said what forces they might have joined.
Full report at:
http://www.nation.com.pk/international/23-Aug-2014/militancy-on-rise-in-austria-says-government
----------
South Asia
25 Taliban militants killed in Kunduz public uprising
Aug 23, 2014
At least 25 Taliban militants were killed following public uprising in northern Kunduz province of Afghanistan.
According to local government officials, the anit-Taliban pulic uprising started in Khanabad district, following a major Taliban offensive which sparked heavy clashes between the Aghan forces and the militants.
A local security official said the residents picked up arms against Taliban militants after they were forced to leave their homes following the Taliban offensive.
The official further added that the public uprising was launched jointly by local residents and former Mujahideen leadres.
He said the Taliban militants were forced to leave Khanabad district following the public uprising.
Hundreds of Khanabad district residents were forced to flee following heavy clashes between Taliban militants and Afghan security forces.
provincial governor Ghulam Sakhi Baghlani, said efforts have been put in place to help the displaced residents to repatriate to their homes.
The Taliban militants group has not commented regarding the report so far.
http://www.khaama.com/25-taliban-militants-killed-in-kunduz-public-uprising-8481
----------
37 Taliban militants killed, 24 others injured in Afghan operations
Aug 23, 2014
At least 37 Taliban militants were killed and 37 others were injured during military operations by Afghan national security forces in the past 24 hours.
The operations were jointly conducted by Afghan national police, Afghan national army and Afghan intelligence – National Directorate of Security (NDS) operatives.
Interior ministry following a statement said Saturday that the militants were killed or injured in Kunduz, Zabul, Logar, Ghazni, Paktika and Ghor provinces.
The statement further added that 24 Taliban militants were also injured and another militant arrested during the operations.
Afghan security forces confiscated various types of light and heavy weapons along with explosives during the operations, interior ministry said.
The statement by interior ministry also added that Afghan national police (ANP)forces discovered and seized 12 rounds of improvised explosive device (IED) during operations in Balkh, Khost, and Herat provinces.
Interior ministry said the improvised explosive device (IEDs) were recently planted by Taliban militants for insurgency attacks.
http://www.khaama.com/37-taliban-militants-killed-24-others-injured-in-afghan-operations-8479
----------
PM Sheikh Hasina: BNP-Jamaat violence reminds me of '71 massacre
Aug 23, 2014
Prime Minister Sheikh Hasina said the nationwide incidents of violence that was conducted by the activists of the BNP and its key ally Jamaat-e-Islami in 2013 have reminded her of the Pakistani massacre in 1971.
Addressing the top leaders of the 20-party alliance, She said: "No body will stop you if you want to do politics in the country. But, you do not have the right to kill innocent people in the name of politics."
"The violence, which the BNP-Jamaat men have conducted across the country in 2013, reminds me of the Pakistani Army's act of genocide during the War of Independence in 1971."
The premier made the remarks while addressing a cover unveiling ceremony of a picture book titled "Blood-Stained Bangladesh" at Osmani Auditorium in the capital on Saturday afternoon.
The book contains the photographs of the series of incidents of violence that took place during the BNP-Jamaat's countrywide demonstrations in 2013, demanding the restoration of a caretaker government system.
Full report at:
http://www.dhakatribune.com/bangladesh/2014/aug/23/pm-bnp-jamaat-violence-reminds-me-71-massacre#sthash.uAADpT9T.dpuf
----------
Pakistan
Afia Siddiqui - Islamic State's Pakistan connection
NARAYAN LAKSHMAN
Aug 23, 2014
This week the "cancer" of the Islamic State (IS) appeared to be spreading from Syria and Iraq into the proximity of India when it was revealed that an email sent by the militant group to the family of a hostage, now executed, called for the release of Dr. Afia Siddiqui, a Pakistani neuroscientist facing life in prison in the U.S. on assault charges linked to terrorism.
In IS' last email, on August 12, to the family of murdered journalist James Foley, they wrote, "We have also offered prisoner exchanges to free the Muslims currently in your detention like our sister Dr. Afia Sidiqqi, however, you proved very quickly to us that this is NOT what you are interested in."
Dr. Siddiqui, an MIT-trained neuroscientist, was arrested in Afghanistan in 2008 and discovered to have materials relating to chemical weapons, dirty bombs and viruses, leading to suspicions that she may have been planning attacks against "American enemies."
Full report at:
http://www.thehindu.com/news/international/world/afia-siddiqui-islamic-states-pakistan-connection/article6342893.ece
----------
Security forces kill 16 suspected militants in Turbat
Aug 23, 2014
QUETTA: Frontier Corps claim to have killed 16 militants in Turbat – a town in Balochistan's volatile Kech district on Friday evening, an official said.
Fierce battle between armed militants and security forces was reported by local levies sources in Dasht area of Turbat earlier in the morning.
Khan Wasey, the Spokesman Frontier Corps told Dawn.com that security forces launched an operation against miscreants in Dasht. "12 terrorists have been killed in armed clashes," he earlier had said, adding that both sides were using heavy weapons in the fire exchange.
Later, four more suspected militants were killed in the ongoing exchange of fire, security officials told Dawn.com.
Full report at:
http://www.dawn.com/news/1127061/security-forces-kill-16-suspected-militants-in-turbat
----------
Orakzai: Five militants killed, three injured in clash
August 23, 2014
Peshawar- Five militants were killed and three others injured Saturday in a clash with a tribal lashkar in the Orakzai tribal region.
According to media reports the local peace legion and militants exchanged fire in the Dana Khola area of Lower Orakzai when militants attacked villagers residing in the area.
According to sources, five militants were killed and three others were injured in the firing, which continued for three hours during which both sides used heavy weapons.
Political Tehsildar Sher Mohammad confirmed the clash and said five miscreants were killed whereas three others were injured. According to certain sources, the dead belonged to the Momin Khan group of Darra Adamkhel Taliban.
http://www.nation.com.pk/national/23-Aug-2014/orakzai-five-militants-killed-three-injured-in-clash
--------
MPs of Imran Khan's party resign from Pak Parliament
Aug 23, 2014
Political crisis in Pakistan dramatically escalated on Friday with lawmakers of opposition leader Imran Khan's party resigning en masse from the National Assembly mounting more pressure on the embattled government.
As protestors continued their siege of Parliament demanding Prime Minister Nawaz Sharif's ouster, Pakistan Tehreek-e-Insaf (PTI) leaders Shah Mehmood Qureshi and Arif Alvi submitted to the National Assembly Speaker's office the resignations of all 34 lawmakers belonging to the party, including that of its chief Mr. Khan.
However, the resignations do not affect the stability of the government which enjoys a majority with ruling PML-N having 190 members in a House of 342. Mr. Khan's PTI is the third largest party in the National Assembly.
Full report at:
http://www.thehindu.com/news/international/south-asia/pakistan-political-crisis-mps-of-imran-khans-pakistan-tehreekeinsaf-party-resign-from-parliament/article6342418.ece
----------
Nawaz, Zardari to broach marches today
August 23, 2014
ISLAMABAD - PPP Co-Chairman Asif Ali Zardari is set to hold a meeting with Prime Minister Nawaz Sharif at Raiwind today (Saturday) to resolve political impasse in the country, yet the former is likely to cut down his party's level of support that has so far been offered to ruling PML-N clique.
The former president, putting off his scheduled appointment, has accepted the PM's invitation to lunch to deliberate on political turmoil but he might not go out of the way in his support to the ruling party to help it defuse the present political chaos.
Prime Minister Sharif is likely to brief about all the pros and cons of the current situation in Islamabad to Zardari with the demand to jointly resolve the issue by pushing Imran Khan in isolation, background interviews and discussion with ruling and opposition party's lawmakers gave this impression.
Full report at:
http://www.nation.com.pk/national/23-Aug-2014/nawaz-zardari-to-broach-marches-today
----------
Militants execute man for 'spying' in Tirah
Aug 23, 2014
LANDI KOTAL: Lashkar-i-Islam militants on Friday killed a tribesman in Tirah valley for spying.
Sources said Nek Mohammad captured in Speen Drand locality a few days ago was convicted of spying on the banned outfit.
They said first, the man was shot dead and then, his body was displayed in an open area for several hours before being handed over to family.
Also in the day, the khasadar force recovered the body of Salim Khan in a Jamrud house.
The officials said the man was gunned down from a close range and that his body was dumped in a house in Pump House locality near Ghundi.
They said the man belonged to Sikanderkhel sub-tribe of Kukikhel but the reason behind his killing was not known.
Meanwhile, the Jamrud political administration on Friday arrested 45 Turkhel tribesmen during a search operation in Sur Kamar area under the Collective Territorial Responsibility clause of the Frontier Crimes Regulation.
Full report at:
http://www.dawn.com/news/1127206/militants-execute-man-for-spying-in-tirah
----------
AML sees 'political death' looming for Nawaz or Imran
Aug 23, 2014
ISLAMABAD - Awami Muslim League (AML) chief Shiekh Rasheed Ahmed on Saturday said that either Prime Minister Nawaz Sharif or Pakistan Tehreek-e-Insaf (PTI) Chairman Imran Khan would see end of their politics.
Talking to a private TV channel Rasheed said, "There is one grave and two men." He also said the prime minister has been pushed to the brink because of ill-advices from people around him.
Answering a question about Nawaz's meeting with former president Asif Ali Zardari he said, "Both have met on lunch for thirteen times but all meetings went useless." He said he is away from Sharif and Zardari for a very long time.
http://www.dailytimes.com.pk/national/23-Aug-2014/sheikh-sees-political-death-looming-for-nawaz-or-imran
----------
42 'terrorists' detained in Khyber Agency
Aug 23, 2014
KHYBER AGENCY: Over 42 suspected terrorists have been arrested during a massive search operation by security forces on Friday. According to details, security forces have held the search operation against terrorists in various areas of Tehsil Jamrud, Khyber Agency and detained 42 alleged terrorists. They have been shifted to an undisclosed location for further investigations. According to security officials, the search operation was launched as the terrorist activities were frequently increasing in Jamrud.
http://www.dailytimes.com.pk/national/23-Aug-2014/42-terrorists-detained-in-khyber-agency
----------
Qadri says govt not taking him seriously
Aug 23, 2014
ISLAMABAD: Dr Tahirul Qadri on Friday accused the Sharifs-led government of not taking him seriously.
Addressing the participants of Pakistan Awami Tehreek sit-in, he said, "It seems to me that the government is not interested in talks. I guess, intentions of the government would become crystal clear in a couple of days."
As the weather turned pleasant following downpour, Qadri stepped out of his container to address his followers. He looked fresh and energetic as he addressed thousands of his followers late in the evening on Friday. The crowed, comprising of women and teen girls, listened to their leader standing firm even in heavy rain.
Qadri vowed to keep on protesting until Prime Minister Nawaz Sharif steps down.
"We will continue protesting outside Parliament House until the illegitimate government of Sharifs steps down. Would you mind staying here with me until Nawaz Sharif steps down," Qadri asked. As expected, his followers waved their hands to assure their support.
"You have our support. We are here to stay as long as you want us. Even we will not hesitate to sacrifice our live to obey you," the crowd responded.
Full report at:
http://www.dailytimes.com.pk/national/23-Aug-2014/qadri-says-govt-not-taking-him-seriously
----------
Balochistan Assembly passes resolution against Islamabad sit-ins
Aug 23, 2014
QUETTA: The Balochistan Assembly on Saturday unanimously passed a resolution against the ongoing anti-government sit-ins staged by the Pakistan Tehreek-i-Insaf (PTI) and the Pakistan Awami Tehreek (PAT) in Islamabad, DawnNews reported.
The resolution was jointly passed by the opposition and government members which said that the federal government should adopt measures in order to halt the sit-ins in Islamabad.
It said that the ongoing sit-ins had paralysed life in Islamabad and that protesters did not have public support.
It expressed the resolve that no undemocratic or unconstitutional step would be supported and that PTI and PAT's demands were unconstitutional.
http://www.dawn.com/news/1127252/balochistan-assembly-passes-resolution-against-islamabad-sit-ins
----------
Africa
Airstrikes kill 15 fighters in Libya
Aug 23, 2014
A senior Islamist militia leader says two airstrikes targeting its positions in Libya's capital, Tripoli, have killed 15 fighters and wounded 20.
The official from the Islamist—allied Misrata militia said the two airstrikes by unidentified warplanes early Saturday also targeted the Interior Ministry's building and several militia positions. He said the airstrikes also set fire to a warehouse.
Libya is witnessing its worst spasm of violence since Moammar Gadhafi was toppled in 2011. Many of the rebel brigades which helped overthrow the longtime dictator have become powerful, heavily armed militias.
http://www.thehindu.com/news/international/world/airstrikes-kill-15-fighters-in-libya/article6345002.ece
----------
Christians and Muslims must pray against Boko-Haram
Aug 23, 2014
Mallam Abdul Salam Turawah of the League of Imams Thursday called on Christians and Muslims to pray against Boko Haram.
Boko Haram, a group opposed to western education is engaged in a bloody campaign and abductions in Nigeria with the aim of carving out an Islamic state in that country.
"All Muslim Umar condemn them and require you also to condemn them," he said.
This is because the activities of the Nigeria based group are un-Islamic.
Malam Turawah made the call when he delivered a solidarity message on behalf of the Chief Imam of the Volta region at the sixth General Assembly of the Evangelical Presbyterian (E.P.) Church in Ho under the theme, "God of Life, lead us to justice, peace and dignity for wholeness."
Full report at:
http://www.ghanaweb.com/GhanaHomePage/religion/artikel.php?ID=322475
----------
Two IS militants arrested in Morocco
Aug 23, 2014
Two Islamic State (IS) militants, who were planning to leave for training camps in Syria and Iraq, were arrested in Morocco, the Interior Ministry said.
The two have connections with foreign extremists and were planning to receive military training in IS camps before carrying out attacks in Morocco, the Ministry said in a statement on Friday.
One of them had close relations with a criminal group in Fez city. The detentions led to the arrest of four more people in connection with the gang.
Morocco is facing a "serious terrorist threat" linked to the growing number of people joining 'jihadi' groups in the Middle East.
Interior Minister Mohamed Hazard said in July that around 1,120 Moroccan nationals and some 2,000 of Moroccan origin have been enrolled in terrorist groups in Syria and Iraq.
http://www.thehindu.com/news/international/world/two-is-militants-arrested-in-morocco/article6344812.ece
----------
Tunisia fails to pass counter-terror law
Aug 23, 2014
Passage of Tunisia's new law against terrorism and money laundering was suspended Thursday (August 21st) due to differences between the various political blocs in the Constituent Assembly.
Police unions and both the ministers of justice and interior have demanded the legislation be sped up so that the country can more effectively deal with terrorism.
The proposed anti-terrorism law includes 163 articles, most of them still not ratified. Debate on the bill is scheduled to resume in September.
Justice Minister Hafedh Ben Salah said, "In light of the growing phenomenon of terrorism, which is threatening security forces and the national army and even civilians, ratifying a new law to combat terrorism became more of an urgent need to hold accountable all those tempted to abuse the foundations of our national security and in the framework of respect for human rights."
Full report at:
http://magharebia.com/en_GB/articles/awi/features/2014/08/22/feature-02
----------
Peace movements emerge in northern Mali
Aug 23, 2014
Recent infighting between two factions of the Arab Movement for Azawad (MAA) has prompted some group leaders to quit and call for security and stability in the region.
In protest to the internal unrest, a group of MAA members on August 15th announced their withdrawal from the movement and the creation of the "Popular Front for the Salvation of Azawad".
In a statement published by Sahara Media, MAA Spokesperson Boubacar Ould Taleb, Executive Bureau military attaché Dah Ould Bechir and political secretary Mohamed Amrani said the infighting had "wrongly and unnecessarily claimed the lives of many people...[this]comes as an expression of our desire to establish peace and stability in Azawad to meet the aspirations of the Azawadi people".
Full report at:
http://magharebia.com/en_GB/articles/awi/features/2014/08/22/feature-03
----------
North America
President Obama calls jihadists' bluff and launches fresh air strikes
Aug 23, 2014
The United States has unleashed a new aerial barrage against jihadist positions in northern Iraq in a clear sign that Barack Obama will not be deterred by the beheading this week of an American reporter, James Foley, or by threats of further murders of foreign hostages if the strikes continue.
US officials confirmed that six strikes were carried out near Mosul Dam, which was retaken from Isis militants this week by a combined Kurdish and Iraqi force. The purpose, the officials said, was to consolidate the government forces' hold on the vital facility and establish a wide safety perimeter around it. The video of the murder of Mr Foley – which first surfaced on Tuesday – included a chilling narration saying he was being killed in direct response to the US air strikes, which now number 84 since they started on 8 August.
The video also warned that further killings would follow if the attacks did not end and specifically identified the captive journalist Steven Sotloff as being the next victim in line.
It is believed that Isis, which now styles itself as the Islamic State, may be holding an additional two US journalists, whose whereabouts and fate are also of urgent concern in Washington.
Full report at:
http://www.independent.co.uk/news/world/middle-east/james-foley-death-president-obama-calls-the-jihadists-bluff-and-launches-fresh-air-strikes-against-isis-targets-near-mosul-9684513.html
----------
Imam receives death threat, says ISIS recruiting in Canada
AFP, Montreal
23 August 2014
A Canadian imam known for his pacifist sermons warned Friday that Islamist militant group ISIS was actively recruiting in Canada and said one member issued him a death threat.
Syed Soharwardy, founder of the Islamic Supreme Council of Canada (ISCC), called on Canadian and Western authorities to intensify the fight against Islamist militant movements.
"Absolutely I am convinced that this recruitment is going on right here in this country, under our noses, in our universities, in our colleges, in the places of worship, in our community," he told CBC public television.
Soharwardy added that a Muslim man from Ottawa who was fighting with ISIS in Mosul in northern Iraq had sent him a death threat on Facebook.
"He was condemning me for condemning ISIS, and he was saying that 'You are a deviant imam and your version of Islam is not the right version,'" Soharwardy said, using another acronym by which ISIS is known.
Full report at:
http://english.alarabiya.net/en/News/middle-east/2014/08/23/Imam-receives-death-threat-says-ISIS-recruiting-in-Canada.html
----------
Biden: U.S. backs Iraq federal system to 'rout terrorism'
23 August 2014
Vice President Joe Biden said the United States would back a federal system in Iraq, as he pressed for unity in the sharply divided country amid a growing terror threat.
Writing in a Washington Post opinion piece, Biden said the United States was ready to "further enhance" its support of Iraq's fight against the Islamic State of Iraq and Syria (ISIS), and would urge its international partners to do so as well.
Biden warned that the deep sectarian divisions and political mistrust had "sapped the strength" of Iraqi security forces and strengthened militants like ISIS, which has seized a swath of the country and neighboring Syria.
Full report at:
http://english.alarabiya.net/en/News/middle-east/2014/08/23/U-S-backs-federal-system-in-Iraq-Biden.html
----------
US ready to 'take action' in Syria if Americans threatened
Aug 23, 2014
The White House said it was ready to "take action" against any threat to America as it indicated serious consideration of US military strikes against Islamic State militants in Syria.
The Pentagon has warned of the dangers of IS and said operations against it in Syria may be needed, after weeks of air strikes have slowed the advance of the Sunni militant group in Iraq and as the West reeled from the grisly killing of American journalist James Foley.
The White House also said late Friday that air strikes in Syria may be necessary, as deputy national security advisor Ben Rhodes agreed that "any strategy to deal with the ISIL organization has to deal with both sides of the border, Iraq and Syria."
"If we see plotting against Americans, we see a threat to the US emanating from anywhere, we stand ready to take action against that threat," Rhodes added.
"We've made very clear time and again that if you come after Americans, we're going to come after you wherever you are, and that's what's going to guide our planning in the days to come."
Full report at:
http://english.ahram.org.eg/NewsContent/2/8/109020/World/Region/US-ready-to-take-action-in-Syria-if-Americans-thre.aspx
------
Southeast Asia
Islamist party again reneges on Pakatan agreement to submit only Azizah's name
Aug 23, 2014
PAS will decide whether to send the Selangor Sultan a letter of support for Datuk Seri Dr Wan Azizah Wan Ismail after its central council meeting on Monday, party sources say.
They said Pakatan Rakyat's (PR) leadership council was informed about PAS's latest stand on the Selangor menteri besar (MB) candidate during a meeting yesterday.
"We will have to meet again as our earlier decision was to nominate two people. But now that the Pakatan leadership had decided on only Dr Wan Azizah, we will meet again," a party source told The Malaysian Insider today.
The PAS central committee had on August 17 nominated Dr Wan Azizah and PKR deputy president Azmin Ali to replace Tan Sri Abdul Khalid Ibrahim. A PR leadership council meeting on the same day, however, decided to submit only Dr Wan Azizah's name to the palace for consideration.
The source further revealed that PAS has decided that two names be submitted to the Sultan.
"We will now have to meet to endorse the Pakatan leadership council decision or maintain our stand to send two names," he said.
Full report at:
http://www.malaysia-chronicle.com/index.php?option=com_k2&view=item&id=345541:dishonorable-pas-disgusts-
--------
First Ethnic Chinese Governor of Jakarta Takes Indonesia Forward
Aug 23, 2014
Basuki Tjahaja Purnama, better known as Ahok, will be the first ethnic Chinese to govern Indonesia's capital, Jakarta.
Ahok is not the first ethnic Chinese to gain political prominence in Indonesia, where the Muslim-Javanese group dominates political positions. But he may be the first to break unspoken barriers of expected behaviours and norms of an ethnic Chinese participating in politics.
The outspoken and sometimes brash deputy governor will take over Jakarta's helm when the incumbent Joko Widodo, the country's president-elect better known as Jokowi, takes office in October.
Ahok is a distinctive figure in Indonesian politics. This is not simply due to his "double minority" status as Chinese Indonesian and Christian but also a result of how he regards or disregards those labels.
In Indonesia, ethnic Chinese were subjected to discriminatory laws during Suharto's dictatorship. When Suharto fell from power in 1998, they were the targets of anti-Chinese riots.
Full report at:
http://www.thejakartaglobe.com/opinion/first-ethnic-chinese-governor-jakarta-takes-indonesia-forward/
----------
After Kelantan division, PKR T'ganu complains about Islamist BULLY-BOY Pas
Aug 23, 2014
Terengganu PKR delegate Azlan Che Mat has called to the party leadership for help, claiming that they are being "bullied" by PAS in the state.
He urged the party's central leadership to form a state-level Pakatan Rakyat secretariat to fix the situation in Terengganu, which he said has worsened since the 13th general election.
"We cried, because in the last general election we were intimidated, trampled upon…
"But thank God, perhaps because we fought sincerely, Allah granted us a victory in the Bandar state assembly seat in Terengganu.
"Thank God. We were run down by Umno, for which we were sad and cried enough, (and) we were trampled by our friends in PAS Terengganu. I don't mean the central PAS leadership, but Terengganu PAS in particular," he said emphatically.
Azlan was speaking at the PKR Congress in Shah Alam today while debating the party's motions on foreign policy.
Full report at:
http://www.malaysia-chronicle.com/index.php?option=com_k2&view=item&id=345551:after-kelantan-division-pkr-tganu-complains-about-islamist-bully-boy-pas&Itemid=2#ixzz3BDCi6Dgc
----------
Mideast
Israel attack kills family of 5 in Gaza: medics
Aug 23, 2014
GAZA CITY: An Israeli air strike hit a house in central Gaza before dawn on Saturday killing five family members, including two women and two children, Palestinian medics said.
Emergency services initially said three people were killed and five wounded, but later announced that two people had died of their injuries after the raid in Al-Zawayda near the Nusseirat refugee camp.
The air raid hit a family home, witnesses and medics said.
Doctors at the Al-Aqsa Hospital in Deir al-Balah said the five dead all came from the same family -- a 28-year-old father, his 26-year-old wife and their two boys aged three and four.
The father's 45-year-old aunt was also killed, they said.
The Israeli military said it had carried out around 20 air strikes over the Gaza Strip early on Saturday and that three rockets or mortar rounds had hit southern Israel near the border with Gaza.
Full report at:
http://www.dawn.com/news/1127236/israel-attack-kills-family-of-5-in-gaza-medics
----------
Islamic scholar Gülen rebukes ISIL for 'brutal atrocities'
Aug 23, 2014
Turkish Islamic scholar Fethullah Gülen has strongly condemned a campaign of violence undertaken by the Islamic State of Iraq and the Levant (ISIL), sending his condolences to its victims as well, including a slain American journalist.
In a statement on Thursday released by the Alliance for Shared Values, an umbrella body of institutions linked to the Gülen movement, Gülen said he "deplored the brutal atrocities" being committed by the terrorist group "hiding behind a false religious rhetoric." He joined the "people of conscience" from around the world in calling for these perpetrators to immediately cease their "cruel and inhuman acts."
"Any form of attack, suppression or persecution of minorities or innocent civilians is an act that contradicts the principles of the Quran and the tradition of our Prophet, upon whom be peace and blessings," Gülen said.
He noted that the terrorists are either "completely ignorant" of the spirit of Islam or its messenger, or their actions are designed to serve their individual interests or those of their "political masters."
Full report at:
http://www.todayszaman.com/latest-news_islamic-scholar-gulen-rebukes-isil-for-brutal-atrocities_356381.html)
----------
Abbas reaches agreement with El-Sisi on resumption of peace talks
Aug 23, 2014
Palestinian President Mahmoud Abbas spoke in a press conference on the situation in Gaza and the resumption of peace talks at Ittihadiya presidential palace in Heliopolis on Saturday.
Abbas stated that Palestine's primary concern is putting an immediate stop to the bloodshed in Gaza.
According to Palestinian health officials, at least 2,092 Palestinians have been killed since Israel's offensive on the Gaza Strip began on 8 July.
"We must first stop the bloodshed and then address providing humanitarian aid to the strip."
"We must also start Gaza's reconstruction immediately after the ceasefire takes place," Abbas stated.
Full report at:
http://english.ahram.org.eg/NewsContent/2/8/109038/World/Region/Abbas-reaches-agreement-with-ElSisi-on-resumption-.aspx
----------
Gaza 'flash mob' in Istanbul moves audience to tears
Aug 23, 2014
A dramatic reenactment of the recent Israeli air strikes on the Gaza Strip has moved some bystanders to tears in an Istanbul street.
A group of actors staged the reenactment that Turkey's semi-official Anadolu Agency described as a "flash mob" in a street named as "Help Gaza" by Eyüp Municipality.
As sirens blared, the actors, some covered with fake blood, yelled for help to escape from "the Israeli bombing."
The show moved some Istanbulites to tears, while some others chanted, "Down with Israel."
"We wanted our citizens to feel the drama in Gaza," Eyüp Mayor Remzi Aydın told Anadolu Agency, noting that 15 NGOs opened stands in the street to collect donation for Palestinians.
http://www.hurriyetdailynews.com/video-gaza-flash-mob-in-istanbul-moves-audience-to-tears.aspx?pageID=238&nID=70809&NewsCatID=341
----------
IDF warns Gazans: Steer clear from terror sites
Aug 23, 2014
The IDF called on residents of Gaza to steer clear of areas used to wage attacks against Israel. The army distributed leaflets across the coastal territory and warned the population via recorded voice messages and text messages that it "will use force against any military or civilian facility used for terrorist activities."
"Any house that is used to wage attacks against Israel will be targeted," the leaflets read. "The mission is still ongoing; Beware."
"For your own safety," the army admonished Gaza residents, "prevent terrorists from using your property for terror activities and keep clear from any place where militants are operating."
The IDF called on resident to immediately evacuate from any area where Hamas is launching rockets across the border.
As sirens continued to wail across Negev communities and Gaza frontier towns throughout the day, a rocket slammed into a community in the Eshkol region, causing damage to property, but no injuries. Five other projectiles landed within across communities.;Several other rockets exploded in open areas in the region. Meanwhile, a projectile crashed into a dining hall in the Sha'ar HeNegev Regional Council – the same area where a mortar shell killed a four-year-old child on Friday.
Full report at:
http://www.jpost.com/Arab-Israeli-Conflict/IDF-warns-Gazans-Steer-clear-from-terror-sites-372012
----------
Hamas voices support for membership of 'Palestine' in ICC
Aug 23, 2014
As Egyptian-mediated talks to end the fighting between Israel and Hamas remain dead-locked, Palestinian Authority President Mahmoud Abbas seems to be making progress on another front.
Hamas has signed a document supporting PA President Abbas' bid to join the International Criminal Court, according to a senior Hamas official. The move comes as Abbas contemplates the court option in order to file war crimes charges against Israel.
Senior Hamas official Musa Abu Marzouk took to Facebook on Saturday to announce that his organization has "signed a paper" supporting any Palestinian Authority initiative to join the Hague-based international tribunal. He said Abbas requested the agreement of Palestinian factions "before he goes to sign [the ICC's founding treaty] the Rome Statute."
Izzat Rishq, another Hamas official, confirmed the document was signed.
Abbas has said recently that he intends to ask the courts to look into possible war crime committed by Israel during Operation Protective Edge, which is soon entering its seventh week of fighting.
Full report at:
http://www.jpost.com/Arab-Israeli-Conflict/Hamas-decides-on-backing-PA-in-bid-to-join-ICC-372009
--------
India
'Love jihad' on official agenda of BJP's UP unit, meet today
Aug 23, 2014
The Uttar Pradesh unit of BJP has decided to include the issues of 'love jihad' and conversion of Hindus on the agenda for its two-day state executive committee meet, which begins in Mathura on Saturday. The decision came days after RSS wing Dharma Jagran Manch launched a campaign against 'love jihad', which refers to Hindu girls being allegedly converted to Islam for marriage, in the state.
BJP national president Amit Shah will inaugurate the state executive meeting in which all state and national leaders from Uttar Pradesh will participate and draft the party's action plan for the 2017 Assembly elections.
"Issues of 'love jihad' and conversion of Hindus would be raised during discussions over law and order situation in the state and the party will also draft its future action plan to fight against these issues," said state party president Laxmikant Bajpai.
Bajpai said that recent incidents of communal tension in Saharanpur, Moradabad, Meerut and Ambedkar Nagar would also be discussed.
"Love jihad had so far been on the agenda of RSS only. The BJP has now started raising voice against it after coming to power at the Centre," said another BJP leader.
Full report at:
http://indianexpress.com/article/india/politics/love-jihad-on-official-agenda-of-bjps-up-unit-meet-today/
-------
Army, terrorists locked in fierce gunbattle in Kupwara, J&K
ANI | Aug 23, 2014
KUPWARA, J&K: A fierce gunbattle is on between the Army and terrorists in Zaloora area of Kupwara in Jammu & Kashmir.
According to the local residents, the firing began on Friday evening.
Noor Fatima, a local resident said, "The firing started during the evening. After the firing, vehicles kept moving all night. There is such a huge presence of Army near our home that we cannot even get out of our home."
According to reports, the firing by the terrorists started after the Army launched a search operation last evening after receiving an intelligence tip-off that LeT terrorists may be hiding in the area.
No casualties have been reported so far in the gunbattle.
http://timesofindia.indiatimes.com/india/Army-terrorists-locked-in-fierce-gunbattle-in-Kupwara-JK/articleshow/40762214.cms
----------
URL: https://www.newageislam.com/islamic-world-news/new-age-islam-news-bureau/saudi-arabia-to-host-arab-meeting-on-syria,-isis/d/98701