New Age Islam News Bureau
26 Oct 2014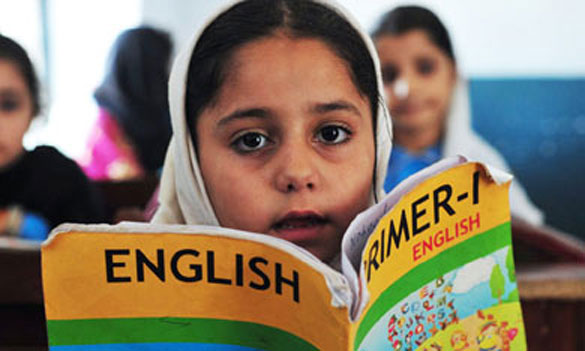 Chapter titled "Da Maujoda Dor Masalay" (problems of the present age) in the Pashto book for grade-10 will be removed. - File photo
----------
Arab World
• Iraqi Security Forces and Kurds Gain Ground against Islamic State
• Family Disowns Dammam University Lecturer Who Joined 'Islamic State'
• Lebanon Army Fights Militants in Tripoli, 6 Soldiers Killed
• Syria regime air strikes kill 11 children: Monitor
• IS kills eight Iraq soldiers in clashes south of Baghdad
• Foreign allies pledge support for Egypt's fight against Sinai militants
• US strikes pound jihadists as Iraq Kurds prepare to join fight
• Kurdish ministry denies report on Oct 26 Peshmerga passage to Kobane
• Qatar renounces deporting Muslim Brothers leaders -report
• Syria rebels battle for Aleppo supply route
Pakistan
• Chapter Being Removed From Textbook on JI Demand
• Khyber Agency bombarded: 20 suspected militants killed
• 80 clerics put under surveillance in Islamabad
• Hindu citizens looking for Jinnah's Pakistan
• Qadri to travel abroad to revive PAT's overseas offices
• The unsung heroes of war against terrorism remembered
• Anti-Mohajir comments: MQM to observe black day today
• Pakistan remains firmly committed to protecting human rights: Bokhari
South Asia
• Bangladesh Militants organise to form a common platform
• 29 die in violence in Afghanistan's Farah province
• Afghan intelligence foil terrorist attack plot in Kabul
• Bangladesh achieved 'enviable success in women empowerment'
• Afghan cleric jailed for 20 years for rape
• Pakistani, Afghan experts eye China's greater role in Afghanistan
• It's fascism, says BNP about latest arrest
North America
• Residents scrub hate messages off Canadian mosque
• U.S. condemns Iran's execution of Reyhaneh Jabbari
• Grateful for US strikes, Syrian Kurds name baby 'Obama'
• U.S. and British forces officially end Afghan operations
Europe
• Serious Fears Of 'Wahhabi' Threat behind Chechen Leader's 'CIA-Sponsored IS Devils' Comments
• Lavrov: Russia Has No Deal with US-Led Anti-ISIL Coalition on Intelligence Exchange
• ISIS threatens to kill British deserters
• Appeal against Salafists: Hooligans Want To "Defend Germany"
• Muslim pupils must study two religions under government plans to tackle
India
• Financial regulators to issue warning against IS links
Africa
• Dignity spokesman urges the tribal elders to turn in their Islamist fighters
• Anti-terror raid kills 6 as Tunisian voters prepare to go to the polls
• Boko Haram - Dozens Killed As Multi-National Forces Recapture Abadam
• Morocco says to bolster security in the face of 'threats'
• Fresh violence breaks out in Libya's Benghazi
• Sudan's Bashir backed by party to run in presidential polls
Mideast
• Turkey's MPs criticize German recognition of Alevism
• Iran re-arrests leading human rights lawyer Nasrin Sotoudeh
• Yemen PM-designate offers Houthis 6 ministries
• Top Israeli official: U.S.-Israel relations in 'crisis'
• Three soldiers killed in gunfire in south-eastern Turkey
• Turkey's leading imam involved in Istanbul grove row
• Rafsanjani Advises Saudi King to Stop Sheikh Al-Nimr Execution
Southeast Asia
• Malay Leaders Cowards for Doing Nothing about 'Hate Gang' Using Islam
• Death threats, slander against pet-a-dog organiser is freedom of speech, says Muslim group
• 'Arabic Month' to be held in many Indonesian cities
Compiled by New Age Islam News Bureau
URL: https://www.newageislam.com/islamic-world-news/new-age-islam-news-bureau/iraqi-security-forces-and-kurds-gain-ground-against-islamic-state/d/99729
-----------
Arab World
Iraqi security forces and Kurds gain ground against Islamic State
Reuters | Oct 26, 2014
BAGHDAD/ARBIL: Iraqi government forces and Shia militias seized control of the strategic town of Jurf al-Sakhar near Baghdad from Islamic State on Saturday and Kurdish fighters made gains in the north after heavy coalition air strikes against the Sunni militants.
Iraqi troops and their Shia allies broke the grip of Islamic State in Jurf al-Sakhar after months of fighting against insurgents determined to march on the capital.
"Our forces with the support of the volunteers are in total control over Jurf al-Sakhar now and the terrorists fled to the southwest areas of the town," a spokesman for security forces there said.
A victory could allow Iraqi forces to prevent the Sunni insurgents - positioned in several locations around Baghdad - from edging closer to the capital, sever connections to their strongholds in western Anbar province and stop them infiltrating the mainly Shia south.
The security officials said the Sunni insurgents fled to the two nearby villages of al-Farisiya and Hay al-Askari and were still attacking with sniper fire and mortars. Government forces were preparing for a major overnight operation against them.
In the latest fighting, 67 members of the Iraqi security forces and Shia militias as well as 300 Islamic State fighters were killed, the officials said.
It was not possible to get independent verification of the casualty tolls in the town 60 km (40 miles) south of Baghdad.
Speaking to state television in the town, Prime Minister Haider al-Abadi said Iraqis forced out by fighting would soon return to their homes.
Islamic State swept through northern Iraq in the summer, facing little resistance from U.S.-trained government troops.
The al Qaeda offshoot then declared a caliphate and threatened to reach Baghdad, rattling the Shia-led government and intensifying sectarian bloodshed.
On Saturday, a suicide bomber killed seven Shia militiamen in a town just north of Baghdad, police and medical sources said.
Islamic State controls large parts of the Sunni heartland in Iraq's western Anbar province, as well as swathes of Syria and wants to redraw the map of the Middle East.
Strategic islamic state network at stake
Sunni insurgents have been moving fighters, weapons and supplies from western Iraq through secret desert tunnels to Jurf al-Sakhar, Iraqi officials have said. Now it appears government forces may be able to disrupt that network.
While Iraq's army and Shia militias have resisted Islamic State efforts to move closer to Baghdad, Kurdish forces have also gained ground, recapturing territory in the north.
The Kurds retook the town of Zumar and several nearby villages from early on Saturday after heavy coalition air strikes against the insurgents, security sources said.
If the Kurds manage to hold Zumar, that could enable them to disrupt Islamic State supply lines to nearby towns and cities.
A Kurdish intelligence officer in Zumar said Kurdish peshmerga forces had advanced from five directions in the early morning and encountered fierce resistance. A spokesman for the peshmerga also said Zumar was now in Kurdish hands.
Zumar was one of the first Kurdish-controlled towns to be overrun in August by Islamic State who went on to threaten the autonomous region's capital, Arbil, prompting air strikes by the United States - a campaign since joined by Britain and France.
If the Kurds are able to keep Zumar, it would also make it easier for them to advance on Sinjar, where Islamic State are besieging members of Iraq's Yazidi minority on a mountain.
Helped by the air strikes, Kurds have regained ground but progress has been hampered by a lack of heavy weaponry and by homemade bombs and booby-traps laid by the militants.
Gains have been easily lost in the war against Islamic State.
The Kurds claimed victory in Zumar in September, only to withdraw from the town again after suffering heavy losses.
One peshmerga fighter deployed in the area on Saturday said a sniper was still at large in a village adjacent to Zumar, and a car bomb had exploded when they approached a vehicle, killing seven peshmerga.
In another village, Ayn al-Helwa, the peshmerga said 17 militants had been taken captive, all of them Sunni Turkmen.
While US air strikes have had some impact on the insurgents, it is not clear whether they will be enough to secure a defeat in the long term in the major oil producer and in Syria.
The United States and its allies conducted 22 air strikes against Islamic State forces in Iraq on Friday and Saturday, the U.S. Central Command said.
US warplanes also destroyed an Islamic State artillery
piece near Kobani in Syria, officials said Saturday. The town near Turkey's border appears in less danger of falling, but the threat remains, U.S. officials said on Thursday.
The 22 strikes in Iraq included attacks on frequently targeted areas near the vital Mosul dam, the city of Fallujah and the northern city of Baiji, home of an oil refinery.
http://timesofindia.indiatimes.com/world/middle-east/Iraqi-security-forces-and-Kurds-gain-ground-against-Islamic-State/articleshow/44936173.cms
-----------
Family disowns Dammam University lecturer who joined 'Islamic State'
Oct 26, 2014
DAMMAM — The parents of a Dammam University lecturer who said she had left her job to join the self-proclaimed Islamic State has publicly disowned their daughter.
Dr. Eman Mustapha, a Syrian national, was a faculty member at the university before she resigned for "personal reasons", only to announce later on social media that she had joined IS.
Her father, Dr. Mustapha Al-Bugha, is a well-known scholar in Syria, and has always adopted a centrist view and opinions.
Eman Mustapha had published a book, "I am IS even before IS existed", and her actions have generated a strong reaction on social media, especially among academics who demanded that faculty members should be scrutinized closely before they are accepted for employment at universities due to their influence on students.
r. Buthaynah Al-Yousef, a faculty member at a Saudi university, said Mustapha's behavior should serve as a wake-up call and called for greater care of students who could be potentially receiving their education at the hands of IS loyalists.
"This has nothing to do with Eman's Syrian nationality, because there are Saudis who have adopted such ideologies and are promoting unbelievable ideologies among students," she said.
She pointed out that Mustapha's book clearly shows that she is an extremist, despite the fact that she comes from a centrist family.
"We are not looking for extremists or terrorists, as exaggeration in Islam is prohibited," she said.
Dr. Younes Aseeri, a faculty member at a Saudi university, refused to comment on the Mustapha's behavior, but said: "What I have read is regrettable."
A faculty member at Dammam University said Mustapha was a close friend of hers but she was constantly talking about jihad and women's potential participation alongside jihadists.
She said: "I tried many times to discuss the matter with her, but she always refused.
"She did not impose her ideologies on others, so I used to leave her alone."
http://www.saudigazette.com.sa/index.cfm?method=home.regcon&contentid=20141026222332
-----------
Lebanon army fights militants in Tripoli, 6 soldiers killed
World Bulletin/News Desk
Oct 26, 2014
Six Lebanese soldiers were killed as the army clashed with gunmen in northern Lebanon for a second day on Saturday, using helicopters to fire rockets in the first such air attack since the war in neighbouring Syria began.
Soldiers exchanged heavy fire with the gunmen - whose exact affiliation was unclear - in the city of Tripoli in the morning and moved in on their positions in the afternoon, security sources said.
Three soldiers were wounded in a nearby incident when gunmen opened fire on an army vehicle near the northern village of Bahneen, the sources said. One soldier later died from his wounds.
An officer was killed in another attack near the town of al-Minya, also in the north, security sources said. The military used two helicopters to fire two rockets at militants in the area after the attack, security sources said.
A third soldier died from wounds sustained in fighting on Friday. At least four militants and two civilians were also killed, and about 14 soldiers wounded, the sources said.
Gunmen also took one soldier captive in Tripoli as he was riding in a taxi, security sources said.
Tripoli has seen some of the worst spillover from the 3-1/2-year-old war in neighbouring Syria, whose border is only about 30 km (20 miles) north up the coast from the ancient port city. Gun battles and bombings linked to the conflict have regularly broken out.
In statements published by the National News Agency, the army leadership said: "The pursuit of terrorist gunmen in Tripoli is continuing and will not be pulled back until after the terrorists are eliminated."
Syrian conflict to cap Lebanon's growth
Meanwhile, Lebanon's economy will grow by no more than 2 or 2.5 percent next year if it does not resolve its political problems as it struggles to cope with the fallout from the war in neighouring Syria, the economy minister said.
Lebanon's economy has been hit hard by Syria's civil war, which has sparked gun battles, bombings and kidnappings in the small Mediterranean country and hurt key sectors like tourism. It has also forced more than 1 million Syrians to take refuge inside its borders.
Economy and Trade Minister Alain Hakim said the country needed $2.5 billion to start addressing the economic impact of the Syrian refugees, whose presence has strained infrastructure and led to increased competition for jobs.
Political tensions have also risen. Lebanon has been without a president since May because lawmakers have been unable to agree on a new one. Parliament is also expected to postpone next month's elections to 2017 because of instability linked to the Syrian crisis.
"Today, in the absence of a president and the absence of parliamentary elections and the absence of political continuity, we cannot predict more than 2 or 2.5 percent (economic growth) in 2015 if we continue like this," Hakim told the Reuters Middle East Investment Summit.
"And this is if the Lebanese economy is resilient in confronting the political and security earthquakes that are happening around us."
The government had not previously estimated growth next year. Government officials and the International Monetary Fund have forecast 2 percent growth this year, after last year's 1.5 percent expansion.
With a population of only about 4 million, Lebanon now hosts more refugees per capita than any other country in the world. Many Lebanese blame refugees for increases in crime and for taking jobs and overburdening schools, hospitals and other public services.
Lebanon's finance minister said this week that the country had had little response after presenting the United Nations with a paper at the end of 2013 estimating that refugees would cost the economy $7.6 billion.
Hakim said crime and competition for jobs had risen as a result of the refugee presence.
"If we continue in this fashion, I think the Lebanese economy will also start to collapse, little by little. Even if it is resilient, with time, especially in terms of commerce, the crisis will grow much worse than it is today," he said.
"Today the Lebanese state needs $2.5 billion to start finding solutions to the Syrian presence in Lebanon ... to treat the effects of the Syrian refugees on Lebanon," he said.
Hakim, however, said remittances from Lebanese migrants into the country had increased over 2013, helping the economy withstand some of the impact. Inflation was at about 2.5 percent, he added.
He said Lebanon would also try to forge new markets for Lebanese exports and businesses in countries where there were large presences of Lebanese migrants, such as in Latin America, Africa and parts of Europe.
http://www.worldbulletin.net/headlines/147040/lebanon-army-fights-militants-in-tripoli-6-soldiers-killed
-----------
Syria regime air strikes kill 11 children: Monitor
Oct 26, 2014
Syrian government air strikes on two rebel-held areas of the central province of Homs killed at least 25 civilians, 11 of them children, a monitoring group said on Sunday.
Sixteen members of a single family were among 18 people killed in raids late Saturday on the town of Talbisseh, the Syrian Observatory for Human Rights said.
They included 10 children and three women, said the Britain-based monitoring group which has a wide network of sources inside Syria.
In the Waer district on the outskirts of Homs -- the only area of Syria's third city in rebel hands -- the evening air strikes killed seven people, including a child, the Observatory added.
http://english.ahram.org.eg/NewsContent/2/8/113969/World/Region/Syria-regime-air-strikes-kill--children-Monitor.aspx
-----------
IS kills eight Iraq soldiers in clashes south of Baghdad
Oct 26, 2014
Eight Iraqi soldiers were killed in fighting with jihadists south of Baghdad as the army battled to secure the route used by hundreds of thousands of Shiite pilgrims, officers said Saturday.
Pilgrims taking part in Ashura commemorations, which mark the death of Imam Hussein, one of the most revered figures in Shiite Islam, are often targeted with bombings during the annual rituals, which take place this month.
But this year's march to the shrine city of Karbala is set to be more dangerous than most, with militants from the Islamic State (IS) group, which has overrun large areas of the country, holding territory along the way.
The attack by security forces on IS militants in the Jurf al-Sakhr area began on Friday, an army captain said.
Eight soldiers were killed in the fighting, the captain and an army major said.
The officers said dozens of militants were also killed, but Iraqi officials frequently announce high death tolls for jihadists that are not possible to independently verify.
"Securing Jurf al-Sakhr is securing Karbala and the south completely, as the gateway to the south begins from Jurf al-Sakhr," Karbala governor Aqil al-Turaihi told journalists during a visit to the area.
Securing Jurf al-Sakhr would also better position Iraqi forces to strike at militants in nearby Anbar province, where they have suffered a string of setbacks, prompting warnings that the entire province could fall.
http://english.ahram.org.eg/NewsContent/2/8/113921/World/Region/IS-kills-eight-Iraq-soldiers-in-clashes-south-of-B.aspx
-----------
Foreign allies pledge support for Egypt's fight against Sinai militants
Oct 26, 2014
A number of members of the international community have condemned the militants attacks in Sinai on Friday that killed 30 soldiers and injured 31 more.
On Saturday the United States and several European and Arab states all pledged their support to Egypt in combating militant violence.
Twenty-eight soldiers were killed and another 30 injured when a car bomb exploded at the Karm Alkwadis security checkpoint in Sheikh Zuweid in North Sinai on Friday. Hours later three security personnel died when militants opened fire on a checkpoint in nearby Al-Arish.
UN Secretary General Ban Ki-moon extended his condolences to the families of the victims and to the Egyptian government, and wished a speedy recovery to the injured soldiers.
The US pledged its continued support, as part of the strategic partnership between the two countries, for Egyptian government efforts to counter "the threat of terrorism" in Egypt, a US State Department communique said.
Full report at:
http://english.ahram.org.eg/NewsContent/1/64/113929/Egypt/Politics-/Foreign-allies-pledge-support-for-Egypts-fight-aga.aspx
-----------
US strikes pound jihadists as Iraq Kurds prepare to join fight
Oct 26, 2014
US-led warplanes have bombarded the Islamic State group with new air strikes as heavily armed Iraqi Kurdish fighters were on Sunday readying to reinforce the besieged Syrian border town of Kobane. Kurdish forces, backed by US air power, have been holding out for weeks against an IS offensive around Kobane, which has become a high-profile symbol of efforts to stop the advance of the jihadists. The Kurdish regional government in northern Iraq unveiled plans on Friday for up to 200 well-trained peshmerga to join Syrian Kurdish forces defending Kobane in the coming week. Kurdish news agency Rudaw said the first contingent could head to the town as early today, but there was no immediate confirmation of that timetable. Since Turkey conceded to US pressure to allow vetted reinforcements into Kobane to prevent IS winning the prominent battle for the town, the jihadists have made repeated attempts to cut the border before any help can arrive.
Full report at:
http://indianexpress.com/article/world/middle-east-africa/us-strikes-pound-jihadists-as-iraq-kurds-prepare-to-join-fight/99/#sthash.nbiNwXuE.dpuf
-----------
Kurdish ministry denies report on Oct 26 Peshmerga passage to Kobane
Oct 26, 2014
The General Secretary of the Ministry of Peshmerga Affairs of the autonomous Kurdish Regional Government (KRG) in northern Iraq has denied a report that the Kurdish Peshmerga forces would start their passage to Kobane on Oct 26.
"News on when the Peshmerga will start their passage is incorrect. We reject it no matter who the source is," Jabar Yawar told the Anadolu Agency Oct. 25.
Earlier in the day, website Rudaw had quoted Kurdish sources as saying that a 150-member Peshmerga group will head to the besieged Syrian border town on Oct. 26 via Turkey.
Turkish President Recep Tayyip Erdoğan said Oct. 24 that he has learned the number of Iraqi Peshmerga fighters allowed to go to Kobane under jihadist fire for about one month through Turkey has been decreased to 150 from the initially announced 200.
Full report at:
http://www.hurriyetdailynews.com/kurdish-ministry-denies-report-on-oct-26-peshmerga-passage-to-kobane.aspx?pageID=238&nID=73460&NewsCatID=510
-----------
Qatar renounces deporting Muslim Brothers leaders -report
World Bulletin/News Desk
Oct 26, 2014
Qatar has renounced deporting Muslim Brothers' 7 leaders, and allowed them to return the Qatar, Egyptian media reported.
Some of them have come back, after Qatar's decision about not deporting Muslim Brothers' 7 leaders, and allowing them to return Qatar, Egypt's daily al-Mısri al-Yawm claimed.
Jemal Abdulsettar and Assam Telmiye are among the leaders of Muslim Brothers there, according to the Brotherhood's sources.
Full report at:
http://www.worldbulletin.net/headlines/147043/qatar-renounces-deporting-muslim-brothers-leaders-report
-----------
Syria rebels battle for Aleppo supply route
26 October 2014
Syrian rebels fought fierce clashes with loyalist troops Saturday as they tried to secure their supply line to second city Aleppo against advances by the army, a monitor said.
The clashes in the divided area of Handarat just north of Aleppo, came a day after fighting that killed 15 soldiers and pro-regime militia as well as 12 rebels, said the Syrian Observatory for Human Rights.
"Rebels from all the main factions have launched an operation to try to secure the Handarat area," said Observatory director Rami Abdel Rahman.
"They are trying to expel the army from hills captured by the regime in recent days," Abdel Rahman told AFP.
Earlier this month the Observatory reported that government troops backed by fighters from Lebanese Shiite movement Hezbollah took Handarat, just north of Aleppo.
The battle for control of Handarat hill is decisive for the rebels as the position overlooks their main supply route from Turkey and because it could place rebel areas of Aleppo under army siege.
Full report at:
http://english.alarabiya.net/en/News/middle-east/2014/10/26/Syria-rebels-battle-for-Aleppo-supply-route-.html
-----------
Pakistan
Chapter Being Removed From Textbook on JI Demand
Oct 26, 2014
PESHAWAR: The Elementary and Secondary Education Department is set to remove a whole chapter from a school textbook highlighting the contemporary issues, their causes and veiled hints towards the invisible elements responsible for creating such issues that have made the lives of people miserable in the region, according to sources.
The chapter titled "Da Maujoda Dor Masalay" (problems of the present age) in the Pashto book for grade-10 will be removed on the demand of Jamaat-i-Islami, they said.
The chapter was included in the textbook by the previous ANP-led government to inform the students about the various issues engulfing the society for the last many years, said the sources in the education department.
In the third paragraph on page 65 of the chapter it is stated that due to political instability millions of Afghans were compelled to migrate to Pakistan who brought with them many problems from Afghanistan that still existed in our society.
The text on page 66 conveys that "It is crystal clear that human beings have always used their power and inflicted brutalities on others in the process to impose their religious, political, national and economic supremacy on others. In history whenever any group in any area on the earth started ruling by adopting such practices has left examples of brutalities and inhuman practices that has bowed down the head of human beings in shame".
Full report at:
http://www.dawn.com/news/1140486/chapter-being-removed-from-textbook-on-ji-demand
-----------
Khyber Agency bombarded: 20 suspected militants killed
Oct 26, 2014
PESHAWAR: At least 20 suspected militants were killed and several others injured early on Sunday as jet fighters targeted alleged hideouts in Bara tehsil of Khyber tribal region. Artillery and mortar fire supported the air strikes.
The areas targeted were said to be the main operational terror centers of the banned outfits.
Official sources say that the militants' hideouts in Sipah, Malakdin Khel, Nalan Sur Kas areas of Bara were targeted in the fresh attacks, in which five militant hideouts were destroyed. None of this information could be independently verified however, given restrictions on access to the restive region.
Recently, a clash took place in the Sipah area of Bara tehsil with Operation Khyber I (Khyber one) underway in the region. The operation was formally launched earlier this month. Sources had told Dawn earlier that Khyber I's main aim was to clear the areas lying from Bara up to the border of Tirah valley, following which a second phase of the operation would be launched.
Full report at:
http://www.dawn.com/news/1140509/khyber-agency-bombarded-20-suspected-militants-killed
-----------
80 clerics put under surveillance in Islamabad
Oct 26, 2014
ISLAMABAD: Vigilance has been mounted around 80 Ulema in the capital considered a threat to peace during Muharram.
Police and local administration officials on Saturday said 23 clerics had already been placed in the 4th schedule of the Anti-Terrorism Act under which they were bound to inform the police station concerned about their activities and movements.
The 80 ulema belonging to the Sunni and Shia sects have been asked to restrict their movements and public appearances. Undertakings have also been taken from them.
The police have also been directed to check entry of leaders of banned outfits in the capital during Muharram.
The officials said details of such leaders had been acquired and policemen at the checkposts and patrolling teams were being briefed about them. Photos of a majority of the Ulema have been obtained and are being given to staff at the checkpoints to identify them if they tried to enter the city.
Full report at:
http://www.dawn.com/news/1140470/80-clerics-put-under-surveillance-in-islamabad
-----------
Hindu citizens looking for Jinnah's Pakistan
Oct 26, 2014
RAWALPINDI: Hindu citizens are demanding Jinnah's Pakistan on the occasion of Diwali. From no official holiday on their religious festivals, Hindu marriage laws and social discrimination to life threatening security concerns, the Hindu community in Pakistan faces a myriad of problems.
"No holiday on Diwali is a minor issues. Our problems are much bigger," said Akash Raj, a Hindu citizen.
He narrated that he got married many months ago but his wife is still waiting for her new Computerised National Identity Card.
"Why is Hindu marriage act still pending," he demanded.
Raj criticised political leaders like Imran Khan and Bilawal Bhutto Zardari who are using Hindus for their own political gains. "If they actually care about minority rights, they should play a role in drafting legislation for us," he said.
Full report at:
http://www.dawn.com/news/1140459/hindu-citizens-looking-for-jinnahs-pakistan
-----------
Qadri to travel abroad to revive PAT's overseas offices
Oct 26, 2014
LAHORE: Pakistan Awami Tehreek chief Dr Tahirul Qadri has said that he will travel abroad to revive his party's overseas offices which have been dysfunctional since he resigned as member of the National Assembly in 2004.
Talking to journalists outside his Model Town residence here on Saturday, he said PAT would field its candidates in all by-elections whether it succeeded in forcing the government to introduce reforms in the electoral set-up or not.
"Our party became dysfunctional after I resigned from the assembly in 2004 in protest against the corrupt and tyrannical system. And since we have decided to take part in politics and in the next elections after calling off the Islamabad sit-in, it is necessary to revive the party in Pakistan and abroad.
Full report at:
http://www.dawn.com/news/1140439/qadri-to-travel-abroad-to-revive-pats-overseas-offices
-----------
The unsung heroes of war against terrorism remembered
Oct 26, 2014
PESHAWAR: Families and officers were sitting in front of a dome-shaped marble monument at Balahisar Fort to pay homage to 1,180 Frontier Corps personnel, who have laid down their lives in the war on terrorism.
Solemn and emotional scenes were seen when schoolchildren enacted a play to illustrate sacrifices of soldiers.
The scene resembled with reality for the people, who had lost near and dear ones in the prolonged conflict in the Federally Administered Tribal Areas.
The audience comprising widows, fathers and mothers of fallen soldiers broke down completely when a girl, enacting as one of the bereaved mothers, was informed that his son had been killed in a gun battle with militants.
Full report at:
http://www.dawn.com/news/1140484/the-unsung-heroes-of-war-against-terrorism-remembered
-----------
Anti-Mohajir comments:MQM to observe black day today
Oct 26, 2014
KARACHI: Muttahida Qaumi Movement (MQM) has announced to mark a "Black Day" today (Sunday) over the remark "mohajir" by Pakistan People's Party's leader Khursheed Shah last week.
The MQM has announced that black flags would be hoisted on the party's offices across the country to register a protest. Rallies will be held at the Shahrah-e-Faisal and Shahrah-e-Qauideen. Speaking at a press conference, senior MQM leader Abdul Haseeb Khan said Khursheed Shah has hurt the feelings of those who migrated to Pakistan from India at the time of Partition in 1947 by saying the word "mohajir" more than four times. The MQM leader said that Khursheed Shah's remarks had drawn widespread anger from the Muslim Ummah. Hasseb lashed out at the opposition leader in the National Assembly, saying the word Mohajir is not an expletive but a respectful "Islamic word". It is noteworthy that Shah had apologised and retracted his statement after facing criticism from the MQM. He had clarified that he himself was a mohajir as his ancestors had moved to Sindh.
http://www.dailytimes.com.pk/national/26-Oct-2014/anti-mohajir-comments-mqm-to-observe-black-day-today
-----------
Pakistan remains firmly committed to protecting human rights: Bokhari
Oct 26, 2014
ISLAMABAD: Senate Chairman Nayyer Hussain Bokhari has said that Pakistan remains strongly committed to the protection of human rights and providing its citizens basic necessities of life.
The Senate chairman expressed these views in a meeting with Swedish Minister for Foreign Affairs Margot Wallstrom. He said that the constitution guarantees rights to all sections of society.
Bokhari said that Pakistan is taking significant measures for women empowerment and believes in their development as a crucial step for the country's progress.
He laid considerable emphasis on Pakistan's efforts of making itself an inclusive society and ensuring maximum efforts for streamlining a larger part of the population.
He said that Pakistan highly values its relations with Sweden and Swedish support at regional and international forums is highly cherished.
Full report at:
http://www.dailytimes.com.pk/national/26-Oct-2014/pakistan-remains-firmly-committed-to-protecting-human-rights-bokhari
---------
South Asia
Bangladesh Militants organise to form a common platform
Oct 26, 2014
Bangladesh Jihadi Group comprise JMB, Huji-B and Ansarullah
Detectives claimed to have got information that several militant outfits had joined forces to form a new platform in the wake of strong anti-militancy vigilance from law enforcers.
Yesterday, the Detective Branch (DB) of police organised a conference to let media know about the arrest of four members of banned militant group Harkat-ul Jihad Al Islami Bangladesh (Huji-B) and the information derived from them.
DB said Huji-B members Mawlana Mohammad Rafiq Ahmed alias Sajid, Md Umar alias Foyzul alias Roby, Md Nadim Ahmed alias Sumon and Md Salahuddin Ahmed – all aged between mid-20s and mid-30s – were picked up early yesterday in separate drives in Uttara and Tikatuli in the capital and Narayanganj city.
Rafiq is a teacher at the Foyzul Ulum Madrassa, better known as the Boktaboli Madrassa, in Narayanganj and the Imam of the local Amtoli Mosque.
Umar is a final year student of chemistry at the capital's Prime University. Huji-B took over Umar's responsibilities when he was a sixth grader, bearing all his educational expenses since then.
Full report at:
http://www.dhakatribune.com/crime/2014/oct/26/militants-organise-form-common-platform#sthash.gwVWNpOh.dpuf
-----------
29 die in violence in Afghanistan's Farah province
World Bulletin/News Desk
Oct 26, 2014
Fighting between local police and Taliban militants broke out in Afghanistan's Farah province.
Groups of armed rebels had stormed Afghan Local Police checkpoints in the Bala Buluk district in Farah, an Afghan official said on Saturday evening. The attack was successfully beaten back, according to Brigadier General Muhamamd Yaqoob, the Provincial Police Chief.
Yaqoob confirmed the death of 19 attackers and seven members of the local police. Local hospital sources have reported that four local police members and three civilians have been seriously wounded in the clashes.The dead bodies of two local police members, who were abducted by the militants a day earlier, have also been found in the Pushtrod district.
Farah is a strategically important province bordering the Helmand province to the east and Iran to the west. The Afghan Local Police is a local militia established with the backing of US General David Petraeus but with strong opposition from former Afghan President Hamid Karzai.
Full report at:
http://www.worldbulletin.net/todays-news/147061/29-die-in-violence-in-afghanistans-farah-province
---------
Afghan cleric jailed for 20 years for rape
Oct 26, 2014
KABUL: An Afghan court has sentenced a cleric to 20 years in prison after finding the religious teacher guilty of raping a 10-year-old girl.
The sentence, passed by a Kabul judge on Saturday, has been welcomed by women's support groups as a rare victory in their fight for justice for female victims of sex crimes.
Rape is often treated as adultery in Afghanistan, and victims can face prison themselves.
Hassina Sarwari, who runs a shelter for women in northern Kunduz province, where the rape took place, welcomed the court's decision saying on Sunday that if the trial had not been transferred to Kabul the result would probably have been very different.
The rape took place in May in the girl's home village near the provincial capital, also called Kunduz.
http://www.dawn.com/news/1140511/afghan-cleric-jailed-for-20-years-for-rape
-----------
Pakistani, Afghan experts eye China's greater role in Afghanistan
Oct 26, 2014
ISLAMABAD: Pakistani and Afghan foreign affairs experts agree in their view that China can play a proactive role in Afghanistan because of its policy of non-interference and quest for enhanced economic engagement.
They say China's role will also be very important in the elusive peace after the withdrawal of most of the foreign troops this year as it enjoys good relations with key stakeholders like Pakistan and Iran. The political watchers have also attached high hopes to the upcoming visit of Afghan President Ashraf Ghani Ahmadzai to China this month. Ghani is scheduled to hold talks with Chinese leaders and will also attend the ministerial conference of the Istanbul Process, Heart of Asia Ministerial Conference on October 31.
Full report at:
http://www.dailytimes.com.pk/national/26-Oct-2014/pakistani-afghan-experts-eye-china-s-greater-role-in-afghanistan
-----------
Afghan intelligence foil terrorist attack plot in Kabul
Oct 26, 2014
A senior Taliban leader was arrested following an operation by Afghan intelligence operatives in Kabul city.
The National Directorate of Security (NDS) said the Taliban shadow governor for Nad-e-Ali district was arrested along with three others in Kabul city.
NDS following a statement said the individuals had recently came to capital Kabul to plan and coordinate attacks in city after they were trained on the other side of Durand Line.
The statement further added six other terrorists were arrested during a separate operation in norhtern Faryab province. NDS operatives also seized two suicide bombing vests along with 7 improvised explosive devices (IEDs) during the operation.
NDS operatives also arrested four suspected militants who were involved in major terrorist attacks in Nangarhar and Nimroz provinces, NDS said, adding that a vehicle packed with explosives was also confiscated with various other types of explosives from the detained militants.
The anti-government armed militant groups have not commented regarding the reports so far.
http://www.khaama.com/afghan-intelligence-foil-terrorist-attack-plot-in-kabul-8878
-----------
Bangladesh achieved 'enviable success in women empowerment'
Oct 26, 2014
Bangladesh should develop its own model of women's empowerment
Speakers at a discussion yesterday observed that Bangladesh has achieved an envious success in women empowerment and gender equality and already established itself as a role model for other countries.
Speaking at the 88th episode of BBC Sanglap at BIAM auditorium in the capital, they also stressed that Bangladesh should develop its own model of women's empowerment and address the issue of equal rights to women according to its own heritage and culture, rather than following the foreigners.
Former chief election commissioner Justice Abdur Rouf, Awami League MP Tarana Halim, entrepreneur and writer Rubana Haque and BNP international affairs secretary Asaduzzaman Ripon attended the programme as discussants.
Full report at:
http://www.dhakatribune.com/bangladesh/2014/oct/26/bangladesh-achieved-%E2%80%98enviable-success-women-empowerment%E2%80%99#sthash.duX7vG1x.dpuf
-----------
It's fascism, says BNP about latest arrest
Oct 26, 2014
BNP acting secretary general Mirza Fakhrul Islam Alamgir said, 'Police have created a heinous and spiteful situation by suddenly arresting Syed Moazzem Hossain Alal and 80 other leaders and activists as they met at Alal's Mohammapur house'
Condemning the arrest of Jubo Dal president Syed Moazzem Hossain Alal and other BNP leaders and activists, BNP on Saturday said the government move was part of its continued fascist behaviour.
In a statement, BNP acting secretary general Mirza Fakhrul Islam Alamgir said, "Police have created a heinous and spiteful situation by suddenly arresting Syed Moazzem Hossain Alal and 80 other leaders and activists as they met at Alal's Mohammapur house."
He said Awami League is repressing opposition leaders and activists and common people to protect its existence as the ruling party has realised that it has lost popularity due to its misrule.
Accusing the government of not permitting them to hold their peaceful rallies, Fakhrul said Awami League is trying to rule the country by intimidating people.
"But they can't realise that their arrogance and limitless misdeeds will invite only dire consequences for them."
Full report at:
http://www.dhakatribune.com/politics/2014/oct/26/it%E2%80%99s-fascism-says-bnp-about-latest-arrest#sthash.X9Nx1Pg7.dpuf
-----------
North America
Residents scrub hate messages off Canadian mosque
Oct 26, 2014
Residents of the small Canadian city of Cold Lake gathered on Friday to scrub away hate messages that had been scrawled in paint on the walls of a mosque and replace them with posters reading "Love your neighbour" and "You are home."
The battle of words playing out on the facade of the Cold Lake Mosque follows two separate deadly attacks on Canadian soldiers this week by converts, including one on Wednesday that spilled into Canada's parliament building.
Cold Lake is home to a Canadian air base that has deployed fighter jets against ISIL militants in Iraq.
The mosque was hit overnight with red spraypainted graffiti reading "Go home" and its windows were smashed. By Friday afternoon, the community volunteers had removed the spray paint, fixed the windows and taped their posters up.
"These guys are peaceful, and I think it's important for the community to show them that we know the difference between extremists and a religion," Cold Lake resident Matt Downy said, bringing a vase of flowers to the mosque.
Imam Syed Soharwardy, founder of Muslims Against Violence in Calgary, told reporters earlier that the vandalism revealed "how fragile the situation can be if it is not properly managed."
Reuters
http://www.worldbulletin.net/muslim-world/147011/residents-scrub-hate-messages-off-canadian-mosque
-----------
U.S. condemns Iran's execution of Reyhaneh Jabbari
26 October 2014
The United States condemned Iran's execution of a woman convicted of murdering a man who attempted to rape her, a U.S. State Department statement said.
"We condemn this morning's execution in Iran of Reyhaneh Jabbari, an Iranian woman convicted of killing a man she said she stabbed in self-defense during a sexual assault," State Department spokeswoman Jen Psaki said.
"There were serious concerns with the fairness of the trial and the circumstances surrounding this case," the statement said.
Among those concerns were "reports of confessions made under severe duress."
Jabbari, 26, who was on death row for five years, was executed at dawn, the Tehran prosecutor's office said in a statement carried by IRNA's Farsi website.
The United Nations and international human rights groups have said her confession was obtained under intense pressure and threats from Iranian prosecutors, and that she should have had a retrial.
Full report at:
http://english.alarabiya.net/en/News/middle-east/2014/10/26/U-S-condemns-Iran-execution-.html
-----------
Grateful for US strikes, Syrian Kurds name baby 'Obama'
Oct 26, 2014
SURUC, Turkey — Sultan Muslim, a Syrian Kurd, had no doubt what to name her seventh child when he was born, safely in Turkey, after a harrowing month-long flight from her home in Kobane: Obama.
Desperate to flee the flashpoint Syrian border town, the heavily pregnant mother, her husband and six other children made it across the frontier just in time for the boy's arrival.
Militants linked to the self-proclaimed Islamic State (IS), accused of widespread atrocities, seized control of the strategic locality and US-led bombing raids launched in the last few weeks have tried to stop their advance.
"I gave my son this name from my heart. I will never change this name," the shy 35-year-old said in a refugee camp in Suruc, just inside Turkey.
"He dispatched planes, aid for us. Because of his help maybe we will get rid of this cruelty and get back to our homes," she said, cradling her three-day-old son.
The family started their exodus almost a month ago, following some 200,000 Kurds who have already entered Turkey to escape the IS onslaught on Kobane.
Full report at:
http://www.saudigazette.com.sa/index.cfm?method=home.regcon&contentid=20141026222339
-----------
U.S. and British forces officially end Afghan operations
World Bulletin/News Desk
Oct 26, 2014
The last U.S. Marines unit and final British combat troops in Afghanistan officially ended their operations on Sunday as they packed up to leave the country and transferred a massive military base to the Afghan military.
The American and British flags were lowered and folded up for the final time Sunday at the regional headquarters of the international military, 13 years after the toppling of the Taliban's regime launched America's longest war.
Camp Leatherneck, in the strategic southern province of Helmand, is the largest U.S. base to be handed over to Afghan control as the coalition ends its combat mission. British forces transferred control of adjacent Camp Bastion at the same time.
The timing of the withdrawal of the troops was not released for security reasons.
http://www.worldbulletin.net/headlines/147072/us-and-british-forces-officially-end-afghan-operations
-----------
Europe
Serious Fears Of 'Wahhabi' Threat behind Chechen Leader's 'CIA-Sponsored IS Devils' Comments
Oct 26, 2014
The head of the Chechen Republic, Ramzan Kadyrov, has spoken out against the Islamic State (IS) group, saying that the extremist militants are "devils" and were assisted by Western intelligence services. Kadyrov also accused IS leader Abu Bakr al-Baghdadi of being a CIA operative, and called on the self-appointed caliph to apologize for killing his fellow Muslims.
Speaking in the Chechen capital, Grozny, on October 21, Kadyrov echoed Moscow's claims that IS had been supported by the West. "I would ask that they not be referred to as 'Islamic State.' These are devils, whose aim is to make a lot of money. They are carrying out Western orders and are deliberately murdering Muslims," Kadyrov said.
However, the Chechen leader went beyond Moscow's line that IS owed its existence to Western policy, saying that the West had supplied IS with weapons. "Where did these thugs get airplanes, or the means to arm tens of thousands of people? Where does it all come from? Definitely they are being helped by people in high positions," the Chechen leader added.
Kadyrov said that IS leader Baghdadi, was "recruited by the CIA."
Full report at:
http://www.rferl.org/content/under-black-flag-wahhabi-fears-behind-kadyrov-cia-sponsored-devils/26648551.html
---------
Lavrov: Russia Has No Deal with US-Led Anti-ISIL Coalition on Intelligence Exchange
Oct 26, 2014
Russia is ready to help fight extremism, but has never struck any deals with the US-led coalition on exchange of intelligence concerning the Islamic State of Iraq and the Levant (ISIL) terrorist group, Russia's Foreign Minister Sergey Lavrov said in an interview with Sergey Brilyov of Rossiya 1 TV.
"There is no agreement saying that we will exchange information in the framework of activity by the US-created so-called coalition for fighting the Islamic State (of Iraq and the Levant group). Likewise there's no agreement on Russia sending experts to train the Iraqi army," he said, RT reported.
Russia is according to Lavrov directly supporting governments of Syria and Iraq in their fight against the extremist organization.
http://english.farsnews.com/newstext.aspx?nn=13930803001430
-----------
Appeal against Salafists: Hooligans Want To "Defend Germany"
National Turk English
Oct 26, 2014
For years they fight with each other, now they have a common enemy: German hooligans unite against Salafists. On Sunday they want to show in Cologne thousands. The police are warned.
They swear, they insult, they crosslink continues: On social media channels, in internal chats, send a text message call football violence perpetrators on to "finally to defend Germany". Alone on Facebook garnered the group "hooligans against Salafists" (HoGeSa) in the meantime more than 40,000 likes given. On Sunday it will come in Cologne to a nationwide demonstration. The biggest of its kind.
The organizers pride themselves on "5700 applications", the Cologne police expectations are for "1000-1500 participants" as their spokesman Christoph Gilles says. The latter may be more realistic, but even with such a number of participants of the group would be the demonstration of power succeeded in its planned since its inception: "All to Cologne" says the social network for weeks, the biggest rally in Dortmund (350 participants) must be "dwarfed".
Full report at:
http://www.nationalturk.com/en/appeal-against-salafists-hooligans-want-to-defend-germany-breaking-news-55180
-----------
ISIS threatens to kill British deserters
26 October 2014
Islamic State of Iraq and Syria (ISIS) leadership issued death threats to the British fighters amongst their ranks who are reportedly desperate to return to the UK, the Observer reported.
"There are Britons who upon wanting to leave have been threatened with death, either directly or indirectly," a source with extensive contacts through different Syrian rebel groups was quoted as saying.
At least 30 British militants fighting for ISIS want to return home, former Guantánamo Bay detainee Moazzam Begg told the British newspaper, adding that they were held in Syria and Iraq against their will.
These reports follow the death of yet another young British Muslim, Muhammad Mehdi Hassan, 19, who was reportedly killed in the battle to claim control over the Syrian-Kurdish town of Kobane, the fourth man to die in Syria from the UK city of Portsmouth.
Prosecution of returning fighters
Over the past few months, members of the British governments suggested that fighters returning from Iraq and Syria be tried for treason.
Begg, who offered to help negotiate the release of British ISIS hostage Alan Henning but was refused by the British government, called that returning fighters be pardoned, and instead of being prosecuted be put through rehabilitation centers such as those in Denmark.
He also described the predicament a fighter who has given up on ISIS ideology faces once they attempt to return home.
Full report at:
http://english.alarabiya.net/en/News/middle-east/2014/10/26/ISIS-threatens-to-kill-British-deserters.html
-----------
Muslim pupils must study two religions under government plans to tackle
Oct 26, 2014
Muslim pupils must study two religions under government plans to tackle extremism in schools following the Trojan Horse plot.
Changes to religious studies qualifications are expected to be set out by ministers next week when the subject criteria for GCSEs is published.
Faith schools are likely to see the biggest impact as they can currently choose to teach their own religion and disregard others.
As well as studying at least two religions, pupils will also be expected to debate moral dilemmas in the context of religious beliefs in class.
The modifications to lessons comes after the alleged Trojan Horse plot by hardline Muslims to infiltrate schools in Birmingham.
It was originally sparked by a leaked letter in March this year - now widely believed to be a hoax - which alleged to be from Islamists in the city plotting to seize control of a number of school governing bodies.
Full report at:
http://www.dailymail.co.uk/news/article-2807468/Muslim-pupils-study-two-religions-government-plans-tackle-extremism-schools-Trojan-Horse-plot.html#ixzz3HEeNz3nN
--------
India
Financial regulators to issue warning against IS links
Oct 26, 2014
Concerned over an estimated $1 million a day funding received by Islamic State, the Financial Action Task Force (FTAF) has asked all countries, including India, to prevent the terror group from tapping their financial systems.
Financial sector regulators in India, including Sebi for capital markets and RBI for banking sector, are likely to soon issue similar warnings to caution institutions operating under their respective jurisdictions to put in place necessary safeguards.
Sanctions are already in place by the United Nations Security Council (UNSC) against entities linked to the Islamic State. However, it is for the first time that a public statement has been issued against this terror group by FATF, an inter-governmental grouping that sets global financial sector regulatory standards to tackle money laundering and terror financing activities.
Full report at:
http://www.thehindu.com/business/financial-regulators-to-issue-warning-against-is-links/article6534976.ece
------
Africa
Dignity spokesman urges the tribal elders to turn in their Islamist fighters
Oct 26, 2014
The Libyan National Army (LNA) has called on tribes and tribal elders to handover those they know to be extremists or face the consequences if they do not.
The message was delivered by Mohammed Al-Hejazi, the spokesman of Operation Dignity, which has been fighting under the auspices of the LNA.
"You must deliver your children who have participated in terrorist operations agains Libyans and conducted murders and assassinations," he said yesterday. Hejazi explained that tribal leaders could then expect justice for their members. He added that if they did not respond then the elders themselves could be held accountable.
"A special unit has been formed to enter the houses and bunkers using intelligence provided to us" he said, adding that there was nowhere to hide.
Full report at:
http://www.libyaherald.com/2014/10/25/dignity-spokesman-urges-the-tribal-elders-to-turn-in-their-islamist-fighters/#ixzz3HEoYrVfm
---------
Anti-terror raid kills 6 as Tunisian voters prepare to go to the polls
Oct 26, 2014
Tunisians voters are to head to poll stations on Sunday to vote in parliamentary elections.
Voters abroad began voting on Friday in six constituencies, each of which will be represented by 18 MPs. The total number of MPs to be returned to the assembly is 217.
In downtown Tunis, political parties concluded their electoral campaigns late on Friday, with Islamists Ennahda, led by Rachid Ghannouchi, holding a mass conference.
The last days of the campaign were marked by public concern about the violent arrest of two "terrorist elements" by security forces on Thursday in Wadi Al-Leil, near the capital.
A house was stormed by police during the raid, who killed one suspected terrorist and arrested another. Five women in the building were killed and two children injured during the raid.
Full report at:
http://english.ahram.org.eg/NewsContent/2/8/113936/World/Region/Antiterror-raid-kills--as-Tunisian-voters-prepare-.aspx
-----------
Boko Haram - Dozens Killed As Multi-National Forces Recapture Abadam
Oct 26, 2014
Dozens of Boko Haram terrorists were killed between Friday night and Saturday morning in Abadam town of Borno State after a fierce gun battle between troops of the Multi National Joint Task Force (MNJTF) and the insurgents in a bid by the military to reclaim the community that fell under the control of the insurgents last week, witnesses and security sources said.
A top security personnel informed Leadership Sunday that not less than two dozen corpses of the insurgent littered the bushes around Abadam after soldiers of the MNJTF had succeeded in rescuing Abadam town from the conquest of the Boko Haram.
Full report at:
http://allafrica.com/stories/201410260020.html
-----------
Morocco says to bolster security in the face of 'threats'
25 October 2014
Morocco, which has frequently reported the arrest of extremists and is concerned over the number of its citizens fighting in Syria and Iraq, announced Saturday plans to bolster its security.
Interior Minister Mohamed Hassad said new measures will be deployed progressively to "confront the different threats facing the kingdom," according to his office.
Hassad did not identify those threats, but said the measures would cover "vulnerable" locations across the North African country and involve the army, police and other security forces.
Key destination
In mid-October authorities announced the arrest of a Moroccan man, with his two young French daughters in tow, as he sought to join up with Islamic State of Iraq and Syria (ISIS) group that has seized swathes of Syria and Iraq.
Full report at:
http://english.alarabiya.net/en/News/middle-east/2014/10/26/Morocco-says-to-bolster-security-in-the-face-of-threats-.html
-----------
Fresh violence breaks out in Libya's Benghazi
25 October 2014
Libya's eastern city of Benghazi has witnessed a new wave of clashes between the Libyan army and ultra-conservative militia group al-Ansar Sharia on Saturday, reported Al Arabiya News Channel.
The ongoing fight is taking place in the Ras Obeida district in the suburbs of Benghazi, a day after Libyan forces has reclaimed the largest camps of Islamist forces in the city.
The latest clashes are feared to lead to worsen Benghazi's death toll – already standing at 110 since renegade general Khalifa Haftar launched on an assault last week supported by the army against the Islamist fighters who seized the capital Tripoli and other parts of Libya in July and set up their own government and parliament.
Gen. Haftar, who was once an army chief under Qaddafi before joining his opponents, called upon Libyans to join his offensive against Islamist militants.
Libya was immediately plunged into war after the 2011 revolution that toppled longtime ruler Muammar Qaddafi. Interim governments since then have failed to rebuild a national army and have been forced to rely on armed militias to stand up to Islamist insurgency.
http://english.alarabiya.net/en/News/middle-east/2014/10/25/Violence-renewed-in-Libya-s-Benghazi-.html
-----------
Sudan's Bashir backed by party to run in presidential polls
World Bulletin/News Desk
Oct 26, 2014
Sudan's ruling National Congress Party on Saturday selected incumbent President Omar al-Bashir to be its candidate in Sudan's next presidential elections, which are slated for April, a party source said.
The source told Anadolu Agency that 90 percent of the party's 6,250 members had backed al-Bashir's bid in the next presidential elections.
The party's Shura Council, the highest organizational body, selected al-Bashir last week to be the party's candidate in the presidential elections.
Party members started in the morning on Saturday voting to select the party's candidate in the next presidential elections under strict organizational measures, according to the source.
He said the result of the voting would be declared later on Saturday.
Sudan's opposition had earlier said that it would boycott the presidential elections, noting that it would also boycott the parliamentary elections and the elections of the governors of Sudan's 18 states.
Full report at:
http://www.worldbulletin.net/headlines/147060/sudans-bashir-backed-by-party-to-run-in-presidential-polls
-----------
Mideast
Turkey's MPs critize German recognition of Alevism
World Bulletin/News Desk
Oct 26, 2014
Turkish lawmakers criticized the German Federal State of Bremen which has legally recognized Alevism as a 'religion' separate from Islam.
Alevism is a Muslim sect. But the region of Bremen on Oct. 14 granted Alevism legal religious rights, giving it the same status as other religions like Judaism and Christianity.
In an interview with Anadolu Agency (AA), the Chairman of the Turkish Parliamentary Foreign Affairs Committee Ahmet Berat Conkar criticized the move, "This is a malicious political initiative which aims to destroy the harmony between Alevis and Sunnis in Turkey."
Conkar said "Alevism cannot be separated from Islam; On the contary, Alevism is a part of Islam." "No country or federal state can make changes to Islam, whose norms are determined."
Full report at:
http://www.worldbulletin.net/todays-news/147056/turkeys-mps-critize-german-recognition-of-alevism
-----------
Iran re-arrests leading human rights lawyer Nasrin Sotoudeh
Oct 26, 2014
Iranian security forces arrested world-renowned human rights lawyer Nasrin Sotoudeh and several others on their way back from a protest on Saturday, her husband said.
"While returning from the sit-in outside the Bar Association in Tehran, Nasrin was detained along with several friends and colleagues," her husband, Reza Khandan, said on his Facebook page.
"They photographed and ran identity checks on all the detainees and then released everyone but Nasrin, who is still detained wantonly and without a court order."
Sotoudeh, who has represented Iranian opposition activists, was sentenced to six years in jail in 2010 and banned from practice after being convicted of spreading propaganda and conspiring to harm state security.
Full report at:
http://indianexpress.com/article/world/asia/iran-re-arrests-leading-human-rights-lawyer-nasrin-sotoudeh/#sthash.TgfCQvZl.dpuf
-----------
Rafsanjani Advises Saudi King to Stop Sheikh Al-Nimr Execution
Oct 26, 2014
Chairman of Iran's Expediency Council (EC) Akbar Hashemi Rafsanjani in a message warned Saudi King Abdullah bin Abdulaziz against the repercussions of the death sentence given to prominent Shiite cleric Sheikh Nimr al-Nimr.
"In this period of time that conspiracies have targeted the lands of the Islamic Ummah, stopping the sentence for Ayatollah Sheikh Nimr Baqer al-Nimr will disappoint those who sow discord, will increase interactions and settle the problems of the Muslim world," Hashemi Rafsanjani said in his message on Saturday.
He underlined the sensitive regional and international conditions of the Muslim world, and said stopping Sheikh al-Nimr's death sentence will strengthen unity among the Shiites and Sunnis.
Full report at:
http://english.farsnews.com/newstext.aspx?nn=13930803001351
-----------
Yemen PM-designate offers Houthis 6 ministries
World Bulletin/News Desk
Oct 26, 2014
Yemen's prime minister-designate Khaled Bahah on Saturday declared the distribution of ministerial portfolios in his expected new cabinet, saying he would give six of these portfolios to his country's Shiite Houthis.
Bahah added on his Facebook page that he would also offer southern separatists six more portfolios in his expected 34-portfolio cabinet.
Bahah's government would be formed in the light of a peace and partnership agreement signed in Yemen more than a month ago.
On Saturday, he said on his Facebook page that he would assign Houthis, who have been controlling the Yemeni capital since September 21, the petroleum, electricity, insurance, higher education, culture and justice portfolios.
Full report at:
http://www.worldbulletin.net/headlines/147054/yemen-pm-designate-offers-houthis-6-ministries
-----------
Top Israeli official: U.S.-Israel relations in 'crisis'
Oct 26, 2014
A top Israeli official admitted Saturday that a "crisis" exists in relations between his country and the United States, the Associated Press reported.
Finance Minister Yair Lapid's comments came a day after U.S. officials said the Obama administration refused Israeli Defense Minister Moshe Yaalon's requests to meet several top national security aides.
The White House and the State Department rejected Yaalon's request for an audience with Vice President Joe Biden, National Security Adviser Susan Rice and Secretary of State John Kerry on his five-day trip to the United States.
Members of the Obama administration are still peeved by remarks Yaalon made about Kerry's Middle East peace efforts and nuclear negotiations with Iran.
Lapid said "there is a crisis with the United States" and added that the relationship "must be managed respectfully and responsibly."
Full report at:
http://english.alarabiya.net/en/News/middle-east/2014/10/26/Top-Israeli-official-U-S-Israel-relations-in-crisis-.html
-----------
Three soldiers killed in gunfire in southeastern Turkey
Oct 26, 2014
Three Turkish soldiers have been shot dead in broad daylight in the Yüksekova district of the southeastern province of Hakkari, Doğan News Agency has reported.
The three soldiers, who were not uniformed, were shot at around 4 p.m. on Oct. 25 on the district's central Cengiz Topel Street before succumbing to their injuries in hospital, the agency said.
The Gerenal Staff said in a written statement that the victims were one gendarmerie specialist sergeant and two gendarmerie privates.
Police have launched an operation to catch the two attackers, reports said.
Anadolu Agency said the soldiers were in town to buy electrical equipment for the military post at which they serve.
Battles between the Turkish military and outlawed Kurdistan Workers' Party (PKK) militants eased starting in May last year, when a symbolic number of PKK militants withdrew from Turkish soil as part of ongoing talks to resolve the decades-old Kurdish problem.
The Peoples' Democratic Party (HDP), which is focused on the Kurdish problem, released a statement expressing its sadness at the soldiers' deaths, while also calling on all the accelerate efforts on the peace process.
Full report at:
http://www.hurriyetdailynews.com/three-soldiers-killed-in-gunfire-in-southeastern-turkey.aspx?pageID=238&nID=73465&NewsCatID=509
-----------
Turkey's leading imam involved in Istanbul grove row
Oct 26, 2014
Mehmet Görmez, head of Turkey's top religious body Directorate of Religious Affairs (Diyanet), has been involved in a hot debate on the efforts to build a mosque on a grove on Istanbul's Anatolian side, saying that the love for prayer and love for nature should not be compared.
"A mosque will be built on an 800 square meter plot. You can see people who bid to build a masjid [a small mosque] on one side, and other people protesting to prevent the cutting of the trees there on the other side," Görmez said, while attending to a ceremony to mark the opening of a new forest area in the capital city of Ankara.
"First of all, this does not appropriate," he said.
"The love for prayer and the love for nature should not be compared," the country's leading imam said, adding that people should not "express their angers using such love."
He wished that the row would end soon.
The construction of a mosque in Istanbul's Validebağ grove proceeded on Oct. 23 despite a court's stay of execution order amid growing outcry among local activists, who have long denounced attempts to open one of Istanbul's green areas to construction.
Police officers took huge security measures as locals also gathered nearby to pay their reaction.
Full report at:
http://www.hurriyetdailynews.com/turkeys-leading-imam-involved-in-istanbul-grove-row.aspx?pageID=238&nID=73464&NewsCatID=339
---------
Southeast Asia
Malay Leaders Cowards for Doing Nothing about 'Hate Gang' Using Islam
Oct 26, 2014
KUALA LUMPUR, Oct 26 — Death threats against the organiser of a recent pet-a-dog event is not a hallmark of a moderate Islamic country as touted by Prime Minister Datuk Seri Najib Razak yesterday, former minister Datuk Zaid Ibrahim said on Twitter.
Instead, the former law minister accused "all Malay political leaders" of being "cowards" for doing nothing against a growing group that uses Islam as a means of hate.
"Wasatiyah is Arabic for moderate. So long as we use Arabic expression everything is fine … U organize a dog show and u get death threats," Zaid said in a series of tweets on his account @zaidibrahim.
Yesterday, Prime Minister Datuk Seri Najib Razak attributed Malaysia's rise as a modern and progressive Islamic nation to the use of the 'Wasatiyyah' (moderation and balance) approach as the basis of the national administration.
State news agency Bernama reported Najib saying the approach rejected the elements of obsession, fanaticism and extremism which caused the people to be rigid and fail to appreciate anything done for the good of all.
Full report at:
http://www.themalaymailonline.com/malaysia/article/malay-political-leaders-cowards-for-doing-nothing-about-hate-gang-using-isl#sthash.TC0zmexR.dpuf
-----------
Death threats, slander against pet-a-dog organiser is freedom of speech, says Muslim group
Oct 26, 2014
KUALA LUMPUR, Oct 26 — Defenders of the recent pet-a-dog event have no right to get upset over death threats and slander from its critics if they also defend freedom of speech, said a portal linked to Muslim group Pembela today.
The group singled out Syahredzan Johan who represented organiser Syed Azmi Alhabshi, saying the civil liberties lawyer had in the past supported the National Unity Consultative Council's (NUCC) Harmony Bills, which allegedly does not criminalise hate speech unless it threatens physical harm.
"What we find absurd was why Syahredzan, who all this while wanted to be a champion and hero of freedom of speech such as in the laws he drafted, wanted to restrict others' freedom of speech to criticise the event?" said the portal called Bangkit.
"Did [the threats] want to harm the organisers and participants? Even if there were comments with elements of threat, is it true they had an intent to threaten and was the intent made clear by a team of lawyers?"
The portal also said that Syahredzan was one of the lawyers who walked against the Sedition Act 1948, suggesting that any replacement of the controversial law must provide for mens rea, which in legal term means a "guilty mind" necessary to commit a crime.
"Does the freedom of speech belong only to Azmi Shahrom [sic] alone in the world?" it asked, referring to the University of Malaya law lecturer Dr Azmi Sharom who was charged with sedition last month, making him the first academic to be caught in Putrajaya's recent sedition dragnet.
Full report at:
http://www.themalaymailonline.com/malaysia/article/death-threats-slander-against-pet-a-dog-organiser-is-freedom-of-speech-says#sthash.7hirz7mh.NnGK6DeX.dpuf
-----------
'Arabic Month' to be held in many Indonesian cities
Oct 26, 2014
King Abdullah bin Abdulaziz International Center for Arabic Language Service announced they are organizing more than 10 training courses on 'One-Month Arabic Language Program' in a number of Indonesian cities.
The program is being implemented by the centre in its second session within the framework of its international programs which kicked off on Oct. 16 and will end in November, 2014.
Dr. Ahmad Fuad Effendy, a member of the Board of Trustees of King Abdullah bin Abdulaziz International Center of Arabic Language, head of Arabic Teachers Union in Indonesia and the national coordinator of the Arabic Month said that various parties in Indonesia have welcomed the Arabic Month in Indonesia which was initiated by King Abdullah bin Abdul Aziz International Center for Arabic Language.
He said this move of the Saudi government reflects the excellent relationship between the two countries and that it was a wonderful opportunity for Indonesians to learn the Arabic language in their own country.
Effendy further told Arab News that there are a number of Indonesian coordinators for this program.
The Arabic Month has various activities including writing a book about Arabic teaching in Indonesia which involved ten authors from a number of universities whose work was presented in the seminar held on Oct. 16 in Jakarta.
The other three books were about Arabic scholarship/experts and Arabic teaching institutes in Indonesia including a compilation of Arabic international seminar articles in Indonesia.
Training for teachers and lecturers is being held in five universities located in Java, Sumatera and the islands of Nusa Tenggara by nine trainers from Imam Muhammad Ibnu Sa'ud University, Riyadh.
Full report at:
http://www.arabnews.com/saudi-arabia/news/650286
-------
URL: https://www.newageislam.com/islamic-world-news/new-age-islam-news-bureau/iraqi-security-forces-and-kurds-gain-ground-against-islamic-state/d/99729