New Age Islam News Bureau
18 Jan 2017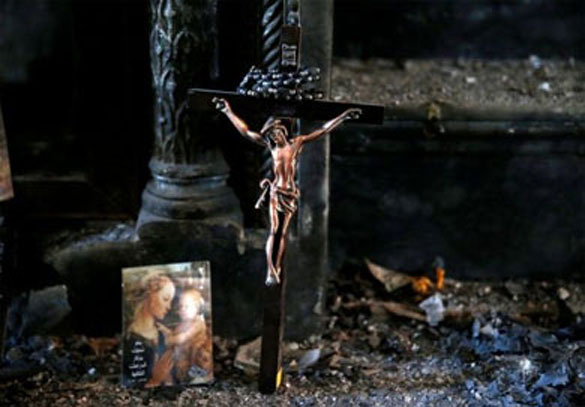 A crucifix inside the Grand Immaculate Church near Mosul, Iraq after it was recaptured from Islamic State in Qaraqosh. Hundreds of churches have been destroyed by ISIS/ Reuters
---
• Iraqi Muslim Builds Cross After Original Is Destroyed By Isis
• Under Erdogan, Turkey Is Going the Way Pakistan Did With Zia-Ul-Haq
• Pakistani Right-Wingers Cry 'Blasphemy' To Muzzle Liberals
• Nigeria Mistakenly Bombs Refugee Camp, Kills More Than 100: Official
• Govt To Introduce Madrasa Empowerment Programme
Arab World
• Iraqi Muslim Builds Cross After Original Is Destroyed By Isis
• Bahrain Uses Hooligans To Suppress Dissent, Video Shows
• Report: ISIL Chief Trapped in Iraq's Mosul
• Gunmen kill eight Egyptian policemen
• Bomb blast in Baghdad kills at least seven
• Syrian general, eight soldiers killed in militant bomb attack
• Syrian government, armed militants name heads of Astana talks delegation
• Syria: 14,000 ISIL Terrorists Start Advancing in Deir Ezzur, City to Airbase Road Cut off
• Deir Ezzur: US September Air Raid on Syrian Army Helped ISIL Launch Fresh Operations
• Tens of High-Ranking Turkish Army Officers Resign after Defeats in Northern Syria
--------
Mideast
• Under Erdogan, Turkey Is Going the Way Pakistan Did With Zia-Ul-Haq
• Palestinian Factions Agree To Form Unity Government
• Turkey Kurd leader risks up to 142 years in jail
• 'No sense' in renegotiating nuclear deal: Rouhani
• Hezbollah militia says it found crashed Israeli drone
• Iran opposes US participation in Syria peace talks in Astana: Zarif
• Iran supports political initiatives on Syria: Shamkhani
• US to step up support for Turkey in Syria's al-Bab: Commander
--------
Pakistan
• Pakistani Right-Wingers Cry 'Blasphemy' To Muzzle Liberals
• JUI-F Rejects Proposed Merger Of Fata Into KP
• PPP slams Interior Minister for defending sectarian terrorists
• PML-N stalwart hints Pakistani politicians dabbling in drugs
• Intelligence sharing needed on global level to combat terrorism: Raheel Sharif
--------
Africa
• Nigeria Mistakenly Bombs Refugee Camp, Kills More Than 100: Official
• Nigeria: Again, Suicide Bombers Strike Unimaid, Kill Professor, 5 Others
• Somalia: US, African Union troops capture town from Al Shabaab
• East Libya forces take control of Daesh stronghold in Benghazi
• The Gambia's president declares state of emergency
• Air strike on displaced camp in Nigeria 'kills 52'
• Boko Haram: Fighter jet misfires, shoots Red cross staff, others in BornoBy Daily Post Staff
• UN conference addresses rise in anti-Muslim hate
--------
India
• Govt To Introduce Madrasa Empowerment Programme
• J-K Govt Backs Zaira Wasim, Warns Extremists Not To Blackmail Kashmiris
• Pakistan must walk away from terrorism for talks with India: PM Narendra Modi
• KCR Must Fulfill His Promise Of 12 Pc Muslim Reservations: Intellectuals
--------
South Asia
• 8 Key Taliban Leaders Among 37 Killed In Join Operations: MoD
• Istanbul nightclub attack suspect trained in Afghanistan
• Bangladesh gets a new shot at the stars with PM Sheikh Hasina's third premiership
• Bangladeshi-American Behnaz Kibria nominated to US trade advisory committee
• Refugees poured $7 billion to Afghanistan by returning home in past 1 year
--------
Southeast Asia
• Don't Exploit MUI's Edicts to Influence the State: Police Chief
• OIC envoy calls for UN intervention to prevent genocide of Rohingya Muslims in Myanmar
• Now, Terengganu Islamic Enforcers Say May Nab Unmarried Couples In Cars Too
• Jakarta Police to Summon FPI's Rizieq Next Week
• Protest Rallies Must Follow Regulations: Military Chief
--------
North America
• Saudis on Trump's Position on Iran, Islamic State: 'We Are Optimistic'
• Trump will not be unfriendly towards Pakistan, says aide
• US commander in Afghanistan urges cooperation among 'all stakeholders'
--------
Europe
• US, British, French Officers Training Terrorists in Jordan to Fight against Syrian Gov't
• UN chief urges end to bigotry against Muslims
• EU's new anti-terror laws target Muslims, Amnesty says
Compiled by New Age Islam News Bureau
URL: https://www.newageislam.com/islamic-world-news/new-age-islam-news-bureau/iraqi-muslim-builds-cross-after-original-is-destroyed-by-isis/d/109766
--------
Iraqi Muslim Builds Cross After Original Is Destroyed By Isis
17 JAN 2017
An Iraqi Muslim built a cross out of two pieces of metal, sending a message that Iraqi Muslims don't stand for extremist Islamic ideology and that they support the Christians of the nation. The man, Marwan, fashioned the cross during a visit to one of the churches that was destroyed by ISIS. Marwan's aim was to echo the unvoiced message that numerous Muslims wanted to send their Christian friends – a message of encouragement and support.
Marwan's action has been shared on Instagram through a video post uploaded by a faith-oriented charity organization working in Iraq, the Preemptive Love Coalition (PLC). The co-founder and executive director, Jeremy Courtney, who posted the video on Instagram, said when Marwan entered the destroyed structure, he was aghast at the atrocities of the terrorists and refused to accept that such carnage was wreaked by Muslims. Marwan also condemned the act by ISIS for "the signs and the icons of his Christian friends, his Christian compatriots, his Christian neighbors."
Marwan's refusal to accept that ISIS militants who destroyed the lives of Christians in Iraq are Muslims highlights the fact Muslims all over the world have been trying to make – not all Muslims are terrorists. A number of famous Muslim figures, including political and religious leaders as well as clerics have publicly denounced ISIS and declared their actions as being "un-Islamic." This is also reminiscent of the words of non-Muslim figures such as the Pope and the Dalai Lama, who also insisted that ISIS does not represent Islam at all. Arrests made of terror suspects and investigations of missing Muslim men have brought to light that many of the militants are Muslims who aren't really aware about their religion. In fact, estimates suggest a very large number of these militants don't even come from religious backgrounds. A number of Muslims in Iraq itself protested against ISIS and showed their support for the persecuted Christian community. Last Christmas, a Muslim businessman erected Baghdad's largest Christmas tree in a show of solidarity with the persecuted community. Although ISIS has been largely driven away from cities that were once in their control, it looks like the Christians who ran away from the country may not return to their homeland. The persecution by ISIS brought the Christian population down from 1.5 million to a mere 200,000.
http://www.worldreligionnews.com/religion-news/iraqi-muslim-builds-cross-original-destroyed-isis
--------
Under Erdogan, Turkey Is Going the Way Pakistan Did With Zia-Ul-Haq
BY ASIM ALI
17/01/2017
Less than a decade ago, Turkey represented a model of what the West would call a modern Muslim republic – a booming economy, a well-established secular polity and a steadily maturing democracy with a decidedly Western orientation. The long aspired EU membership seemed on the anvil, which, along with its NATO membership, would fulfil the Kemalist dream of "winning a secure place for Turkey in the Western constellation".
At the other end of the pole, another Muslim country, Pakistan, represented just the opposite – atavistic, paranoid, torn apart by terror and sectarian conflict, relegated to the position of a global pariah and fast approaching the status of a failed state. Pakistan was a direct outcome of the disastrous policies followed by General Zia-ul-Haq in the 1980s. A triad of policy patronage and export of terror, top-down Islamisation of society and fierce authoritarianism continues to have an impact on every problem tearing apart Pakistan – from sectarian violence and terrorism to human rights violations.
Facing economic slowdown at home, and a devastating civil war in its neighbourhood, Turkey's President Recep Tayyip Erdogan pursued the Zia triad of policy-patronage of terror, Islamisation, and authoritarianism, with catastrophic consequences. The blowback has been immediate and increasingly bloody. Today, Turkey is marred by routine terrorist attacks. Its democracy is at the precipice of being upended, its society is violently polarised, its secularism frayed, fundamental rights and liberties cast by the wayside, and the general atmosphere marked by gloom, fear and uncertainty.
Although comparisons between Zia and Erdogan seem absurd, given that Zia was a military dictator and Erdogan holds power democratically, they should not be dismissed as out of hand. Military dictators in Pakistan hold on to power by cultivating popular legitimacy, which Zia courted using a combination of Islam and aggressive nationalism, not unlike Erdogan. Moreover, while Erdogan might be a democrat, his fidelity seems to be with an illiberal form of democracy, ready to forsake rule of law and fundamental liberties in the exercise of raw power.
Patronising terror
An Islamist strongman, with dreams of regional dominance with active backing from the US – aids, arms and safe passage to foreign jihadists in order to overthrow the neighbouring regime in favour of a more pliable one – it all sounds so familiar. Erdogan's Turkey has played the role in Syria that Zia's Pakistan had pioneered in Afghanistan.
If Afghanistan was the playground for the first generation of global jihadists, who went on to form the al Qaeda, the next generation bred and thrived in the bloody battlefields of Syria. Syria became the magnet that drew idealistic, martyrdom-aspiring radical youth from North Africa, Europe, Central Asia and the Middle East to wage their apocalyptic jihad against the enemies of Sunni Islam.
The earlier generation of global jihadists used to assemble in Peshawar, where they would be trained, armed and funded by the ISI before streaming into the battlefields of Afghanistan. The new generation of global jihadists, attracted to the ideology of ISIS, flying into Istanbul or Adana airport, are often armed and trained at military bases by Turkish security agencies, before heading to the southern cities of Hatay and Gaziantep, staging points for their entry into the Syrian battlefields.
Apart from aiding foreign fighters, Turkey under Erdogan also followed a policy of benign neglect towards ISIS recruitment centres in various Turkish cities, which operated with the full knowledge of the police and security agencies. This is a toned-down version of the Zia scheme of state patronage to radical seminaries and terrorist networks which would provide a constant supply of manpower to hotspots of jihad in India and Afghanistan.
One such cell in the south-eastern city of Adiyaman is linked to five ISIS attacks inside Turkey since mid-2015. Relations between Turkey and ISIS turned hostile after Turkey, at the urging of US President Barack Obama, allowed the US to use its Incirlik air base for operations against ISIS. Meanwhile, the peace process with the Kurds (PKK) was also scuppered in mid-2015 owing largely to Turkish air-strikes in northern Iraq against the PKK's Kurdish affiliates in that country. The strikes reflected growing concerns in the Turkish establishment about Kurdish expansionism in the power vacuum in Iraq and Syria and its implications for Turkey. Thus, on the domestic front, Turkey got embroiled against two powerful militant groups.
Islamisation
The second part of Zia's policies was Islamisation of state and society. He established the federal shariat court to examine substantial parts of the legal system on the basis of Islam. He promulgated the so-called Hudood ordinances, which decreed punishments such as amputation of limbs, public lashings and stoning to death. Pakistan's much-abused blasphemy laws, which have often been misused to whip up public frenzy and target minorities, were introduced by Zia.
Erdogan, and his Justice and Development Party (AKP), are programmatically disposed to reverse the secularisation imposed by Kemal Ataturk. Patrick Cockburn, writing for the Independent, notes that, "As the AKP has tightened its grip on power, it has chipped away at the secular institutions of the state and encouraged the Islamisation of education and social behaviour as well as seeking to cull non-Islamist officials and officers." The attack on the Istanbul nightclub on New Year's eve occurred amidst a shrill debate on whether celebrating New Year's eve is consistent with Islam. Government-appointed clerics and newspapers loyal to Erdogan contended that New Year's eve celebrations belonged to "other cultures and other worlds".
Growing authoritarianism
The last pole of the triad tying Zia and Erdogan together is their authoritarian impulse. Zia banned political parties, student and trade unions, jailed journalists and political opponents, and amended the constitution to weaken parliament and give himself greater executive powers. Like Zia, Erdogan has also indicated that he will push through his long-desired overhaul of the constitution to move from a parliamentary system towards an executive presidency based on Islamic values, having already far out-stepped the largely ceremonial role of his office.
The failed coup in July 2016, allegedly perpetrated by the followers of the exiled cleric Fethullah Gulen, provided Erdogan with the perfect pretext to let loose his authoritarian impulse and launch sweeping crackdowns on his political opponents. In the ensuing purges of Turkish society, many thousands of soldiers, police officers, bureaucrats and university professors have been removed from their jobs and often also arrested. Close to a hundred journalists have been arrested and scores of newspapers forced to shut shop. The fear and uncertainty caused by the successive terrorist attacks has further legitimised these authoritarian crackdowns, with the public willing to overlook the blatant undermining of the rule of law and disregard for basic liberties in favour of the allure of the strongman who can guarantee them security.
Turkish democracy and society have entered a downward spiral. The sweeping crackdowns and increased religious polarisation will further feed resentment and hatred, which will lead to more violence and subsequently further crackdowns. George Santayana wrote that those who don't learn from history are condemned to repeat it. The state of Pakistan provides a cautionary tale for Turkey on how following the Zia triad of policy-patronage can devastate a country and lead it into an irreversible spiral of doom.
Asim Ali is a masters student of development studies at the Tata Institute of Social Sciences, Mumbai.
https://thewire.in/100497/turkey-erdogan-pakistan-zia-ul-haq/
--------
Pakistani Right-Wingers Cry 'Blasphemy' To Muzzle Liberals
18 January, 2017
A virulent social media campaign to paint five disappeared Pakistani activists as blasphemers deserving execution has spotlighted how right-wing efforts to muzzle liberal voices using the country's draconian laws have found a powerful new platform online. The five men had stood against religious intolerance and at times criticised Pakistan's military, with several of them running progressive Facebook pages.
They vanished within days of each other earlier this month, sparking fears of a government crackdown. No group has claimed responsibility. Security sources denied being involved.
As publicity surrounding their disappearances grew, with protests in major cities, observers such as Digital Rights Foundation founder Nighat Dad began to notice a worrying trend online.
"There are people trying to label these missing bloggers blasphemers. And the people supporting ... [them] are being labelled blasphemers," Dad said.
The allegation can be fatal in deeply conservative Muslim Pakistan, where at least 17 people remain on death row for blasphemy.
Rights groups have long criticised the colonial-era legislation as a vehicle for personal vendettas. Even unproven allegations can result in mob lynchings.
And now such accusations targeting the disappeared activists are multiplying on Facebook and Twitter. "The group of atheists committing blasphemy on Facebook ... have been defeated," said a recent post by Pakistan Defence, a powerful pro-military Facebook page run by anonymous right-wing elements which has 7.5 million likes.
Men pray over the grave of Mumtaz Qadri, the man Pakistan executed last year for assassinating a governor who proposed reforming the country's blasphemy laws. Photo: Reuters
The post, liked more than 5,400 times, triggered a flood of threats including one suggesting the activists' "bullet riddled corpses should be found beside any gutter".
Other pages such as ISI Pakistan1, with 192,000 Facebook likes, called for such "enemies of Islam" to be "eliminated". The attacks are perpetuated by right-wing trolls such as 25-year-old Farhan Virk, who admits he has few real friends but has 54,000 followers on his verified Twitter account.
By re-tweeting the blasphemy charges against the activists, Virk gives them a prominence on social media that can influence the mainstream news agenda.
A number of NGOs and observers believe the campaigns to silence progressive voices are carefully coordinated.
A Pakistan policeman detains a cleric after a ceremony marking the death anniversary of provincial governor Salman Taseer in Lahore. Photo: AFP
Digital rights activist Dad points to what she says is a periodic surge of new right-wing Twitter accounts with just a handful of followers whose "only purpose is to attack us."
The end result is often self-censorship, with the online attacks following a well-worn pattern.
Journalist Rabia Mehmood criticised Pakistan online after human rights activist Sabeen Mahmud was assassinated in 2015.
Activists from the Pakistani religious group, Sunni Tehreek, rally in support of blasphemy laws, in Rawalpindi, Pakistan. Photo: AP
Mehmood received a barrage of death and rape threats on Twitter and Facebook, including many from newly created accounts, accusing her of being anti-state and an enemy of Islam.
"Overnight there were tweets warning me that there were bullets with my name on them for criticising the military and the intelligence agencies," she said. "Since then I have started watching what I say."
Christian sentenced to death for blasphemy in Lahore, Pakistan
The new wave of blasphemy charges that followed the activist disappearances prompted a number of liberal online commentators to close their accounts completely.
A woman leaves after visiting a shrine where the grave of Mumtaz Qadri is situated, the man Pakistan executed last year for assassinating a governor who proposed reforming the country's blasphemy laws. Photo: Reuters
Pakistan used its legal agreements with Facebook and Twitter to temporarily remove a slew of left-wing accounts in 2014, and enacted a cybercrime law last year that critics say will stifle genuine dissent.
Muslim cleric arrested in Pakistan for inciting 'blasphemous' teenager to saw off his own hand
Meanwhile, pages such as Pakistan Defence appear to operate freely, despite content that would appear to contravene basic community standards.
A Twitter spokesman said support teams have been retrained on enforcement policies, "including special sessions on cultural and historical contextualisation of hateful conduct". Facebook said it routinely worked to "prohibit hateful content and remove credible threats of physical harm".
Pakistan hangs bodyguard who killed blasphemy reform governor
Observers say the blasphemy allegations against the missing activists have already put their lives in danger of vigilante attack.
In 2011 a liberal governor who criticised the laws was gunned down in Islamabad, while in 2014 a Christian couple falsely accused of desecrating the Koran were killed by a mob, their bodies burned in a brick kiln, to cite just two examples. "If they come back I don't think they have a life in this country," said Shahzad Ahmed, director of campaign group Bytes For All. "They will have to leave."
http://www.scmp.com/news/asia/south-asia/article/2062828/pakistani-right-wingers-cry-blasphemy-muzzle-liberals
--------
Nigeria mistakenly bombs refugee camp, kills more than 100: official
Jan 18, 2017
A Nigerian state official says an air force fighter jet on a mission against Boko Haram extremists has mistakenly bombed a refugee camp, killing more than 100 refugees and wounding aid workers.
The Borno state government official is helping to coordinate the evacuation of the wounded. The official spoke Tuesday on condition of anonymity because he is not authorised to speak to the media.
Military commander Maj Gen Lucky Irabor confirmed the accidental bombardment in northeast Rann, near the border with Cameroon. The general says among the wounded are Nigerians working for Doctors Without Borders and the International Committee of the Red Cross.
This is believed to be the first time Nigeria's military has admitted to making such a mistake.
http://www.dawn.com/news/1309037/nigeria-mistakenly-bombs-refugee-camp-kills-more-than-100-official
--------
Govt to introduce Madrasa Empowerment programme
Jan 17, 2017
NEW DELHI: To encourage Madrasa s to promote mainstream education along with their traditional religious teachings, the union ministry for minority affairs is preparing to come out with a "Madrasa Empowerment Programme" which would involve providing free mid-day meals and other incentives including scholarships to students.
A committee of experts has been set-up by the ministry to work out the modalities for implementation of the Program which will be applicable only to Madrasa s providing mainstream education and a list of such institutions will be drawn to ensure that the benefit reaches the deserving candidates. The Program is expected to be implemented by April.
It is estimated that there are around 70,000 Madrasa s in the country. This number includes Madrasa s affiliated to state Madrasa Boards and those that are non-affiliated. Minister of State holding independent charge of minority affairs, Mukhtar Abbas Naqvi said the demand for mid-day meal and other facilities came from representatives working closely with Madrasa s and so it was decided to set-up a committee to draw the guidelines for implementation of the Madrasa Empowerment Program" that, he said, would be named after freedom fighter Maulana Hasrat Mohani. "This will include the mid-day meal component and scholarship among other facilities that can help improve the standard of education in Madrasa s and encourage the institutions to promote mainstream education," Naqvi told TOI.
Addressing the annual conference of state minorities commissions in Delhi on Tuesday, Naqvi said he had held a meeting with representatives of such Madrasa s on Monday to discuss the issue and urged them to offer more suggestions in this regard. "We decided to work on the empowerment program which also involves providing mid-day meal to children at a meeting of the general body of Maulana Azad Education Foundation (MEAF) held on December 29, 2016. The MAEF general body had also decided to consider grant-in-aid scheme for the Madrasa s that provide mainstream education like science, maths, etc." he said. On Funding, he said that the finances for the Empowerment Program may be drawn from those available with the MEAF.
http://timesofindia.indiatimes.com/india/govt-soon-to-introduce-madrasa-empowerment-programme/articleshow/56632232.cms
--------
Arab World
Bahrain uses hooligans to suppress dissent, video shows
Jan 17, 2017
A video, which has resurfaced on the Internet, shows hooligans ransacking a store while security forces look on and even film the incident without trying to stop the raid.
The video, which was initially released in April 2012, has gone viral in the wake of the Manama regime's executions of three anti-regime Shia activists.
People protest against the ruling Al Khalifah regime over the recent execution of three Shia Muslim activists in Bahrain on January 17, 2016.
The video shows some hooligans storming a big supermarket with the support of security forces, while an officer is seen filming the incident and later ordering a thug to break down the CCTV camera.
This as reports say the kingdom has employed 750 mercenaries and hooligans to suppress dissent in the tiny Persian Gulf country.
Last week, Bahrain executed Shia activists - Sami Mushaima, Abbas Jamil Tahir al-Sami' and Ali Abdulshahid al-Singace - over their alleged role in a bomb attack three years ago.
The poster shows the pictures of Sami Mushaima, Ali al-Singace and Abbas al-Samea (From R). The three Shia activists were executed on January 15, 2017.
The killings came after Bahrain's Court of Cassation upheld the death penalties given to the three men over allegations of killing a member of Emirati forces, who had been assisting Manama in its suppression of Bahraini protesters, in the village of al-Daih back in March 2014. The defendants had denied the charges.
The executions of the activists have sparked widespread condemnations and public outrage, with Bahraini citizens holding mass protests across the country.
Rallies denounce Bahraini executions
Meanwhile, fresh demonstrations were reported on Tuesday in the villages and areas of Bilad al-Qadim, Diraz, Musalla, Sitra, al-Daih, Ma'ameer, Karzakan, Sar, Markh, Sanabis, Malikiyah and Jidd Hafs.
The protesters called for the prosecution of those who killed the three Shia activists.
Anti-regime protesters have taken to the streets on an almost daily basis ever since the popular uprising began in Bahrain in February 2011.
The demonstrators are demanding that the Al Khalifah family relinquish power and let a just system representing all Bahrainis be established.
Scores of people have been killed and hundreds of others wounded or detained amid Manama's crackdown on dissent and widespread discrimination against the country's Shia majority.
http://www.presstv.ir/Detail/2017/01/17/506632/Bahrain-Manama-Sami-Mushaima
--------
Report: ISIL Chief Trapped in Iraq's Mosul
Jan 17, 2017
A senior commander in Hashd al-Shaabi's Asa'ib Ahl al-Haq group, Jawad al-Tleibawai, said in a statement published by Bas News that initial information obtained by the group's intelligence bodies suggests that al-Baghdadi is in the province of Nineveh and more specifically inside the city of Mosul.
The ISIL leader was previously considered to have fled Iraq and moved to the group's main stronghold, the Syrian city of Raqqa.
The Tleibawai's statement on Baghdadi's presence in Mosul comes as earlier reports said that the ISIL Chief has sent delegations to pro-ISIL Arab states to ask for more financial aid and arms shipments.
Dr. Omar Badr al-Din, who is a senior expert in the field of extremist groups, said Al-Baghdadi is trying hard to prevent the imminent fall of Mosul city to Iraqi forces.
"Sources in Mosul have disclosed that al-Baghdadi is trying to establish links with more rich sponsors in Arab states to encourage them widen arms purchase and shipments to the ISIL, as the terrorist group has lost most of its weaponry in recent battles," Badr al-Din said, noting that "some ISIL members flee their positions without their weapons as Iraqi army troops advance in the region."
Full report at:
http://en.farsnews.com/newstext.aspx?nn=13951028001542
--------
Gunmen kill eight Egyptian policemen
Jan 18, 2017
CAIRO - Gunmen killed eight police late Monday in an attack on a checkpoint in el-Wadi el-Gedid province in southwest Egypt, the interior ministry said. Two of the attackers were killed when security forces fought back, and three other security personnel were injured, the ministry said in a statement.
The attack took place on al-Naqab checkpoint, about 80 kilometres (50 miles) from el-Kharga city, the capital of the province, the ministry said. Jihadists have killed hundreds of soldiers and policemen since the military overthrow of Islamist president Mohamed Morsi in 2013, which was followed by a bloody crackdown on his supporters. Most of the attacks have taken place in the north of the Sinai Peninsula, which borders Israel and the Palestinian Gaza Strip. Attacks have occurred in other parts of the country, including Cairo. The Islamic State (IS) jihadist group said on January 10 it was behind a car bomb assault on a police checkpoint in the Sinai that killed eight people a day earlier.
Full report at:
http://nation.com.pk/international/18-Jan-2017/gunmen-kill-eight-egyptian-policemen
--------
Bomb blast in Baghdad kills at least seven
Jan 18, 2017
A car bomb blast in southern Baghdad killed at least seven people and wounded 20 on Tuesday, police and medical sources said.
The explosion hit the mostly Shi'ite neighborhood of Abu Dsheer, the sources said.
http://nation.com.pk/international/17-Jan-2017/bomb-blast-in-baghdad-kills-at-least-seven
--------
Syrian general, eight soldiers killed in militant bomb attack
Jan 18, 2017
A Syrian general and eight troops have been killed in a militant bombing attack outside the capital city Damascus, says a UK-based monitoring group.
According to the so-called Syrian Observatory for Human Rights on Tuesday, the government forces were killed when an explosive device planted by militants went off in a tunnel in the town of Harasta, located to the northeast of the capital.
"The explosion killed a Syrian officer at the rank of general, and eight other members of the government forces, and wounded several people," said the director of the observatory, Rami Abdel Rahman.
He noted that the death toll would probably rise as a number of the wounded were in critical condition and that 15 people were still unaccounted for.
Full report at:
http://www.presstv.ir/Detail/2017/01/18/506657/syria-militants-general-bomb
--------
Syrian government, armed militants name heads of Astana talks delegation
Jan 17, 2017
The Syrian government and opposition militants have announced the names of their delegation heads for the upcoming peace talks in Kazakhstan.
On Tuesday, Syria's Ambassador to the UN Bashar al-Ja'afari was named as the head of the government's delegation for the intra-Syrian talks in Astana, scheduled for January 23. The talks would focus strictly on military developments and reinforcement of the ceasefire agreement brokered by Russia, Turkey, and Iran.
The Syrian government's delegation "will be led by Syrian diplomat and permanent representative to the United Nations Bashar al-Ja'afari," said a report in Syria's Al-Watan daily, adding that the government's team will also include "figures representing the military and the Syrian judiciary, so that the delegation will represent the whole Syrian state."
The foreign-sponsored militant groups will be represented by Mohammad Alloush, the head of the political office of the so-called Jaish al-Islam militant group. Their delegation will also include some 20 other people.
The negotiations, which exclude the Daesh and Jabhat Fateh al-Sham terrorist groups, will be held in the wake of a nationwide ceasefire in Syria, which was endorsed by the UN Security Council on December 31.
Meanwhile, Russian Foreign Minister Sergey Lavrov said that representatives from the future US administration and the United Nations should be invited to the talks.
"We think it would be the right thing to invite the representatives of the UN and the new US administration to the meeting, taking into account that the meeting will take place on January 23, as planned," Lavrov said.
"We're counting on the new [US] administration accepting this invitation and being represented by experts on any level they consider possible. It will be the first official contact during which we could begin discussing stepping up the efficiency of fighting terrorism in Syria," he added.
Full report at:
http://www.presstv.ir/Detail/2017/01/17/506653/syrian-astana-talks-jaafari
--------
Syria: 14,000 ISIL Terrorists Start Advancing in Deir Ezzur, City to Airbase Road Cut off
Jan 17, 2017
After several rounds of heavy offensives against the Syrian Army positions that all failed in the last 4 days, 14,000 ISIL militants and tens of suicide attackers and bomb-laden vehicles,, managed to advance against government forces on the road connecting Deir Ezzur airbase to the city, dividing army-controlled regions in Deir Ezzur into two parts.
Field sources meantime said that the ISIL has not been able to fortify its positions along the key road, adding that intense battle is underway between the militants and the army soldiers.
Another field source said that ISIL is resolved to take control of the city's cemetery to further advance towards the airport.
The source added that the terrorists have thus far broken through government positions in the city's cemetery and tough battle is underway in the graveyard and its surrounding.
Arabic-language Al-massdar news website also reported that a sum of 14,000 ISIL terrorists are involved in the battle.
If the cemetery is captured by the ISIL, the city will lost road contact with the airport.
Military sources say the ISIL's current round of attacks is the heaviest and largest operation the terrorist group has ever conducted in Deir Ezzur city and its military airport.
According to reports, the ISIL has gathered a large number of its forces from Raqqa, Deir Ezzur countryside and even from Mosul in Iraq to take part in the offensive.
The ISIL also has a large number of suicide attackers and bomb-laden vehicles involved in the offensive in Deir Ezzur.
Reports said earlier today that the army's missile and artillery units along with the Russian and Syrian fighter jets launched a massive bombing raid on ISIL's defense lines and movements in Deir Ezzur, inflicting major casualties on the militants.
Full report at:
http://en.farsnews.com/newstext.aspx?nn=13951028001090
--------
Deir Ezzur: US September Air Raid on Syrian Army Helped ISIL Launch Fresh Operations
Jan 17, 2017
The Arabic language Lebanese al-Akhbar paper reported that recent attacks of ISIL on government positions in Deir Ezzur in the last two to three days are the results of the US air attack on army positions in September as the air raids weakened the army troops.
The paper added that ISIL's control over the entire territories in Deir Ezzur province will benefit significantly the US-led coalition.
The paper said that ISIL intends to take full control of Deir Ezzur city and vast regions in Syria's desert from South of Sweida up to Palmyra in Homs and from Raqqa to Deir Ezzur to take control of Syria's border with Iraq.
Al-Akhbar underlined that based on field information the ISIL's plan was practically kicked off when the US-led coalition's fighter jets bombed the Syrian Army's positions in al-Thardah mountain in September 17 that left tens of army soldiers dead and wounded.
The army later pulled back their men from trinary al-Thardah mountain that plays a protection role for Deir Ezzur airbase.
The US-led coalition's air raid opened way for ISIL to use its suicide attackers and suicide vehicles to intensify attacks on Deir Ezzur airbase.
A source in military operation command in Deir Ezzur also said that that the army along with Syrian and Russian fighter jets try to open the international road between the airbase and the city, adding, "The Syrian Army still has the upper-hand and will soon turn field equations to its favor."
The source went on to say that over 200 ISIL terrorists have been killed since start of their attacks.
Syrian activists said on December 18 that the number of the Syrian army fatalities in the US-led coalition's airstrike on government positions in the Southern countryside of Deir Ezzur city rose to, at least, 90.
"The US-led coalition's air attacks lasted for forty minutes. The coalition warplanes targeted the Syrian army's artillery battalion and its other positions near al-Thardah mountain overlooking Deir Ezzur airbase," the sources said.
"Official sources had already announced that 80 army soldiers were killed in the air attacks, but the real number of the soldiers killed in the bombing has now reached 90," they added.
The General Command of the Syrian army said at the time that the US-led coalition bombed the Syrian army positions in Deir Ezzur, killing some 80 soldiers and injuring dozens more.
According to Syria's official SANA news agency, the bombing took place on al-Thardah Mountain in the region of Deir Ezzur and caused casualties and destruction on the ground.
Eighty Syrian soldiers were killed and over 100 injured in the airstrike by the US-led coalition, Russia's Defense Ministry spokesman, Major-General Igor Konashenkov, said, citing information received from the Syrian General Command.
Full report at:
http://en.farsnews.com/newstext.aspx?nn=13951028000713
--------
Tens of High-Ranking Turkish Army Officers Resign after Defeats in Northern Syria
Jan 17, 2017
Ahmad Takan, a columnist in Turkish language Yeni Chaq paper, wrote in an article that the army's heavy defeats in the Euphrates Shield Operation in Northern Syria caused 50 senior officers to resign.
He added that the 50 officers have handed over their resignations to army commanders in al-Bab region.
Takan also quoted informed sources in the Turkish army as saying the Ankara-backed Free Syrian Army (FSA) sells the arms and ammunition it receives from the Turkish Army to the ISIL.
He further added that on January 8, a group of Turkmen militants affiliated to the Turkish army arrested a group of FSA near the village of Akhtari South of al-Bab region as they were dispatching two trucks of arms and munitions to the ISIL-held regions.
Takan went on to say that the Euphrates Shield Operation has been defeated and its casualties have been hidden by the operation commanders from the public opinion.
Hospitals in Dilouk, Kilis and their countrysides are full of injured soldiers of the Turkish army, Takan added.
He said that Ankara has also been forced to hand over ISIL's dead members to the terrorist group to take back its dead soldiers' bodies.
Turkey has also increased duration of mandatory military service to make up for the loss of forces in a fresh wave of resignations.
Media sources disclosed on Sunday that tens of Turkish soldiers were suspended after selling their weapons and military equipment with the help of the so-called Free Syrian Army (FSA) on the sidelines of the Euphrates Shield Operation in Northern Aleppo.
Al-Watan newspaper said that social media activists released reports along with images showing that "50 Turkish military men have been suspended and ordered to drop their operations in the Euphrates Shield Operation".
Meantime, dissident activists from Northern Aleppo reported that "after the Euphrates Shield Operation, we witnessed new equipment and guns in Northern Syria, and after investigation it became clear that the warfare equipment belonged to the Euphrates Shield Operation forces".
Full report at:
http://en.farsnews.com/newstext.aspx?nn=13951028000361
--------
Mideast
Palestinian factions agree to form unity government
Jan 18, 2017
Leading Palestinian movements, Hamas and Fatah, have agreed to form a new unity government following extensive negotiations in Moscow, Russia.
The unity deal was announced late Tuesday, three days after the talks began under the Russian auspices among representatives from Ramallah-based Fatah as well as Hamas and Islamic Jihad, both headquartered in the Gaza Strip, and other factions.
Russia has been working towards conflict resolution in the region as part of the Middle East Peace Quartet, also comprising the United States, the European Union and the United Nations.
"We have reached agreement under which, within 48 hours, we will call on Mahmoud Abbas to launch consultations on the creation of a government," Fatah official Azzam al-Ahmad told a press conference.
Abbas, who leads Fatah, will be carrying out the consultations in his capacity as the president of the Palestinian Authority (PA).
Moussa Abu Marzouk, the deputy chairman of Hamas' political bureau, also described a unity government as "the most effective tool" to address divisions among Palestinian groups, adding that "it is responsible to promote the solutions, including the holding of free and democratic elections in the West Bank and Gaza Strip."
The official noted that an agreement between Fatah and Hamas to achieve Palestinian unity is not considered a compromise by any means. The concept of unity, among all factions, is a win for all sides, rather than a loss, he said, adding, "Everybody will win."
Fatah and Hamas have been at odds ever since the latter scored a landslide victory in Palestinian elections in 2006. Hamas governs the Gaza Strip, while Fatah has set up offices in the West Bank.
The factions agreed in April 2014 to end their grievances and reconcile. The move drew the Israeli officials' ire, and the Tel Aviv regime consequently responded by suspending the so-called peace talks with the PA.
Following the agreement, the two sides formed a unity government, which Fatah unilaterally dissolved in June 2015, claiming it was "weak," and that Hamas would not "allow it to work in Gaza."
In line with the new arrangements, the Palestinian sides involved in the Moscow talks, including Islamic Jihad, will now join institutions under the umbrella of the Palestine Liberation Organization (PLO) and form a new Palestinian National Council.
The new council will select the PLO Executive Committee, the top political and diplomatic Palestinian body.
Full report at:
http://www.presstv.ir/Detail/2017/01/18/506673/Palestine-Hamas-Fatah-Abbas
--------
Turkey Kurd leader risks up to 142 years in jail
Jan 18, 2017
ISTANBUL - Turkish prosecutors are demanding up to 142 years in prison for pro-Kurdish Peoples' Democratic Party (HDP) co-leader Selahattin Demirtas on charges of links to Kurdish militants, state media said on Tuesday.
The charismatic Demirtas was detained in November along with another nine HDP lawmakers and his female co-leader Figen Yuksekdag. Prosecutors in the Kurdish-majority southeastern city of Diyarbakir in the same indictment asked that Yuksekdag serves up to 83 years in jail, the state-run Anadolu news agency added.
The MPs are charged of links with and membership of the outlawed Kurdistan Workers' Party (PKK), which has waged an armed insurrection against the Turkish state since 1984. But Demirtas, as well as the other MPs, has denied having any links to the PKK and denounced the case as political.
Full report at:
http://nation.com.pk/international/18-Jan-2017/turkey-kurd-leader-risks-up-to-142-years-in-jail
--------
'No sense' in renegotiating nuclear deal: Rouhani
Jan 18, 2017
TEHRAN - President Hassan Rouhani said Tuesday there was no chance of Iran renegotiating the nuclear deal with world powers if US President-elect Donald Trump demands it. "The nuclear deal is finished, it has been approved by the UN Security Council and has become an international document. It is a multilateral accord and there is no sense in renegotiating it," said Rouhani at a news conference a year on from the deal coming into force.
Trump frequently criticised the nuclear deal during campaigning and called for fresh negotiations, but has refused to be drawn on his plans since being elected. His nominee for secretary of state, Rex Tillerson, has called for a "full review" of the deal. "Mr Trump, the president-elect, has made various statements that the nuclear deal does not satisfy him, that it was not a good deal or even that it was the worst deal ever," said Rouhani. "These are mostly slogans, and I don't think that when he enters the White House, something will happen. It is not a bilateral deal that he can decide he likes or doesn't like," the president added.
Full report at:
http://nation.com.pk/international/18-Jan-2017/no-sense-in-renegotiating-nuclear-deal-rouhani
--------
Hezbollah militia says it found crashed Israeli drone
17 January 2017
The Lebanese Iranian- backed militia Hezbollah said that it has located an Israeli drone that crashed in Lebanese territory and has taken it to a secure location for inspection, a source in Hezbollah said on Tuesday.
Full report at:
https://english.alarabiya.net/en/News/middle-east/2017/01/17/Lebanon-s-Hezbollah-finds-crashed-Israeli-drone.html
--------
Iran opposes US participation in Syria peace talks in Astana: Zarif
Jan 17, 2017
Iranian Foreign Minister Mohammad Javad Zarif has expressed the Islamic Republic's opposition to the participation of the United States in the forthcoming Syria peace talks in Kazakhstan, which aim to boost efforts to end the nearly six-year-old conflict in the Arab country.
The top Iranian diplomat made the remarks in answer to a question asked by the Tasnim News Agency on Tuesday ahead of the planned peace talks in the Kazakh capital of Astana.
"We have not invited the US and oppose their presence [at the talks]," Zarif said.
The Astana negotiations will be held between representatives from the Damascus government and foreign-sponsored opposition groups on January 23.
The negotiations, which exclude the Daesh and Jabhat Fateh al-Sham Takfiri terrorist groups, are mediated by Russia, Turkey, and Iran. The three countries successfully implemented a similar accord in December after militants were defeated in Syria's northwestern city of Aleppo.
Syrian President Bashar al-Assad said on January 8 that he was "optimistic" about the upcoming peace negotiations in Astana, and expressed his government's readiness to negotiate with the armed opposition groups.
Mohammad Alloush, the head of the political office of the so-called Jaish al-Islam militant group, said on Monday that foreign-sponsored militant groups had decided to attend the Syria peace.
The Astana talks would be held in the wake of a nationwide ceasefire in Syria, which was endorsed by the United Nations Security Council on December 31.
Full report at:
http://www.presstv.ir/Detail/2017/01/17/506616/Iran-US-Syria-Astana-Mohammad-Javad-Zarif
--------
Iran supports political initiatives on Syria: Shamkhani
Jan 17, 2017
A senior Iranian official says the Islamic Republic supports political initiatives on Syria, which seek to address the real demands of the Syrian people and preserve the war-stricken country's territorial integrity and independence.
In a meeting in Tehran on Tuesday, Secretary of Iran's Supreme National Security Council (SNSC) Ali Shamkhani and Syrian Prime Minister Imad Khamis discussed the latest developments in the Middle East, particularly in Syria, in addition to politico-economic cooperation between the two sides.
"The continuation of all-out efforts to liberate areas under the control of terrorists in order to restore security and peace to Syria and the simultaneous pursuit of Syrian-Syrian talks in order to achieve national unity will guarantee successful management of the existing crisis in the country," Shamkhani said.
He added that enemies of Syria must not be allowed to take advantage of the current ceasefire and political negotiations as a tactic to revive, rearm and regroup terrorist groups.
The Iranian official also stressed the importance of remaining vigilant in the face of plots that seek to undermine cooperation among Iran, Syria and Russia in the fight against terrorism.
Shamkhani, who acts as Iran's senior political, security and defense coordinator with Russia and Syria, said playing a dynamic and influential role in political issues requires constant cooperation among Tehran, Moscow and Damascus in all decision-making and executive processes.
The SNSC secretary further urged a relentless campaign against Takfiri terrorism, saying, "Unfortunately, Western countries and the US, instead of fighting terrorist elements who are threatening their own national security as well, are imposing sanctions on Syrian officials and the resistance front, and this shows their double-standard approach to the issue of terrorism."
Khamis, for his part, said the Syrian government has always negotiated with unarmed opposition groups that are keen to preserve the country's unity.
The Syrian premier said sustainable peace and security will be achieved in Syria if certain countries change their policy of supporting terrorists.
Senior Iranian and Syrian officials have recently exchanged visits and views ahead of the planned intra-Syrian peace talks in the Kazakh capital city of Astana.
The Astana negotiations will be held between representatives from the Damascus government and foreign-sponsored opposition groups on January 23.
Full report at:
http://www.presstv.ir/Detail/2017/01/17/506601/Iran-Syria-Ali-Shamkhani-Imad-Khamis
--------
US to step up support for Turkey in Syria's al-Bab: Commander
Jan 17, 2017
The United States vows to step up support for the Turkish forces by conducting airstrikes in Syria's al-Bab, says the American military spokesman for the so-called US-led coalition against Daesh terrorists.
US Air Force Colonel John Dorrian made the remarks Tuesday, adding that four strikes had recently been conducted near the Syrian town.
"These strikes eliminated Daesh's capabilities around the forward line of enemy troops near the city," Dorrian said. "This is something we expect to continue doing… Those targets were mutually developed, and we decided to strike them."
The two countries' military officers "will continue to work in combined headquarters, de-conflicting, coordinating and developing targets to maximize effects against Daesh, and avoid negative effects on this complex and crowded battlefield."
Dorrian further suggested that the US might have forward air controllers on the ground with Turkish forces calling in the airstrikes, saying, "One of the things that we very much prize is to have boots on the ground operating in proximity or directly with our partner forces."
"So that is the preferred alternative. And that is one of the reasons why we have to be very careful, especially in a very crowded and complex battlefield with a lot of different actors to make sure that we are hitting the targets that we intend to hit," he said.
Ties between Washington and Ankara have been in tatters since a July 2015 coup attempt in Turkey, which the country's officials blamed on an exile Turkish figure living in Pennsylvania.
Full report at:
http://www.presstv.ir/Detail/2017/01/17/506655/US-to-up-support-for-Turkey-inside-Syria
--------
Pakistan
JUI-F rejects proposed merger of Fata into KP
January 18, 2017
KHYBER AGENCY - General Secretary of Jamiat-e-Ulema-e-Islam-Fazl for Federally Administered Tribal Areas Mufti Ijaz Shinwari Sunday said his party supported reforms in the tribal areas but would not accept merging the tribal belt in Khyber-Pakhtunkhwa.
Mufti Ijaz expressed these views at a news conference in Landi Kotal Press Club. JUI-F information secretary for Khyber Agency Qari Jihad Shah and ameer JUI-F Landi Kotal Qari Mujahid Ahmad were also present at the press conference.
The Jamiat-e-Ulema-e-Islam-Fazl (JUI-F) general secretary for Federally Administered Tribal Areas (FATA) on the occasion demanded abolition of Frontier Crimes Regulations (FCR), but said no one would be allowed to merge Fata into Khyber-Pakhtunkhwa (KP) without approval of the tribal people. The idea of merging Fata into KP is a conspiracy being hatched against the tribesmen and with the efforts of JUI-F the conspirators would face a crushing blow, Mufti Ijaz said.
Mufti Ijaz said the proposed recommendations to merge tribal region with KP was the opinions of a few tribesmen that could suffer masses in all aspects in the tribal belt. He criticised Fata Siyasi Ittehad for its anti-tribal policy and stressed upon them to join hands with JUI-F to safeguard interests of the tribesmen. He thanked people of Fata for their participation in tribal conference held recently by JUI-F and said they would initiate public rallies and show of power on January 3rd and January 15 in Bajaur and Khyber agencies.
http://nation.com.pk/national/18-Jan-2017/jui-f-rejects-proposed-merger-of-fata-into-kp
--------
PPP slams Interior Minister for defending sectarian terrorists
18-Jan-17
ISLAMABAD: Pakistan People's Party (PPP) leader Senator Farhatullah Babar has said that instead of responding to the fundamental question about the Interior Minister's lack of understanding of the real enemies of the state, and the utter unacceptability of any defence of sectarian terrorists, the ministry chose to criticise the PPP for alleged wrongdoings.
"When the minister prefers to indulge in his favourite pastime of accusing an opposition political party, his favourite punching bag, instead of seeing the real enemies of state, the nation must worry..." he said while responding to a statement by the Interior Ministry published on Tuesday.
Regarding the Defence of Pakistan Council (DPC), Babar said it was formed perhaps in 2009 as a self-created group apparently to protest the Salala incident. "However, even then the PPP did not allow it to hold meetings in the federal capital. The DPC operated only in Rawalpindi and Lahore, the bastion of power of the party of the Interior Minister," he said.
He said that when the then interior minister in the PPP government declined permission to Maulana Ludhianvi for holding a public meeting in Islamabad, the latter threatened to march on the federal capital. "Accepting the challenge, the PPP refused to budge".
The PPP senator said that when next time the "honourable [interior] minister invites Ludhianvi for a cup of tea, he may like to get some facts verified from him".
Full report at:
http://dailytimes.com.pk/pakistan/18-Jan-17/ppp-slams-interior-minister-for-defending-sectarian-terrorists
--------
PML-N stalwart hints Pakistani politicians dabbling in drugs
January 17, 2017
LAHORE: It may be cold in Islamabad but the political temperature is nearing boiling point, the war of words between politicians keeps surpassing the highs made the day before. On Tuesday, Pakistan Muslim League Nawaz Senator Mushahidullah Khan said that a person's reputation is not tarnished by liquor alone, but with the consumption of drugs like cocaine as well.
The PML-N Senator was speaking to Geo News where he made the above-stated comments, apparently aimed at rival Pakistan Tehreek-e-Insaf (PTI) Chairman Imran Khan.
"One pinch of cocaine is worth Rs35,000," he said.
"There's a leader who consumes three pinches equivalent to Rs. 105,000 in a day," he added.
During Tuesday's Senate committee session, the main focus of the debate revolved around alcohol and drug consumption.
Jamiat Ulema-e-Islam Senator Hammdullah Khan said that empty liquor bottles were found on the premises of the Parliament Lodges.
"Children inquire, where do these bottles come from," he said.
This is not the first time, the PML-N senator has targeted Imran Khan, making drug-use allegations against him. Earlier during Imran's Khan anti-government campaign in November, Mushahidullah had debunked Imran Khan's allegation that the Islamabad police had barred PTI activists to bring food at his residence.
The PML-N senator had stated: "The government would not allow cocaine into the PTI chief`s residence, otherwise there are no other restrictions on food items."
The comments of the PML-N leader also come in the backdrop of Awami National Party (ANP) leader Shahi Syed's statements on liquor.
Syed had suggested the death penalty for politicians who consume alcohol.
Meanwhile, adding to the debate, Senator Rehman Malik had demanded a mandatory DNA test for politicians.
Full report at:
https://www.geo.tv/latest/127689-PMLN-Stalwart-hints-Pakistani-politicians-dabbling-in-drugs
--------
Intelligence sharing needed on global level to combat terrorism: Raheel Sharif
Jan 18, 2017
Former army chief General (retd) Raheel Sharif said 2016 witnessed a significant decrease in terrorism and that "intelligence sharing is a very important component of strategy to combat terrorism."
Addressing a session at the World Economic Forum (WEF) titled 'Terrorism in the digital age', he said: "Terrorism is a global issue and the global community will have to get united if it wants to defeat terrorism."
Talking in reference to the achievements of Pakistan Army in fighting terrorism, he said the military cleared 8,000 square kilometres area after recapturing it from militant control. He apprised the gathering that tens of thousands of affected people were rehabilitated in the area.
Raheel Sharif went on to say that terrorism has become a "gangrene for the world". He added that terrorists attack in a well planned manner and intelligence sharing is a very important component of strategy to combat terrorism.
Full report at:
http://www.dawn.com/news/1309036/intelligence-sharing-needed-on-global-level-to-combat-terrorism-raheel-sharif
--------
Africa
Nigeria: Again, Suicide Bombers Strike Unimaid, Kill Professor, 5 Others
17 JANUARY 2017
By Tobi Soniyi, Onyebuchi Ezigbo, Omololu Ogunmade, Damilola Oyedele and Michael Olugbode
The serenity of the University of Maiduguri (UNIMAID), Maiduguri, Borno State was shattered in the early hours of yesterday morning as three suicide bombers, suspected to be agents of the insurgency group, Boko Haram, invaded its campus and detonated two bombs that killed six persons, including a lecturer in the Faculty of Veterinary Medicine, Prof. Aliyu Mani.
About 15 other persons were said to have sustained injuries in the attack that has evoked an emotion laden statement from President Muhammadu Buhari who rained curses on the perpetrators of the dastardly act.
The Borno State Police Command said yesterday that three separate attempts were made. While the first was partially thwarted, killing the suicide bomber and one other person, the second hit a mosque where Mani and three others, including the bomber were killed. The third was unsuccessful as the security agencies took out the bomber before she could detonate her weapon of destruction.
"Allah will not spare them," Buhari cursed yesterday in a statement by his Special Adviser on Media and Publicity, Mr. Femi Adesina.
Speaking on the attacks, the police spokesman in the state, Victor Isuku, a DSP, said in a satement: "At about 0515hrs of date (Monday), a police mobile force personnel on duty near Gate 4 at the back of University of Maiduguri, gunned down a female suicide bomber of about 12 years old, who was trying to infiltrate the university premises, and the IED strapped to her body exploded killing her instantly.
"Shortly after that, a second explosion occurred in a mosque inside the university. Four (4) persons including a professor and the second suicide bomber died, while fifteen (15) persons sustained various degrees of injuries and were rushed to University of Maiduguri Teaching Hospital (UMTH)."
In a test message much later, Isuku said there was another attack after the initial two.
He said: "At about 0800hrs a third female suicide bomber of about 12 years old with IED strapped to her body, was intercepted at Bara Karaya village behind University of Maiduguri, in Muna Garage general area.
"The suicide bomber was sighted by villagers who promptly alerted the military. She was gunned down, while EOD personnel of the command secured and rendered safe the unexploded IED vest."
Also confirming the incident to journalists, the Borno State Commissioner of Police, Mr Damian Chukwu, said that 15 persons who sustained various degrees of injuries were rushed to the hospital.
He called on residents to be vigilant at all times as well as report any suspicious movement to security agents.
Buhari, Saraki, Dogara, others condemn act
In a swift reaction, Buhari rained curses on the Boko Haram insurgents, saying Allah would not spare them for bombing a mosque at the university.
The president, who strongly condemned the attack said that the perpetrators did not understand what Islam stood for.
"Their despicable acts of terrorism are cowardly, criminal, unjustifiable and punishable before God Almighty and the laws of the land," he said.
The president, in a statement by his Special Adviser on Media and Publicity, Mr Femi Adesina, expressed sympathy and heartfelt condolences to the university community, families of the victims and the government and people of Borno State.
Buhari said he believed that this appalling attack on a revered place of worship and Ivory Tower showed that the perpetrators had no true understanding of Islam.
The president reassured communities in Borno and others in the North-east of the country that his administration would continue to ensure that terrorism did not triumph over peace-loving Nigerians.
He reaffirmed the need for Nigerians to remain more vigilant even as the security agencies continued to use all means at their disposal to combat the remnants of insurgents and their sponsors.
Buhari comforted the families of the dead and wished those injured speedy and full recovery.
Senate President, Bukola Saraki also yesterday in Abuja condemned the bombing in a statement by his Special Adviser on Media and Publicly, Mr. Yusuph Olaniyonu
He decried the loss of valuable human lives and destruction of property during the incident.
He expressed concern on the increasing spate of Boko Haram attacks in the North-east since the liberation of the Sambisa forest, which used to be the stronghold of the insurgents.
Such attacks, he said, had created fear in Nigerians that in spite of the obvious defeat of the insurgents, pockets of attacks were still being perpetrated by the fleeing remnants of the insurgents.
He also said the attack on the university provided a cogent reason why security should be further strengthened around all educational and allied institutions to prevent recurrence.
The Speaker of the House of Representatives, Hon. Yakubu Dogara, joined in the spate of condemnation of the bombing as callous.
In a statement issued by his spokesman, Mr. Turaki Hassan, he described the attack as the height of wickedness, barbarism, callousness and ungodliness.
He lamented that despite the efforts of the military at dislodging the terrorists, they still had the audacity to execute such attacks, adding that the mode of the latest attacks, was another evil dimension embraced by the terrorists.
The speaker, however, urged the military and other security agencies working in the region, not to be deterred, but to make concerted efforts to consolidate on the gains they had recorded so far.
The Nigerian Army on its part condoled with the Vice Chancellor of the university, Prof. Ibrahim Njodi, over the bomb attacks.
The head of the counter-insurgency operation in the North East (Operation Lafiya Dole), Maj Gen Lucky Irabor, said the death of Mani was not in vain having contributed much to the university and humanity.
"I came to the university Radio station on appointment only to hear the sad news of the bomb blast and decided to condole you over the loss of Prof. Aliyu Mani and others," he said, adding: "The death of Prof. Aliyu Mani and others as well as those wounded is never in vain. What is happening now depicts that the end of Boko Haram is at hand. We are trailing their remnants to clear them."
Responding, Njodi thanked Irabor for the condolence, adding that the visit was a wonderful show of love to the university and its community.
"We would have closed the university but in other to show that we trust our military, the management only decided to stop only today's exams to be continued tomorrow. The aim of Boko Haram is to make us close the university but, we will never do that," he said.
He, however, pleaded with the military to consider deploying soldiers in the institution to boost its security.
Former Vice President and Chieftain of the All Progressive Congress (APC), Alhaji Atiku Abubakar also condemned the suicide bomb attack, describing it at as a dangerous development.
In a statement by his media office in Abuja yesterday, the Turakin Adamawa noted that following the February 2014 attack on the Federal Government College, Buni Yadi, in which 40 male students were murdered, as well as the April 2014 kidnapping of over 200 girls from their school dormitory in Chibok, Nigeria had not experienced any such act of terrorism perpetrated within a school.
"The attack on UNIMAID is not just about a bomb exploding in a mosque," Atiku said, adding: "Once again, education in the north-east of Nigeria is under attack."
The former Vice President added that lack of education was one of the most alarming threats to security in the North-east, as many of the terrorists had been shown to be people who had either never had the chance or ability to read the Koran for themselves and interpret the tenets of Islam beyond the false teachings of their terrorist commanders.
http://allafrica.com/stories/201701170541.html
--------
Somalia: US, African Union troops capture town from Al Shabaab
17.01.2017
BARIRE, Somalia- African Union forces, along with U.S. forces seized a key district in Southern Lower Shabelle region from Al Qaeda-linked Al shabaab militants on Tuesday, Garowe Online reports.
In a joint operation on Tuesday morning, US and AU soldiers serving with the African Union Mission in Somalia (AMISOM) raided Al Shabaab outposts that led to the recapture of key town Barire in Lower Shabelle. Barire is situated about 90 kilometers South-west of the Somali capital of Mogadishu.
Al Shabaab militants and senior commanders fled the town toward other stronghold areas in the region before allied forces moved in, according to local residents.
The militant group Al Shabaab has recently took control of several towns in south and central regions of Somalia following a series of withdrawals by the Somali government troops and AMISOM.
Full report at:
http://www.garoweonline.com/en/news/somalia/somalia-us-african-union-troops-capture-town-from-al-shabaab
--------
East Libya forces take control of Daesh stronghold in Benghazi
Jan 17, 2017
Forces loyal to the government in eastern Libya have gained control of one of the last strongholds of Daesh Takfiri terrorists in Benghazi.
Following a two-day onslaught backed by heavy weaponry and air strikes, the Libyan National Army (LNA) troops captured Benghazi's southwestern district of Bosnaib from the Daesh terrorists, Fadel al-Hassi, an officer in the LNA's special forces, said.
According to medical sources, 25 LNA troops, including two field commanders, lost their lives and 45 others were injured during the battle. The number of casualties from the Daesh side is still unknown.
A member of the Libyan National Army (LNA) aims his weapon during fighting at Daesh Takfiri terrorists in a southern district of Benghazi, on January 14, 2017 (Photo by AFP).
Libya has faced a power vacuum since the downfall of its longtime dictator Muammar Gaddafi in 2011. The country has been grappling with chaos and the emergence of numerous militants, including Daesh Takfiri terrorists, who are concentrated in Iraq and Syria.
Full report at:
http://www.presstv.ir/Detail/2017/01/17/506623/libya-LNA-Daesh-Benghazi
--------
The Gambia's president declares state of emergency
17 January 2017
Gambian President Yahya Jammeh has declared a 90-day state of emergency a day before his official mandate ends.
He decried "extraordinary" foreign interference in his country's affairs and December's election.
Regional leaders have been unsuccessfully trying to persuade Mr Jammeh to hand over power to Adama Barrow, who won the polls.
The move comes after Nigeria deployed a warship to put further pressure on Mr Jammeh to step down.
Regional bloc Ecowas, the Economic Community of West African States, has prepared a Senegal-led force but maintains that military intervention would be a last resort.
In his televised announcement, Mr Jammeh said "any acts of disobedience to the laws The Gambia, incitement of violence and acts intended to disturb public order and peace" are banned under the state of emergency.
He said security forces were instructed to "maintain absolute peace, law and order".
Earlier, the National Assembly passed a motion condemning what it called the "unlawful and malicious interference" of the African Union and the country's neighbour, Senegal, in The Gambia's affairs.
Ministerial resignations
Mr Barrow, a property developer, is meant to be inaugurated as the new president on Thursday. His spokesperson expressed shock and sadness at the declaration, says the BBC's Umaru Fofana in Banjul, the capital.
It is remains unclear if a curfew is being imposed, our correspondent says.
Mr Jammeh initially accepted the election results but then decided he wanted them annulled after the electoral commission admitted some errors, although it insists this did not affect the final outcome.
The Supreme Court is unable to hear the challenge until May because of a shortage of judges, and Mr Jammeh has said he will not step down until then.
What happens next?
Holidaymakers to be returned
Adama Barrow: From estate agent to president
Gambians flee ahead of 'inauguration'
At least three Gambian ministers, including the foreign minister, have resigned in recent days. Thousands of Gambians have also fled to Senegal, and further afield to Guinea-Bissau, amid fears of violence.
BBC Africa security correspondent Tomi Oladipo says the Nigerian warship is being deployed to put on a show of strength rather than to launch an attack.
A military source says that the vessel - the NNS Unity - is currently sailing off the coast of Ghana.
Senegal is leading Ecowas' standby regional force and is also preparing its ground troops ahead of Thursday's deadline.
Full report at:
http://www.bbc.com/news/world-africa-38652939
--------
Air strike on displaced camp in Nigeria 'kills 52'
January 18, 2017
Kano (Nigeria) (AFP) - At least 52 aid workers and civilians were killed on Tuesday when an air force jet accidentally bombed a camp in northeast Nigeria instead of Boko Haram militants, medical charity MSF said.
The incident happened at about 9:00 am (0800 GMT) in Rann, in the far north of Borno state, the epicentre of the jihadists' insurgency, as food was being distributed to displaced people.
There was no official death toll from the military, which blamed "the fog of war" for the mistake, but one senior commander described the casualties from the air strike as "huge".
One local resident, Abba Abiso, told AFP: "At least 25 were killed and many more injured."
The medical charity Doctors Without Borders (MSF) said "at least 120 people were wounded and 52 killed following today's bombing", calling the attack "shocking and unacceptable."
The International Committee of the Red Cross (ICRC) said six Nigerian Red Cross members were among those killed while 13 others were injured.
Nigeria's President Muhammadu Buhari said in a statement he "received with regret" news of the bombing and said he sympathised with the families of the dead and injured.
The bombing comes as Nigeria's military claims further gains against the Islamic State group affiliate, pushing them out of captured territory and their remote bases in Borno.
Last month, the army said the conflict was in its final stages after nearly eight years of violence that has killed at least 20,000 and left more than 2.6 million others homeless.
- 'Fog of war' -
Nigerian Army Major General Lucky Irabor, who heads operations against the militants, said the air force had been given coordinates of "Boko Haram terrorists" in the Kala-Balge area.
"Unfortunately the strike was conducted but it turned out that the locals somewhere in Rann were affected," he told reporters at a briefing in the Borno state capital, Maiduguri.
Irabor did not give casualty figures but said local staff from MSF and the ICRC were among those wounded.
"These are the result of fog of war," he added. "It is unfortunate. That is the reason why this war must come to an end."
Defence spokesman Rabe Abubakar in Abuja described the incident as "a mistake", adding: "We are actually in grief. It's unfortunate and it's really not intended."
Rann resident Abba Abiso suggested the error occurred as the military was targeting rebel fighters who had been flushed out of Boko Haram camps in the Sambisa Forest area of Borno.
"In recent weeks Boko Haram has moved base to Kala from Sambisa Forest and obviously a military jet mistook Rann for Kala and bombarded, killing many civilians," he added.
MSF and the ICRC said its teams were trying to provide emergency first aid at its facility in the camp and were stabilising patients to evacuate the wounded from the scene.
But Jean-Clement Cabrol, MSF's director of operations, condemned the error.
"This large-scale attack on vulnerable people who have already fled from extreme violence is shocking and unacceptable. The safety of civilians must be respected," he said.
Full report at:
https://www.yahoo.com/news/air-strike-displaced-camp-nigeria-kills-dozens-164930522.html
--------
Boko Haram: Fighter jet misfires, shoots Red cross staff, others in BornoBy Daily Post Staff
January 17, 2017
The Army said a fighter jet had misfired and shot some humanitarian aid workers of the International Committee of Red Cross (ICRC), the Medicines Sans Frontiers and some civilians in Kala Balge in Borno during an operation.
Maj.-Gen. Lucky Irabor, the Theatre Commander of Operation Lafiya Dole, disclosed this during a press briefing on Tuesday in Maiduguri.
"This morning, we received a report about the gathering of Boko Haram terrorists around Kala Balge area of Maiduguri.
"I coordinated and I directed that the air component of the operation should go and address the problem.
"Unfortunately, the strike was conducted but it turned out that other civilians were somewhere around the area and they were affected.
"So far, it is a little bit disturbing; death has occurred. There are casualties; there were deaths and injuries but on the actual number of casualties, we would get back to you later.
"I am yet to get the number of casualties of civilians killed, but two soldiers were also affected.
Full report at:
http://dailypost.ng/2017/01/17/boko-haram-fighter-jet-misfires-shoots-red-cross-staff-others-borno/
--------
UN conference addresses rise in anti-Muslim hate
18 January 2017
NEW YORK, United States – European and North American officials warned at the United Nations on Tuesday of a spike in anti-Muslim hate crimes, against a backdrop of gains by right-wing nativist politicians across many Western countries.
The high-level event, organised by Western governments and the Organization of Islamic Cooperation (OIC), took place ahead of this week's inauguration of Donald Trump as US president, after an election campaign in which he mooted travel bans on Muslims.
"Anti-Muslim hate crimes and other forms of bigotry are on the rise," Antonio Guterres, the recently-appointed UN secretary general, said in a pre-recorded video message to delegates in midtown Manhattan.
"In times of insecurity, communities that look different become convenient scapegoats. We must resist cynical efforts to divide communities and portray neighbours as the other. Discrimination diminishes us all."
According to officials, anti-Muslim hate crimes have almost doubled in Britain and France while American Muslims endured more attacks in 2015 than at any time since the 9/11 strikes on New York and Washington.
Mosques and Islamic centres across Europe and North America are occasionally daubed with offensive graffiti. Experts outlined a growing menace of hate speech and trolling of Muslims via Facebook, Twitter and other online social networks.
"Some say we live in a post-truth world," said EU human rights envoy Stavros Lambrinidis. "We must have the courage to confront narratives when they are based on prejudice, or blatant lies, so that they do not become part of the mainstream."
Headscarf-wearing Muslim women are particularly vulnerable, often facing verbal insults or having veils pulled from their faces. More worryingly, imams and others wearing Islamic garb have been slain in the streets.
"The data leaves no doubt that the incidence of anti-Muslim discrimination and hate are on the rise and this alarming development requires our immediate attention," said David Saperstein, US envoy on religious freedom.
He noted that levels of anti-Muslim violence in the West pale in comparison to the killings of Rohingya Muslims in Myanmar, Muslims in Central African Republic or bloodshed from Sunni-Shia clashes in the Middle East in recent years.
During his election campaign, Trump won fans by blaming job shortages and crime on undocumented Mexican migrants and promising to deter future militant attacks by clamping down on refugees and immigrants from mostly-Muslim countries.
Across the Atlantic, fears of immigrants swayed Britain's decision to leave the EU in the June "Brexit" referendum. Right-wing nationalists are expected to fare similarly well in upcoming polls in France, Germany and the Netherlands.
Anti-immigrant populists are not without ammunition. They point to bloody attacks linked to the Islamic State group in Paris, Nice, Brussels and Berlin in recent months, as well as the US hits in San Bernardino, California, and Orlando, Florida.
While the number of Middle Easterners travelling to Europe has dropped since the height of the refugee crisis in late 2015, more than 1,000 people reached the continent by sea in the first two weeks of 2017. Many came from war-ravaged Syria and other mostly-Muslim countries.
"It is true that the current political climate in Europe is very toxic," Alfiaz Vaiya, coordinator of the European Parliament Anti-Racism and Diversity Intergroup (ARDI), told Middle East Eye on the side-lines of the UN event.
"As the Brexit vote and Trump's victory showed, we cannot take anything for granted. We do have a threat in Europe that we could have some politicians on the extreme far right if not leading governments, then leading parties that gain the most votes."
During the day-long meet, Lambrinidis and others outlined how officials must enact and enforce laws against inciting violence, while educating children about the European values of diversity and religious freedom.
But according to Arsalan Suleman, the US envoy to the OIC, the problem is too big for governments alone. Businesses and civil groups must get on board to tackle the tough "challenges we're facing," he told MEE.
Shaarik Zafar, the US State Department's envoy to Muslim communities, said American Muslims must try to win over Christian and Jewish groups to help their standing in the broader American society.
Full report at:
http://www.middleeasteye.net/news/un-talk-anti-muslim-hate-addresses-rising-xenophobia-1183912907
--------
India
J-K Govt backs Zaira Wasim, warns extremists not to blackmail Kashmiris
Jan 18, 2017
Two days after Zaira Wasim posted an open apology on social media, the BJP-PDP alliance in the state came in support of the 'Dangal' child actor and said that the extremists cannot threaten or blackmail any Kashmiri, adding that such a talent should be nurtured.
Bharatiya Janata Party (BJP) spokesperson Khalid Jehangir in his stern message warned the extremists not to threaten any Kashmiri.
"She has risen on her own. We wish her all the best and give a message to the extremist elements in Kashmir that they cannot threaten or blackmail any Kashmiri people, who want to rise and be at par with the rest of the country," Jehangir told ANI.
Extending his full support to Zaira, Jehangir also affirmed that the entire Valley stands with the 16-year-old.
"It has been clear that the whole nation is with the Kashmiri girl who has risen to fame. Nevertheless, we have seen it today how Jammu people have open their hearts for her. This shows how Jammu people welcome anybody who is being troubled in the Valley," he added.
Resonating similar sentiments, Peoples Democratic Party (PDP) spokesperson Waheed-ur-Rehman Para also applauded the child actor for her achievement at such a tender age. He appreciated the little talent, urging the people to support her.
"Zaira is a self-made person and there are many success stories in Jammu and Kashmir. These people are not only successful but also self-made. We need to celebrate them in every state," Para told ANI.
"Some of the people have repeatedly tried to threaten others, which is unfortunate, but we still believe that the majority and the large conscience in the society support such initiatives. People are coming in her support. Everybody in J&K, from the chief minister to commoner is coming in her support," he added.
Meanwhile, Jehangir also put light on their request to open cinema halls in the Valley for the entertainment of the youth here.
"For young generation, there are no entertainment centres in Kashmir. There are no cinema halls. So, we have asked the government, requested the administration to have good PVRs in the Valley so that the Kashmir youth can enjoy as much as everybody else is enjoying outside Kashmir," he said.
Full report at:
http://www.hindustantimes.com/india-news/j-k-govt-backs-zaira-wasim-warns-extremists-not-to-blackmail-kashmiris/story-7UyKhso8MsD1of7ifULk5M.html
--------
Pakistan must walk away from terrorism for talks with India: PM Narendra Modi
January 17, 2017
India alone cannot walk the path of peace with Pakistan and the neighbouring country must walk away from terrorism if it wants bilateral dialogue to resume, Prime Minister Narendra Modi said today, amid continued chill in Indo-Pak ties. Referring to ties with China, the Prime Minister said it was not unnatural for two large neighbouring powers to have some differences but both sides should show sensitivity and respect for each other's core concerns and interests. He was speaking at the inaugural session of the three-day-long Raisina Dialogue, India's flagship geo-political conference which is being attended by top foreign and security experts from across the world.
On ties with Pakistan, Modi said the path of peace has to be Pakistan's journey as well and that India's stand in delinking terrorism from religion, and rejecting artificial distinction between good and bad terrorism, are now a global talking point.
"My vision for our neighbourhood puts premium on peaceful and harmonious ties with entire South Asia. That vision had led me to invite leaders of all SAARC nations, including Pakistan, for my swearing in.
"For this vision, I had also travelled to Lahore. But, India alone cannot walk the path of peace. It also has to be Pakistan's journey to make. Pakistan must walk away from terror if it wants to walk towards dialogue with India," he said.
In a veiled reference to Pakistan, he said those "in our neighbourhood who support violence, perpetrate hatred, and export terror stand isolated and ignored." In his address, Modi gave a run down of India's foreign policy priorities, security interests in the Indian Ocean and bilateral engagement with neighbouring countries, Gulf nations and major powers including the US, China and Russia.
On Sino-India ties, he said both the countries have an unprecedented economic opportunities and that they can compliment each other in their march forward.
"I see the rise of India & China as an unprecedented economic opportunity for our two countries, and for the whole world. At the same time, it is not unnatural for two large neighbouring powers to have some differences.
"In the management of our relationship, and for the peace and progress in the region, both our countries need to show sensitivity and respect for each other's core concerns and interests," he said.
Full report at:
http://indianexpress.com/article/india/pakistan-must-walk-away-from-terrorism-for-talks-with-india-pm-narendra-modi-4478910/
--------
KCR must fulfill his promise of 12 pc Muslim reservations: Intellectuals
January 17, 2017
Hyderabad: It is customary for the politicians to deceive Muslims and allure them to use them as vote bank. Not only Prime Minister Narendra Modi but chiefs of all political parties including Chief Minister of Telangana KCR lie to the people. No committee or commission is required to know the status of Muslims in Telangana. Muslims miserable condition is evident from the fact that 4 lakh Muslims are forced to do petty jobs in foreign countries. Were they provided opportunities in the state they won't need to serve in foreign countries. Government is toying with the sentiments of Muslims. These views were expressed by Mr. Zaheeruddin Ali Khan while addressing a convention on 'Socio-economic status of Muslims in Telangana state' organised by Telangana Joint Action Committee, here at Madina Education Centre.
National president of Swaraj Abhiyan, Yogender Yadav, Chairman Telangana Joint Action Committee Prof. Kodandaram, President Jamat-e-Islamic Hind, Telangana and Orissa, Maulana Hamed Mohammed Khan, president Moment for Peace and Justice Khaja Moinuddin, Prof. Mohammed Ghouse, Osmania University, National Convenor Swaraj Abhiyan Adil Mohammed and others took part in the convention.
Speaking further Mr. Zaheeruddin Ali Khan said it is the duty of the government to eliminate poverty of Muslims along with other backward classes. Government must shun excuses and seriously mull over fulfilling its promise made to the Muslims regarding 12 pc reservations.
Full report at:
http://www.siasat.com/news/kcr-must-fulfill-promise-12-pc-muslim-reservations-intellectuals-1111137/
--------
South Asia
8 key Taliban leaders among 37 killed in join operations: MoD
Jan 18 2017
At least 37 Taliban insurgents including 8 key leaders of the group were killed during the joint military operations in the past 24 hours, the Ministry of Defense (MoD) said.
The operations were conducted in Kunar, Kapisa, Uruzgan, Herat, Kunduz, Baghlan, and Helmand provinces.
According to a statement by MoD, at least 14 militants were also wounded and 3 others including Pakistani nationals were arrested.
The 8 key Taliban leaders were killed in Musa Qala district and have been identified as Mullah Tahir who was responsible for the financing of the group, Haji Nasir who was recruiting for the group, Haji Khadem who was in command of the Red Unit of the Taliban, Haji Rouhani, Taliban's shadow district chief for Marjah, Haji Lala, Taliban's shadow district chief for Nawzad, Haji Kamil, commander of the Red Unit for Nahr-e-Saraj, Haji Khalid, Taliban's shadow deputy governor for Uruzgan, Mullah Sadiq Agha, Taliban's military chief for Kandahar and Helmand.
The statement further added that two Pakistani insurgents were also among the 36 killed in the operations in Helmand province.
The ministry also added that 4 hideouts of the Taliban group were also destroyed in the operations in Greshk district.
Another militant was killed in Tagab district of eastern Kapisa province and another militant was wounded.
http://www.khaama.com/8-key-taliban-leaders-among-37-killed-in-join-operations-mod-02695
--------
Istanbul nightclub attack suspect trained in Afghanistan
Jan 17 2017
The main suspect involved in a deadly attack on a nightclub in Istanbul had received training in Afghanistan, it has been reported.
The city's governor Vasip Sahin informed regarding the latest development after the apprehension of the suspect who was earlier identified as AbdulKadir Mashripov.
The suspect was arrested during an operation late on Monday night with the security sources saying Mashripov is a member of the Islamic State of Iraq and the Levant (ISIL) also known as Daesh.
The sources further added that Mashripov was captured during a police operation on a residence in Istanbul's Esenyurt district.
The incident in Reina nightclub took place on the new year's eve when the attacker started indiscriminate firing, leaving at least 39 people dead.
A police officer was also among those killed and around 69 others sustained injuries in the attack.
Full report at:
http://www.khaama.com/istanbul-nightclub-attack-suspect-trained-in-afghanistan-02693
--------
Bangladesh gets a new shot at the stars with PM Sheikh Hasina's third premiership
Tanay Kishore
17 January, 2017
For the third time in her life, Sheikh Hasina is the prime minister of Bangladesh. And the west should look closer at the stateswoman, whose striking resemblance to Gandhi and other great patriots shows nothing but good things ahead for Bangladesh.
After her first premiership between 1996 to 2001, a second from 2008 to 2014, Sheikh Hasina is back in power in Dhaka. At the head of the Awami (center-left) party, she has returned after a solid election in 2014, beating the nationalist candidate Khaleda Zia, her historical political adversary. There are five main reasons to rejoice at her return in power.
Obviously, she embodies the rise of women in the world. In 2016, Forbes ranked Sheikh Hasina the 36th most powerful woman in the world. After over two decades of political life, she embodies resilience in the public life, and political vision and fortitude. The BJP (ruling Indian party) leader recently defined Hasina at a political meeting as a "true Jananetry (leader of the people)". "You are one of the rare leaders who can really be described as a true Jananetry not only in your country but in the entire sub-continent", he said.
In fact, she, like Gandhi, has devoted her life to the non-violent emancipation of her country. With the slight difference that Gandhi was fighting oppression from abroad, whereas Sheikh Hasina's demons are within: graft, terrorism and corruption. Like Gandhi, she has also paid her pound of flesh in serving her country. Almost her entire family was murdered, including her father, Sheikh Mujibur Rahman, the first president of Bangladesh, killed in 1975.
Since then, 19 failed attempts on her life have been made, to chase her away from power. Even in India, known for its rampant sexism within political parties, the Prime Minister was forced to praise Bangladeshi Prime Minister Sheikh Hasina for taking a strong stance against terrorism, despite being a woman, consistent with her unflinching refusal of political violence.
Throughout her various positions, Sheikh Hasina has shown her inclination to keeping sound relationships with all countries, neighbours or not, Muslim or not (Bangladesh is the fourth largest Muslim country in the world). She cultivates many relationships in the western world, and even had her position (and perhaps life) saved by neighboring Indian intelligence services when a coup d'etat was under way in her country. Her relationships with minorities have always been respectful and constructive. On Christmas of 2016, she seized the opportunity to visit the microscopic Bangladeshi Catholic community, to call out to Pope Francis: "I thank Pope Francis for appointing a Bengali as cardinal," she said. Turning to newly elected Card Patrick D'Rozario, she added, "Your eminence, I ask not to work only for Christians, but for the welfare of the whole country, as you have done in the past."
Sheikh Hasina runs for Bangladesh, but rejects nationalism. Her relationship with nationalists in Bangladesh has been nothing short of acrimonious, with blows ranging from judicial intimidation to assassination attempts, and forced exile. In her latest election, nationalists rejected the results, despite visible support from the population. In fact, any form of political violence, including nationalism, is logically unacceptable to a woman who lost so much to it.
In the 2016 Awami League rally, the PM's historical party, Sheikh Hasani was praised by all neighboring country representatives, namely on her firm stance against violence. In the wake of last October's attacks in Dhaka, the government has been cracking down on terrorist cells. Rupak Bhattarcharjee writes in the opinion that – The developments over the last few weeks amply demonstrated Hasina-led Awami League (AL) government's commitment to its "zero-tolerance" policy towards violent religious extremism and terrorism.
Full report at:
http://www.merinews.com/article/bangladesh-gets-a-new-shot-at-the-stars-with-pm-sheikh-hasinas-third-premiership/15922329.shtml
--------
Bangladeshi-American Behnaz Kibria nominated to US trade advisory committee
2017-01-17
Behnaz, who has served as the Deputy Chief of Staff for the Office of the US Trade Representative since 2007, was nominated on Monday for membership on the Advisory Committee for Trade Policy and Negotiations, a key position in the administration.
The White House also released the names of 28 other nominees for various important positions in the same release.
A hearing of the US Senate will decide whether the nominees will be appointed. If Behnaz is confirmed by the senate, she will serve for a term of two years.
"These fine public servants bring a depth of experience and tremendous dedication to their important roles, said President Obama. "I know they will serve the American people well."
Previously, on April 24, 2014, Bangladeshi-American Dr N Nina Ahmad had been appointed as a member of the President's Advisory Commission on Asian Americans and Pacific Islanders. Her term ends this May.
Before taking her current post, Behnaz Kibria served as a Trade Counsel to the Committee on Ways and Means in the United States House of Representatives, under which capacity she worked on free trade agreements with Peru, Colombia and Korea.
Her portfolio also includes US preference programs, enforcement issues and other trade and oversight initiatives.
Full report at:
http://bdnews24.com/bangladesh/2017/01/17/bangladeshi-american-behnaz-kibria-nominated-to-us-trade-advisory-committee
--------
Refugees poured $7 billion to Afghanistan by returning home in past 1 year
Jan 17 2017
The Afghan refugees have poured around $7 billion in the country by repatriating from the host countries in the past one year, the officials said Tuesday.
Syed Hussain Alimi Balkhi, the Minister of Refugees and Repatriation, informed regarding the latest developments regarding the repatriation of the Afghan refugees by appearing in a gathering in Kabul today.
He said the year 2016 witnessed a massive return of the refugees, mainly from the neighboring countries.
Minister Balkhi further added that the year 2016 was historical in past one and half decades, apart from 2002 when around 1.5 million refugees returned to Afghanistan.
According to Minister Balkhi, more than 1 million refugees returned to Afghanistan during the year and over 900,000 of them repatriated voluntarily.
The majority of the refugees have returned from Pakistan after becoming a victim of the security and political upheavals, specifically after they were forced to return following a deadly attack on Peshwar school and the recent incursions along the Durand Line.
The United Nations refugee chief urged Pakistanis asked the Pakistani authorities late in June last year not to blame Afghan refugees for terrorism in their country.
The call by UN High Commissioner for Refugees Fillippo Grandi followed amid growing public calls for their deportation and worsening relations between the two neighbours.
Warning that the roughly 2.5 million Afghan refugees in Pakistan risked becoming a "forgotten" crisis, Grandi called on the international community to invest more funds to help them.
Full report at:
http://www.khaama.com/refugees-poured-7-billion-to-afghanistan-by-returning-home-in-past-1-year-02694
--------
Southeast Asia
Don't Exploit MUI's Edicts to Influence the State: Police Chief
Jan 18, 2017
Jakarta. National Police chief Gen. Tito Karnavian has called on all parties to resist from exploiting edicts issued by the Indonesian Ulema Council, or MUI.
The call comes after a series of controversial edicts that led to public outcry.
"Transnational groups try to prompt the MUI to issue certain edicts to gain influence over the state," Tito said during a discussion at the National Police Academy in Jakarta on Tuesday (17/01).
"We respect the MUI, but we don't want to see it exploited and influenced to issue edicts that contradict the spirit of Bhineka Tunggal Ika ['Unity in Diversity']," he added.
Tito said that although the MUI's fatwas, or edicts, cannot serve as legal references, they have lately had broad implications on the state and law enforcement.
He referred to the council's opinion that triggered disquiet among Muslims over the blasphemy allegations against Jakarta Governor Basuki "Ahok" Tjahaja Purnama.
"It [the edict] has broad legal implications," Tito said.
He also said that another edict, which prohibited Muslims from donning Christmas attire, prompted vigilantes to raid shopping centers and destroy Christmas decorations.
Tito has requested several law experts to interpret the legal standing of the organization's edicts.
Full report at:
http://jakartaglobe.id/news/dont-exploit-muis-edicts-influence-state-police-chief/
--------
OIC envoy calls for UN intervention to prevent genocide of Rohingya Muslims in Myanmar
Jan 18, 2017
The United Nations should intervene in Myanmar's Rakhine State to stop further escalation of violence against Rohingya Muslims and avoid another genocide like in Cambodia and Rwanda, said the Organisation of Islamic Cooperation's special envoy to Myanmar. The conflict which has left at least 86 dead and an estimated 66,000 people fleeing into Bangladesh since it started on Oct 9, 2016, is no longer an internal issue but of international concern, said Mr Syed Hamid Albar, who is also Malaysia's former foreign minister.
Mr Syed Hamid said the OIC should seek UN intervention. His comments come ahead of a special OIC meeting called by Malaysia on Thursday (Jan 19) to discuss measures to deal with the conflict affecting the Rohingya minority, who are predominantly Muslim.
"We don't want to see another genocide like in Cambodia or Rwanda," he told Reuters in an interview ahead of the meeting in Kuala Lumpur.
"The international community just observed, and how many people died? We have lessons from the past, for us to learn from and see what we can do," he said.
The OIC represents 57 states and acts as the collective voice of the Muslim world.
Refugees, residents and human rights groups say Myanmar soldiers have committed summary executions, raped Rohingya women and burned homes since military operations started in the north of Rakhine State on Oct 9.
The government of predominantly Buddhist Myanmar, led by Nobel Peace Prize winner Aung San Suu Kyi, has denied the accusations, saying many of the reports are fabricated, and it insists the strife in Rakhine State, where many Rohingya live, is an internal matter.
The military operations were in response to attacks on security posts near Myanmar's border with Bangladesh that killed nine police officers. The Myanmar government has said that militants with overseas Islamist links were responsible.
A Myanmar government spokesman said it will not attend the OIC meet as it is not an Islamic country, but that it had already made its actions clear to Asean members at their last meeting in December, and that UN intervention would only end up facing "unwanted resistance from local people".
"So that's why the international community should have a positive approach and understand widely our country's conflict situation," said Zaw Htay, a spokesman for the office of Myanmar President Htin Kyaw.
Full report at:
http://www.straitstimes.com/asia/se-asia/oic-envoy-calls-for-un-intervention-to-avoid-genocide-of-rohingya-muslims
--------
Now, Terengganu Islamic enforcers say may nab unmarried couples in cars too
BY NABIHAH HAMID
January 18, 2017
KUALA LUMPUR, Jan 18 — Under media spotlight for arresting unmarried Muslims couples riding motorcycles together, Terengganu Islamic authorities admitted today that it is considering extending the enforcement to passengers in other vehicles, such as cars. Despite that, Terengganu Religious Affairs Department (JHEAT) said implementing the anti-vice operation dubbed Ops Bonceng for other vehicles would be different, admitting that religious officers would not be able to observe Muslims in cars.
"There are suggestions to extend [the operation] but we have to see first how Ops Bonceng is being handled," JHEAT's chief assistant commissioner (enforcement) Nik Zulhaiza Ismail told Malay Mail Online's sister publication ProjekMMO.
"We cannot just implement [checking non-mahram] riding in cars together [like in Ops Bonceng] because the enforcers' eyes cannot see what happens."
'Mahram', also pronounced 'muhrim' in Malay, is a concept in Shariah law that refers to unmarriageable kin, such as blood relatives.
"We cannot punish and assume what they do. Unlike riding motorcycles, it is obvious that they sit together closely," he said.
Despite that, Nik Zulhaiza said JHEAT already has provisions to act on Muslim couples who are caught together in secluded places.
"For those together alone in the car in quiet places, for example, we already have Sections 29 and 31.
Full report at:
http://www.themalaymailonline.com/malaysia/article/now-terengganu-islamic-enforcers-say-may-nab-unmarried-couples-in-cars-too
--------
Jakarta Police to Summon FPI's Rizieq Next Week
Jan 18, 2017
Jakarta. The police will again summon the Islamic Defender's Front, or FPI, cleric Rizieq Shihab for allegations of spreading hate speech and insulting the state's symbol of Pancasila.
Jakarta Police chief Insp. Gen. M. Iriawan on Tuesday (17/01) said Rizieq will be questioned by investigators from the special crimes directorate.
"We will question him next Monday," Iriawan said in East Jakarta.
Iriawan said that the summons is related to a probe after reports from the Finance Ministry, economic observers and a local NGO.
The special crimes investigators had gathered information given by expert witnesses from Bank Indonesia, relating to reports against Rizieq's claims that the new Rupiah banknotes contain the communist hammer-and-sickle logo.
Jakarta Police spokesperson Sr. Comr. Argo Yuwono said these expert witnesses include the printing director of Bank Indonesia, Desimus, and six of his staff.
"We asked him about the security system of Indonesian banknotes, whether the claim [of hammer-and-sickle logo] actually exists," Argo said.
"Investigators have also questioned the claimant from the Red and White Solidarity group and plan to examine other witnesses," he added.
Full report at:
http://jakartaglobe.id/news/jakarta-police-summon-fpis-rizieq-next-week/
--------
Protest Rallies Must Follow Regulations: Military Chief
Jan 18, 2017
Jakarta. Indonesian Military Chief Gen. Gatot Nurmantyo said a democratic country like Indonesia will always allow protest rallies as long as they do not break the law.
Gatot's comment came after hardline group Islamic Defenders Front (FPI) took to the streets demanding the National Police chief dismiss two of his high-ranking officers.
"In a democracy, there is always space for freedom of speech. But [everyone] should follow regulations when protesting," Gatot said on Tuesday (17/01).
Gatot said military intelligence officials are trying to work out if some of these mass organizations have acted against the state ideology Pancasila.
"TNI is committed to support the administration of President Joko Widodo and will crack down mass organizations that defy Pancasila," Gatot said.
The recent protest rally from FPI on Monday (16/01) called for the removal of Jakarta Police Chief Insp. Gen. M. Iriawan and West Java Police Chief Insp. Gen. Anton Charliyan for creating friction among Muslims.
The police said they will not be forced to replace, discharge or remove officers from their posts.
Full report at:
http://jakartaglobe.id/news/protest-rallies-must-follow-regulations-military-chief/
--------
North America
Saudis on Trump's Position on Iran, Islamic State: 'We Are Optimistic'
17 Jan 2017
The Sunni kingdom of Saudi Arabia has voiced optimism about the desire expressed by incoming President Donald Trump to restore U.S. influence across the globe, contain Shiite powerhouse Iran, and fight the Sunni jihadist group Islamic State (ISIS/ISIL).
"We are optimistic about the incoming administration and look forward to working with it in all areas that are a concern for both of us," Saudi Foreign Minister Adel al-Jubeir told reporters in Paris on Monday, reports Reuters. "We will look at the Trump administration's view as articulated. Wanting to restore America's role in the world, we welcome this. Wanting to defeat ISIS [Islamic State], absolutely. Wanting to contain Iran… absolutely."
In November of last year, eleven Arab nations in the Middle East and North Africa, including Saudi Arabia and recent allies of Iran like Sudan, penned a letter addressed to the United Nations, warning that "expansionist" and "sponsor of terrorism" Iran had only intensified its policy of "aggression in the region and the continuation of support for terrorist groups" since signing the nuclear deal with U.S.-led world powers.
The United States has officially designated Iran as the top state sponsor of terrorism in the world.
In the letter, the Muslim-majority countries accuse Iran of backing Shiite terrorist organizations "from Hezbollah in Lebanon and Syria, to Houthis in Yemen and terrorist groups and cells in the Kingdom of Bahrain, Iraq, the Kingdom of Saudi Arabia, Kuwait and elsewhere."
Sunni Saudi Arabia is Shiite Iran's primary rival in the Middle East.
"It is with a deep sense of frustration that we note that the Islamic Republic of Iran, with its expansionist regional policies, flagrant violations of the principle of sovereignty and constant interference in the internal affairs of Arab States, continues to play a negative role in causing tension and instability in our region," notes the letter, signed by UN envoys of Bahrain, Egypt, Jordan, Kuwait, Morocco, Oman, Qatar, Saudi Arabia, Sudan, United Arab Emirates and Yemen.
"Unfortunately, since the signing of the nuclear deal, we have seen nothing but increased Iranian aggression in the region and the continuation of support for terrorist groups," it adds.
Trump has staunchly denounced the nuclear pact reached between Iran and world powers led by the outgoing Obama administration, prompting the U.S. president to warn the incoming administration against undoing the deal.
"I'm not happy with the Iran deal, I think it's one of the worst deals ever made," the president-elect reiterated during a recent interview with the Times of London and the Bild newspaper of Germany.
A day after signing the nuclear agreement, President Obama admitted that Iran will likely use sanctions relief money from the deal to fund terrorist organizations.
As part of the nuclear deal, Obama has paid state sponsor of terrorism Iran at least $1.7 billion in cash.
On Monday, the Saudi foreign minister pointed out that the interests of the Sunni kingdom, the world's largest oil exporter, are consistent with those of the United States — whether it concerns geopolitical or financial issues.
"The objectives we want to achieve are the same. We may have disagreements on how to get there, but we don't disagree on what needs to be done, and that will not change," he said.
Full report at:
http://www.breitbart.com/national-security/2017/01/17/saudi-arabia-optimistic-trump-position-iran-islamic-state/
--------
Trump will not be unfriendly towards Pakistan, says aide
ANWAR IQBAL
Jan 18, 2017
WASHINGTON: The Trump administration, which assumes power on Friday, has no plans to "unfriend" Pakistan but its relations with India will be even closer than those of the Obama adm­i­­nistration, says Sajid Tarar, a prominent Pak­istani supporter of President-elect Donald Trump.
Mr Tarar, who spoke at the Republican National Convention in July and prayed for Mr Trump's victory, will also address the prayer breakfast for the new president. The ceremony will be held at Washington's National Cathedral on Jan 21, a day after Mr Trump takes oath as the 45th president of the United States.
Former US presidents Jimmy Carter, Bill Clinton, George W. Bush and Barack Obama, and their wives, will be among the audience who will hear Mr Tarar recite Surah-i-Fateha for Mr Trump.
"I chose the first Surah of the holy Quran because it is the beginning of a new presidency, and I hope and pray that the next four years bring peace and prosperity to all," Mr Tarar told Dawn.
Full report at:
http://www.dawn.com/news/1309182/trump-will-not-be-unfriendly-towards-pakistan-says-aide
--------
US commander in Afghanistan urges cooperation among 'all stakeholders'
BAQIR SAJJAD SYED
Jan 18, 2017
ISLAMABAD: Days ahead of US president-designate Donald Trump's in­­au­guration, a senior Ameri­can commander responsible for security operations in Afghanistan underscored the need for cooperation among "all stakeholders" for peace in the war-ravaged country.
Centcom Commander "General Joseph L. Votel emphasised the need for continued and meaningful engagement between all stakeholders involved in peace and stability of Afghanistan," Inter-Services Public Relations, the military's public affairs wing, said about the US official's meeting with Chief of the Army Staff Gen Qamar Bajwa at the General Headquarters on Monday.
An increasingly dysfunctional relationship between Pakistan and Afghanistan after months of strains over a failed Afghan peace process and insufficient counterterrorism efforts poses a serious foreign policy challenge for the incoming Trump administration.
Gen Votel was the second senior American military official to visit Pakistan in past eight days. Last week, a top US commander in Afghanistan and chief of the Resolute Support Mission, Gen John Nicholson, came to Pakistan and made a rare trip to North Waziristan during his visit.
Full report at:
http://www.dawn.com/news/1308865/us-commander-in-afghanistan-urges-cooperation-among-all-stakeholders
--------
Europe
US, British, French Officers Training Terrorists in Jordan to Fight against Syrian Gov't
Jan 17, 2017
A seven-member group of militants in al-Rahibiyeh region in Damascus that have left terrorist-held regions with the coordination of the army and handed over their weapons and munitions to the army soldiers, disclosed that some of terrorist groups had been trained by the US, French, Italian and British officers in Jordan.
Also, one of the militants said that terrorists are being supported financially from abroad, adding that the Western states are even collaborating with ISIL and "attacks on ISIL by the Western states are entirely a show.
UK Defense Secretary Michael Fallon announced in late October that the decision of resuming suspended program of training militants in Syria.
According to the plan some 20 UK trainers would be deployed in Syria or in neighboring territories "to provide vetted members of the 'moderate Syrian opposition' with the skills they need to continue to take the fight to ISIL", Sputnik reported.
"All volunteers from the moderate opposition will be subject to strict vetting procedures and will receive training in international humanitarian law. Trainees will be security and medically screened prior to the start of training and will be assessed during and monitored after training," Fallon told reporters.
The training was reported to include basic infantry drills and battlefield medicine, as well as skills to avoid mines and booby-traps, according to the text of the upcoming announcement.
The program was put on hold in 2015, after it became known that very few of the militants trained in Turkey by Western instructors succeeded in their mission, having either been killed by ISIL or al-Nusra Front (also known as Fatah al-Sham Front) militants, or surrendering, along with all of their brand-new US-supplied weapons and communications gear.
The US participation in the militant training program in Syria spent a reported $500 million on the program and was shut down by US President Barack Obama after it was detailed that the program, aimed at delivering some 15,000 skilled militants to the front, produced only a handful of soldiers.
Full report at:
http://en.farsnews.com/newstext.aspx?nn=13951028000506
--------
UN chief urges end to bigotry against Muslims
Jan 18, 2017
UNITED NATIONS - In a video message to a high-level event on combating anti-Muslim discrimination and hatred, United Nations Secretary-General Antonio Guterres appealed Tuesday for drawing strength from the principles of inclusion, tolerance and mutual understanding to recognise the value of diversity.
"Discrimination diminishes us all. It prevents people – and societies – from achieving their full potential," said Guterres, who is in Geneva attending the World Economic Forum. The high-level event was organized by the Permanent Missions of Canada and the United States to the UN and the Delegation of the European Union and the Organization of Islamic Cooperation.
"In times of insecurity, vulnerable communities that look different become convenient scapegoats," the secretary-general added, calling on everyone to resist cynical efforts that try to divide communities and "portray neighbours as 'the other'."
Further, noting that anti-Muslim hate crimes, xenophobia, racism, anti-Semitism and other forms of bigotry are on the rise, the UN chief said that many people are victims of intolerance and suspicions that may not appear in statistics, these none the less degrade people's dignity as well as that of the common humanity.
Full report at:
http://nation.com.pk/international/18-Jan-2017/un-chief-urges-end-to-bigotry-against-muslims
--------
EU's new anti-terror laws target Muslims, Amnesty says
Jan 17, 2017
Amnesty International says a number of new counter-terrorism laws adopted by EU countries discriminate against Muslims and refugees across Europe.
Amnesty in a report on Tuesday sounded the alarm over security measures, including expanded surveillance powers, adopted over the past two years in EU countries.
Julia Hall, an Amnesty International expert on counter-terrorism and author of the report, said the laws were also spreading fear and alienation against Muslims across the continent.
"Right across the EU regional space we see Muslims and foreigners being equated with terrorists," she said, adding, "This stereotyping so disproportionately affects these communities that there is a high degree of fear and alienation."
"Governments looking at a person and saying: 'You look really suspicious to me. You visit community centers. You go to a specific mosque, and so I'm going to restrict your behavior because I think in the future, you might commit a crime,' and this is one of the most troubling aspects of the report and the information in the report. And we see governments that have already adopted these types of measures and we see other governments contemplating them," Hall said.
She warned that "draconian" surveillance measures and powers of search, detention and arrest such as those introduced in France could be abused to target activists or minority groups that did not pose a genuine threat.
France has introduced strict measures since last November, when attacks claimed by the Daesh Takfiri terrorists at some six different venues in and around Paris left 130 people dead and over 350 others injured.
Another deadly attack was carried out as recently as July this year, when a man believed to have been tied to Daesh drove a truck into people celebrating in Nice, killing at least 84 people.
Full report at:
http://www.presstv.ir/Detail/2017/01/17/506615/EU-terror-laws-Muslims-Amnesty
--------
URL: https://www.newageislam.com/islamic-world-news/new-age-islam-news-bureau/iraqi-muslim-builds-cross-after-original-is-destroyed-by-isis/d/109766
New Age Islam, Islam Online, Islamic Website, African Muslim News, Arab World News, South Asia News, Indian Muslim News, World Muslim News, Womens in Islam, Islamic Feminism, Arab Women, Womens In Arab, Islamphobia in America, Muslim Women in West, Islam Women and Feminism, Moderate Islam, Moderate Muslims, Progressive Islam, Progressive Muslims, Liberal Islam