New Age Islam News Bureau
10 Jun 2015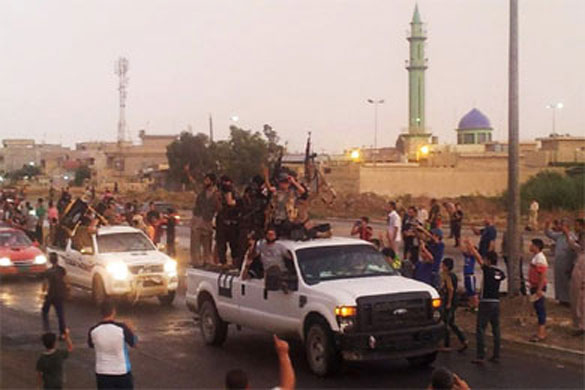 In this file photo from June, 2014, Islamic State fighters parade in Mosul. PHOTO: ASSOCIATED PRESS
------------
Arab World
• Iraqi City of Mosul Transformed a Year after Islamic State Capture
• Yazidi Militia Killed 21 In Iraq Revenge Attack: Amnesty
• Scores of Takfiri Militants Killed in Daraa Countryside
• Egypt suicide bomber targets Luxor temple
• Syria crisis: Rebels seize army base, another defeat for Bashar al-Assad
• Yazidi fighters accused of reprisal attacks in Iraq
• West partly to blame for Islamic State: top Muslim cleric
• Officials: Takfiri Groups Promoting 'Israel' Strategic Position
• Hezbollah Kills Senior ISIL Commander in Eastern Lebanon
South Asia
• Eight Soldiers Martyred, 46 Insurgents Killed In Military Operations in Afghanistan
• 10 Militants Killed In Nanagarhar Airstrikes
• Members of Bangladesh Jihadi Group to Kill Noted Persons of the Country
• 40 insurgents joined peace process in Kunar
• 'Atheist' tag used to attack bloggers in Bangladesh
Africa
• Fifteen Dead as Boko Haram Attacks Village in Nigeria: Residents
• Military top brass meet in Nigeria on Boko Haram
• Libya MPs reject UN's unity govt proposal
Mideast
• Four Yemeni Civilians Killed in Saudi Air Raid in Al-Jawf Province
• Drone Strike Kills Three Qaeda Suspects In Yemen
• Four killed as Kurd factions clash in Turkey
• Saudi Fighter Jets Continue Pounding Yemen' Sa'ada
• Turkish Opposition: No More Gov't Support for Terrorists in Syria
• Israeli premier says Arab countries agree with him on Iran
• Palestinian killed in clash with Israel forces
Europe
• Moderate Bosnian Muslims called to join Islamic State
• Recruits Continue To Replace Killed Islamic State Fighters
• Muslim Arrested In Biggest Child Sex Exploitation Case in Sweden's History
Pakistan
• Pakistan Hangs Man Who Was Convicted At 15
• Pakistan Approves Sharia Advisory Board for Islamic Finance
• Two LeJ terrorists killed in encounter near Karachi: Rangers
• Pakistan to provide $5m food grant to Rohingya camps
• China-Pakistan ties: Shahbaz says learning Chinese language need of the hour
• NA unanimously passes resolution in favour of Rohingya Muslims
• Pakistan to expose India's role in breakup of East Pakistan, Aziz tells Senate
Southeast Asia
• As Clerics Make Clean Sweep, PAS' Future Turns Murky
• RTD Dress Code Shows Conservative Islam Creeping Into Civil Service, Activist Says
• Demands for rough sex among top reasons for divorce in Selangor, Islamic Department says
India
• No Surya Namaskar on International Yoga Day: Centre Axes Asana To Soothe Irate Muslim Groups
• BJP has 3.20 Lakh members in Muslim-majority Kashmir
North America
• 'Dozens' Of U.S. Airport Workers Linked To Terror
• US: Continue facilitate humanitarian access to migrants
• Canadian Muslims launch hate-tracking website
• U.S. plans new military base in Iraq's Anbar
• Obama weighs sending several hundred more U.S. troops to Iraq: Officials
Compiled by New Age Islam News Bureau
URL: https://www.newageislam.com/islamic-world-news/new-age-islam-news-bureau/iraqi-city-of-mosul-transformed-a-year-after-islamic-state-capture/d/103425
----------
Arab World
Iraqi City of Mosul Transformed a Year after Islamic State Capture
Jun 10 2015
BAGHDAD—In Islamic State's stronghold of Mosul, the extremist group is working day and night to repair roads, manicure gardens and refurbish hotels. Iraq's second-largest city has never looked so good thanks to strict laws enforced by the Sunni militants.
But beneath that veneer, the group metes out deadly punishments to those who don't comply with a long list of prohibitions imposed over the year since it took control of Mosul on June 10, 2014, according to interviews with more than a dozen current and former city residents, refugees and Iraqi officials.
Gone are the illegal kiosks that crowded sidewalks and the tangled web of electrical wires once connecting rooftops. New lamps light up streets unusually clear of cigarette butts.
"I have not in 30 years seen Mosul this clean, its streets and markets this orderly," said Omar, a resident. He said Islamic State has shown an unusual focus on civil works in recent weeks, which he and others described as part of efforts to win popular support.
Mosul and its population are changed in other ways, too. Gone are the iconic shrines and mosques that towered over the city centre. The radical fighters blew many of them up because they believe the veneration of shrines is unholy.
Ancient churches host garage sales where Islamic State members sell war booty or display wares available to members only. The native Christian population, a minority in the Sunni-majority city once peppered with other religious and ethnic groups, was driven out last year under threat of death.
When women step outside, they are fully cloaked with their faces covered. Men have grown mandatory beards.
Islamic State has gone unchallenged because residents from Iraq's aggrieved Sunni minority are too scared of a military campaign that could bring massive destruction and an uncertain future under the Shiite-led government and allied forces who would retake the city, said current and former residents.
Such is the dissonance of life for the more than one million people in the most populous city controlled by Islamic State across the territories it holds in Iraq and Syria.
In the past year, the group has tightened its grip on Mosul mostly uncontested, building out its administrative and security apparatus. It has cut the city off from the rest of Iraq and the world beyond by shutting off cell phone towers and the Internet.
A year after Mosul fell, Islamic State's grip on the city stands as its biggest strategic and symbolic victory.
The campaign to retake Mosul is a linchpin of the U.S.-led coalition's military strategy against Islamic State. But plans for the counteroffensive have been delayed—something the militants appear to be capitalizing on to persuade the population they are better off under the group's control.
"Islamic State is doing everything to keep Mosul. It's the capital of their caliphate here," said Fuad Hussein, chief of staff to the president of the semiautonomous Kurdistan region of Iraq, which borders Mosul. "It will be a disaster if it stays in their hands."
Airstrikes have hammered areas around the northern city since a U.S.-led air campaign began in August. This year, Kurdish forces backed by the U.S.-led air attacks cut off a key Islamic State supply line from Syria into the city and now surround it from the east, west and north.
The plans for a counteroffensive have been put off because Iraq and the U.S. have shifted their priority to driving Islamic State out of Anbar province and its capital Ramadi, which are closer to the capital Baghdad.
Mosul is still almost fully inhabited—a contrast to cities where Iraqi and coalition forces have pushed Islamic State out. U.S. officials say it has about a million residents. Iraqi officials say the population is closer to 1.5 million, including people displaced from Tikrit and Beiji.
"Every prisoner in this oppressed city wants salvation from Daesh and a return to normal life," said Omar, using an Arabic acronym for Islamic State. "But everyone agrees if liberation happens like in Tikrit and Anbar, with destruction and barrel bombs, random shelling and looting, we do not want that kind of liberation."
Another Mosul resident echoed that sentiment, showing how reports of looting and abuses by Shiite militias in Tikrit weigh heavily in the minds of residents, even though many of those accounts were exaggerated.
The second resident said even Iraqi soldiers may be still unwelcome in an offensive.
"The best way to get rid of Daesh is to negotiate with them to leave to Syria," he said. That seemingly unrealistic proposition reflects a desperation to find a local solution amid deep suspicions and fear of the Iraqi army and its Shiite militia allies.
In the early months of Islamic State rule, some Mosul residents said they thought the new regime was one they could live with, current and former residents said.
"Daesh managed in a short time to create a strong security organization similar, if not stronger, in order and harshness to that of the Saddam Hussein regime," said Omar. "It governs people and runs life well like this."
Food staples became more plentiful and cheaper because Islamic State flooded the market with their own products grown in Syria, though the cost of fuel and diesel—monopolized by the group—shot up.
Many stores shut down and local trade came to a halt. As Islamic State filled the ranks of a new security and police force and nearly all other public jobs with its members, thousands of people were left unemployed and idle. Islamic courts and a system of punishments became increasingly severe.
Doctors, judges, and professors who defied or questioned Islamic State laws have been executed, sometimes by public stoning or crucifixion. Prisons are filled with people awaiting their sentences from the Islamic court.
"Nearly no one gets out alive," one of the residents said.
Then came the attacks on minorities.
"There are many things we do not consider Islamic at all, like the way Christians were treated," said a female doctor from Mosul who is pious and veiled.
"All of Mosul does not accept what has happened to the Christians," said the woman, who now lives in the northern city of Kirkuk. The group's attack on minorities "was a major mistake that cost them our support," she added.
At the markets, lists of prohibited items and imports began to grow.
Within months, restrictions that were a simple annoyance became hallmarks of Islamic State's excessive and extreme rule.
A 52-year old woman displaced from Mosul, now living on the outskirts of Baghdad, recalled getting a puzzled call from her daughter in Mosul late last year. The daughter complained that frozen chicken was banned because of possible additives that are prohibited.
"The cigarette ban was absolutely the biggest problem," a current resident said. The ban has spurred an expensive underground trade in tobacco.
In November, Islamic State instituted an exit law from Mosul barring travel outside the city except in the case of a medical emergency, or to claim retirement benefits in Baghdad. In both cases, the request must be approved by a special court and requires a security deposit—including handing over a car—to ensure the person returns. Last month, fighters dug a deep trench around the city, adding to the feeling of many Mosul residents that they are trapped.
http://www.wsj.com/articles/iraqi-city-of-mosul-transformed-a-year-after-islamic-state-capture-1433888626
----------
Yazidi militia killed 21 in Iraq revenge attack: Amnesty
Jun 10 2015
Members of the Yazidi community, one of the Iraqi minorities hardest hit by jihadist atrocities, killed 21 Sunni Arab villagers in a January revenge attack, Amnesty International said Wednesday.
The London-based watchdog investigated attacks carried out on January 25 by a Yazidi militia in Jiri and Sibaya, two Sunni Arab villages in the Sinjar region of northern Iraq.
"Virtually not a single house was spared. Half of those killed were elderly or disabled men and women and children," Amnesty said in a report.
It said another 40 were abducted, 17 of whom are still missing.
Among other witnesses, Amnesty spoke to a father who lost two sons aged 15 and 20 in the attack. Their 12-year-old brother was shot four times in the back but survived.
"We could not imagine the assailants would target the old and the sick but they did," one man told Amnesty, describing how his 66-year-old father was shot dead in his wheelchair.
The Yazidis, a religious minority which lives mainly in Iraq's Sinjar region, are neither Muslims nor Arabs and follow a unique faith despised by the Islamic State jihadist group.
In 2014, IS jihadists massacred Yazidis, forced tens of thousands of them to flee, captured thousands of girls and women as spoils of war and used them as sex slaves.
The UN has said the atrocities committed against the small community may amount to genocide.
"It is deeply troubling to see members of the Yezidi community, who have suffered so much at the hands of the IS, now themselves committing such brutal crimes," Donatella Rovera, Amnesty's senior crisis advisor, said.
The rights group said some witnesses accused Kurdish security forces running the area of turning a blind eye.
The report, which included investigations into other sectarian massacres, was issued to coincide with the first anniversary of IS' massive offensive in Iraq.
Jihadist-led fighters took over around a third of Iraq last June, bringing it to the brink of collapse.
Violence has continued since as Iraqi government forces and a wide range of foreign allies have battled IS, so far failing to break the back of the jihadist group.
"Looking back at the carnage and chaos that has taken hold in the year since the IS takeover, the picture that emerges is of an Iraq more fractured and bitterly divided than ever and rival factions hell-bent on destroying each other, with no regard for who is actually a fighter or a civilian," Rovera said.
http://english.ahram.org.eg/NewsContent/2/8/132402/World/Region/Yazidi-militia-killed--in-Iraq-revenge-attack-Amne.aspx
----------
Scores of Takfiri Militants Killed in Daraa Countryside
Jun 10 2015
Syrian government forces killed dozens of Takfiri militants in the area of al-Harak in Daraa countryside.
The Syrian army killed 40 terrorists, including a senior commander, in al-Harak on Tuesday.
The Syrian army also targeted the Takfiri militant groups in Homs, Aleppo, Idlib, Quneitra and other provinces, inflicting heavy losses on them.
The Syrian Army and government have defended their country against insurgents since 2011 when a huge number of foreign terrorists flocked to the Middle-Eastern country.
In spite of certain western states' military and financial supports for the militants, the Syrian troops have been able to push them back from many areas across the country.
Military estimates show the fall of militancy in Syria is not far.
http://english.farsnews.com/newstext.aspx?nn=13940320000232
----------
Egypt suicide bomber targets Luxor temple
10 June 2015
A suicide bomber blew himself up on Wednesday at the ancient Egyptian temple of Karnak in Luxor, a southern city frequented by millions of tourists every year, security officials said.
A senior interior ministry security source later told the state news agency MENA that no tourists were injured in the attack.
But the officials said police foiled two other suicide attacks also targeting the sprawling Nile-side temple, a tourist attraction that rivals the pyramids at Giza, near Cairo.
The officials spoke on condition of anonymity because they were not authorized to speak to the media.
The attack was the first to target world-famous attractions in Luxor since November 1997, when Islamic militants opened fire on tourists at the city's 3,400-year-old Hatshepsut Temple on the west bank of the Nile, killing 58.
Tourism is the lifeblood of Luxor, home to some of Egypt's most famos ancient temples and pharaonic tombs, including that of King Tutankhamun. The city has been hit hard by a downturn in foreign visitors during the years of unrest since Egypt's 2011 uprising.
There was no immediate claim of responsibility for Wednesday's attack, but it bore the hallmarks of Islamic militants who have been battling security forces in the strategic Sinai Peninsula for years. Extremists in Sinai have targeted tourism sites to try to deny the government a key source of revenue.
Last year, the Sinai-based insurgent group Ansar Beit al-Maqdis pledged allegiance to the Islamic State group, which has destroyed famed archaeological sites in Syria and Iraq, viewing them as idolatrous.
The campaign of violence in Sinai accelerated and spread to other parts of Egypt following the 2013 military overthrow of Islamist President Mohammed Mursi.
The attack on the temple, which sits on the east bank of the Nile, comes as tourism was beginning to show signs of recovery after a four-year slump following the uprising that toppled longtime autocrat Hosni Mubarak.
https://english.alarabiya.net/en/News/africa/2015/06/10/Suicide-bomber-targets-ancient-Egyptian-temple-in-Luxor.html
----------
Syria crisis: Rebels seize army base, another defeat for Bashar al-Assad
Jun 10 2015
Syrian rebels seized a sprawling military base in a lightning assault on Tuesday, marking the latest in a series of defeats for President Bashar Assad's increasingly embattled forces, rebels and activists said.
Assad's forces have suffered a stunning string of setbacks over the past three months at the hands of insurgents, members of al-Qaida's local affiliate and the Islamic State extremist group. The government lost the northern city of Idlib, the central historic town of Palmyra and a southern border crossing point with Jordan.
The Western-backed rebel alliance known as the Southern Front led the dawn assault on the army base in the southern Daraa province, known as Brigade 52, said Ahmad al-Masalmeh, an opposition activist in Daraa. It is the biggest Syrian military base in the province and lies near a major highway running from Jordan to the capital Damascus. He said the rebels also captured the nearby village of Mleiha al-Sharqiyeh.
Full report at:
http://indianexpress.com/article/world/middle-east-africa/syria-crisis-rebels-seize-army-base-another-defeat-for-bashar-al-assad/#sthash.4uzVZjax.dpuf
----------
Yazidi fighters accused of reprisal attacks in Iraq
Jun 10 2015
Fighters from the Yazidi community of Iraq, whose men and women have been killed and taken into slavery by Islamic State jihadists, have been accused of carrying out reprisal attacks on Sunni Arab villages.
A researcher from Amnesty International claims that Yazidi fighters allied to Shia militia groups fighting Islamic State of Iraq and the Levant (Isil) in northern Iraq attacked two Sunni Arab villages.
Residents said the militia killed 21 people in the settlements of Jiri and Sibaya, near Mount Sinjar, the centre of the Yazidi community and focus of fighting ever since it was surrounded by Isil last summer.
Full report at:
http://www.telegraph.co.uk/news/worldnews/middleeast/iraq/11663533/Yazidi-fighters-accused-of-reprisal-attacks-in-Iraq.html
----------
West partly to blame for Islamic State: top Muslim cleric
Jun 10 2015
FLORENCE: The West has an interest in the "fragmentation" of the Islamic world and is partly to blame for the rise of Islamic State, one of the world's top Muslim clerics told AFP in an interview on Tuesday.
Speaking on the sidelines of a seminar in Florence, Ahmed al-Tayeb, the grand imam of Al-Azhar in Cairo, strongly criticised Western powers and particularly the United States.
Describing himself as "an ordinary citizen" as the Sunni Muslim seat of learning has no political role, the imam said: "The emergence of Daesh (an Arabic term for IS) in such a spontaneous manner leads us to ask what are the deep causes.
Full report at:
http://tribune.com.pk/story/901027/west-partly-to-blame-for-islamic-state-top-muslim-cleric/
----------
Officials: Takfiri Groups Promoting 'Israel' Strategic Position
Jun 10 2015
'Israel' occupies its best strategic position since decades ago as the Takfiri groups contribute to the weakening of the regular Arab armies, a number of Israeli officials said during Herzliya conference.
An Israeli military analyst said that the Syrian army which used to pose an existential danger against 'Israel' is now unable to play the same role, Al-Manar reported Tuesday.
The Israeli officials, however, reminded with Hezbollah rocketry power that will keep threatening the Israeli entity strategically, noting that after the Syrian crisis ends, the Lebanese-Palestinian borders may witness dramatic events.
The participators in the conference also pointed out that the developments in the middle East grant the Israeli entity more chances to build new alliances with a number of Arab countries in order to restructure the strategic situation in the region.
http://english.farsnews.com/newstext.aspx?nn=13940320000214
----------
Hezbollah Kills Senior ISIL Commander in Eastern Lebanon
Jun 10 2015
The Lebanese Hezbollah resistance movement killed a prominent commander of the Islamic State of Iraq and the Levant (ISIL) terrorist group in the Qalamoun region adjacent to the country's Eastern border with Syria.
Al-Manar TV said that "Saudi national Walid Abdel Mohsen al-Omari was killed by Hezbollah fire" when the movement's long range artillery shelled a terrorists' post in the Shobat al-Mahbas region on the outskirts of Ras Baalbeck town on Tuesday.
It added that the post was destroyed and several Takfiri militants were killed in the shelling, including al-Omari.
Full report at:
http://english.farsnews.com/newstext.aspx?nn=13940320000488
----------
South Asia
Eight Soldiers Martyred, 46 Insurgents Killed In Military Operations in Afghanistan
Jun 10 2015
Eight soldiers have embraced martyrdom and 46 militants killed in separate military operations across the country, Ministry of Defense announced this morning.
A statement issued by the Ministry of Defense states that the eight soldiers embraced martyrdom in rebel fire and landmine explosions in past 24 hours. However, the exact location of the incidents is not specified.
The statement adds that 46 militants were killed and 36 wounded during separate military operations in 15 provinces in past 24 hours.
The operations were conducted in Shigal, Asmar, Wata Pur, Sarkano, Manogai and Narai districts of Kunar province, Shinwar of Parwan, Ala Sai District of Kapisa, Sabari District of Khost, Andar and Waghaz districts of Ghazni, Nika of Paktia, Maiwand, Ghorak and Mia Nashin districts of Kandahar, Shinkay District of Zabul, Dehrawoud District of Urozgan, Juram and Baharak districts of Badakhshan, Sancharak District and capital of Sar-i-Pul, Chamtal District of Balkh, Imam Sahib and Chahar Dara districts of Kundoz, Kajaki and Nawzad districts of Helmand and the capital of Faryab province.
Landmines were also defused and weapons and ammunition seized by the security forces but Ministry of Defense statement does not specify the number.
http://www.khaama.com/eight-solodiers-martyred-46-insurgents-killed-in-military-operations-3471
----------
10 militants killed in Nanagarhar airstrikes
Jun 10 2015
10 militants have been killed in two separate airstrikes in eastern Nangarhar province.
The airstrikes have been conducted in Lal Pur District since yesterday.
Hazrat Hussain Mashriqiwal, spokesman for the police headquarters of Nangarhar province says that one attack was carried out in Samso area leaving seven insurgents killed around 02:00 PM yesterday.
He said a "Saracha" vehicle in which three militants were traveling was targeted the second attack leaving all three on board killed.
Two of the three killed are identified as Sharifullah and Shirzad but the identity of the third one is unknown.
Also, security forces in Jalalabad city have arrested Kochai alias Sangarai who was the shadow district governor of insurgents in Surkh Rod District.
Mashriqiwal says that Kochai had brought a vehicle for maintenance in Jalalabad city when security forces detained him.
Another person by the name of Zarwali who was accompanying Kochai was also arrested in the raid.
http://www.khaama.com/10-militants-killed-in-nanagarhar-airstrikes-3470
----------
Members of Bangladesh Jihadi Group to Kill Noted Persons of the Country
Jun 10 2015
Members of Bangladesh Jihadi Group, a platform of local militant groups who follow the strategies of international terrorist organisation Islamic State, were planning to kill noted persons of the country, after collecting money by robbing two banks, detectives say.
The platform was launched last year with members of banned groups – Harkat-ul Jihad Al Islami Bangladesh (HujiB), Ansarullah Bangla Team and Jama'atul Mujahideen Bangladesh (JMB) – only to dodge the eye of the law enforcers and escape from the punishment under the Anti-Terrorism Act.
The militant groups earlier used to get financial support from different foreign NGOs, locally influential businessmen and well-wishers. Due to strict vigilance and the arrest of some financiers, funding has become hard for them, Sanowar Hossain, additional deputy commissioner of the Detective Branch of police, told the Dhaka Tribune.
"So, in the face of fund crunch, the militant groups have started committing crimes like bank robbery to run their operations," he added.
Full report at:
http://www.dhakatribune.com/bangladesh/2015/jun/10/jihadists-planned-kill-zafar-iqbal-imran#sthash.i62cVQpE.dpuf
---------
40 insurgents joined peace process in Kunar
Jun 10 2015
40 militants have joined the national reconciliation process in eastern Kunar province.
Officials at the Ministry of Defense say that the group was involved in armed activities against government in Chapa Dara District of Kunar province.
Led by Khair Mohammad, the group with 36 different types of weapons joined the peace process yesterday after being confinced by the officials of the National Directorate of Security (NDS) in Kunar province.
The group promised to live in peace and continue ordinary life.
http://www.khaama.com/40-insurgents-joined-peace-process-in-kunar-3472
---------
'Atheist' tag used to attack bloggers
Rohit Khanna,TNN | Jun 10, 2015
KOLKATA: Bloggers in Bangladesh, campaigning to uphold democracy, are worried about the constant threats they face from organizations, which seem to be incensed by any critical view from the liberal writers. In an apparent bid to block mass support for such bloggers, the groups have reportedly been branding them "atheist" so that attacks on them would become easier.
So far, four bloggers, including Abhijit Roy whose murder invited criticism from across the media world, have been killed. Another blogger, Ahmed Rajib Haidar alias thaba baba, was hacked to death during the Shahbag movement in 2013, while more recently, in March, Wasiqur Rahman Babu was murdered following which two madrassa students were rounded up. The last blogger to have fallen victim was Ananta Bijay Das, who was murdered in Sylhet district last month.
Full report at:
http://timesofindia.indiatimes.com/india/Atheist-tag-used-to-attack-bloggers/articleshow/47606967.cms
----------
Africa
Fifteen dead as Boko Haram attacks village in Nigeria: Residents
10 June 2015
Fifteen people were killed when Boko Haram attacked a remote village in northeast Nigeria, opening fire and burning homes to the ground, three residents told AFP on Tuesday.
The attack happened at about 2:00 pm (1300 GMT) on Monday in Huyum, in the Askira-Uba district of Borno state which locals say has been hit repeatedly in recent weeks by the Islamist militants.
"The whole village was burnt by Boko Haram gunmen. We lost around 500 homes," said Bukar Zira, who fled to the commercial hub of Mubi in neighboring Adamawa state as the rebels moved in.
Full report at:
https://english.alarabiya.net/en/News/africa/2015/06/10/15-dead-as-Boko-Haram-attacks-village-in-NE-Nigeria-Residents.html
----------
Military top brass meet in Nigeria on Boko Haram
Jun 10 2015
Military top brass from Nigeria and surrounding countries met Tuesday to thrash out plans to take on Boko Haram, as new Nigerian President Muhammadu Buhari takes early steps aiming to defeat the militants.
Chiefs of defence staff from Nigeria, Niger, Chad and Cameroon and a high-level military official from Benin held talks in Abuja to determine strategies for a new, African Union-backed regional force against the rebels.
The meeting "points to our common resolve to work together to put an end to a menace that has become a regional and indeed a global problem", Nigeria's chief of defence staff Alex Badeh said at the start of talks.
Full report at:
http://english.ahram.org.eg/NewsContent/2/9/132358/World/International/Military-top-brass-meet-in-Nigeria-on-Boko-Haram.aspx
--------
Libya MPs reject UN's unity govt proposal
Jun 10 2015
BENGHAZI: Libya's elected Parliament rejected a UN draft proposal to form a unity government and withdrew from talks aimed at ending the country's crippling power struggle, a senior lawmaker said on Tuesday.
The decision will be a blow to efforts by United Nations Special Envoy Bernardino Leon, who had only on Monday presented a new proposal to form a unity government after hosting negotiations between the factions for months.
Libya is in chaos, with two governments and parliaments fighting for territory and oil resources. The official administration has been based in the east since a rival faction seized Tripoli in August, setting up a rival government.
Full report at:
http://www.arabnews.com/middle-east/news/759426
----------
Mideast
Four Yemeni Civilians Killed in Saudi Air Raid in Al-Jawf Province
Jun 10 2015
Four members of a family were killed in the Saudi-led coalition airstrikes on the Northern province of al-Jawf, provincial sources announced.
The sources said that four civilians, including a woman and two children, lost their lives when the Saudi warplanes pounded al-Yatmah district in Yemen's al-Jawf.
Saudi Arabia has been bombing Yemen in the last 77 days to bring its ally, fugitive president Mansour Hadi, back to power.
The airstrikes have so far claimed the lives of more than 4,504 civilians, mostly women and children.
According to a recent report by Freedom House Foundation, most of the victims of the deadly Al Saud campaign are civilians, including a large number of women and children.
http://english.farsnews.com/newstext.aspx?nn=13940320000786
----------
Drone strike kills three Qaeda suspects in Yemen
Jun 10 2015
ADEN: Three suspected Al-Qaeda members were killed in an apparent US drone strike in Yemen's jihadist-held south-eastern port city of Mukalla, a local official told AFP on Wednesday.
The drone "fired four missiles on three Al-Qaeda militants sitting near the port of Mukalla, killing them immediately" late on Tuesday, said the official.
The strike killed a "leading figure" within Al-Qaeda, the official said, without disclosing his name.
Read: Yemeni families sue United States over drone strike
Al-Qaeda in the Arabian Peninsula (AQAP) has exploited months of fighting in Yemen between Iran-backed rebels and the beleaguered Saudi-backed government to consolidate its grip on Hadramawt's provincial capital Mukalla — a city of more than 200,000.
The United States considers AQAP to be the extremist group's deadliest global franchise and regularly targets its militants with armed drone strikes on Yemeni territory.
It is the only government that operates the unmanned aircraft over the impoverished country.
http://tribune.com.pk/story/901070/drone-strike-kills-three-qaeda-suspects-in-yemen/
--------
Four killed as Kurd factions clash in Turkey
Jun 10 2015
DIYARBAKIR: Four people were killed on Tuesday, including the leader of an Islamist charity, in clashes between rival Kurdish groups in Diyarbakir, adding to tensions in Turkey's largest Kurdish-populated city days after legislative elections.
Aytac Baran, the leader of the Ihya-Der charity group, was shot dead by unknown gunmen outside his home in Diyarbakir, prompting a gunfight that left three others dead and four injured, including three journalists, hospital sources said.
Sympathisers of the group fired shots into the air and clashed with supporters of the People's Democratic Party (HDP) who they clai­med were behind the attack.
But the HDP however strongly condemned the attack in a statement, calling for a thorough investigation to arrest the suspects and bring them to justice.
Baran had been threatened by the outlawed Kurdistan Workers' Party (PKK) just before his assassination, his lawyer said in a statement quoted by the Turkish media.
Turkish media reports said two of the injured journalists were working for the DHA news agency and one for the IHA news agency.
Ihya-Der is linked to Islamist group Huda-Par, known to be the political exte­ nsion of Turkish Hezbollah, a Kurdish Sunni Islamist militant organisation.
http://www.dawn.com/news/1187266/four-killed-as-kurd-factions-clash-in-turkey
----------
Saudi Fighter Jets Continue Pounding Yemen' Sa'ada
Jun 10 2015
The Saudi-led coalition warplanes targeted several spots across the Northwestern city of Sa'ada, leaving scores of civilians dead or injured, informed sources announced on Wednesday.
The sources said that several civilians were killed or wounded in the Saudi airstrikes on the city of Sa'ada earlier today.
The sources went on to say that several cars also burned in the Saudi air attacks on the city's residential areas.
There has yet been no report on the number of casualties.
Saudi Arabia has been bombing Yemen in the last 77 days to bring its ally, fugitive president Mansour Hadi, back to power.
The airstrikes have so far claimed the lives of more than 4,500 civilians, mostly women and children.
According to a recent report by Freedom House Foundation, most of the victims of the deadly Al Saud campaign are civilians, including a large number of women and children.
http://english.farsnews.com/newstext.aspx?nn=13940320000743
----------
Turkish Opposition: No More Gov't Support for Terrorists in Syria
Jun 10 2015
The Turkish opposition group, the People's Democratic Party (HDP), called for an immediate end to Ankara's support for terrorists in Syria.
On Tuesday, Selahattin Demirtas, HDP's co-leader, said the demand was a pre-condition to join a coalition government with the ruling Justice and Development Party (AKP), press tv reported.
He made the call a day after his party became the first Turkish group with Kurdish roots to enter parliament.
Demirtas noted that the move would be the key to restore the foreign relations of the new Turkish government to normal state.
Full report at:
http://english.farsnews.com/newstext.aspx?nn=13940320000414
----------
Israeli premier says Arab countries agree with him on Iran
Jun 10 2015
Israel's prime minister said Tuesday that Arab leaders agree with him that an emerging nuclear deal with Iran won't stop Tehran from getting atomic weapons.
Benjamin Netanyahu's remarks come as Tehran and the six world powers negotiating with Iran face a June 30 target date for a comprehensive deal on curbing Iran's nuclear program in exchange for sanctions' relief.
Netanyahu told the prestigious Herzliya conference, an annual gathering that draws speakers from around the world, that he is not the only voice in the Middle East against the deal.
"I am often portrayed as the nuclear party pooper," Netanyahu said. "But I speak with quite a few of our neighbors, more than you think, and I want to tell you that nobody in this region believes this deal will block Iran's path to the bomb."
Full report at:
http://english.ahram.org.eg/NewsContent/2/8/132389/World/Region/Israeli-premier-says-Arab-countries-agree-with-him.aspx
----------
Palestinian killed in clash with Israel forces
Jun 10 2015
NABLUS: A Palestinian man was killed in clashes with Israeli forces on Wednesday in a northern West Bank refugee camp, medical and security sources said.
The sources said Ezzedine Ghora, 23, was hit by two bullets in his arm and chest, and died before reaching hospital.
Israeli police, in a statement on the incident, said a border police force was in the refugee camp of the city of Jenin to carry out arrests.
"Upon leaving the camp, the force identified a suspect trying to throw an explosive device at them," it said.
Full report at:
http://tribune.com.pk/story/901131/palestinian-killed-in-clash-with-israel-forces/
----------
Europe
Moderate Bosnian Muslims Called To Join Islamic State
Jun 10 2015
The video's slick style is now familiar: between clips of documentary footage, and with English subtitles, young Muslim gunmen urge fellow believers to join them in Islamic State, to wreak bloody vengeance on an infidel West.
But the languages the men speak are surprising: they espouse mass murder in Bosnian and Albanian and tell those who cannot come to the IS "caliphate" in Syria and Iraq to wage jihad at home, in the Balkans.
The video appeared online before Pope Francis's visit last weekend to Bosnia, where he preached peace and reconciliation a month before the 20th anniversary of the Serb slaughter of some 8,000 Bosnian Muslims at Srebrenica.
The film paints Balkan history, including Bosnia's 1992-5 inter-ethnic war, as a long tale of Muslim suffering at Christian hands and it is Islamic State's strongest message to disaffected Muslims in Albania and former Yugoslavia.
Full report at:
http://www.irishtimes.com/news/world/europe/moderate-bosnian-muslims-called-to-join-islamic-state-1.2243439
----------
Recruits continue to replace killed Islamic State fighters
Jun 10 2015
The Islamic State terrorist group has maintained its 50,000-strong force despite the deaths of 10,000 fighters, as recruitment of foreigners continues to rise.
Authorities are grappling with how to combat the internet propaganda campaign which is drawing young recruits to the group in "unprecedented numbers''.
French authorities believe ­Islamic State has largely been able to replace the 10,000 fighters ­believed to have been killed in western attacks. But they say the recruits, particularly foreign fighters, are being used as "cannon fodder'' and the terrorists' capabilities are being eroded as they lose ­experienced soldiers.
Full report at:
http://www.theaustralian.com.au/in-depth/terror/recruits-continue-to-replace-killed-islamic-state-fighters/story-fnpdbcmu-1227390352762
----------
Muslim Arrested In Biggest Child Sex Explotation Case in Sweden's History
Jun 10 2015
Last Thursday 29-year-old paeodophile Amin Muktar Ali Burhan (pictured) was sentenced to 7 years in jail for sexually abusing 65 girls on the internet, where he coerced them into performing sexually degrading acts in front of a webcam.
He was convicted of aggravated sexual assault, gross exploitation of a child for sexual posing, child pornography offenses and aggravated libel and was sentenced to seven years in prison and approximately five million kronor in damages.
Amin who lives in the immigrant ghetto Husby in Stockholm together with his family worked as a computer consultant at Emineo AB. He has been convicted of exploiting children for sexual posing previously but was not deported.
This was the biggest "grooming" case in Sweden's history with regards to the number of victims, 68 girls aged 11-20.
Full report at:
http://www.libertynewsonline.com/articles/article_350_37360.php#sthash.YEbkDWHt.dpuf
----------
Pakistan
Pakistan hangs man who was convicted at 15
June 10, 2015
Pakistan on Wednesday executed a man who was 15-years-old when he was sentenced to death for murder and whose lawyers say was tortured into confessing, in a case that has prompted concern among rights groups and the United Nations.
Aftab Bahadur was sentenced to death for killing three people in 1992 and human rights group Reprieve said two witnesses who implicated Bahadur had since recanted, saying they were tortured.
At the time, the death penalty could be passed on a 15 year old, but the minimum age was raised to 18 in 2000.
Testimony obtained by torture is also inadmissible.
"Aftab Bahadur was hanged at District Jail Lahore on Wednesday at 4.30 am," a jail official in Pakistan's eastern city of Lahore said, declining to be named as he was not authorised to speak to the media on the issue.
Full report at:
http://indianexpress.com/article/world/neighbours/pakistan-hangs-man-who-was-15-years-old-when-convicted-rights-group-says-witnesses-tortured-into-confessing/#sthash.50vSbKpI.dpuf
----------
Pakistan approves sharia advisory board for Islamic finance
10 June 2015
Pakistan's securities commission has approved a four-member sharia advisory board to oversee Islamic financial products in the country, as the regulator looks to address credibility concerns which still haunt the industry.
The board, which comprises three religious scholars and a technical member, would advise the Securities and Exchange Commission of Pakistan (SECP) on a range of issues including the operation, auditing and reporting of Islamic mutual funds, pensions and insurance operators.
"It is expected that the new board will be instrumental in harmonizing the sharia-related business, operations and structure of the instruments of the Islamic capital market," the regulator said in a statement.
Full report at:
https://english.alarabiya.net/en/business/banking-and-finance/2015/06/10/Pakistan-approves-sharia-advisory-board-for-Islamic-finance.html
----------
China-Pakistan ties: Shahbaz says learning Chinese language need of the hour
Jun 10 2015
LAHORE: Chief Minister Shahbaz Sharif said on Tuesday that proficiency in Chinese language was the need of the hour. He said the provincial government had decided to set up an institute for this purpose in Lahore.
He was speaking at a seminar held at his office on the China-Pakistan Economic Corridor. He urged vice chancellors of public universities to introduce Chinese language courses at their institutions.
Sharif assured the audience that corruption would not be tolerated in the implementation of the China-Pakistan Economic Corridor Project. He said he was ready to face any punishment if embezzlement of a single penny was proved in the project.
He condemned the Pakistan Tehrik-i-Insaf and Pakistan Awami Tehrik for staging sit-ins in the federal capital last year that had led to a delay in the Chinese president's visit to the country for the signing of the agreement.
Full report at:
http://tribune.com.pk/story/900835/china-pakistan-ties-shahbaz-says-learning-chinese-language-need-of-the-hour/
----------
NA unanimously passes resolution in favour of Rohingya Muslims
Jun 10 2015
ISLAMABAD: The National Assembly on Wednesday unanimously passed a resolution in favor of Rohingya Muslims and against the brutality of the government of Myanmar.
The resolution was moved by Federal Minister for Defence Production Rana Tanvir Hussain.
Prime Minister Nawaz Sharif was also present at the House along with Leader of Opposition in the National Assembly Syed Khursheed Shah. The resolution states that the House commends the courage of Rohingyas in light of the atrocities being carried out against them.
The resolution also urges human rights activists "to do all the acts necessary to protect the peaceful community of Rohingya Muslims brutally being extinguished in Myanmar".
Yesterday, a cabinet committee formed to tackle issues over the plight of Rohingya Muslims decided on a $5 million grant in the form of food to be channelled through the World Food Program for distribution in Rohingya camps in Indonesia, Malaysia and Thailand.
Pakistan will also appeal to the United Nations to impress upon the Myanmar government to grant Rohingya Muslims equal citizenship rights and ensure the protection of the oppressed minority community.
Full report at:
http://www.dawn.com/news/1187349/na-unanimously-passes-resolution-in-favour-of-rohingya-muslims
----------
Two LeJ terrorists killed in encounter near Karachi: Rangers
Jun 10 2015
KARACHI: Pakistan Rangers in an encounter Tuesday night in Ghagar Phatak killed two terrorists affiliated with banned outfit Lashkar-e-Jhangvi (LeJ), said a press release issued late on Tuesday.
The terrorists have been identified as Asim Khan, also known by aliases Nadir and Asad Swati, and Irfan Gul, alias Nasir.
The LeJ-affiliated terrorists were involved in a number of high-profile target killing cases, as well as other crimes, the Rangers' statement added.
The 'operation' against criminal elements in Pakistan's commercial hub was initiated back in September 2013 after the federal cabinet empowered Rangers to lead a targeted advance with the support of police against criminals already identified by federal military and civilian agencies for their alleged involvement in targeted killings, kidnappings for ransom, extortion and terrorism in Karachi.
Full report at:
http://www.dawn.com/news/1187343/two-lej-terrorists-killed-in-encounter-near-karachi-rangers
----------
Pakistan to provide $5m food grant to Rohingya camps
Jun 10 2015
ISLAMABAD: A cabinet committee formed to tackle issues over the plight of Rohingya Muslims has decided on a $5 million grant in the form of food to be channelled through the World Food Program for distribution in Rohingya camps in Indonesia, Malaysia and Thailand.
Pakistan will also appeal to the United Nations to impress upon the Myanmar government to grant Rohingya Muslims equal citizenship rights and ensure the protection of the oppressed minority community.
Recommendations to intensify diplomatic efforts in this regard were made by the special committee— comprising Interior Minister Chaudhry Nisar Ali Khan, Adviser to the Prime Minister on Foreign Affairs and National Security Sartaj Aziz and Special Assistant to the Prime Minister Tariq Fatmi— which were approved by PM Nawaz Sharif.
Full report at:
http://www.dawn.com/news/1187151/pakistan-to-provide-5m-food-grant-to-rohingya-camps
----------
Pakistan to expose India's role in breakup of East Pakistan, Aziz tells Senate
Jun 10 2015
The premier's senior aide affirmed Pakistan will take all possible measures to unveil India's role in the breakup of East Pakistan in 1971.
"We will take all possible steps to expose India's role in the breakup of East Pakistan in 1971 and its threat to destabilise Pakistan through terrorism," Sartaj Aziz told the Senate on Wednesday.
Aziz further said, "The government has taken strong notice of Modi's statement in which he acknowledged his country's role in the events of 1971 in the then-East Pakistan."
The premier's adviser on foreign affairs further urged the international community and the United Nations to take notice of India's open admission of indulging in subversive activities to destabilise Pakistan.
Full report at:
http://tribune.com.pk/story/901115/pakistan-to-expose-indias-role-in-breakup-of-east-pakistan-aziz-tells-senate/
-------
Southeast Asia
As Clerics Make Clean Sweep, PAS' Future Turns Murky
Jun 10 2015
Malaysia's opposition alliance is bracing itself for a possible break-up or, at least, messy fallout from the heated elections of its Islamic ally, Parti Islam SeMalaysia (PAS), which saw the total marginalisation of the pragmatic pro-alliance professionals.
Purist Ulema (religious clerics) won near-total control of PAS, backed by a younger generation of clerics who displayed a surprising knack for this-worldly party politics.
Their sweeping victory was widely expected yet shocking to many, leading some local analysts to aptly describe it as an "Ulema tsunami".
It caps a long struggle for control between the more conservative ulama and the professionals who want to mainstream PAS for a multi-ethnic electorate through the Pakatan Rakyat (PR) alliance.
The Ulema-professionals tussle within an uneasy symbiotic relationship has been going on for years and peaked at the 61st PAS Muktamar (general assembly) from last Thursday to Saturday.
The ulama captured all key positions, returning Datuk Seri Abdul Hadi Awang as PAS president by a landslide, and installing one of their own - Tuan Ibrahim Tuan Man - as the new deputy leader.
Full report at:
http://news.asiaone.com/news/malaysia/clerics-make-clean-sweep-pas-future-turns-murky
--------
RTD dress code shows conservative Islam creeping into civil service, activist says
Jun 10 2015
KUALA LUMPUR, June 10 ― Malaysia's civil service appears to be increasingly influenced by conservative Islam, an activist said today amid controversy surrounding the Road Transport Department (RTD) dress code that prohibits short skirts and sleeveless tops.
Datuk Noor Farida Ariffin, member of the moderate G25 group comprising Malay former high-ranking civil servants, said it was "absurd" and "unacceptable" for the RTD to force an ethnic Chinese woman, who had worn a skirt ending just above the knee, to don a sarong in order to get service at one of its offices.
"It shows the infiltration of religious conservatism into public administration," Noor Farida told Malay Mail Online.
Full report at:
http://www.themalaymailonline.com/malaysia/article/rtd-dress-code-shows-conservative-islam-creeping-into-civil-service-activis#sthash.i6E1FFYV.dpuf
----------
Demands for rough sex among top reasons for divorce in Selangor, Islamic Department says
Jun 10 2015
KUALA LUMPUR, June 10 ― Husbands with fetishes for rough sex and nagging wives have been listed among the top reasons why marriages fail in Selangor, according to figures gathered by the Selangor Islamic Department (Jais).
Aluwi Parman, the chief registrar for the department's marriage, divorce and Islamic reference arm, said these were the two main reasons for the breakdown in marriages, which have increased in number year-on-year.
Selangor registered a total of 6,912 divorces last year, higher than the 6,162 who decided to end their marriages in 2013.
Full report at:
http://www.themalaymailonline.com/malaysia/article/demands-for-rough-sex-among-top-reasons-for-divorce-in-selangor-jais-says#sthash.anpLGuPm.dpuf
---------
India
No Surya Namaskar On International Yoga Day: Centre Axes Asana To Soothe Irate Muslim Groups
Jun 10 2015
After protesting against Modi government's plans of including Surya Namaskar as part of Yoga drill in schools on 21 June, the All India Muslim Personal Law Board (AIMPLB) finally got its way. A Times of India report said that after repeated protests by the minority body, the government has decided to "trim" the drill and not include surya namaskar asana.
The government has been making grand plans of celebrating 21 June after the United Nations declared it as the International Yoga Day in December 2014. Dubbing celebrations on Yoga Day as "Hindu religious practices", AIMPLB on Sunday had planned nationwide agitation. Reports had quoted an AIMPLB member as saying, "We have decided to constitute a committee of our members headed by Maulana Wali Rahmani and launch a country-wide campaign against the move of making 'Surya Namaskar' and Yoga compulsory in schools."
The AIMPLB also informed that they will discuss issues like attack on freedom to propagate one's religion in a separate session and have plans to launch a campaign in this regard. The central government quickly reacted to the allegations and said that participation in celebrations to mark 21 June was not mandatory.
Full report at:
http://www.firstpost.com/india/no-surya-namaskar-on-international-yoga-day-centre-axes-asana-to-soothe-irate-muslim-groups-2286068.html
----------
BJP has 3.20 lakh members in Muslim-majority Kashmir
Jun 10 2015
Aurangzeb Naqshbandi, Hindustan Times, New Delhi| Updated: Jun 10, 2015 01:04 IST
In the 2014 assembly elections in Jammu and Kashmir, the BJP could not poll a total of 50,000 votes in the Valley and 33 out of its 34 candidates lost their security deposits. But that was six months ago. The party now claims to have enrolled around 3.20 lakh members from the Muslim-majority Kashmir alone.
Altaf Thakur, the BJP's media in-charge for Kashmir and a member of the membership monitoring committee, told HT over phone that 70% of the new members enrolled between February 28 and April 30 are youth and a majority of them are girls. "In 2005, there were just four of us and we kept the BJP flag flying in Kashmir. Membership reached 12,000 in 2008. Now we have over 3.20 lakh members," he said. "This shows that people of Kashmir are finally accepting BJP as an alternative."
Full report at:
http://www.hindustantimes.com/india-news/bjp-has-3-20-lakh-members-in-muslim-majority-kashmir/article1-1356851.aspx
----------
North America
'Dozens' of U.S. airport workers linked to terror
10 June 2015
The agency in charge of U.S. transportation security came under renewed fire Tuesday as a report revealed that American airports had hired dozens of people with terror links.
The Transportation Security Agency is already reeling after a recent Department of Homeland Security report found that investigators could sneak fake bombs and weaponry through security with a 95 percent success rate.
Homeland Security Inspector General John Roth discussed before lawmakers his new report that found the TSA failed to detect at least 73 people with links to terrorism who were hired by U.S. airports.
By law, the TSA had "limited oversight" over the hiring process and thus "lacked assurance that it properly vetted all credential applicants," the report report said.
Roth said the law needed to be changed to give the agency access to all relevant information, including FBI terrorist watchlists.
Becky Roering, an assistant security director at the Minneapolis-St Paul International Airport, told the hearing that former "badged" employees had even gone to Syria to join the Islamic State group.
Full report at:
https://english.alarabiya.net/en/News/middle-east/2015/06/10/-Dozens-of-U-S-airport-workers-linked-to-terror.html
----------
US: Continue facilitate humanitarian access to migrants
Jun 10 2015
The United States has urged Bangladesh and Myanmar to continue to facilitate unrestricted humanitarian access to adrift migrants.
Jeff Rathke, director, Press Office of the US Department of State, while addressing the daily press briefing at Washington on June 9, also encouraged the two Southeast Asian countries to work with international organisations like the UNHCR and the International Organization for Migration, and to process these migrants in line with their international commitments.
Replying to a query, Jeff Rathke said: "About the 150 migrants rescued by Myanmar navy, who were repatriated to Bangladesh Monday which was a result of cooperation between the governments of Burma and Bangladesh.
Full report at:
http://www.dhakatribune.com/foreign-affairs/2015/jun/10/continue-facilitate-humanitarian-access-us-bangladesh-myanmar#sthash.x6CtYVZu.dpuf
----------
Canadian Muslims launch hate-tracking website
Jun 10 2015
CANADA: A Canadian Muslim support group The National Council of Canadian Muslims (NCCM) has launched a website to track Islamophobic incidents in the country, such as hijab pulling, vandalism and other forms of prejudice.
The NCCM along with representatives of other Canadian communities, came together to urge elected officials to take extra measures to address the issue of and educate Canadians about hate crimes and their consequences.
Statistics Canada released some information about the overall drop in hate crimes; from 1,414 in 2012 to 1,167 in 2013, but concerns remain about some minority groups including Muslims, Blacks and Jews who are more likely to face violence. Muslims saw an increase from 45 incidents in 2012 to 65 in 2013.
Full report at:
http://tribune.com.pk/story/901085/canadian-muslims-launch-hate-tracking-website/
----------
U.S. plans new military base in Iraq's Anbar
10 June 2015
The Obama administration is preparing a plan to set up a new military base in Iraq's Anbar province and send several hundred additional trainers and advisers to help bolster Iraqi forces that have struggled in the fight against ISIS militants there, U.S. officials said on Tuesday.
President Barack Obama could give final approval as early as Wednesday to expand the U.S. military contingent in Iraq, a source close to the discussions said, marking the first significant adjustment in his strategy since the insurgents seized Anbar's capital Ramadi last month.
U.S. officials, speaking on condition of anonymity, expressed hope that a even a modestly beefed-up U.S. presence could help Iraq forces plan and carry out a counterattack to retake Ramadi.
Full report at:
https://english.alarabiya.net/en/News/middle-east/2015/06/10/U-S-plans-new-military-base-in-Iraq-s-Anbar.html
----------
Obama weighs sending several hundred more U.S. troops to Iraq: Officials
Jun 10 2015
The Obama administration is considering setting up a new military base in Iraq's Anbar province and is closing in on a decision to send several hundred more trainers and advisers to help Iraqi forces in the fight against Islamic State militants there, U.S. officials said on Tuesday.
While final approval from President Barack Obama is still needed, the modest military expansion in Iraq appeared the likeliest choice among a range of options he is weighing to bolster a struggling Iraq effort against insurgent forces in Anbar in the country's Sunni heartland.
http://english.ahram.org.eg/NewsContent/2/8/132404/World/Region/Obama-weighs-sending-several-hundred-more-US-troop.aspx
----------
URL: https://www.newageislam.com/islamic-world-news/new-age-islam-news-bureau/iraqi-city-of-mosul-transformed-a-year-after-islamic-state-capture/d/103425